When it comes to formal wear, the black-tie dress code stays constant.
But lack of clear convention often leaves people confused as to what to add to their black-tie outfits.
But worry not. I'll help you take the confusion away with this detailed black-tie dress code guide.
Black-Tie Dress Code: The Basics
The black-tie dress code is one of the highest levels of dress that is worn as formal wear for evening events.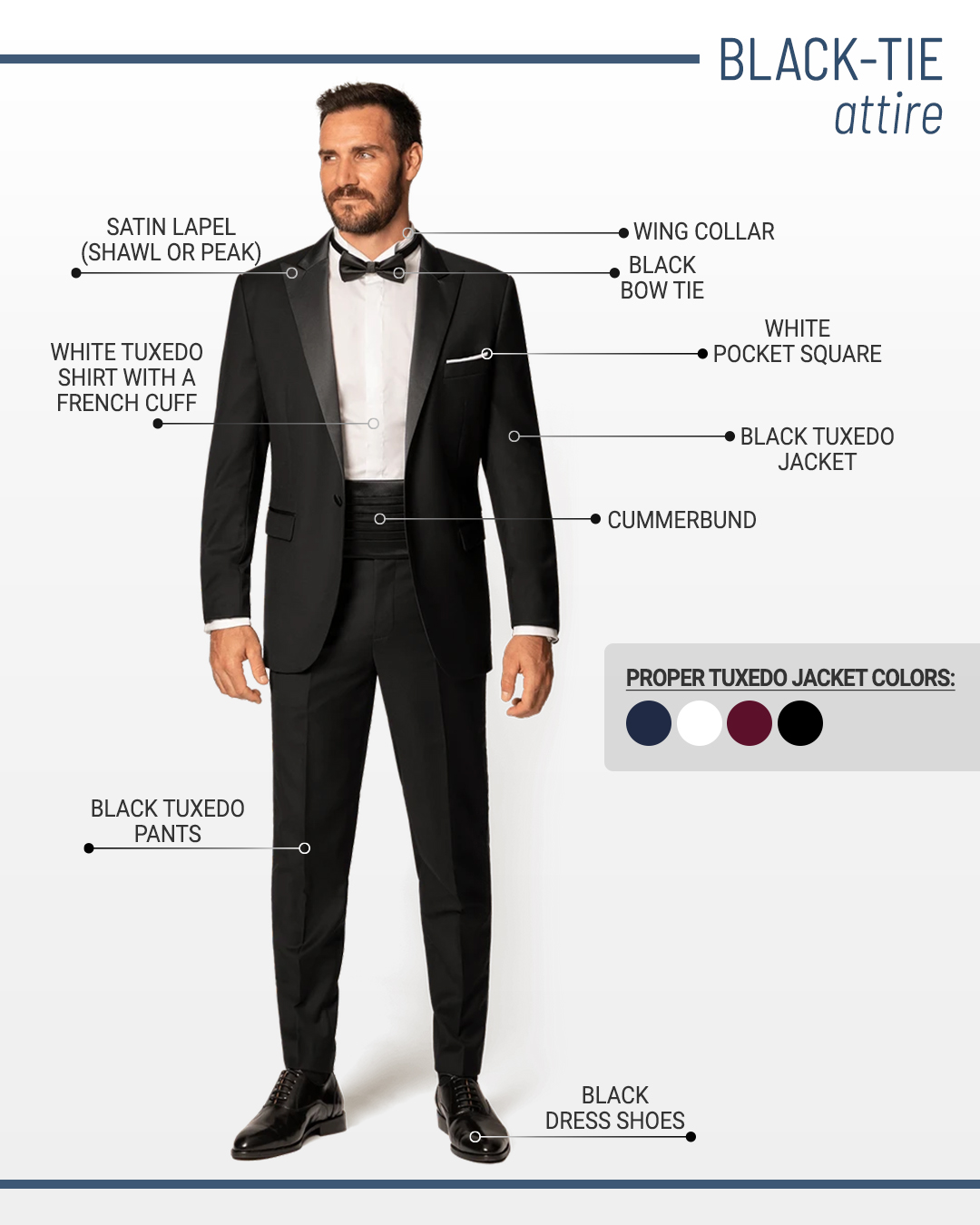 I would advise you always keep things simple when wearing black-tie attire.
Your black-tie outfit must be tailored to precision with no room for errors.
All components of your attire must sit exactly on your frame with no loose or tight fittings.
The black tuxedo is paramount and the most popular option for this dress code, immediately followed by the black bow tie.
However, a whole other range of factors needs to be considered as well, such as the style of your shirt, shoes, and other accessories.
Where is the Black-Tie Dress Code Required
Black tie dress codes are typically called for at highly formal events.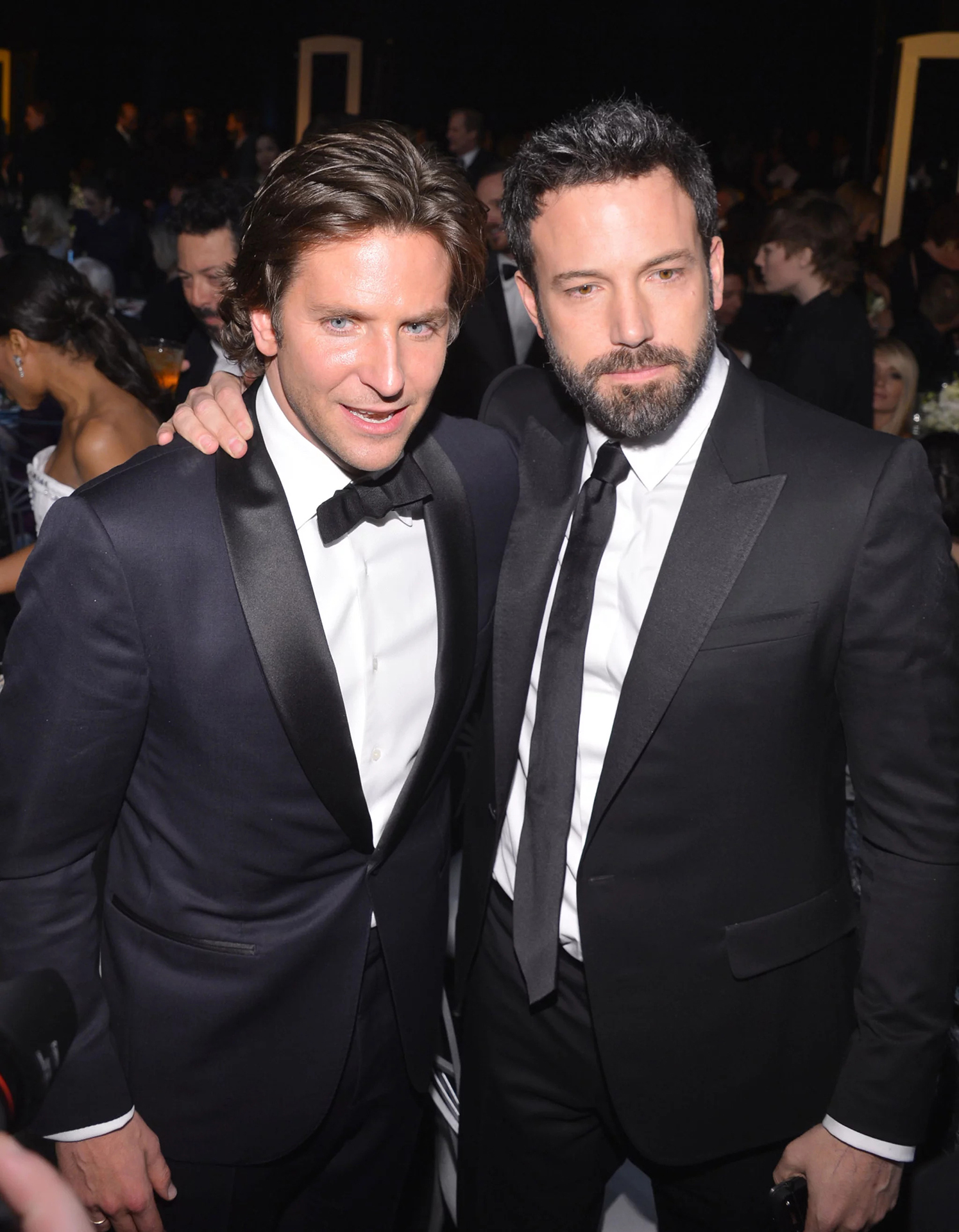 Even though formal events can occur during the day, black-tie outfits are reserved for evening formal events only.
The most likely places to ask for a black-tie ensemble include award ceremonies, galas, balls, etc.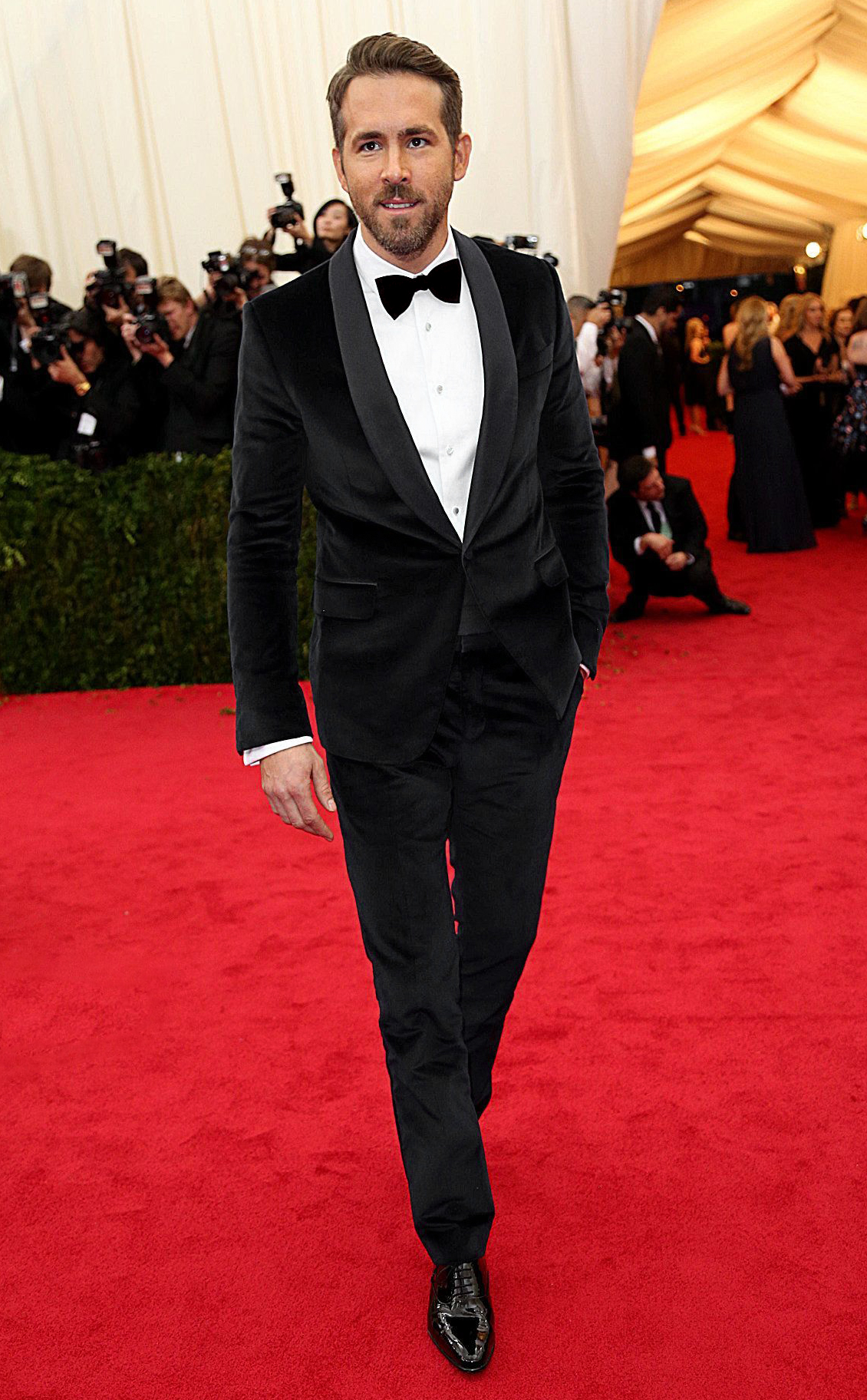 A formal wedding invitation is another place where you could encounter a black-tie dress code requirement.
However, make sure you read the invitation with attention because not all weddings feature a black-tie dress code.
Black-Tie Optional vs. Black-Tie Creative
Black-tie optional and black-tie creative both require you to dress formally.
However, the differences in flexibility that each offers distinguish the two.
Black-tie optional still means that the host expects you to dress as formally as possible.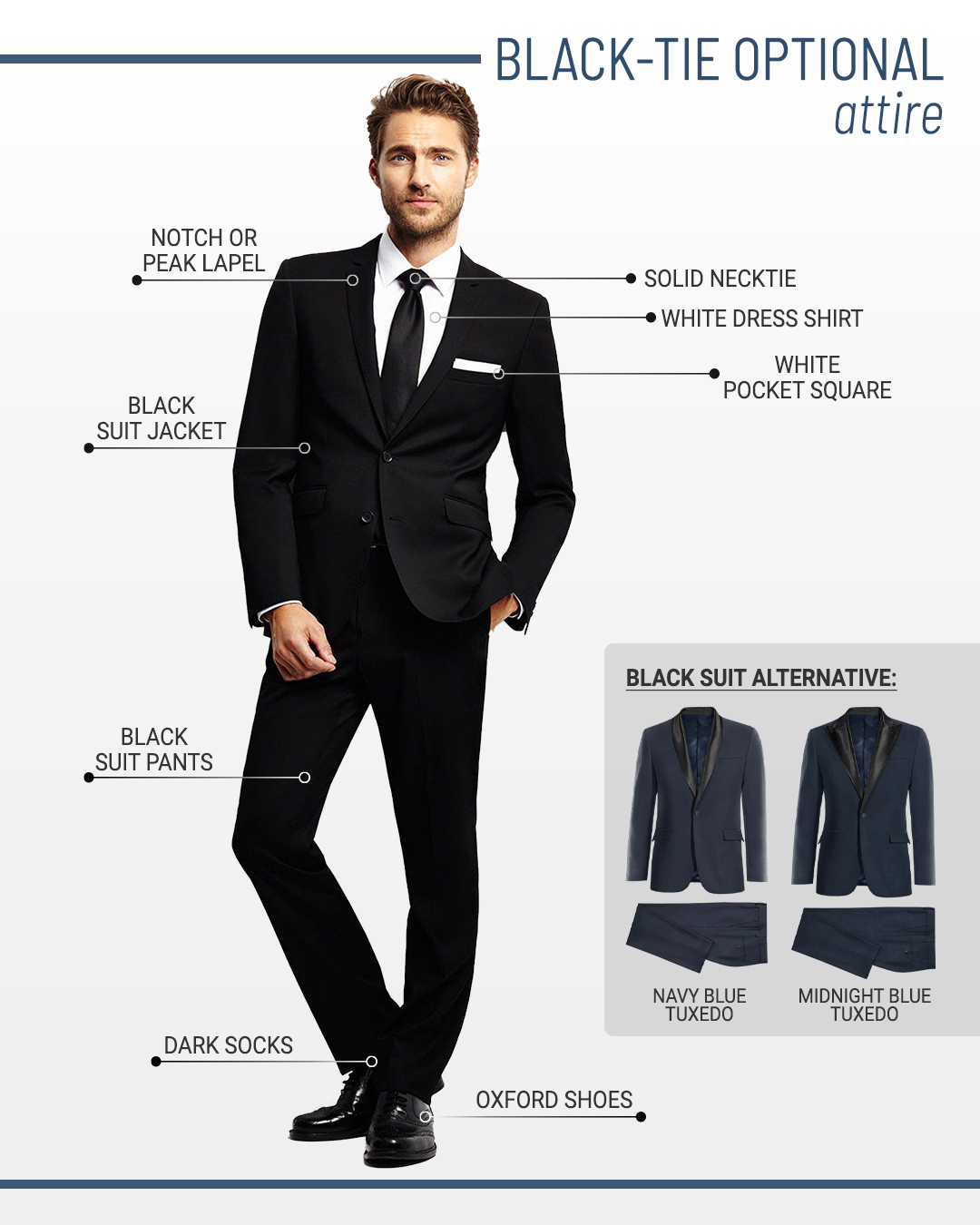 The word "optional" here dictates that you have the option to choose among some minor details of your formal attire.
Although it is assumed that you would wear your black tuxedo with a bow tie, you do have the option to replace it with a black regular tie.
On the other hand, "black-tie creative" gives you room to experiment within the confines of formality.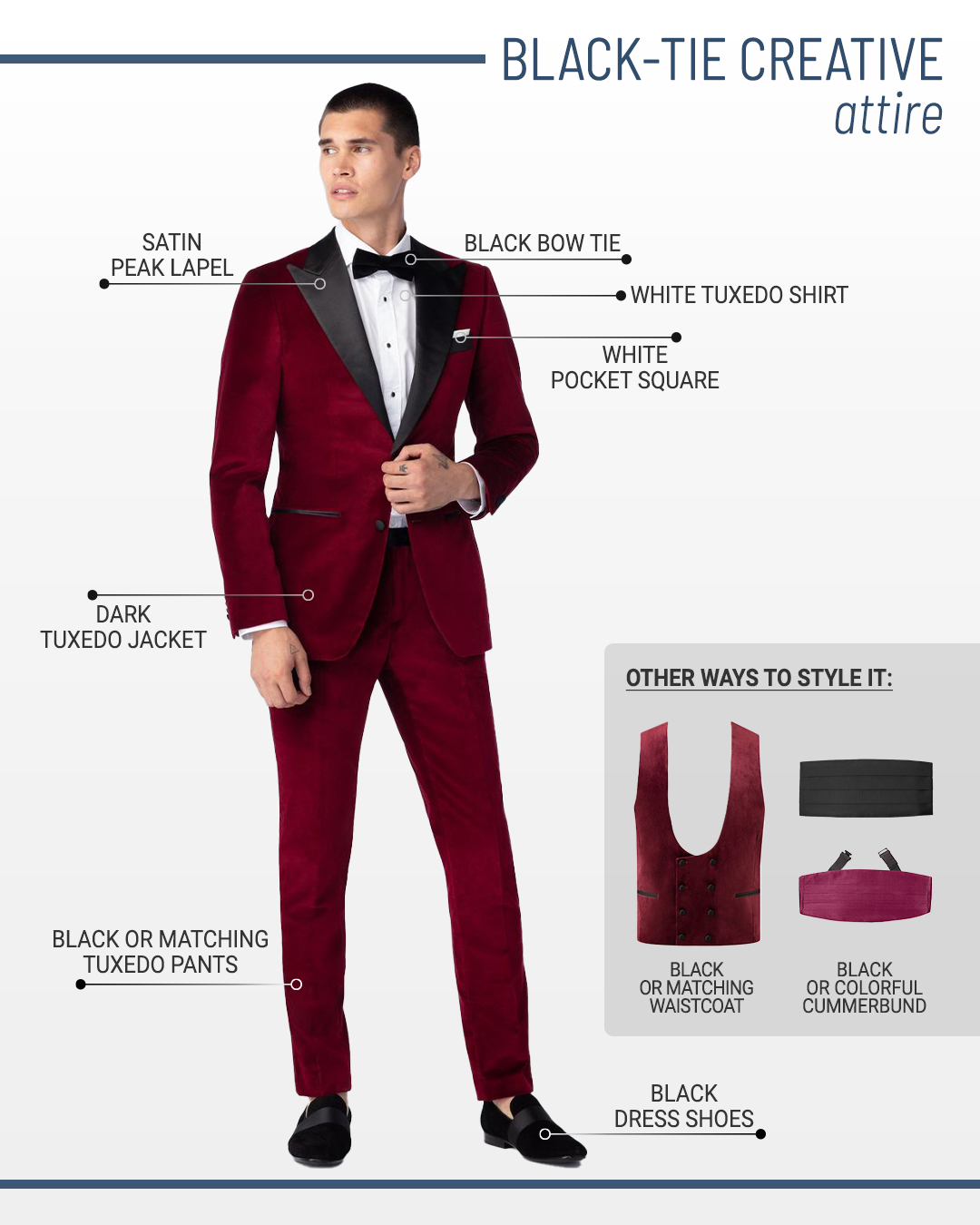 If black-tie is a structured look, black-tie creative allows you to break some rules.
You can add a unique touch to the ensemble, moving away from the standards of black-tie but keeping everything strictly formal.
For example, you can replace your black tuxedo with a midnight blue or maroon one.
Differences Between a Suit and a Tuxedo
You have the option to wear a suit or a tuxedo, depending on whether the invitation says black-tie, optional, or black-tie creative.
But how is a tuxedo different from a suit?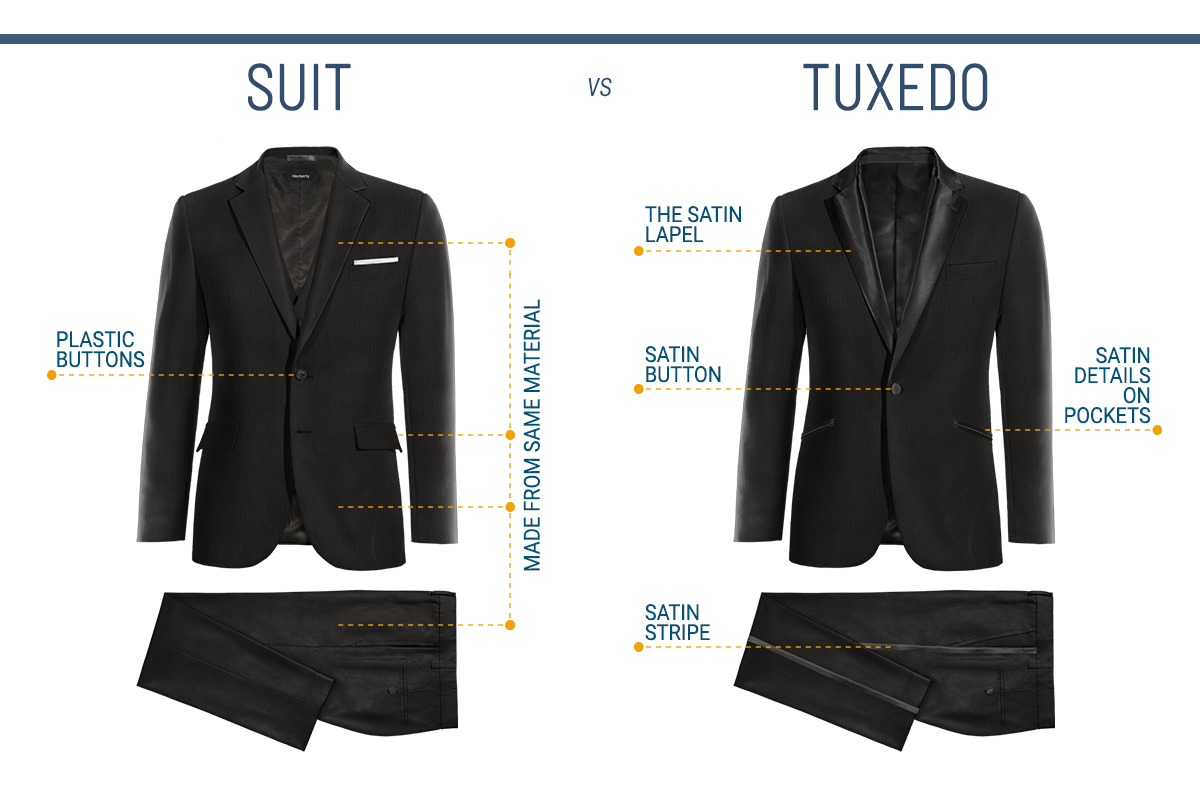 Well, the most obvious differences between the two are the satin detail on a tuxedo.
Tuxedo dinner jackets have satin facing on the pockets, buttons, and lapels.
Even the tuxedo trousers have a satin stripe running down the legs.
On the other hand, the suit jacket, trousers, lapel, and pockets are made from the same material.
Similarly, the suit jacket either has plastic buttons, unlike the satin buttons on a tuxedo.
Black-Tie Dress Code Attire for Men
You cannot pull off a successful black-tie look without getting the details of each component of your outfit right.
So let's move on to the nitty-gritty of what a black-tie outfit includes and how each clothing element must be worn.
Black Tuxedo
A black tuxedo is the epitome of formal wear. No other type or suit color can match the level of formality that a black tuxedo offers.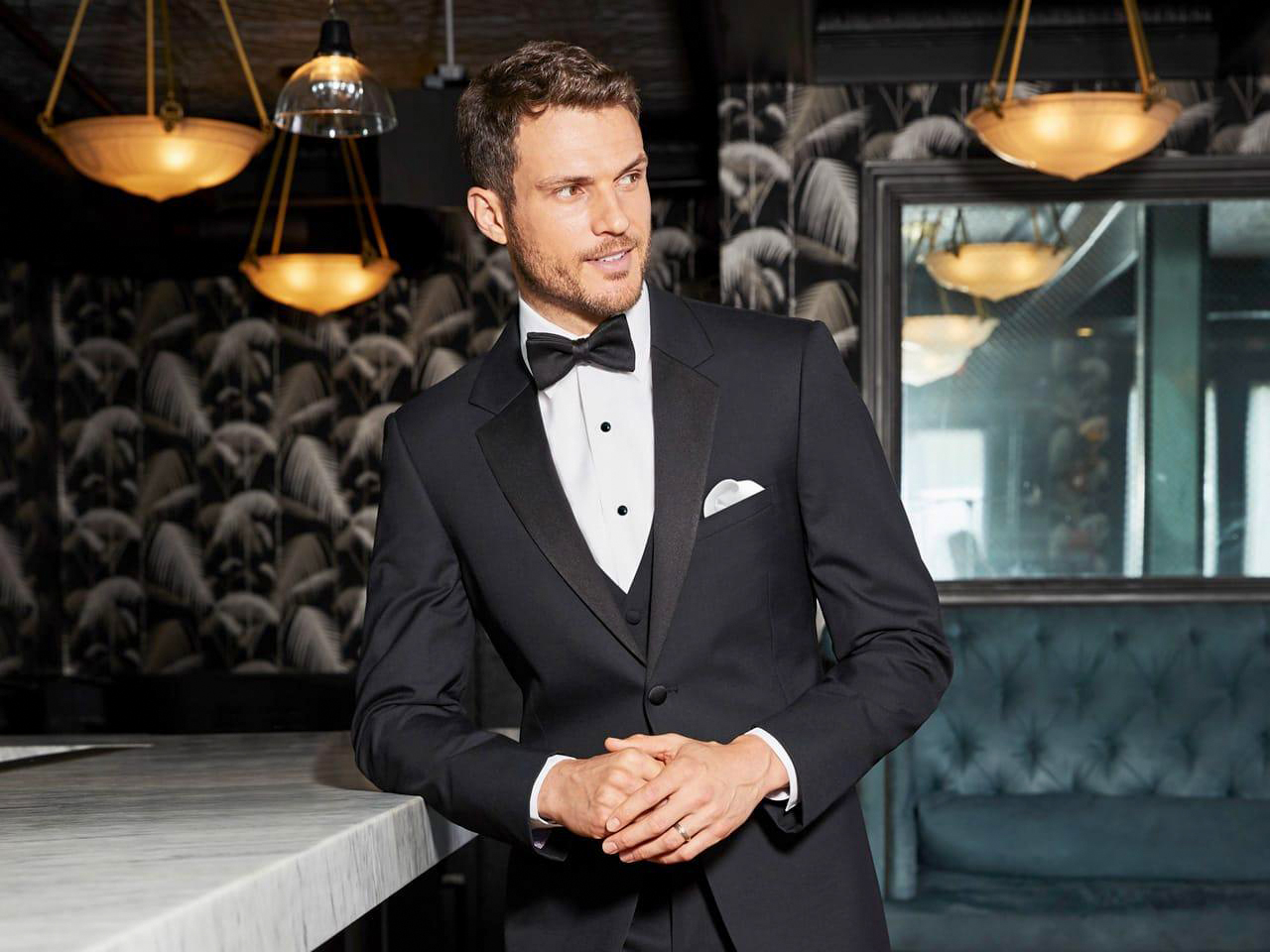 The tuxedo is what forms the foundation for the rest of the clothing elements you add to a black-tie outfit.
Ensure the black tuxedo is perfectly fitted for your body type with no room for loose or tight ends.
All elements must be perfect, from the jacket length to the trousers' waist.
A black tuxedo that isn't finely sitting on your body is a tuxedo wasted.
Tuxedo / Dinner Jacket Styles
A black tuxedo jacket is also known as a dinner jacket. It is the highlight of your black-tie ensemble.
But it doesn't necessarily have to be black.
Sometimes midnight blue or maroon jackets are acceptable as a stylish shift from the usual black ensemble, especially if it's a black-tie creative dress code.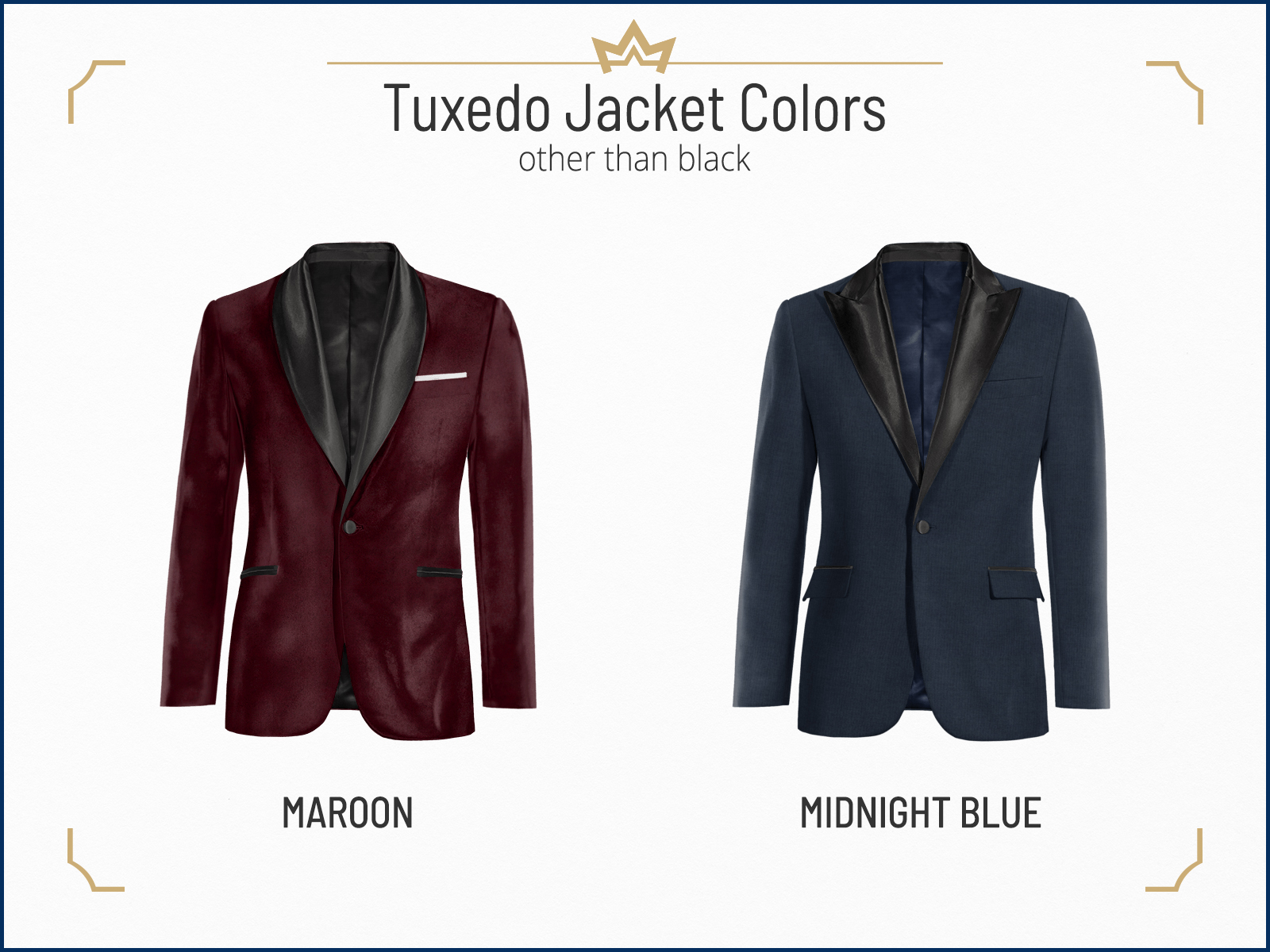 You can opt for either a single-breasted or double-breasted dinner jacket with vents, but only on the sides.
However, ventless jackets are recommended because of how formal they are.
Pipped (jetted) pockets are what complement the formality and luxury of a dinner jacket.
As for the lapel style, you can opt for any of the three; peak, shawl, or notch.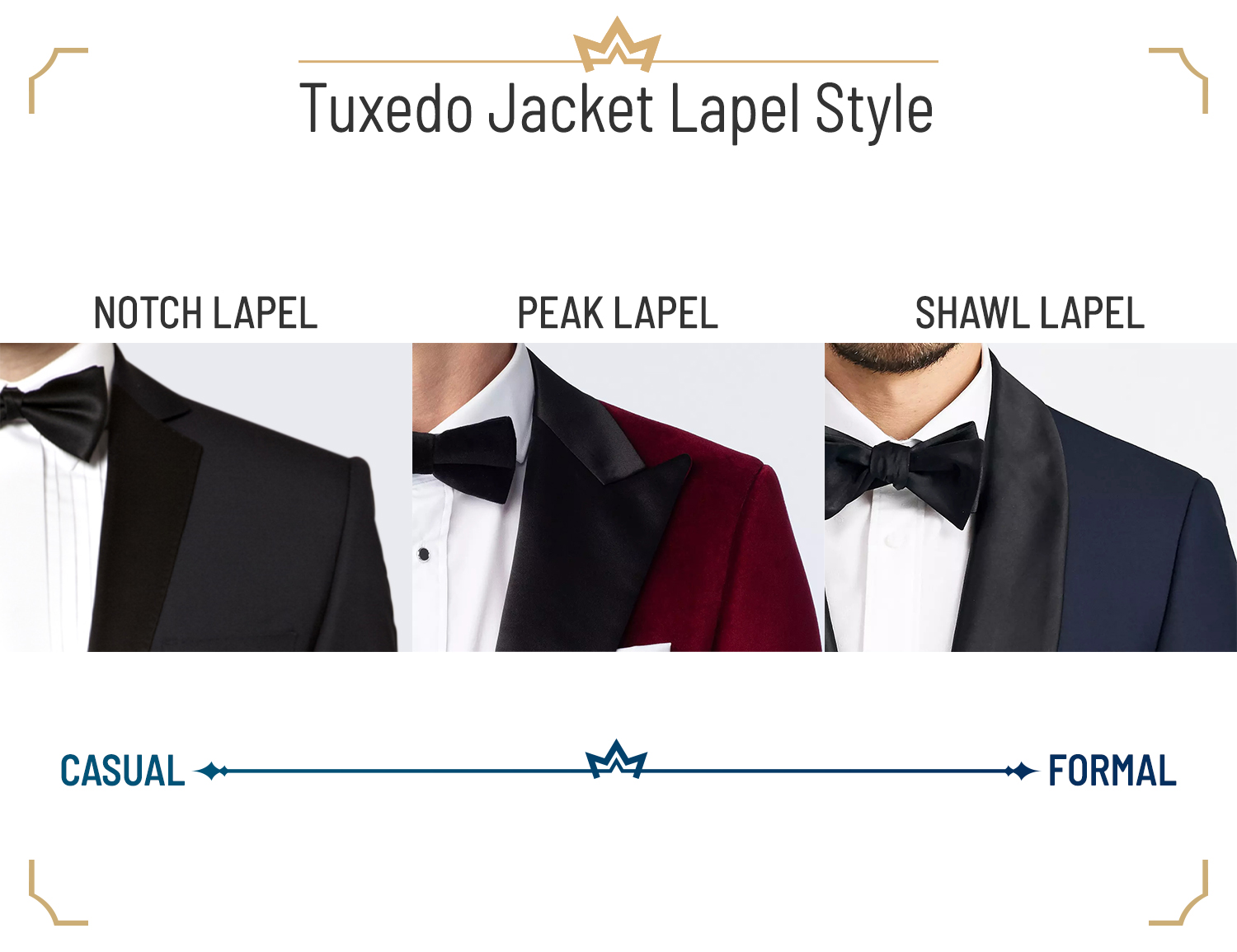 However, I wouldn't recommend notch because it is the least formal of the lot.
Peak lapels work best with double-breasted tuxedo jackets.
On the other hand, shawl lapels are explicitly for dinner jackets and work equally well on both single- and double-breasted styles.
Moreover, the shawl lapel offers a more stylish look as compared to the other two types, so the choice is yours.
Black Tuxedo Pants
Tuxedo pants are usually slim-fit and black, whether your dinner jacket is black or not.
They are the most formal trousers in men's fashion and feature a single silk or satin stripe down the legs.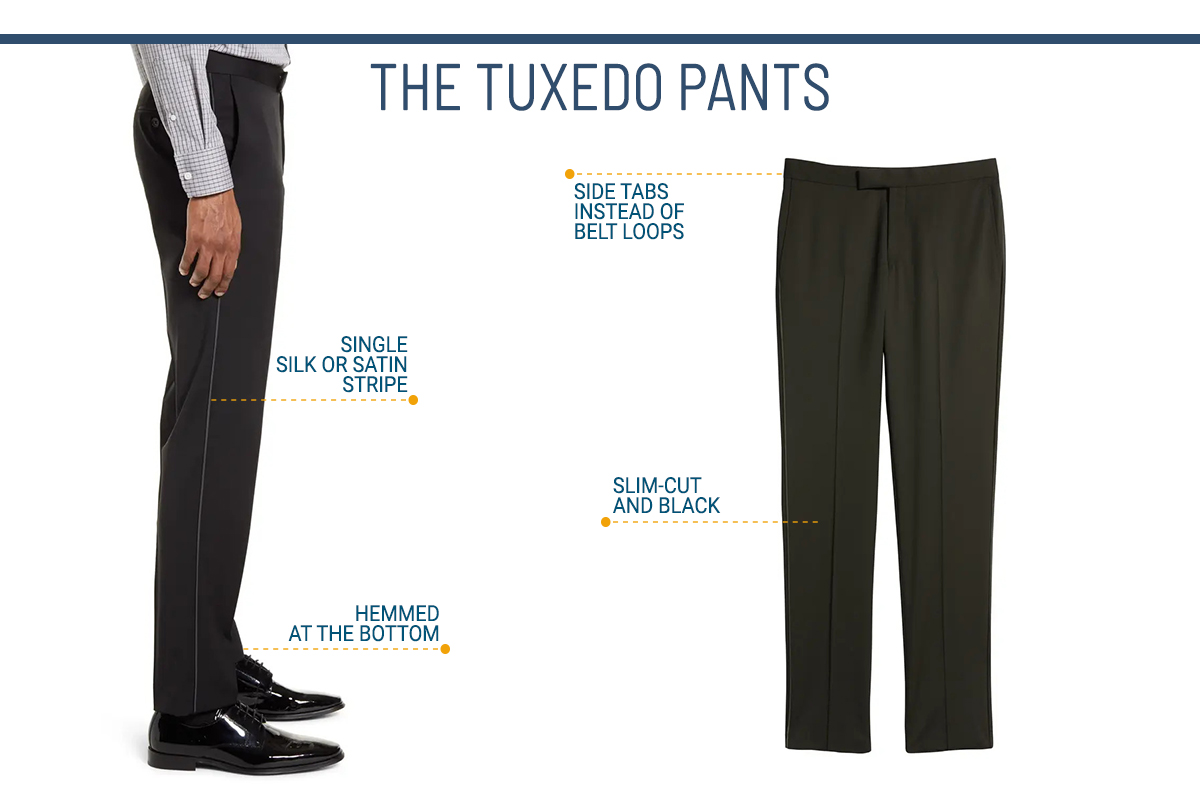 Just never make the mistake of wearing any other color pants than black for a black-tie event.
Also, keep in mind that tuxedo pants feature side tabs instead of belt loops for adjusting waist width.
Cuffs at the bottom of the pants are no-go because they make them appear informal.
Instead, the pants must be hemmed at the bottom at the perfect length.
White Dress / Tuxedo Shirt
The next most formal element of your black-tie ensemble is the white tuxedo shirt.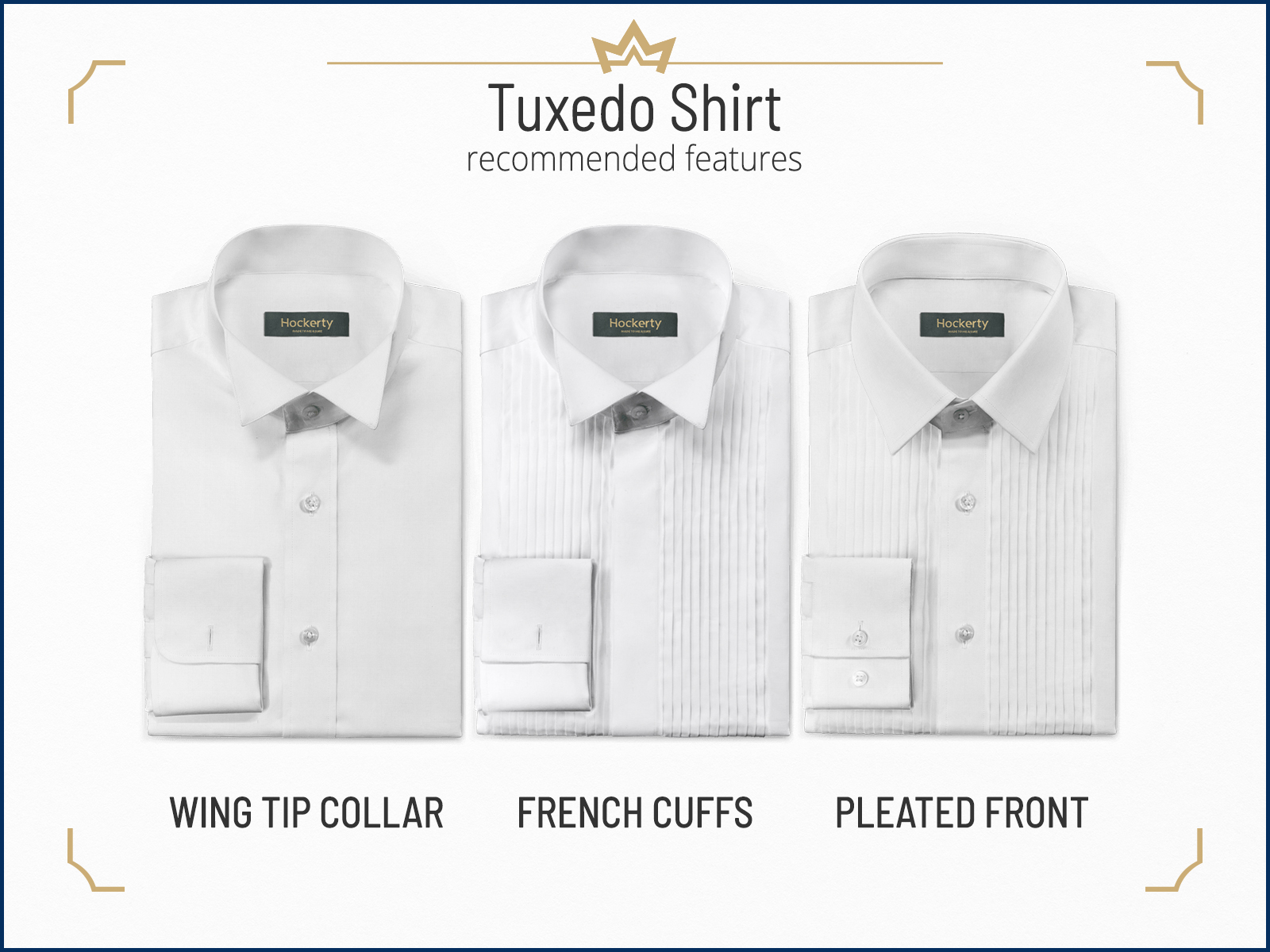 Tuxedo shirts also feature distinctive front styles, also known as plackets.
You can either choose from a fly-front placket, a pique bib front placket, or a pleated front placket.
All three work for black-tie.
I would say that the most elegant is a pique bib front. However, the most classic is the pleated front.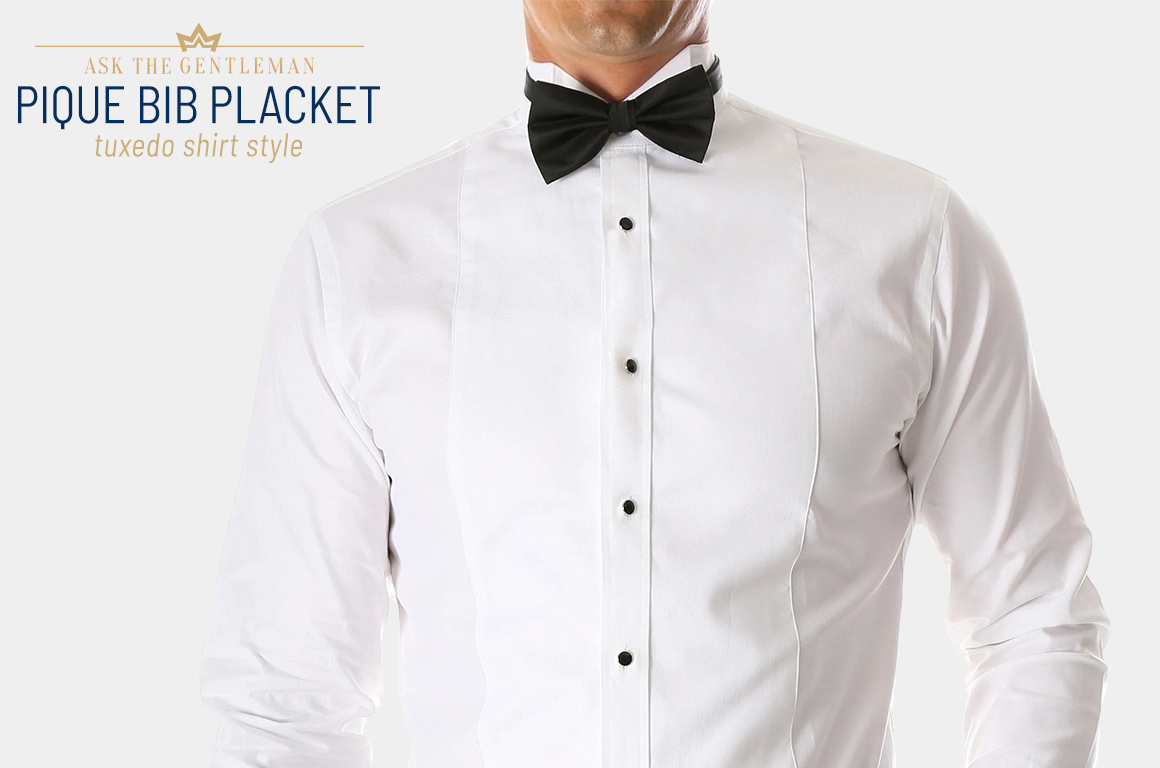 However, you don't have to stick to a tuxedo shirt only.
Given that white is the most formal shirt color, any white dress shirt style would work.
But you can pay extra attention to tiny details, such as going for a wingtip collar dress shirt, which adds elegance to the outfit.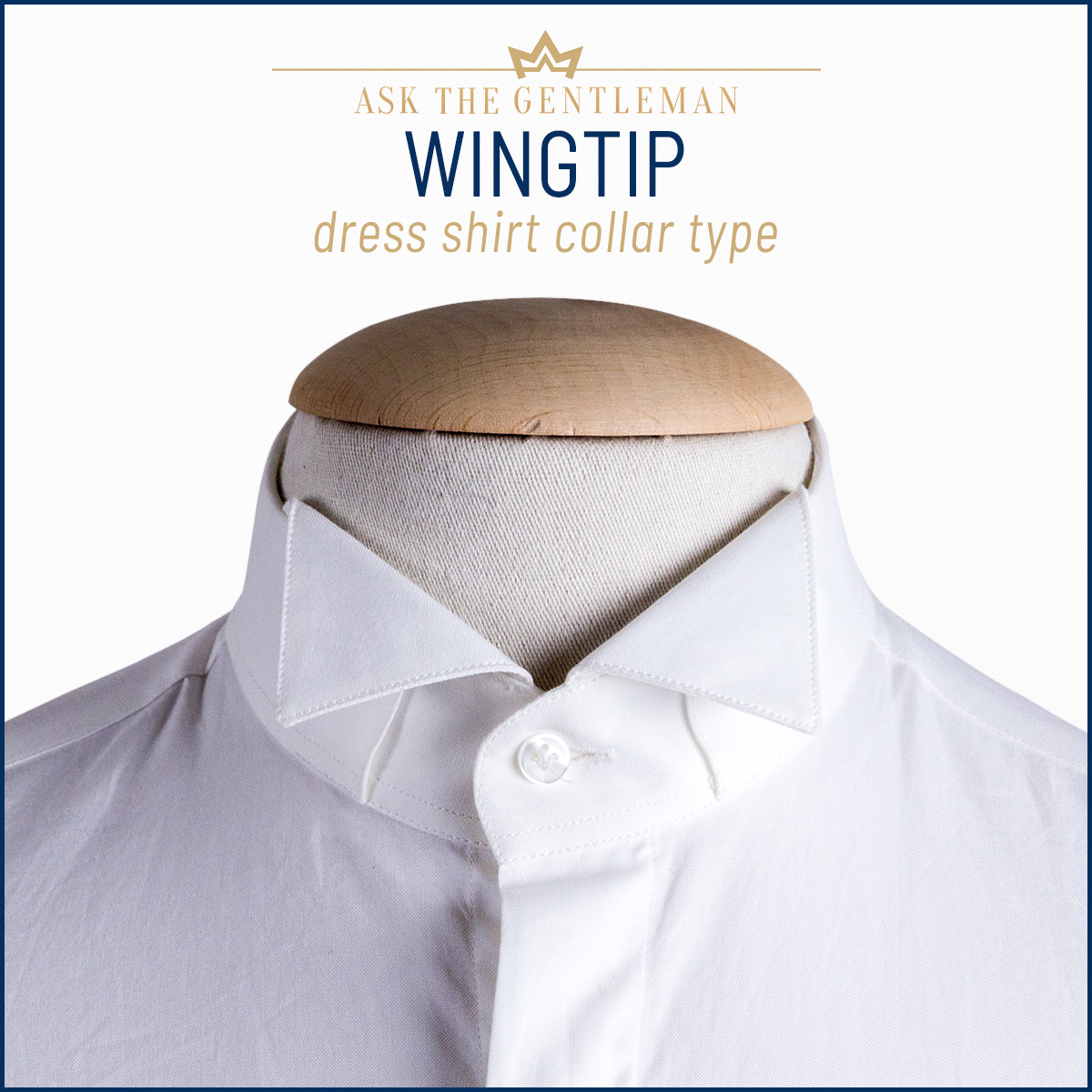 You can also opt for turn-down or semi-spread tuxedo shirt collars, which aren't the best but certainly doable.
French cuffs offer the level of elegance that black-tie demands, so there is no debate about them.
On top of that, you also get accessories like classy French cuffs with cufflinks.
Add button studs as an additional accessory to further enhance the grace of the tuxedo shirt.
Black Bow Tie
It only makes sense that you wear a black bow tie with this outfit, given that is what forms the name of the dress code.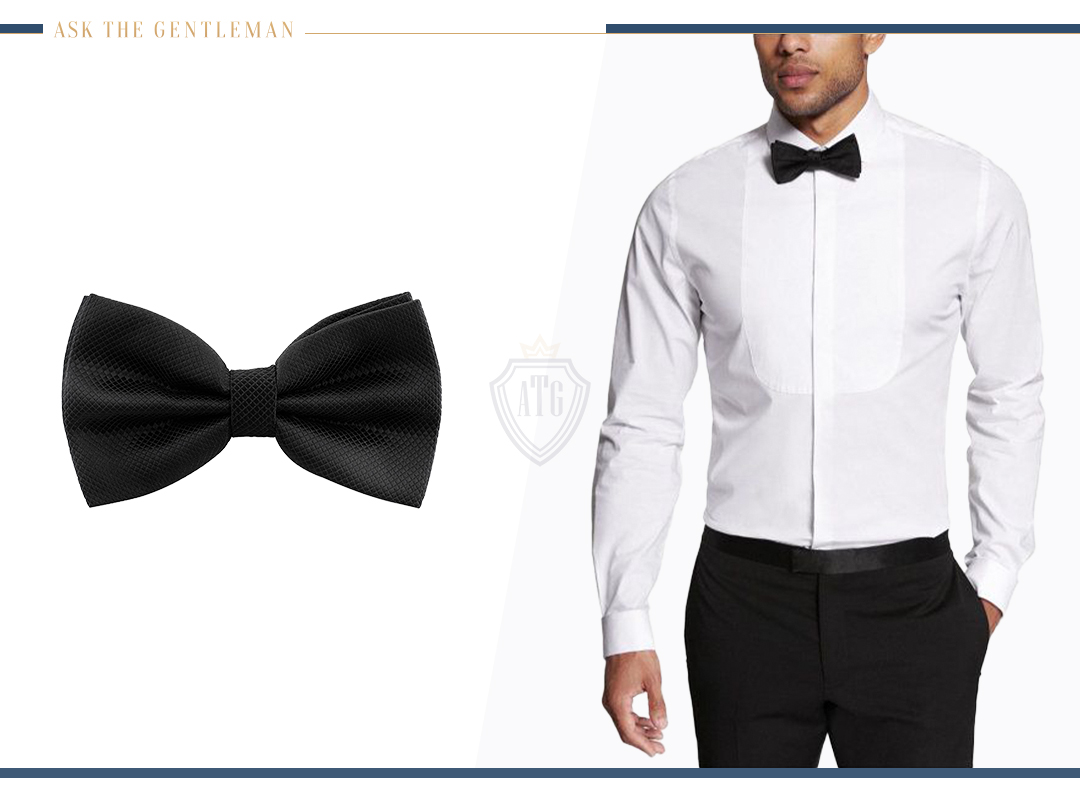 Stay wary of clip-on ties because they don't offer the elegance and maturity required for this dress code.
Even a pre-tied bow is not recommended. It has to be self-tied to show that you made an effort.
Also, traditionally, men wore black bow ties in the same material as the lapel.
However, today it is also acceptable to wear other materials as long as they are premium.
If you cannot decide on the style, always play safe by going for the standard or the jumbo butterfly.
Plus, you can replace the bow tie with a black necktie if the invitation says "black-tie optional".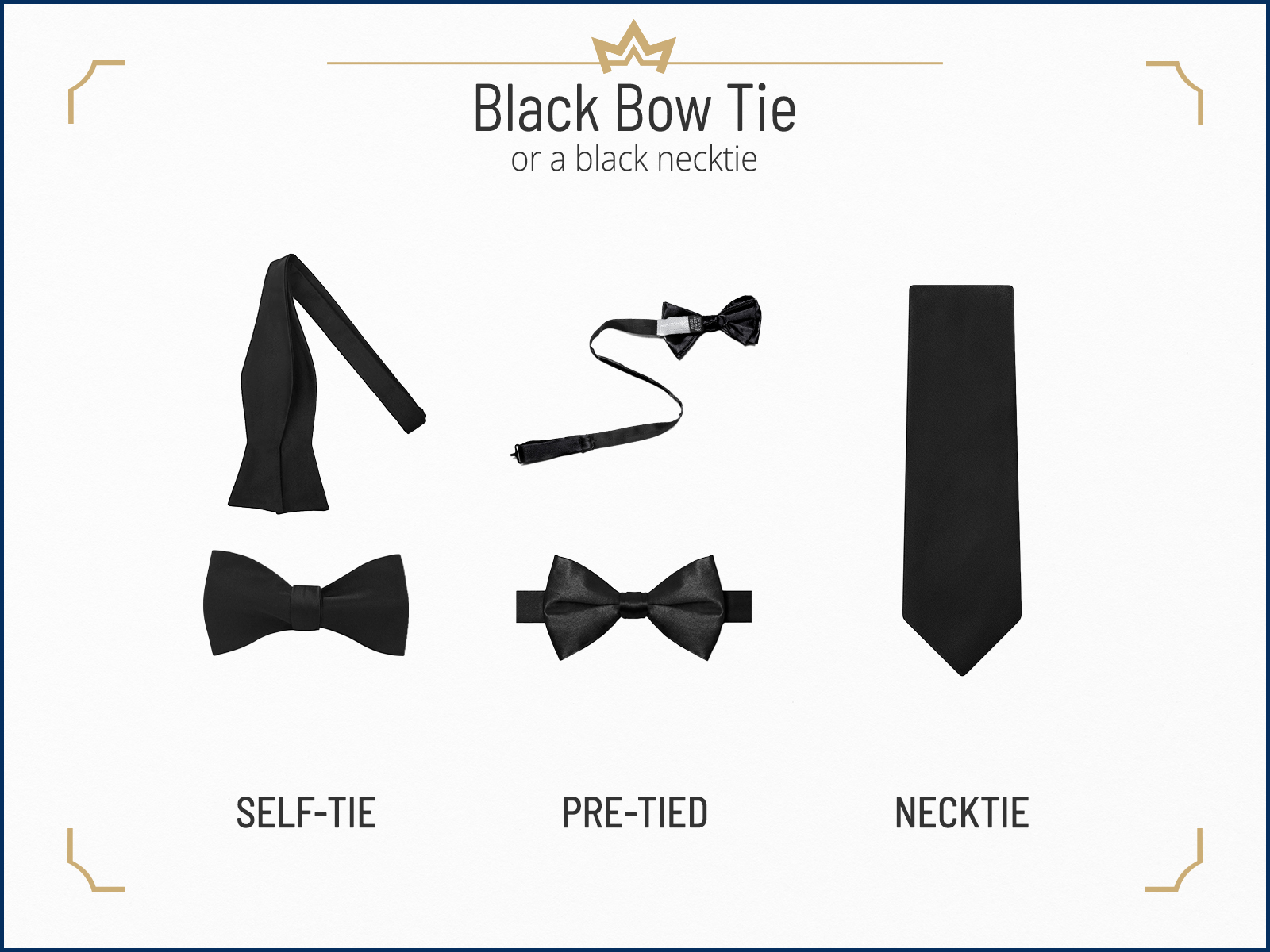 However, if it's a classic black-tie event, it's best to wear a black bow tie.
Black Formal Shoes
No other footwear looks better with a black tuxedo than a pair of black patent leather dress shoes.
You can also opt for black polished calfskin cap toes.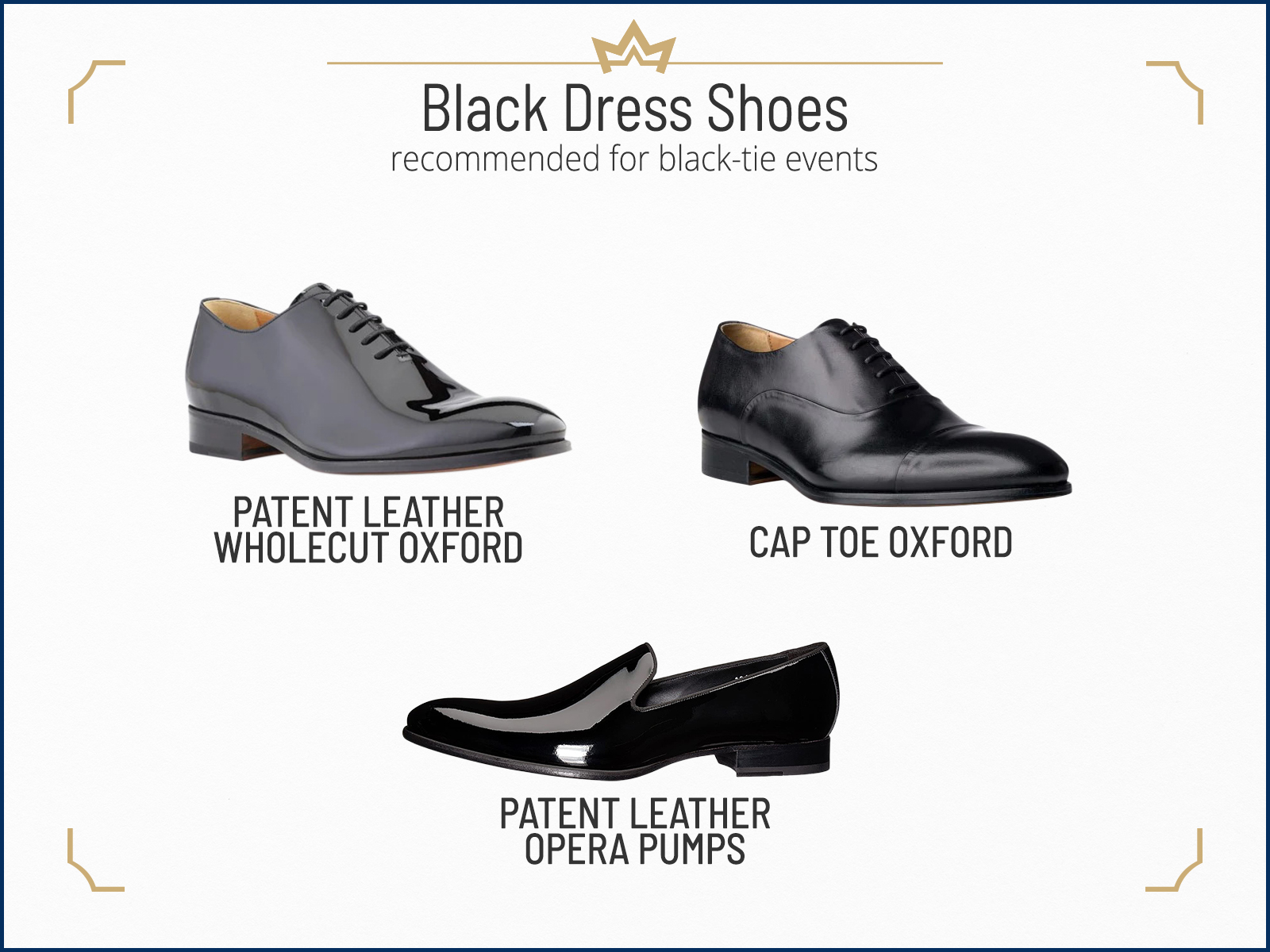 As for what type of shoes you must wear, you do have some options to choose from.
Contrary to the traditional popular choice, Oxford dress shoes are what a modern man wears.
However, the classic option allows you to go for patent leather opera pumps.
Another option is a solid pair of Derby's, but I wouldn't recommend them for classic black-tie events.
That's because Derby's are the least formal of all the choices above.
So, unless it is an absolute necessity, try opting for the first two styles.
Accessories & Other Optional Black-Tie Attire
Black-tie attire isn't just limited to the formal tuxedo or suit and the dress shirt.
In fact, there is so much more than you can do with this highly formal dress code.
Some vital accessories are needed to enhance formality.
Black Waistcoat
A black waistcoat is a great addition to augment a touch of personalization to your black-tie outfit.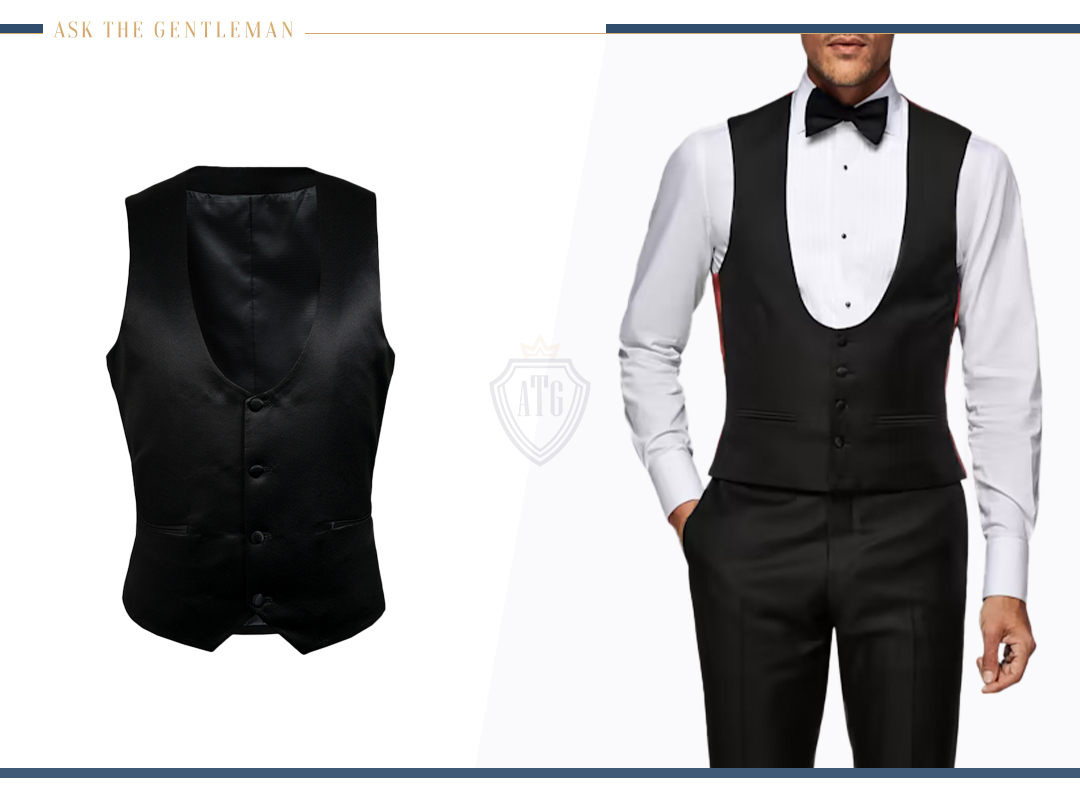 You can either opt for a single- or double-breasted waistcoat.
It is best paired with a jacket featuring a satin lapel since it makes the tuxedo look neater and chicer.
My personal favorite is the black U-shaped front waistcoat. It allows the tuxedo and shirt to dominate the look while maintaining its elegance.
In addition, open-back waistcoats are equally elegant.
Still, it is not mandatory to wear a waistcoat as part of your black-tie attire.
Black Cummerbund
The black cummerbund is another elegant accessory for your black-tie outfit.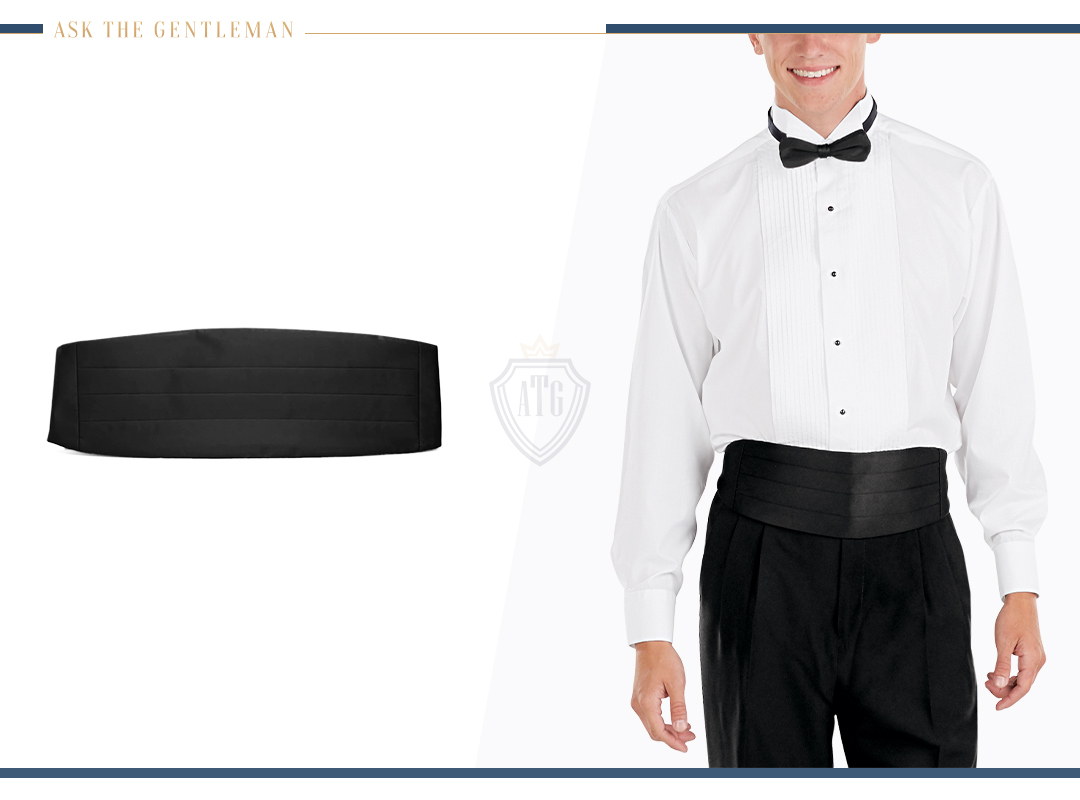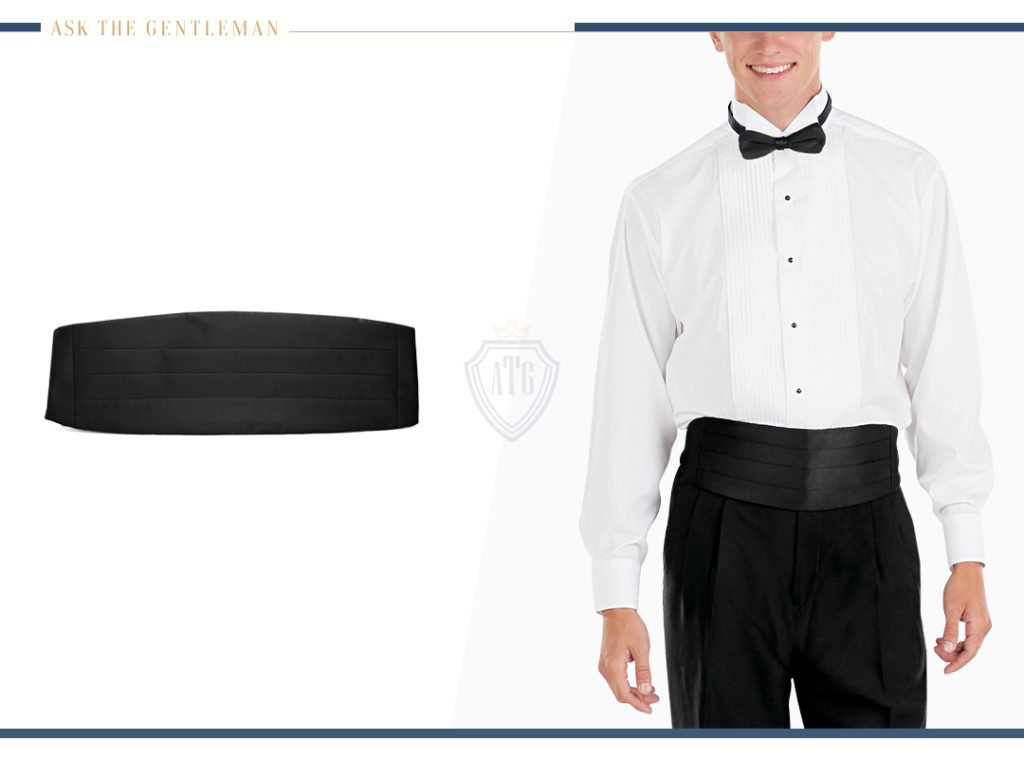 It's a band you see around the waist area and only replaces the black waistcoat, so you can't wear both.
The cummerbund comes in a range of designs. However, not all designs work for black-tie events.
As a result, you have to be specific with your choice. I personally recommend the black peated cummerbund to complement your black-tie getup.
However, the red cummerbund is another acceptable choice, especially as black-tie creative attire.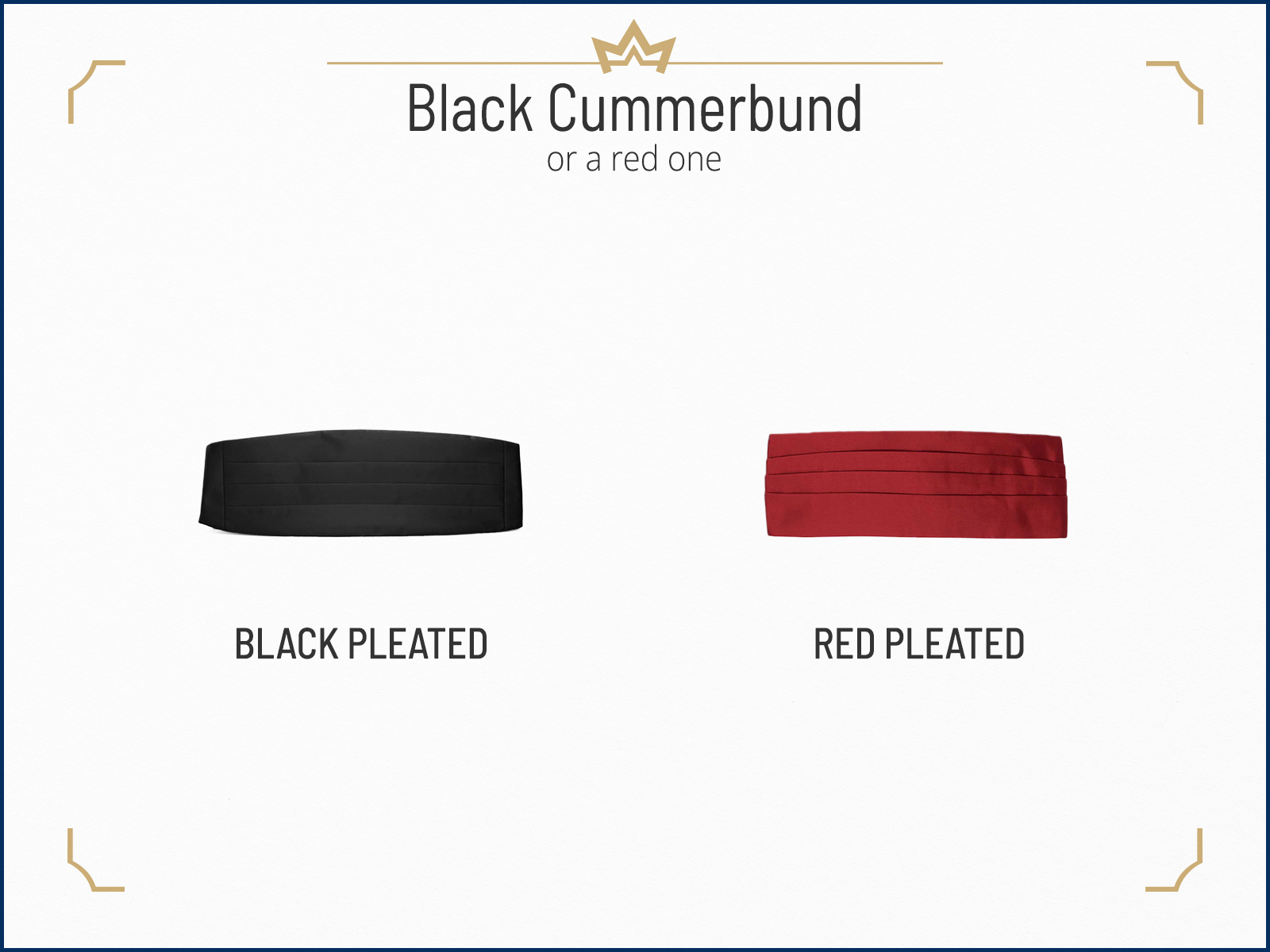 I would honestly be indecisive if I had to choose between a waistcoat or a cummerbund.
They both make you look incredibly sleek and smart, so wear what you feel like.
White Pocket Square
While there is a lot that you can do with a pocket square, it is wise to keep things simple when it comes to the black-tie dress code.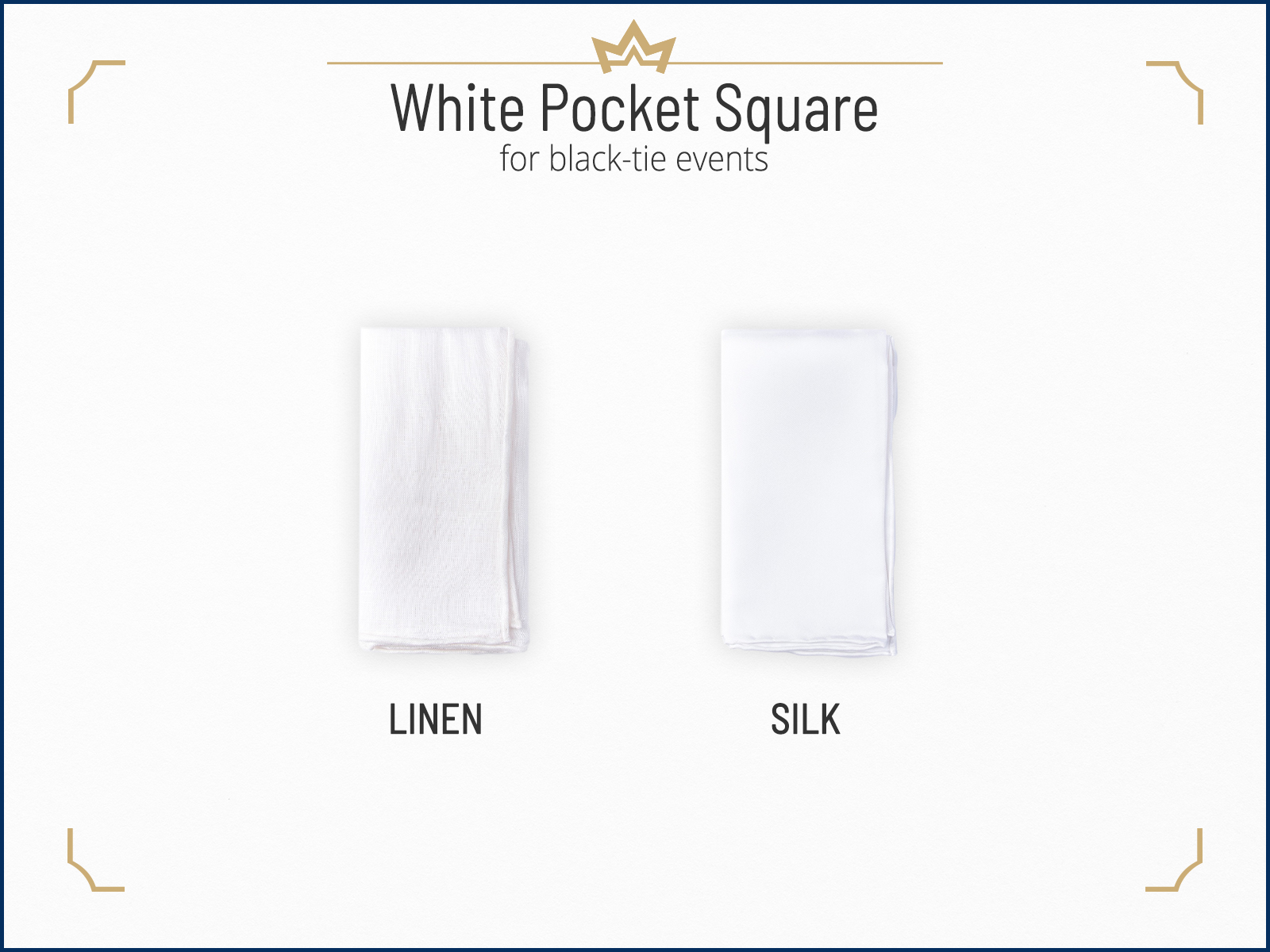 This is where you can use the pocket square's unique weapon to its fullest, i.e., the contrast.
A white silk or linen pocket square provides the perfect pop against the depth of the jacket's black.
You can even get a white pocket square with some pattern or other color but keep it minimal.
Dress Watch
Watches aren't a thing at black-tie events, mainly because guests are considered rude if they check the time.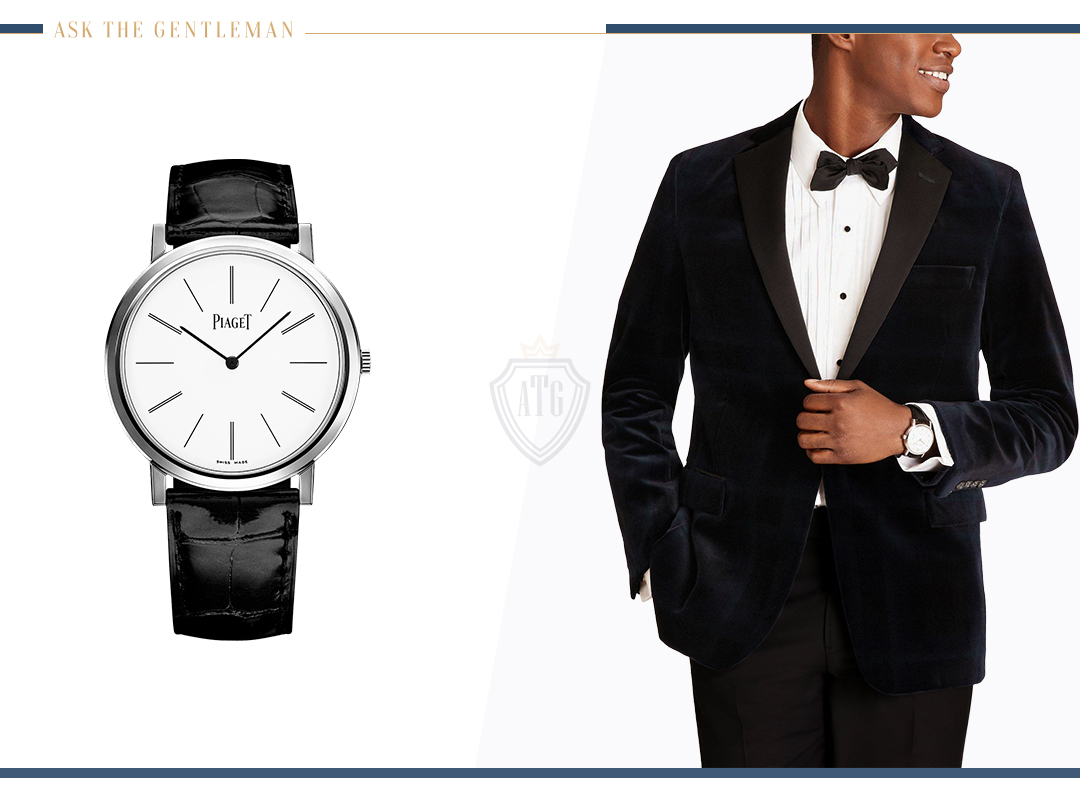 However, over time watches have shifted from being a functional addition to a style addition.
As a result, you can wear a dress watch to take sophistication and style a step further.
I recommend a black leather strap with a silver dial featuring a white background. It's one of the classiest's options for a dress watch.
However, you can also opt for metal watches but make sure the bands are slim and silver. Gold works, too.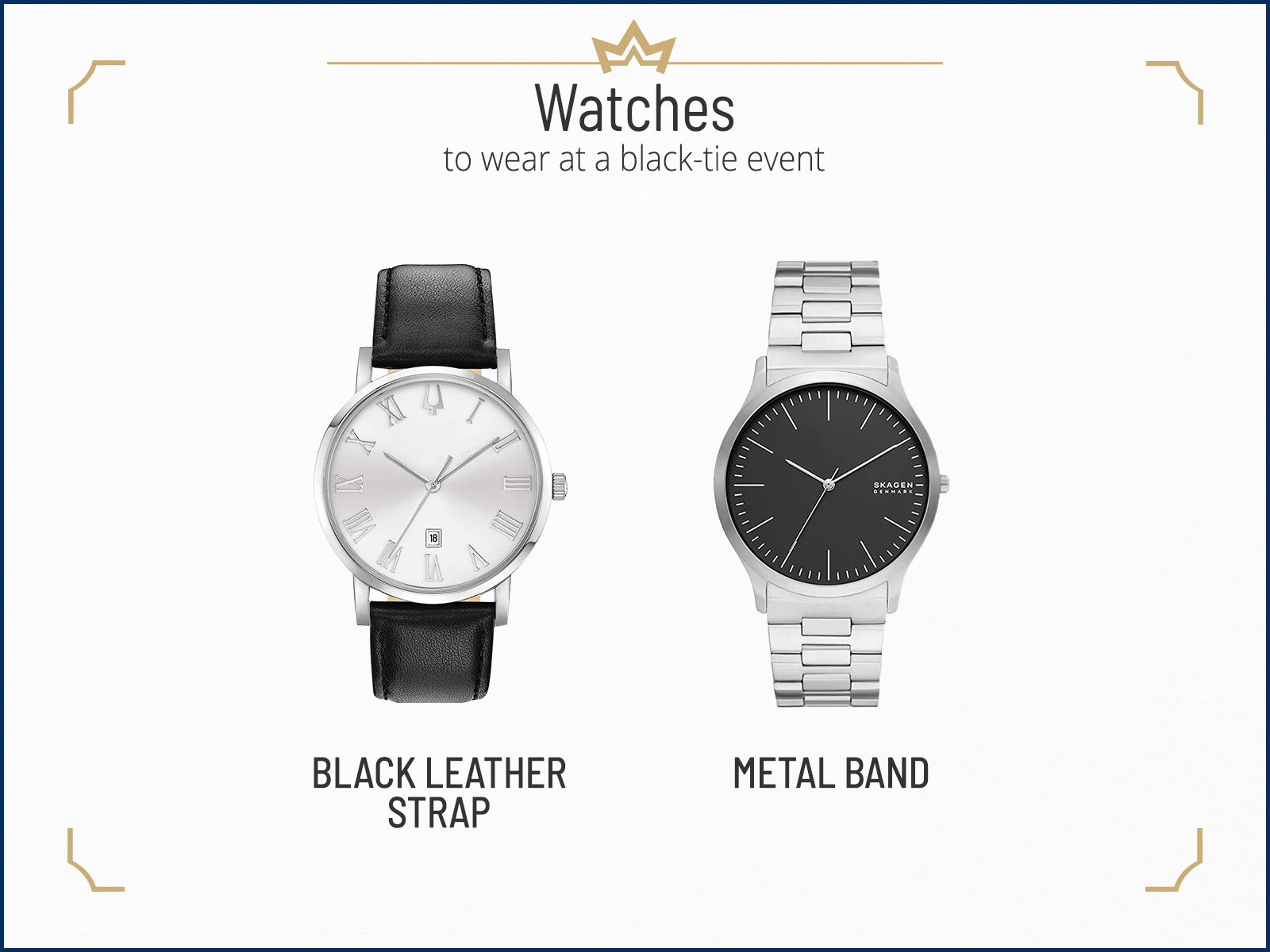 Also, if you really take things seriously, try matching the metal of your watch dial to the metal of your cufflinks.
Cufflinks & Button Studs
Cufflinks and button studs are classy additions to your black-tie ensemble.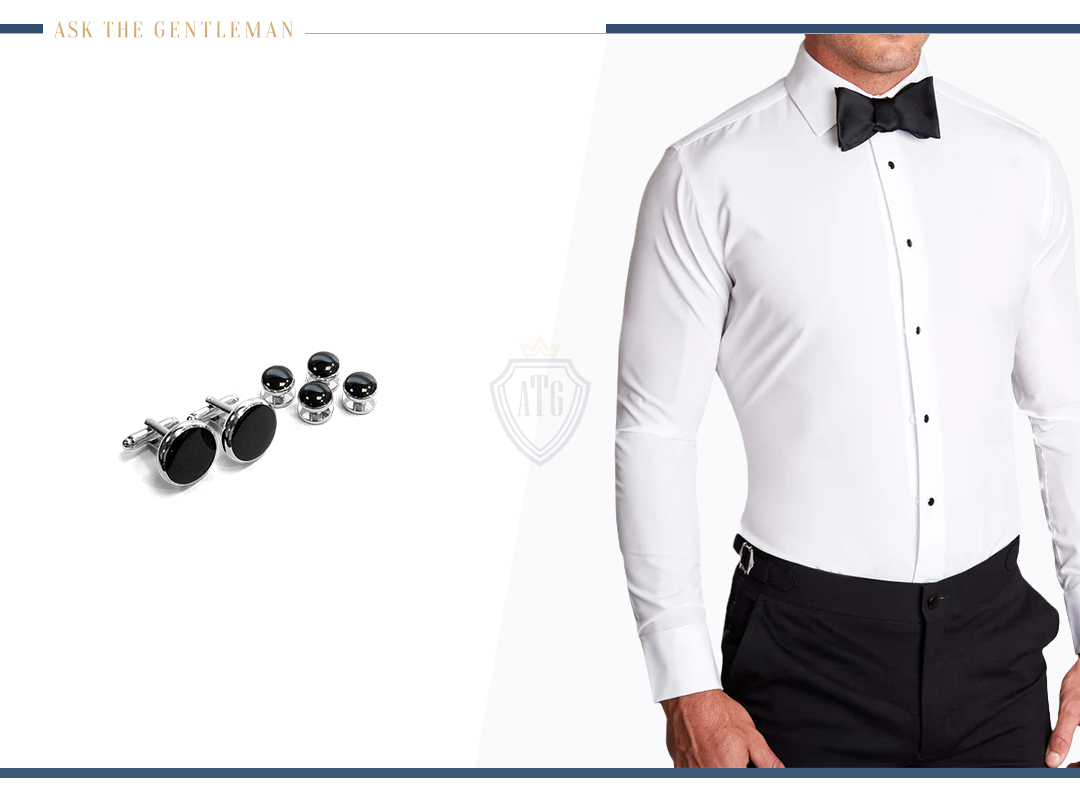 However, men often end up overdoing the cufflinks thinking their minimal presence won't matter much.
In fact, the minimal details make or break a black-tie outfit.
As a result, I highly encourage you to get something subtle and sleek instead of flashy and big.
Also, make sure the metals for the cufflinks and tuxedo shirt button studs match.
Black-Tie Dress Code FAQs
What is the black-tie dress code?
The black-tie dress code is the epitome of formalwear, requiring you to wear a black tuxedo or suit and a black bow tie.
Everything else has to be formal, including your shirt, shoes, and other accessories.
There is no room for casual experimentation since everything about this dress code speaks of class and elegance.
Can you wear a midnight blue tuxedo to a black-tie event?
Even though black is the standard choice, you can wear a midnight blue tuxedo to a black-tie event.
In fact, it is a good shift from the usual black, especially if it's a black-tie creative event.
Can you wear a waistcoat together with a cummerbund?
No, waistcoat and cummerbund cannot be worn together. They are both replacements for each other.
So, you can either wear a waistcoat or a cummerbund or neither.
Are black suits acceptable for black-tie weddings?
Yes, black suits are acceptable for black-tie weddings.
However, black tuxedos are preferred unless it is a black-tie optional dress code.
What boots can you wear to black-tie events?
You cannot wear boots to a black-tie event. Boots are casual footwear that doesn't align with the formality required by the black-tie dress code.
Moreover, boots aren't meant to be worn with tuxedos. As a result, you should stick to patent leather shoes such as Oxfords.
What is the difference between a black-tie and a white-tie event?
The difference between black-tie and white-tie events is in terms of formality.
White-tie events are the most formal of all events. In comparison, a black-tie event can be considered semi-formal when put against white-tie events.
Also, the black bow tie is replaced with a white one at the white-tie dress code.