You don't have to be a fashion expert to master the business casual dress code.
It can be a challenge, I know.
It's also true that most men struggle when choosing what to wear to a business-casual workplace.
Luckily for everyone, there are some basic rules that anyone can easily follow.
Let's define the basics together and explore some business-casual looks to make it easier for you to dress up for the office!
What Does Business Casual Mean?
Business casual allows manifold interpretations of the attire but is always a step away from traditional office wear.
What's confusing is the word "casual" in its name, which makes it harder to decipher the dress code.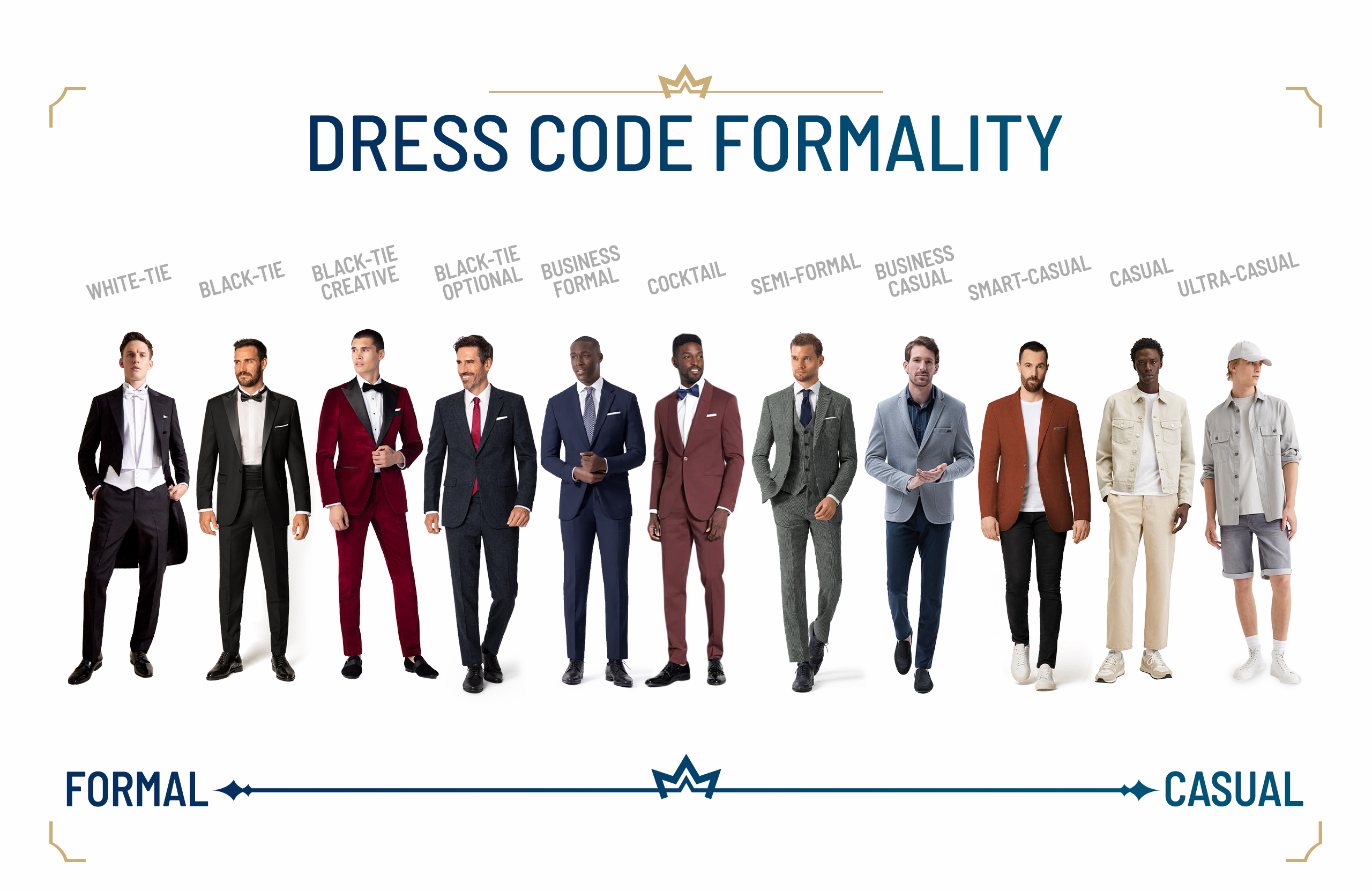 Nevertheless, business casual still inclines heavily toward business rather than casual.
Hence, your attire must still abide by all the principles of sophistication and style.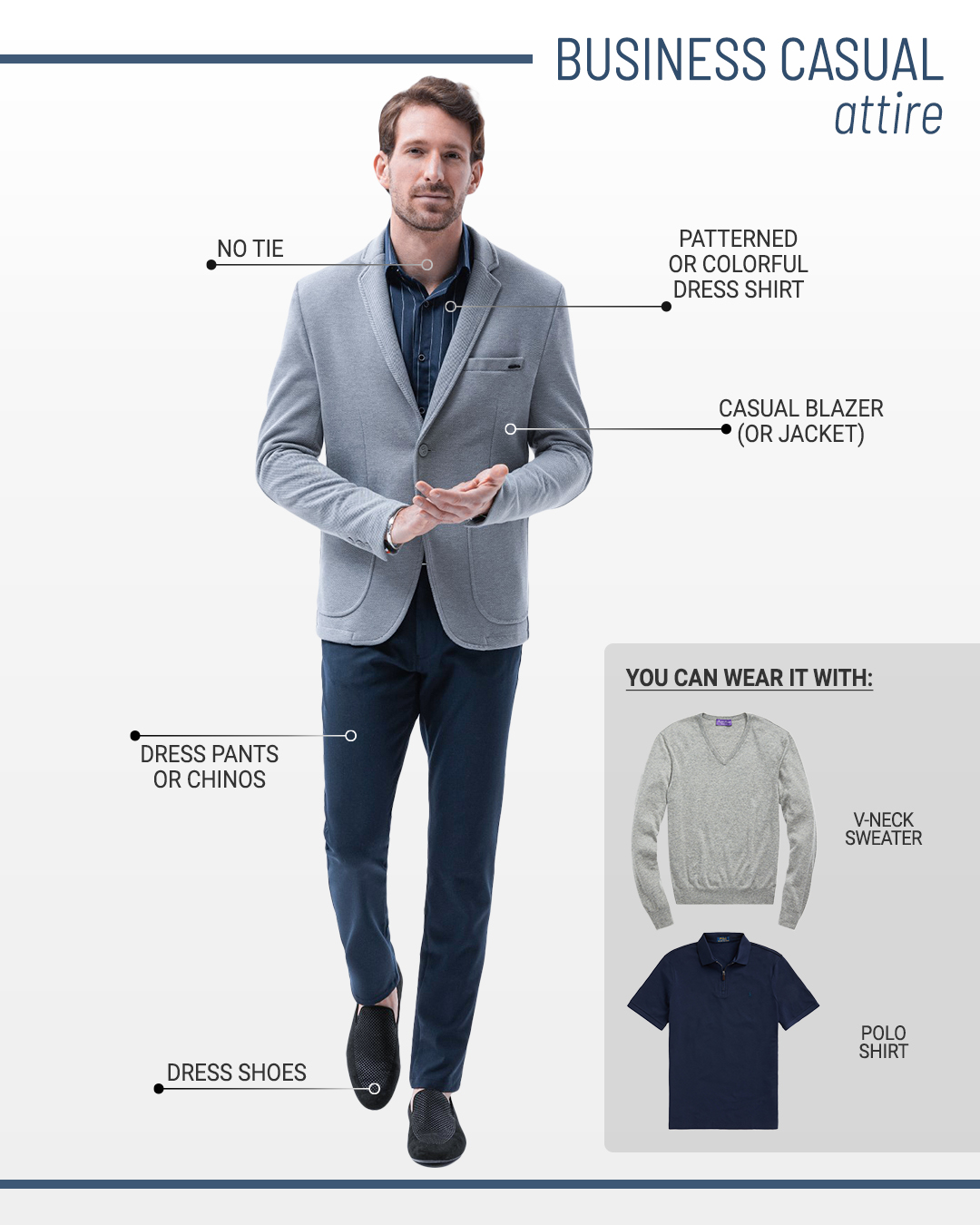 In short, your safest options are a well-fitted tailored blazer alongside a good quality shirt.
Skipping the tie is an option, but it means making up for it with other garments.
Some business-casual office settings allow jeans, but make sure they're solid-colored and neat.
Otherwise, I would recommend sticking with trousers or cotton chinos to be on the safe side.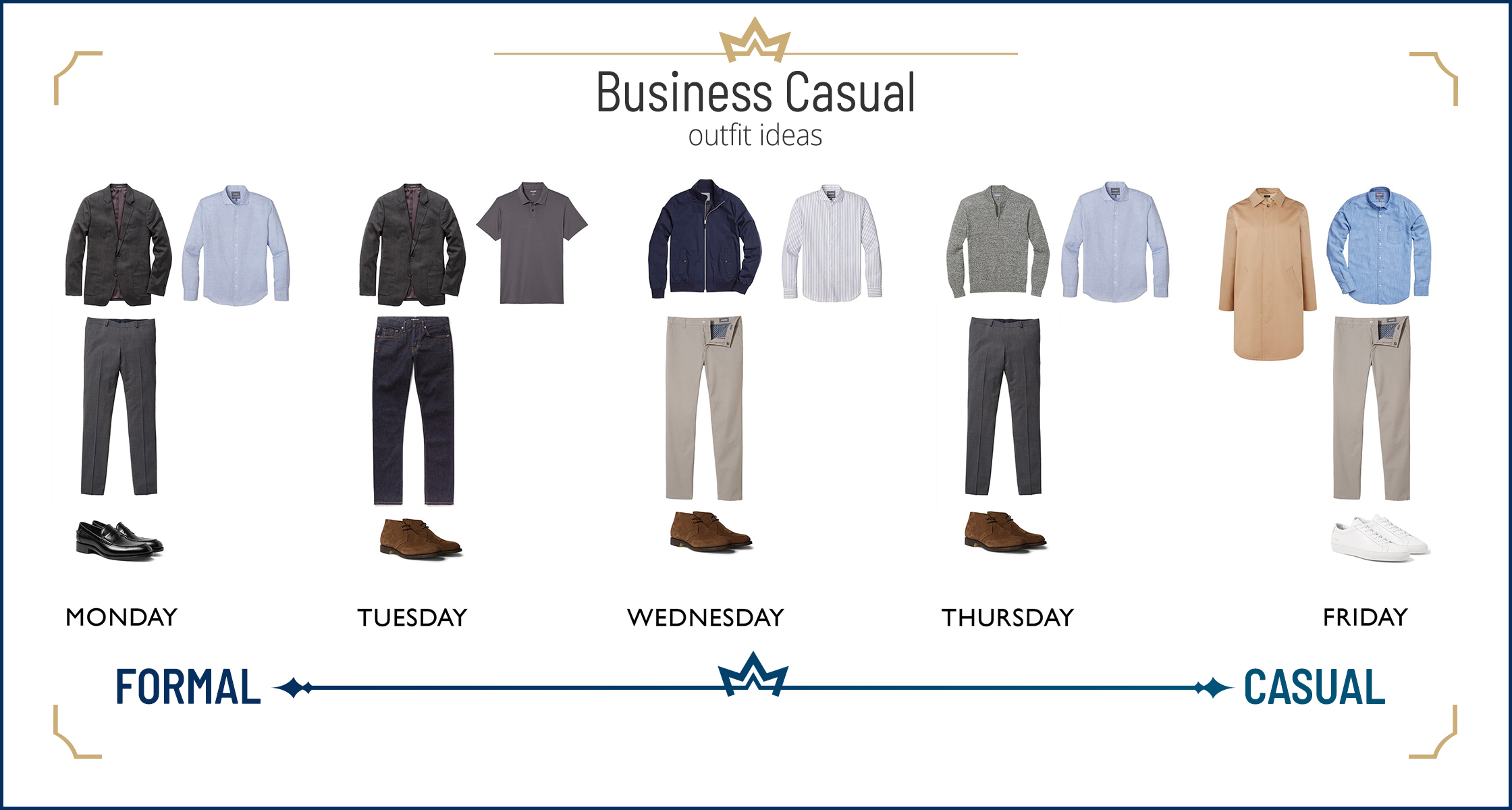 You also have several options in the shoe department, which allows for derbies, oxfords, monk straps, and even loafers.
History of the Business Casual Dress Code
Companies accepted business casual dress due to Hawaii's "casual Fridays" concept during the 60s.
The garment industry in the region promoted casual wear for Fridays, where men wore Hawaiian shirts to the office.
Eventually, this approach to office wear reached the USA, where it was popularly associated with "casual Friday."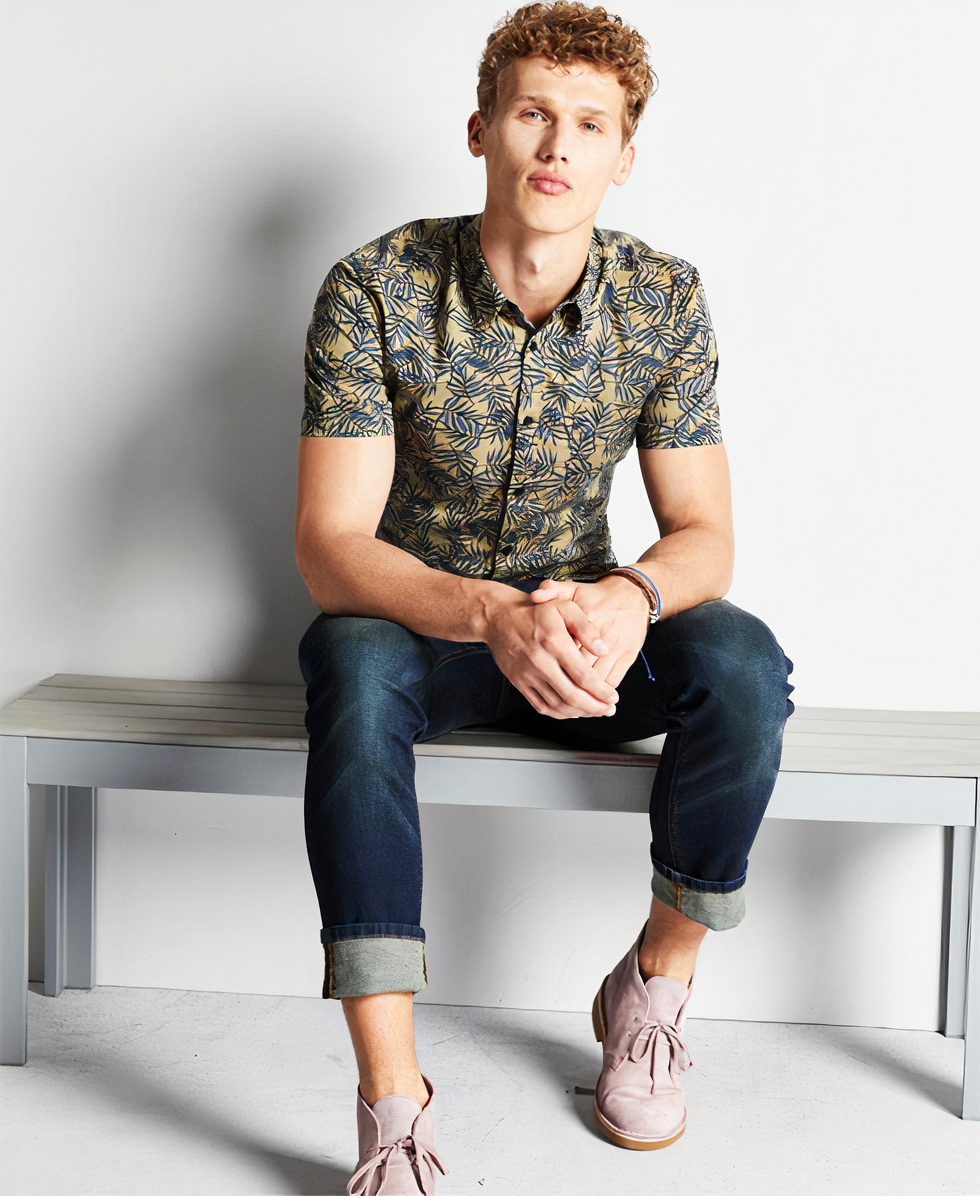 This was when Dockers, a weekend wear specialist currently owned by Levi's, introduced their business-casual guide.
As a result, the khakis by Dockers were widely accepted as part of business casual attire.
But this wasn't it. Over time, the business casual dress code caught the attention of cubicle employees, who made it their go-to office getup.
The new lens changed how men dress for the office, no longer associating business casual outfits with low-level employees.
Business Casual vs. Formal Business Outfits
Where business casual offers more flexibility, formal business is restricted by sophistication.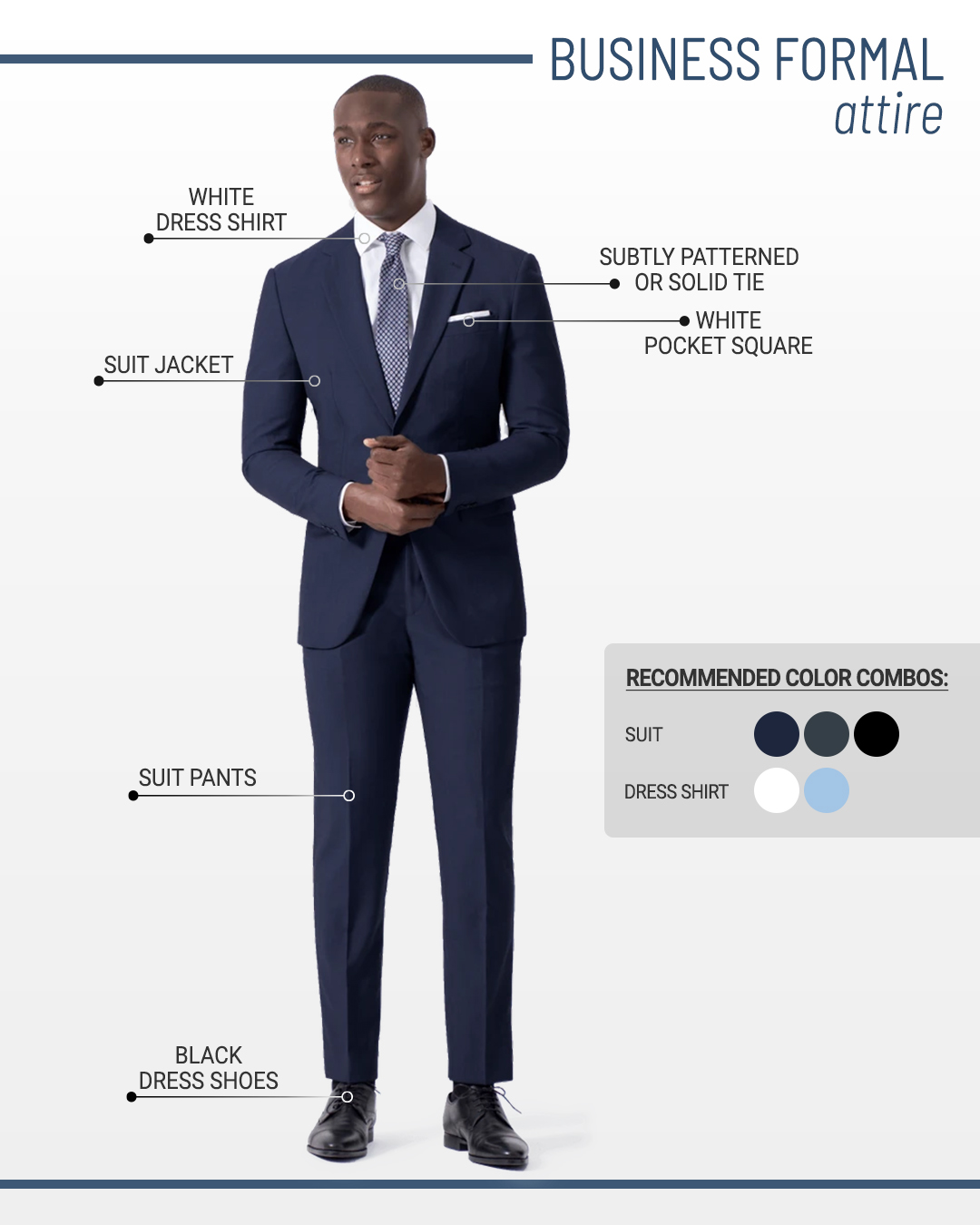 A formal business outfit is a complete look that demands a full suit. Add a button-up shirt and tie to it to meet all its requirements.
On the other hand, a business casual outfit allows you room for flexibility by mixing and matching more casual clothing elements.
You have the option to wear a button-down shirt, chinos, khakis, and even polo shirts. Removing the tie is also encouraged.
As for colors and patterns, formal business attire is commonly associated with standard black, blue, grey, and white.
In addition, the formal business dress code only allows subtle patterns that smoothly blend in with the outfit.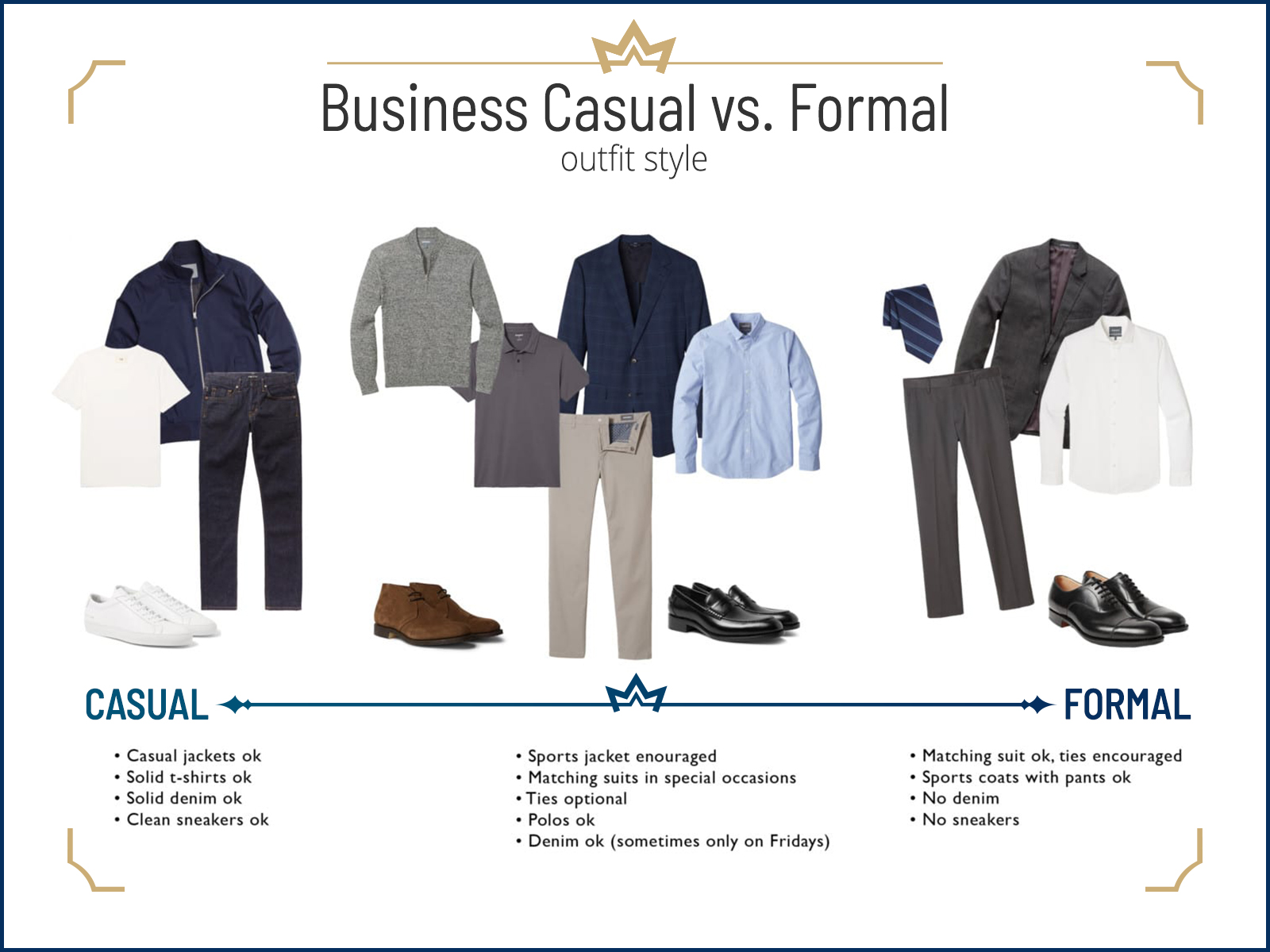 Contrastingly, business casual encourages you to experiment with different patterns and colors. Just make sure the colors aren't too bright, by any chance.
Formal business outfits need a tailored fit and a solid structure, while a business casual outfit has more flexibility. But it still has to appear professional and sharp.
As a result, you must avoid too tight or too baggy fits in both cases.
Things to Consider when Going for Business Casual Outfits
A business casual outfit isn't the easiest to understand, especially when it's open to so many interpretations.
But there are some vital things to consider that help understand what is acceptable to wear.
Decipher the Company's Dress Code
When choosing your business casual outfit, choose something in line with the company's culture.
For instance, if it's a law firm or a bank, stick to neutral and more reserved options such as solid colors and plain patterns.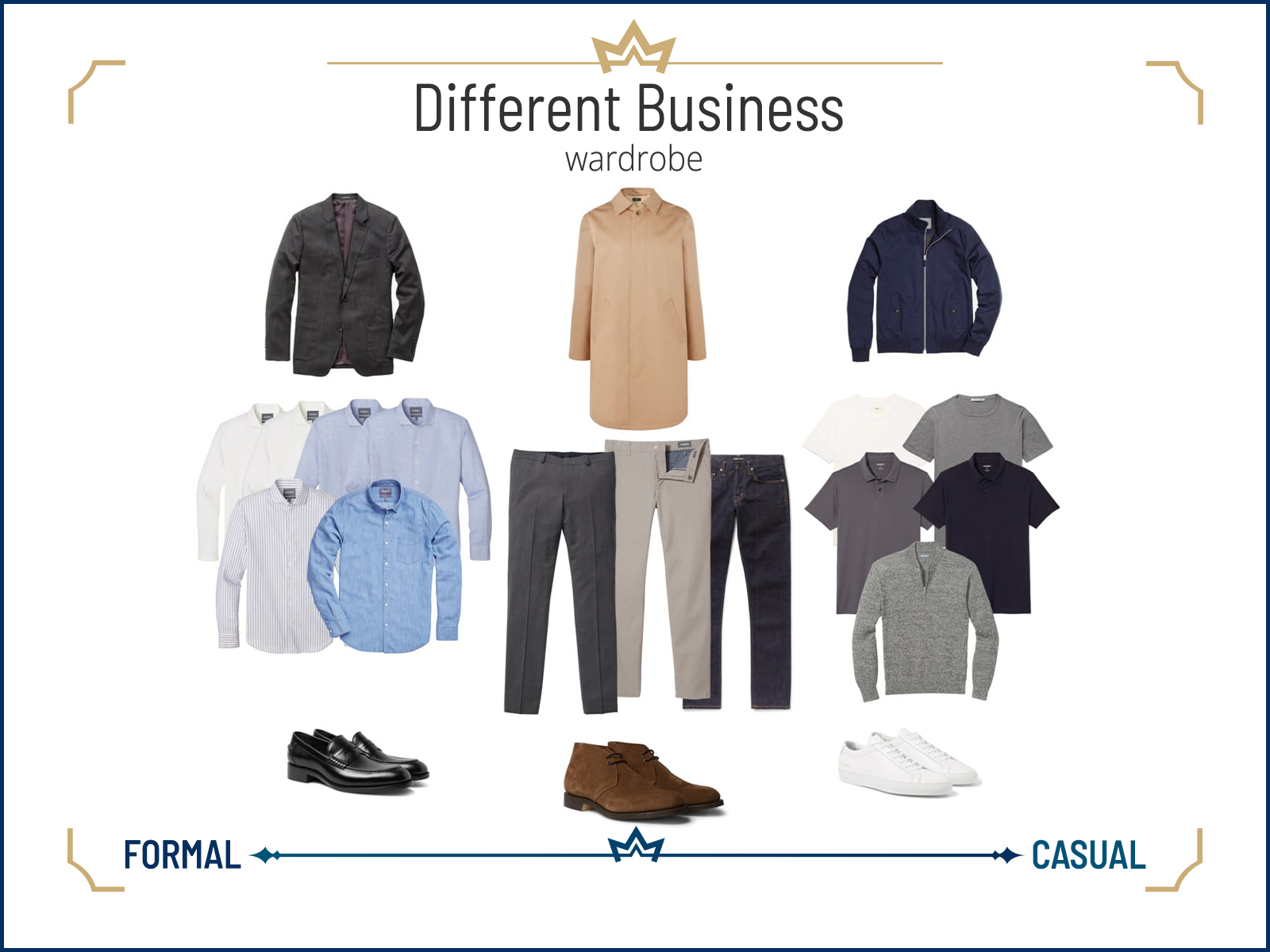 Suppose it's a startup, especially in the tech industry. In that case, you will have the flexibility to experiment with more casual patterns and fabrics.
My go-to approach at new workspaces is to play safely on the first day by dressing as formally as possible.
I mean, nobody would give you an eye for wearing a suit on the first day.
Go in a suit and decipher what the office culture is like and what they do and don't accept.
Colorful Leans Toward Casual
The more color you add to your outfit, the less formal it gets.
Colorful always leans towards casual because it reduces sophistication and maturity.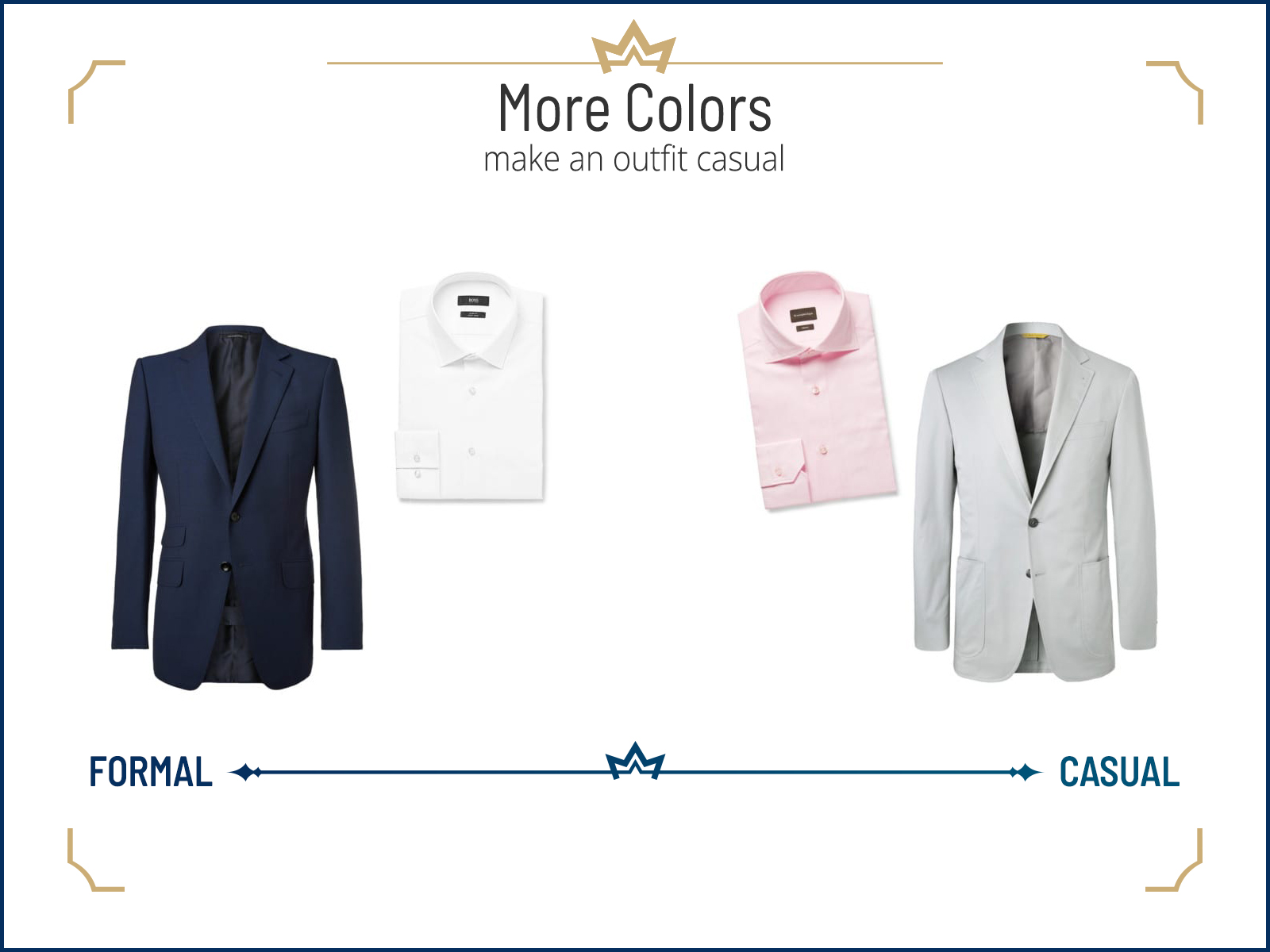 However, that does not mean more color won't make you look dressy. You can still look well-dressed with bright colors.
To figure out whether your workspace allows more color, always start with dull and mundane shades.
Eventually, you will figure out what works and does not, allowing you to blend in with as much color as possible.
Details on Items Make Them Casual
The more details you see on a clothing item, the more casual it is.
Usually, plain and solids are associated with formal. As a result, if your shirt has large patterns, it will fall more onto the casual side of the spectrum.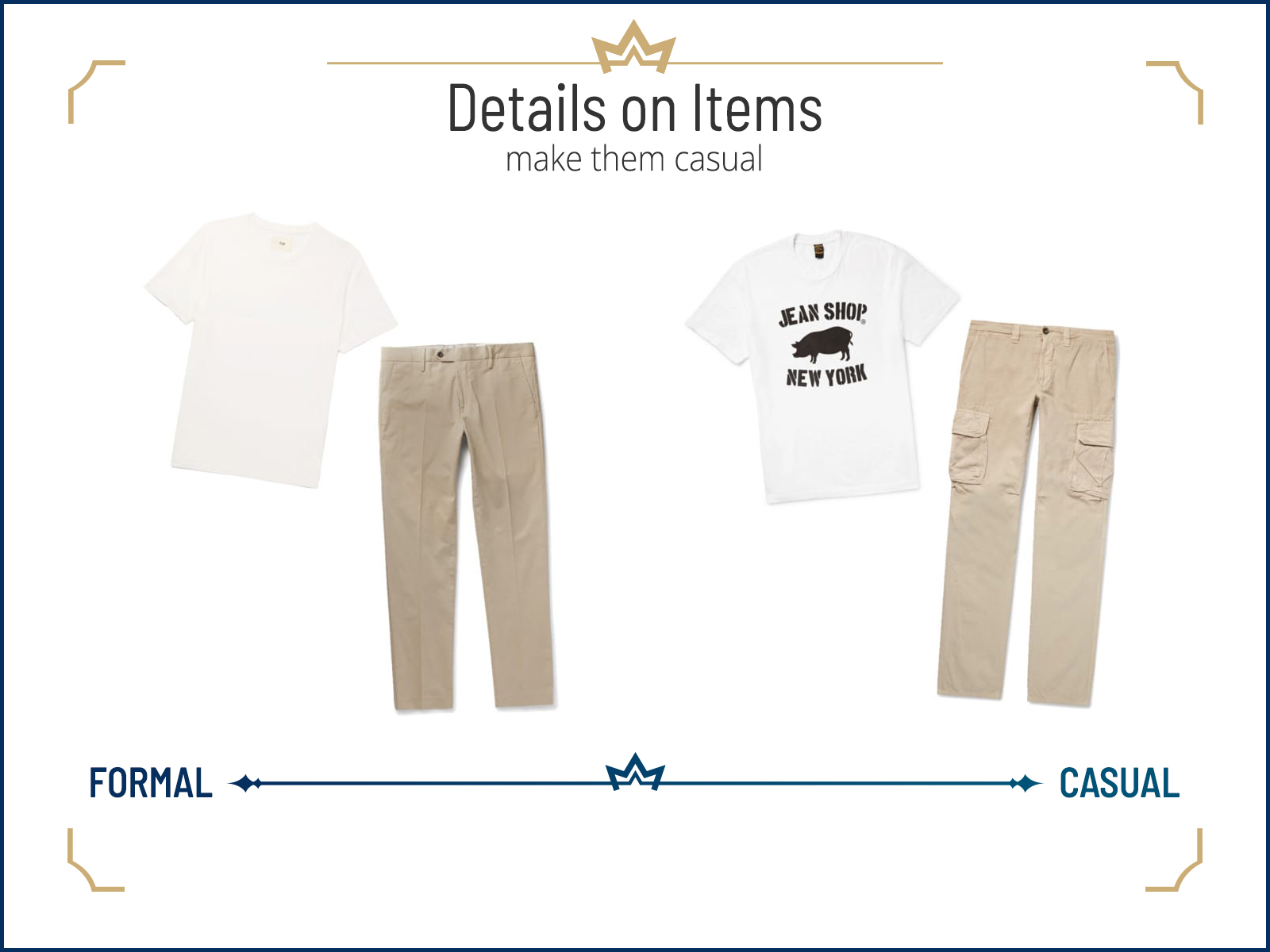 Similarly, subtle, minimal patterns are more formal than large prints.
You can experiment with different levels of details on clothing articles to see what works at your office.
Again, I recommend you start with minor details because falling more on the formal side is always better than going all-out casual.
Look for More Casual Fabrics
The business casual dress code is also defined by the fabric you wear.
The most common fabrics for this dress code include cotton, linen, wool, and silk.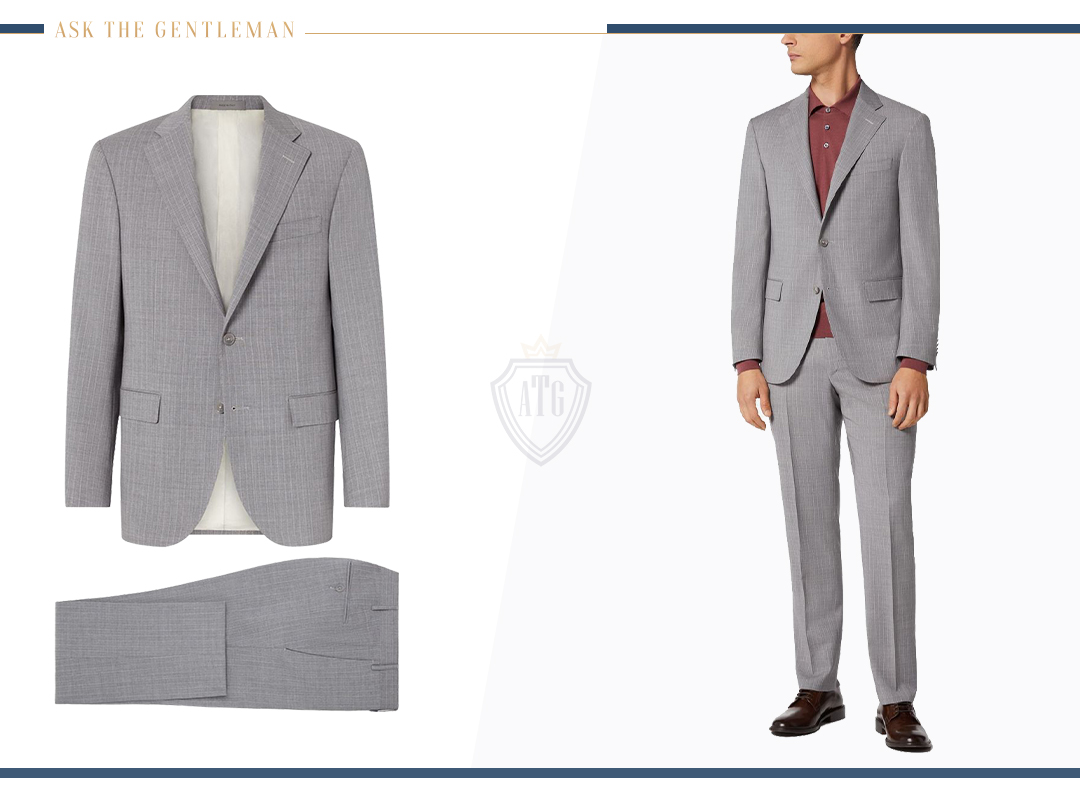 Avoid anything made from velvet, chiffon, or satin since they all fall in the realm of formal.
You can choose more casual fabrics depending on how flexible the office culture is.
Also, keep in mind the time of the year and the weather. For example, cotton is good for the summer, whereas wool works best for winter.
Business Casual Coats & Jackets
Business casual outfits for men must feature a tailored and refined suit jacket or coat.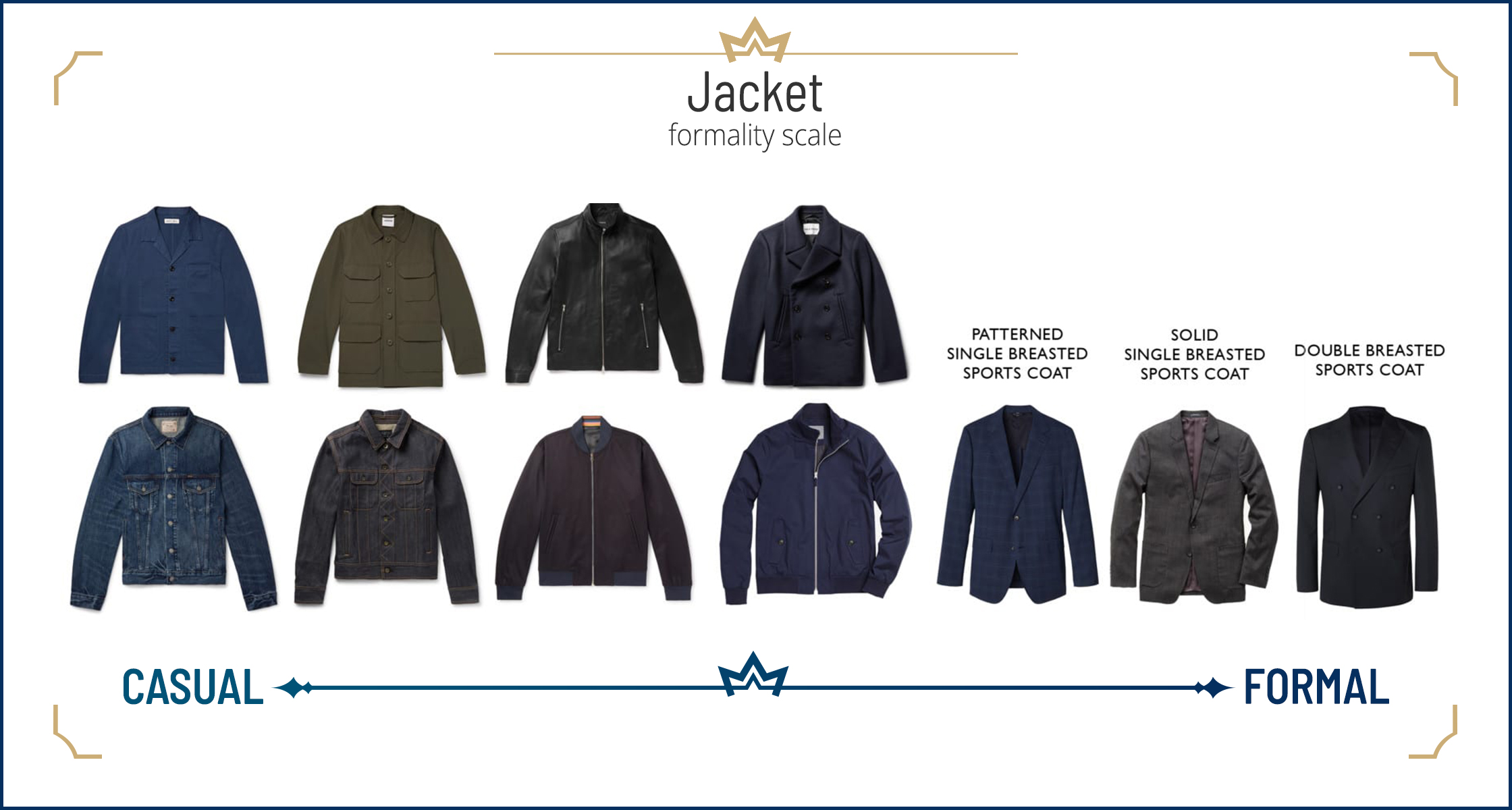 Also, you have a range of materials, cuts, and styles to choose from.
My advice is to start with a slim-fit single-breasted suit jacket made from wool. It should feature a two-button closure with notch lapels and sit comfortably on your body.
Neutral and dark colors are preferred, such as charcoal grey or navy.
They allow you to easily assemble your business casual outfit and wear it for a post-work hangout with friends.
During colder months, seasonal fashion enthusiasts can opt for a tweed coat jacket. Peacoats or topcoats are also great options.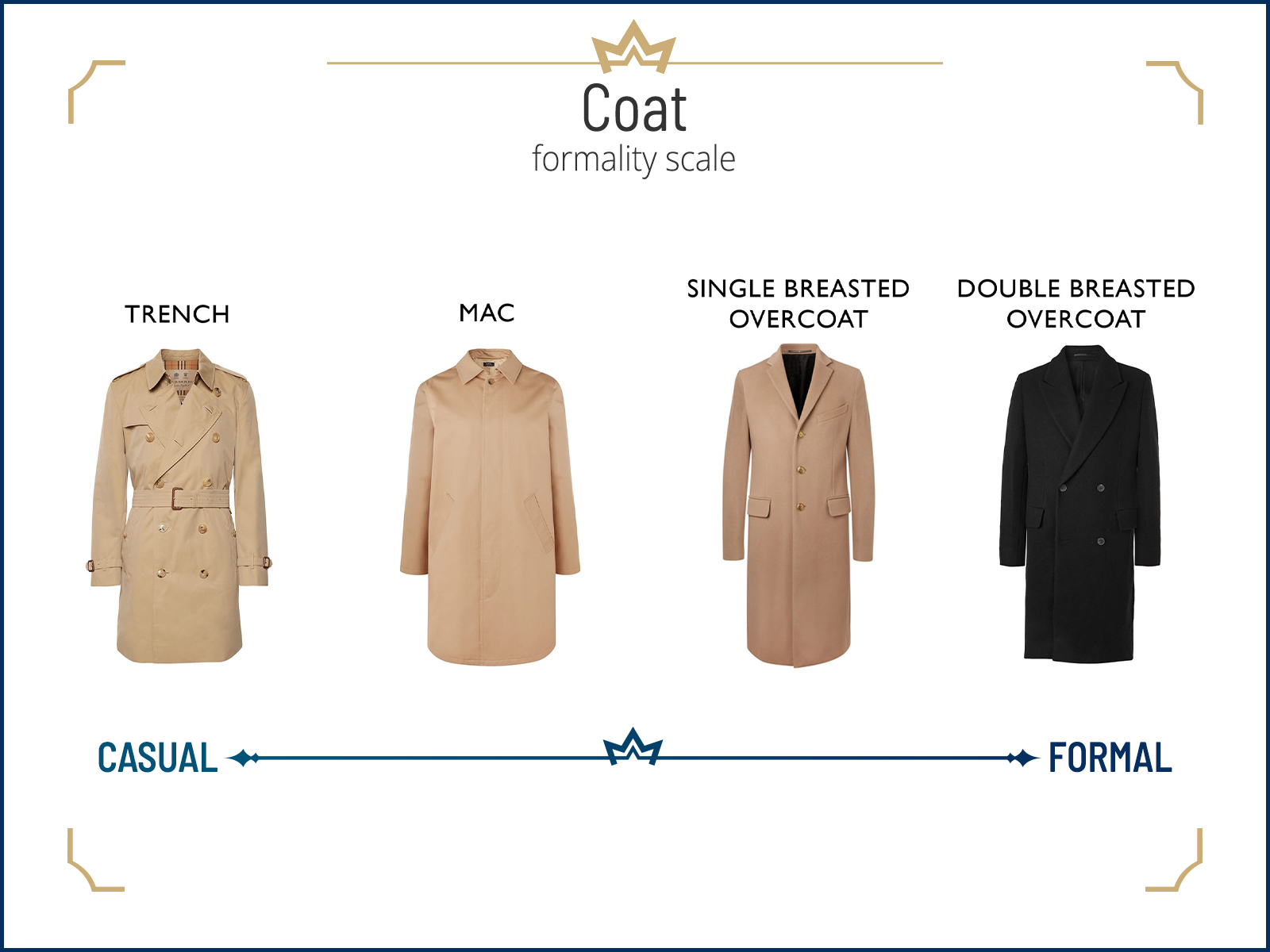 Similarly, warmer months call for top-notch linen or cotton jackets for extra comfort and breathability.
You can opt for colors other than grey and navy, like tan, khaki, brown, and blue.
You can then shift to brighter shades as you gain more confidence in your business casual dressing sense.
Men's Business Casual Shirts
You would want to complement a business casual jacket with a solid button-up or button-down shirt.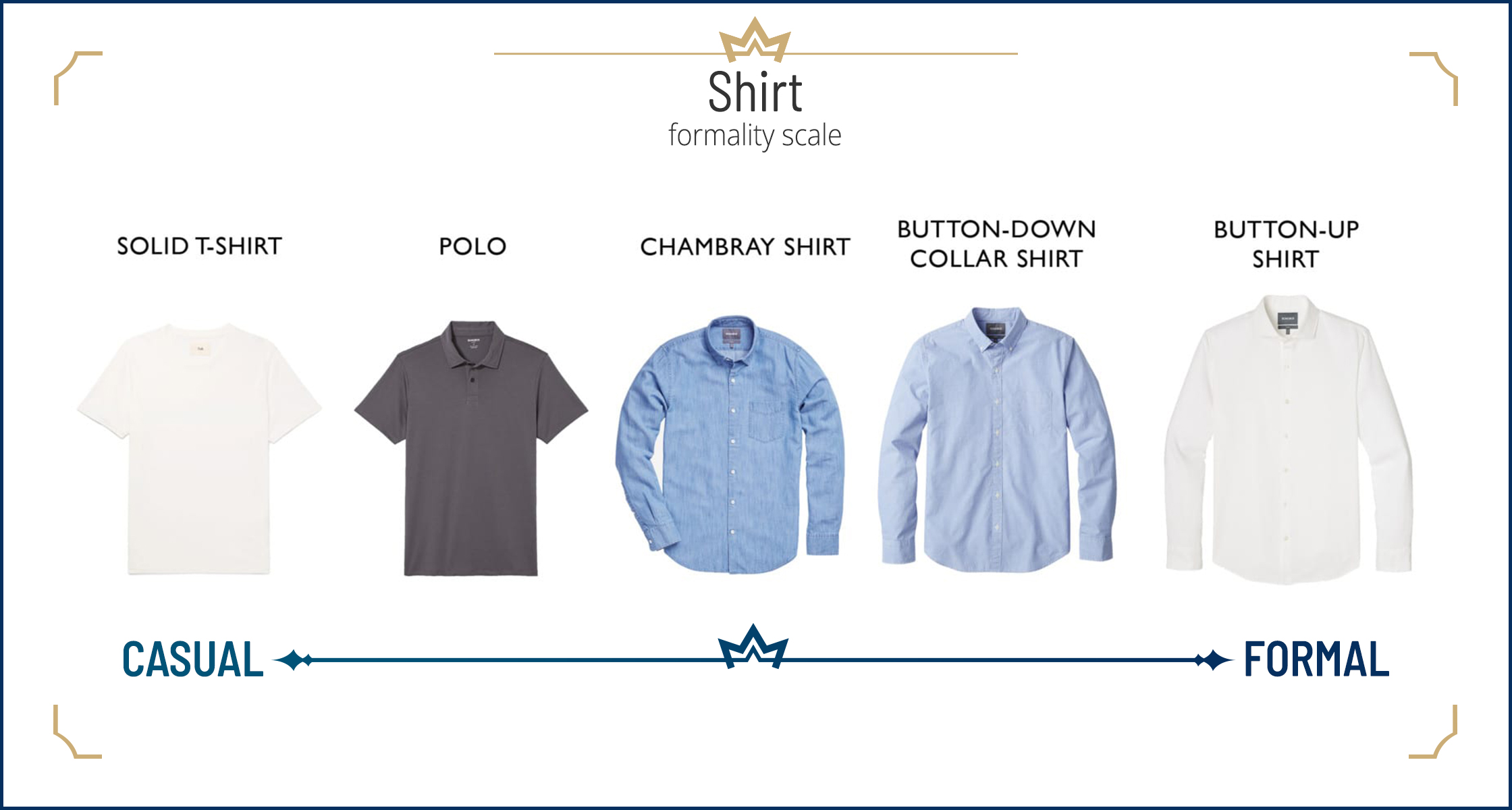 I suggest initially sticking to the standard solid-colored shirt styles, such as white, light pink, and light blue.
Over time, you can experiment with bolder and brighter colors. However, make sure you keep things within the boundaries of business casual.
You can also experiment with small patterns as they are increasingly being accepted in business-casual workspaces.
As shirts are usually worn throughout the day, ensure the fit is right; neither too tight that it's suffocating nor too loose to bring your confidence down.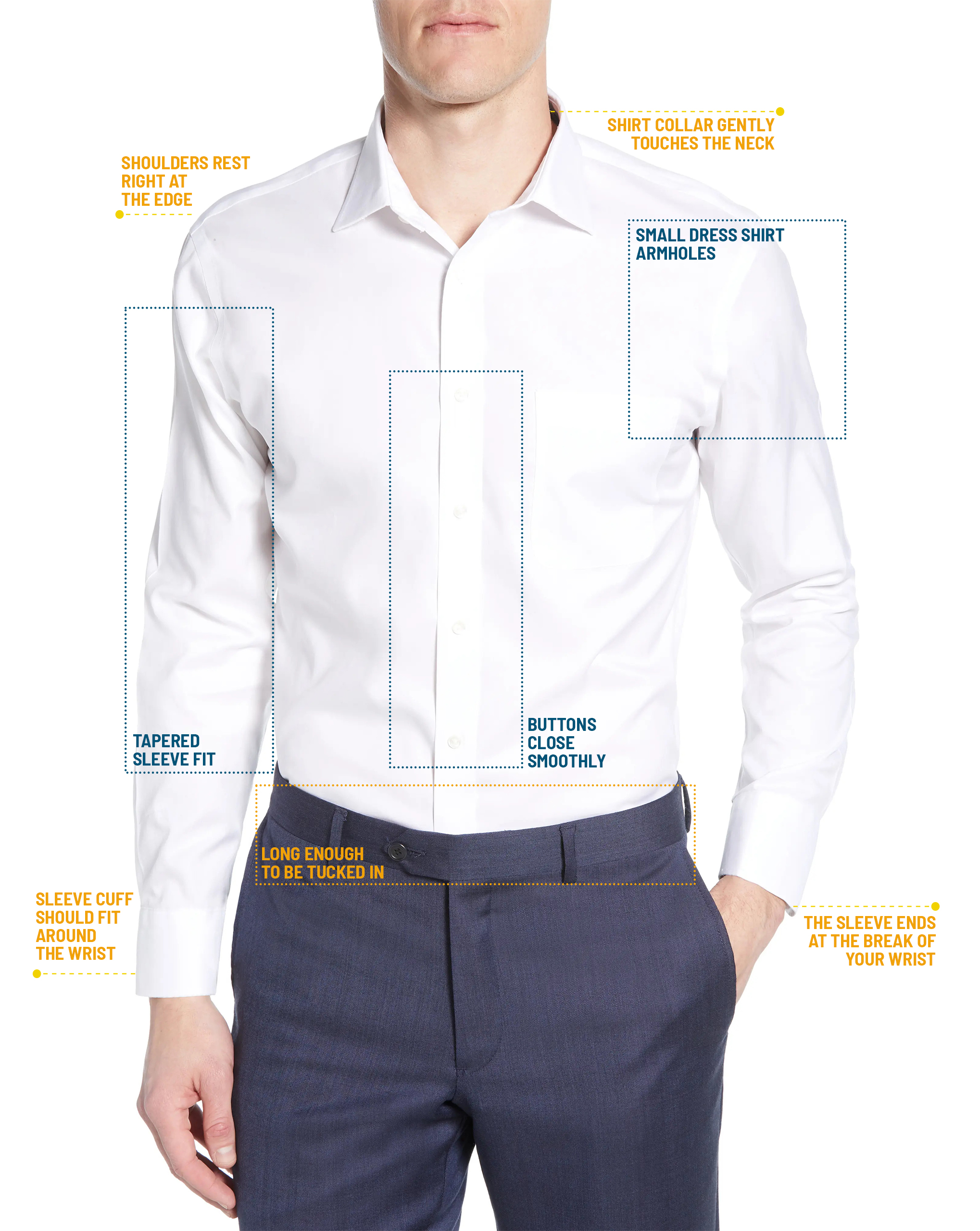 You can also opt for a solid button-up and wear it under a suit jacket or blazer to elevate your look on the formality spectrum.
In short, choose a button-up shirt with a suit jacket or a button-down if you plan on skipping or replacing the jacket with a sweater or cardigan.
Business Casual Pants Styles for Men
You have a lot more options for business casual pants styles for men now that wool dress pants and slacks aren't "the norm".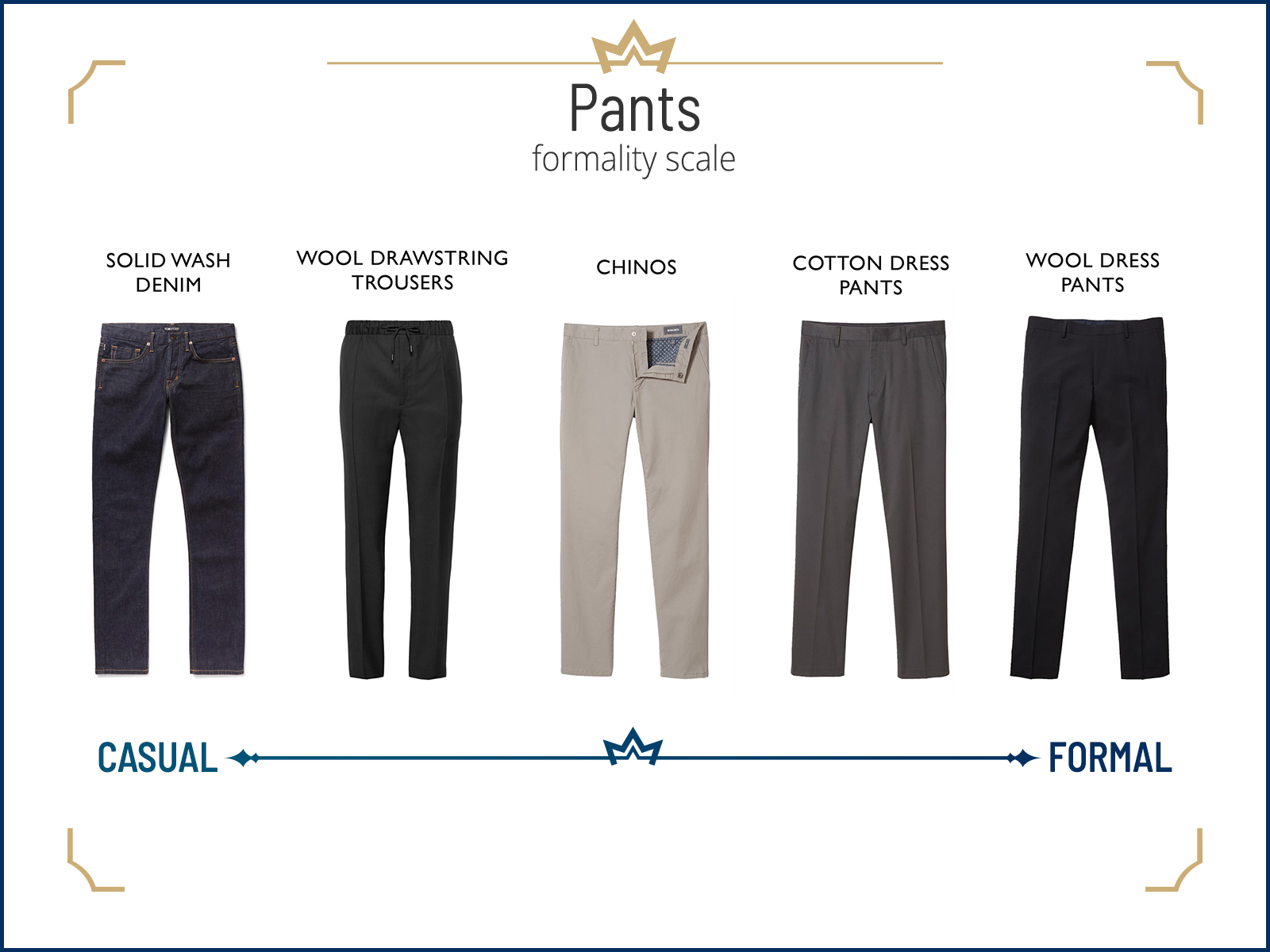 In fact, chinos have become the epitome of business casual. Also, khaki pants do the job just fine.
For denim lovers, I must iterate it as a good option as long as the quality of the pants is top-notch.
Anyone can easily differentiate between cheap and high-quality denim, so choose wisely.
I would suggest you stick with dark pants with not much going around to keep things professional.
Casual doesn't mean you can compromise on sophistication, sharpness, and intent in any way.
Therefore, your business casual pants need to be as well-fitting and clean as the rest of your outfit.
Make sure they're professionally sitting on your legs, not too loose and not too tight.
Sweaters as Part of a Business Casual Attire
Winter and fall months call for warm sweaters, especially when paired with a collared shirt and dress pants.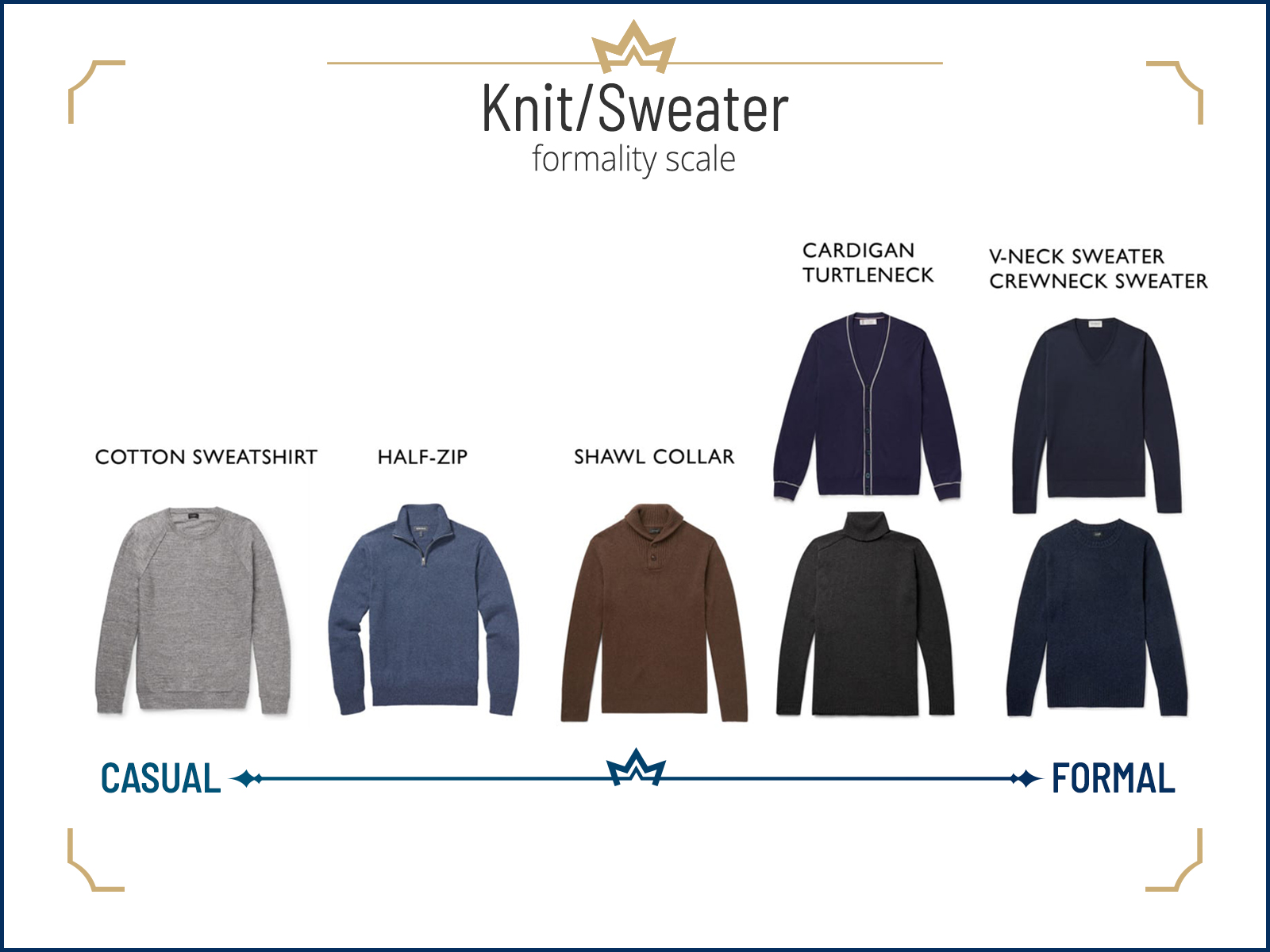 The classic V-neck sweater is the most versatile yet safest sweater option for business casual.
The V-neck sweater has space for your collared shirt and ties to sit neatly under it.
In addition, you can make them work under a sports coat, blazer, or even a suit.
You can also opt for a crewneck sweater. But keep in mind that V-necks are more formal than regular crewneck sweaters.
Another sweater option is cardigans, often categorized as elder wear. While this is mostly true, cardigans can look stylish and sleek if worn right.
A turtleneck is also a great option you can go for. Turtlenecks match all formality levels, and you can even wear one with a full suit.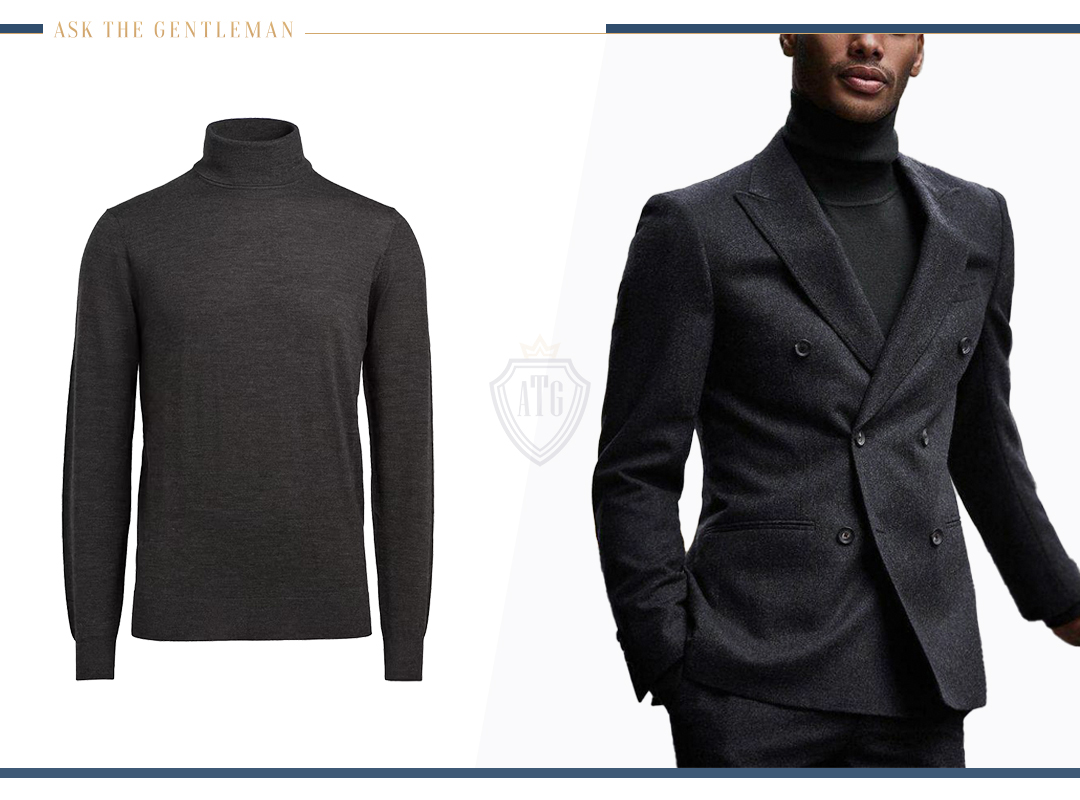 But the design and fabric you opt for are more important than the sweater style.
So look for premium materials and avoid large patterns or textures at all costs because they add informality to the look.
Anything plain, sleek, and stylish will work. Nothing too bold, bright, or overwhelming is adequate for the office.
Men's Business Casual Shoes
The men's business casual dress code has quite broad parameters, allowing a variety of shoe styles.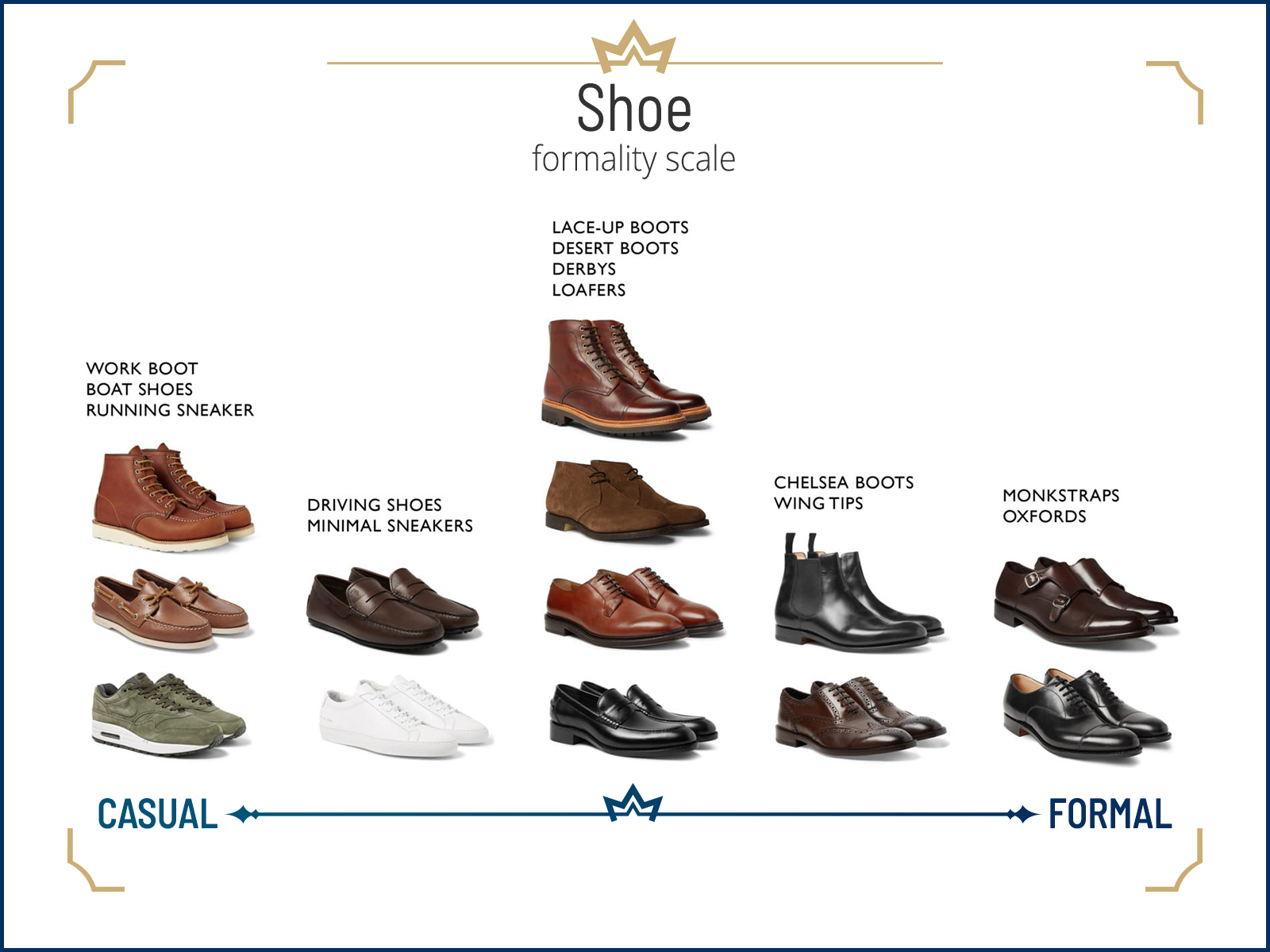 However, what's common in all are the condition they're in and their quality.
I advise sticking with the modern classics such as oxfords, derbies, or loafers.
Avoid wearing lighter shades, as they can come off as too casual.
Colors like black, dark brown, and burgundy are the standards, especially when the material is leather.
Slipping on a nice pair of chukkas or suede shoes can do the job for those ready to experiment in more flexible office settings.
Some working environments allow leather sneakers but ensure they are high-quality and immaculate.
12 Business Casual Outfits & Ideas
Looking at clothing pieces separately gives us a clear image of what specific garments represent. But how can we combine them into one sophisticated outfit?
Let's explore some outfit ideas:
Pairing medium or dark blue pants with a white dress shirt is a great way to start your business casual outfit. A great way to add sophistication is to carry a blue leather bag.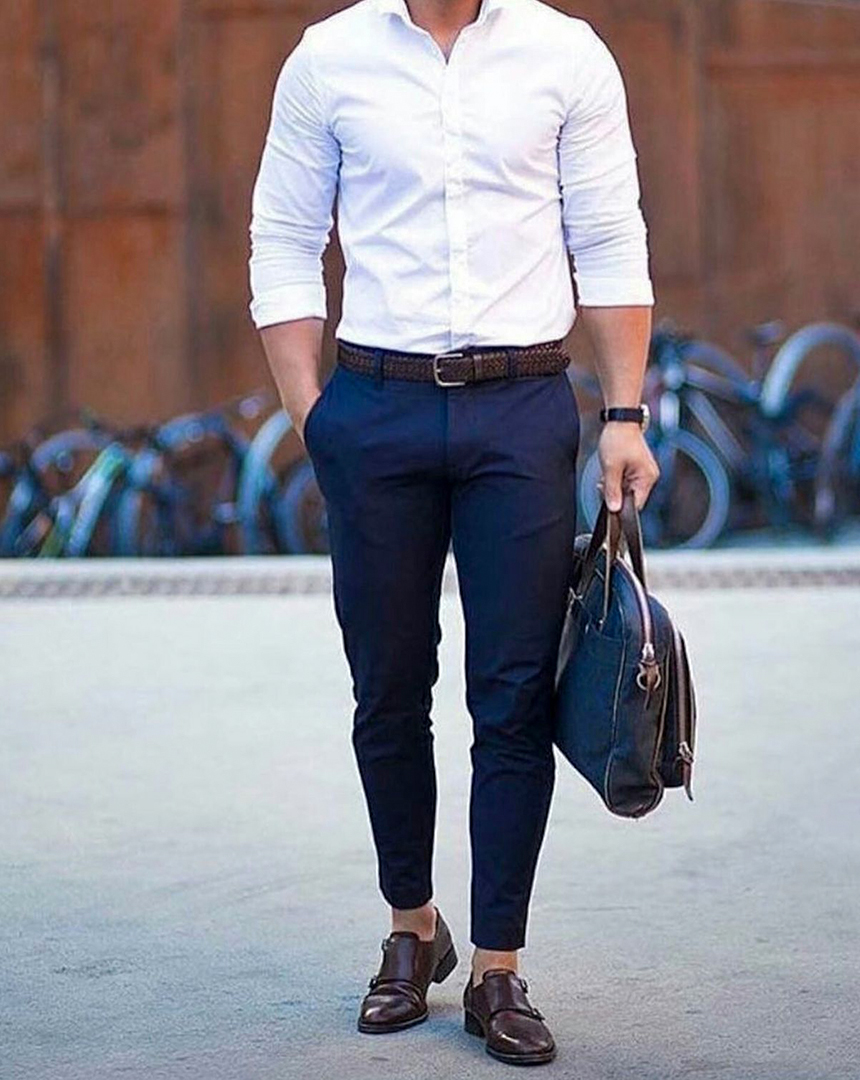 You can drastically increase the formality by adding a tie or a suit jacket in a similar blue shade. To avoid looking too formal, wear white shoes instead of classic black and brown.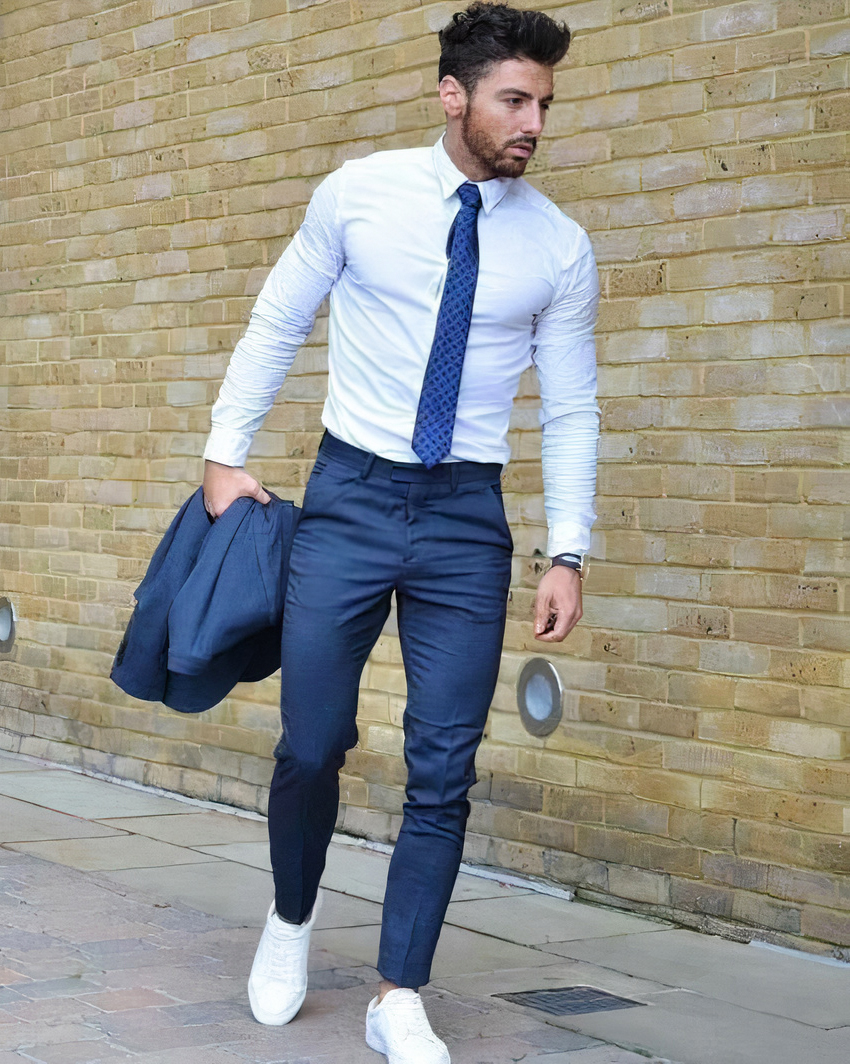 The classic white shirt with a slim solid black tie is another timeless look. To try something different, pair it with patterned light grey pants.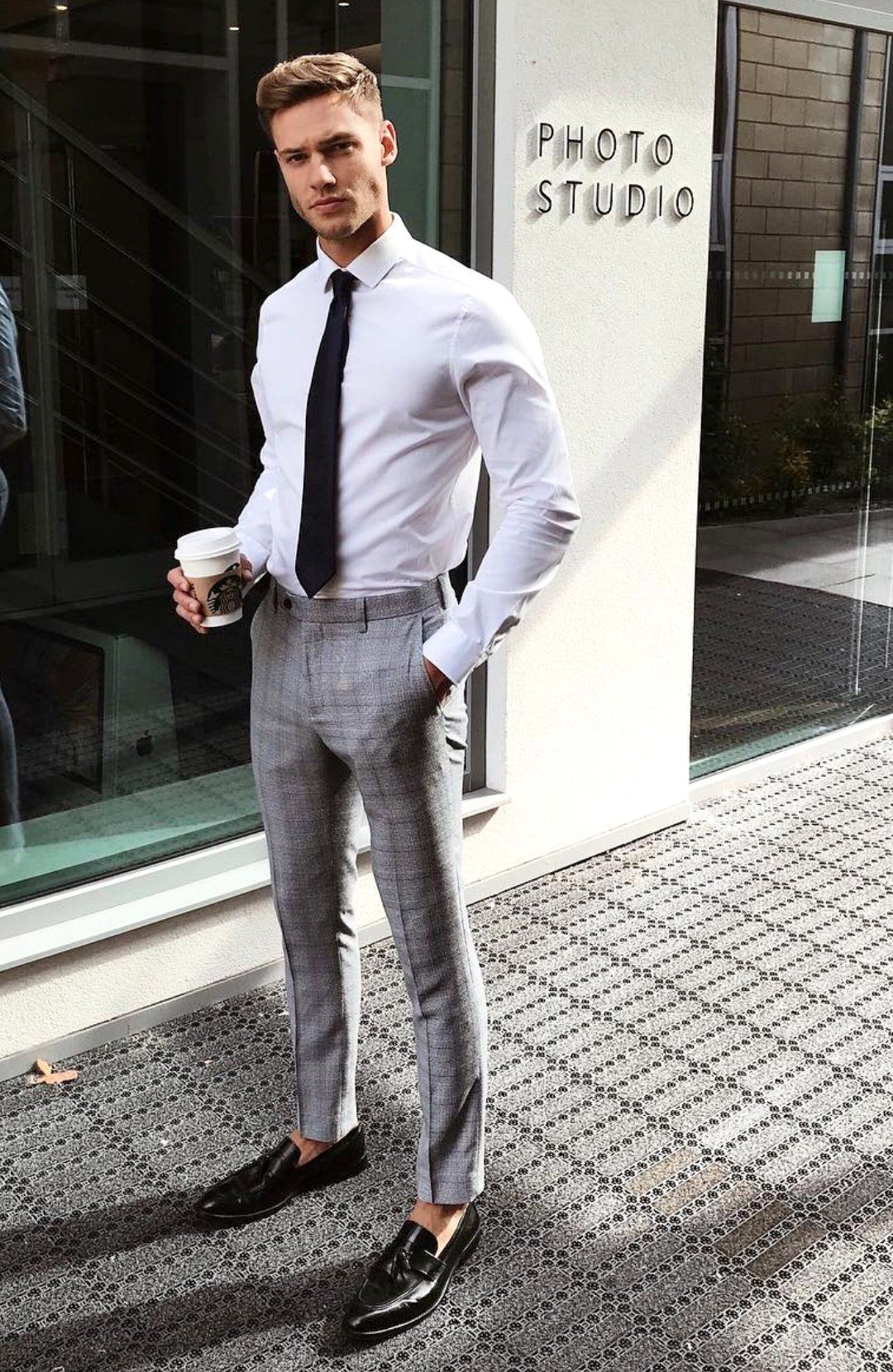 A dark blue cardigan over a light blue shirt is a great fashion-statement look. Add a tie of your choice as an addition to your grey pants.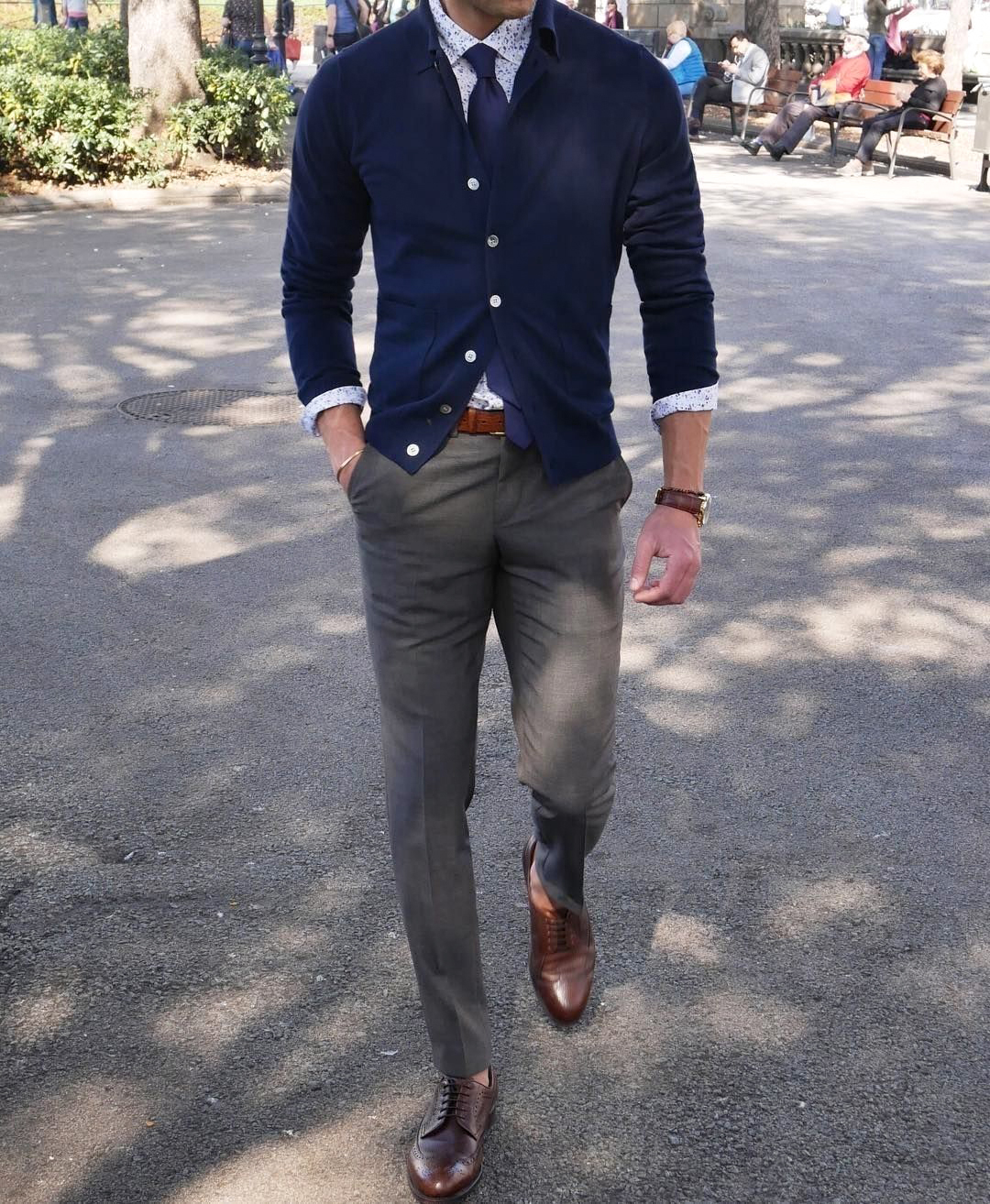 A soft pink shirt never goes out of fashion for a business casual outfit, especially when paired with brown shoes and navy pants.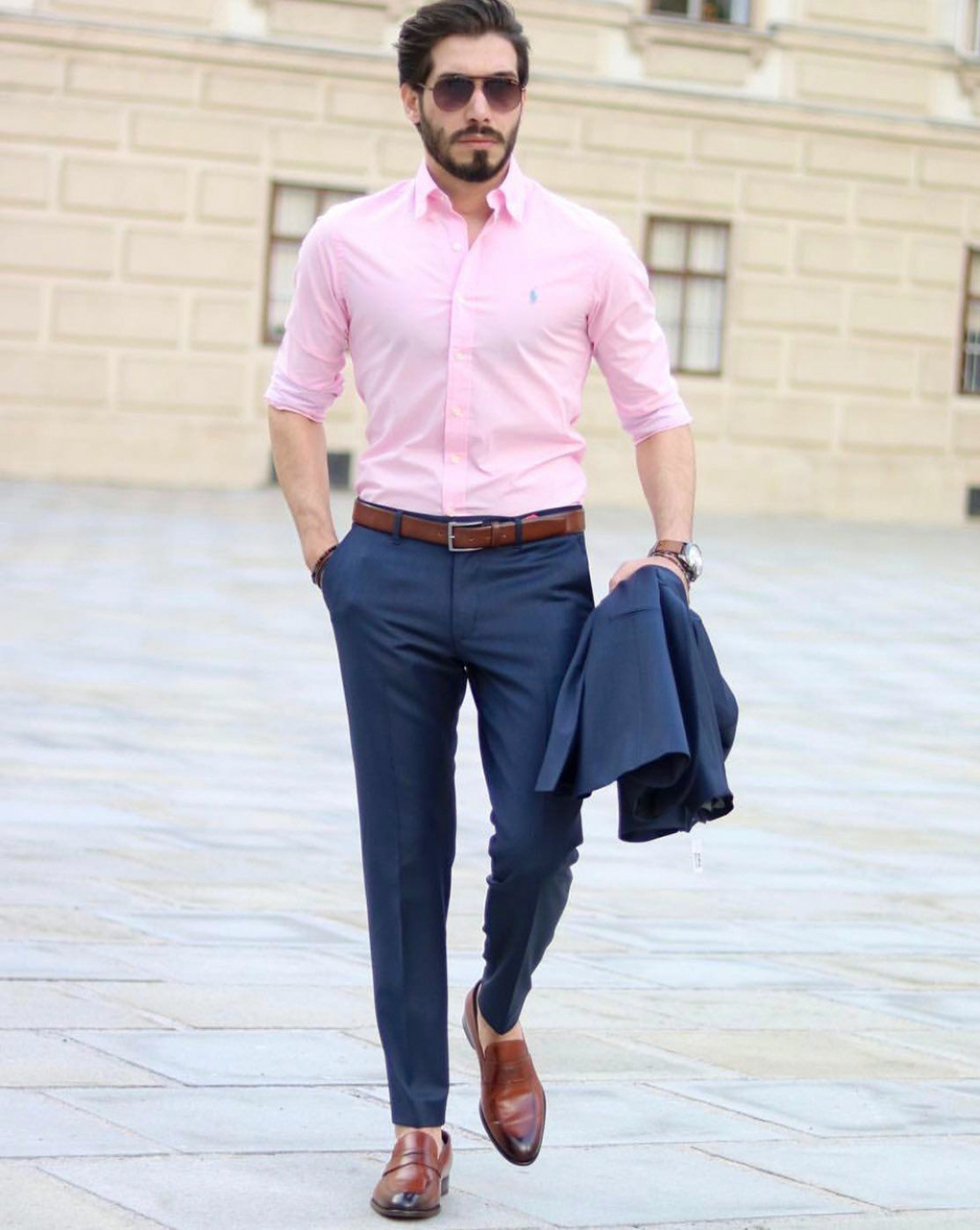 A dark brown suit jacket is a great business casual attire. Pair it with your navy pants and solid-colored shirt for a classy and representative look.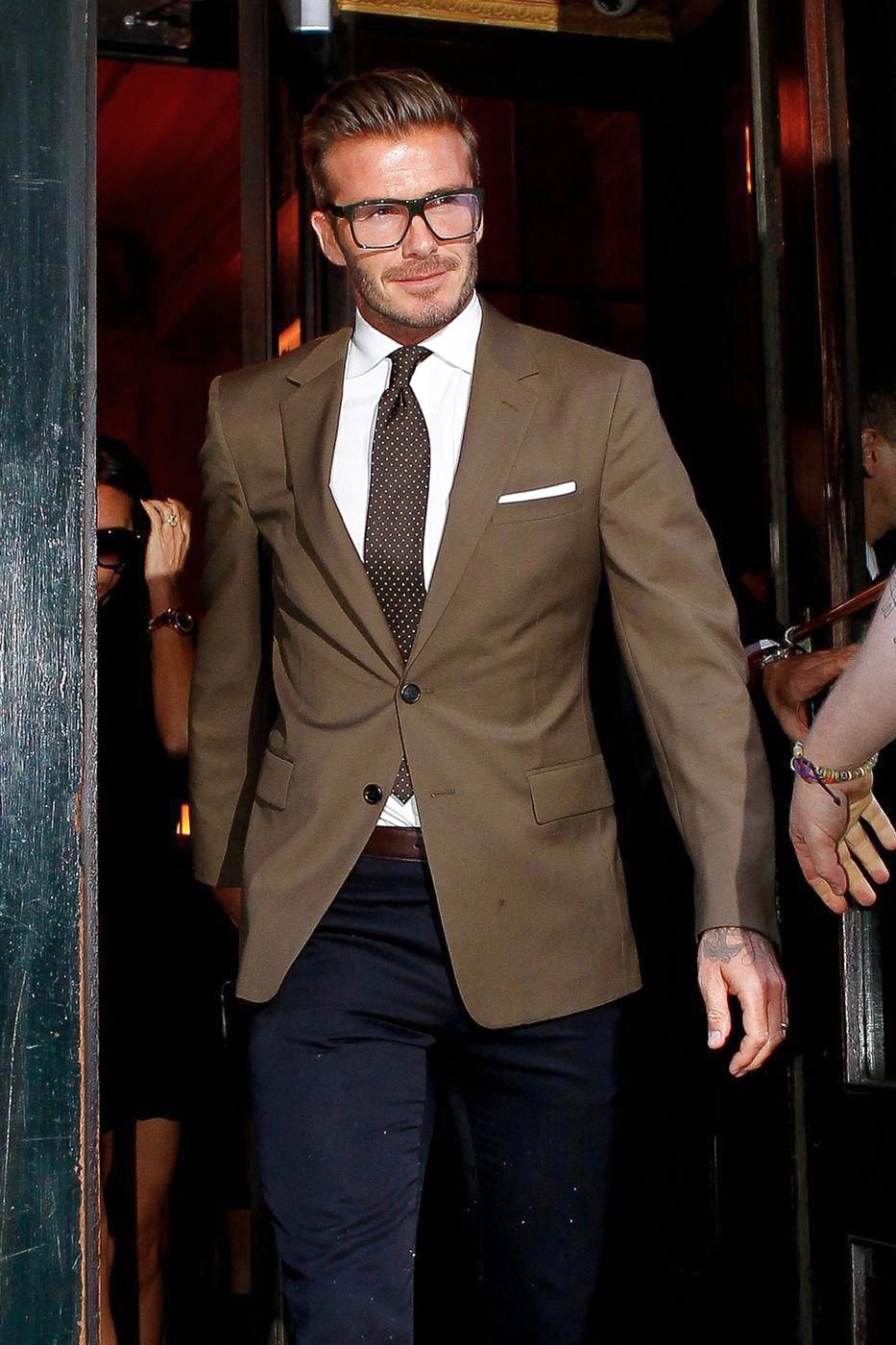 The cool tones of green complement neutral and warm colors like tan, especially during spring. Pairing a green shirt with tan pants will be an excellent way to make use of it.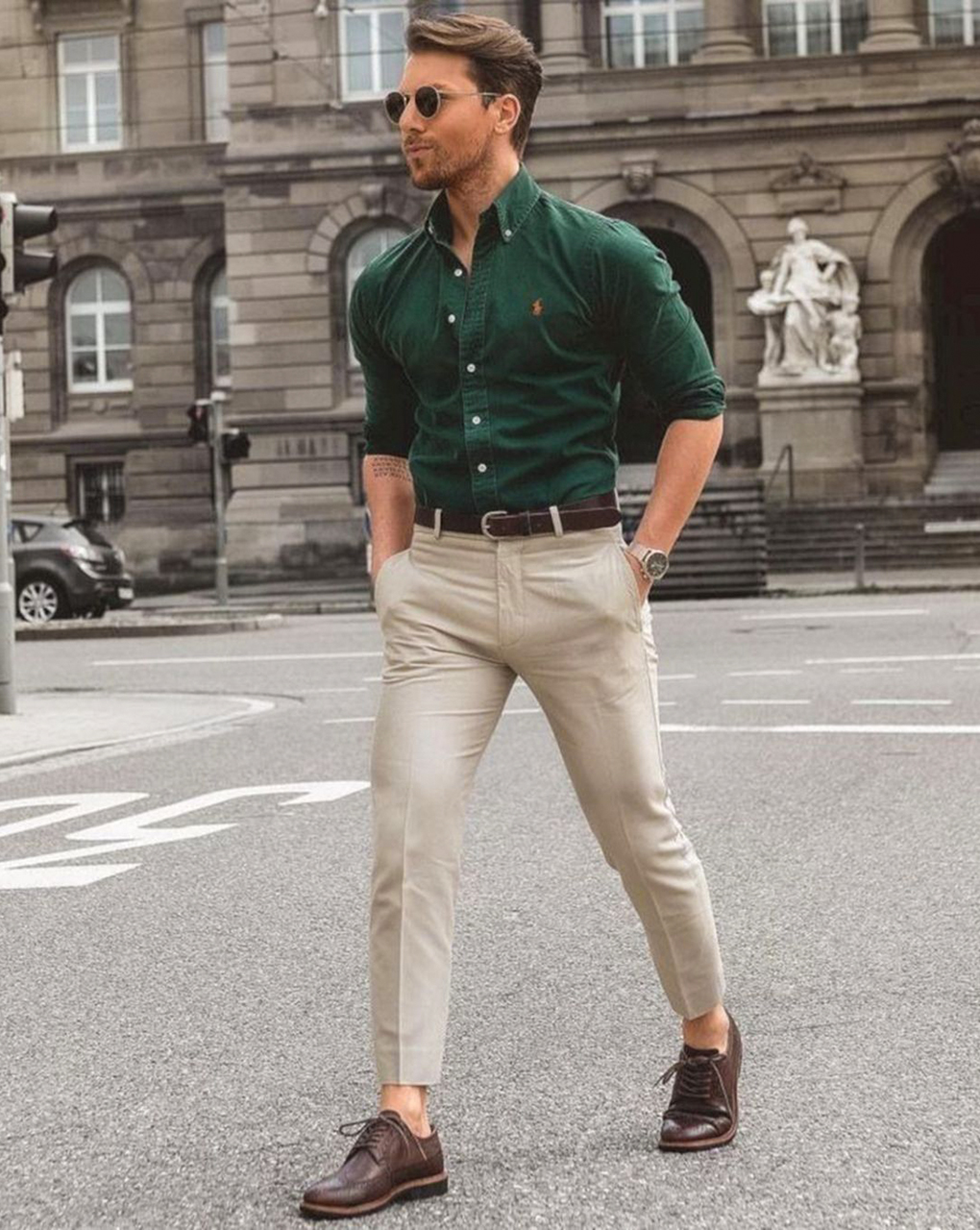 White pants are a unique look, especially when paired with the sophistication of brown loafers and a blue dress shirt. Do notice the brown braided leather belt.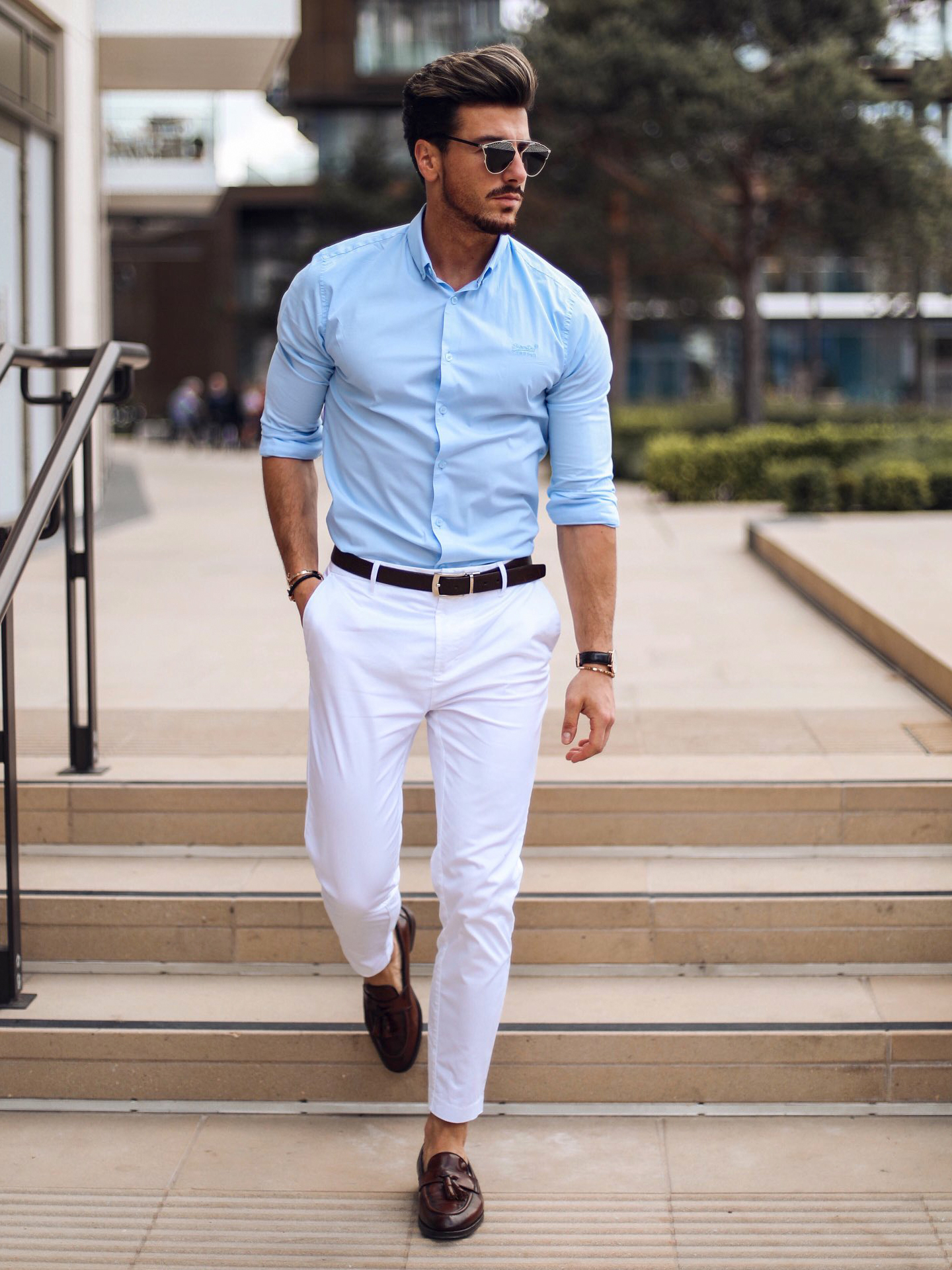 You can match a textured crew-neck sweater with a grey blazer. Adding solid navy pants is all you need to make a fashion statement at the office.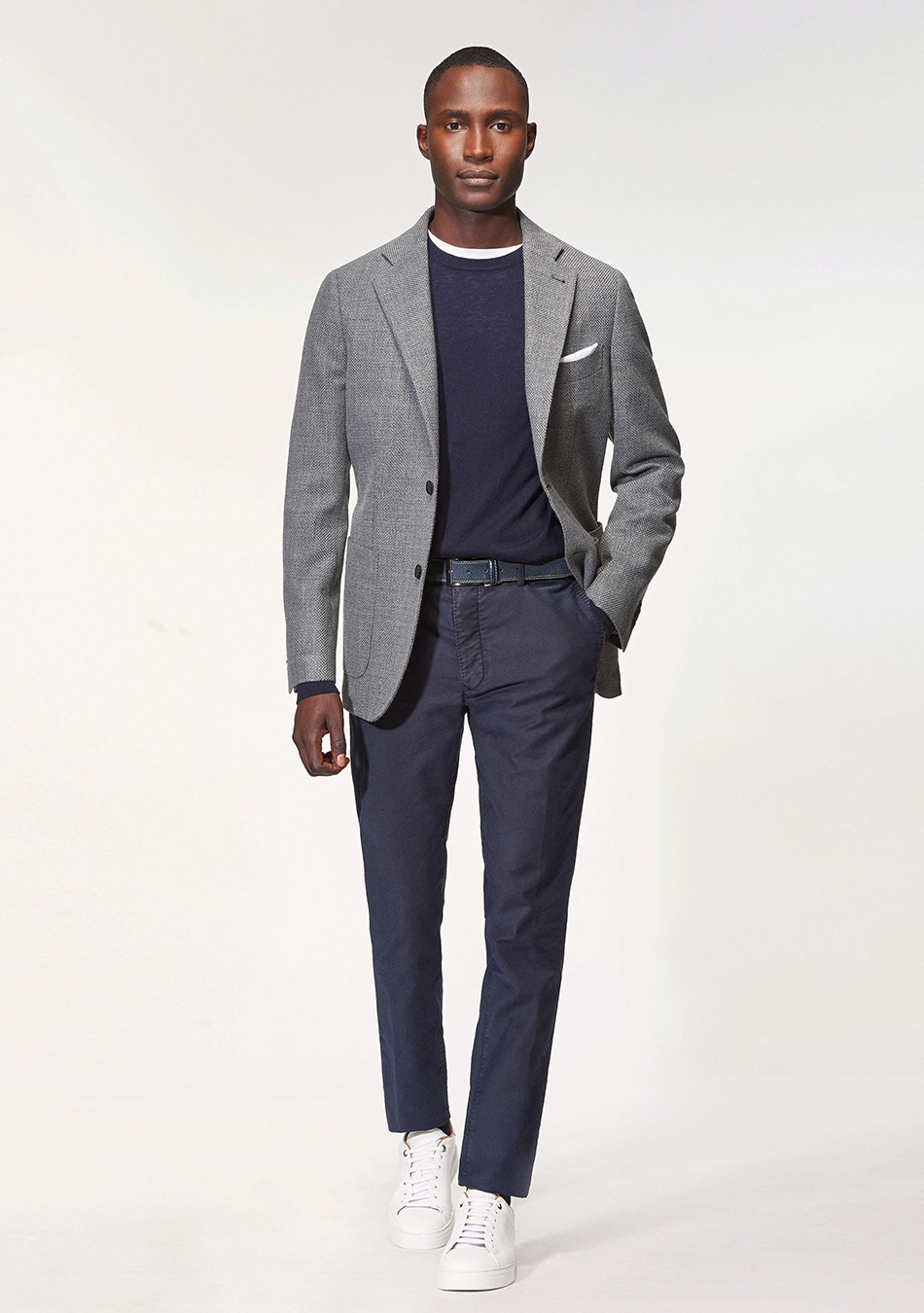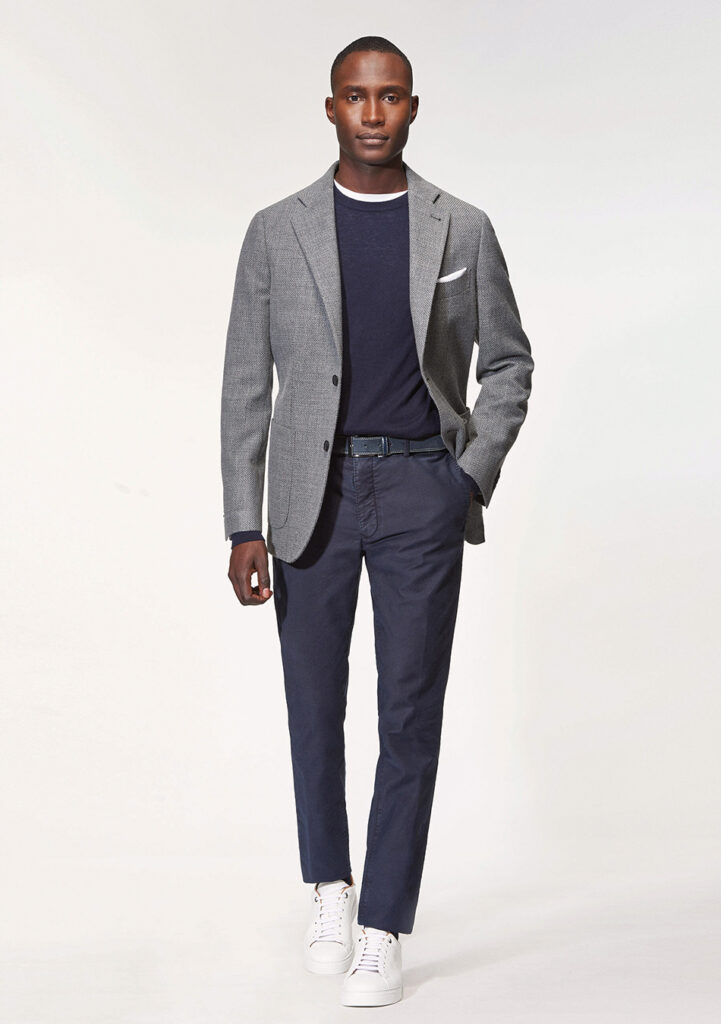 Why not wear khaki pants paired with a light blue button-up shirt? The added sophistication of a brown belt and shoes is all you need to look business savvy at the office.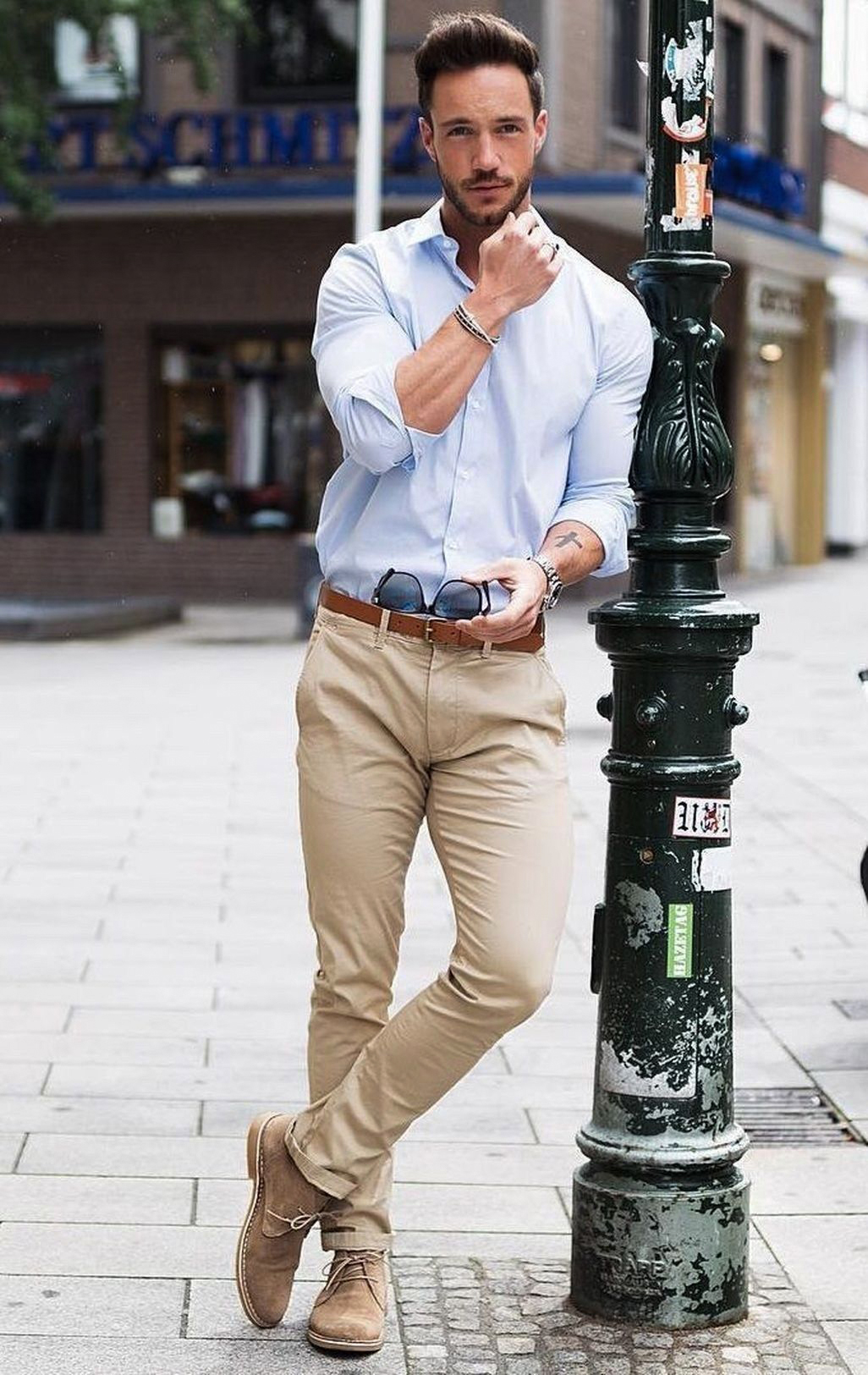 You can even add a textured or patterned tie to your khaki pants and a light blue shirt to make you look more refined.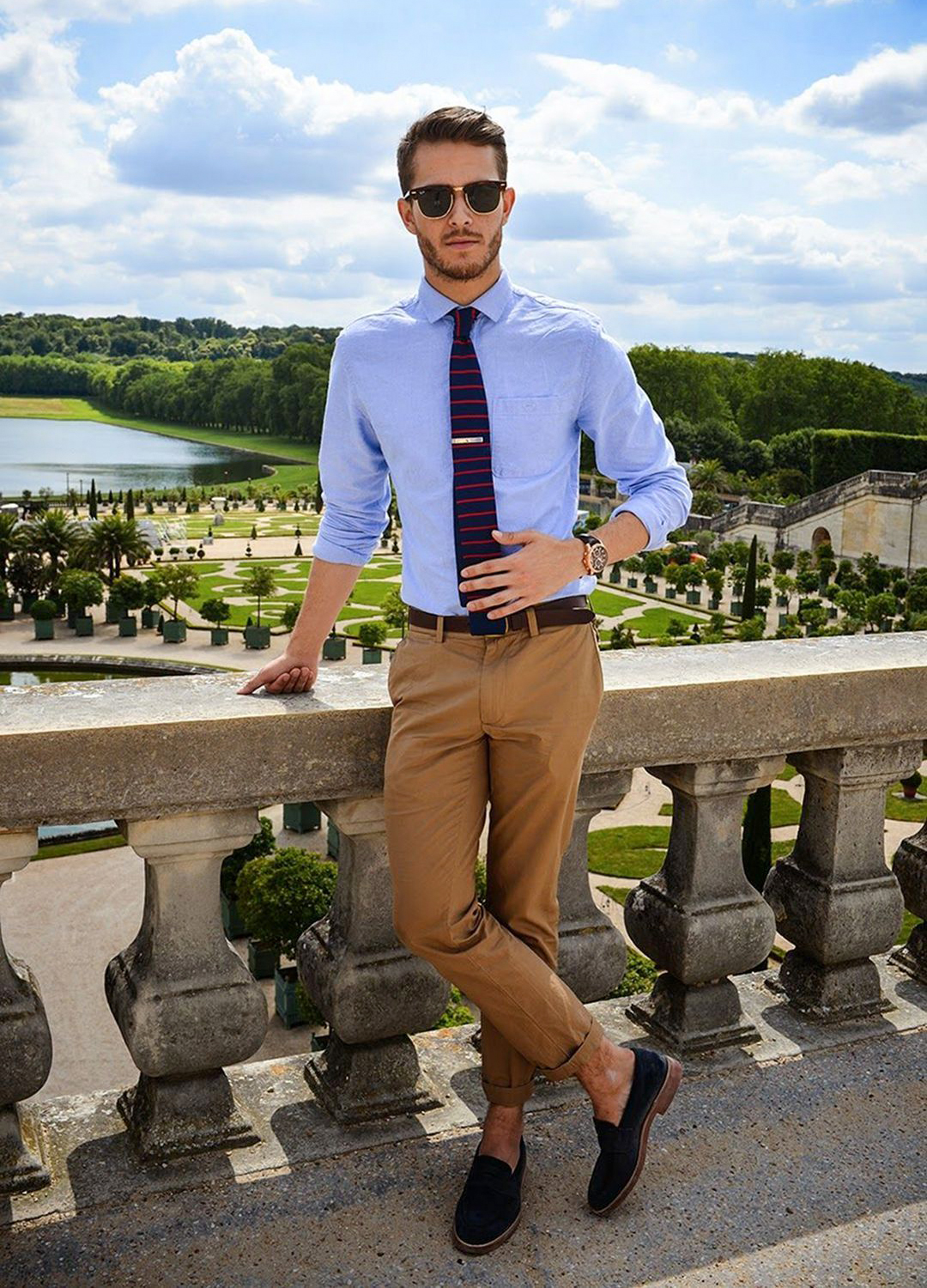 Don't forget the navy suit jacket. It's a great addition to earthy tones like tan and khaki pants. Add a white or light blue shirt, and you'll have the ideal business casual outfit.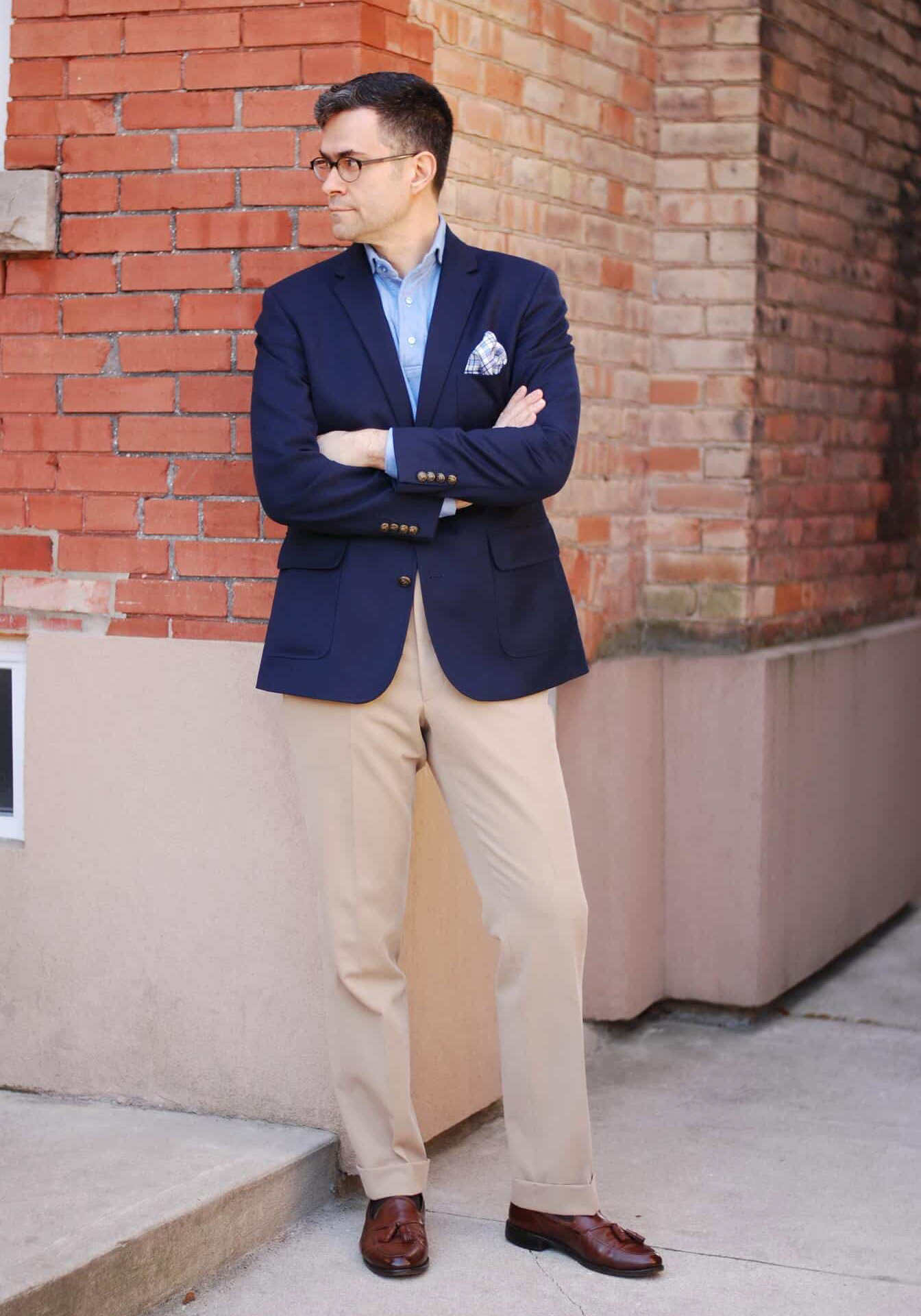 But there's more…
6 Business Casual Friday Outfit Ideas
We can further relax the look for a particular outfit code – the business casual Friday.
The classic khaki pants paired with a patterned navy full-sleeve shirt is all you need to rock the casual Friday look. Minimal yet effective.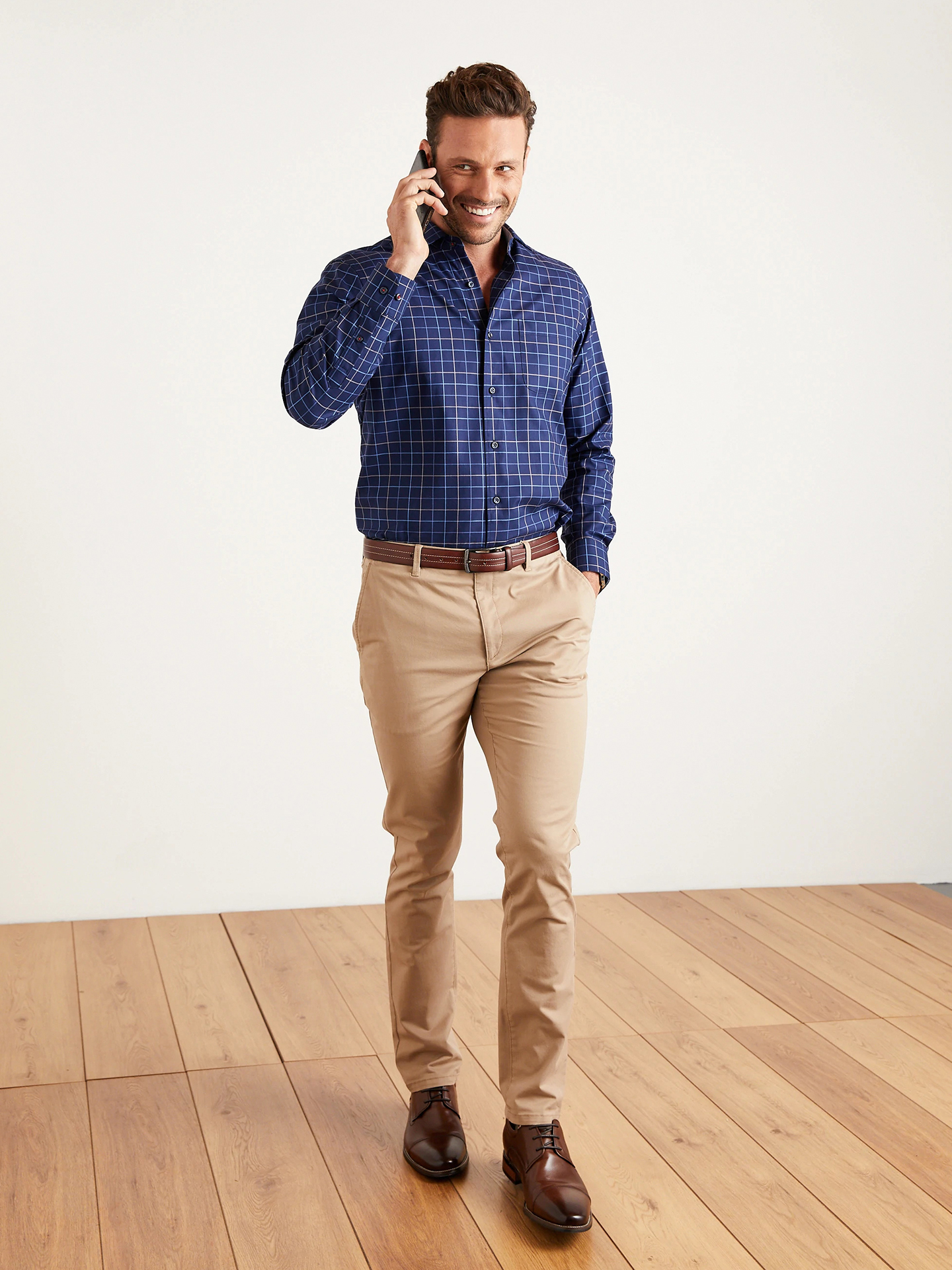 Keep things simple by adding a navy or blue jacket over a white t-shirt and grey pants to ease your casual Friday look.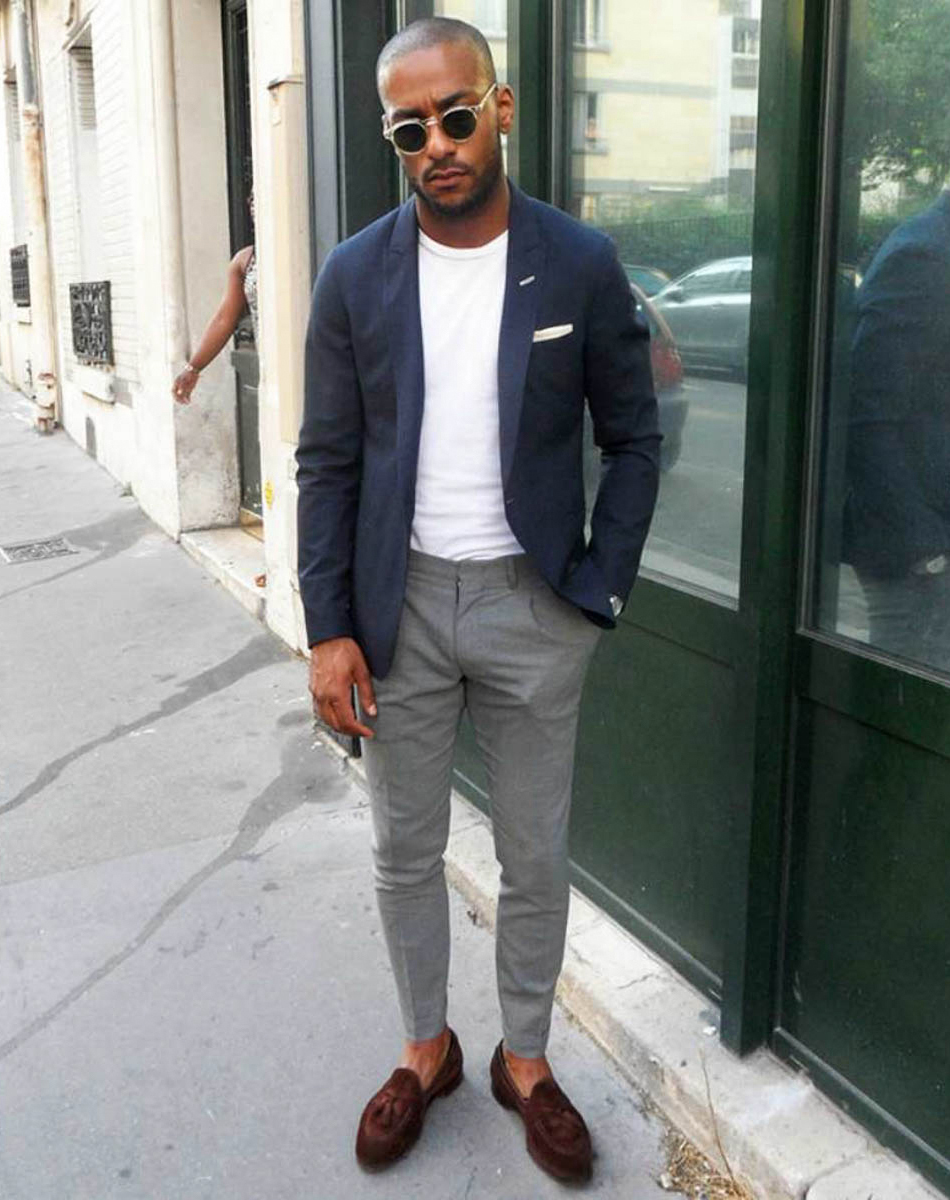 You can also pair a medium brown crew neck sweater with a medium blue button-down shirt. Adding navy pants brings some maturity to the casual Friday look.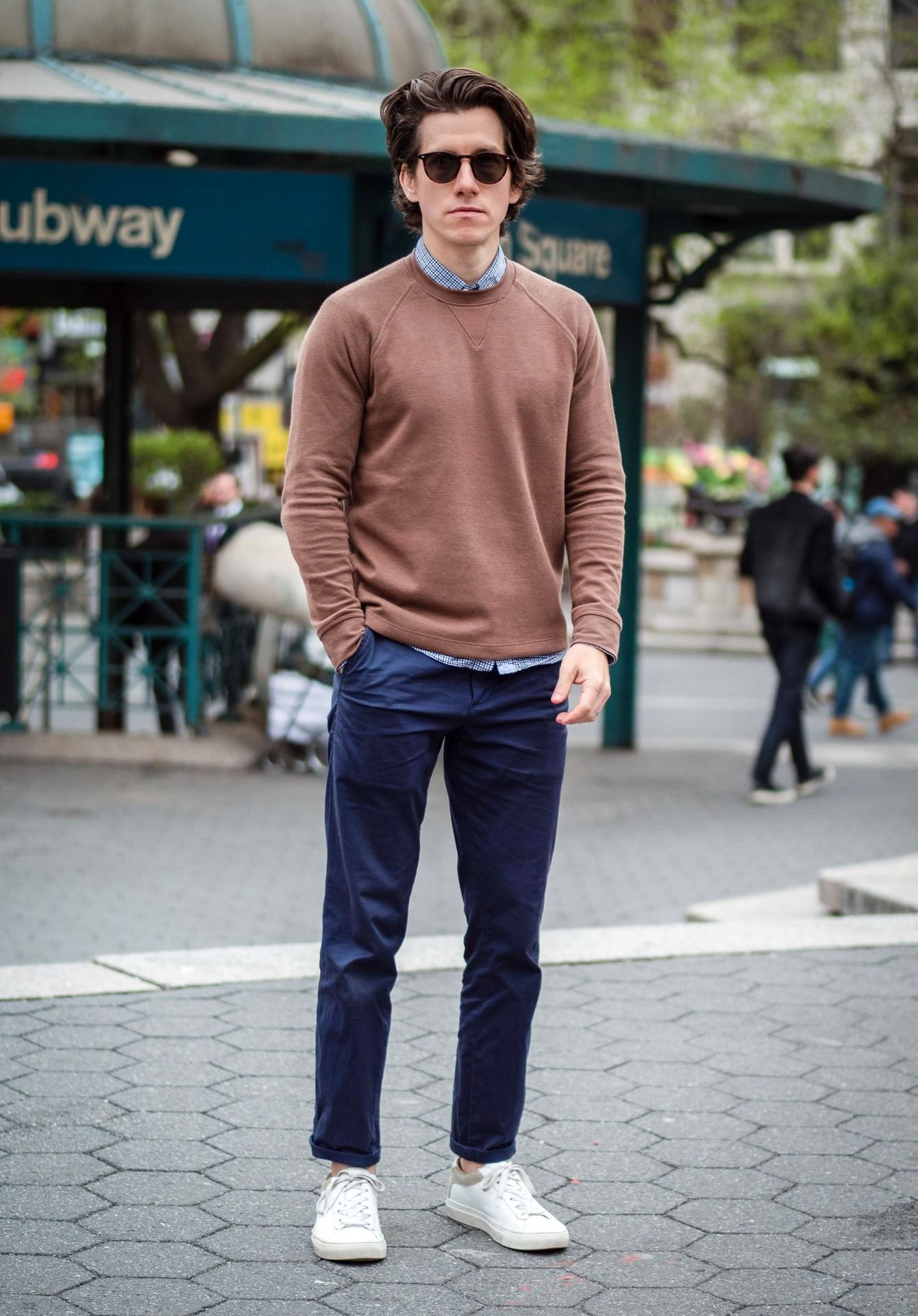 Keep things light this Friday with the cools of a light blue denim shirt over a white t-shirt, carried by the earthy khaki pants and light brown shoes.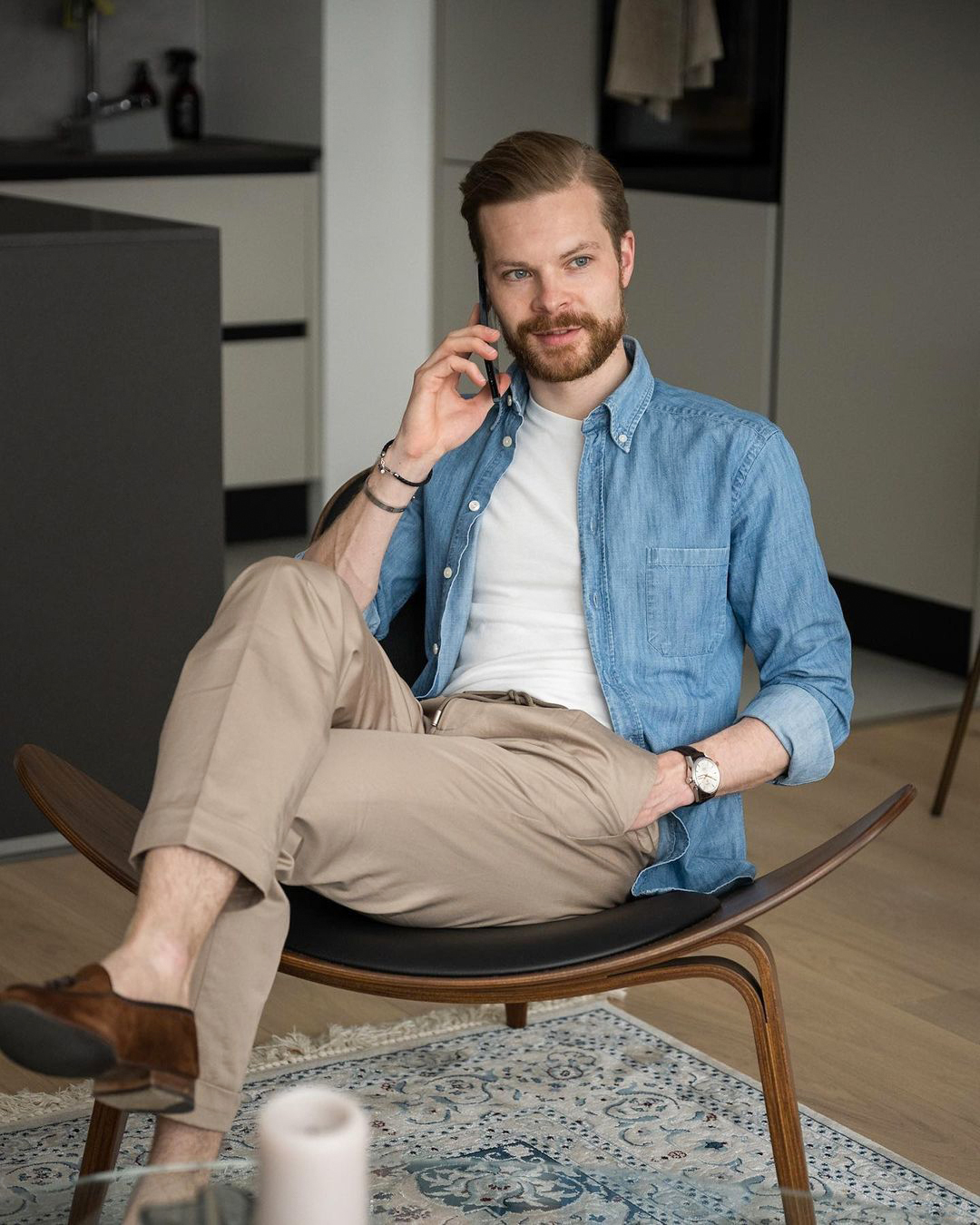 In addition, you can match your white sneakers with tan pants and add a white polo shirt for an ultra-casual Friday at the office.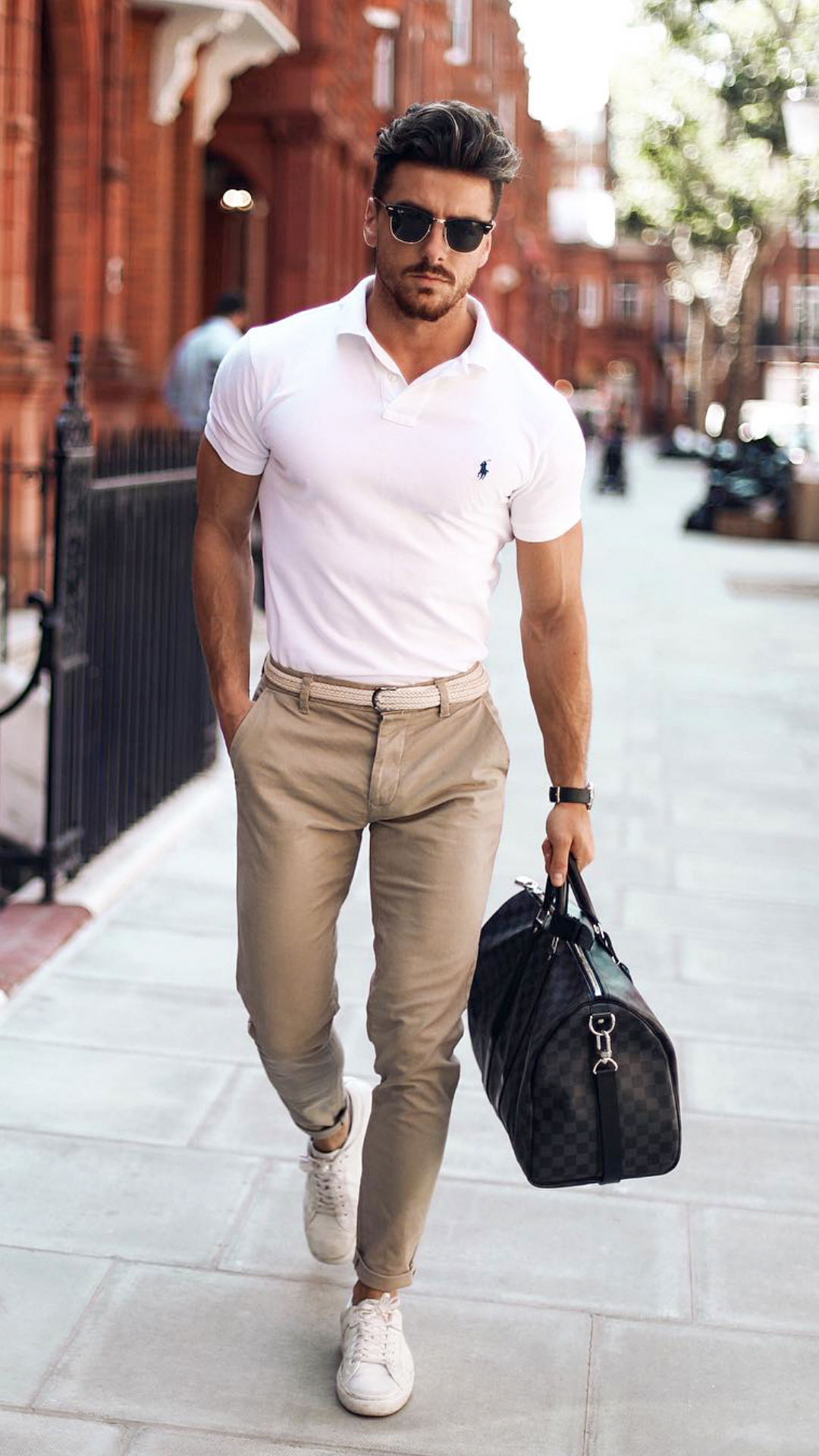 On the other hand, blue sneakers paired with a light blue are never a miss for a casual Friday, especially when paired with the neutrals of a medium grey jacket.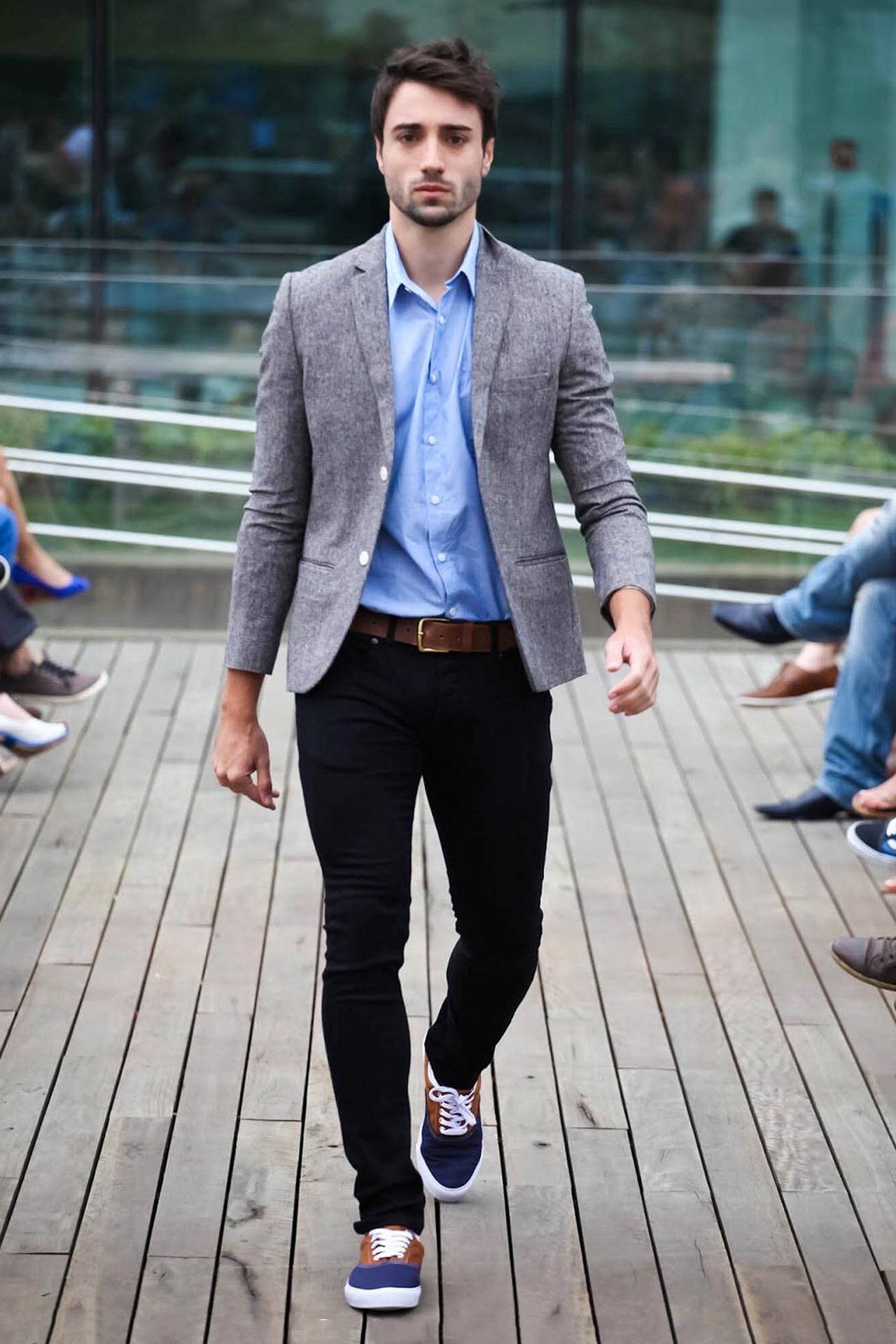 You can also mix and match any of these business casual outfit ideas to best fit your needs.
How to Accessorize Business Casual Outfits
So far, we have discussed the basics of a business casual outfit.
Now, this is where you can add a personal touch to your look.
Accessories are an incredible addition to any business casual outfit, for they allow you to express your personality.
While you have a lot of room to play around, there are still some standard rules to follow for this dress code.
For instance, some outfits will demand a dress shirt, and others won't be complete without a belt or pocket square.
Similarly, a watch might be a great addition to add uniqueness and style to most business casual outfits.
Let's see how you can do right with each accessory!
Watch
If you are a fashionable man who doesn't own a watch, your style is somehow incomplete.
My personal favorite is the brown leather strap watch with a white background metal dial.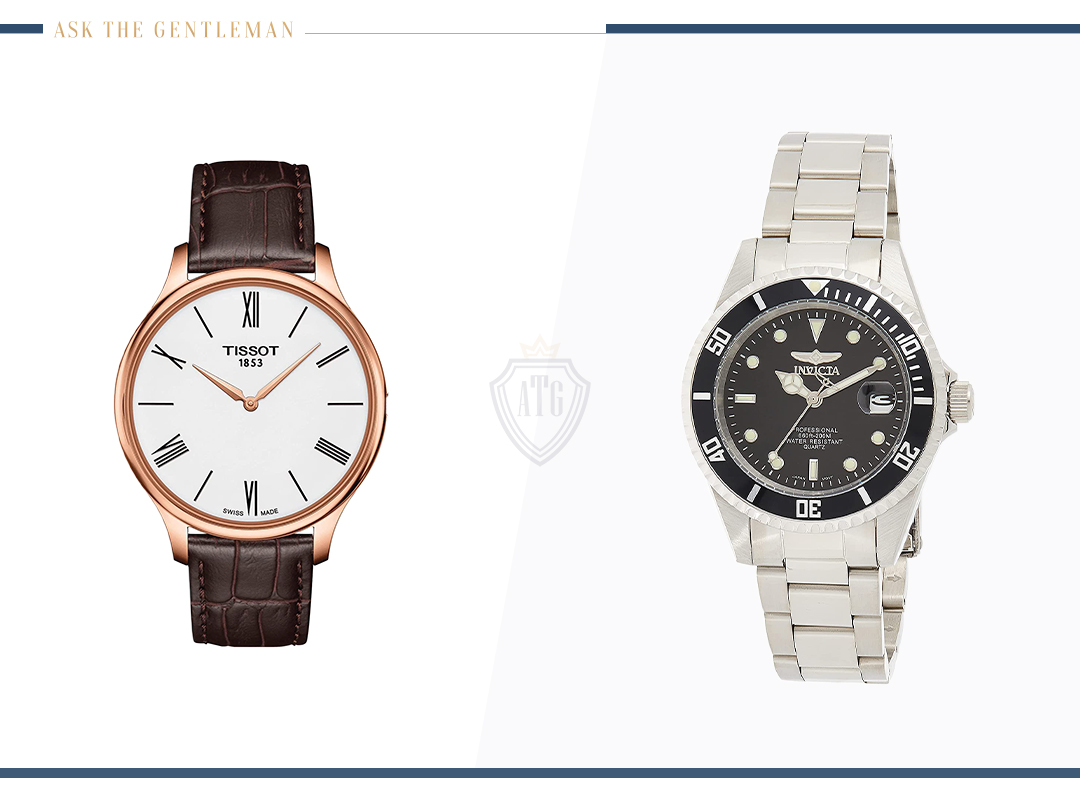 But you can opt for other styles, such as metal straps or mesh watchbands. Just make sure they are minimal and sleek.
Brown or black leather dress watches are the classics. They're usually worn with suits and other more formal outfits.
To match a watch with your button-down shirt look, look for a diving match with silver or other light metal straps.
Chronographs are also a great watch choice for business casual.
But you can also look around for different watch types, styles, and designs.
You can certainly go for a more casual watch like an aviator or racing watch. You can even choose a different fabric for the strap, like canvas.
Bags
You obviously cannot carry a backpack with business casual attire. It just looks odd and childish.
Therefore, a gentleman who likes to carry his personal items must use a solid leather bag or saddlebag.
Another good option is the canvas bag. Again, remember that it's not just about style but also the functionality.
Leather bags are my personal favorite because they are a serious, mature, and sleek addition to any business casual outfit.
Ties
Ties add life to a business casual look and complement your outfit greatly.
Even if your workplace provides the option to skip the tie, I will always recommend in favor of it.
On top of it, you have an infinite range of ties to choose from.
Just make sure you apply the same formal policy to a tie that you do to a business casual shirt.
For instance, Hawaiian floral ties are a no go for workspaces, even if they look startling.
Your best bet is to play safe with neutral patterns or solid colors.
The modern tie is sleek, elegant, and slim.
Don't go for the overly wide ties. They were the classics back in the day; they aren't anymore.
Pocket Squares
Even professional business attire doesn't require a pocket square, so why must one consider it for business casual?
Pocket squares are a great accessory to add some personality and color to the ensemble.
They make a decent contrast to a business casual jacket and come in a wide range of designs and colors.
Again, it is still an office look, so keep things minimal and dark.
Belts
Belts don't get the attention they deserve. It's mostly because people just use them as a "gadget" to hold their pants instead of as an accessory.
In fact, a vital purpose of the belt is to add some contrasting break to your ensemble rather than keeping the pants in place.
The pants have to be the right waist to sit perfectly on their own.
As a result, you can choose from a wide range of belts that can go well with your business casual outfit.
Go for more formal leather belts and ensure the belt is the same color as your shoes.
What to Avoid Wearing for Business Casual
There are some "don'ts" of the business casual dress code that you must know to help solidify your grip over it:
Avoid wearing overly fancy jackets.
Avoid wearing a t-shirt or polo shirt unless the company's culture allows it.
Avoid wearing baggy clothes, especially if it's a sweater.
Avoid wearing street-style, casual, or athletic pants. Shorts are a no-go, as well as casual jeans.
Avoid wearing bright colors initially. Wear them once you have a good understanding of the dress code.
Avoid wearing loud or busy patterns that attract too much attention.
Avoid highly informal shoes such as sandals, fully casual sneakers, slip-on, etc.
Business Casual Outfits FAQs
What defines the business casual outfit for men?
The business casual dress code for men is defined by a button-down or button-up shirt, chinos or pants, a well-fitted blazer, and dark dress shoes.
Men can also wear a necktie complemented with other accessories, like a watch.
Are jeans acceptable in business casual attire?
Jeans aren't usually acceptable as business casual attire.
However, if your jeans are dark and well-fitted, they can pass. It still depends on the company's culture.
Do you have to tuck in your shirt?
Yes, it's best to tuck in your shirt for business casual.
Make sure you get a dress shirt designed to be tucked in instead of a casual shirt.
What does casual Friday mean?
Casual Friday is the chosen day of the week, where organizations allow employees to dress more casually than the rest of the weekdays.
What's an appropriate outfit for casual Fridays?
A typical casual Friday for men means wearing a button-down shirt or sweater, chinos or khakis, a regular jacket or coat, and leather shoes. Even a high-quality polo shirt would do.
Do not wear shorts. Instead, go for denim with a solid dress shirt.