Not sure what to wear to the upcoming cocktail attire celebration or wedding?
Cocktail attire itself doesn't speak a lot for what the dress code expects of you.
That's mainly why you are here: a definition of the attire and combinations you can wear to different cocktail events.
What is Cocktail Attire for Men
Men's cocktail attire isn't a strictly defined dress code.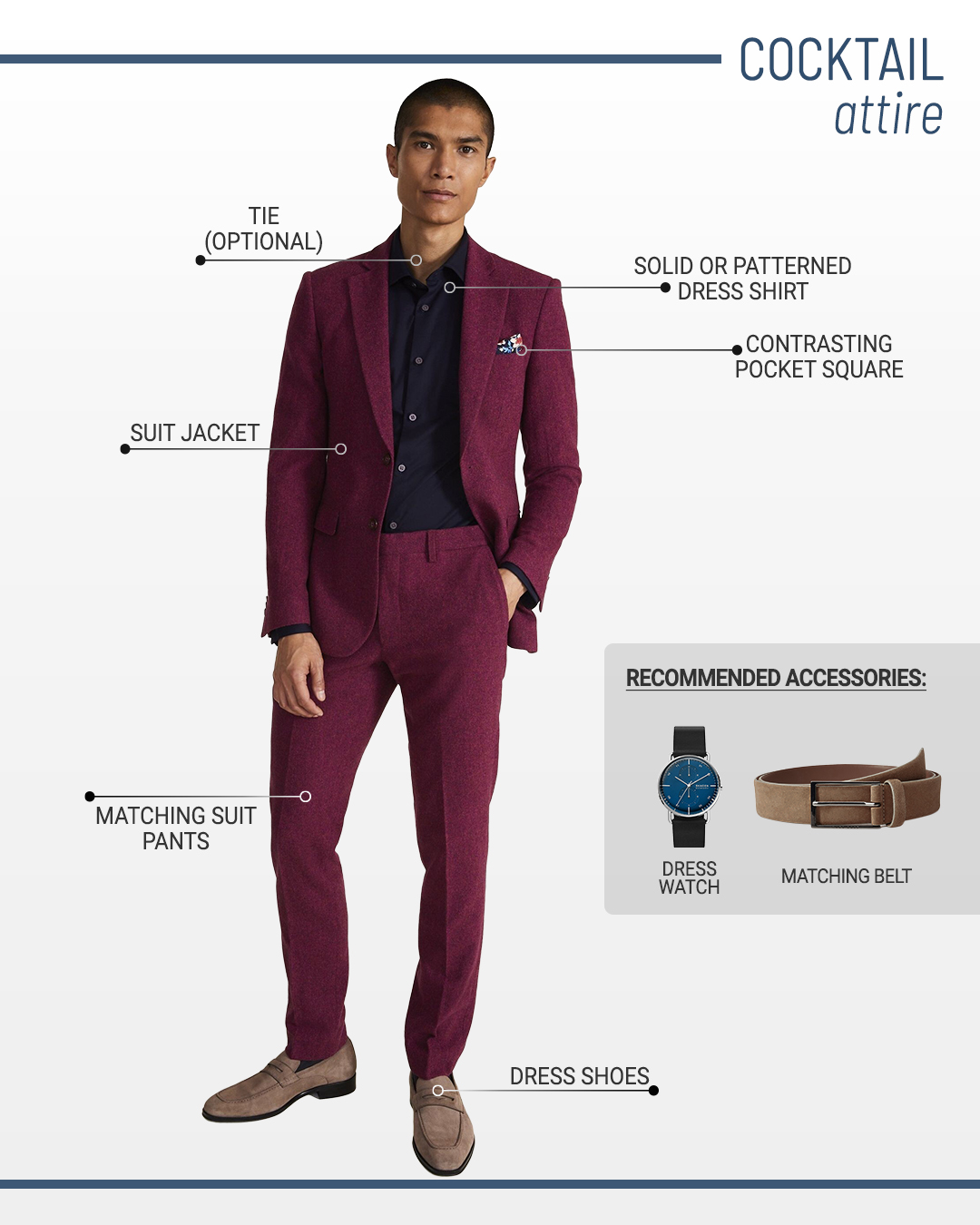 It simply asks you to dress up for an event with some flexibility and room for errors.
This dress code type can be interpreted and executed differently depending on the occasion, time, and venue.
For instance, if you were asked to wear cocktail attire for an event, you are expected to come dressed in a neat and chic jacket.
Whether the jacket should fall on the casual or formal side again depends on several factors and the host's expectations.
The same goes for everything that matches the jacket, including pants, a shirt, and other accessories.
You can either keep everything conservative or the opposite. A mix of both works as long as everyone else is doing the same.
How Formal is the Cocktail Dress Code
Cocktail attire falls in the center of the dress code spectrum.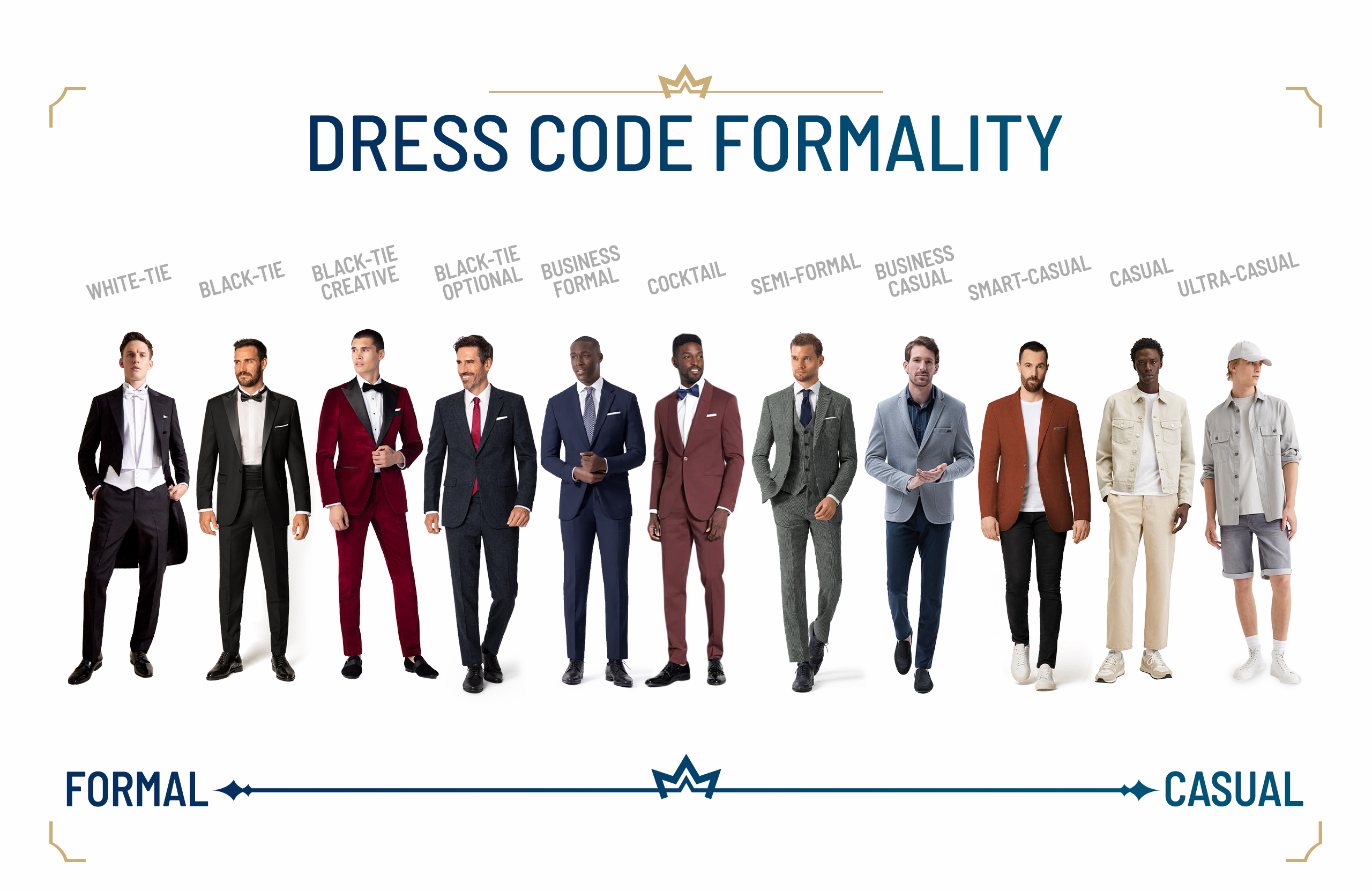 Basically, it is less formal than a black-tie but also a step up from business casual.
It can also be considered a subcategory of semi-formal attire with a lot more room for flexibility.
Since it is also quite similar to business attire, you can turn your office look into a cocktail ensemble with a few changes.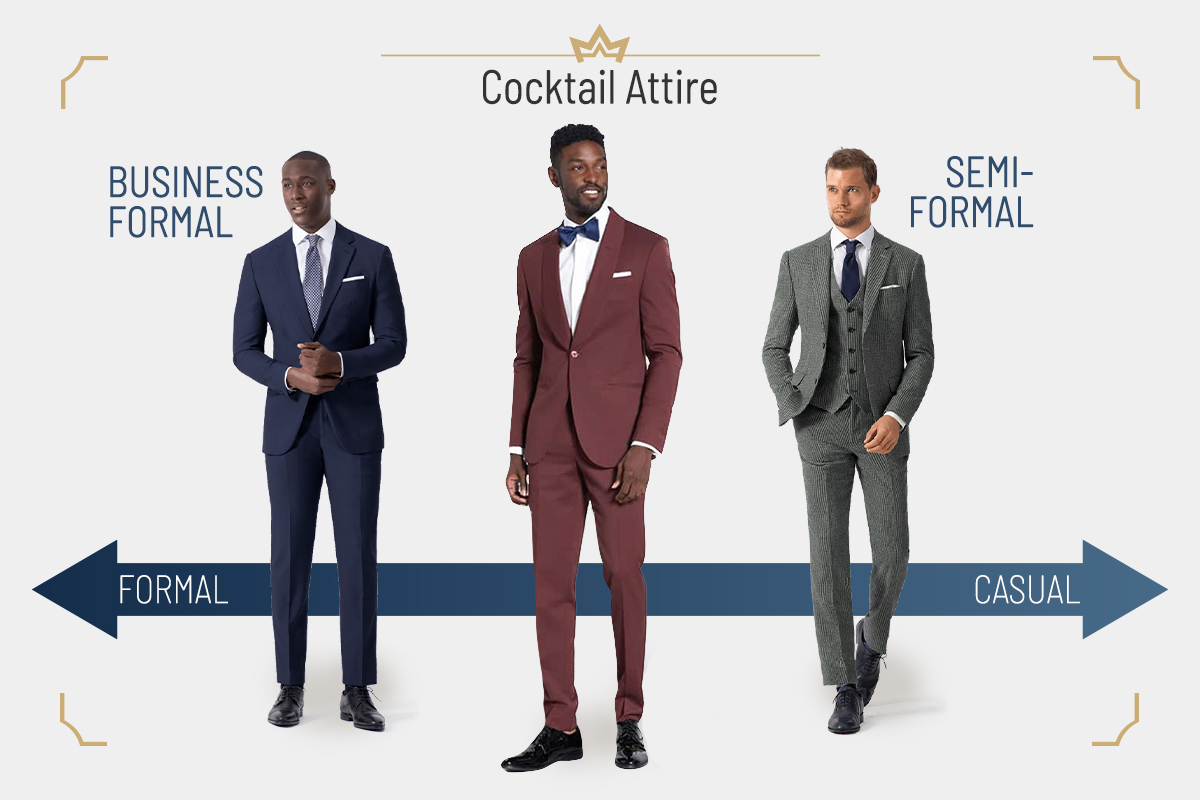 The best part about cocktail attire is that it is one of the most frequently called outfits at events.
It can be worn at formal occasions such as weddings, professional events, parties, and dinners.
And most men find the attire convenient because they already own clothing articles and accessories needed for it.
Differences and Similarities with the Semi-Formal Attire
Even though both attires are quite similar in nature, most find cocktail attire a spot beneath the semi-formal.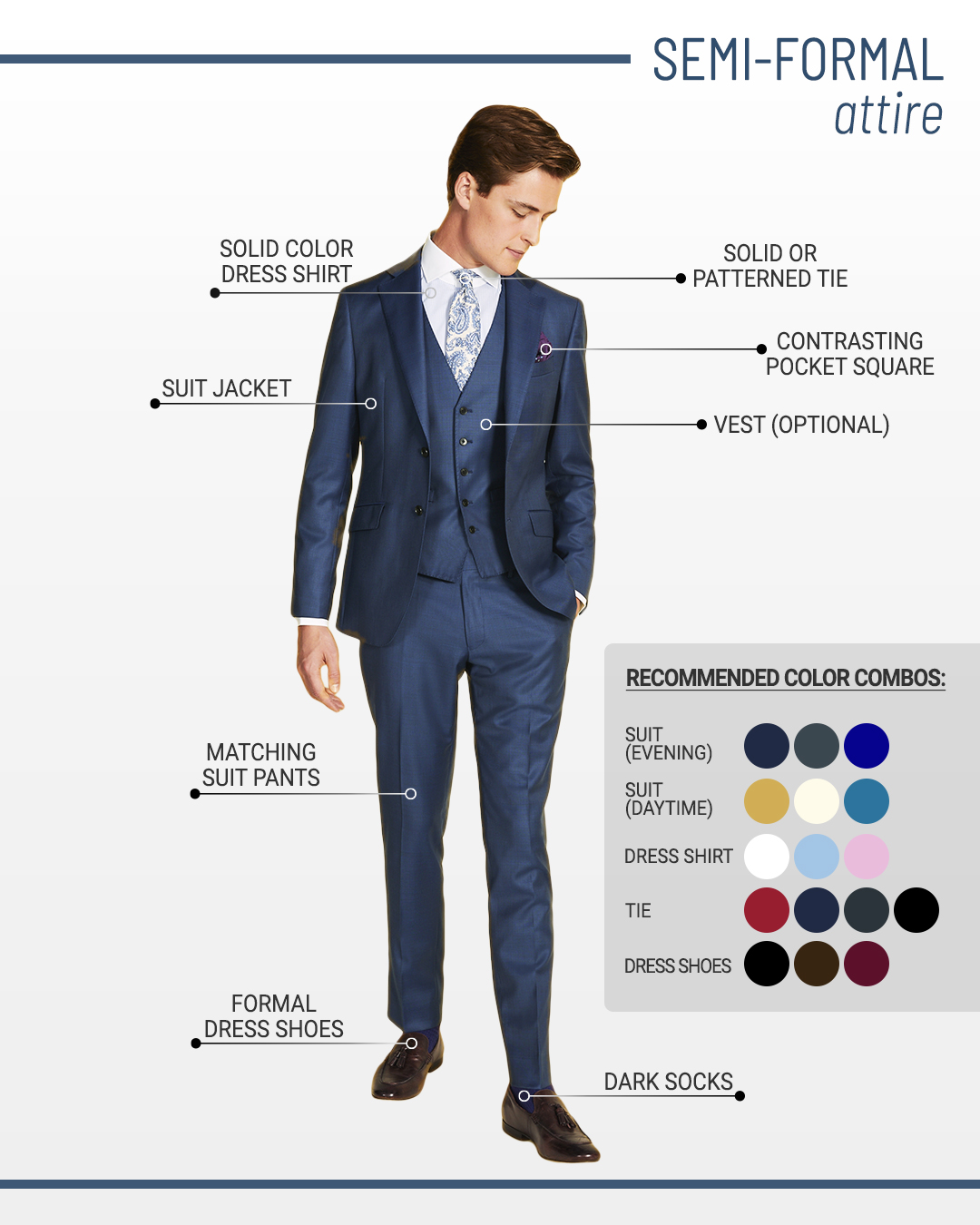 It is less demanding regarding how formal you have to be.
So if you compare both standards, cocktail parties accept separates (blazer and pants) better than semi-formal.
However, this does not mean you cannot wear a suit at cocktail events.
In fact, suits are an essential outfit piece for weddings with the cocktail attire dress code.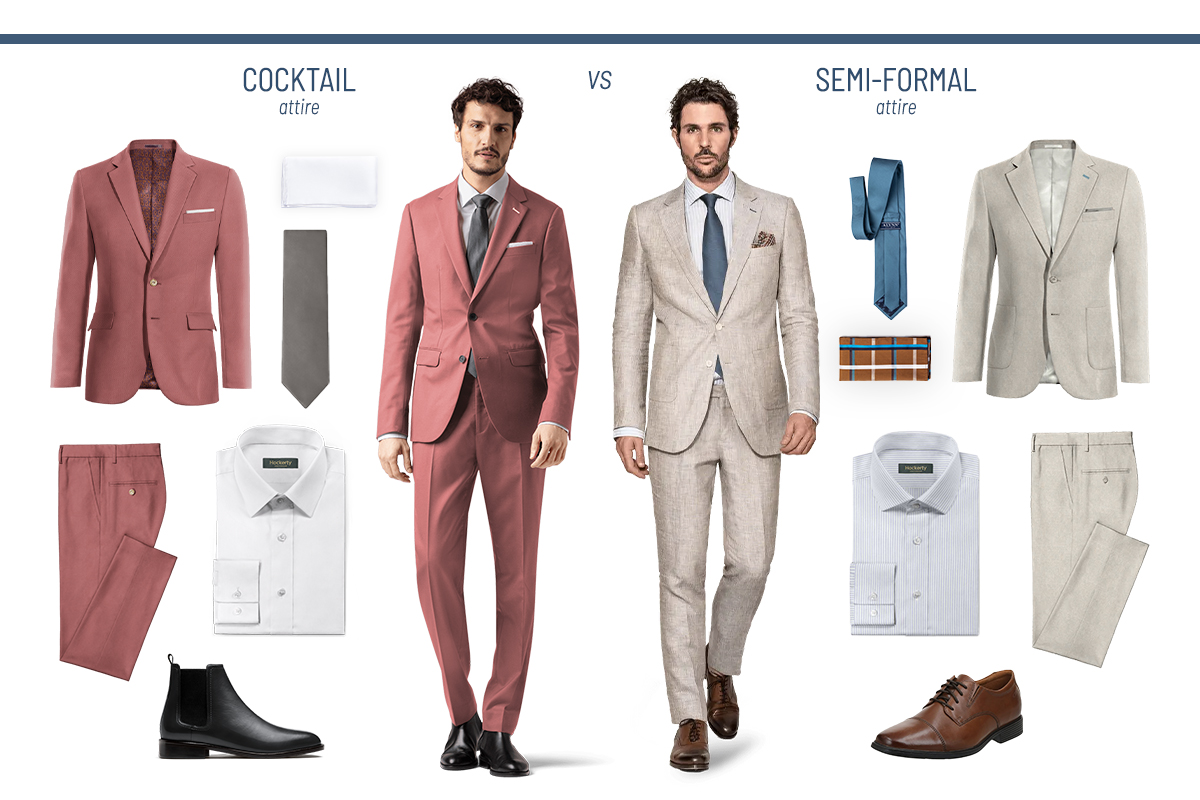 As a result, it all comes down to the event and the host's expectations.
If it was a dinner party instead, you could replace the suit with a blazer, pants, dress shirt, and some accessories to flare things up.
So the main difference with the semi-formal dress code is that cocktail attire allows you to play with a broader set of combinations, colors, and patterns.
The Cocktail Attire for Men
Let's break down the men's cocktail attire into different elements so it's easier for you to dress up for most cocktail events.
Remember, it is quite flexible and has a lot of room for errors. Therefore, you cannot really do much wrong.
Suit
The cocktail attire dress code is defined as something you'd wear to a cocktail party.
As such, suits are preferred for cocktail attire, especially if the event falls more on the formal side.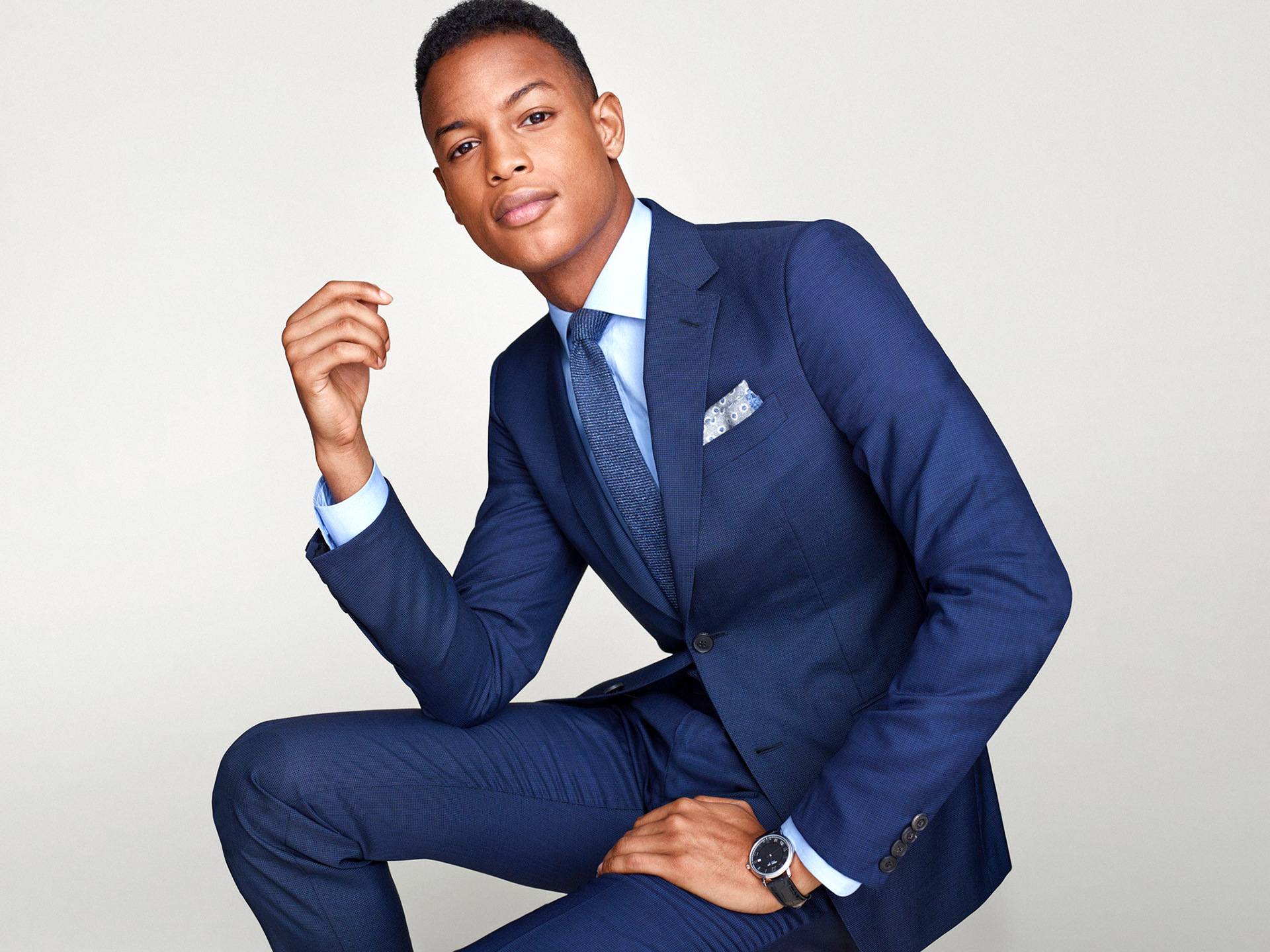 More importantly, it is always better to be overdressed than underdressed.
As a result, if you are ever unsure about what to wear for a cocktail event, stick to a solid suit.
The standard colors will be navy, blue, brown, or any shade of grey.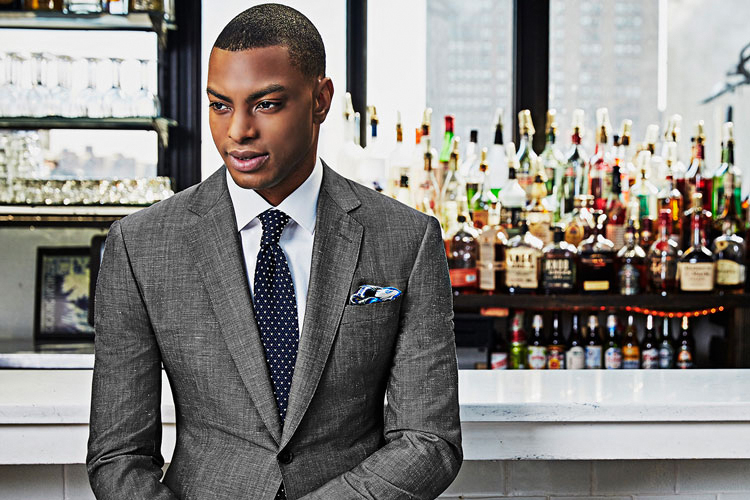 Again, lighter colors and patterns reduce the formality.
Remember that suits are expected for weddings that have cocktail dress codes.
Your best bet is a solid suit paired with a classic dress shirt in either white, light blue, or light pink. You can even add a bow tie to elevate your look.
But the exact suit color you should go for depends on the time of the day.
Best Suits for Daytime Cocktail Events
If you are attending a daytime cocktail event, it's best to use light colors.
Whether cocktail-themed or otherwise, daytime events are always associated with lighter suit shades.
As a result, I would recommend sticking to light shades of blue or grey, which have just the right level of formality.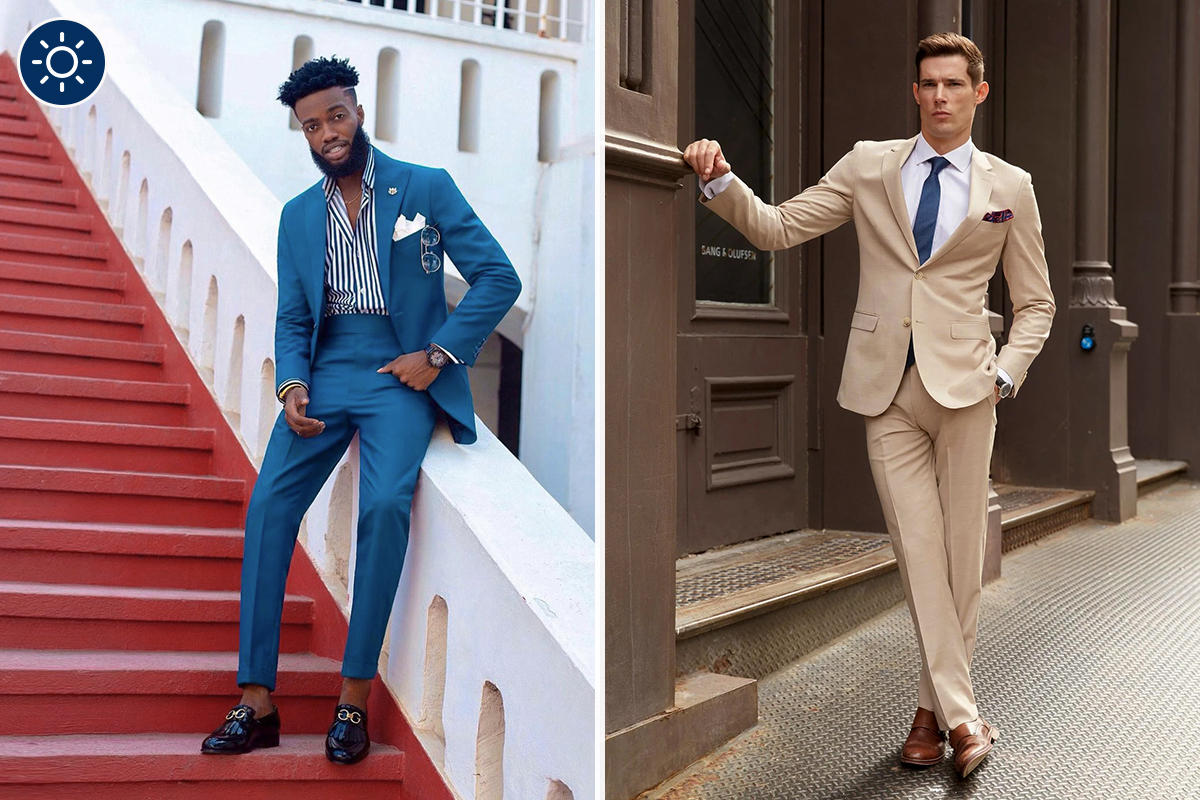 For example, matching a blue suit with a pale pink shirt and a darker blue tie can meet expectations perfectly.
Khaki, tan, or beige suits are also excellent for daytime events during summer, especially for suits made of linen.
Best Suits for Night-Time Cocktail Events
Night-time events are always associated with darker colors, which is also true for the cocktail dress code.
I always prefer solid suits for formal events such as weddings or business parties.
Therefore, your go-to suit colors for night-time formal events are navy and dark grey.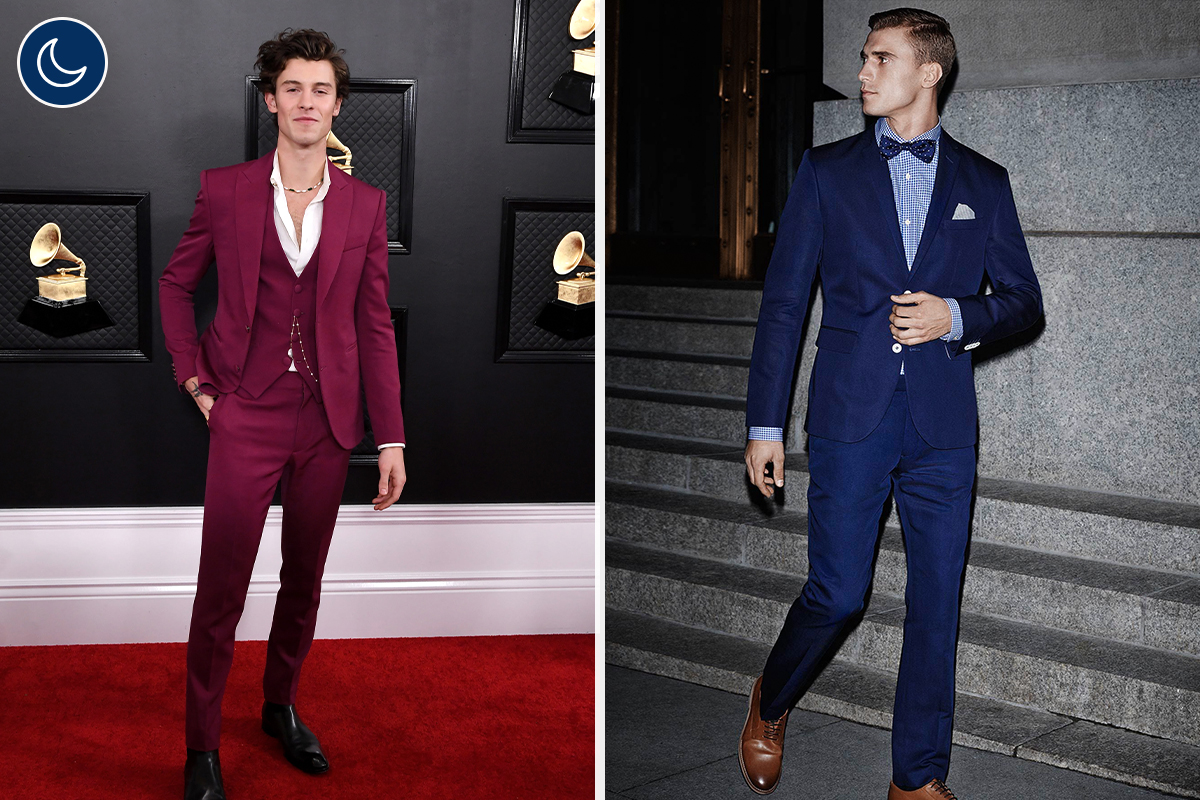 Brown and maroon suits are also a nice choice for nighttime cocktail outfits, particularly during fall.
Match any of these suit colors with a button-up white shirt, dark tie, and contrasting pocket square to complete the look.
Blazer and Dress Pants as a Better Alternative to the Suit
If the event is slightly relaxed and informal, you can go for separates instead of a full suit.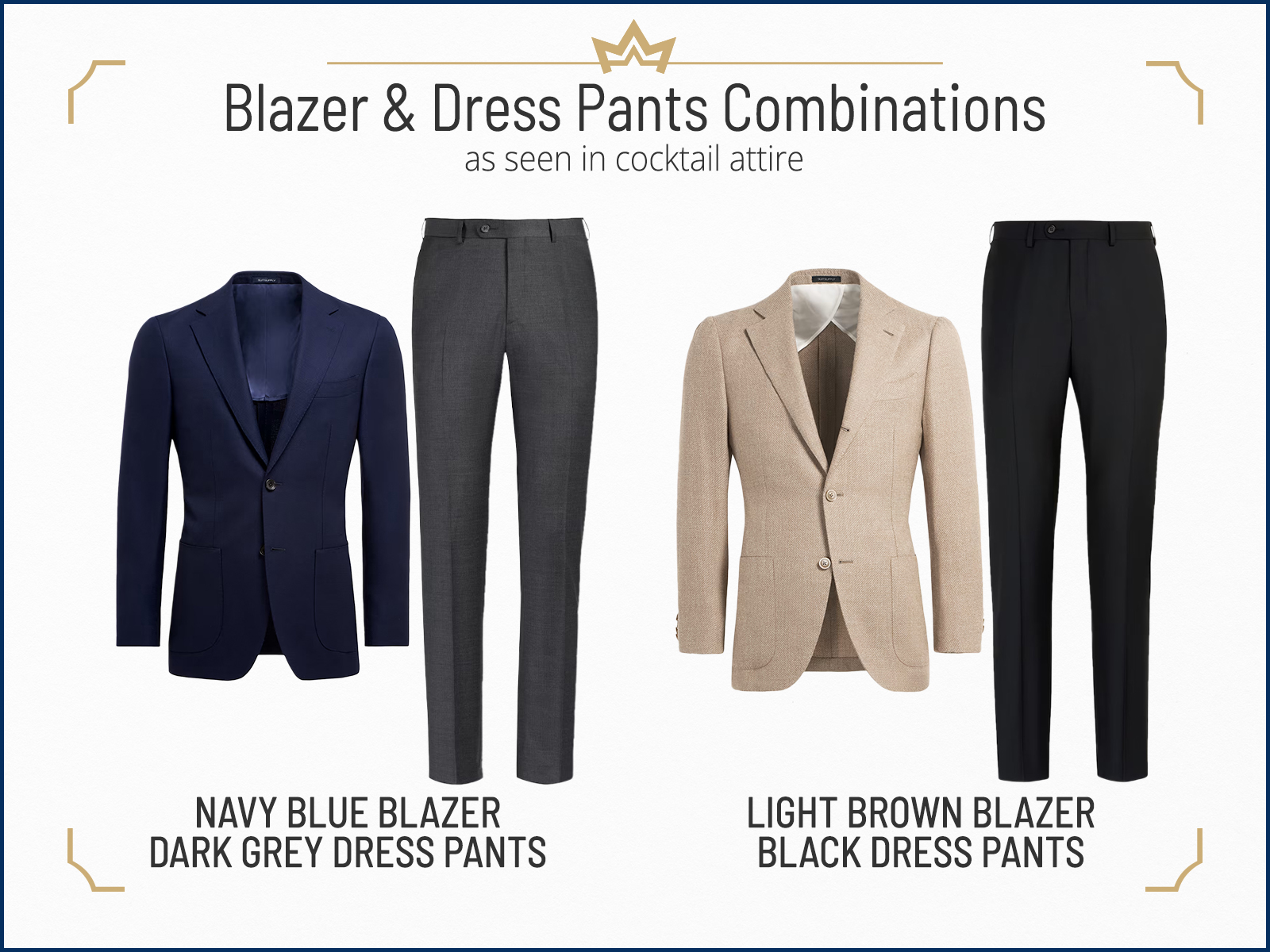 Here you can pair a neat-looking blazer jacket with contrasting pants to add some flare.
For example, a combination of a navy blue blazer and dark grey trousers is a great option to reduce the formality of a full navy suit.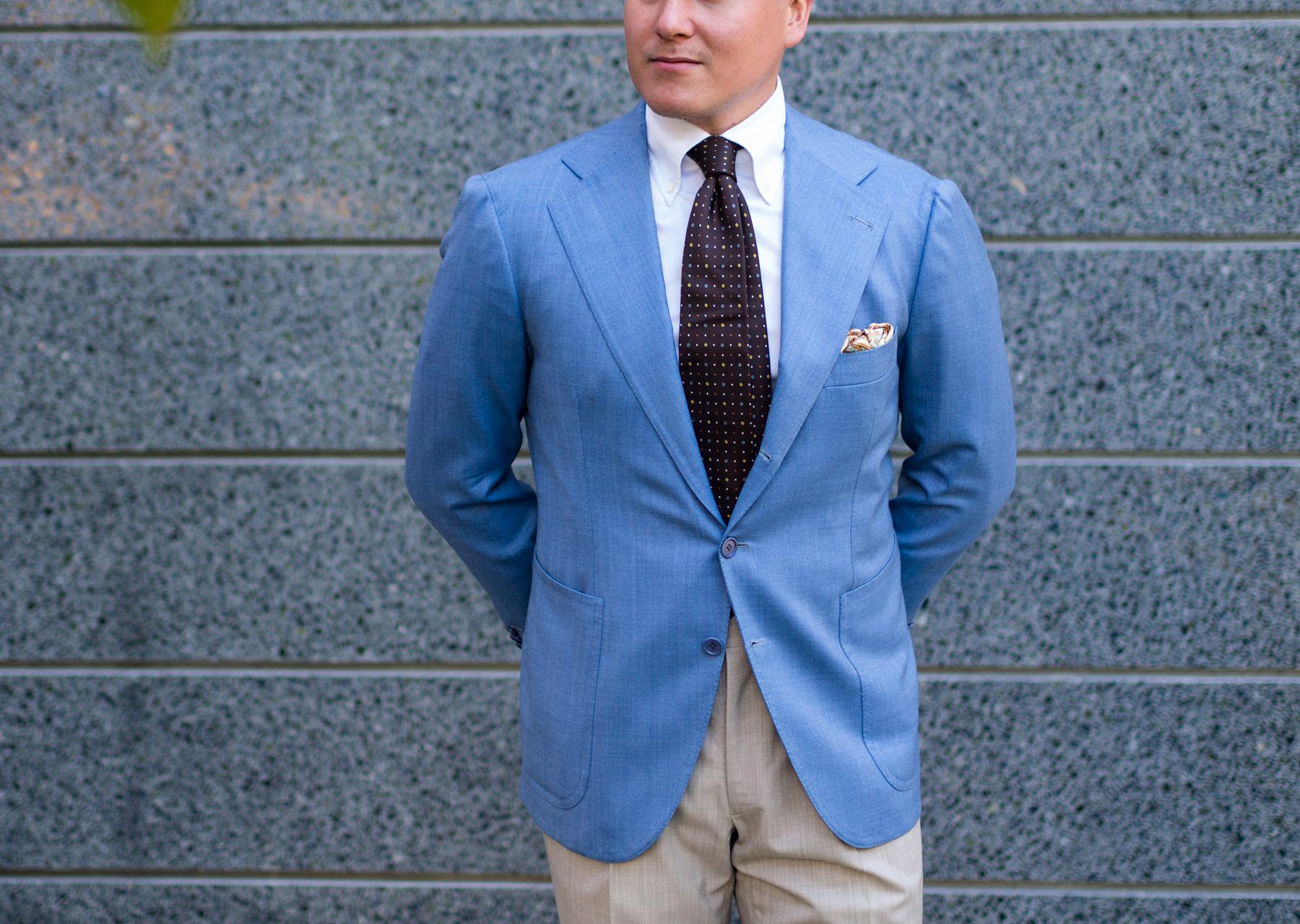 Another alternative would be to match a light brown suit jacket with black or dark brown pants.
The choices are endless, and the whole point is to relax the formal aspect of the ensemble.
Button-Up Collared Shirt
Whether you choose to wear a suit or separates, a classic button-up is a must for cocktail attire.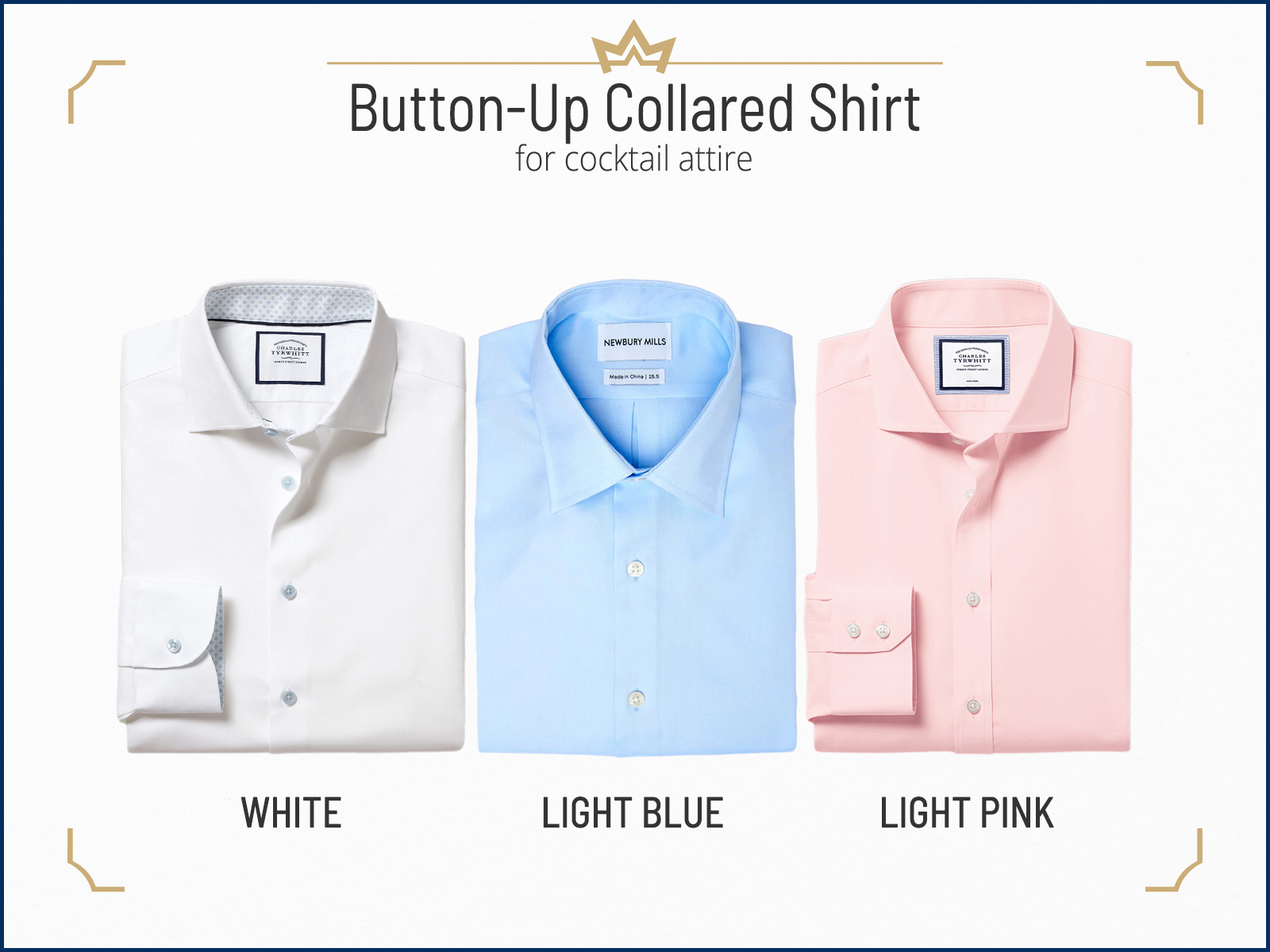 Make sure the dress shirt looks neat and tidy under the jacket.
The collar must have the proper structure and substance, creating the perfect frame to hold the tie.
You can ditch the classic white shirt and replace it with more contemporary colors, such as light blue or light pink.
However, you have to ensure that the shirt contrasts perfectly with the suit and looks good without it as well.
You might not always have the jacket on.
Neckwear
Neckwear is essentially a supporting foundation for the outfit. It means you have room to experiment with a necktie or bow tie.
If you wish to turn a few heads, texture or pattern ties can do the trick.
You can also go for a colorful bow tie with patterns and designs, especially if you strive for a more modern cocktail attire outfit.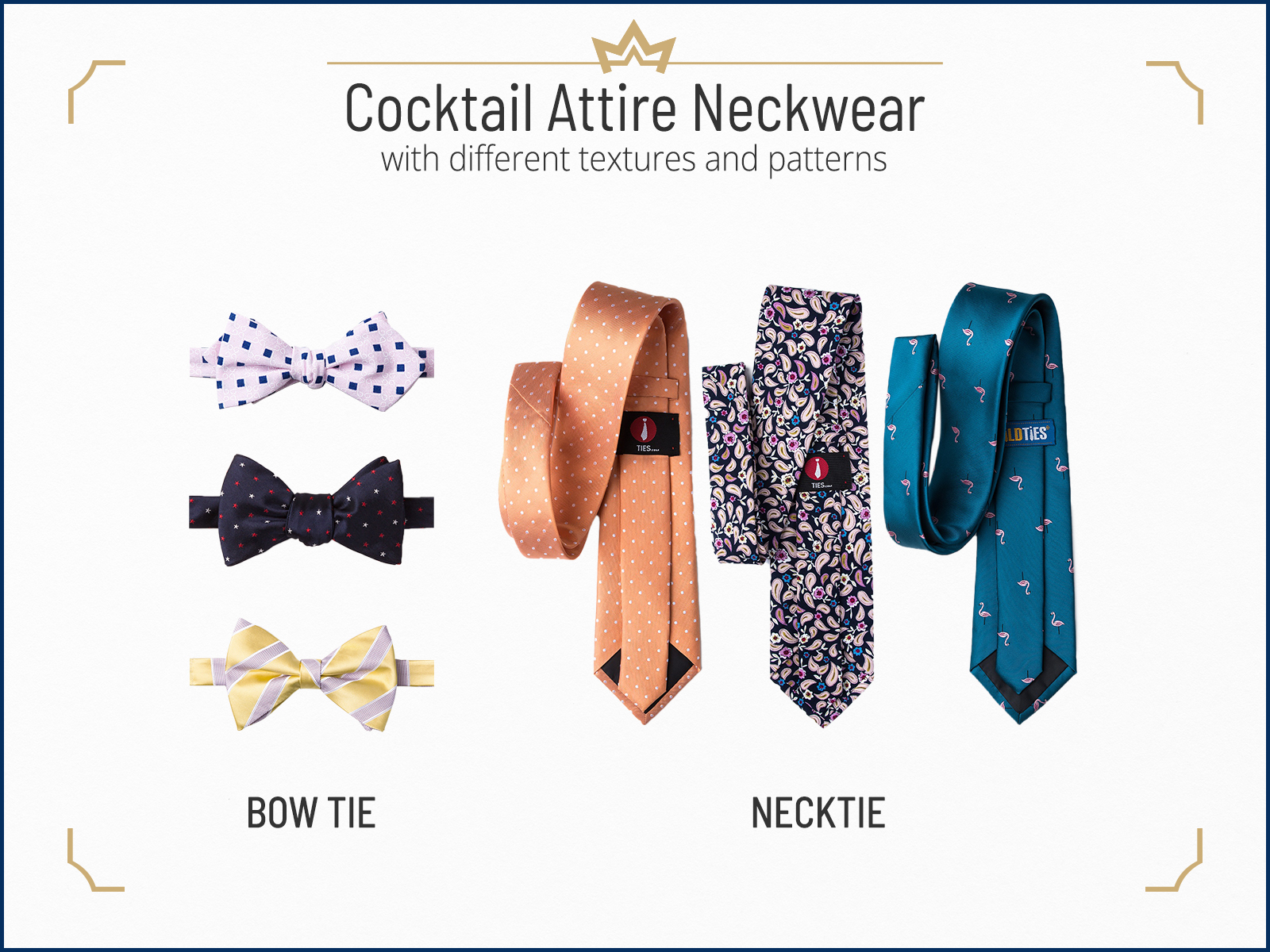 I wouldn't recommend skipping neckwear, but you do have the option.
However, if the event is formal or in case you are unsure, always take the safer route and wear something around the neck.
Dress Shoes
The last vital element for your cocktail outfit is the shoes.
You have to stick with dress shoes because cocktail attire still requires class.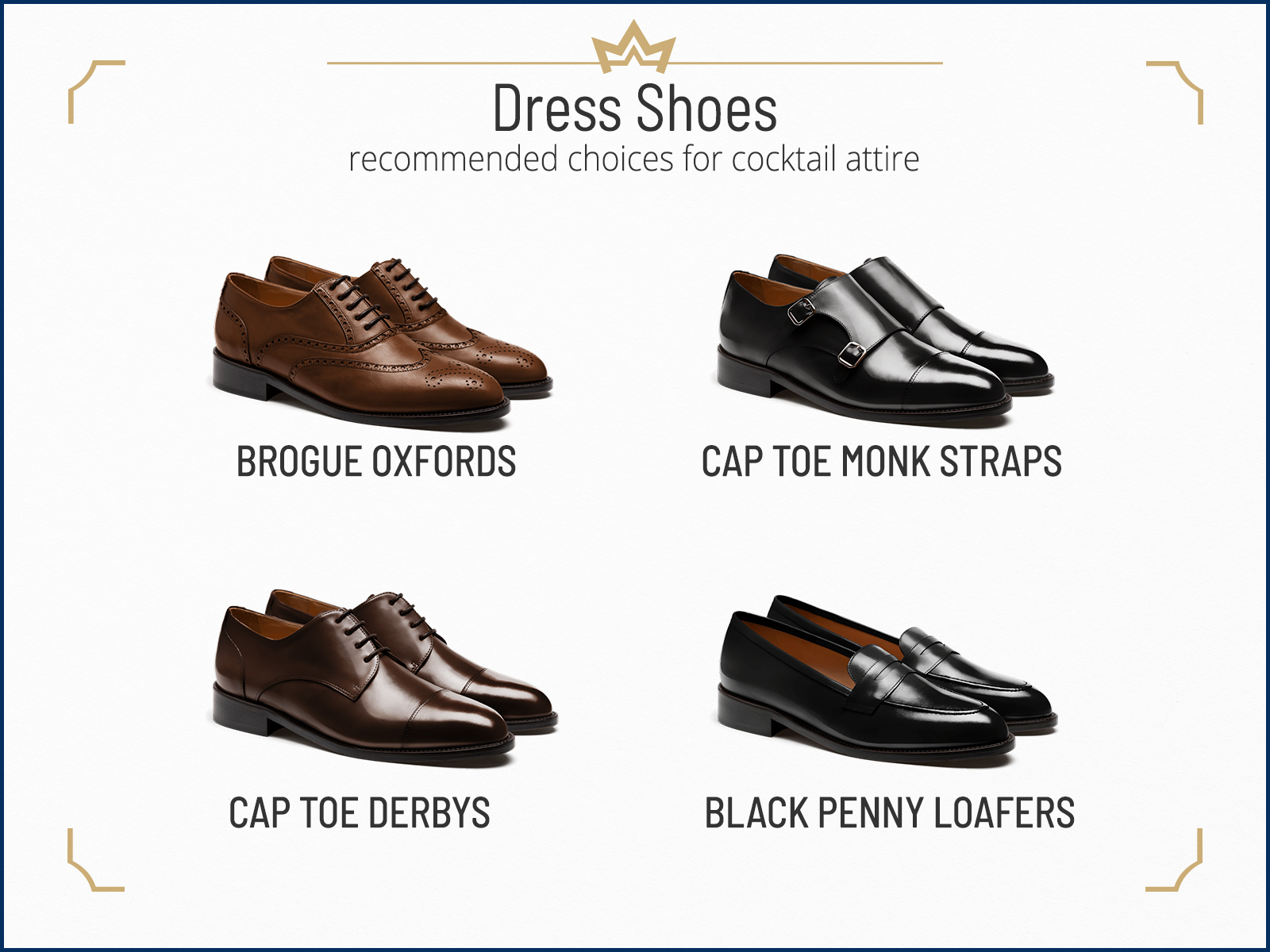 The most popular choices are Oxford shoes and Derbies.
However, you do have the flexibility to add a contemporary touch with monk straps or bluchers.
Even loafers are acceptable footwear for daytime events, especially during summer.
As for the shoe color, the first important thing is to match them with the suit.
If you follow my advice and stick to blue or grey suits, choose black or dark brown shoes to complete the outfit.
Giving Additional Style to the Cocktail Attire
Cocktail attire is not complete with all the elements discussed so far.
You can do much more with it; adding accessories is the best way to bring it up a notch.
After all, you have to come off as dressy.
Show Aesthetic with the Pocket Square
A simple pocket square is a great addition to any attire, accentuating the cocktail look if done right.
It adds a personal touch to the outfit. And the cocktail attire outfit is all about personal style and standing out from the rest.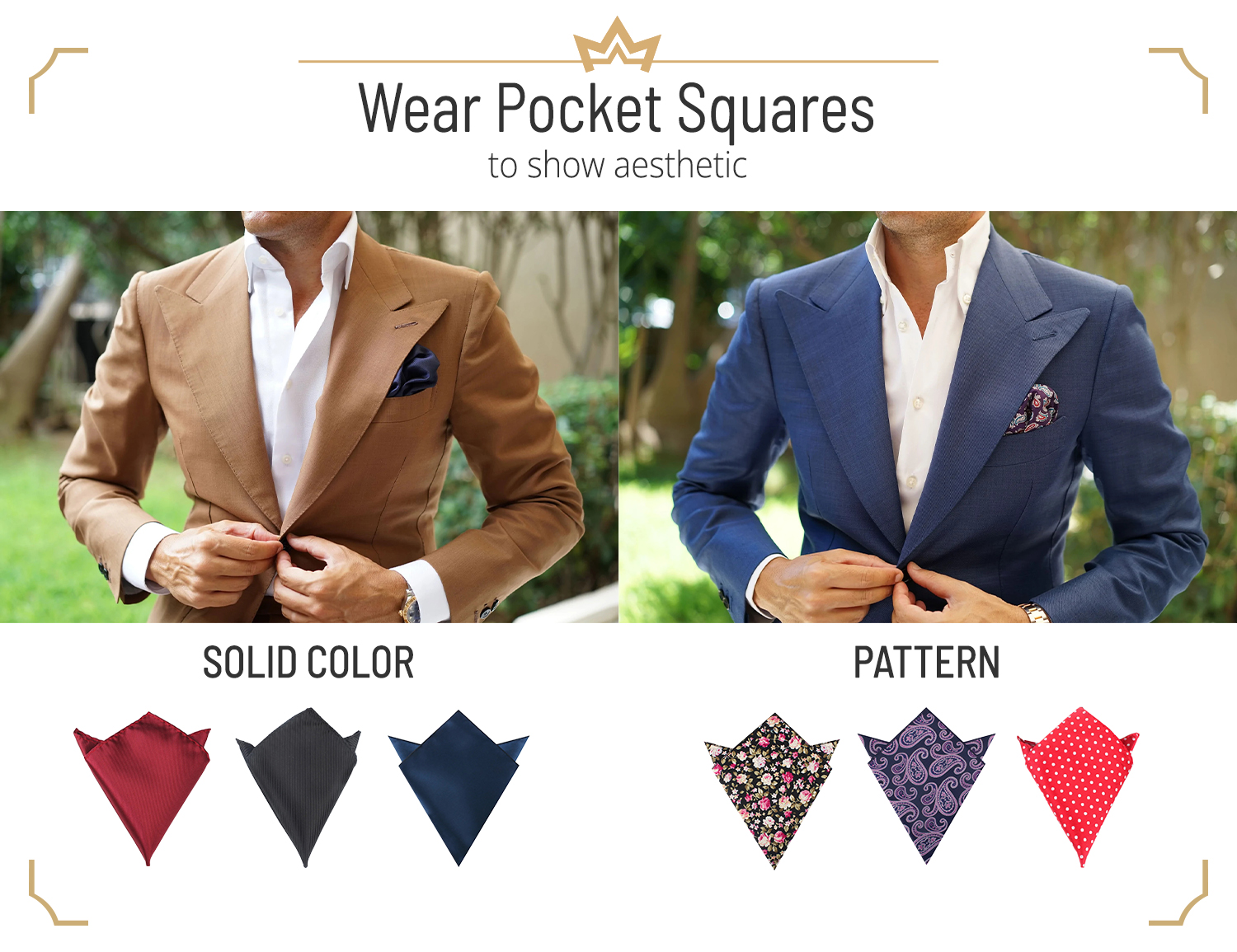 Therefore, I would strongly recommend a solid pocket square in classic colors.
You can choose to go for patterns and bold colors. But personally, I would stick with something simple yet elegant.
Just make sure the pocket square doesn't clash with your tie.
Remove the Tie if It's Casual Cocktail Attire
If you attend a casual cocktail event, you can skip the tie.
This works for events that aren't falling on the formal side.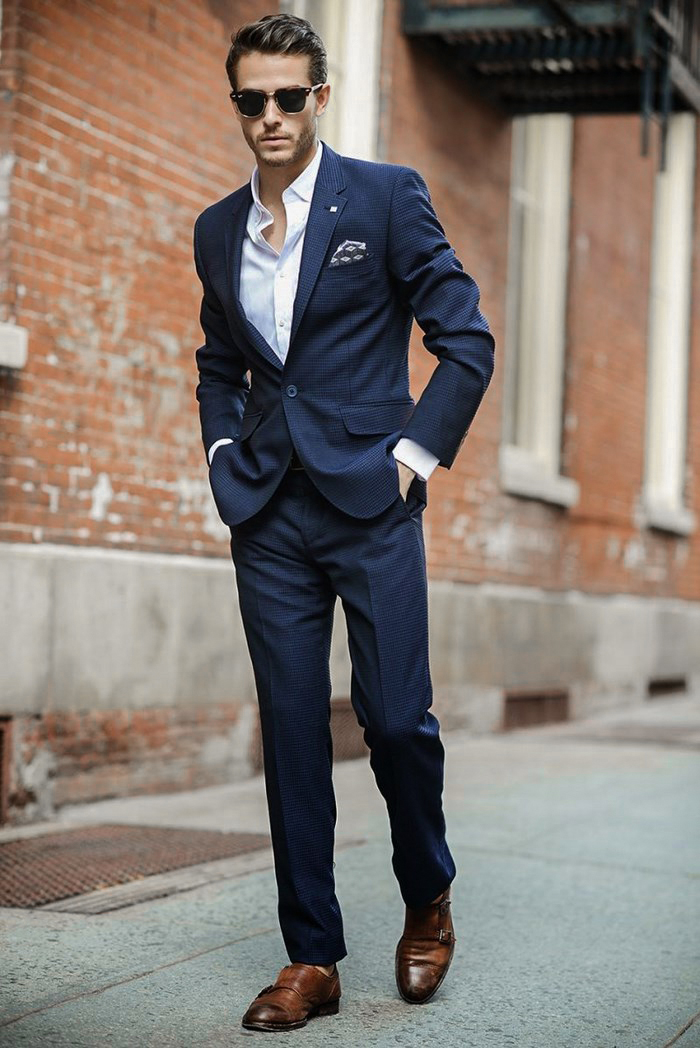 No one will bat an eye if you attend a cocktail-themed party without a tie.
Just make sure to leave a button or two of the shirt undone to look sleek.
Add a Belt and Watch to Personalize the Look
You can take personalization to another level by adding a belt that matches your shoes.
Similarly, a leather strap or metal watch is a great addition to your cocktail attire.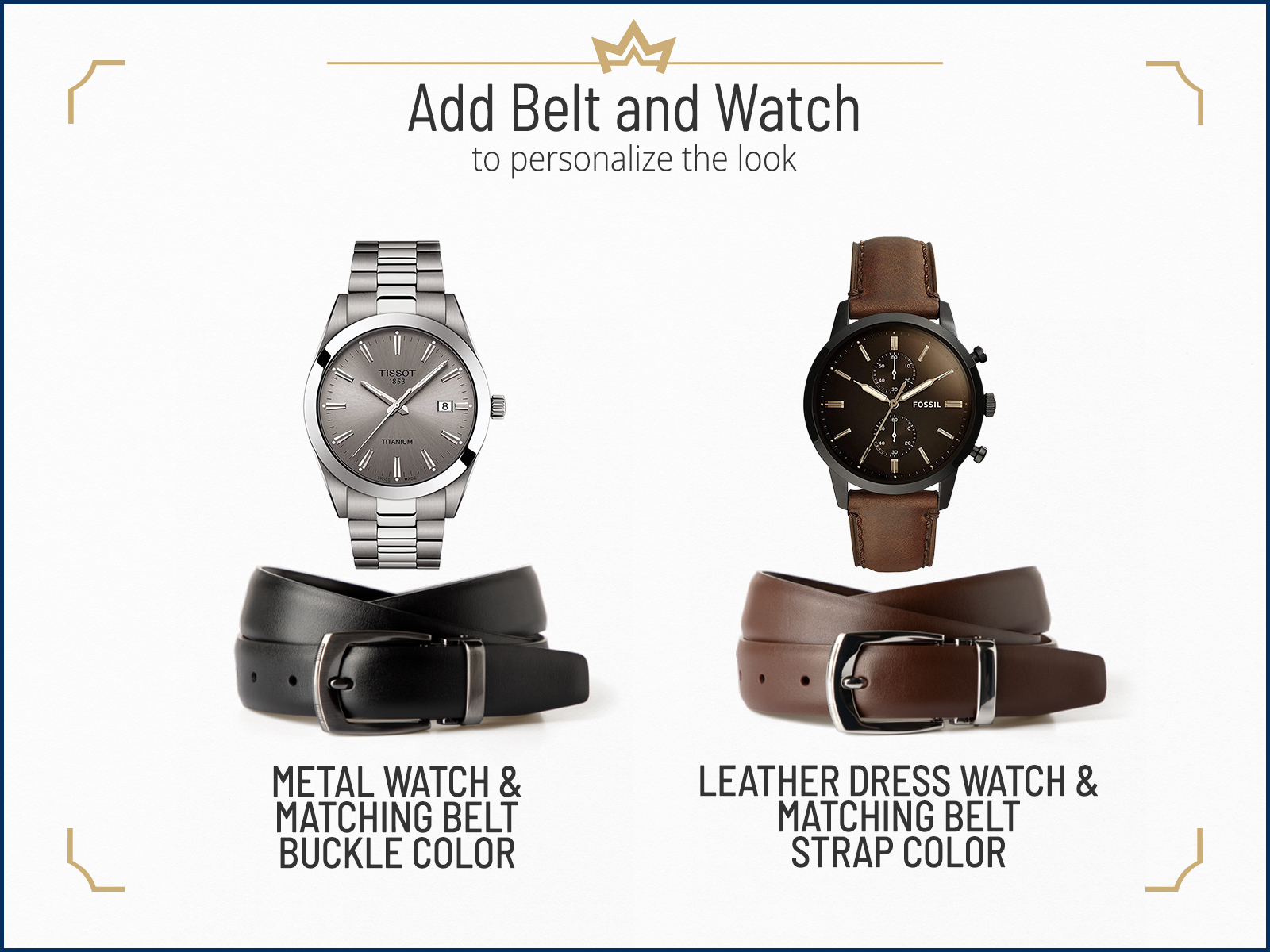 If you choose a leather match, the leather's color should be the same as the shoes and belt.
If you want to stand out from the crowd, nothing should stop you from throwing on a pair of sunglasses.
Wedding Cocktail Attire for Men
If the next wedding you have to attend requires formality, keep your outfit conservative.
Stick with your dark suit, plain French cuffs shirt, maybe a patterned tie with a contrasting pocket square, and formal dress shoes.
Navy or charcoal suits are the traditional cocktail attire approach for weddings.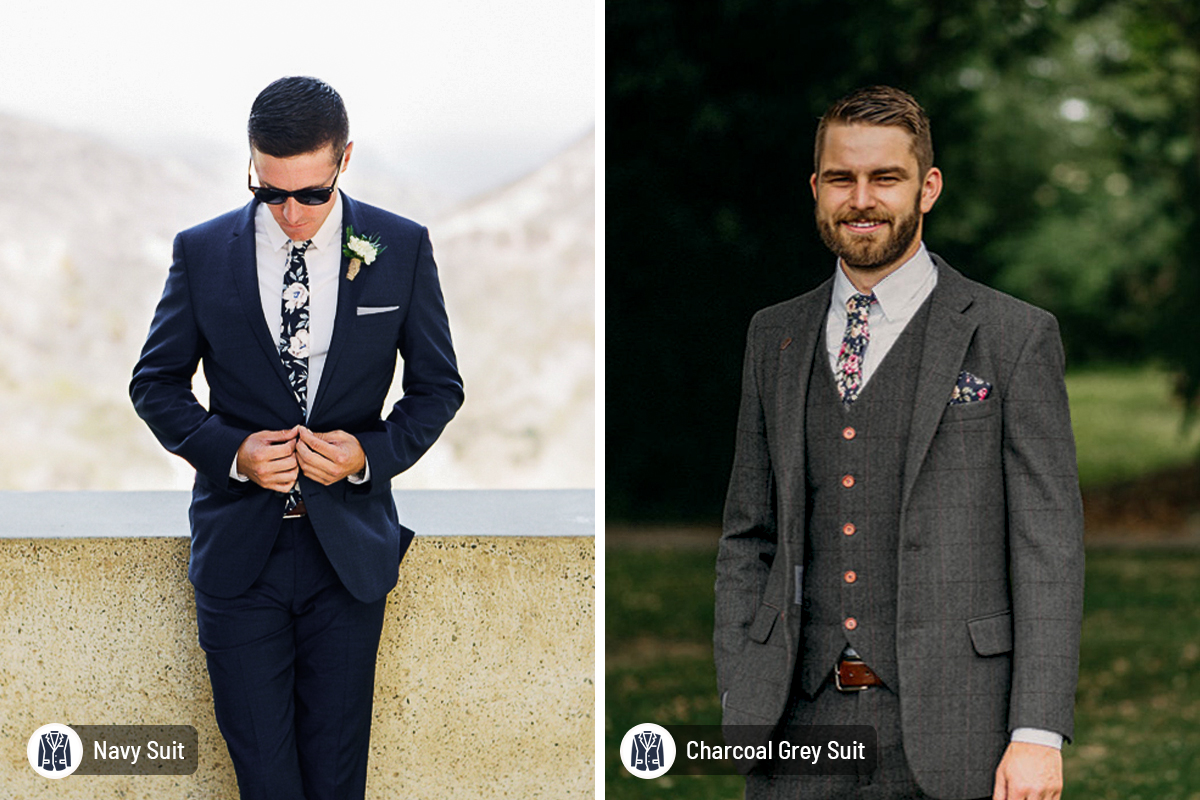 They allow you to reflect on your attendance as a guest.
More importantly, these two colors are extremely easy to accessorize.
You can put on a solid light blue or light pink dress shirt to avoid the usual white.
However, the white dress shirt is still perfectly fine.
Ties can be skipped for weddings, but not wearing a tie reduces the formality.
Try sticking to plain tie colors or maybe some muted colors with patterns.
You have more room to experiment with a contrasting pocket square to add colors and texture to the look.
There aren't many options for dress shoes other than rich brown or basic black Oxfords or Derbies.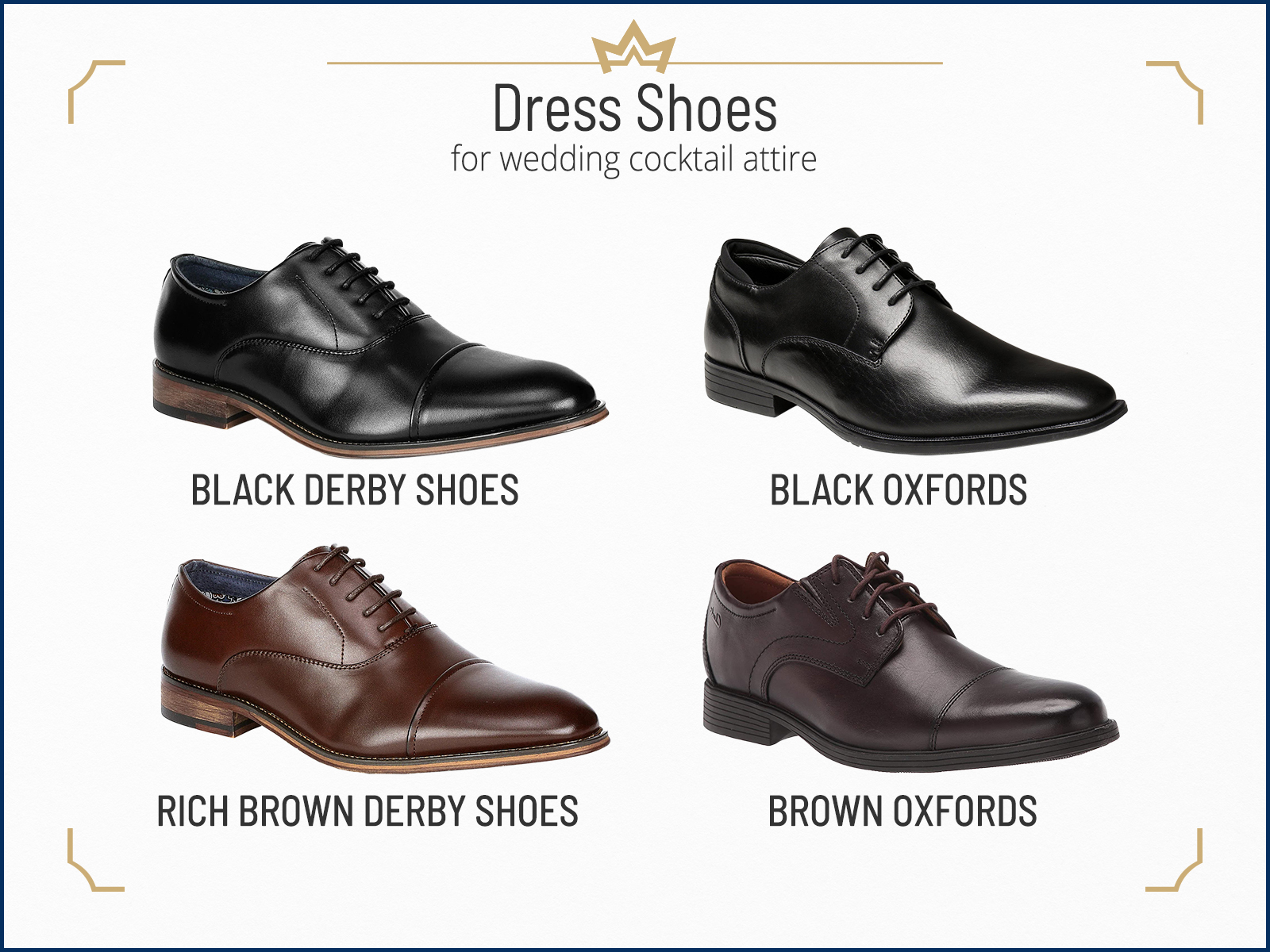 Add matching socks, and you will be good to go.
Fashion-Forward Cocktail Attire
You will need a fashion-forward look if you are invited to a cocktail event that is more of an excuse to look amazing.
Vibrant colors are synonymous with fashion-forward, and that should be your focus.
A bold suit like green or burgundy is a great choice to make a fashion statement.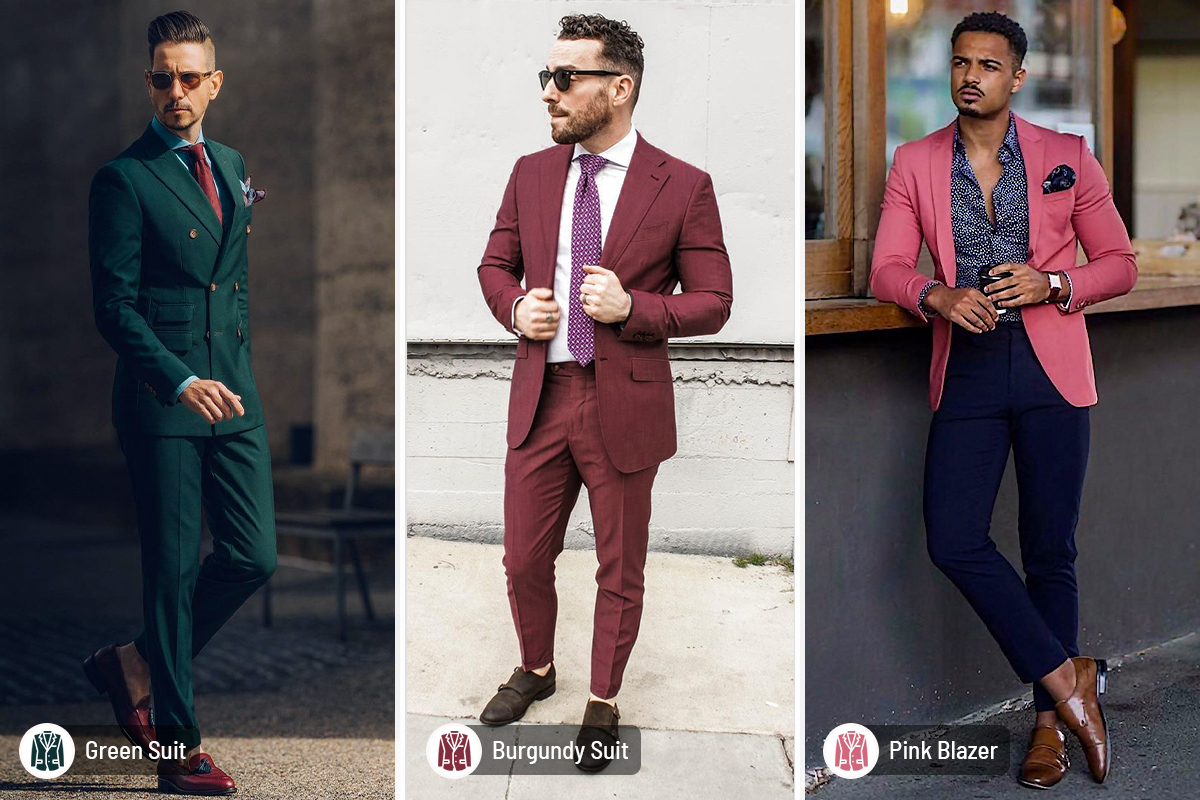 You could also separate the suit and balance the bold blazer with classic pants.
I personally love the pink jacket paired with navy dress pants.
Add a light blue or crisp white dress shirt, and let the bold jacket handle the show.
A shawl collar adds extra flair to the look, but a notch lapel is safer if you don't want to rewrite some of the rules.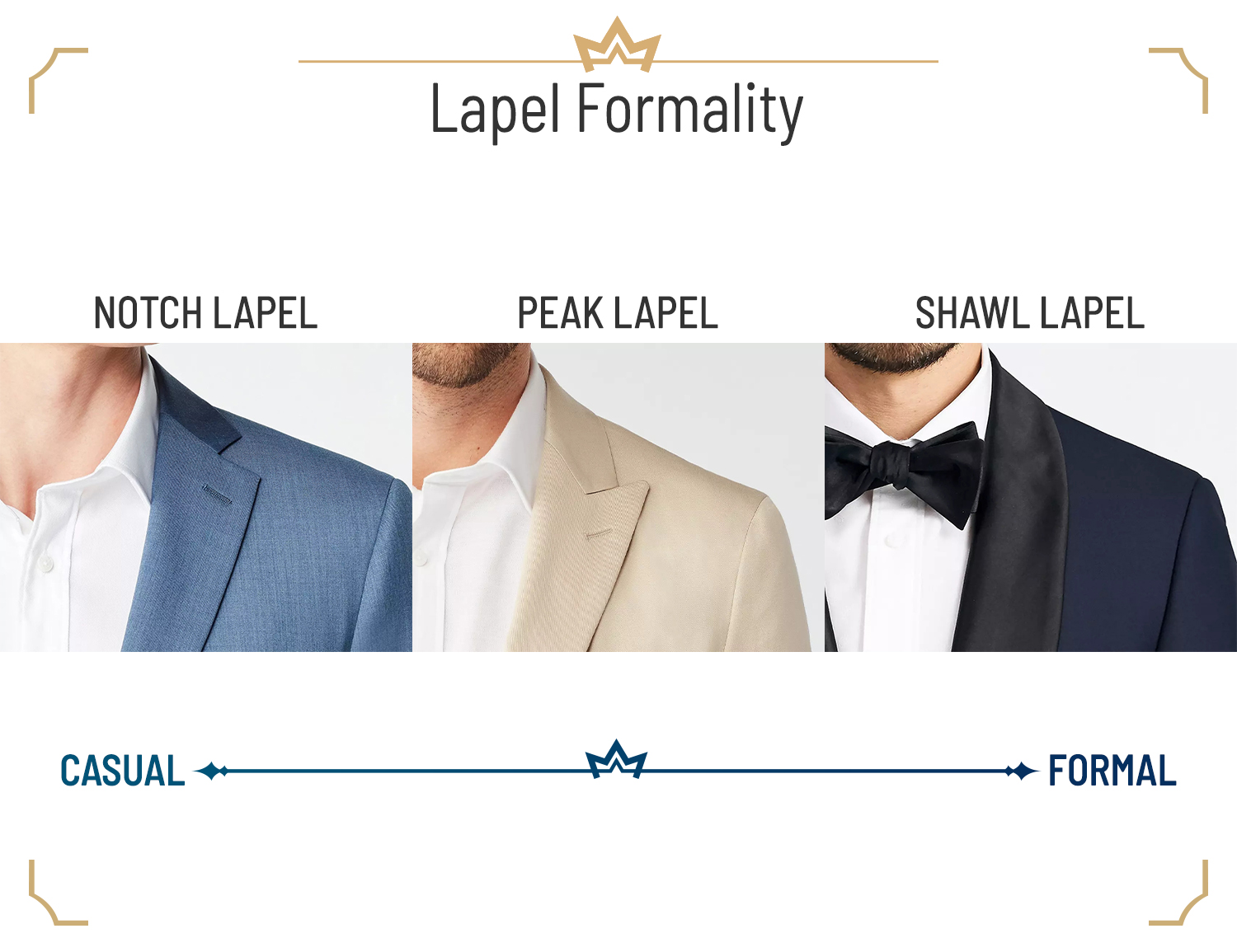 Since the bold suit has to take the lead, you either have to go easy on the tie or skip it altogether.
A monochromatic pocket square or a simple print is an easy win on this look.
Since the party is easygoing, you might have to dance a bit, so make an appropriate shoe decision.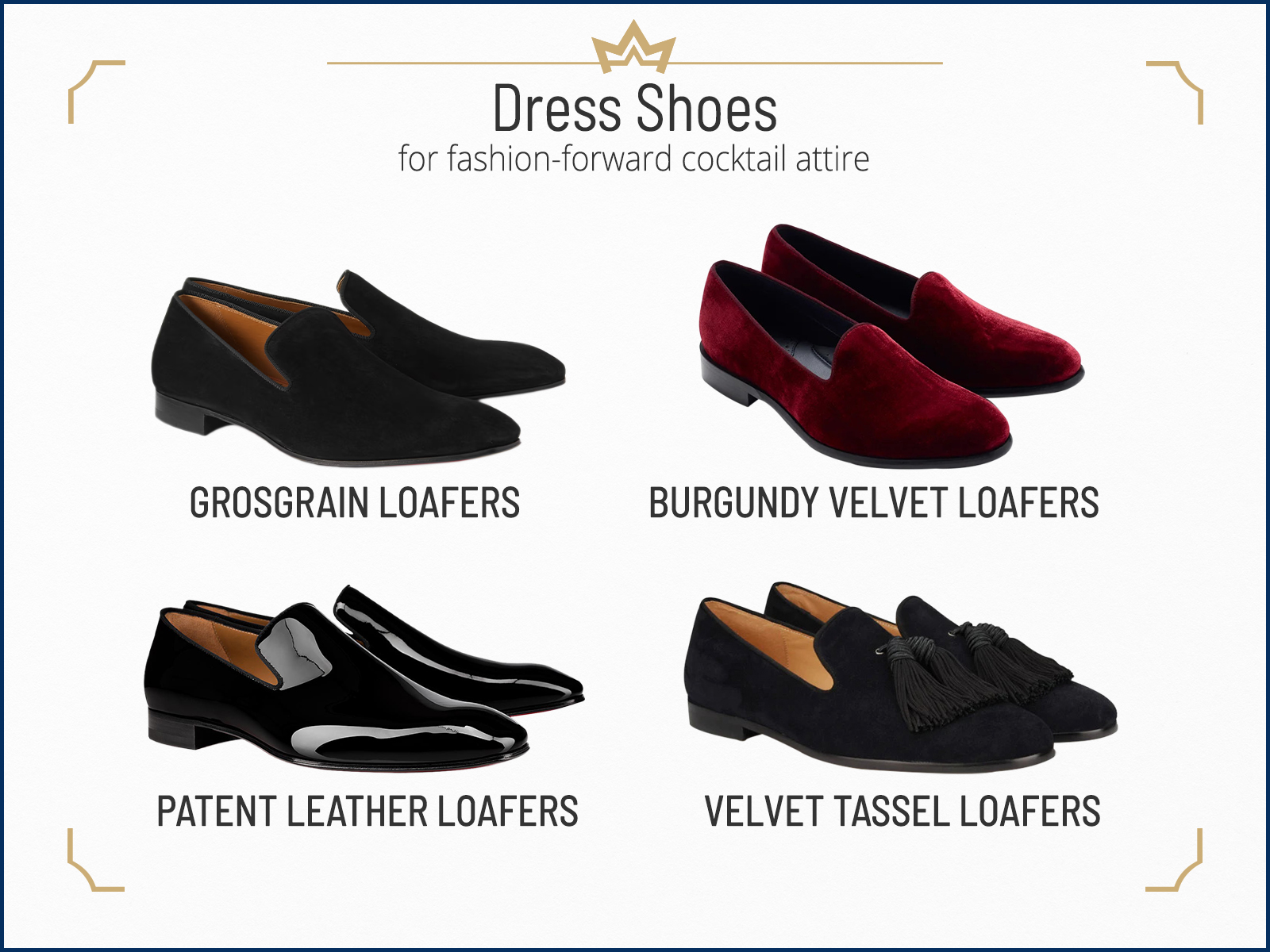 You can still wear grosgrain and patent dress shoes if you want to elevate the outfit's formality.
Cocktail Attire for Casual Events
Men's cocktail attire for casual events is most flexible than other dress codes, so take this opportunity to wear an outfit that speaks "relaxed."
Thus, you can't wear your usual business suit because it's too formal.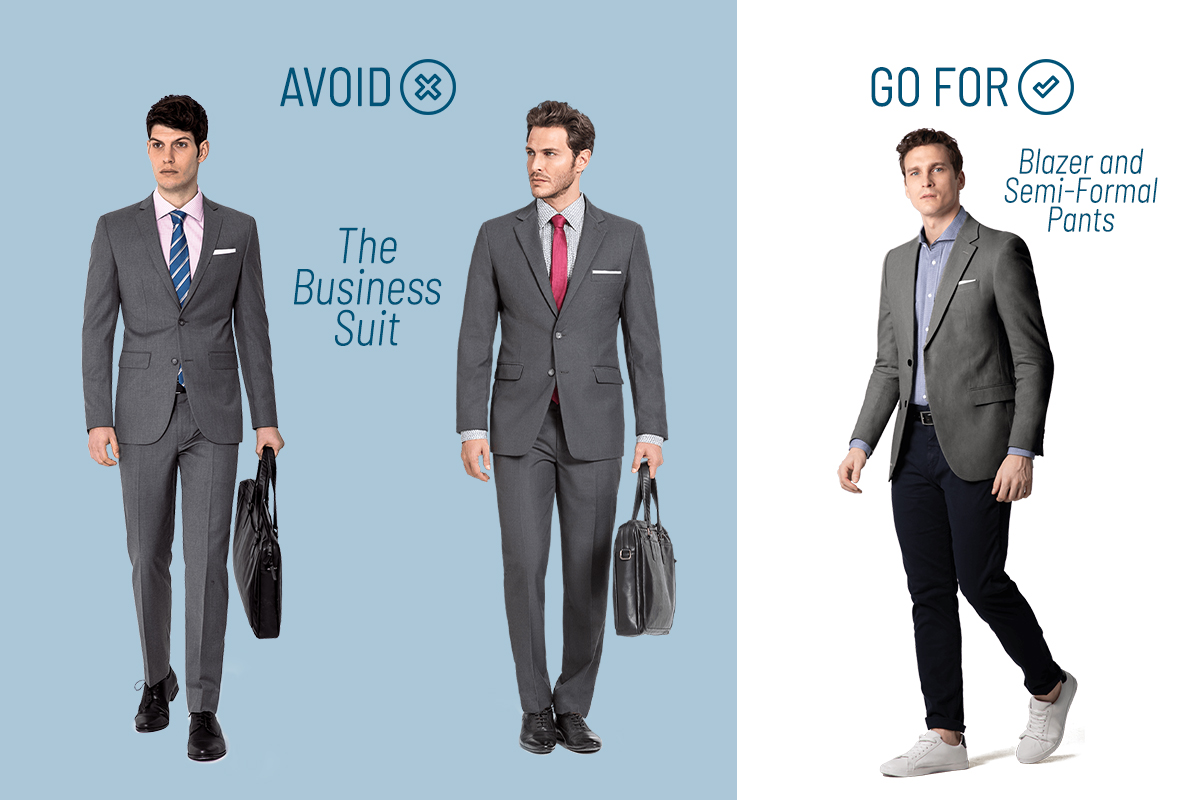 Instead, opt for a separate blazer paired with semi-formal pants. A tie is not a must, but you can keep one if you feel like it.
You can even replace the standard dress shirt with something more casual, like a sweater or turtleneck.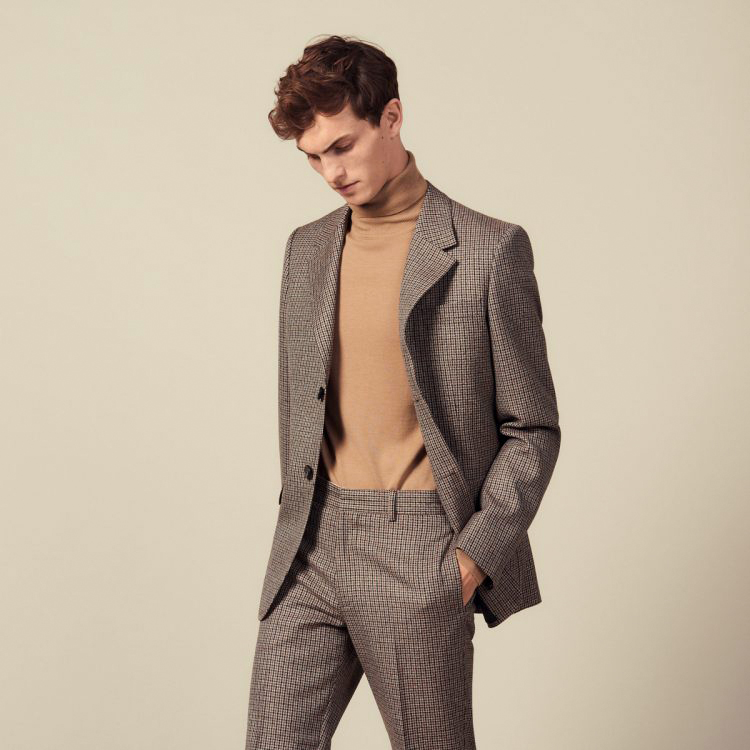 This is an excellent opportunity to play around with shirt patterns and colors.
However, it is still somewhat formal, so make sure your outfit also reflects that.
You can do shoes a bit differently at this event.
The best alternative is leather sneakers but make sure they are made to wear with a suit.
What to Avoid Wearing in Cocktail Attire for Men
You must know by now that men's cocktail attire means different things for different events.
Given that, there are some basic DON'TS that you must avoid at any cost unless explicitly demanded by the host.
DON'T wear a tuxedo or black suit.
Black suits and tuxedos are associated with formal events such as funerals, black-tie events, and the office.
DON'T wear too casual clothes.
T-shirts, polos, chinos, and jeans are reserved for everyday wear.
You cannot rely on them to add class to your cocktail ensemble, not even when they are paired with a neat and chic blazer.
DON'T wear casual shoes.
Casual shoes are a no-go for men's cocktail dress code, no matter how formal.
You should only wear leather sneakers if they are minimalist.
DON'T skip the tie every time.
A tie can complement both semi-formal and casual cocktail looks.
More importantly, I recommend you always go to a cocktail wedding with a tie.
You can take it off at some point, but it is always safer to go with one.
Cocktail Attire FAQs
What defines cocktail attire for men?
At its core, cocktail attire for men stands for a classy suit in dark colors.
Depending on the dress code requirements, it can be a whole suit or separates.
It is to be paired with a button-up dress shirt, dress shoes, and possibly a tie and pocket square.
Are vests an acceptable part of cocktail attire?
Yes, vests are an acceptable part of cocktail outfits.
There is nothing wrong with wearing a three-piece suit to a cocktail event.
It works as long as the level of formality is required by the host.
What are the best suit colors for special cocktail events?
Since black is reserved for formal events, the best colors for cocktail events are navy and charcoal.
These two colors have the right amount of formality, class, and tidiness if they fit right.
Are suspenders acceptable substitutes for the belt?
Yes, you can opt for suspenders at cocktail events.
There are no hard and fast rules against suspenders, so if you prefer, you can wear one.
What is cocktail party attire?
Cocktail party attire is a semi-formal outfit you wear at cocktail parties, evening events, weddings, or formal occasions.
Try to appear formal with your outfit, color, and accessory choices while still looking relaxed.
Does cocktail attire require a tie?
Even though a tie is not compulsory for cocktail attire, it is still encouraged. However, not wearing a tie can come off as too informal.
Wearing a tie and removing it later during the night is a better alternative.
Do you need a jacket for cocktail attire?
A definite yes. It can be as part of a suit or a separate blazer matched with dress pants.
But a jacket is a must for men's cocktail attire, and there is no exception to this rule.