Suit fabrics come in different textures, color pallets, and fabric qualities that vary from material to material.
However, most suit enthusiasts aren't aware of these differences.
Even if they are, they aren't really sure how to weigh the pros and cons of choosing the right material.
This guide will help you understand the nitty-gritties of some of the most commonly used suit fabrics so that you can get the right one for your next suit!
Wool Suits
The wool comes naturally from sheep's fleece (other choices include goats, alpaca, llama, etc.) and is one of the most prevalent fabric choices for men's suits.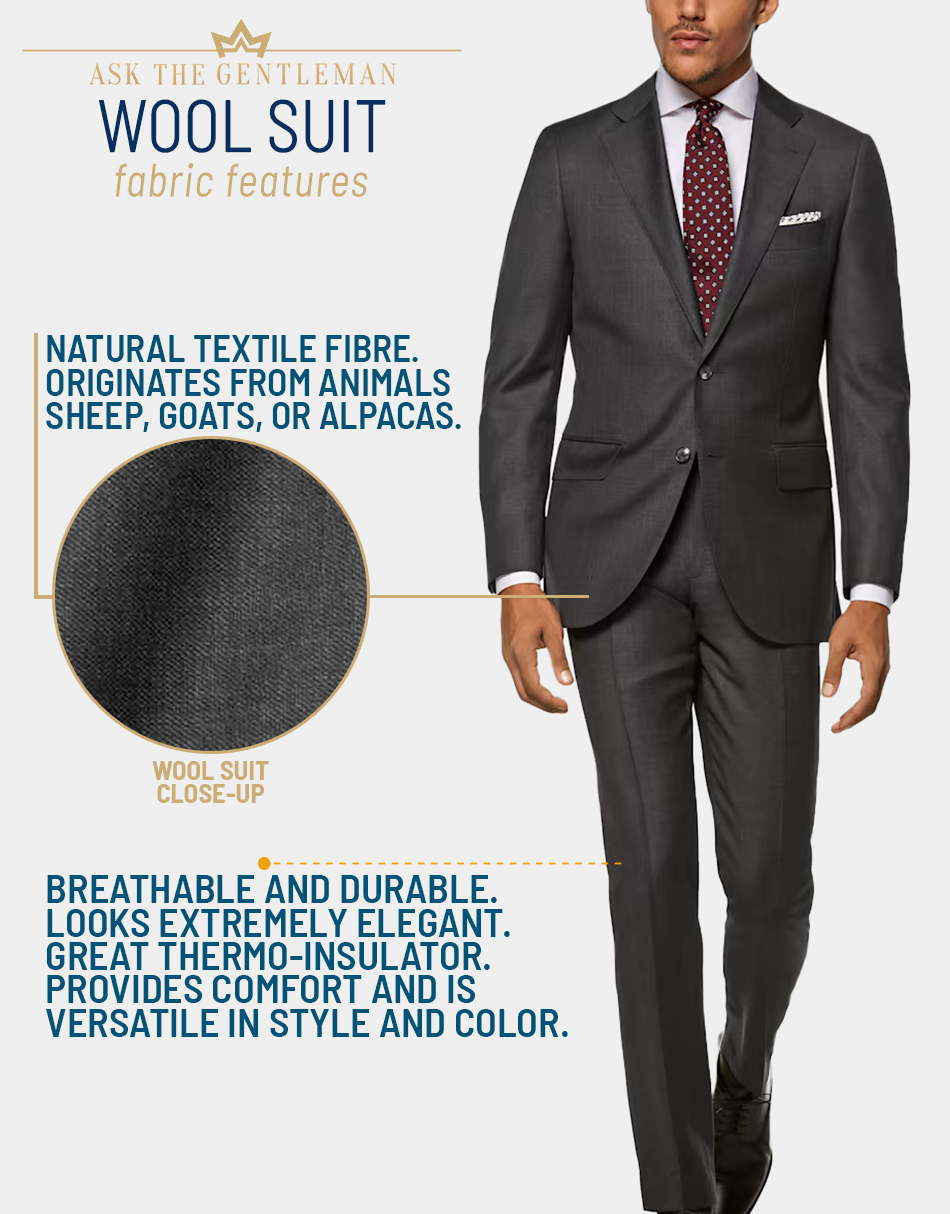 Since it is a natural material, it has several benefits, including fine-tuned visuals and good adaptability.
You also get to enjoy a wrinkle-free suit because wool doesn't wrinkle at all.
It is also extremely soft to touch and offers good breathability. As a result, you can wear a wool suit almost any day and throughout the year.
While there are two wool suit categories (woolen and worsted), you will find most wool suits in worsted wool.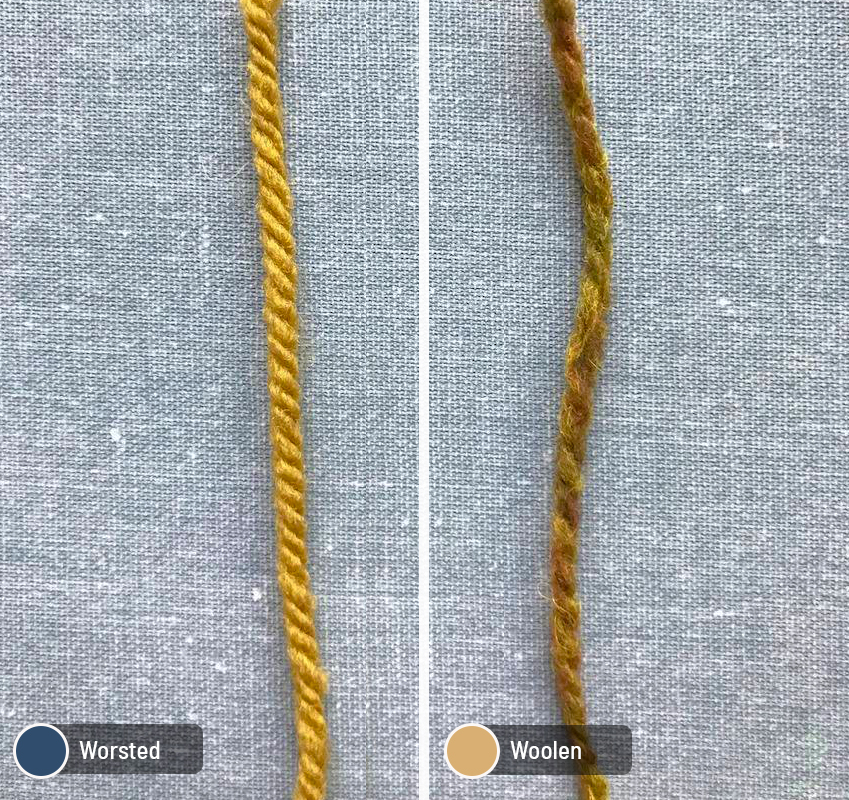 The only difference between the two types is the yarn's size and weight and how the fiber is prepared for spinning.
For instance, worsted wool fibers overlap at the tips and are combed at equal lengths. This leaves no room between the fibers.
On the other hand, woolen wool fibers do not come in equal lengths and aren't combed before spinning, either.
The only drawback of wool is its not-so-luxurious look. Moreover, it can sometimes come off as a bit bulky, which some people don't like.
Worsted Wool Suits
If you need a high-end suit, worsted wool is the perfect fabric.
It has a soft and smooth finish similar to regular wool but without all the fuzziness.
On top of that, it has excellent breathability and a gentle texture that feels soft.
The sleek, smooth fabric comes into shape when combed long fibers are twisted into dense yarns.
The lightweight feeling of worsted wool also makes it great to wear for long hours, such as at the office.
You won't feel restricted in the suit at all, even if you have worn it throughout the day.
Worsted wool is also known for having a high "super number," which mainly depicts the yarn quality.
On average, you can find worsted wool with a super number of 100. However, some luxury quality yarns can go as high as 180 or above.
Fascinatingly, worsted wool also comes in varying weights allowing you to choose the thinness and thickness of the fabric.
As a result, you can either go for lightweight worsted wool for an elegant drape or heavyweight worsted for that extra warmth during the cooler season.
You can rock a worsted wool suit look at the office or any semi-formal event.
However, it is not just limited to semi-formal settings. If done right, a worsted wool suit can make you achieve a sleek look for formal settings as well.
Cotton Suits
Even though cotton is one of the most common suit fabrics, finding a cotton suit is still a bit tough.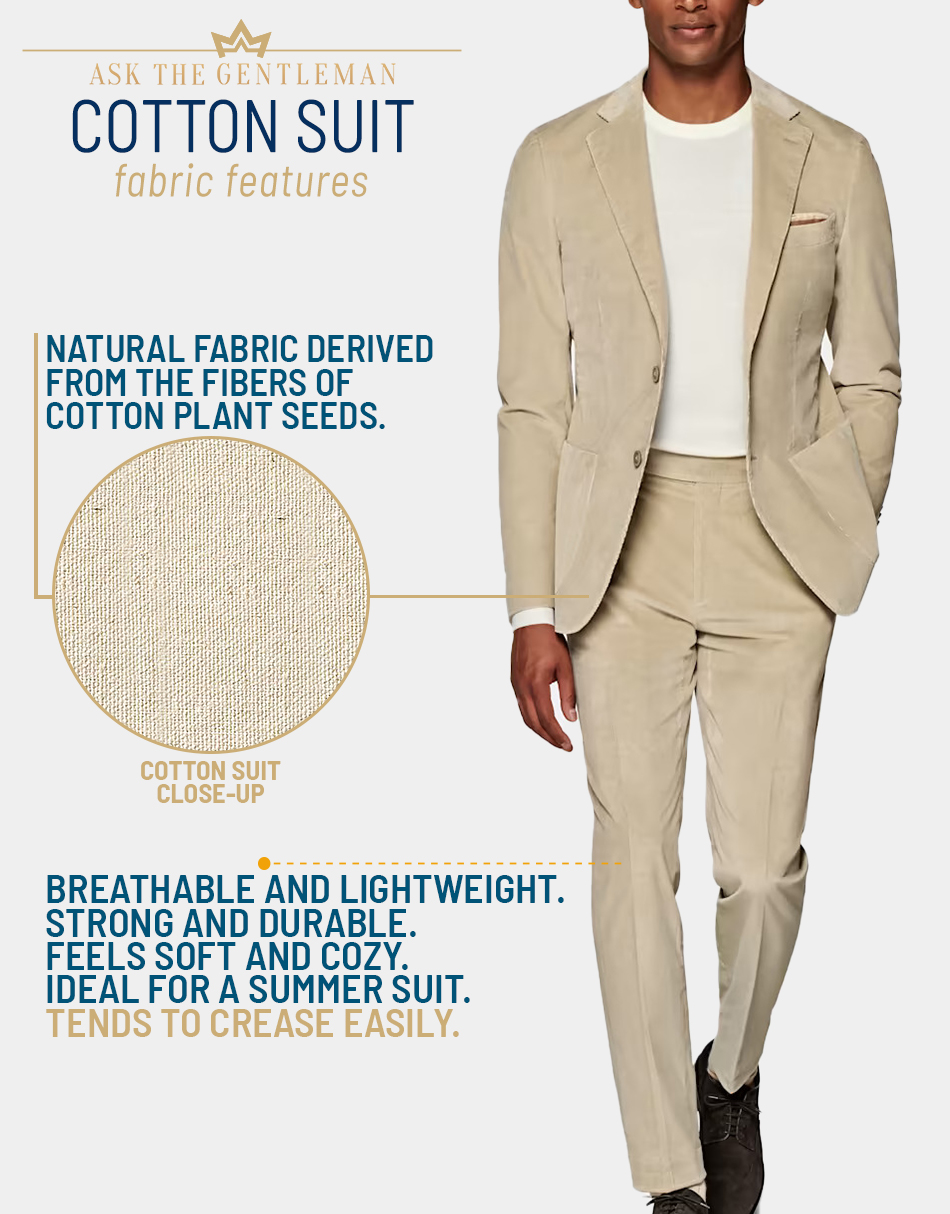 The cotton fabric also costs less than linen and wool. However, that does not mean that cotton suits aren't classy.
You can easily pull off a high-end cotton suit at the office or even at a wedding.
Just keep in mind that cotton doesn't drape, so make sure your cotton suit trousers have a sharp crease where it's needed.
Since cotton is a relatively cheaper fabric, it makes for a great choice if you need a summer suit but you're on a budget.
Instead of getting low-quality linen or wool, you can simply get high-end cotton for less.
Moreover, cotton suits don't require much care and are extremely easy to machine wash.
You don't even have to brush a cotton suit like wool to make it last longer.
Lastly, cotton suits are perfect for hot seasons because they're highly breathable and lightweight.
However, one drawback is that cotton absorbs moisture. As a result, you can easily wet your suit if you sweat a lot.
Mohair Suits
Mohair is made by spinning wool taken from Angora goats and is quite stiff if used alone.
In addition, mohair has a naturally softer feel, but it does come at a high cost.
Despite the stiffness, mohair does have some incredible benefits as a suit fabric.
For instance, it is an extremely breathable material, making it perfect for hot weather, especially for men who sweat a lot.
On the other hand, stiffness also has its perks since it makes the fabric extremely resistant to wrinkles.
As a result, you won't have to take extra care of a Mohair suit like most other bespoke suit fabrics need.
More importantly, smokers can easily get away with minor flames that fall on the fabric since it is also flame resistant.
You can also get mohair in a wide variety of colors thanks to its easy-to-dye nature.
It is a great choice for anyone who wants to add some flare to their suit wardrobe.
The material helps you stay relaxed and offer the comfort most office-going men seek during the summer and transitional seasons.
Silk Suits
While all suits provide you with an outlook to present your style, silk suits, in particular, give off a certain message.
This is why silk suits are often reserved for special occasions or specific settings – for instance, fancy parties or formal ceremonies.
Also, silk is commonly used in blends with other materials, with silk fibers dominating the fabric.
Such combinations are popular with high-end silk suits such as a blend of silk and wool.
It produces particularly lustrous, smooth suit fabrics that have incredible draping characteristics. So much that it drapes better than both plain silk and plain wool.
Because of how well-blended materials work, you will see silk almost always blended with another material in a suit.
Apart from that, silk has its own benefits that make it a great fabric choice for suits.
For instance, it has amazing stain-resisting characteristics and helps keep the suit clean.
More importantly, silk is exceptional at keeping wrinkles at bay. Even better than cotton.
It is also extremely lightweight. However, not everything is great about this fabric because it is quite expensive.
Since silk is a luxury material, you would have to spend a lot to get pure silk.
Additionally, it is highly delicate, so it's not as durable and will wear out sooner than materials.
But still, no other material beats the buttery soft touch of silk against the skin.
Tweed Suits
Tweed suits were originally introduced to counter the cold temperatures of England.
Their bulky, thick texture makes tweed suits extremely popular in chilly climates.
Tweed also comes in two different types; one made from wool and the other from silk.
The wool version of this fabric is made from Irish sheep wool and is a bit heavy and dull.
On the other hand, the silk version is shinier and lighter as compared to wool tweed.
Tweed suits are considered acceptable attires for semi-formal or casual events.
In some cases, you can even wear a tweed suit to your office, depending on how flexible the environment is.
However, tweed suits are prevalently associated with academic halls despite these options.
They go best with the image of an absent-minded professor with leather patches on the jacket's elbows. Yes, Ted Mosby, I'm pointing at you.
But that doesn't mean only professors can wear it. In fact, tweed is a great fabric to protect yourself from the cruel cold.
Moreover, your tweed suit will stay by your side for a long time since it is a highly durable fabric.
But there is a catch! Tweed suits aren't easy on the wallet since English tweed is quite expensive.
Except you can count on it to last years if looked after carefully.
The only turn-off with tweed suits is the traditional bulky look that might not sit well with your modern mindset.
Cashmere Suits
Cashmere is another kind of wool extracted from a particular kind of native Mongolian goat.
This Mongolian goat has soft-under hair, which explains the exceptionally soft texture of the fabric.
Plus, cashmere also has great breathability and high water resistance, which are added benefits.
The best part is that cashmere comes in heavier and lighter weaves, making it a suitable choice for winter and summer.
Cashmere is also known for its extreme delicacy and softness. So much that it is considered the softest kind of wool apart from alpaca wool.
However, good things don't come easy, which is the case with this material.
Cashmere is a highly rare fabric which inevitably makes it a luxury material that costs a lot.
But the high cost also means a longer life since cashmere suits tend to last for years before they age visibly.
Most people prefer to wear cashmere suits during colder seasons, given its superior insulation qualities compared to other types of sheep wool.
Besides, it helps you look brilliant and chic thanks to the lustrous appearance and elegant draping for pants.
Linen Suits
Linen is a well-known suit fabric extracted from a flax plant's fibers.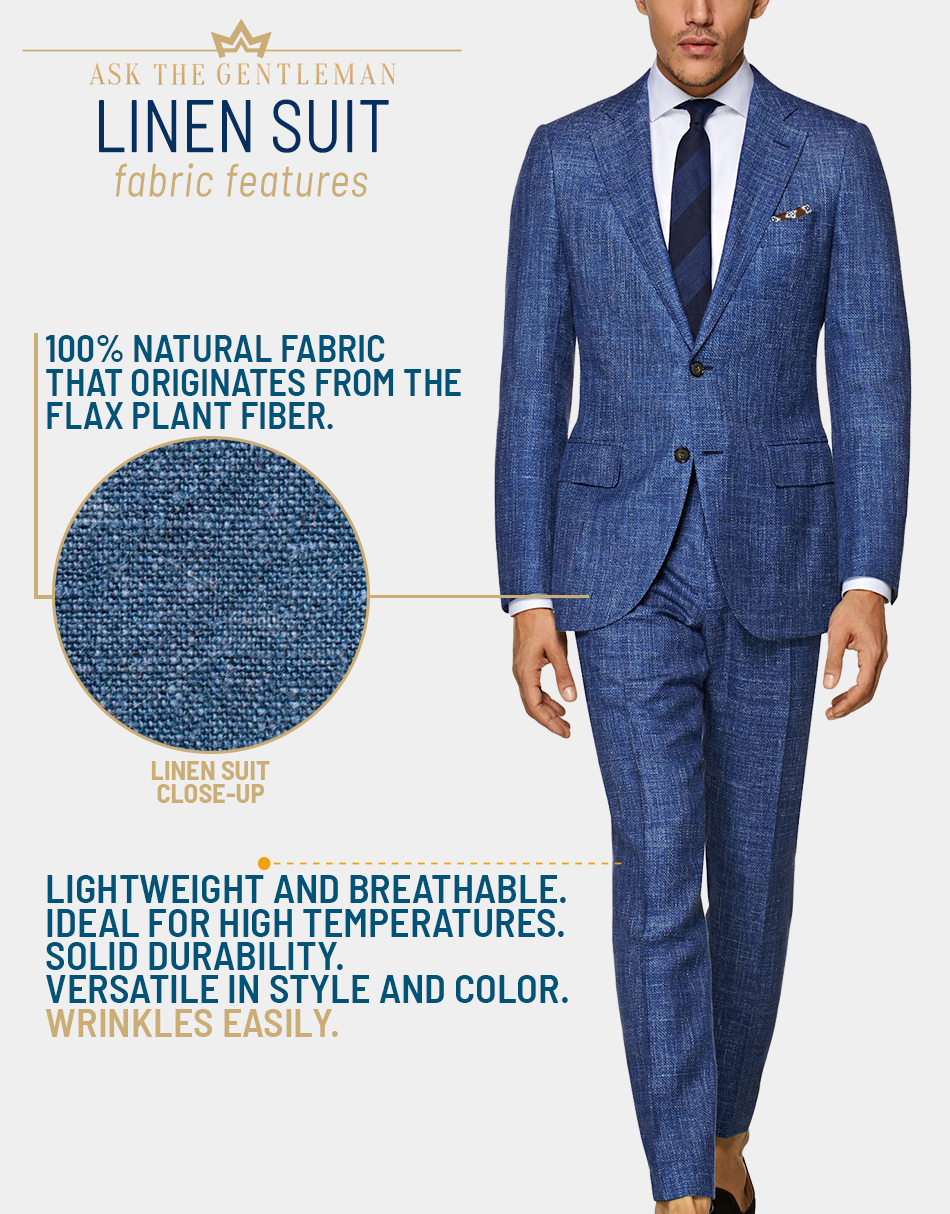 It is a high-strength fabric with low elasticity, especially less than wool.
Therefore, you will have a hard time keeping your linen suit stain and wrinkle-free as it's highly prone to both.
On the plus side, a linen suit will be your best friend during the summer. It has exceptional resistance to the sun and high temperatures.
More importantly, linen is extremely lightweight, making it a pleasure to wear.
However, pulling off a linen suit look is not everyone's cup of tea, and it is certainly not an all-occasion fabric.
Instead, linen suits should be reserved for casual or less formal events and only worn with great confidence.
You would also have to get it regularly dry cleaned for the suit to remain in presentable condition.
All in all, linen is a good change from the usual suit fabrics and definitely a great look and feel for the summer.
Seersucker Suits
Seersucker is another exceptionally thin fabric that provides the wearer with unbelievable air circulation.
It also appears very lightweight and has a cooling effect, making it the perfect suit fabric for summer.
It's made of a cotton fabric woven to bunch up the threads together.
Typically, the fabric is horizontally striped. However, sometimes you will also come across soldiery or checkered Seersucker.
But like with every other suit fabric, Seersucker also has its shortcomings.
Given how it's made by weaving the threads together, the suit comes off as wrinkled.
As a result, you don't really have the option to wear it in formal settings or job interviews unless you want to have a bad first impression.
Velvet Suits
Most velvet we see today is made from synthetic materials.
However, traditionally this fabric was made from silk. The shift from silk to synthetics ensued to bring down the cost of velvet.
The manufacturing process involves weaving two layers of fabric together like a sandwich.
It is then sliced apart through the middle, creating a plush, thick nap of all the sliced threads.
The final product is a warm, comfy, and awfully soft fabric that is flawless for winter jackets.
However, it has a bit of weight, making it an unsuitable fabric for summer suits.
Traditionally, velvet was famously used for smoking jackets which could be worn at specific times of the day or locations.
Over time velvet has evolved into a formally luxurious fabric for suits often worn at highly formal events such as black-tie.
It is also a great option if you wish to achieve a bold look to stand out from the crowd.
Pair it with a tastefully fitted shirt and a solid silk tie for a refined formal look.
Velvet jackets also work amazingly well with silk shirts or turtleneck sweaters for casual settings.
Twill Suits
Twill is an under-recognized yet still one of the most widely used suit fabrics in menswear and clothing in general.
Twill is a kind of weave known for diagonal parallel textures. You will find them on both sides of the fabric.
However, unlike plain weaves, twill has a difference between the front and back sides.
The front side is known as the technical face, which has more pronounced diagonal textures than the technical back.
As a result, it looks incredibly wonderful when stitched.
You can easily stand out with a well-fitted twill suit in casual to semi-formal settings.
Another great thing about this fabric is its superb draping qualities.
You also won't have to actively maintain the suit because stains and soiling are less noticeable on this fabric.
Herringbone Suits
The weaving pattern on herringbone suits is defined by their classic V-shape.
Today, this suit fabric is pretty much in trend in men's formal wear.
Herringbone suits are highly versatile as the pattern easily complements a wide range of garments.
More importantly, you can easily use herringbone suits to achieve a formal look.
Therefore, keep it in the closet until something formal arises because it will definitely work well in any formal setting.
Herringbone suits also pair exceptionally well with waistcoats.
So if you wish to rock the three-piece suit look, this is your fabric.
Polyester Suits
Polyester is made by transforming synthetic materials into cheaper fiber than natural fibers.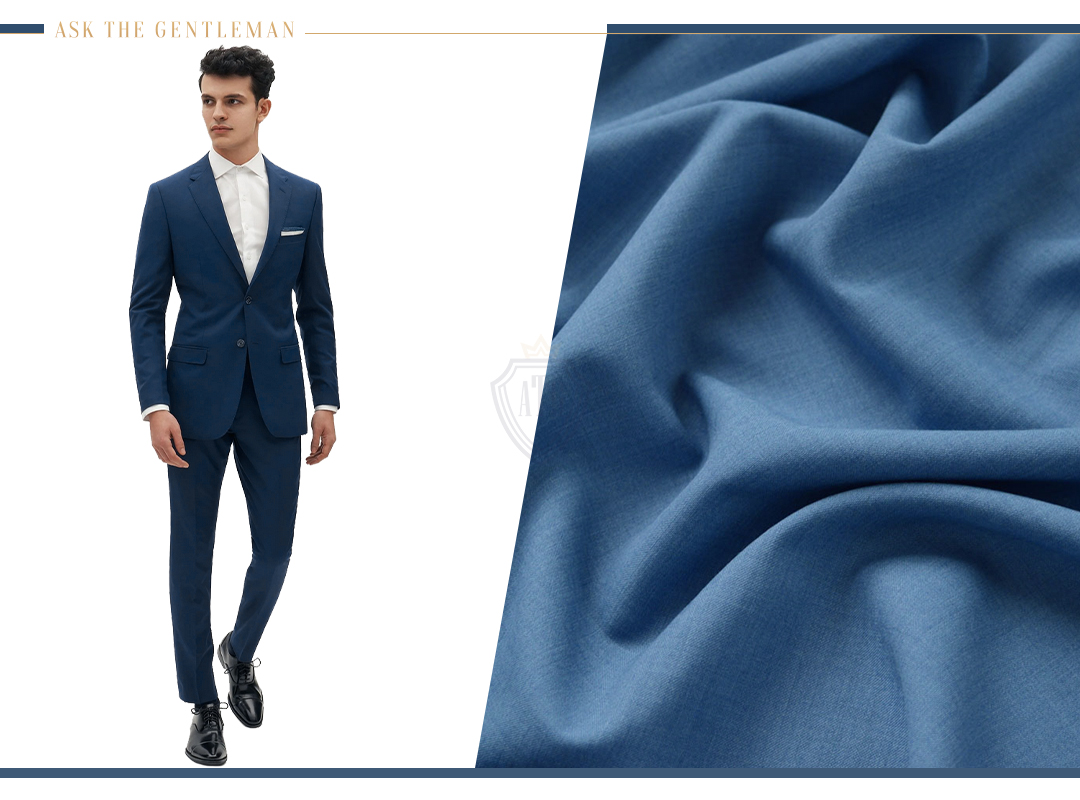 As a result, you can save some bucks on the side by getting a polyester suit instead of cotton or wool.
However, high affordability also comes at the cost of low quality.
Nevertheless, you can still find some good quality polyester that is often mixed with other natural fibers.
This combination improves the quality of polyester and makes it more breathable. Although still not as breathable as wool.
Also, you can easily wear it as your everyday suit, thanks to the added benefits of mixing it with natural fibers.
Apart from that, the synthetic characteristics of polyester make it a treat to wash and dry.
You also won't have to worry about wrinkles much since synthetic fibers have high resistance against wrinkles.
Moreover, the insulating properties of polyester make it great for winter wear.
But yes, I wouldn't recommend you wear a polyester suit to a highly formal event.
This is because the low quality of the fabric will stand out among the crowd of people wearing top-quality suit fabrics.
Flannel Suits
Flannel is quite a popular fabric that has been in use in Wales since the 17th century.
Flannel comes in two different styles: plain weave and twill weave (diagonal ribbing).
Plain weave flannel is made from wool, and twill weave flannel is worsted flannel.
Both styles are woven. However, twill flannel is more commonly seen.
Flannel is also made from cotton or other synthetic fibers, but wool or worsted flannel are mainly used for men's suits.
A flannel suit is a must-have for a gentleman's well-set wardrobe for the colder seasons.
The material protects your body from the chilly winds while walking through the streets or subway stations of the city.