Have an event to attend this weekend, but you're unsure how to decipher the dress code?
What would be too casual, and what would be too formal?
We all have been there when following a dress code becomes a daunting task simply because we don't know what it requires.
Guess what? It doesn't take much if you have done your research or have read a well-researched article like this one.
Let's define what dress codes are and then describe the twelve most common dress codes used today.
What Are Dress Codes?
A dress code defines or states how people are supposed to dress up using different clothing combinations.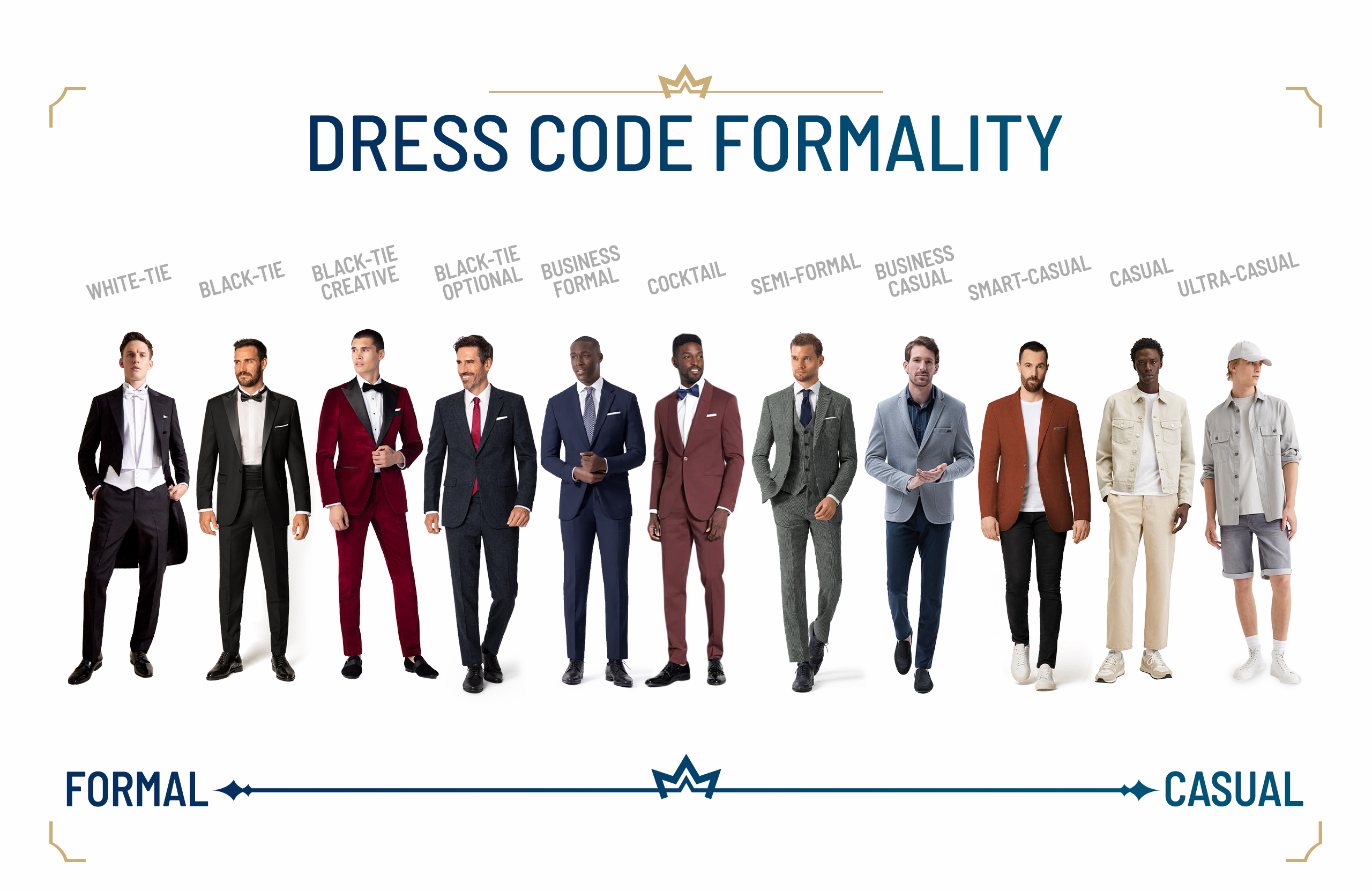 Dress codes mainly originate from social norms and perceptions about wearing certain clothing based on occasion, circumstance, and purpose.
As a result, we see variations in dress codes in different cultures and societies, given the differences in perceptions and norms.
It allows you to express yourself at certain events, places, and environments.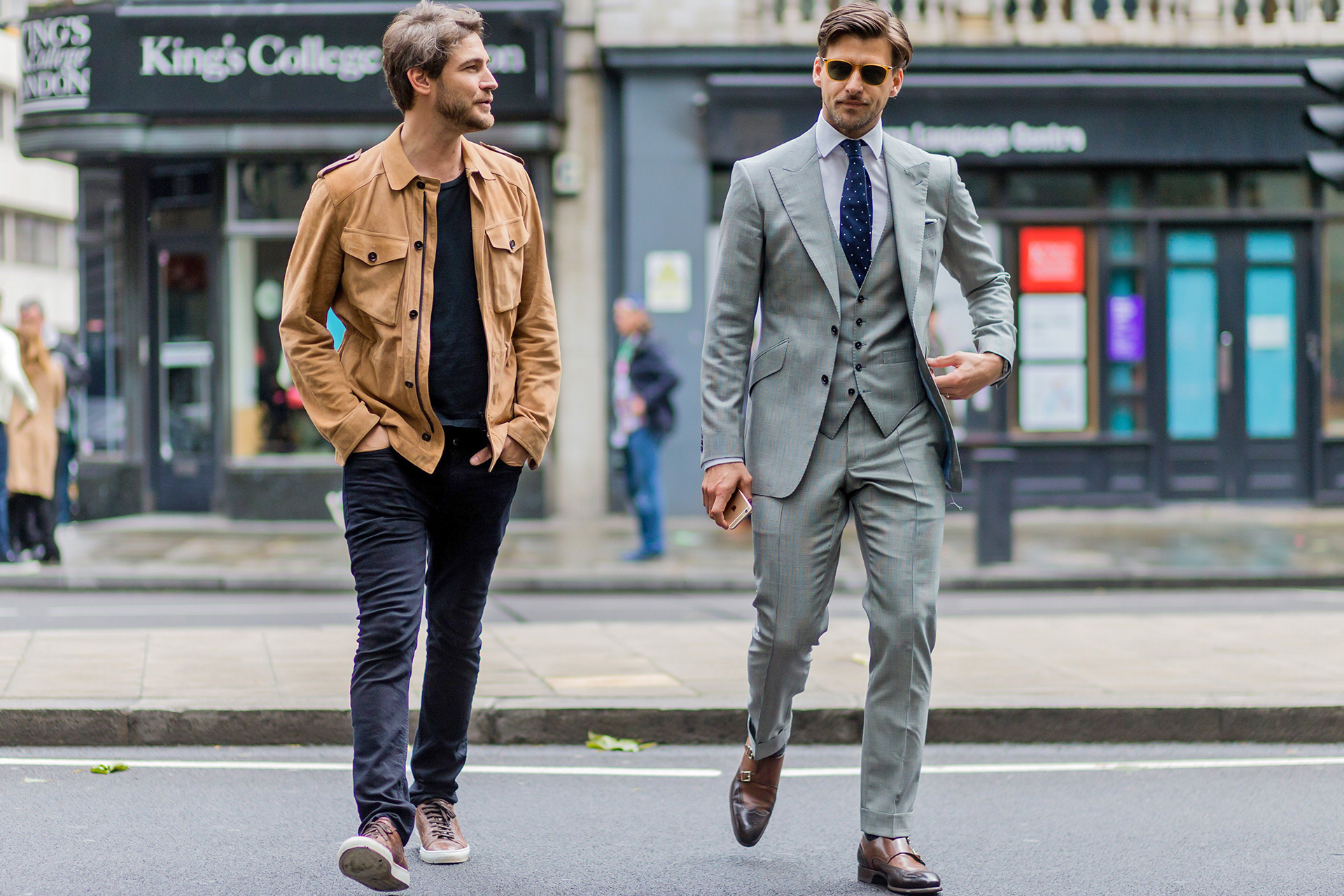 How well you follow a dress code also symbolizes your fashion sense and personality.
However, people struggle with following dress codes simply because they are unaware of what's expected.
As a result, I'll be breaking down the guidelines for the most commonly used dress codes today.
White-Tie Dress Code
The white-tie dress code is the most formal of all dress codes.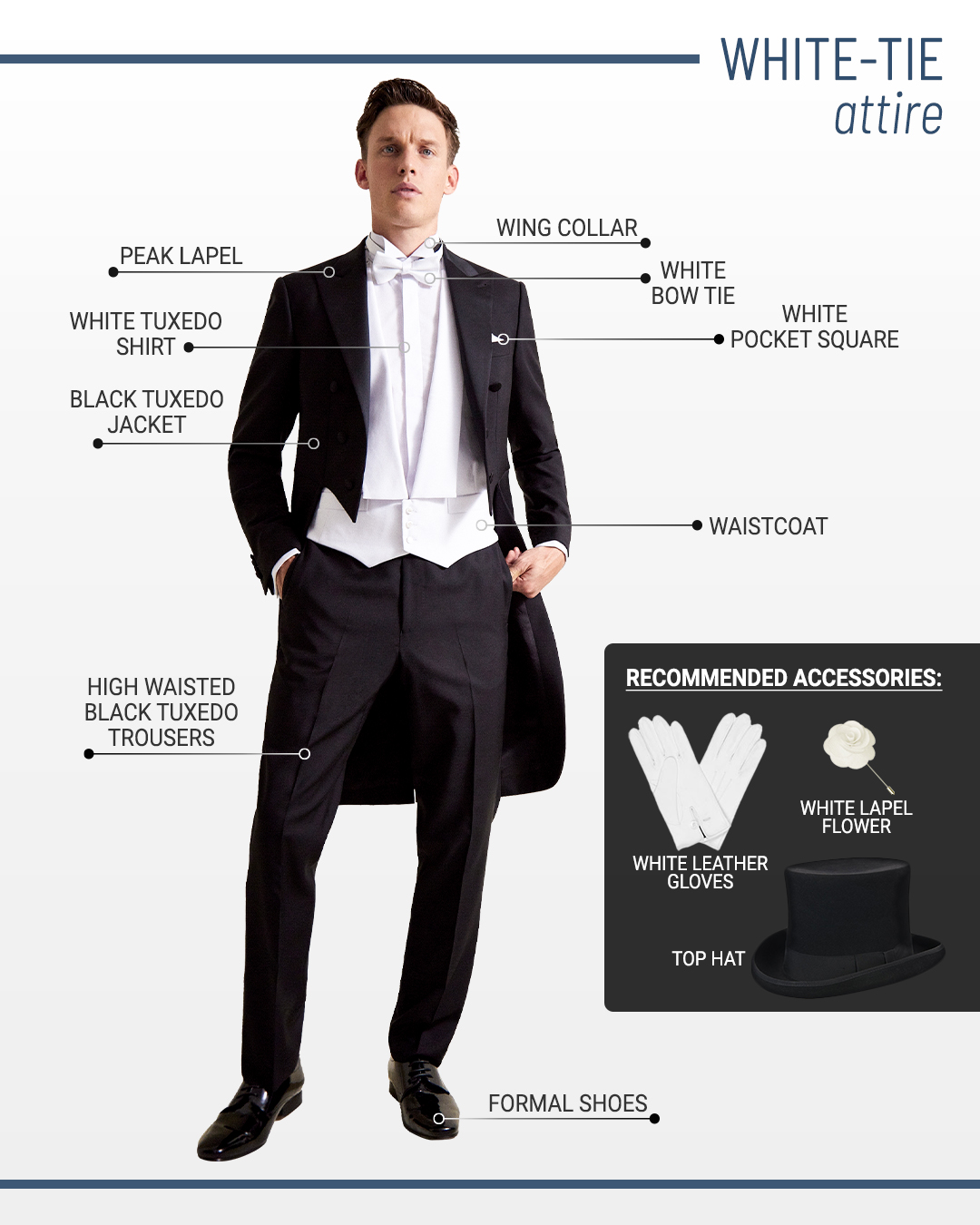 Before the world wars, society was filled with white-tie dress codes and events.
However, today we don't see much of them.
There is hardly any room for leeway in white-tie dress codes since they are fully formal and are often referred to as full dress.
You can only go for customizations with the pocket square, boutonniere, or cufflinks. Otherwise, it all must be by the book.
It features a black tuxedo jacket with silk facings and peak lapels.
The double-breasted style is complemented by 4 to 6 buttons.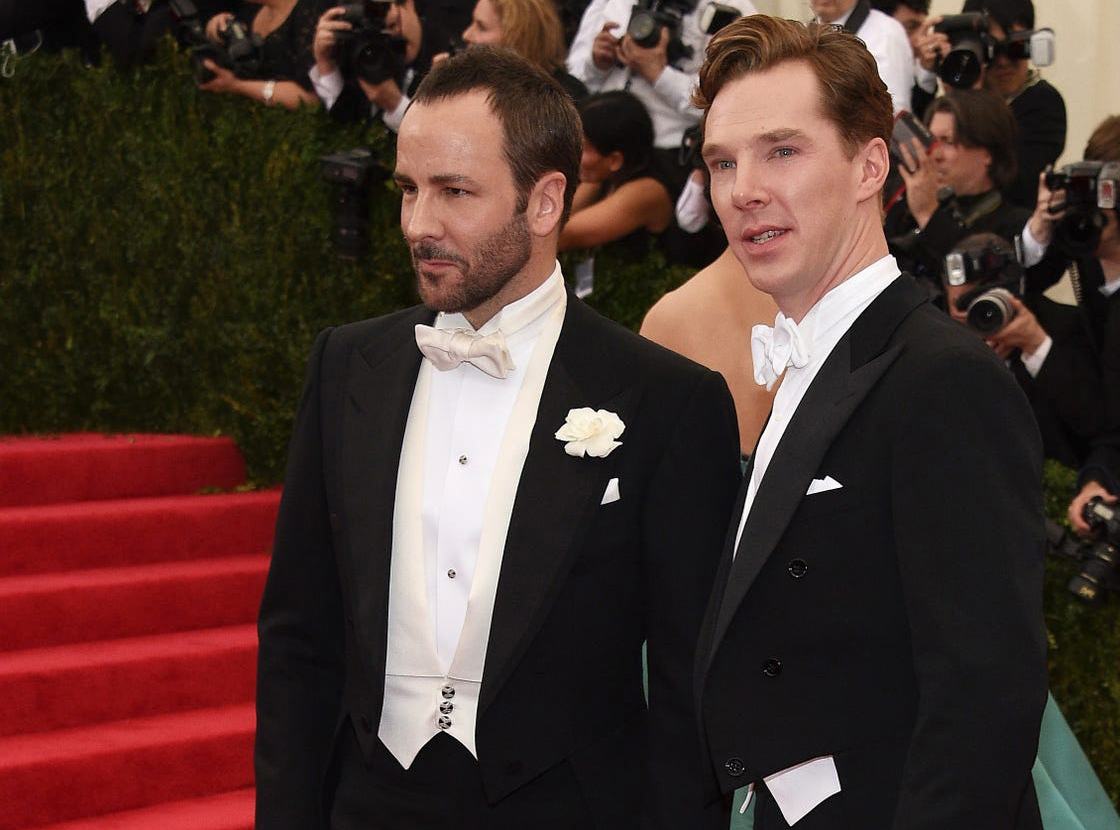 The jacket also features a tailcoat with the tails falling as low as the back of the knee.
The white-tie dress code calls for high-waisted black tuxedo trousers often worn with suspenders.
The outside seam of the leg also features one or two satin strips running along.
As for the tuxedo shirt, a plain white featuring a detachable (preferred) wingtip collar is required.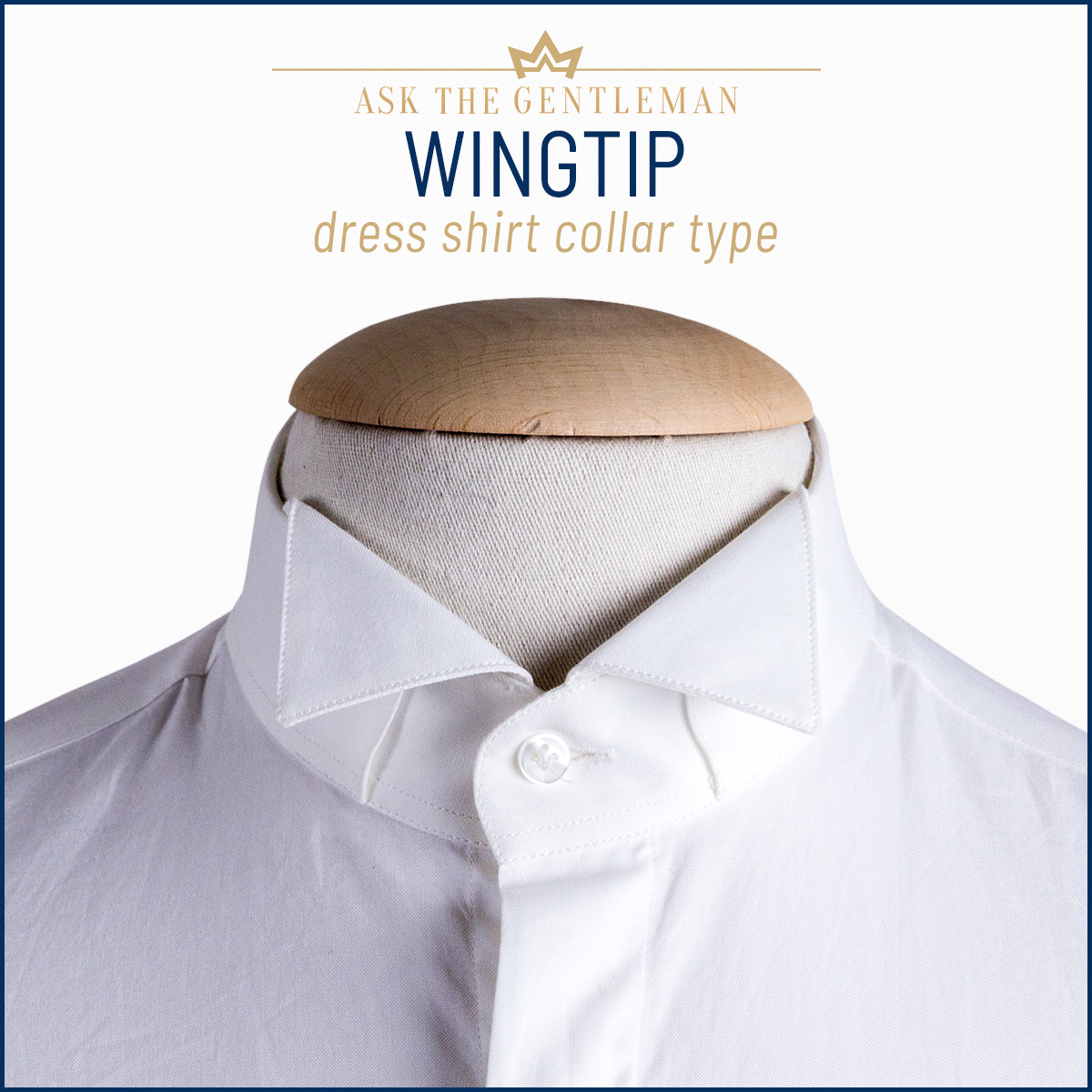 The shirt is also attached to the pants thanks to a tab at the front, which helps avoid billowing.
The white-tie dress code is incomplete without a white low-cut waistcoat featuring either four or three buttons at the front.
Waistcoats should be long enough to cover the trouser waistband but not too long to fall below the hem of the tailcoat.
A white bow tie and formal shoes are mandatory to complete the look.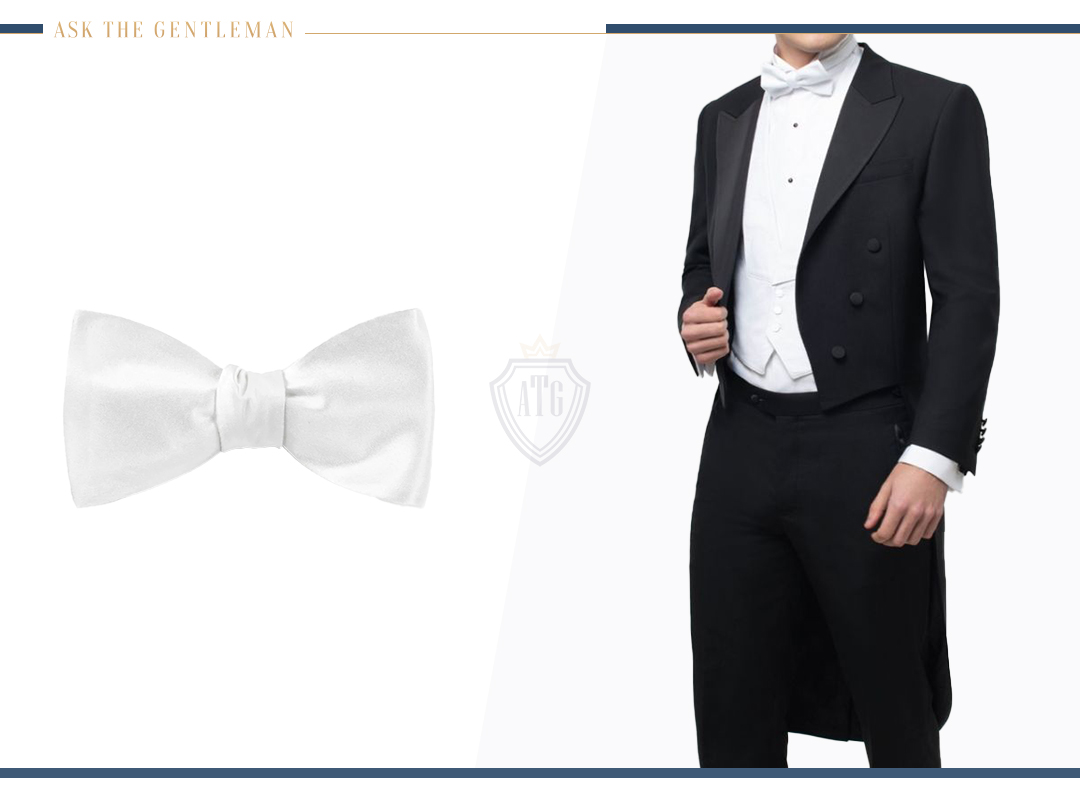 You can wear a white-tie dress code at galas, operas, royal ceremonies, state dinners, etc.
Black-Tie Dress Code
A black-tie dress code is strictly formal and falls on the same spectrum as a white-tie dress code.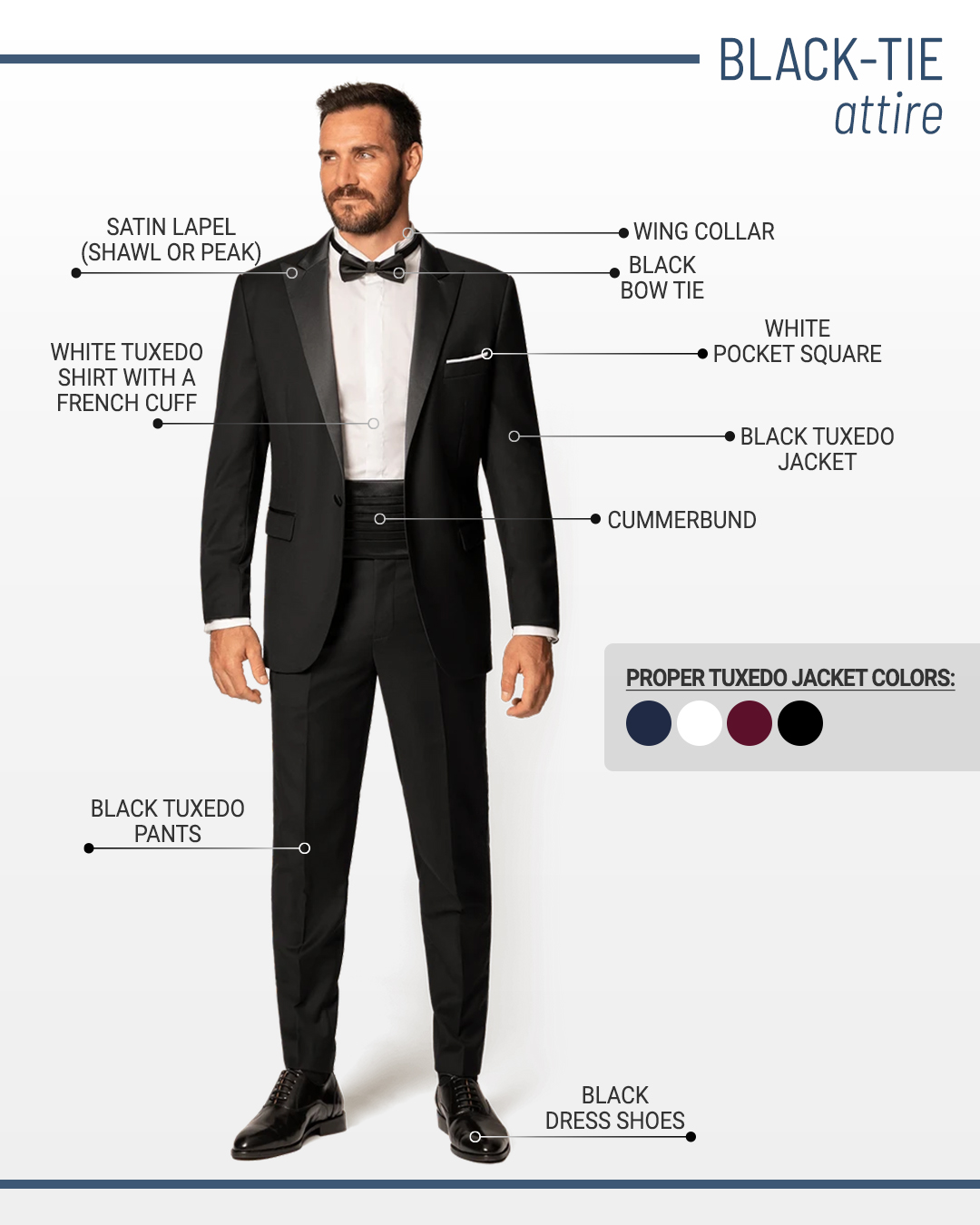 It is most commonly worn for evening events and is often referred to as a dinner suit.
The tuxedo is what makes it stand out from the rest with a single- or double-breasted design.
It is complemented by a silk lapel in either shawl or peak style, which is unnotched in both cases.
As for the tuxedo jacket color, black is the most common. But you can also see navy blue, maroon, or white dinner jackets as well.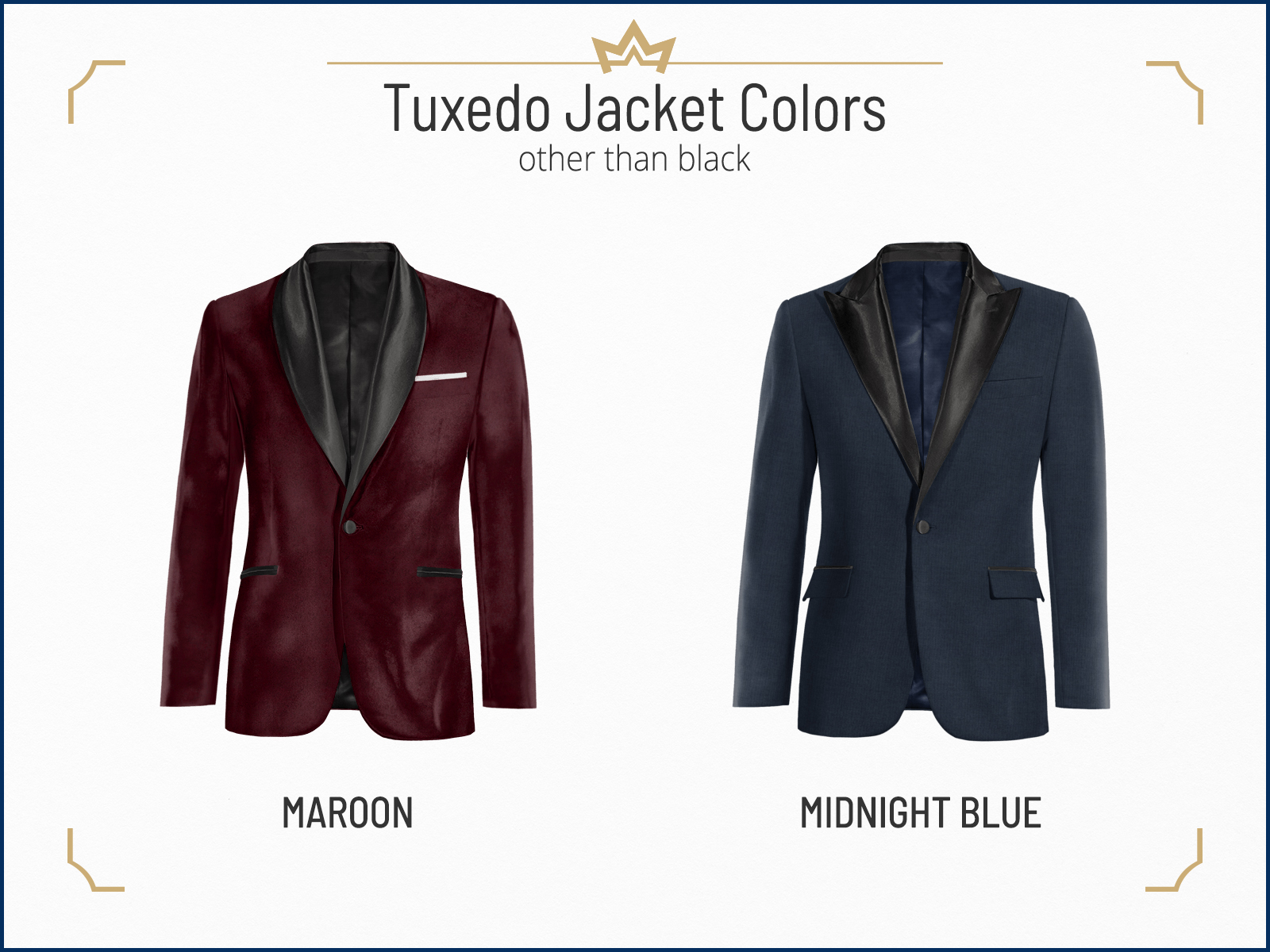 The outseam of the tuxedo pants features a single stripe of satin or silk.
You also do not get belt loops with tuxedo pants. Instead, they have adjustable side tabs.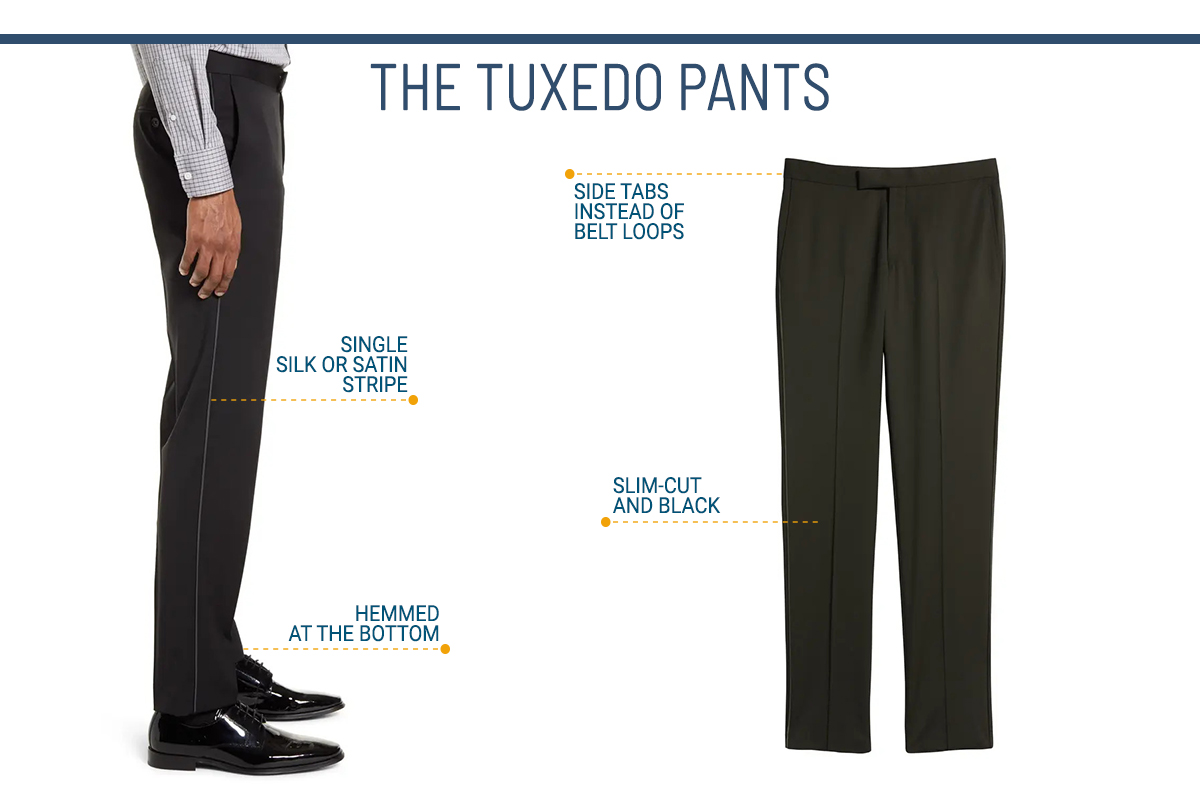 You have to complement the tuxedo with a white wingtip tuxedo shirt featuring a French cuff.
Depending on your choice, you can either go for a cummerbund or a waistcoat but never both.
A single- or double-breasted waistcoat goes best with a peak lapel jacket.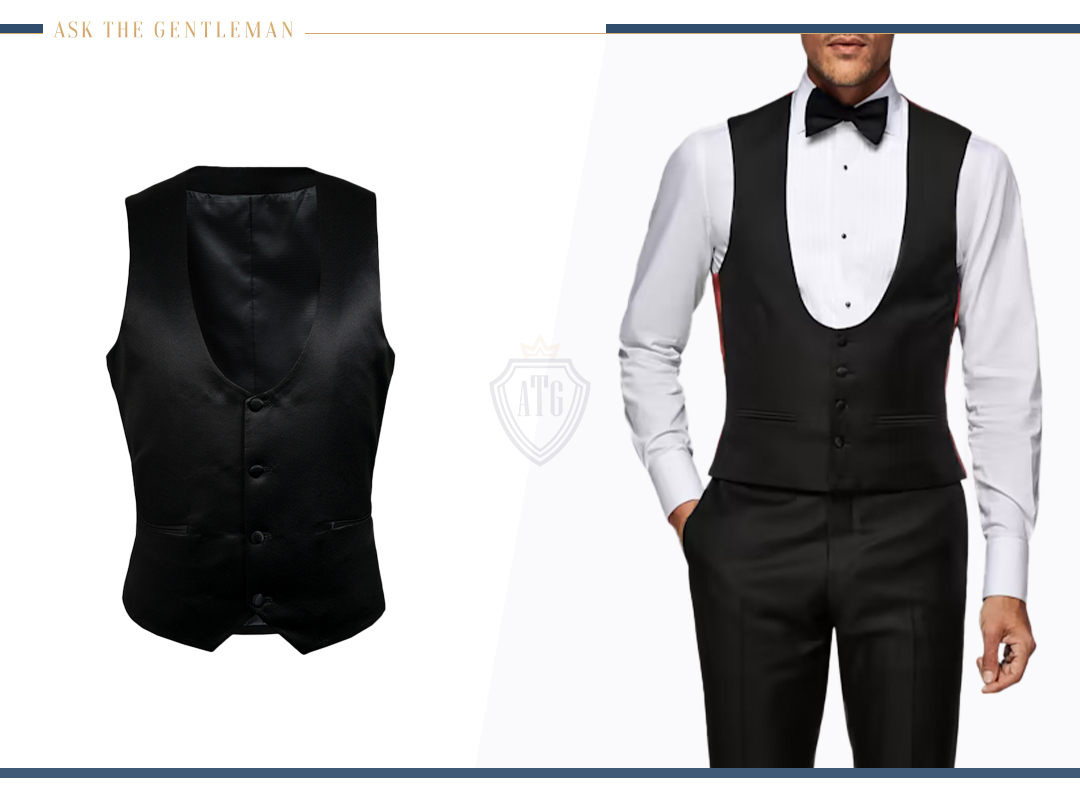 As for the cummerbund, a black pleated option with pleats facing up is best.
The whole look is completed with a black self-tied bow tie.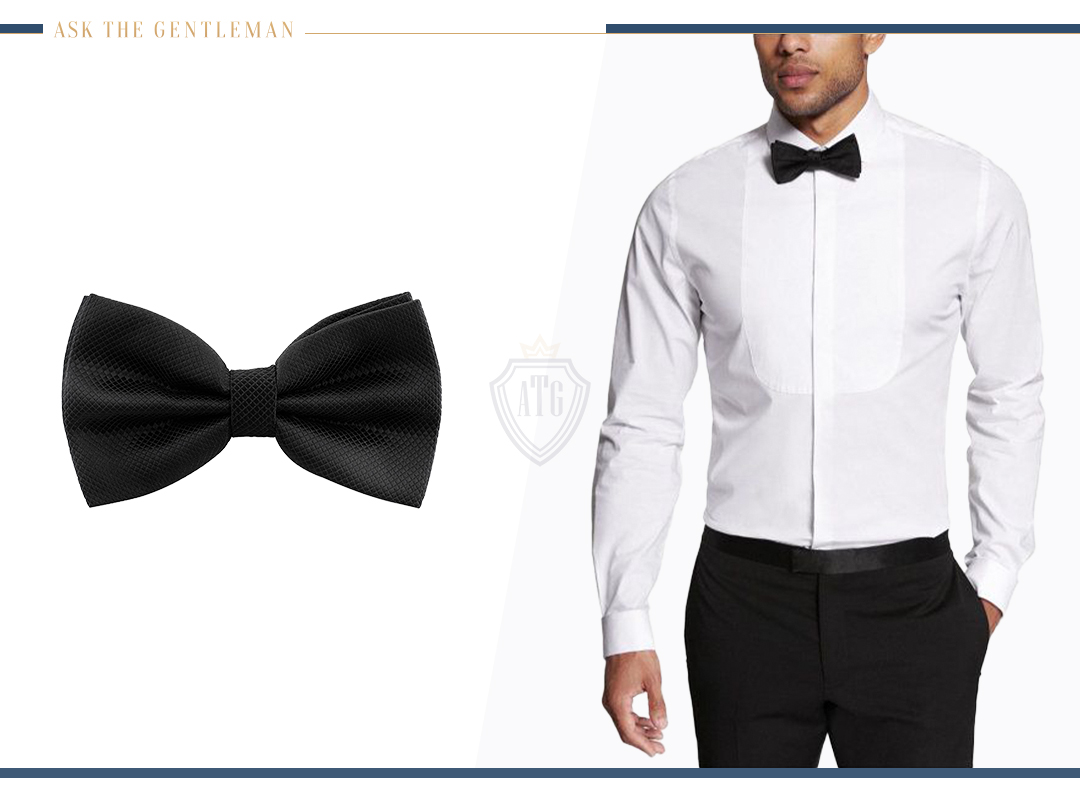 As for the shoes, you have to go formal with opera pumps, Venetial loafers, or Oxford dress shoes as your best options.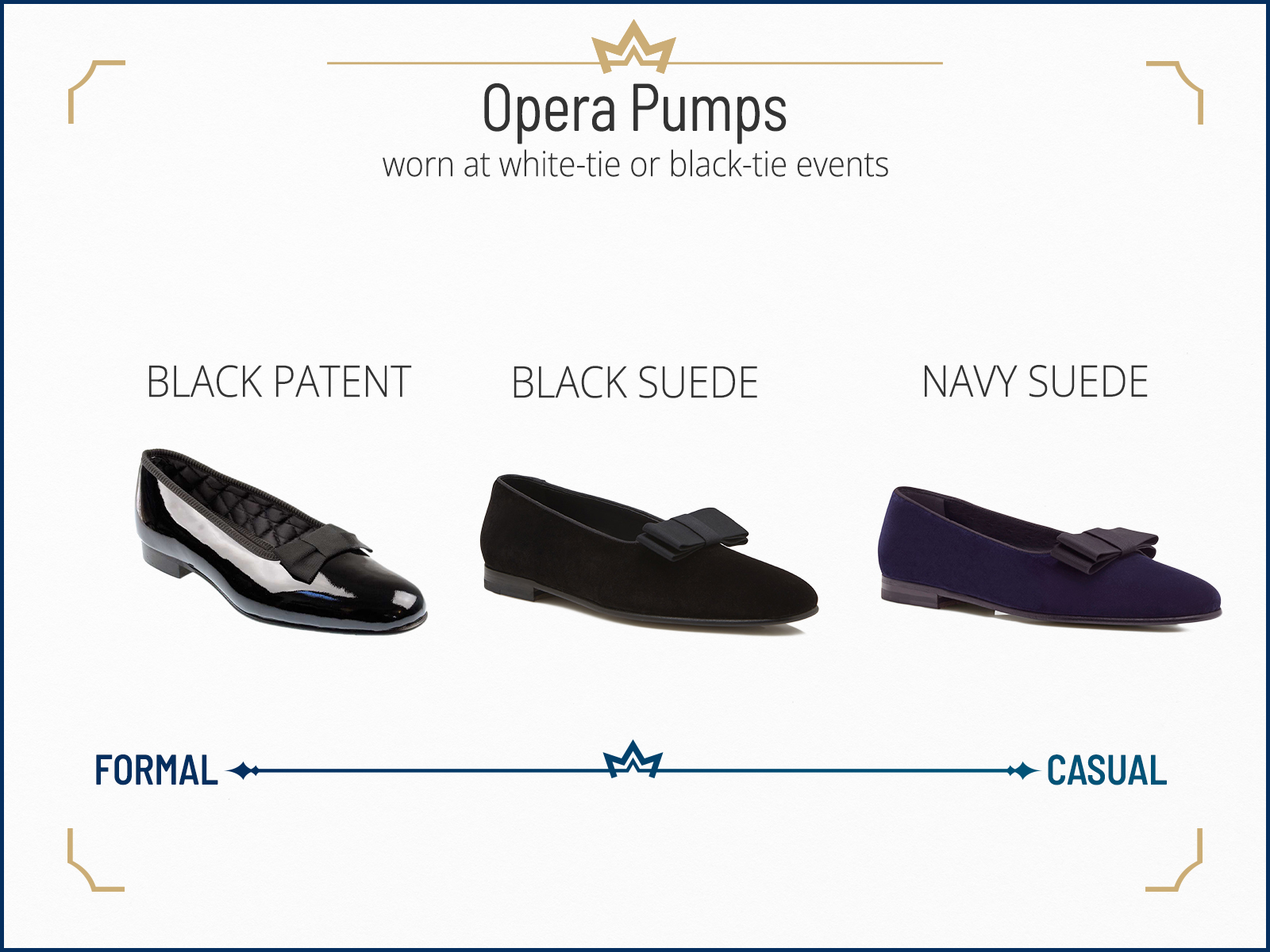 Black-tie dress codes are usually requested for award ceremonies, fundraisers, operas, evening weddings, private dinners, and galas.
Black-Tie Creative Dress Code
The black-tie creative dress code is also something that men find hard to decipher.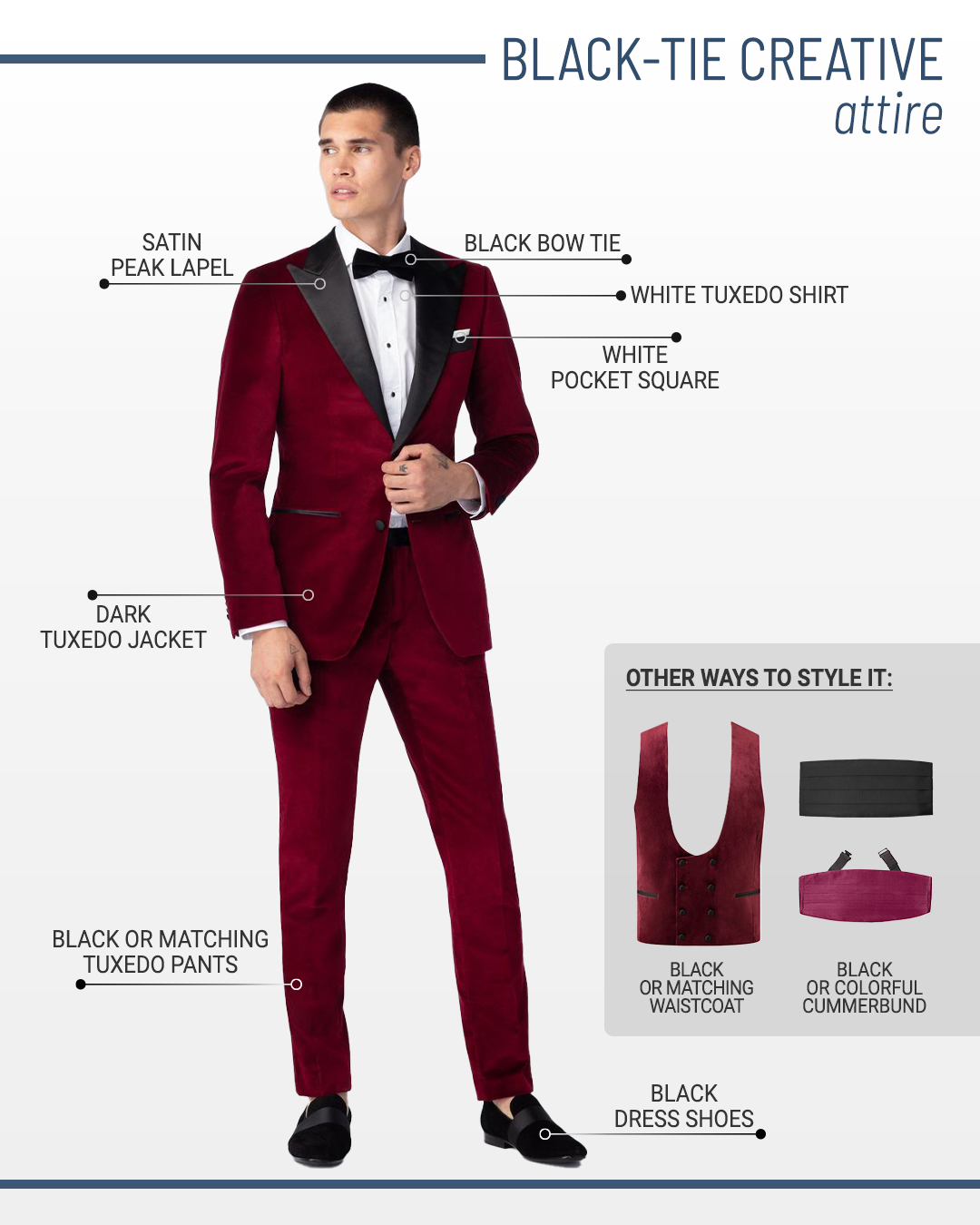 While it is a bit challenging, there is also some fun to it.
Black-tie creative dress codes are often worn at events arranged for or by the creative and entertainment industries.
They offer you the flexibility to spice up the black-tie tuxedo look with some flair and color.
However, you cannot overdo it since the events are still highly formal.
You can add color with your cummerbund or waistcoats.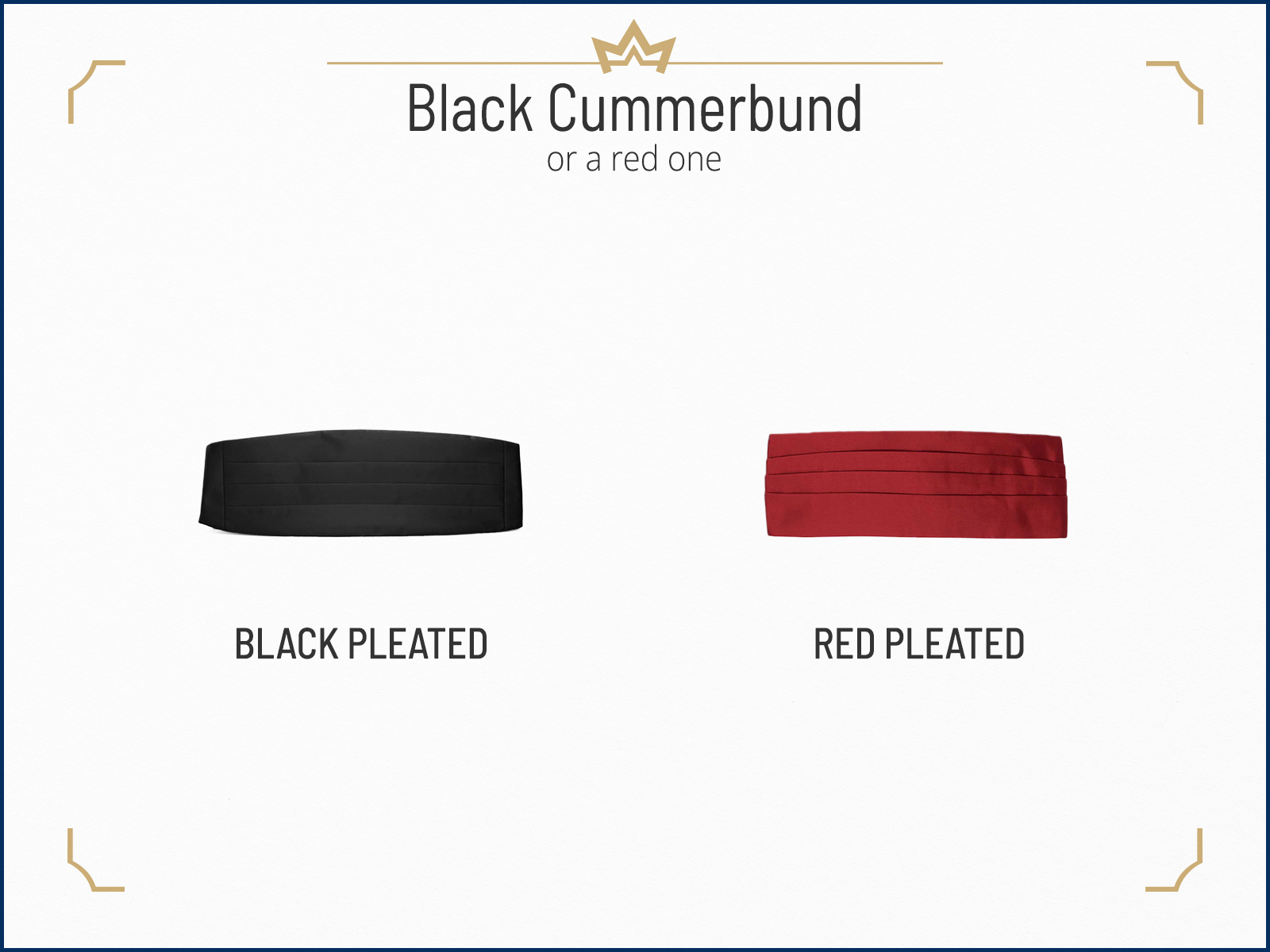 However, make sure not to match the color of your tie to either of the two.
More importantly, make sure that you do not go for bright colors because they are still a big no.
As for the shoes, you have to be careful because the wrong choice can bring the whole outfit down.
If you are unsure about any part of the dress, just go for something formal, like Oxfords.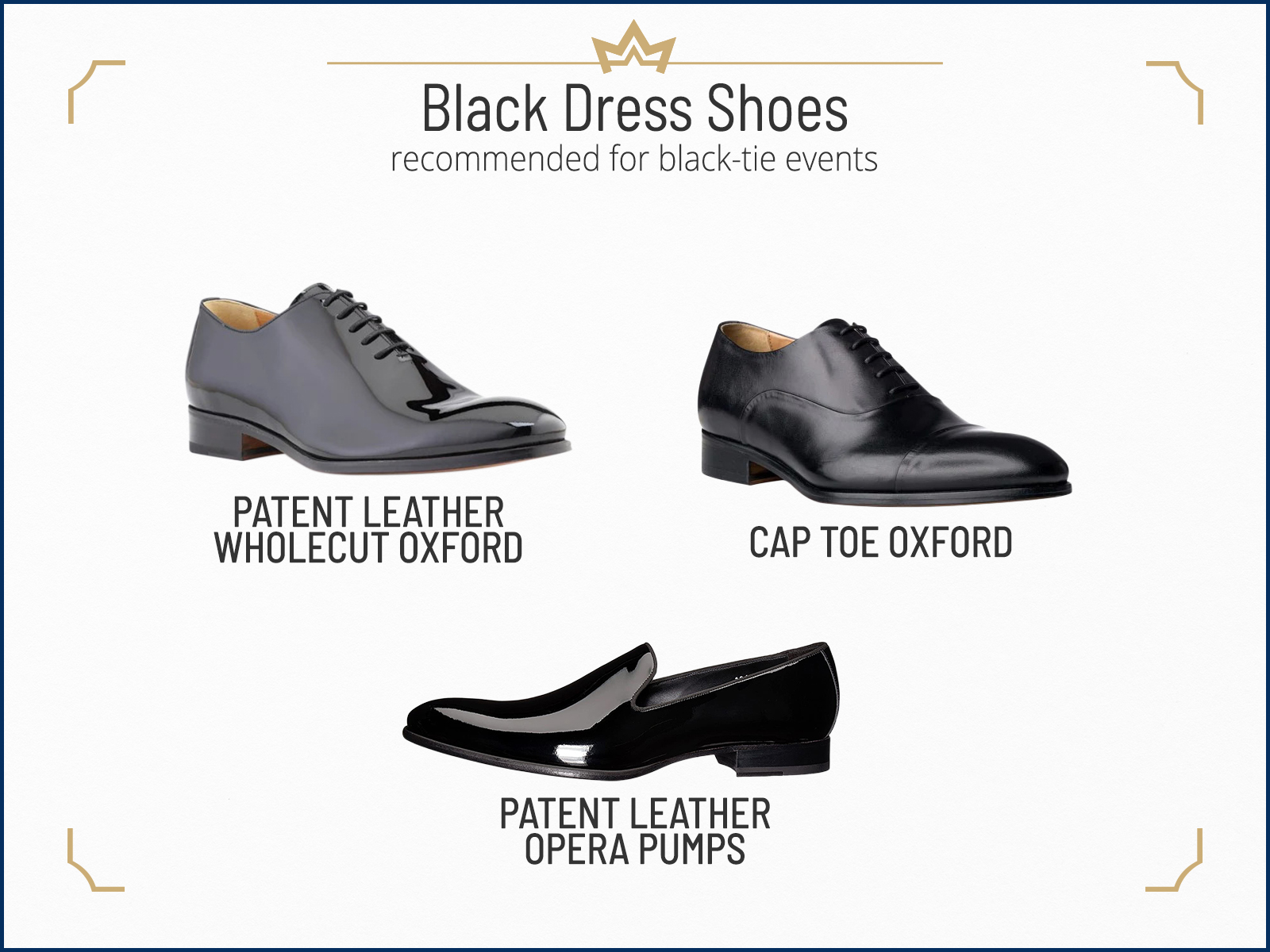 Again, black-tie creative can be easier to deal with as you can always follow the black-tie rules here.
You could simply wear a regular black tuxedo and maybe add some decent, undertone colors which contrast well with the suit color.
Black-Tie Optional Dress Code
The black-tie optional dress code often confuses men making them wonder what to wear if not a black tie.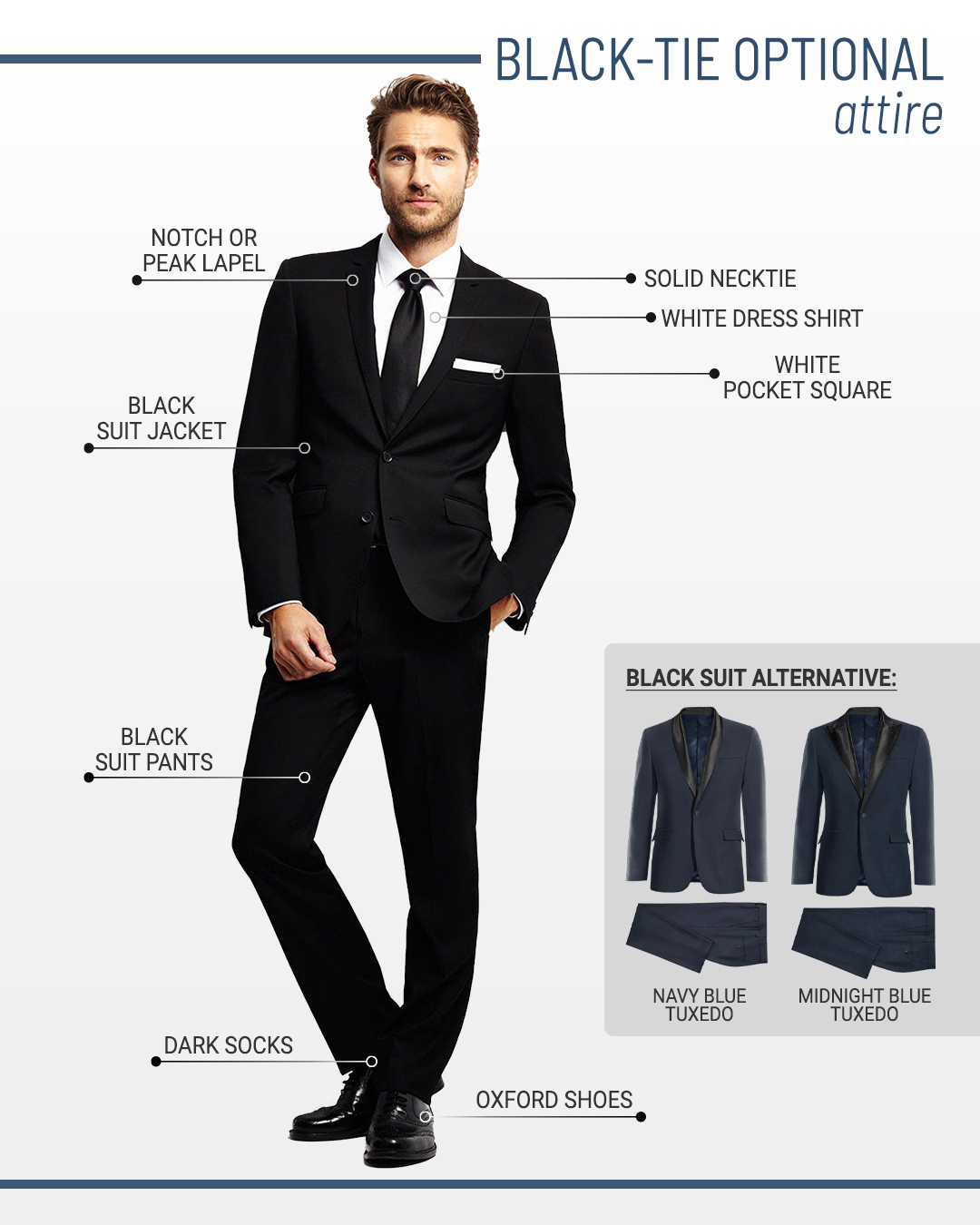 Don't overthink it. It simply means that you have the leeway to dress a bit less formally than in a black tuxedo.
In simpler words, a black necktie with a black suit will suffice the black-tie optional dress code.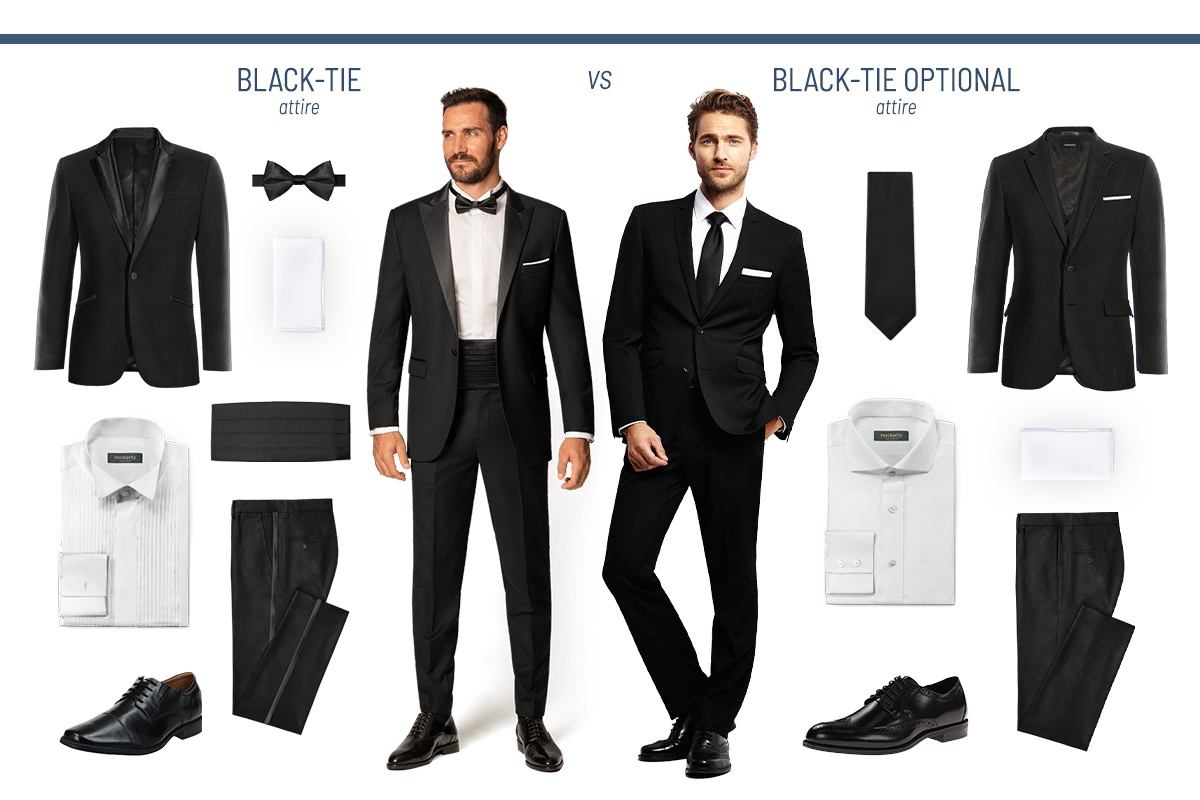 It is often kept as the dress code to be more inclusive of the guests, giving them an option to avoid the full tuxedo in case they don't have it.
Again, you can choose to replace the tuxedo with a polished black suit featuring notch or peak lapels.
You could also replace the black tuxedo with a midnight blue or navy dinner jacket.
A plain white dress shirt featuring either French or barrel cuffs is perfect.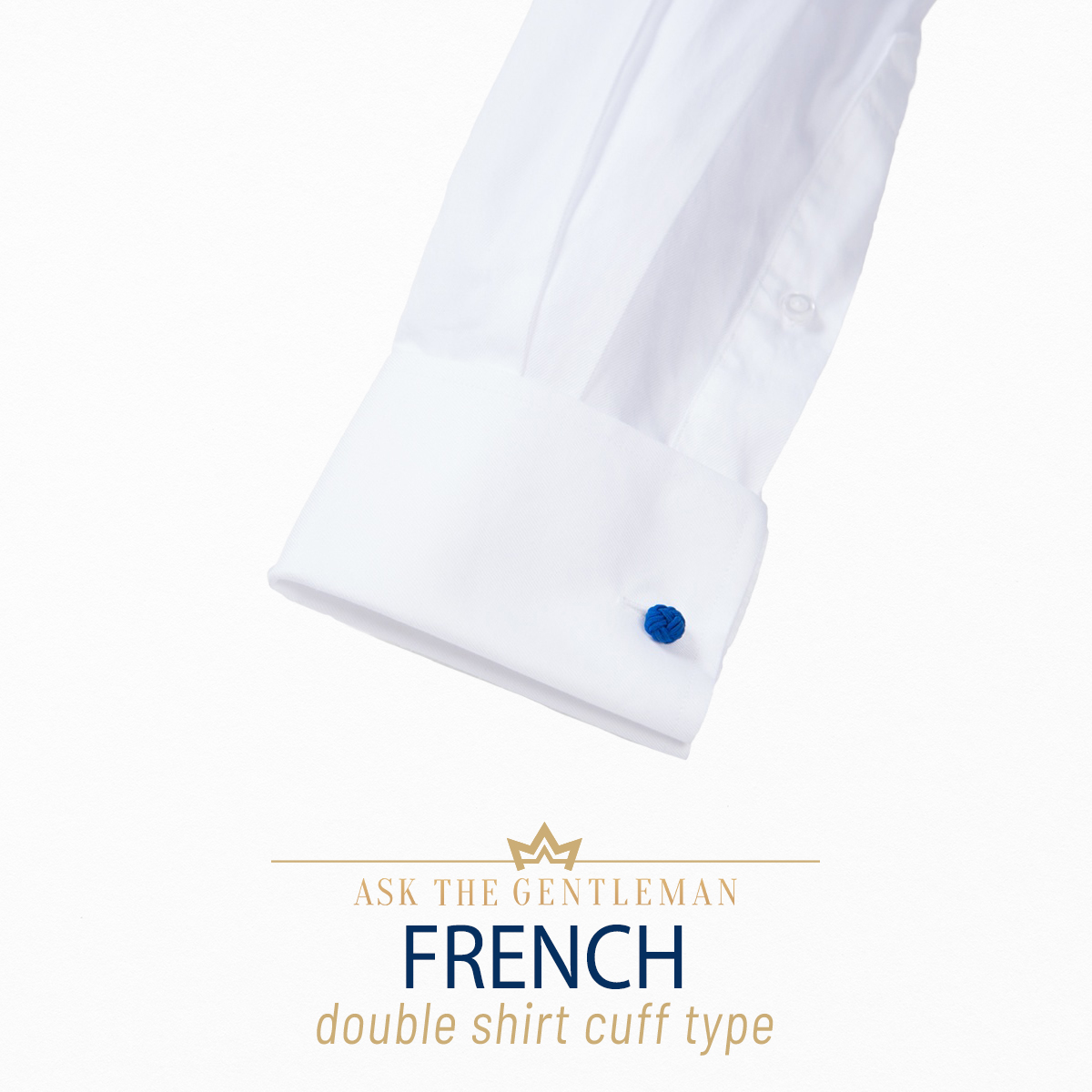 You can also choose between a classic black bow tie or the skinnier black or red for a slightly casual look.
As for the shoe type, it is recommended to go for patent leather or black leather Oxford.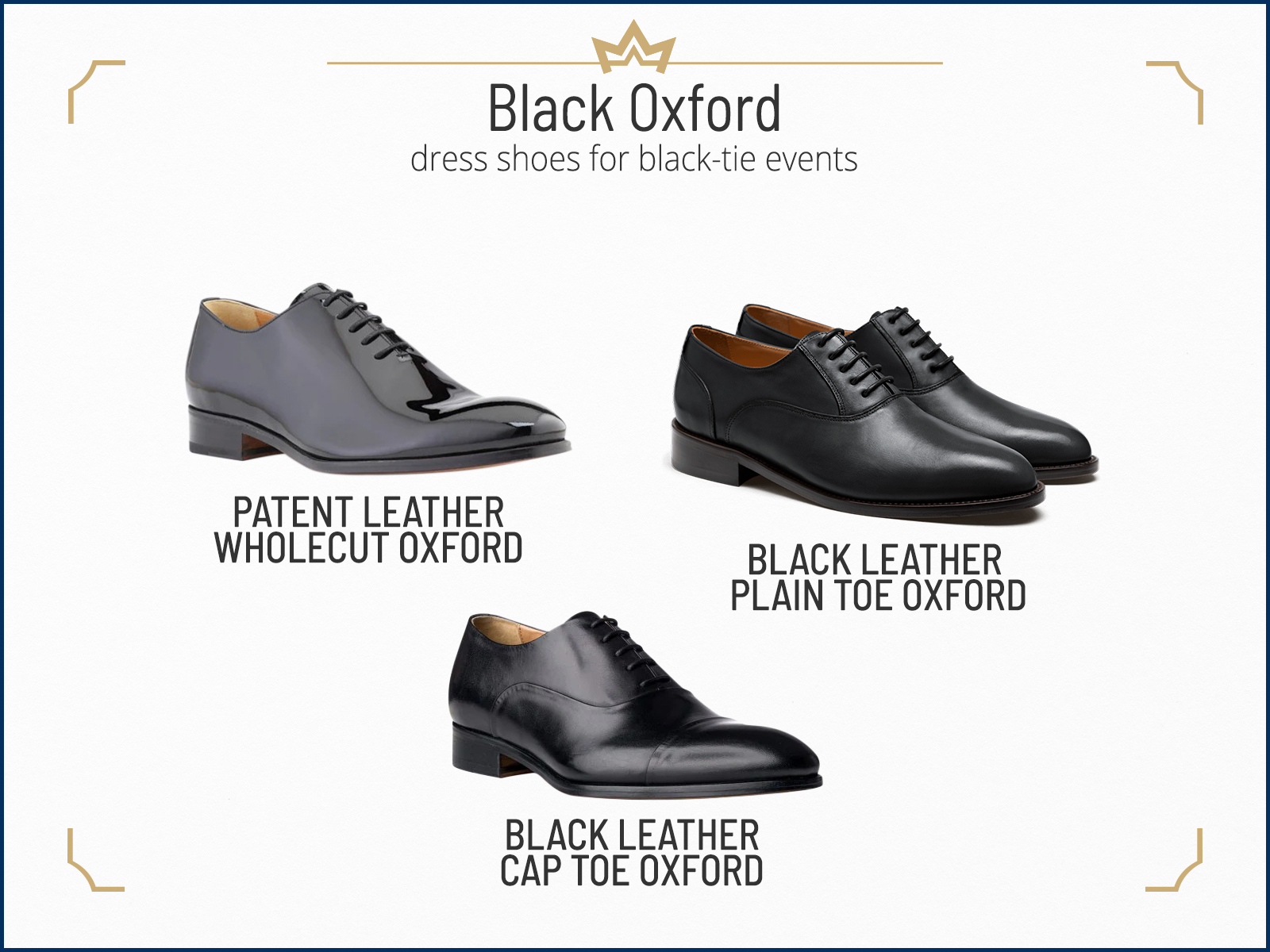 Make sure you keep the colors dark, including the socks, as the events are still formal.
Business-Formal Dress Code
Business-formal dress codes are requirements at employment places where they aim to represent a business ethic.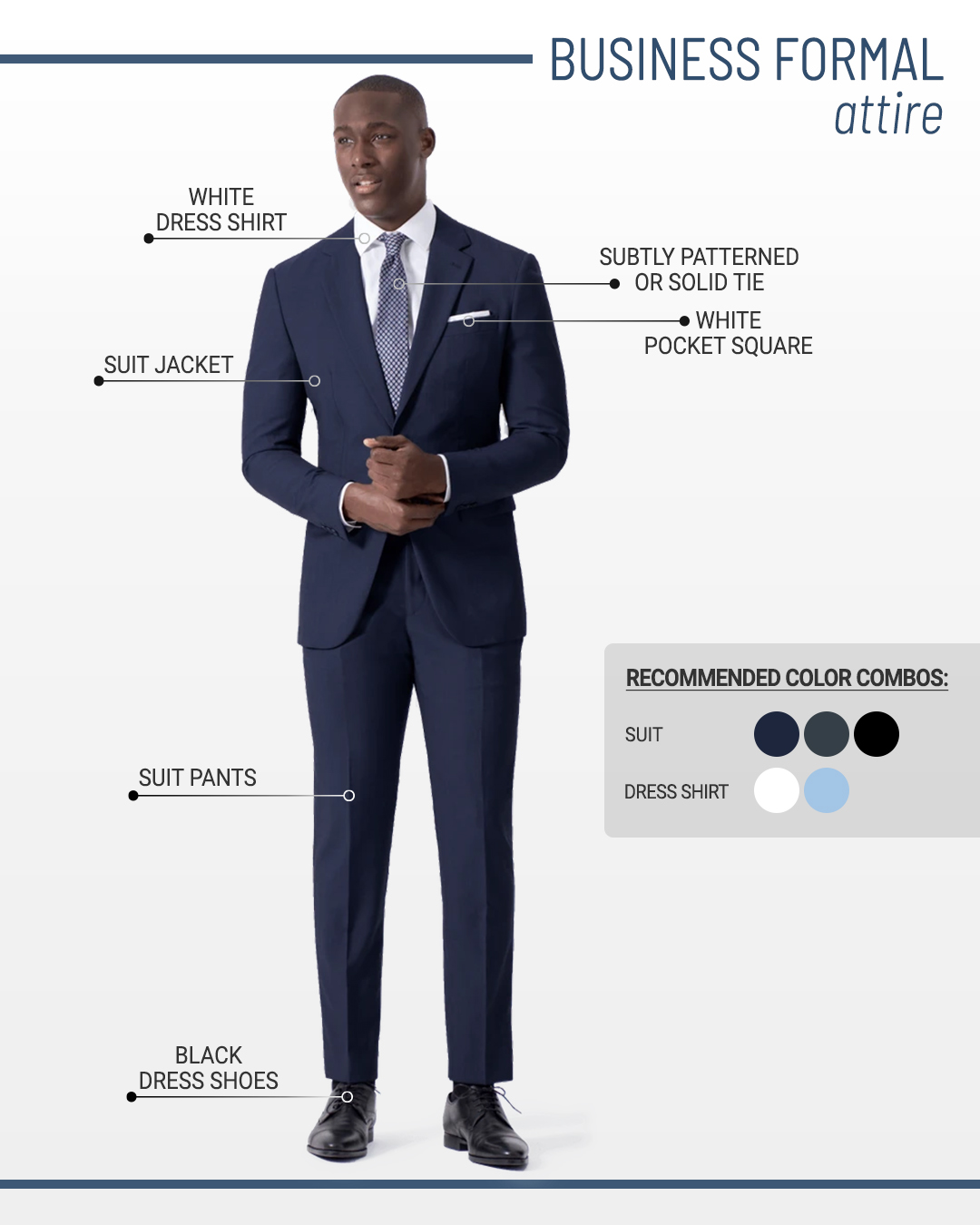 The dress code is suitable for all business-related events, such as meetings, dinners, conferences, and interviews.
It is a conservative way of work dressing, and the ultimate way to tackle it is to wear a suit, preferably a dark one.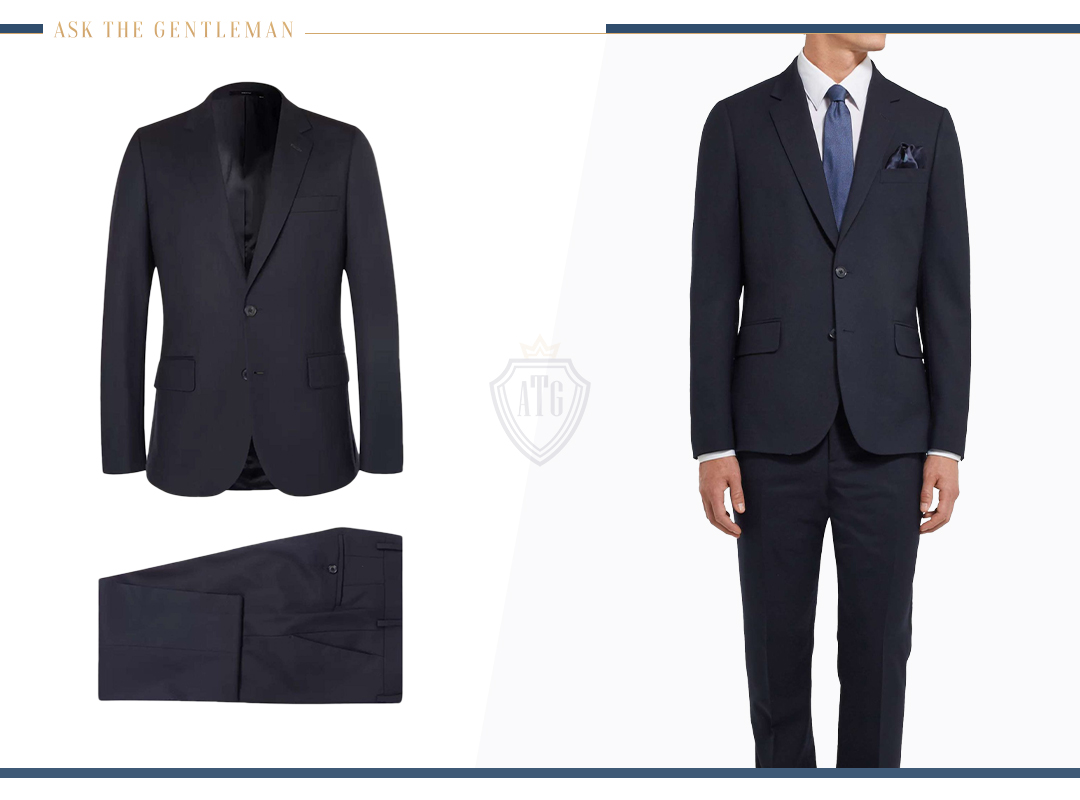 A business outfit also has a psychological effect that encourages you and declares to others that you are ready for work.
Typically, people working in the government, finance, and law spaces follow business-formal dress codes.
You have to go in a suit, but you are not strictly limited by styles and types.
However, what's important is the fit. The suit must be well-fitted and make you feel comfortable as you wear it throughout the day.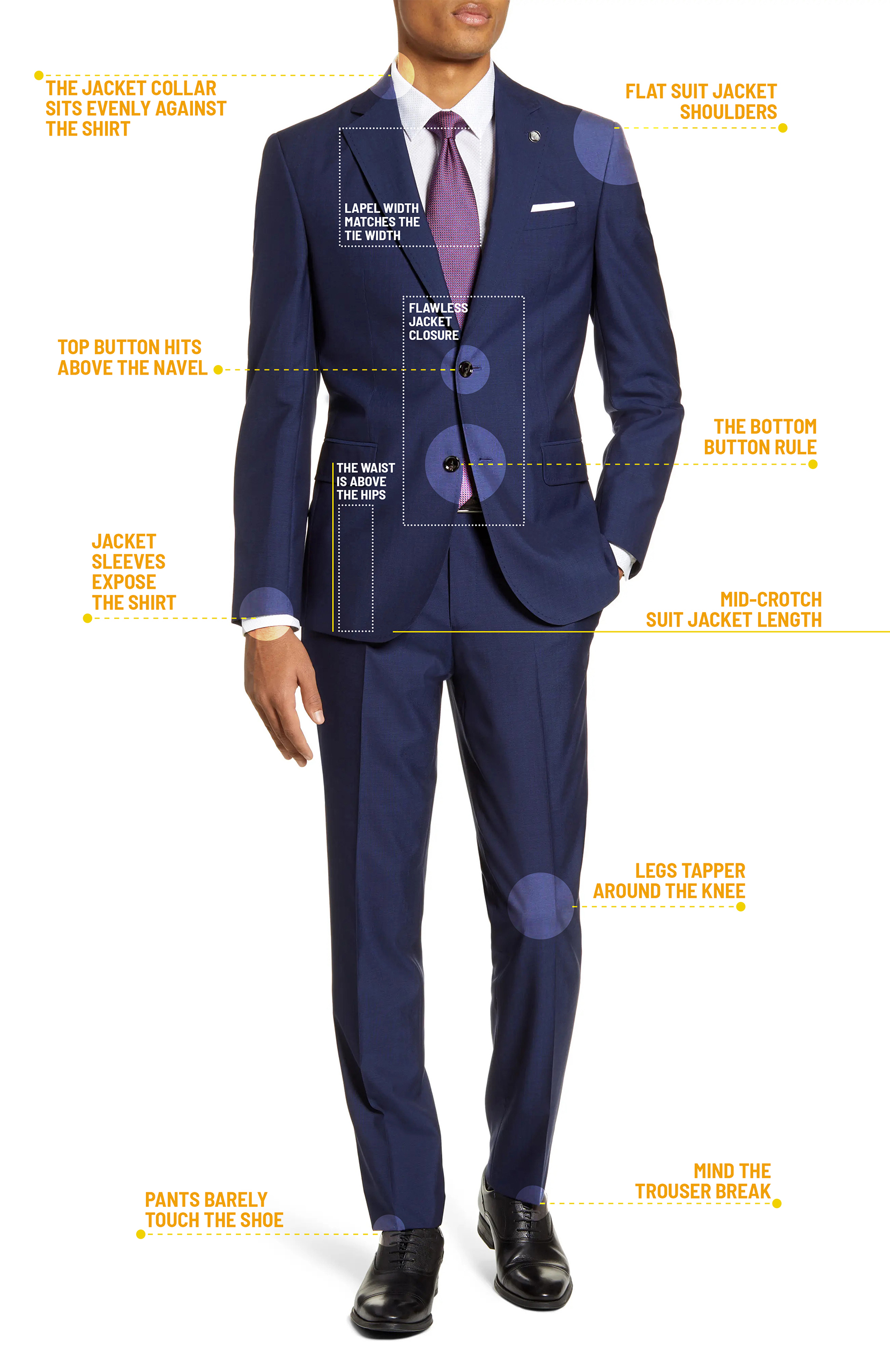 As for the suit color, you cannot go wrong with a navy or charcoal grey two-piece suit for business-formal.
A light blue or a solid white dress shirt with (must be subtle, like herringbone) or without patterns does the job.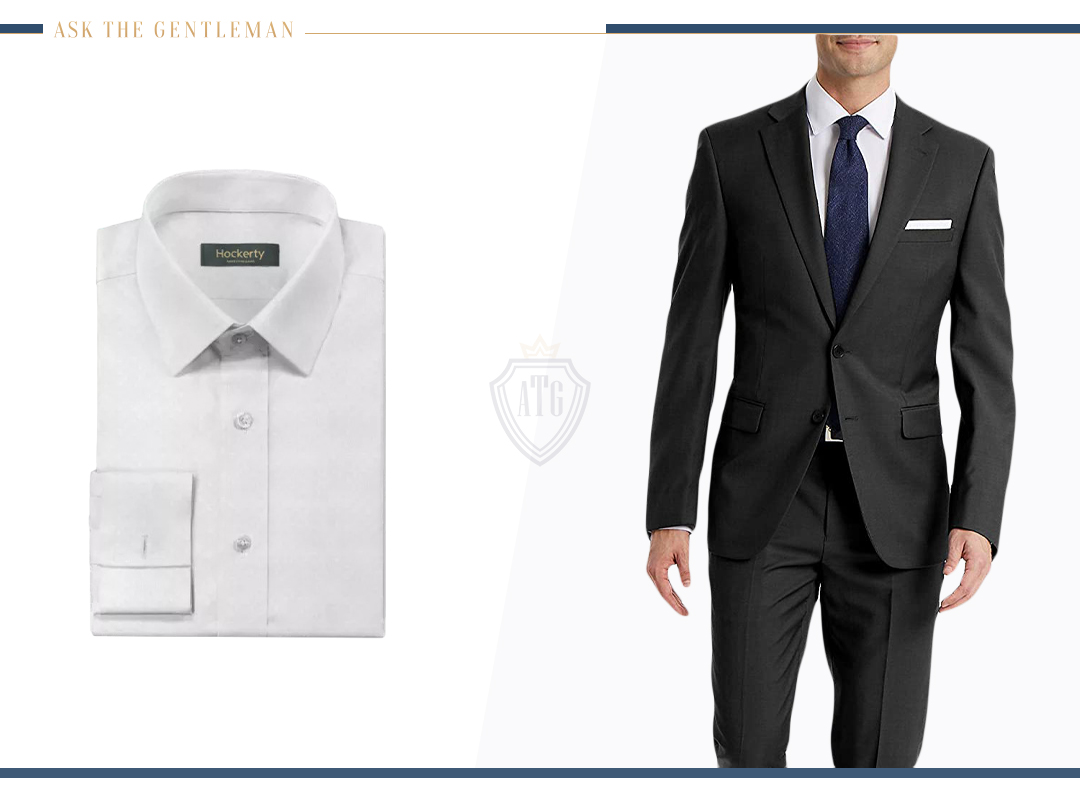 Go for subtly patterned ties or plain colors which are not too vibrant.
All of this, combined with black formal shoes, either Derbys or Oxford, will complete the business-formal look.
Semi-Formal Dress Code
Semi-formal is similar to the business-formal dress code in terms of flexibility compared to black-tie attire.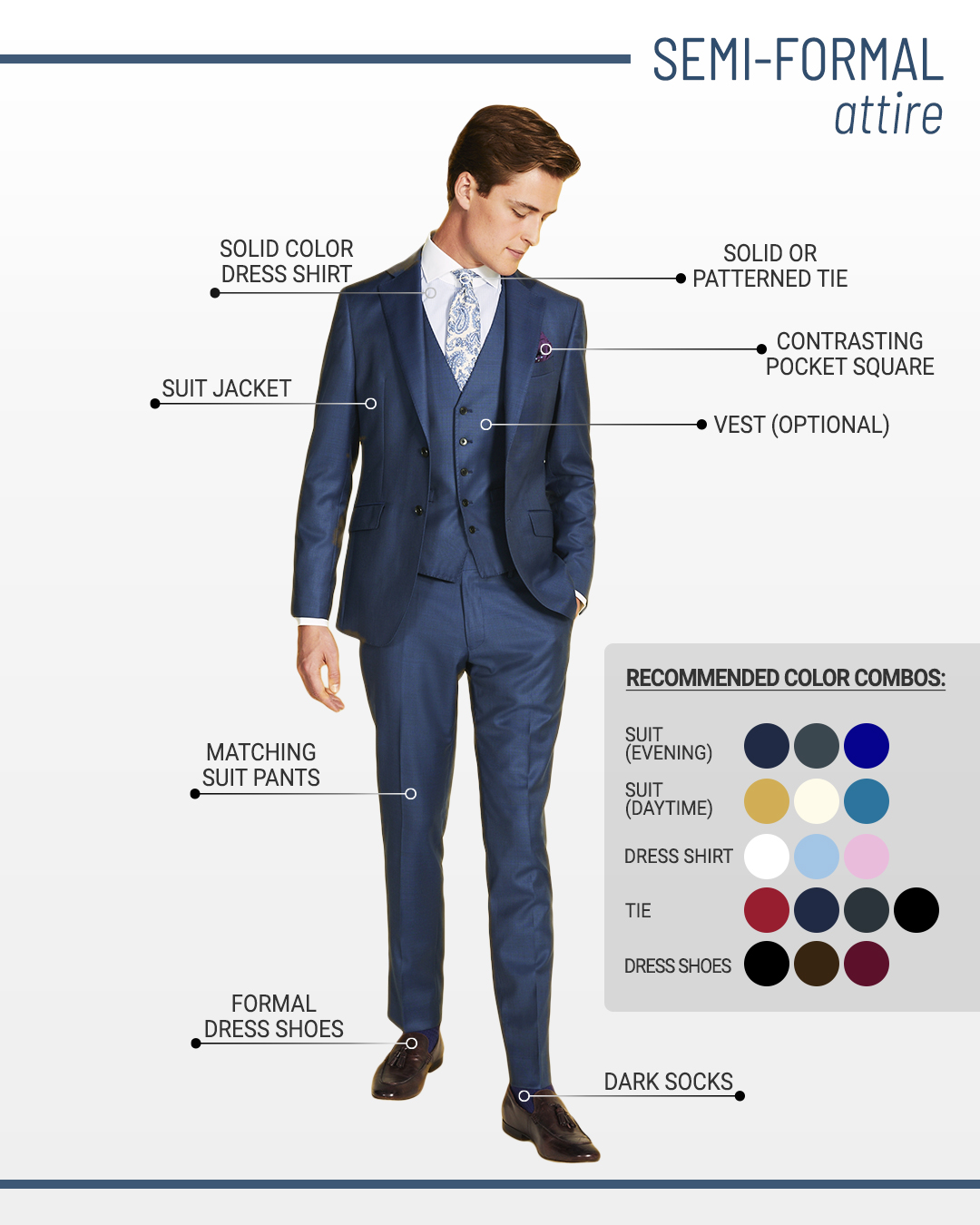 However, you can wear semi-formal attire on more occasions as compared to business formal.
Although the events are quite relaxed in terms of dress code, you are still recommended to wear a tie.
More importantly, if the event falls on the more formal side, make sure to wear a dark color suit.
Usually, navy, charcoal, or a darker shade of blue make the best color combinations for nighttime events.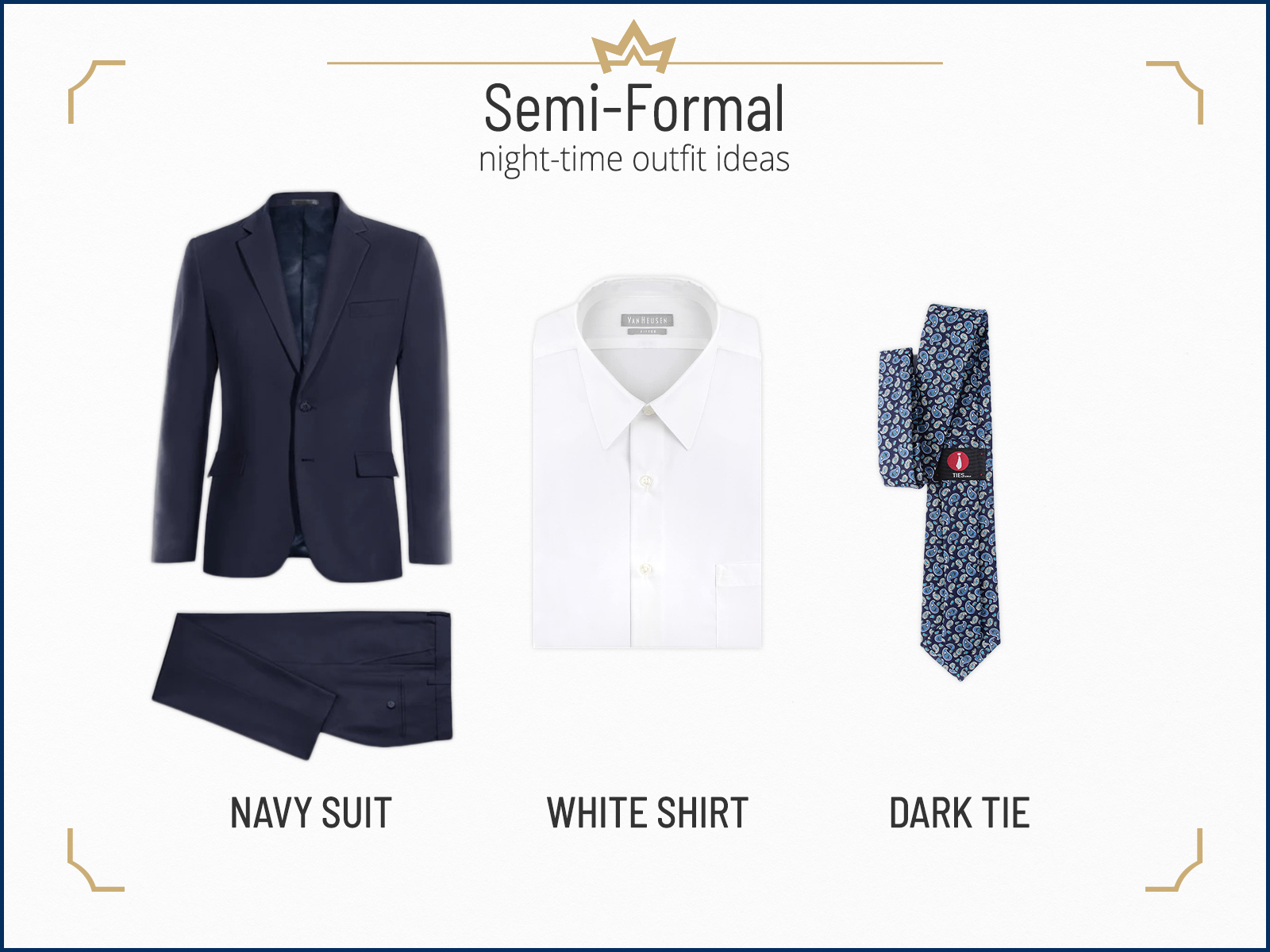 Don't incline towards black because with black comes more formality.
If the event is during the day, a lighter suit is recommended, like cream, tan, or light blue.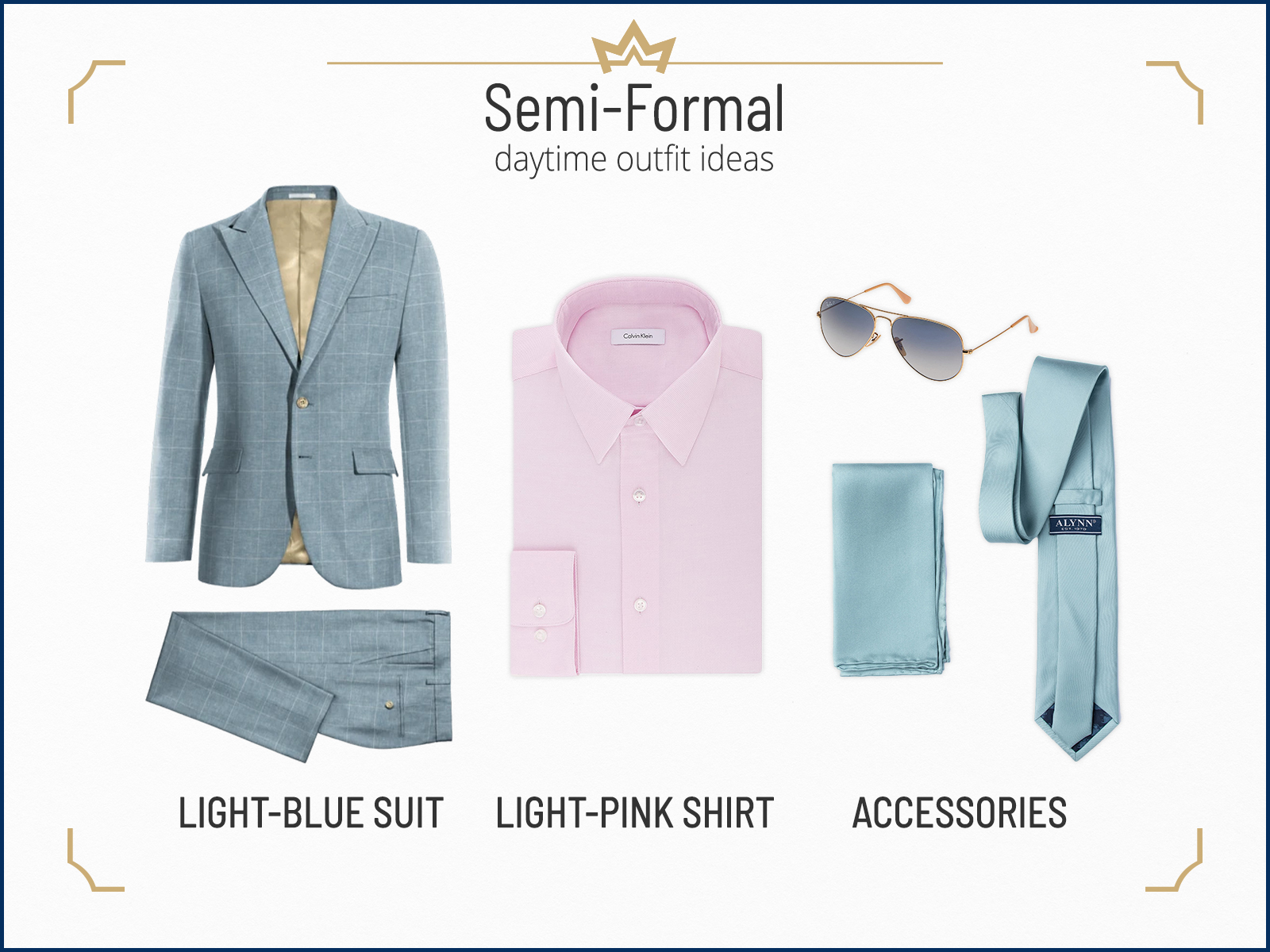 Still, darker colors aren't completely out of the equation for daytime events. In fact, you can wear them if you wish, but it comes down to preference.
Normally, people go for lighter colors during the day and darker colors during the night.
As for shoes, you should go for oxfords or derbies, preferably black but brown works too.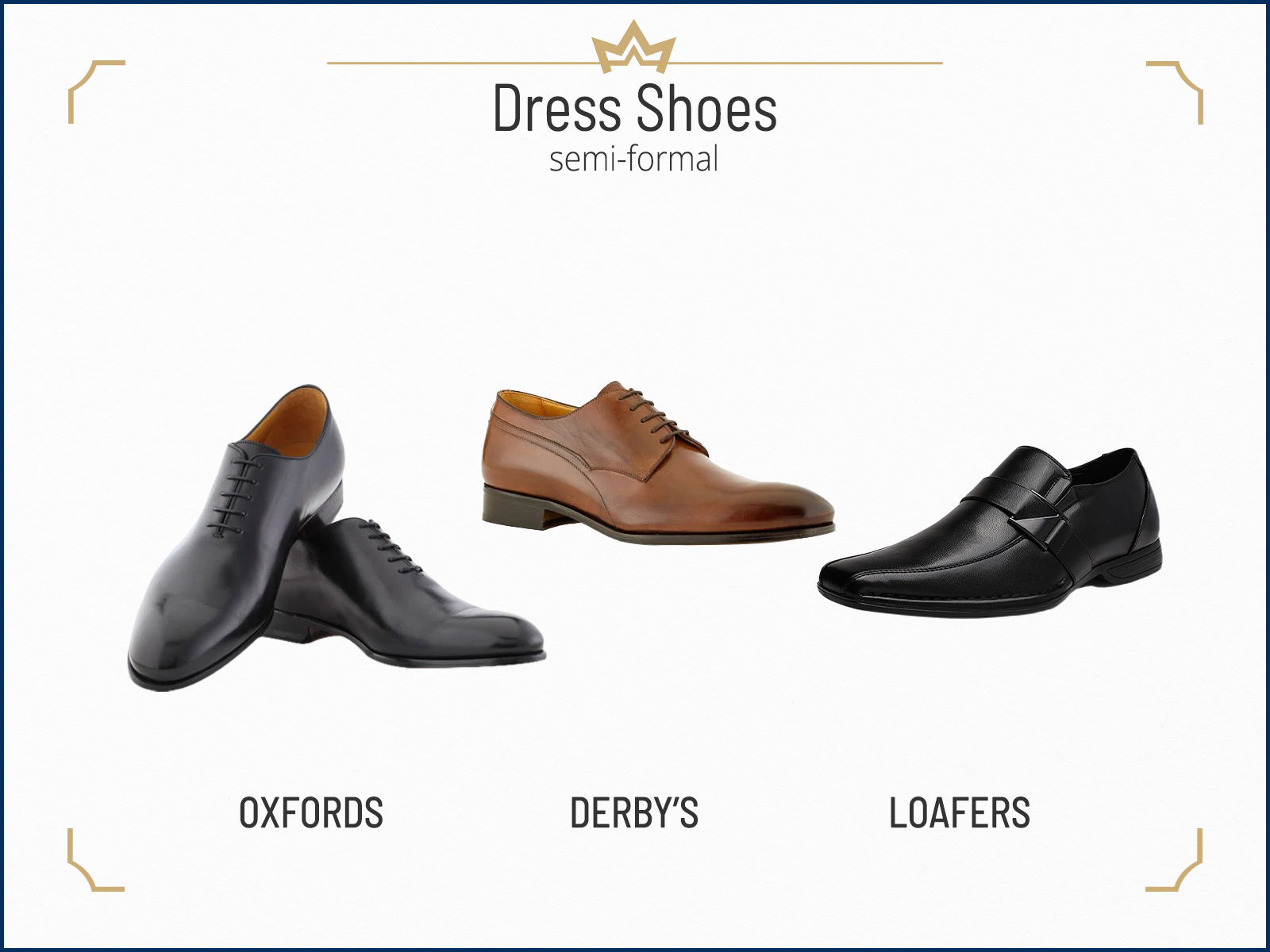 The shirt can have patterns and colors but make sure they're subtle.
Whether it is a party, after-work event, wedding, or first date, you want to show some seriousness.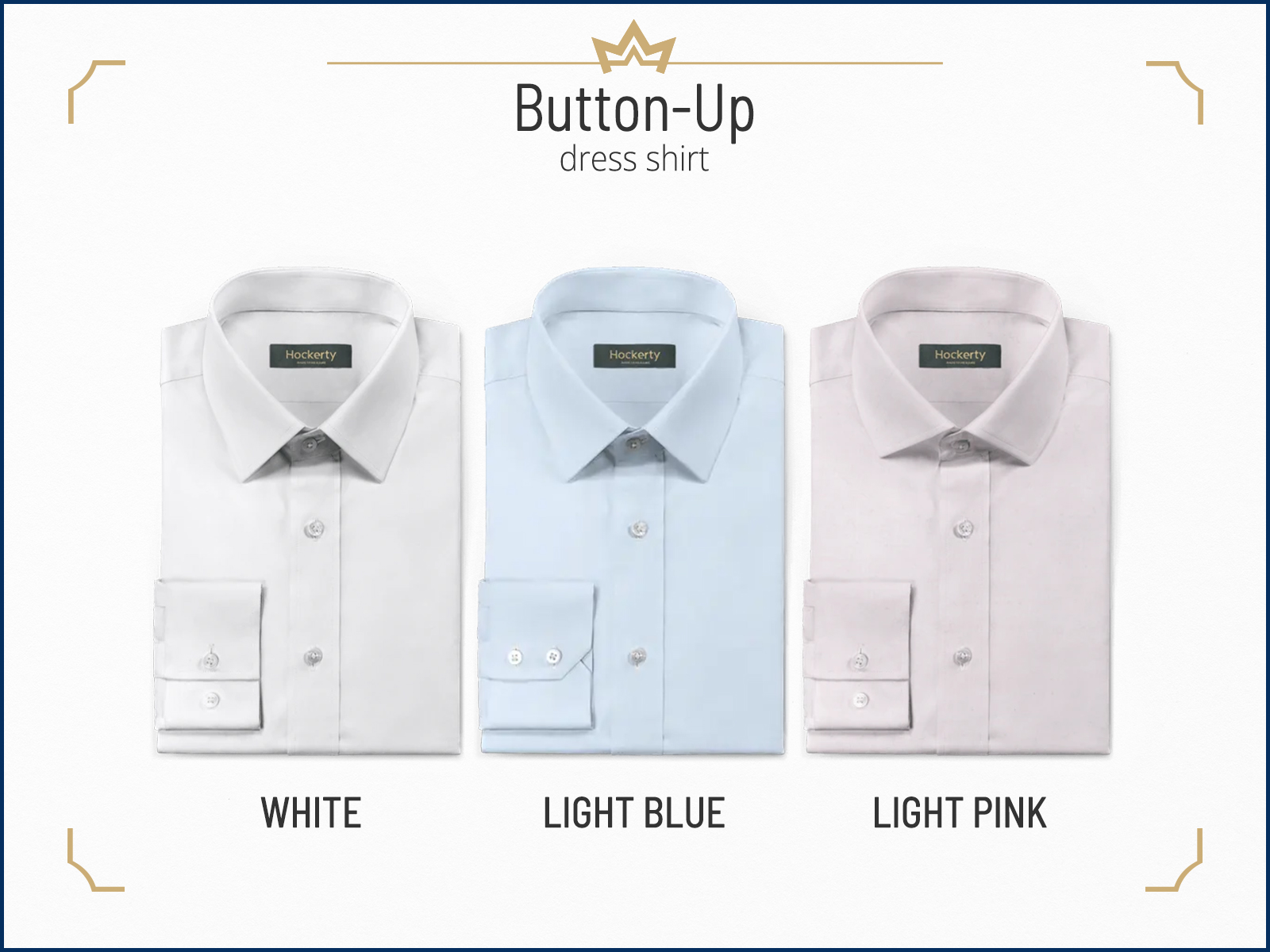 You want to avoid the flashy look that comes with brighter colors and bold patterns.
Cocktail Dress Code
The cocktail dress code falls on the semi-formal spectrum, usually worn for evening events.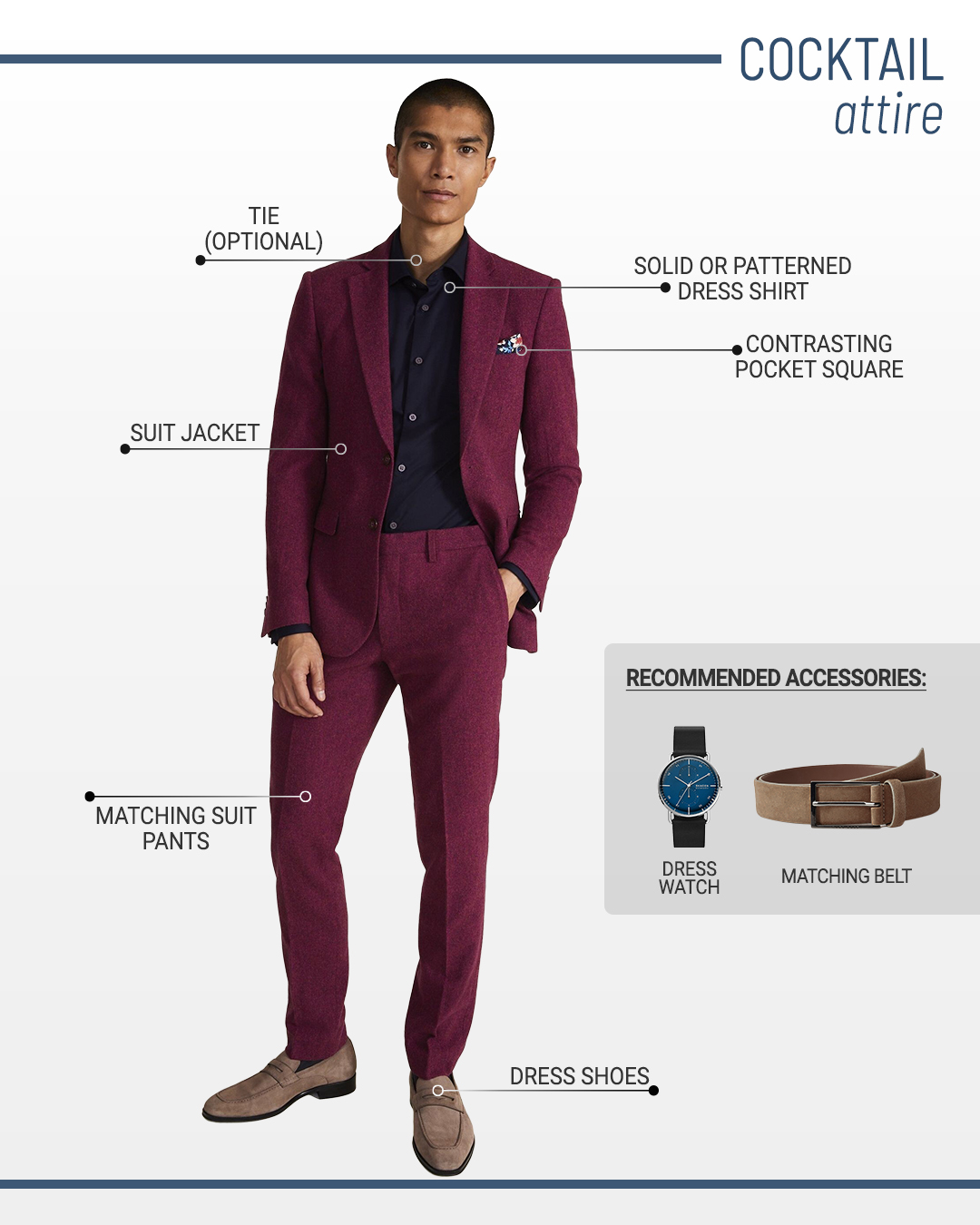 It also brings together a mixture of modern and formal.
The cocktail attire allows a wide range of personalities to express themselves in their own ways.
You can choose not to wear a tie with your cocktail outfit, contrary to the standard set by the formal dress code.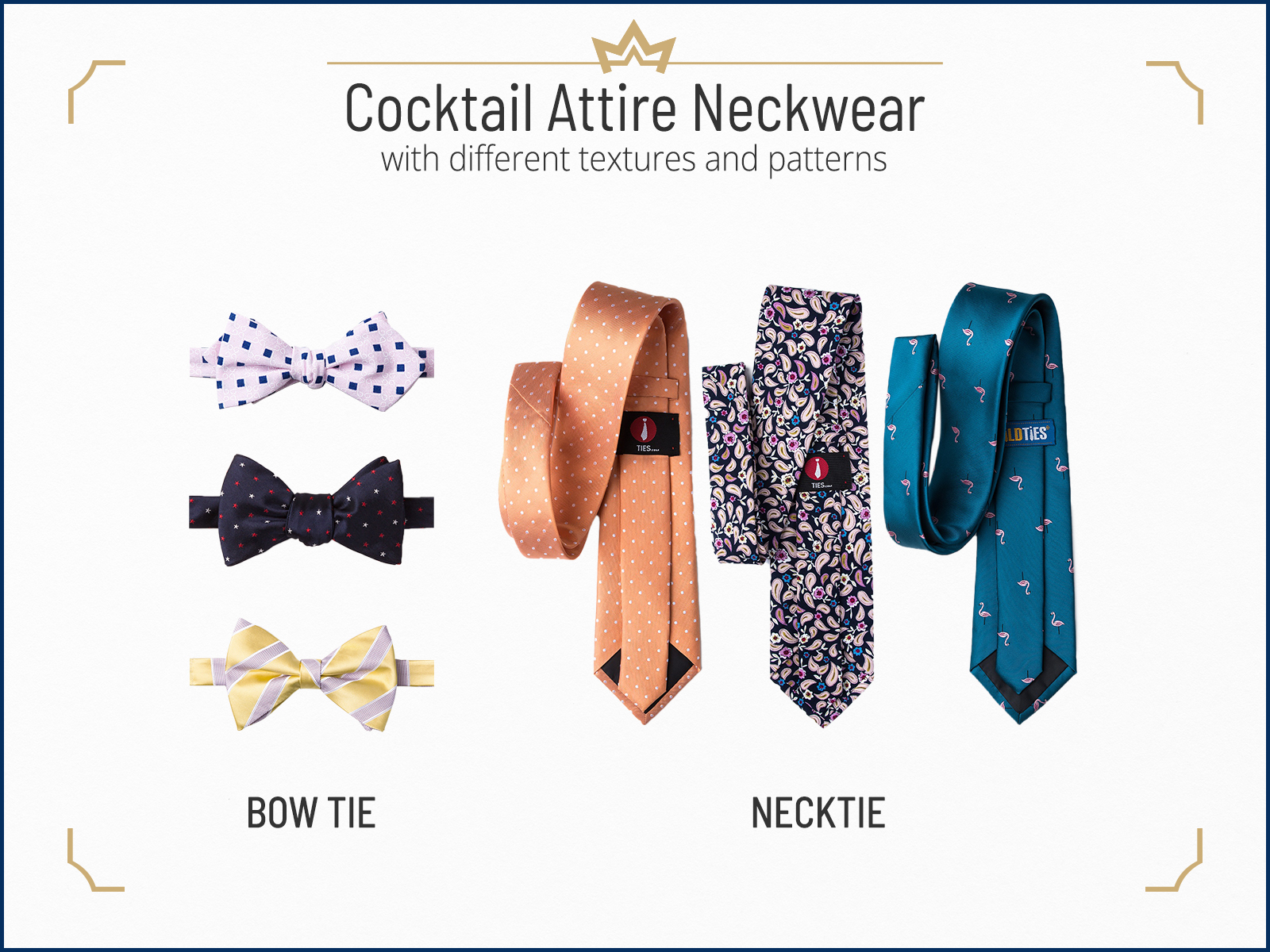 Even leaving one or two buttons open doesn't hurt.
As a result, this apparel is mostly based on personal perceptions. However, there are still a few guidelines to follow.
Although some may say that you don't even have to wear a suit, I strongly recommend wearing one.
In case you decide against it, get a polished blazer paired with well-tailored trousers, both in neutral colors. Make sure both clothing pieces are good-looking.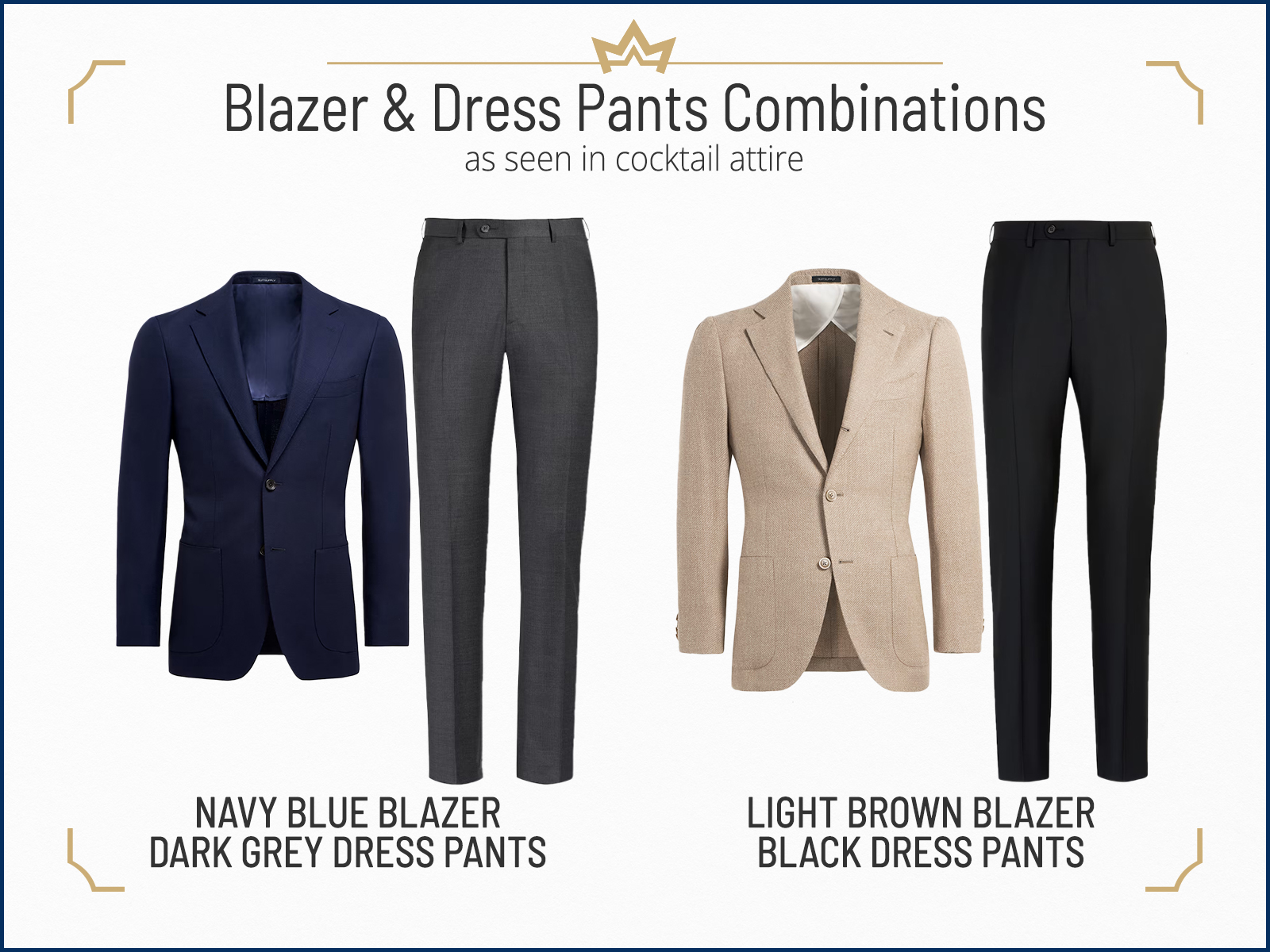 More importantly, you don't have to stick to leather shoes. Instead, you can incline toward suede styles as well.
Just make sure that the shoes match well with the suit or blazer.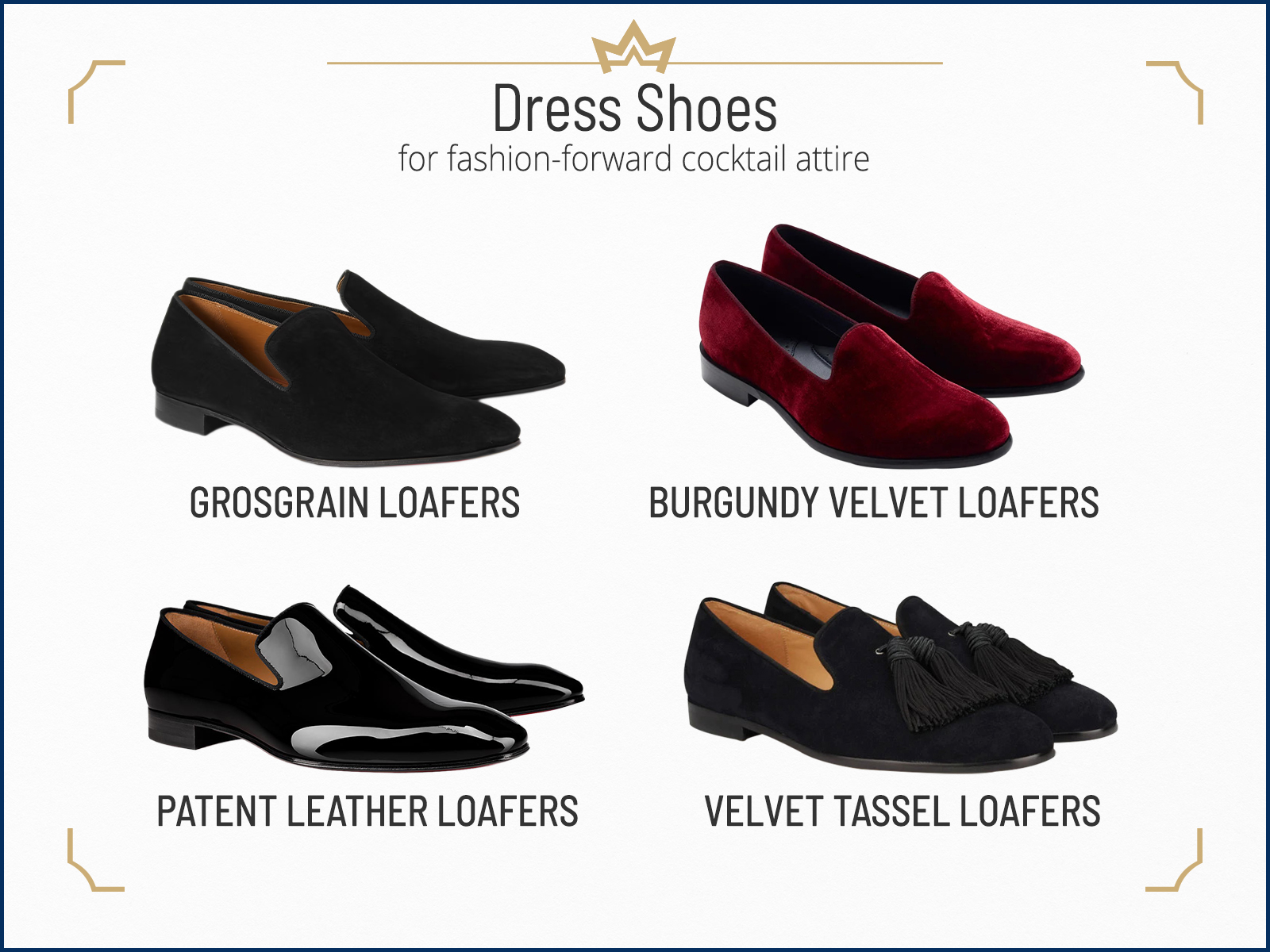 Again, don't mistake the cocktail dress code for being too casual. You should use accessories that reflect sophistication with a touch of formality.
For example, throw in a professional-looking watch or a neat-looking pocket square.
Business-Casual Dress Code
A relaxed and flexible work environment normally allows a business casual dress code.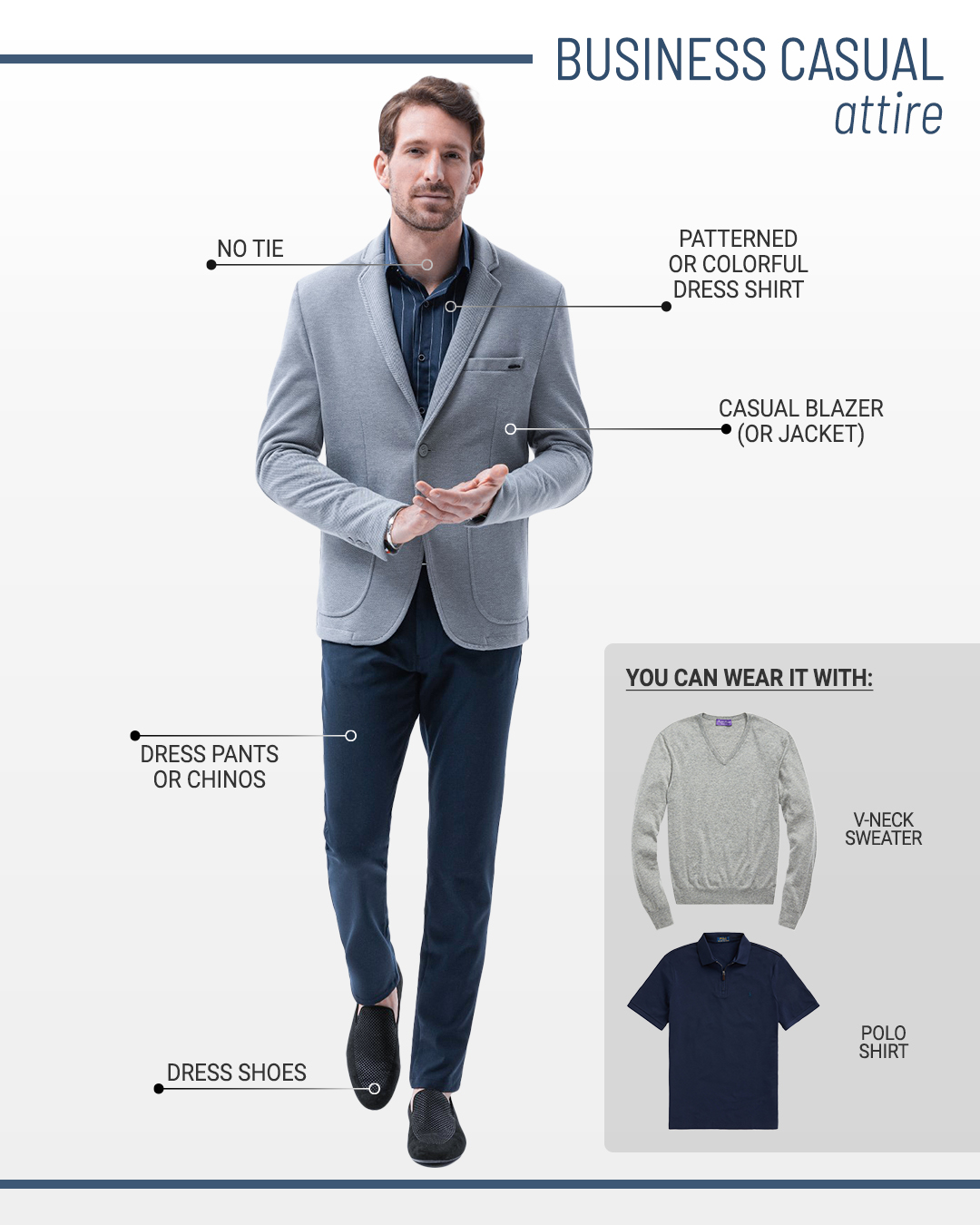 In other words, business-casual dress codes are mostly for startup work environments or service industries and conferences, interviews, and casual meetings.
Nonetheless, it is not an invitation to look informal.
The workplace still requires employees to look professional by following less formal dressing rules.
Often, businesses and events do not specify what they mean by business casual dress code. But, usually, they expect you to wear a nice casual blazer or jacket.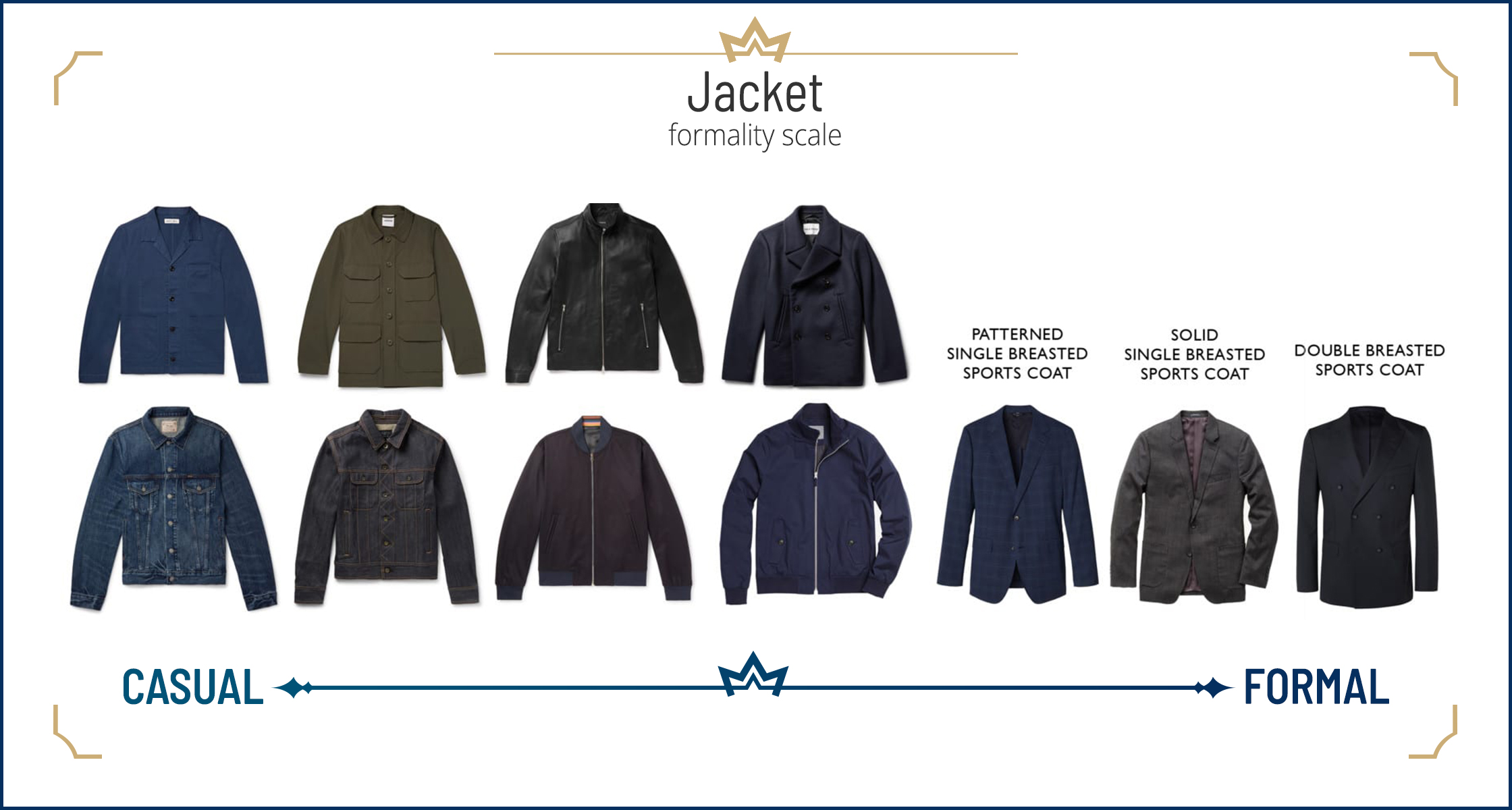 If you want to go for sharp looks, a single-breasted, dark grey, and notch lapel blazer will do the job.
As for the shirt, you can go for different options and choices such as patterns, colors, etc.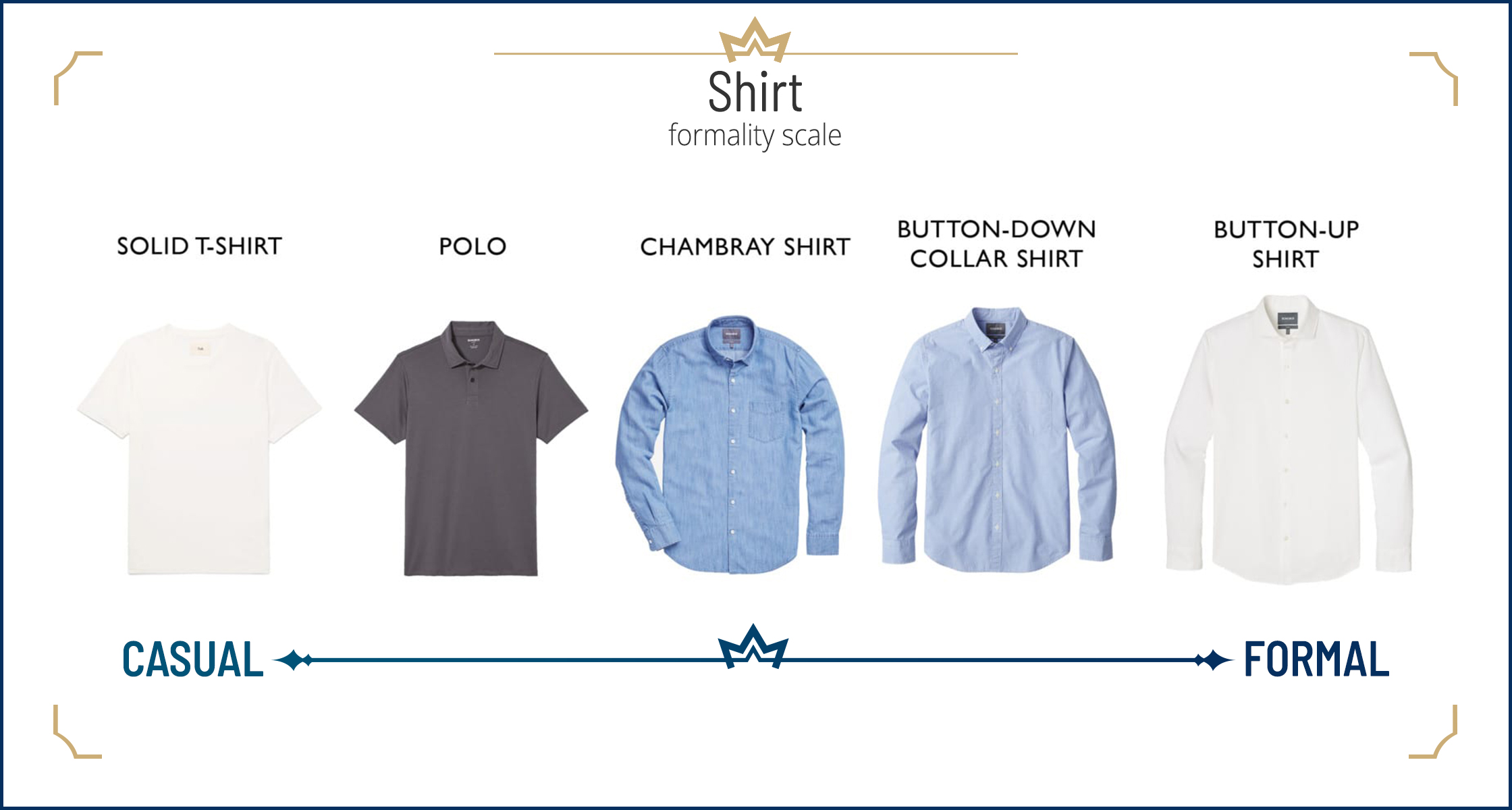 You can also choose between a button-down or button-up shirt.
In addition, you can also wear a cardigan or a contrasting V-neck sweater to mix things up. Polo shirts work, too, if you are into them.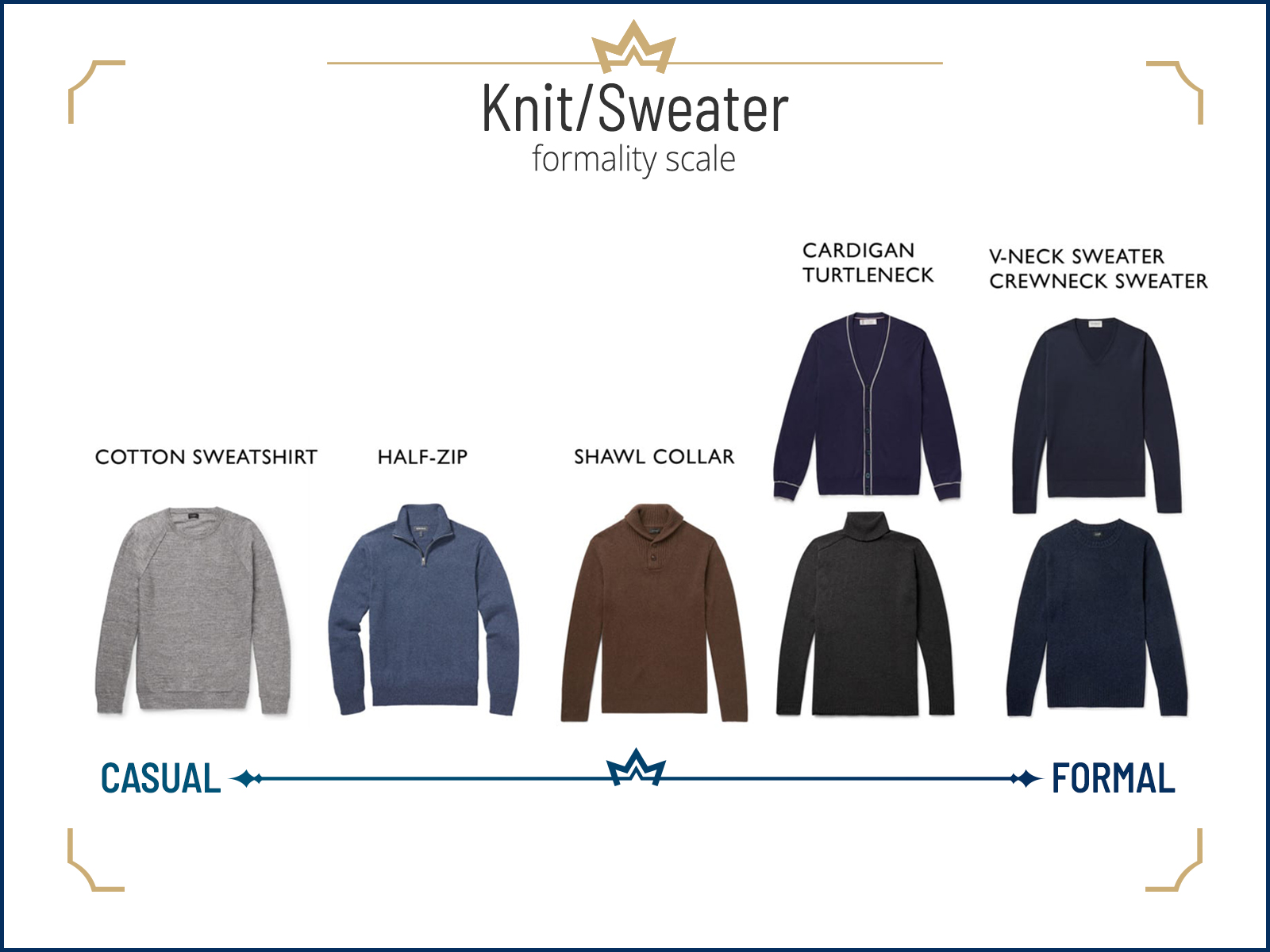 However, don't fall towards the plain white dress shirt because that is just too formal. So are the French cuffs. Therefore, avoid them as well.
Business-casual workspaces usually require you to wear formal pants. Trousers or dress slacks are the most common choices.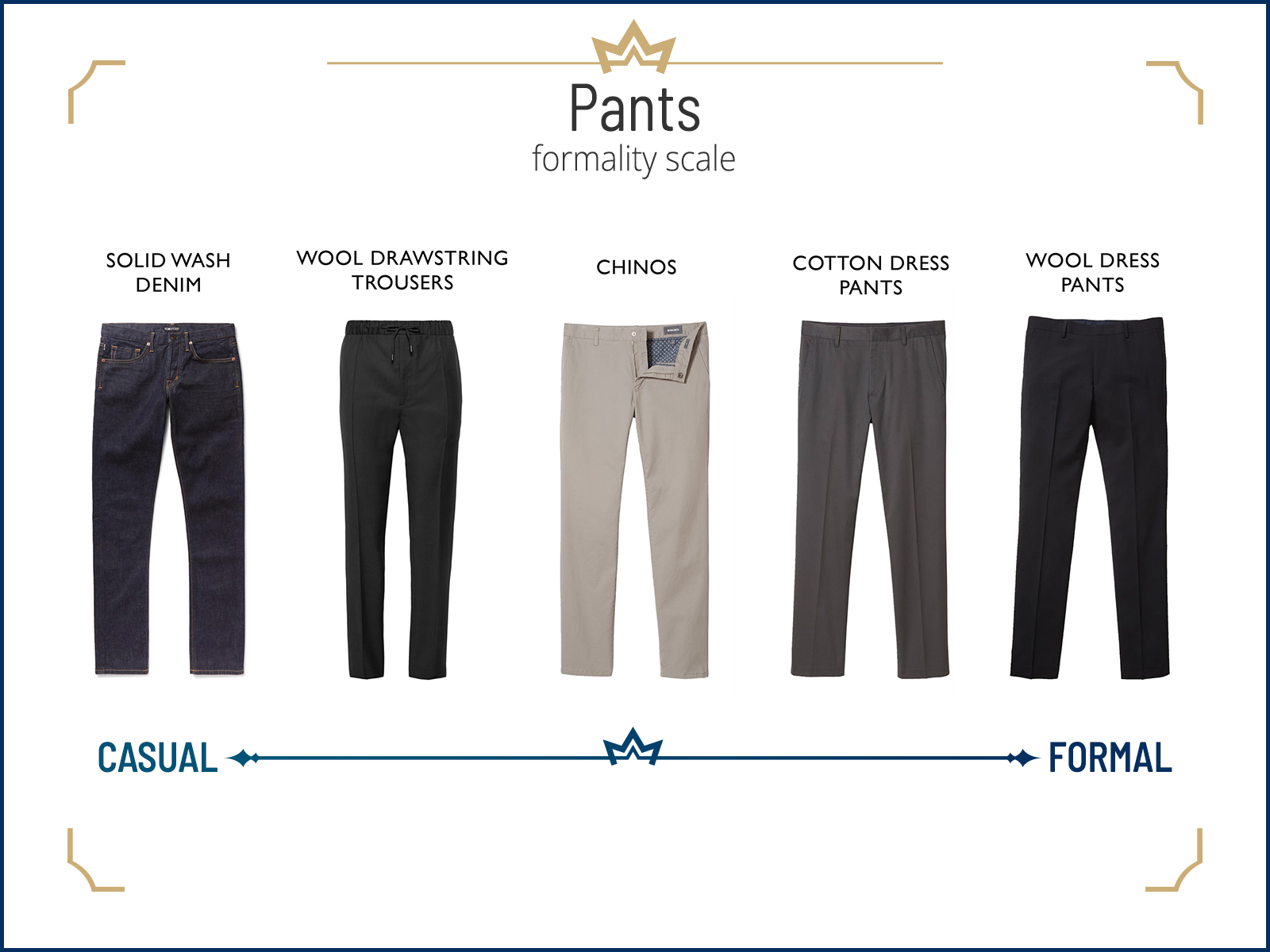 However, if your office is more flexible, a nice pair of casual jeans can work, too.
Pair the outfit with brogues, chukka boots, or loafers to complete the nice business casual look.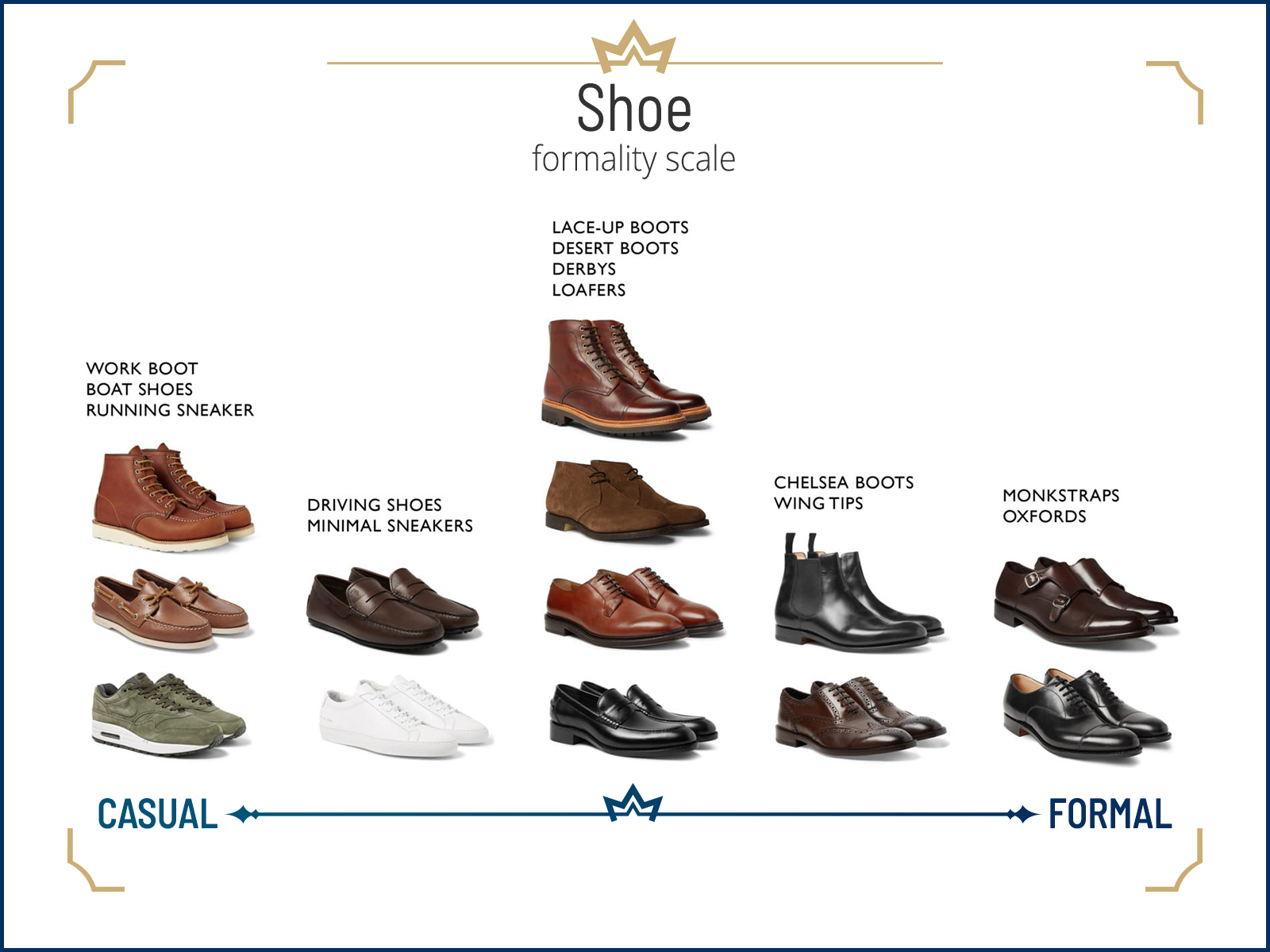 Don't ruin the look with sneakers or tennis shoes, as that is just too informal for this dress code.
Also, you can completely negate the tie.
Smart-Casual Dress Code
Smart casual might sound like an office look, but it's more than that. It's best described as sophisticated yet casual but not messy at all.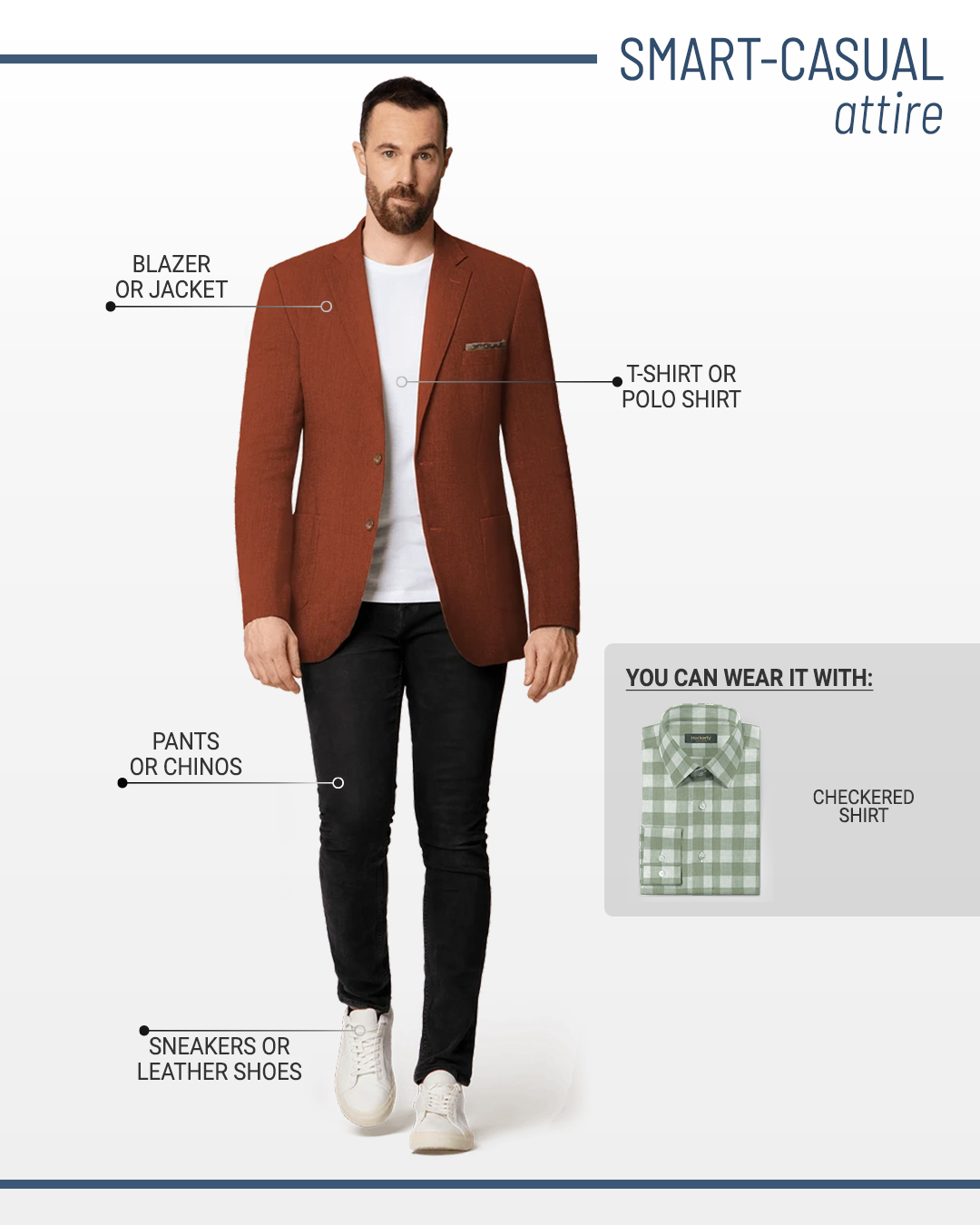 You could see it as a relaxed look when there's a perfect blend of trendy and aesthetic outfits.
Usually, startups and tech firms allow smart casual outfits. But you can wear it at some family event, date, or a simple evening hangout.
There aren't any rigid and hard rules for this look. However, it should still make you feel neat and simple.
The good thing about a smart-casual dress code is that it offers the flexibility to add multiple colors in a single outfit.
Moreover, you can bring together unrelated pieces of clothing to bring forth a different combination.
You could choose to go for a blazer as well. But don't overdo the color. Instead, let other pieces of clothing handle that, such as a checkered or bolder color shirt.
You could also choose to go for a T-shirt or polo shirt paired with dress pants and a well-fitted jacket.
Both jeans and chinos work for this look, so it's your personal choice of which to go for.
Again, choose the colors according to the weather and the time of the day.
As for shoes, you can rock a good pair of leather shoes, sneakers, or dress boots.
However, formal shoes like derbies can also do the job as well.
Casual Dress Code
Casual outfits are quite common and is one of the most relaxed.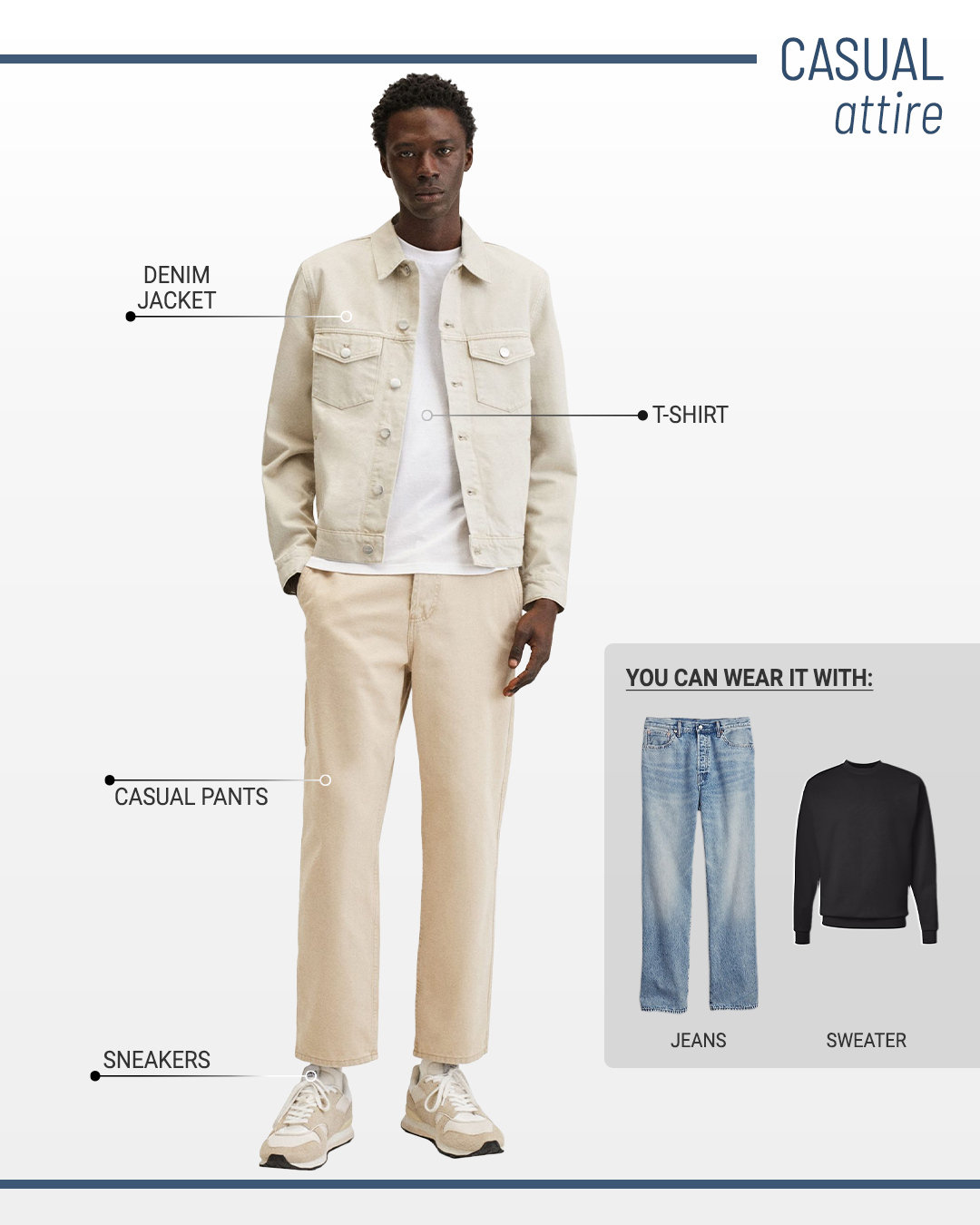 As a result, it is hard to go wrong with casual, given how easy it is to dress for.
However, there are still ways to make your relaxed look stand out from the rest.
The best way to go about this is to invest in classy items such as sweaters, jeans, denim jackets, sneakers, and t-shirts that never really go out of fashion.
More importantly, don't overdo the colors and stick to basics.
It not only makes you look casually decent but also makes coordination easier.
A casual attire also doesn't have any restrictions, so you can spice up the look with some accessories, like chronograph watches or bracelets.
Ultra-Casual Dress Code
The ultra-casual outfits are the simplest of all, reflecting convenience and comfort.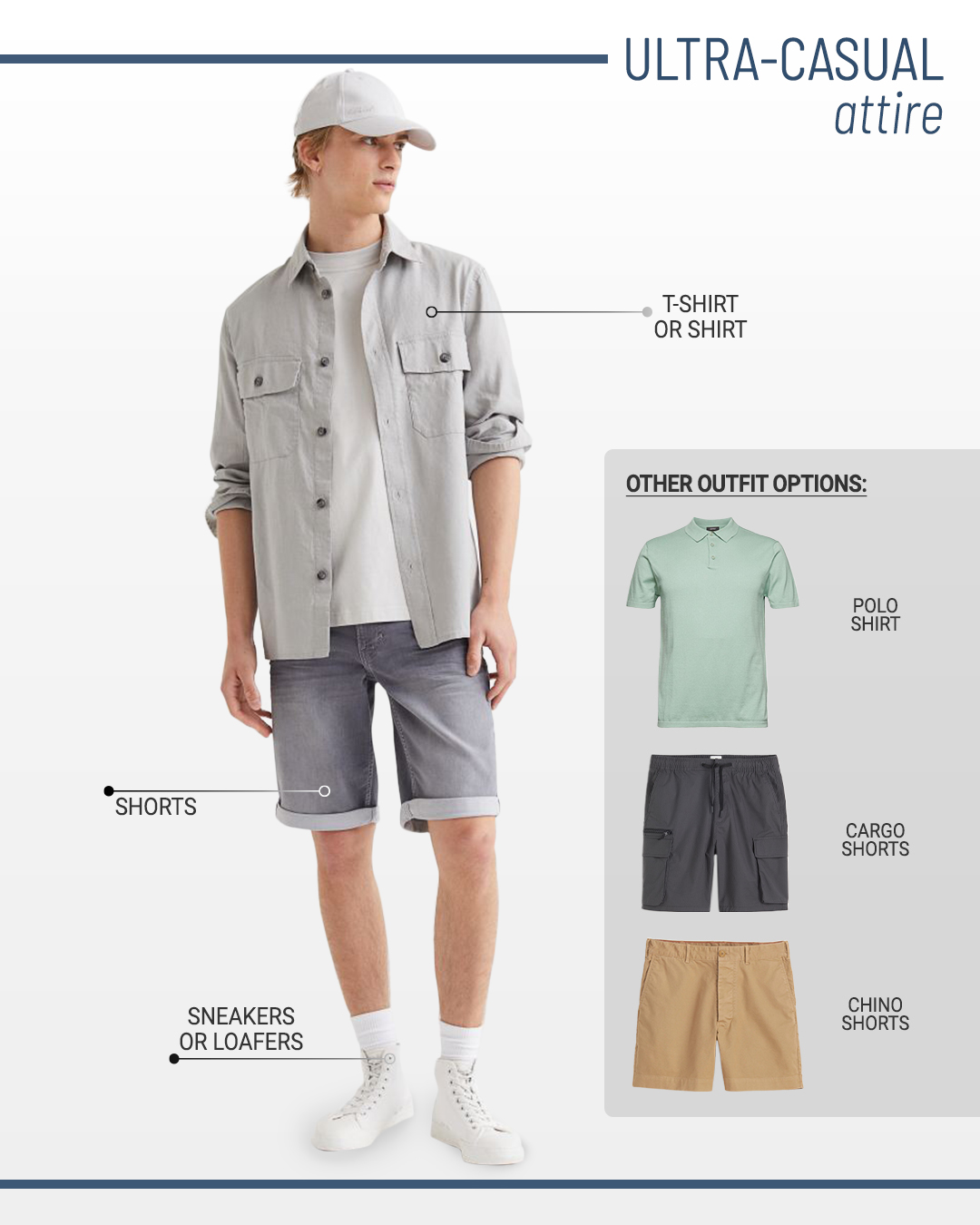 The ultra-casual is often known as the outfit for the warm weather, worn during the summer and spring seasons.
You can choose different t-shirt styles but make sure they fit you well.
With ultra-casual also comes the freedom to wear shorts. It's still best to wear them above the knee.
As for shoes, you can either go for loafers or sneakers complemented by matching socks.
You can also complete the whole look with some casual accessories such as bracelets and watches.
Keep in mind that an ultra-casual look shows a lot of skin, so invest and spend time on self-grooming as well.