It's not easy finding the right dress shoe types for your conventional suit.
Indeed, dress shoes and suits are like a match made in heaven.
But different men's dress shoes work for different occasions!
Some make you look more formal, while others make you look laid back. So, how do you pick the correct one?
In this guide, you'll learn everything about men's dress shoes.
That includes anatomy, how to recognize different types of formal footwear, color matching, and more.
Men's Dress Shoe Basics
Before we talk about the various dress shoe types, you should understand their anatomy.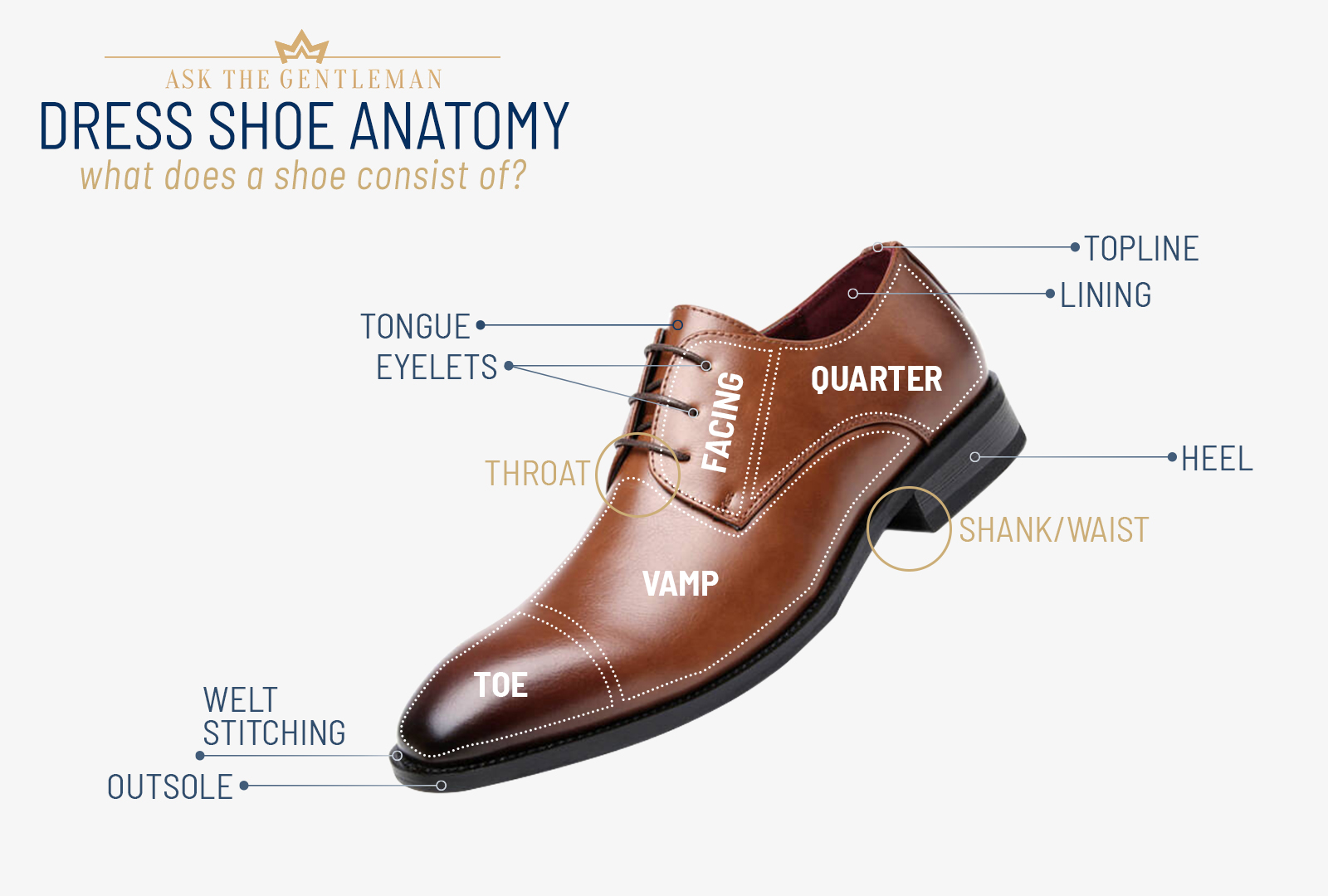 That knowledge will help you understand the differences and what each phrase means, like vamp, quarters, heel, etc.
While there are many parts, the two main components are the upper and the sole.
The sole is the part of a shoe where your feet rest. And the upper is what covers your feet.
We'll be going more in-depth with the upper.
The upper consists of four main components: vamp, toe, quarters, and facing.
At the pointy end of the shoe is the toe. As the name suggests, this area of the shoe covers your toes.
Directly behind it is the vamp. The lower part of the feet is covered by it.
Then comes the quarters. It includes everything that is on the top and sides of your shoe.
The two flaps on quarters are called the facing. That part is where your laces are. It usually has 3-5 pairs of eyelets.
Also, there are so many different materials for men's dress shoes to choose from.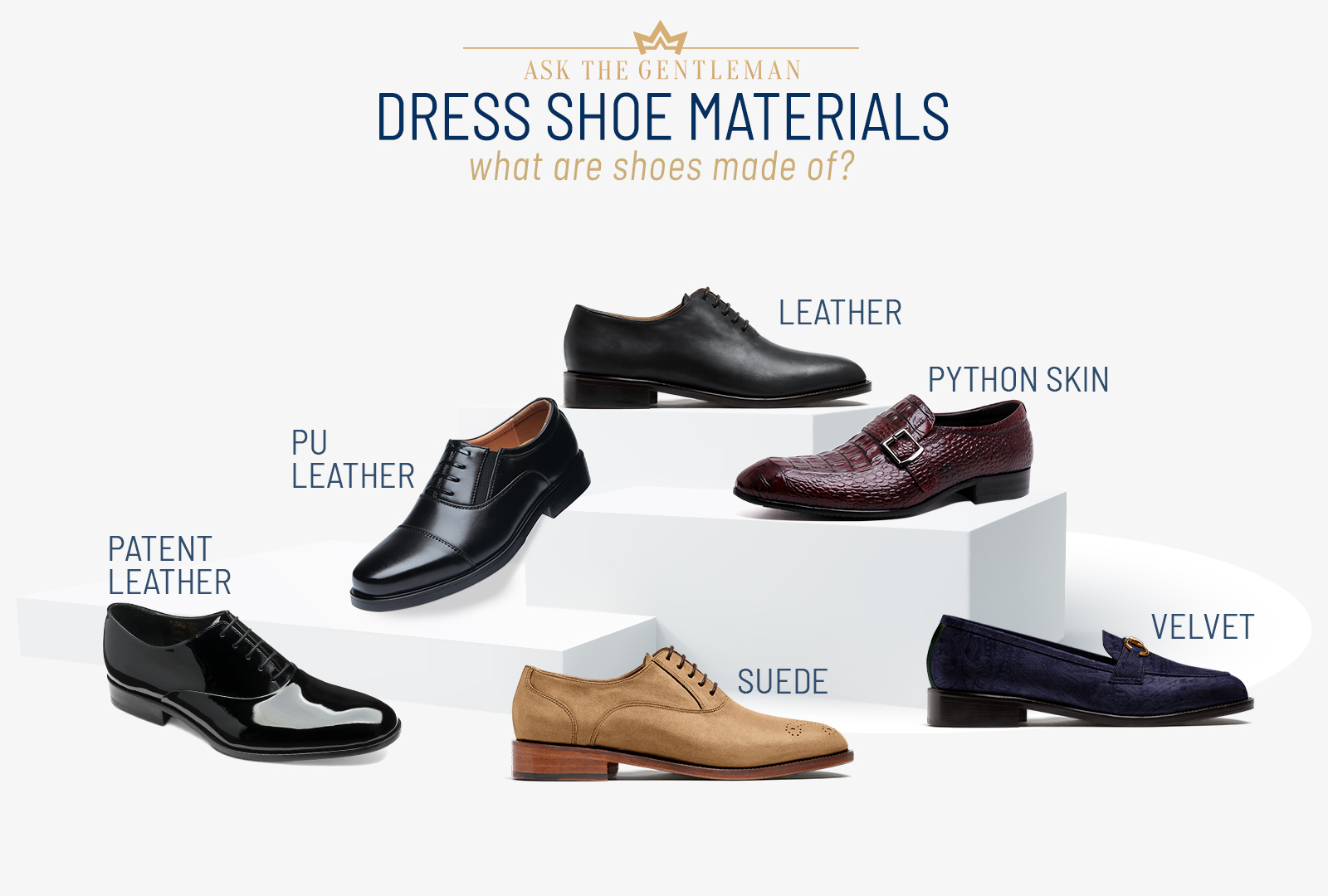 The most classical ones are made entirely out of leather, but other materials are used as well.
For example, you could get men's dress shoes in patent leather, full-grain leather, top-grain leather, velvet, suede, rubber, and some exotic materials like python leather.
Different Dress Shoe Types for Men
Now that you have a deeper understanding of dress shoe construction let's define the ten different dress shoes for men.
You'll learn which occasion to wear them and how to spot the differences between them.
Opera Pumps
These low shoes used to be a must for formal wear between the 1850s and 1950s.
They have a very minimalistic design and were mainly used for dancing.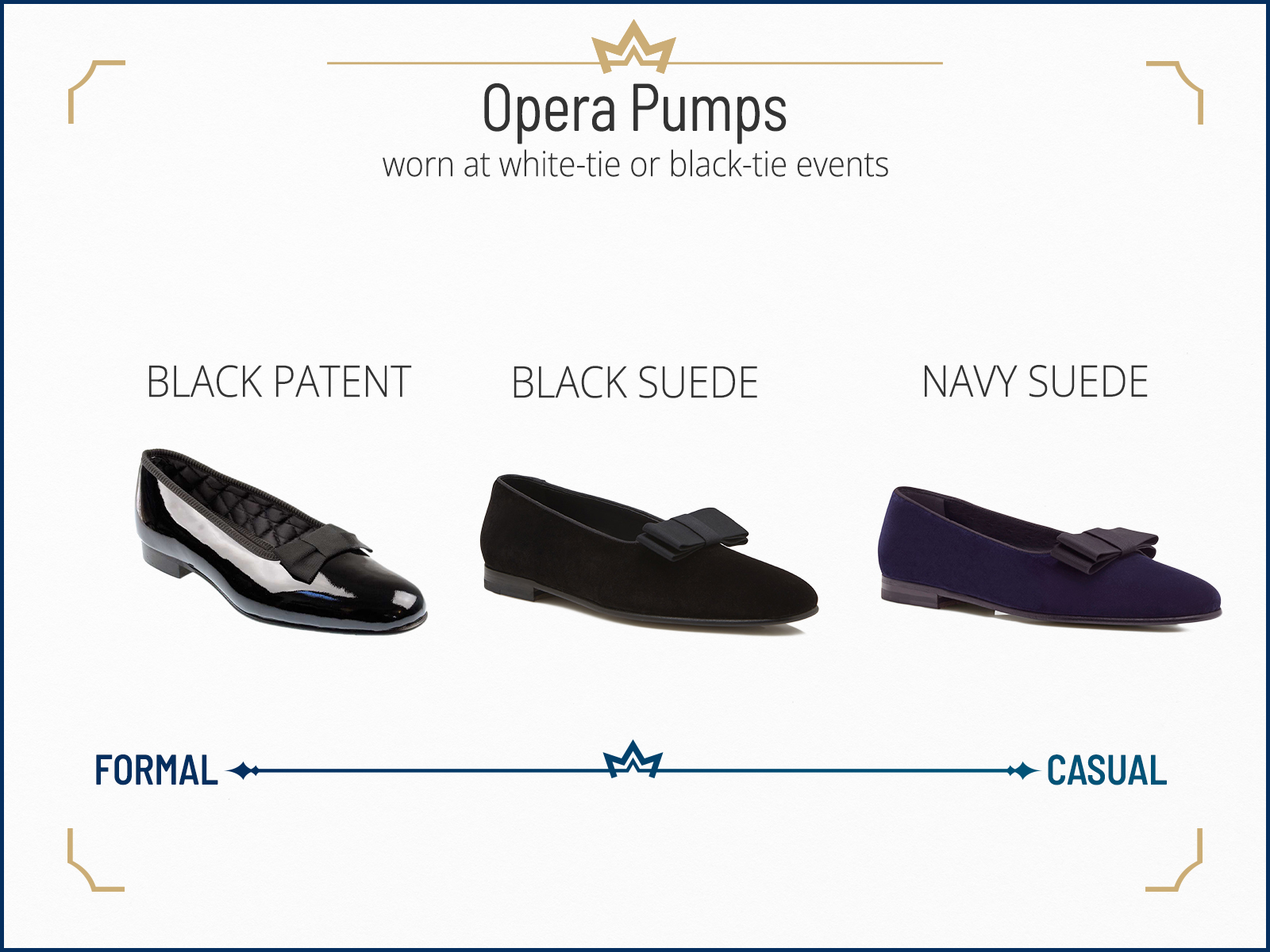 Opera pumps look very sleek. They have small vamps and low heels and usually come with a silk bow.
However, this formal footwear has been out of style for a while due to the Oxfords.
So, it's not even the first choice for black-tie events anymore.
But you could still wear them for formal parties requiring a white-tie dress code.
The simplest way to identify these dress shoe types is by searching for their two distinctive features.
First is the grosgrain bow on the vamp. And the second is its very minimalistic design.
Oxford Dress Shoes
Oxfords are quintessential dress shoes for men and, nowadays, the standard choice for formal wear.
The Oxford shoe was designed by some rebellious Oxford students who wanted more comfortable shoes to wear on campus.
The shoe is shaped like a foot, which gives it a strong silhouette.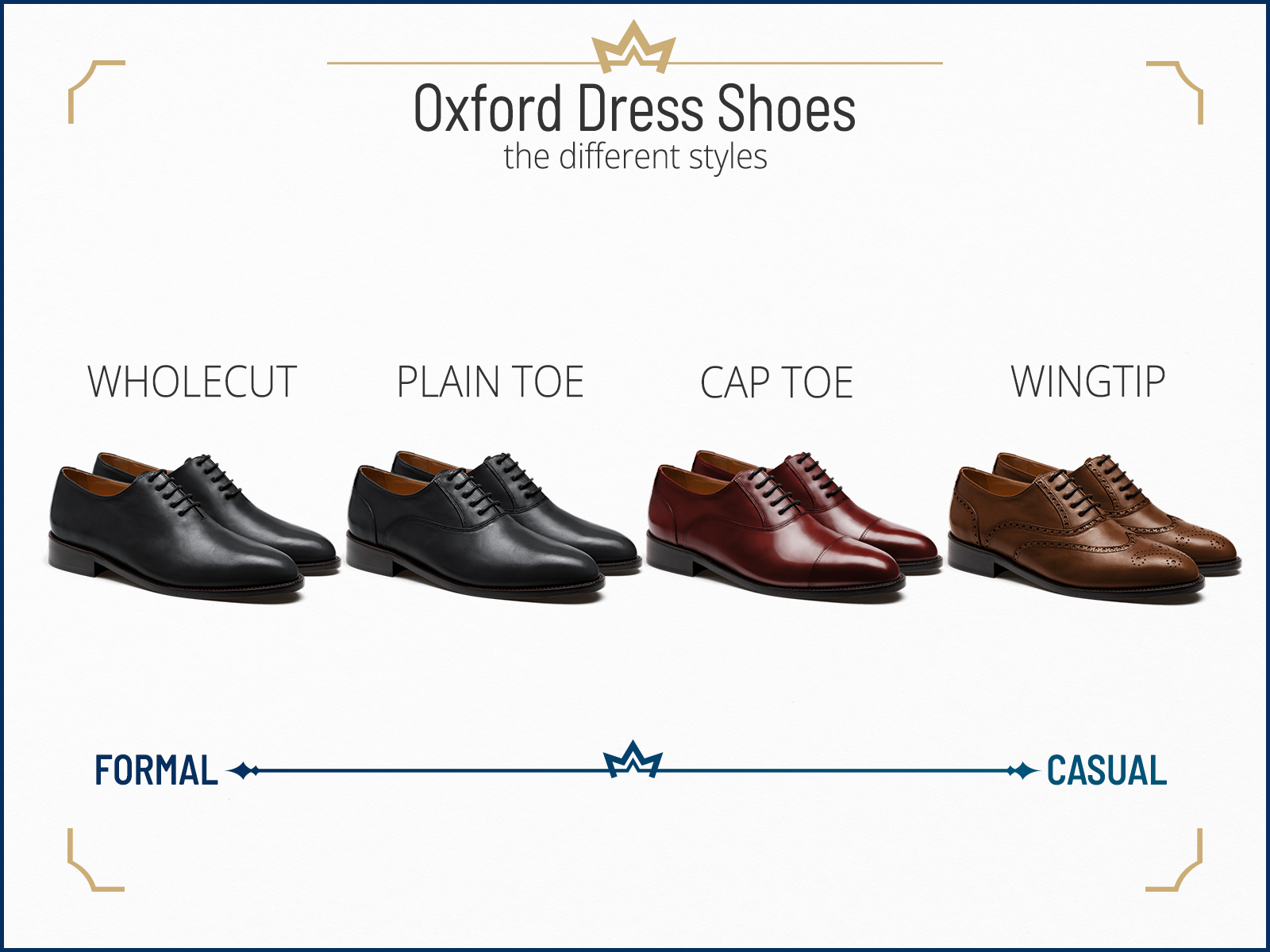 This exact shape has been the inspiration for many other men's dress shoes. In addition, the footwear comes with a low heel.
Oxfords can come in several different styles. Some of the most common are the wholecut, plain toe, cap toe, and wingtip Oxfords.
Oxford is best worn with suits for the most formal occasions.
They are the shoes to go for when you've been invited to a black-tie event.
However, this doesn't mean you cannot wear them to your office or your other semi-formal events.
Even though these shoes are very popular, the term Oxford is used interchangeably to define other dress shoe types.
One of the most decisive differences for Oxfords lies in the lacing system. If the lacing system is closed, then it's an Oxford shoe.
Derby Dress Shoes
Derbies were first used as sporting shoes.
Many hunters and soldiers wore them in the 19th and 20th centuries. But now they've become the shoe of the stylish.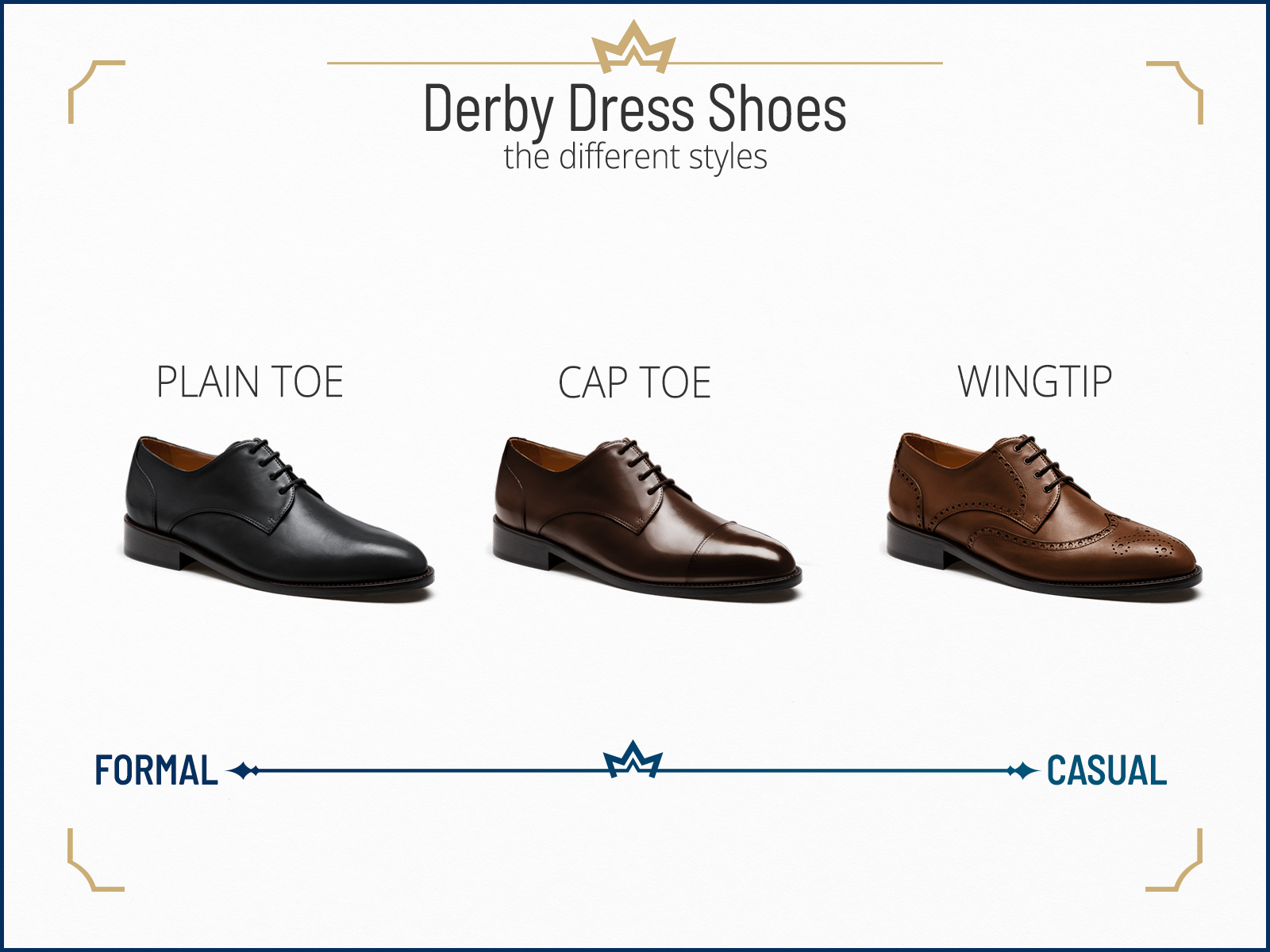 These shoes have many similarities to the Oxfords. They both have low heels and are shaped the same.
Similarly, some of the most common Derby shoe styles also include plain toe, cap toe, and wingtip Derbies.
However, the significant difference is in the lacing, as Derby shoes have an open lacing system.
Derby shoes are great shoes to wear for semi-formal events and places where a suit is recommended.
These include important business meetings, weddings, etc.
However, the lacing system makes them a more casual dress shoe than the Oxfords.
Therefore, these should be avoided for the utmost formal events.
Blucher Dress Shoes
These shoes were named after an army officer, Gebhard Lebereche von Blücher.
Just like other dress shoes for men, these shoes were first used as work shoes.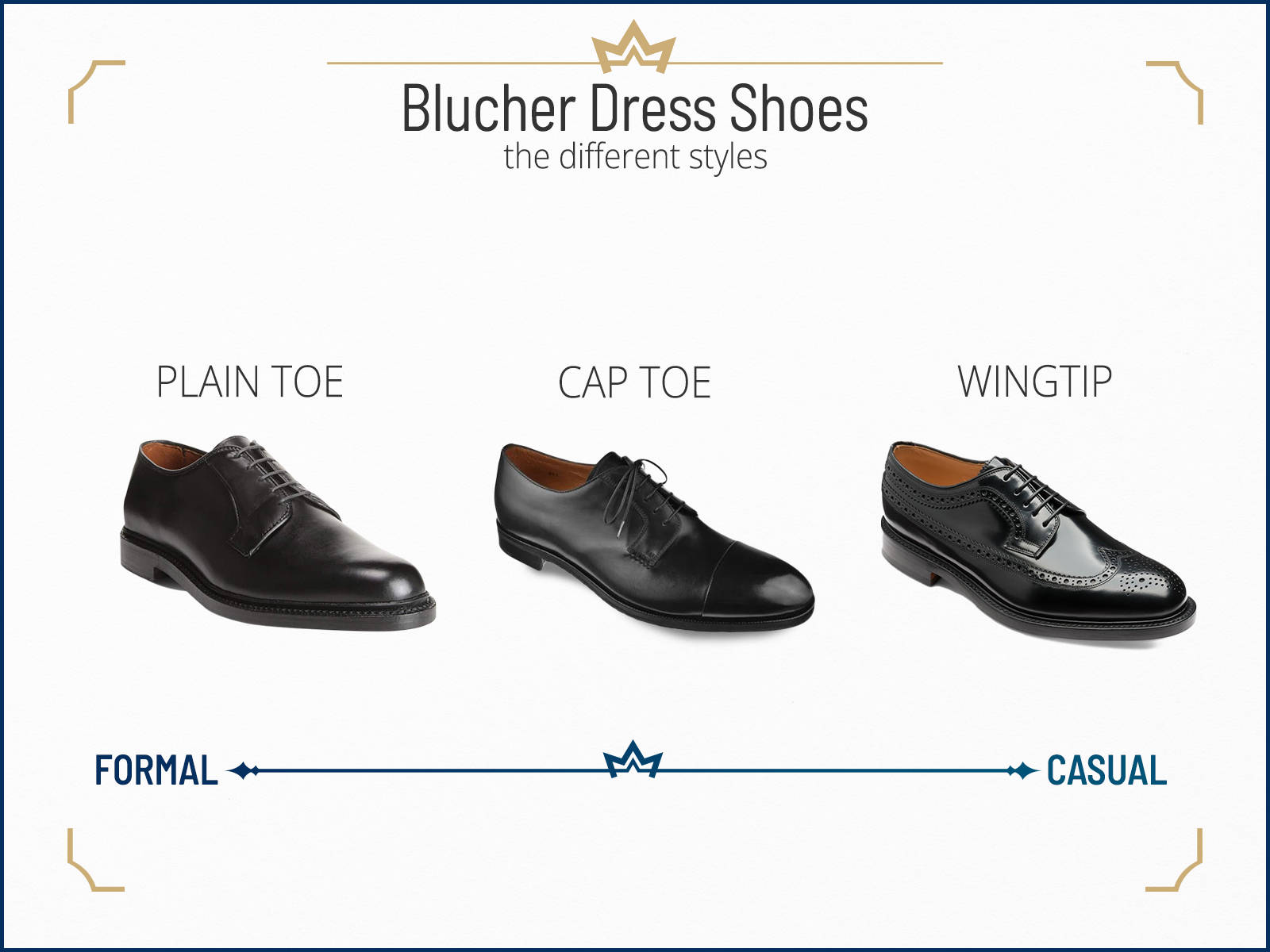 They were trendy during the 1850s. However, as time went by, they started to blend with the traditional dress shoe types.
The best way to identify these shoes is by their open-lacing system.
But here's the thing. That makes these shoes very similar to Derbies.
If you want to tell the difference between Bluchers and Derbies, take a closer look at the lacing and the eyelets.
Bluchers have a one-cut upper (similar to Oxford shoes) with two sides of facing eyelets sewn on top of the quarters.
On the other hand, Derby shoes have larger quarters, and these quarters are sewn on top of the vamp.
Also, if you look at the sides and see the quarters smoothly transitioning to the vamp, you've found the Blucher.
Since they are similar to Derbies, you should wear them for the same occasion.
These events include semi-formal ones like weddings and working at your office, but they could also be worn for business casual meetups.
Brogue Dress Shoes
Brogues were first invented in Scotland. Farmers used them as work boots thanks to the broguing in the shoe, which helped get rid of moisture inside.
To be fair, broguing is a perforation style to the shoe rather than a type. We consider them as types for simplicity.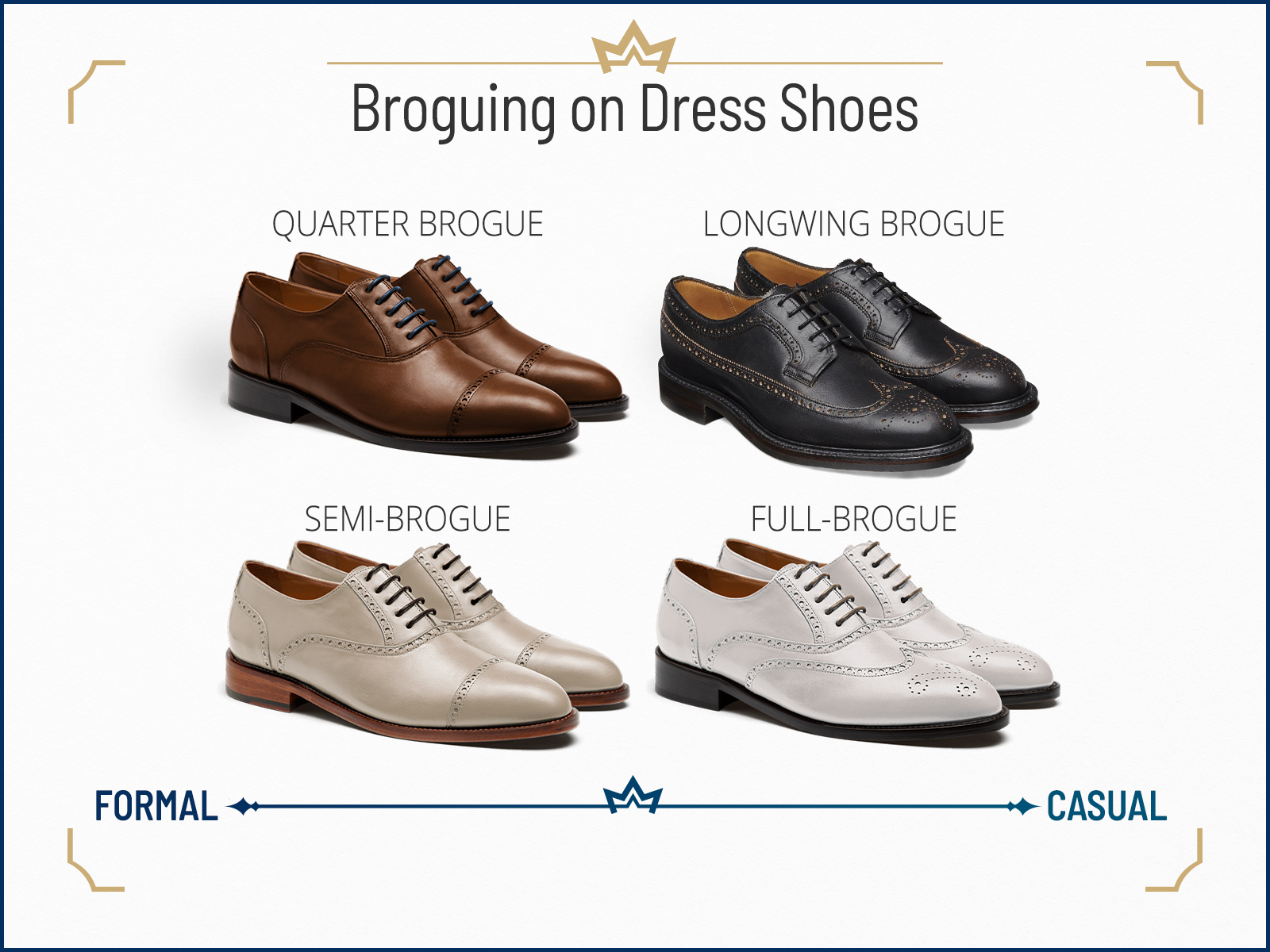 In reality, only specific dress shoe types (Oxfords, Derbies, Bluchers, etc.) can have brogues.
So that's their most distinctive feature! Broguing is a decorative lining with holes.
The best time to put these shoes on is for events like weddings and other cocktail events. You can also wear them to work and with a suit.
But there are multiple versions of broguing as well:
Full-Brogue
It's a shoe that has broguing everywhere.
The shoe has a distinctive M or W-shaped broguing around the vamp. That is called wings.
Additionally to the decorative lining, these shoes also come with a medallion on top of the toe.
Semi-Brogue
This shoe is similar to a full-brogue. It has broguing everywhere and usually comes with a medallion.
But what differentiates these two is that the half brogue doesn't have any wings stitched to it.
Quarter Brogue
This brogue style is the simplest version out there.
While they have broguing, you can only find it around the toe and vamp.
It has no wings or any decorative medallions.
Longwing Brogue
As the name suggests, this brogue has wings, but they are a bit different.
Instead of ending at the sides of the vamp, they wrap around the whole shoe, from vamp to heel.
Monk Straps Dress Shoes
Monks first used these shoes for working during the High Middle Ages.
However, it wasn't before the beginning of the 20th century that people started to wear them as dress shoes.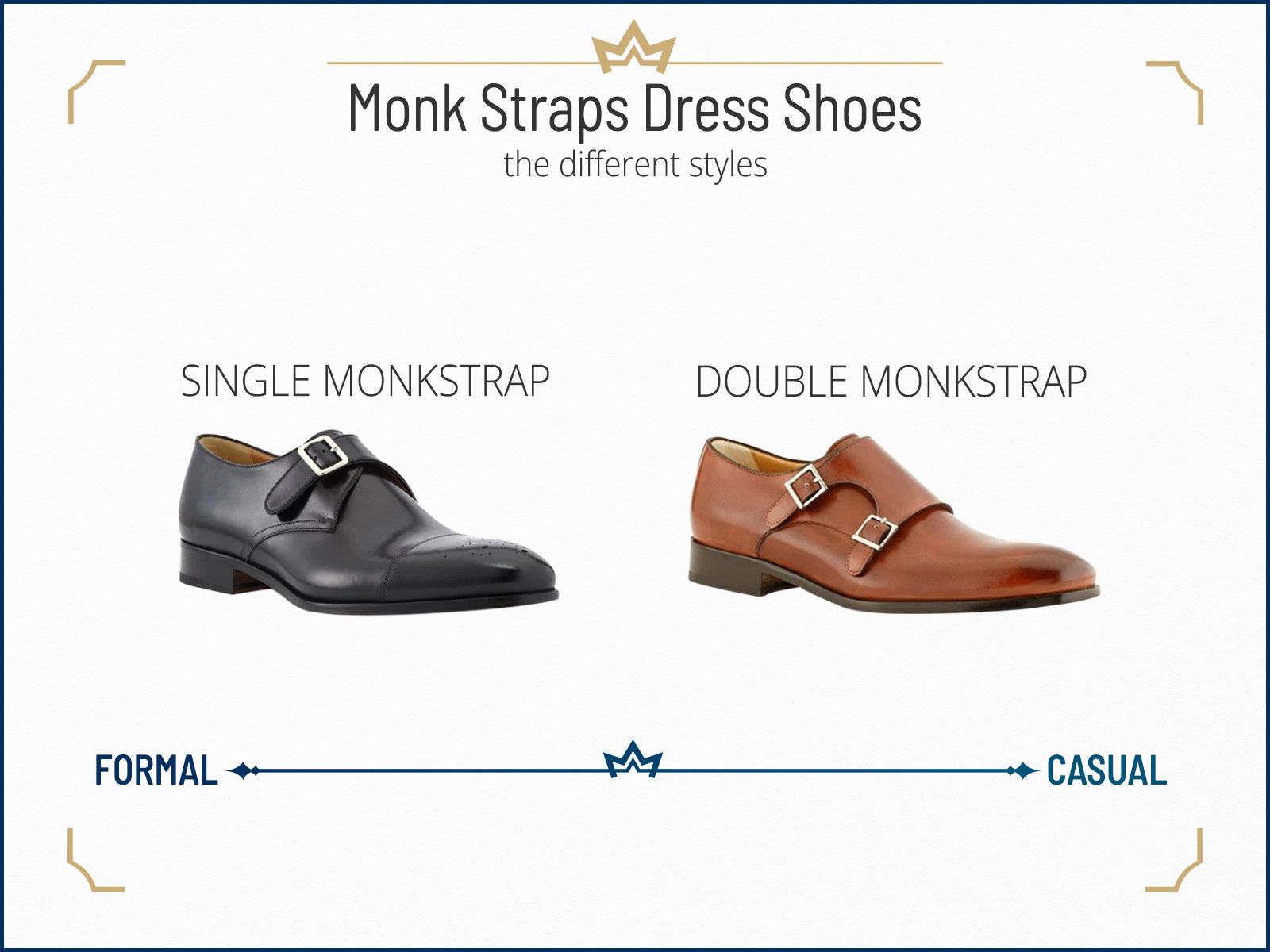 They don't come with any laces. Instead, Monk strap shoes use buckles to wrap around your feet.
The number of straps varies; some have one while others have more than two.
They also have the same silhouette as Oxford shoes and usually come with low heels.
Monk strap shoes are best worn for summer events that require a formal dress code.
Also, they fit perfectly for any graduation, weddings, and even business meetings.
And if you're a style ninja, you could pair them up for some casual looks as well.
The easiest way to identify them is by looking at if they have buckles.
But there are different types of monk straps. Here are the two most important ones.
Single Monk Straps
These monk shoes have only one buckle. They come in various styles.
While the traditional one looks good, there's a more angled version out there called the single-cutaway monk strap.
They look more elegant and work well with most suit styles.
Double Monk Straps
These shoes have two buckles.
Just like the single strap, it comes in different types, including the cutaway design.
However, I wouldn't recommend them as the first choice for formal events.
The traditional single strap looks way more eloquent for formal occasions.
Loafers
The first loafers were made for King George VI as casual horseshoes.
But as time went by, these shoes started to become more formal, especially in the 20th century.
Just like with the pumps, these shoes are also relatively low-lying, perfect for summer wear.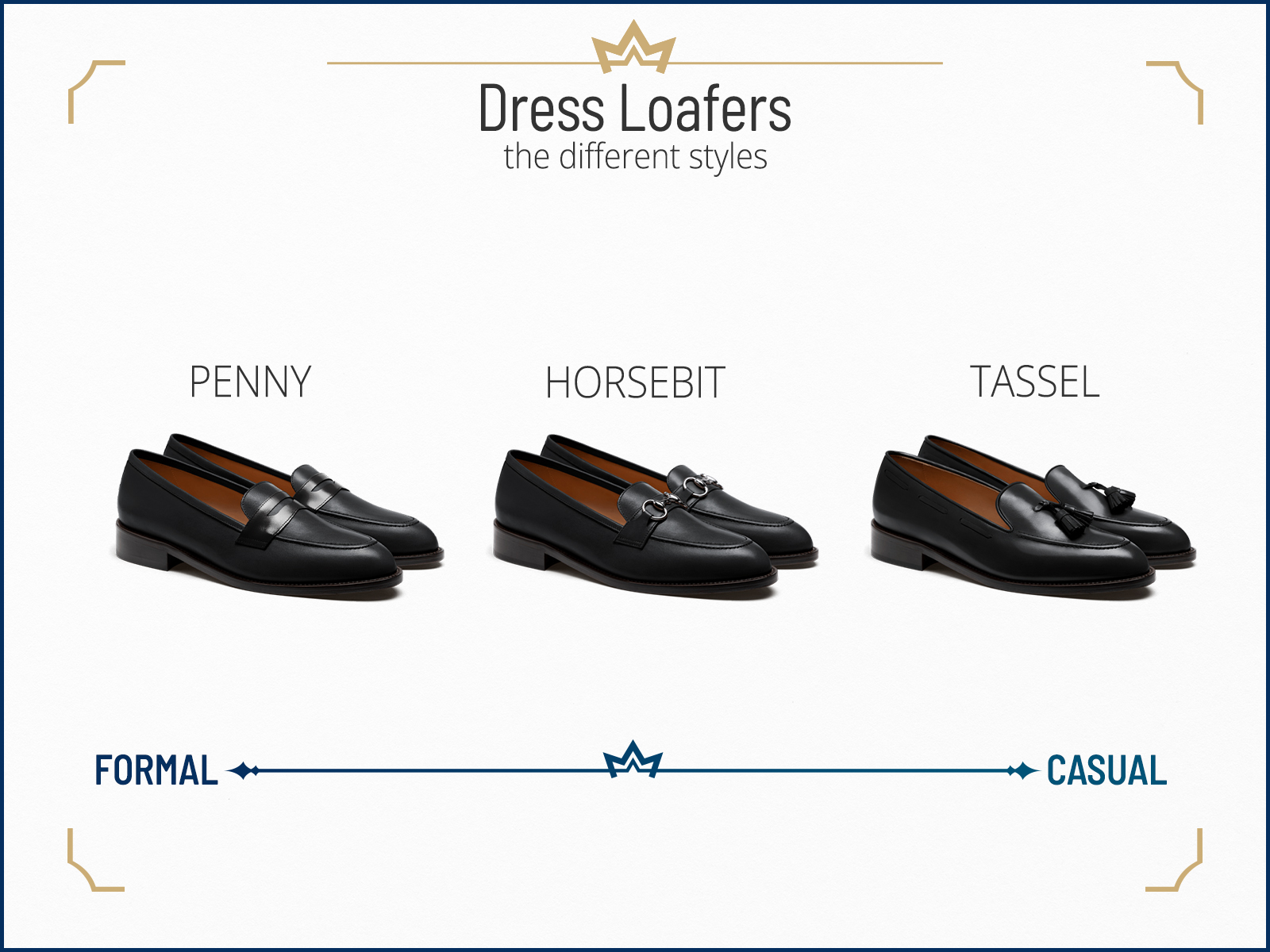 They usually come with a lower heel and exposed ankles.
Also, they have no laces, making them easy to put on.
But instead of a grosgrain bow, these shoes are decorated with other details.
Loafers are very versatile. You could wear them for casual meetups and walks around the city.
They also work well with your daily office wear or for important business meetings.
The best way to identify them is by looking at the key characteristics of these shoes.
Do they have a slip-on design? Do they lay low shoes? And if there's no grosgrain bow in sight?
If you answered yes to all of them, they are loafers.
But loafers have many different styles. Here are the two most popular ones to wear with a suit:
Penny Loafer
Penny loafers are the most formal and minimalistic.
They come with a decorative strip of leather that is stitched onto the facing.
There's a decorative diamond cut in the middle of that strip.
Bit Loafers
These shoes are similar to penny loafers but with one significant difference.
Instead of a strip of leather with a diamond cutaway, these shoes come with decorative metal details.
Lace-Up Dress Boots
Lace-up dress boots are your best friend for looking dapper during cold weather.
These boots come in different styles. Most of them have a derby form, but some have an oxford or a brogue style.
While there are multiple varieties of dress boots, there are some things that all of them have in common.
For example, all of them have laces and long shafts.
What differentiates dress boots is their lacing system.
They usually have open-lacing; however, some have closed-lacing systems like the Oxfords.
Although these shoes are great for dapper men during autumn and winter, they are best styled for slightly more casual looks.
That doesn't mean that you shouldn't wear them with a suit, especially the Oxford dress boot.
However, it's best to wear them in workplace environments and casual meetups with your friends.
The best way to identify a dress boot is by two things.
First, they have a high and long shaft. And secondly, they have laces.
Chelsea Boots
Loved by the Beatles, Chelsea boots should be in any stylish man's wardrobe.
These Victorian-era overshoes were first built to be stylish pairs of boots that are easy to put on.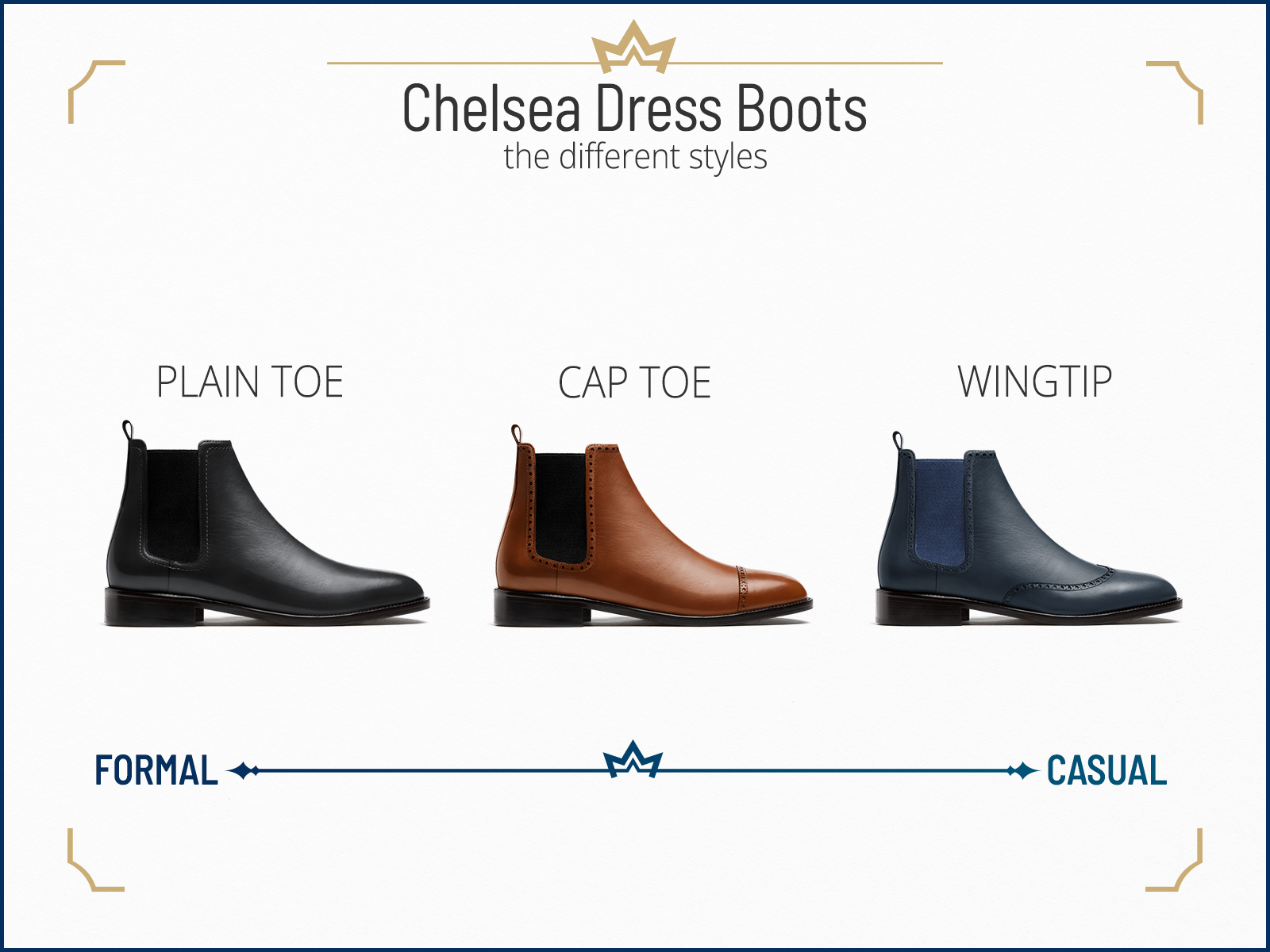 Chelsea boots have no laces. Instead, it uses vulcanized rubber on the sides to keep the shoes on your feet.
Additionally, they have rounded toes and low heels.
Chelsea boots are best used for both autumn and winter outfits.
They work well with suits, which makes them perfect for those business meetings when it's cold outside.
But you can also use them casually! In fact, you'll see many stylish men wearing them like so!
Chelsea boots are pretty easy to identify, thanks to their unique design.
If you see a dress boot with some pieces of rubber on the sides with no laces, they're definitely Chelsea boots.
Chukka Boots
These boots are a unique blend of elegance and casual.
They originated from polo (sport), as many famous players used to wear these shoes after finishing the match.
Chukka boots basically look like Derby shoes but with a higher shaft. They also come with an open-lacing system.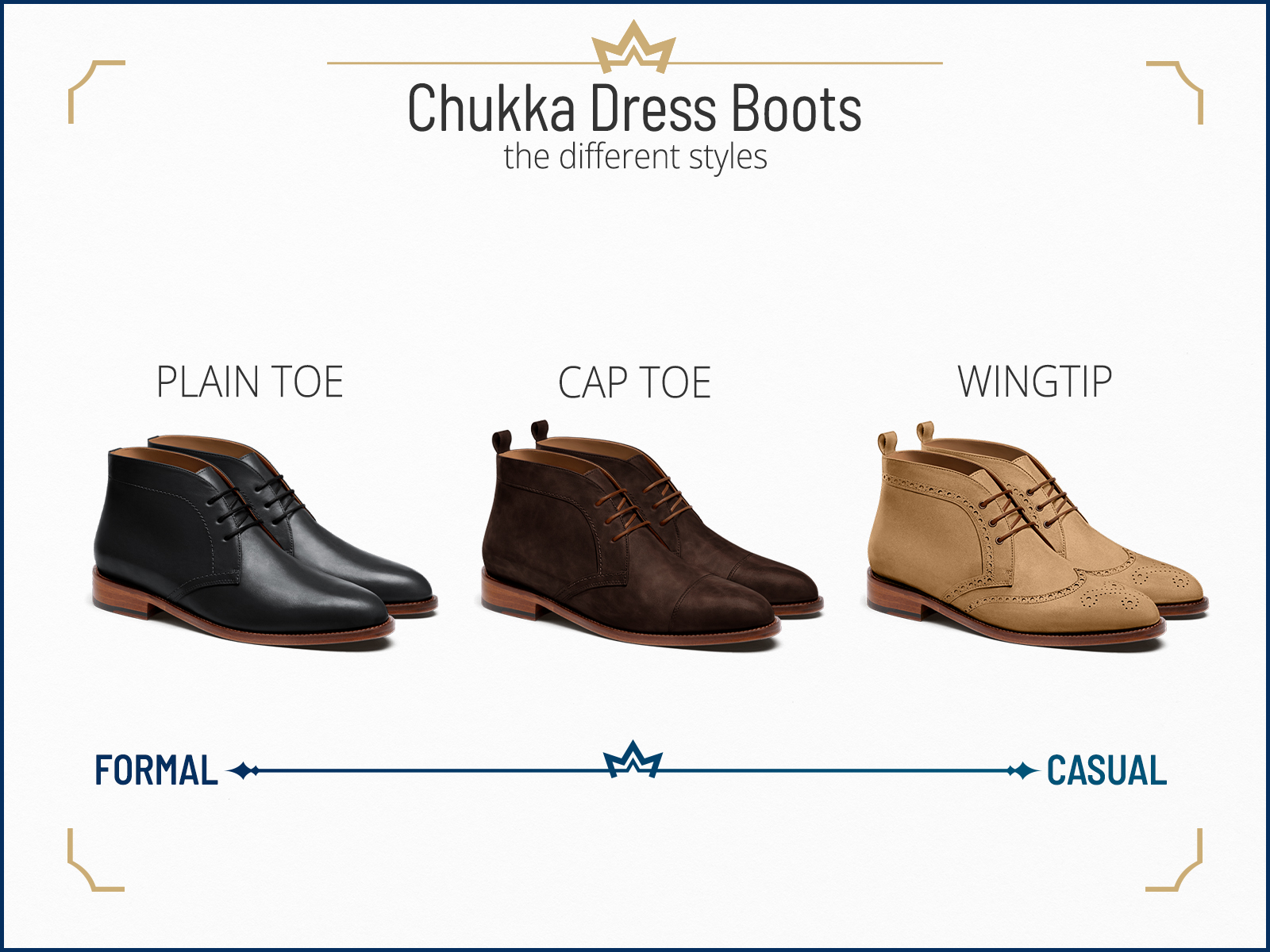 There's also a more casual version of the Chukka boot called the "desert boot".
The difference between them is that desert boots originally came in suede. On the other hand, chukka boots feature a more robust leather construction.
Thanks to its design, you can wear it on many occasions. For example, you can match it with a suit for any semi-formal event.
Additionally, it can be styled for casual meetups with your friends.
The easiest way to identify Chukka boots is by their two-eyelet lacing system.
Possible Dress Shoe Color Options
With the knowledge you gained from the dress shoes and boots types, you can now style them with the proper outfit!
So why not take a step further and learn to color match them with a suit? This will make you the most stylish man in the room.
Black is one of the most common shoe colors out there.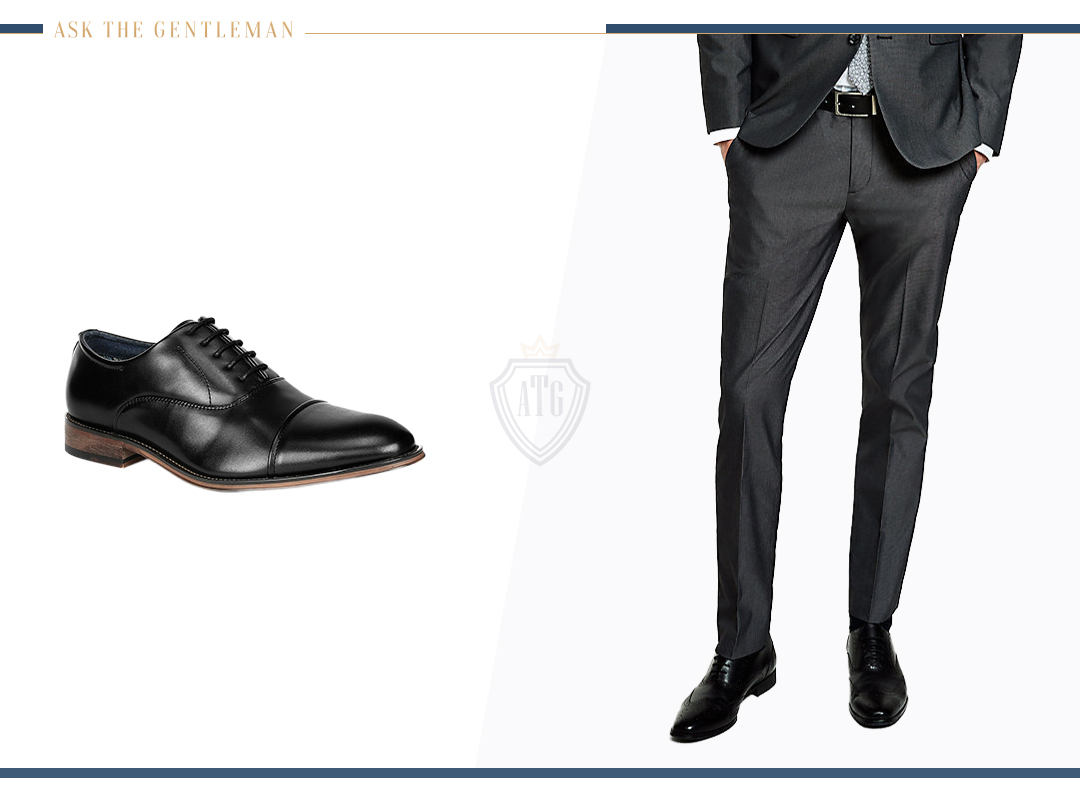 That is the color you should pick for the most formal events like white or black-tie events.
The shoe looks best with black, navy, and charcoal suits.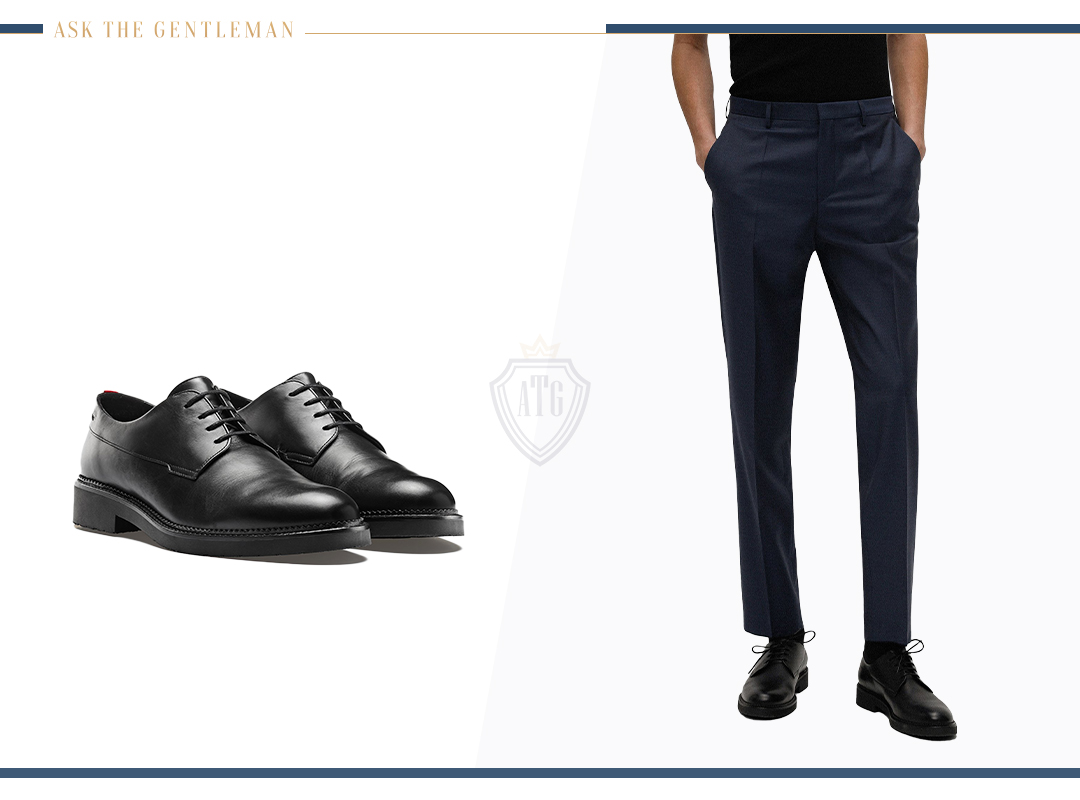 Dark brown dress shoes can bring some great contrast to your overall outfit and give you a more relaxed look.
The best-colored suits that fit brown dress shoes for men are blue, brown, and grey.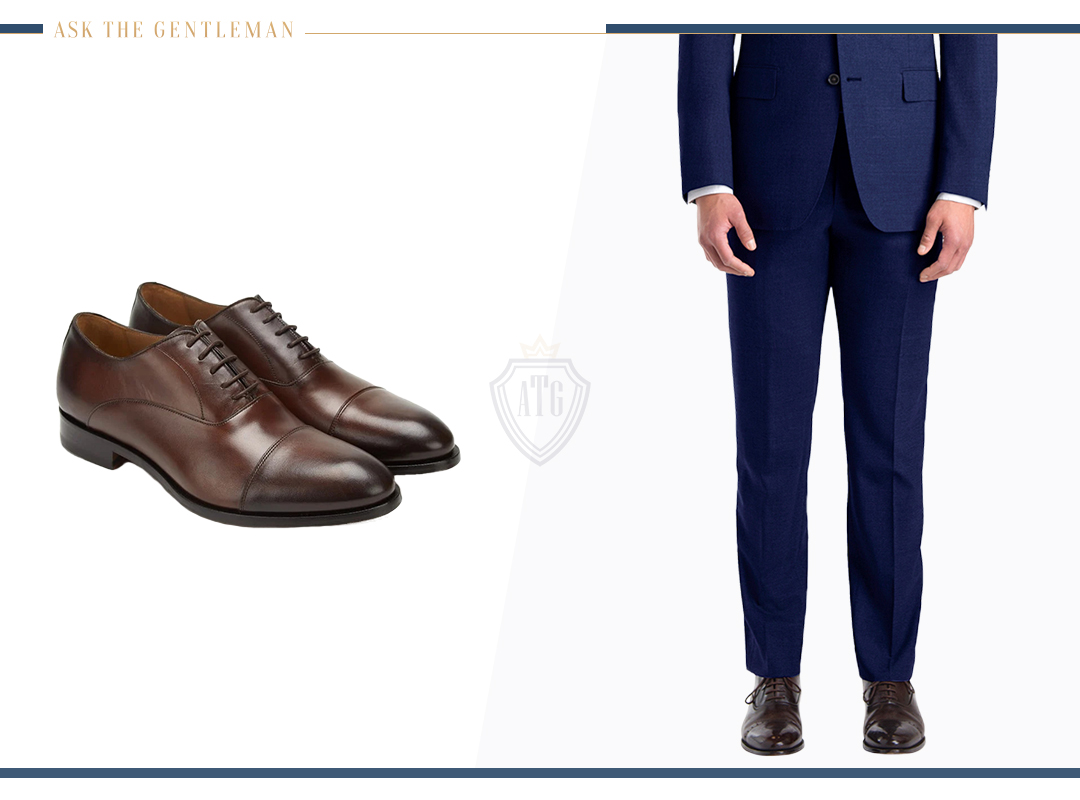 Burgundy (oxblood) dress shoes are one of the most underrated there is.
On the formality scale, this color is somewhere between brown and black.
So, if you're looking to dress for formal occasions in style, this is it!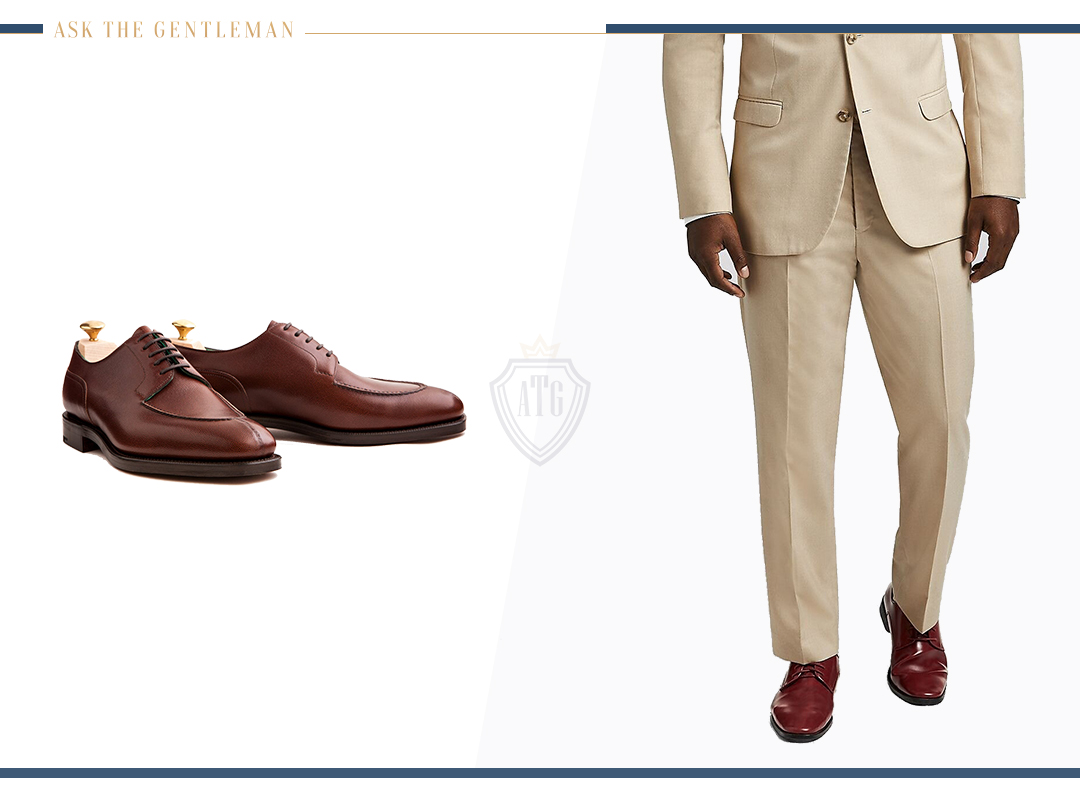 The best matches for these shoes would be brown and blue suits.
Light brown is another well-known shoe color. It's especially great for your summer suits.
Just remember that these shoes are more casual, so they work best for semi-formal events like graduations or weddings.
The best match for these dress shoes would be either a light blue or a tan suit.
Finally, white and tan dress shoes for men are unique and bold.
It's the color for the most extravagant men out there and are the most casual shoes on the list.
So they are again best worn in the summer, especially for weddings.
The suits that fit these shoes would be beige or cream ones.
Open Lacing vs. Closed Lacing System
Are you still confused about the differences between the two lacing systems?
The difference all depends on the stitching between the vamp and quarters.
In an open lacing system, the quarters and facings are stitched on top of the vamp.
And in a closed lacing system, the quarters are stitched under the vamp.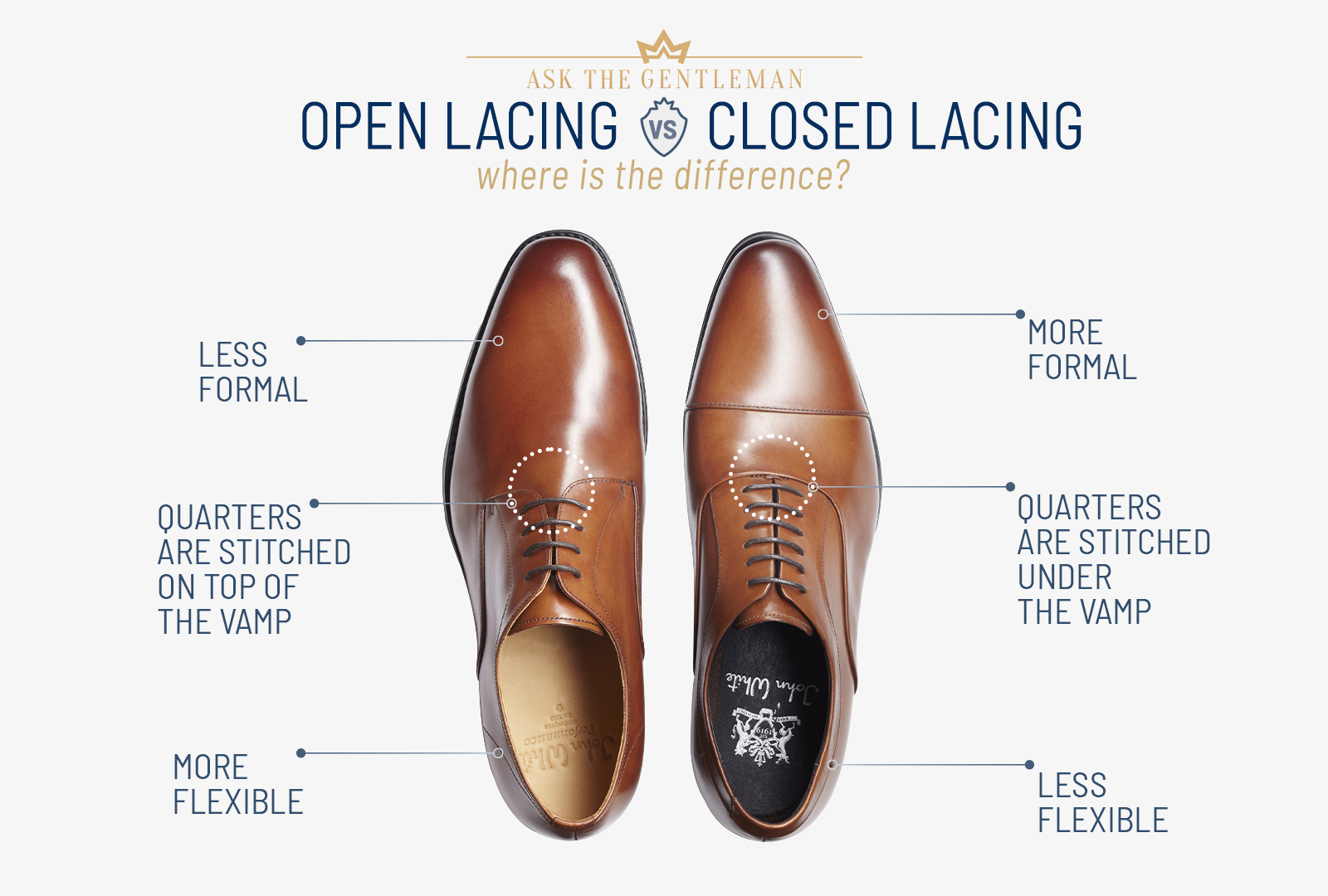 That creates a big difference when you're wearing it!
An open lacing system is less restricting, which makes it more comfortable to wear. However, that makes it less formal.
In a closed-lacing system, the experience is the opposite. The footwear is restricting but more formal.
Dress Shoe Toe Styles
And before we end this article, let's talk about the different toe styles found in dress shoes for men.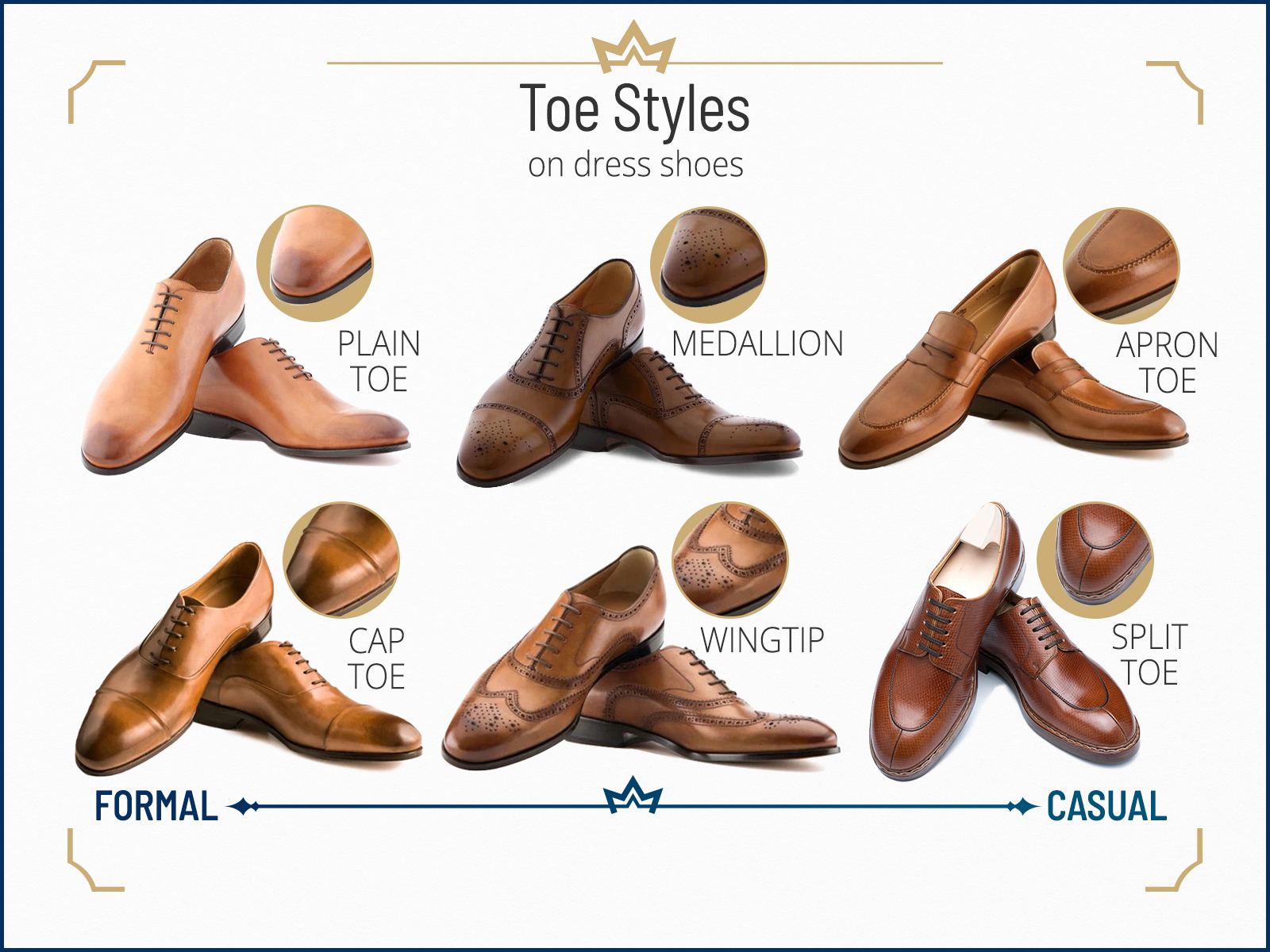 Additionally to these toe styles, some toes will also come with a medallion. Here are the five main dress shoe styles:
Plain Toe Dress Shoes
This dress shoe style doesn't come with any decorative details on the toe.
This makes it the most formal version.
Cap Toe Dress Shoes
The cap toe is also a minimalistic dress shoe style and one of the most common types of dress shoes.
It is a sewn line between the vamp and toe. That's it! Nothing else.
Apron Toe Dress Shoes
This type of toe style has a single piece of leather stitched on top of the vamp and toe.
The name comes from the shape of the leather strip, as it looks like an apron.
Wingtip Dress Shoes
This type of decorating detail is seen in Brogue shoes.
These are the M or W-shaped broguing that wraps around the sides of the vamp.
Medallion Broguing
Many brogue shoes come with a medallion located on top of the toe.
These shoes aren't the most dressy and shouldn't be worn for anything too formal. But they do work well for many other occasions.