Pleated and flat-front are the two ways to build the front of the pants.
However, these represent two utterly different pant styles.
Flat-fronts are modern and stylish, while pleated pants are vintage and classic.
Where they two stand against each other, what's different, and which one suits you is the topic of this article.
Pleated Pants
The pleats are the fabric folds that press into the garment to control the fabric's volume, shape, and movement.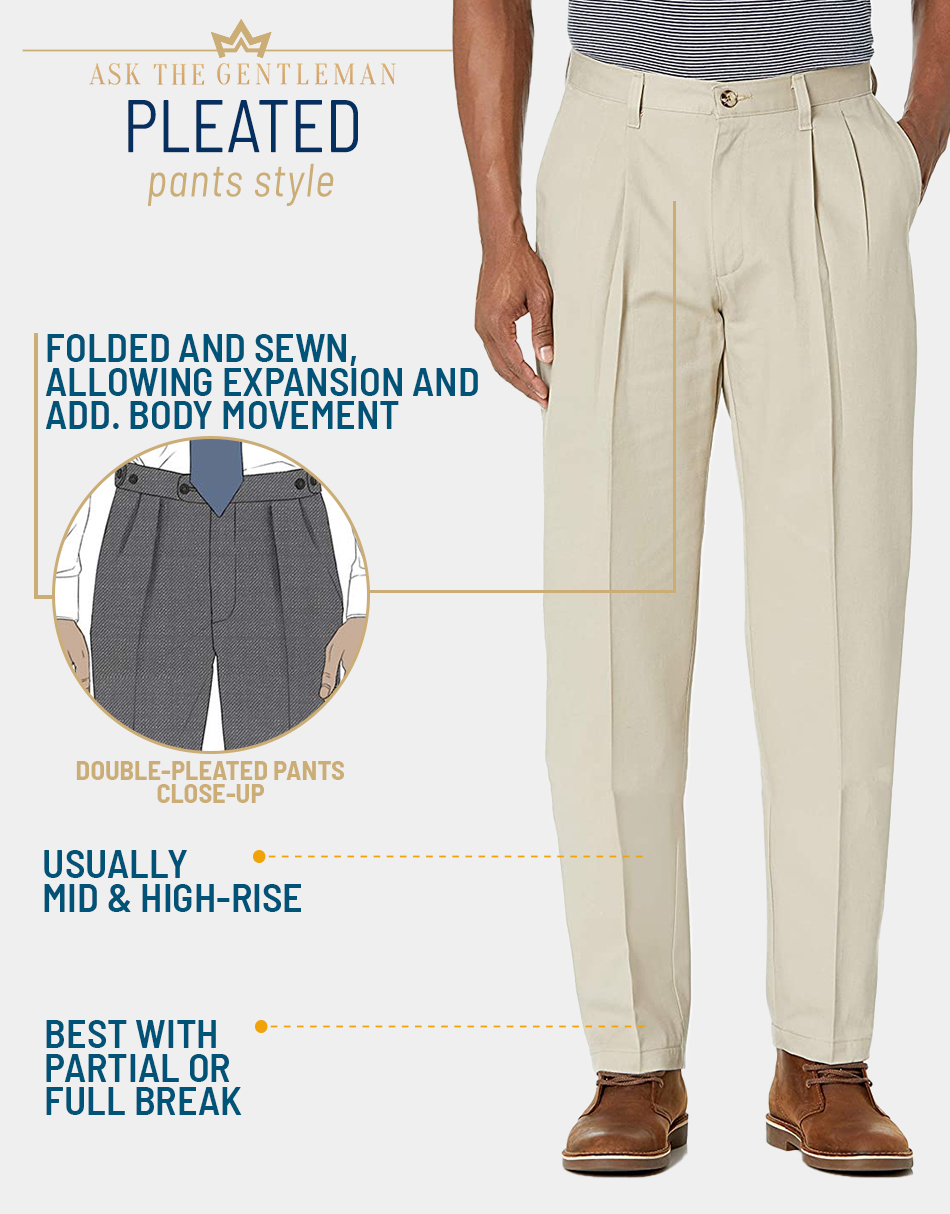 Pleated pants have these folds of fabric in the thigh area below the pant's waist.
These pleats help shape the dress pants and drape with the body's natural contour, thus providing comfort.
However, if done wrong, it can look like you've invaded your grandpa's wardrobe and worn pants from there.
So, it's essential to learn how to wear pleated pants modernly.
How to Wear Pleated Pants
The key to wearing pleated pants well lies in the fit. To start, choose moderately cut dress pants with a tapered fit.
This means the pants should be roomier in the crotch but gradually tapers towards the waist.
A rough idea of good tapering means a cuff size of less than 7″.
It's better to choose something other than slim-fit pleated pants. In this case, the pleats will open, and the pants will look unfinished.
Next, go with lighter fabrics, as Italian gentlemen do, to avoid a heavier look.
You can choose a heavier wool for pleated trousers. But in that case, the fit will become even more crucial.
It's better that you wear pleated dress pants with a jacket. The high rise will help achieve an hourglass appearance while the jacket minimizes the pleats.
I also recommend having cuffs in pleated pants. The cuff weight will help the pants drape smoothly, and the pleats look natural.
However, cuffs can appear less formal if you wear a suit and pleated pants.
When to Consider Pleated Pants
The main reason the majority of people consider wearing pleated dress pants is comfort.
A high rise and room for expansion in the thighs allow the utmost comfort. It's noticeable when you sit or do a lot of movements.
Some gentlemen without flat stomachs or big thighs also wear pleated pants.
The high rise flatters the stomach while the pleats give room for the thighs. Comfort is also a by-product.
Another consideration for wearing pleated pants is to have a unique style and look different from the crowd.
For example, the high rise of these dress pants looks admirable with t-shirts and polos.
Different Pleat Styles
Pleats are usually drawn from the waistband.
Some pants forgo this style, where pleats attach directly to the waistband as in the Hollywood-styled trousers.
But regardless of this difference, pleats can have many other different styles. These can either be the forward, reverse, or box pleats.
Box pleats are somewhat obsolete, although you can find them on the backs of shirts. So, forward and reverse pleats are two currently available options.
Pleats style can also differ by the number. A single pleat is the most common, followed by double pleats.
Forward-Pleated Style
These are the English classic, with pleats facing inwards, towards the pants fly seam.
Forward pleats are considered sartorial and formal as they usually lie flat.
Also, the gentlemen classically used to wear pleats facing inwards.
So, classic menswear fans who take inspiration from icons like Sean Connery wear forward-pleated pants.
However, with forward pleats, the extra fabric can build up inwards.
So, this will require the most precise tailoring. Otherwise, the dress pants will look sloppy.
Reverse-Pleated Style
Reverse-pleats style has the pleats going outwards toward the pocket.
It's Italian and, therefore, a modern style to wear pleats.
In reverse-pleated pants, the fabric goes away, and you look trimmed, especially from the front.
This would be great for lean guys or a slimming effect.
It's also why most young gents naturally prefer these pleated pants.
Plus, the ability to wear them casually, with polo and floral shirts, make this style truly modern.
Double-Pleated Style
Many pants reinforce the leg line into thighs and thus are single-pleated.
A more common variation is the double-pleats.
Double-pleated pants have an additional shorter pleat between the traditional pleat and the pocket.
As a result, you have more room and thus portray a flattering look of your body.
Also, note that the double-pleated is more vintage style. So, you'll need good tailoring, especially the tapering legs, to look crisp and modern.
Finally, double-pleated pants can both be forward and reverse, and the choice will be a personal preference.
Flat-Front Pants
Flat-front pants, as the name indicates, have smooth or flat fabric around the pant's fly.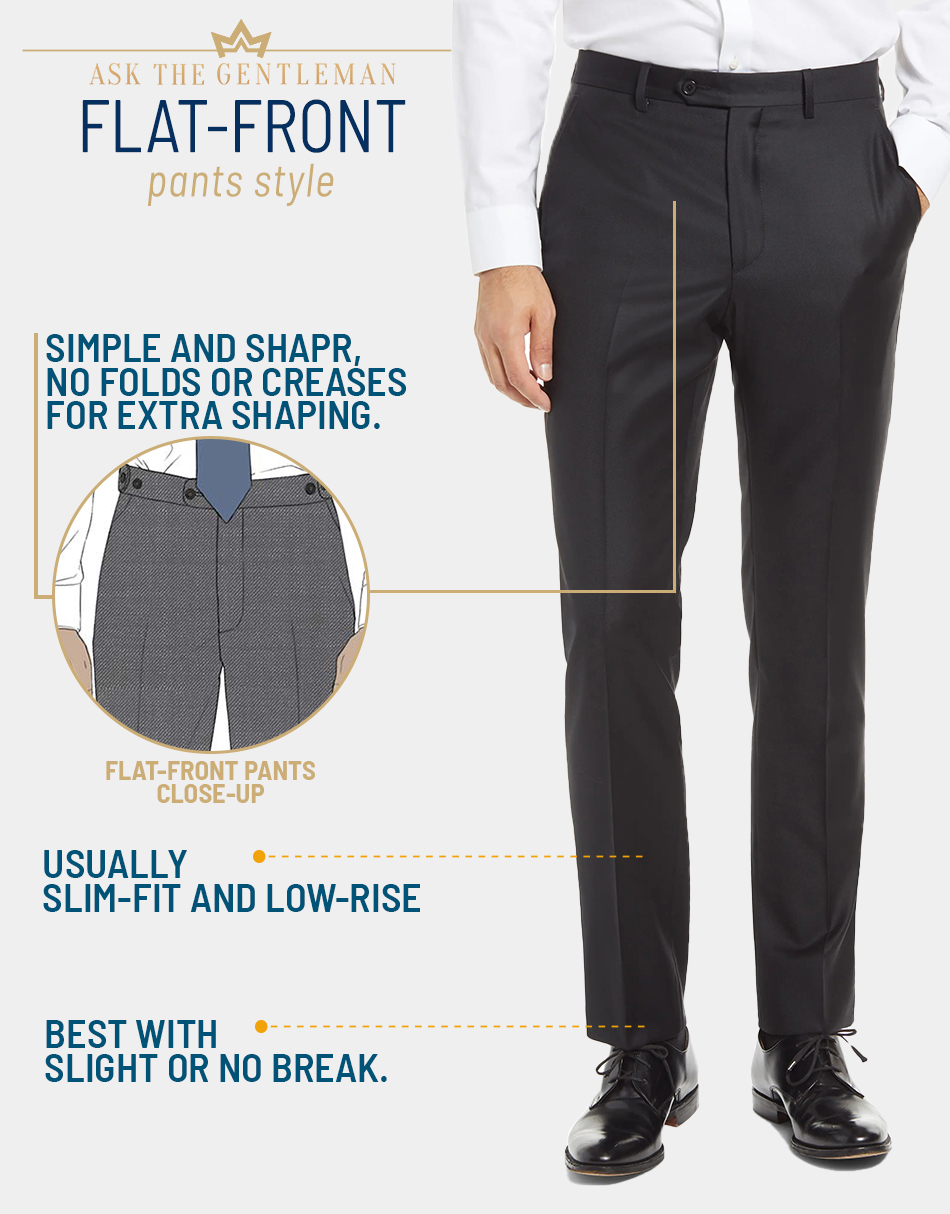 The continuous line on the legs gradually vanishes, and the front of the dress pants appears flat.
Flat-front pants are modern. These reinforce the concept of narrow and lean cuts – the foundation of modern style.
Compared to pleated pants, flat-front pants fit just below or right at the waist.
These pants, therefore, have a low to medium rise, enough room in the thighs, and appear slimmer.
However, tapering legs are still necessary to look good.
How to Wear Flat-Front Pants
Front-front dress pants feature both style and comfort.
Plus, with their high prevalence and modern appeal, you shouldn't worry about looking odd or bygone.
Still, a good fit will be the first thing to look right.
A good slim-fit cut would complement the overall feel of the pants. However, always have some room for movements, especially in the hips.
I suggest a medium rise as it balances both style and comfort.
You can even tuck in the shirt. However, ensure that dress pants complement your body type, avoiding the muffin top appearance.
It's also better to avoid cuffs with flat-front pants.
No trouser break to full break; all options are available. You can select as per your comfort, age, and style.
Overall, you don't need to put excessive effort into wearing flat-front pants. Just ace the fit, and you'll be good to go.
Why are Flat-Front Pants Better than Pleated Pants
The biggest reason is that front-front dress pants are trimmed, trendy, and easy to style.
Plus, it resonates with modern style needs.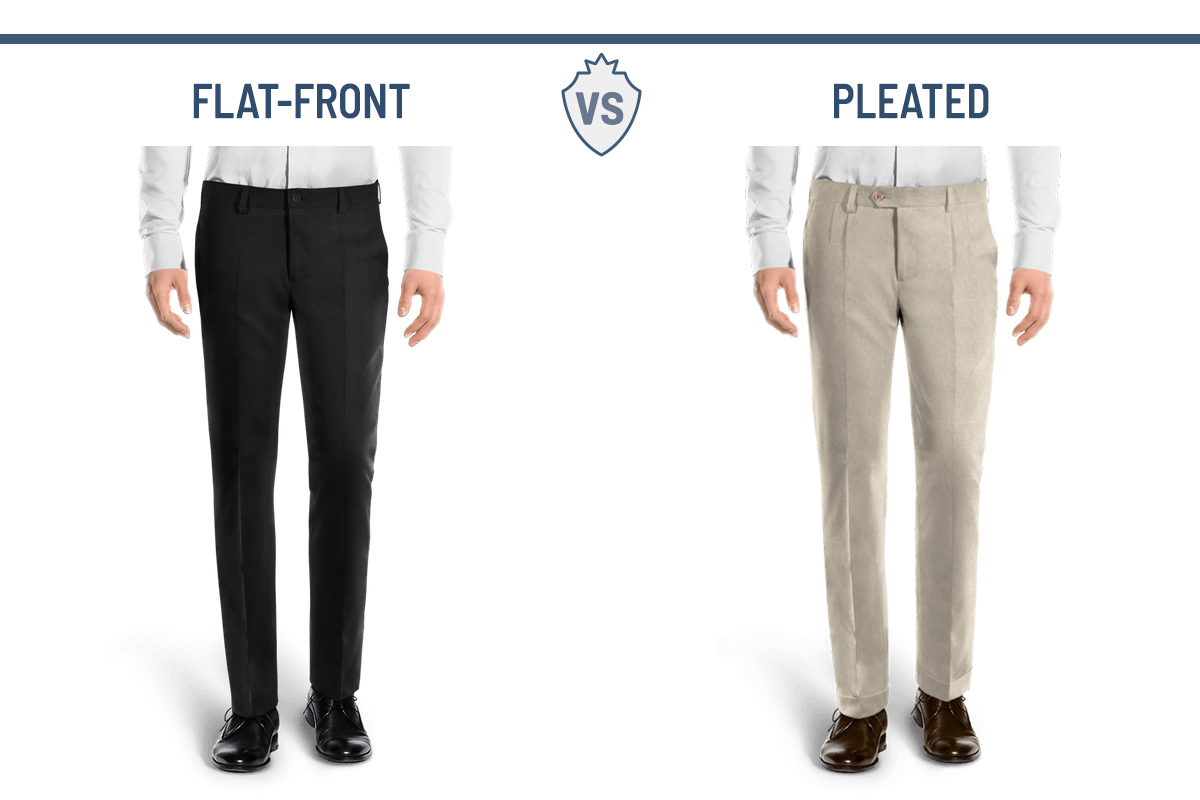 Contrastingly, when wearing pleated pants, gentlemen subconsciously fell into the category of "trying too hard."
And to look trim and sharp in pleats, you must ace the fit and everything. It just takes a good amount of time to look good.
So, the ease of wearing makes flat-front pants better, especially for slimmer men.
In addition, flat fronts cover most body types and are very versatile.
So from muscular to average body types, everybody can look good in flat-fronted pants.
Plus, flat-front pants look good with everything. You can wear these with suit jackets, dress shirts, casual shirts, polos, and t-shirts.
Compared to this, pleated-front pants are somewhat formal and sartorial.
Flat-Front vs. Pleated: Pant Rise Differences
The rise is the measurement from the crotch seam to the top of the waistband.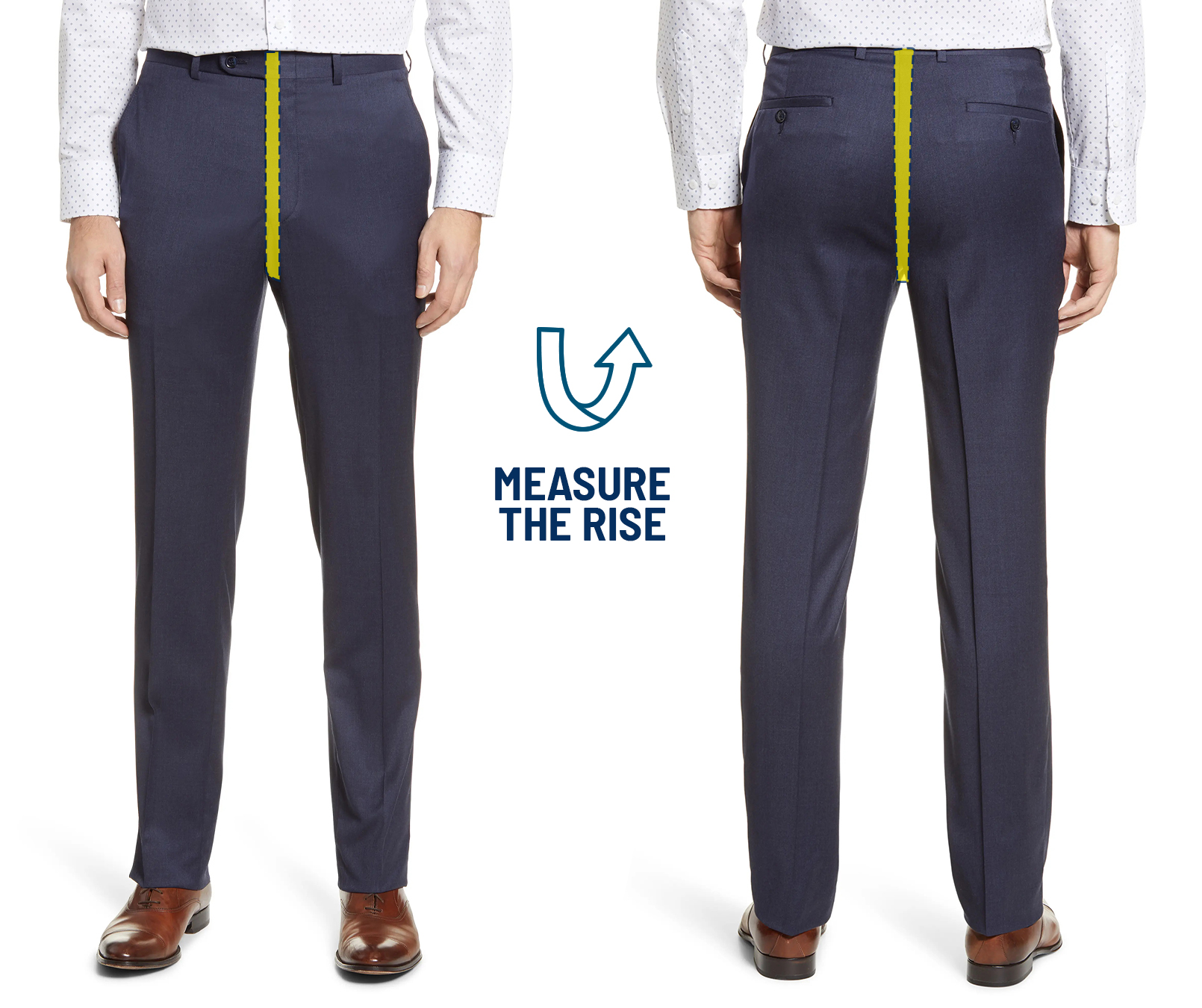 It determines how high you'll wear the pants and the comfort in your crotch area.
A rough scale of the rise is low, medium, and high.
Flat-front dress pants can be in any of these three categories. However, medium to low rise is the most common.
Pleated-front pants almost always have a high rise.
It's crucial for both function and visual, as these will provide comfort and a flattering silhouette.
Additionally, low to medium rise with pleated dress pants cause the fabric to bulk up in the thighs.
Flat-Front vs. Pleated: Pant Break Differences
Since comfort is mostly out of the equation, flat-front pants should at least portray a modern and sophisticated look.
So, any excess fabric around the trouser cuff will look like you are standing in a sack.
Therefore, most flat-front pants should have no break for a modern look. However, a slight break is also enticing.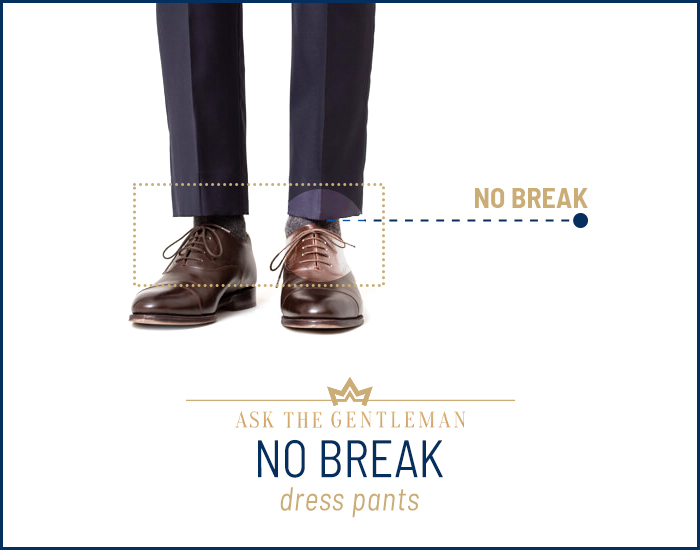 The pleated pants, in comparison, can have anything from a slight break to a full break.
Although choosing the break as per your preference and the occasion is acceptable, longer breaks seem more pleasing for pleated pants.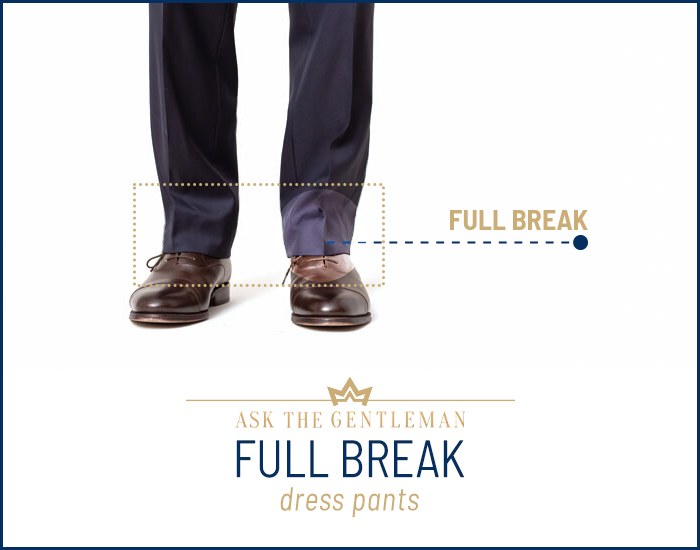 Or you can consider cuffs for a more on-trend look.
The cuffs neutralize the additional fabric at the thighs, making them more appealing to the eye.
Verdict: Which One to Choose?
In my opinion, flat-front pants are a no-brainer.
From being modern to stylish, you can't go wrong unless with a bad fit.
So, I would prefer flat-front pants 98 of 100 times over pleated ones.
I would choose pleated over flat front only in two instances.
The first one is when prioritizing functionality over style, looking for an extra room or comfort in general.
Secondly, with a suit to make a statement and to show a sartorial elegance like no one else.