Dress shirts are versatile and timeless.
While you can wear a dress shirt formally and with a business suit, you can also do it in a very smart and casual way.
That's because dress shirts have a lot of variety; commonly, these provide a well-dressed look without going overboard.
You only have to match the right shirt to the outfit.
Bear with me, and I will give you the creativity and intuition to wear them properly.
Wear a White Dress Shirt for Formal Events
The innate muted style of a crisp white tuxedo shirt perfectly matches the energy of the black-tie dress code.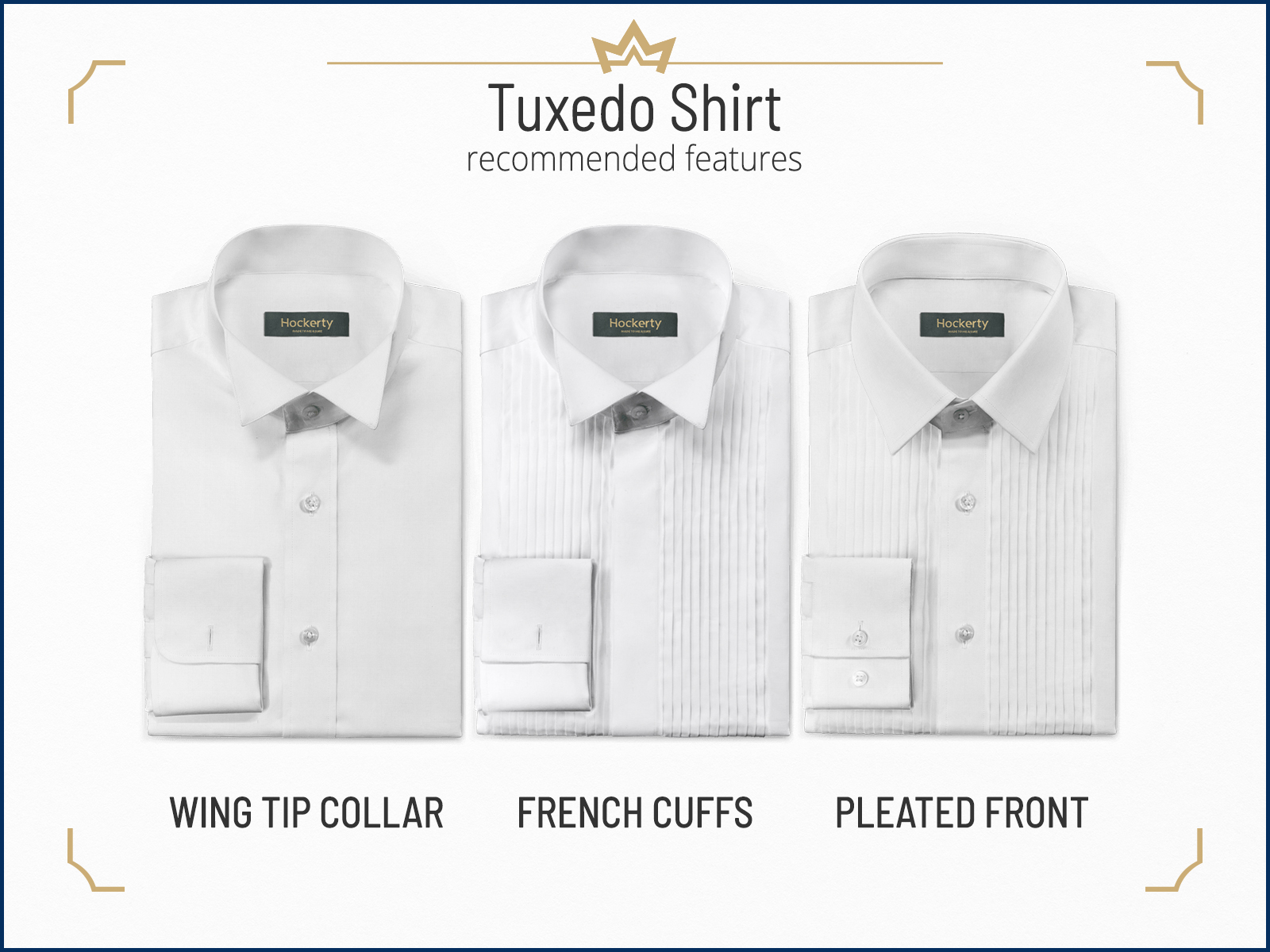 Formal events such as black-tie have fixed rules, and a white dress or tuxedo shirt is the best choice for a black tuxedo.
You can add a black bow tie or necktie and black dress shoes to finish the ensemble.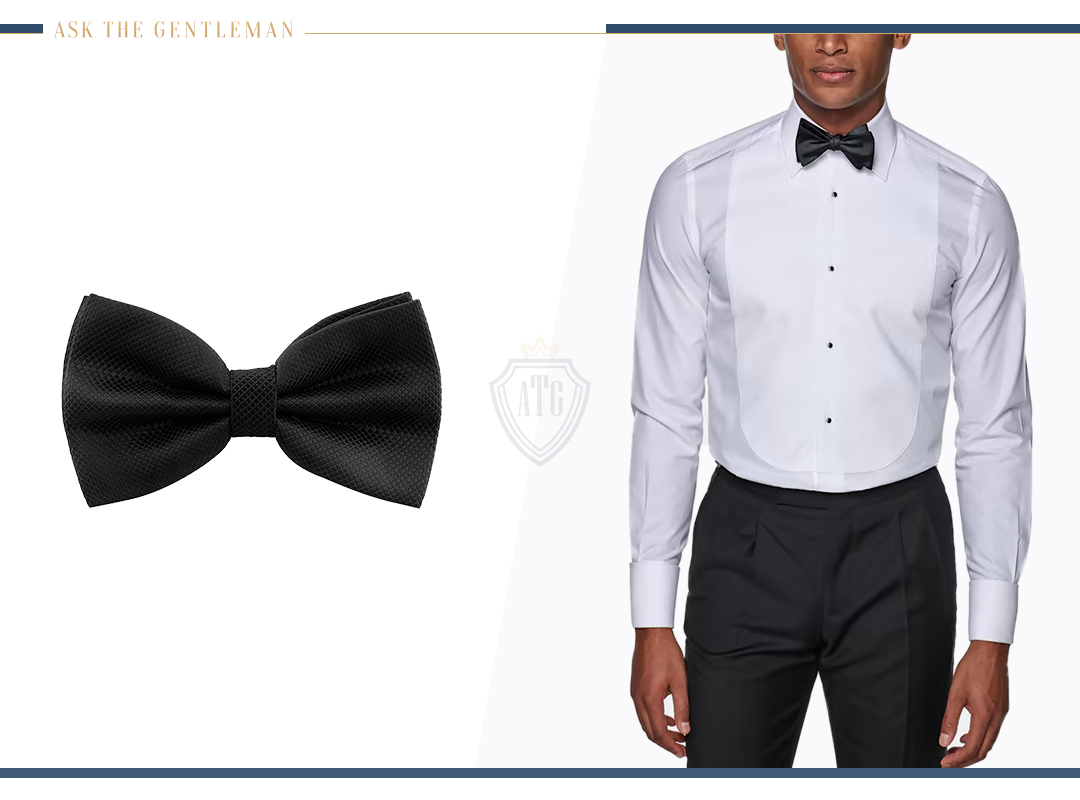 In addition, accessories like cufflinks and button studs are perfect for the extra touch.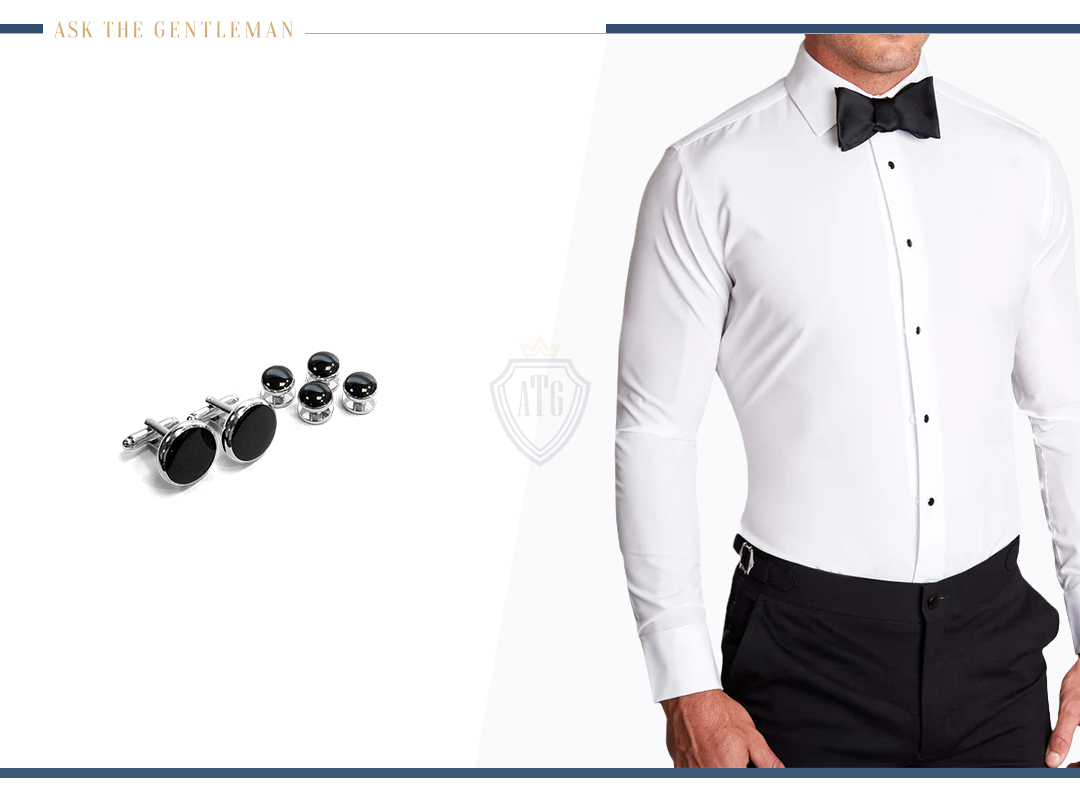 A standard white dress shirt is still an excellent option for other formal occasions, such as weddings.
It provides appropriate formality and contrast with every suit color.
Similarly, wearing a white dress shirt highlights the patterns of the suit.
Wear a Solid Dress Shirt with a Suit for a Professional Look
Solid color dress shirts like white, blue, or pink are great wardrobe items as they give quite a style diversity.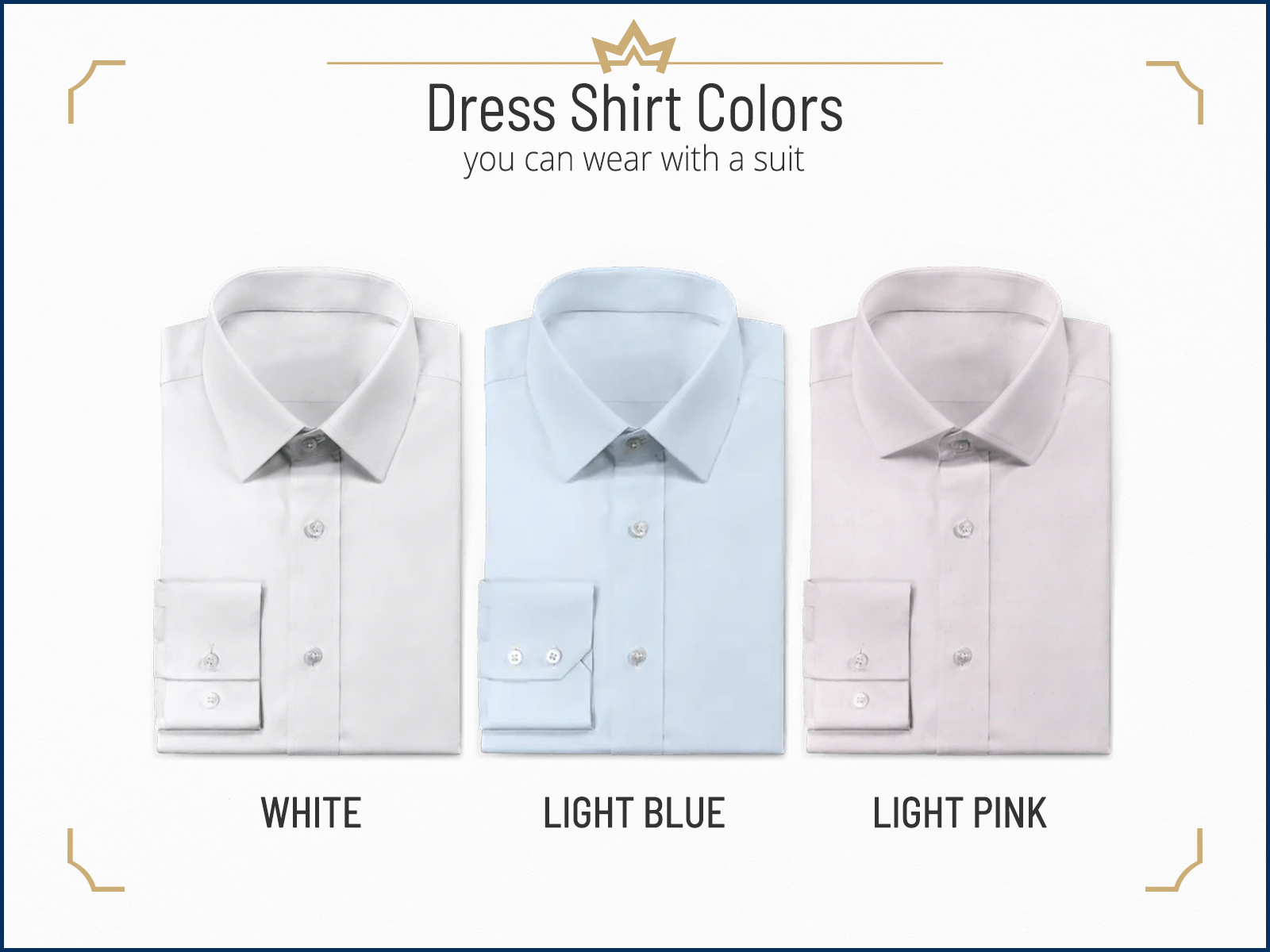 Of course, one way is to wear them with a suit. It's your go-to attire for formal business settings.
White and blue shirts are best for business occasions. You'll look well-dressed up, very professional, and stylishly sophisticated.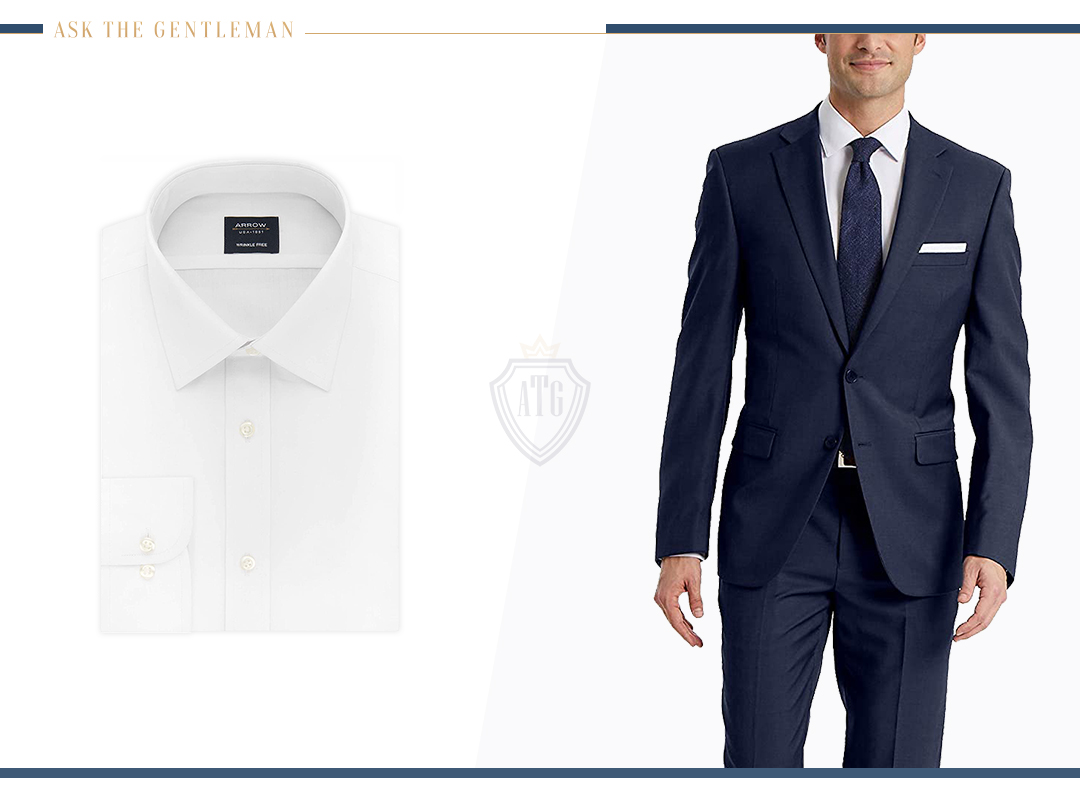 You can also show up in this shirt and suit combination on other occasions. Cocktail parties, weddings, and job interviews are a few examples.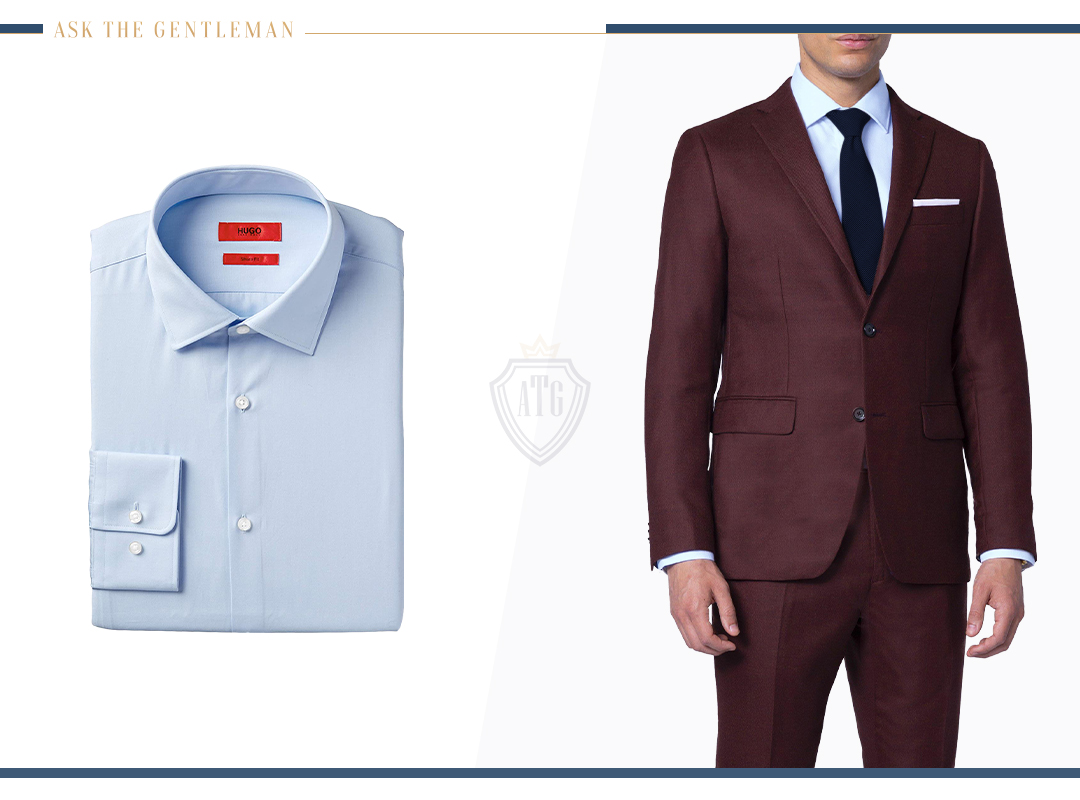 You can match accessories to fit the occasion perfectly. For example, wearing a vest and tie is great to complement this dressed-up look.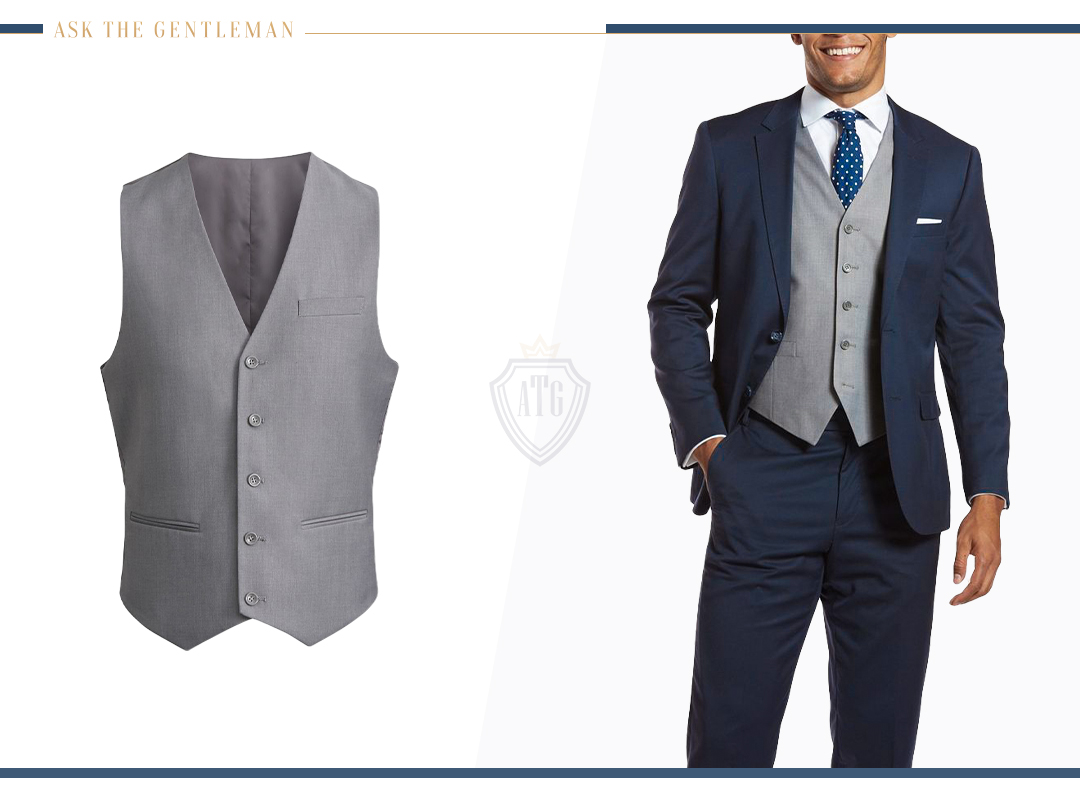 The shirt details may vary on the occasion and your personal preferences.
I recommend wearing a spread collar button-up shirt instead of a button-down.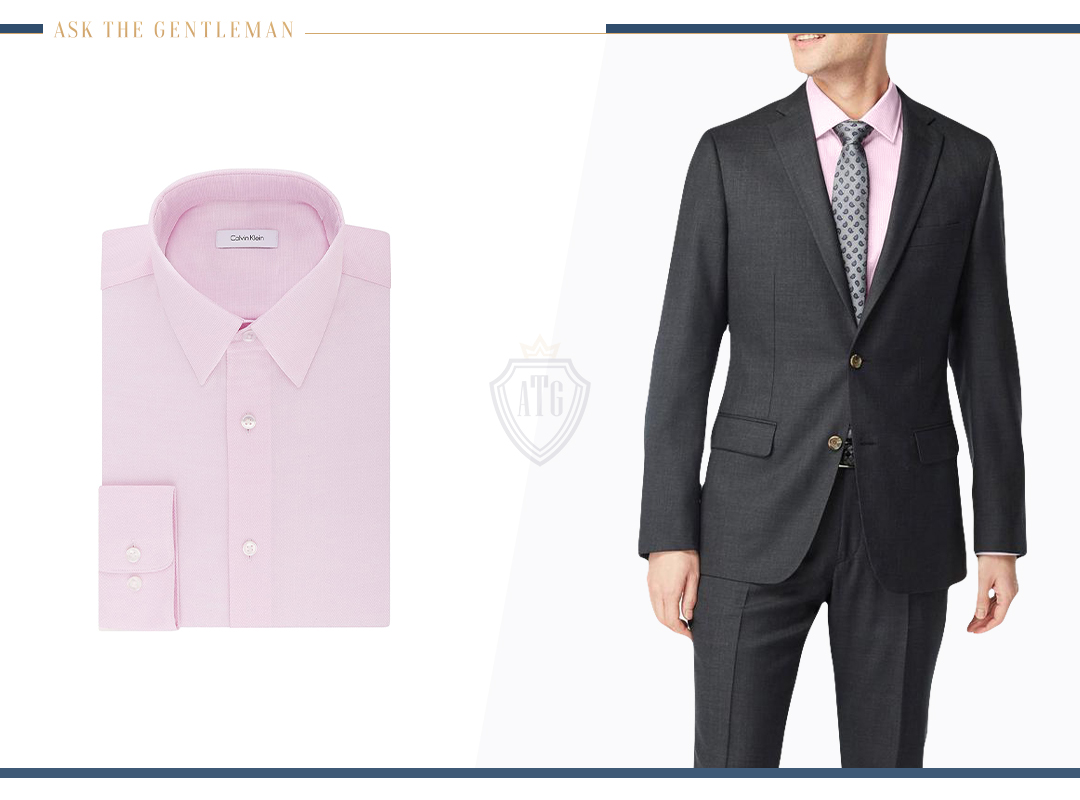 Similarly, choose barrel cuffs instead of French cuffs for more versatility.
Adding a Tie with Your Dress Shirt
Pairing a tie with a dress shirt adds a new dimension to your style.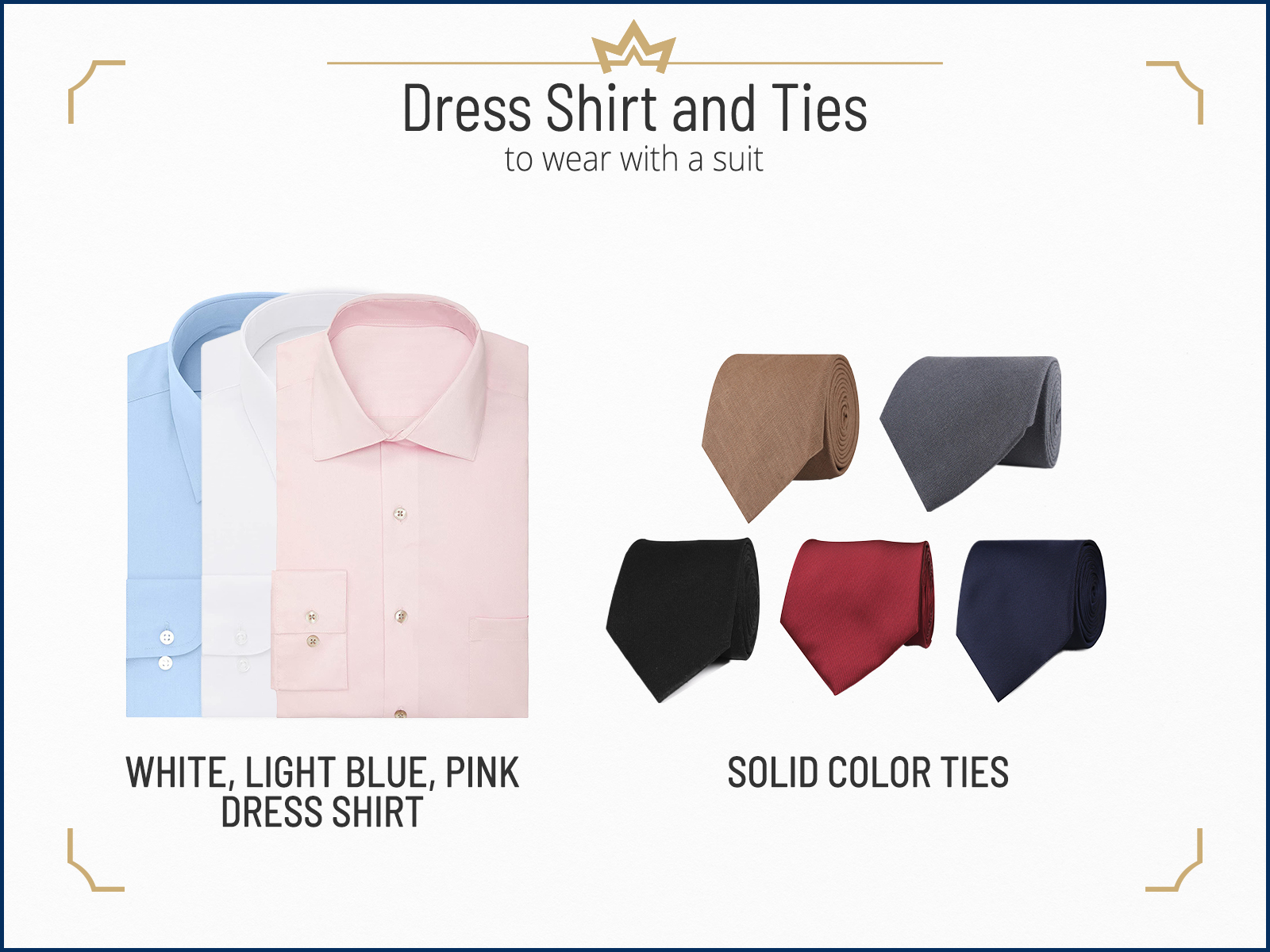 Also, the tie almost seems inevitable when wearing a suit and a solid color dress shirt.
Matching dress shirts and ties should be done carefully to avoid pattern or color collision.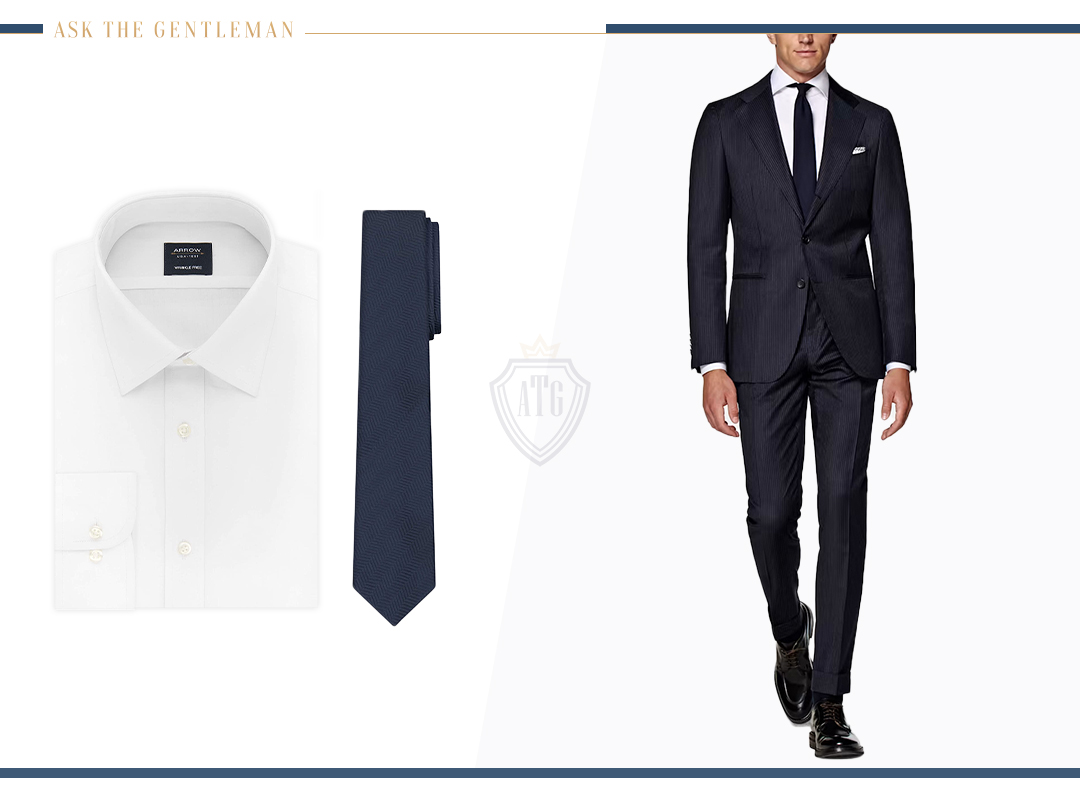 Your safest bet will be to match a contrasting tie and shirt.
One example would be to go for a navy tie with your light pink shirt. Although, every suit color has its own preferences.
Wearing a tie with a shirt is great for formal business settings, weddings, and job interviews.
Keep in mind that dress shirts appropriate for a tie usually have a point collar.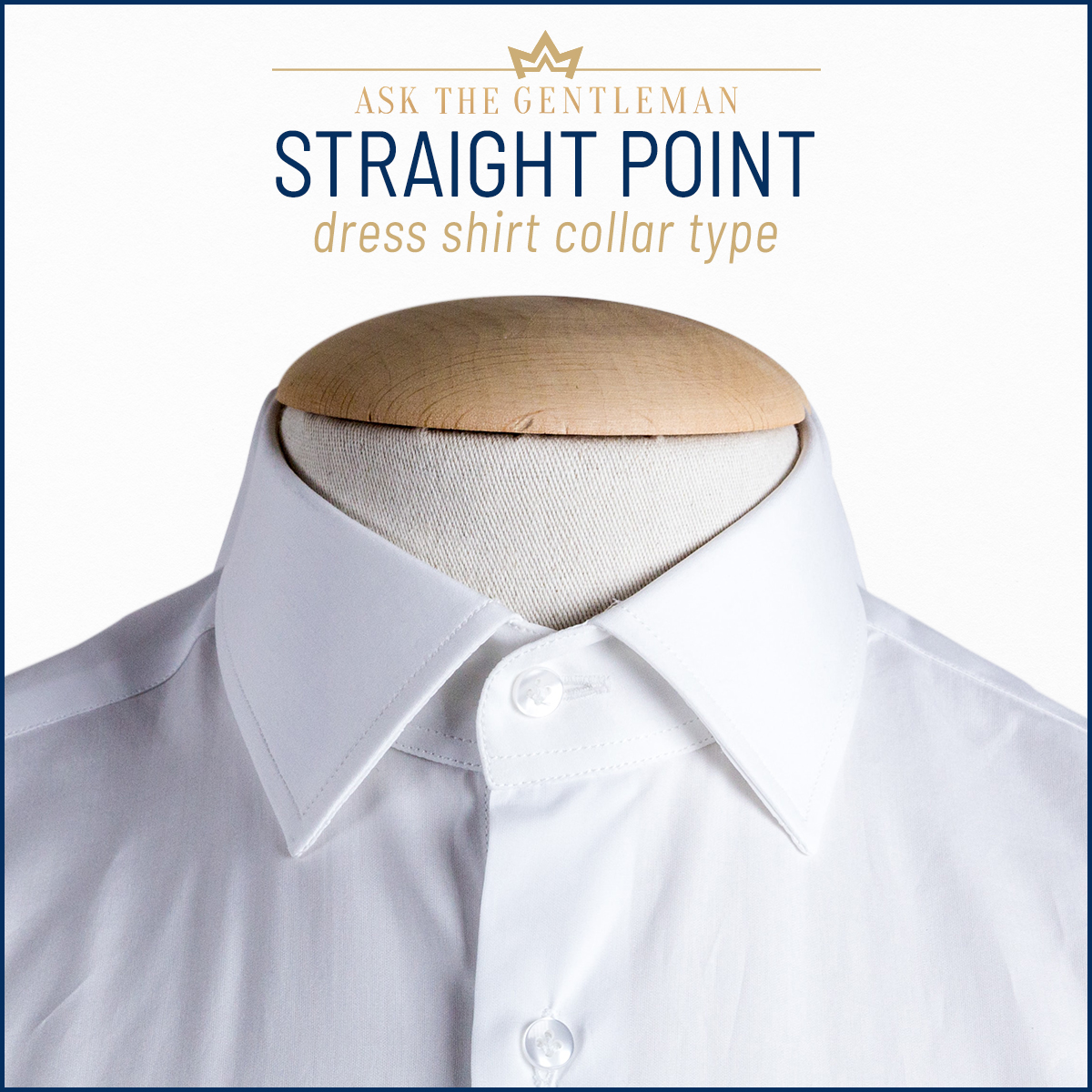 However, wearing a tie with a button-down shirt is a recognizable American style and, therefore, still acceptable.
Match a Dress Shirt with a Separate Jacket and Trousers
A separate jacket and dress pants are often tieless outfit that looks polished but more casual.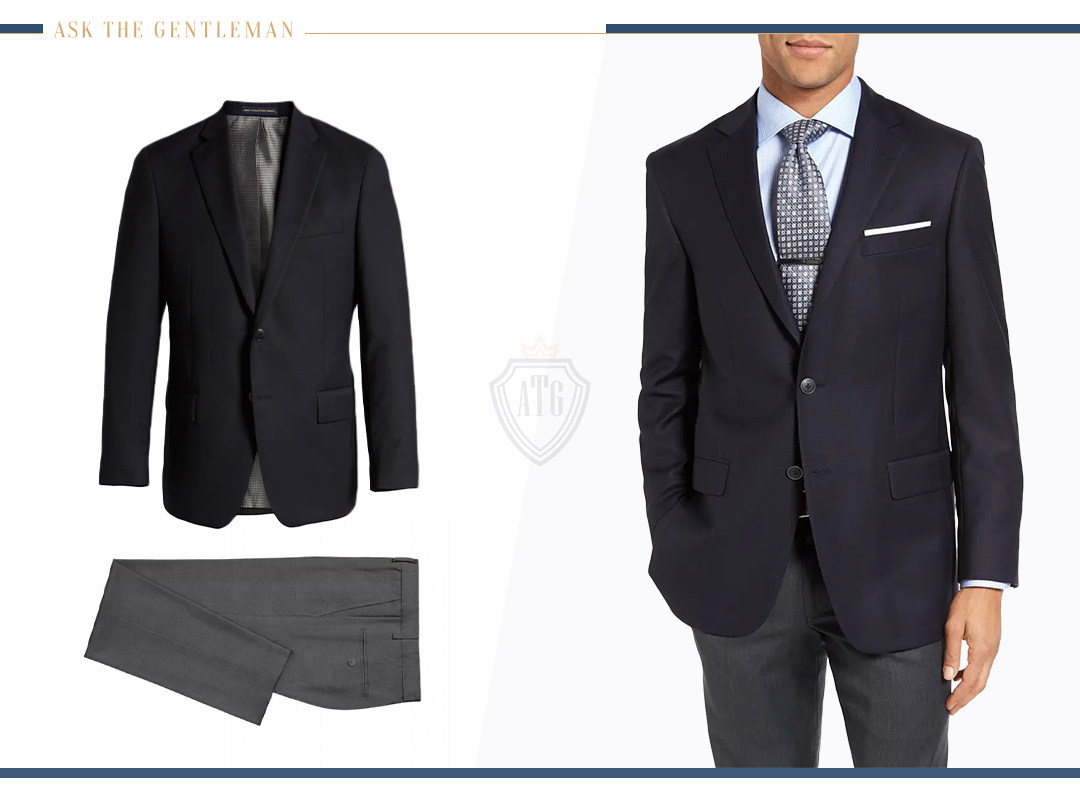 The outfit is effortless to incorporate into everyday wear and is an appropriate dress for gentlemen who want to look sharp.
You should still tuck in your dress shirt. However, you can unbutton the top one or two buttons.
The color of your shirt is crucial.
In fact, solid-color dress shirts are still the best option when wearing dress pants and blazers.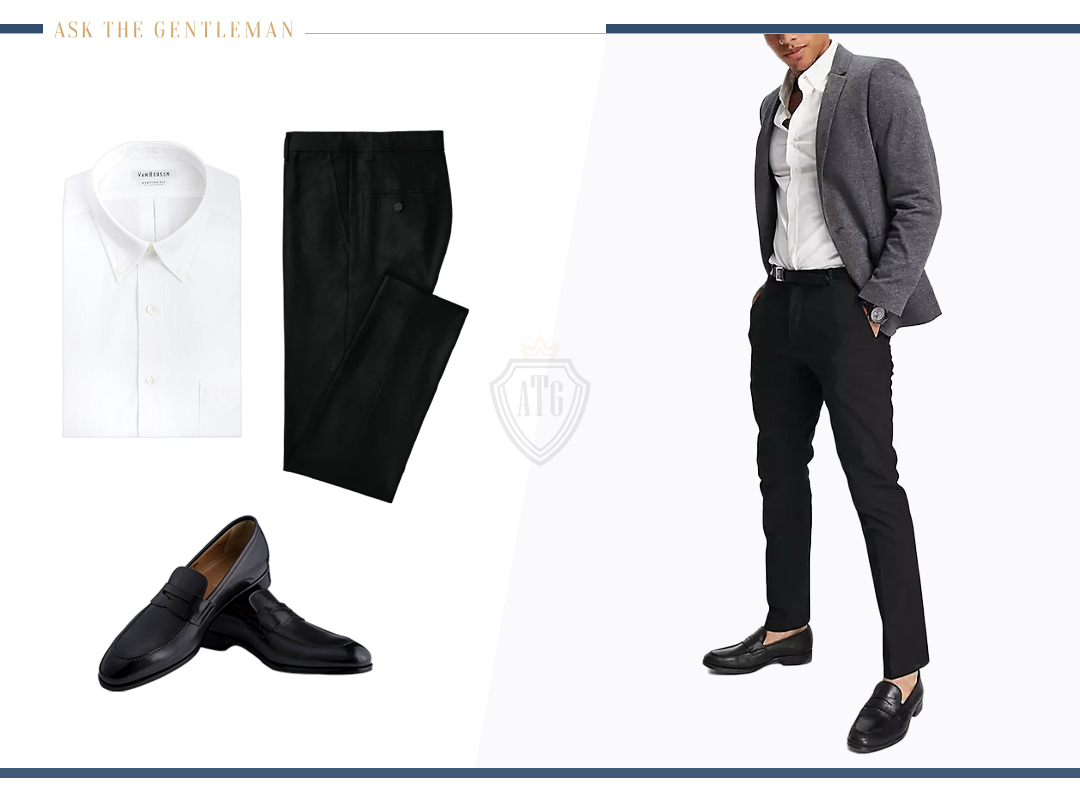 Patterns can work, too, but they should be subtle.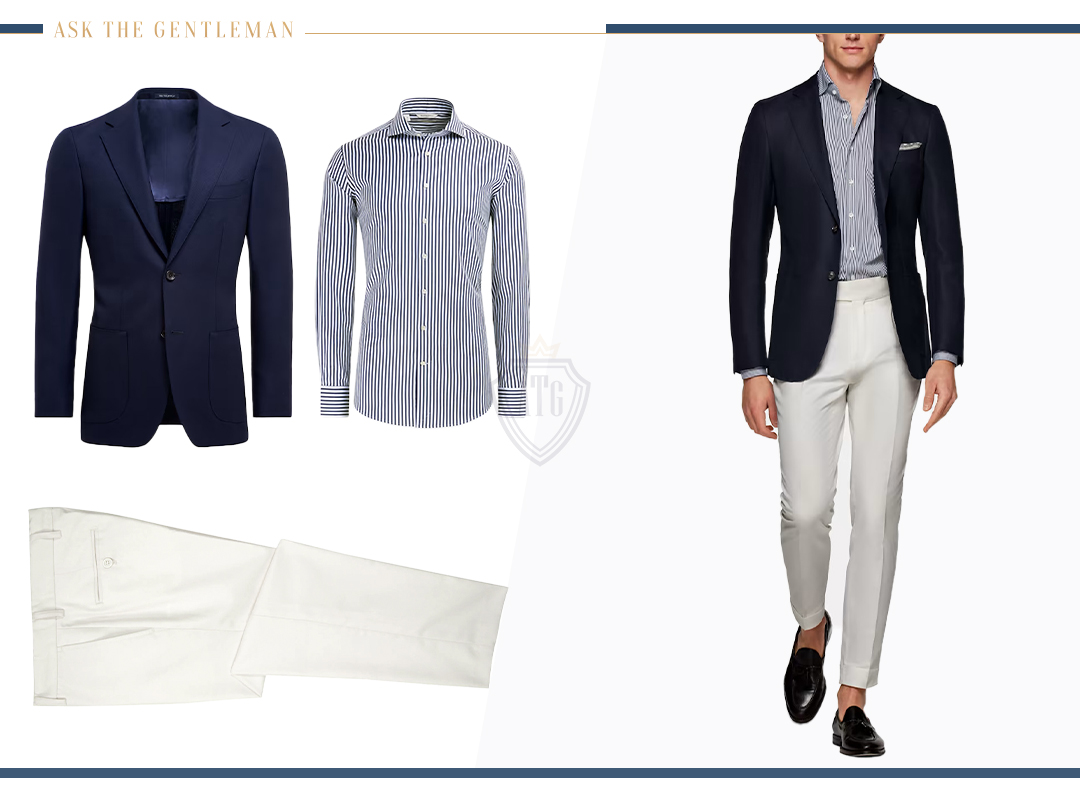 Small and subtle striped dress shirts are possibly the best option when matching a blazer and pants.
Wear a Dress Shirt with Trousers or Chinos
Chinos are a modern way to wear a dress shirt and provide many styling options.
Khaki, tan, and white are the preferable chino colors for summer. In addition, navy, charcoal, grey, and brown are also quite popular.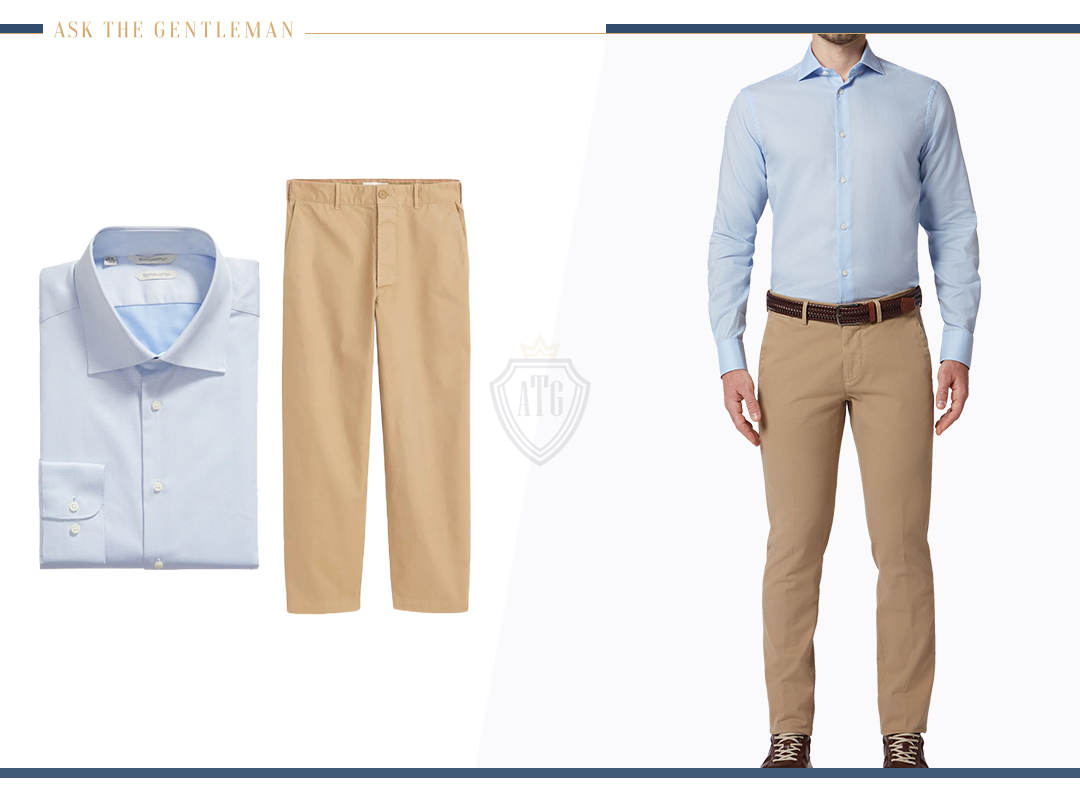 The dress shirt can also have multiple options. Some recommended choices are plain white, light blue, or subtle stripes.
In most cases, it is best to tuck in the shirt. However, you can leave it untucked if striving for a more casual outfit.
The choice of shoes will be important here as chinos can match well with many shoe types.
I recommend finishing the look with tassel or penny loafers for a dressed-up look.
In contrast, choose white sneakers if you're young and want something sporty.
Wearing a Dress Shirt with Jeans
The best way to nail this look is to try well-fitted jeans with a light-colored shirt, including white.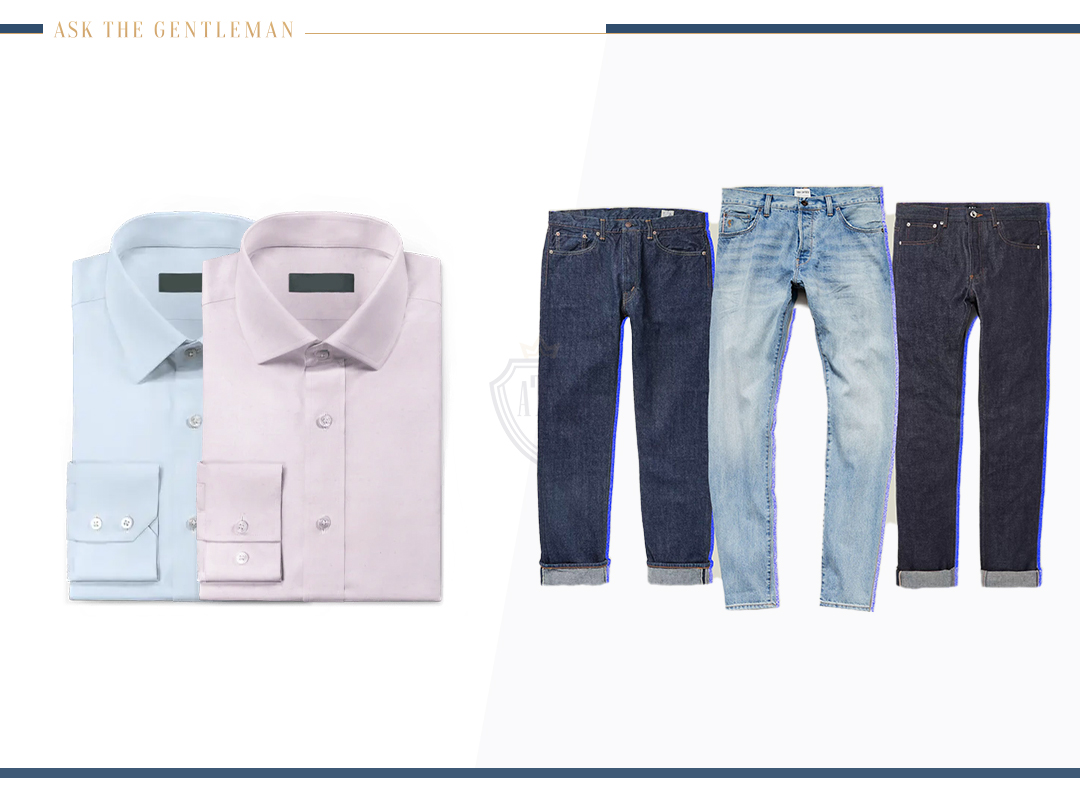 The jeans' fit should neither be extra-slim nor overly baggy and have an appropriate rise.
A diverse color palette is acceptable; the final color depends mainly on the weather.
Dark jeans are the best bet, but light jeans and a dark shirt work fine. Also, avoid rips.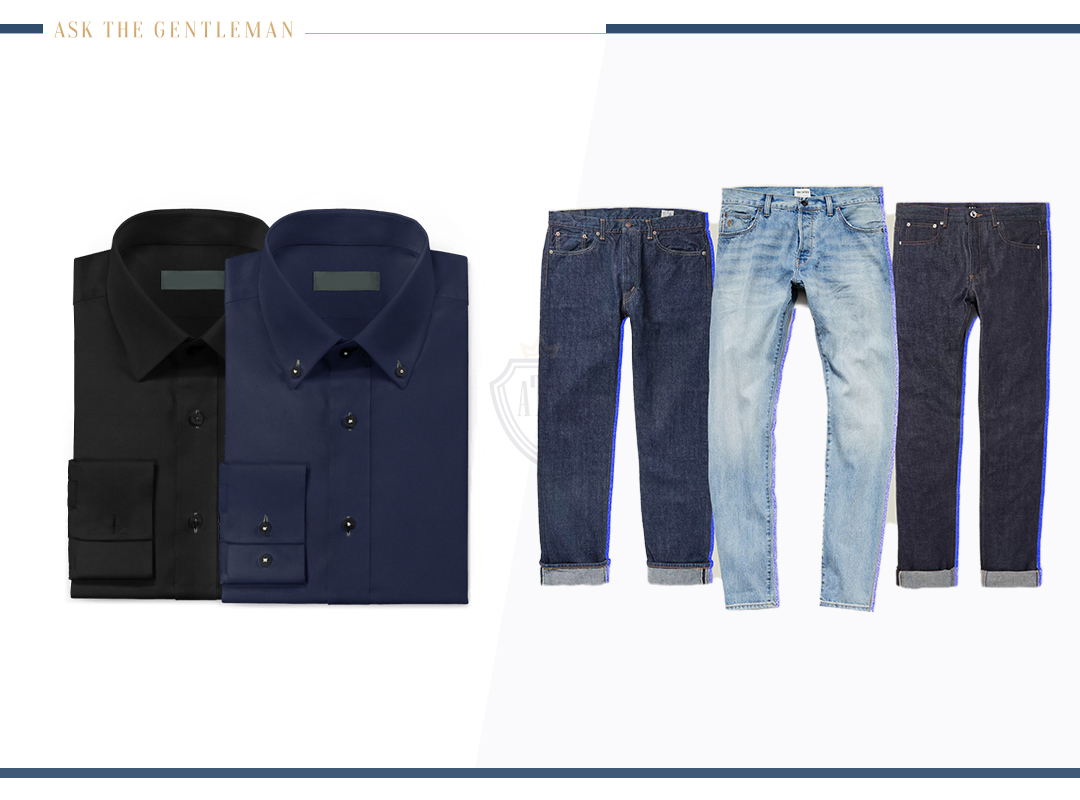 Avoid wearing a crisp white shirt. Instead, choose something casual, like stripes and checks.
However, other solid-colored shirts like blue, light green, and pink are fine.
It's best to leave the shirt untucked when wearing it with jeans.
Wear a Sweater or Cardigan over Your Dress Shirt
Wearing a sweater over a dress shirt is my favorite look for the spring. It's effortless, smart, and exceptionally elegant.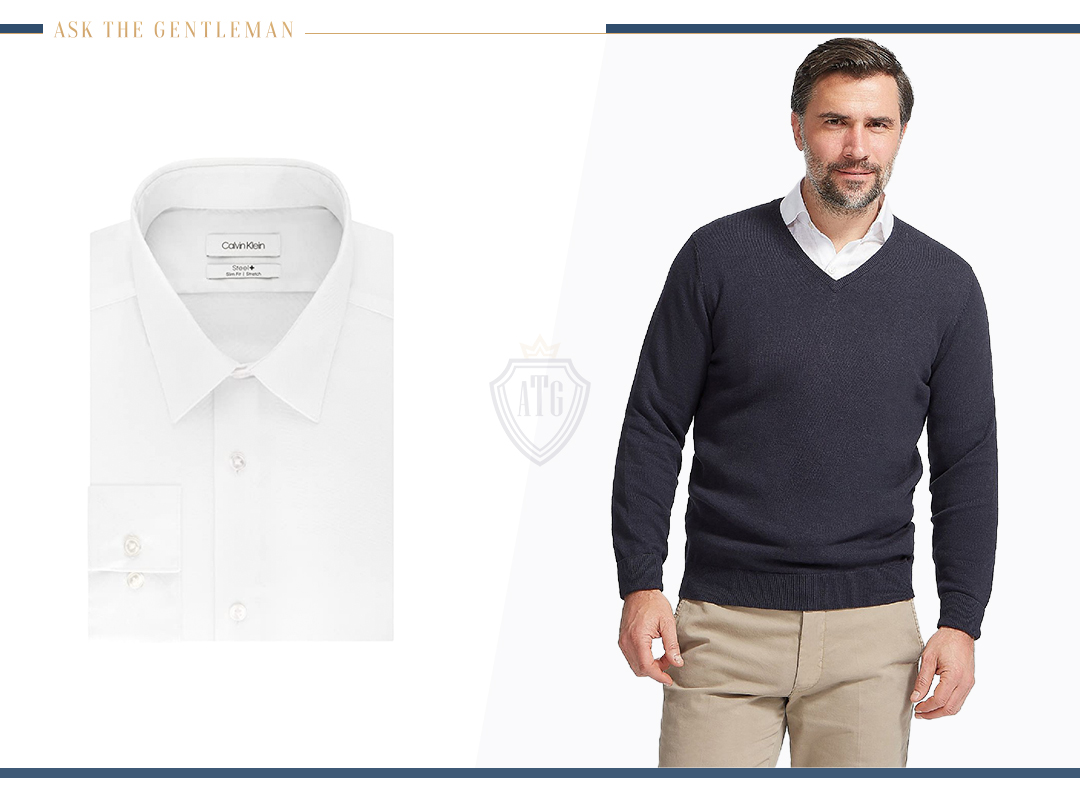 The cardigan sweater is my recommended choice. You can even wear a tie if you want to elevate the formality.
Sweater vests, crew-neck, and v-neck sweaters over dress shirts will also provide a very sophisticated look, a layering effect, and the option of wearing a tie.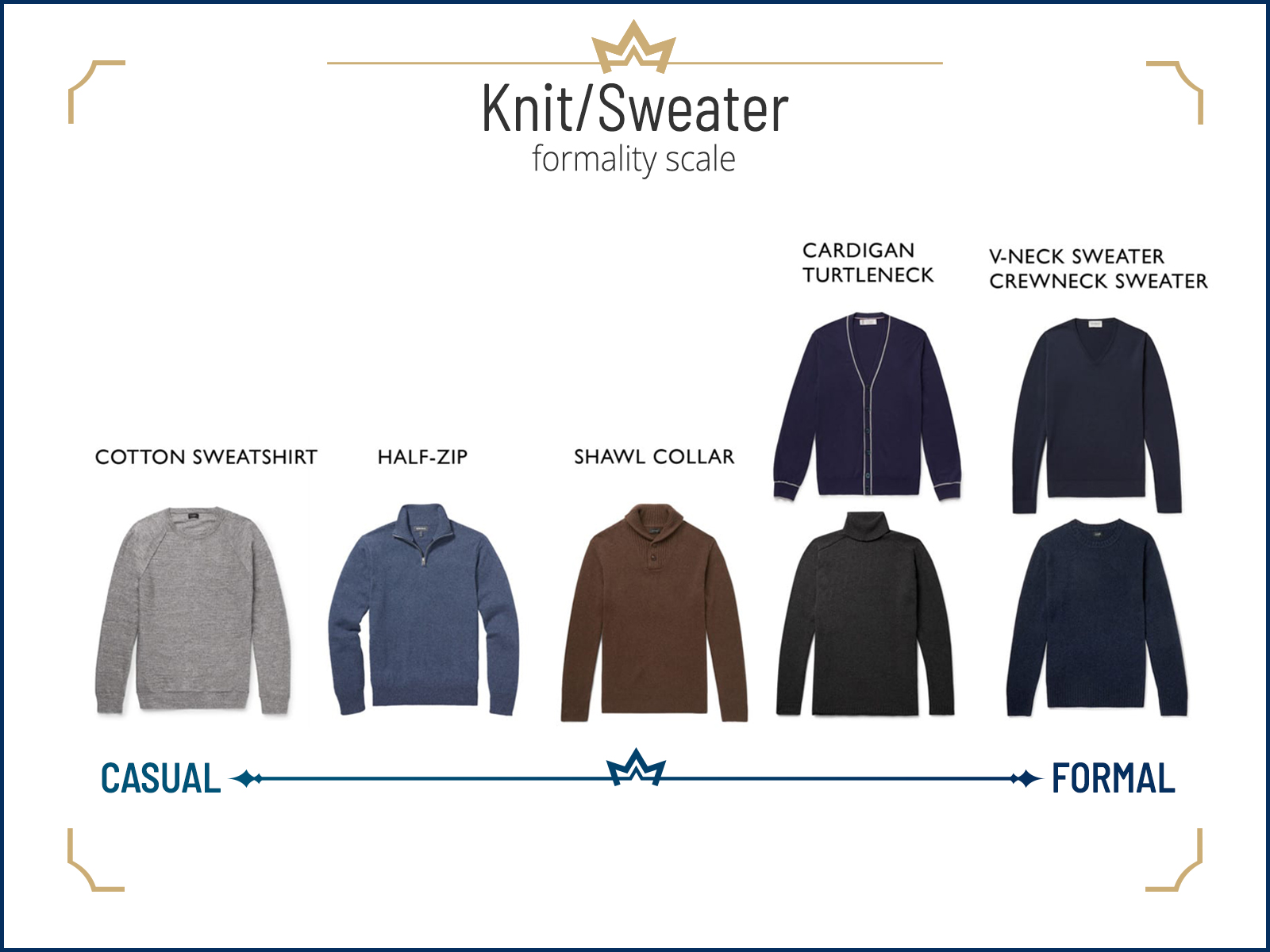 Complete this look with good-quality shoes.
Dress shoes, casual loafers, and sneakers are all available options. Which ones will depend on the type of pants.
How to Wear Different Dress Shirt Patterns
Patterned dress shirts provide an escape from the solid and standard dress shirt styles.
Patterns can have quite a diversity, acceptable for formal and casual situations. These can be subtle as fancy weaves or bold ones as gingham or checks.
Generally, the rule is "the bigger the patterns – the less formal the shirt will be."
The key to wearing patterns is knowing which fits the occasion and your personality.
Stripes & Dots Dress Shirts for Semi-Formal
Stripes are the most formal patterns for dress shirts. These dress shirts look best when worn with solid suits and semi-formal events.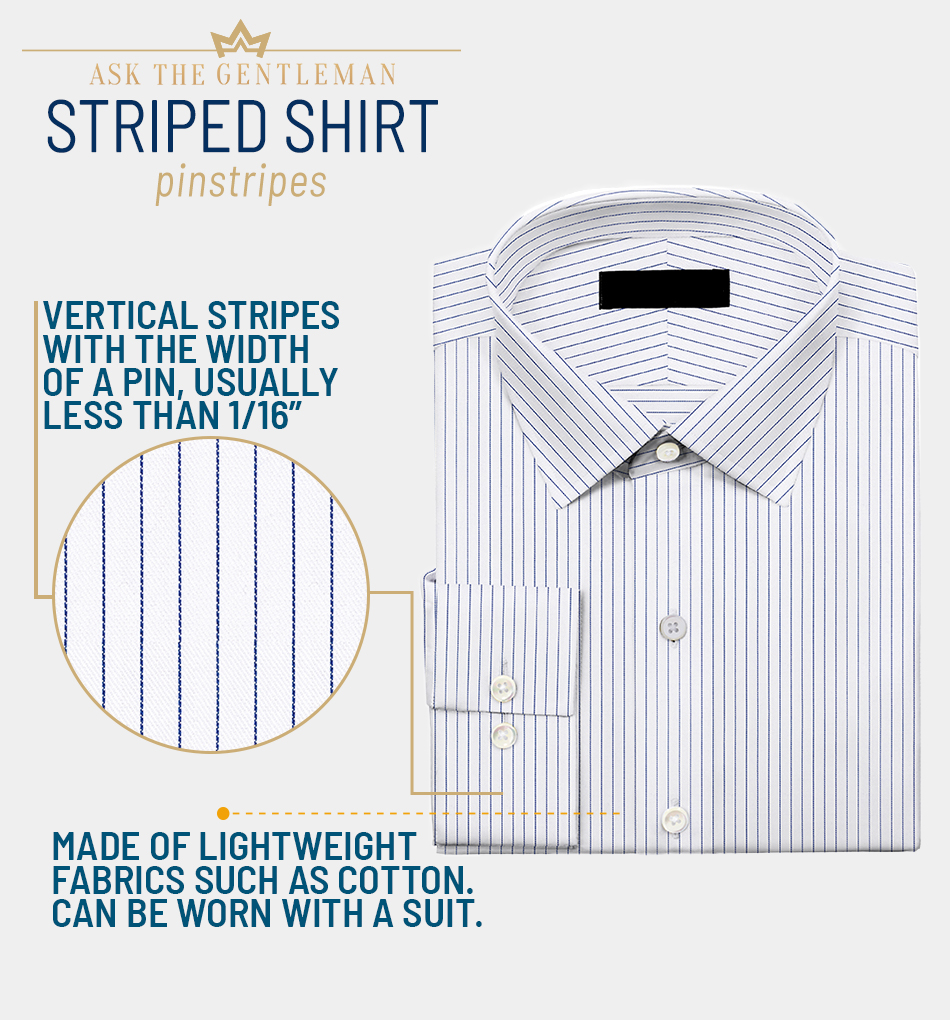 There are many types of stripes. The pencil and hairline stripe are some of my favorites.
The formality will mainly depend on the size of the stripes.
You can easily wear subtle and narrow stripes to business meetings, cocktails, and even weddings when attending as a guest.
When combining stripes with other patterned items like a tie, make sure one of them has more noticeable patterns.
Windowpane & Check Shirts for a Smart-Casual Look
Windowpane is a shirt check type with square grids and is one of the most used dress shirt checks.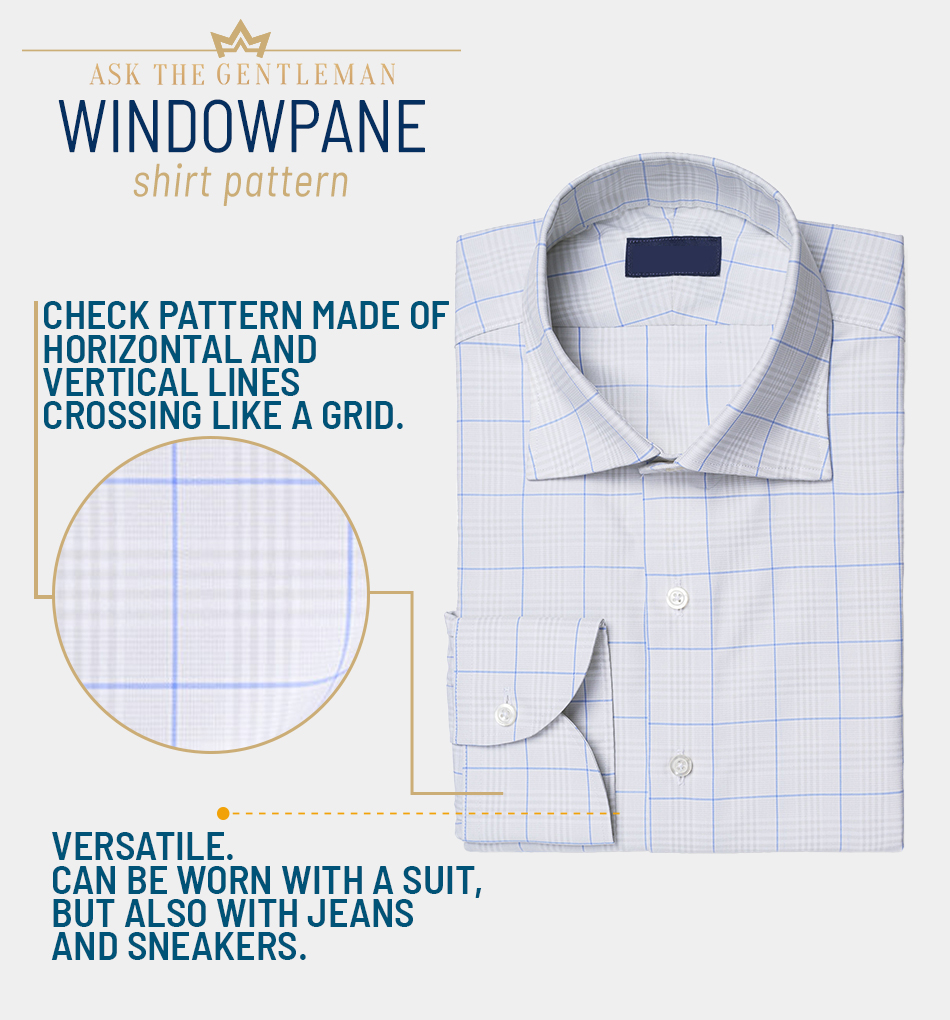 Wearing a checked shirt with a suit is a very dressy option for a business casual occasion, but the patterns should be small.
You can also wear checked dress shirts with dress pants, chinos, and jeans for a sophisticated and smart-casual look.
Depending on the occasion, you can tuck the shirt in or leave it untucked.
Similarly, you can opt for different shoes, from dress shoes to casual sneakers.
Gingham & Tartan Style Shirts for Casual Outfits
Gingham and tartan patterns are usually casual because they combine more than one shade.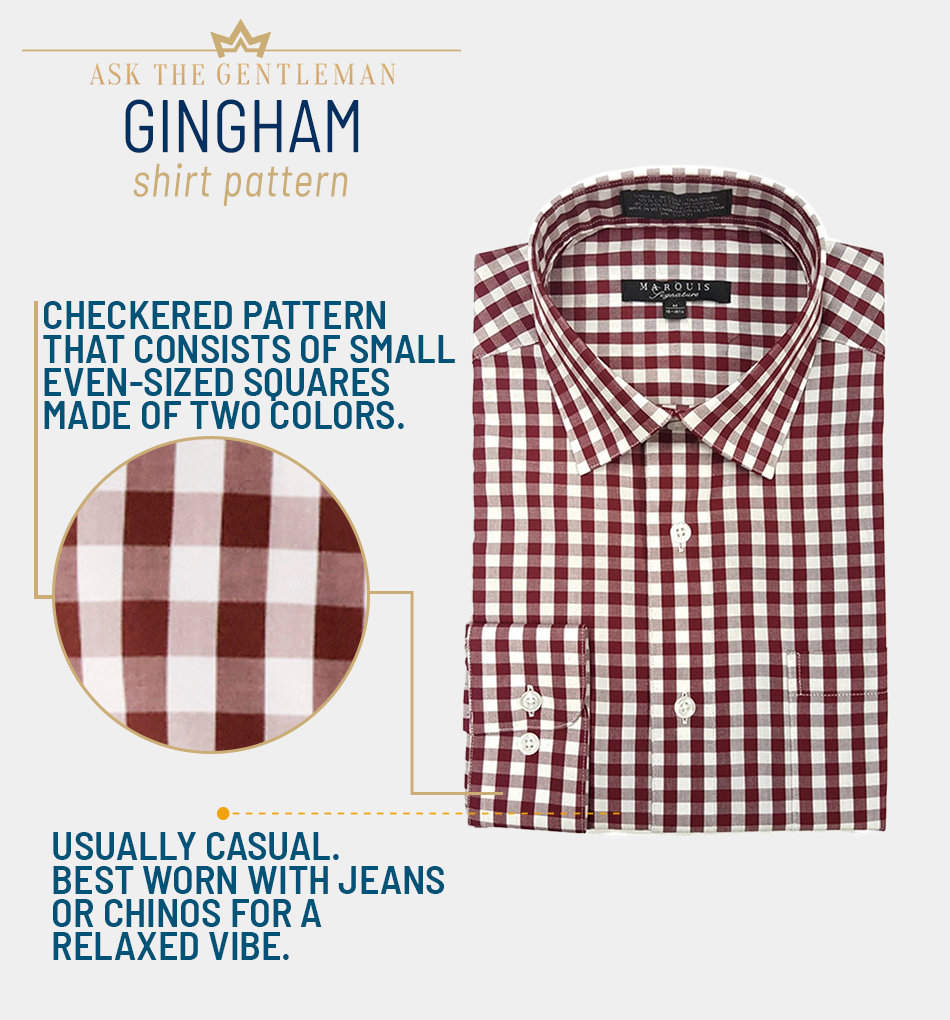 In addition, the pattern sizes are usually big enough to instantly make them a casual dress shirt.
Tartan differs from gingham by having more colors. In addition, tartan is seasonal for winter and autumn, as wool is the primary fabric.
Both these shirts are extremely versatile. You can match the shirt with chinos, wear derbies and look casually dressed up.
One casual outfit example would be an untucked gingham shirt, rolled-up sleeves, dark jeans, and white sneakers.
You can also add layering to this outfit.
For example, wear a white t-shirt under a gingham shirt and pair it with Jordans for a stylish streetwear style.
Important Details When Wearing a Dress Shirt
Dress shirts are often effortless to style. Still, some details can make or break the outfit.
It's a matter of simple things, like tucking vs. untucking the dress shirt.
How to Wear a Tucked-In Shirt
The increased length with an uneven front or back hem indicates a tuck-in shirt.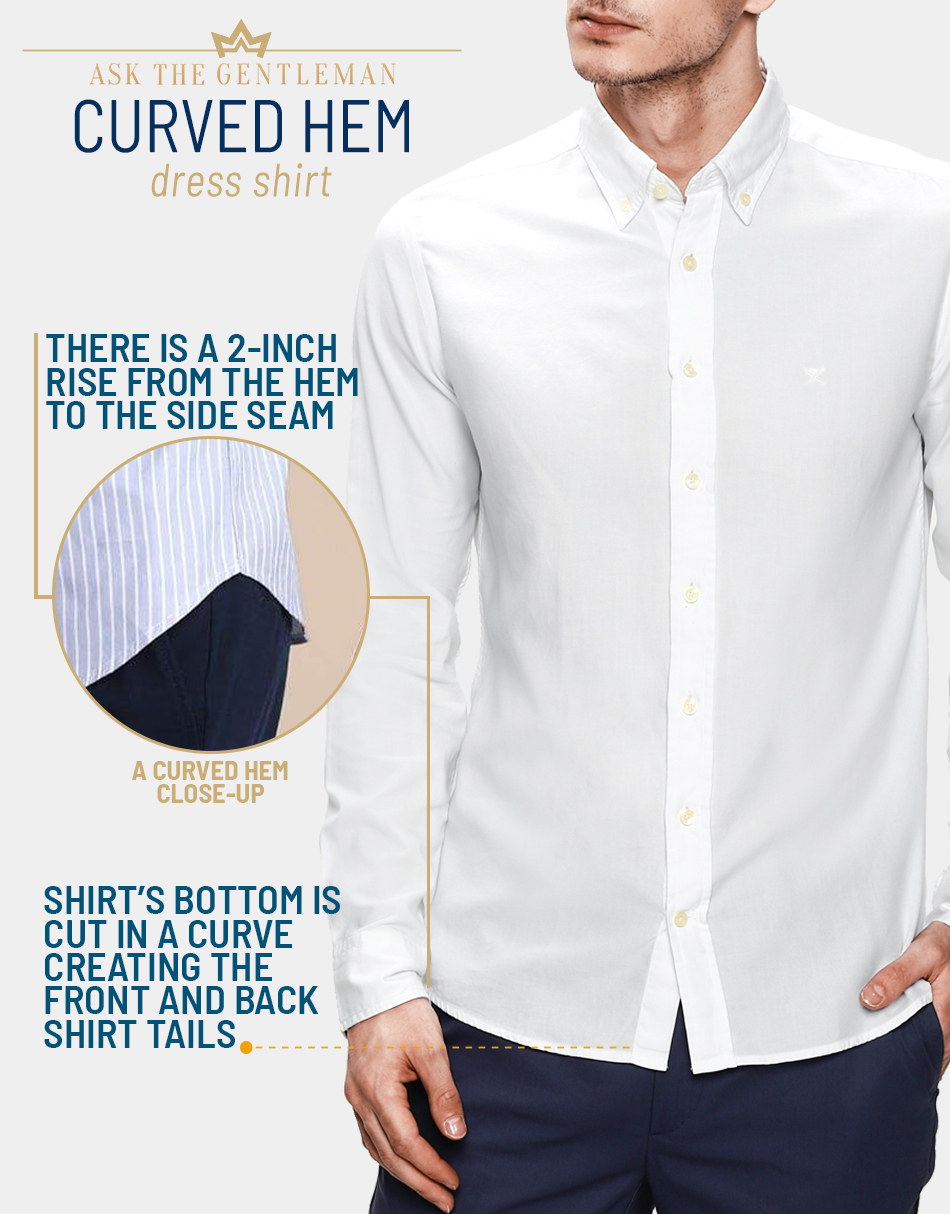 Such dress shirts are ideal for portraying a professional and dressed-up look.
The basic, military, and underwear tuck are the most common methods, but shirt-stays are also an option.
The tucking guidelines are also simple. It's a must with plain solid shirts worn with dress pants or chinos.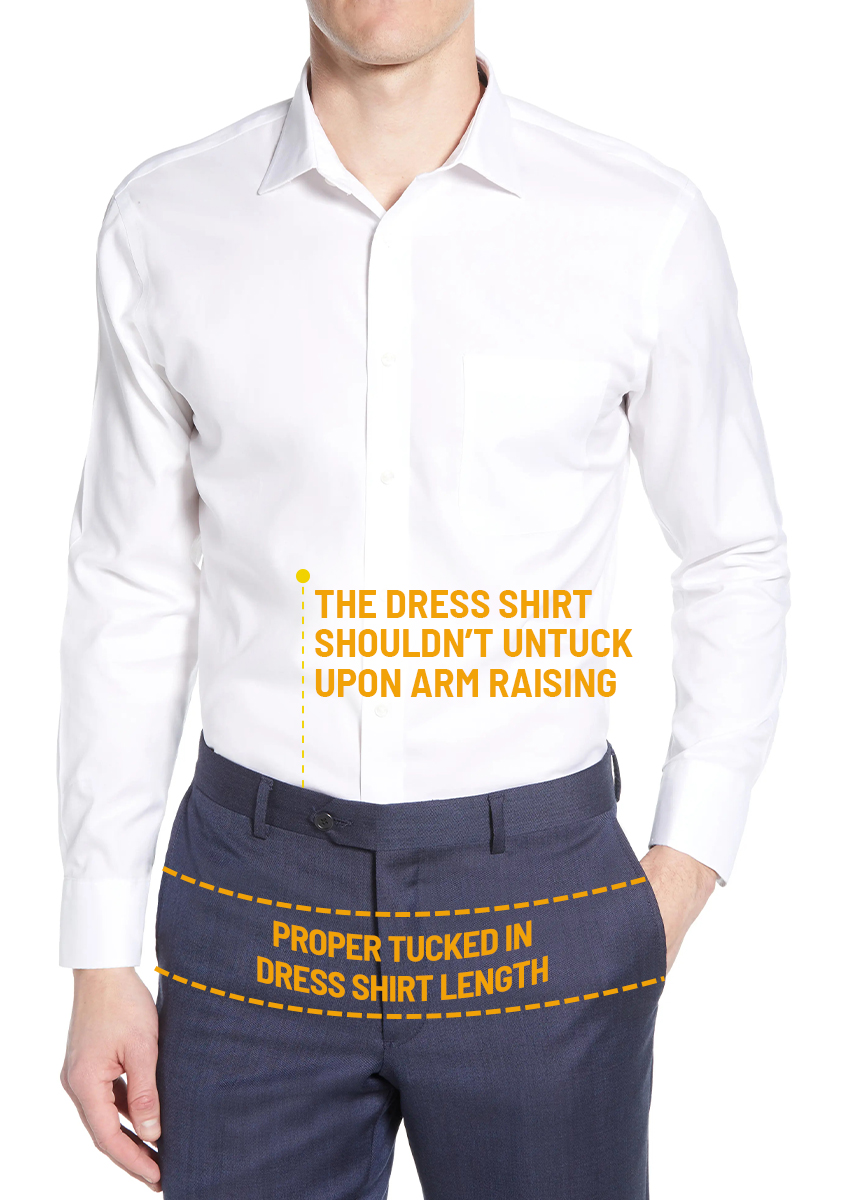 Similarly, tucking in the shirt is mandatory with the suit or sports coat.
Moreover, all formal shirt types should be tucked in to match the formality.
How to Wear an Untucked Shirt
Going untucked is an option with dress shirts with patterns, wearing jeans, or other casual outfits.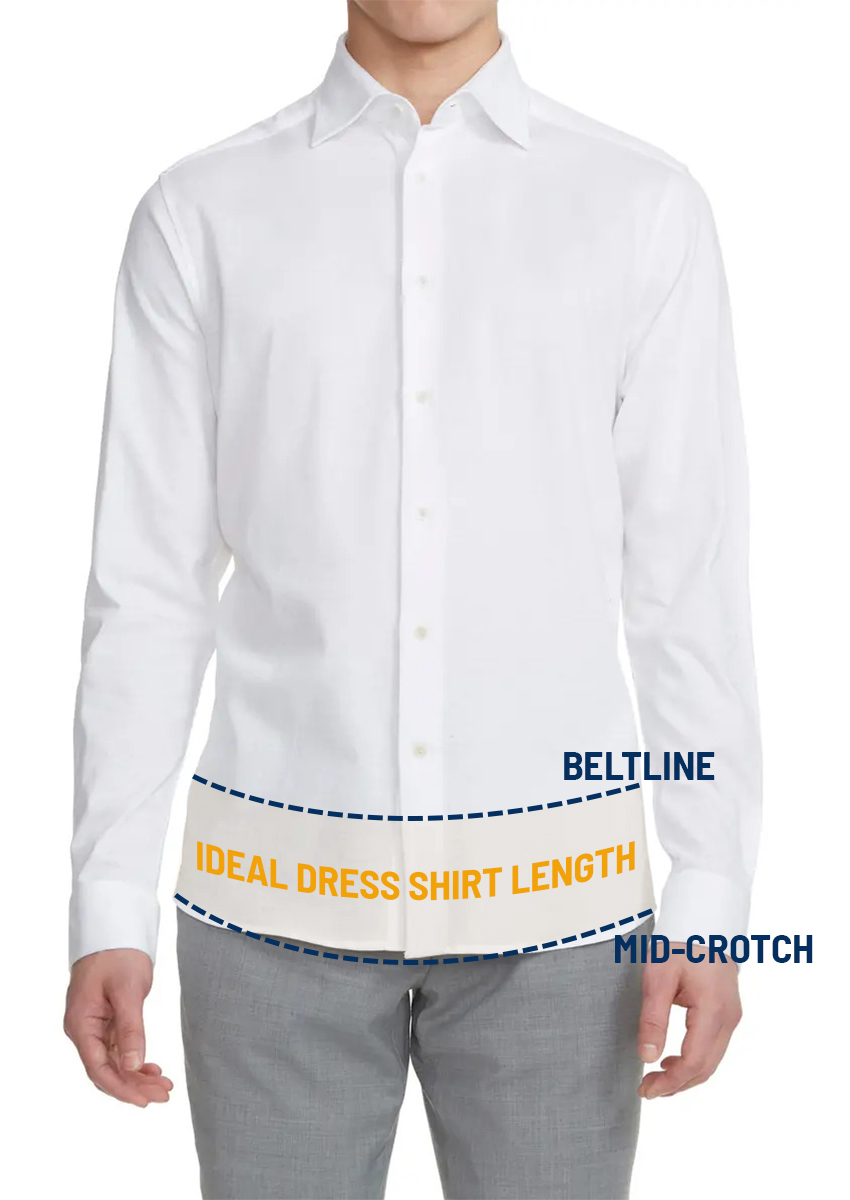 The big and bold patterns with a short shirt length indicate going untucked.
With jeans, always go untucked unless the shirt is long and appropriately formal.
At the same time, you can wear an untucked shirt for smart-casual to super casual dress codes.
Rolling Up the Dress Shirt Sleeves
Rolled-up sleeves represent a relaxed yet engaging feel and casual vibe.
Therefore, it could be a nonchalant style choice while looking dressy.
However, be careful of the occasion. Casual environments are best shown in rolled-up sleeves.
Extra effort to show up everywhere in rolled-up sleeves will make the person look mindless.
How the Shirt Collar Frames Your Face
It's quite a common mistake to choose the wrong collar; this causes the face to look unsymmetrical.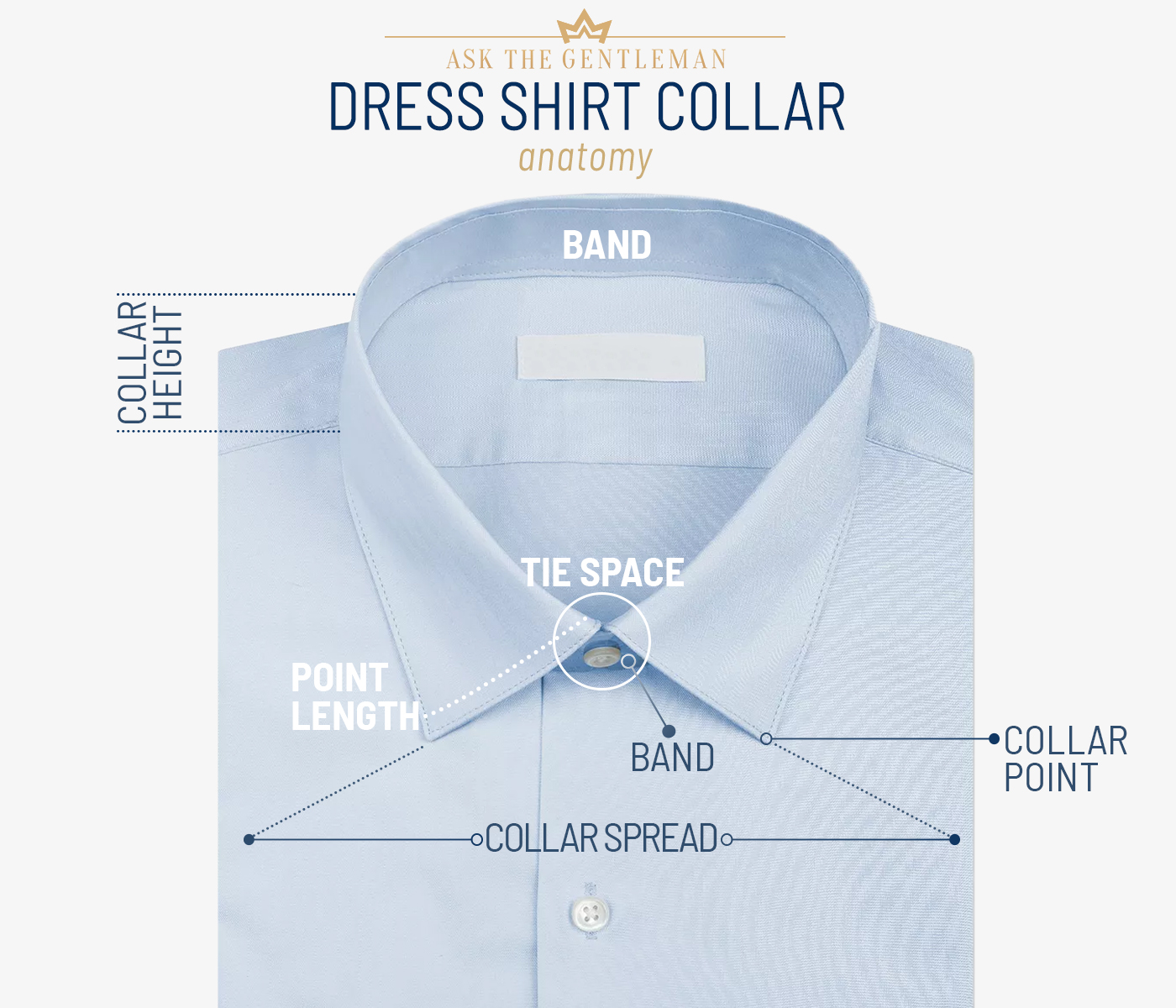 The key thing about matching the collars is to balance the proportions.
Narrow and long faces should opt for widespread collars.
On the other hand, short and wide faces should choose a narrow collar spread.
Different Dress Shirt Cuts You Can Wear
You might have heard of terms like classic, modern, and slim fit.
Although these define the shirt cut and how it fits you, they are also somewhat important to dress shirt styling.
For example, choosing a slim-fit shirt with relaxed straight-fit jeans can be a poor style choice.
Also, a sharp-suited slim-fit look doesn't need a classic-fit shirt.
Slim Fit Shirts Stay Close to Your Body
A slim-fit shirt will have sharp shoulders, a close-fitting chest, a trunk, and a waist.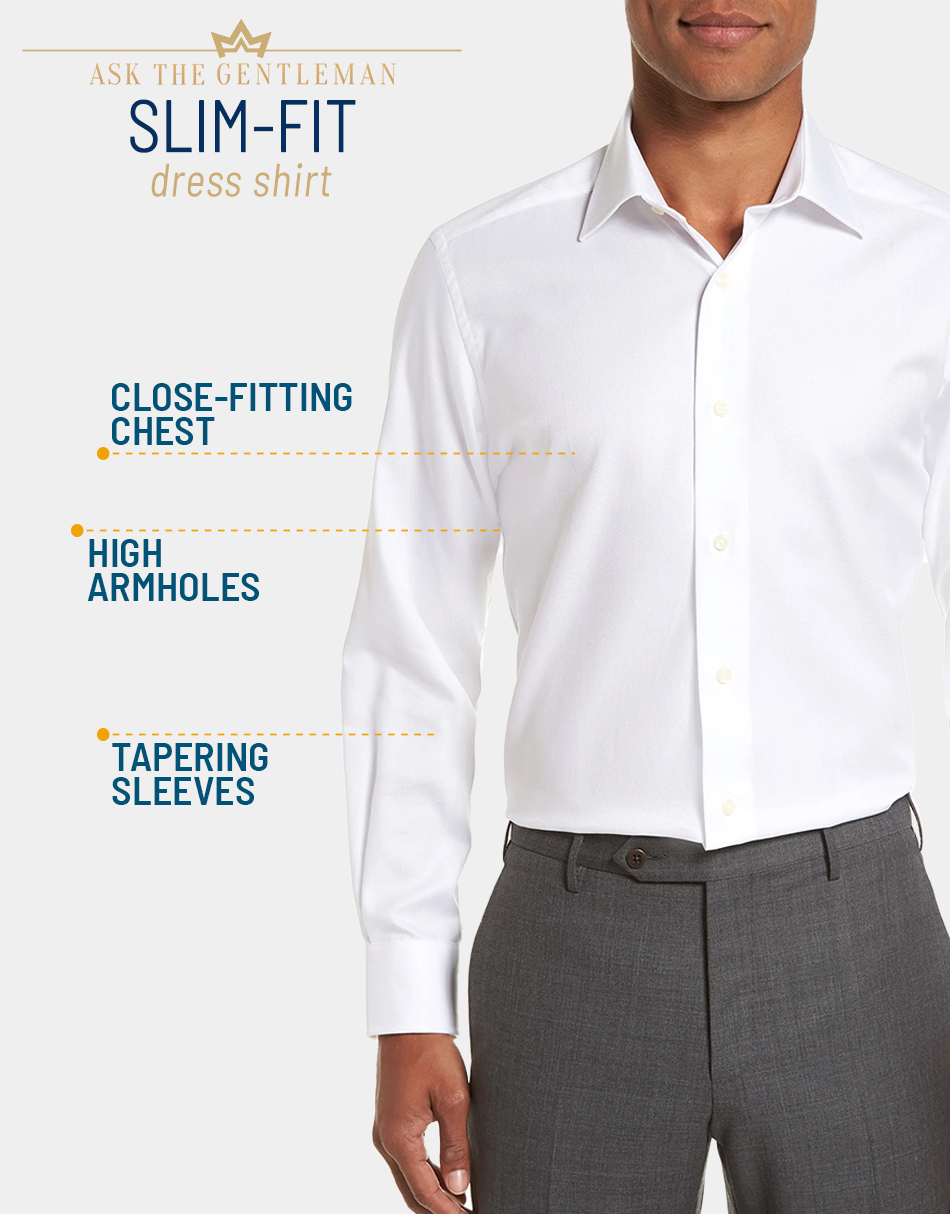 Similarly, the sleeves are narrow, with high armholes and thinner sleeves.
The slim-fit shirt is the most widespread cut but does not look flattering on every body type.
So although most men can wear this cut, it looks best on lean and tall gentlemen who are confident in their style.
The slim-fit dress shirts can be a great choice if you wear matching slim-fit pants and a suit jacket.
Regular Fit Dress Shirt for Relaxed Look
If comfort is your primary goal, regular-fit dress shirts will be the ideal choice.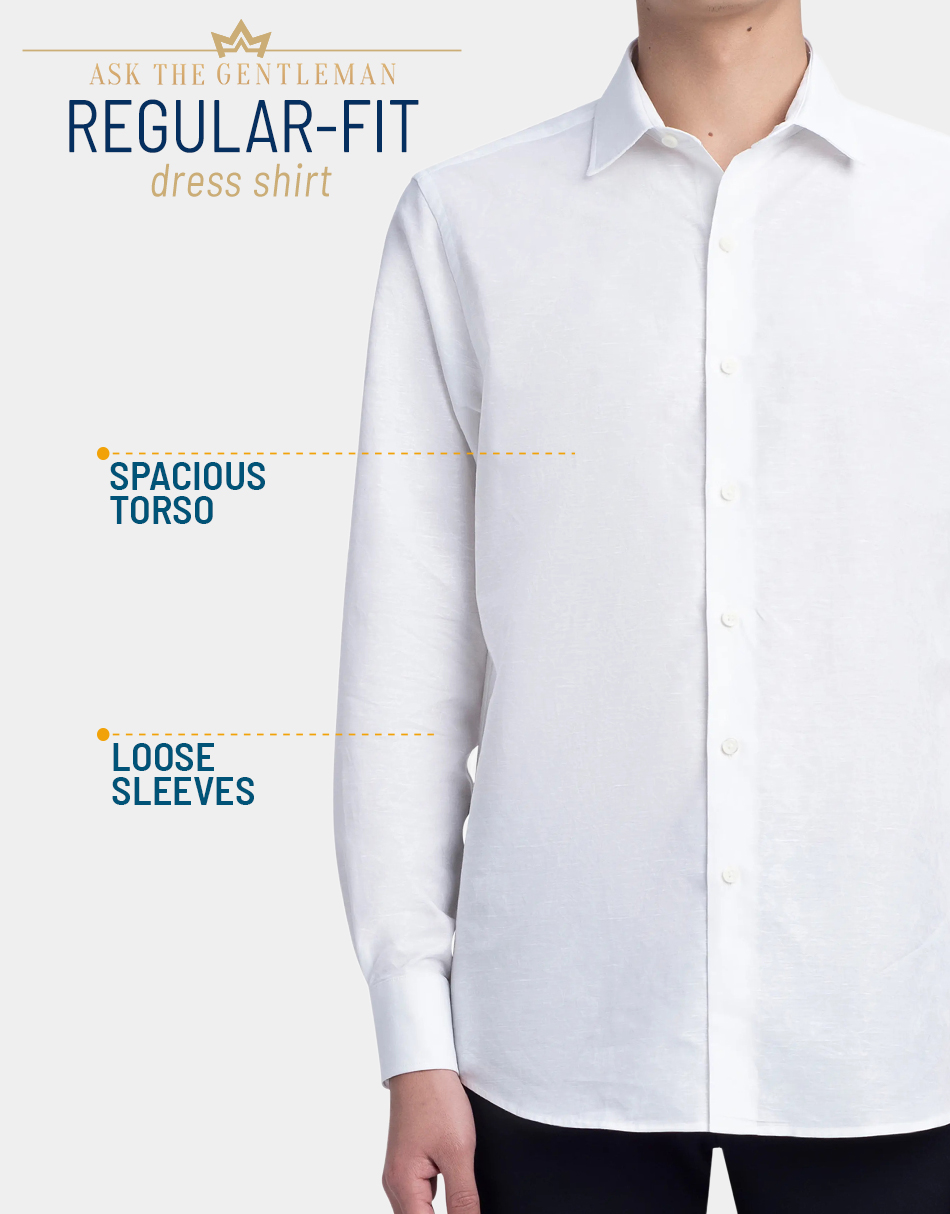 The shoulders are the same as a slim fit but have roomier chests and waist.
Similarly, arm sleeves are less trimmed and have lower armholes.
The regular fit can be great for utmost formal events, like black-tie.
But it can also match the casual feel with checks, tartan, and gingham shirt patterns.
Modern Fit Provides a Bit of Both
The modern-fit dress shirt offers a bit of both shirt cuts, ideal for people with average build and height.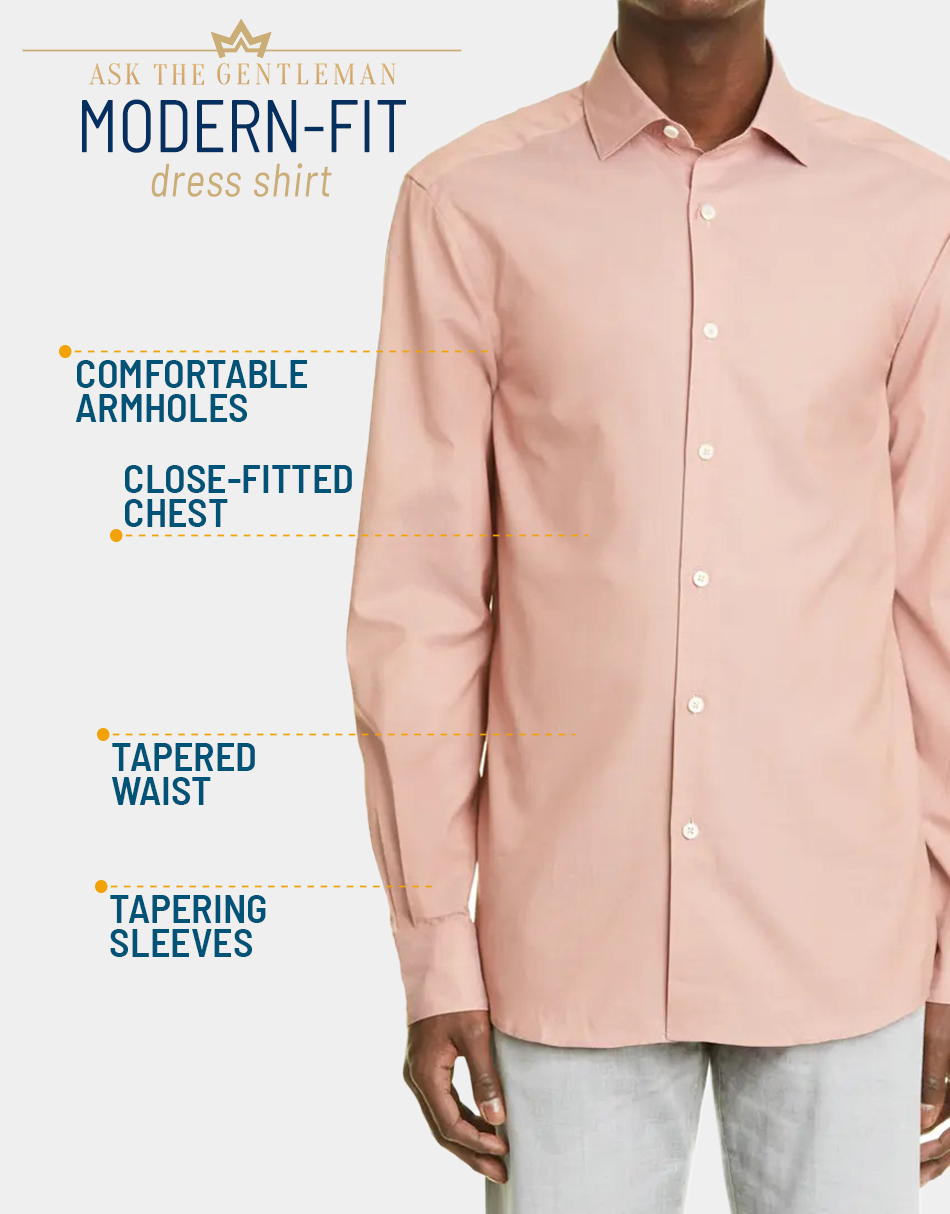 They have appropriate comfort but stay close to the body.
Modern-fit shirts are a great cut to wear with suits, especially in a classic or modern-fit suit cut.
But modern-fit dress shirts are also a great choice to wear with jeans. It's because of their moderate length and perfectly aligned fit.