The number of gentlemen wearing grey suits is arguably more than any other color.
It's partly because of its nonchalant versatility and diverse color combinations spectrum.
Grey Suit: Color Basics
People can appreciate the appropriate formality and adaptability of a grey suit.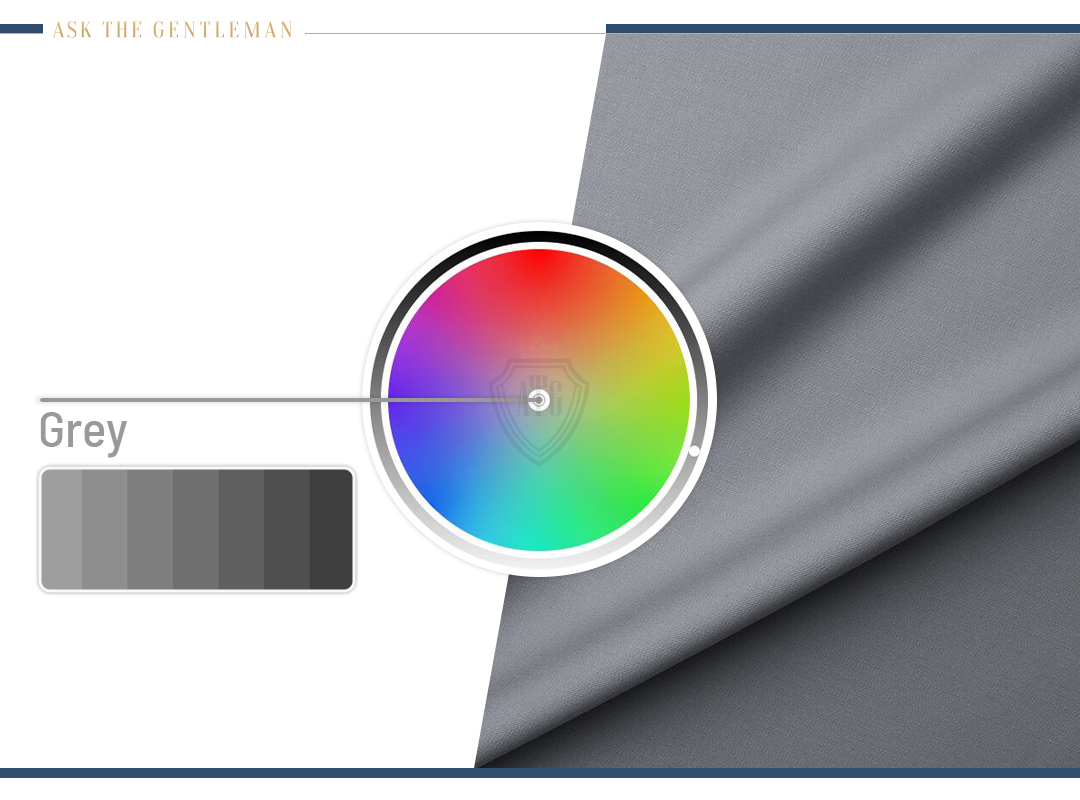 But they cannot understand the inherent fascination that separates grey from other suit colors.
A grey suit, when wearing it properly, makes you look mature and more confident for your age.
I would call this a "mystique" that empowers you to look your best only with a little effort.
This "little effort" is knowing the art of matching colors. And fortunately, many colors are compatible with grey.
But I will set the bar high and explore only the best color choices.
I hope to give you the creativity you might be looking for in a grey suit.
Different Shades of Grey Suits
Grey suits come in various shades, from light to darker tones.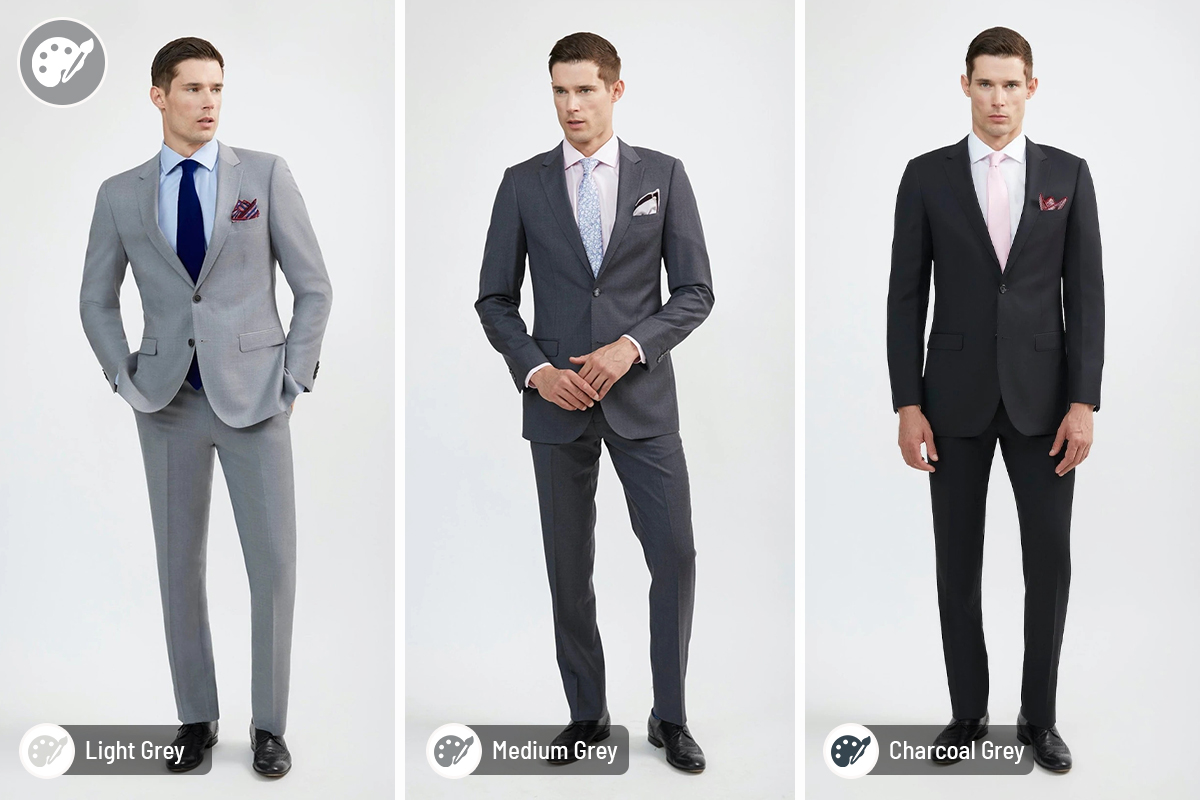 All these shades have a neutral consistency and are appropriately youthful.
The general idea is a linear rise of formality from lighter to darker shades.
Similarly, all these diverse color patterns fall under one of three shades. Each one has its styling etiquette.
Light Grey Suit
Light grey is the most vibrant color in the grey suit family. It provides a dressy alternative to lighter colors such as khaki or tan.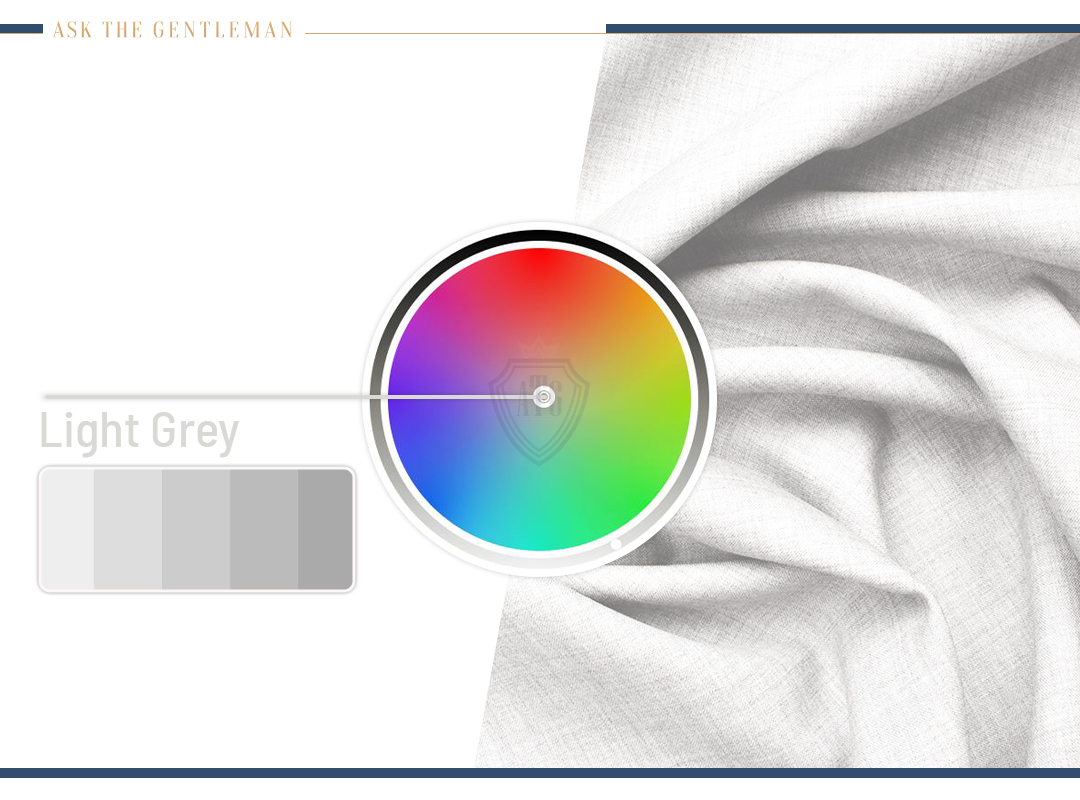 A light grey suit is also ideal for a smart-casual dress code. In addition, this color could be your work uniform for warmer months.
As a vibrant, usually casual color, there is quite room to be playful. All sorts of patterns and casual-style items will be acceptable.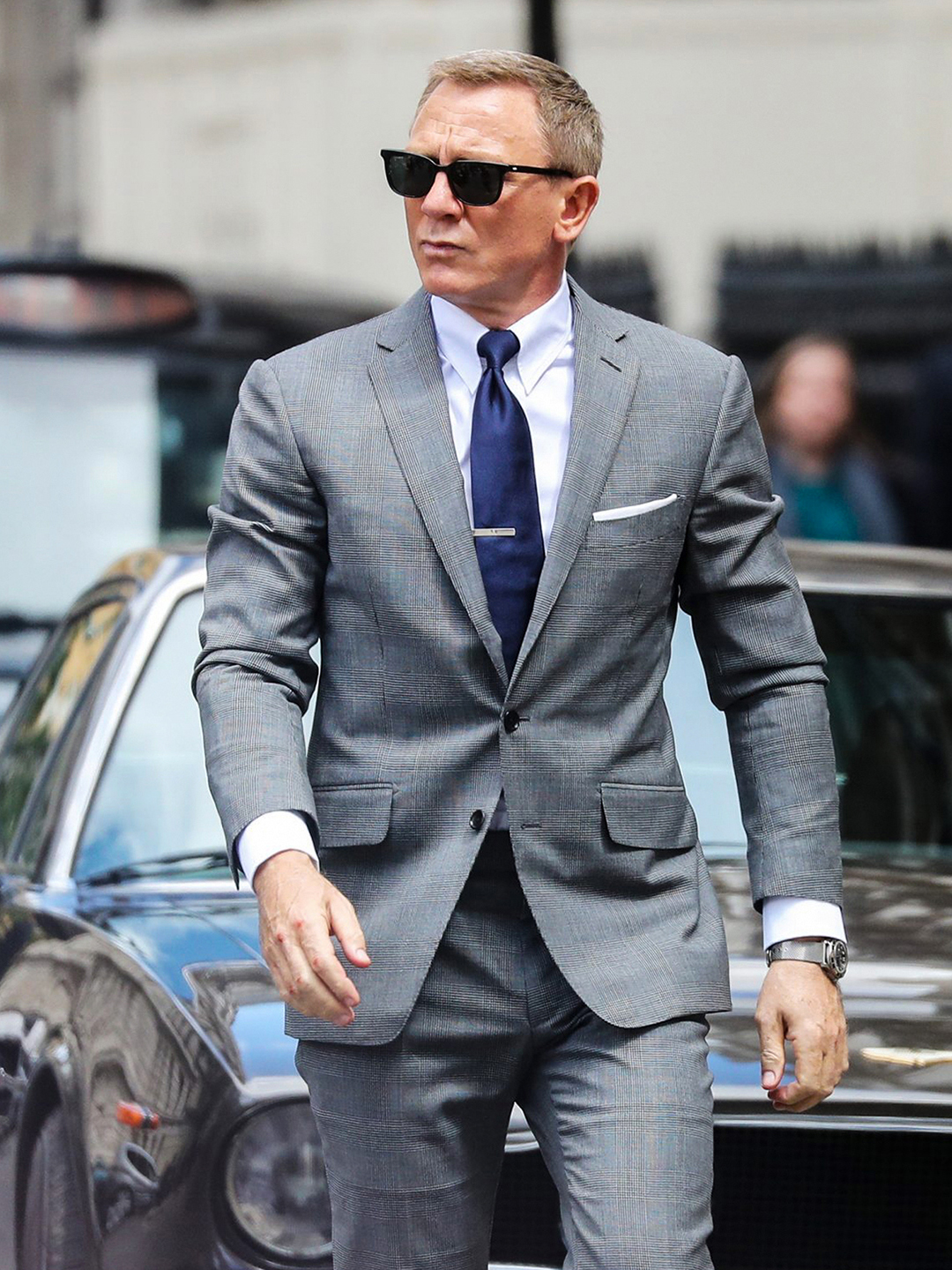 The fabric choice will depend on the weather, but cotton is the most common fabric type.
Besides casual wear, a light grey suit also has a place in the semi-formal dress code.
However, you don't have the leverage to add too many patterns.
My favorite way to make the statement is by going with a light grey three-piece suit.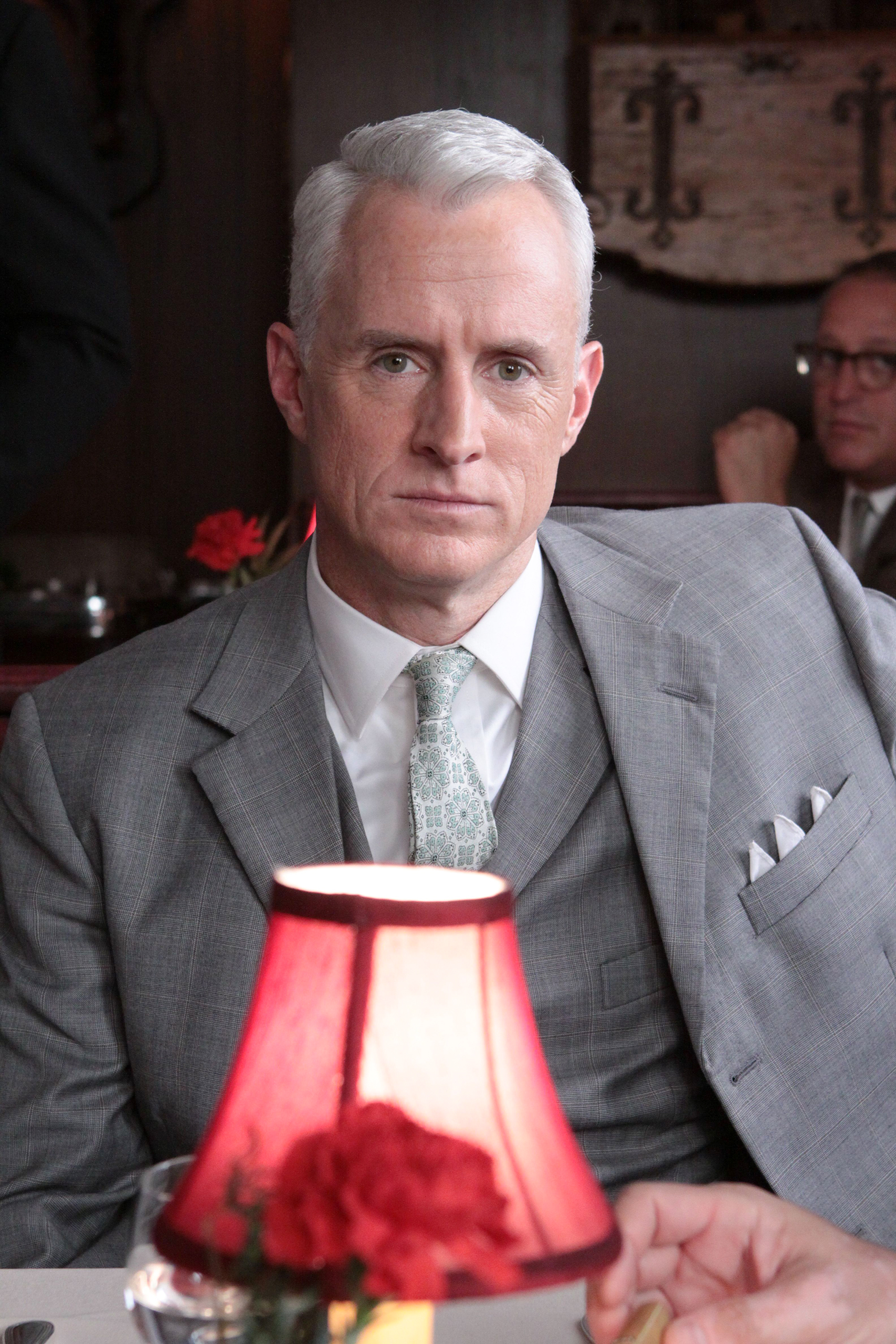 The three-piece balances the casual nature of the color, providing a well-dressed approach. Roger Sterling's light grey three-piece suit in "Mad Men" is the inspiration.
Medium Grey Suit
The medium grey connects the formal charcoal shades with the light grey.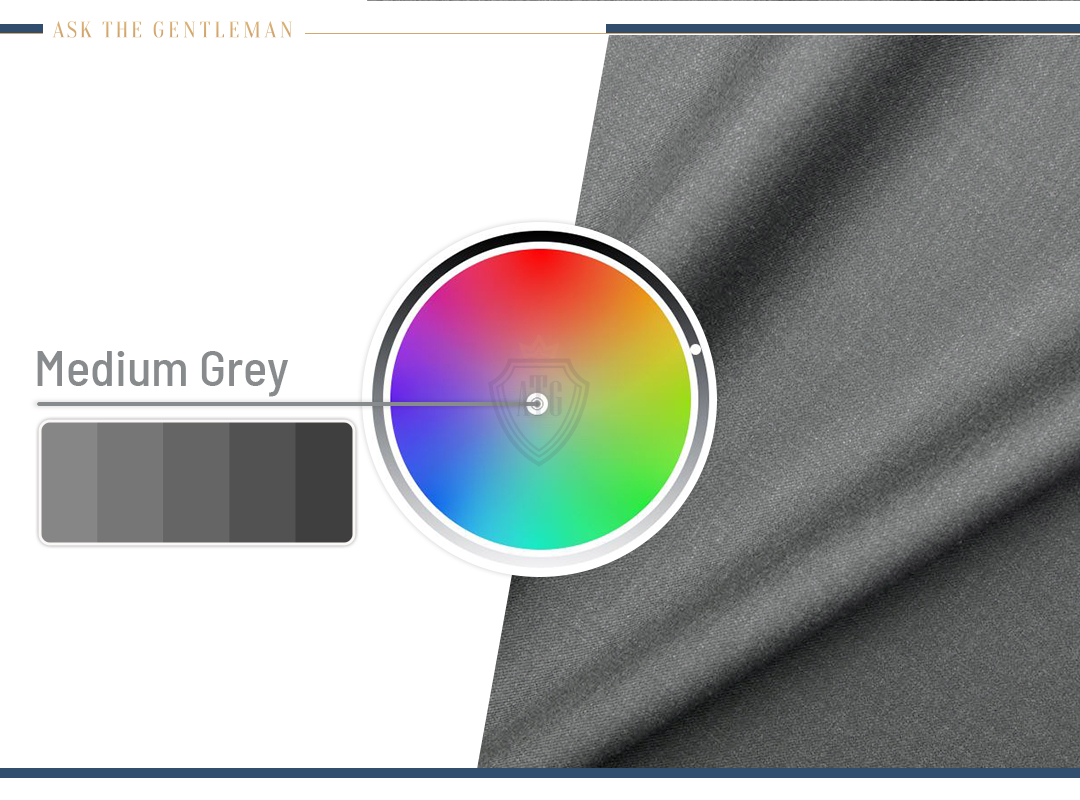 It's a middle-of-the-road option equally good for smart-casual to semi-formal occasions.
A well-fitted medium grey also provides an alternative choice to the navy as a first-suit option.
Along with being versatile, I consider it a color of modesty.
In addition, medium grey has an innate touch of influence and adaptability. Plus, it speaks about the person's style and manner better than any other shade of grey.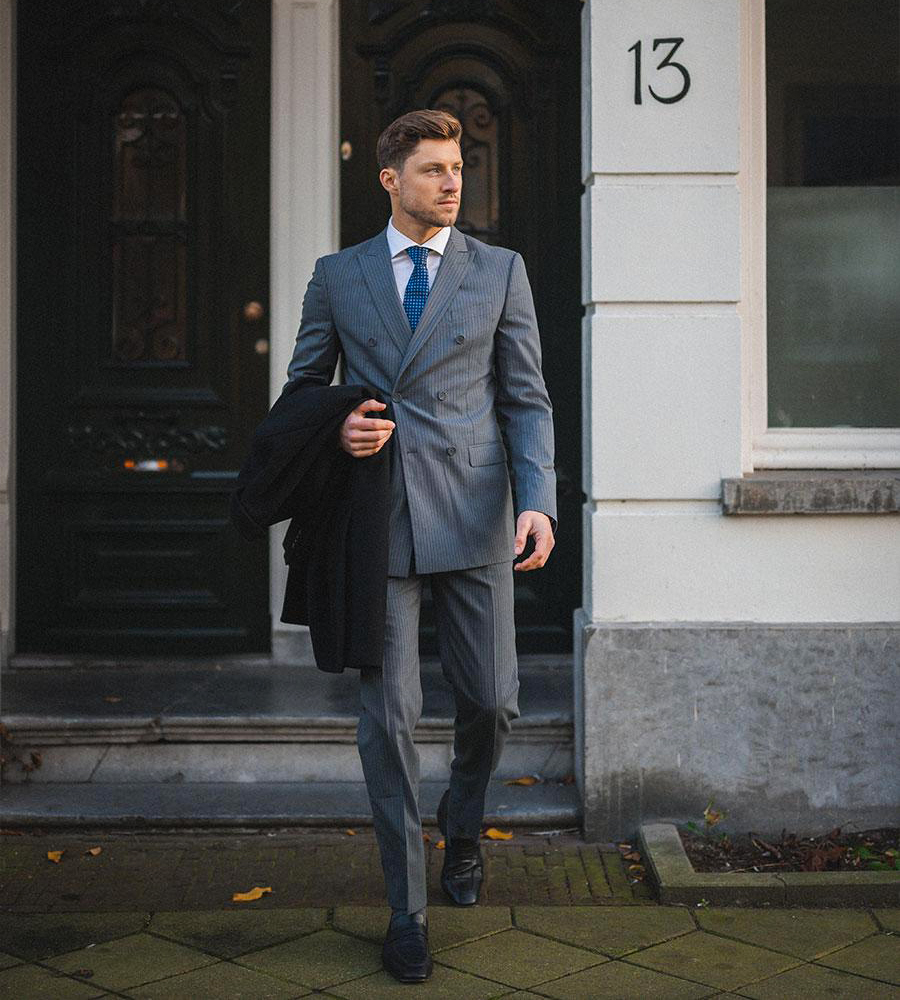 Medium grey suits also stay all year round. The suit fabric should match the aura of medium grey, making it a perfect fall garment.
For warmer months, it could be a dressier option that you can easily still pull off. In such a case, choose a lightweight fabric like merino wool, linen, or cotton.
The casual inclining style trends made it possible for medium grey to become a formal suit color.
But younger gentlemen can more easily commit to this shade for formal situations.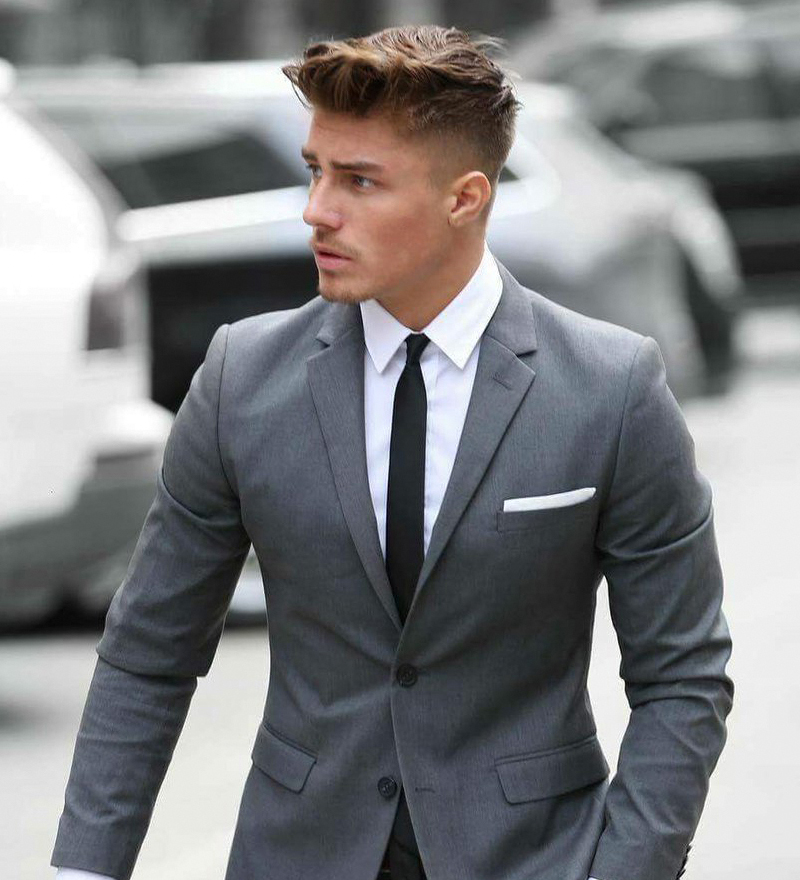 Another reason to invest in a medium grey suit is to get a versatile jacket and trousers. This will add diversity to your wardrobe with plenty of styling options.
Charcoal Grey Suit
A charcoal suit has been a menswear signature style item for decades.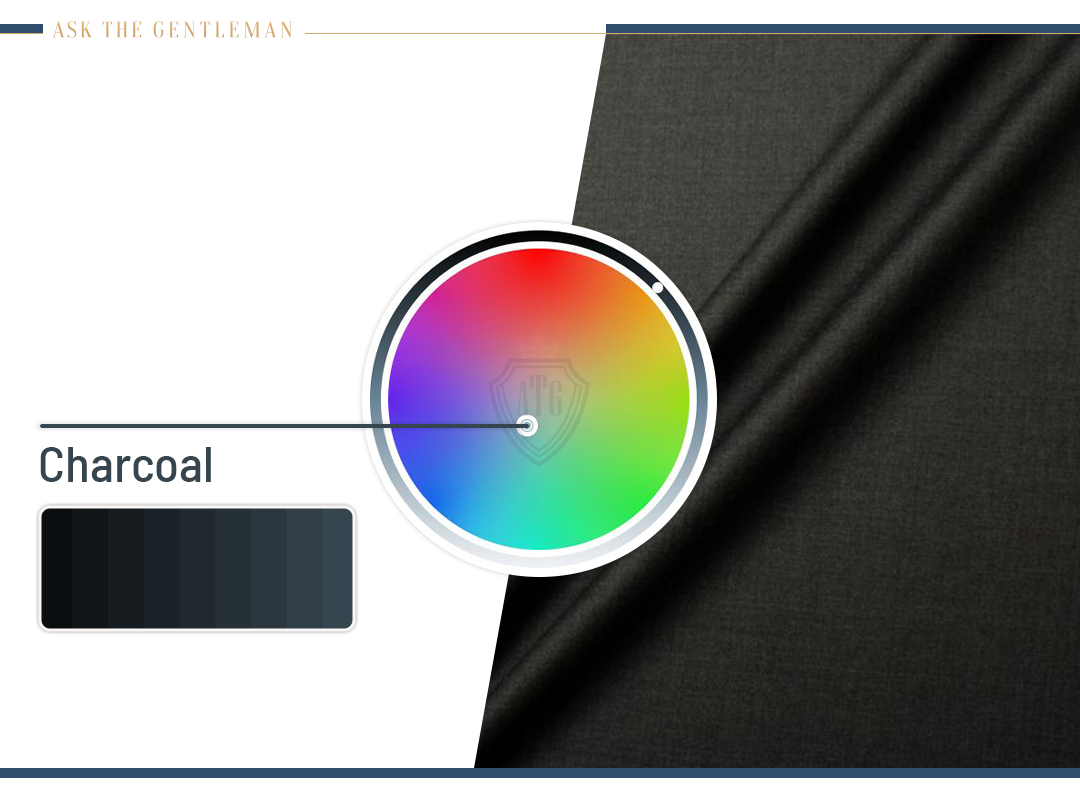 The timeless appeal, humility, and charisma make it one of the best suit colors.
From iconic Fredy Astaire to James Bond, this shade is everyone's favorite.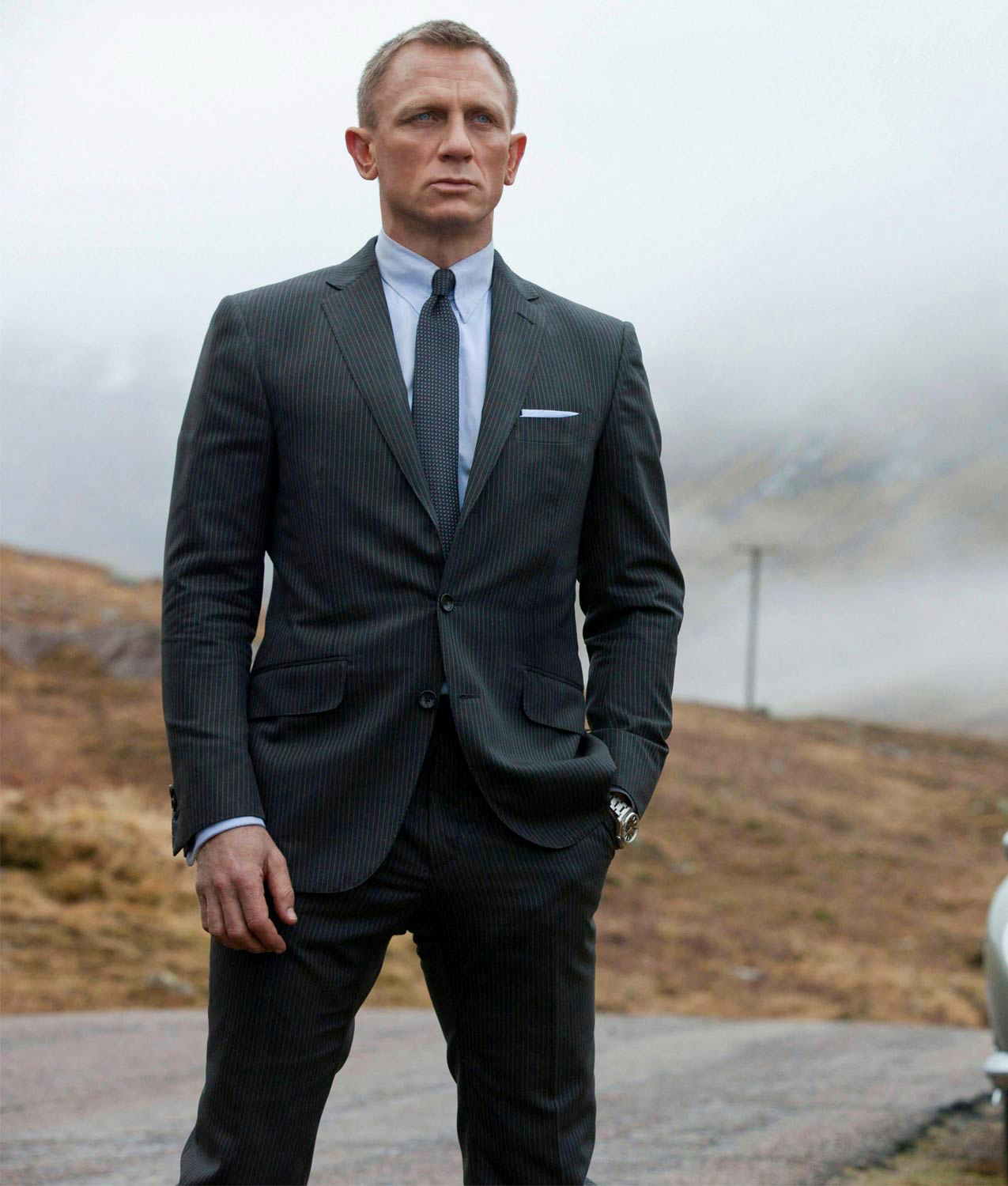 It's an excellent color for formal occasions, an ideal suit color for weddings, and for a well-dressed business look.
The dark shade of grey also welcomes other colors in the outfit.
Besides dressing down the suit, patterns offer a great way to make a statement.
A double-breasted charcoal grey pinstripe suit is one of my favorite statement-making items.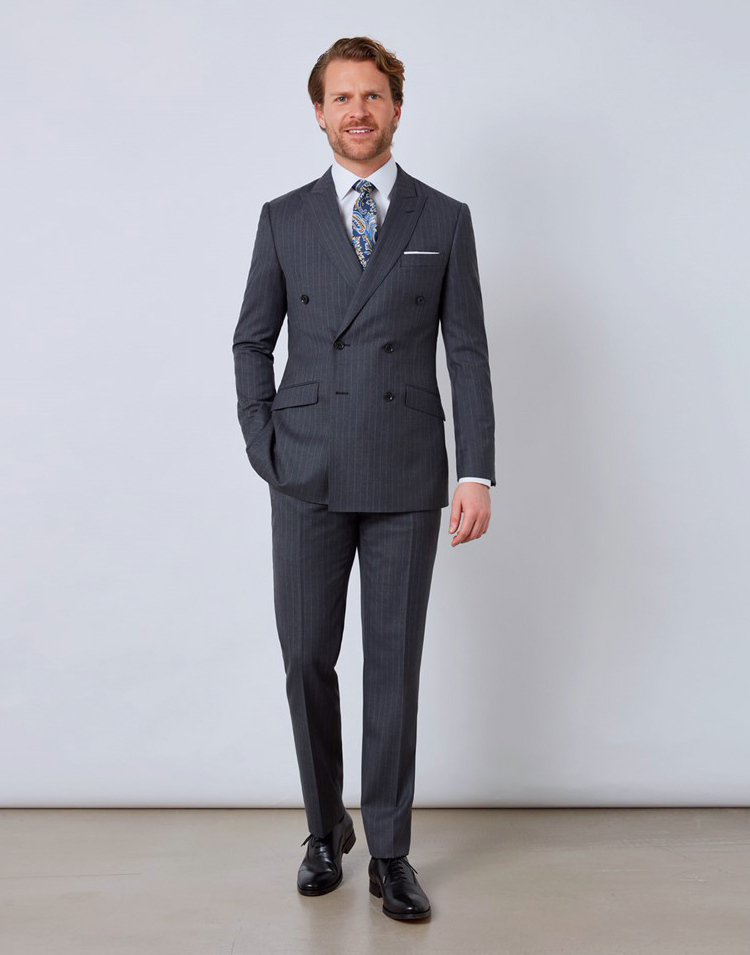 Like with other grey shades, fabric choice will depend on the seasons.
But generally, heavier fabrics such as wool, cashmere, and flannel are the best choices, especially for winter and fall.
Cotton is also a fabric that can be considered in spring or nighttime summer events.
Best Shirt Colors for a Grey Suit
The general idea for picking the right dress shirt is to have some degree of contrast between the suit and shirt color.
Fortunately, grey does a good job of matching with a good number of shirt combinations.
Almost any color will go with grey. It's a matter of occasion, season, and personal style that ultimately dictates the shirt color combinations.
White Dress Shirt
A white dress shirt is the menswear classic that practically goes with every suit color, including grey.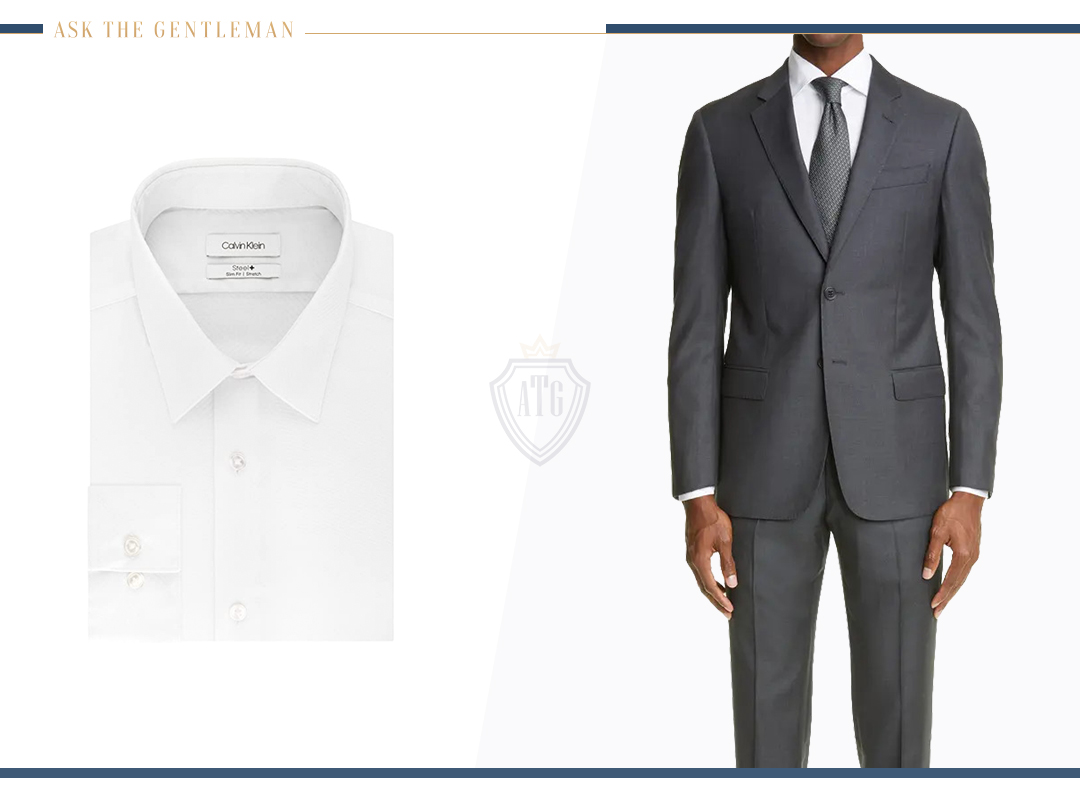 However, the impact and styling can vary with each shade of grey.
A white dress shirt complements the formality of the charcoal grey suit. It makes the suit stand out and gives the tie the spotlight.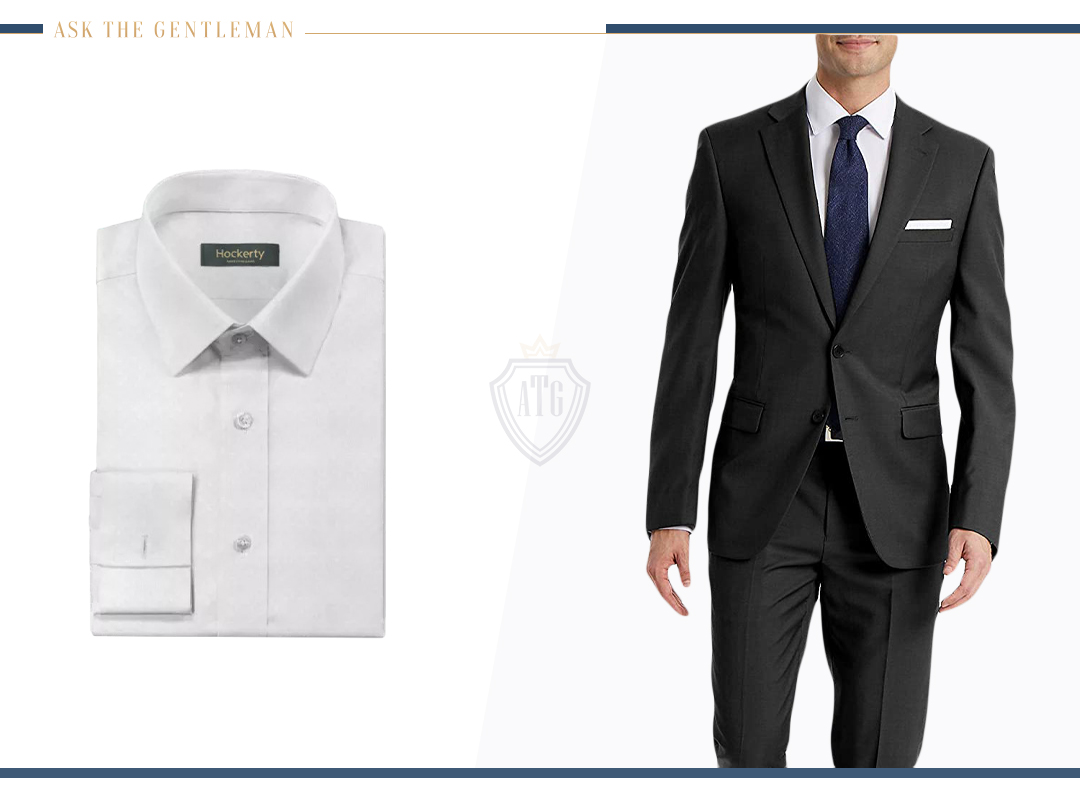 Other elements like the collar, cuffs, and shirt fit should also be appropriate to the occasion.
A slim or modern-fit white shirt with a semi-spread collar having french or double cuffs is the best choice.
The tie colors should be standard, too. For example, a classic black and white stripe tie are great for a formal look.
Similarly, navy and burgundy are the other two tie colors that match charcoal grey.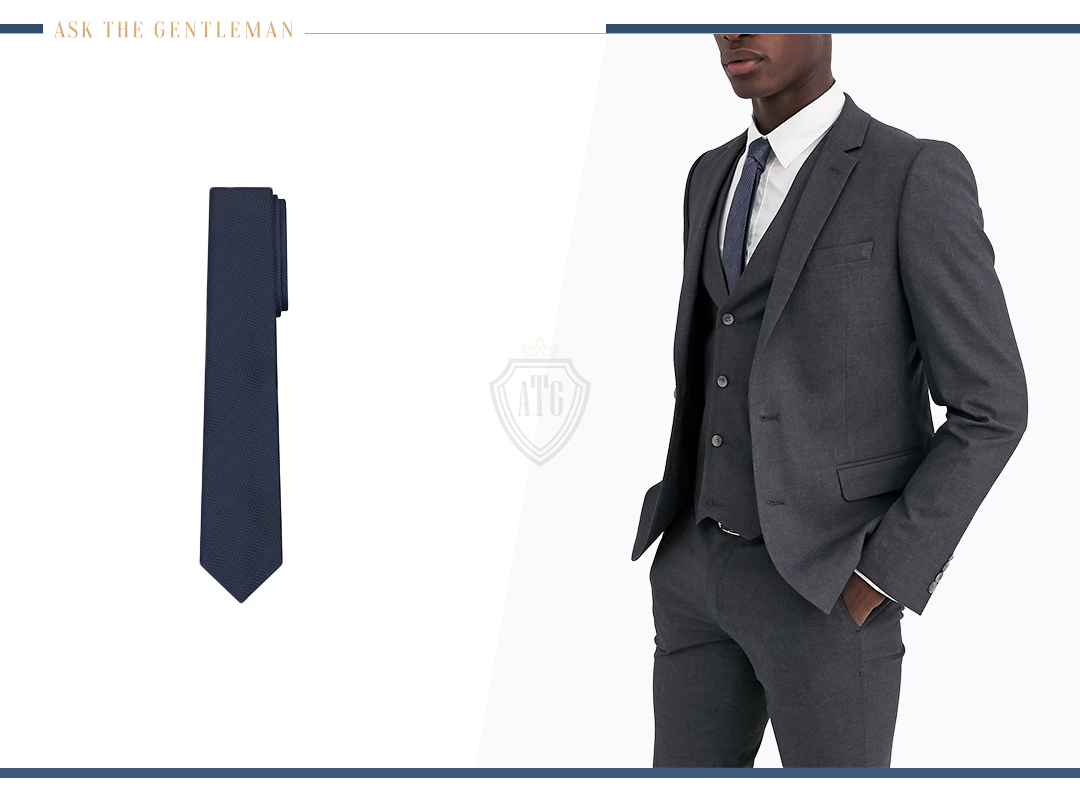 You can opt for a medium to light grey suit for a relaxed style.
A button-down shirt with barrel cuffs will be perfect for such lighter shades.
The ties can be vibrant too. For example, a navy knit tie will provide sophistication with a sporty touch.
Green, plumb, and red ties are also great with a white shirt and a light or medium grey suit.
Light Blue Dress Shirt
The light blue dress shirt is the way to add zest to the grey suit while staying classic.
It's a great alternative to the white shirt, especially with light and medium grey suits.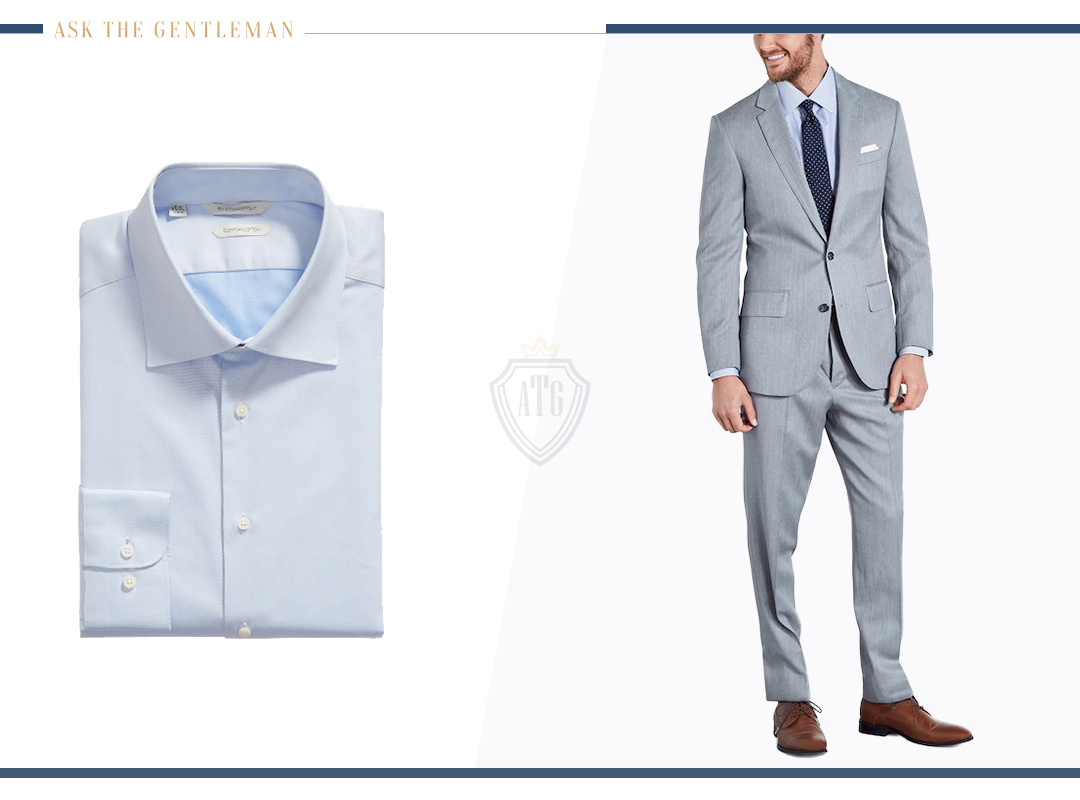 Blue complements multiple colors and textures and therefore gives the opportunity of being playful with the outfit.
On the other hand, you'll have a deep and serious look with a charcoal suit and a light blue shirt, ideal for formal business settings.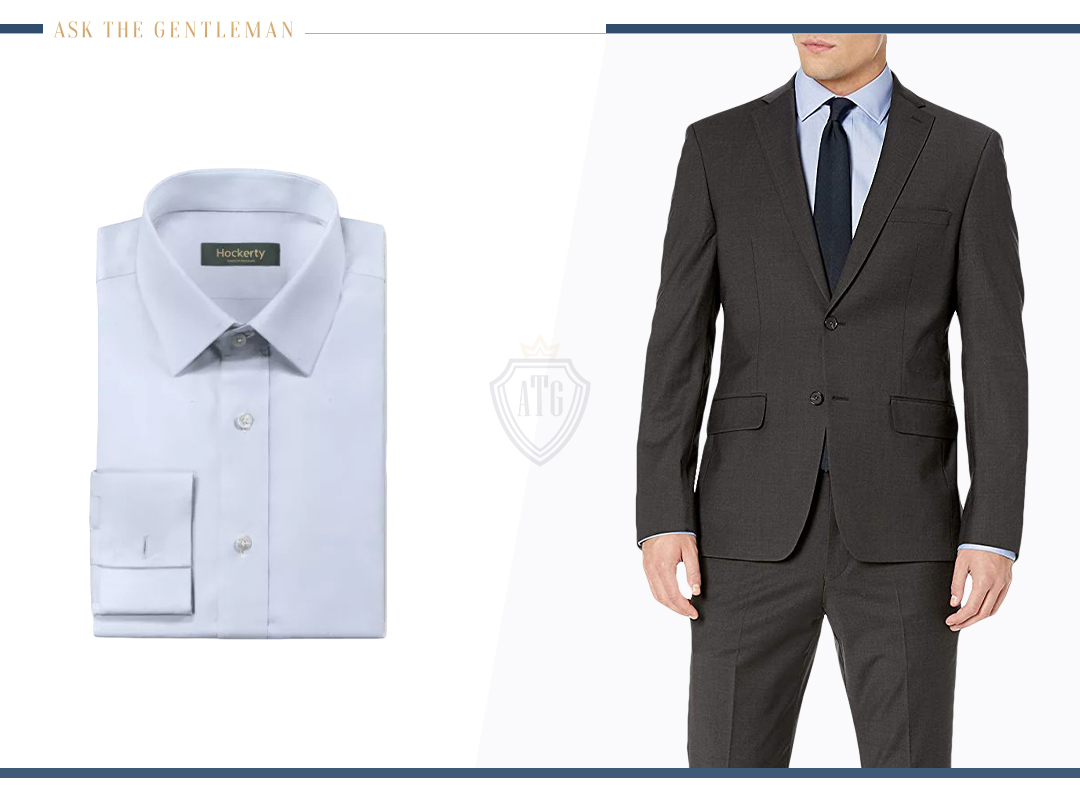 Also, casual styling, like a blue button-down collar shirt and barrel cuffs, will be ideal for casual business settings.
The tie should also radiate the same vibe. For example, an orange tie, a complementary color of blue, can be a fine choice.
Muted and neutral-colored ties also look great with a blue shirt. Navy and red are two good choices here.
Similarly, a brown tie is a good match for a light blue shirt. Solid color is always best, but patterns also look refined.
Pink Dress Shirt
A light pink dress shirt is my favorite to match with a grey suit.
It's because of the harmonious contrast that is lively, at the same time, appropriately formal.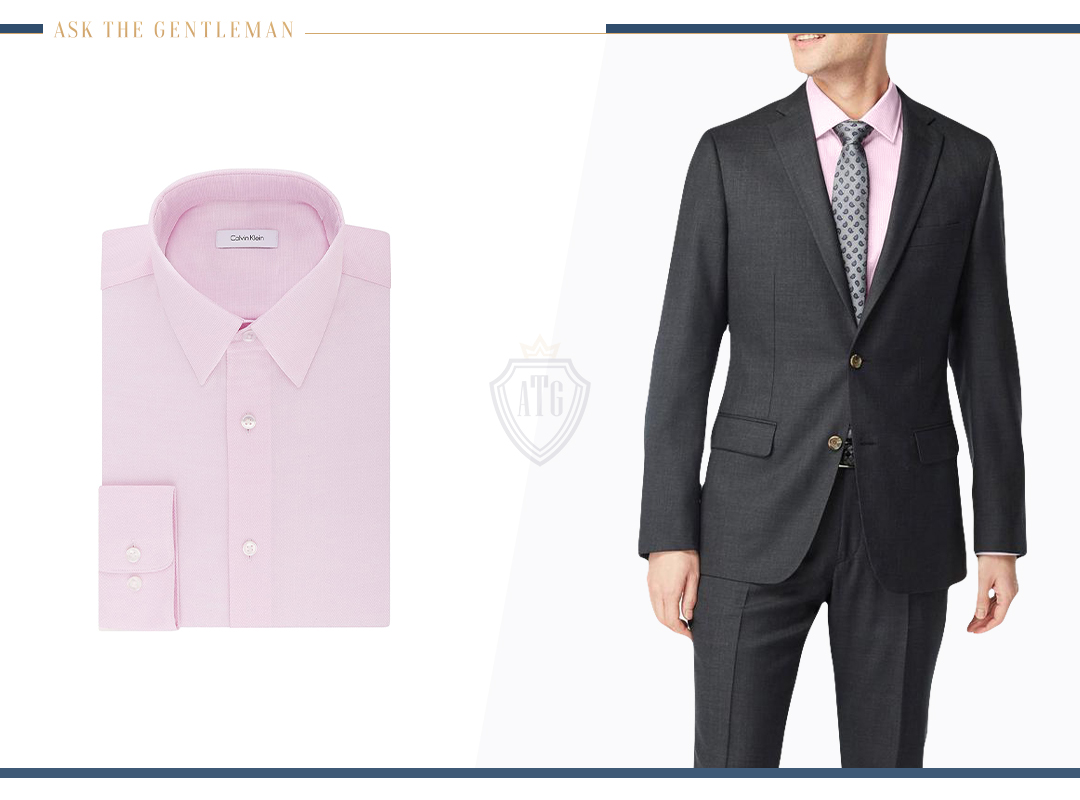 Also, it perfectly matches every shade of grey, especially charcoal.
A pale pink dress shirt is also a great way to add a jolly flavor to your style, ideal for weddings or cocktail events.
Generally, it emanates summer vibes, but sometimes, it can be a statement-making piece in your outfit.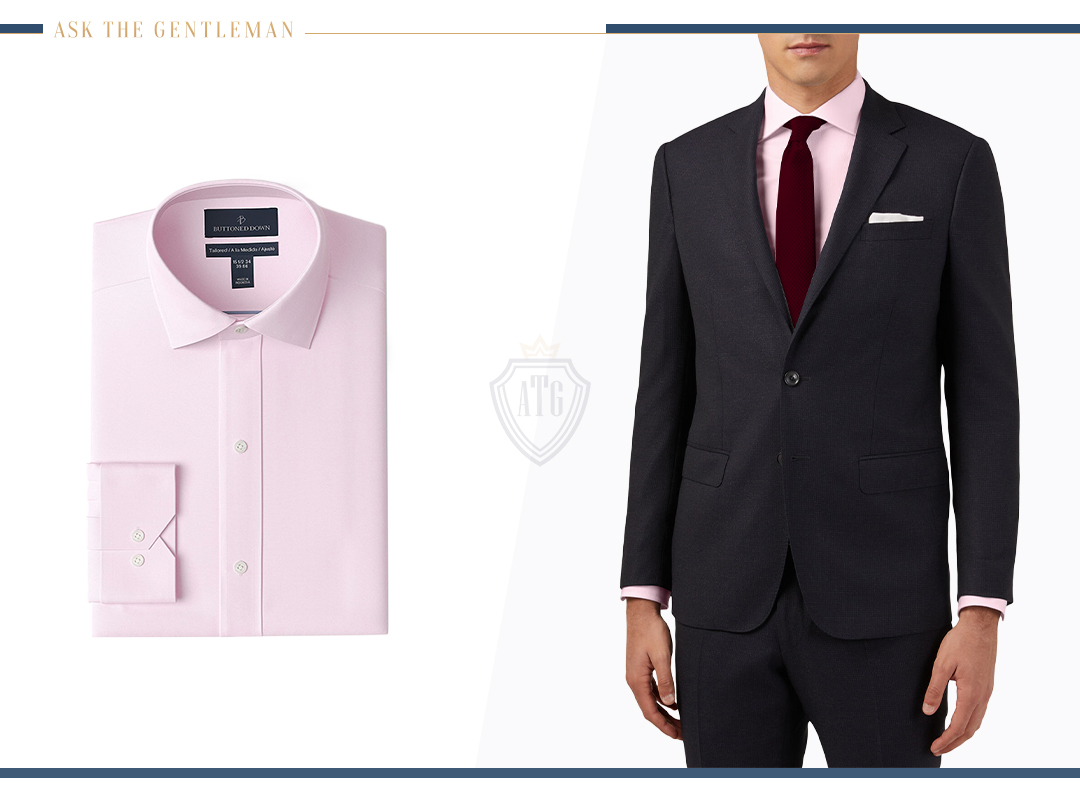 You can also have plenty of matching ties with a pink shirt and grey suit. Deep purple, burgundy, violet, or navy are the most suitable options here.
Similarly, burgundy and charcoal are two good choices. But avoid wearing red and other light-colored ties.
Black Dress Shirt
Classic menswear "gurus" usually don't encourage wearing black with grey.
However, modern-style enthusiasts call it a somewhat dapper look.
My opinion lies in favor of the latter. I would call a black dress shirt and grey suit a more fashion-forward approach.
A light grey suit with a black dress shirt is great, but I especially like how it matches with a charcoal grey suit.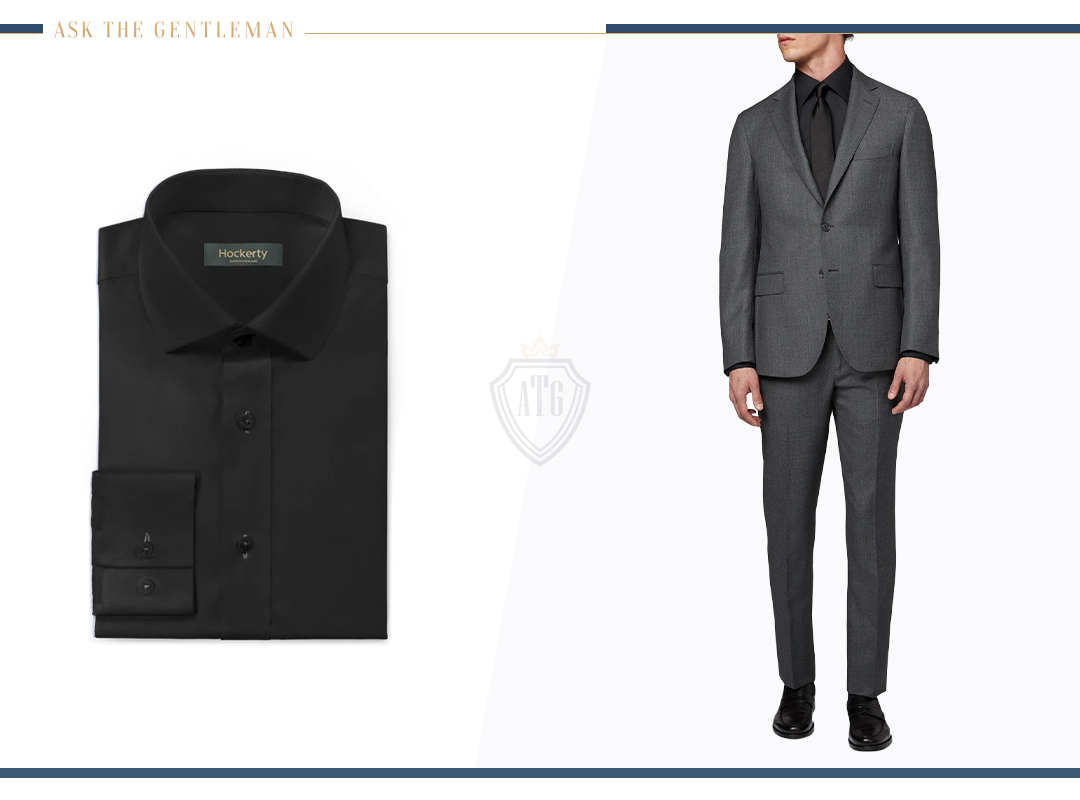 It looks like a monochromatic pattern that calls for attention while pulling attention away from the face.
This black-grey look is sometimes regarded as statement-making, which, in my opinion, celebrities pull off best.
However, I consider room for two people to improvise this look:
The first ones are the guys who are extremely confident in their style. Second are people with dark complexions who want to look different.
Patterned Shirts
There is a multitude of dress shirt patterns, and many of them go with a grey suit.
Stripes are the most suitable pattern type to match a grey suit.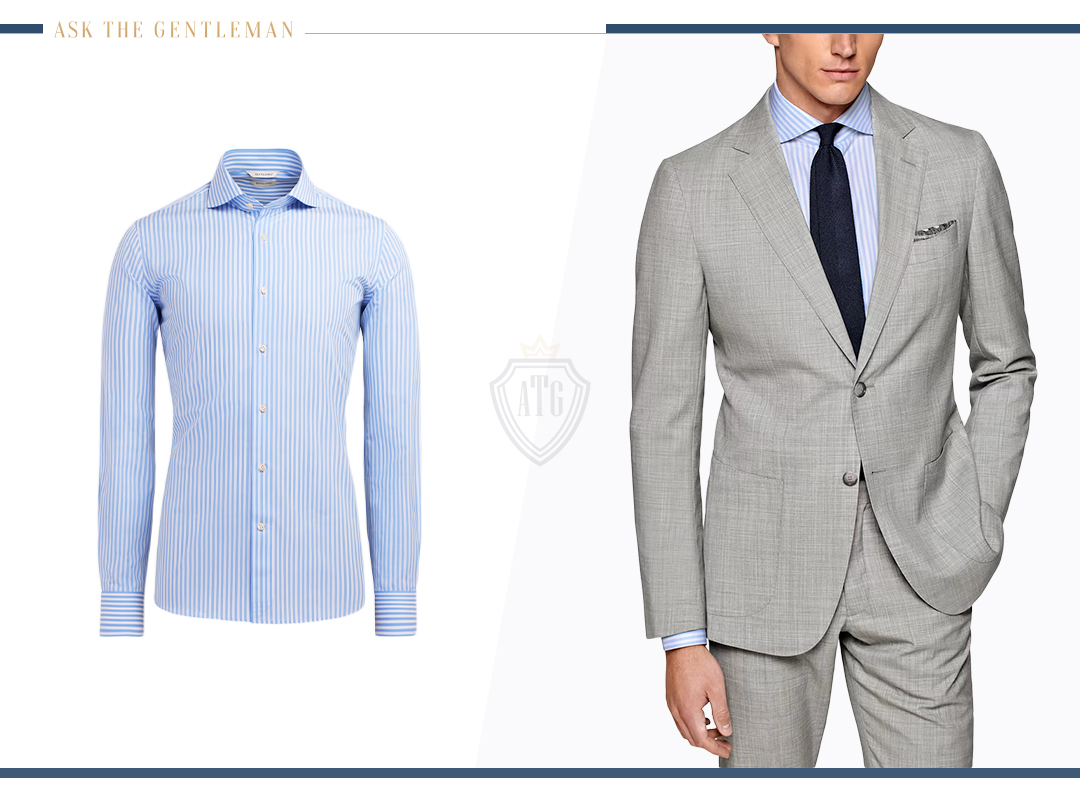 Smaller patterns are more formal and hence appropriate for charcoal grey.
At the same time, lighter shades have more diversity in patterns.
Checks are another pattern type to be apt for a grey suit. Micro-patterns in checks are the best bet.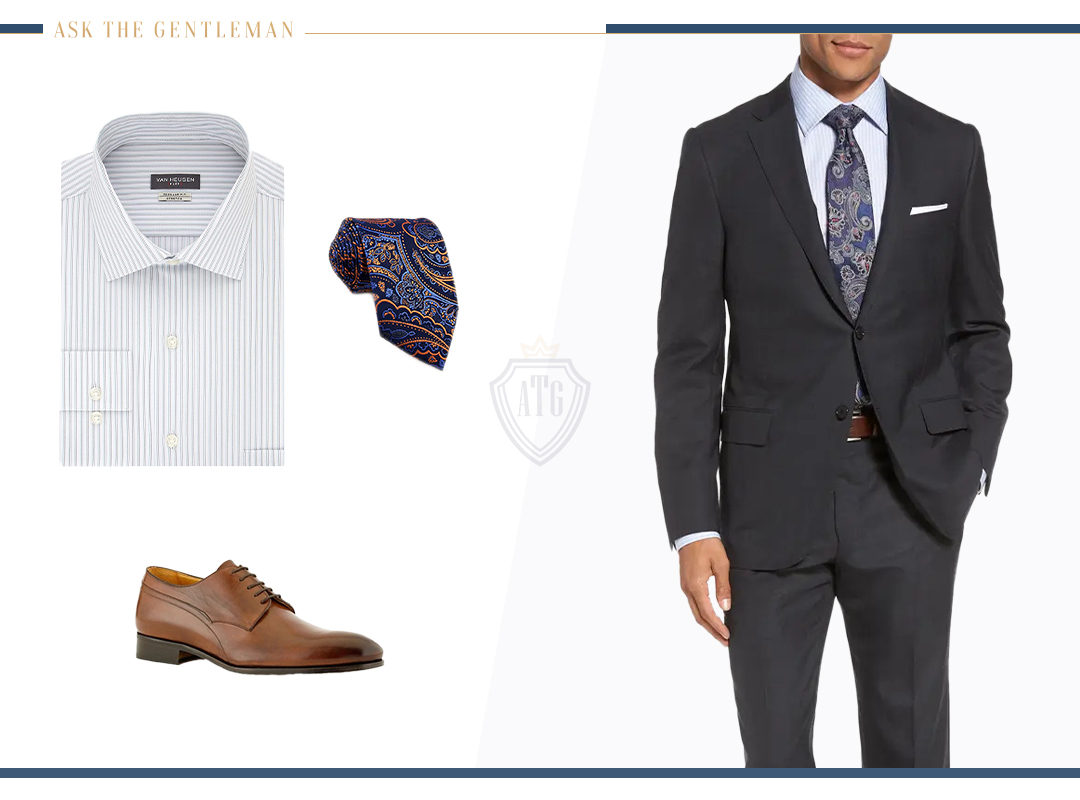 Subtleness is the key to wearing patterns with a grey suit.
That said, patterns in both the tie and shirt can come off as too much.
T-Shirts
A t-shirt with a grey suit provides a dressed-up attire for a casual theme.
It's a fashion trend that suits the younger generation, especially guys who want to be effortless in their style.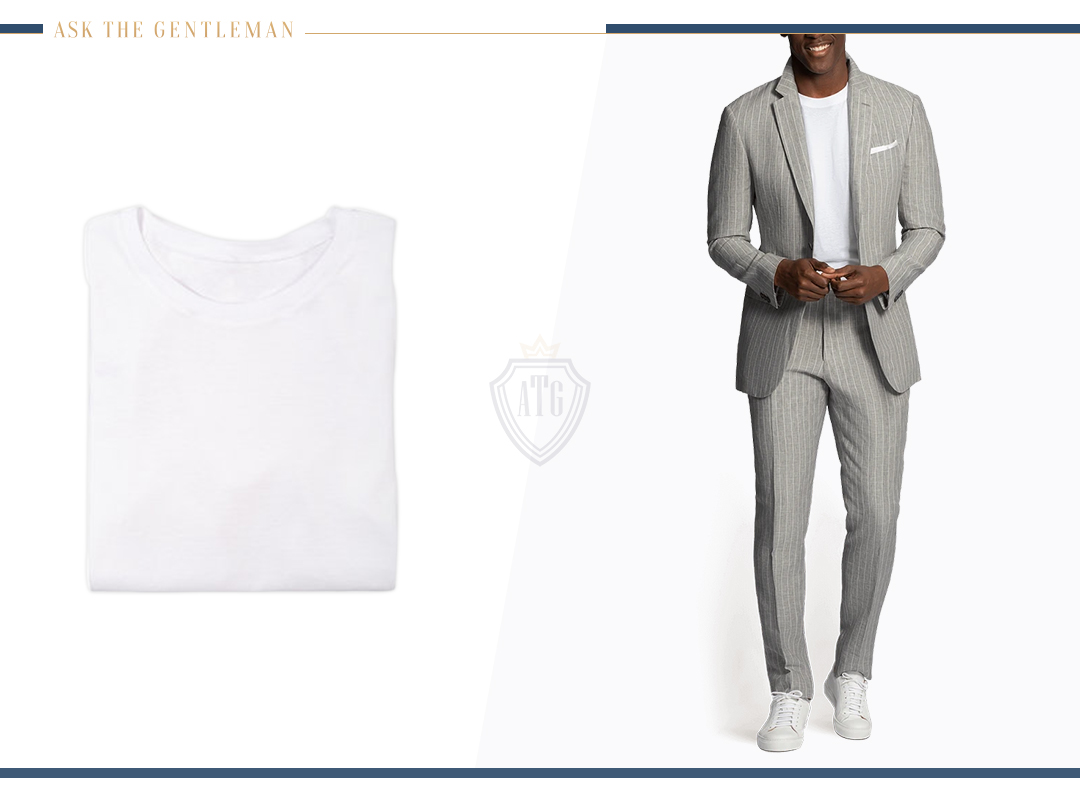 Plain t-shirts in white, blue, pink, and other contrasting shades of grey can be the best options.
Polos are one step ahead of plain t-shirts. In addition to being more stylish, you can wear bolder colors like red and navy polo shirts with a grey suit.
Still, the final suit and shirt combination will be super-casual.
Other Dress Shirt Colors
Navy, red, and grey shirts are a popular mix with a grey suit.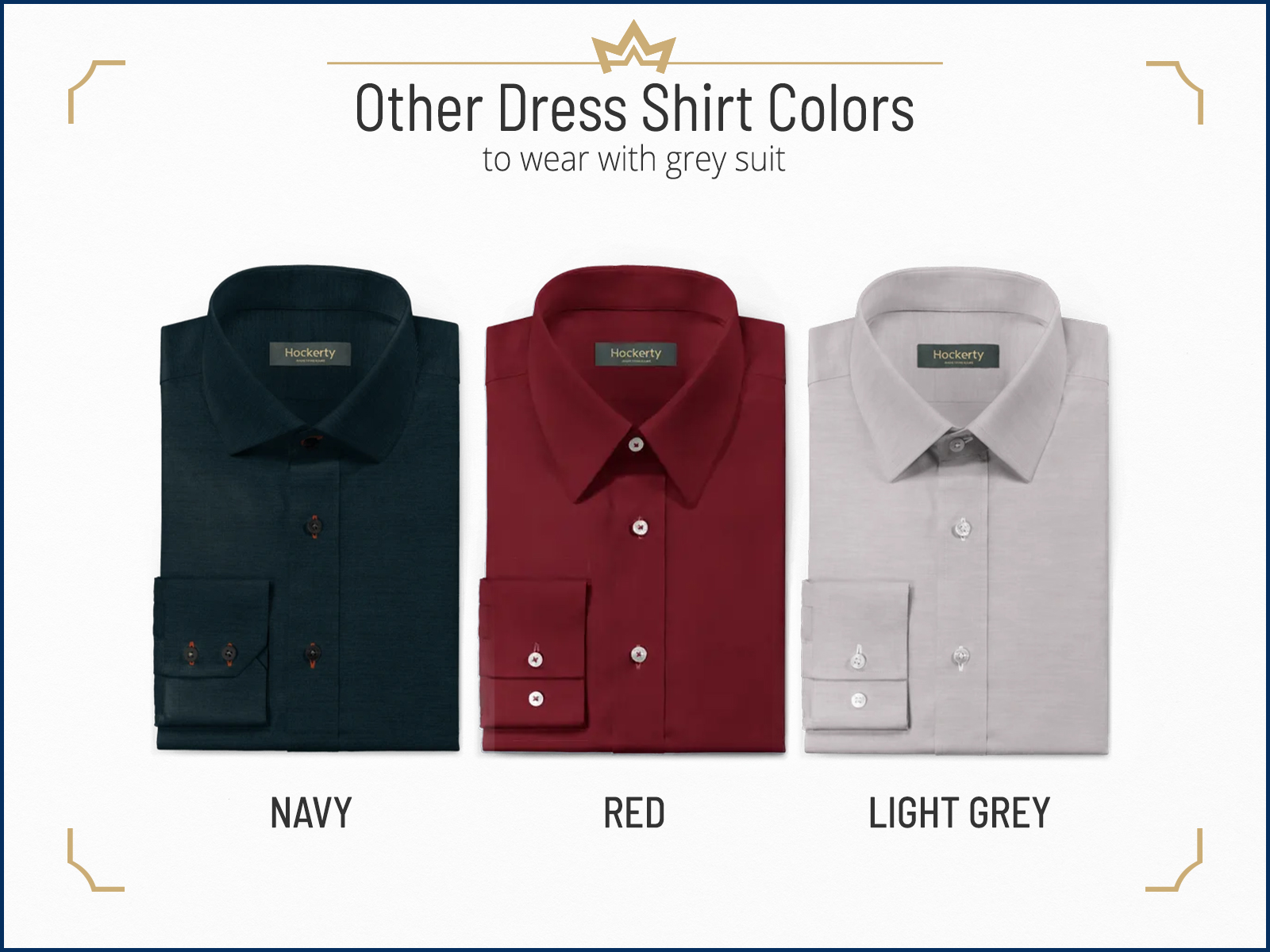 It would be right to call these "statement-making" shirt colors, as they expose a person's stylishness.
But I am not an avid fan of these colors, especially the shockingly bright red shirt. So, I suggest avoiding them.
Still, if you want to try, combine lighter or pale shades from these shirt colors with a light gray suit.
The tie must also be a little bold to hide the limelight from the shirt.
Shoes that Match with Grey Suits
Different grey shades have different occasional decorum. To match this, appropriate shoes are a must.
The choice of shoe is so crucial that it can easily make or break the outfit.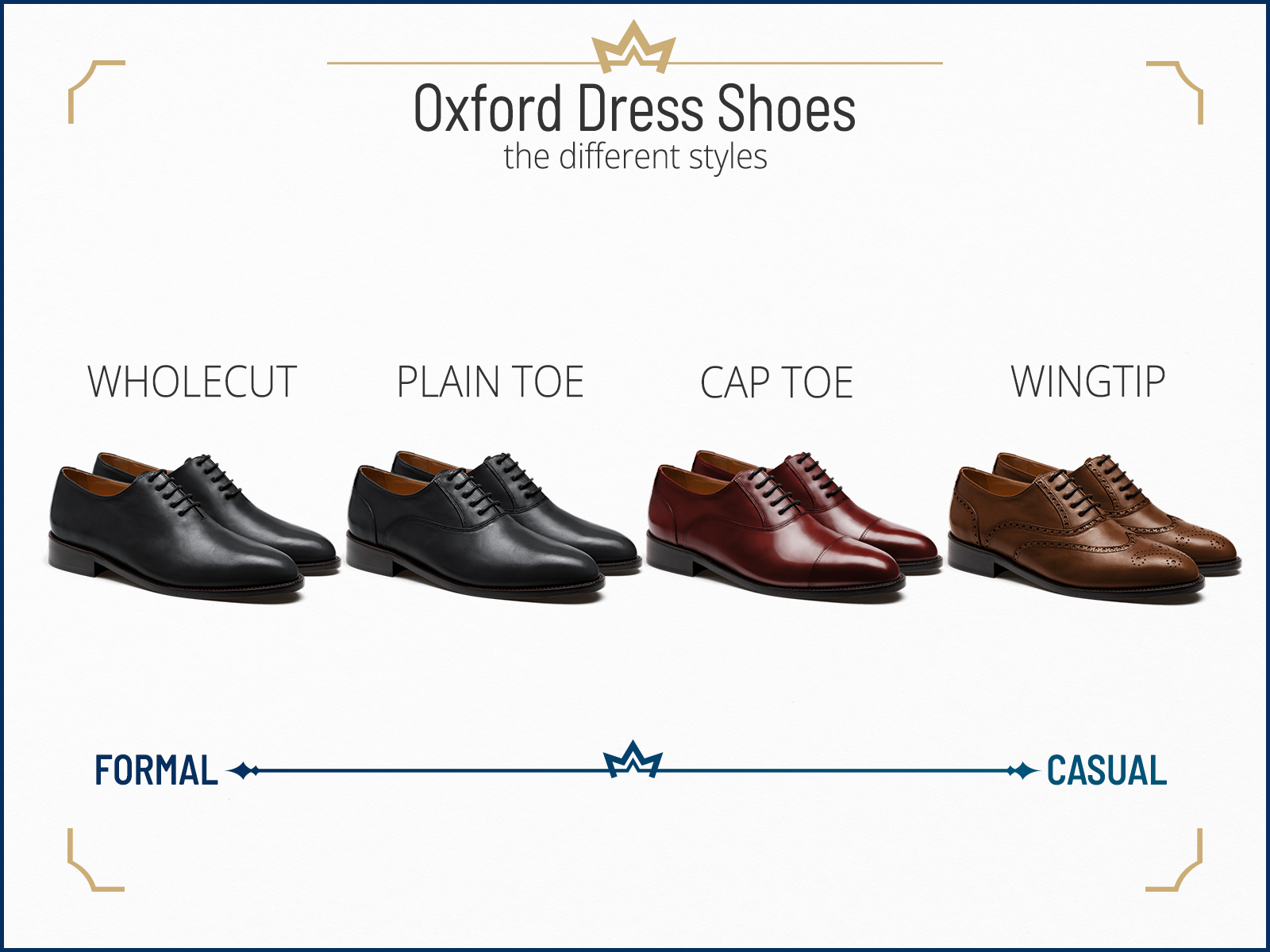 Generally, dress shoes are the best choice with all shades of grey.
Oxford, wingtips, double monk straps, and Derbys are the preferable choices.
Penny loafers, single monks, and tassel loafers are some other popular alternatives you can wear with a grey suit.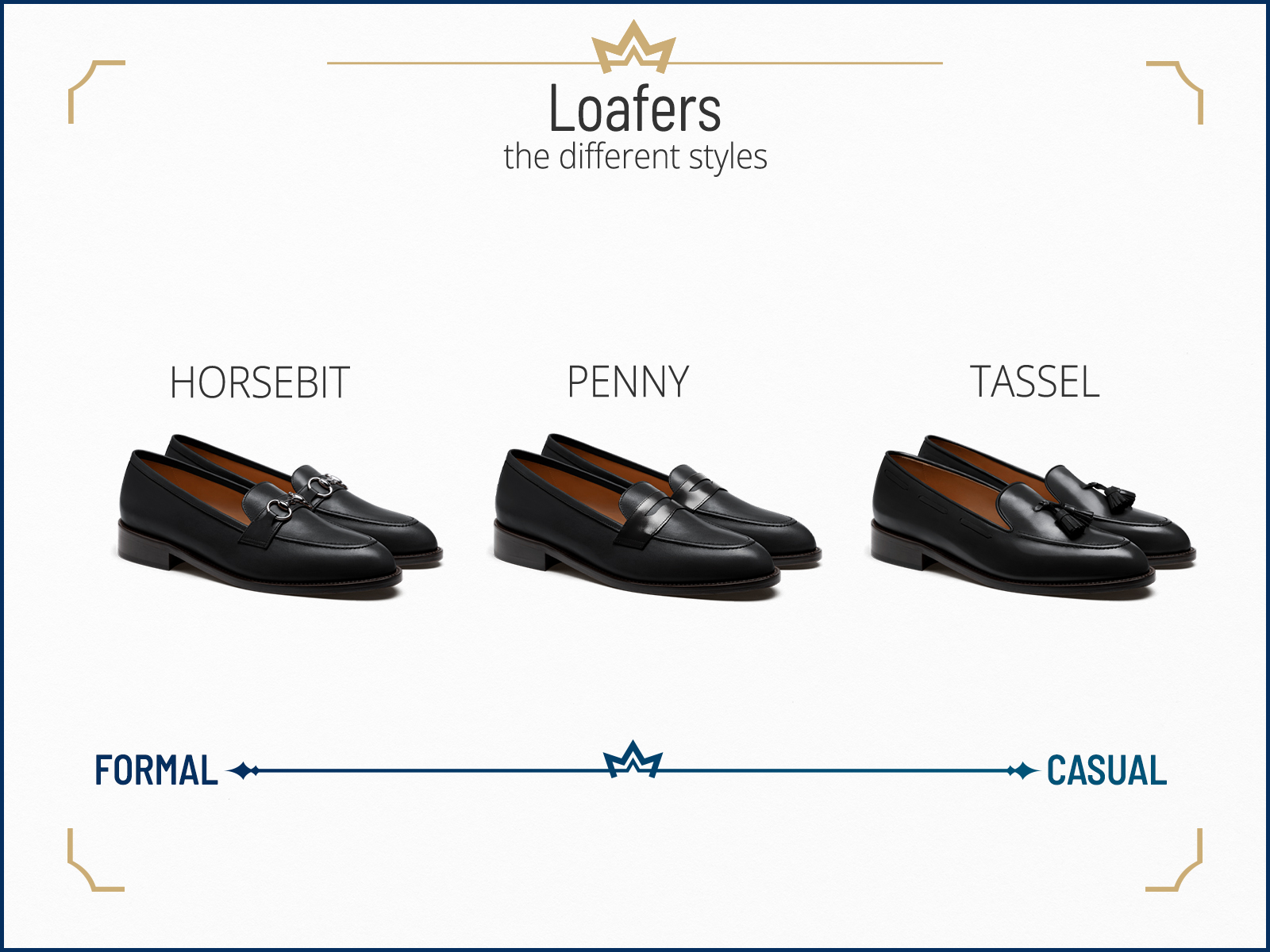 Sneakers or everyday shoes don't go best with the ensemble, although you're welcome to try them if you want to go for a casual look.
The shoe color scheme can also vary depending on the formality.
Black Dress Shoes
The grey suit and black shoes are an exquisite combination, ideal for formal settings.
It's also the perfect duo for an effortless yet classic styling approach.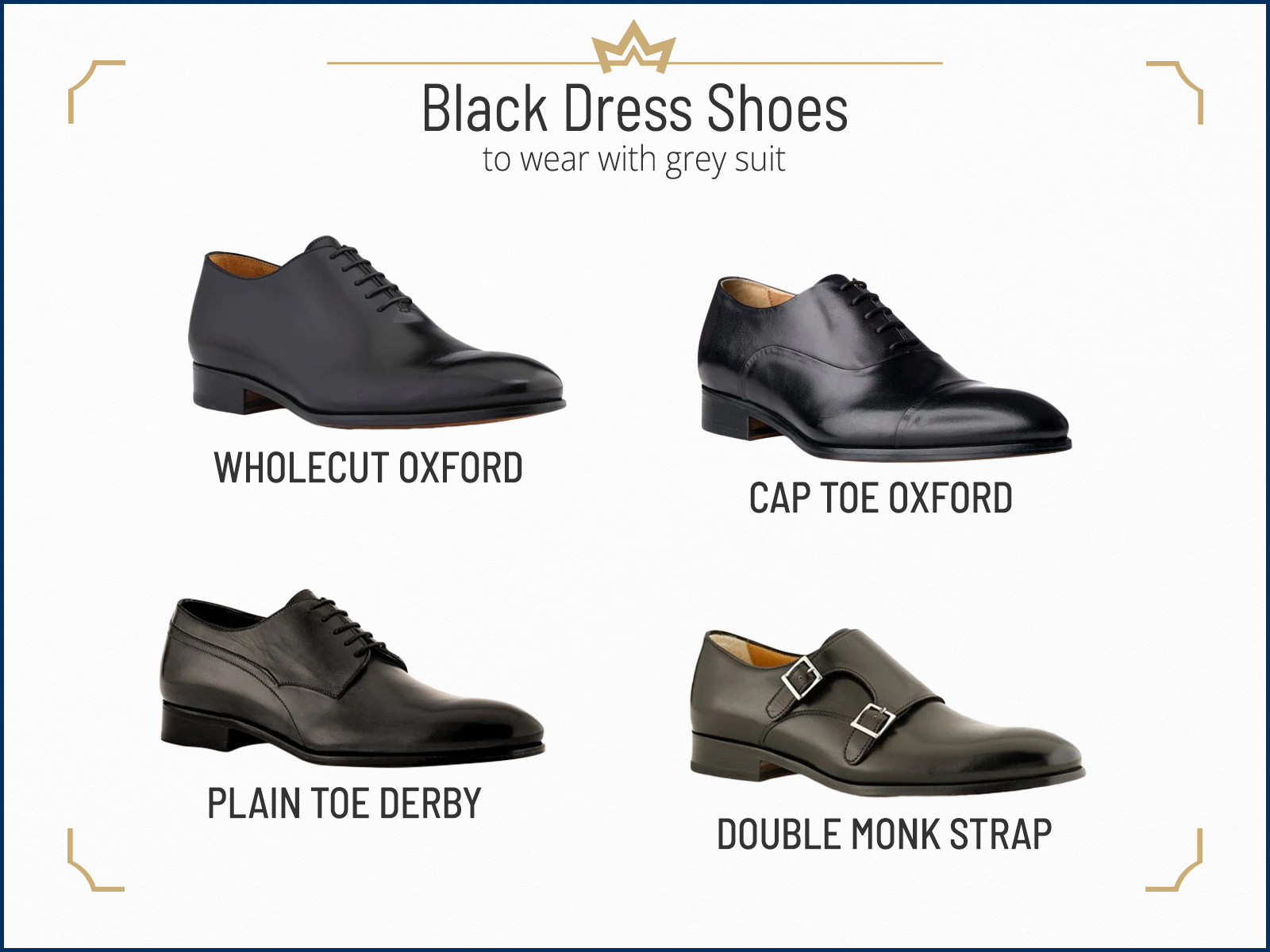 The ideal way to combine these two is to match the suit shade and shoe type to the occasion.
For a charcoal grey suit, black whole-cuts are the ideal shoes.
It can be the shoe of choice for formal events such as weddings, business, and dinners.
Black cap-toe oxford will serve similar functions and can be paired with medium grey suits.
The black derby and monk straps are a great choice when matched with a light grey suit.
These elevate the formality providing a dressed-up look even in lighter shades of grey.
Other casual shoes like loafers also match well with grey, but it's best to wear them for more relaxed settings.
Brown Dress Shoes
Although brown is a more versatile shoe color than black, things are complicated when grey is involved.
Dark brown shoes seem fine unless in a very formal situation.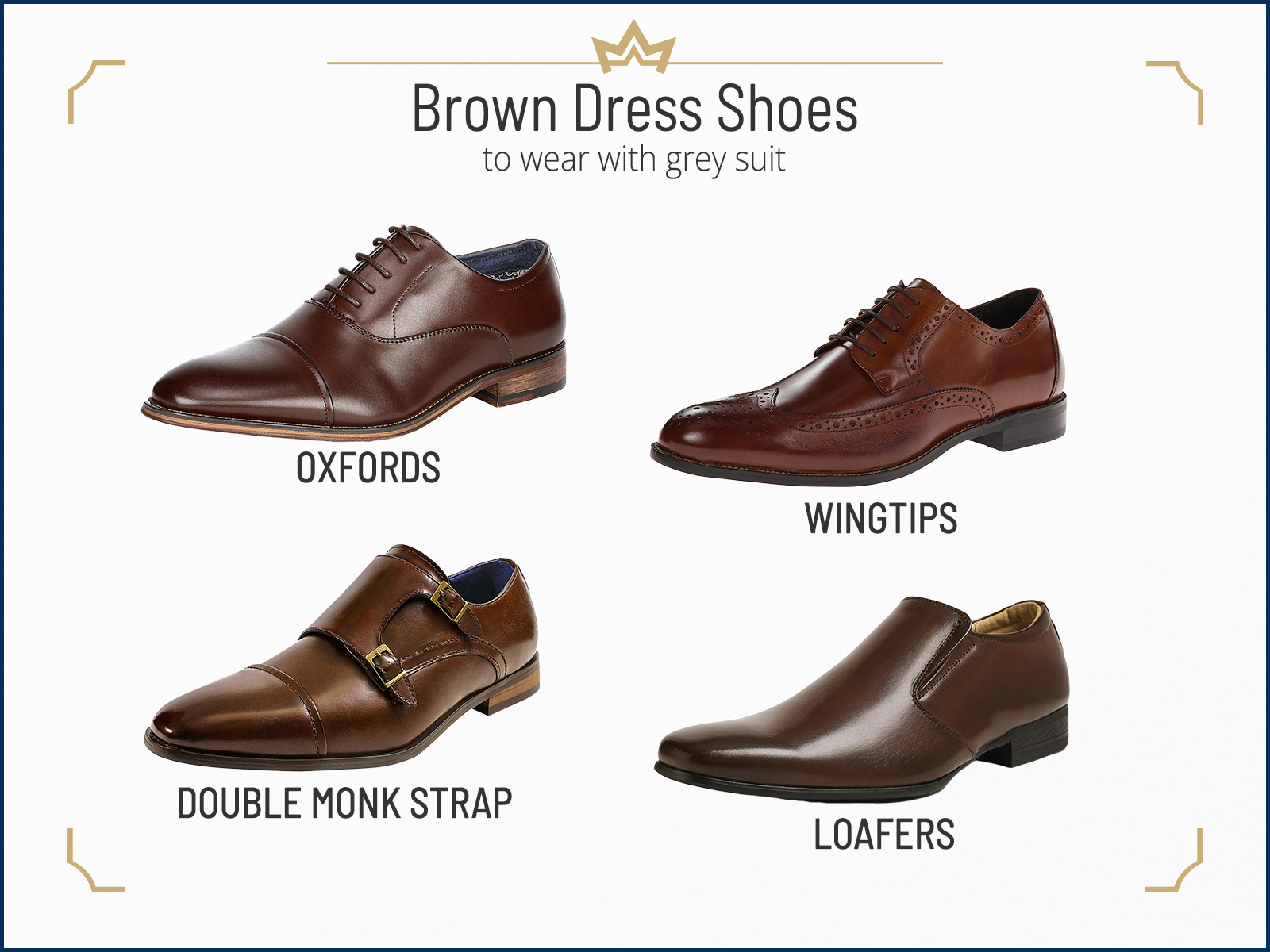 But brown shades are too casual for charcoal grey suits, and only dark brown shoes can match its decorum.
The brown shoes are best apt for medium and light grey suits.
Brown oxfords are great shoes to match with medium grey. It could also be a great office shoe.
Dark brown wingtips and monk straps are two of my favorite shoes. Like the oxfords, these can be a great choice with medium and light grey suits.
A light grey suit will be suitable for summer events, and brown loafers will perfectly match this outfit.
Overall, brown shoes offer a dressy option to match other semi-formal attire. These are also the most appropriate shoes for routine events.
Burgundy Shoes
Burgundy is a warm color with a red, purple, and brown hue, like wine.
Although burgundy shoes could have the same formality as brown, it's not as prevalent as brown. Therefore, burgundy is seen as a more casual shoe color.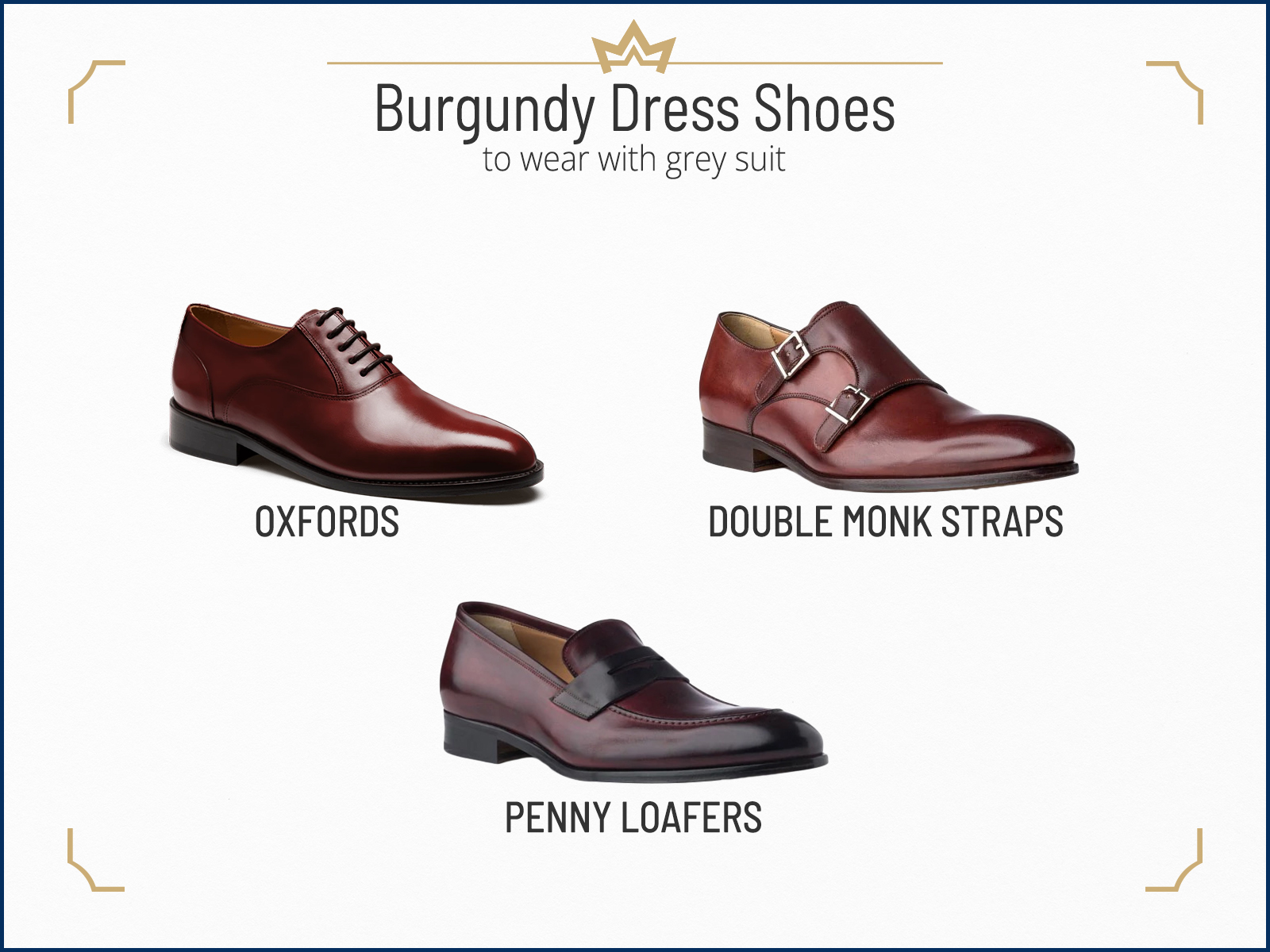 Medium and light grey perfectly match burgundy double monk straps.
Similarly, burgundy penny loafers perfectly match the manner of light grey suits.
On the other hand, burgundy Oxford cap-toes and wingtips look very formal and can elevate the casual burgundy tone.
Most fashion experts attribute these as a great combination as the purple hue complements charcoal.
I, too, think that burgundy and oxblood dress shoes look sophisticated with a charcoal suit jacket.
But, on the other hand, burgundy can sometimes look too casual for a charcoal grey suit.
White Shoes
White sneakers are probably the most versatile sneakers in anyone's collection.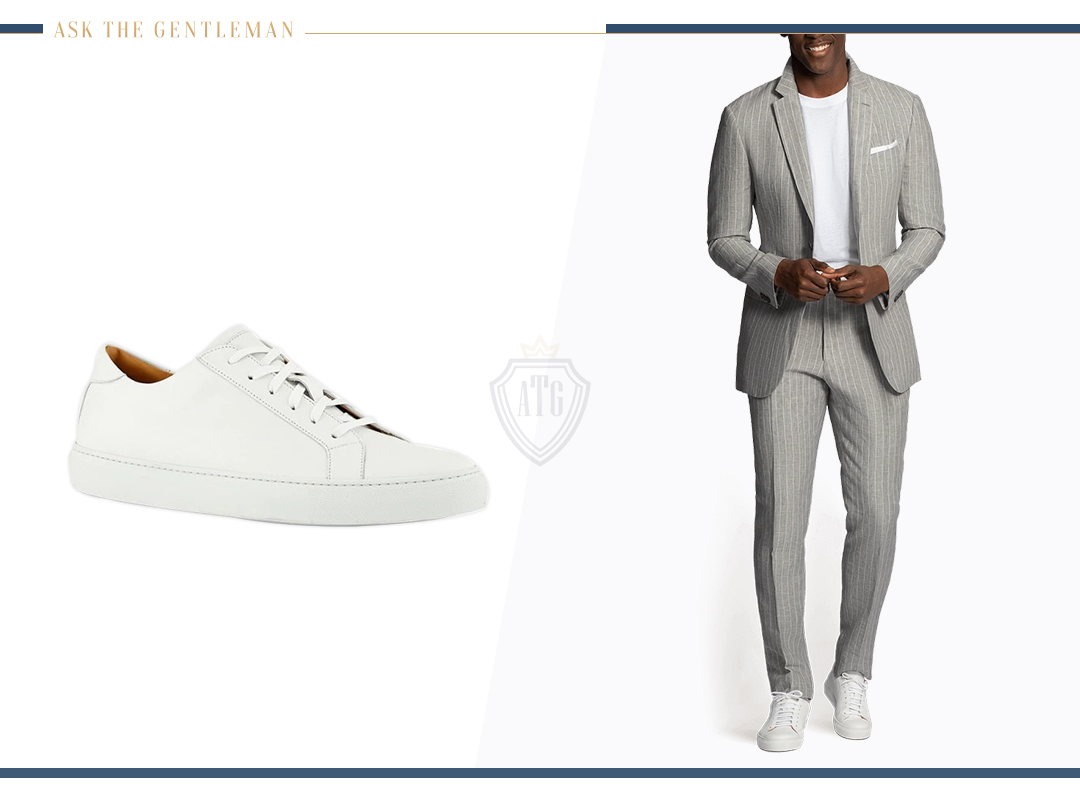 Generally, I don't suggest wearing sneakers with a suit.
But if someone wears a t-shirt with a grey suit, white sneaker shoes might be acceptable.
Remember that combining the dress shirt and white shoes is a bad choice for formal and semi-formal occasions and can destroy the whole suited look.
Other Accessories You Can Wear with a Grey Suit
Accessories provide a non-verbal way to showcase style.
In addition, these reinforce the theme you're delivering with your outfit.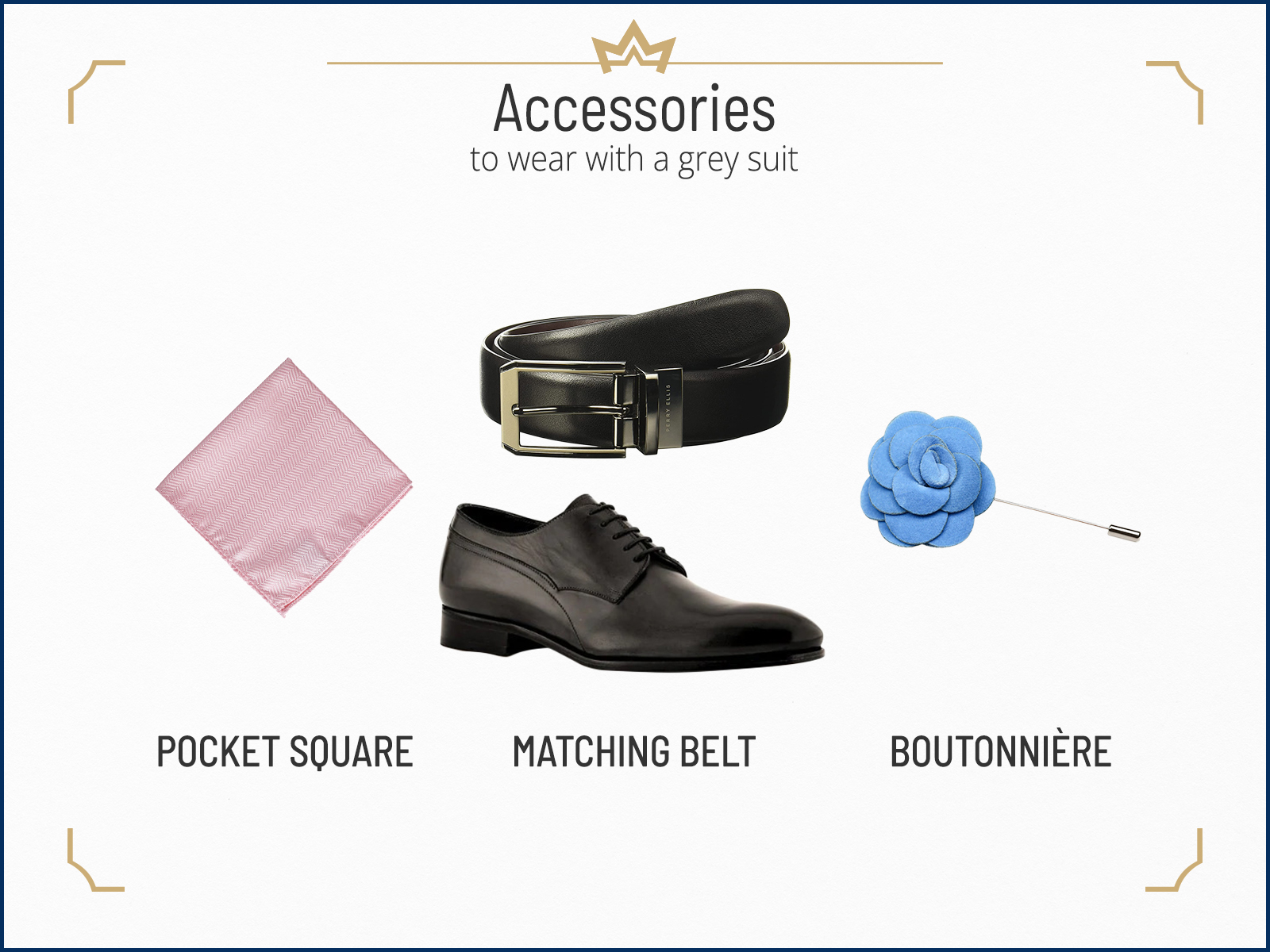 Like, muted accessories are great to carry the formal look in a charcoal grey suit jacket.
Similarly, a boutonnière or bright pocket square appeals to a semi-formal outfit.
Other accessories like matching watches and belts add harmony to the ensemble.
As a whole, these little things bring a cumulative effect that can truly make you a dapper.
Formal Belt Matching the Shoe Color
If you're going to wear a belt, the prerequisite is to ace the pant's fit. The belt should only be an ornament.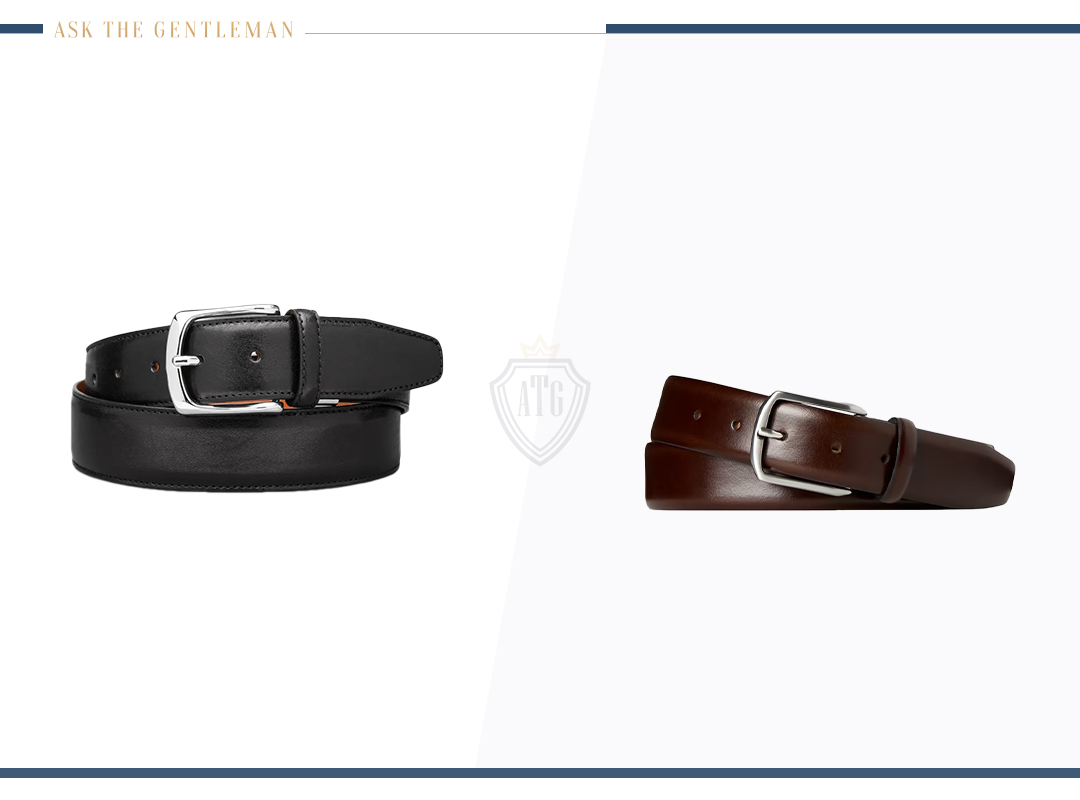 Also, choose a formal belt. Such a belt should be versatile enough for semi-formal or even smart-casual occasions.
Finally, the belt should match your shoe color. It doesn't need to be exactly the same as shoes but should complement them.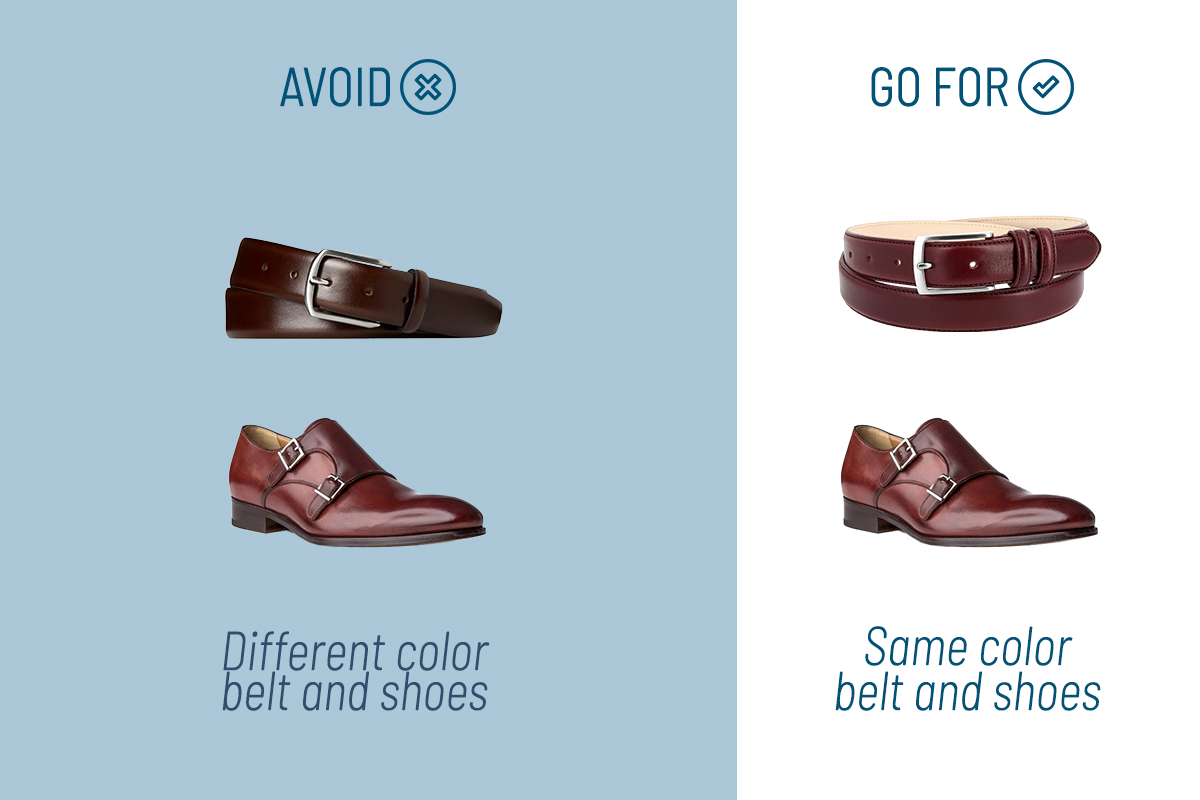 Be careful with burgundy shoes and wear a maroon or burgundy belt and never brown.
Same Color Leather Watch or Metal Watch
A watch adds depth to the dress and tells a lot about your style.
Dress watches are appropriate for formal events with charcoal or medium grey suits.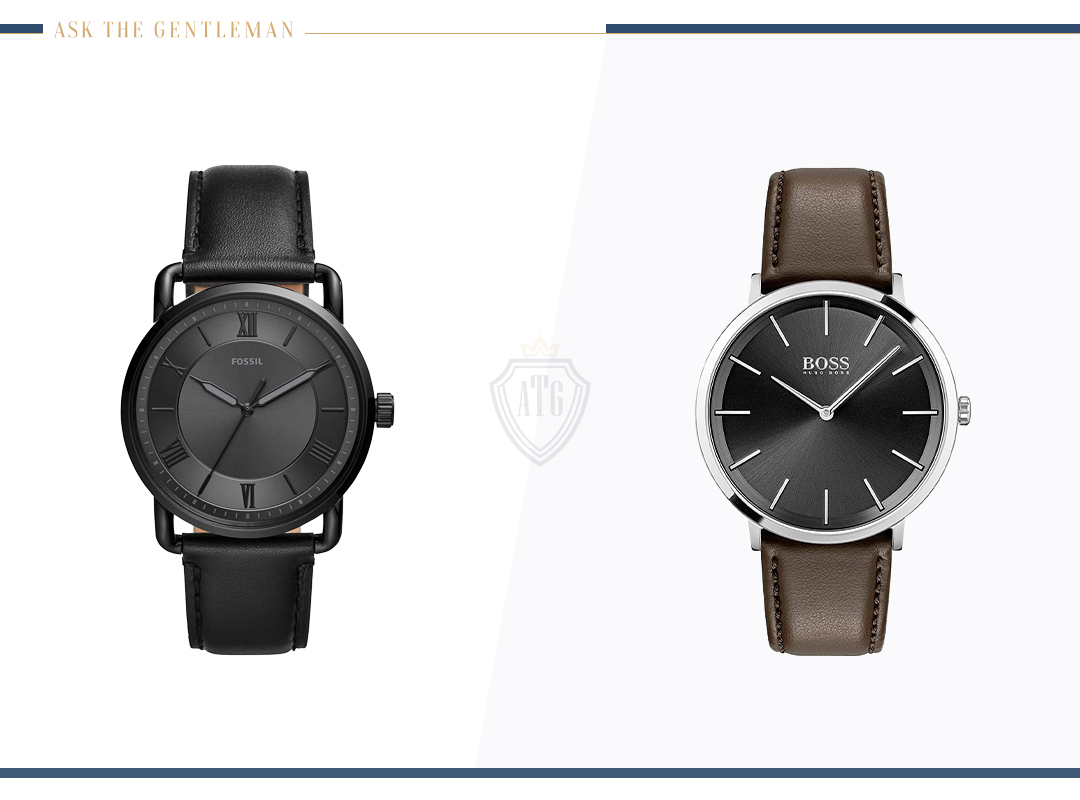 The leather of these dress watches must match the other leathers in the outfit, primarily the shoes.
However, some men prefer a metallic bracelet over a leather strap. It can be more versatile and effortless to style.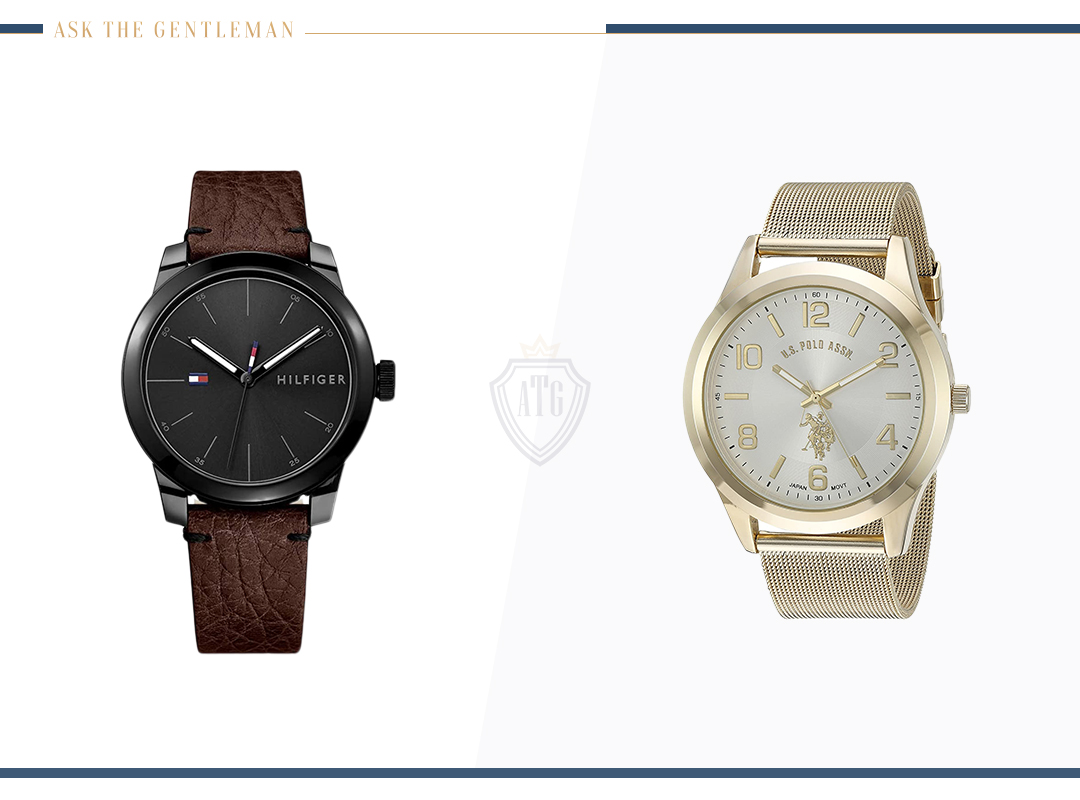 The bracelet must be of good quality and comfortable on the wrist.
Generally, you can get away with metallic bracelets for office wear, business meetings, and cocktail parties.
But for weddings and other formal occasions, a leather watch is a better choice.
Contrasting Tie & Pocket Square
Matching tie and pocket square is a giveaway of bad-style etiquette.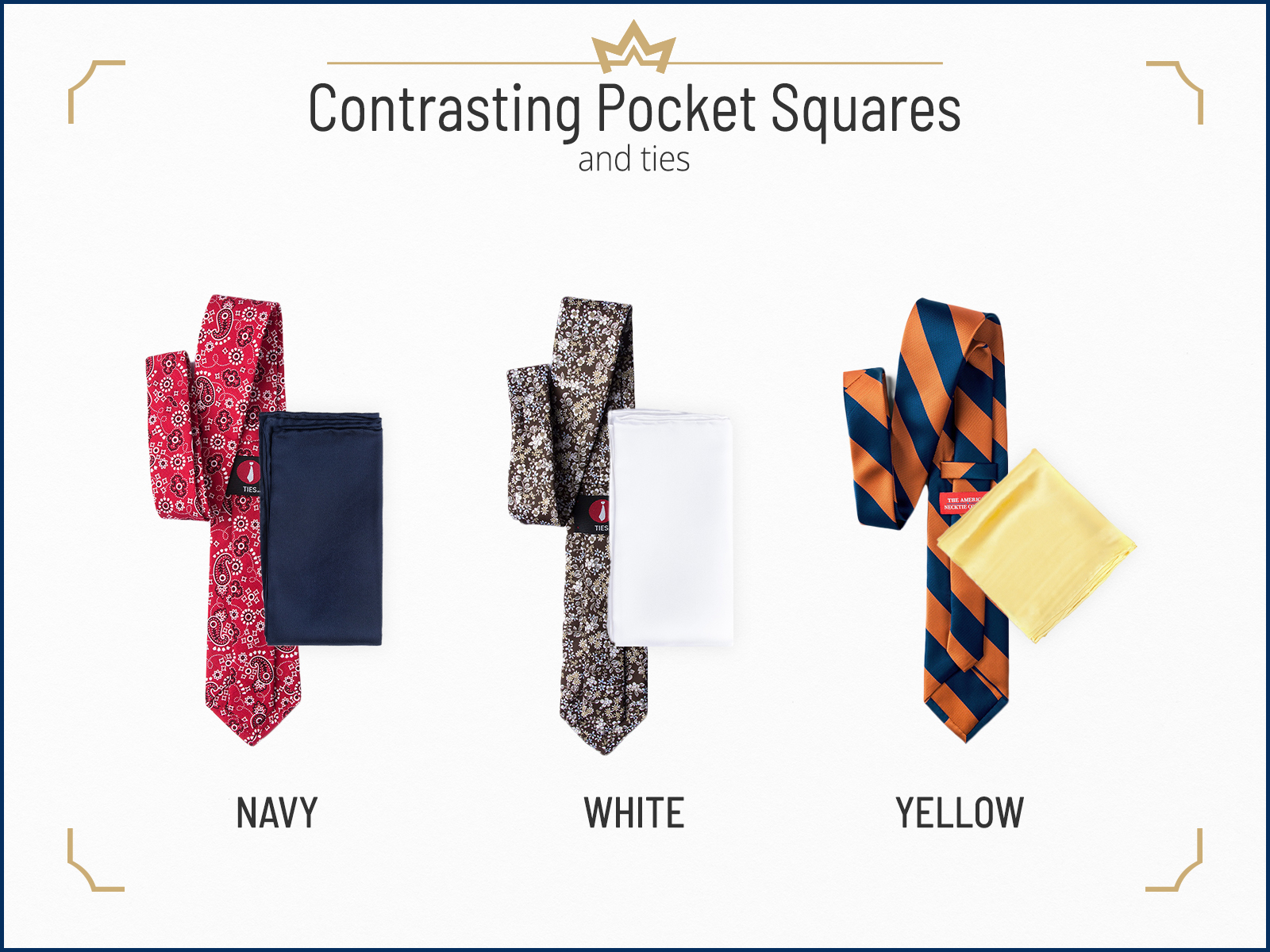 Therefore, the pocket square should always contrast the tie and the suit jacket.
My favorite is the crisp white pocket square. It's versatile and goes with all shades of grey.
Other colors and patterns are acceptable as long as they match the occasion and contrast the tie color.