Deciding what to wear to a job interview can often cause unnecessary stress.
Most people struggle with this due to interview anxieties, "knowing" they will be judged, or simply because they lack the information.
Note that wearing the right outfit for an interview is a confidence boost and helps reduce the anxiety this process brings.
What to Consider Before Choosing the Outfit
You will need the confidence to sell yourself during an interview with a potential employer.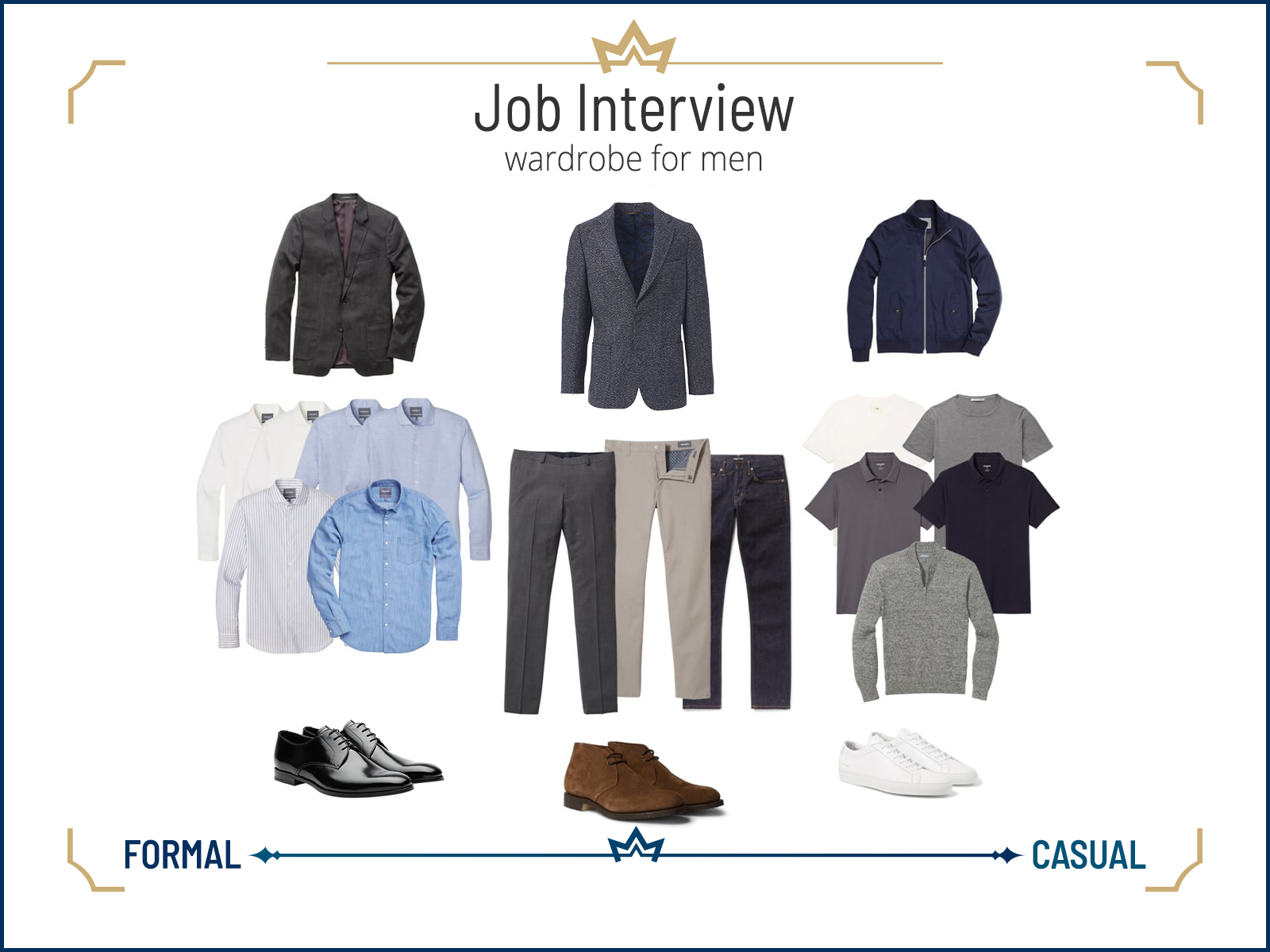 One major contributing factor to this confidence is your outfit and how you're dressed.
It has to be professional and presentable; otherwise, your words won't amount to much over a badly clothed picture.
Keep Your Interview Outfit Simple & Clean
Your attire is the perfect way to have a lasting impression on the interviewer, and not at all for the wrong reasons.
Don't add flash and flare to the outfit. Instead, keep it as simple and clean as possible so that it sits well in a professional setting.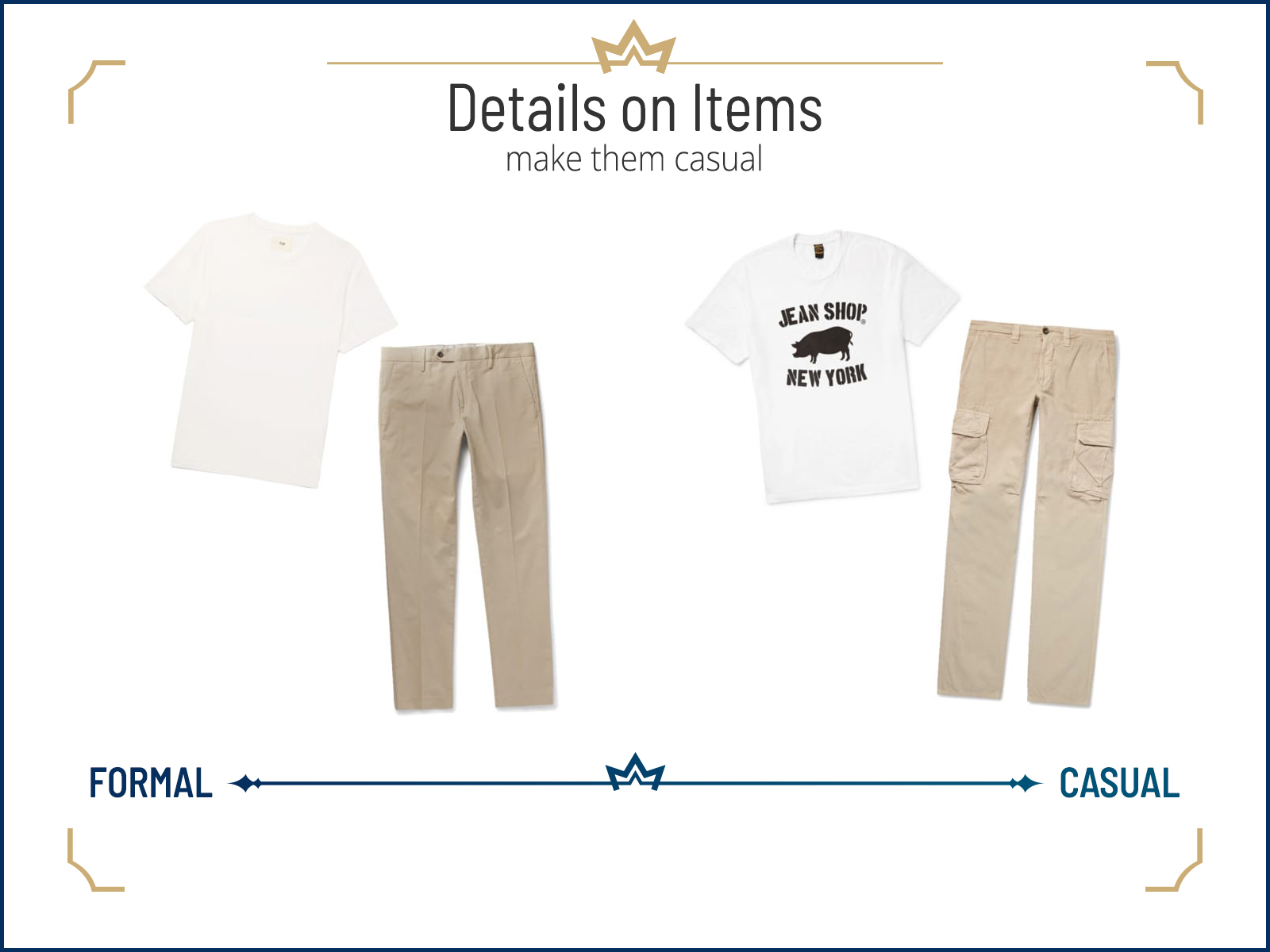 Some people wear too much to look good, but it offsets the real purpose.
For instance, it's a bad idea to wear a pocket square, tie, and peak lapel suit all at the same time for an interview.
You don't want your prospective employer to think you are too high maintenance.
Therefore, stick to neutral colors and simple accessories. Add a personal touch here and there, such as with the tie but keep it refined.
Understand the Company's Culture
Understanding the company culture beforehand can be quite handy for a job interview.
If you wear the appropriate clothes, it makes you come off as a natural fit for the company.
Also, it puts you in the employers' good books and helps balance out any lack of experience or skill.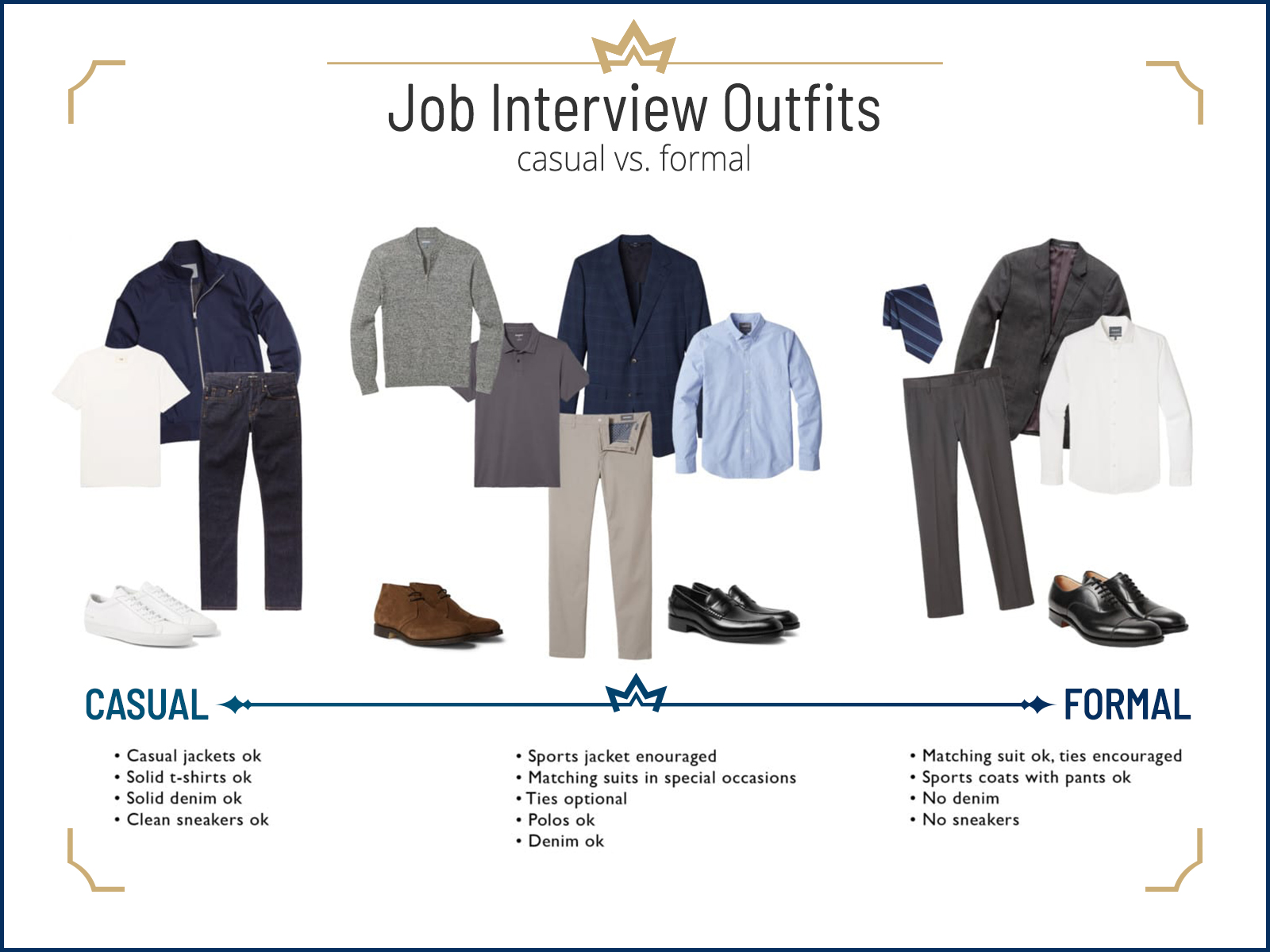 This is because employers often believe it is better and easier to work with someone who understands the company culture than with someone who is simply skilled.
If you are unsure about the dress policy, try surfing their website or passing by the office.
It's also acceptable to email the HR department and ask them directly.
What to Wear to an Interview & Where to Start with the Outfit
Not all office spaces have the same dress code. Different jobs require a specific way of dressing.
Remember that you cannot have a universal outfit that works for all interviews.
Keeping things on the formal side is recommended at most offices, and most interviews require wearing a suit.
On the other hand, startup interviews are relaxed, so you don't necessarily have to wear one.
Light-Colored Shirt
The starting point for an interview outfit is the dress shirt. I suggest you stick to light-colored shirts.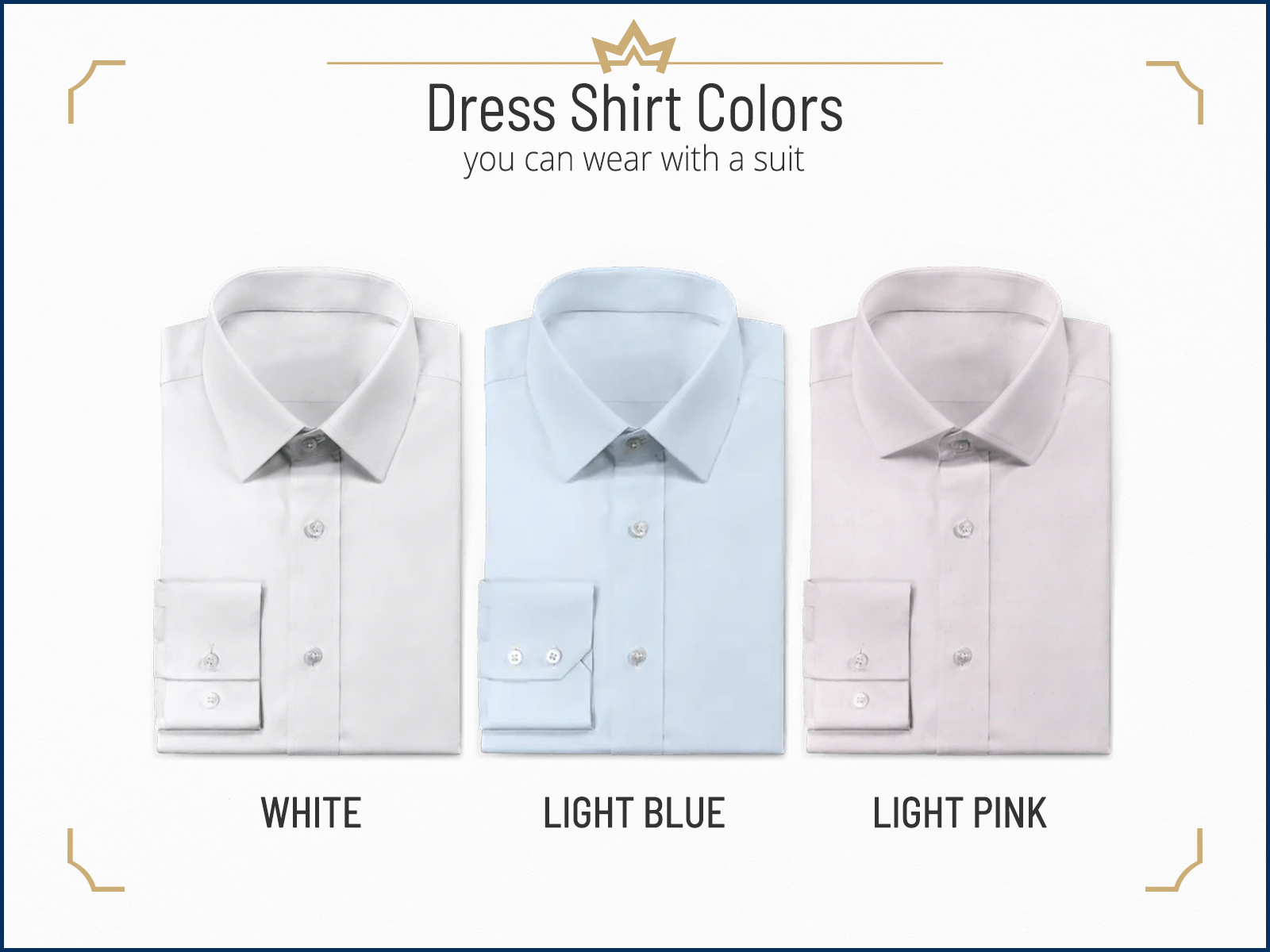 They give off a soft, calm feeling and are a safer and better option for a first impression.
The traditional light blue, light pink, white, and even light grey are good shirt color options.
If it's a more formal interview, opt for a button-up shirt in these colors.
You can opt for a button-down shirt for a startup or business-casual interview.
Blue is one of the favorites for job interviews, so keep it in your options.
Dark-Colored Dress Pants
If you decide to wear a light-colored shirt, contrast it with dark-colored dress pants for a balanced look.
As for the style, you can put on a pair of navy dress pants, grey chinos, khakis, or even dark wash jeans.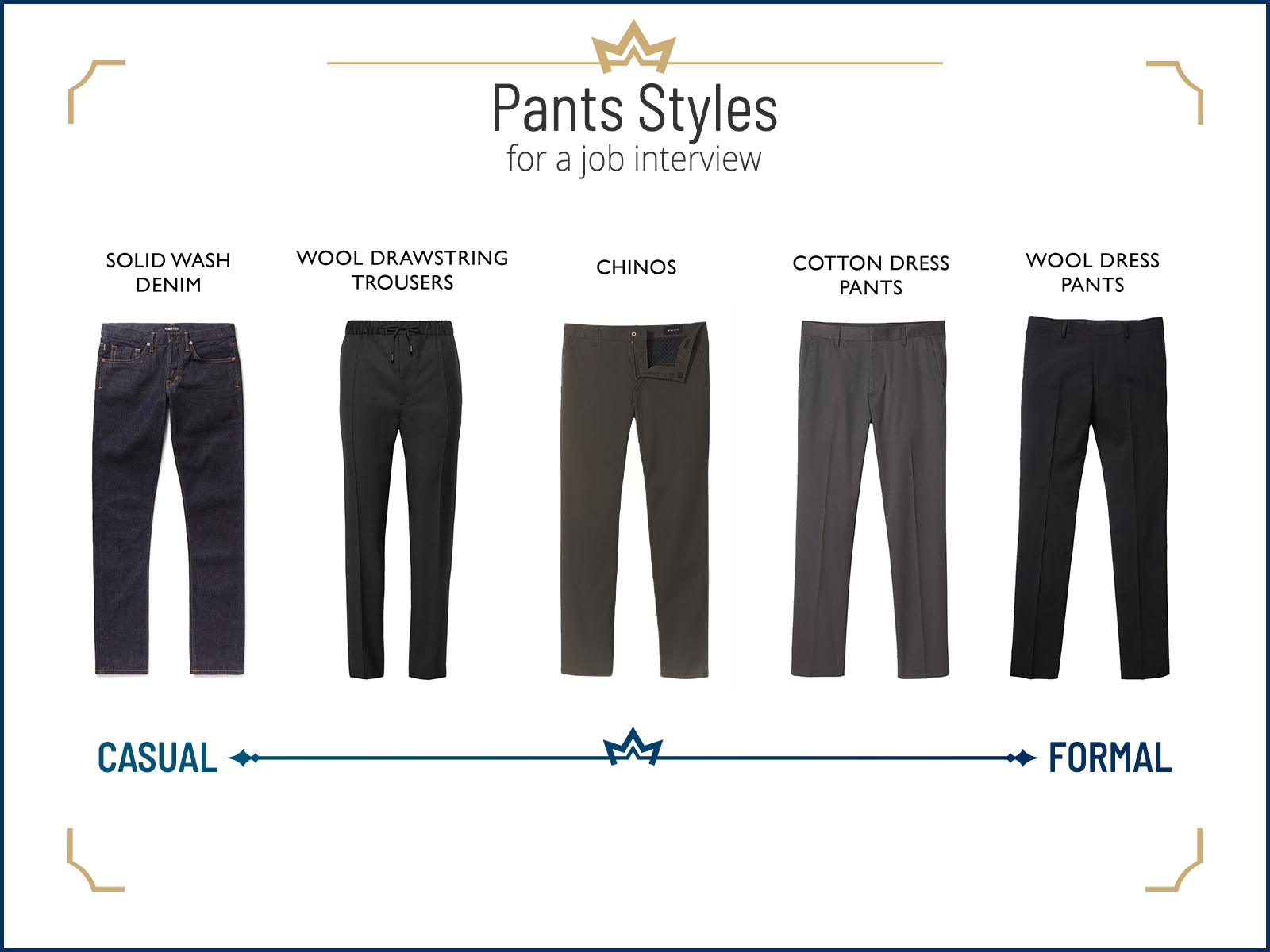 A light blue shirt with black or navy pants is a classic combination for job interviews.
A light pink shirt over navy or grey pants does the job pretty well if you want to come off as more sophisticated and up-to-date with the latest trends.
Whatever style or color you choose, make sure they are well-fitting with no saggy or overtight parts.
Sweater with Button-Down Shirt for Business Casual
A sweater layered with a classic button-down shirt is one of the most dependable business casual looks.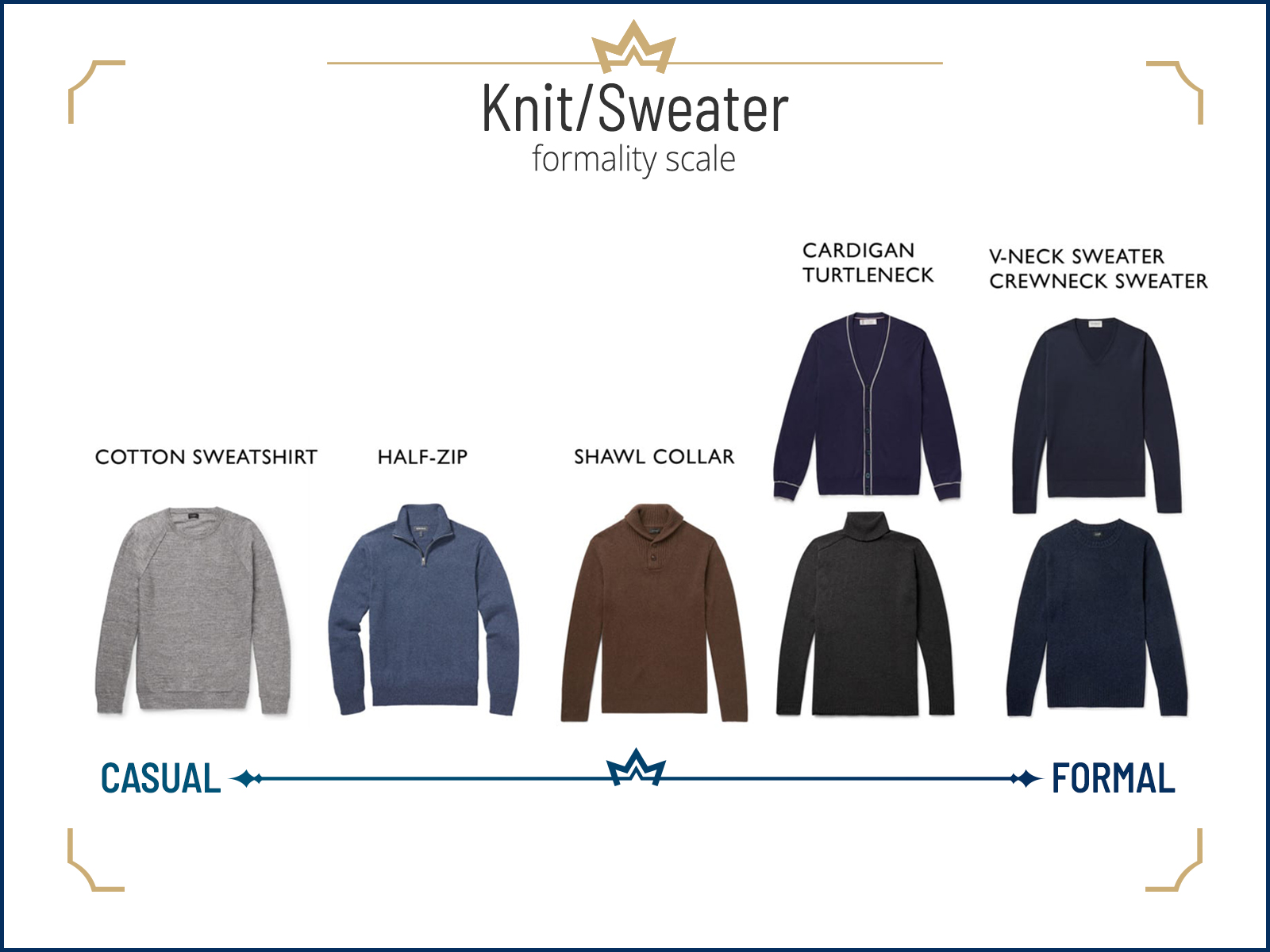 Since the shirt has to be light-colored, you can add contrast to the sweater by opting for darker shades.
I recommend neutral or darker colors like navy, black, and brown for the sweater.
These shades sit well with almost all shirt colors.
However, keep in mind this look is not for formal business interviews. So reserve it for easy-going environments such as a startup.
How to Pick the Blazer
The jacket style has to match the job interview formality.
For a more formal interview, wear a matching suit jacket and pants.
Also, stick to solid dark colors and avoid adding flair to the outfit. I would recommend navy, charcoal, or even medium grey.
However, if the interview setting is a bit casual, you can wear a separate blazer and pants.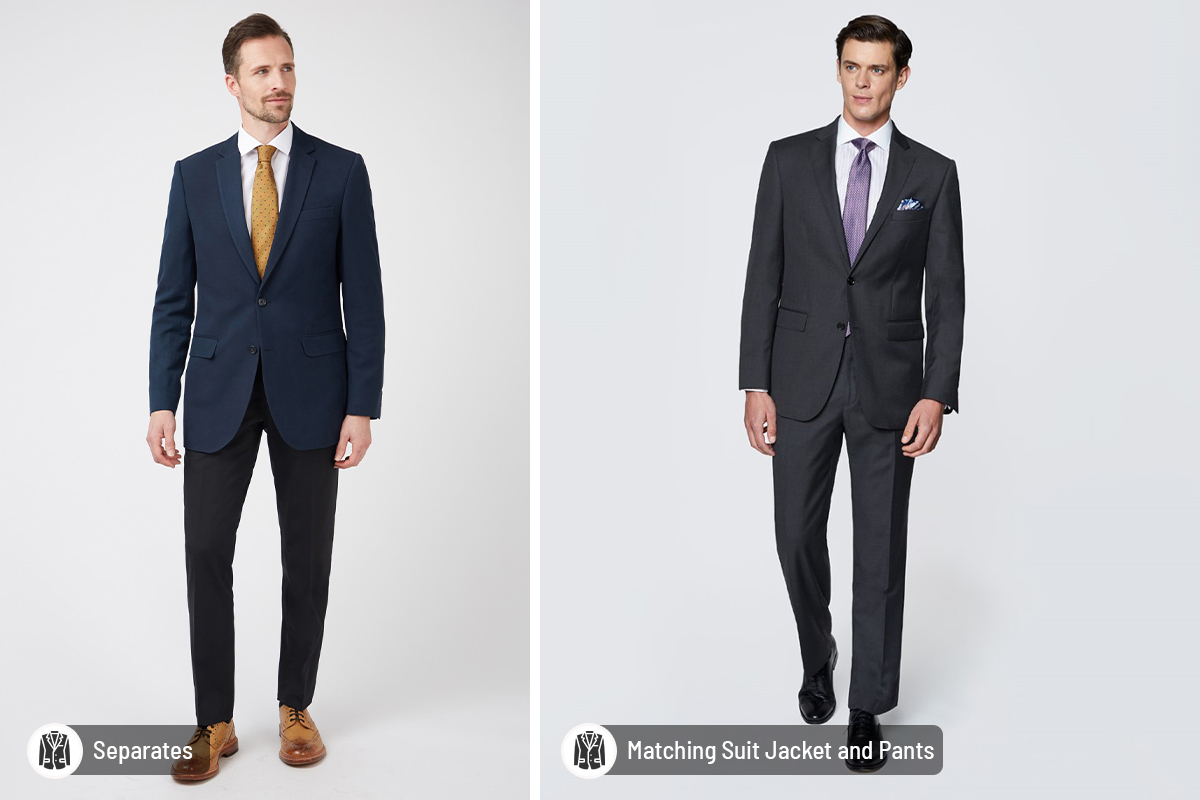 For example, you can match a navy blazer jacket with grey slacks.
Business casual settings also allow for subtle patterns, but only if you have a good sense of matching them.
Also, it should go without saying that the suit should be well-fitted with no pulling, gaping, or wrinkles.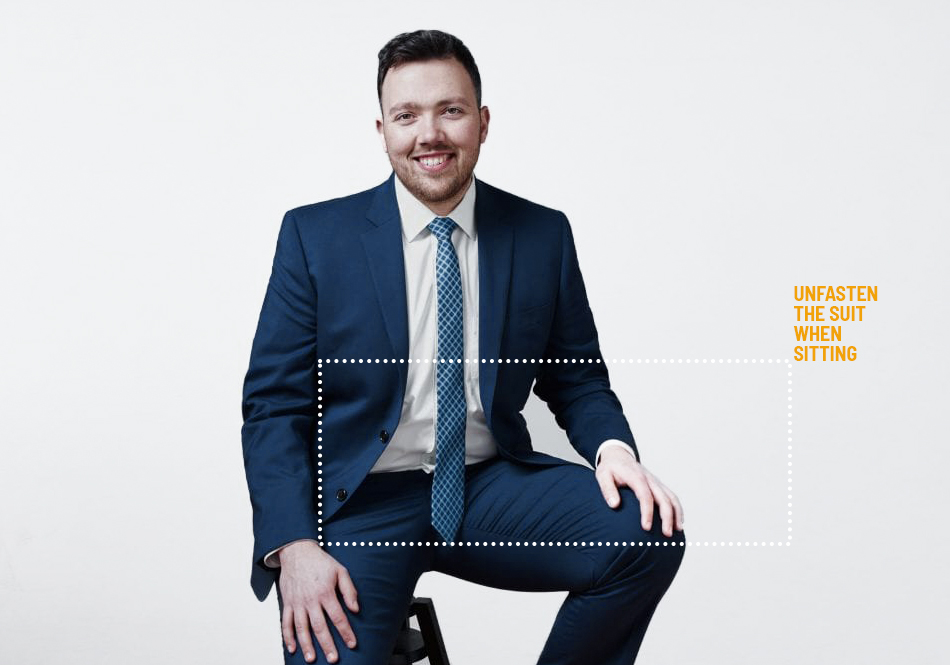 Finally, don't forget to unbutton the suit jacket when sitting down for the interview.
Proper Dress Shoes
No matter how casual the setting, a job interview is still a professional meeting.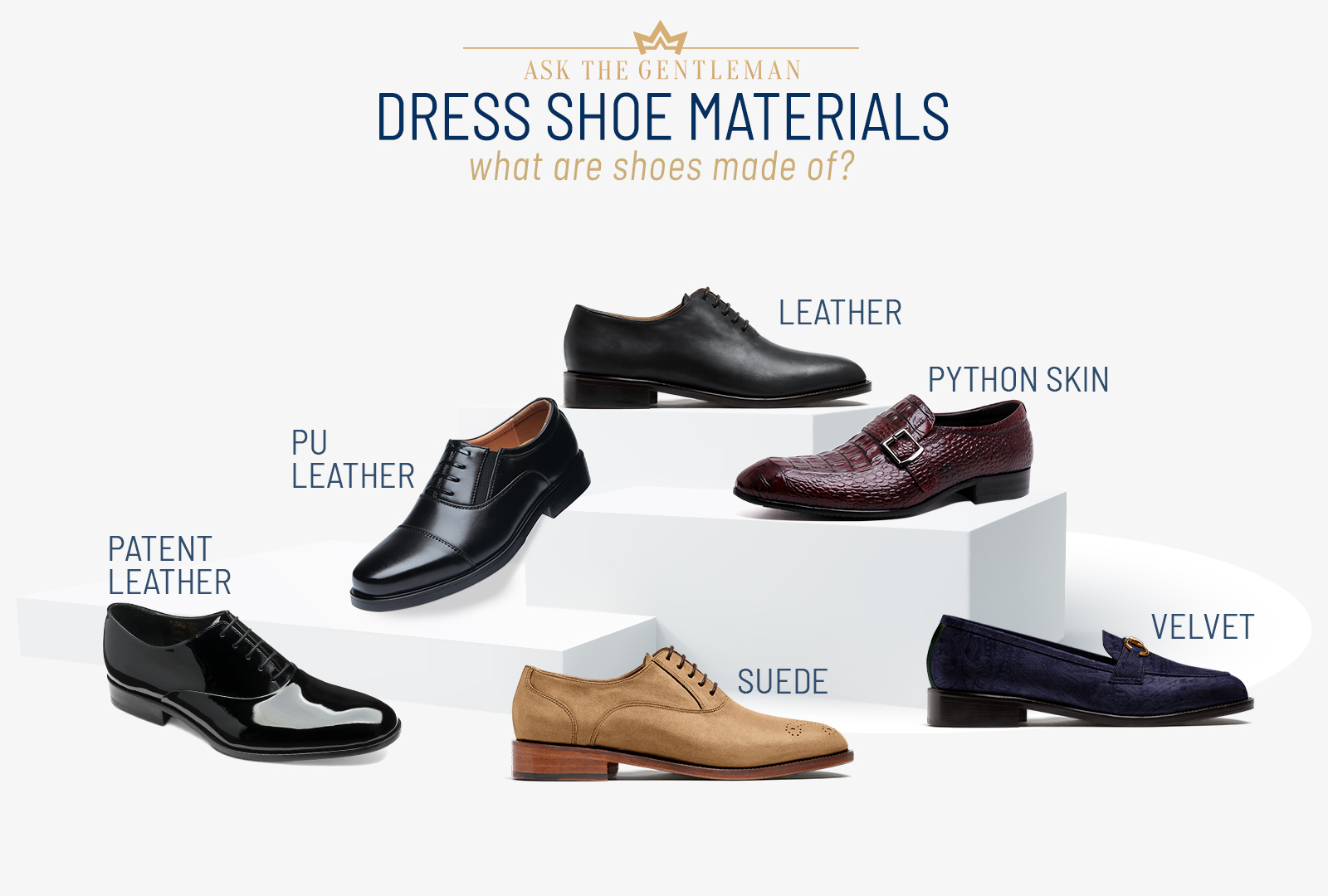 Therefore, you must stick to the proper dress shoe type and avoid anything too casual.
Your best bet is a good pair of black Oxford-style shoes.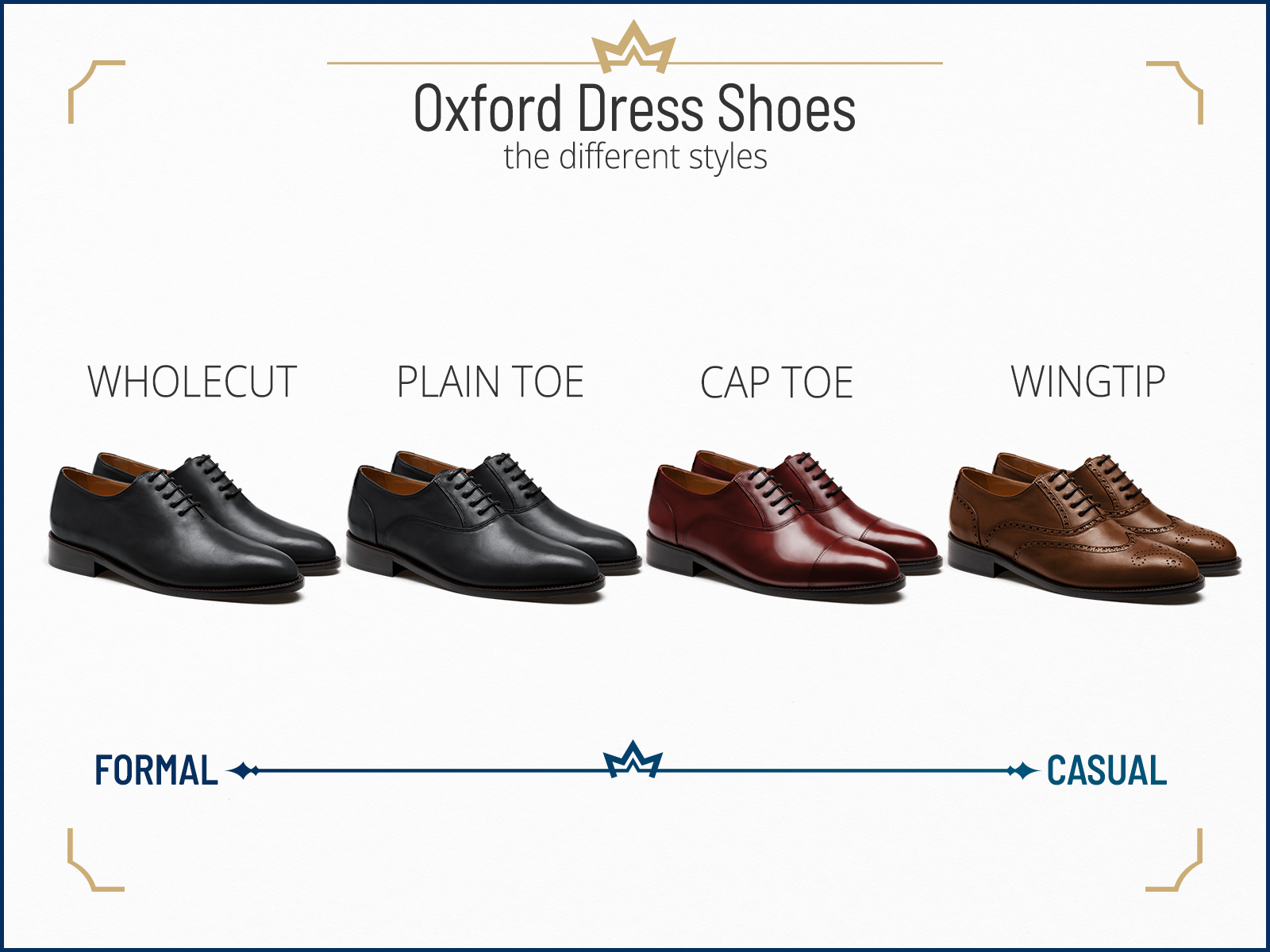 You can opt for a dark brown pair for a more contemporary touch.
Derby-style shoes work too. Their formality is almost like the Oxfords.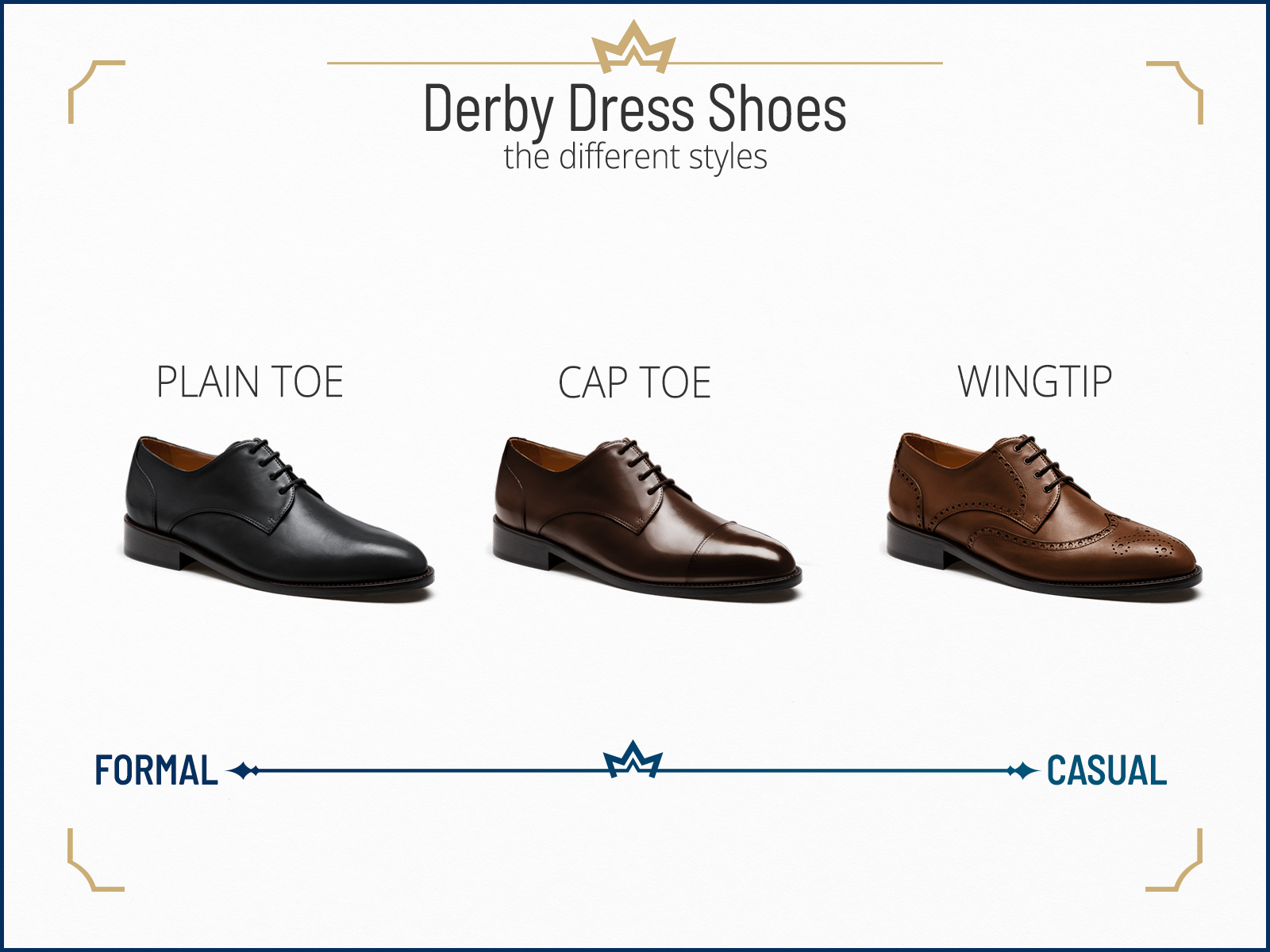 Chelsea boots are an excellent choice for colder days. So are Chukka boots.
You can also wear loafers and monk straps for more relaxed interviews. However, trainers and sneakers are usually a no-go in most interview settings.
Adding Texture and Accessories
Adding texture and accessories takes your ordinary outfit up a notch with some style, class, and sophistication.
For instance, a navy corduroy blazer looks sleek without making you look uptight or stuffy.
A tweed blazer offers a similar sleek look, especially when paired with a matching button-down and slacks.
You can skip the tie if it's a business casual interview; otherwise, pair the blazer with an eye-catching tie for formal settings.
Outfits to Wear for Formal Business Job Interview
If your potential employer has placed a formal business dress code in the workspace, you will have to hit the peak of formality.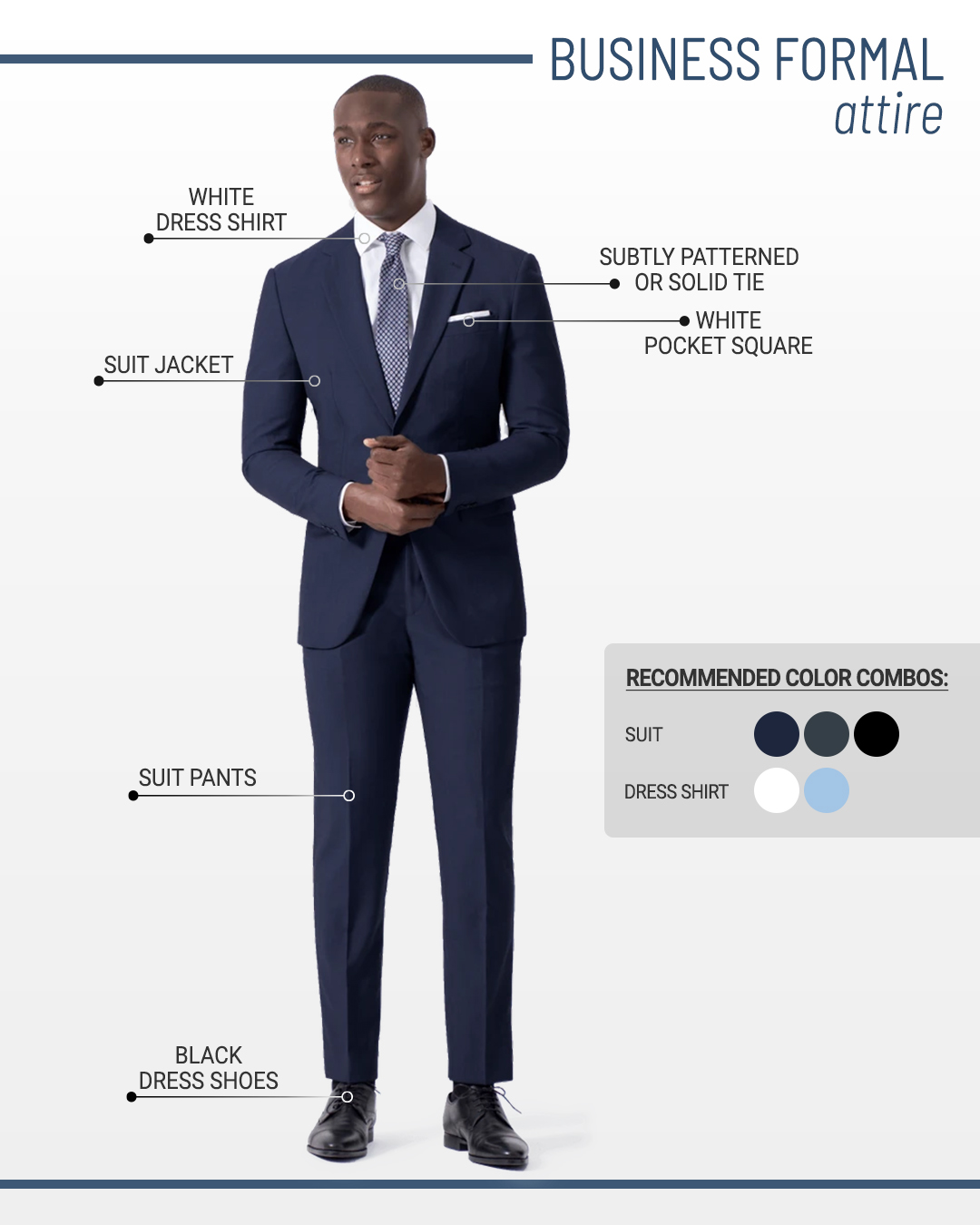 To start, you need a dark single-breasted suit jacket with matching pants.
Make sure it is a solid color, though sometimes subtle pinstripes work too.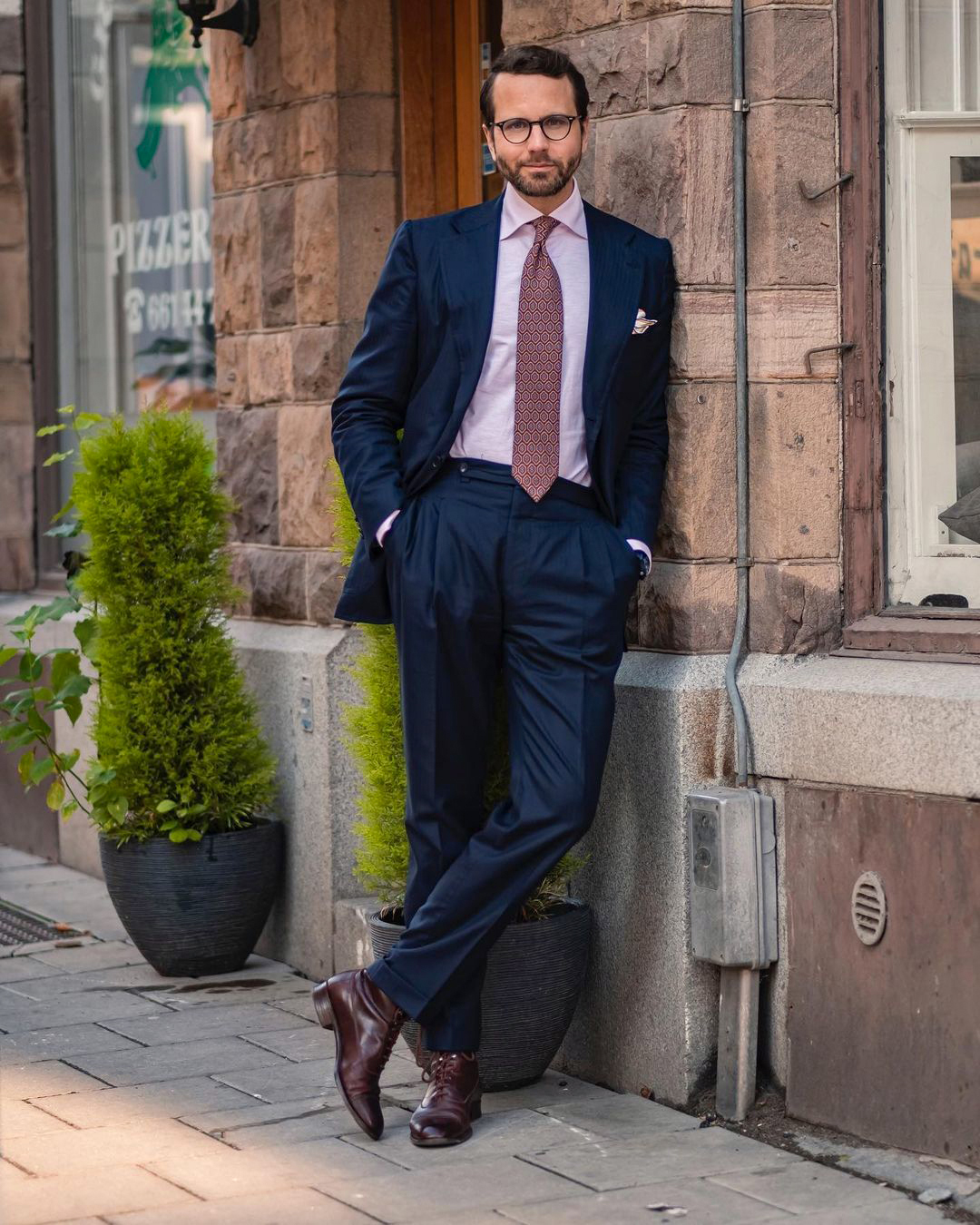 Keep the tie solid, and ensure it matches well with the suit and the shirt. Sometimes it is also okay to have a small, printed design.
Charcoal grey and navy suit are your best choices for formal business attire.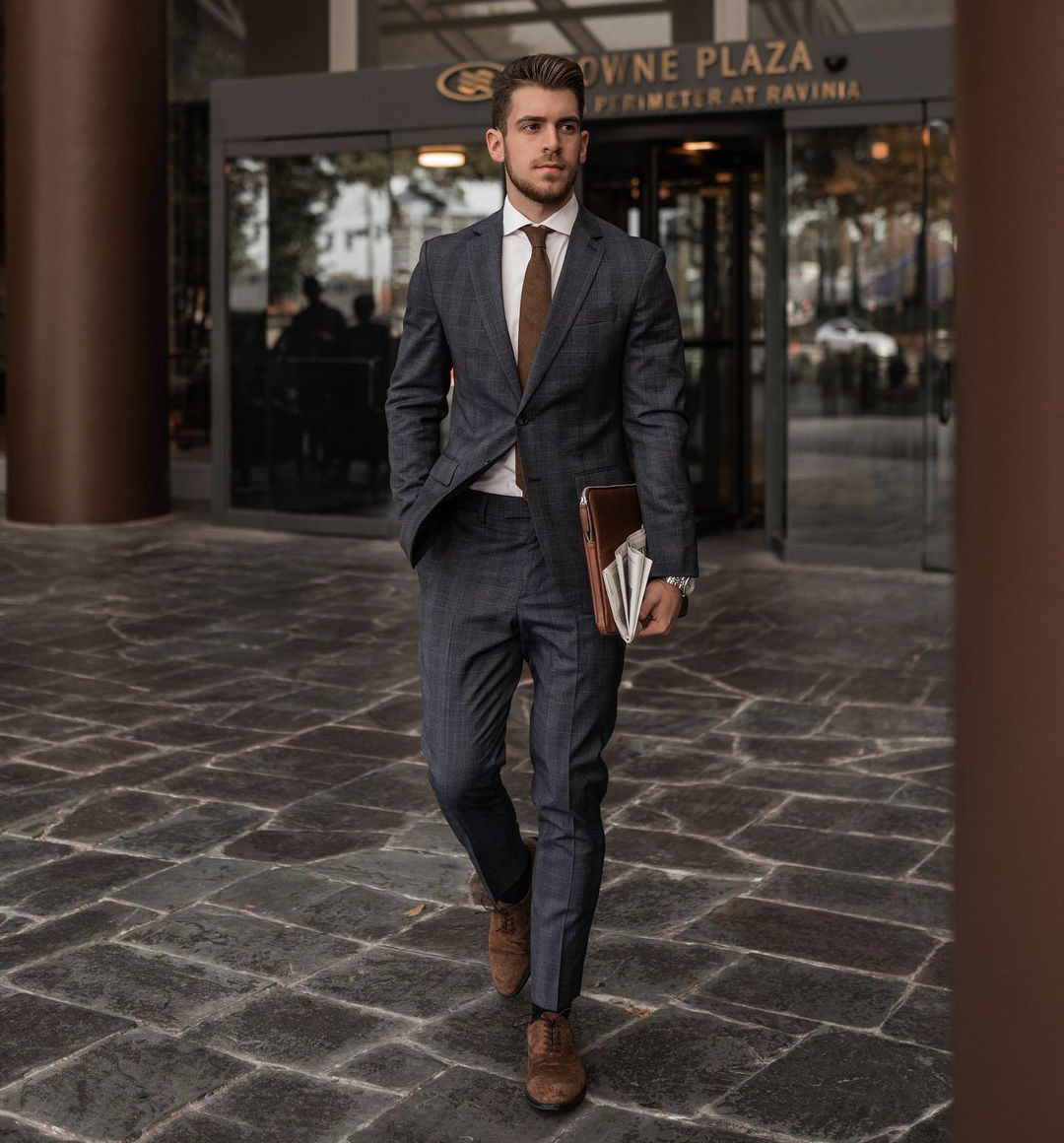 A black suit is also an option, but it can sometimes be too formal and ceremonial for an interview.
Suits in lighter shades are not recommended because of the informality they portray. You don't want to come off as non-serious and too laid-back.
However, brown and blue suits can produce some decent semi-formal shades appropriate for a job interview.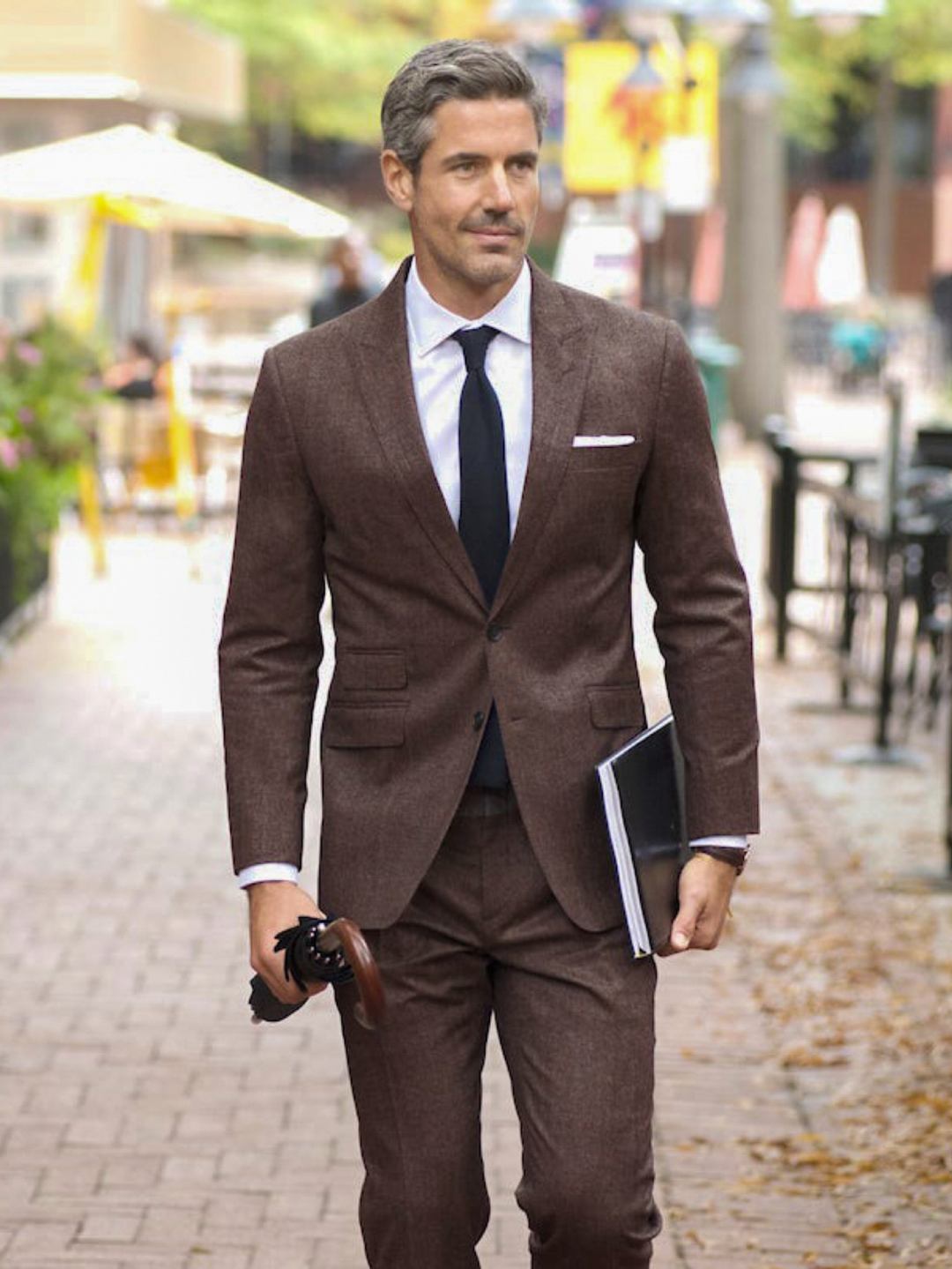 In addition, the suit should be matched with a button-up shirt, preferably solid color.
White is your best color choice for the dress shirt, but light blue and light pink are fine too.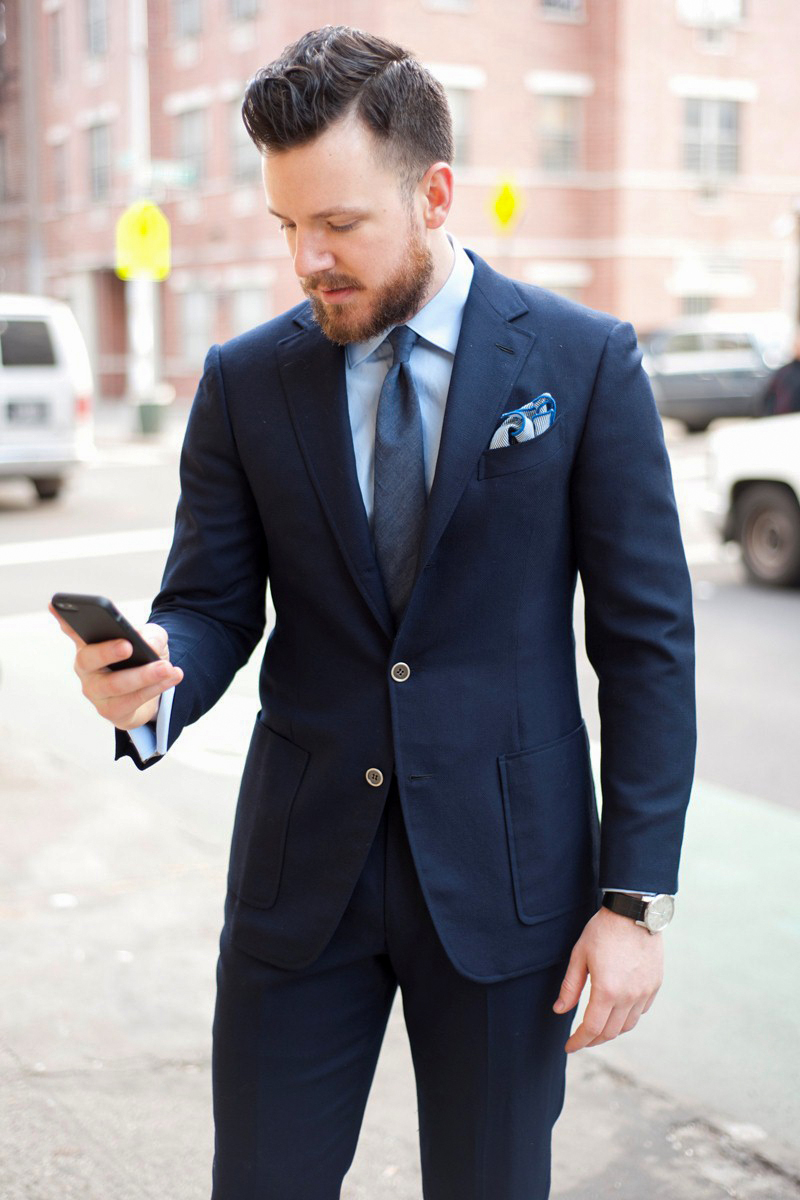 Finally, you finish the look with a good pair of formal shoes.
Black is the go-to choice, but dark brown is also considered an acceptable trendier look.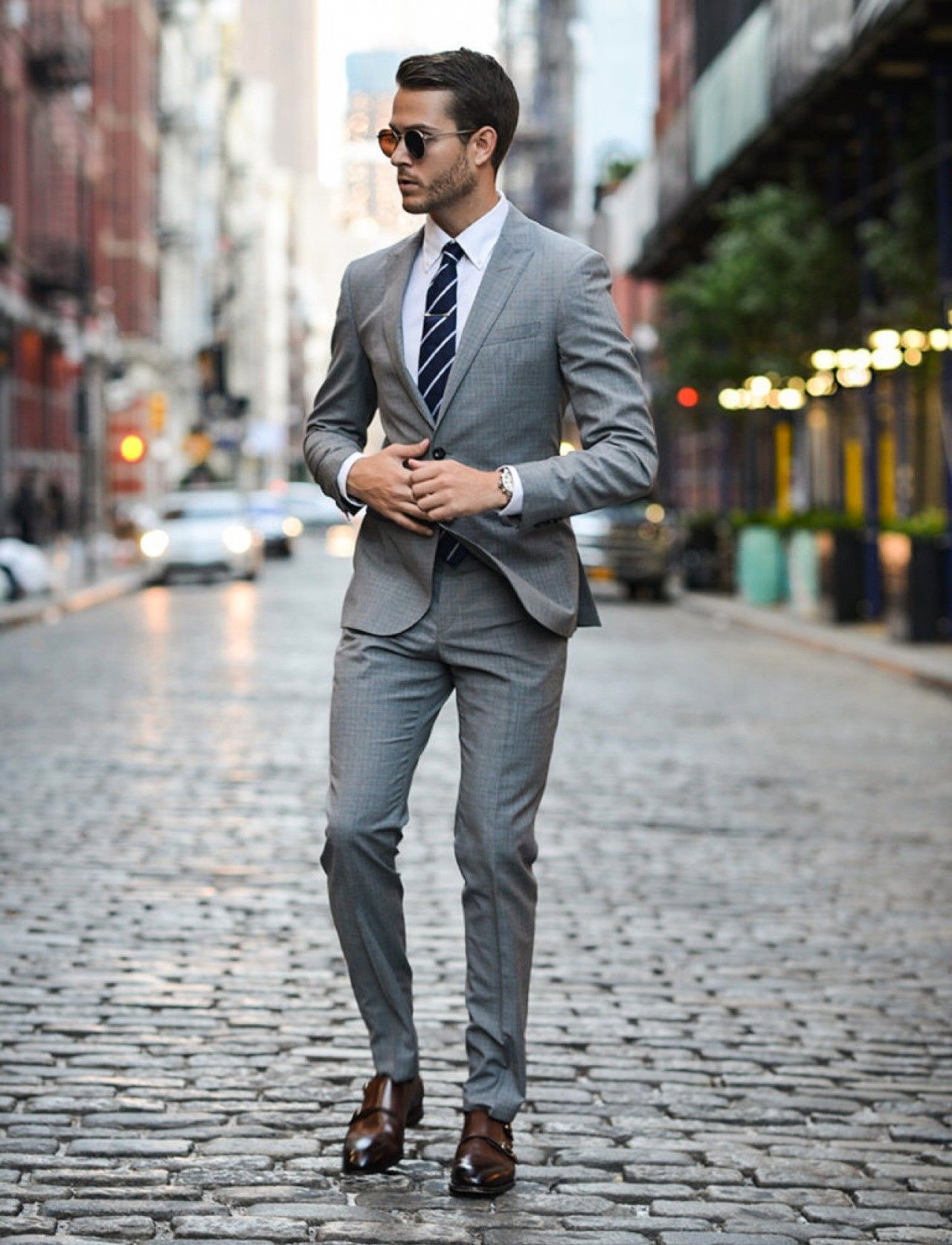 Oxford or derby shoes are all you need, alongside a leather belt in matching color.
A matching leather strap watch can step up your sophistication game!
Outfits to Wear for Business Casual Job Interview
More casual interviews call for a business casual dress code.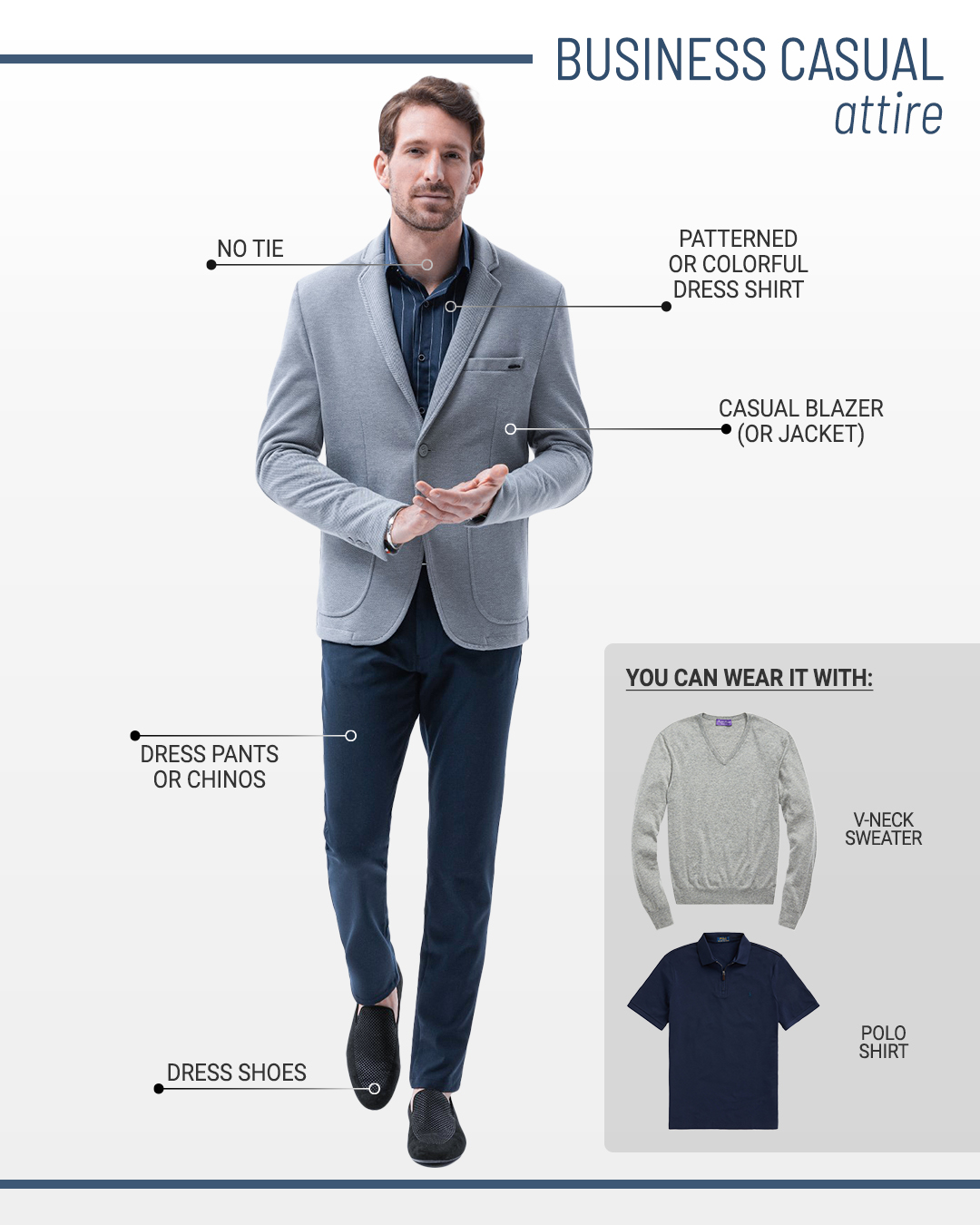 However, this does not mean you can wear casual outfits.
Being dressy is still a requirement, and you can only do so with a polished look made up of a solid shirt and dress pants.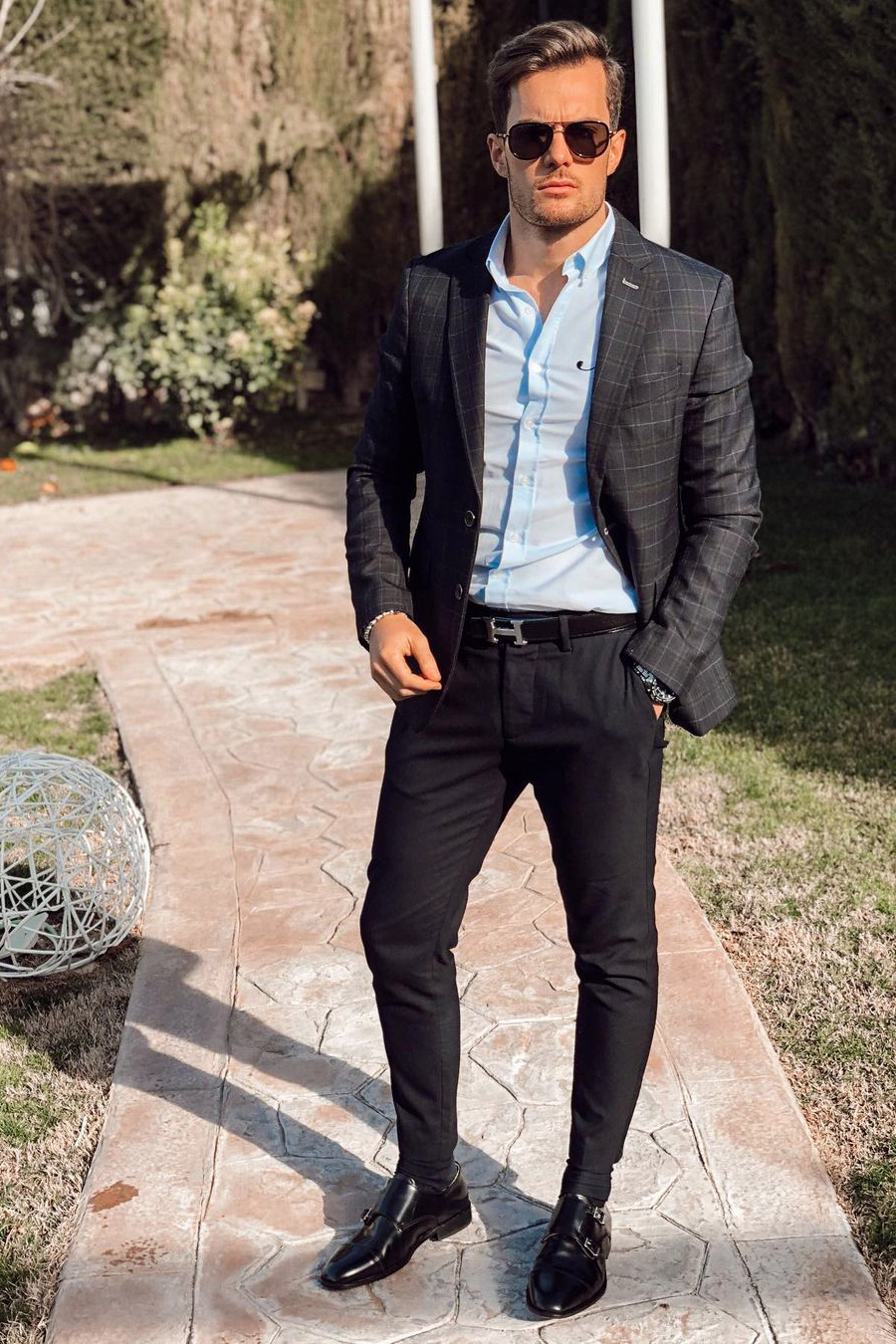 The suit jacket and tie aren't a must for this outfit either.
A button-down long-sleeve shirt is a great choice for a business-casual interview. You can even scale it up by adding a dark blazer.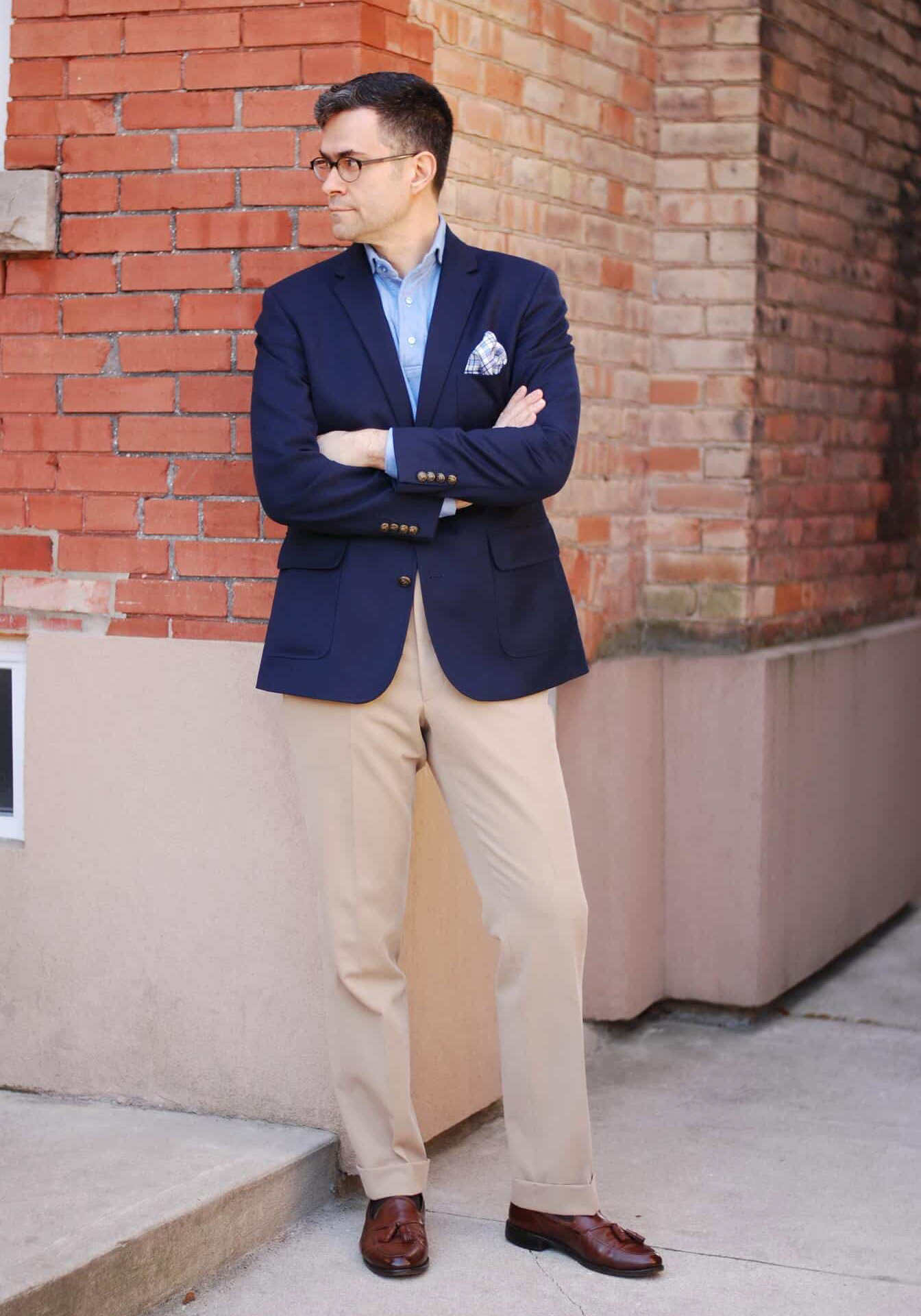 I wouldn't recommend too many patterns for this look, but you can play with some if you feel like it. Keep it subtle, though.
Sometimes a polo shirt works too but only in solid, neutral colors.
Add a twist to the outfit by tossing on a neutral, light-colored sweater.
As for the pants, keep them dressy and dark. Chinos are suitable for business casual as well.
The tie isn't compulsory, but you can wear one for a sharper look if you want to appear dressier.
Keep it mute and neutral, as flashy ties can ruin the look and the interviewer's impression of you.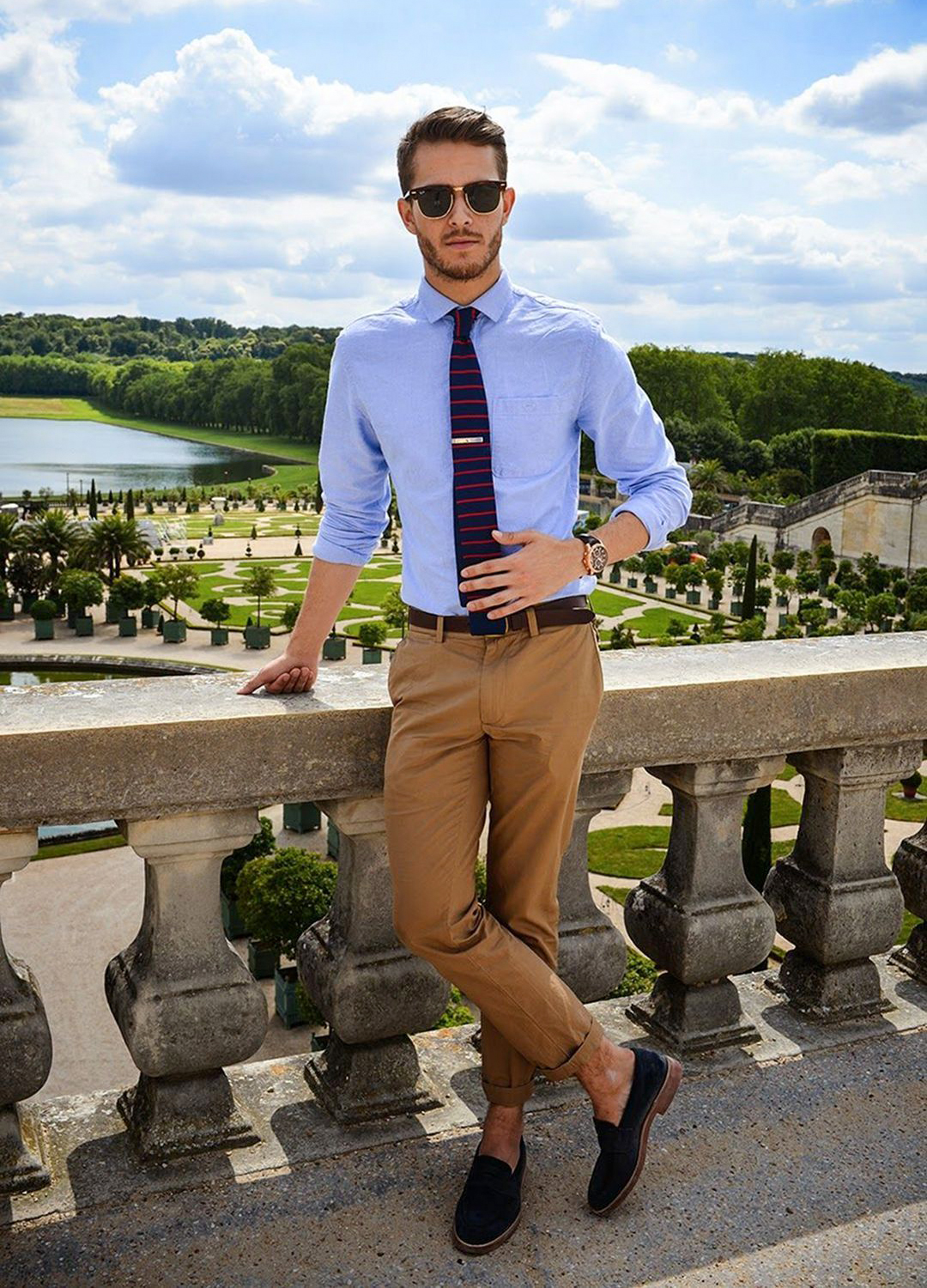 And always complete the look with a dark pair of black or brown formal shoes.
Oxford and derby styles are the classics, but brogues are also acceptable for a more stylish look.
Outfits to Wear for Startup Job Interview
Startup businesses allow for more relaxed dressing, which is why smart-casual attire works best for such settings.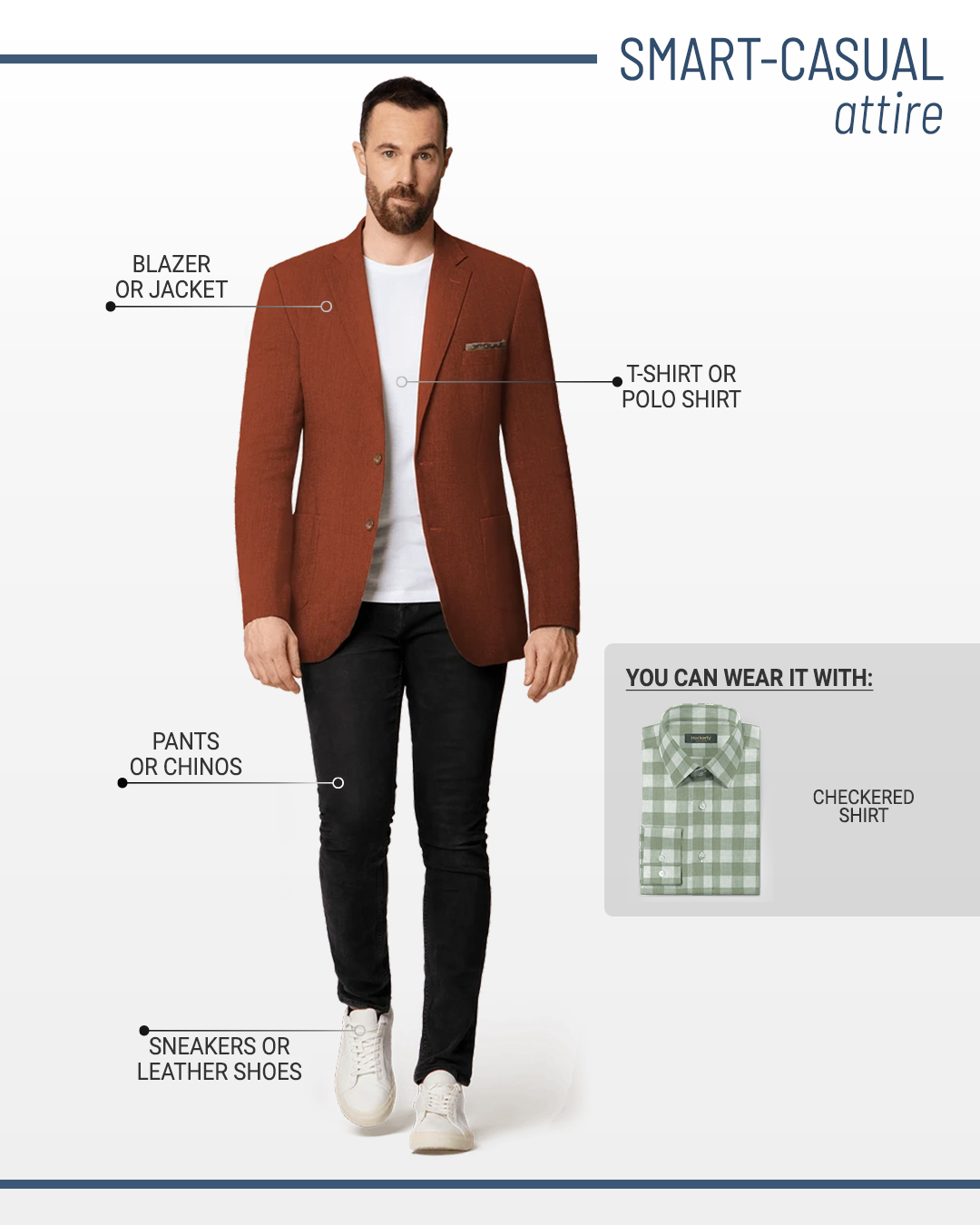 However, don't lose your professionalism in an attempt to accomplish the smart-casual look.
You can go for a t-shirt or polo shirt without any graphics with navy blue slacks and a nice sports coat for a nice smart-casual interview outfit.
But a polished, comfortable long-sleeve button-down shirt looks sleek.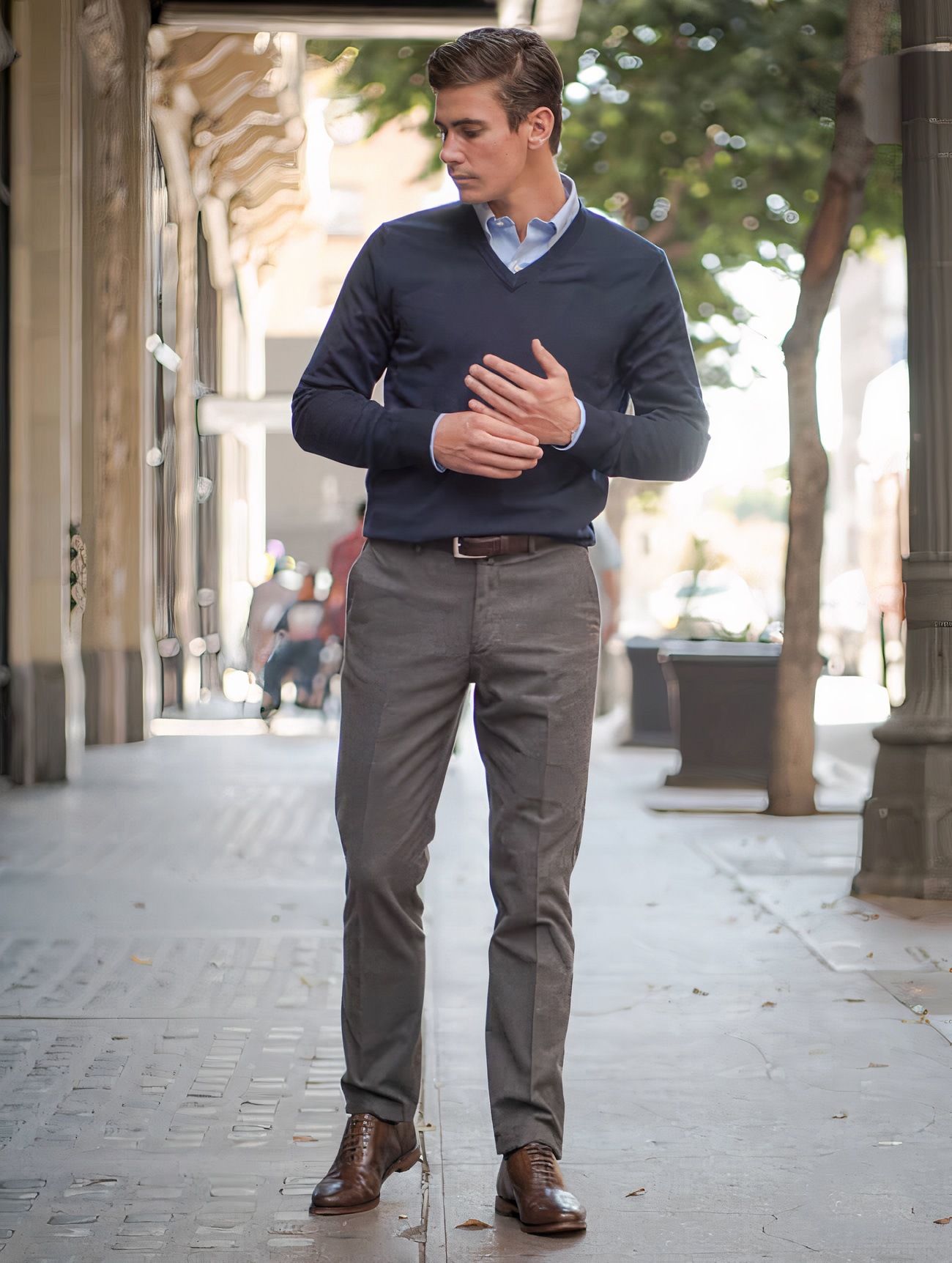 Print or patterns on the shirt are okay, too, as long as they are simple and subtle. Sweaters and turtlenecks are also adequate.
Adding some color to a smart-casual outfit is acceptable, even if you branch out a bit from the usual neutral shades.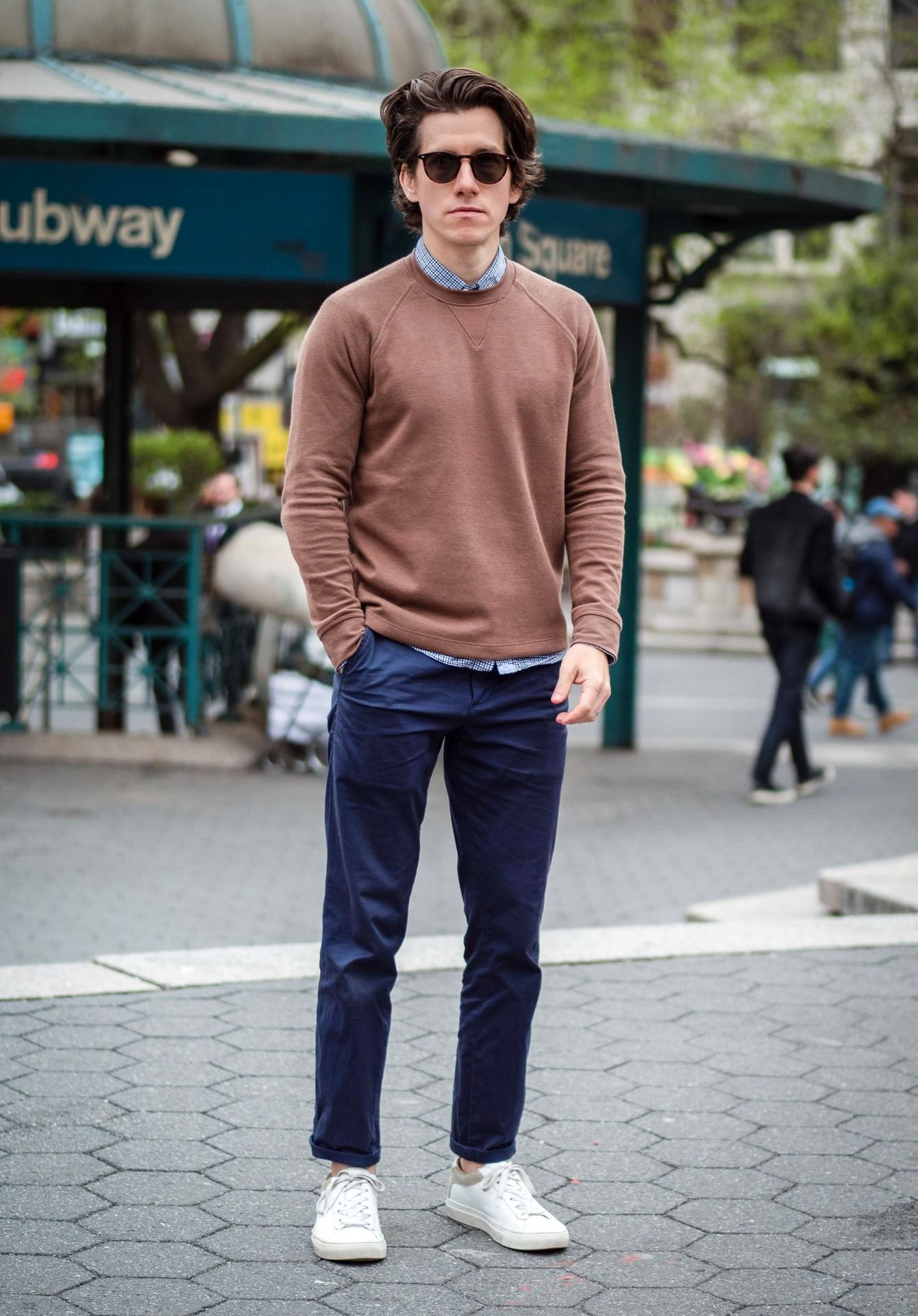 As for the pants, khakis or chinos are your best choices. Make sure they are neat, clean, and free of wrinkles.
It's best not to wear jeans to an interview, no matter how relaxed the environment is. Reserve the jeans for when you have been hired.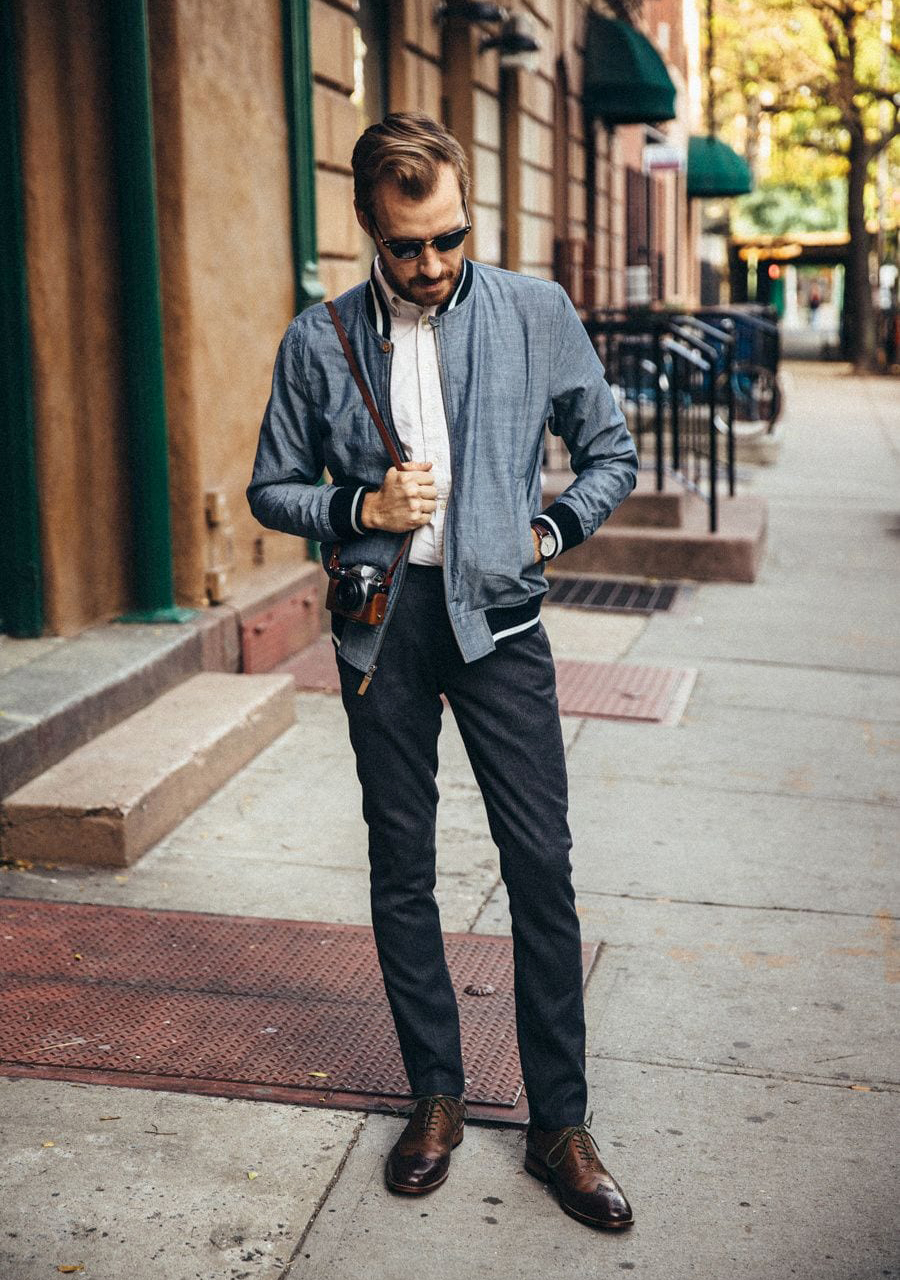 Dress shoes are always the safest option, but here you have some room to experiment as well.
I never recommend sneakers for interviews, but they can pass the benchmark if it's a startup.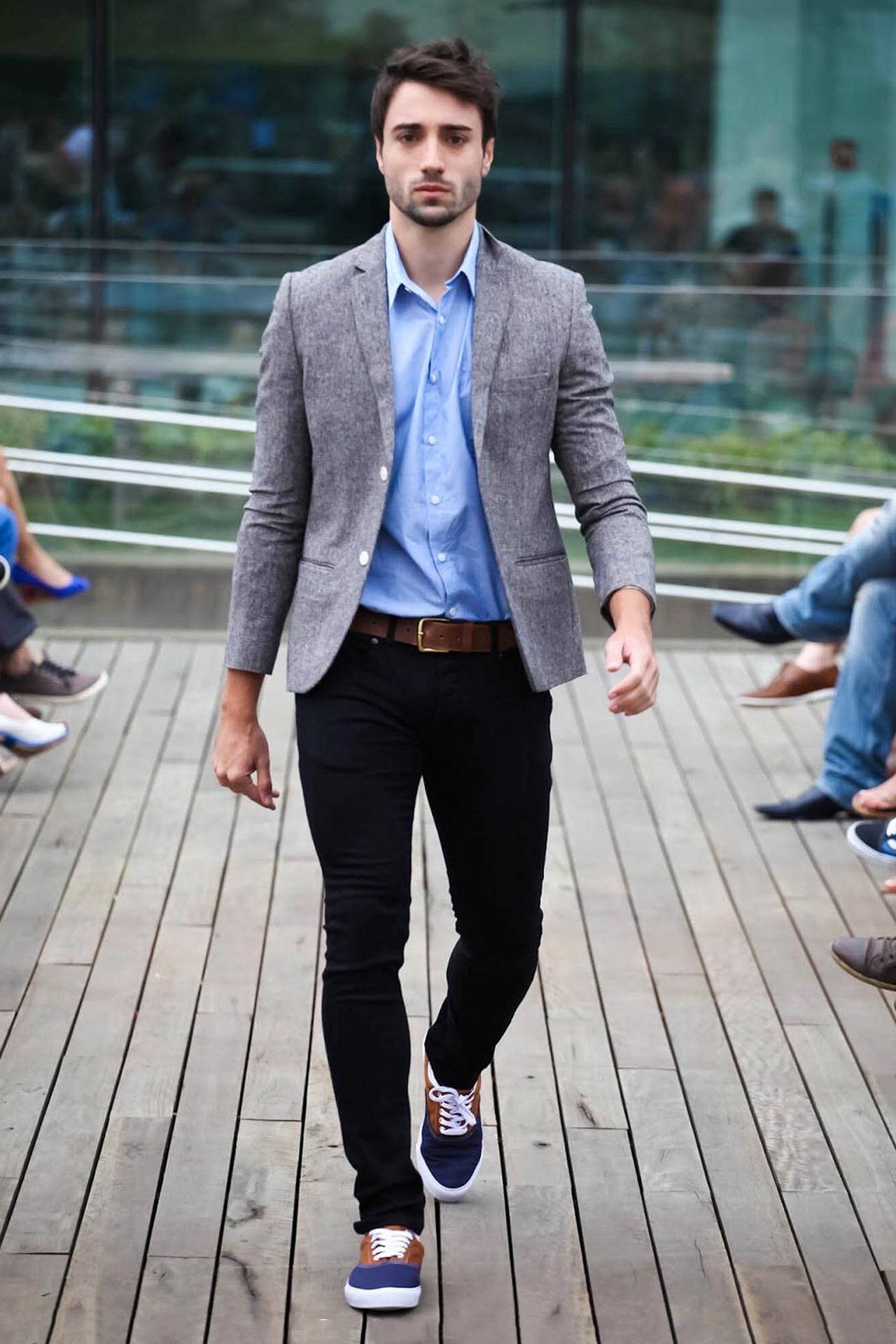 The tie is neither required nor recommended for smart-casual attire, but the belt is still a good addition.
What NOT to Wear to a Job Interview
It's great if you follow all the above rules to dress up for a job interview.
However, what's not great is wearing things that are NOT acceptable for such meetings.
Here's what you need to avoid:
Bright and flashy colors are inappropriate for an interview setting.
Your overly casual outfits aren't an option, even for an interview during summer.
Dated fashion articles tend to undersell you in a competitive job market.
Overdoing accessories is never a good idea. Keep them simple, minimal, and limited.
Whacky and novelty ties reduce your chances of being hired.
Other Things to Consider Despite the Outfit
Job interviews require you to put in the effort and have an eye for detail to stand out from the competition.
Getting the right outfit is just one step toward a successful interview.
You also need to ensure the little things work in your favor, such as neatly ironed clothes.
A neat and tidy attire free of any wrinkles and creases speaks volumes about your personality and fashion sense.
In addition, avoid putting on too much cologne, as it might give the interviewer a headache.
Obviously, hair is important. Even a neat-looking outfit doesn't look neat with untidy hair.
Cut your nails because that says a lot about a person. The same goes for shoes and how clean they are.