Would you know what to wear if I asked you to put on your semi-formal attire for a particular event tonight?
Think it over, and I can bet you will be left more confused than before.
Most people struggle with drawing lines between formal and semi-formal.
This comprehensive guide for men's semi-formal attire has everything you need to know before attending the next event.
The Semi-Formal Dress Code
We can understand dress codes by thinking of them as a spectrum.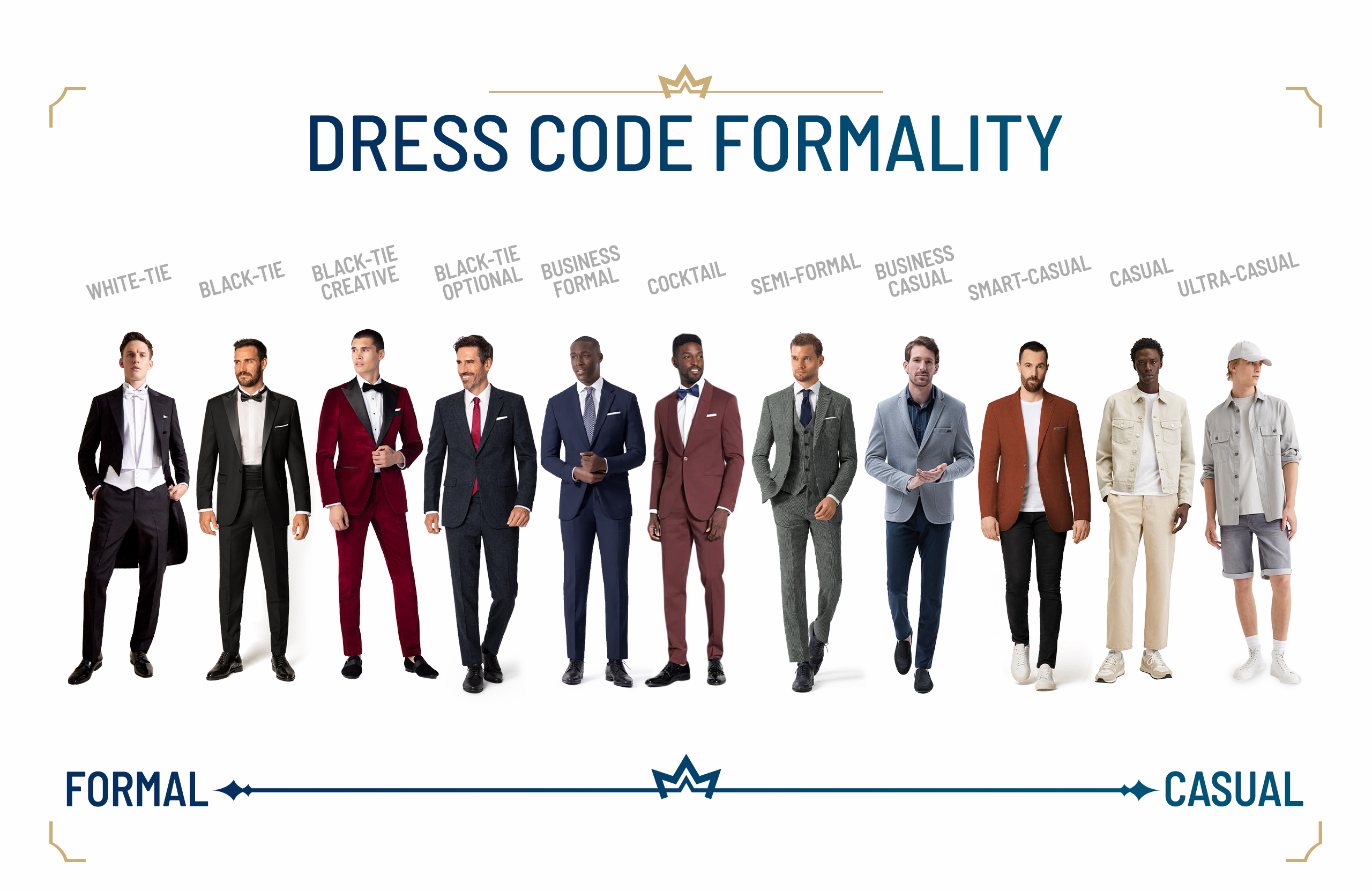 With that in mind, the semi-formal dress code falls closer to the formal end of this spectrum.
As a result, this dress code requires your outfit to reflect an elegant style and sophistication.
Something that often works for evening events and weddings in a sophisticated manner.
However, there's reasonable room for flexibility and personal touch, allowing you to be more creative than other formal dress codes.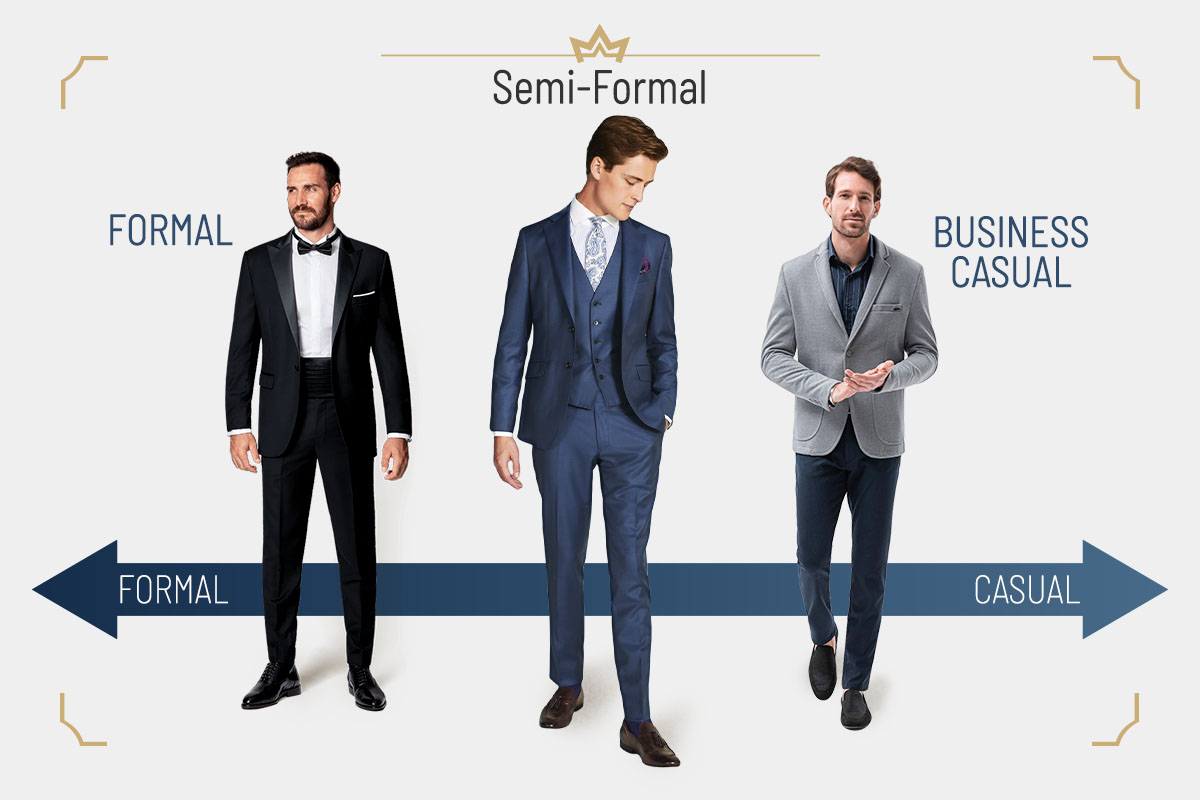 And that is where people usually get confused; where do you draw the line about how flexible you can be?
What Does Semi-Formal Attire for Men Mean?
When it comes to the semi-formal dress code for men, a lot of attention has to be put into the details, such as the suit color, style, combination, and accessories.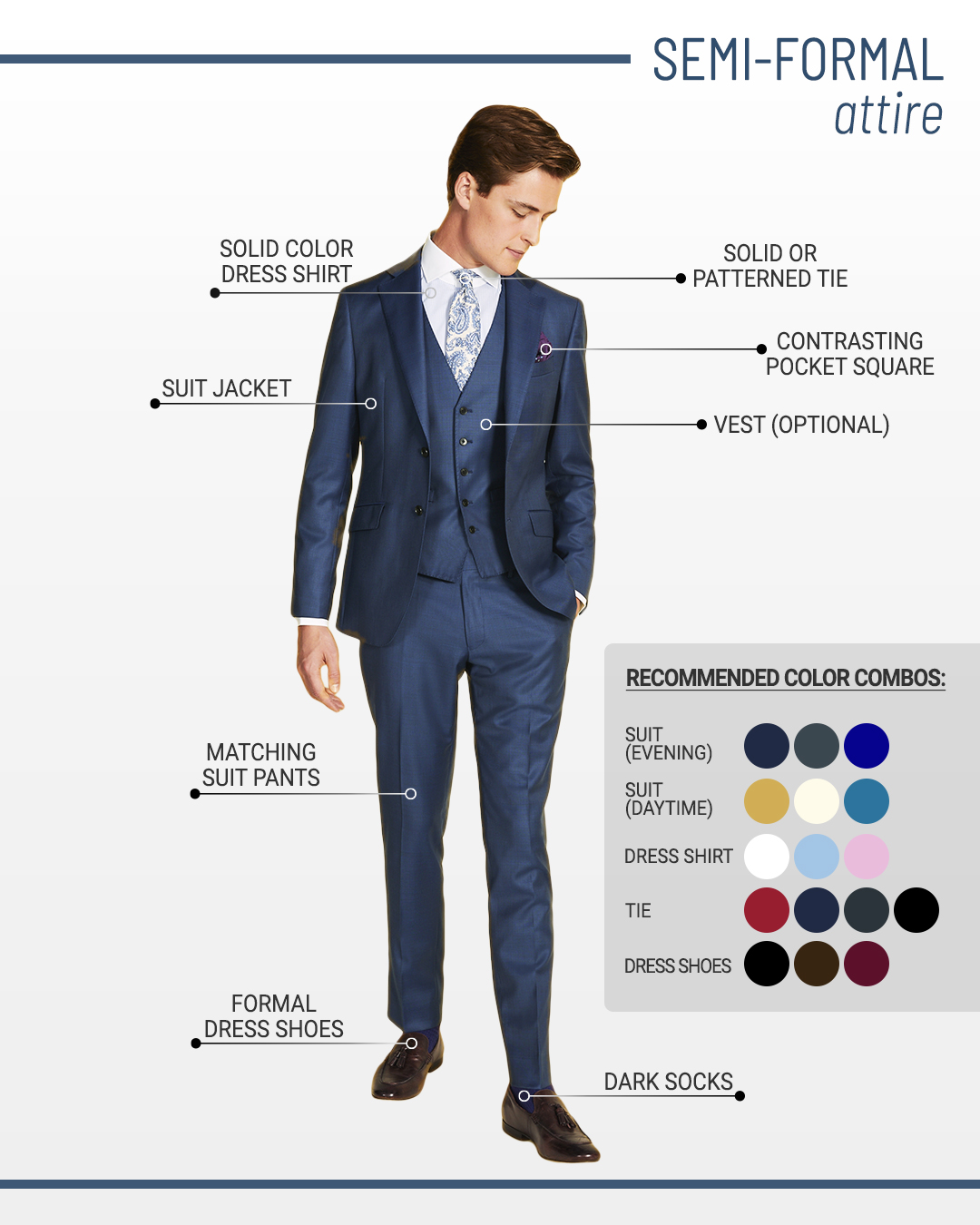 In short, the semi-formal dress code requires you to wear a solid dark suit with a contrasting dress shirt.
You could also wear a matching vest, but there is no compulsion.
A tie might not be mandatory, but it's highly recommended, so don't skip it.
Make sure you wear shoes that fall more on the formal side.
You could also add accessories to come off as relaxed and easygoing than fully formal.
Formal Attire vs. Semi-Formal Attire
So what's the difference between formal attire and semi-formal attire, then?
Formal attire is associated with black-tie events or any highly formal event.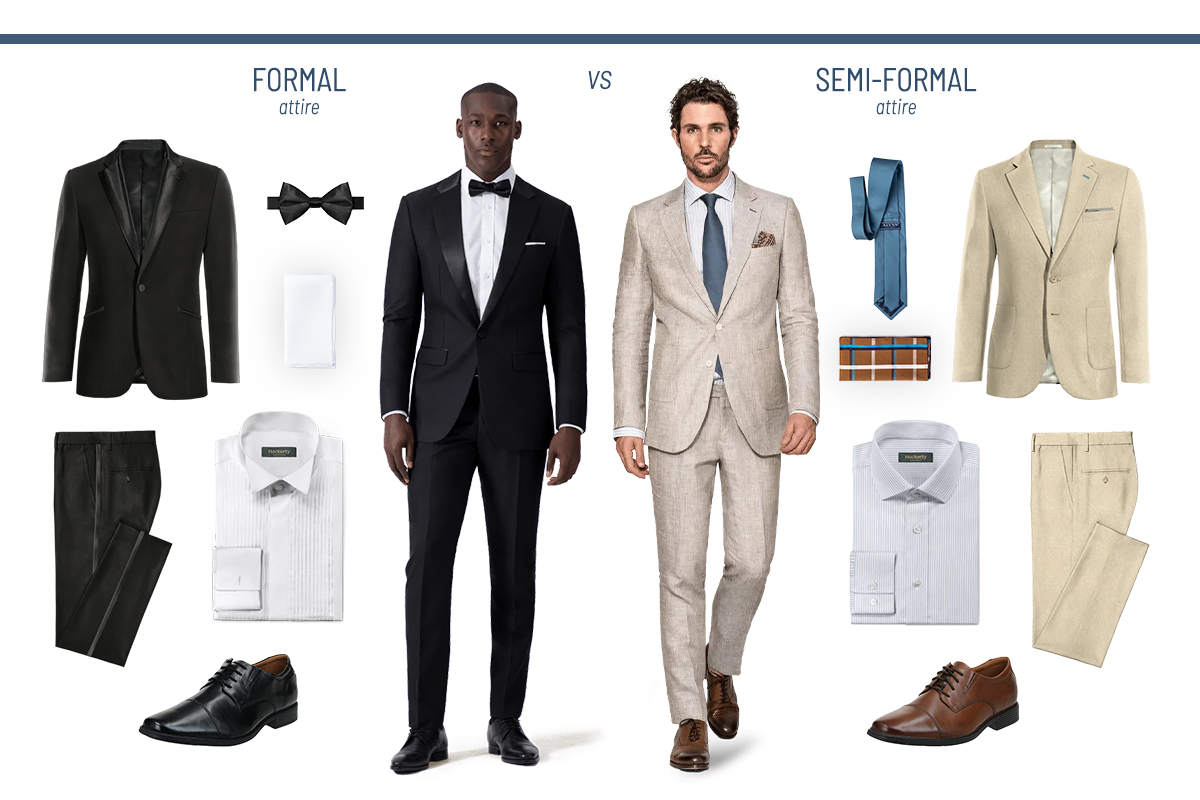 The dress code for these highly formal events requires you to wear a tuxedo and bow tie.
Hardly anyone goes against the tux and bow tie at a formal event because there can be no exceptions to the rules.
In simple words, formal attire is the epitome of sophistication. You don't get enough room to play around.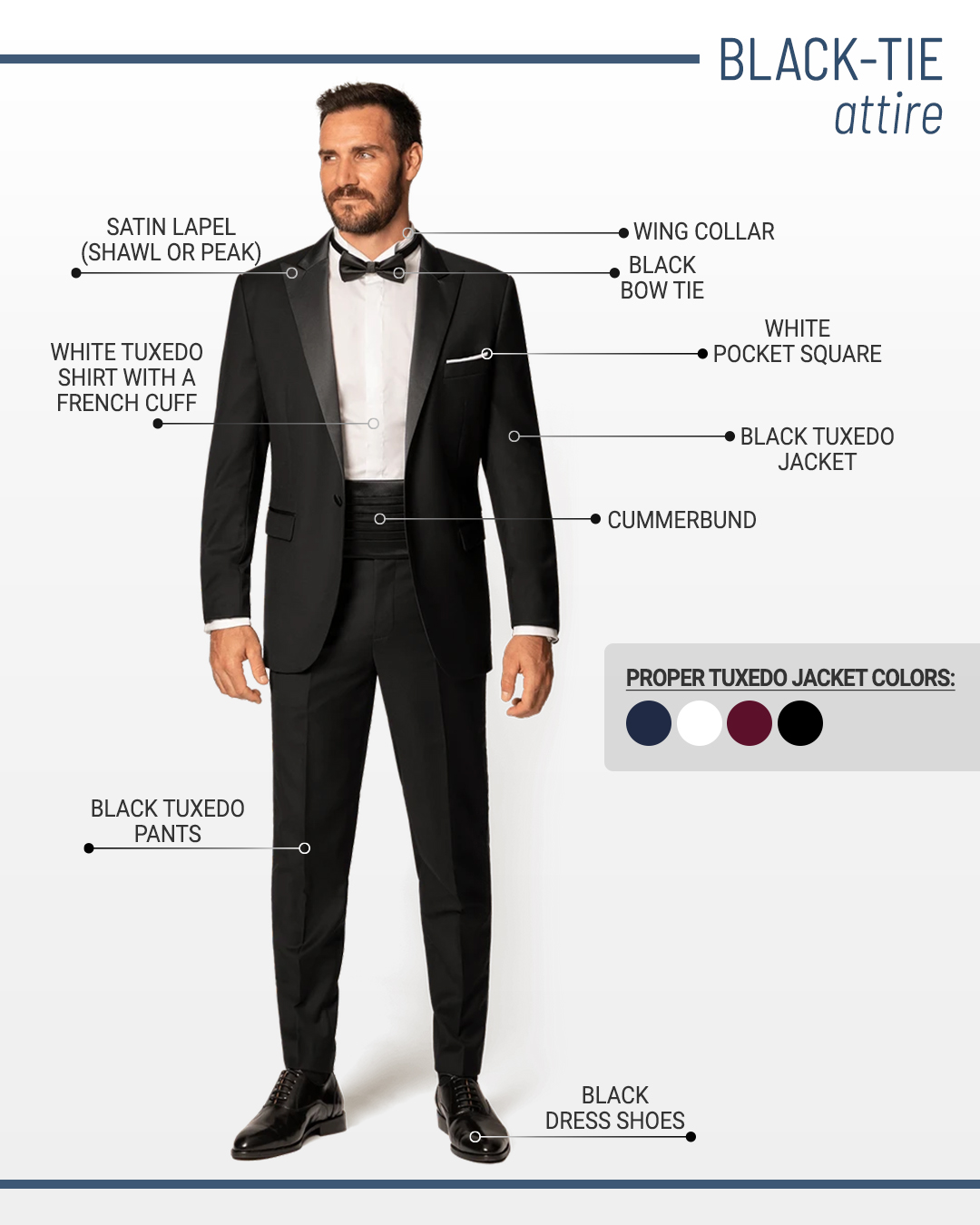 As for the semi-formal dress code, you get a lot more room for flexibility.
You are still expected to wear a suit. However, sometimes separating the suit jacket and pants work too if you can make the combination look dressy.
Semi-formal attire also allows textures and patterns, which take a little time to master.
However, all of this does not mean you can do anything that comes to mind. There are certain expectations attached to this dress code as well.
The Semi-Formal Attire for Men
By now, we have talked about the general rules and expectations attached to the semi-formal dress code.
It is time to break it down and help you understand which clothing articles work best.
The Semi-Formal Suit
The men's semi-formal suit should be premium quality and precisely tailored suit that carries the whole look.
I recommend not getting a black suit for a semi-formal dress code to distinguish it from formal attire.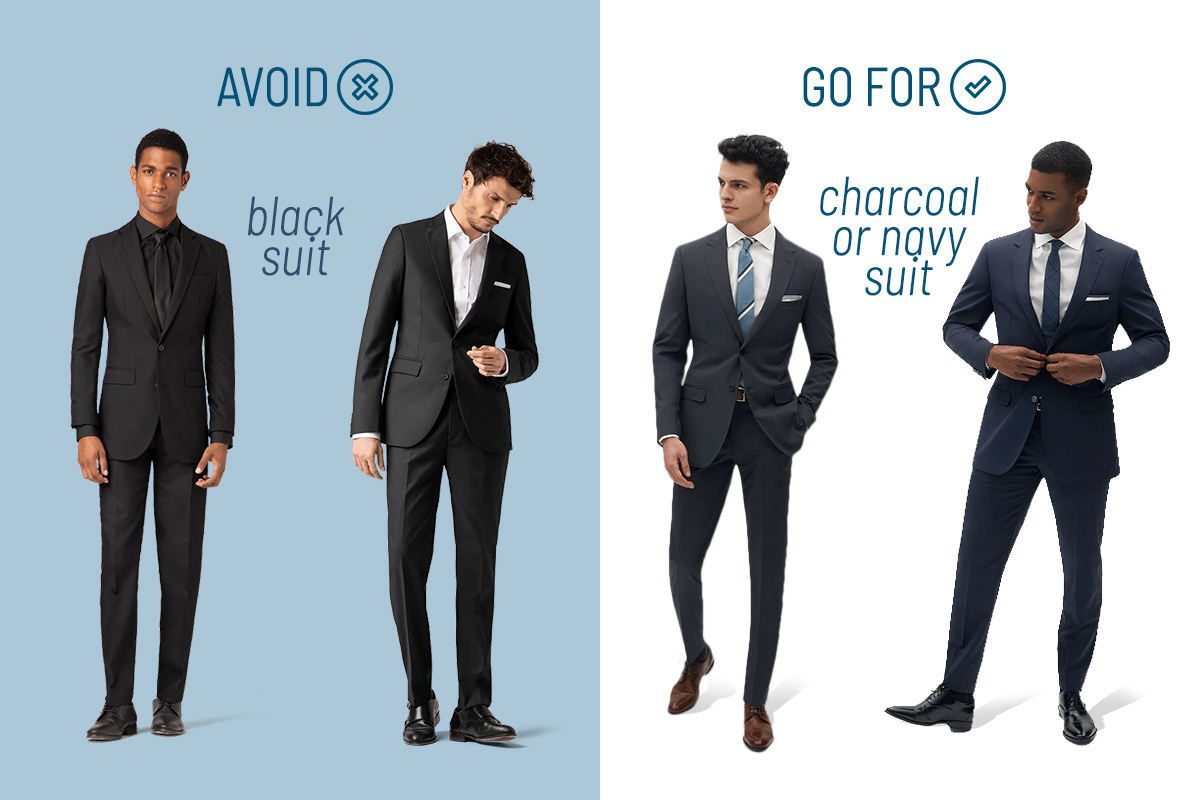 Instead, go for the classic navy suit or grey suit because it has a formal touch as well as a little bit of a contemporary look.
Two-button suit jackets with matching dress pants are the standard semi-formal choice.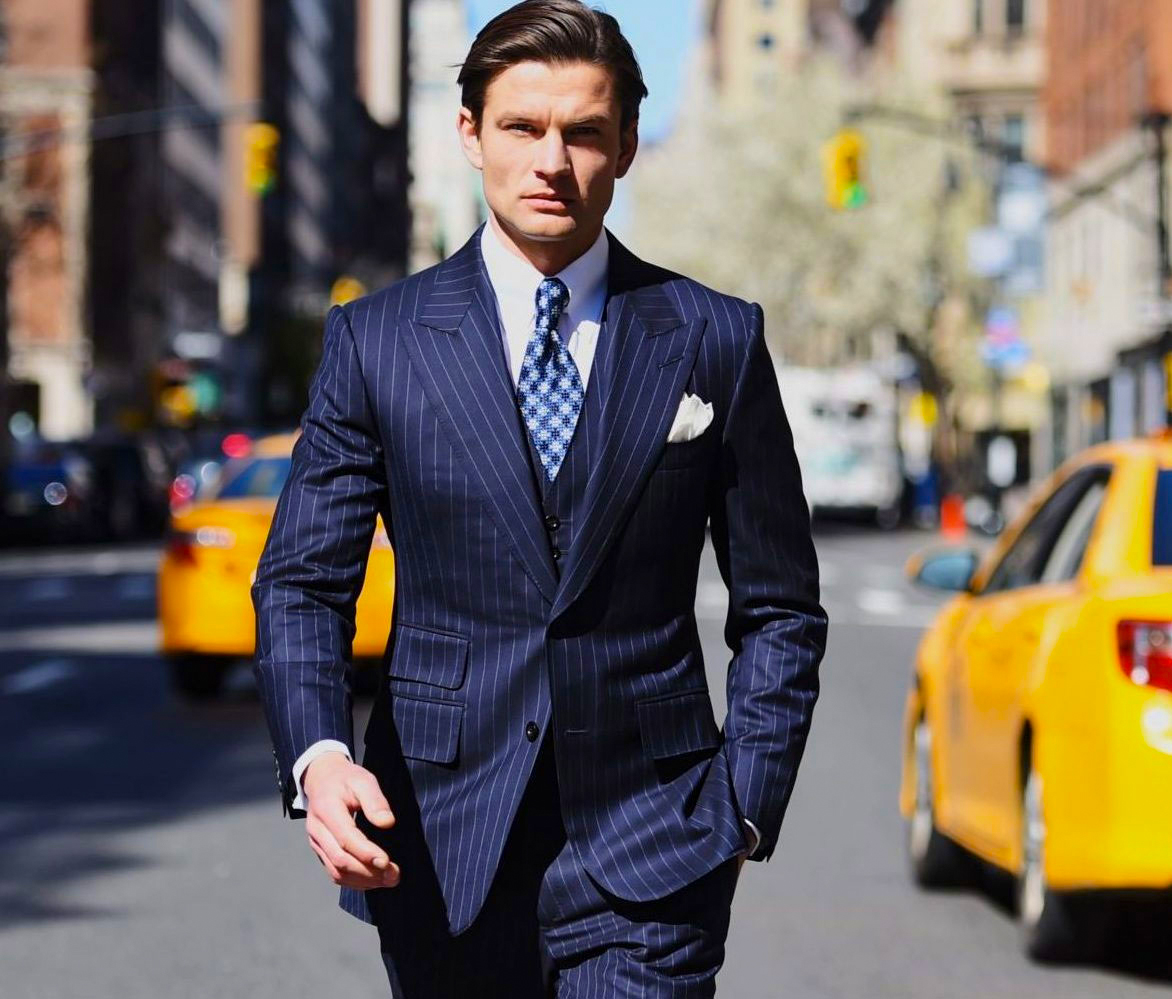 Both two-piece and three-piece suits are adequate. Double-breasted suits are also acceptable.
And once you have decided on the suit, the fit is the next thing to get right.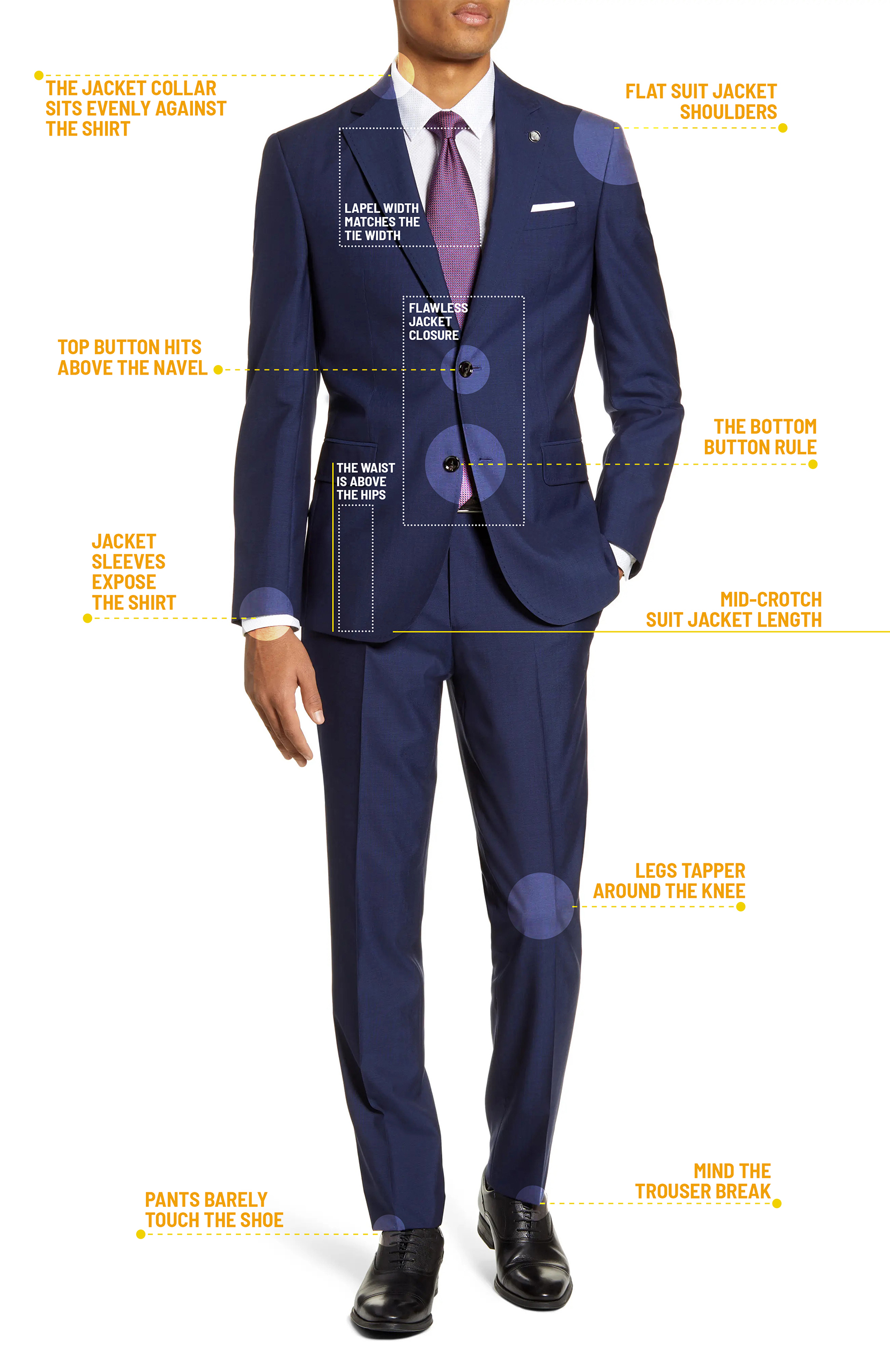 Make sure you have the right fit for your body type, and the suit sits pleasantly on your body.
Lighter Suit Colors for Daytime Events
No matter what color you get, make sure it's a lighter shade for a daytime event.
Get earthy colors for your suit, like brown or grey, for winter daytime events.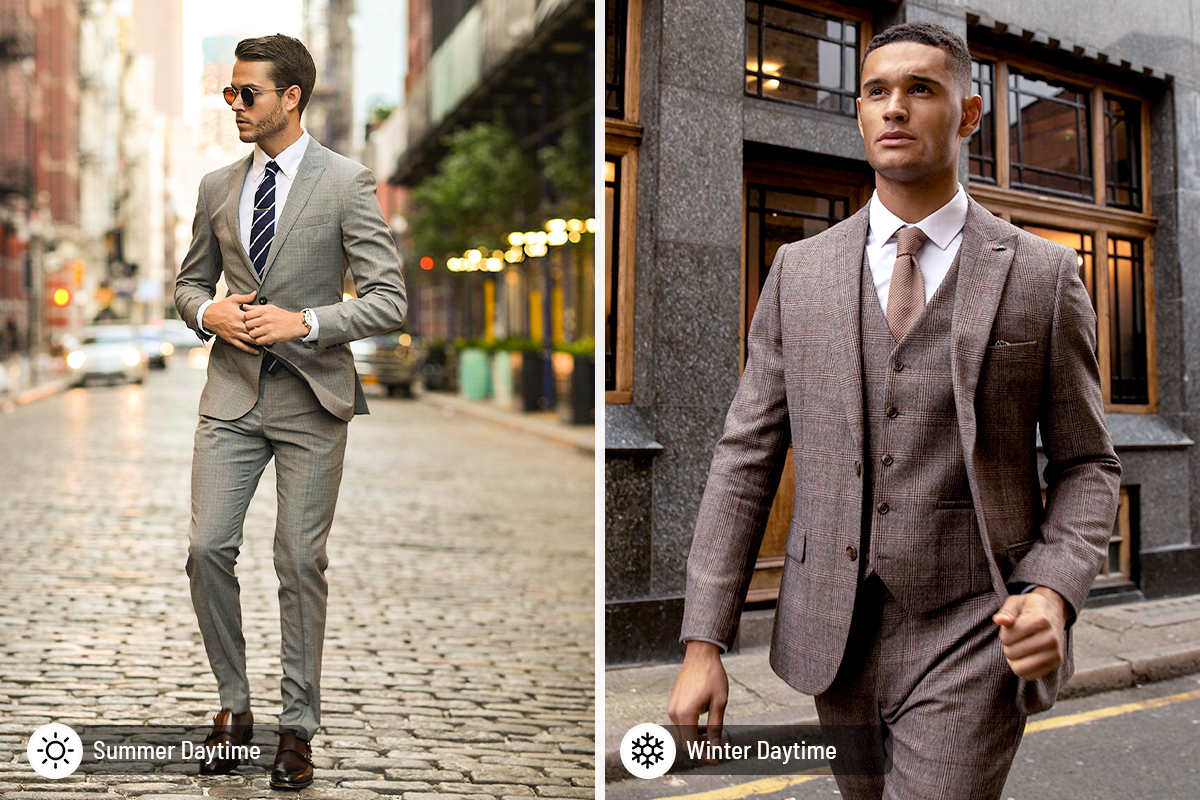 For summer daytime events, you can opt for more popping colors, such as lighter shades of blue or light grey.
In fact, blue suits work perfectly for all seasons if the event is during the day.
That's because blue is such a vibrant and stylish color, and it smoothly and effortlessly combines with the rest of your outfit.
Dark Suit Colors for Night-time Events
The best two dark colors for suits at evening events are navy and dark grey.
Burgundy or dark maroon suits also work, especially if the evening event is during summer, spring, or fall.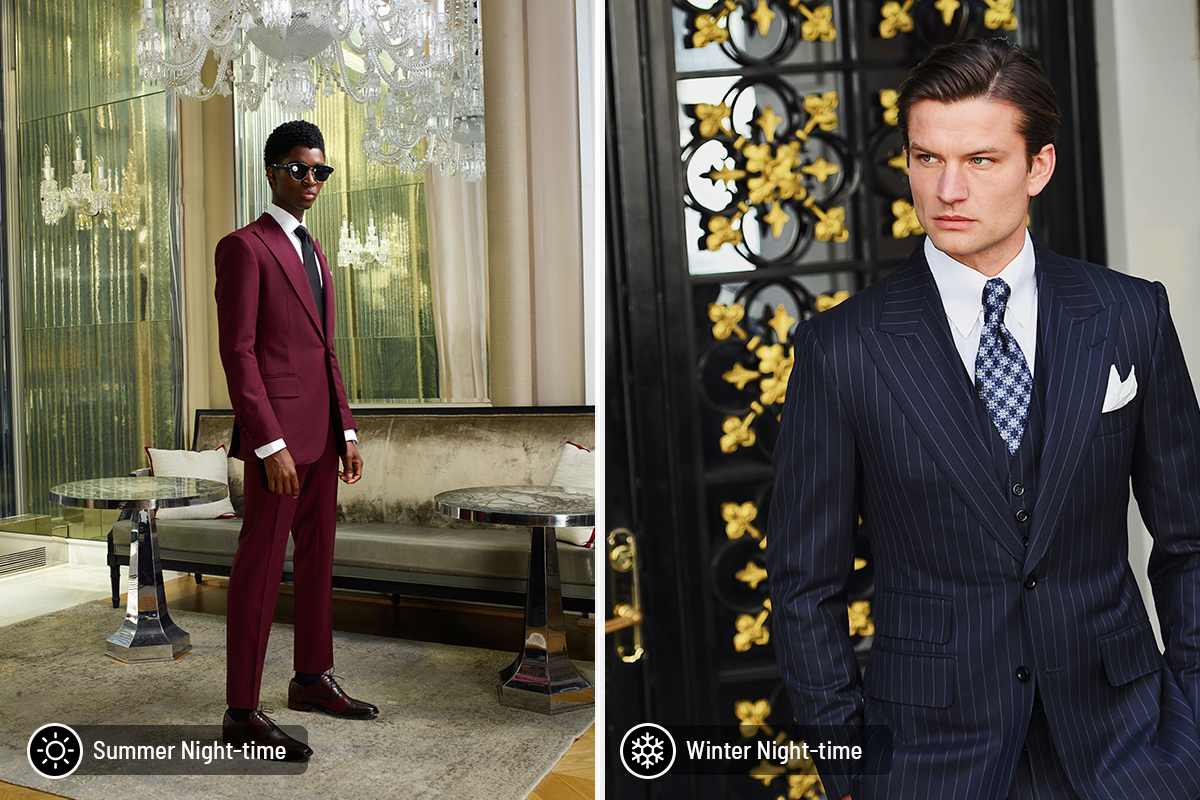 Don't get me wrong, navy and grey work great for all seasons, including summer.
However, summer is often associated with a little bit of pop and brightness, so you could try burgundy.
Blazer and Dress Pants as Alternative to the Suit
If you decide to skip the suit and go with separates, pair a blazer with dress pants instead.
Blazer and dress pants easily fall in the semi-formal spectrum, but make sure there is no compromise on class.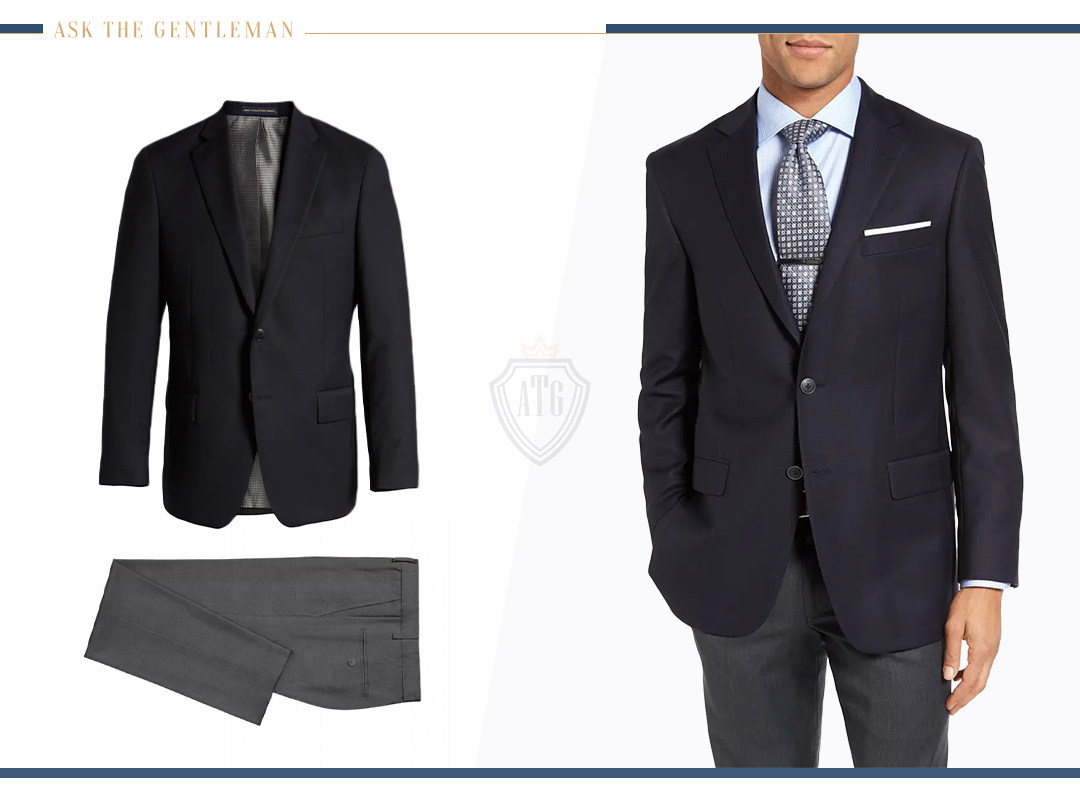 Also, you have to ensure things look sharp and smart as per the dress code requirements.
To do so, get a well-tailored premium-quality blazer with equally premium dress pants.
Stick to classic hues when it comes to colors such as grey, navy, brown, or beige to keep elegance in check.
Add a tie and other accessories to keep formality in check.
Button-Up Dress Shirt
A button-up dress shirt under the suit is a vital part of your semi-formal look.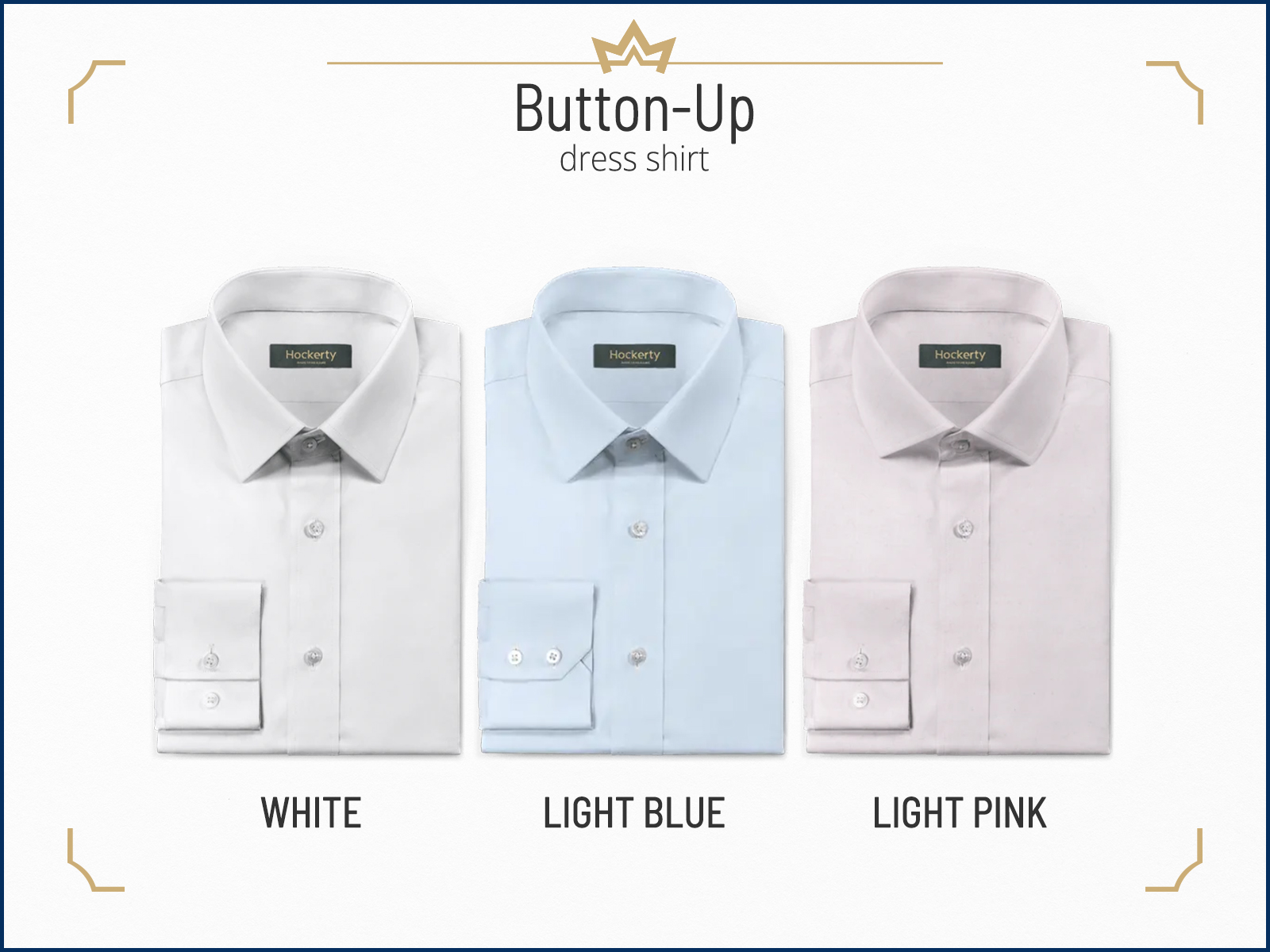 Many people mistake wearing semi-formal attire without a properly matching dress shirt.
The semi-formal dress code is mainly in place for weddings, holiday parties, and semi-formal dinner events.
As a result, the classic white button-up is the best shirt style choice for semi-formal occasions.
However, you could try a light blue or light pink shirt to add flare to your outfit.
Nevertheless, don't move away from these three colors since you must also keep formality in check.
Matching Tie
Even though wearing a tie is not compulsory, it is always expected by the guests.
If you want my advice, wear a matching tie that sits well with the look.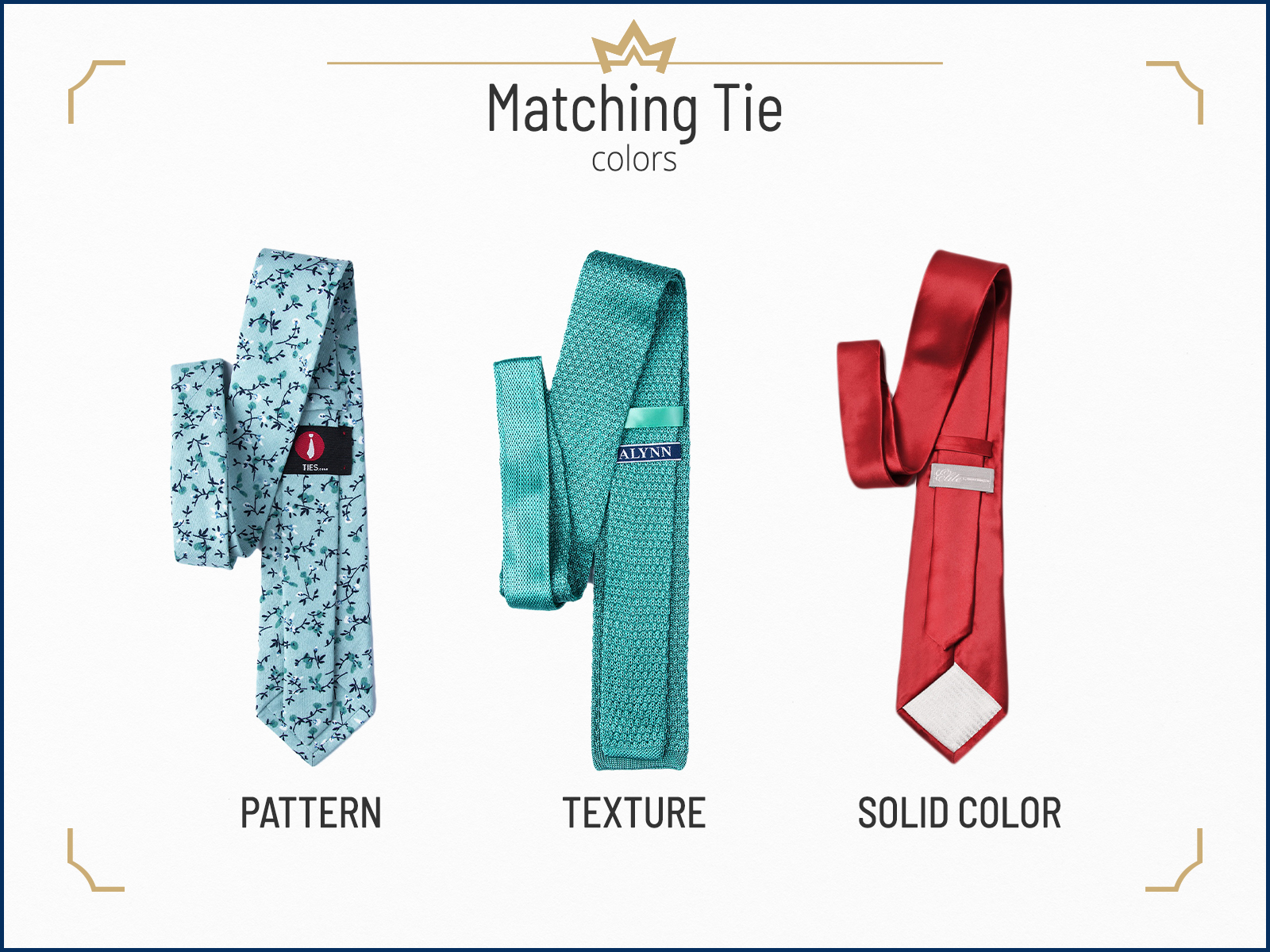 But that doesn't mean you cannot look sharp and polished without a tie.
Just make sure the rest of the outfit makes up for the lack of a tie, and you are good to go.
In case you listen to my advice and add the tie, it is a great opportunity to express your personality.
Try getting a patterned, textured, or bold-colored tie to spice things up a little.
Again, all of this should be done with no compromise on class and only a little or, should I say semi, compromise on formality.
Semi-Formal Dress Shoes
No outfit is complete without footwear, and that is the case with semi-formal attire as well.
Therefore, choosing the right pair is essential to complete the look.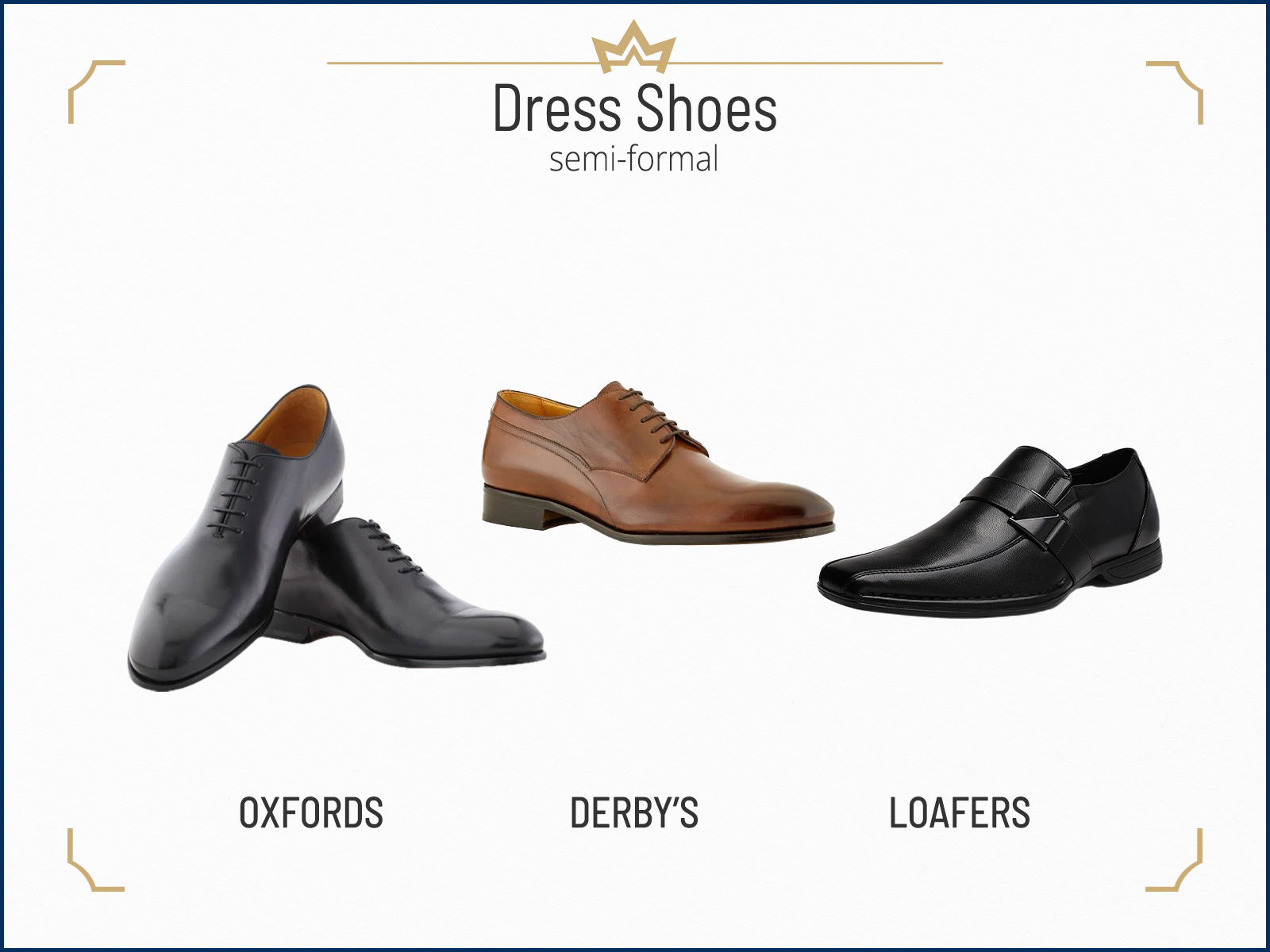 I would personally recommend that you stick to dress shoes that appear stylish, smart, and formal.
Oxfords or Derbys are the best options, which offer a classical and sharp look.
If the rest of your outfit is falling a bit strongly towards formal, you could throw in a pair of brown monk straps to bring playfulness to your look.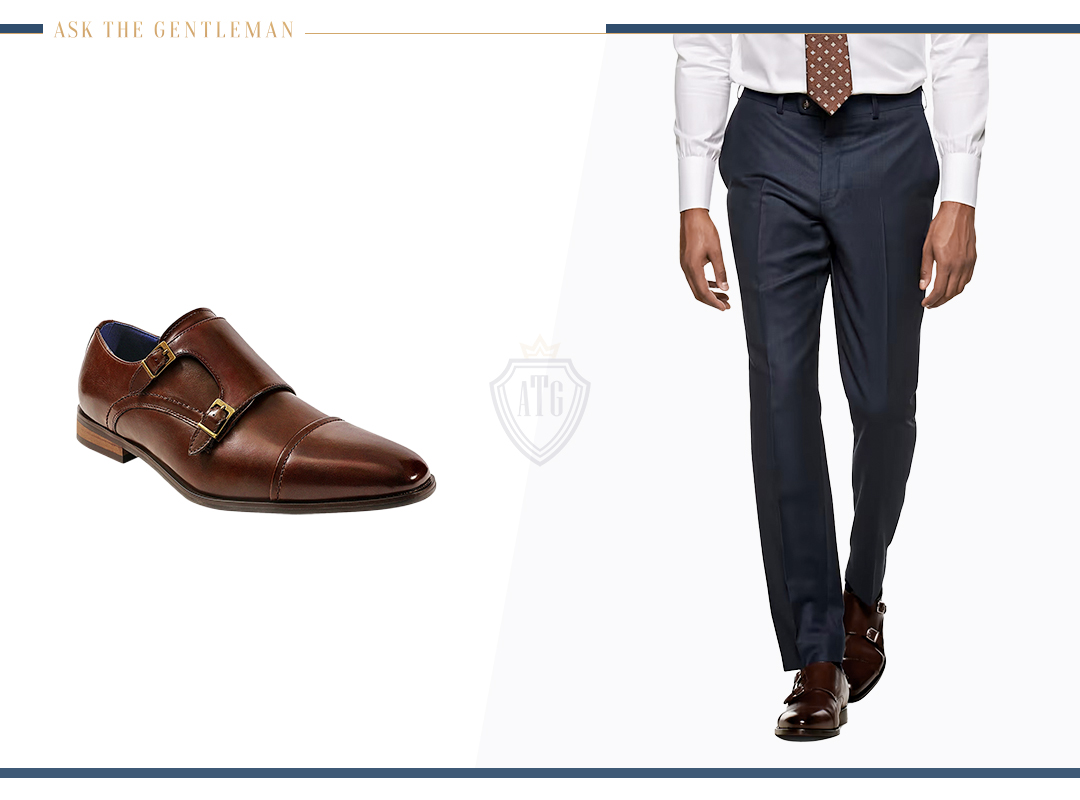 Go for dressy loafers or brogues if you want to lean on the casual side. They offer a more relaxed yet elegant look.
The preferred colors are black and brown, but match them with your suit and belt.
Matching the shoes' color with your suit can be tricky, so I suggest reading a special guide.
Accessorizing the Semi-Formal Attire
Semi-formal attire offers more room for experimentation when it comes to accessories.
You can add personal style to your outfit by adding accessories in different designs and styles.
Here is what you need to keep in mind:
Belts are Aesthetic
Belts aren't mandatory, but they are strongly encouraged due to the aesthetic they provide, especially with a suit.
It helps refine the look and makes you look composed and smart.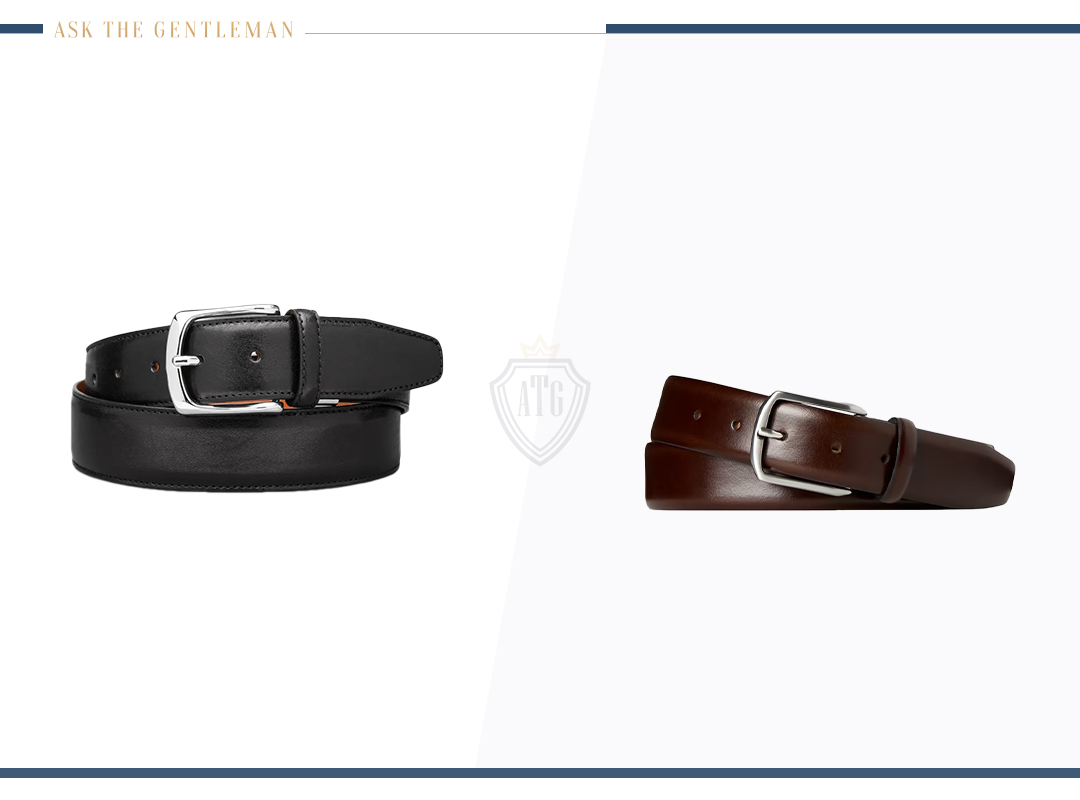 As a result, make sure you add a belt to your semi-formal attire that matches the shoe color.
The most common belt colors are black and brown.
Just try to get the same shade as the shoes or something that comes really close.
Feel Free to Remove the Tie
The tie is not mandatory in semi-formal attire.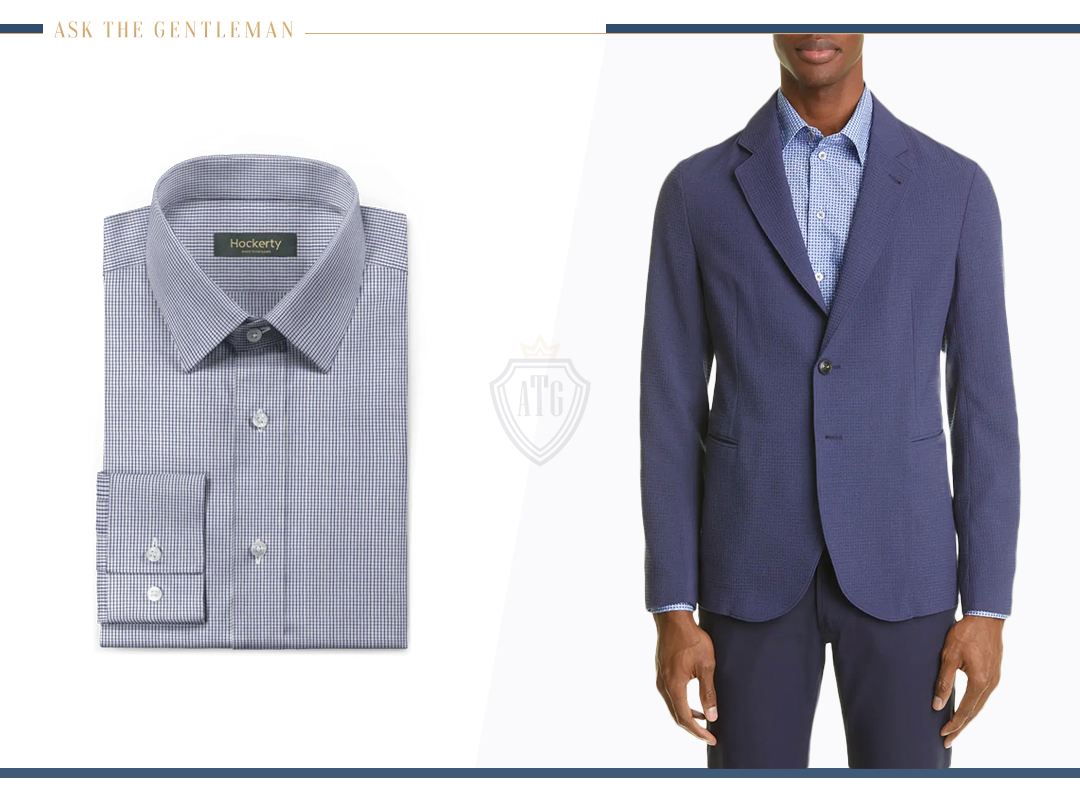 However, I would still recommend that you wear one because the dress code still falls more on the formal side of the spectrum.
Having the flexibility to skip the tie gives you room to experiment with a patterned dress shirt.
Ensure you don't overdo the patterns and go for minimal designs that don't overwhelm the suit.
Add Personal Style to Your Outfit
Another great thing about semi-formal attire is that it allows you to add personality with accessories.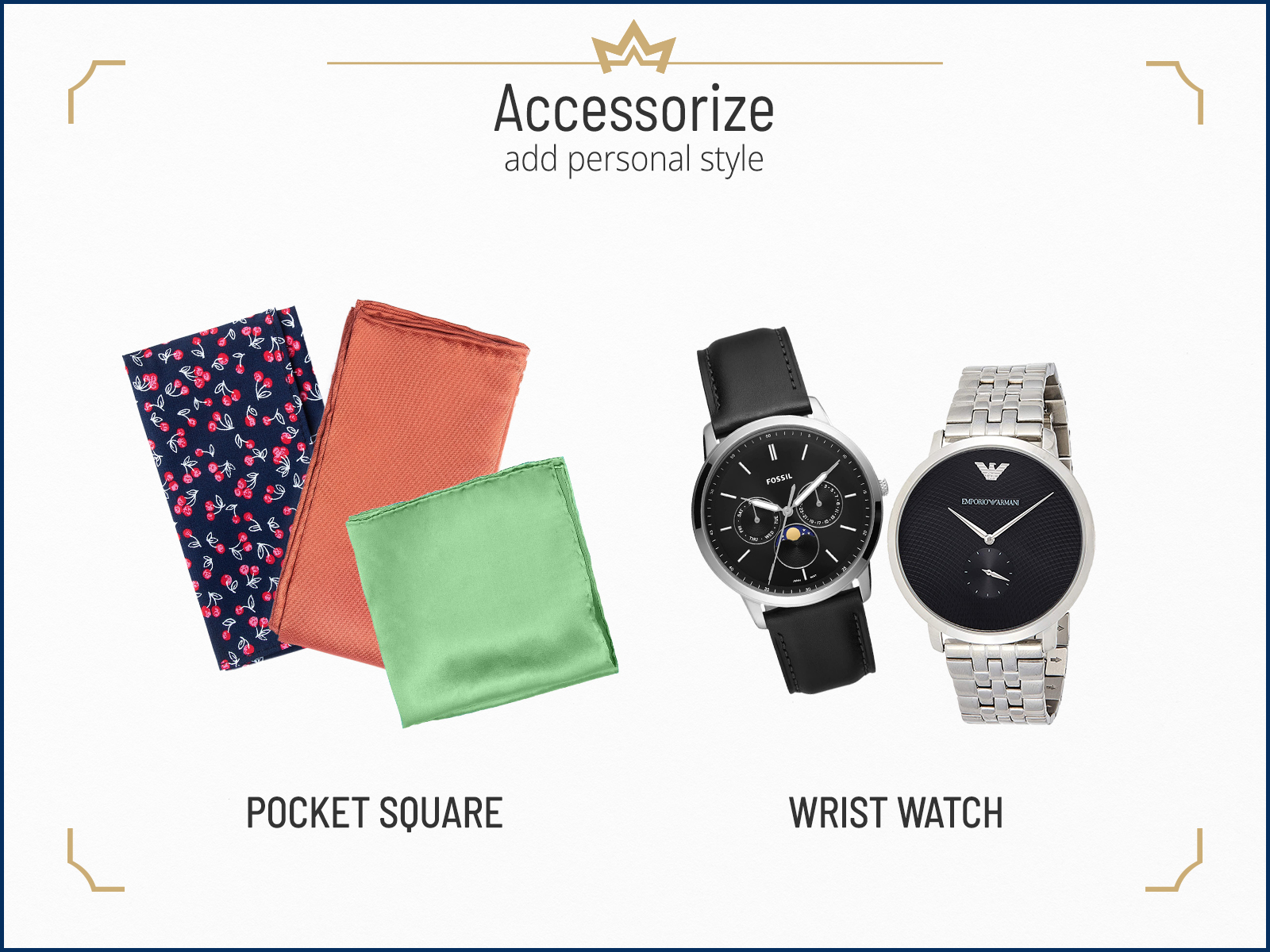 For instance, you could put on a contrasting pocket square, especially for daytime events.
Pocket squares not only make you look smart and sleek but also classy.
For evening events, make sure the pocket square is modest in design, color, and the way it's folded.
White pocket squares are also a good choice for semi-formal nighttime occasions.
You can also add a watch to your wrist to further accessorize the semi-formal ensemble.
My personal favorites are the leather strap watches with the strap matching the shoe and belt color.
However, if you prefer metal watches, there's no harm in wearing one.
Semi-Formal Wedding Attire for Men
Whether it is an outdoor soiree on a sunny day or a wedding during the evening, your semi-formal game should be up the mark.
While this dress code has room for flexibility, you cannot compromise on the formal element.
If you're attending a nighttime wedding, pairing a navy blue suit with a white shirt and dark tie is something that will work.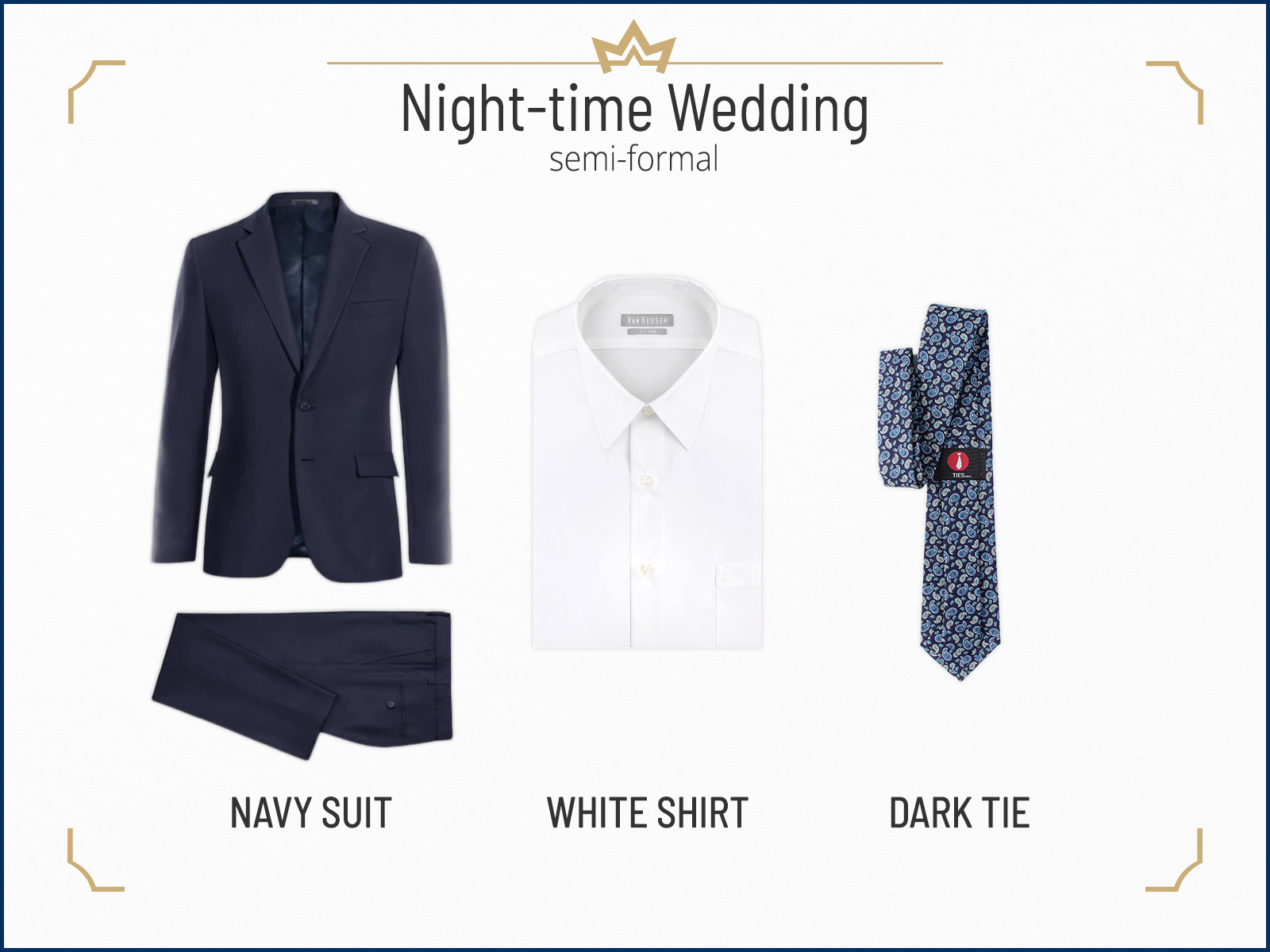 However, you do have the option to go a bit less formal for daytime weddings.
For instance, you can match your light blue suit with a light pink shirt to create a more vibrant look.
This is because daytime weddings allow lighter suit shades and a bit of pop in the colors and accessories.
Nevertheless, it is still not an invitation to wear your least casual outfit to the wedding.
Take the dress code as seriously as you take the formal dress code.
If you are in doubt about the level of casualness expected at the event, always take the safer route and dress more formally than casually.
You're welcome to add personalized accessories like pocket squares, watches, and sunglasses in both day and nighttime events.
So make sure you have just the right amount of flare but nothing too much.
Daytime vs. Night-Time Semi-Formal Attire
The only major difference between daytime and night-time semi-formal attire is the differences in suit colors.
While darker suits are preferred for night-time semi-formal occasions, lighter suits are preferred for daytime.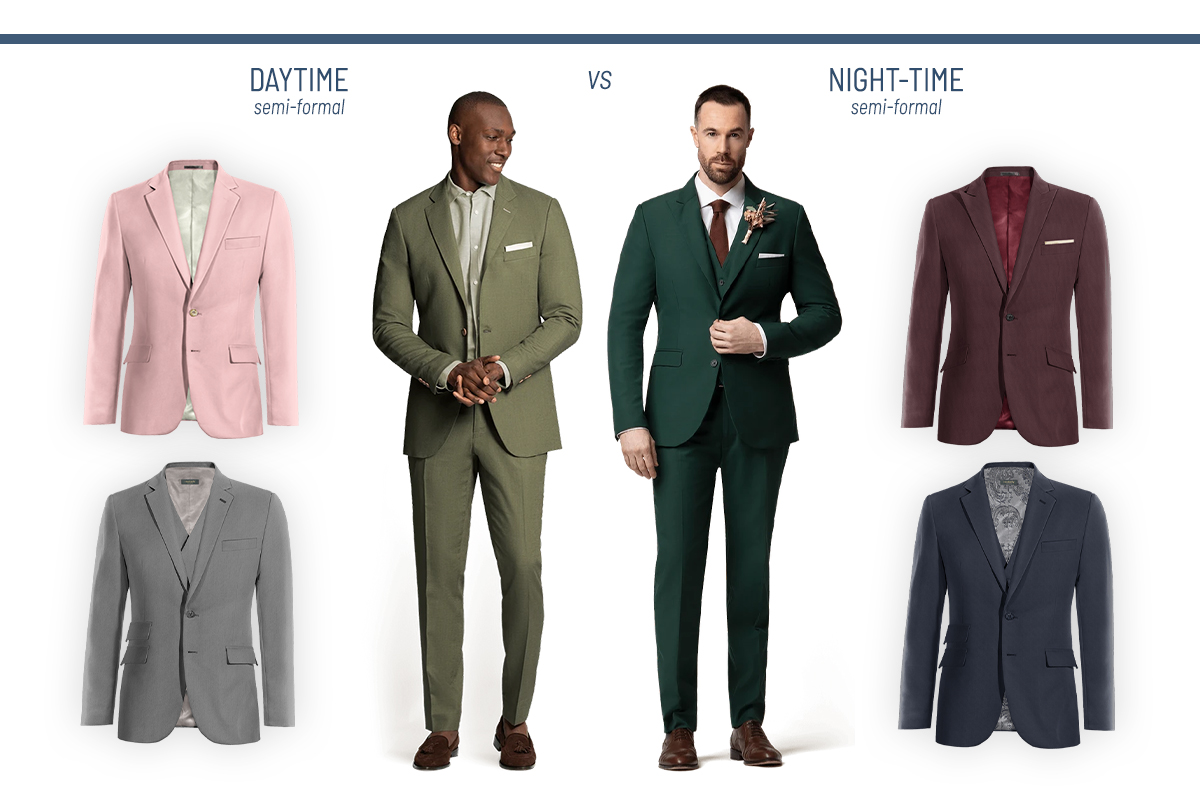 As for the rest, you have to accessorize in accordance with the suit color so have your brighter-toned accessories ready for the day.
For the night, you can make do with toned-down accessories that complement the darker suit color.
And lastly, don't forget sophistication and class out of the equation, whether the event is daytime or night-time.
What to Avoid Wearing to Semi-Formal Events
I cannot emphasize enough how wrong it is to wear your everyday casual clothing articles for semi-formal attire.
This is also true for the fully formal tuxedo.
You cannot put on anything that is extremely formal such as the tuxedo, or extremely casual such as jeans or a t-shirt.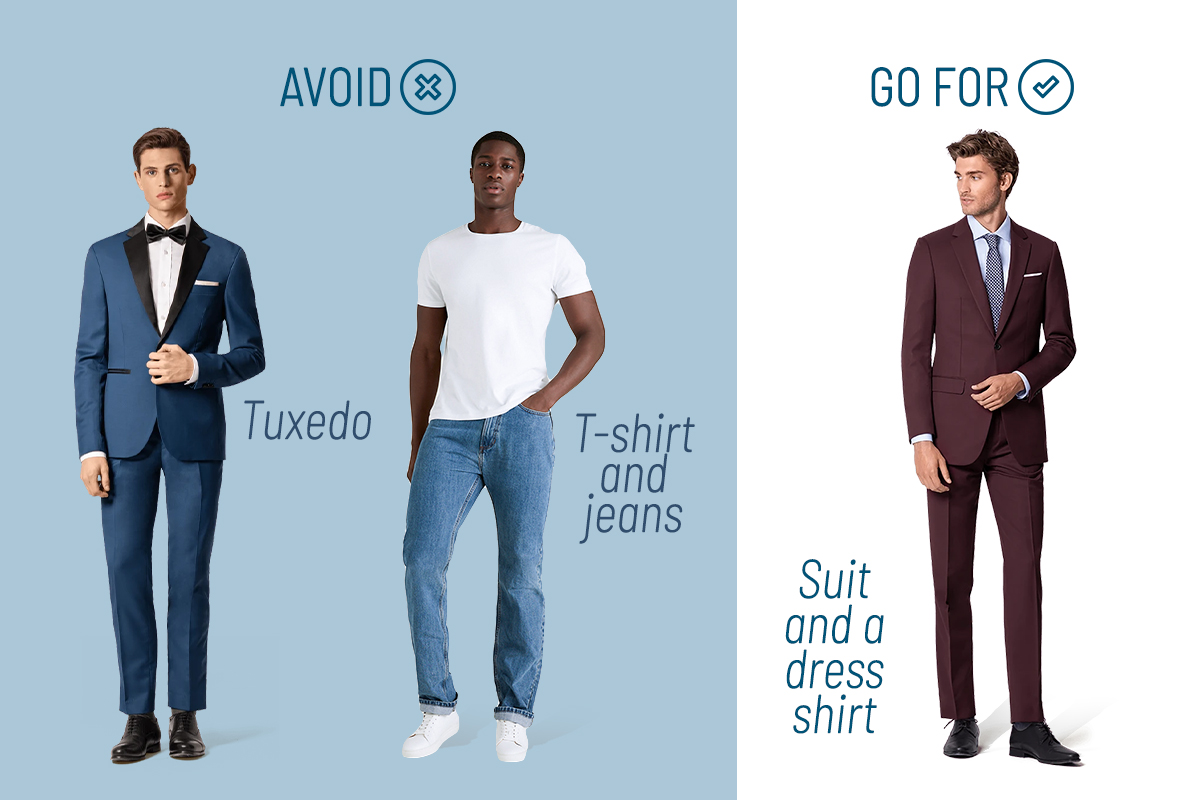 Things have to be kept fairly formal by avoiding polo shirts, sports jackets, casual shoes, sparkling accessories other casual items.
Always keep in mind that there is still FORMAL in semi-formal. So take it more seriously than the SEMI.
Semi-Formal Attire Dress Tips
Here are some vital semi-formal dress tips that you must keep in mind:
It is always better to be overdressed than underdressed.
Semi-formal is still formal, with little room for flexibility.
It is acceptable to add a unique twist to your outfit, such as a colored dress shirt or patterned suit.
The tie is not mandatory but still recommended.
Try sticking to darker shades, especially classic colors such as navy, grey, and burgundy.
Try avoiding black to distinguish it from formal attire.
You can't wear jeans to a semi-formal event.
Never go for casual shoes.
Dress according to the time of the day.
Semi-Formal Attire FAQs
Are suspenders acceptable in semi-formal clothing?
Yes, you can wear suspenders if you plan on ditching the belt.
Semi-formal attire does allow you to skip the belt, so suspenders are a good replacement.
Can you wear a vest for semi-formal events?
Yes, wearing a vest for a semi-formal event is perfectly acceptable.
Three-piece suits aren't only reserved for formal attire and can be worn for semi-formal events.
What are the best suit colors for semi-formal cocktail events?
The best suit colors for semi-formal cocktail events are charcoal, navy, blue, grey, and burgundy.
Keep in mind all colors must be in dark shades if it is an evening cocktail event.
Can you have facial hair when going to a semi-formal event?
Yes, facial hair is totally fine. Just make sure they are groomed to look neat and sharp.
Messy facial hair doesn't go well with a polished suit at semi-formal events.
Can a sweater be semi-formal?
A semi-formal event means wearing a suit and a dress shirt with the option to skip the tie and vest.
As a result, you cannot put on a sweater under the suit since it is too casual.
It goes out of the boundaries of formality necessary for men's semi-formal attire.