To choose the right semi-formal outfits, all you need is an inspiration.
Then, it's easy to wear these staple items together with some modern sensibility.
Many gents, however, need help finding this balance between formality and style.
Essential Components of a Semi-Formal Outfit
A semi-formal dress code means looking good and feeling your best. So, a suit seems a natural choice.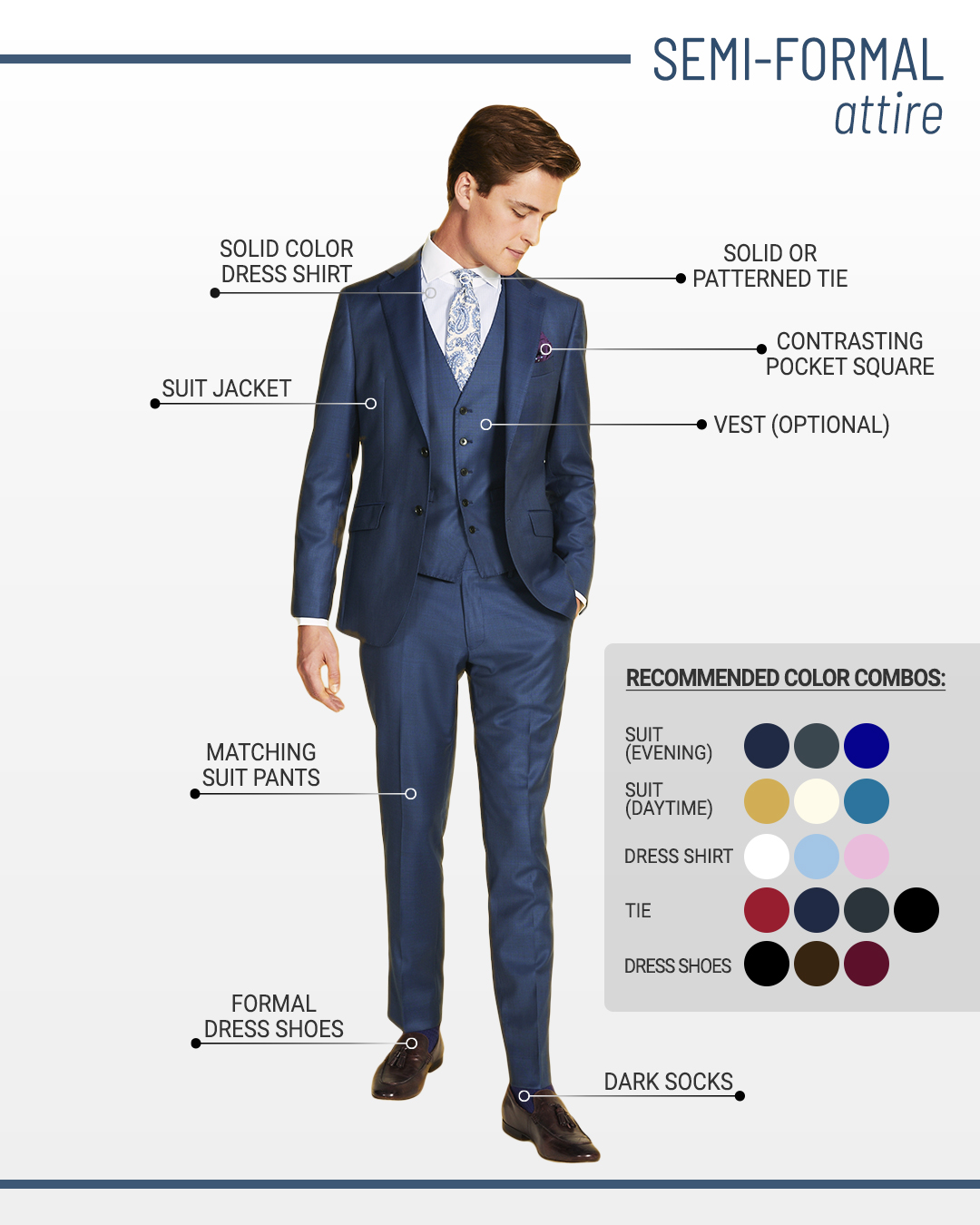 In the same way, dress shirts match a semi-formal dress code.
Accessories would be crucial to finish the looks and highlight personal style.
Now, let's break these into specifics on what will work best for you.
Suit Jacket & Pants
Wearing a suit is the easiest way to dress for a semi-formal event.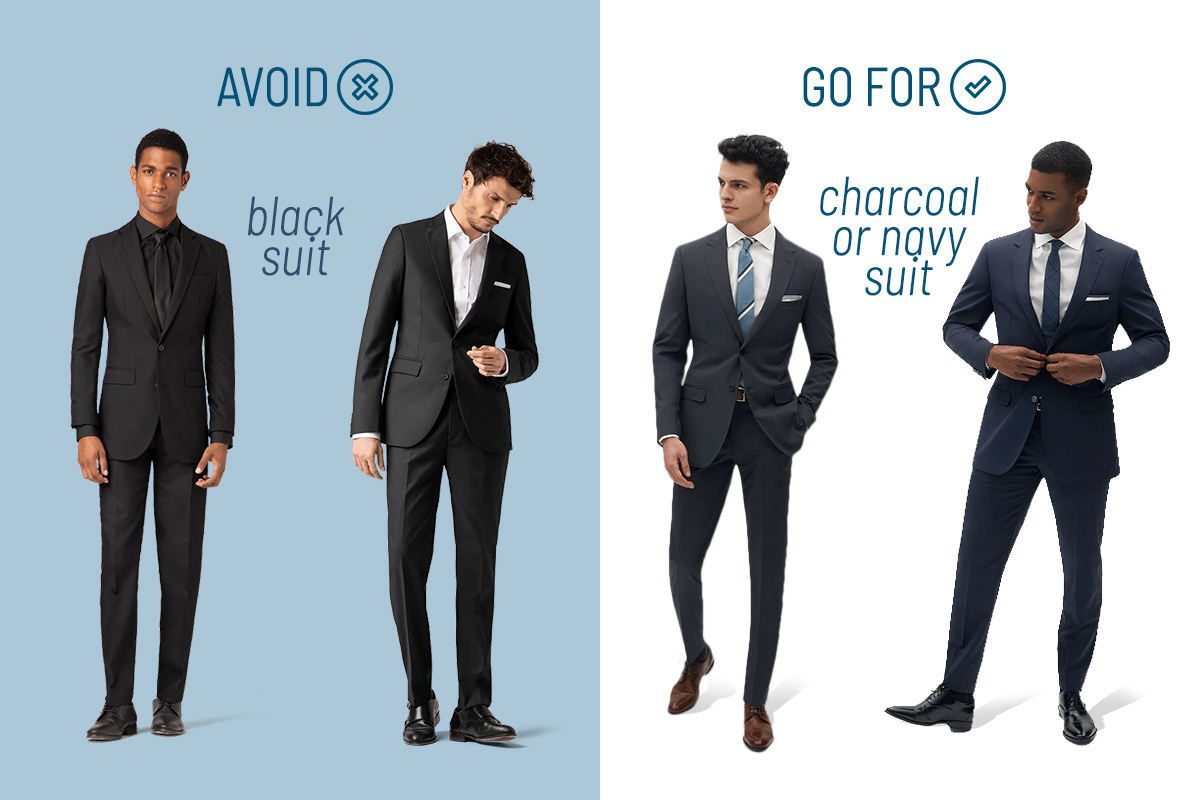 For the suit's color, choose the navy or charcoal grey suit as your numero uno for evening events.
Lighter suits like tan or beige are great for daytime events.
Mid-blue, brown and maroon suits are some other options. Avoid wearing a black suit, as it's too formal for semi-formal attire.
You can also wear a suit jacket and pants separately. But match these with other appropriate items.
Dress Shirt
Wearing a white button-up or a light-blue dress shirt is a no-brainer for semi-formal outfits.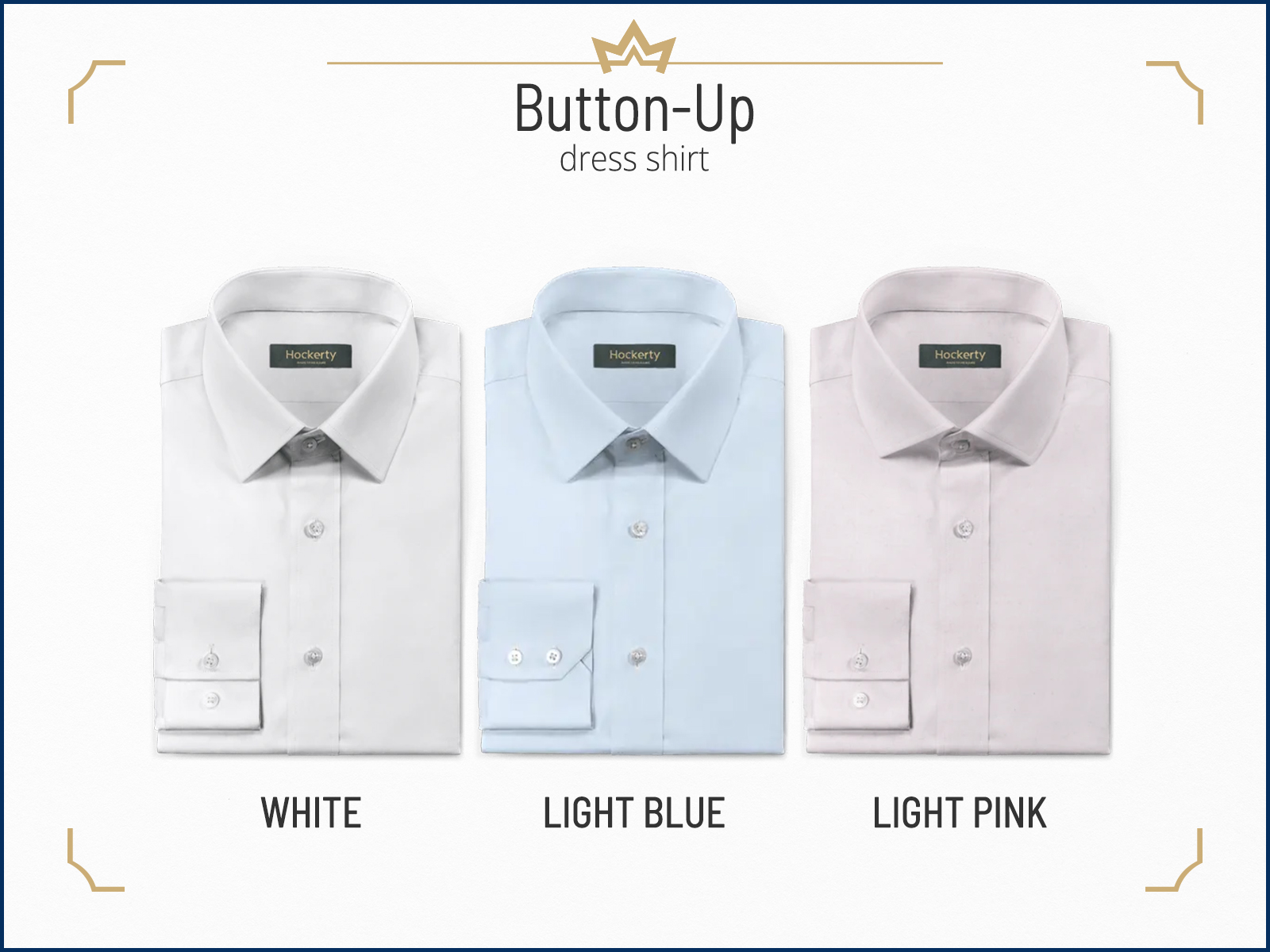 A pink dress shirt is great for adding style and flair to your attire.
Subtle dress shirt patterns like stripes settle well in a semi-formal ensemble. However, avoid flashy patterns and colors.
Also, make sure to choose high-quality dress shirts for your ensemble.
Necktie
A necktie is not necessary for a semi-formal ensemble but is highly recommended.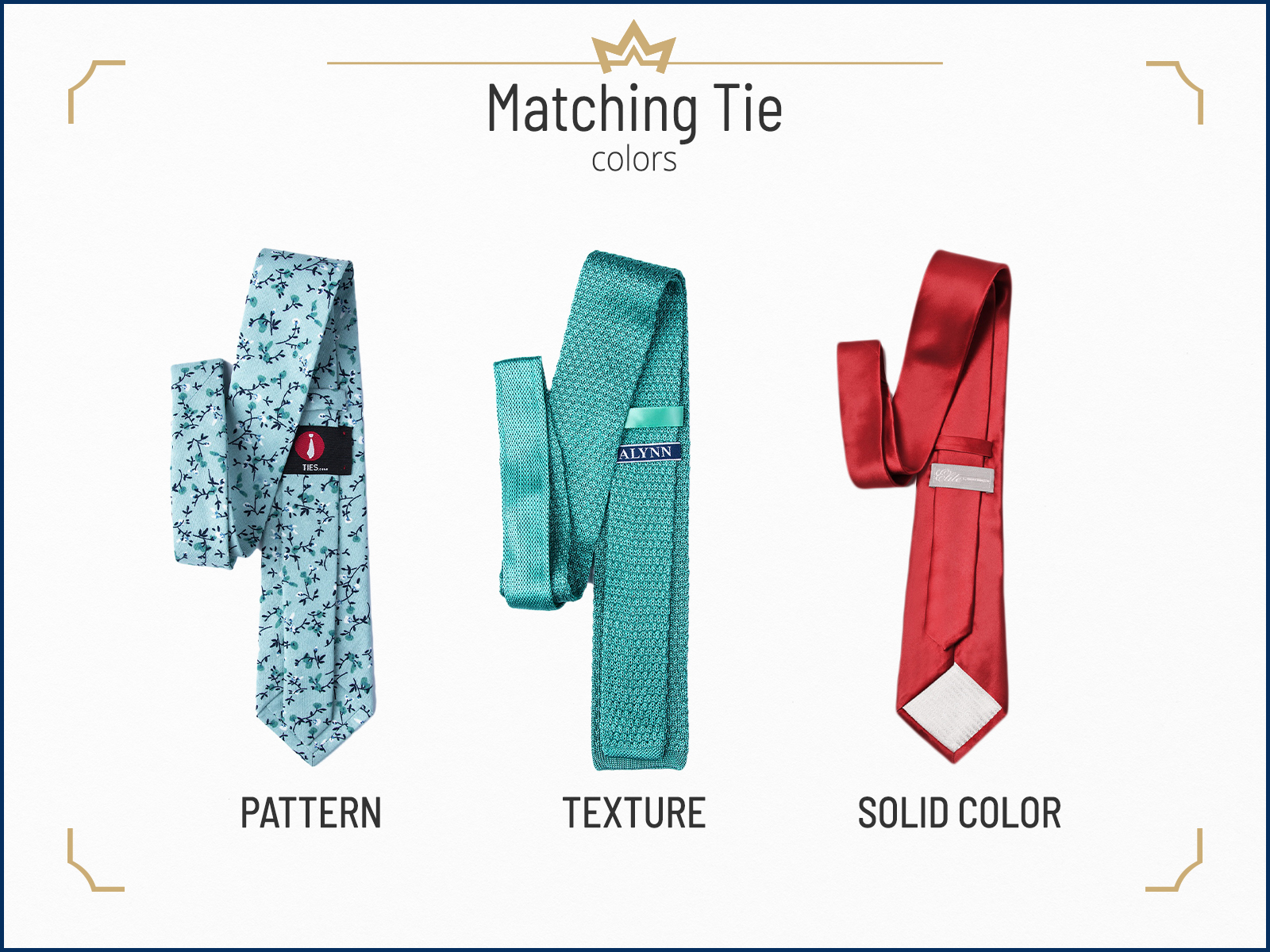 The reason is that without the tie, every dressed-up attire can look unfinished.
A classic color palette with muted patterns is the safest option for the tie.
Of course, your individual style would be important too.
Skip the tie only when there are too many patterns in the outfit.
Dress Shoes
Oxfords are the best dress shoe type and pretty much the standard semi-formal shoe.
Brogues and derby shoes are some other reasonable options. Double monk straps could be an interesting anticipation with the outfits.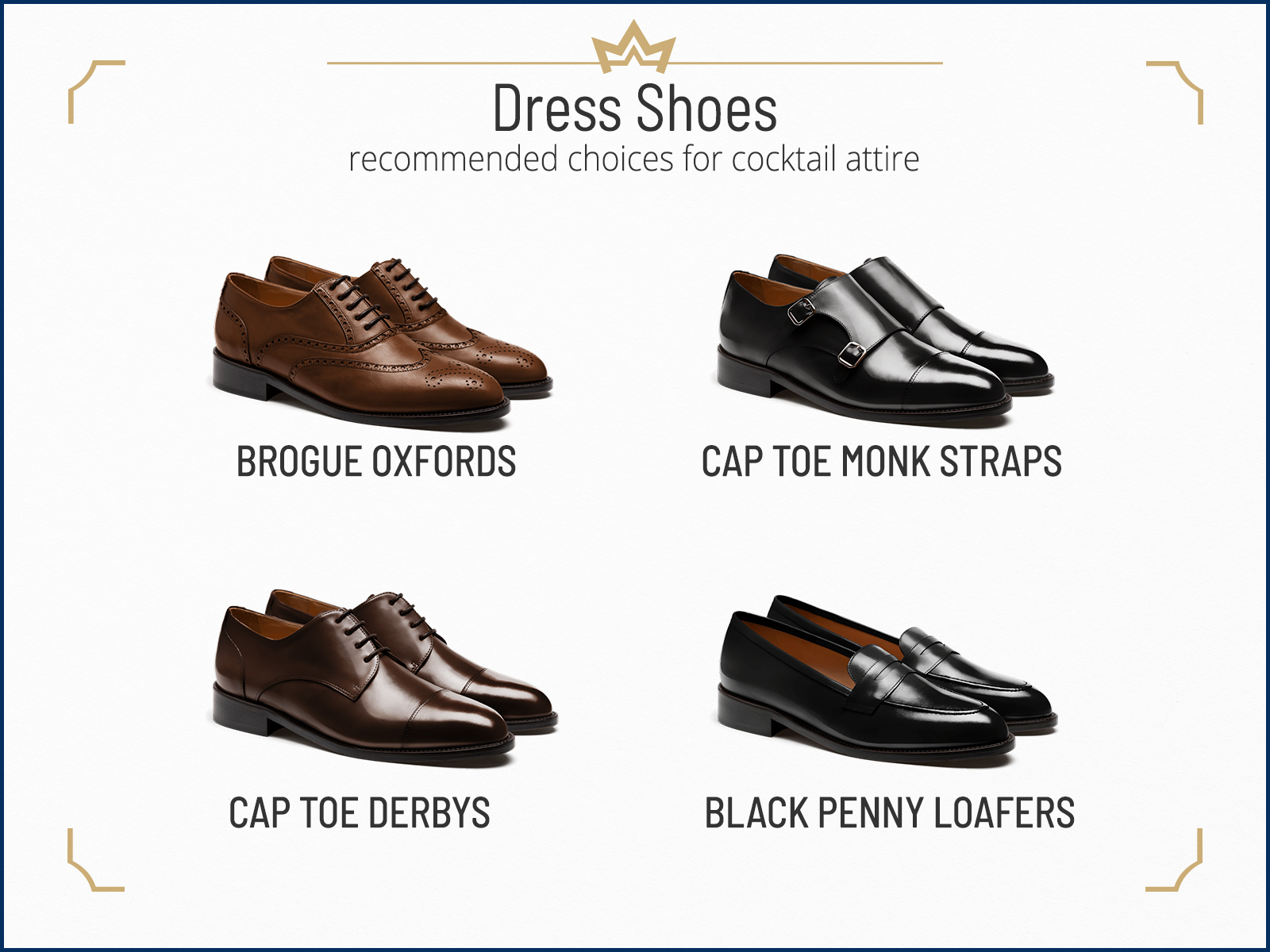 For the shoe color, black and brown are the best.
Other shoe colors like oxblood red and burgundy are fine as long as these match your outfit.
Accessories
You can let the accessories speak up for your style in semi-formal attire.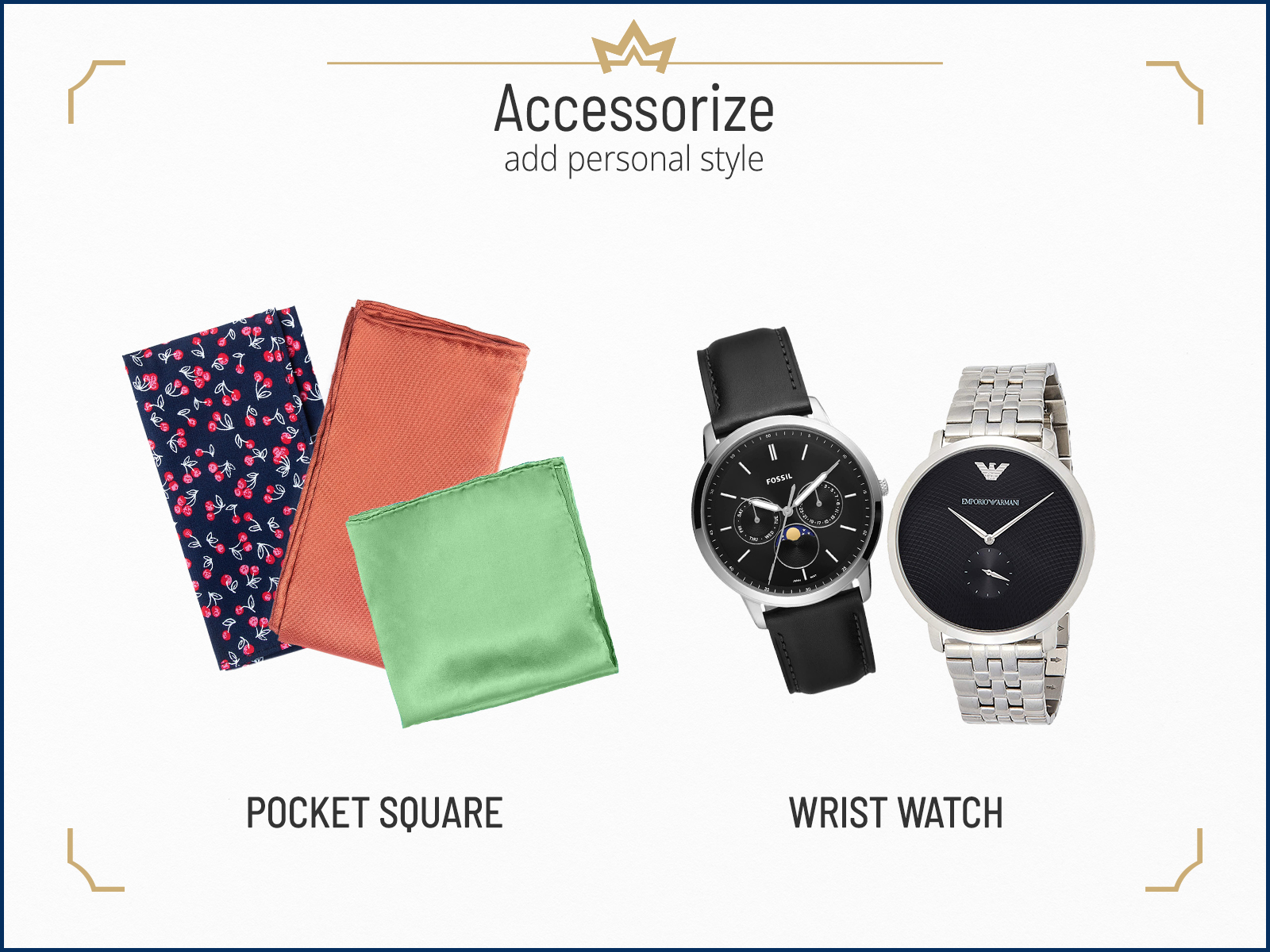 A pocket square, for example, could be a stand-out addition.
Similarly, matching the leather of the belt with shoes and wristwatch is a nice detail.
Other accessories like the tie bar, boutonniere, lapel pin, rings, and suspenders could be a part of the attire. But keep these muted and subtle.
15 Stylish Semi-Formal Outfit Ideas for Men
Semi-formal invites and events can vary widely.
For example, it could be a dress code for a wedding or an outfit for graduation.
So, what you can wear depends on the event. Plus, the suit style can significantly dictate the outfits.
With such adaptability, here are some dapper semi-formal outfits.
Dark Suit & White Button Up Shirt is the Standard
A dark blue suit and a white button-up provide the most effortless yet dressiest of all semi-formal looks.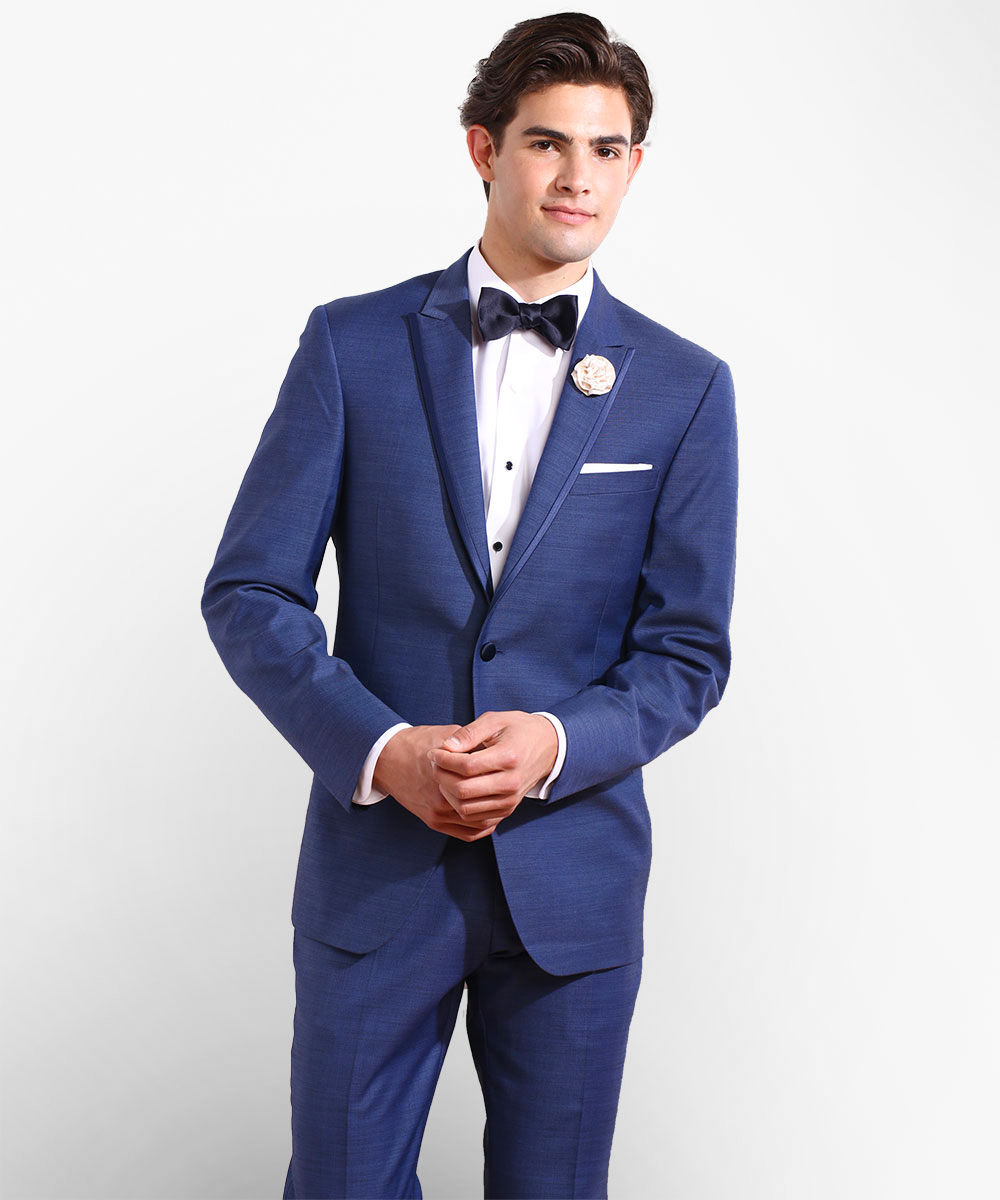 It's, quote-unquote, a dressed-up menswear uniform.
Whether it's a wedding, cocktail party, or job interview, you can't go wrong with this outfit.
For a failsafe finish, wear a navy or black tie, black dress shoes, and a crisp white pocket square.
Navy Suit for any Semi-Formal Event
A navy suit will create a sleek, clean, and minimal attire for any semi-formal event.
Pair it with a white dress shirt to reflect the event's formality.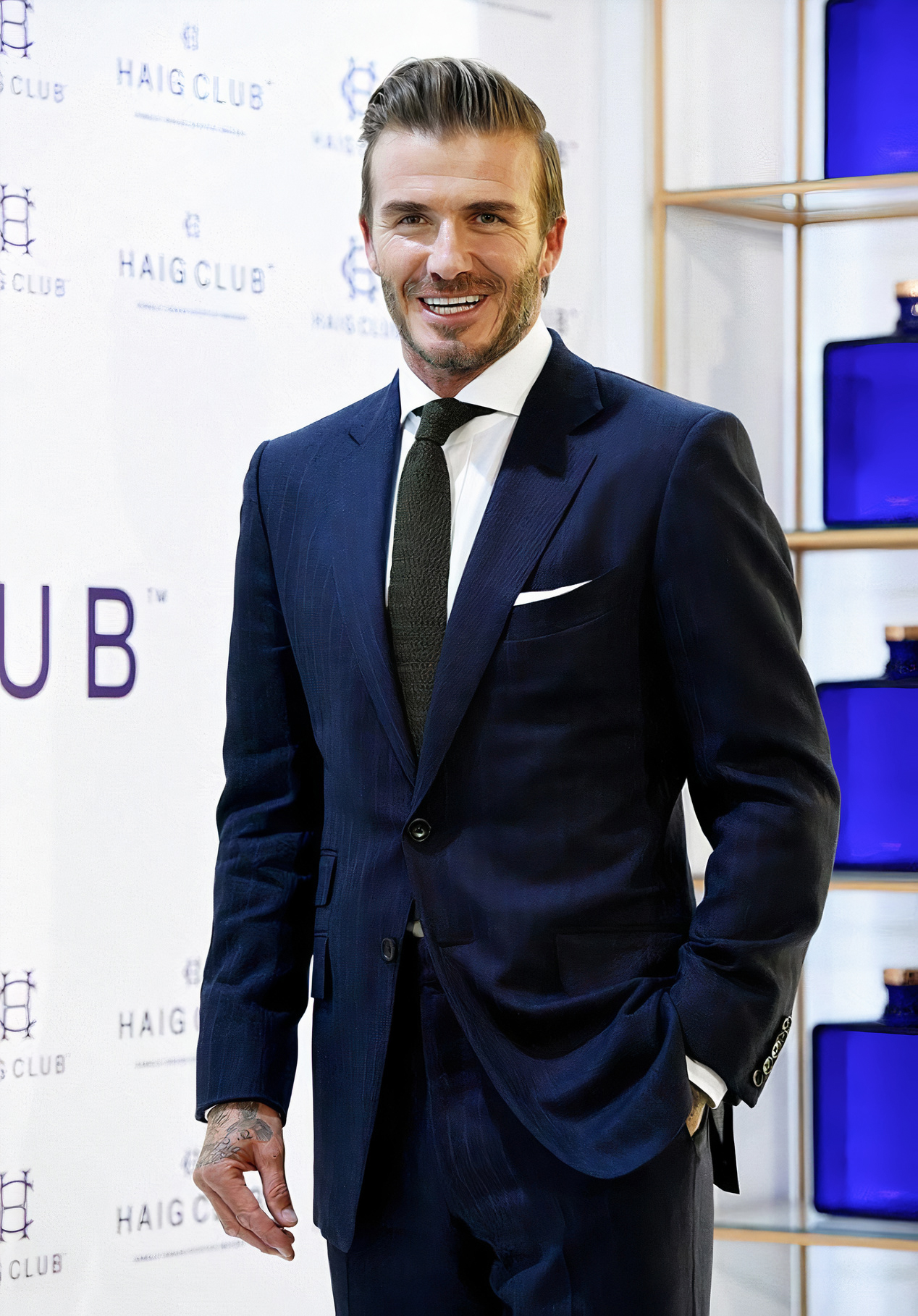 Throw in some pleasant ties, such as navy stripes, to stay dressy.
Other tie colors, such as navy, crimson red, and sky blue, will also create a sophisticated look.
You can be playful by adding a patterned pocket square in a laid-back fold.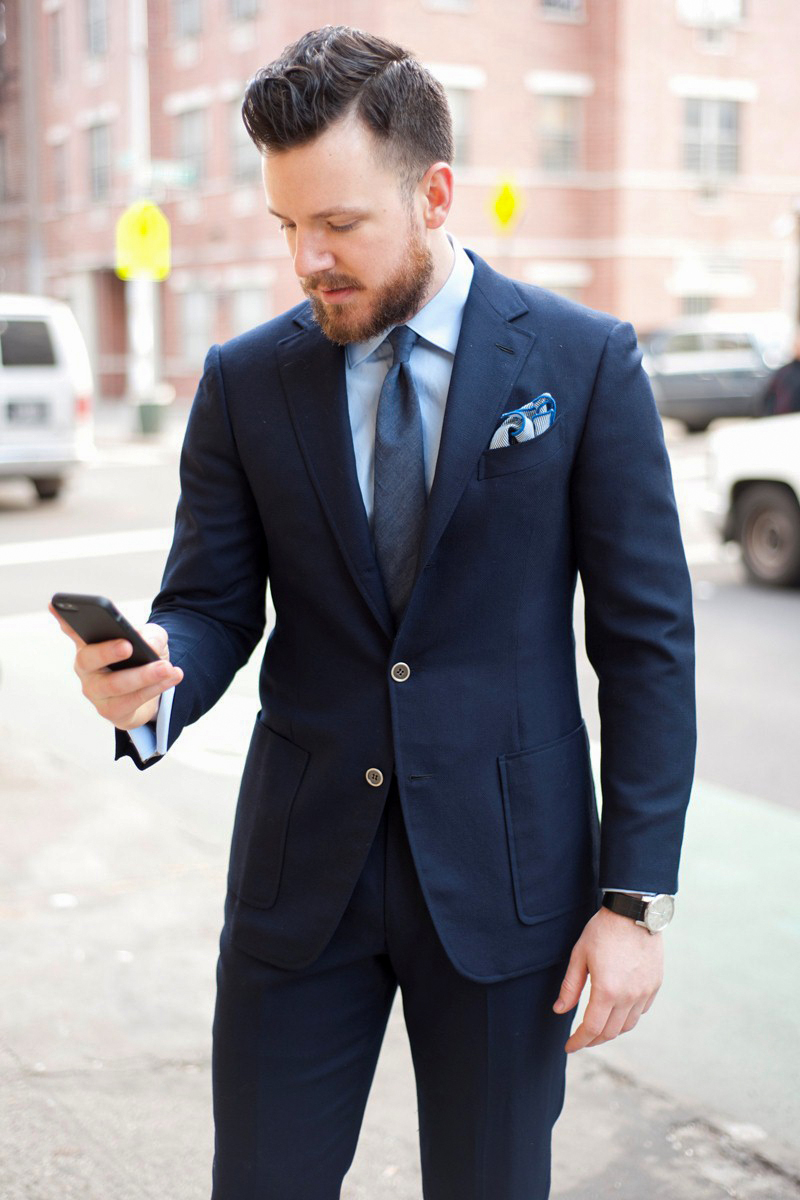 And finally, finish off the look with black oxfords.
Royal Blue Suit for a Vibrant Look
The royal blue suit will create a clean and cohesive look with a little extra flair.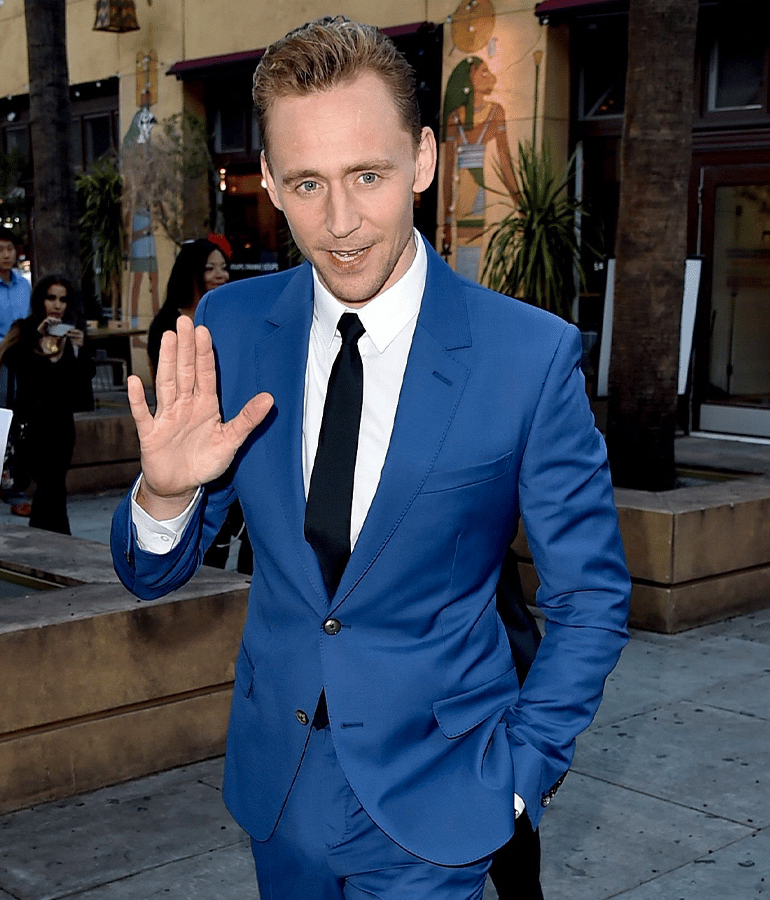 Match it with a white shirt and patterned navy or black tie to add a bit of formality.
A red tie, in comparison, would add visual interest in creating a vibrant look.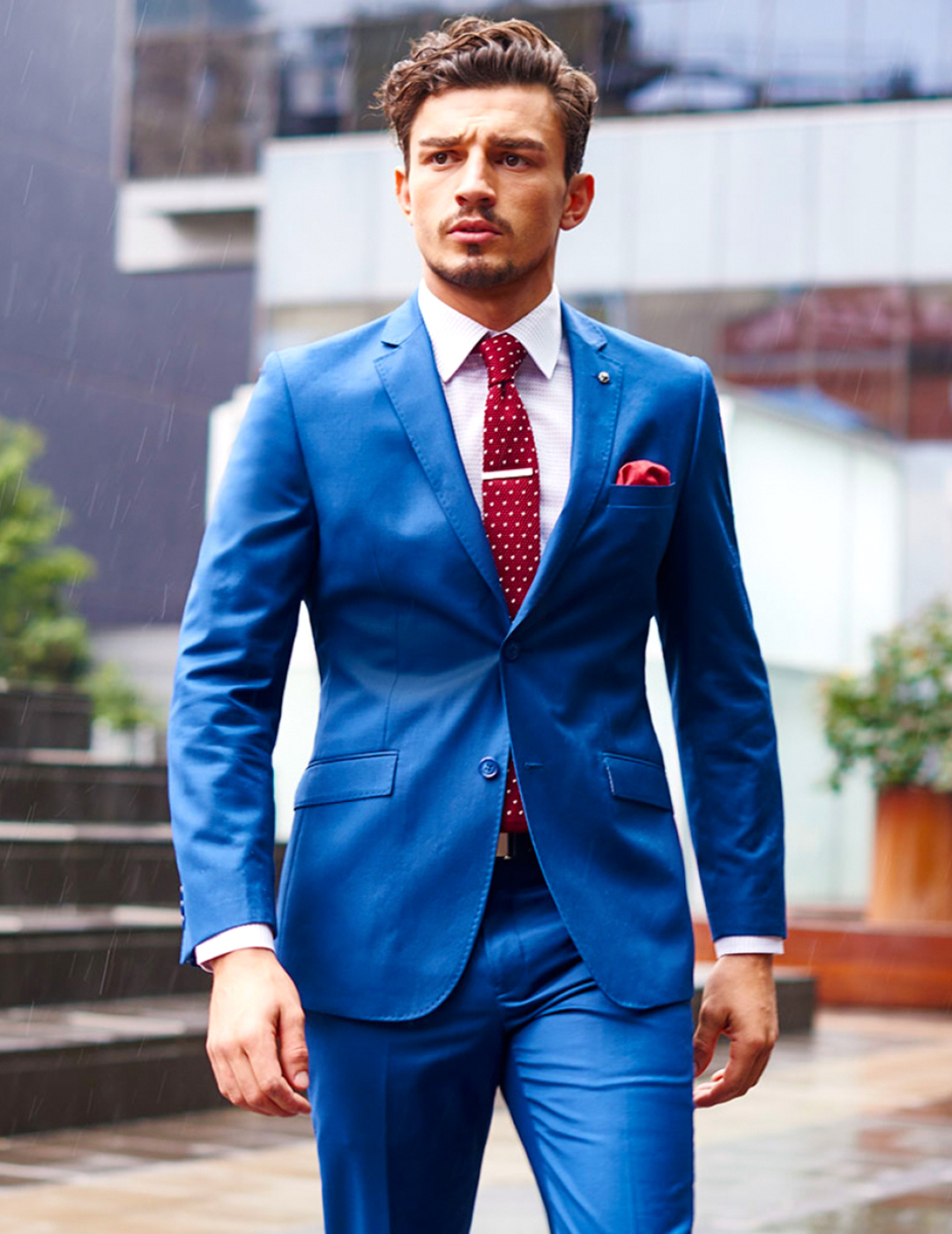 Finally, keep the cheery theme with a casual pocket square fold and black brogues.
Flamboyant Maroon Suit at a Nighttime Wedding
A maroon suit is great for a relaxed and unique suit experience.
Plus, the red hues of maroon resonate with the evening. Thus, it's a great fit for nighttime weddings.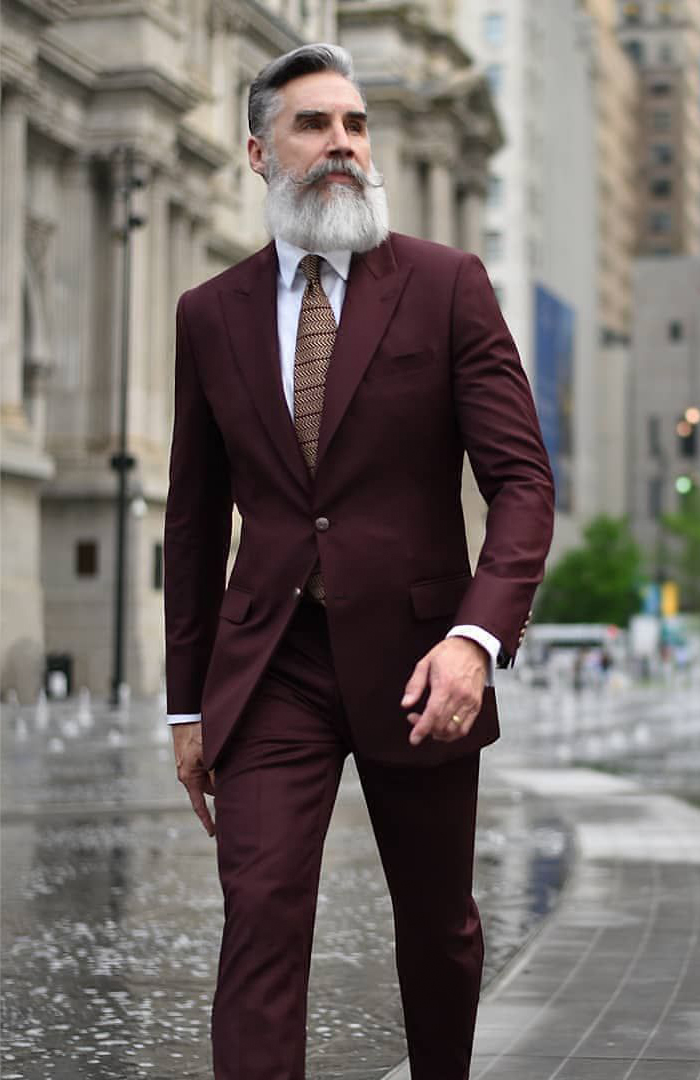 Complement the suit with a white shirt and navy tie for a dressy appearance.
You can also opt for a pink shirt and burgundy tie for a more cheerful outfit.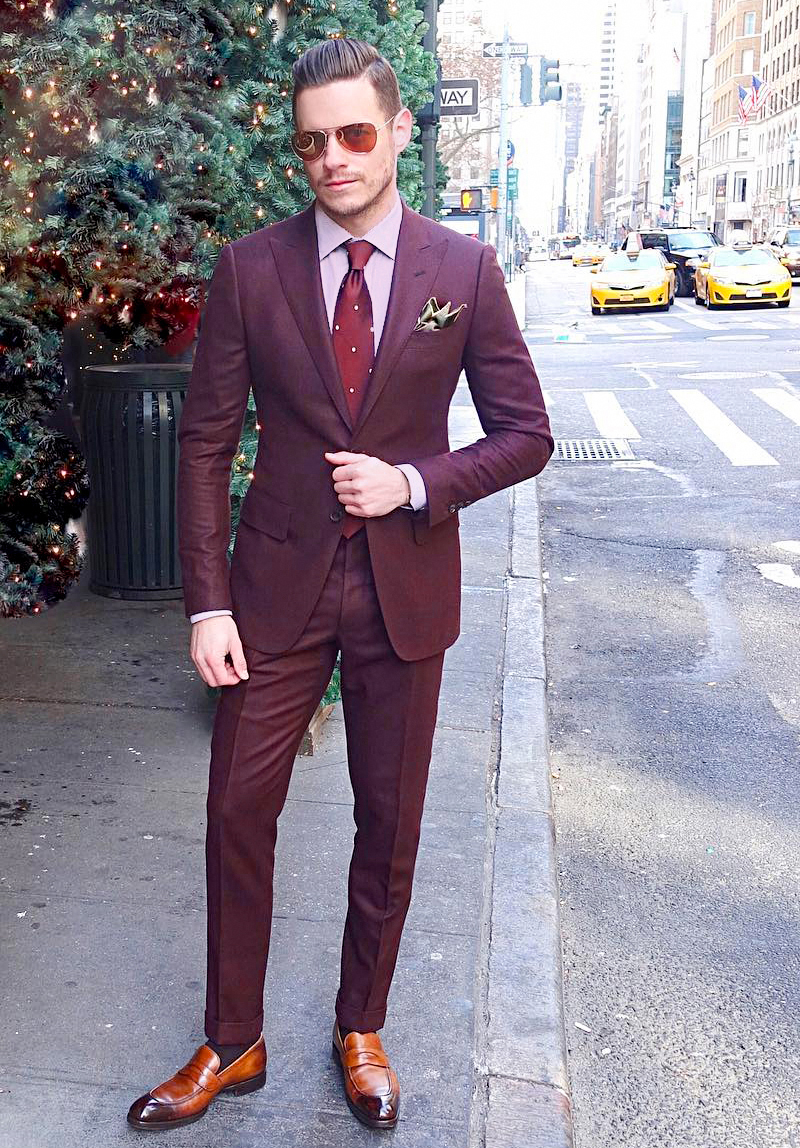 Match it with dark brown oxfords and a clean pocket square to finish the look.
Charcoal Suit with a White Shirt for Seriousness
The charcoal suit has a classic allure and modern insight.
When paired with a white shirt, it creates a serious outfit appropriate for your dressy semi-formal events.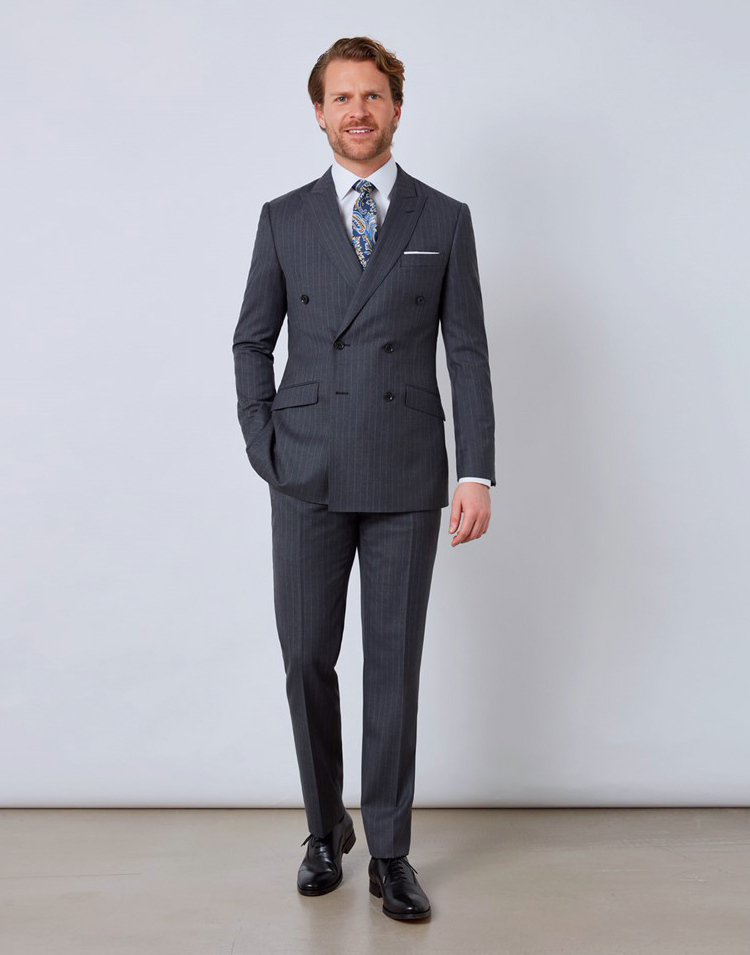 A dark grey tie will create a monochromatic look, making a compelling statement.
A blue patterned tie, in comparison, is a less serious but appropriately dressed-up option.
Anchor the formality by wearing a white pocket square and black oxfords.
Tan or Beige Suit for a Daytime Summer Wedding
Summer weddings are a chance to dial down the formality while still looking dressed.
Therefore, the tan suit would be an appropriate choice.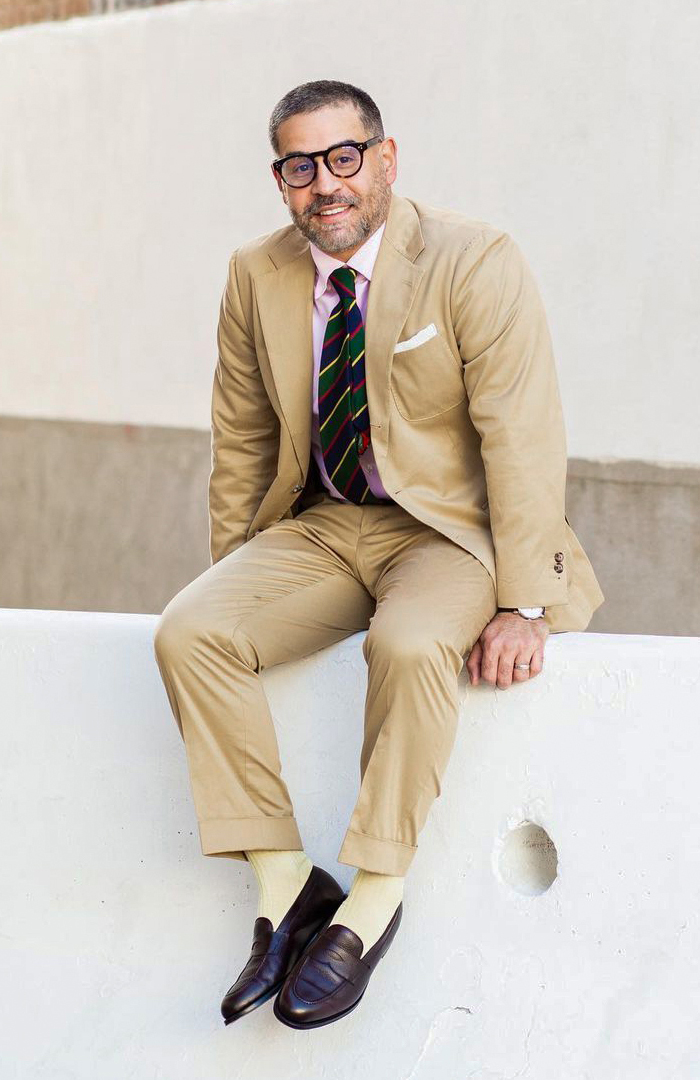 As a casual suit, you can incorporate many details to elevate the style or both tan and beige suits.
For example, wearing a pink or striped shirt instead of the standard white dress shirt.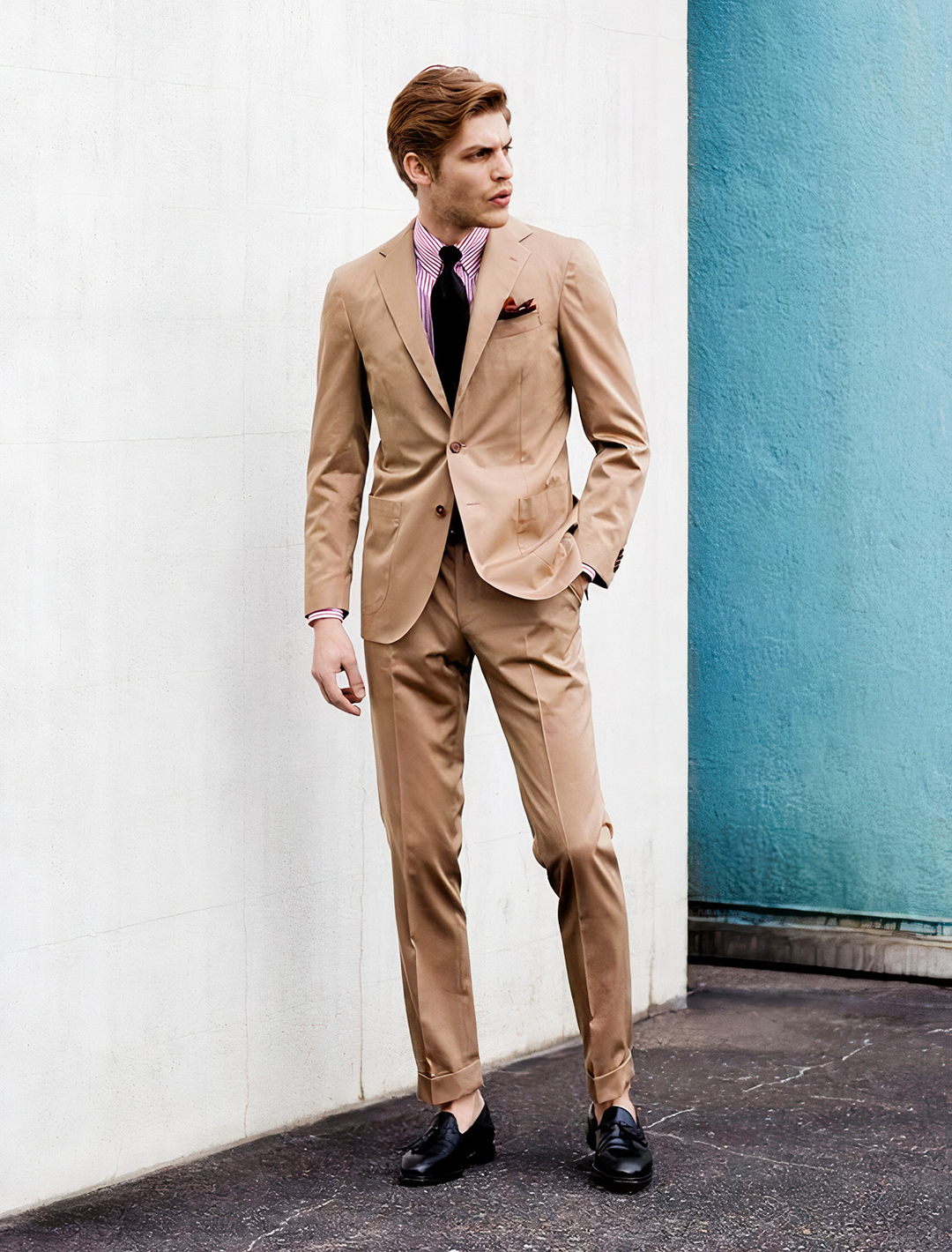 The same applies to the tie. The navy and brown grenadine ties are the two best choices.
Finally, wrap this look with brown derby shoes.
Brown Suit & White Shirt for a Fall Wedding
With many matching options, a brown suit fits well into many semi-formal situations.
Plus, it's a way of avoiding classics of the color realm, navy and grey, and looking unique.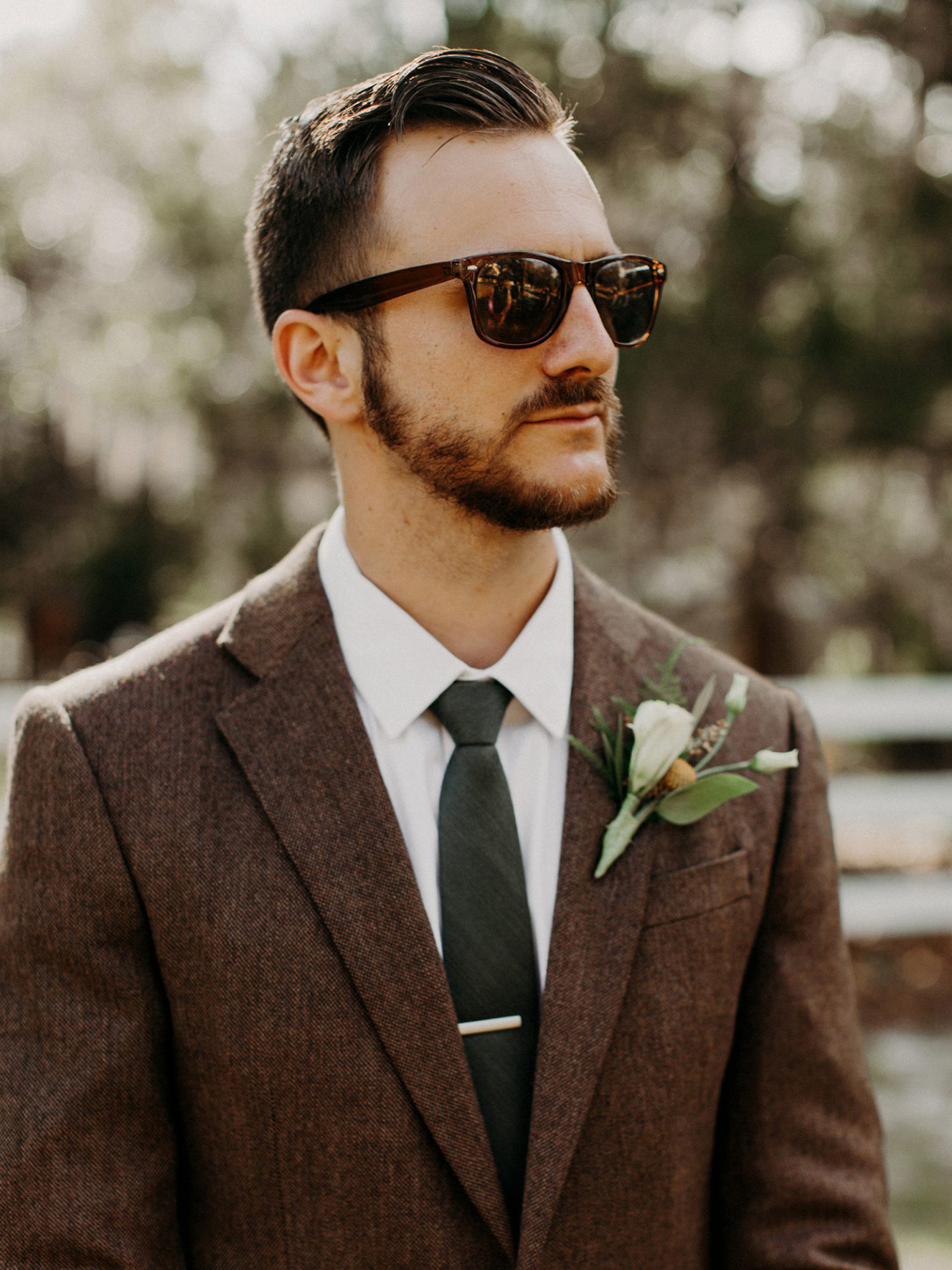 So, don't hesitate to try a brown suit and white shirt combination for a fall wedding.
The brown stripe tie is great for an impactful statement as a monochromatic outfit.
Adding some color via the navy tie is another classic way to wear a brown suit to weddings.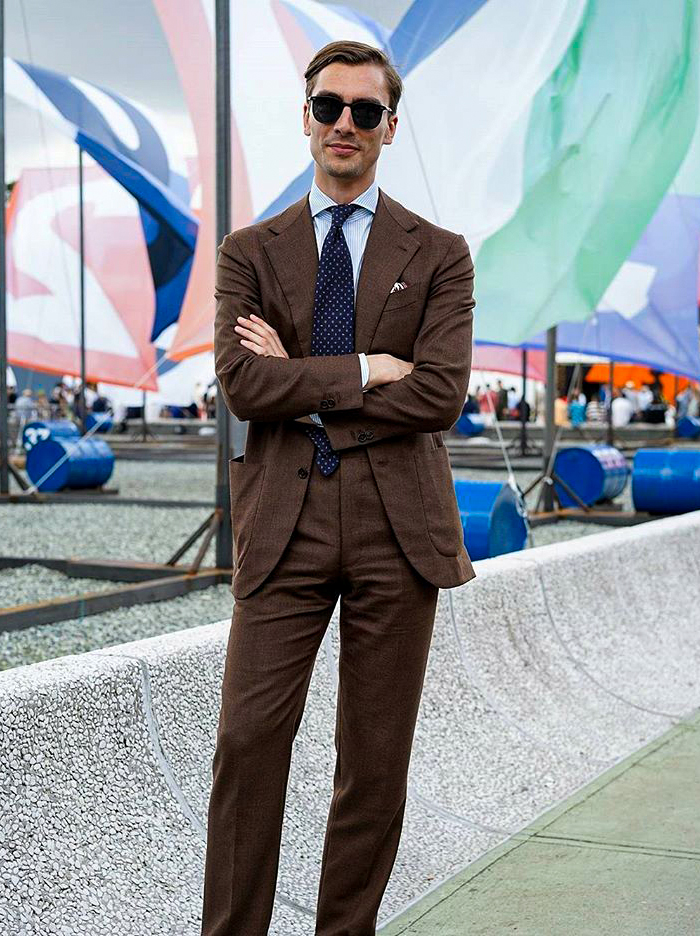 A pocket square can be a simple white or casual one matching the overall feel. For the shoes, go with brown shoes.
Light Blue Suit and a Pink Shirt for a Daytime Wedding
A light-blue suit and pink shirt can be an alternative to the tan suit for daytime weddings.
To look best, make sure all items have the same level of dressiness as the suit.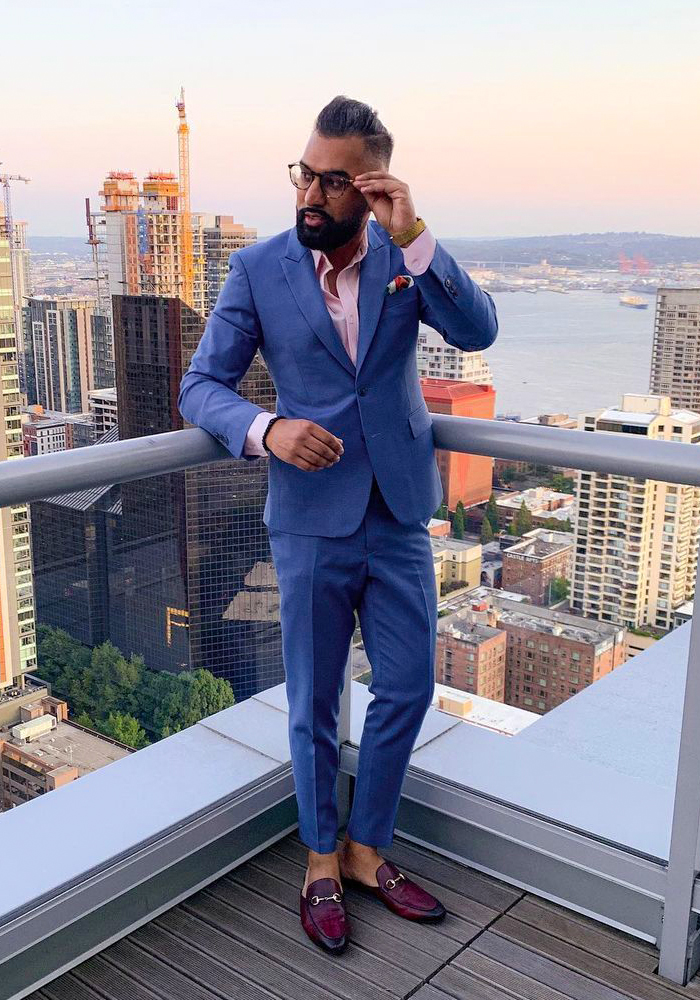 For example, you can wear a bolder tie pattern to compliment the pink. The blue knit tie works best in this case.
Lastly, finish off the look with brown oxfords or loafers. The burgundy loafer also looks marvelous.
Burgundy Suit for a Semi-Formal Cocktail Event
A burgundy suit could be a stand-out piece for semi-formal events.
This suit has a classic yet swanky feel that matches the ambiance of cocktail events. So, you'll stand out in a good way.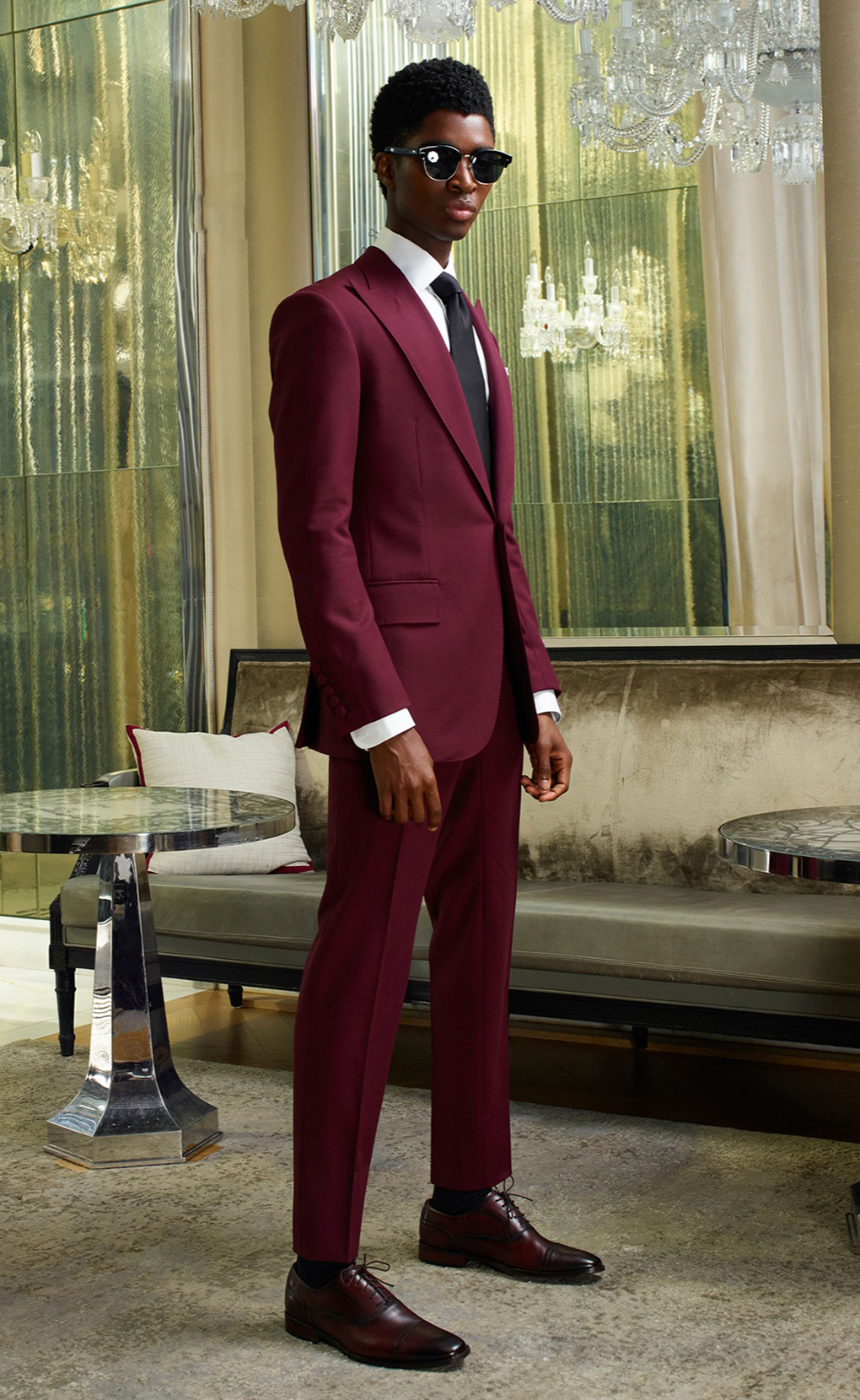 Keeping everything classic, you can wear a white or light blue dress shirt.
For the ties, black, navy, and brown are excellent options. Don't hesitate to play with tie patterns.
Ditching the tie also looks great, especially for daytime events.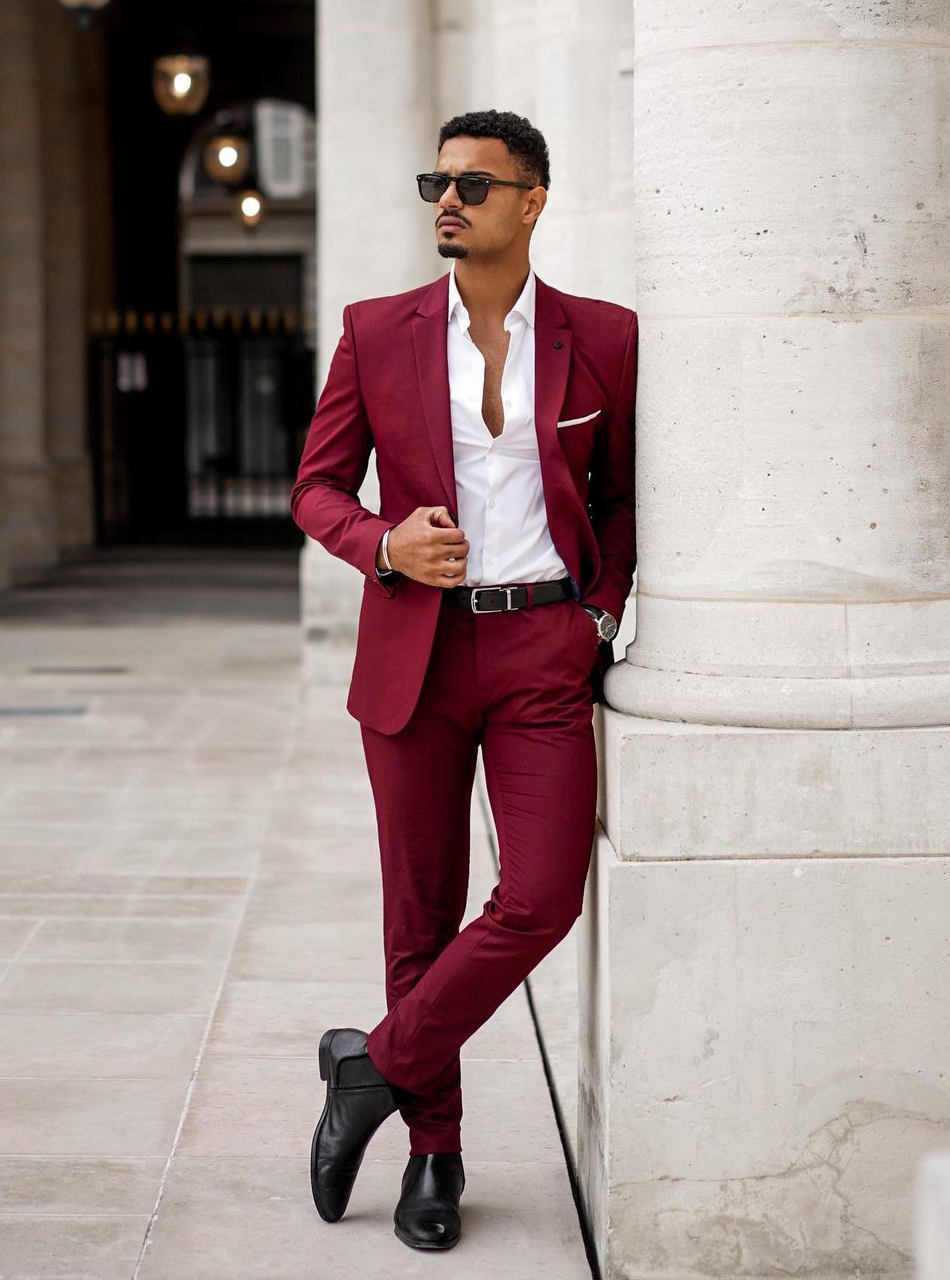 Finally, you can wear black or dark-brown double monk straps for a modern finish for this look.
Loafers and dress shoes are also appropriate.
Double-Breasted Suit to be Rebellious
For gentlemen with a confident and rebellious style, a double-breasted suit is an excellent option.
The blue and brown double-breasted suits are two appropriate and sophisticated options.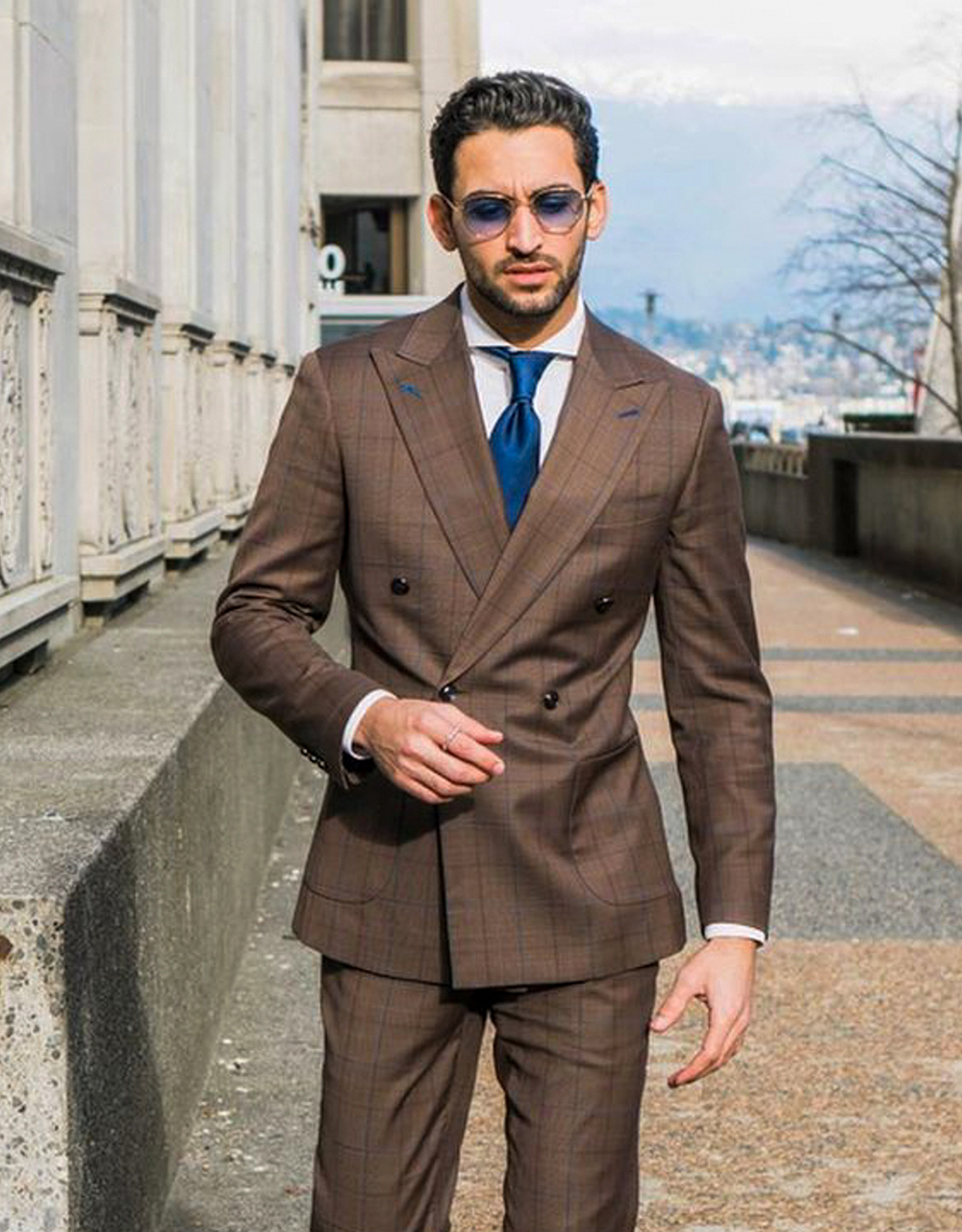 Playing into the suit's rebellious aspect, you can wear a striped shirt. Otherwise, a white dress shirt is enough.
A stripe or some patterned tie would be appropriate here. Match this outfit with dark oxford shoes.
Or a Three-Piece Suit for Formality
Now, you can consider only the dressy aspect and wear a three-piece suit.
Again, blue and brown three-piece suits are the best bet for a semi-formal outfit. Wear a white shirt to match the formality.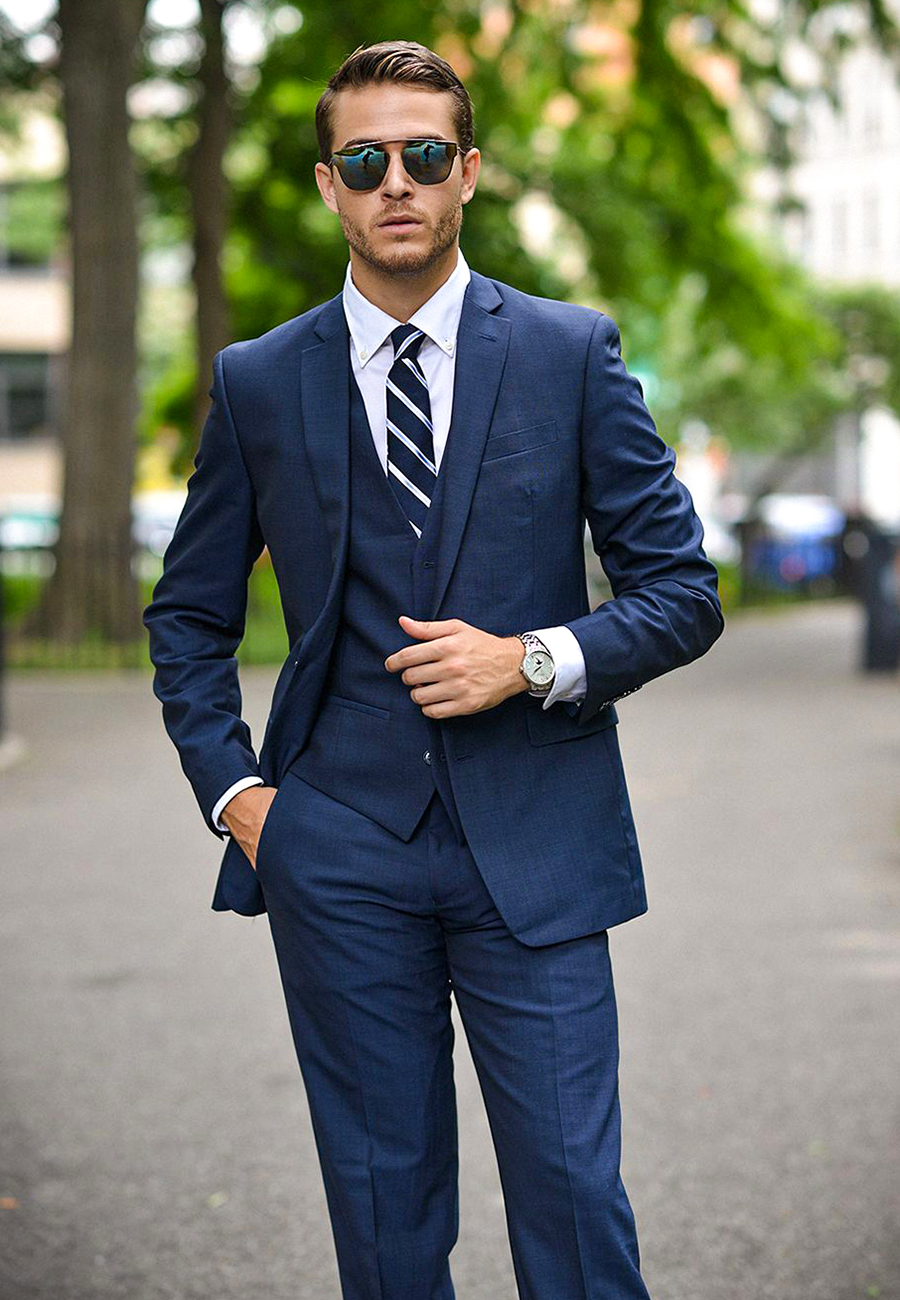 The grey or navy stripe tie is a great combination with three-piece suits. Similarly, paisley ties could be an appropriate combination.
For color detailing, wear a pattern pocket square. Complete the look with black oxfords.
Dark Blazer and Dress Pants as an Alternative
Wearing a separate dark blazer with contrasting dress pants is a laid-back approach to a semi-formal outfit.
The easiest combination is to wear a navy blazer with grey dress pants. Add in a white dress shirt and tie for a nearly suited look.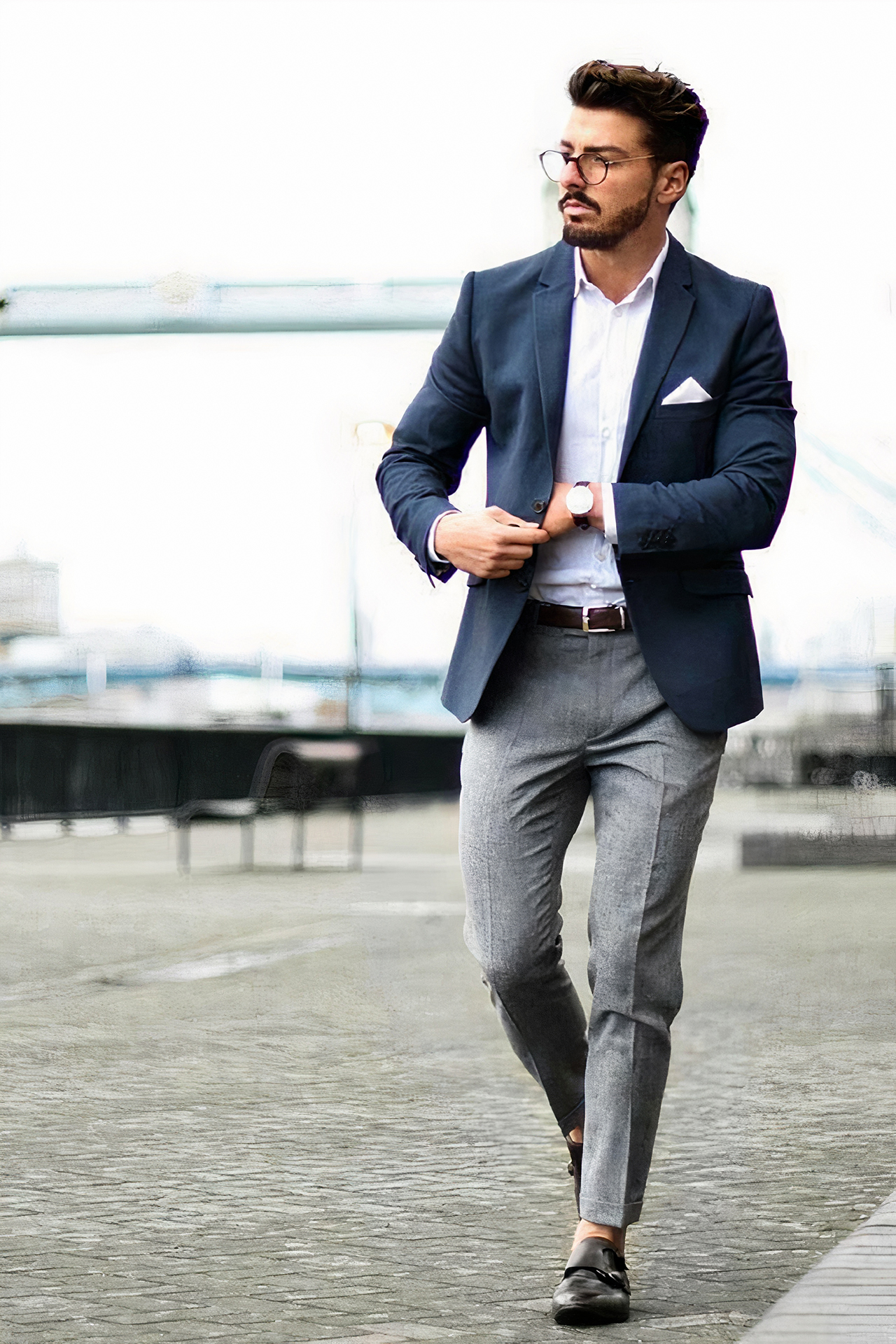 You can relax the look by wearing something less formal like a light pink dress shirt or go without a tie.
Add some loafers or monk straps, and you'll be ready for a semi-formal event.
Printed Shirt with Any Solid-Colored Suit
A solid-colored suit, like navy, will tone down the printed shirt, making a creative semi-formal ensemble.
Blue, grey, brown, and tan are the best solid-colored suits to match a patterned shirt.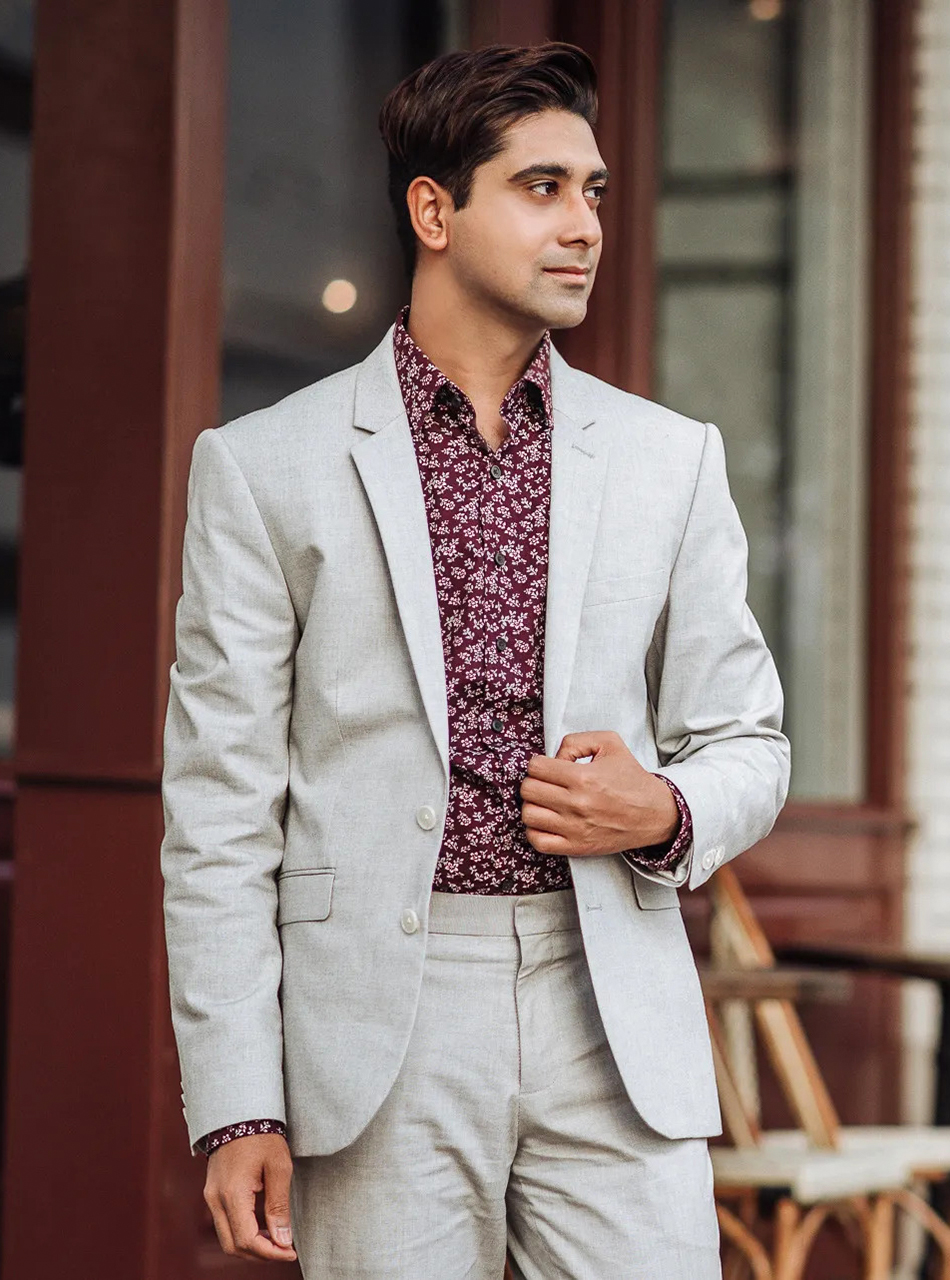 With such a statement piece already, keep the rest of the outfit relaxed.
Like, if the occasion allows, skip the tie or wear one with muted textures. In addition, don't be flashy with accessories.
Floral Shirt with a Light-Colored Suit
If wearing a dress shirt and tie seems too much for daytime summer events, try a floral shirt.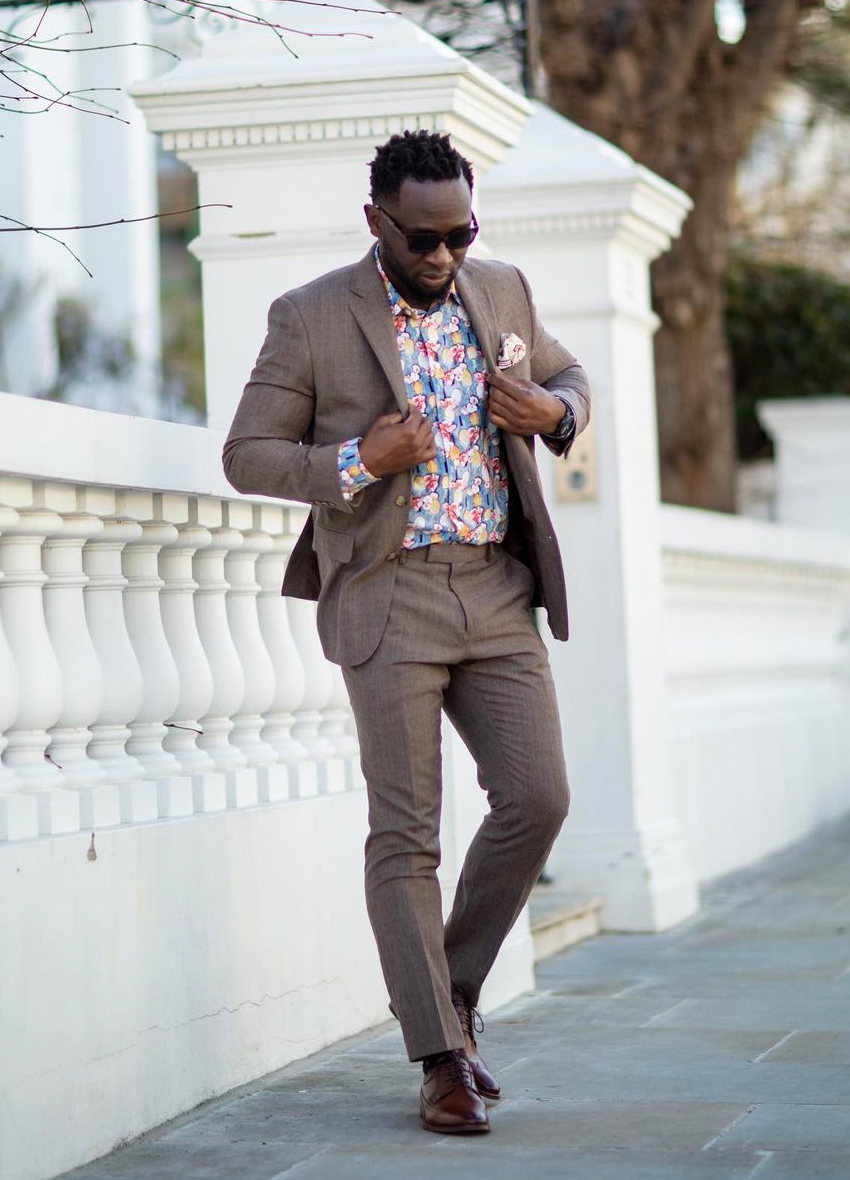 Tan, light-grey and blue suits are appropriate for a dark floral shirt.
Also, keep the accessories minimum. Skipping the belt is also fine.
For the shoes, go with a pair of loafers to enhance the outfit's playfulness. Or try something more formal, like derby or monk straps.
Light Dress Shirt with Trousers for Summer
The semi-formal dress code for summer could be as easy as wearing a light-dress shirt with trousers.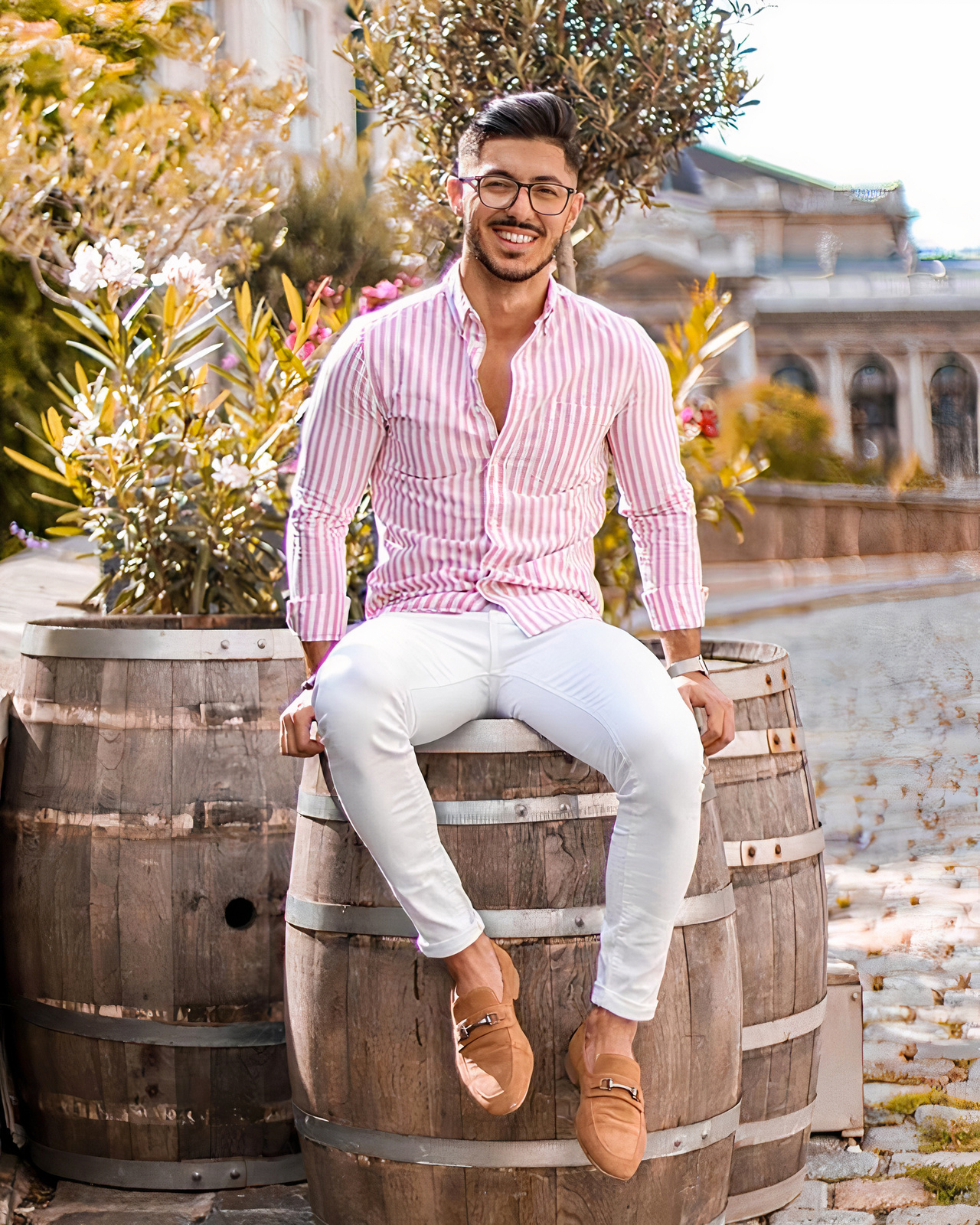 Grey dress pants with a white button-up is one simple combination.
Another one is the combination of navy pants with a light-blue shirt. Matching the leather shades in such semi-formal outfits can be a nice detail.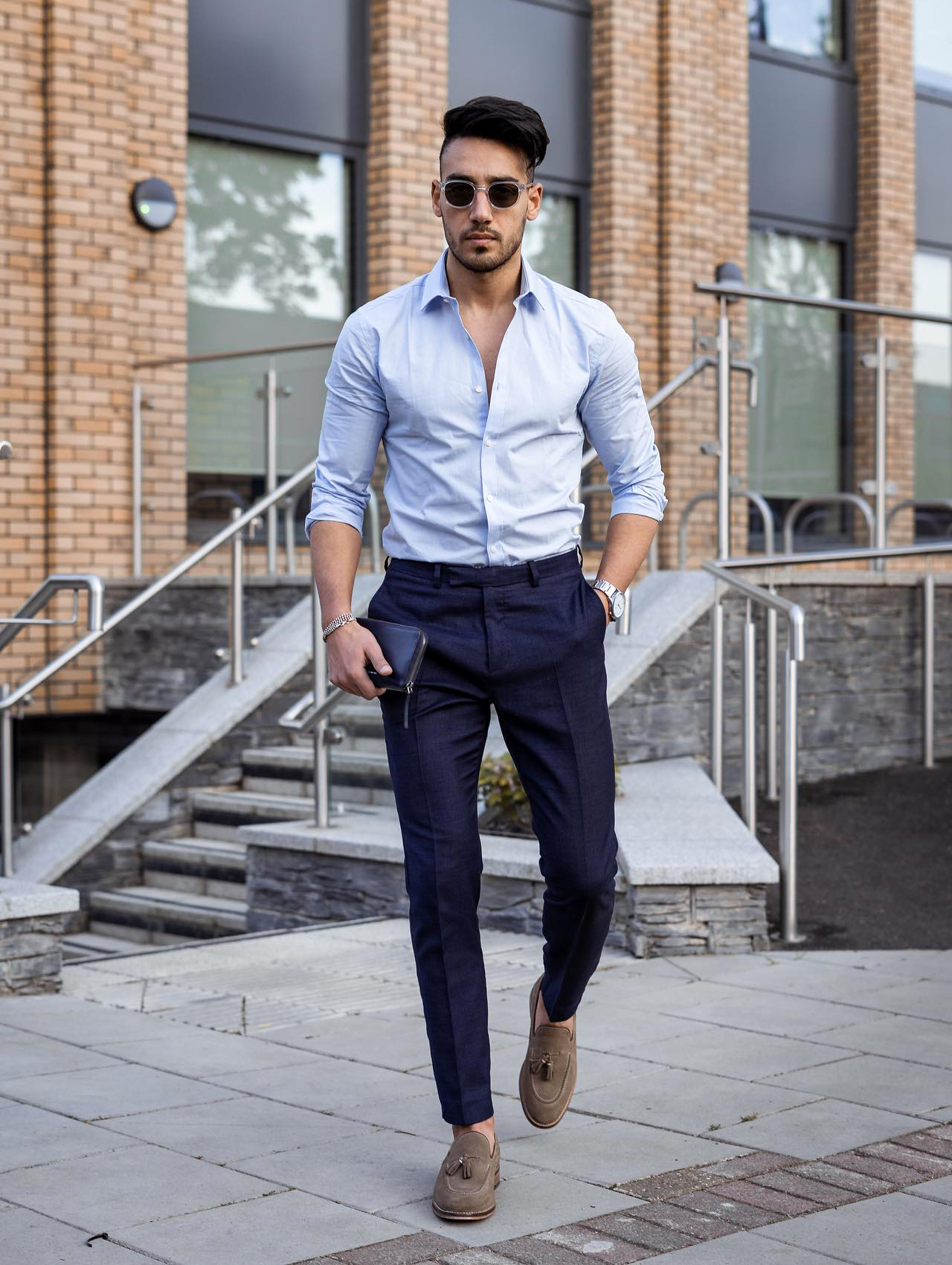 Also, you must be sure of the dress code for this ensemble. Otherwise, you might end up looking underdressed.
Other Things to Consider
The semi-formal outfits are timeless and full of relaxed sophistication. You also have plenty of creative freedom.
However, do go overboard by dressing too formally or staying underdressed.
Here are some considerations to do this right.
Formal vs. Semi-Formal Dress
A formal dress code refers to black-tie attire. This means you need to wear a tuxedo.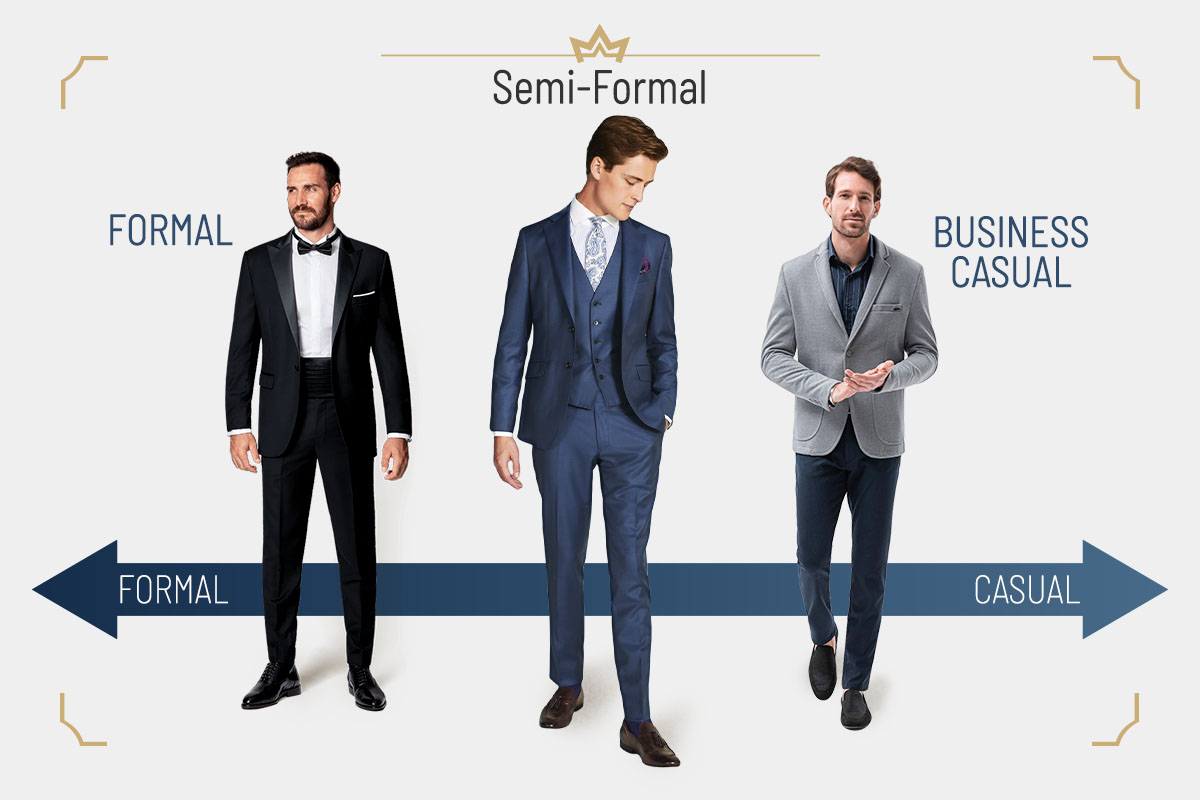 But avoid falling into the black-tie category when looking for semi-formal outfits.
So, a suit or a jacket and pants, as separate, are perfectly fine.
A semi-formal dress also has flexibility in styling. So, trust your intuition, and there you go.
Semi-Formal Dressing Tips
The semi-formal dressing is fun, especially when you like to showcase some personal style.
The first thing is to pay attention to the fit. Make sure your suit fits you "to perfection."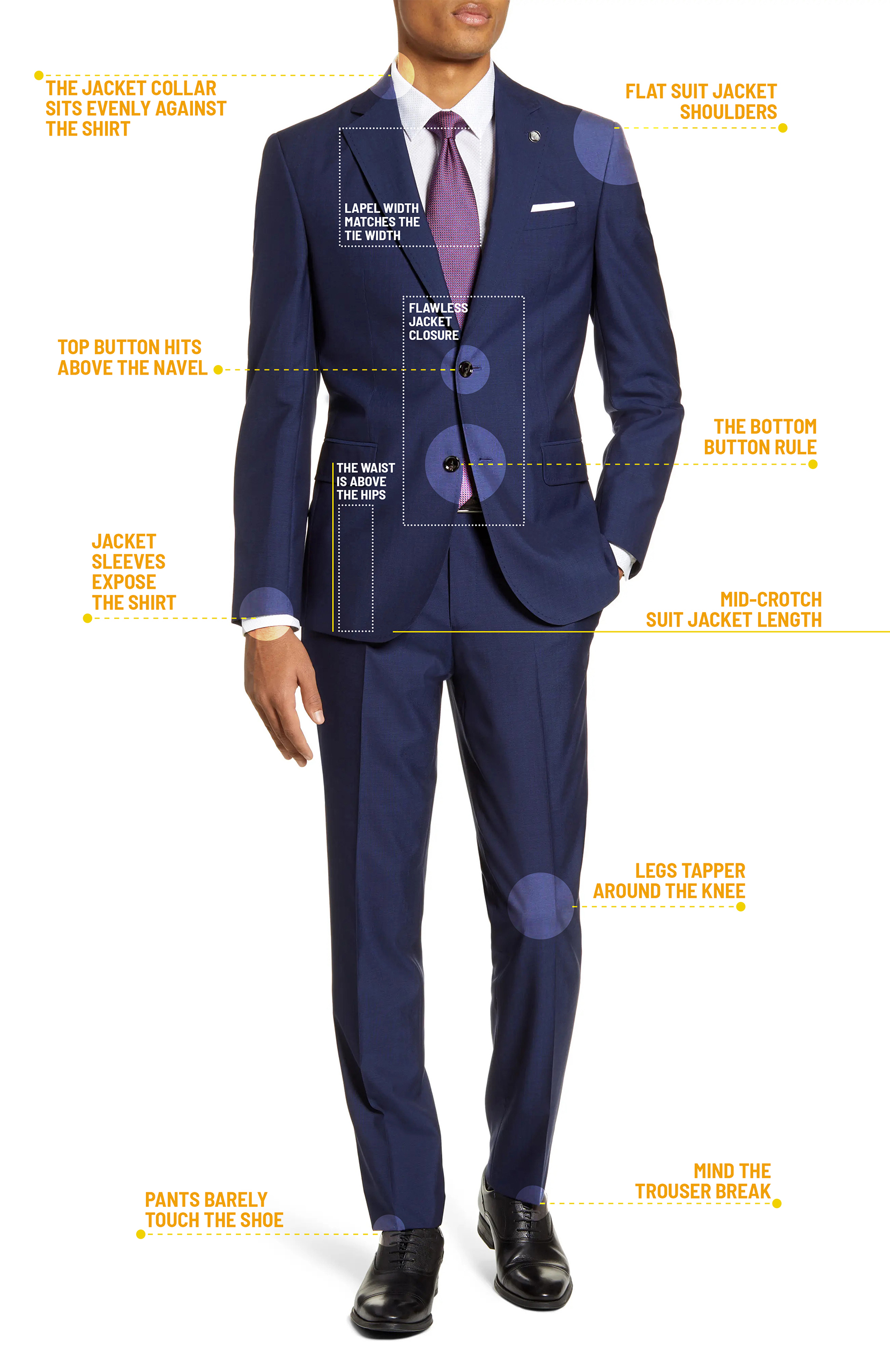 Dressing according to the time of the day and season is also a smart move.
Wear dark neutral colors for night and winter while lighter shades for summer and daytime.
A colored dress shirt and a patterned suit could be a unique detail for a semi-formal event. However, avoid overdoing it.
Lastly, it is better to be overdressed than to look undressed and sloppy when in doubt.
What to Avoid
Overly casual and excessively formal items never fit right in a semi-formal ensemble.
So, avoid jeans, t-shirts, sport coats, and casual shoes like sneakers.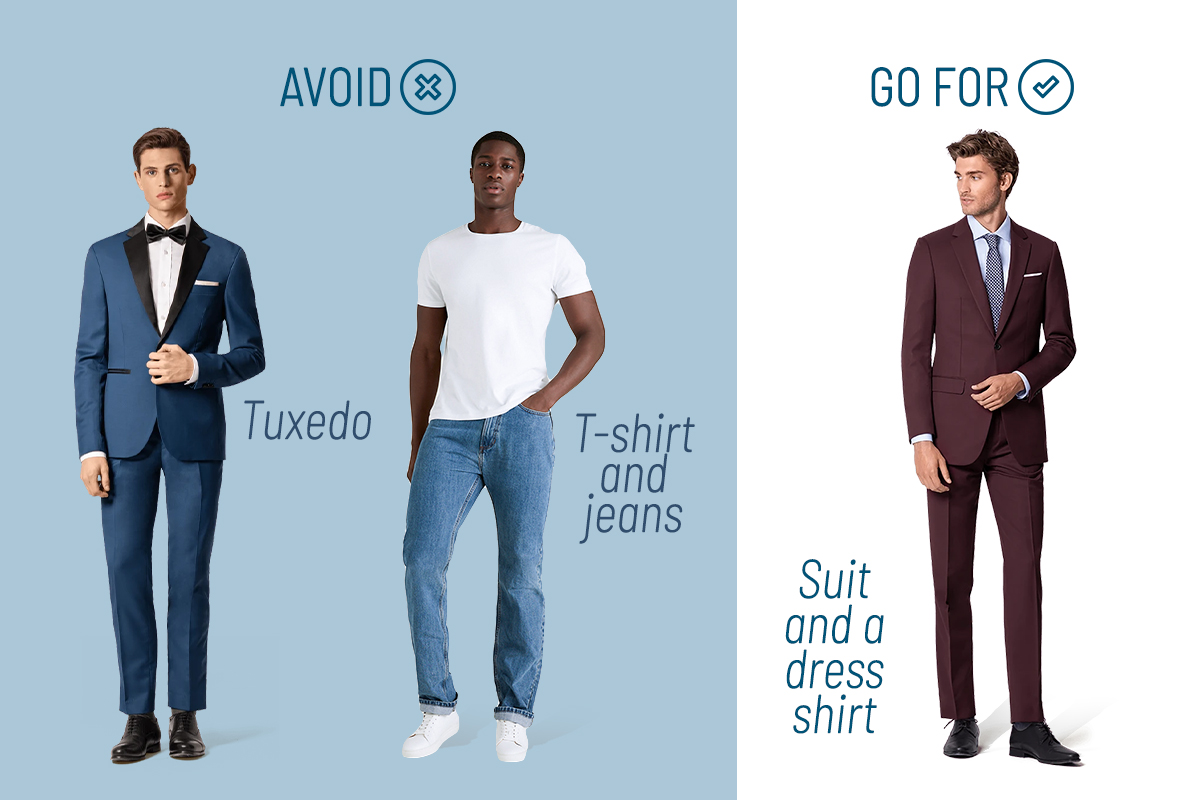 Also, stay away from wearing excessive accessories.
Wearing a tuxedo and a black suit would seem out of place in a semi-formal setting.
Avoid these to distinguish your outfit from formal attire.