The sleeve buttons on the suit jacket can be either decorative or functional.
But more compelling is how these sleeve buttons define the elegance and formality of a suit jacket.
Therefore, gentlemen aiming to reflect a distinctive style should know the sleeve button variations.
It helps to draw attention to your style. And maybe when needed, you can roll your sleeves and rock.
Number of Suit Sleeve Buttons
The suit jacket sleeves have one to four buttons, sometimes even more.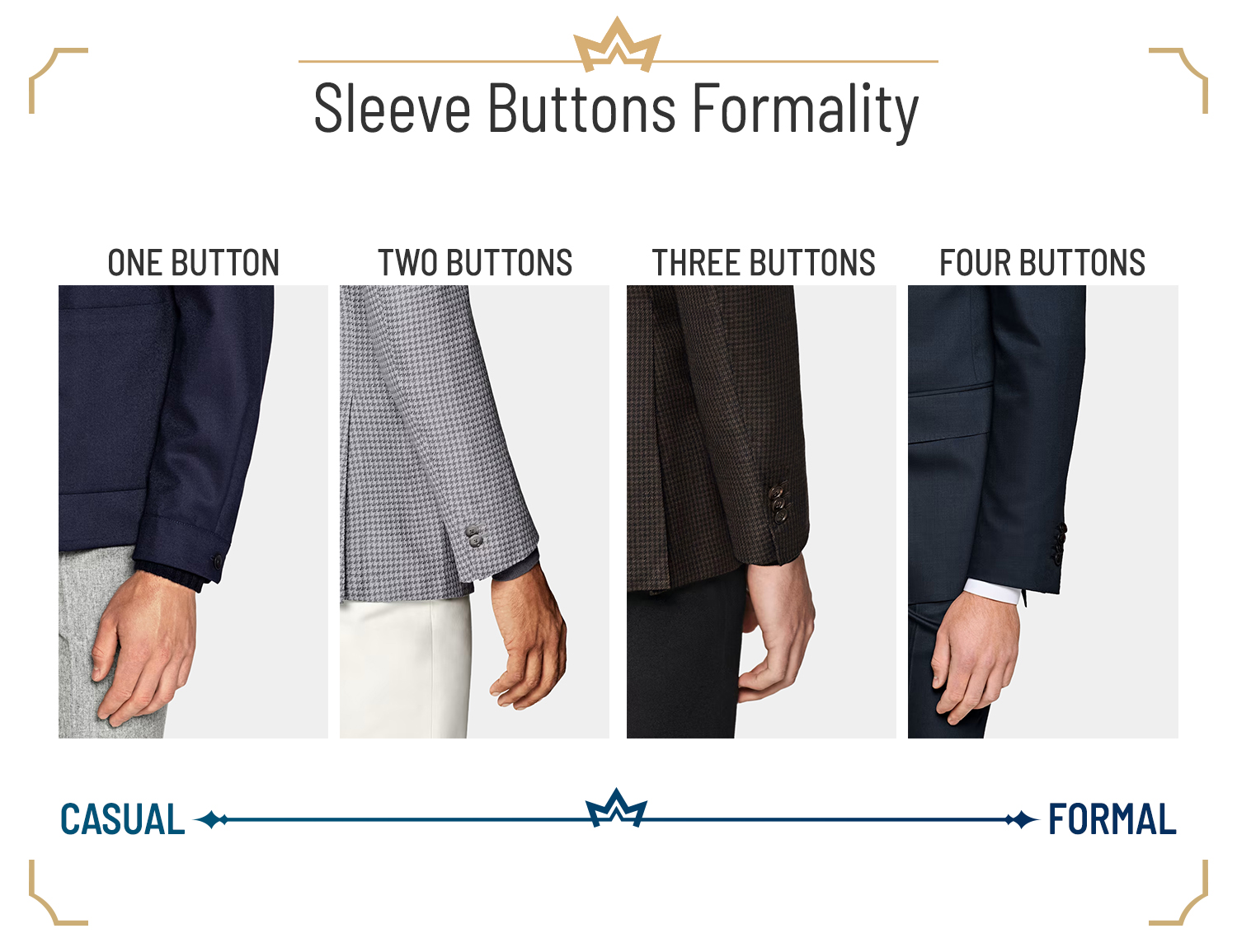 What's interesting is that sleeve buttons directly affect your suit's style. Generally, more sleeve buttons mean a more formal suit jacket.
But the style oxymoron is that more sleeves and buttons also mean versatility in style.
One Button
The vintage business and formal wear of the 1960s used to feature single-button sleeves.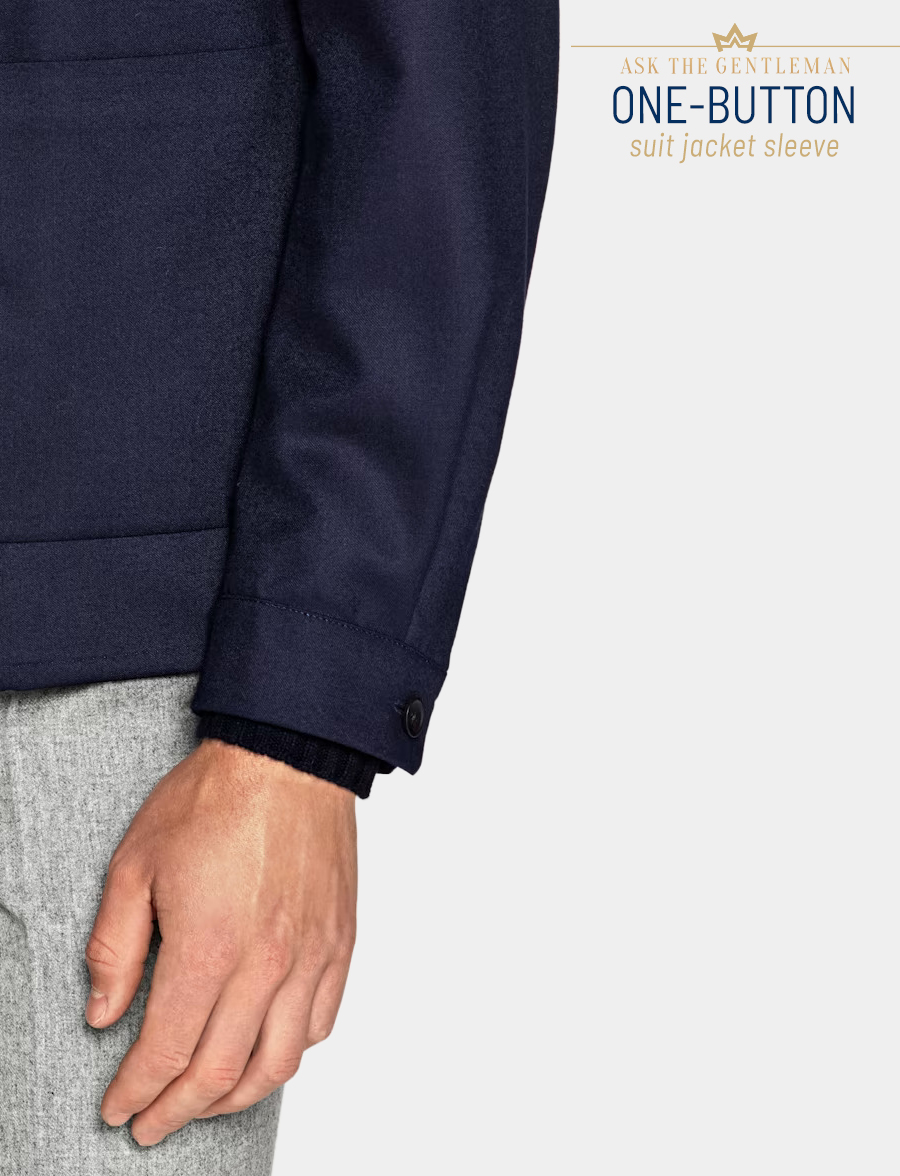 But being boring and lack of garnish made this button style obsolete.
These days you rarely see a blazer or a suit jacket with a single sleeve button. But a casual sportcoat can have this.
When wearing a sport coat, it's best to complement one sleeve button with a single-button jacket.
This will show a conscious approach to a laid-back style rather than being bland.
Two Button
Two-sleeve buttons on the suit jacket are rare. It's best to have these on less-formal items like sports jackets and blazers.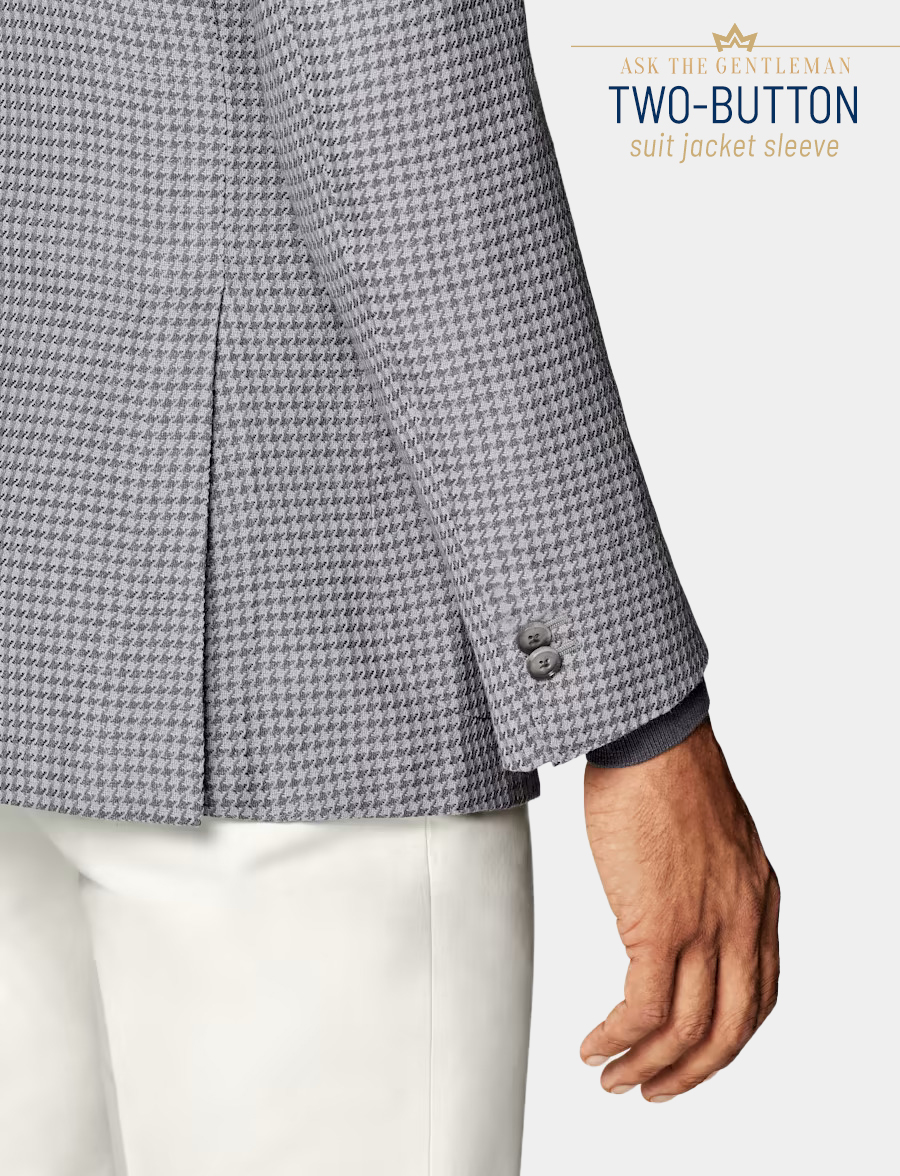 The two-button suit jacket cuff has a history with Brooks Brothers and Ivy league sport coats.
And therefore, it can be a breezy transition between a formal and casual button style.
Lastly, a two-button jacket cuff looks best with some space between the buttons. And It would be a nice detail with just a little attention.
Three Buttons
Many blazers and casual suit jackets feature three-button cuffs. It's a nonchalant style that gives off a sporty vibe.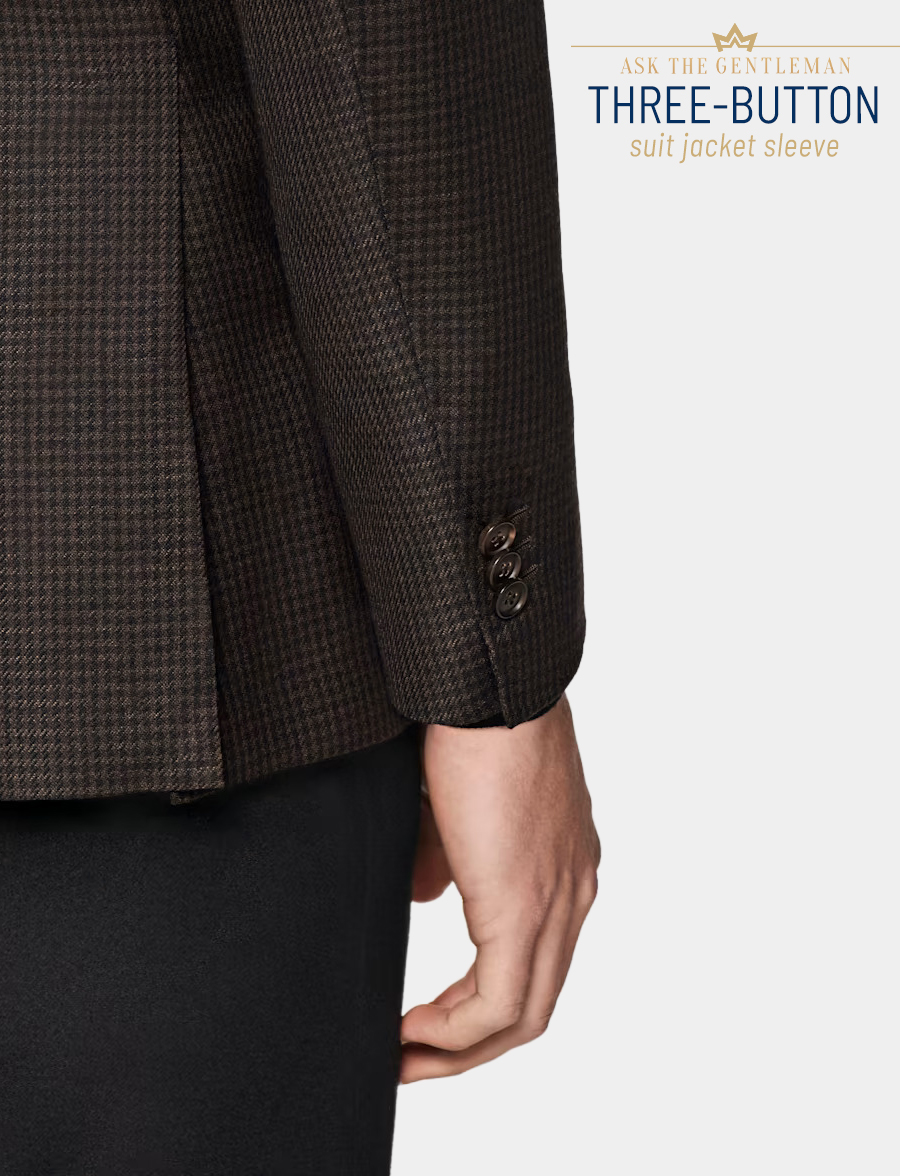 Some business suits can also have three-button sleeves. It doesn't make your suit less sartorial, but it's not the best practice.
However, you can go with a three-button cuff for a jaunty style flair. Match it by having functional buttons and an Italian-style jacket.
Four or More Buttons
Four buttons are currently the jacket sleeve standard for most bespoke and off-the-rack suit jackets. They are also the most formal.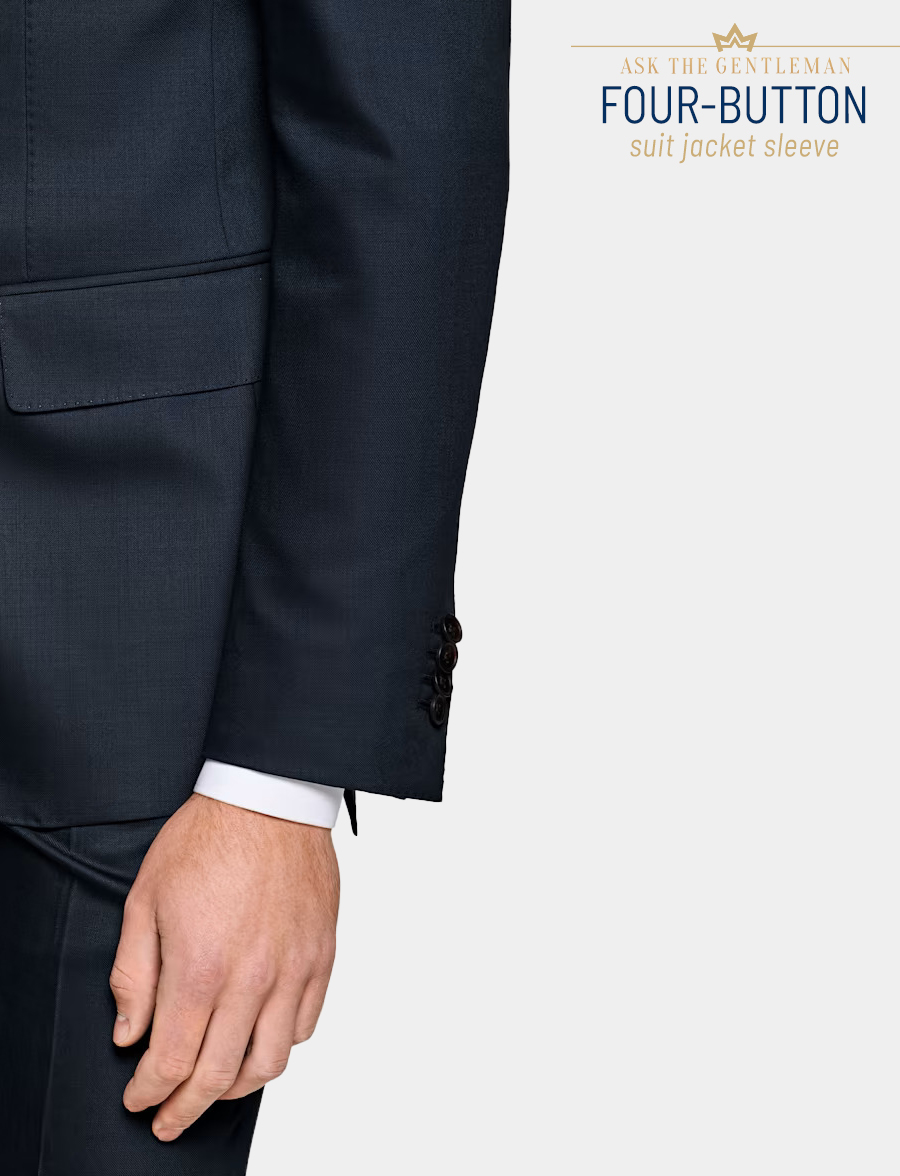 There is no particular reason why four is the ideal number.
It's just that the four-sleeve buttons don't look too much, nor does it feel like anything is missing. Plus, you can experiment if the buttons are functional.
Some retailers or bespoke houses feature five-sleeve buttons. Here, the buttonhole closest to your hand is unusually large.
This can be a move to flaunt your distinctive style or to make a statement.
Suit Jacket Sleeve Button Styles
It's not only the number of the sleeve buttons, but their placement also tells a story.
An atypical buttonhole placement can add a certain flair to your jacket's construction.
And this unspoken order of style can attest to you being a sartorial connoisseur.
Just pay some extra attention.
Standard Sleeve Buttons
The standard sleeve buttons look attached to each other but with a little spacing. The space can go up to a quarter of an inch.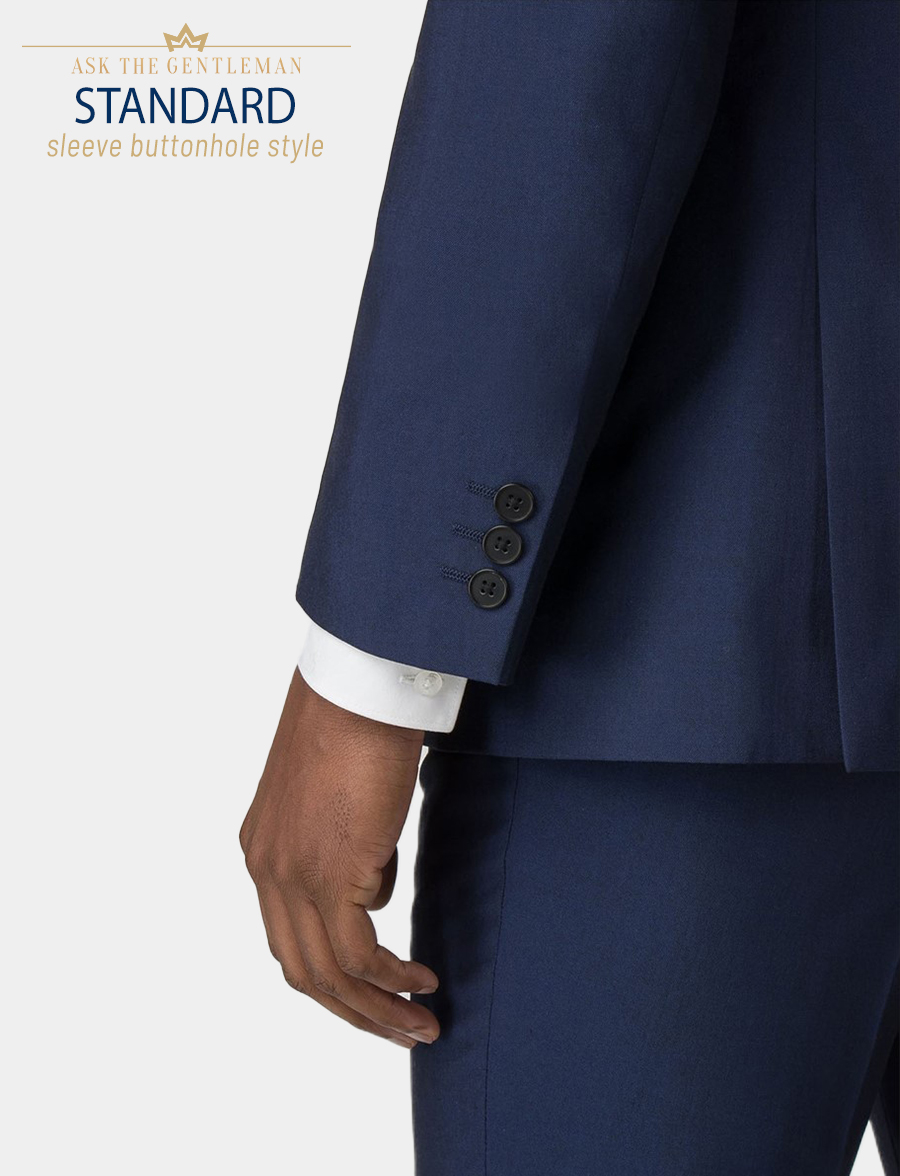 This is the style you can expect to be on almost all off-the-rack and ready-to-wear suits.
Many custom and bespoke tailors will follow the standard sleeve button placement unless asked otherwise.
Kissing Buttons
Kissing buttons slightly make contact. They brush against each other as if they attach at a point.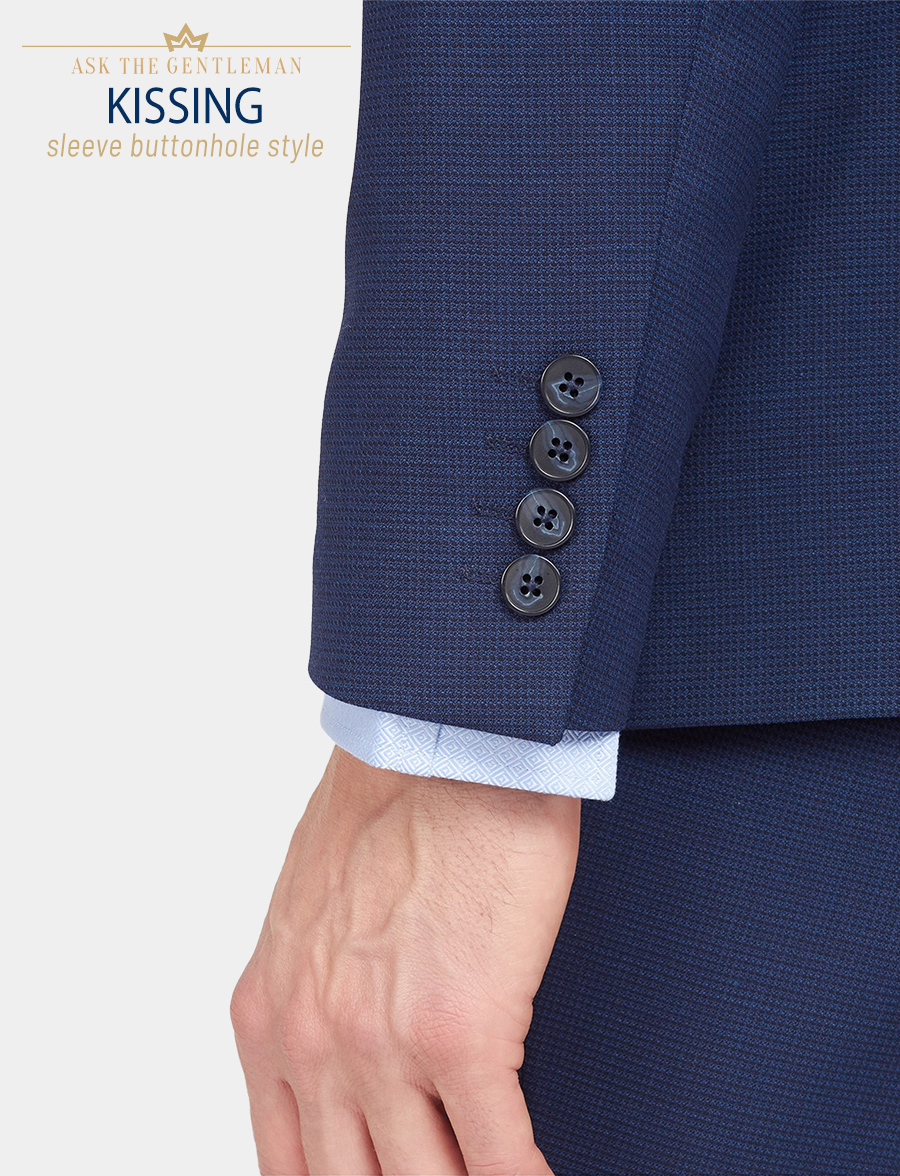 You might see the style with some ready-to-wear suit jackets, but most often with bespoke suits.
From a distance, kissing buttons look very decorative. And when complemented by working cuffs, this style levels up the elegance of your sleeves.
Waterfall Buttons
These buttons overlap at your sleeves, making it look like a cascade.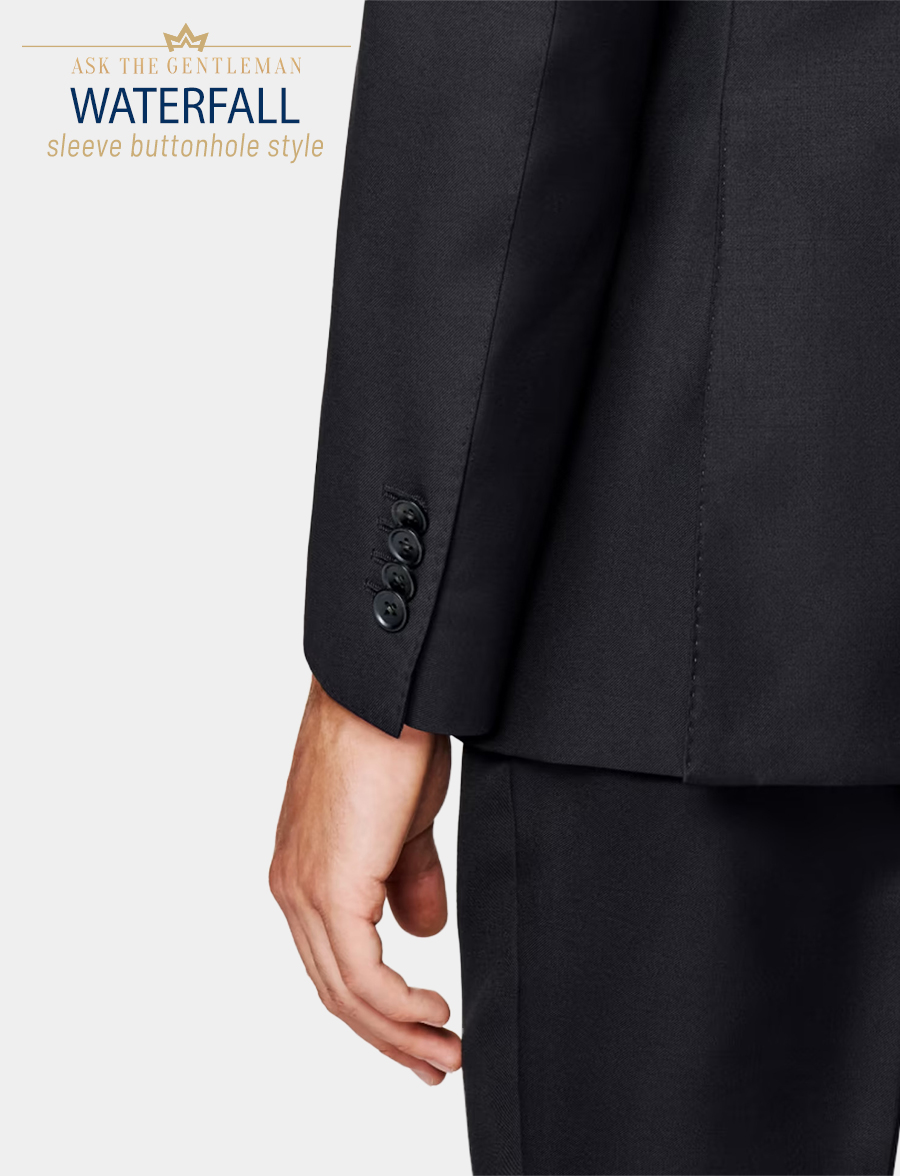 It doesn't call for attention and, at the same time, shows that you're attentive to style.
However, to the eye not trained for sartorial details, waterfall buttons may look like a style of mass-produced jackets.
Therefore, again you should have working buttons and fine tailoring to back up this style.
Slanted Buttonholes
Slanted, a.k.a angled buttonholes, are at a 45-degree angle to the outer edge of the suit jacket cuff. And this button style is relatively uncommon.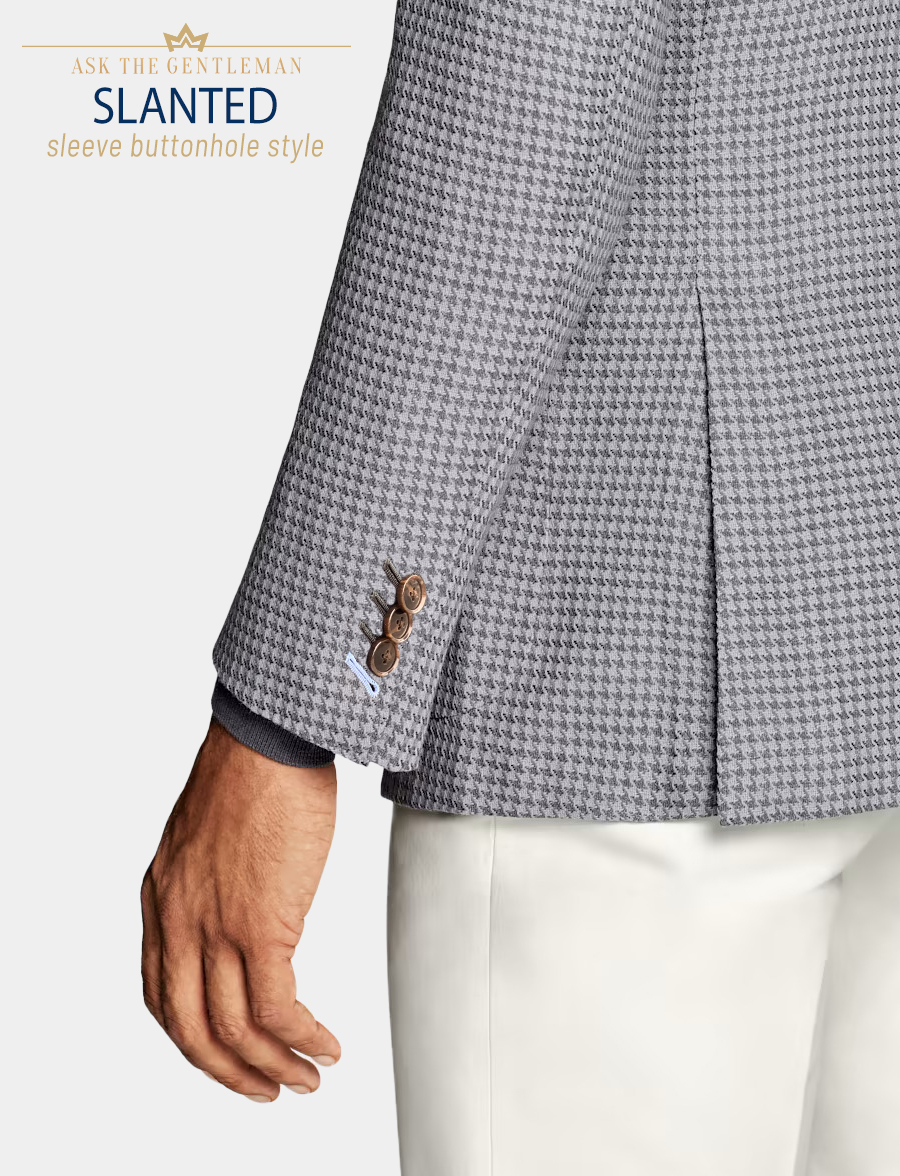 Gentlemen who want to make a statement in every aspect of their suit jackets can opt for angled buttonholes. Contrasting buttonholes will further excite this style.
Why Are There Buttons On the Sleeve?
Like many things in menswear, the sleeve buttons have a military origin.
Initially, the sleeve buttons were an ornament of the military uniforms.
It also prevented folks from cleaning themselves by wiping their face and keeping their uniform clean.
Also, wearing jackets all the time was the dress code in the old days.
It was practical to roll up your sleeves when doing something hectic. And sleeve buttons were a functional necessity at that time.
Fast forward to the style evolution; these days, buttons are there on the sleeves as a fashion accessory.
Plus, sleeve buttons are an embellishment to complement the other buttons of your jacket.
Are These Buttons Functional?
The sleeve buttons can be functional, but that depends on the manufacturer.
Nowadays, most off-the-rack suit jackets don't make functional sleeves. The reasons are many, but the most popular one is to cut the cost of tailoring.
Secondly, off-the-rack sleeves often require alterations. The functional buttons hinder the tailor's ability to alter the sleeves perfectly and can disrupt the balance.
Lastly, many men are not bothered if their sleeve buttons are functional.
You can call it a lack of attention, but that's another reason jackets don't have functional buttons.
In terms of practicality and usage of sleeve buttons, they are few. Like, I would prefer removing my jacket than rolling my sleeves.
But details like functional buttons can impact the jacket's overall style, so I won't recommend taking the rest.
Embrace the flex and go with functional sleeve buttons.
Functional Suit Jacket Sleeve Buttons
There is a history lesson behind functional buttons and why they're called surgeon's cuffs.
Back in the old days, surgeons used to wear jackets at all times as a part of the dress code.
When required to do a procedure, they roll up their sleeves, wear a gown and start working.
Of course, this practice is no longer carried out. But it led to the foundation of functional sleeve cuffs.
It's the reason working sleeve buttons on a suit jacket are known as surgeon's cuffs.
Style Advice If The Buttons Are Working
If your suit jacket sleeves have working buttons, use them for a rakish flex but don't go overboard. Just be subtle and smooth.
Just like the jacket's closure, the easiest thing is to leave the bottom button undone. The bottom button is the one closest to your wrist.
Keeping one button unbuttoned will send a message about your attention to style.
Going with two button sleeve buttons undone would be an even more laid-back style.
Some gents would asymmetrically button their sleeve buttons. I won't recommend this.
It would appear as if one of your jacket buttons fell off rather than you doing this on purpose.