Gentlemen usually wear their dress shirts tucked in, so why all this fuss around the proper length?
It's because the length can solely make or break the shirt's style and fit.
On the other hand, the trendy casual appeal encourages more gents to wear untucked dress shirts. Here, the dress shirt length becomes aesthetically important.
So, a proper shirt length is critical for a visually cool portrayal of your personality. Let's achieve this feat together.
How Long Should the Dress Shirt Length Be?
The front and back are two parts of the dress shirt, each with different measurements.
Similarly, the shirt length can vary for a tucked or untucked shirt.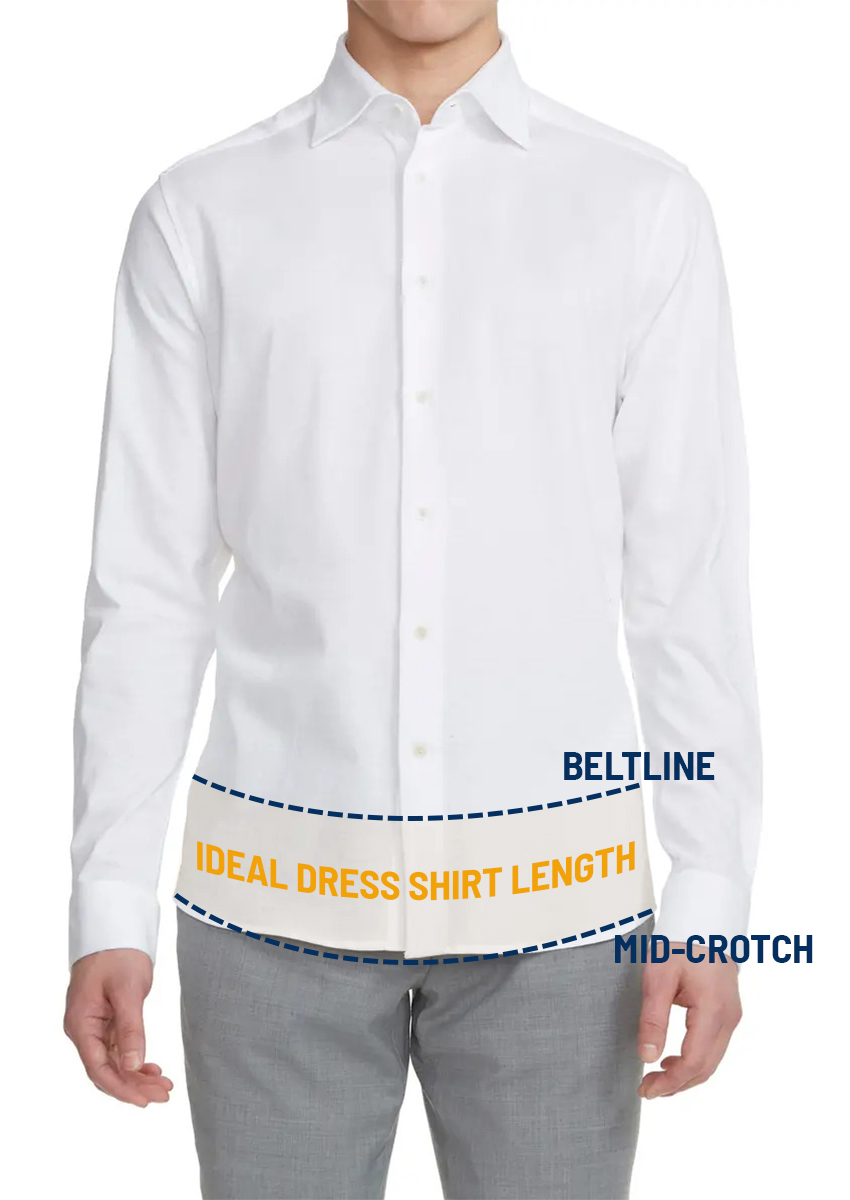 For the front, the ideal length ends at the mid-crotch or the trousers' mid-fly.
The back of the shirt should end in the middle of your rear end.
Tucked-in shirts can be slightly longer to stay in shape. These should completely cover your rear end and the fly of the trousers.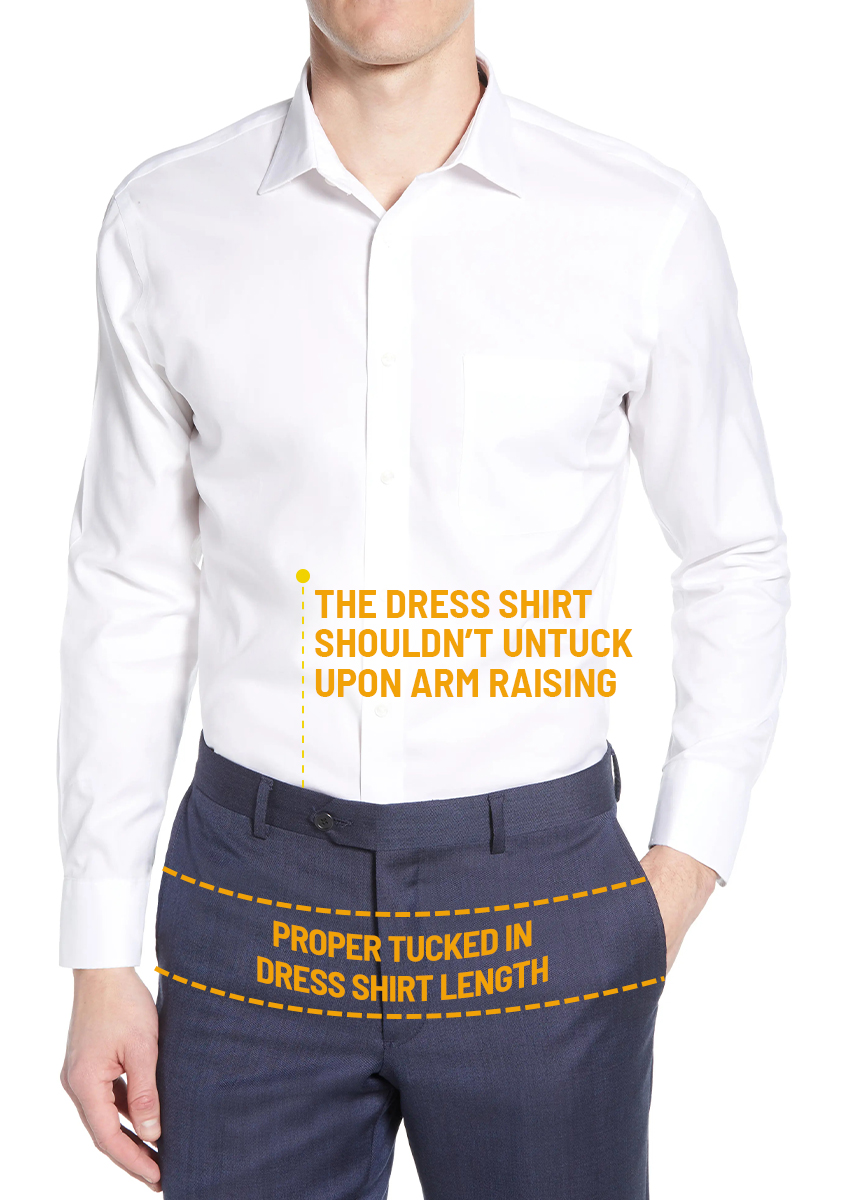 But these measurements are merely guidelines.
Personal style, body shape, pant position, and the number of shirt buttons can also impact the shirt's length.
How to Measure the Dress Shirt Length
There are two techniques for measuring the proper dress shirt length.
The first is measuring the length directly from the shirt, lying flat on the table.
It's just that you have to be sure you're measuring a dress shirt that already fits you correctly.
Button up the shirt, and spread it down, facing downwards. Then measure from the highest point from the collar's base to the shirt's bottom hem.
The second method requires measuring your body to find the proper shirt's length. But you'll need someone to help you.
They'll have to measure from the base of the neck to the end of the back rise.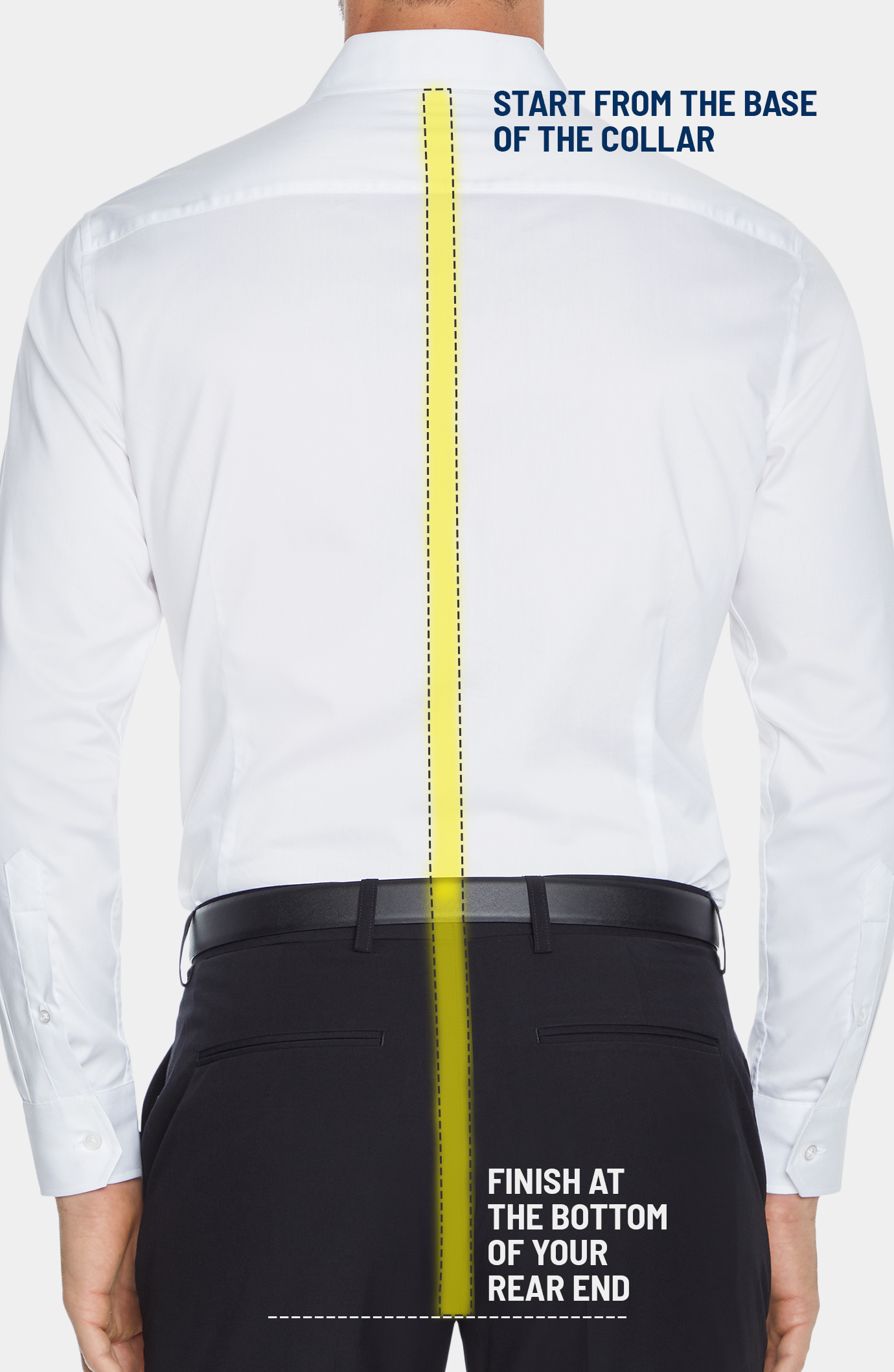 Again, it's an especially useful method if you don't have a shirt that fits you well.
If you plan to wear a dress shirt tucked in, go for one or two inches longer than the actual measurement.
How to Measure the Dress Shirt Sleeve Length
The sleeve length measurement in a dress shirt encompasses both the shoulder and arm length. Shoulder shapes can differ for different people, and measurements can vary.
Measure the sleeve length from the nape of the neck to the shoulder seam. Then continue measuring from the seam of the shoulder to your wrists.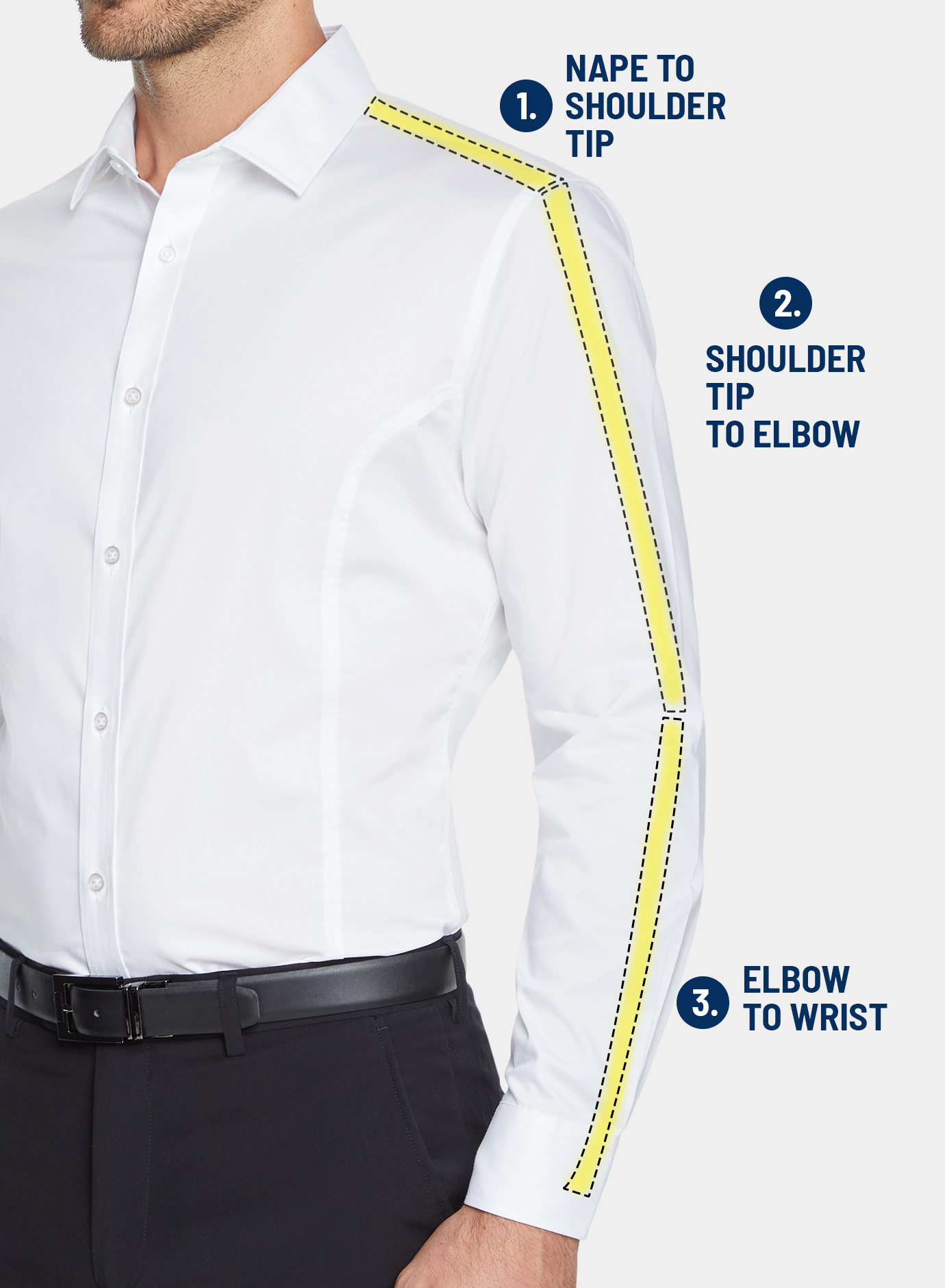 Always keep your shoulder and body relaxed for perfect measurements.
The measured length can vary by one or two inches on both sides. In such a discrepancy, take the median of the two measurements.
Furthermore, take at least two measurements to get the best idea of your ideal sleeve length.
Lastly, round off the quarter-inch measurement to the nearest half, e.g., 34.25 to 34.5.
It's important because brands will mention their fit-guide in either half-in-inches (34.5″) or a range (34-35″).
If in doubt, go a full inch above, especially when shopping online.
How Length Affects Tucked & Untucked Dress Shirts
Now you know what accounts for the proper shirt measurements, let's discuss tucked vs. untucked dress shirts.
Tucked dress shirts are a must for a polished and clean look for suits, tuxedos, and dress pants.
Contrary to popular belief, untucked dress shirts can present a sophisticated look and give a good room to be creative.
While the length will primarily affect whether you can wear a shirt tucked in or untucked, other things may also affect the choice.
Proper Length for a Tucked-In Dress Shirt
If you see a ready-to-wear shirt, how would you know it's a tucked-in dress shirt? Length is the #1 indication.
You should always tuck in your dress shirt if it falls below 2″ of your rear end.
So if the length of the shirt falls beneath your glutes, it's good for tucking in.
Another good indicator and factor is the shirt's bottom hem. If it's a curved hem, the shirt is meant to be tucked in.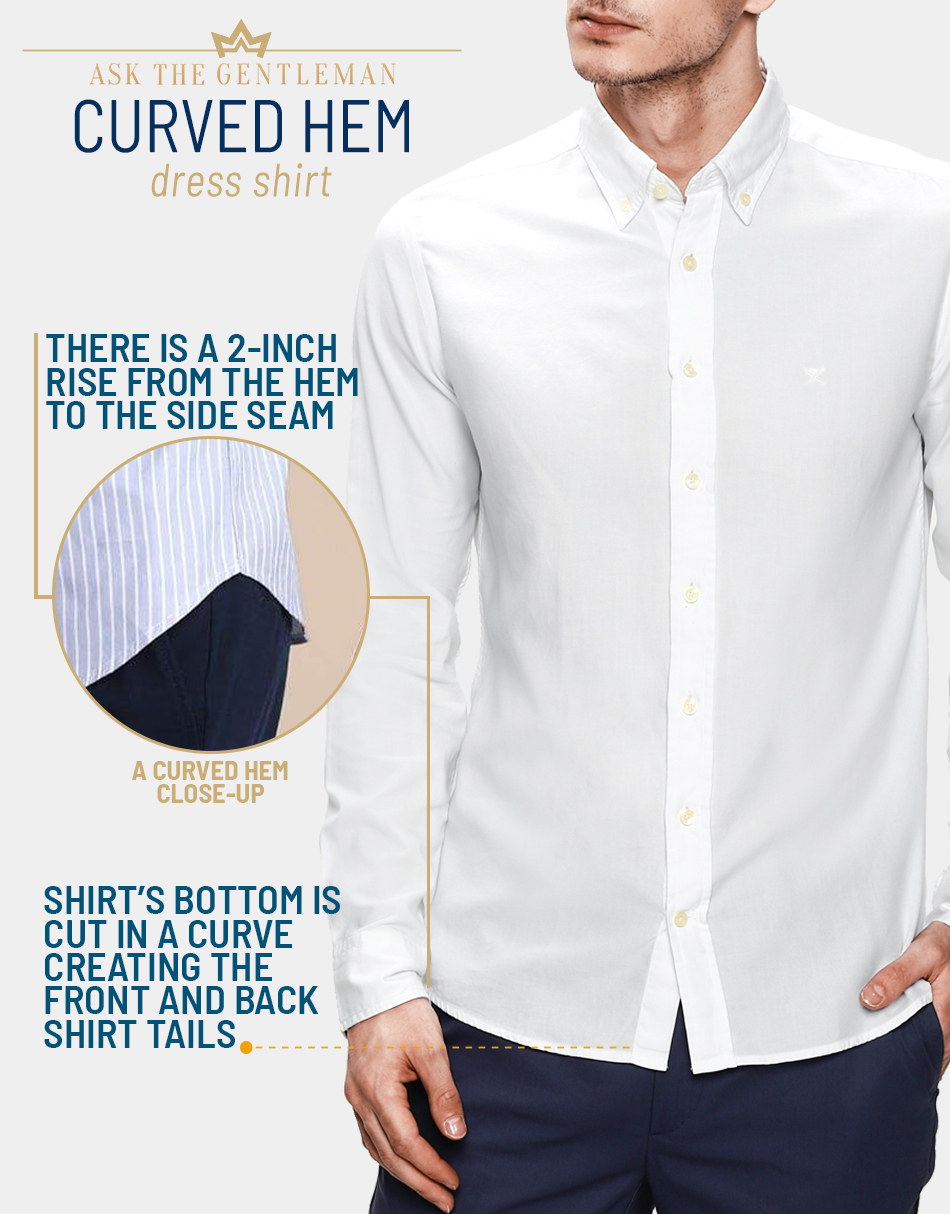 Style experts define this concept as a dress shirt having front and back tails. The longer length on the front and back of the shirt keeps it tucked in.
Additional things like the collar style can sometimes tell the shirt to be tucked in.
For example, structured collars like point collars, often but not necessarily, should be tucked in.
Lastly, always tuck in your dress shirt if you want to layer up with an outfit, either with a suit, dinner jacket, blazer, or even a sweater.
Dress Shirt Length for Untucked Shirt
Wearing untucked dress shirts has similar rules as tucked ones but is followed differently.
Obviously, the length is also the biggest deciding factor.
In comparing the two, untucked shirts can be 1-2 inches shorter than tucked-in shirts. By the book, they should end at mid-fly.
You also have to be cautious when wearing untucked shirts. For example, untucked dress shirts are great for casual meetups with friends.
The ready-to-wear shirt with a straight hem means it's an untucked shirt.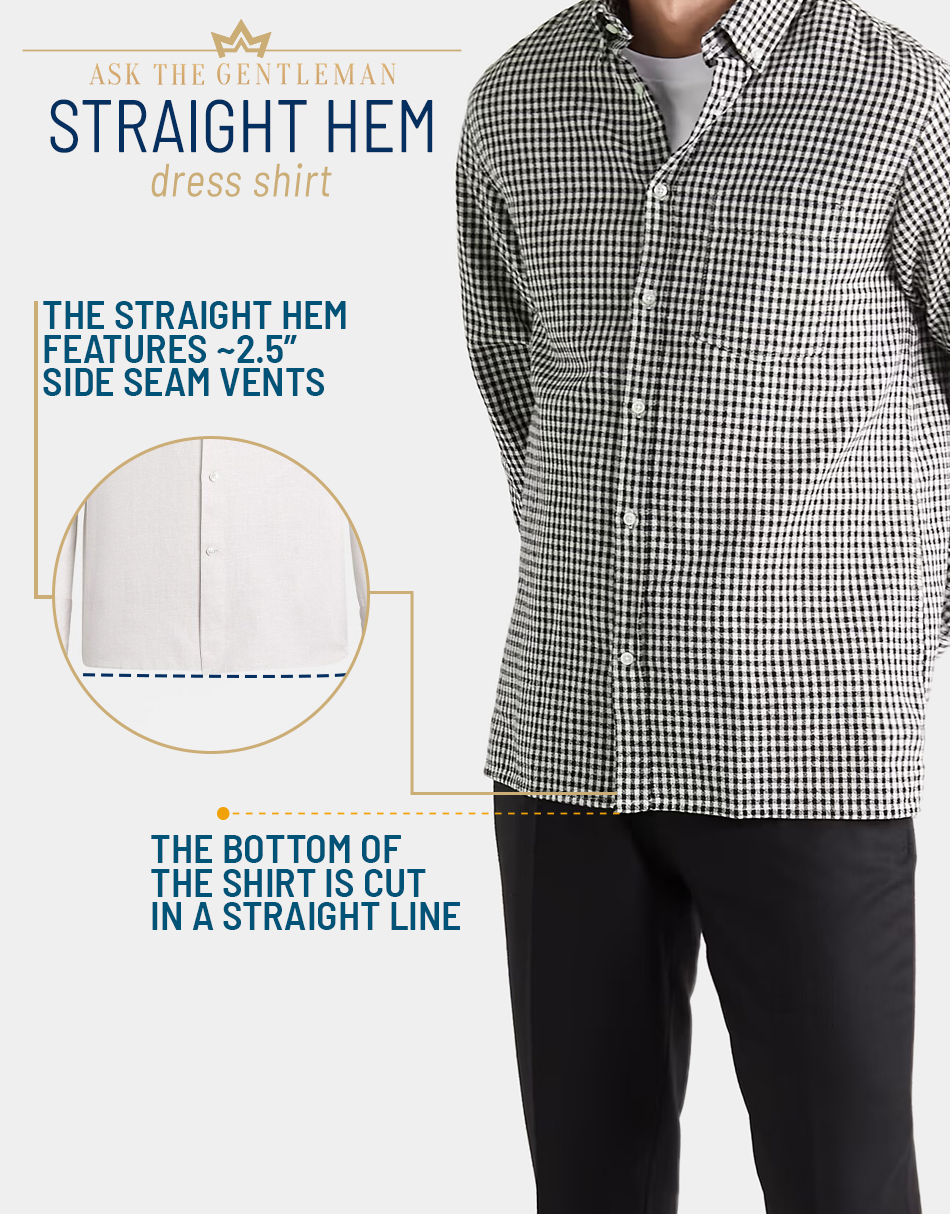 Similarly, button-down shirts with patterns mostly check and gingham goes untucked.
I don't want to generalize it, but linen dress shirts are often worn untucked. Lastly, personal style has a good role in deciding between tucked vs. untucked shirts.
How Different Sizes Affect the Dress Shirt Length
The dress shirt size measurements depend on two things – neck size and sleeve length.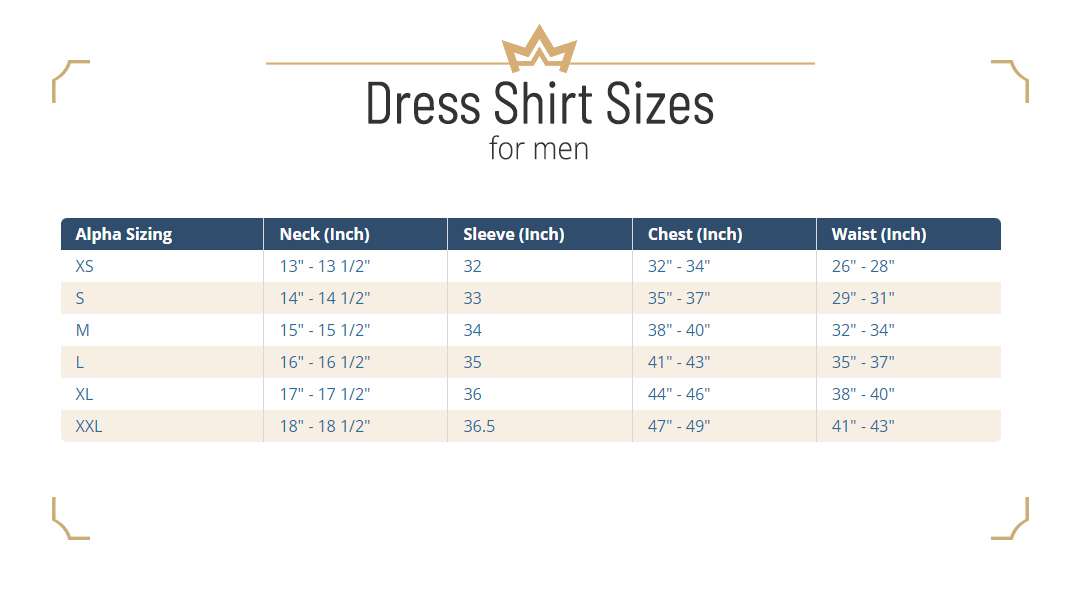 So when you read a tag that says "16 33", it indicates that neck circumference is 16 inches, and sleeve length is 33 inches.
So, when you buy a ready-to-wear shirt, you look at collar size, sleeve length, and cut.
The rest of the things, even the shirt length, correlate with these measurements.
Generally, the 'XS' size collar length starts from 13″, which correlates with a 32″ sleeve length. The shirt length can range from 27 to 29 inches, depending on the fit.
The usual retailer's "XXL" tag is on the other end of the spectrum. This label has around 18″ collar size, 37″ sleeve length, and 32-35 inch shirt length.
All the rest of the measurements fall in these ranges showing a correlation of size to shirt and sleeve length.
How the Cut Affects the Dress Shirt Length
Anatomically, we're all different. For example, some have a wider chest with a narrow waist, while others can have a larger belly.
So the person's height and torso shape also account for proper length measurements, resulting in different shirt cuts.
There are four common shirt cuts available: classic (or regular) fit, modern fit, slim fit, and skinny (super slim) fit.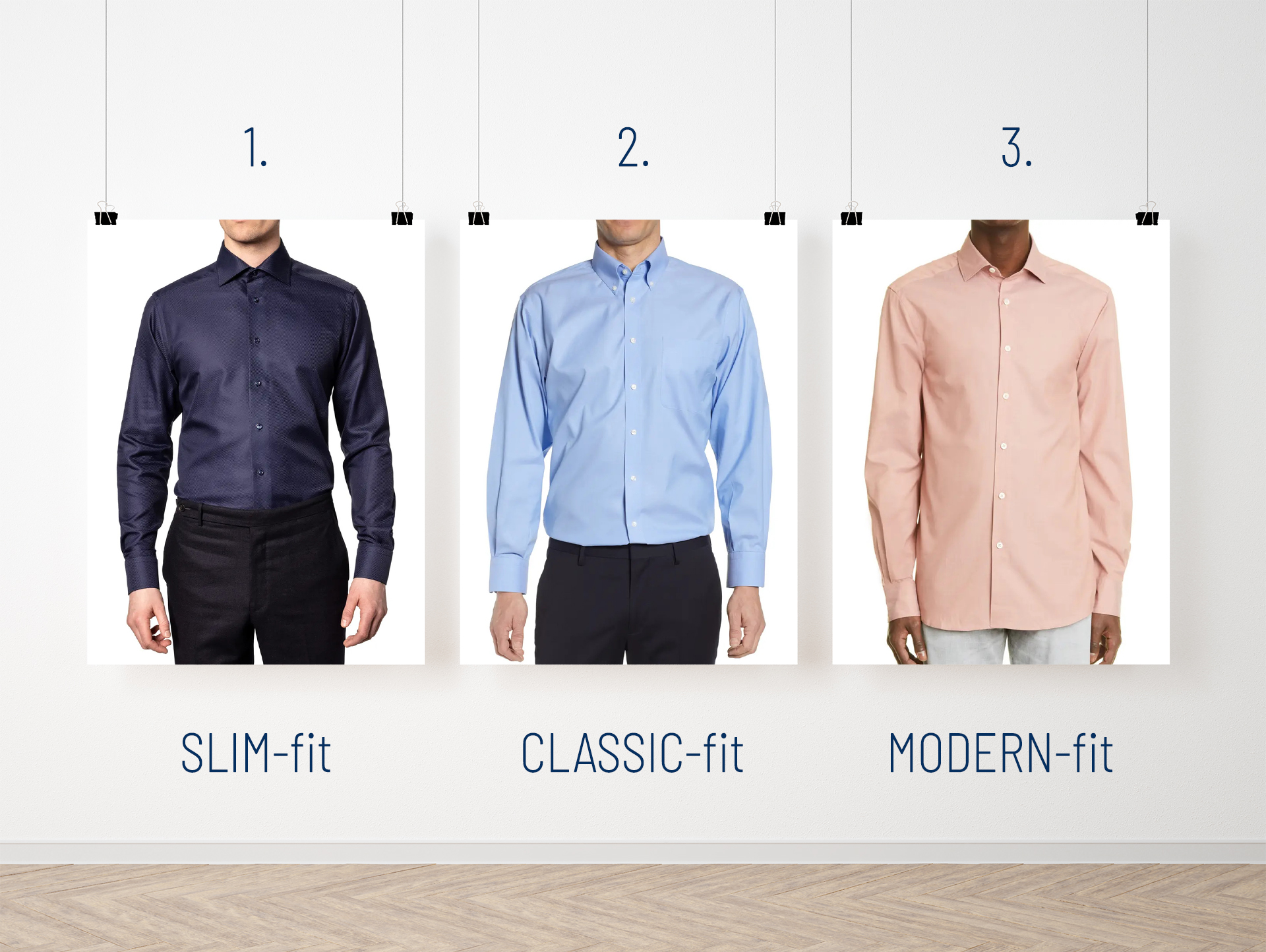 A regular fit shirt has a larger length as the cut is looser through the torso and has a longer front tail, often resulting in billowing or muffin tops.
On the other hand, slim-fit shirts are cut closer to the body, which additionally reduces the shirt's length.
Consider MTM/Bespoke Shirts to Avoid Length Complications
You might have felt that there are a lot of details to consider for the proper dress shirt length.
A great way to avoid such hassles is going with an MTM (made-to-measure) or bespoke shirt.
Such shirts become necessary when you have a different body type than the masses.
It could be anything from torso shape to biceps size, leading to an MTM or bespoke tailor.
Due to online retailers, made-to-measure shirts have become affordable and quite easy to get. Plus, they offer a good fit and shirts that last quite a white.
Bespoke shirts are expensive, but these truly are dressing masterpieces.
Even with a guy on a budget, one or two bespoke shirts are great to realize the essence of fashion.