It used to be incredibly common to see men wearing turtlenecks with their outfits, but not so much today.
However, more men seem to be embracing this wardrobe essential lately, and it's about time.
This unassuming, deceptively simple garment can create any number of styles, from formal to leisure.
Don't underestimate what you can accomplish with the right turtleneck outfits.
How to Wear a Turtleneck: The Fundamentals
You've probably seen turtlenecks all your life, but what precisely are they?
A men's turtleneck is a sweater with a tight and tall ribbed neck that folds down over itself. The neck is similar to a tube.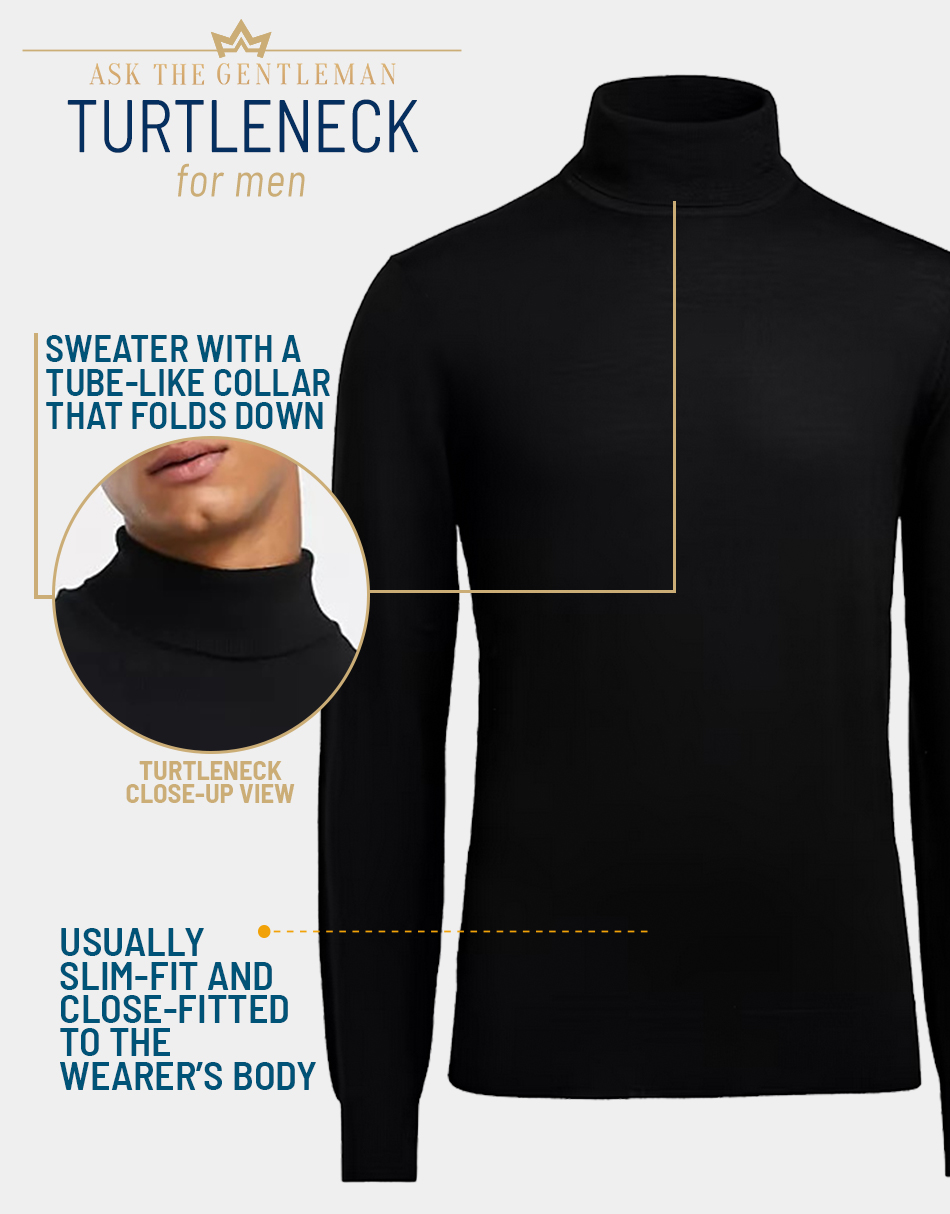 Yes, it looks a lot like a turtle's neck; it isn't a very creative name for a garment, is it?
Turtlenecks are usually slim-fitting garments.
They're a basic piece of clothing that can be an excellent foundation for your entire outfit but can also be the centerpiece of it.
Turtleneck sweaters can be heavy knits or lightweight.
If you intend to layer your turtleneck with other pieces, it's best to stick to lighter fabrics.
Different Turtleneck Styles for Men
You'll find a few variations on the theme of turtlenecks, but they all stem from the same family.
Aside from your traditional men's turtleneck, you can also choose a mock neck.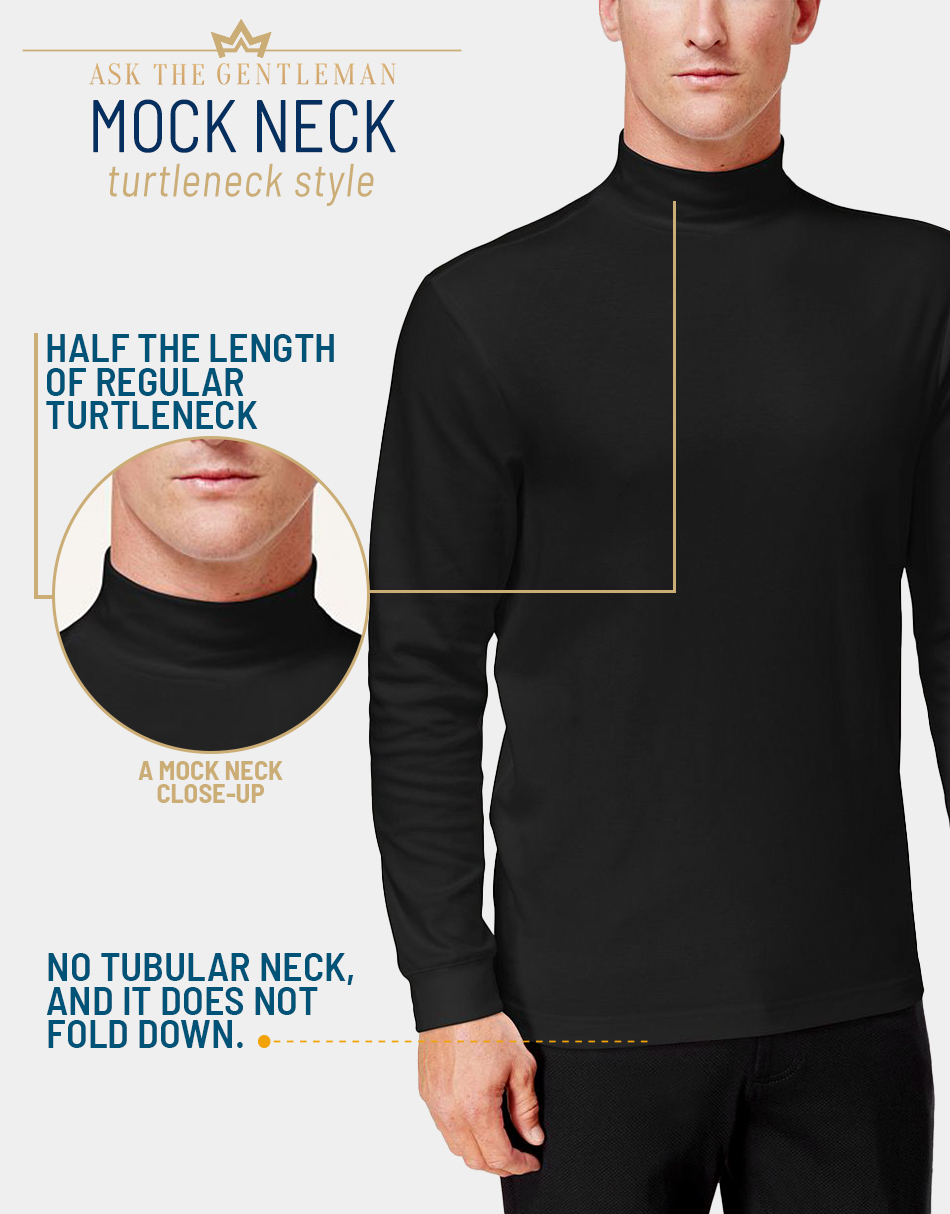 Mock necks are ideal for men with shorter necks. It's very similar to a turtleneck but with no tubular neck.
The mock neck is only about half the length of a turtleneck. So it has a similar appearance, but the neck doesn't fold down over itself.
There is also a skivvy, a turtleneck with a looser neck.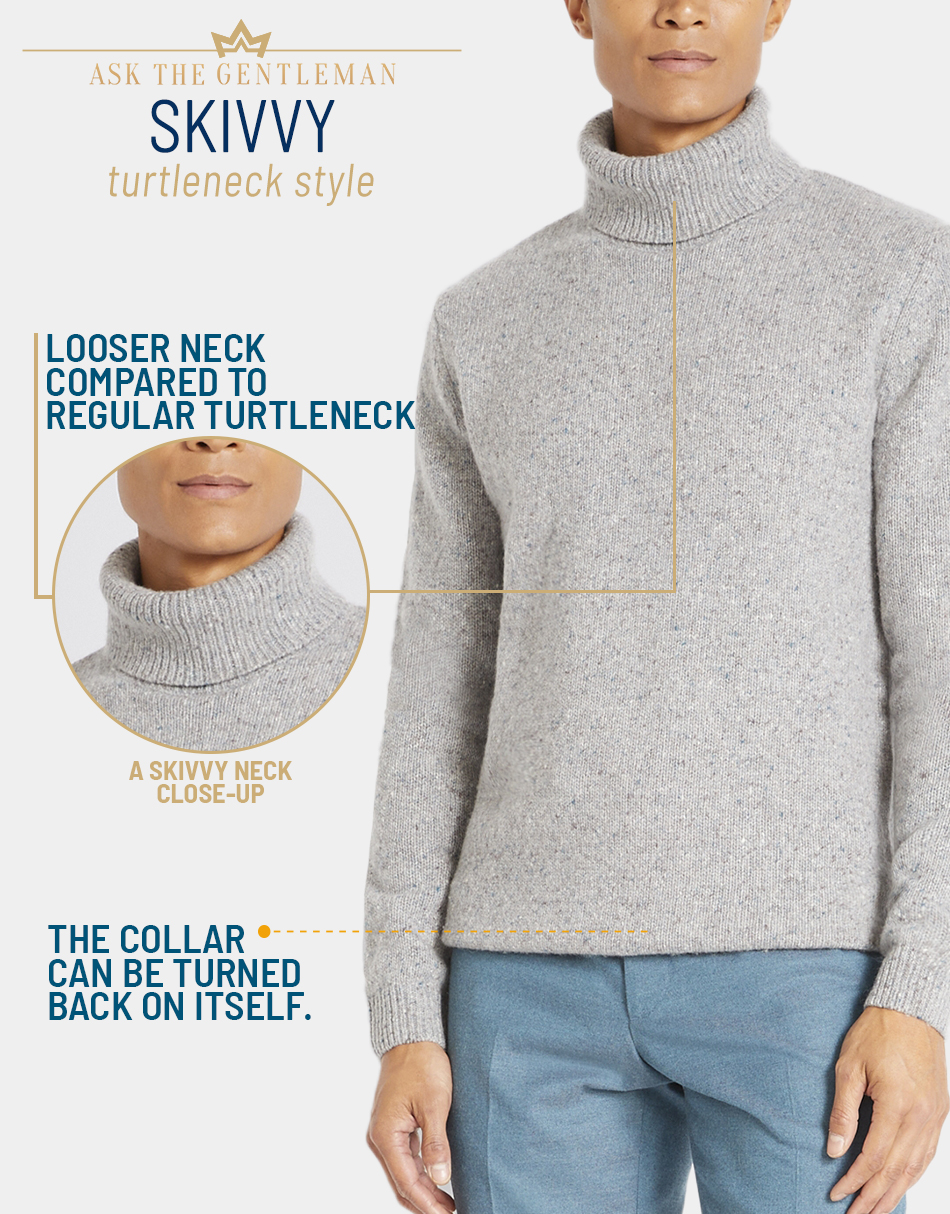 You'll also see zip necks, which are basically mock necks with zippers at the front.
These are usually worn open, so they aren't really worn as turtlenecks.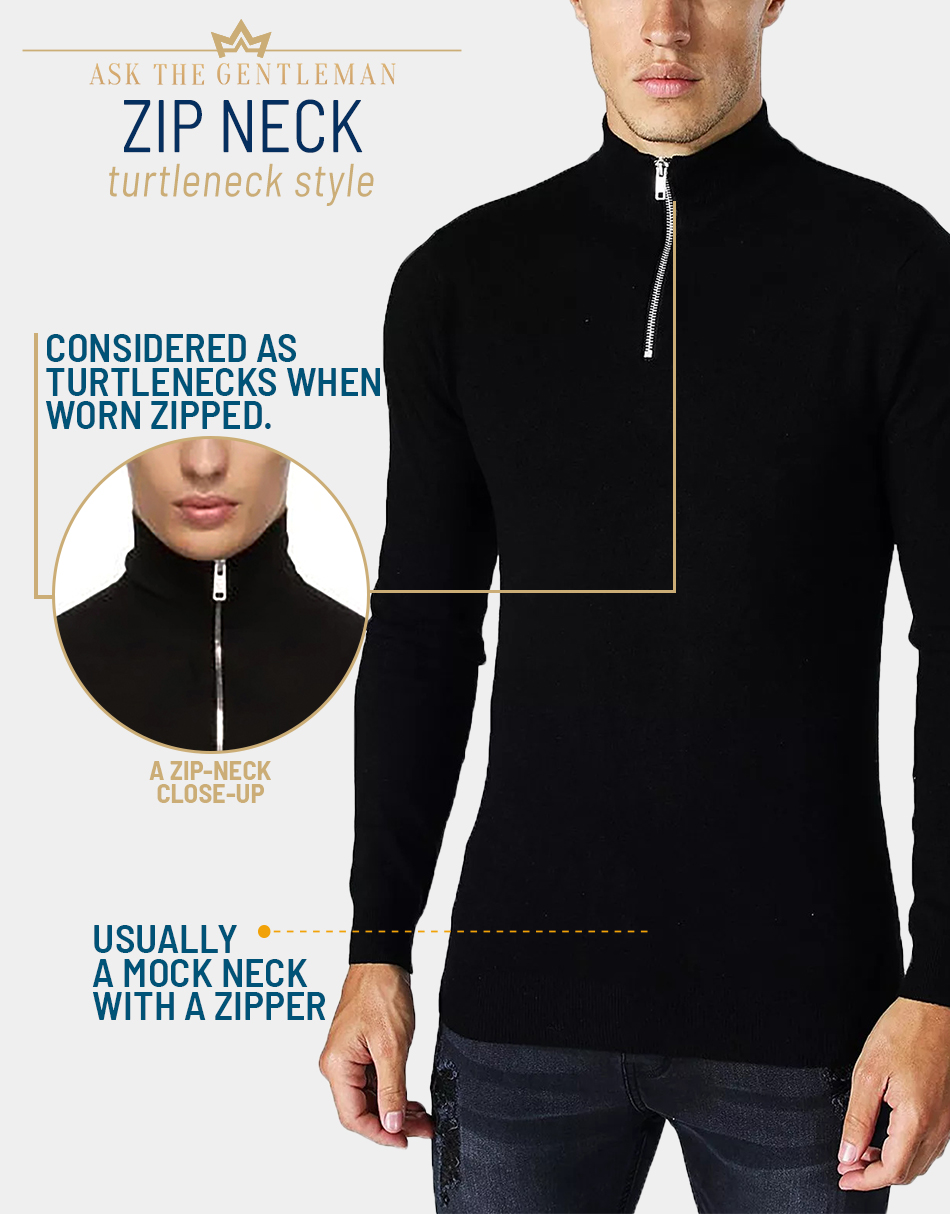 You may also hear about polo or roll necks; these are just other terms for turtlenecks, mainly in the UK.
The Fit
The correct fit for the men's turtleneck is critical.
If it's at all baggy, your turtleneck is too large. This can easily make you look frumpy.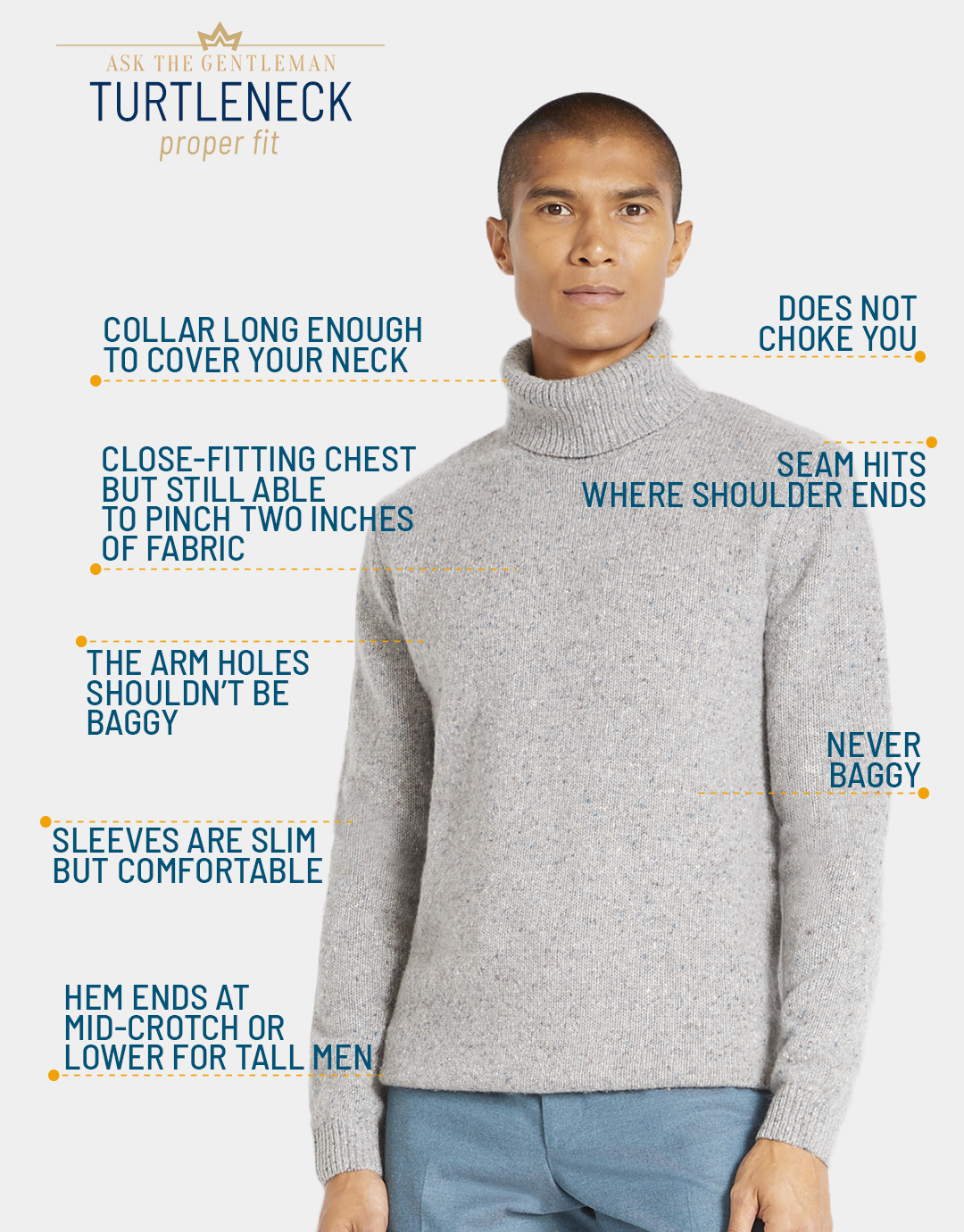 You want a close fit through your torso. It should be tight but not uncomfortably so.
Slim fit would be the best way to describe the ideal turtleneck fit.
Coordinate the Colors & Fabrics
Men's turtlenecks aren't precisely warm weather wear.
You'll only be comfortable wearing a turtleneck in cooler temperatures.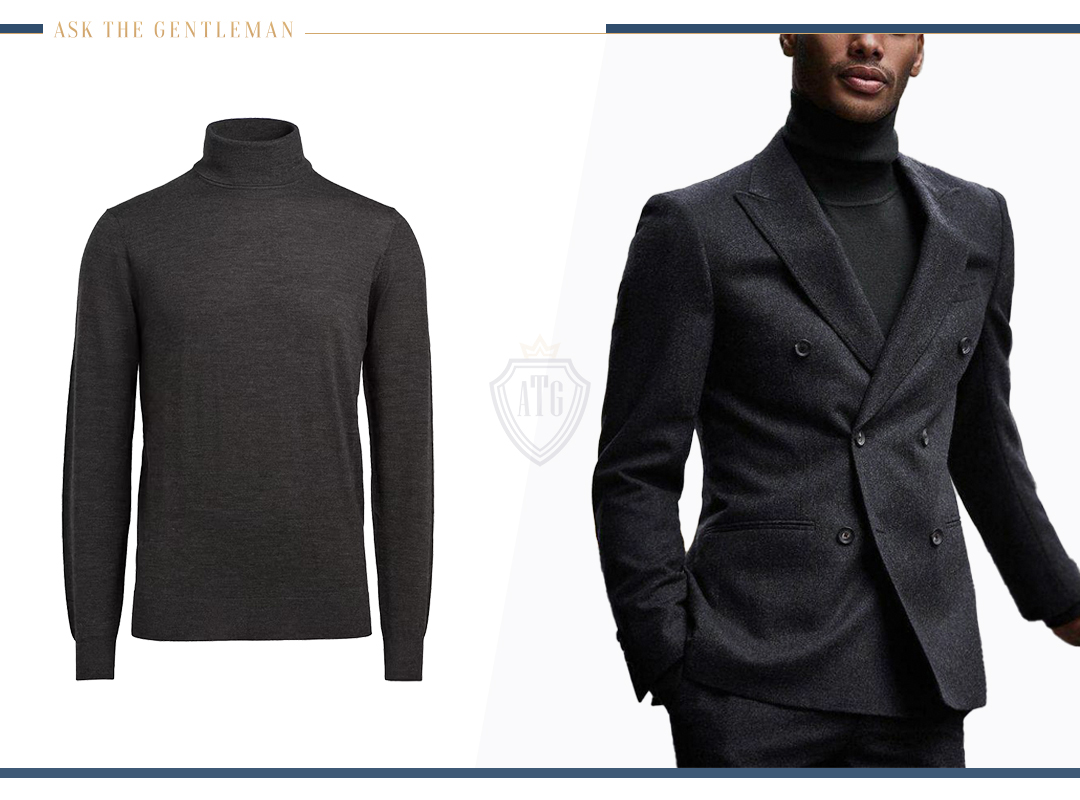 Therefore, the rest of your outfit must follow the feel of being a cool weather outfit.
The fabrics you pair with your turtleneck should be heavier, thicker materials, such as wool and tweed.
Your colors should match the season, as well. They must look appropriate and fit the climate.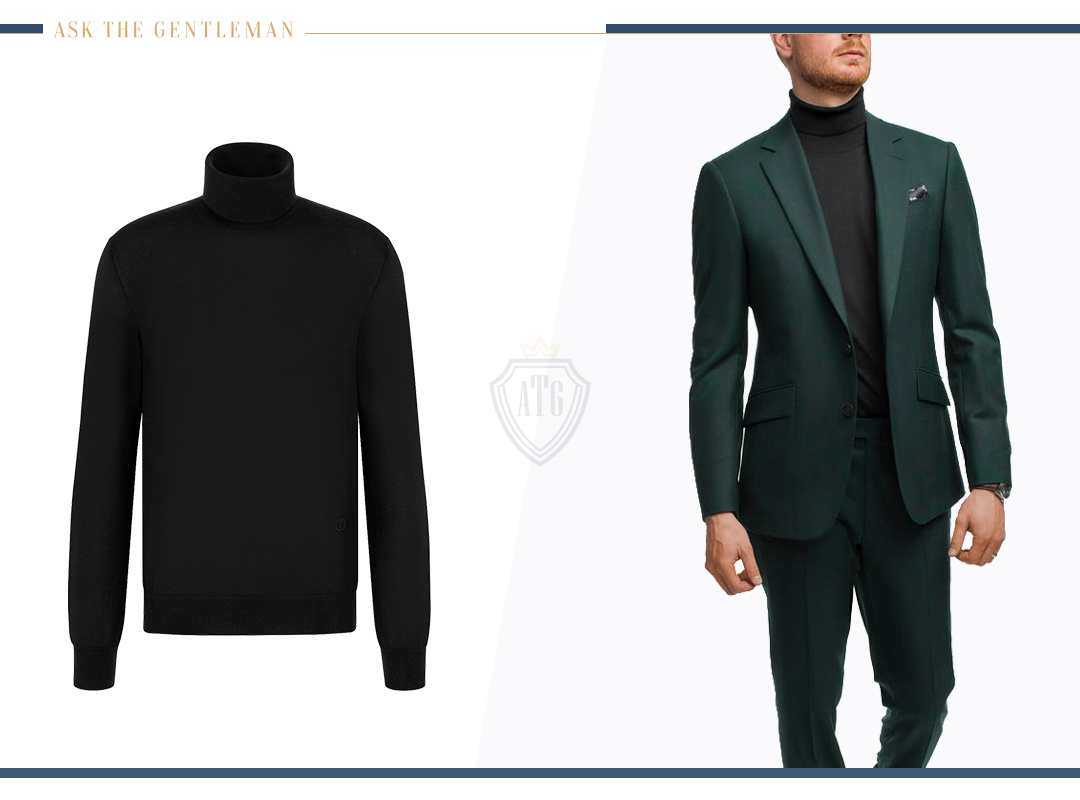 Neutral turtleneck colors are excellent starter pieces for building your wardrobe, like your first building block.
Different Turtleneck Outfits for Men
Turtlenecks can be very versatile; you can wear them for casual occasions or more formal events in place of dress shirts.
But it's understandable if you feel intimidated or confused about styling your turtleneck.
How can you make it look sophisticated and not, well, nerdy?
A turtleneck needs the right touch, or it can quickly look like an icon of the past.
Fortunately, you have several variations for how you can wear one.
Monochromatic Turtleneck Outfit with a Suit
Turtlenecks provide an unexpected way to suit up.
Perhaps the most dressy way to wear a turtleneck with a suit is with the right colors.
One failsafe way to be sure you can pull off this maneuver is to go monochromatic.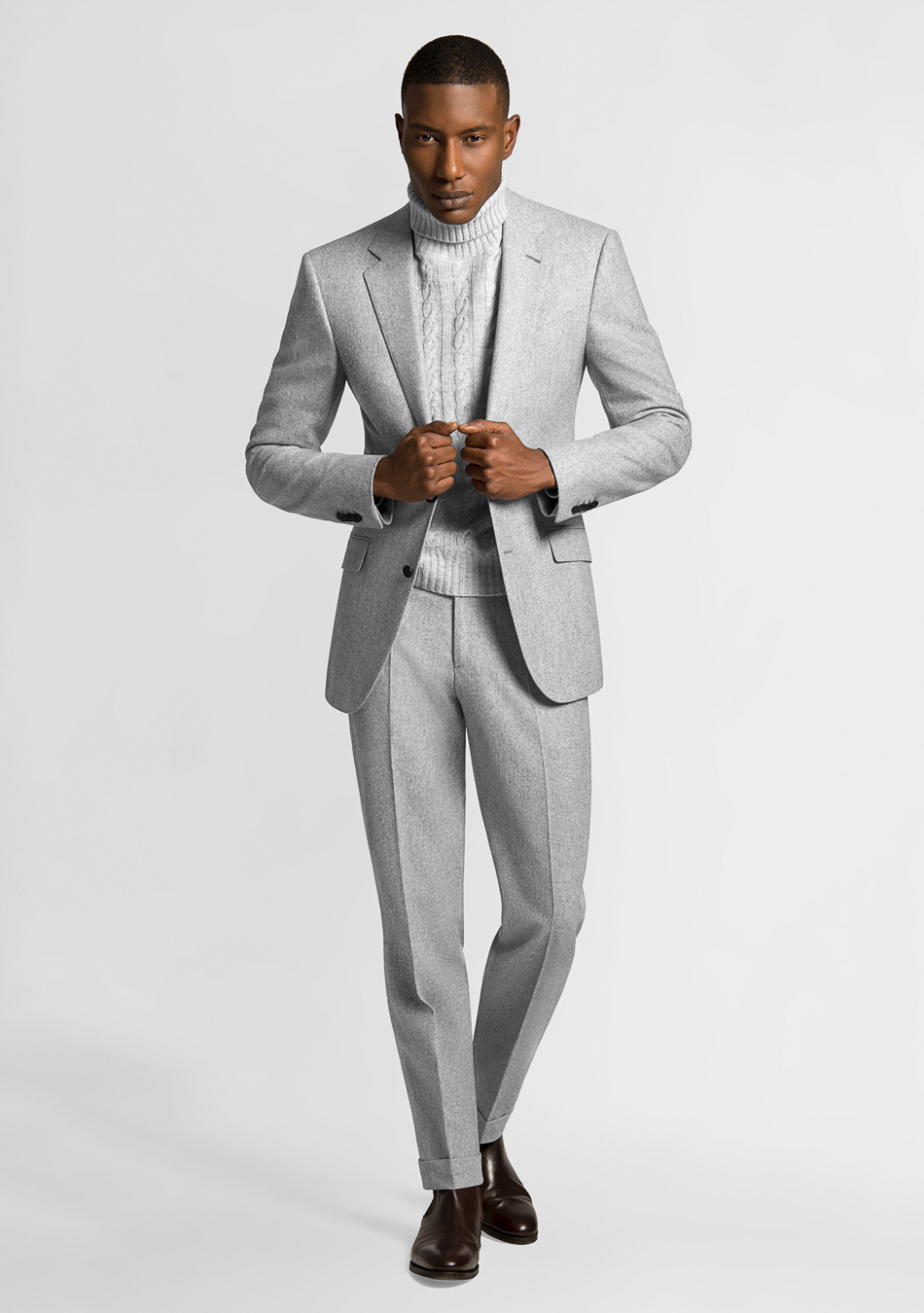 Wearing the same color turtleneck and suit looks very sleek, whether the same shade or slightly different.
Dark colors work best, especially if you are aiming for a more formal style.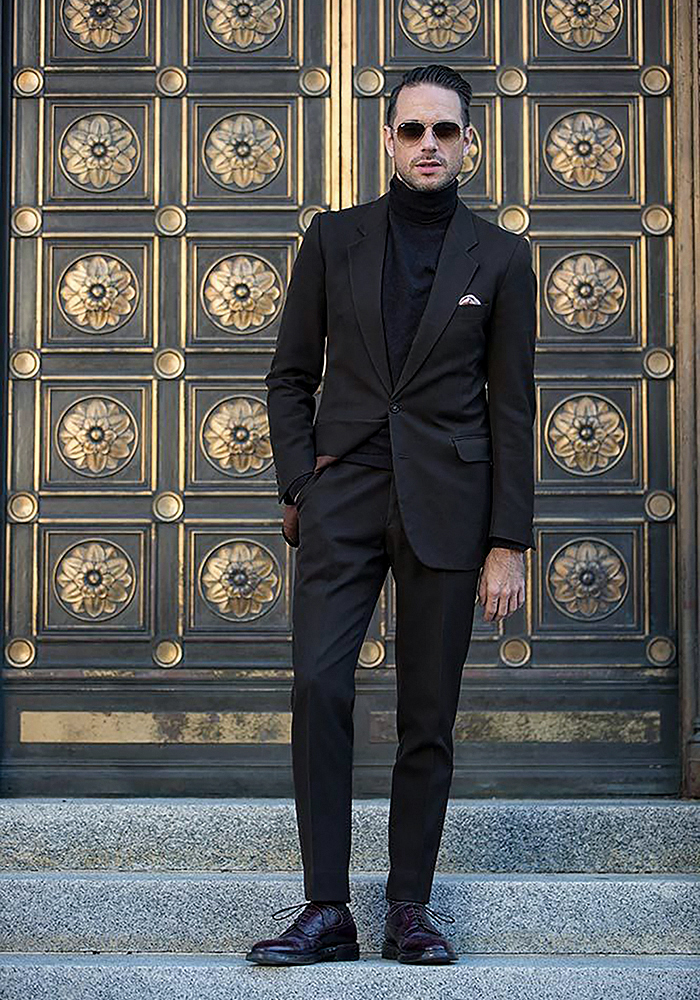 For example, a black turtleneck with a black suit is a perfect fit and feels highly elegant.
You could tone it down slightly with a navy suit and turtleneck for a more professional effect.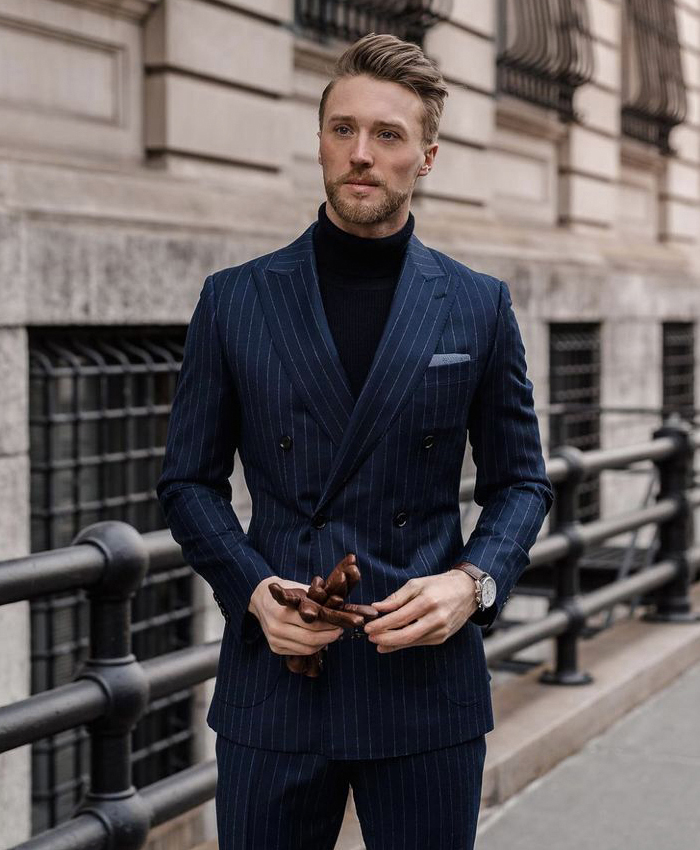 Similar color combinations feel effortless yet sophisticated.
Turtleneck and Suit with Contrasting Colors
Go big and bold with a large contrast with your turtleneck and suit.
To pull off this style gracefully, the shades need to be visibly different, creating a stark contrast.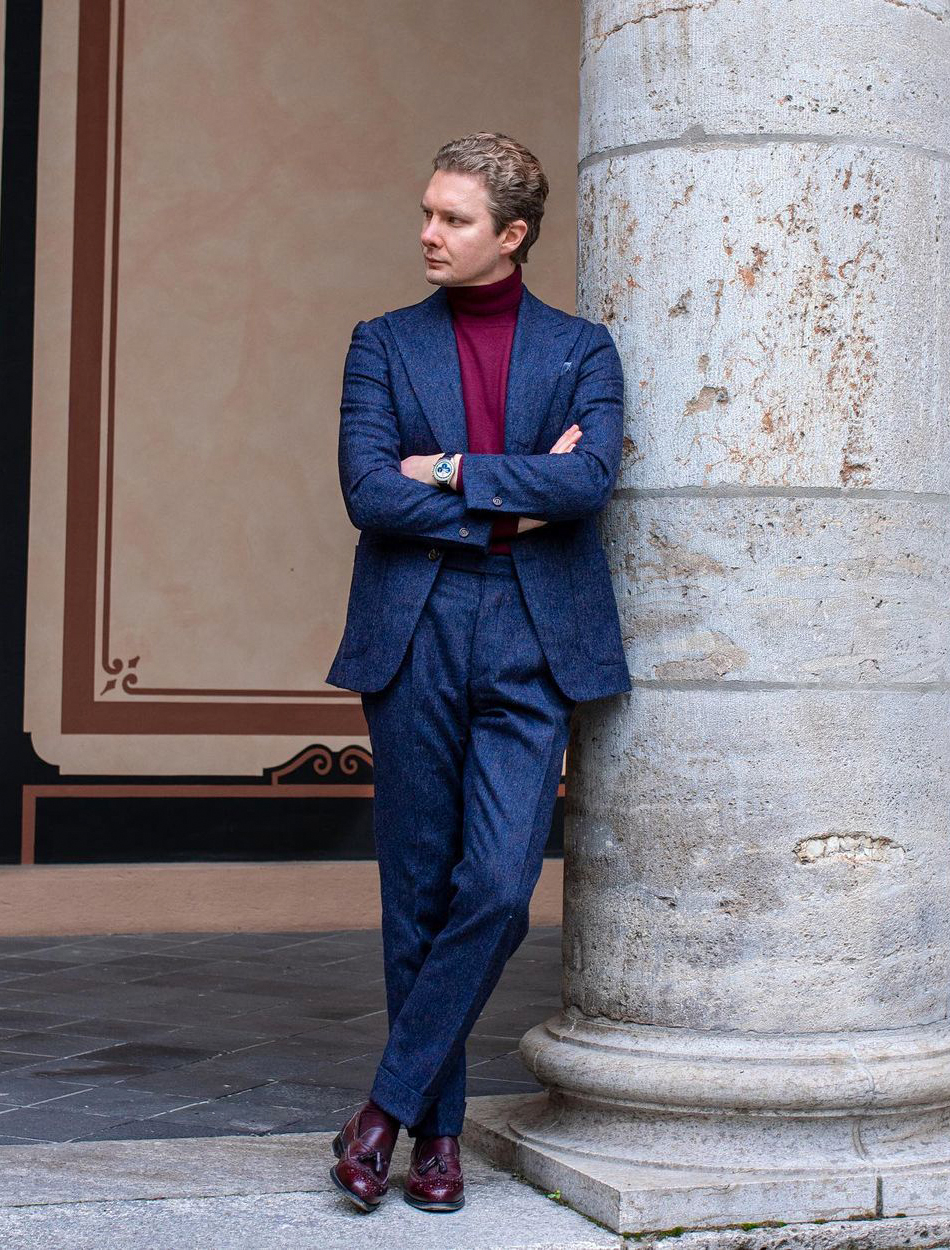 It will make your suit even more casual than the turtleneck already does, but the effect can be striking and memorable.
Mixing warm and cool tones is an easy way to achieve this look.
For example, try a navy suit with a burnt orange turtleneck.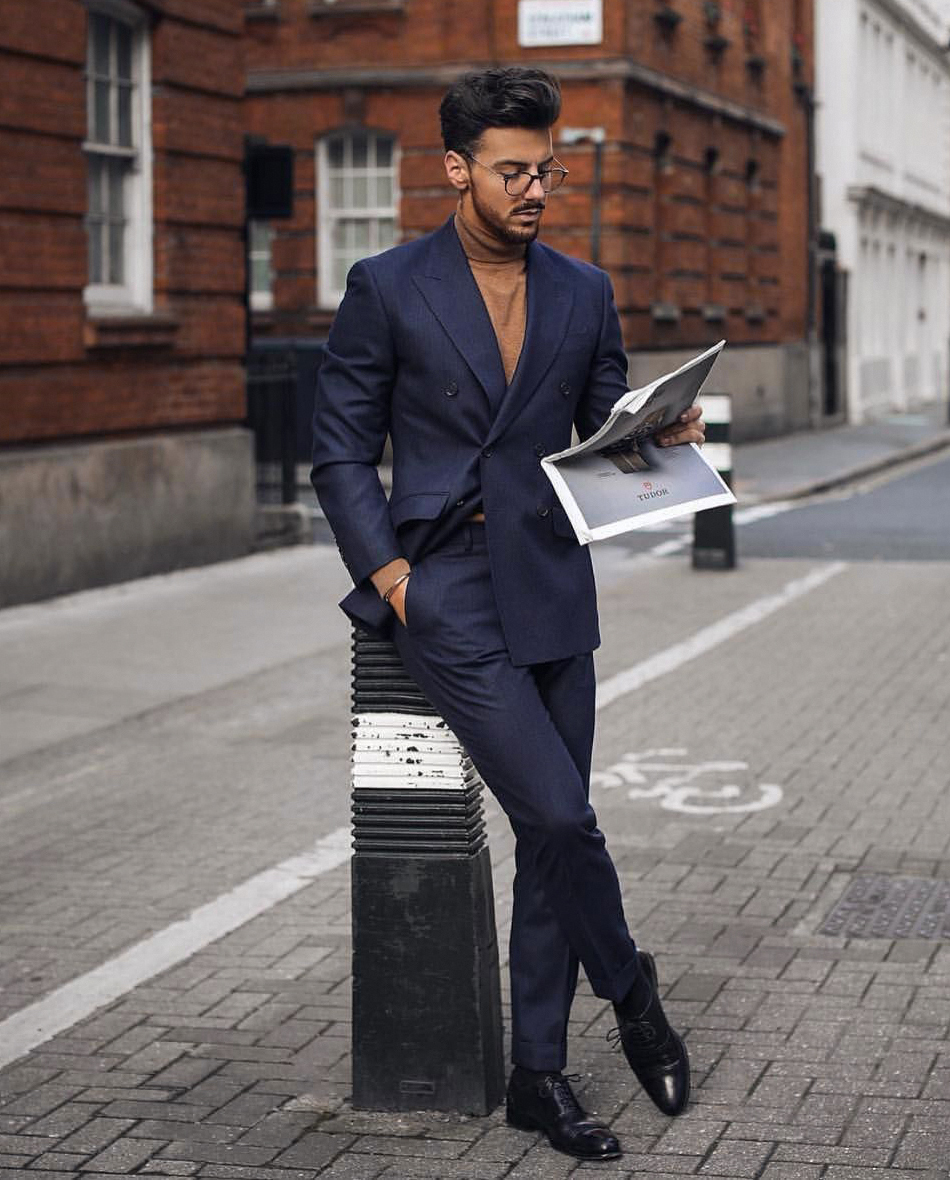 Or how about a light brown suit with a burgundy turtleneck?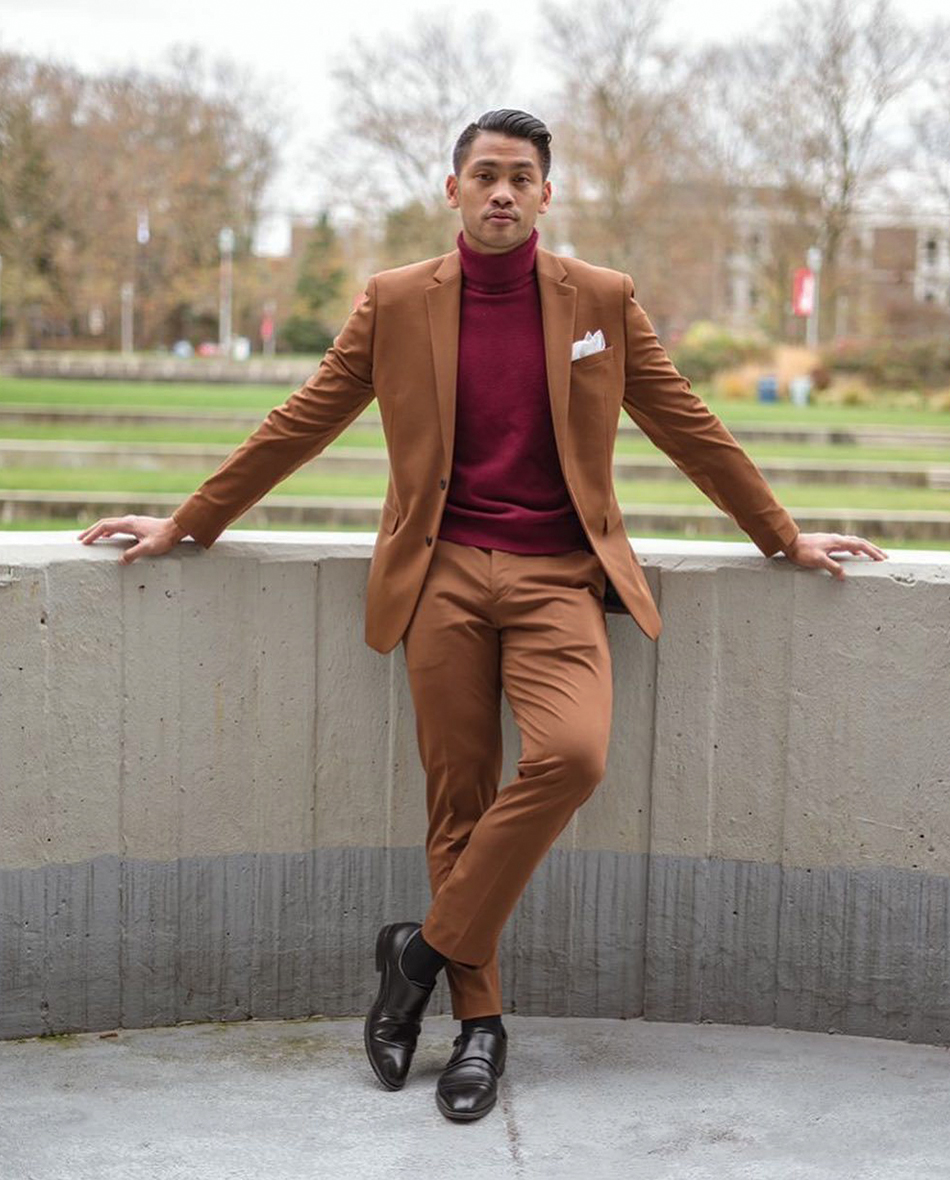 Both of these examples have turtleneck colors that truly pop.
Match a navy blue suit with a cream turtleneck for a more subtle effect.
Wear a Turtleneck with a Blazer and Pants
You can take a step down in your formality level and play up the casual nature of your turtleneck with a separate jacket.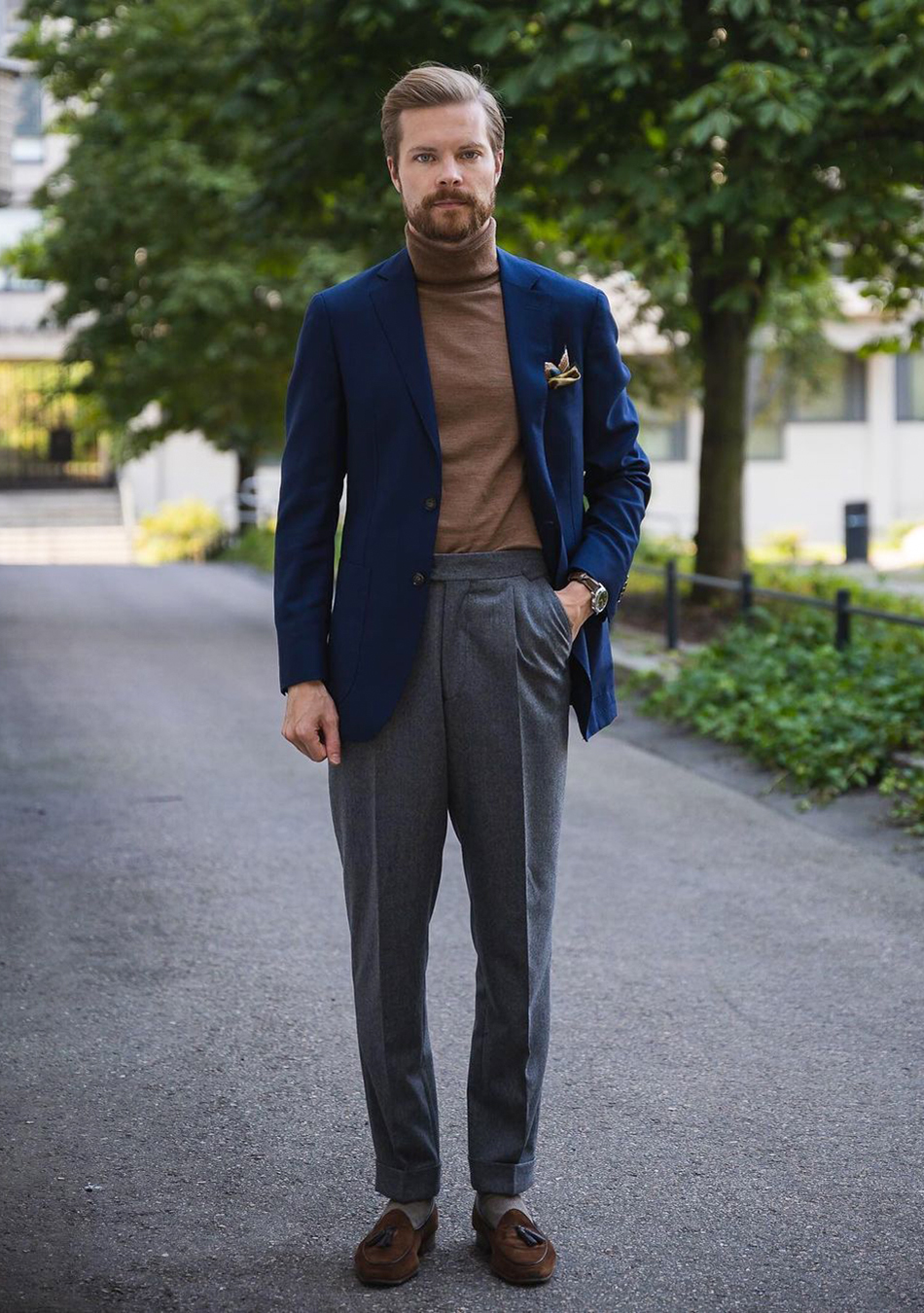 You build a relaxed image when you wear dress pants with a blazer or sport coat.
For a nuanced visual, try wearing a blazer with a distinctive color or a pattern.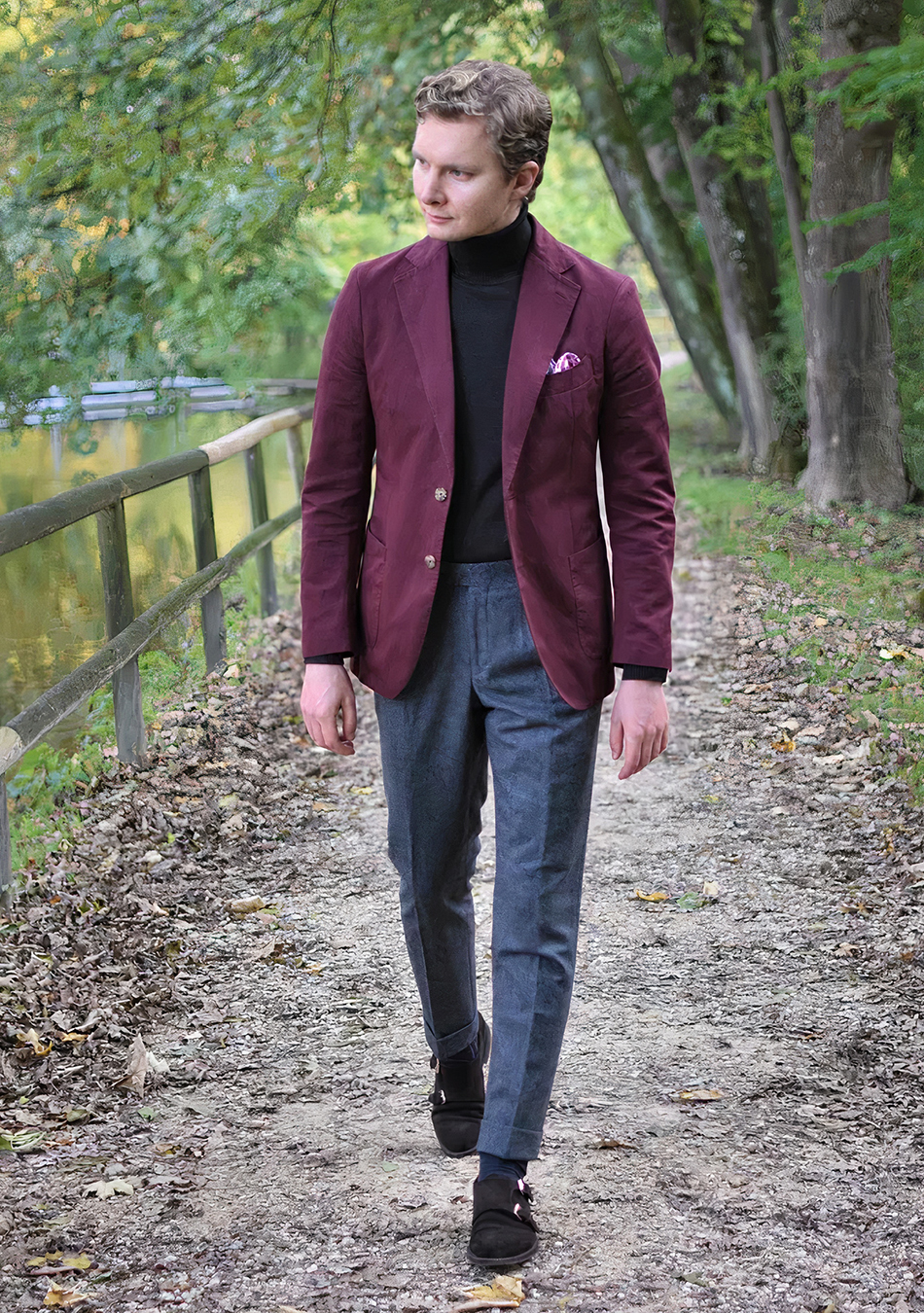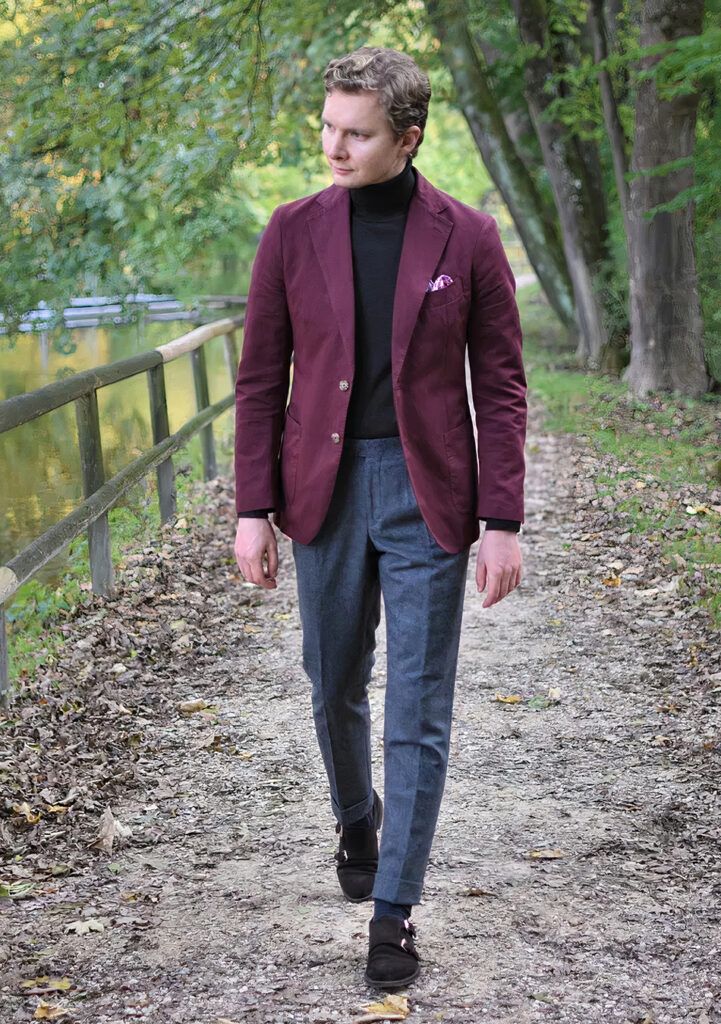 Contrasting blazers and pants are a great way to incorporate separates, especially when you wear dark-colored turtlenecks.
Wear a Turtleneck with a Jacket
Everybody loves a layered look when the weather turns cooler.
You can make a nice-looking smart-casual outfit that doesn't look slapped together when you pair a turtleneck with a light jacket.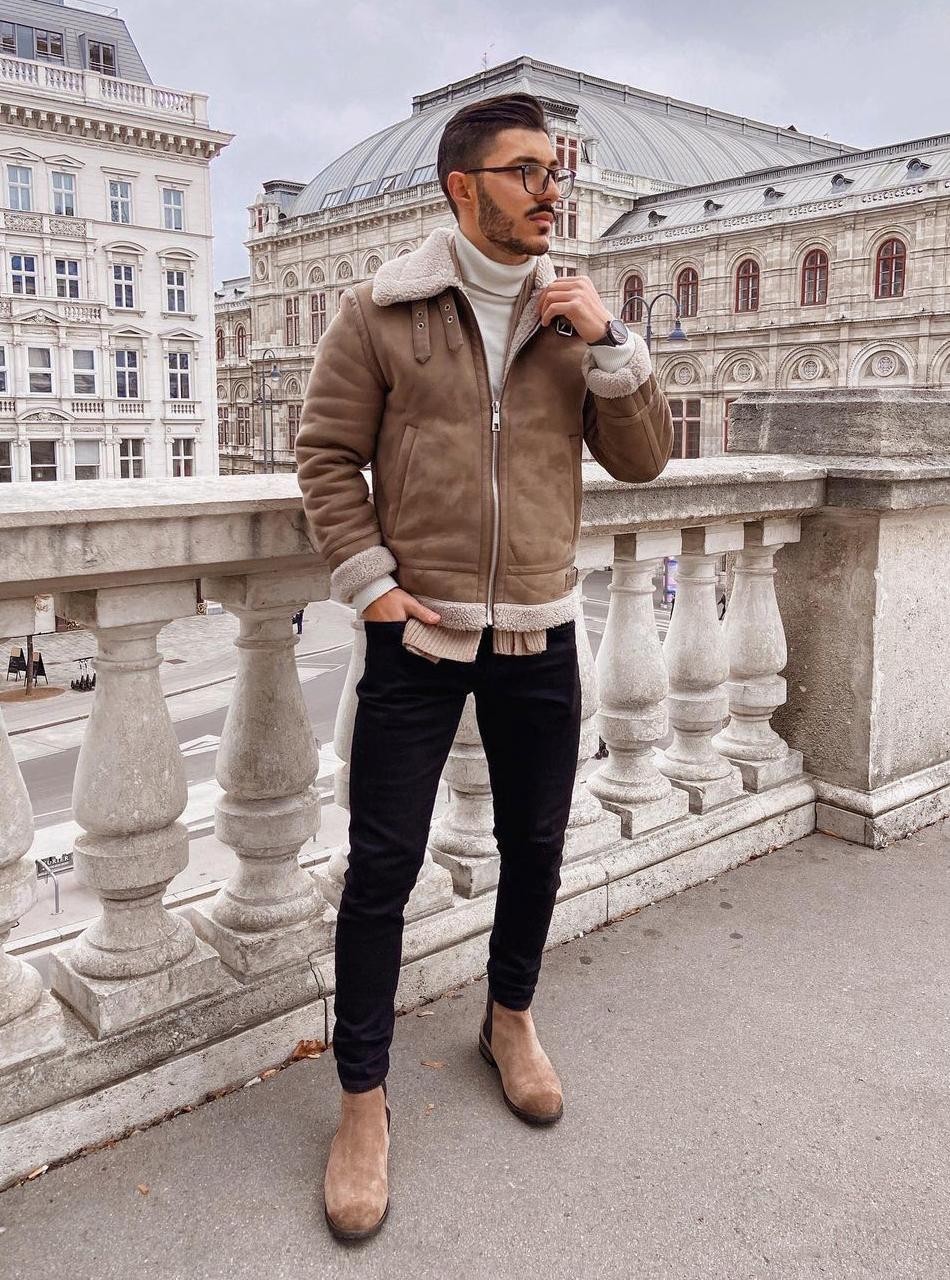 Jackets can be a fun way to shape your look because they can convey many different images.
For example, a denim jacket with a turtleneck can be super laid-back and sporty, while a turtleneck and a leather jacket can have a genuinely metropolitan effect.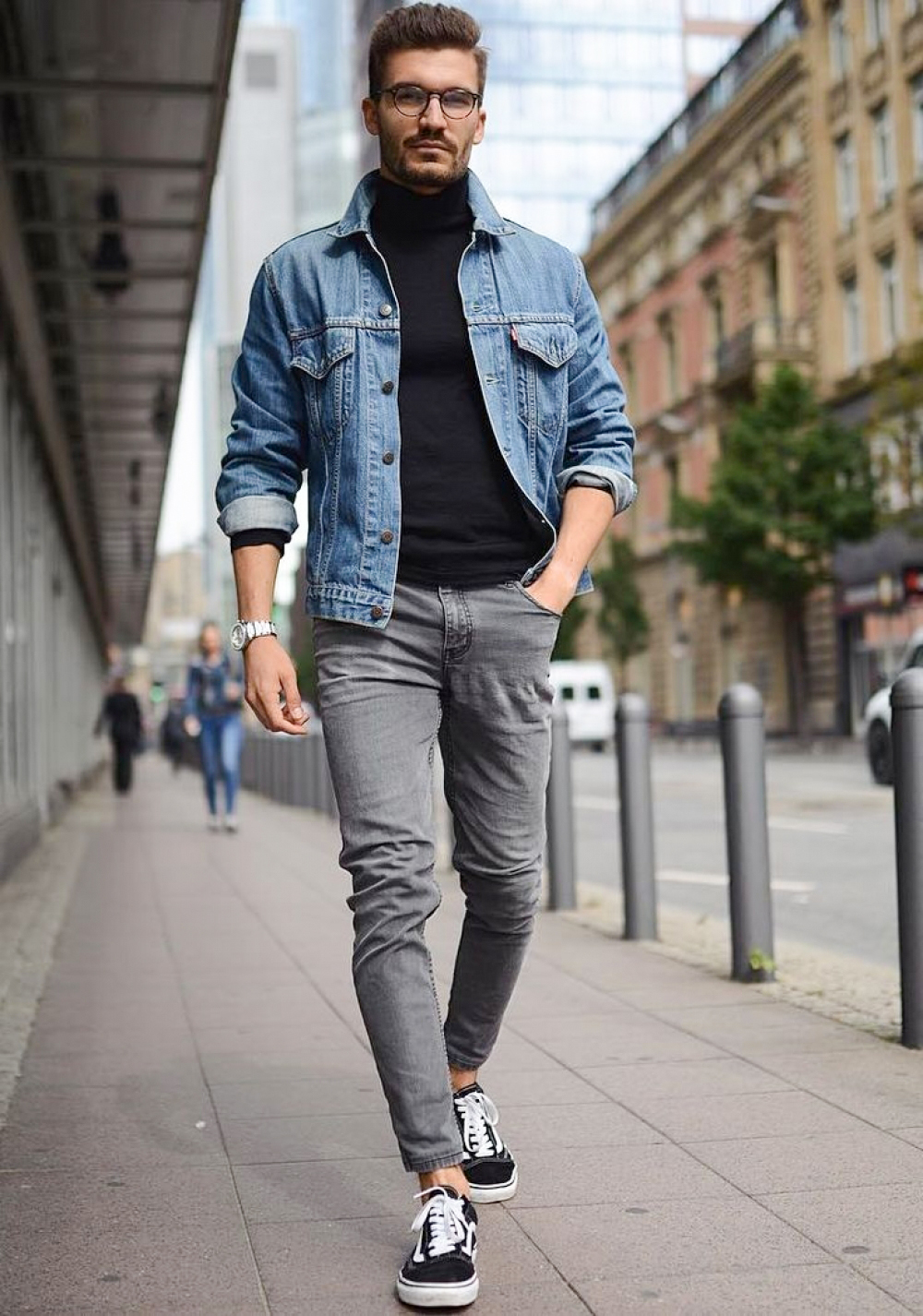 Putting these styles together is so simple, but they look thought out and well-designed.
Pair your pants wisely with your jackets.
A leather jacket and turtleneck pair wonderfully with dark jeans, while chinos look best with a denim jacket and turtleneck.
Matching Turtleneck & Coats for Winter
Turtlenecks are the perfect staple for the coldest days of the year.
But no matter how heavy your turtleneck sweaters are on those days, you'll still need a coat to keep you warm.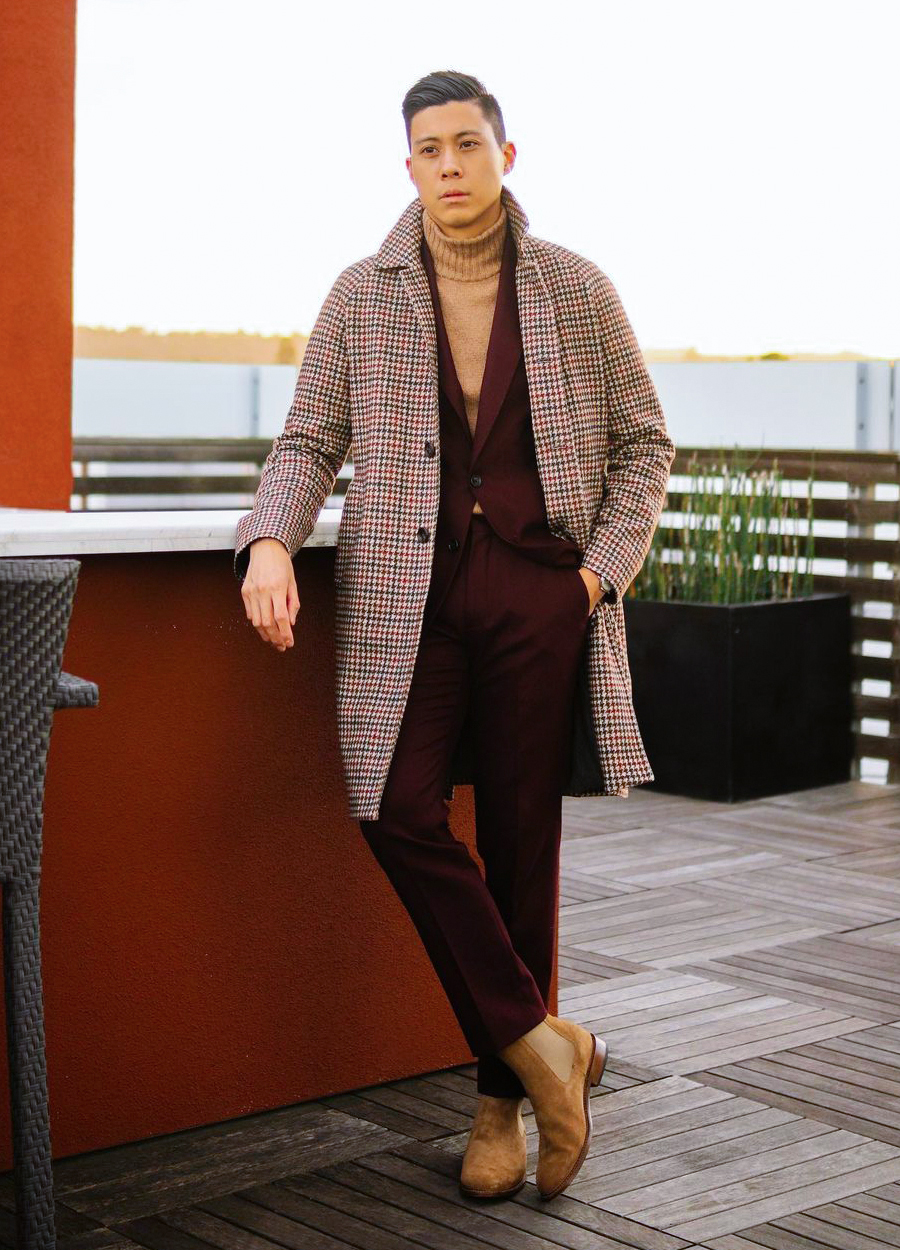 Turtlenecks look like they were made to wear with pea coats and overcoats.
You could also go for a more old-fashioned effect with a trench coat, creating a classic style.
Neutral shades worn with dark pants work best for these warmer winter coats.
Wearing a Shirt over Turtleneck
Give your outfit an interesting tweak by tossing a long-sleeved button-up over your turtleneck or a very artistic vibe.
Again, your choice of colors can really swing your look from one extreme to the other.
A monochrome pairing of your shirt and turtleneck has an understated appeal.
On the other hand, you could go for a contrast in colors and create a bold style that will get you noticed.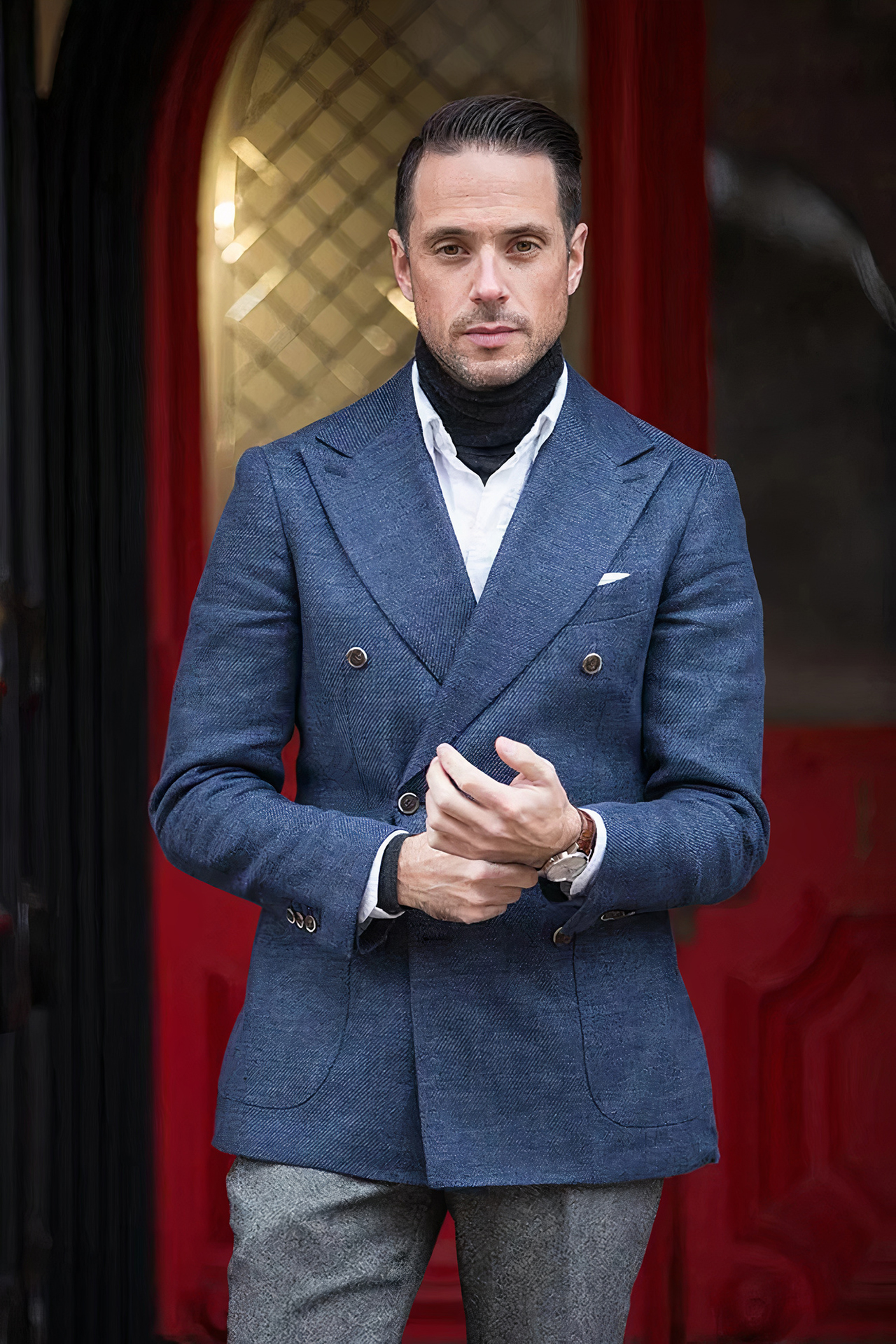 However, the ultimate way to achieve a casual look is by choosing a patterned shirt.
For example, a checkered shirt with a black turtleneck could have a very neat autumn-like effect.
Wear a Turtleneck and Chinos
Your choice of pants can help you walk a fine line between super informal and a smart casual look.
As a daytime outfit, light chinos and a colorful turtleneck make an excellent outfit for a casual office.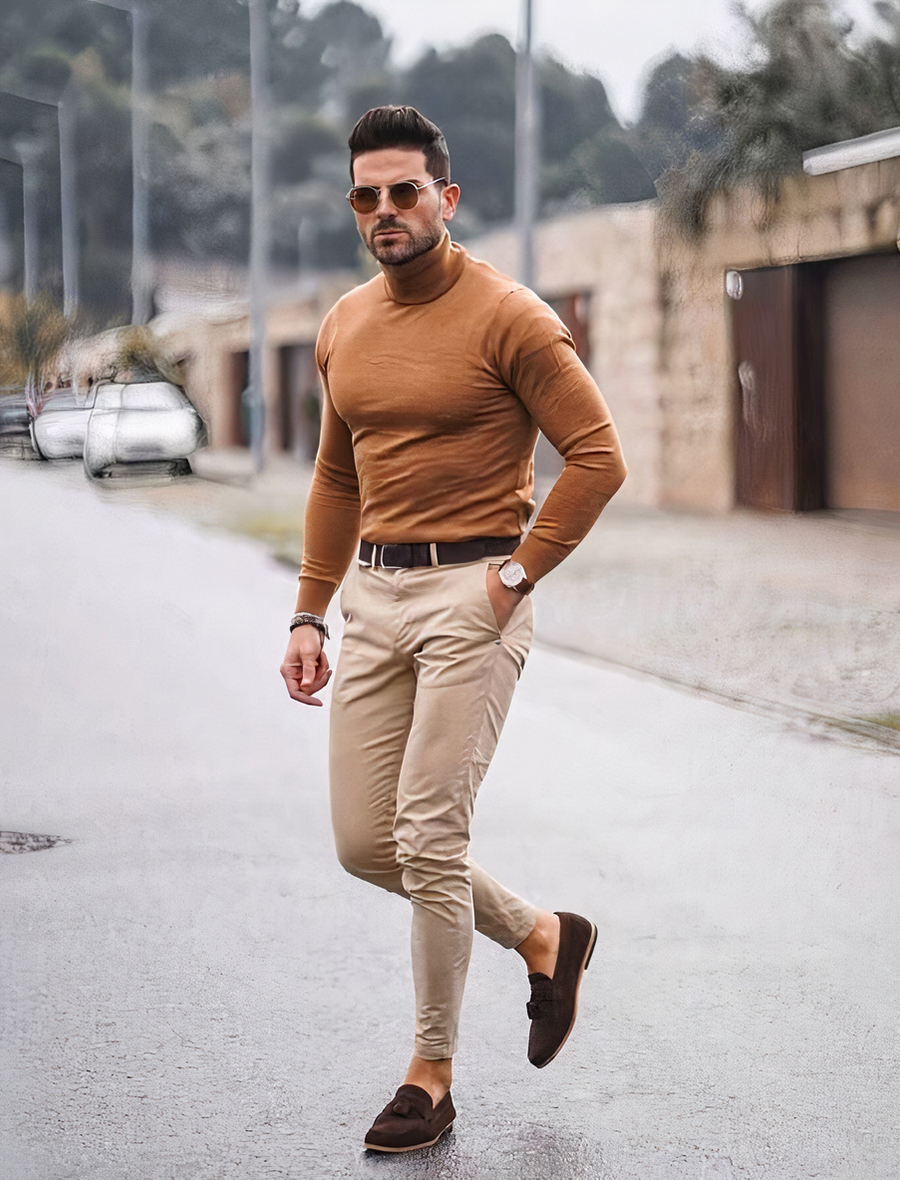 If you're heading out for date night, try a darker combination.
Navy chinos and a charcoal turtleneck are laidback but still dressy enough to show you made an effort in your clothing choice.
Wear a Turtleneck with Jeans Casually
If you decide to have a fully relaxed look for your turtleneck and pair them with denim, slim-fit jeans are a complete must.
If they are at all baggy, they'll make your turtleneck appear dumpy.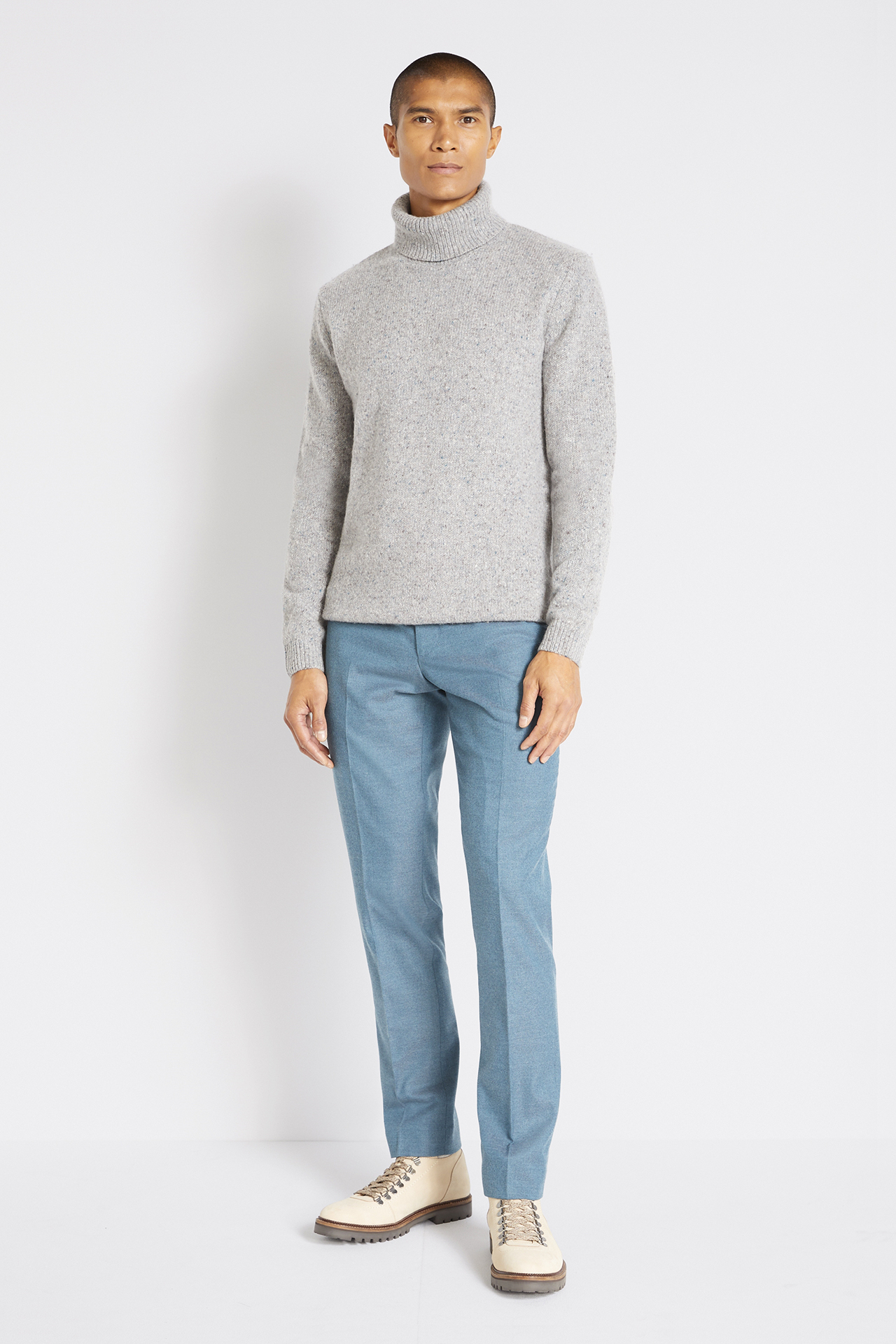 Dark jeans will also elevate your turtleneck, so it feels stylish instead of sloppy.
Of course, this outfit is very casual, but you can jazz it up with a fashion belt and a pair of Chelsea boots.
What to Avoid When Wearing Turtleneck Outfits
Because turtlenecks are such flexible garments, there are very few things that you need to avoid when wearing them.
For example, never, ever pair a tie with a turtleneck. Save your ties for shirts with collars.
Avoid vests, too, when wearing a turtleneck. A vest may make you look very 1970s retro, and not in a good way.
Of course, don't try to pair your turtleneck with a tuxedo. These two styles are far too disparate.
And finally, don't wear turtlenecks with suspenders. They are not flattering together.
If you are replacing your white dress shirt with a turtleneck, don't go straight for a white turtleneck; it may seem out of place with the casualness of the garment.
Instead, opt for cream, which is softer, so it's easier to pair with warm tones.