The choice between a two-piece suit and a three-piece suit can be intimidating.
There are so many choices in the world of men's suits, and here's just one more you need to make.
Thankfully, these suits are easy to choose between when you understand their differences and the styling options.
Garment Difference Between a Two-Piece vs. Three-Piece Suit
A two-piece suit is defined as a suit jacket and matching suit trousers.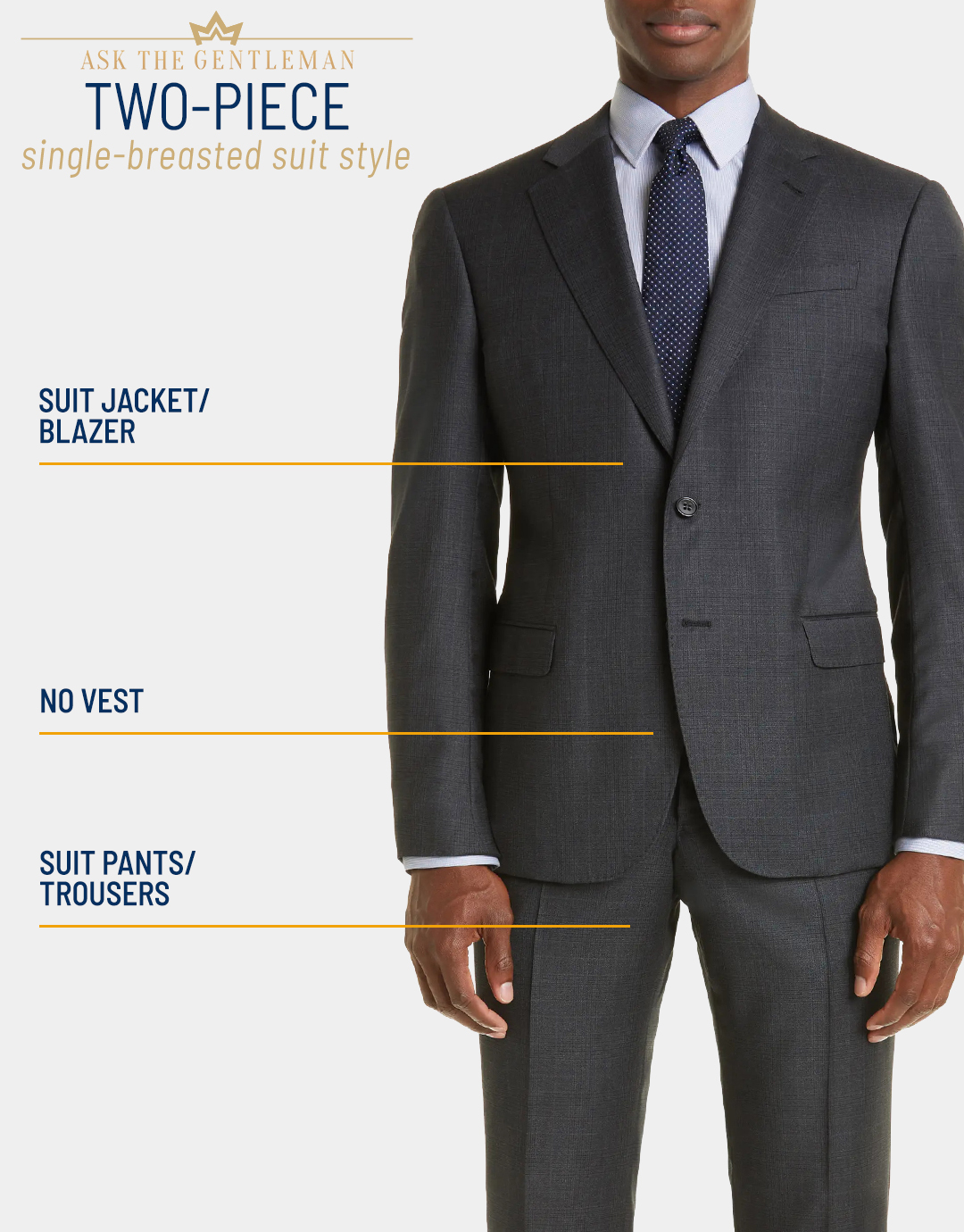 Both pieces are cut from the same fabric, so obviously, they're also the same color and texture.
On the other hand, a three-piece suit is the same as a two-piece suit, but with a matching suit vest or waistcoat.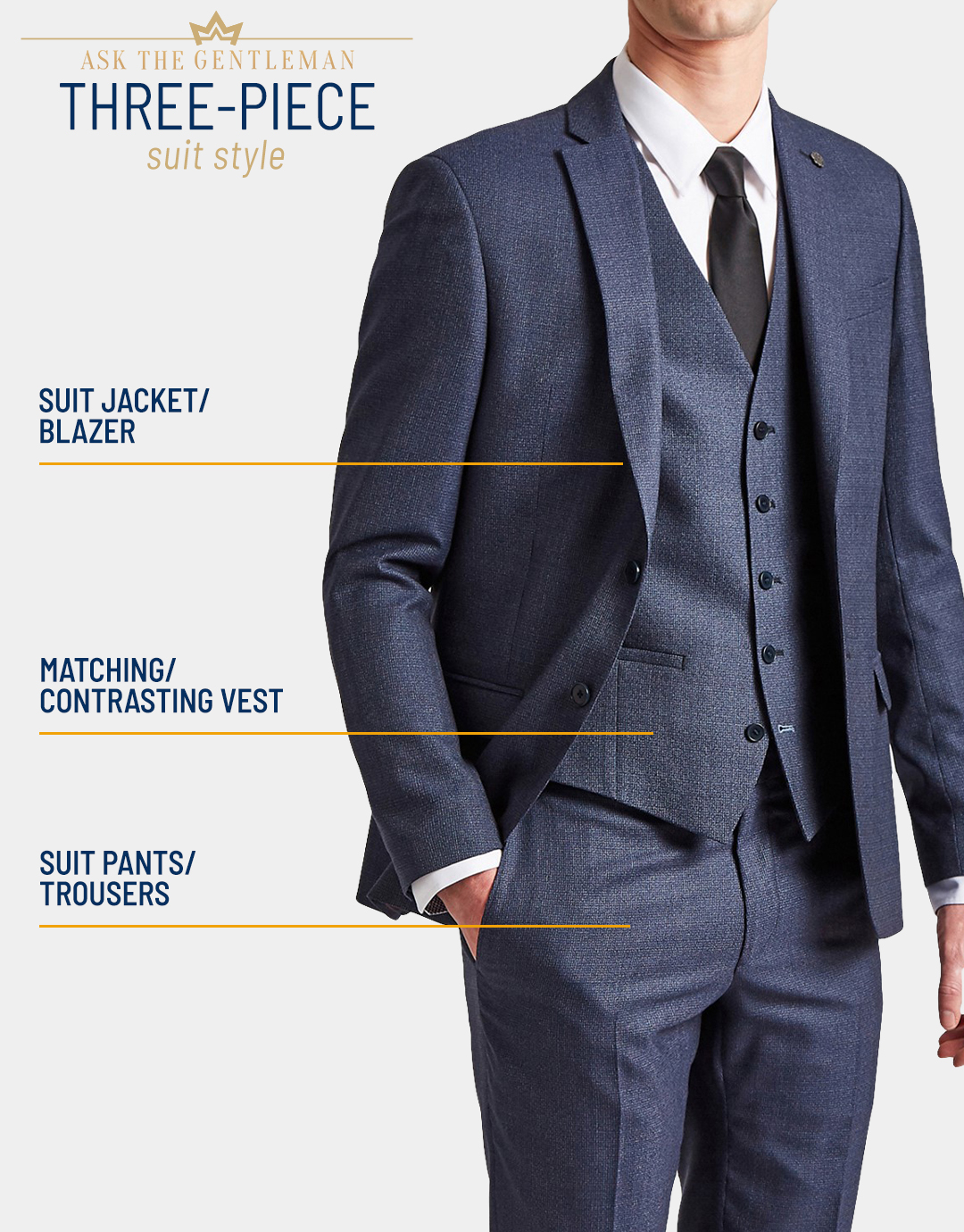 This style is one of the most tailored ways to wear a suit.
A three-piece suit is typically more dressy, although a two-piece can also be formal.
Two-piece suits have more flexibility between formal and casual, so they can be nearly any fabric, color, or pattern.
It also has the option of a single-breasted or double-breasted suit jacket.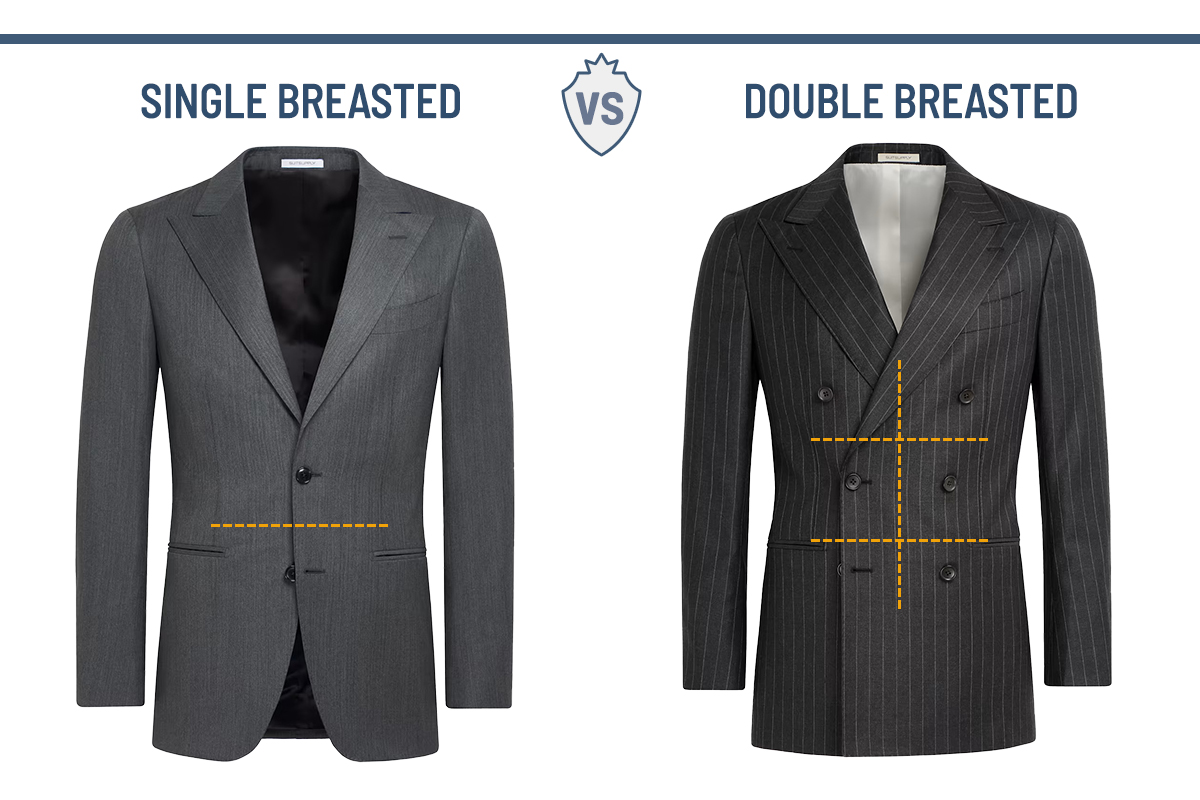 Because of its versatility, the two-piece suit is more common.
Three-piece and two-piece suits can look nearly identical to each other; they can even be the same suit!
You can remove your suit vest to turn it into a two-piece suit. Nobody will know the difference!
Differences in Suit Fabric Options
In terms of versatility, two-piece suits have a greater variety of suit fabrics available to them.
However, both types of suits can (and should!) have high-quality fabrics.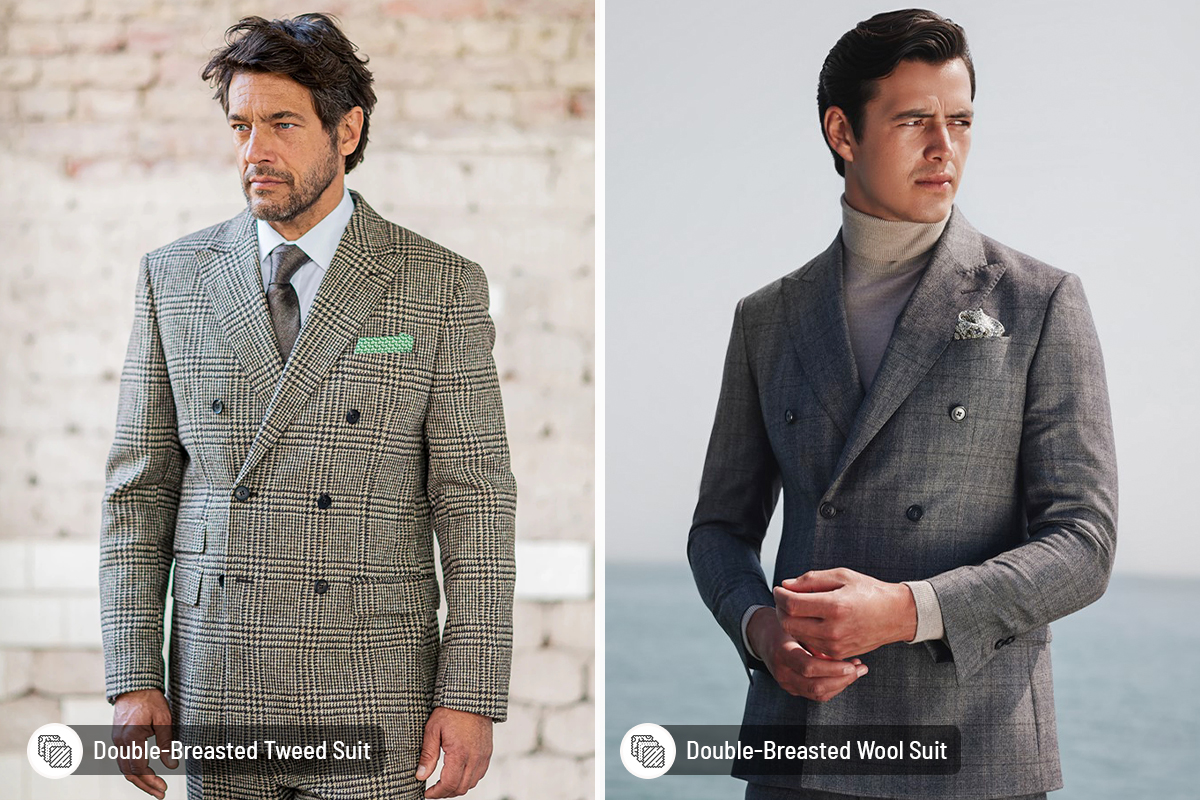 Three-piece suits tend to be for cooler weather since the vest is another layer, adding more warmth.
It's wise to avoid wearing all three pieces to avoid being too warm as the temperature rises. Therefore, you aren't likely to find a thin, summery fabric used for a three-piece suit.
Think more along the lines of tweed and wool suit fabrics for most three-piece suits.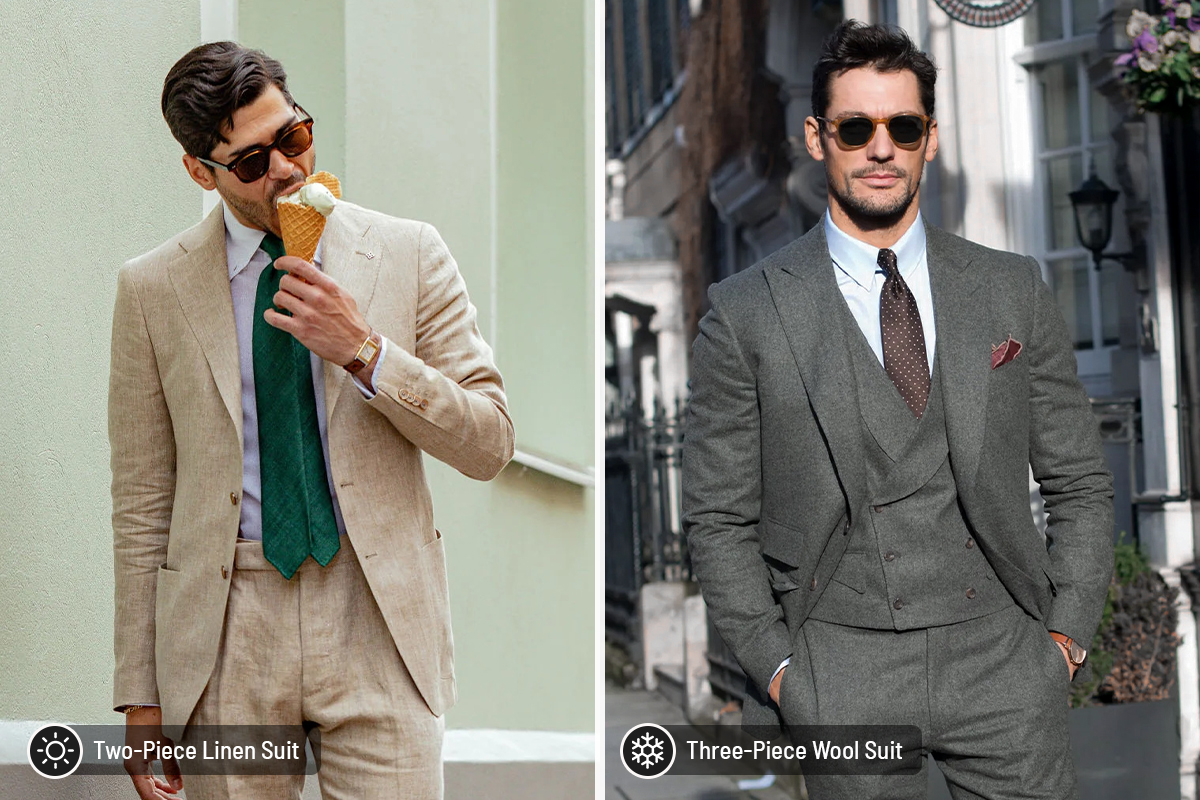 Two-piece suits can have more lightweight materials, like summer favorites cotton and linen.
However, the fabric choice contributes to the formality of a suit, giving another reason why three-piece suits are often more dressy than two-piece suits.
The variability of the two-piece suit's formality means they have the luxury of experimenting with less dressy fabrics.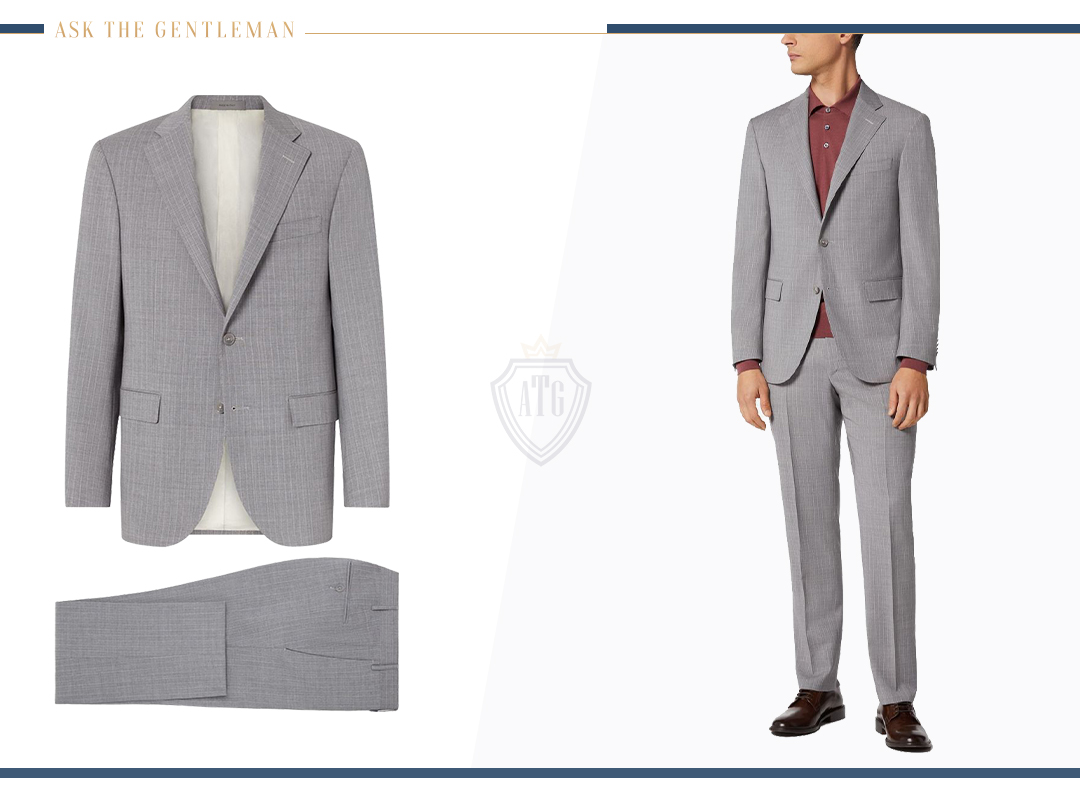 They can be more lightweight and have a lighter suit color.
Heavier fabrics and darker colors increase the two-piece suit's formality.
Two-Piece vs. Three-Piece Suit Formality Difference
On a day-to-day basis, three-piece suits are generally the more formal of the two.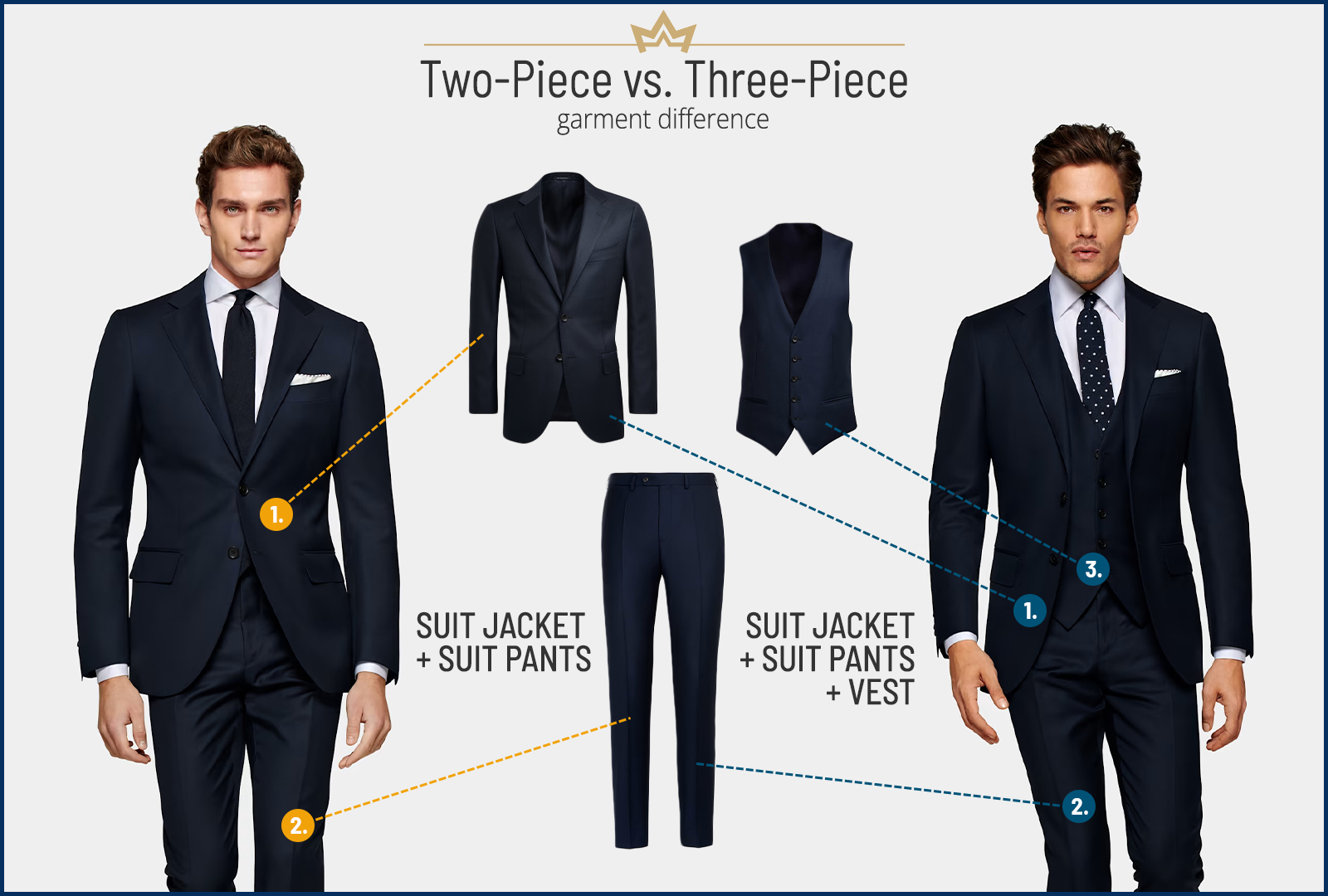 A vest is a high-class touch to your suit and lends it an element of fine tailoring.
A three-piece suit is both dressy and conservative. That's because the suit vest covers more of your body, contributing to your outfit's formality.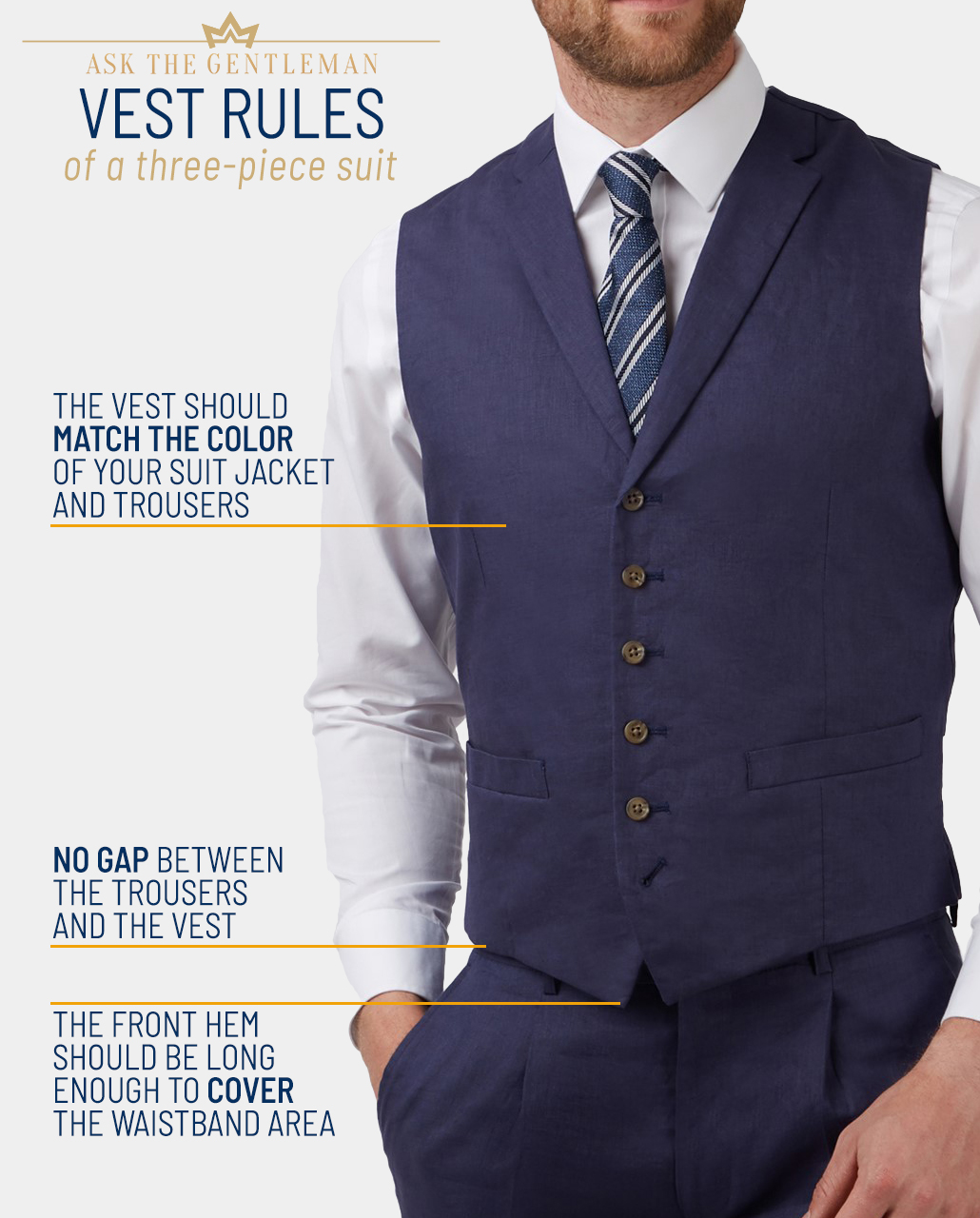 However, three-piece suits aren't always more formal.
Most tuxedos are two-piece suits, and we all know those are the top choice for a black-tie event.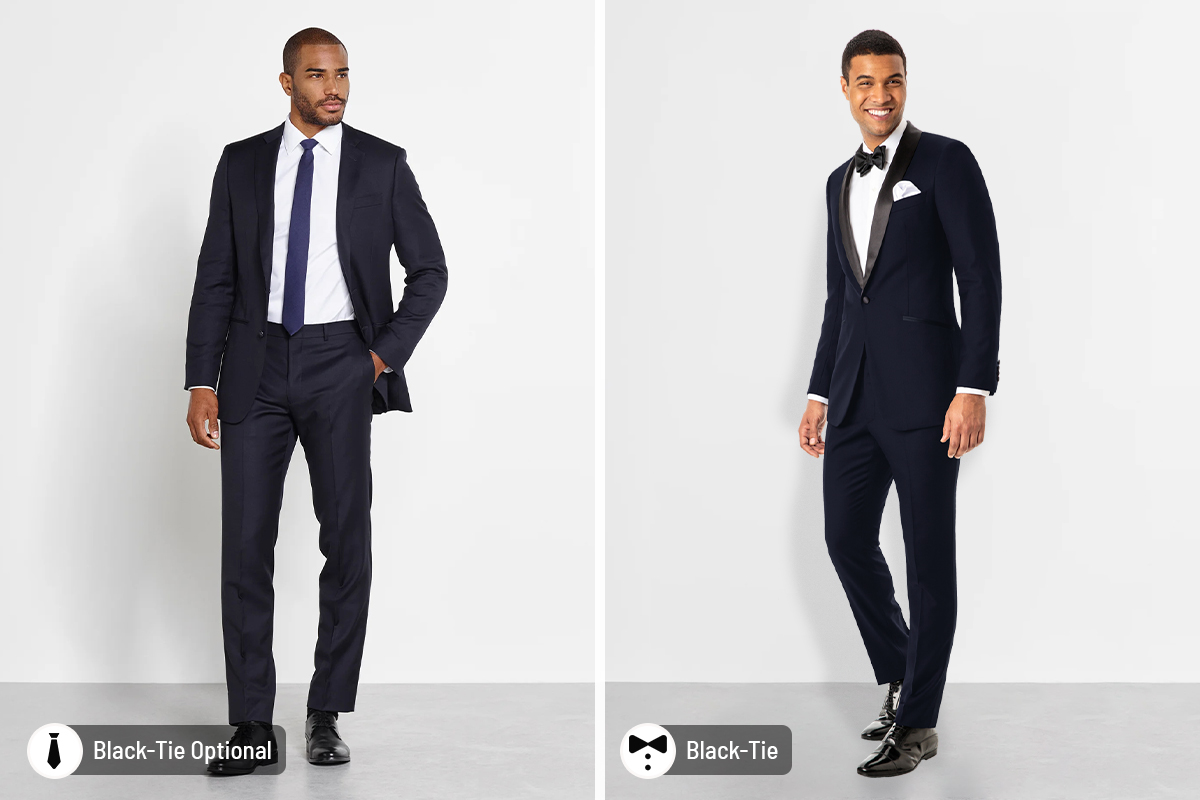 It's up to the suit wearer to adjust his attire to the occasion.
Differences in Style Limitations
Although the three-piece suit is formal, it also has much less flexibility than a two-piece suit.
Because of its style, certain options aren't appropriate when adding a vest to your suit.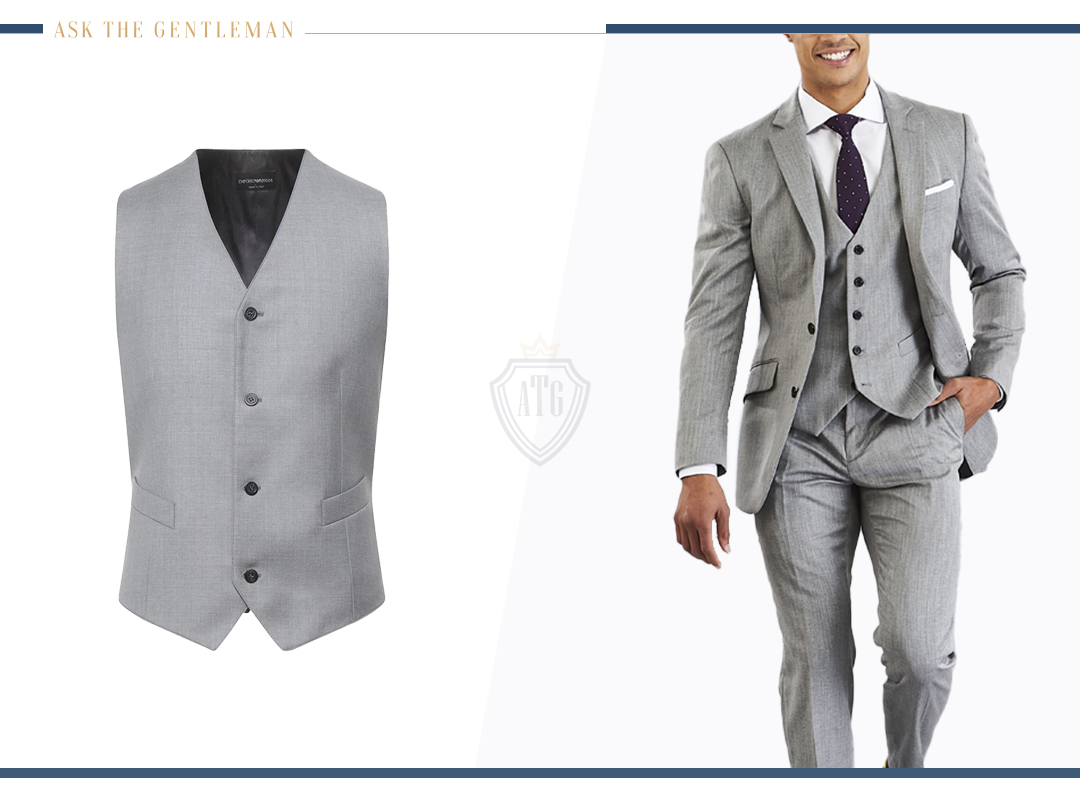 For one thing, it's inadvisable to wear a tie bar with your tie when wearing a vest or waistcoat.
The fabric from the vest covers much of your torso, and adding another accessory to that area may overwhelm your outfit and make you appear too cluttered.
Instead, let your classy tie speak for itself.
And you should wear a tie when wearing a three-piece suit; a two-piece suit has more freedom and can forgo the tie under specific conditions.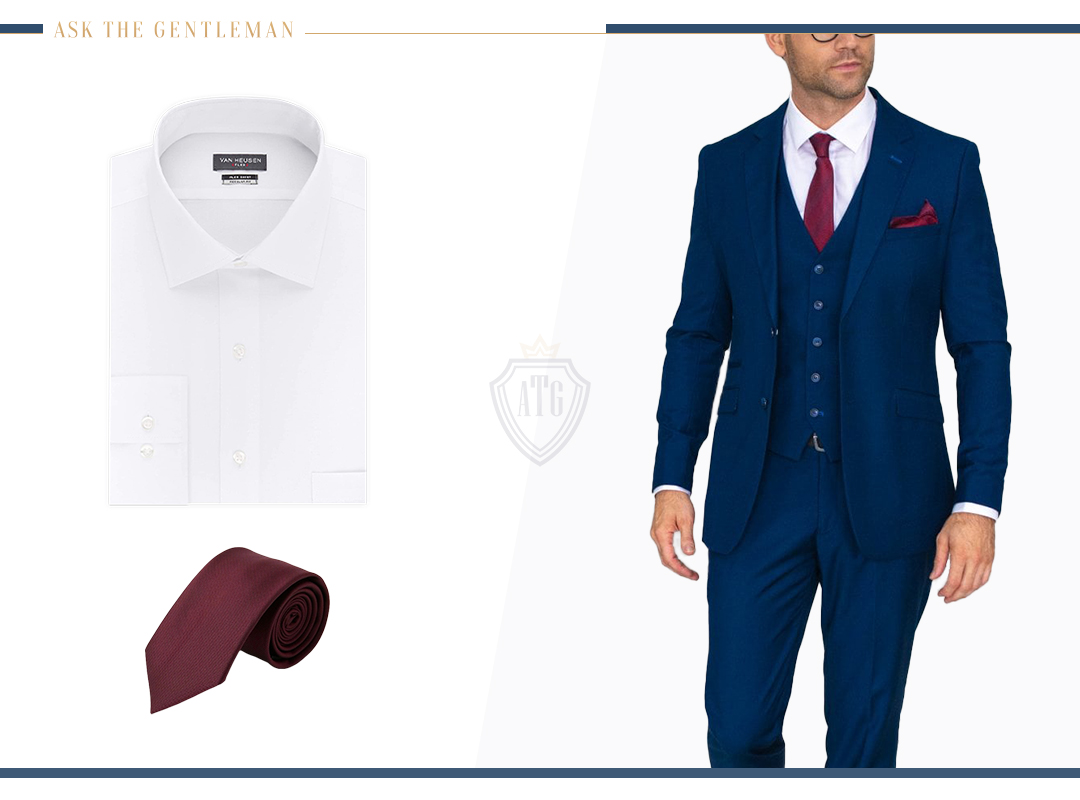 It is also better to wear suspenders than a belt.
You already have several layers of fabric around your waist, and add one more when you include a vest.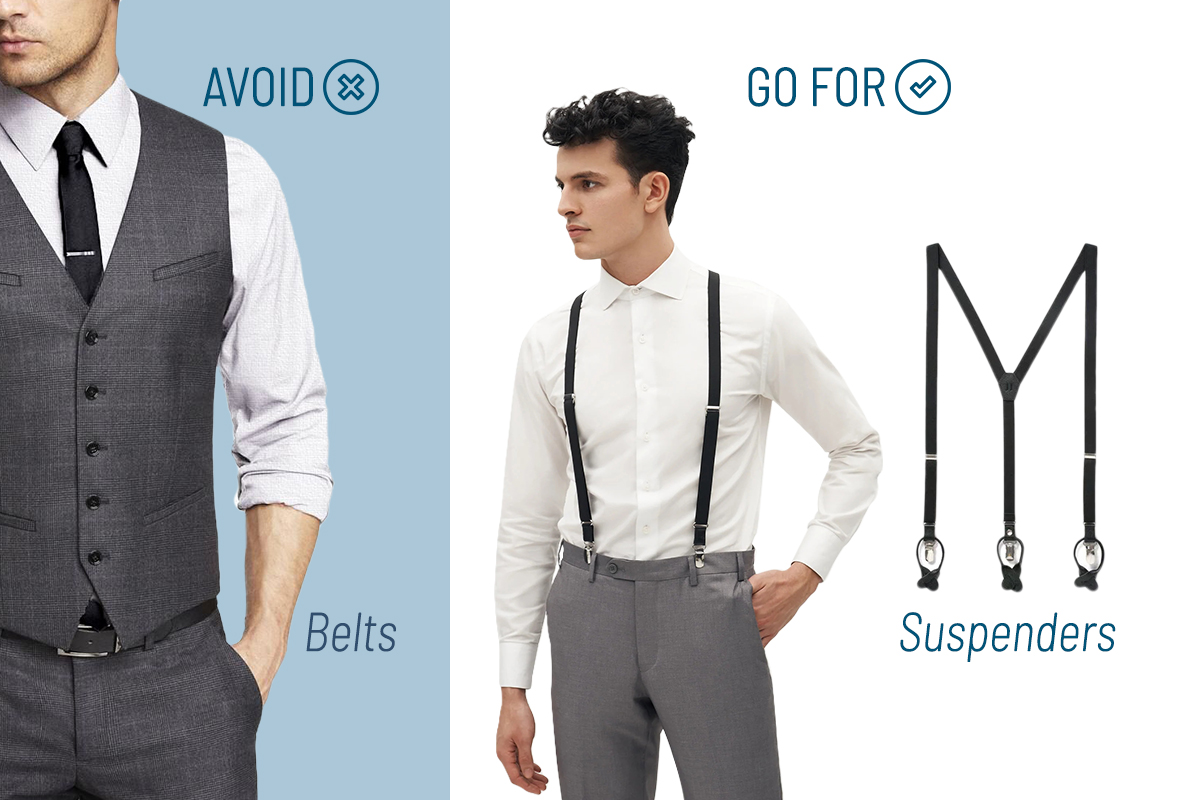 You don't need to bulk up your middle even further with a belt; stick with suspenders for a clean and classy look.
Finally, a single-breasted jacket is better for a three-piece suit.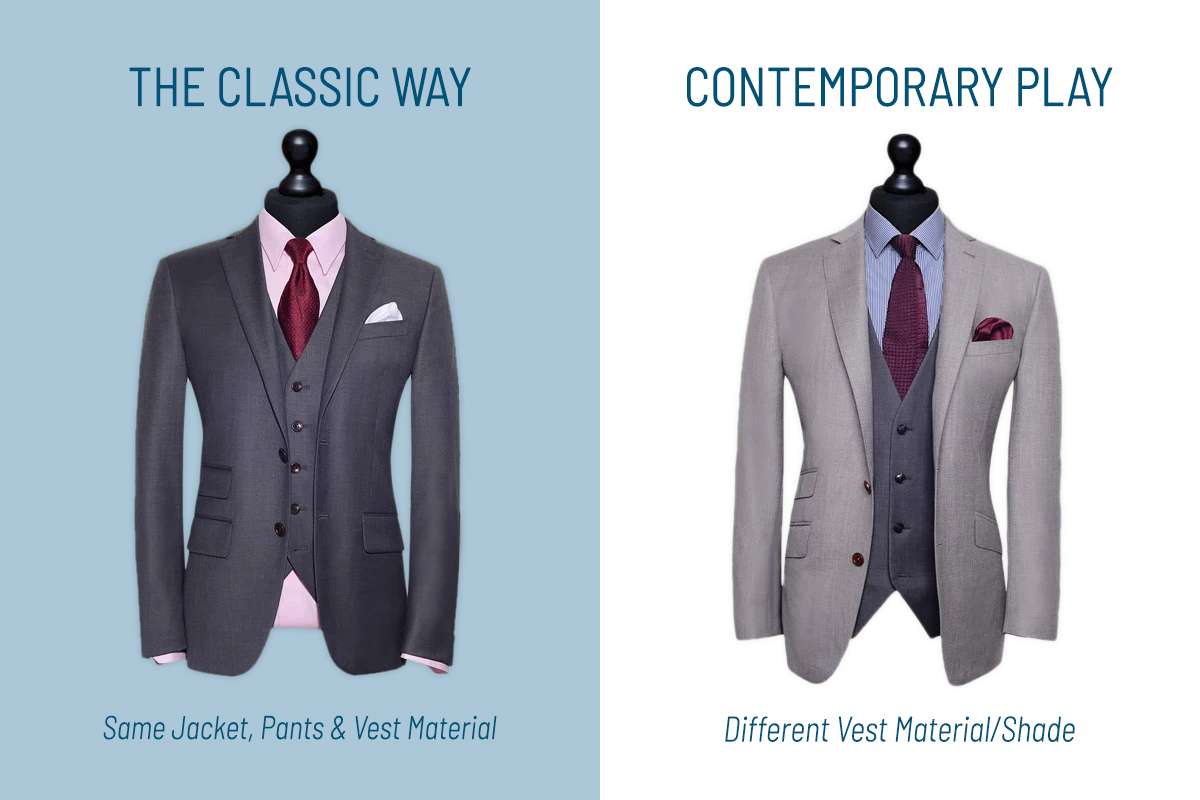 Again, you are already adding another fabric layer around your torso; a double-breasted jacket would add even more material.
Keep things simple, and stick to a classic suit jacket.
Two-Piece vs. Three-Piece Suit Fit Differences
One of the essential elements of a good suit is enduring an excellent fit, whether it's a two-piece or three-piece suit.
There isn't any difference in how either suit should fit you, but you also need to consider the fit of your vest when you're wearing a three-piece suit.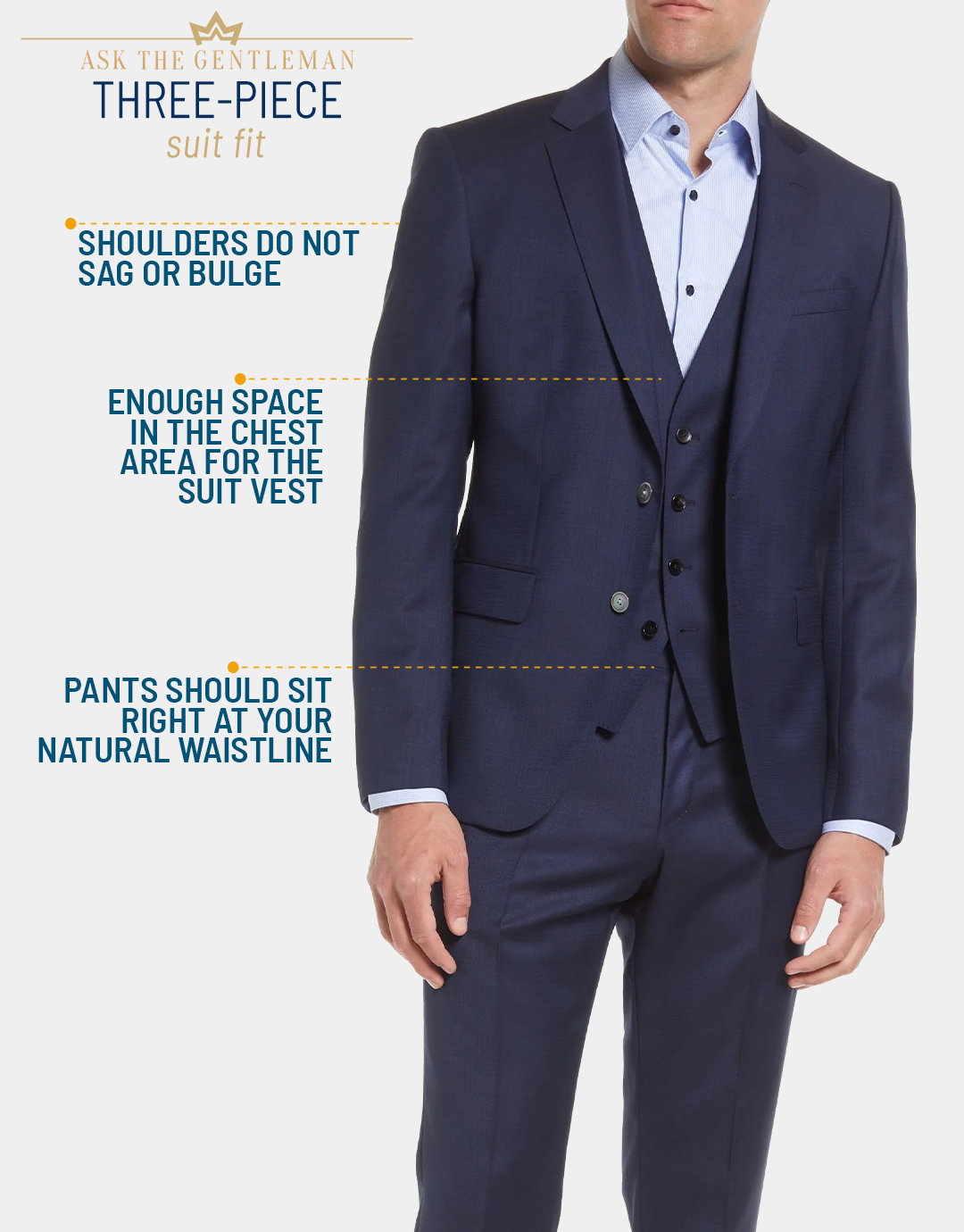 A popular cut for a modern two-piece suit is a slim-fit cut, and this can just as easily be applied to a three-piece suit.
The slim-fit suit sits a little closer to your body, creating a very lean and sleek look.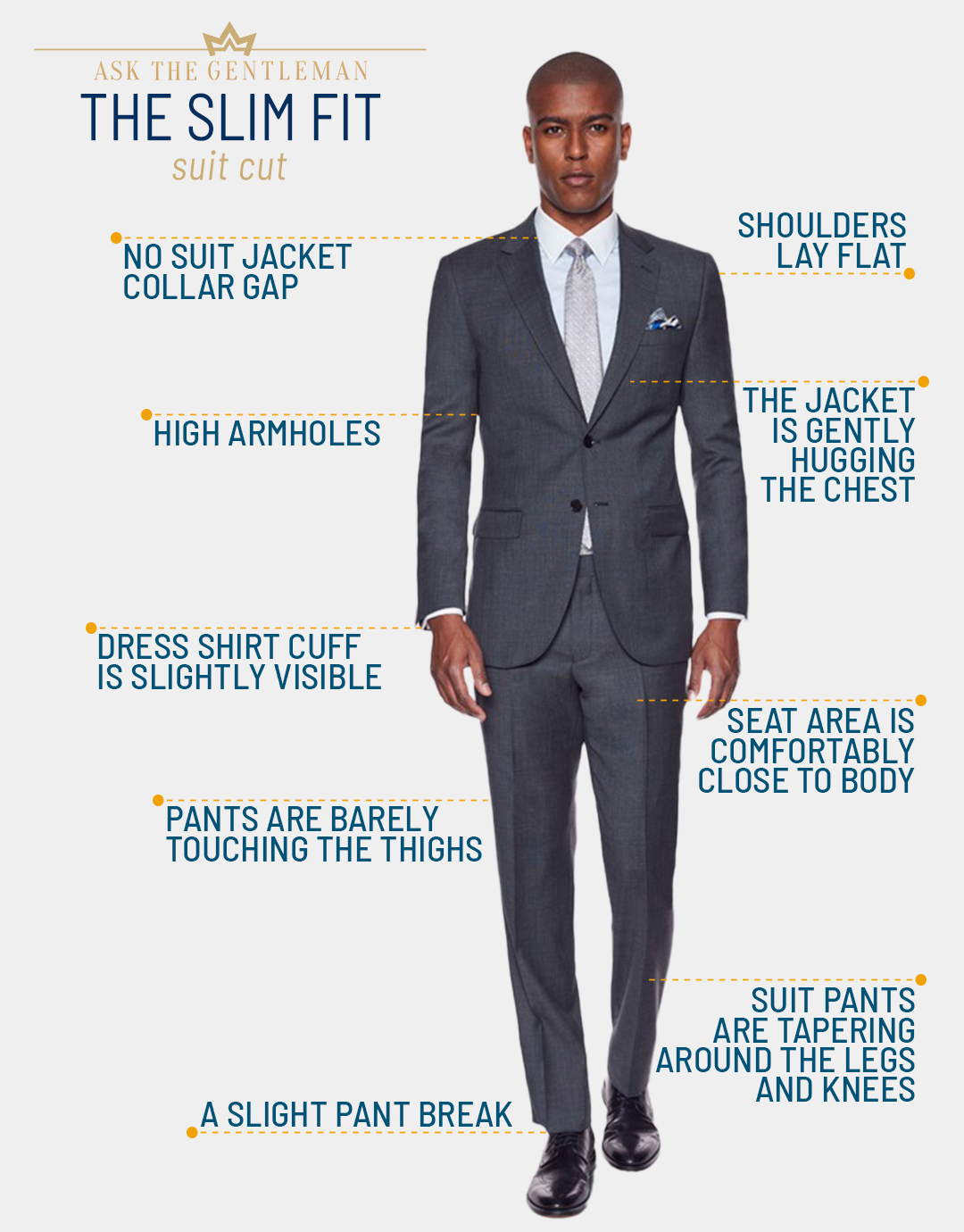 However, your vest should already be sitting fairly close to your torso.
It should not appear loose or baggy in any area, especially around your arm holes.
It's also important to ensure that your vest is long enough to entirely cover the waistband of your suit pants.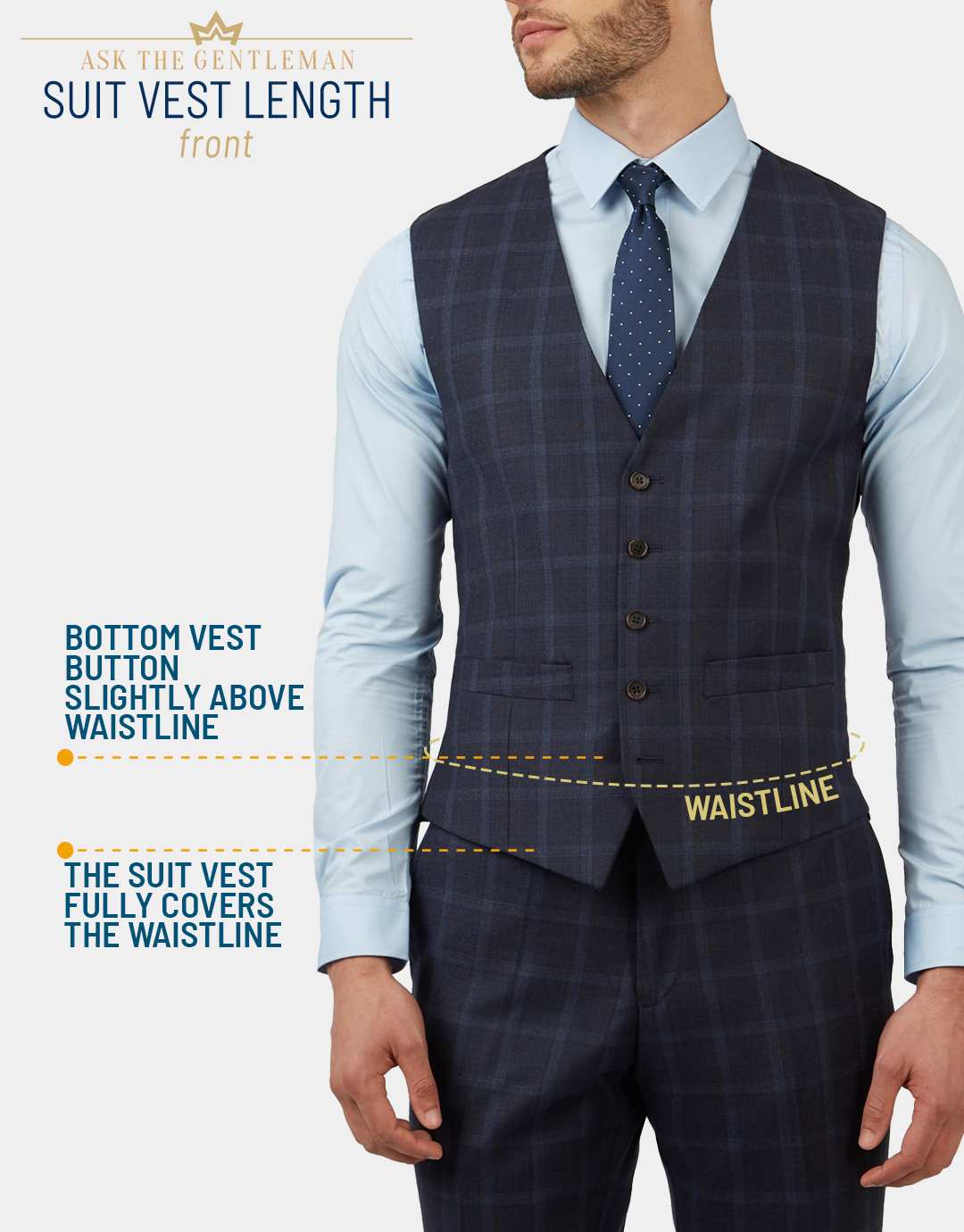 Don't allow any of your dress shirt to peek through underneath the vest's hem.
Occasions to Wear a Two-Piece and Three-Piece Suit
Thanks to the flexibility of the two-piece suit, you can wear it nearly anywhere.
It's adaptable to fit almost any situation since you can dress it up or down.
Two-piece suits are the reliable old standby for many work settings, in both conservative and business-casual offices.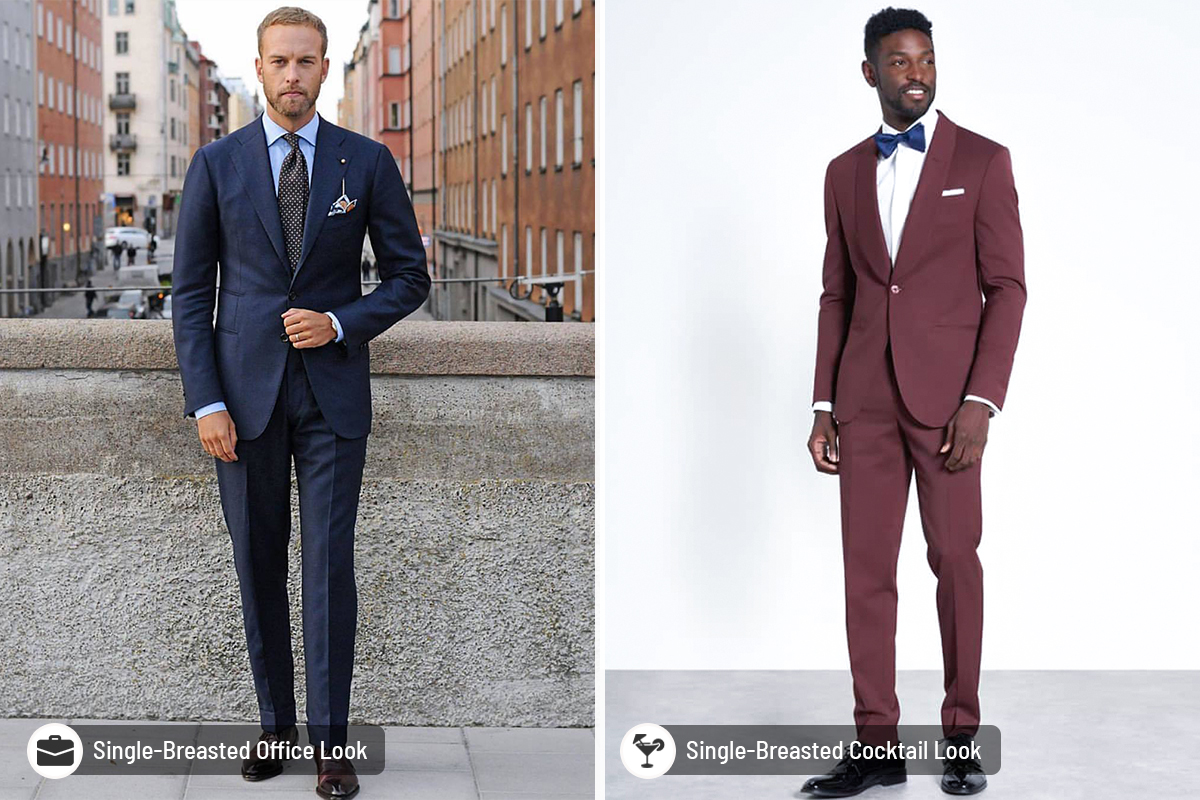 You can dress up your suit for a cocktail party, adding either a formal or festive flair to it.
The same suit can be turned into more smart casual for a social outing with friends or work.
A two-piece suit can even be the height of formality for a black-tie event.
A three-piece suit has a much more narrow scope.
You may frequently spot them at evening weddings and certainly in the most professional business settings.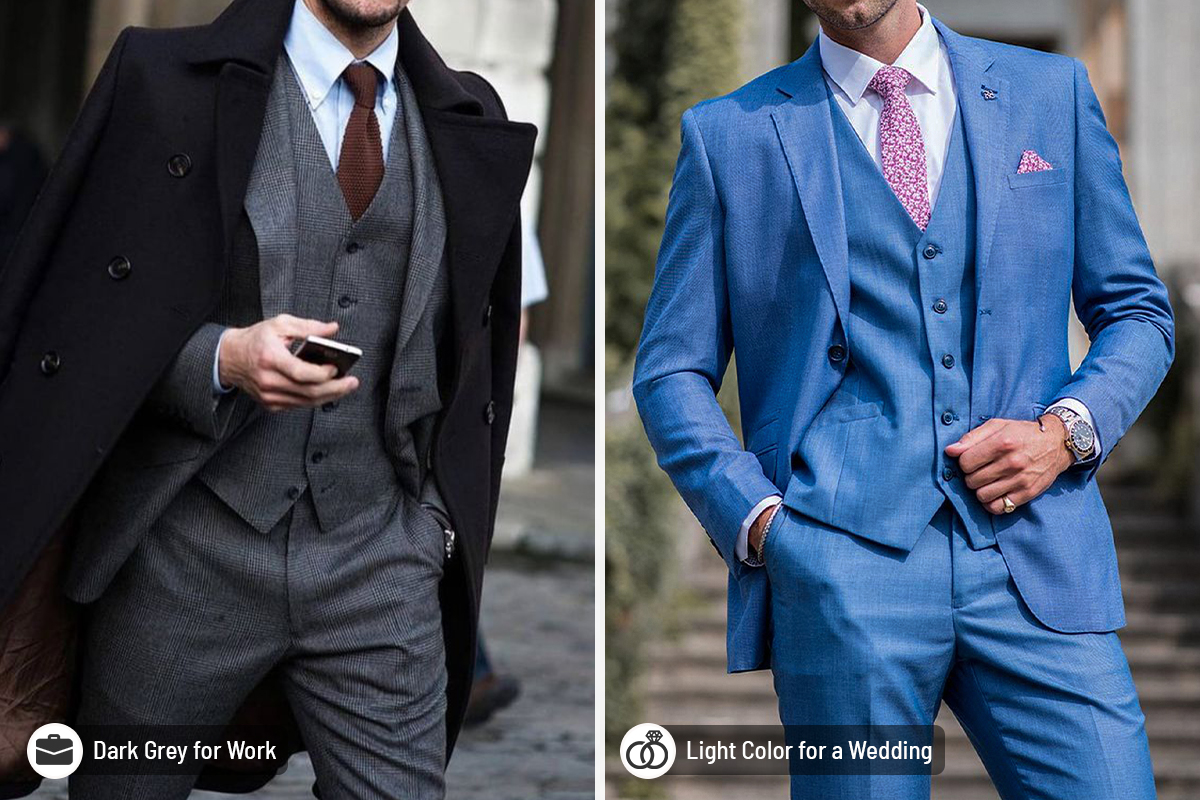 One place you should positively, never, ever wear a three-piece suit is to a job interview.
You don't ever want to be more dressed up than your potential boss.
Two-Piece vs. Three-Piece Suits FAQs
What is the main difference between a two-piece and a three-piece suit?
They are essentially the same garment with one enormous difference: the vest.
The addition of the vest makes the suit look more formal and adds some extra elegance to your suit.
Is it possible to wear a three-piece suit as a two-piece?
You can turn any three-piece suit into a two-piece suit by leaving off the vest.
In that regard, it's as if you're buying two suits in one!
The only difficulty with this plan is that you probably can't buy all your suits as three-piece because you'll have more limited options.
What is a three-piece tuxedo?
A three-piece tuxedo includes a waistcoat, which is a slightly more sophisticated version of a vest.
This isn't the most common style for tuxedos, but a vest with your tuxedo is a very elegant look.
Can you find a double-breasted three-piece suit?
They do exist, and you can search and find one.
However, these are very rare since it's not a popular way to wear your suit vest.
That is a lot of suit fabric to pile onto your torso; it's best to stick with single-breasted jackets.
Is it possible to wear a different color vest with a suit?
You sure can.
Most three-piece suits only come with a matching vest, but you may separately purchase a vest that's a complimentary color or one with a pattern for some extra style.