Your dress shirt style defines an important aspect of being a well-dressed gentleman.
It primarily builds the outfit but also contributes to elegance and formality.
And regardless of a suited or sartorially smart look, the style matter among them all.
However, there is a multitude of dress shirt styles.
Basic styles vary in fit, color, and patterns. But other variations in cuffs, collars, and pockets make men's dress shirts unique.
Dress Shirt Fit Types
The most important rule for properly styling and wearing a dress shirt is that it should fit you perfectly.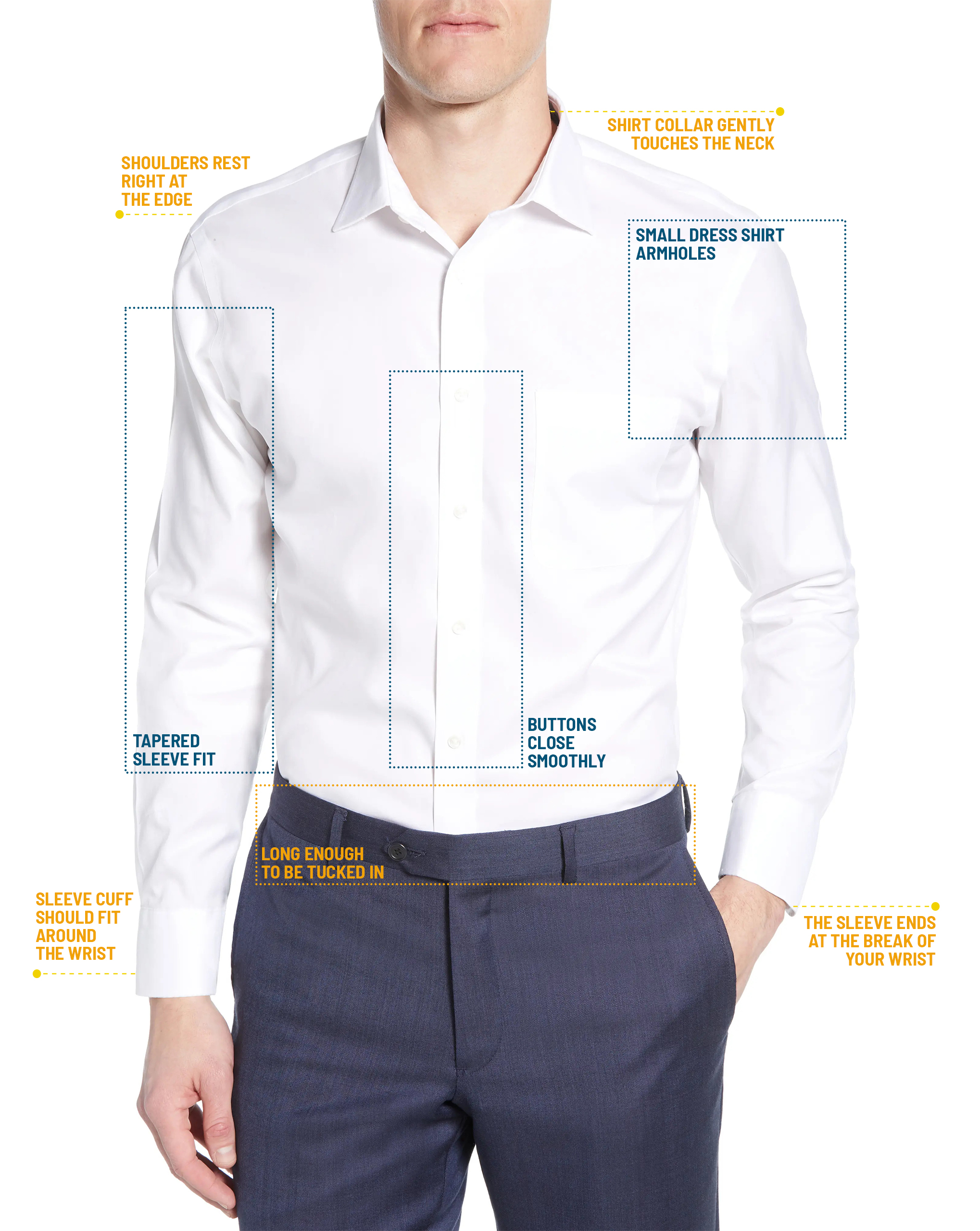 It means proper shirt lengths that complement the body contours.
For generic sizing, collar size and right sleeve length are enough.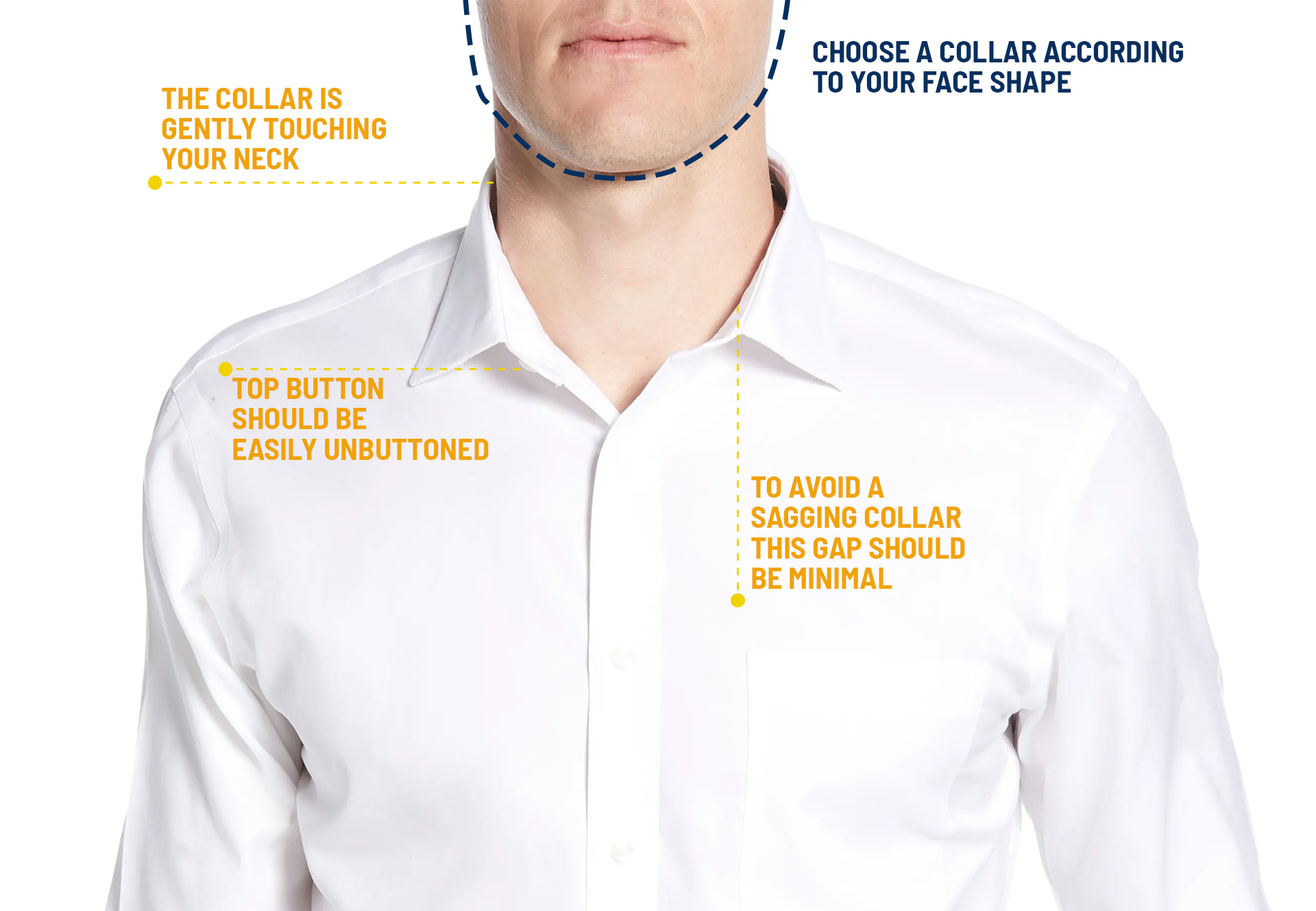 However, there is a lot more behind a perfect dress shirt fit.
The shoulders, for example, should hit at your natural shoulder line.
The chest should also fill out the shirt but never be overly tight or loose.
An armhole with a good range of motion indicates a good fit.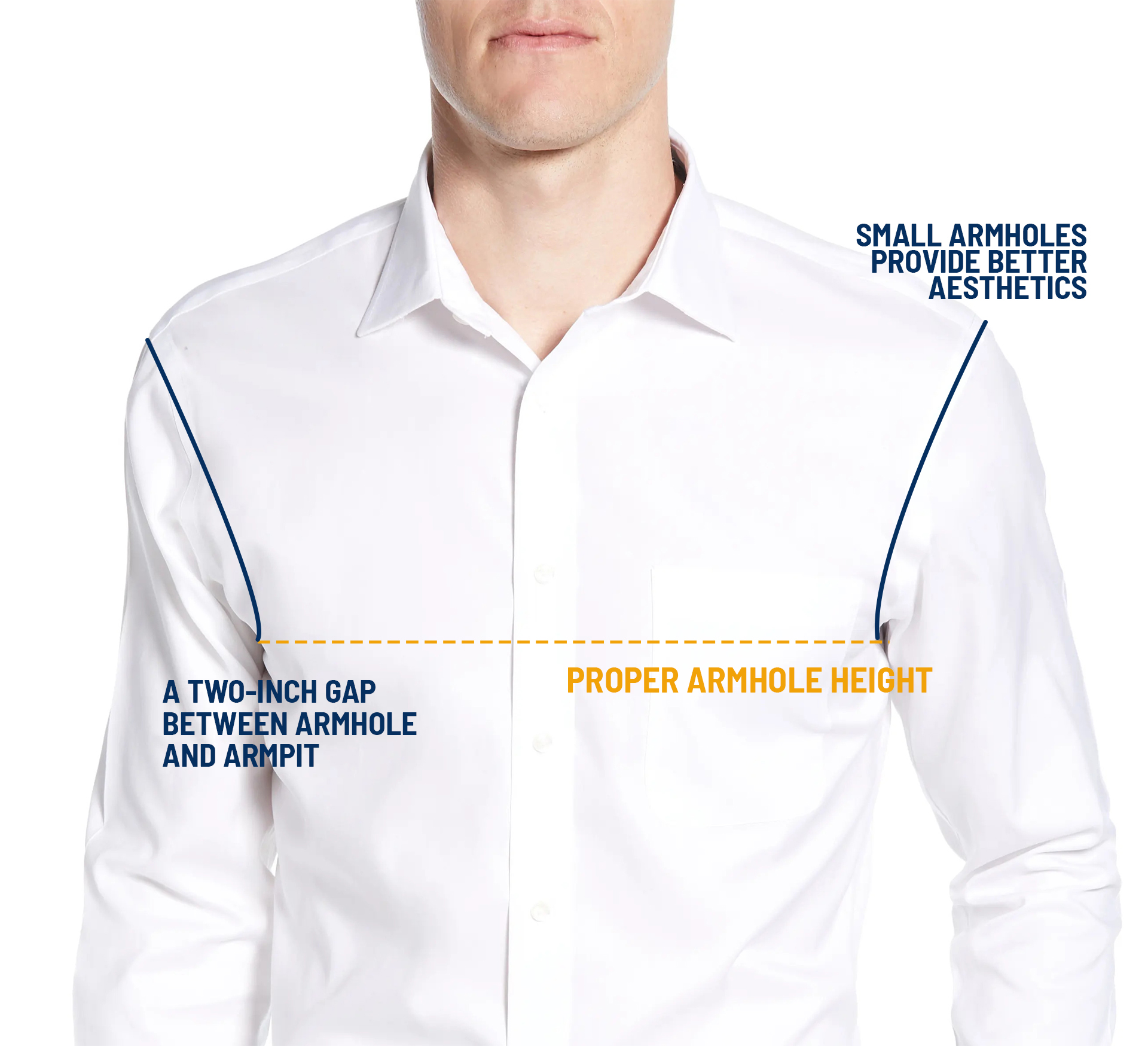 A men's dress shirt must also taper along your body contour to fit the waist well.
Five areas are of special importance for any shirt cut and shape – armholes, chest, shoulders, sleeve length, and waist.
The right shirt cut choice often depends on the wearer's body type.
Regular Fit Dress Shirt
A regular-fit shirt represents the relaxed variant in all body areas.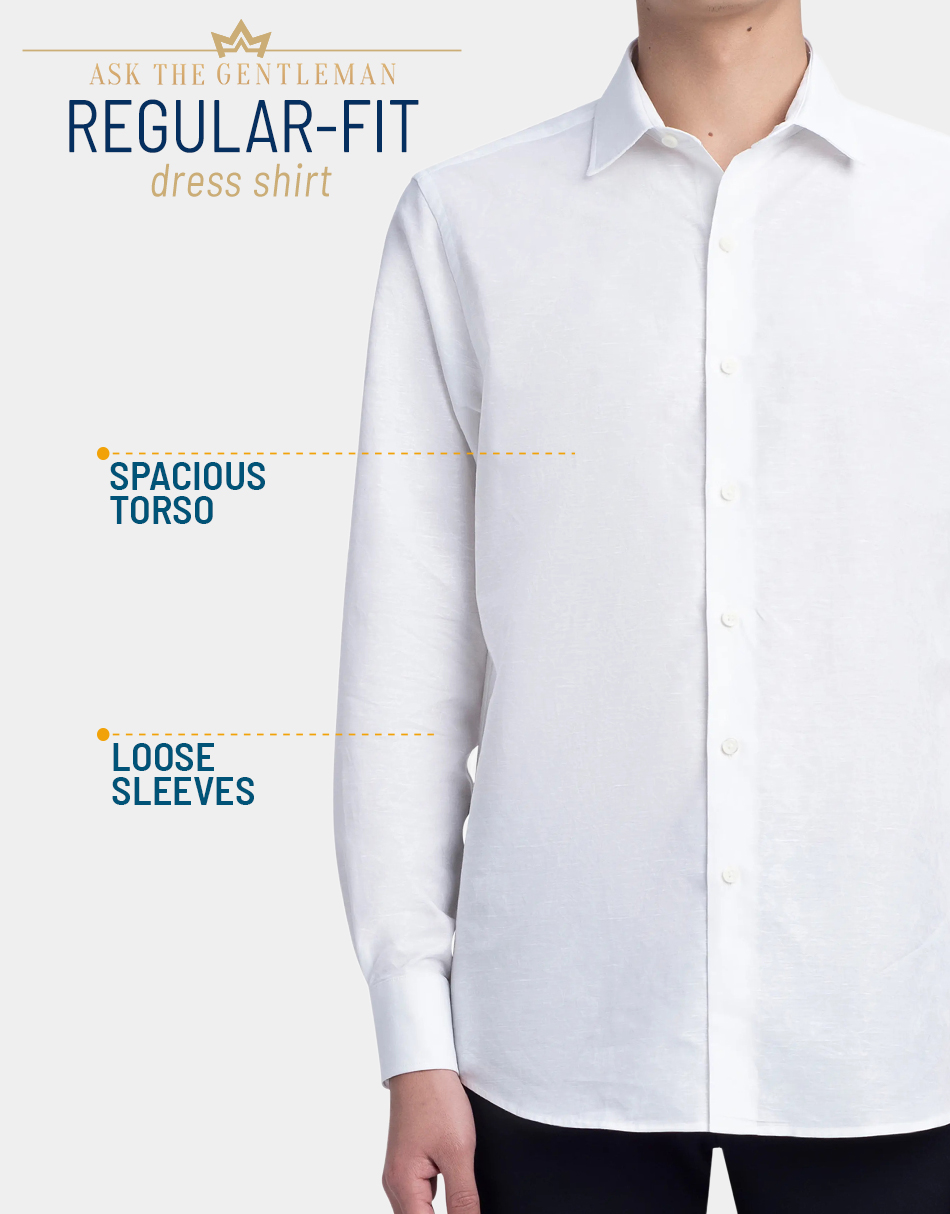 So, the dress shirt has a somewhat big armhole, a roomy chest, fuller sleeves, and a relaxed waist.
The overall shirt feels relaxed, allowing a good range of motion.
A regular-fit shirt is a preference for gentlemen who keep styling secondary to comfort.
You can wear a regular-fit shirt with a suit. However, the best match is the jacket-less dress pants, a regular-fit shirt, and a tie combination.
Modern Fit Dress Shirt
This cut is also known as athletic fit because it's designed for men with a more muscular build.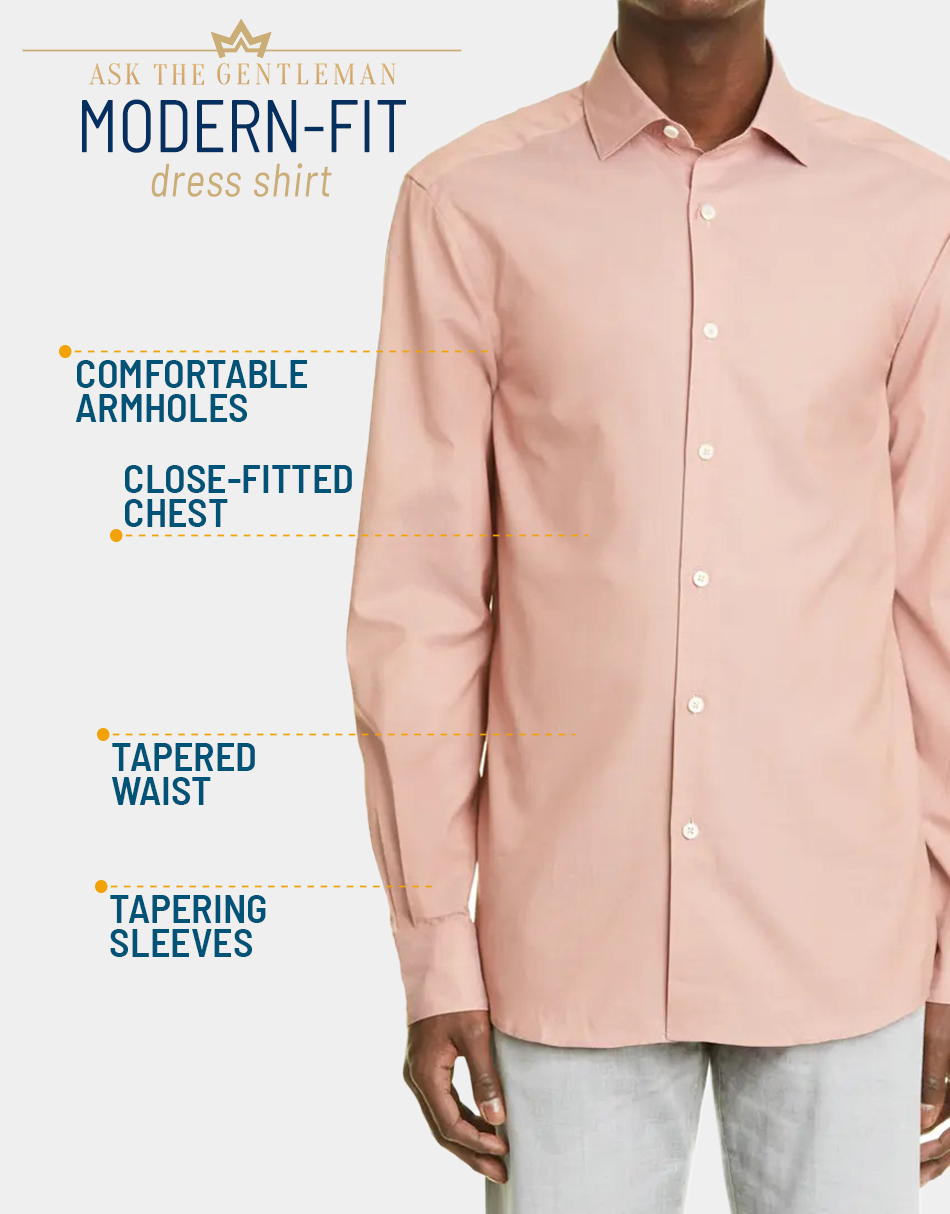 It should still feel close to the body without compromising that relaxed sophistication.
It's done by allowing room around the chest and shoulders. However, it has higher armholes and some tapering around the waist and hips.
The versatile approach of modern-fit shirts allows you to wear these with suits, dress pants, chinos, and jeans.
Who can wear a modern-fit shirt? Practically anyone – it's not limited to athletic body types.
Slim Fit Dress Shirt
These days, slim-fit shirts are the fit of the town.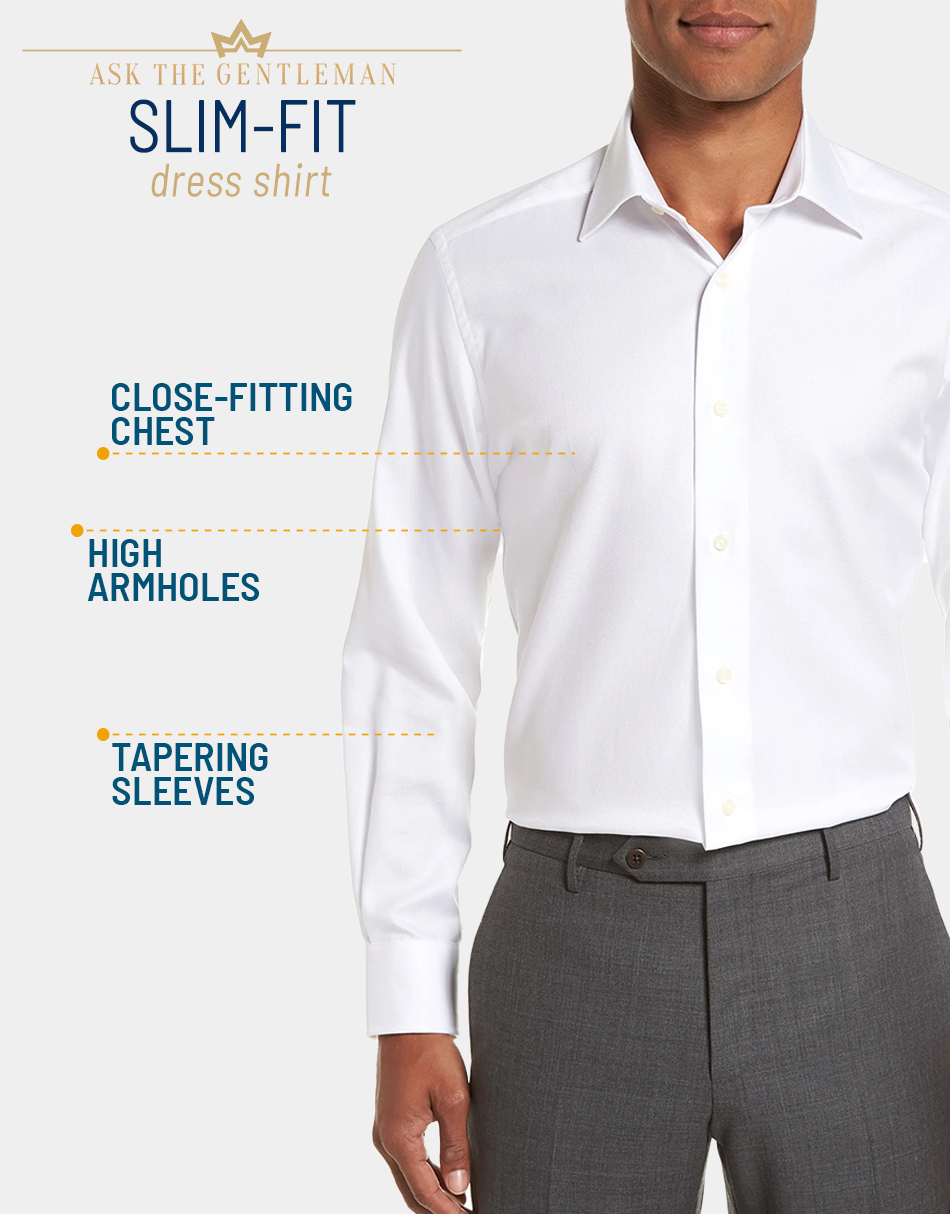 In fact, most young gentlemen choose slim fit as their default dress shirt fit.
The reason is that a dress shirt closer to the body looks sleek and elegant. It best complements a slimmer physique.
A slim-fit shirt means higher armholes, tapered chest, trimmed waist, and sleeves.
You will have little to no excess fabric in a slim-fit dress shirt, but it looks au courant stylishly.
The comfort would be reasonable and would not restrict your movement.
Dress Shirt Collar Styles
Dress shirt collars have more variation than any other component.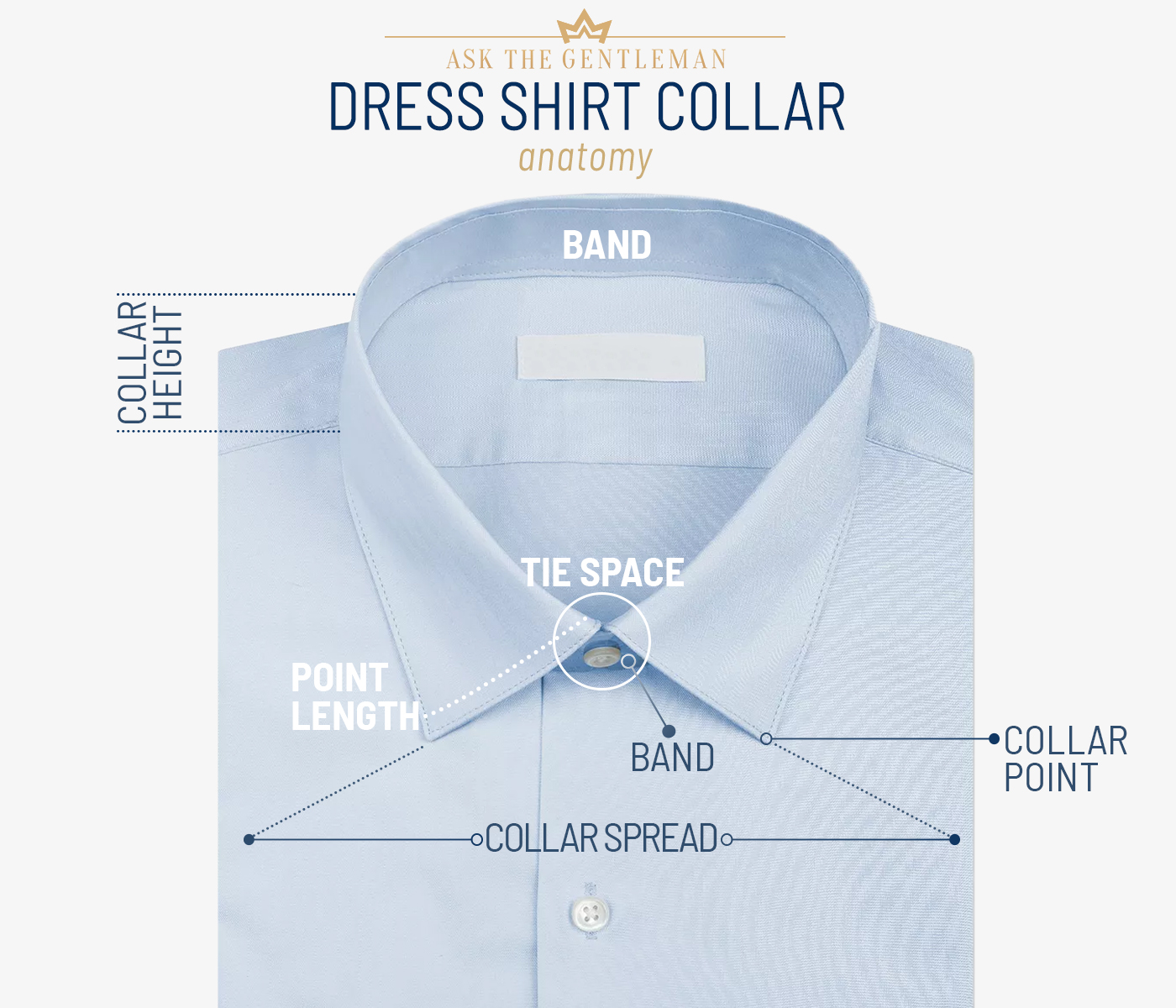 First comes a wing-tip collar. Two small points coming out of the stiff collar define the wing tip.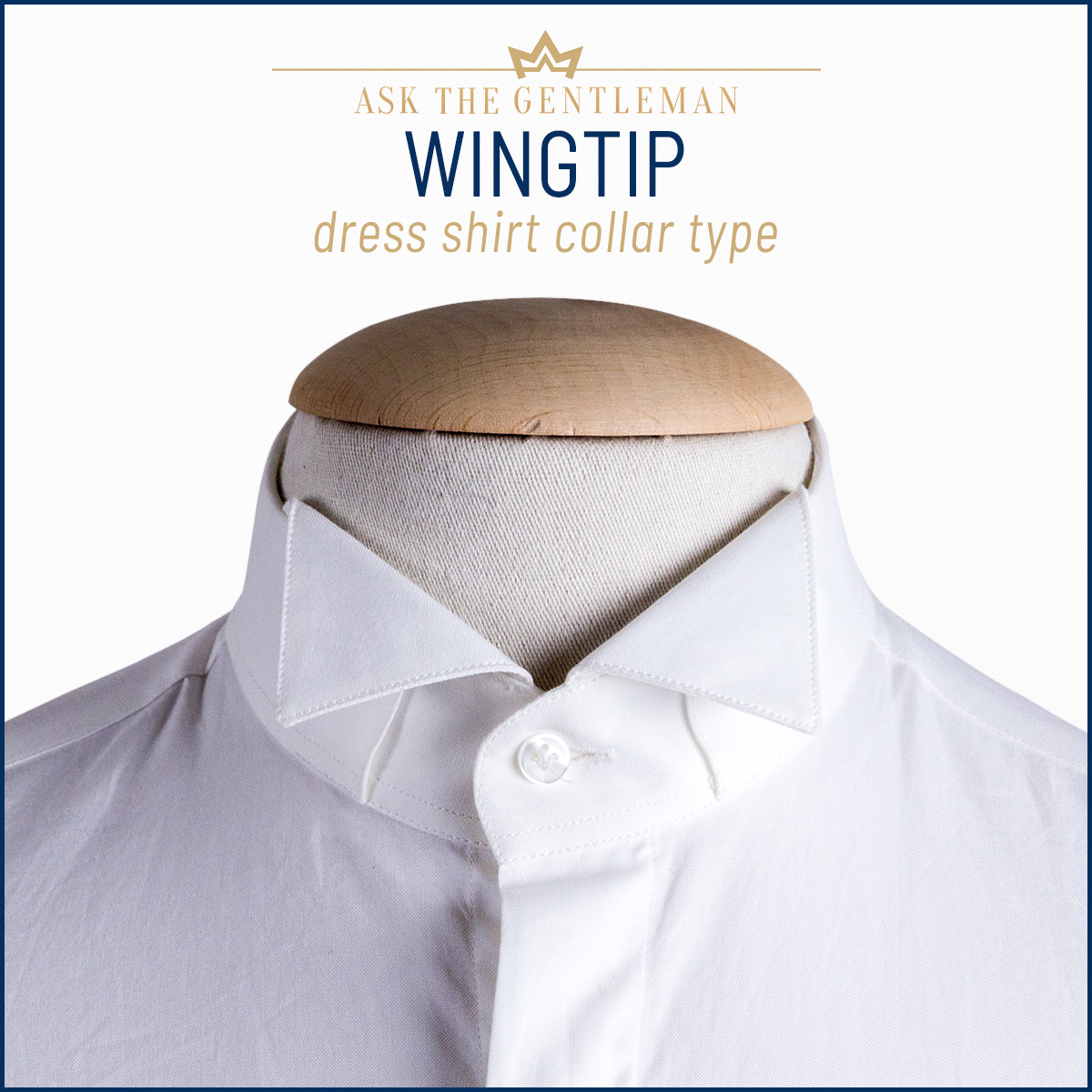 It's your most formal collar style that only works with tuxedos and black-tie outfits.
On the other hand, a club shirt collar is an old-school style with a vintage feel.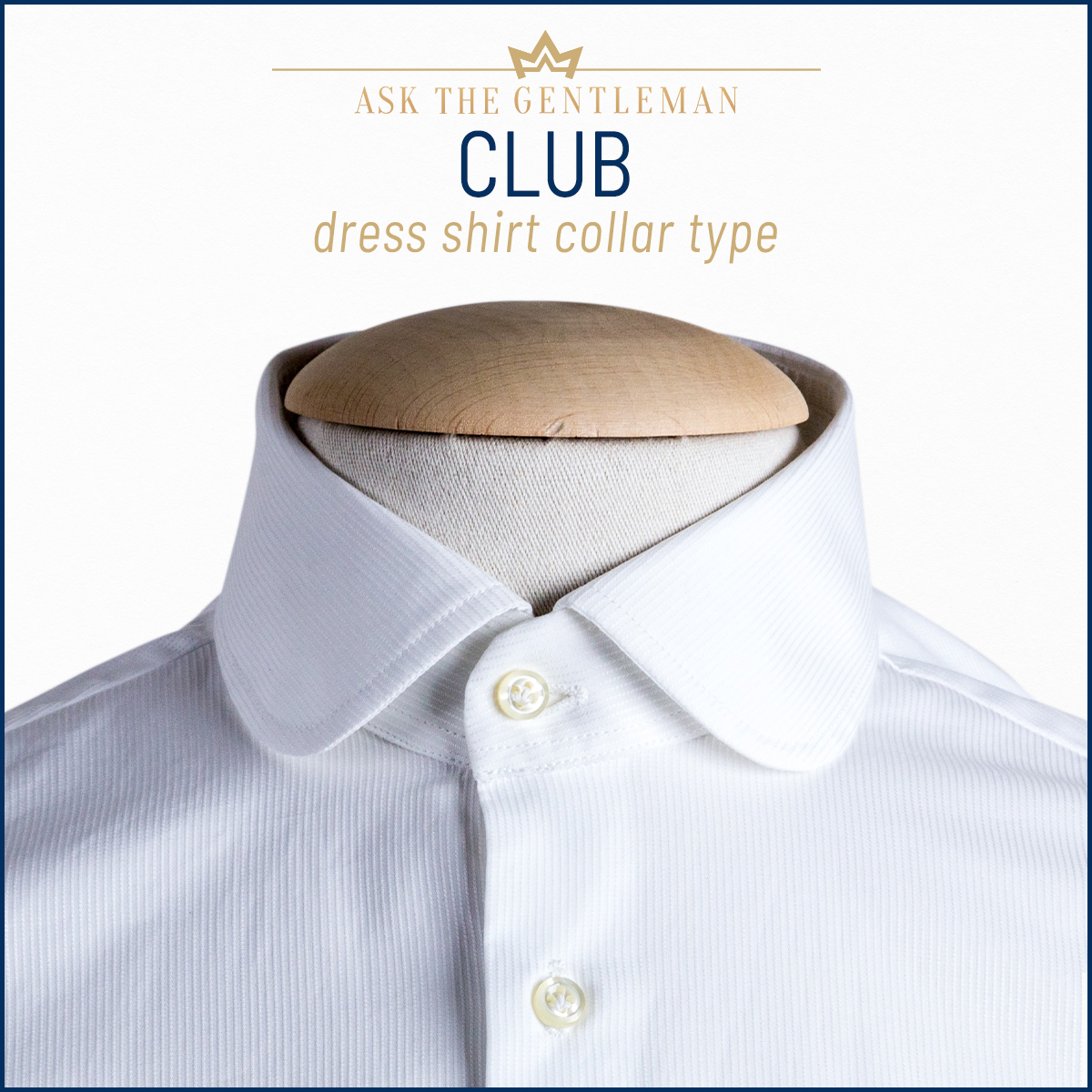 Although a club collar is formal, it's less functional for everyday wear.
The spread collar is arguably the most common and very practical dress shirt collar style.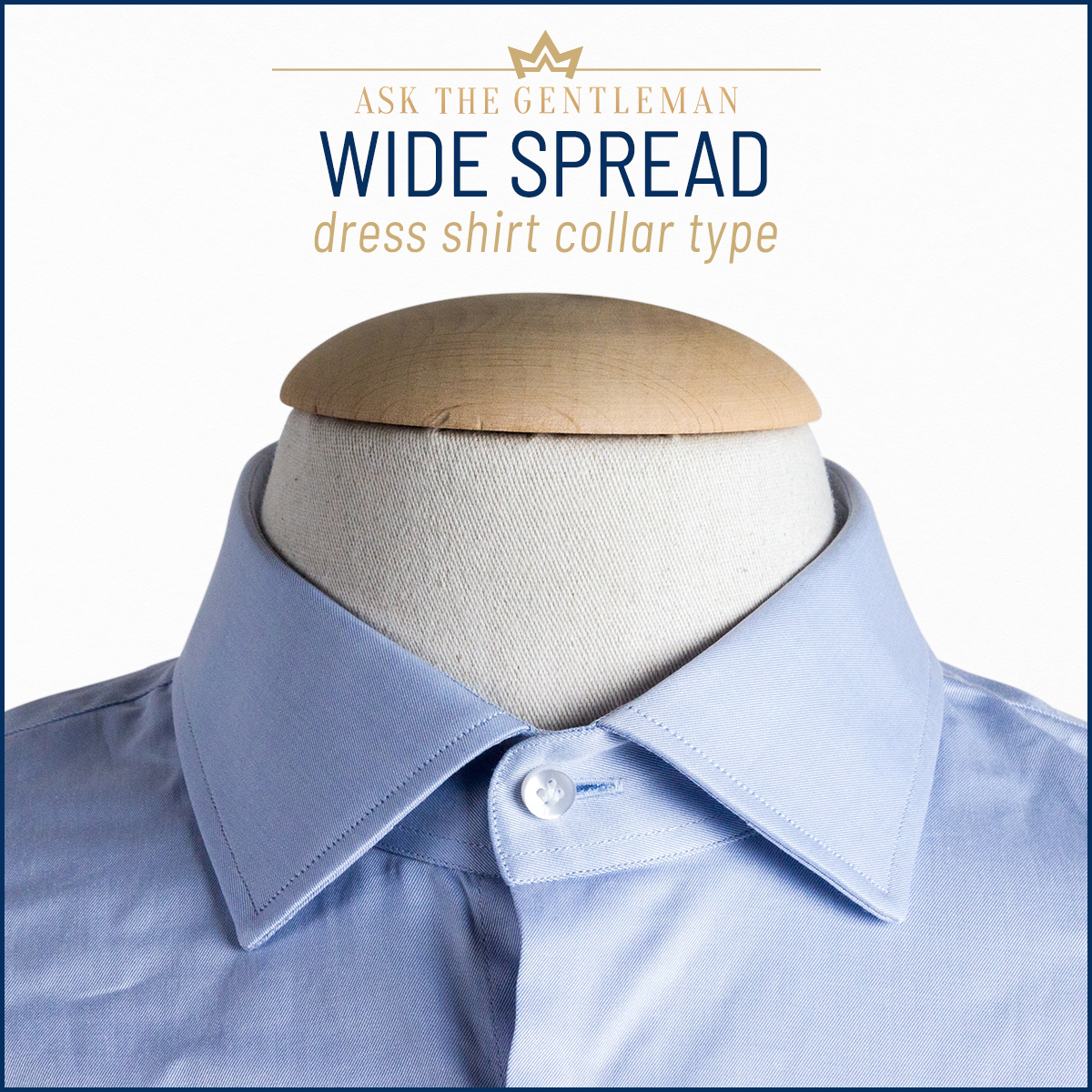 The collar points spread away and are 4-6″ apart. So you can wear a spread collar dress shirt with suits, tuxedos, jeans, etc.
A semi-spread collar stays in the middle of a spread. It has a straight pointed collar in construction, formality, and styling.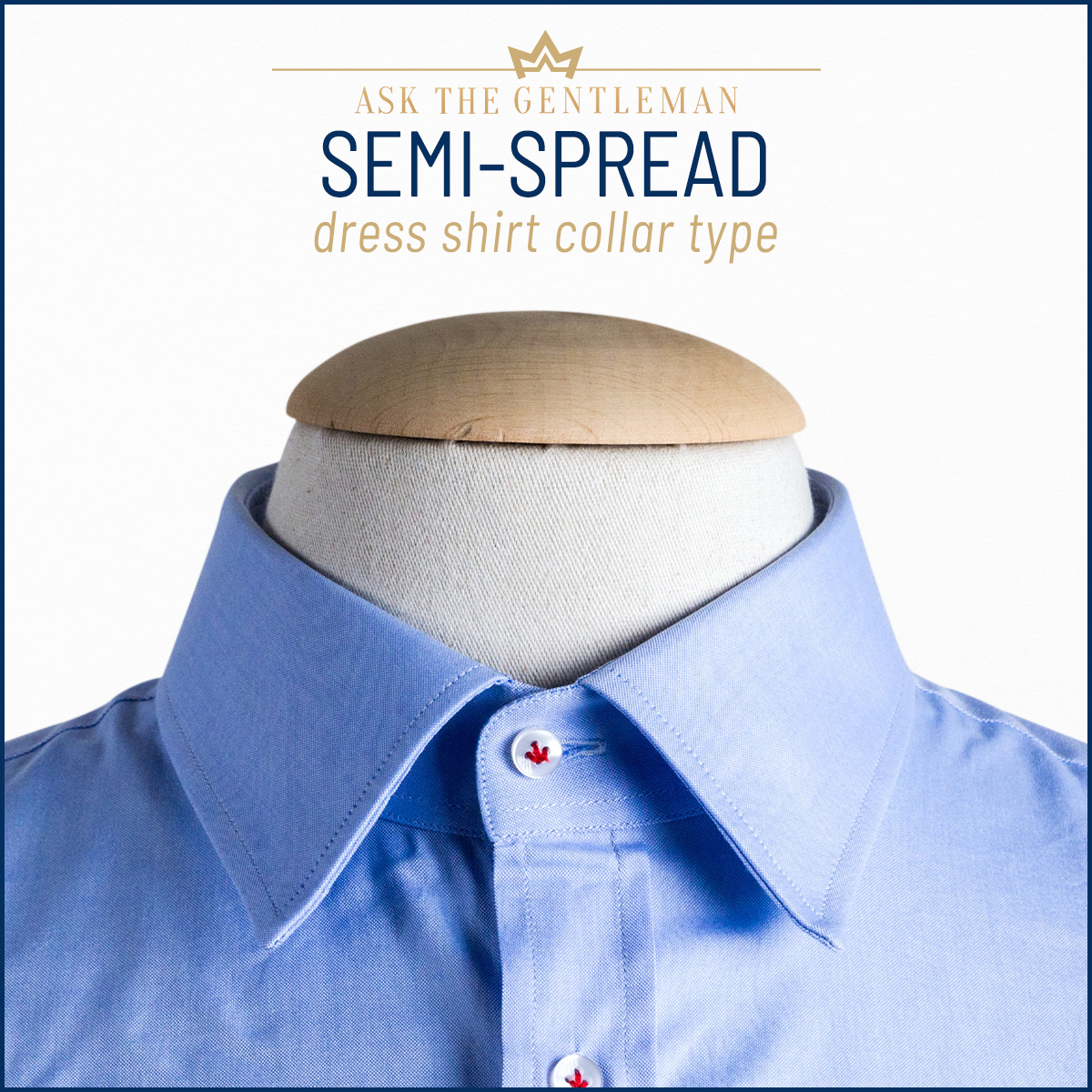 A cutaway-spread collar is the extreme version of a standard spread collar. The collar point can spread to 8.5″, representing a statement-making style.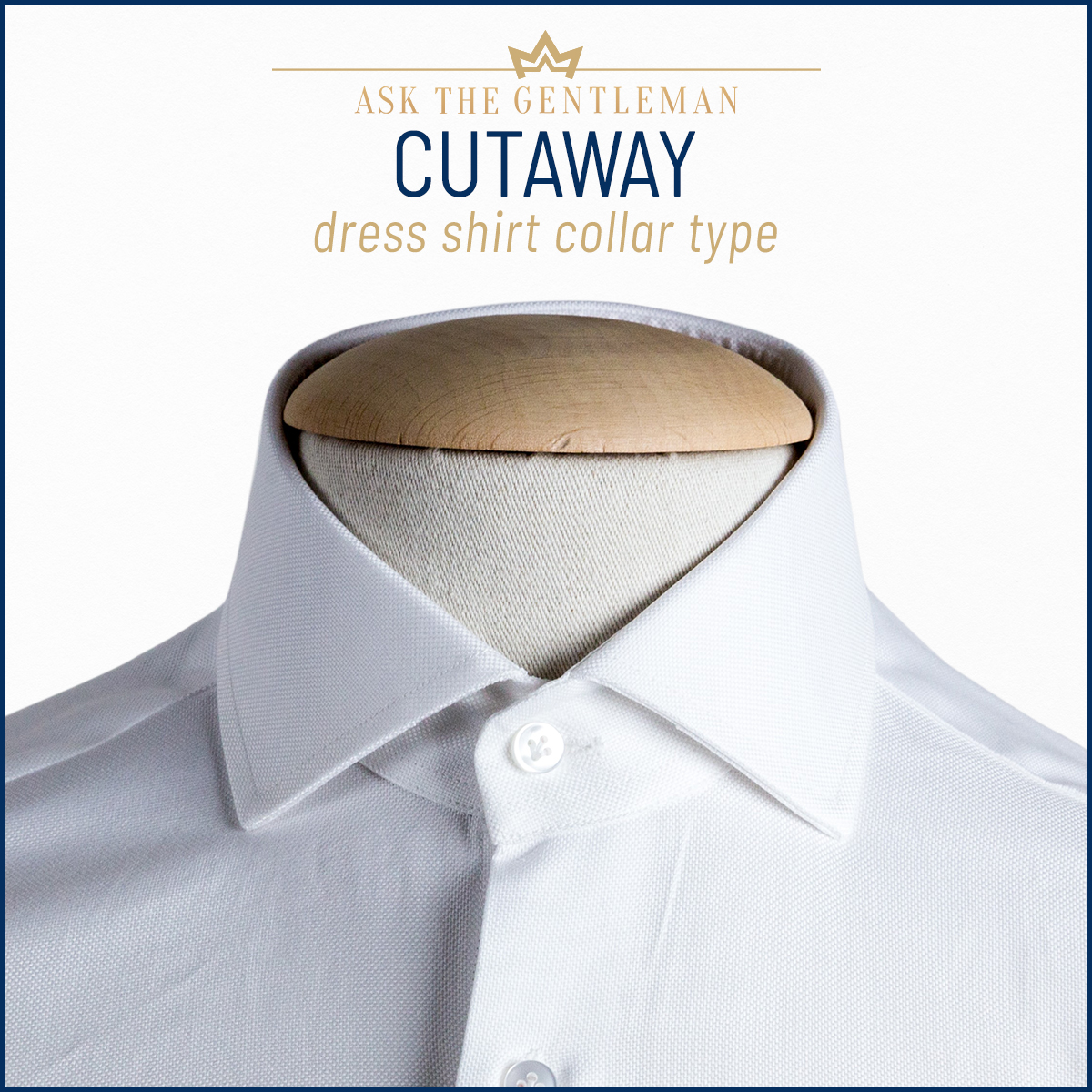 Equally popular is the straight point collar. Here, the collar points are 1.5-3.5″ wide.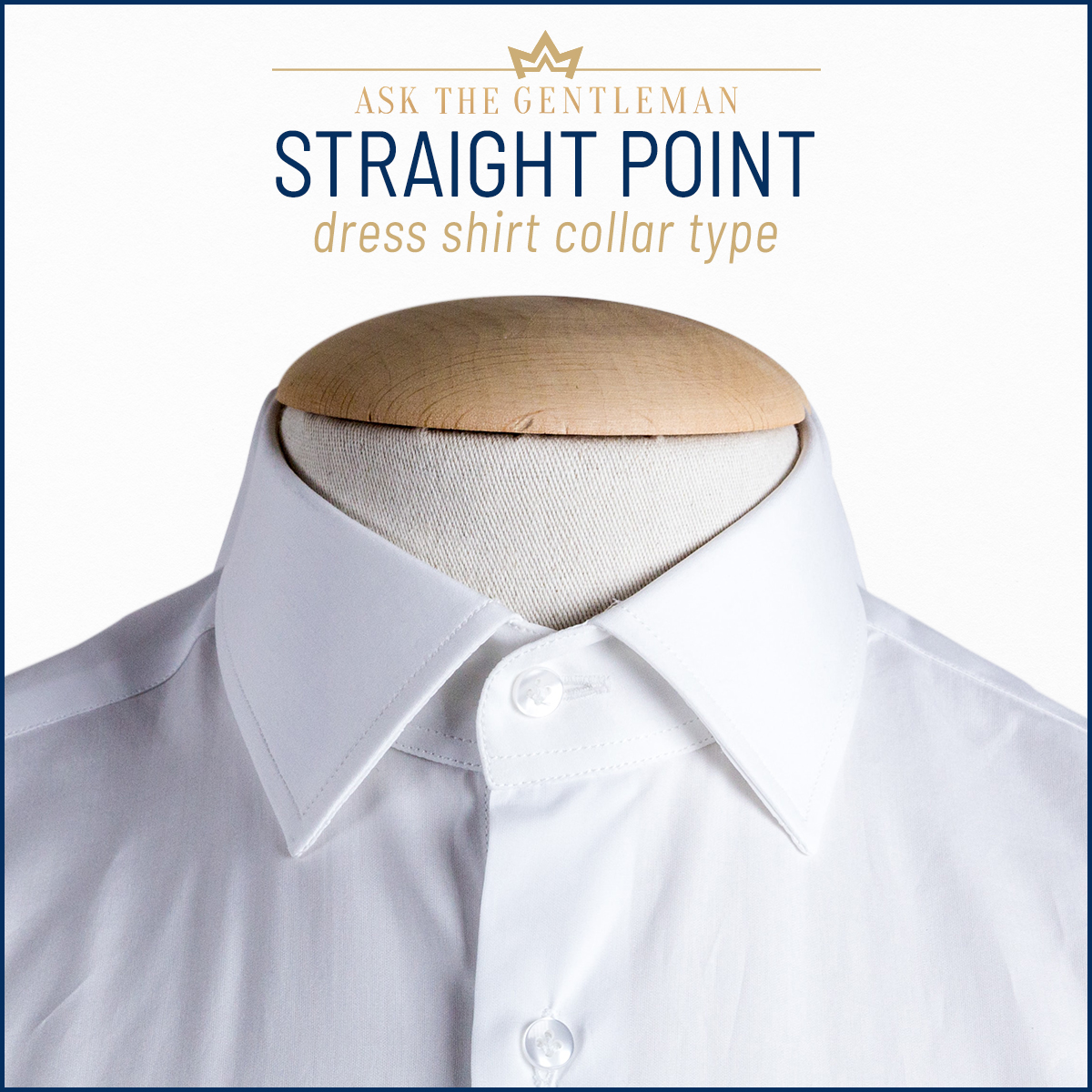 This collar style complements most face shapes and matches casual to formal outfits.
Subsequently, a button-down shirt is a straight-pointed collar, except there are buttons at the end of the collar points.
The Oxford button-down collar has a history of making the dress shirt more casual.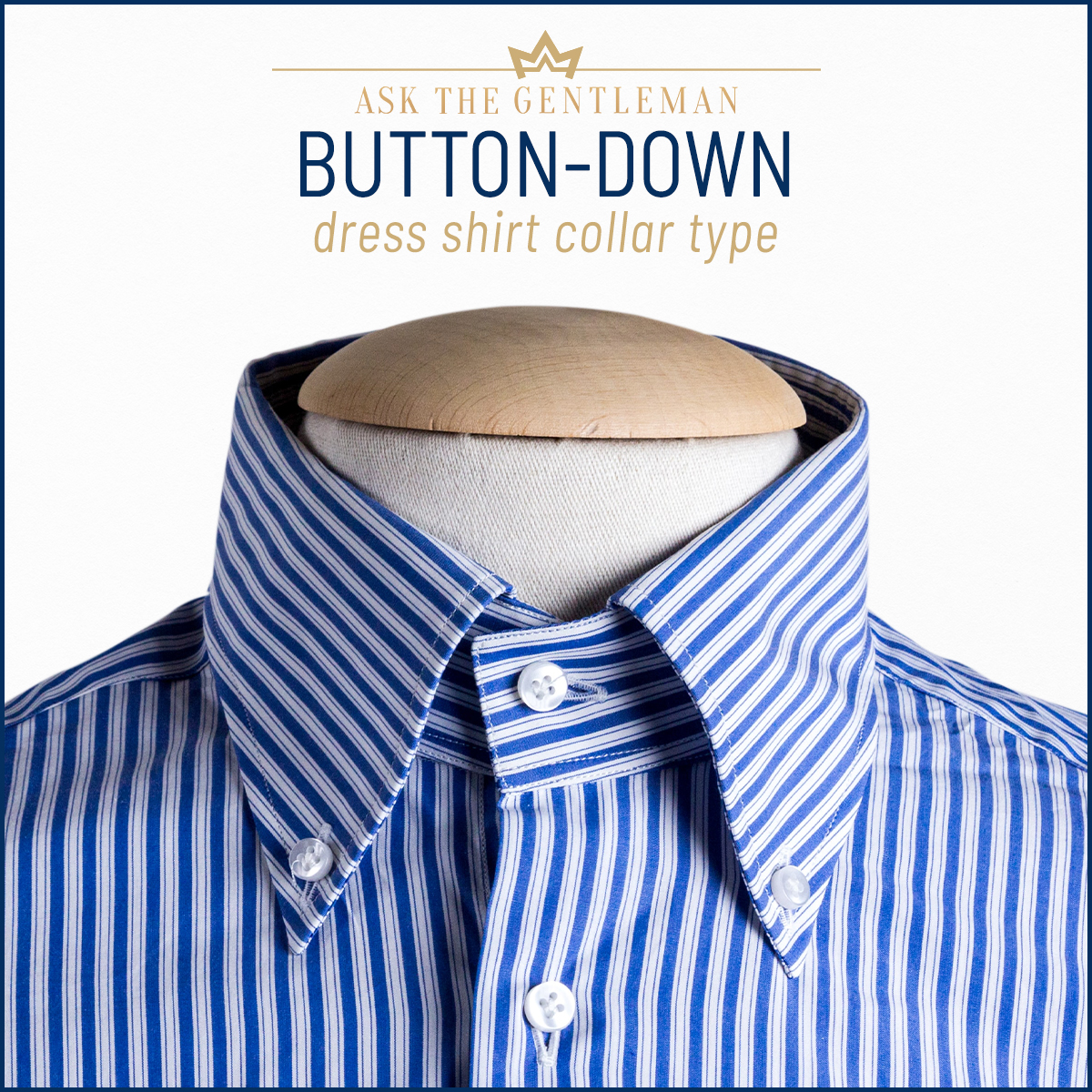 Band collar is practically a no-collar style. In comparison, a tab collar helps stick the tie high and is James Bond-approved.
Both of these collar styles are uncommon.
Different Dress Shirt Cuff Types
The dress shirt cuffs play a considerable role in formality and styling. And therefore, you would see various dress shirt cuff types.
The simplest of them all is the barrel cuff. It's simple and sophisticated yet carries considerable elegance.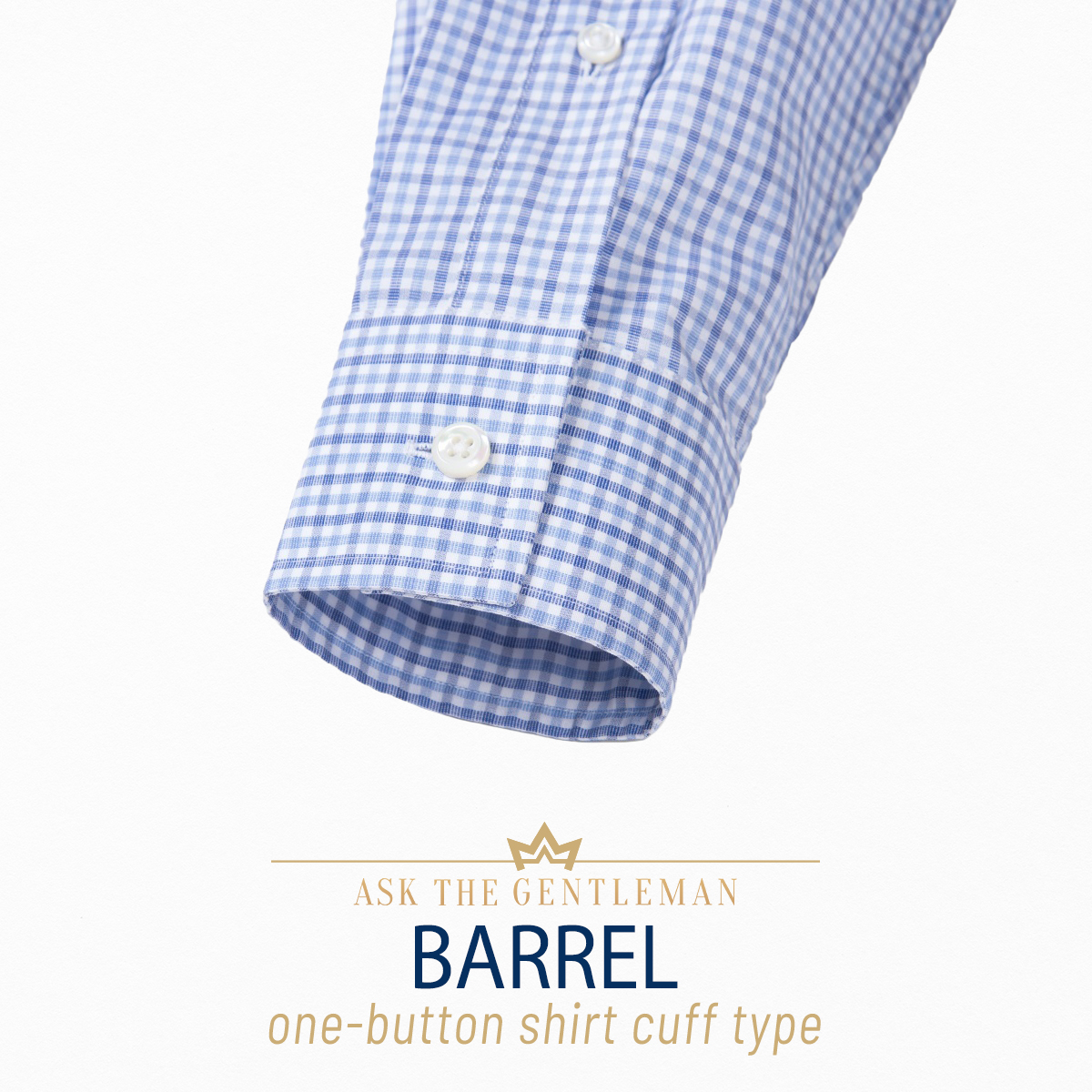 But even the barrel cuff has many variations contributing to different dress shirt types.
For example, the corners of rounded barrel cuffs are round instead of edged. Their casual appeal makes them suitable for less-formal shirts like checks and button-downs.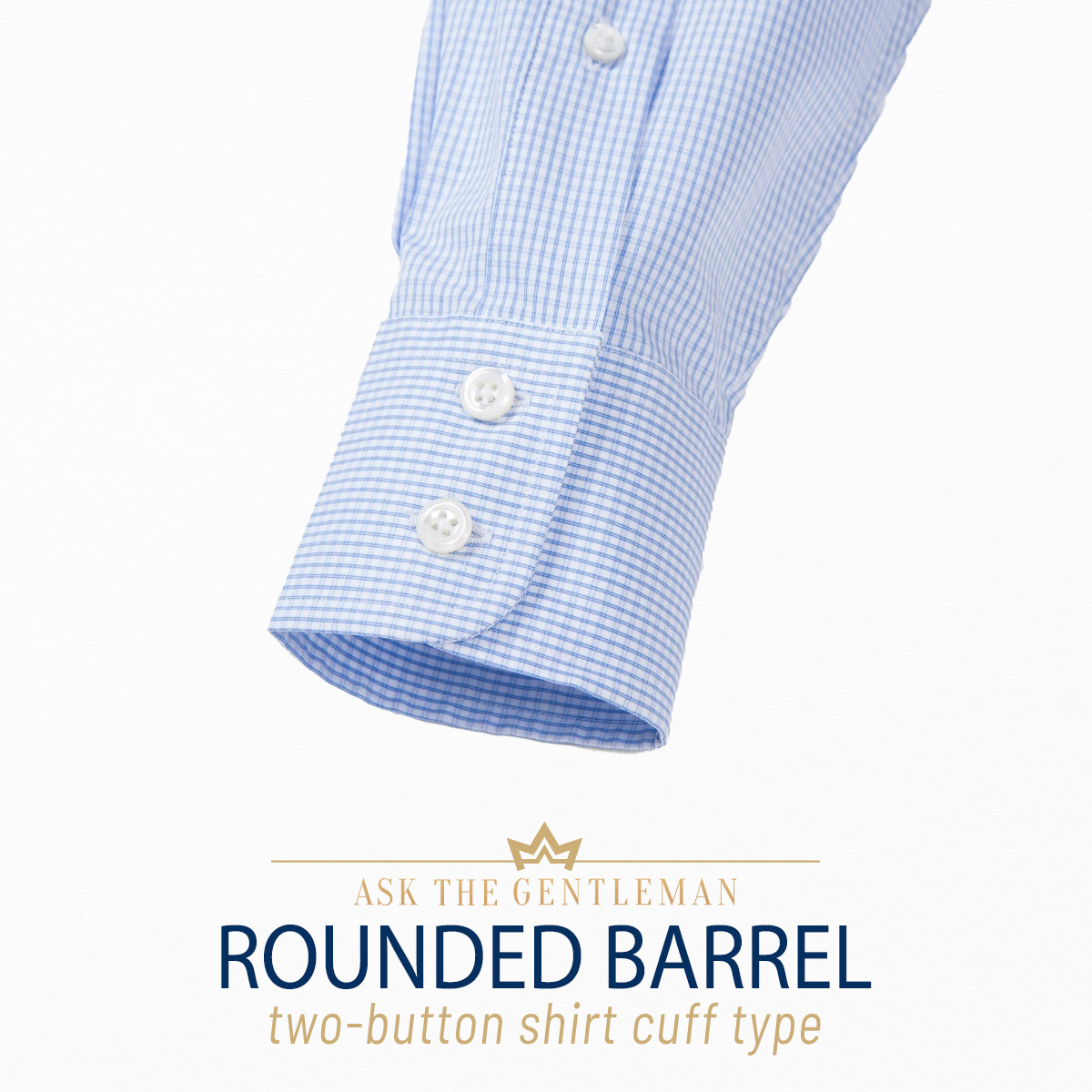 The miter cuff variation has cuff ends that are beveled or cut at an angle. It's a more formal style, making it appropriate for business shirts.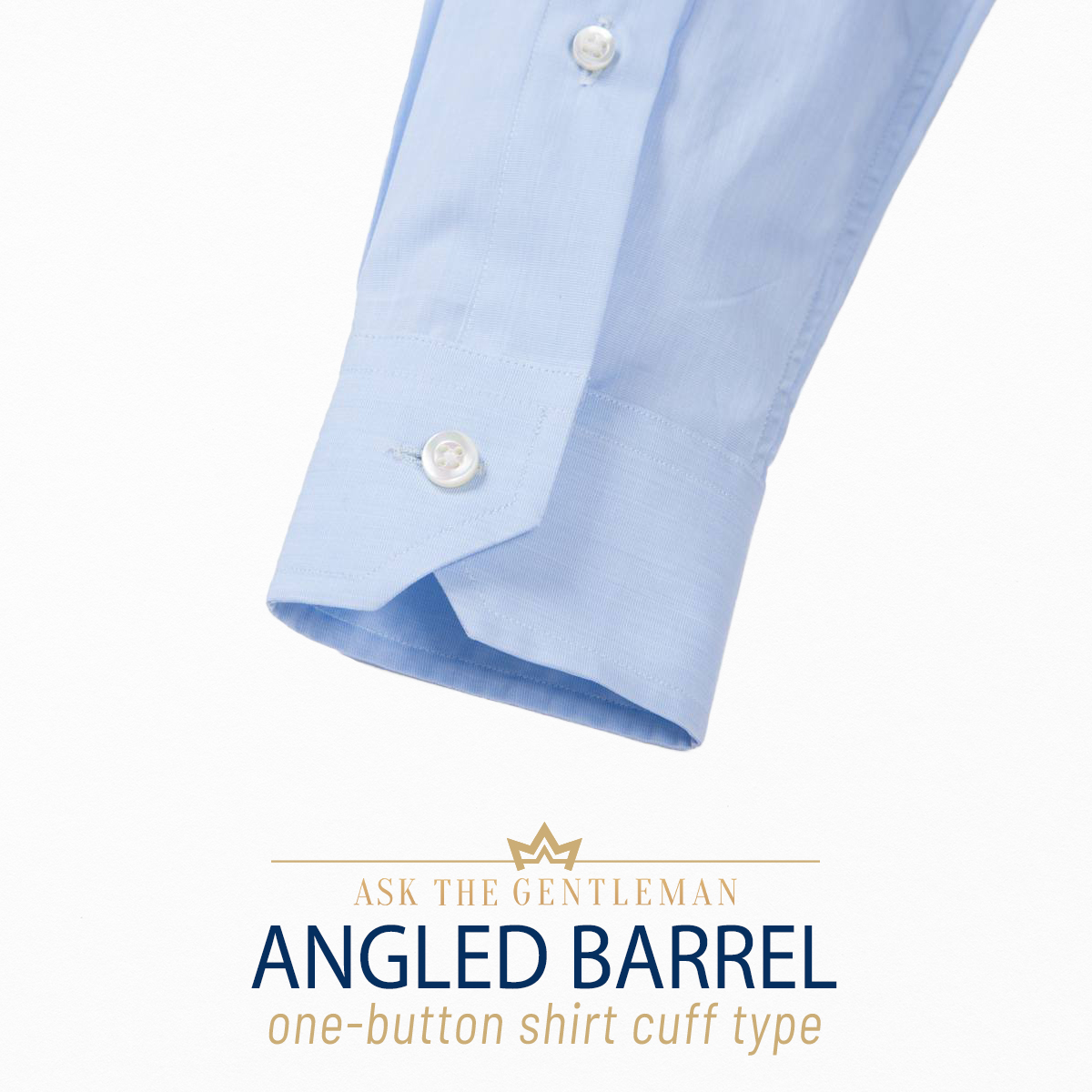 The other popular shirt cuff style is the French cuff. Wearing french cuffs means having the epitome of formality and elegance.
French cuffs can also be single and double. The difference is that a double French cuff folds back on itself twice and is a more formal and popular cuff style.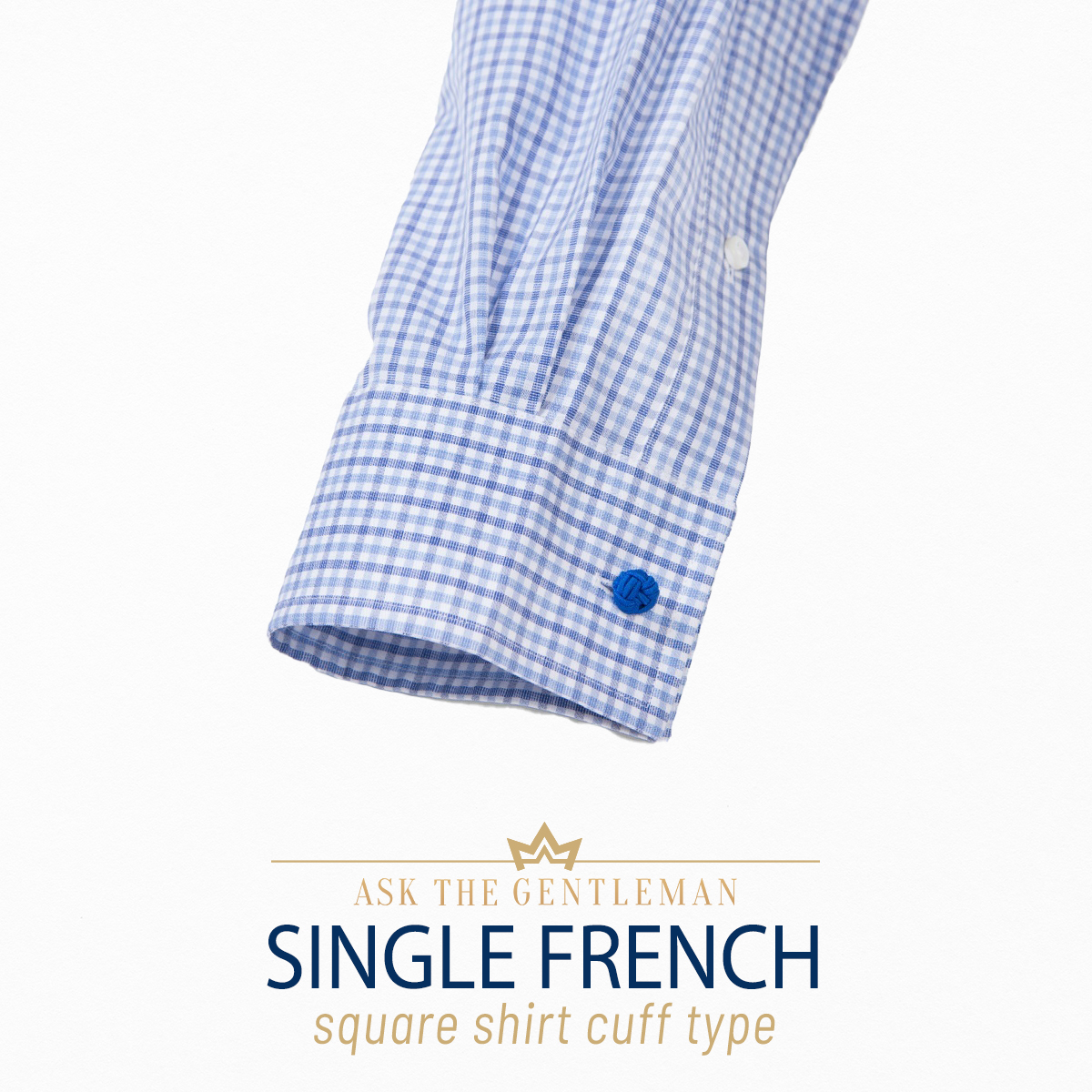 Additionally, both French cuff styles require wearing cufflinks.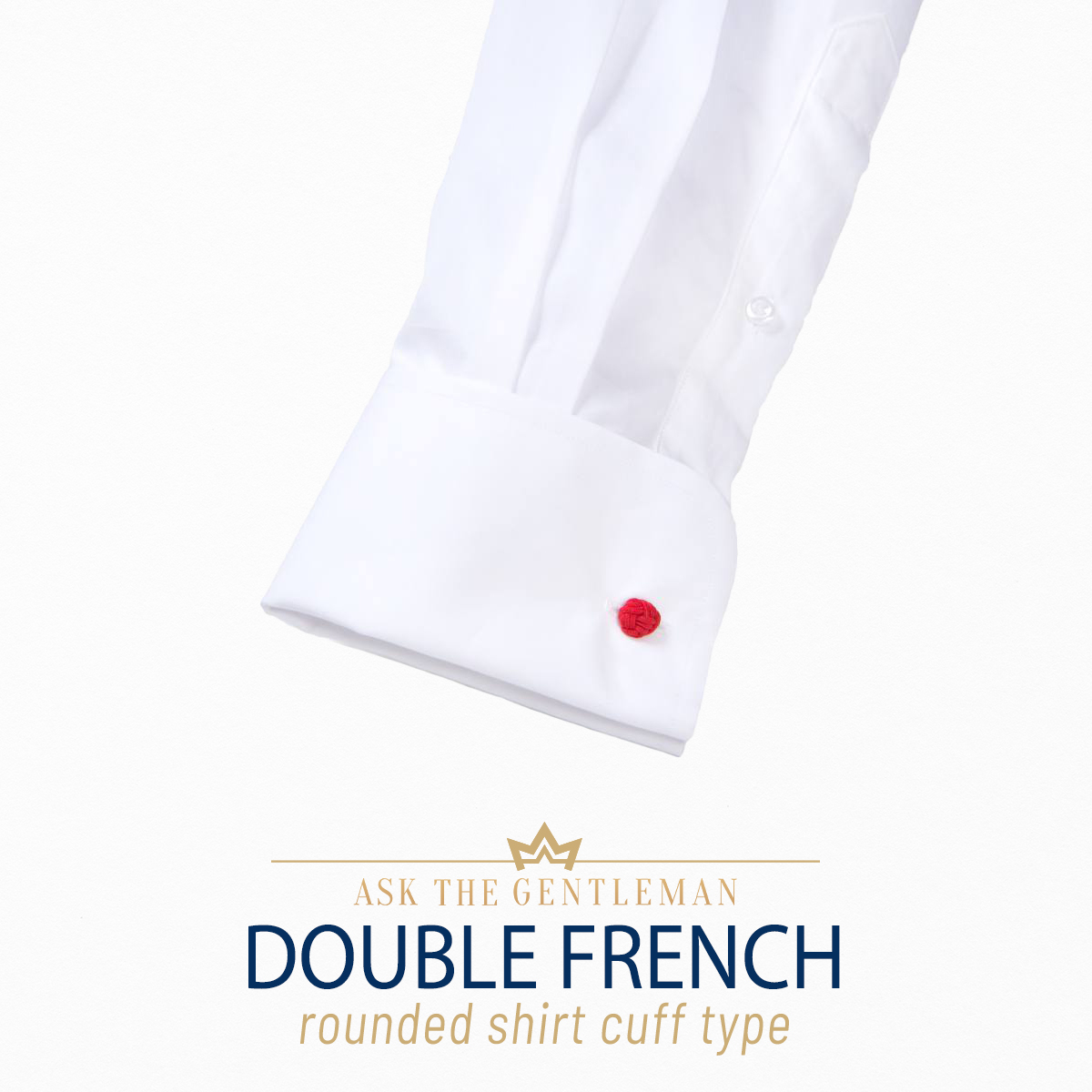 A convertible cuff is yet another dress shirt cuff style. It's a barrel cuff with a hidden button.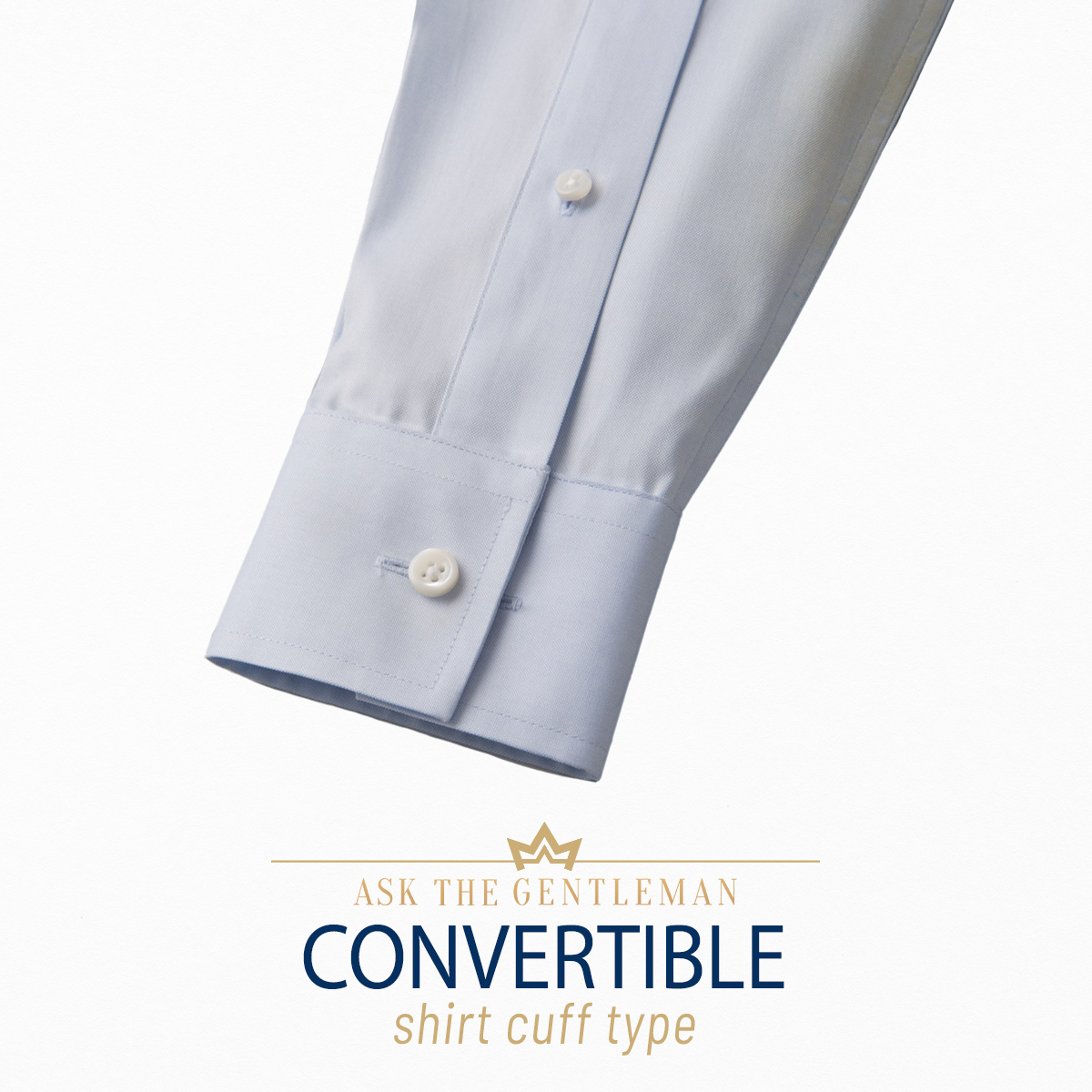 You would typically wear cufflinks with a convertible cuff, but when required can work as a standard barrel cuff.
Dress Shirt Color Styles & Patterns
The right dress shirt color can influence the overall impression and make you look appropriate for the occasion.
But understanding patterns also helps your style journey overall and helps you decide which pieces to choose and which to skip.
In fact, a subtle change in either color or pattern can make a big difference in formality and style.
White & Solid Color Dress Shirts
The heart of a gentleman's shirt collection is the white dress shirt.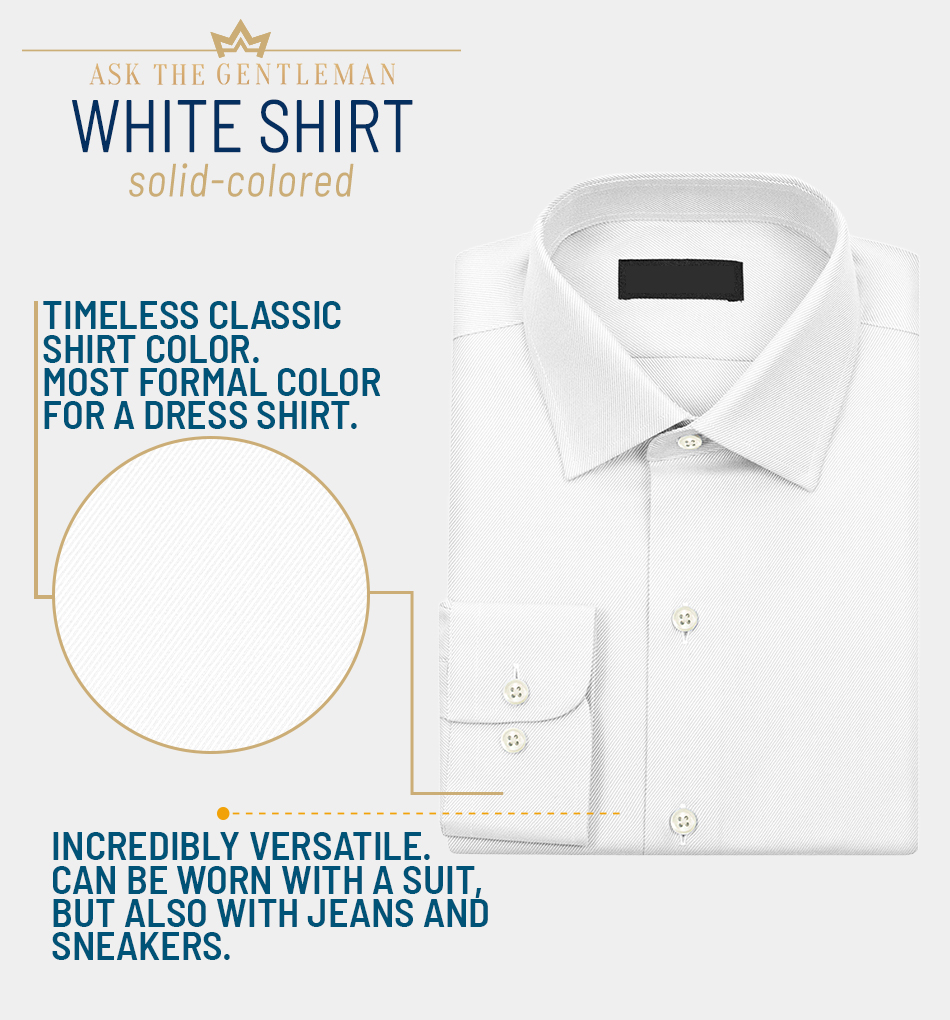 It's the most timeless and classic dress shirt appropriate for most occasions.
You can wear a white shirt any time of year, with multiple formal and casual outfits.
But other solid color dress shirts don't disappoint when going for crisp dressy looks.
Light blue shirts are great for business outfits, conveying confidence and seriousness.
On the other hand, light and pale pink shirts are a popular choice for playful occasions and for men who want to add vibrancy to their wardrobe.
Light grey, lavender, or even light green are also great dress shirt colors.
Black dress shirts are not common. These, however, have a fair share of charisma, especially for modern looks.
Striped Dress Shirts
A striped dress shirt balances formality with playfulness.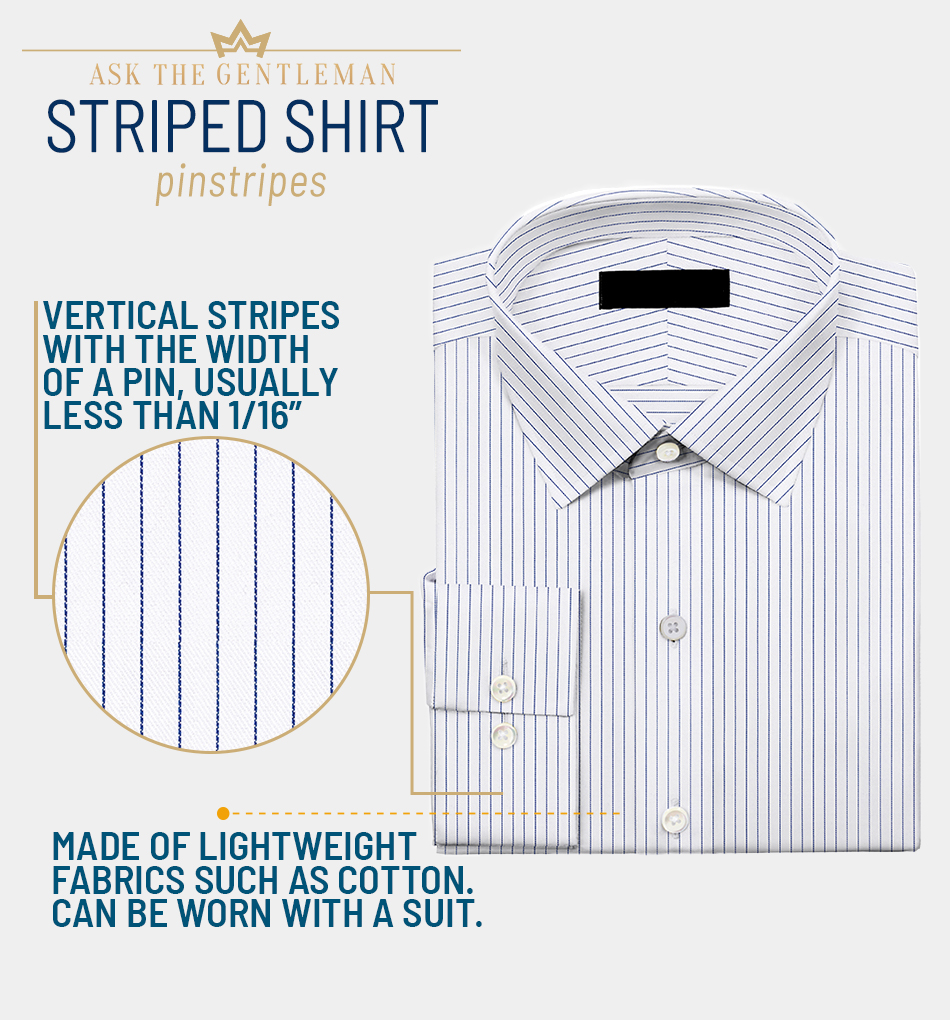 Still, there is a variety of striped shirts to choose from, although hairline and pencil stripes are the most common option.
Each stripe conveys a different style and has a different formality and style.
The rule of thumb is the narrower the stripes are, the more formal a shirt will be. Wider stripes, in comparison, are more casual.
For example, a blue micro-stripe shirt could be as formal as its solid counterpart.
Some stipe color options are blue, gray, light pink, and sometimes green.
Keep in mind that brighter stripes color are usually more casual, especially if the stripes are wider.
Patterned Dress Shirts
Patterned shirts are casual. These make good everyday wear when being effortless is the primary goal.
These patterned shirts are often stand-out items with smart-casual outfits.
And sometimes, these are a subtle blend in when there is already too much in the outfit.
Popular pattern options include polka dots, paisley, and floral. The patterns in lighter color shirts are generally easier to pull off.
Windowpane Checkered Dress Shirts
Checks are a dress shirt pattern. However, due to their popularity and versatility, gentlemen regard these as a separate type of dress shirt.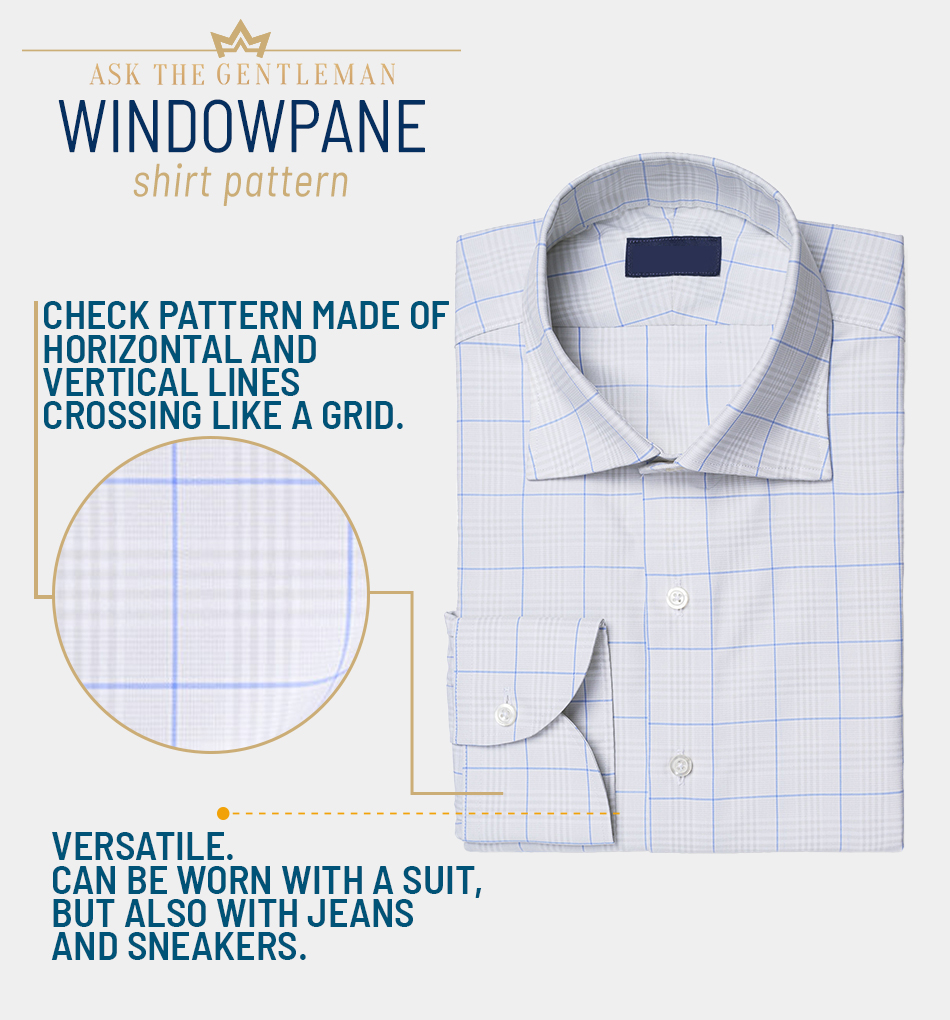 Windowpane is a popular type of checkered shirt. These have evenly spaced boxes called "windows."
A wIndowpane checkered shirt can be casual or formal.
The smaller window in a subtle shade represents a formal shirt type. In comparison, bold colors and bigger squares represent a more casual variant.
Casually Checkered Dress Shirts
There are some variants of checkered shirts that are innately casual. These include gingham, tartan, madras, etc.
Gingham shirts are what we typically call check shirts. These have a grid of intersecting dark and light stripes, making them casual.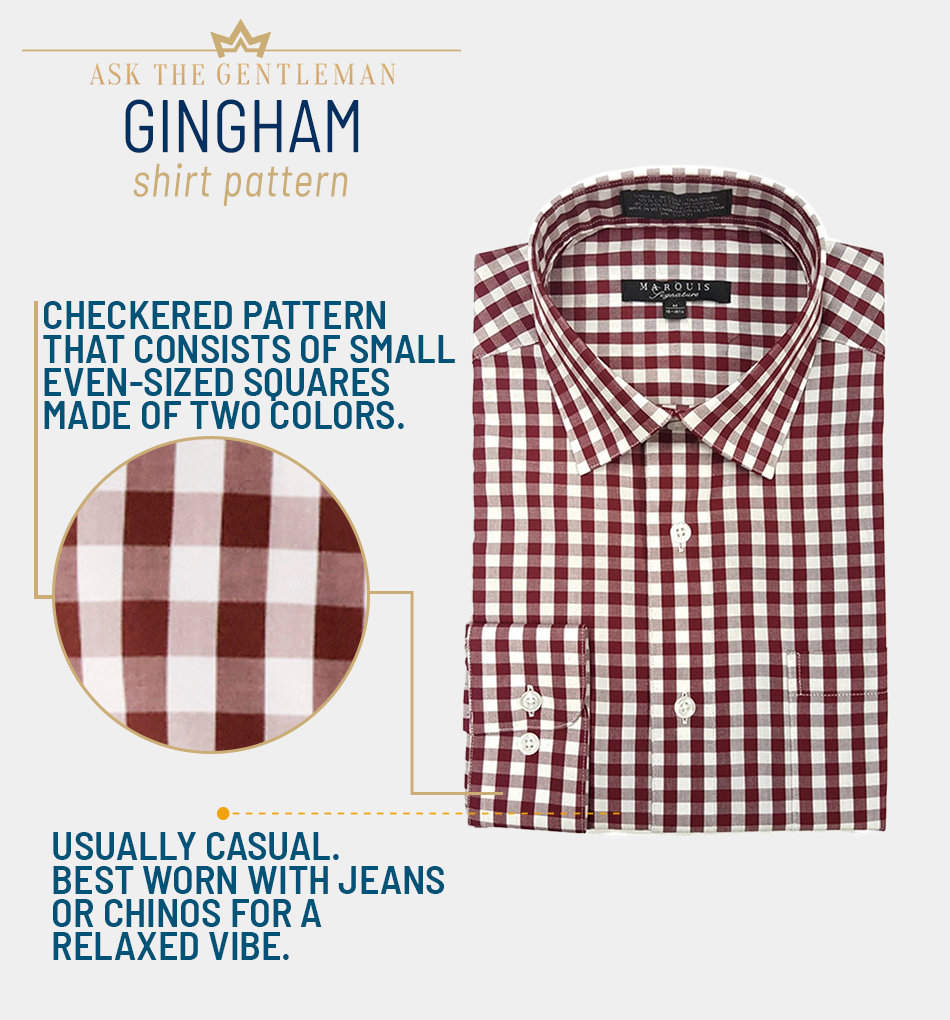 Tartan dress shirts feature criss-cross lines in different colors and thicknesses.
You would see a tartan shirt popularized as the "plaid" or the "flannel shirt" in the US.
Next on the list is the madras shirt. It's a flamboyant version of tartan that comes in lighter fabrics and pastel shades.
Owing to its summer vibes, madras shirts are always casual.
Different Dress Shirt Hem Styles
How many times have you looked at the dress shirt hem, and this impacted your purchase decision?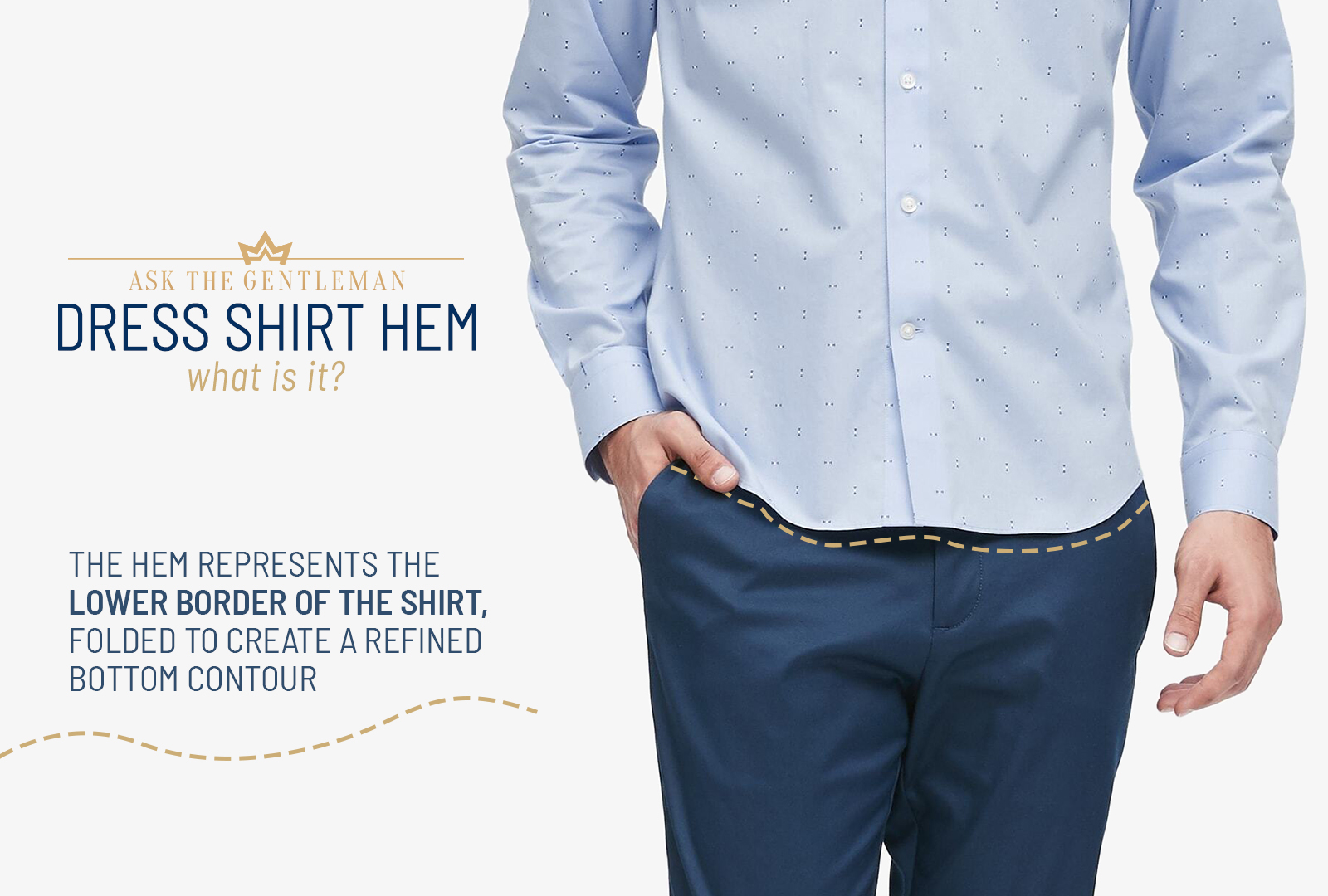 Almost never!
The shirt's hem will only matter for a few people, considering most dress shirts are tucked in.
But for those who pay attention, there is a lot to explore in this department.
The dress shirt hem can be straight. As indicated by the name, the hem of the shirt is cut in a straight line.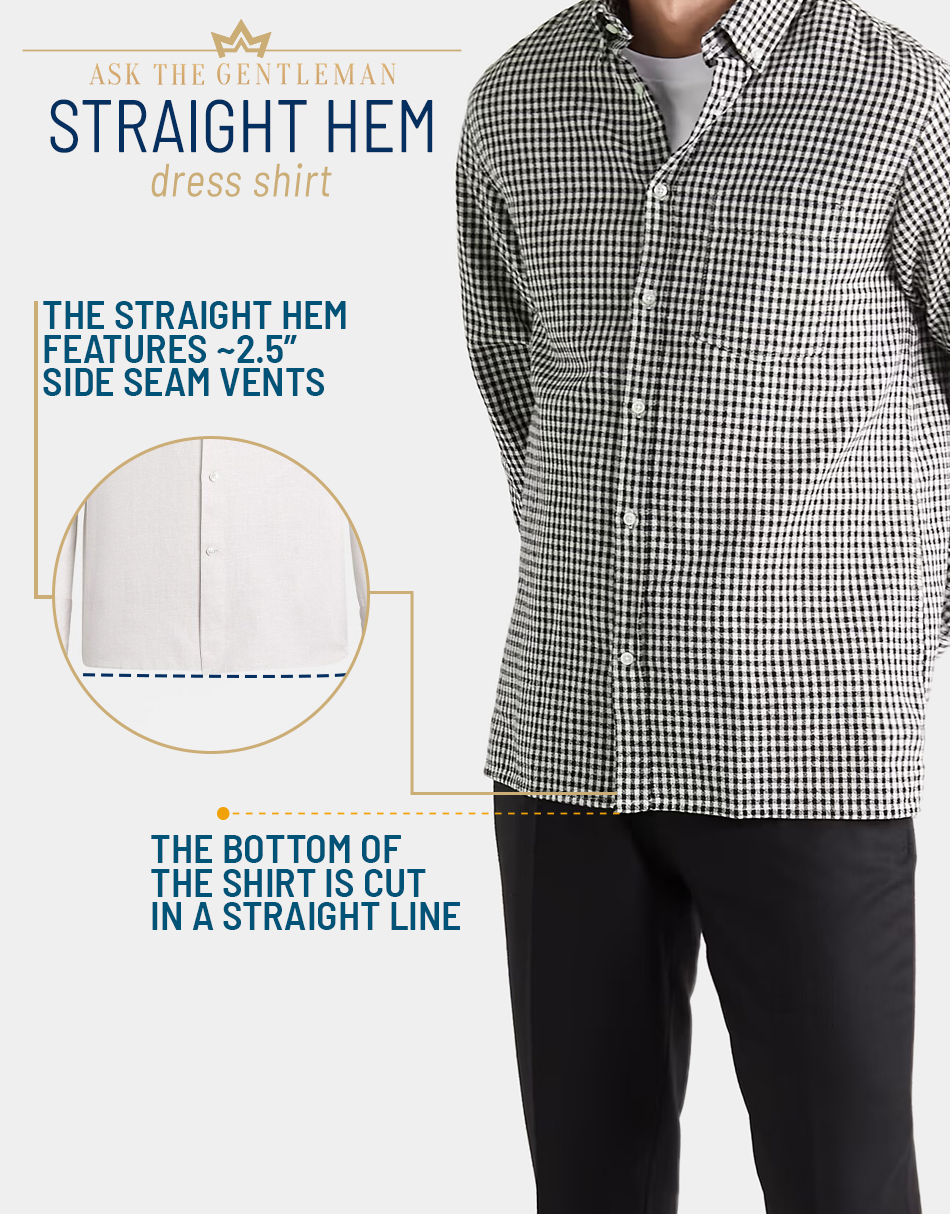 A straight hem allows you to wear the shirt untucked, especially for casual settings.
The other variation is a curved or rounded hem. Dress shirts with curved hems are typical for formal wear.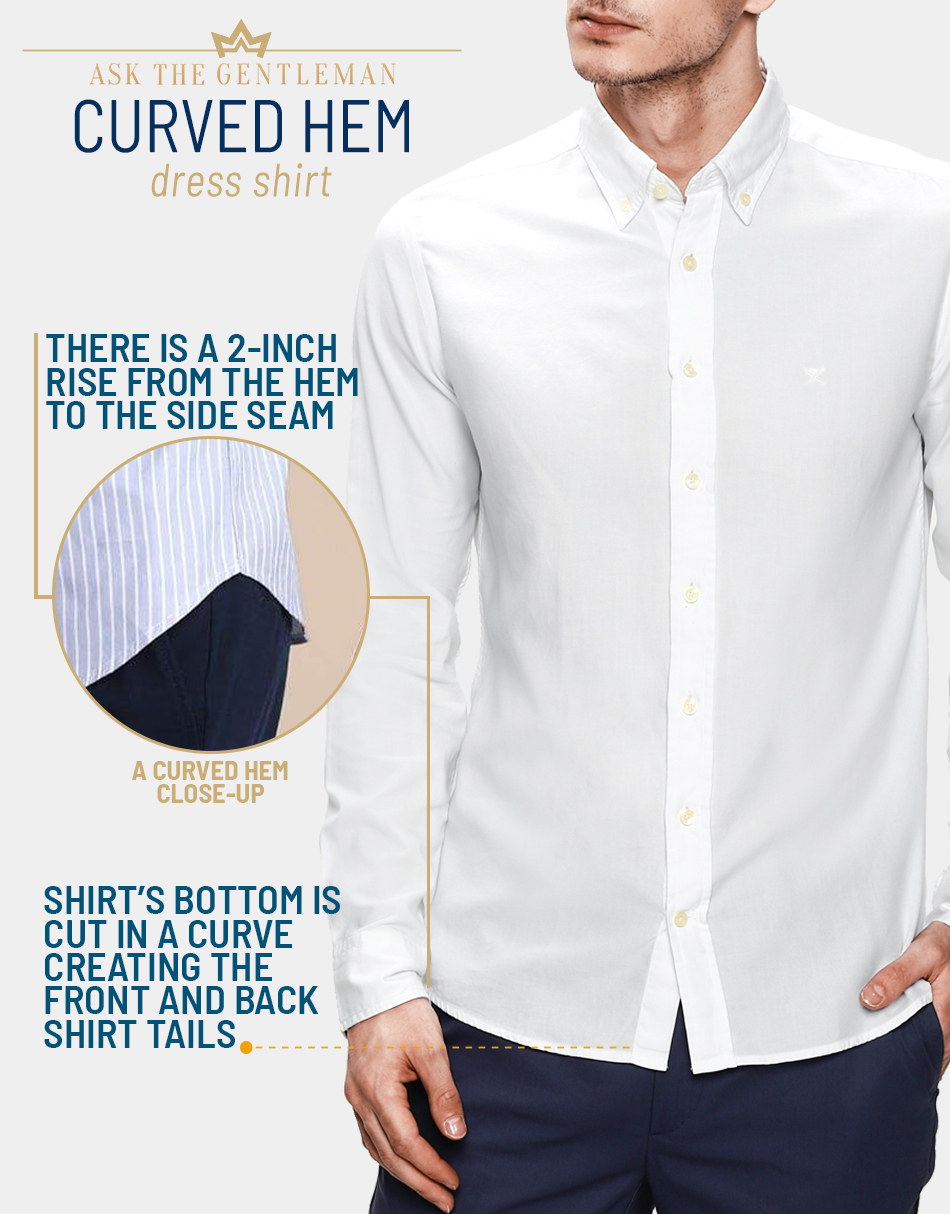 The curved hem has a 2-inch rise on each side of the shirt, creating a front and back tail.
A dress shirt with a curved hem stays tucked in without compromising any movement.
The polo shirt hem is also popular. Inspired by polo shirts, the back hem is an inch longer than the front.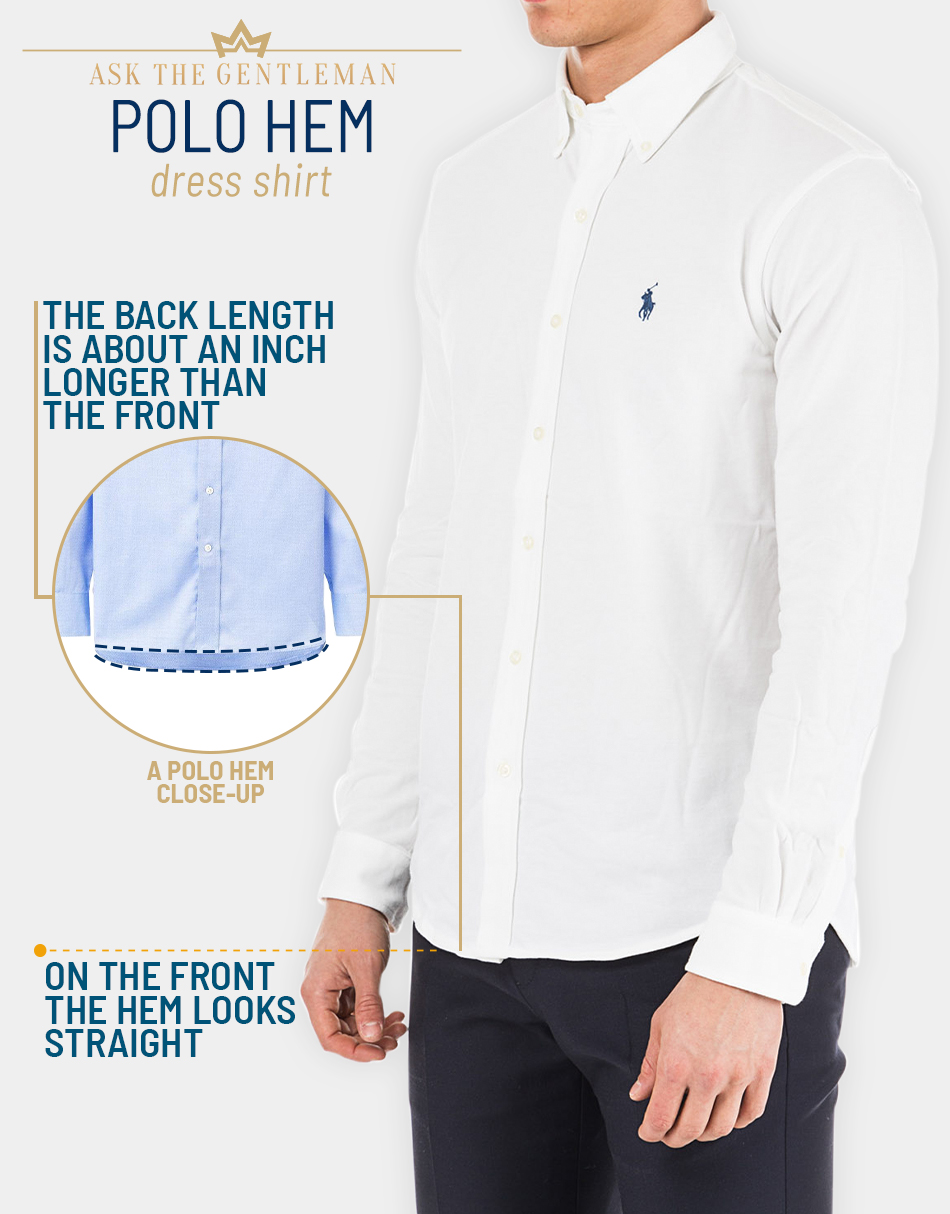 A polo hem dress shirt features a one-inch side vent. So, you can tuck in the shirt or go untucked; both will look proportionate.
A gusset hem is the last hem type among dress shirts.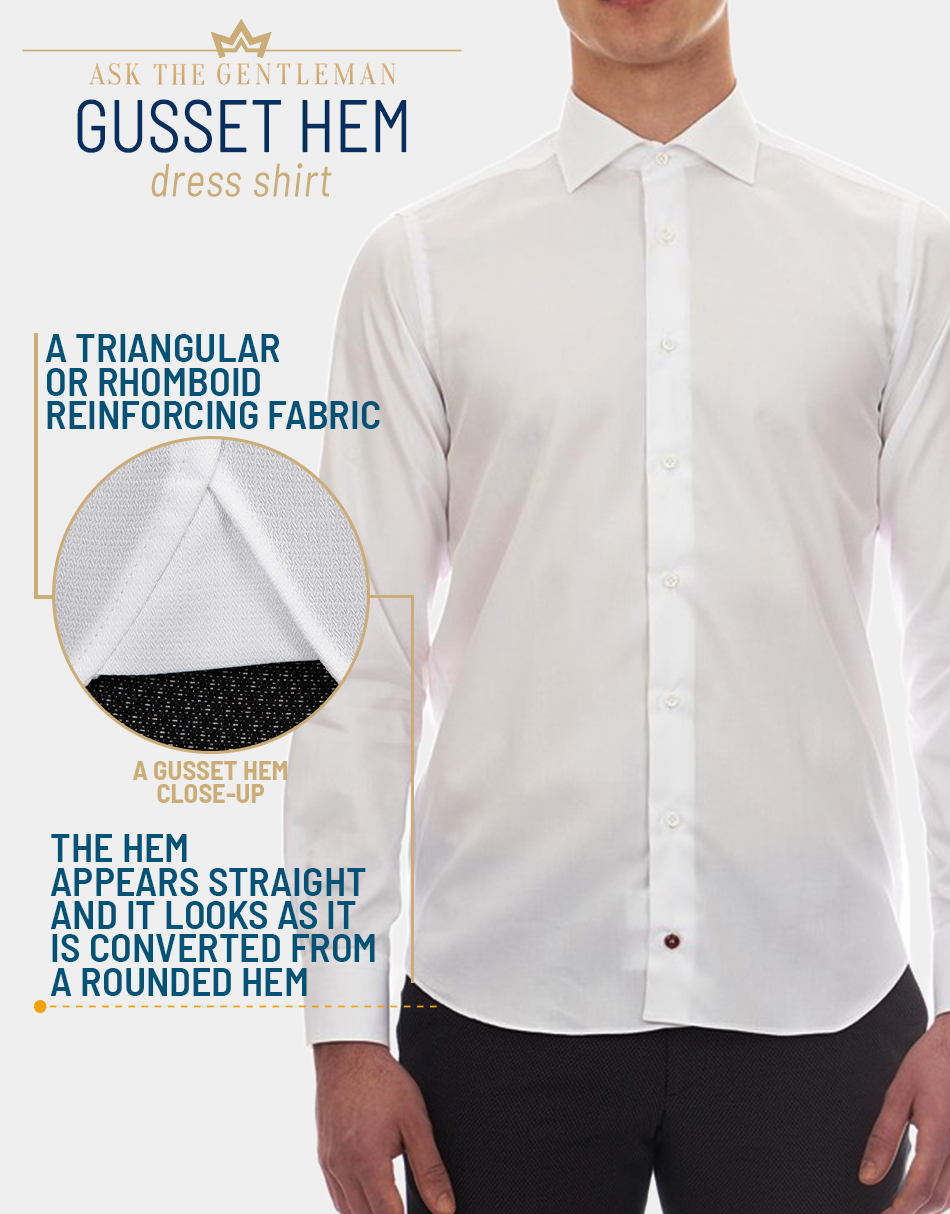 The hem has a piece of reinforced triangular fabric on the sides of the dress shirt.
So, the hem appears to be a mixture of straight and curved hem.
Dress Shirt Fronts & Placket Styles
The shirt's placket is the reinforced fabric in the center of a shirt that holds buttons.
The variation in the placket types brings out various dress shirt styles.
A front placket is the most common and effortless placket style.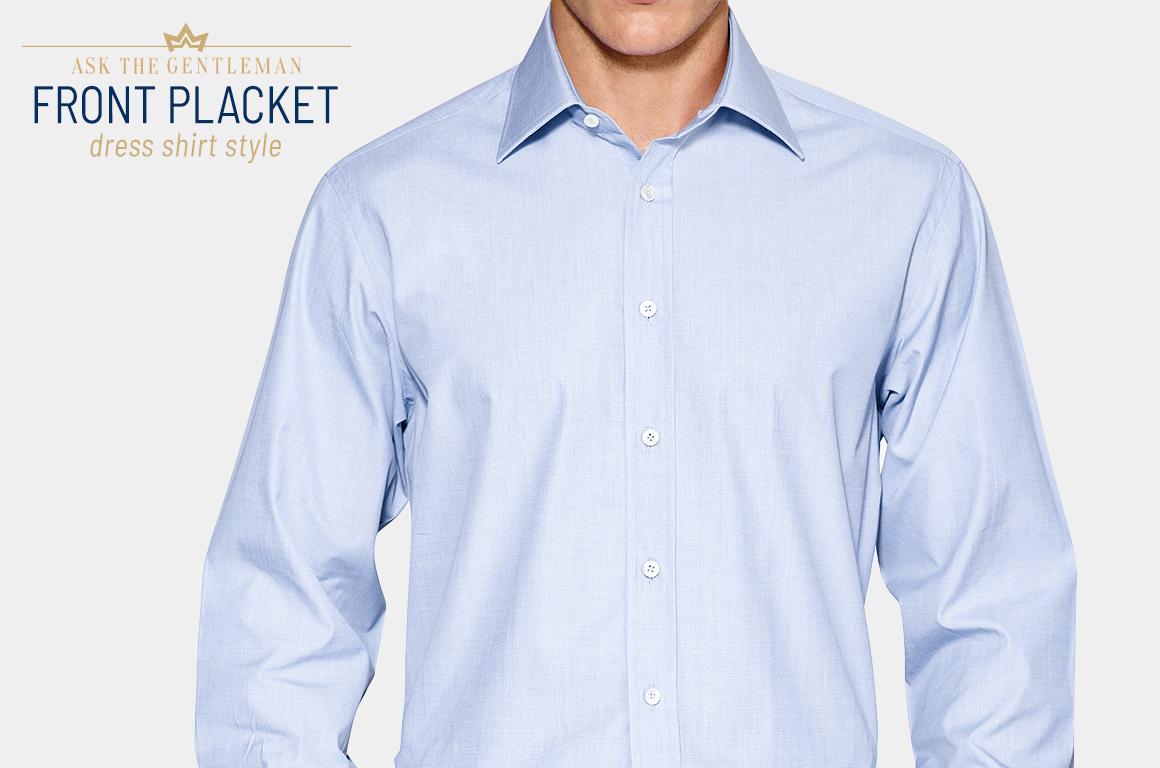 Multiple layers of fabric stiffen the placket, and buttons are visible. It's a typical style for business shirts you wear with a suit.
Contrary to this front placket, we have the french placket or the no front placket.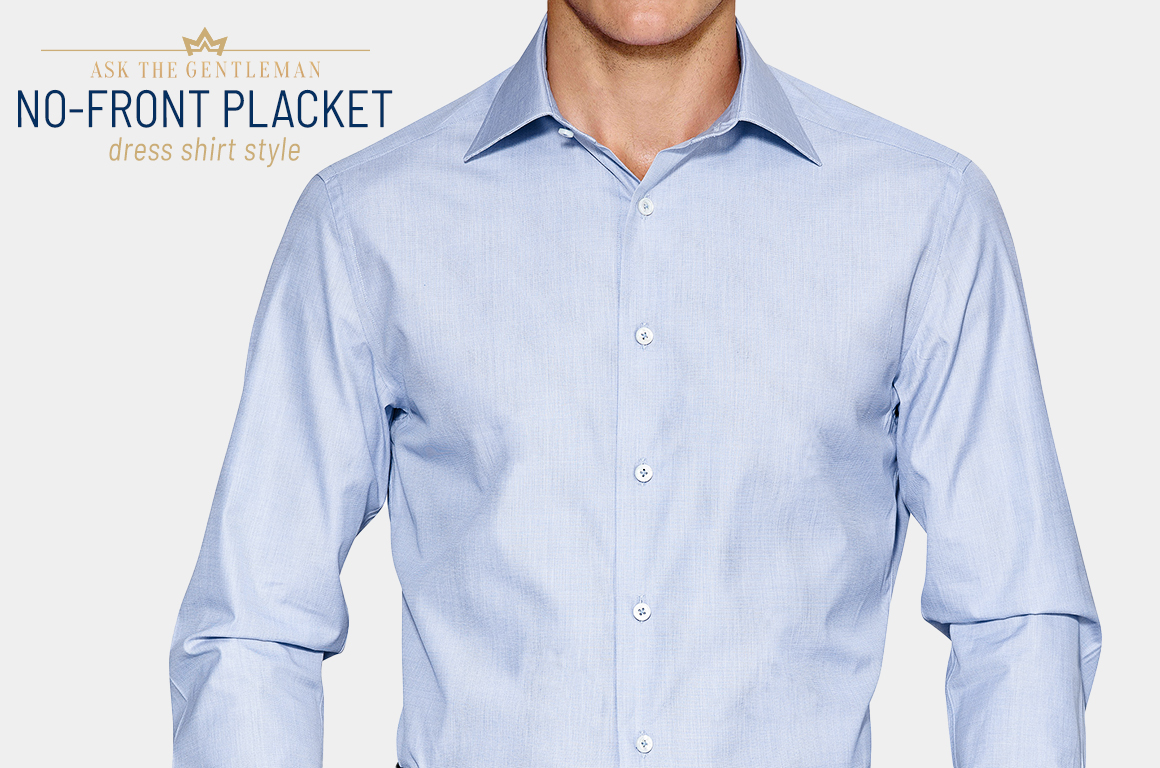 The formality is variable. No front placket, however, is appropriate for effortless elegance.
The third style is the fly-front placket. A separate piece of fabric covers the placket so that buttons are not visible.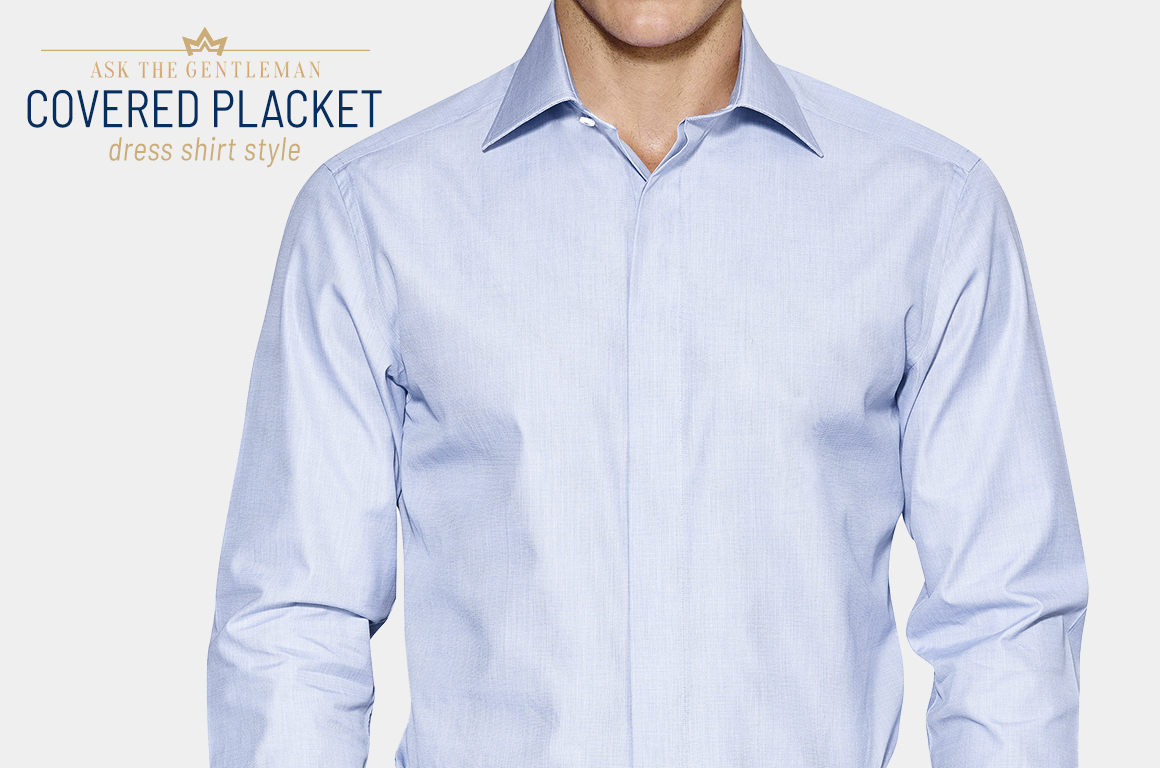 Hiding buttons elevates the formality of the shirt, making it tuxedo appropriate.
There is another shirt front called pleated placket which is the style mnemonic for a tuxedo shirt.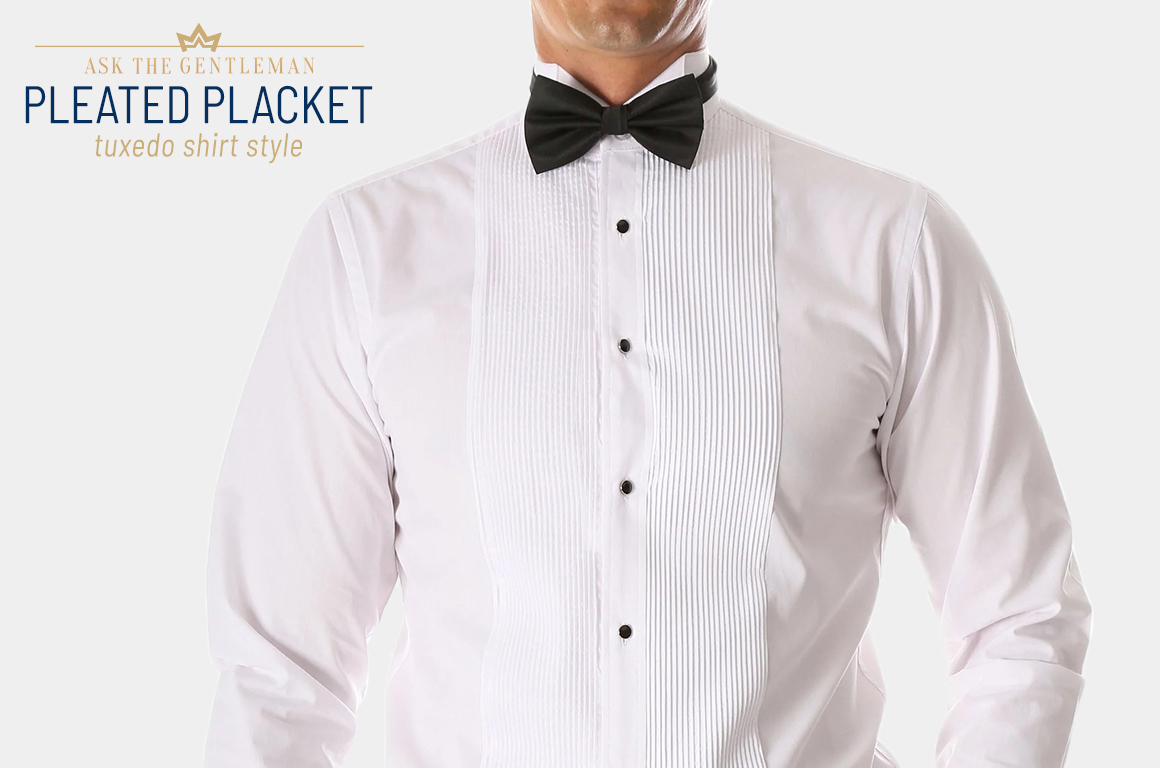 Pleats on the front represent both formality and refined sophistication.
The last is the pique bib dress shirt. The pique material is sewn separately onto the shirt, widening the placket.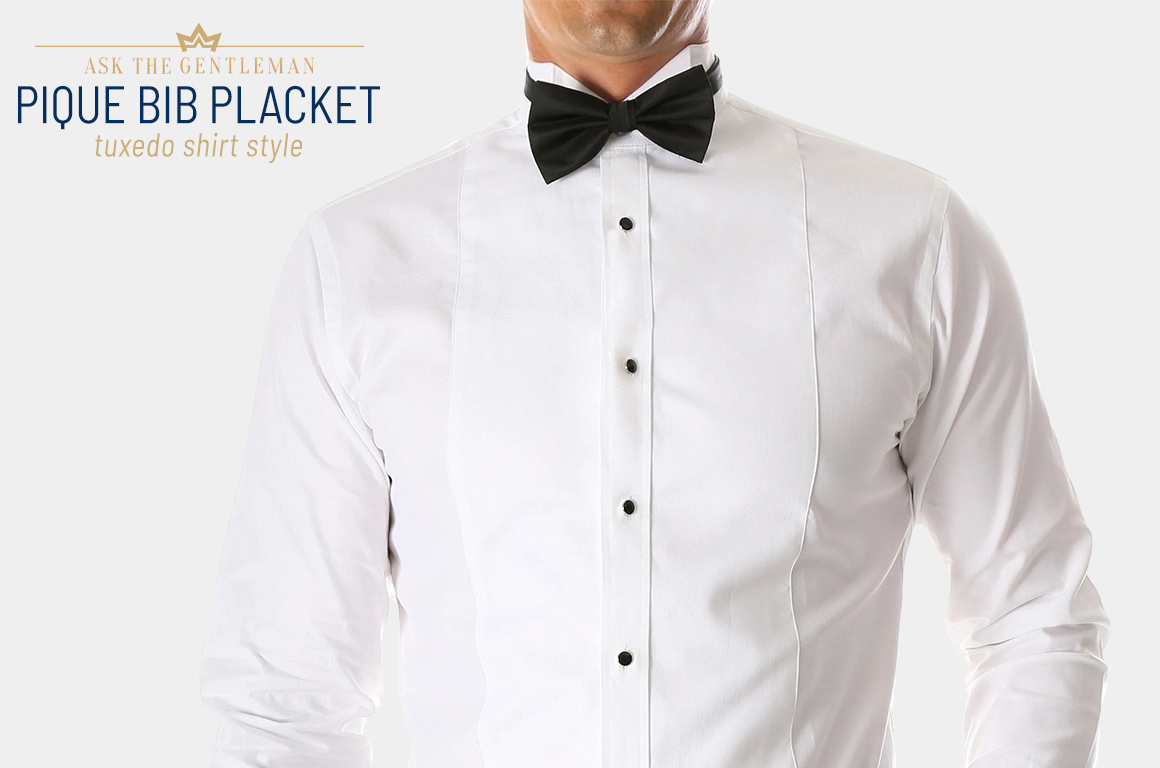 Pique bib shirt front is the most formal and black-tie dress code appropriate.
Dress Shirt Back Pleat Styles
Yes! There are variations among the back pleats styles too.
And although many gentlemen notice those back pleats, these are rarely discussed.
No pleats are obviously the first style. The pleat-less back is responsible for providing simplicity and sleekness to the shirt.
The side back pleats (or "knife pleats") feature a pleat around half-inch wide at both sides, giving some extra room in the chest.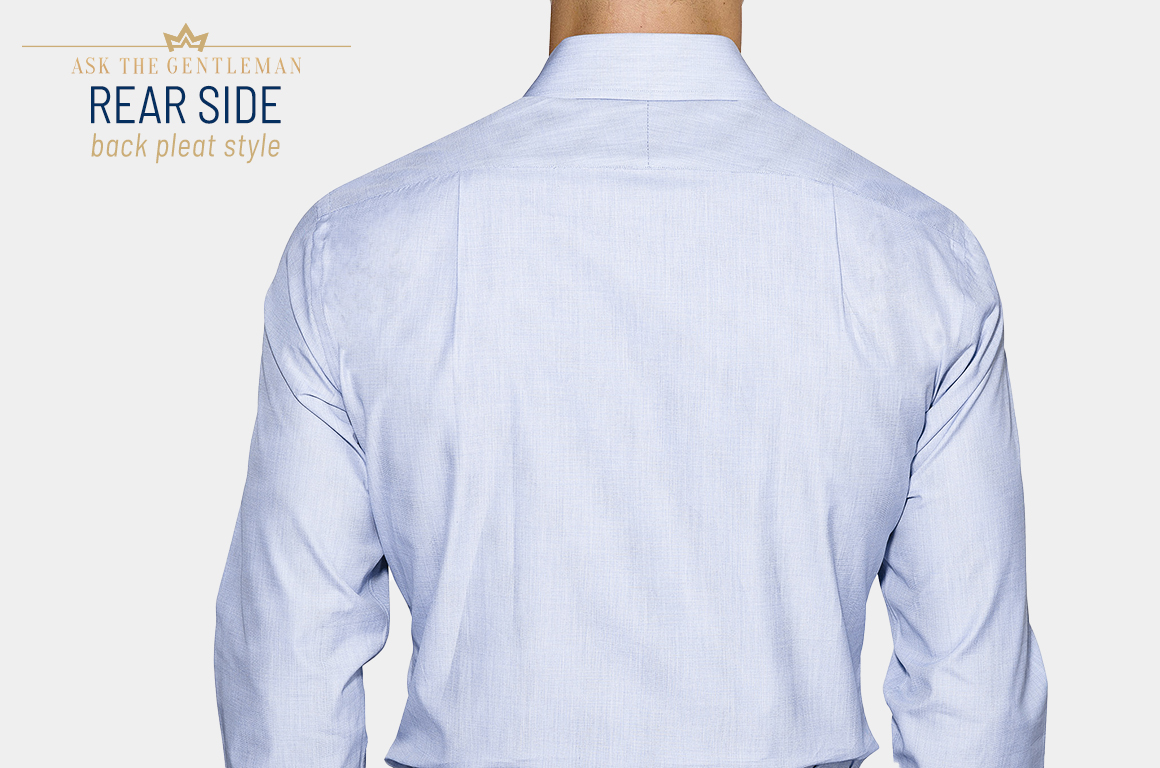 Side back pleats are relatively common. You would see them with most off-the-rack dress shirts.
The center box pleat has two folds that arise from the center yolk and form a square adding ¾" to the shirt width.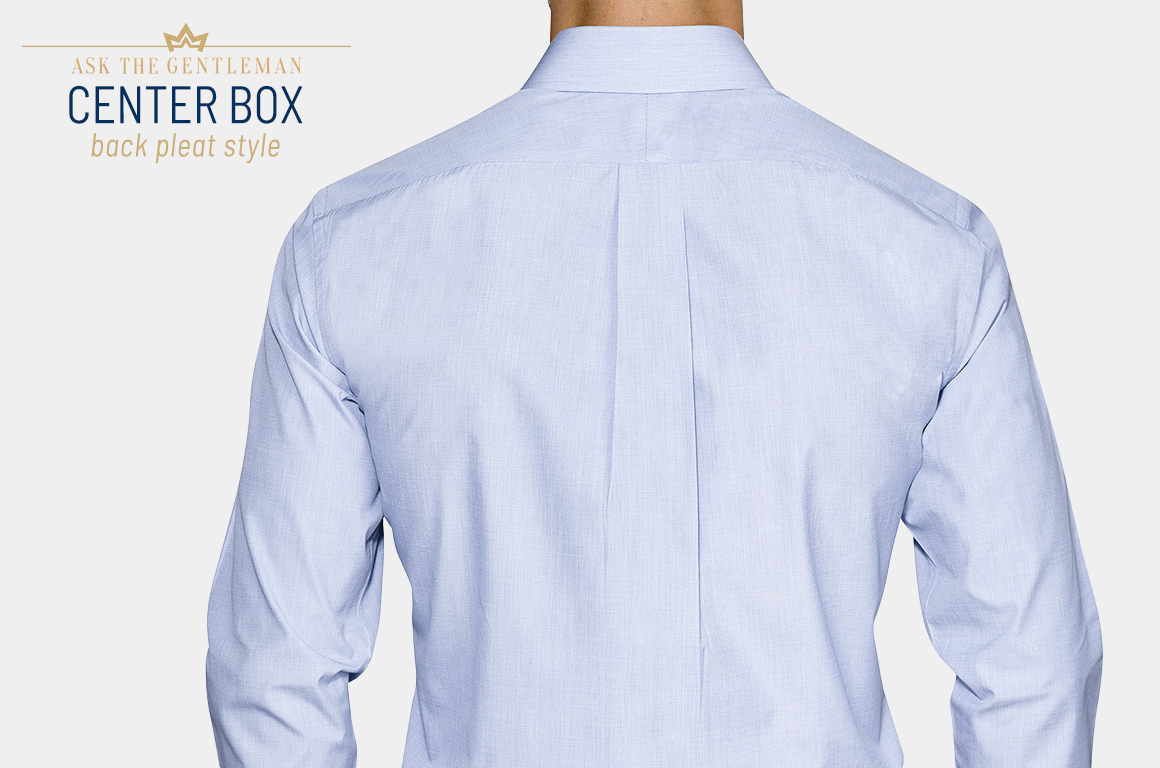 A center yolk is also a fairly common style, especially among everyday wear business-casual shirts.
Finally, dart pleats take out excess fabric, narrowing your lumbar area.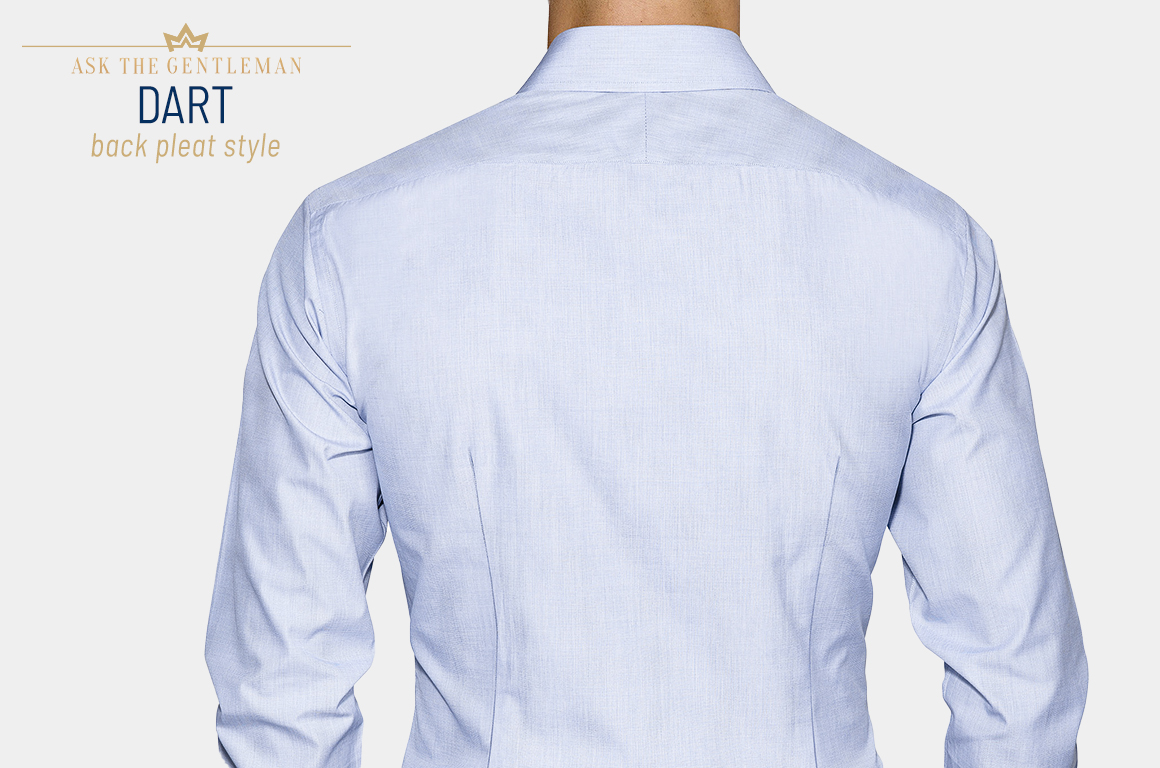 Dark pleats are characteristic of slim-fit shirts. If you ask tailors to take in the baggy lower section, they could add dart pleats for a slimming effect.
Other Dress Shirt Style Details
Most dress shirt details are kind of big deals.
It means preferring one detail over another would depict a completely different style.
These details don't change the looks altogether but refine them by adding calmness or elegance.
Pocket vs. No Pocket Dress Shirt Style
Many shirts have a front pocket over the left chest. The pocket is less practical than its decorative.
Nevertheless, a dress shirt pocket can be handy in business-casual office attire.
These days, more gentlemen incline towards a no-pocket shirt style due to a clean look. Also, it's a somewhat more formal style.
The front shirt pocket would add interest to the design but is somewhat casual.
Business dress shirts can have a front pocket but not formal tuxedo shirts.
Different Button Styles
Many gentlemen overlook their dress shirt buttons. However, others consider it an expression of personality.
The standard style is to have simple plastic buttons. Plastic buttons are a reliable yet modest option.
The mother-of-pearl buttons depict exquisite and luxurious fashion. These buttons mark a cultured style for the cost of money.
Formal shirts with pleated or pique fronts can have studs instead of buttons.
These studs are the fancy way to fasten the shirt while staying within the formal dress code spectrum.
Personalization & Monograms
Customizing the dress shirt in line with your style is usually done if you order a made-to-measure or bespoke shirt.
Personalization is usually subjective by adding specific features or designs.
Adding monograms, however, provides a more purposeful personalization.
For example, monograms could include displaying your initials or adding a specific date or nickname.
Openly showing a monogram or keeping it subtle is a personal preference.