You'll see different suit styles in most brand stores, from suit cuts to fabrics and jacket features.
But what defines these styles?
And how can you incorporate some best practices to look your absolute best?
Suit Fit Types
You can only mess with some essential elements in the suit's fit.
But flawless jacket closure, the shoulders, appropriate pants length, and other related stuff are standard.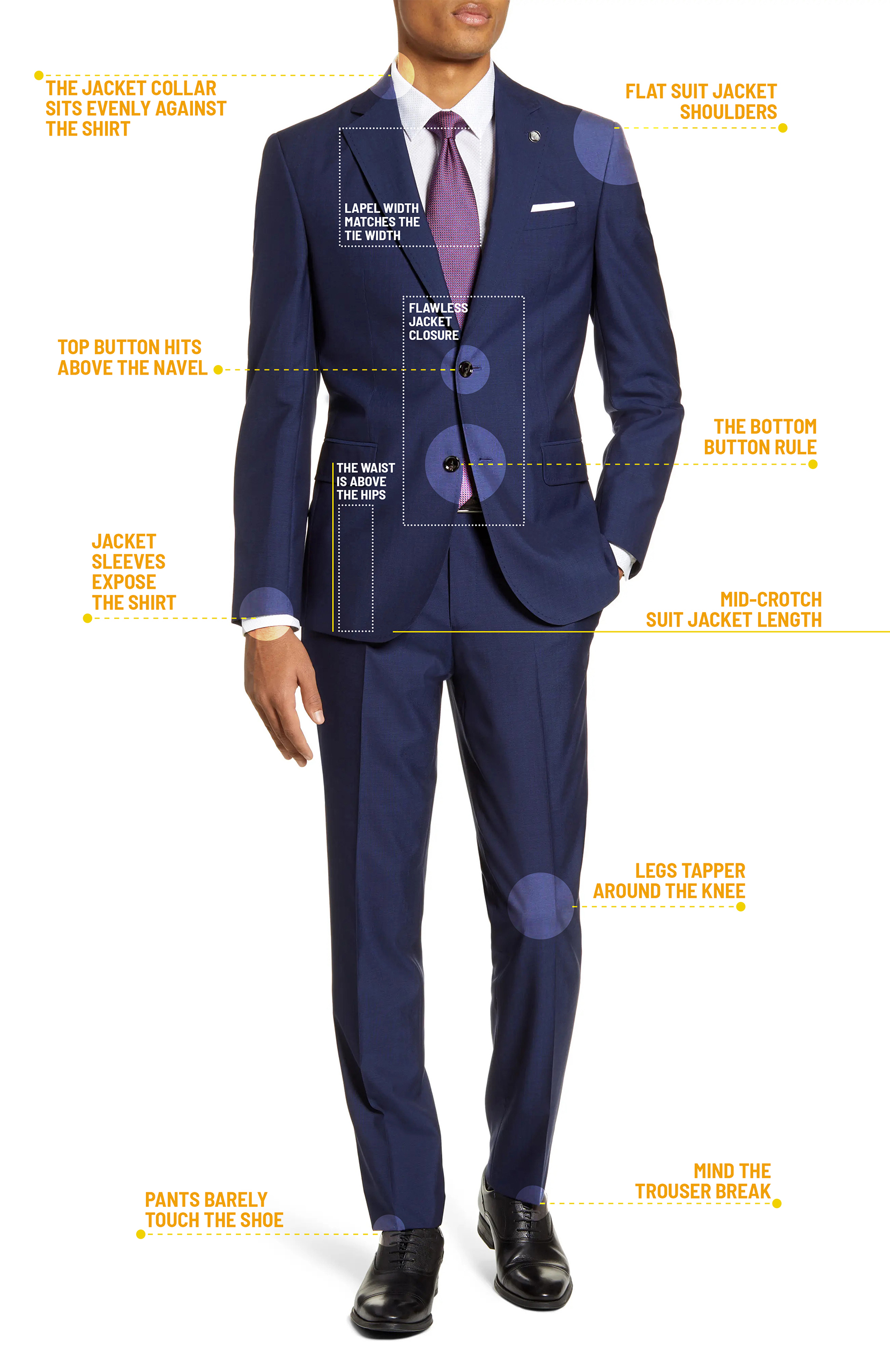 I call these definite rules that dictate how you'll look and feel.
While other things are subject to change with suit styles and trends. The most significant of these is the suit cut.
This suit cut eventually guides different suit fit types. So it's more of a style choice than the actual fit.
Slim Fit Suit
Slim-fit suits are trimmed, flattering, and contemporary. The jacket's shoulders lay flat; armholes are high with a tapered waist.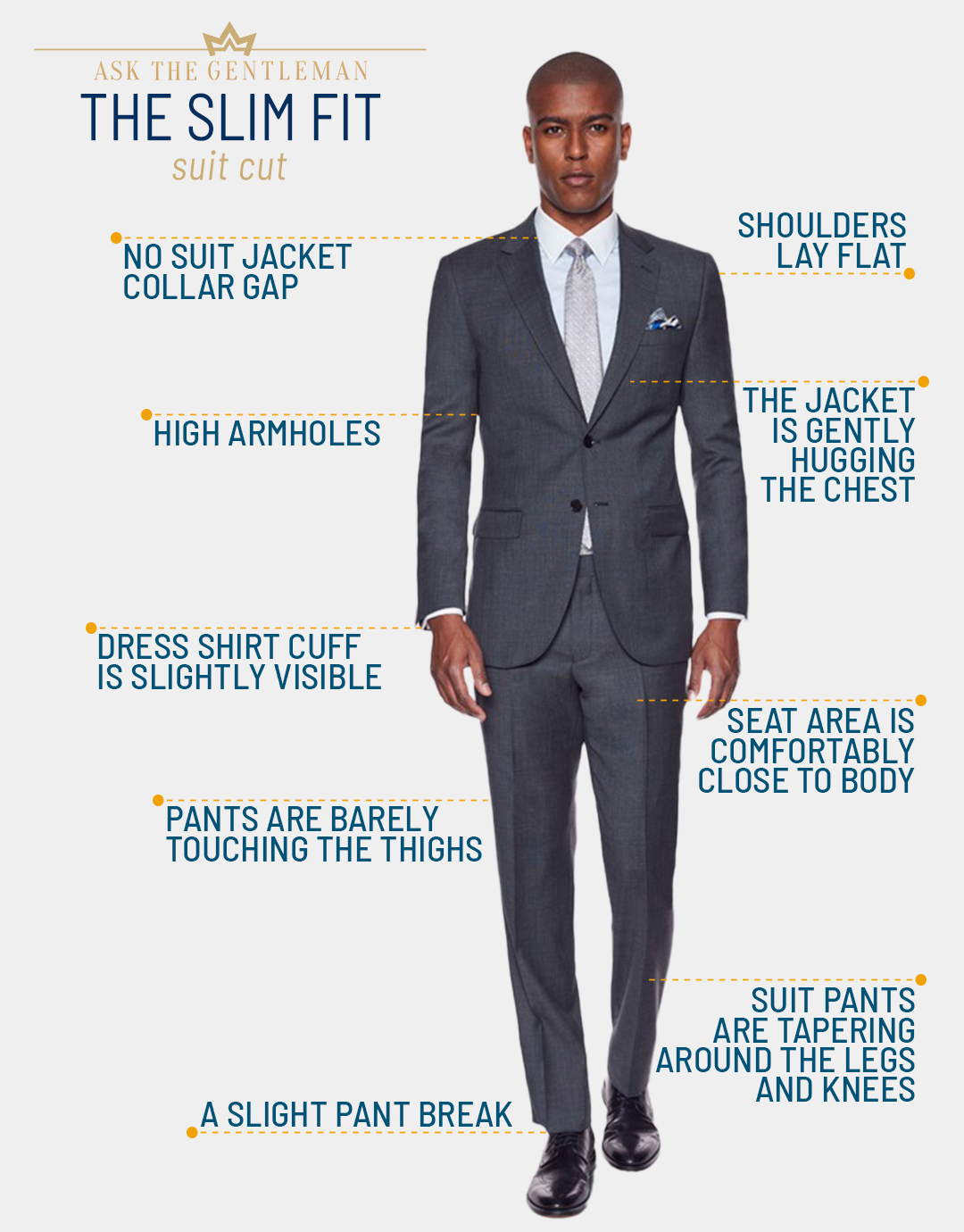 The pants are precisely tapered, too, without constricting movements. And you get great comfort.
Additionally, this cut suits many body types. Most body types can look good in a slim-fit suit, from a slender build to an athletic body.
With modern styling, the slim-fit cut initial regards were of less-formal style suits.
But now it is a trendy cut, and gentlemen style it as business wear.
Classic Fit Suit
This classic-fit suit style features a relaxed cut with traditional styling, thus the name "classic."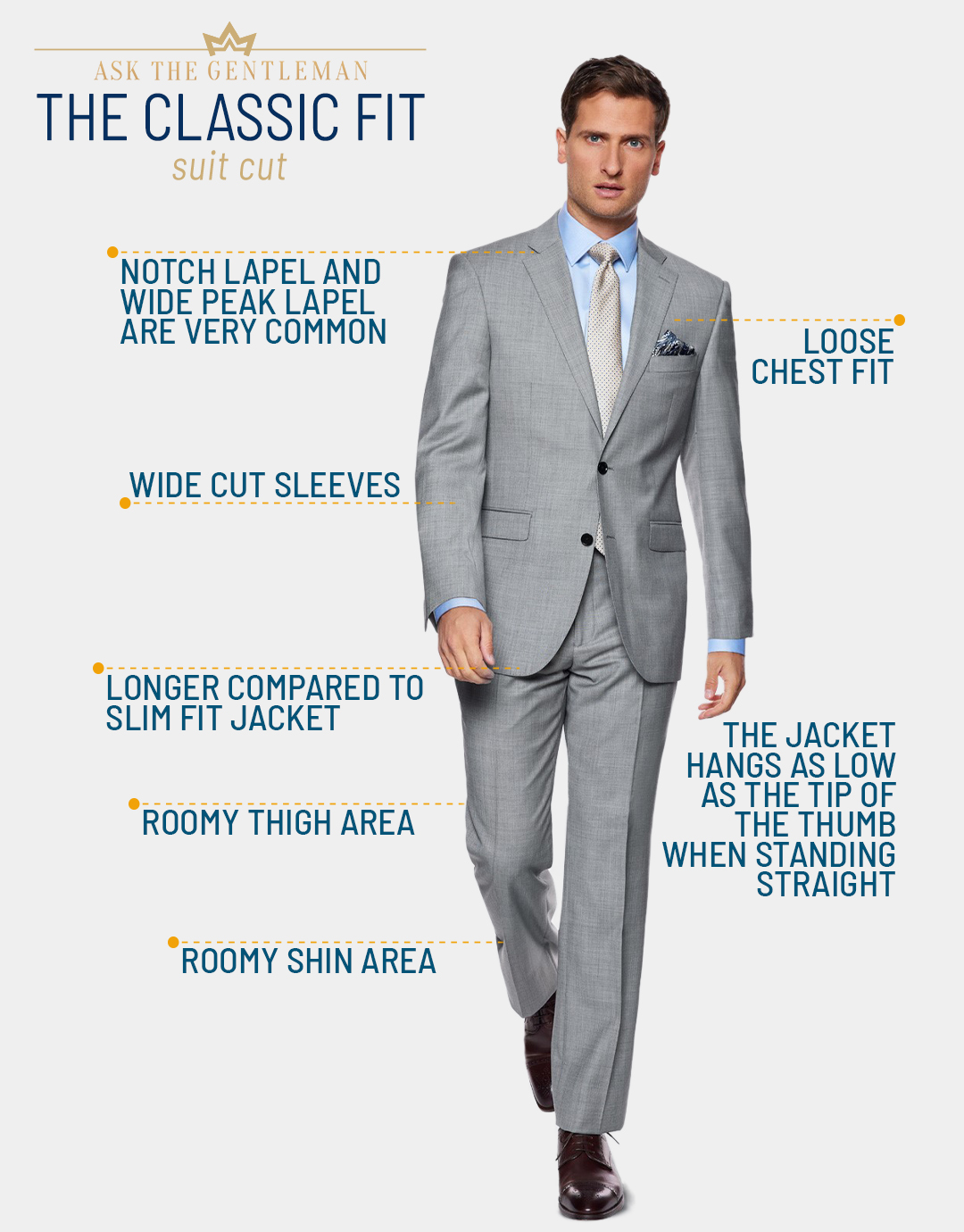 It's versatile and offers timeless looks layered with comfort and breathability.
So, it's an appropriate suit style for everyday office wear to the most formal of your events.
And as separates, it could be a part of your business-casual attire.
Classic fit suits are also great for layering. It will be relaxed but never sloppy.
Modern Fit Suit
The blend of classic elegance with tapering silhouette results in a modern-fit suit.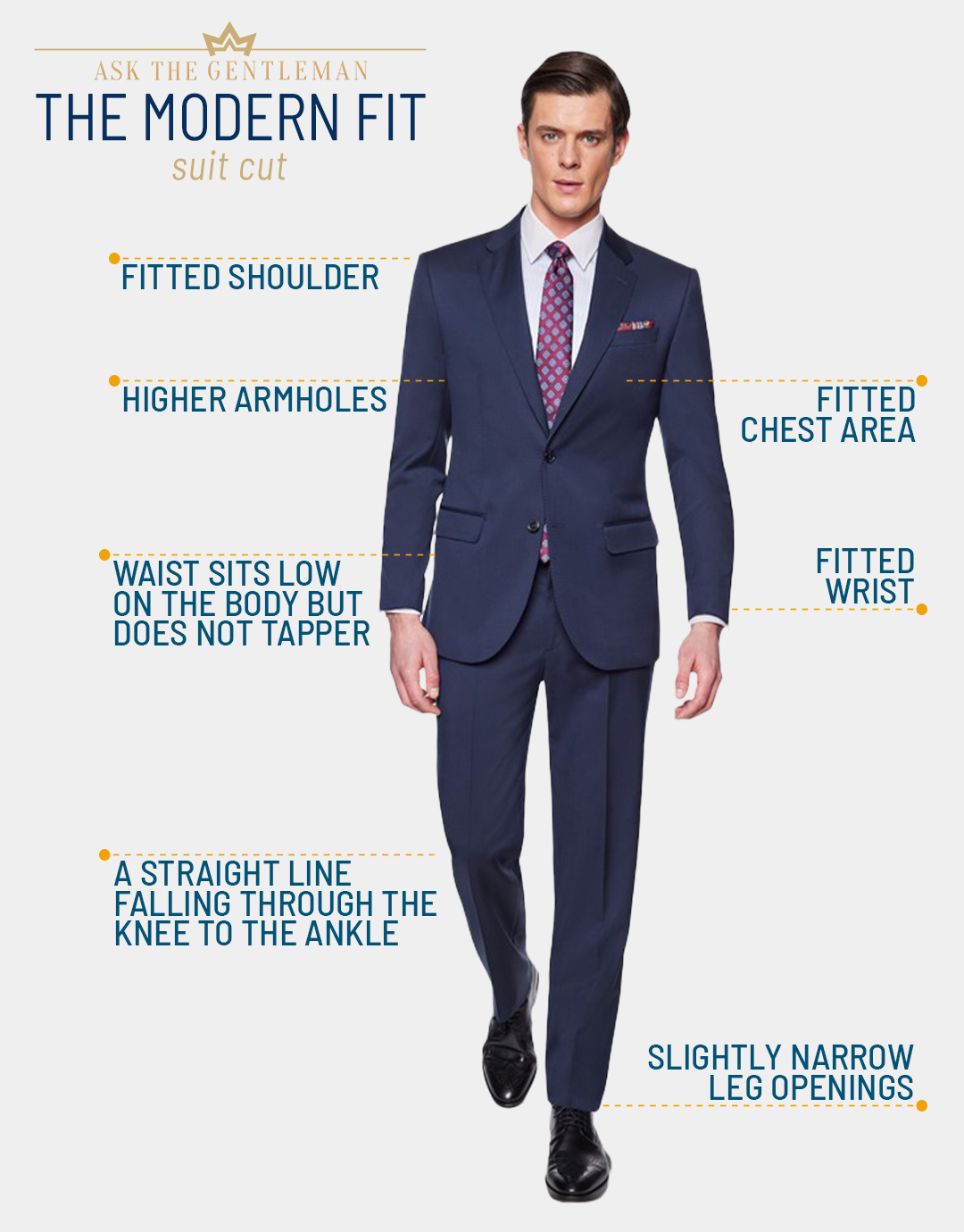 The cut has appropriate room for movement without the drape feeling clingy. Plus, it's versatile and will flatter almost every body type.
So, if you can't determine between classic and slim fit, a modern fit suit can be a reliable choice.
You'll look classic while adhering to a contemporary style.
Single-Breasted vs. Double-Breasted Suit Style
Single and double-breasted suit styles can differ based on style and formality.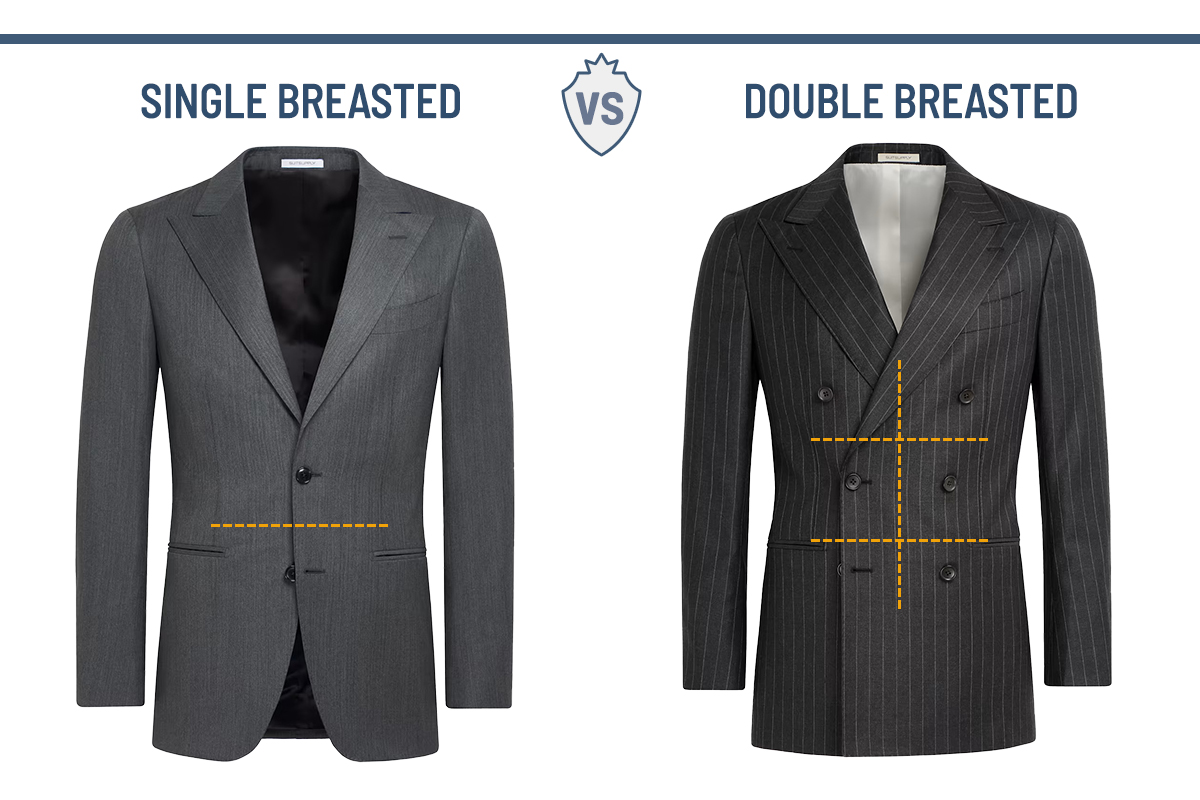 In regards to suit style, the jacket closure is the main difference.
The jacket button placement also contributes to the variation.
When it comes to single-breasted suits, the two-button single-breasted ones are the most common.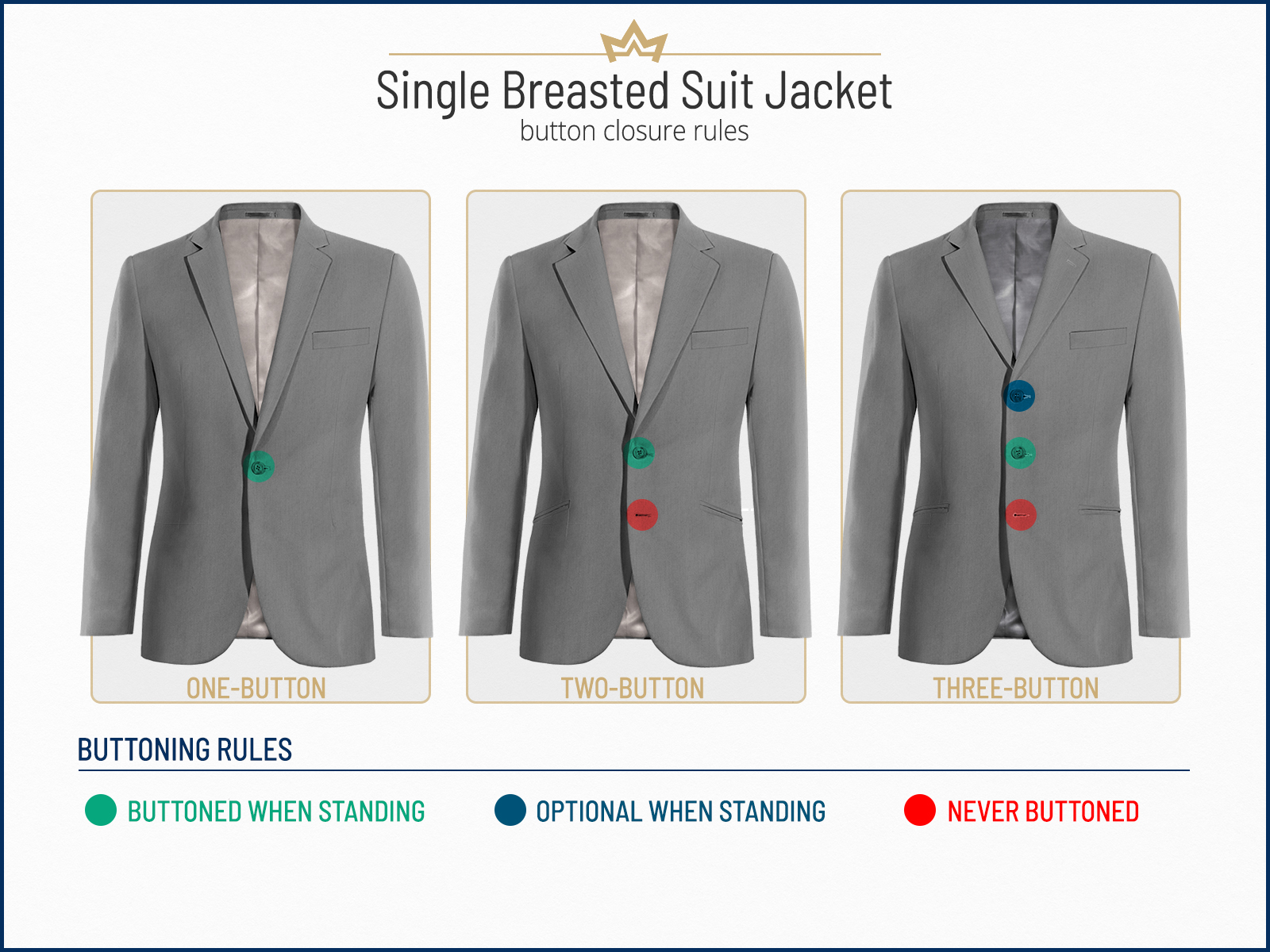 On the other hand, the six-button jacket with two fasteners (6×2) is the most trendy double-breasted suit.
With reference to formality, double-breasted is a more formal suit style.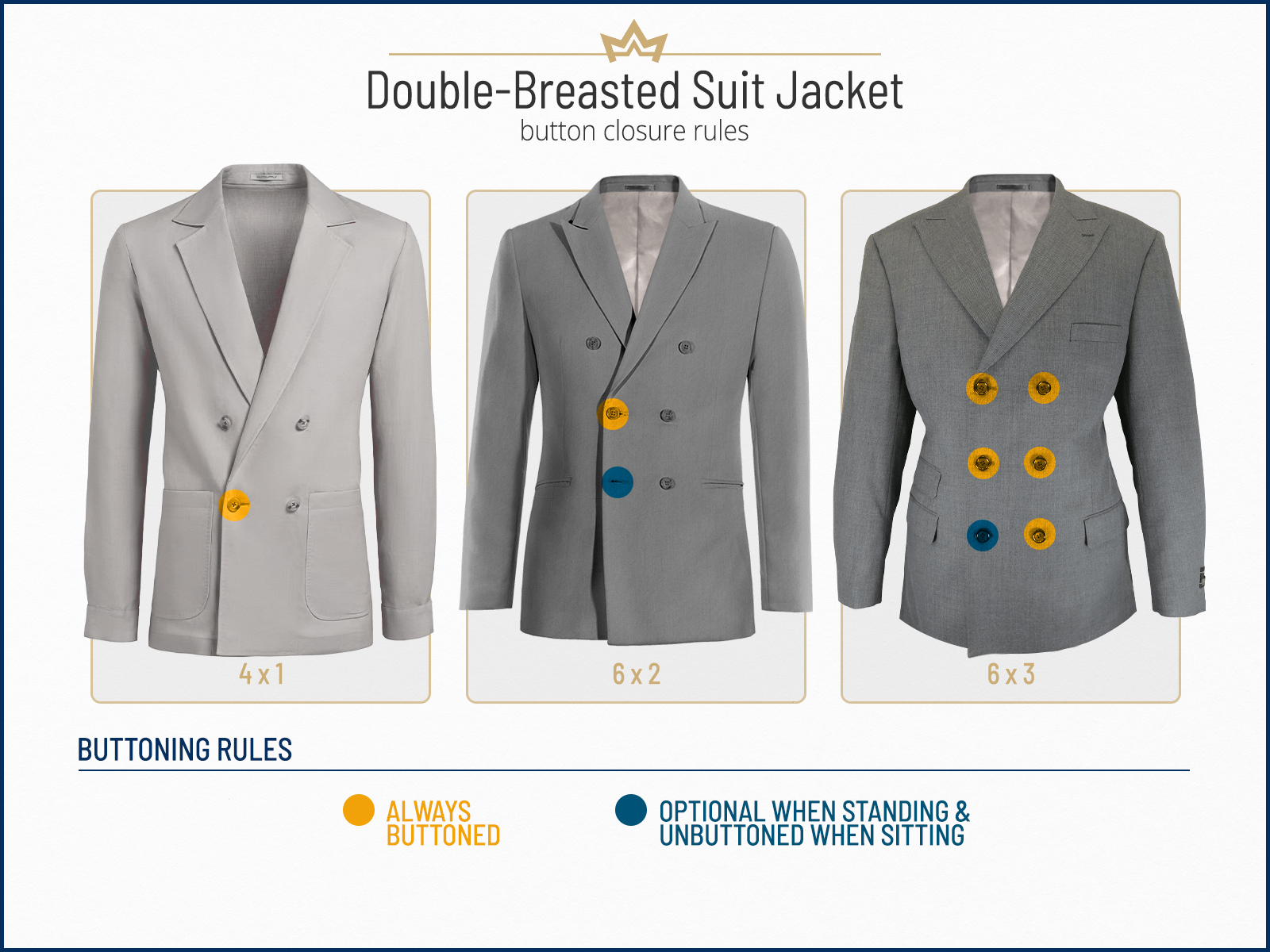 It works best for formal dress codes and semi-formal outfits when called for elegance.
In comparison, a single-breasted suit is more versatile.
From an everyday office look to a relaxed suited impression, you can wear it anytime, anywhere.
Notch vs. Shawl vs. Peak Lapel
Suit lapels are the folds of fabric below the collar forming the jacket's front.
On their own, lapels might not seem a deciding factor in buying a suit. But with other details, it becomes one of the suit styling essentials.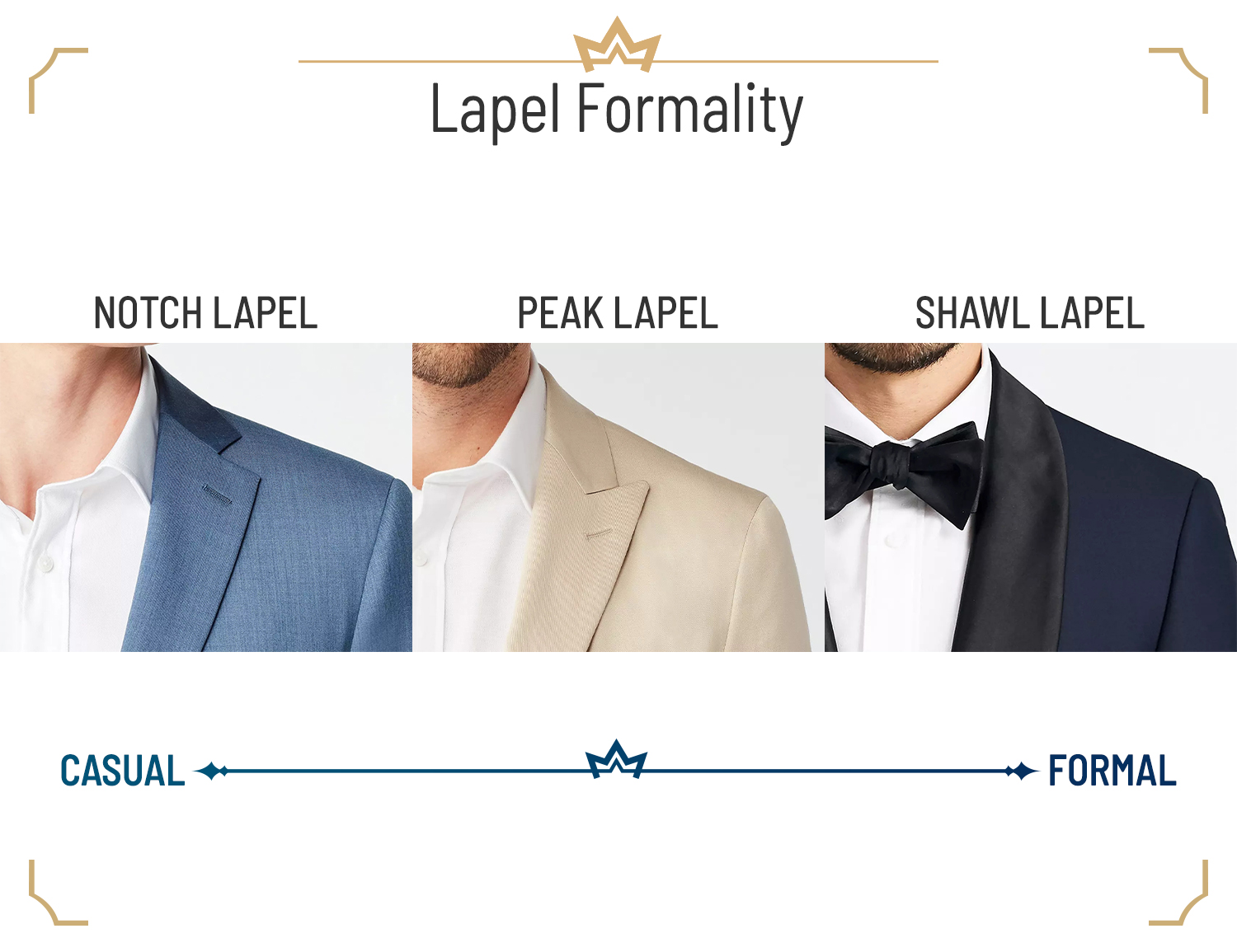 The lapels can be of different shapes and sizes.
The most ubiquitous is the notched lapel, with a v-shape notch between the lapels and the collar.
It's appropriate for single-breasted business suits, blazers, and sport coats.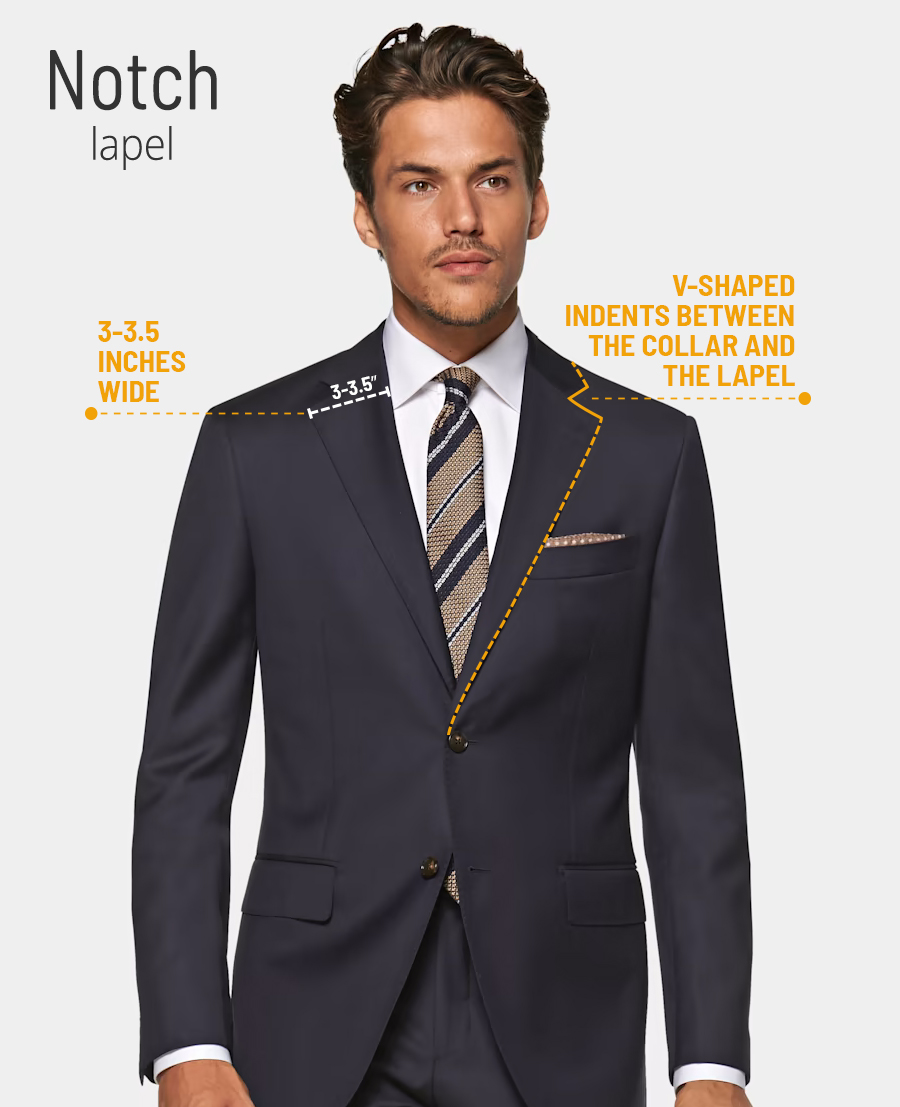 Plus, you can dress it up or down for your formal and casual looks.
When in doubt, choose a notch lapel, which will always be appropriate. However, make sure to match the notch size with the lapel width.
The other lapel variation is the peak lapel. Here, the lapels go beyond the collar, creating peaks.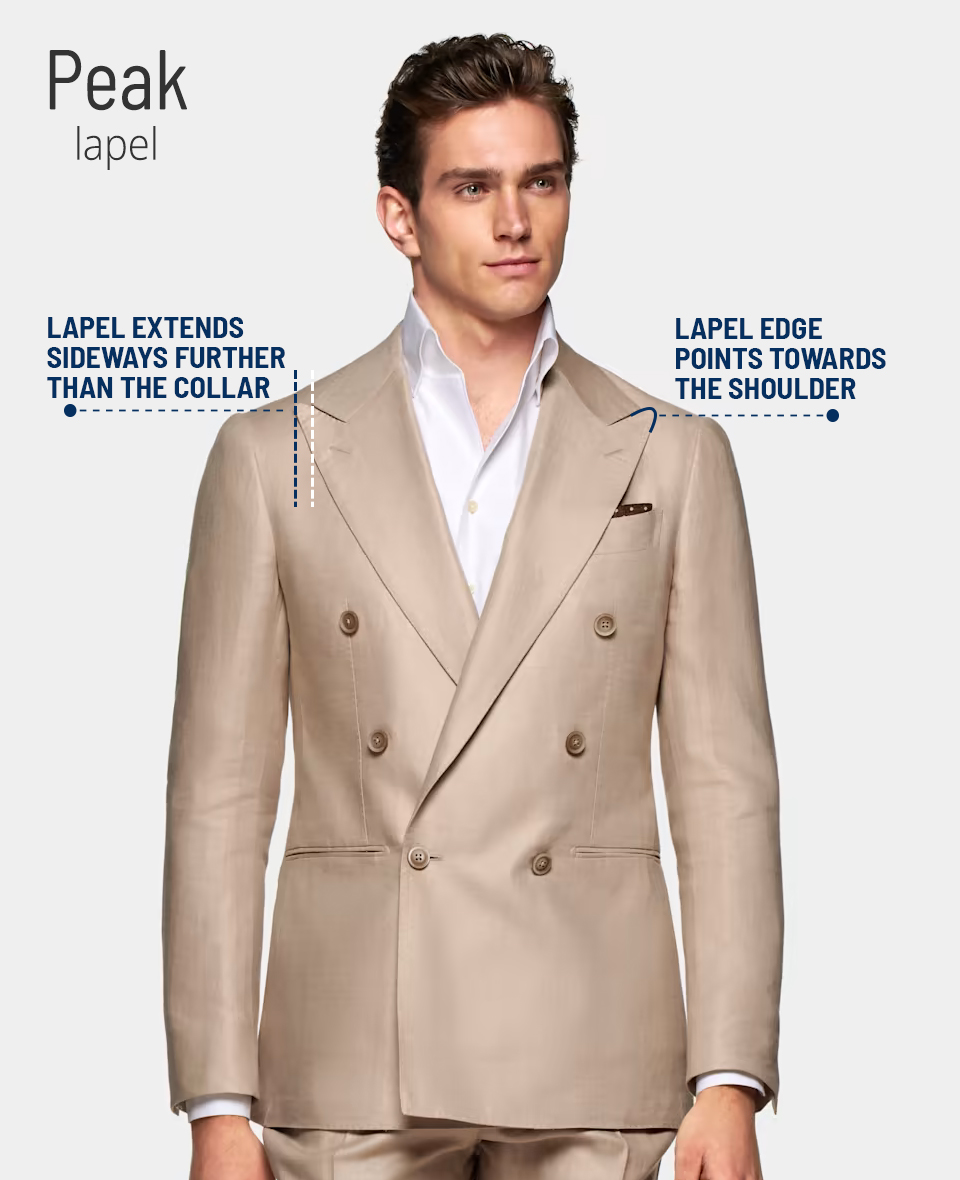 It's the most formal lapel style in double-breasted and other formal suits.
Even with a single-breasted suit, a peak lapel will create a powerful suited look.
The shawl lapel is the last lapel style. It's a lapel style usually seen on a tuxedo.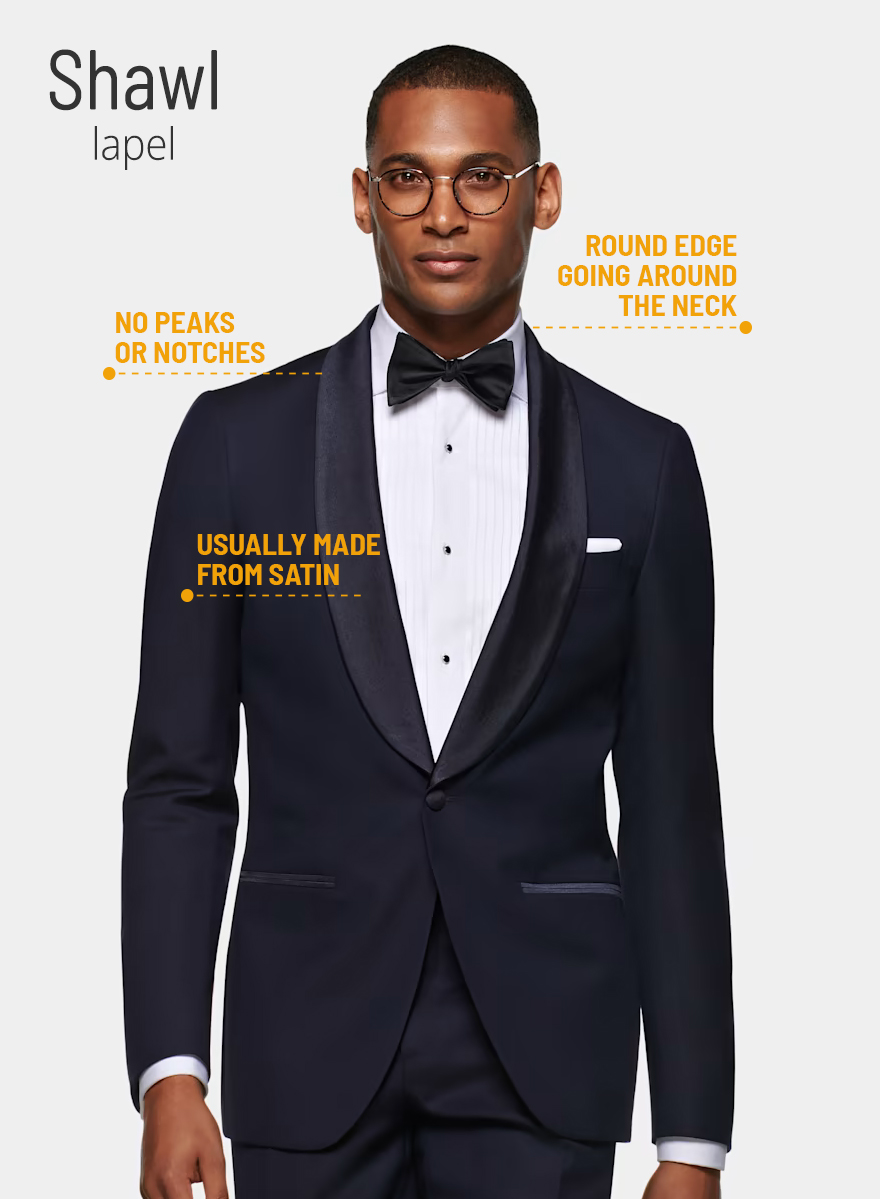 Here, the collar and lapel join as a continuous curve without breaks.
The rule of thumb for lapel width is that wide lapels are traditional, while narrow lapels are trendy.
However, the safe option is to choose lapels that are neither too narrow nor overly wide.
The 3 to 3.5-inch notch lapels and 3.5 to 4.5-inch peak lapels are ideal.
Differences in Suit Fabrics
The suit, made from exclusive materials, would be breathable, drape well, and provide the utmost comfort.
So, choosing a high-quality suit fabric is essential. Additionally, it's best to go with natural fabrics.
Wool, for example, is the most natural and standard suit fabric.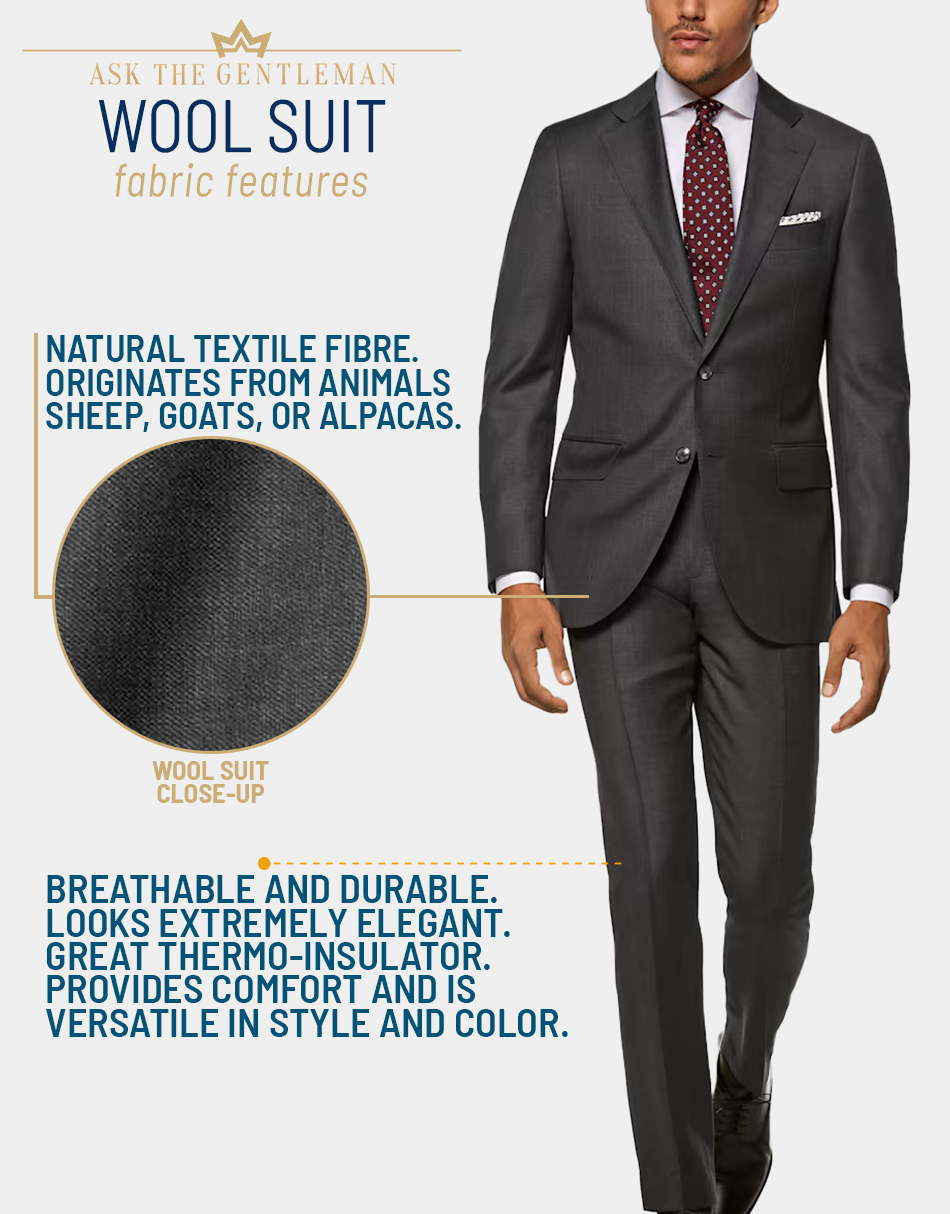 When considering the wool fineness number, the sweet spot is usually around the super 120s-150s.
Cashmere is a premium and luxurious suit fabric. Its blend with wool is excellent for year-round use.
Tweed is another great suit fabric. It's natural and an excellent temperature regulator.
However, it's only best for colder months and formal events.
Cotton is popular as well. It's best for semi-formal and casual suits.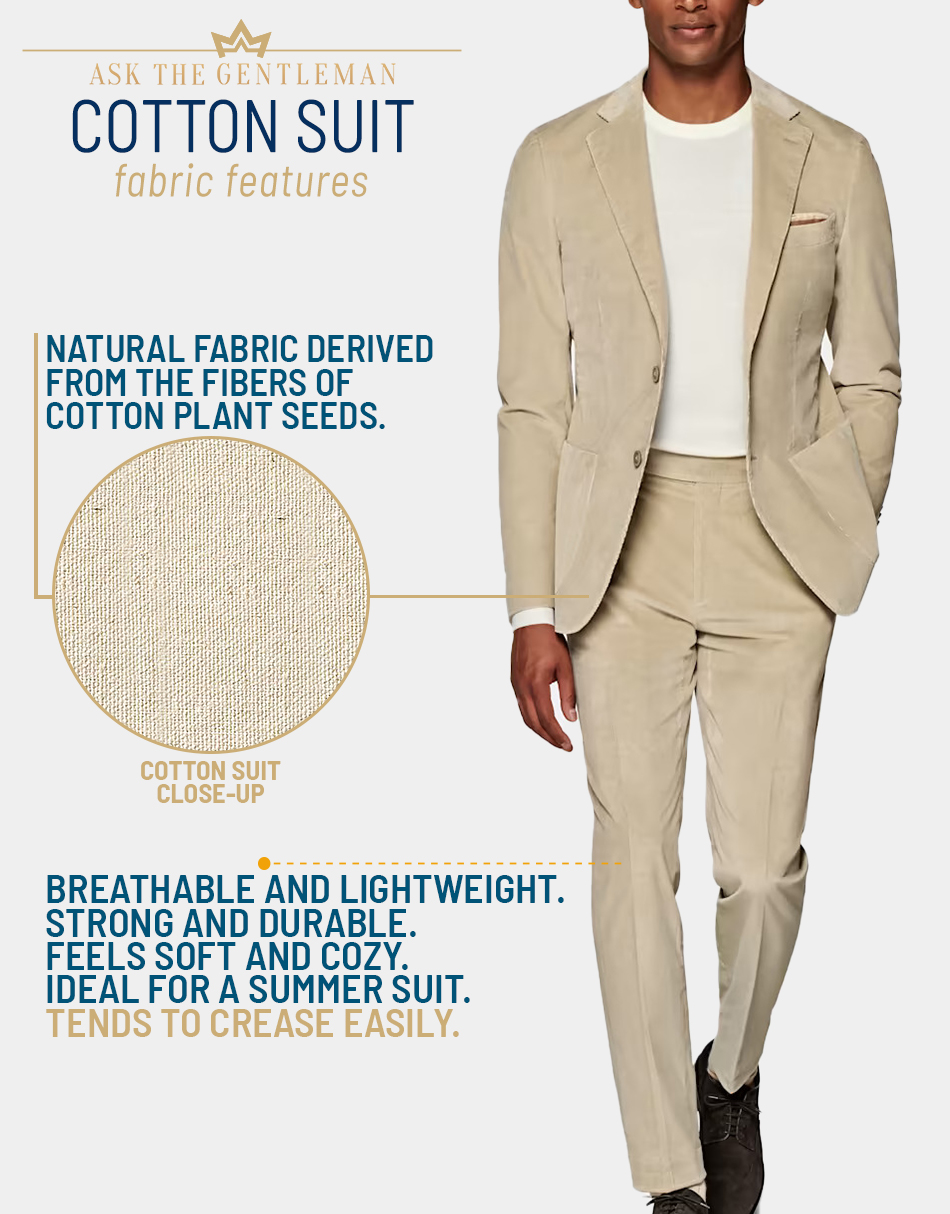 However, it doesn't drape as nicely as other natural materials. Therefore, cotton suits are best for warmer months.
Linen is also a great suit fabric for warmer months. However, like cotton, it only looks good with casual suits.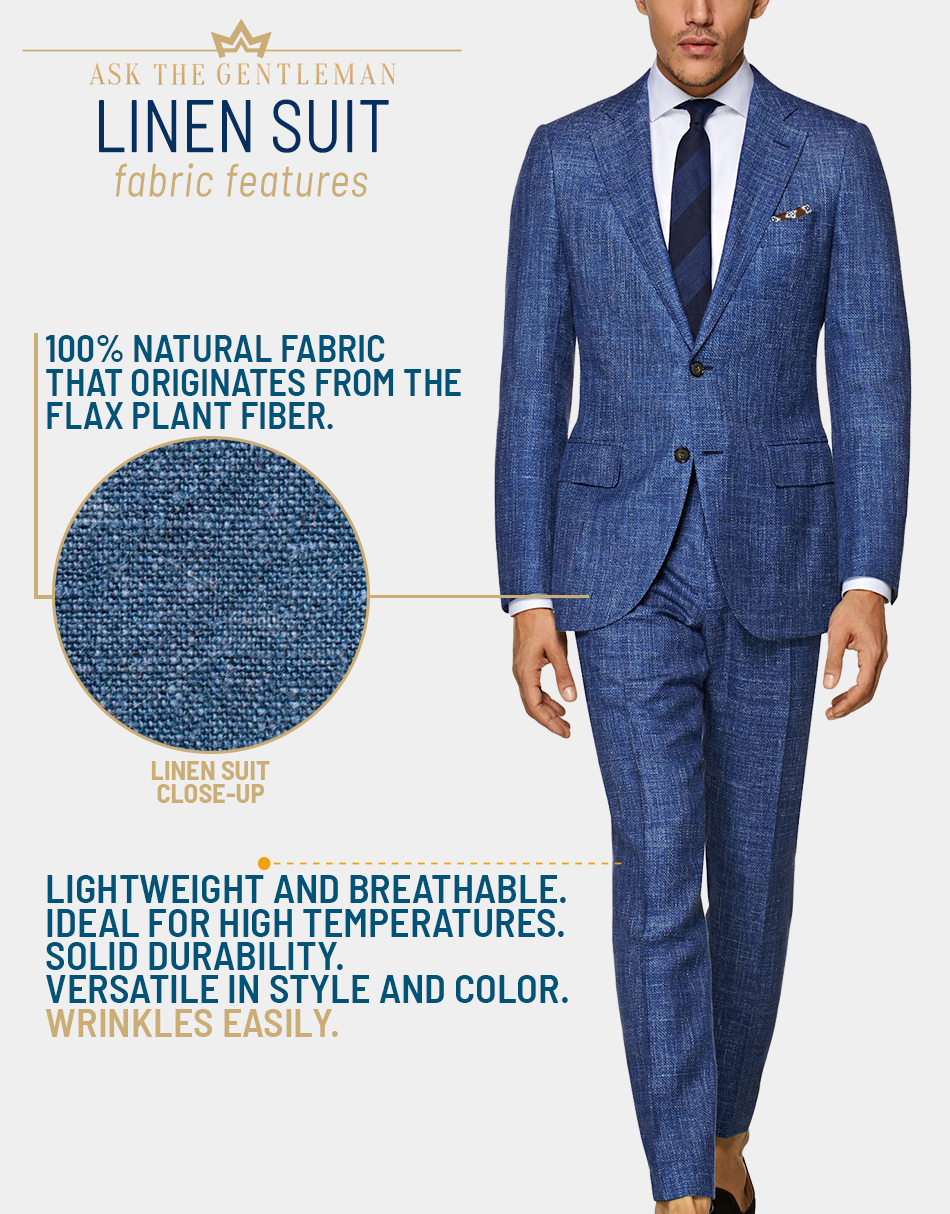 Finally, velvet has both natural and synthetic fibers. It's a fabric of formal events and tuxedos.
One vs. Two vs. Three-Button Suit Jackets
Single-breasted suit jackets commonly have three variations based on the jacket's button.
One button jacket is the least common among them all. You'll see this styling with tuxedos and only rarely with typical suit jackets.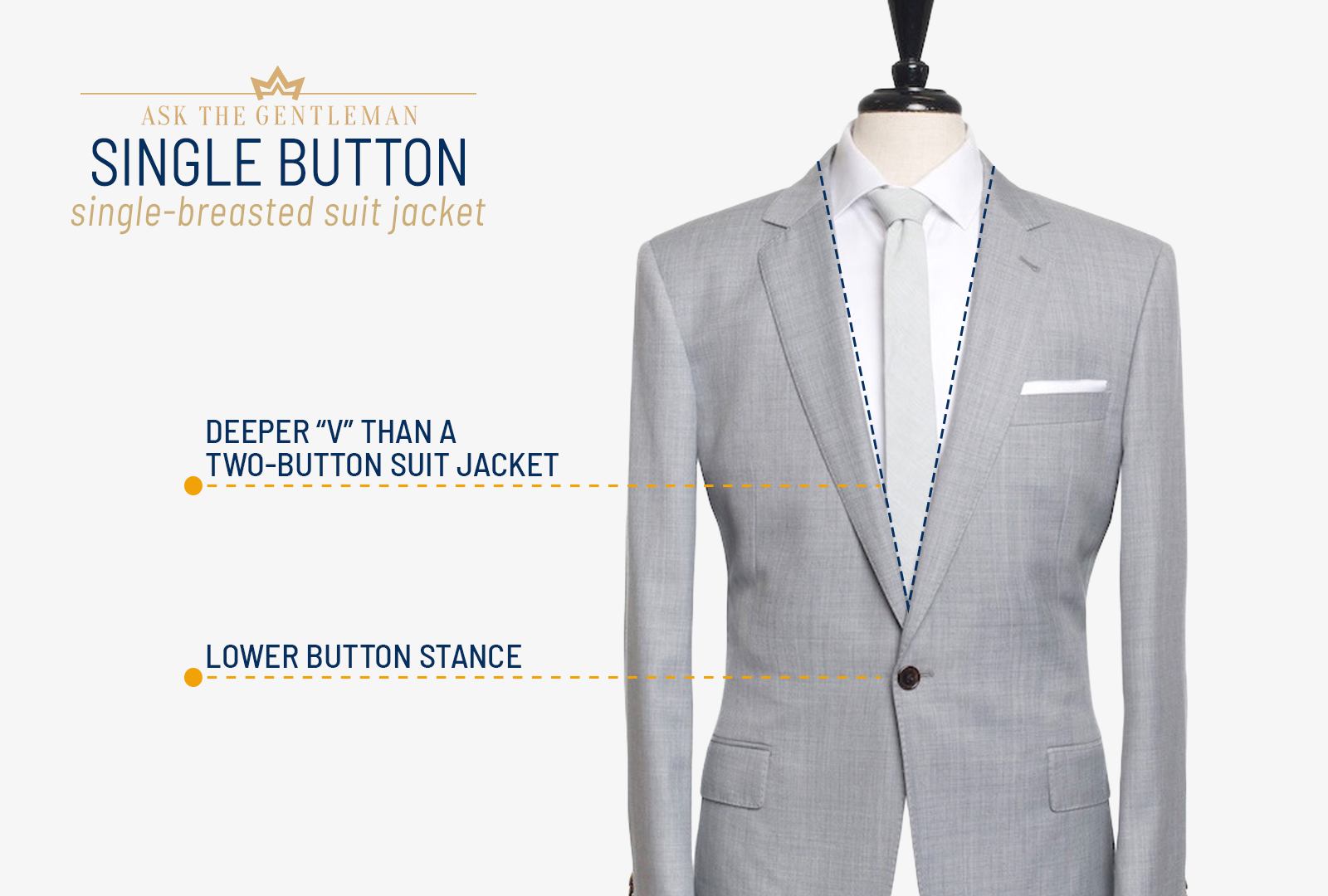 Note that this single button should be at the level of the belly button.
This would create a deeper V. Finally, this single button should always be buttoned.
Two-button suit jackets are the most common of single-breasted suits. It's typical for both formal business suits and casual blazers.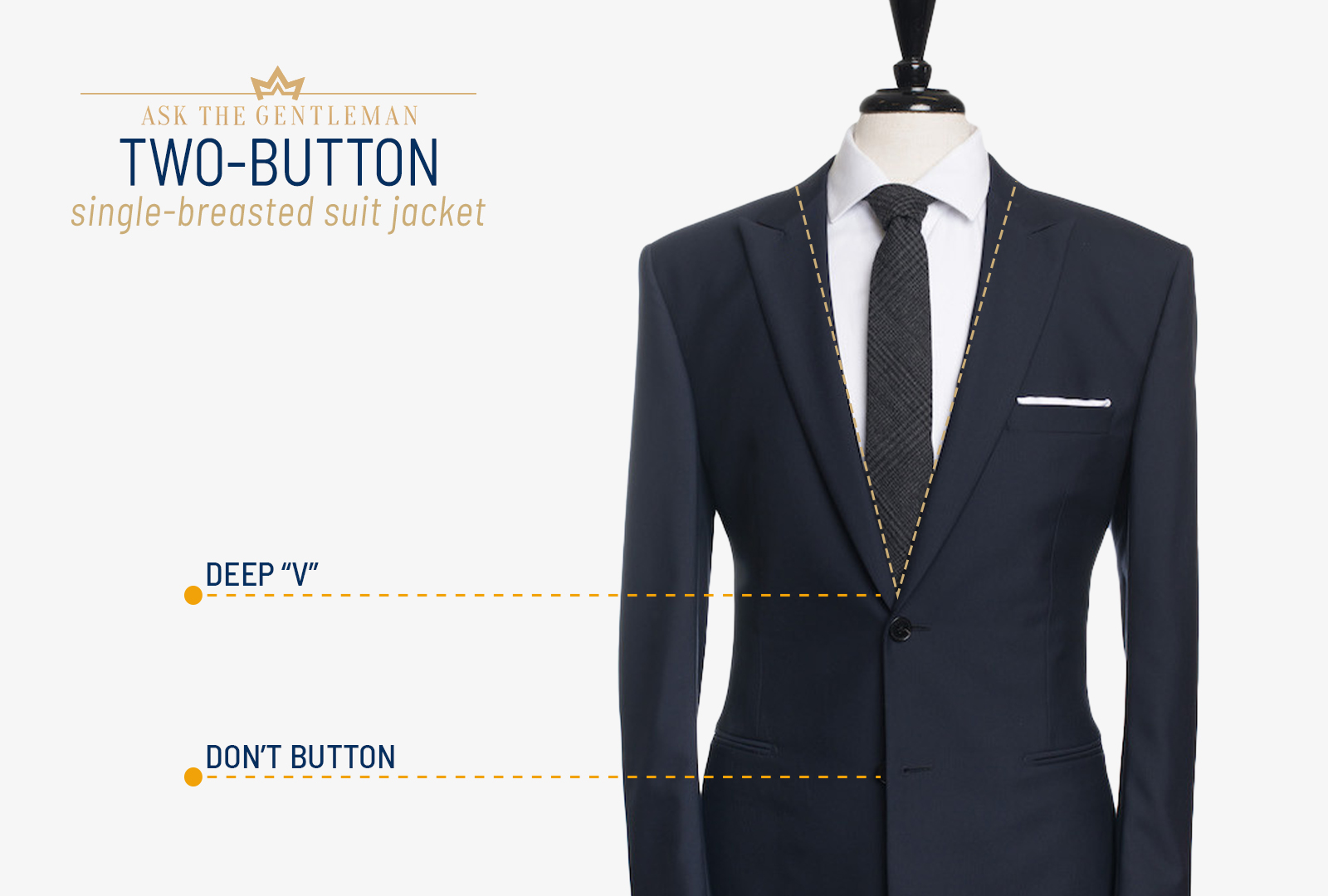 The button stance is important for this suit jacket.
The upper jacket button should be an inch above the navel to create a flattering silhouette. Plus, only fasten the upper jacket button.
Three-button suit jackets are a more traditional button styling for a single-breasted suit jacket.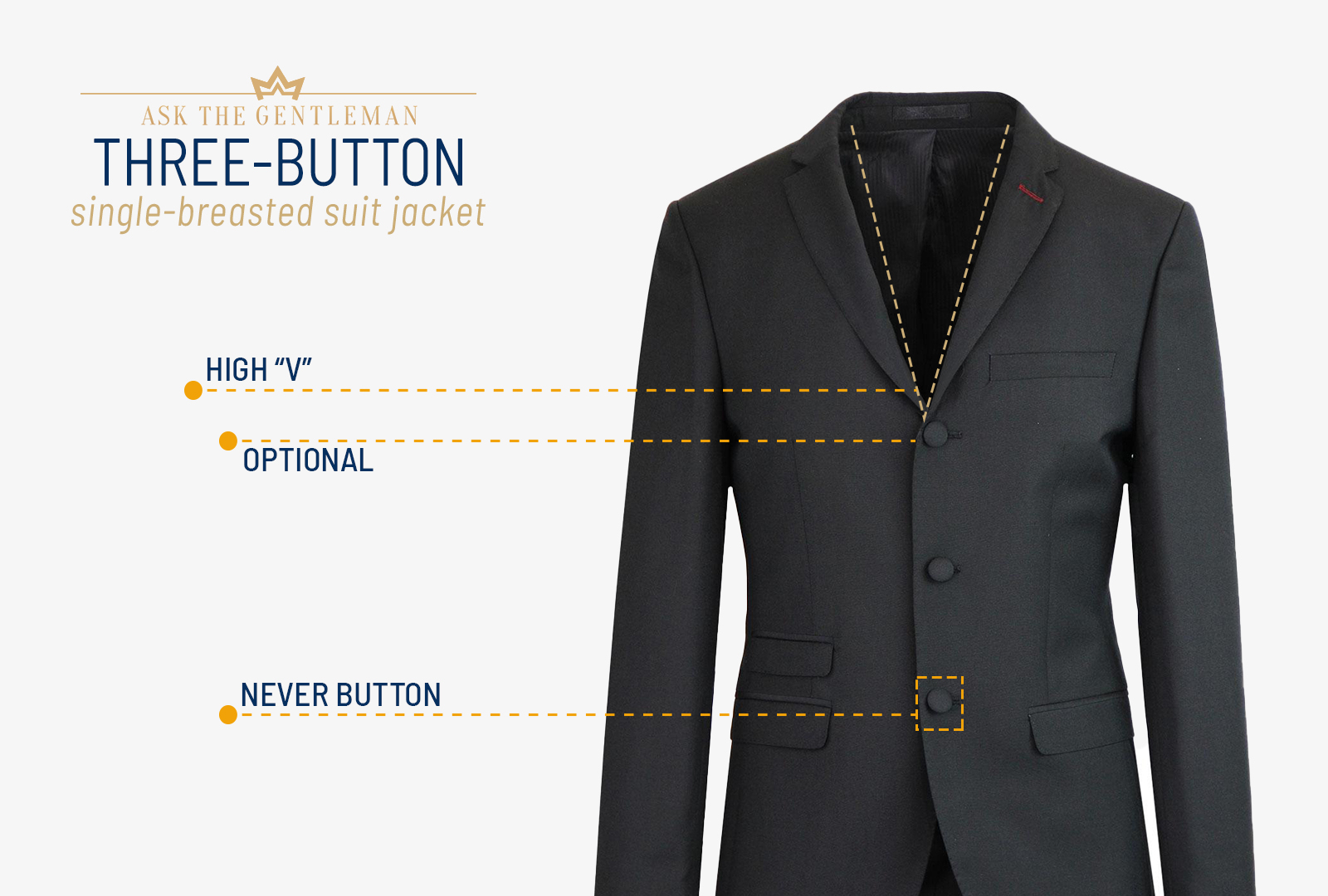 If you're tall and have a taste of the classic styling, only then go with a three-button jacket.
The rule here is always to fasten the middle button. Buttoning the top button is optional while always keeping the bottom button unbuttoned.
Sometimes, the suit has a three-roll-two jacket. So while the jacket here has three buttons, you only button the middle button.
Suit Jacket Sleeve Buttons
There are two aspects to look at regarding the suit jacket sleeve buttons.
The first is the button number, which generally defines the jacket's formality.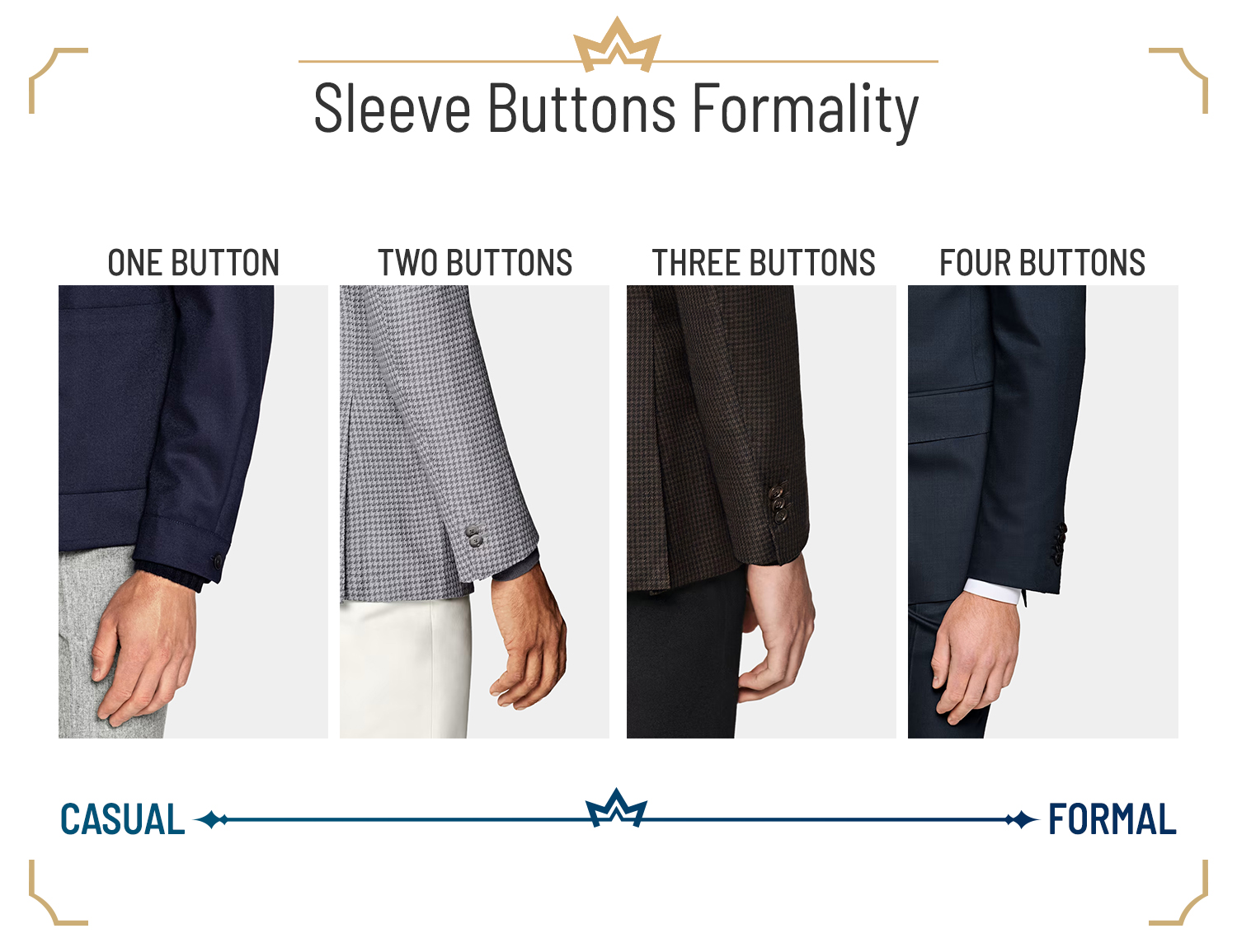 Four sleeve buttons usually represent a formal suit jacket. In comparison, a single sleeve means casual styling.
Sports coats often have two sleeve buttons. Note that American suits almost always have four-sleeve buttons.
The second aspect of the suit jacket sleeve button is its functionality.
Usually, functioning sleeve buttons mean that care is given to the suit to take it to the next level.
However, it's important to base yourself on something other than the functionality of the jacket's sleeve button.
It's because, these days, many off-the-rack suits also come with functioning sleeve buttons.
Types of Suit Jacket Pockets
Another thing that primarily impacts the suit's style and formality is the type of jacket pocket you choose.
Patch, flap, and piped pockets are the three options graded in the order of increasing formality.
Patch pockets attach to the outside of the suit jacket like a patch.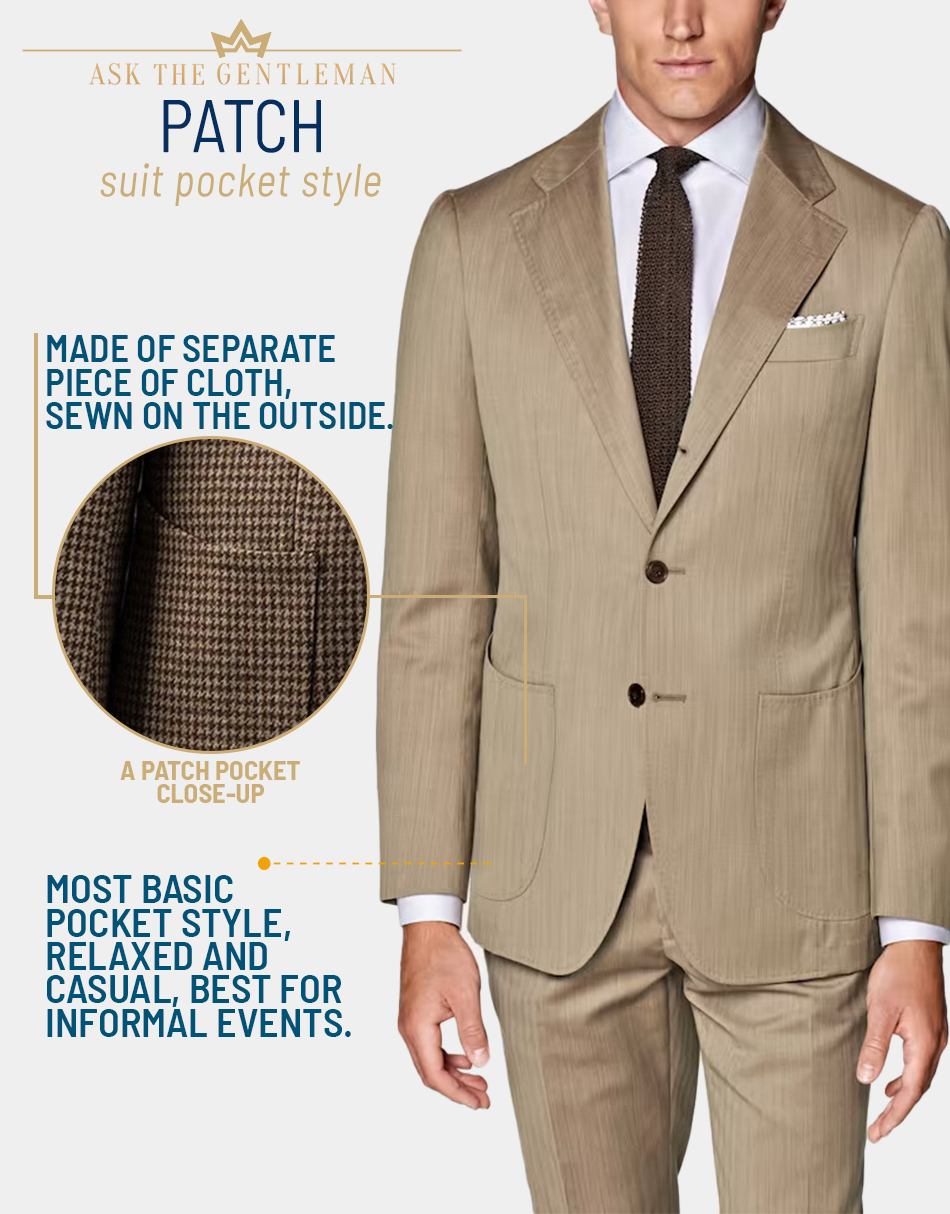 It's a casual pocket style and, therefore, a great choice for a blazer and sports coat.
Also, a patch pocket is a great option if you wear the suit jacket separately.
Next comes the flap pockets. It's a formal and versatile counterpart of patch patches.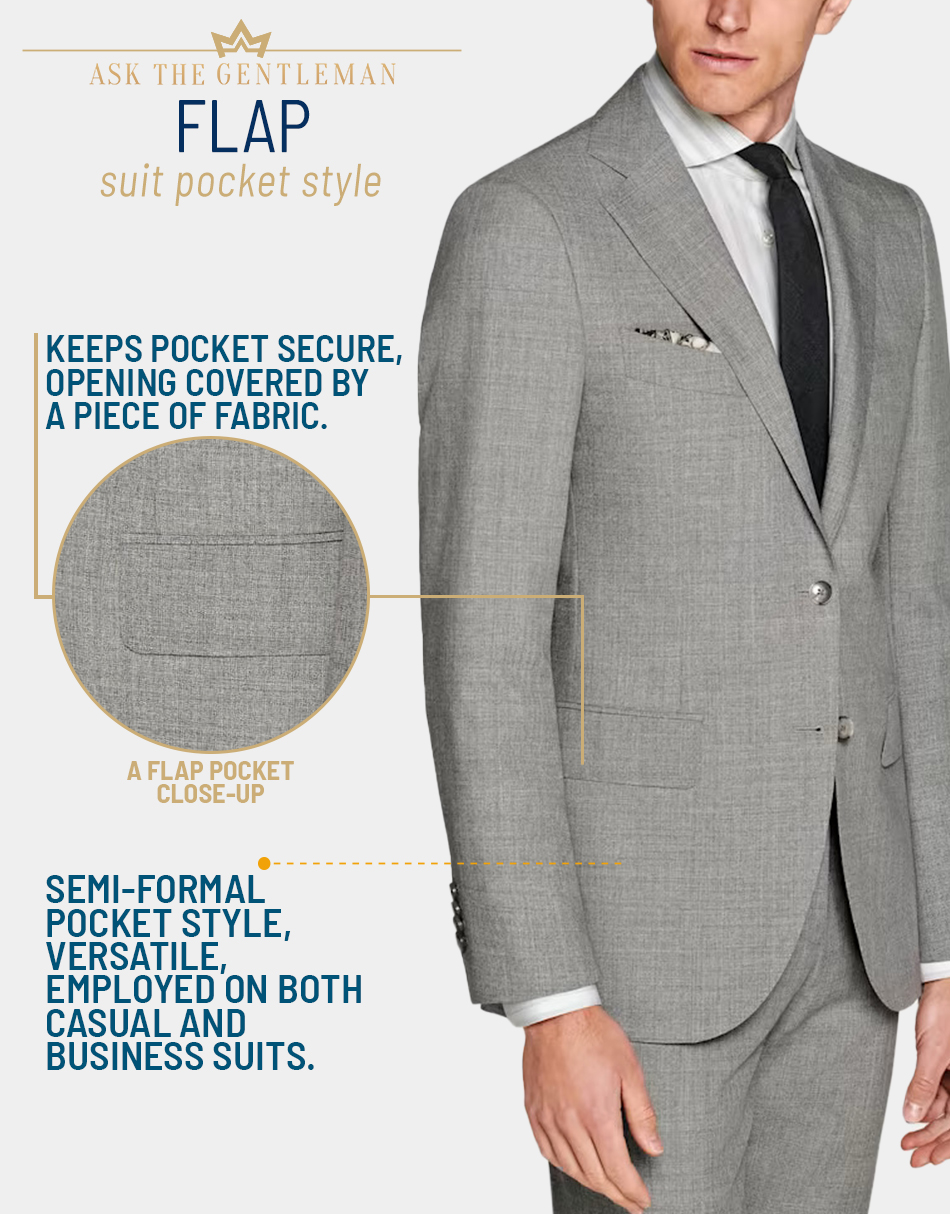 Due to this practice, flap pockets are, by far, the most common jacket pocket style.
Plus, with the option of tucking in the flaps, you get a clean line. This connects a formal and casual suit style.
Finally, the piped or jetted pockets are the most formal of all pocket styles.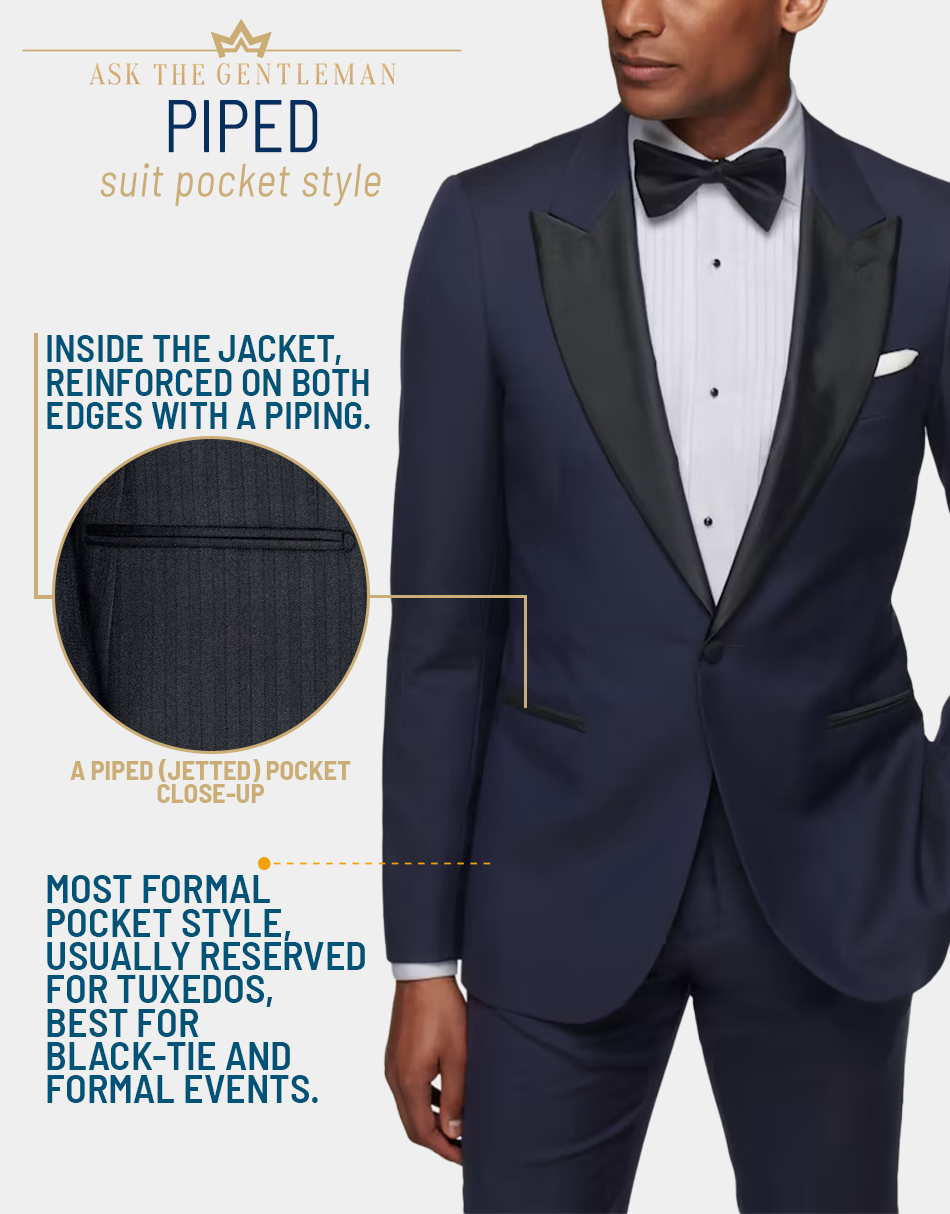 These are essential with tuxedos and dinner jackets but can also be a part of regular suit jackets.
In addition to typical jacket pockets, many vintage suit jackets used to have an additional ticket pocket.
However, these days it has become a style choice for a sartorial touch to the suit.
If present, the ticket pocket will have a flap and will be on the right side.
Single vs. Double vs. No Vent Suit Jackets
It's practical to consider how the lower part of the jacket's back feels.
So, how it's cut creates one of the three jacket styles called vents: single, double, and without vents.
No vent is the hallmark of a tuxedo jacket. It's because no vent creates a fitted look.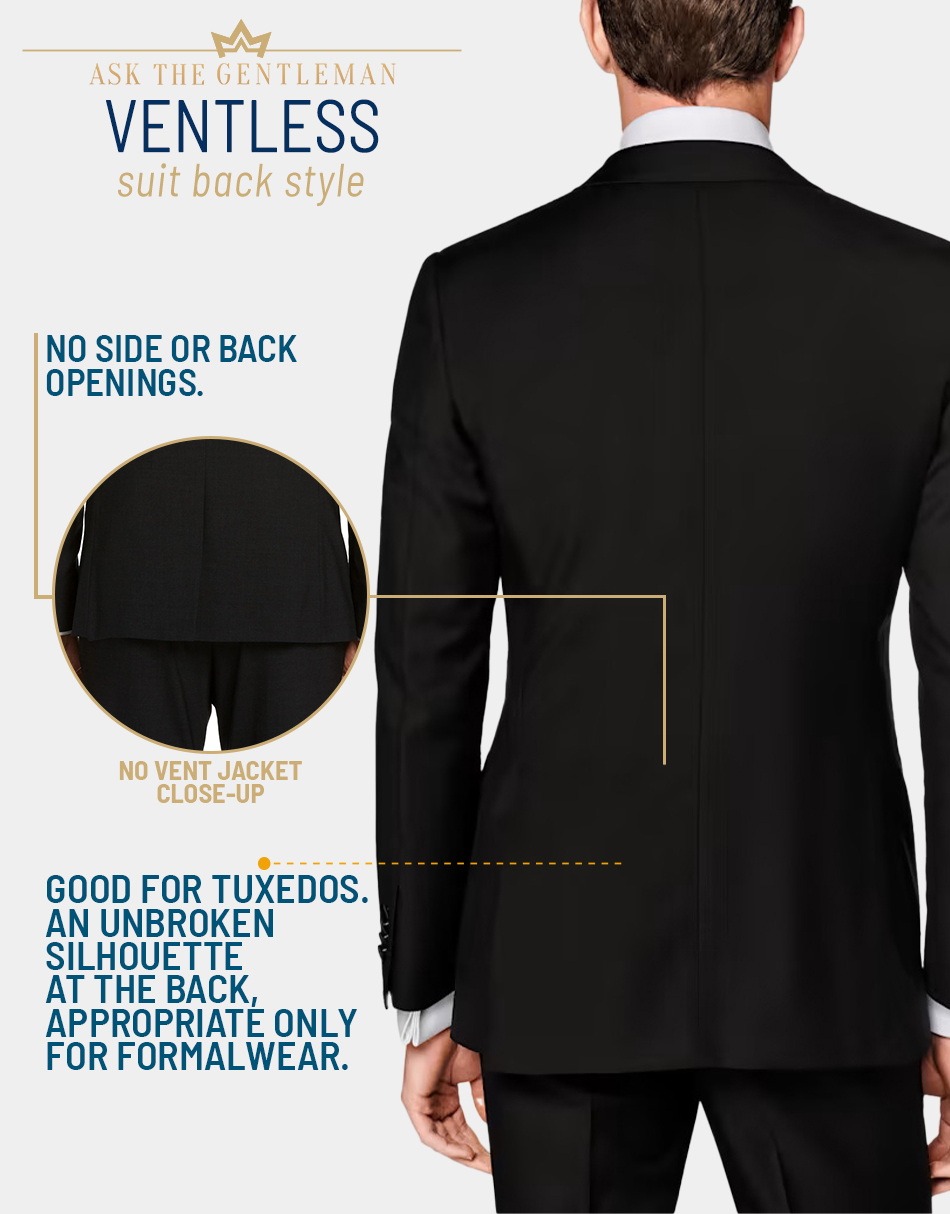 Also, Europeans prefer this style. However, this can cause the fabric to crease as you sit.
So, it could be a style for formal wear, but not for regular suits like for office.
A single vent, in comparison, has a single slit at the back of the suit jacket.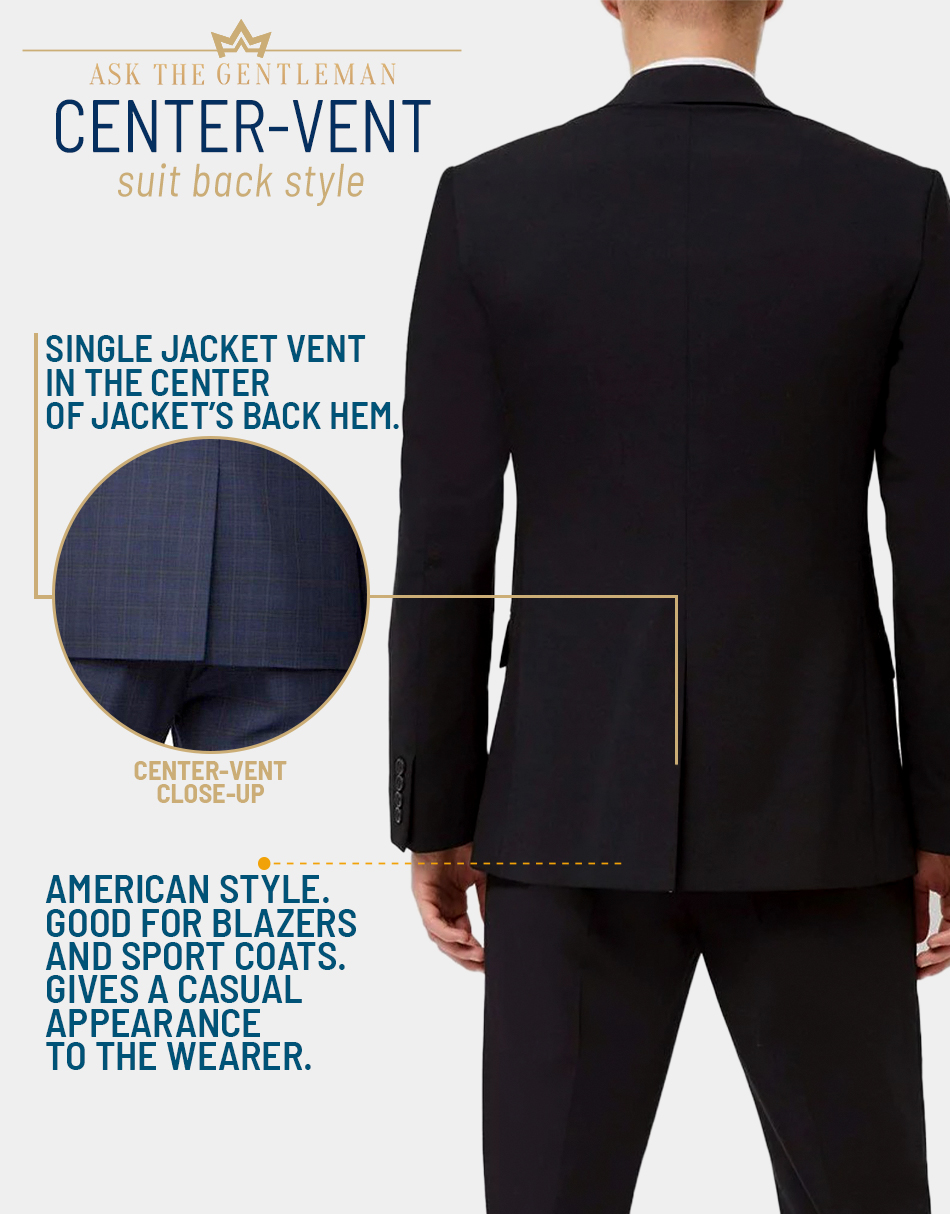 It's a versatile style that allows room for movement while providing a slimmer look.
Casual blazers and office suits often feature this style. However, the drawback is that it can look unflattering when your hands are in the pockets.
Double-vent suit jackets, however, don't have the problem of exposing the seat.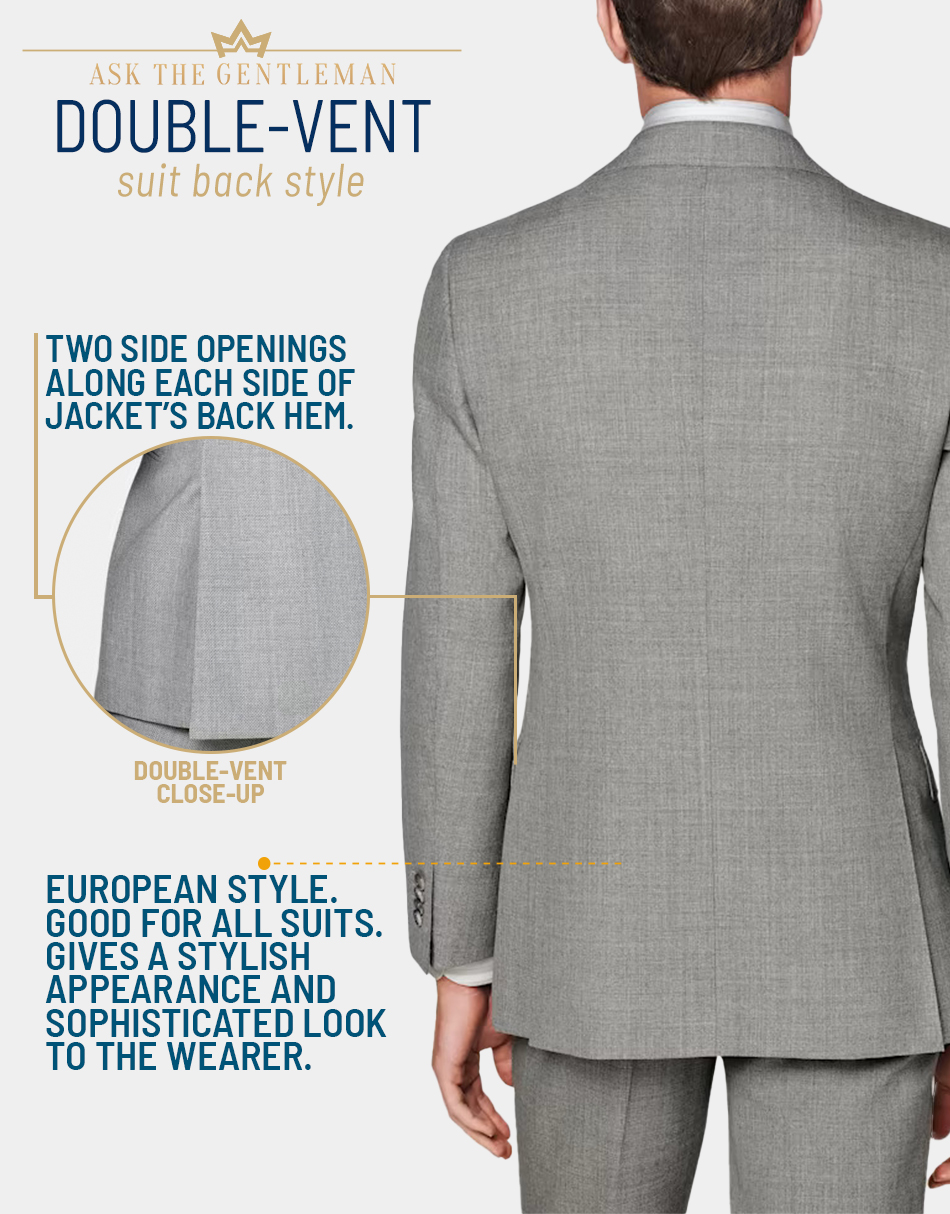 Instead of two side slits, it provides more control across the cloth when you sit. Plus, the fabric will crease less.
So overall, double vents are the best option for a suit, unless with formal wear and large rear.
Fused vs. Half-Canvas vs. Full-Canvas Suit
The suit jacket construction indicates the quality of the suit.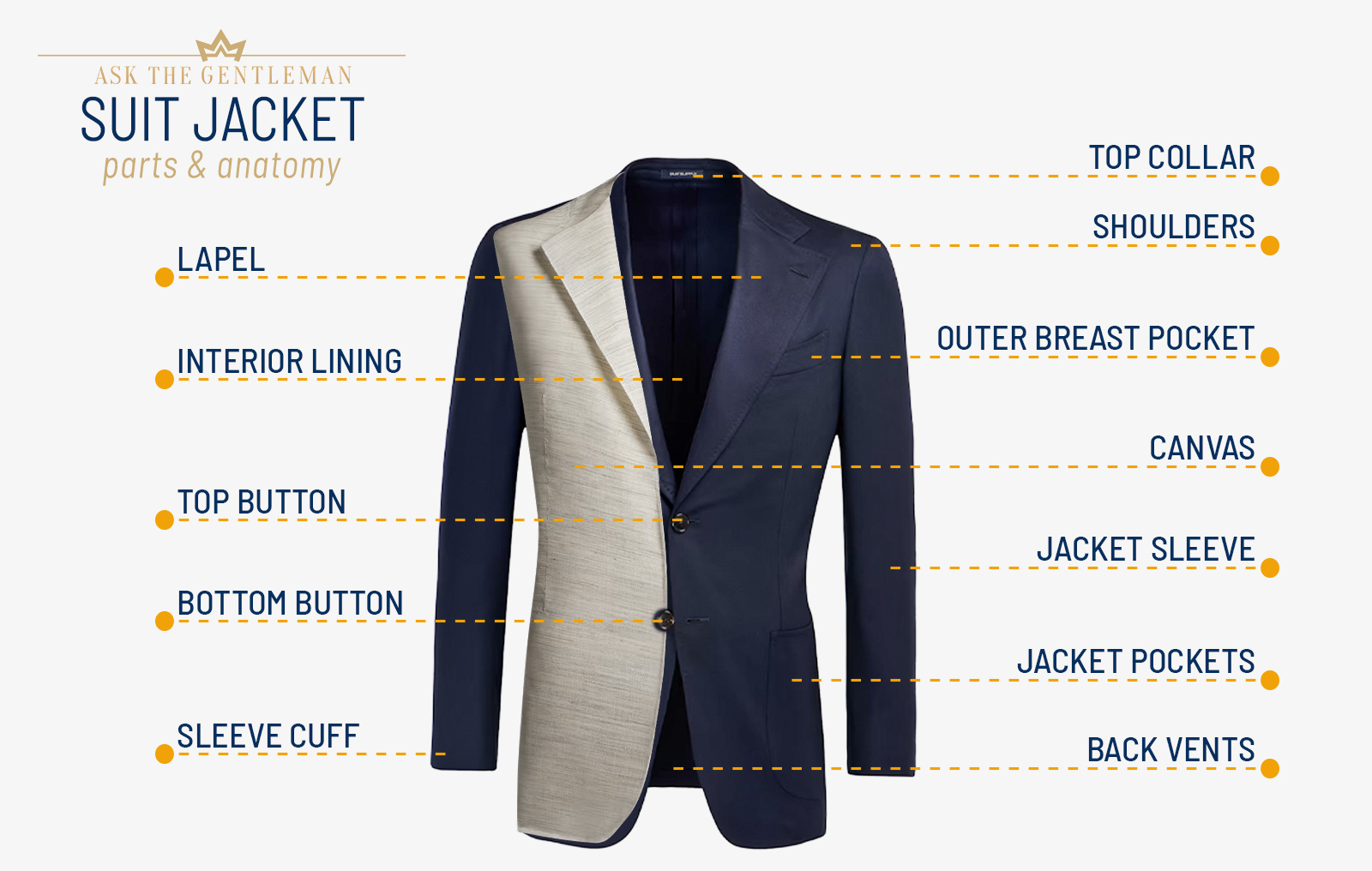 First, there's the fused suit.
Here, the outer and inner layers of the jacket fuse together with glue. And with no interlining fabric in between.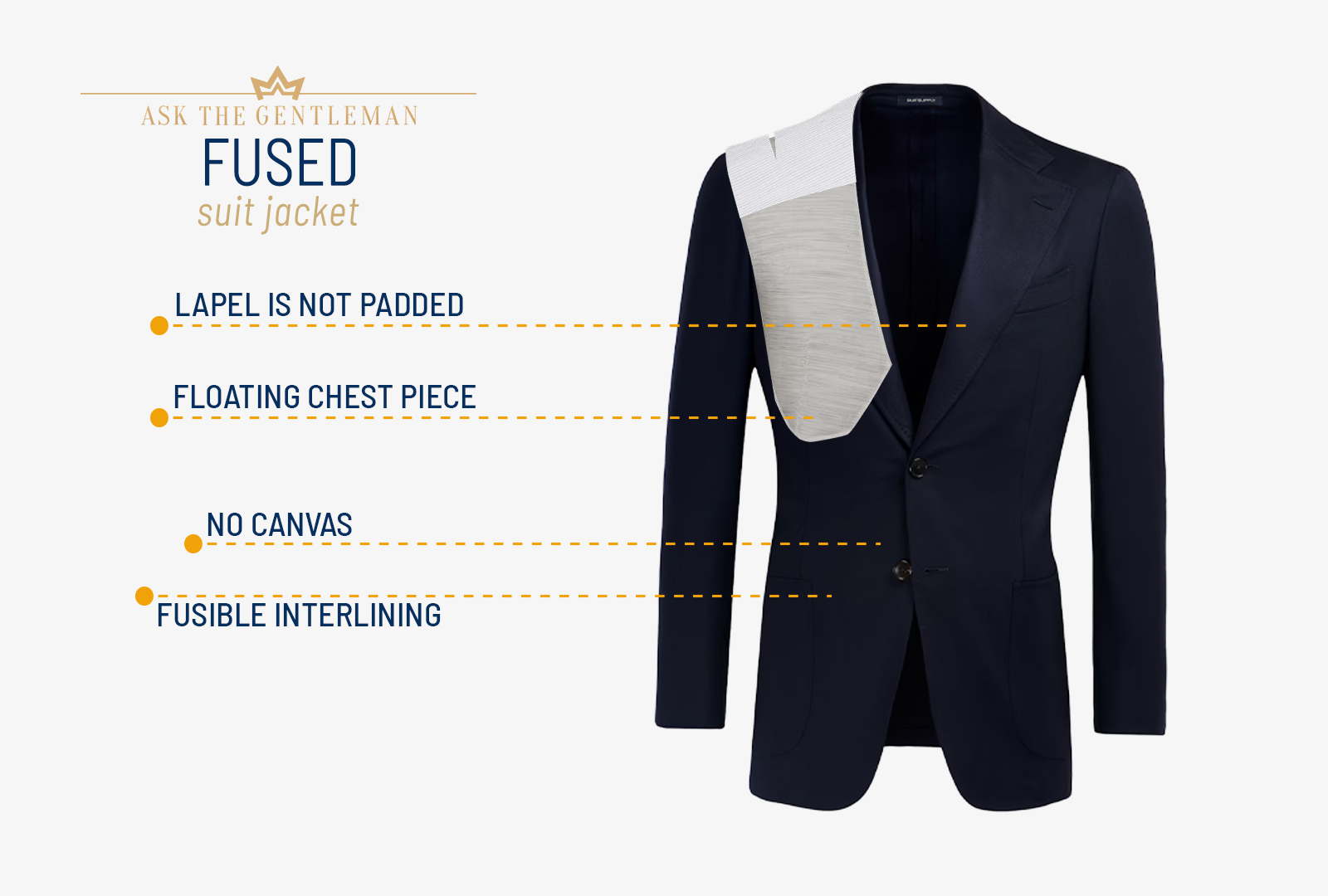 This will make the suit affordable. But the drawback is that it also makes the suit stiff.
So, there will be limited airflow, and the suit will retain odor, making you uncomfortable.
In comparison, high-quality suits have a canvas between the outer and inner jacket lining.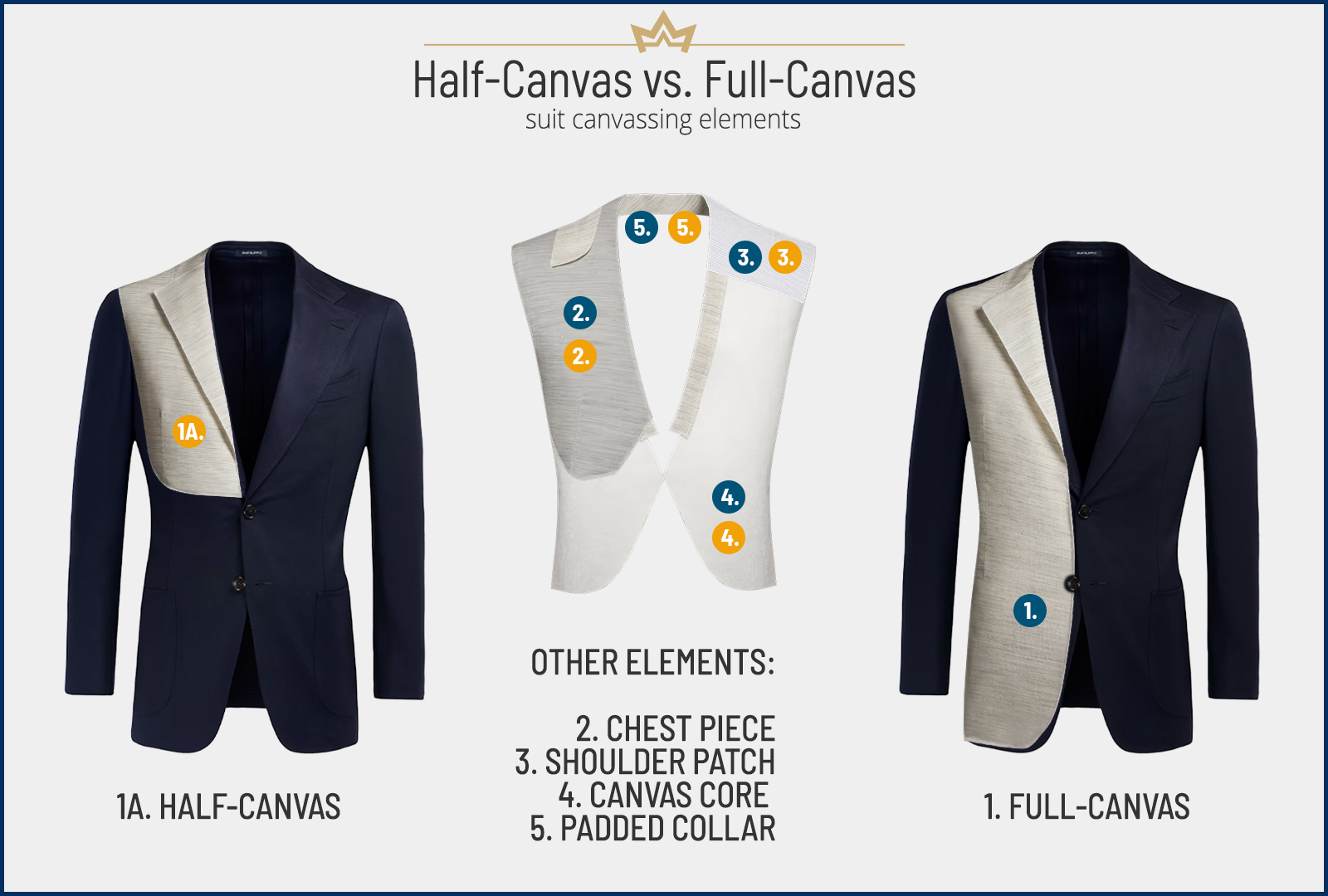 Canvassing material is usually wool with horse or camel hair.
This canvas provides structure and, over time, molds the jacket according to the body for an ever-great fit.
A full-canvas suit jacket has this canvas spanning the entire front panel and lapels.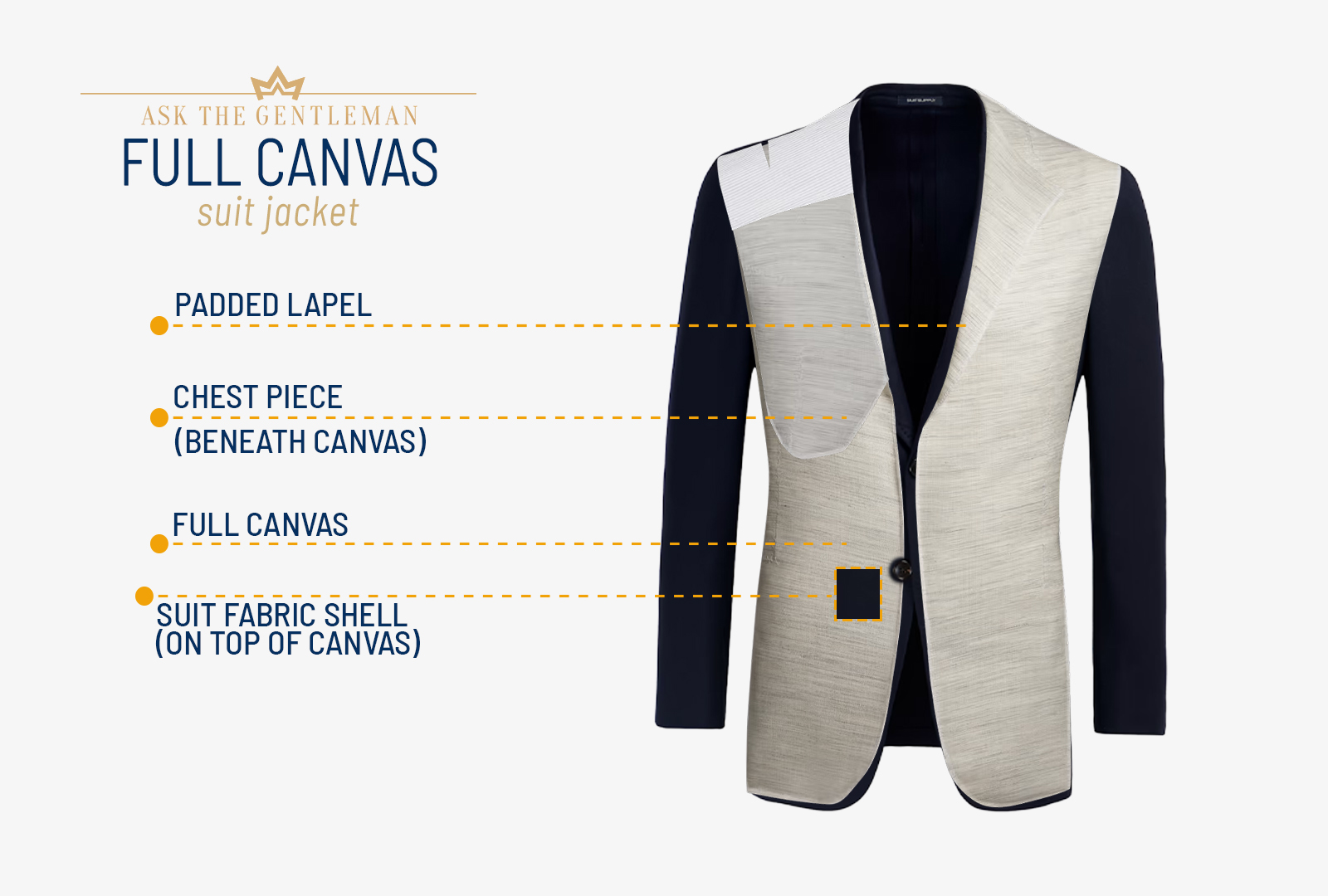 This is the highest quality jacket construction with the best drape. But this suit can be expensive.
A half-canvas suit, in comparison, has a canvas lining from shoulders to chest.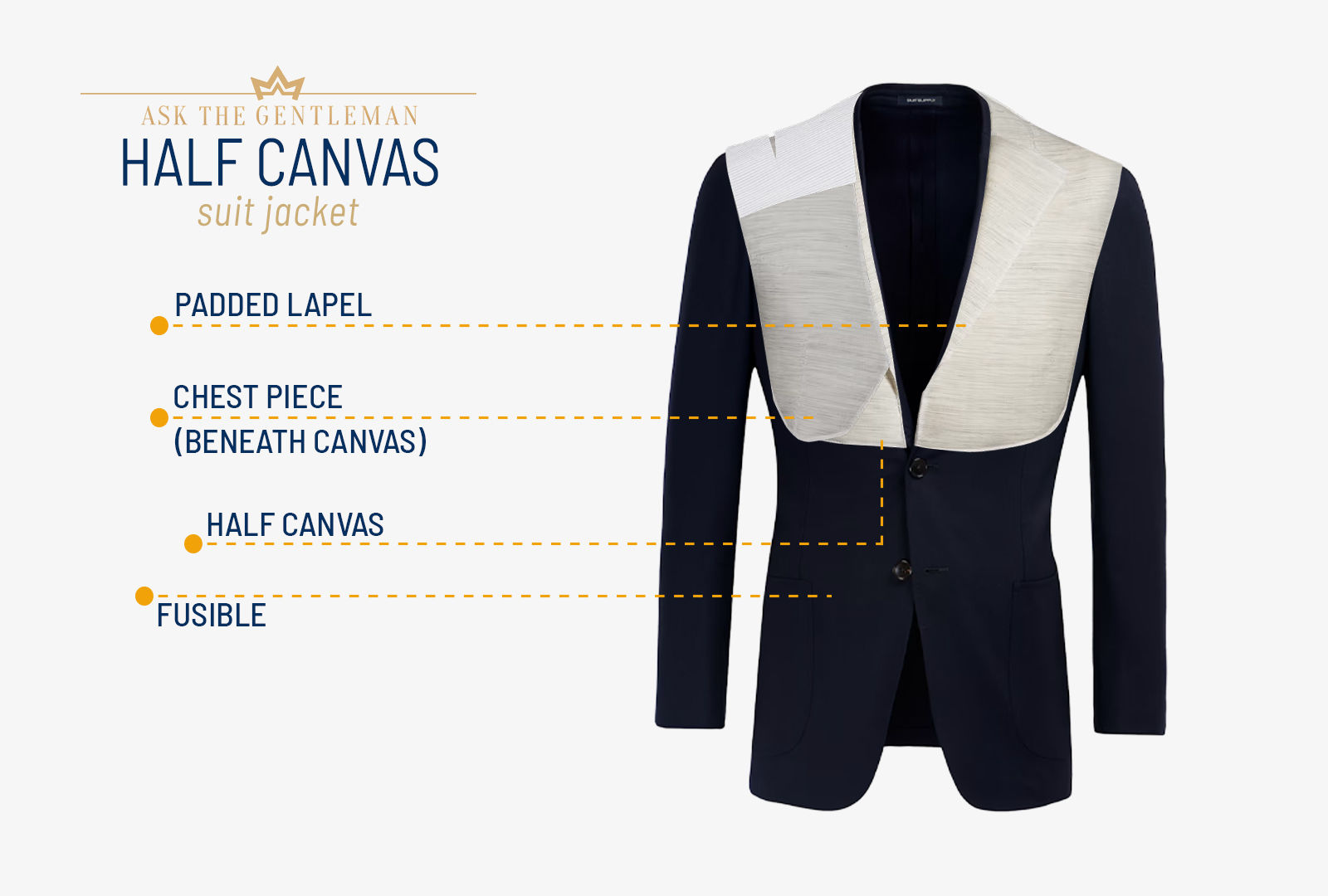 As a result, the suit jacket drapes well but is less sturdy from the stomach down.
However, it's more affordable than the full-canvas suit.
Interior Padding vs. Unstructured Blazer
The suit jacket shoulders often have interior padding that creates a structured silhouette.
This padding is useful, portraying that defined, masculine look.
However, an unstructured blazer removes this interior padding to create a more laid-back fit, thus looking sharp without overdoing it.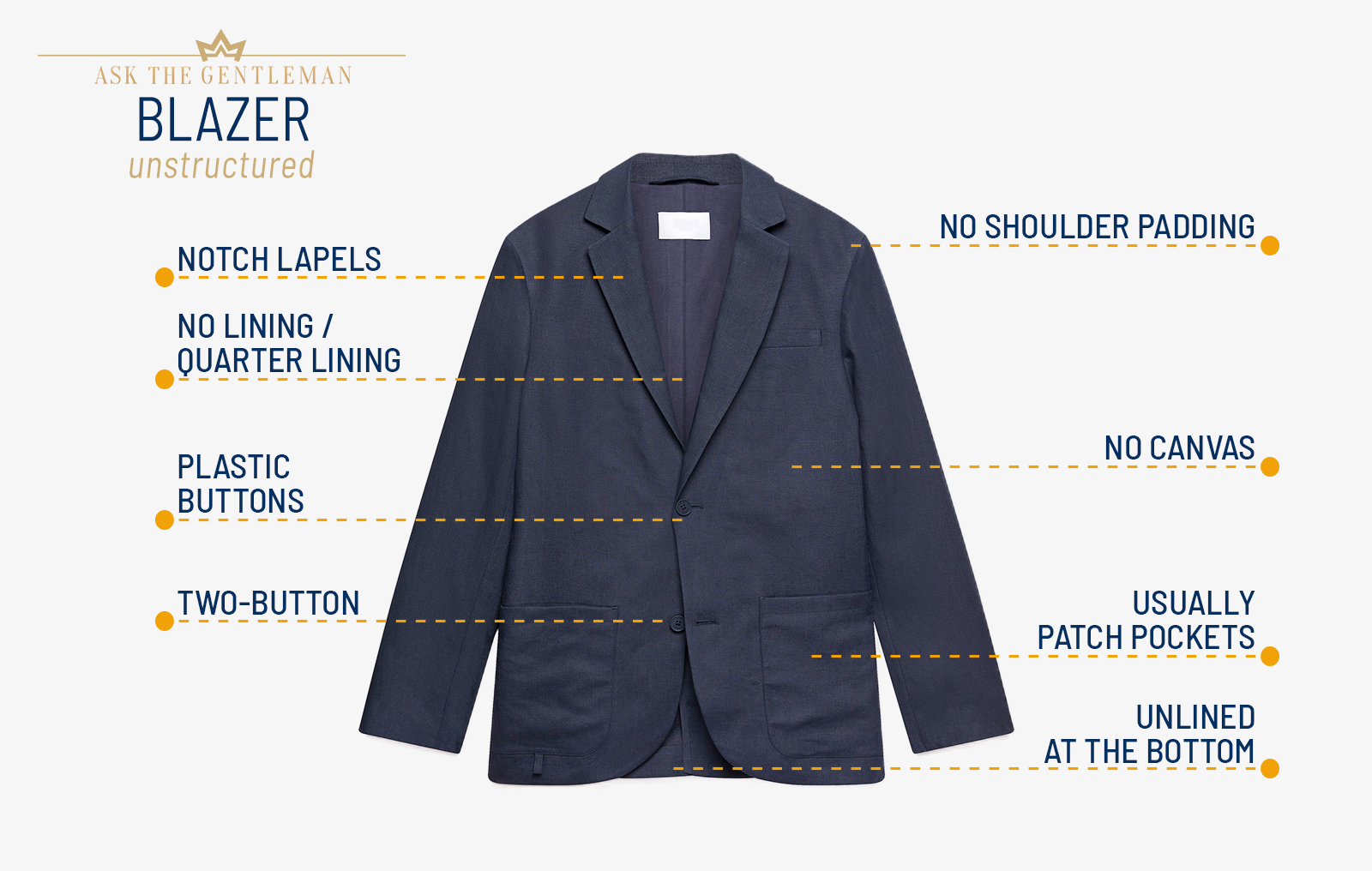 Unstructured blazers usually come without interior lining and are uncanvassed.
Similarly, an unstructured blazer is great for summer, when nobody wants any excess weight on their suits.
However, this sartorial move can quickly turn into a casual unkempt look if not properly cared for. So, pay a little extra attention.
Types of Suit Pant Pockets
It's not only the jacket, but the suit pants can also have many variations.
Together with jacket pockets, suit pants pockets refine the suit's overall formality.
So, ensure that the jacket and pants pocket complement each other.
Slanted pockets are the most common pocket style. These pockets are cut at an angle, with the top end of the pocket appearing forward.
Additionally, this slanting shape allows easy access of hands into the pockets.
So, the style will be effortless and the most convenient suit pant pocket style.
The second suit pant pocket type is an on-seam pocket. Here, the pocket goes straight up without the angle.
The pocket style will be less practically convenient. However, this creates a sleek look.
Those who prefer aesthetics over functionality can benefit from this pocket style.
A jetted pocket is another type of suit pant style. This pocket style is offset from the side seam and, therefore, easily accessible.
In addition to these front pants pockets, rear pockets can have variations.
One or two rear pockets, both with and without buttons, could be present.
A jetted pocket is the best option for a rear suit pant pocket. The button is usually there for aesthetics.
Flat-Front vs. Pleated Suit Pants
One of the most obvious styling details regarding suit pants is how the front of the pants looks.
It could be flat, called flat-front, or have folds of fabric called pleats.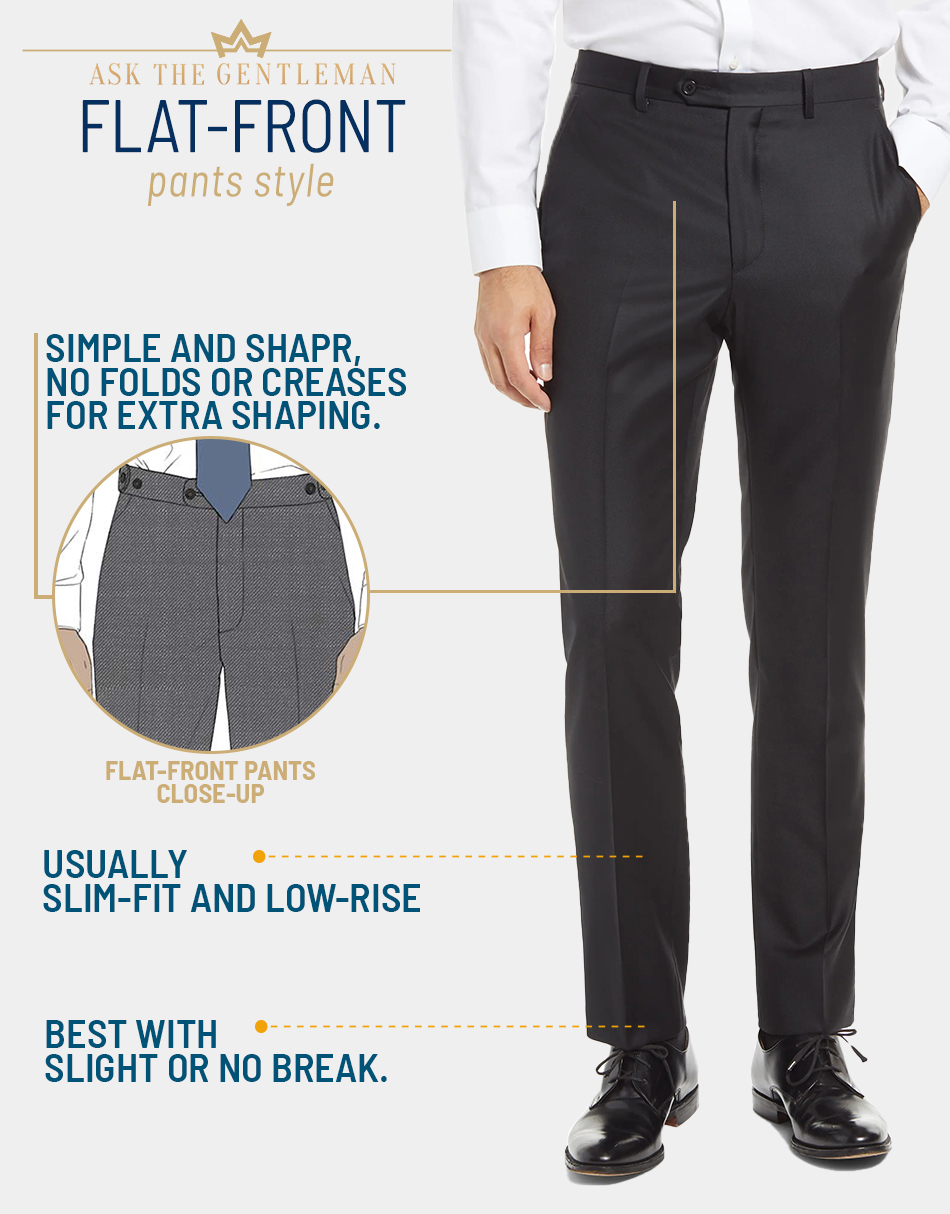 Front-front suit pants are common. These represent a modern and contemporary suit pants style.
Flat-front suit pants will sit low on the waist and it's trimmed.
This narrow silhouette, with added versatility, makes flat-front pants a modern gentleman's favorite.
So, flat-front trousers are ideal if you want no-fuss, nonchalant suit pants.
Pleats suit pants, in comparison, represent a more classic and vintage style.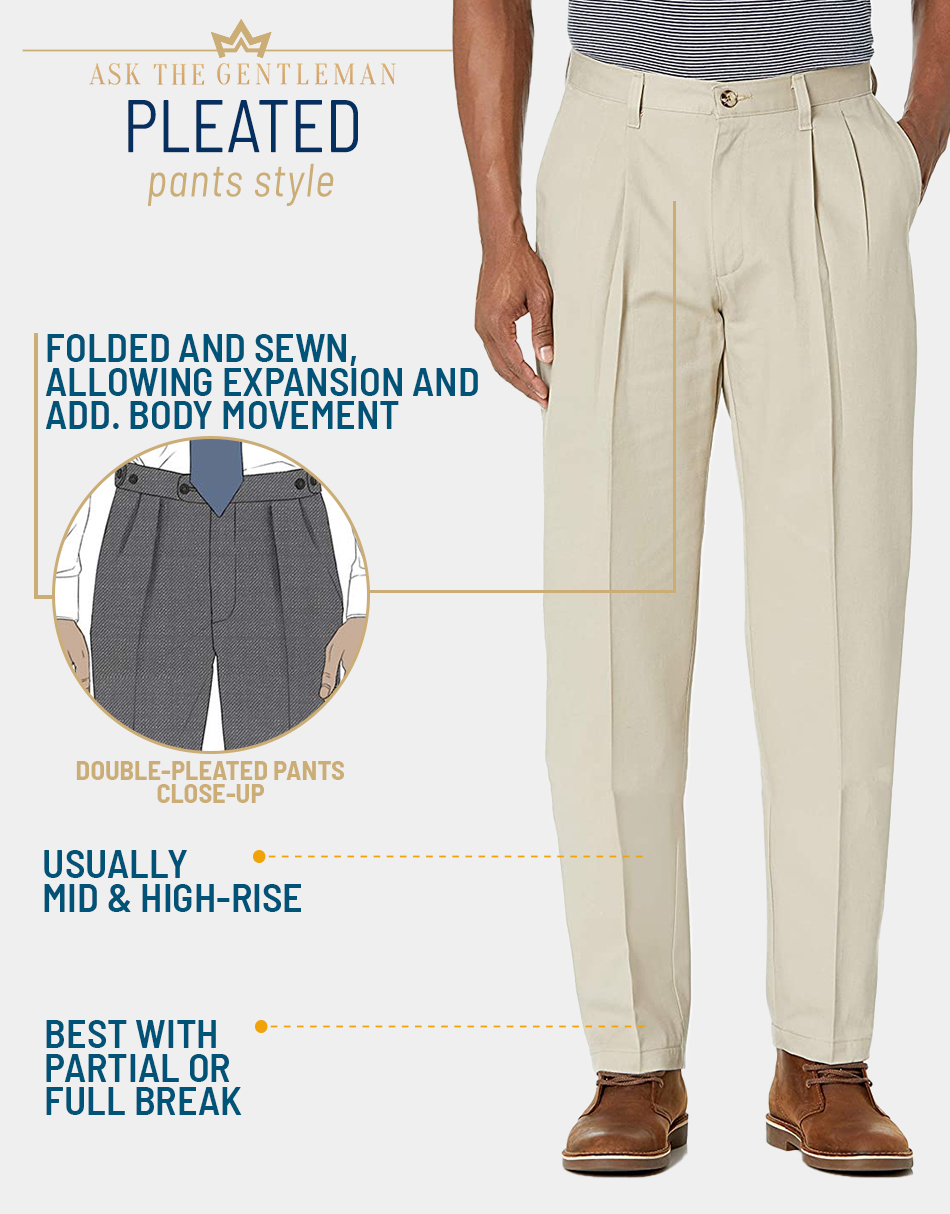 The pants will sit high on the waist while the excess thigh fabric creates room for movement.
Plus, the cuff at the bottom of the trousers allows it to drape nicely.
So, gentlemen with big thighs or those who prefer comfort over style should go with pleated suit pants.
Two-Piece vs. Three-Piece Suits
A two-piece suit consists of matching trousers and a suit jacket.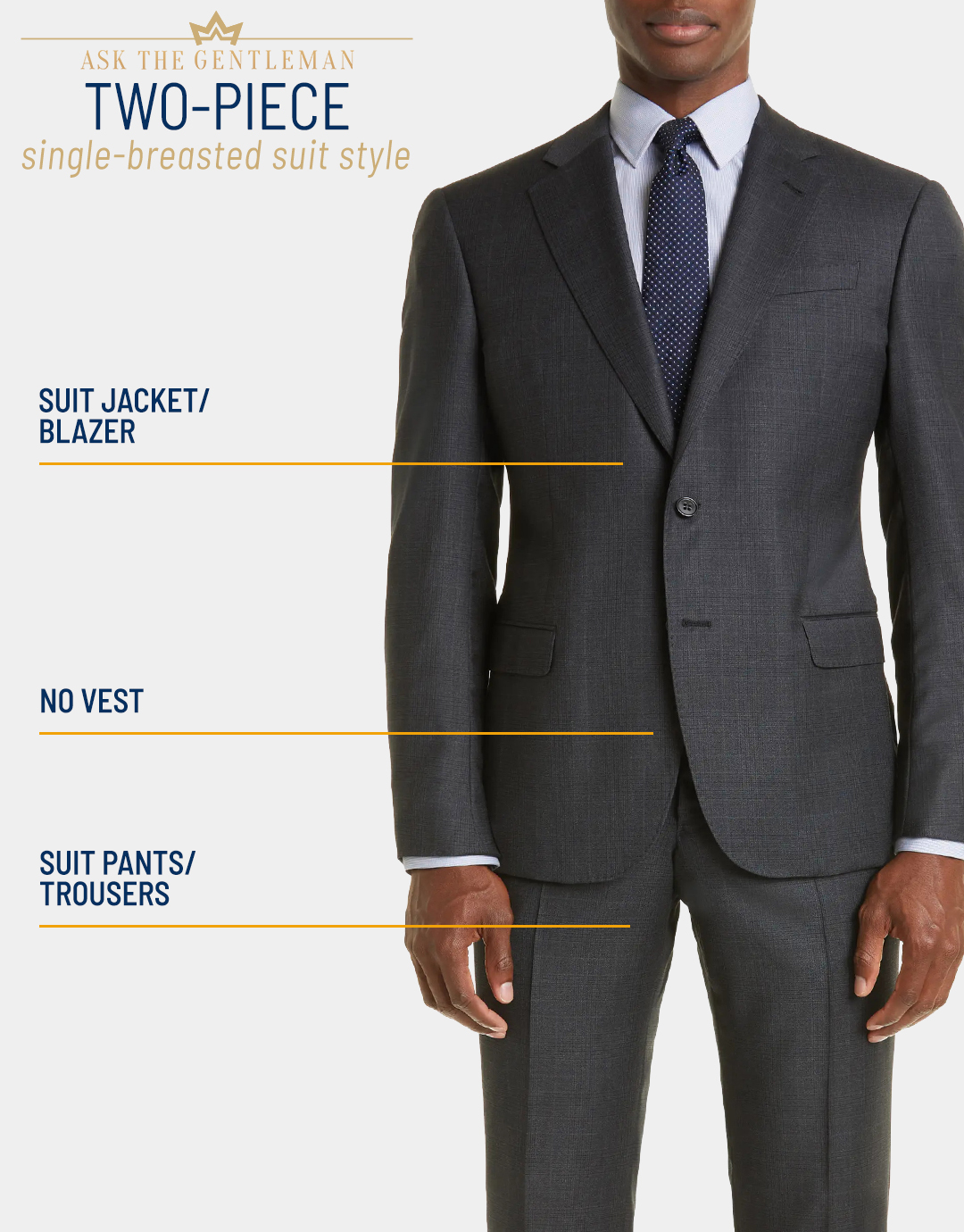 On the other hand, a three-piece suit has an additional vest beside the suit jacket and pants.
Wearing a vest creates a difference in both the suit style and formality.
With regard to formality, three-piece suits are generally more formal.
So, the occasions that require you to wear more than just a suit are appropriate for a three-piece suit.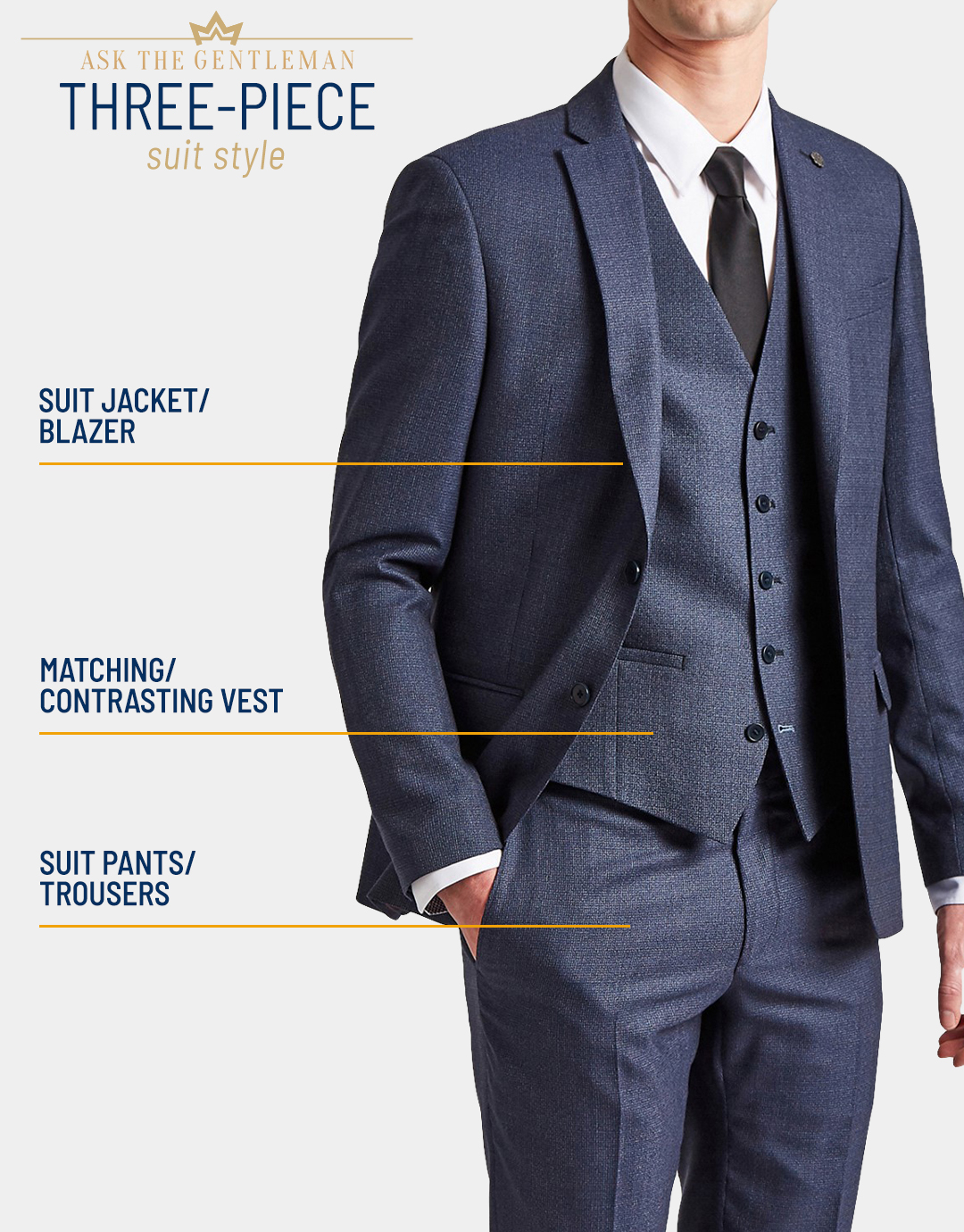 Examples are weddings, evening cocktails, spring garden parties, fundraisers, and attending formal ceremonies.
In comparison, you can wear a two-piece suit anytime on almost any occasion.
Regarding style, there is much more versatility and freedom in a two-piece suit.
Just adding the tie will elevate a two-piece suit from smart-casual to business-formal.
However, pulling off a three-piece suit casually is hard, even without a tie.
What About Tuxedos?
Tuxedos are special suits for evening wear and formal black-tie events.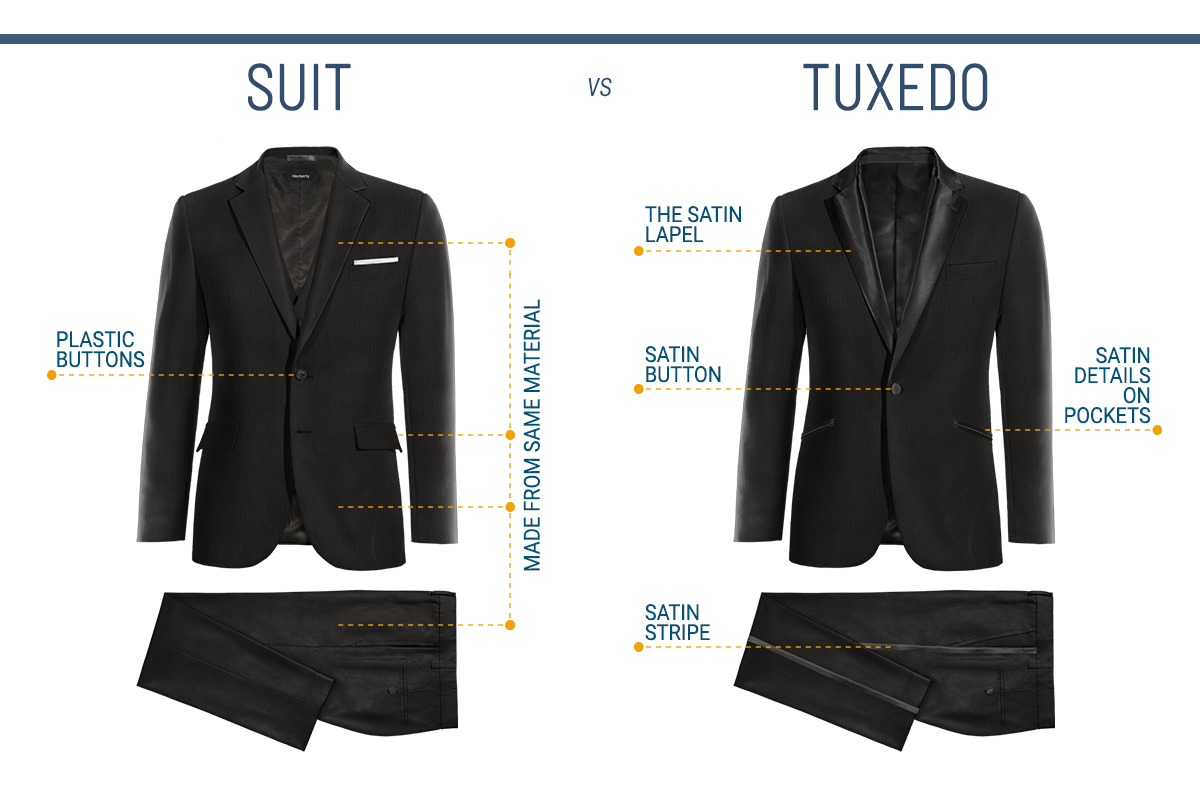 Tuxedos are not like ordinary suits. Instead, certain distinctive features define it.
Foremost is that the tuxedo has satin lapels and buttons. The tuxedo pants also have a satin stripe.
The satin tuxedo jacket lapels also match the formality and are usually either peak or shawl lapels.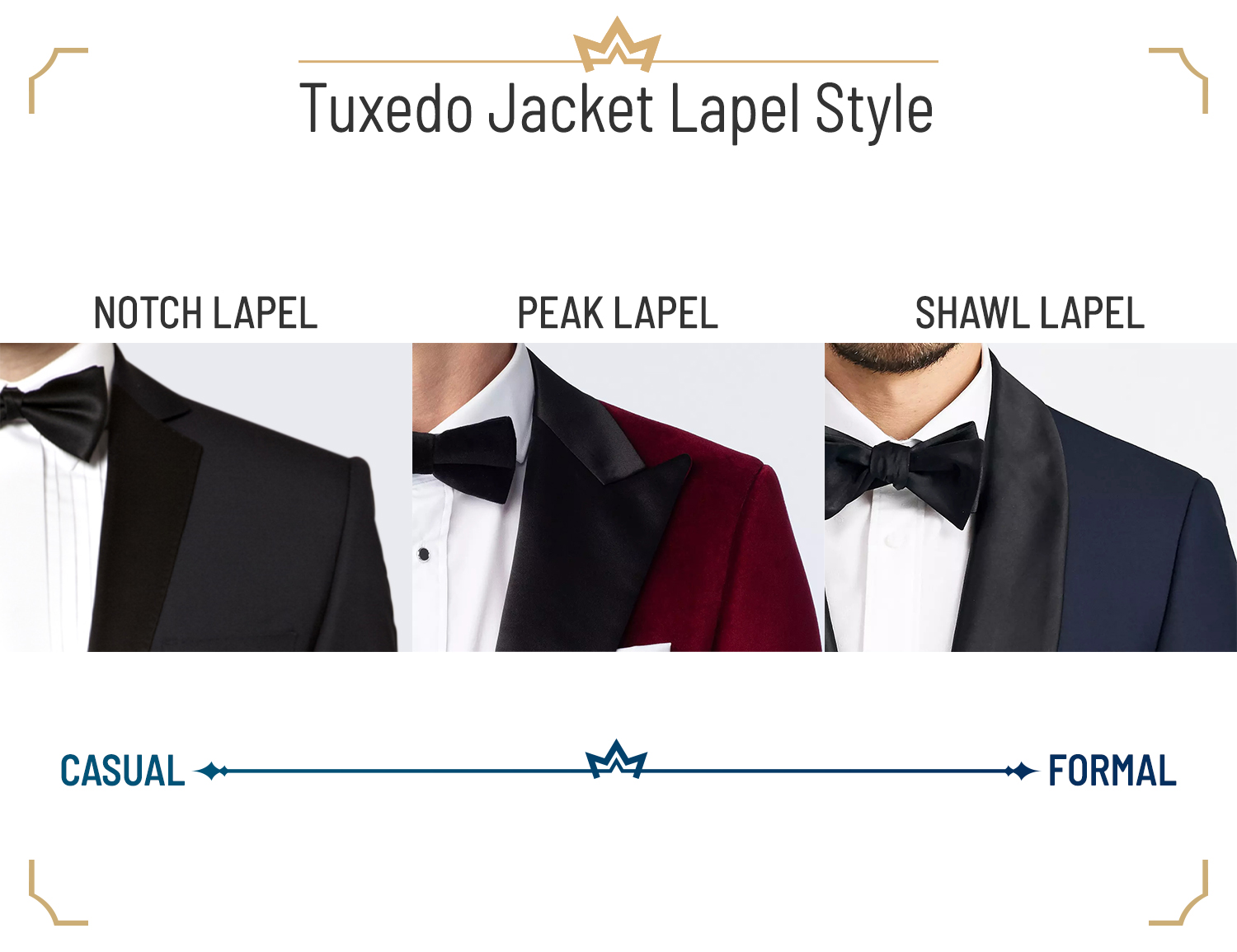 In addition, a tuxedo jacket usually has a single button that is always fastened.
You wear a bowtie instead of the usual necktie with a tuxedo. Additionally, a tuxedo has a piped pocket instead of flap and patch pockets.
Styling is also unique with the tuxedo. A white pleated-front spread collar dress shirt with minimum accessories best suits a tuxedo.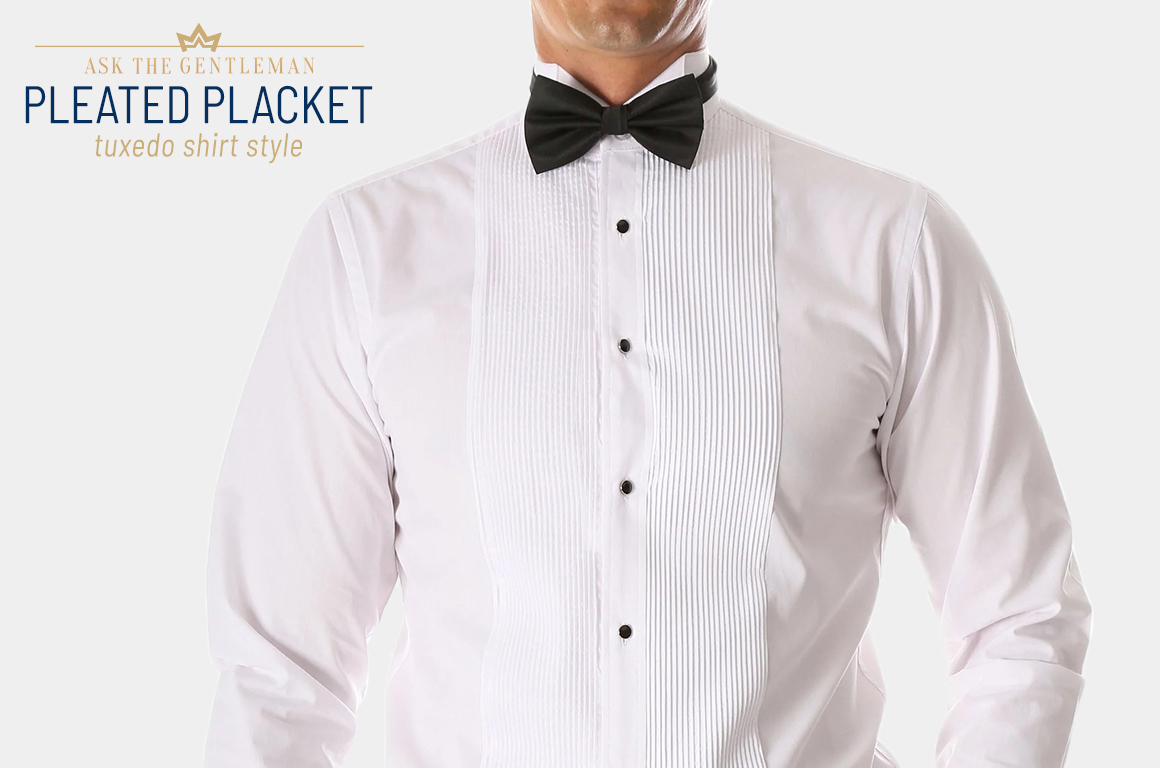 Also, you can't wear a belt with it. You can wear either a cummerbund or a waistcoat, if necessary.
Opera pumps are the standard shoe type for the tuxedo to maintain formality. But other formal shoes like whole cuts and patent leather oxfords can work too.
Finally, premium fabrics like wool, silk, and velvet are the best options for the tuxedo fabric.
The black tuxedo is the standard attire for a black-tie dress code.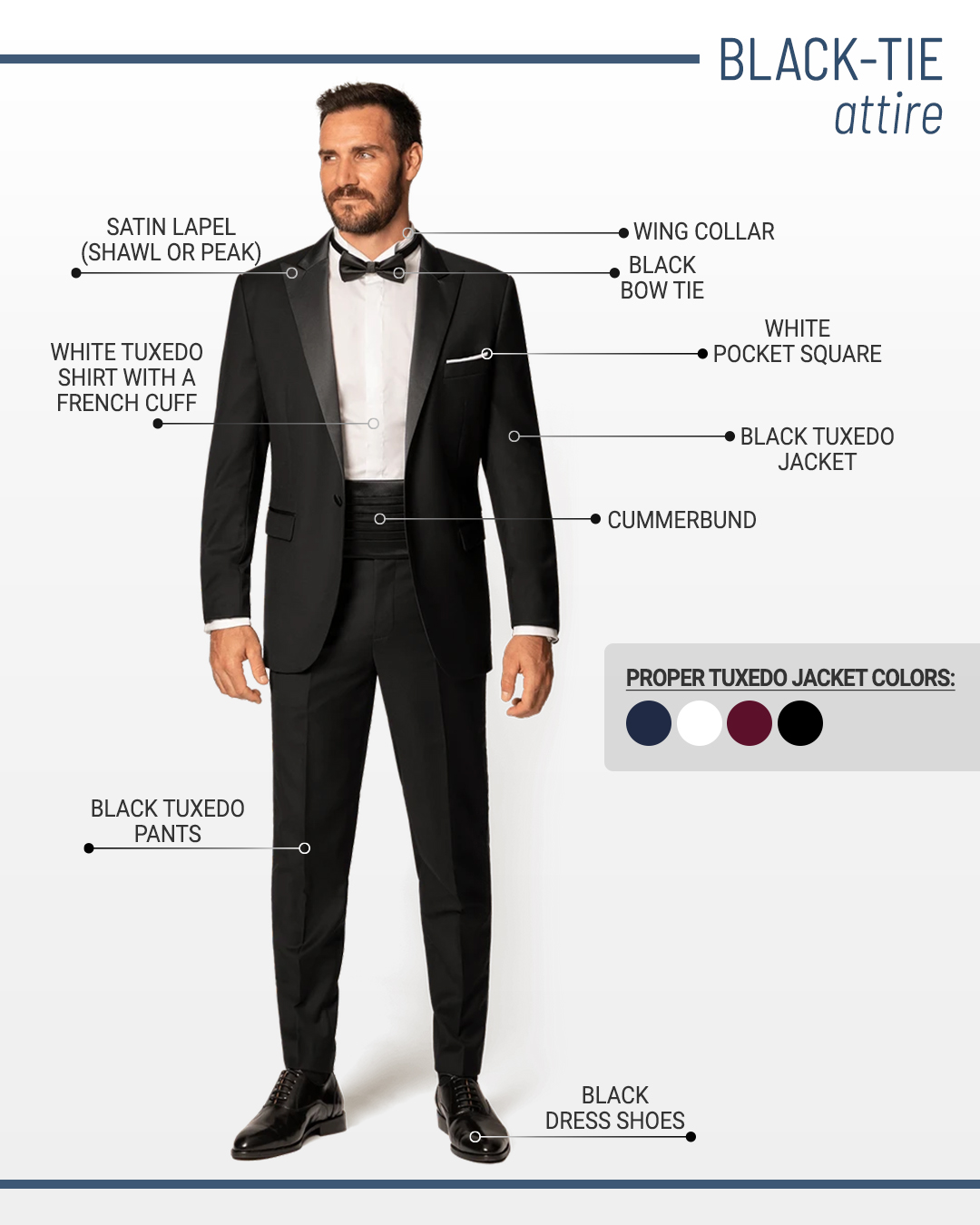 But, sometimes, gentlemen like to flair up less-formal occasions with vibrant tuxedo colors like burgundy or navy blue.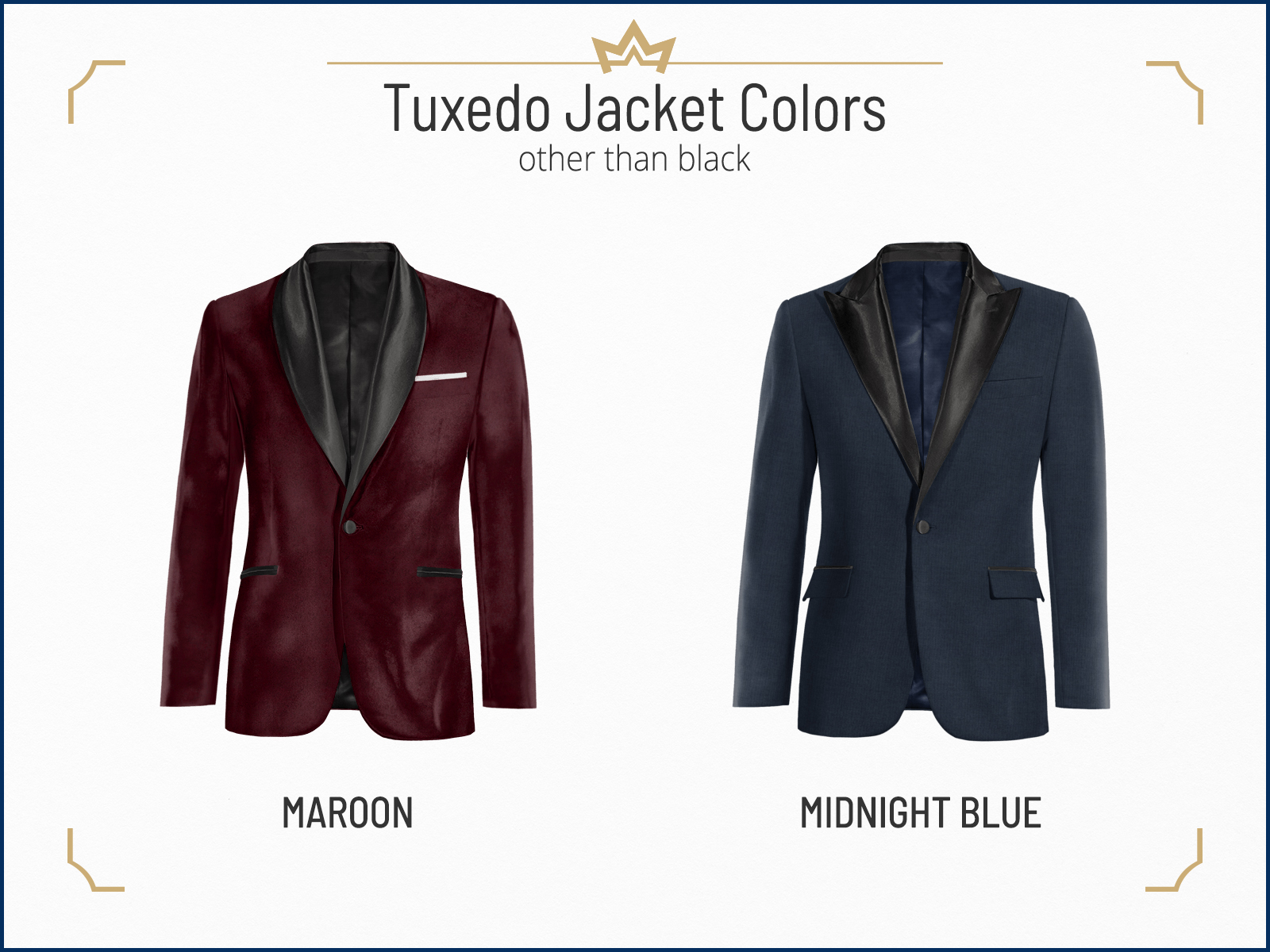 The details would be the same, but only the color difference would do the job.
So, in summary, comparing a tuxedo with a standard suit, the tuxedo is a more formal garment.
The style is often fixed with a tuxedo with only a little variation as per the personal style.
Other Things to Consider When Choosing the Suit Style
Now that you know the different suit styles, considering a few other important details can improve your suit game.
Plus, with proper knowledge, you can effortlessly drop a hint of personal style that otherwise can be challenging.
So, here are some significant things for your suit style.
The Occasion You're Attending
Always ensure you abide by the dress code when choosing a suit style.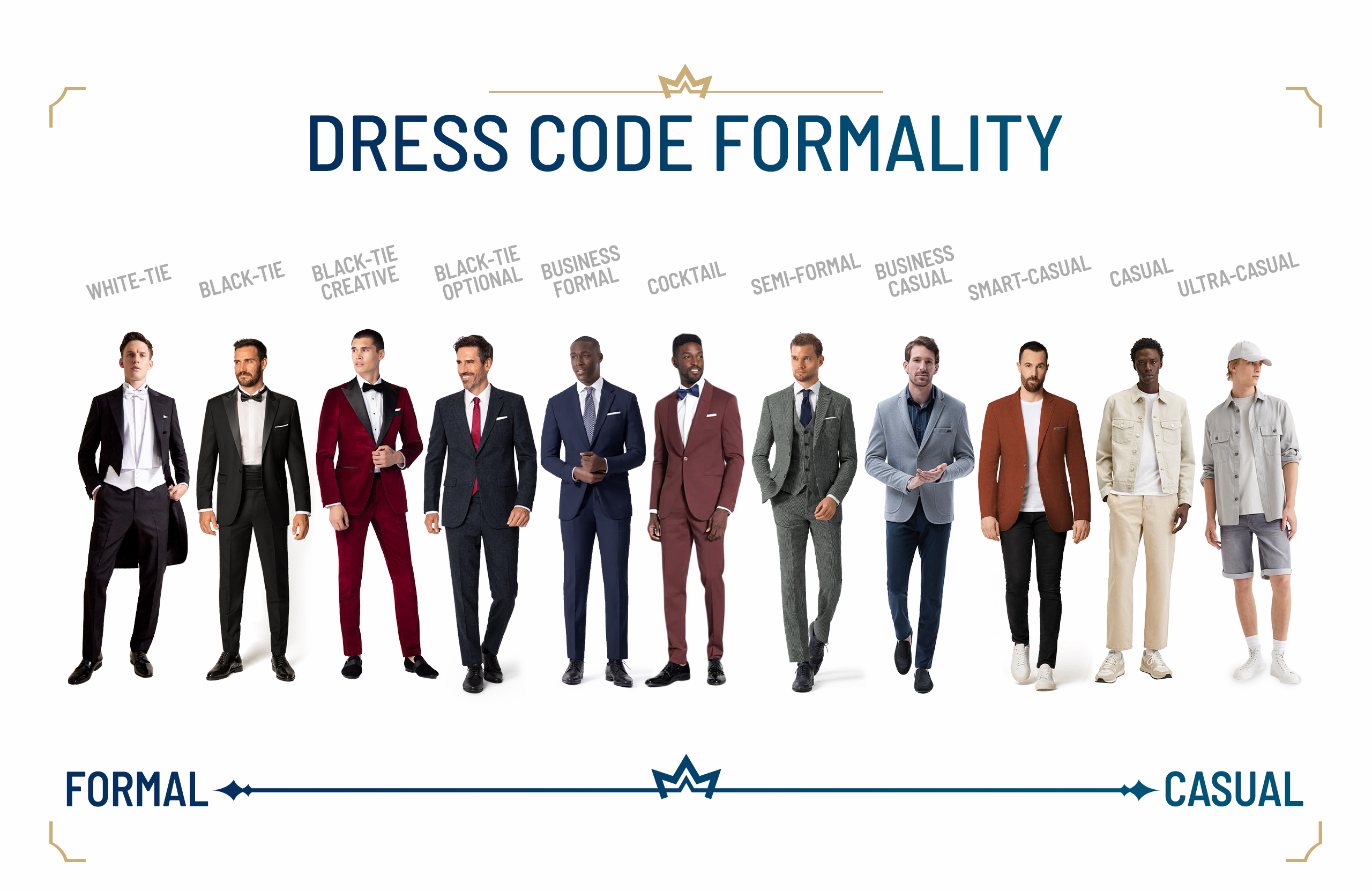 Also, the dress code should always precede your personal style.
For example, a well-fitted three-piece slim-fit suit would be pertinent for a wedding.
In the same way, an unstructured suit jacket will work for a casual business outfit.
So, it's essential to be aware of the differences and be dressed up without going overboard.
Suit Colors & Patterns
The suit color will greatly impact the style and overall appearance.
The basic suit colors are always the safe option to start with. Navy blue, for example, could be a suit for offices, weddings, and job interviews.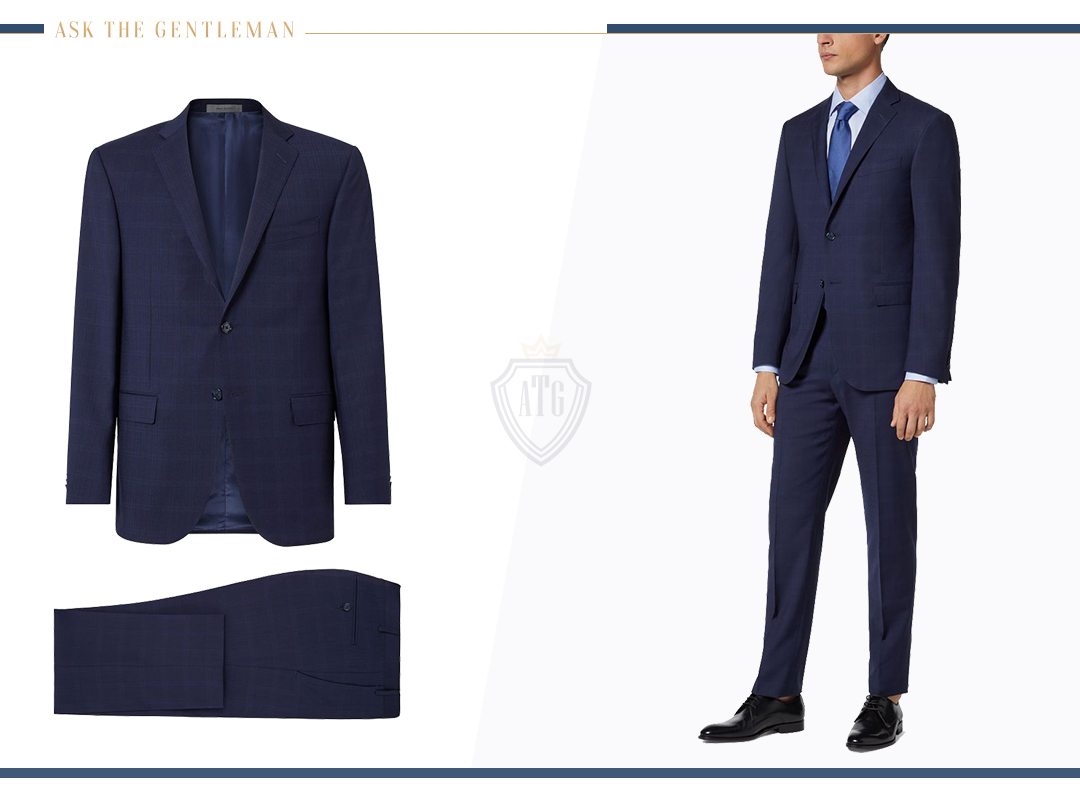 In the same way, charcoal grey can work for many situations, from business meetings to dates.
Owning black, navy, charcoal, or brown suits will fit any situation.
However, you can experiment with more colors, like maroon or tan, as long as the occasion is appropriate.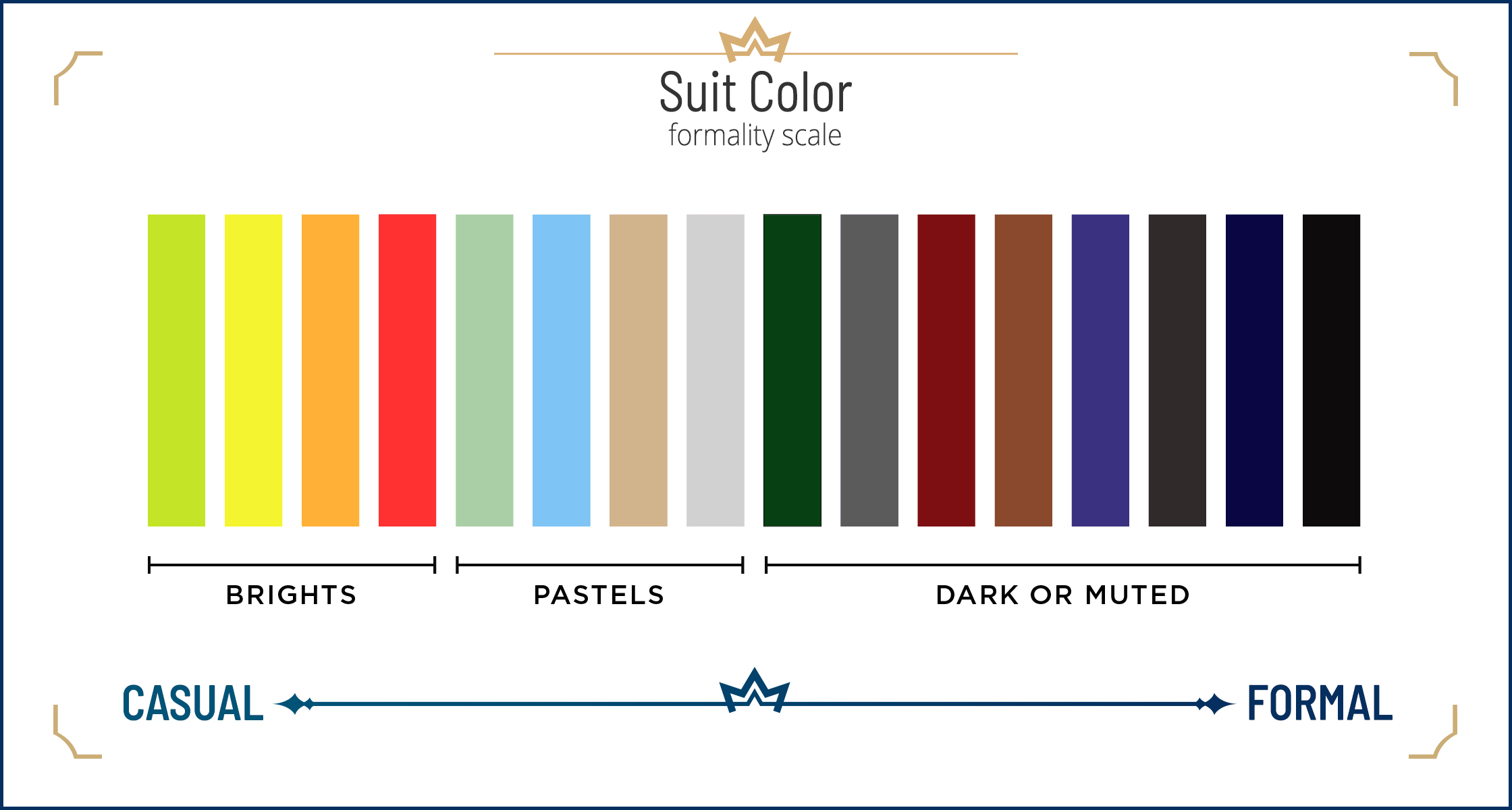 On the other hand, suit patterns are a great way to make the suit more stylish.
Pinstripes, windowpane, herringbone, and check are some popular choices.
Note that patterns will make the suit less formal but are a great way to make the outfit more interesting.
Picking the Right Color Combination
A good color combination looks pleasing to the eyes and shows that you've put effort into styling.
Therefore, putting some thought into the suit, shirt, and tie combination is great for making a solid impression.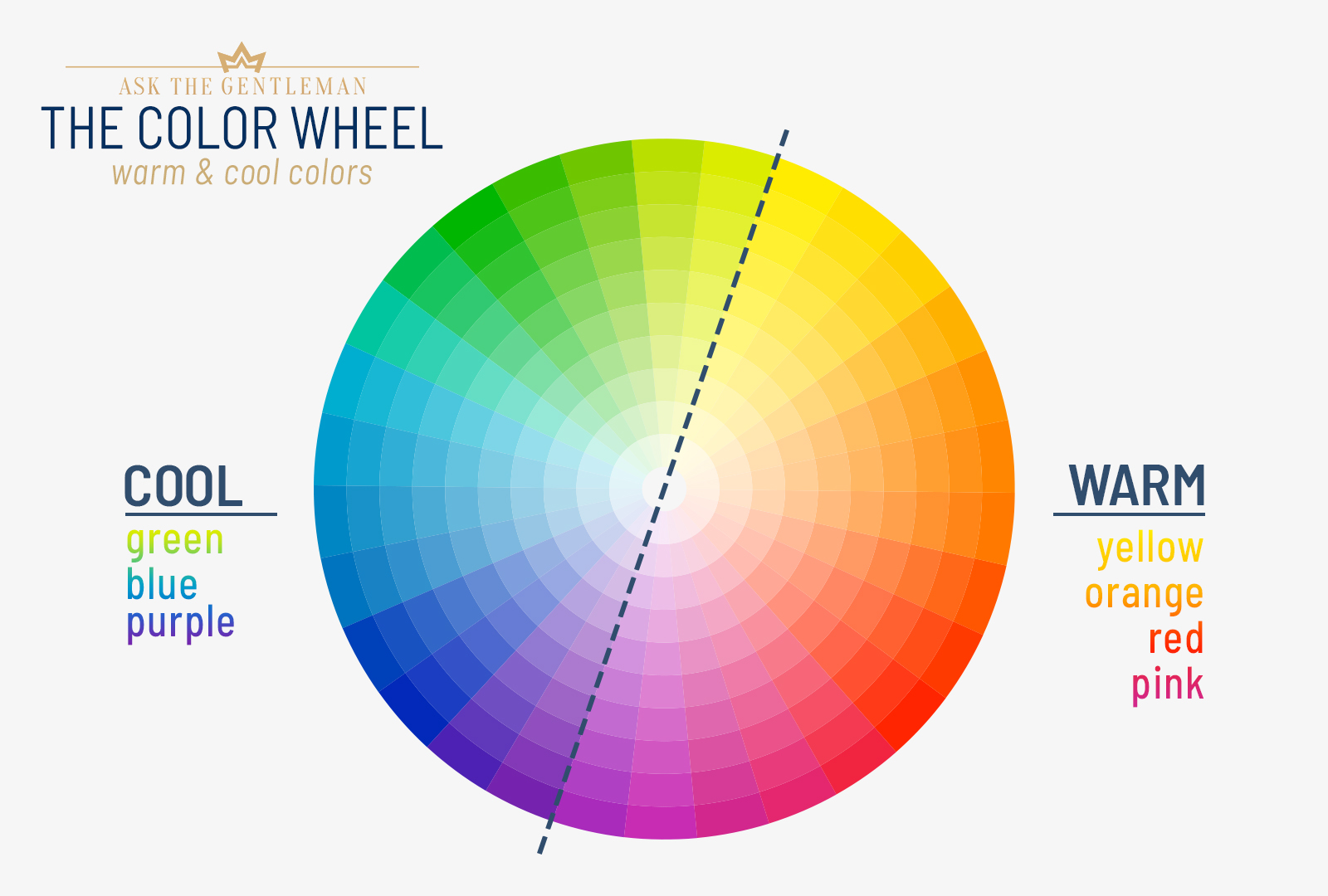 It all starts with understanding the color wheel. These color schemes will help you achieve the right mix.
For example, a white shirt with a navy suit makes a dressy ensemble. А navy tie here will create a monochromatic and serious outfit.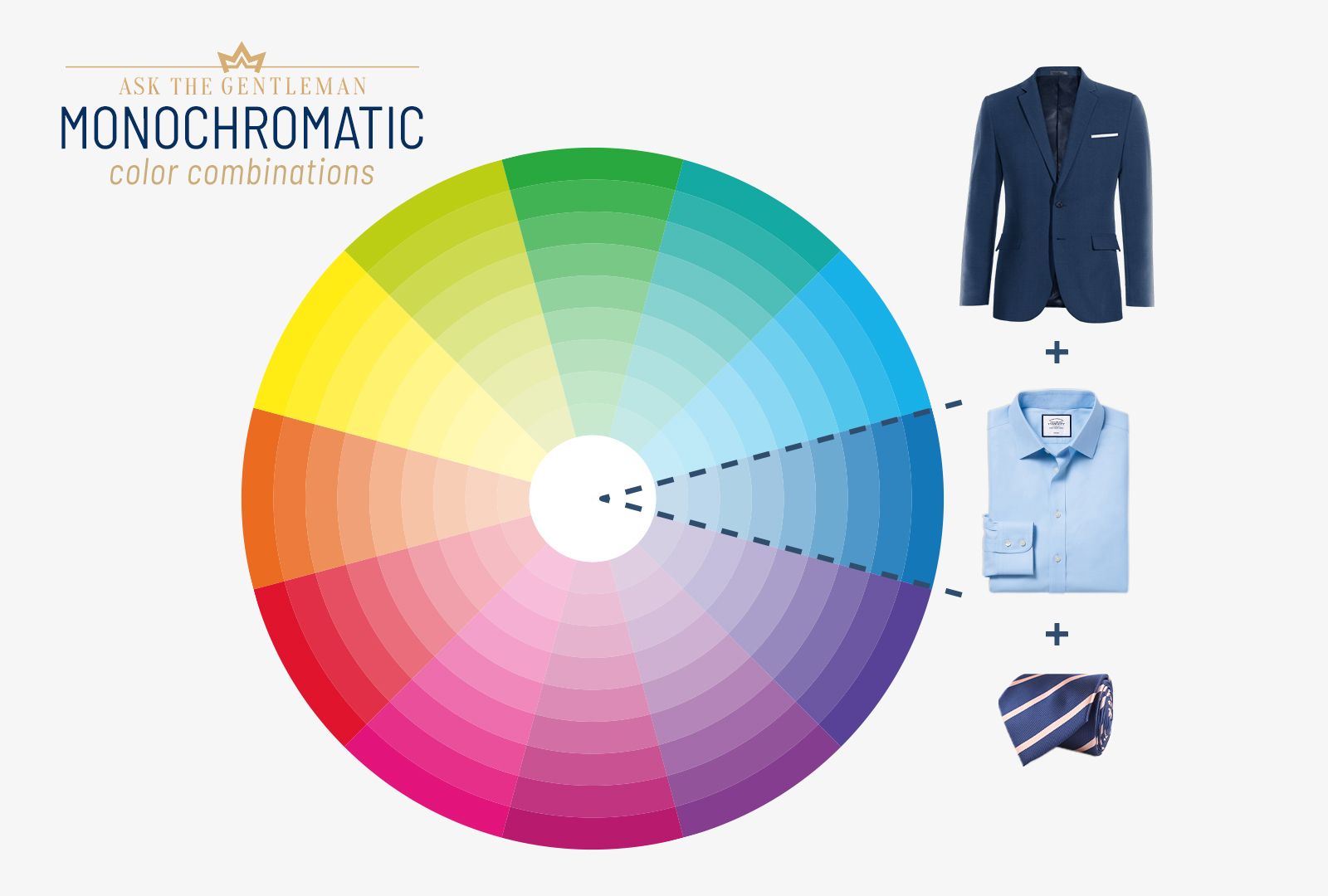 But switching to an orange or red tie will provide maximum contrast to navy and thus a flamboyant look.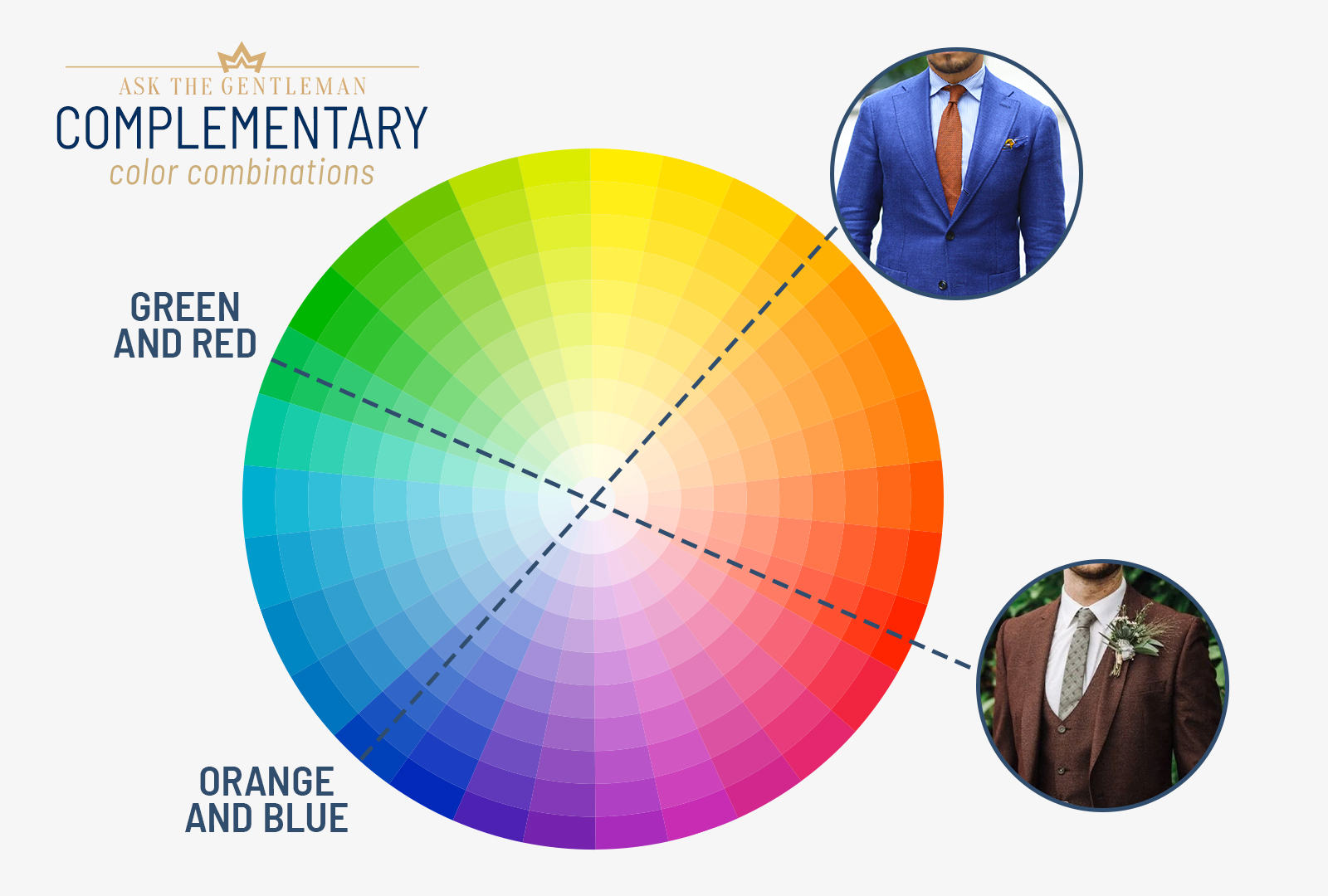 Therefore, understanding the different color palettes is a must-have to showcase a supreme suit style.
Your Body Type
Everyone is built differently. Therefore, each type of suit is good for a different body type.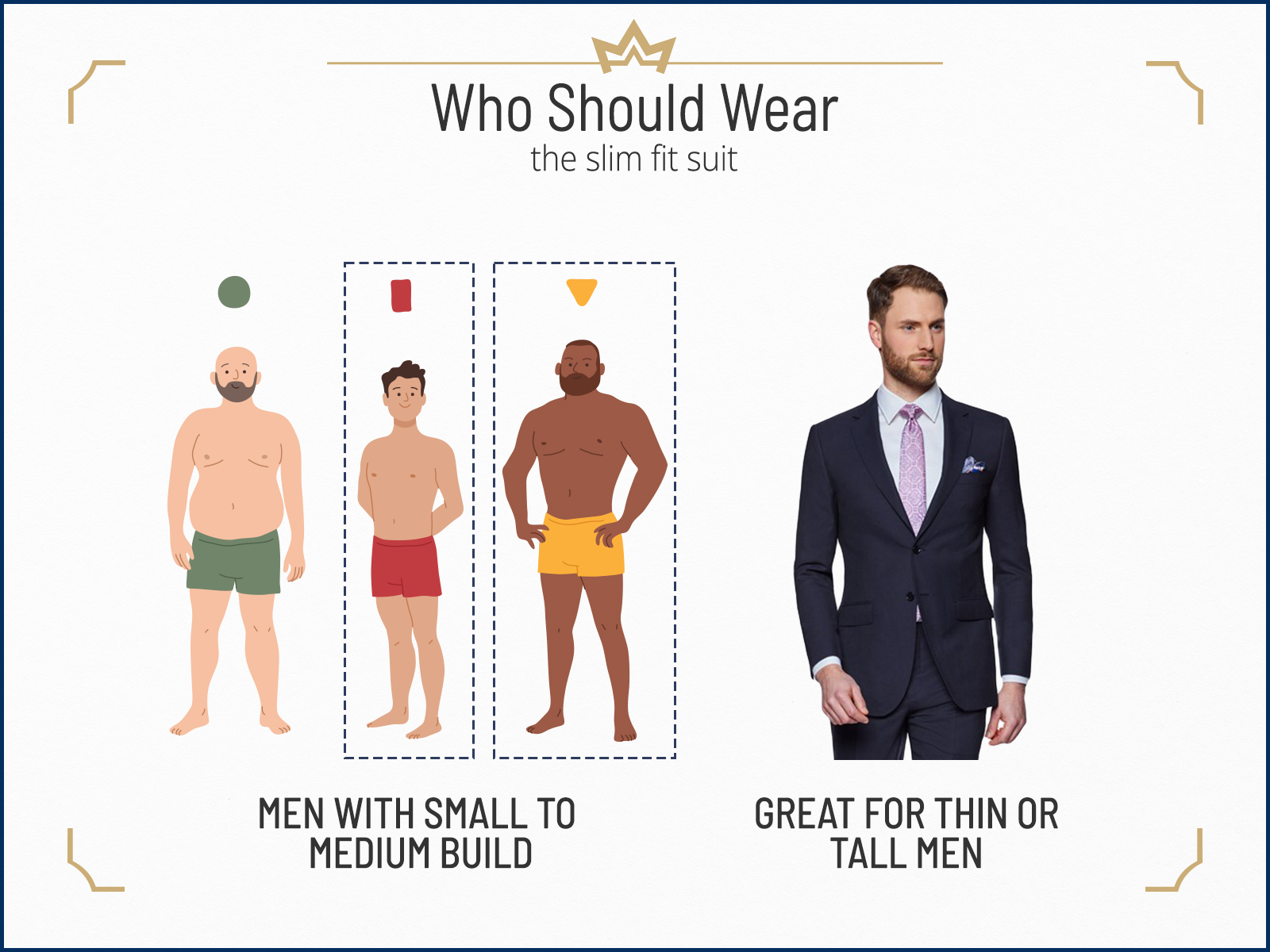 The best practice here is to understand your body type and dress accordingly.
The goal is often to enhance your best body features and hide shortcomings.
Types of Suits FAQs
What are some modern types of suits that are in style now?
The standard modern suit styles are slim-fit suits in dark shades like navy, charcoal, and black.
However, flamboyant suit colors like blue or burgundy are trendy and contemporary choices.
Can big men wear slim-fit suits?
Yes, generally, a slim-fit suit looks great on big fellows.
However, if the suit jacket feels tight or the pants feel excessively tapered, you can try another cut. A modern-fit suit would be a great alternative.
What are the best suit styles for a wedding?
For the most effortless yet dressiest suit style, go with a single-breasted navy suit, notch lapels, flap pockets, and double vents.
A black suit would create a more formal ensemble. In that case, choose peak or shawl lapels, flap pockets, and no vent.
What is considered formal wear?
Strictly speaking, wearing a tuxedo is considered true formal wear.
However, depending on the context, formal wear can range from black-tie optional to business formal.
In such situations, wearing a dark-colored suit with a conservative shirt and tie would be formal wear.
Which suit style is appropriate for semi-formal events?
Two-button single-breasted suit with notch lapels and flap pockets is the most appropriate suit style for semi-formal events.
Other details include a slim-fit suit cut, double vents, and flat-front pants.