You must have heard of the regular or classic fit suit as the most traditional suit cut.
That's because it is effortless to wear and also provides great comfort.
With ample room around the chest and waist areas, this suit fit allows the body to move as freely as possible.
This is why most men who work in busy work environments prefer classic fit suits.
What is a Classic Fit Suit Cut
The classic fit (a.k.a. the regular fit) is the most traditional suit fit, characterized by the wide cut and the comfort it brings.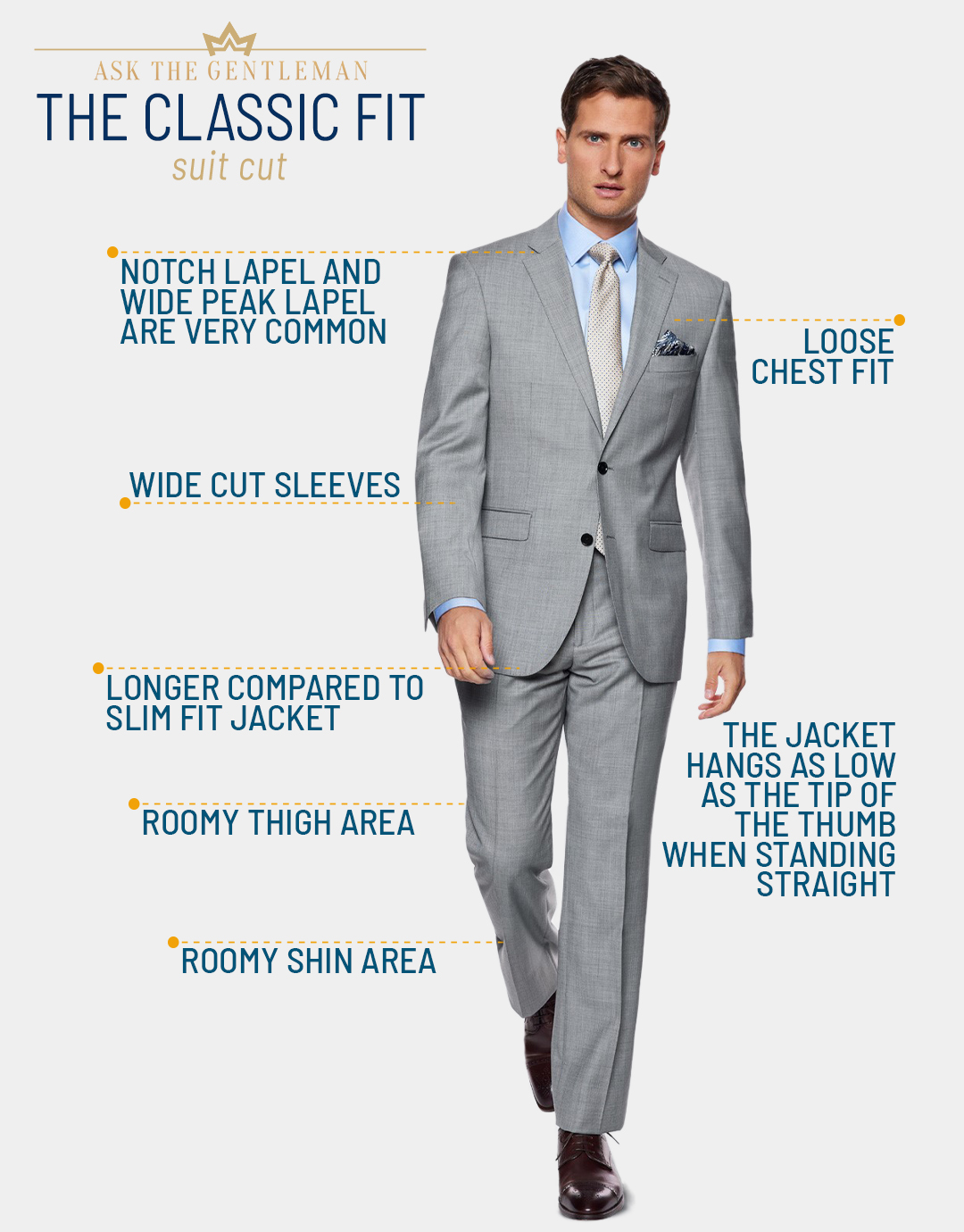 It has extra fabric that allows for extra space between the body and the suit, a relatively loose fit.
The extra room allows for freer body movements, perfect for commuting and working.
Apart from the extra room in the jacket's chest and shoulder area, a classic fit suit is also longer compared to other suit jacket styles.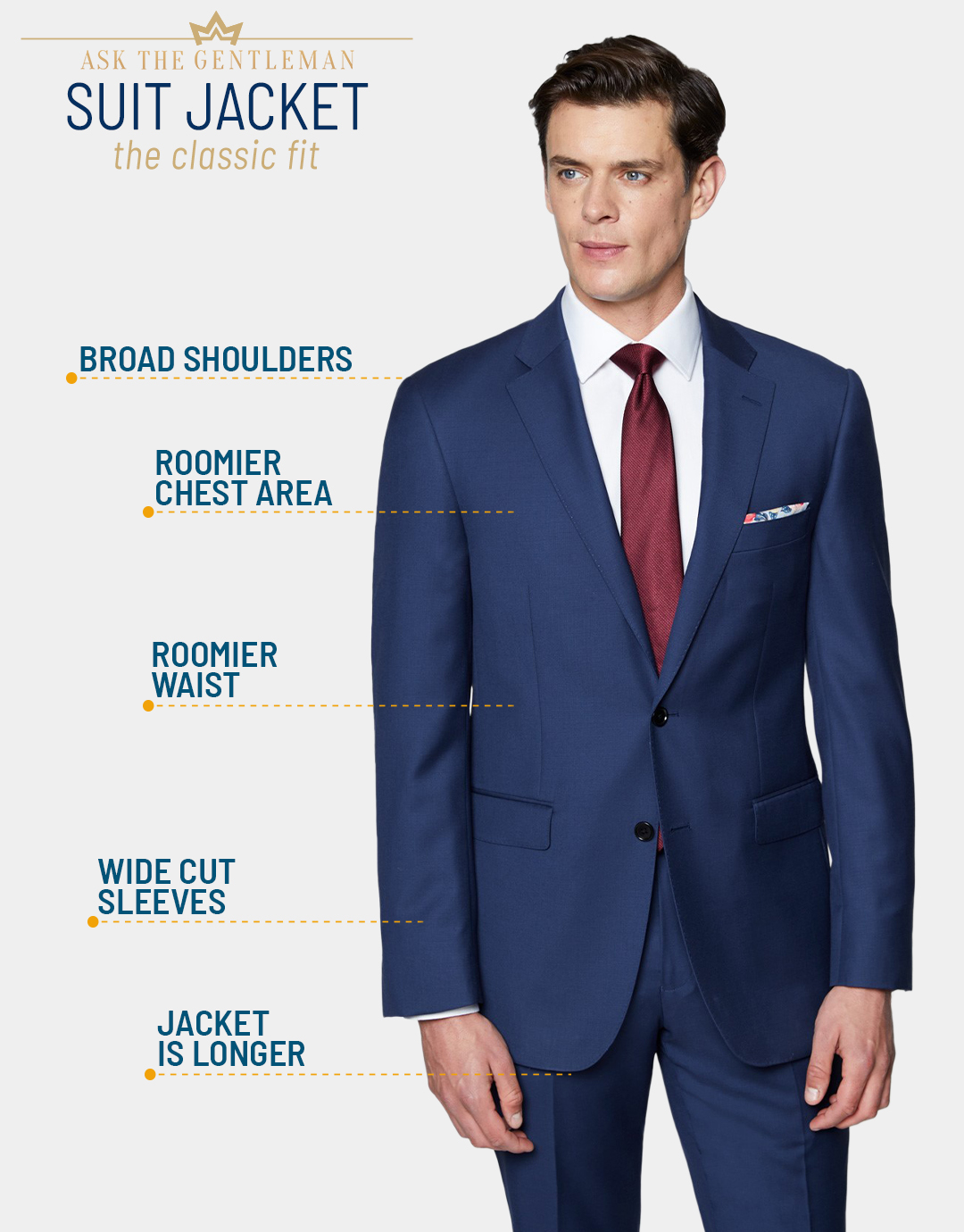 The jacket hangs as low as the tip of your thumb when standing straight with your hands down.
Standard notch lapels and wide peak lapels are also common in classic fit suits.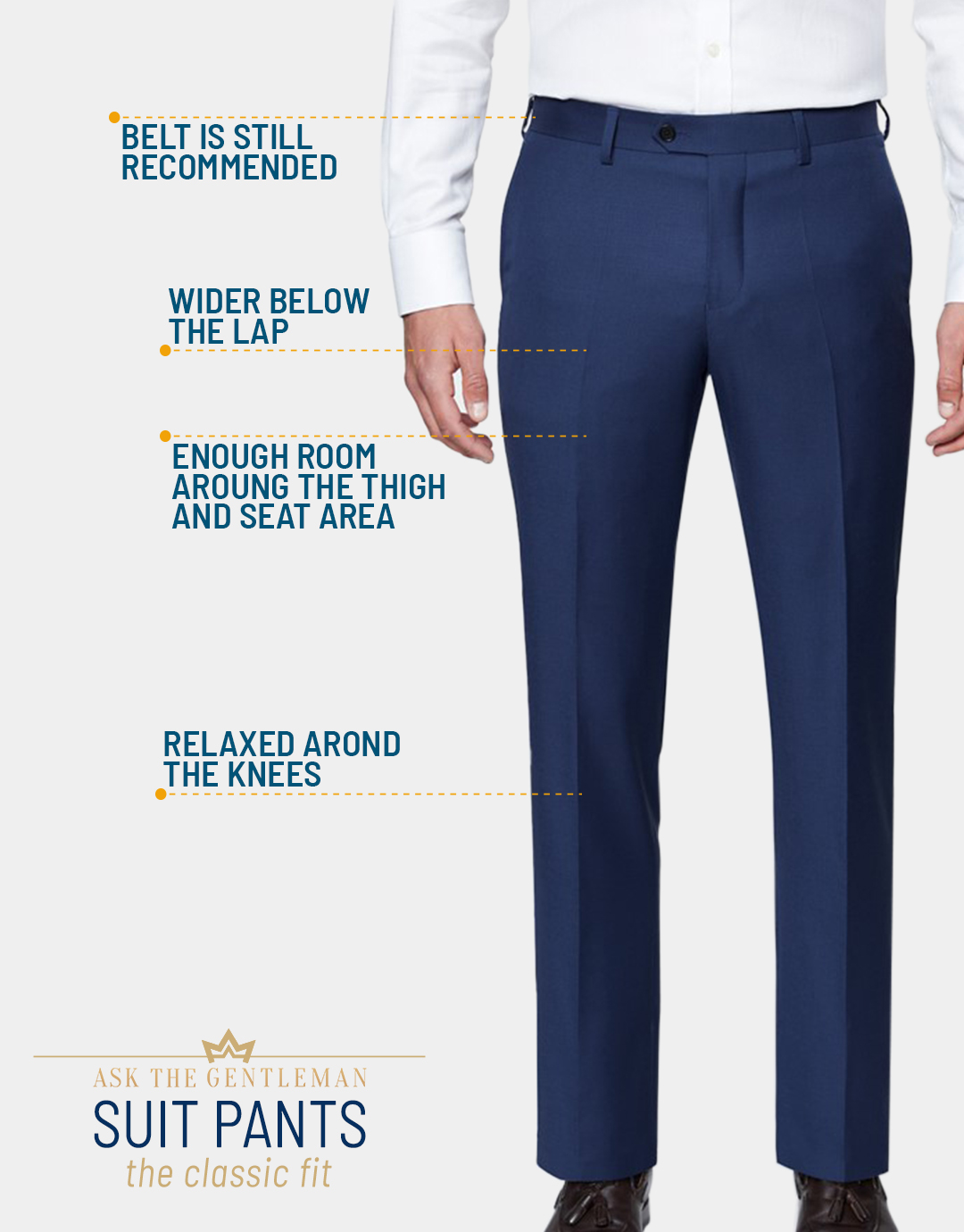 The pants are equally roomier, especially around the shin and thigh area, and usually feature a full or half pant break.
Who Should Wear the Classic Fit
Men who prefer to wear three-piece suits can wear classic fit because the cut provides additional room for the vest.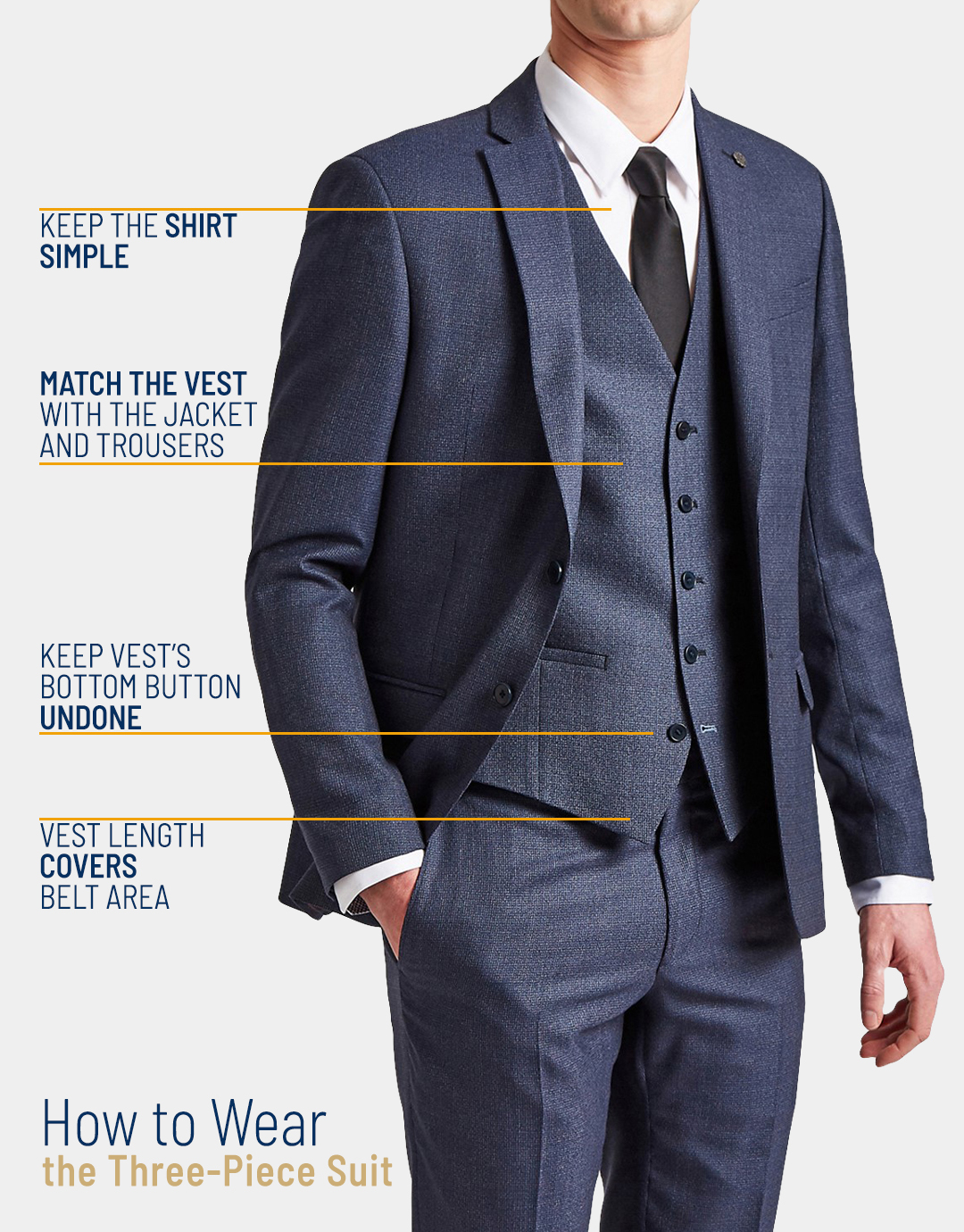 When it comes to body types, classic fit sits well on oval bodies and big men in general.
If your midsection is wider than the shoulders and hips area, along with thin arms and legs, you fall into the oval body type.
Given the extra room of a classic cut, the mid-section area is evenly balanced out with the rest of the body.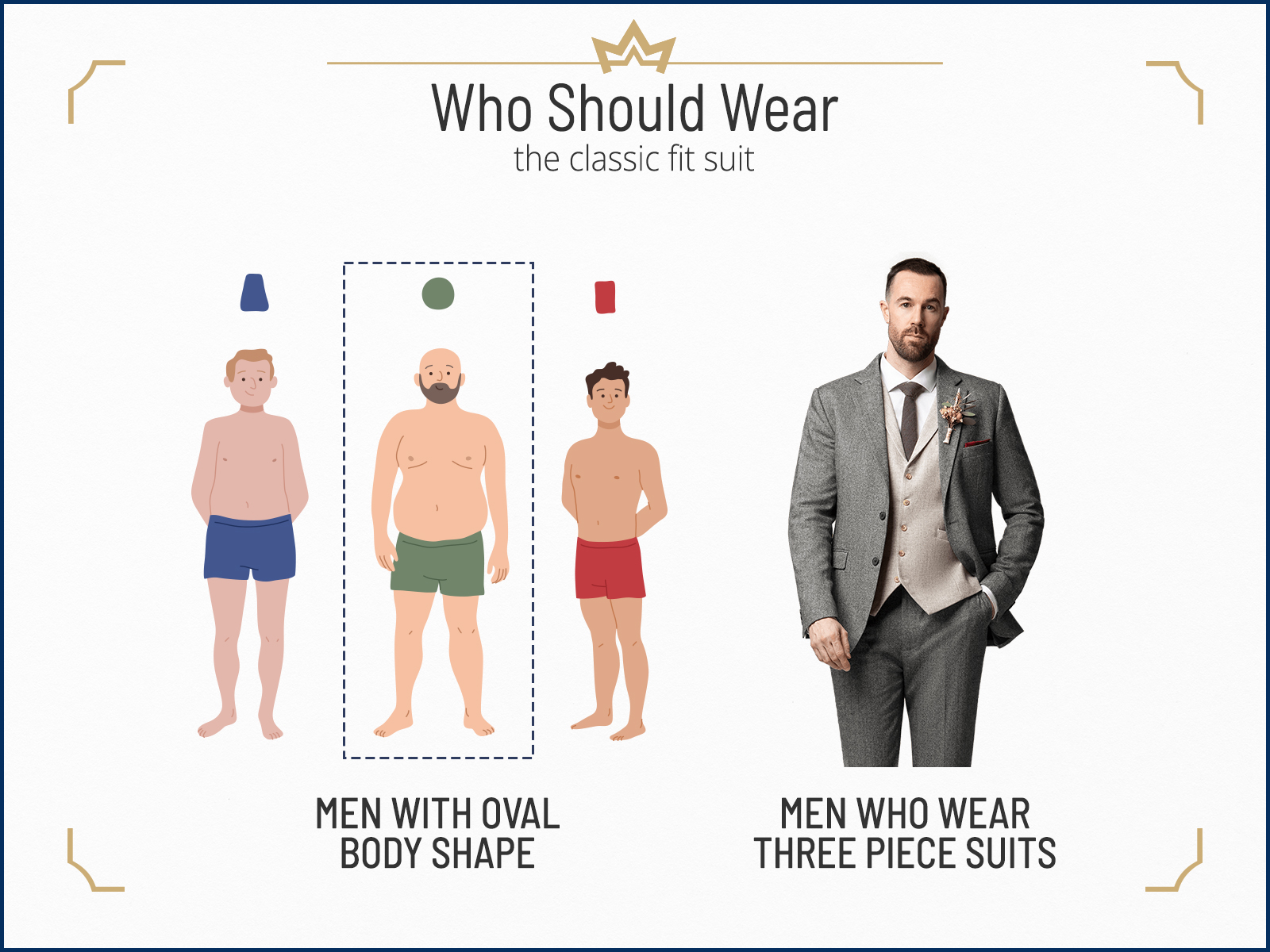 Your goal here is to tackle the overwhelming mid-section area.
And nothing does it better than a double or single-breasted classic fit jacket.
Advantages of the Classic Cut
When it comes to advantages, the classic cut is known for many.
Firstly, you can find a classic cut suit in almost every store, and that too in a wide variety.
Therefore, you never have to worry about finding the right size within your budget.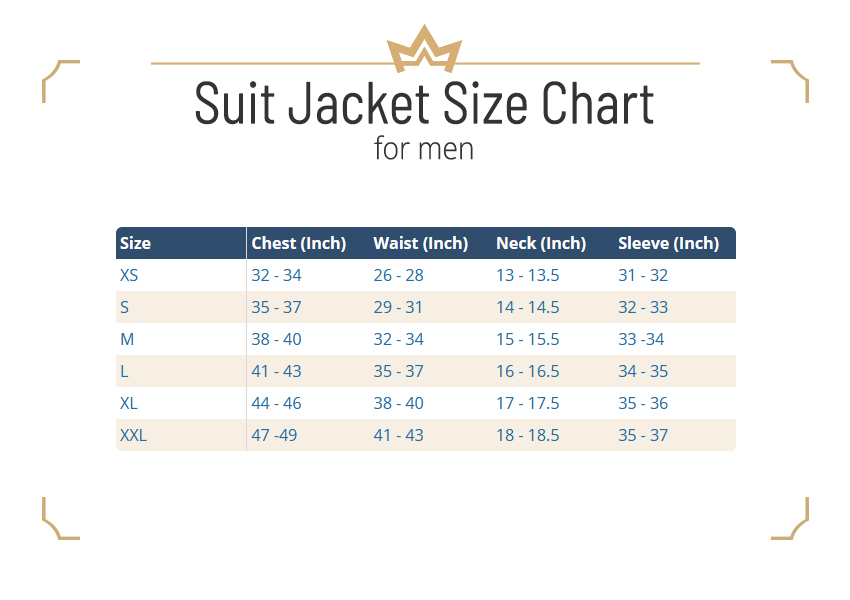 More importantly, classic cut suits are the easiest to alter and adjust, given the extra fabric and room.
This comes in handy for all body types, including unusual shapes or sizes.
If you prefer a more timeless look, you can easily replace the slim fit with a classic fit.
But that is all about fitting.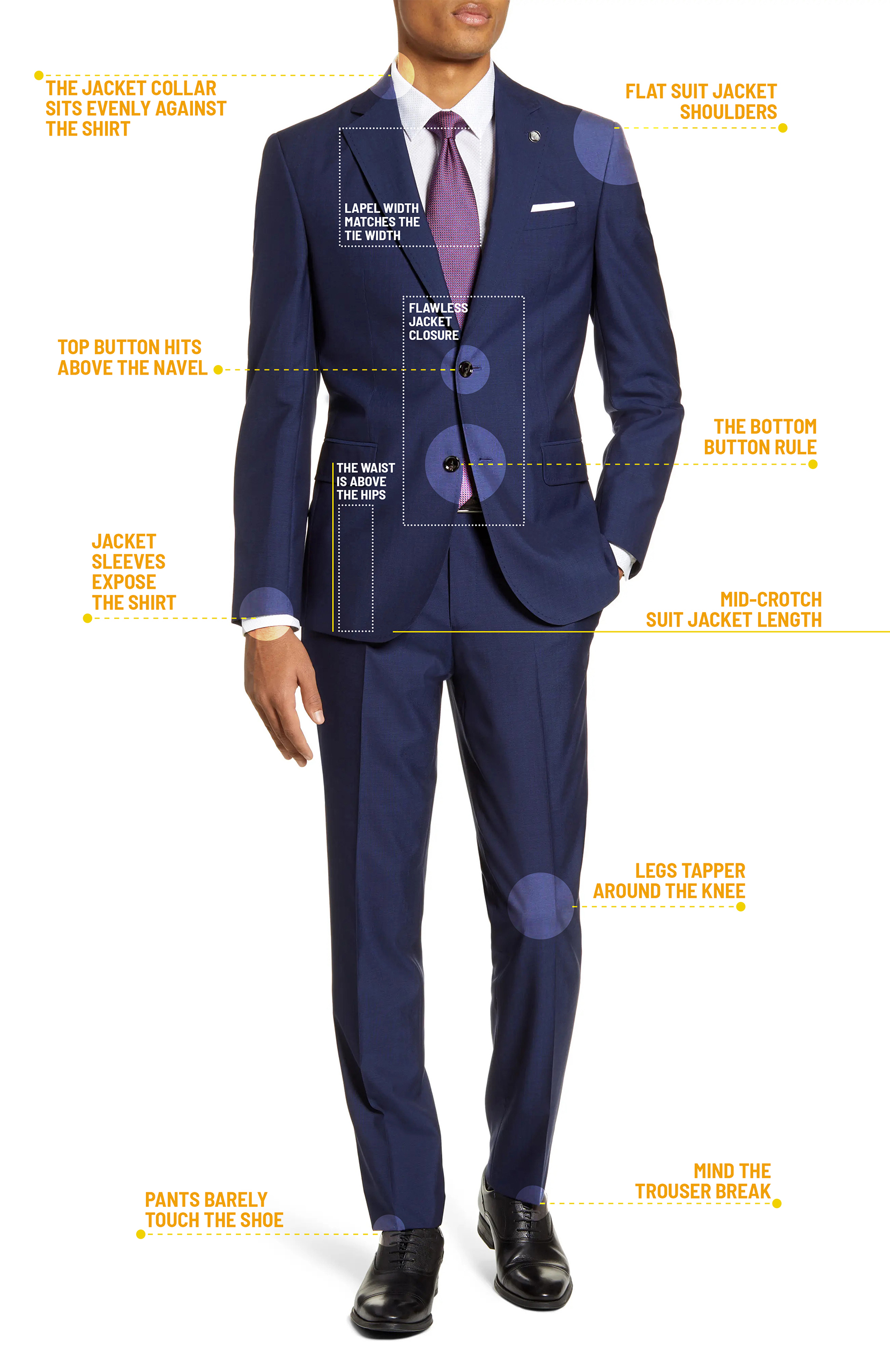 Classic fit suits are also weather-friendly since they offer you the flexibility to add or remove layers underneath.
On top of it, classic fit cuts are exceptionally comfortable since you can make free body movements quite effortlessly.
Hence, if you prioritize comfort, a classic fit suit is what's missing in your wardrobe.
Difference Between Slim-Fit & Classic-Fit Cuts
To understand the difference between slim fit and classic fit cuts, let's compare the jackets and trousers separately.
Slim fit cut jackets are more trimmed compared to a classic fit.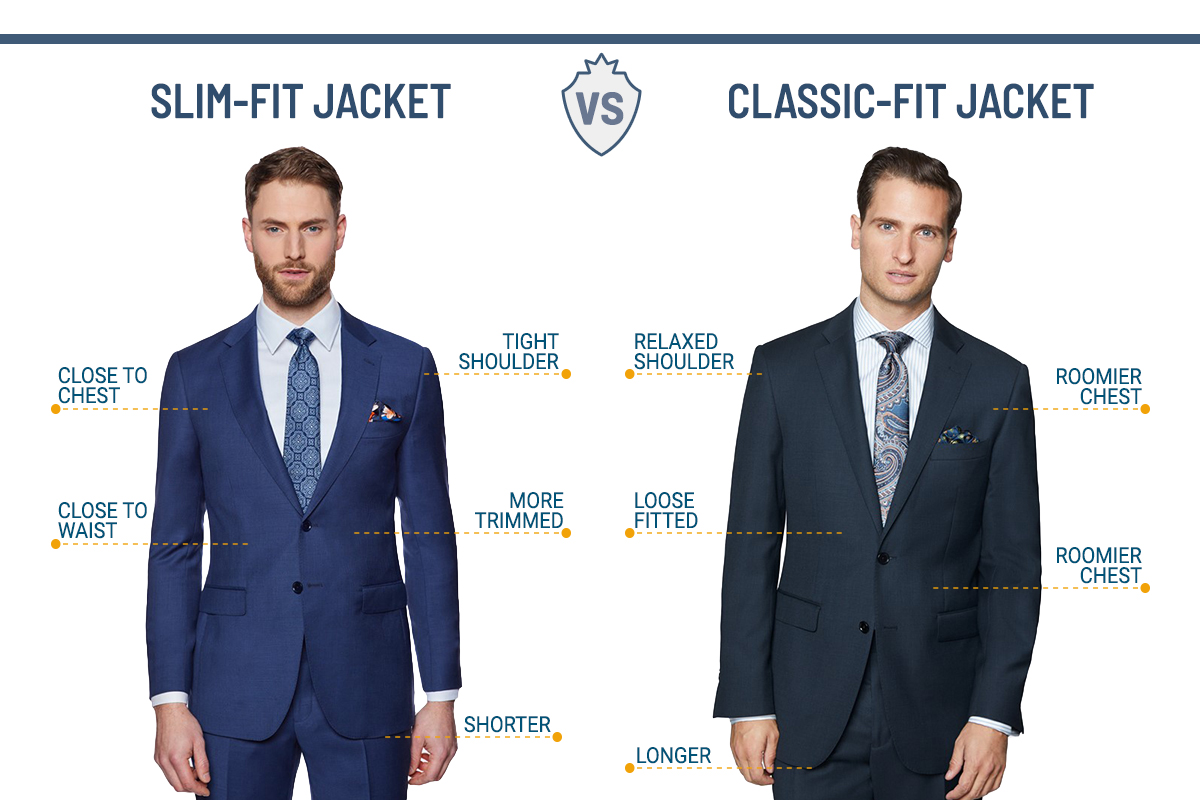 The jacket sits closer to the waist, chest, and shoulder area, producing a tapered silhouette.
It has a sleeker look compared to the relaxed and roomy look of a classic-fit jacket.
Then there is the difference in lengths, where slim-fit jackets are shorter than classic cut jackets.
Another difference is in the width of the lapels, whereas slim-fit jackets have thinner lapels.
Similarly, regular-fit trousers aren't tapered down the waist, so they don't give you the refined silhouette of a slim-fit cut.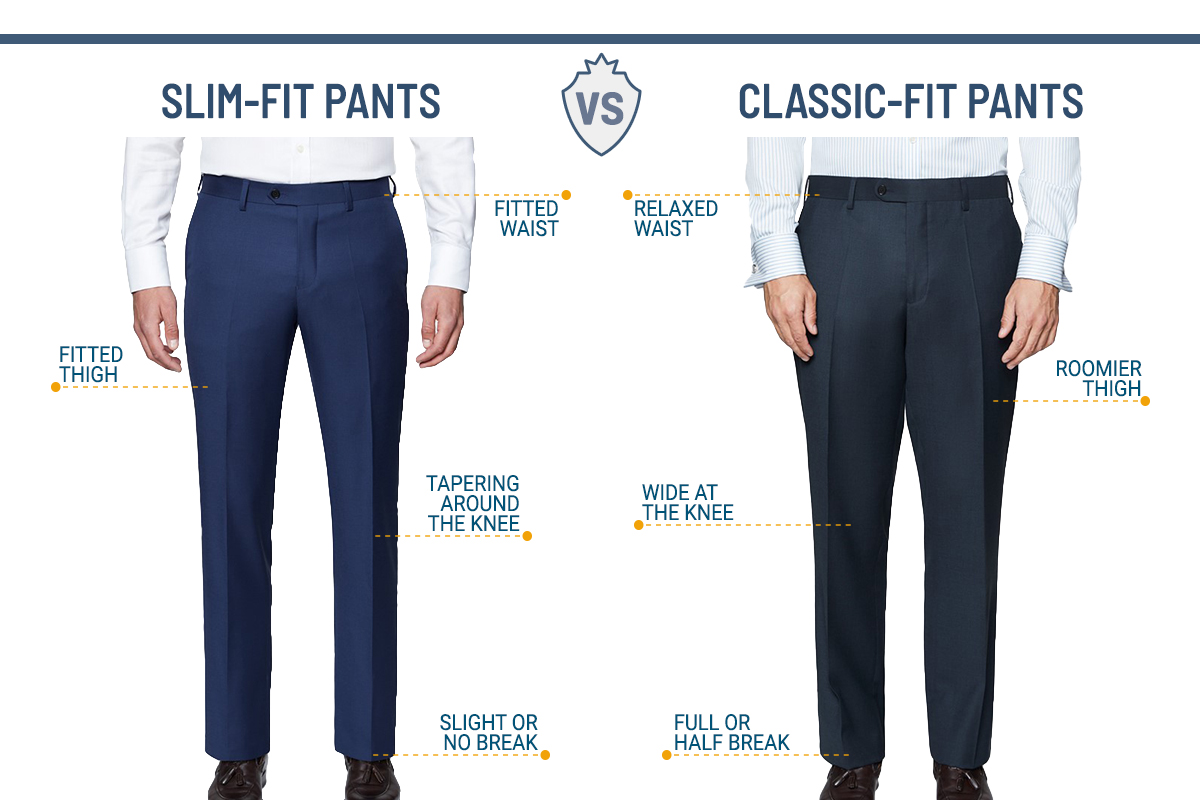 That is one reason why a slim fit cut is considered more fashion-forward than a classic fit.
It is also easier to commute and move freely wearing a classic fit suit, given the extra fabric and room.
How to Wear the Classic Fit Suit Cut
People often tend to forget minor details that can make or break the suit look.
I am here to help you avoid making any mistakes while wearing a streamlined classic fit suit.
Roomier Around the Chest & Waist
Classic fit cut jackets have broader shoulders with roomier waist and chest areas.
This is why the sleeves and armholes also have wider cuts as compared to slim-fit jackets.
More importantly, apart from being roomier around the chest and waist area, the jacket is also supposed to be longer than other cuts.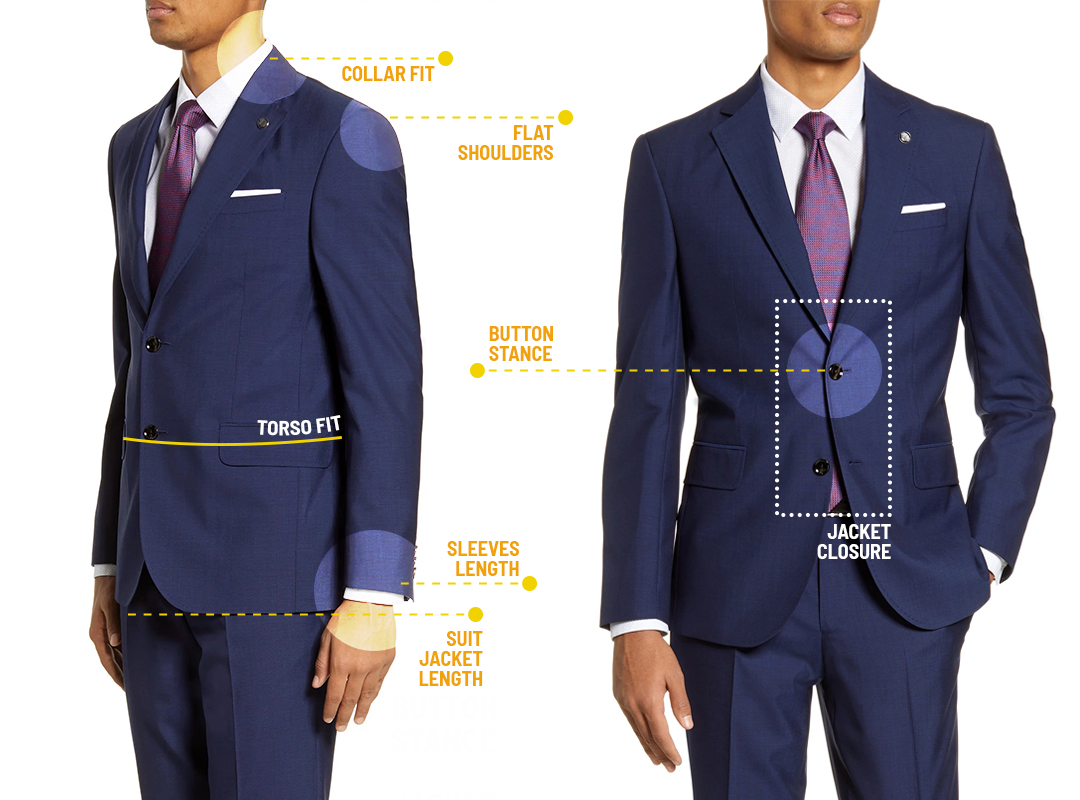 Usually, the jacket hangs as low as the middle waistline.
The whole point of a classic fit jacket is to offer enough room for freer body movements.
Therefore, if you don't feel there is enough room for easy movements, it might not be the right size for you.
Make sure to avoid getting a baggy jacket in search of looking for that extra room.
It has to be the right balance because the classic fit is synonymous with a relaxed fit, not a baggy fit.
The Jacket Should Not Have a Collar Gap
Most people don't know about this rule, so they fall trapped in it.
The collar gap clearly indicates that the jacket is not your fit for your size.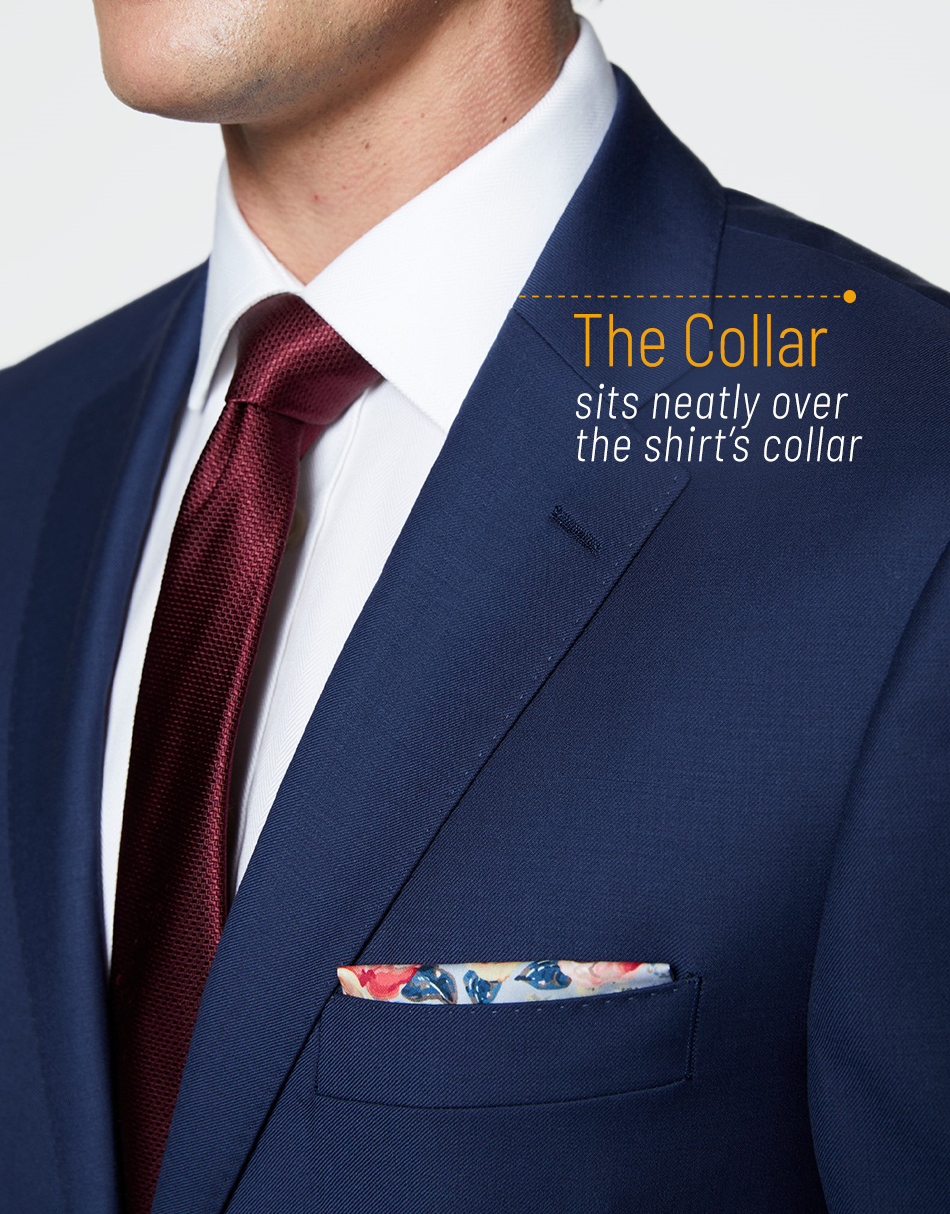 As a result, make sure your classic fit jacket collar sits neatly over the shirt's collar.
If there is space between your shirt's collar and your jacket's collar, it's not the right size.
Tailors can alter smaller collar gaps. But if it the gap is large, even the tailor can't come to your rescue.
The Pants are Relaxed, But Not Baggy
Again, just like the jacket, classic-fit cut pants are relaxed.
However, this does not mean they are baggy.
By relaxed, I mean they should have enough room around the seat and thigh area for easy movements.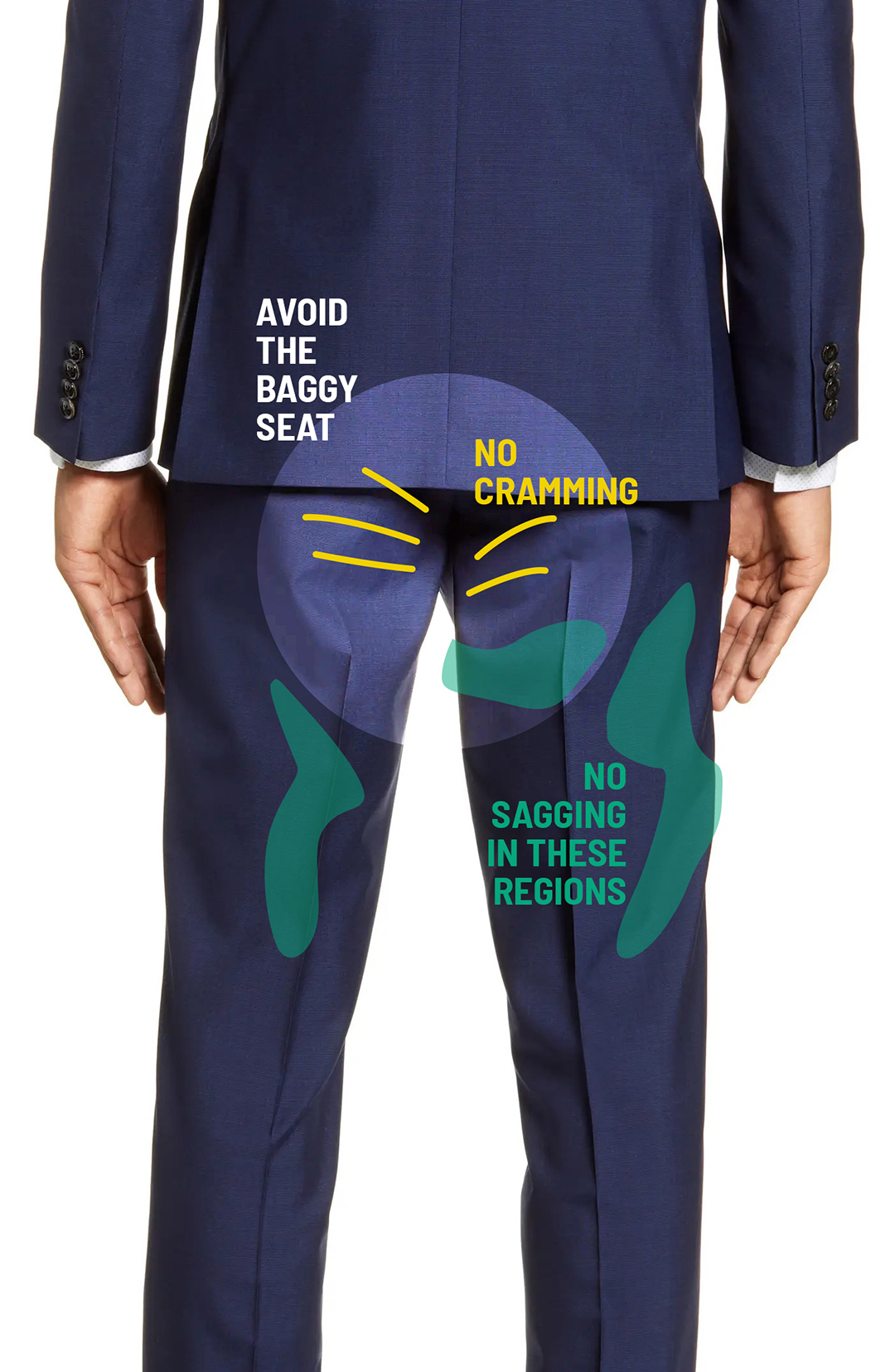 But not too much room that it looks baggy.
More importantly, classic fit pants also fit a bit wider below the crotch to balance out the wide look of the jacket.
As for the waistband, you shouldn't need a belt to hold it in place, which is around the natural waist.
Wear a Regular-Fit Shirt to Avoid Stretches
If you wear a slim-fit shirt under a classic fit suit, it will look stretchy.
Instead, opt for a regular-fit shirt that is the right size.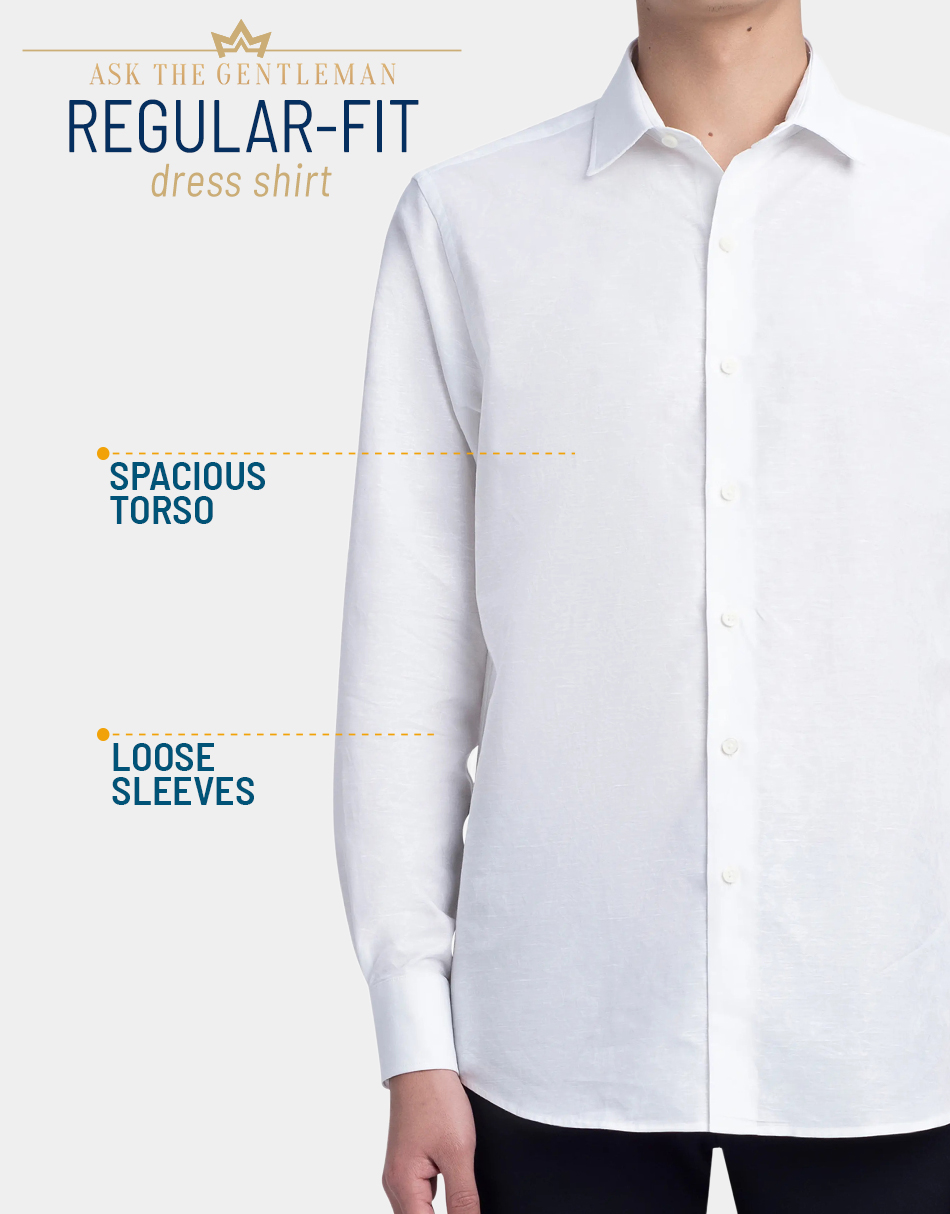 It will sit nice and neat under the classic cut jacket, making good use of that extra room.
The shirt has to go in line with the rest of the suit's fit, and nothing works better for a classic fit suit than a regular fit shirt.
Where to Wear the Classic Fit Suit Cut
You can wear the classic fit suit cut anywhere you want, but dress codes specifically call for it.
For instance, it is great to wear at events with a business-formal dress code, given the need to wear traditional suit colors.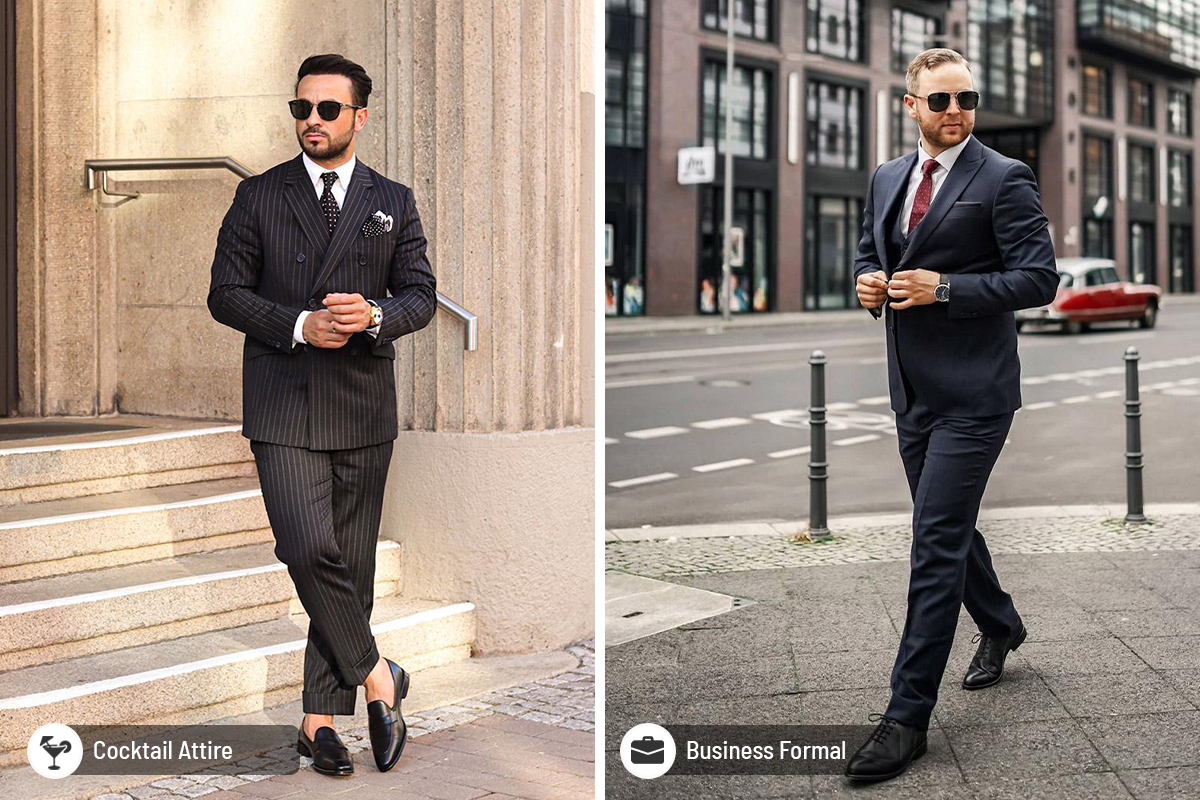 It can make you seem comfortable in all places, be it the boardroom, office, or dinner with a client.
But it's not limited to just that.
Formal events also provide the perfect opportunity to pull out your regular fit suit from the wardrobe.
Similarly, the classic fit suit might be a better option for weddings, especially if it's a daytime wedding or you intend to move a lot.
Classic Fit Suit & Shirt Color Combinations
You have the option to wear a matching jacket and pants or as separates to mix things a little.
Matching pants and jackets work best for a more traditional, business-like appearance.
If you want to express a bolder, offbeat look, feel free to wear different shades or fabrics for pants and jackets.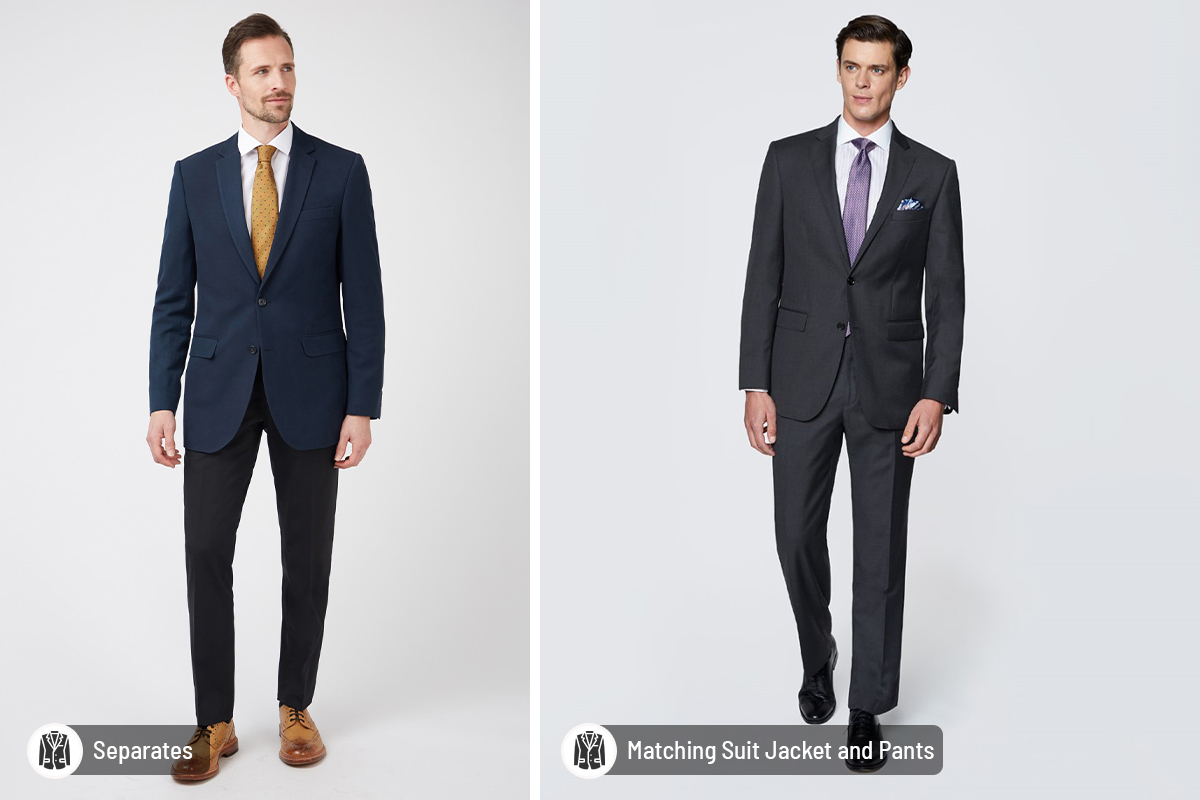 However, don't go all out with the colors. Sticking to standard suit color varieties with a classic cut is always safer.
A classic-fit black suit is a great option for weddings or formal occasions, complemented with black shoes.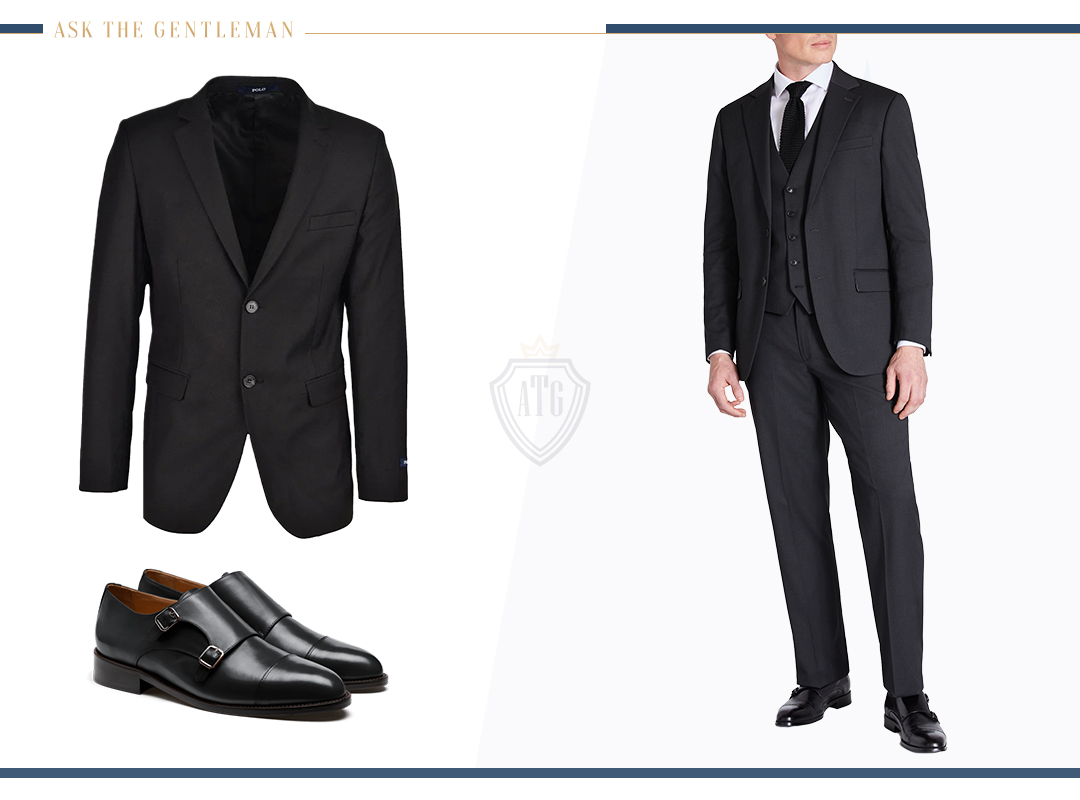 On the other hand, office goers have the option to work around charcoal grey and navy suits.
You can choose a different shade of shirt other than white and add a pair of brown shoes to complete the outfit – a perfectly balanced look.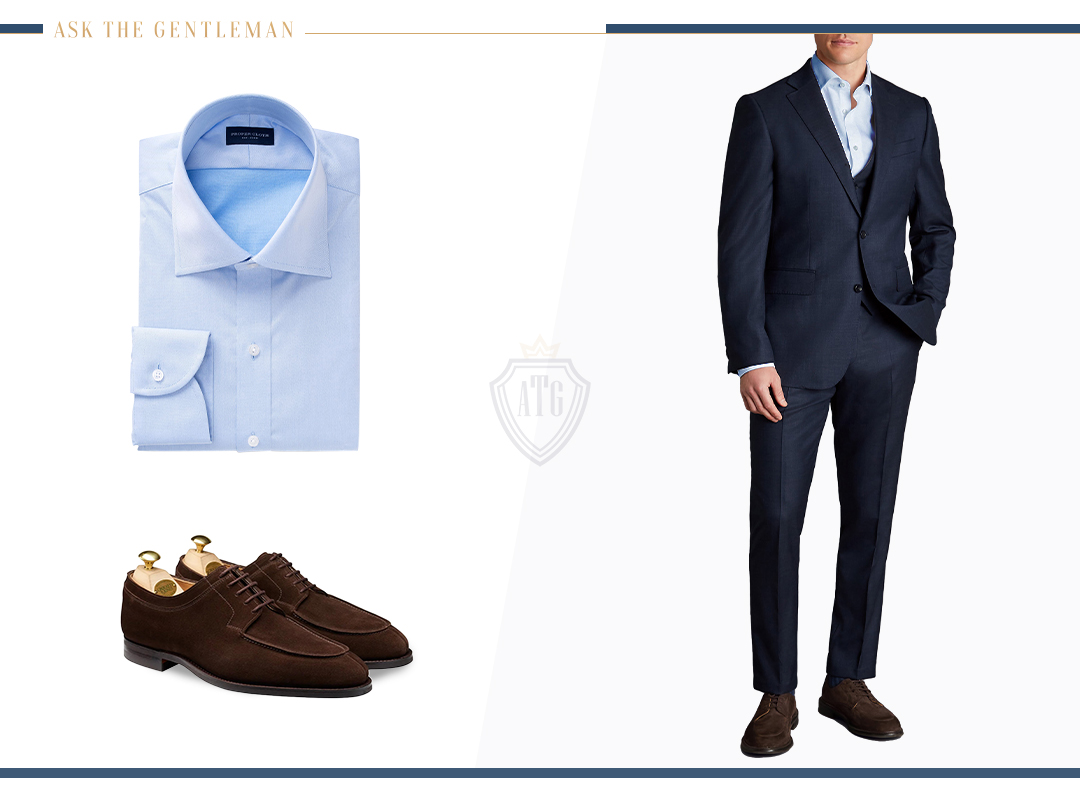 Dark colors are always associated with the winter vibe. Therefore, you must have some lighter shades for summer events.
Light grey or tan are excellent options, providing a fresher and warmer appearance.
You can add a light blue, light pink, or even a white dress shirt with these two shades.
People who have grey or blonde hair can also look pretty decent in a blue suit mingled with a white shirt.
You can also try khaki, but it's mostly good for daytime summer events.
How to Accessorize the Classic Fit Suit
Adding accessories to a classic fit suit is a great way to add some flair and make your presence felt.
However, the classic fit is all about the timeless and relaxed look.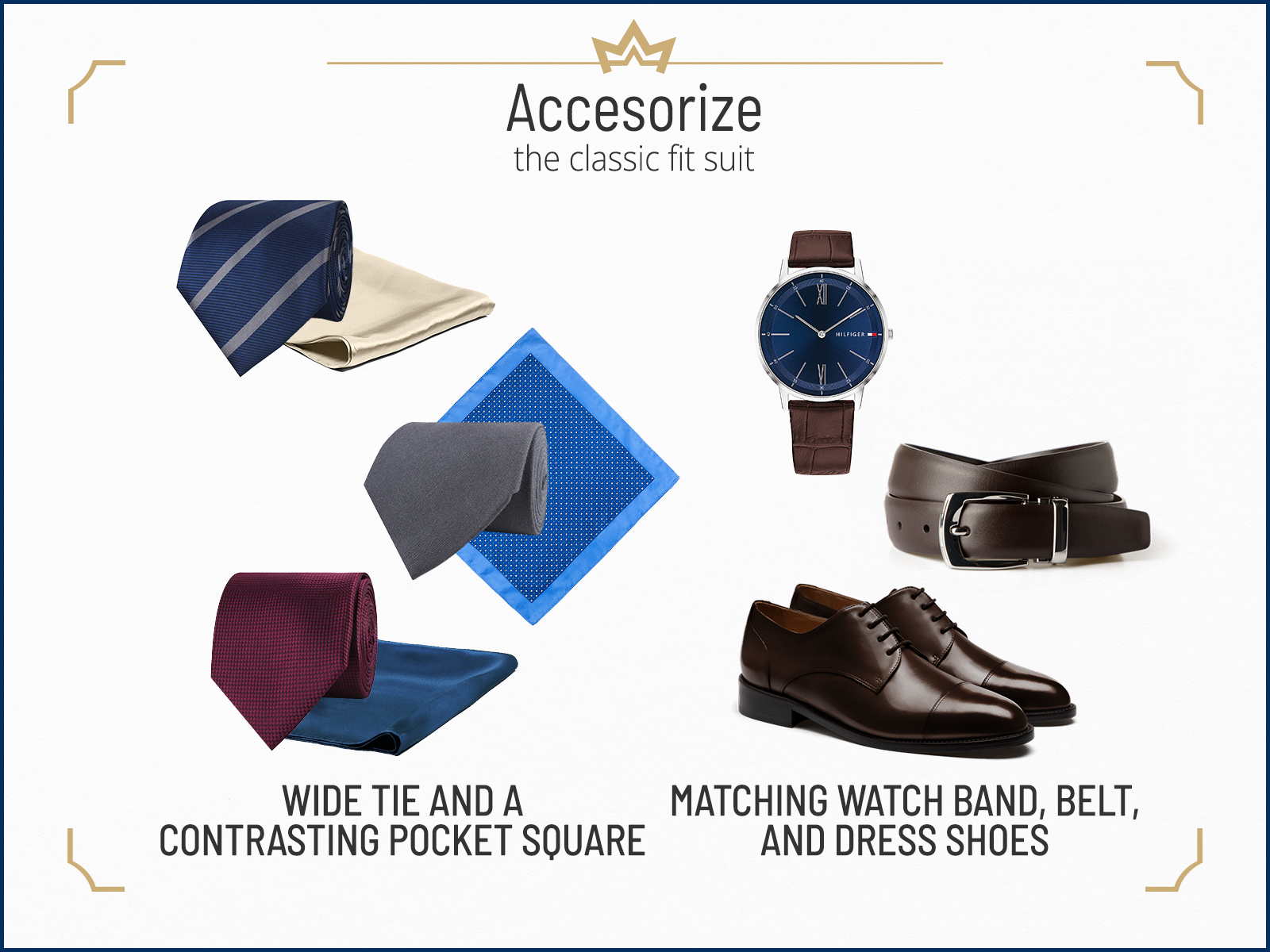 Stick to wider ties that complement the roomy ensemble of a classic cut.
The belt must match your shoe color, almost the same shade, if not the exact.
Adding watches with suits is always a classy move.
You can go for either leather straps or metal watches.
In case you go for a leather strap watch, try matching it with the belt and shoe color.
Lastly, add a contrasting pocket square to go with the suit and the wide tie.