If there's one thing common between James Bond and most school kids, both wear oxford shoes.
And there's no denying these timeless shoes are among the gentleman's wardrobe essentials.
Oxford shoes match with tuxedos, suits, chinos, and even jeans.
You can switch between weddings, office looks, and casual outfits in a snap without being boring.
The Evolution of Oxford Shoes
Oxfords were school shoes at the "University of Oxford" in the 1800s. Thus, the name "oxford shoes".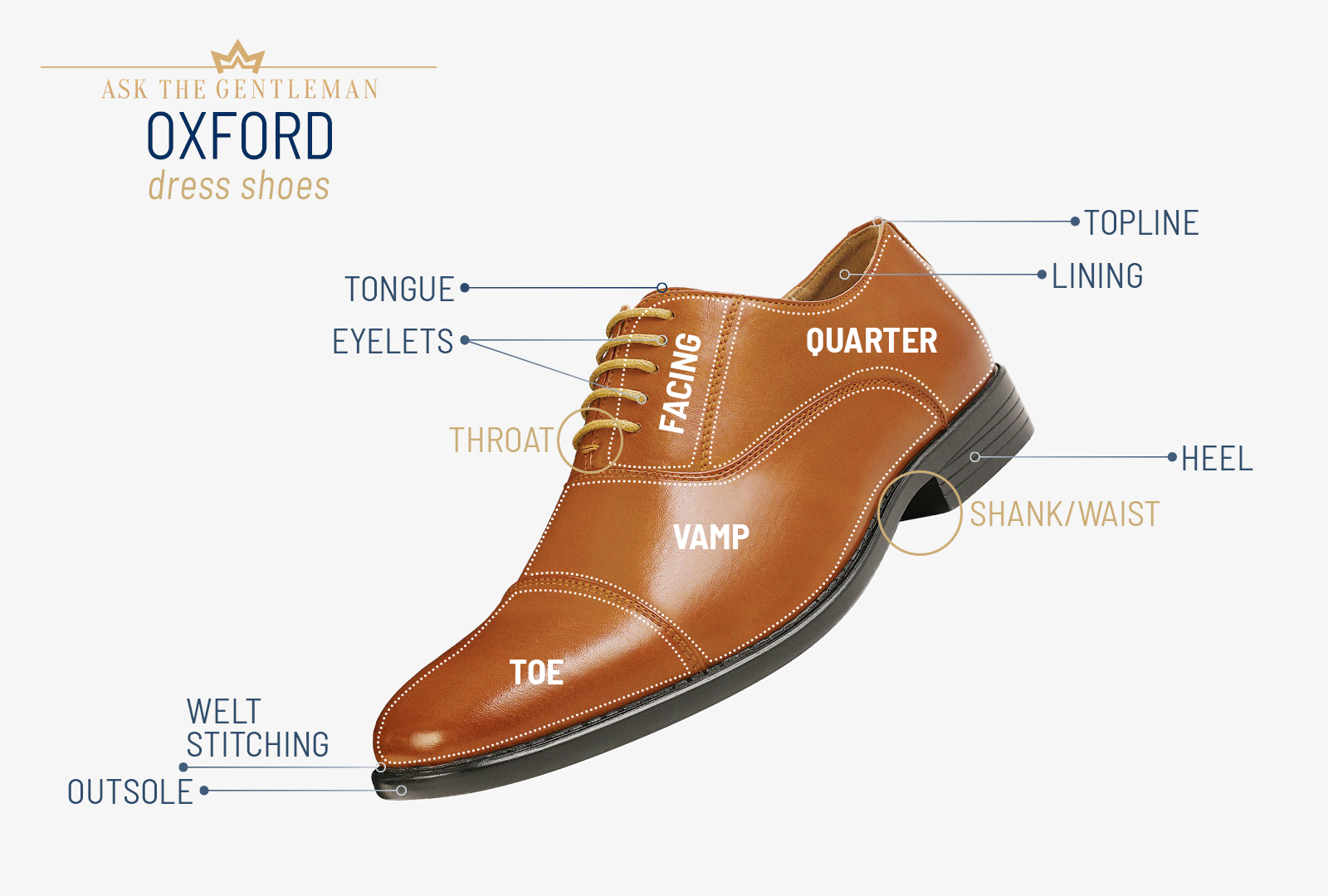 Initially, the Oxford was derived from the Oxonian shoe, casual in style.
But with the hyped comfort and under the shadow of high academic circles, oxfords became formal and popular.
Many consider these shoes of Scottish origin due to their descent and similarity with the Balmoral boots.
Some here in the US use the term Balmoral interchangeably to describe an Oxford shoe, which is wrong.
Oxford shoes, these days, are the symbol of a perpetual style. These are also the most formal shoes you can wear (after opera pumps).
That's because oxfords have a distinctive close-lacing system. It separates them from other dress shoe styles like derby shoes with an open-lacing system.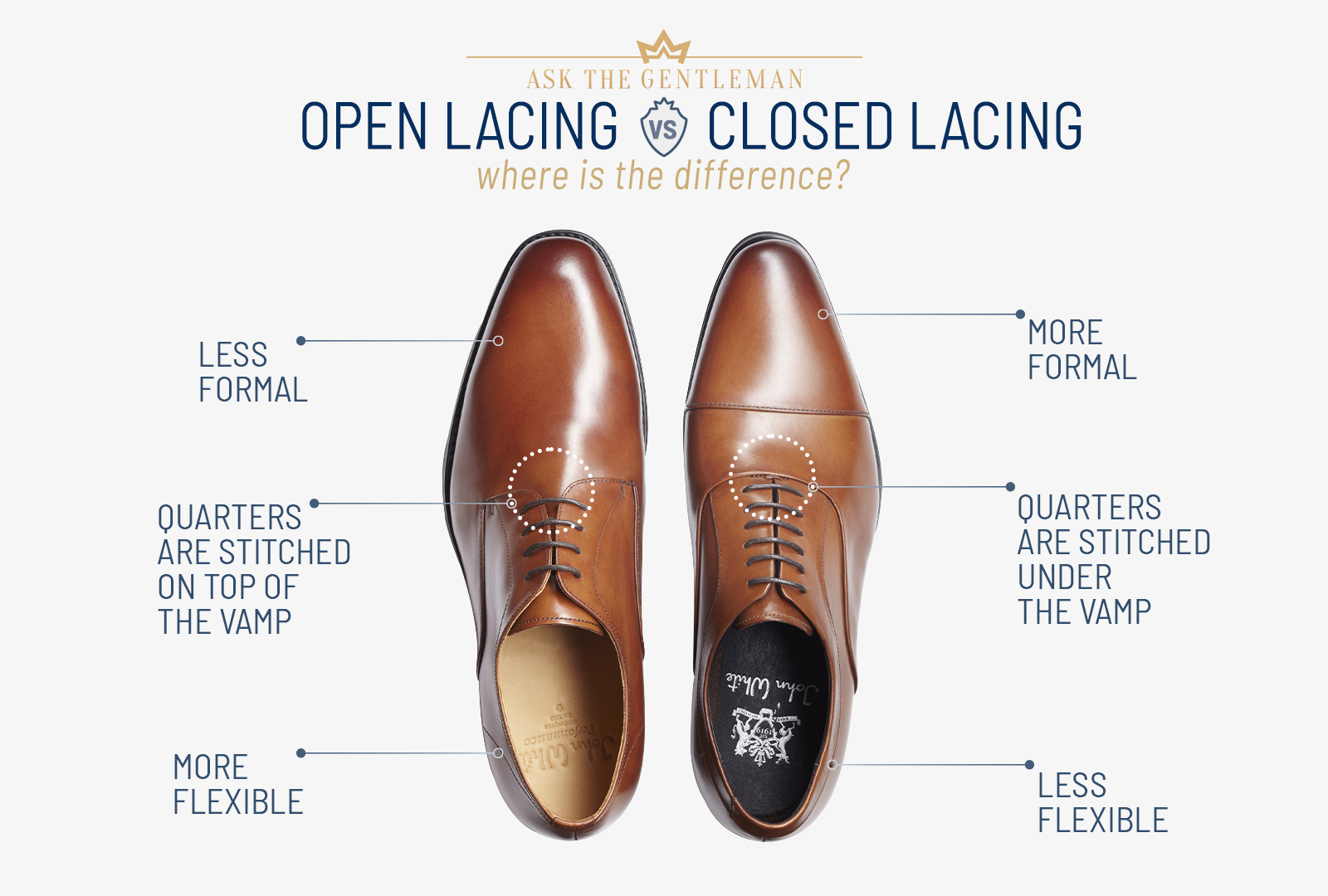 A closed lacing means the shoe's quarter is stitched under the vamp.
Different Oxford Styles to Wear with a Suit
While there are various types of oxford shoes for men in different formalities and styles, all feature a close-lacing system.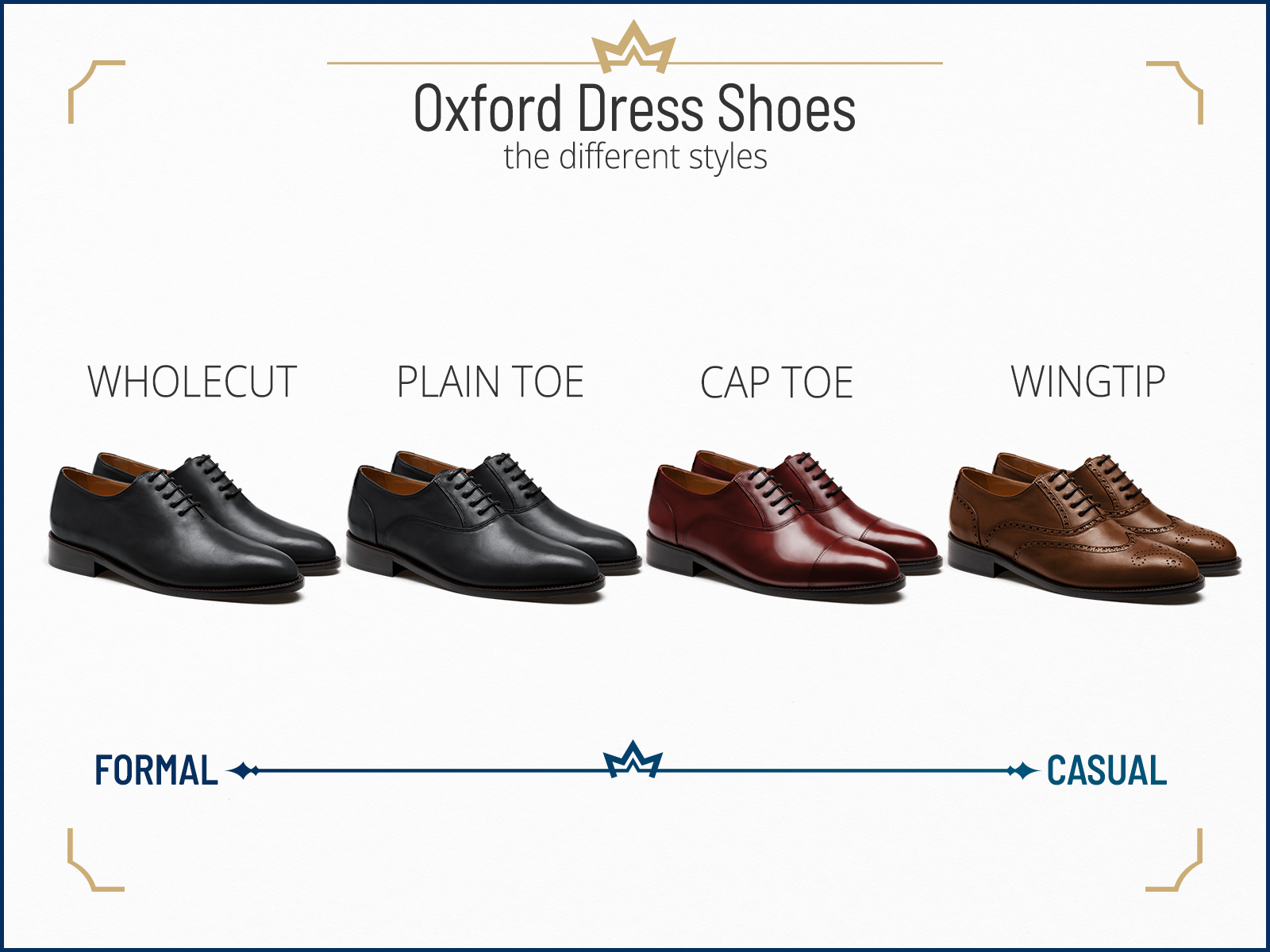 The most formal and elegant of them all are the wholecuts. These consist of a single piece of leather, making the whole shoe.
Whole-cut oxfords are the best option to wear with a tuxedo and formal business suits.
Cap-toe oxfords have an extra leather decoration on the toe cap, making them more versatile and easy to dress.
You can wear these with pretty much any outfit, but these best match business and casual suits.
In my opinion, the successor of the whole-cut is the plain-toe oxford, with visible seams and stitching only at the sides.
Plain-toe oxfords are also a more elegant variant of cap-toe oxfords without any perforations or decorations around the toes.
These are graceful and formal for nearly every occasion and suit style, especially as business attire and other formal events.
Oxford shoes can include decorative perforations along the seams and edges of the shoe, known as brogues or "broguing".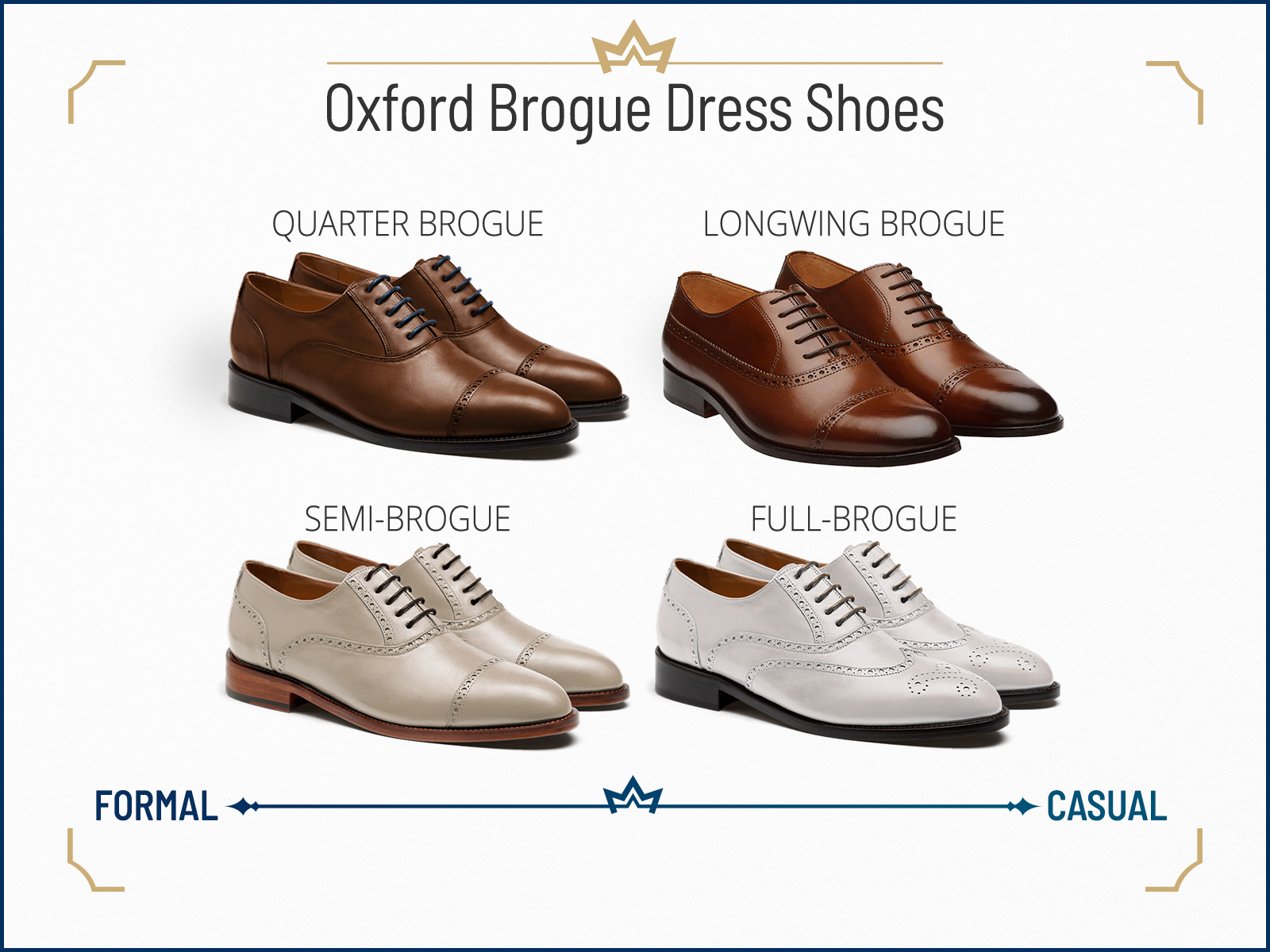 Brogue oxfords can have several adaptations, like quarter-, semi-, full- (called wingtips), and longwing brogues.
Overall, longwings are the least-formal oxford shoe you can wear with a more relaxed suit outfit.
There are some other styles like kiltie and saddle oxfords. However, these shoe styles are rare.
I don't recommend wearing them unless you have a specific thing in mind.
Wear Oxford Shoes with a Suit: Formal Outfits
There are many ways to stylishly wear oxford shoes in a formal setting.
The best part is you don't need to try hard or overthink about getting things right.
Follow the simple style rules, and the shine of the oxfords will handle the rest.
Black Patent Leather Shoes for Black-Tie Events
Oxford shoes are formal by default, but patent leather adds an extra layer of sophistication.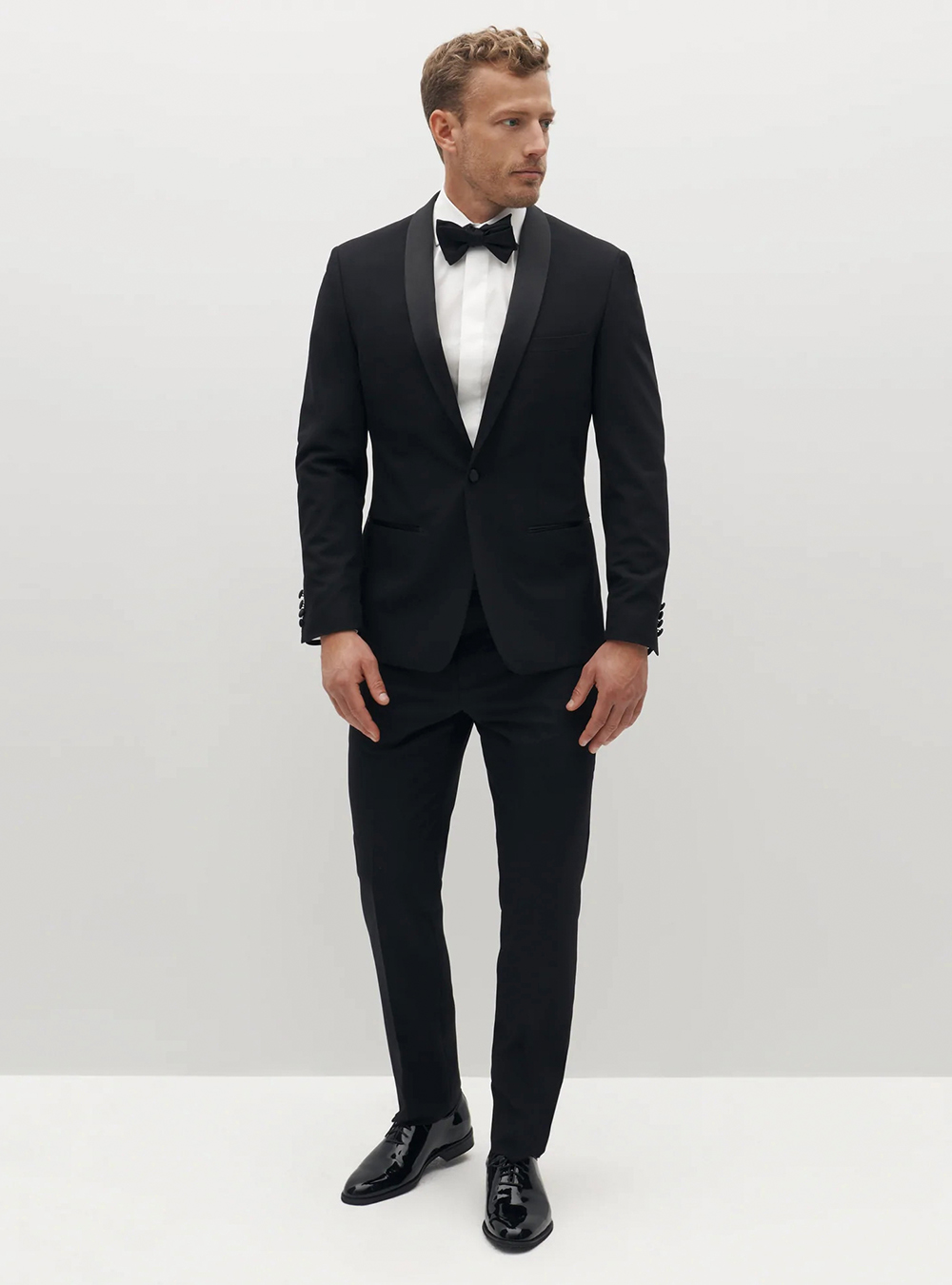 This makes patent leather oxfords the best option for a black-tie ensemble.
Black patent leather oxfords often prove a better choice than the opera pumps.
The reason is the oxford shoes' timeless and versatile character, along with patent leather's high-gloss finish.
I recommend going with a plain-toe style and silk laces to merge with that true black-tie charm.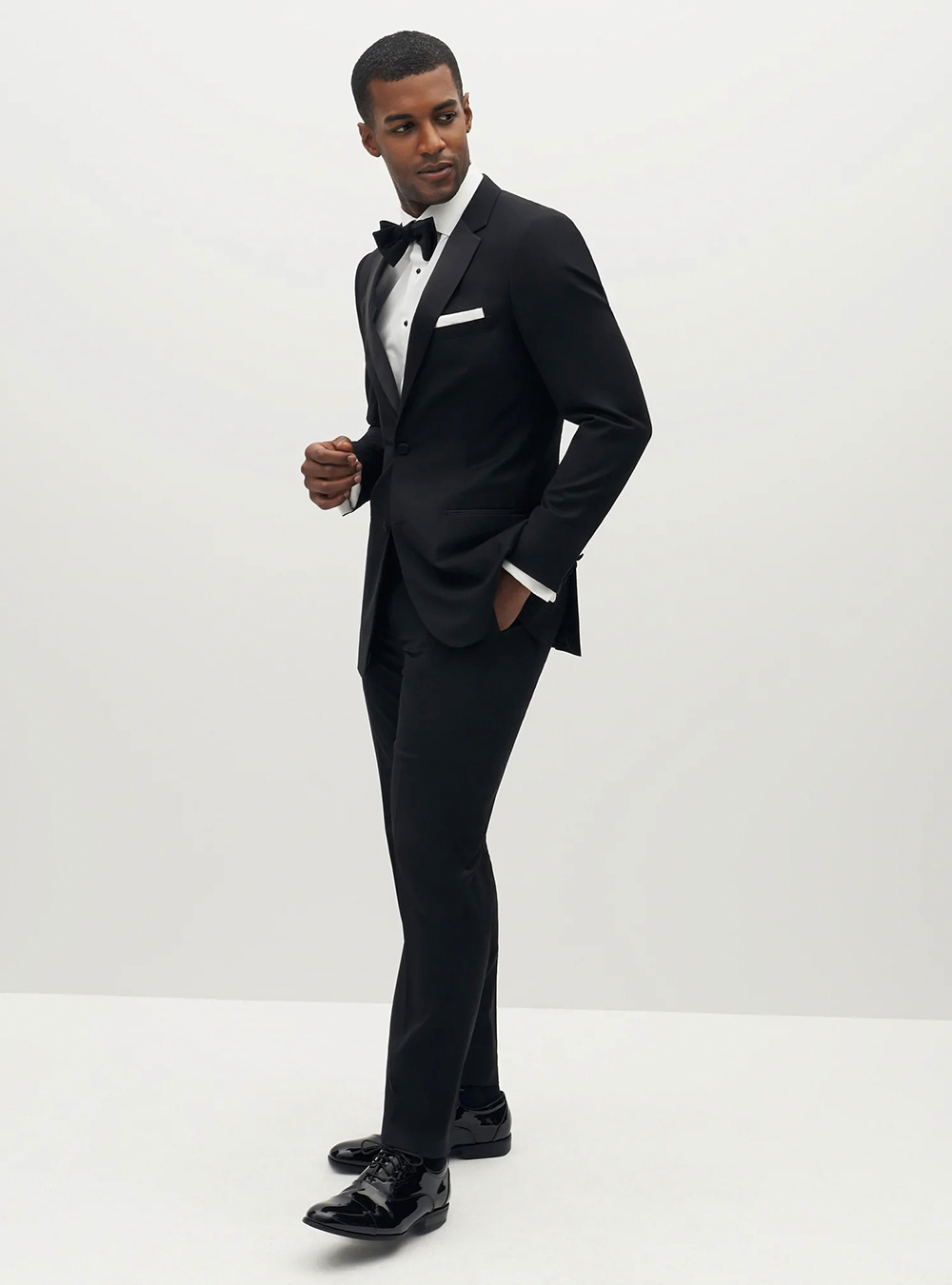 You can even opt for wholecuts if you really want to show tradition.
Oxfords with a Suit for a Semi-Formal
Oxfords are your best bet when adhering to the semi-formal dress code.
A blue suit is an excellent foundation for your semi-formal outfit. It's both stylish and versatile and allows some experimenting with colors.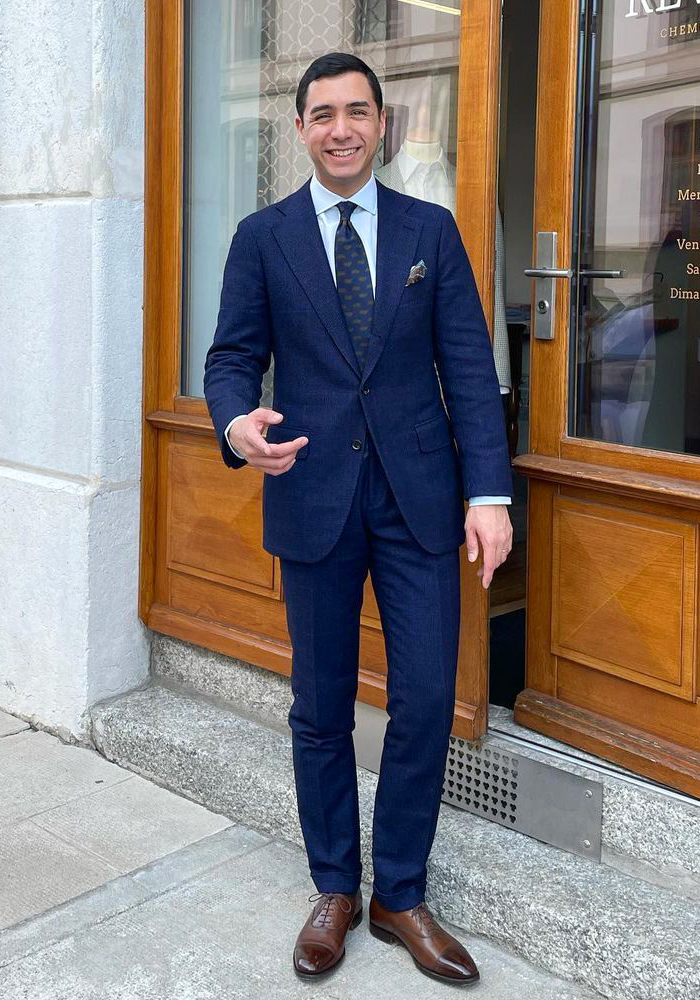 To match that calm tone of blue, I suggest brown Oxford shoes.
Cap-toes are a preference to go a notch up in formality compared to other outfit items.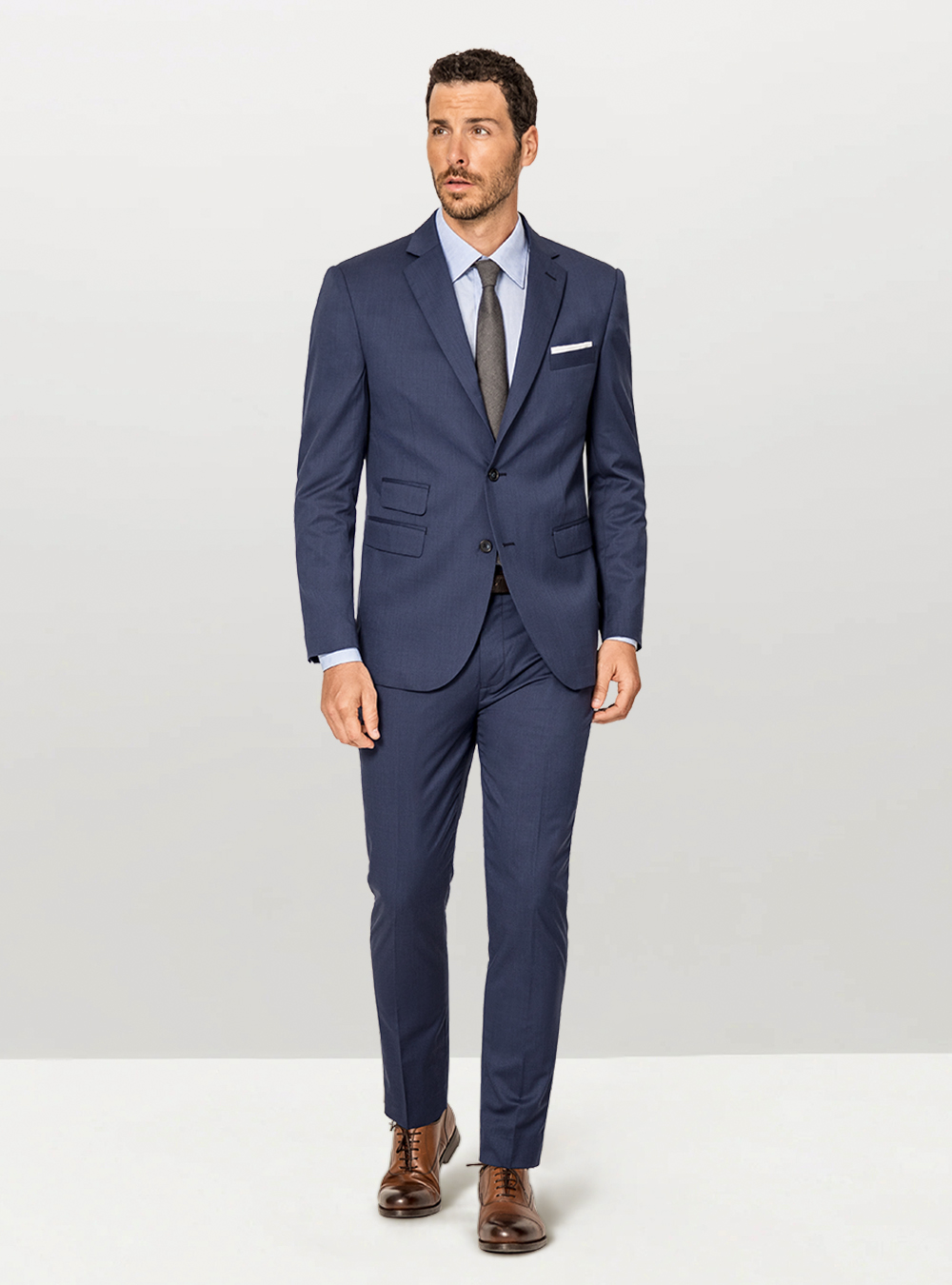 Match it with a brown belt and watch, and you'll be ready for any semi-formal event.
Plain-Toe Oxfords with Dark Suit for Business Setting
This is the CEO's look for saying the big words in those boardroom meetings.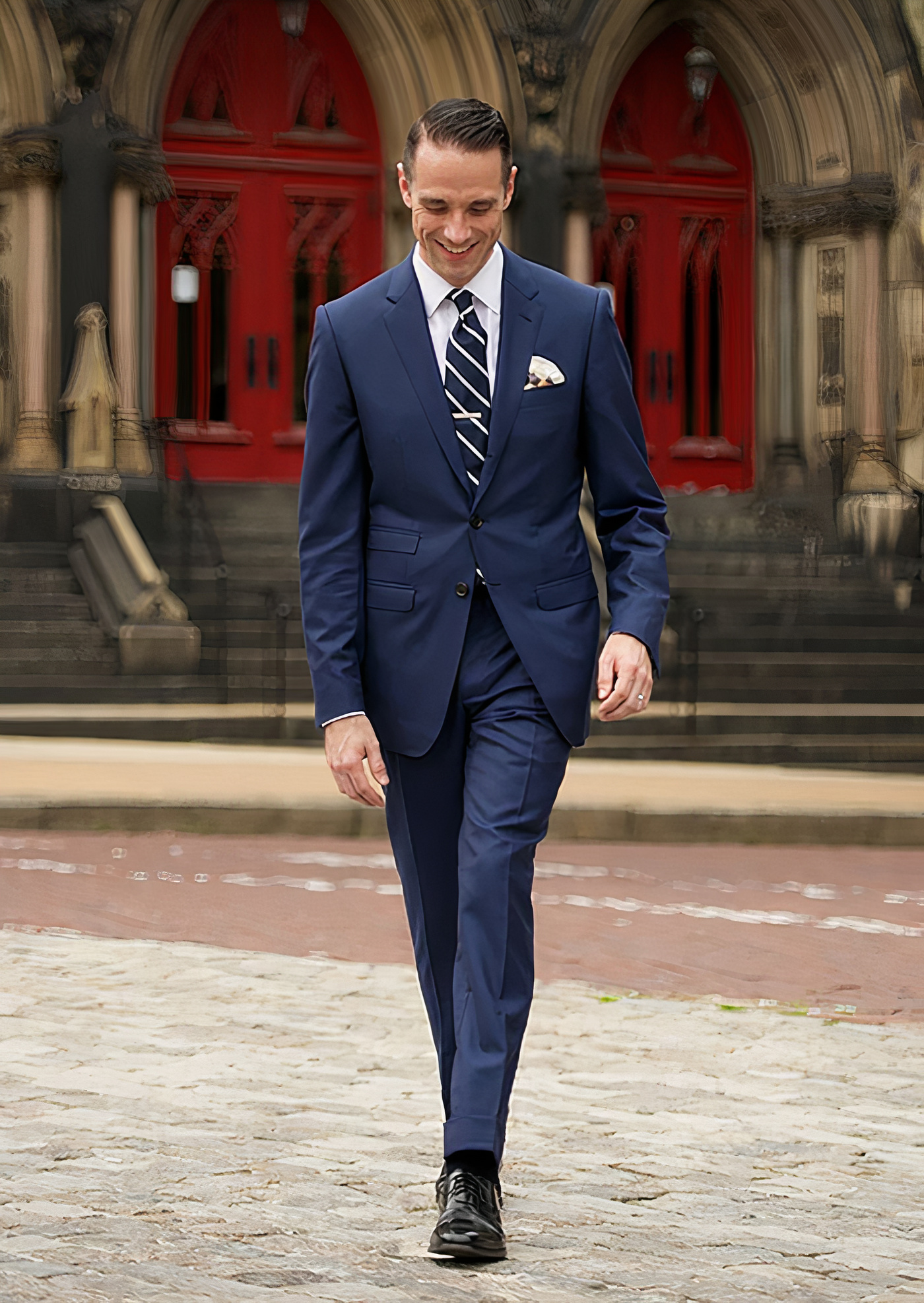 Everything is powerful in this look; the navy suit, the clean white shirt, the striped tie, and even the pocket square.
Match these essentials of power dressing with black plain-toe oxfords.
They're an obvious choice to mix and match formality and culture, perfectly carrying the momentum of the whole look.
Any change in shoe style and color, and you'll lose the whole charisma.
Cap-Toe Oxfords & Suit for Business Casual
This look is the modern business-casual uniform and gives that "main character energy."
I suggest a blue or grey suit jacket to cover the business aspect of business casual.
But instead of a dress shirt, opt for a turtleneck for colder weather. This will keep you balanced on the casual grounds.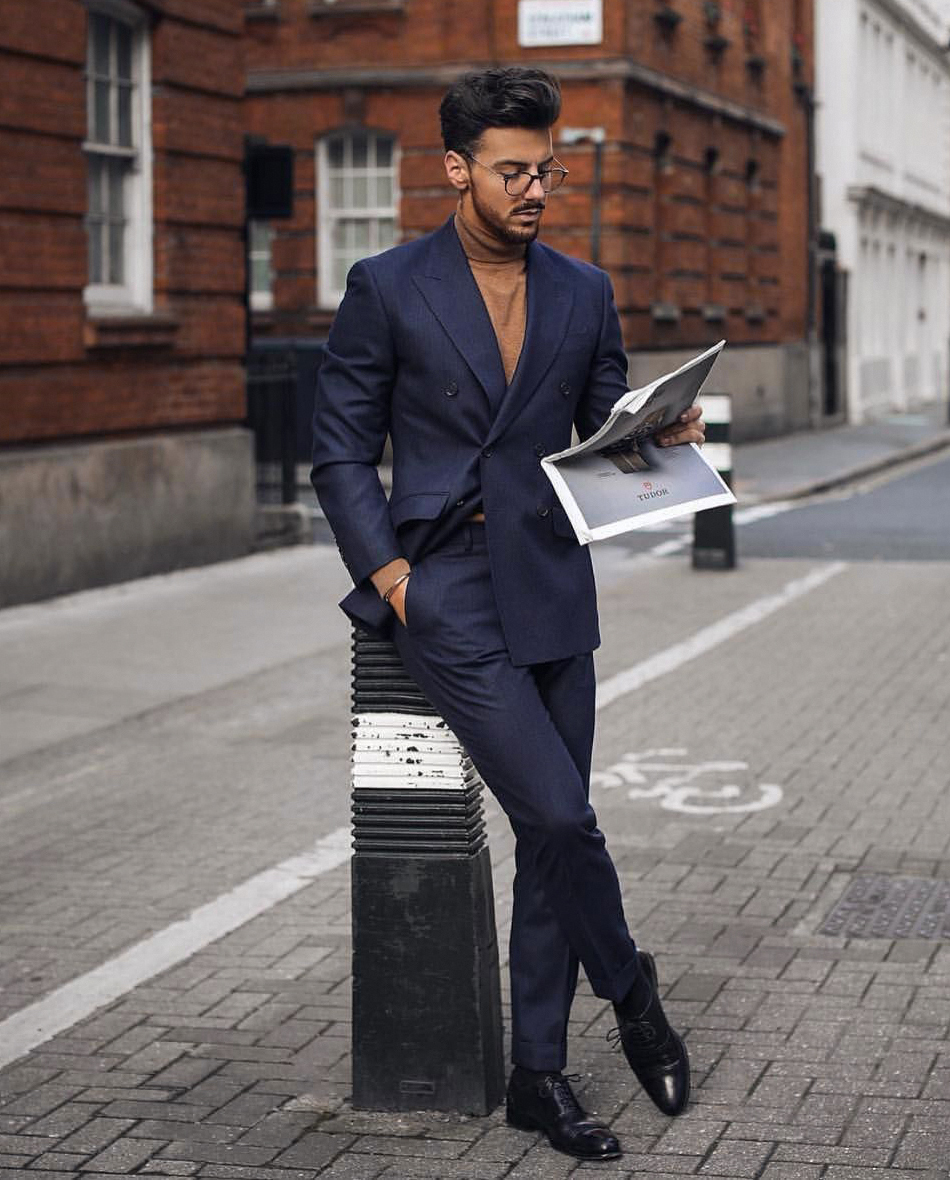 Business casual also allows going for a t-shirt with a suit for summer.
And finally, the main part is to match your oxford shoes with your suit.
Of course, there is no wrong in finishing the outfit with black cap-toes.
But as a more versatile option, my recommendation favors brown cap-toe oxfords.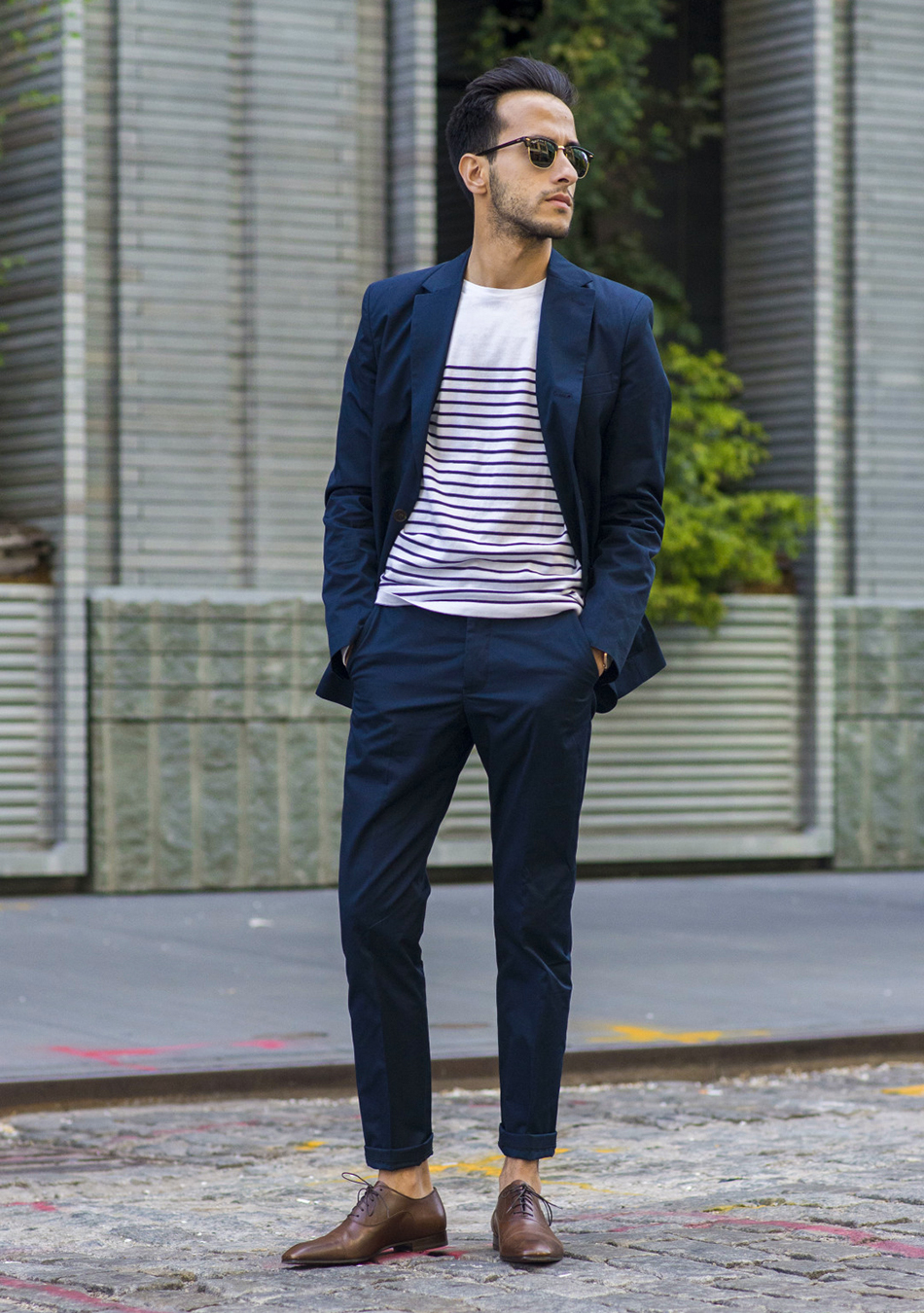 Also, brown oxfords perfectly equipoise the formality contrast of the suit with other casual garments.
Finally, brogue Oxfords are perfect for business casual, so you can spice up your ensemble with wingtips.
Oxfords with a Suit Jacket & T-Shirt
A t-shirt and suit outfit is best if formal attire isn't really your thing.
Due to their versatility, the grey, blue, and navy suit jacket are suitable options for these outfits.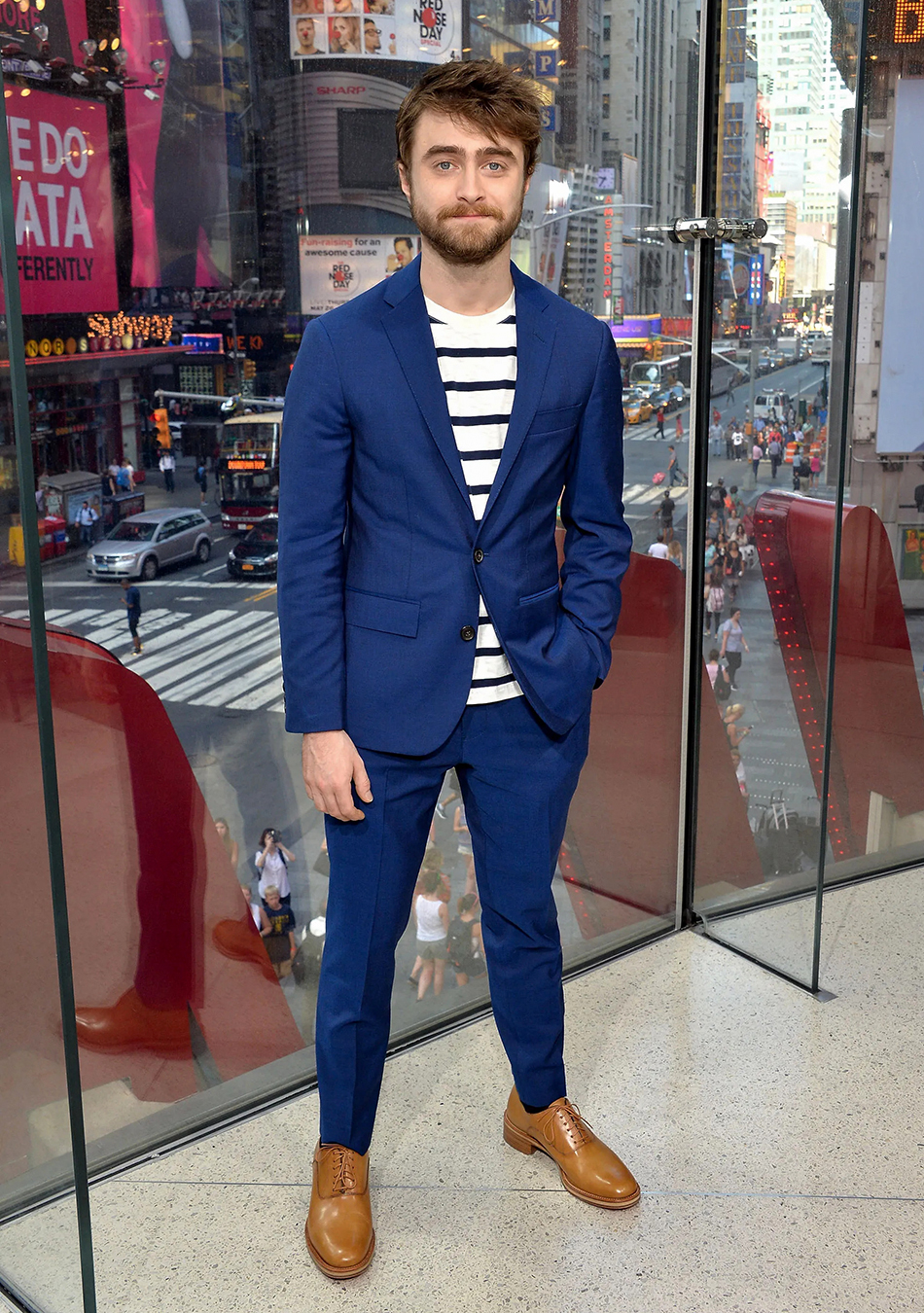 For the t-shirt, the white or black crew neck would be a good match.
Feel free to go for brogue Oxfords and portray a more casual look. For example, you can go for cap-toe broguing (quarter brogues).
As for colors, light brown or tan oxfords are great if you wear a blue suit.
For the navy suit, any shade of brown will do the job. Also, black oxford shoes would be perfectly fine.
Wear Oxford Shoes with Casual Outfits
Casual doesn't mean sloppy. In fact, casual outfits are about relaxed sophistication.
And wearing oxford shoes is an easy way to uplift an otherwise simple outfit in formality and style.
The plan here is not to wear oxfords as a statement item. Instead, style these to complement other staple items.
Sweater Over Dress Shirt for Smart Casual
A sweater over a shirt is among my all-time favorite smart casual looks. The reason is it's as simple as it can be, yet so versatile.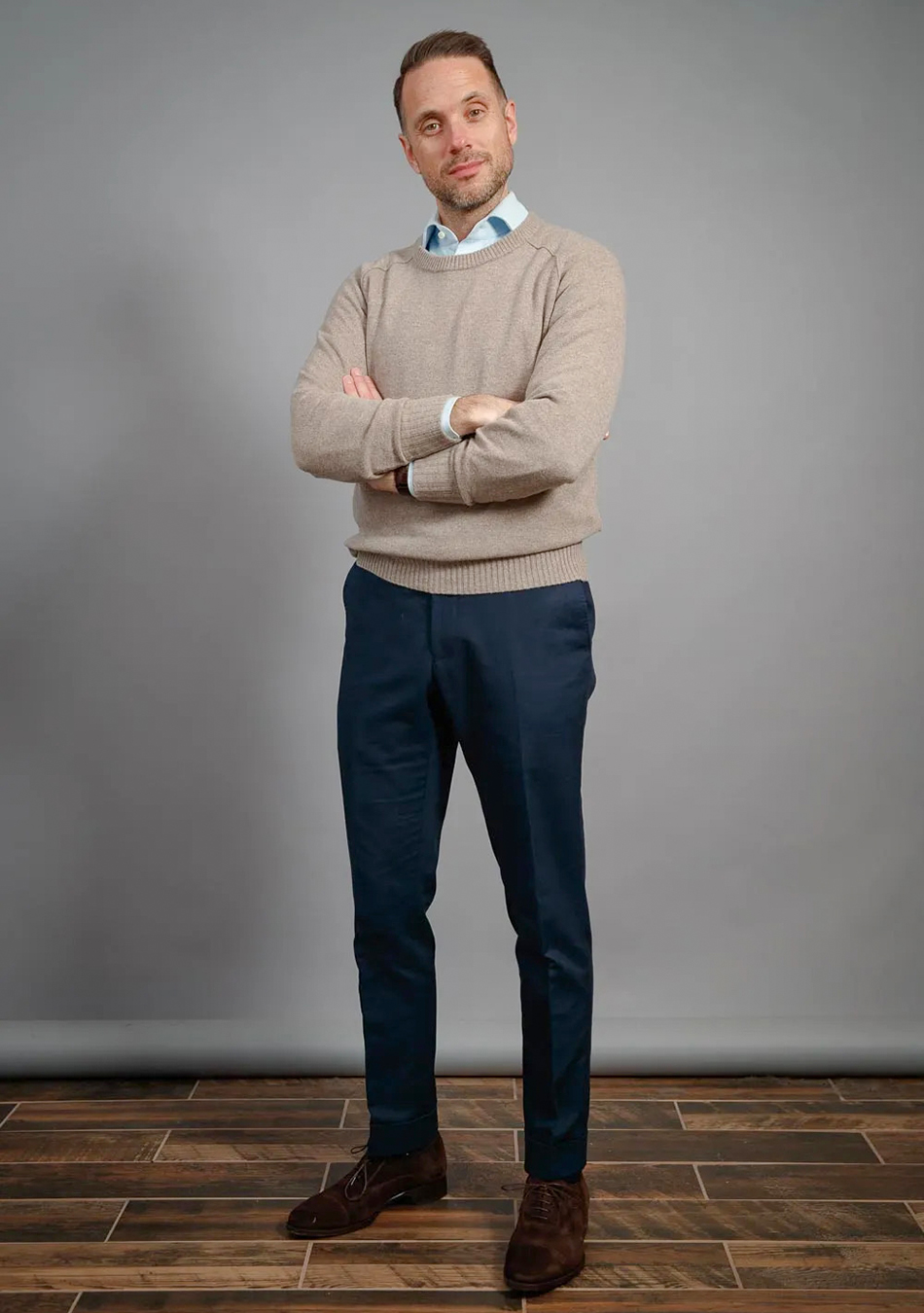 For example, navy pants and a light-blue dress shirt keep this combination serious.
Meanwhile, the dark brown suede oxfords and tan crew neck sweater provide the necessary contrast and the informal vibe.
Also, you can go for a grey sweater over a white dress shirt with tan chinos. Still, keep the Oxfords brown.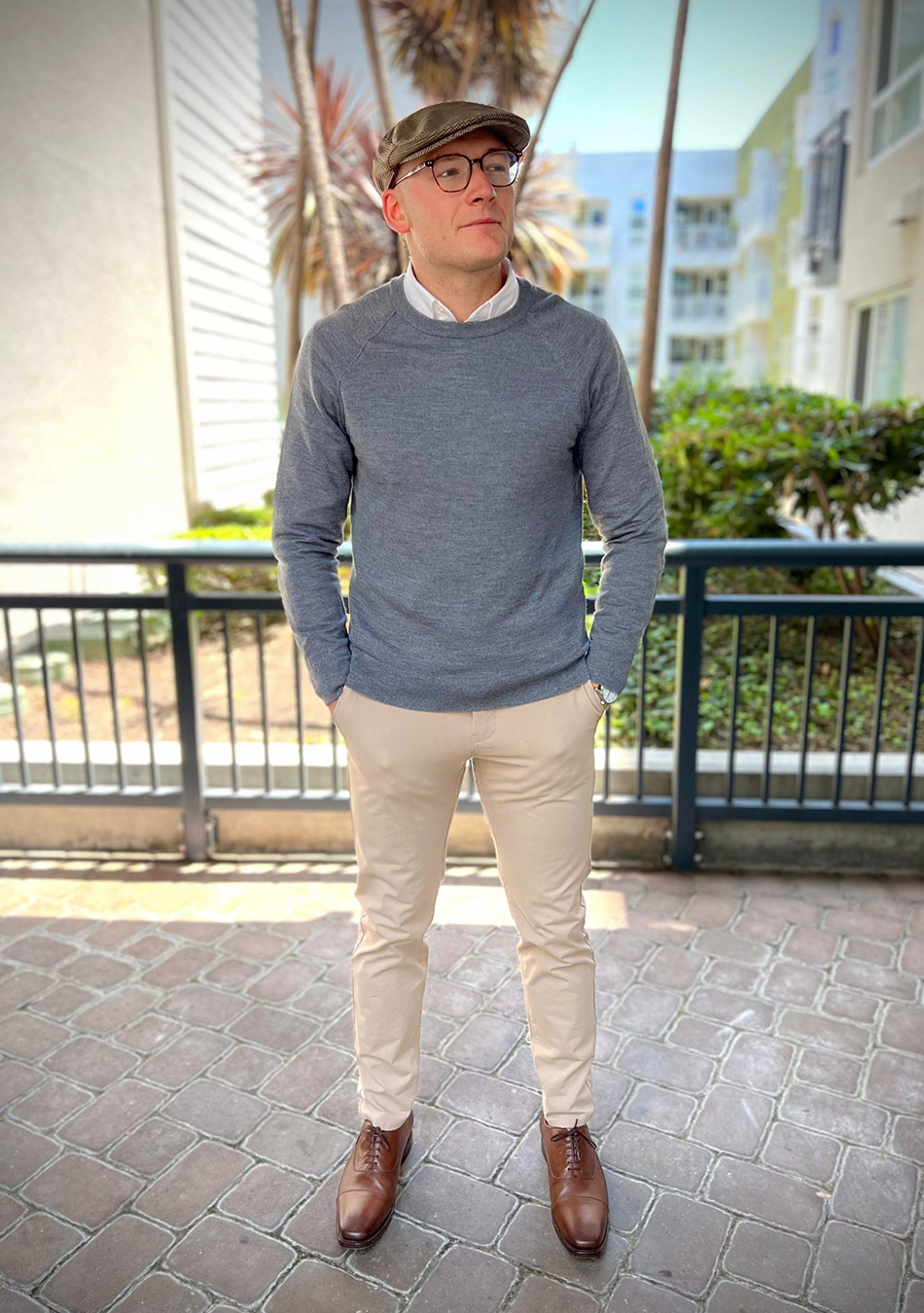 The reason is that these shoes would mark for a casually unique style. Plus, it also matches the outfit's overall theme.
Blazer Over a Denim Shirt
This mix is for gentlemen who want to experiment with their style.
Here, the blue blazer is the centerpiece, shadowing that denim shirt. Then, slightly subdue the daring appearance with charcoal pants.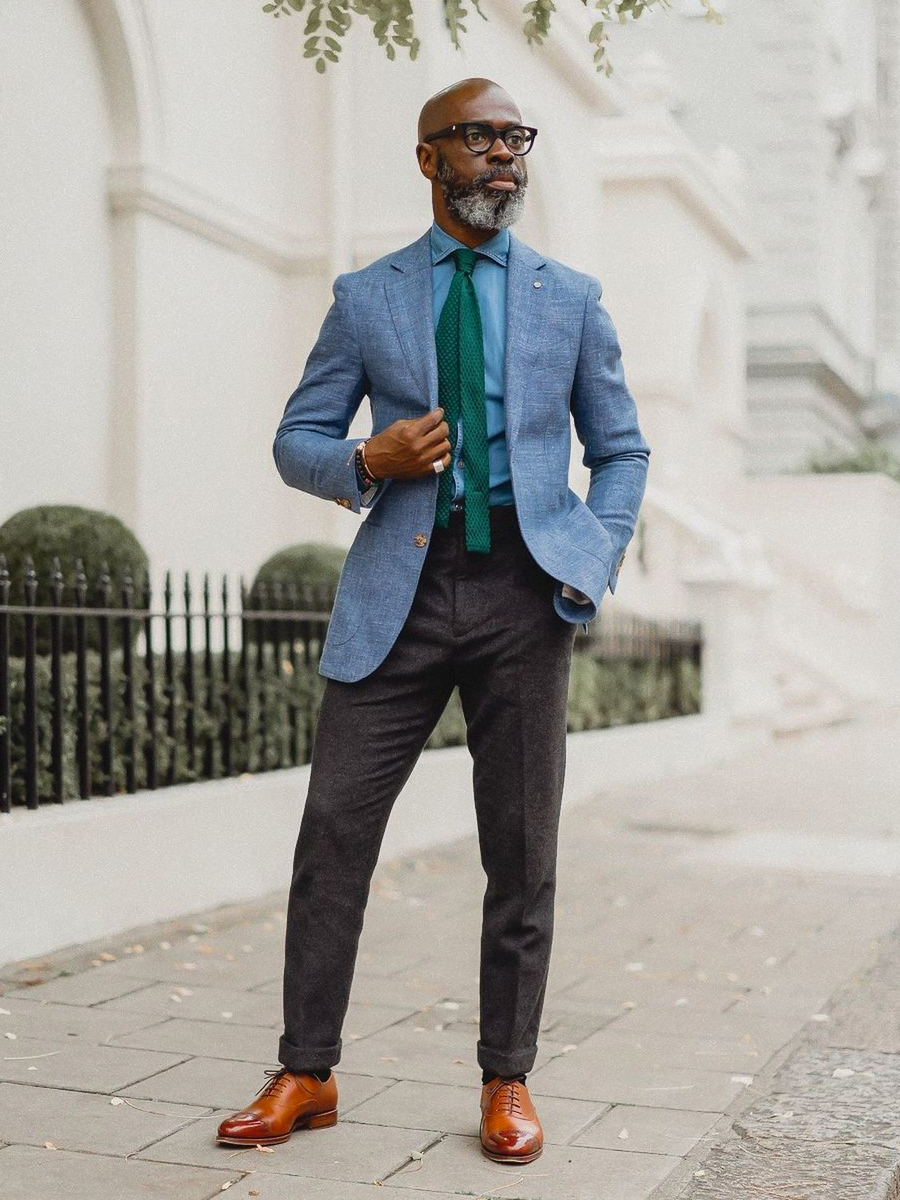 And finally, wearing the oxford shoes to make a bold move.
In this outfit, the tan cap-toe oxford shoes connect the formal and casual style.
But dark-brown or burgundy oxford shoes will also do the same job.
Wearing Oxfords with Chinos & Shirt
Chinos are elegant but casual, making some practical smart-casual outfits.
One such outfit is pairing chinos with a dress shirt.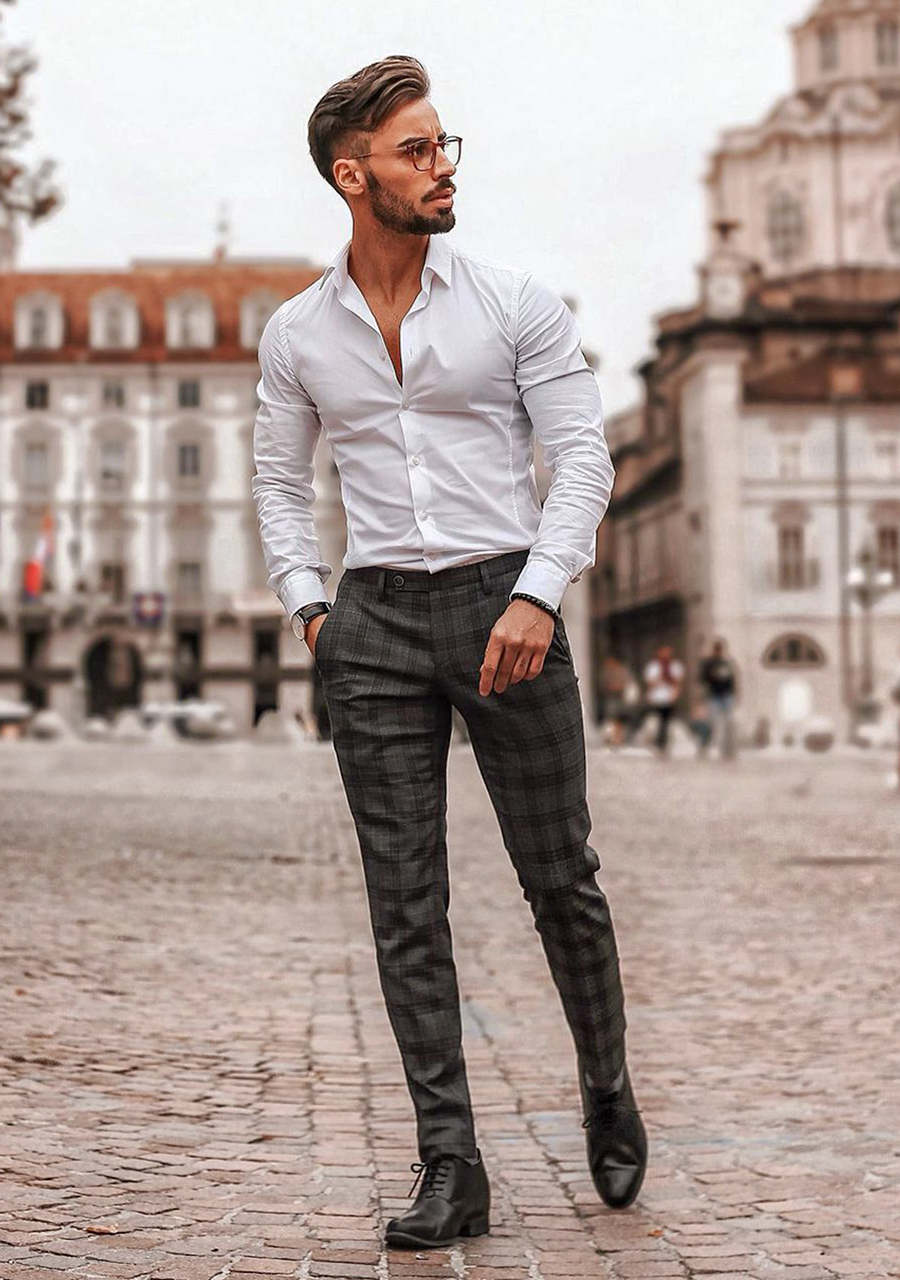 Ideally, the pants should be dark, matched with a lighter-shade dress shirt.
A plain-charcoal grey trouser is one option. And for some playfulness, you can have patterns in the pants.
A white dress shirt would be a great fit with the pants.
But the anchor of this look is the black oxfords. These shoes are both elevating the formality and make the outfit look modern.
You can also go for a monochromatic navy chino and blue shirt with the same black Oxfords.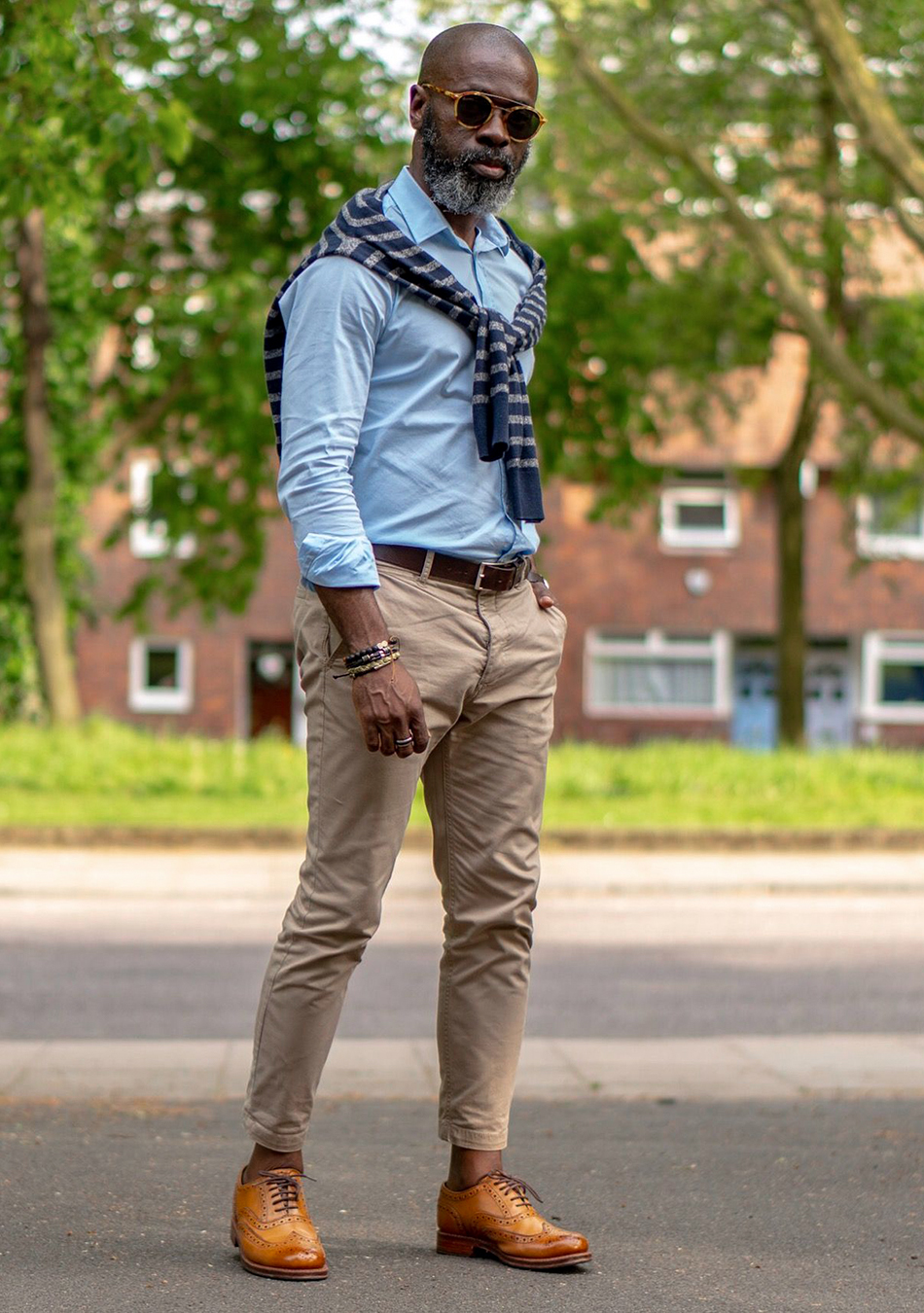 Or wear a light blue shirt with tan chinos and brown Oxfords. The choices are endless.
Pairing Jeans with Oxford Shoes
Jeans are ultra-casual. But nice dark jeans can create some smart outfits.
One of the best options you can go for is blue jeans and brown shoes.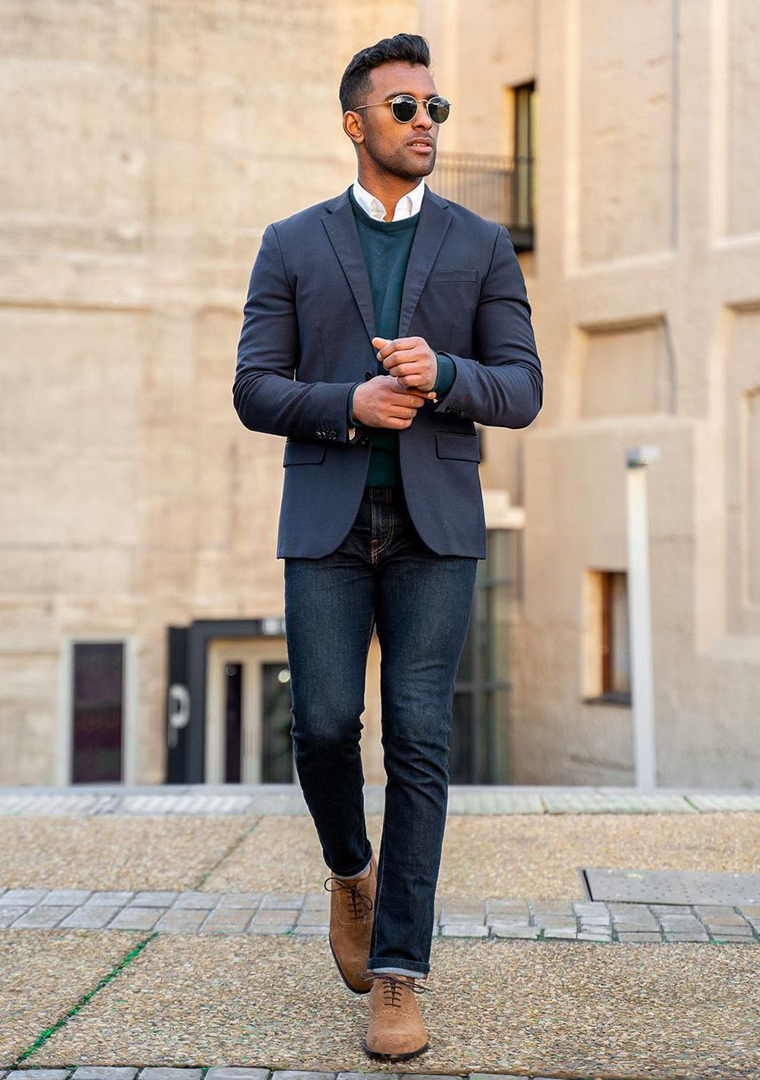 Spice the outfit with either brogue or suede Oxfords for some sportiness.
Then, pair it with either a sweater or blazer to somewhat ascend the formality. For example, a navy blazer can make this look special.
I recommend brown oxfords for that special effect on your blue jeans that gives versatility and how good any blue shade blends with brown.
Best Oxford Shoe Colors for a Suit
The shoe color of your Oxfords plays a huge role in determining the formality of your overall outfit.
Not every shoe color matches well with any suit colors.
So it's essential to consider the shoe color based on the suit color and the event's formality (dress code).
Here are different oxford shoe colors and their respective suit matchings:
Black
Black oxfords are the most formal dress shoes to wear with suits.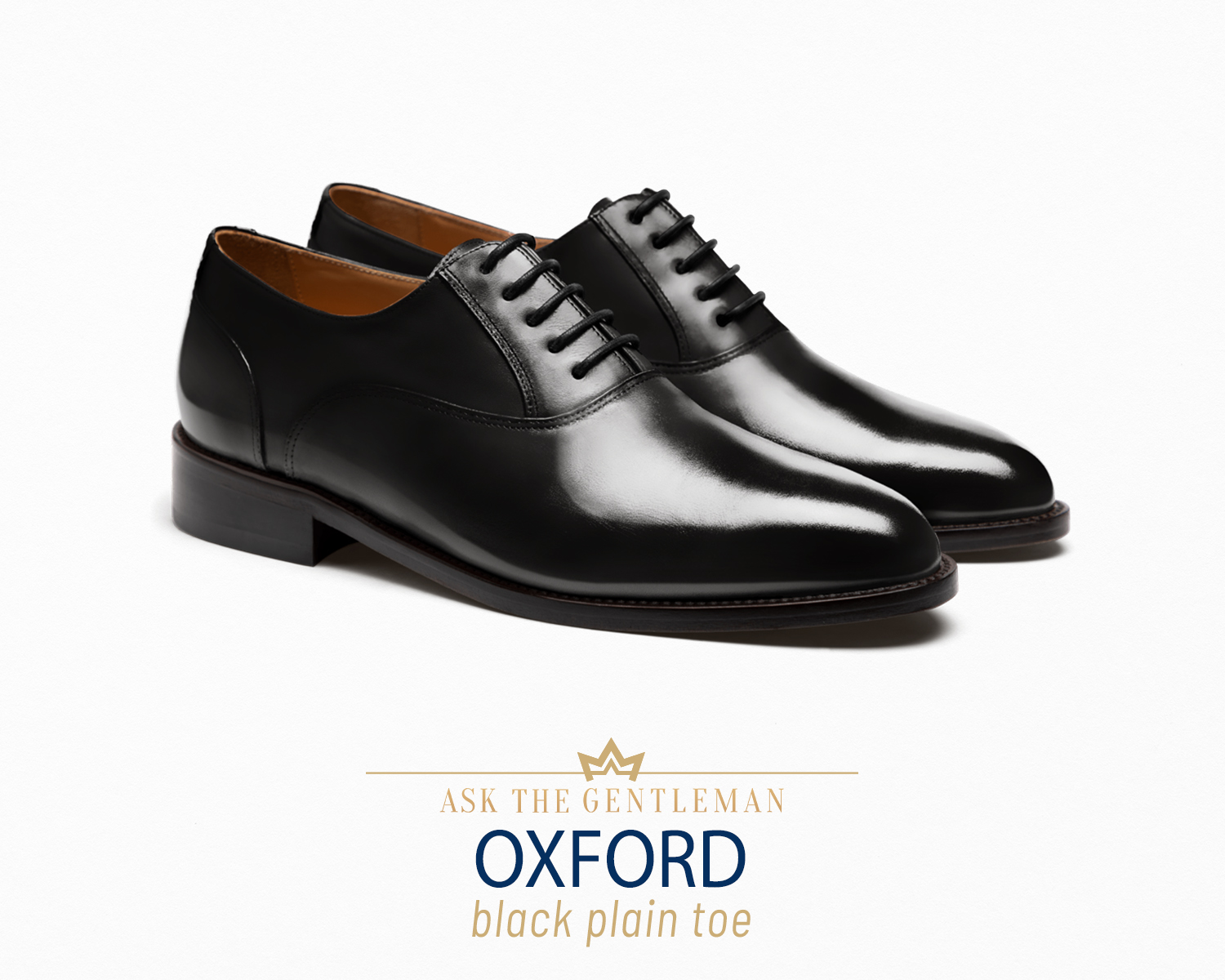 These shoes match great with black, navy, blue, brown, burgundy, and charcoal suits.
Whether wearing a double-breasted or a two-button pinstripe suit, the black oxfords match them all.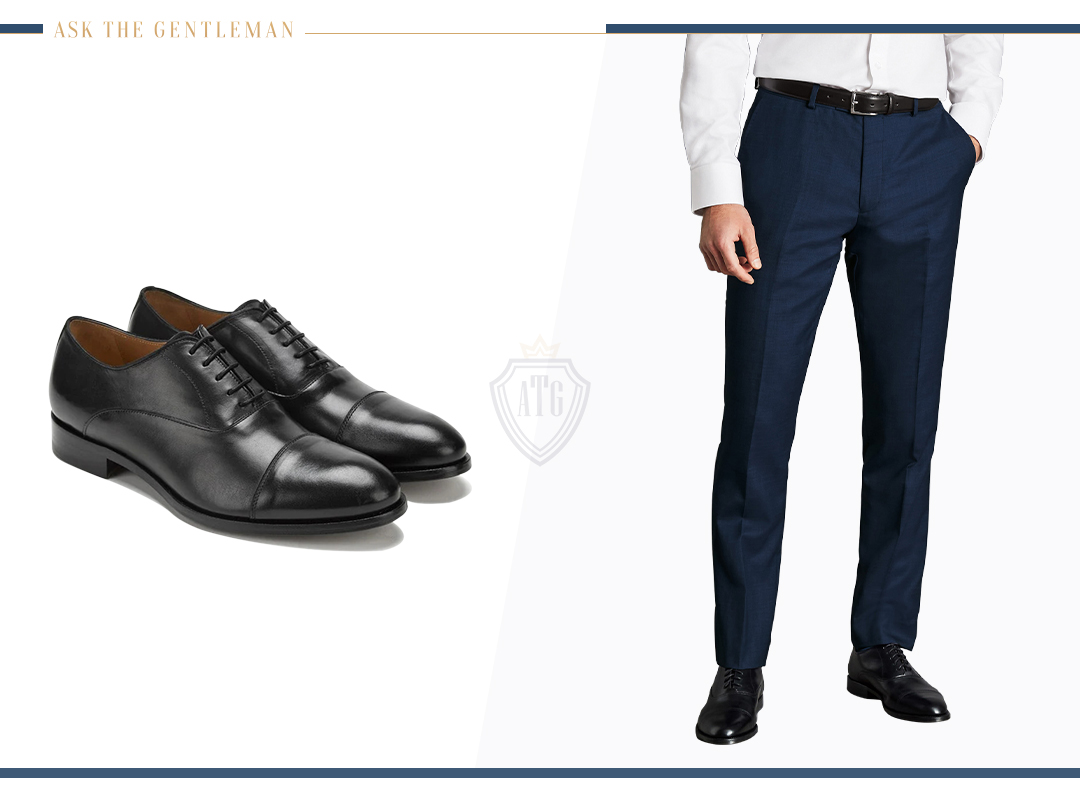 Also, when business is on the table to discuss, wearing black oxford shoes is inevitable with the suited look.
Brown
Brown oxfords are the most versatile dress shoes a gentleman can own.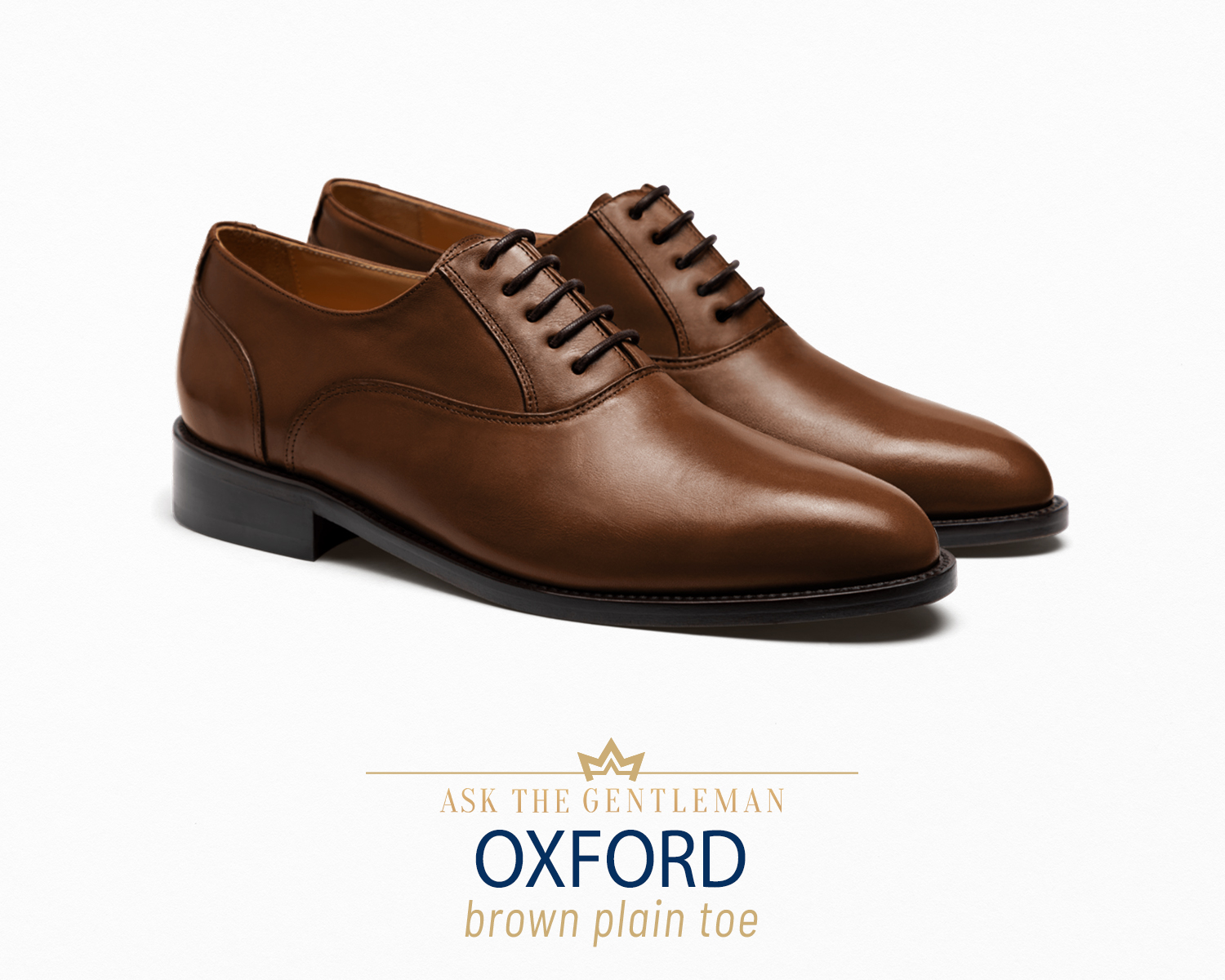 You can wear brown oxfords with almost any suit jacket, but they're especially good with blue, grey, navy, and even black suits.
But keep the brown oxfords shy from black-tie ensembles.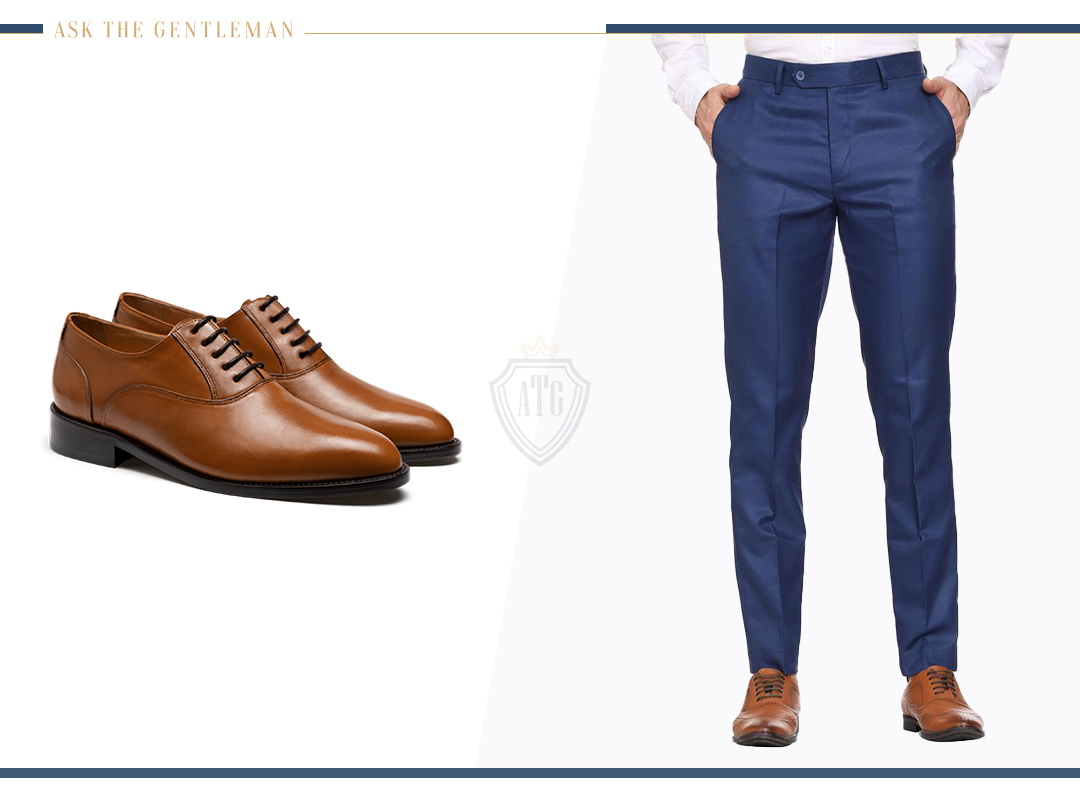 Finally, if you are wearing suit separates, there's no better option than brown oxfords.
Tan
When the dress code becomes less formal, there comes the opportunity to wear tan oxford shoes.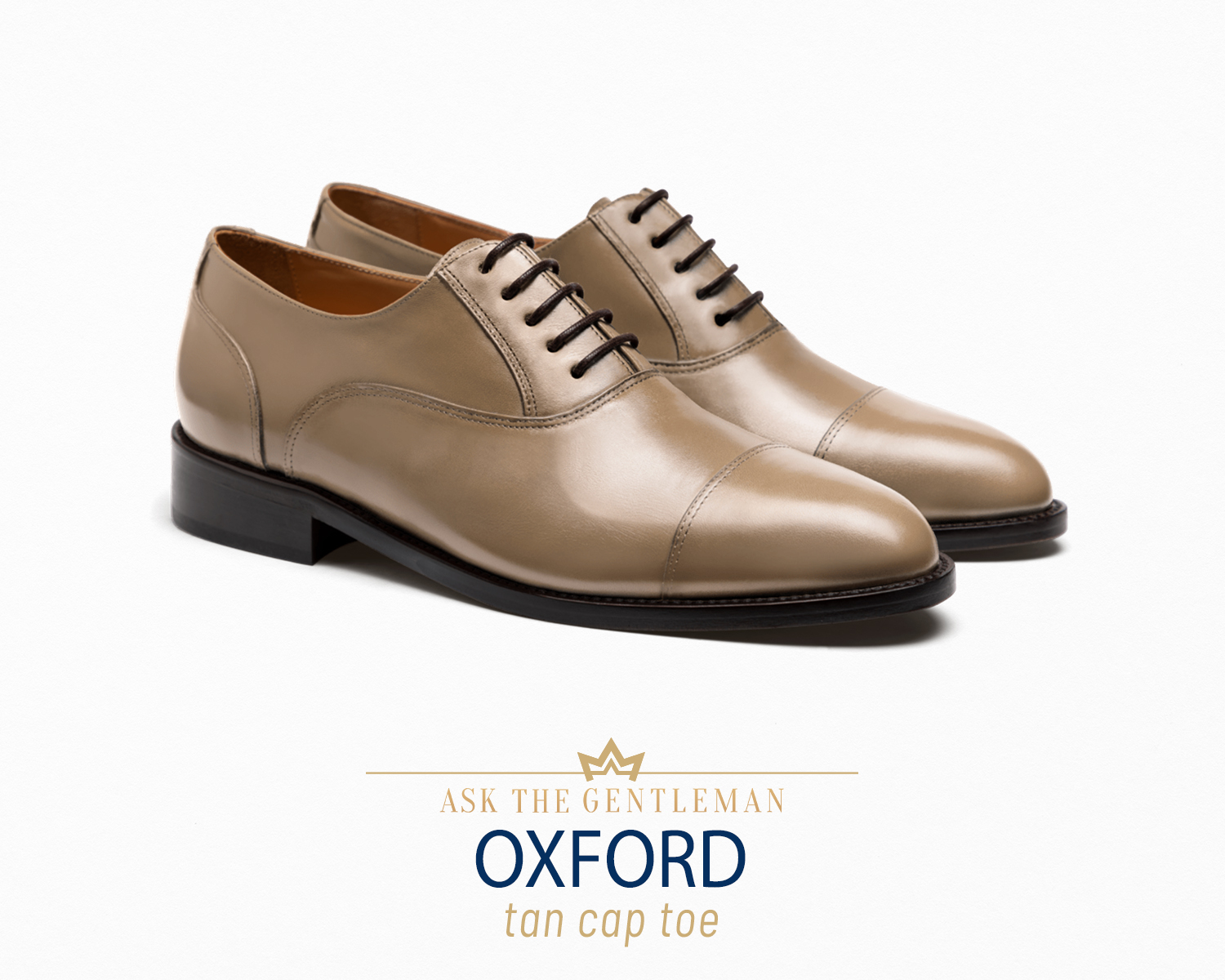 Brown, light grey, and blue suits are the best option with tan oxford shoes.
But wearing tan oxfords is more about the right dress code than the suit color.
Burgundy
The burgundy oxfords have a hidden charisma that only unveils with the right styling.
So, consider these to spice up your otherwise conservatively suited looks.
For example, a navy suit and burgundy oxfords create a contemporary combination.
Similarly, you can stylishly wear burgundy oxfords with brown and grey suits.
These combinations might not work for business settings but would make a great cocktail look.
Oxblood
If your suit is in a heavier fabric, it's time to complement it with something unique like the oxblood oxfords.
It's a nice pair of dress shoes to jump-start your fall style and portray a serious look.
You can wear oxblood oxfords with almost any suit color, even khaki, tan, and brown suits.
I'd only avoid oxblood shoes with a black suit. There's too much red to be compatible with black.
The best part is you'll have a personality in your outfit, which will never look boring.
Oxford Shoes with Suit FAQs
Are oxford shoes too formal?
Yes, oxford shoes are formal. But they are more versatile than they are formal.
There is practically no outfit that can go wrong just because of the formality of oxford shoes.
What is the difference between oxfords and derbies?
Technically, the lacing system differentiates Oxford and Derby shoes.
Derbies have an open-lacing system, compared to oxfords, which have a closed-lacing system.
A seam between the tongue and front of the shoe is the hallmark of oxfords.
All this makes oxford shoes for men more formal than derbies.
What distinguishes oxford shoes and brogues?
Oxford is a shoe type defined by its lacing system. In comparison, brogues are the decorations along the toe cap and the shoe sides.
In other words, any oxford shoe can be brogue with these perforated decorations. But not every brogue shoe is oxford.
What is the ideal pant break for oxford shoes?
When wearing oxford, you would be going with a somewhat formal look. So a slight or partial break is the most reasonable pant break for oxford shoes.
How should you lace oxford shoes?
Straight lacing or bar lacing is usually the more formal style and, therefore, preferable with oxford shoes.
It's better to avoid cross-lacing as it best flatters casual shoes.
Are you supposed to wear socks with Oxfords?
Oxford shoes are formal. So, it's best to wear dress socks with them.
I always recommend wearing mid-calve socks if you wear oxford shoes with a suit. Black and other dark socks work best in this situation.