Slim fit suits peaked their popularity over the past few years.
Today, the slim-fit suit thrives and is one of the most popular suit cuts worn by men of all ages, and rightly so.
It offers the perfect fit for anyone feeling comfortable in their own body.
So if you want to avoid wearing a suit that's too rigid or too roomy, the slim cut comes to your rescue.
What is a Slim Fit Suit Cut?
A slim fit cut means a suit tailored to sit precisely on your body.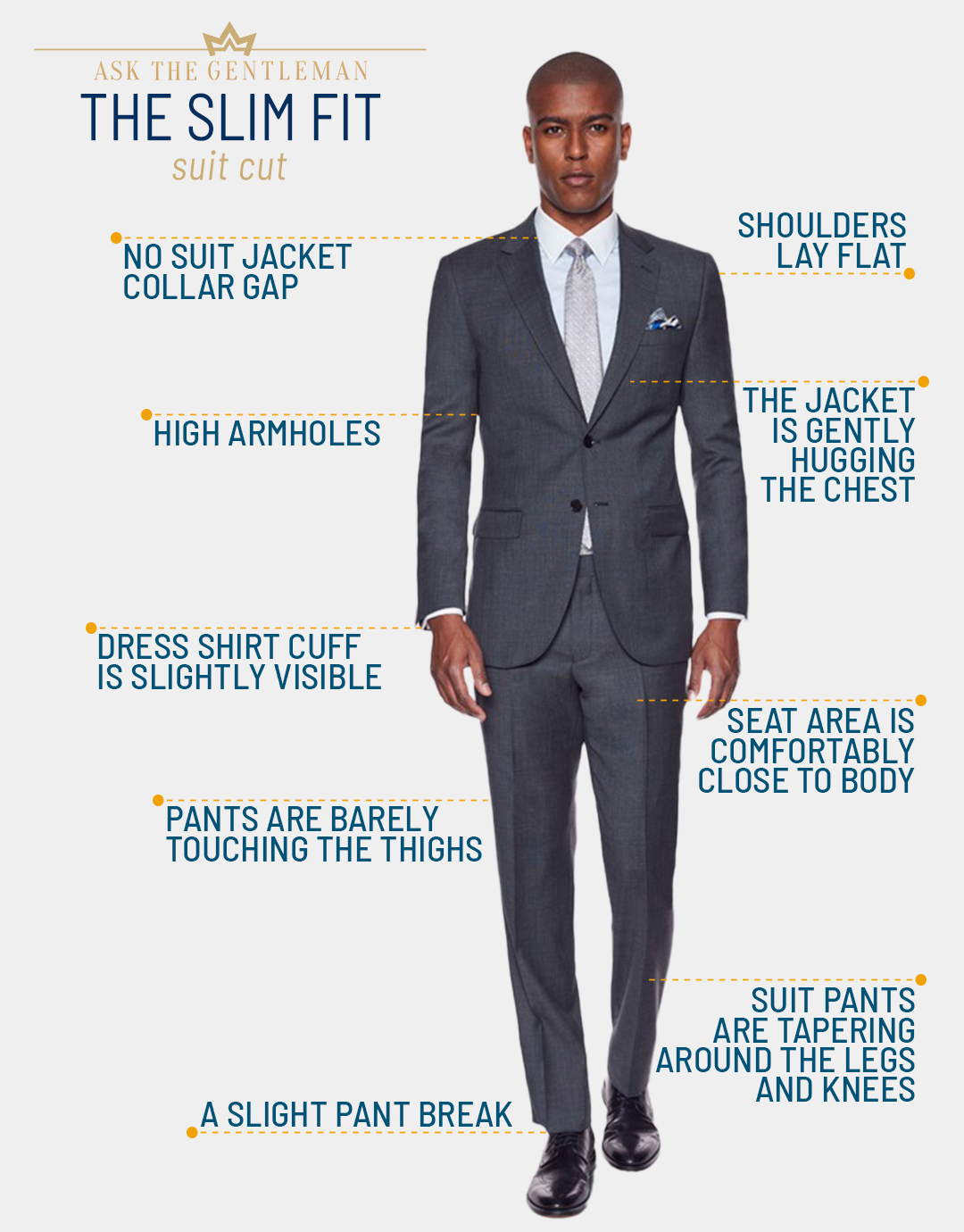 The jacket's body is fitted like it's gently hugging you, not too tight and never loose.
In contrast to other suit cuts, it offers a tighter look, with a closer appearance to the wearer's body.
Essentially, slim-fit suits make you feel and look stylish while coming off as light and easy.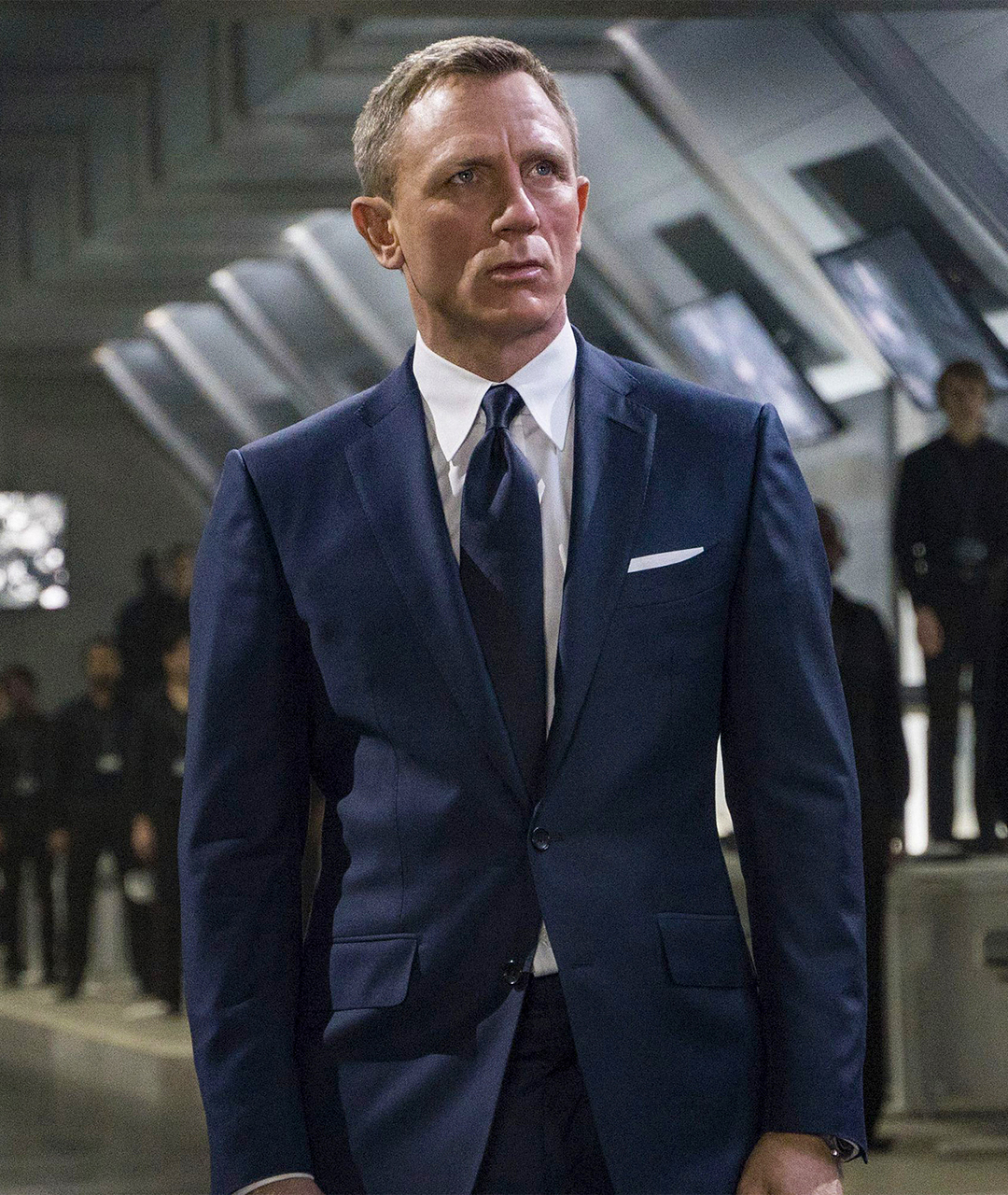 This is why they are so popular; they offer enough room for free body movement while offering a trendy look on the outside.
Things to Consider
Since suits aren't easy on the pocket, you must put in enough thought and planning before investing in one.
Therefore, decide beforehand if you need a two-piece or a three-piece slim-fit suit with a vest.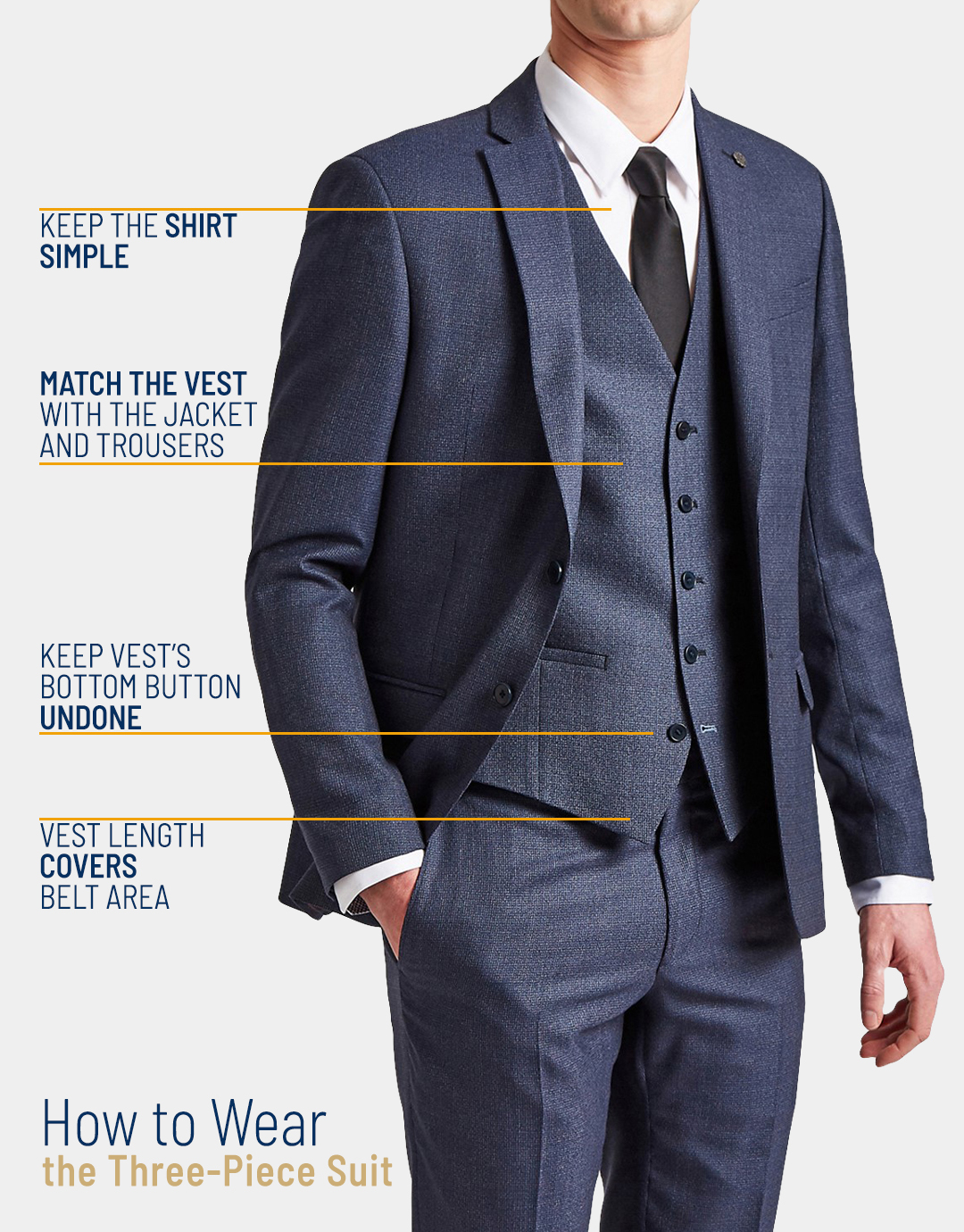 You also need to figure out the lapel shape, suit color, and material.
For instance, wool is an excellent option because you can wear it all seasons.
I recommend getting a navy suit made from wool and featuring a two-button jacket for first-time buyers.
Notch shape lapel is your best bet here.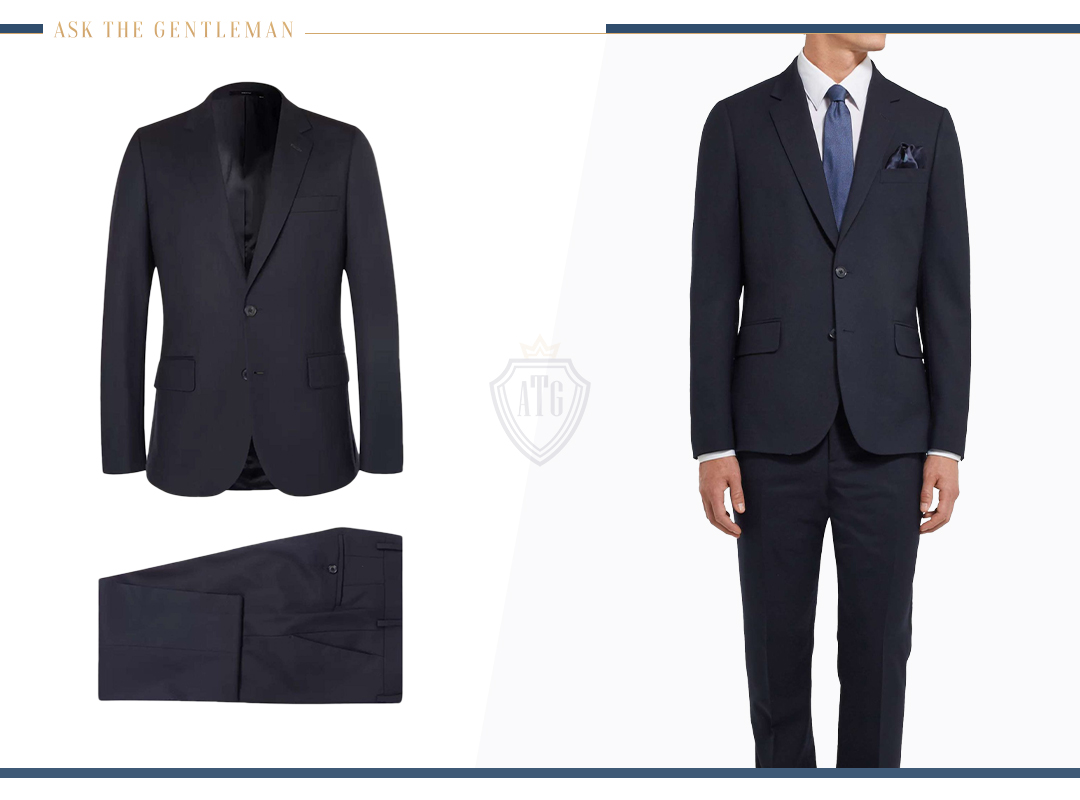 The slim fit suit itself is an excellent option as it is decently basic and something that can stay in your wardrobe for longer.
Advantages of the Slim Cut
There are multiple reasons why the slim-fit cut is a popular suit style among men.
The biggest advantage is that it gives you a contemporary edge while helping you look neat and sharp.
It fits on-point with no excess fabric while still allowing enough room for free body movements.
In addition, the suit jacket helps emphasize your body shape with narrower cuts around the waist and chest areas.
You won't feel restricted in a slim-fit suit, just as the suit doesn't look like it's on a hanger.
It even maintains the shape better than any other cut while sitting down, which is great for people who spend the most time at the office desk.
Slim-fit vs. Classic-fit Cuts
The slim-fit vs. classic-fit differences lie mainly in how both suits fit on your body.
The classic fit is known for being roomy throughout the chest, shoulder, waist, and leg areas.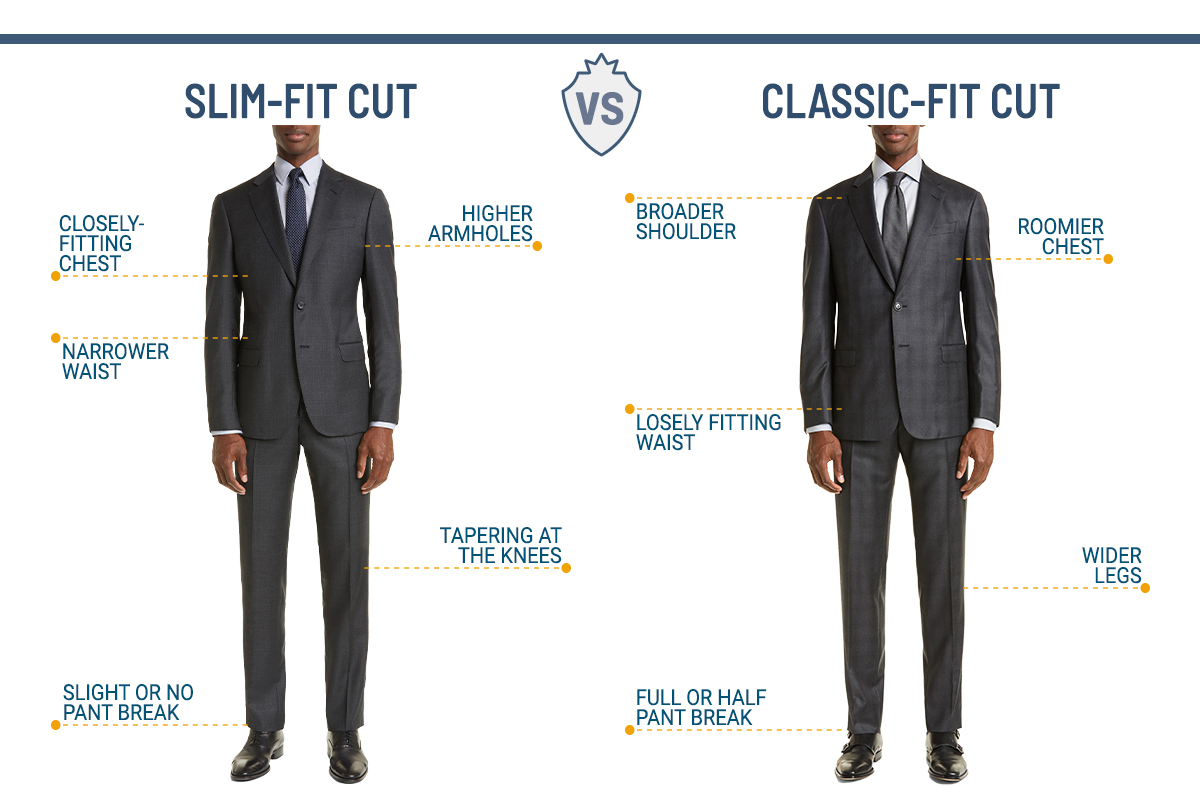 Therefore, people who often work many hours and wear suits go for the classic fit.
However, the extra room and fabric can sometimes feel a little baggy.
The slim-fit suit jacket is known to have the best of both worlds: enough room for movement and a contemporary look of the skinny suit.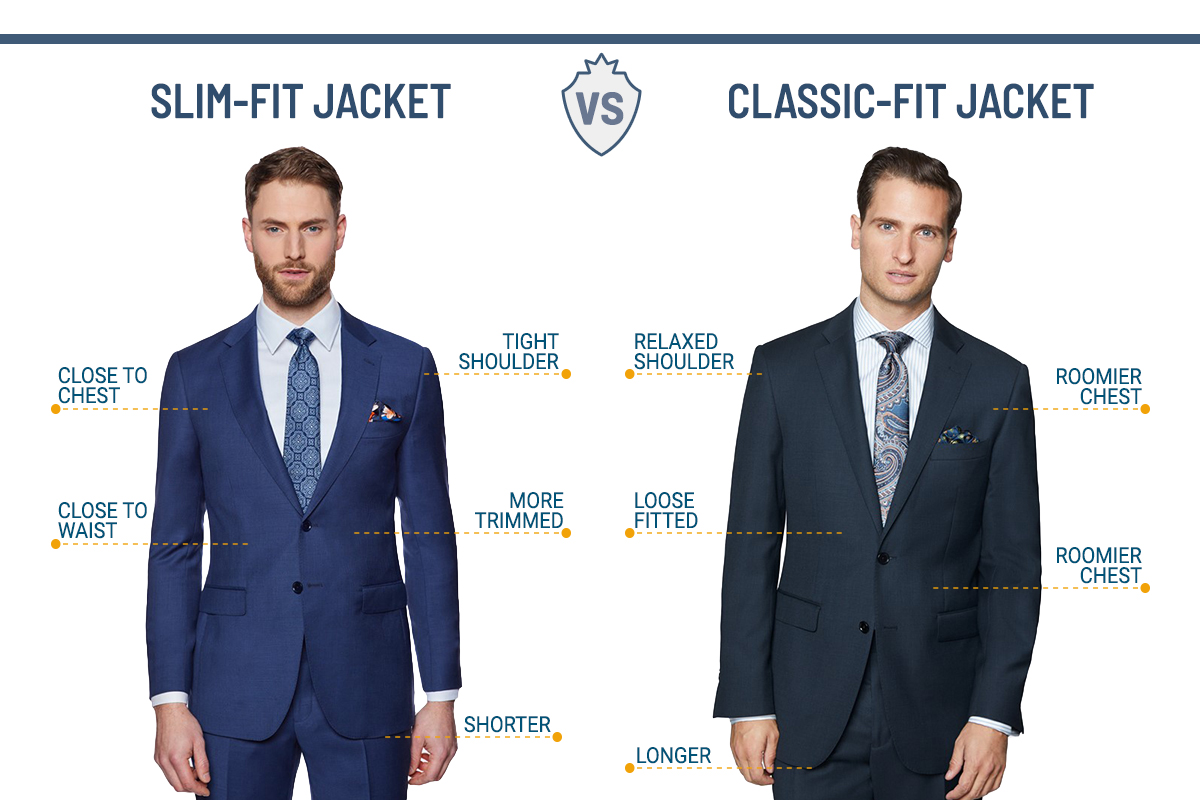 The slim-fit jacket is narrower throughout the chest, shoulder, and waist but feels slightly shorter than its classic-fit counterpart.
There's a difference in the suit pants fit as well.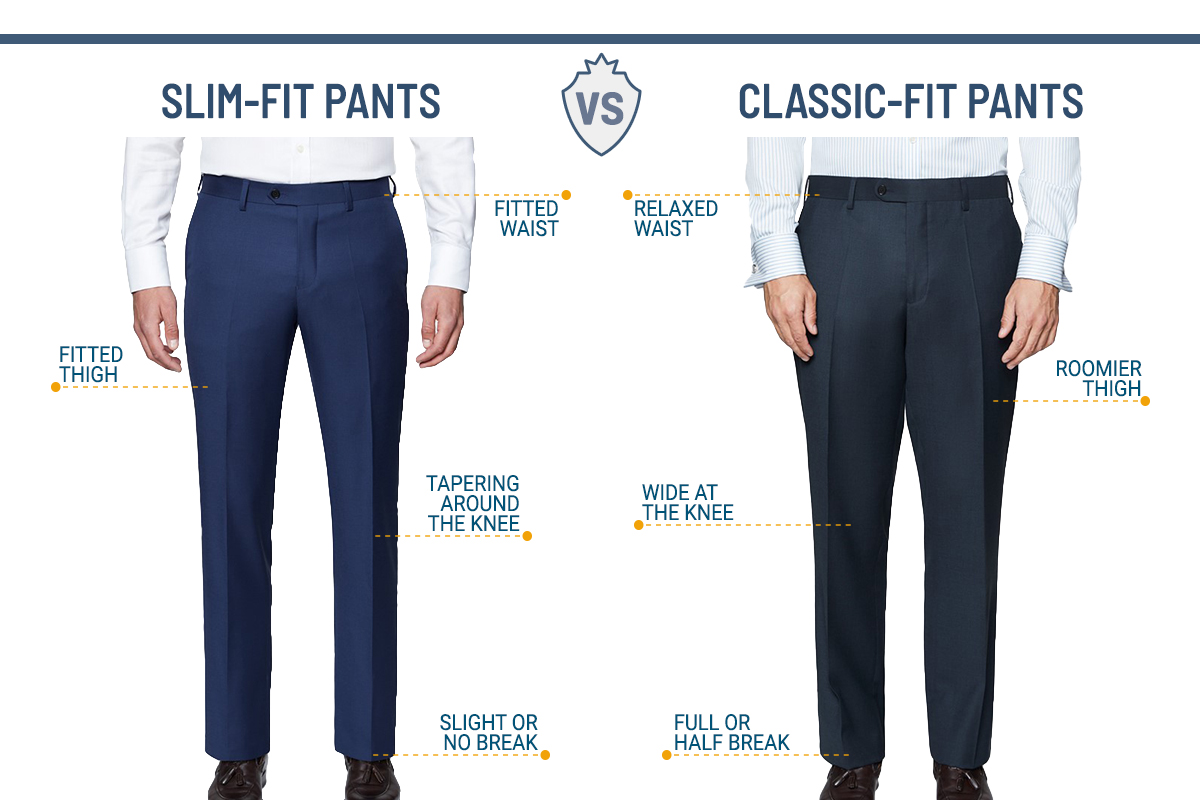 The slim-fit pants are more tightly-fitted with no extra fabric. They're tapered around the knee and usually have shorter pant breaks.
How to Wear the Slim Fit Suit Cut
You cannot just get a slim suit cut and consider it done.
It must still be fitted right. And to do that, you must follow some basics of wearing slim suits.
Here is everything is broken down in detail:
The Jacket is Closer to the Body, But Not Tight
People often associate slim-fit suits with a small size and tight fit, which is wrong.
Indeed, the suit jacket fit must sit close to the body but not too tight.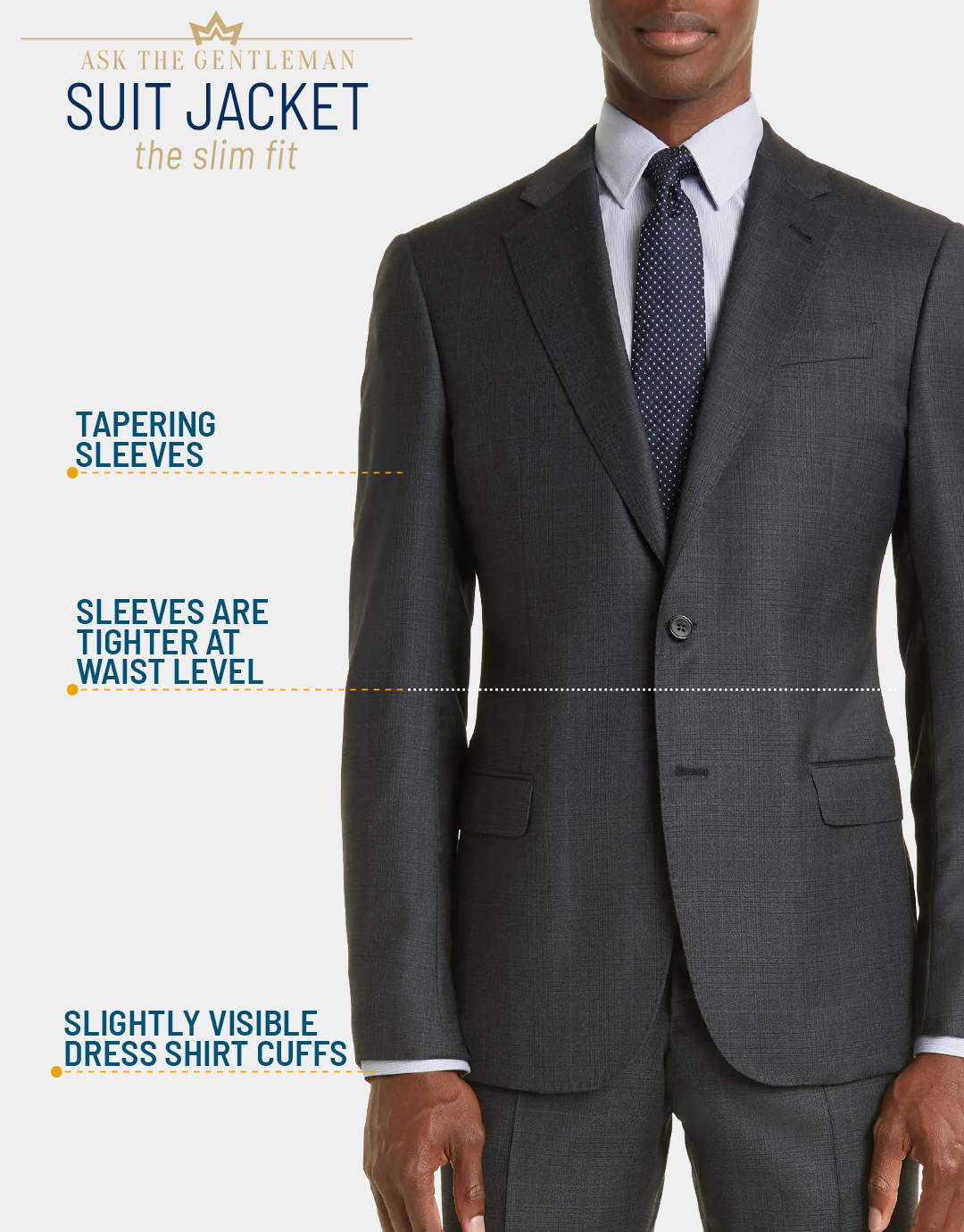 There should be enough room for easy movements between the jacket and your body.
Also, it shouldn't feel like the jacket is restraining you. It should allow the upper body to move freely.
In other words, the jacket is supposed to hug your body gently.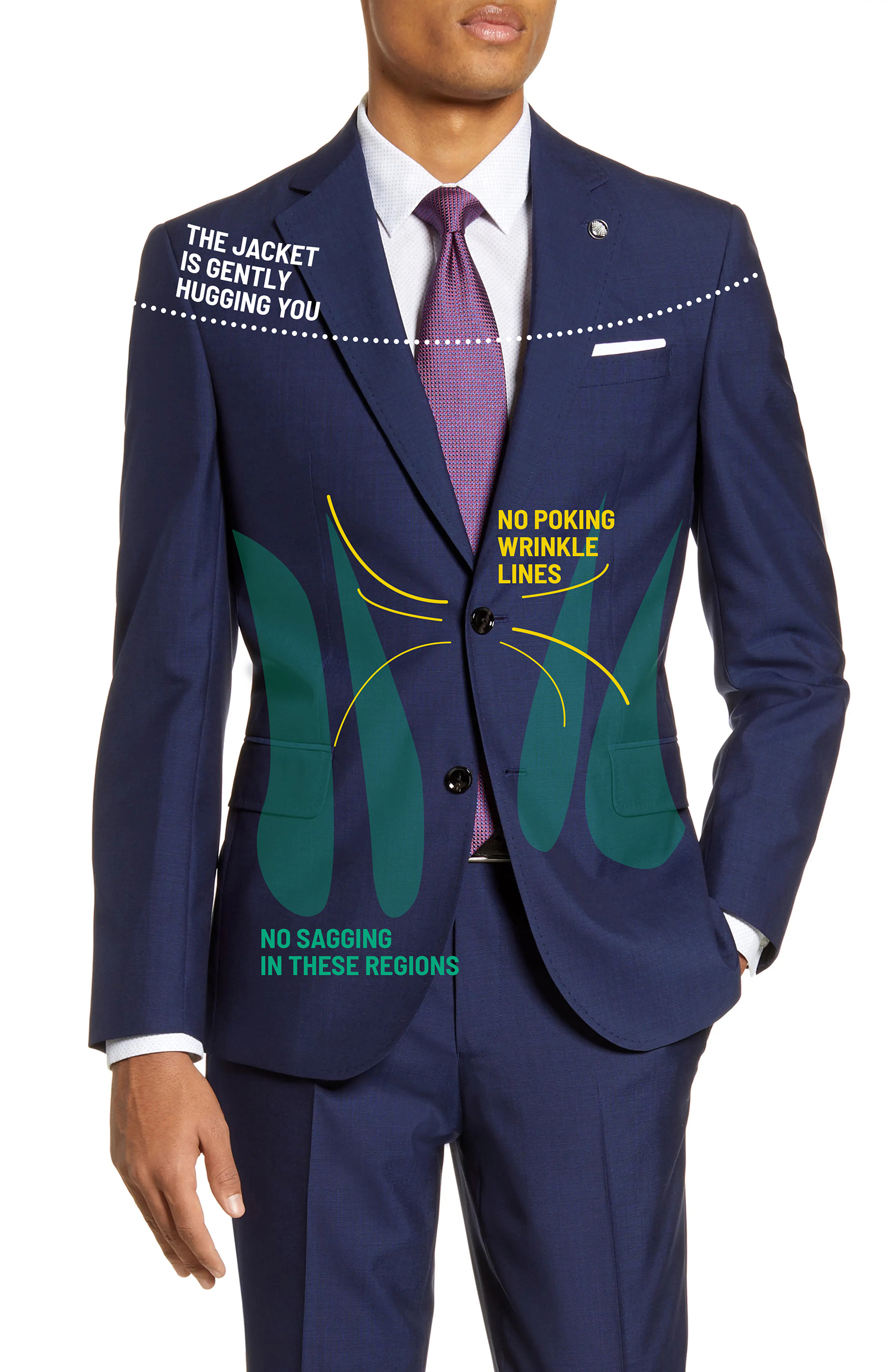 Additionally, pay close attention to the suit jacket length. It is a significant key element for a proper slim silhouette.
Ensure it ends around the palm's meat and covers your back completely. Otherwise, the whole suit will look ruined.
The Collar Sits Evenly Against the Shirt
One of the biggest challenges for the slim-fit suit is to ensure the jacket's collar does not press the shirt, thus creating bunches and wrinkles around the back.
Also, there should be no collar gap between your jacket and the shirt's collar.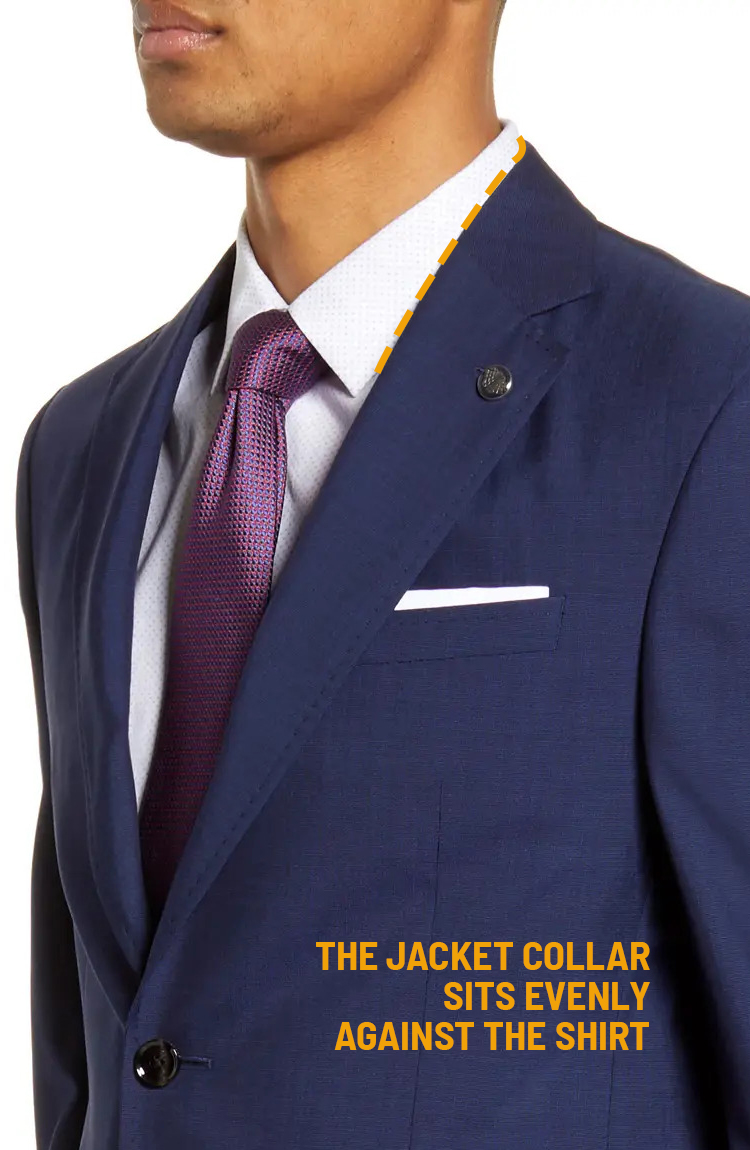 A properly fitted jacket collar gently rests on your shirt on the back of your neck.
The Jacket Sleeves Allow Small Shirt Exposure
The jacket sleeves of slim-fit suits are closely tapered and feel closer to the arm.
The sleeves in this cut are also tighter around the waist area. Thus, providing the right balance allows your arms to move while looking sleek.
Again, neither the sleeves nor the suit jacket length shouldn't be too long or too short.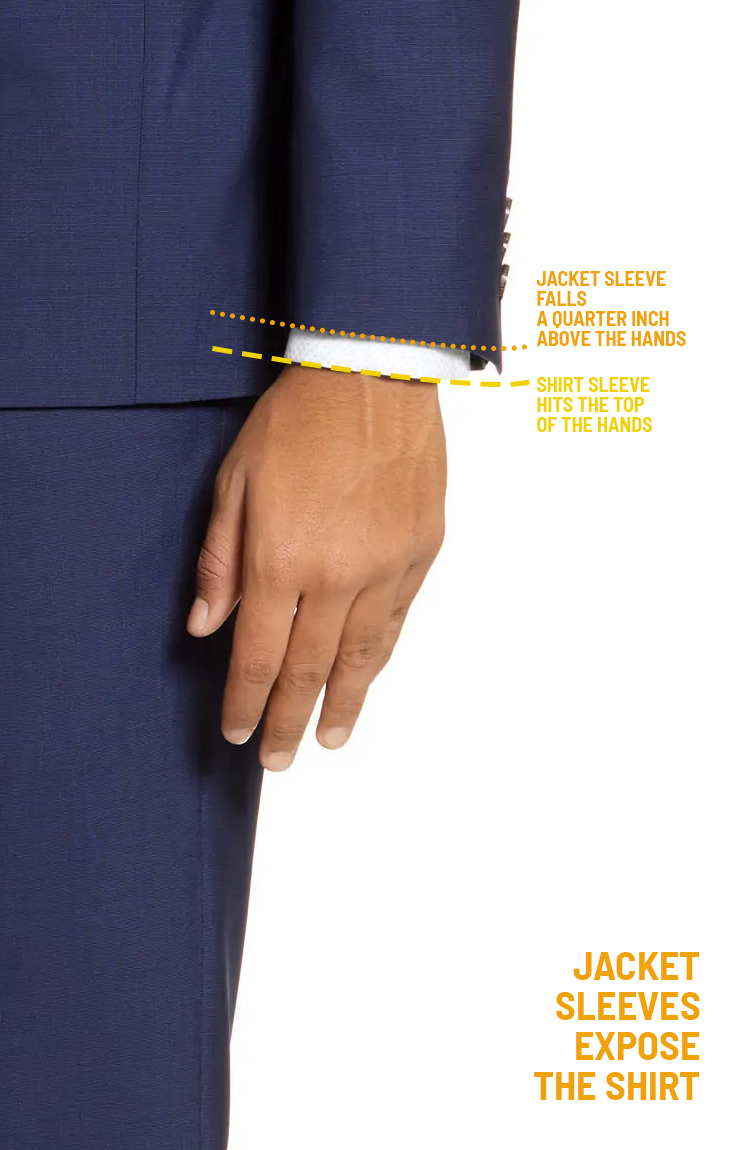 The perfect jacket sleeve length is where the jacket's sleeves slightly expose the shirt cuffs, thus creating a dapper and contemporary look.
The Pants are Precisely Tapered, But Not Restrictive
The suit pants fit should be precisely tapered with enough room for your legs to move freely.
If the pants are too restrictive, they're probably not the right size.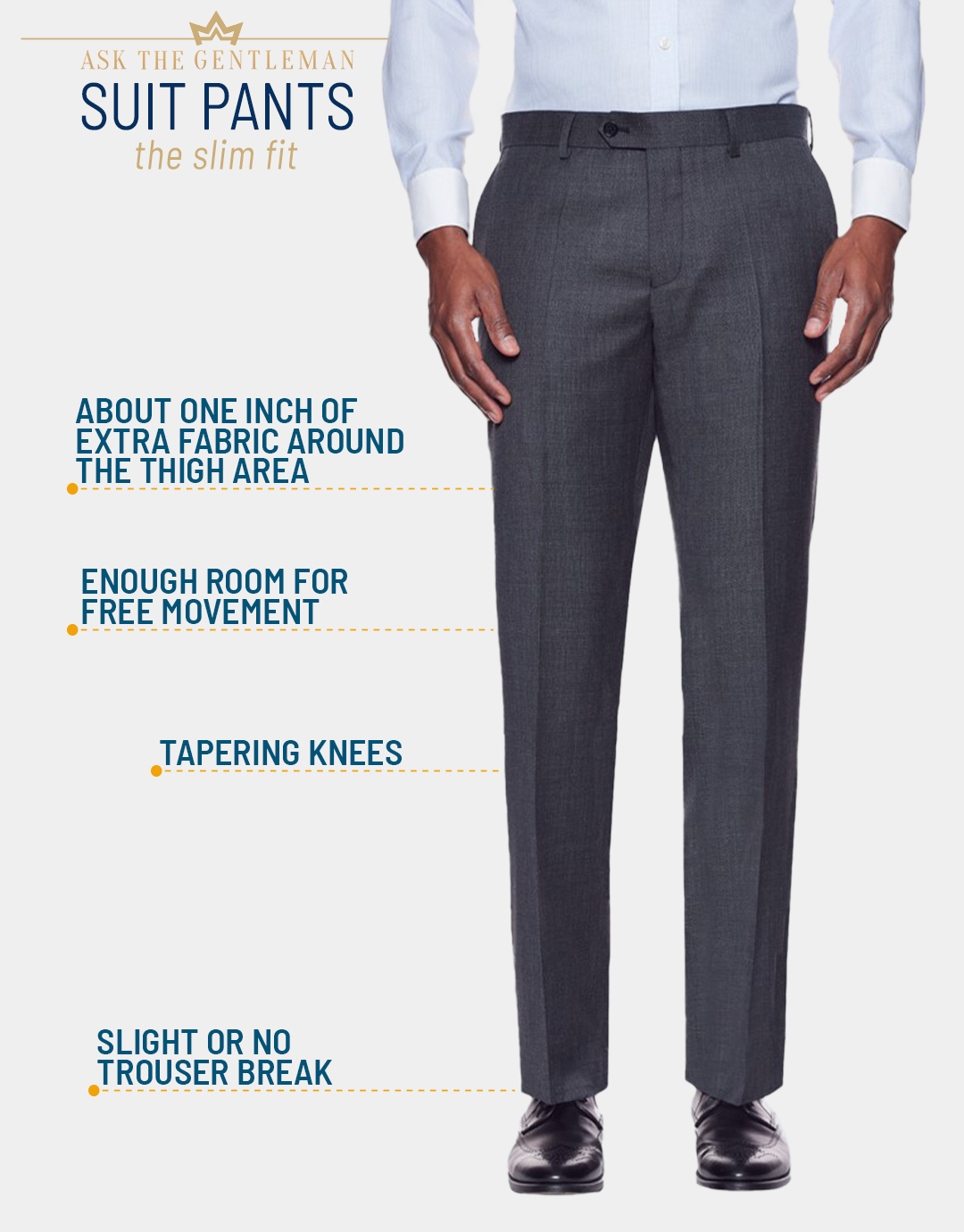 The general rule of thumb is that you should be able to pinch about an inch of fabric around the thigh area when standing up.
This goes a couple more inches around the ankle since it is less restrictive than skinny suit pants.
The trouser length should fall right on top of your shoes, having a slight or no pants break.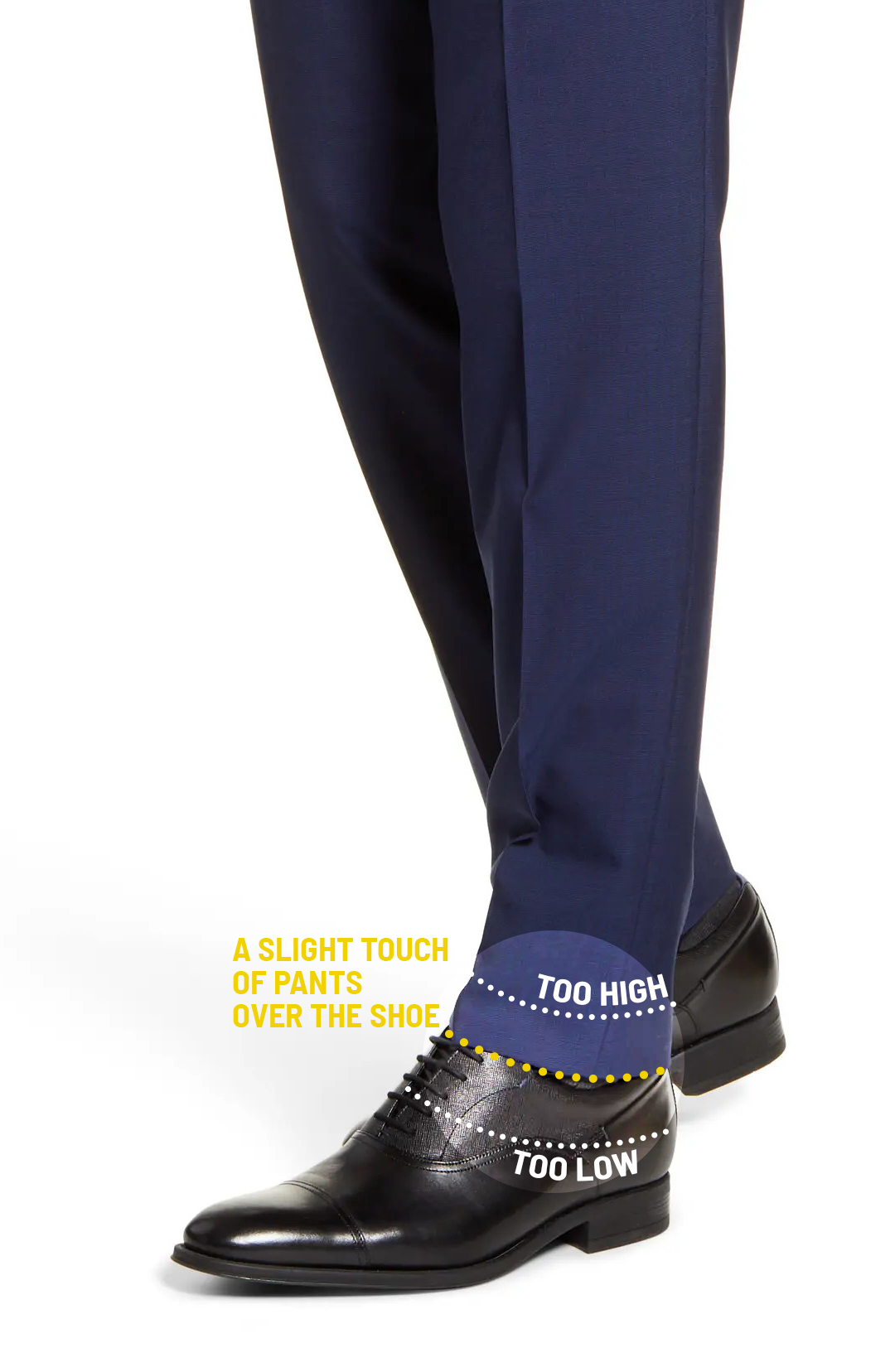 In general, slim-fit pants are supposed to help lengthen your body shape without making your legs too thin or feel tight.
Wear a Slim-Fit Shirt to Avoid Wrinkling
The slim-fit shirt is the perfect match for a slim suit.
That's because a slim shirt won't bunch and sit as close to the body as your slim-fit jacket.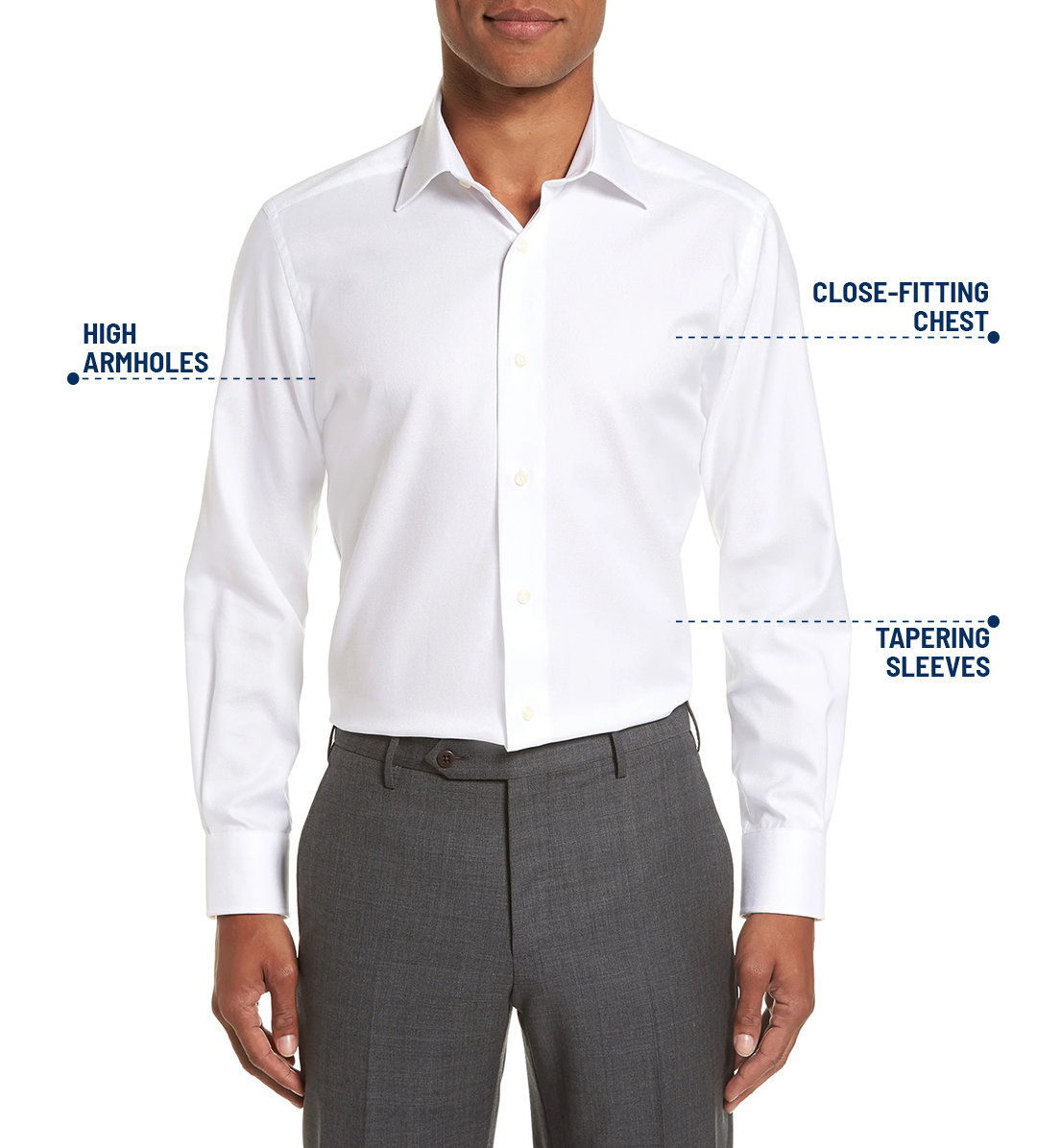 Of course, you can wear any other shirt cut under your slim-fit suit as long as the shirt fits perfectly.
But there's a possibility for the regular fit shirt to get scrunched under the slim jacket.
Similarly, a skinny-fit shirt might look like you can throw another jacket under the suit.
Who Should Choose & Wear the Slim Fit Suit Cut
Usually, men who have small to medium body shapes prefer slim cuts.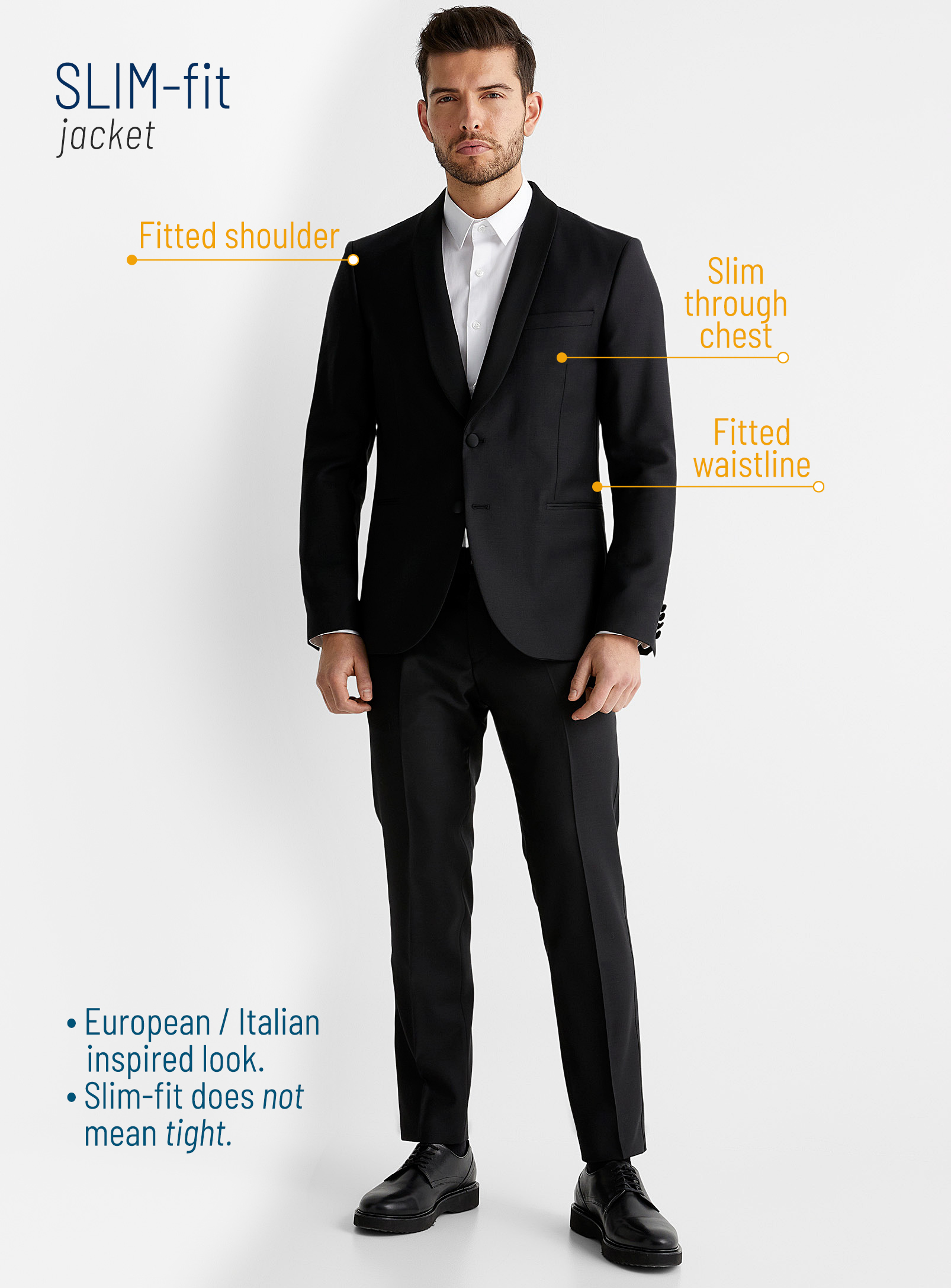 However, it is not just limited to frame. It can work fine if you are on the thinner or tall side.
In fact, slim-fit suits are the best suit cut for the majority of men.
However, staying away from the slim fit is better if you have a huge belly or oval body type.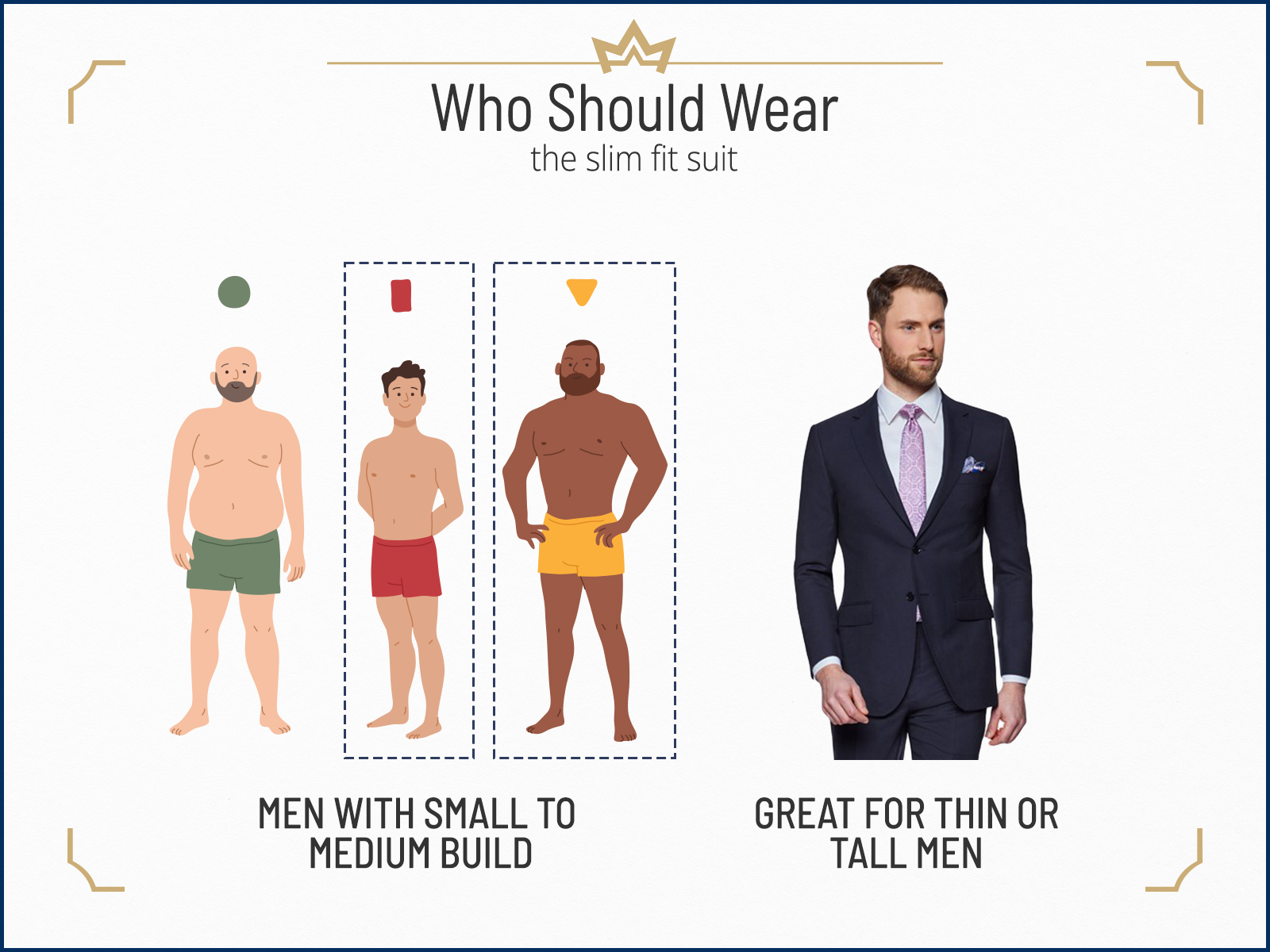 As for bulkier guys, you can still pull off the look if you choose the right jacket size.
However, a double-breasted slim-fit suit is the best jacket option for a bulkier guy.
The twin button rows are a great deception to the eye, making the torso appear narrower than it originally was.
Slim Fit Suit & Shirt Color Combinations
There is a wide range of color combinations that you can opt for in a slim-fit cut.
A navy suit is an excellent option for slim-fit suits since lean men tend to look more substantial in this shade than in the classic black suit.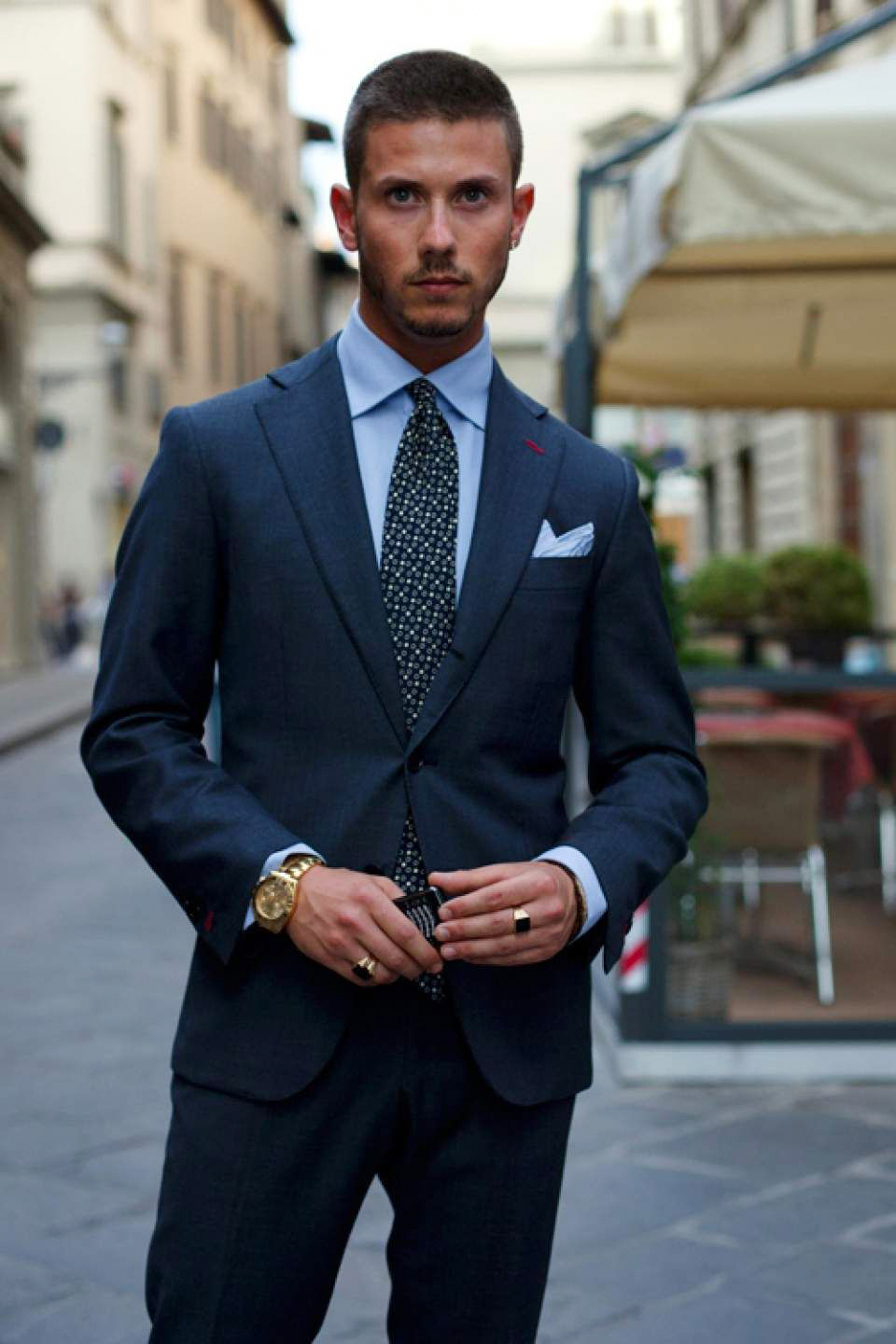 Pairing this suit color with a white dress shirt is easily the best color combination to make you look sophisticated and stylish.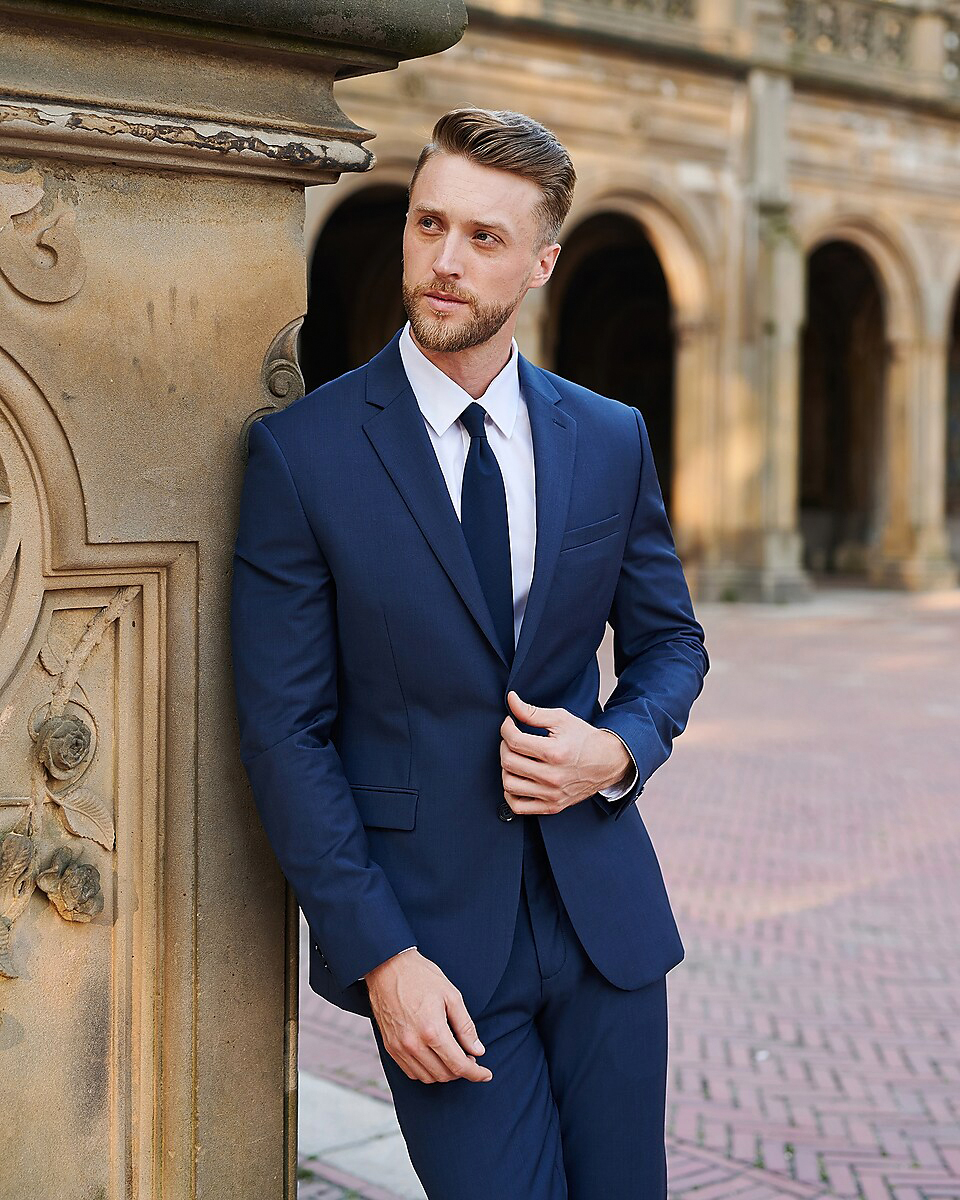 If you want to skip the conservative colors, you still have room to add colored dress shirts, like pink or light blue.
Adding a contrasting pocket square is all you need to complete the look.
My suggestion for people who don't have a suit collection sitting in their wardrobes is to stick to a neutral color suit.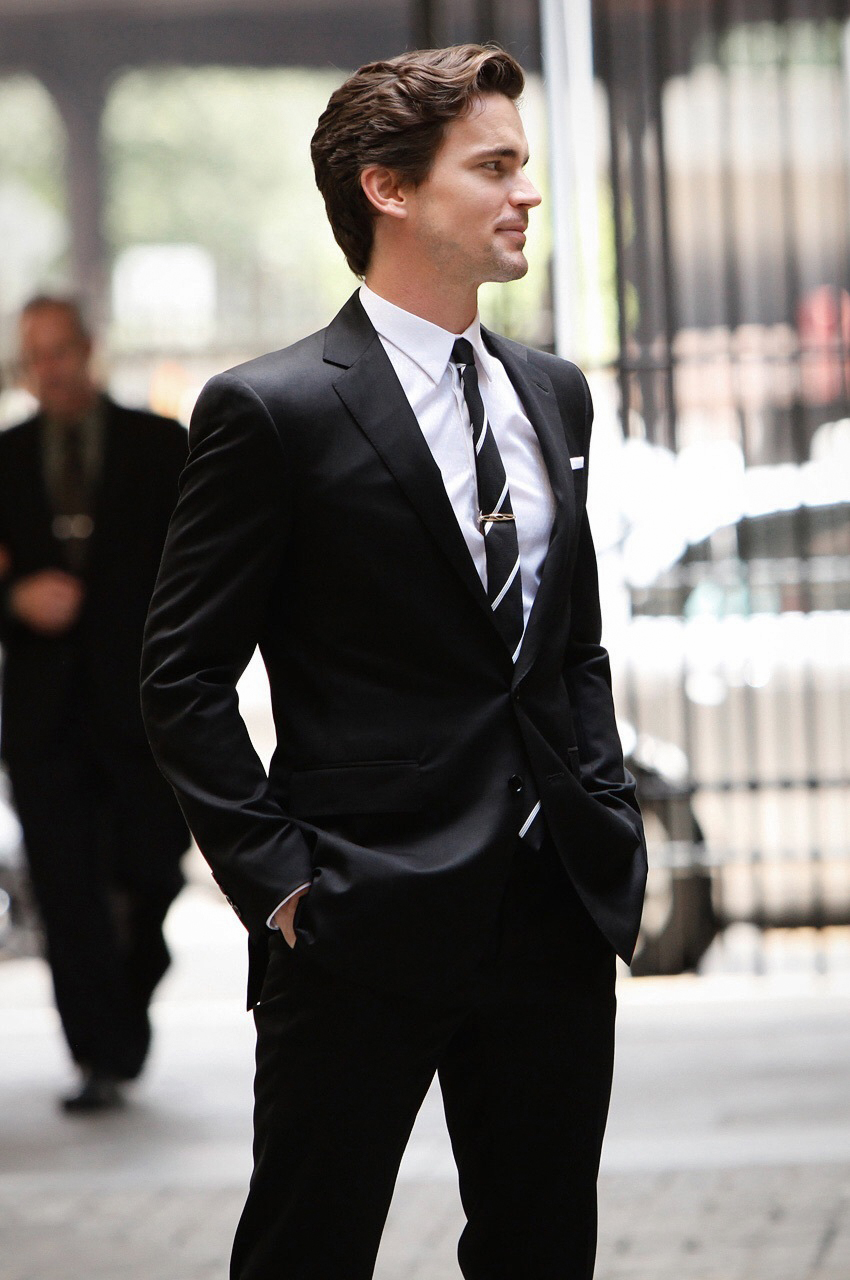 Neutral suit colors look incredibly stylish in the slim cut. More importantly, you can wear them anywhere you want.
Another popular option is the charcoal suit, which is great for nighttime and daytime events.
Finish the look with classic black dress shoes, like Oxfords or Derbies.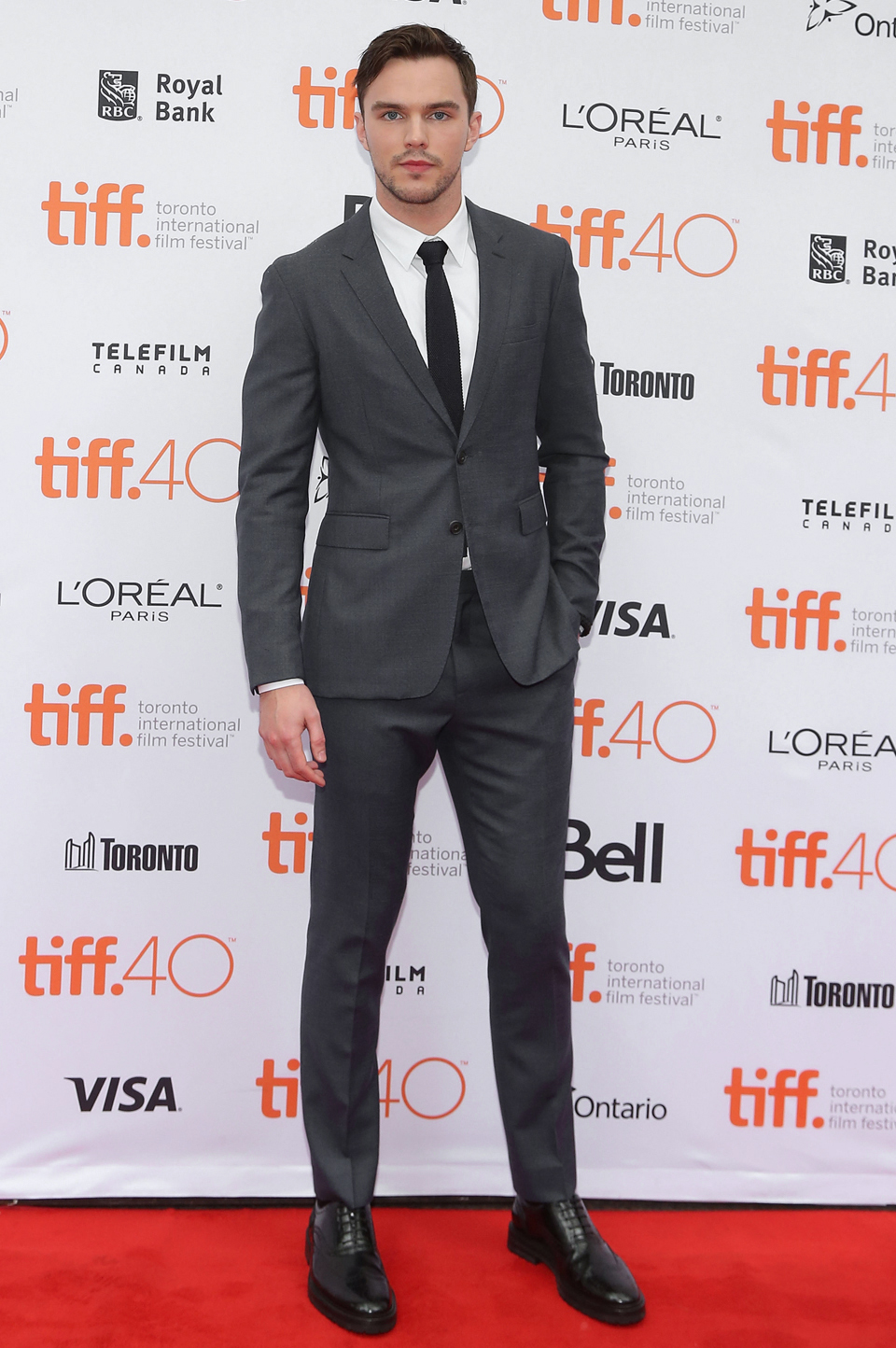 Again, you can always count on classic white, light blue, or even light pink shirt to complete the look.
Another tasteful combination is pairing slim charcoal or black trousers with a different-colored jacket.
In addition, you can always go for a light color suit like blue or tan to spice up your look, especially for daytime events.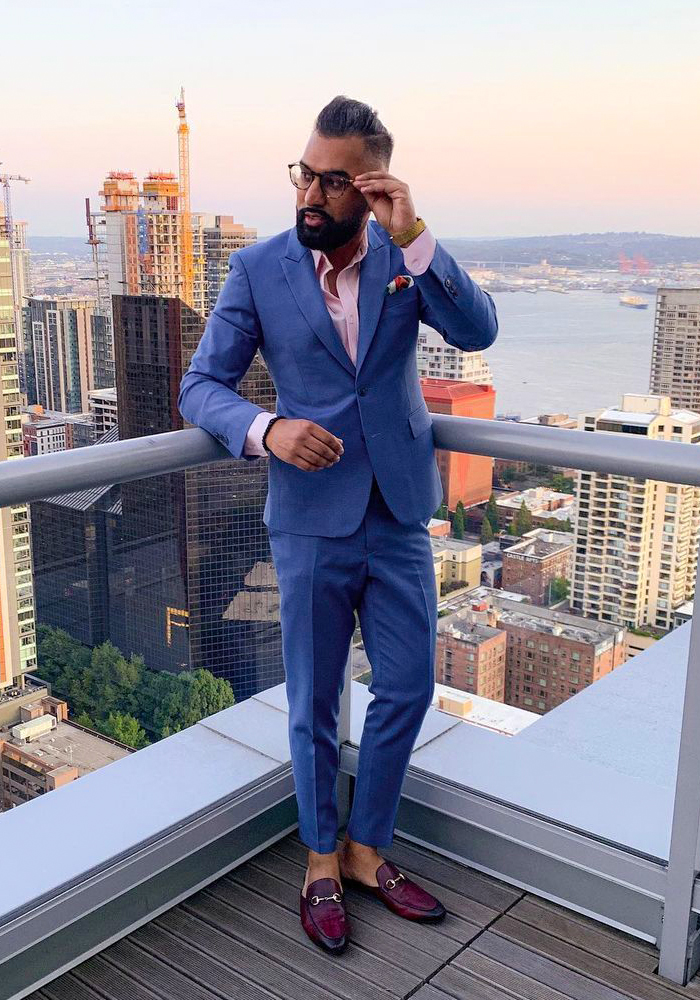 Stylish brown dress shoes complete the light suits like the grey and the blue suit.
Wear a Narrow Tie and Lapel Width with Slim Cut Suits
Slim-fit suits are known for their slim, elegant, and sleek look.
Therefore, wearing a narrow tie with a slim-fit suit is probably the best option.
In addition, the suit jacket should have a narrow lapel as well.
In approximation, the widest part of your tie should match the lapel width.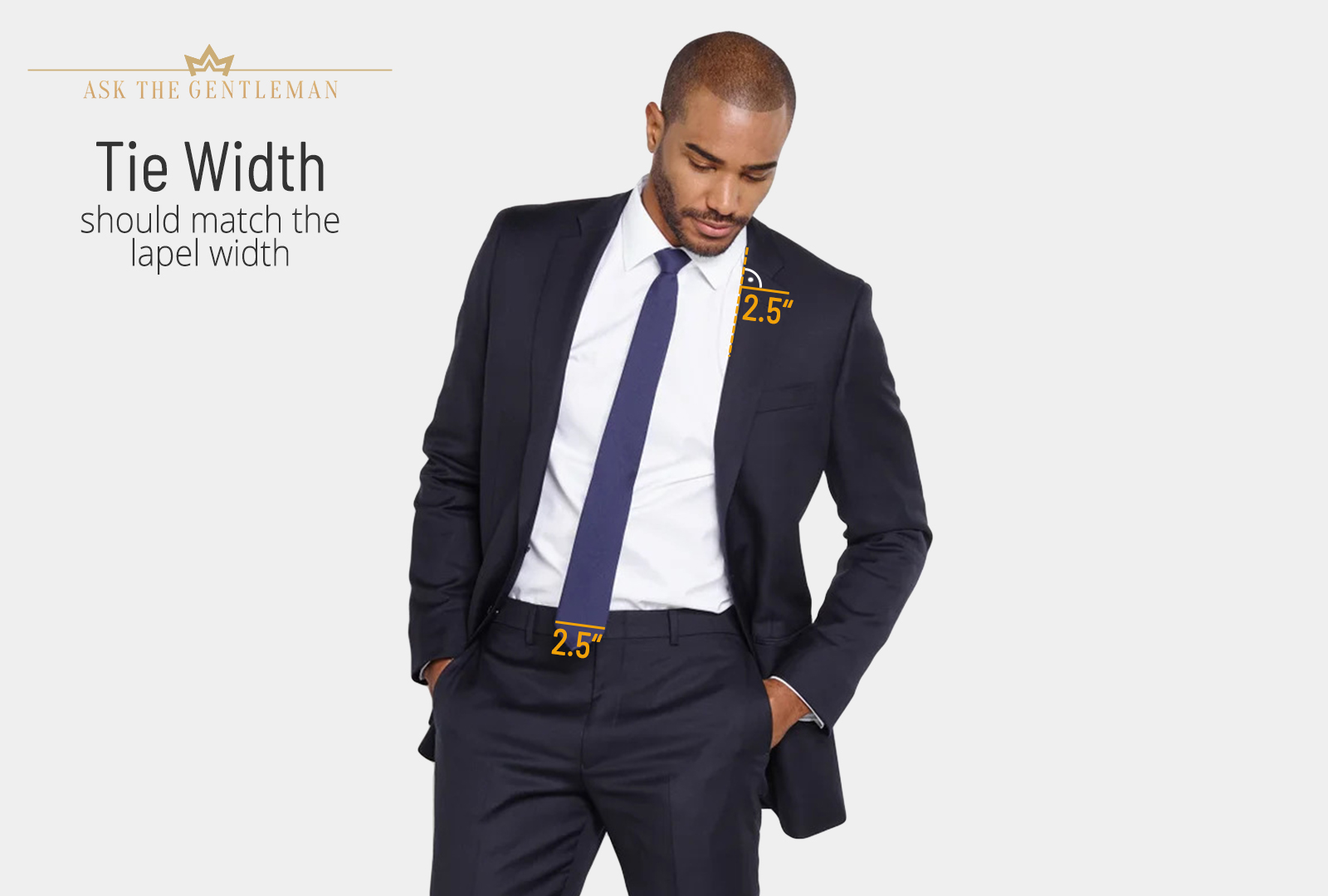 A tie or lapel that's too wide will simply overwhelm the suit.
Similarly, a thinner tie and lapel also disrupt the proportions, making you look trendier than required for a slim cut.