Wondering when and how to wear a t-shirt under a suit?
The modern world increasingly requires us to present ourselves as smart-casual dressers.
Additionally, office work and social occasions are becoming less formal.
Mastering the suit with a t-shirt look is a guaranteed way to strike the right balance between professionalism and playfulness.
You'll feel like a 21st-century gentleman when you learn the rules around wearing a t-shirt with a suit.
Best Suit and T-Shirt Color Combinations
Fashionable gents should learn which colors match and use this knowledge to correctly select a suit and t-shirt combination.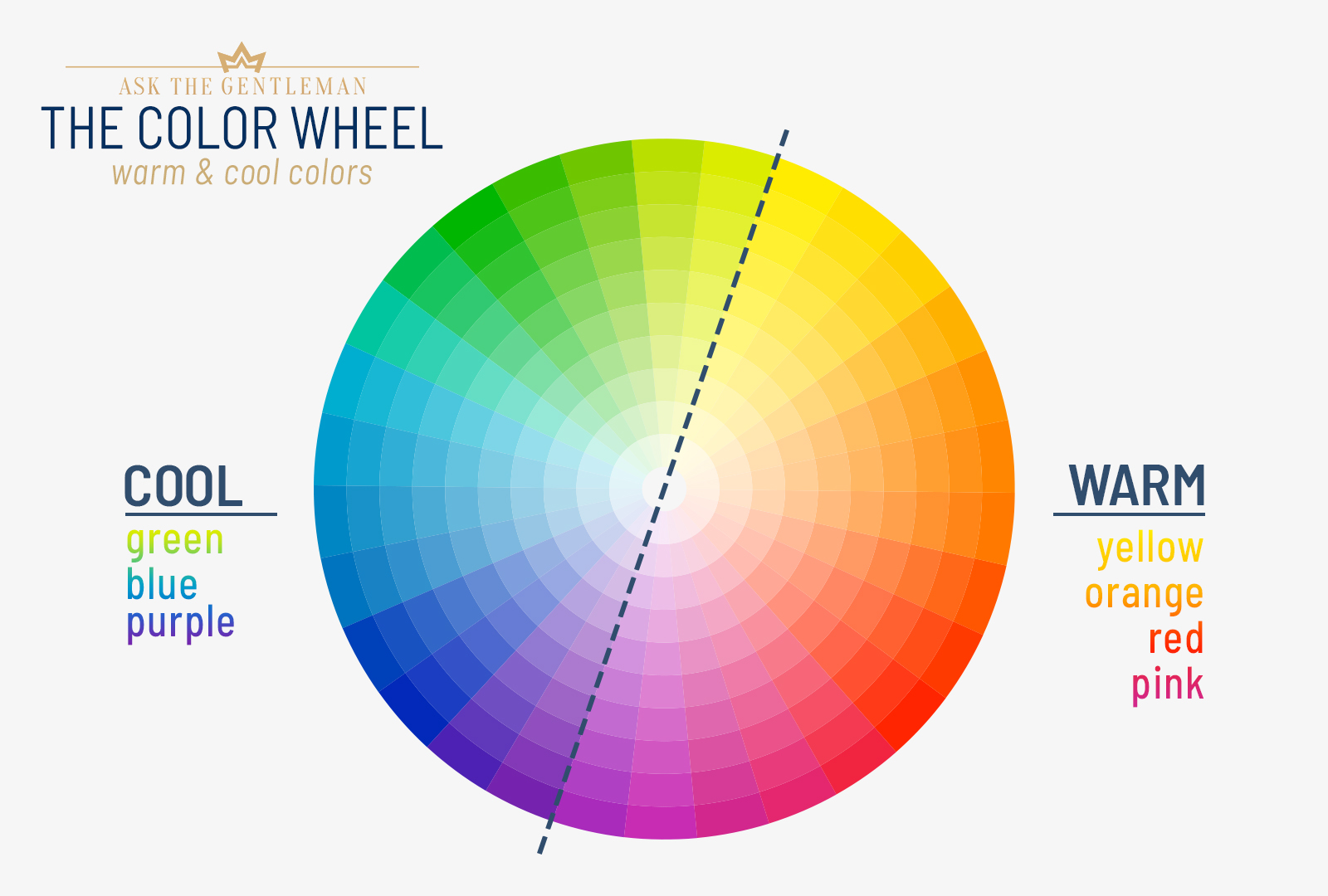 Only certain colors compliment specific suits, and a blunder will damage your sleek casual look.
The easiest way to navigate the suit and t-shirt color combinations and elevate the look is with the help of the color wheel.
That way, you can use the four primary color techniques to create a successful combination.
Navy Suit with a Light Grey T-Shirt
Navy suits are a historic example of elegant men's wear.
Matching your navy suit jacket with a light grey t-shirt sends a strong signal.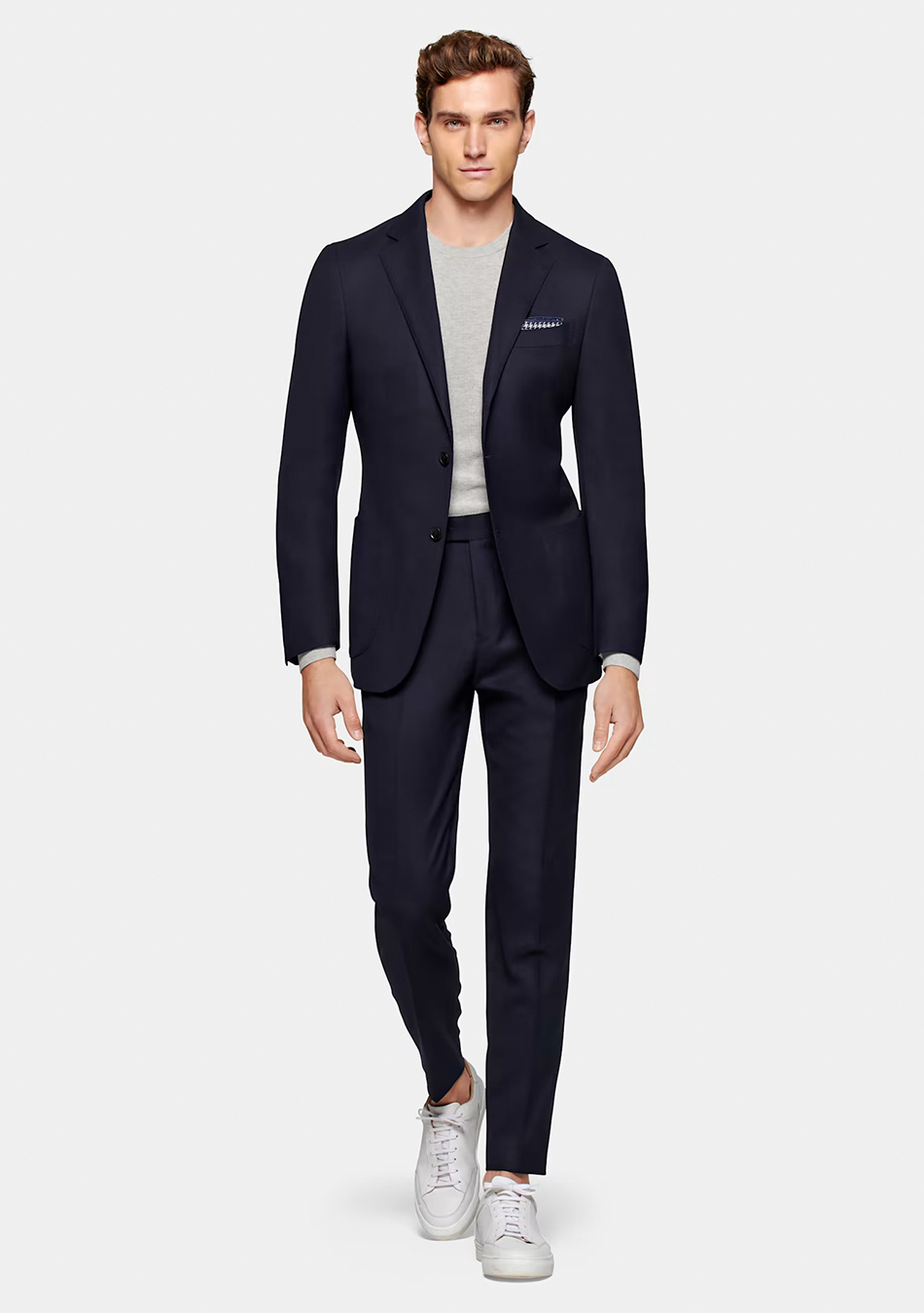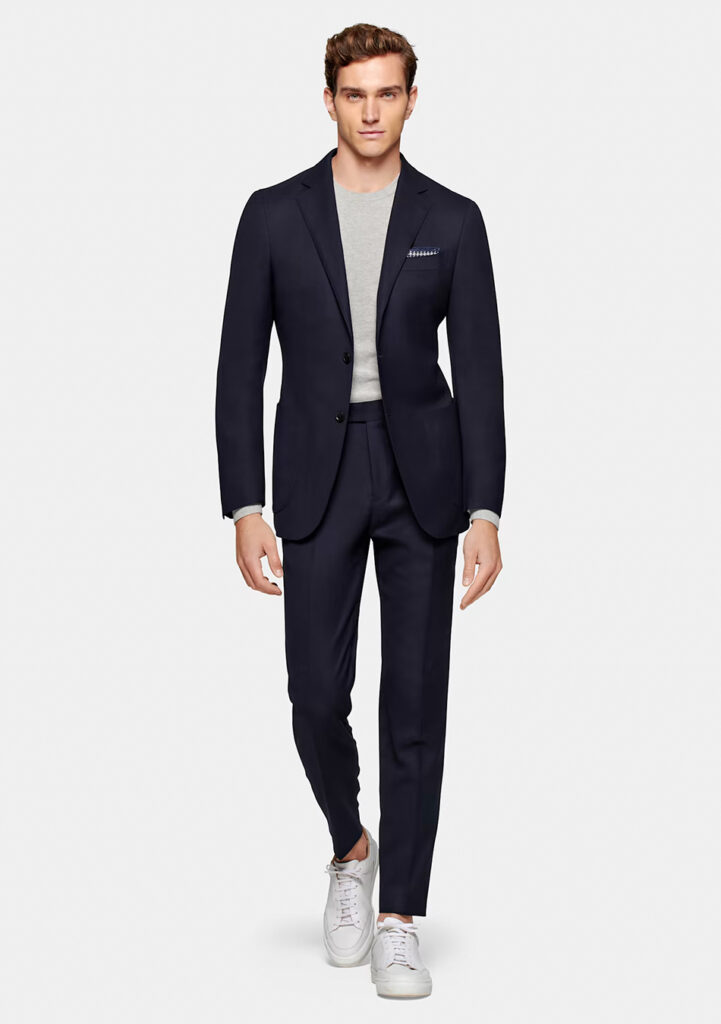 It's effectively balancing the formality of navy with the informality of a t-shirt.
This combination provides a nice contrast suitable for all environments.
You can push this look one stage further with clean white trainers and a patterned pocket square.
Black Suit with a White T-shirt
A white or another solid light-colored t-shirt is the best way to add contrast and liveliness to the dull black suit.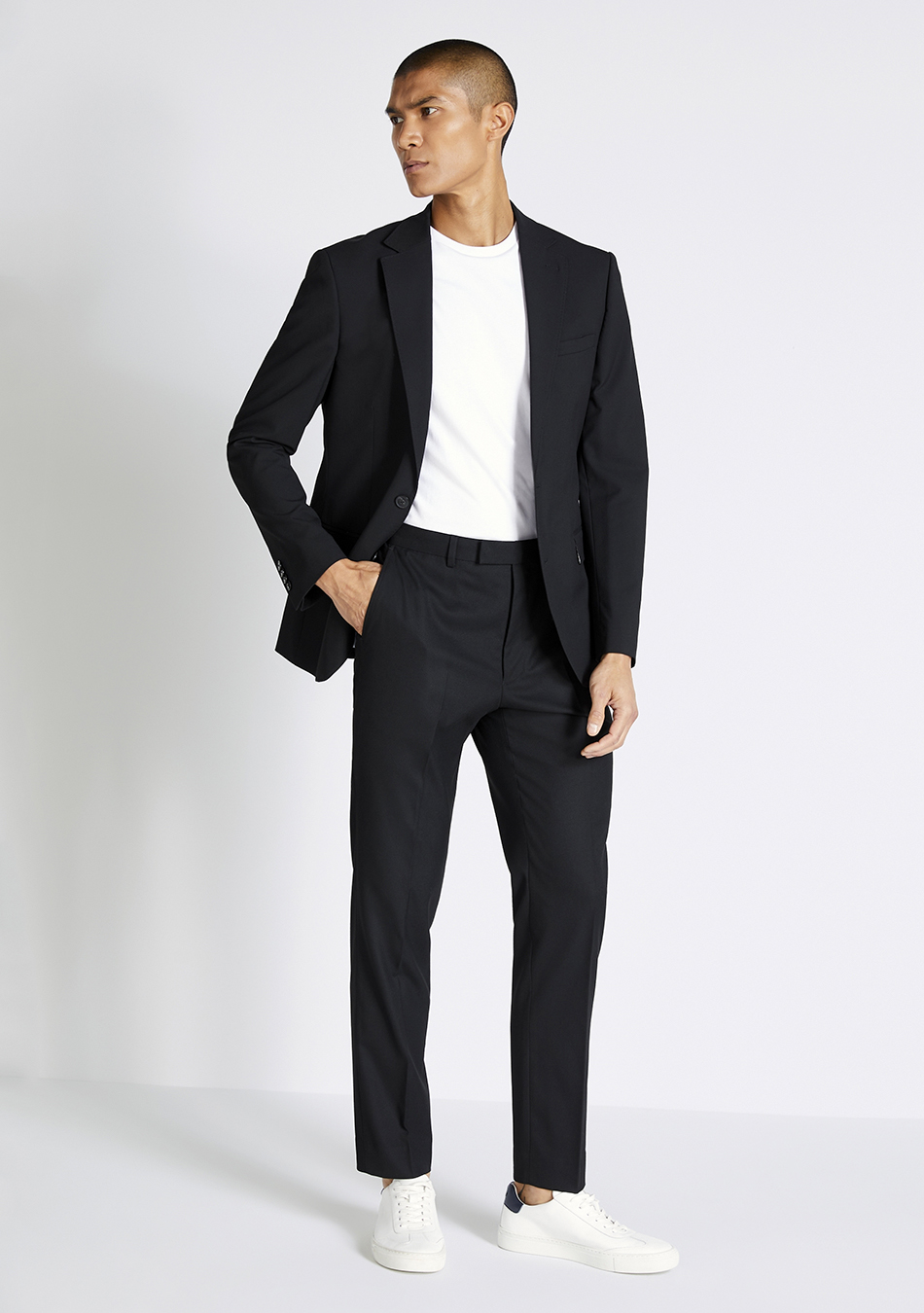 But the beauty of this combination is in its simplicity.
Avoid adding too many accessories or colors that may clash with your outfit.
Opt for clean, white minimalist sneakers for a more casual look.
Conversely, you can wear black loafers or derby shoes for a slightly more formal spark to the already relaxed black suit.
Monochrome Grey Suit & T-Shirt
A high-quality light-colored t-shirt is the best monochrome selection to compliment the shine of a charcoal grey suit.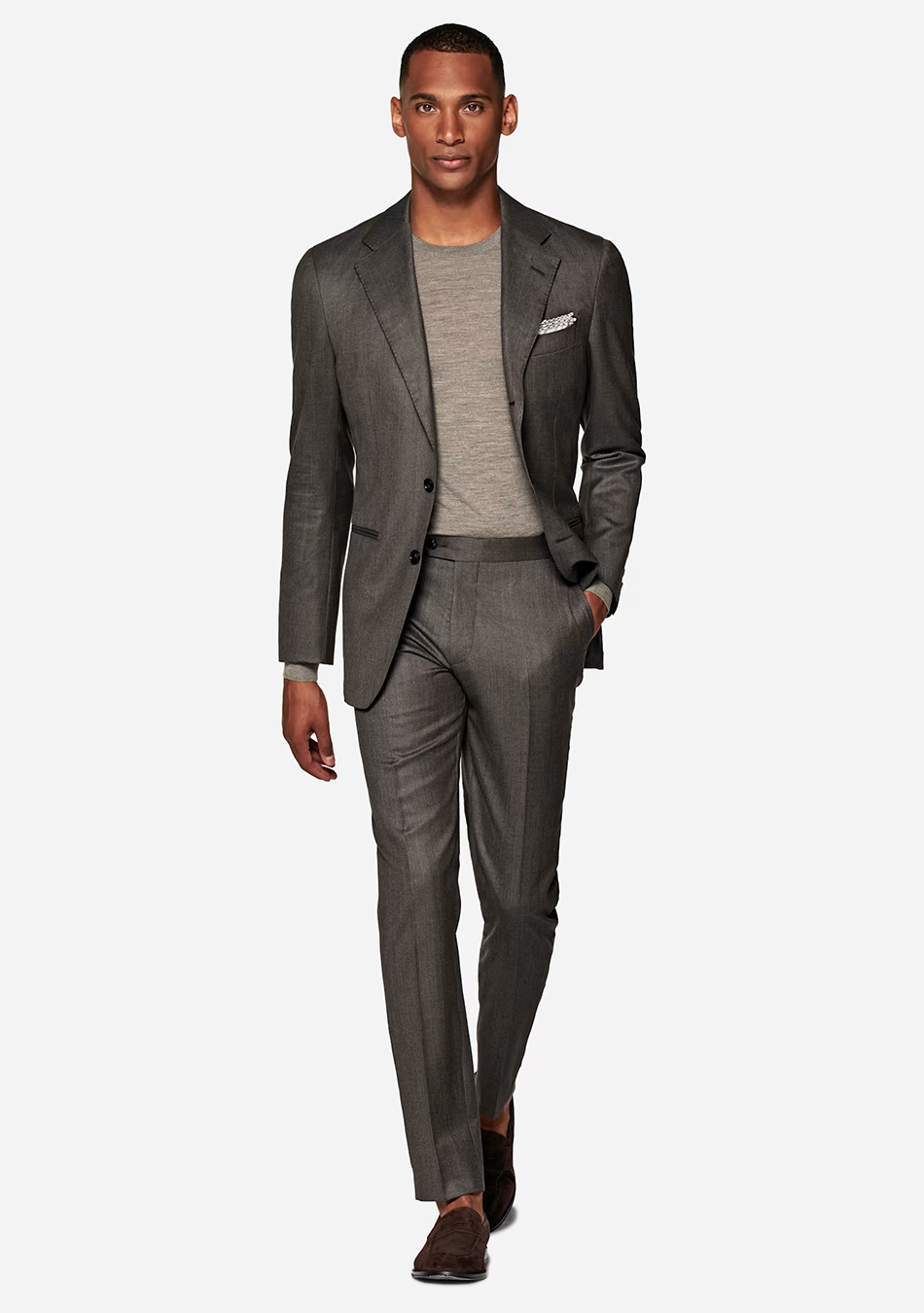 Think professional but with a shimmery edge.
A pair of brown suede loafers are an excellent way to finish off this ensemble and stand out from the crowd for all the right reasons.
This outfit works with or without a watch, though a shiny watch helps bring out the shimmer of the jacket.
Light Blue Suit with a White Shirt
It's a mistake to think that dark colors always flatter lighter shades, especially in the case of a light blue suit jacket.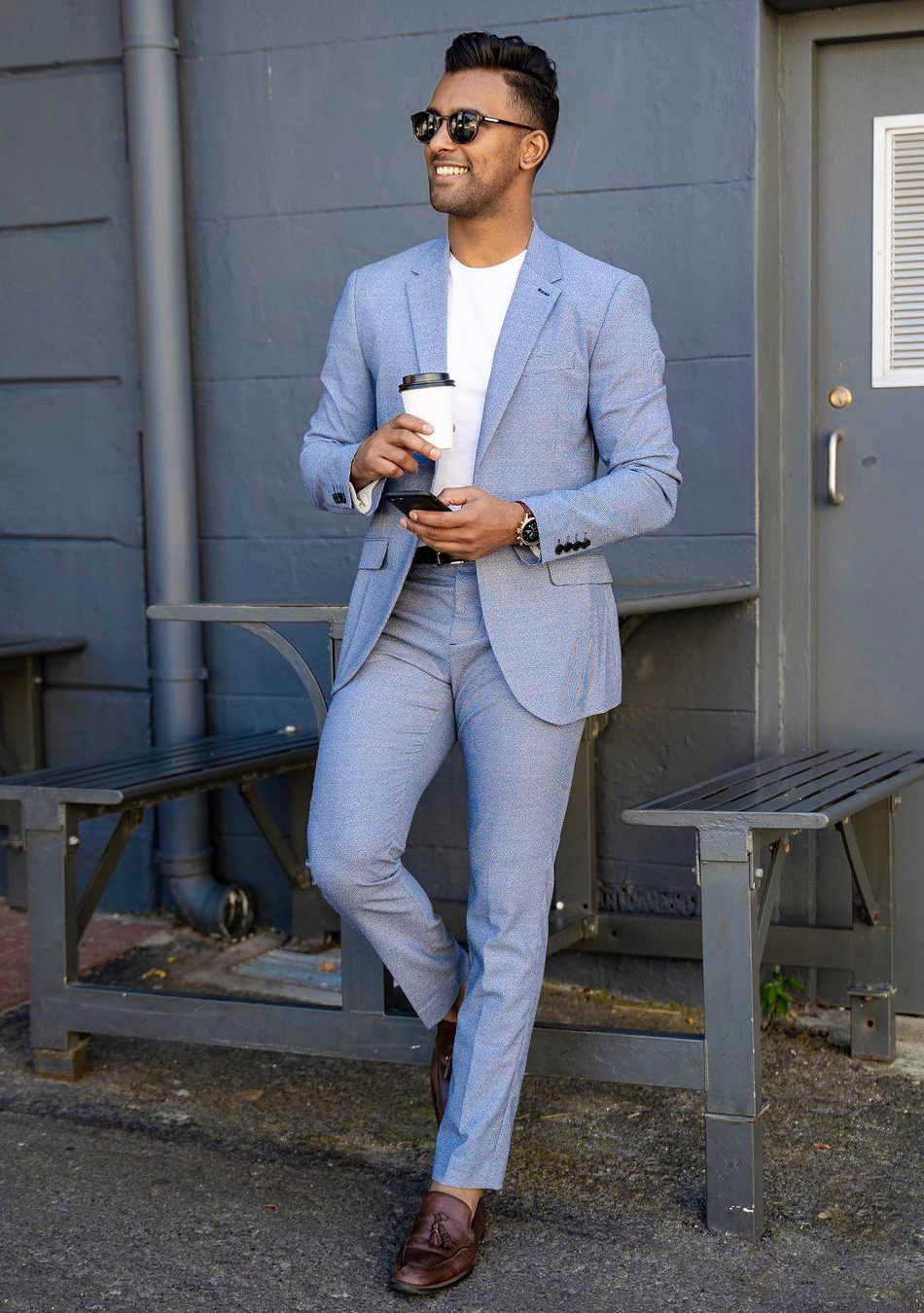 Matching your light blue suit with either a crew-neck or v-neck t-shirt guarantees a powerful look that demands respect.
It's a casual look for summer days, which can be improved with a stylish dark brown leather watch and brown dress shoes.
Navy Blue Suit with a White Shirt
Matching a navy blue suit jacket with a white shirt promises to provide the wearer with style and substance.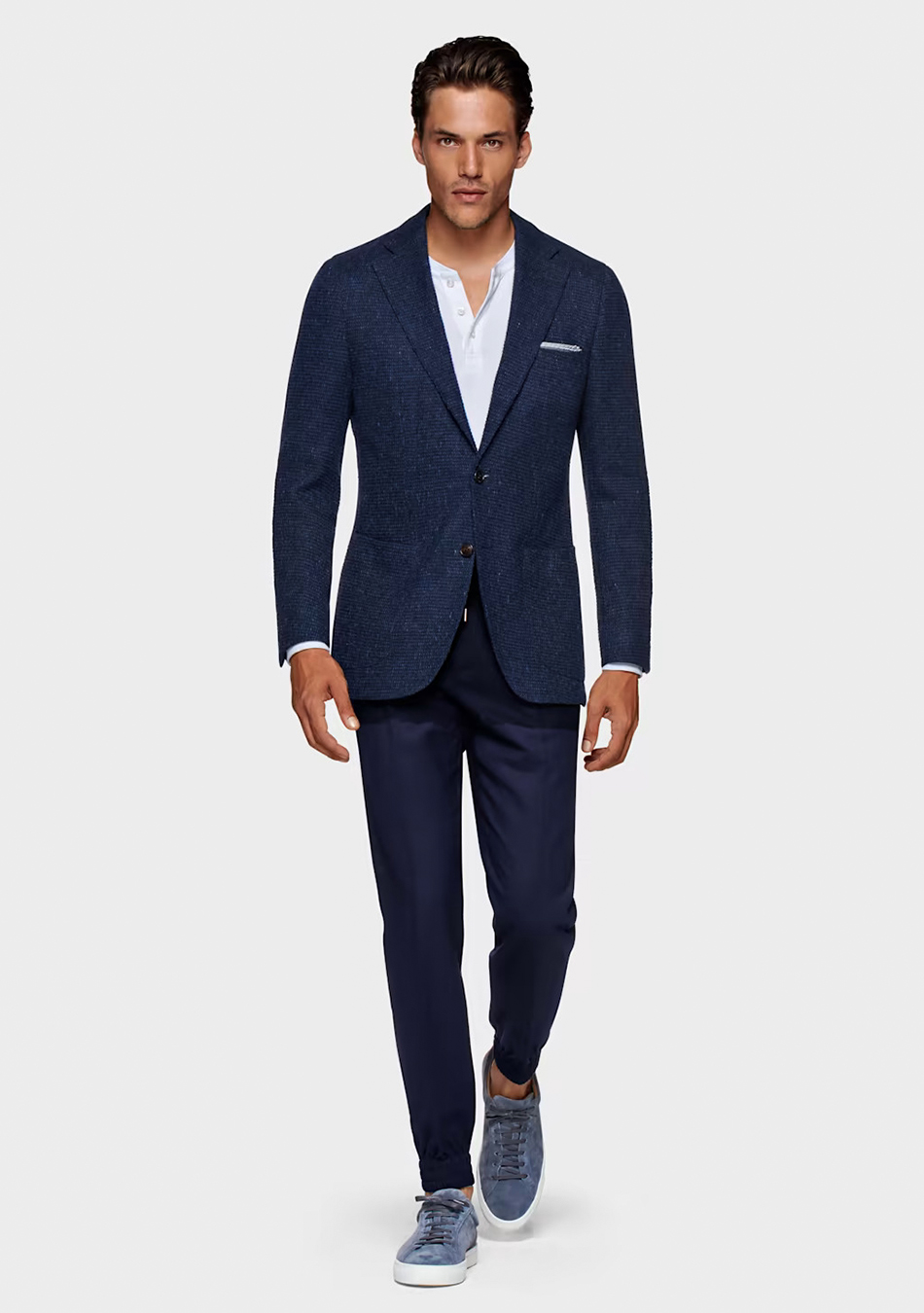 Wearing sneakers with a suit is perfect during summer, creating a down-to-earth look that'll grab attention.
Selecting sneakers in white or a blue shade is your safest bet.
All-Black Suit & Polo Shirt
Exercise caution when pairing a polo shirt with a black suit jacket and trousers.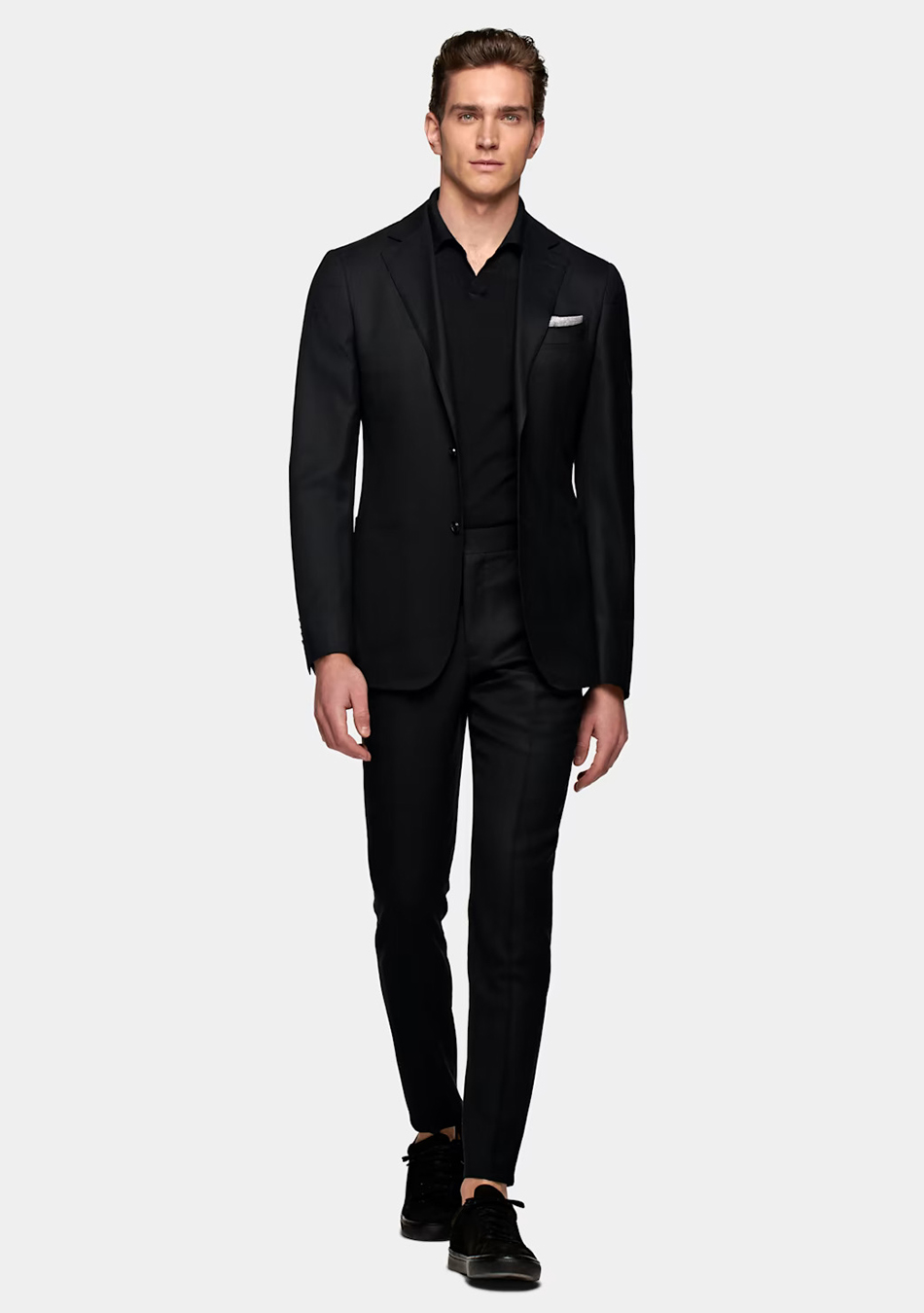 Most shirt colors aren't suitable for an outfit that makes such a strong statement.
But you should try a black polo shirt for the ultimate confident, sleek, and authoritative look.
It's an ideal look for harsher fall and winter months, especially if you wear a coat over your suit.
All black looks very polished and strong but can be toned down with white sneakers.
Tan Suit with a White T-Shirt
Matching a tan suit with a white polo shirt is the perfect way to add a touch of casual yet chic elegance to your look.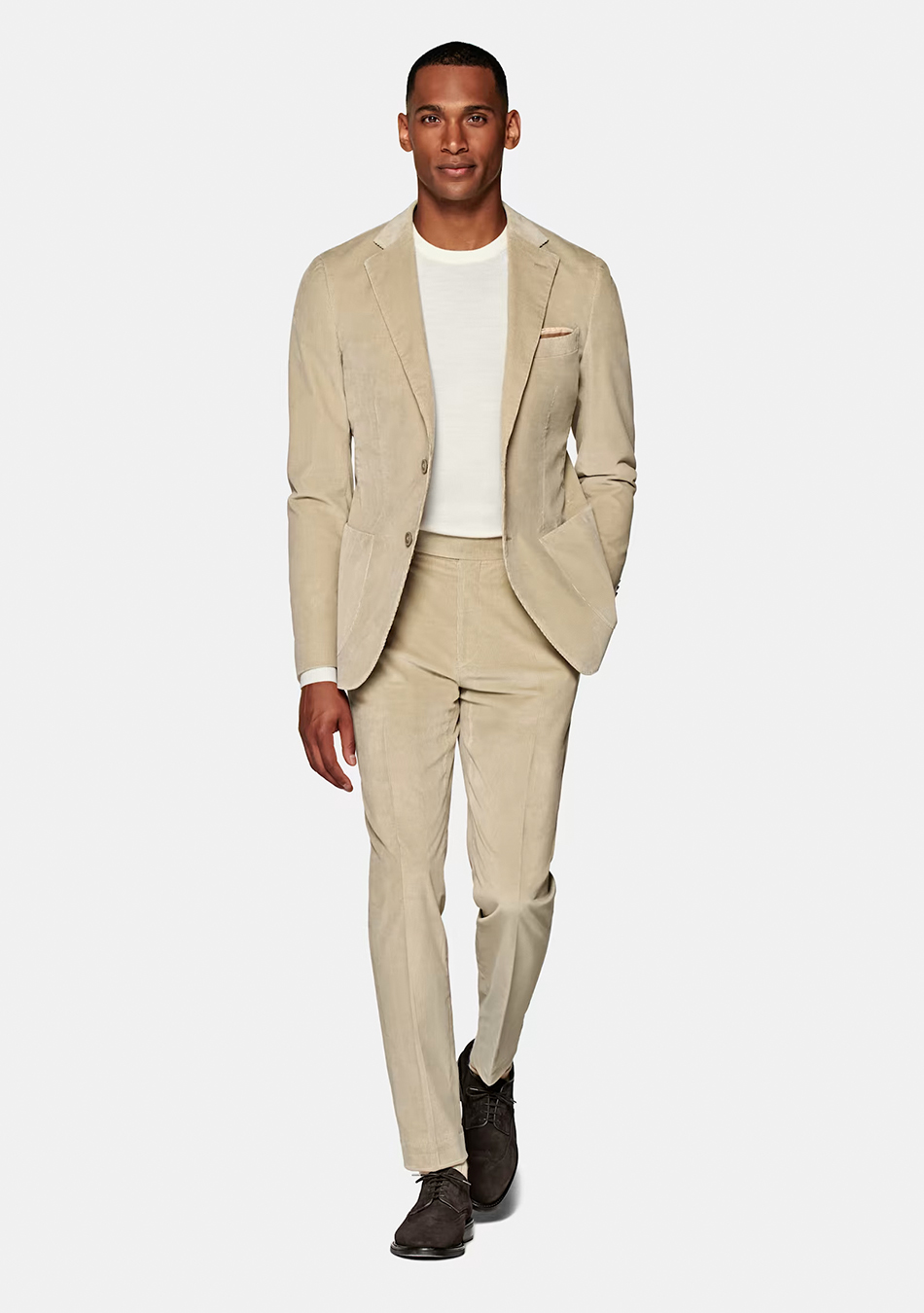 The neutral and earthy tones of tan and white complement each other perfectly, creating a well-balanced, visually striking outfit.
To complete the ensemble, opt for medium brown or tan leather shoes such as loafers or derbies.
On more casual occasions, you can embrace the relaxed nature of this color combination by swapping out your dress shoes for white sneakers.
Burgundy Blazer and a Black T-Shirt
The burgundy suit and black t-shirt combo look fantastic in all seasons.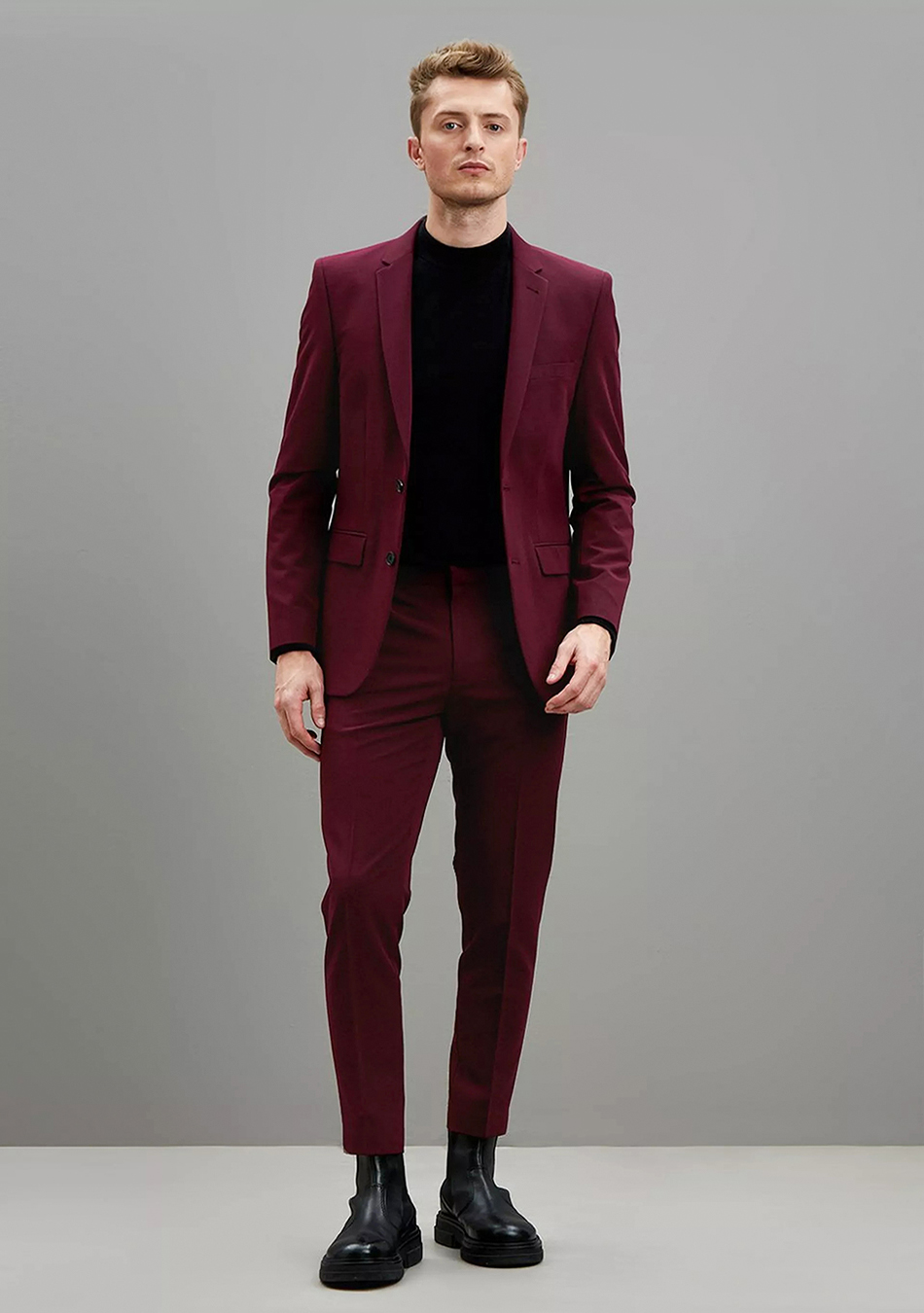 It's a unique cosmopolitan pairing that will be sure to turn heads.
A different twist is to swap the burgundy dress pants with black ones. It's a more conservative style preferred by those who start mix-and-matching.
A pair of black shoes to compliment the t-shirt is strongly encouraged.
Also, adding a silver bracelet or dark brown sunglasses will help you to stand out.
Navy Suit with a Black Crew Neck T-Shirt
Wear a navy suit and a black crew-neck t-shirt to boost your confidence and get noticed.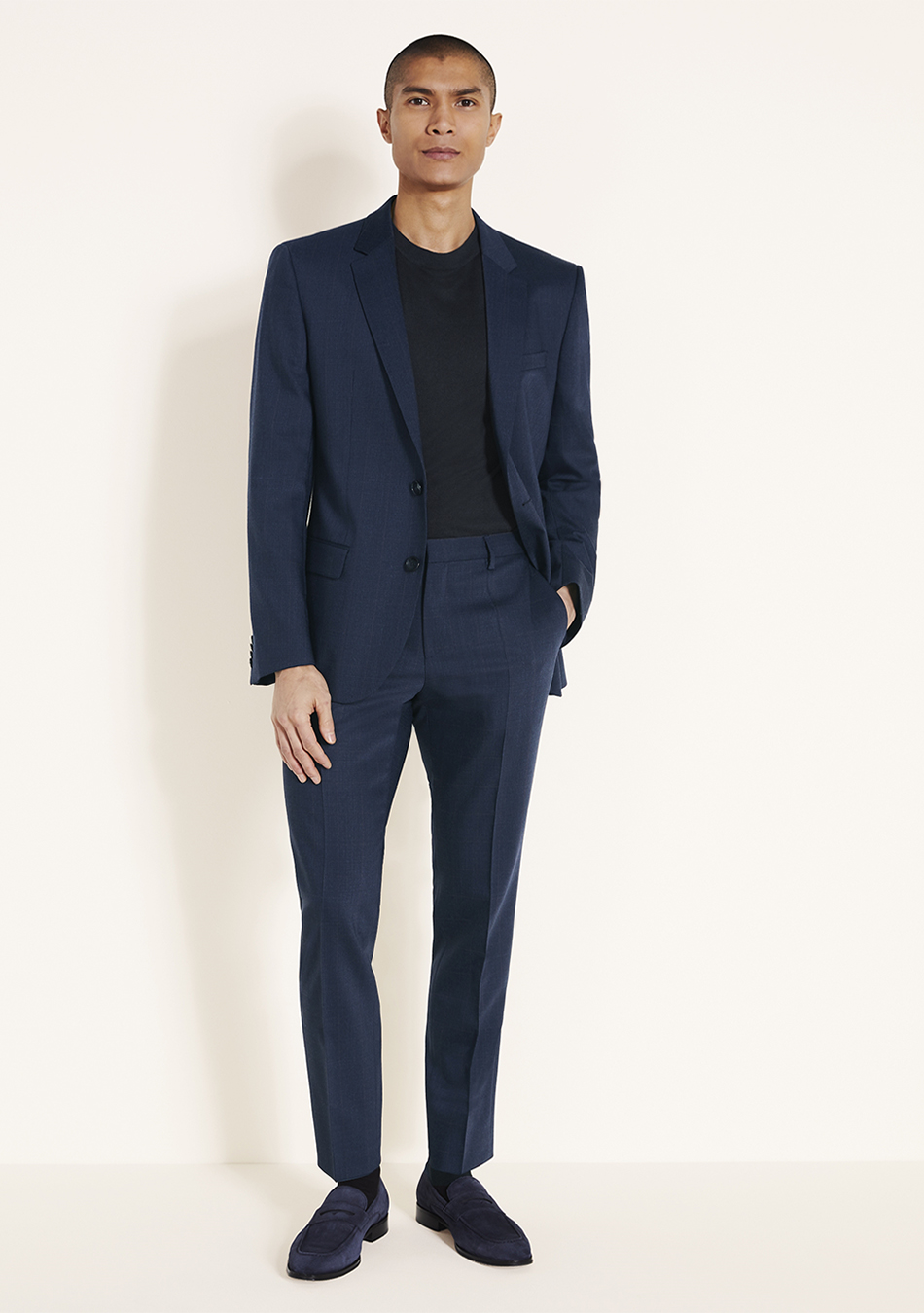 It's one of the easiest suit and t-shirt color combinations to pull off. You just can't go wrong with this if both items are well-fitted.
This ensemble promises a strong look that can be elevated even further with a pair of black dress boots.
To make this outfit more creative, you can wear navy blue loafers or sneakers.
Also, a dark brown leather watch will upgrade this outfit to the next level.
Elegant Beige Suit with Burgundy/Brown T-Shirt
Beige and brown are similar colors, but their distinct differences make them an ideal combination.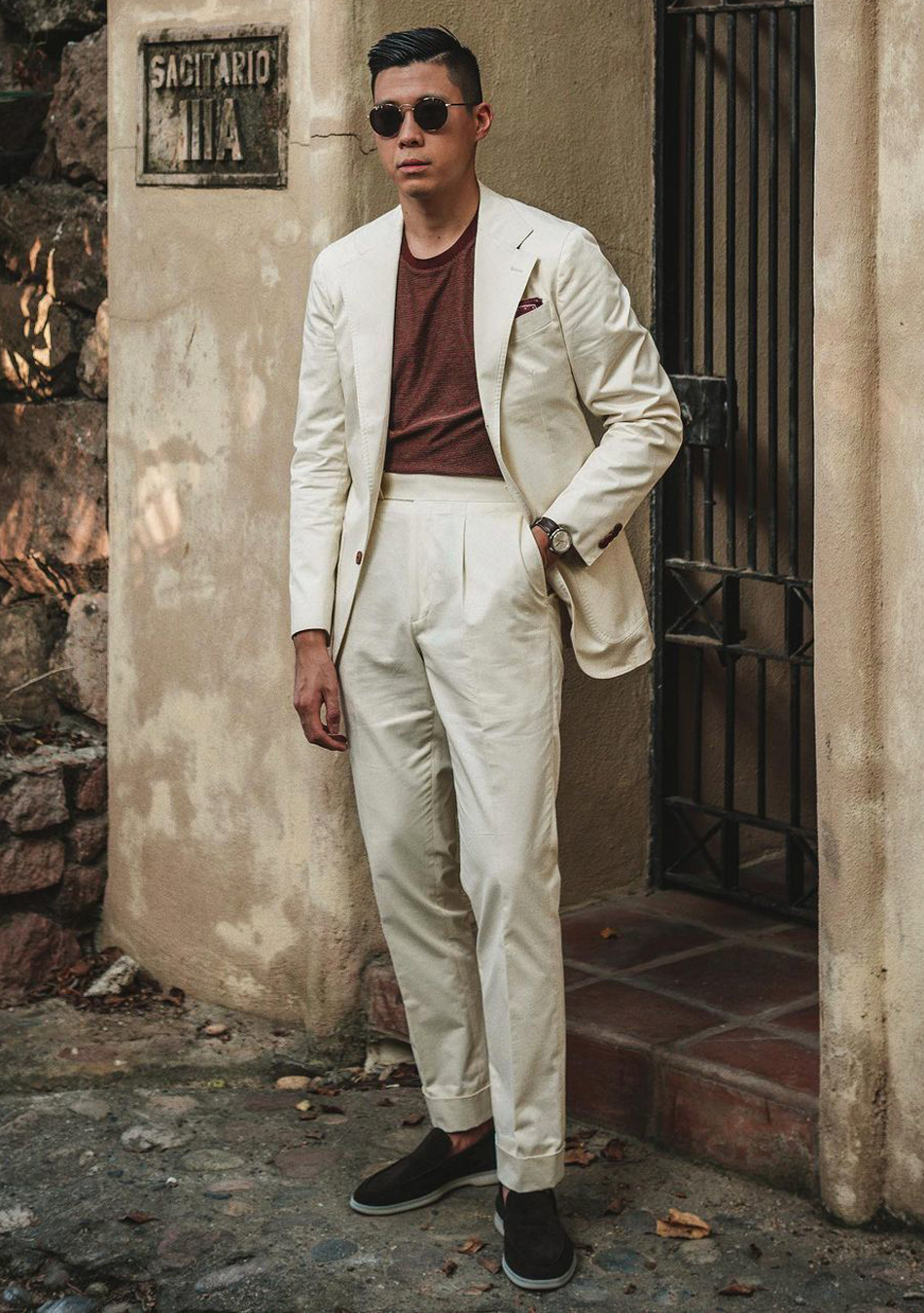 Wear a beige suit with a brown t-shirt to foster a more elegant and stylish version of yourself.
Their earthy colors provide a slick look for engagement parties and daytime weddings.
You can afford to be really playful with your pocket square by choosing a patterned beige or brown one.
Brown Suit with a White T-Shirt
A brown suit provides a distinguished look best paired with a white crew neck t-shirt.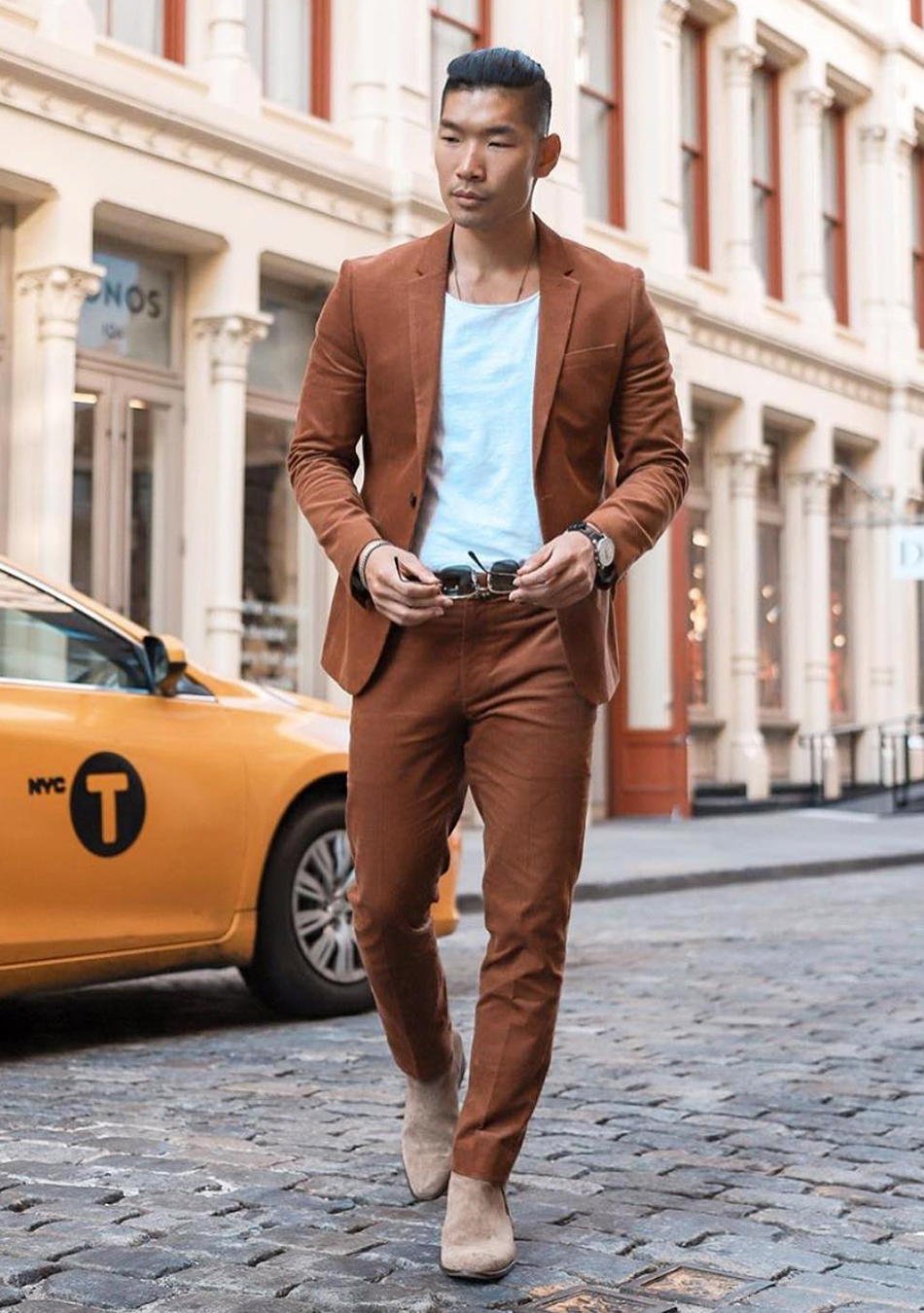 Wearing this, you'll beam tranquility – making this the ideal outfit for calm and more informal appearances.
These earth tones complement each other perfectly to create a relaxed outfit.
Wearing a pair of shoes darker than your suit jacket is recommended with this combination.
Olive Green Suit with a Beige T-Shirt
Olive green suits are an uncommon choice.
They provide a classy, varied look that immediately distinguishes you from the crowd.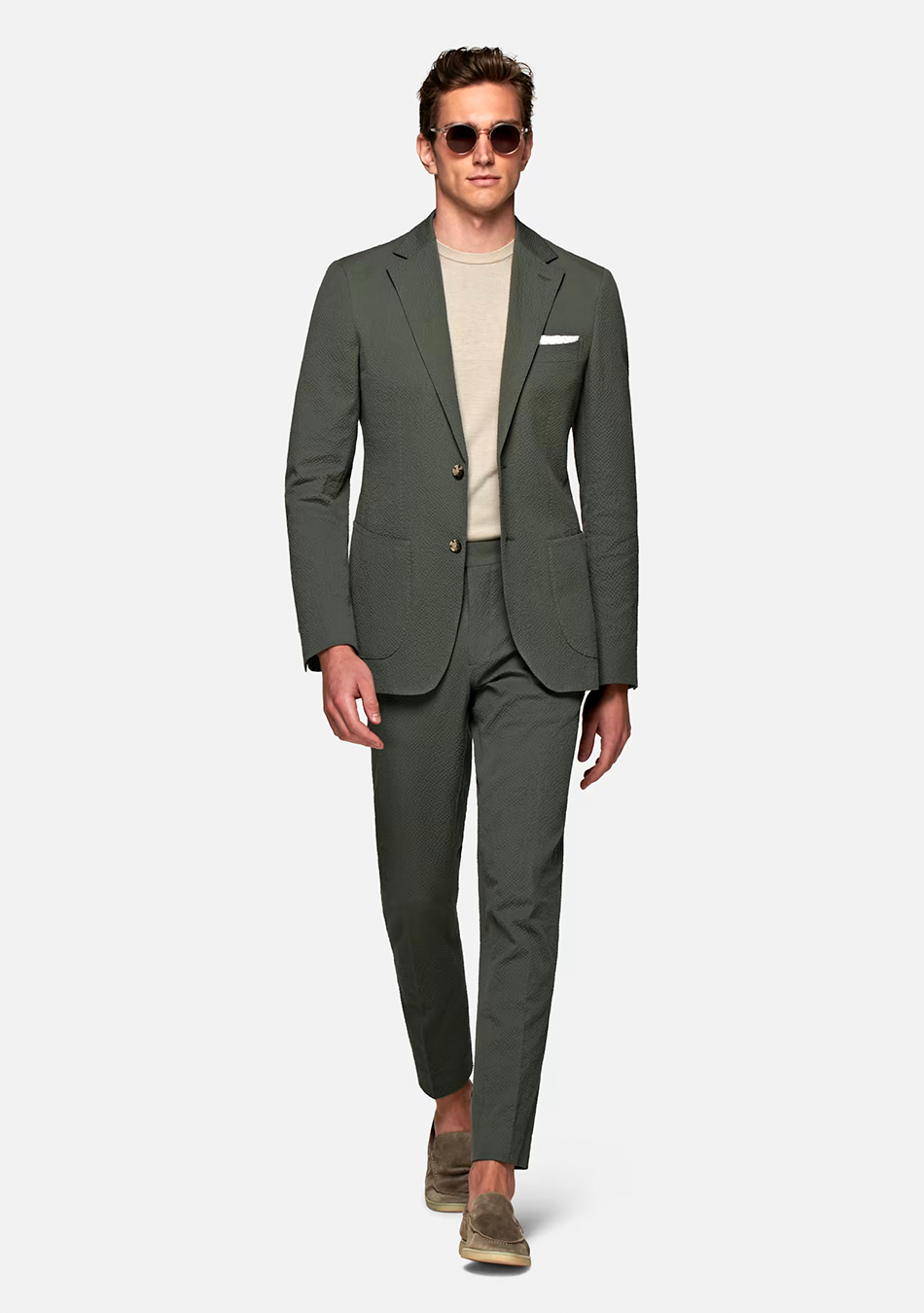 Pairing it with a beige t-shirt promises a slick summer look, especially when paired with a fashionable pair of shoes.
Matching an olive suit with a beige t-shirt is great for outdoor events like a nighttime cocktail party.
Grey Suit with a Black T-Shirt
Expect subtle sophistication when you pair a grey suit with a black tee.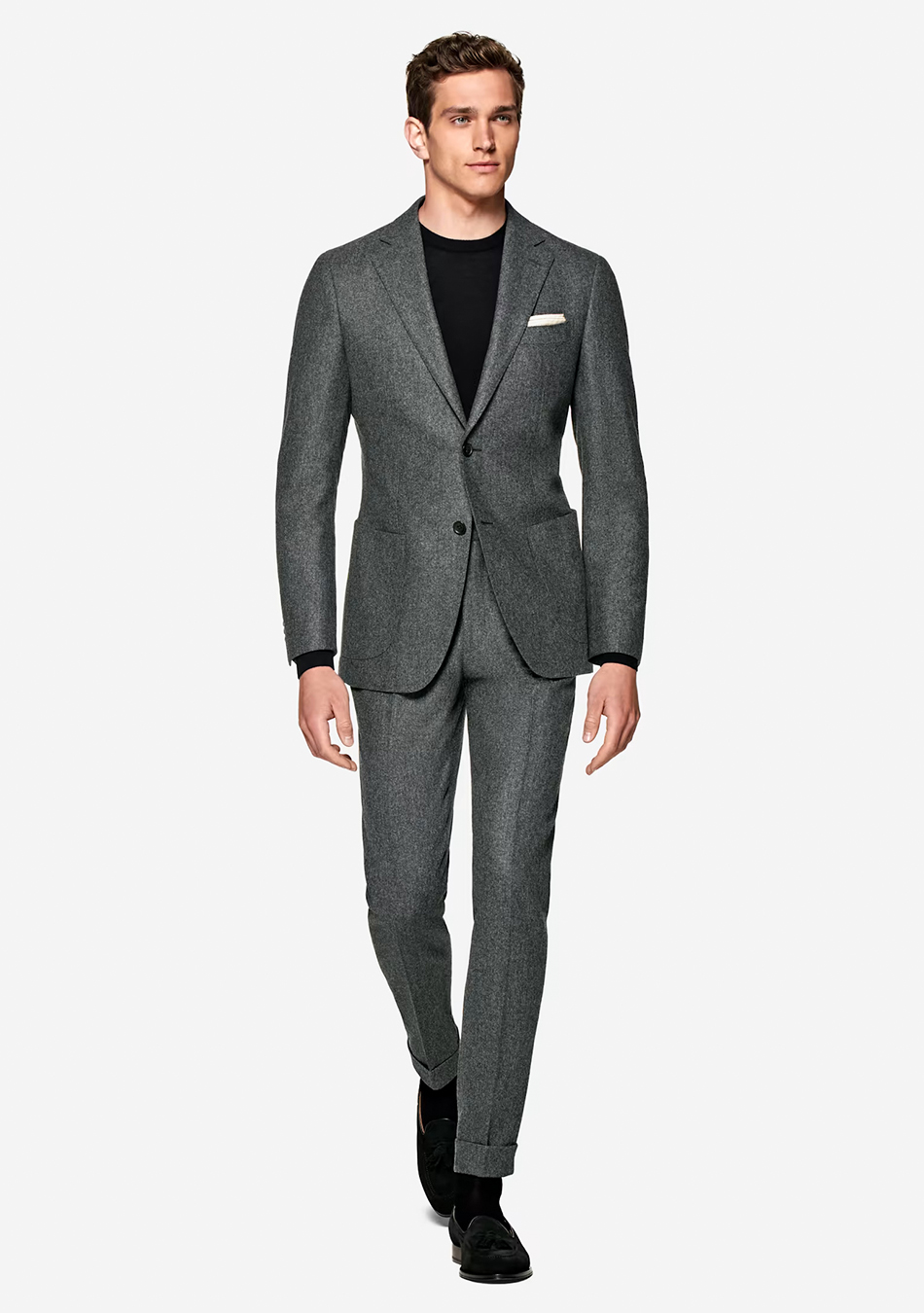 It's one of the most classic formal-casual looks and is a popular choice for all ages.
People mistakenly overlook this dapper t-shirt and suit combination due to its simplicity.
A pair of black socks and black suede loafers finishes this perfect look.
Navy Blue Suit with an Orange Tee
Nothing guarantees a confident and bold vibe quite like a navy suit with an orange t-shirt.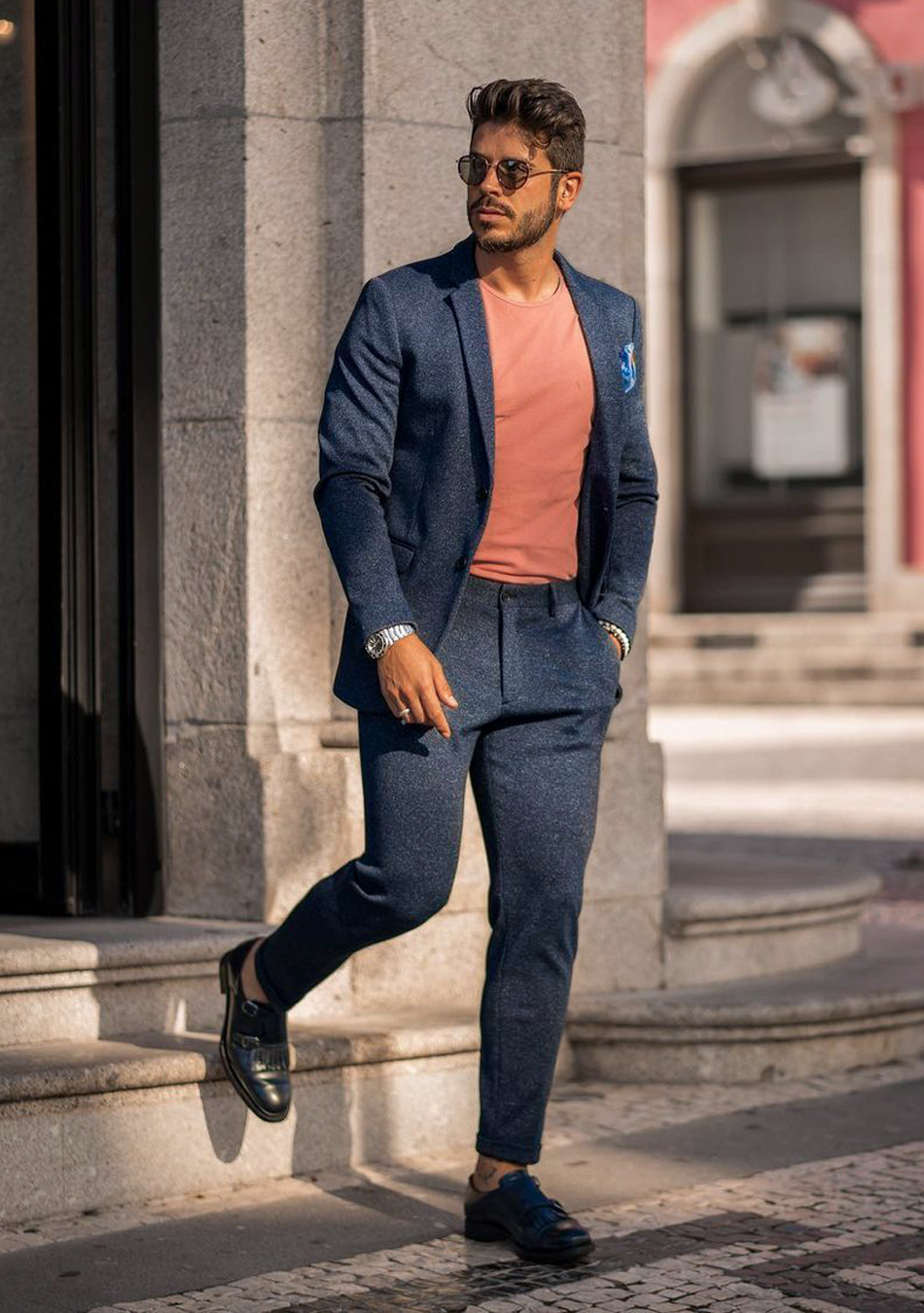 Orange is a difficult color to effectively pair. But navy is the obvious suit color choice if we're to make it work.
A pair of black or brown leather double monks and a silver watch add style to this ensemble.
Why not consider a brown leather dress watch for those interested in pushing this outfit even further?
This playful look is one to wear with pride.
Different T-Shirt Styles to Wear with a Suit
Not every t-shirt style is compatible with a suit. After all, it should provide some sophistication to the outfit.
Crew-neck t-shirts are most suitable in office environments because they don't expose your upper chest.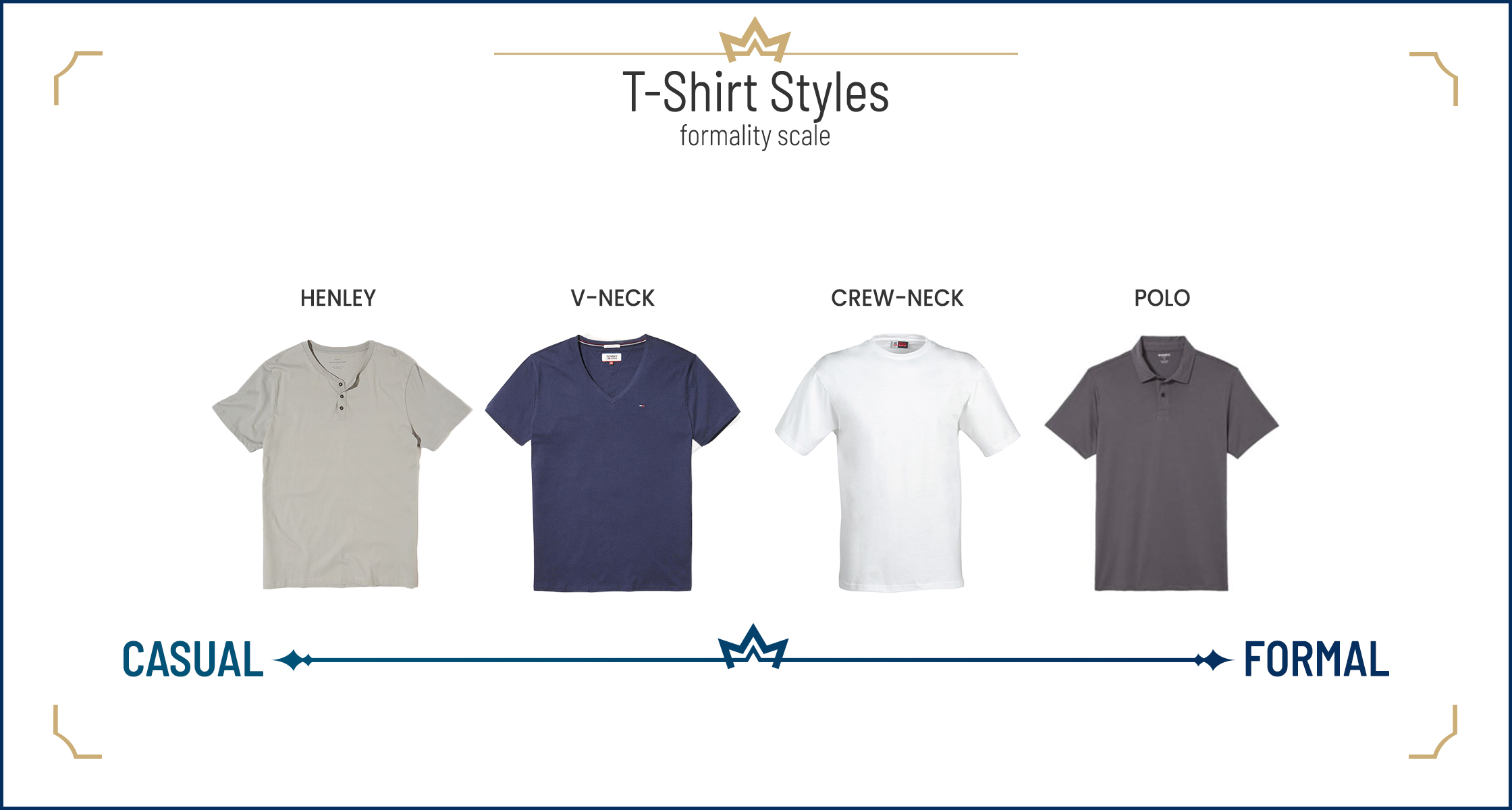 Adversely, v-neck t-shirts vary from crew-neck in that they reveal part of your chest area. As a result, they slim the body and enhance man's shoulders.
While unsuitable for office environments, v-necks are an interesting option for social events and club nights.
Henley t-shirts look great in the summer. However, you should only wear them with more casual suit jackets.
But if you're looking for a more rugged look, consider a polo t-shirt.
The buttons on a polo tee add contrast and dimension to your attire, helping elevate the suit-tee combo look beyond a simple v-neck.
Things to Consider When Wearing a Suit with a T-Shirt
There's much more to think about than just t-shirt styles and colors when correctly building a smart-casual ensemble.
From finding the right fit to selecting the right shoes, here are the important things to consider when wearing a formal jacket with a tee.
Suit Fit is Paramount
Wearing an ill-fitting jacket is a serious fashion faux-pas and reflects badly on your professionalism.
Initially, you should always keep the bottom button undone to avoid discomfort, even if you're wearing a t-shirt.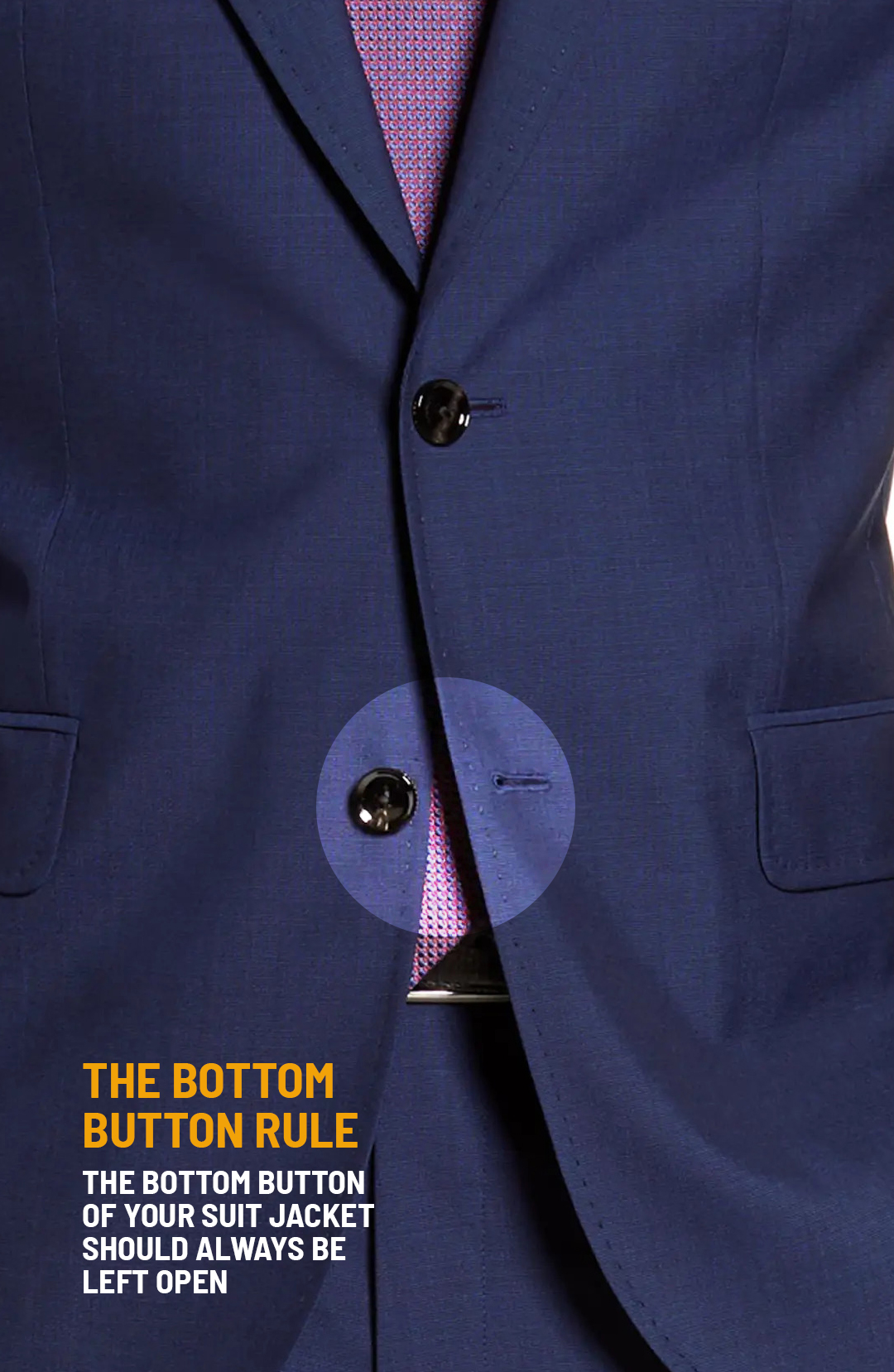 At the same time, fastening the middle button is necessary every time you're standing up.
Remember, suits should not feel tight at all. Instead, the two sides of the jacket should be gently hugging you.
A good-fitting suit jackets should finish at the palm's meat and be long enough to cover your butt.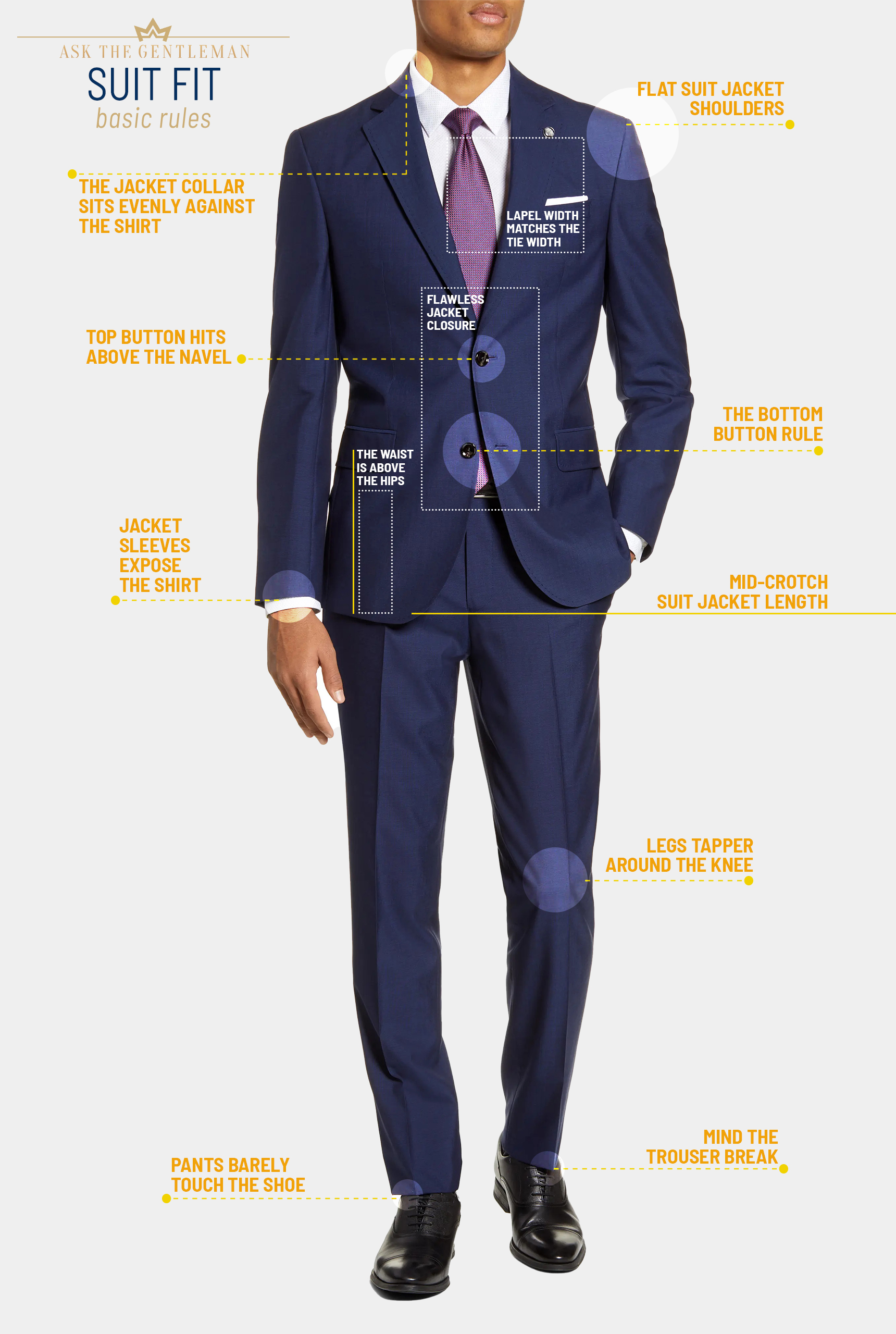 Pants are no exception. Ensure you wear a proper waist size, the right cut for your leg, and only a slight break at the ankle.
You look flattering when wearing a snug suit rather than a tight or loose one.
Full Suit vs. Separates
Wearing a t-shirt with your smart attire is the first step in allowing you to be more experimental regarding your clothing choices.
Being a less formal dresser opens the door to wearing separates.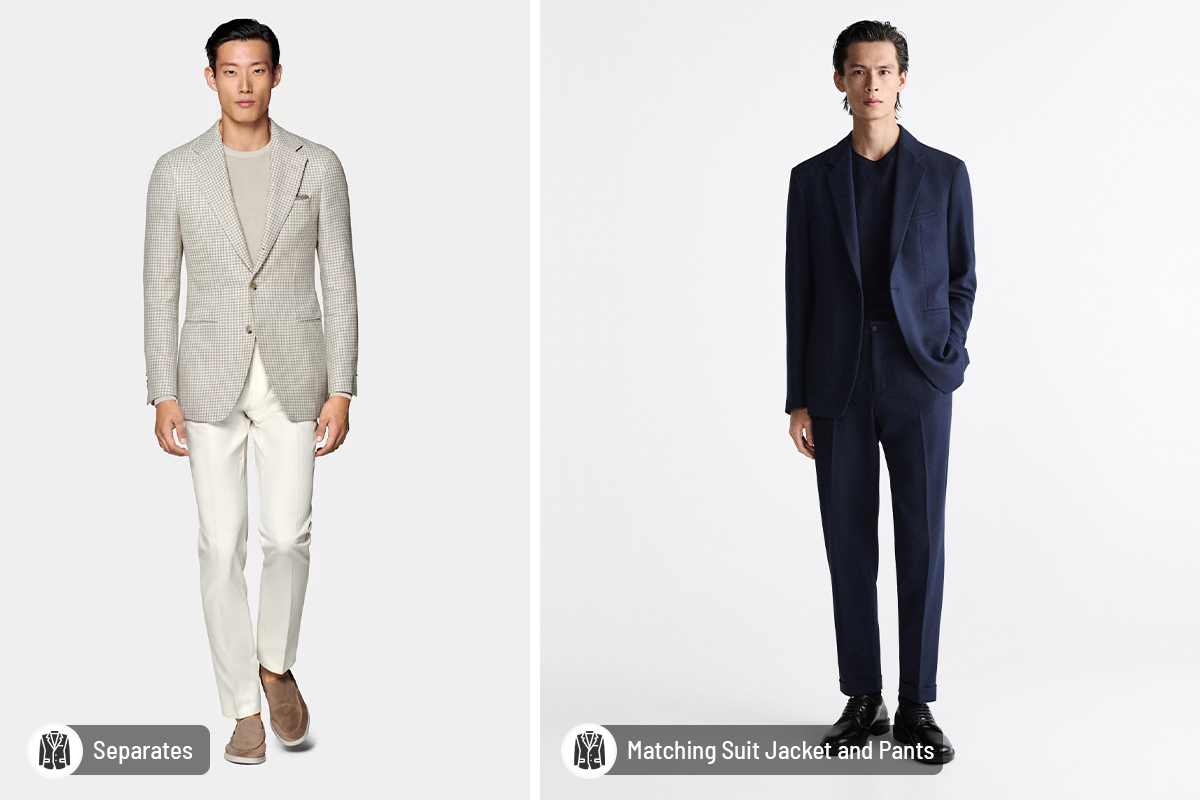 It means you can wear jackets and trousers in different colors, materials, and textures.
A navy blazer goes explicitly well with a dark grey pair of trousers. Or vice versa.
All tee styles complement a separate blazer and pants.
Separates are ideal for smart-casual events, such as everyday outings, parties, or even casual business settings.
Shoe Types You Can't Go Wrong With
Choosing the right shoe style that complements your outfit can also make you feel confident and attract attention.
A smart pair of brown loafers complete most suit and t-shirt combos and promises an elevated look.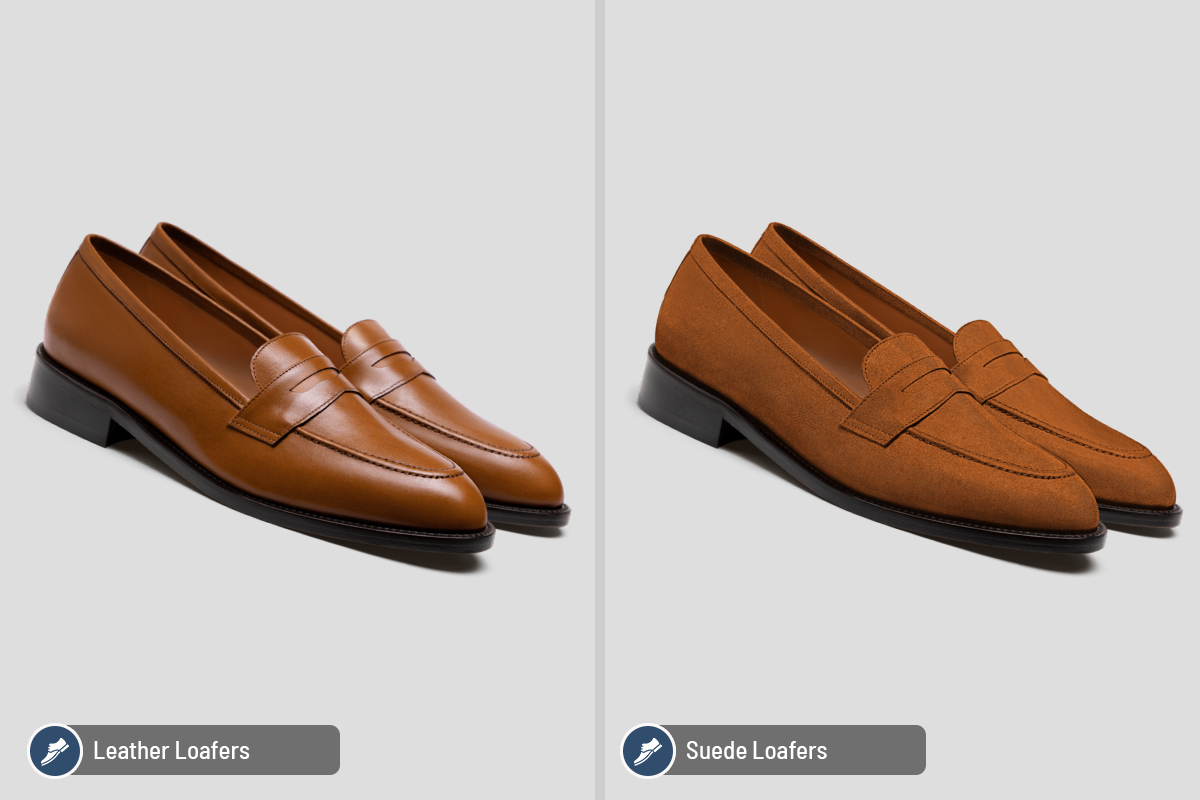 Chelsea boots are an attractive choice for winter, especially if you match these with the color of your t-shirt.
On the other hand, wearing sneakers can effectively swing your outfit to the more informal end of the spectrum during summer.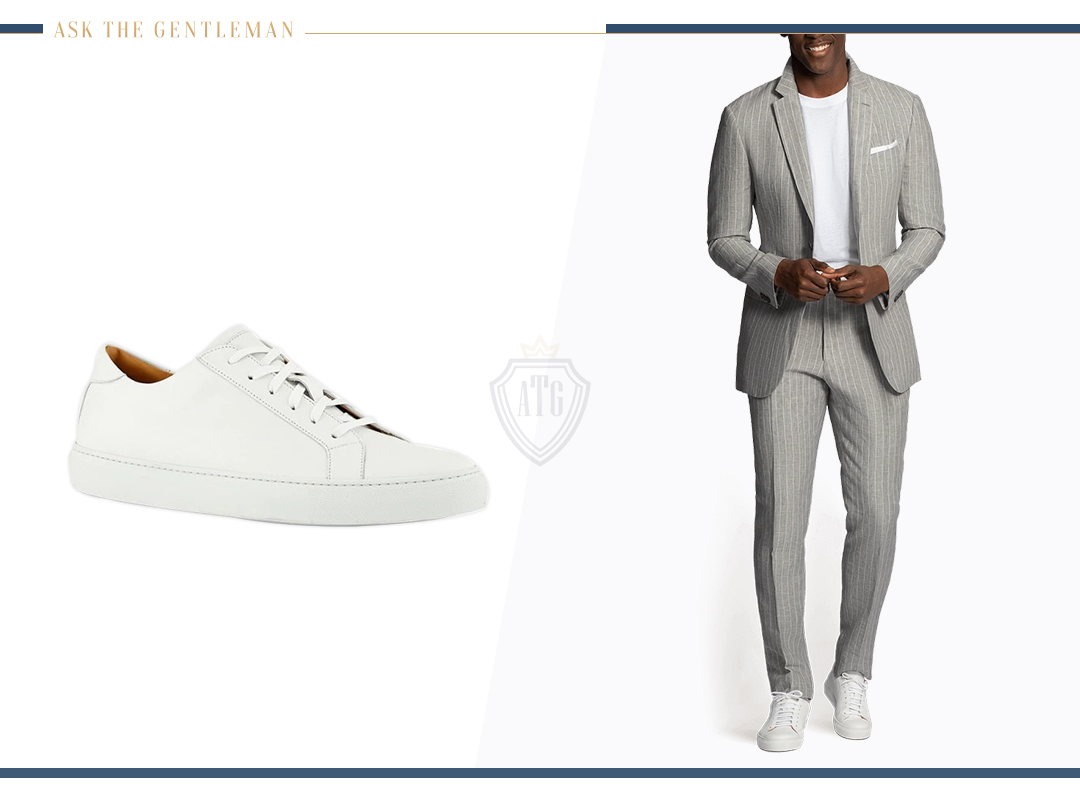 Of course, oxfords and derbies are still valid choices for more professional settings.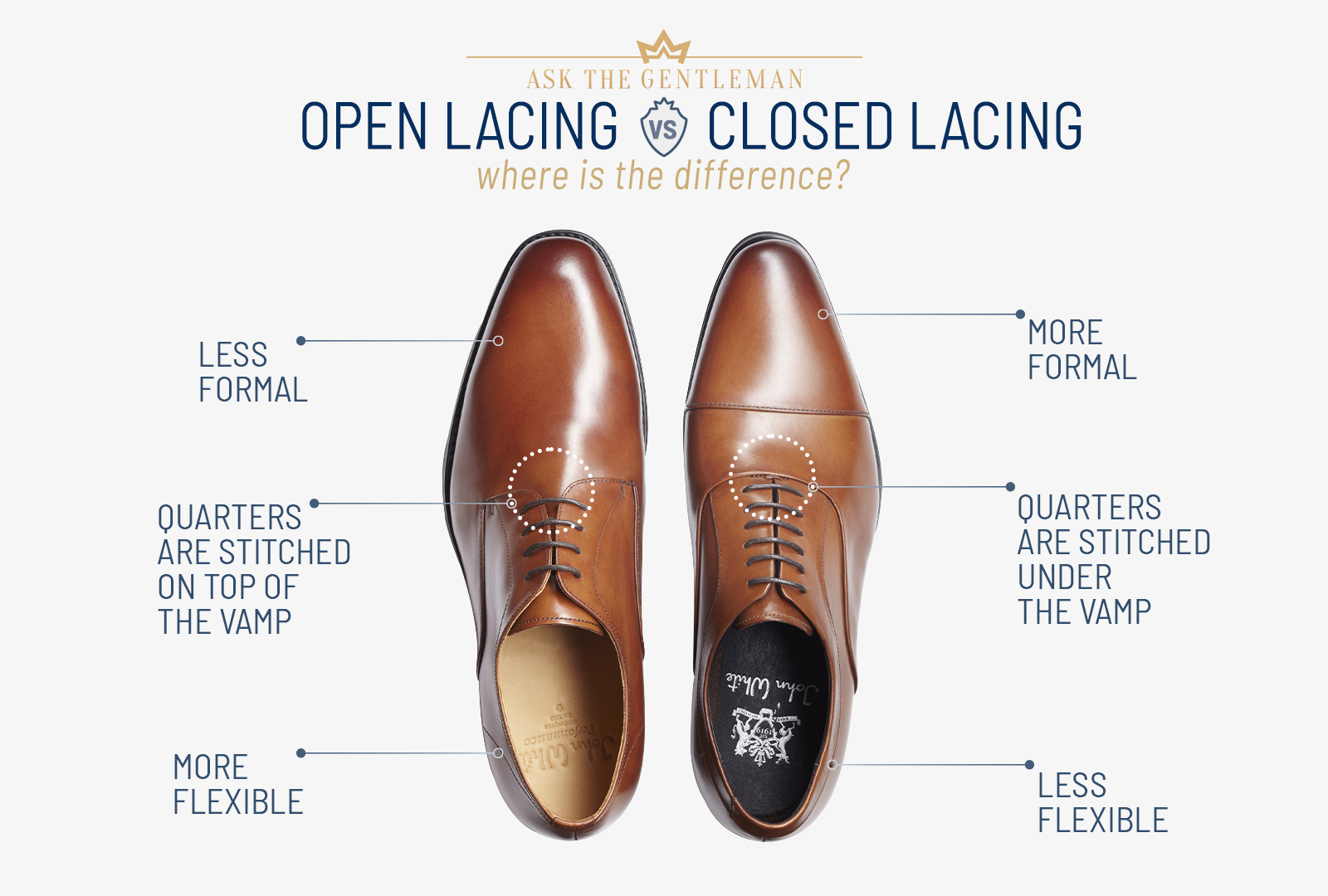 But why not try monk straps for a change? It's the perfect shoe style to keep you within the neat balance between sophisticated professionalism and playfulness.
Occasions to Wear a Suit with a T-Shirt
Deciding whether to wear a suit with a t-shirt in the office depends on your workplace dress code and your specific role.
While t-shirts can still look classy, they aren't appropriate in all professional scenarios.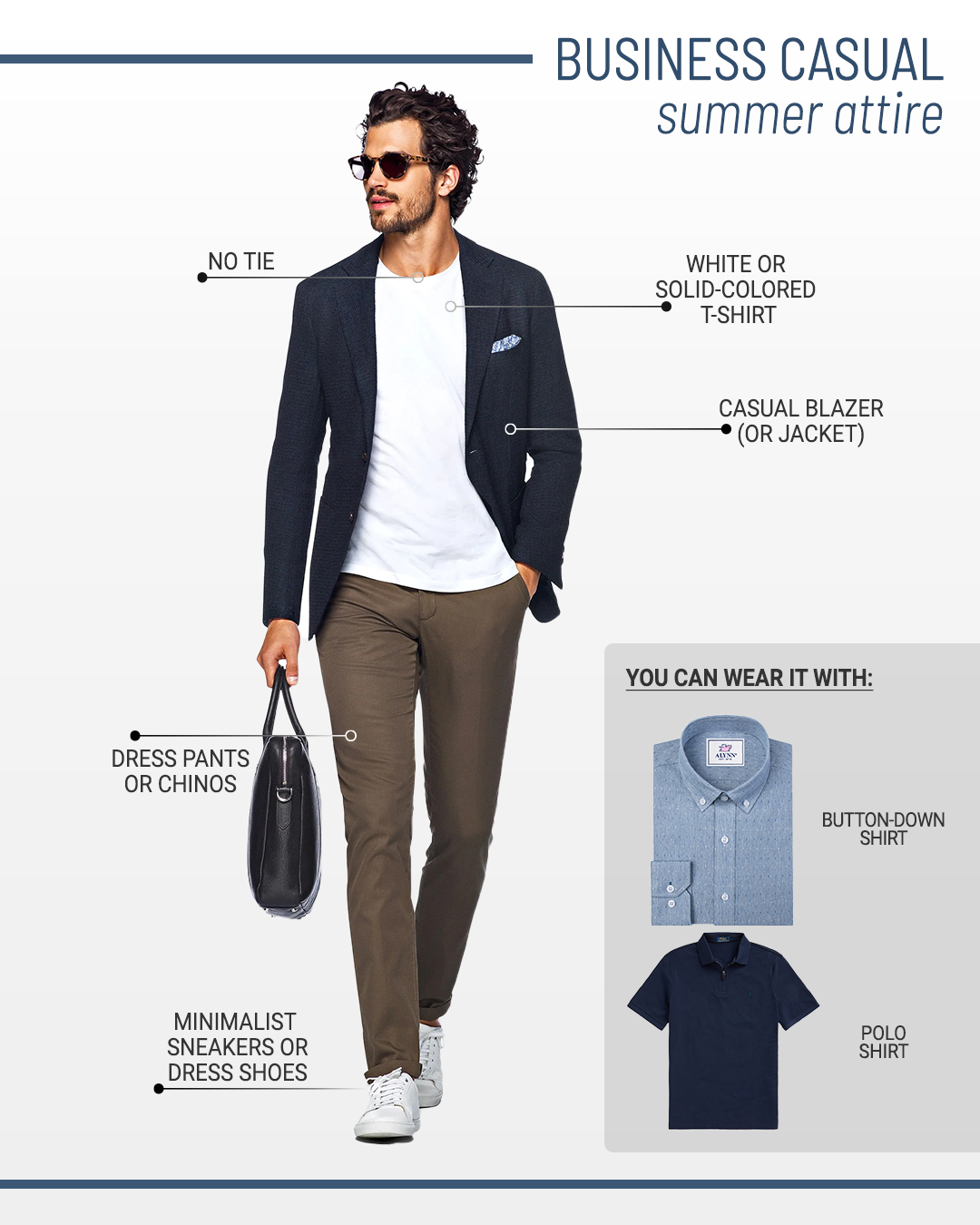 Still, most modern workplaces promote a more laid-back office culture, and the suit and t-shirt combo fits the bill.
Wearing a t-shirt with a suit is also a wise choice for professors and teachers, who can look stuffy if they wear a dress shirt and tie and find it harder to relate to their students.
Finally, social events, including clubs and parties, are perfect opportunities to wear t-shirts and suit jackets as well.