Finding a suit that fits your body type perfectly can be daunting.
You can get it done after spending some time and energy trying different suit styles and cuts.
However, you can do it quickly and ideally if you know your body type and shape and what works best for it.
This saves you time and helps you look dapper because there is something that flatters each body more.
Evaluate Your Body Correctly
The first step to getting the right suit for your body type is to evaluate your body type correctly.
Usually, a self-examination works, but having an extra pair of eyes is always better.
In either case, looking at a picture of different body types is more than enough to conclude.
Here are the most common body types separately defined so you know what to look for:
Rectangle (column): the torso width is the same or similar from the waist and hips up to the shoulders.
Triangle: the waist and hips are broader than the chest and shoulders (the waist area is the triangle's base).
Inverted triangle (muscular): opposite to triangle, with broader shoulders and chest area narrowing near the waist and hips.
Oval: the midsection is the widest area, with the shoulders and hips almost equally narrower.
Trapezoid (athletic): broader torso near the shoulders, narrowing as we go down to the waist and hip area.
Follow the Right Suit Fit Basics
This goes without saying, but you are still supposed to follow the right suit fit basics.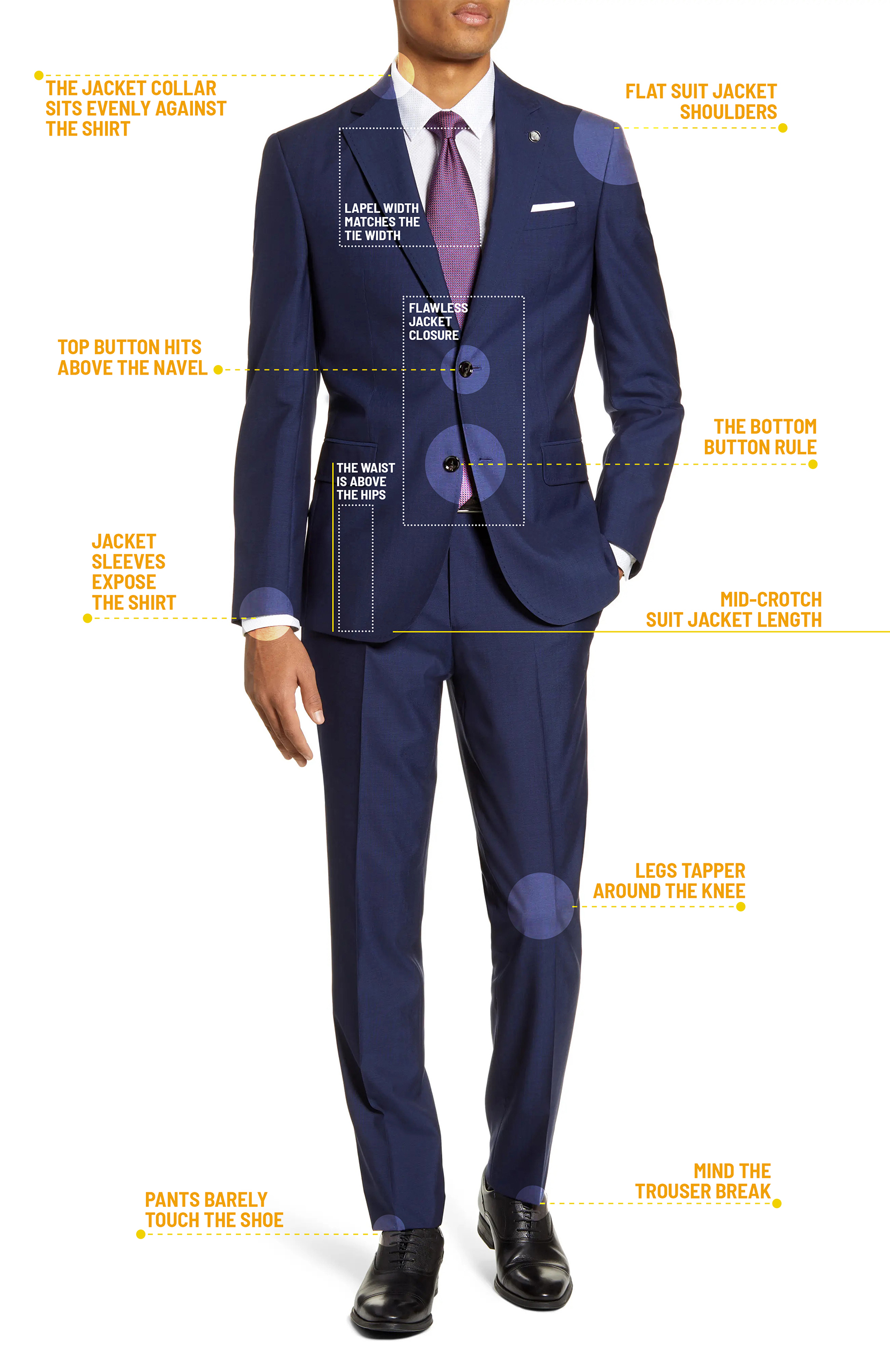 Luckily, the basics are the same for all body types.
How you follow the basics is where the differences lie.
Ideally, for any body type, you need to create a look that has a solid golden ratio, where the suit is neither too tight nor overwhelming you.
Make sure your shoulders appear narrower than the waist.
The jacket, shirt, and trousers fit perfectly, leaving a reasonable gap between the sleeves and waist area.
Muscular Body Type
The muscular body type, also known as the inverted triangle body type, is defined by the broader shoulders and chest than the waist and hips.
This body type is most common among athletes and gym fanatics who tend to have a wider upper body compared to a lower body.
More importantly, the chest muscles, shoulders, and arms are also quite bulky in this body type.
People with muscular body types must focus on balancing out the upper and lower halves of the body.
As a result, buying suits off the rack is not a good option because they aren't specifically stitched for a broader upper body.
You will often require the skill of a tailor to help you fit perfectly in a suit.
Slim Cut Suits are Best for Inverted Triangle Bodies
Usually, slim-fit shirts paired with slim-fit jackets work best for this body type.
A classic shirt that subtly shows some of your muscular body but not too much is what you need.
The same goes for the jacket, which must differ between the torso width and waist width.
It would be best if you also had slim-fit trousers to balance out your relatively narrower and skinny legs.
I will also recommend that you look for a larger seat drop that offers enough room around the groin area.
All in all, make sure you are not going with anything too tight. A double-breasted suit with a slim-fit cut is an excellent choice for this body type.
Focus on the Shoulders and the Suit Lapel for the Golden Ration
You also need to focus on achieving the golden ratio, and the best way to do this is to avoid prominent shoulder padding and wide peak lapels.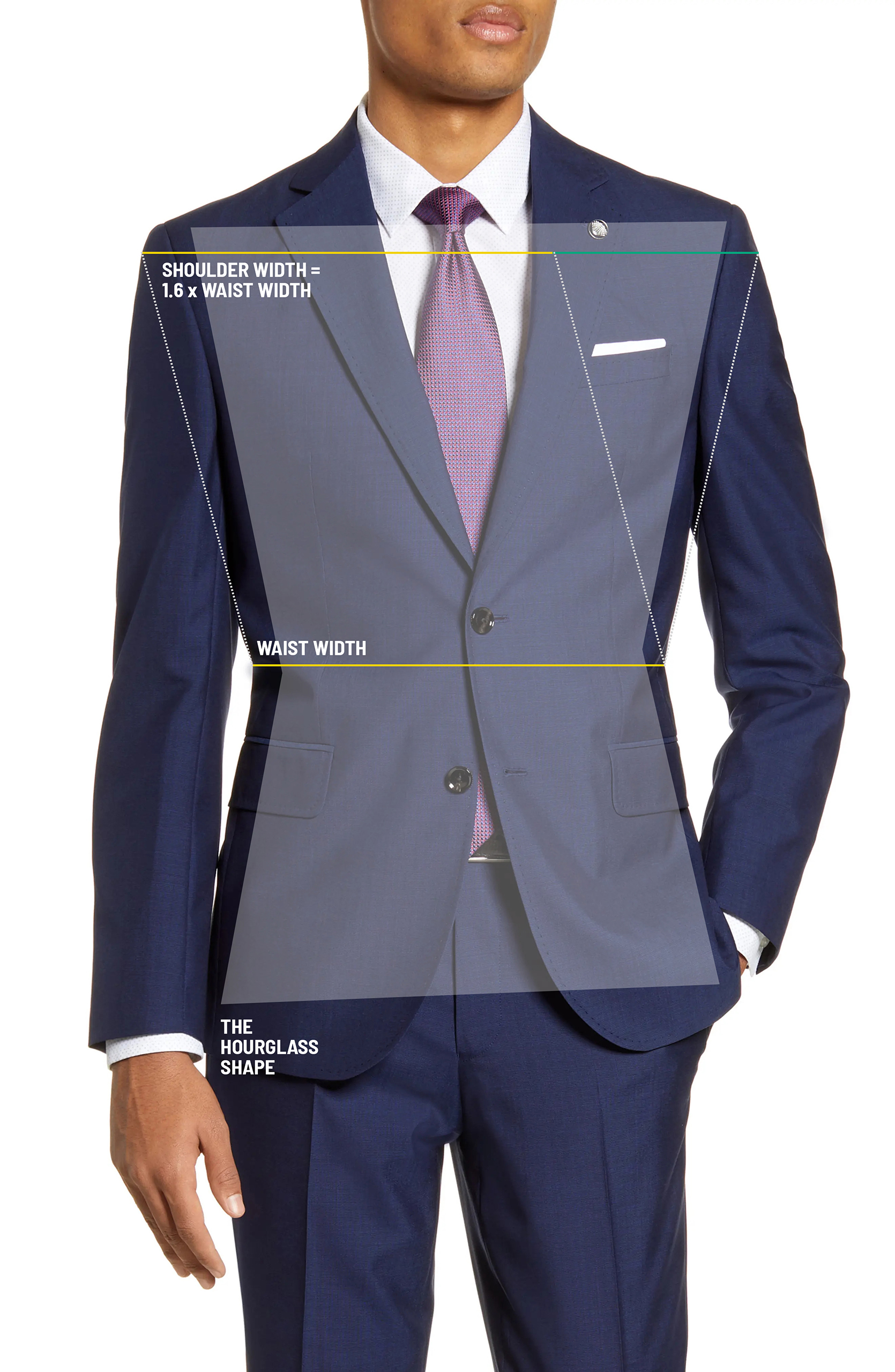 Peak lapels are especially a no-go if you are too muscular.
Given the bulkier upper body, notch lapels combined with softer shoulders help unify the body contours.
You need to achieve the perfect golden ratio (hourglass shape), which is only possible with the right shoulders and suit lapel.
Avoid the Skinny Fit Suit
Lastly, stay away from everything that's too skinny.
A skinny-fit suit will accentuate your skinny legs in contrast with the wider upper body.
You can imagine how weird it will look, especially if you are too bulky on the upper half.
You also don't need a suit jacket with shoulder pads since your muscular shoulder is big enough.
Avoid patterns and checks since they attract too much attention to the wide upper frame.
Skinny pants or trousers also tend to make your upper half look wider than it actually is.
Triangle Body Type
Triangle body type is quite common in older men who have larger waist and hips compared to the upper body.
Most men tend to fall into this body type as they get older.
The hips and waist become larger with age, creating a natural triangular shape as you move up from the waist to the face.
However, a triangular body type isn't necessarily a sign of being in bad shape.
But you will have to face challenges when finding the right suit fit.
Just like the inverted triangle body type, people with triangle body types also need to focus on balancing the proportions of the upper and lower parts.
Make Shoulders Appear Wider
Since the triangular body type has a narrower upper body, it only makes sense for the suit jacket to have structured shoulders.
This will help enhance the shoulders and make them appear wider, giving a more uniform look to the frame.
I also recommend looking for half- or full-canvas jackets, which help make the shoulders appear wider.
Just don't go overboard with the shoulder, making the suit look oversized.
Also, while the suit should fit perfectly at the shoulders, you can keep it tighter at the torso.
This is where the body starts getting wider and a tighter fit around the torso counters the uneven look.
The Jacket Closure Still Has to be Smooth
Smooth jacket closure is also essential when it comes to suits for the triangle body type.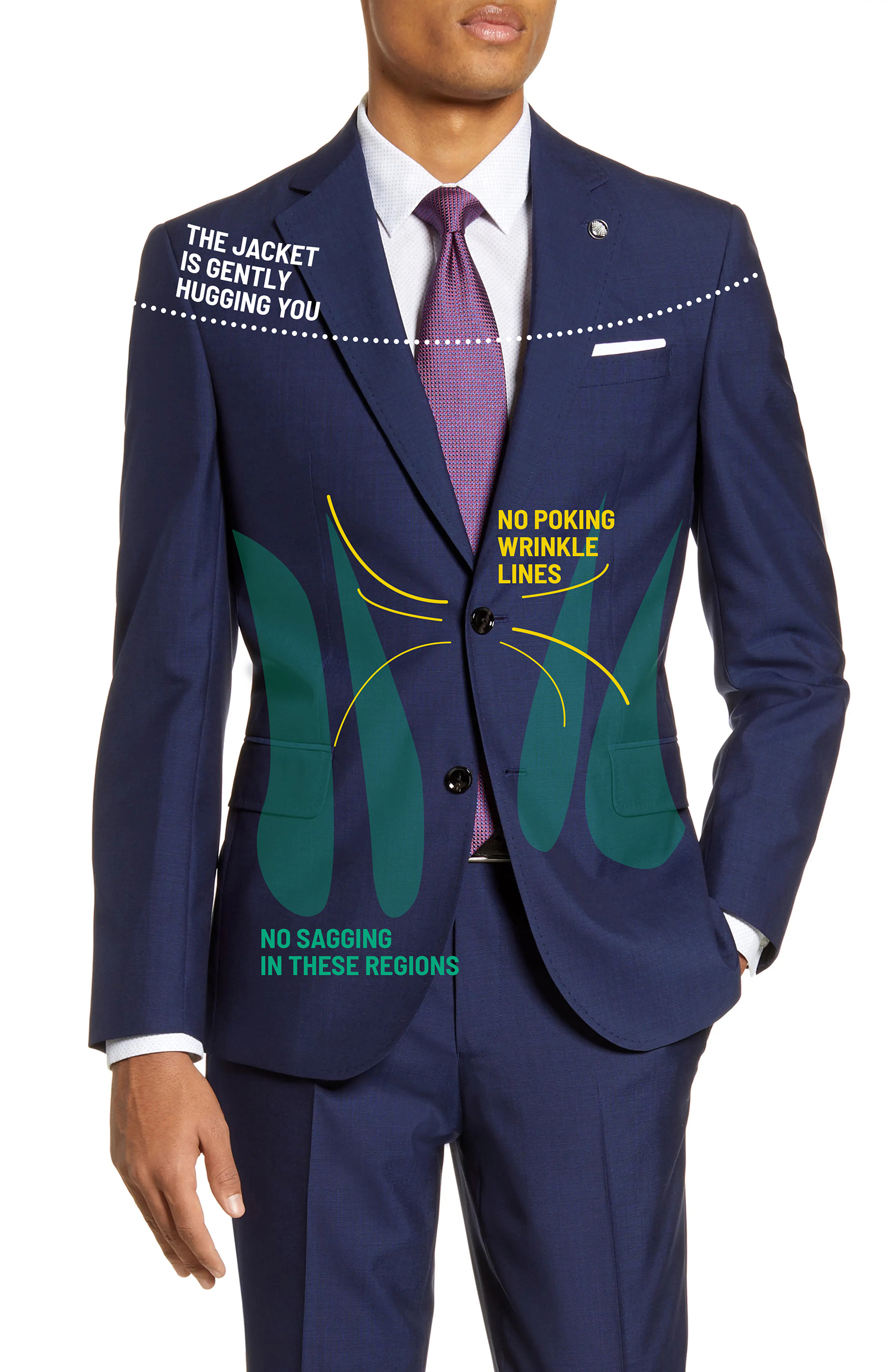 Double-breasted suits are not as suitable since they tend to add bulk to the waist area, which this body type needs to avoid.
Therefore, a custom-made single-breasted can do the job just fine.
It can be tailored to accommodate the bulkier waist while also accommodating the narrow top with the structure.
You also need to avoid ticket pockets since they add extra bulk to the waist area.
Just make sure everything you do with the suit draws attention away from the stomach area.
Avoid Skinny Suit Pants
While skinny suit pants are what's in fashion, this is not a good fit for someone with a triangle body type.
The reason is that too-tight suit pants tend to exaggerate the already large midsection area.
As a result, you will look wider from the midsection area than you really are.
You must go for straight-fit pants, creating a streamlined silhouette for a perfect upper and lower body balance.
Oval Body Type
You fall into the oval body type if you have thin legs and arms and a midsection wider than the hips and shoulders.
The arms and legs are sometimes shorter in length, making the midsection appear wider than it really is.
While you might not be able to find a perfectly fitting suit off the rack, you sure can get one tailored to make you look smarter and slimmer.
Both Slim and Classic Cuts Are Good
Roomier suits are not the right choice for men with larger bellies.
An oversized or loose-fitting suit only makes you look sloppier and unshapely.
While oval body suit fitting is challenging to master, your best choices can vary from slim to classic cut suits.
That's because both cuts work like a charm if tailored to your specific measurements.
Similarly, if you think wearing a larger suit jacket would hide the midsection bulk, you are again mistaken.
It will only make the suit and body look uneven.
You need a suit that fits just right to create a lean and long line.
I would recommend a single-breasted jacket tailored to your size.
Make sure it is tapering inwards to streamline the torso and make the waist appear narrower.
Pay special attention to the shoulder width and ensure it is structured to avoid a broader look than you are.
As you must have noticed, the right fit is extremely vital for the oval body type.
Single-Breasted Suits That Cover the Stomach
Since the midsection is an issue here, you need something covering the stomach.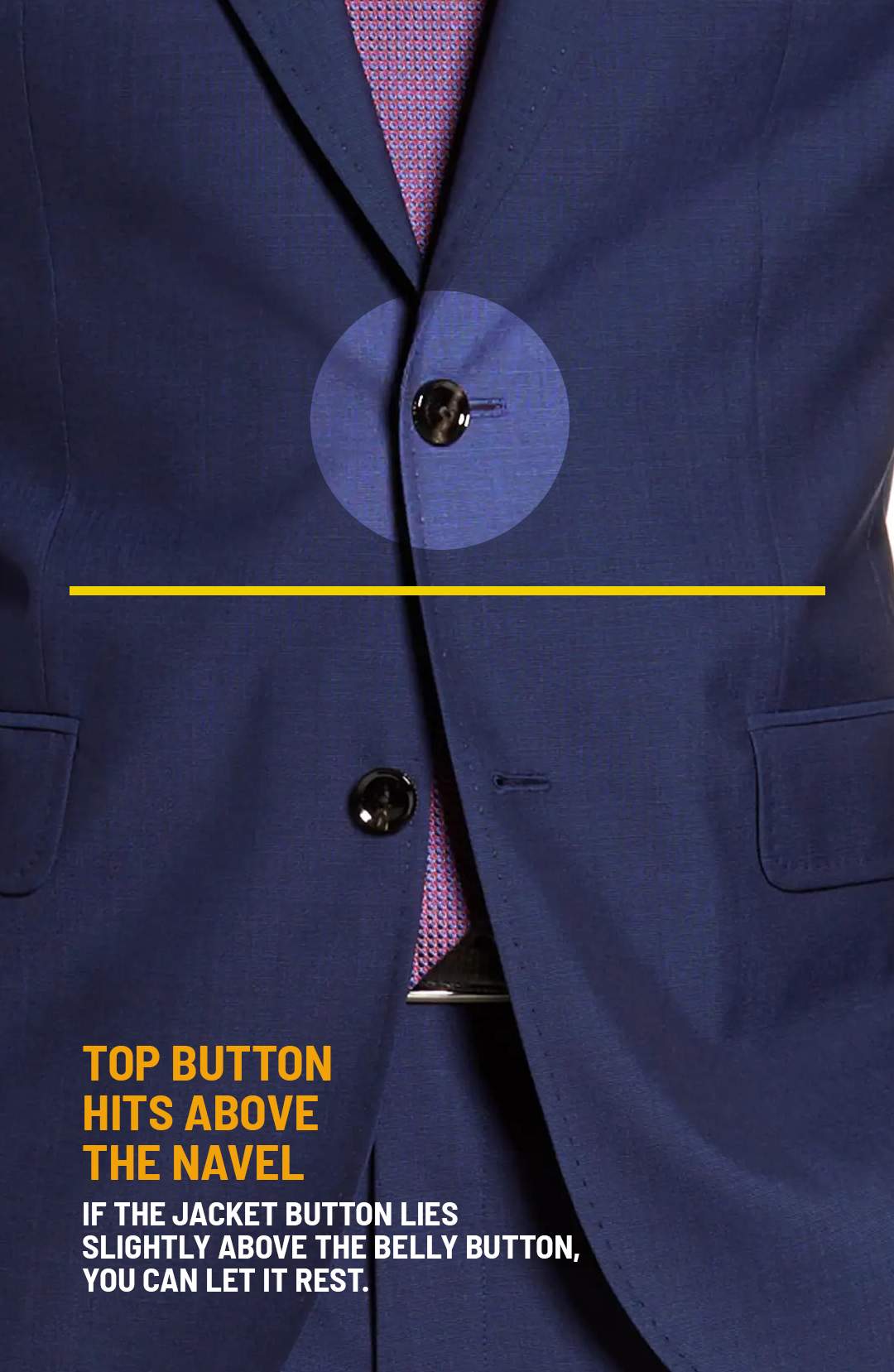 Nothing does it better than a tailored single-breasted suit that makes the midsection appear less bulky.
Just make sure to have the right shoulder size.
I recommend peak lapels because they draw attention away from the bulk.
More importantly, avoid anything that draws attention to the waist area, such as ticket pockets.
Try going for a pocket square instead, as it focuses on the chest area.
You can also try a herringbone on a dark base or a narrow pinstripe to give a longer look.
Avoid Wearing Larger Suit Sizes
Oversized suits and tight fits around the torso are a no-go for the oval body type.
It is never a good idea to squeeze your body into something that's not your size.
Just like larger suits will add extra bulk to the waist area, tighter suits tend to expose the oval shape, which looks odd.
More importantly, try to avoid visual clutter and patterns.
Anything that draws attention to the waist area is a no-go because that is exactly what you need to draw attention away from.
I would also encourage you to go for darker colors, as lighter shades highlight the body shape.
Column Body Type
The column body type, also known as rectangle body type, is relatively even throughout.
Men with this body type have a thin and tall frame.
The waist, hips, and shoulders almost have the same width, keeping everything in line.
Your goal with a suit here is to make your shoulders look wider and your waist narrower.
In essence, you need to create a look that reflects an hourglass, which is only achievable with alterations or custom-tailoring.
Single-Breasted Suits are Best
A single-breasted jacket works like a charm for a column body frame.
You can create a look that broadens at the shoulders and goes inwards towards the waist with the right tailoring.
Just try to avoid a double-breasted suit because its rectangular shape is not good for your column body frame.
Therefore, make sure the shoulders are structured with enough padding to create a sleek look.
Talk to your tailor about the bagginess in the sleeves, if there is any.
The less baggy the sleeves, the more refined the shape you get around the waist area.
Go for Modern Fit Instead of Classic Cut
A modern fit is a good suit cut to go for. It is designed to make the upper look broader and the torso perfectly packed in a V-shape.
Tapered trousers that come with a modern fit complement the shape you are trying to form.
Avoid straight trousers and jacket that is often seen with the classic cut.
They are not good for your body type. Instead, make it more prominent than it already is.
Avoid the Baggy Look
Apart from the double-breasted jacket, make sure whatever you wear adds to the V-shape you aim to achieve with the suit.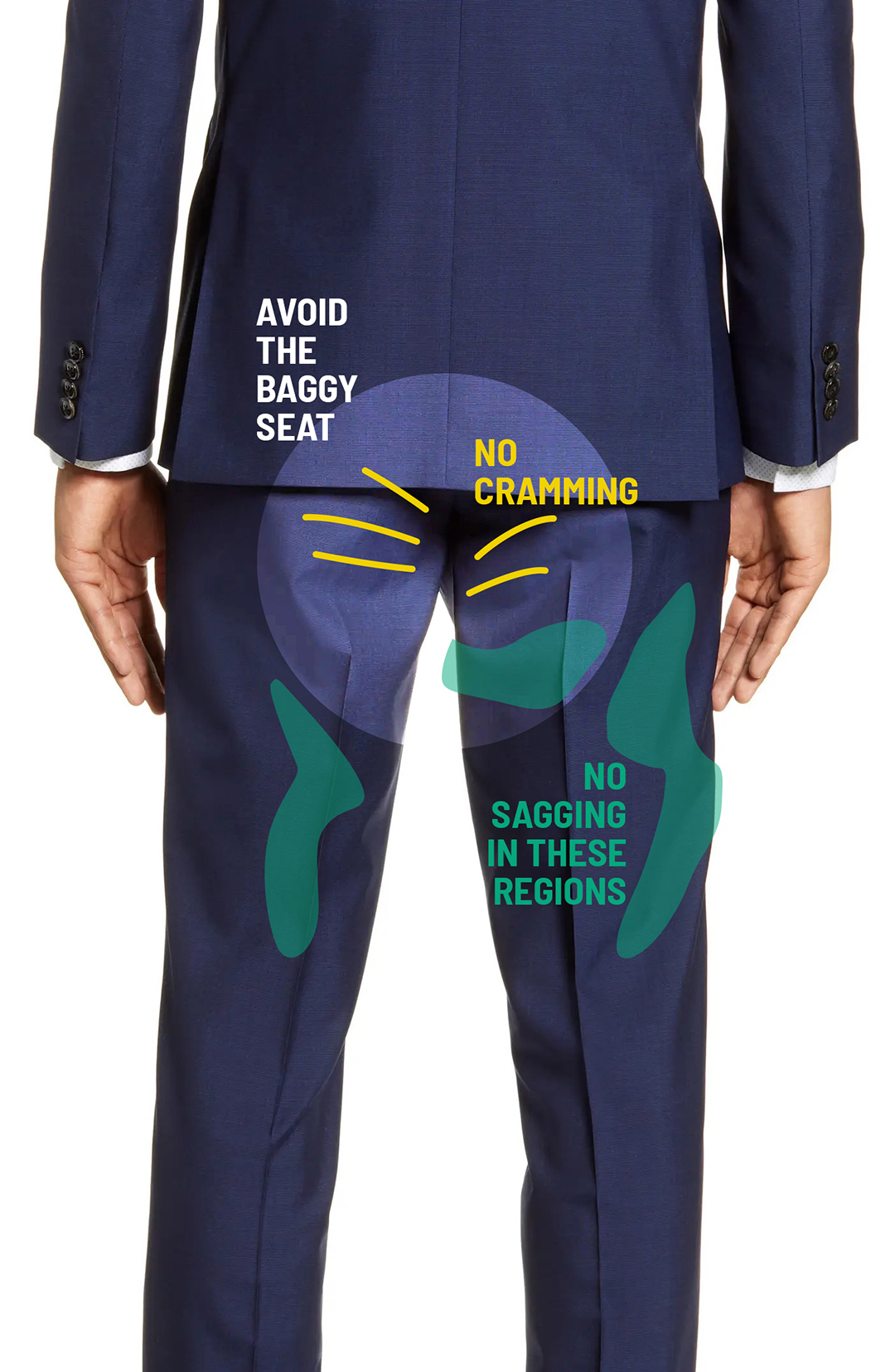 This goes for the shirt as well as the trousers.
Try to get relaxed fit trousers and a shirt instead of something too tight or even slim fit.
Make sure the trousers sit at or slightly below your waistline.
Trousers that sit above the waistline will give the impression of longer legs which looks odd with a rectangular body shape.
Athletic Body Type
An athletic body type, also termed "trapezoid," has a broader torso towards the shoulders, narrowing down near the waist/hip area.
People with this body type are lucky because it is considered the standard type in the fashion world.
Therefore, you can easily buy suits off the rack with good fitting if you have an athletic body.
You have a good upper and lower body balance, allowing you to play with suit styles, cuts, and even patterns.
Minor alternations from your tailor can make an off-the-rack suit perfectly fit your measurements.
Go For a Slim-Fit for the Best Look
A slim-fit suit is the best choice for this body type.
It sits well on the broader shoulder area, making the V-shape easily achievable.
More importantly, athletic body type allows you to experiment with different styles to find your perfect fit.
As a result, you can opt for a double- or single-breasted slim-fit suit cut.
A few tries of different styles and cuts would be enough to determine which works best with your body type and size.
Experiment for Bolder Appearance
I would also recommend going for bolder suit colors that accentuate the natural hourglass shape in this body type.
Since your body is already quite moderated, it only makes sense to go overboard with experimentation.
Opt for daring patterns, cuts, fabrics, and color combinations.
You will realize that almost everything sits well on your body type, which is a huge advantage.
As a result, you should never settle for anything. Keep exploring and adding options to your closet.
Respect the Rules
The worst thing someone with an athletic body can do is not follow the basic rules of suit-wearing.
Having the ideal build for a suit does not mean you don't put in the effort to look the best.
There is still a chance of ruining your proportions if you are too careless with your choices.
Try not to go for aggressively tapered pants.
I would also encourage you to focus on the fit.
Try not to make the waist area too tight, and ensure you get a tailor's help for a perfectly sharp look.