If there's one thing that defines being dapper without overdoing it, it should be wearing an unstructured blazer.
It's a tailoring masterpiece that sashays between the "casual" and "smart" styles.
With just a difference in suit jacket construction, you can enter the enchanted land of nonchalant.
Get ready to explore the vibe around wearing this extraordinary garment.
What Makes an Unstructured Blazer
An unstructured blazer is a type of jacket that has a relaxed construction.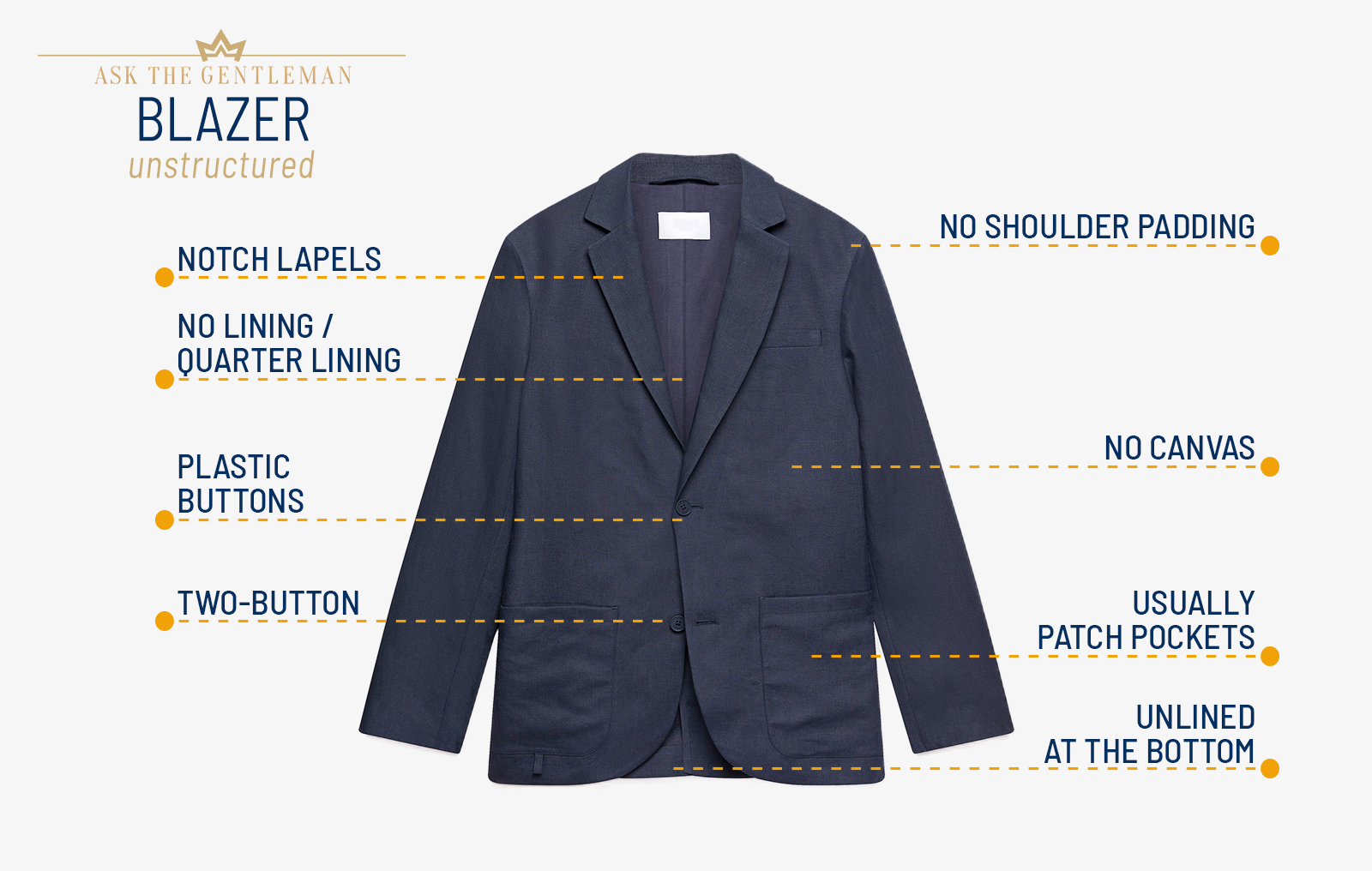 The first thing for an unstructured blazer is no shoulder padding. Your shoulders will match the body's natural silhouette, cutting out the formality.
Similarly, there is no jacket canvassing. This less rigid structure contributes to a more casual feel and lighter weight.
Minimal to no lining accompanies the lack of canvas, contributing to the breathable jacket structure.
Some unstructured jackets, however, only have a lining in the upper back called quarter lining.
In addition, unstructured jackets usually feature patch pockets and notch lapels, giving them a more casual look compared to the formal vibe of suit jackets.
For an even cleaner look, the seams in an unconstructed blazer may be left exposed or finished with techniques such as binding or serging.
Ways to Wear Unstructured Blazers
The unstructured blazer will make you a "smart and sophisticated" style maestro.
You can wear it as a casual suit alternative, dressed elegantly and not looking like a detective.
In the same way, the relaxed silhouette of the blazer makes wearing casual pieces a little more swell.
Among dress codes, everything from casual to cocktail attire comes under this blazer's style regime.
Blazer & Pants with a Dress Shirt
A separate blazer and pants are for those in-between situations where the suit would be overplaying and anything casual just doesn't fit in.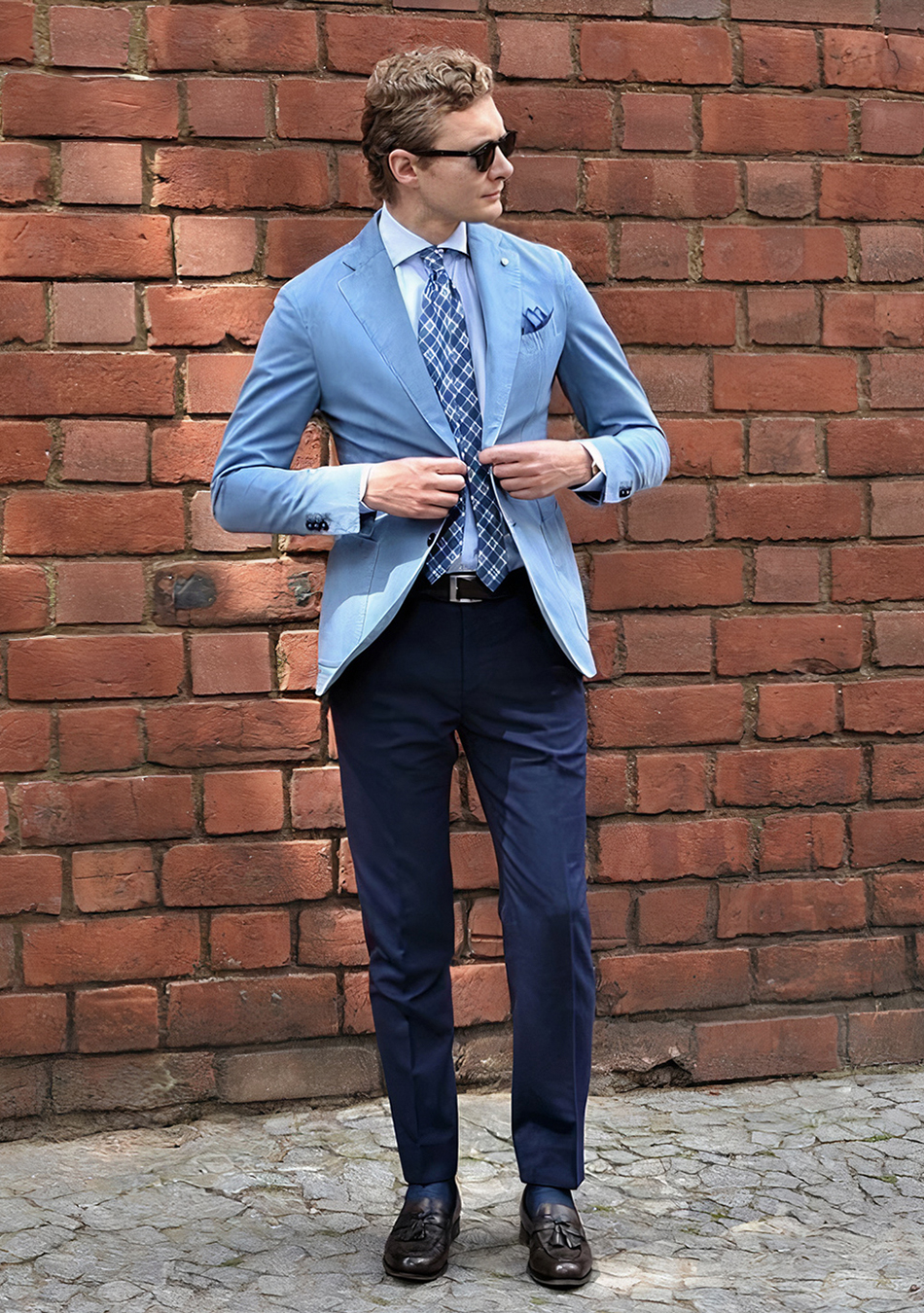 It's also the "menswear uniform" for those dressy summer events. To match the vibes, I recommend wearing a blazer in lighter shades like sky blue or tan.
Patterns in the shirt, ties, or even pocket-square will complement the outfit. And it will reinforce wearing a blazer as a laid-back yet sartorial move.
Dress Shirt & Chinos
Nothing brags the same versatility as a dress shirt, chinos, and blazer combination.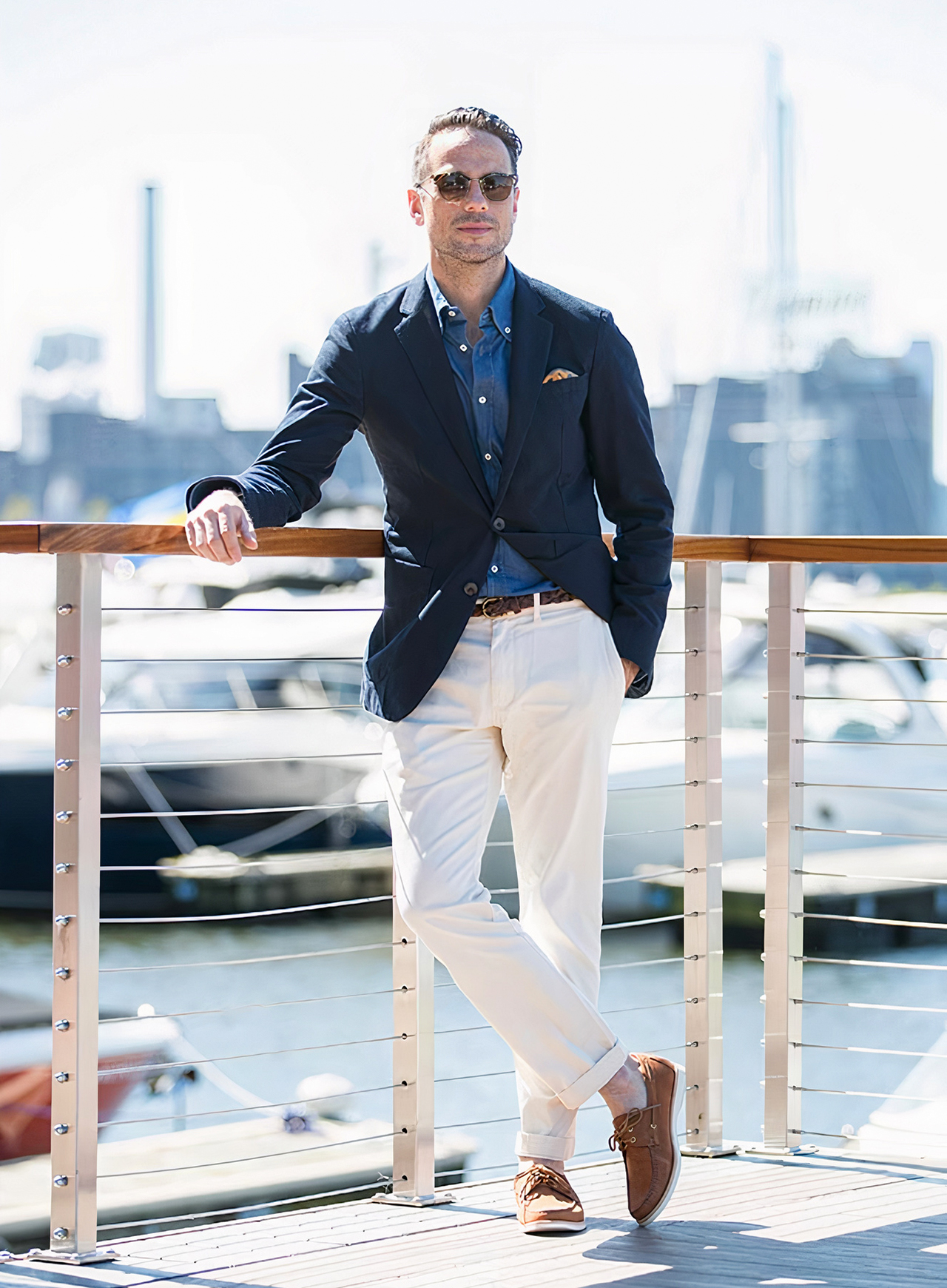 You can wear these from a night out with the boys to boat cruise looks. It could also be a getaway from anything super dressy.
If you want to try something different, I recommend white chinos, giving the Riviera vibes.
A darker shirt in navy or denim will be a pleasant addition. For our hero piece, the blazer, nothing is as good as navy blue.
Polo Shirt & Loafers
A polo shirt under an unstructured blazer or sport coat is a casual move that manifests comfort with sophistication.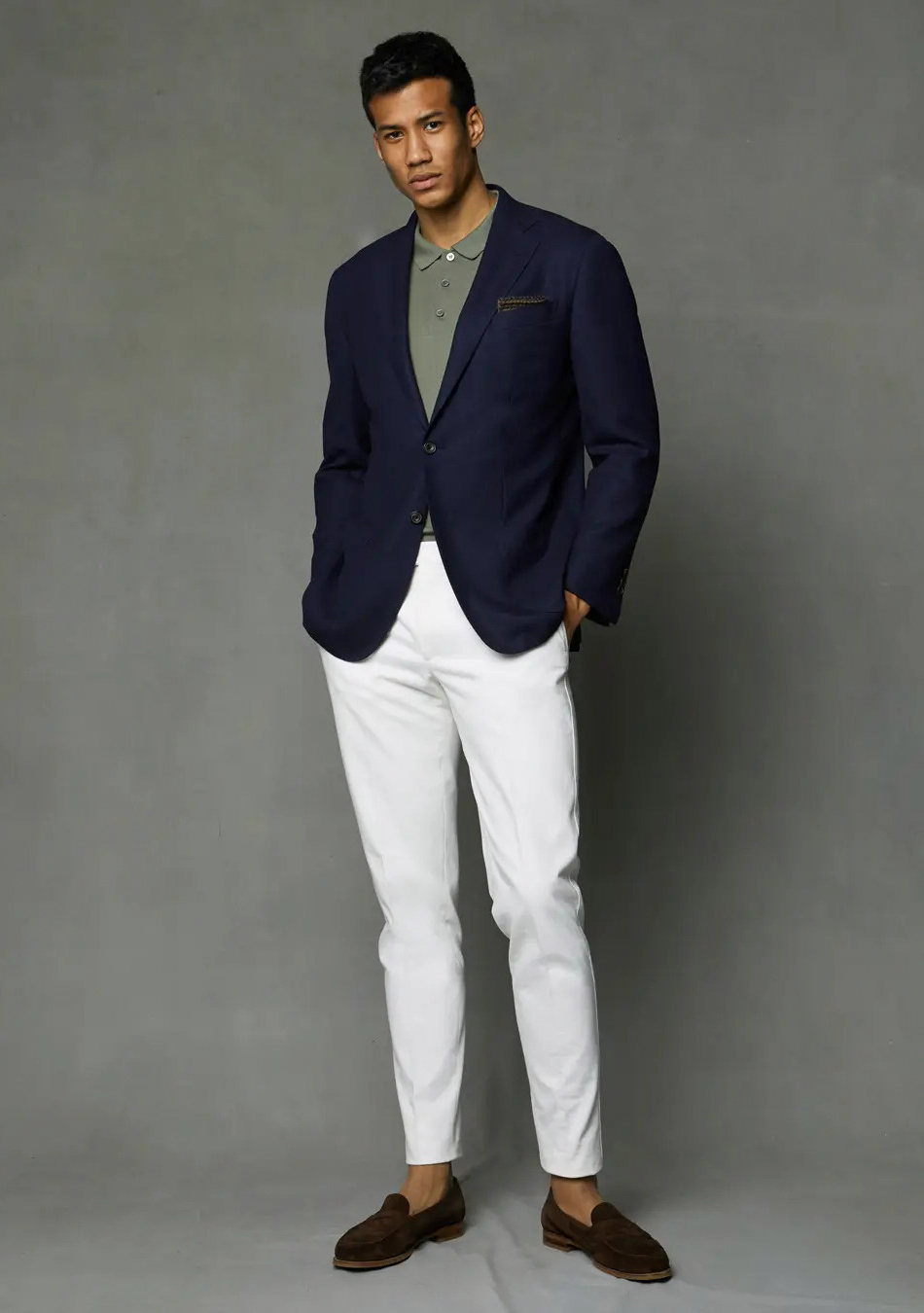 When wearing it, make sure other items complement that relaxed feel. Brown leather loafers would help you do that, literally and figuratively.
This combination is good for summer due to the instinctual feel of summer and polos.
But with the right blazer fabric, the layering will also create a no-fuss fall look.
T-Shirt & Sneakers
A T-shirt doesn't have the rigidity of a collar. And for that reason, it can dress down the blazer even more than a polo.
Still, you can count on this combo for a casually tailored look.
I suggest wearing a light-colored T-shirt, preferably henley or crew neck. The versatility of the henley can make a stylish statement with the blazer.
Anchoring the look with sneakers will give an elegant shine to the look.
Unstructured Blazer with Jeans
Wearing an unstructured blazer with jeans isn't hard at all.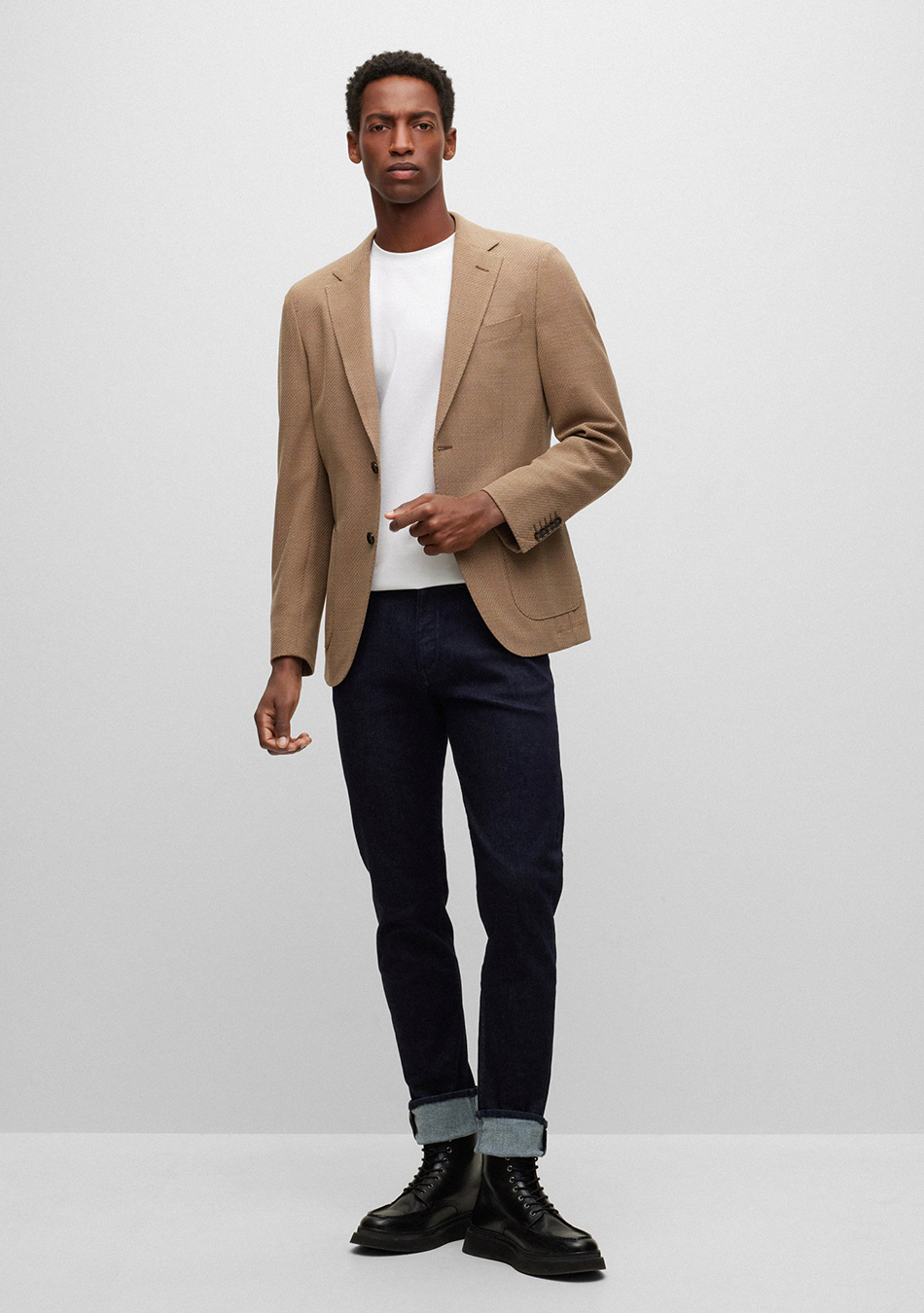 With the right pieces, the combination has everything from nautically casual vibes to weekend party looks.
The slim-fit dark wash jeans are the best. Match it with a brown textured blazer for a timeless look. Other lighter blazer shades can work too.
You'll need a plain white T-shirt to pull this together. Wear sneakers or loafers to complete the look.
If you want to go heavy-duty in style, boots are also fine.
Sweater & Chinos
Unstructured jackets and chinos both perfectly straddle the line of formal and smart style.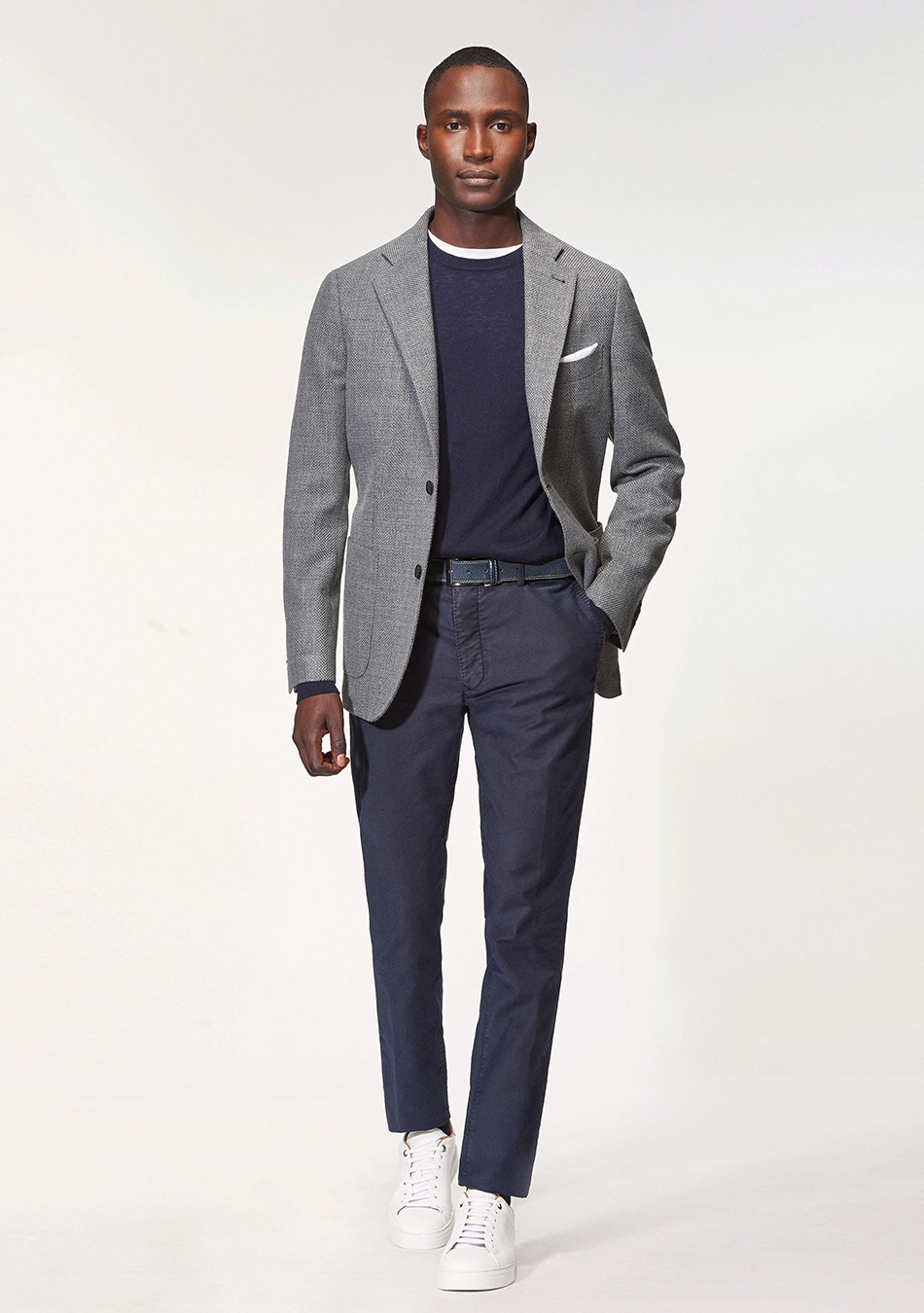 Layering in an additional garment like a crewneck sweater or a turtleneck will further refine those staples.
You can wear this as an "easy" outfit for an after-work business casual event. It is also an effortless option for weekend dates and meetups.
Things to Consider When Wearing Unstructured Blazers
An unstructured blazer is a relaxed or casual take on a more stiff and formal suit jacket. So, be careful where you're pulling it off.
The worst that can happen is you either looking too slouchy for a semi-formal event. Or trying hard casually.
Take these considerations to avoid such things.
Ensure a Proper Fit
For an unstructured jacket, the fit is a little different. In other words, relaxed.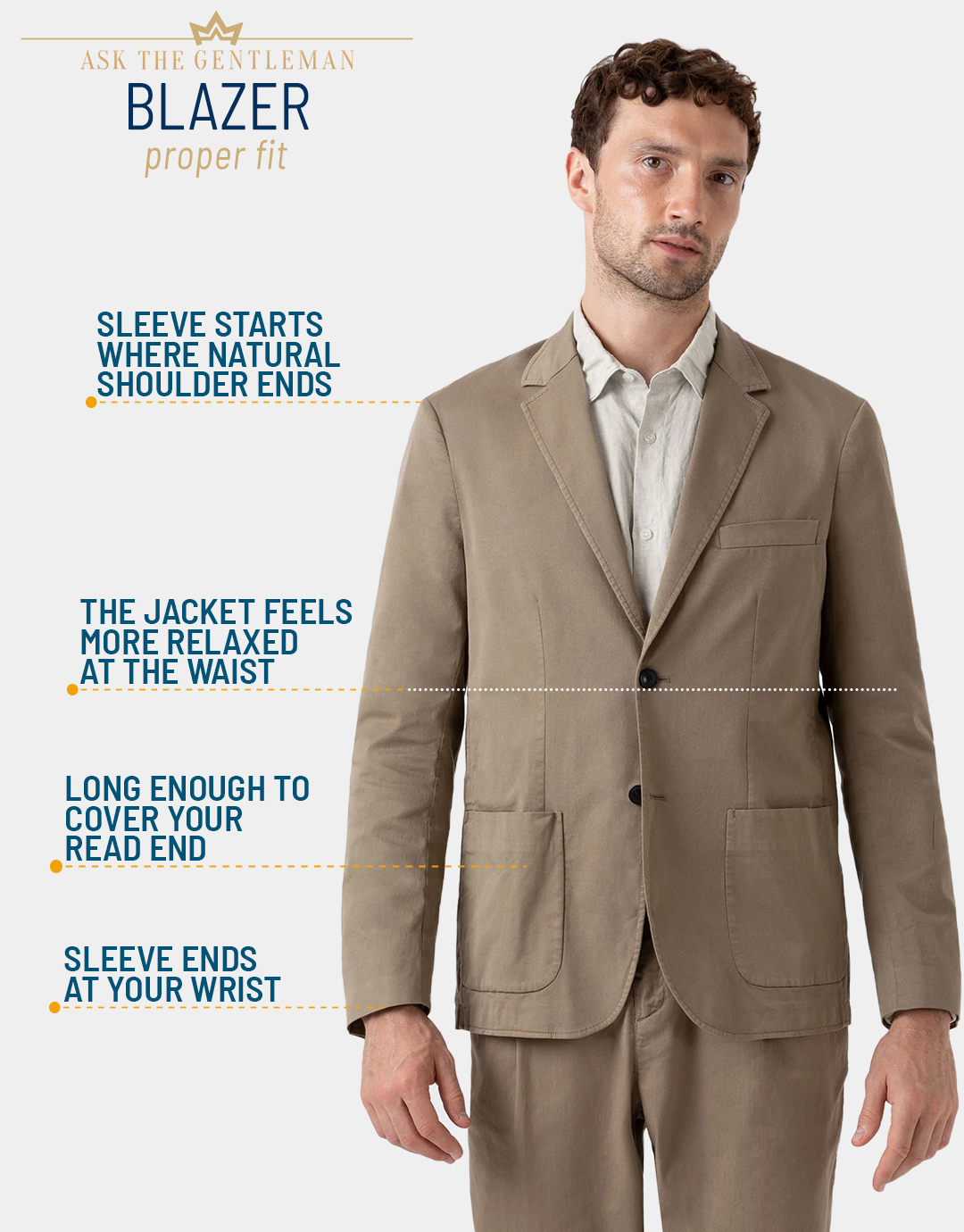 Shoulders will make all the difference. Make sure the jacket's shoulder ends right at your natural shoulder line, with no shoulder divots or wrinkles.
Also, there shouldn't be any gap between the jacket and the shirt collar.
The jacket should be relaxed at the chest but still tight enough to feel like it's gently hugging you.
You can close the buttons to check for fit around the waist. Avoid pulling off the fabric.
Optimize the jacket sleeve to end at the base of your thumbs and the overall length to cover your buttocks.
Unstructured Blazer Fabrics
The fabric choice for an unstructured blazer narrows down to the season and your desired drape.
First comes the worsted wool. It's a smooth, year-round material.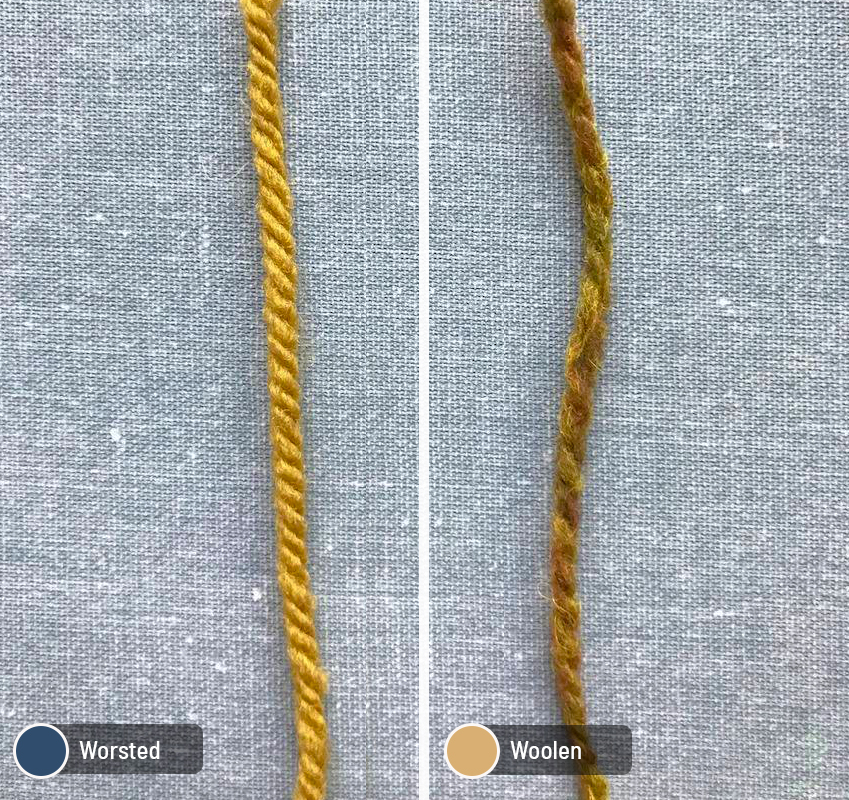 The tight, worsted-wool weaves allow you to be casual with an extra flattering silhouette.
Cotton twill is another timeless fabric. Due to being natural, they are super-breathable and perfect for warm weather.
These also have an instinctively relaxed feel. So, this jacket would be perfect for everyday wear.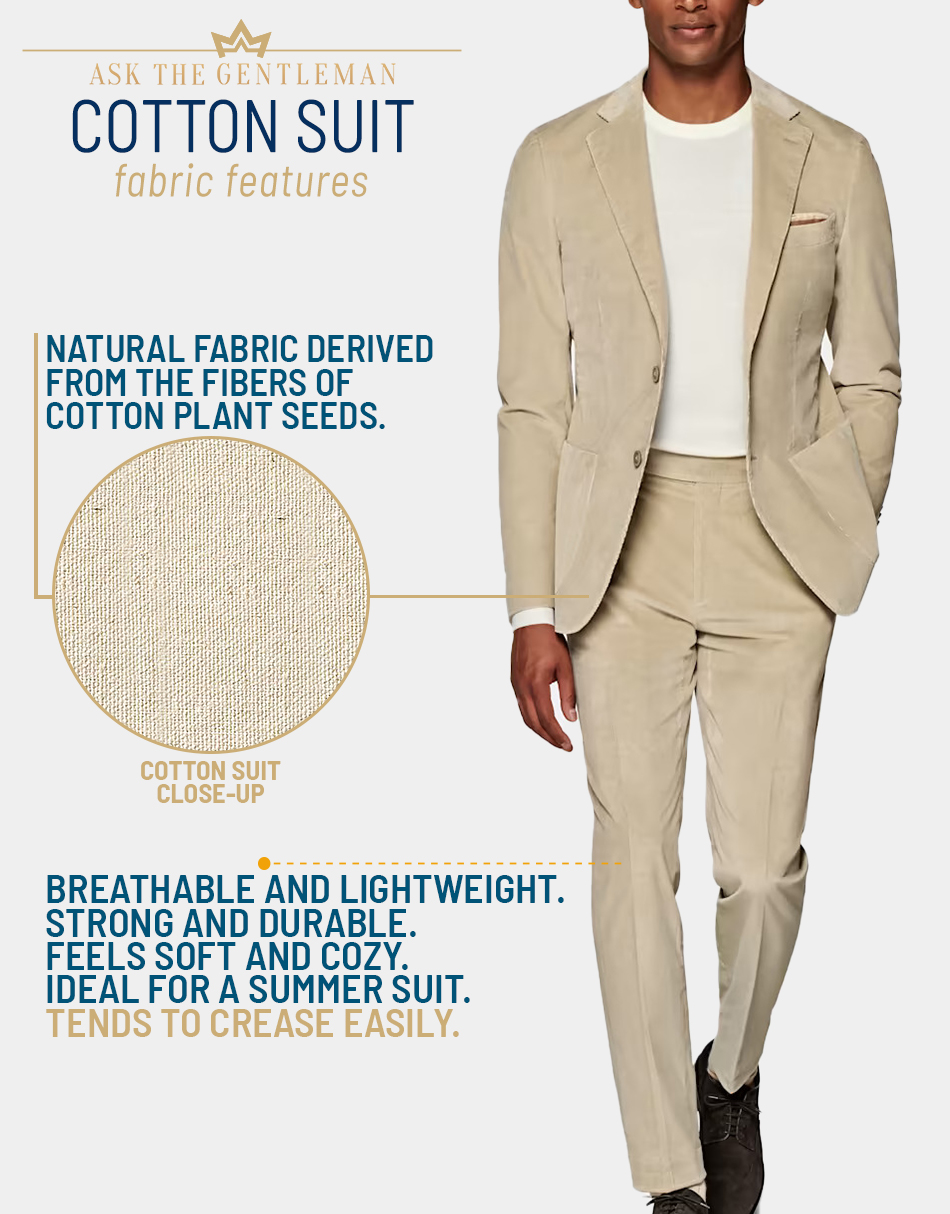 Textured wool blazers like herringbone, flannel, and houndstooth are stylish choices, too.
The thicker material creates a vintage look. However, it's only suitable for cooler months.
Corduroy and tweed are other popular materials.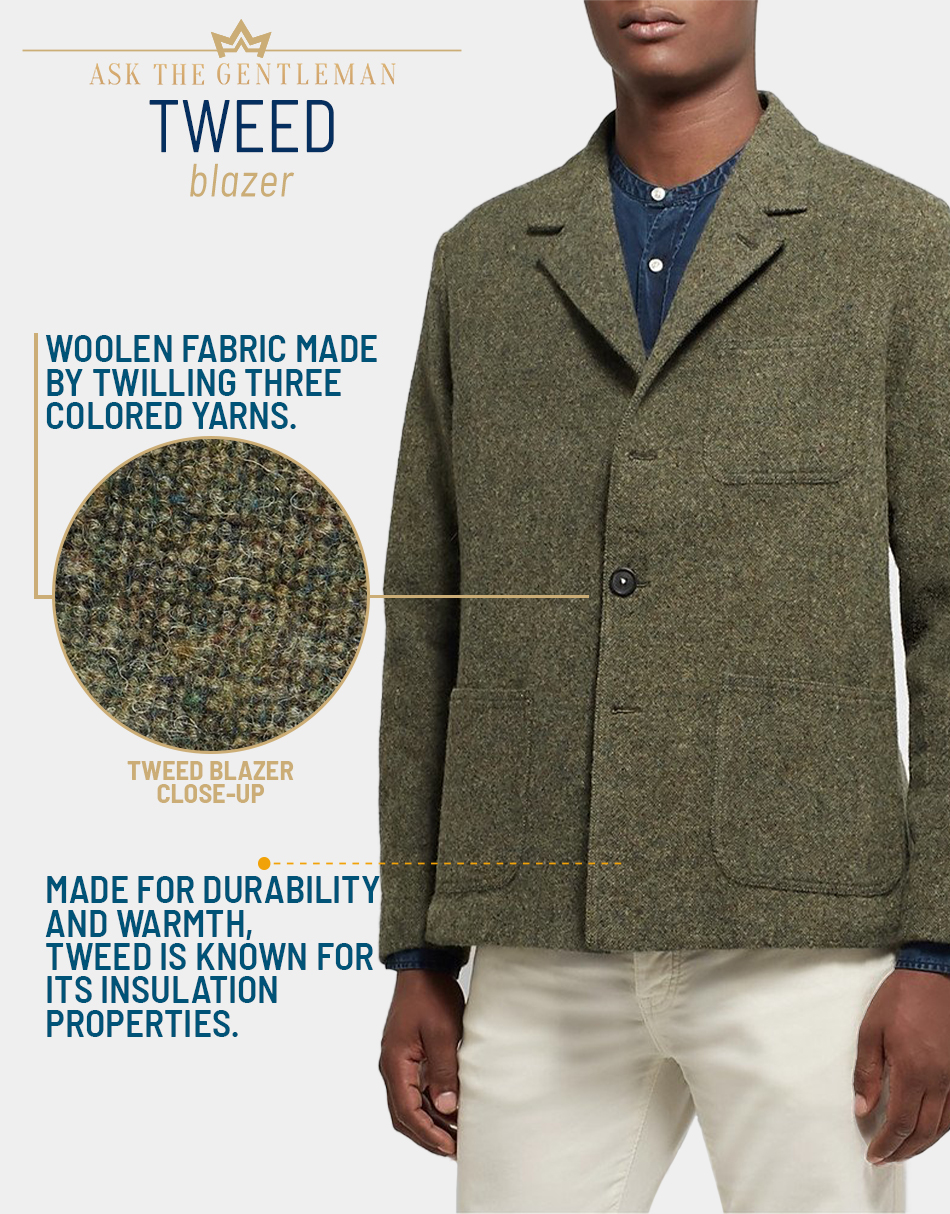 Corduroy is good for a stand-out aesthetic, and tweed has some countryside vibes. Both are versatile but limited to fall and winter.
For summer months, there isn't a better fabric for an unstructured blazer than linen.
It projects a relaxed aesthetic giving a comforting experience. Plus, the breathability is matchless.
Places to Wear
An unstructured blazer showcases a leisurely style while maintaining an air of sophistication.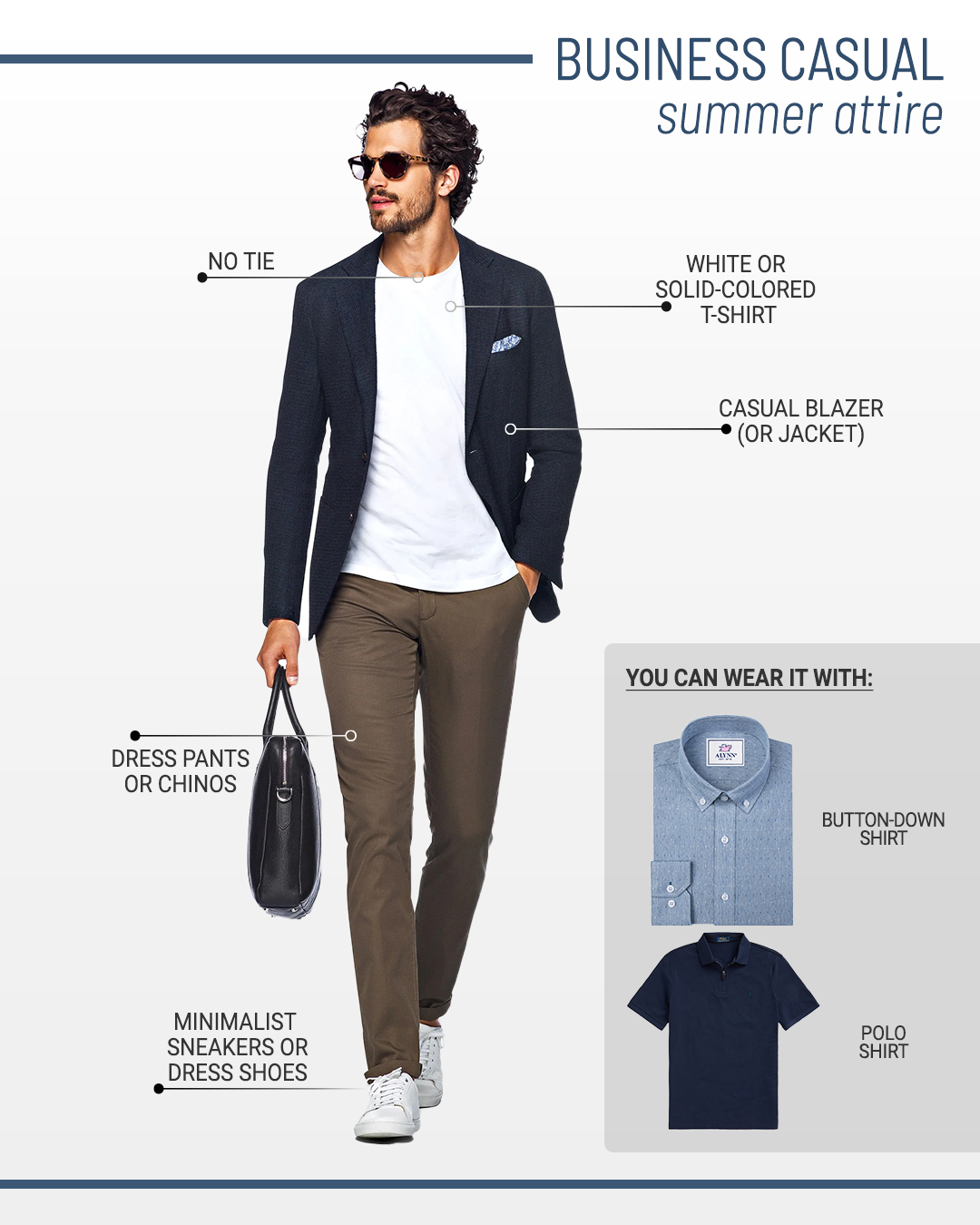 An unconstructed blazer can create some suave business-casual and office looks.
But you can wear one for social occasions as well. This includes casual dates, networking events, dinners, attending a party, brunch, etc.
I also suggest wearing an unstructured jacket when cruising or traveling.
The soft and relaxed construction would help you look nice at the airports or as part of your resort wear.
Best Unstructured Blazer Brands
Wearing an unstructured jacket seems no big deal. But from a tailoring perspective, things are a little different.
Without the structure, you are practically wearing a cloth.
So, it needs to be cut nicely using premium fabrics, stitched perfectly, and follow the body's natural lines.
A retailer should provide all of those, along with good value for money.
Suitsupply
With a knack for sophistication and premium materials, Suitsupply is usually the gentleman's first step toward high-quality tailoring.
Their unstructured blazers are a combination of exceptional construction and promising comfort. You also enjoy a one-of-a-kind alteration and fitting system.
Suitsupply collection of fabrics, cuts, and styles make it a worthy consideration.
Brunello Cucinelli
Tom Ford, Ralph Lauren, and Brunello Cucinelli these guys have sartorial reputations like no one else.
Unlike others, Brunello Cucinelli blazers are about making a statement. You'll enjoy the finest textile, covered in rich Italian elegance.
It's a worthy investment for statement pieces, especially if you're patterns, textures, and unique styles.
Boglioli
Boglioli is Italian craftsmanship layered with luxury and refined by modern design.
Their unstructured jackets are a perfect match of aesthetics and comfort. Their iconic K-jacket is really a stand-out in quality among all the unconstructed jackets.
Crew
J. Crew's unstructured jackets deliver that classic American aesthetic. Plus, their blazers are an embodiment of casual chic.
Their catalog of blazers is less extensive than other brands on the list. But the J. crew offers the best value-for-money blazers.
Bonobos
Bonobo's unstructured jackets are a balance of simplicity and sophistication.
They only rely on creating timeless pieces without going overboard with patterns and textures. Fabric, tailoring, and craftsmanship, however, are all top-notch.
If you are looking for a high-quality, stylish, yet simple blazer, Bonobos can be a great option.
Brooks Brothers
Brooks Brothers are America's oldest clothier. Besides exceptional tailoring and premium materials, a fusion of modernity with tradition is evident from their unconstructed blazers.
Brook Brothers' unstructured jackets even showcase patterns in a debonair way.
If you are looking for timeless elegance, brooks brothers is a great choice.
Banana Republic
Banana Republic is the subsidiary of GAP, the famous American casual wear brand.
They offer a wide variety of unstructured jackets with different fabrics and patterns.
It's a great option for gentlemen looking for budget-friendly jackets.