Whether you're a street-style elite or testing your style comfort zone, wearing a blazer with jeans is always challenging.
There could be many pitfalls, considerations, and the risk of messing it up.
But above all is the impeccable versatility and the feeling of being a casually dressed-up gentleman.
So, think carefully and explore stylish ways to wear a blazer with jeans.
Can You Wear a Blazer with Jeans?
Today's fashion trends lean towards a more relaxed and flexible style.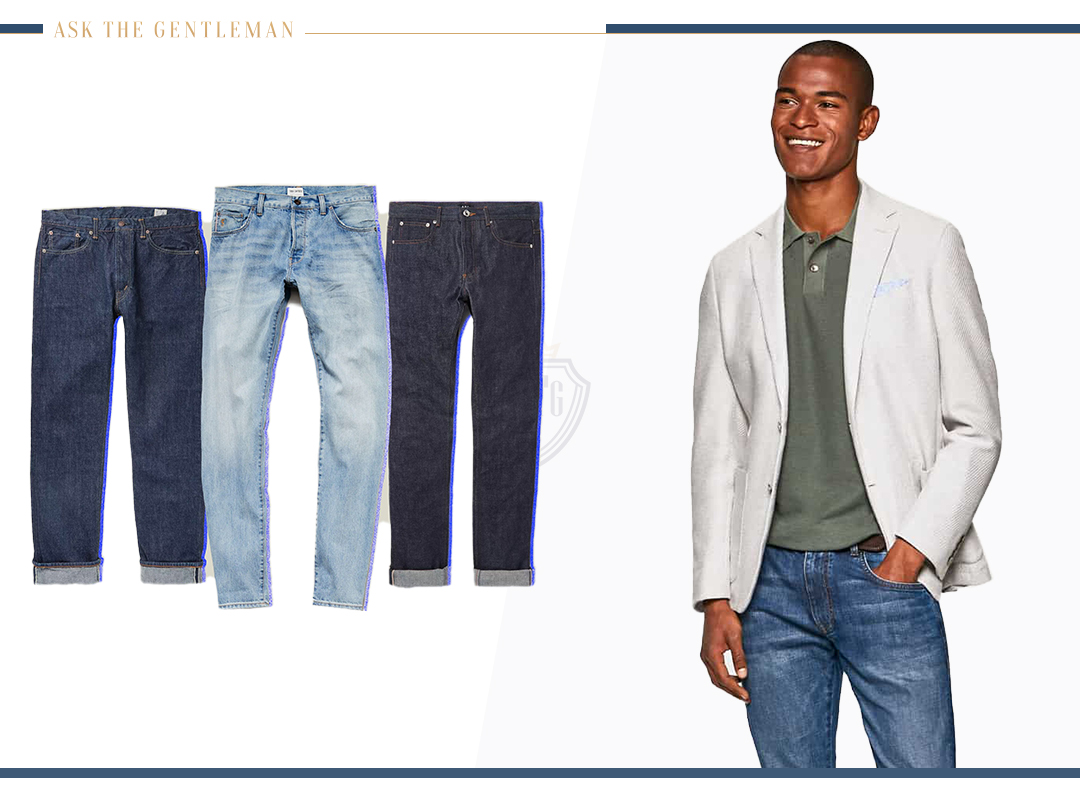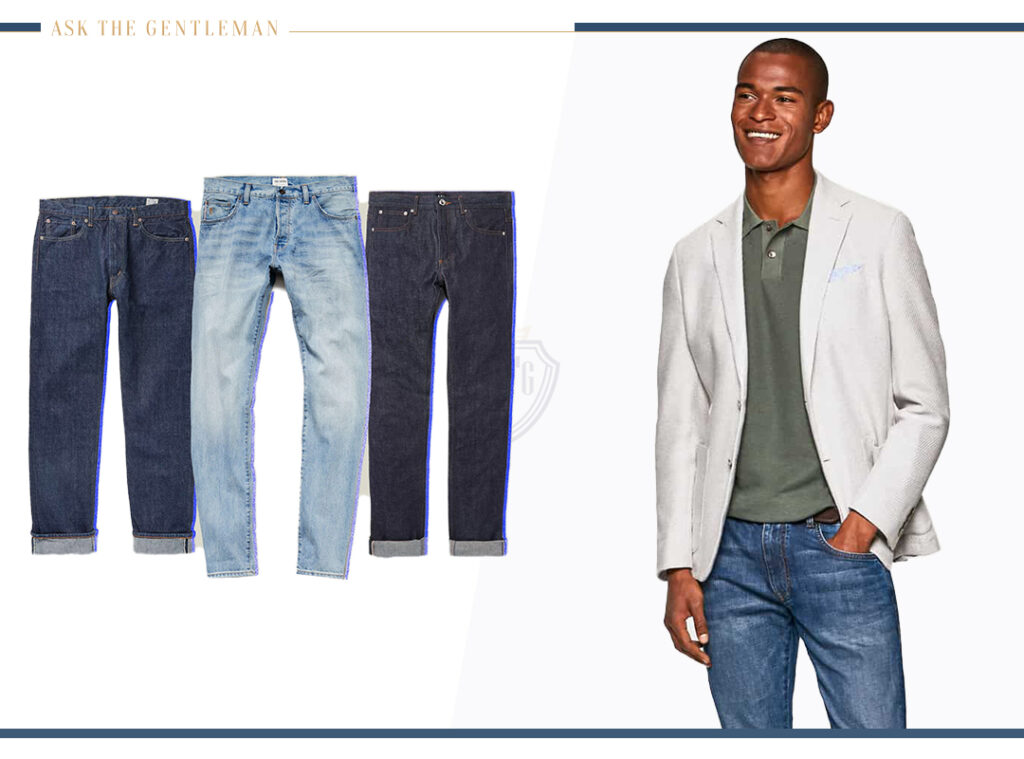 Considering this, pairing a blazer with jeans for any occasion is perfectly acceptable.
In fact, the right question would be, "How are you going to do that?"
It's simple: by picking that perfect blazer and jeans combination.
The Blazer Style
The top half of a "blazer-jeans" look should never be a business suit jacket.
Instead, choose the versatile sports coat and casual blazers that complement the jeans.
That said, unstructured blazers are the best match for denim.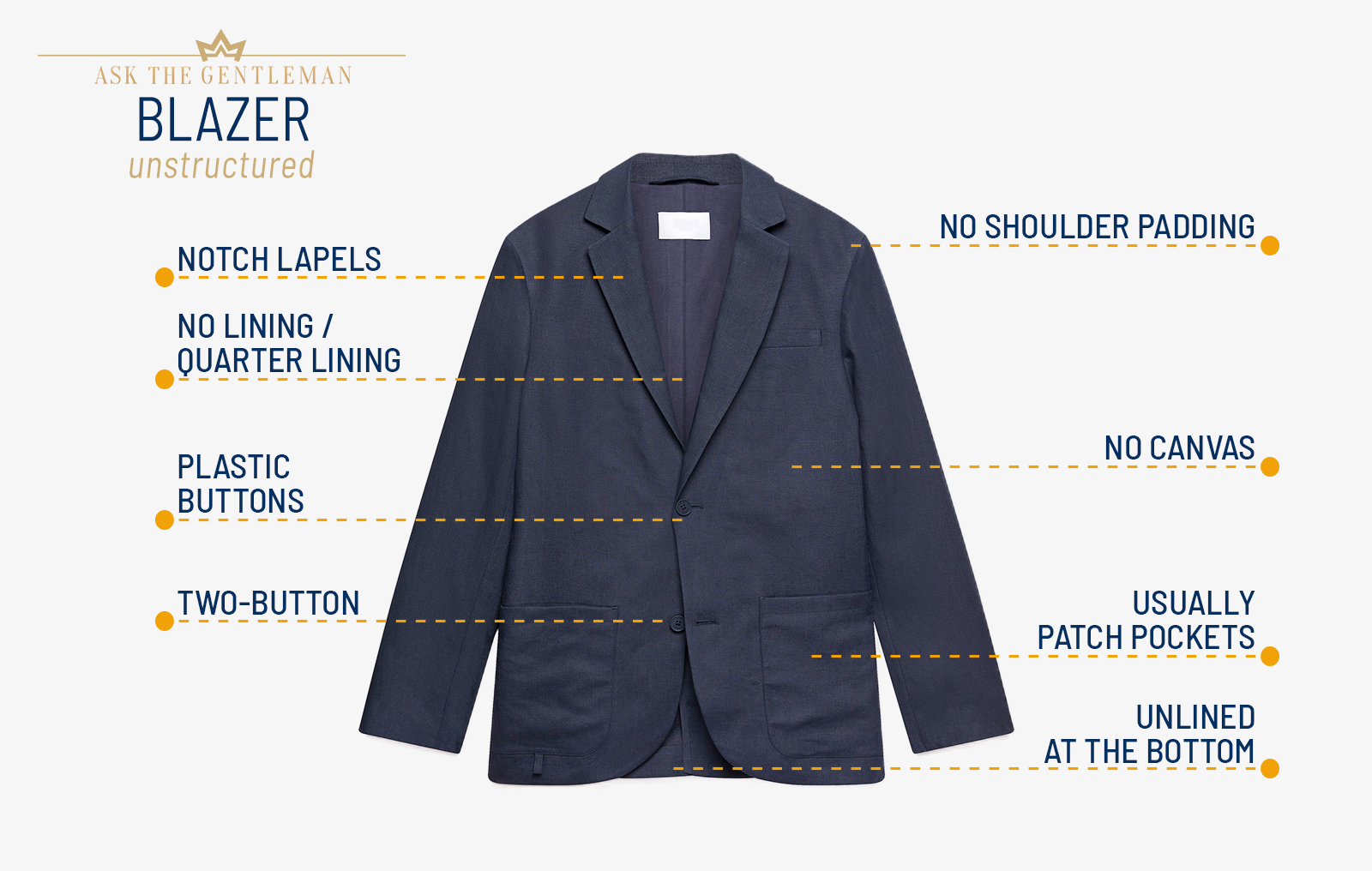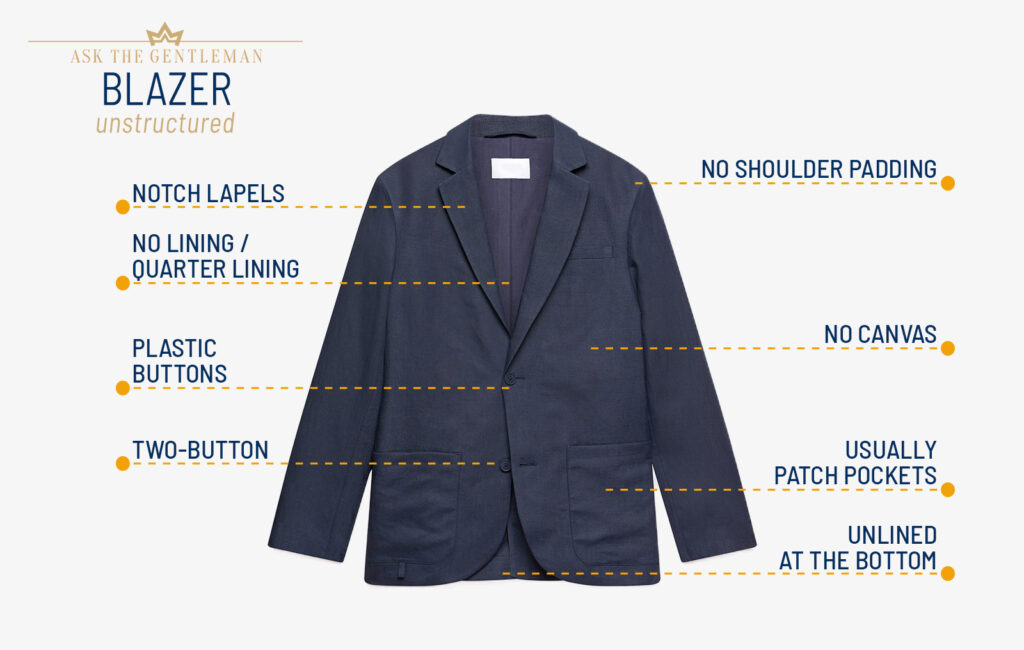 Choose details like a notch lapel, double vents, and patch pockets.
Among fabrics, a textured blazer would be more casual and, therefore, preferable with jeans.
Tweed, plaid, herringbone, windowpane, houndstooth, and corduroy are great fabric options.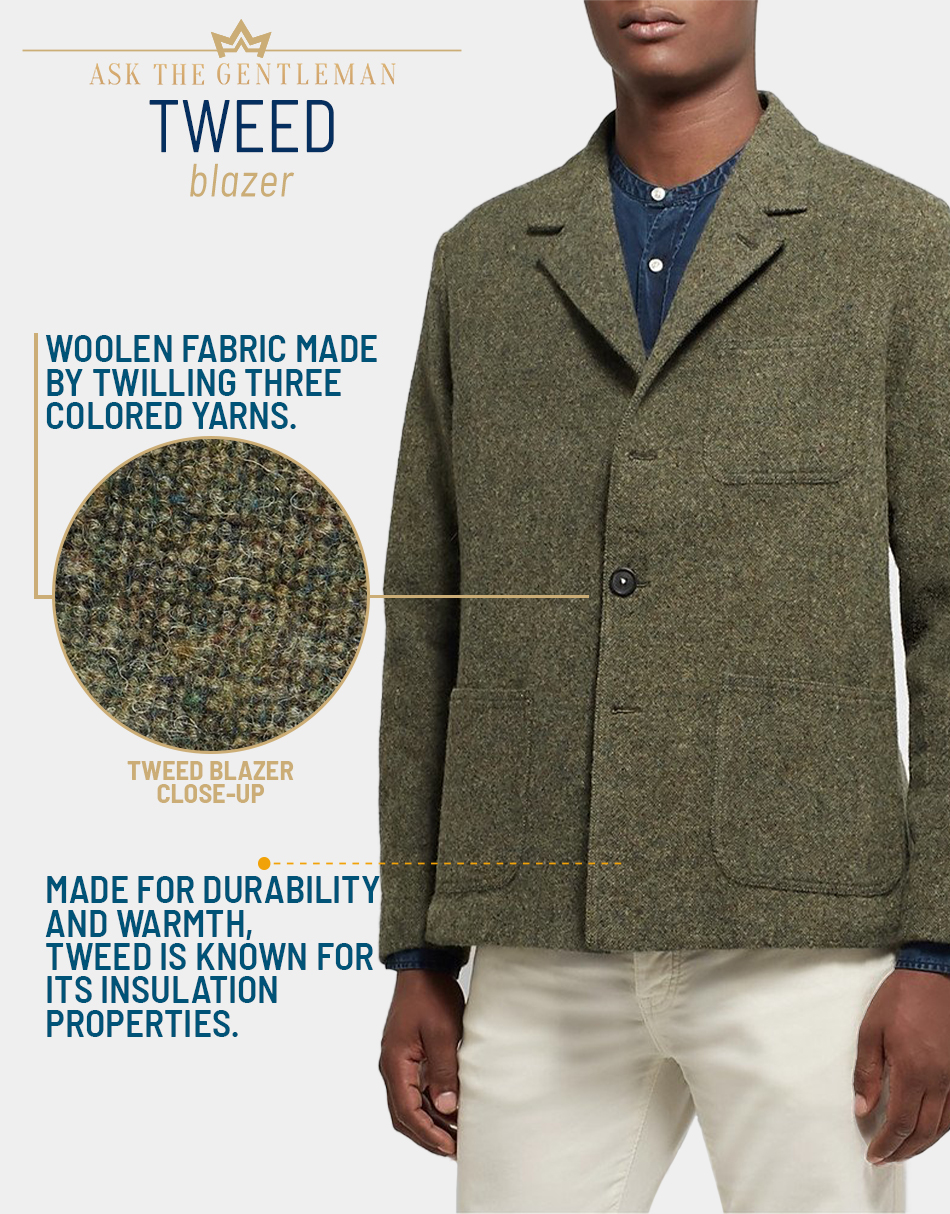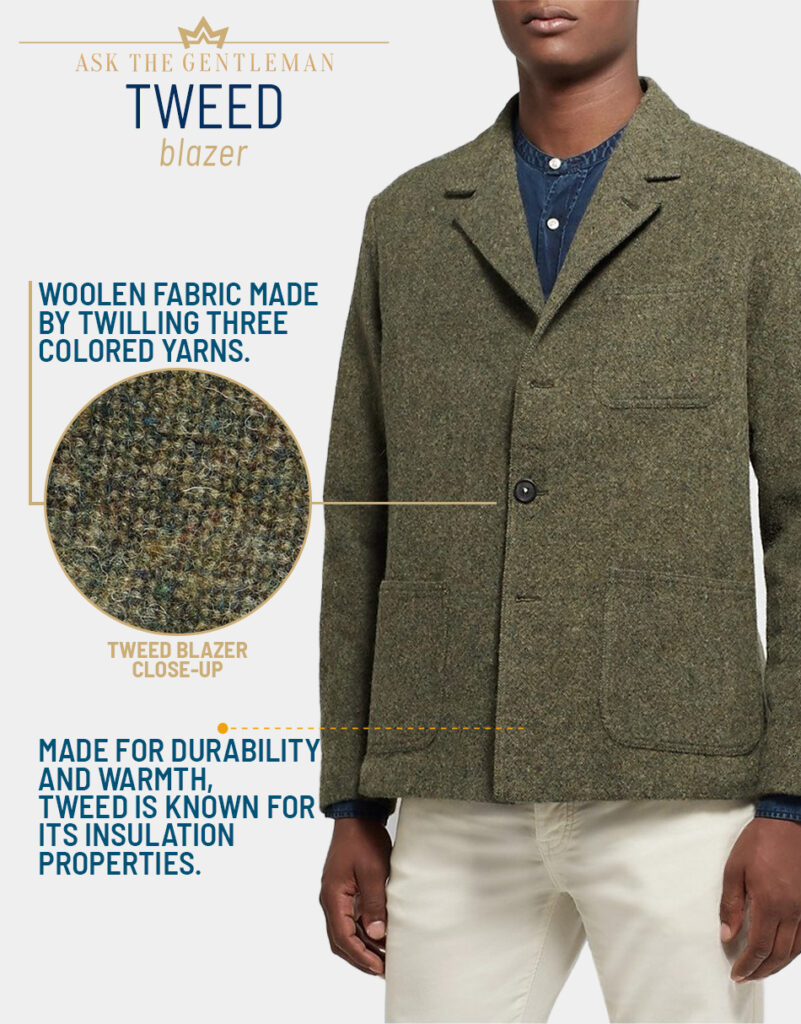 Light colors are great for carrying a relaxed silhouette.
Dark blue and navy are the MVP, but also keep an eye on lighter shades of grey and brown.
The Right Jeans
For starters, the blanket statement is to wear slim-fit dark wash denim such as navy or indigo.
Those willing to explore can go with the regular or straight-fit as well.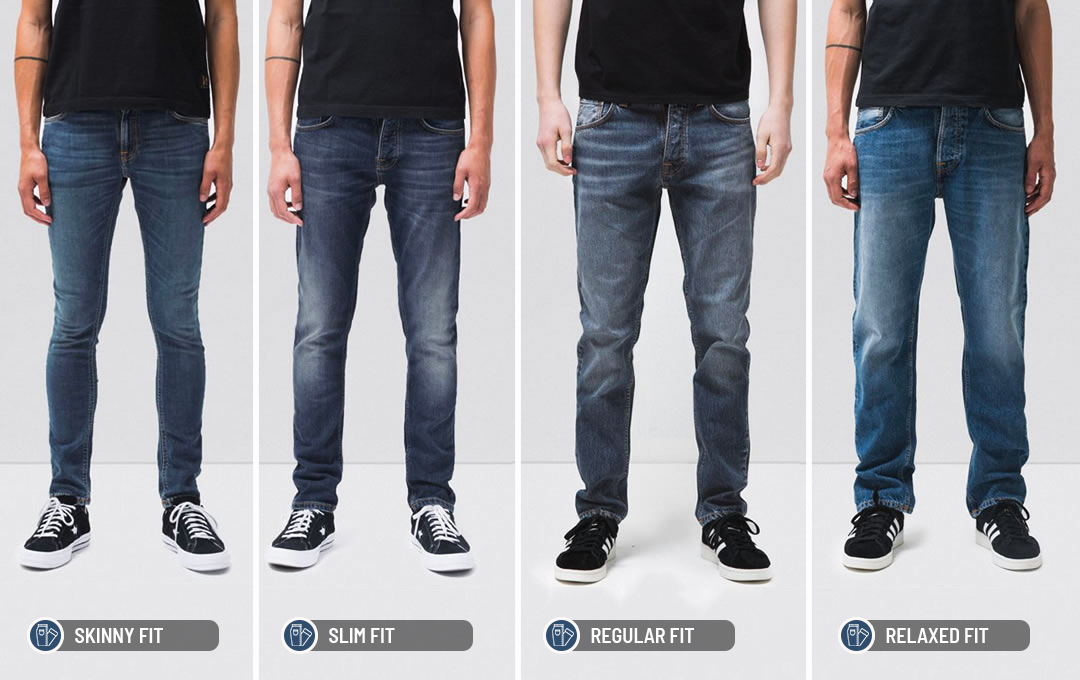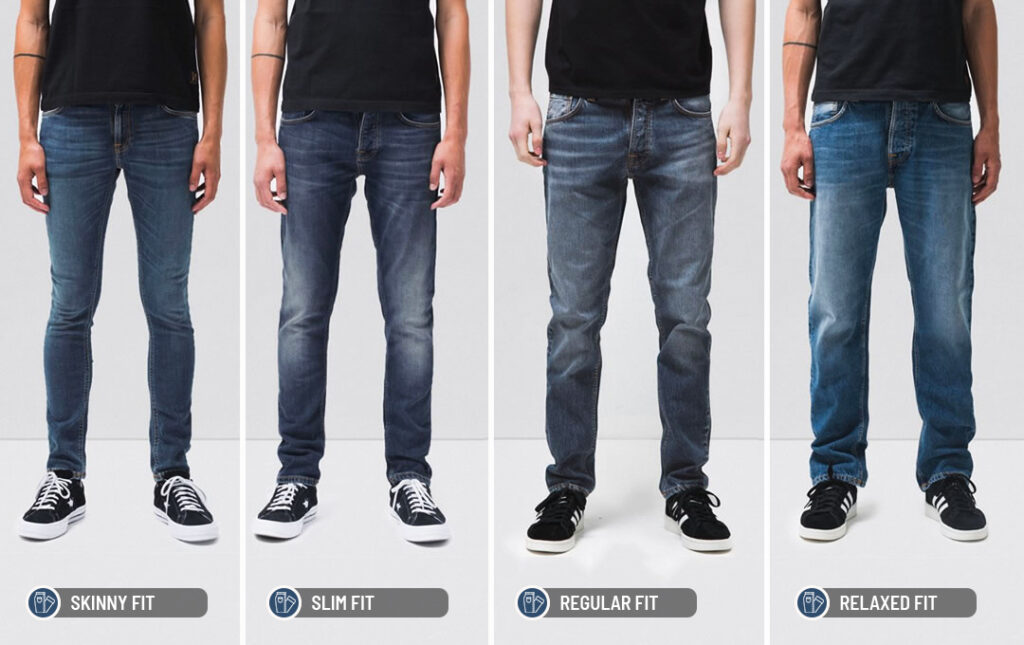 Relaxed and skinny jeans cuts don't work with the blazer. Similarly, low-rise jeans are a big no.
About the color, black and dark blue jeans make an appropriate formal match for the blazer.
You can go with the light wash jeans too. But the denim should never be distressed or have holes.
Standard blue jeans are always appropriate. But you can try white and beige jeans for summer and surprisingly urbane looks.
Blazer with Jeans Outfits
With a slim-fit blazer and tapered jeans, you can expect a dressy casual outfit.
Your shirt, shoes, and accessories will guide the final course of these looks. A good sense of color matching would also be helpful.
Navy Blazer with Light Grey Jeans
There is a question about a navy blazer, "What can't it do?" And it's hard to answer because it's so versatile.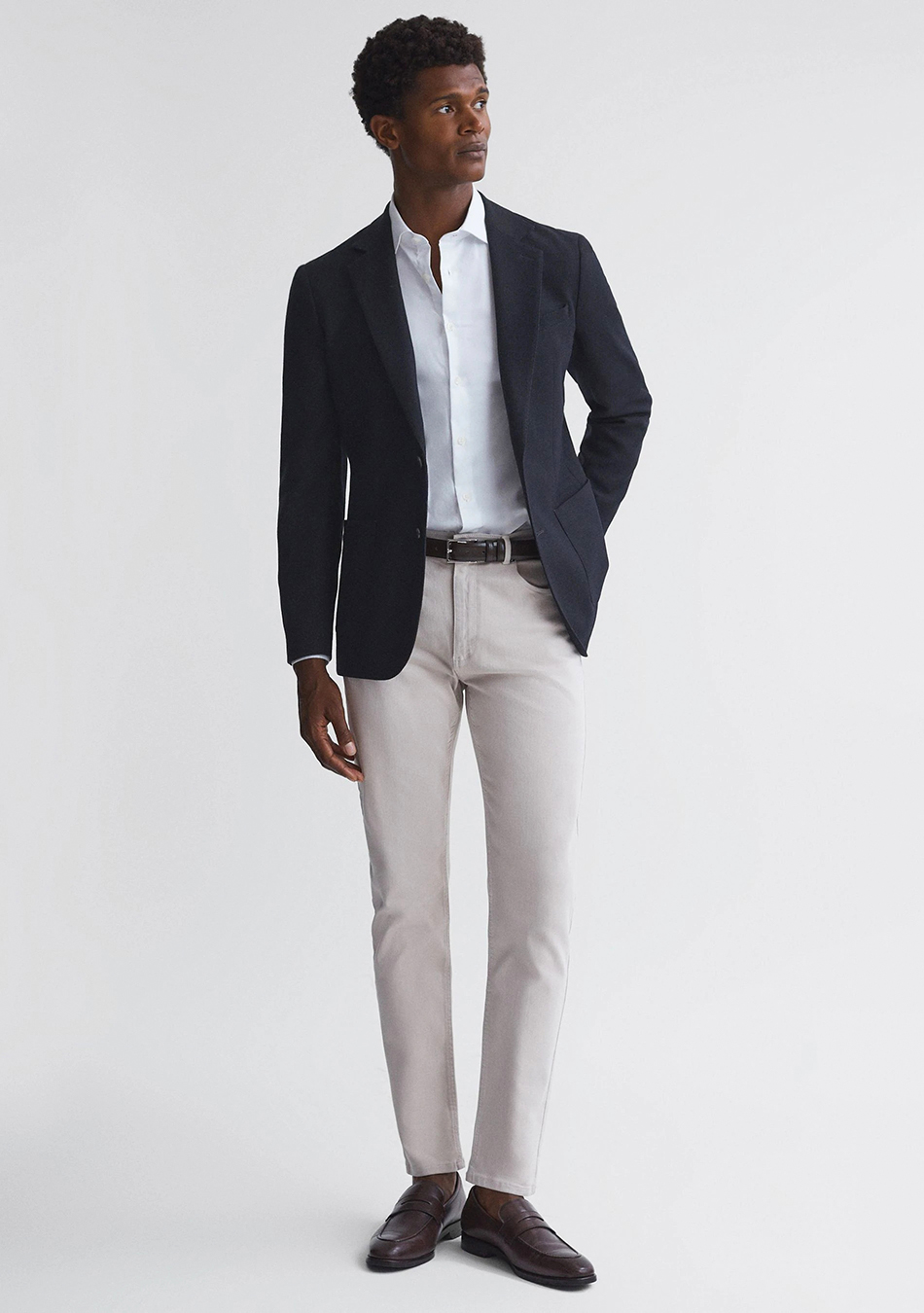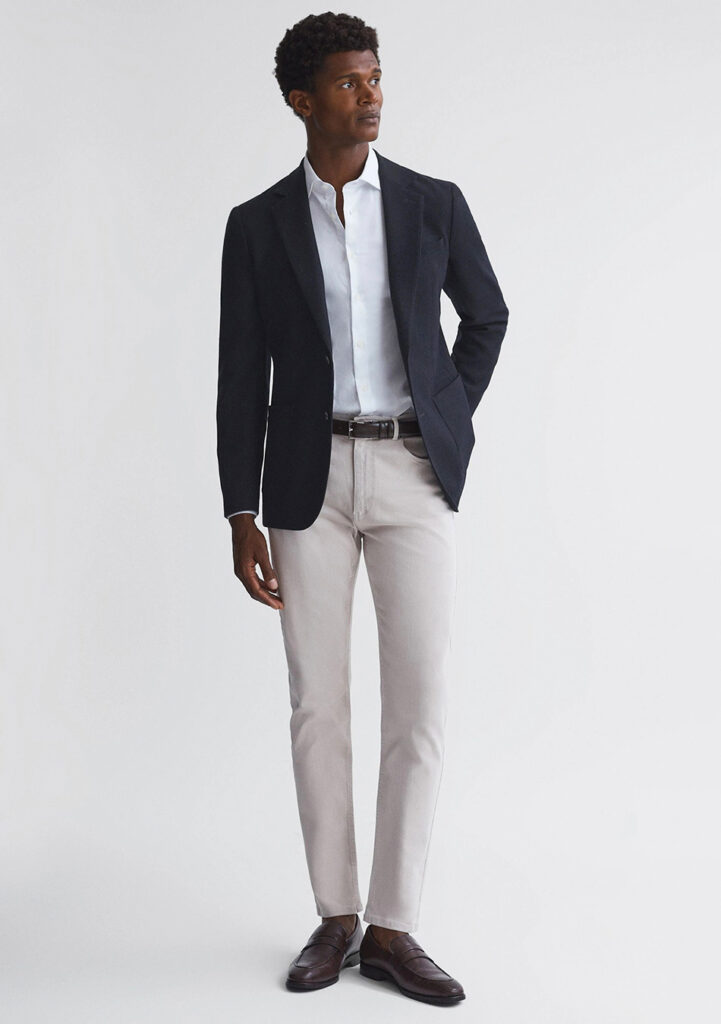 You can wear a navy blazer with light grey jeans to create a business-casual extravaganza.
It's among those looks where you don't have to do much. Do the basics right, and you'll make the most of two professional colors.
Keep the business in the look with the plain white button-up shirt. Wear dark brown loafers and a matching belt to complete the look.
Brown Tweed Blazer over Sweater
This is among the combinations that would test your layering capabilities. If successful, you'll get a great fall outdoor look.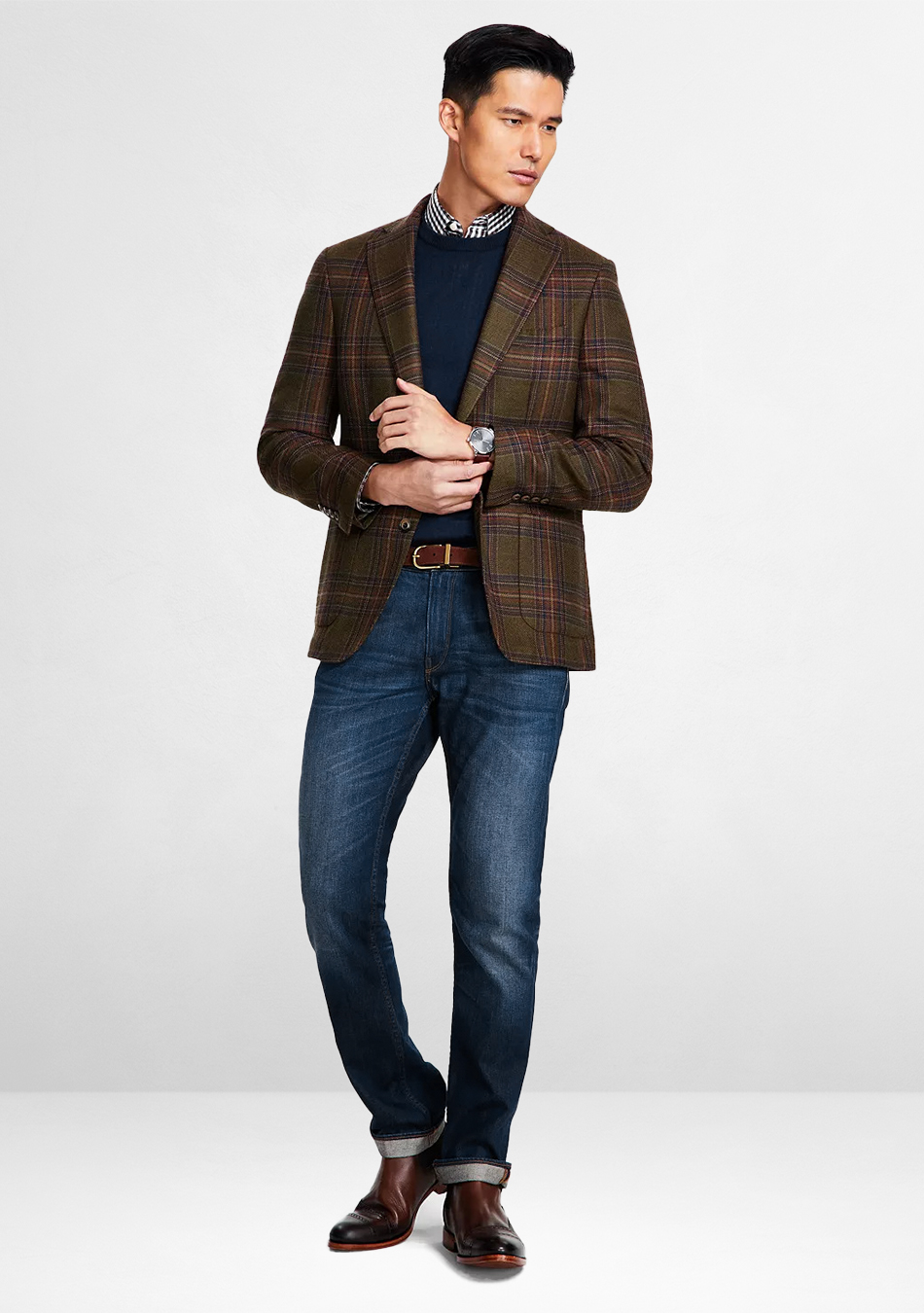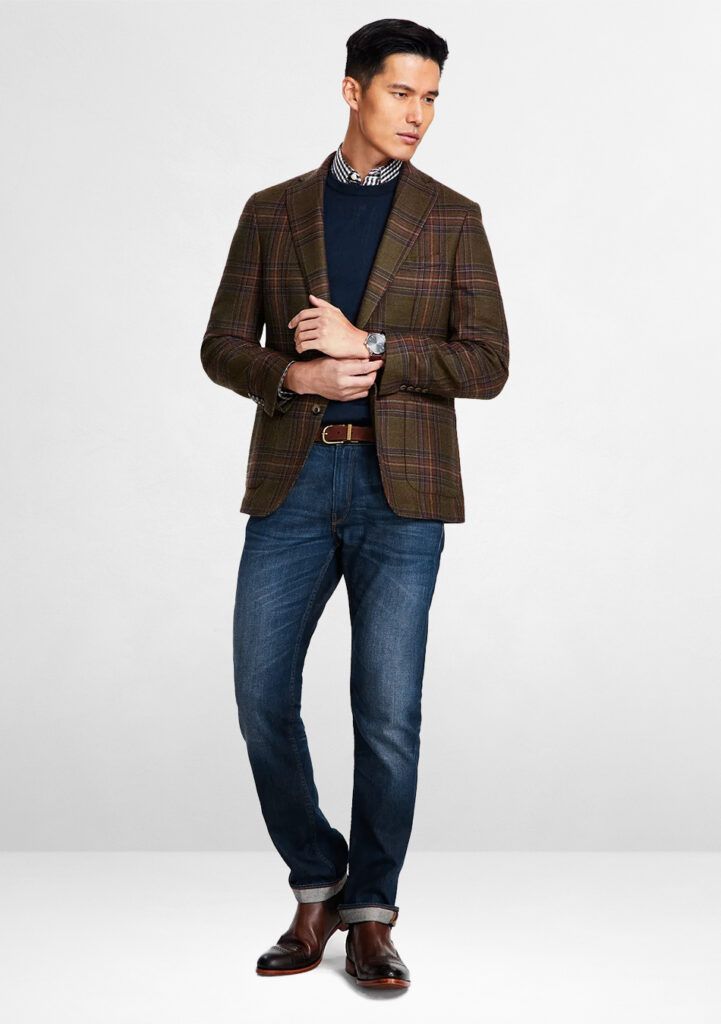 The dark denim is a base to build the rest of the outfit. And the brown tweed blazer would be the statement piece.
Now, you'll need a sweater to avoid the clash of formalities. Navy blue and tan crewneck are the two best options.
Alternatively, skip the sweater and put on a light blue denim shirt.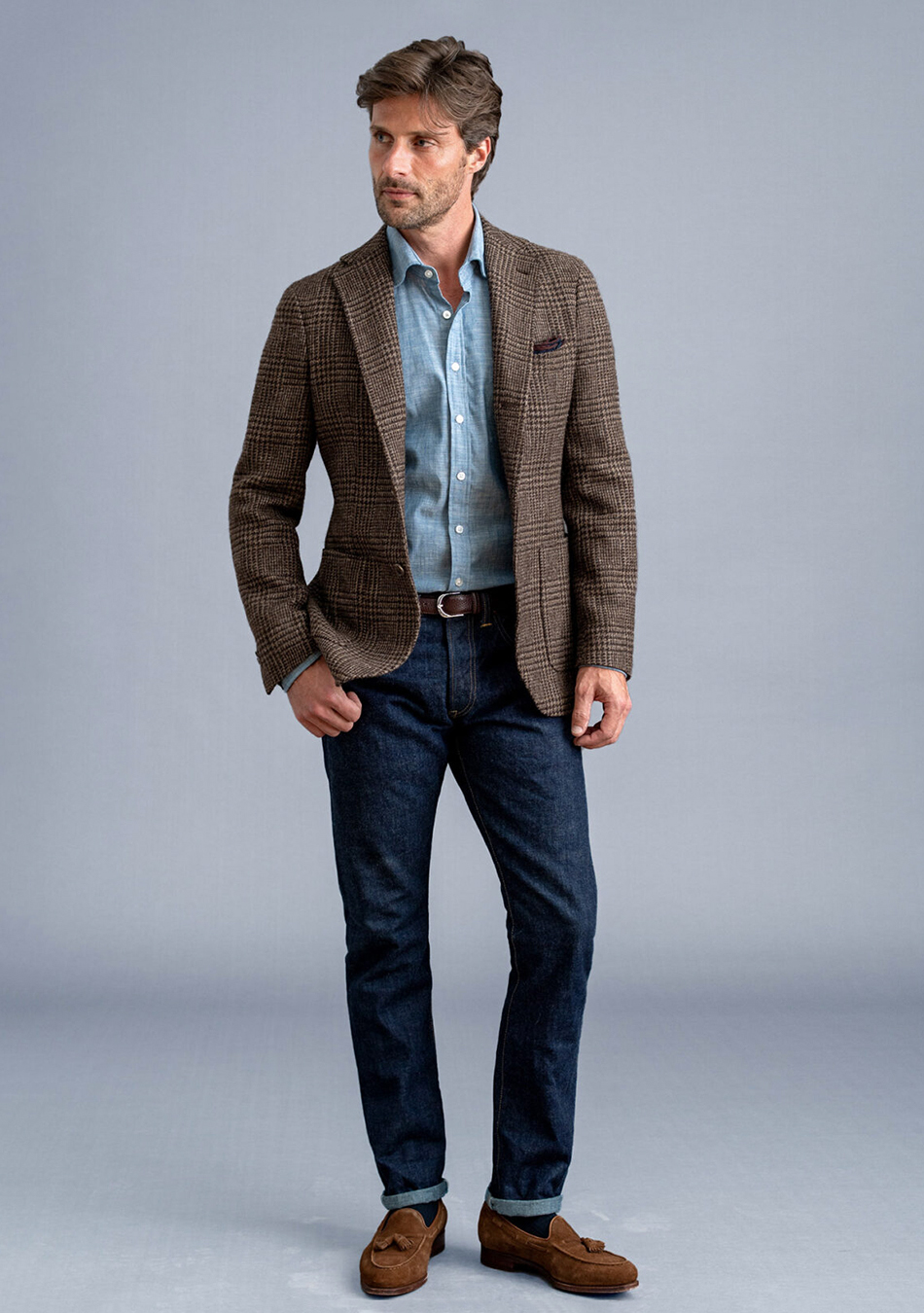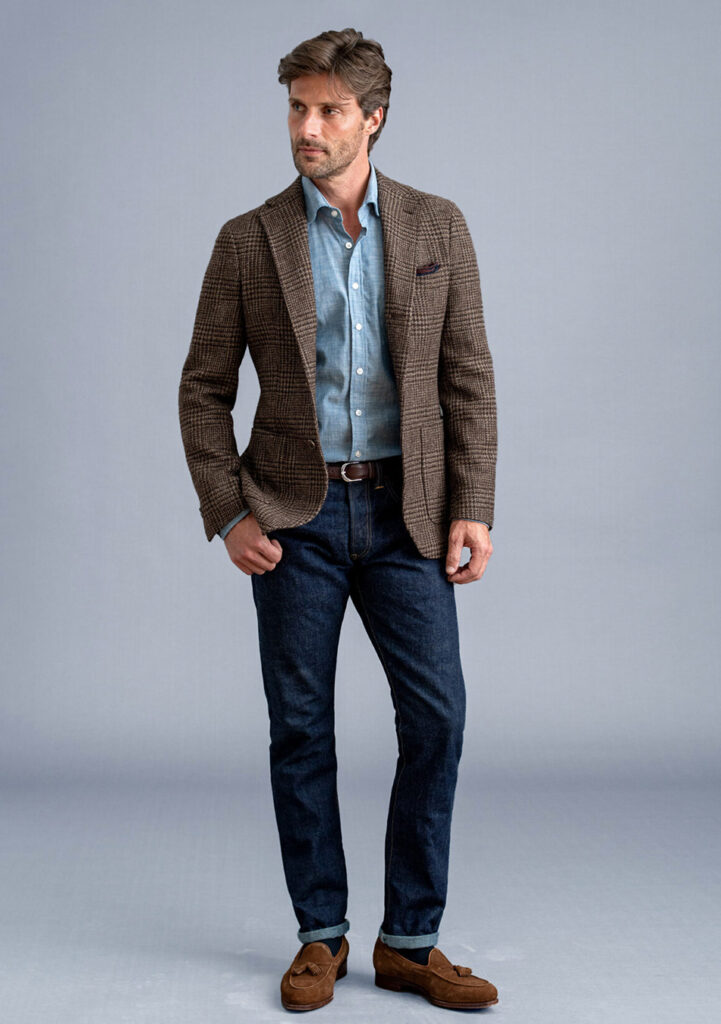 Since this is a fall look, I recommend pairing it with brown Chukka or Chelsea boots. Brown loafers also work well for an early autumnal look.
Light-Colored Blazer and White Jeans
The white jeans are seasonally agnostic. But their true charisma enchants the preppy summer looks.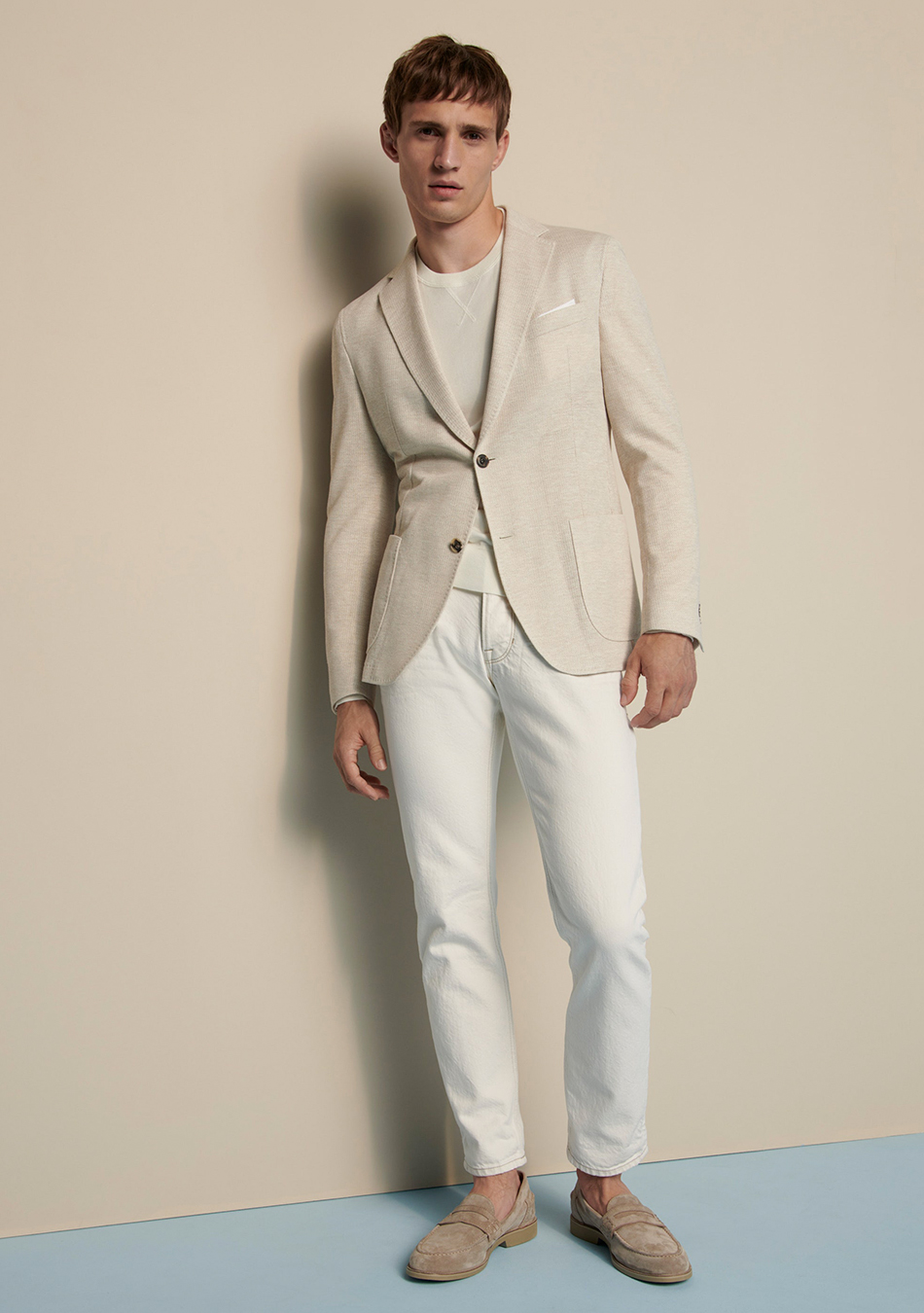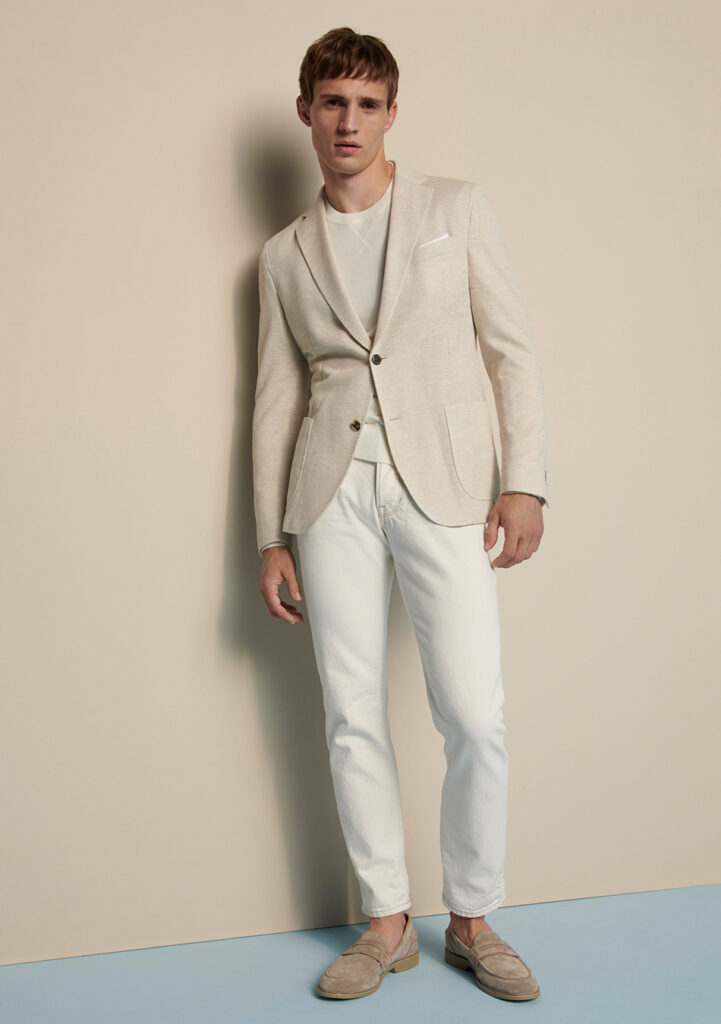 In a monochrome light-colored blazer outfit, white jeans are good for sporty looks that whisper relaxed sophistication.
Like our outfit here, giving those casually nonchalant "Great Gatsby" vibes.
An off-white crewneck and light-brown suede will complete the look.
Khaki Corduroy Blazer with Light Blue Jeans
Mixing up a blazer with light blue jeans can go very well, with a couple of considerations.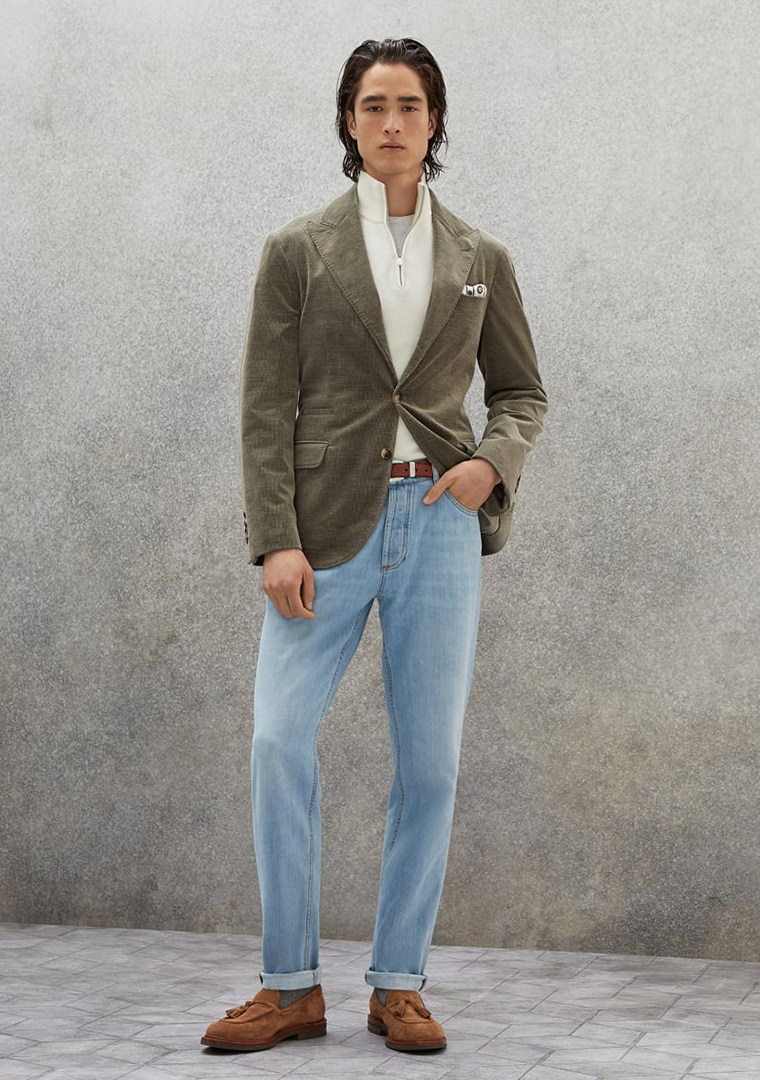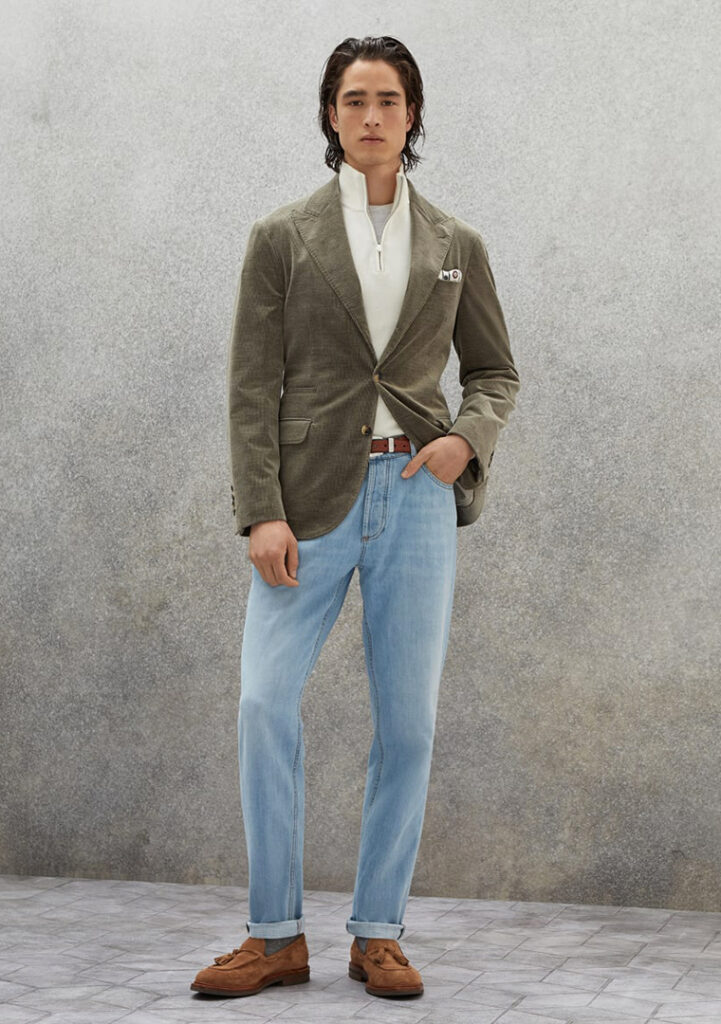 In this outfit, you can wear earthy colors like khaki to create some contrast.
Texture like corduroy is good to keep the casual charm alive. The unstructured blazer construction will make it feel natural.
Layering can be done right with a white zipper sweater and grey crewneck t-shirt.
Finally, wear suede tassel loafers to anchor the understated elegance of cuffed jeans.
Burgundy Blazer with Navy Jeans
Here's a fashion-forward way to style a casual blazer and jeans.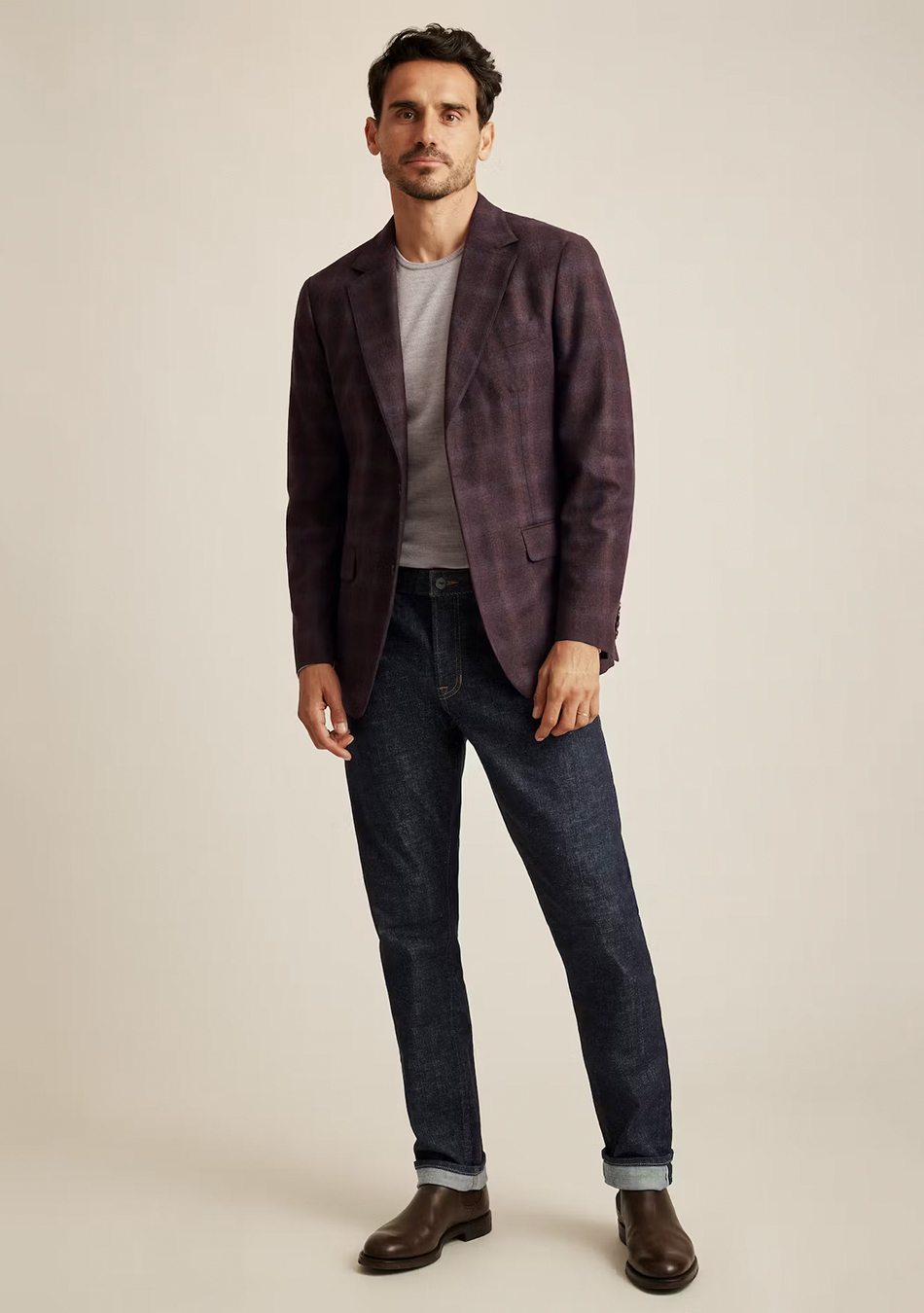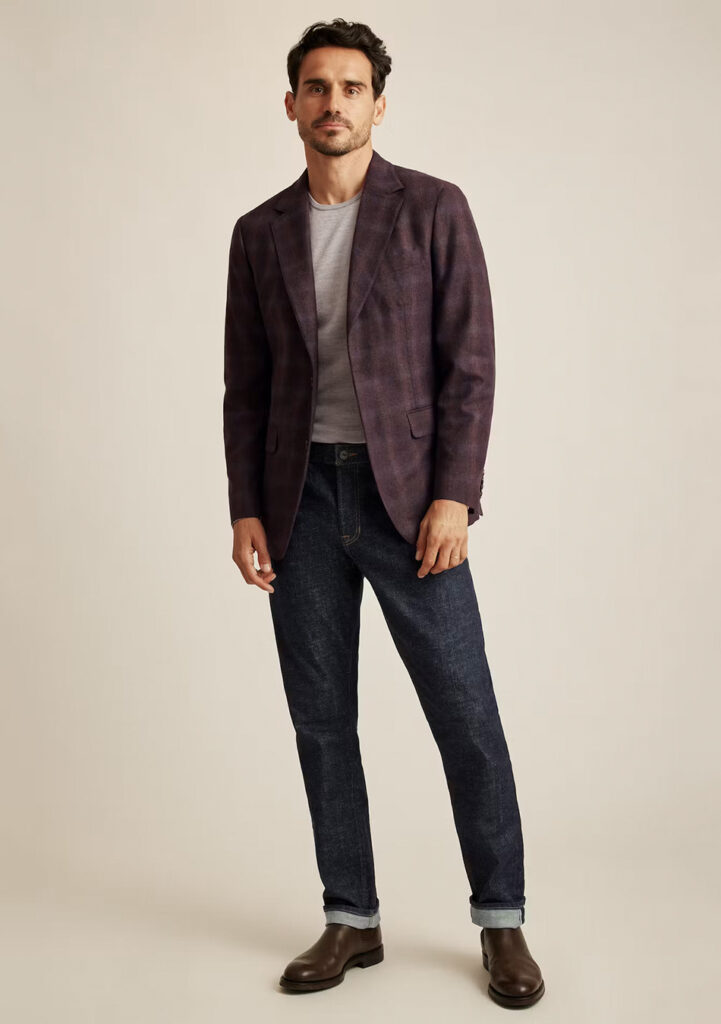 Wear a burgundy blazer with plaids or another pattern for anchoring the casual vibes.
A nice way to carry on is to wear dark slim-fit jeans, preferably navy.
From here, you can dress up or be a little sporty. I suggest doing the latter with a light crewneck T-shirt or sweater.
This contrasting pairing of shirt and jeans creates a layering effect that makes the blazer pop out.
You can wear dark loafers or dress shoes for low-key elegance. Or you can wear white sneakers to go truly sporty.
Tan Blazer with Navy Jeans
It's hard to put your foot wrong when wearing a tan blazer.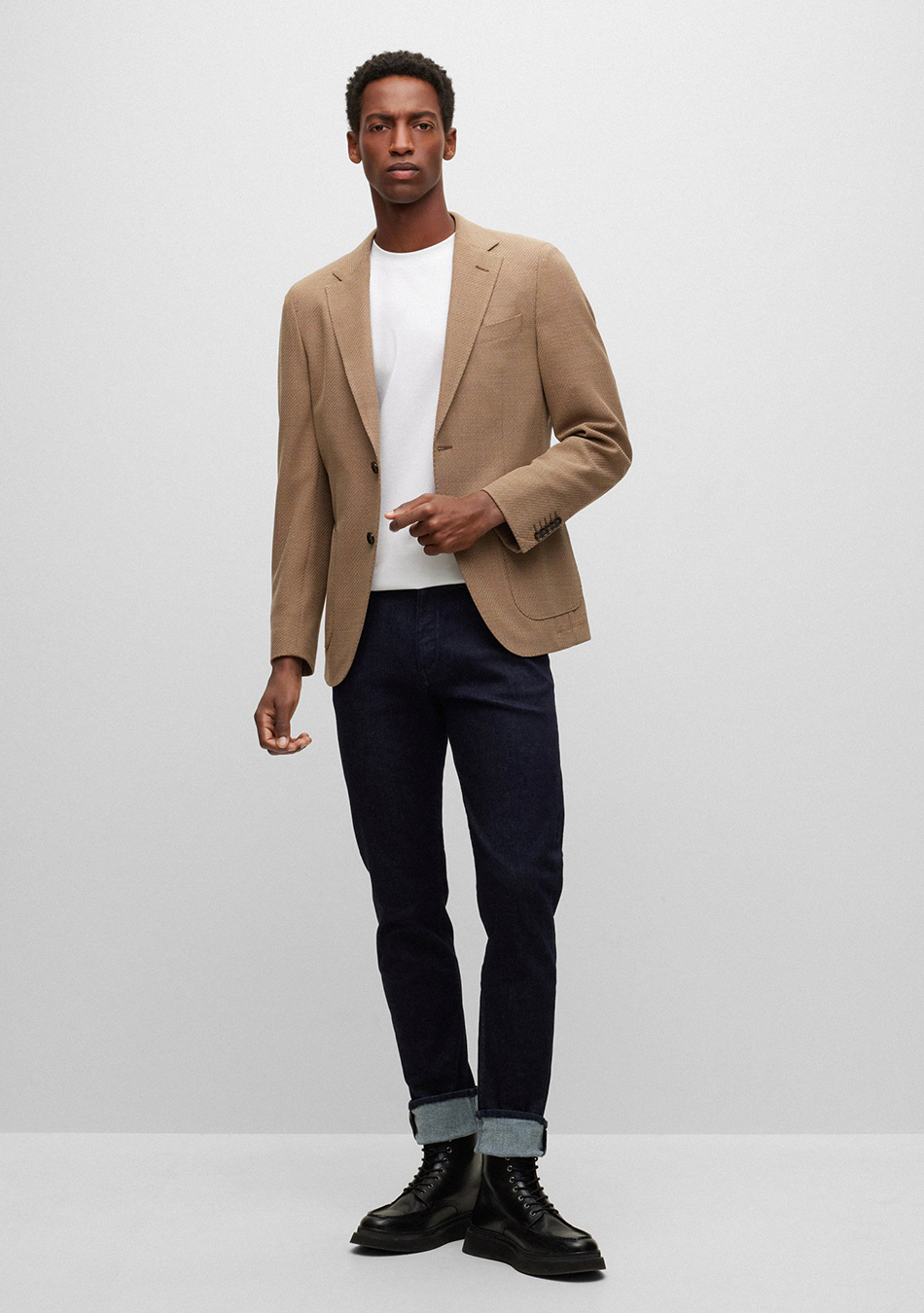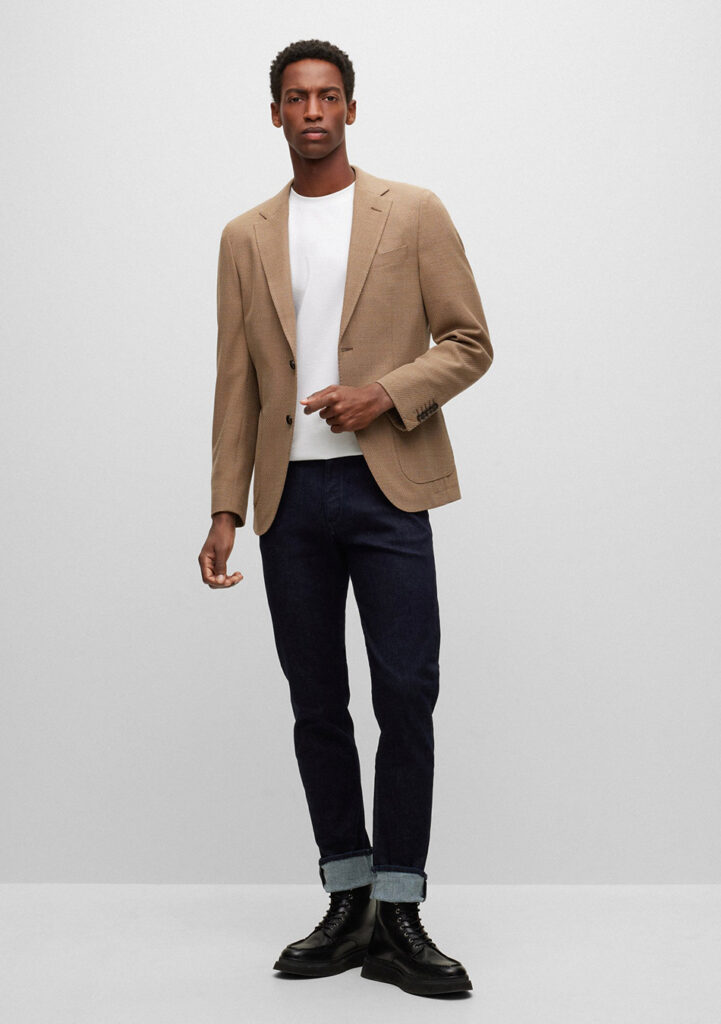 It's one of the most effortless blazers that can turn casual fits into a dress-code-friendly flex.
Dark navy jeans also feel dressed up like chinos. Together, these two create a simple, classic, and very "American" outfit.
Finish the look with a white button-down shirt or T-shirt. Alternatively, wear a pale-colored dress shirt for a more vibrant look.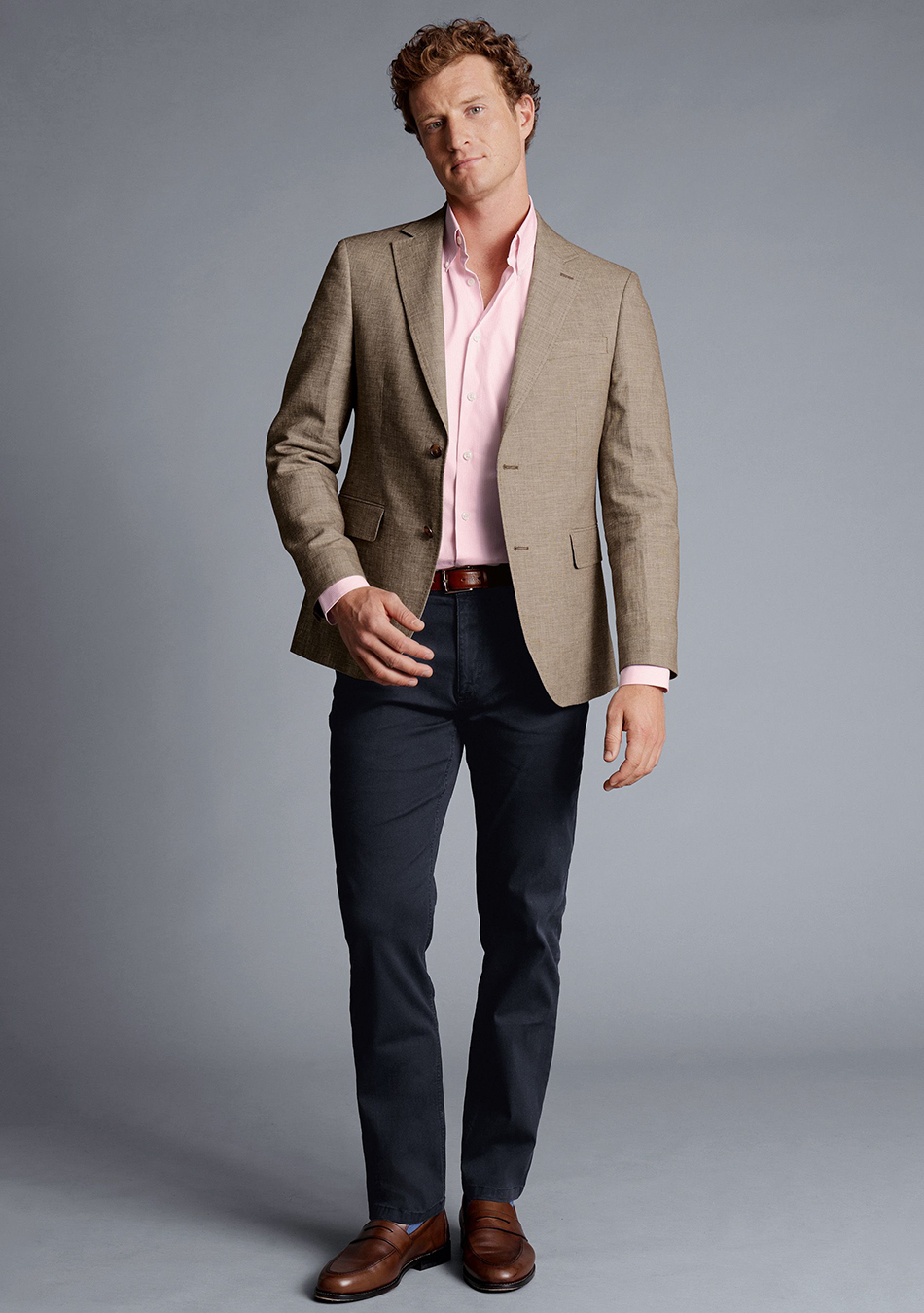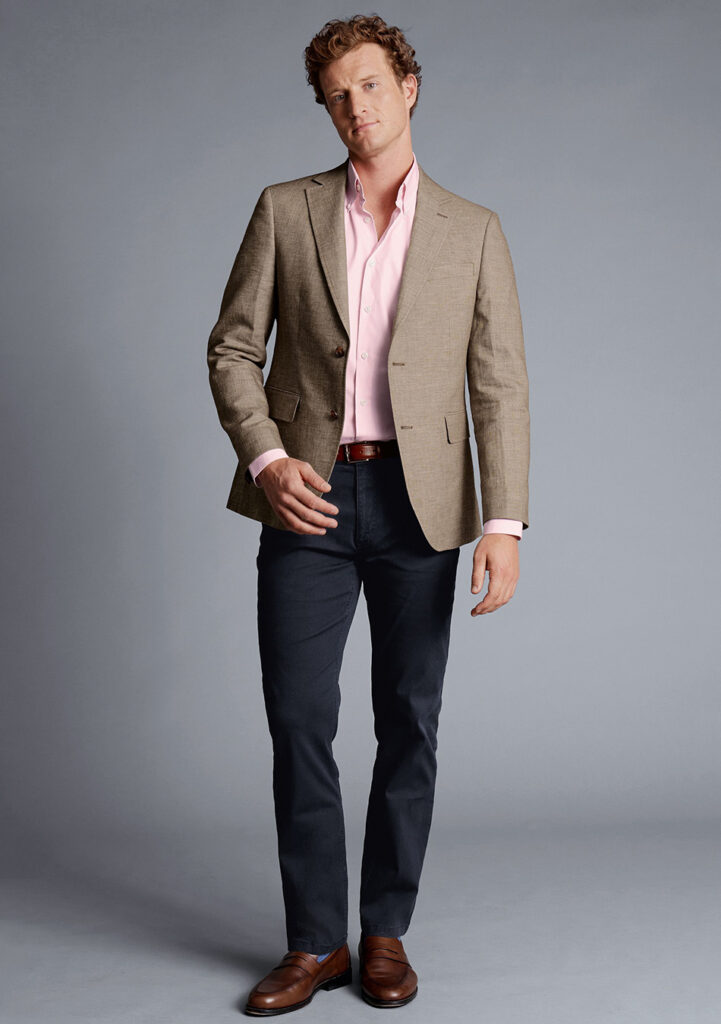 It's also one of those outfits that most footwear colors and styles will work.
Navy Blazer with Black Jeans
A navy blazer with black jeans is inherently a business-casual combination.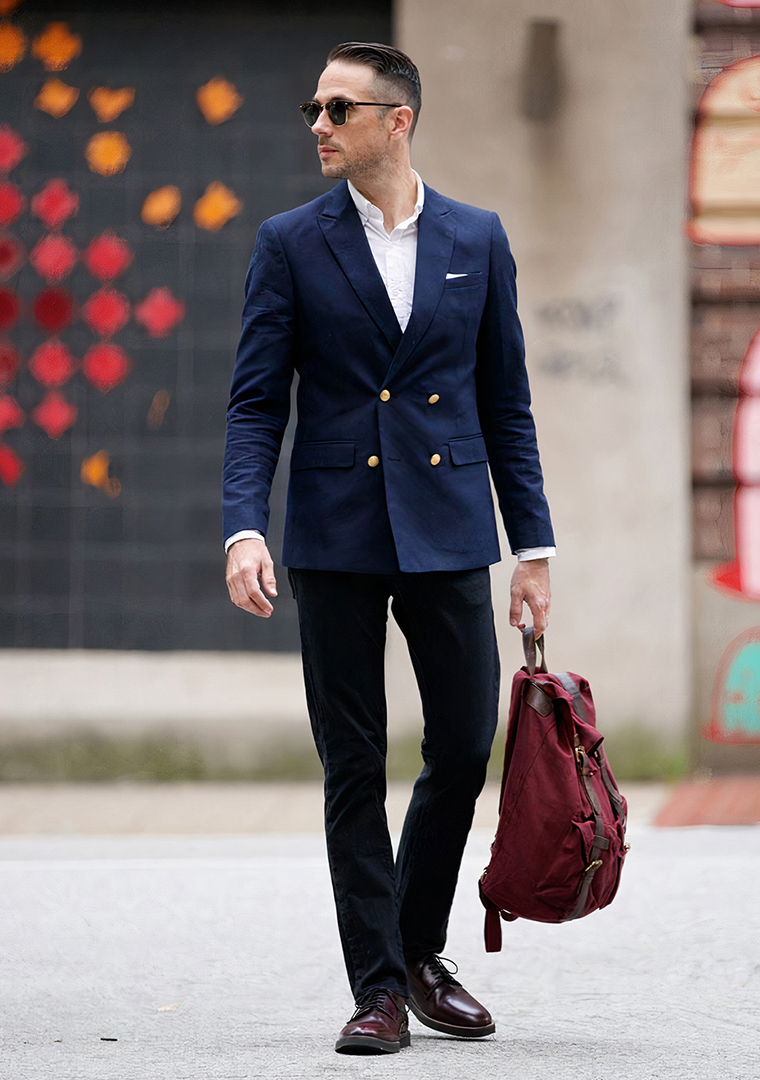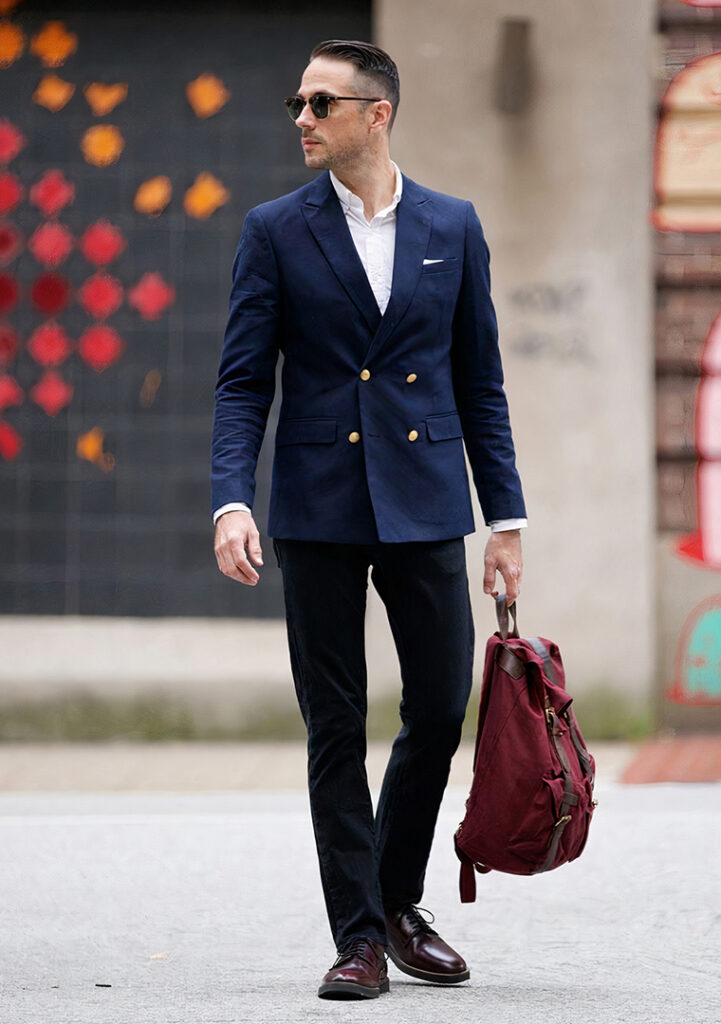 However, this time, I suggest going with something with a little bit of edge.
A striped t-shirt instead of a typical button-up would be your sartorial wingman to look more swagger.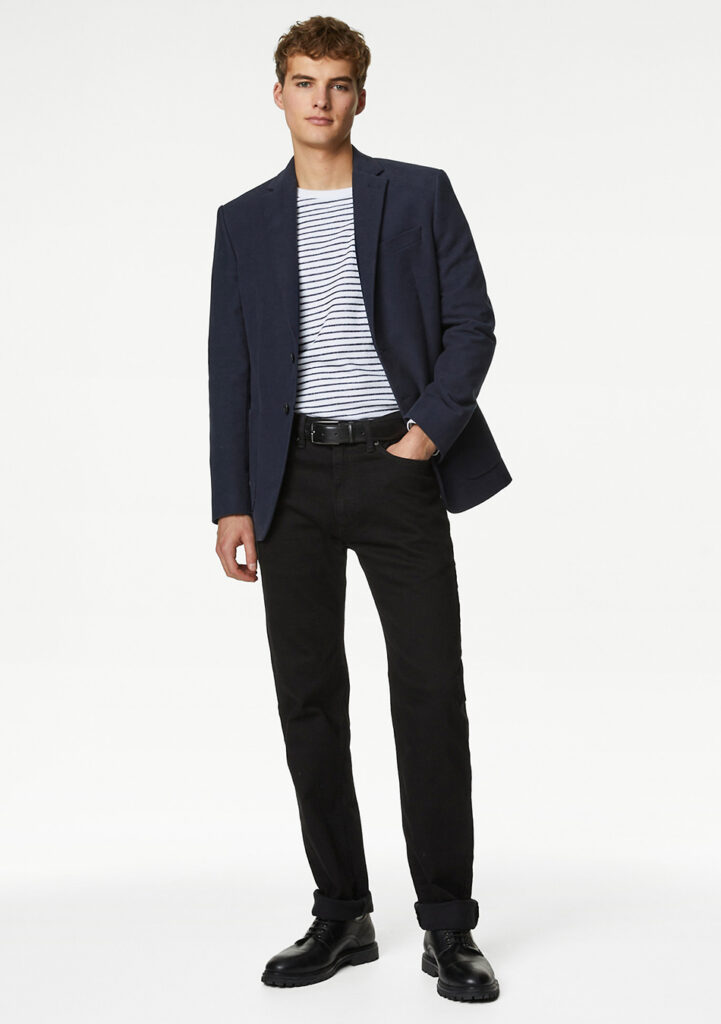 You can wear this for friends get-togethers, a date night, and other dressy casual scenarios.
Black derby shoes instead of loafers are appropriate for a formal and practical look.
Green Blazer with Beige Jeans
When the typical blazer feels like another jacket in your season repertoire, you need something more exciting.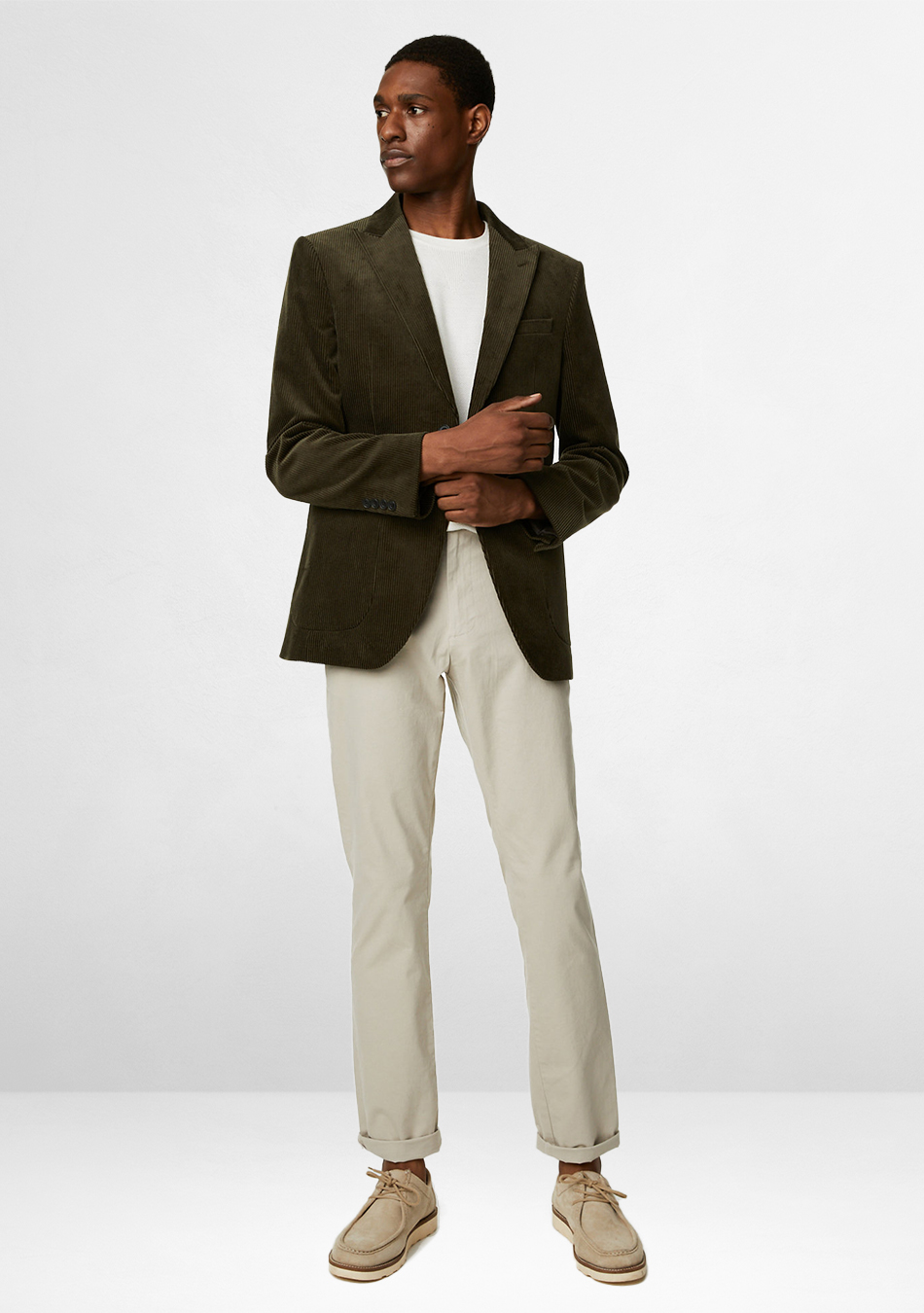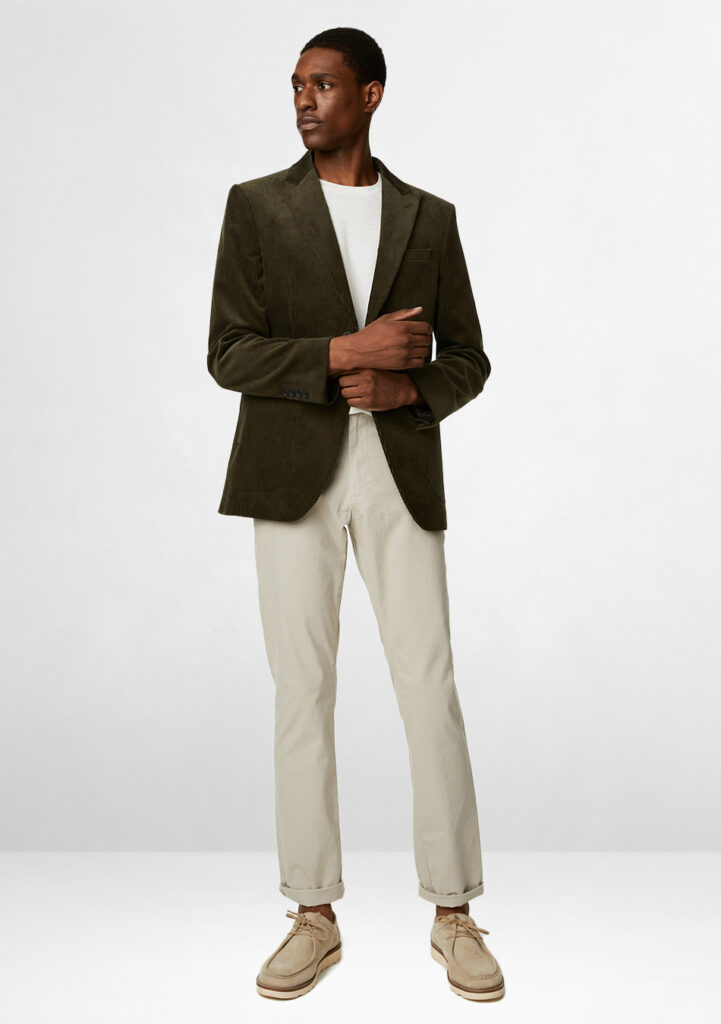 A dark green blazer can be your pal for such funky, out-of-the-box looks.
Wearing beige jeans to make this green blazer look smarter and savvier.
Think of this as a holiday season look; it's warm, festive, and not very loud because of the texture.
You'll have a good time regardless of what you wear underneath. Wear classics like a plain white T-shirt and beige derby shoes.
Grey Wool Blazer with Black Jeans
The grey blazer is versatile, and so is the black jeans.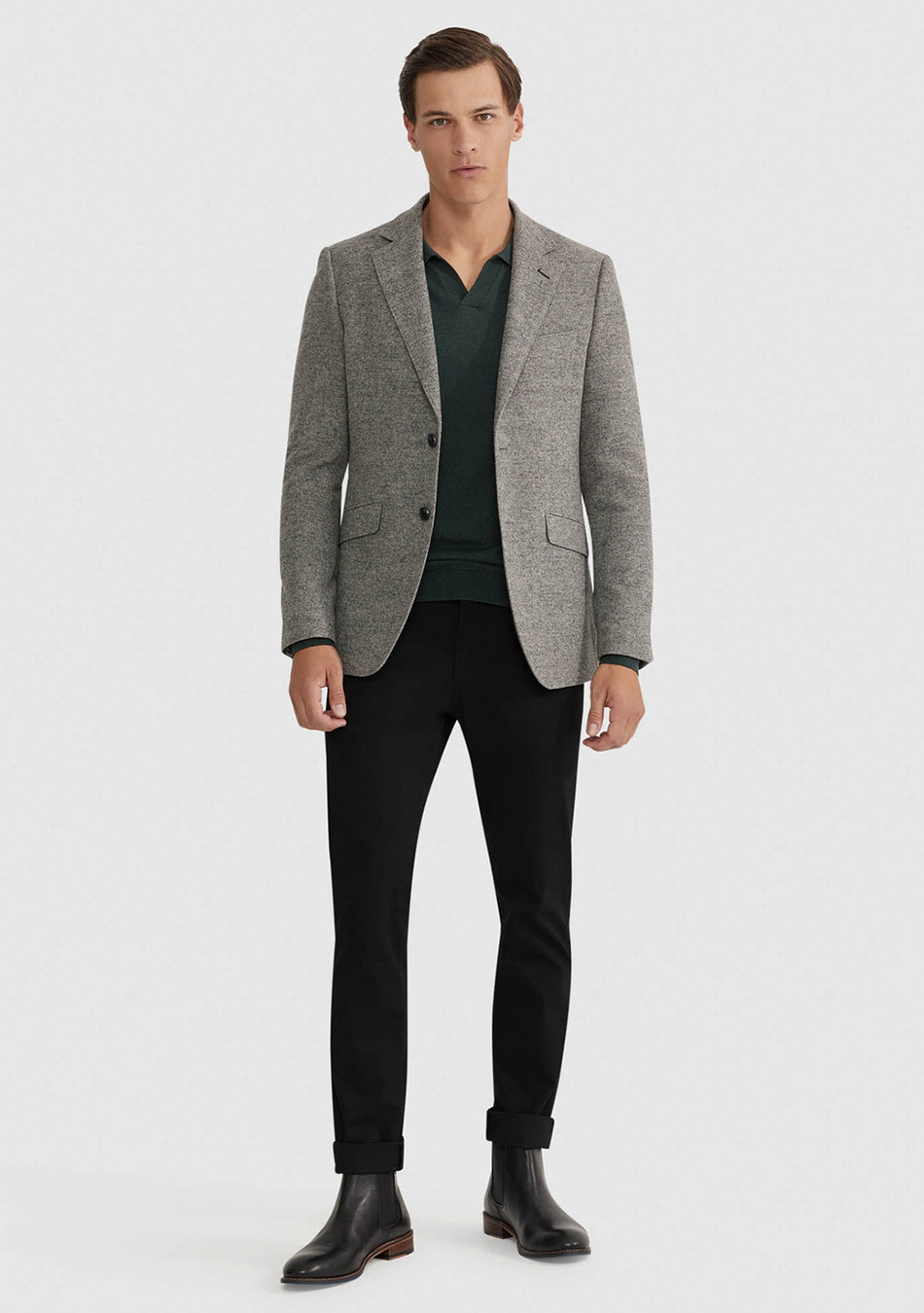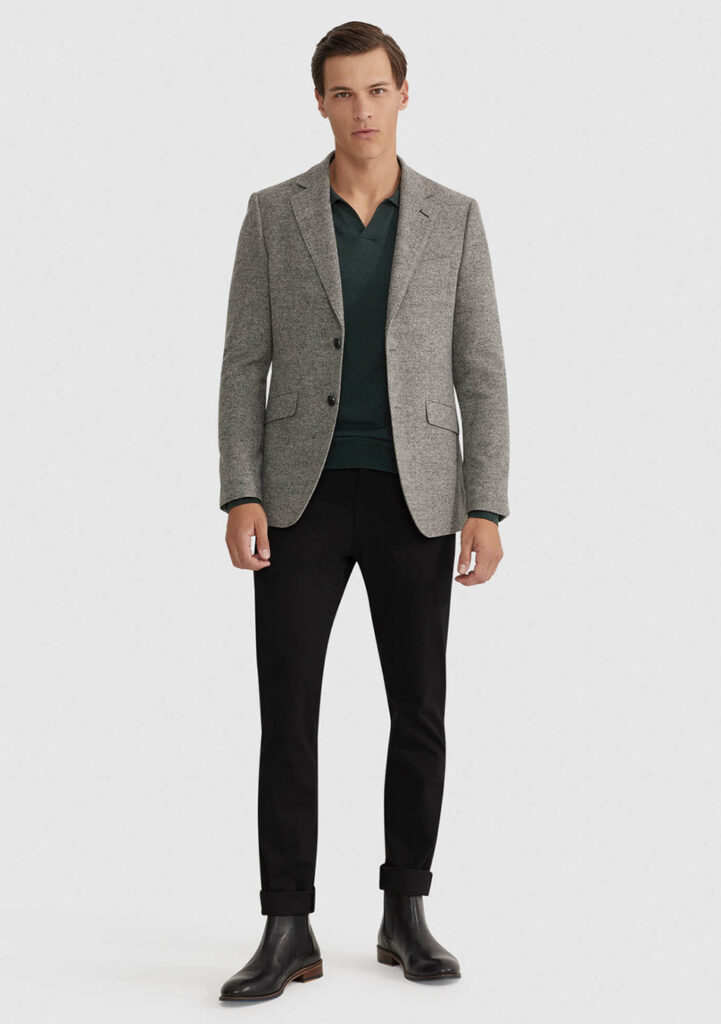 Together, these can create some of the most dapperly acclaimed smart casual outfits.
Like, you can wear a charcoal grey polo to tone with the black jeans. This set for the grey wool blazer to make a statement of preppy sophistication.
Wear black Chelsea boots to finish off this look in style. Or loafers for a relaxed vibe.
Black Blazer and Navy Blue Jeans
A black blazer and navy blue jeans have the full potential to become your favorite look easily.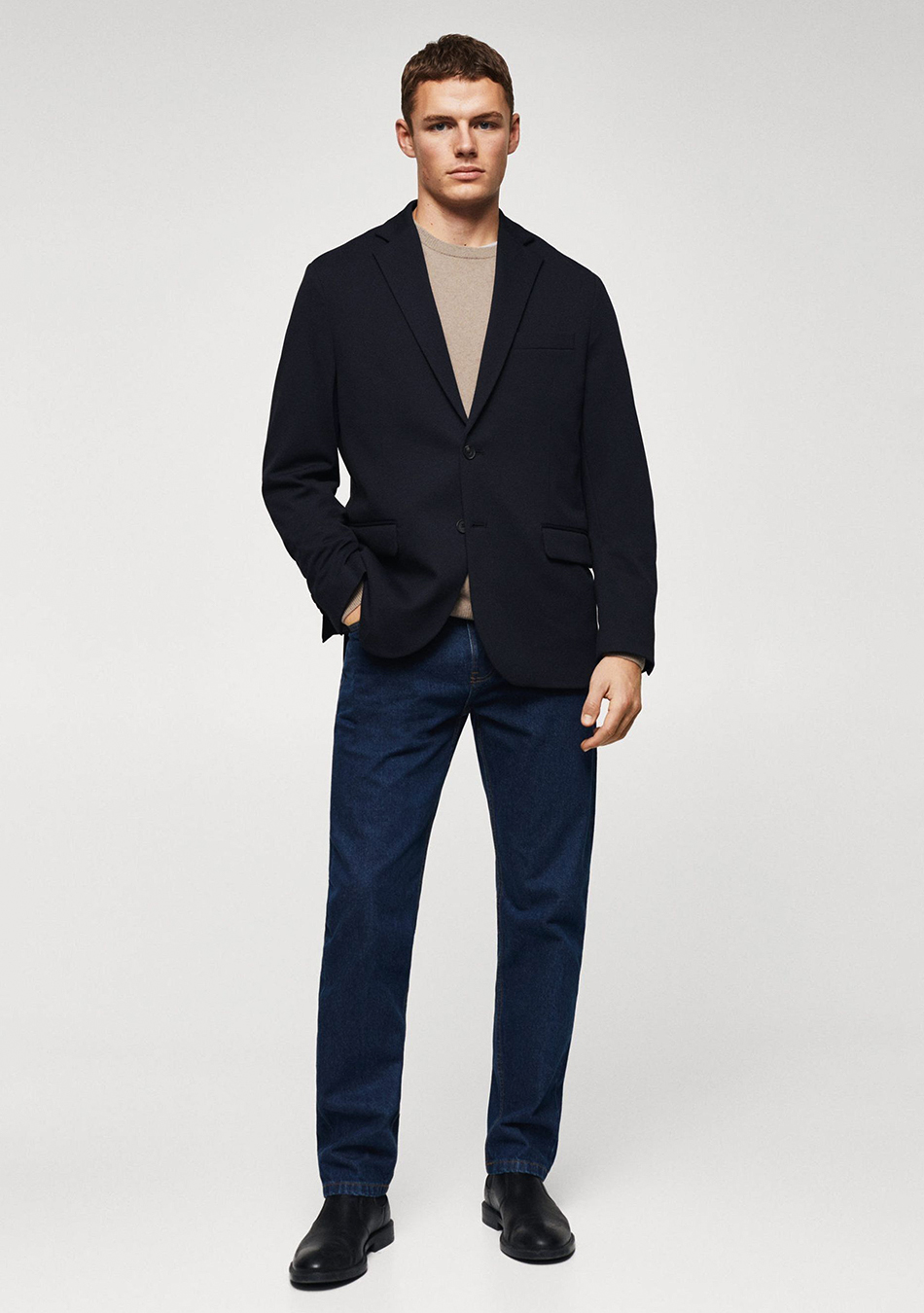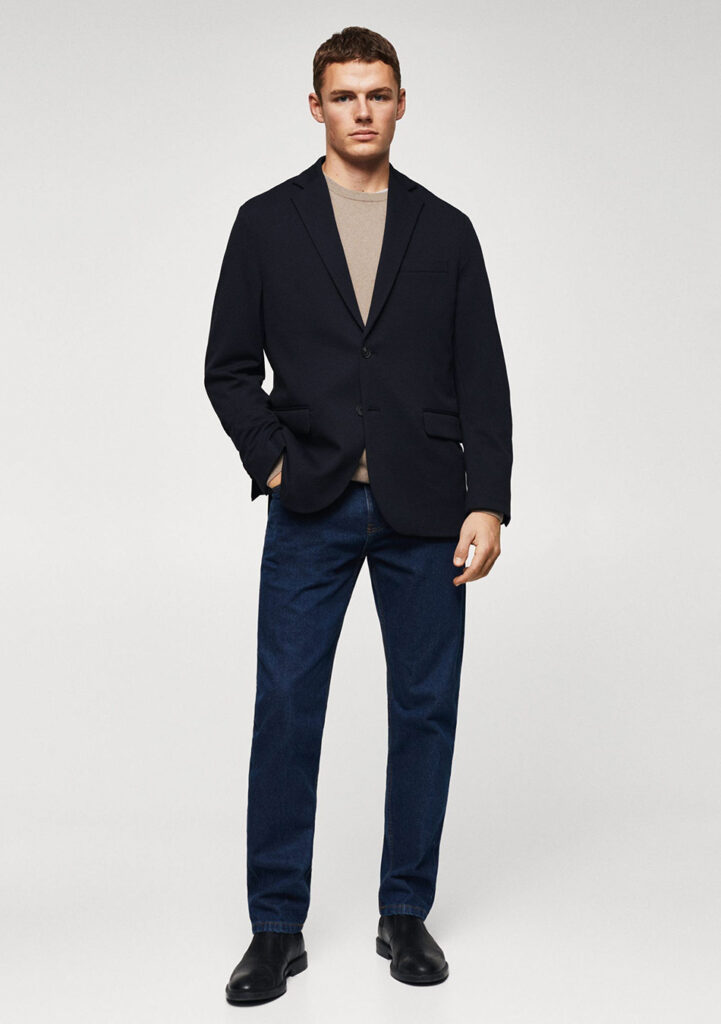 These dark tones have a gothic panache, John Wick's energy, and the ability to camouflage as a formal look.
With blue jeans, consider this black blazer an alternative to the leather jacket.
Wear a light-blue button-down to cash in this look for somewhat reserved settings.
Replace the button-down with a beige crewneck for a more dandy aesthetic.
Navy Blazer and Blue Jeans
This combination can serve as your staple choice for cocktail attire.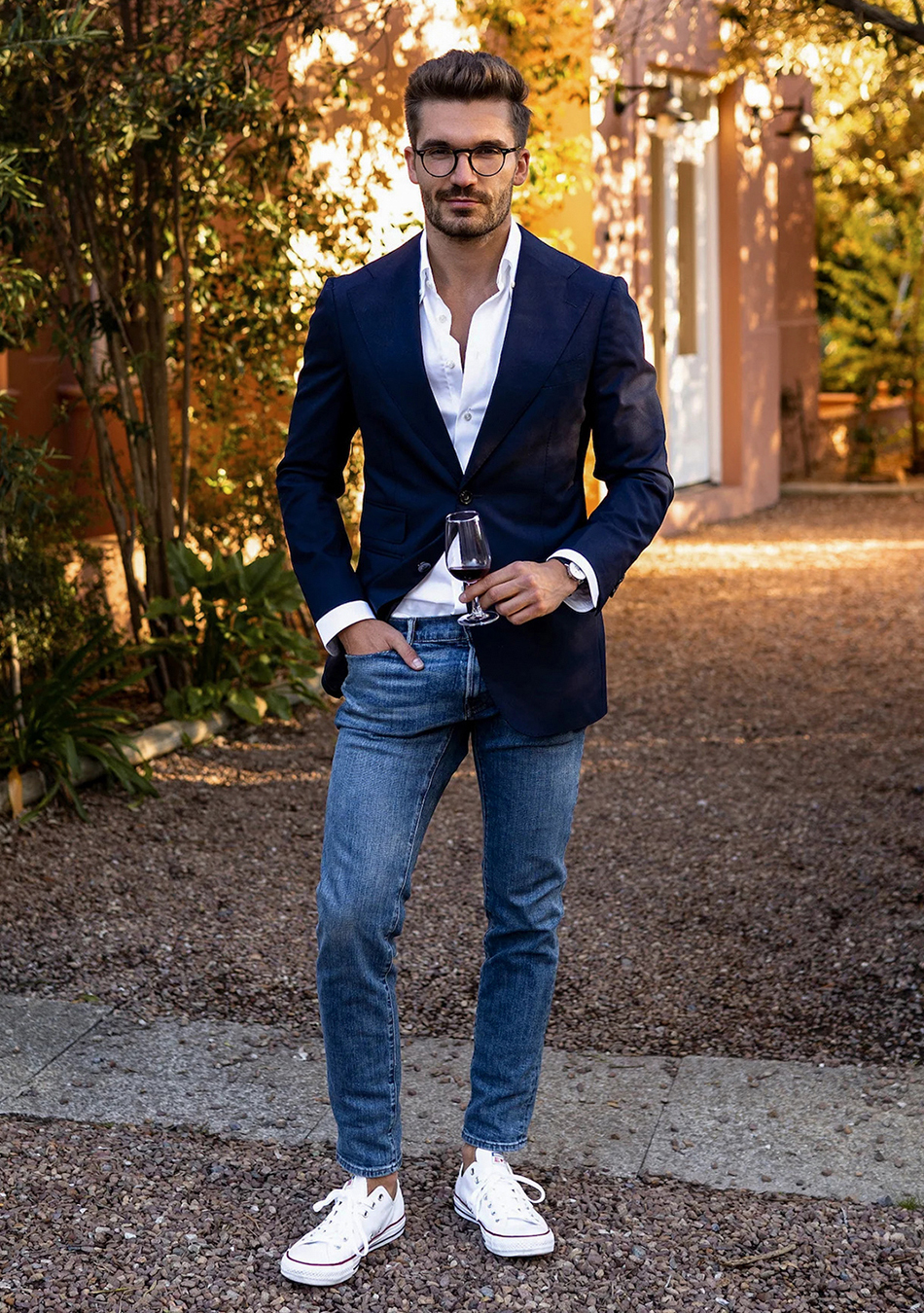 At the same time, it could make you look sartorially swell.
Since the blazer and jeans would be monochromatic, do the same with the shirt underneath.
Or wear a white dress shirt for an added touch of elegance.
It's also one of those looks where you can wear a double-breasted blazer with jeans.
Learn more on how to pair a dress shirt with jeans.
Additional Style Tips When Wearing Blazer with Jeans
Wearing a blazer with jeans doesn't feel natural because most people do it incorrectly.
Focus on small things besides your blazer and jeans type to make or break these looks.
Nailing the Fit
A perfect fit will make you look aware of your style choices.
Start with the blazer. It should be snug but also relaxed, allowing you to move freely. Slim-fit Italian cuts are preferable for casual dressing.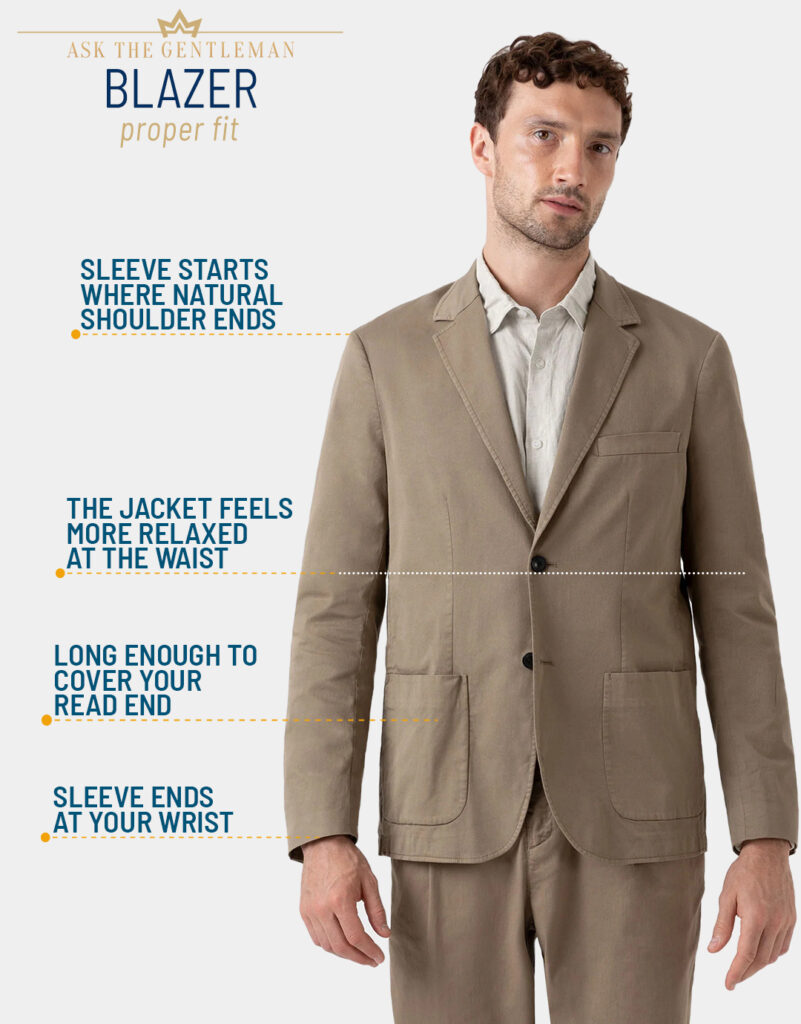 Your jeans must be tapered according to your body type.
Mid-rise jeans with appropriate leg-width and ending right at the ankles should be the goal.
Mastering the Color Game
Color matching in blazers and jeans can be a tricky business.
To do it right, think of your outfit as having three constituents: a blazer, jeans, and a shirt.
Now, have the contrast between two pieces, and wear the third item to soften this contrast.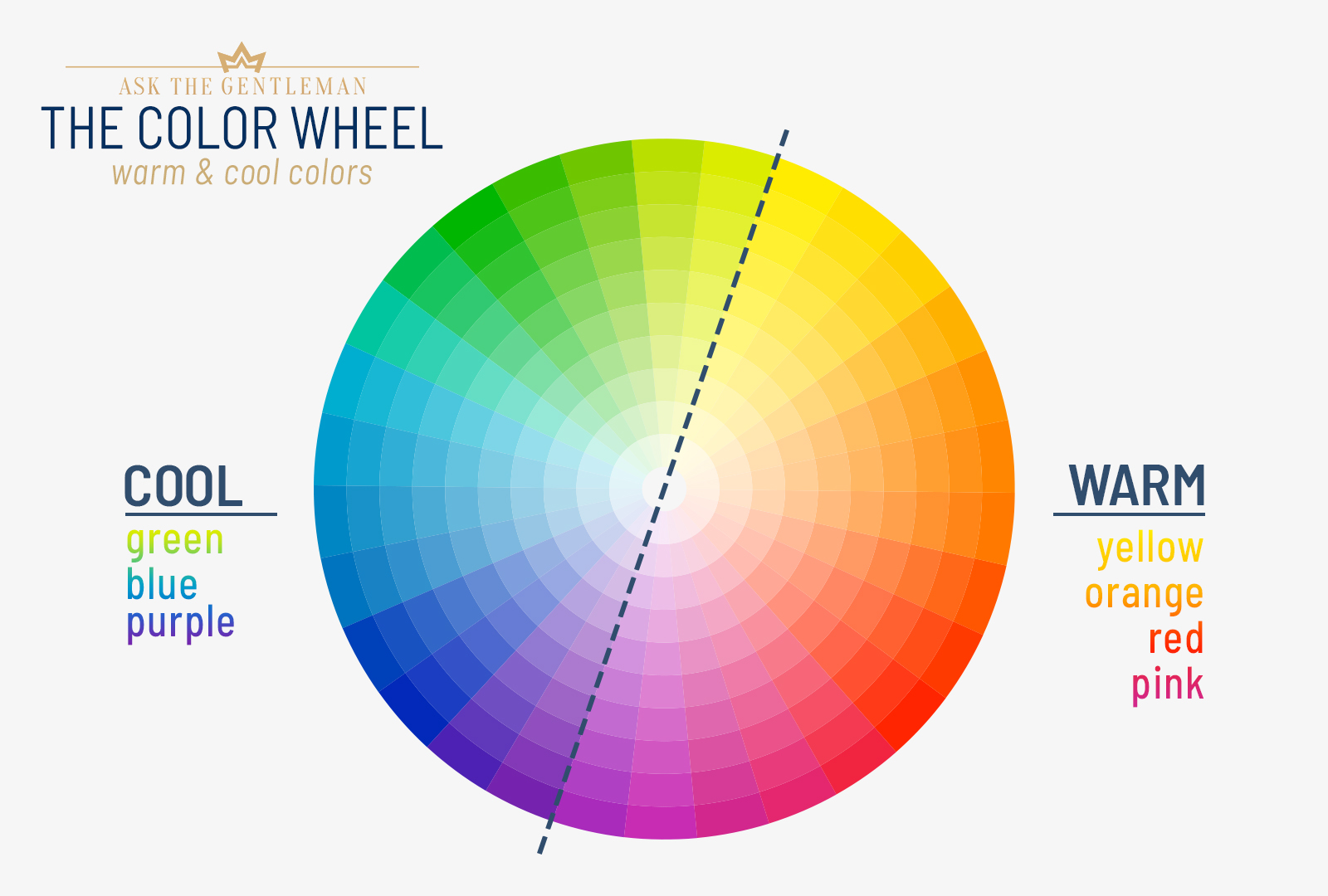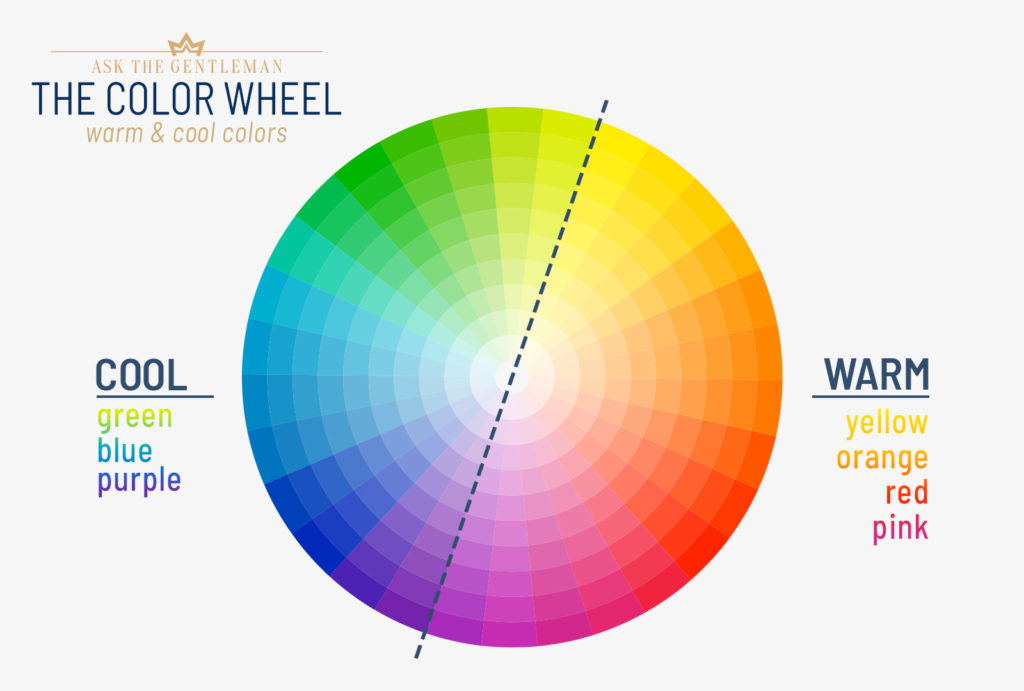 An example is wearing blue jeans and a brown blazer for contrast. A white shirt in this outfit will mitigate the color variation.
Sometimes, you can go monochromatic with jeans and a blazer. But in this instance, I only recommend it for blue shades.
It's All In the Details
You can look towards small details to make a big statement with a blazer and jeans.
Start with shoes. Dressy boots, loafers, and even sneakers can work.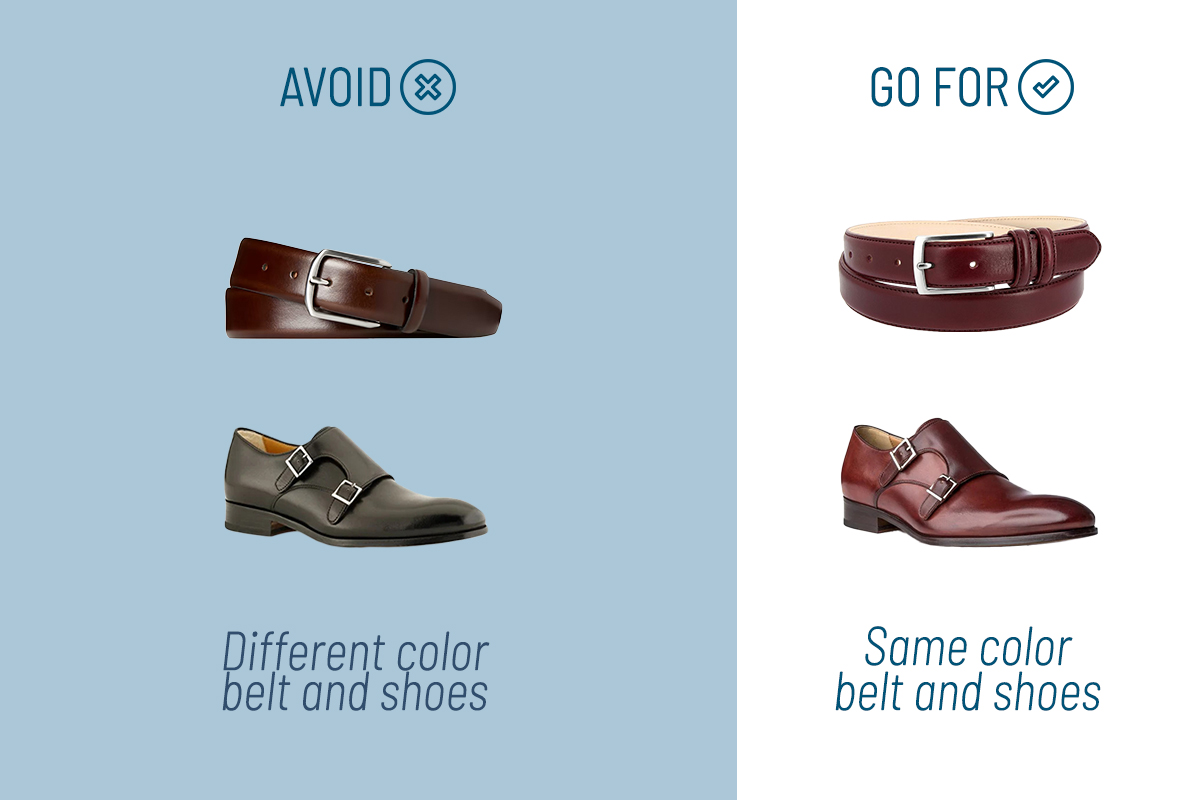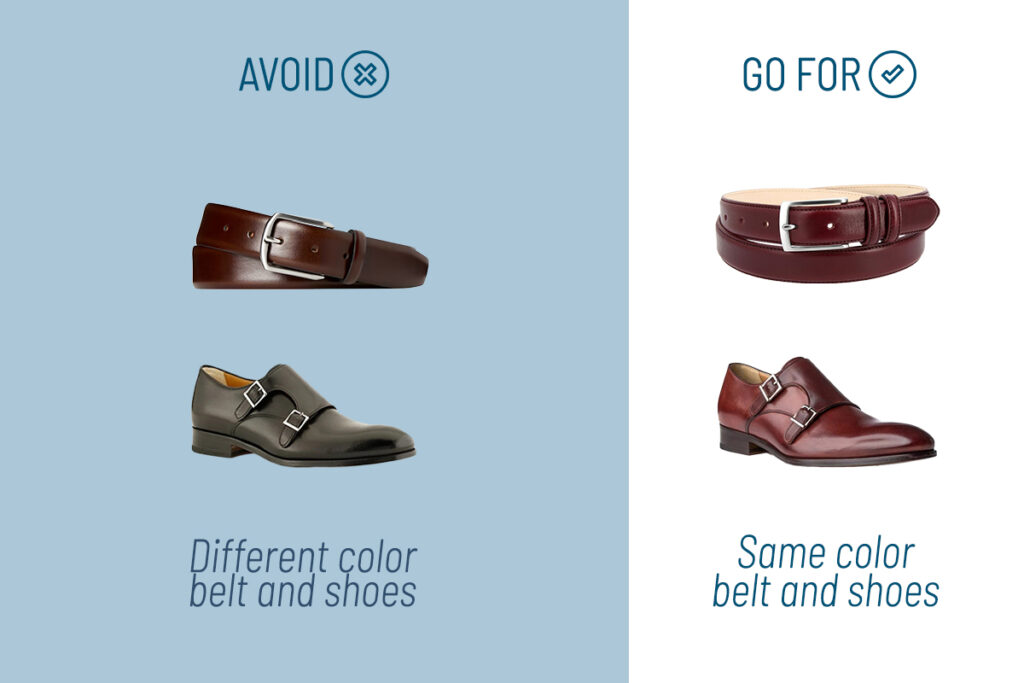 Matching the belt with the shoes is a nice detail to have. The same goes for the watch.
Also, if you want to look like a guy with a big personality, wear a pocket square. But Never wear a tie.
When is Appropriate to Wear Blazer with Jeans
In dress code terms, business casual and smart casual are the best options.
But this opens to a lot of occasions.
Some examples are office casual Fridays, networking events, dinner parties, movie nights, dates, weekend brunch, shopping, airports, etc.
In summer, you can wear a blazer and jeans for rustic-themed weddings, fundraisers, and even cocktails.