Ready to make a sartorial statement by combining a black suit with a blue shirt?
Dive into the captivating union where nighttime elegance meets daytime vibrancy.
Let's celebrate this menswear powerhouse pairing.
Black Suit and Blue Dress Shirt for the Office
A well-fitted black suit combined with a blue dress shirt epitomizes professional elegance.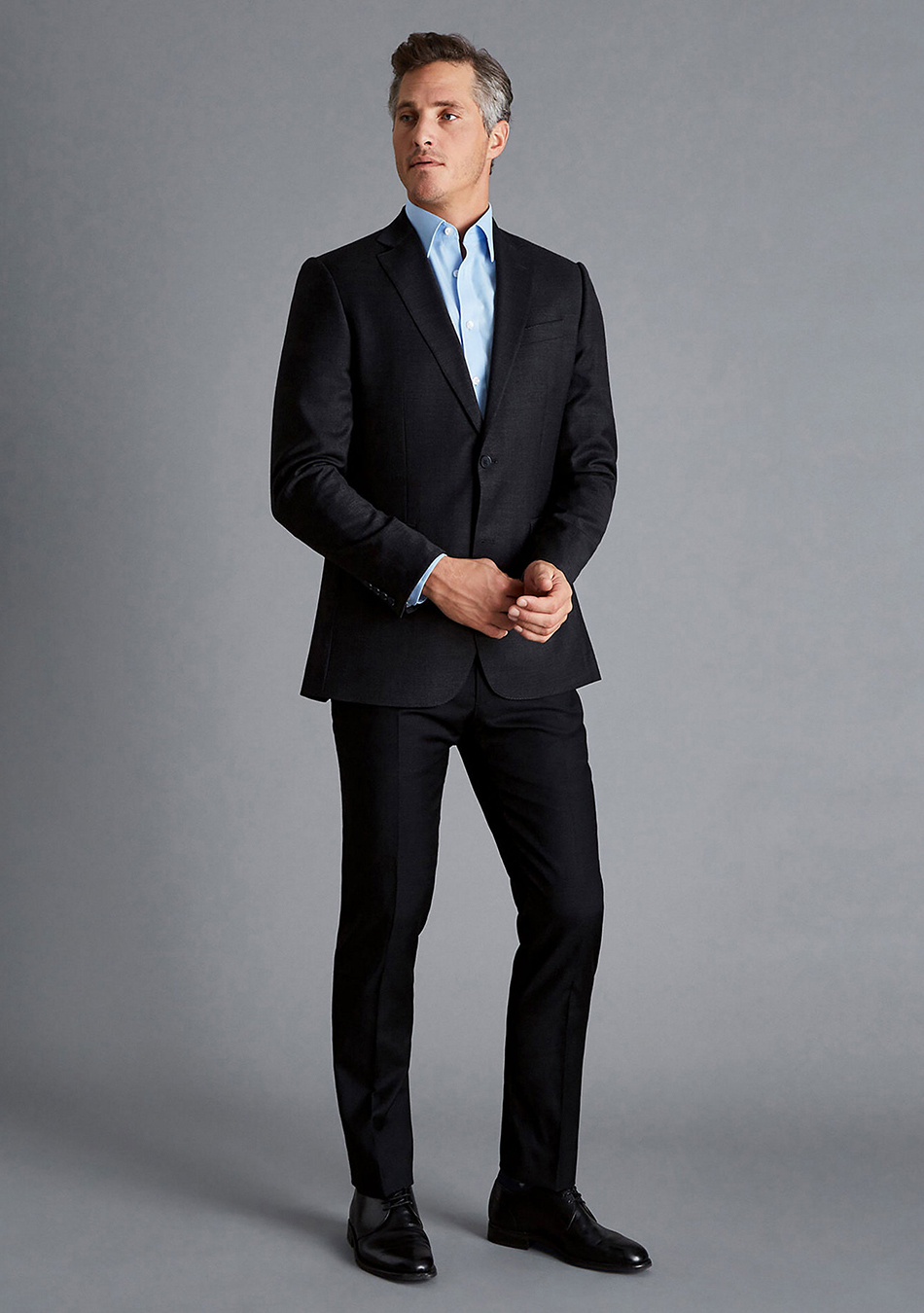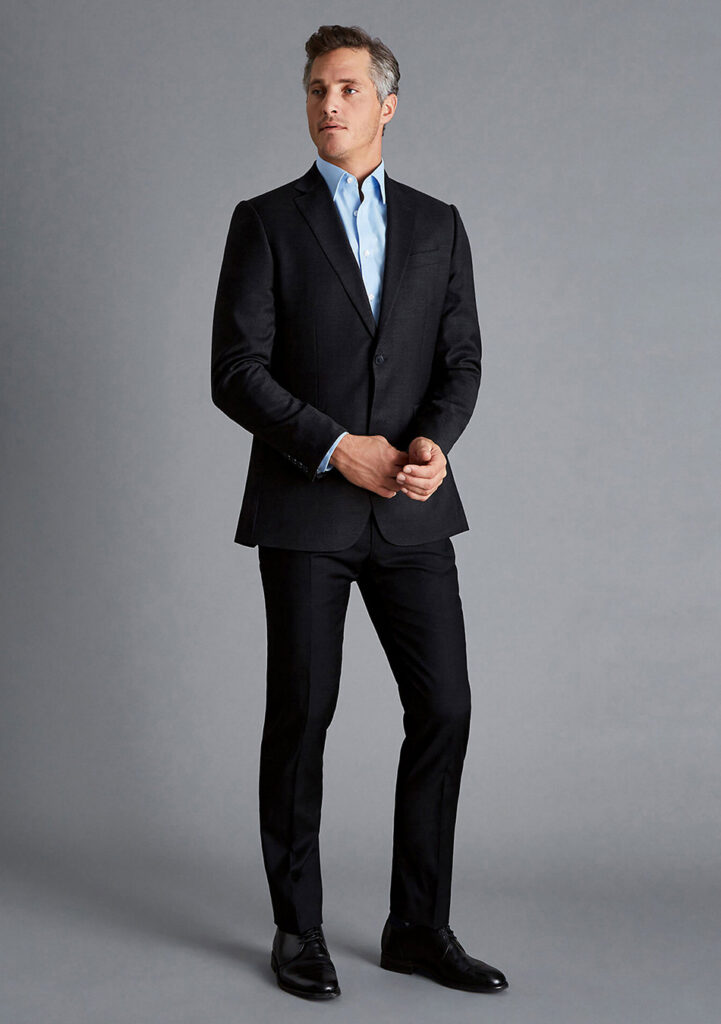 Especially if you opt for a slim-fit, pure wool suit. Ah, can you feel its luxurious touch already?
It's designed to be your companion from those boardroom battles straight to the late-night dinner reservations, but it's all about versatility.
Finish the look with black derby shoes, and you're setting the style bar high. Of course, oxford shoes would also be a great choice.
Black Three-Piece Suit with a Light Blue Dress Shirt
Got a formal wedding on the horizon? The three-piece black suit is your best friend here.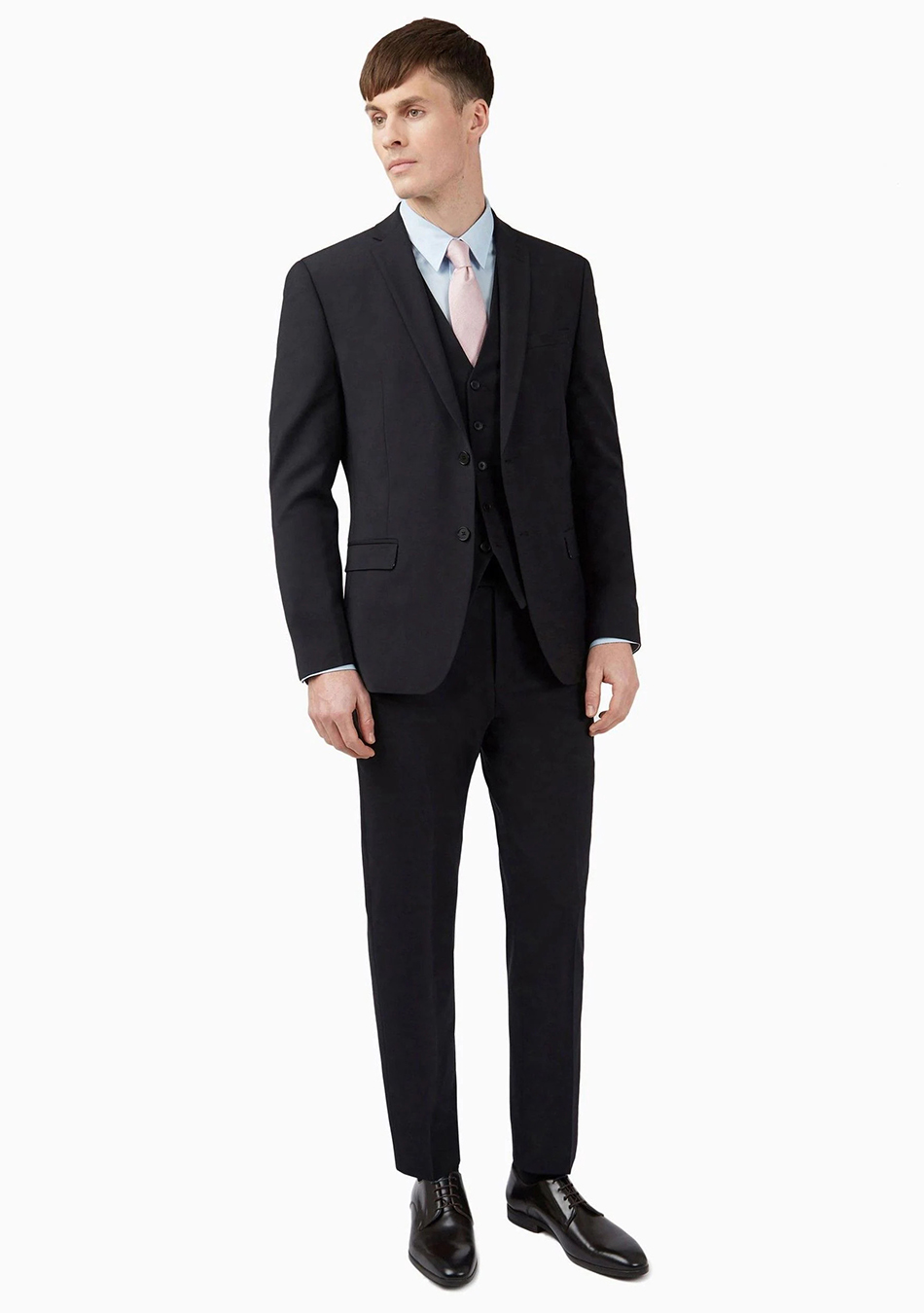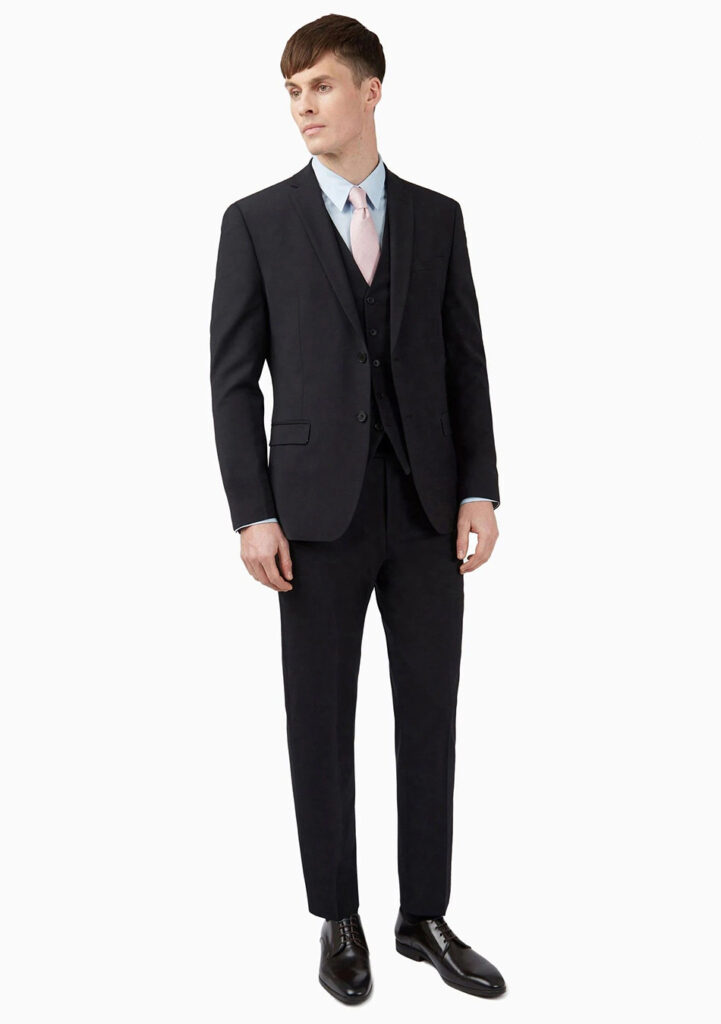 And when paired with a light blue dress shirt, it's the epitome of elegance.
But wait, there's a twist! Introduce a pink tie to the mix, giving your look a delightful pop of color.
It's surprising yet entirely complementary.
Those black derby shoes, you ask? The cherry on top of this sartorial sundae.
Black Loafers with a Blue Tie and Shirt
Wearing a black suit with a blue shirt and pairing it with a blue tie creates something inherently harmonious.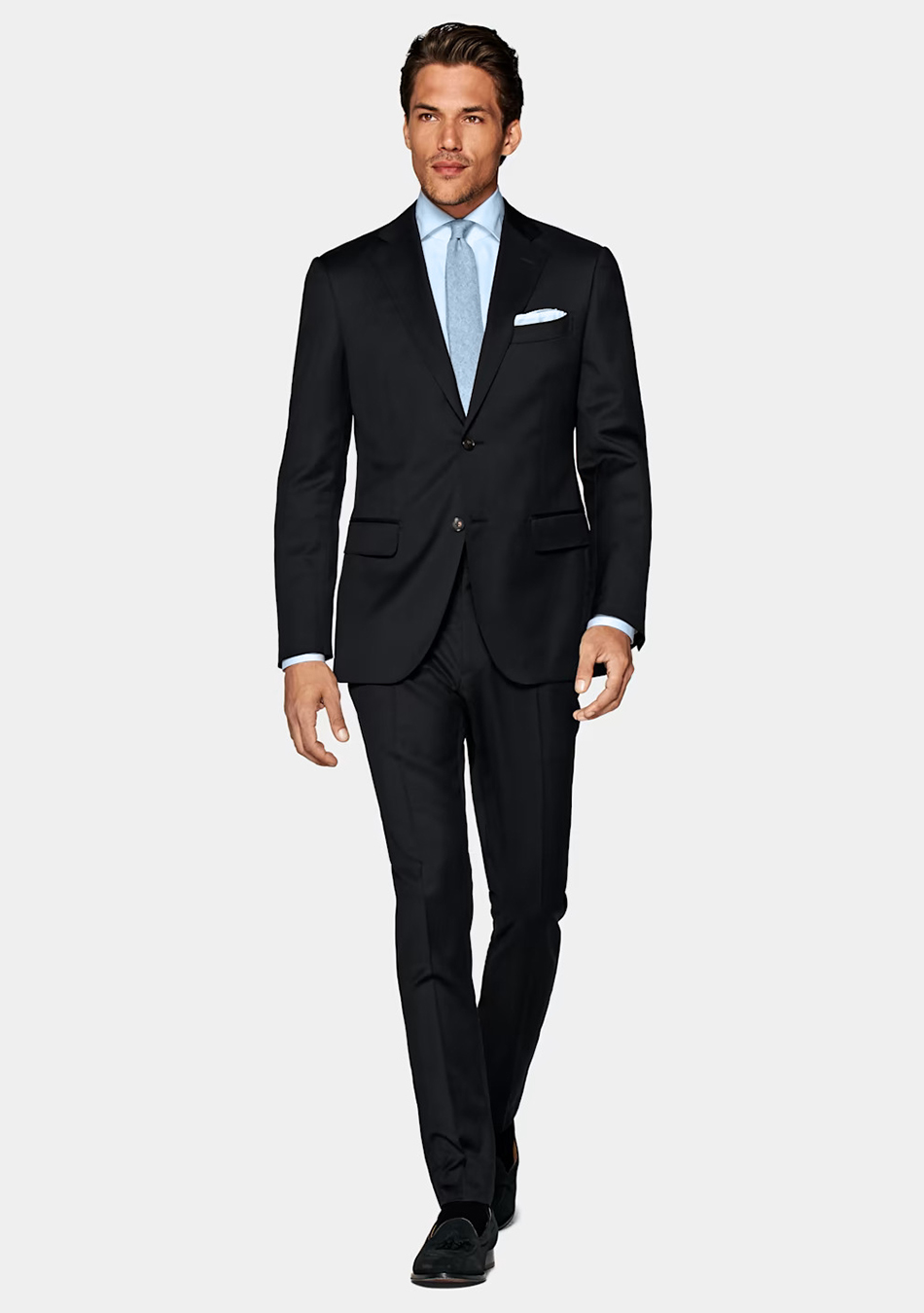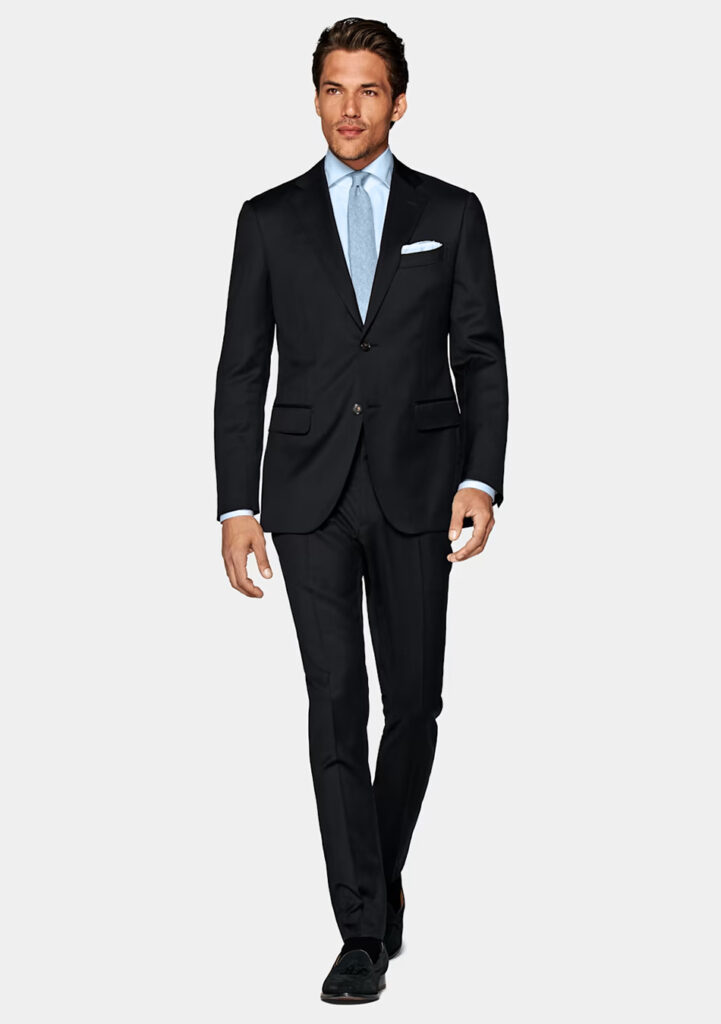 It is ideal for cocktail events, high-end parties, or even that special formal date night.
The continuity of the blue from the shirt to the tie creates an elegant flow, like a river of style coursing through a landscape.
And when you choose black casual tassel loafers as your footwear, you effortlessly merge comfort with class.
The Blue White-Collar Shirt
This outfit showcases a sharp black suit paired seamlessly with a blue shirt that boasts a distinct white collar.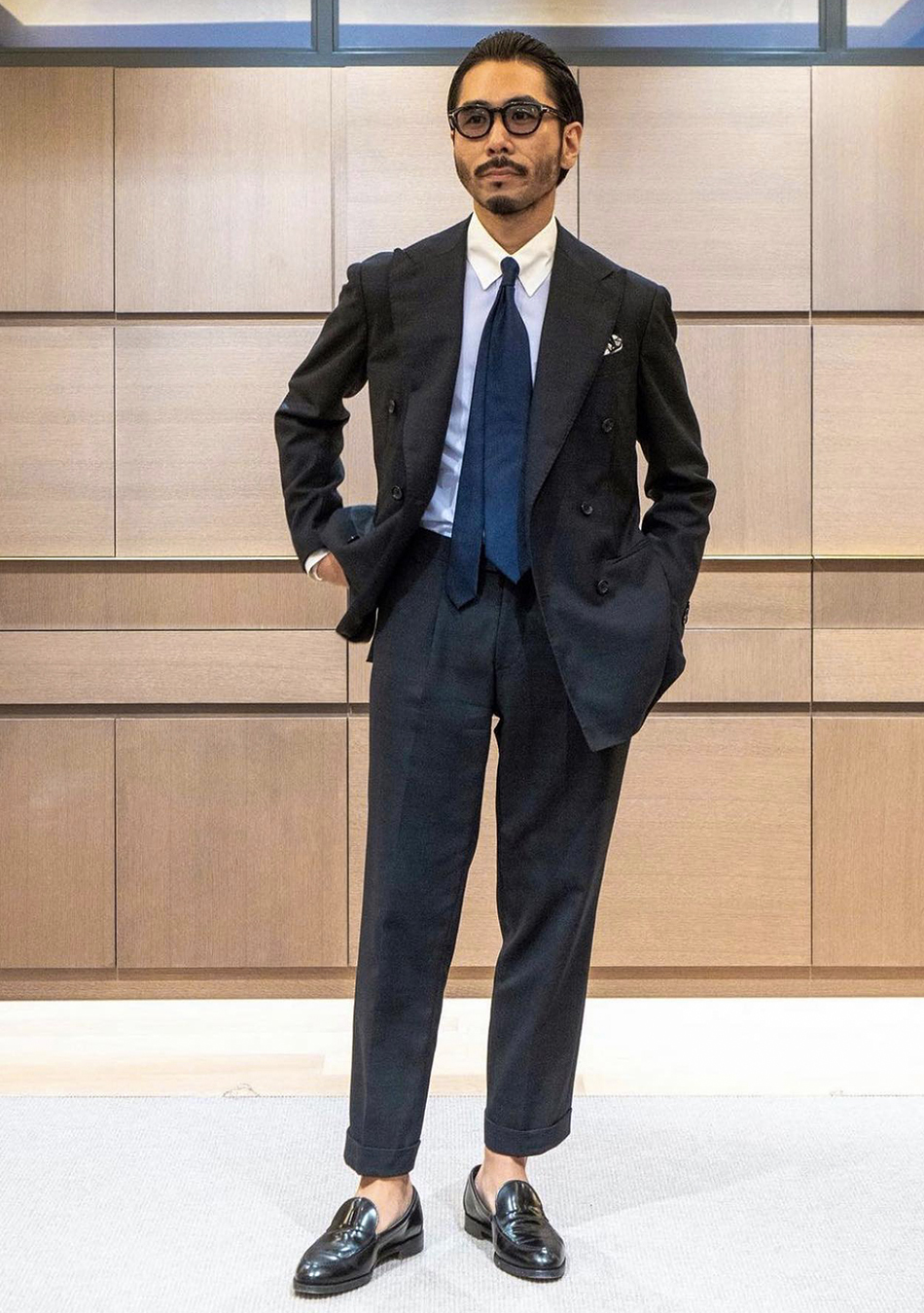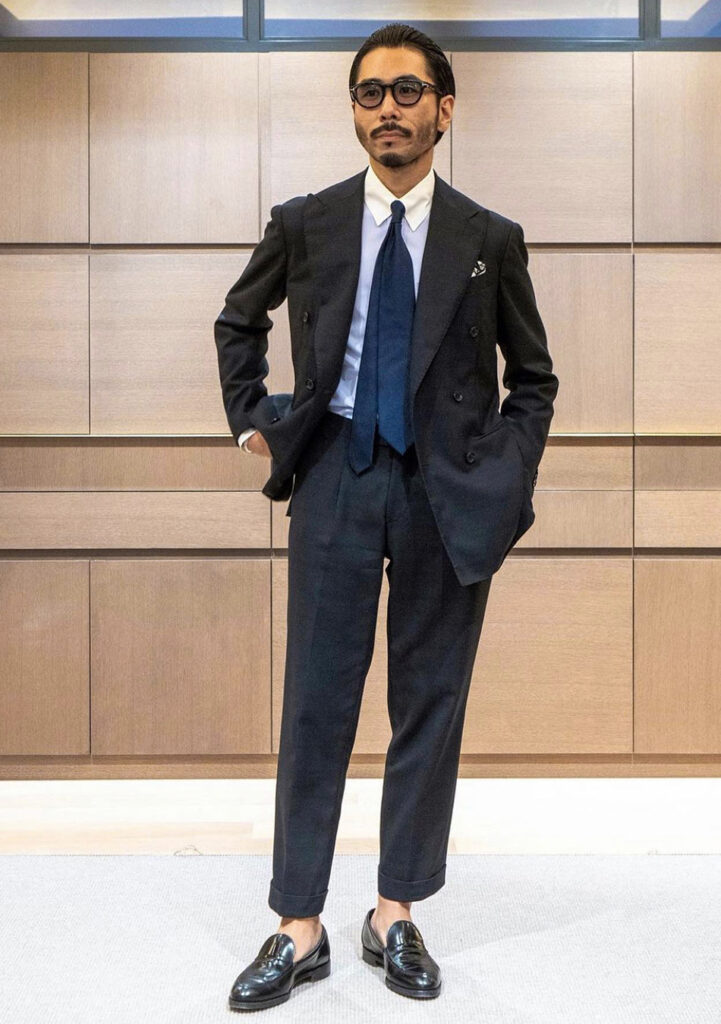 The navy tie complements the shirt and adds depth to the outfit, while the sleek black loafers ground the look with a touch of timeless elegance.
A harmonious fusion of classic and contemporary, this outfit is poised to make a memorable statement, be it in the boardroom or at a formal soirée.
Black and Blue with a Navy Bow Tie
Daring to be different? A bow tie with a suit is a subtle nod to classic fashion with a modern twist.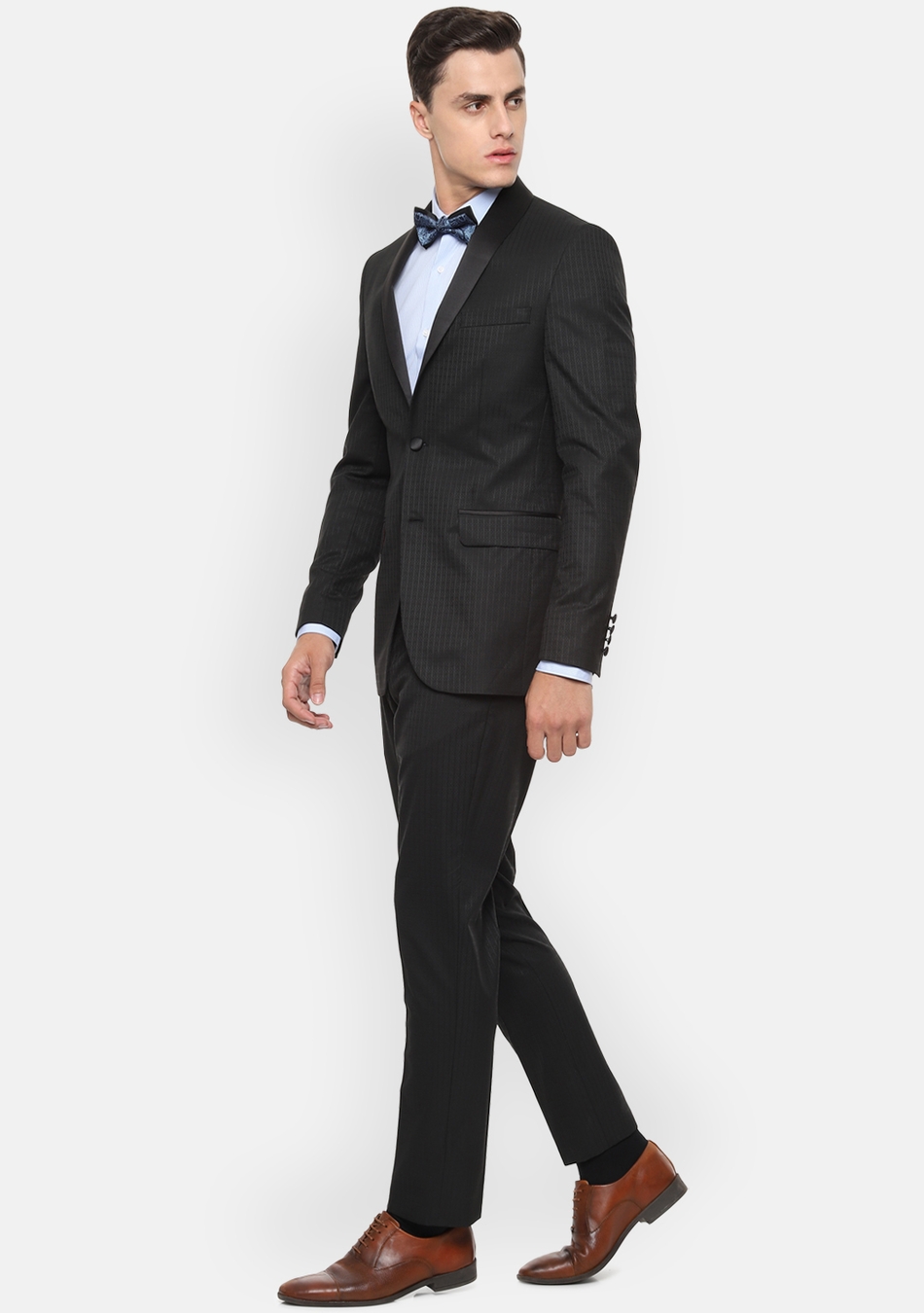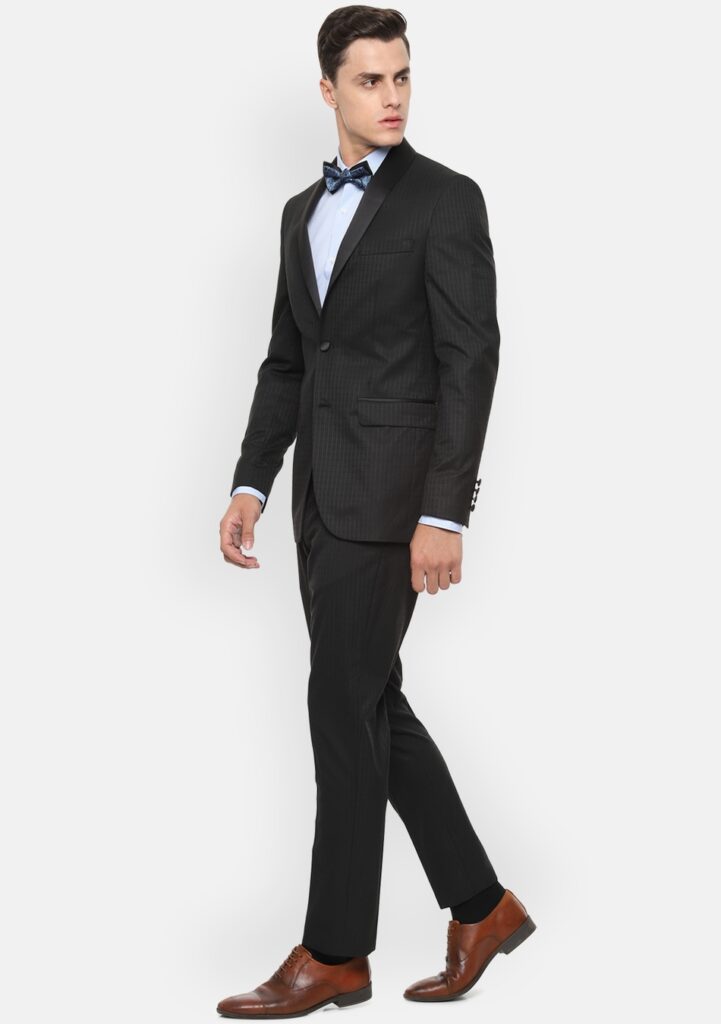 You're not just wearing clothes when you pair a black suit with a blue shirt and throw in a navy bow tie.
You're donning an attitude.
It's the kind of bold, standout combo that'd make even James Bond do a double-take.
And those brown Oxford shoes? Your boldness would amaze people.
Black Three-Piece Suit with Brown Full Brogues
Here's another sophisticated combination for a wedding or a special evening event.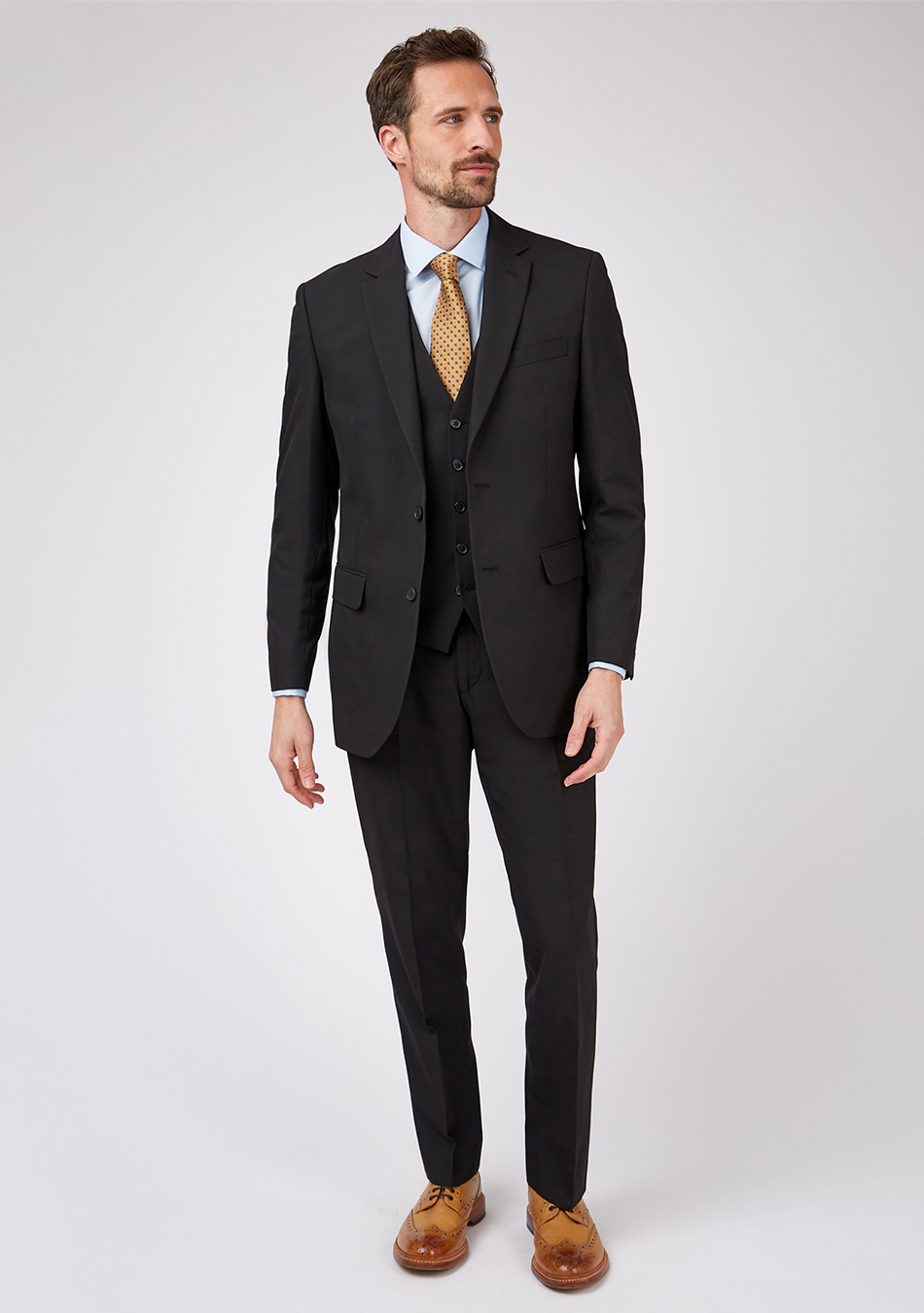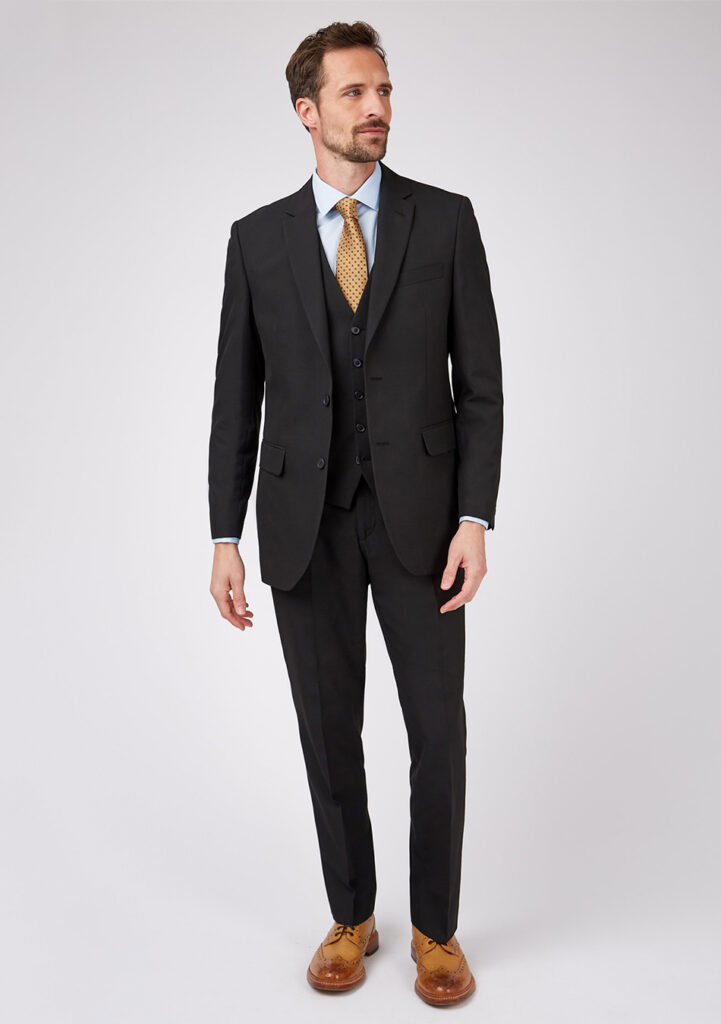 Of course, the three-piece suit is back, and it's yelling elegance.
But here's the game-changer: brown full brogues.
Also, the dotted tie provides a whimsical touch to the structured look, adding depth and character.
Every element, from the blue dress shirt to the brown shoes, comes together to create an ensemble that's as intriguing as the man wearing it.
Black Chelsea Boots for Winter
Combining the black suit, blue shirt, and leather Chelsea boots is like combining Sinatra with Bublé – a timeless classic meets modern charm.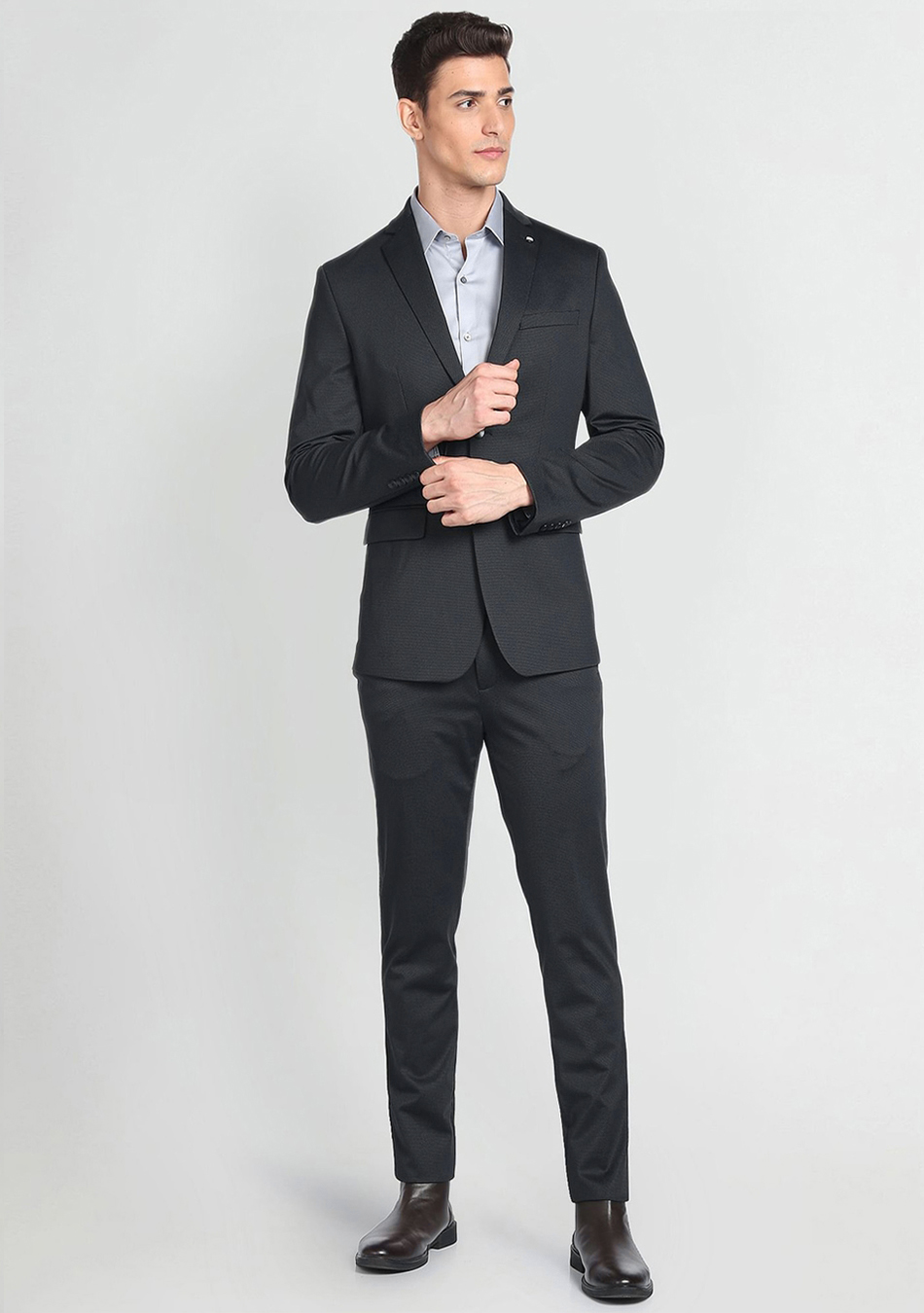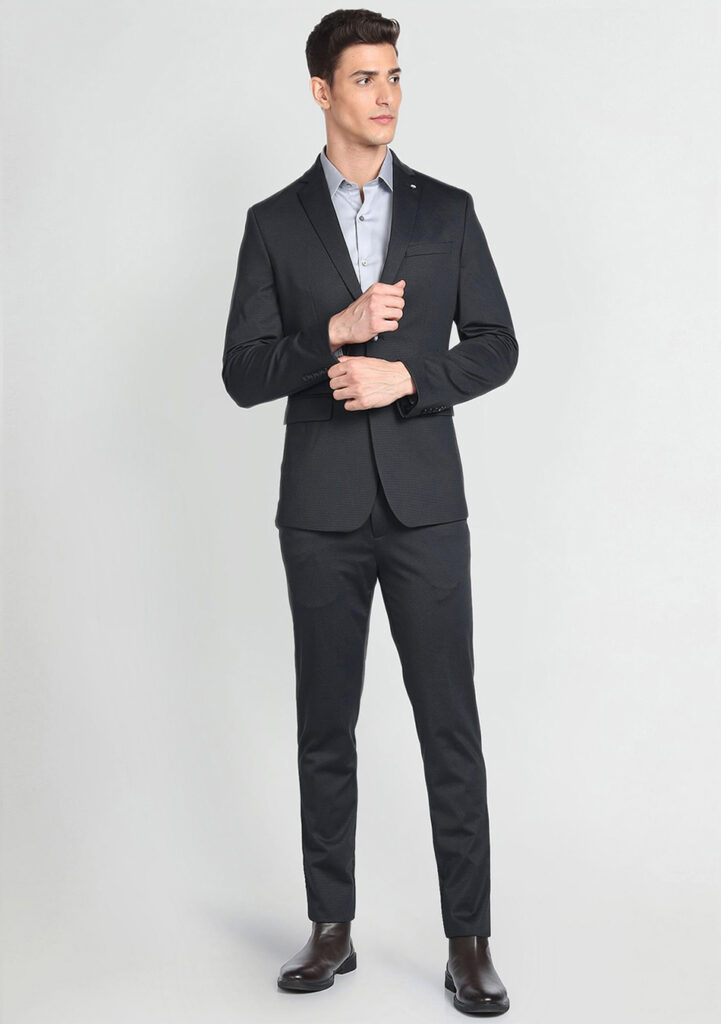 The Chelsea boots lend a hint of rockstar flair without overpowering the sophisticated vibe of the suit.
Whether you're headed to the office or a fashion-forward event, this is your versatile go-to winter attire.
Feel free to throw on a camel or brown overcoat.
Black Windowpane Suit with Pale Blue Shirt
The windowpane pattern, with its clean lines and modern aesthetic, makes for a delightful divergence from the traditional black suit.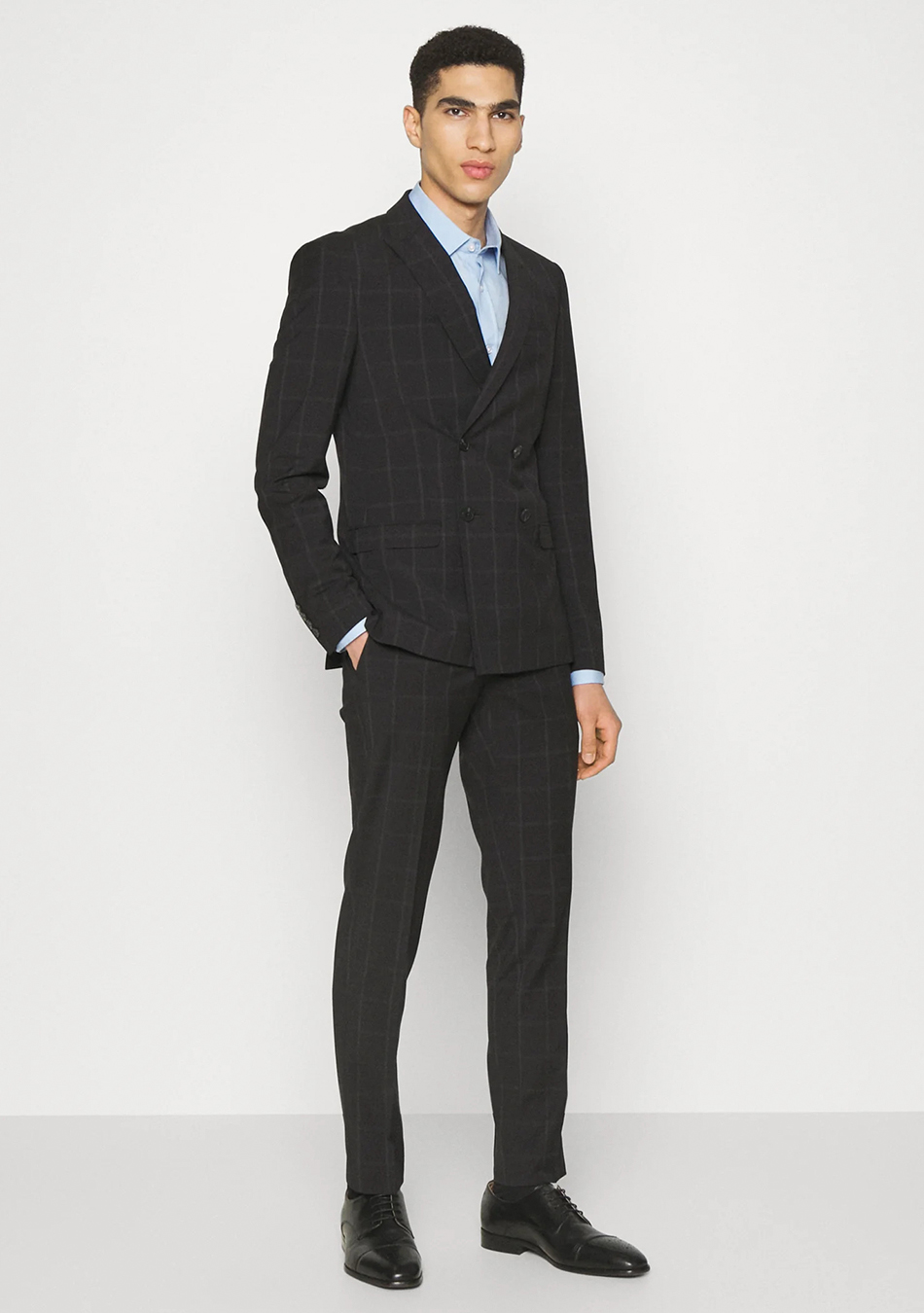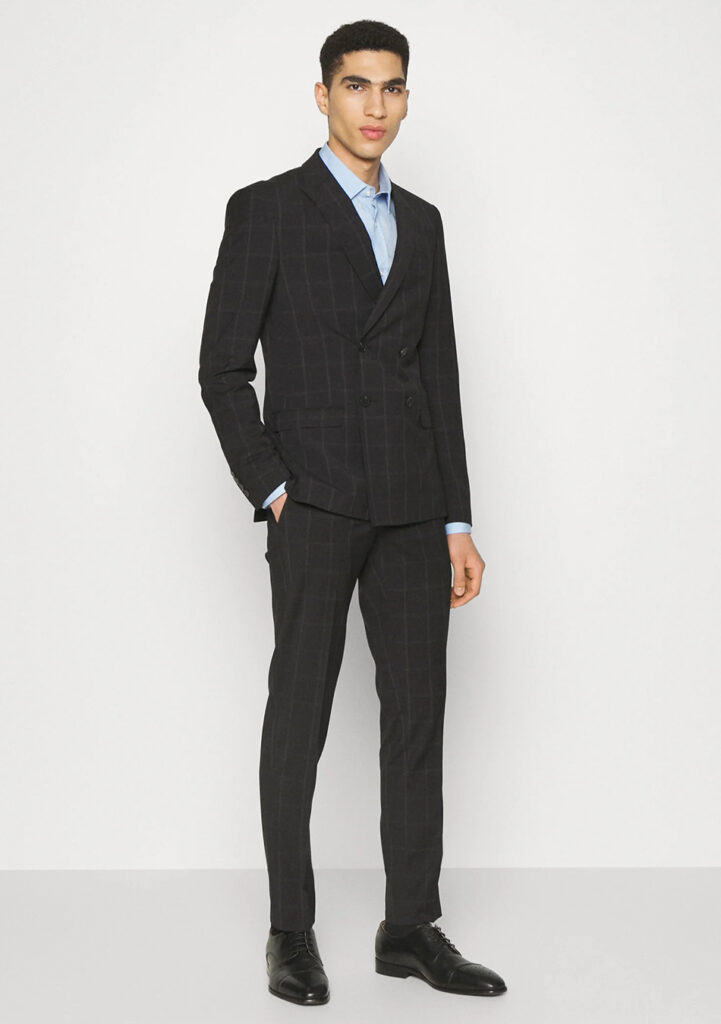 It's like jazz – structured yet unpredictable.
Paired with a pale blue shirt, it sings a melody of contemporary finesse.
And those black derby shoes you spot?
They're the crescendo, tying the look together with understated elegance.
Fashion-forward gents, if you haven't tried this combination, are you even living on the edge?
Black Suit with a Blue Polo T-shirt
A black suit paired with a blue polo T-shirt is unexpected yet so relaxed.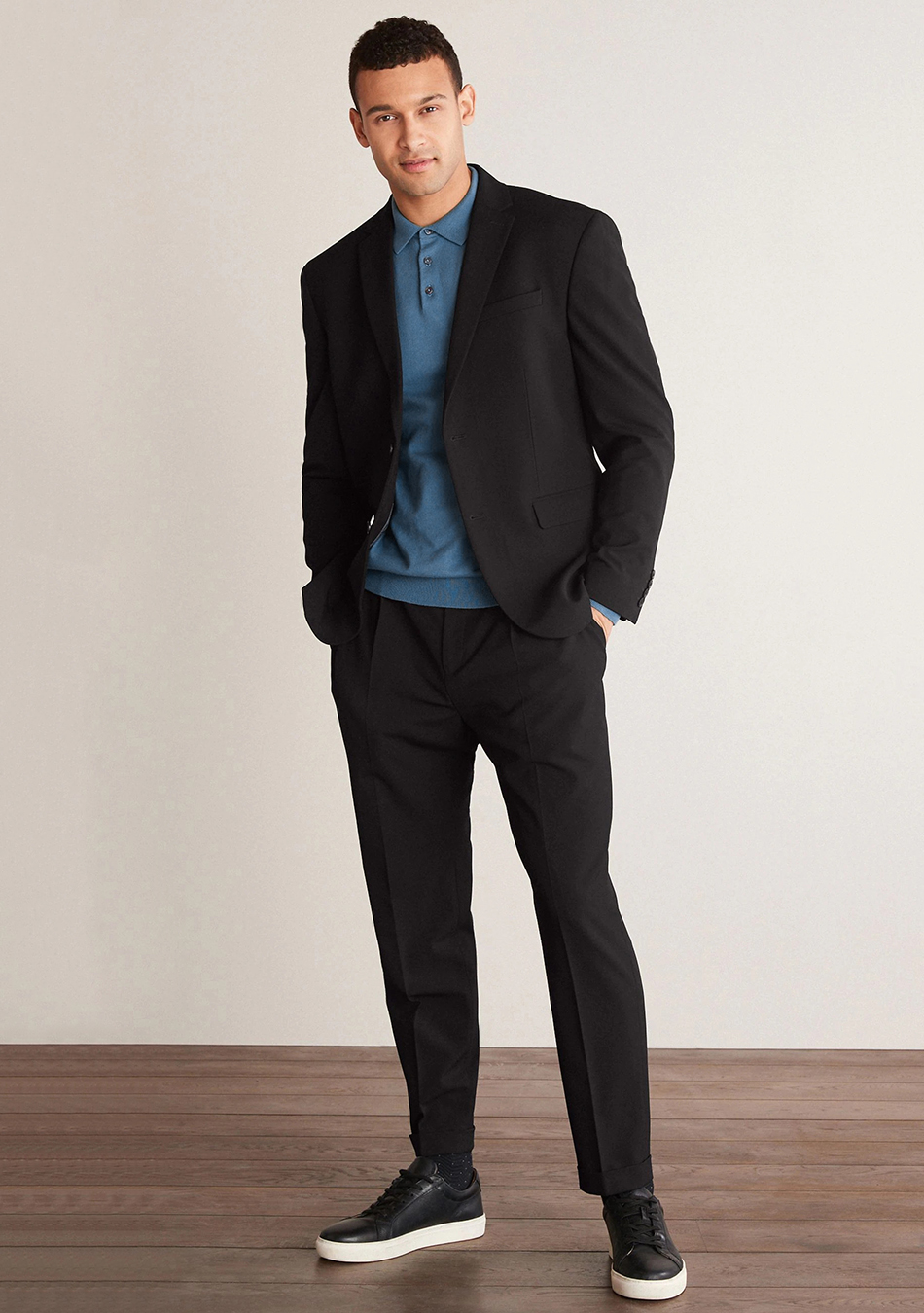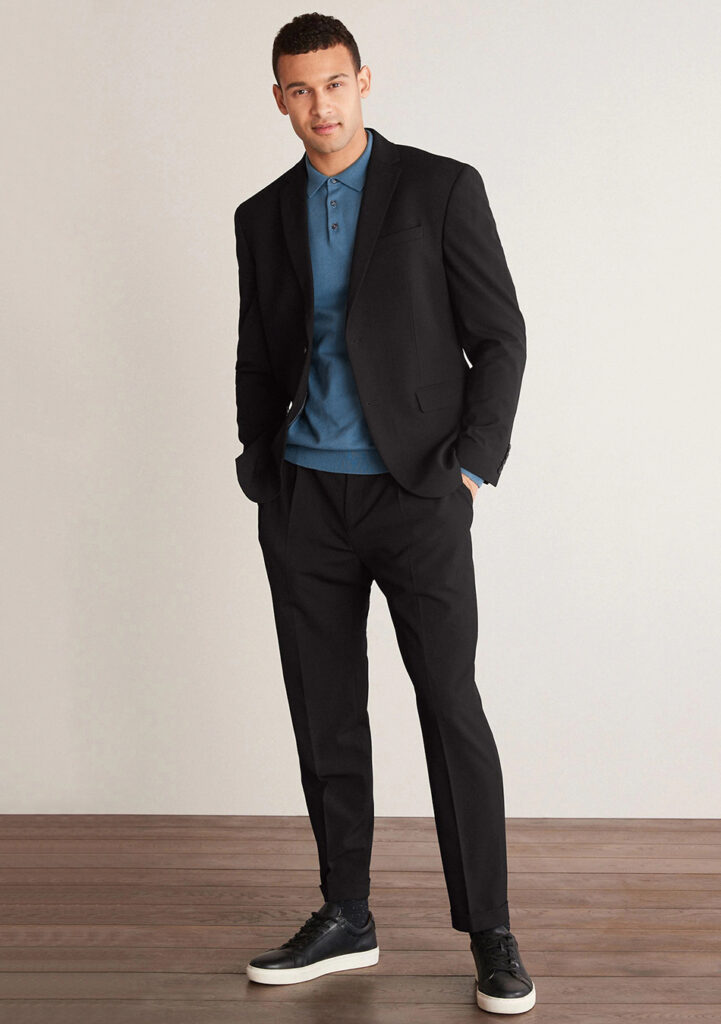 It's great for smart-casual settings or maybe an art gallery opening, a delightful blend of casual and class.
Those leather sneakers with the white soles? Pure genius.
They balance the formality of the suit with a touch of laid-back chic.
This look isn't just about fashion; it's about personality.
Black Suit with a Blue T-Shirt
Who said suits can't be casual? Let's bust that myth right now.
Combining a black suit with a light blue crew-neck T-shirt is unconventional yet so good.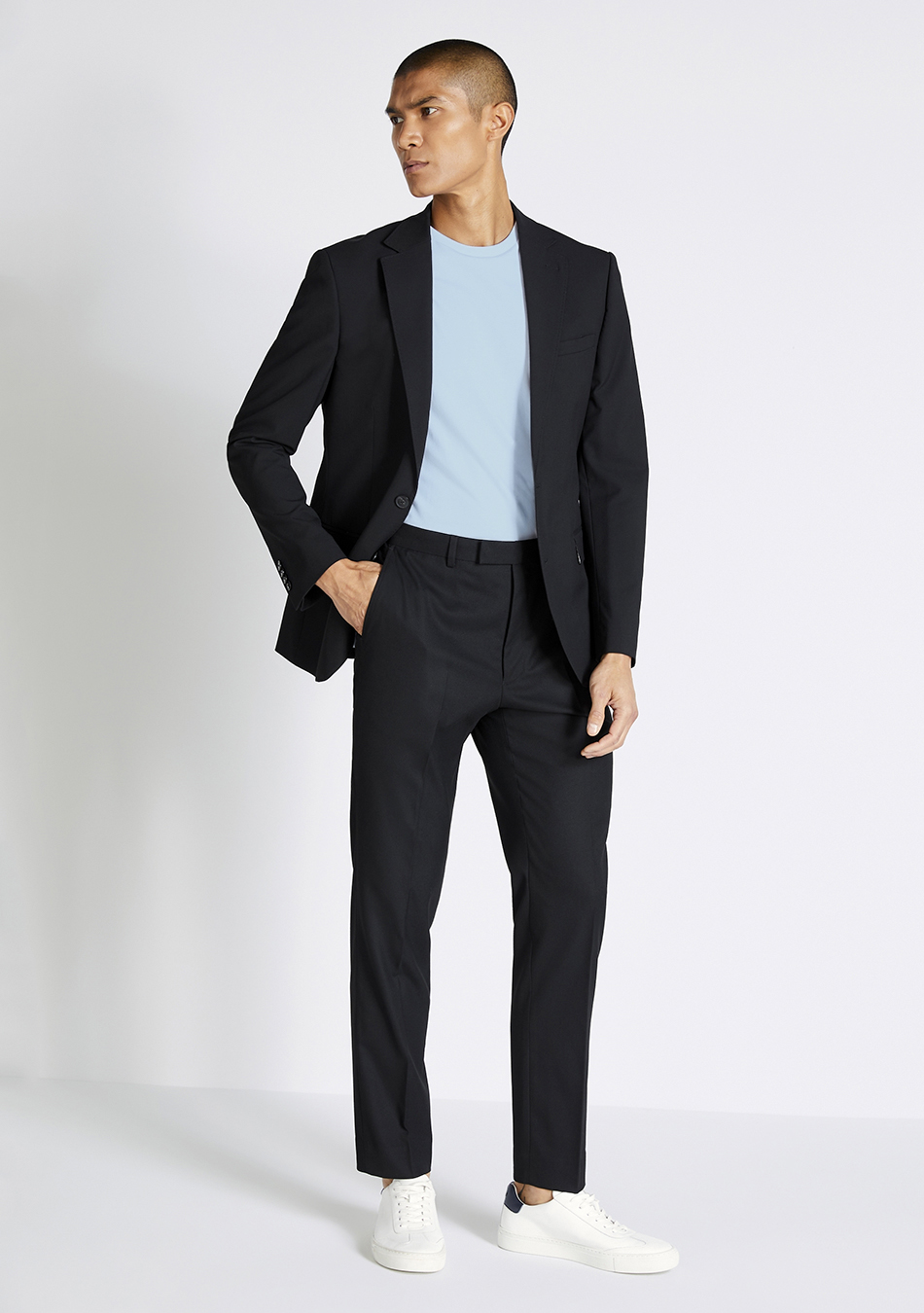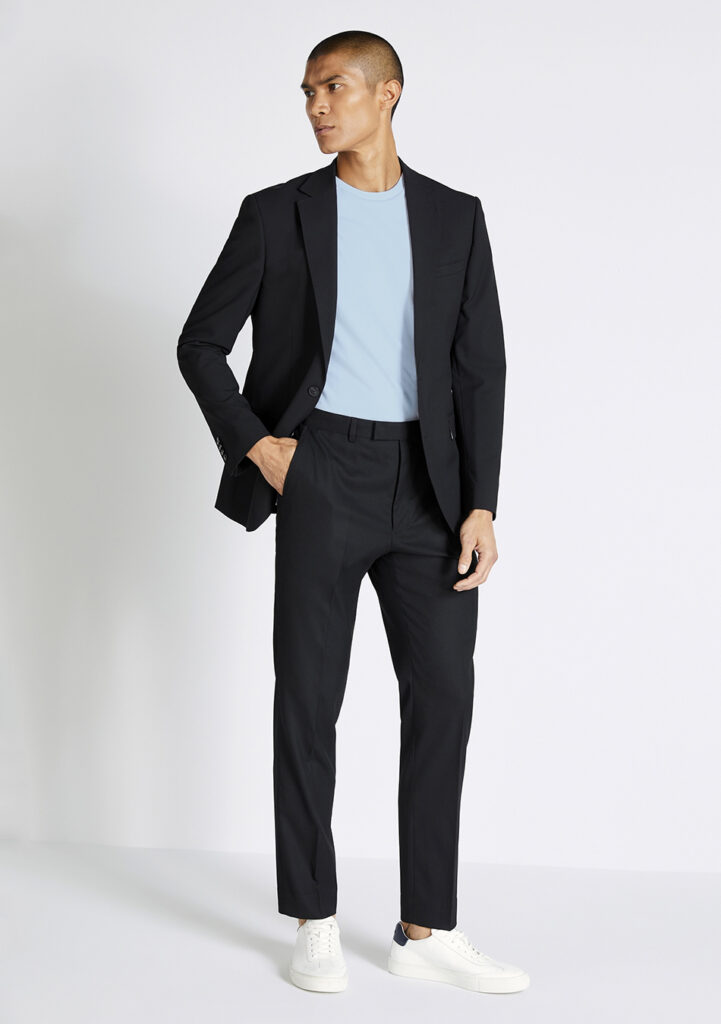 And those white sneakers? They're playful punctuation, making it clear that you're not here to play by the rules.
Perfect for more relaxed business environments, outdoor parties, or any occasion where you aim to blend the chic with the chill.
Things to Consider
Before recreating these iconic looks, let's discuss some essentials that can make or break your outfit.
The suit needs to fit your perfectly. There's no room for compromise on this.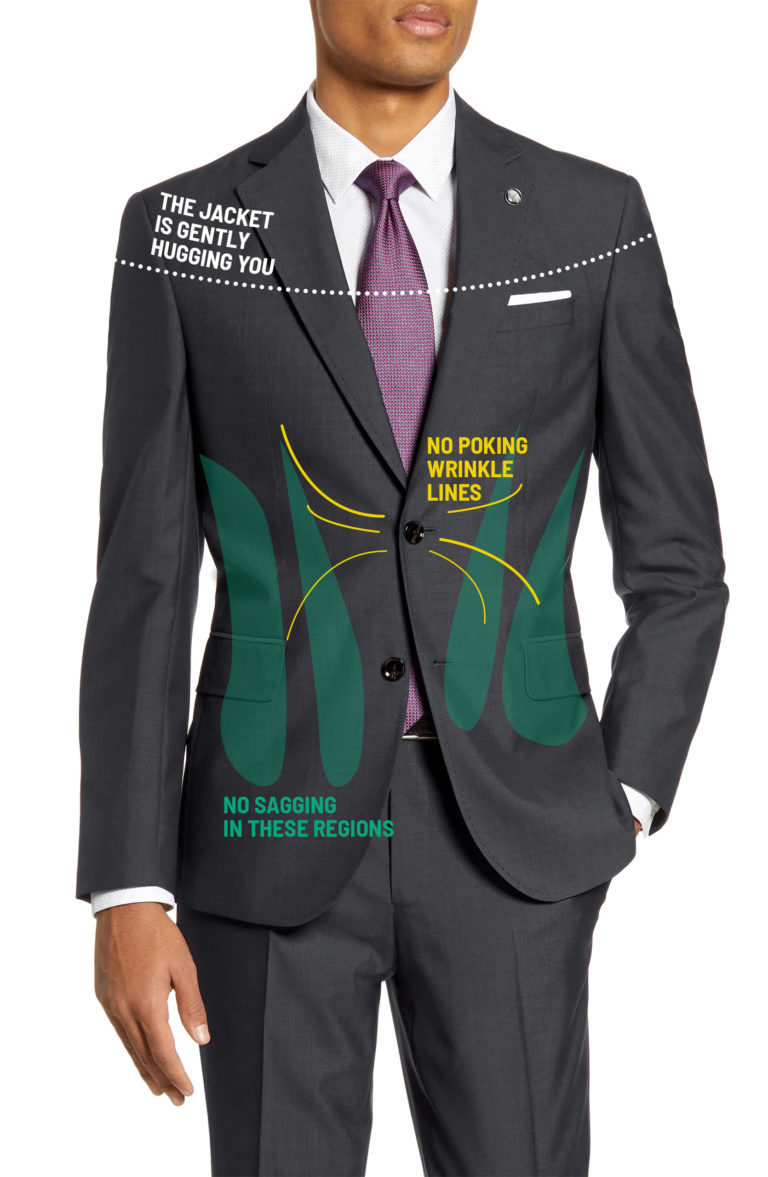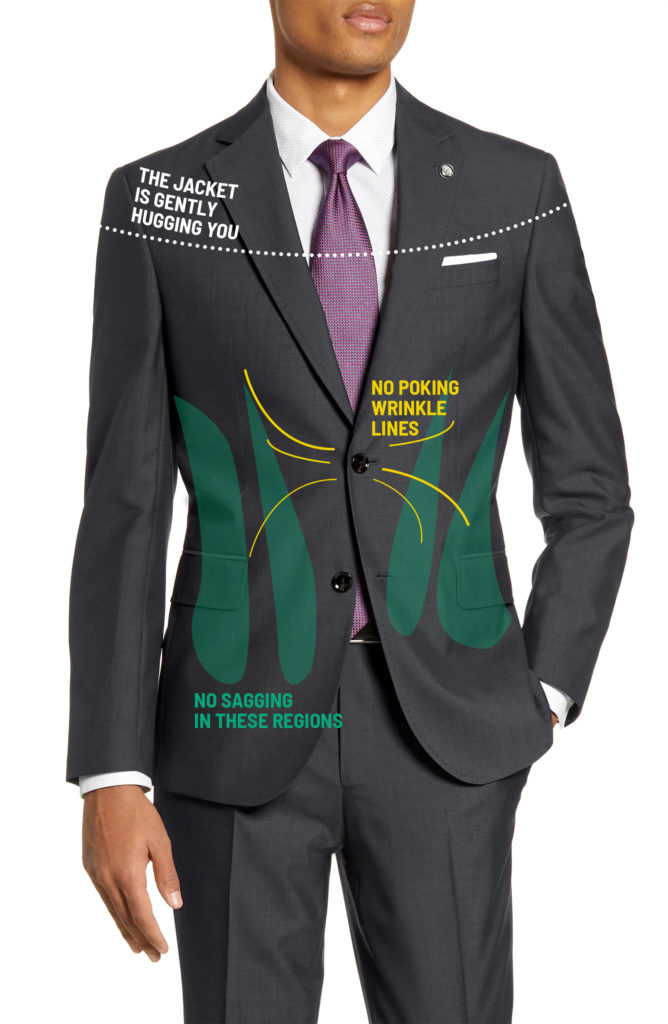 Other details – like the shade of the blue shirt, the cut of the suit, and the right accessories – make all the difference.
Whether you're dressing up for an event or stepping out confidently, there's always room for a little finesse.
The Shade of the Blue Shirt
The particular shade of blue you select has the power to determine the entire ambiance of your attire.
Just as events have their formal rules, so does fashion.
Light blue shirts are more versatile and suggest a more formal vibe.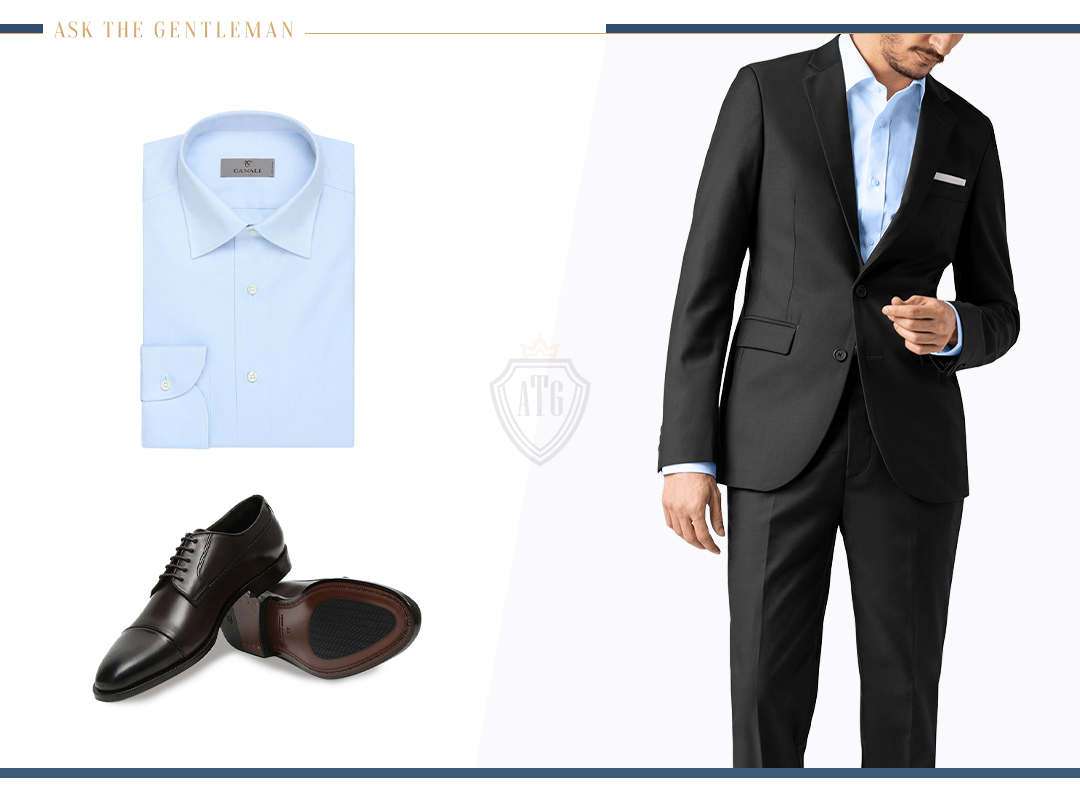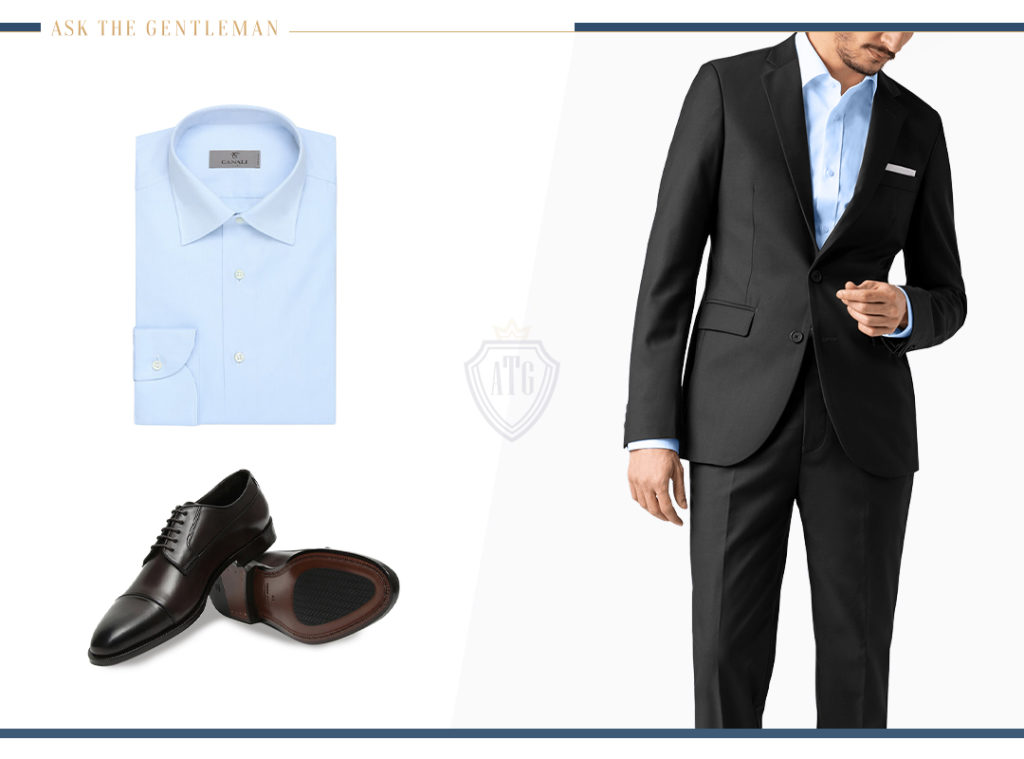 They're the shirts you'd reserve for important business pitches, morning board meetings, or any occasion where making a profound impression counts.
Deeper blue and navy shirts are more playful but are often considered less formal.
They're your go-to for date nights or laid-back parties.
Learn more about the different blue dress shirt outfits for men.
Fabric Matters
Have you ever seen someone sweat through their shirt on a chilly evening? That's not nerves; that's poor fabric choice.
The material of your suit and shirt plays a pivotal role in how you feel and look.
Wool suits, for instance, are classic. They drape well and are great for most weather conditions, including winter.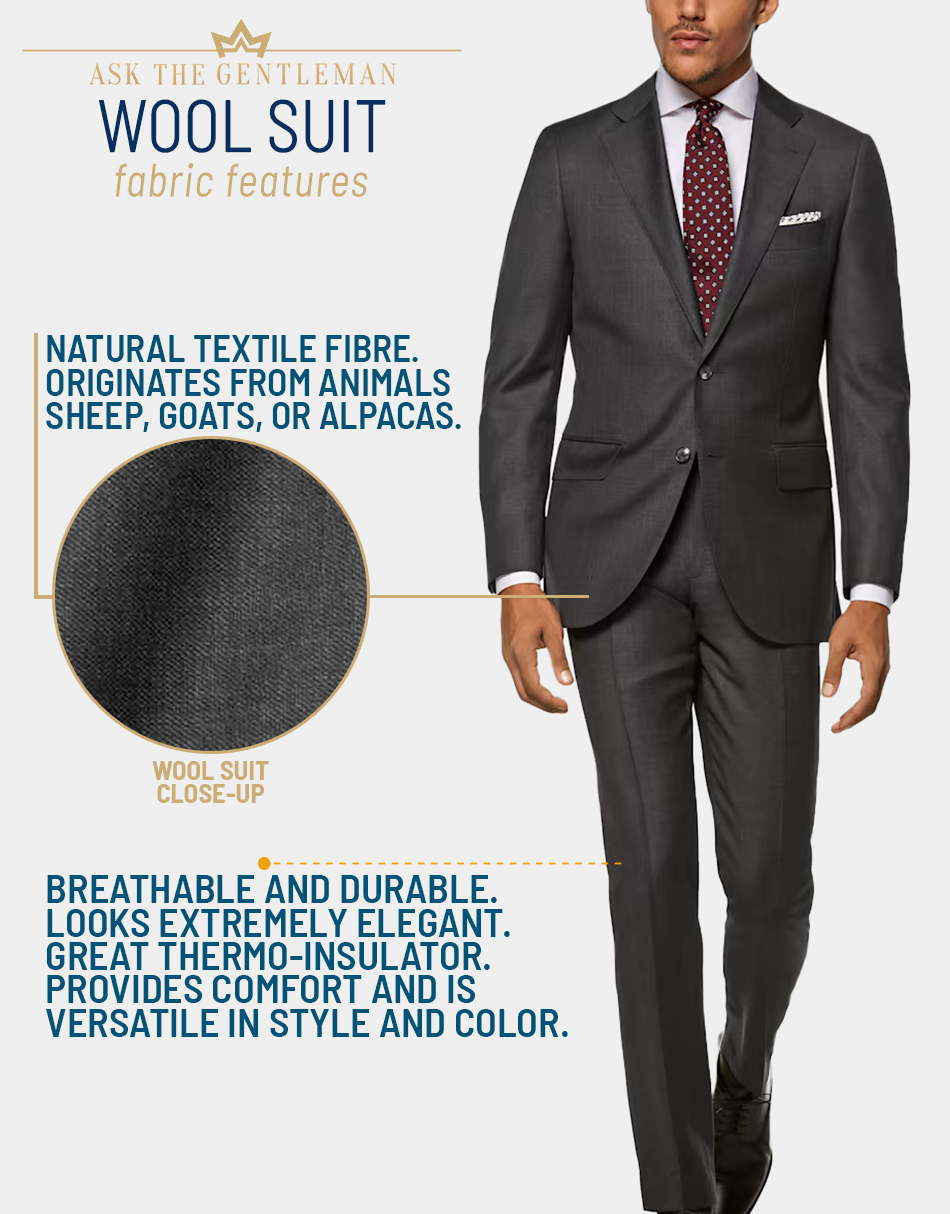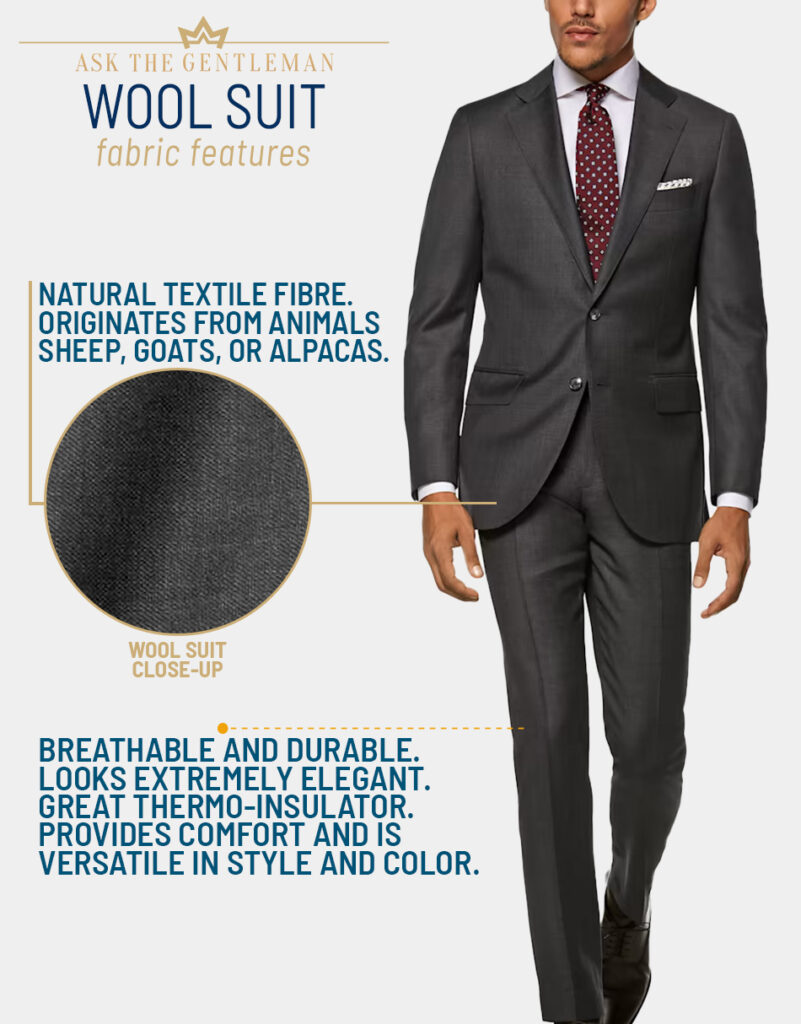 But summer calls for a different suit fabric. Linen, cotton, seersucker, or mohair are the best options for hot weather.
When it comes to shirts, cotton is your trusty companion.
It's breathable, comfortable, and wears well throughout the day.
Accessories & Accents
Accessories aren't just add-ons; they're the finishing touches.
For example, a simple pocket square can elevate a suit.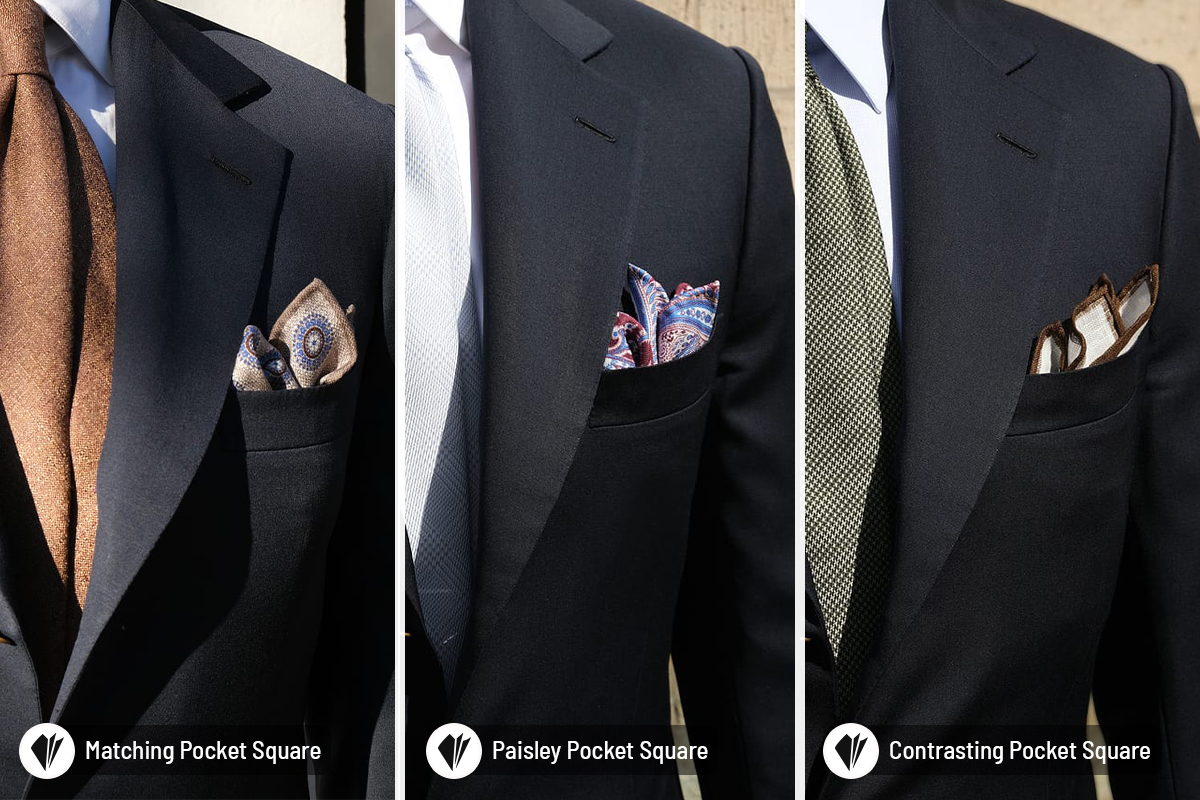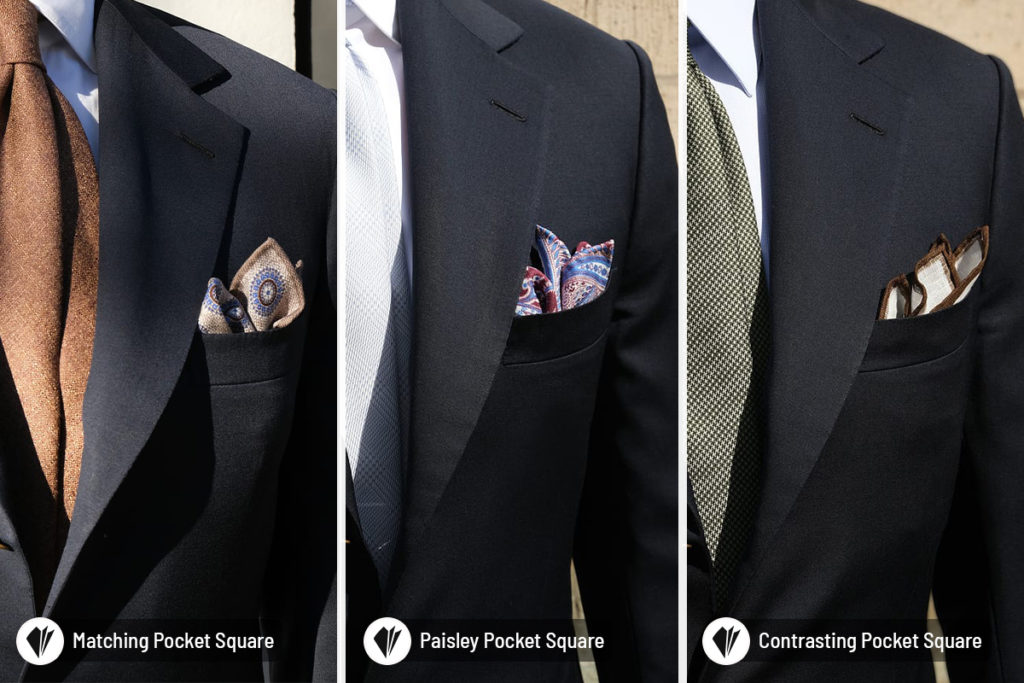 In the same fashion, the right tie can transform a shirt.
Opt for a red tie paired with a light blue shirt and black suit to elevate the ensemble.
To display calmness and seriousness, you can go for a navy tie.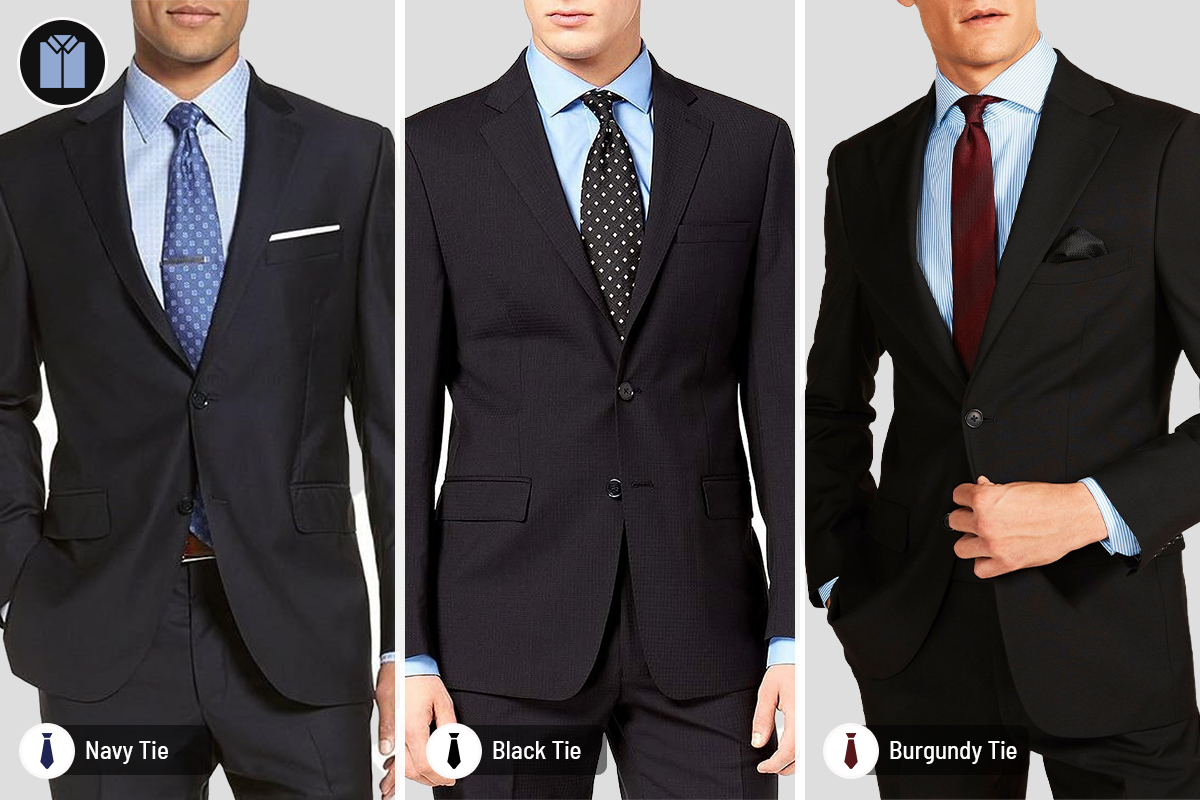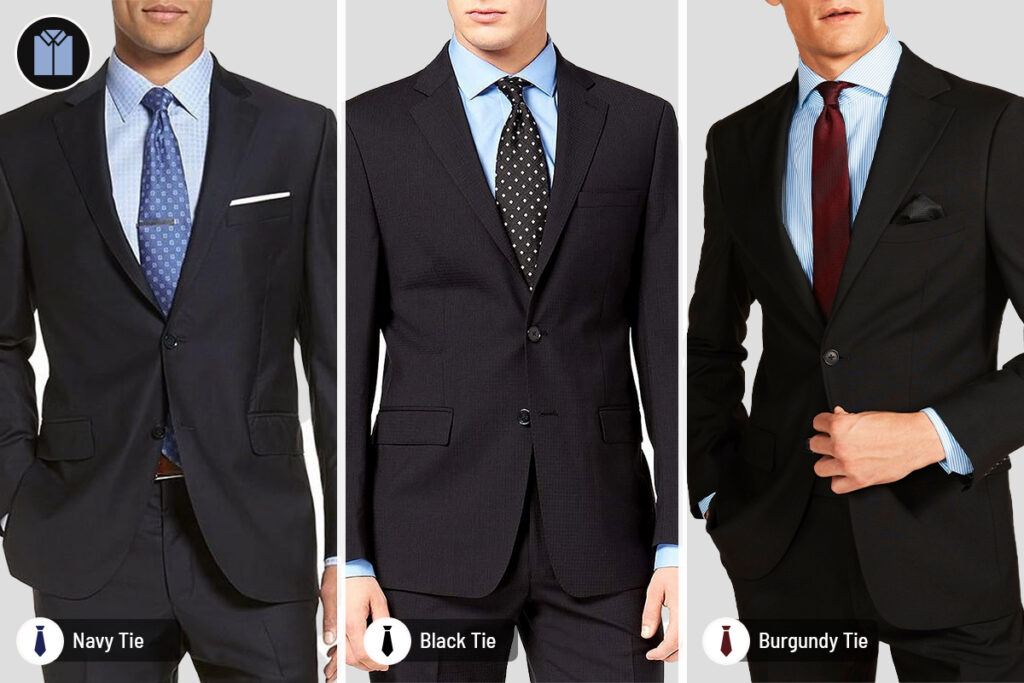 A bow tie with a suit transcends the stereotype and is especially fitting for weddings.
And if your shirt has French cuffs, pay close attention to cufflinks. Here, precious metal cufflinks, like silver or white gold, are ideal.
Also, blue-toned or black cufflinks will blend seamlessly with the suit and tie.
Footwear
The shoe style can make or break an outfit. They say you can judge a man by his shoes.
Black Oxford or Derby shoes are the standard way to go if you're going with a black suit and pale blue shirt.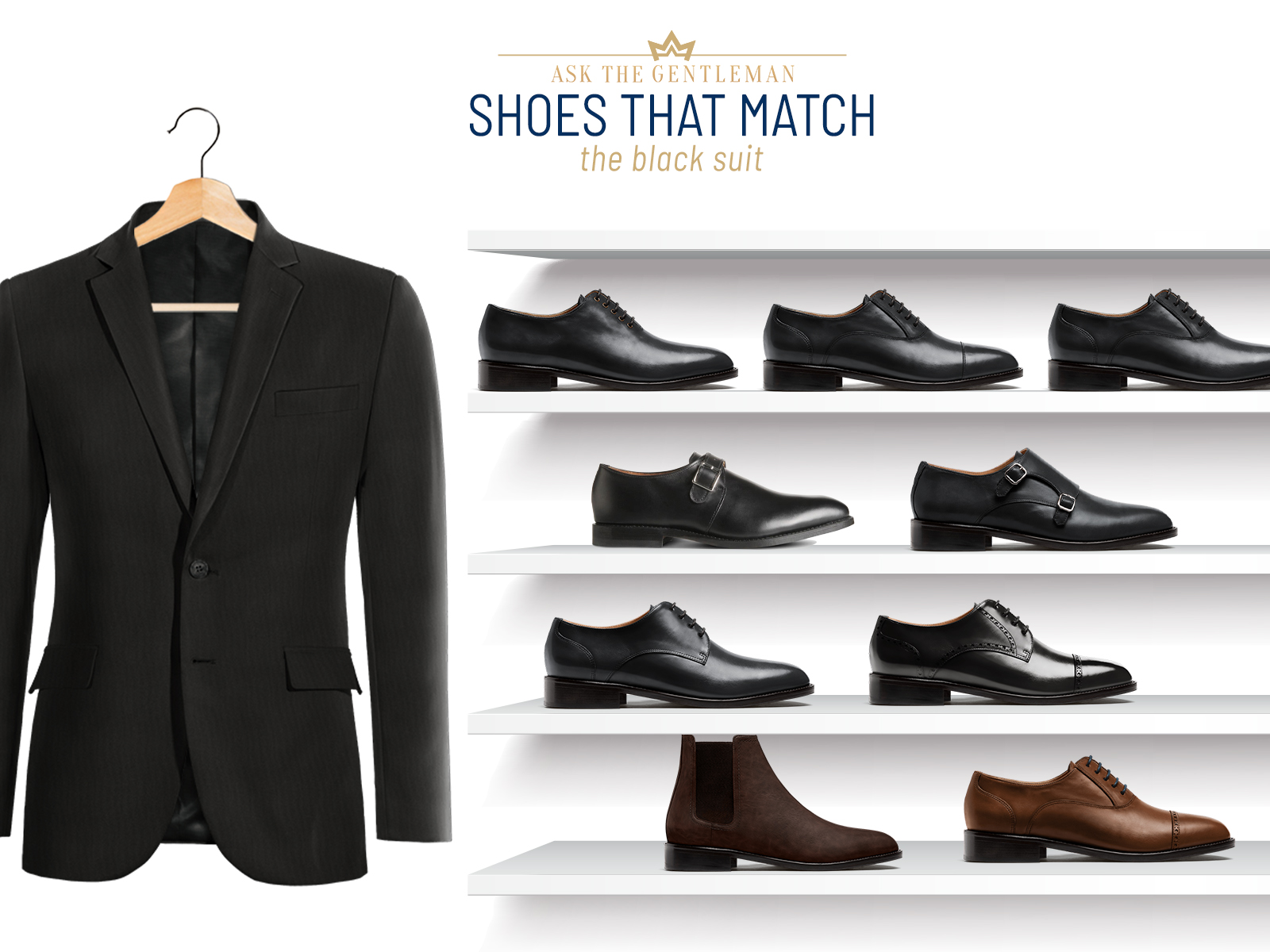 Or sleek black Chelsea boots could be your best friend in the winter.
On the other hand, monk straps can provide a fashion-forward elegance if you aim for this look.
But pairing a black suit with brown shoes is not unheard of either.
And if you're daring to pair a suit with a T-shirt, leather sneakers aren't just acceptable; they're encouraged.
Dress Codes & Occasions
Let's address the elephant in the room. Where can you rock these combos?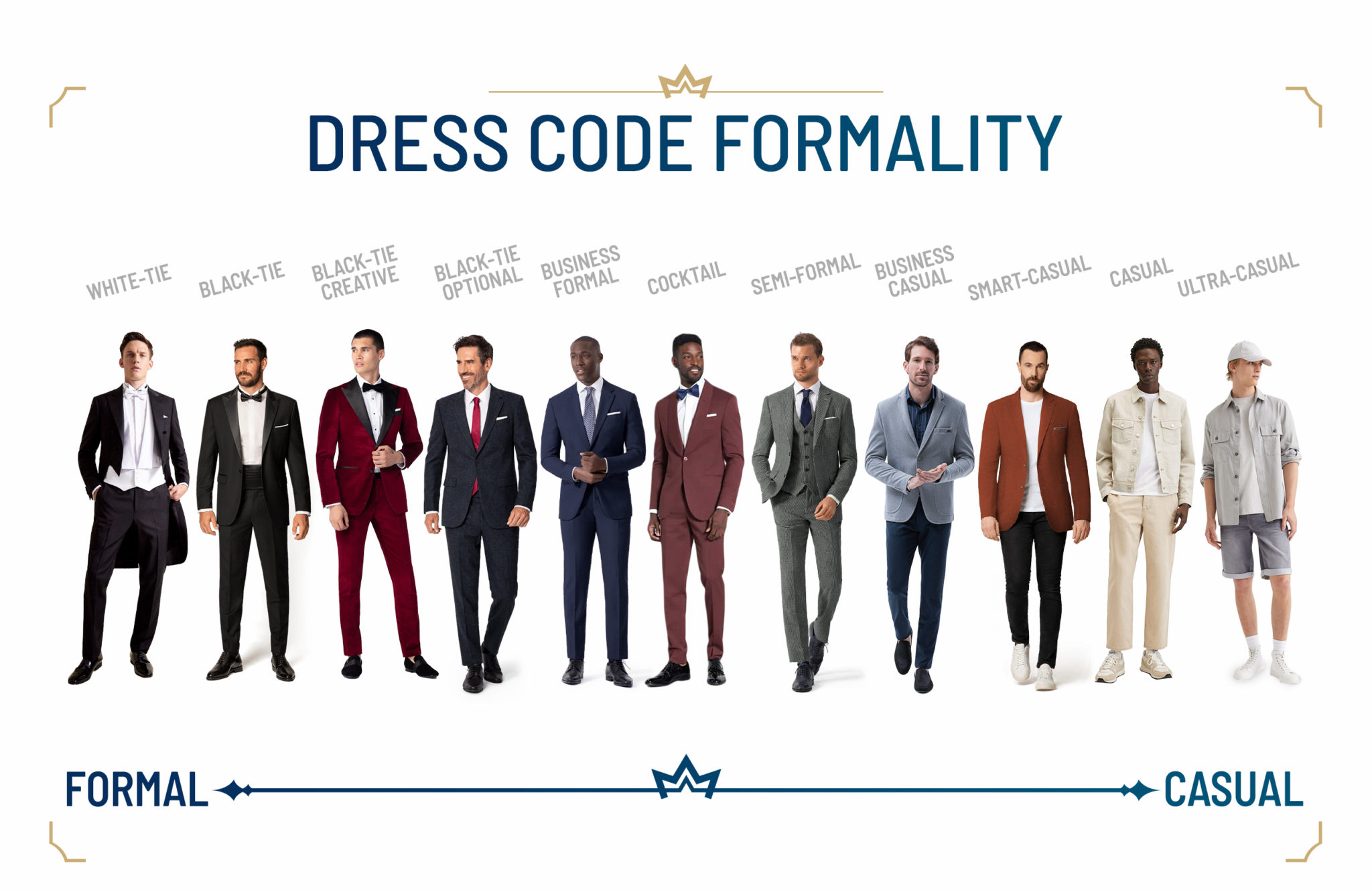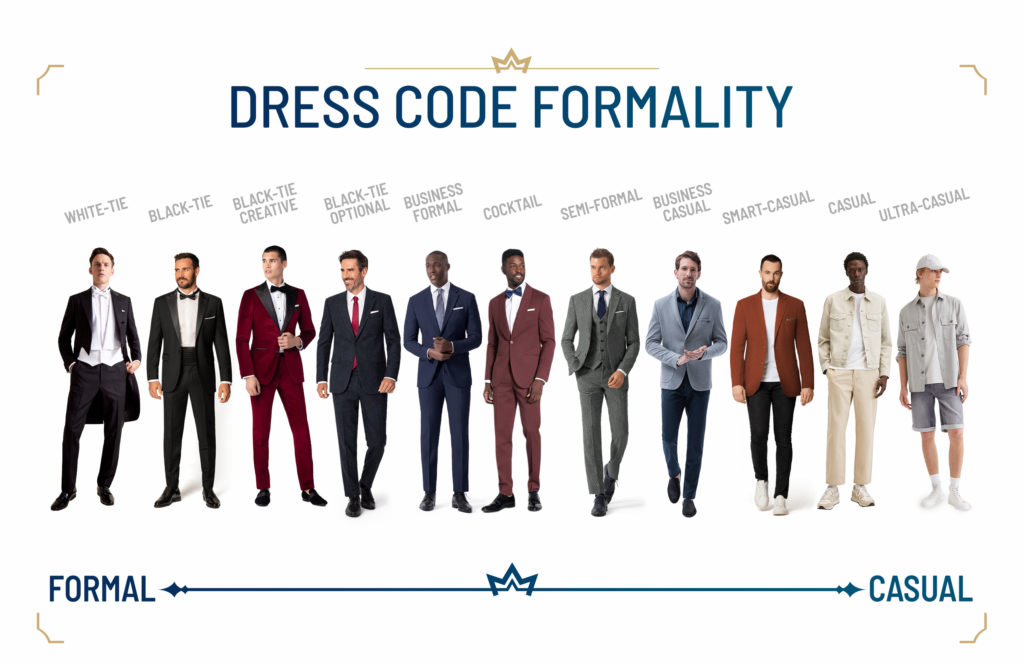 Mainly, a black suit and blue shirt scream formal business attire and corporate events.
But with the right accessories, it's also a winner for other semi-formal settings.
A three-piece with a bow tie? Weddings or gala events.
The more casual t-shirt combo? Ideal for relaxed events where you still want to look sharp.
Remember, the goal isn't just to fit in; it's to stand out.