It's unquestionably acceptable to wear Chelsea boots with a suit.
Still, confidence to embrace this as a natural pairing remained elusive to many gentlemen.
All you need is a tailored suit, the right pair of boots, and some inspiration.
You'll open the world of creative dressed-up looks transitioning from professional elegance to wedding grandeur.
Key Traits to Look in Chelsea Boots for Suit Pairing
Chelsea boots are an ankle-high boot style defined by their elastic side panels, allowing for a comfortable, slip-on fit.
They typically feature a low heel and come in materials like leather or suede, catering to both casual and formal styles.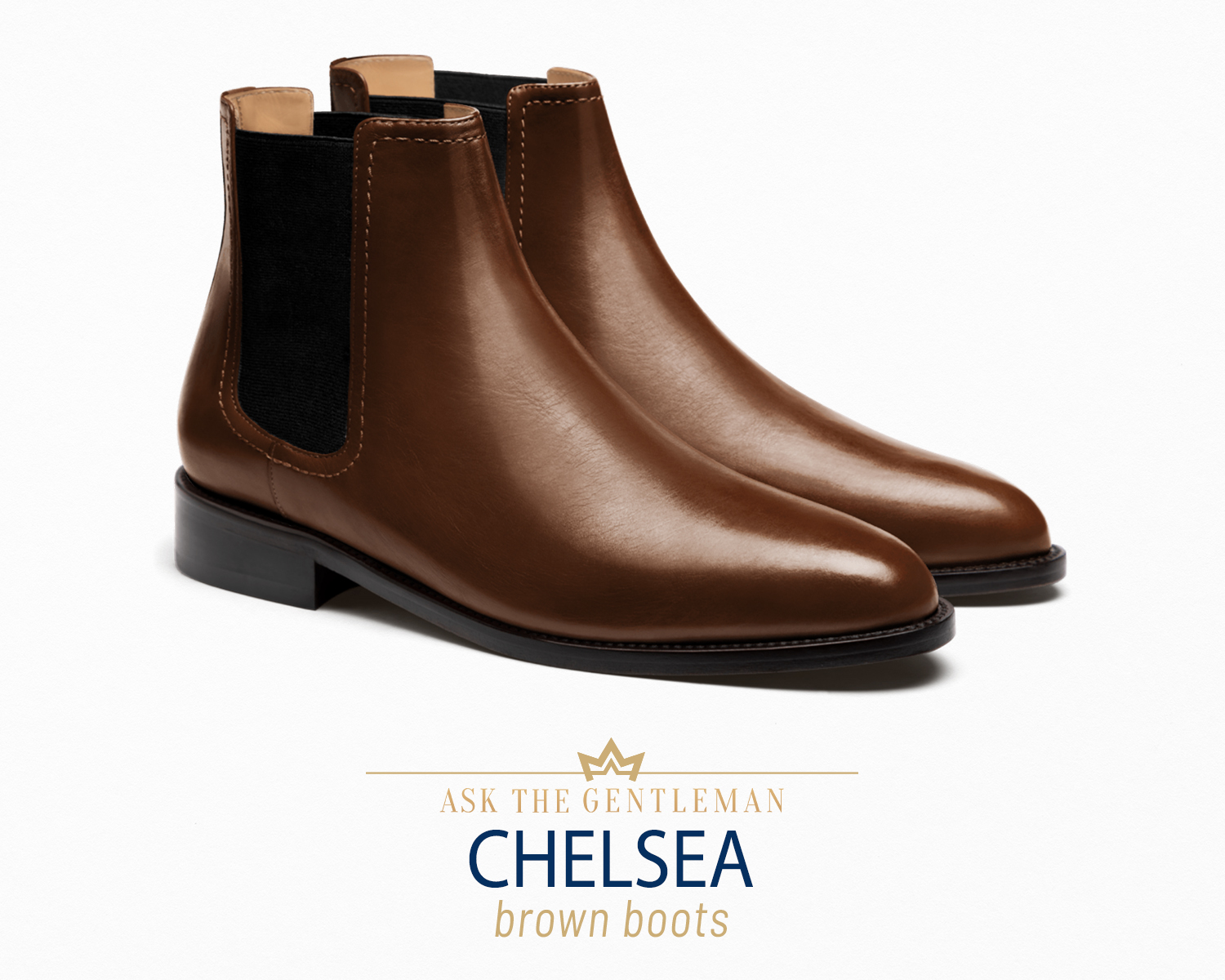 Modern variations include pointed toes, although rounded toes remain classic.
Key design elements like the pull tab at the back enhance functionality, facilitating ease of wear.
However, Chelsea boots can come in different designs.
The rationale lies in the nuanced alterations in detailing, which, in turn, reshapes the overall profile of the boots.
Also, different brands imbue their boots with unique interpretations of the silhouette.
To wear Chelsea boots with a suit, choose plain ones with a slim silhouette that complements the suit's aesthetics.
Material World: Leather vs. Suede
Leather is the go-to material for dressy Chelsea boots because of the smooth texture and sheen.
Also, leather Chelseas imitates the whole-cut oxfords with suit pants covering the top half of the shoe.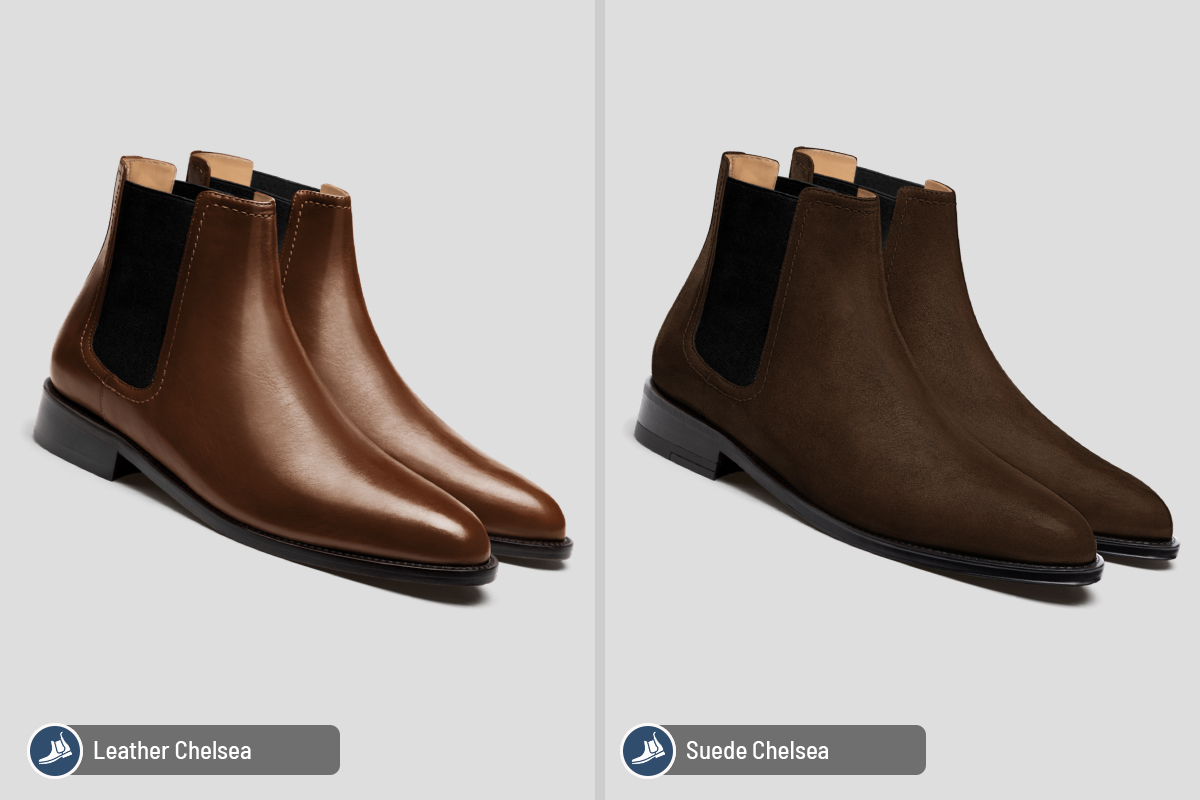 Suede, on the other hand, is a versatile and unique material. With its matte finish and napped hand feel, it can be a stand-out option to wear with a suit.
For a non-brainer and more formal look, I suggest wearing high-quality leather boots.
Wear suede only if you dare to be distinguished, and the dress code is somewhat casual.
The Color Palette
The color of your Chelsea should be formal enough and complement your suit.
Black, brown, and oxblood are some suitable options.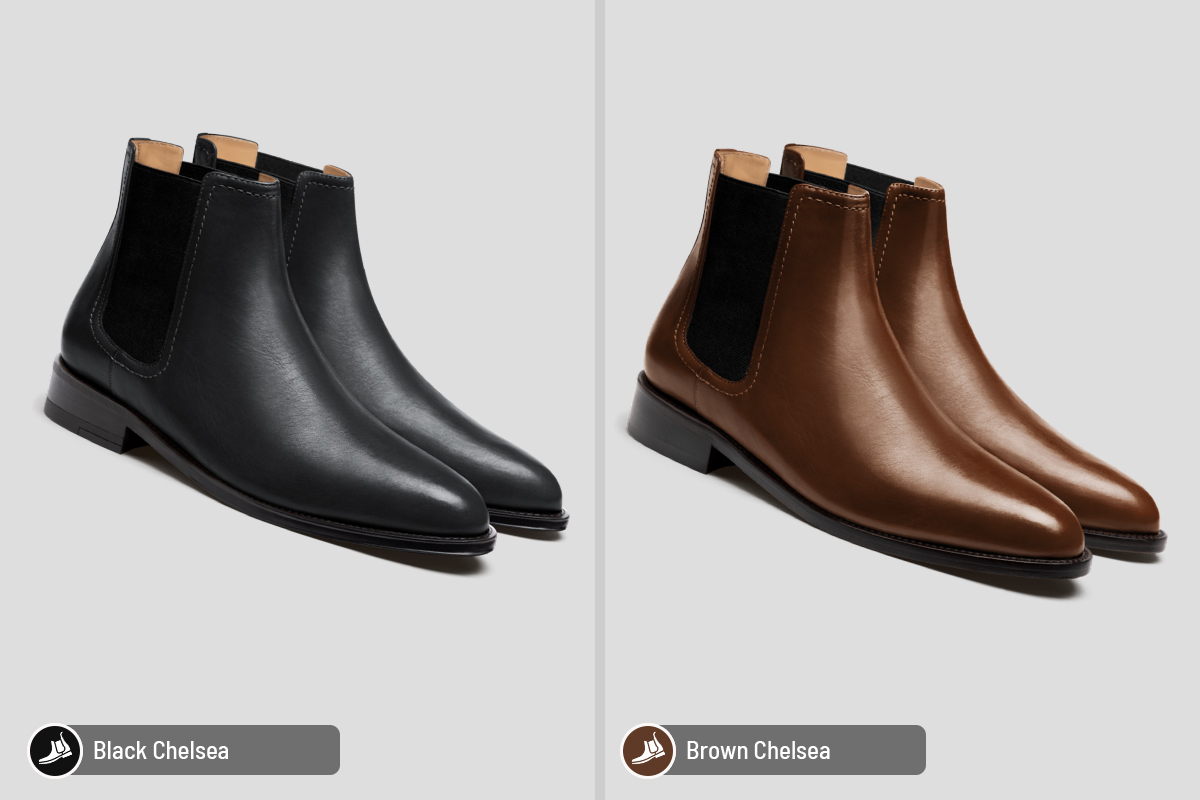 You can wear boots in tan, grey, beige, etc., as long as they don't overly contrast your suit.
But if you ask for only one shoe color, all you need is black Chelsea boots.
Design Details
Pay attention to your boots' detail to make it feel natural with the suit.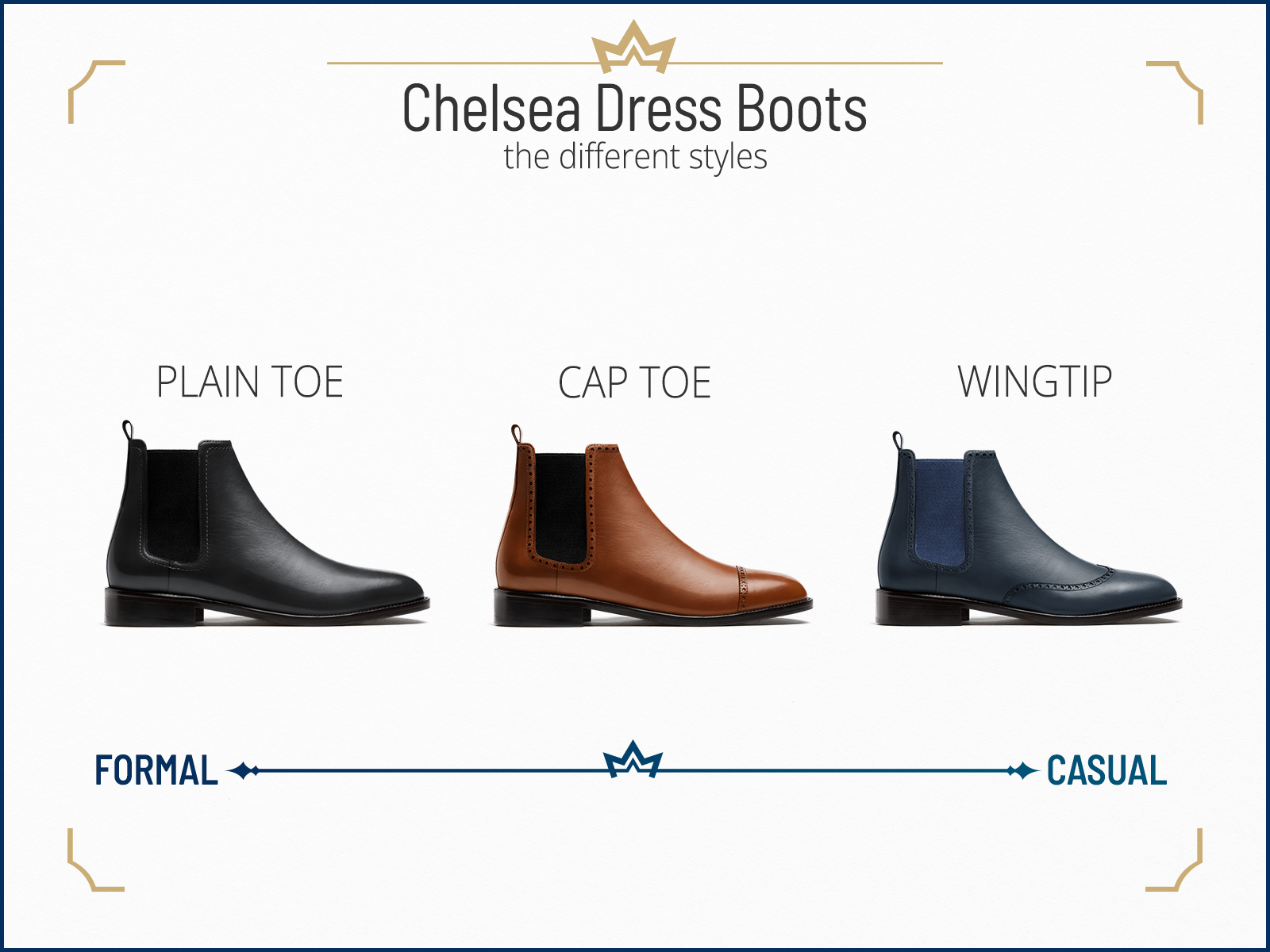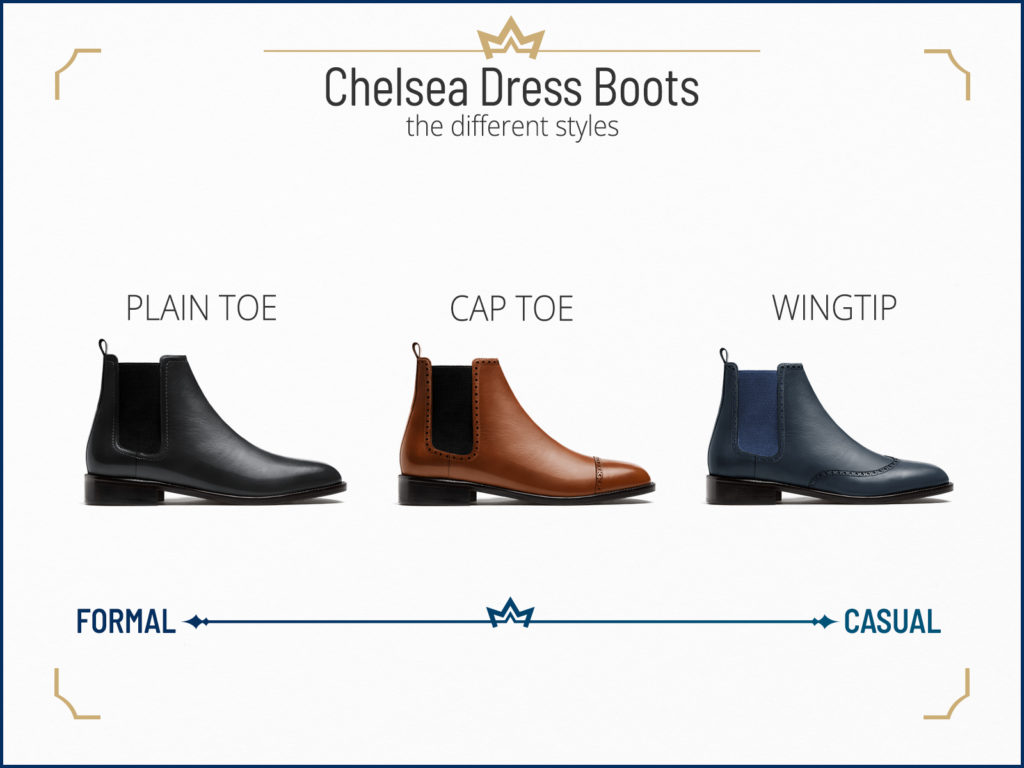 The heel should ideally be slim. Thick heels signify sporty Chelsea boots.
The elastic strap on the sides can also match your shoe color, but the black elastic strap is the most formal one.
Many Chelsea boots have perforations or bright stitching on the sole. Avoid such details to make your shoes look appropriately formal.
Chelsea Boots with Suit Outfits
Wearing Chelsea boots with a suit transcends the mere selection of footwear.
Your shirts, accessories choice, and suit subtleties all hold equal weight.
Here are some outfit inspirations for an on-point style.
Black Chelsea's with a Navy Three-Piece Suit
The black Chelsea boots are formal to the extent you can equally match them with a navy suit.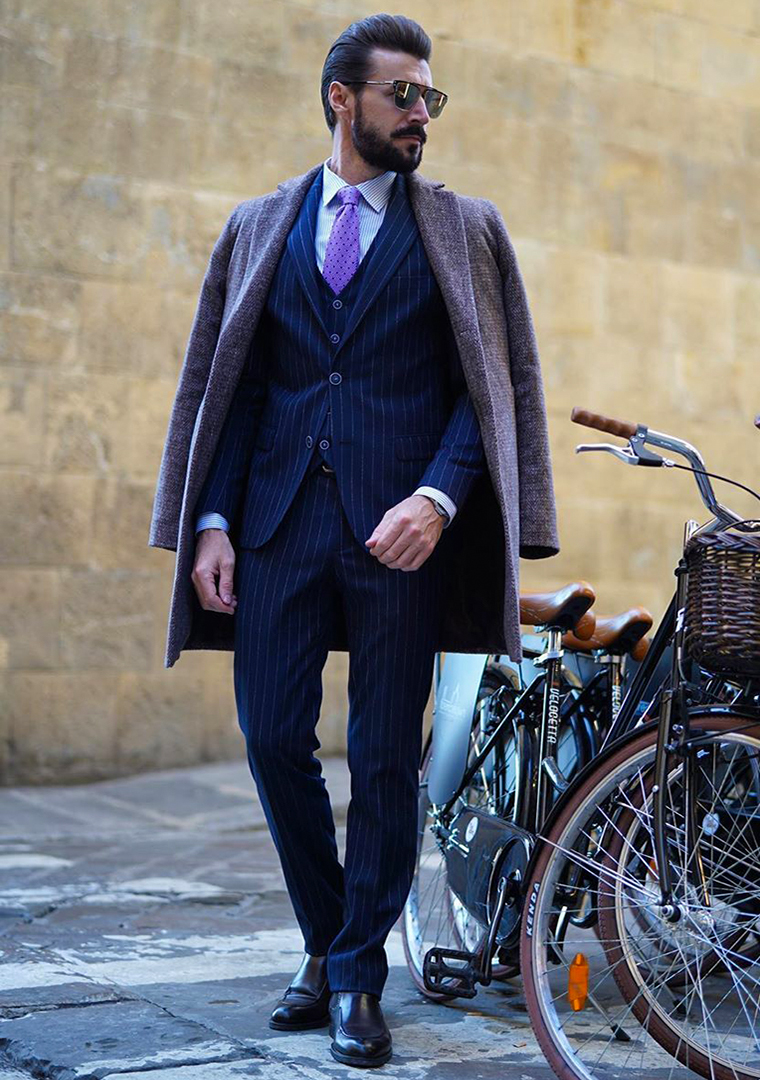 For a start, you can wear them with a navy suit as business attire. A three-piece suit also works.
Wear a tie and a white dress shirt, and you'll be ready to go.
In addition, Chelsea boots perfectly complement navy suit patterns like pinstripe or even windowpane.
But with patterns already in the suit, you don't do much to complete the look.
These boots can hold on their own as a stylishly versatile option.
For example, you can add in an overcoat to make this look work for dressy fall evenings.
All-Black Chelsea Boots & Suit
Wearing a black suit, with the matching Chelsea boots seems like a sartorial challenge.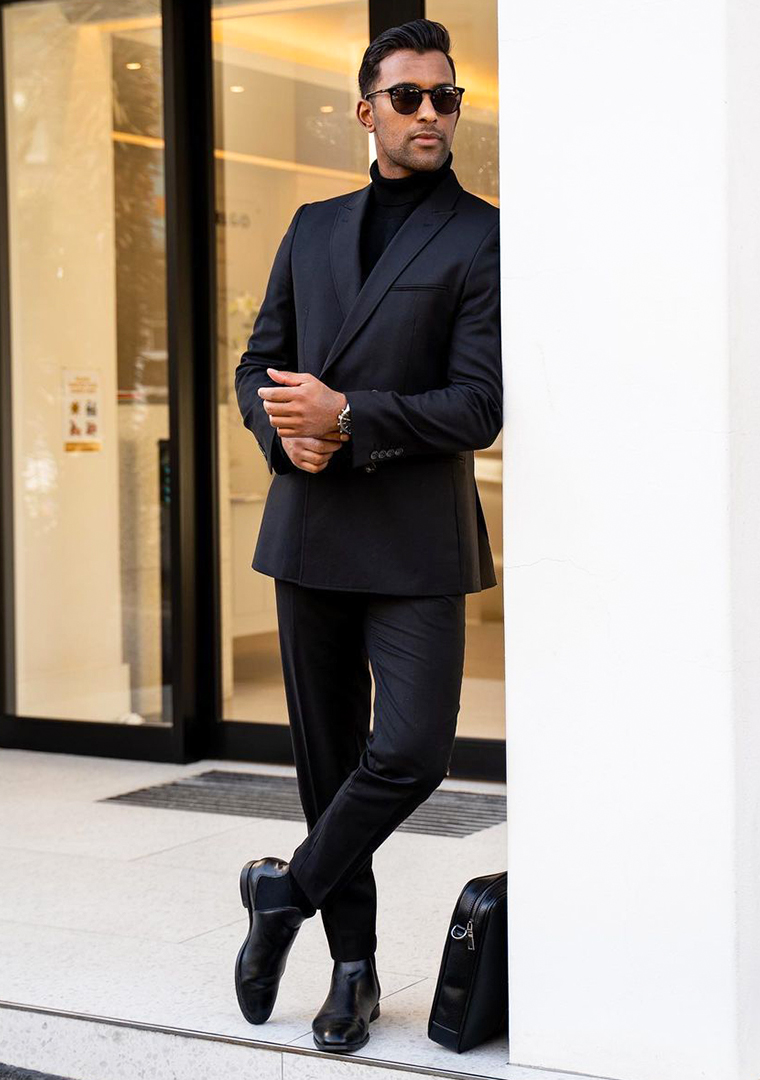 Comes the black turtleneck and mojo; you'll float in elegance like wearing a tux to the black tie.
Don't be afraid to pull off a double-breasted black suit, too.
This is an outfit made for upscale evenings and ritzy dinners. The best part is you don't have to try hard to act cool.
Brown Chelseas with a Light Grey Suit
A light grey suit balances the dignity of semi-formal attire with a grounded energy.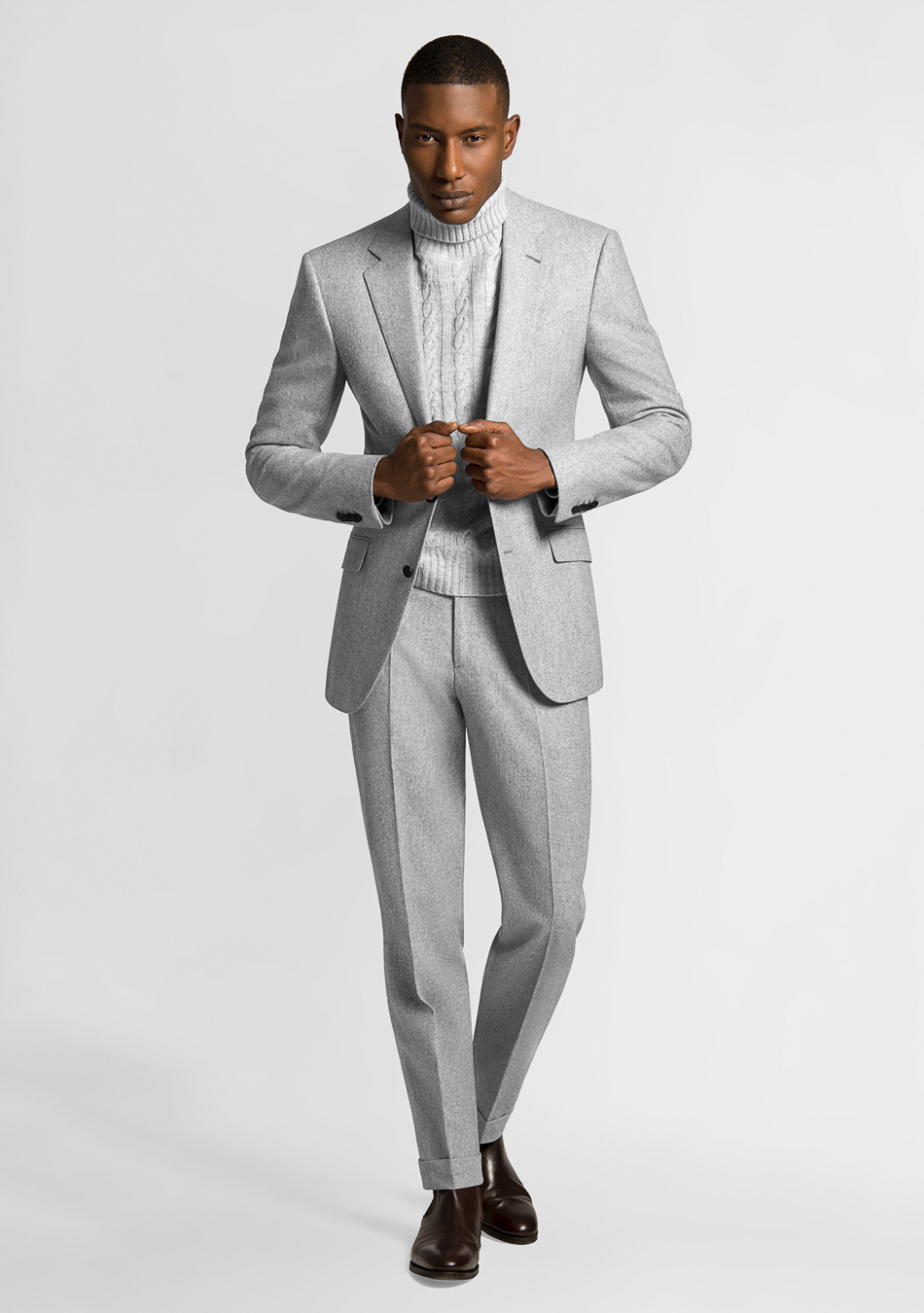 And you need something similar in your shoes.
So what better option would be than the exceptionally versatile dark-brown Chelsea boots?
This combination has the potential to create many looks.
Pair it with a light-colored dress shirt (like white) to match the suit's formality.
However, you can make the most of your shoes by wearing a matching turtleneck. A knitted turtleneck is good for adding depth to the look.
Monochrome Beige Suede Chelsea & Suit
The ideal approach with suede is to balance it with a less formal suit.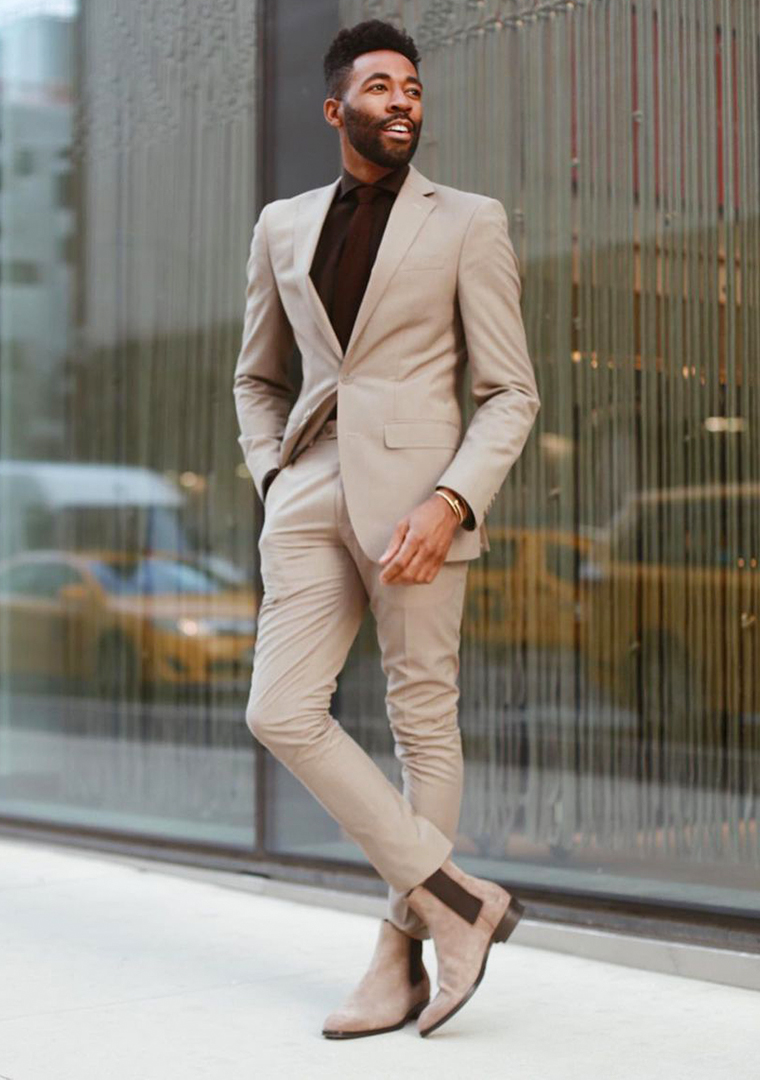 This monochromatic outfit of a beige suit and the matching suede Chelsea boots is a testament to this principle.
Even though you can again wear a turtleneck, I suggest styling this as more of a summer wedding outfit.
So, wear a plain dark brown or olive-green button-up. A dark tie balances sophistication and relaxed formality.
Black Chelsea with a Dark Green Suit
In a dark green suit, you're already taking a sartorial pledge of looking different.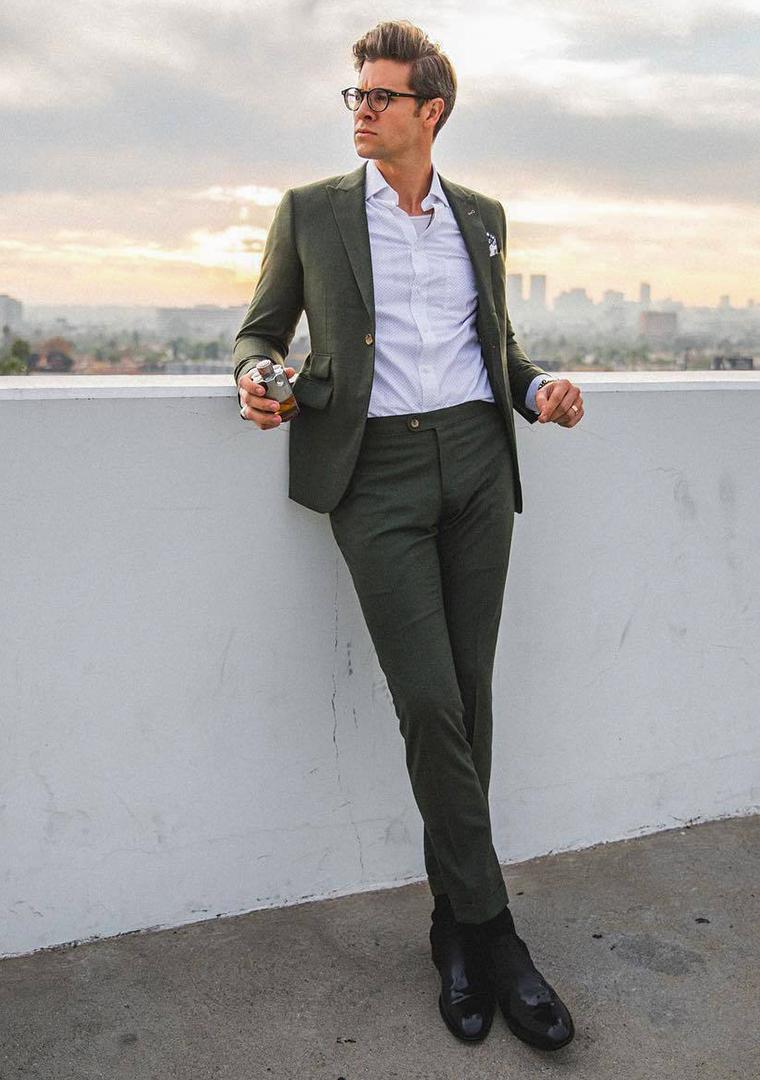 Accompany this with black leather Chelseas to make a casually confident commitment.
Also, it may catch many by surprise, but this isn't a "try-hard" look.
You can add a plain white button-up and wear this for a casual business meeting.
Throw in a colorful pocket square to make this look work for a beach wedding or a relaxed cocktail party.
Black Chelsea with a Grey Suit
Wearing a light-grey double-breasted suit gives a unique sense of "dressing up," hardly attainable otherwise.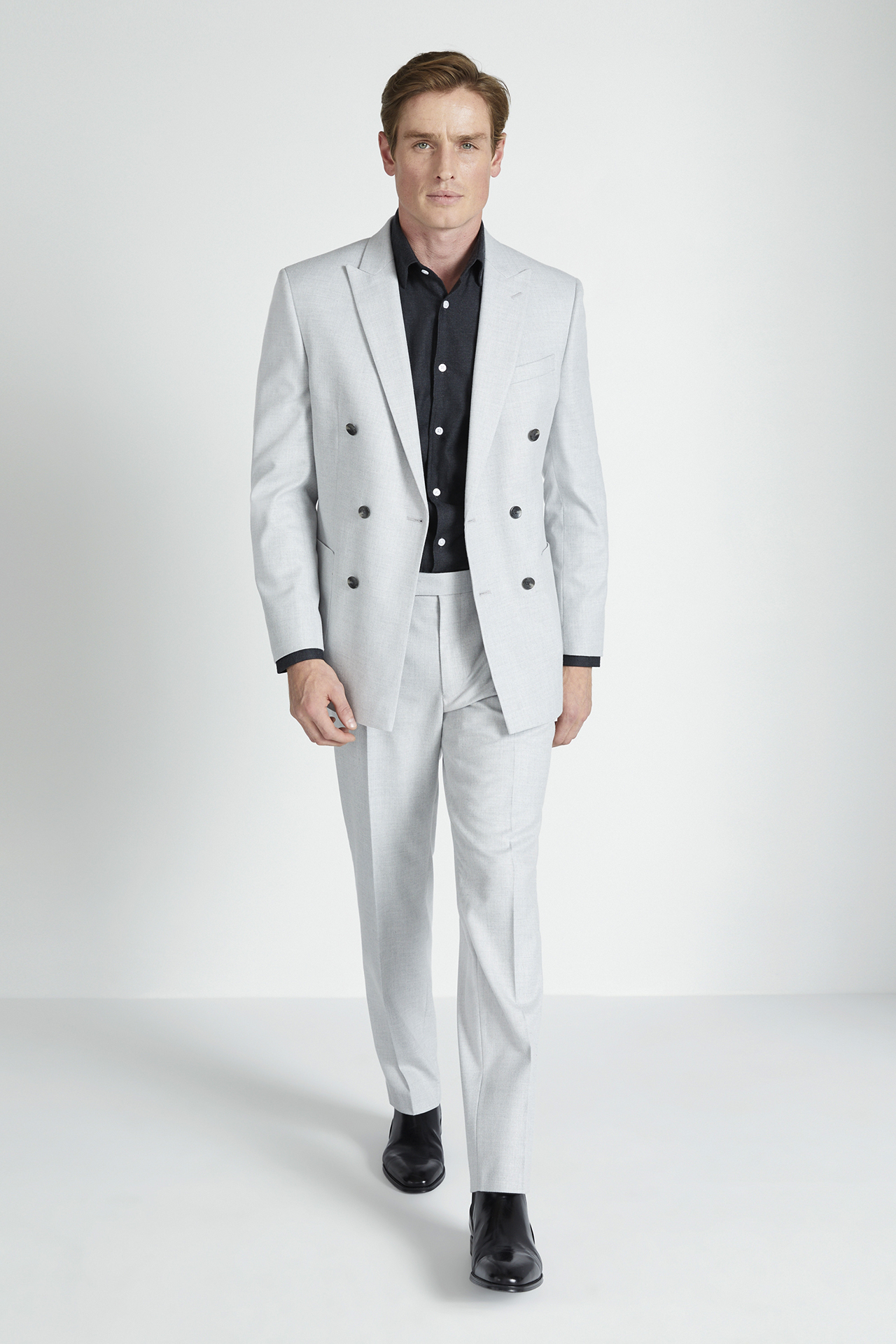 Black Chelsea boots perfectly match this ambiance and convey a distinctive statement with the suit.
Therefore, I suggest wearing this combination to your most treasured and meaningful gatherings.
It can be anything from a destination wedding to outdoor garden parties.
Top off this ensemble with a black dress shirt.
This will keep the suit a focal point of the look and foster unity with the shoes.
Black Chelsea with a Black Suit
Yet another monochromatic duo of black suit and Chelsea boots. However, this time, I recommend a more business-appropriate approach.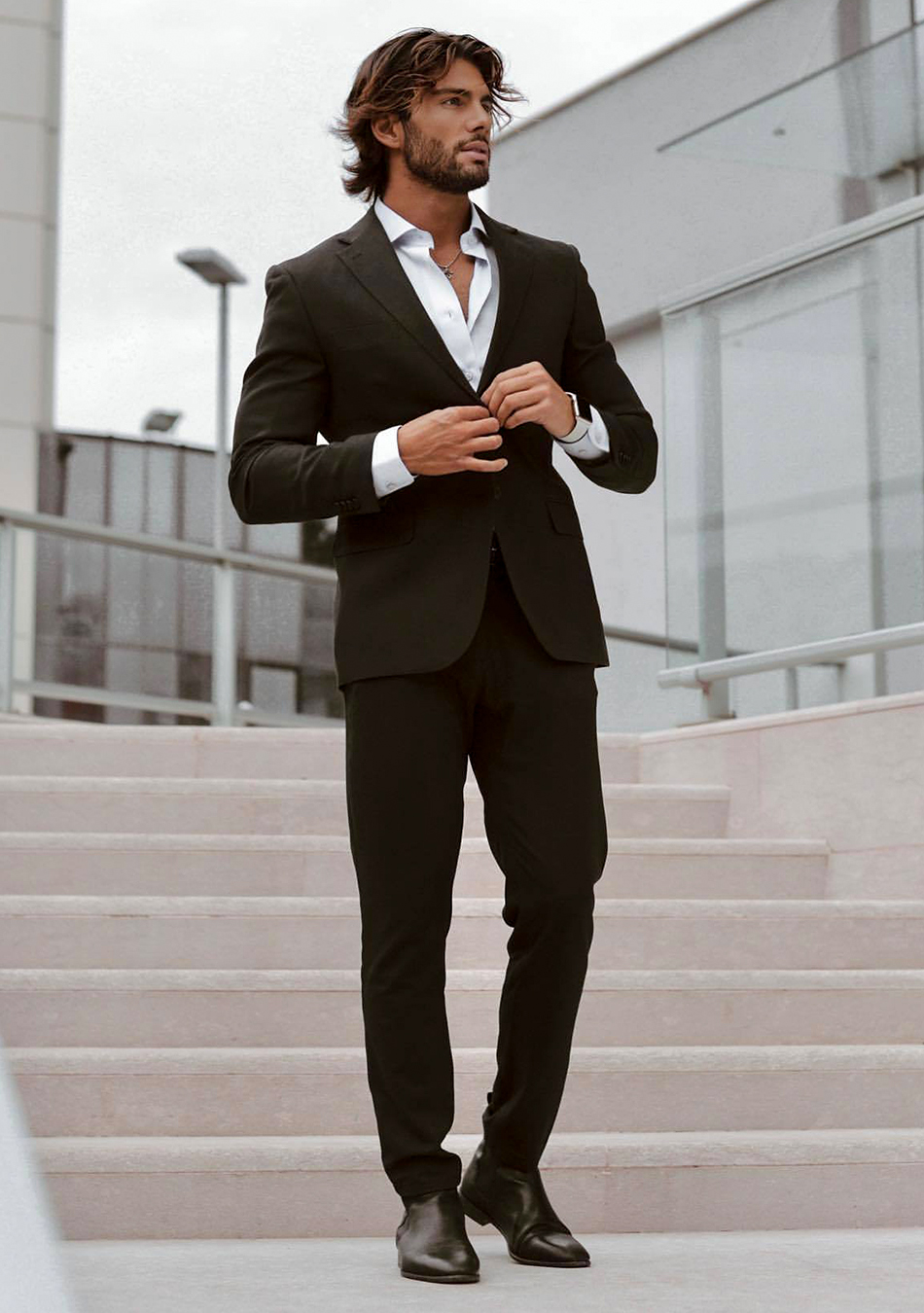 The easiest you can do is to wear a plain white button-up. Even the tie isn't necessary.
This outfit is a perfect balance of understated elegance and style.
It's also a testament to the idea that wearing Chelsea boots is about mastering the basics.
Besides the office, it's a great date-night outfit. Add in a pocket square, for that matter.
Black Leather Chelseas with Burgundy Suit
A burgundy suit possesses the essence of a nighttime formal attire.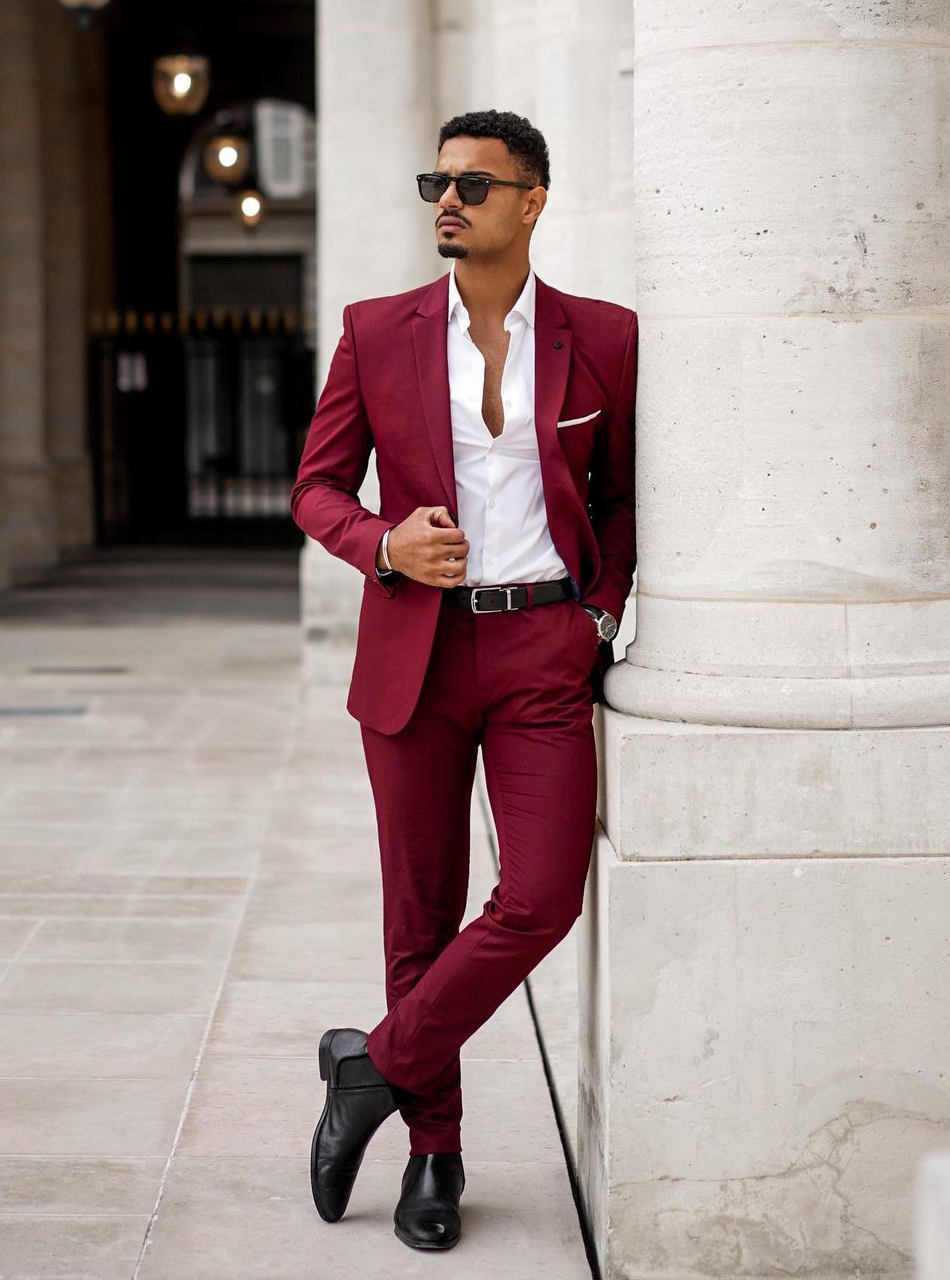 Simultaneously, it can work for your most cheerful daytime looks.
Black Chelsea boots perfectly anchor the burgundy suit for all those playful weekend and date night looks.
You can also wear this as a showstopper to any fall wedding.
Wear a white dress shirt and a matching white cotton pocket square for a relaxed chic.
You can add in a floral tie for extra pizzazz.
Tan Suede Chelsea with Brown Suit
Tan suede Chelseas are incredibly casual. So is the light-brown suit.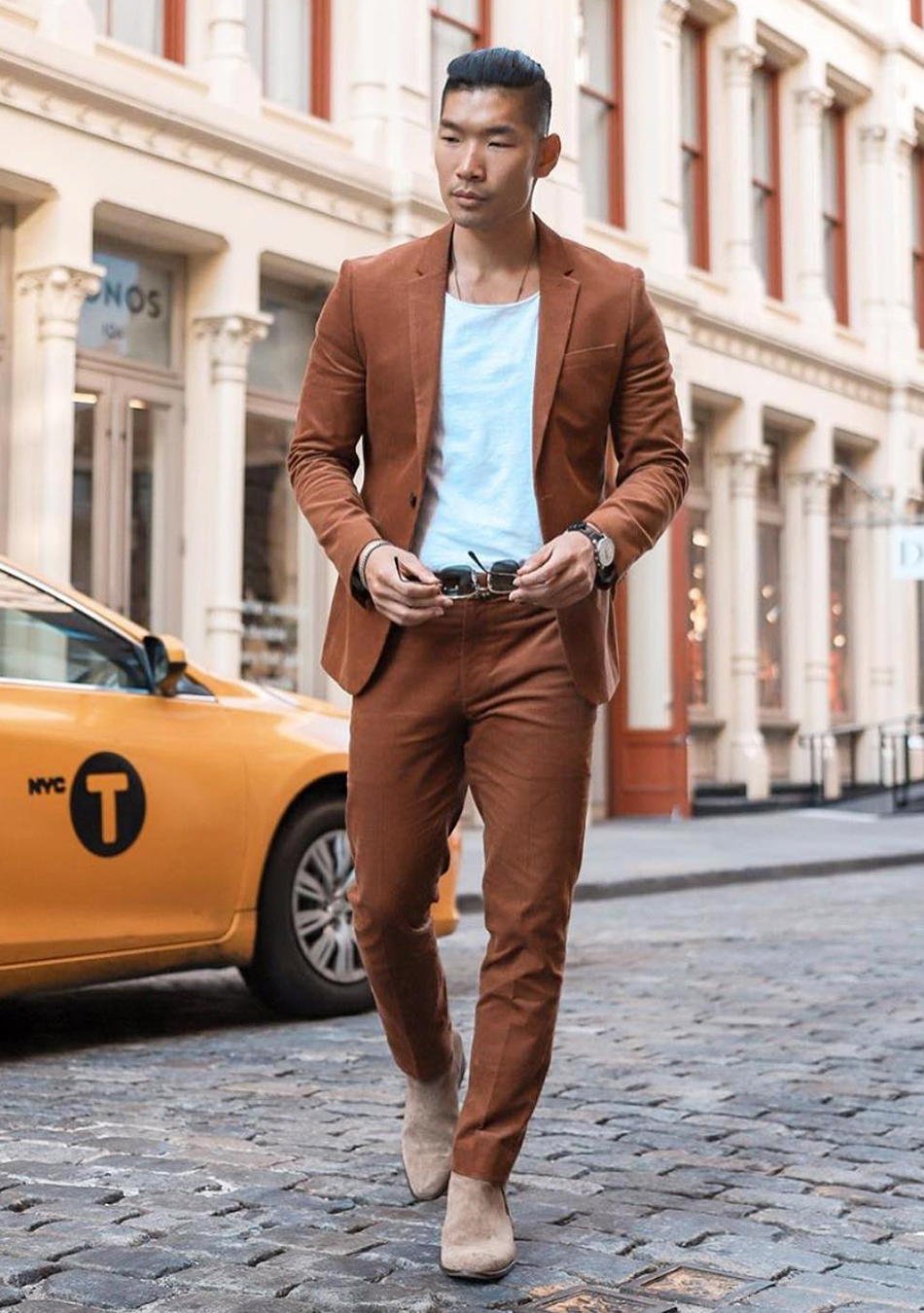 As a result, both these feel a natural match.
The color palette of the suit also gives earthy vibes. It doesn't allow the contrasting suede to stand out.
This is a relaxed combination but has the potential to be your casual staple for summer.
Therefore, a plain white T-shirt will appropriately complete the look.
Black Chelsea Boots with Blue Pinstripe Suit
Wearing a pinstripe suit is the way to keep your style away from tailoring boredom.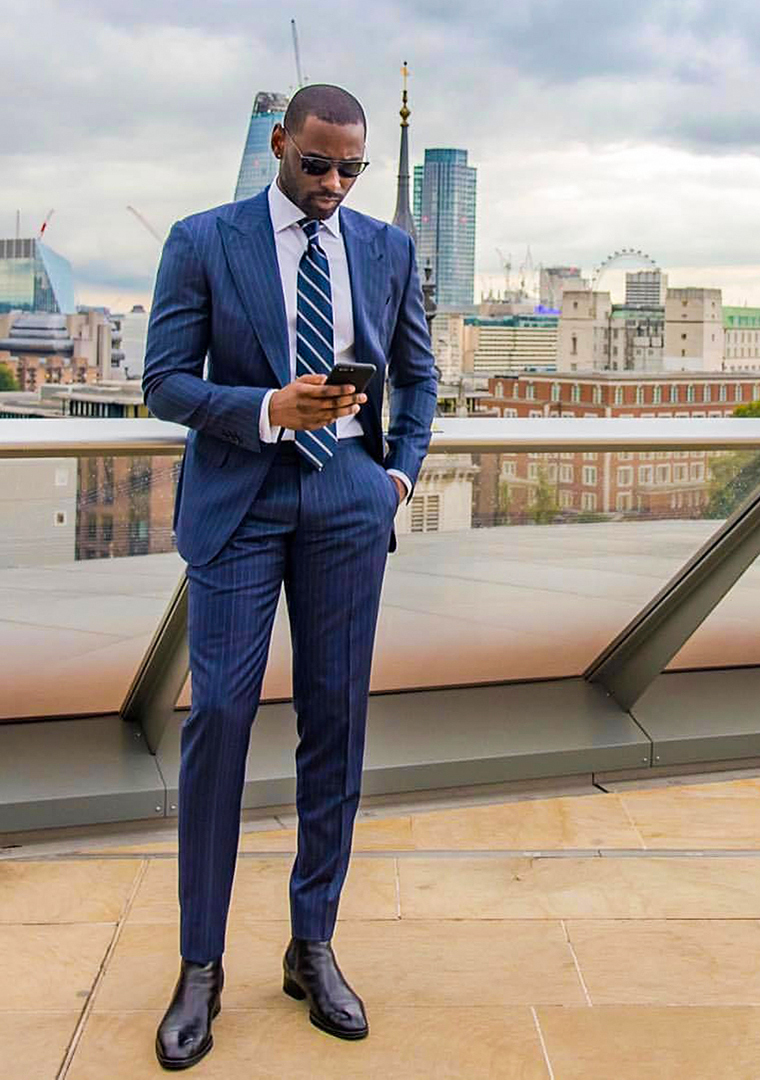 And with meticulous detailing, such as a slim cut, peak lapel, etc., it truly becomes a stand-out option.
Now, the black leather Chelsea boots are the linchpin of this look.
It's keeping a consistent formality with the dressed-up ensemble.
In addition, the sheen of the boots doesn't call for attention and keeps the focus on the blue suit.
Finish this look with a white dress shirt and a navy striped tie.
Wearing Chelsea Boots with Suit: Extra Style Tips
The basics of wearing Chelsea boots with a suit are good to know. It's the nuances that set you apart from the crowd.
For example, you can start by getting your Chelsea properly polished and shined.
Then, move towards exploring other constituents of your looks.
The Right Suit
There is no limitation to the type of suit you should wear with Chelsea.
However, it's best if you wear something effortless and versatile. Not to forget, getting the fit of your suit right.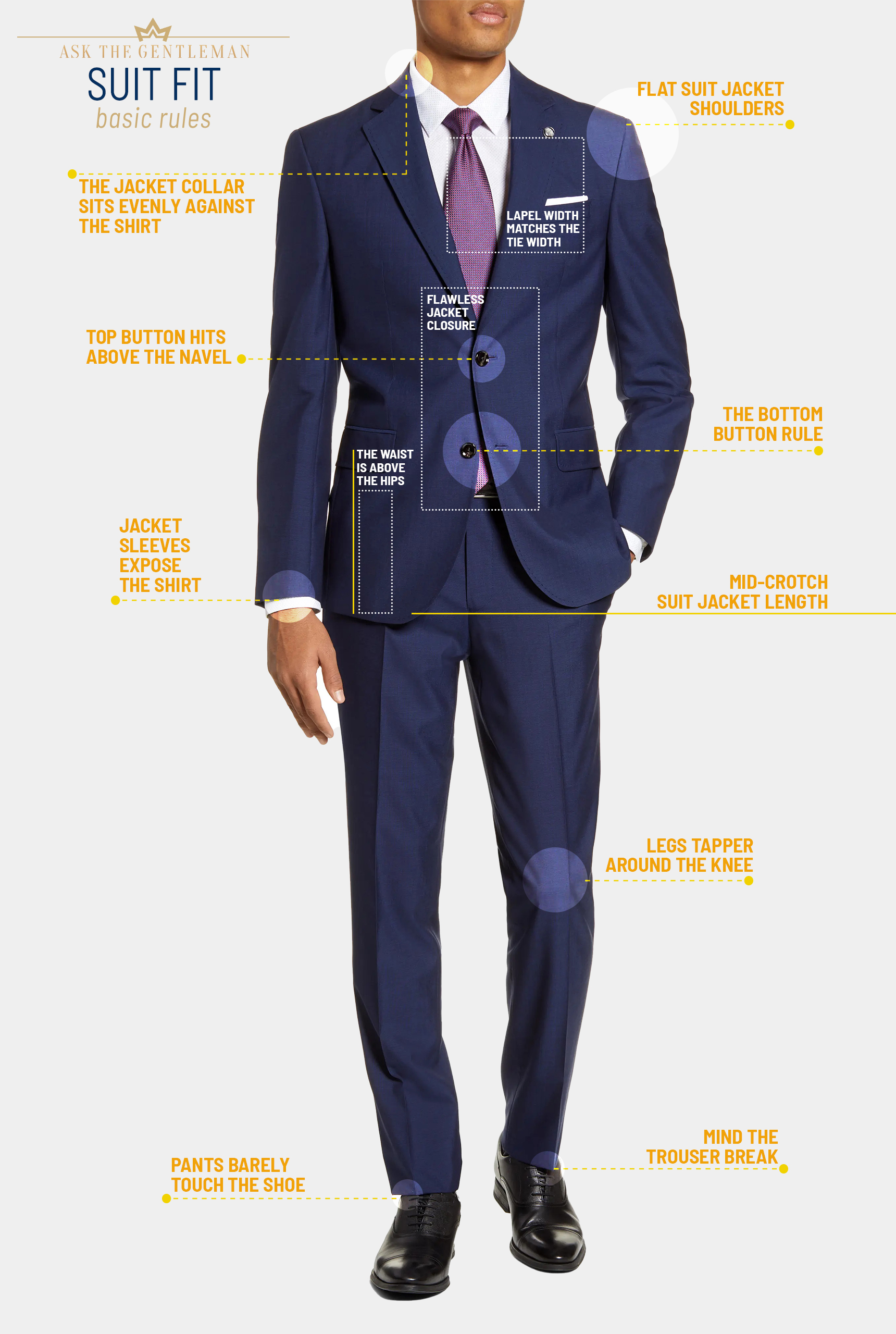 The slim-fit suit, single-breasted, two-button, notch lapel, and patch or flap pockets are the go-to suit style.
However, you can experiment with peak lapels or a double-breasted suit as long as it matches your style.
Also, remember, Chelsea boots will never go with a tuxedo.
The Break of the Trouser
The trouser break is usually according to the wearer's style preference.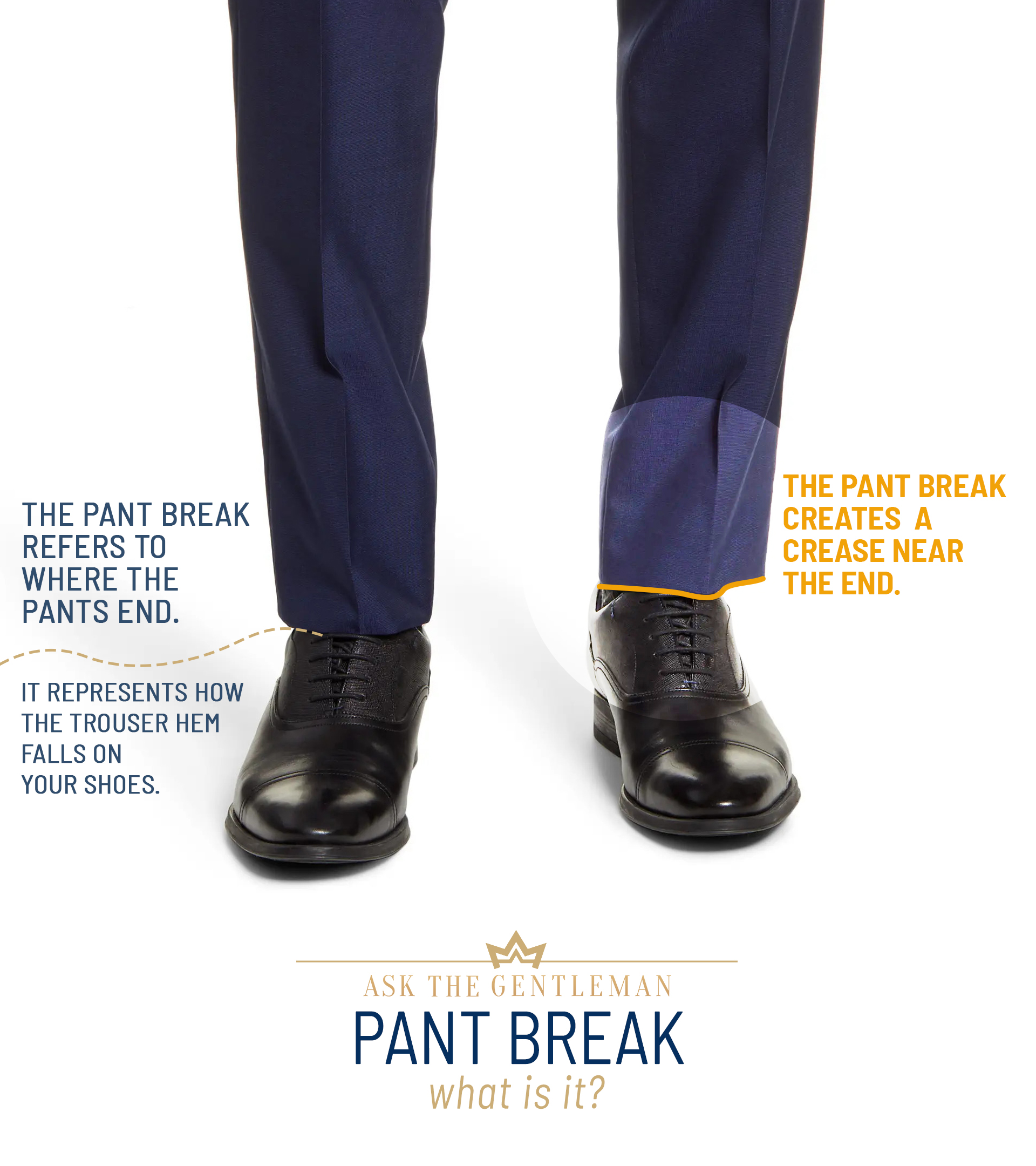 But since Chelsea boots will cover your ankles, this personalization should be reconsidered.
A slim-fit tapered pants with a slight break is the best option.
It checks both the options of modern dressing and keeping proportions right.
The Sock Game
First, socks are a must-have for Chelsea.
Mid or over-the-calf socks are the dressy and the most comfortably suitable option here.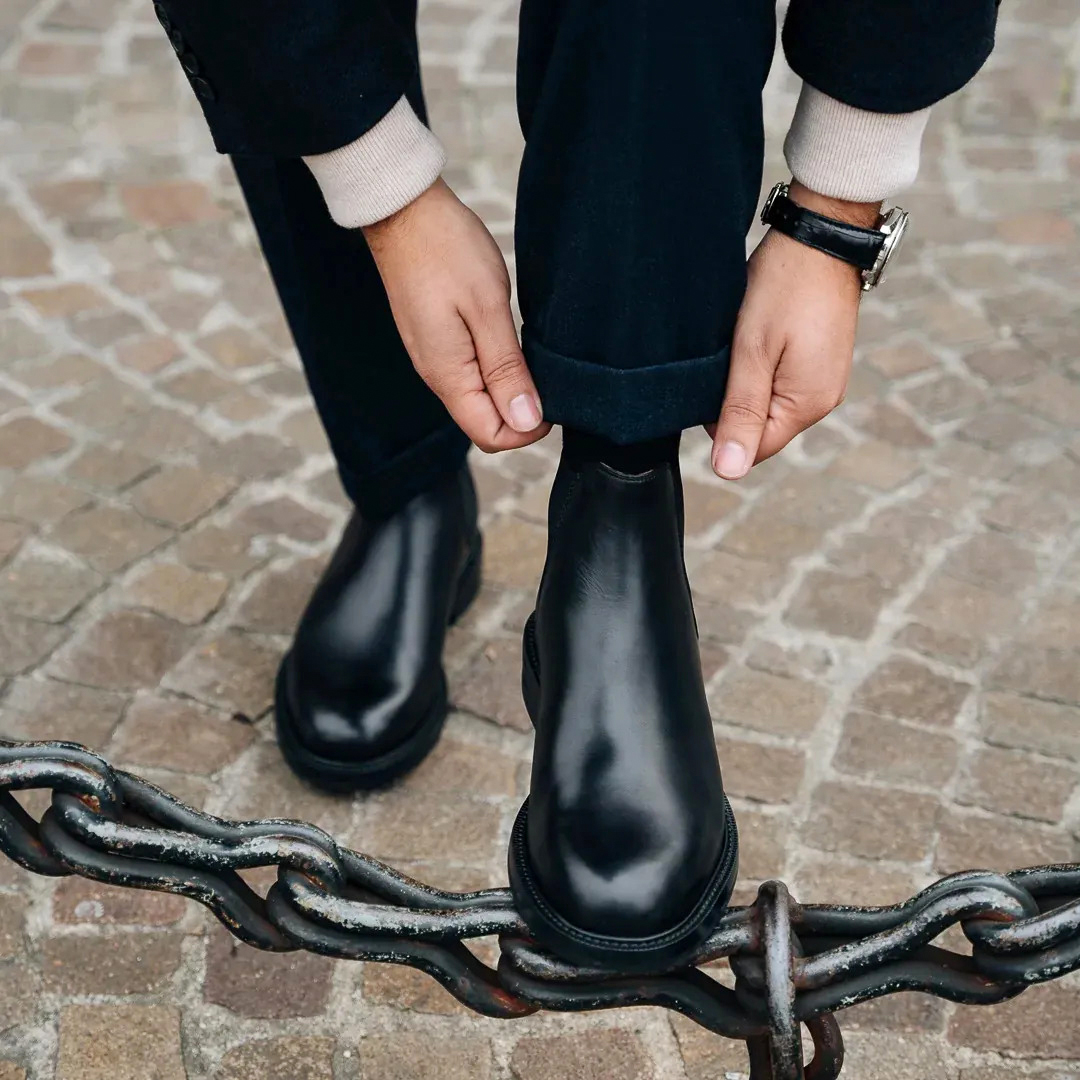 Wear socks in cotton or wool matching the suit color.
Thick winter socks can also work well with Chelsea boots if staying warm is essential.
Unique about Chelsea is they don't give much exposure to the socks. Therefore, wearing patterned socks is not the best option.
Seasonal Considerations & Dress Code
Chelsea boots are exceptionally versatile.
But wearing these with the suit and stylishly adhering to the dress code is the true task at hand.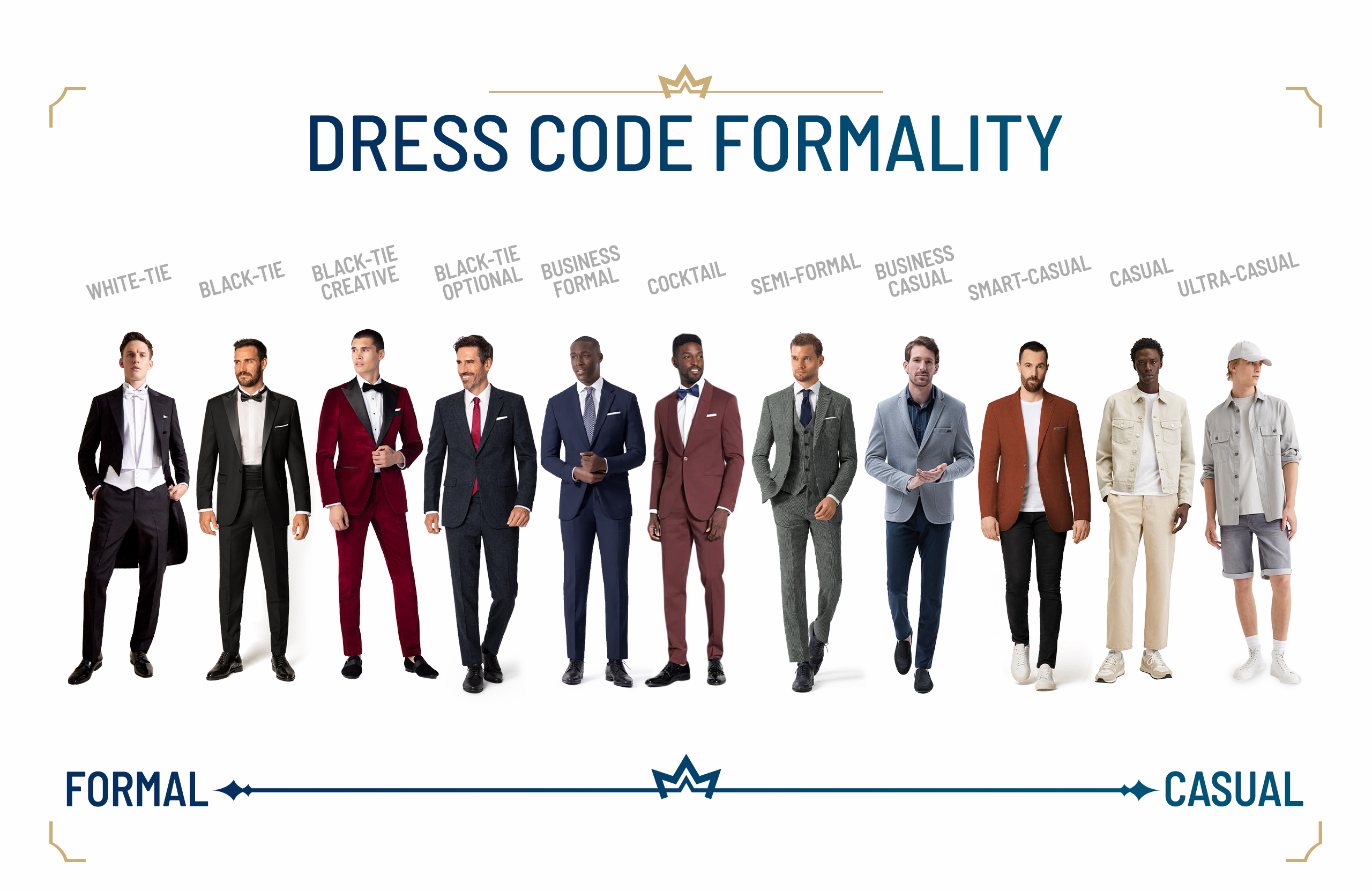 Business-formal, semi-formal, business-casual, smart-casual, and cocktail can be your go-to dress codes.
Concerning the season, most Chelsea boots are innately made for fall and winter.
But the dressy leather ones are an enduring classic, regardless of the weather.
Avoid The Over-Accessorizing Trap
Over-accessorizing will shatter your look.
In fact, you'll look a "try hard" instead of being stylish.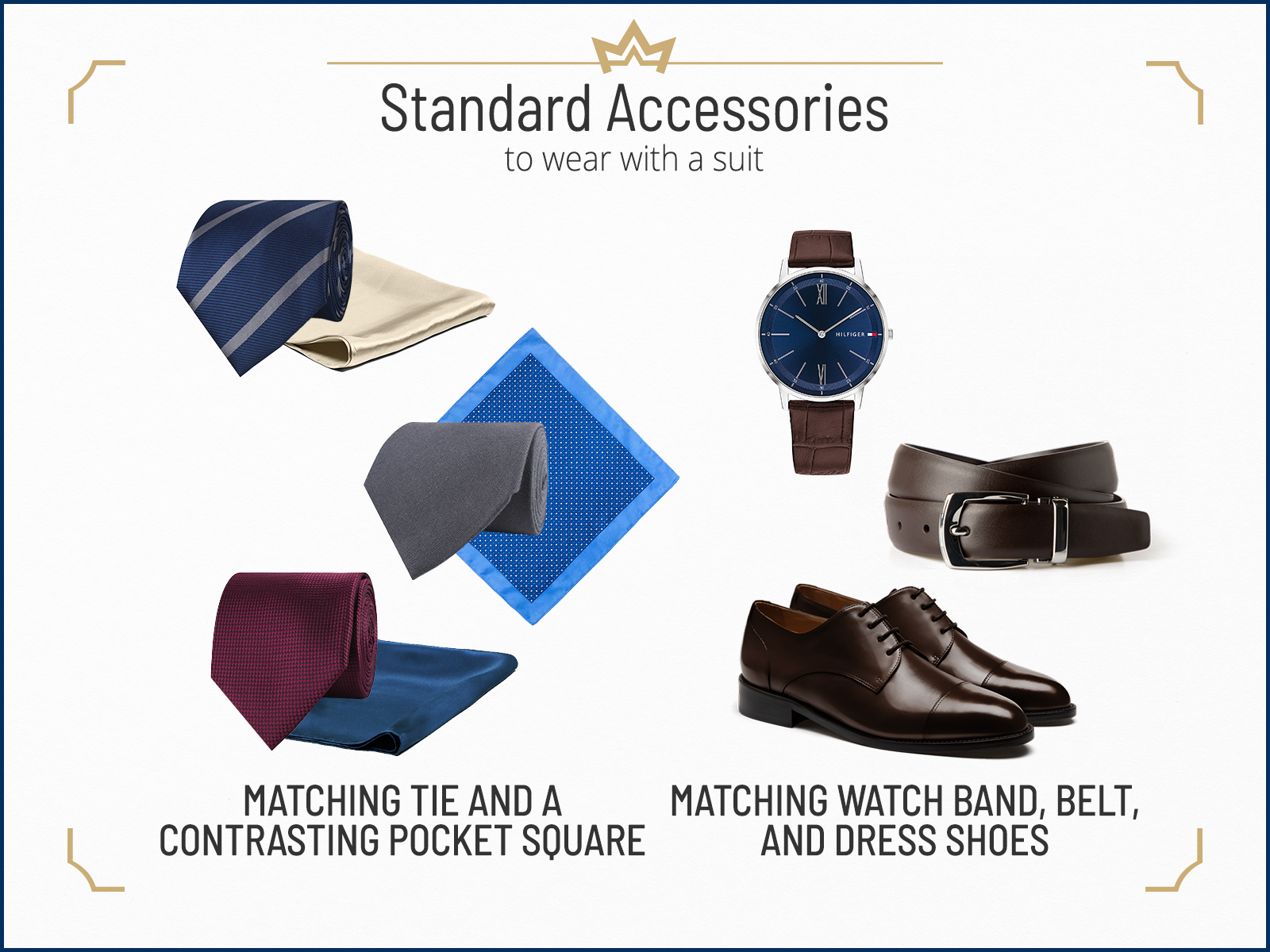 Therefore, I suggest only sticking to classic accessories, particularly with a dressed-up ensemble.
A tie, pocket square, and watch are all you need. Lapel pins, boutonnieres, ascots, and brooches are too much.
Wear the accessories to tell about your suit and not the other way around.
Sole Searching: Rubber or Leather
Rubber soles are thick and usually more durable, especially on harder surfaces. At the same time, these appear chunky and less formal.
On the other hand, leather soles are much more sleek.
As a result, Chelsea boots with leather outsoles exuberate a more refined, dressy demeanor that matches the suit.
Analyzing Boot Shape: Dr. Martens vs. Church's
Let's take an example: Dr. Martens vs. Church.
As a boot company, Dr. Martens is popular for creating cushioned soles. They incorporate the same idea in Chelsea boots.
You'll see Dr. Martens boots with thick soles, round toes, and casual detailing, making them harder to pull off with a suit.
In comparison, Church's model has a slimmer structure. These shoes are inspired by formal dress shoes, such as a more pointed toe and slimmer heels.
Such consistently sleek shapes are perfect to wear with a suit.