A light grey suit is a little more complex than many men realize.
For example, it isn't the right color suit for most professional situations, no matter how you dress it up.
However, using the proper color, you can make your light grey suit a perfect outfit for many other events.
Don't be surprised if you discover that light grey suits are your favorite once you learn how to play with color with this suit.
Light Grey vs. Charcoal Grey Suits
Most people use the phrase "shades of grey" when talking about something unclear where it lands between good and evil.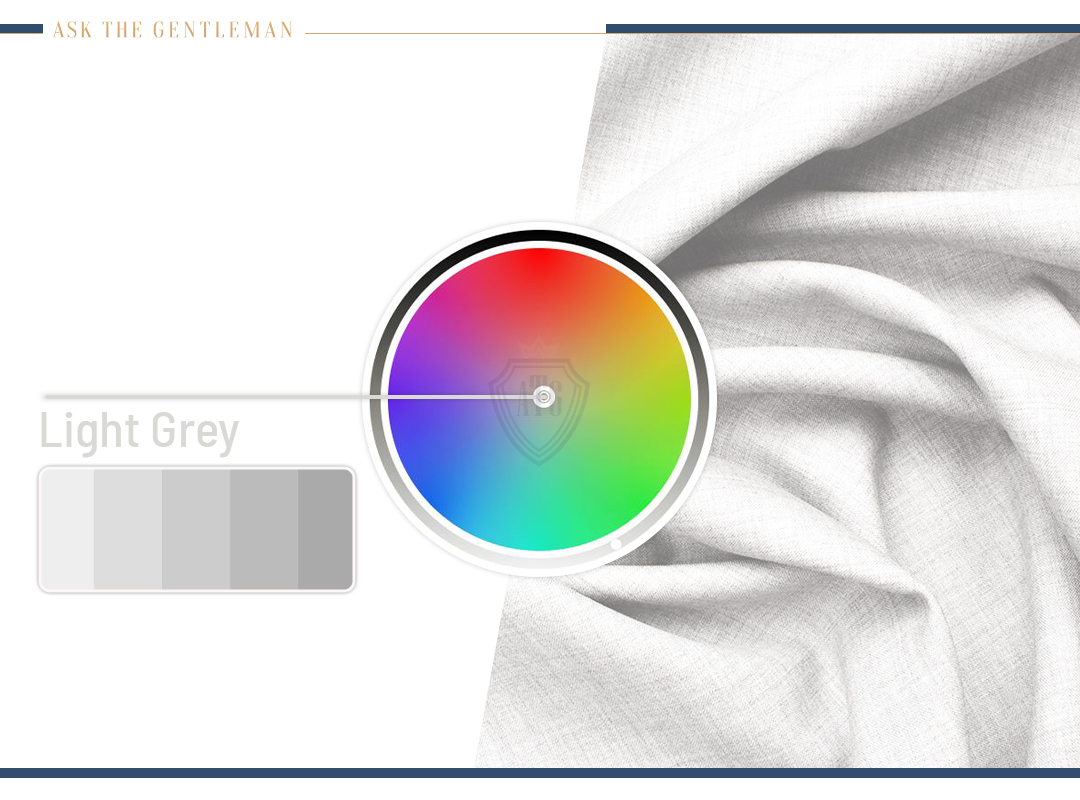 However, there is no question when we're talking about shades of grey for suits. It's all good.
Grey is a color that comes in many shades. So it's important to use the proper grey in context, though.
Charcoal grey is a beautiful color, but it's mainly suited for formal or professional occasions.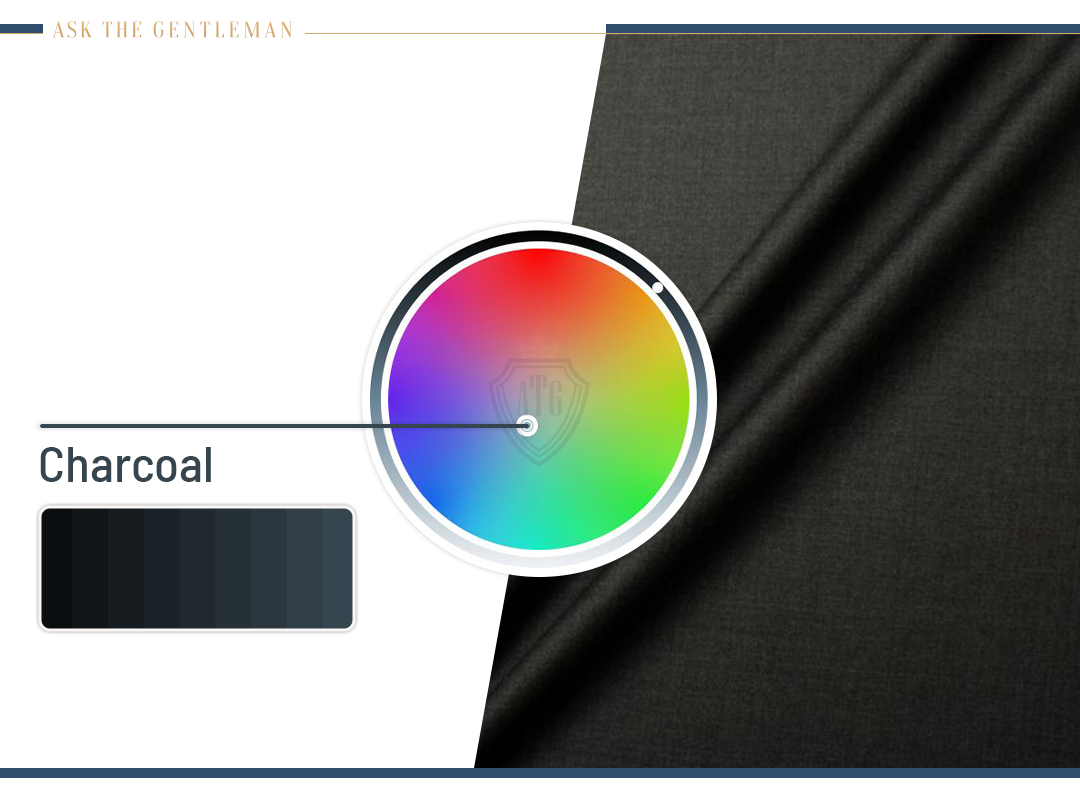 On the other hand, light grey is a daytime color and, therefore, more informal.
It's ideal for semi-formal and smart casual events and everything in between.
It's also a good idea to consider your coloring when picking which grey suit you'll wear.
A charcoal or dark grey suit is best for people with a darker complexion, while light grey is a lovely match for fair people.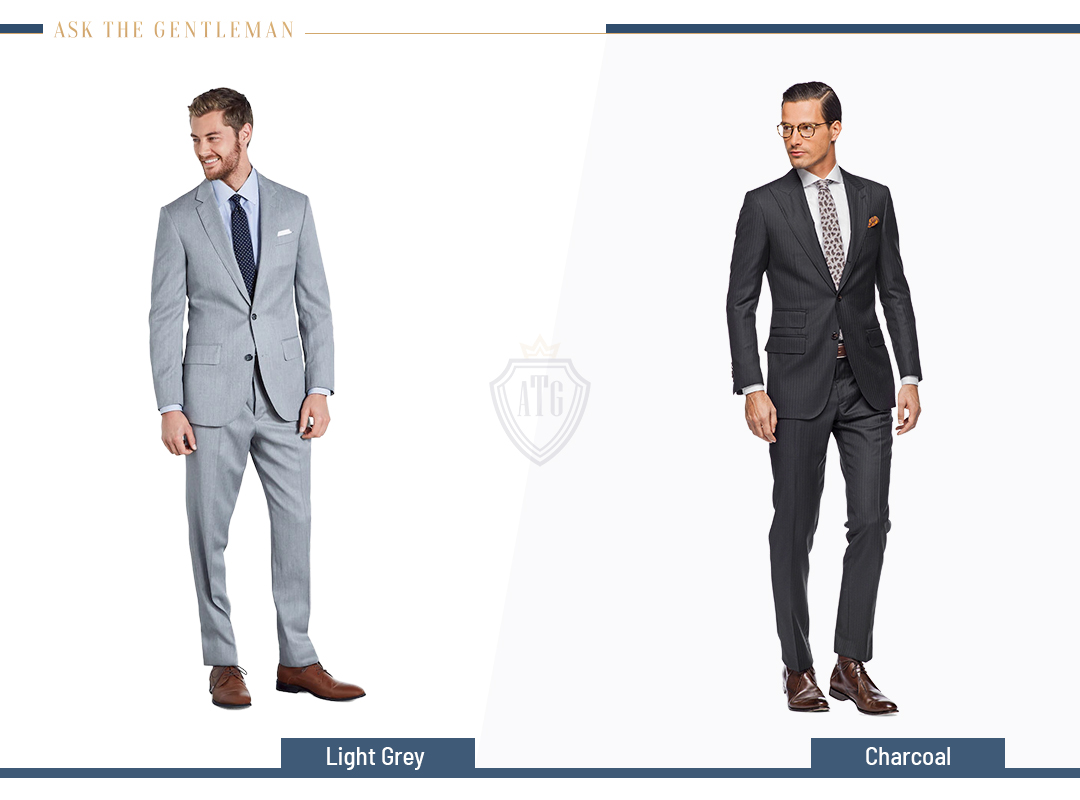 Either way, you're in luck. Both shades of grey play very well with other colors, so you're sure to have many options.
Best Dress Shirt Colors & Ties to Wear With a Light Grey Suit
You just have to love the versatility of the light grey suit; it's an amazing foundation for adding color through a dress shirt!
You can use additional colors to shape your light grey suit style and formality.
Take your same light grey suit from suave and sophisticated to jazz-cool and then onto relaxed casual. It's all in how you style it.
Light Grey Suit & White Shirt
There is nothing as elegant as a crisp white dress shirt, no matter what color your suit is.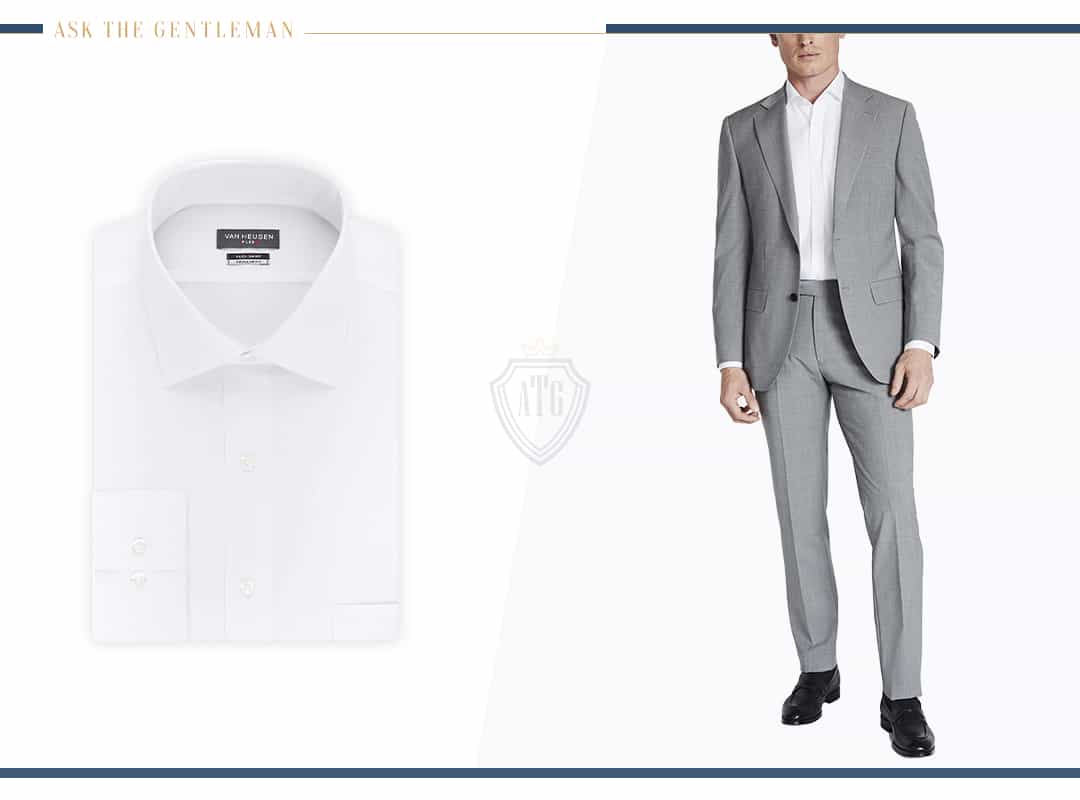 Perhaps a white shirt under your suit jacket isn't the most original combination, but it's a classic for a good reason.
When you want to dress up your light grey suit, you must start with a white dress shirt.
From there, you have nearly unlimited tie color choices.
If you want to keep your neutral palette going strong, you can go all in on formal with a black tie or slightly less dressy with a charcoal tie.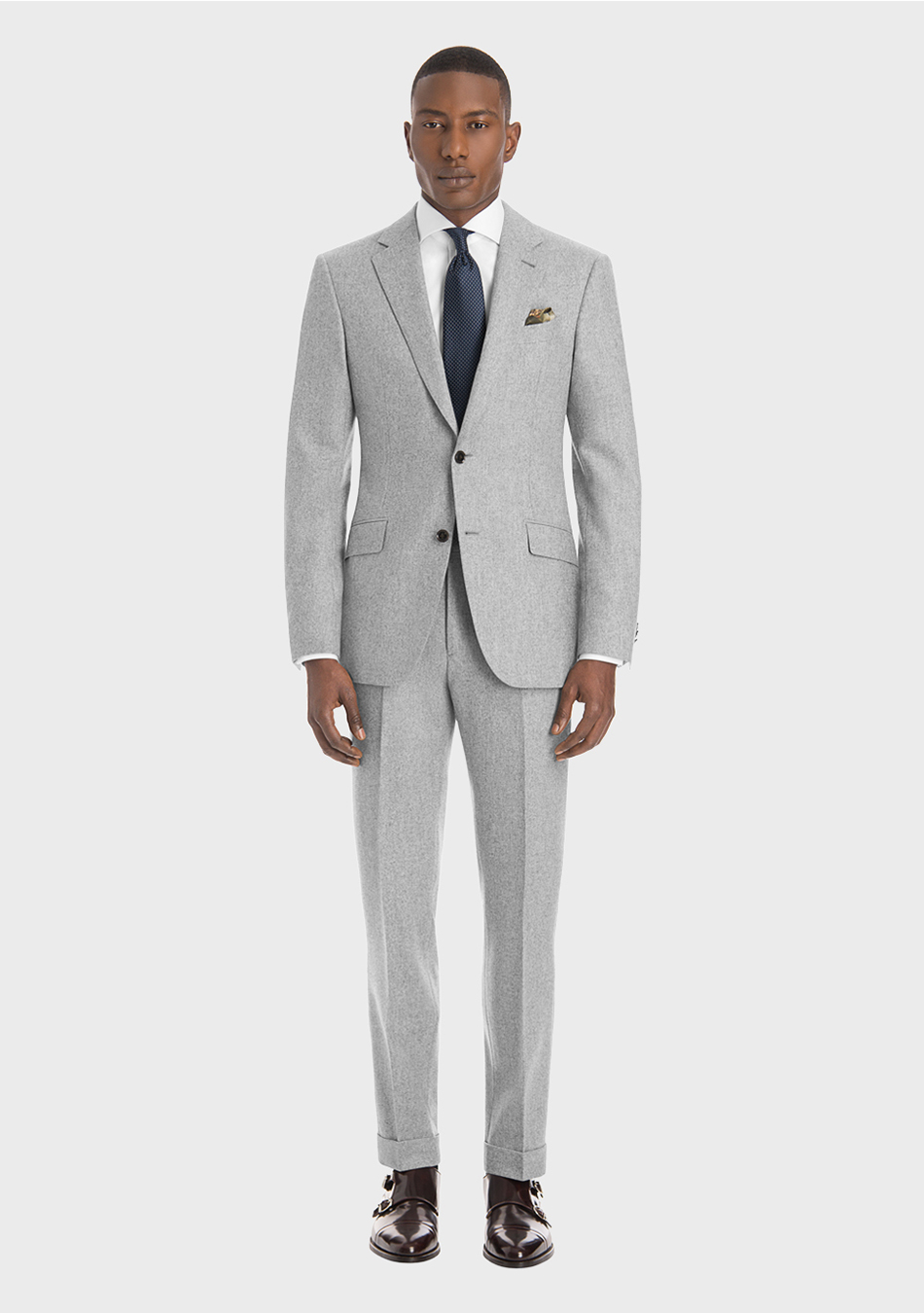 Of course, a red power tie is a strong choice and will automatically command respect.
However, a blue or purple tie can be a stylish way to loosen up your image a bit while still making a power move.
Wear this ensemble to any semi-formal event; many weddings are semi-formal, and so are many evening social functions.
Light Grey Suit & Pale Blue Shirt
A light blue dress shirt is a safe and traditional way to make your light grey suit slightly more informal.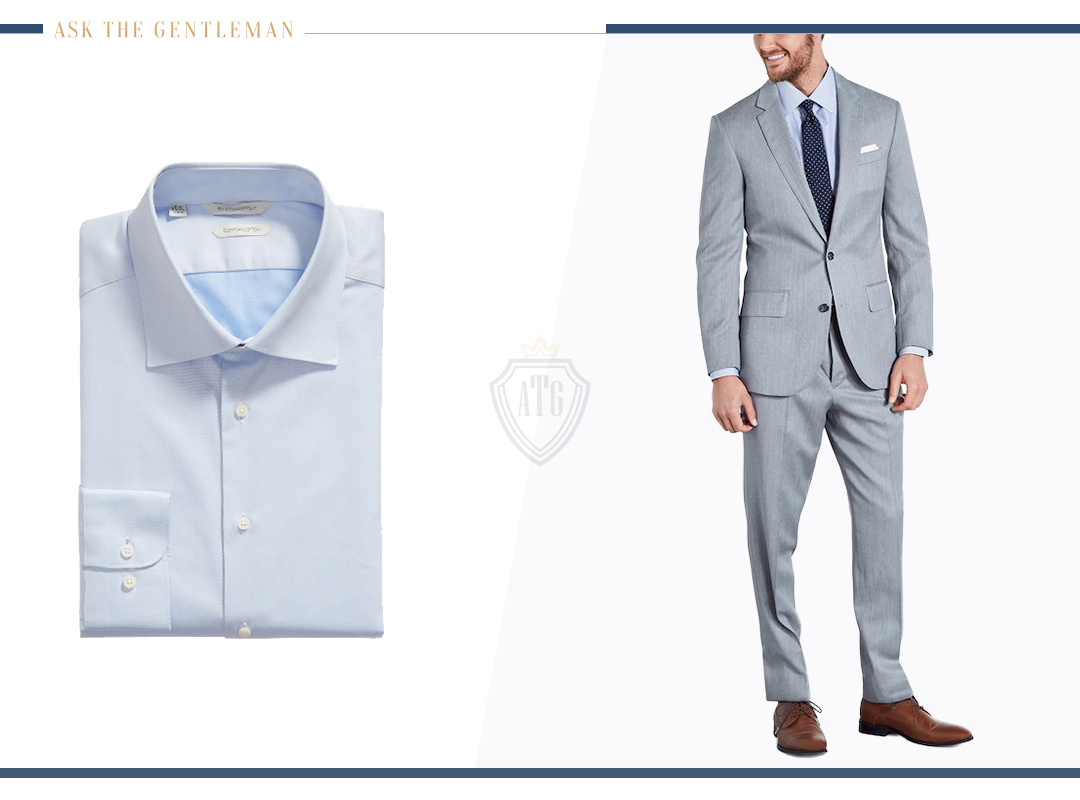 Grey is incredibly flexible and can pair well with almost any color, but for this suit shade, you'll do your best to stick with pale blue for your blue dress shirt.
This is a cheery color and gives your appearance a light, springy feeling.
A light blue shirt works so well because it gives you just a hint of contrast to your suit.
You can pull your outfit back toward a more professional look with a black tie or soften it a bit with a charcoal one.
But if you want an outfit more suited to socializing, try a more fun tie, like a blue darker than your shirt.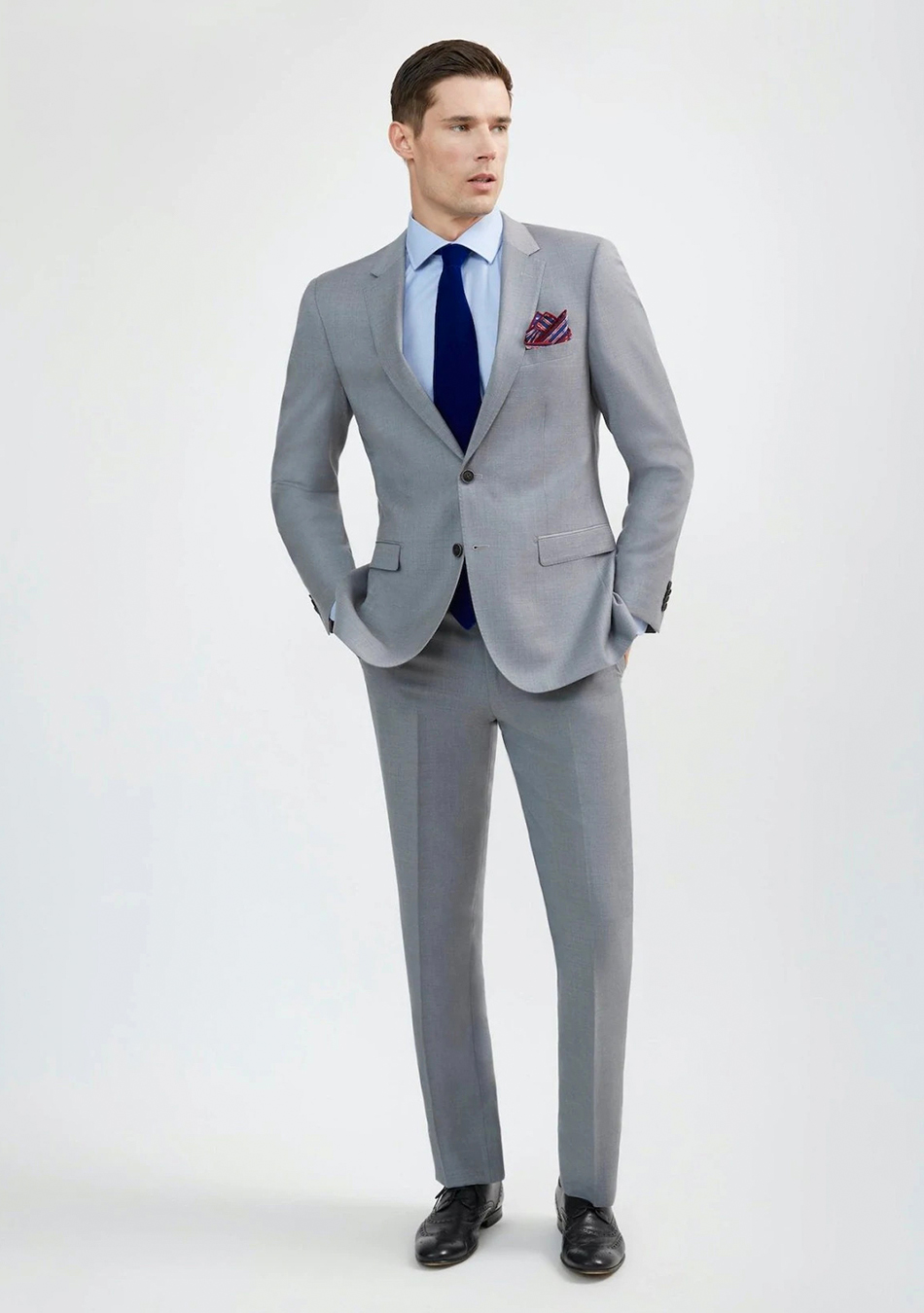 Swap out your standard tie color for a burgundy one for a real head-turning surprise.
You can wear this suit and dress shirt for a business-casual day at the office, in many social settings, and it's ideal for a daytime wedding.
Light Grey Suit & Pink Shirt
A pink dress shirt brightens up this neutral and muted suit color.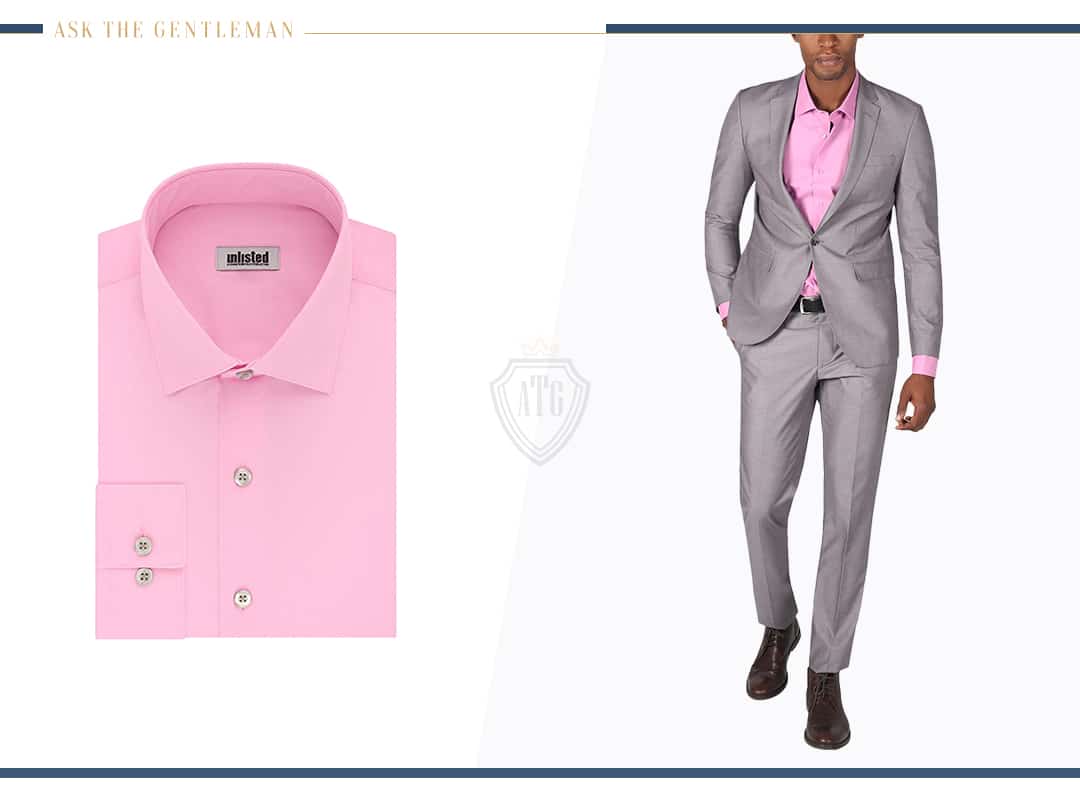 A light pink shirt is perfectly fine, as long as it isn't too pale; you don't want it to look washed out against the light grey jacket.
However, you could also make your suit bolder with a dark shade of pink.
Just keep in mind that this dress shirt definitely puts your light grey suit firmly on the more informal side of fashion.
Pink and grey are time-tested combinations that always feel fresh and modern.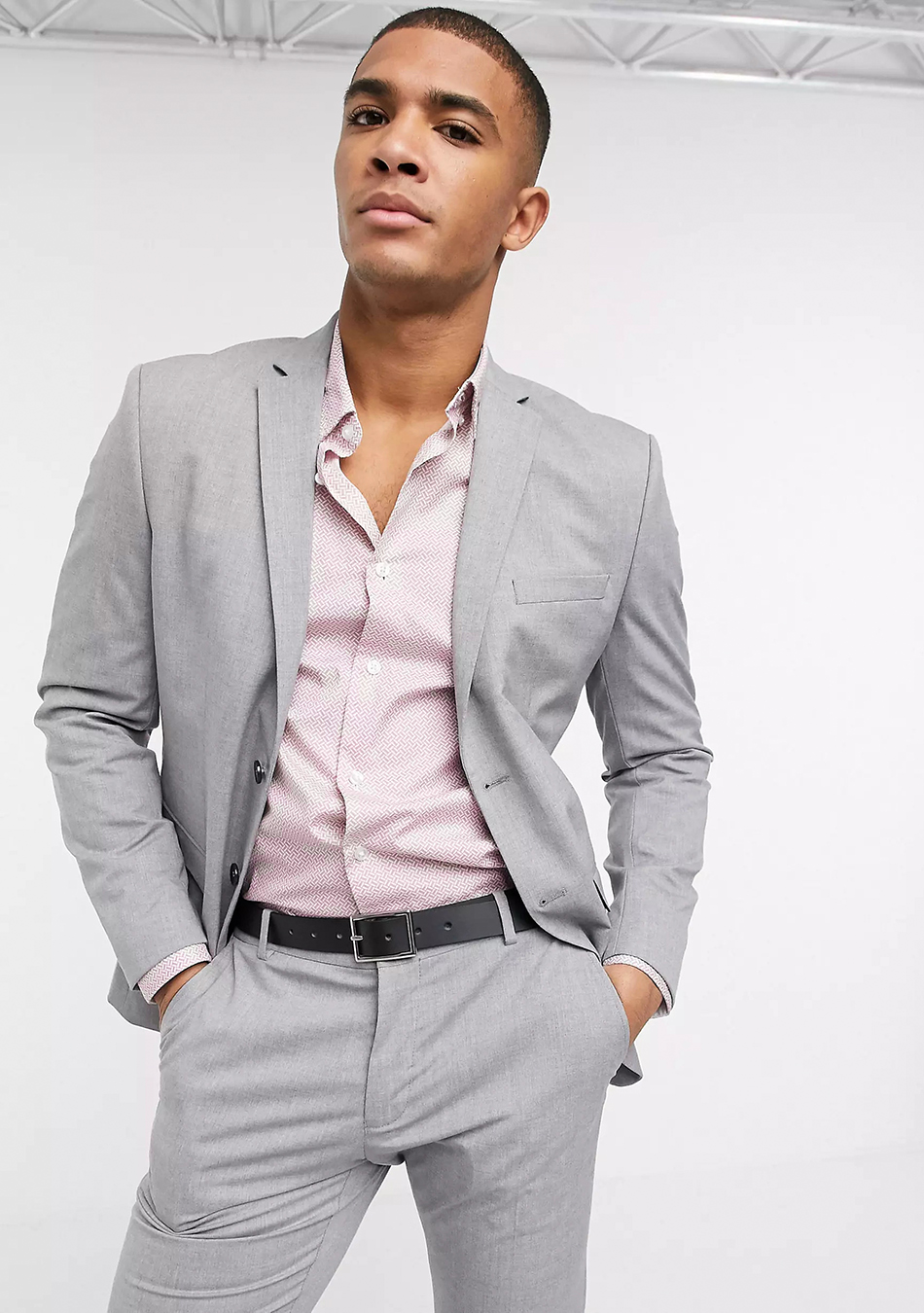 Black and charcoal are the obvious tie color choices, but get daring and branch out.
A pink tie can make your ensemble look very chic; just be sure to choose a tie that's at least a shade darker or lighter than your dress shirt.
A navy blue tie is an effective way to sober your suit up.
Or, in a completely different direction, you can be incredibly bold. Now, hear me out, but a red tie would look phenomenal on top of your pink dress shirt.
Light Grey Suit & Black Shirt
If you want to create a sophisticated and cool outfit, try wearing a black dress shirt with your light grey suit.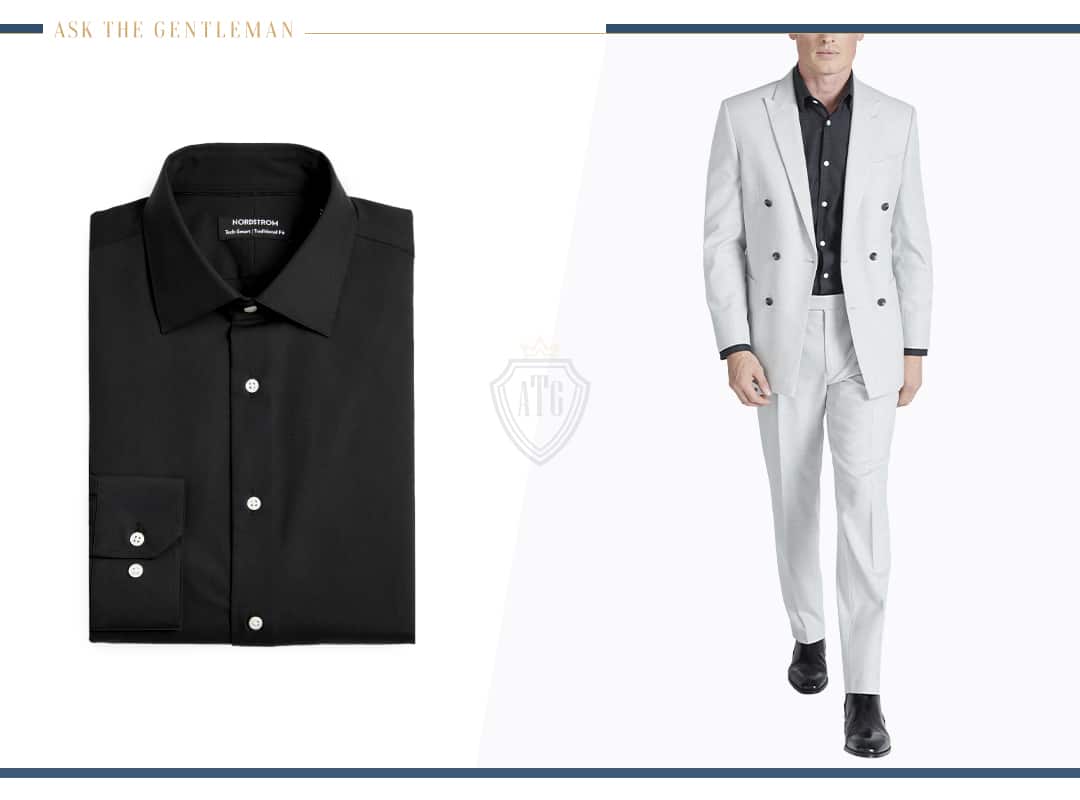 The contrast between the light and the dark shades is outstanding.
The black shirt makes your grey suit feel more elevated.
It makes a bold, strong statement that cries out to be noticed, mainly because of its non-conformist style.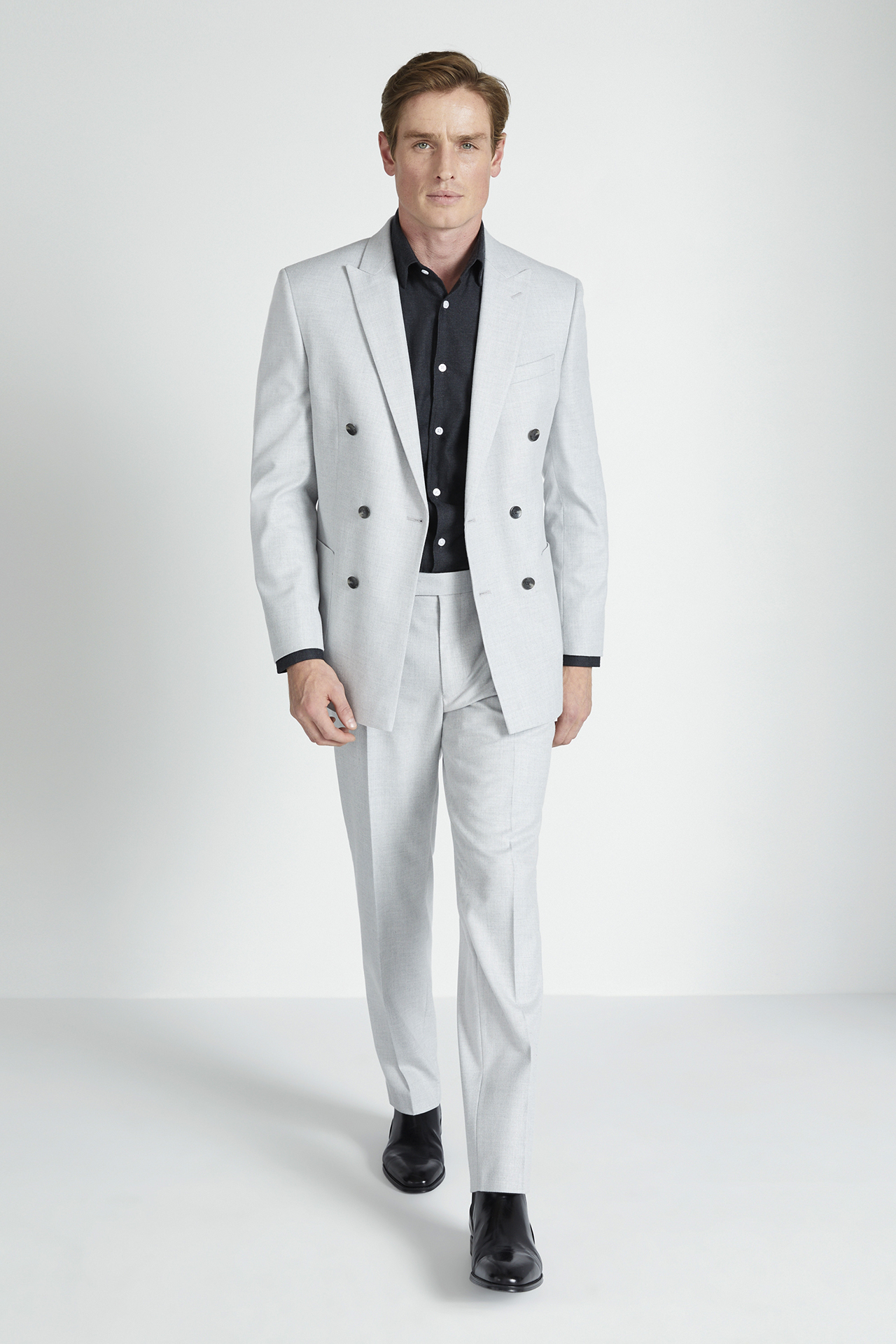 You don't want to ruin this all-neutral outfit with a colored tie; it might feel out of place with the black and the grey.
So stick to a black or grey tie.
Even though black tends to be a formal color, this outfit is decidedly informal and not professional.
It's best for business casual or casual social events; you would probably be the sharpest cocktail party attendee in this outfit.
Dressing Down the Light Grey Suit
Your suits don't always need to be stuffy and conventional.
It's possible to kick up your heels in a dapper suit that you've dressed down.
The right accessories, or lack of them, can alter the entire feeling of your suit.
For example, skip the tie for your more casual outings, and you're already halfway there.
Light Grey Suit & Pattern/Stripes Shirt
Perhaps one of the most direct ways of indicating a change in your formality level is through your dress shirt.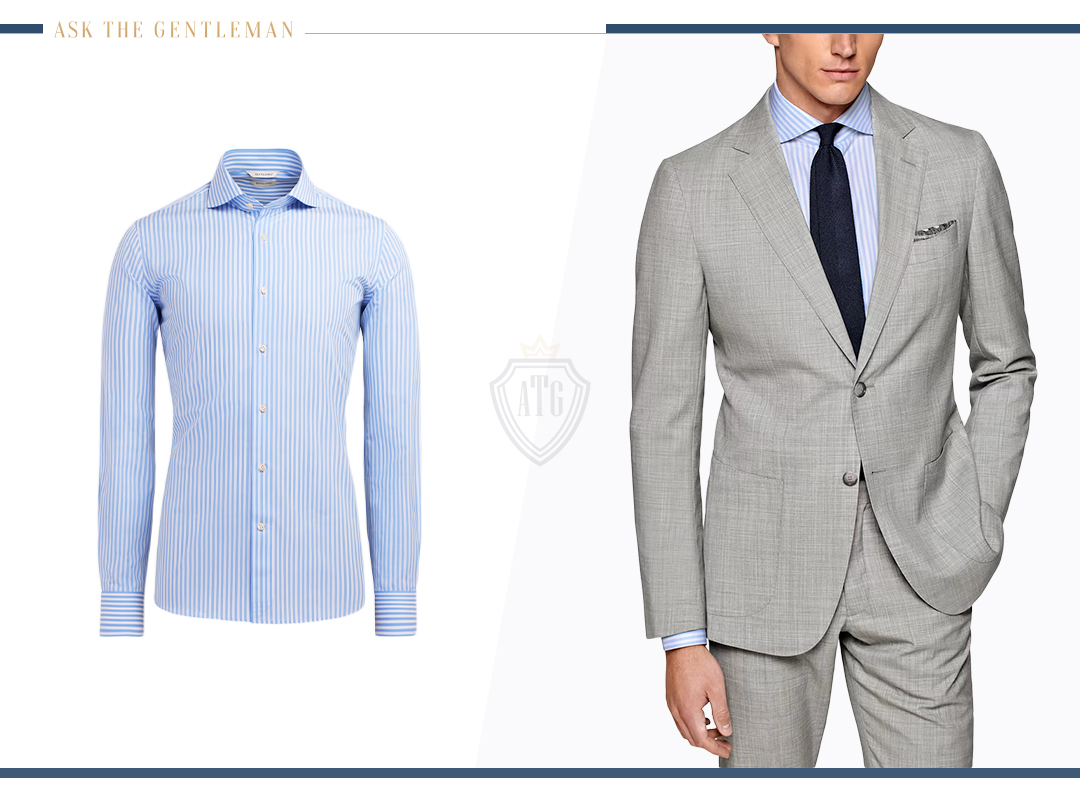 Solid dress shirts are serious, worn by professionals everywhere.
You never see them in a striped or checked shirt, and there's a reason for that.
Patterned shirts are informal, so when you add a print to your dress shirt, you lighten up your tone.
You can be subtle and unobtrusive with your pattern; small checks or thin stripes are still semi-formal.
Or, you can have a large and splashy print for a very casual style along with your grey suit.
Light Grey Suit & Floral Shirt
Floral prints can be showy and fun; they can also be delicate and tasteful.
They are more versatile than you might expect; you can find them in pastel colors or muted shades. Sometimes you can also grab a black-and-white floral print.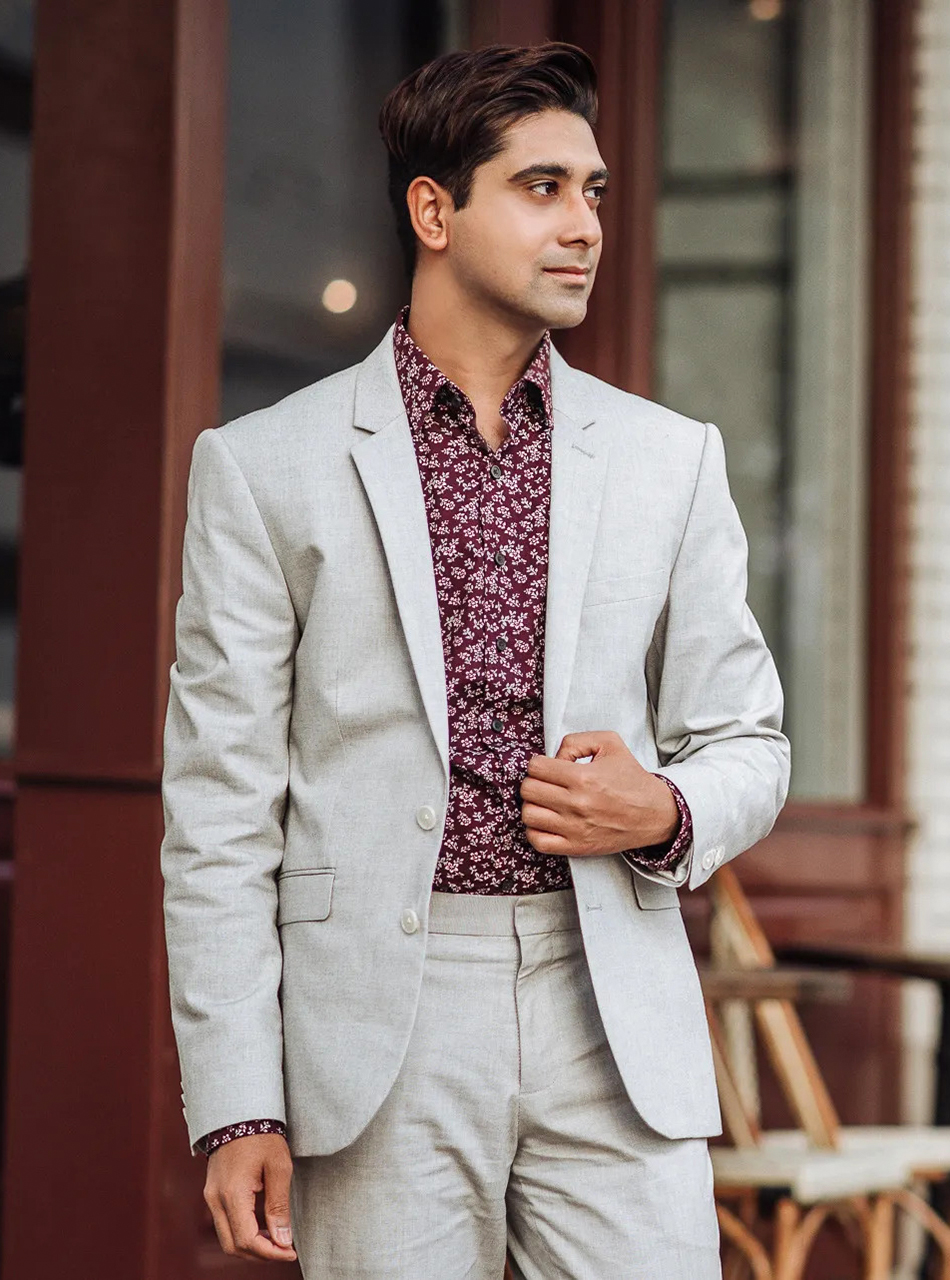 Whichever colors your floral dress shirt incorporates, it will be lively and cheery.
It's a surprisingly sophisticated style to pull off and not a very commonly used pattern.
You can wear this style of shirt with your light grey dress shirt for a light-hearted cocktail event or to put a smart casual twist to your suit.
Turtleneck & Light Grey Suit
Adding a turtleneck to your suit is the ultimate in a smart casual approach to dressing.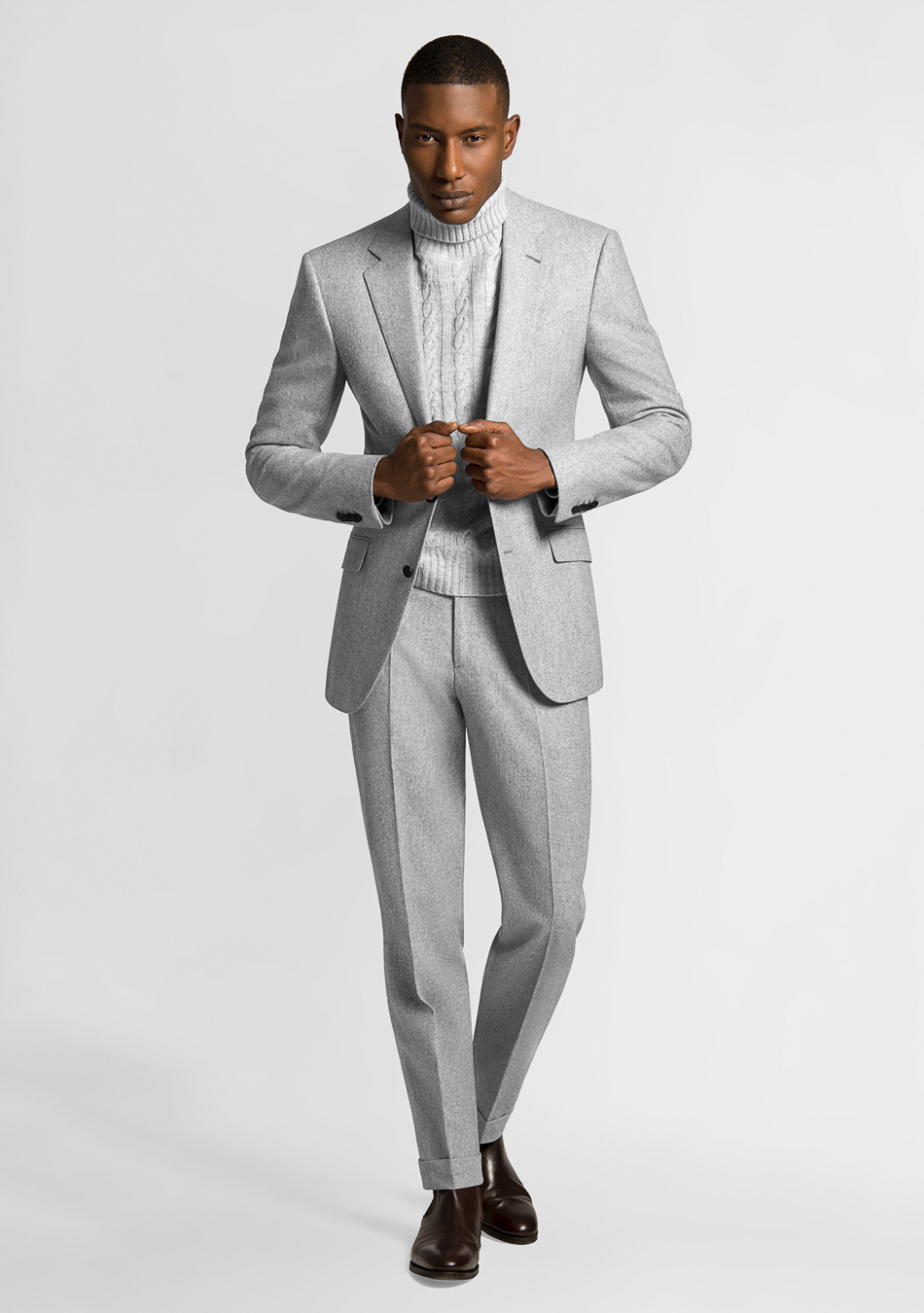 You can't help but look like an intellectual when you sport this fashionable professor-like look, which can be a very good thing.
A turtleneck creates a sleek line under your suit jacket, covering you up more than your standard dress shirt. It's a fine way to appear almost mysterious and sophisticated.
It's best to stick with a dark color turtleneck with your light grey suit; black is ideal for creating an ultra-modern aesthetic.
Wear a T-Shirt & a Light Grey Suit
A t-shirt can quickly look sloppy, so be cautious if you go the t-shirt and suit route.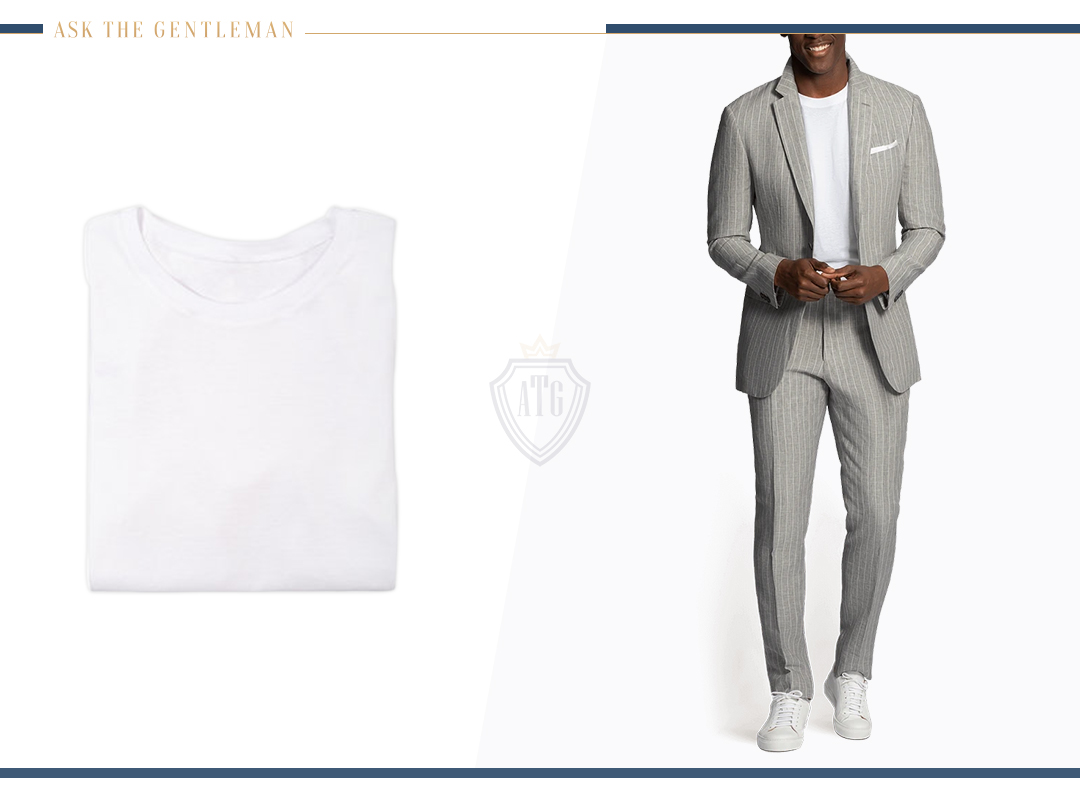 When done correctly, you can end up with an impeccable smart-casual style.
Choose a t-shirt that's a solid color and, of course, clean and free from wrinkles. It should also be very trim and fit to your torso.
White is the ideal shade since it helps keep your suit looking perfectly crisp.
But you are welcome to choose a colorful t-shirt, but know that it makes your suit even more casual.
Shoes to Wear with a Light Grey Suit
No matter what you're wearing, you always match your shoes to the occasion.
For example, are you dressing to impress? You should steer toward formal dress shoes for more formal or conservative settings.
Of course, you can be entirely casual in a suit and pop on a pair of sneakers.
The more informal your outfit is, the more unconventional your footwear can be.
Light Grey Suit & Black Shoes
Black shoes are the dressiest of all dress shoes.
It makes sense to wear black dress shoes if you're aiming for a dressy look.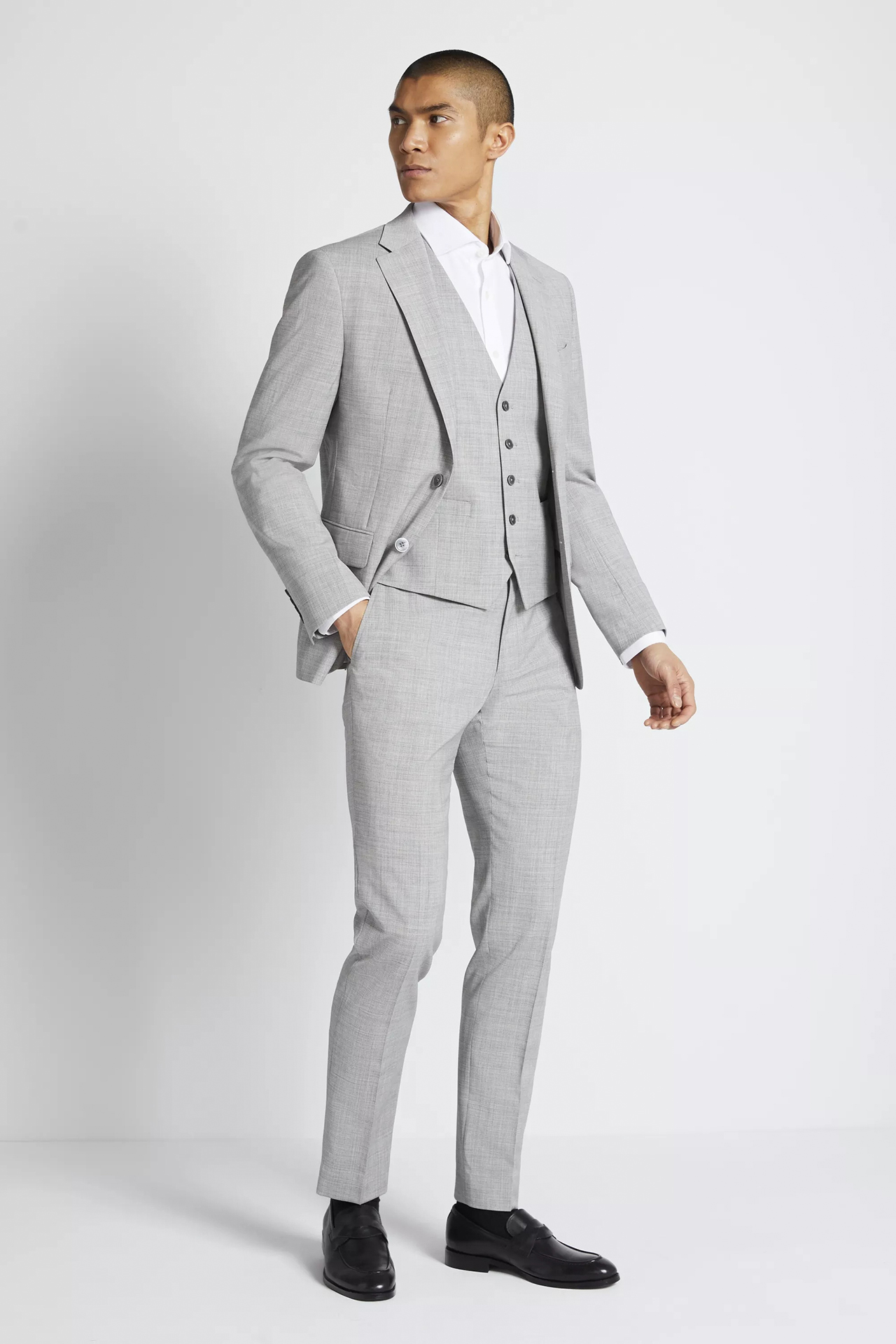 They go best with the most conservative variations of your light grey suit, such as a white dress shirt and black tie.
These shades are a neutral pairing, so they make sense together.
However, black and light grey is cold. They provide no warmth; it's a very professional look with no personality.
You can go with Oxford or derby shoes for this color scheme since these shoe styles rise to the formality of black shoes.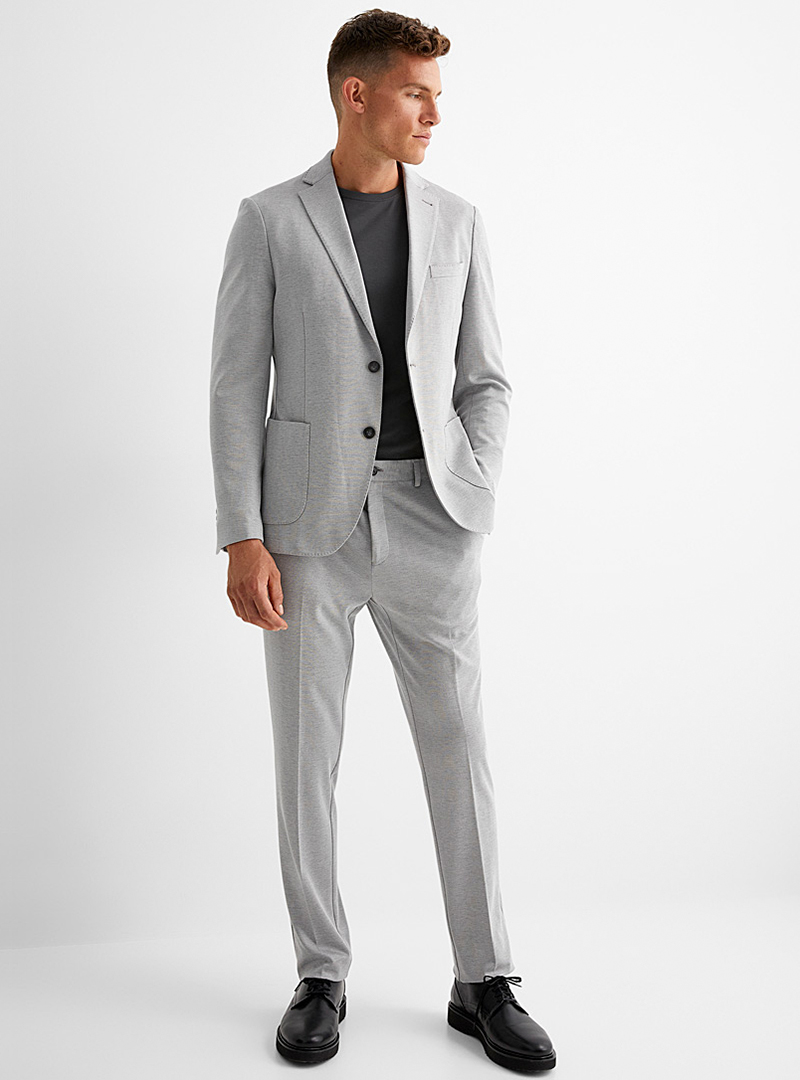 However, other casual types like loafers and monk straps are also perfectly fine.
Light Grey Suit & Brown Shoes
Swapping out your black dress shoes for dark brown ones softens your look, avoiding the harshness of the black shoes.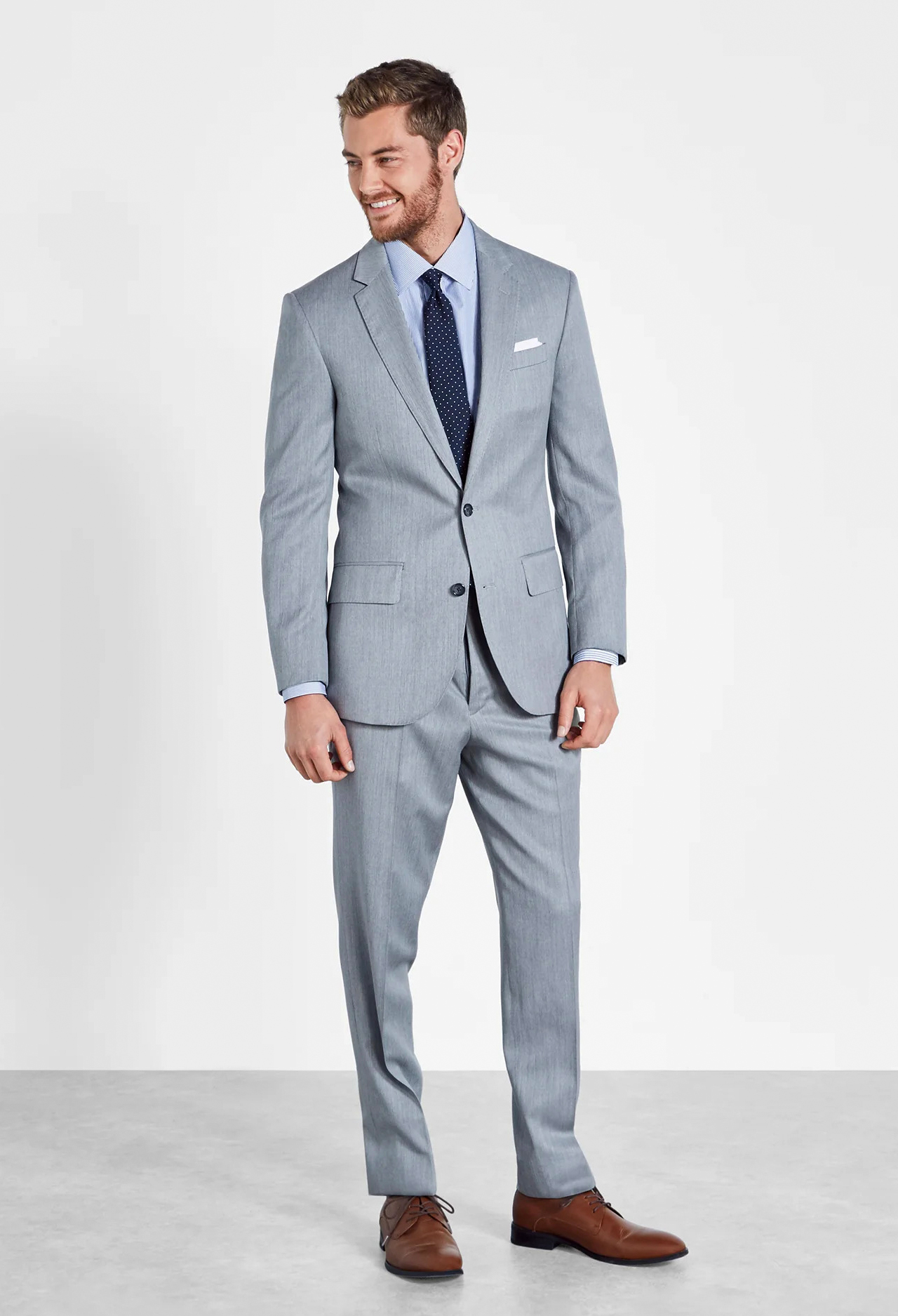 Dark brown is still very dressy, but it allows you to branch out from the traditional dress shoes of Oxford and derby; you can suddenly experiment with brogues, Chelsea boots, loafers, and monk straps.
Brown is much less stuffy than black dress shoes and lends a more trendy and modern feel to your ensemble.
Dark brown is a lovely choice because it gives your outfit depth and gives a nice update on your usual approach to wearing grey.
Light Grey Suit & Burgundy Shoes
If you are up for an unusual approach, take a moment to consider wearing burgundy dress shoes with your light grey suit.
Burgundy dress shoes aren't formal, but they create a funky contrast with the sometimes rather bland light grey suit.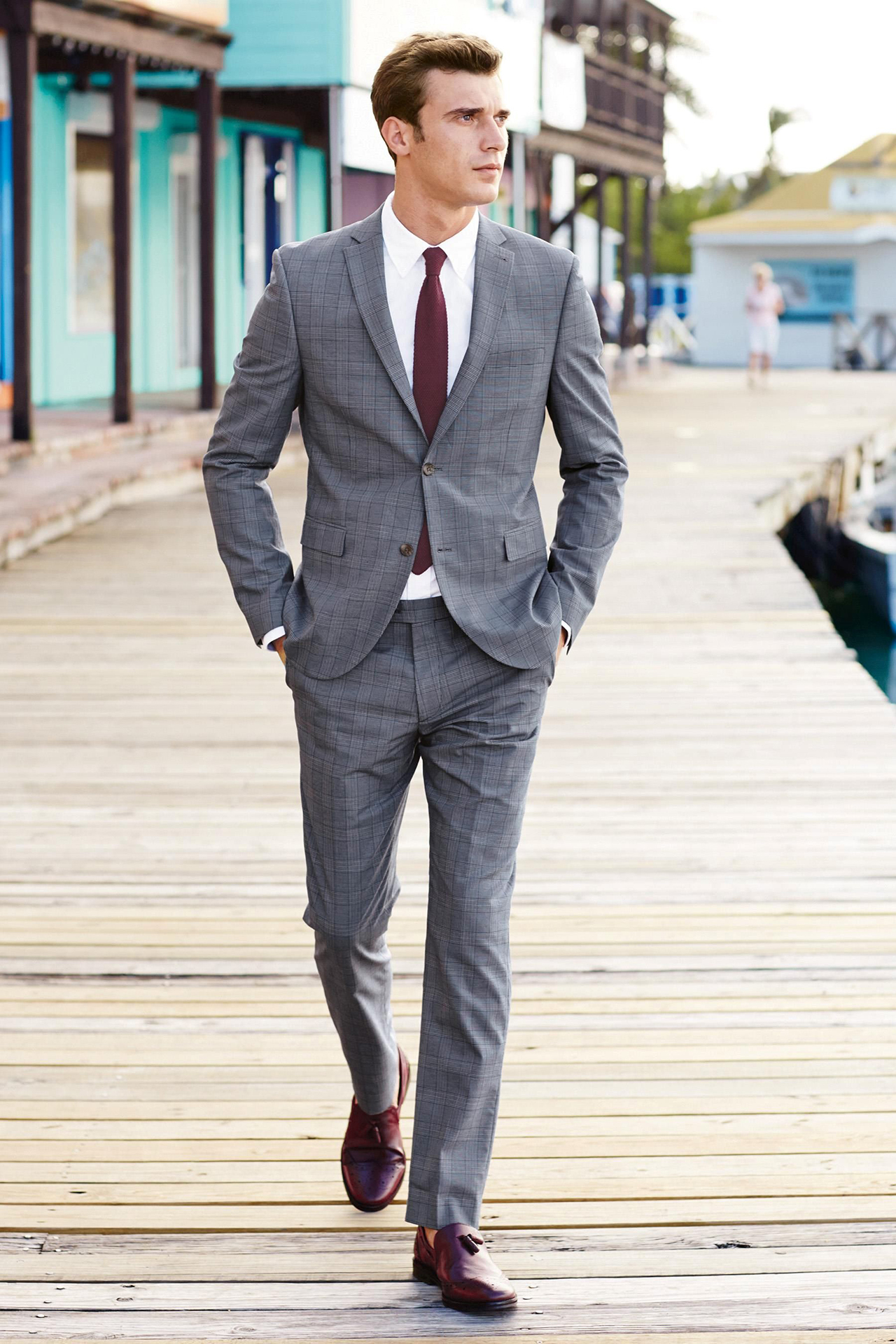 They add suave sophistication, hinting that you really know what you're doing when it comes to fashion.
These dress shoes make the perfect finishing touch for heading out to social events where you are inclined to show off a little bit.
Light Grey Suit & White Shoes
Not every outing in your light grey suit will be a dressy occasion.
If you want to be very clearly informal, your most direct way to achieve that is by wearing white shoes with your light grey suit.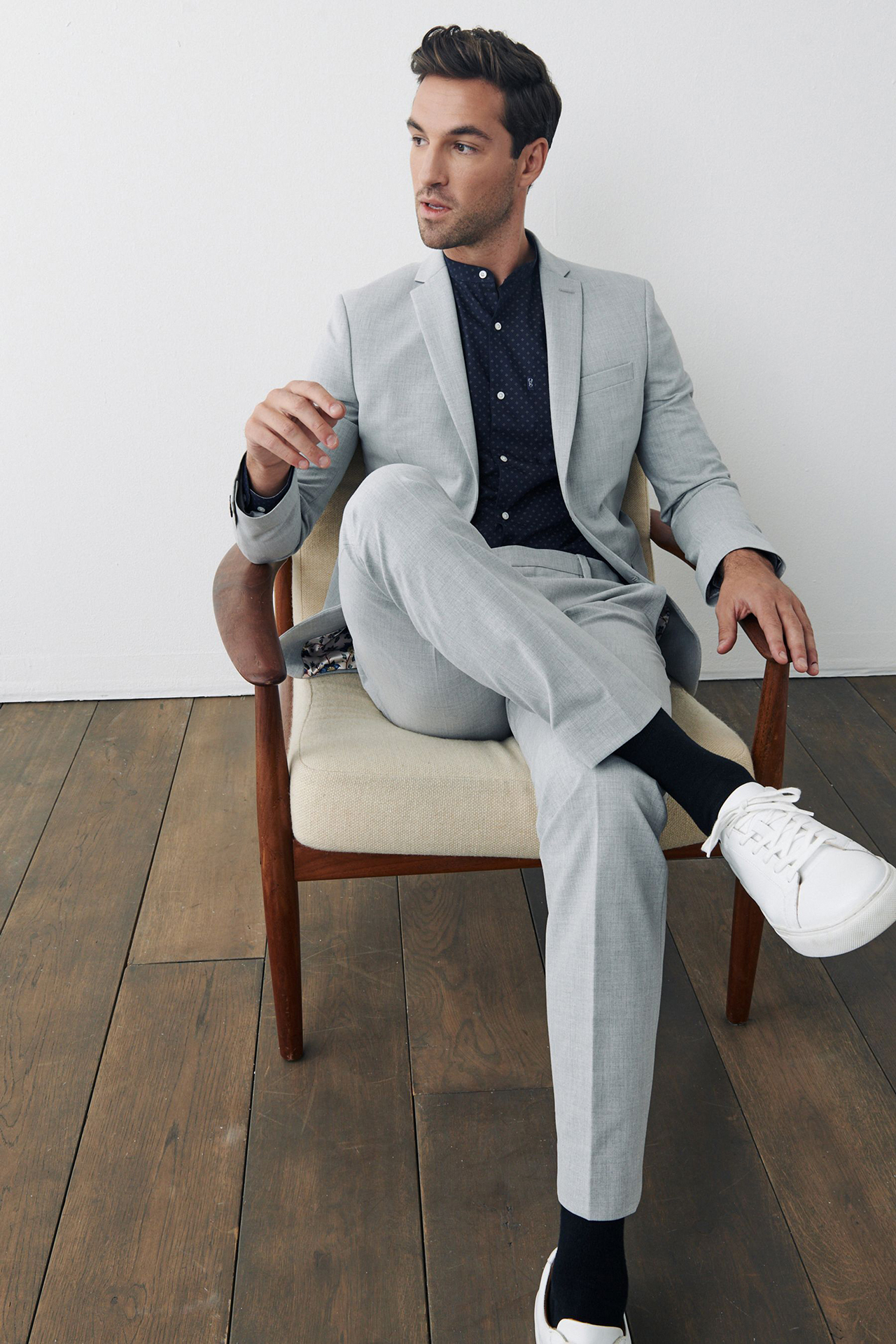 Your best bet would be a pair of white canvas fashion sneakers; no athletic sneakers allowed!
You could also try a pair of white loafers, but those are a particular taste and may read too much as you belong in a retirement community.
How to Accessorize Light Grey Suits
When building your look for any occasion, your light grey suit is your foundation, and you build up from there.
Direct your style with accessories to complete your look.
Accessorizing doesn't end with your tie.
Wear a Belt
A belt isn't intended to be a functional wardrobe piece but an embellishment to your suit to help break up the top from the bottom.
You've likely heard this before, and with good reason: your shoes must always match your belt.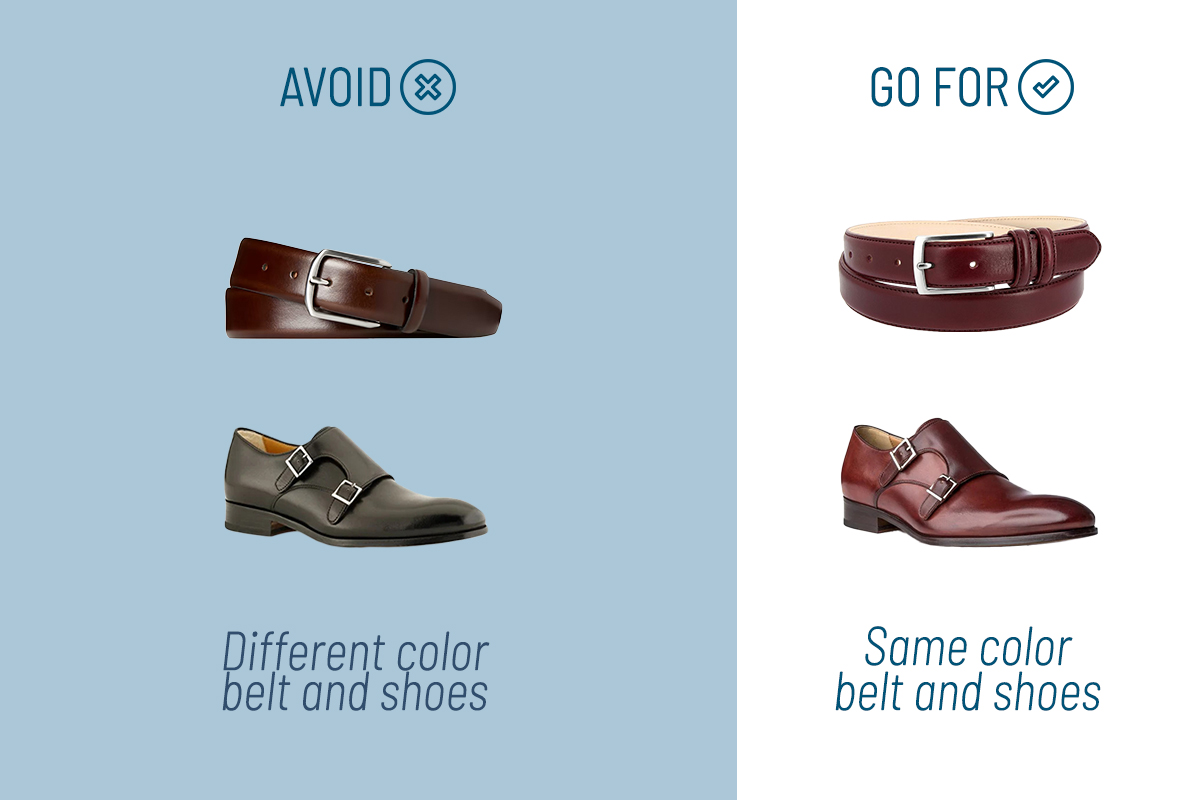 So, if you are wearing black leather dress shoes, your belt must also be black leather.
Don't choose a shoe color you can't match, so watch out for burgundy dress shoes.
Leather or Metal Watch
Watches feel like a lost art these days, but including one with your suit is a very classy touch.
A metal bracelet strap is acceptable, though it is slightly more casual than a leather band.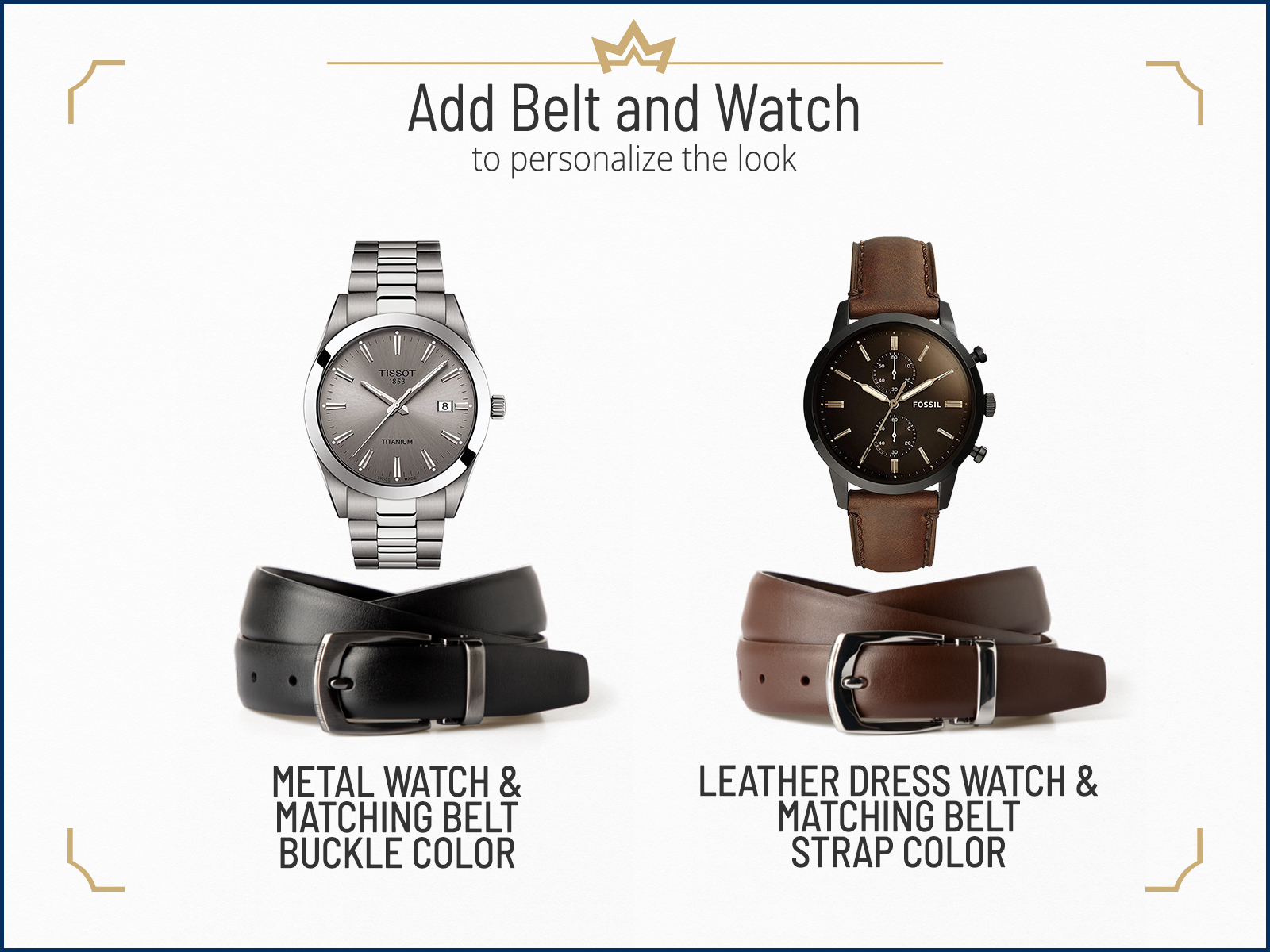 If you choose a leather watch strap, it must match your shoes, just like with the belt.
So, again, black dress shoes need a black leather watch strap.
Classy Pocket Square
Don't forget to include a pocket square in your final outfit.
It's a simple yet effective way to add charm and elegance to your suit jacket.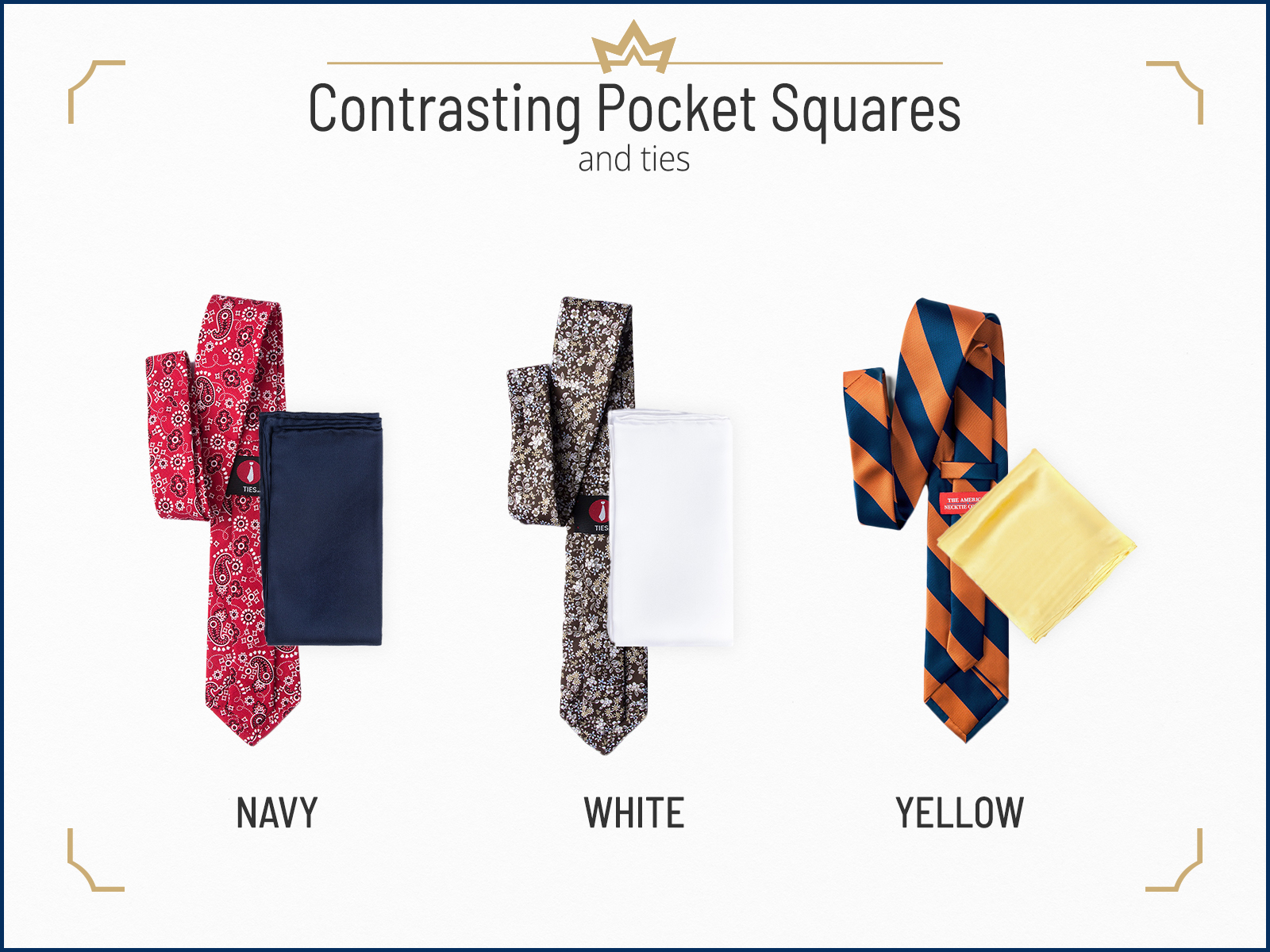 White would be best since it's always crisp and is simple to match, but you could use this opportunity to add a small dash of color.
How to Wear a Light Grey Suit for a Summer Wedding
A light grey suit is the number one choice for a summer wedding.
Toss on a vest and make it a three-piece suit to match the formality of the day.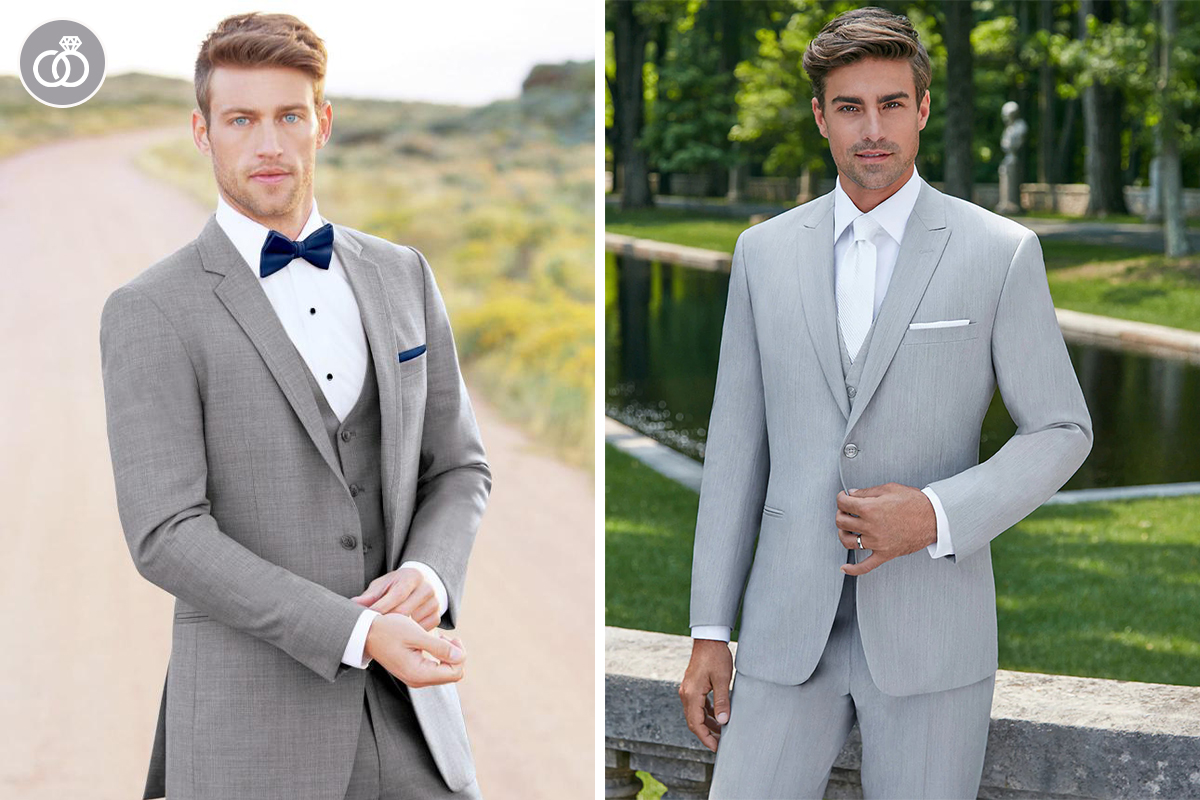 Of course, a white dress shirt always works, so why not play with your tie color for an infusion of joy and cheer?
A pastel tie or bow tie, like lavender, yellow, and pale blue, is a breath of fresh air.
However, if the wedding is an evening event, go slightly more muted with blue, navy, or even a light grey tie.
You can match your boutonniere to your tie color.