Wearing suits with sneakers is no longer a style faux pas.
Instead, it's about taking a leap of style and staying comfortable.
When done right, a suit with sneakers is a cheeky way to dress down a formal ensemble.
At the same time, staying preppy and cool.
Different Ways You Can Wear Suits with Sneakers
You must own the look to make the sneakers and suit combination a part of your personality.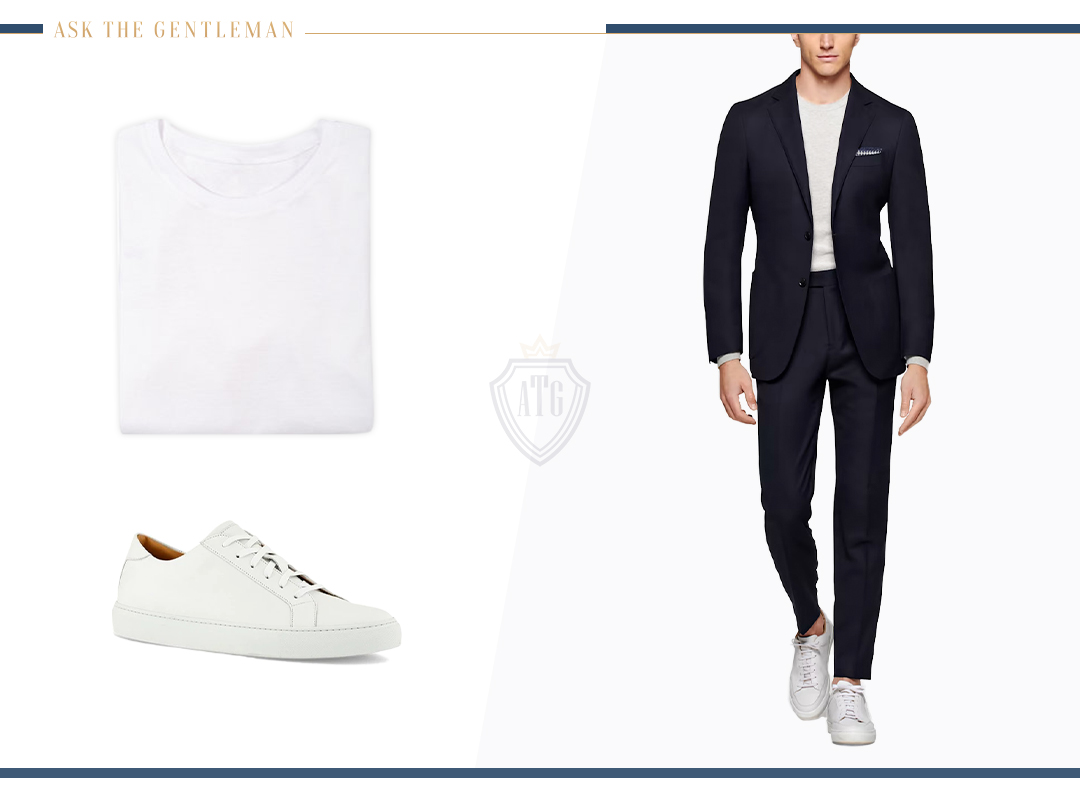 This means keeping things simple with just the right playfulness, allowing the sneakers to be the statement piece of the outfit.
While there are several suit styles you can go with, try to stay on the more casual side.
Still, the suit and sneakers colors are the most crucial detail you must focus on.
Black Suit with White Sneakers
Black is, frequently, your most formal suit.
But with the right styling, a black suit gives a contemporary feel far easier than most other suit colors.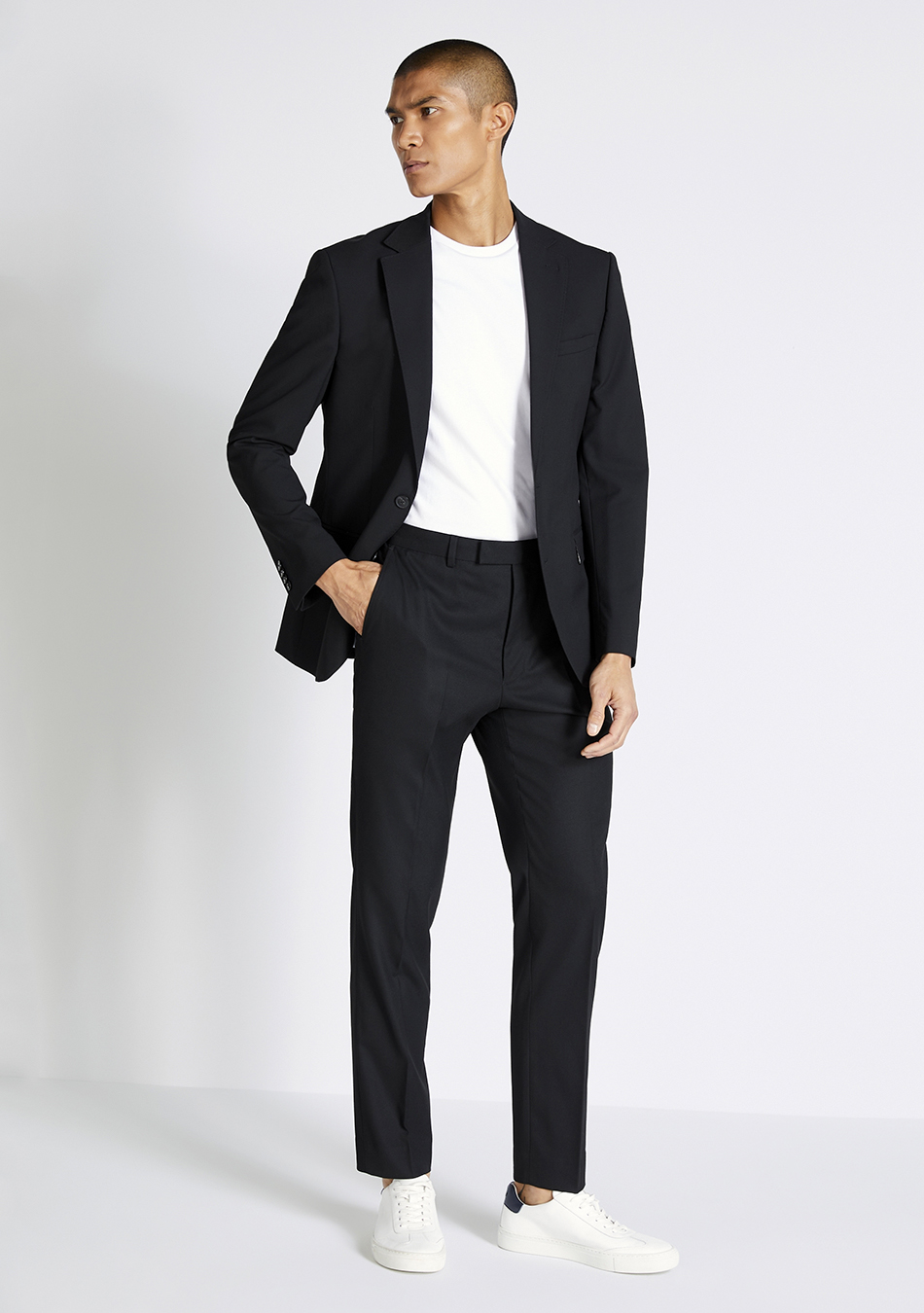 So, it becomes effortless to pair with sneakers.
I recommend minimal white sneakers because, first, they contrast your suit.
And being noticeable, white sneakers will be the statement item, not the black suit.
Pair this combination with a nice white or light-blue oxford shirt to bridge the two different formalities.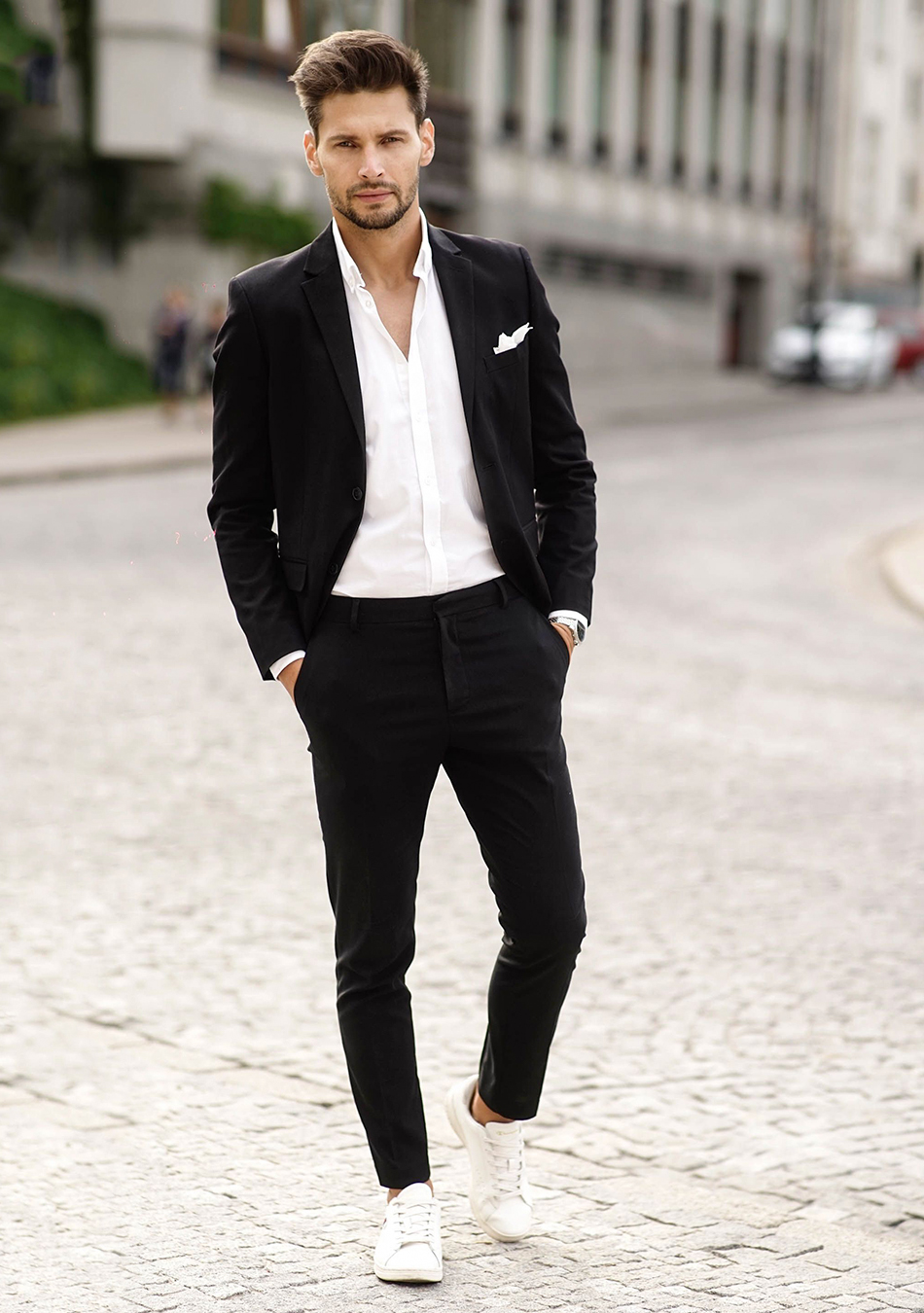 A plain white t-shirt will also work here for a more casual situation.
Navy Suit with Complementary Light Grey Runners
The versatility of the navy suit can make it work even with runners.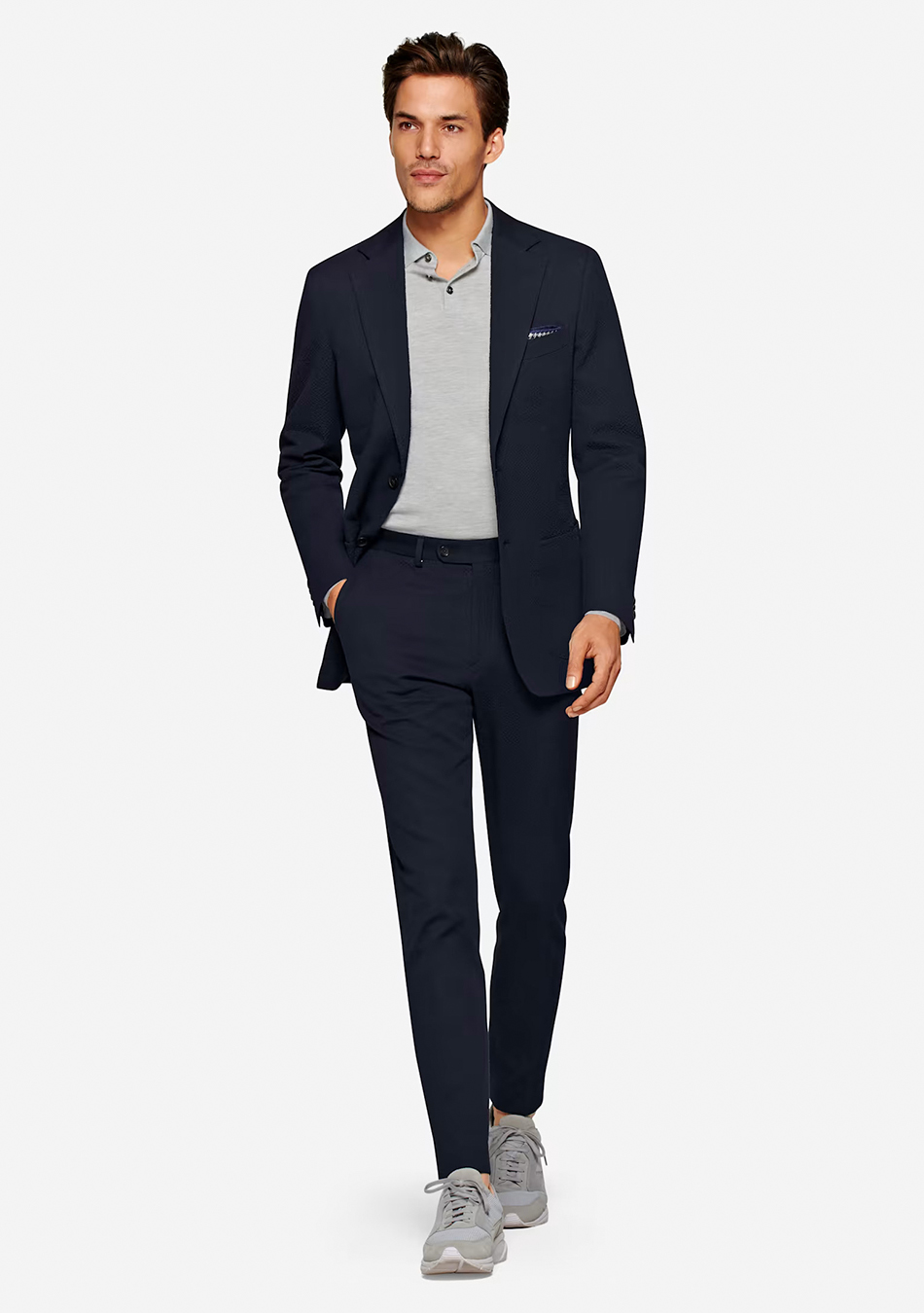 I suggest light grey runners because they look minimal and don't highlight too much.
Here are some takeaways to make this work and not look like you're going for a run after the occasion.
First is the suit detailing. Try a slim-fit suit with natural shoulders and patch pockets.
Don't wear a dress shirt with this look. Even a button-down would look odd here.
Instead, pair a nice grey polo to balance everything in the outfit.
Monochrome Navy Blue Suit and Sneakers
A monochromatic outfit looks intrinsically casual. So, the navy suit becomes easy to wear with sneakers.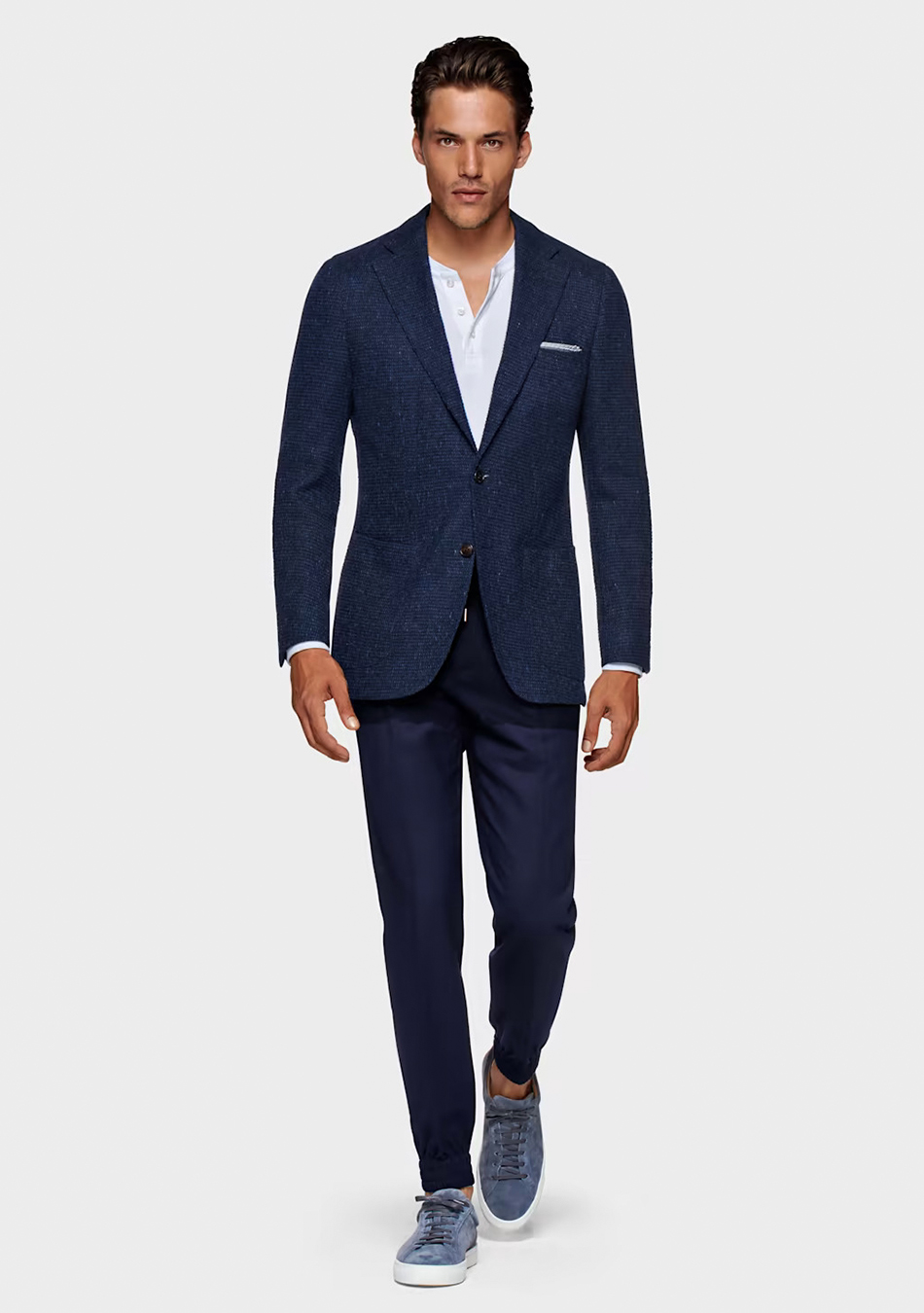 A polo or Henley t-shirt perfectly matches this outfit since they draw more attention to your torso.
Black, white, or navy t-shirt are all acceptable colors.
For shoes, navy blue canvas sneakers are the optimal choice.
The blue of the sneakers complements the suit, and a white sole provides that much-needed playfulness.
Grey Suit & White Low-Tops
A grey suit would be a notch less in formality compared to navy or black.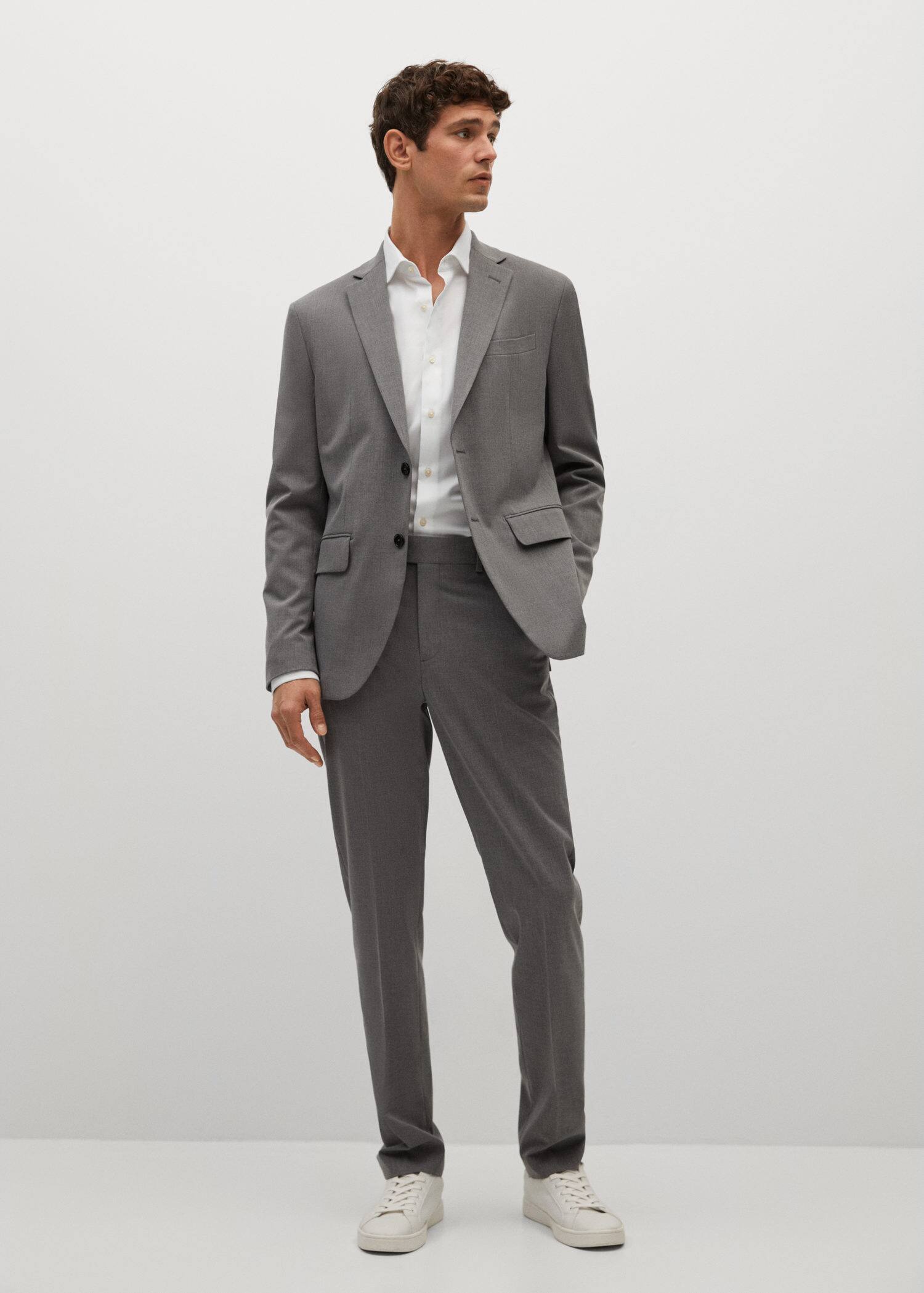 However, I recommend a completely different way to overcome this.
Instead of wearing a t-shirt, wear a white dress shirt.
The neutral suit tones with the white low-tops and shirt will make this an excellent versatile look.
If you want to go one step above, go with a charcoal suit instead of medium grey.
However, it can sometimes be too much; charcoal suits are often preferred for formal business settings (and sneakers are not).
Blue Suit with White Sneakers
Let the sparkling blue suit make a statement with some subtle white sneakers.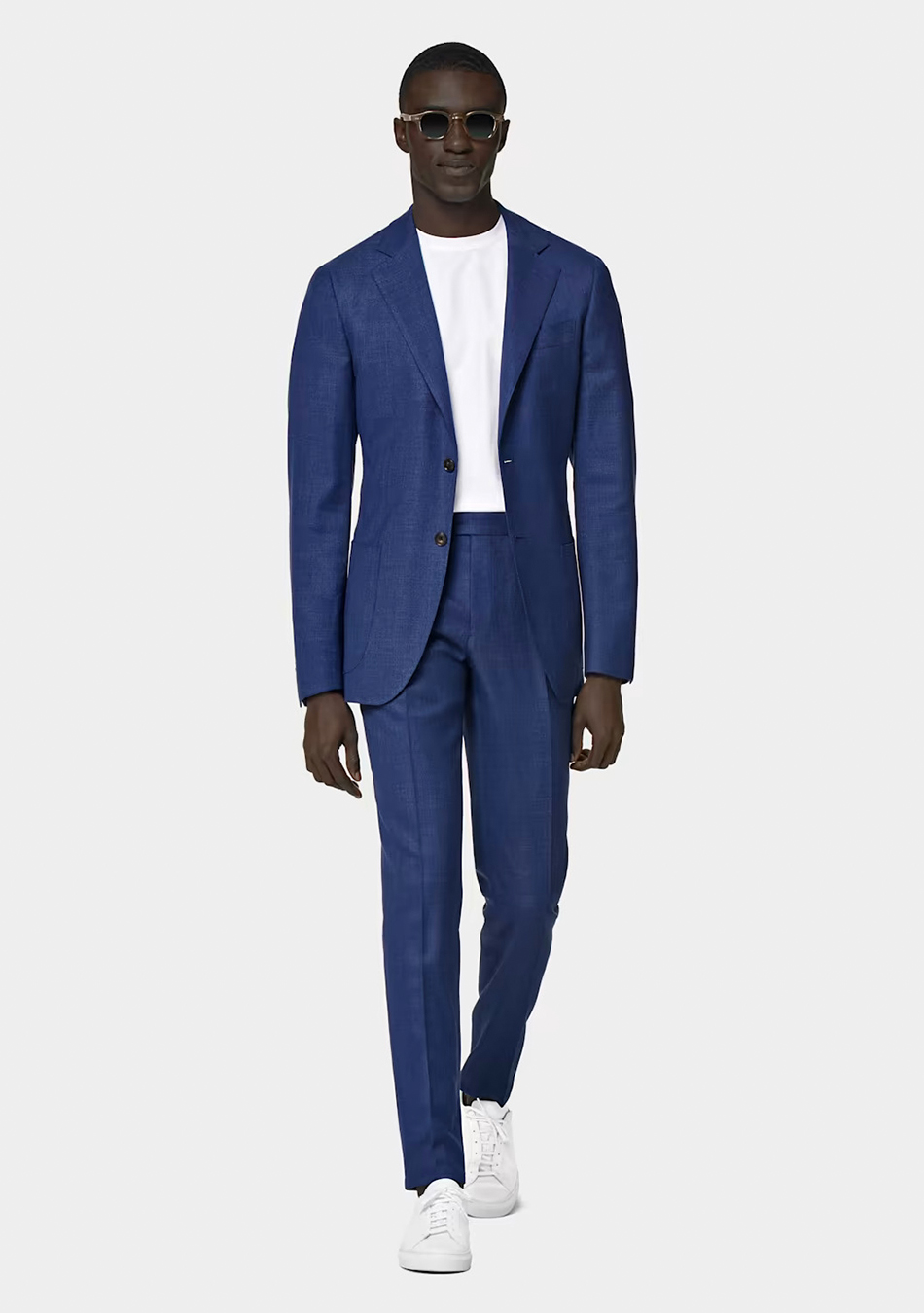 A white t-shirt would be a perfect match for this outfit.
The achieved look would be as simple as it can be. You can add a colorful pocket square for some personality.
I suggest this look to anyone looking to experiment with a suit and sneakers combination.
If going with a bigger print on white shoes, you can complement it with a patterned shirt.
Brown Suit with Light Grey Sneakers
Many will call wearing sneakers and a brown suit a little too boring.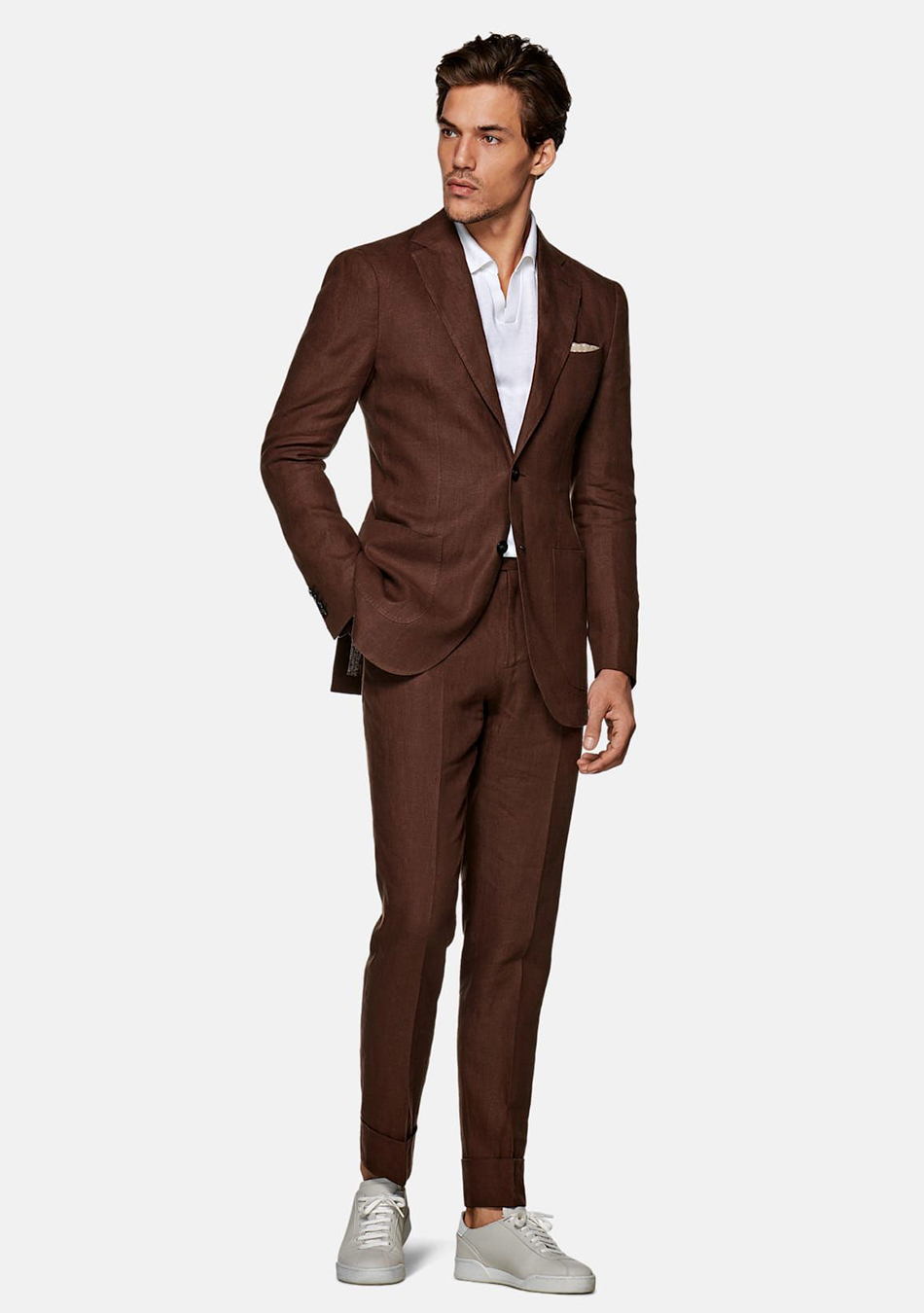 But light grey sneakers paired with a white polo t-shirt has what it takes to spice up the outfit.
I recommend going with a low-top leather, as it would be easier to pull off.
For detailing, you can choose pretty much any suit style. Even the single-button, peak lapels brown suit jacket will somehow look fine.
Finally, a white dress shirt would also be perfect as a connecting item.
Tan Suit with Brown Suede Sneakers
Wearing a tan suit is the cheat code to look like a dapper dressed casually.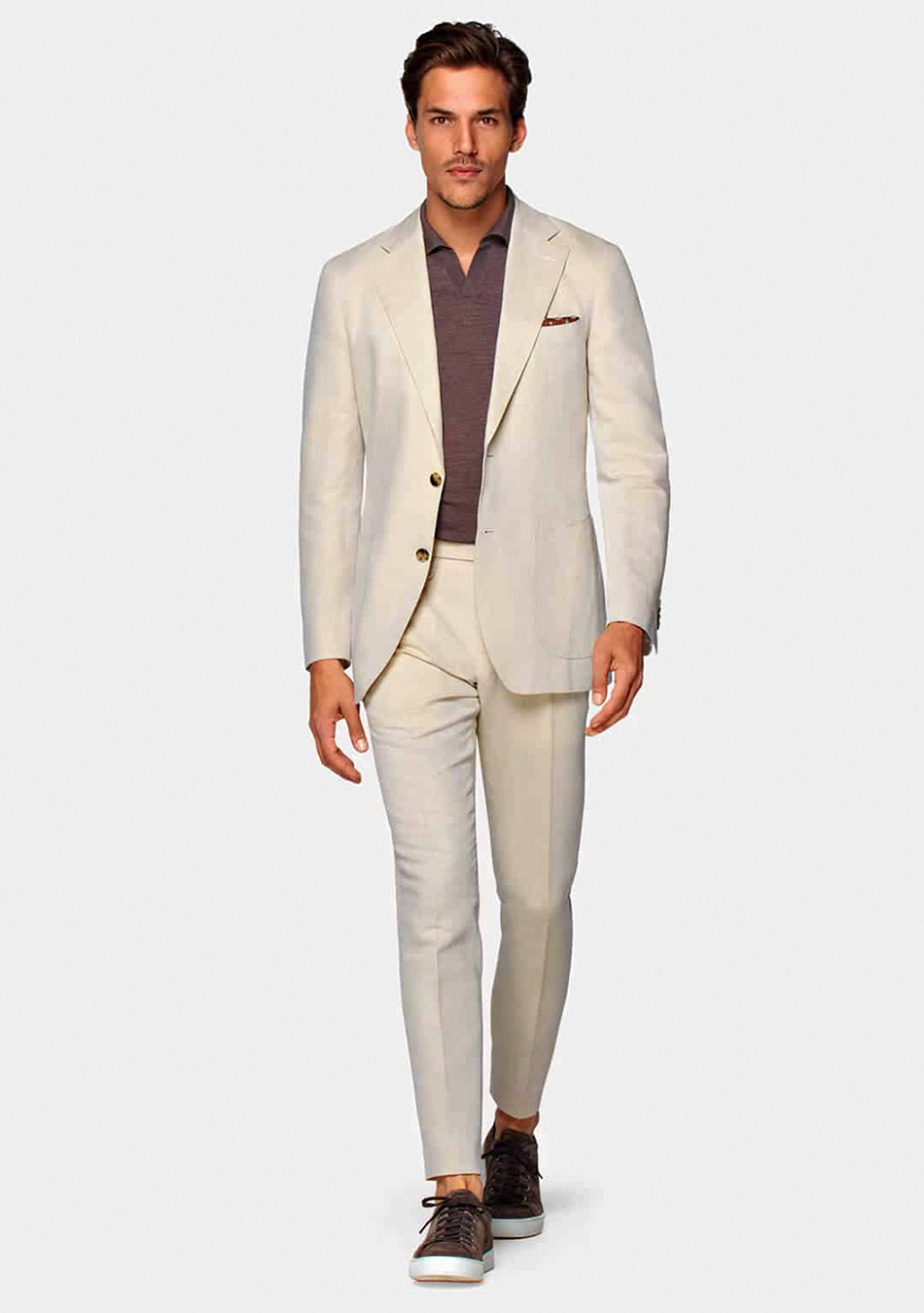 This intuitive casual appeal of tan makes it a perfect choice to wear with minimal suede sneakers.
This look is powerful and commands respect, besides showing careful styling.
I suggest a dark crew-neck or polo t-shirt, preferably matching the tone of your shoes.
This is probably the best-suit sneaker combination for you if you have a dark to medium skin tone.
Navy Windowpane Suit with Beige Sneakers
I am exploring some patterns with this next sneaker and suit look.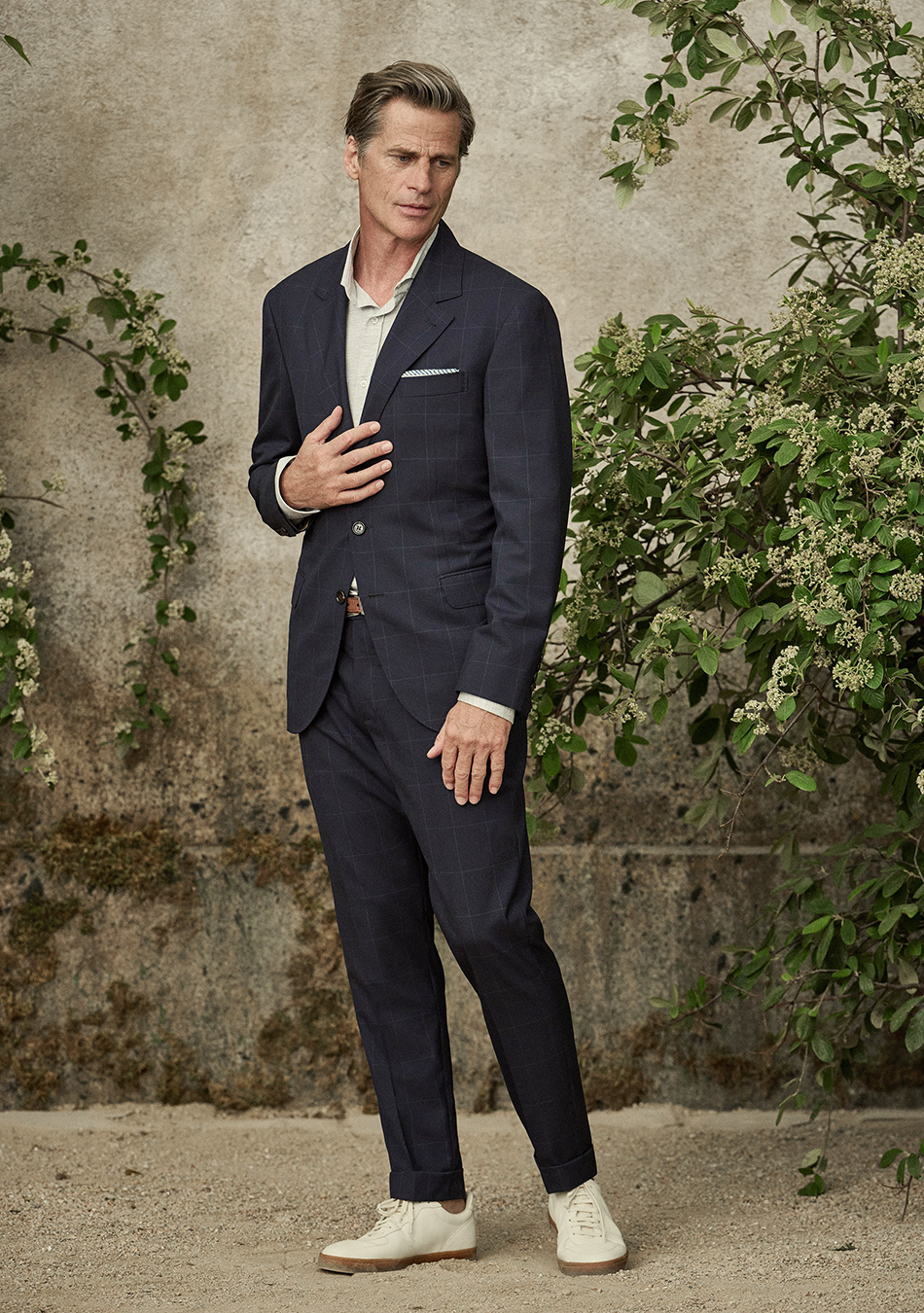 Windowpane is an almost perfect suit pattern to go with sneakers; stylishly elegant yet contemporary.
And beige sneakers would look great here as these are neither too contrasting nor overly dull.
Any pastel dress shirt would be a smart addition to the navy suit jacket. I like light pink to radiate an energetic aroma.
Monochrome Black Suit & Sneakers
I am going a little bold this time with a solid black suit and black leather sneakers.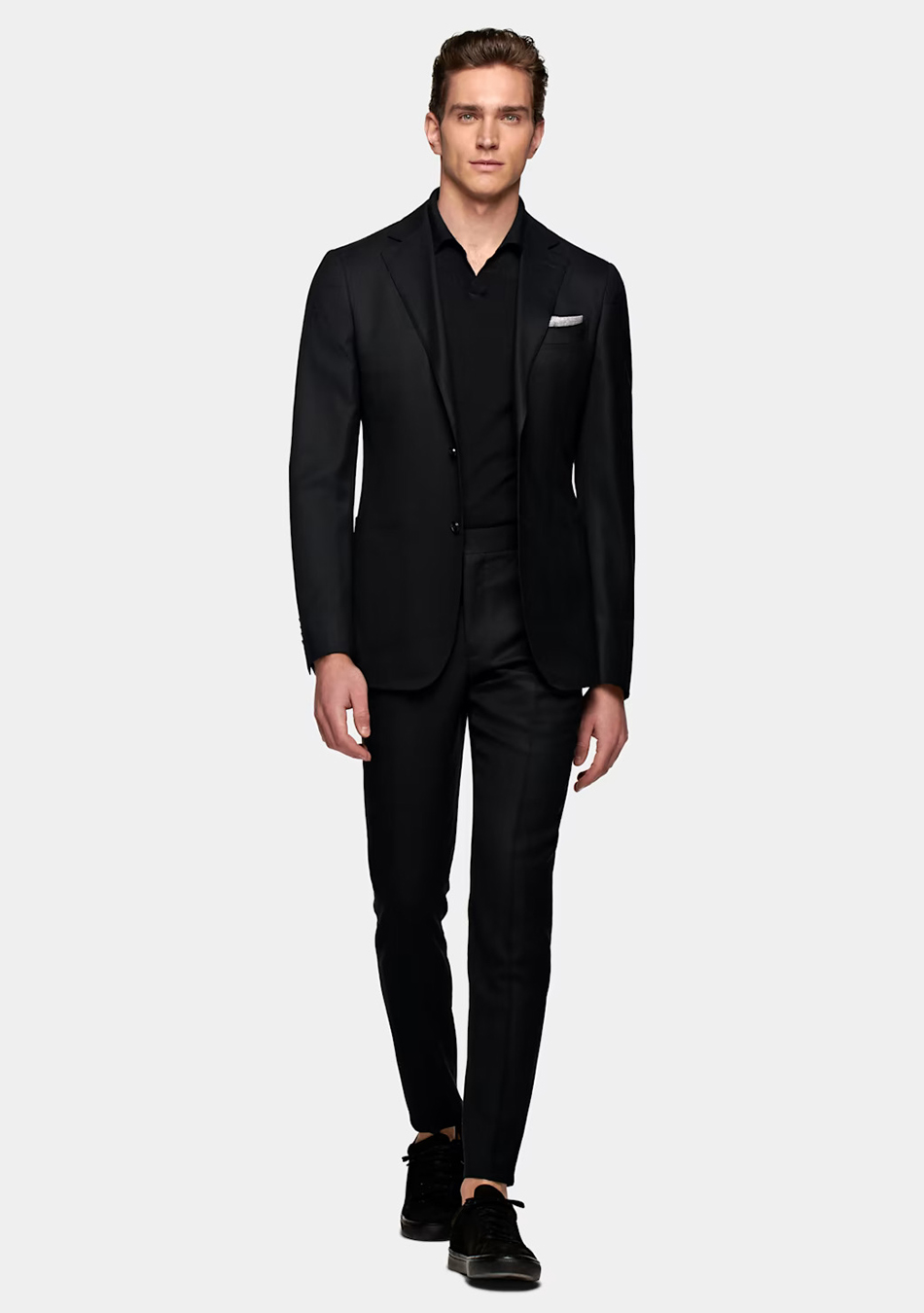 Try this combination with a black polo shirt for a confident and sleek look.
But a white shirt can give authority and coherence to this outfit. And it would make a very powerful business casual look.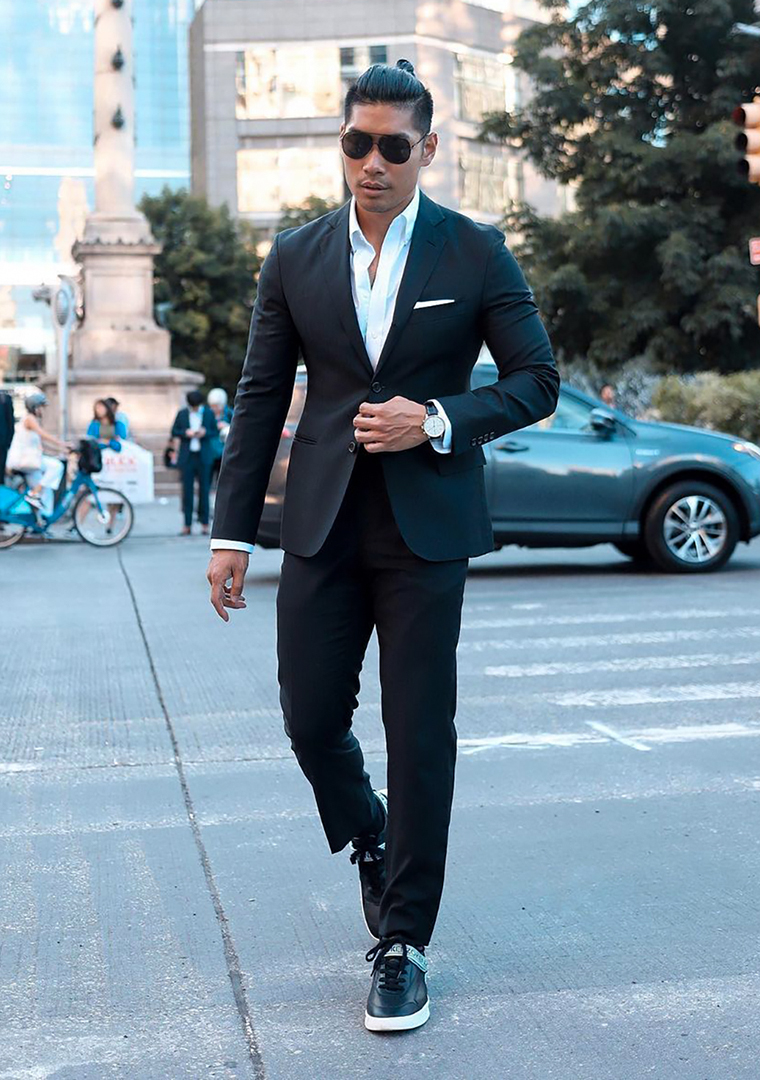 I also recommend this outfit to people with prominent personalities.
Beige Suit with White Sneakers
This look is the casual version of The Great Gatsby's white suit.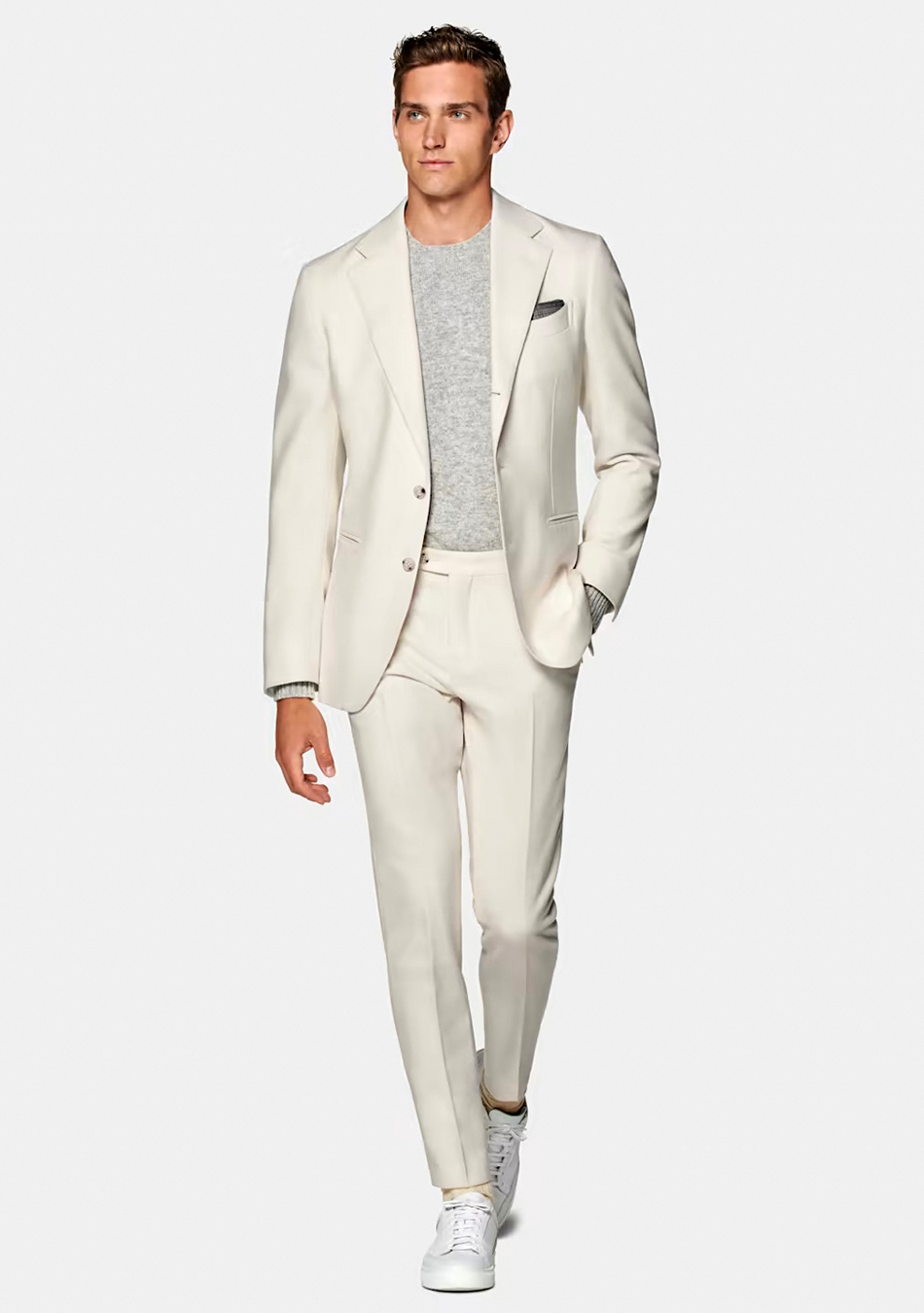 However, a beige suit is easier to style, so I best pair it with sneakers.
White leather sneakers are the best option here as it perfectly blends in with the formality.
I suggest going with some other smart casual items to complete the outfit. For example, a neutral-colored t-shirt would be a great fit here.
You can also wear a light-blue oxford cloth button-down.
The look is complete, but to take it to perfection, you can add a pocket square.
Burgundy Suit with White Sneakers
This look is exclusive for true men's style enthusiasts as it would take a lot of confidence to pull off.
The suit is burgundy, a very formal garment (maroon also works). Paired with the suit are white low-tops.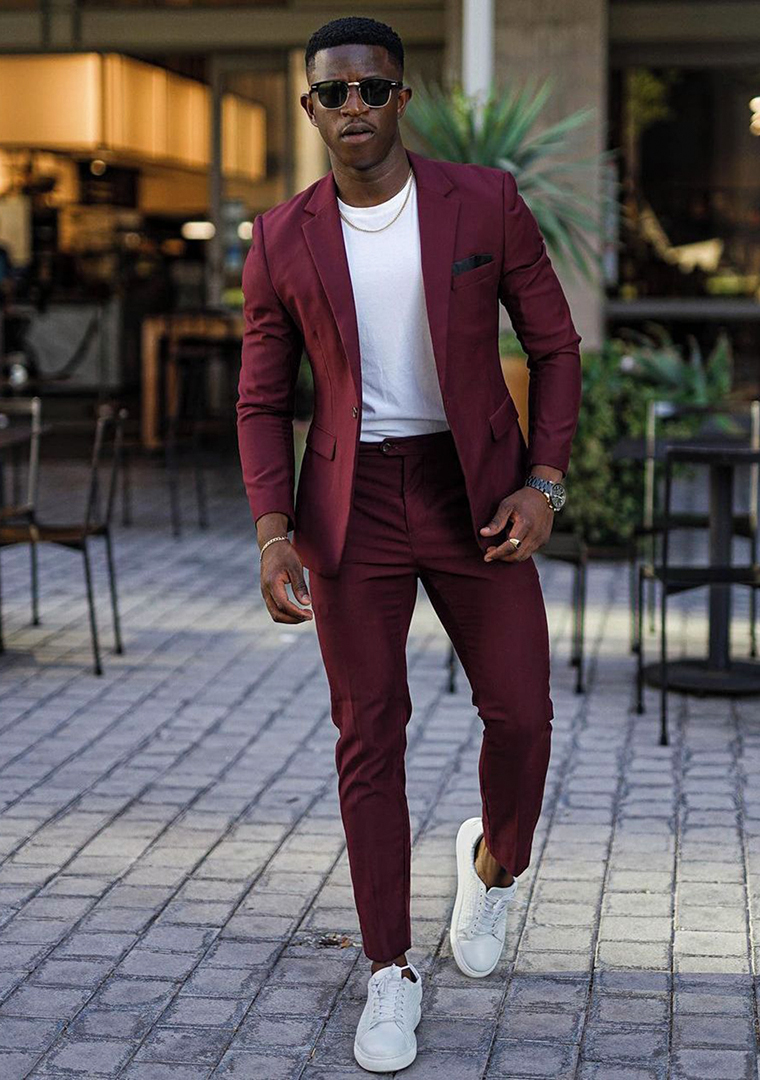 This color combination is best paired with a white crew-neck or polo t-shirt.
You can also try adding sophistication via a grey turtleneck. This look would be neat and stylish for colder months.
Best Suit and Sneakers Color Combinations
The suit and sneaker combination is suitable for many smart casual to business casual situations.
And having the right color combination is a way to move forward in these situations.
Here are matching options with regard to the suit and sneaker colors.
● White Sneakers: Goes with pretty much any suit color. However, the best matching suits are black, charcoal grey, navy, blue and tan.
● Black Sneakers: Black, charcoal grey, and medium grey suits.
● Navy Sneakers: Navy, light grey, and blue suits.
● Grey Sneakers: Any suit with shades of grey. Also, great for navy and tan suits.
● Brown and Beige Sneakers: Brown, navy, tan, and light grey suits.
● Burgundy Sneakers: Brown, tan, and navy suits.
Sneaker Styles to Wear with a Suit
Like suits, sneakers come in various styles. These styles can vary from minimal leather to chunky athletic ones.
The sneaker style choice varies with the event's formality and the look your suit is carrying.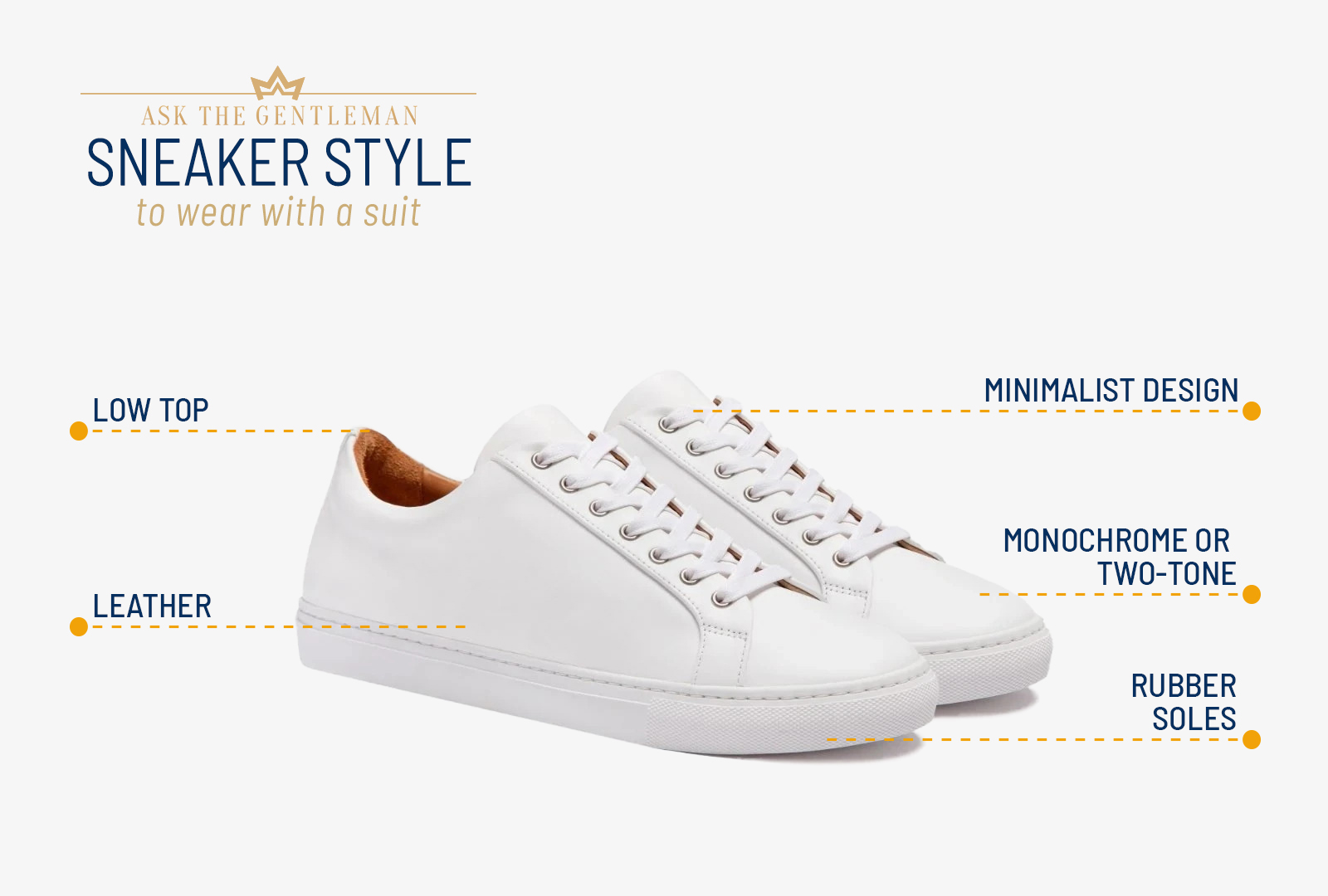 First comes the minimal monochromatic or two-tone leather sneakers. These are slightly less formal than dress shoes and are the most suitable match for a serious look.
Plimsoll and canvas sneakers have rubber soles.
These are also minimal and include something like Van's old-school or Converse all-star.
You can wear canvas shoes with suits as long as the shoe quality is fine.
Note that all these sneakers should be low-top.
High tops like Jordan 1s are not a good option to wear with a suit.
Things to Consider When Wearing a Suit with Sneakers
The rules of classic styling may seem exciting to break.
But it will be more interesting if you play with the rules rather than going all over them.
So, when wearing suits with sneakers, some considerations are necessary.
The prerequisite here is to have some personality in your outfits.
This will unveil your personal style rather than just copying Hollywood-inspired looks.
Slim Cut Suit for a Contemporary Approach
It goes without saying that the suit you'll wear with your sneakers should fit you perfectly.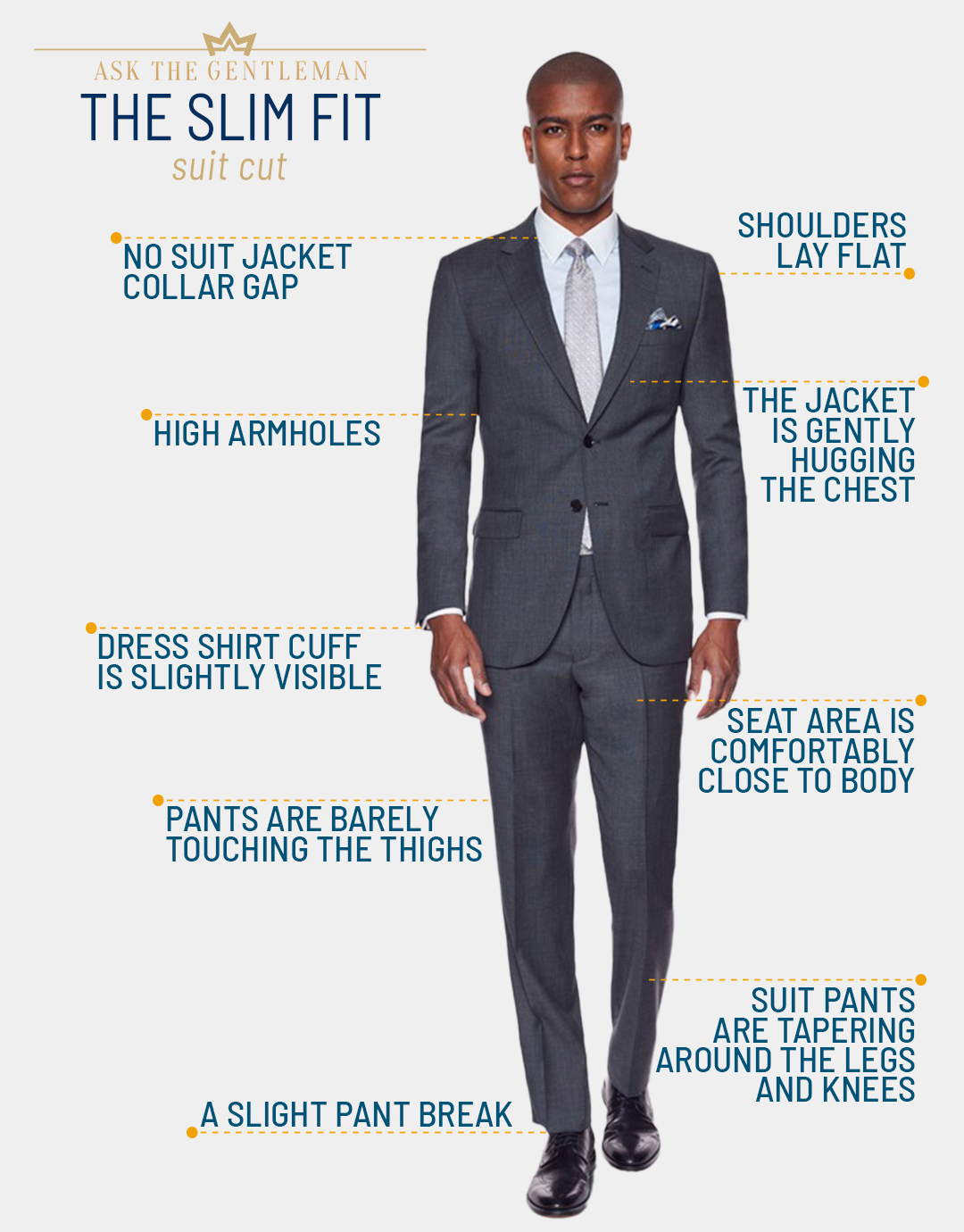 In terms of cut, the slim fit is the most appropriate style as it's an ultra-modern styling, matching the less-formal sneakers.
As the suit jacket would be close to the body, you'll have a tapered silhouette. This will look like a careful detail to go smart casual.
It's best to match the suit jacket with tailored dress pants having slight to no break.
Again, this will emphasize a contemporary style.
Casual Suit Style Works Best when Wearing Sneakers
A casual suit works best with sneakers, preferably ones that are not complicated.
Compared to a formal suit, a casual suit features modern styling.
This includes having unstructured shoulders or minimal shoulder padding. The lapels are slim and notched.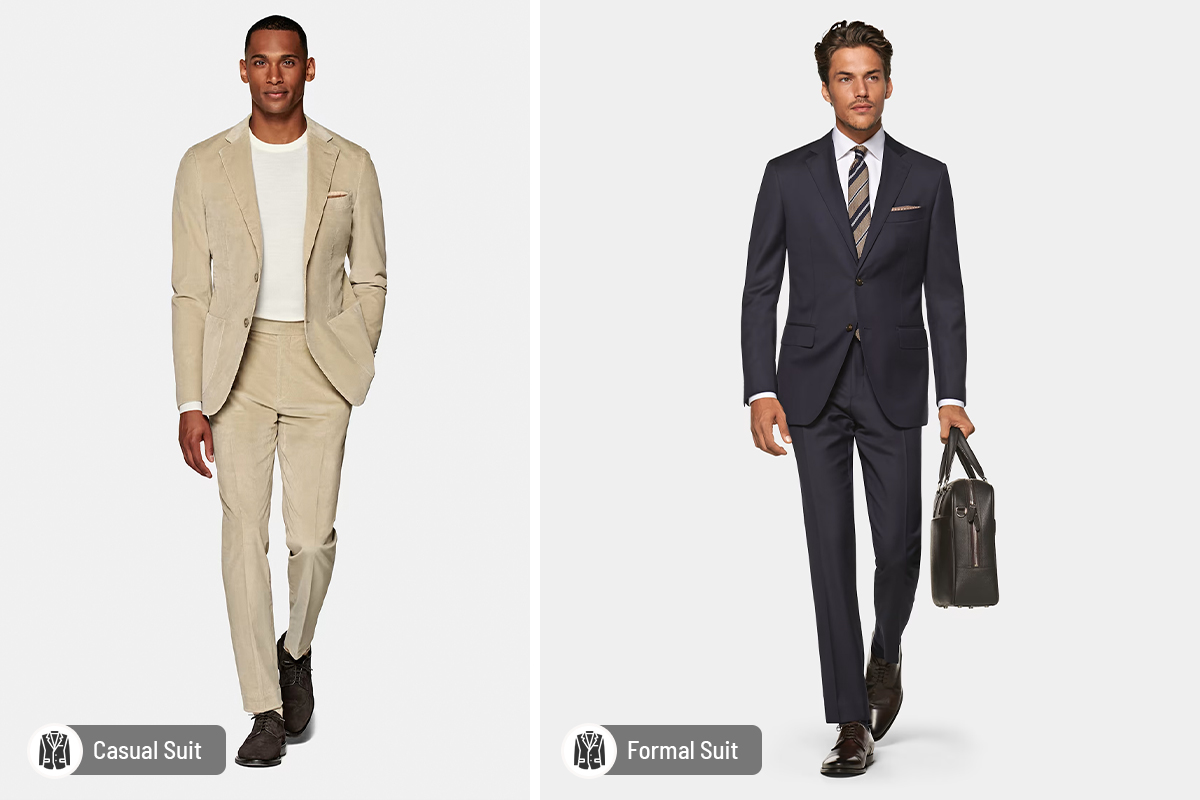 Similarly, a casual suit often has patch pockets and features some subtle patterns.
The suit pants are also kept casual with medium to low rise and obviously no-break.
Suit fabrics like cotton and linen also indicate a casual suit.
And the more casual a suit is, the easier it is to wear sneakers with it.
Suit Separates Express Sartorial Prowess
Breaking your suit into separates takes the formality out and showcases a casual sartorial epitome.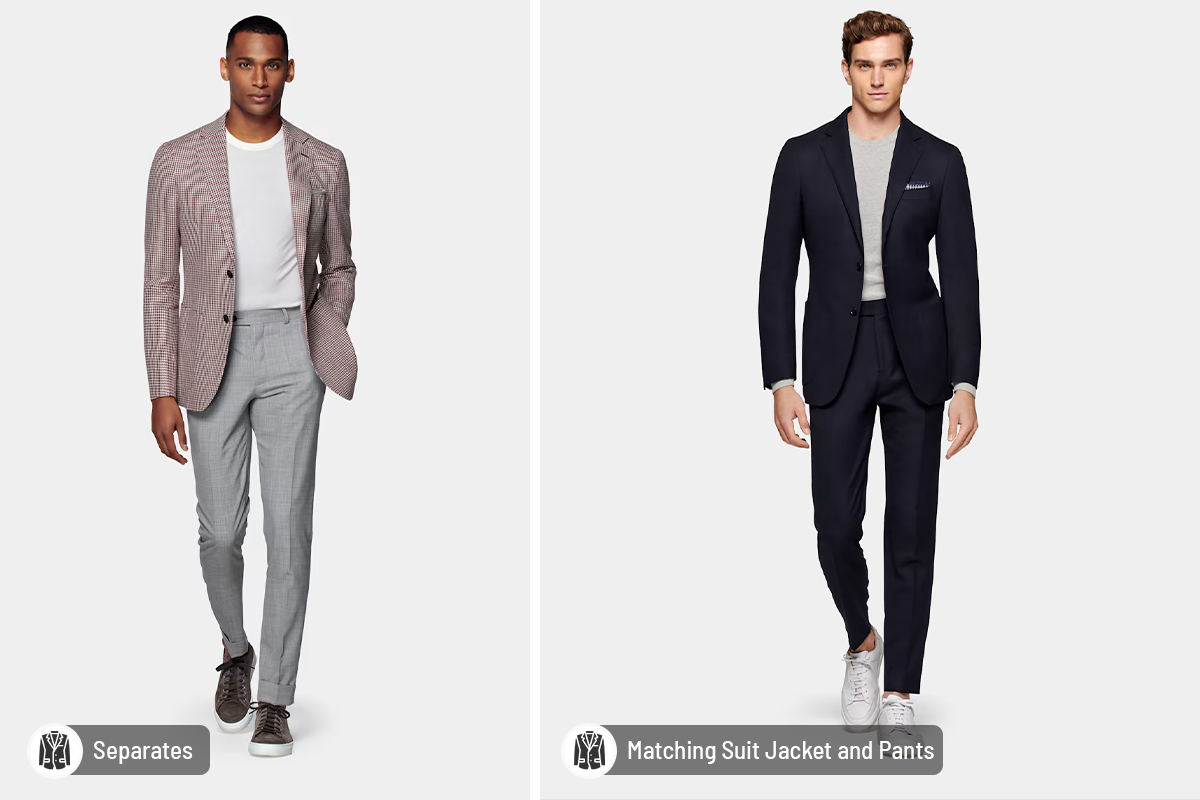 It provides an effortless way to wear a suit with sneakers. The suit jacket, in this case, would be functional as a blazer.
When wearing the suit separates with sneakers, it's best to have some contrast between the blazer and pants.
In terms of anatomy, a blazer with unstructured shoulders and subtle patterns will further accentuate the elegance.
Also, wear sneakers in matching shades of trousers.
Occasions to Wear a Suit with Sneakers
Smart and business casual dress codes best match this suit and sneaker combination.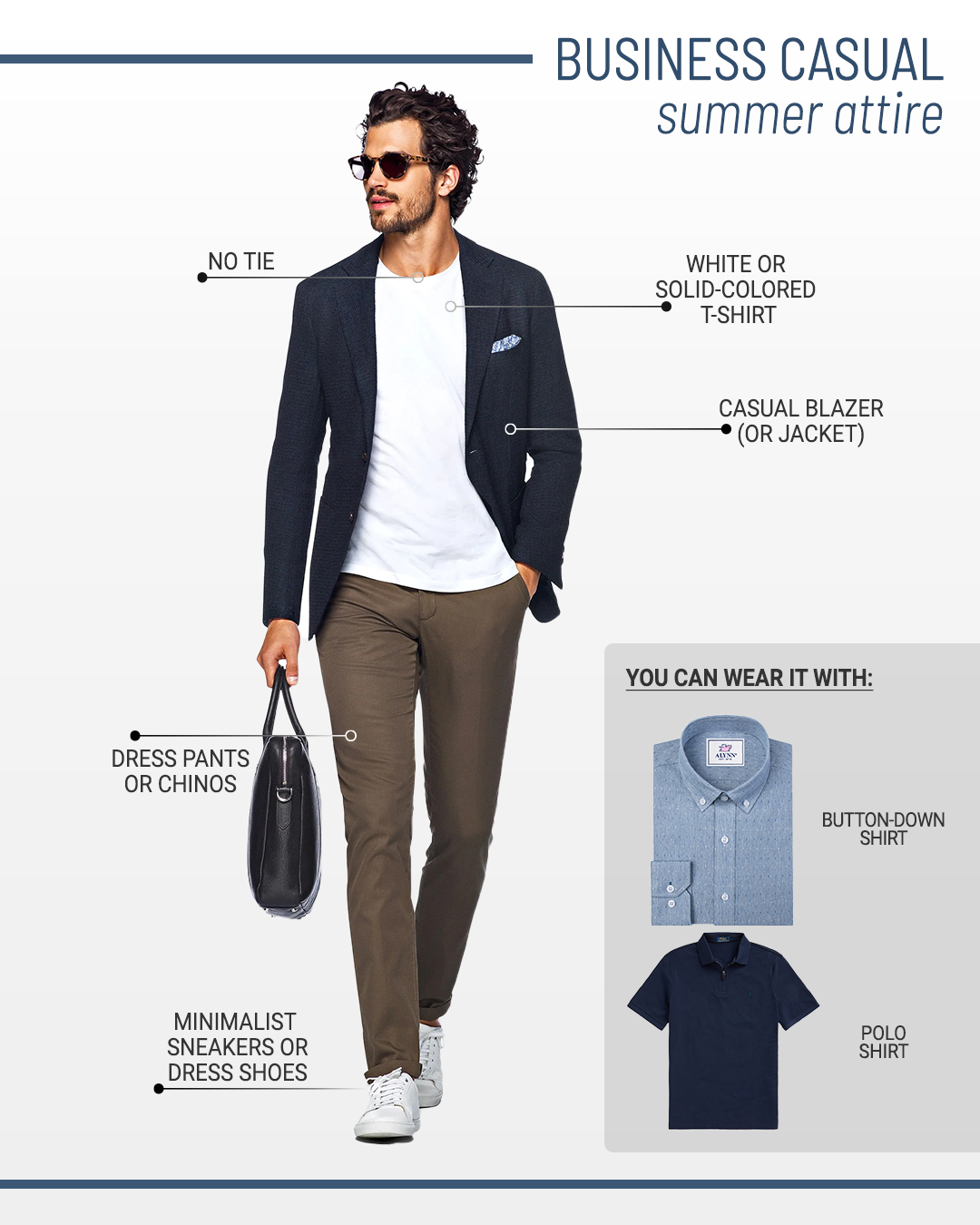 This means you can't wear it to formal meetings, weddings, and often to interviews.
Instead, wear these to casual day outs, trips, going on dates, and casual parties.
Most offices and workplaces these days have a casual dress code.
So, you won't look out of place wearing a suit with sneakers in these relaxed dress codes.
Who Can Wear a Suit with Sneakers?
There's no limitation on who can wear a suit with sneakers. This combination flatters almost every age group and body type.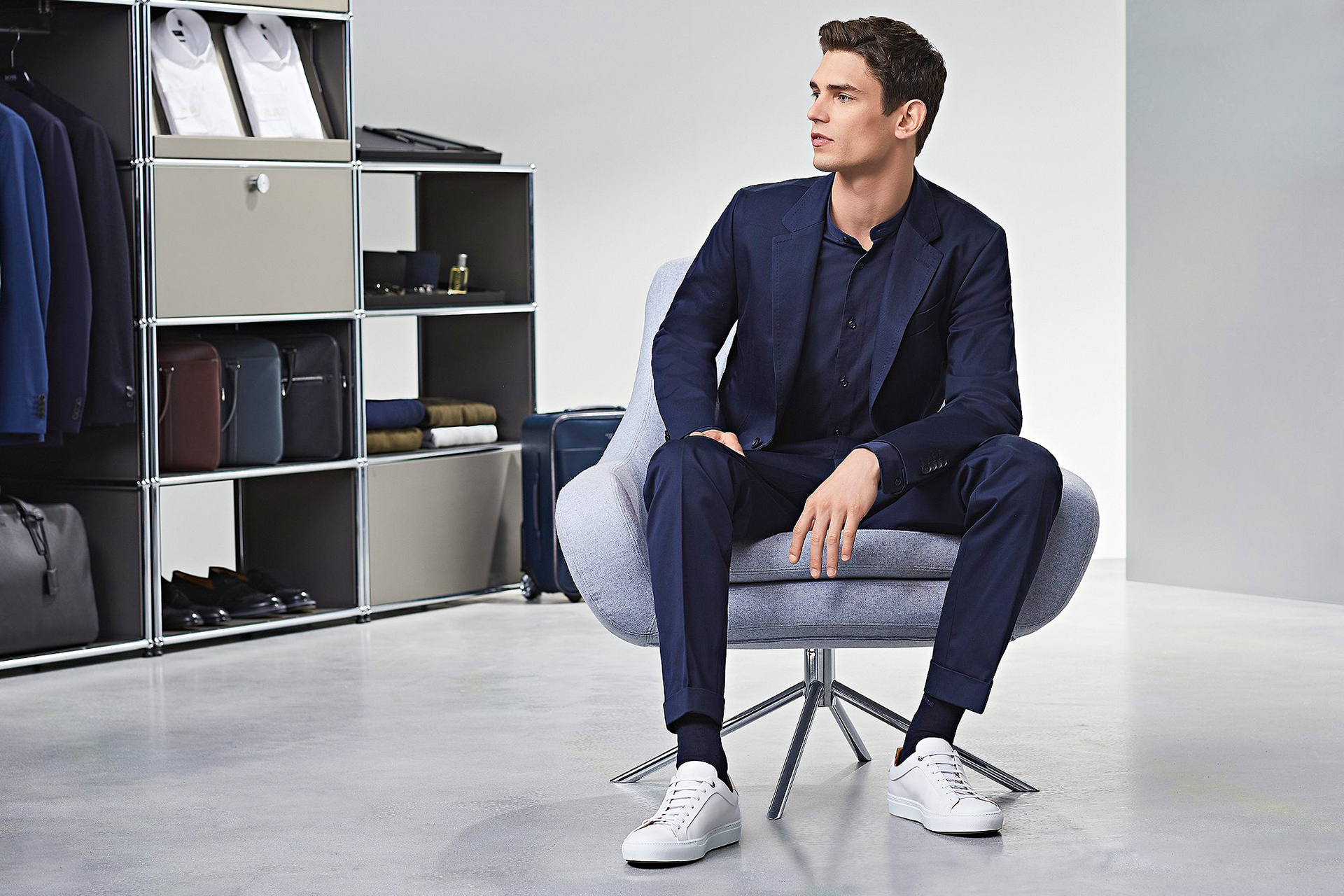 However, the best match is the gentleman confident enough to explore the nuances of styles.
True story here: my university dean used to wear new balances with a suit. People called him the academic James Bond.
So, wearing suits with sneakers is about being comfortable with your style. And everyone can pull this off.