If you wonder whether the maroon suit is the right match for you, let me help you decide.
Maroon might not be the first preference for men, but it is certainly a vibrant, rich, and versatile shift from the typical suit colors.
In addition, it can offer much value if you know how to match this suit color with the right shirt and tie.
What Defines the Maroon Suit
The same terms define a maroon suit as the color itself – exciting and warm.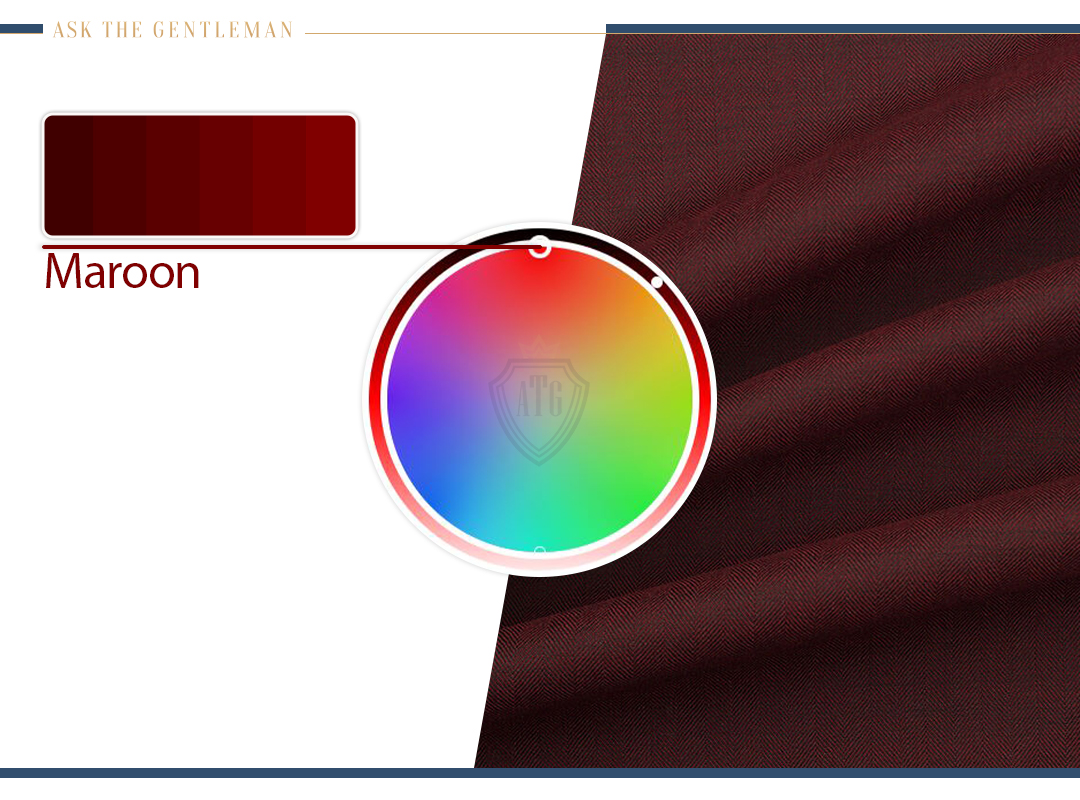 It falls in the semi-formal men's suits color category.
But you can even wear a maroon suit at a black-tie creative event because you can easily dress it up.
However, you still have a variety of places and settings where you can't wear a maroon suit.
Maroon vs. Burgundy & Dark Red
Most men can't intuitively differentiate maroon, burgundy, and dark red.
All three colors are quite similar, mainly because maroon and burgundy are both variants of dark red.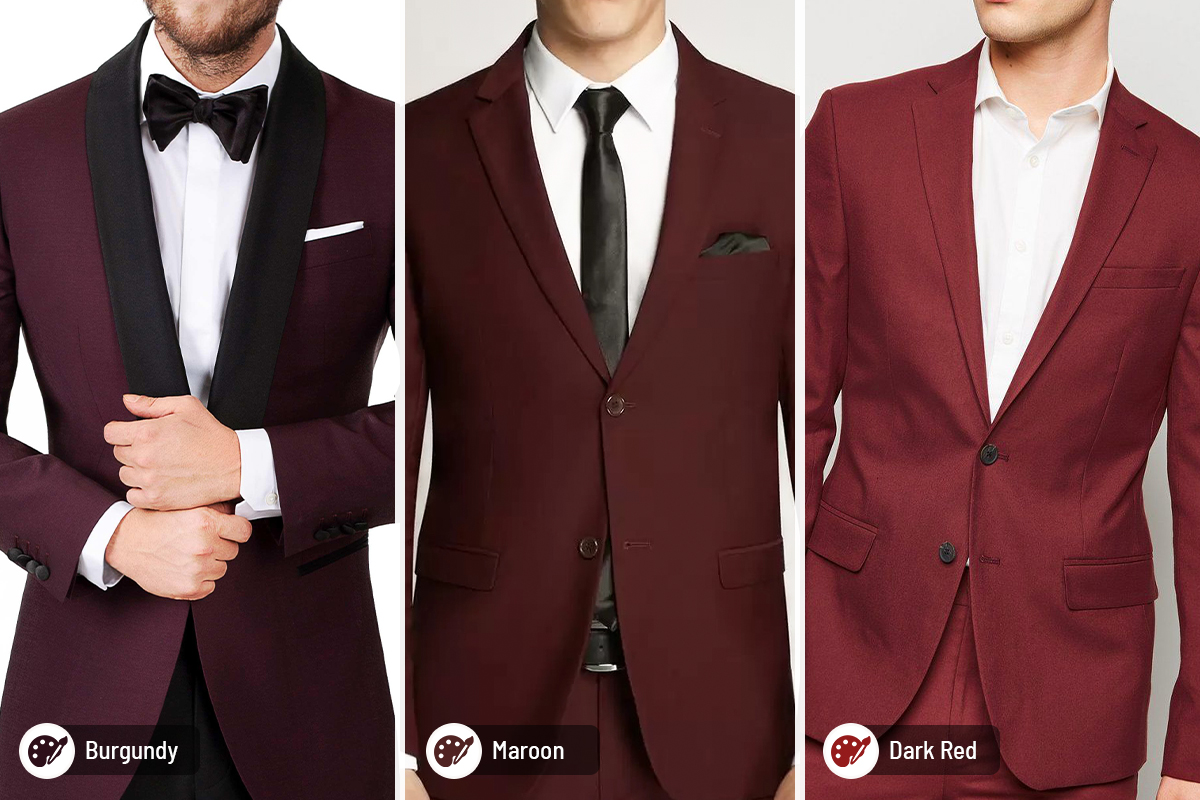 However, these two colors don't feature the intensified pure red tones of dark red.
Instead, maroon has brown undertones, which makes it a warm color.
On the other hand, the burgundy suit features purple hues, which gives it cool undertones.
You can also differentiate among the three by shade, as maroon can be considered the deepest shade of dark red.
Nevertheless, various shades of all three colors can sometimes overlap and only be differentiated by carefully observing the undertones.
When to Wear Maroon Suits
Maroon gets its warmth from the brown hues, so it works perfectly well for fall and autumn events.
The maroon suit can be the perfect choice for cocktail attire.
It is also more commonly worn for semi-formal and other festive events, like weddings.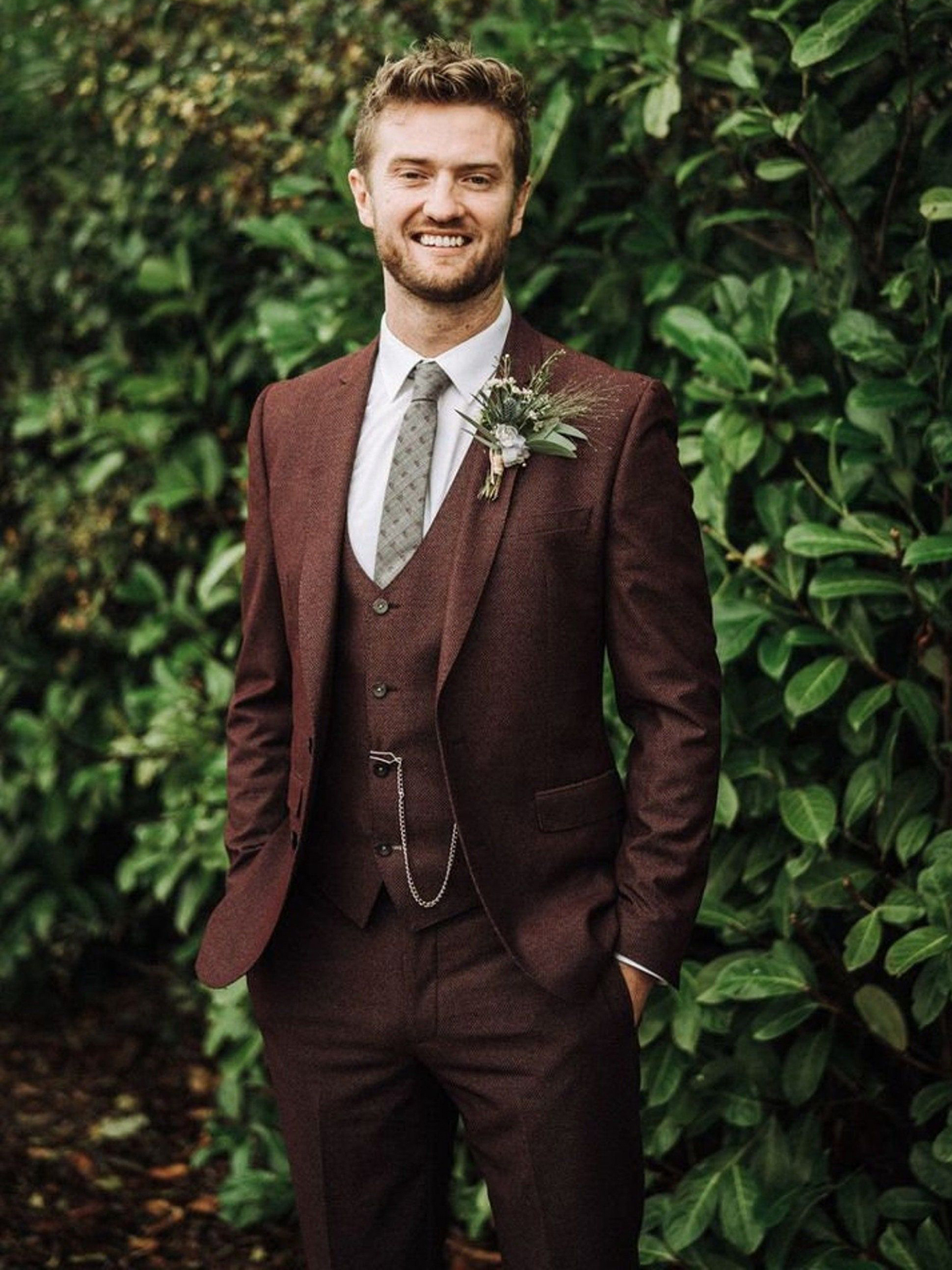 But it's best to choose a darker shade of maroon for more formal settings.
Best Shirt Colors & Ties for a Maroon Suit
There are several shirts and tie color options to pair with the warm-earthy tones of maroon.
You can easily look for some good color combinations by simply looking out the window on an autumn day.
However, that is not the limit with this color. The darker the shade of your maroon suit, the more pairing options you have.
Maroon Suit & White Dress Shirt
A white dress shirt is the classic traditional choice for any suit, and it works exceptionally well with a maroon suit.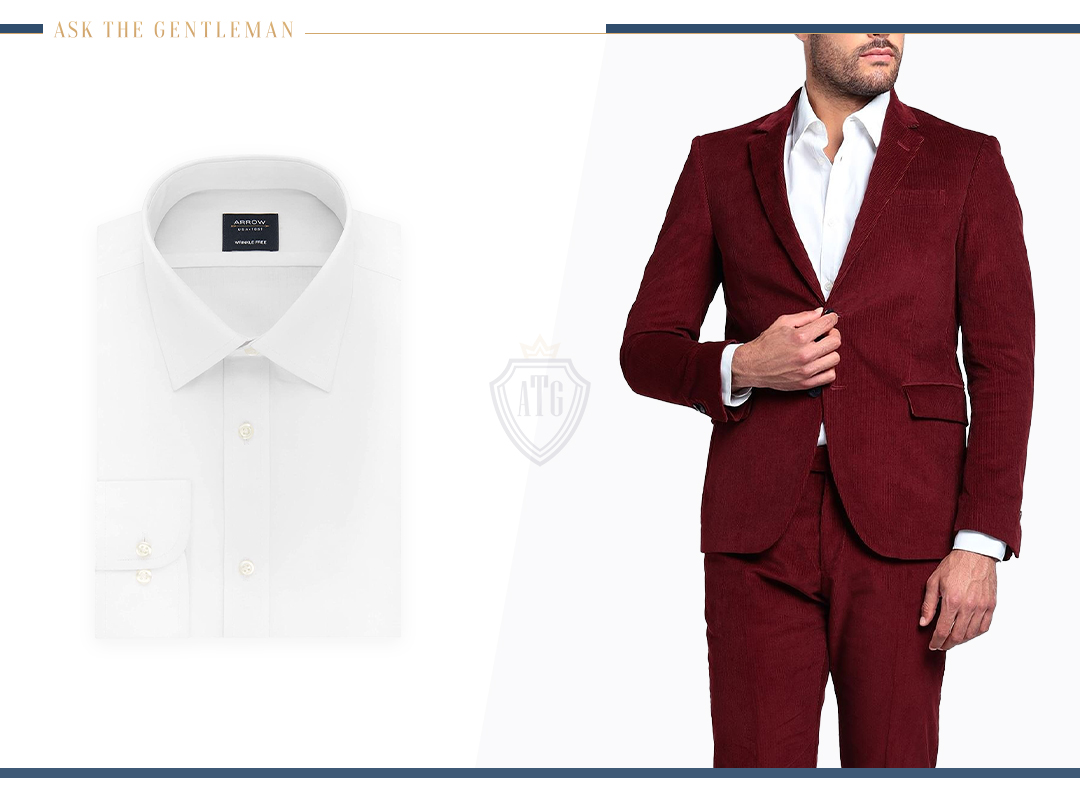 The fresh crispiness of white exceptionally complements the warm-earthy tones of maroon.
The accentuated warmth of maroon on a white shirt is taken a step further by adding a black tie. It makes for a good formal look for a semi-formal outfit.
On the other hand, you can all spice things up on a dull day by adding color to this combination.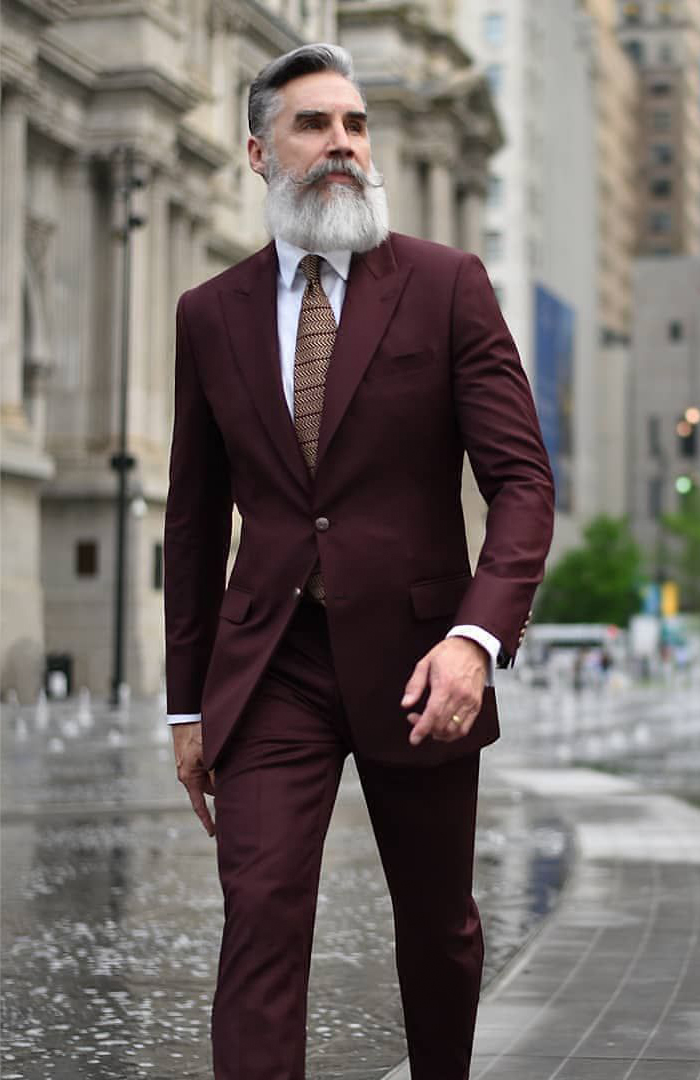 For instance, a brown, burgundy, navy, or even green tie would sit nicely with maroon.
Maroon Suit & Light Pink Dress Shirt
Light pink has made its place in a man's wardrobe, and rightly so.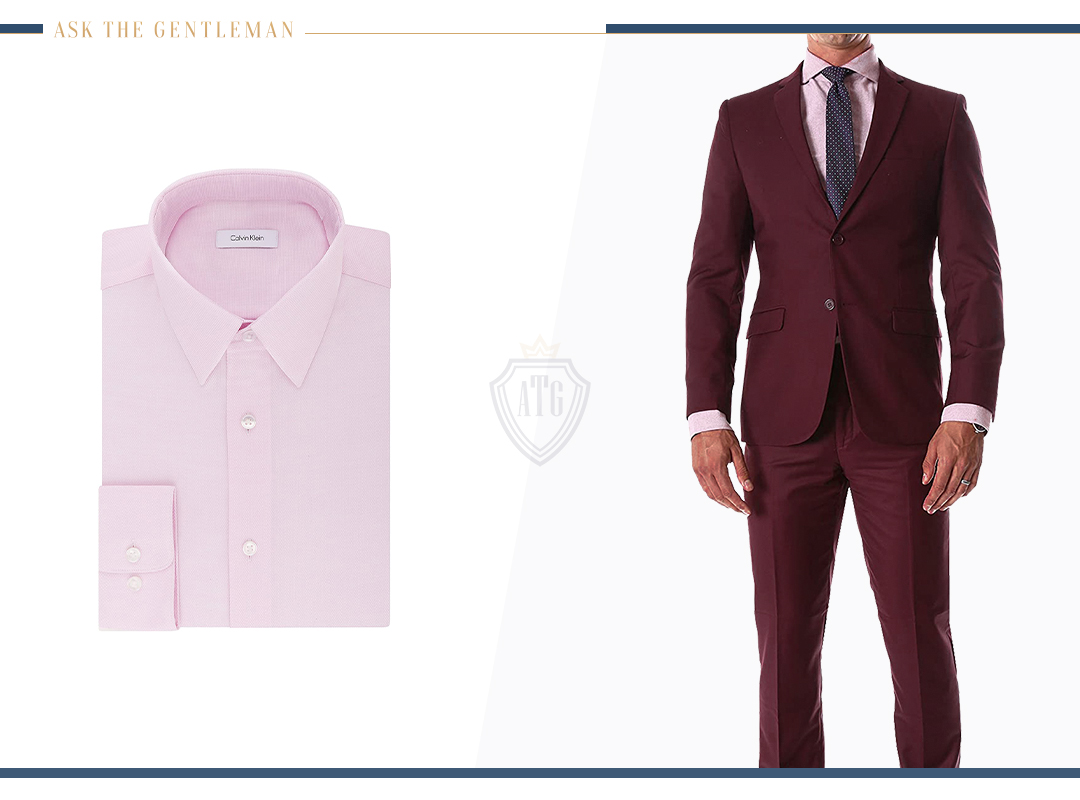 Light pink shirts paired with a maroon suit offer an ultra-contemporary yet refined ensemble.
The warm tones of maroon will keep the flashiness of pink at bay while balancing it with the right amount of playfulness in the look.
For ties, you can go for dark shades like brown, navy, or charcoal to add some class to the outfit.
You can also experiment with different shades of red ties. For instance, a dark red or maroon tie is quite successful for evening events.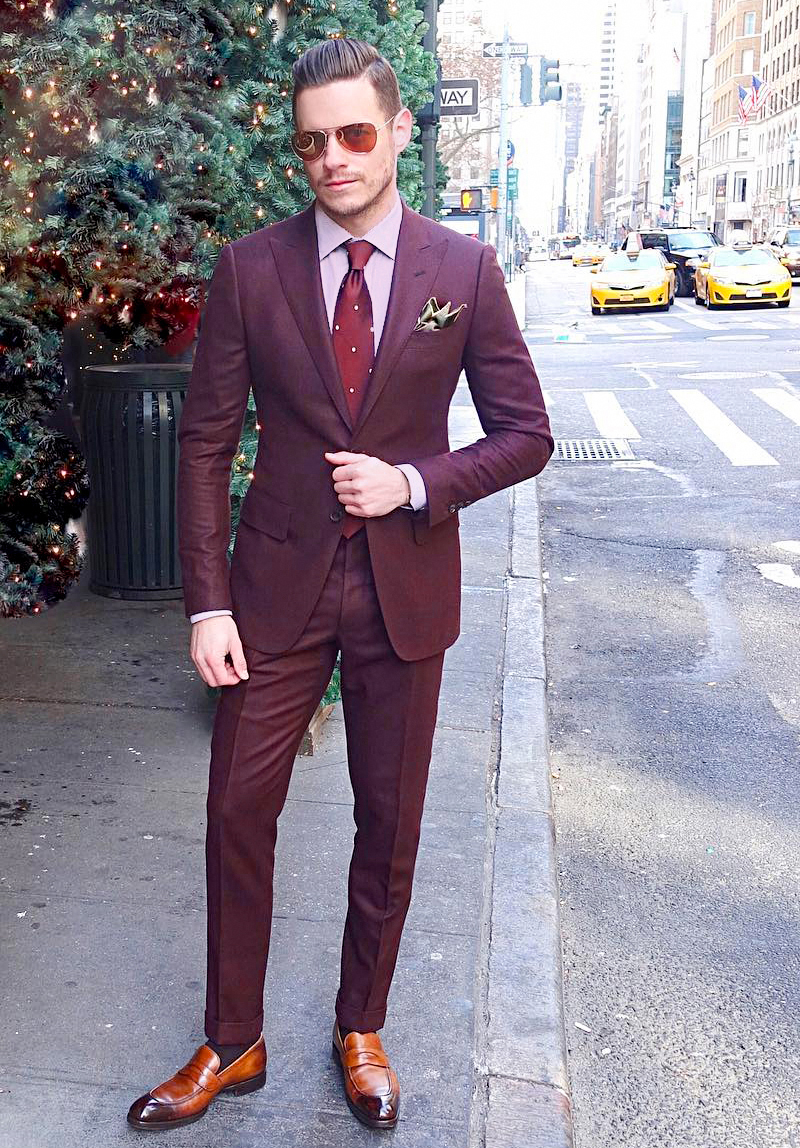 In addition, you can add a darker shade of pink to contrast it with the shirt.
A navy blue floral tie featuring pink can look exquisite if that doesn't fascinate you.
Maroon Suit & Light Blue Dress Shirt
A light blue dress shirt also falls among the classic dress shirt colors that work with almost every suit.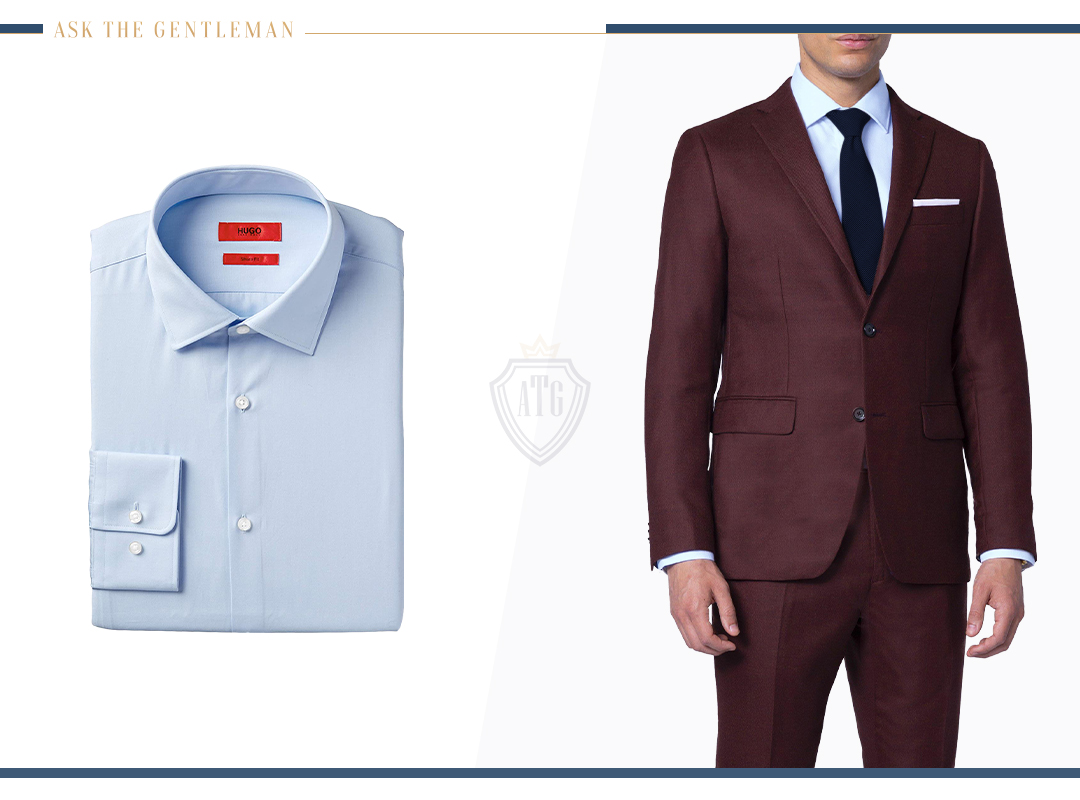 The same is true for maroon because a light blue dress shirt looks remarkably sleek under a maroon suit.
You can try going for a darker shade of blue shirt, but that must only be reserved for a richer maroon.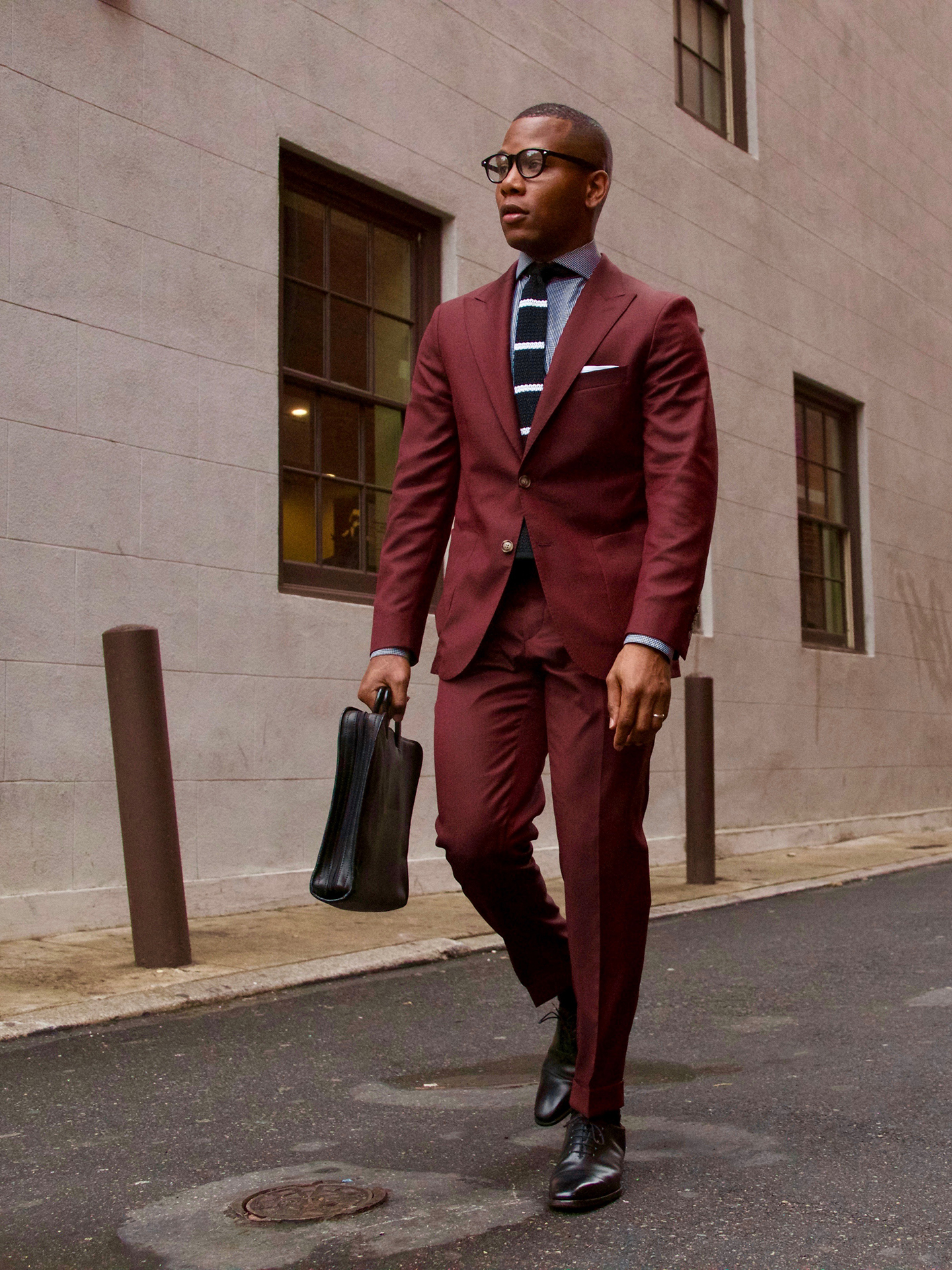 It would be best if you could experiment to find the perfect light blue shade for your suit shade.
Keep in mind that light blue tends to soften the excitement of maroon.
You can also reduce formality by opting for a faint patterned or striped blue shirt.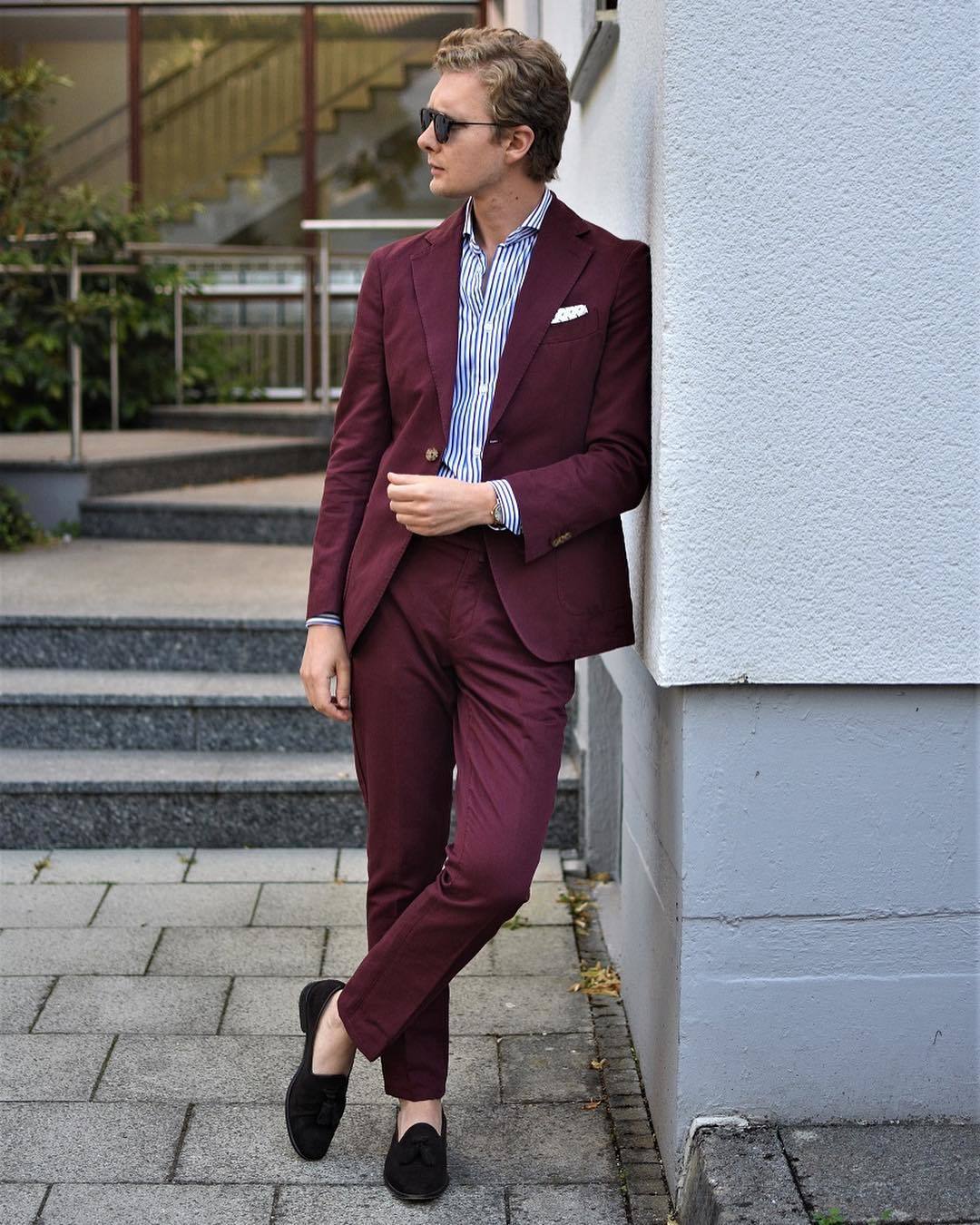 My personal favorite tie color for this combination is navy blue.
But if you feel a bit bold, add a burgundy tie. That will surely spice things up.
You can also play around with polka dots or patterned ties featuring grey, maroon, black, and navy shades.
Maroon Suit & Navy Dress Shirt
Don't be confused about the navy shirt. It works effortlessly with maroon.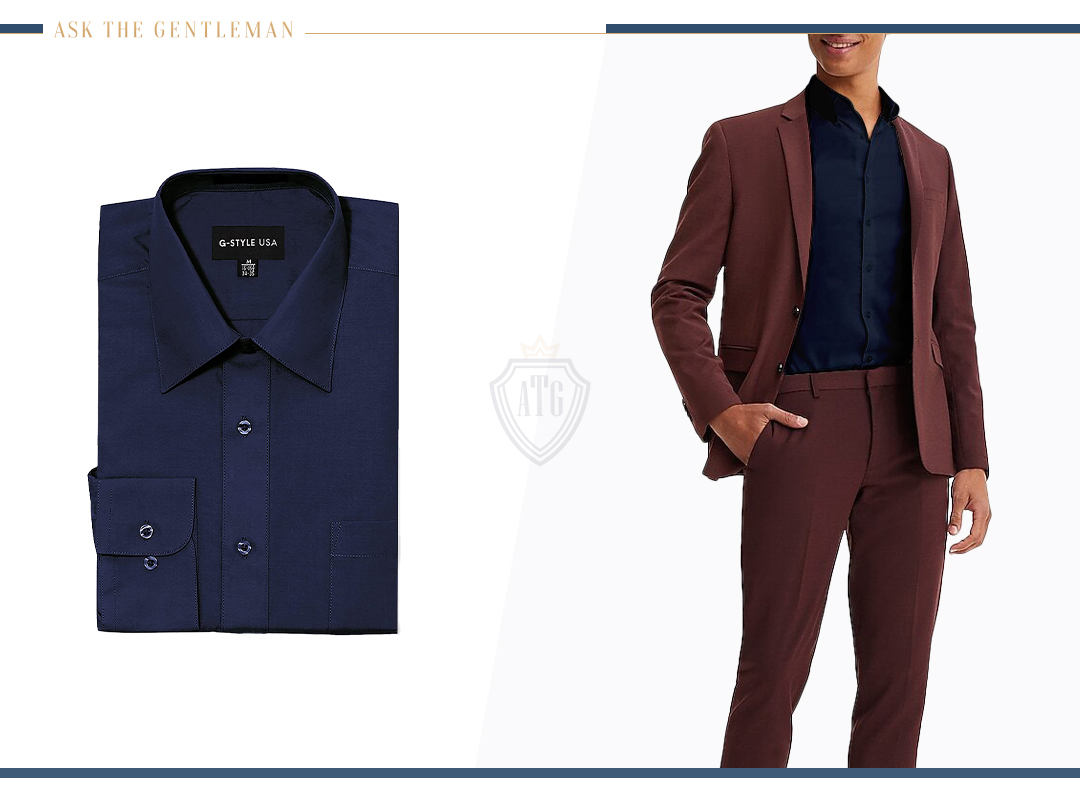 Just keep in mind with this combination that both maroon and navy are bold colors.
They complement each other's rich tones only to provide a casual look.
As a result, you also have the flexibility to play around with different fabrics and patterns.
The only drawback of this combination is the lack of options for tie colors.
You could go for a navy tie, of course. But I would rather go tieless since it's unnecessary with this suit and navy shirt combination.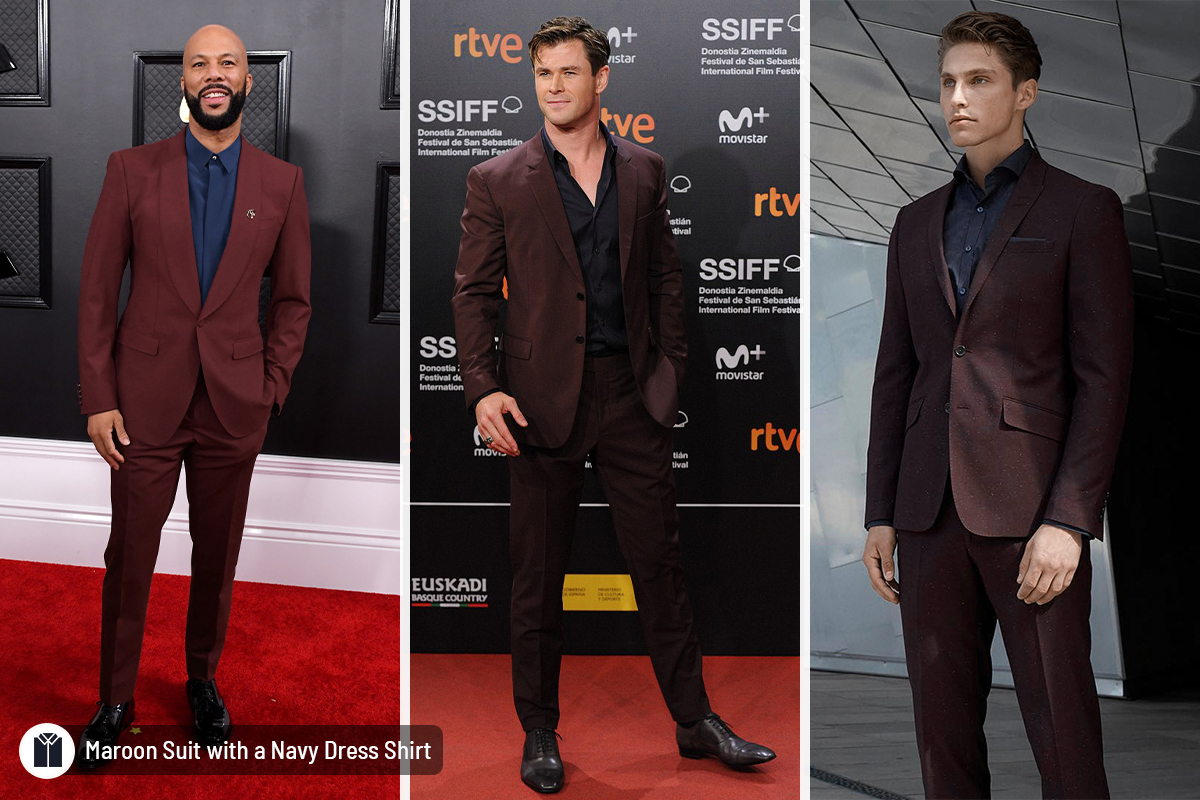 Again, adding another bold color to the outfit can come off as a bit too harsh, so do it sensibly.
Shoes that Match the Maroon Suit
It is essential that you choose the right shade and type of shoes to go with your maroon suit.
As always, black is one good and safe option since it offers class and formality.
However, you shouldn't shy away from completing the warm look by adding dark brown shoes.
Maroon Suit & Black Shoes
If you are pairing a maroon suit with a white shirt and black tie, your first choice of shoes should be black.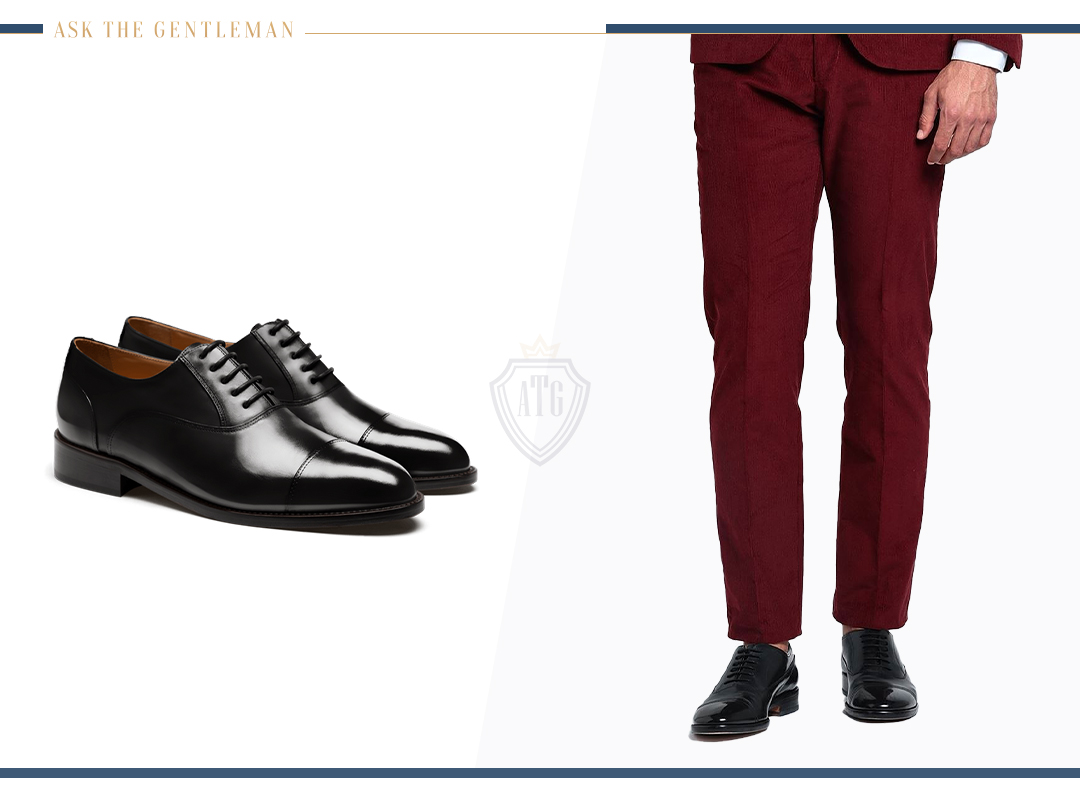 Since this combination is formal, I would recommend wearing a pair of black leather Oxfords.
Black derby shoes are also good since maroon isn't meant for highly formal events.
Casual shoes such as loafers also work for more relaxed looks.
For example, if you've paired the maroon suit with a patterned navy shirt.
Maroon Suit & Dark Brown Shoes
Dark brown shoes are a good match for a maroon suit if you have added earth-toned accessories.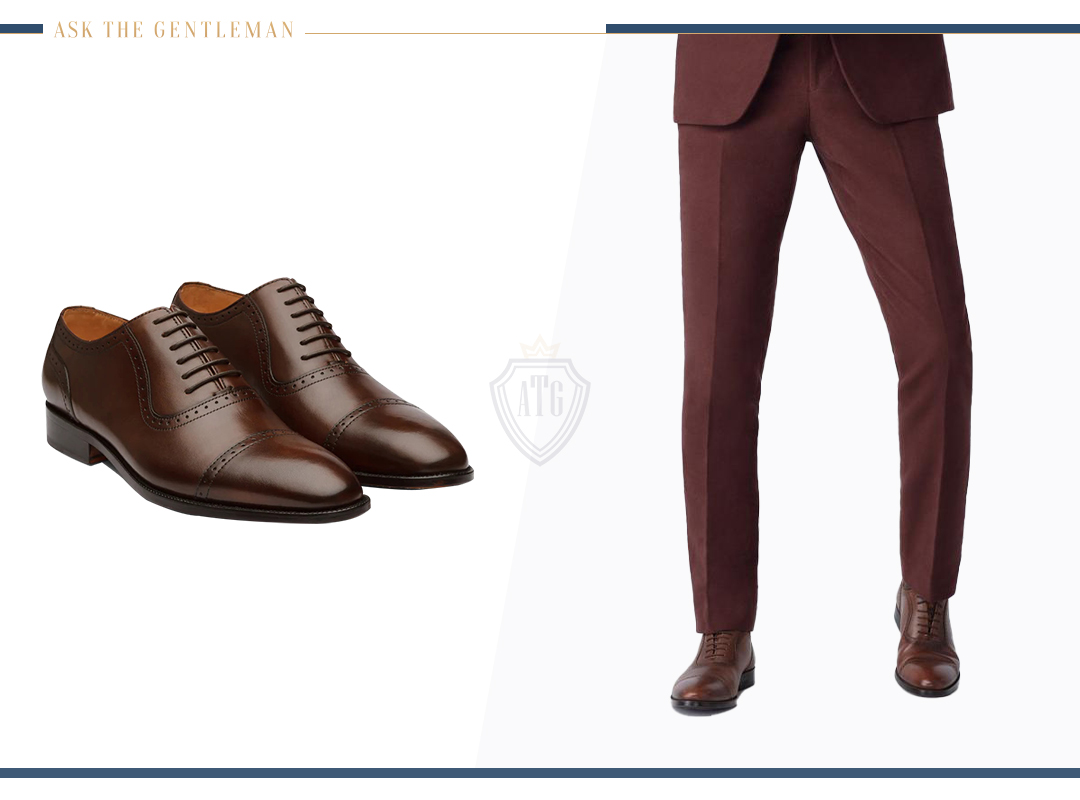 I would always recommend derbies or oxfords to keep formality in check.
My favorite combination with dark brown shoes is a maroon suit complemented by a light blue or pink shirt. It looks ecstatic, classy, and soft.
You can also move away from formal shoes and add tasseled loafers.
For fully casual looks, dark brown canvas sneakers handle the ensemble flawlessly.
Other Accessories You Can Wear with Maroon Suits
Interestingly, it's quite easy to choose the right accessories for the maroon suit.
That's because the maroon's versatility opens doors for a wide range of styles and accessories.
You can experiment with different belts, watches, and pocket squares.
Matching the Belt
One of the most important rules in men's fashion is to match the belt color to the color of the shoes.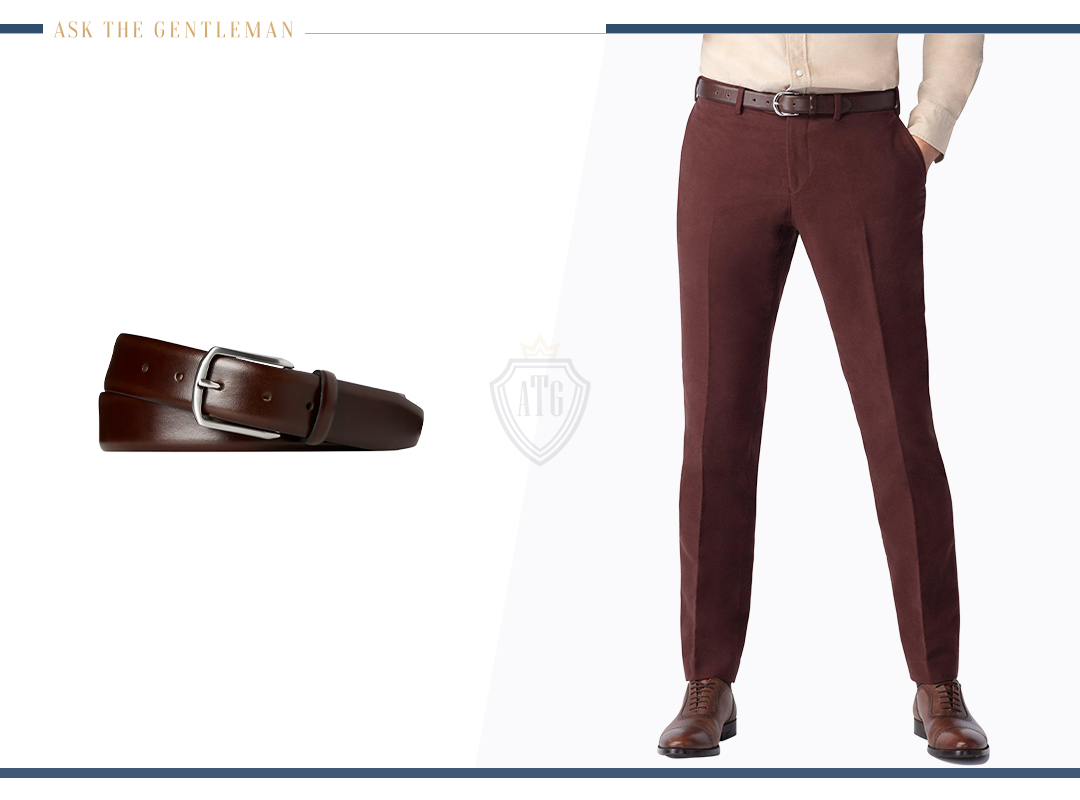 Therefore, whether you opt for black or dark brown shoes, ensure that the belt is in the same color to maintain the ensemble's continuity.
Leather or Metal Watch
A watch is a classy addition to any suit, which certainly steps up the game with a maroon suit.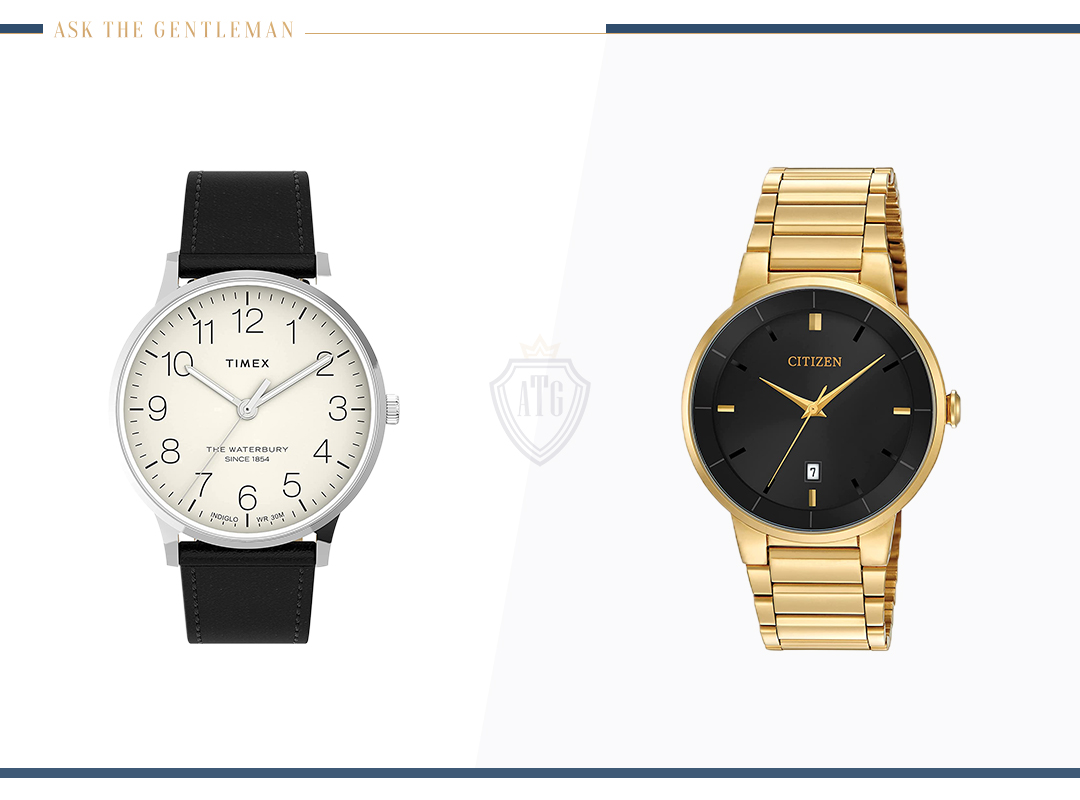 Here again, I suggest you match the leather watch strap with the belt and shoe color.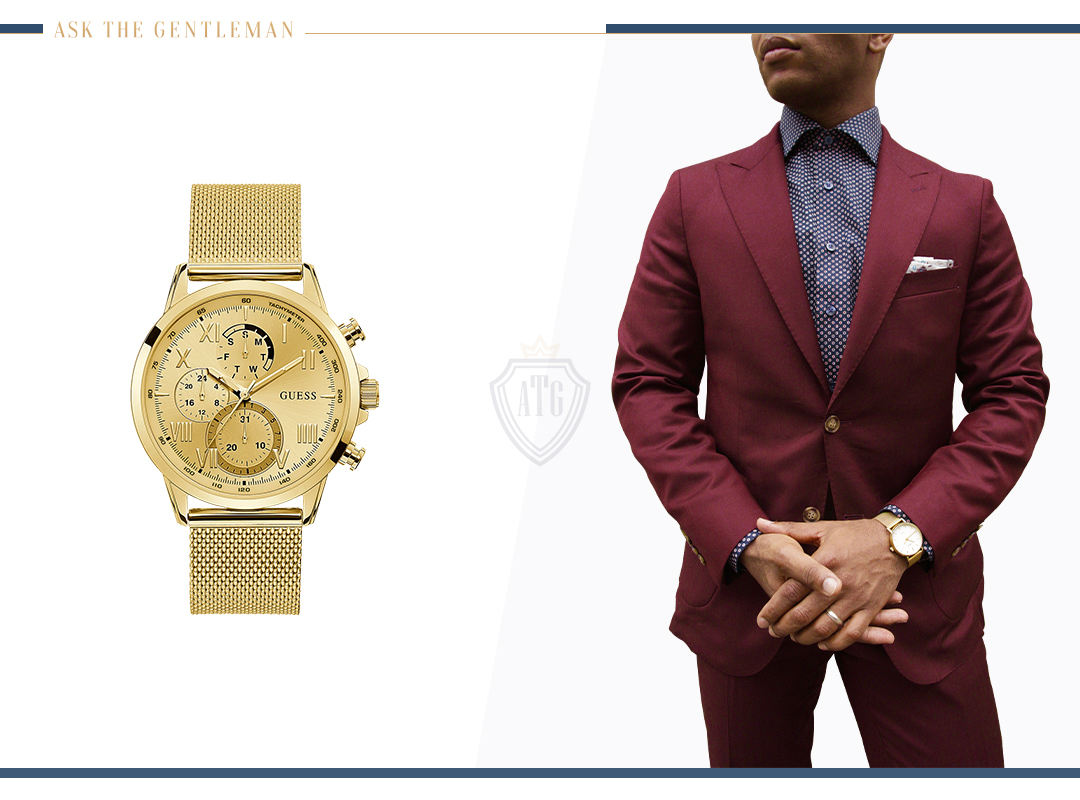 On the other hand, you also have the option to go for the flashier and classier metal watch depending on the occasion.
Contrasting Pocket Square & Tie
A pocket square helps add contrast to the suit.
A white pocket square is the best choice for highly formal or semi-formal events.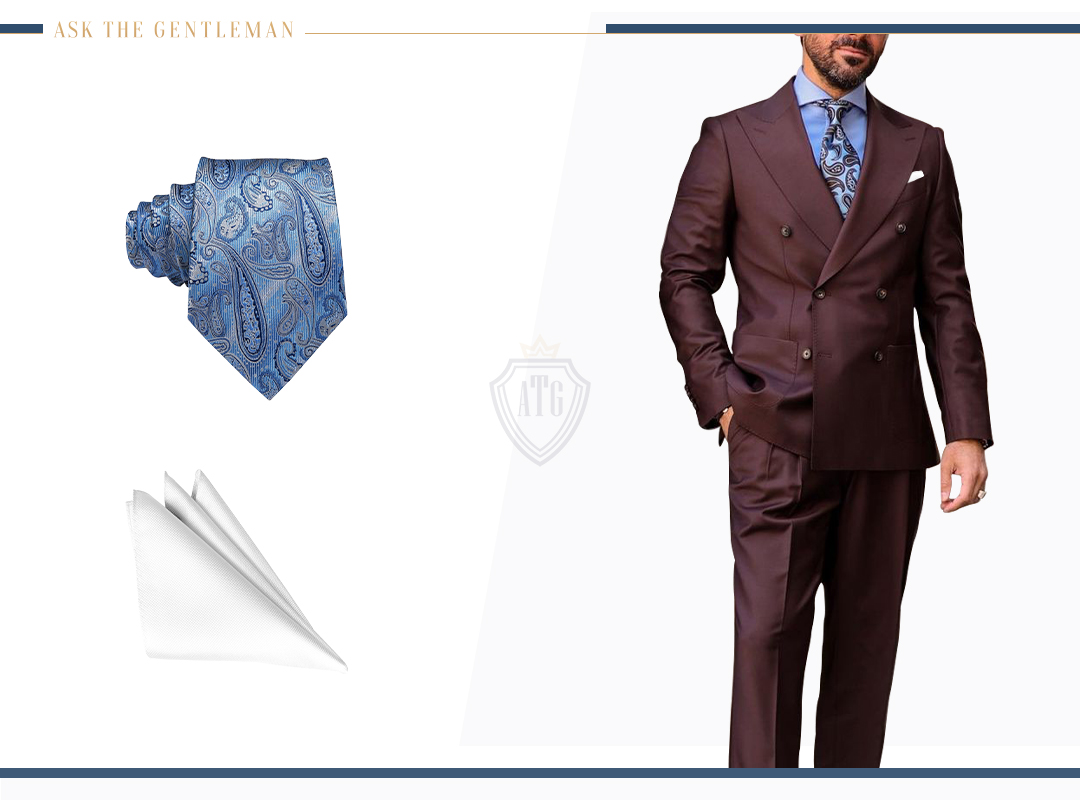 You can also play around with pocket square patterns for a more casual impression.
Contrasting paisley or floral pocket square can certainly add a bit of playfulness to the maroon.
Just make sure that it contrasts with the tie, suit, or shirt.
How to Wear a Maroon Suit for Formal Events
If you attend a black-tie event, a maroon suit can be a creative change from the usual black.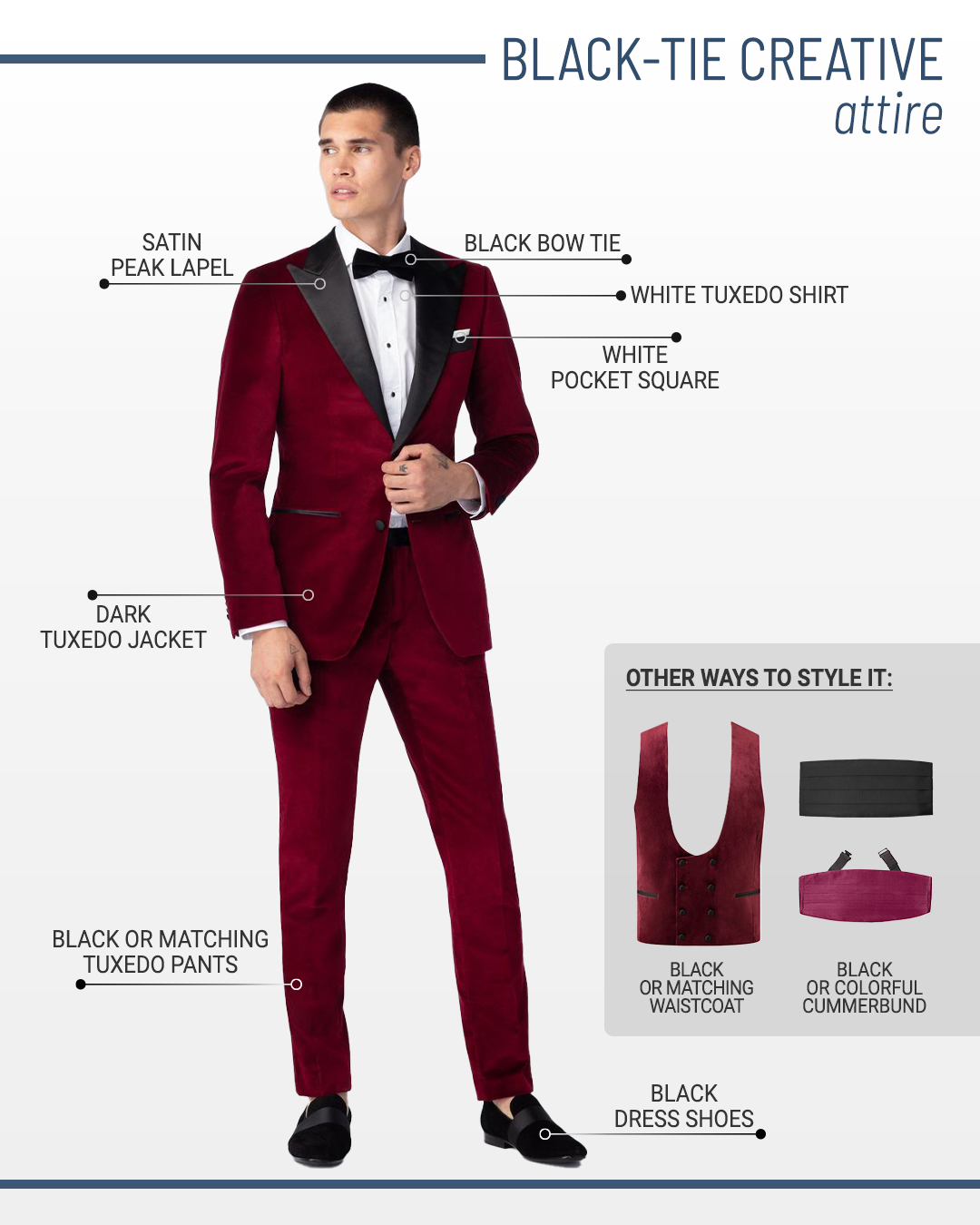 However, you have to be extremely careful while deciding on the combination.
I recommend a dark maroon tuxedo featuring peak lapels and jetted pockets, paired with the classic white shirt and black bow tie.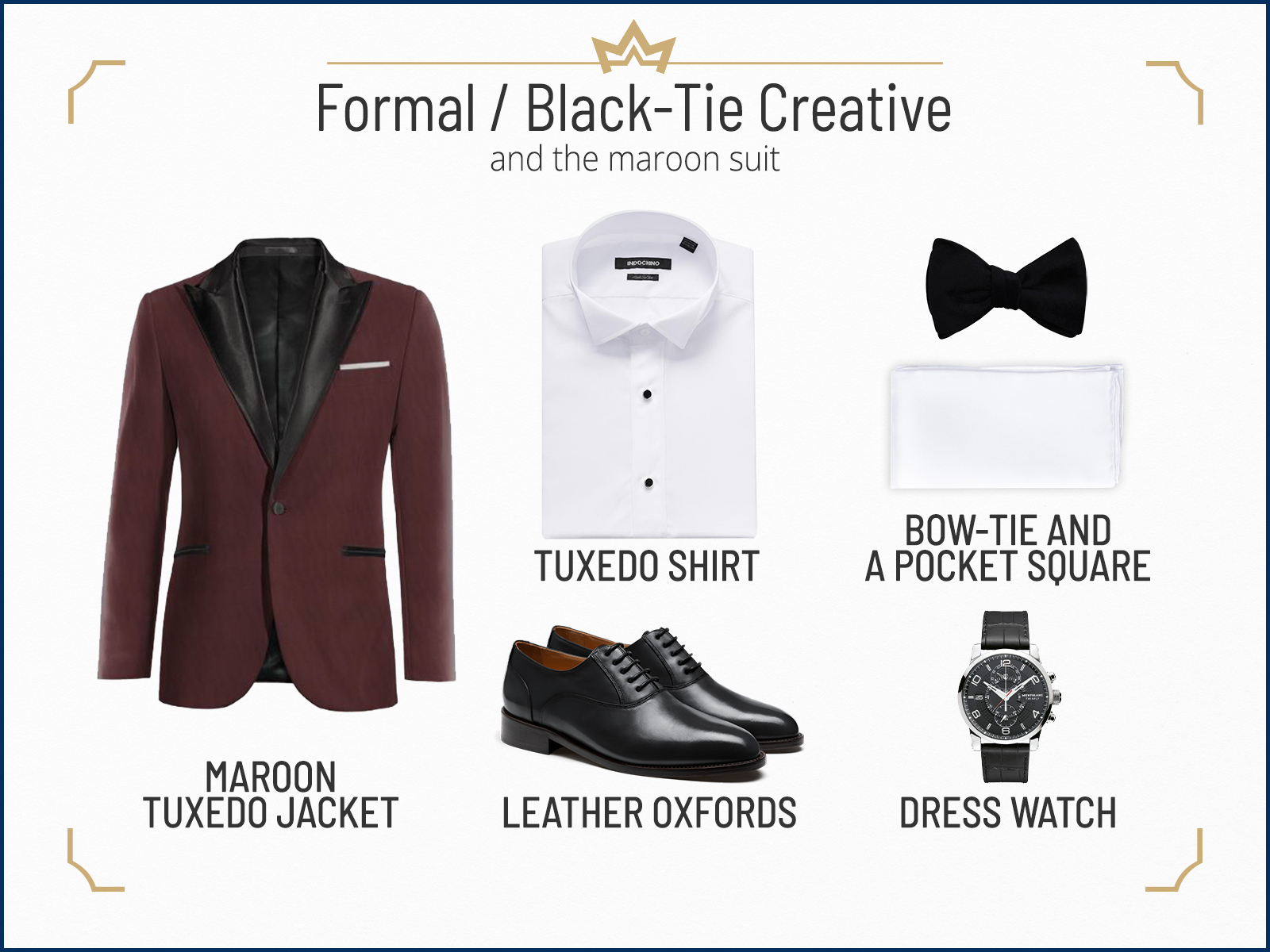 Black leather oxfords and an elegant pocket square will help complete the look.
If you wear a belt, it must be black to match the shoes.
But if you wear a maroon tuxedo, you should opt for black suspenders instead.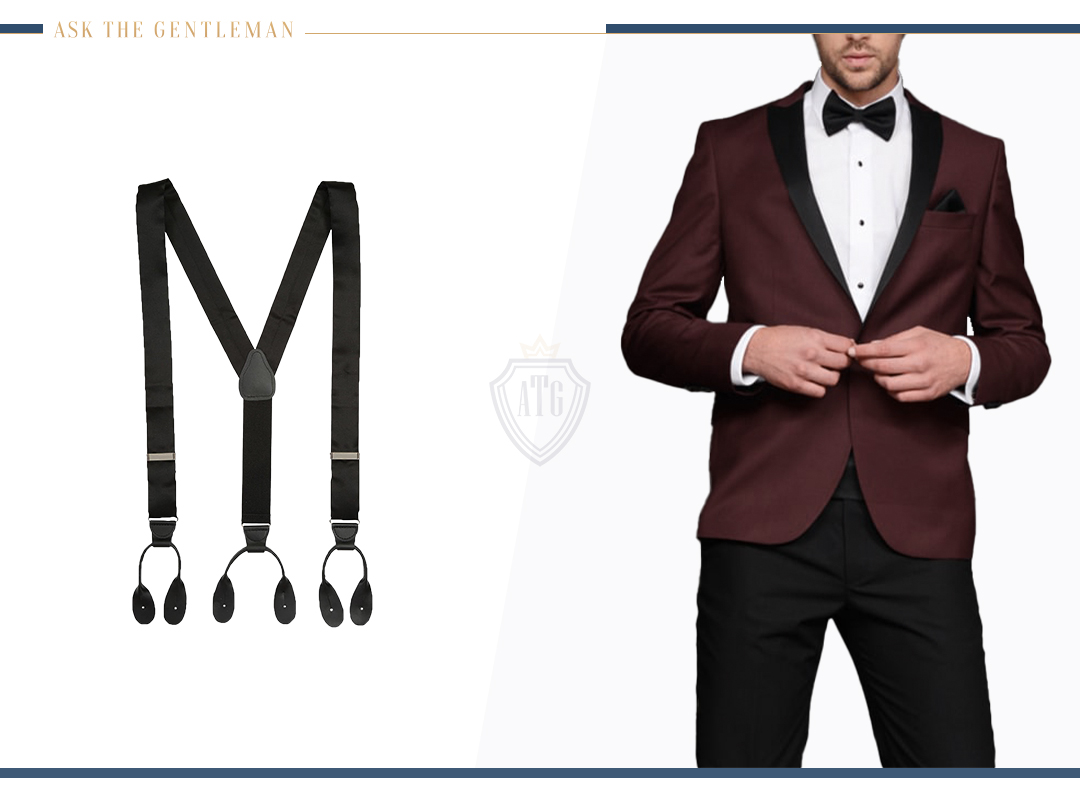 Finally, feel free to add a dress watch, preferably black leather.
How to Wear a Maroon Suit for Weddings
Fall-themed weddings are classy and fun. So to keep up with the vibe, you can rock a maroon suit.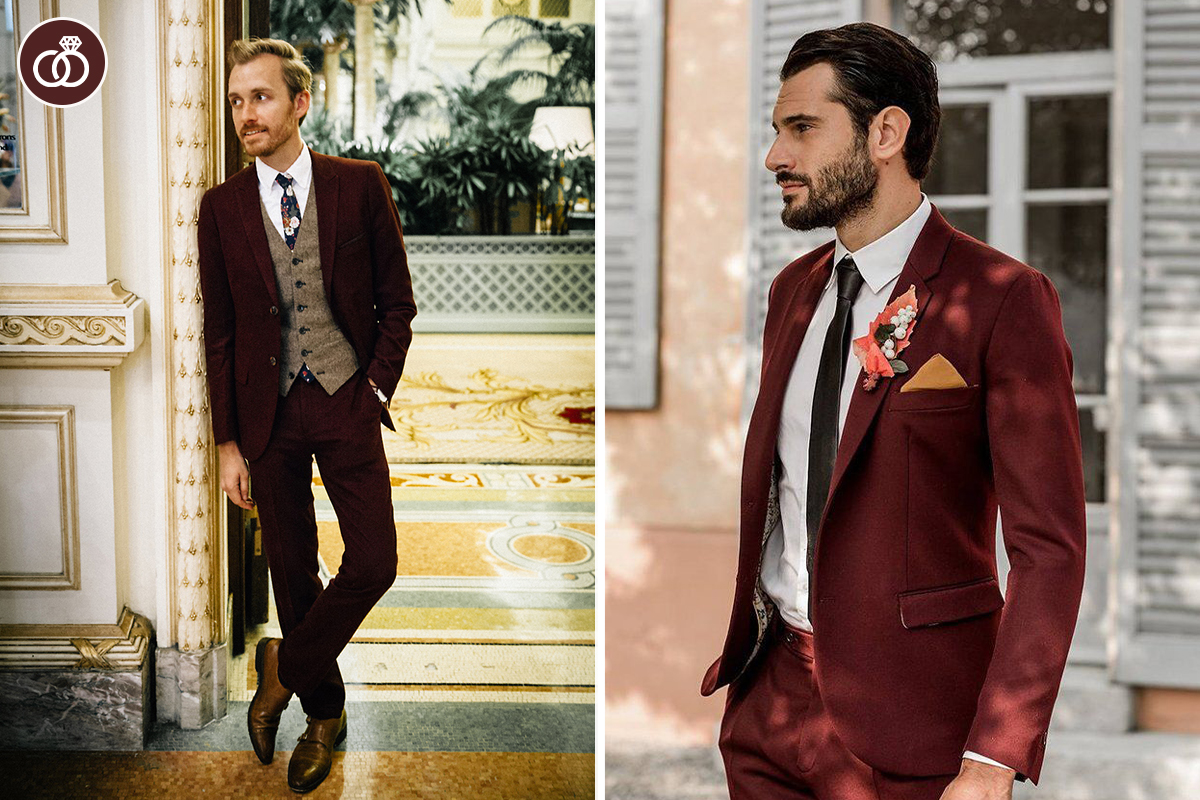 Pair the suit with either a white or light pink shirt and contrasting tie and pocket square.
If you're the groom, go for a maroon tuxedo and white dress shirt.
Weddings are usually formal, so black Oxfords will probably be the best shoe choice.
However, you can even opt for dark brown because they complement both the warmth of maroon and season.