A pink dress shirt transcends style trends. It's amusing, versatile, and easily a statement piece.
Plus, these days, it made a stellar entrance in menswear, seamlessly gliding with suits and other outfits.
So, let's embrace this classic staple with some great outfits.
Trendy & Stylish Pink Shirt Outfits with a Suit
The pink dress shirt has a spark that can ginger up any suit color.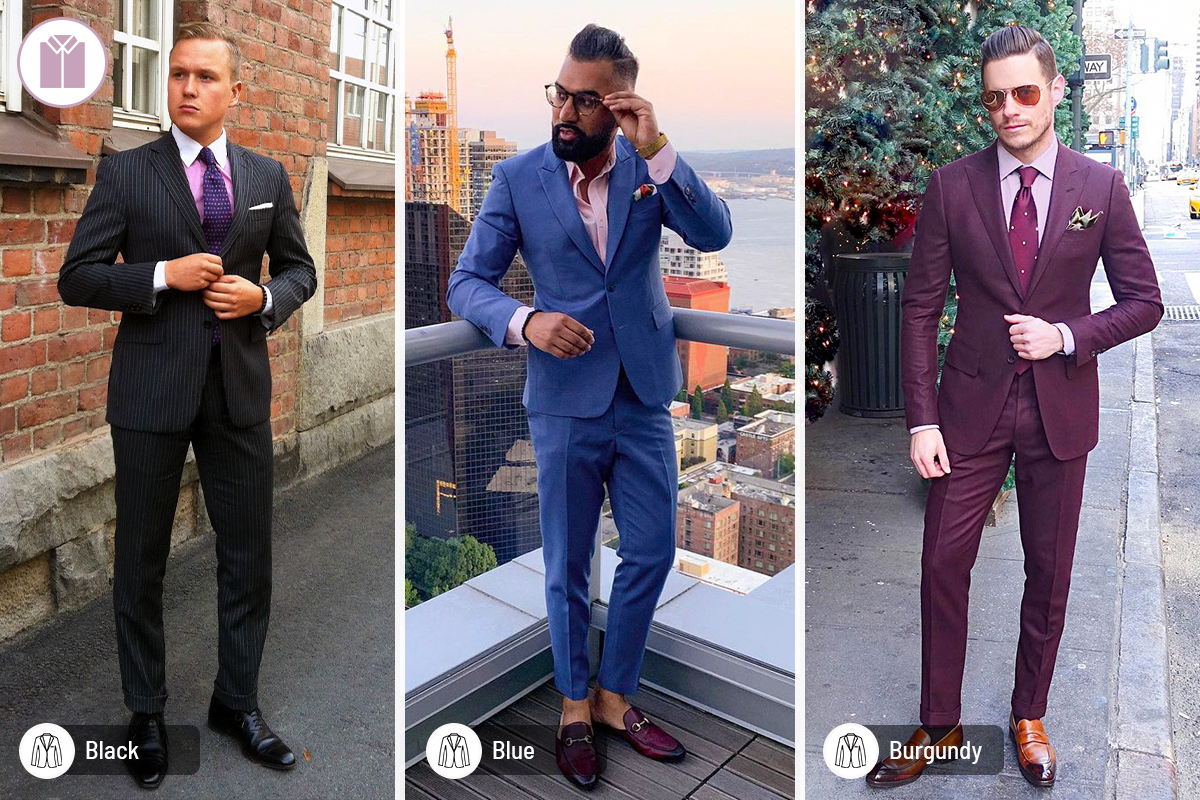 Whether it's a serious black or a flamboyant khaki, the pink dress shirt creates some of the best suit color combinations.
Plus, it's a great statement item. So, your suit will be distinct and with a unique color palette for accessories and detailing.
Light Pink Dress Shirt & Navy Suit
The light pink dress shirt with a navy suit is your classic suited look with a little extra flair.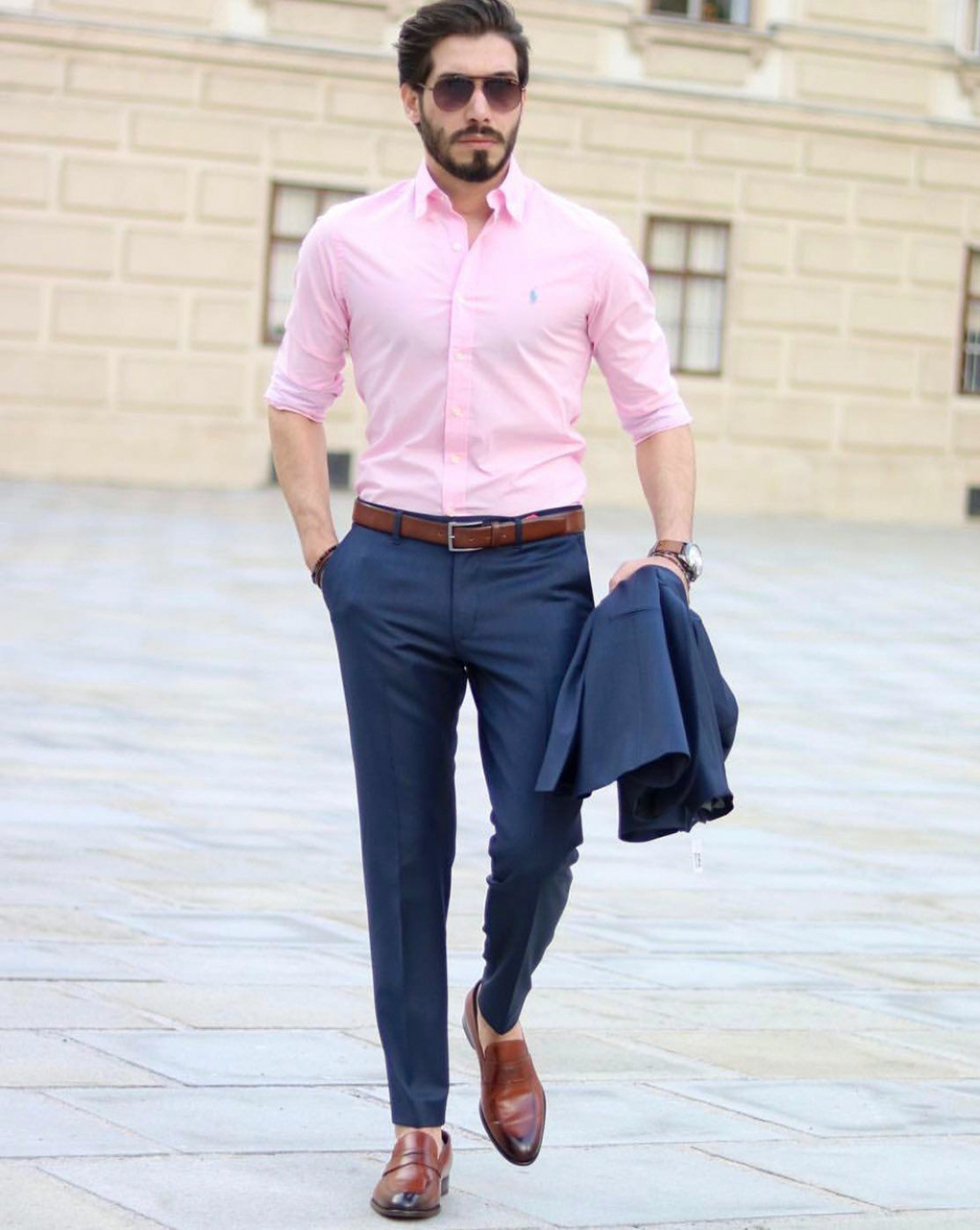 This outfit works whenever you want a different dressed-up feel, such as cocktail attire or a semi-formal outfit.
Next, you can complement either color of the outfit with some accessories.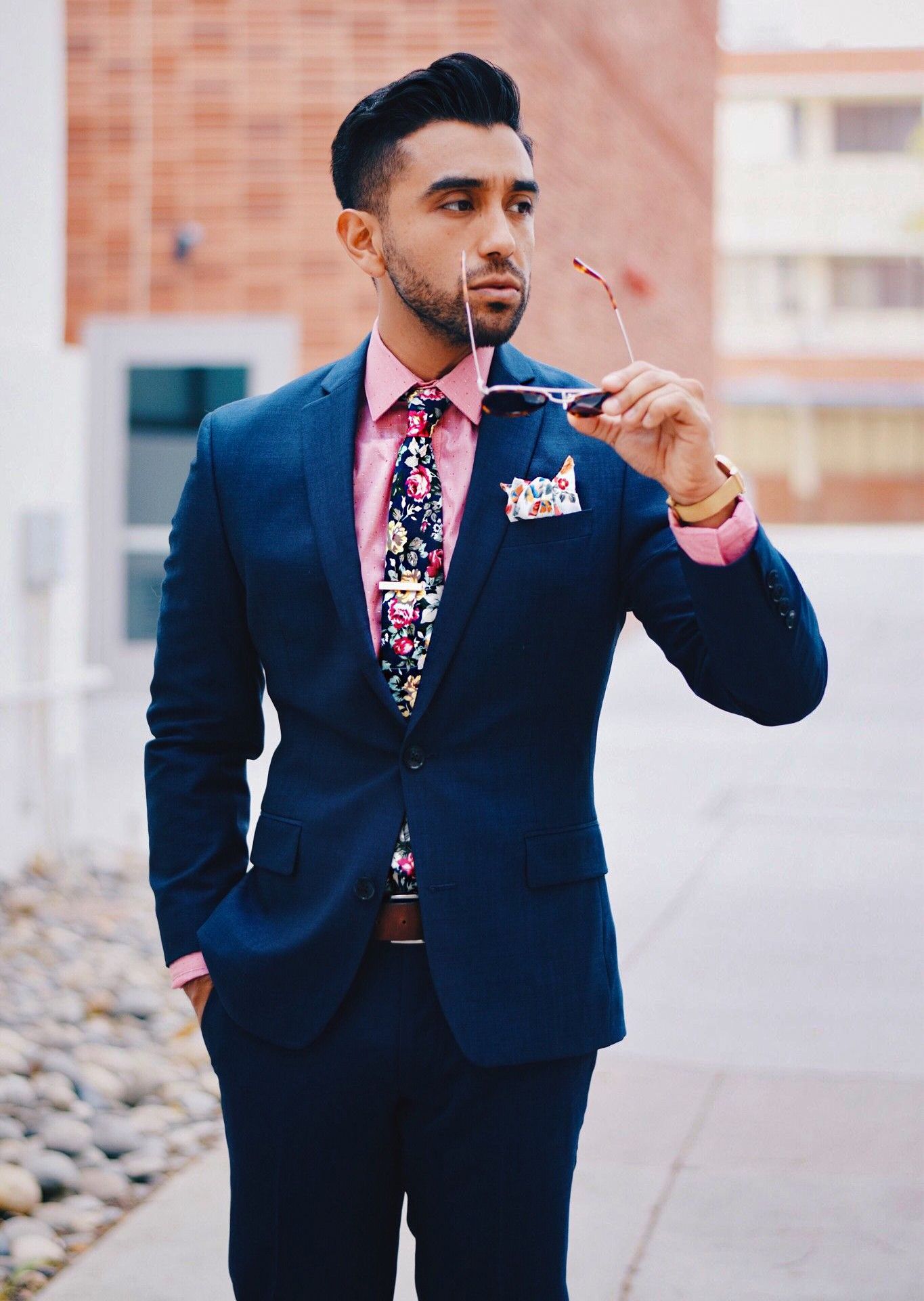 A navy tie will be suitable for a dressed-up look. In comparison, a dark-pink patterned tie will make the outfit more adventurous.
You can also go with light blue, burgundy, and orange-red as other tie colors.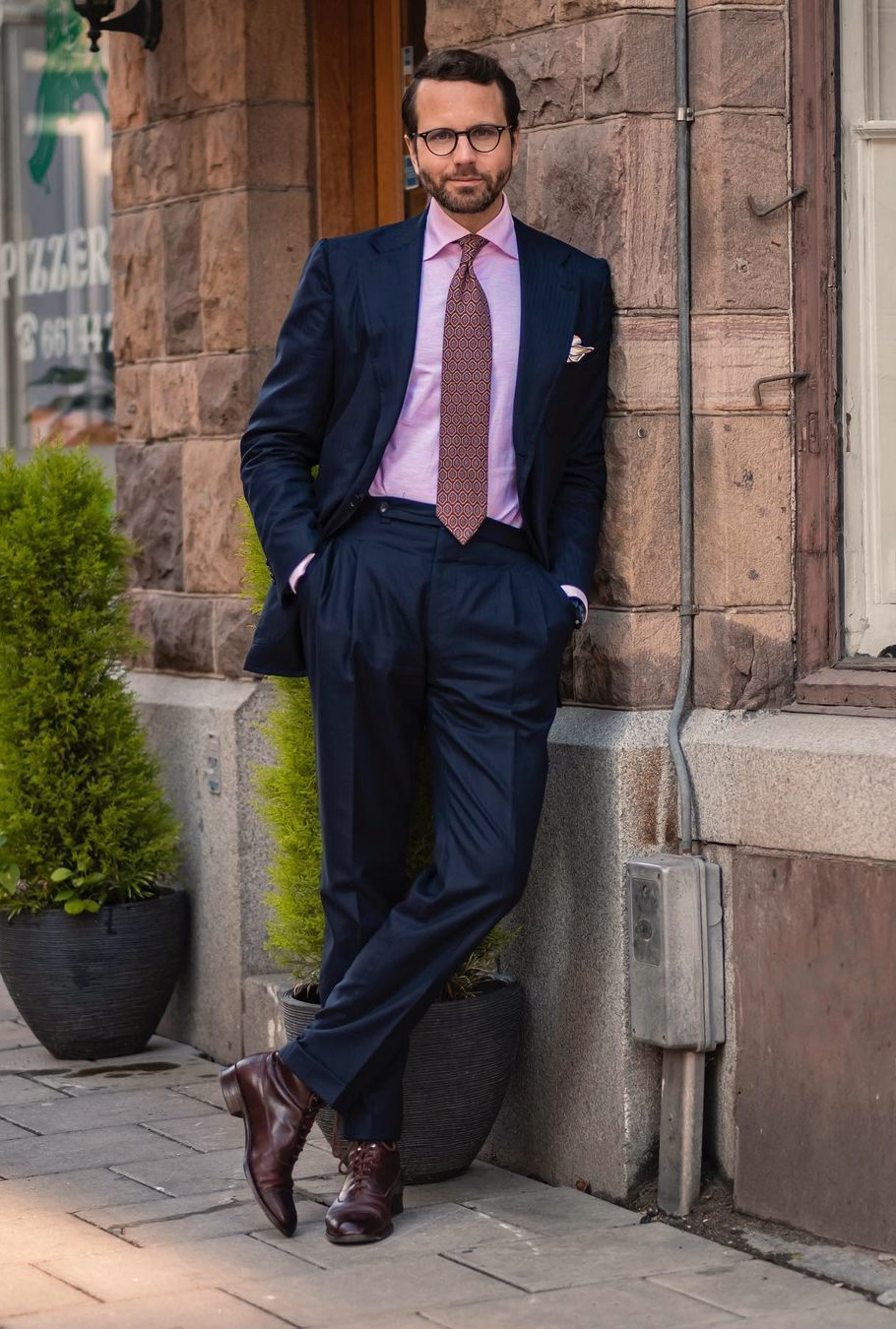 Finally, finish off this look with brown oxfords or loafers.
Light Pink Dress Shirt & Blue Suit
Going to a wedding or a semi-formal event but want something classic and cheery?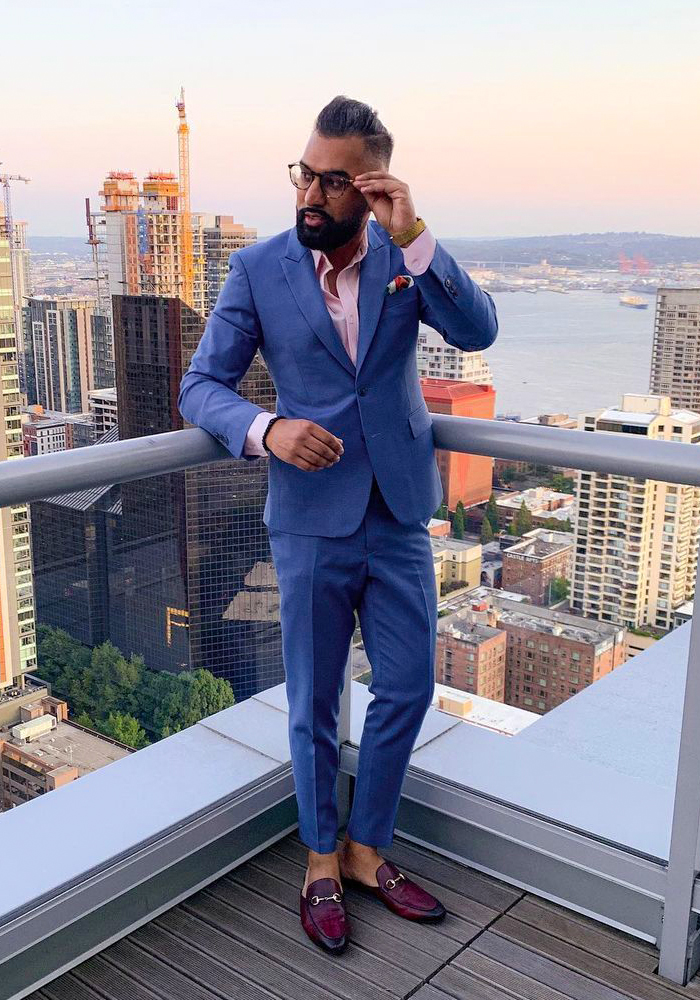 Look no further than this light pink shirt and blue suit combination.
It's ideal for gentlemen who take confidence in their style but also love to showcase sartorial elegance.
You can add a blue tie for a dressy look. Similarly, the black, charcoal grey, and navy ties all look sharp.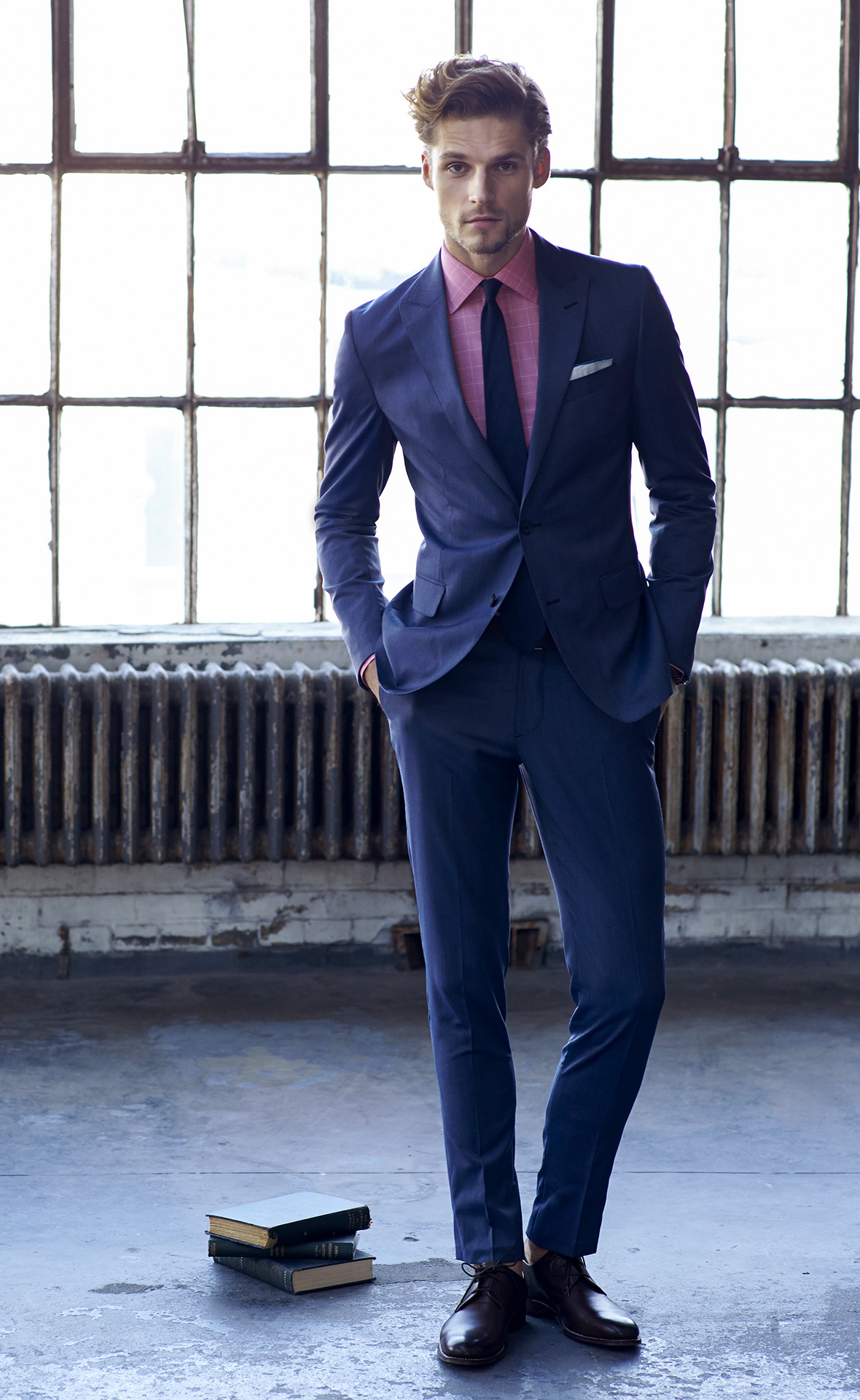 Subtle tie patterns are always better than solid ties.
The red tie with this look will be statement-making. Maroon and brown would also be great.
Lastly, add a nice pocket square and double monks to complement the outfit.
Pink Dress Shirt & Grey Suit
The grey suit can have many shades, from charcoal to mid and light grey. The same goes for a pink dress shirt.
So, both can match in varying contrast to create different outfits.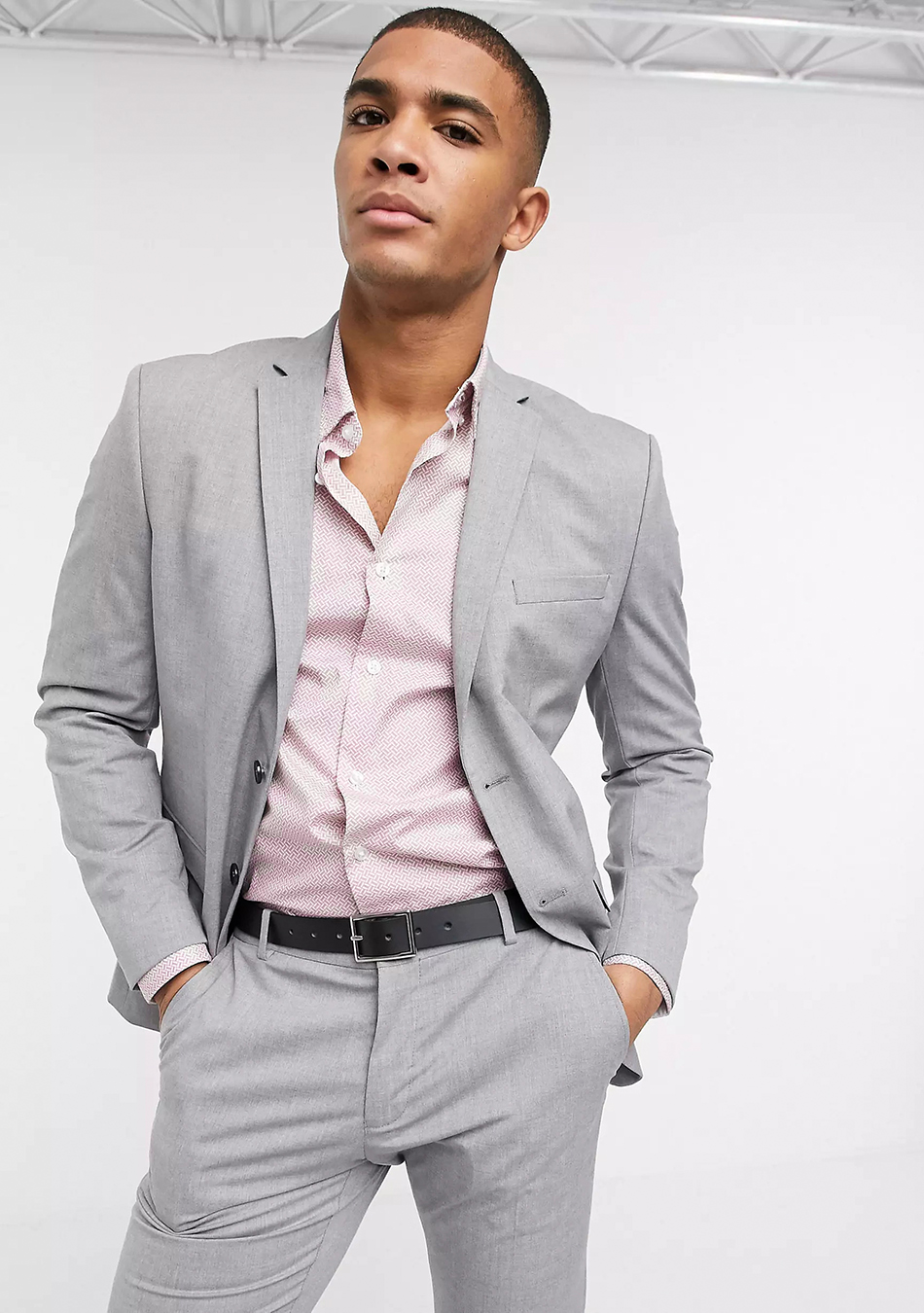 However, the light pink dress shirt and mid-grey suit make the best combination. It's because this color combination has sophistication with a personality.
The ties can also further speak up about things. For example, a dark grey or navy tie will add seriousness to the outfit.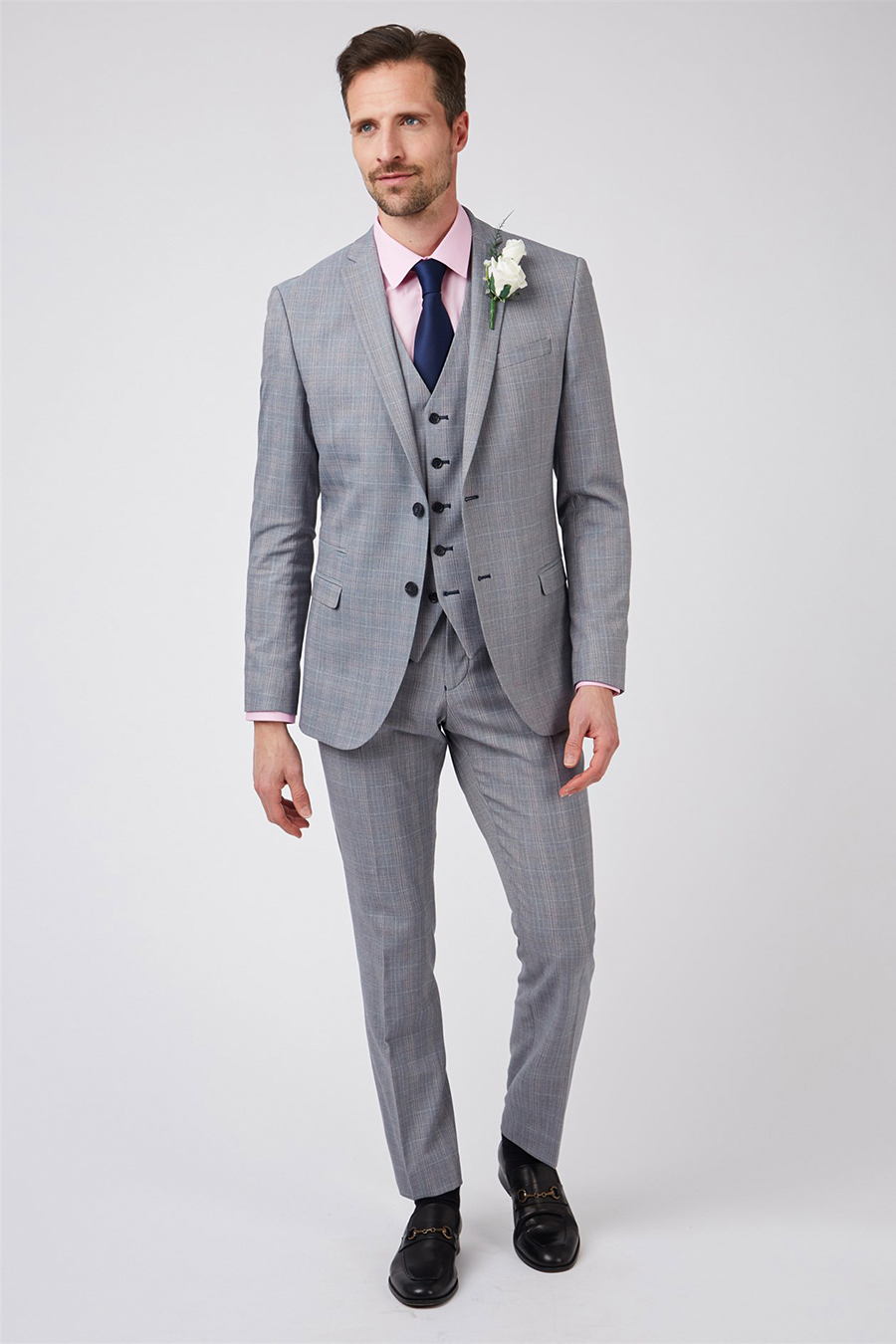 At the same time, a deep pink or light blue tie will be a cheeky addition. Maroon, burgundy, and black are some other appropriate tie colors.
When it comes to shoes, brown cap toes, brogues, and double monk straps are suitable options.
Pink Dress Shirt & Brown Suit
A brown suit and pink dress shirt is a refined ensemble for a modern dressed-up look.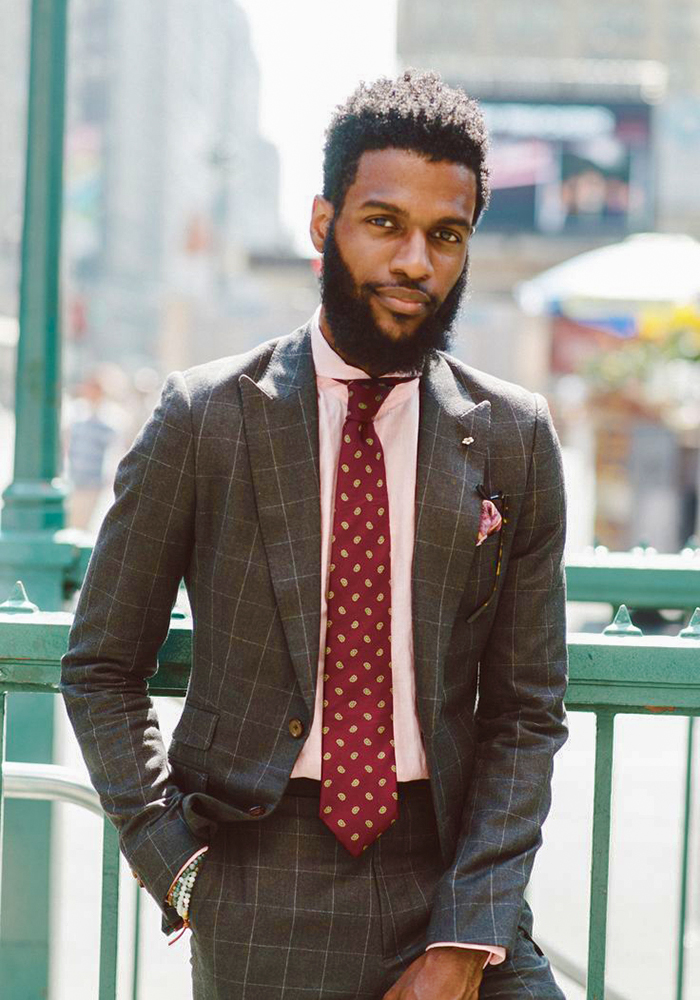 This also provides a way to wear a brown suit more often, that otherwise becomes tedious.
Various shades of the pink dress shirt can match the brown suit. So, if light pink becomes too meh, a darker one may be pertinent.
Patterns can also be a great addition. The pink striped shirt, for example, will add visual interest and depth to the outfit.
Subtle tie patterns can also be a great fit for this combination. Dark brown, black, burgundy, and green can be great tie colors.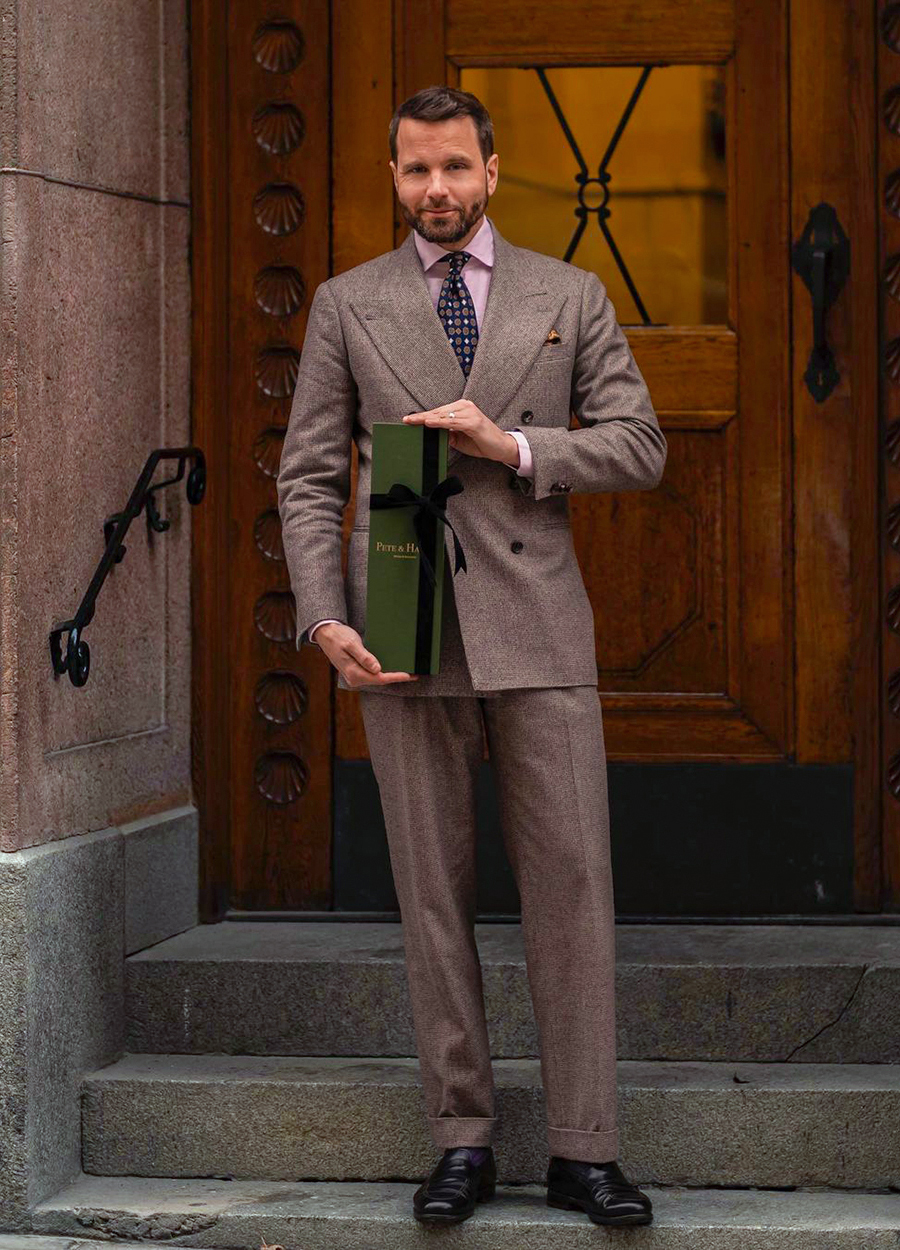 With this modern style, brown loafers will fit best in the situation.
Pink Shirt & Maroon/Burgundy Suit
The maroon suit and the pink shirt have a common red hue.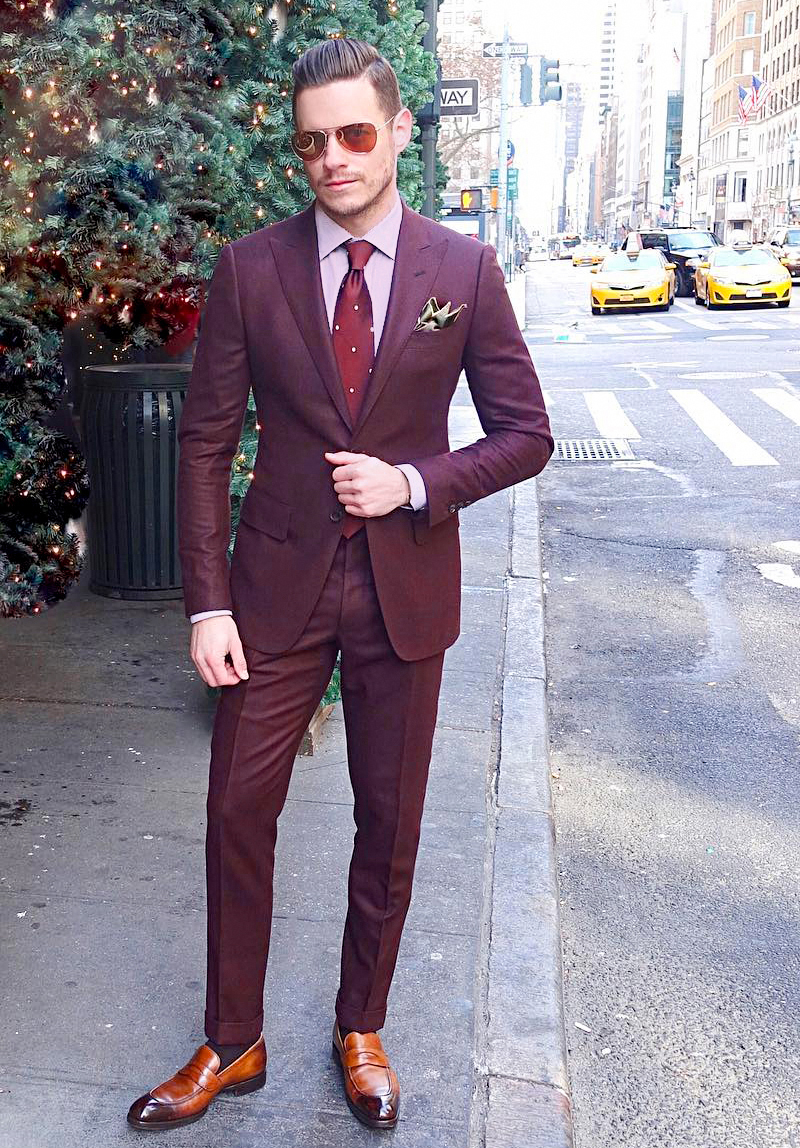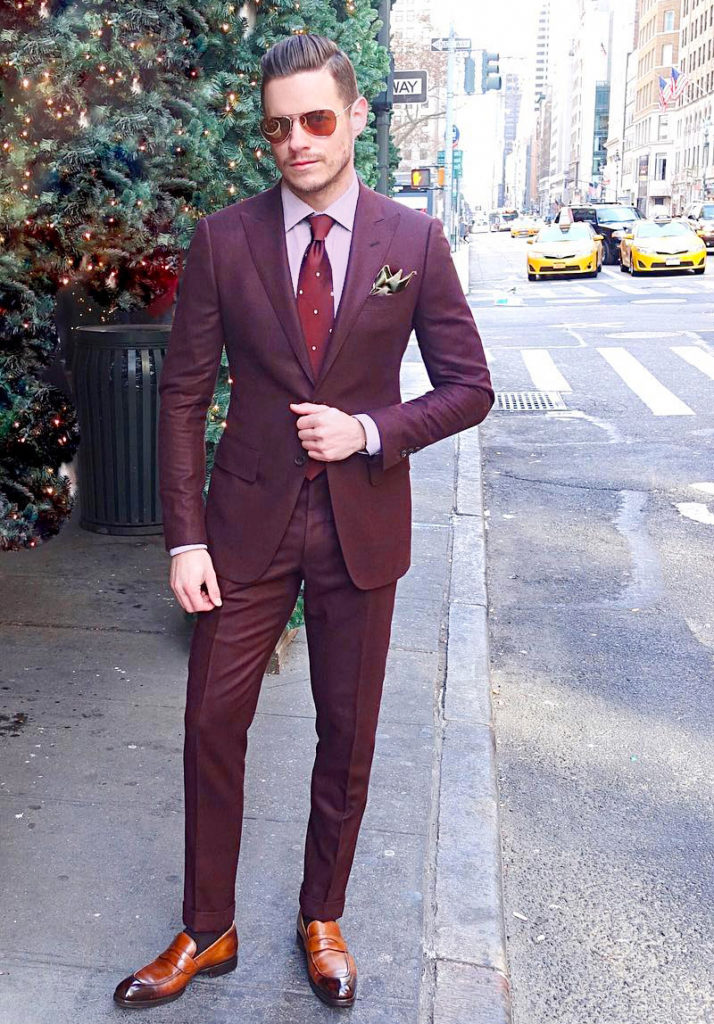 And this can create a monochromatic outfit, especially with darker shades of pink.
But light pink, with its appropriate contrast, is the right shirt shade for the burgundy suit.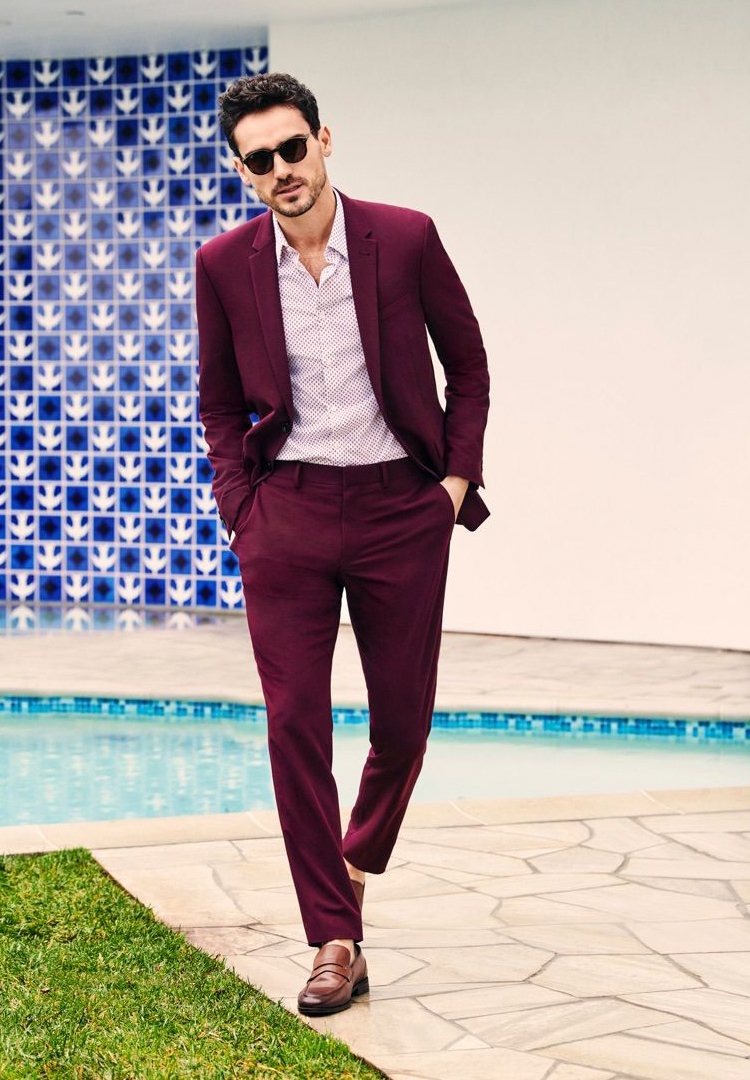 The outfit, as a whole, signifies a fashion-forward look. Plus, it's a great way to separate from the crowd and their neutral-colored suits.
Throw in a light blue or black dotted tie for a powerful look. The dark pink paisley will be the right addition for a jolly look.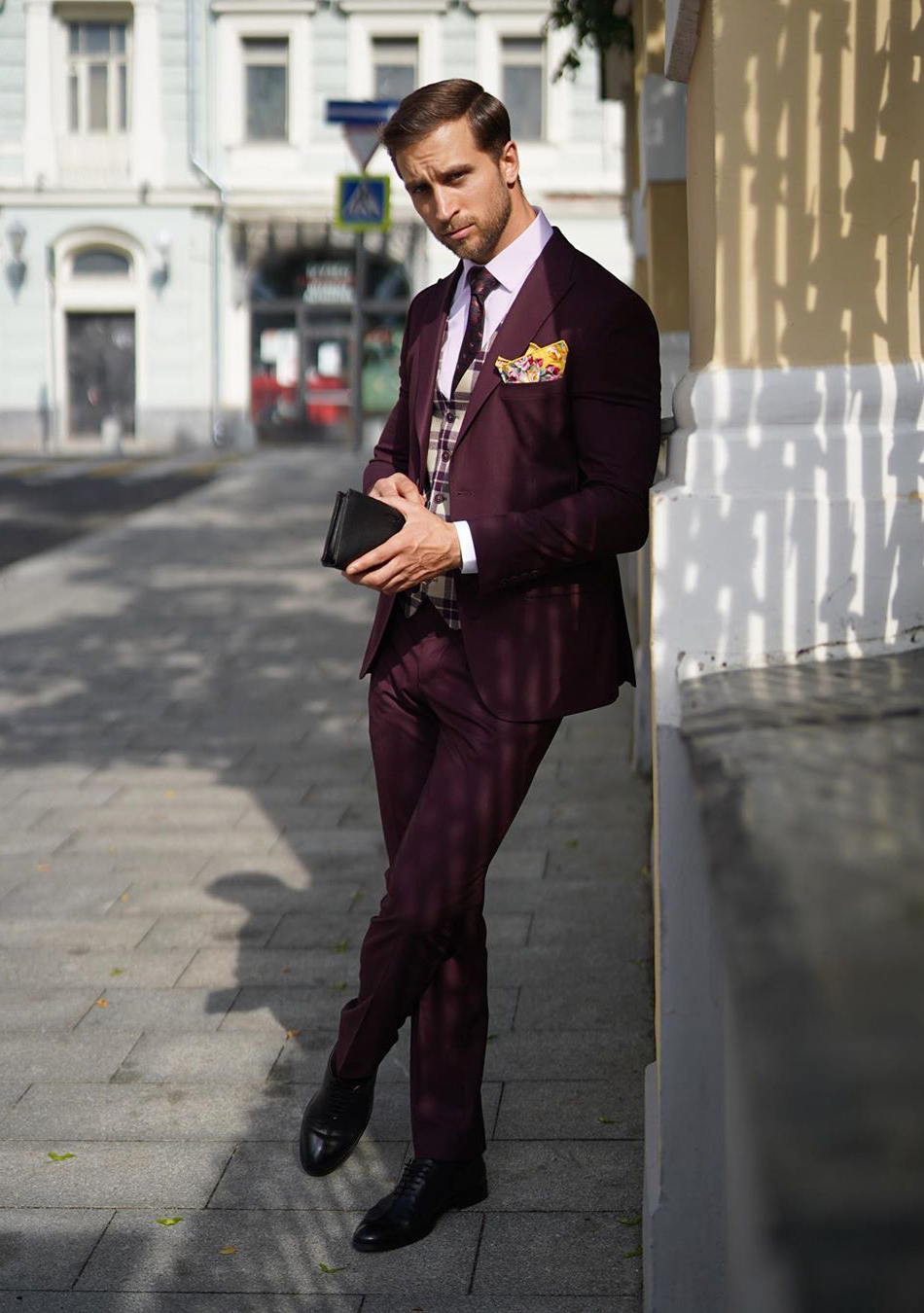 Green and brown will be the right tie colors for the modest cool.
For shoes, the brown double monks and loafers will be appropriate.
Pink Shirt & Khaki/Tan Suit
This is the ideal combination for your summer lookbook, daytime weddings, cocktails, dates, etc.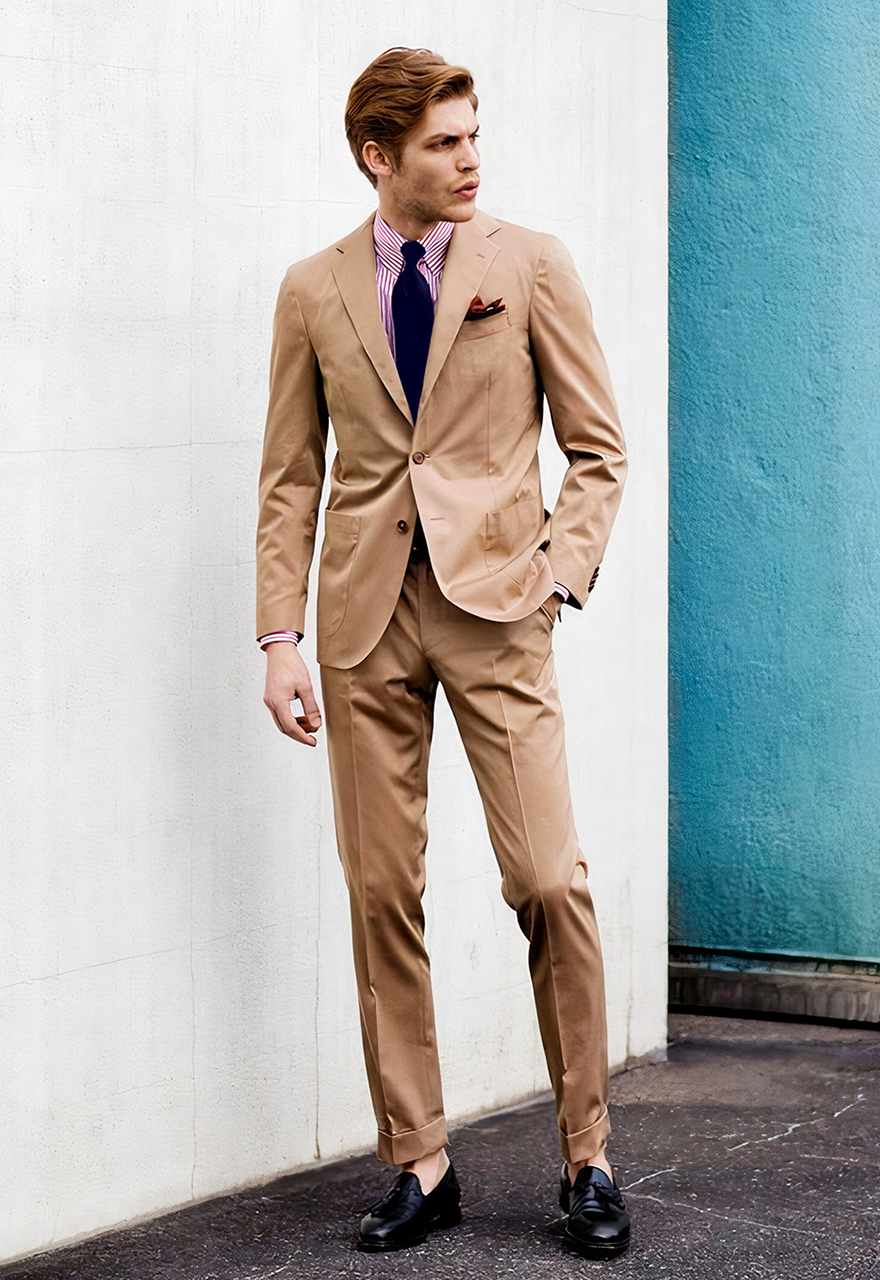 A khaki suit with a subtle light pink dress shirt will be ideal for a well-dressed, smart look.
But the pink shirt here radiates more seasonal vibes than being dressy.
So, you can have fun and wear something energetic like a fuchsia dress shirt with a tan suit.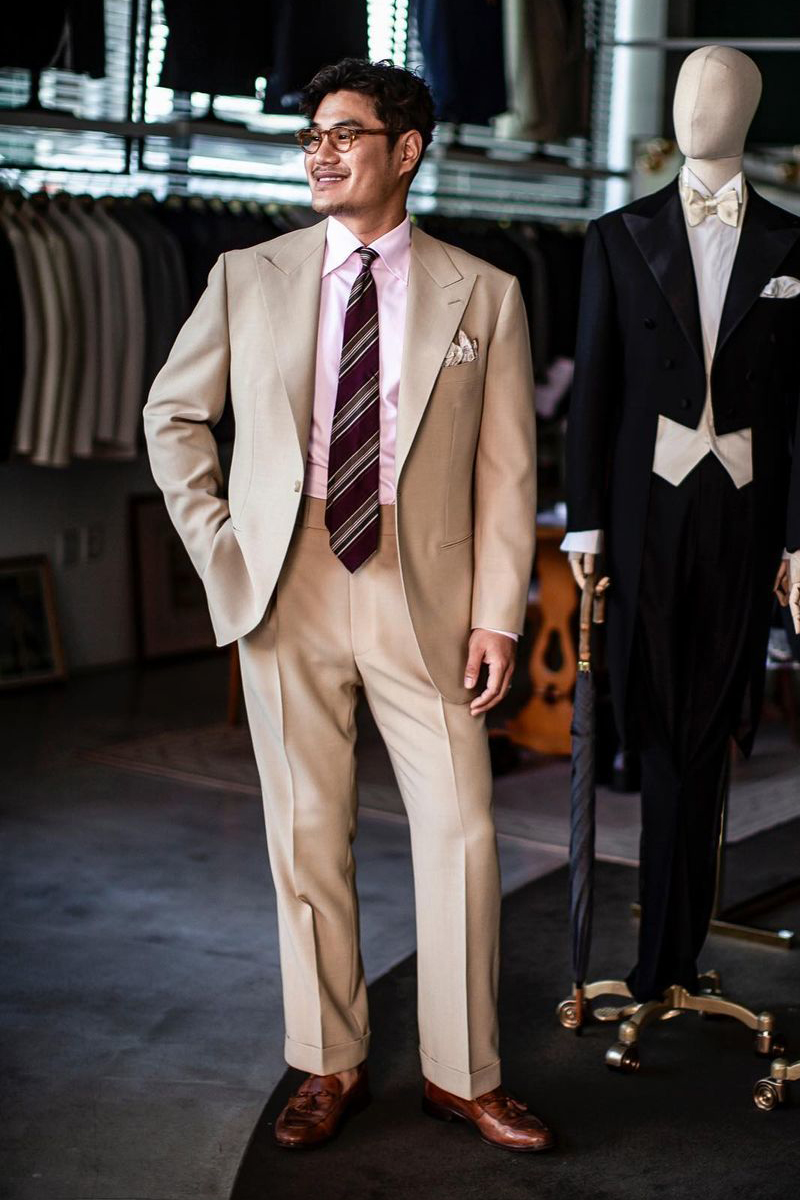 For the ties, don't go crazy. You can ditch it in favor of keeping things casual.
However, navy, black, and green ties can work right when dressing up. The pale pink in some patterns, such as stripes, will be another excellent choice.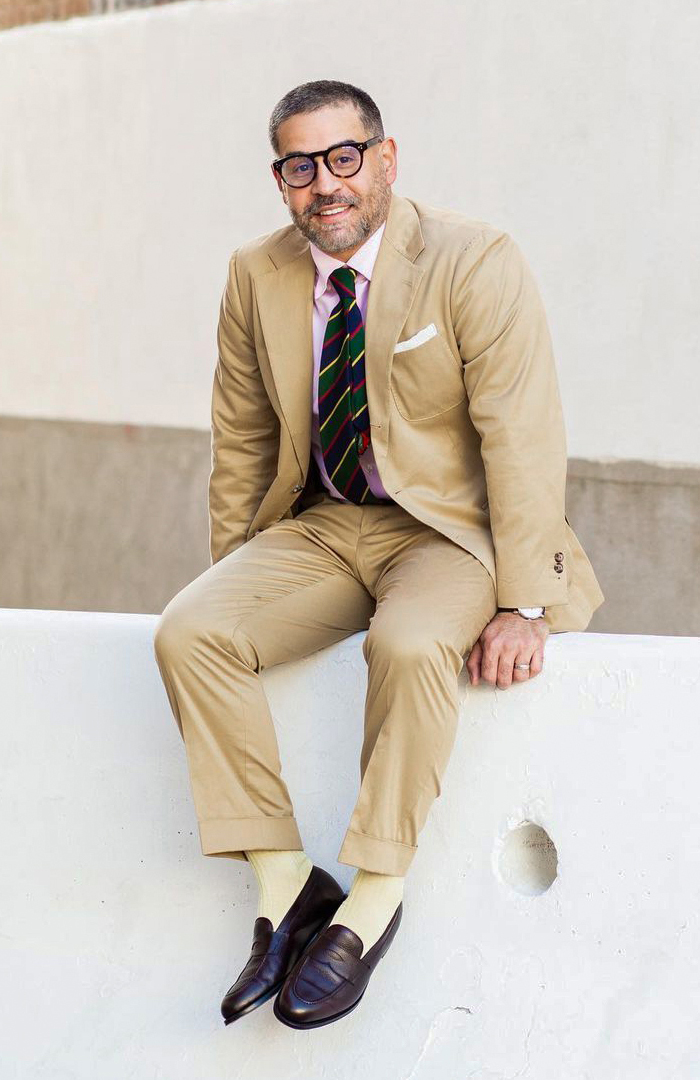 For the shoes, go effortless with brogues or loafers.
Separate Blazer and Pants for Pink Shirts
The pink shirt is not only the classic staple for your suits, but it can also work with separates.
Here, it connects different outfit items and provides a versatile color palette.
A navy blazer, grey pants, and a pink shirt, for example, make a great business casual outfit.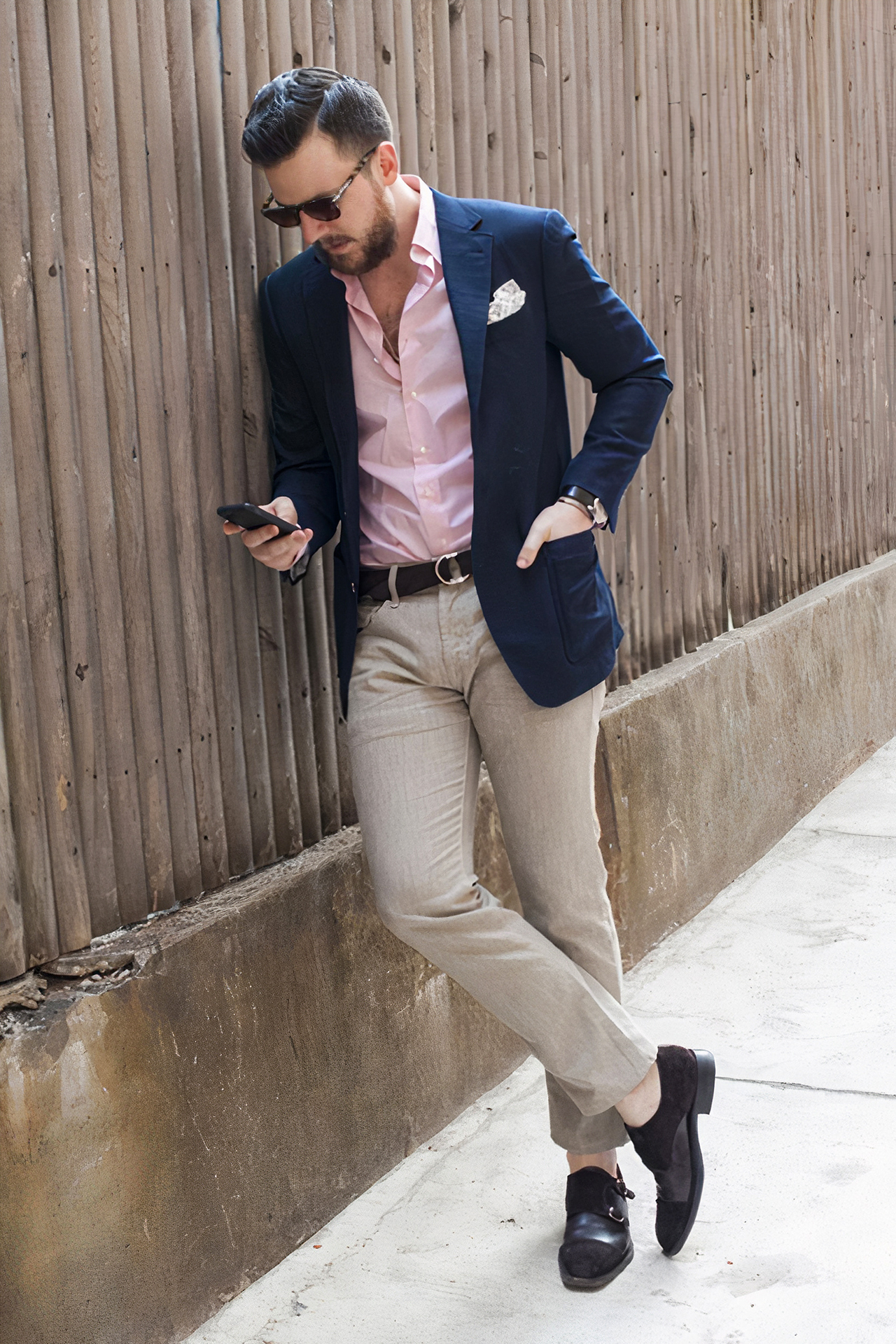 In the same way, navy pants and a charcoal blazer with a pink shirt create a fun outfit.
The brown blazer can also be a great matching item with the pink shirt.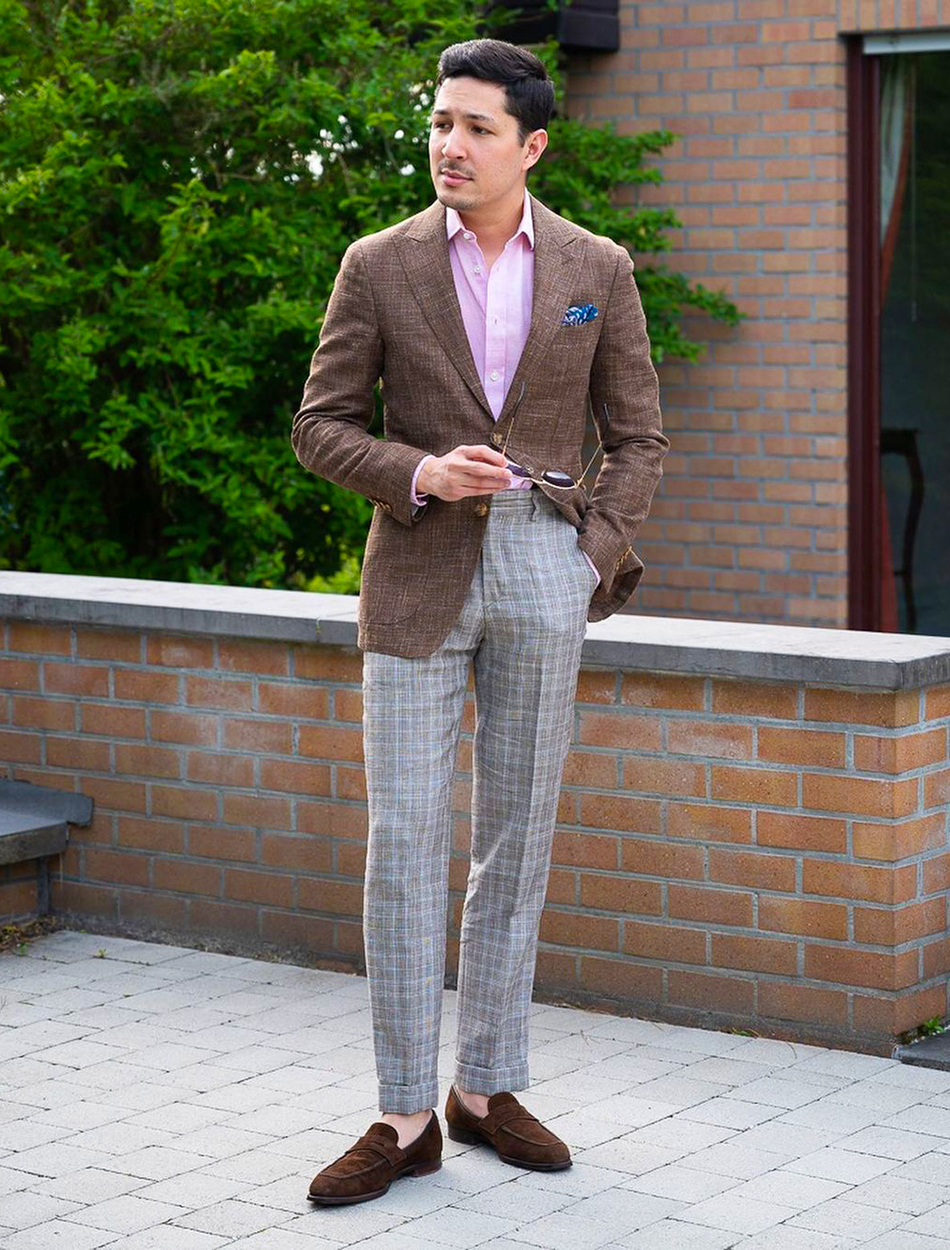 Similarly, the tan and light blue blazers can create dapper outfits with a pink shirt and grey trousers.
Here, you can throw some nice patterns in the shirt or jacket to catch the eyes.
Finally, finish these looks with brown suede oxfords or double monk straps.
Pink Shirt with Khaki Pants & Chinos
The pink shirt opens up many possibilities for a smart casual outfit.
For example, navy chinos and the pink button-up dress shirt create the most timeless smart outfit.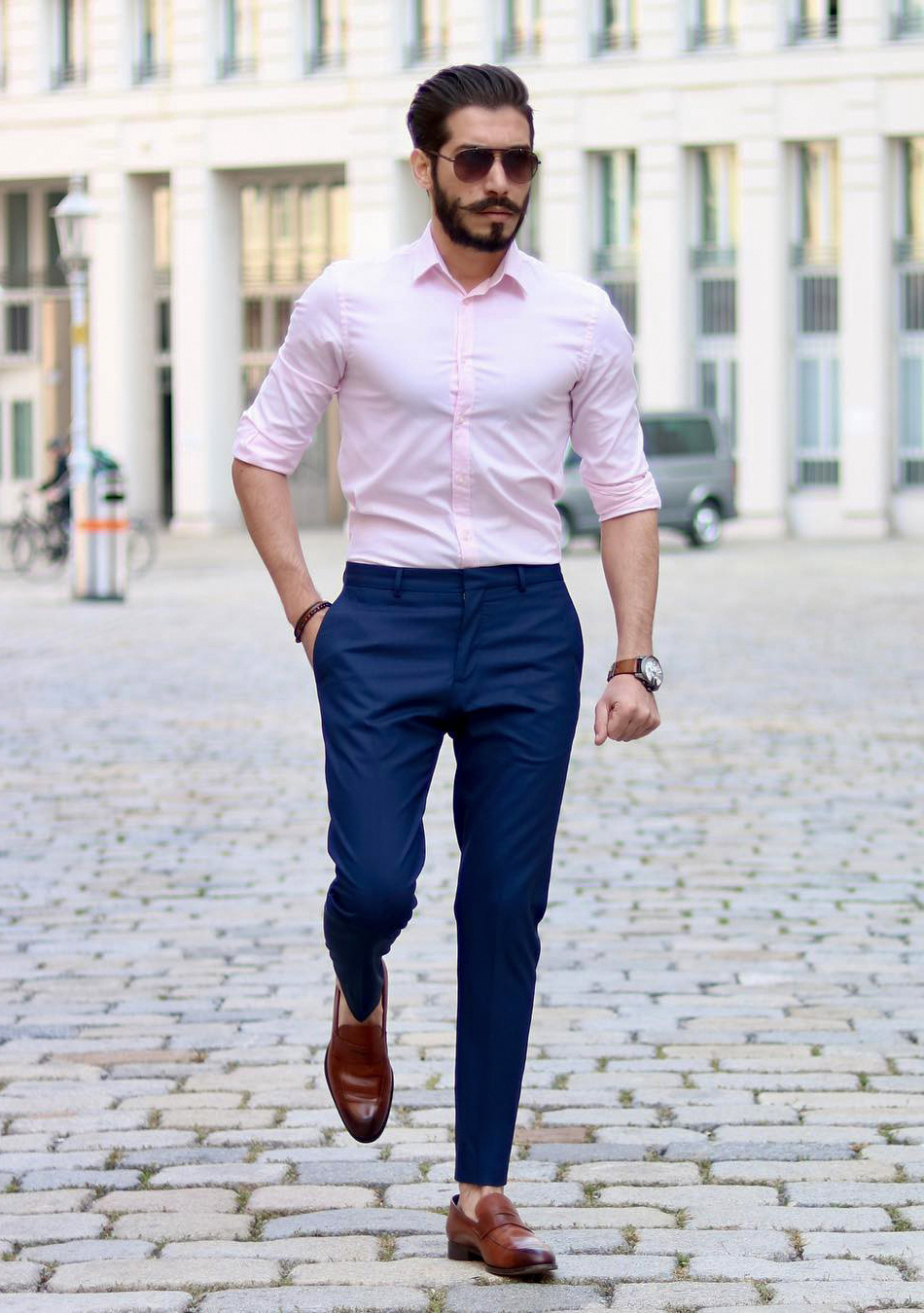 Wear a casual grey blazer with this outfit for a dressy ensemble. Or get rid of the jacket, and go untucked for a laid-back look.
Khaki pants are another classic item to look dapper casually. You can wear it in varying contrast with pink to create different outfits.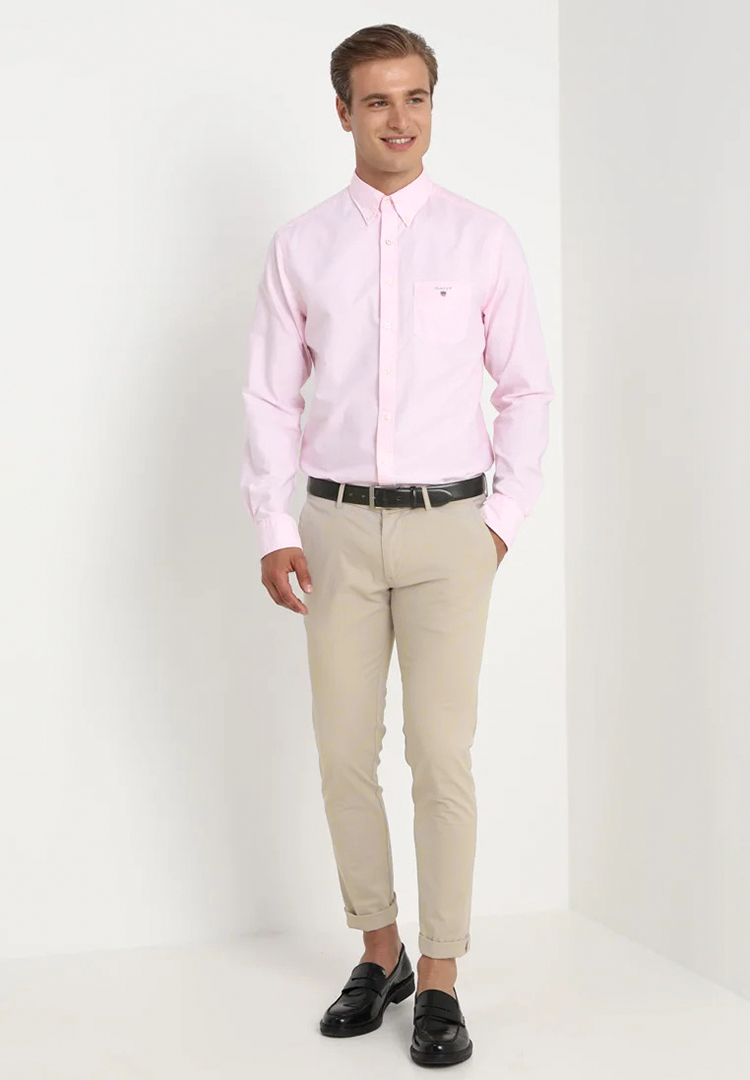 The best one is with dark tan trousers and a light pink button-up. A pink striped shirt will also be equally great.
Flashy shades such as a neon pink shirt will be too much with the khakis. So, it's better to stay away from such combinations.
Matching Pink Shirts & White Pants
Nothing radiates summer vibes better than a pair of white dress pants.
Combine it with the pink shirt, navy blazer, and a patterned tie, and you're ready for any summer event.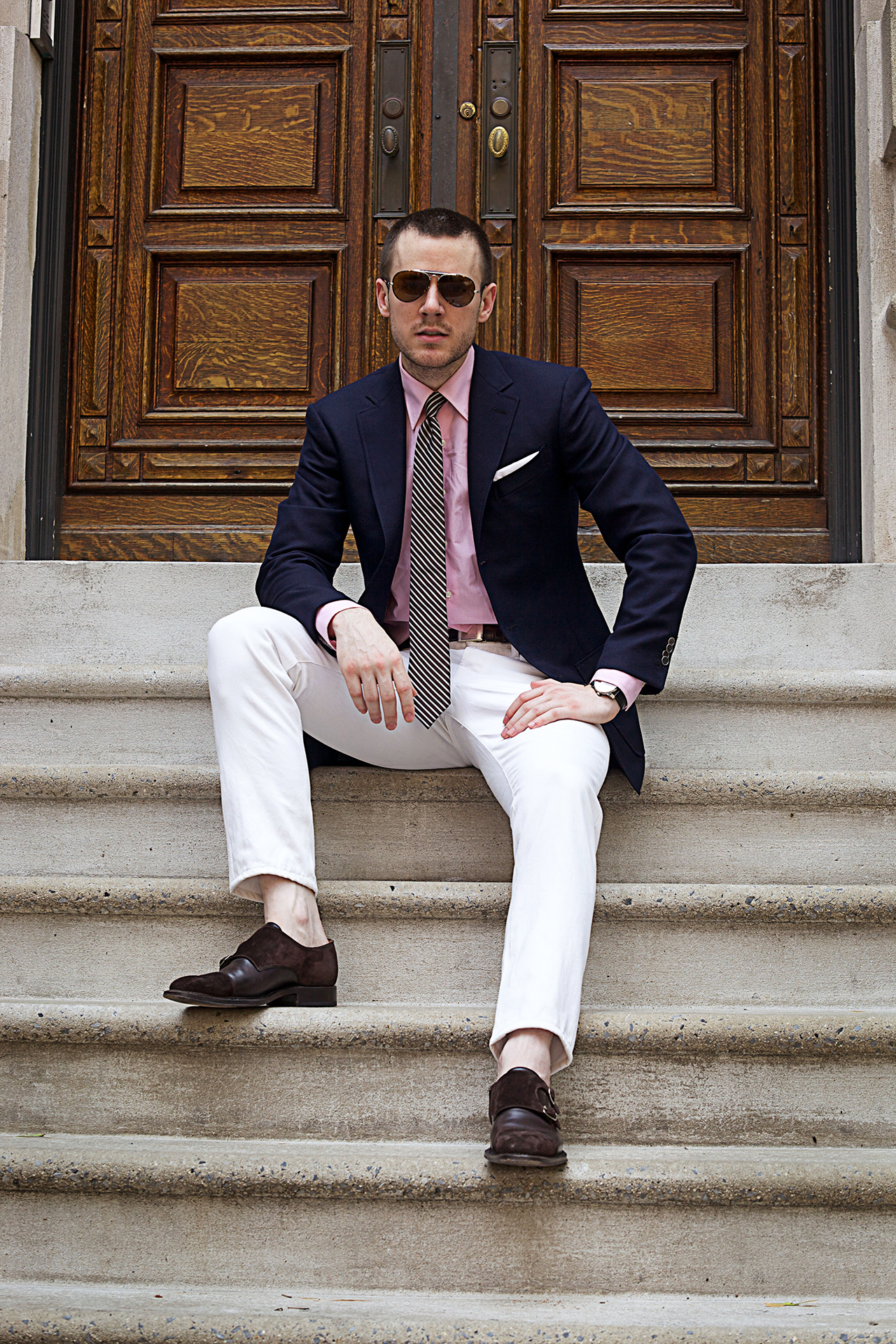 Now ditch the tie, and go with a pink striped shirt, white pants, and brown loafers. These could be your go-to outfits for summer dates.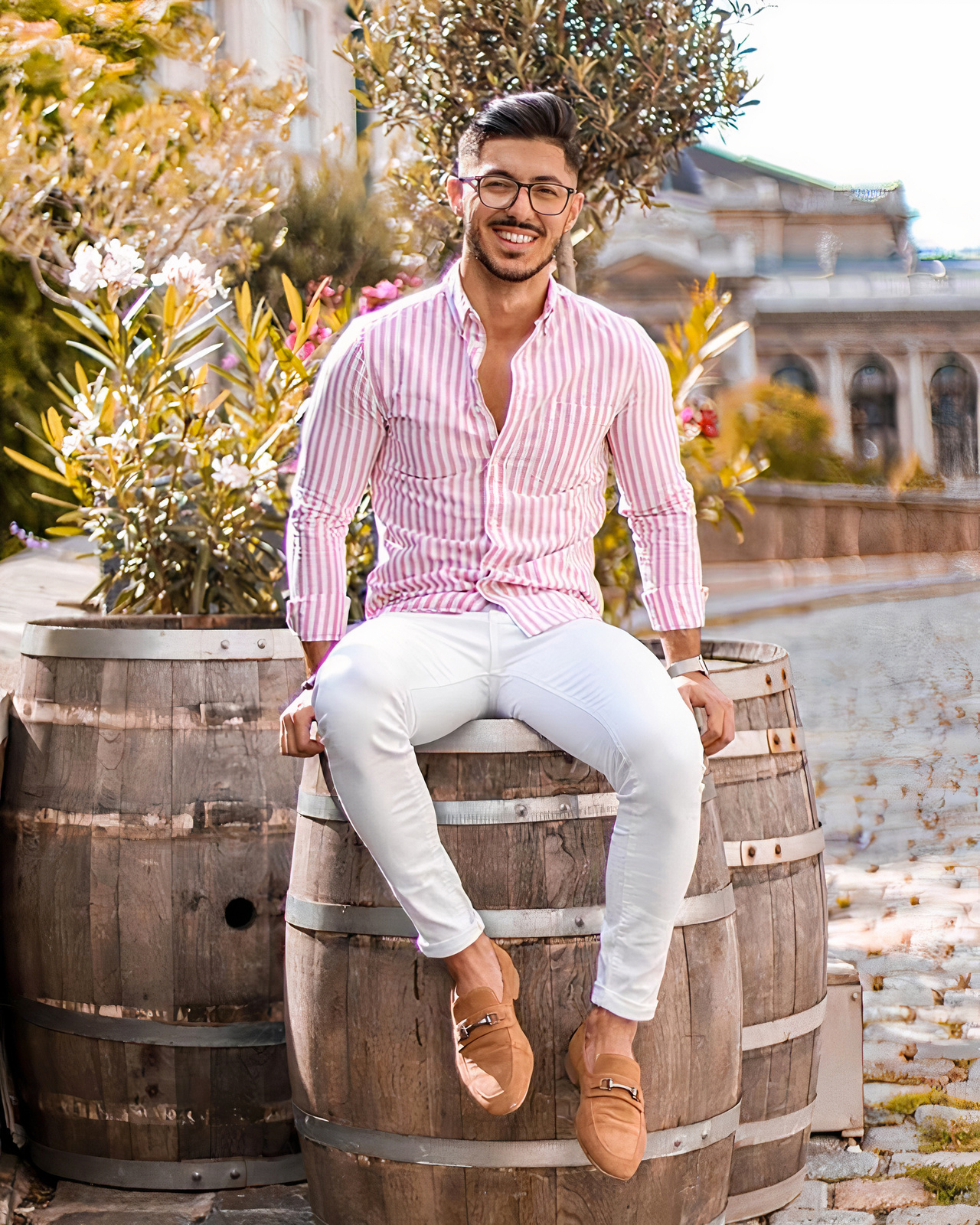 Mint-green, light blue, and grey blazers can also go with these looks.
Lastly, you can get rid of the jacket and go with a salmon linen shirt and white pants combination.
Keep the shirt untucked, unbutton one extra button, and wear loafers for the casual beach vibes.
Wearing the Pink Shirt Casually with Jeans
Well-fitted dark jeans and a pink shirt combination can elevate your casual style game.
A glen plaid sportcoat, a pink button-up, and dark blue jeans would be great for a smart outfit.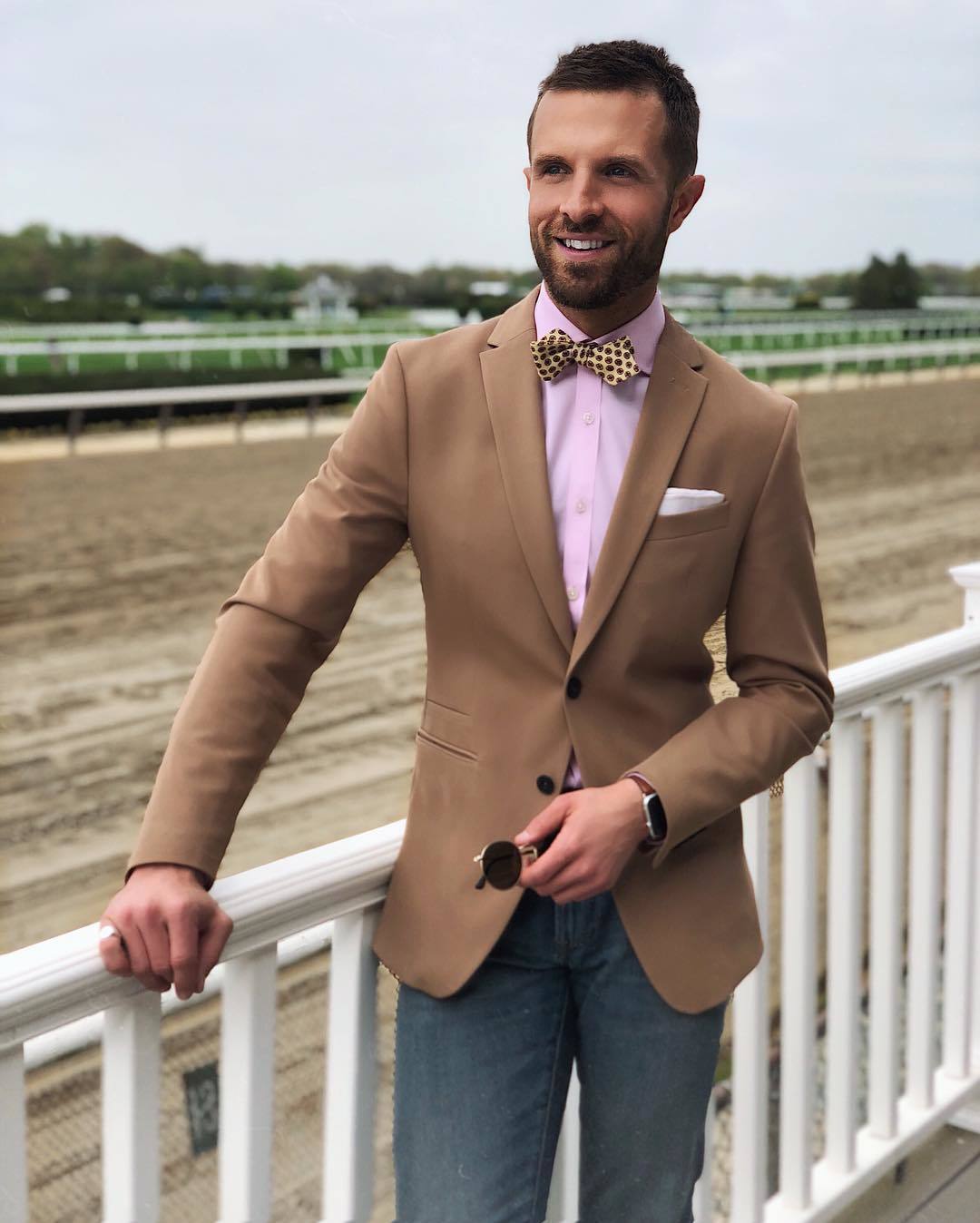 You can replace the button-up with a pink polo or button-down. This would be a casual look with a lot of details.
Even without the jacket, these pink shirts would be a great fit with dark denim.
As with all casual outfits, keep the shirt untucked, and you'll be good to go.
Want to learn different ways to pair jeans with a dress shirt? Read this guide.
Shoe Styles to Wear with a Pink Shirt
Most pink shirt outfits incline towards casual styling. So, wearing brown shoes seems the right fit.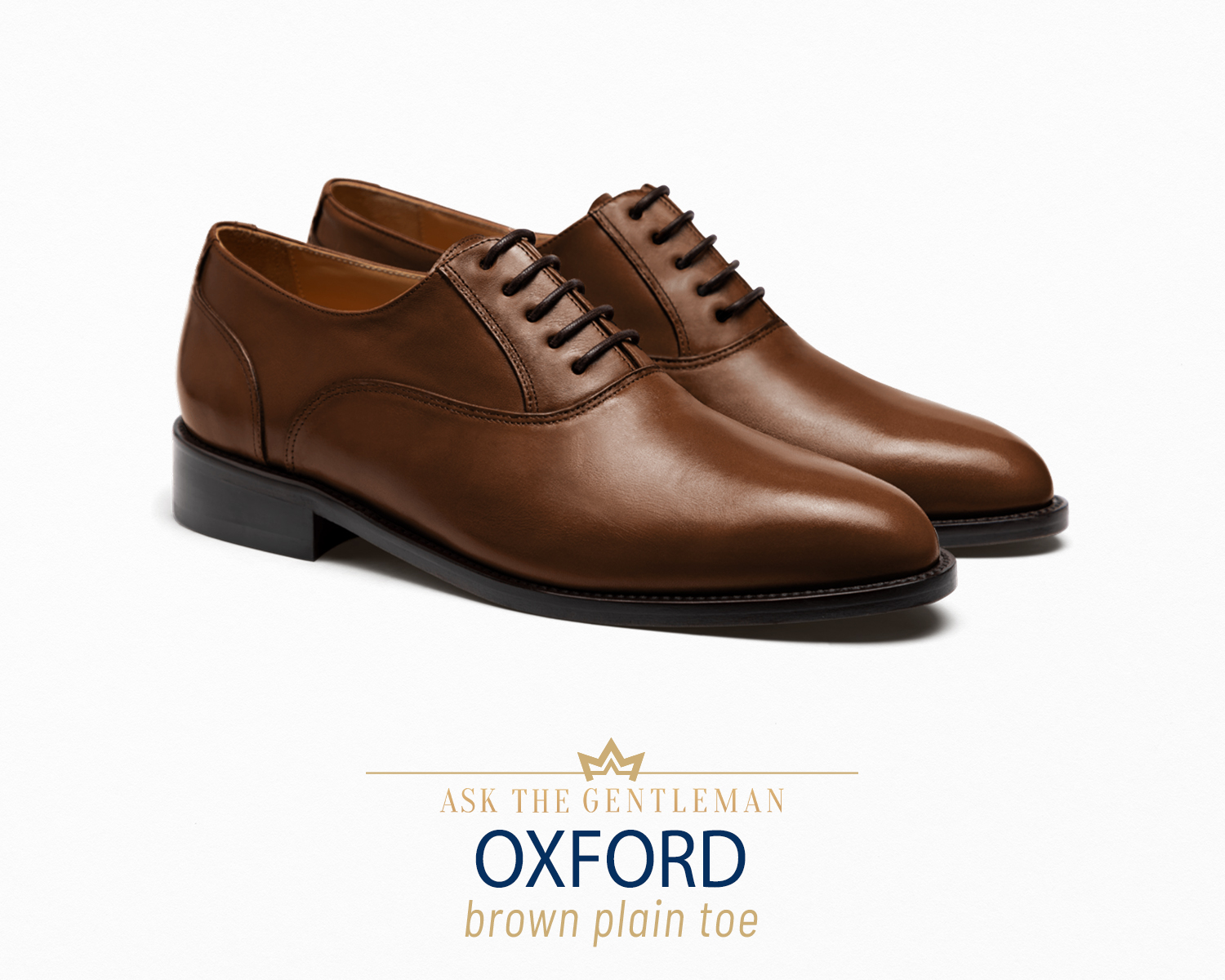 However, with dressed-up outfits, a navy suit, for example, black shoes will look exceptional.
For the shoe types, double monks and loafers are the best bet.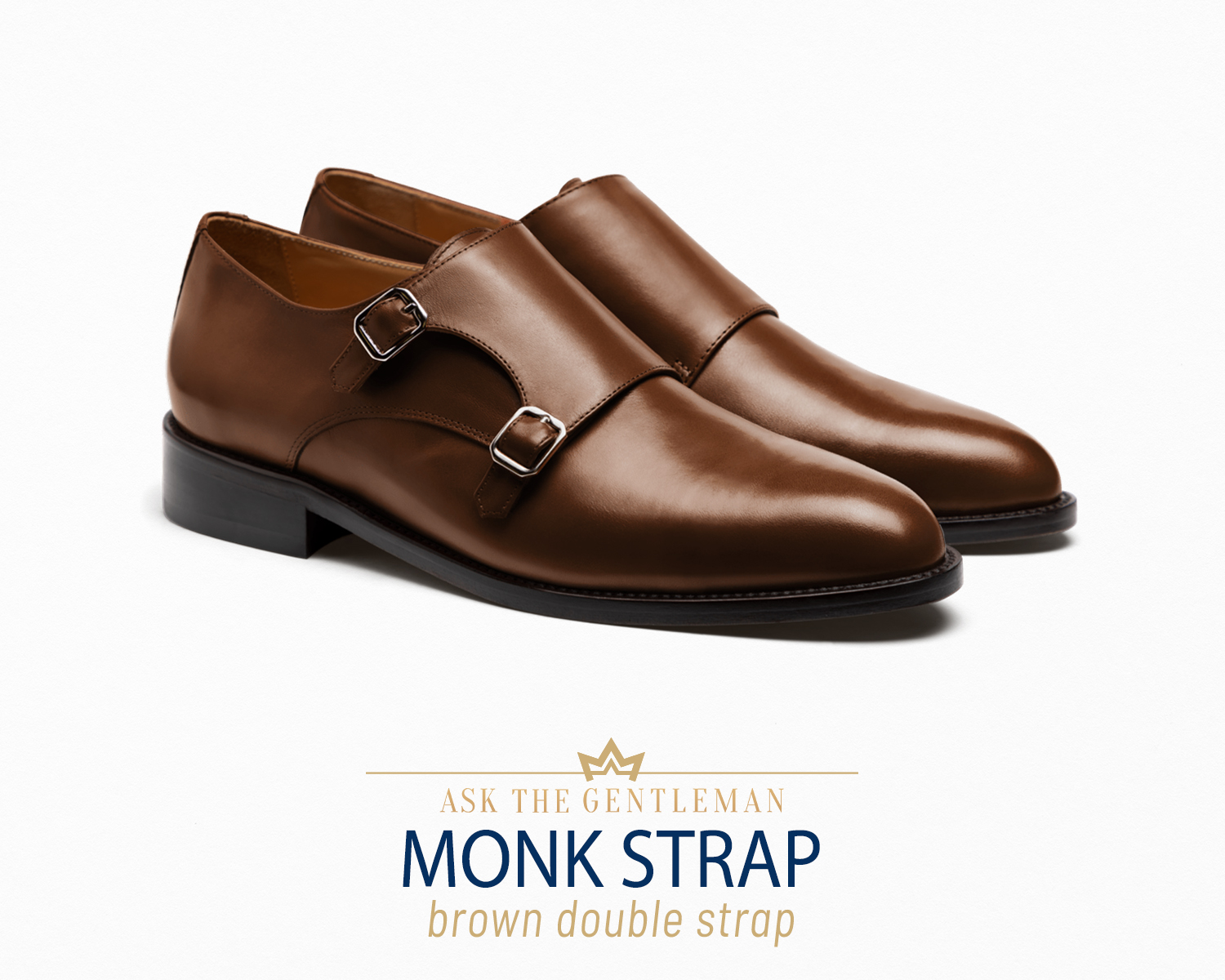 The reason is that both are extremely versatile and match the pink shirt's playfulness.
Pink shirt outfits also provide a way to wear suede shoes. So, don't be afraid to try the suede, whether it's oxford, brogue, or loafers.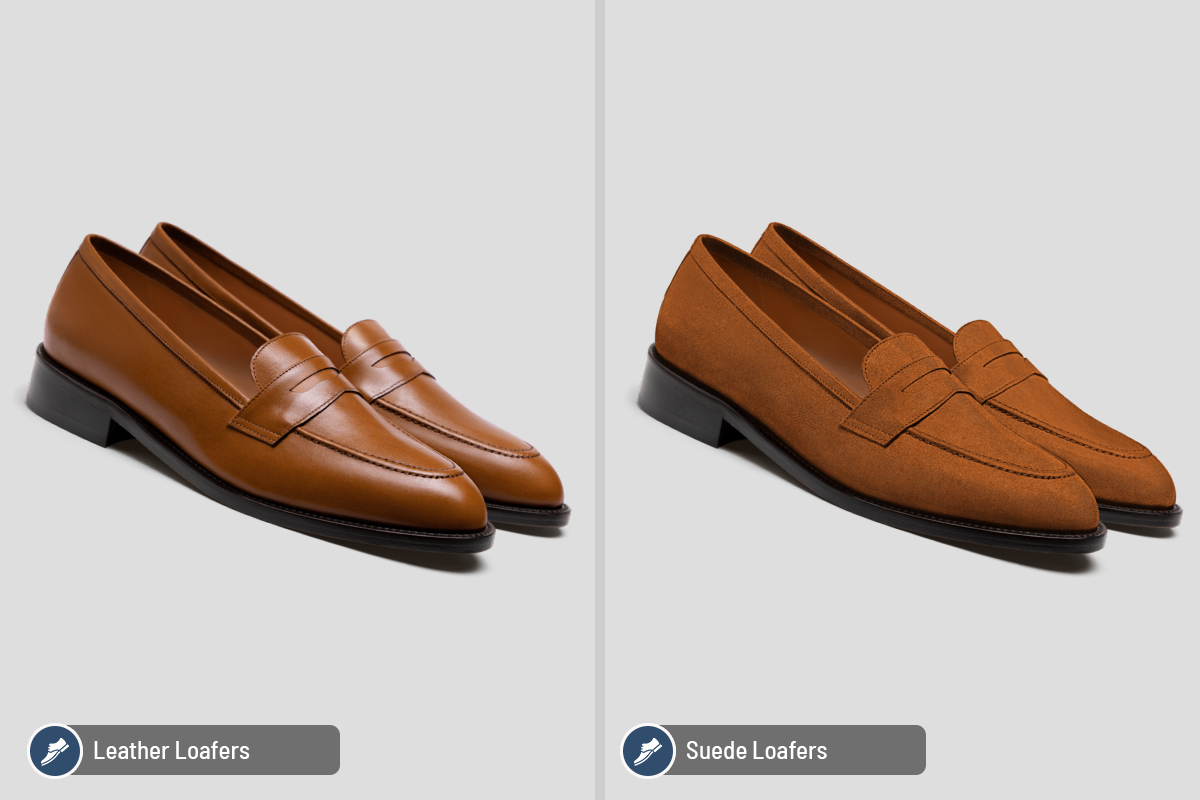 A pair of white sneakers will be great for casual pink shirt outfits.
Ties to Wear with a Pink Shirt
Navy, mid-blue, charcoal grey, mint-green, maroon, and brown are some excellent tie colors with the pink shirt.
A red tie can also pair well with the pink shirt, but only for powerful statement-making ensembles.
Black is another excellent tie color. It's great when you want to tone down your light-pink dress shirt.
Patterns are an essential part of ties. Stripes, pin dots, paisley, and florals are some options with the pink shirt.
Things to Consider When Wearing a Pink Shirt
Despite being an exceptional styling item, pink shirt outfits for men are uncommon.
So you'll stand out without even trying.
But for confidently wearing the pink dress shirt and making the outfit intriguing, here are some considerations.
The Fabric
The fabric is crucial as it impacts the shirt's quality and comfort. Therefore, it's best to stick to high-quality fabrics.
Cotton is the most appropriate fabric material for a pink dress shirt. It's flexible and comfortable and fits in both casual and formal settings.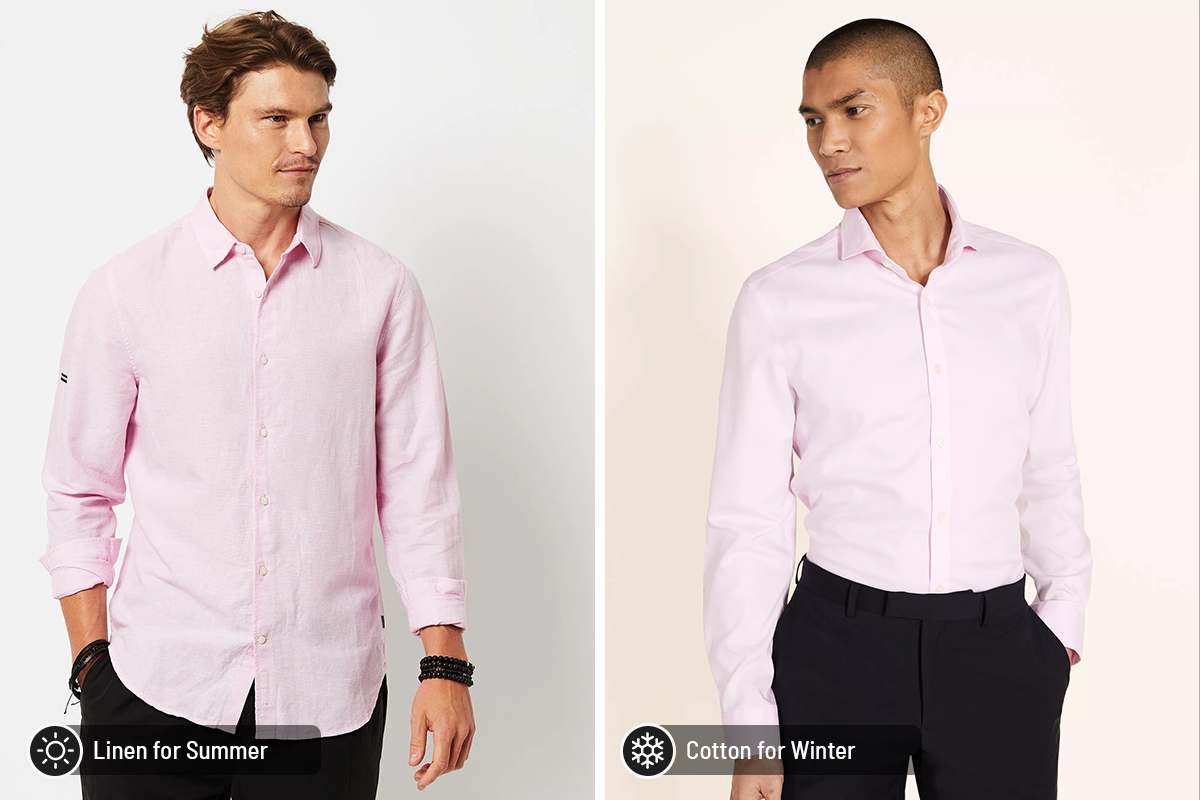 Linen can be another great fabric for your summer pink shirt outfits. It's soft but prone to wrinkling.
However, formal fabrics like poplin and oxford cloth don't fit right with pink dress shirts.
Proper Shirt Fit
Doesn't matter if it's a dressy or casual outfit; your pink shirt must fit right.
And since it's more of a vibrant piece, the wrong fit can question your styling.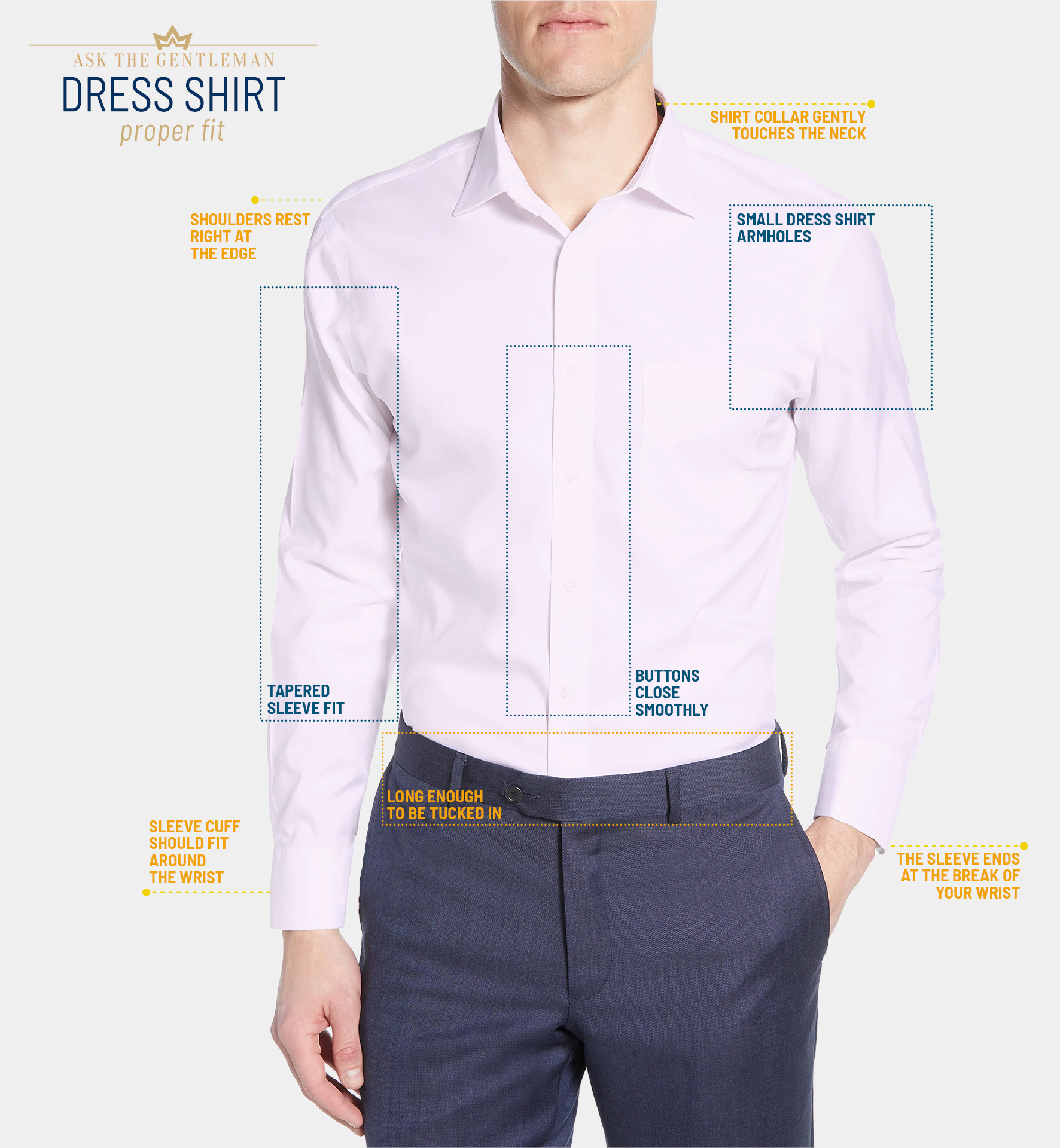 The look you're going for will also account for a proper fit. For example, suits look best with a slim-fit shirt.
For casual outfits, you can have a laid-back styling. But nothing super-sloppy.
So, get those shoulder and armhole fittings right, choose the right length, and dress as per your body type.
The Pattern
A subtle pattern will be essential for most pink dress shirt outfits. It's because this will add depth and will prevent the outfit from being dull.
A patterned tie will do the job for a suited pink dress shirt look.
For business casual, the blazer can have patterns. Or you can wear a patterned or striped shirt.
However, don't go overboard with patterns. A nice, subtle detailing will be enough.