Amidst this contemporary style panorama, most guys love to wear brogues with a suit.
But the belief that a particular something is missing from a suited look prevents this idea from execution.
Maybe it's the mismatched color coordination, the wrong type of brogues, or just an overly contrived ensemble.
You'll never feel this after learning the proper way to style brogues with a suit.
Different Broguing Shoe Style
Brogue shoes have intricate serrated detailing and decorative perforations, evoking a sense of rich heritage.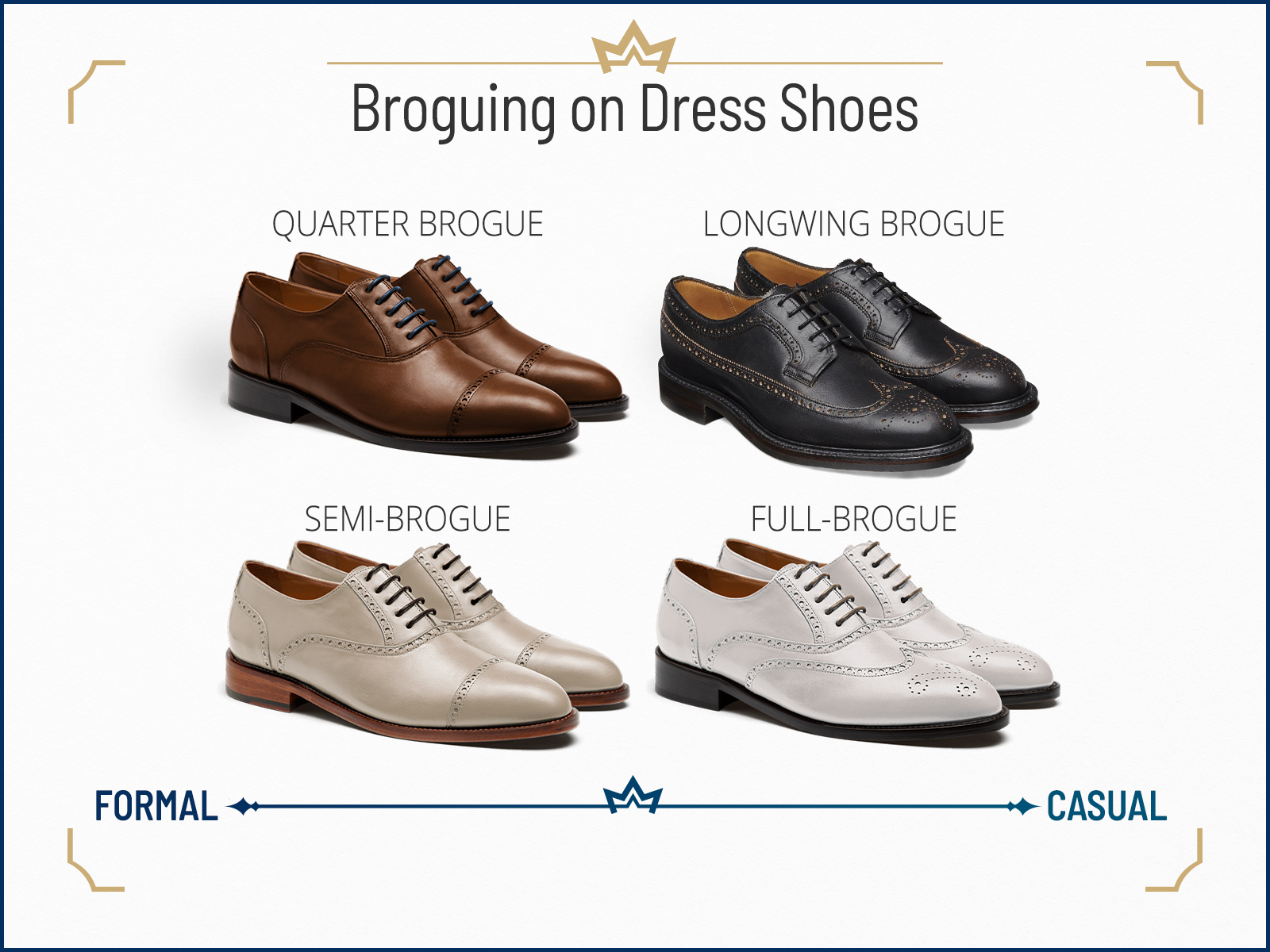 But these had humble beginnings.
In the 19th century, brogues were the shoes for working-class men in the Irish and Scottish countryside.
The initial prototype was less stylish and a more functional type of dress shoe, matching the present-day Ghillie brogues.
Gradually, brogues became trendy and eventually a staple of versatility, having various types.
Full-Brogue
This style is also known as wingtip brogues, with characteristic perforations and a W-shape on the shoe's toe cap.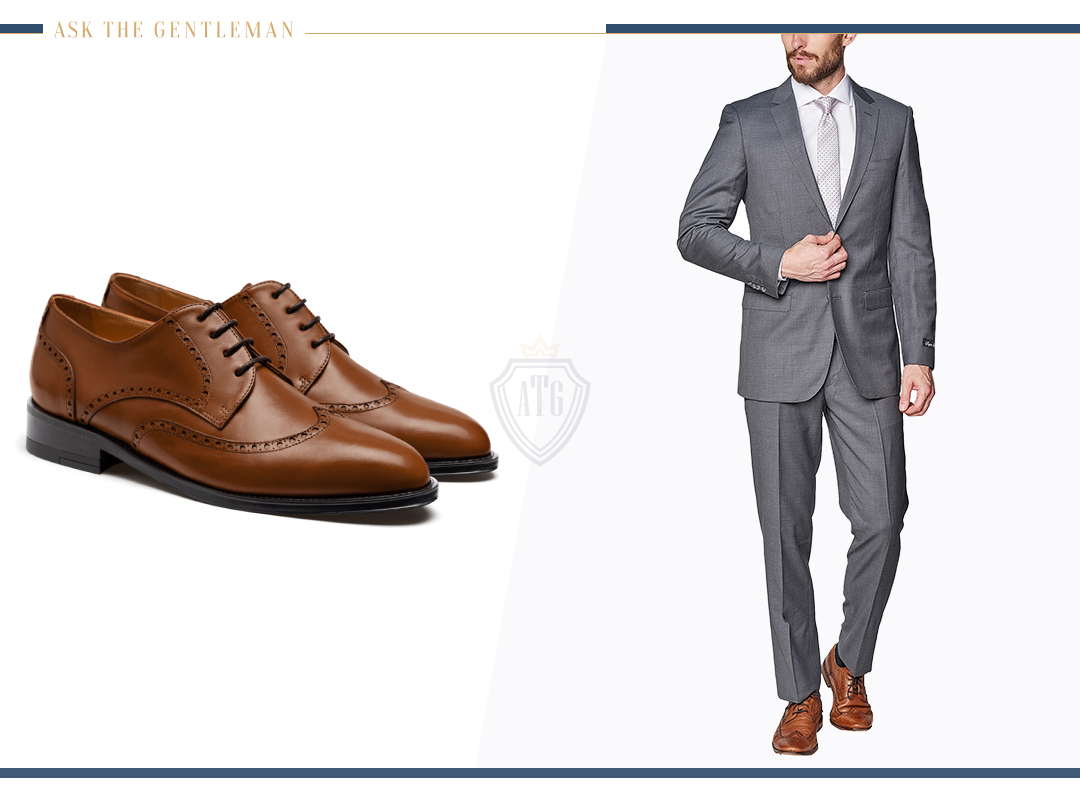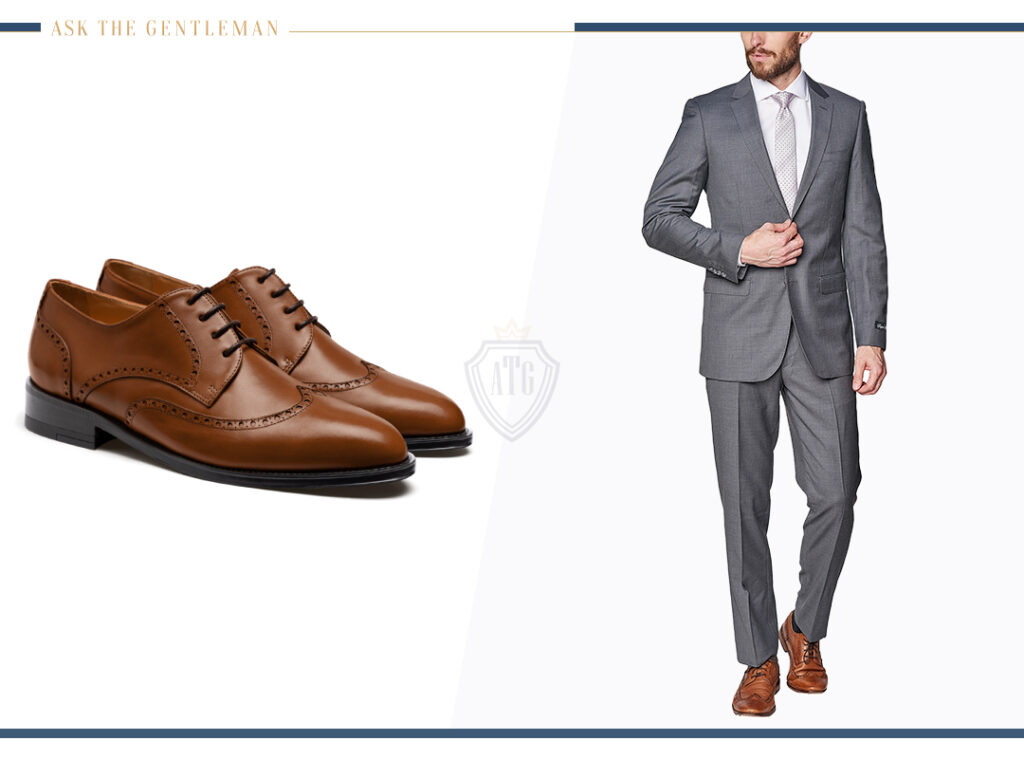 A full brogue is the most versatile but more casual type of brogue. It can go with everything from casual suit looks to sports coats and jeans.
Despite the initial version, it has two common subtypes:
Austerity brogue is a unique full-brogue shoe without any perforations.
Spectator brogues are wingtip brogue shoes with a unique two-tone look.
Semi-Brogue
Semi-brogues or half brogues were created by combining wingtips and oxford shoes.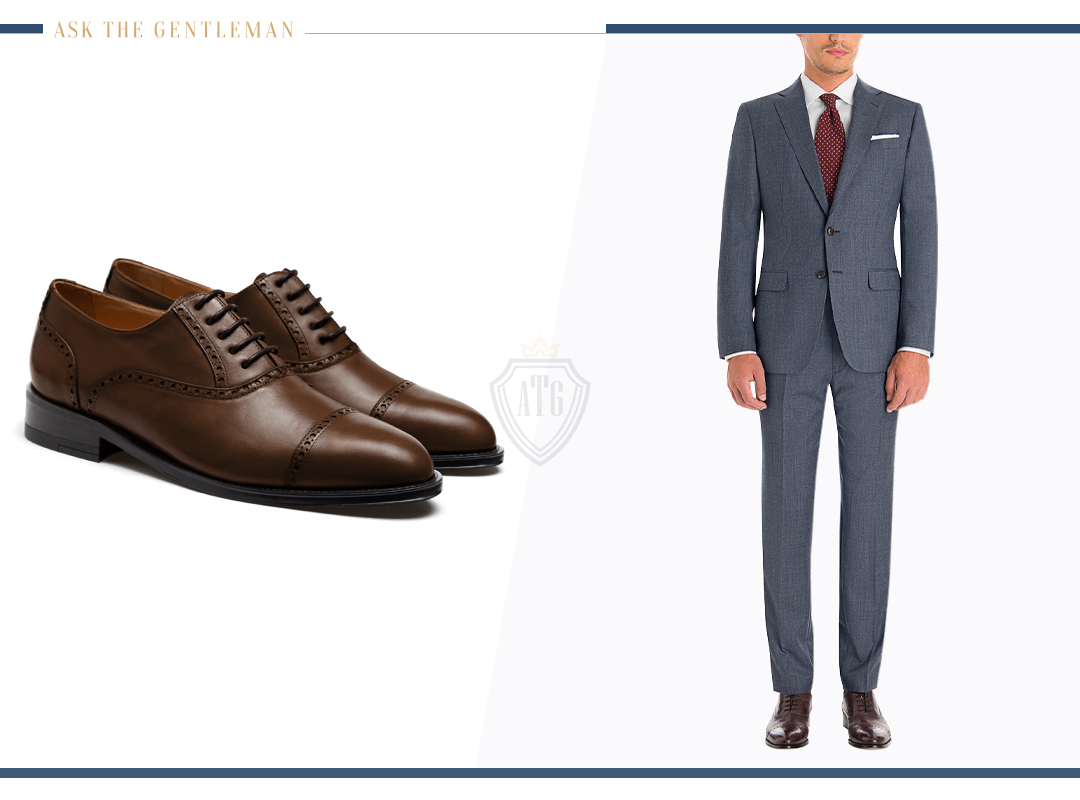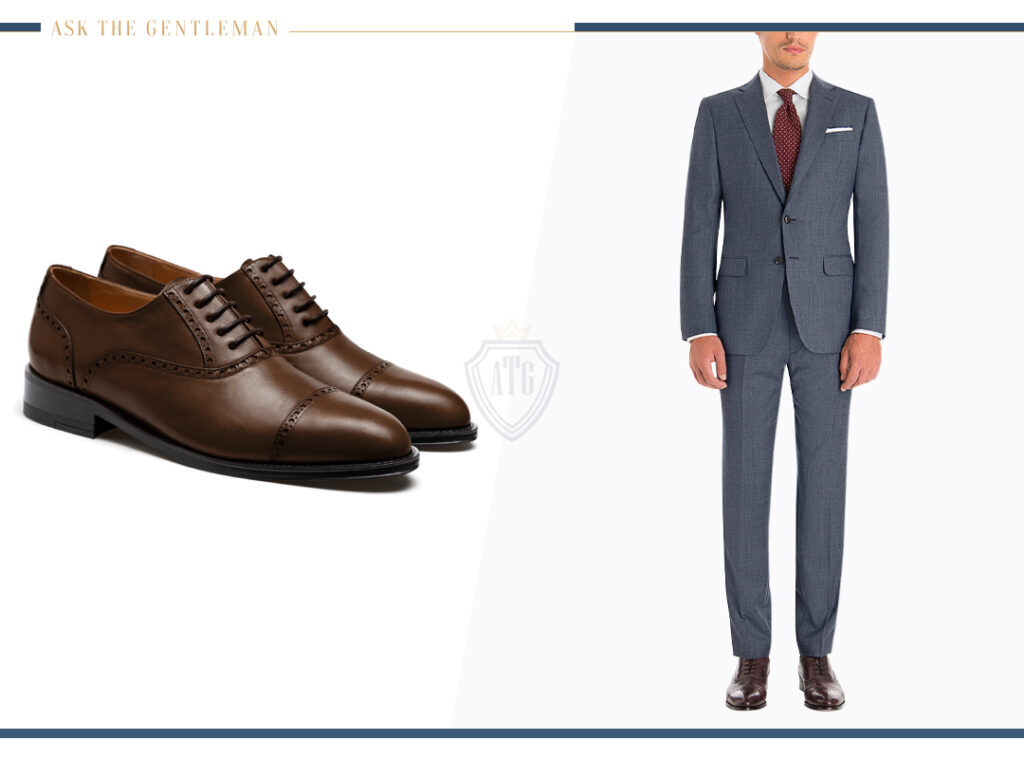 These have broguing on the toe, vamp, and heel but appear a sporty version of cap-toe oxfords.
It also signifies a timeless decree and, therefore, is the perfect business casual shoe.
Longwing Brogue
Longwing or English Brogues have W-shaped broguing that wraps around the whole shoe.
These were iconic shoes of the '60s. However, they are no longer that popular.
Think of longwing brogues as a rustic alternative to traditional brogue shoes. It's a shoe for retro-suited looks.
Quarter Brogue
The minimalist among them all is the quarter-brogues.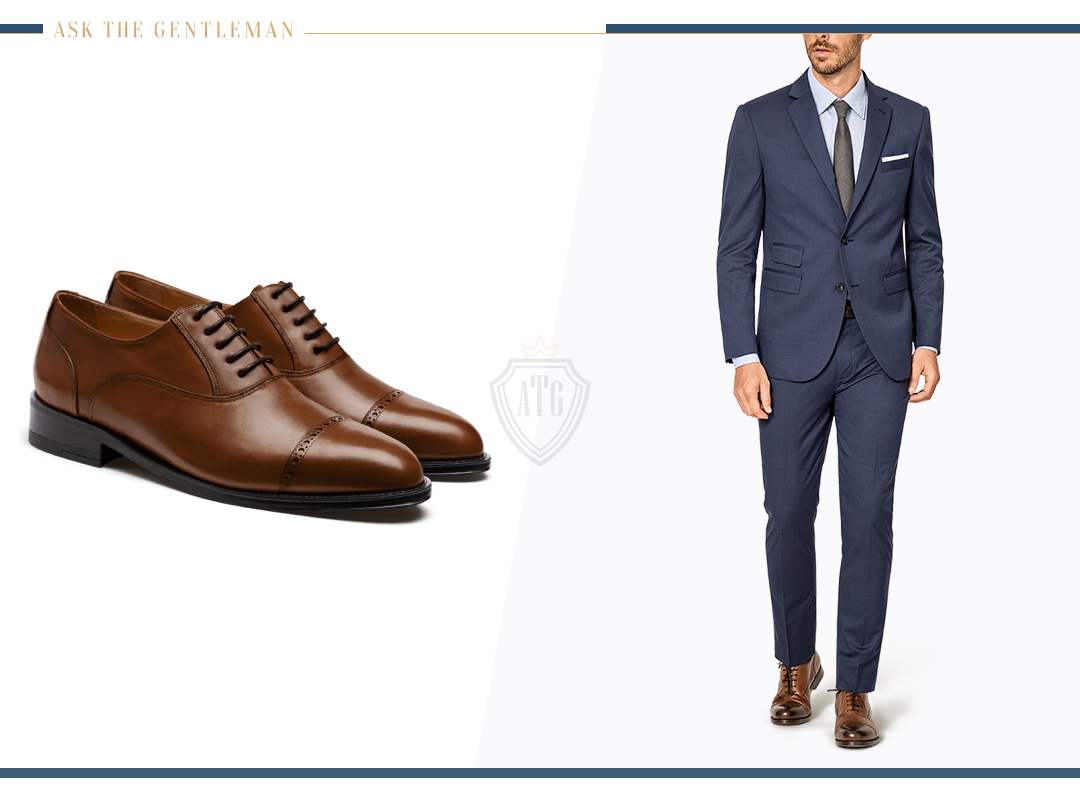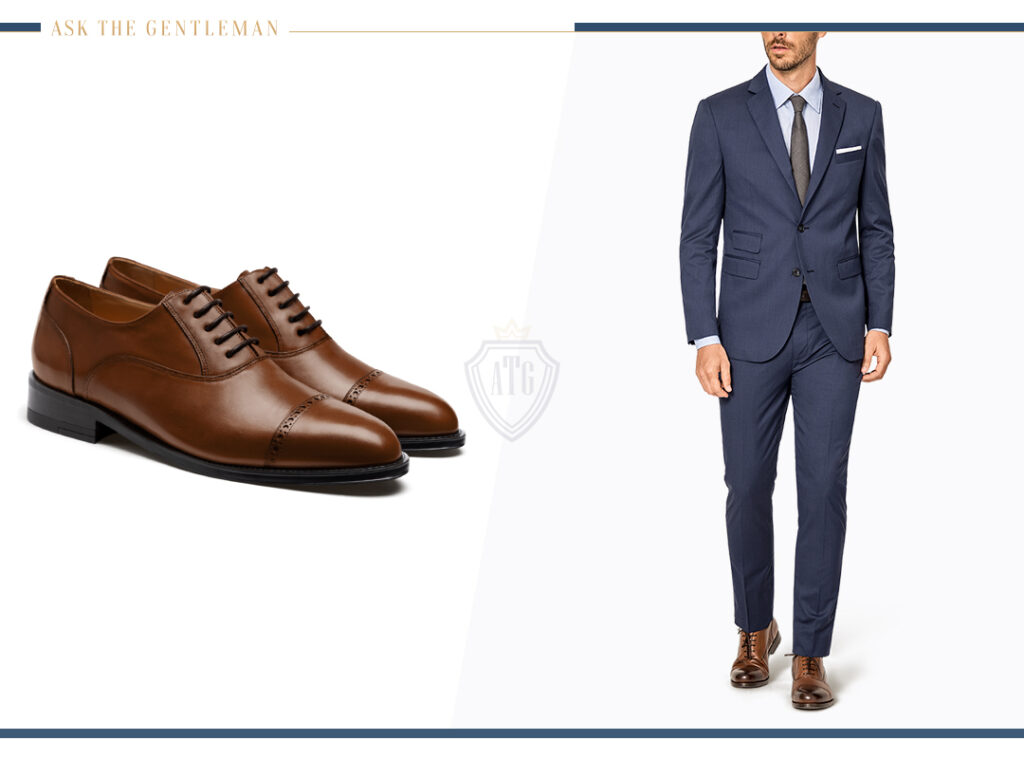 Most of the shoe is seamless and only feature perforations on the straight toe-cap seam.
Quarter brogues are also the most dressy brogue type. It goes well with formal suits.
Brogues with Suit Outfits
The sartorial eminence of brogues is so well-established that creating a suited look requires minimal effort.
But don't rely on brogues to change the whole character of a look. Instead, wear these to anchor your suit style.
Here are some outfits to take inspiration from.
Derby Brogues with a Light Grey Suit
This suited look is versatile and, therefore, not confined to any single event.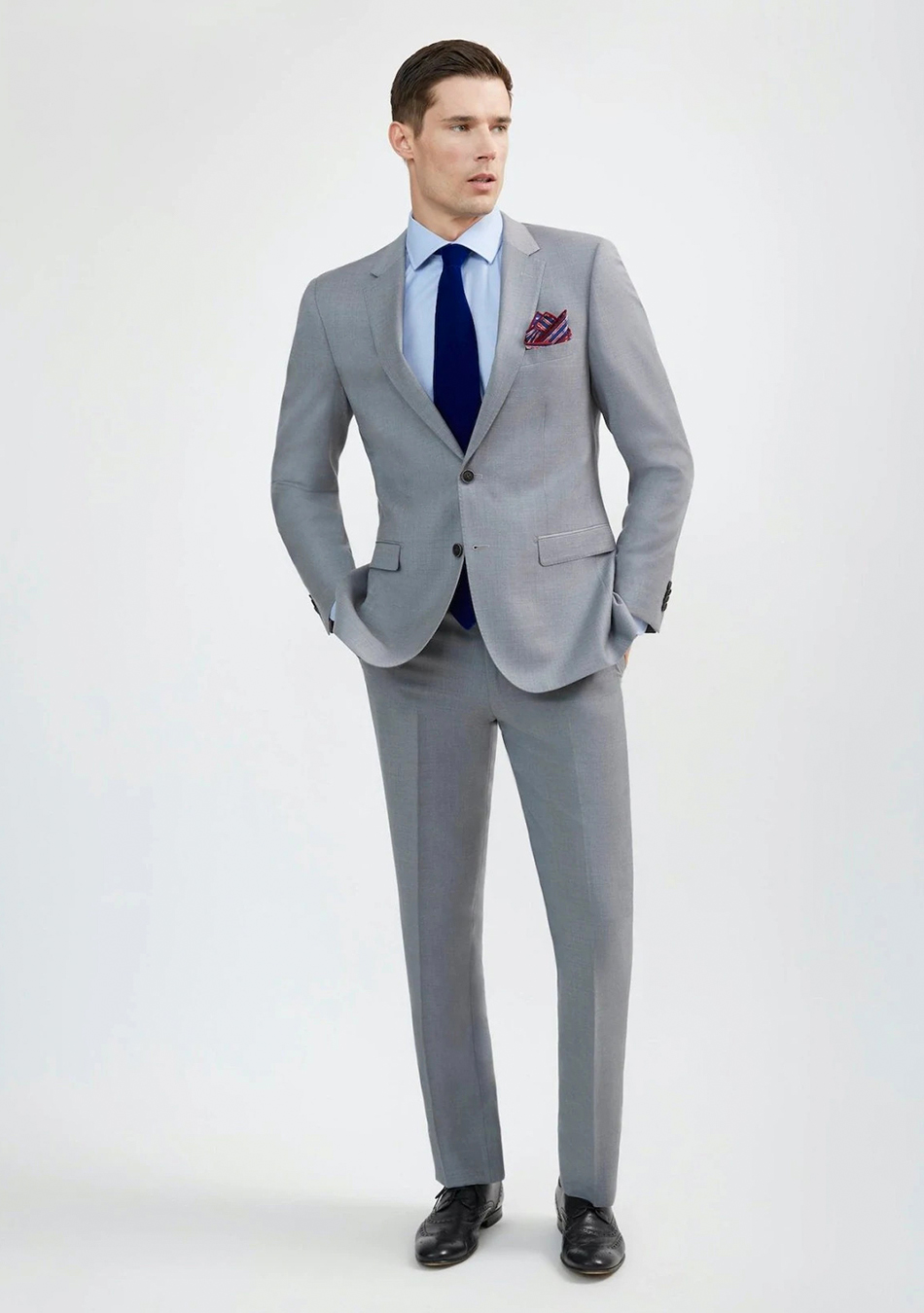 The backdrop of a light blue shirt and blue tie makes it a standout office look.
At the same time, the colorful pocket square unassumingly elevates this ensemble. It can make the look suitable, from business lunches to job interviews.
Black full-brogue or wingtip derbies are the most appropriate shoes to mirror the charm of a light-grey suit.
And you can never go wrong in black.
Brown Brogues with a Navy Suit
This is a business look that's conservative and classic.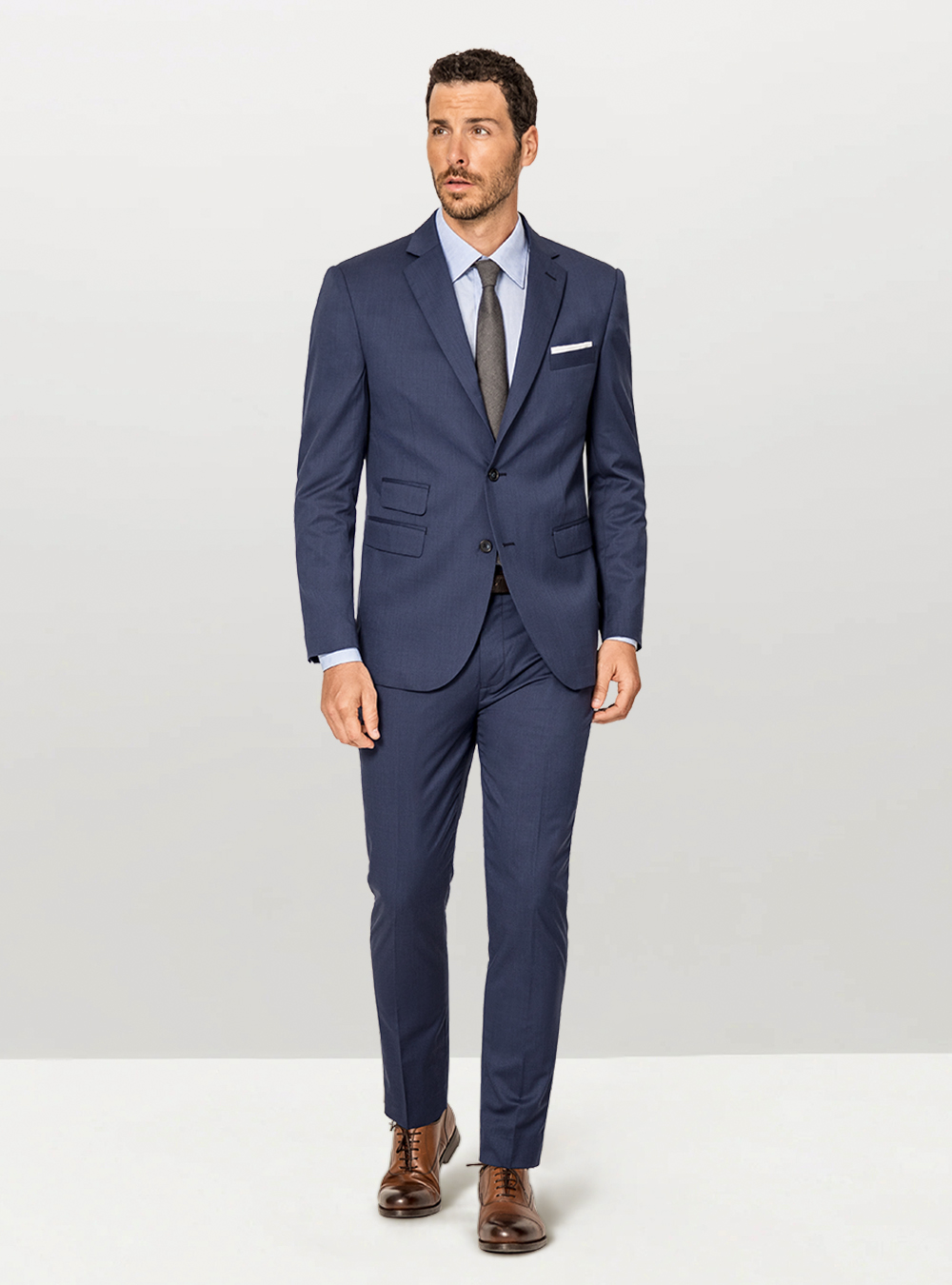 The navy suit is the focal point of the look. But it doesn't command special attention.
Instead, with a light-blue shirt, grey tie, and white pocket square, it portrays a subtle business aesthetic.
Wear dress shoes like Oxford brogues to have the same impact through your shoes.
Black is acceptable, but brown brogues are even better for a pleasantly versatile outfit.
Black Brogues with a Burgundy Suit
This outfit is a blend of dressiness and sophistication that looks stylishly mature.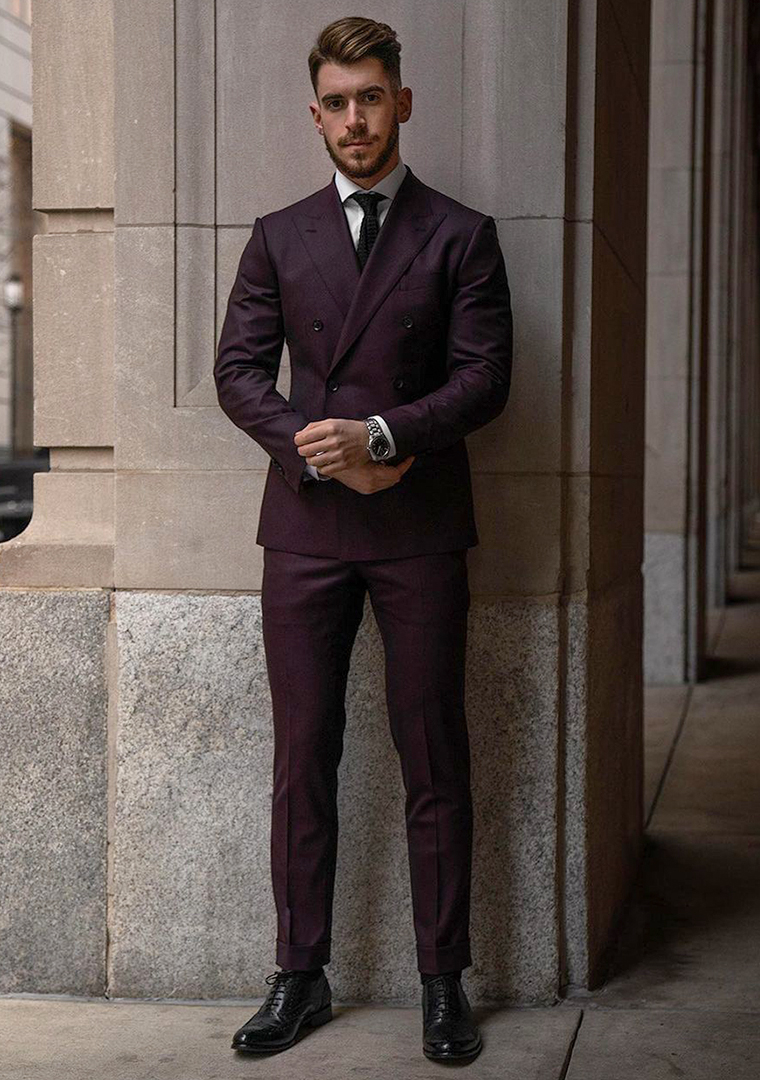 Also, the burgundy suit and black Oxford brogues and tie look monochromatic in the dark.
As a result, this outfit will project plenty of confidence.
A plain white dress shirt and a pocket square keep the look clean and serious.
This outfit can substitute the typical black suit for dressy evening events.
Longwing Brogues with an Olive Green Suit
An olive green suit is fresh, unique, and has a neutral base.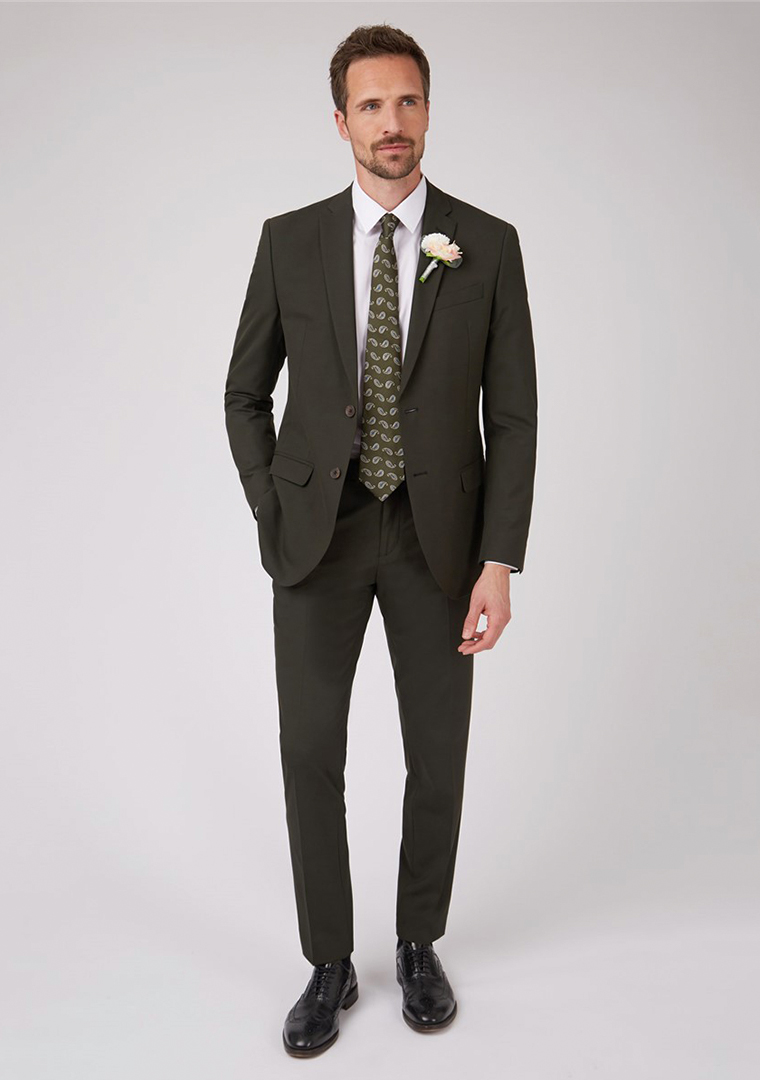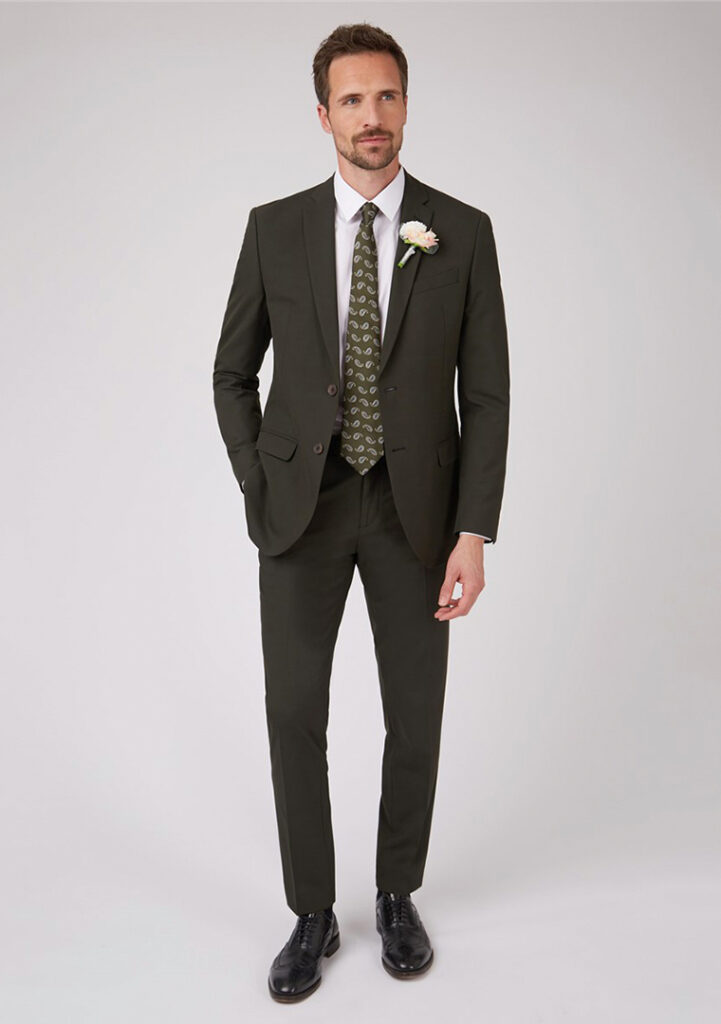 It can be an alternative to the conventional array of suit colors.
At the same time, you can add some vivid colors to make a big, impactful statement.
Accentuate this charisma via the vintage charm of longwing or full brogue shoes.
Colorful accessories like a patterned tie and a pocket square will complete the look for weddings or other festive events.
Black Brogues with a Brown Suit
A brown suit is among the most favorite suit options during fall.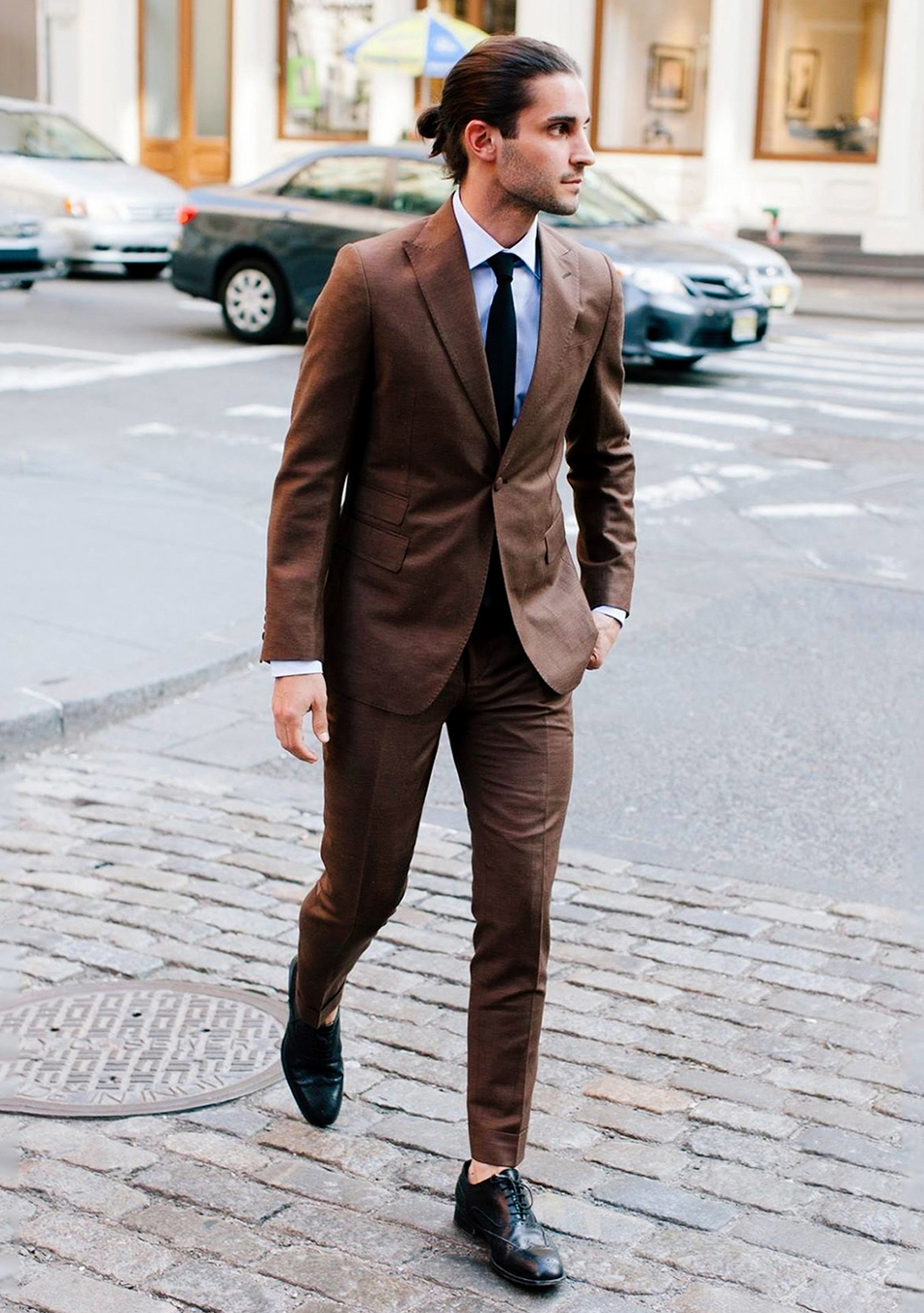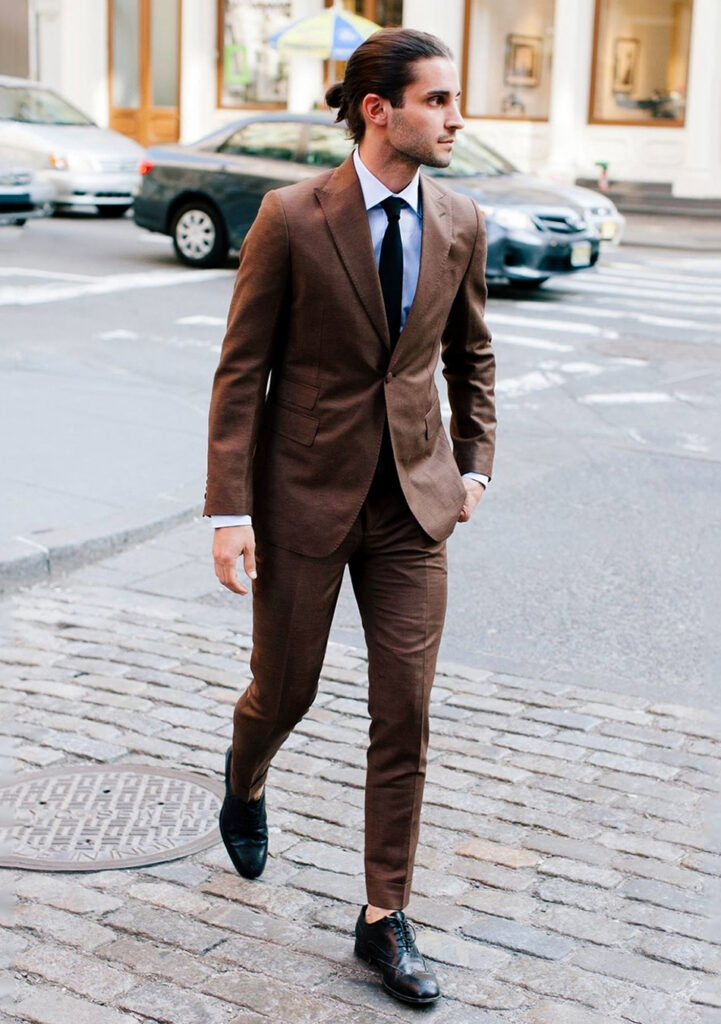 It's a great way to dial down the formality and look dapper.
But this peak lapel, three pockets suit is in no sense a casual one. And with such a stylish approach, make sure other items match these details.
In that sense, you can wear black brogues and tie to match the formalty.
Or you can wear light-brown brogues as a more casual choice for a relaxed feel.
Black Brogues with a Black Suit
Unlike popular belief, a black suit, at times, can be pretty versatile.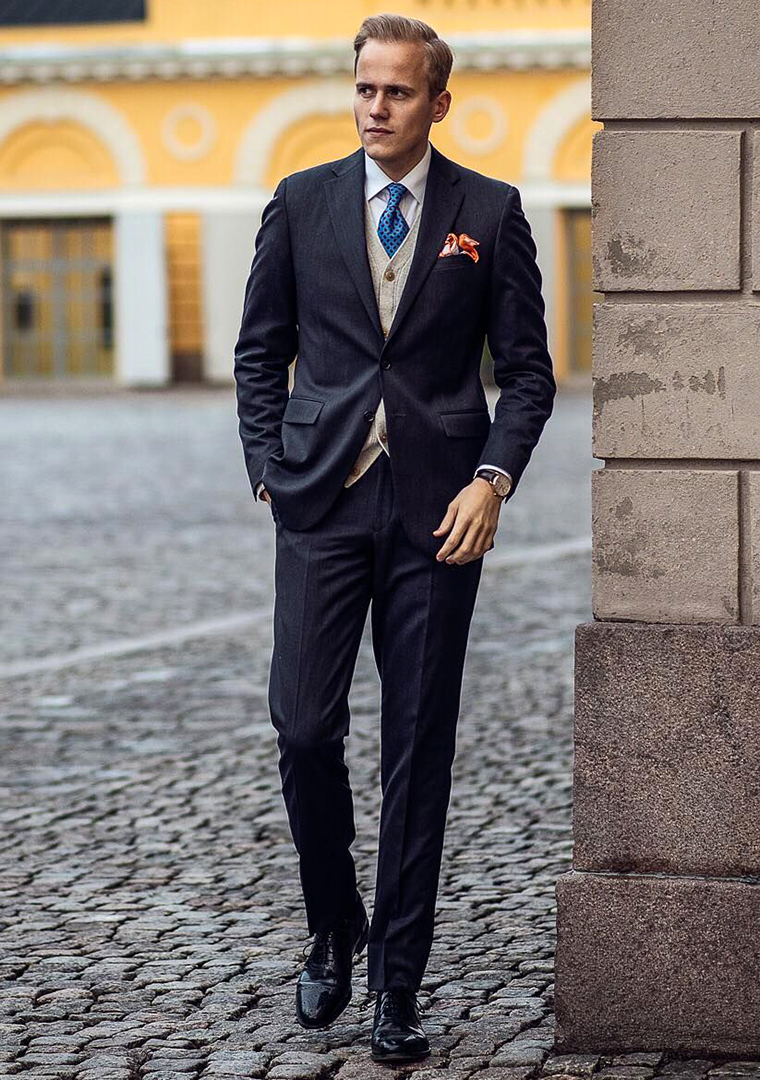 Take a look at this combination of black suit and the matching full-brogues.
The look can go serious with a monochromatic color palette. But I recommend a pop of color for a distinctively classic look.
A blue patterned tie or a pocket square can do the job for you.
A beige cardigan is even better for an impromptu three-piece fall look.
Navy Suede Brogues with a Navy Suit
Wearing suede brogues is the sartorial equivalent of casually donning a bow tie.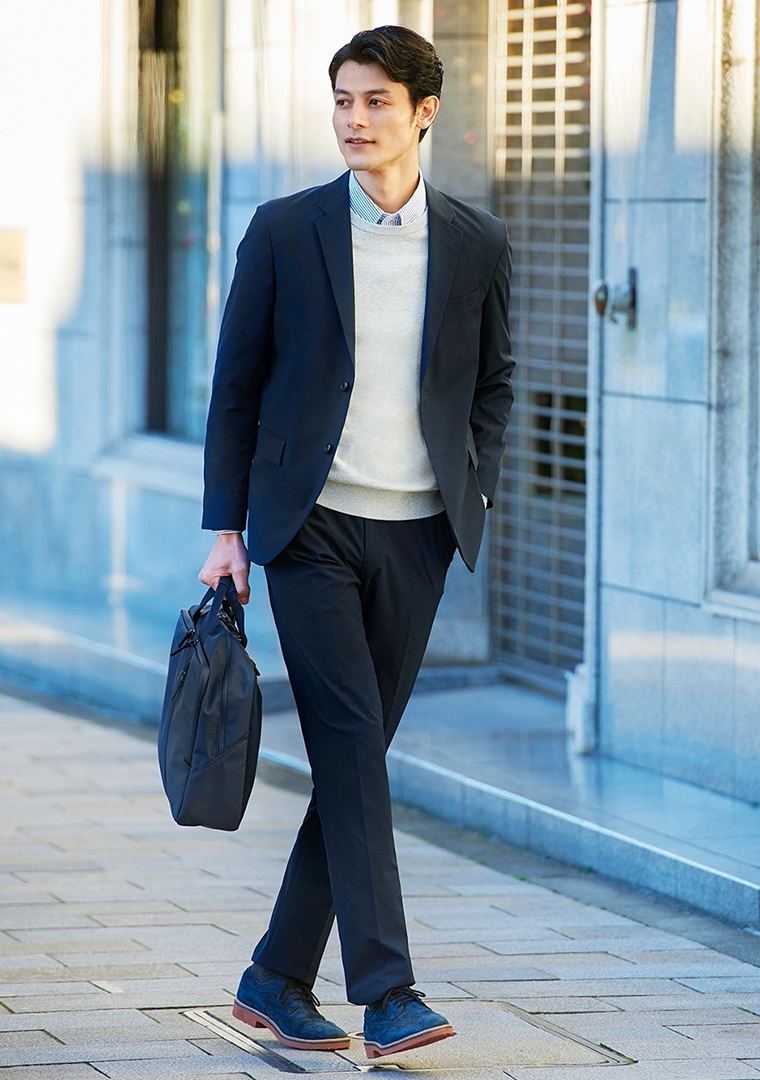 When paired with a navy suit, these suede brogues make you look smarter.
These also invite a sense of adventure, creating a more fun and less business look.
Match a plain white dress shirt over a sweater for a timeless, business casual style.
Brown Brogues with a Black Suit
Many gentlemen find it controversial to wear brown shoes with a black suit.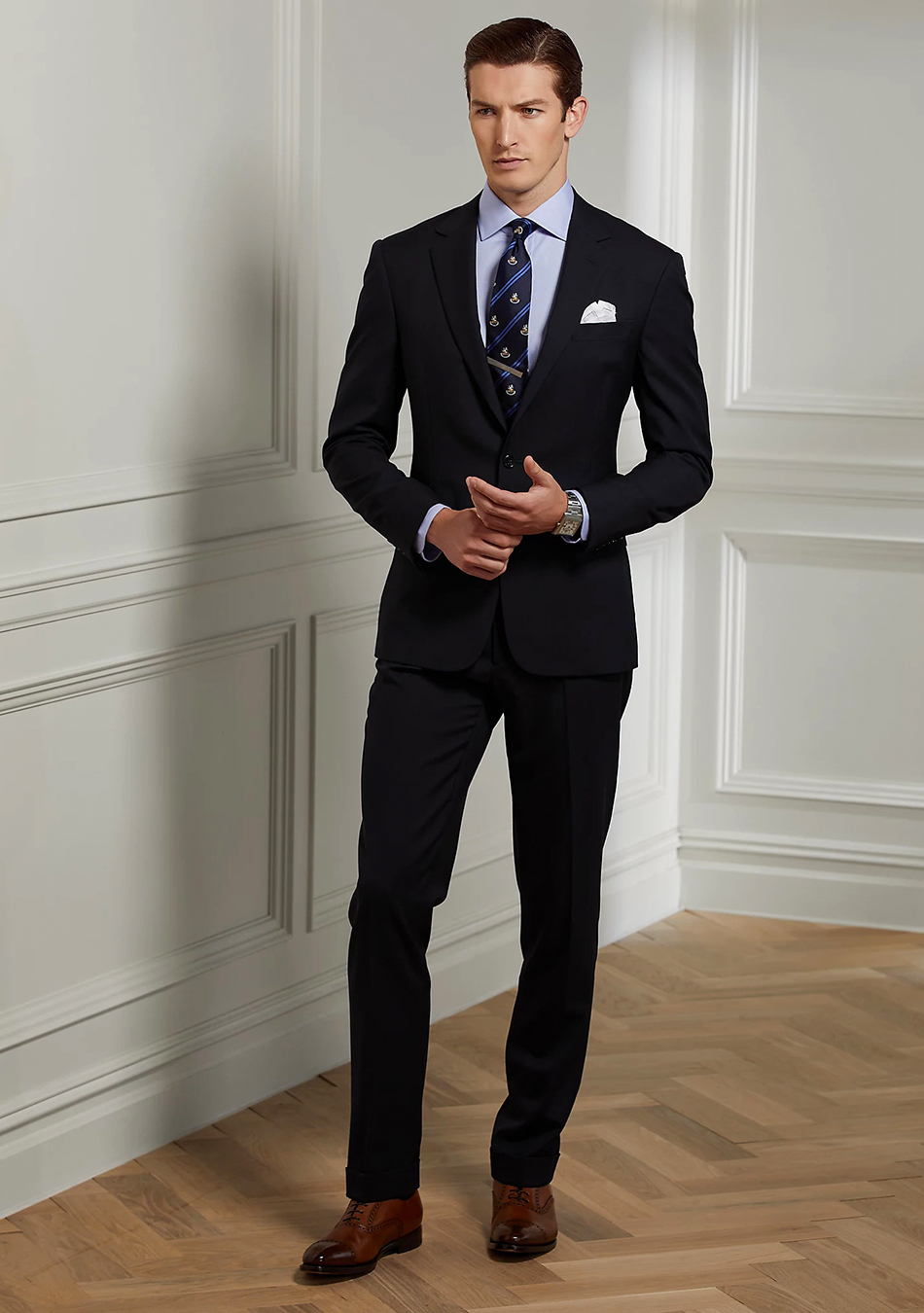 But it's more than possible to confidently don this ensemble and look stylishly refined.
First, wear a light-blue dress shirt and navy striped tie to subtly soften the impact of the black.
A white pocket square, a silver tie-bar, and a steel wristwatch will keep the focus on the top half of the suit.
Now, you can effortlessly pull off any well-shined pair of brown brogues.
Blue Three-Piece Suit with Brown Brogues
In the heart of this ensemble sits a sophisticated three-piece suit adorned in a blue plaid pattern.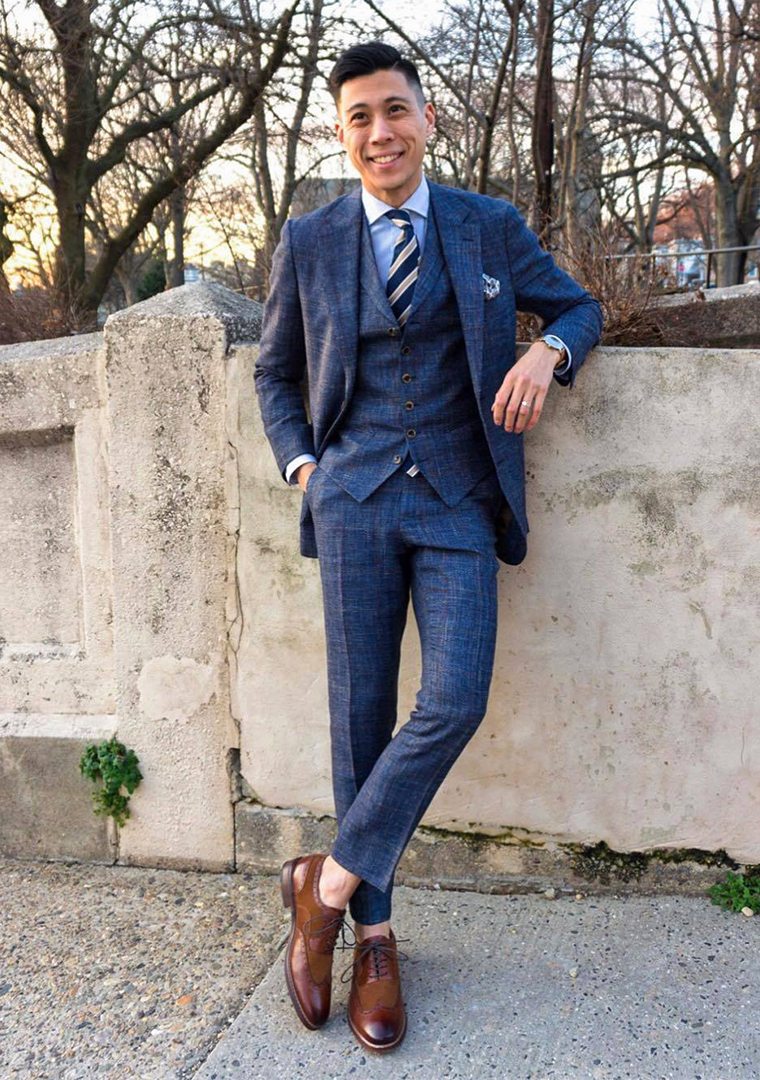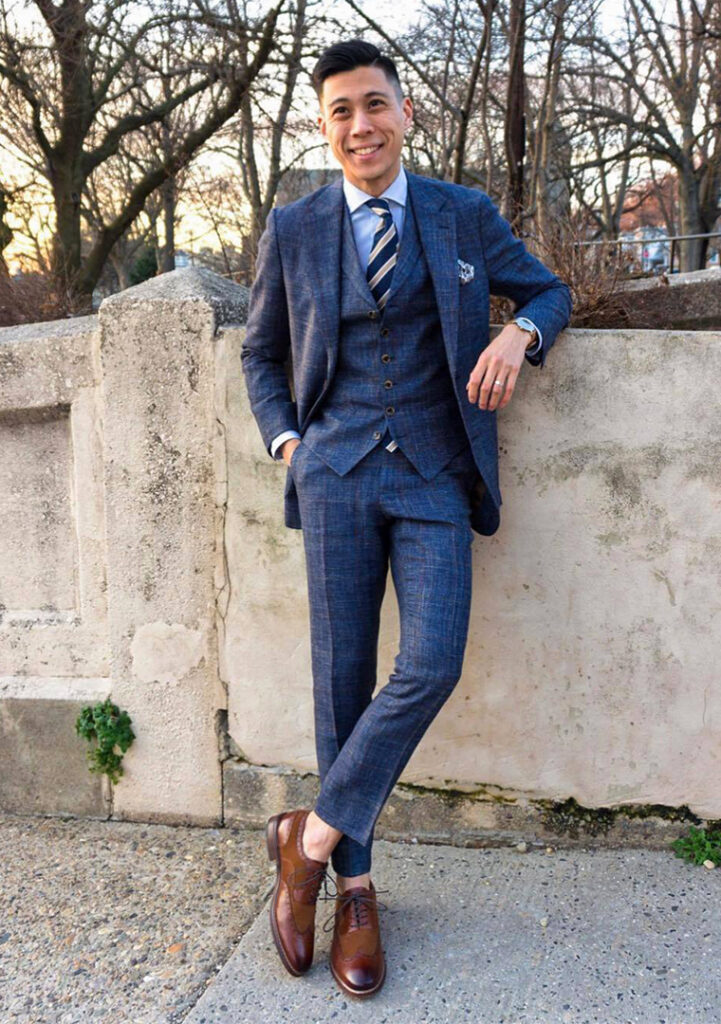 The suit gracefully envelops a coordinating blue shirt, which subtly underscores the intricate checks of the plaid.
The navy-striped tie provides a monochrome touch to the blue hues, seamlessly adding depth to the attire.
Finalizing the ensemble with a classic brown pair of brogues, offering a blend of tradition and modernity to the overall look.
Black Oxford Brogues with a Charcoal Suit
Double-breasted suits are back.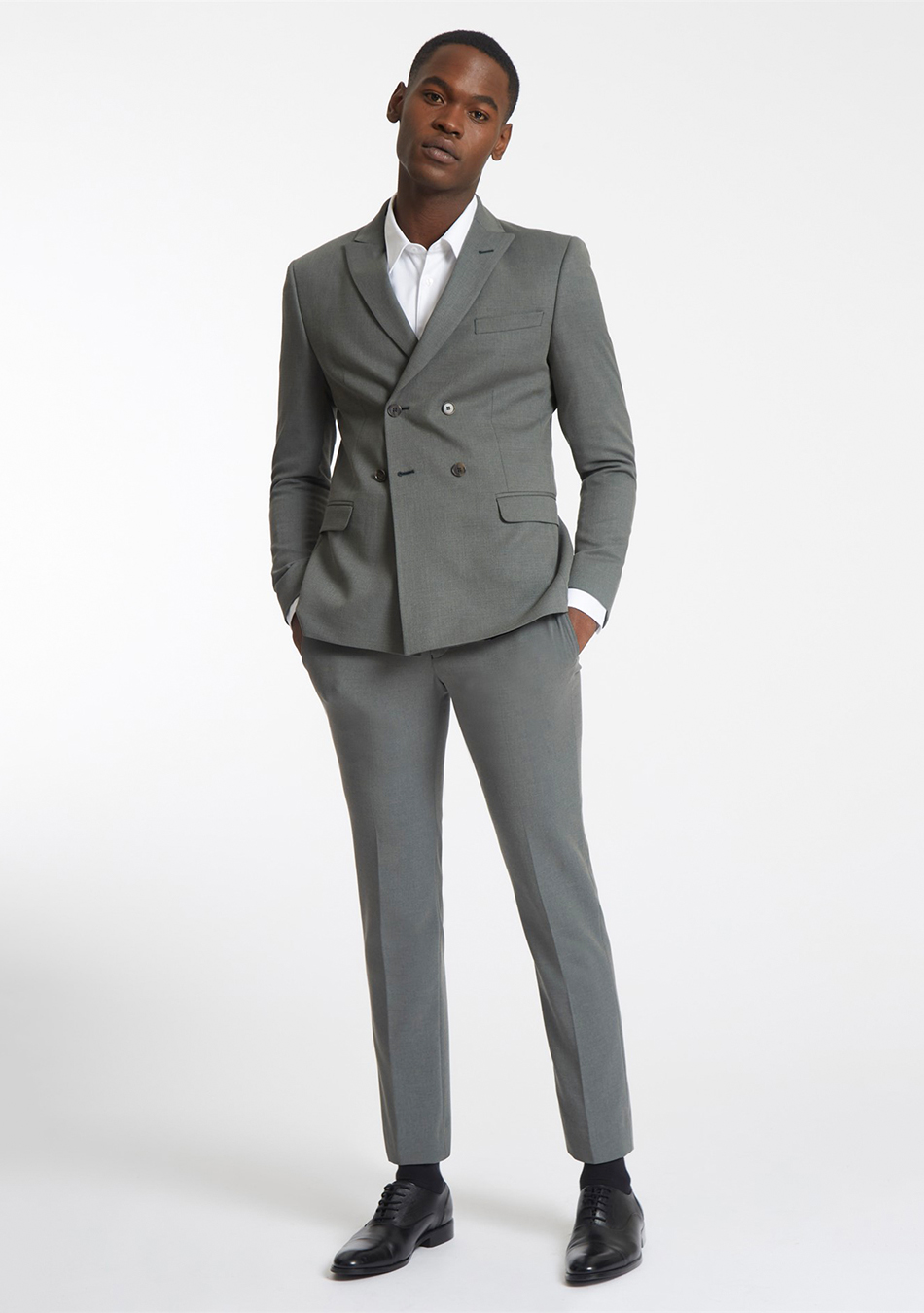 The sharp, slim fit accentuates the silhouette, while the notch lapel and flap pockets keep this outfit classic.
Pair it with a crisp white shirt, ensuring the cuffs peek below the jacket, and finish with polished black leather quarter-brogued shoes.
Grey is a classic business suit color. With this outfit, you're ready for any formal occasion or business setting.
Suede Brogues with a Beige Double-Breasted Suit
Wearing a double-breasted suit gives a feeling of confidence and power.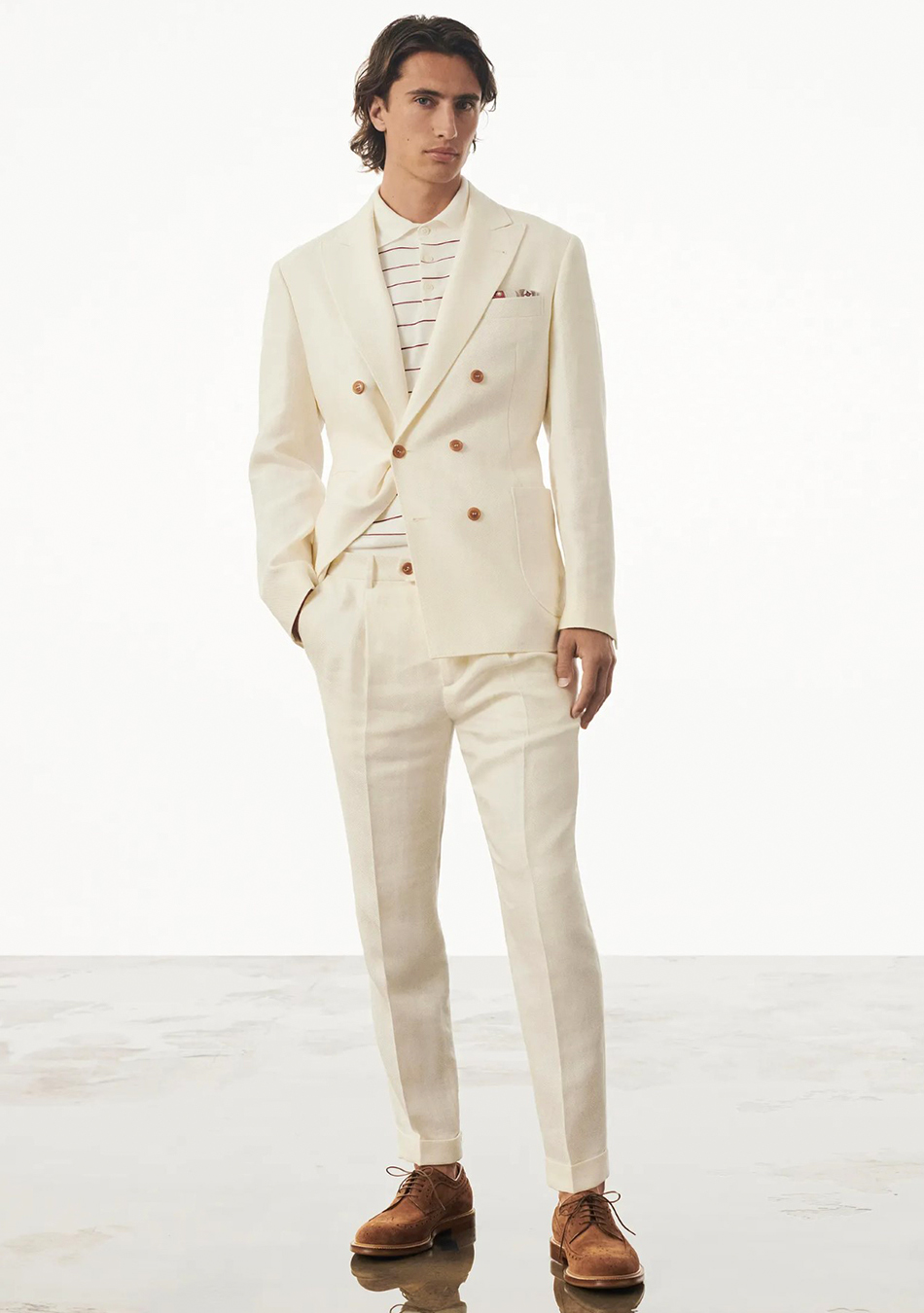 In lighter shades, such as beige, it adds an additional layer of sportiness.
This suit would be the standout piece. So, keep the rest of the outfit understated and relaxed.
A light-brown suede brogues will perfectly complement the sporty aspect of the suit.
And the white stripe polo will provide the relaxed sophistication.
Wearing Brogues with a Suit: Style Tips
Paying attention to detail is the key to wearing brogue shoes with a suit.
It will help your shoes look like a carefully curated choice rather than a mismatch.
Therefore, know your brogues, their types, materials, and everything else.
Also, don't wear brogue shoes that look like they've survived a natural disaster.
A properly shined and well-maintained brogues is the way to look good in a suit.
Here are some other considerations.
Consider the Occasion
On a formality scale, brogues inherently fall between the oxfords and monk straps.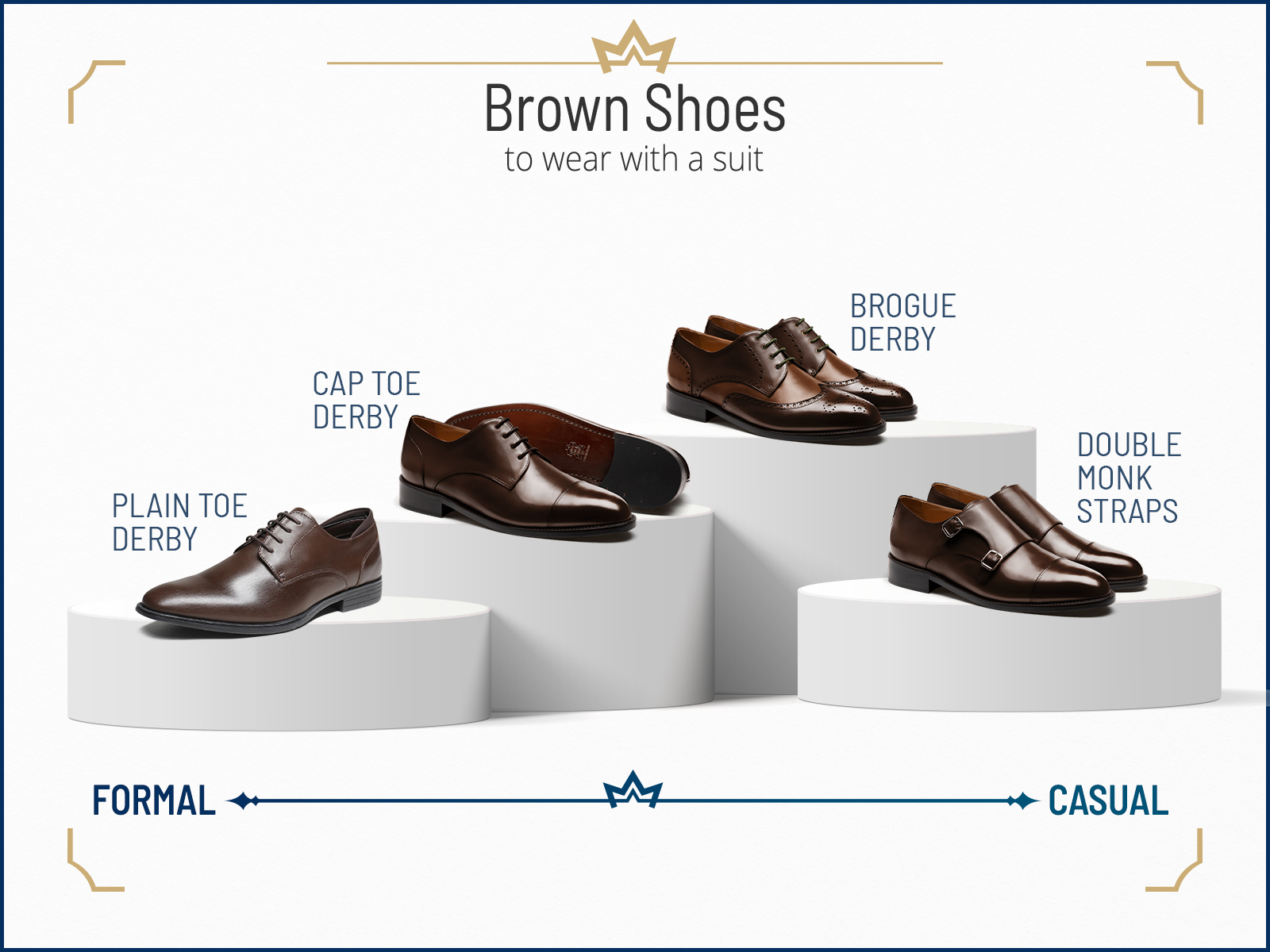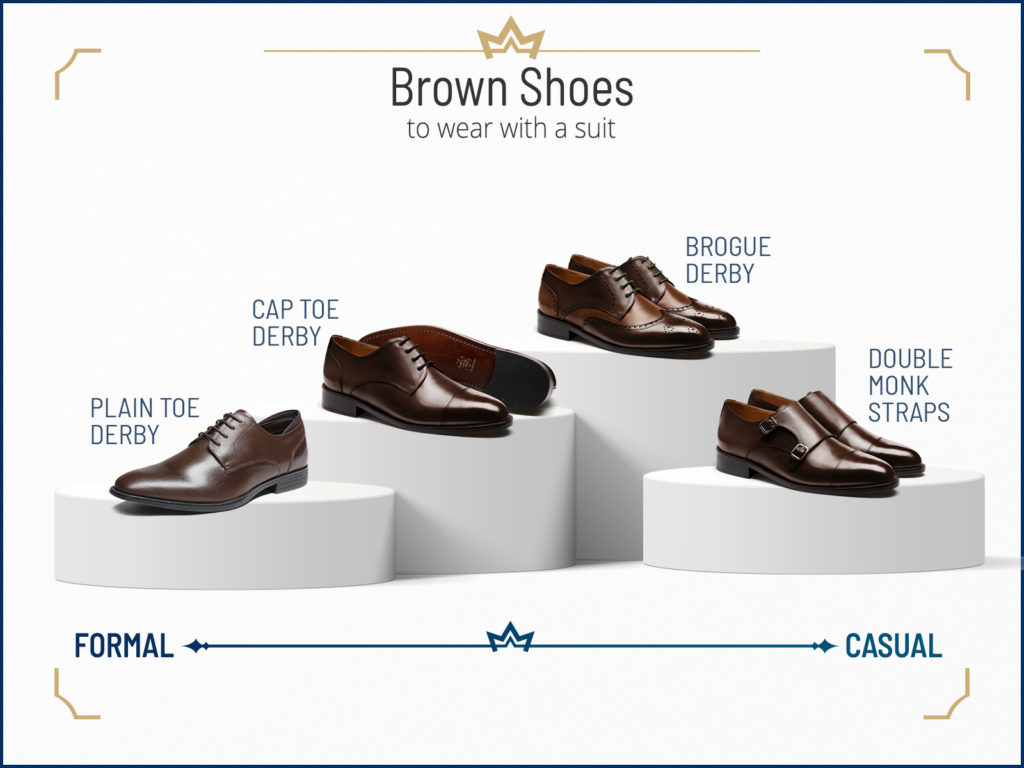 This translates as semi-formal to smart-casual on the dress code spectrum.
There's not much to worry about when wearing brogues to more casual dress codes.
However, only wear the dressy black quarter brogues for business-formal and black-tie ensembles.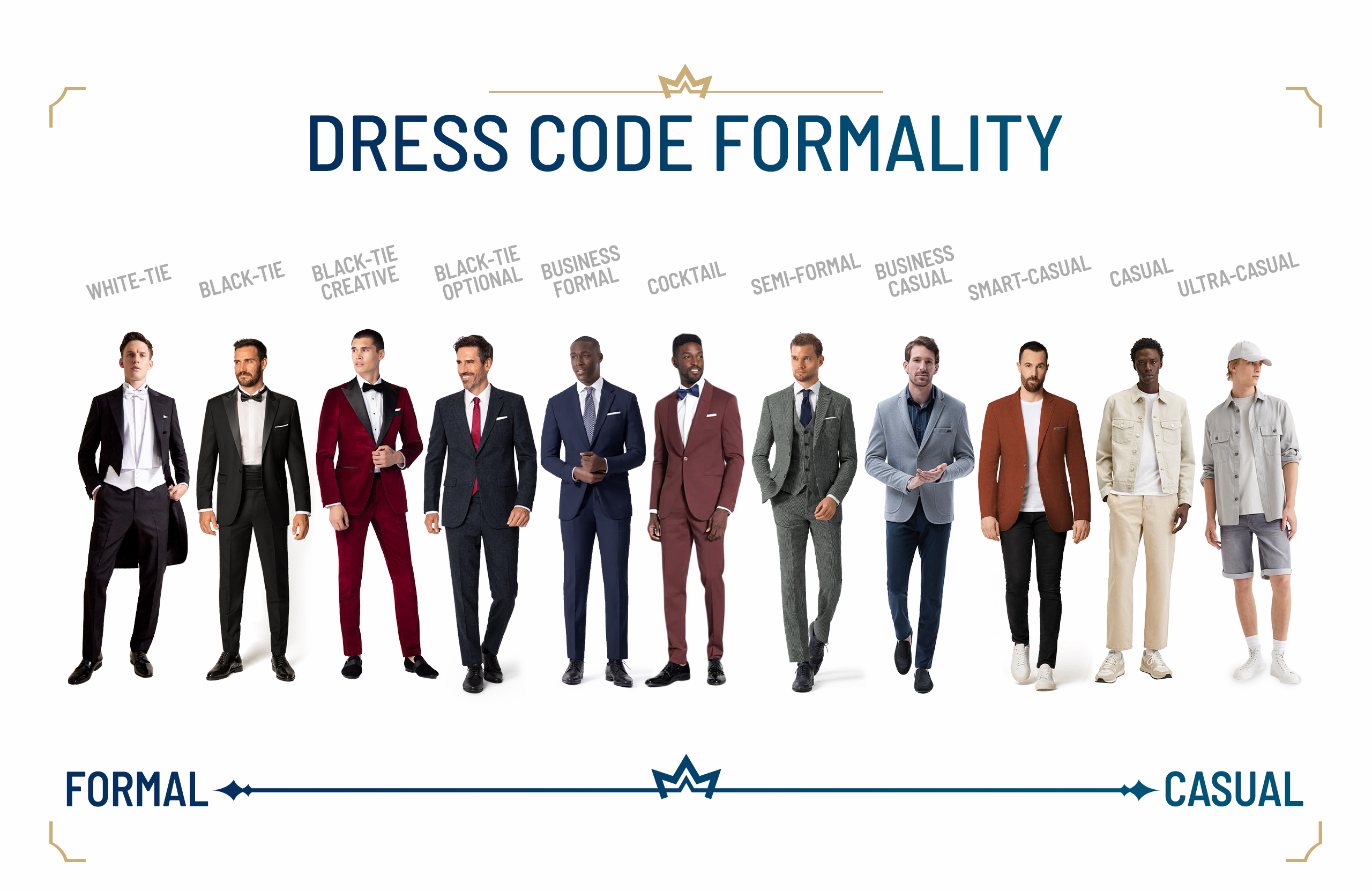 Suede brogues can work for day-to-day suited looks.
The Right Suit
When wearing a pair of brogues, choose a suit style that offers some room for playfulness.
A two-button, single-breasted suit with a notch lapel is the safest option.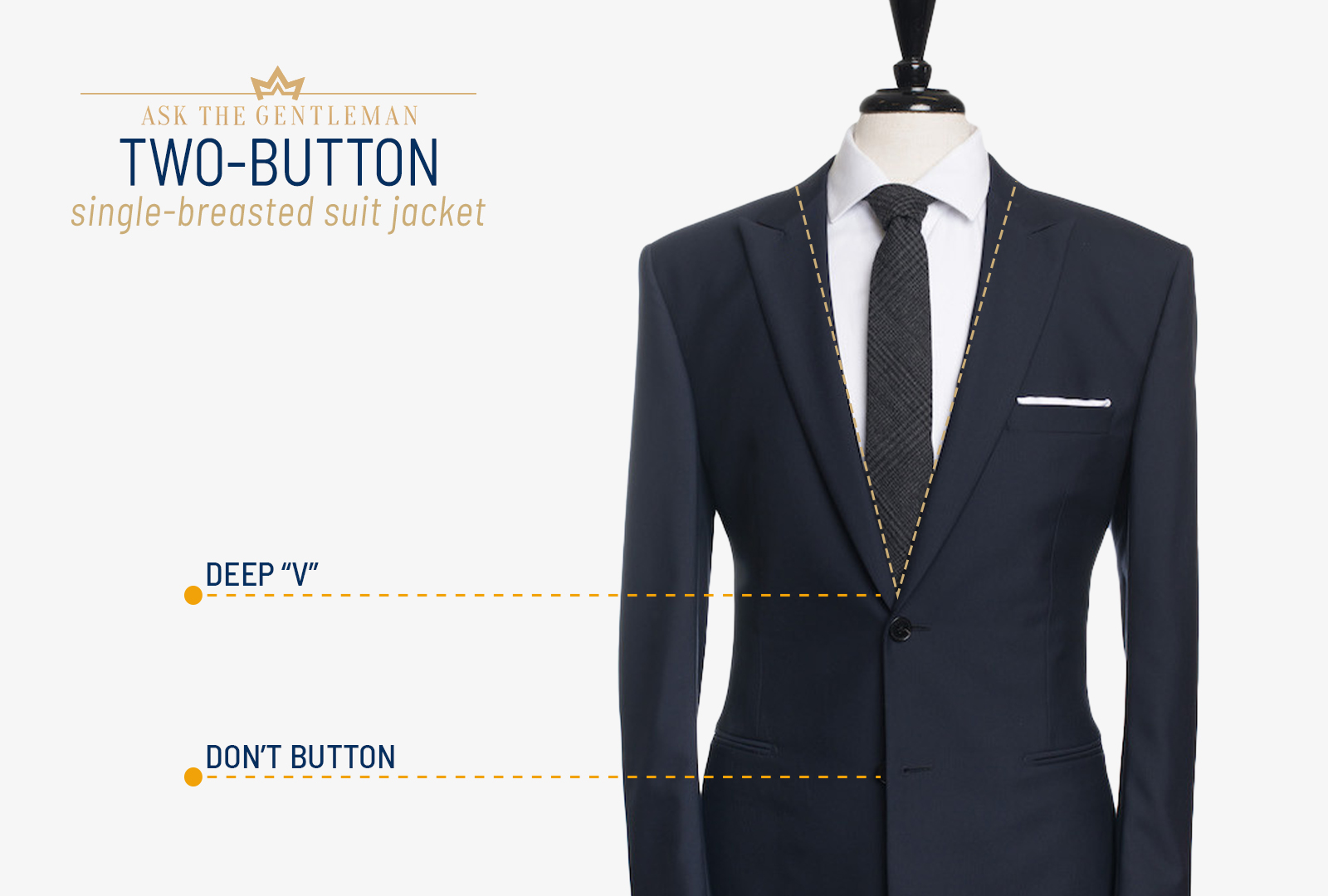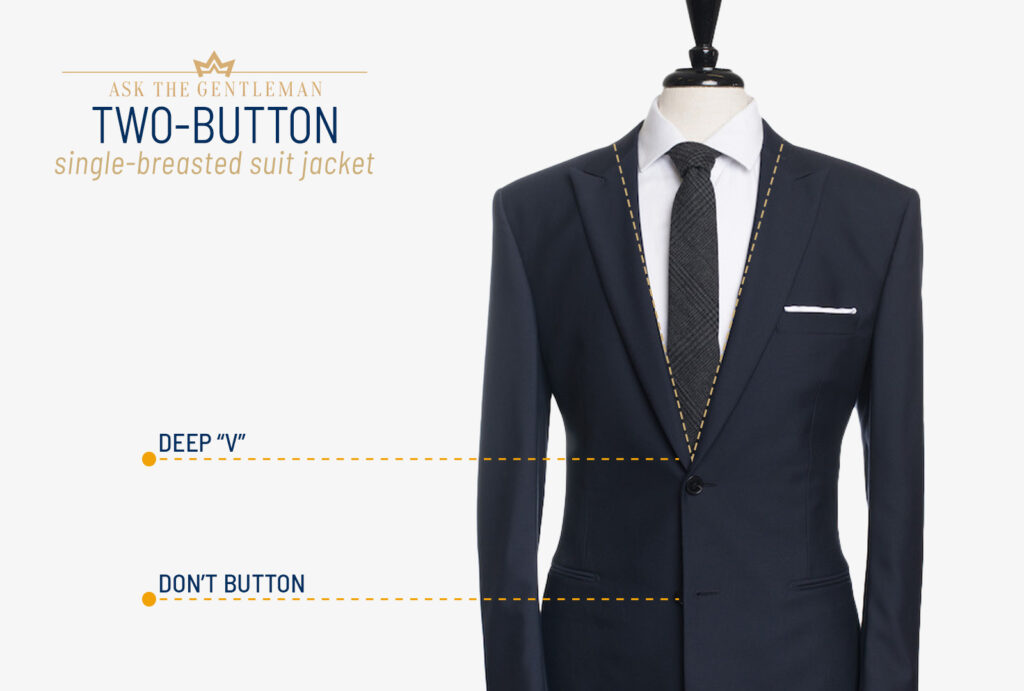 Double-breasted suits can work as long as they are not overly formal like the pinstripe suit.
Also, timeless suit fabrics like worsted wool, linen, hopsack, and cotton will make the suit feel complete.
Avoid wearing brogues with exceptionally formal suits and tuxedos.
Match the Dress Shoe Color with Your Suit
The monochromatic suit and shoes are the way to go if you don't want to call for attention.
This color-matching also keeps the suit as the statement piece.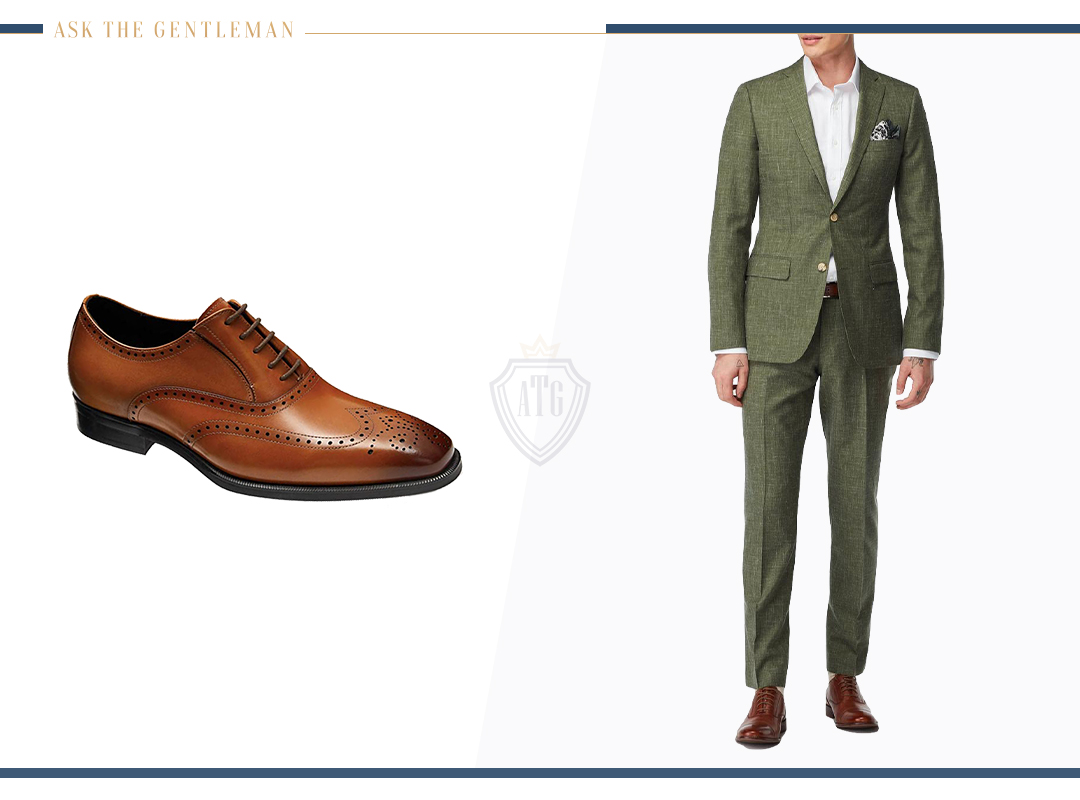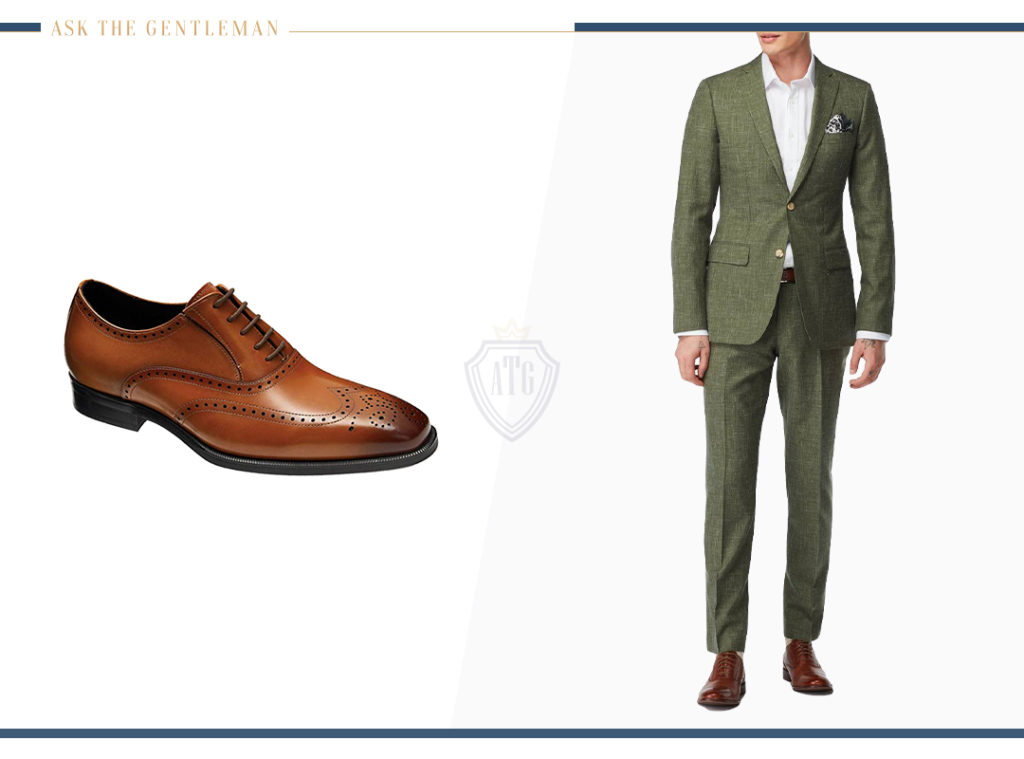 But don't overthink about this color coordination.
The dark brown and black brogues will inevitably match almost all the suit colors.
To Belt or Not to Belt?
First, ensure the belt and the shoe color are the same.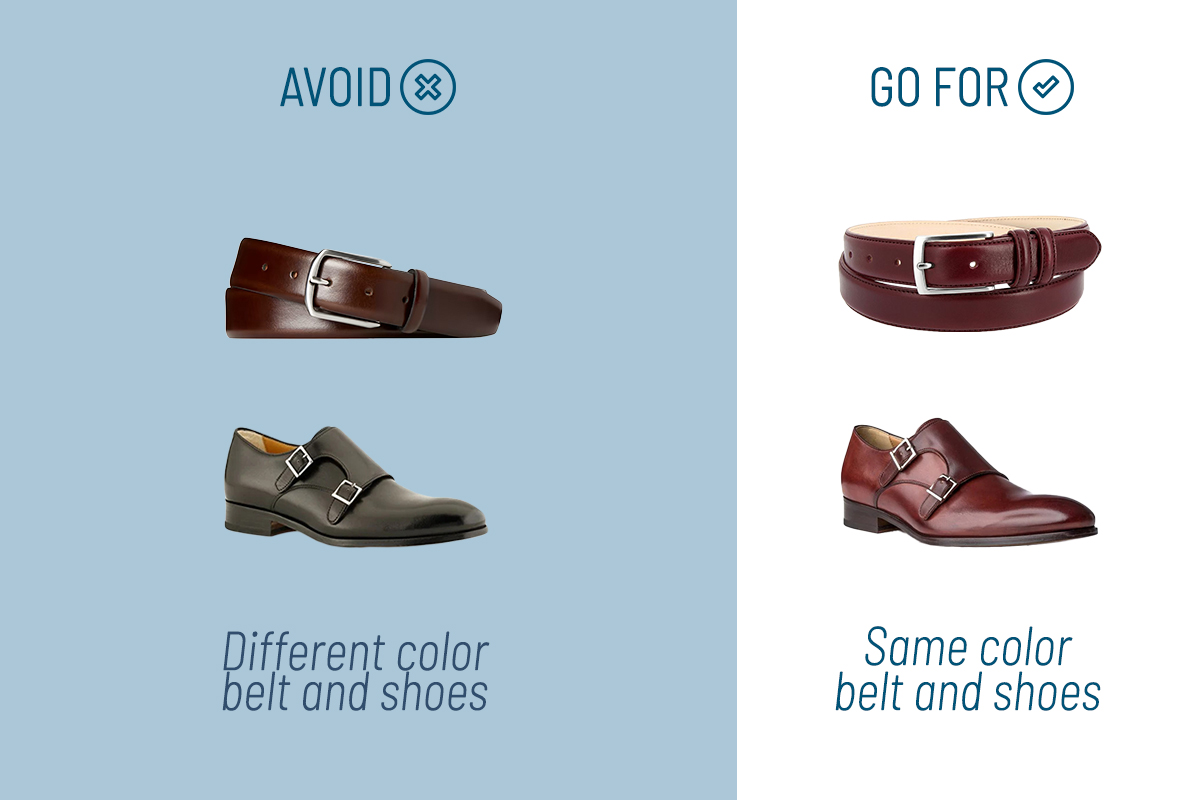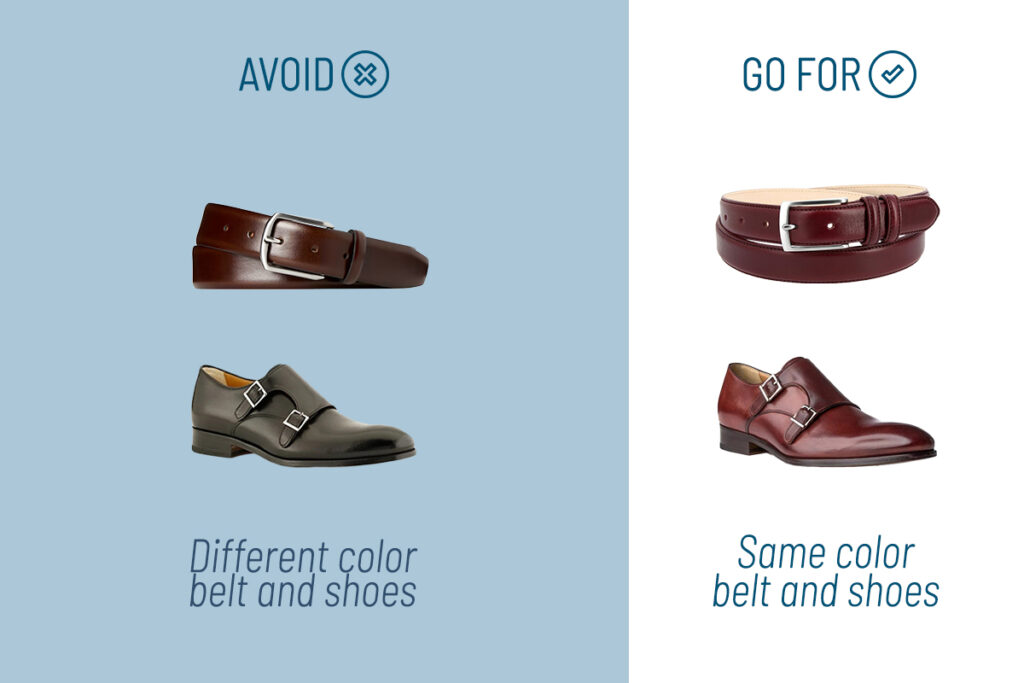 Keep in mind that wearing a belt is completely a personal preference.
However, I recommend wearing a belt if the suit pants have belt loops.
The pants will feel appropriately snug, and you can match them with other accessories.
Strong Sock & Lacing Game
A strong socks game will give a hint of great personal style.
You can start by avoiding ankle socks. Mid-calf socks are the best option.
Similarly, matching the socks with the suit color looks exquisite. But colorful socks are in vogue, too.
Avoid overly bright and plain white socks.
Thin laces work best with brogues and suits. Bright laces tied in crisscross lacing are good for a style flair.