Wearing a black suit with a black shirt is like brewing your favorite coffee. It's enjoyable but has the potential for messing up.
Many classic menswear fans have an aversion to this monochromatic black-on-black style.
However, a black suit with a black shirt can appear as a fashion-forward combination.
With some inspiration, you can embrace this outfit just like a Hollywood star would do on a red carpet.
All-Black and Tieless
This is an outfit that's elegant, masculine, and somehow classic.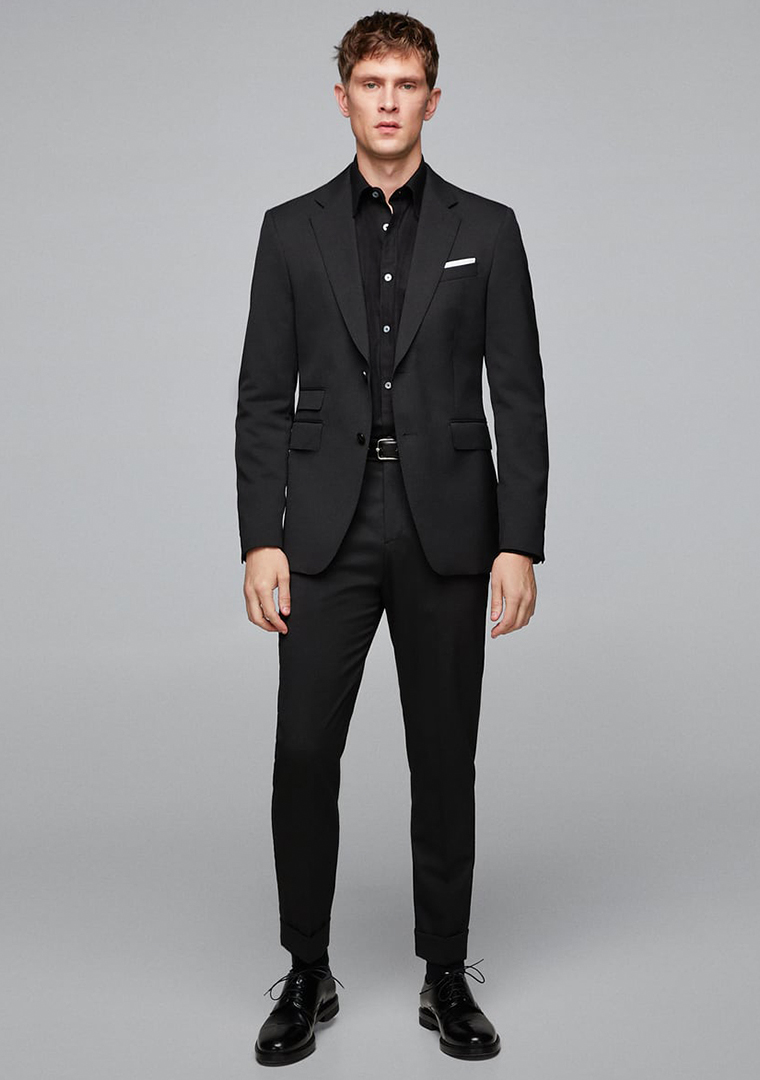 It announces you're confident enough to try something new without being tacky.
The classic lapel width, the ticket pocket, the pants cuff, and mirror-shine black shoes all approve of a traditional approach to suiting.
A contrast with a crisp white pocket square will be the finishing details.
My go-to places with this look would be evening cocktails, parties, and dinner dates.
Double Monk Straps for Flair
This outfit is what I call the "Dandy John Wick" mode.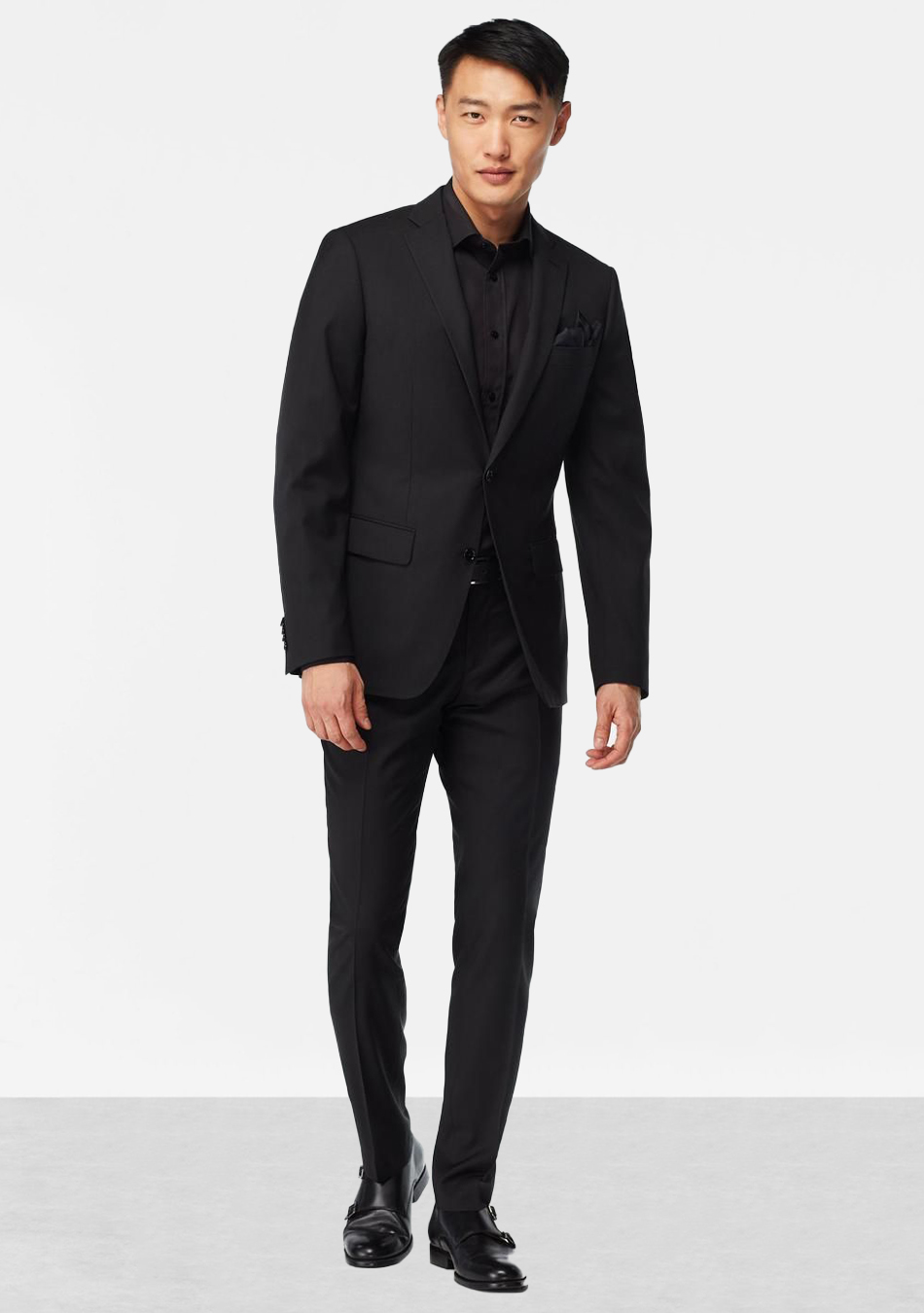 Your suit is as classic as a black suit can be, with a modern cut and half-break trousers.
But the black pocket square and matching double monk straps add a flair of confidence.
This combination is for men who tastefully want to experiment with their style.
Three-Piece Suit with a Black Dress Shirt
A black three-piece suit with a matching shirt is the perfect black tie optional outfit.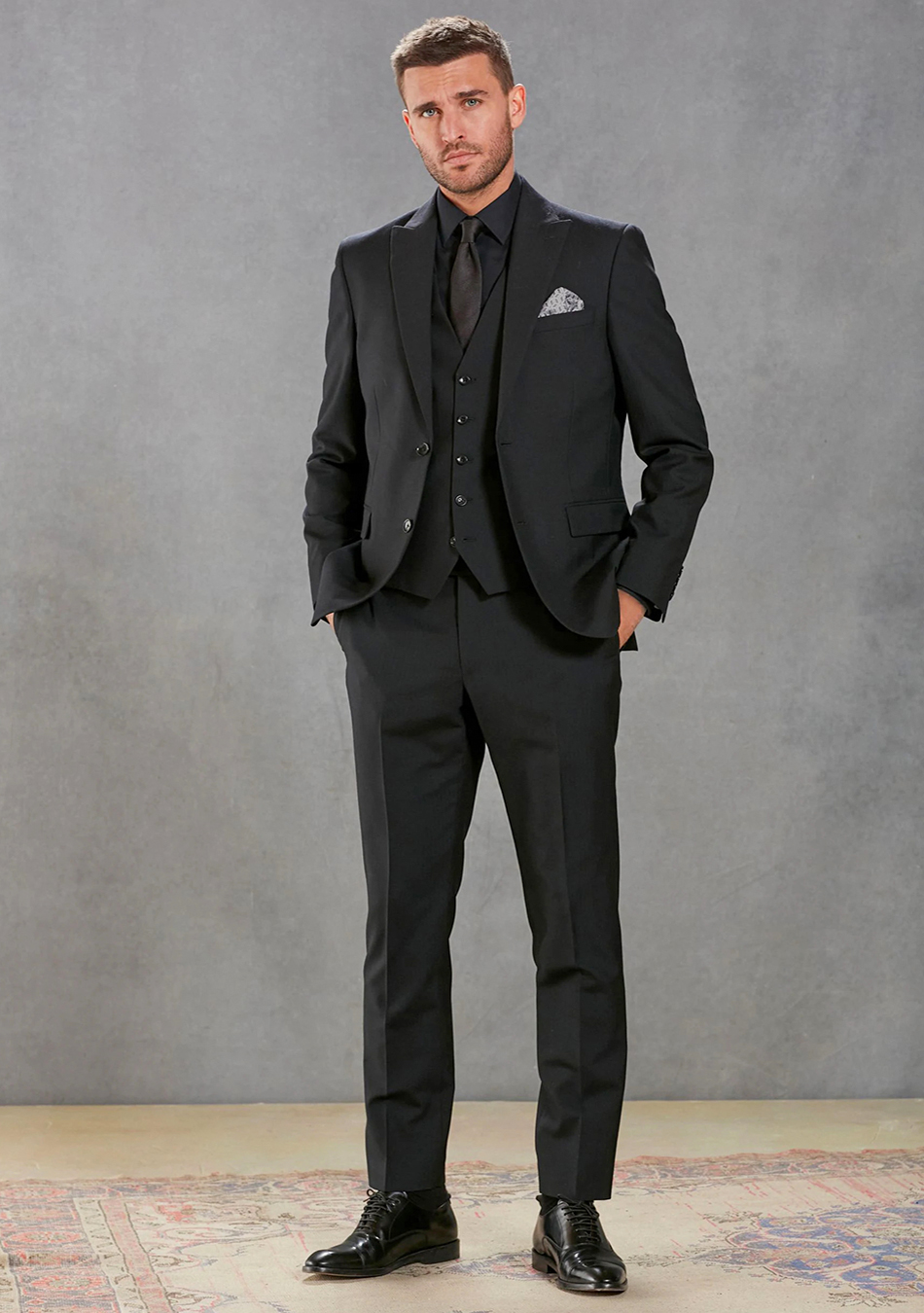 It stands out due to the intentional pairing of the monochrome tie and shirt, transcending a mere spontaneous choice.
Peak lapels on the suit jacket and sleek polished Oxford shoes enhance the overall formality of the attire.
You can show some personality or add contrast through the peak of your pocket square.
Black Suit and a Casually Unbuttoned Shirt
This sleek ensemble showcases the three-roll-two suit jacket, a design where the third button stays hidden under the lapel's roll.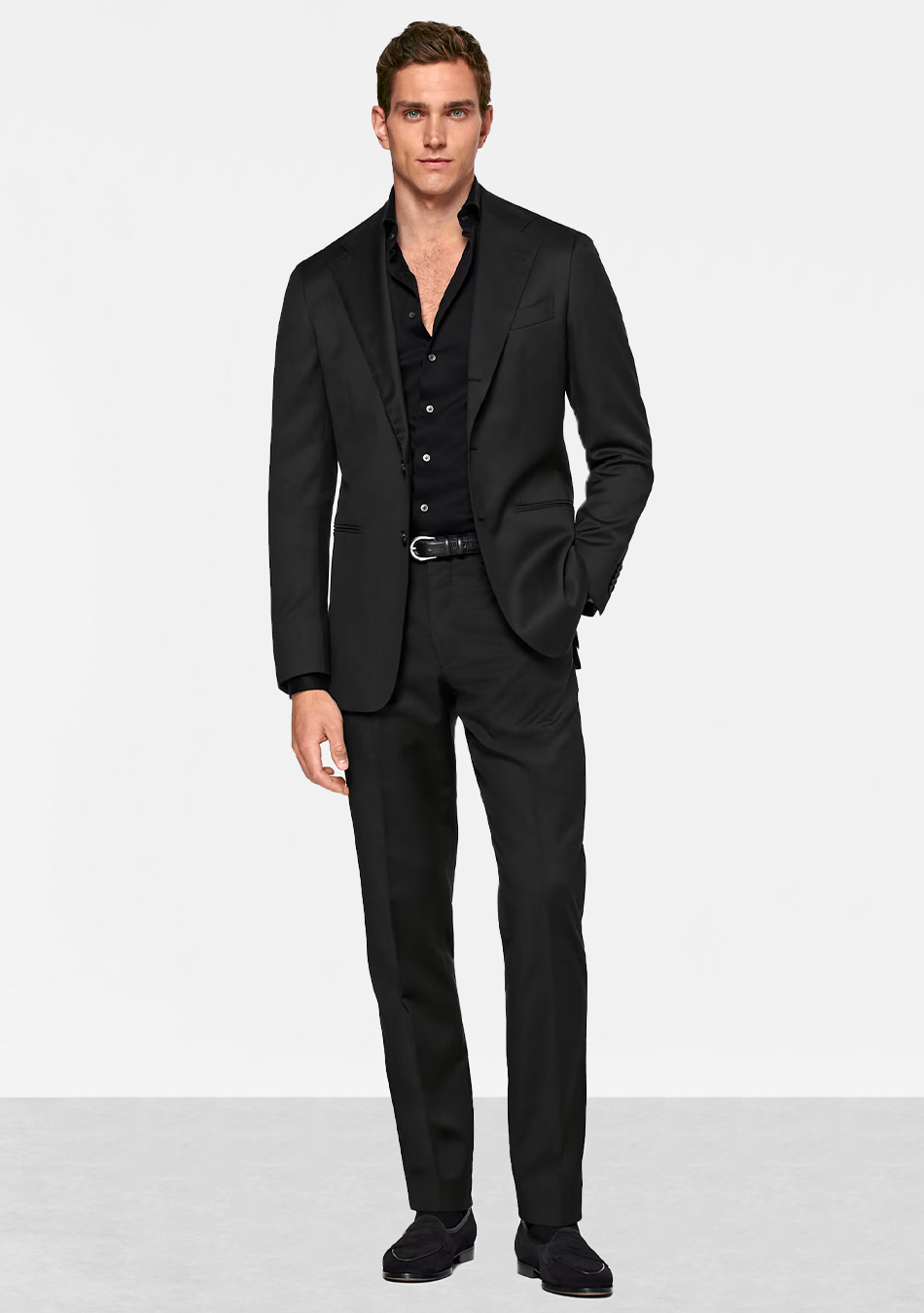 Paired with a partially unbuttoned black shirt, it strikes a balance between formal and casual.
The all-black palette, from jacket to trousers, enhances its streamlined appeal.
Seal the look with black suede penny loafers and a matching belt.
Black Suit with a Crew-Neck T-Shirt
Want to dress down in a black suit? Wear it with a black crew-neck t-shirt.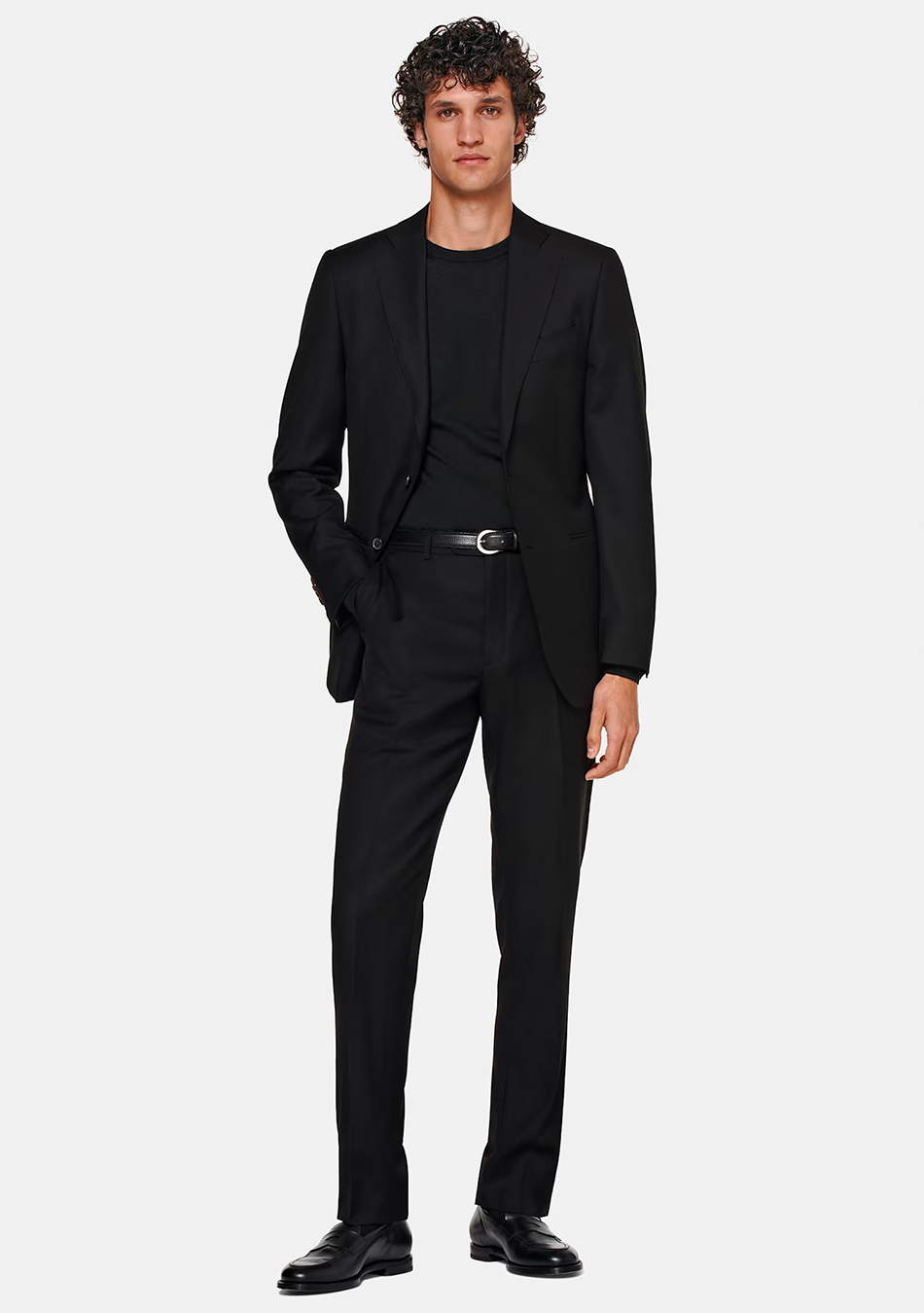 It's a combination that's practical and also boasts a lot of confidence.
You can wear it as a celebrity cameo to formal summer nighttime events.
It's also a good match for dressy night outs and cocktail parties.
Wear sneakers to go a little sporty or black loafers to notch up the elegance.
Black Suit with a Black Polo T-Shirt
A monochromatic look of a black suit and a polo shirt is versatile, trendy, and chic.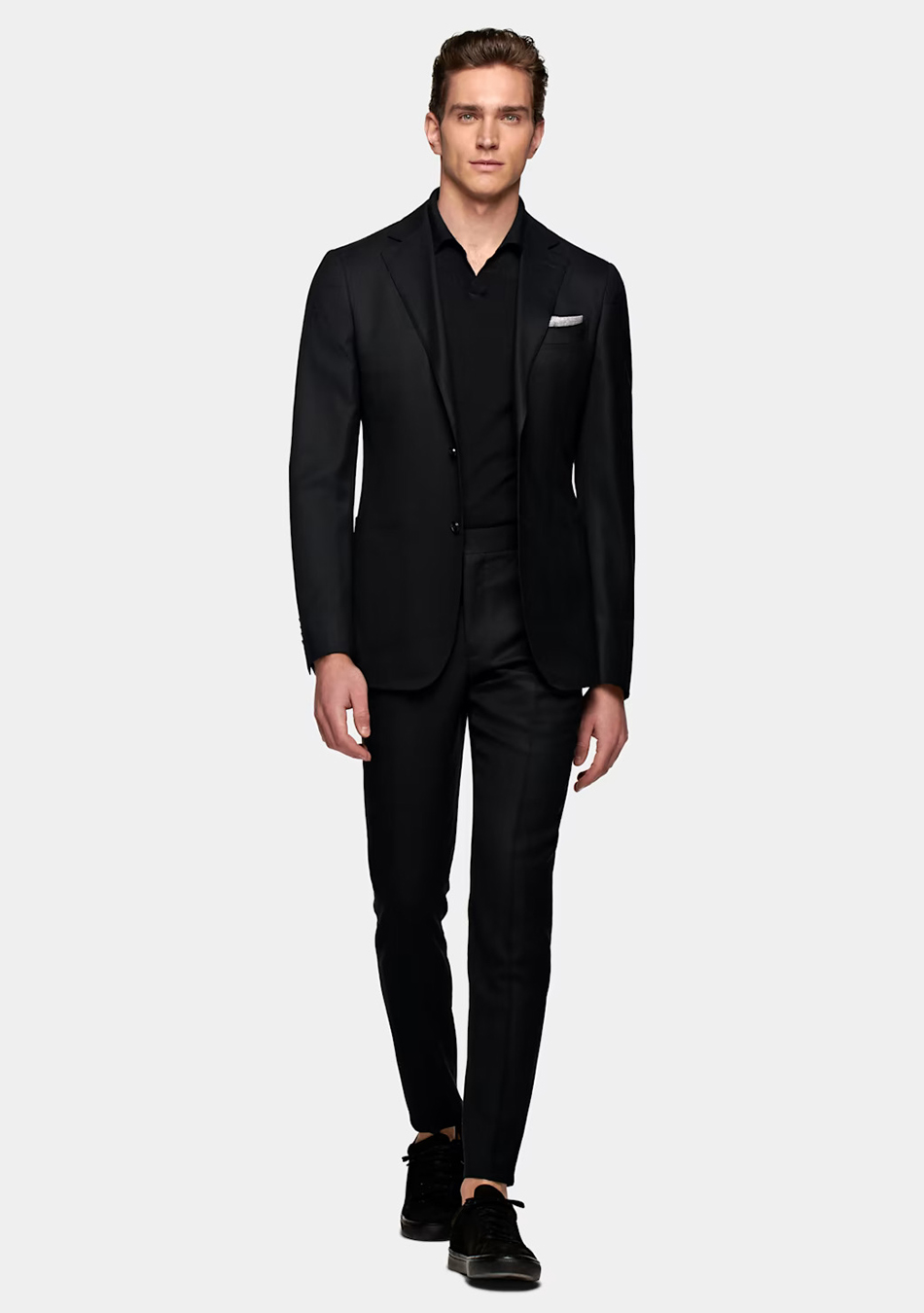 A true game-changer here is the choice of footwear.
The black sneakers, with their subtle sheen, spice up the look.
You can even wear a white pocket square to add a touch of color.
The slightly unbuttoned polo exudes effortless confidence and rebellious charm.
Black Suit and a Black Dress Shirt for the Office
Rock this professional business outfit when you're feeling like "Saul Goodman."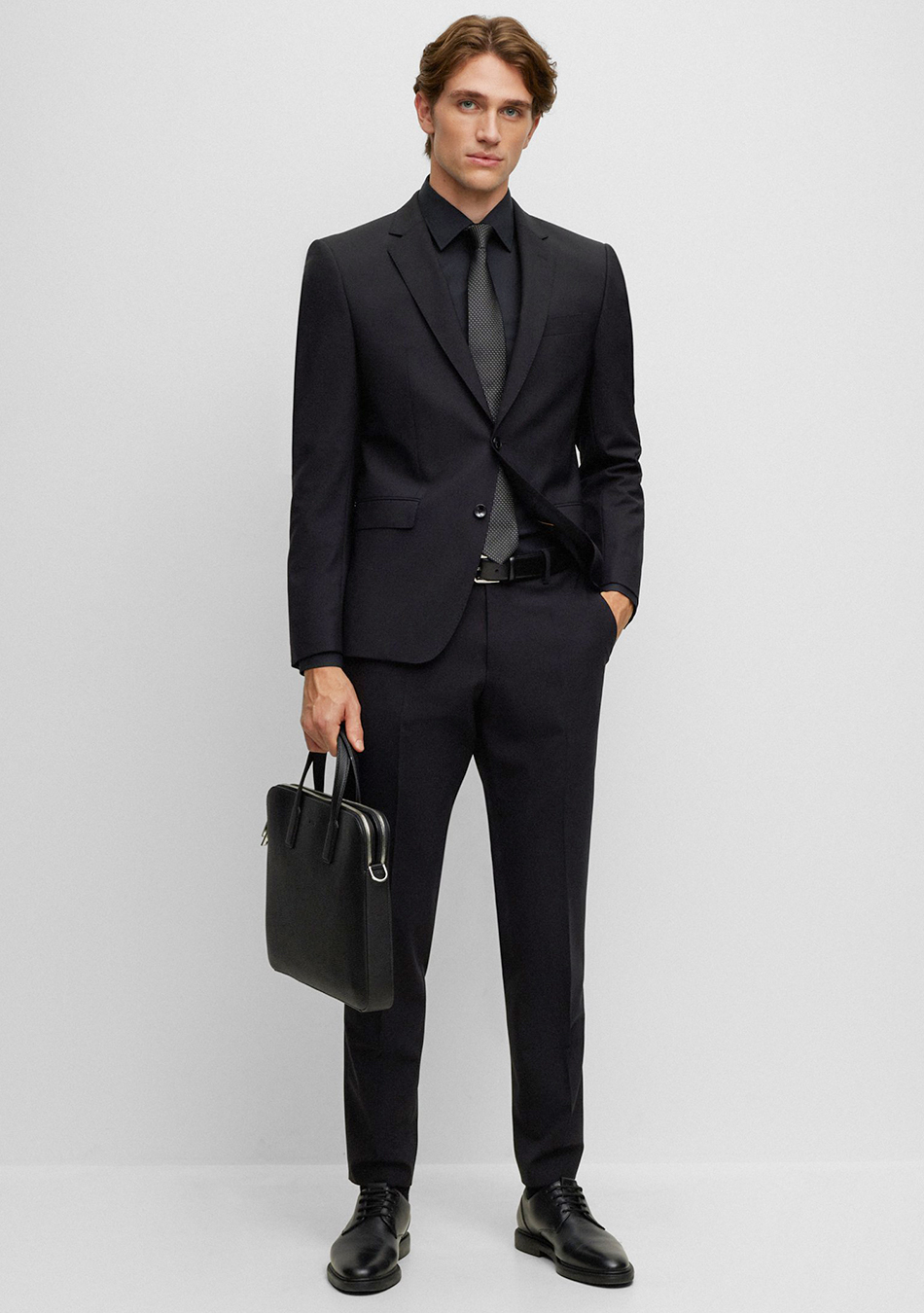 Now, I am not saying that this should be your everyday office look.
But once in a while, it can certainly spice up the overall impression people have on you, especially if you're constantly wearing a white dress shirt.
You can wear a black or dark grey tie, but no-tie looks are more relaxed.
Black Tuxedo with Dress Shirt & Bow Tie
An all-black tuxedo transcends the conventional expectations of a black-tie dress code.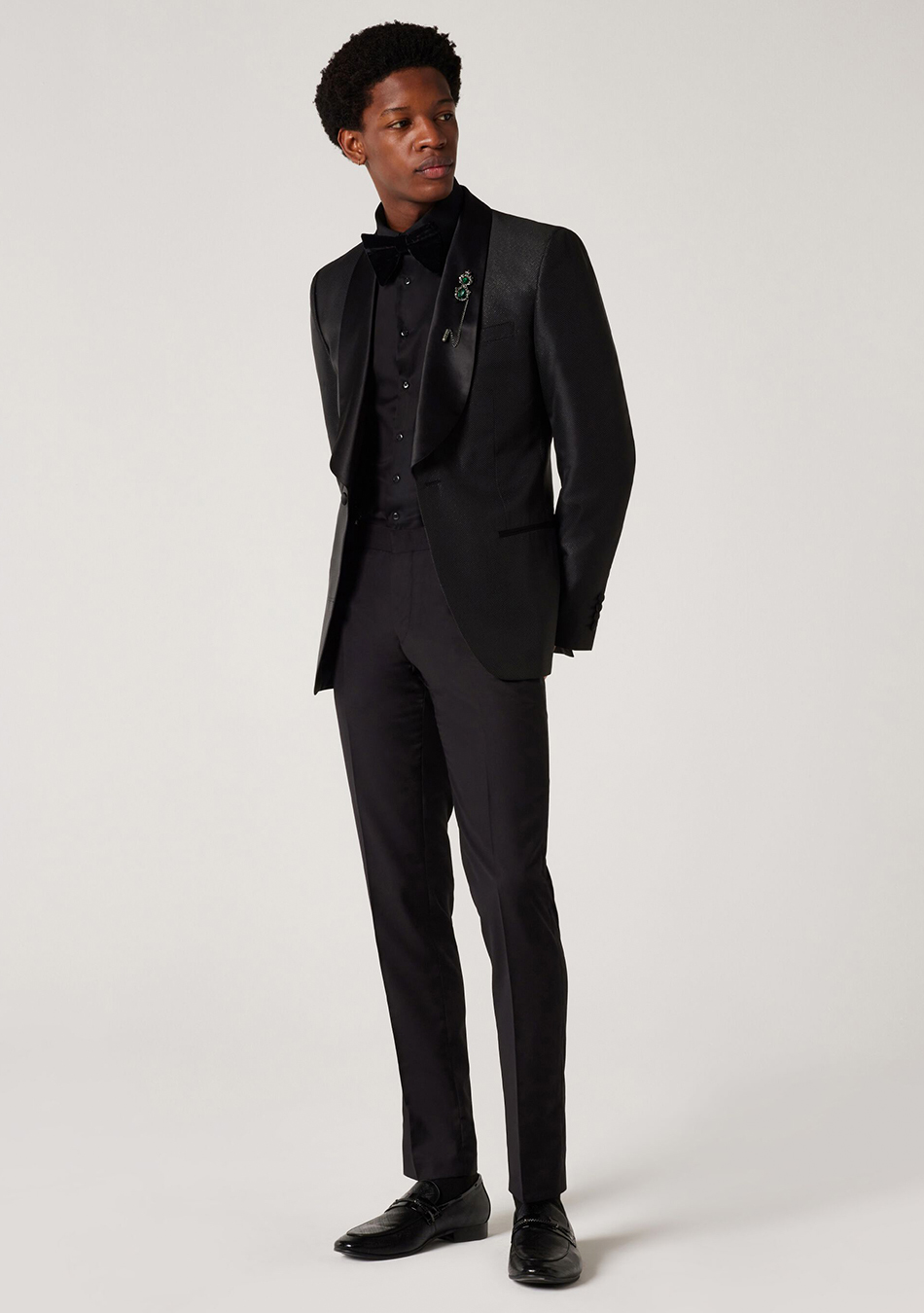 It's a classic look with a touch of modern elegance.
You can wear it to any black-tie event, from operas to ballets and clubs to weddings.
However, you may stand out, contradicting the uniformity of a standard black-tie dress.
So, creative black-tie events like proms and New Year's Eve parties are relatively safer options.
Black Suit and Shirt with a Floral Tie
The black suit and shirt with a floral tie is a formal look with a little twist.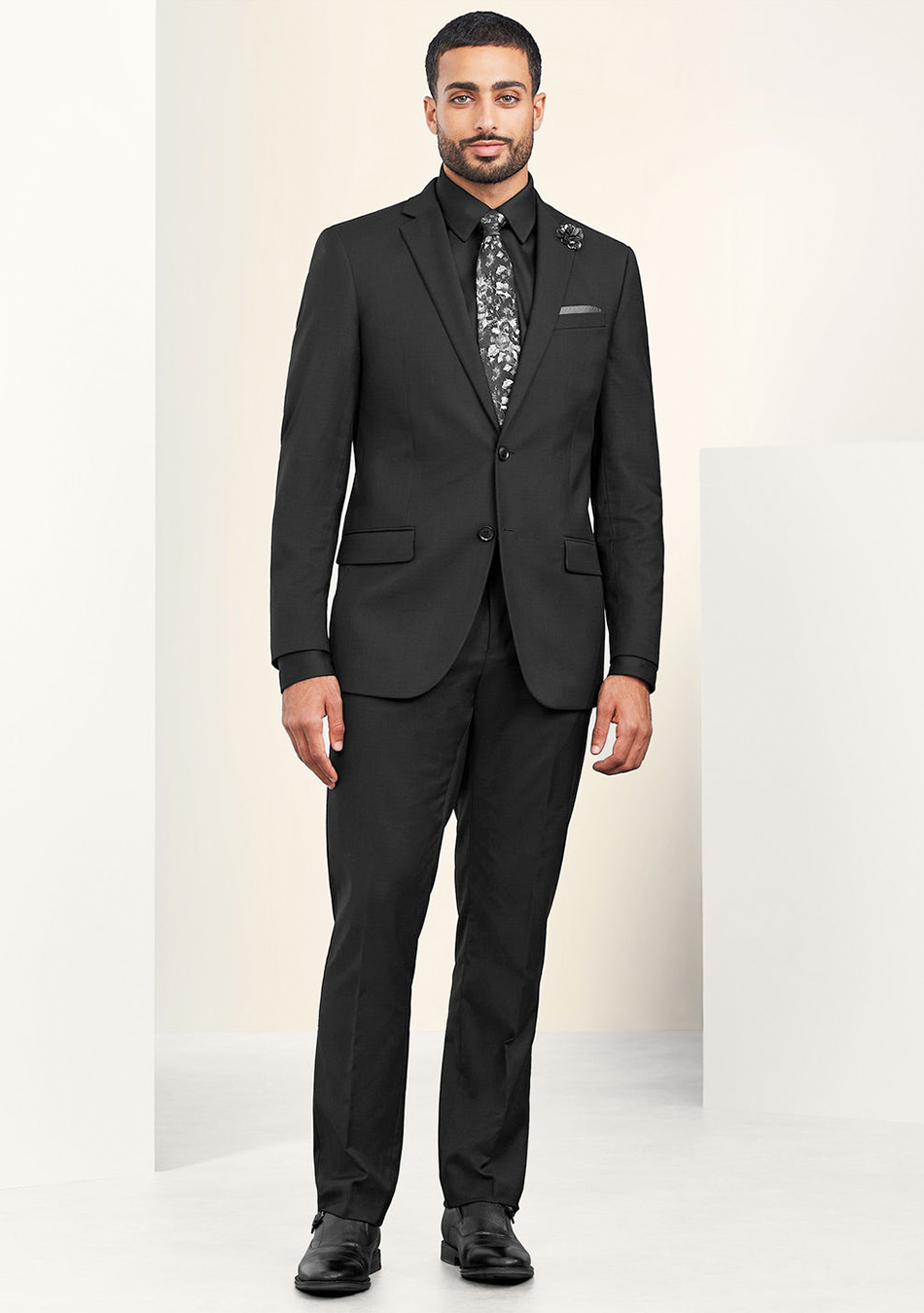 The suit color sets a formal tone, contrasted beautifully by the detailed floral tie, which becomes the outfit's standout piece.
But don't let the tie be an isolated warrior; wear a white or a grey silk pocket square.
The black dress shoes and lapel pin add a polished finish to the ensemble.
Double-Breasted Suit and a Black Turtleneck
The monochromatic black suit combinations are incomplete without a turtleneck.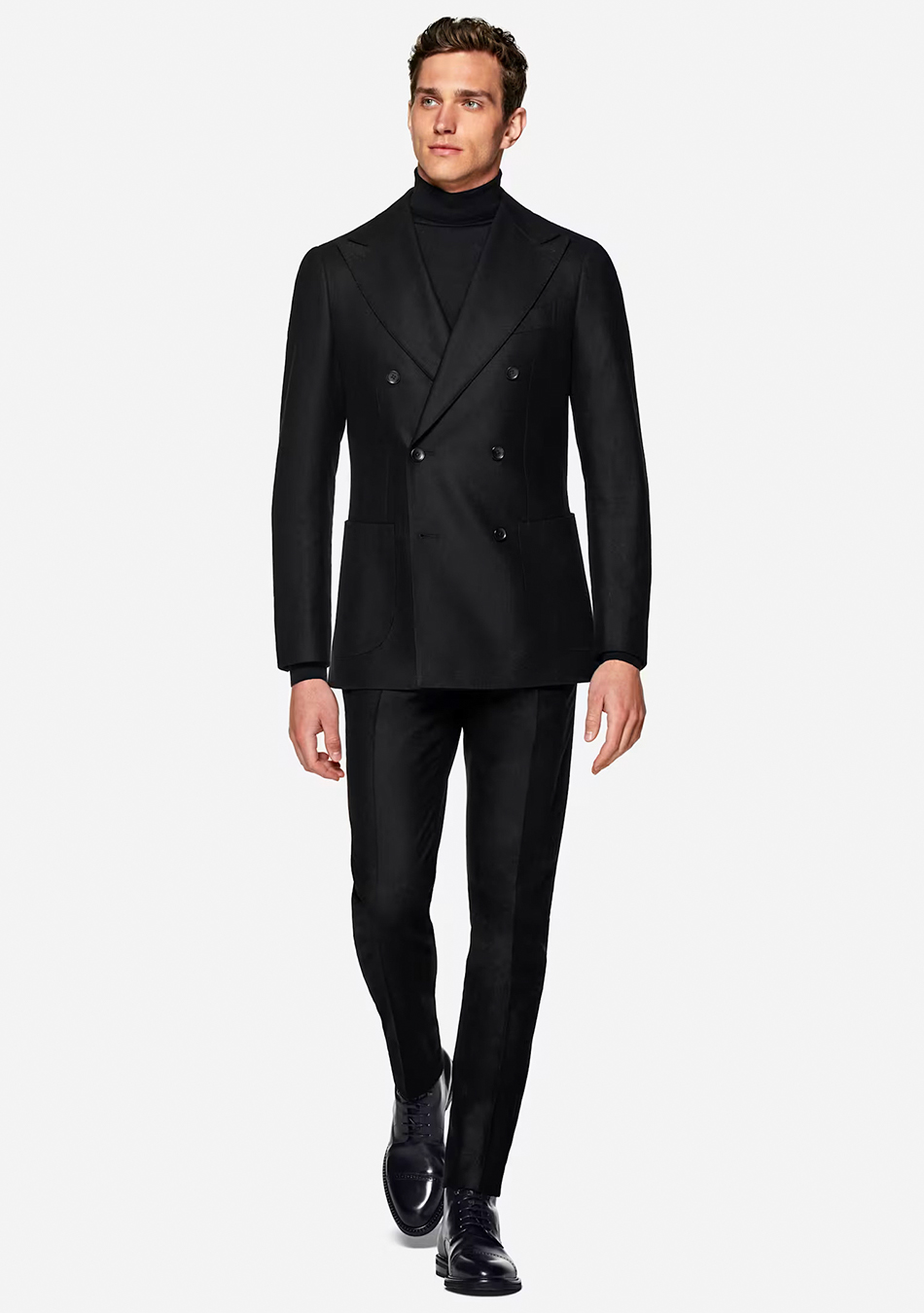 It's a refined duo that stands the test of both time and weather.
I went with a double-breasted suit to have a modern, dapper take on that street-style aura.
Also, it showcases a minimalistic approach to dressing up.
You can go one step ahead with an overcoat or a wool topcoat for extra panache of winter elegance.
Black Plaid Suit with White Sneakers
This plaid suit and solid black T-shirt embrace uniqueness with a modern finish.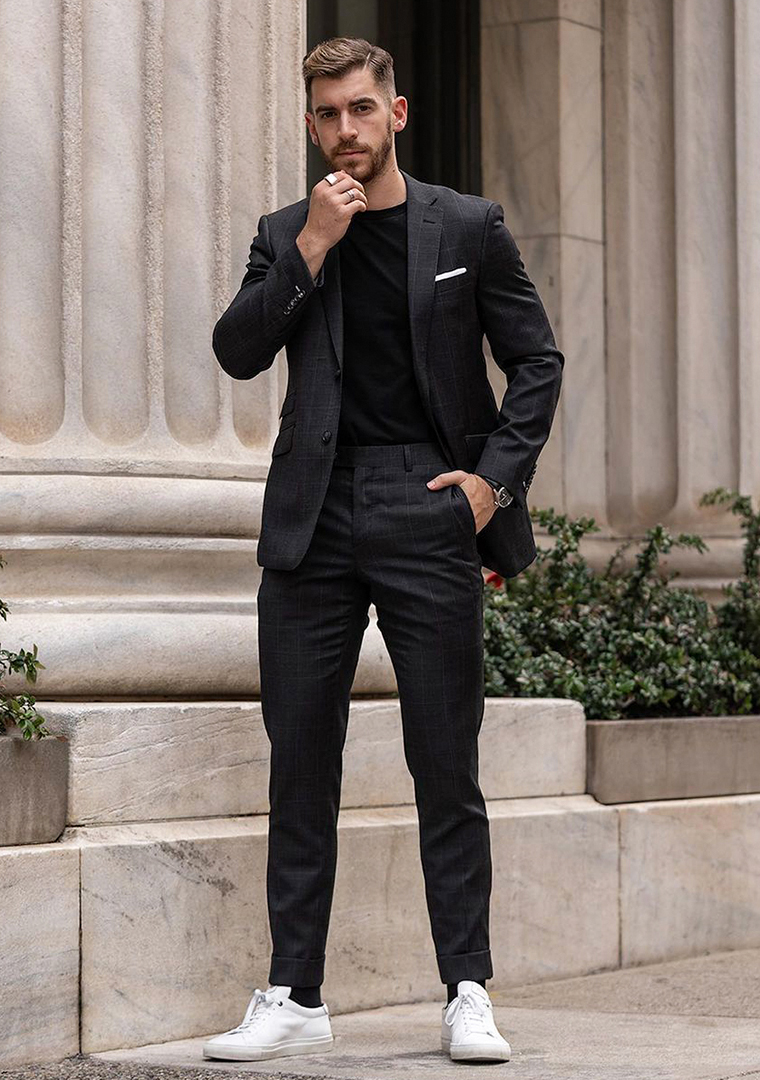 It also indicates a knack for looking sharp without trying hard.
The white leather sneakers and the pocket square provide the finishing grounds.
Channel this energy to wear a black suit casually. Have some accessories, too.
Black Chinos & Brown Shoes
A black suit jacket is a formal garment and is difficult to wear as separates.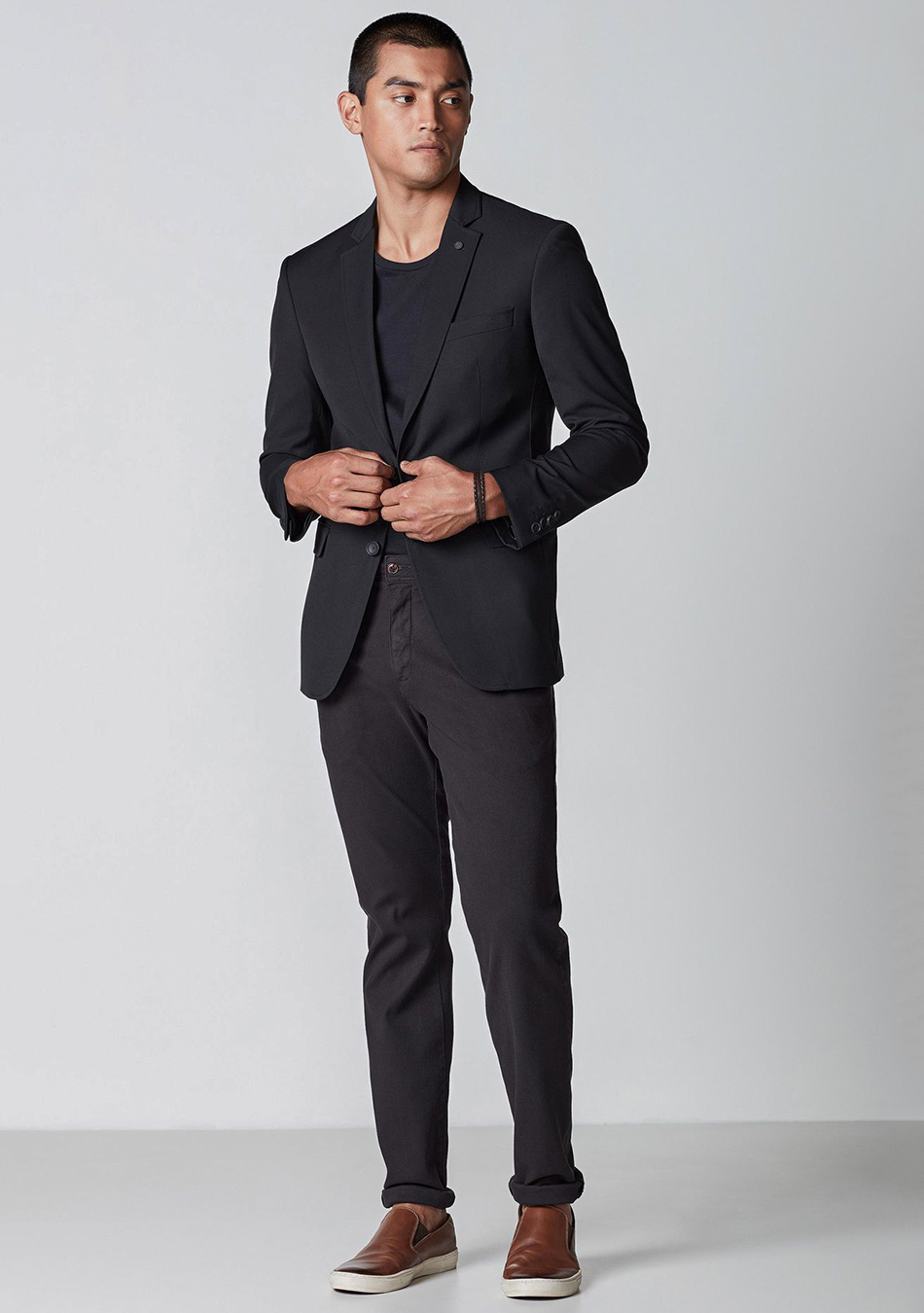 However, with black chinos and brown shoes, the outfit can come up as elegantly playful.
Yes, it's possible to match black and brown as long as the shoes don't appear to be an aberration.
Wear some accessories, a watch or bracelet. Sprinkle confidence, and you're ready for a dressy night out.
Things to Consider
Wearing a black suit and shirt elicits strong opinions in men's fashion.
Traditionally, you should wear a black suit with a white shirt.
But what good are the rules if you can't bend them, especially for expressing your personal style?
So, nip any second thoughts you might have and focus on things that matter.
Suit Fit is King
I can't stress this enough, but the fit can make or break your suited look.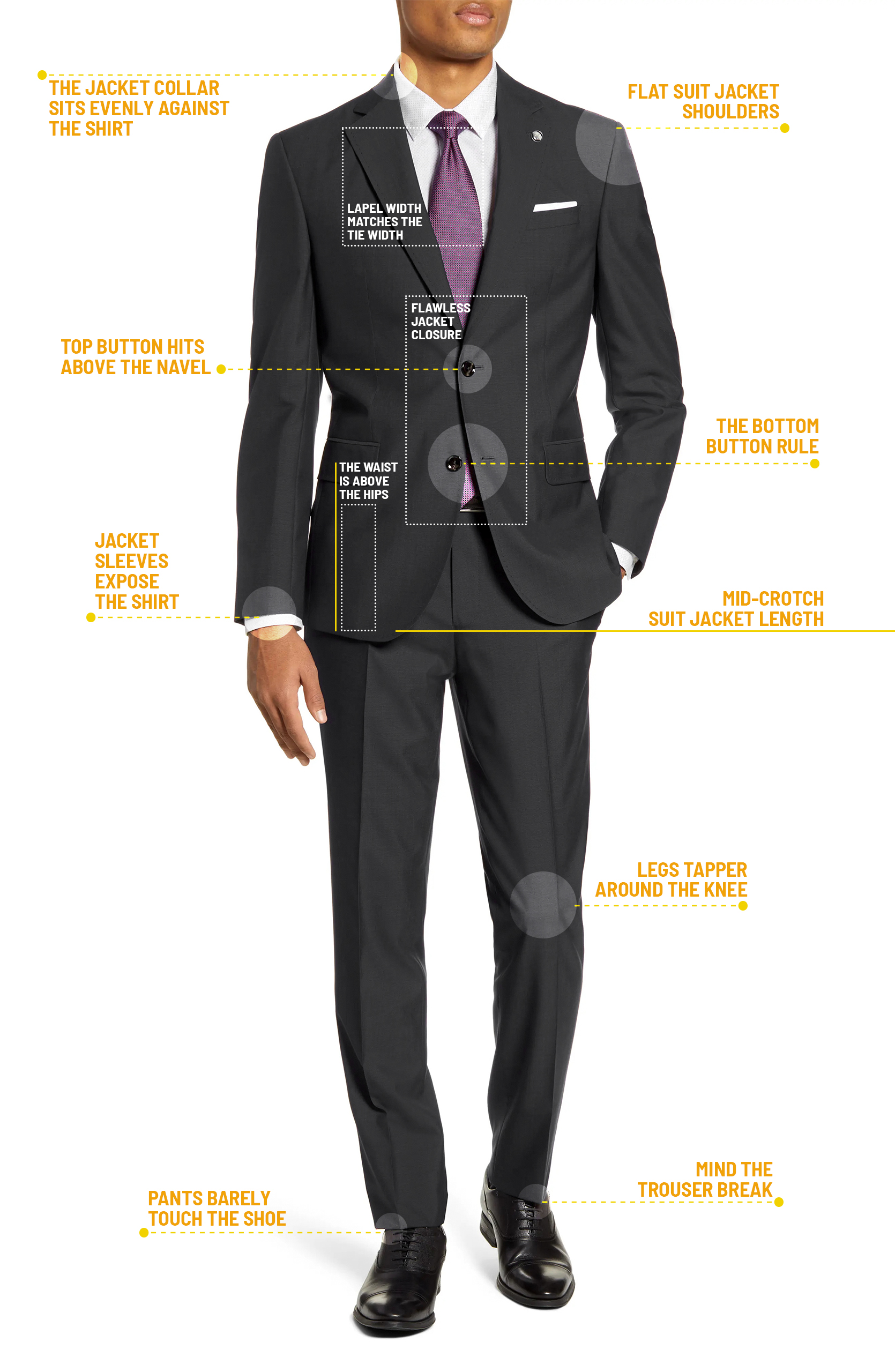 Think of it this way: you want to look mysterious and playful in a monochromatic black suit.
Now, the poor fit will be a giveaway of a lack of sophistication and uncertainty in style choices.
So, learn proper fit, consider your body type, and choose an impeccable cut.
Shirt & Tie Shades
Black can have different shades and undertones depending on the fabric, dye, and finish.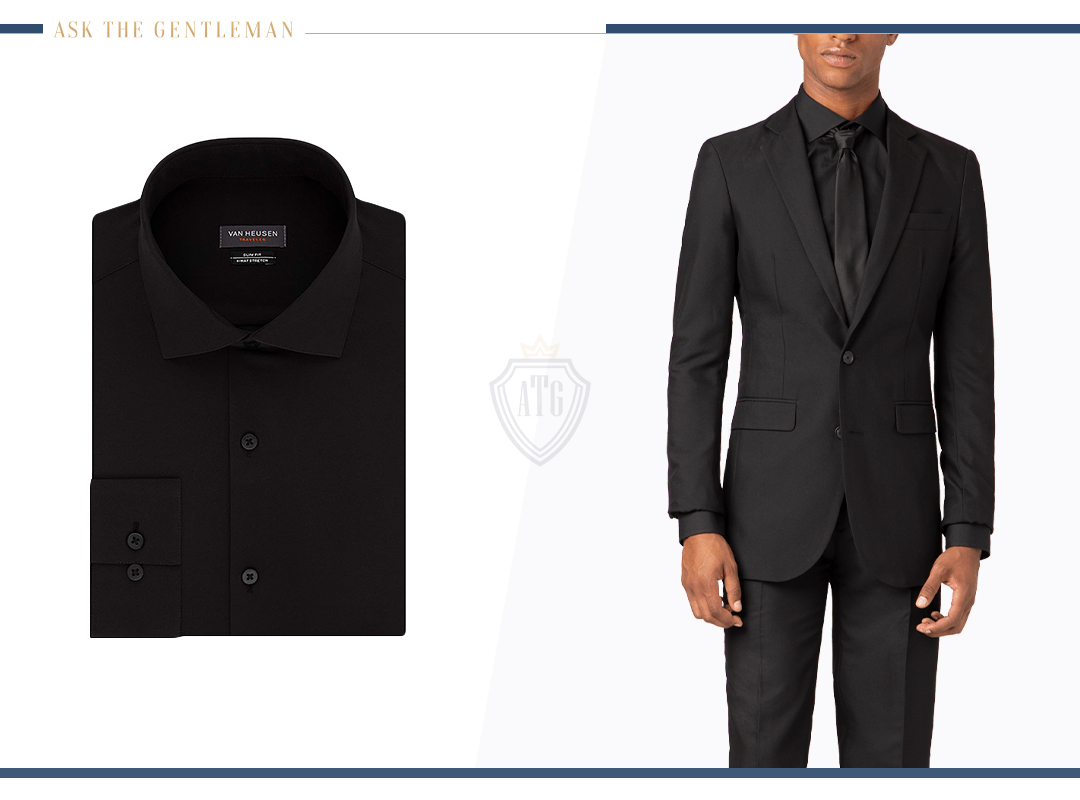 Utilize this spectrum in your shirt and tie to avoid creating a monotonous look.
The safest is to have darker shades in the shirt paired with lighter tie hues or vice versa.
However, one of these should match your suit color.
Introduce Texture
Introducing texture brings depth to a monochromatic outfit.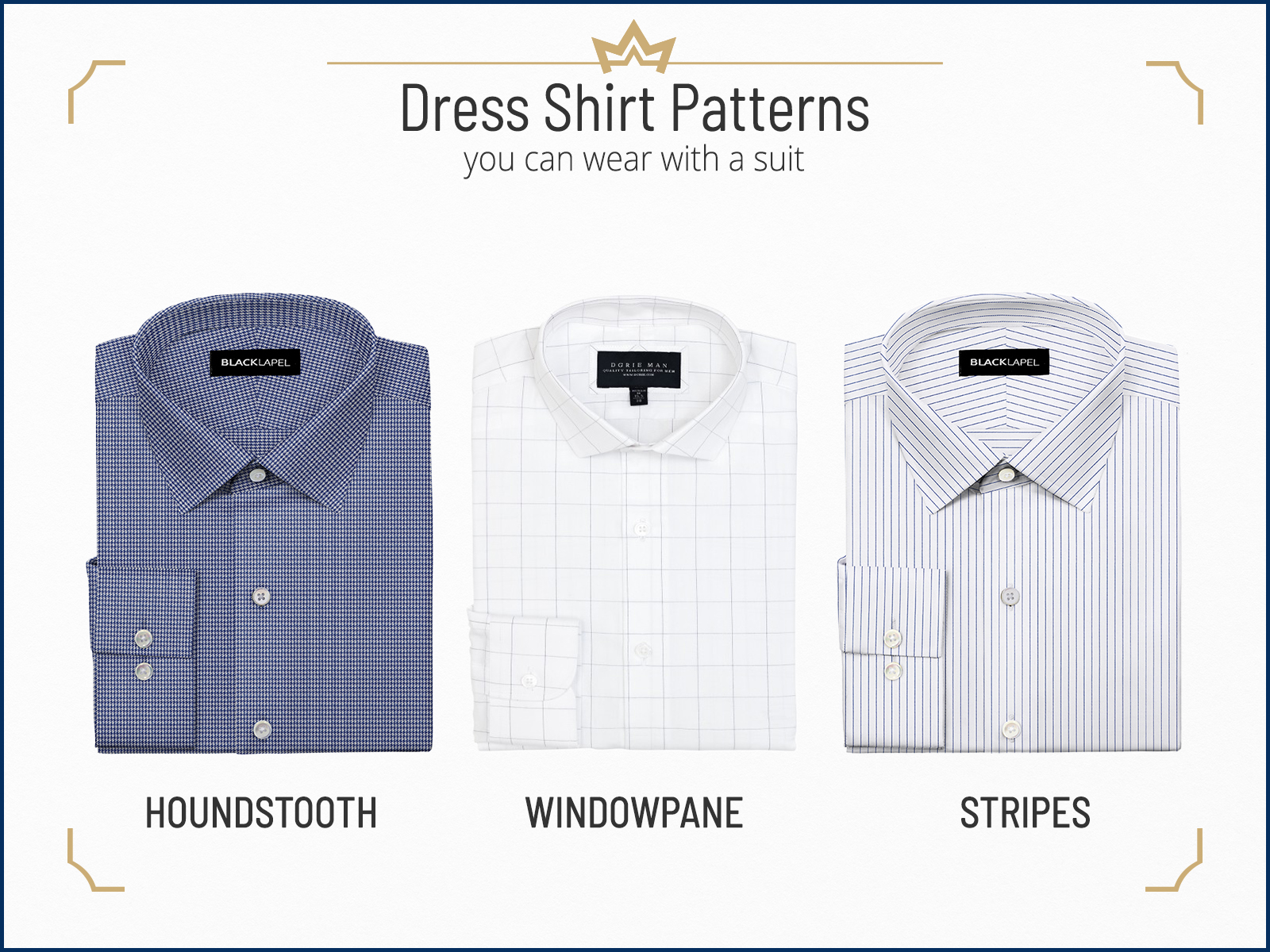 It will also prevent your suit from looking flat, propelling it to the next level of sophistication.
The hierarchy to add texture is the suit, shirt, tie, pocket square, and accessories like a scarf.
A more pronounced texture equates to a more powerful impact.
Mind the Shoes
Oxfords, derby shoes, and loafers are among the best dress shoe styles to wear with a black suit.
And according to the classic style rulebook, black pants should go with black shoes.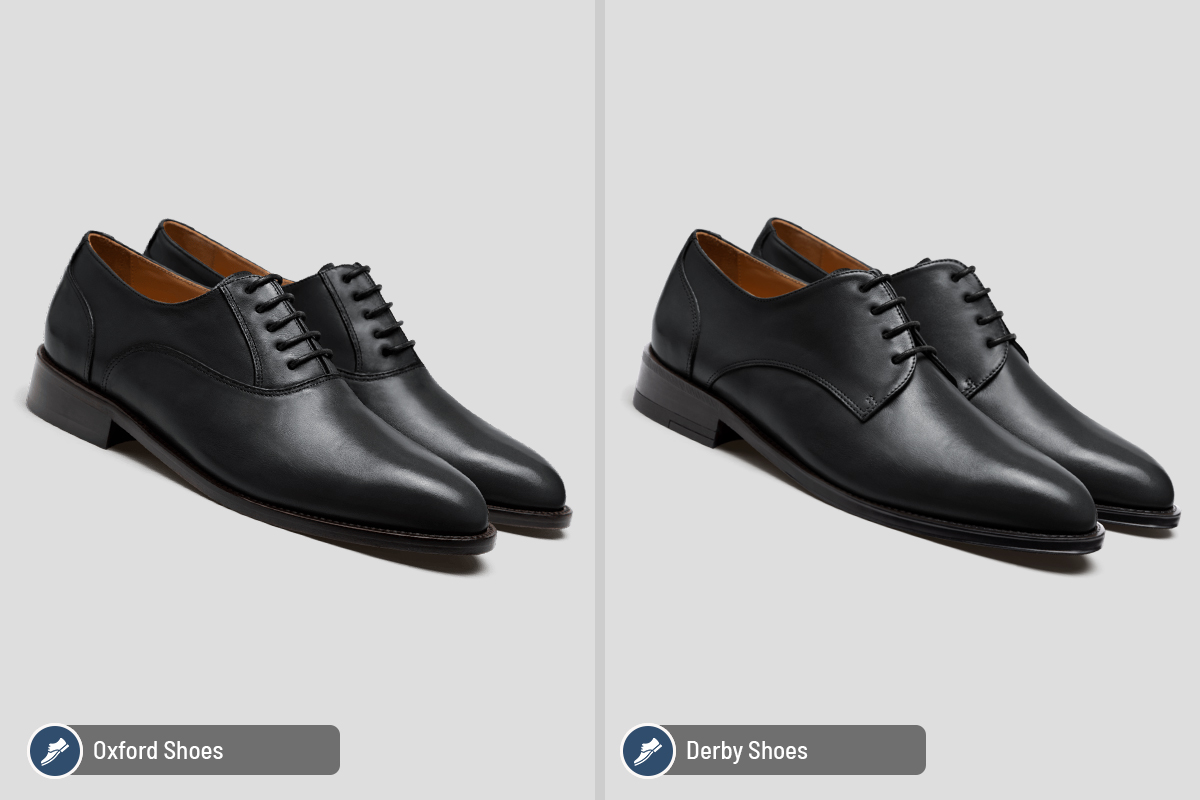 However, this rule can be subject to change with casual or playful looks.
White or black leather sneakers and formal dark brown shoes can work, too.
Event Appropriateness
The black-on-black suited look is the knight of the dark.
So, this truly shines at evening events like dinners, parties, get-togethers, etc.
For daytime events, either go casual with a t-shirt or wear a white dress shirt.
Also, make sure the dress code has some room for playfulness.