When it's time to step up your style game without going full-on suit, a grey blazer with black pants is your secret weapon.
Trust me, it's like Batman and Robin of your wardrobe – a dynamic duo that's unbeatable.
But let's not get too wild – even Picasso knew there was an art to the chaos.
Whether you're hitting a cool brunch spot or schmoozing at a work thing, I've got some killer combos that'll have you looking sharp without even trying.
Charcoal Grey Blazer with Black Pants
It's not just the blazer doing the heavy lifting; peep that violet tie.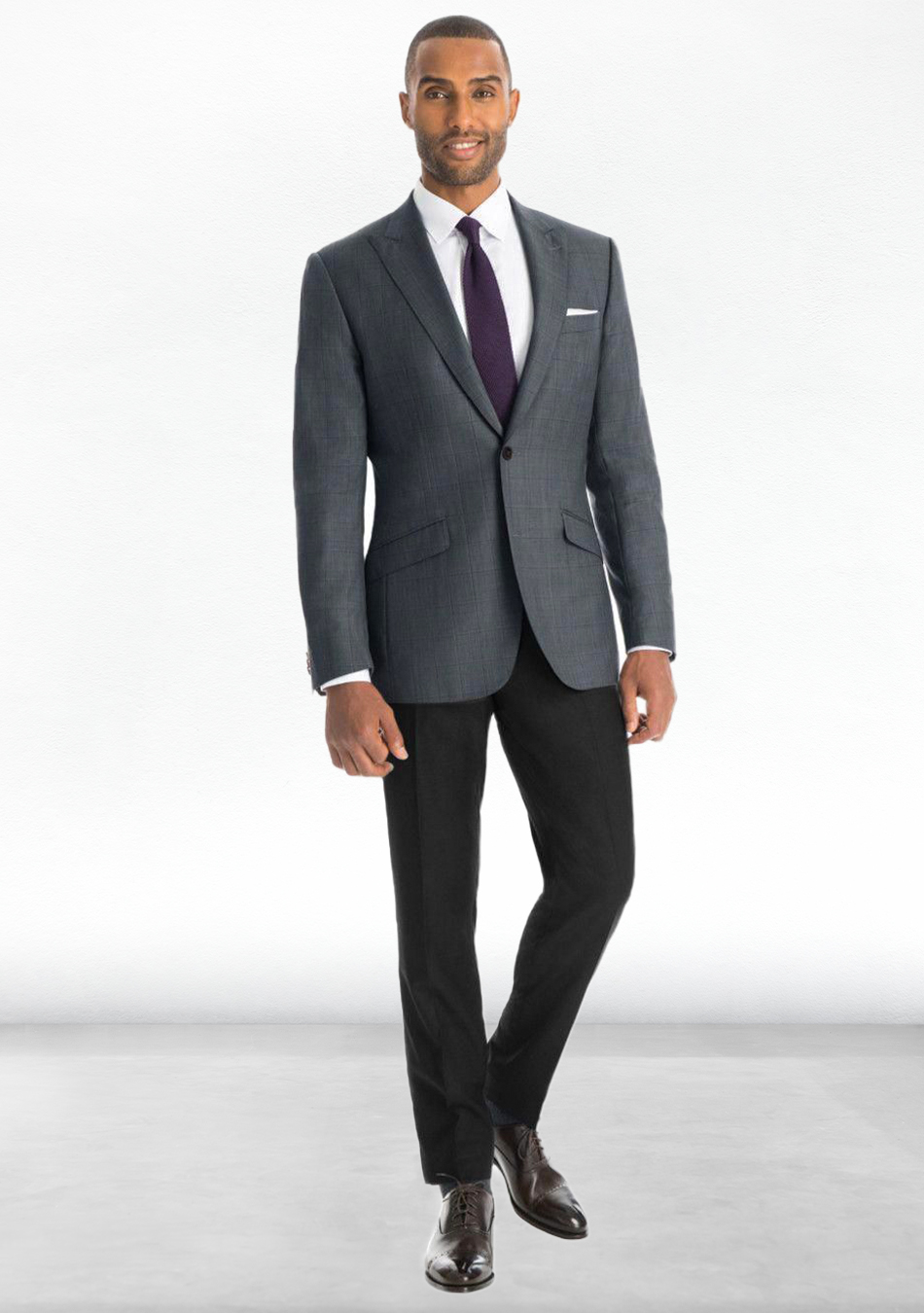 It's a splash of fun, a cheeky wink that says you know what you're doing.
The windowpane pattern on the jacket adds an attractive visual appeal. It is best showcased in muted colors, which is the case here.
Pair that with some sleek, flat-front black dress pants, and you've written the equation for masculine elegance.
And wait, what about the shoes? Many styles could tie up this whole outfit.
However, it really depends on the occasion you are going for.
I suggest simple Oxford shoes for a business setting and loafers for more relaxed vibes.
Grey Plaid Blazer with Black Dress Pants
Vintage plaids are making a comeback.
And honestly, if your wardrobe doesn't have this blazer yet, you're missing out big time.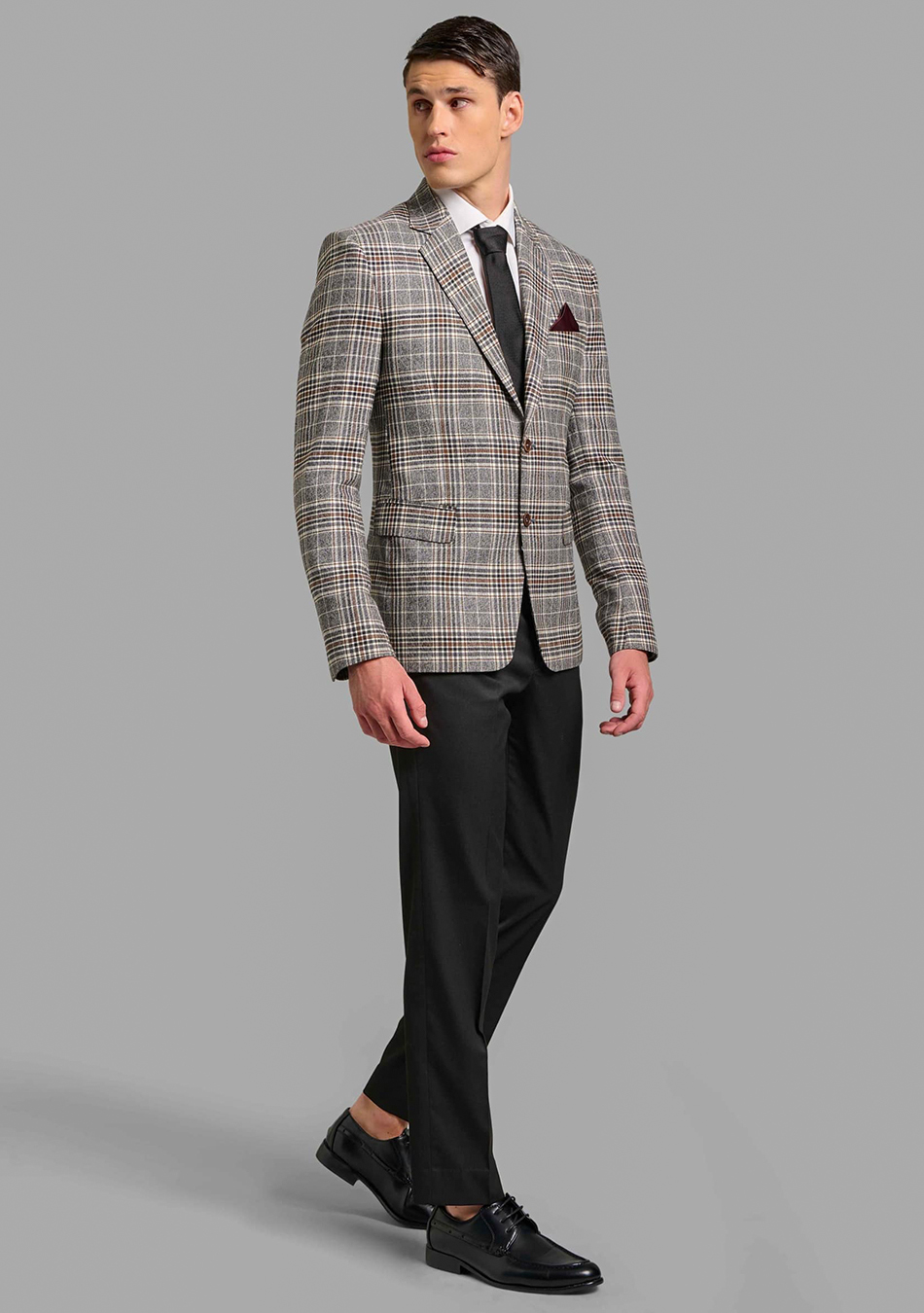 Wear a crisp white dress shirt underneath and a classic black tie to seal the deal.
And while we're mixing things up, how about giving those ankles some air? Yep, the sockless look is all the rage.
But hey, between us? Wear those no-show socks to keep things comfy.
Now, for the cherry on top – that burgundy pocket square.
Grey Double-Breasted Blazer with Black Chinos
First, the double-breasted light grey blazer is a bold move in this combination.
But that's what fashion's all about, isn't it?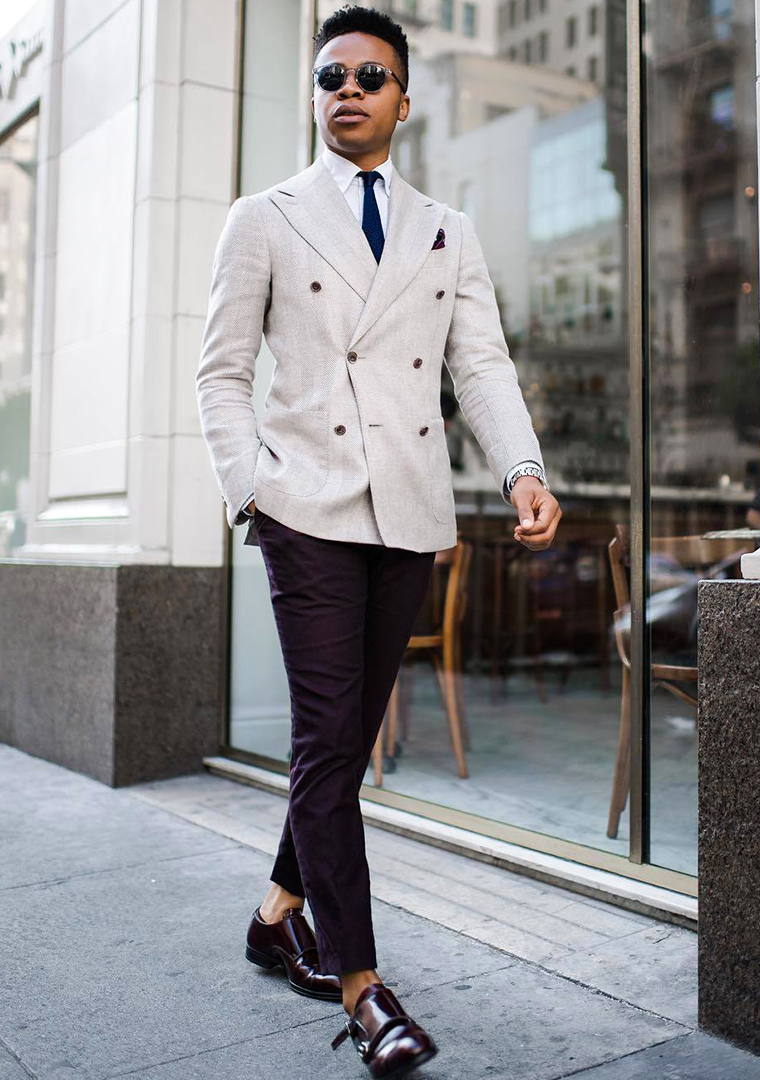 Double-breasted suit jackets accentuate the shoulders with their structure.
And for all my slim gentlemen out there, this is your secret weapon to looking broader and more formidable.
But to truly rock this look in your office, you've got to commit.
I'm talking about a pristine white dress shirt, those sleek black chinos, and burgundy double monks.
Light Grey Checkered Blazer with Slim-Fit Black Pants
Seamlessly pair black pants with a check grey blazer for an elegant and modern look.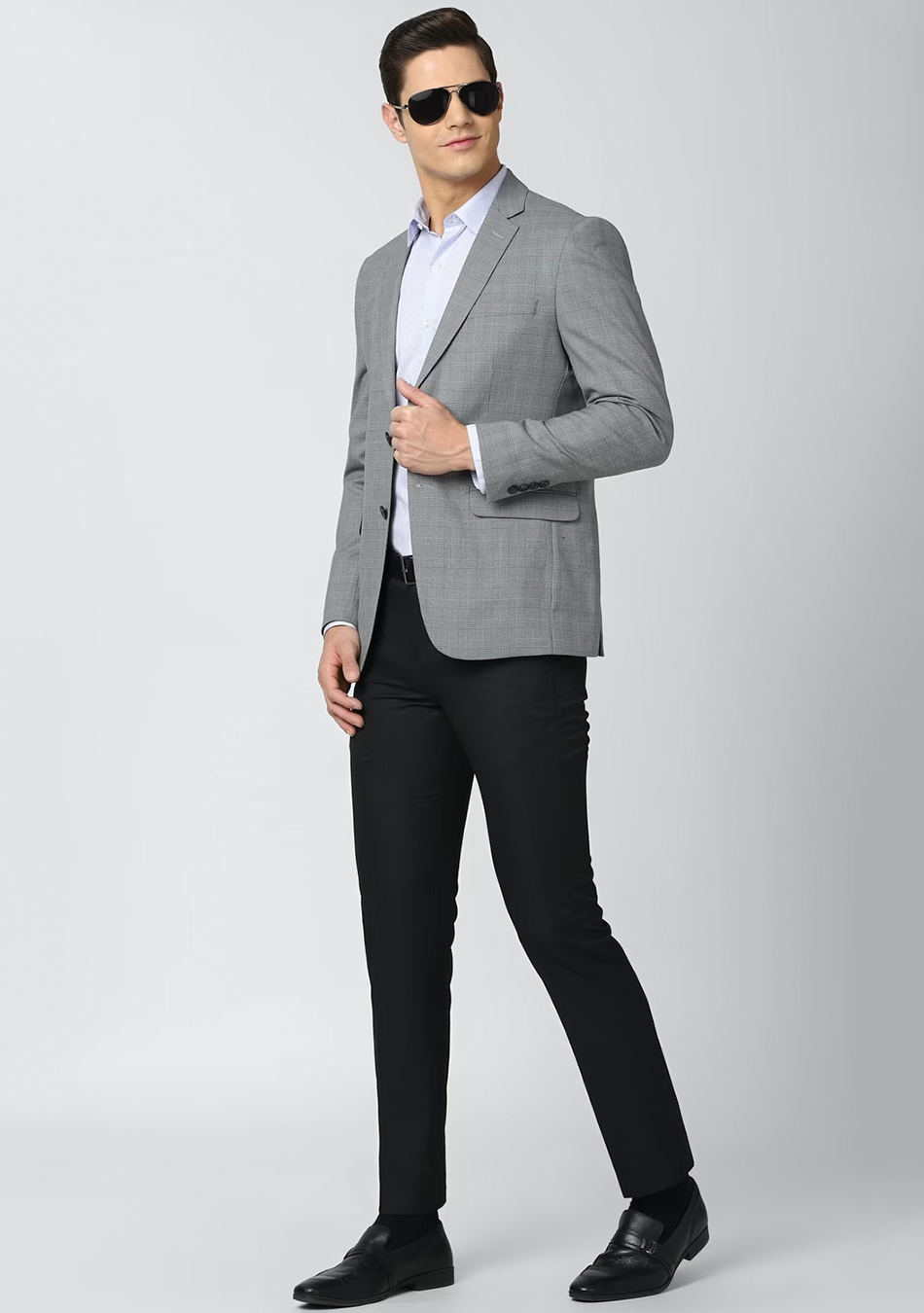 Bring a touch of freshness with a light blue dress shirt.
But we're not stopping there. To truly elevate this look, step into a pair of sleek black loafers.
For an ensemble like this, black socks are a must. They seamlessly transition from pants to shoes and exude a certain gravitas.
On sunny days, accessorize with black sunglasses. Style and protection.
Grey Wool Blazer with Black Dress Pants
Are you feeling a tad conscious about those sneaky extra pounds?
Here's a fun fashion tip: swap that classic white for a sleek black dress shirt.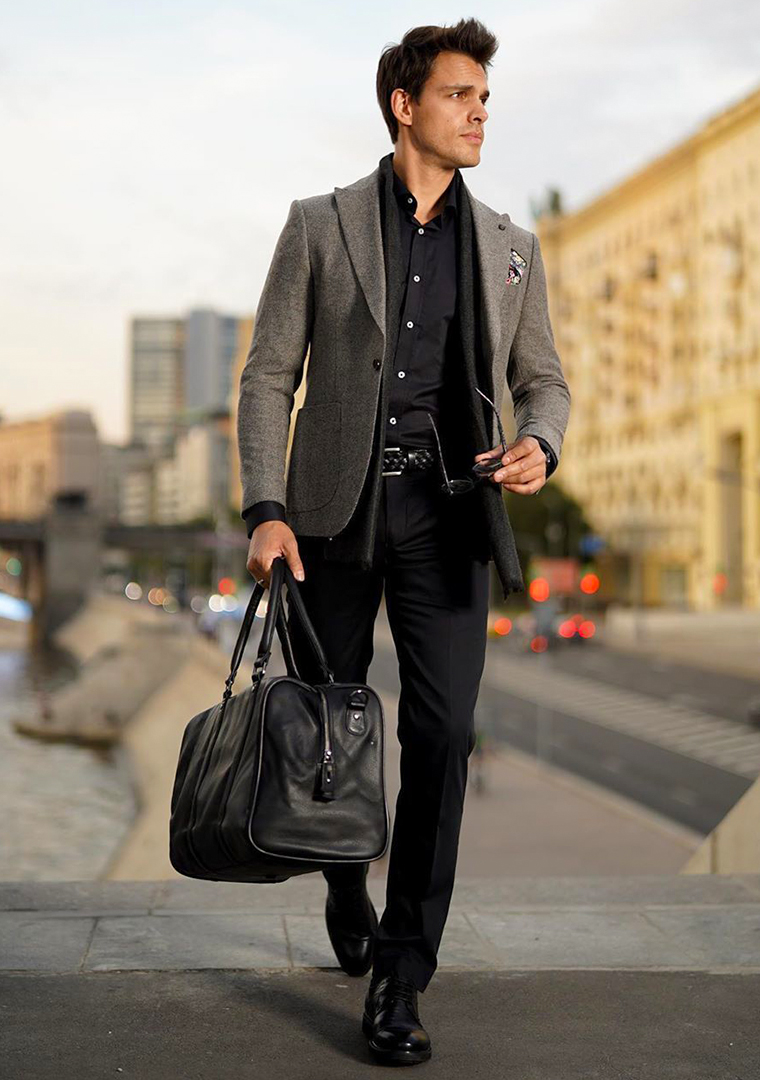 Black color creates that slimming magic. It also elevates your style game to a whole new level.
Go a mile further and pair black dress pants and black leather derbies.
Finish off with a belt that matches the vibe, a stylish scarf, and that black leather holdall you've been saving for just the right moment.
And for a pop of color and character? A vibrant pocket square should do the trick.
Grey Unstructured Blazer with Black Pants
You know when you stumble upon something and think, "Why didn't I discover this earlier?"
That's the unstructured blazer for you.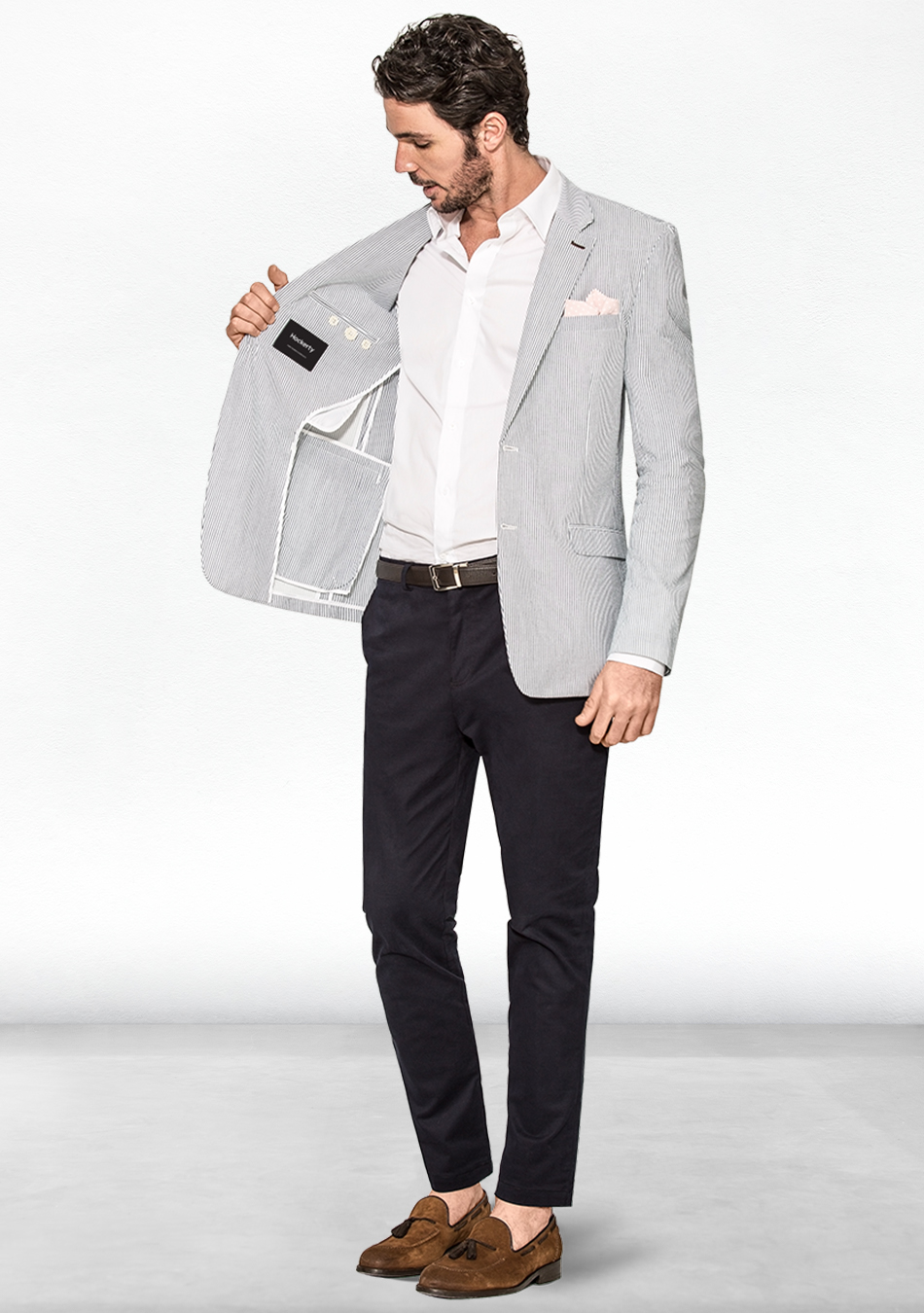 Those stiff shoulder pads? Gone. Bulky canvassing? Nope.
It is the perfect blend of smart and relaxed. Especially for the summer days when the weather is striking hot.
Lighter garments and breathable fabrics are the ultimate choice.
Wear it with a white shirt underneath and beautiful suede tassel loafers to demonstrate your refined side.
Grey Blazer with Black Turtleneck
Merge both the worlds of casual and formal into one impeccably stylish getup.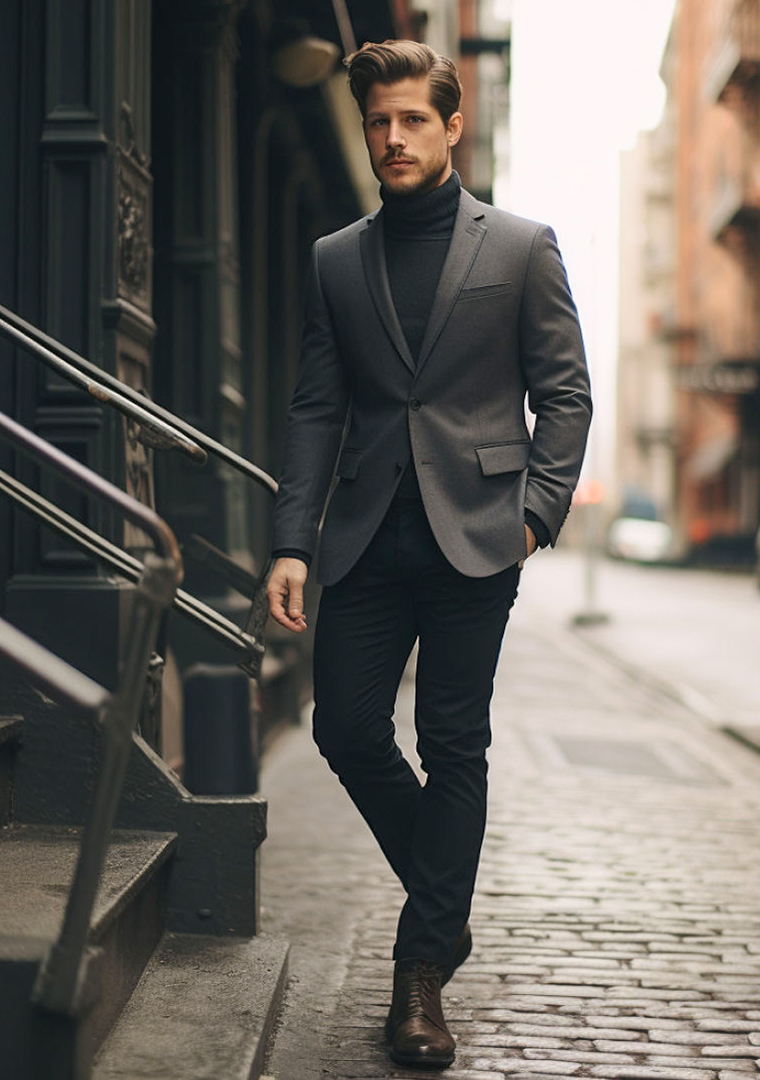 Stick to a more streamlined look and ensure your turtleneck is a neutral color and thin, sleek fabric.
Avoid wearing a bulky one; it may look odd.
Dark brown lace-up boots will complement a perfect fall outfit and take your style to the next level.
Grey Blazer with Black Pleated Trousers
Stepping out with a throwback vibe, this ensemble nods to the timeless elegance of yesteryears.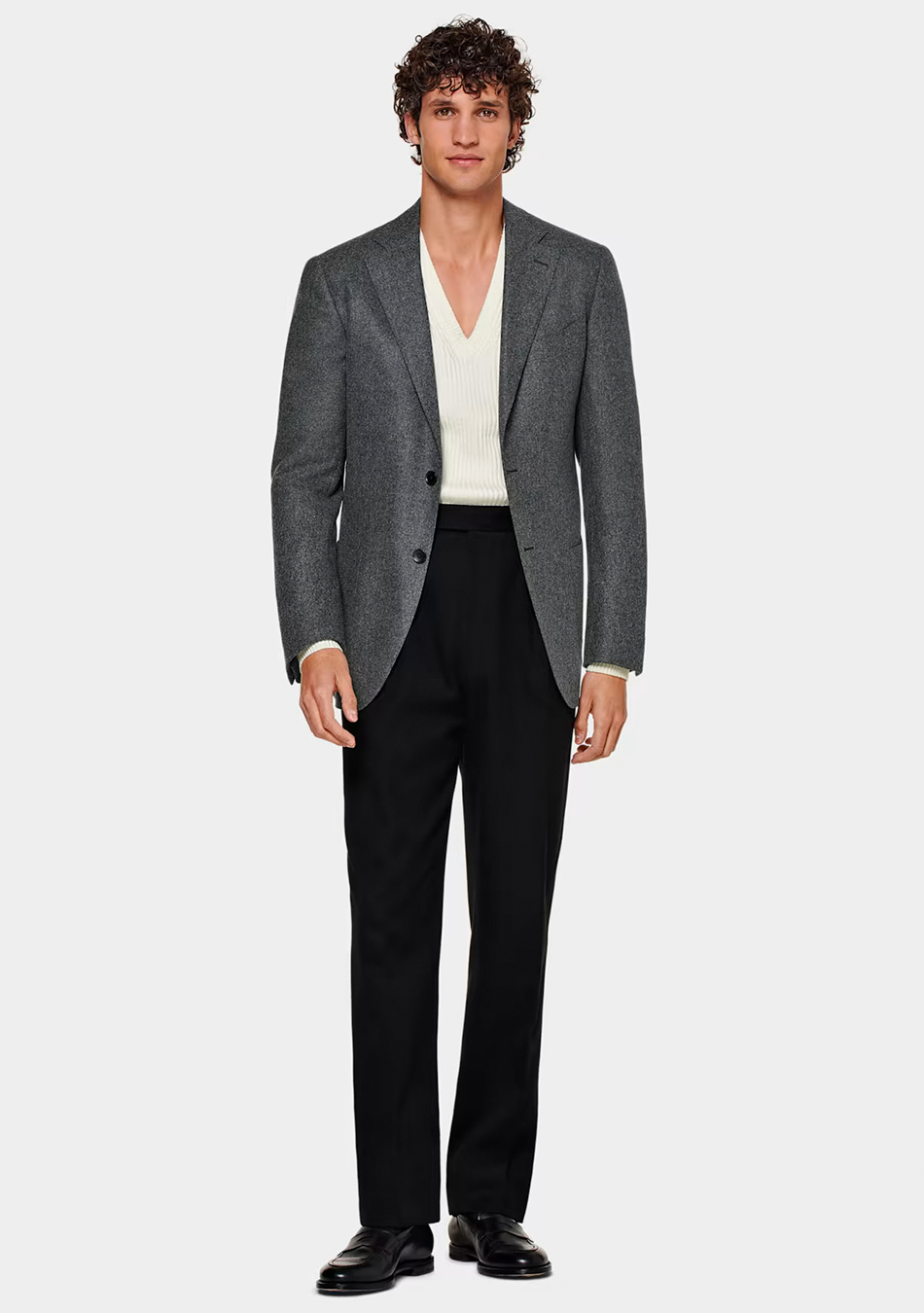 Pleated pants are carving their niche back into the fashion scene, leaving the skinny era of 2012 behind.
Wear a grey flannel blazer and an off-white ribbed v-neck to add texture and dimension to the outfit.
Tap into some James Dean dapperness and wear a pair of black penny loafers.
Grey Blazer with Green Polo T-shirt
You'll find this pairing of a polo T-shirt and a blazer in the epicenter of the smart-casual dress code.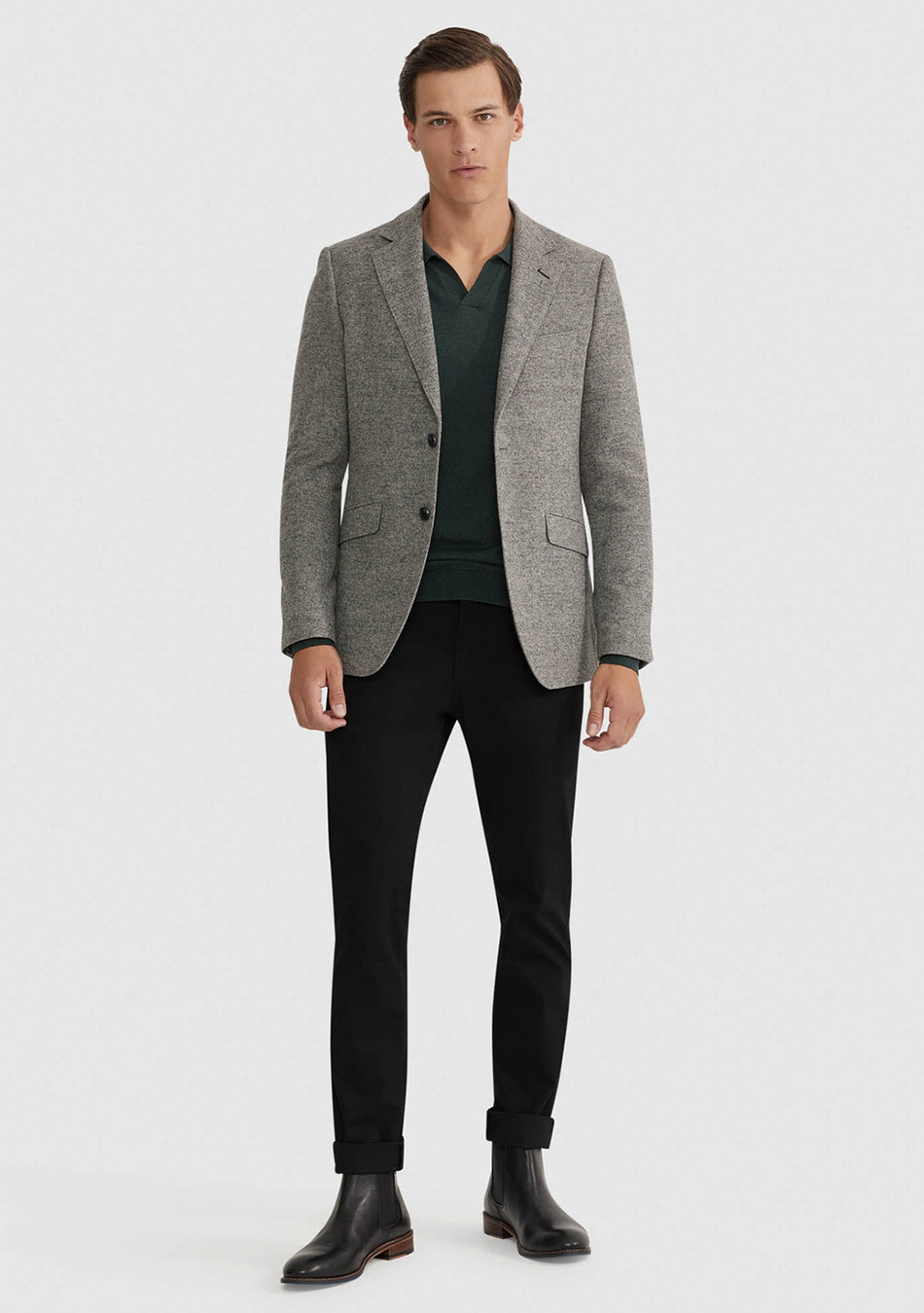 Whether you go clubbing, summer in the Hamptons, or a relaxed office, this combo has your back.
It takes seconds to put it together without rummaging through your closet.
I suggest a dark green polo with a textured mid-grey blazer.
Introduce a pair of black jeans and sleek black leather Chelsea boots.
Pro tip: Ensure your pant break rests just above the boot or higher for a fashionable look.
Grey Blazer with Black Jeans
For the style devotees on the casual side of dressing, there's good news for you.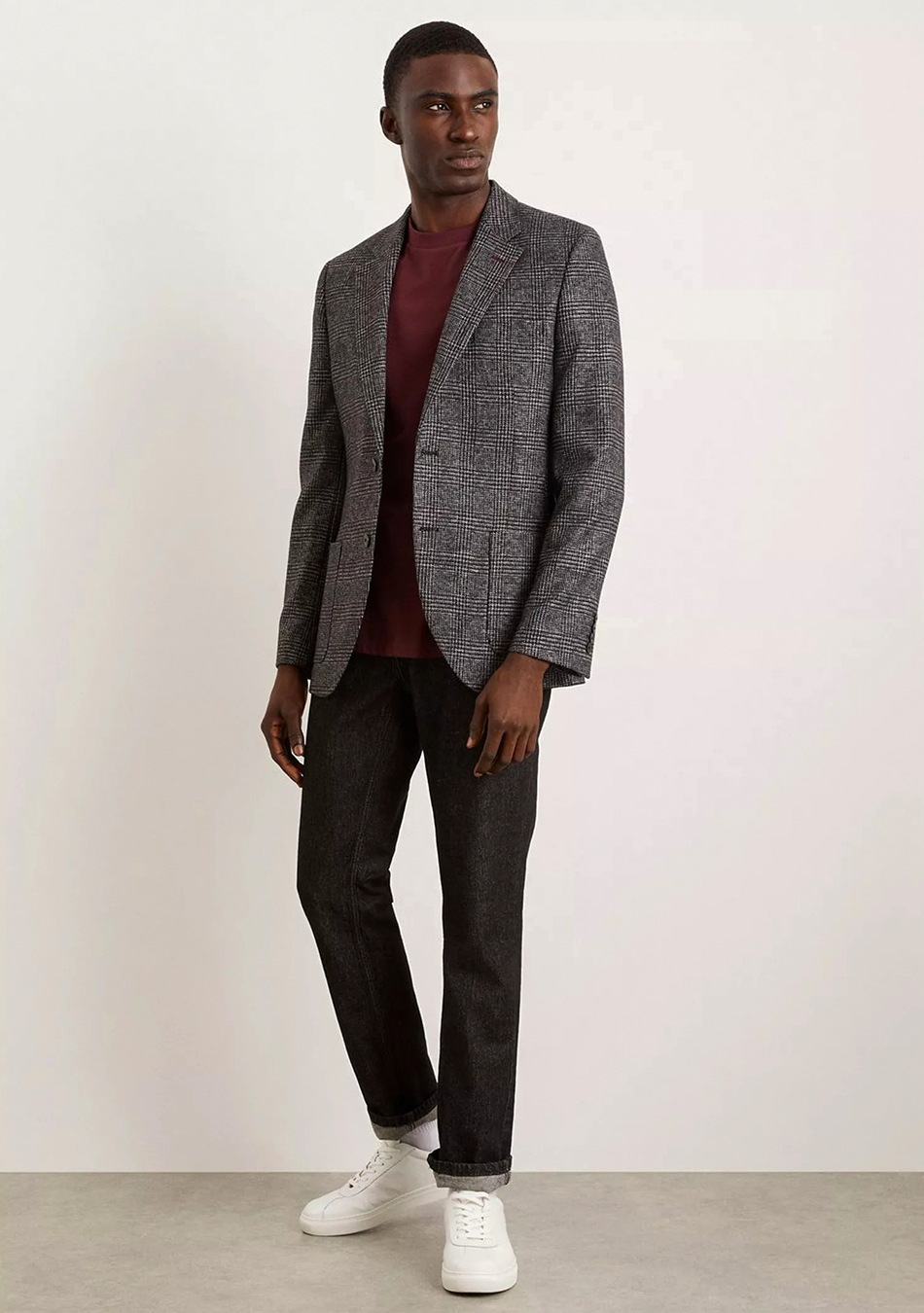 A pair of white leather sneakers can equally do the job as some quality dress shoes.
It's a misconception that you can only wear them with jeans and simple tees.
Additionally, introduce a charcoal grey blazer to the occasion; you will immediately gain several style points!
Walk your way confidently through the streets with this contemporary blend of modern and timeless classics.
Style Tips to Nail the Look
It's remarkable how versatile and smart a pair of grey blazers and pants can be.
Business environments, weddings, night outings, brunch, and the list goes on.
Stay with me as I give you some style titbits for a complete look.
Fit is Always the King
You may coordinate the colors, textures, styles, and everything.
Still, if an ill-fitting blazer or pants is present in your outfit, it detracts from the overall appearance.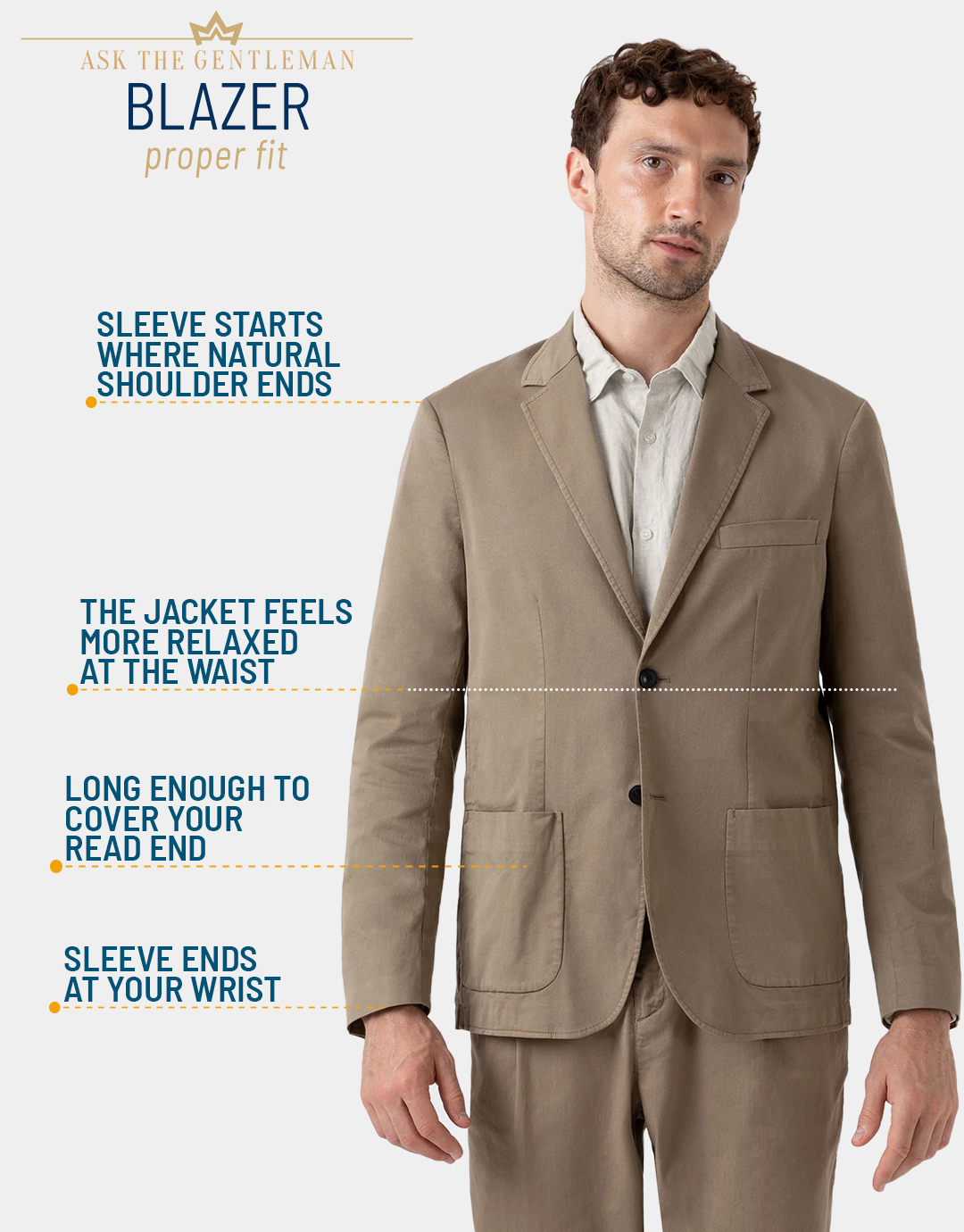 Here's a little insider tip: always measure yourself before clicking that "buy now" button online.
And while ready-to-wear pieces are convenient, remember they're designed for the general crowd, not your unique frame.
Picked up something from the local store? Do yourself a favor and introduce it to a skilled tailor.
A nip here, a tuck there, and voila. It'll seem as though it was crafted just for you.
What's Underneath the Grey Blazer
Dress shirts, sweaters, and t-shirts create a perfect look. However, different occasions call for other pairings.
Rocking up to a job interview in your favorite graphic tee – not the best move, right?
In such instances, a crisp dress shirt is your best buddy.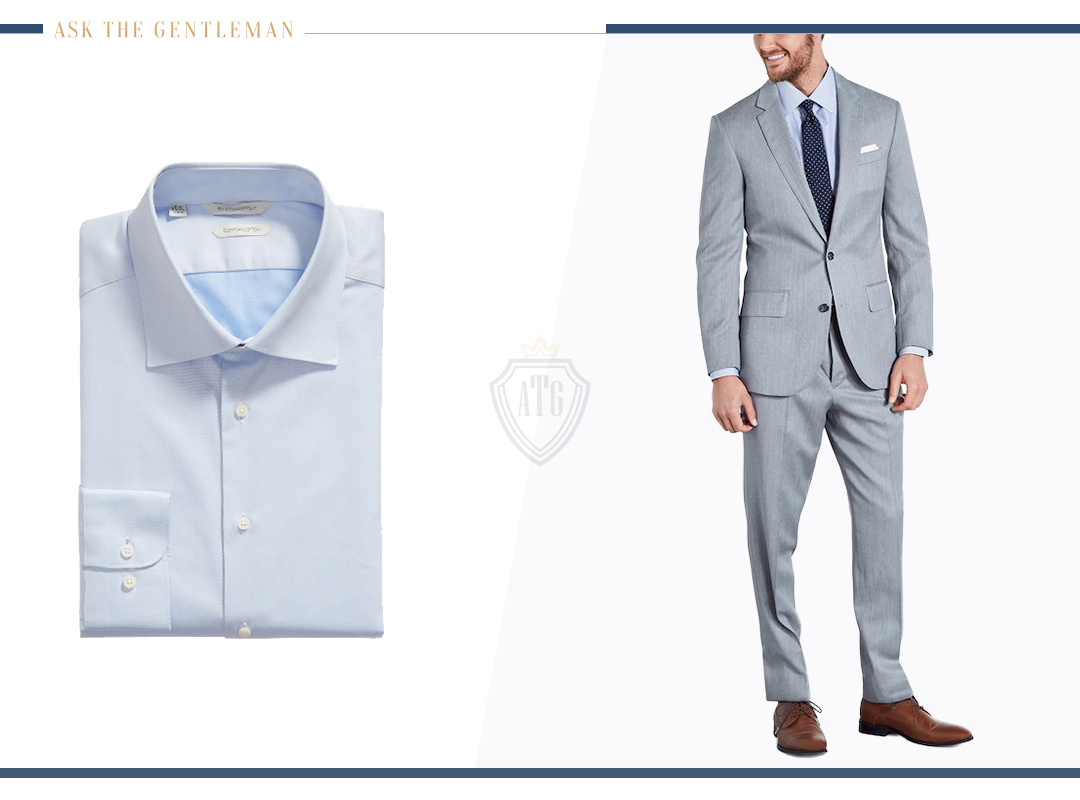 But let's not forget the magic of color coordination, especially when layering with separates.
Want a little tip? Stick to neutral colors.
They're like the Switzerland of fashion – neutral and get along with everyone.
Footwear Considerations
Many fashion designers claim that the first thing they look at is your shoes.
It's perceived as it's a reflection of your taste and preferences.
The shoe style and color play a pivotal role in projecting your appearance.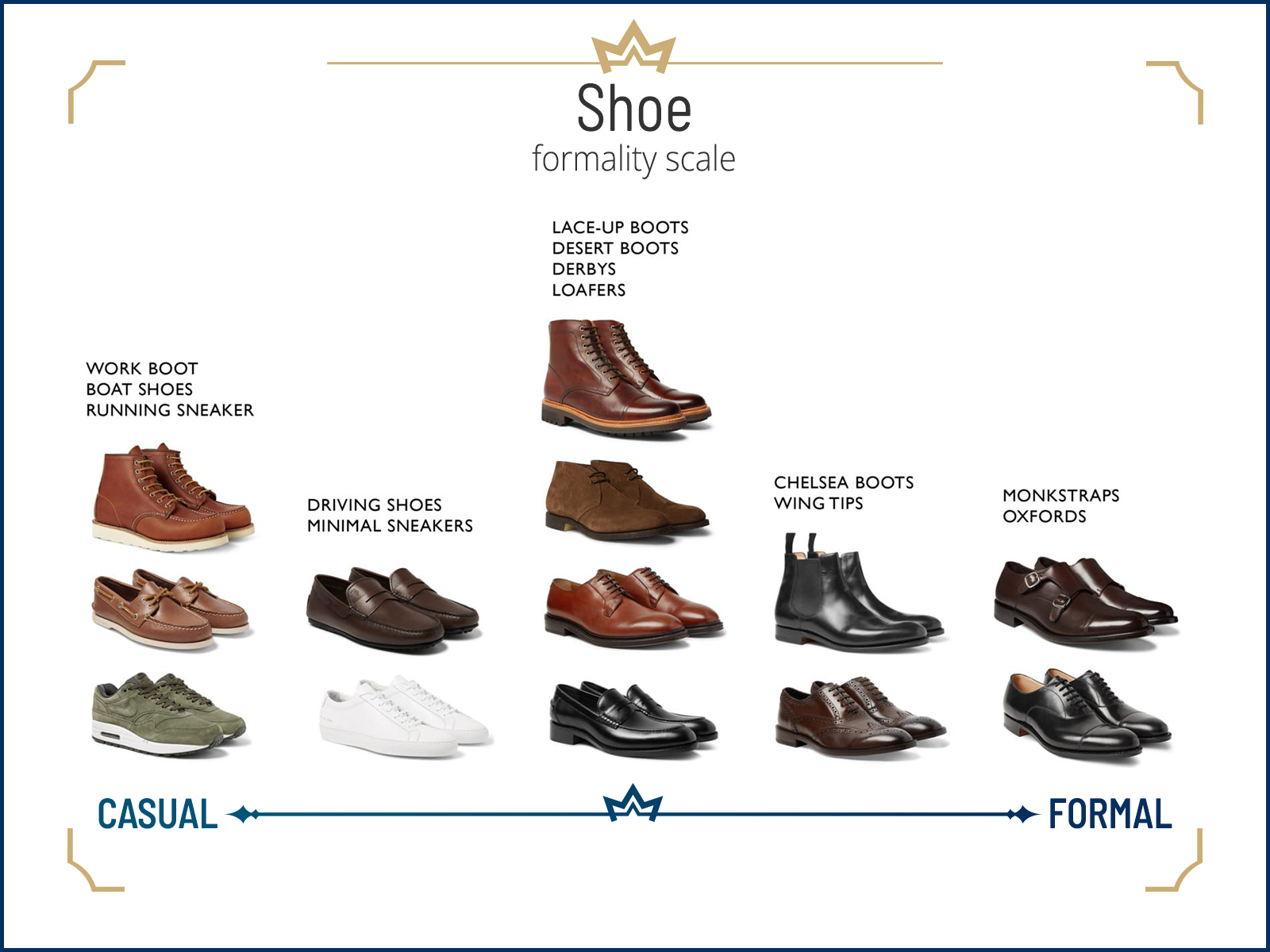 Dressy and classic options are Oxfords and Derbies.
While loafers, monk straps, Chelsea boots, and sneakers are less formal choices.
What about the best shoe color when matching a grey blazer and pants?
You can't go wrong with black shoes, and I recommend it for conservative places.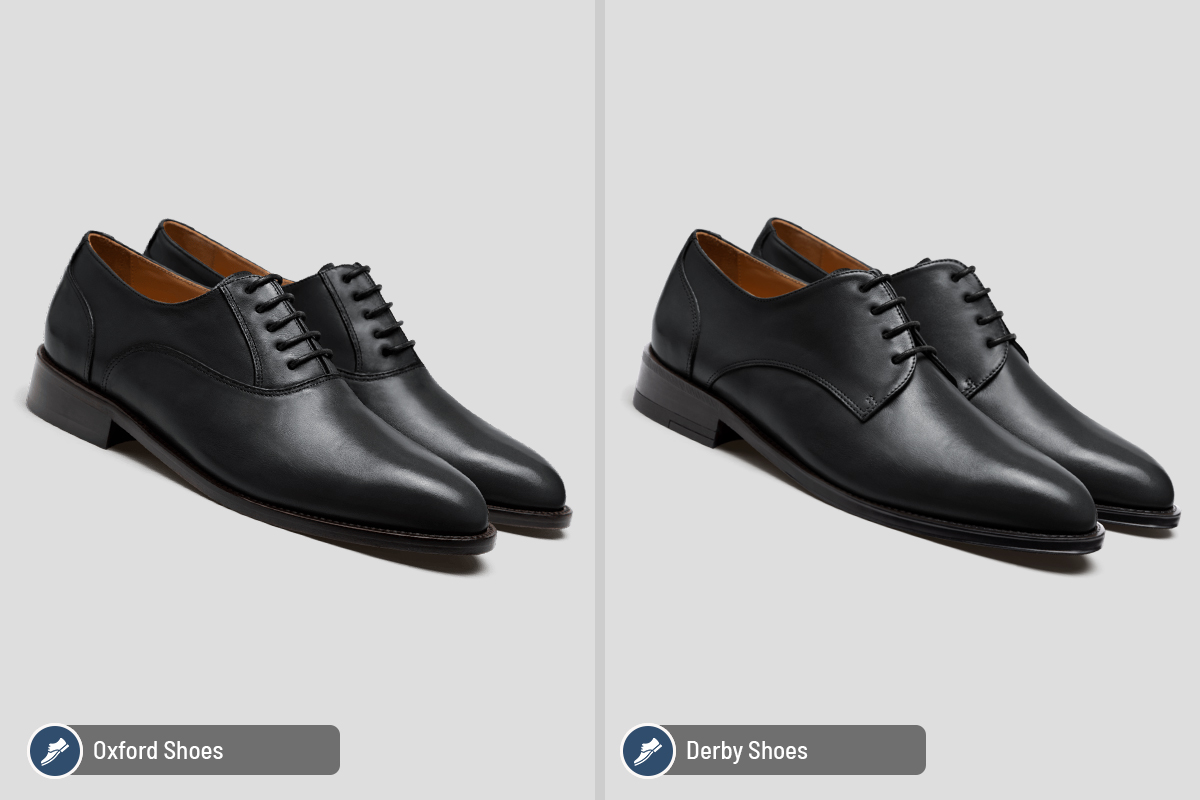 Brown also works, especially in more casual settings.
Other choices include burgundy dress shoes, white sneakers, or tan shoes if it's a light grey blazer.
Accessorize Smartly
Want to add extra depth to your grey blazer and black pants outfits?
A quality timepiece, pocket square, sunglasses, or a belt is the way to go. Think of accessories as the cherry on top!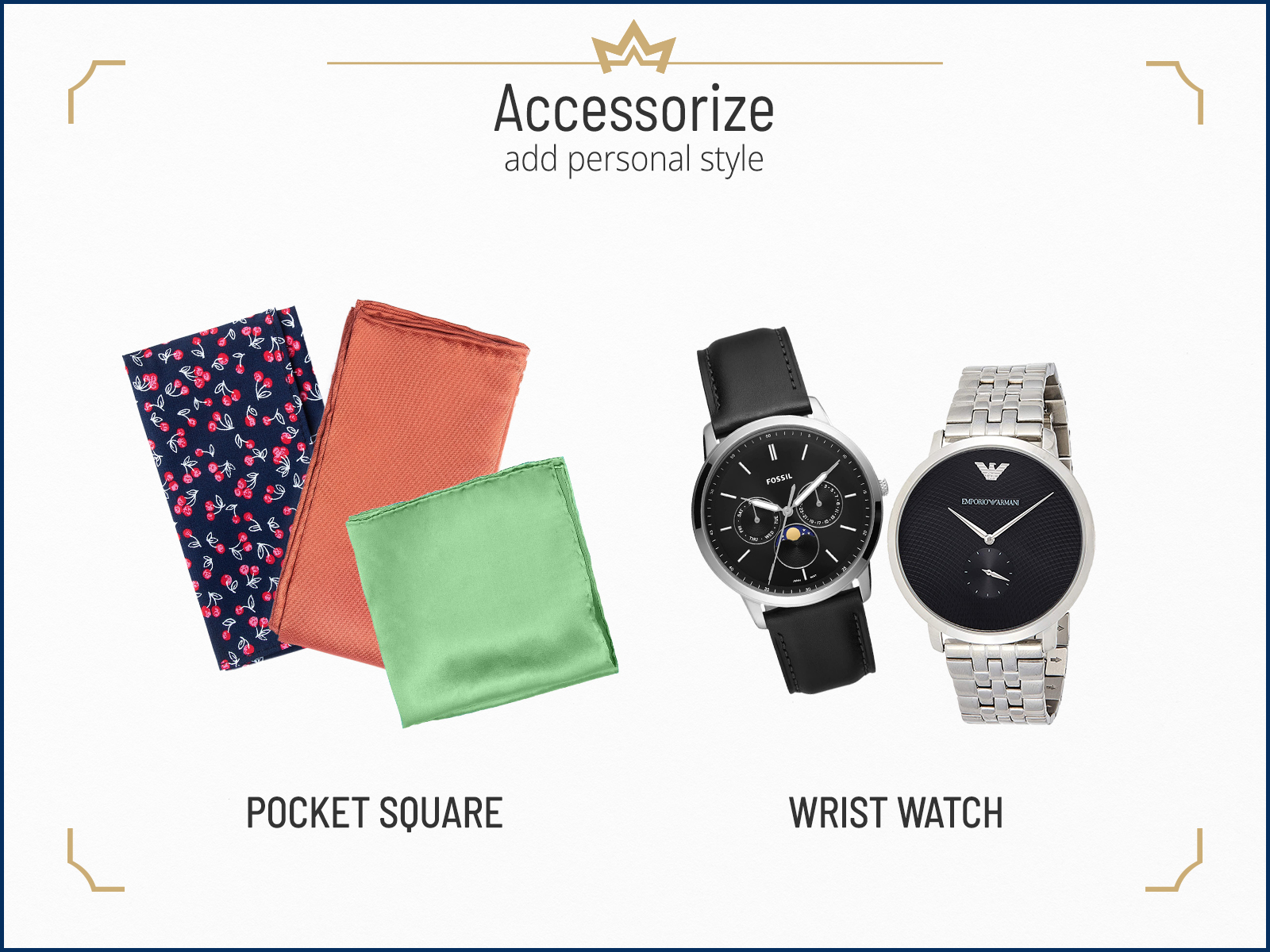 But put some thought into the matching aspect, too. The goal is to harmonize them with the rest of your outfit.
For instance, if your blazer sports silver buttons, a matching silver watch can seamlessly tie your ensemble together.
Also, the traditional saying "same color shade shoes and belt" is somewhat classic.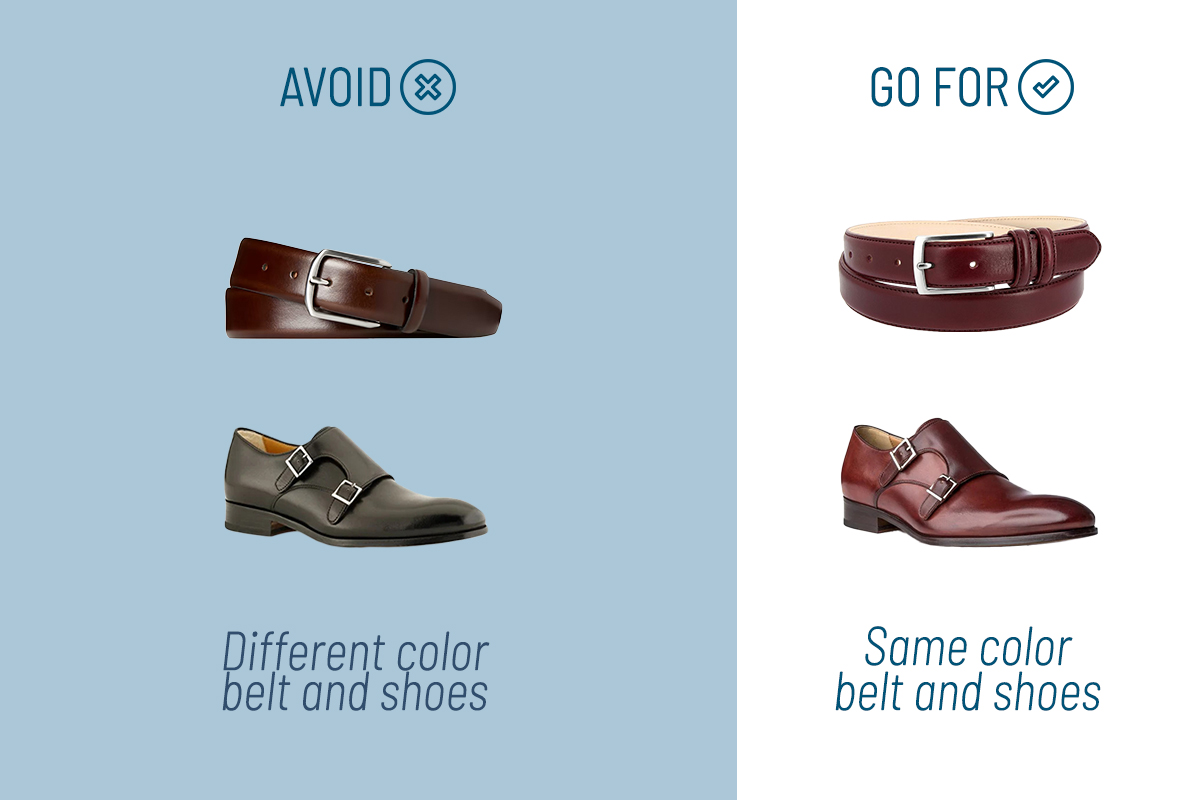 But, sometimes, we see that matching the belt with the pants is also good-looking.
And if you aim to introduce a splash of vibrancy, a colorful pocket square does the trick.
Dress Code Matters
Adhering to dress codes shows respect.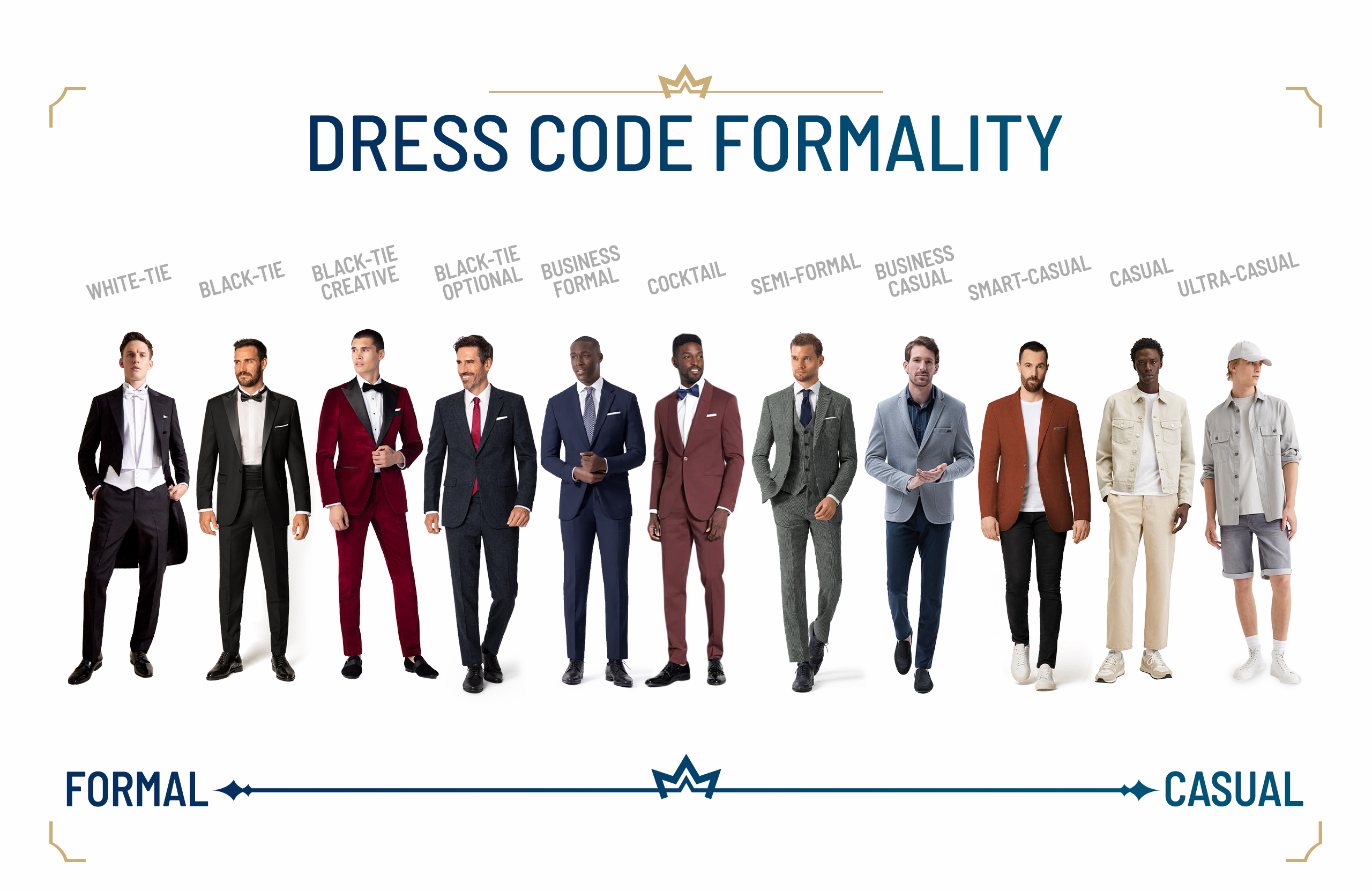 While comfort is tempting, sometimes dressing appropriately takes precedence.
Start with the versatile combo of a grey blazer and black pants.
For semi-formal affairs, pair with a sharp dress shirt, tie, and dark dress shoes.
For a business casual look, simply lose the tie and relax the shirt with a polo shirt.
Transition to a smart-casual dinner by swapping the shirt for a t-shirt and the dress shoes for white sneakers.
With simple tweaks, you have a base ready to conquer the world in style.