When a suit feels too buttoned-up and simple chinos seem uncalled for, it's time to separate the blazer and pants.
It's a dynamic duo that modern gentlemen don't just deserve but actually need.
Suit separates are also a way to express stalwart creativity, creating outfits adaptable from business dinners to downright dandy cocktails.
Take inspiration from these combinations to uniquely style your blazer and pants, becoming the dress code maestro.
Navy Blazer and Grey Pants
The navy blazer and grey pants are the de facto alternative to suit when wearing separates.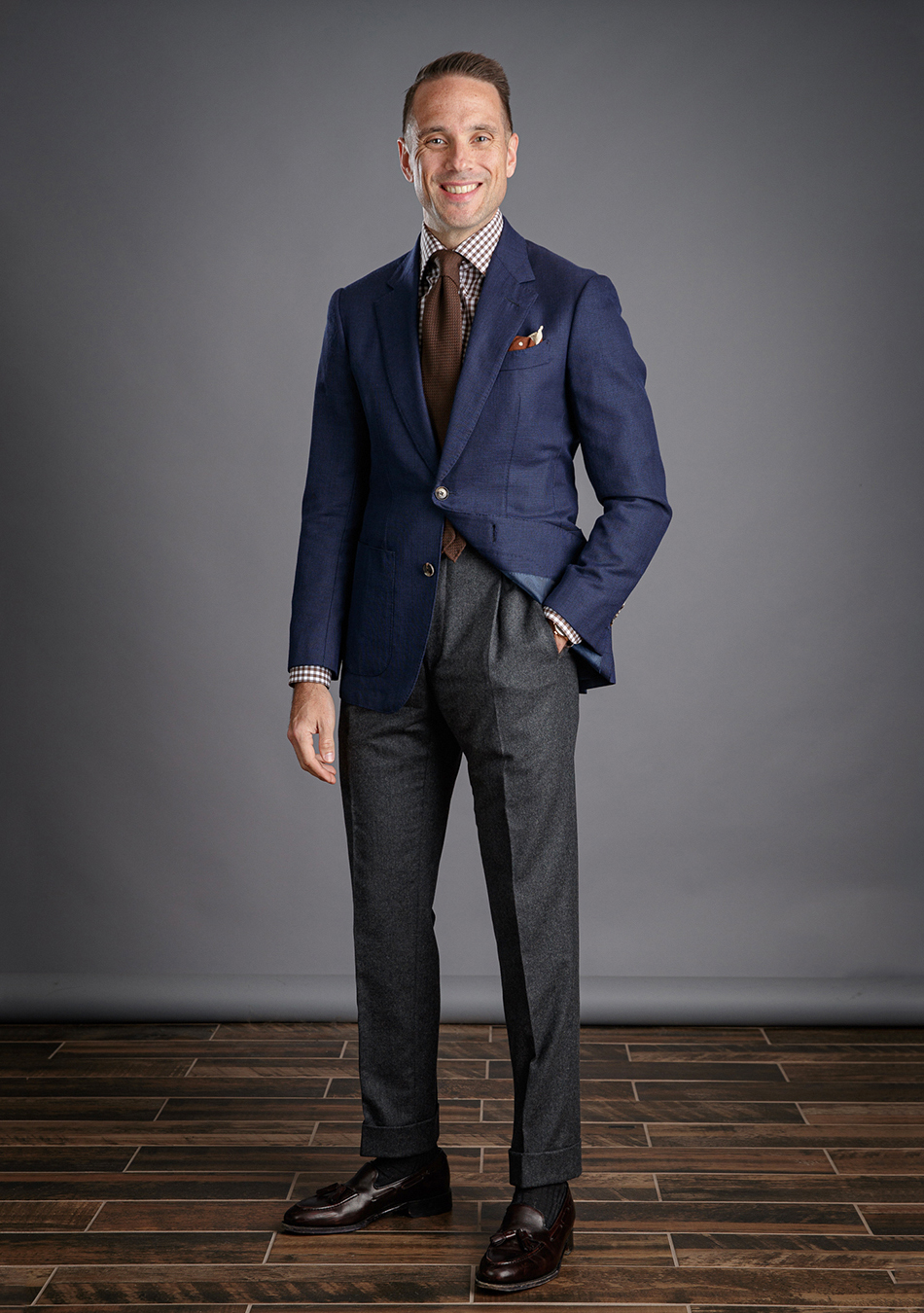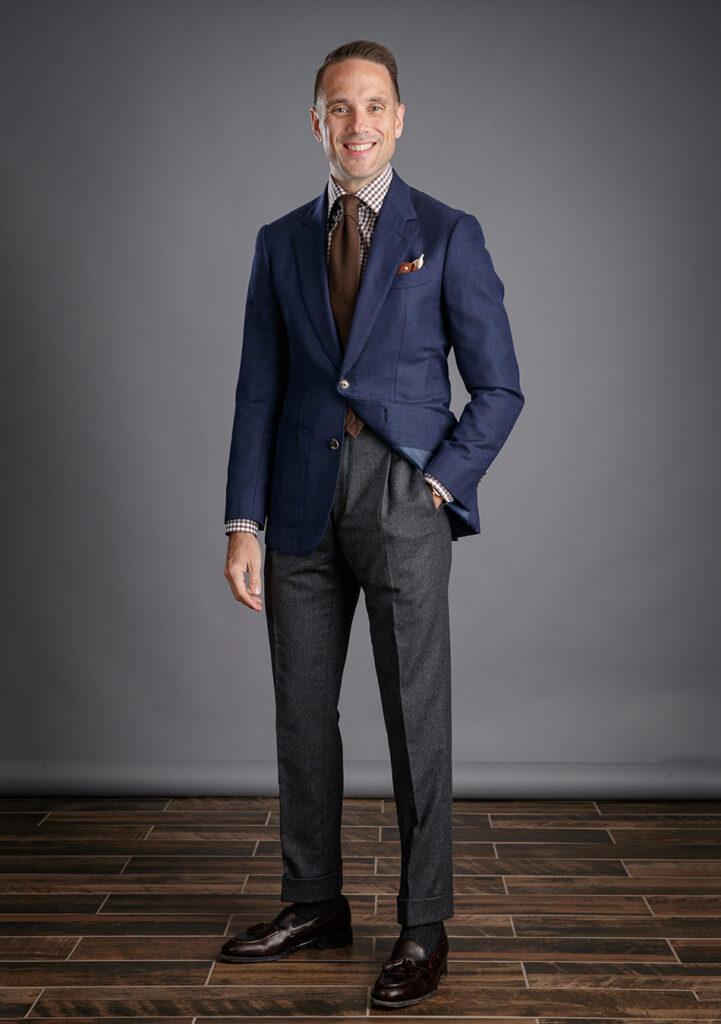 The combination has both the timeless essence of navy and the versatility of grey.
Carrying the look will be the deep dark blue jacket; match it with medium grey trousers.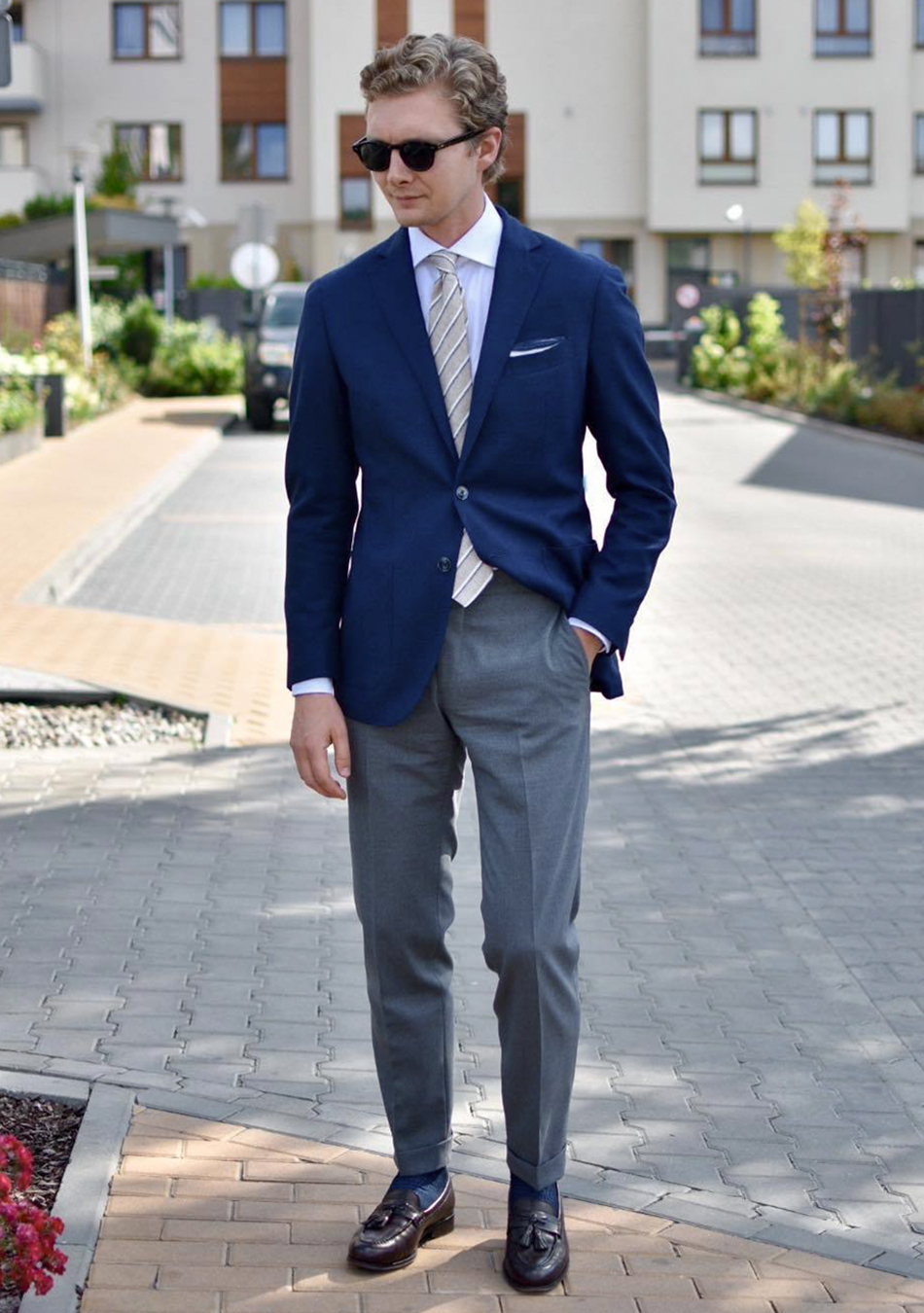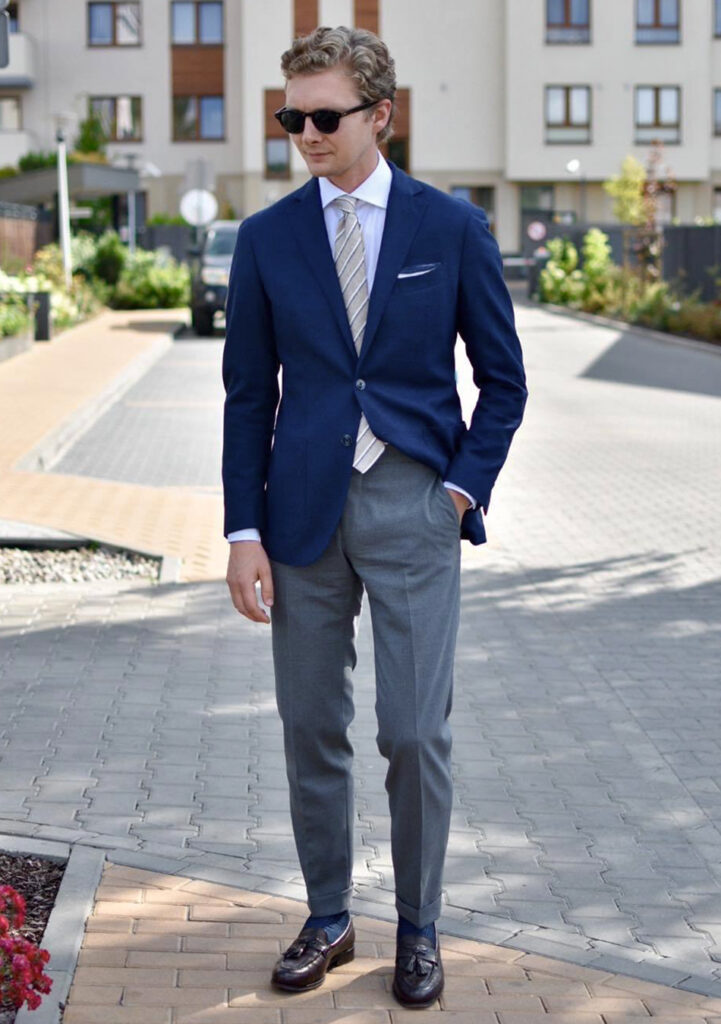 On top, a classic white dress shirt will contrast nicely against the dark navy blazer.
The light-blue oxford shirt is equally for a tone-down effect. A deep maroon tie will match both shirt colors.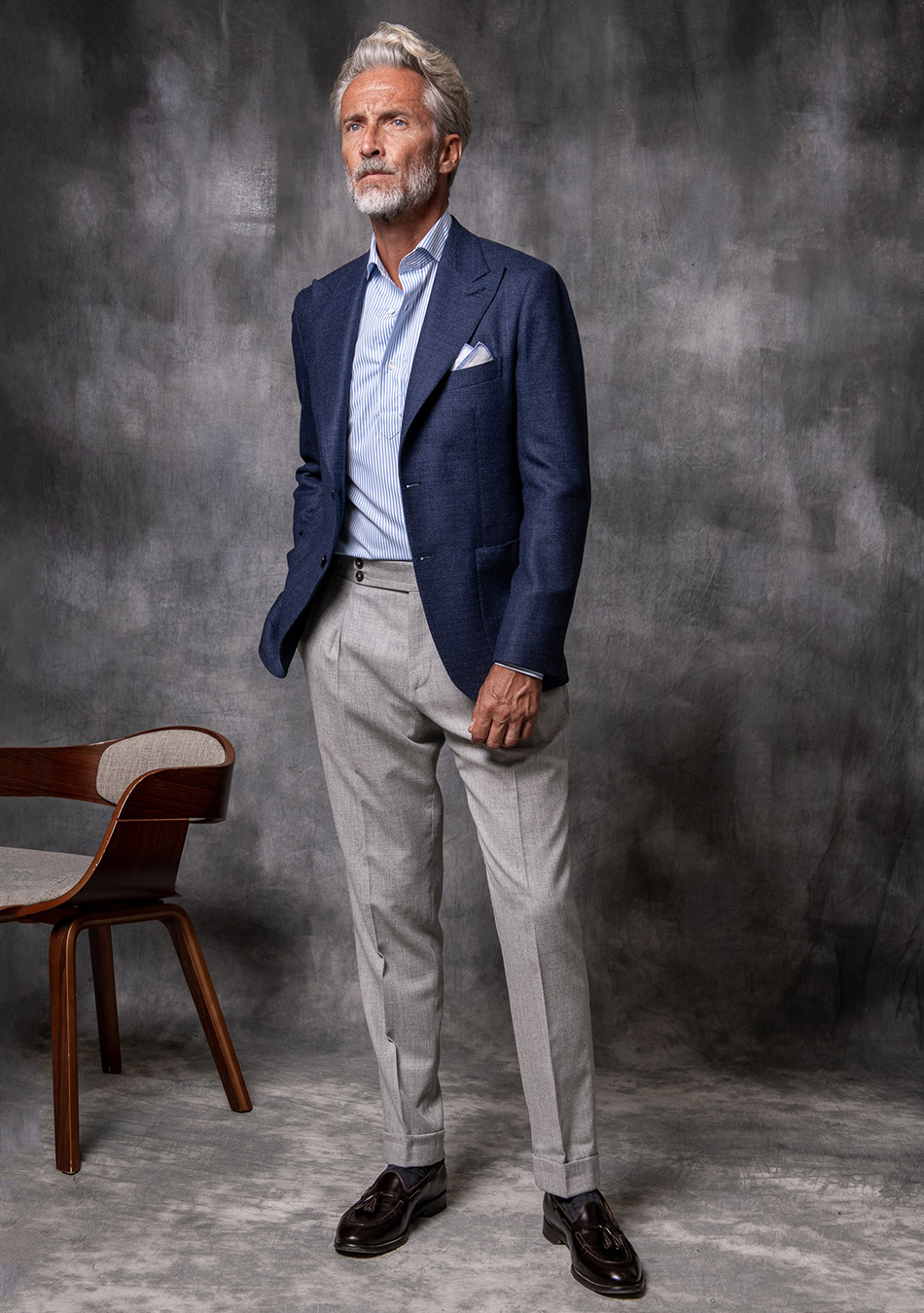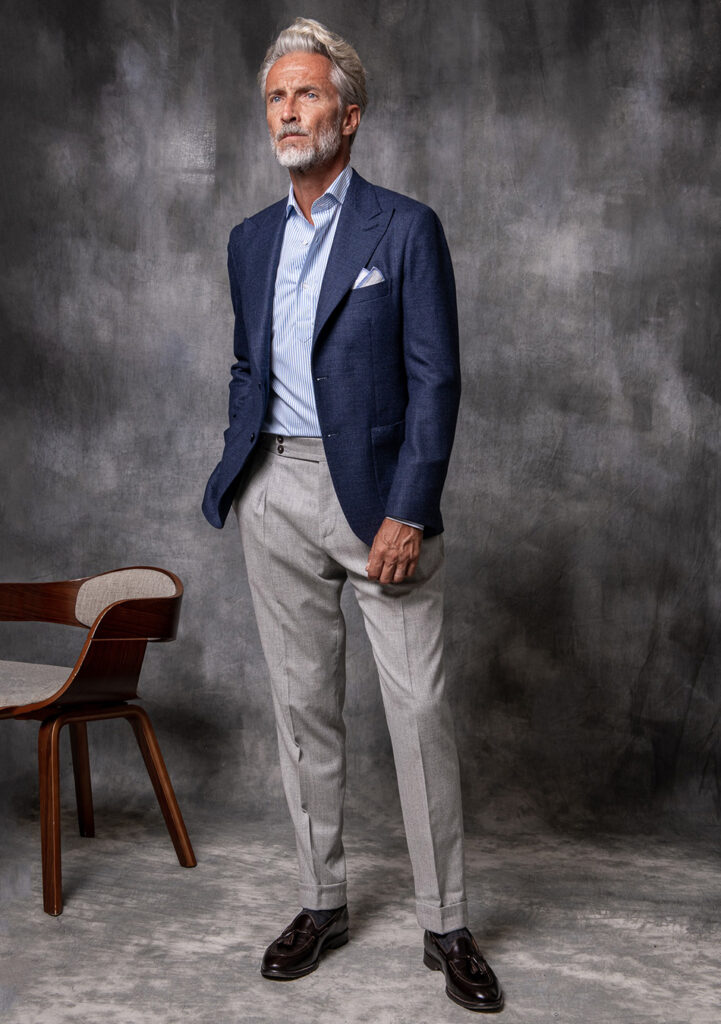 You can wear black or brown oxfords for a professional business look or loafers for a more relaxed vibe.
But there is also room to go casual.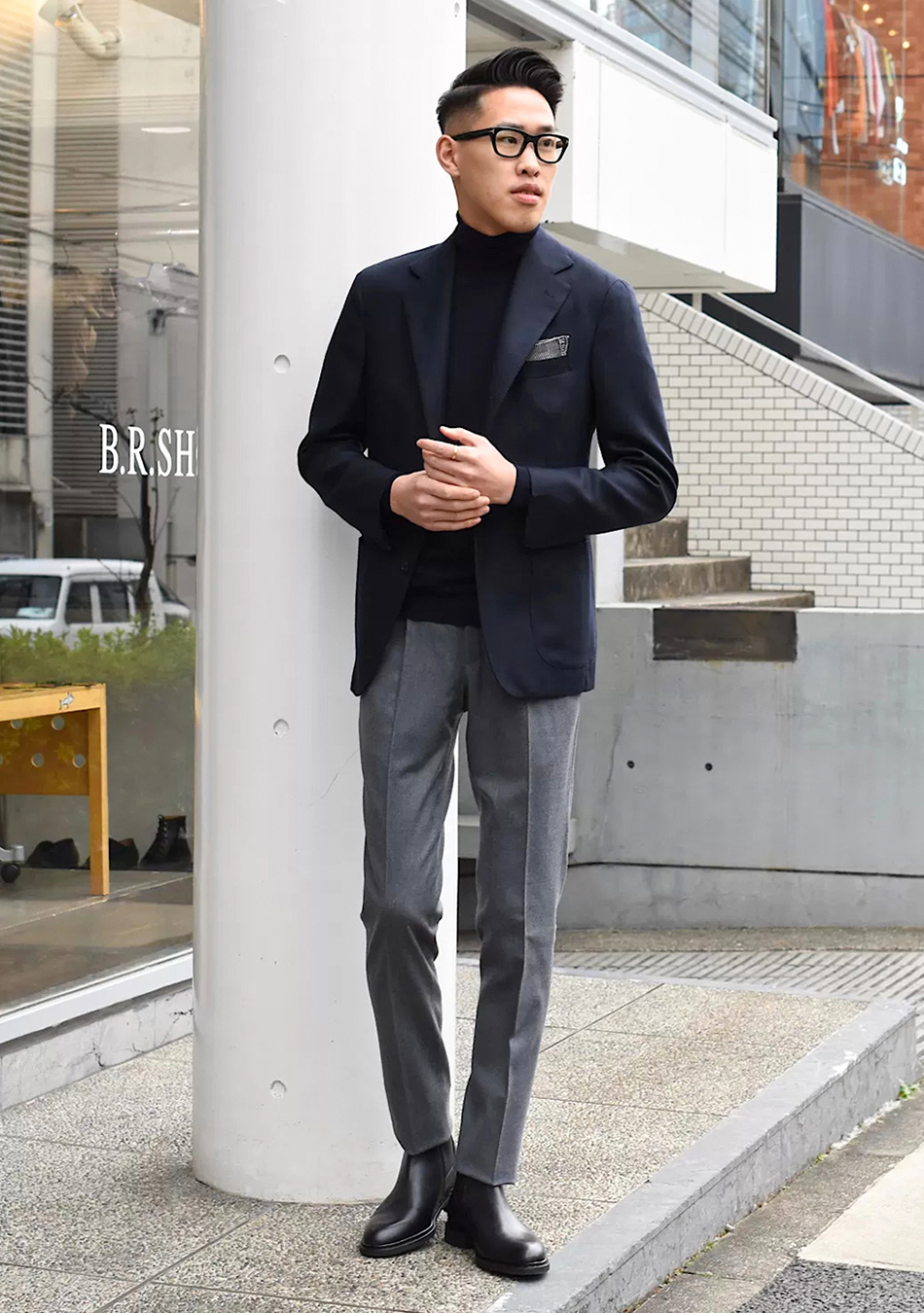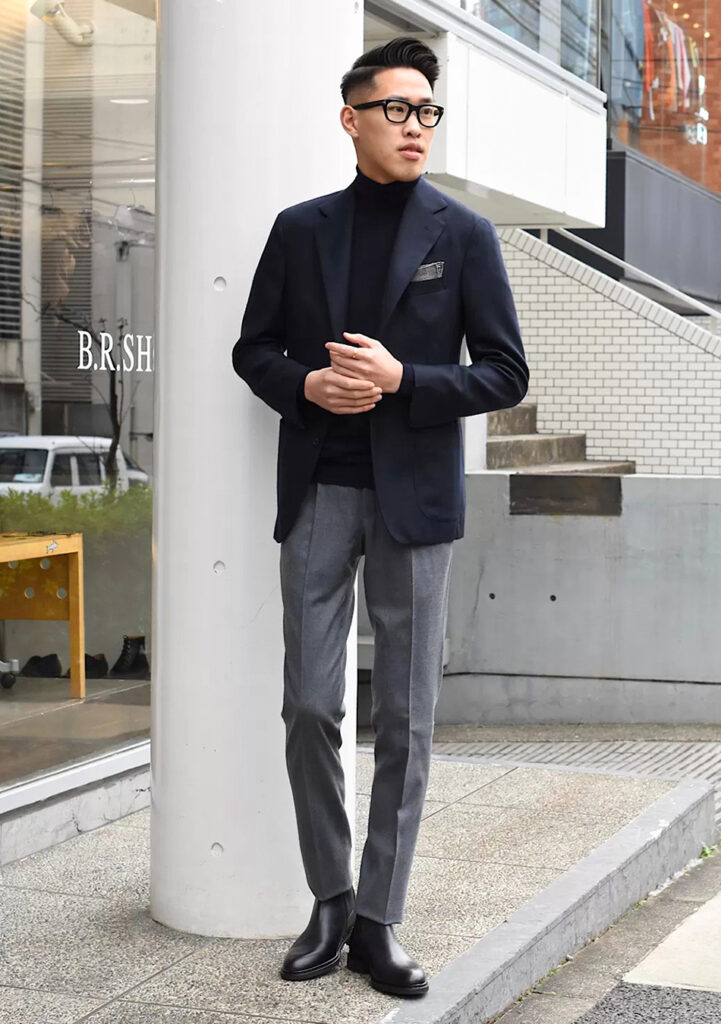 A dark-colored turtleneck and black Chelsea boots will give you the perfect look for the winter.
Navy Blazer and Khaki or Tan Pants
The navy blazer and the khaki pants combination never go out of style.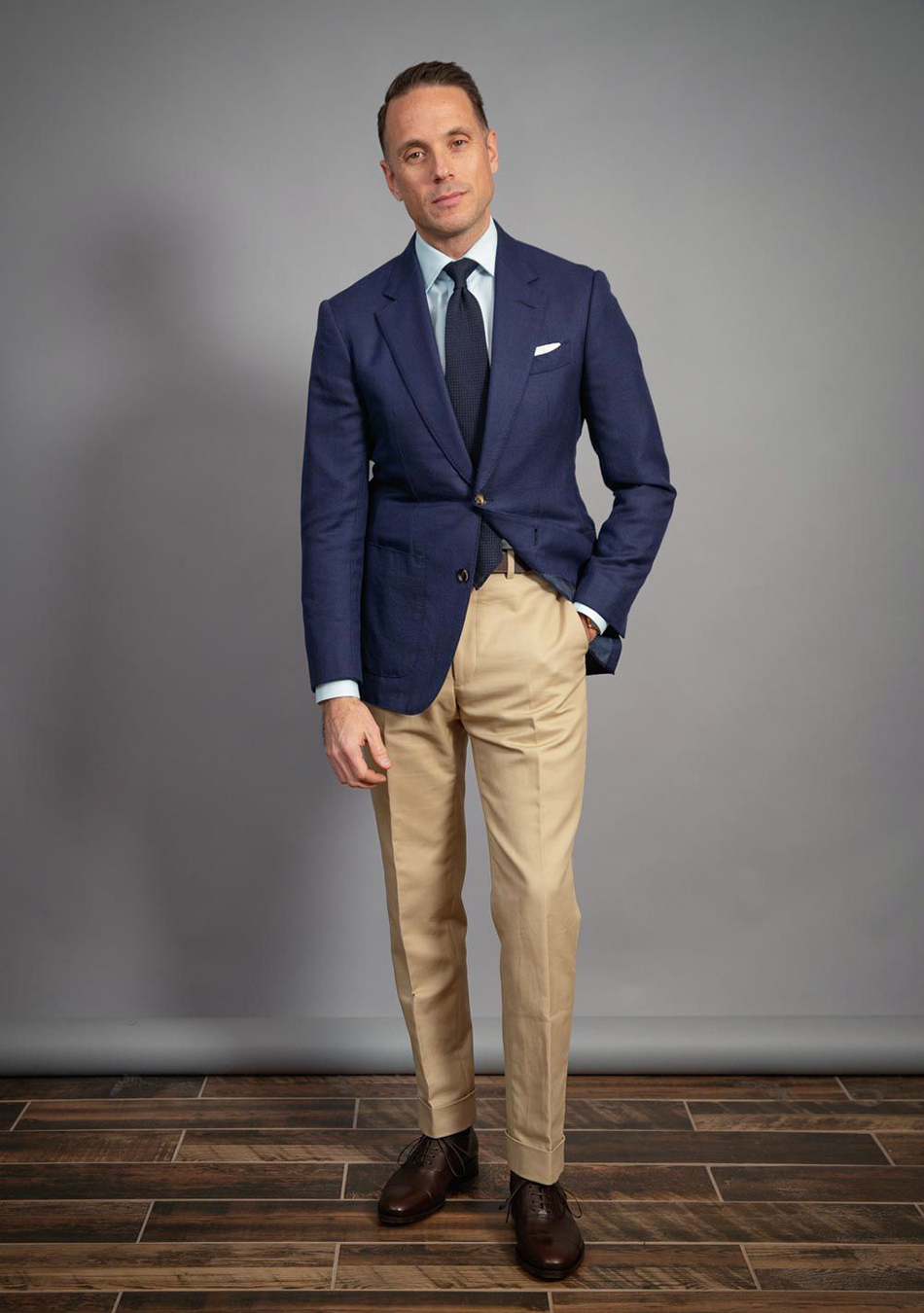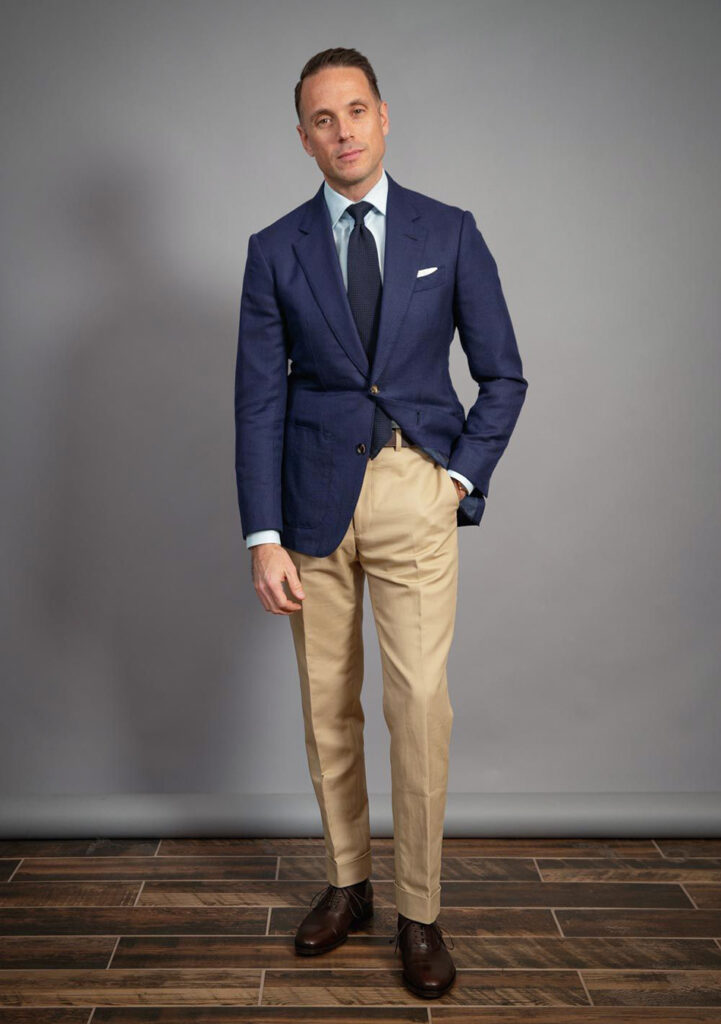 It's a duo with beautiful contrast, preppy vibes, and augmented traditional style aesthetics, making it a smart-casual uniform.
You can effortlessly create many, many outfits with these two as separates.
Here's one I call a "college prep" look.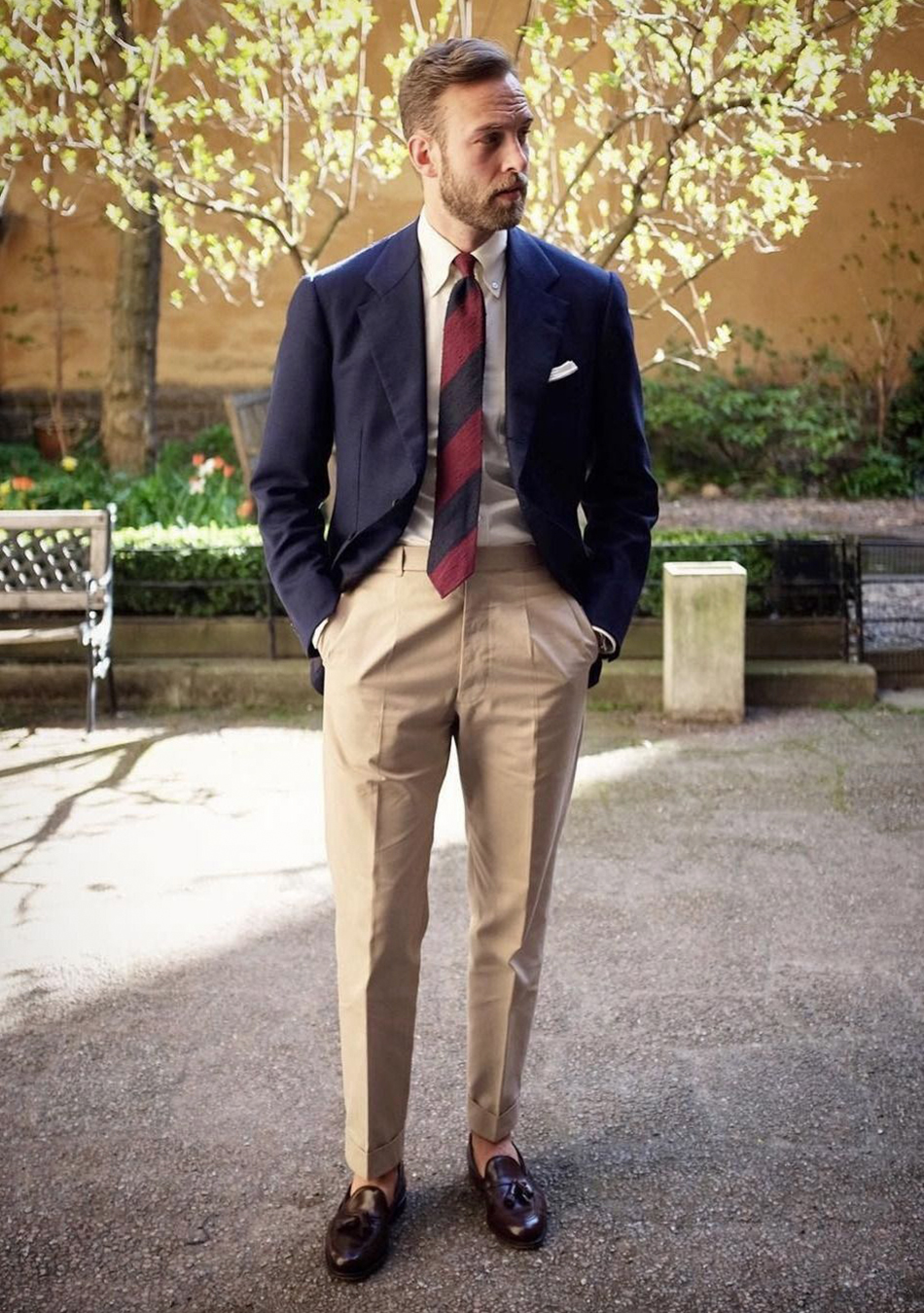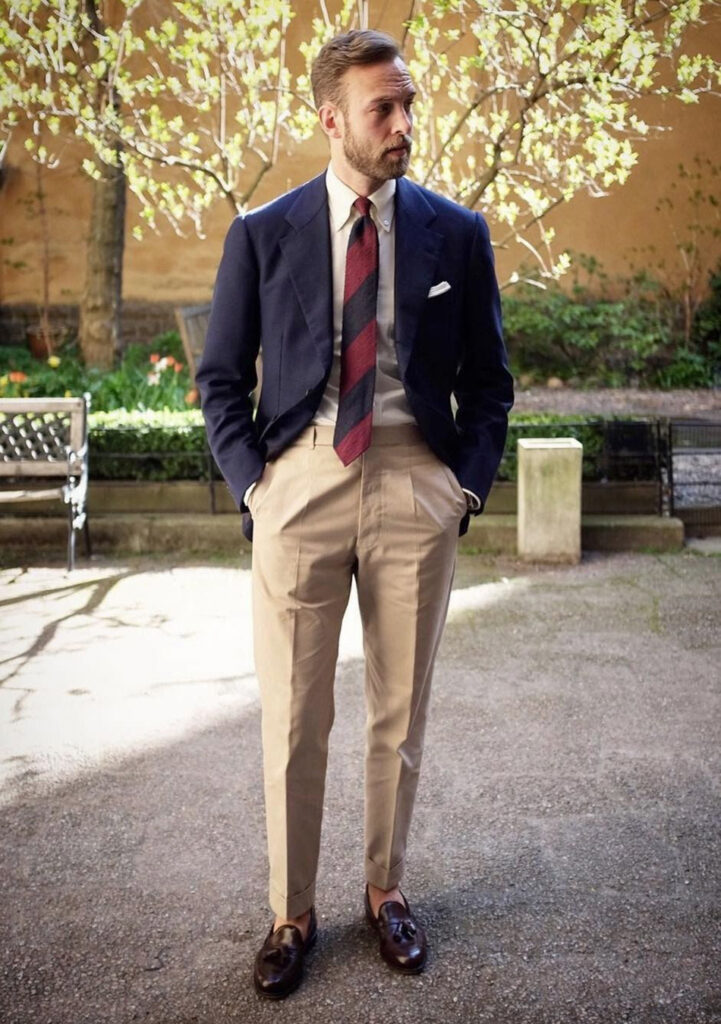 Match the navy blazer and tan pants with a white button-down, a striped tie, and brown loafers to get a classic Ivy-style outfit.
Another one is the "summer business-casual" outfit. A light blue dress shirt will complement the navy of the blazer.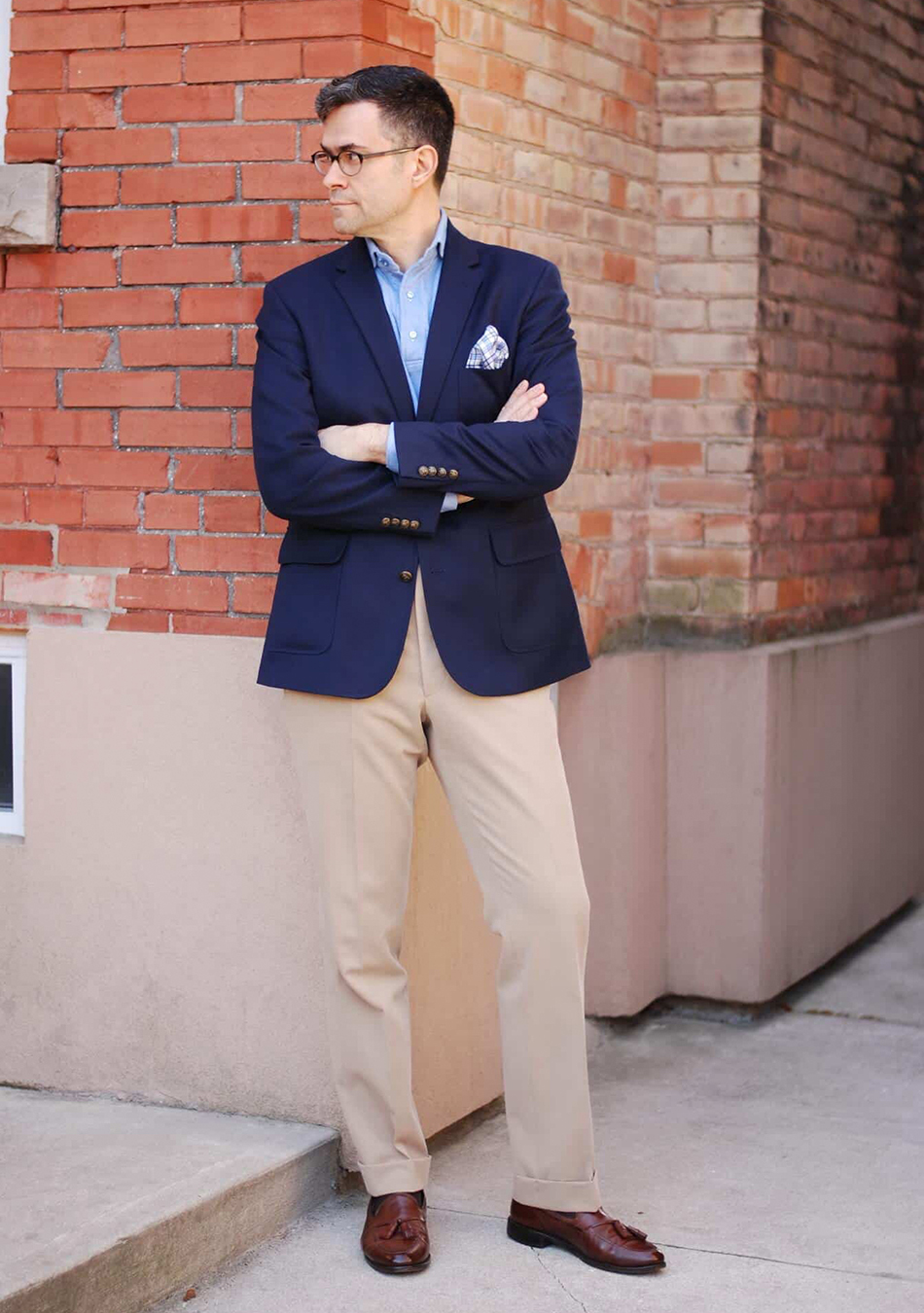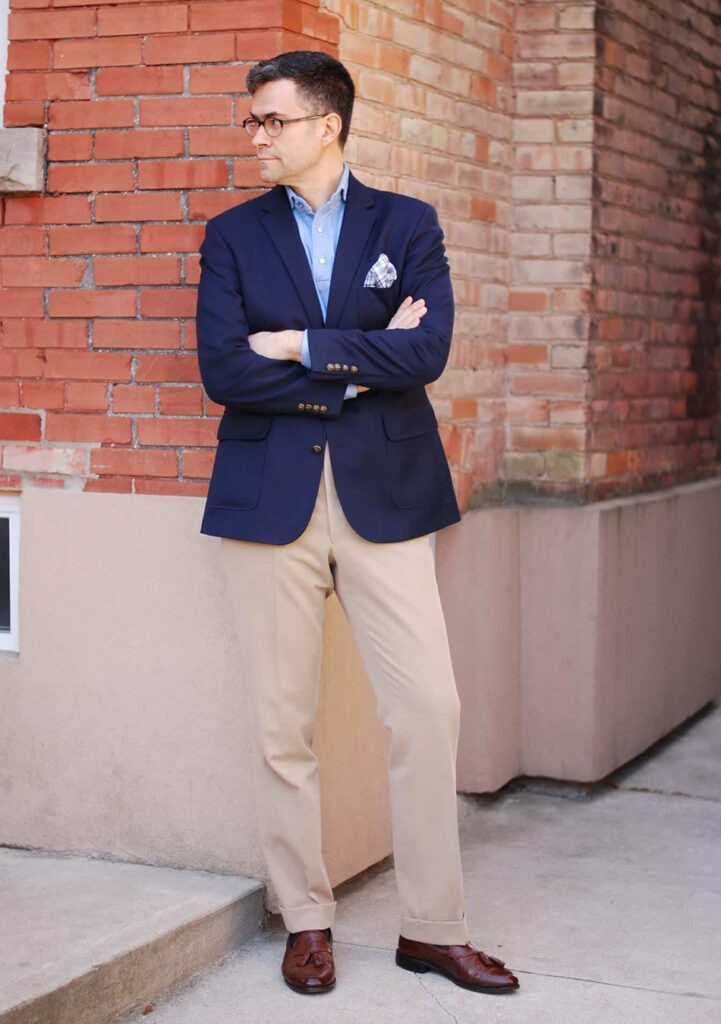 The plain dress shirt is great. However, the patterns are good for an extra flair of color.
Complete these looks with brown loafers or standard dress shoes. Go sans tie for a business-casual look.
Navy Blue Blazer and Black Pants
A navy blazer with black pants is a sure bet; you're going with something unique. But overthink!
A simple combination of a white shirt, a navy tie, and deep brown loafers can make this a work-friendly attire.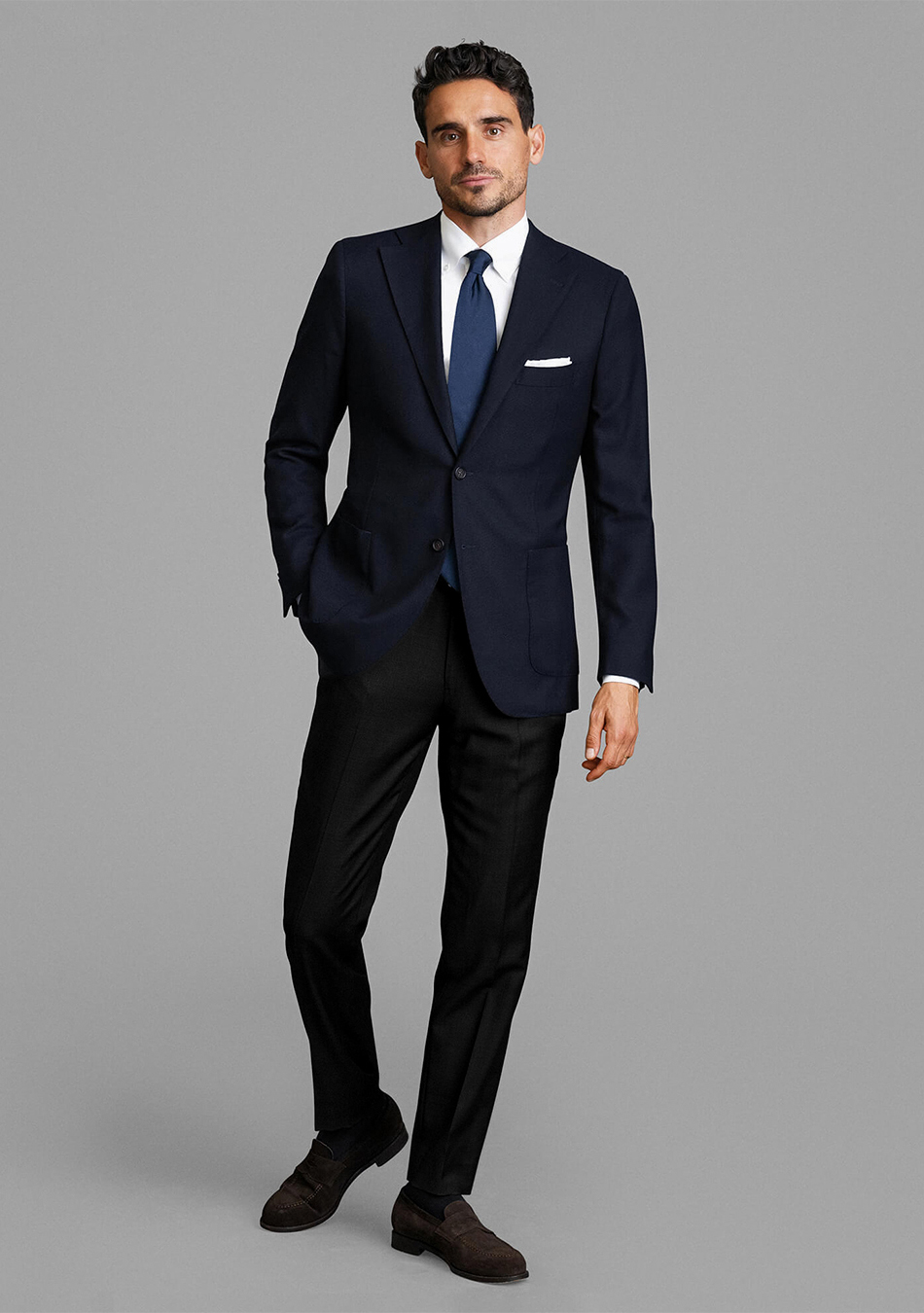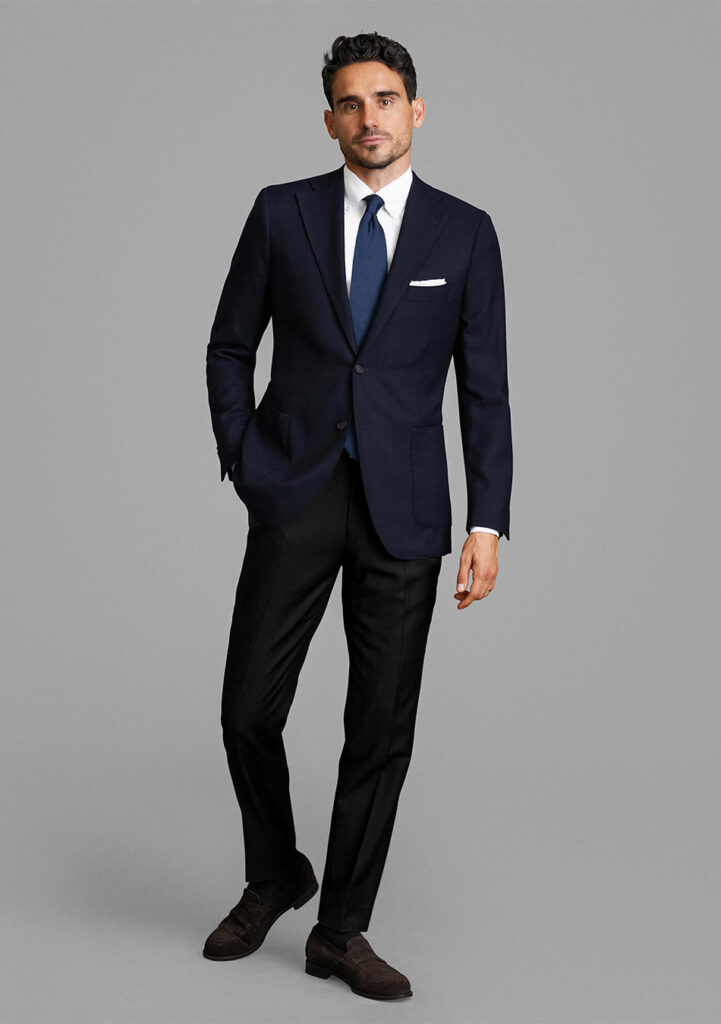 However, you can wear a navy double-breasted blazer, a light-color shirt, and black pants to enter the statement-making territory.
Try wearing navy or black turtlenecks with this blazer and pants for the party night chic.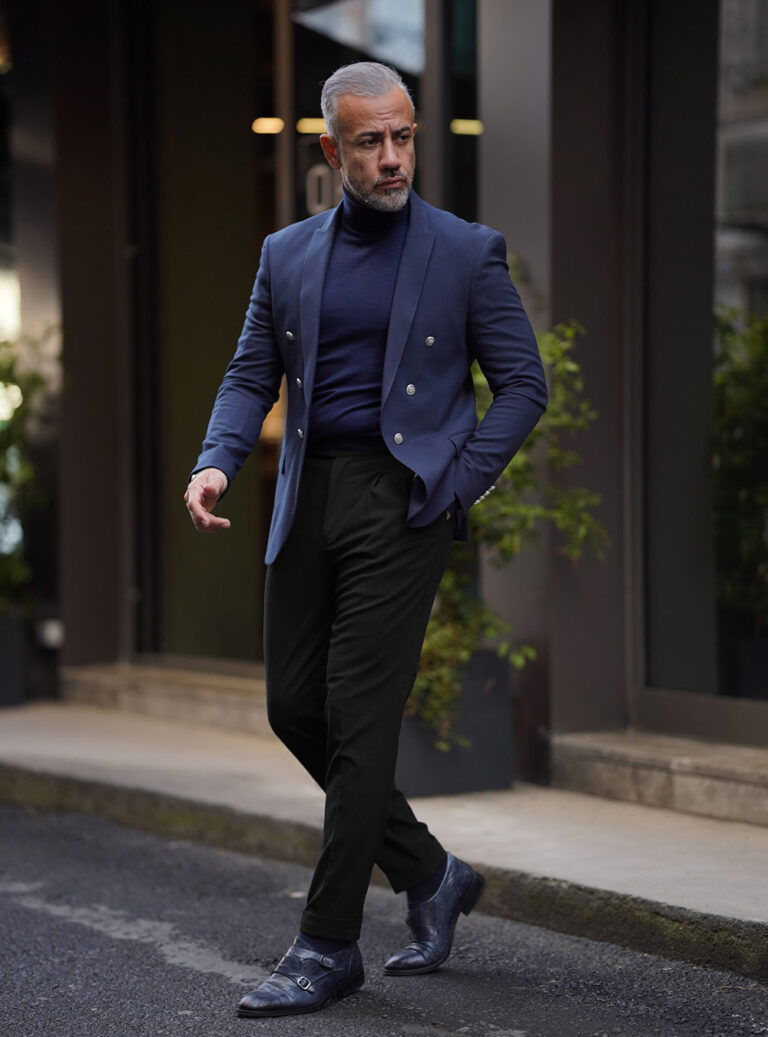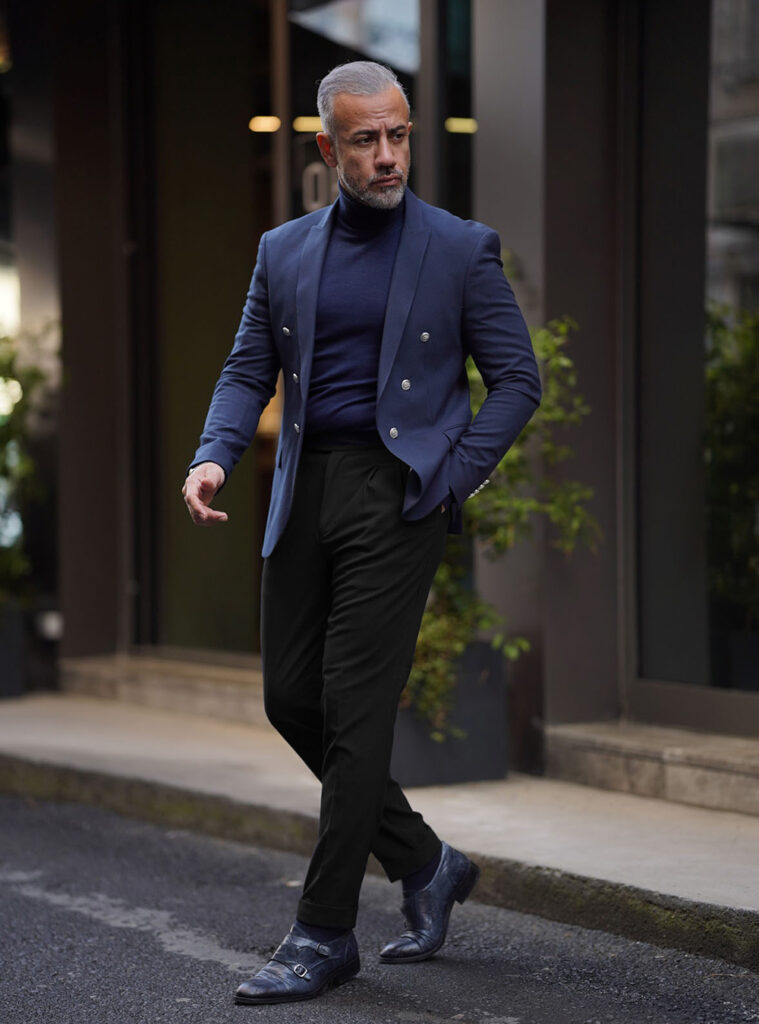 If nothing else works out, wear a black t-shirt or polo underneath, and you'll be good to go.
Blue Blazer and White Pants
Once only a summer garment, white pants have become sort of timeless over the years.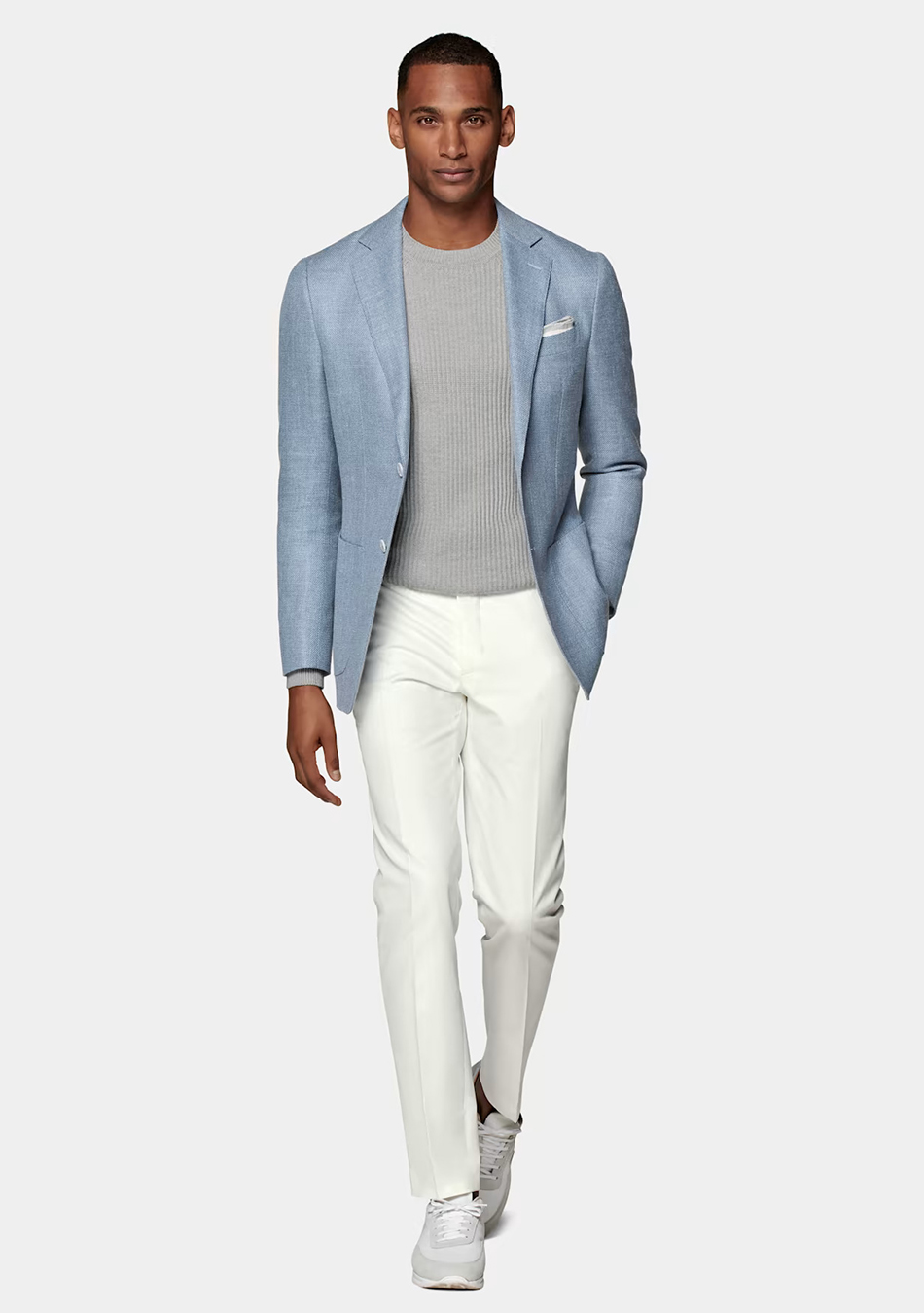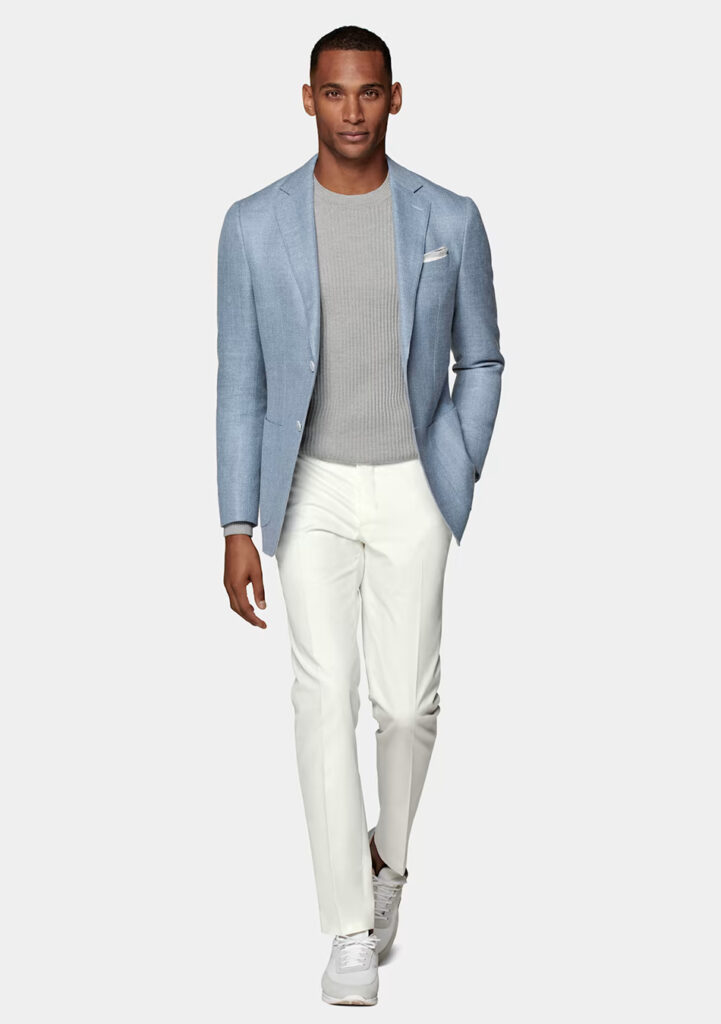 With a blue blazer, these white trousers announce you got your sartorial stuff together.
Wear a striped shirt and a dark tie for a yachty American vibe. Brown loafers and a pocket square will complete this look.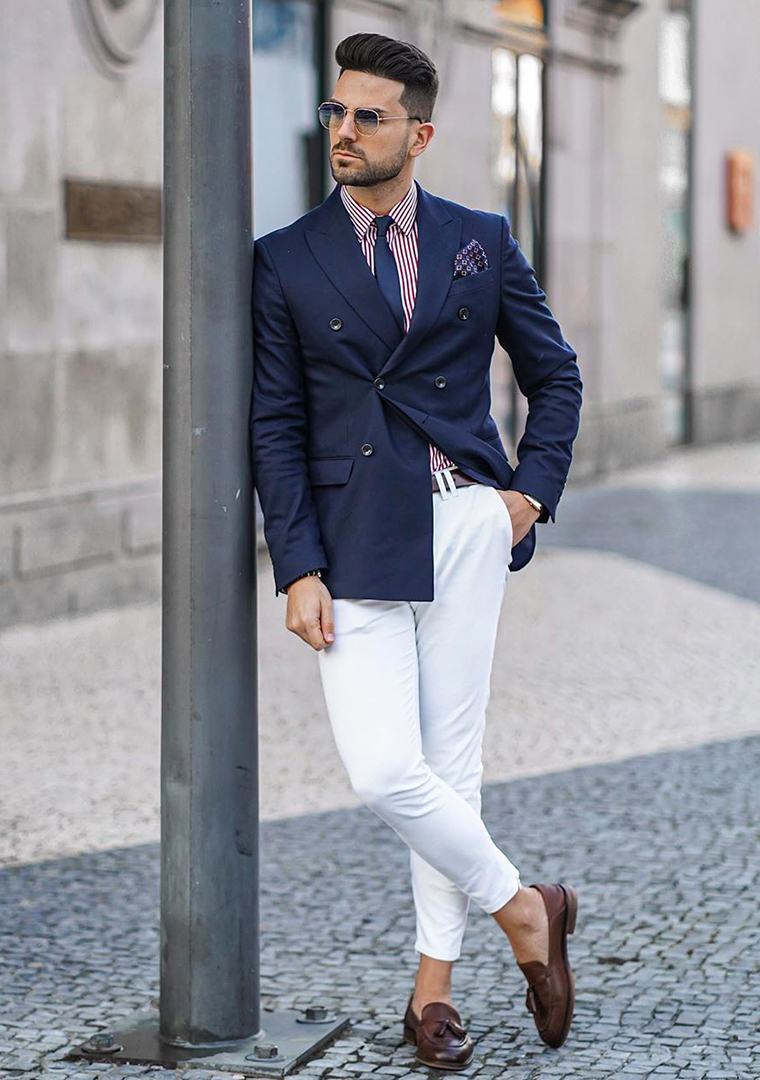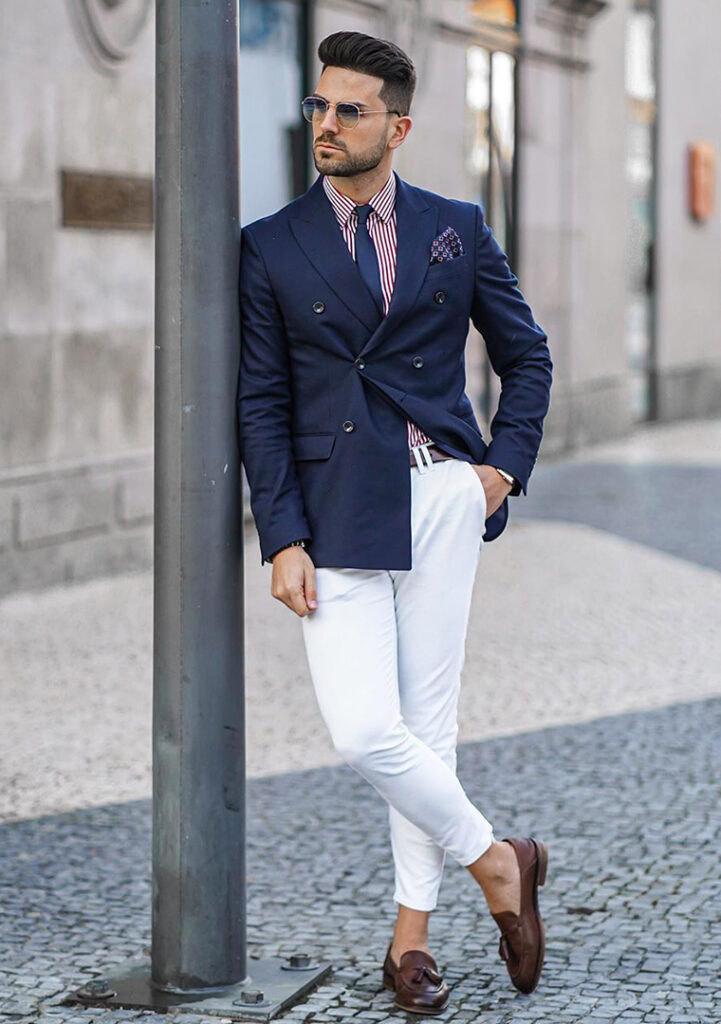 This look could easily make a great alternative to a suit for a summer wedding.
If you want a slightly more relaxed approach, wear a light-blue denim shirt and remove the tie. It's a grown-up casual style, effortless yet sophisticated.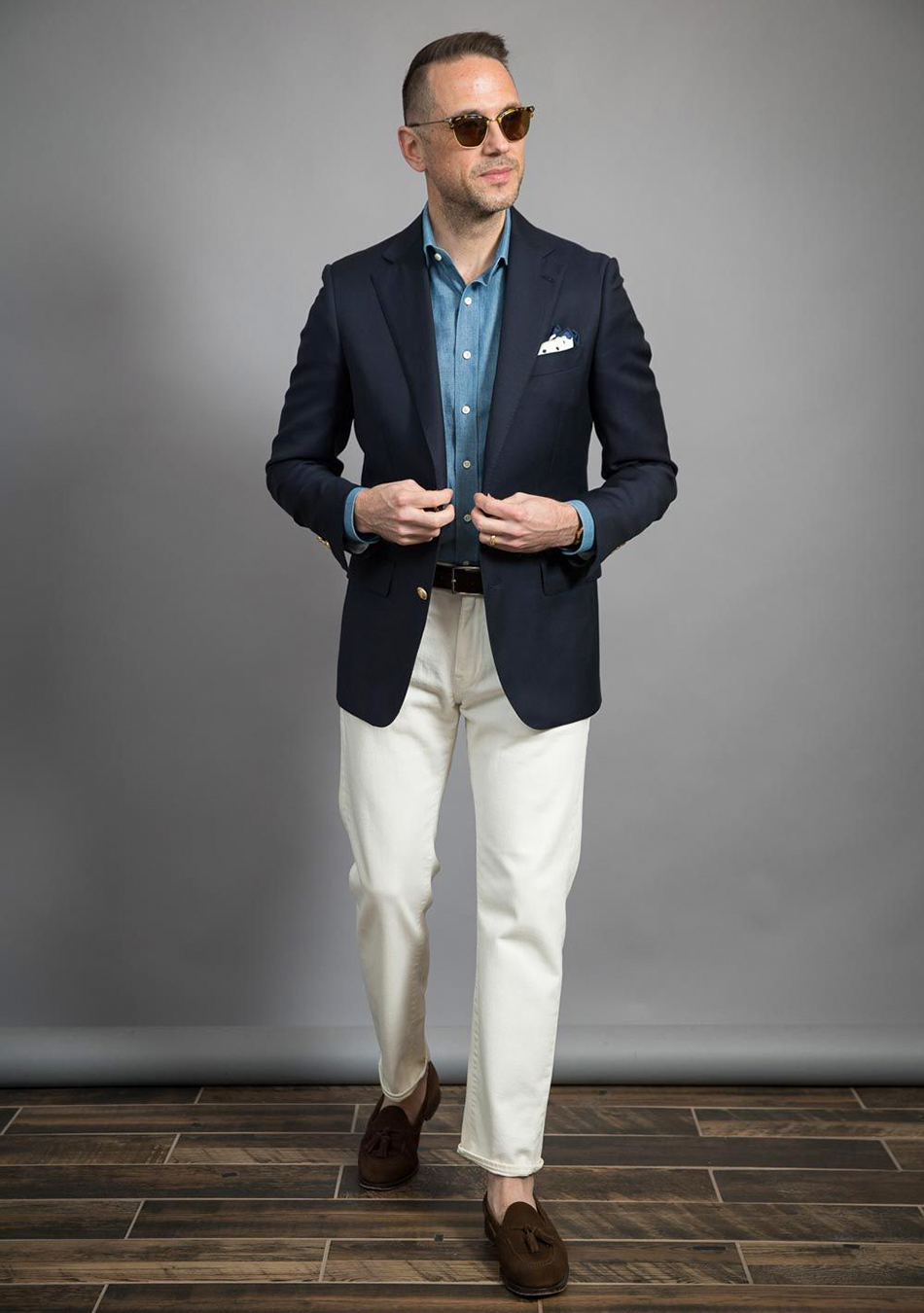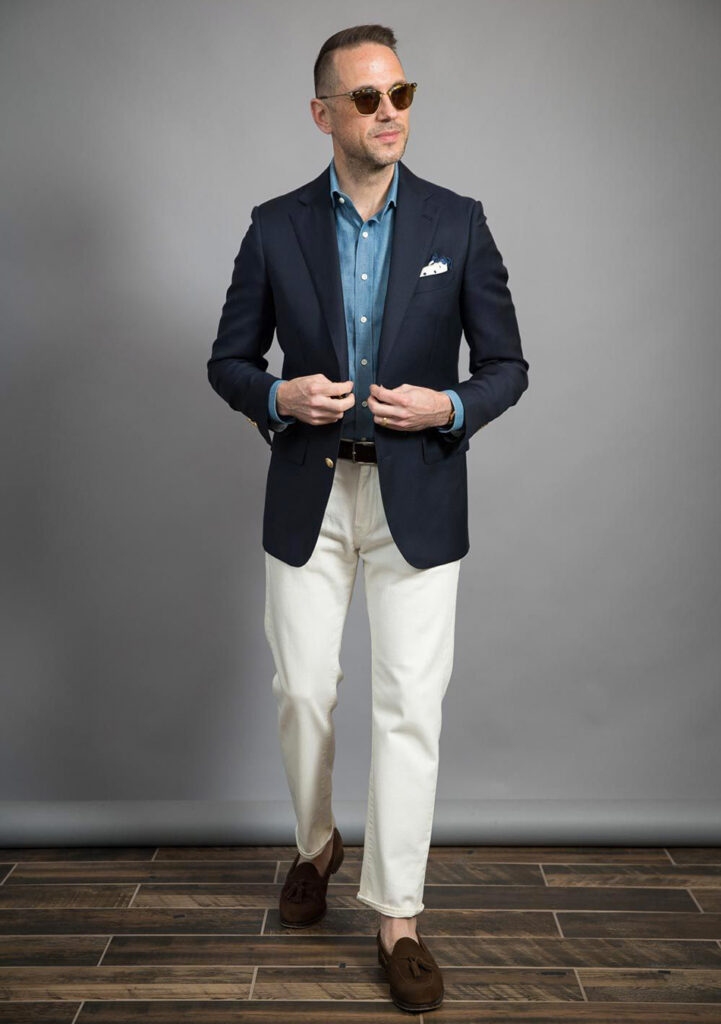 Wear brown loafers to complete these looks.
Light Blue Blazer and Tan Pants
The aura of tan trousers changed from the stereotypical country wear to one of the menswear essentials.
You can match these with a blue blazer to create surprisingly unique outfits.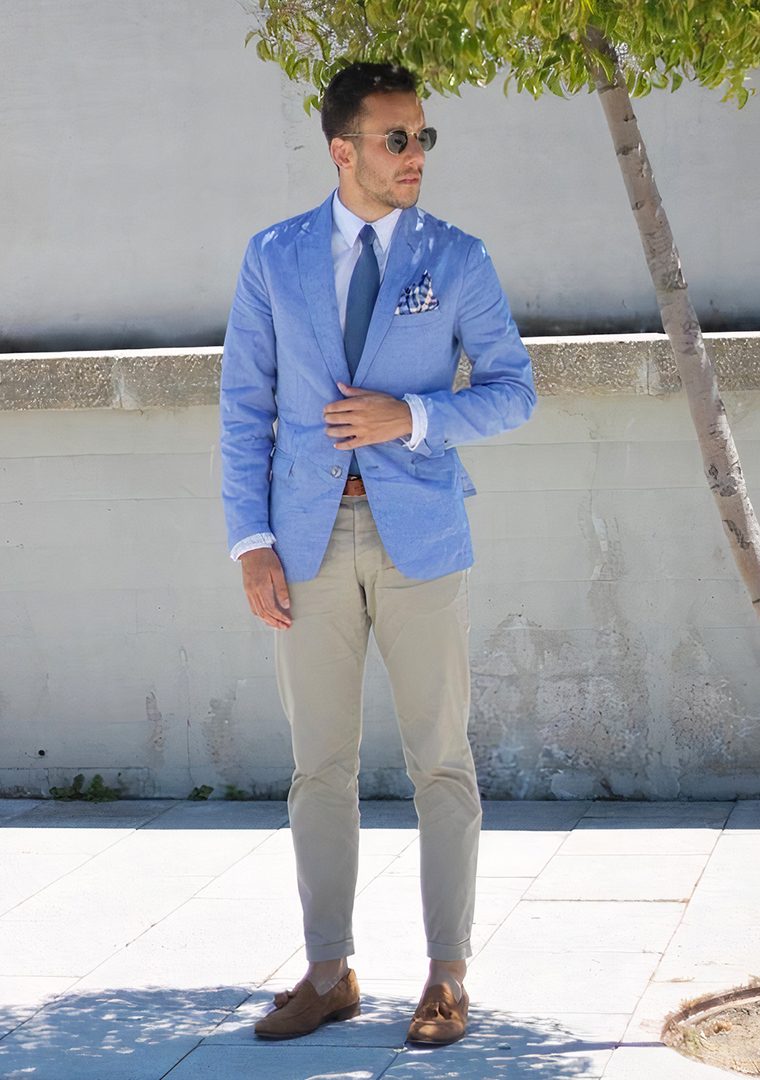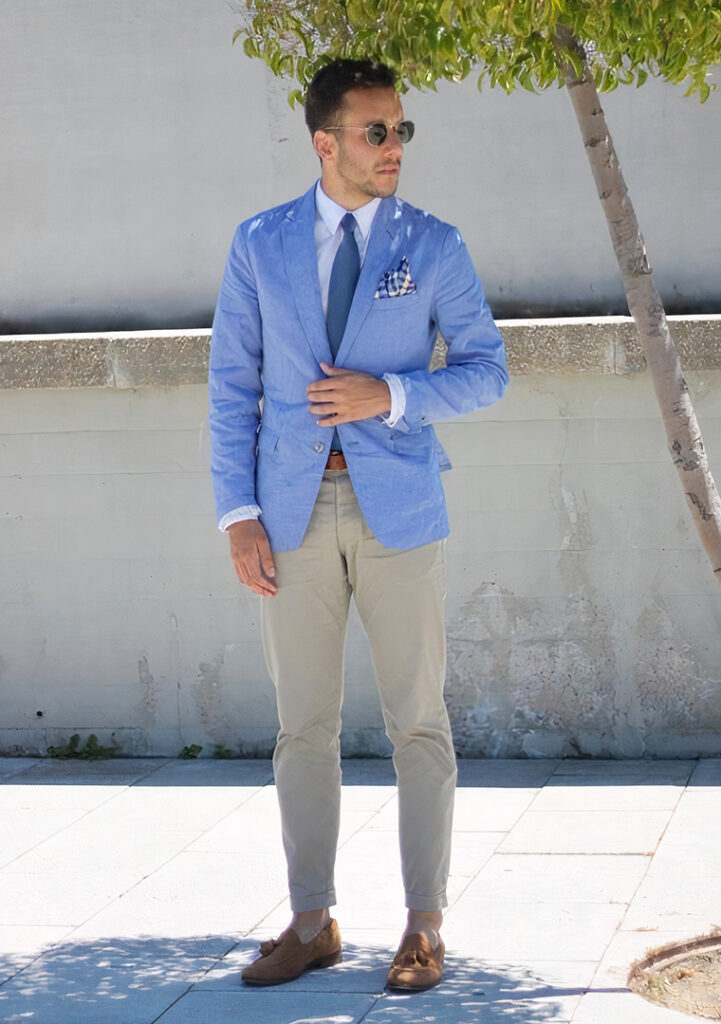 The blue blazer because the light hues galvanize the neutral tones of tan. Plus, it allows you to be more creative with colors and accessories.
You can wear this blazer and pants with a striped shirt. This combination will be your casual substitute for the full summer suit.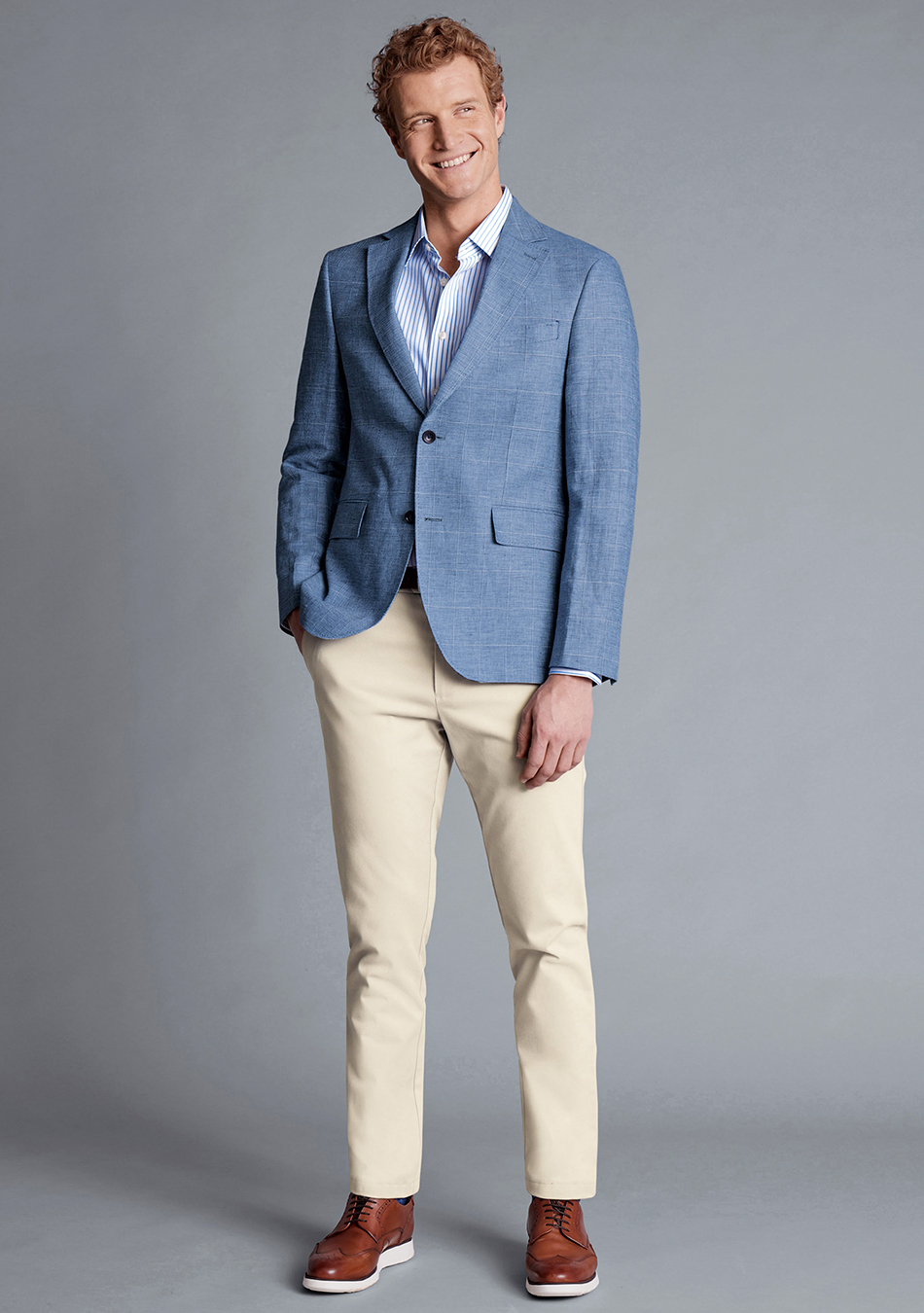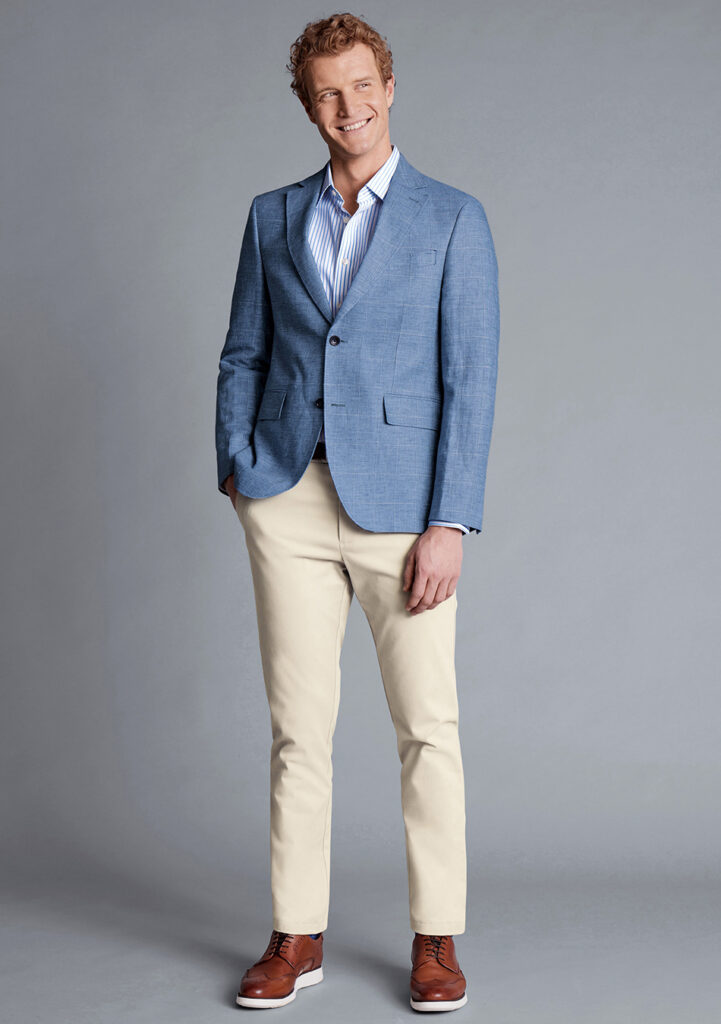 Tan pants and a blue blazer can also be a good choice for casual office attire.
Wear a blue dress shirt and brown shoes to complete the look.
Charcoal Blazer and Grey Trousers
It's hard to create suit separate combinations in a tonal outfit.
But when it comes to grey, everything is possible; as said by EL James, "grey has many shades."
The combination of the charcoal blazer with grey trousers is an example of creating a monochrome outfit and still looking dapper.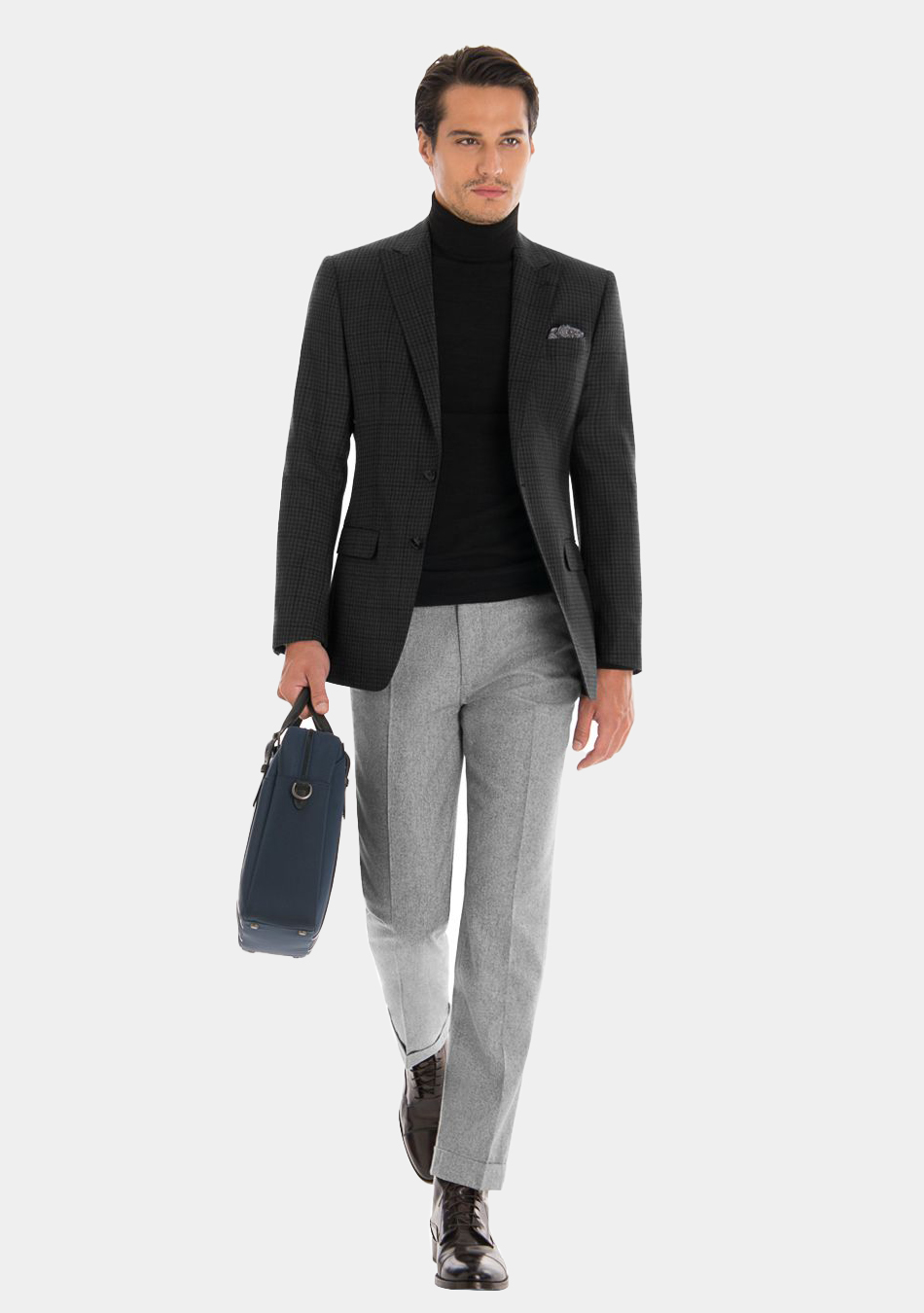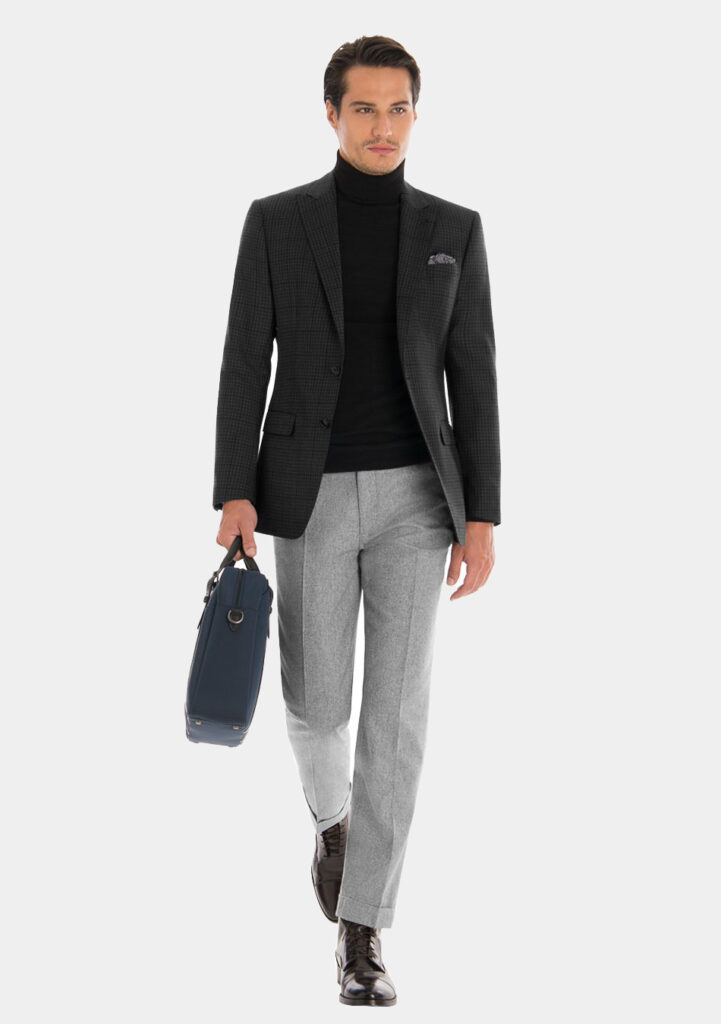 Plus points: if the jacket has a texture, it complements that necessary contrast.
This combination will best set you up for a dressy yet relaxed corporate look.
You can clock plenty more in this business look with a light-blue striped shirt and a deep brown tie.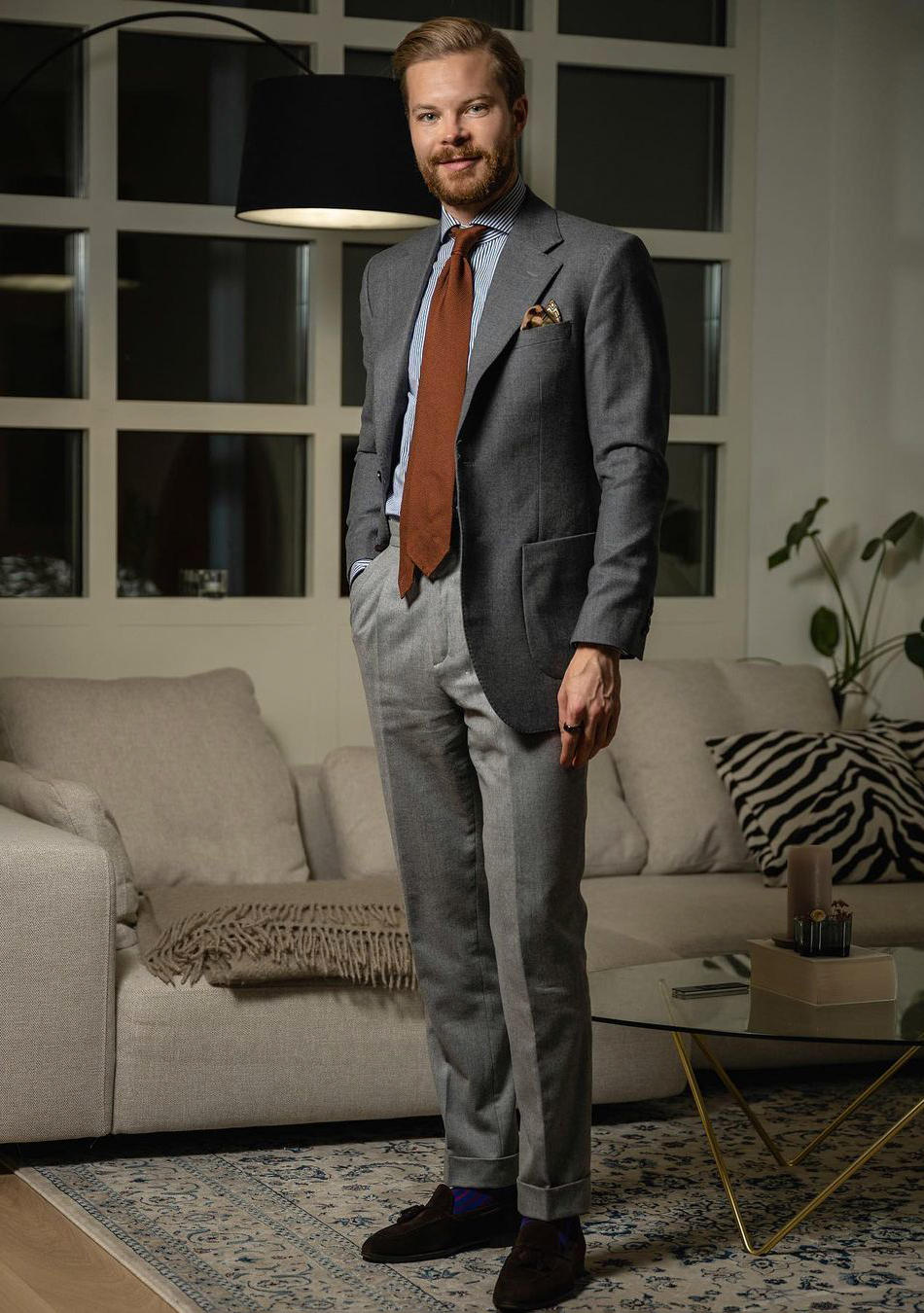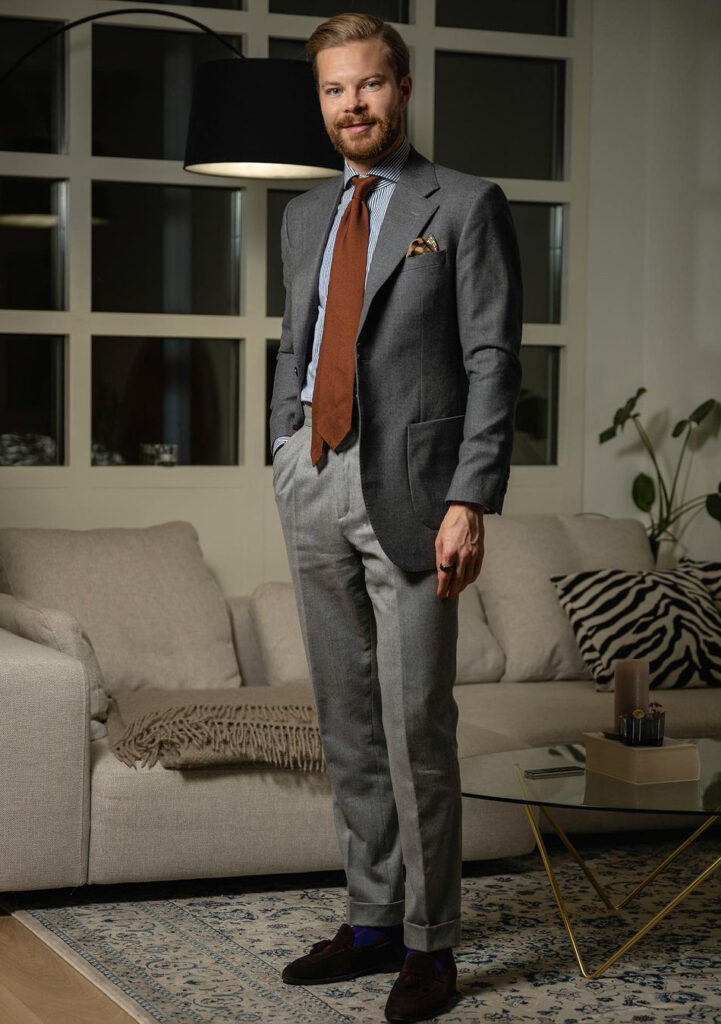 Wear loafers or monk straps to anchor this look and pocket squares to accessorize the combination, just perfect.
Grey Blazer and Navy Pants
The navy blazer and grey pants are an effortless combination that makes people wonder, "Why didn't I come up with this?"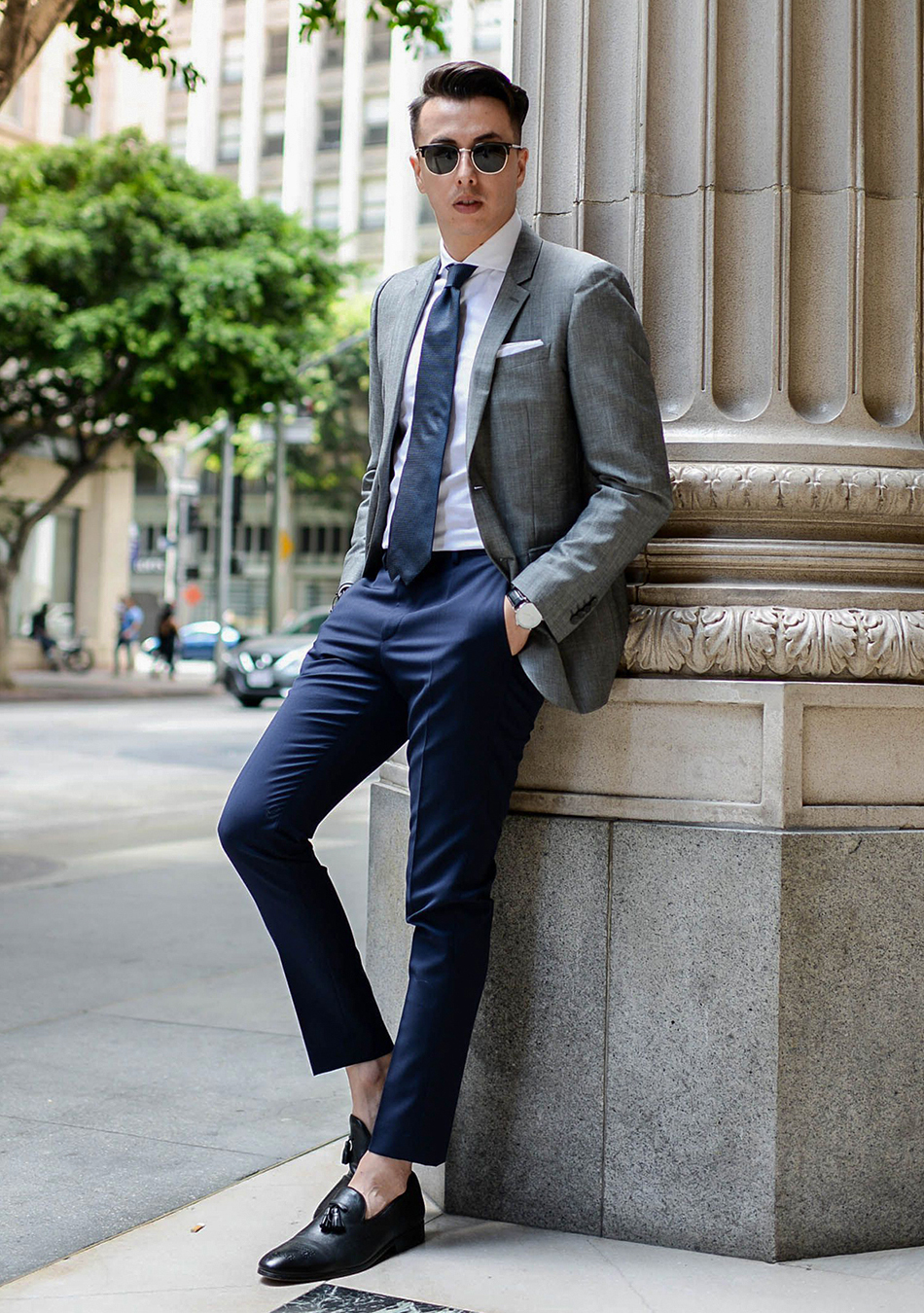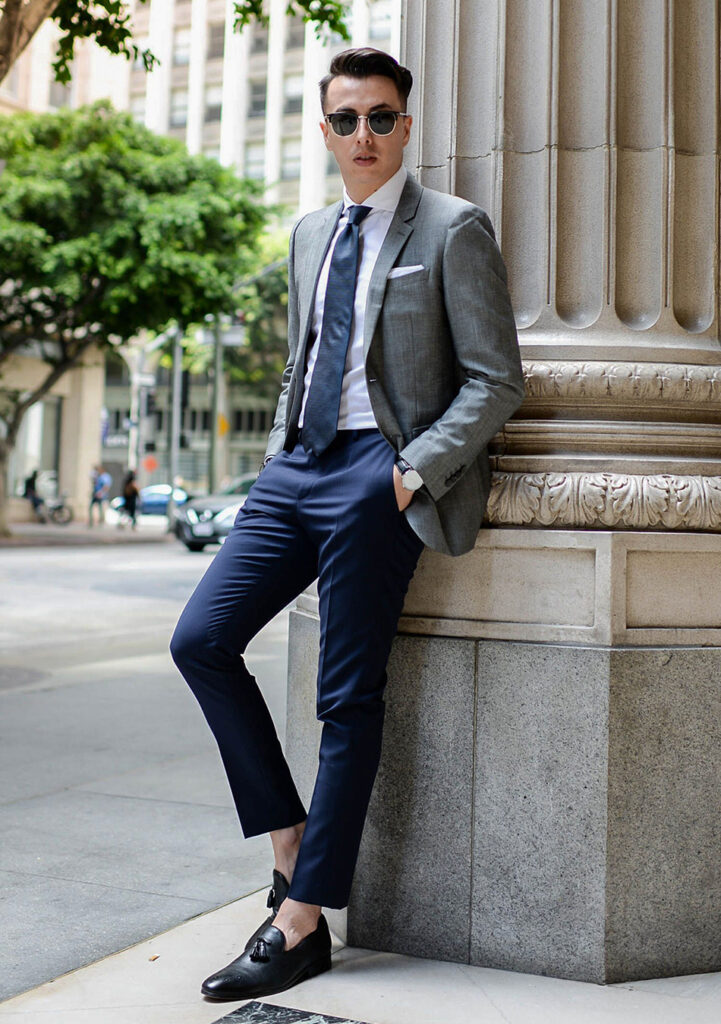 It's a no-brainer for dressed-up semi-formals. But can also be for business and smart-casual events.
To master this combination, go with a lighter grey jacket and dark navy trousers.
You can wear a light blue shirt to complement the blue hues of the pants.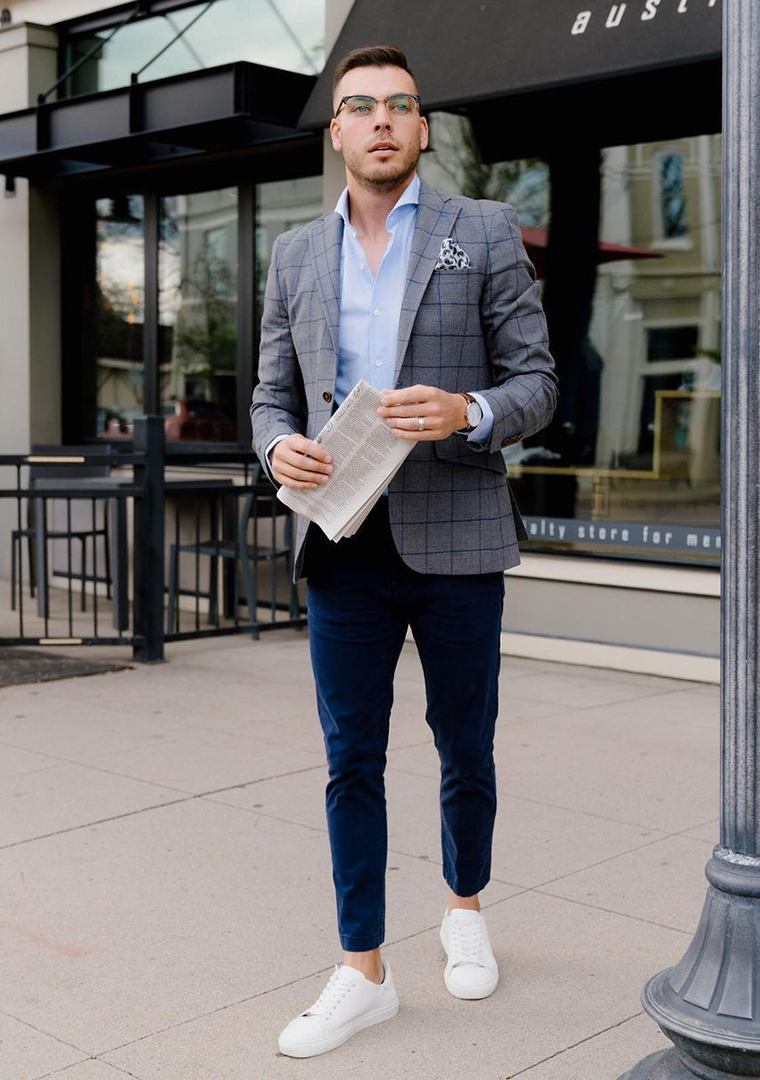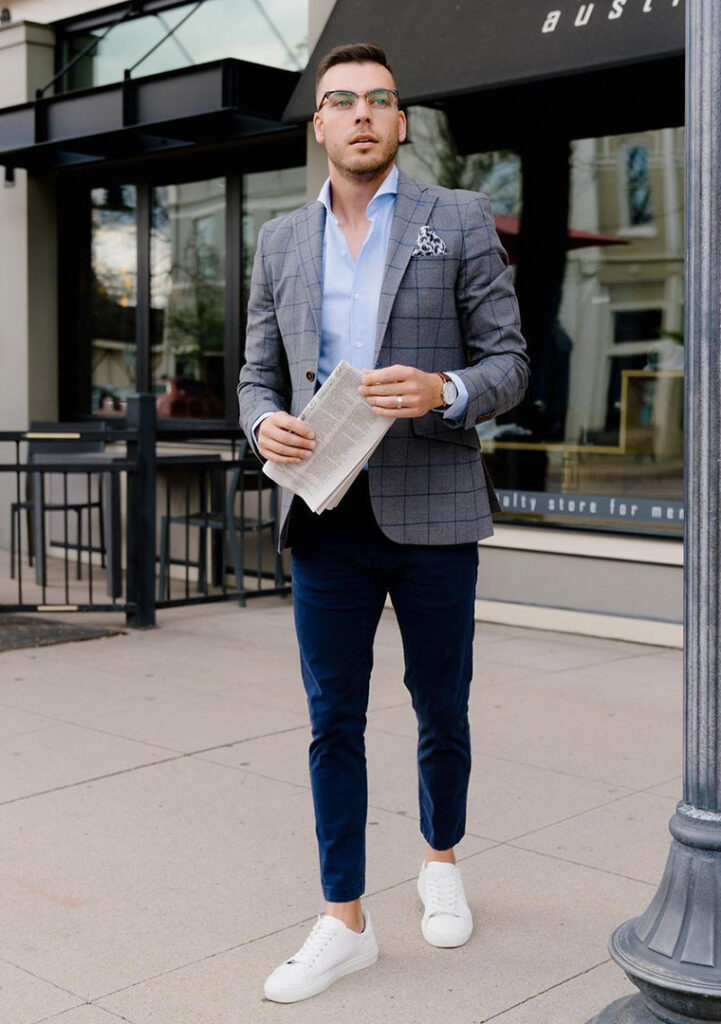 A blue or sea-green textured tie would create a cheerfully symmetrical color palette, as would a colorful pocket square.
Brown or black Oxfords, Derbys, loafers, and even white sneakers… everything will work here.
Grey Blazer and Black Pants
A grey blazer and black pants are the equivalent of a semi-formal suited look, done differently.
It's also the most dressed-up you can go with separates.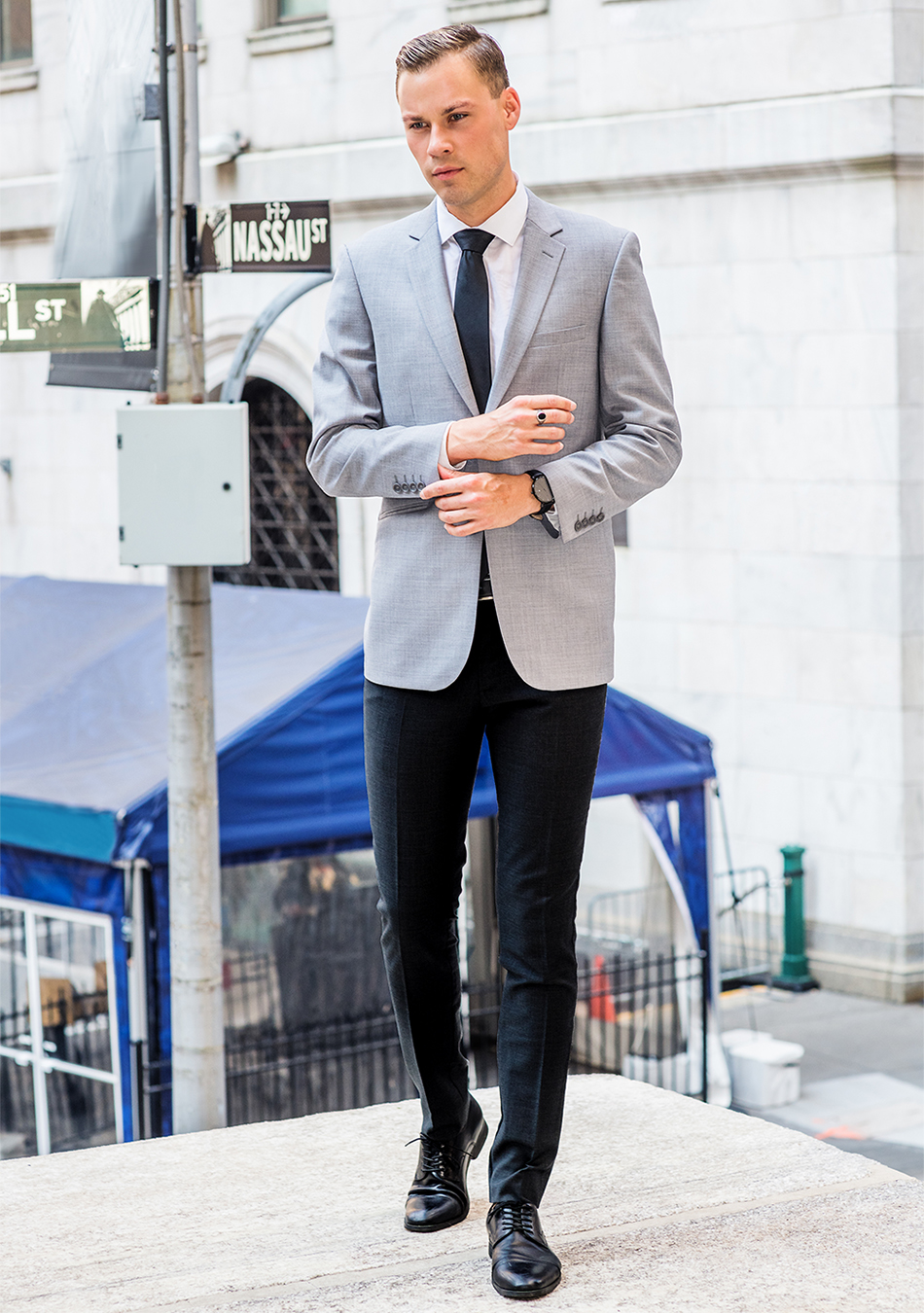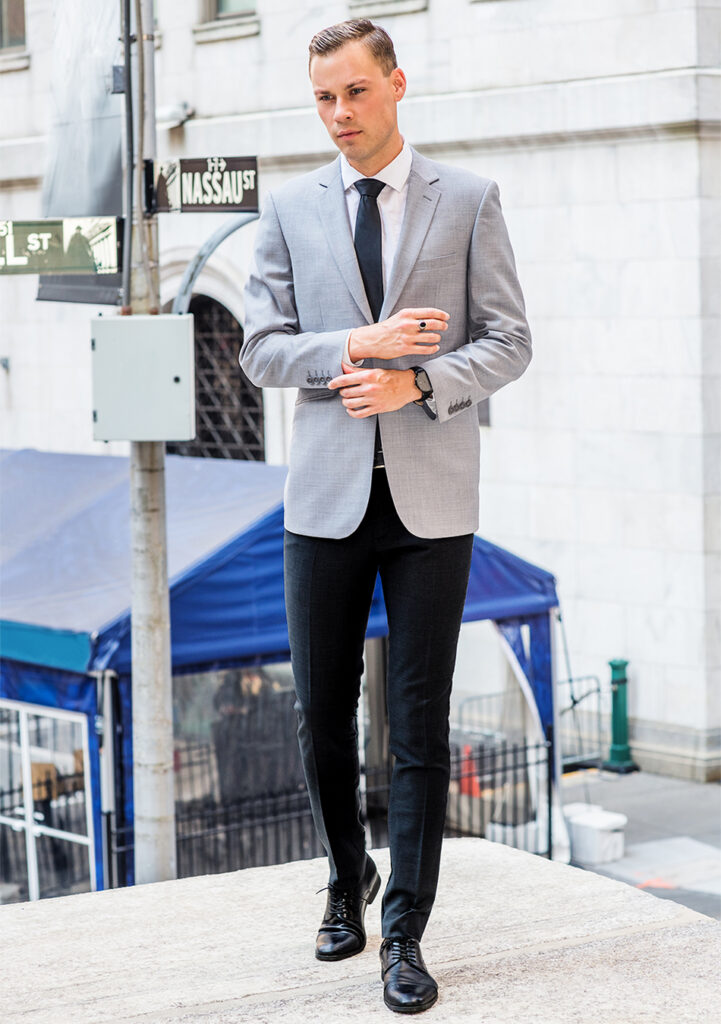 As a formal outfit, I suggest experimenting less with colors and staying in a neutral color palette.
The light grey blazer and black pants are our base pieces. Add in a white dress shirt and black tie for a perfect business look.
Swap the dress shirt for a turtleneck, and you'll have a dandy date night outfit.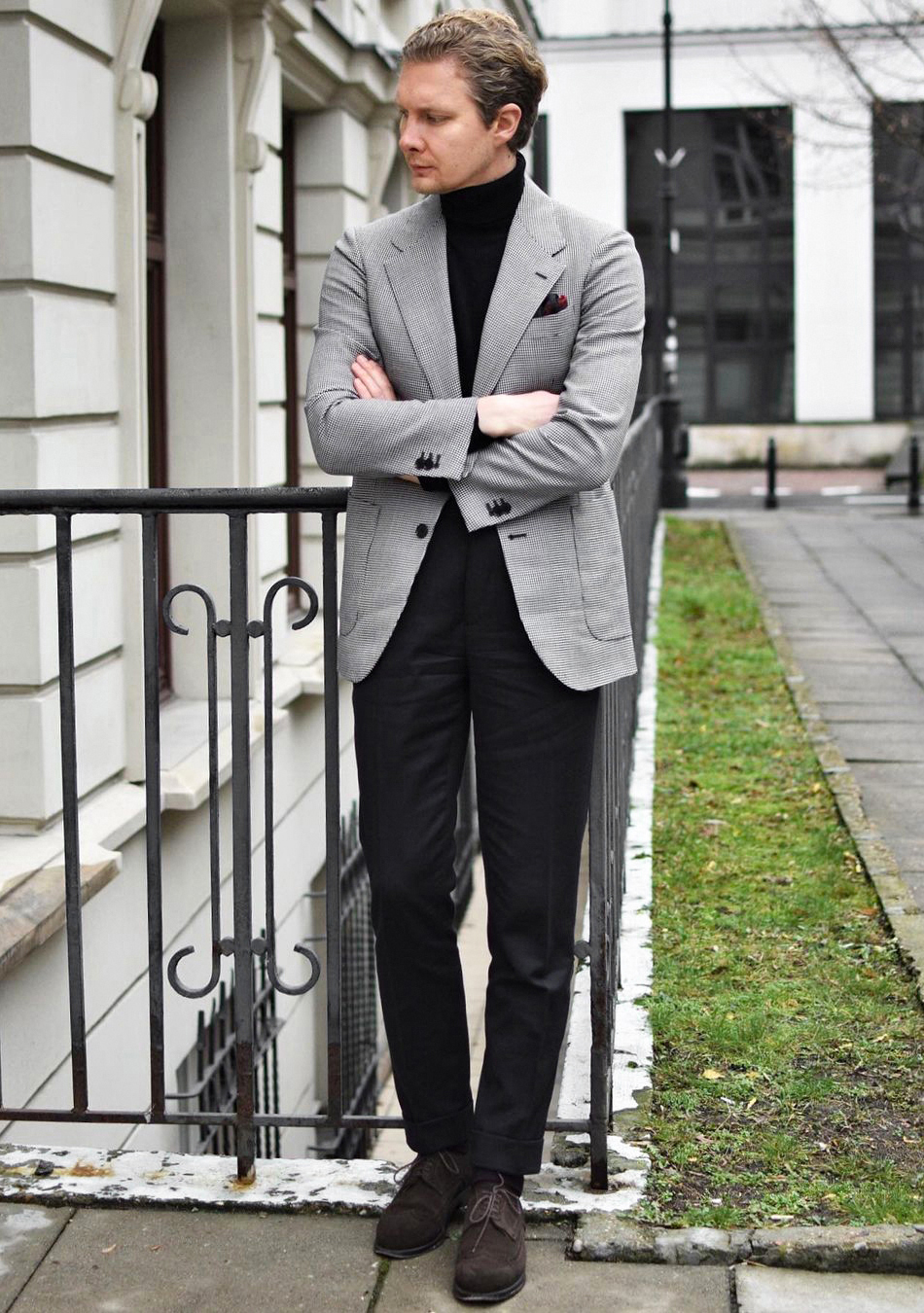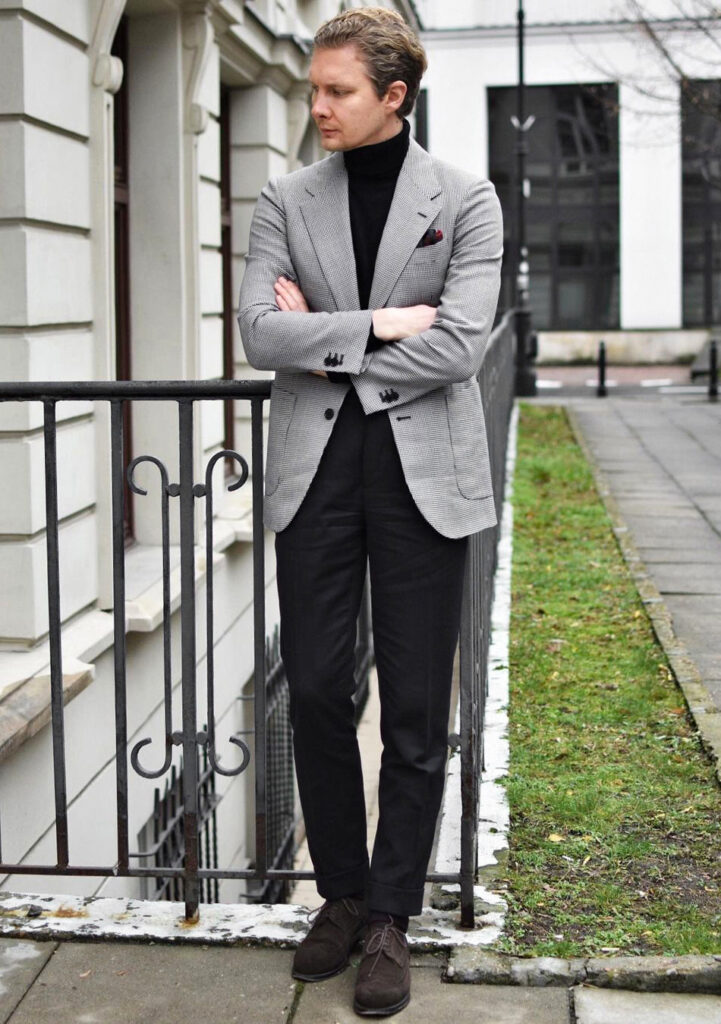 Lastly, if you want something elegant, wear these with a sweater over your dress shirt.
Brown Blazer and Black Trousers
In many people's minds, a brown blazer and black pants seem a no-no.
It might stand out a little, but in a good way.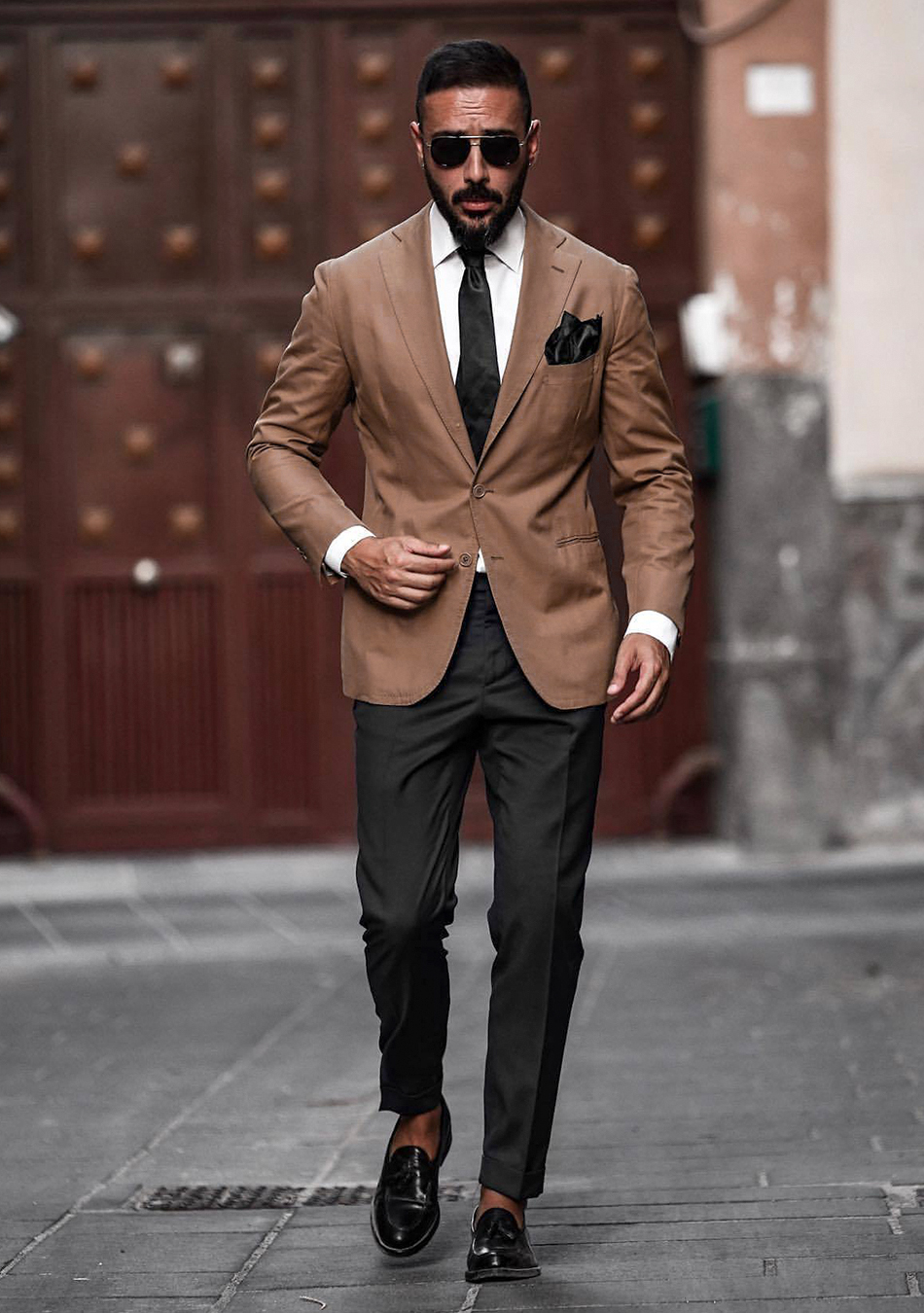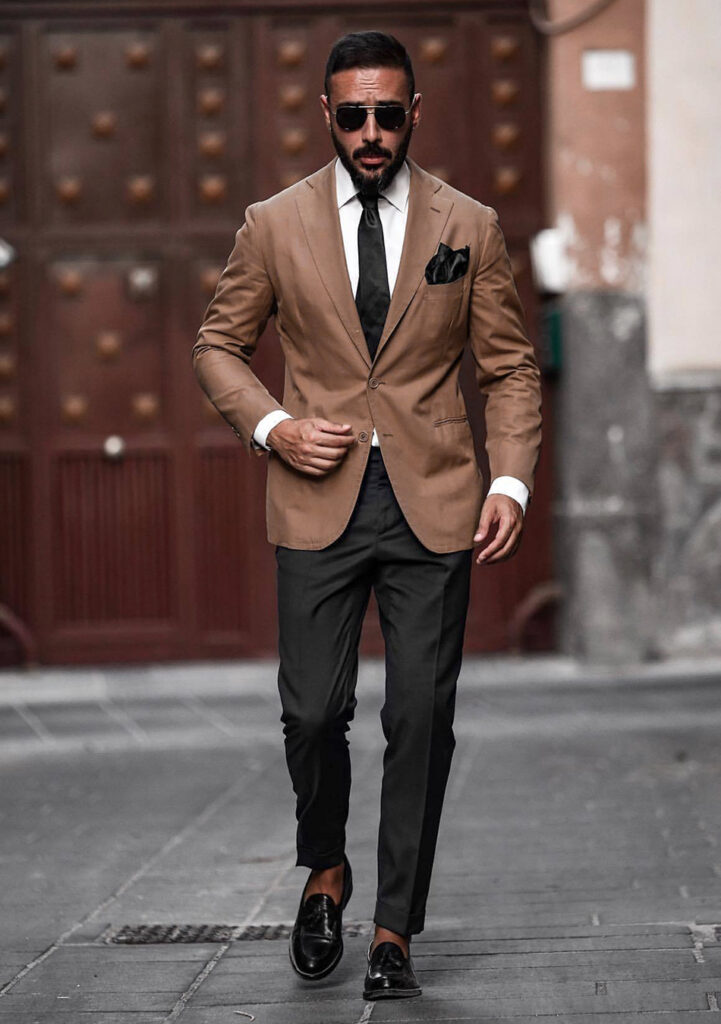 The best option is to go with a dressy look of a white dress shirt matched with a black tie.
This combination is suitable for summer cocktails and other dressy daytime events.
You can also wear a brown textured blazer and a tan, brown, or navy sweater underneath.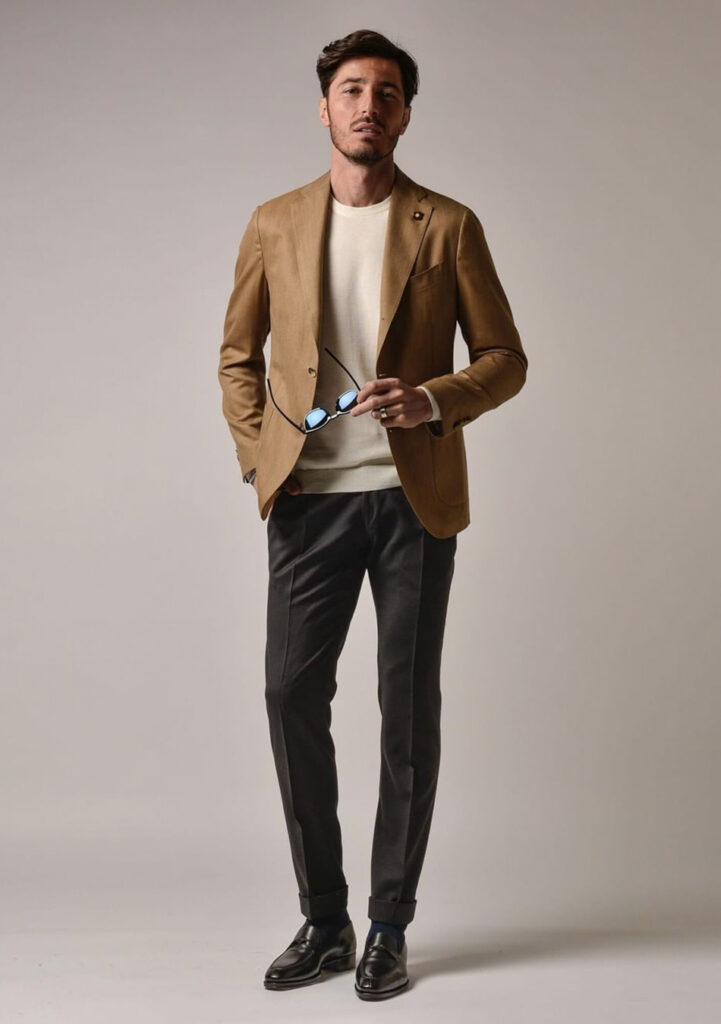 It will be a perfect outfit for fall without the black trousers standing out.
Brown Blazer and Beige Pants
The innate casual feel of brown tones helps pair two sporty items together.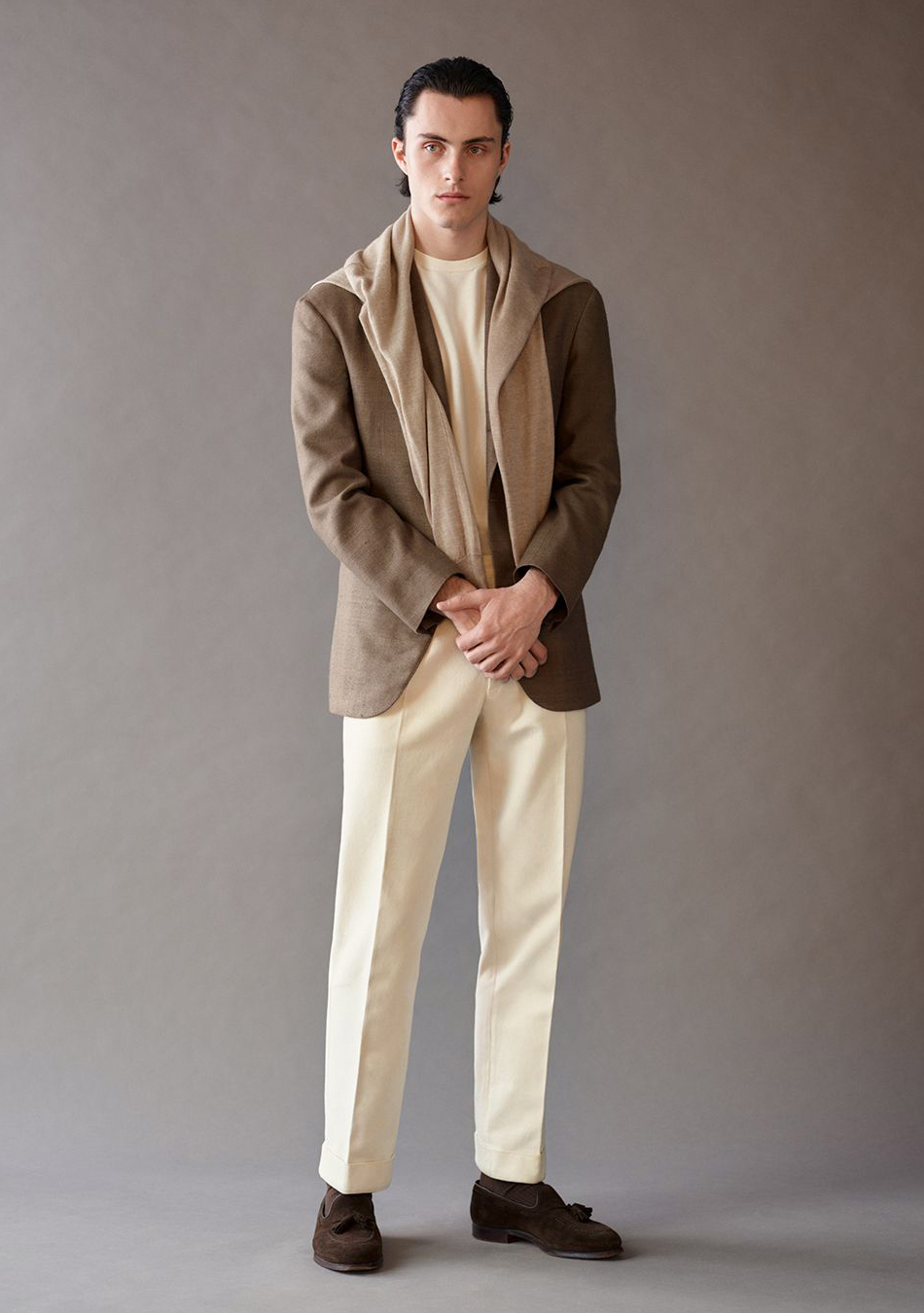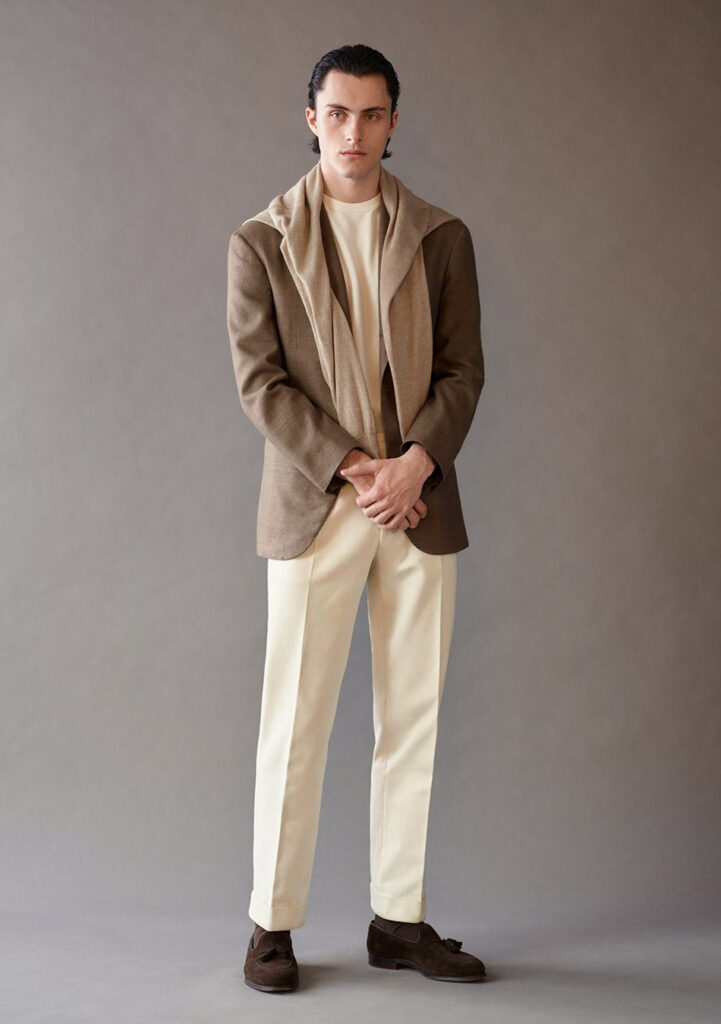 It's evident from the combination of this brown blazer and beige pants.
Also, these lighter tinges give somewhat "old money" vibes that gentlemen love to showcase.
So, I suggest wearing a preppy white dress shirt. The loafers, no socks, will perfectly match the look.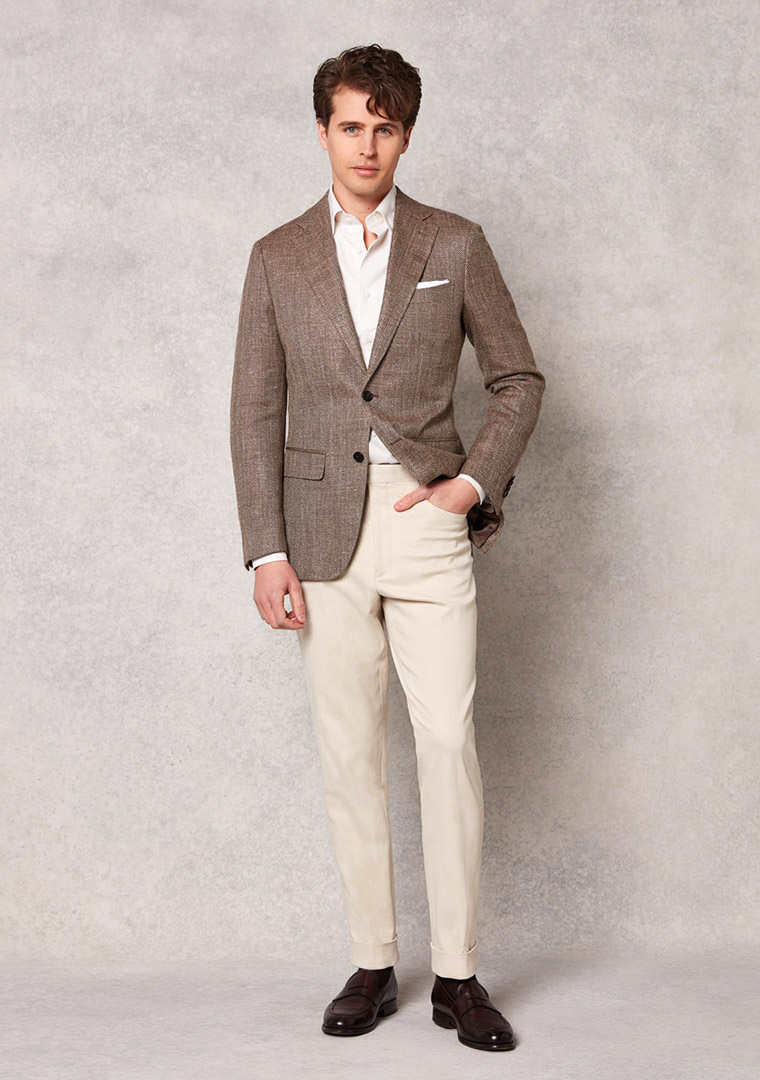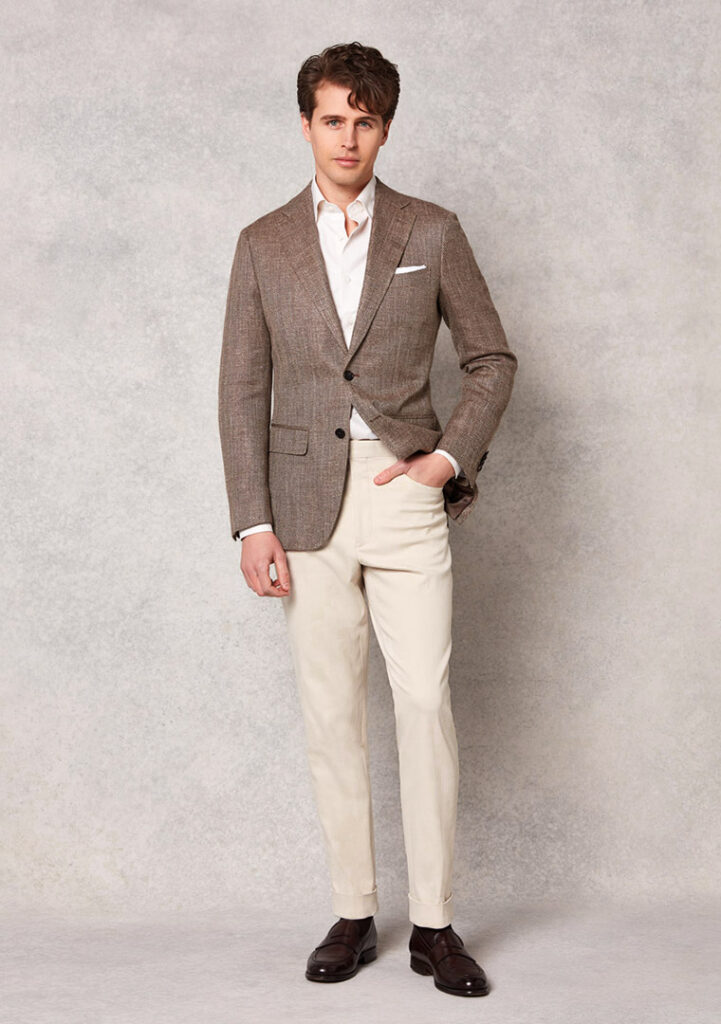 Wearing a striped shirt would be a good idea if you want an upgraded look. Add in a dark tie for a touch of sophistication.
Burgundy Blazer and Grey Pants
At a party, people may say, "Who's that guy?" And you would be wearing a burgundy blazer and grey pants, giving strong sartorial vibes.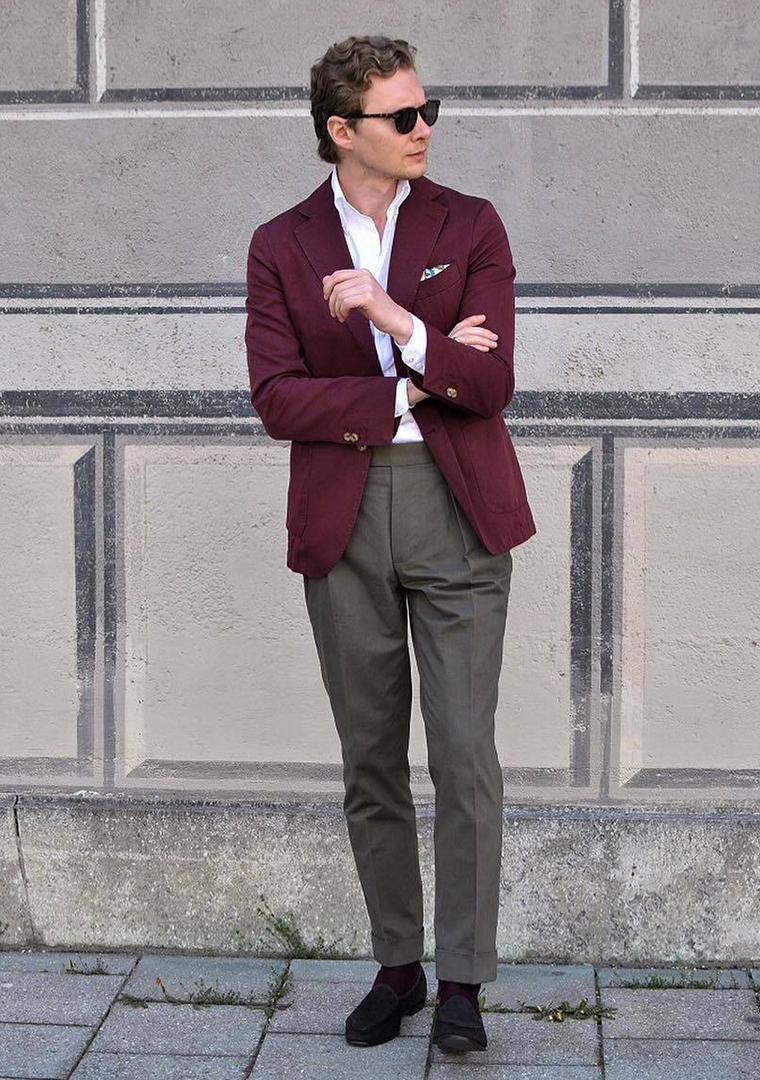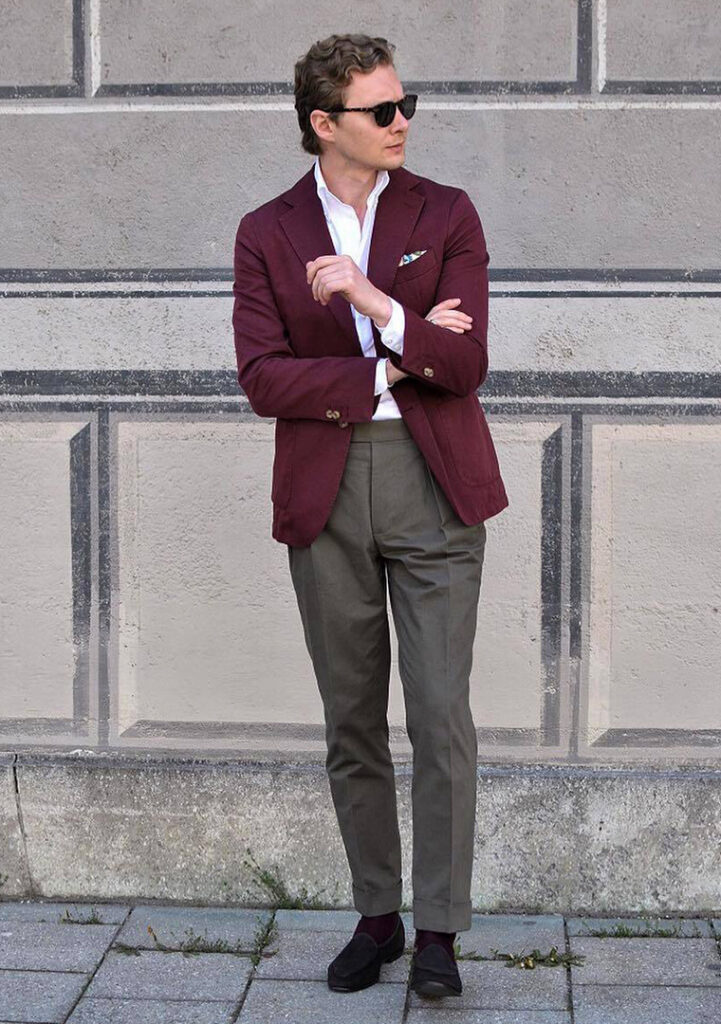 Now, there are many ways you can build these looks. To dress up the look, wear a white dress shirt.
Match the burgundy blazer and grey pants with a black turtleneck for a chic date-night look.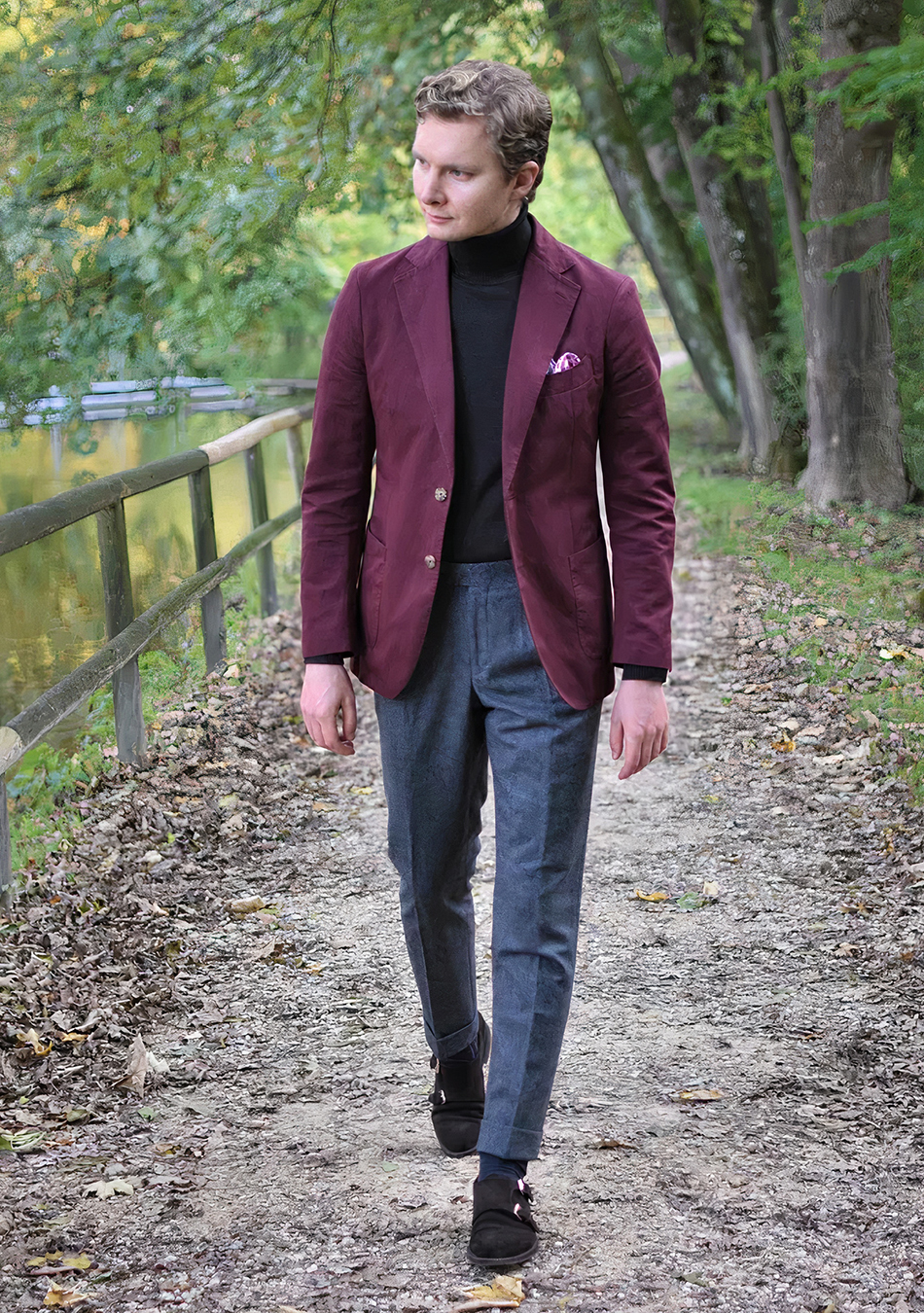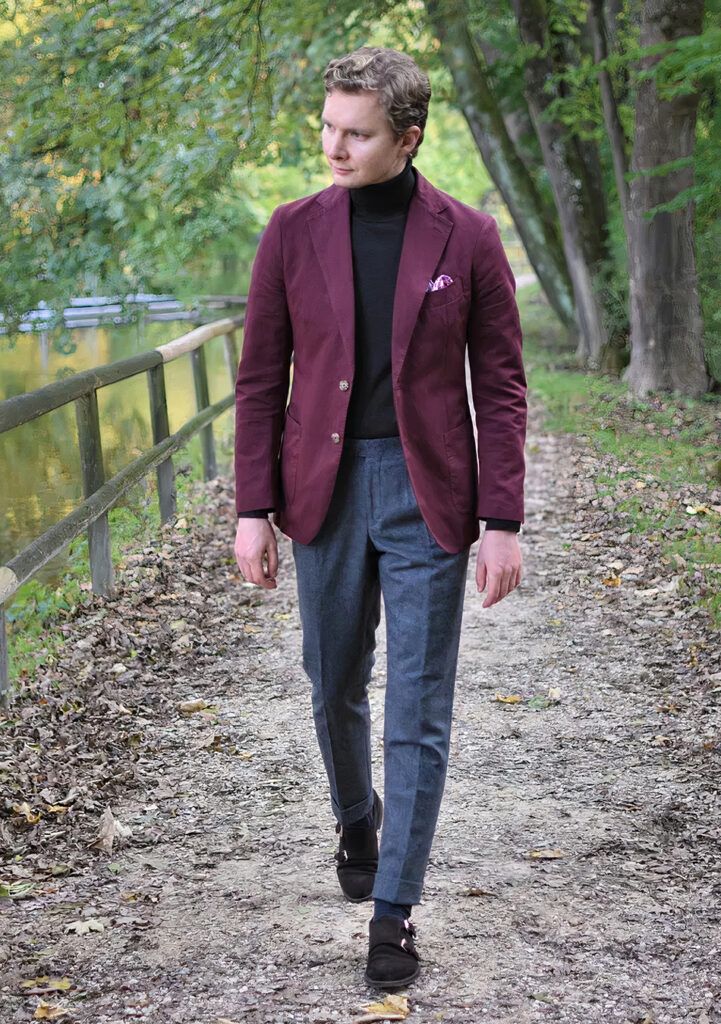 You can wear a grey crew neck sweater instead of a turtleneck for something nonchalant.
Accessories like a colorful pocket square fit the theme of the burgundy blazer. You can complete these looks with brown loafers to complement the grey pants.
Green Blazer and Beige Pants
The green blazer is my port of call for creating some trendy spring outfits.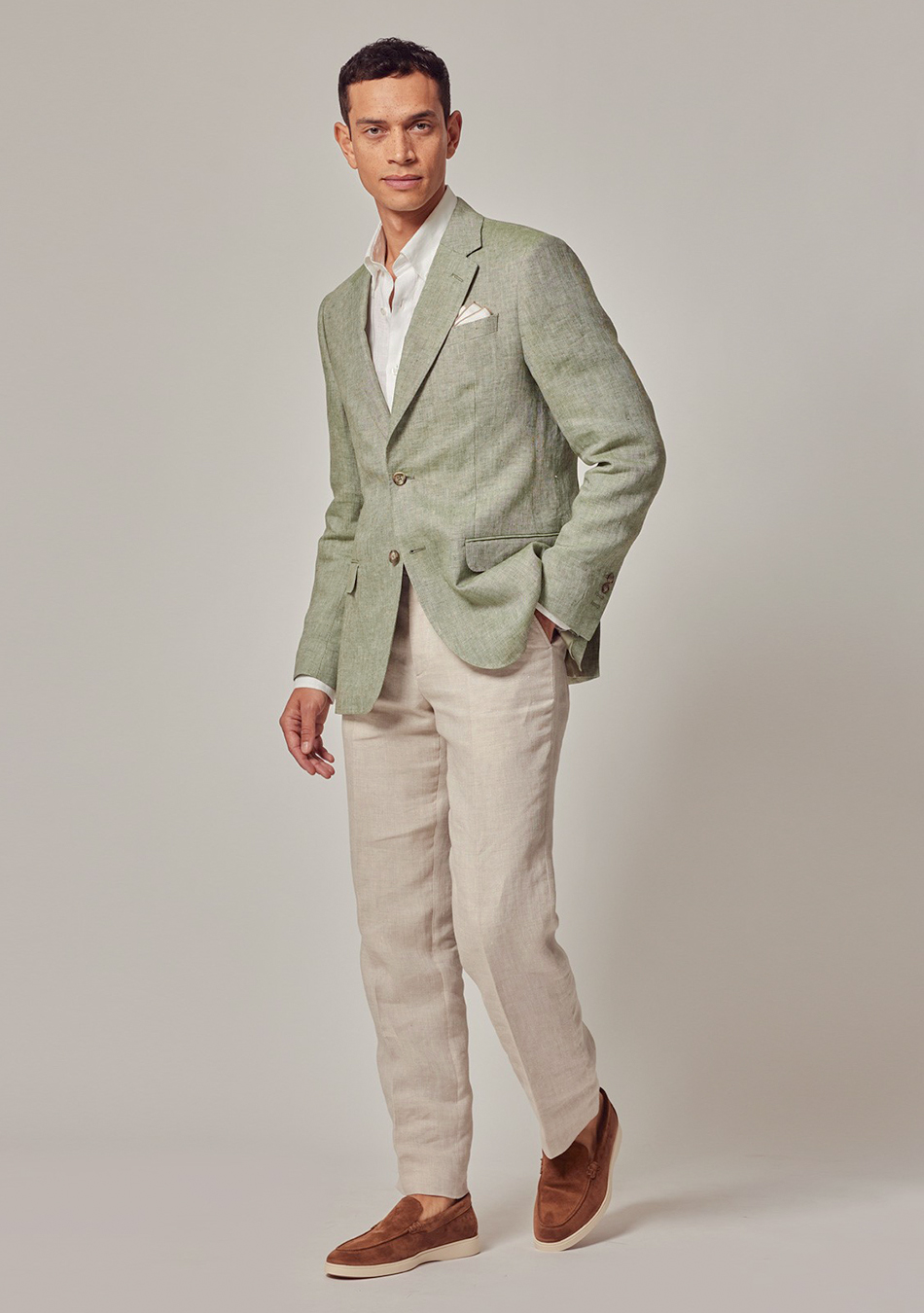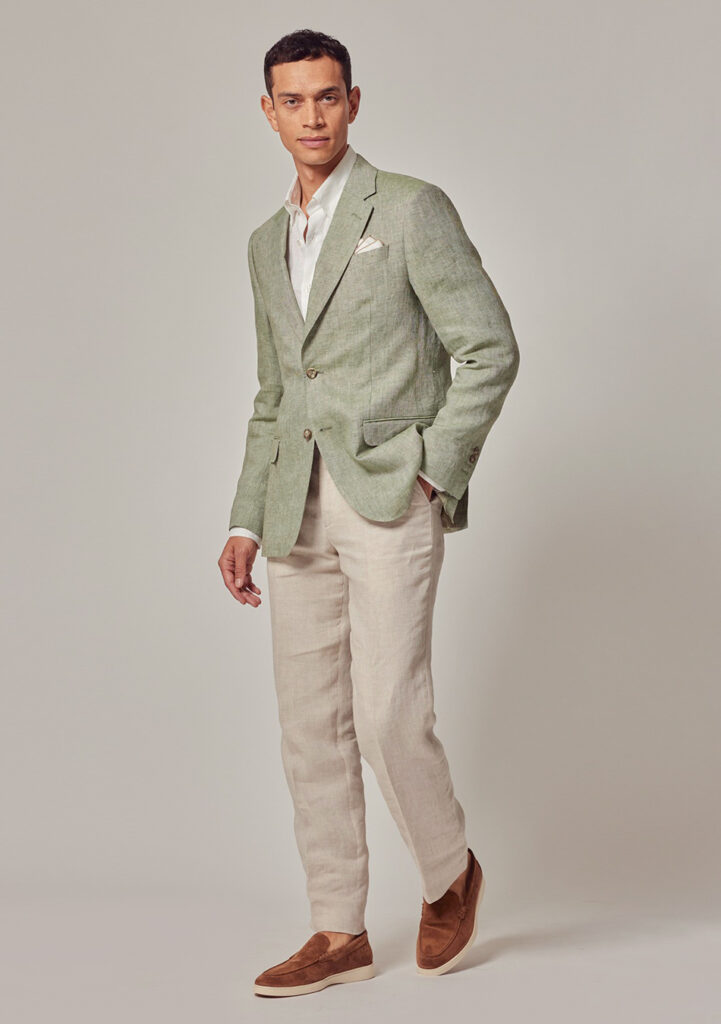 Match this with beige pants to create an "au naturel" combination of relaxed sophistication.
A white dress shirt and brown tie are good for creating the country spring wedding look.
If you want something more relaxed, a shade of blue via the striped shirt will give that look.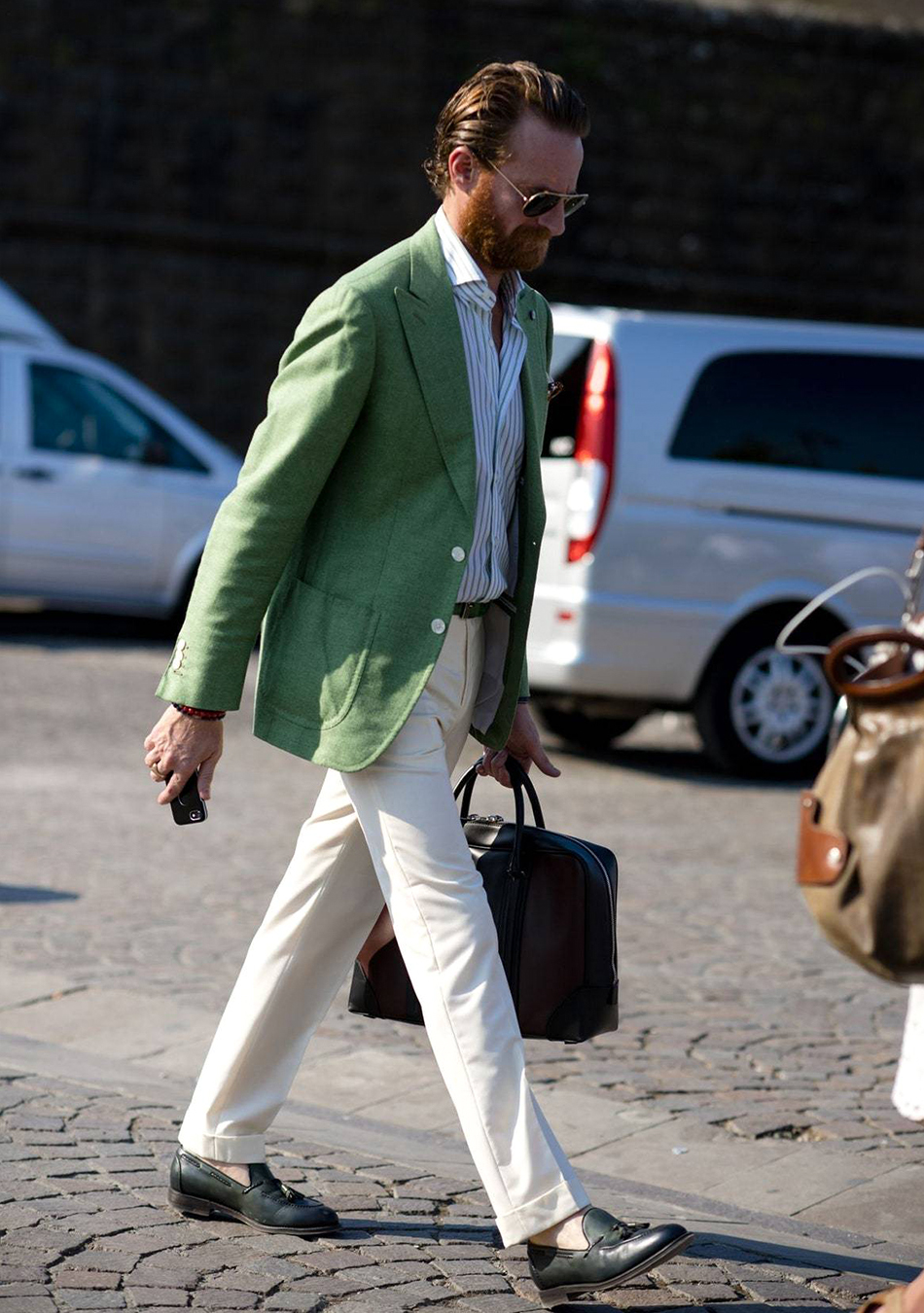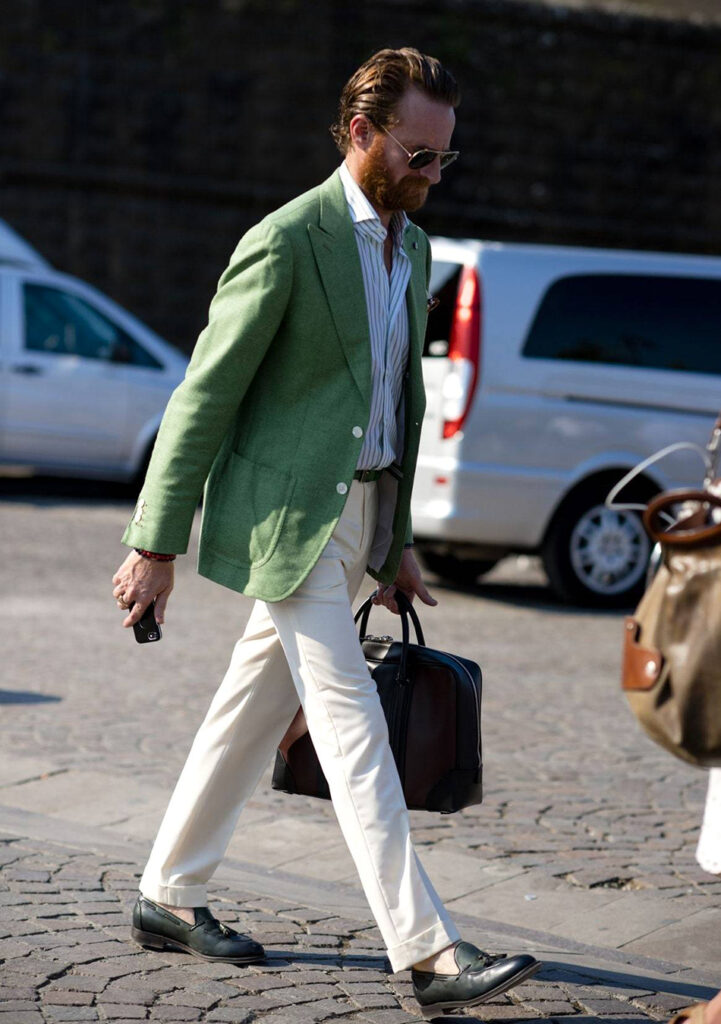 You can accessorize the look but don't mix green with red.
Brown loafers will be the best option with these outfits, considering the beige in pants and the formality of looks.
Beige or Tan Blazer and Navy Pants
A beige or tan blazer with navy pants is among those combinations that look put-together without even trying.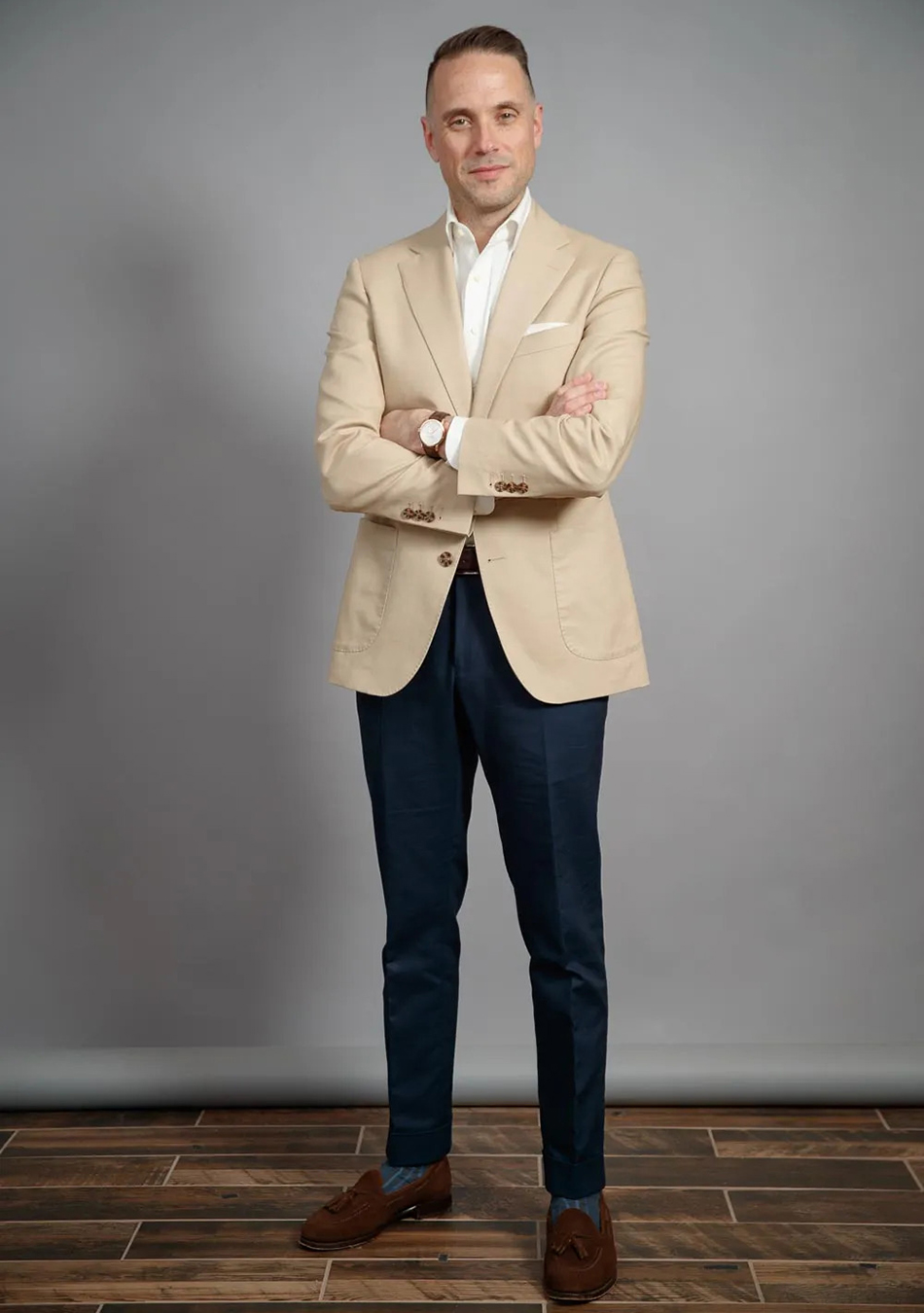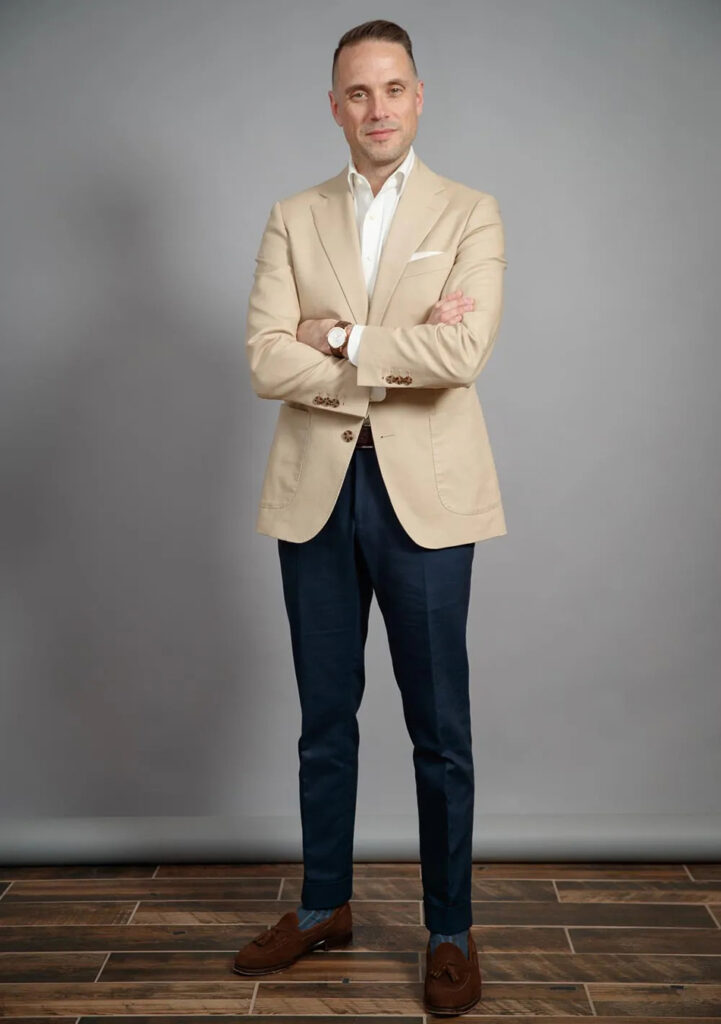 You can wear a white or other pastel-colored shirt and brown loafers to carry a carefree look.
Add more blues to the outfit for a cheerful yet dressed-up look. You can do this by wearing a light blue dress shirt or a navy tie.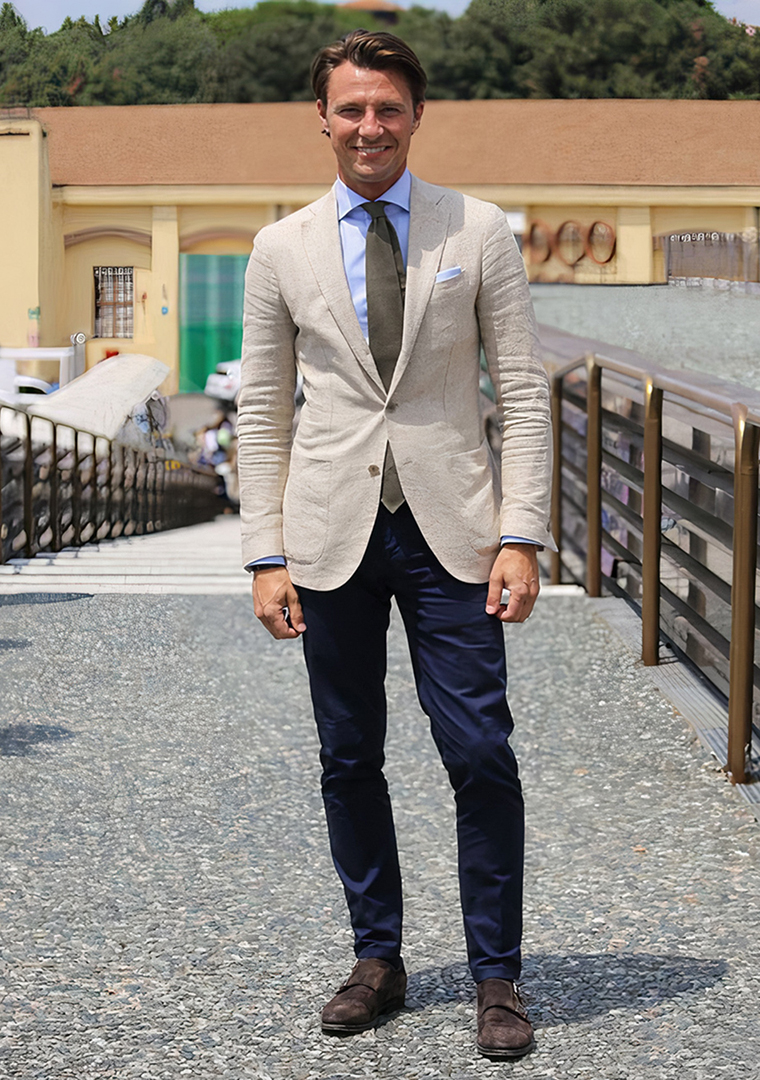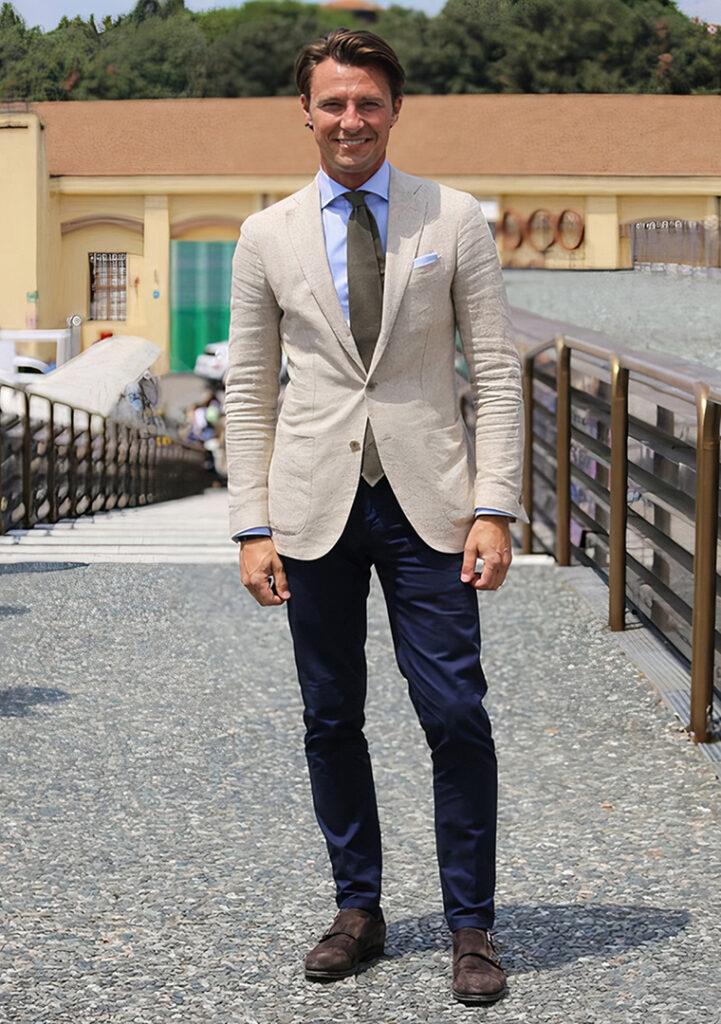 A touch of color is almost a must-have to match the vibes of these looks. The pocket square and the suede loafers will do the job.
How Separates Work
Modern men's fashion is about looking put-together and, at the same time, being effortless about it.
In many ways, this idea has transcended the limits of conventional suiting.
For example, the tradition-bound suit can now be replaced with a casual blazer and pants.
Such suit separates help formal garments bend to fit many dress codes.
Mix and match blazers and pants with these considerations for some individuality and finesse.
Proper Fit Is Essential
A perfect fit, and the job is halfway done.
The jacket should feel gently hugging you. And be mindful of the jacket and its sleeve length.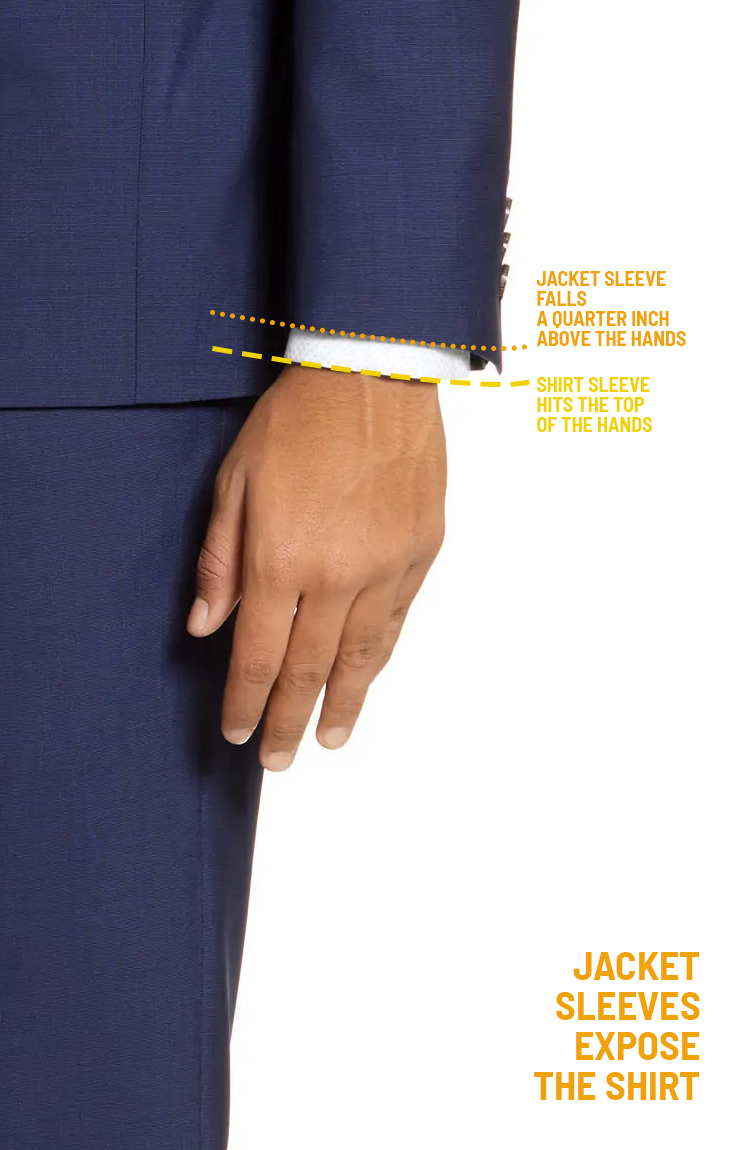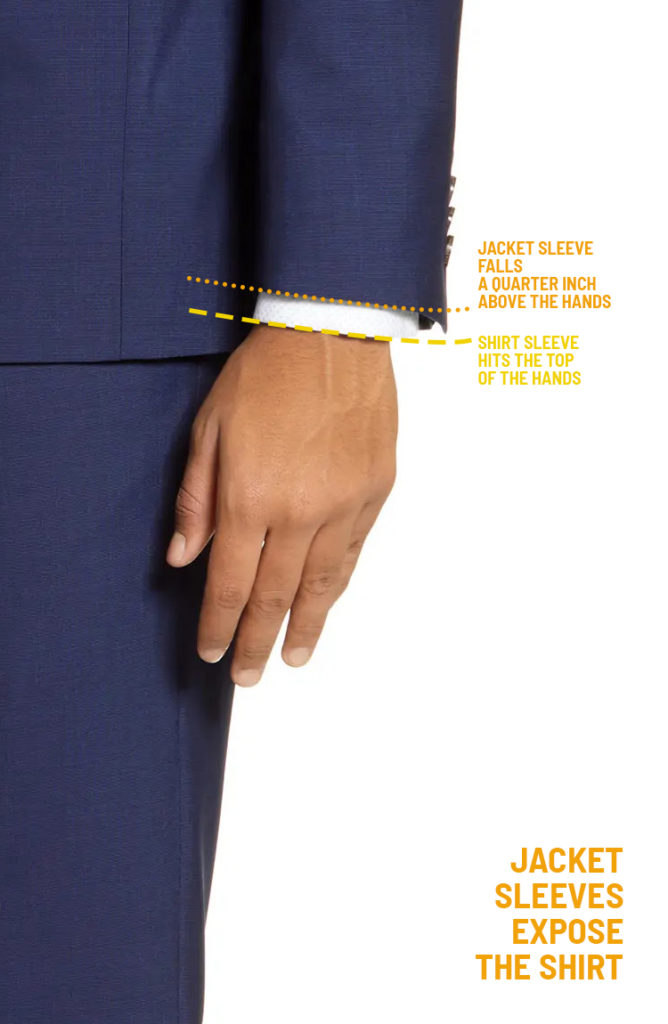 The trousers should sit nicely at your waistline. Their length, however, is a personal preference.
The uniformity in the fit is also crucial. Avoid wearing tapered trousers with a relaxed-fit blazer, and vice versa.
Mind the Texture
In suit separates, textures can be tricky.
The key thing is only to match the season-appropriate textures together.
Herringbone, tweed, and corduroy are your winter fabrics. Match these with flannel, worsted cool, and other heavier textures.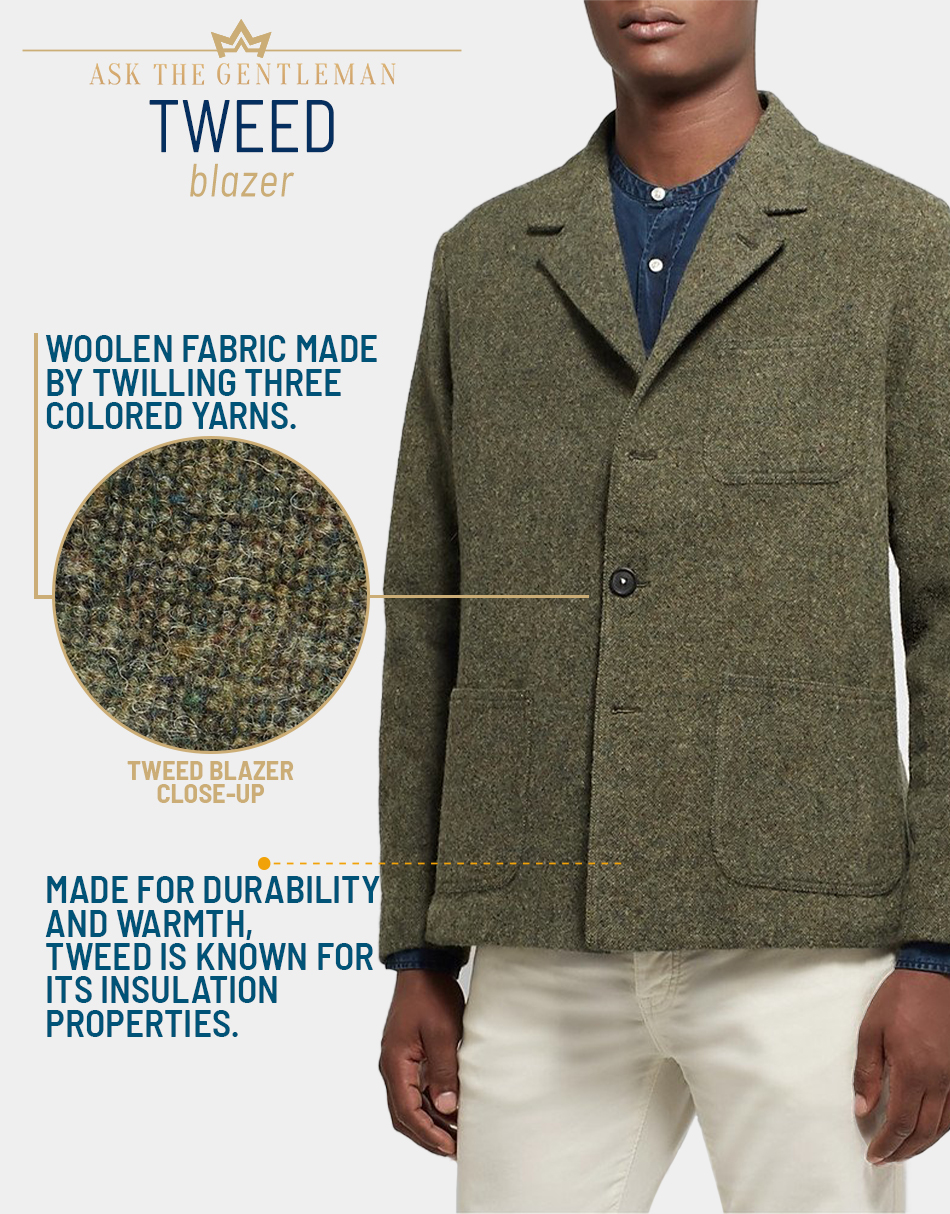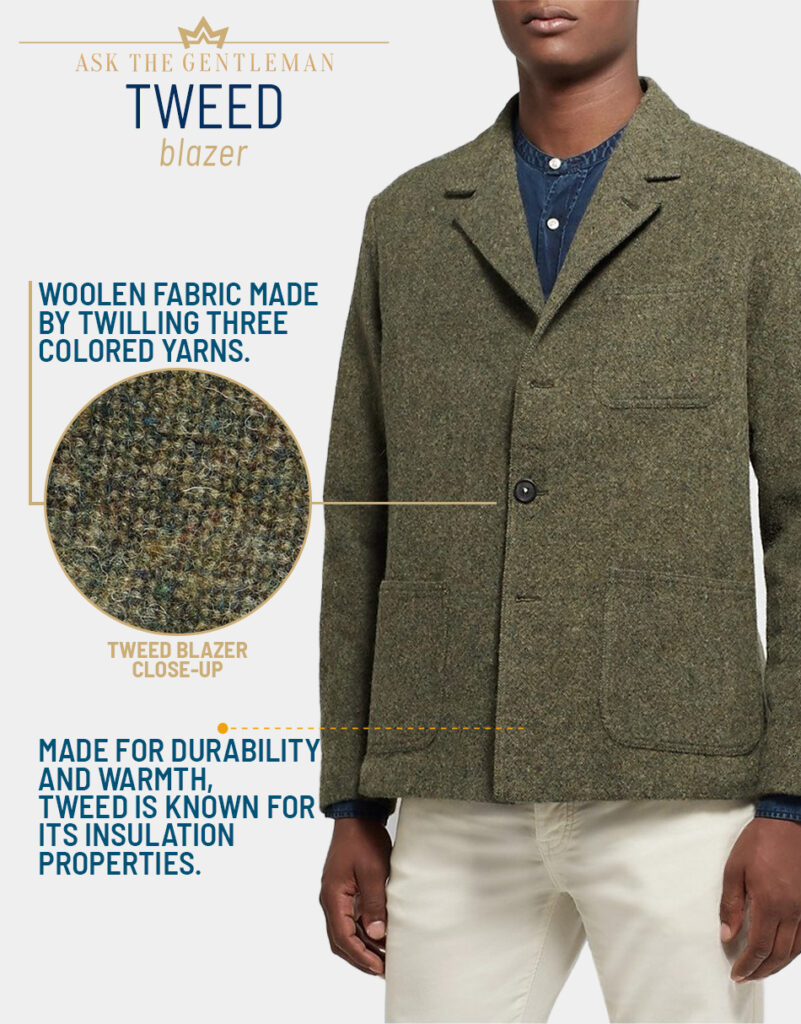 In the same way, mix lighter fabrics like linen, seersucker, and cotton.
I also suggest experimenting with textures in more casual settings.
Consider the Formality
On the dress code spectrum, the semi-formal is the threshold to wear the suit separates.
You can also entail dandy business-casual and smart-casual combinations.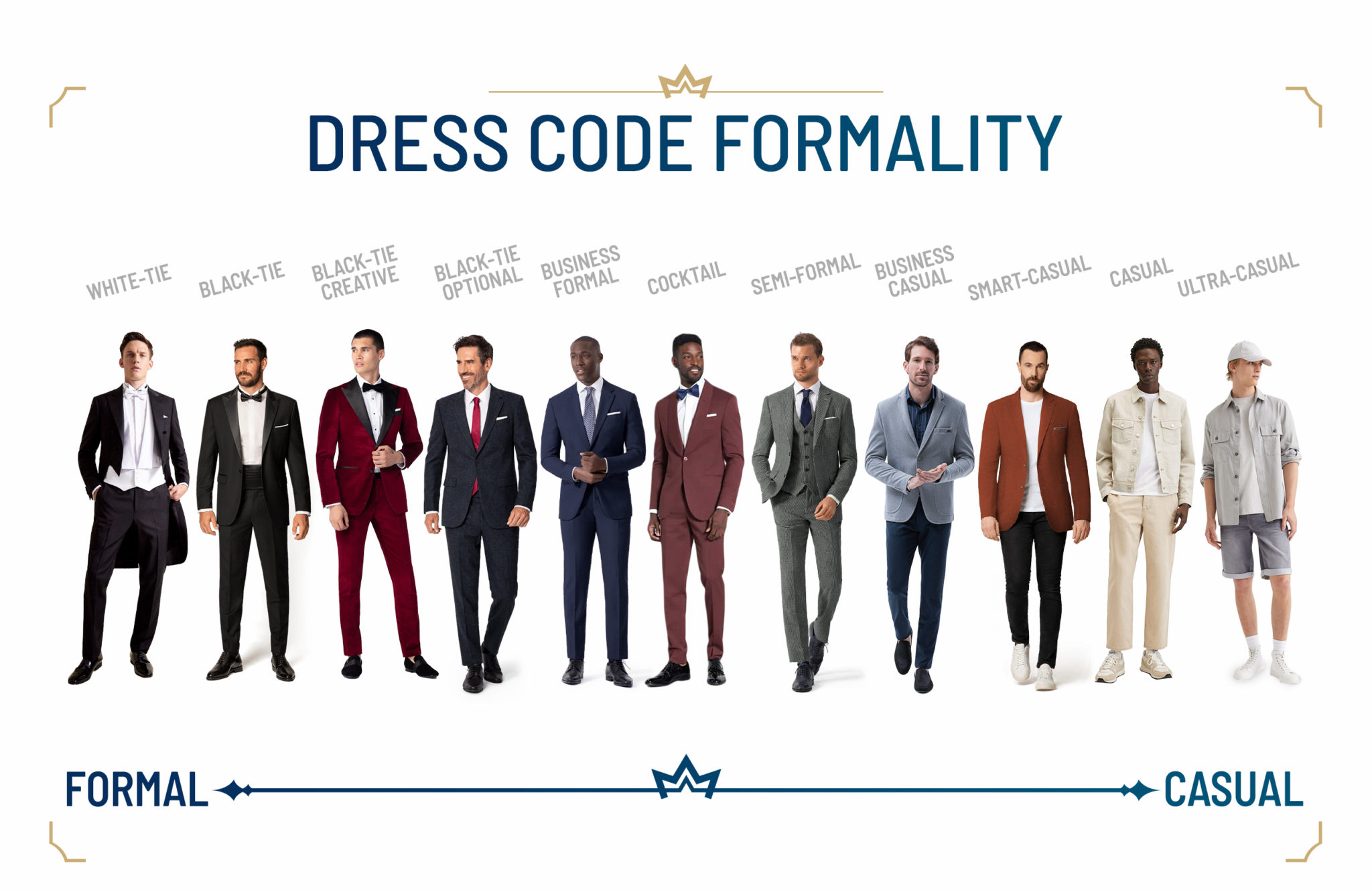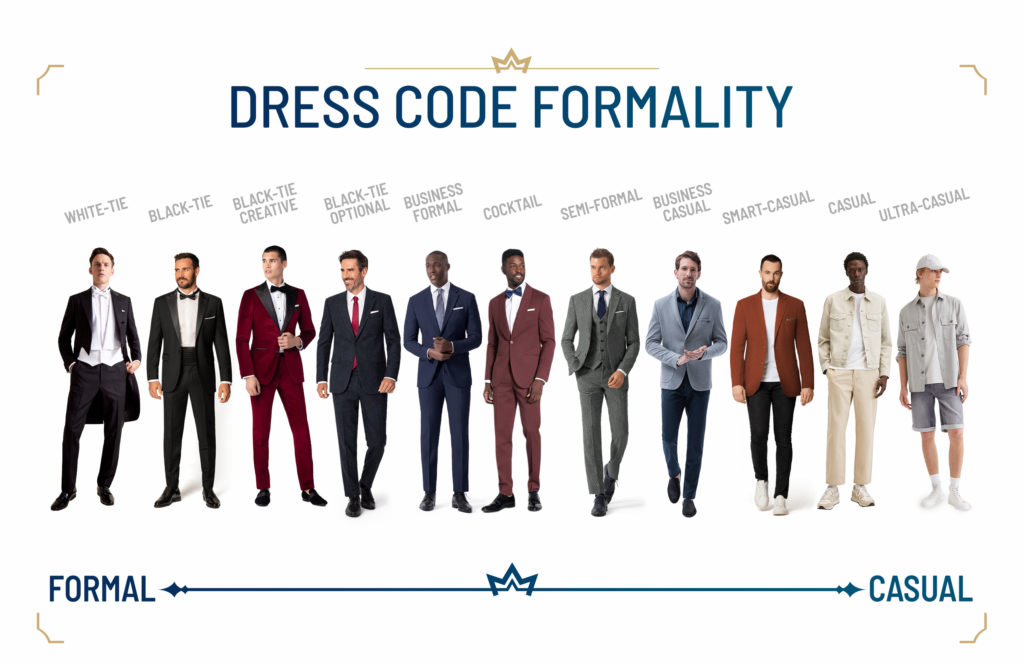 Avoid wearing suit separates for formal corporate looks.
Also, it's best to wear unstructured blazers without padded shoulders as separates.
Relaxed shoulders and half-lined jackets will be a better disguise for formality interpretation.
Contrast Works
The contrast in the separates will showcase this as a deliberate style move. So, don't hesitate to experiment.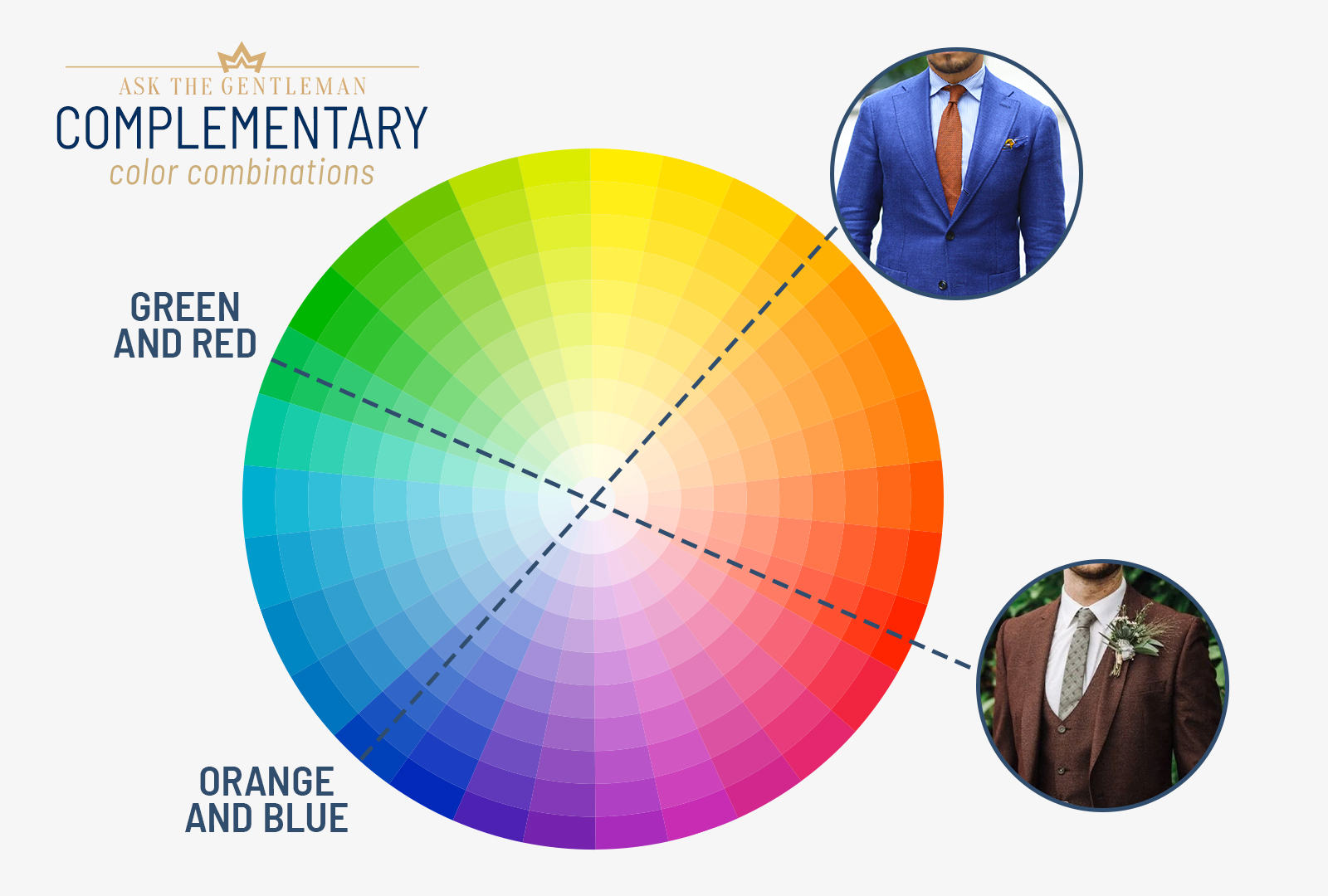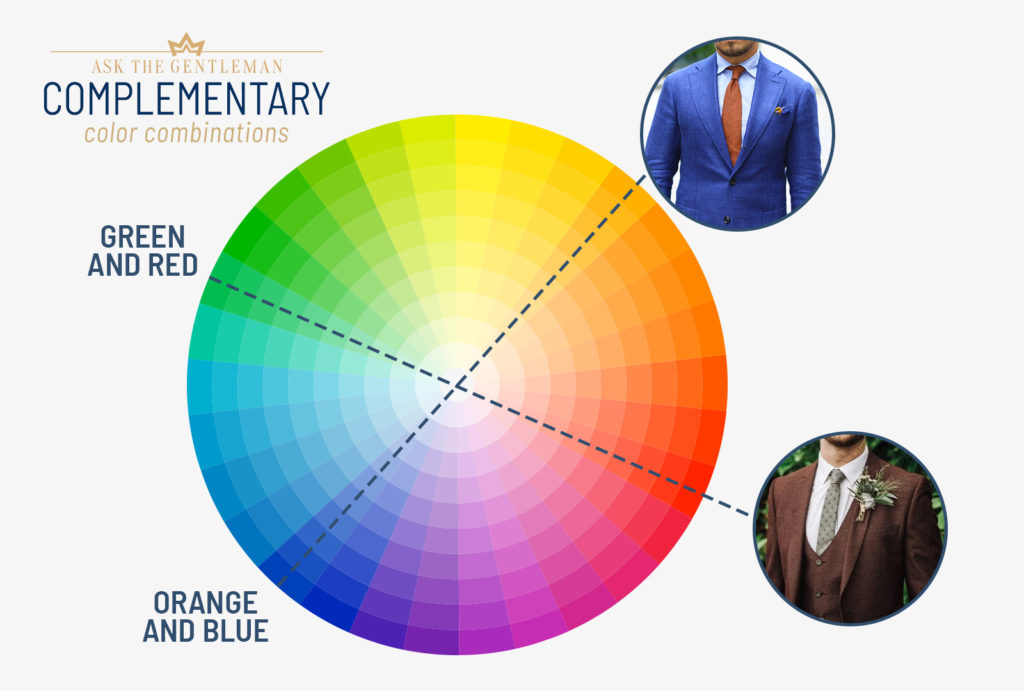 The failsafe method is to wear light trousers with a dark blazer or vice versa.
When wearing monochromatic trousers and blazers, utilize patterns and texture for contrast.
The dress shirt and sweater can also add a touch of color.
Pants Type
Your separates include pants, otherwise part of a suit.
Now, almost always, you'll wear dress pants to complement the formality of a blazer.
Things like the trouser style, pleats, type of break, high or low rise, etc., are more of a personal preference.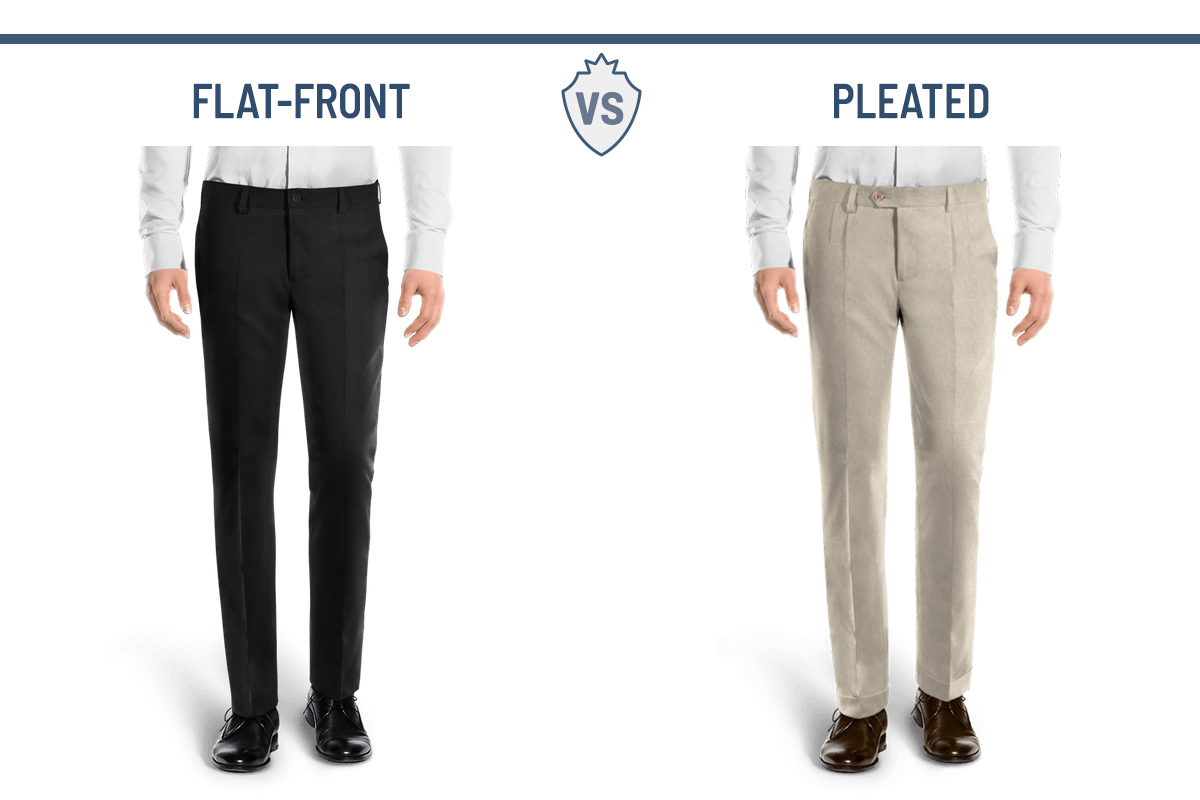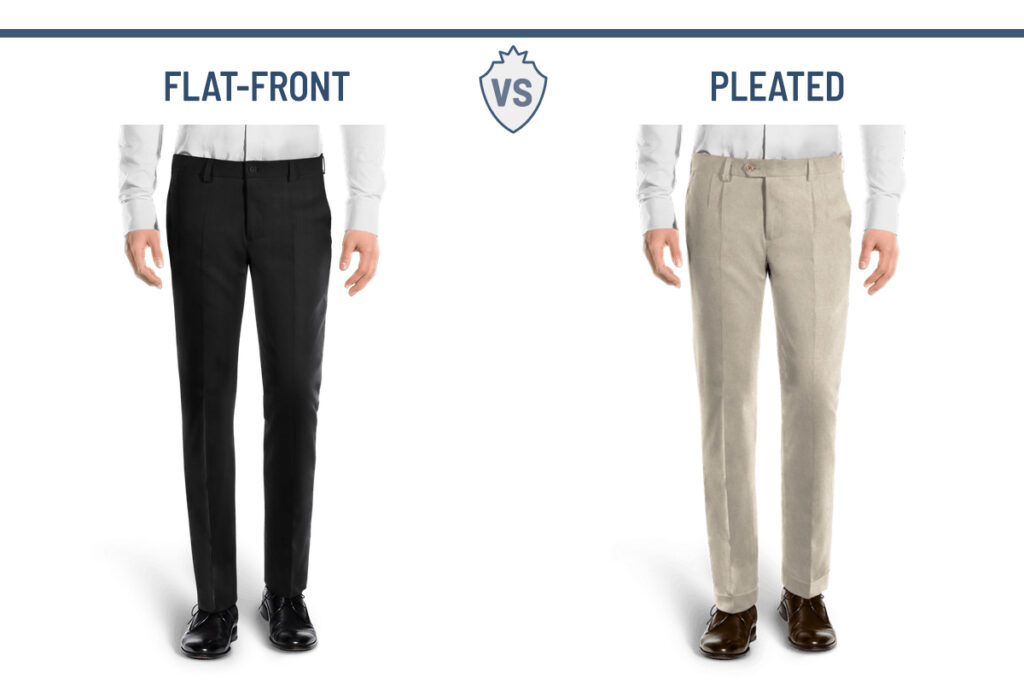 If the dress code is casual enough, you can wear some dressy chinos, too.
But I only suggest this to style risk-takers and not to everyone else.
Matching Blazer and Pants FAQs
When can you wear separates?
The ideal scenario is occasions that demand a put-together look but also allow flexibility in outfits.
By dress code, it's all semi-formal events and business-casual parties.
Can you wear white trousers with a dark-colored blazer?
Yes, it would be a classic look for summer.
You can make it a dressed-up combination with a light blue dress shirt. Wear a T-shirt for a more relaxed outfit.
Among dark blazer colors, navy is the best option.
Can you wear a blazer with jeans?
Yes, you can wear a blazer with jeans. Wear less structured, or if possible, an unstructured blazer for a casual feel.
In the same way, dark-wash slim-fit jeans will even out the suit jacket in formality.
What's the best blazer color to wear with dress pants?
Navy is the failsafe blazer color regardless of the dress pants type.
Neutral and versatile colors like blue, brown, and grey are good options for dress pants.
Can you wear a T-shirt under the blazer?
Yes. Plain crew-neck t-shirts will create casually effortless outfits with the blazer. And Polo shirts are good for a Hollywood dash.
Avoid wearing graphic T-shirts under the blazer.