Nowadays, men are swooning over blue pants and brown shoes.
This combination is like a breath of fresh air after leaning into harsh black for so long.
From the boardroom to coffee shops, this color pairing is shaking things up, and for a good reason.
Who knew you could create such an array of styles by varying the shades of these two colors?
Things to Consider Before Color Matching
Blue and brown are unlike many other colors; they are far more versatile than most other shades you may wear.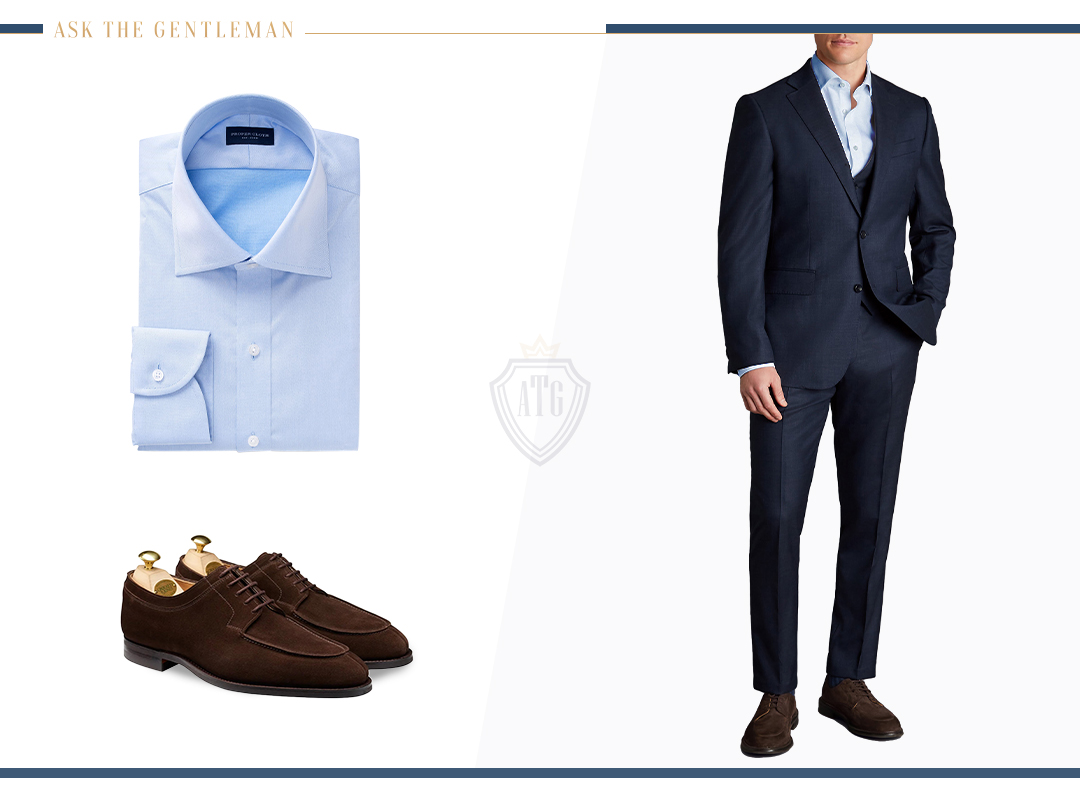 For example, blue is so incredibly varied that some shades seem entirely different colors.
It's a color that can range from formal to casual.
Brown, however, is never formal. It softens any color it's paired with.
It's almost the color opposite of black, which is almost always formal.
Setting the Tone with Color
Blue, arguably the most versatile hue of the rainbow, offers varying shades to signal the tone of your outfit.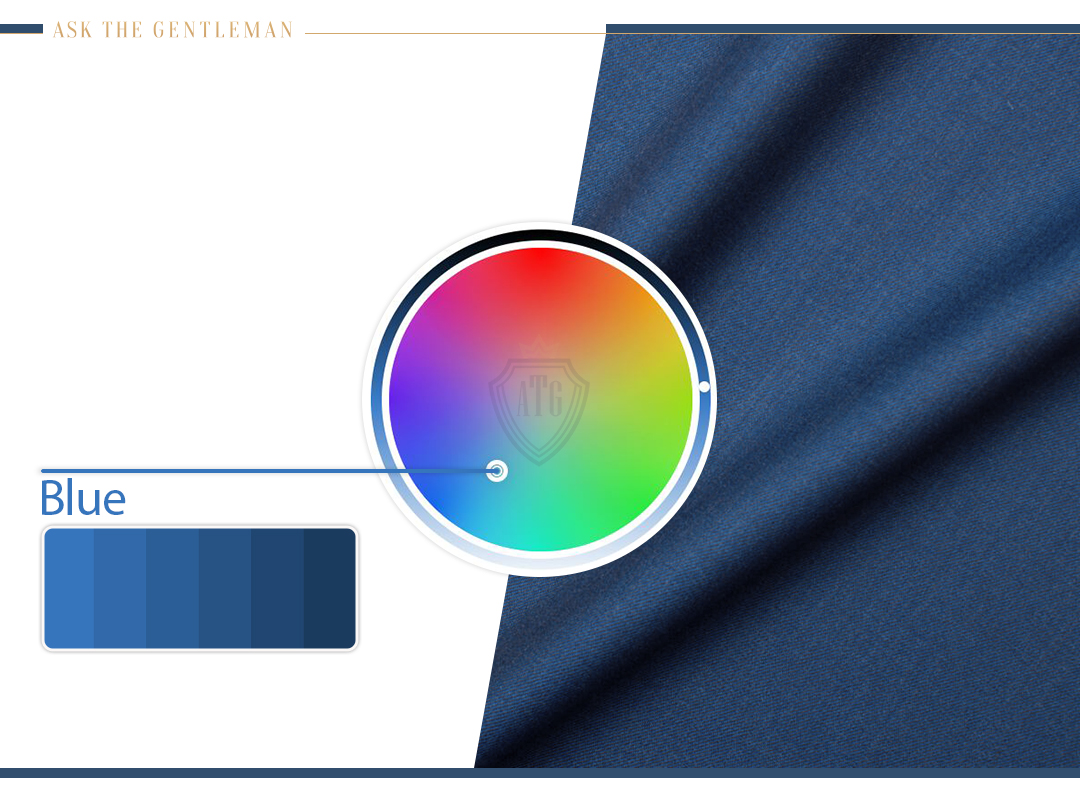 Want to exude professionalism? Navy blue pants, almost black in certain lighting, are your go-to.
Royal blue fits great for something cheery and is perfect for semi-formal occasions.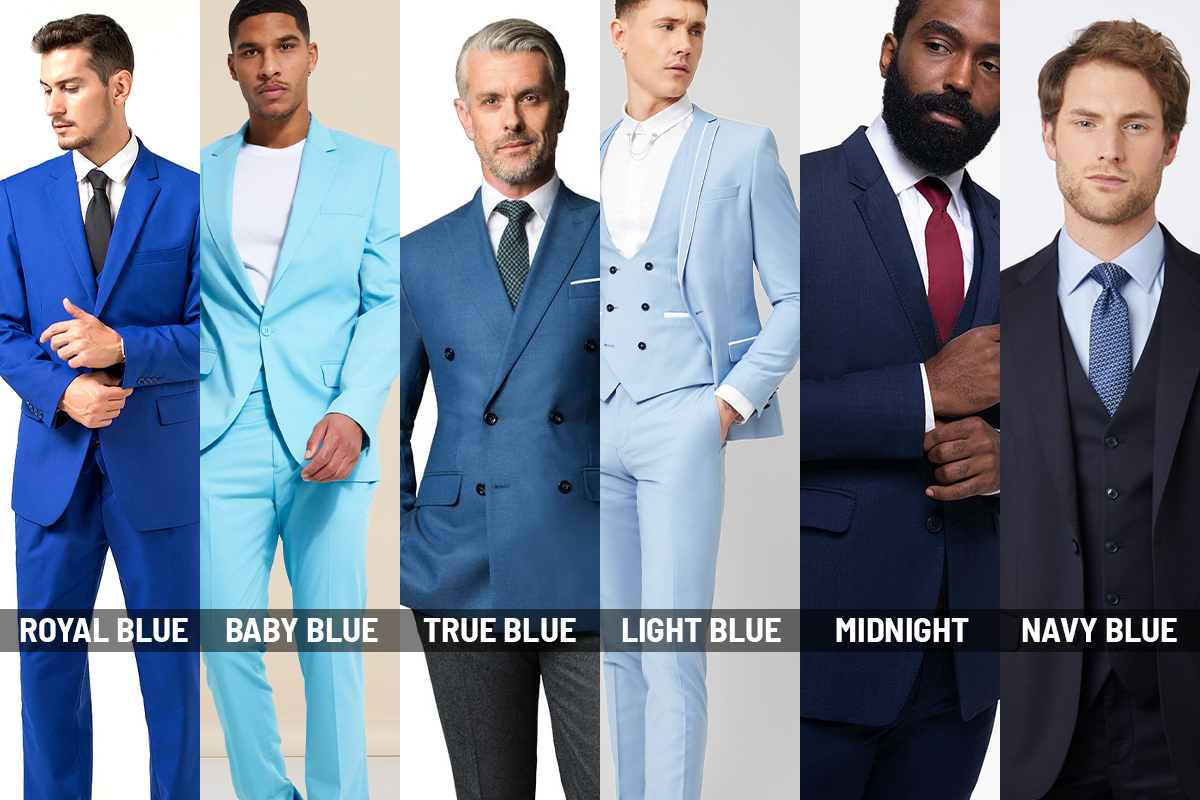 If a casual or leisurely tone is what you're after, light blue pants achieve that relaxed vibe.
Always consider the season; for instance, light blue might feel out of place on a chilly winter day.
Conversely, while brown is adaptable, it doesn't rival blue's flexibility.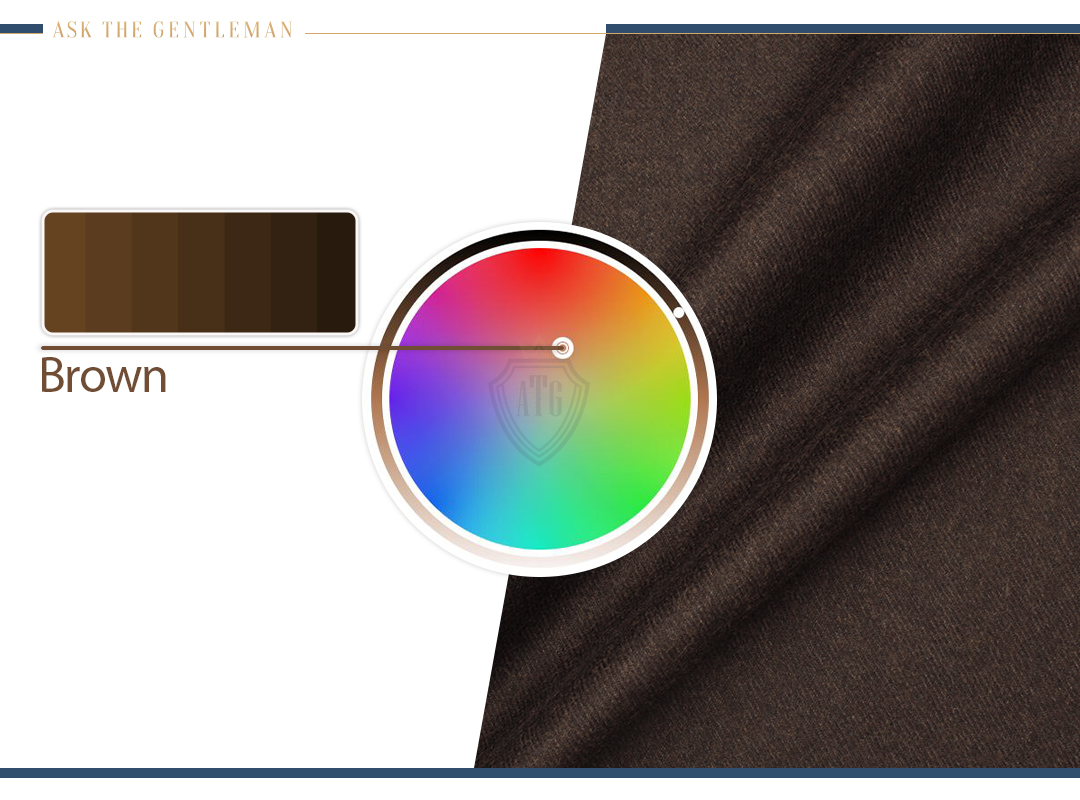 The darker the shade of brown shoes, the dressier they appear.
Imagine pairing chinos and a pullover with dark brown shoes – it would seem mismatched.
However, tan or light brown shoes would be an impeccable choice.
The takeaway? The lighter the brown, the more casual and relaxed the footwear.
How to Color Match Blue with Brown
Here's an easy tip to remember for pairing your blue and brown: the darker your blue, the darker your brown.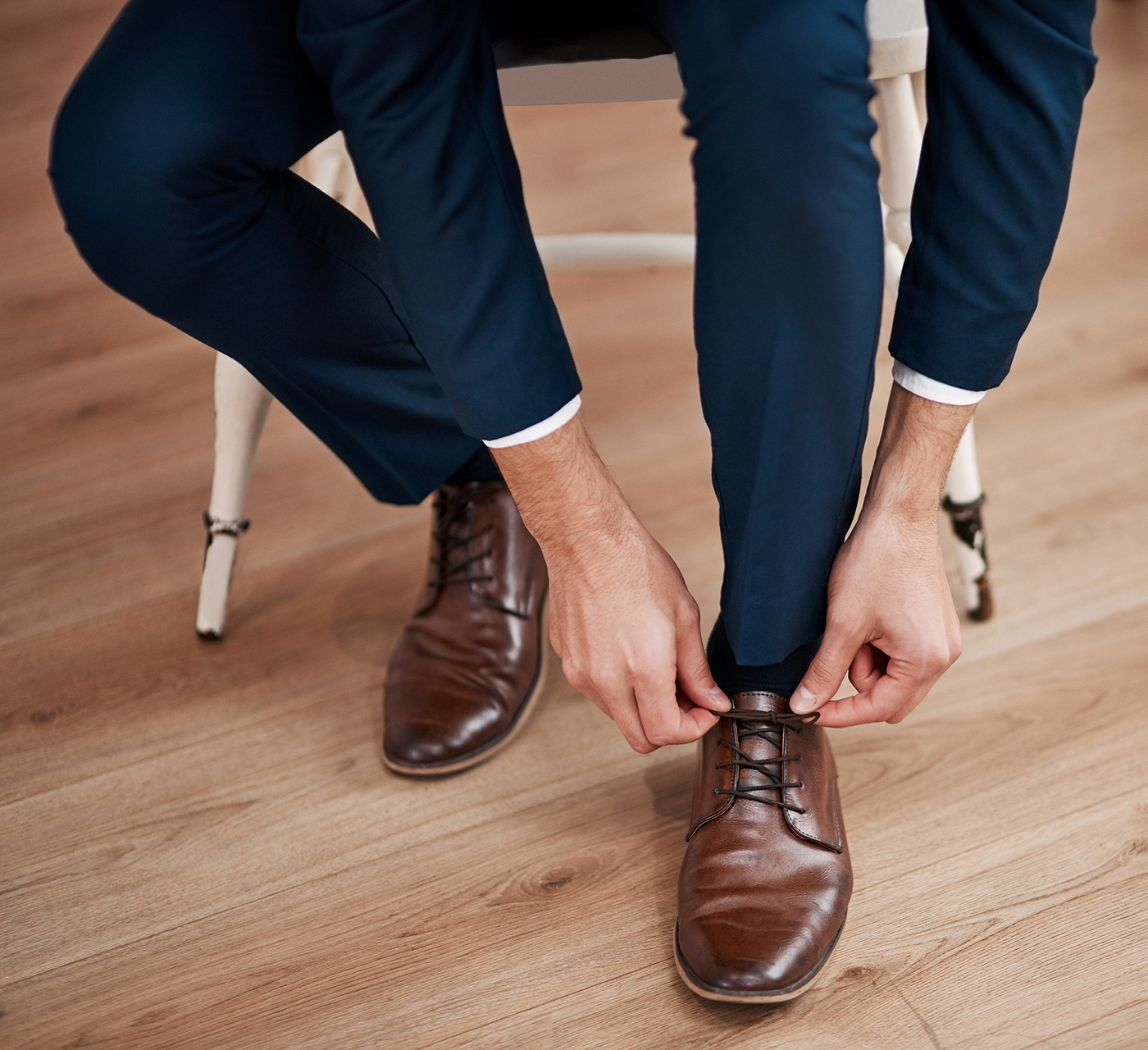 That's not a required rule, but it is risky to do otherwise.
Dark colors are generally conservative, so they make a good fit when paired together.
However, once you add more white hues to your blue, you can also lighten up your shades of brown.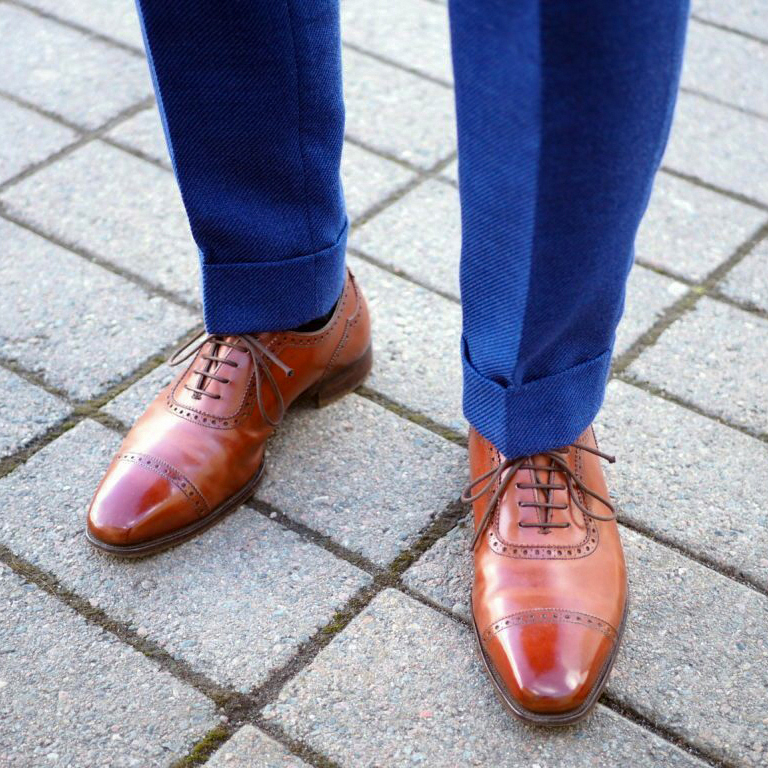 A brighter and more true blue will seem subdued by a dark brown shoe, so enhance your blue by keeping your brown a lighter shade.
Different Brown Dress Shoe Types
Just as there are endless shades of blue, there are endless types of men's dress shoes.
Your shoe style can subtly (or not so subtly) alter your entire appearance; your shoe choice can bring your suit from the ballroom to the city streets.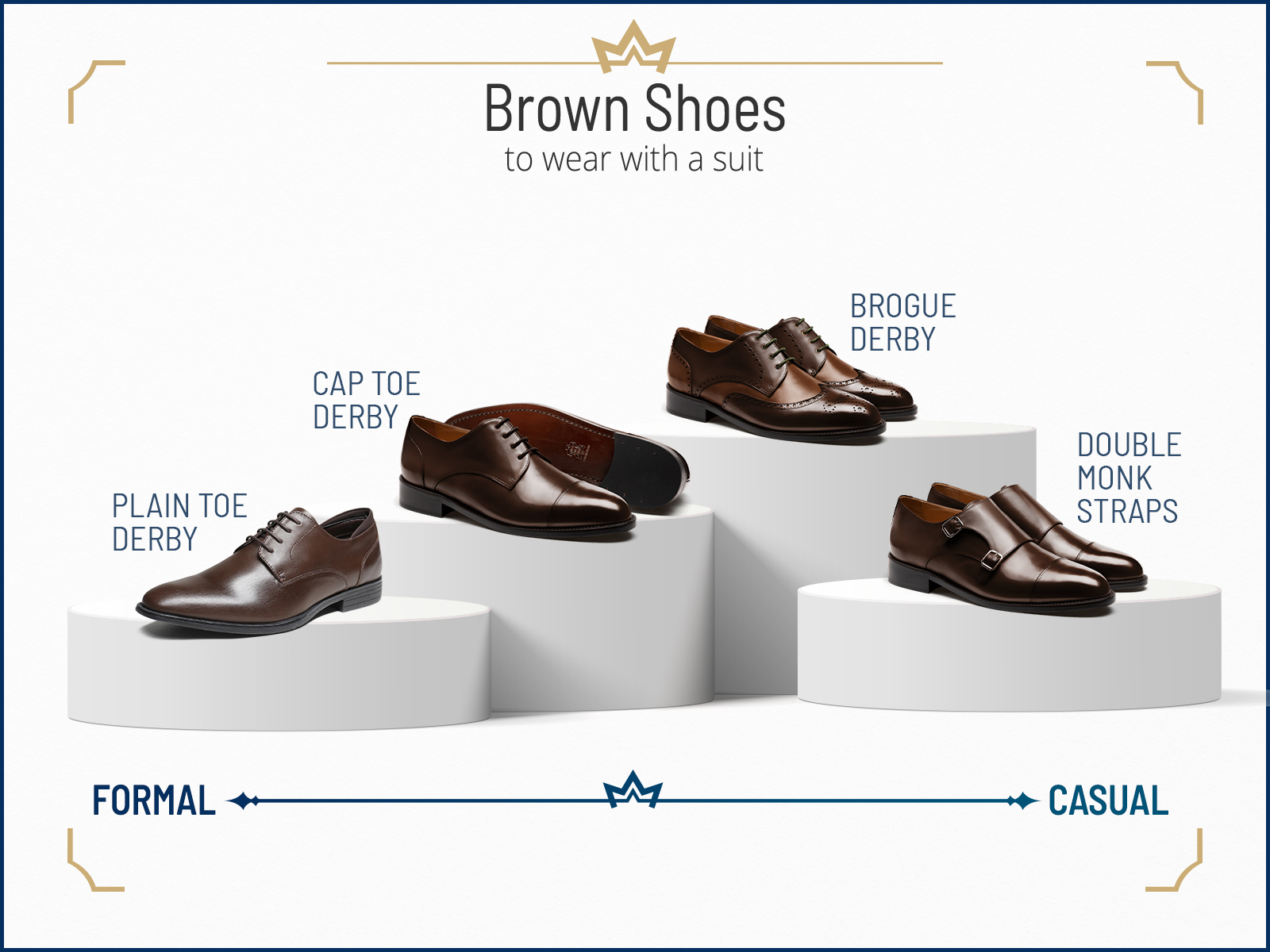 Even in the formal or casual shoe categories, you will find many levels and variations in style.
With small nuances in design, you can create a classic look vs. a modern, contemporary one.
Blue Pants with Formal Brown Dress Shoes
Thankfully, we men aren't confined to just one specific style for dress shoes.
Brown men's dress shoes can also look quite sophisticated.
The most popular style for dress shoes is the Oxford; they are worn in black leather with tuxedos.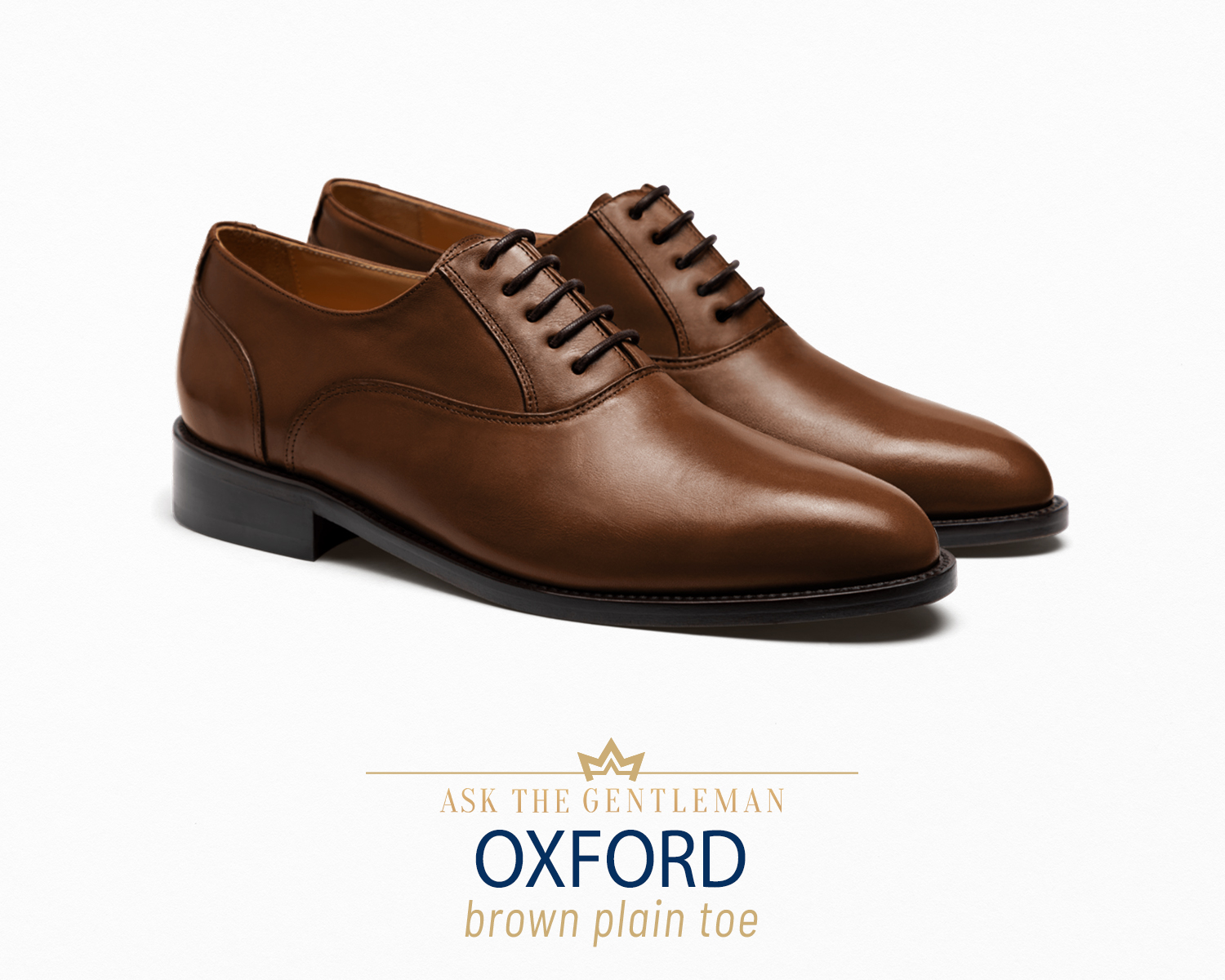 However, brown Oxfords can elevate a suit to a higher level of dressiness than it might otherwise be.
Derby shoes are another excellent dress shoe, similar to Oxfords; they have only minor differences and are nearly as dressy.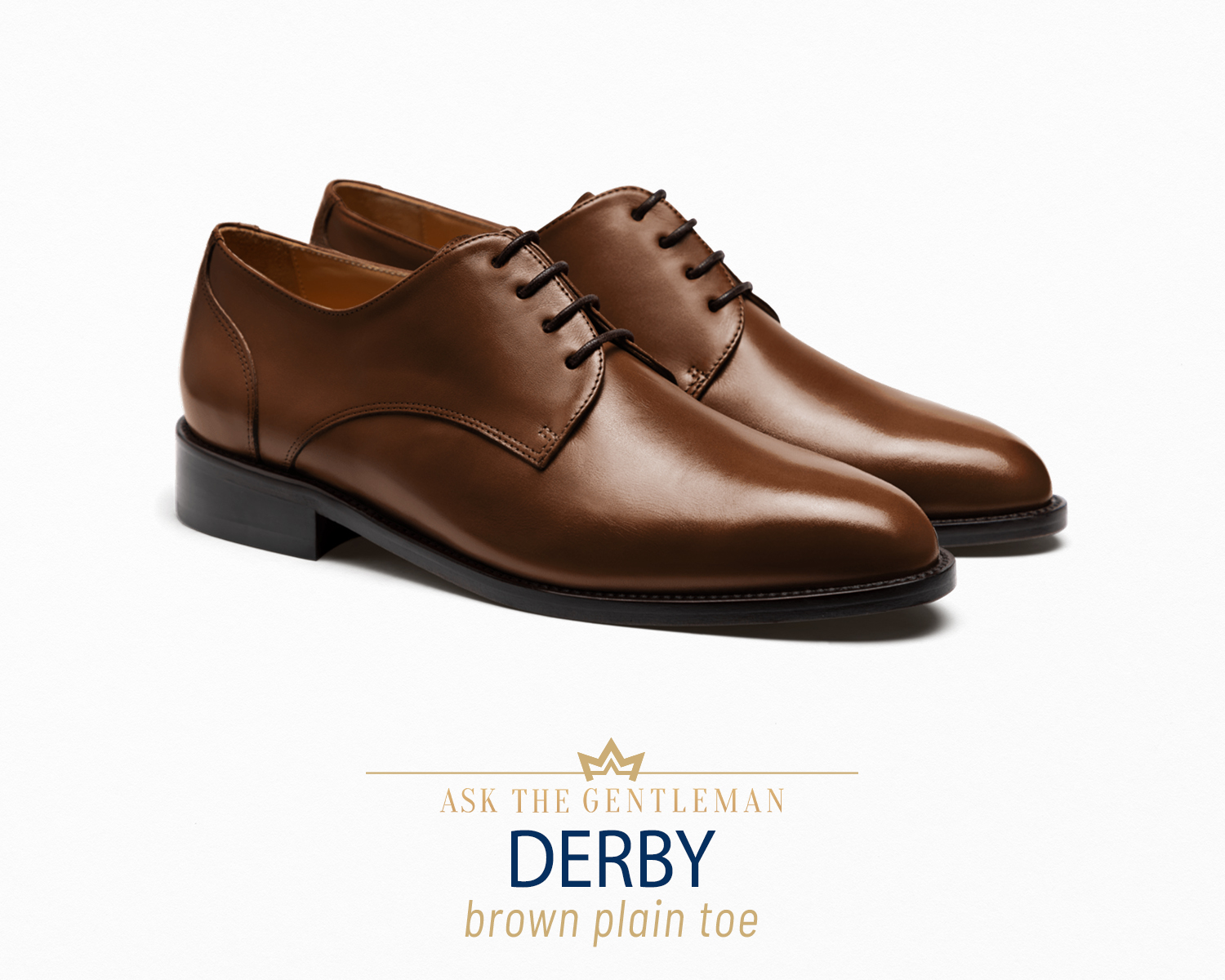 If you want to remain more formal but also want to add a little kick to your suit (no pun intended!), try out a pair of monk strap dress shoes.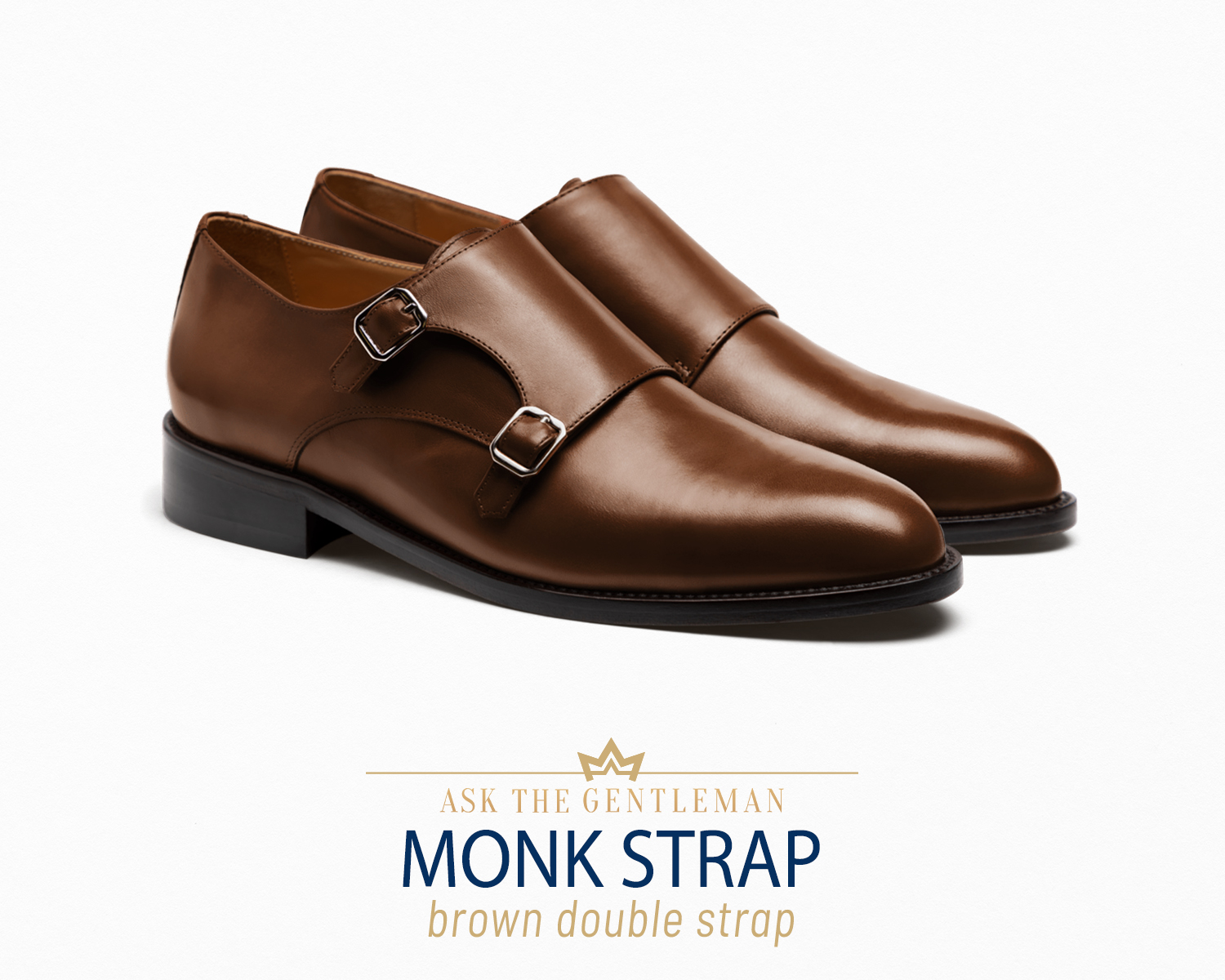 Whichever style you choose, remember that it will tremendously affect the formality.
Blue Pants with Casual Brown Shoes
Casual shoes are more commonly brown since black doesn't loosen up as nicely as brown does!
Loafers are slip-on shoes that are always quite casual; they convey a carefree spirit and spare time.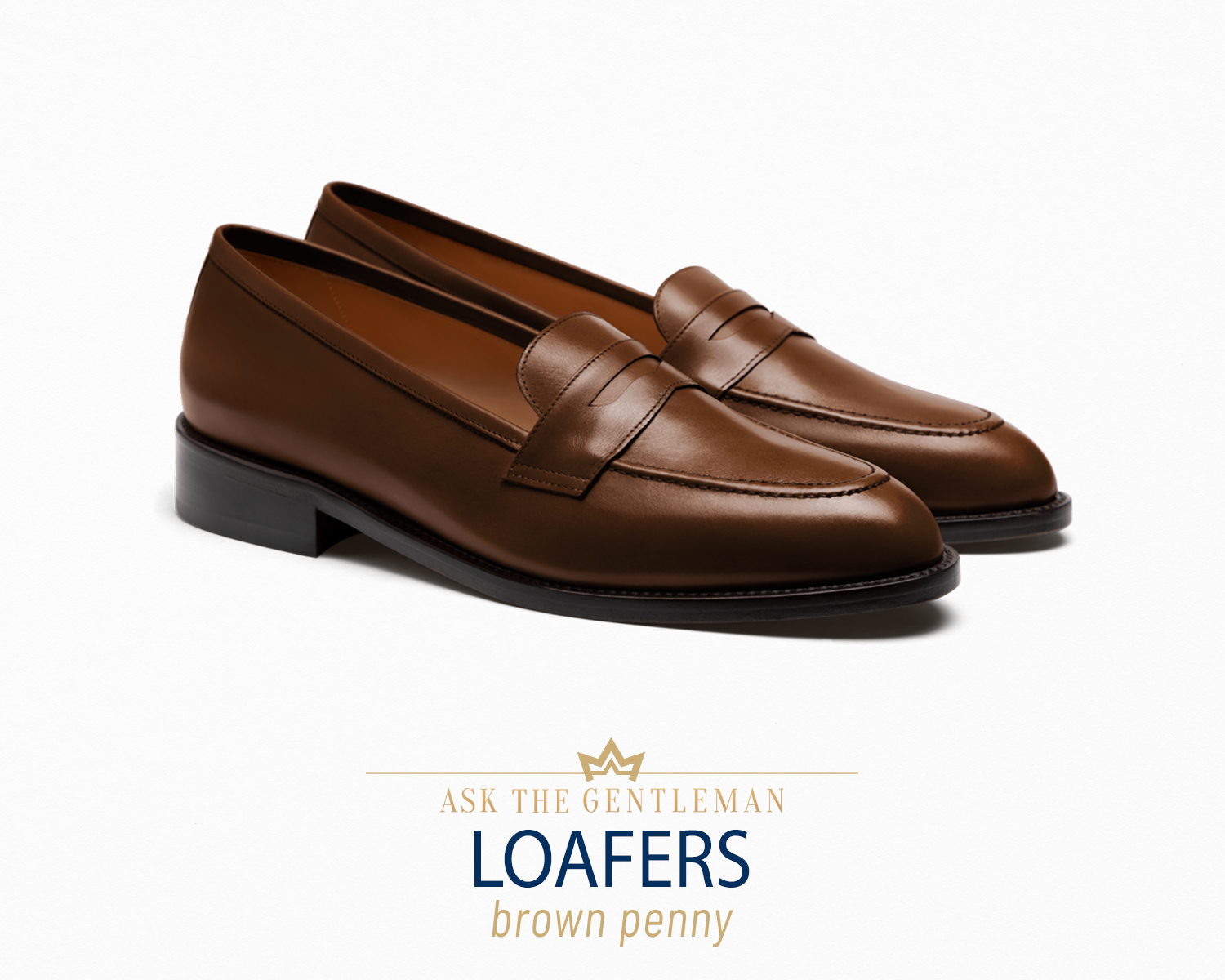 Brown loafers aren't meant for work. Instead, they are the ultimate in play and relaxation.
Brown dress boots are another option for your blue pants; they're casual in a different way.
Look for a more hip and stylish fashion dress boot, like Chelsea or Chukka.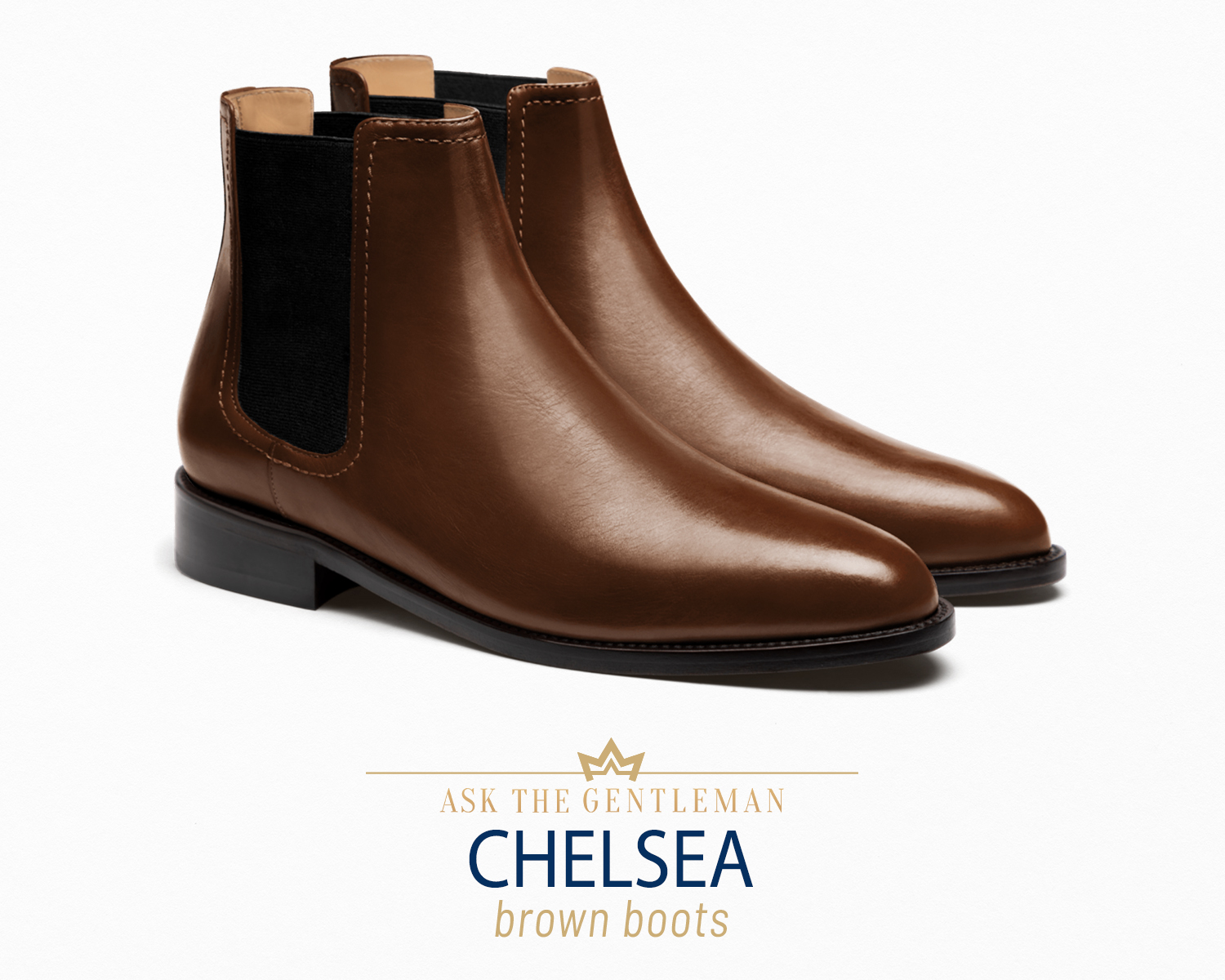 Both of these shoe styles are casually formal, so they're best suited with darker blue pants.
Different Ways to Match Blue Pants and Brown Shoes
You can create many styles when you change the shades of blue and brown.
This is the ultimate mix and match; you can't say that about black.
Let's take a look at blues and browns, from the most dressy to the most casual styles.
And everything in between, of course.
Navy Suit and Dark Brown Dress Shoes
Navy represents the pinnacle of formality in the blue spectrum, rivaled only by black in its sheer sophistication.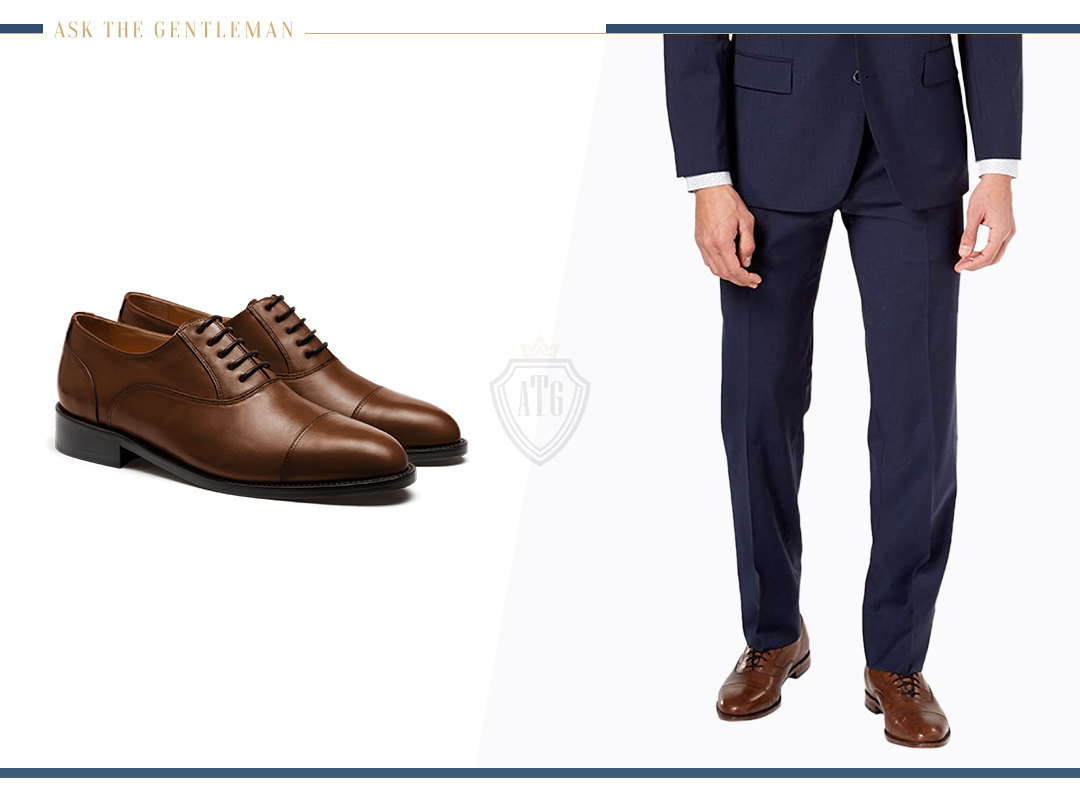 So, you require formal shoes when wearing a navy suit.
Oxford shoes make the most sense with a navy suit; they are perfectly traditional and conservative.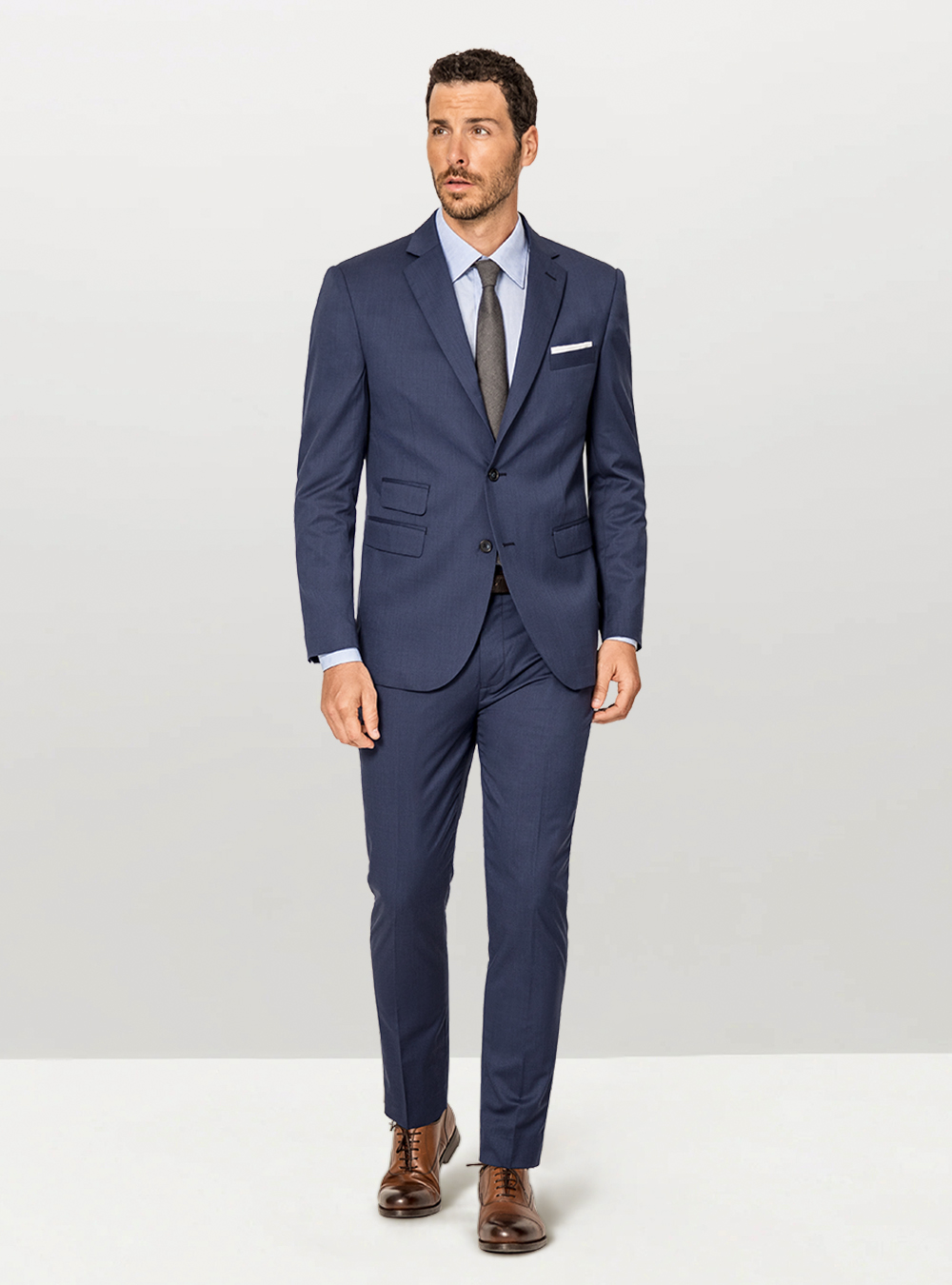 It's acceptable to take the formality down a notch with derby dress shoes.
Loafers are also an excellent option for a navy suit, offering both style and comfort, especially during summer or daytime events.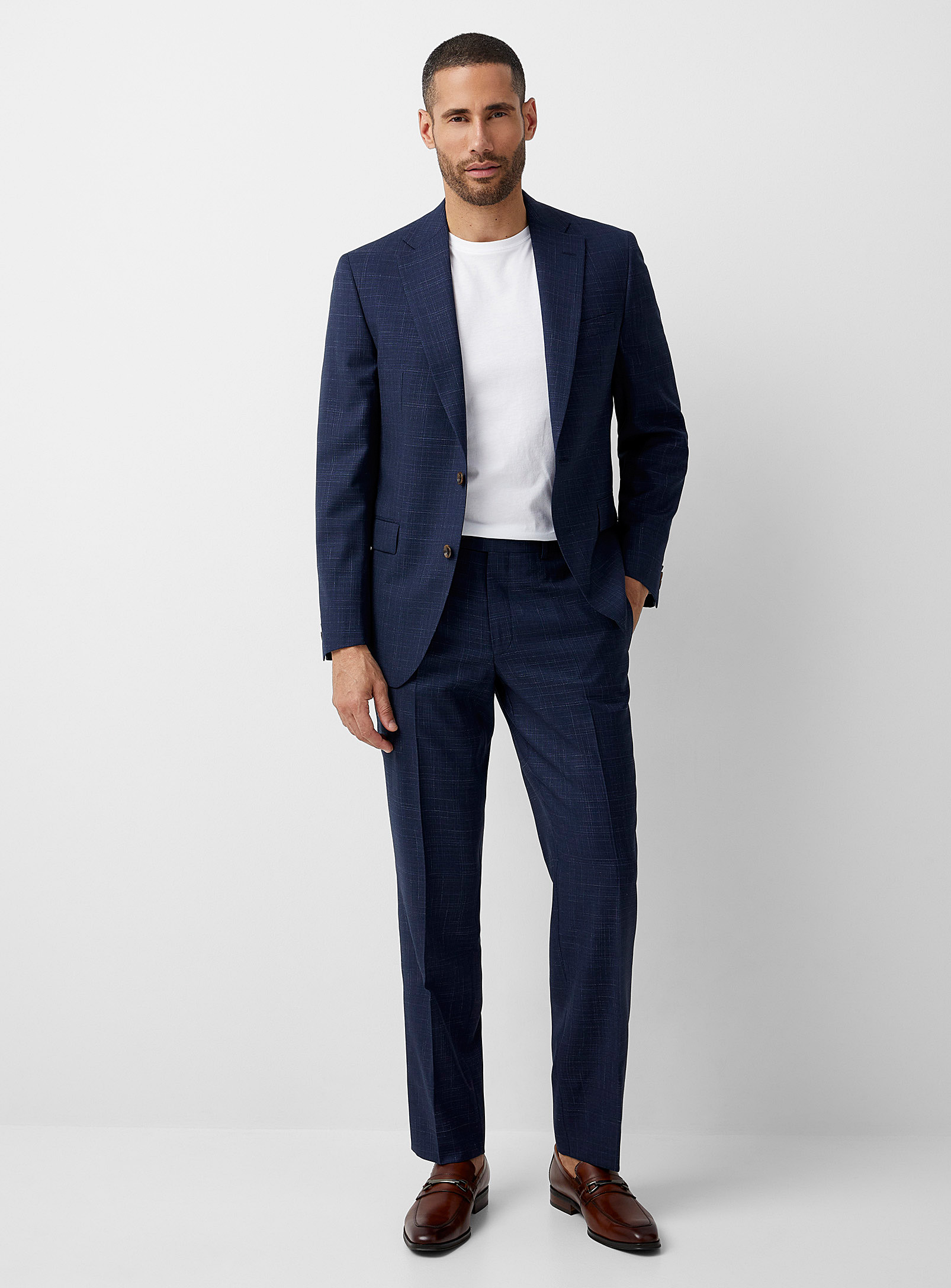 To round out your ensemble and make the look complete, polish your suit off with a white dress shirt.
The bright crispness makes a sharp contrast against the darker suit; it's a very professional and urbane effect.
Blue Suit and Brown Shoes
The royal or true blue suit isn't as dressy as navy is, and it surely isn't as conservative.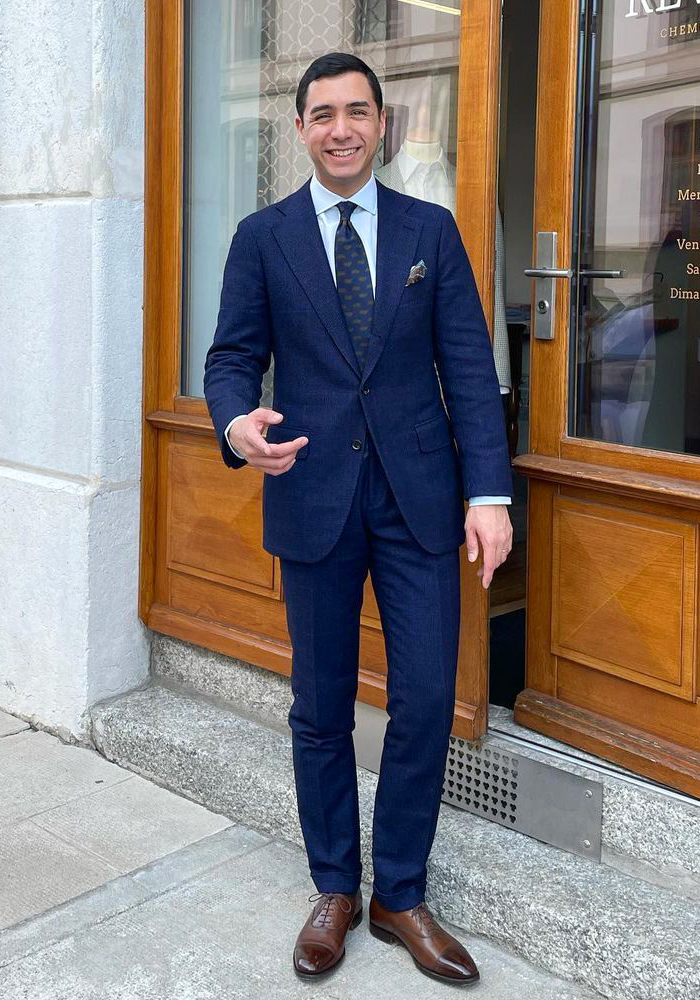 Blue suits are versatile, allowing for more color flexibility beyond just formal shades.
That said, dark brown or a medium shade of brown looks excellent with blue.
You can stick with the standard Oxford or derby shoe styles for this suit; they are classics for a good reason.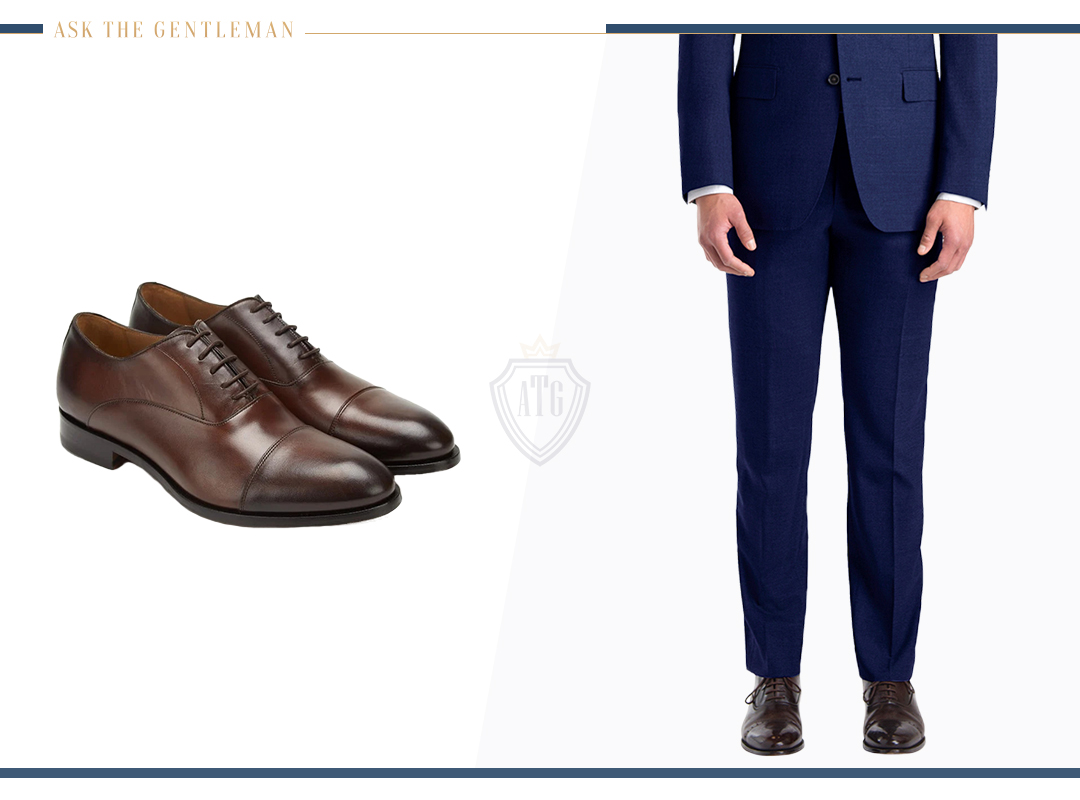 Or you can branch out with monk strap shoes.
Monks build on the modern style established by your blue suit; neither are at all conservative.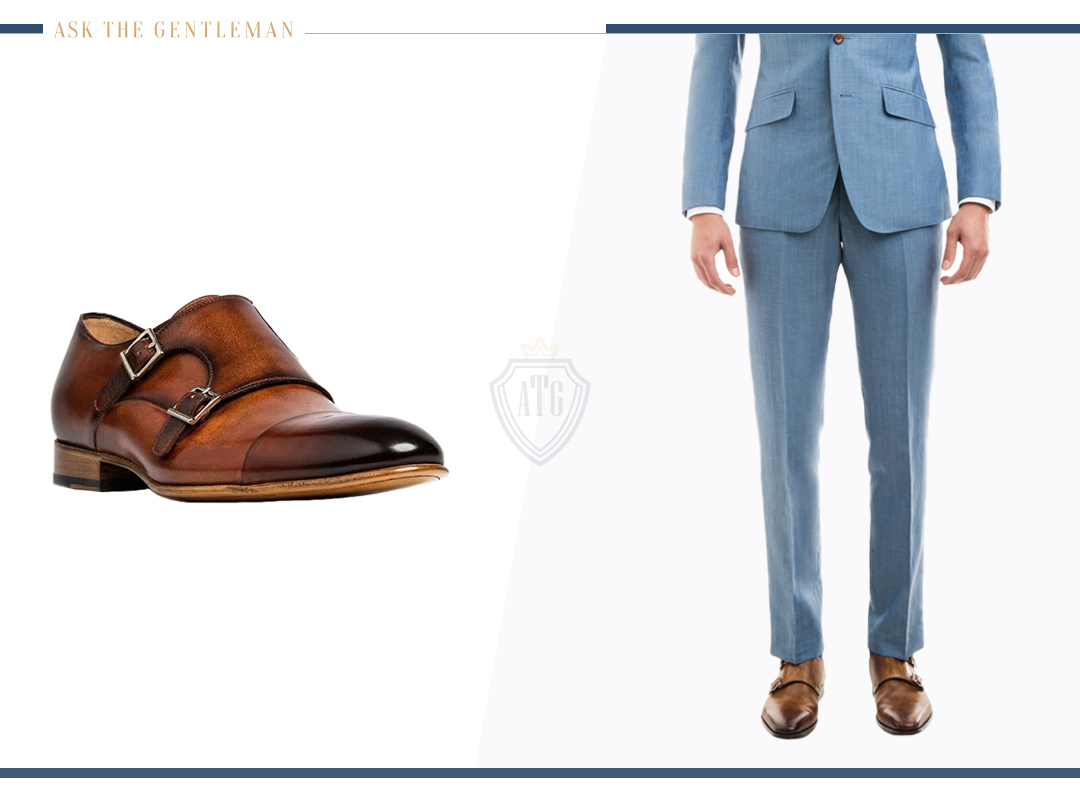 A white dress shirt makes a strong statement and is always a beautiful choice.
However, there's an excellent opportunity to soften your look.
Relax your image with a light pink shirt; it looks exquisite next to any shade of blue.
Navy Blue Trousers and Brown Shoes
When you need to look nice, but not "full suit" nice, what's a guy to do?
A pair of navy blue trousers always looks very put-together.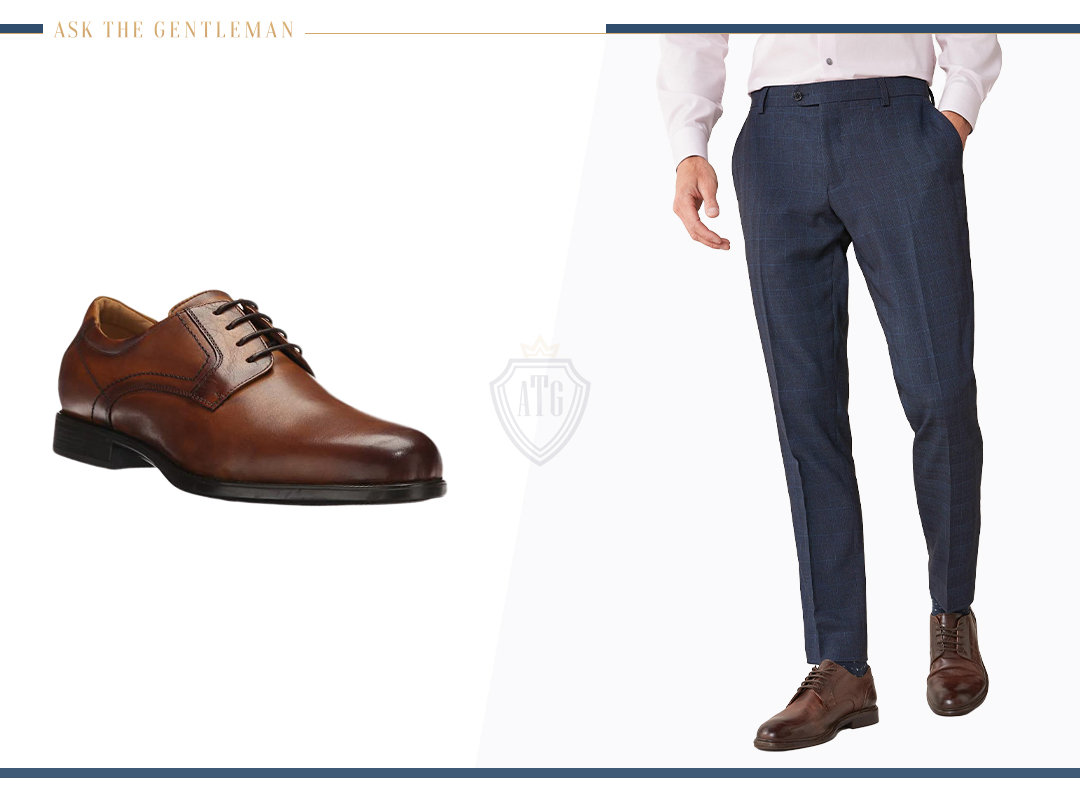 Because you're wearing dark pants, that means your shoes should be dark, too.
But you can wear a slightly more relaxed shoe style because you aren't donning an entire suit.
Intentionally keep your shoes less formal by avoiding Oxford shoes; stick with dark brown loafers or monk straps.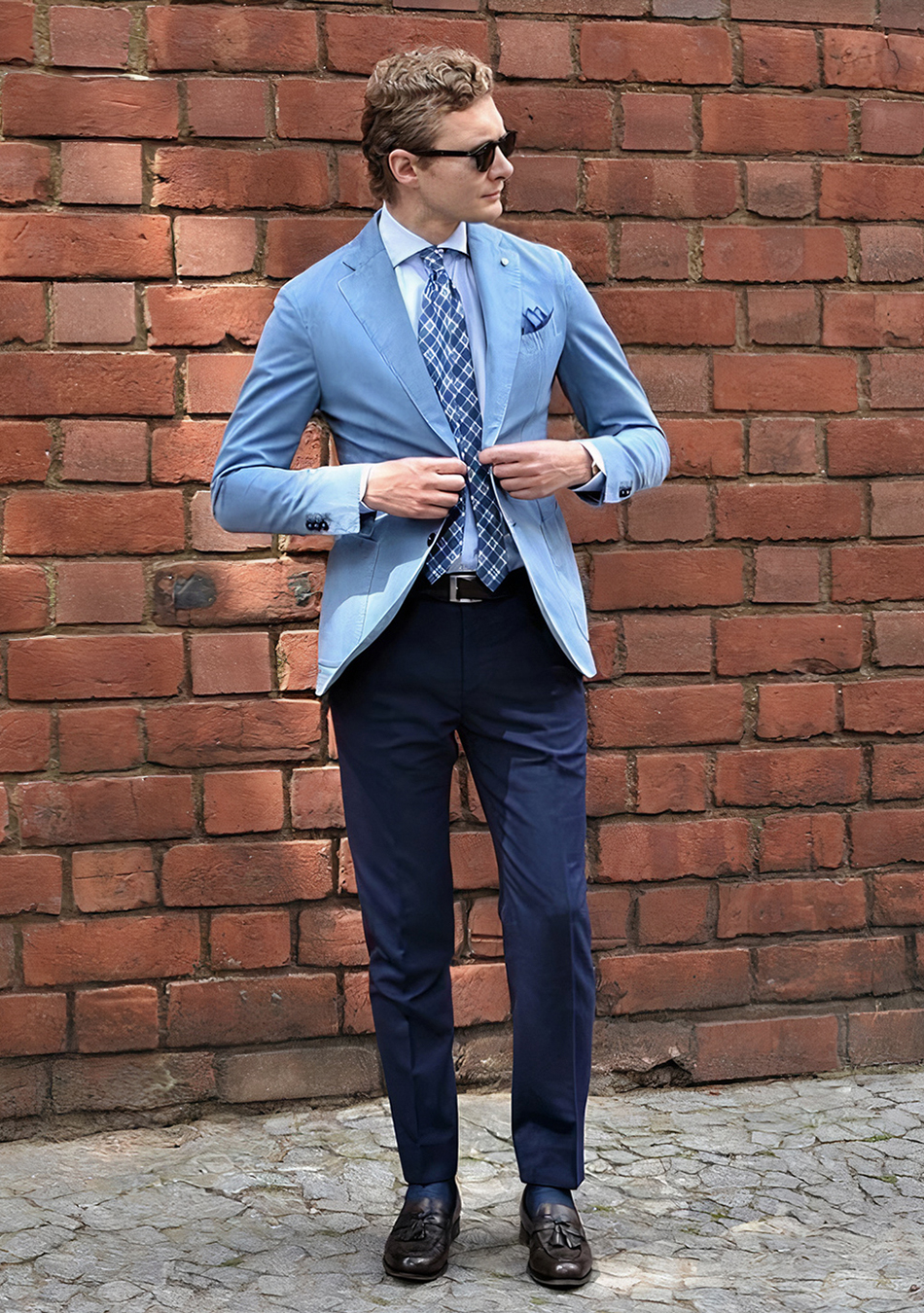 For an entirely new direction, why not create a style twist with a pair of chukka boots?
You can add a blazer, depending on how much you care to commit to dressing up.
A grey blazer is a great way to keep your outfit business casual.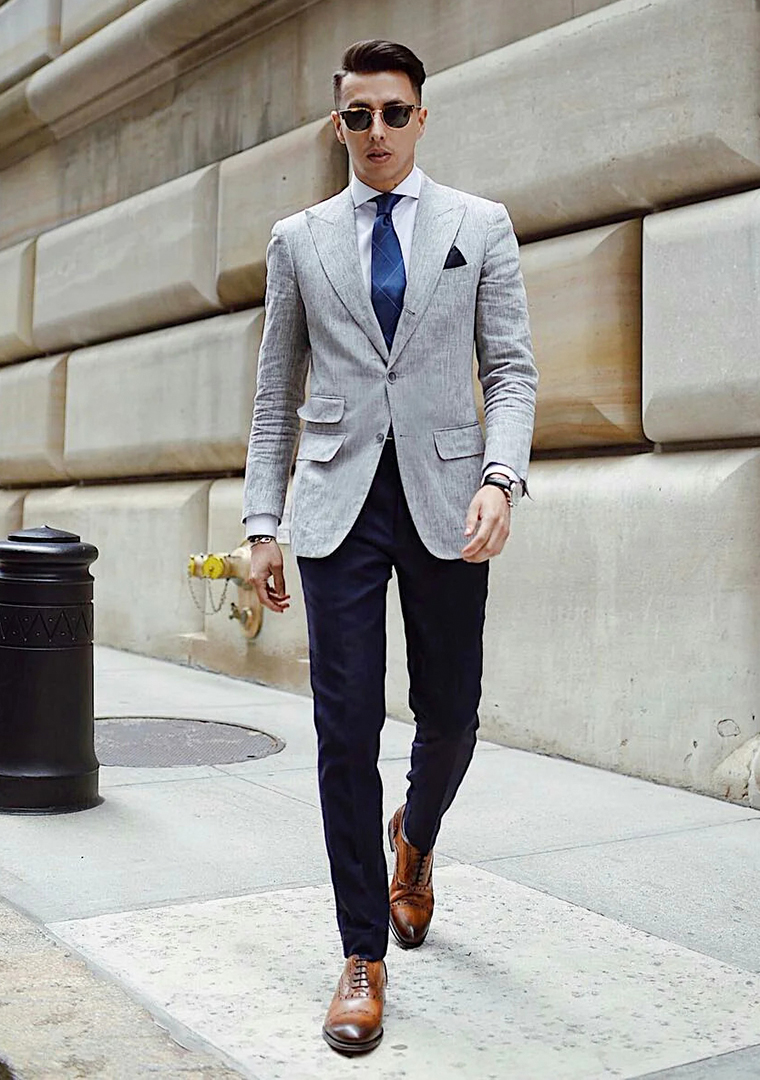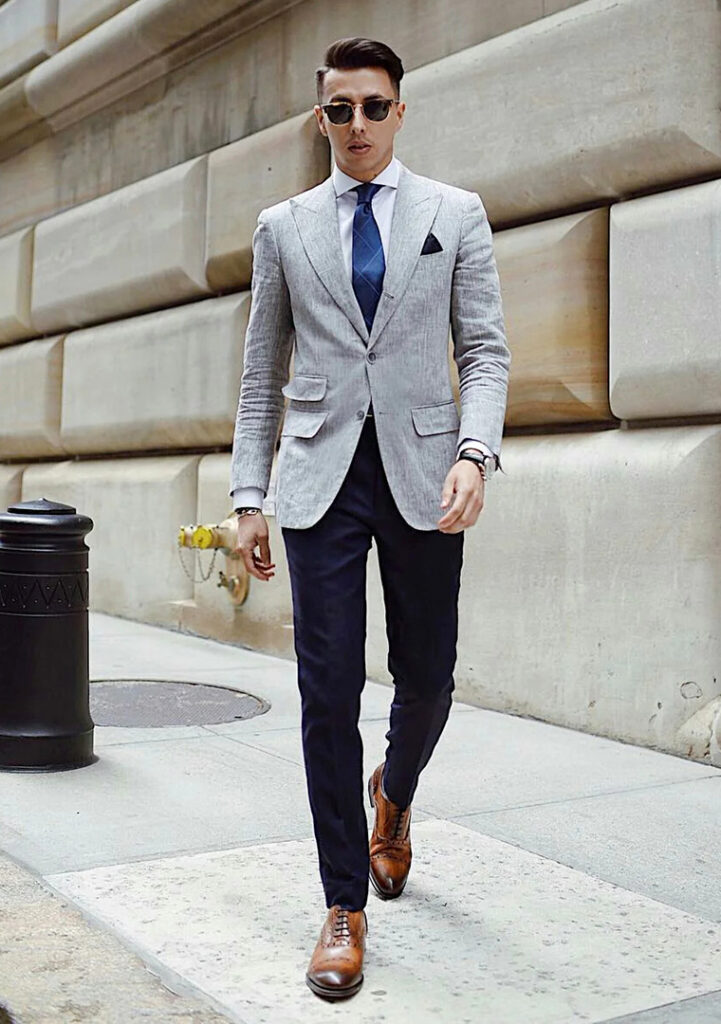 But if you want to bring it down to a more laid-back look, a brown blazer can do just that while creating lovely symmetry with your shoes.
Blue Trousers and Light Brown Shoes
A brighter pair of blue trousers will help create a business or smart casual style.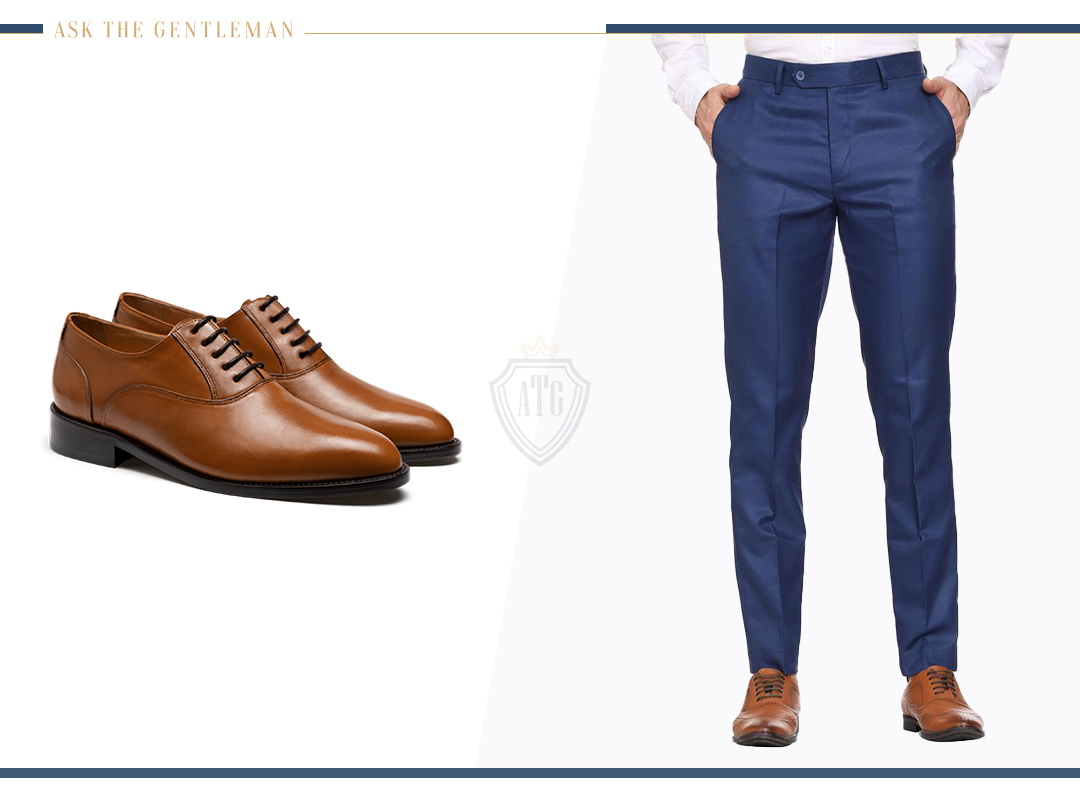 This blue is lighter, so your shoes should reflect it. Likewise, light brown makes your blue pants seem brighter.
Go for a twist by adding a pale blue button-up dress shirt and creating a monochrome effect.
You have a lot of shoe style choices with this combination.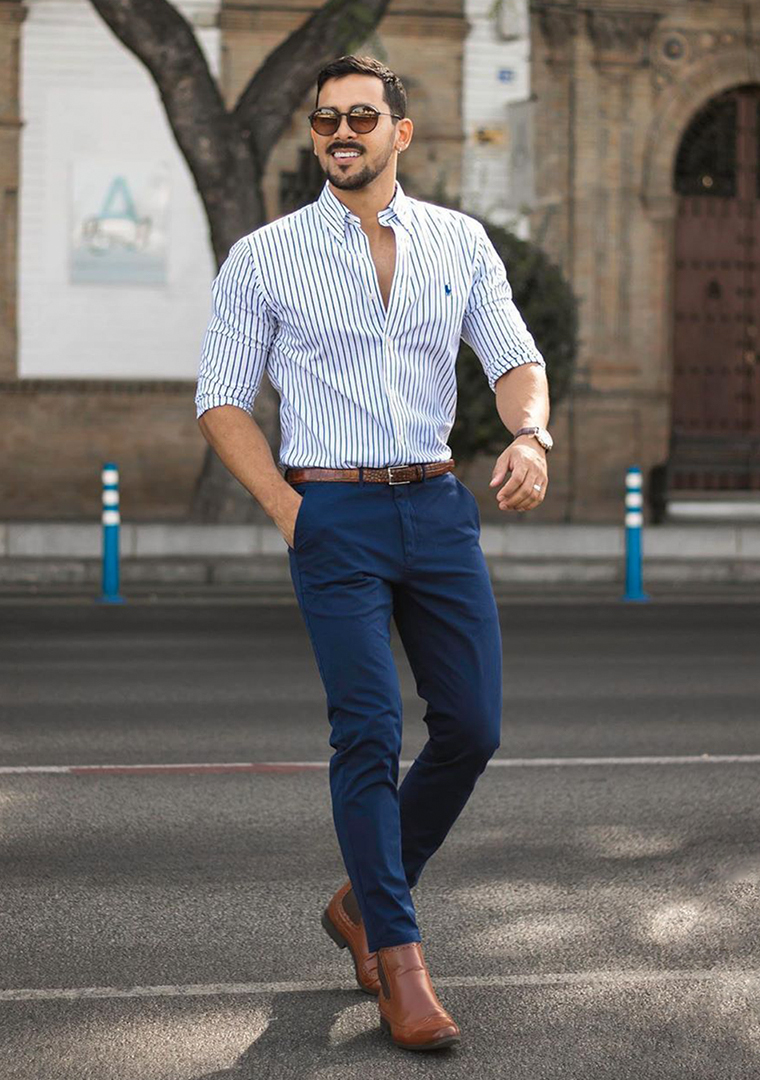 Monk straps and loafer shoes can be swanky and stylish, but a very modern take would be a pair of chukka or Chelsea boots.
Blue Chinos and Brown Shoes
Now we are firmly in the casual territory!
Blue chinos and brown shoes are a terrific combination for casual office space, a dinner event, or brunch out with family or friends.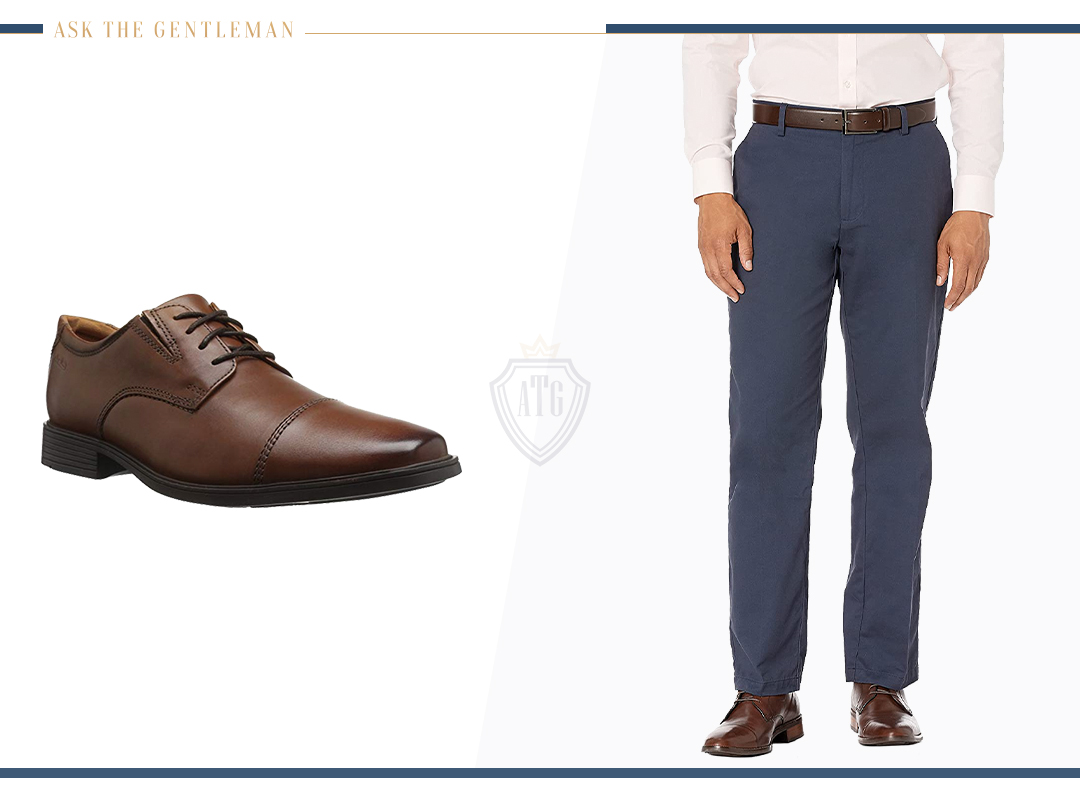 This smart casual style looks best with loafers, fashion sneakers, or a pair of ankle boots.
You have a little room to play with your shoe color, too. For example, your brown can be medium, light, or tan.
You can't ever go wrong with a crisp white dress shirt, but this is also the ideal time to delve into some other shirt styles.
A printed shirt with pastel designs is an excellent way to turn heads.
Blue Jeans and Brown Shoes
This combination is one hundred percent casual, but it can look impeccable with the right jeans and shoes.
Black shoes would be too stuffy for a casual jeans outfit, and brown ones are perfectly easygoing.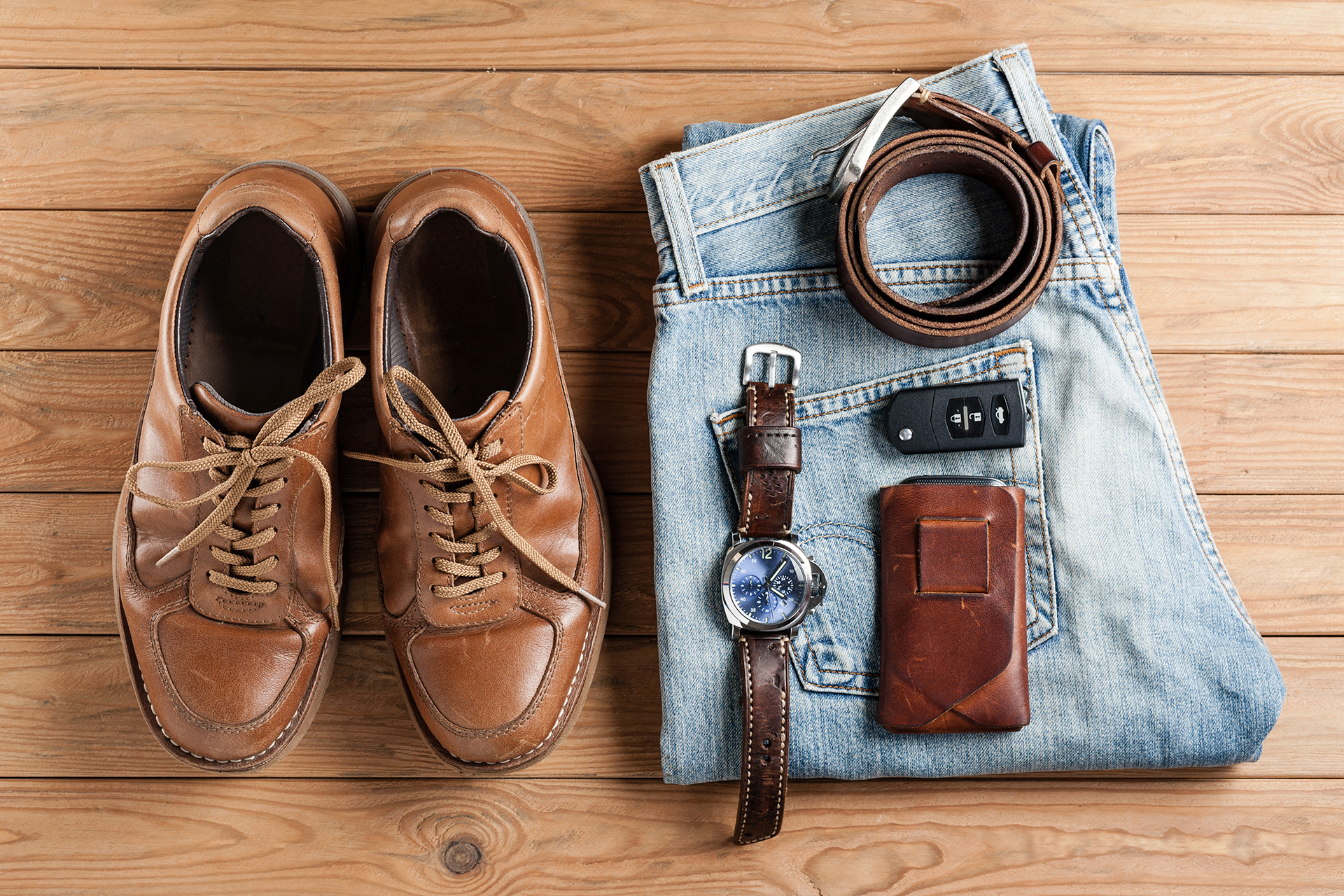 Medium to light brown shoes is your best bet with jeans.
You can dress them up in a chic way with monk strap dress shoes or swap them out for a pair of suede loafers.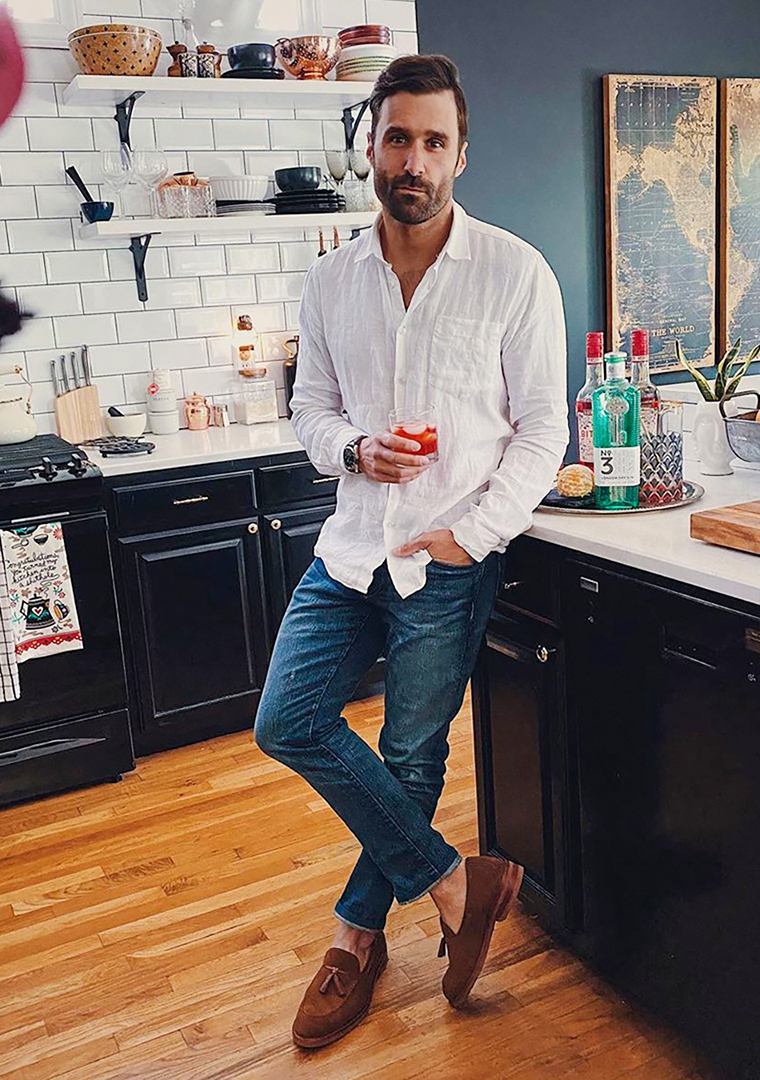 Sneakers are the perfect way to keep your style cool and casual, while boots give a funky vibe.
Top off your whole aesthetic with a printed button-up and rolled-up sleeves or a well-fitted t-shirt.
Accessories to Wear with Blue Pants & Brown Shoes
Sometimes it doesn't matter how perfect your clothes are; you'll still look naked without the right accessories.
Or, the wrong accessories can ruin your entire effect.
For example, ensure your belt is the right color for your outfit.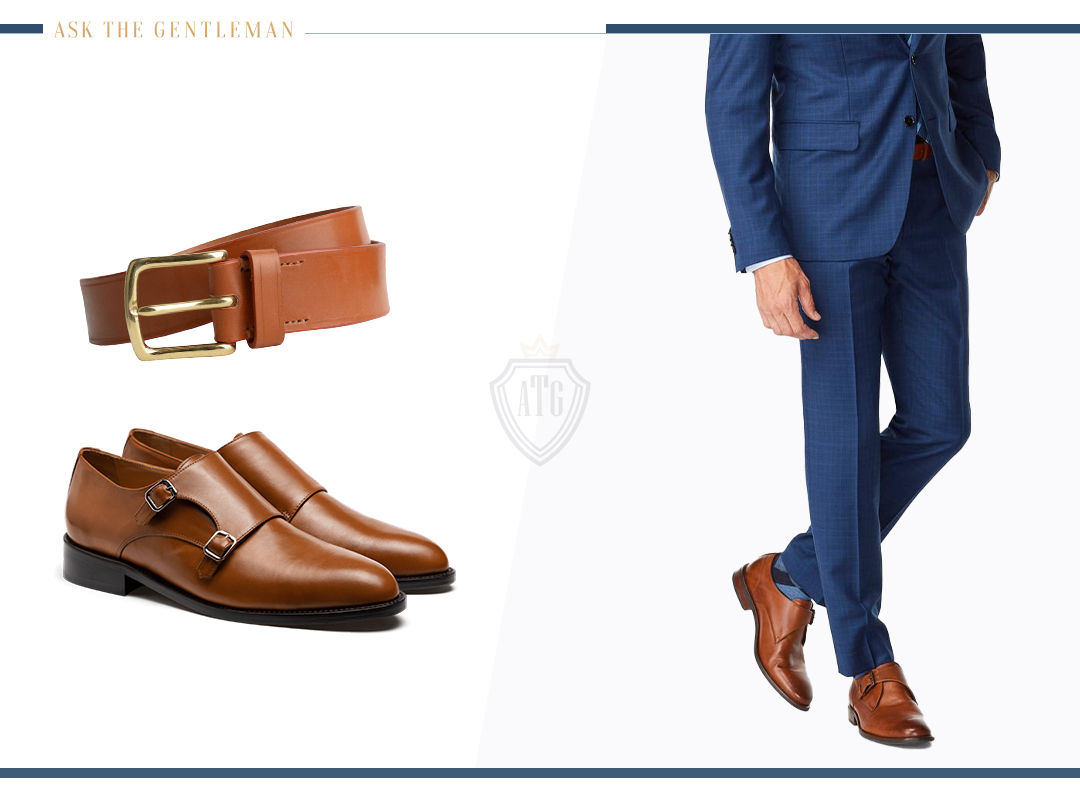 One fashion rule you can't mess around with is matching your belt to your shoes.
Brown shoes require a brown belt and must be as similar a shade as you can match.
A watch isn't required, but it's a very classy touch. However, once again, your leathers must match.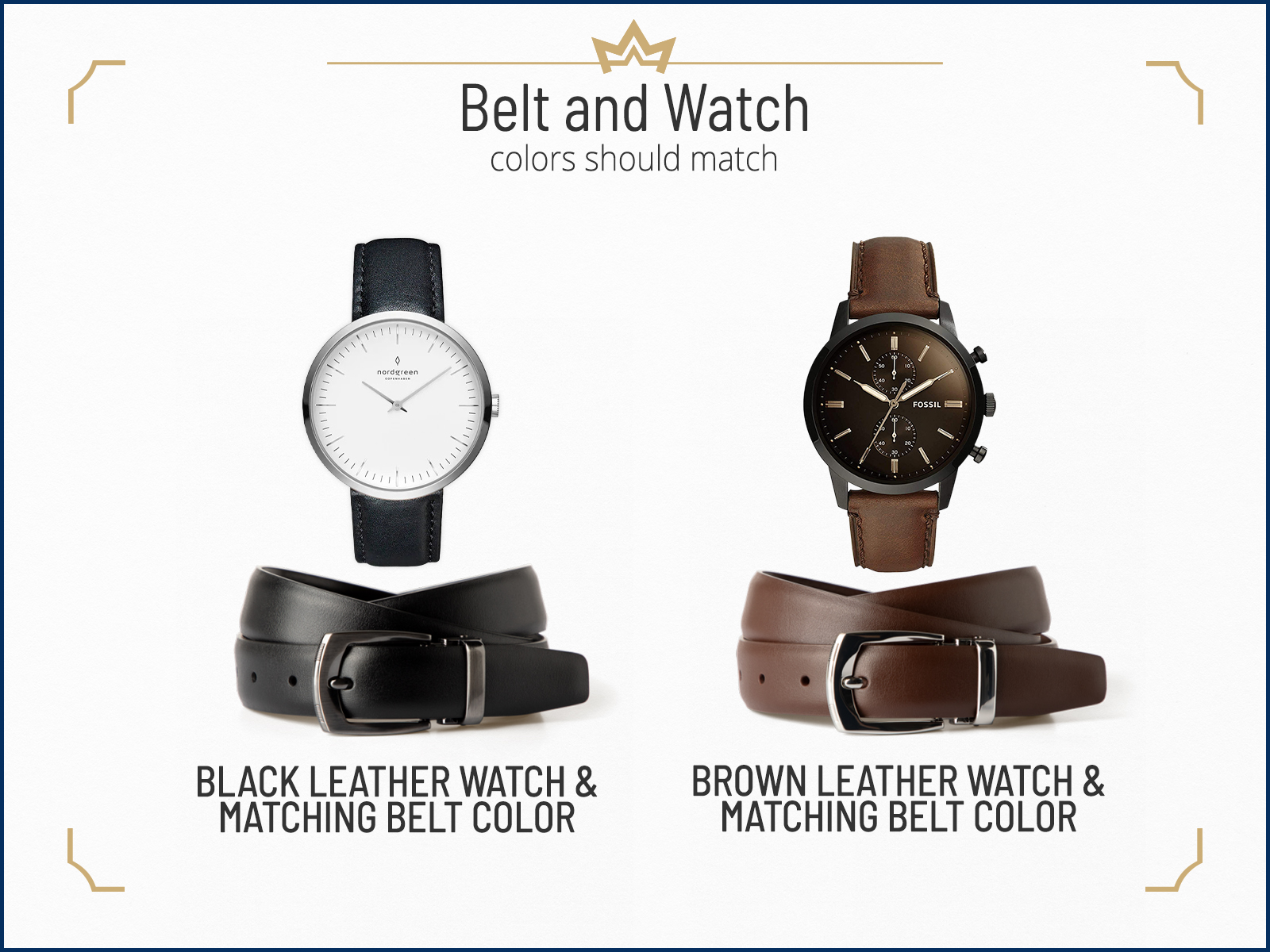 A pair of brown sunglasses are the perfect finishing touch, especially if you are attending an outdoor event.
When to Wear the Blue Pants and Brown Shoes Combo
A pair of blue pants and brown shoes fit nearly any dress code except for formal or black-tie.
The key is finding which outfit matches the dressiness level you need.
You can wear this combination to work, whether your office is conservative or casual.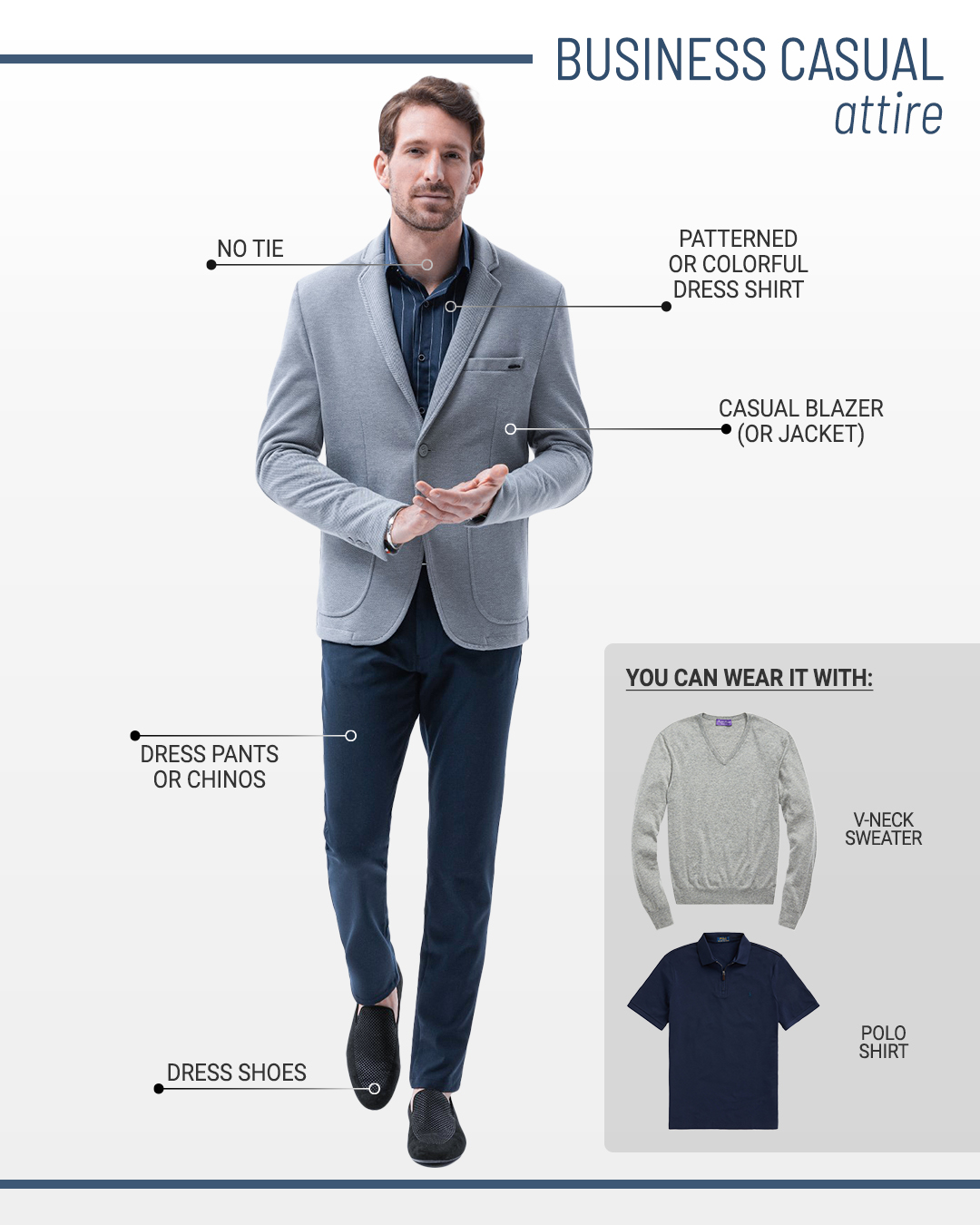 Most social events are also fine venues; cocktail events to semi-formal parties and gatherings are generally laid-back enough to accommodate a blue and brown pairing.
Of course, you can also find the right ways to match blue pants and brown shoes for all your outing with friends and dates.