Want to wear the fashion-forward navy suit but not sure how to pair it best?
Be at ease because it's really easy to nail the navy suit look.
It's because navy is a highly versatile suit shade with room for experimentation.
You can pair it with the classics such as white, blue, or pink and add flare to the outfit by making some unconventional color choices.
Best Dress Shirt Colors for a Navy Suit
The navy suit is a timeless classic that has made its mark in contemporary men's fashion.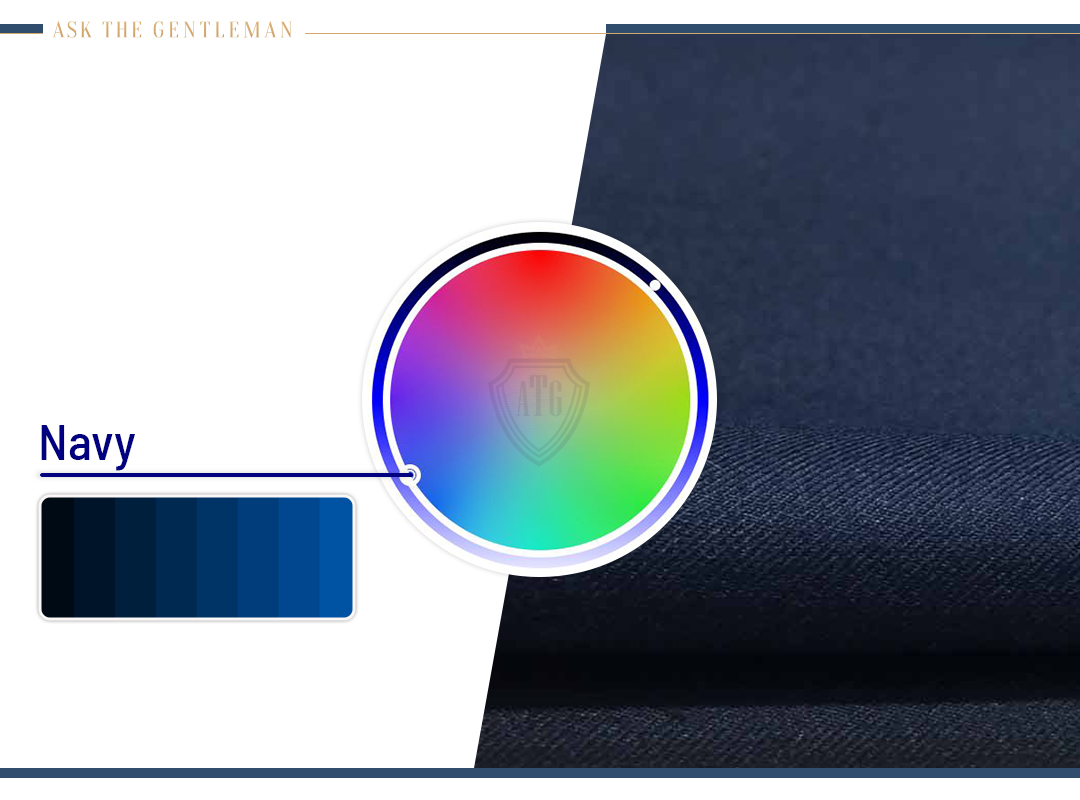 Although often treated equally, this suit color matches the standard blue suit entirely differently.
While it is an easy choice for many, choosing the right shirt color for your navy suit based on the occasion can be a hassle.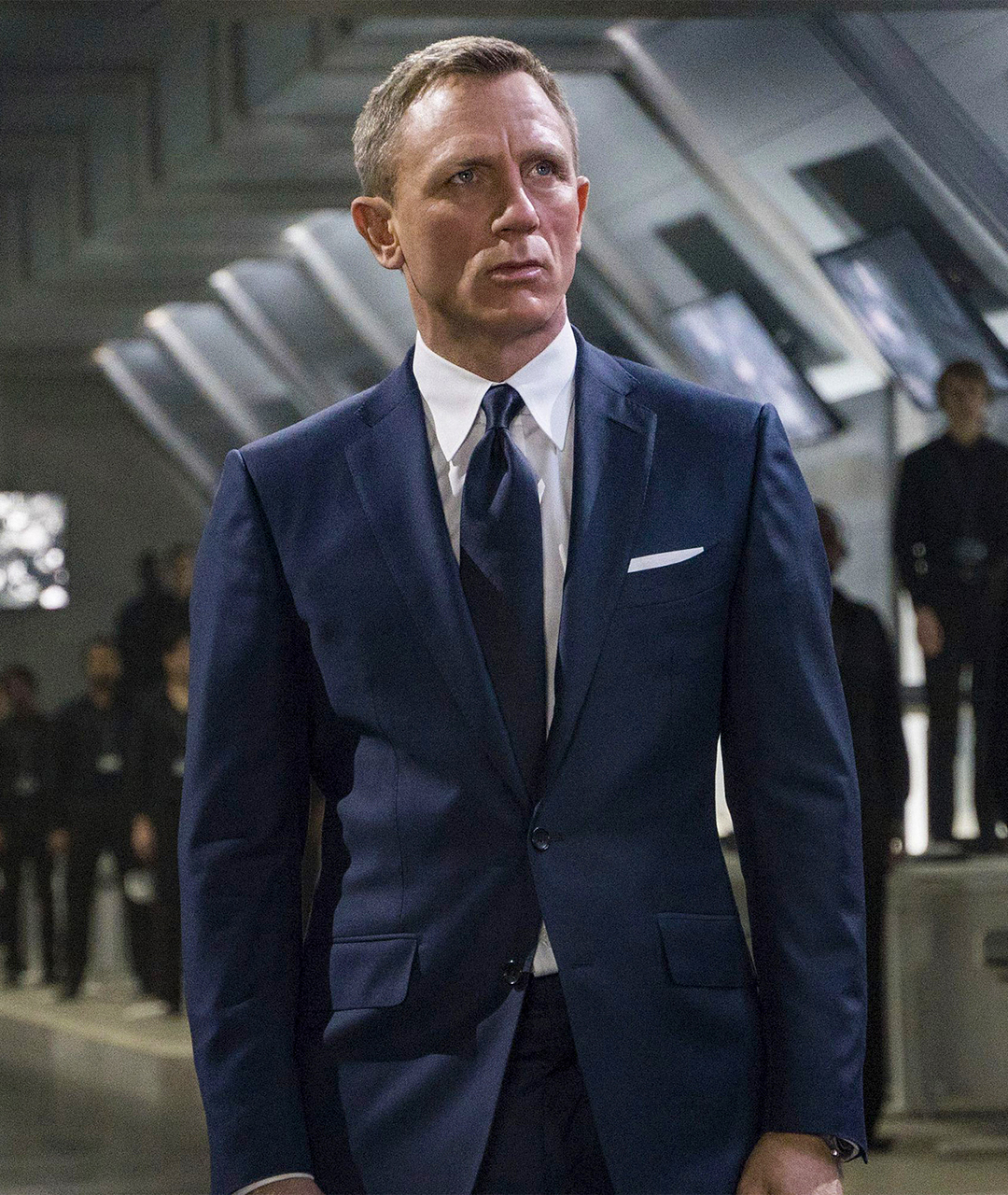 The classic white dress shirt is always an option, but navy offers versatility that you should take advantage of.
Navy Suit & White Shirt
Not many suits and shirt combinations pair as seamlessly as a navy suit and crisp white shirt.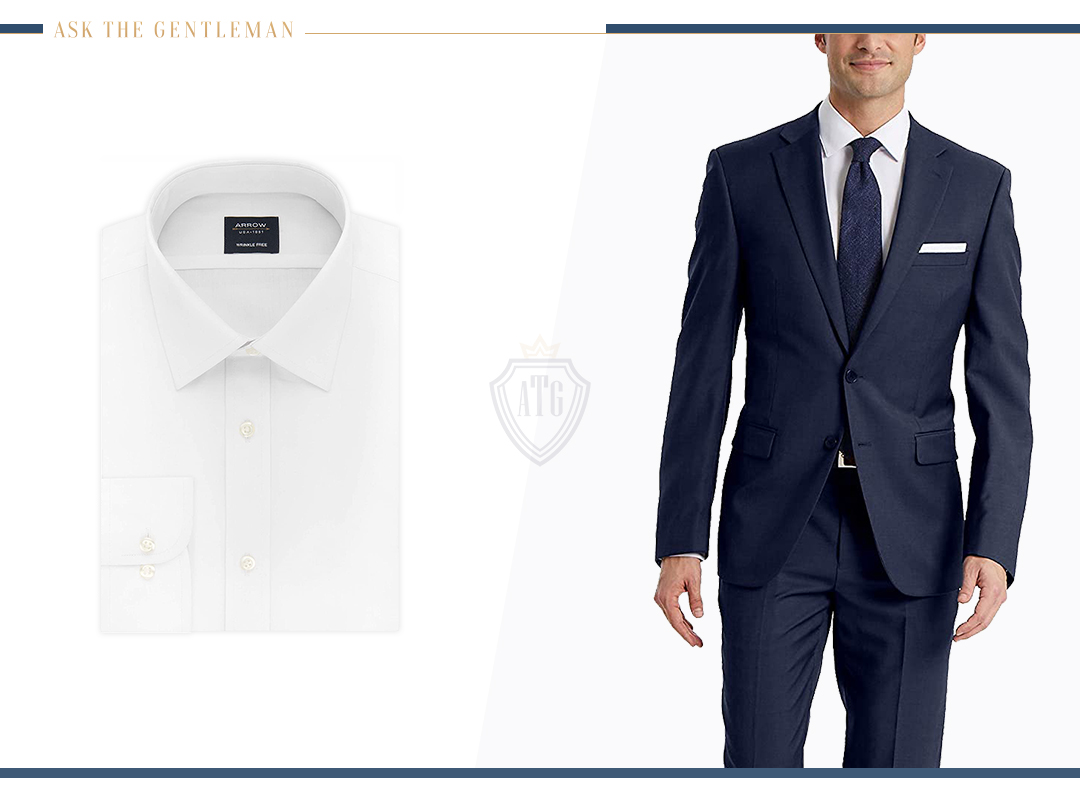 On top of the classic combination, this pair also offers room to express yourself with a wide range of tie choices.
The assertiveness of the navy suit is taken a step further by adding a burgundy, red, or navy tie on a crisp white shirt.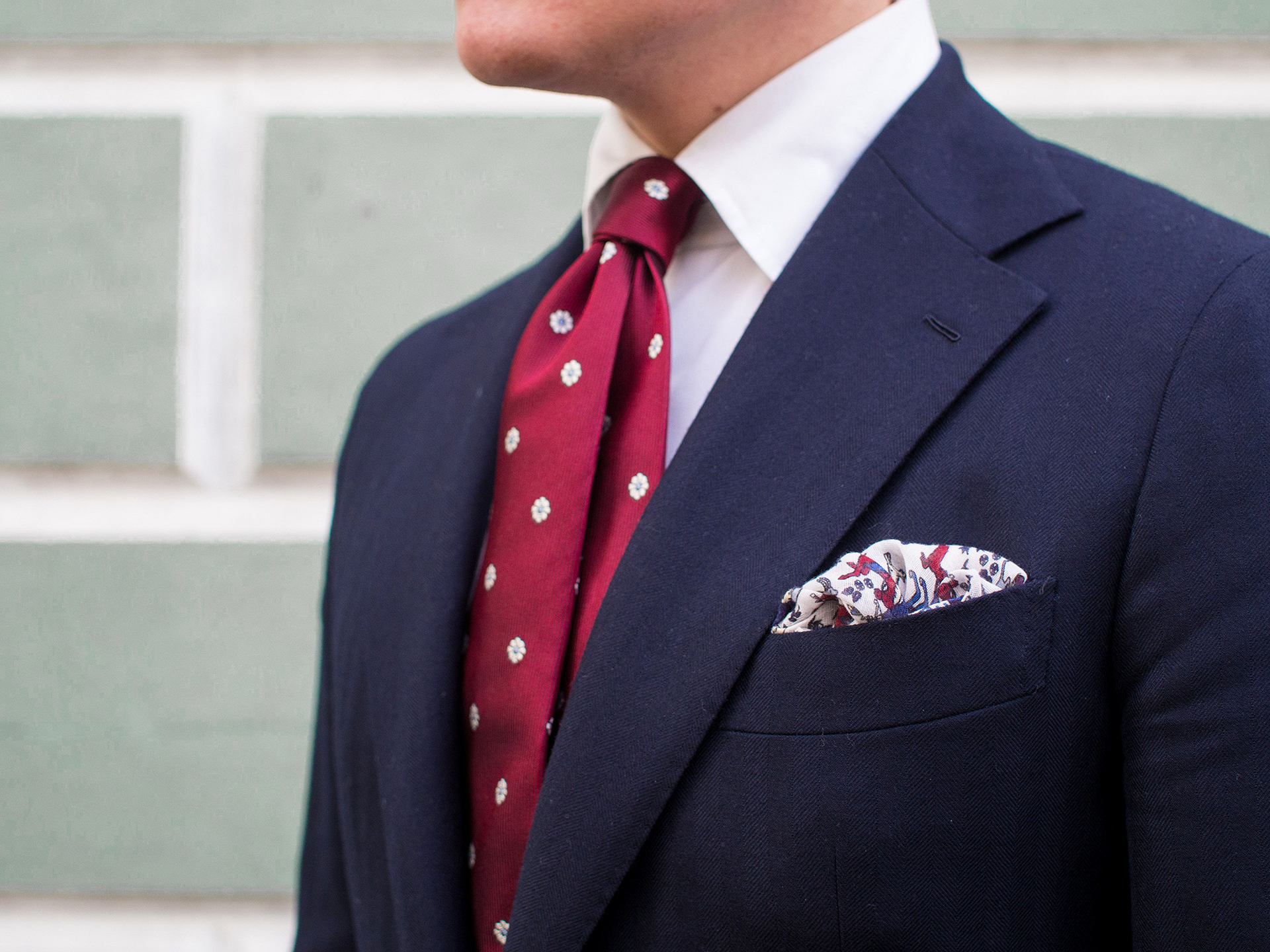 Burgundy and red help add contrast to the look, whereas a navy tie creates a subtle monochromatic appearance.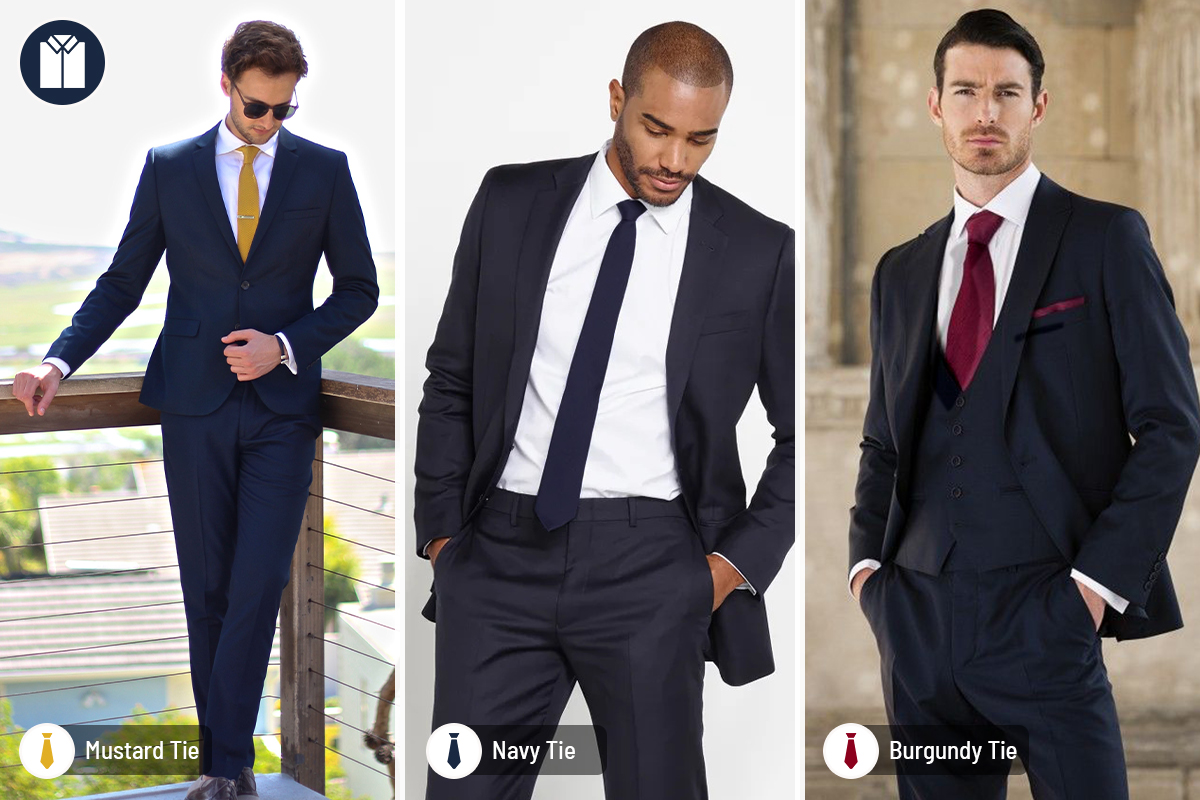 Brown and grey are also good options if you wish to add some neutrality to the ensemble.
You can also experiment with earth tones for fall and winter, such as olive green or mustard yellow, to stay in line with the vibes.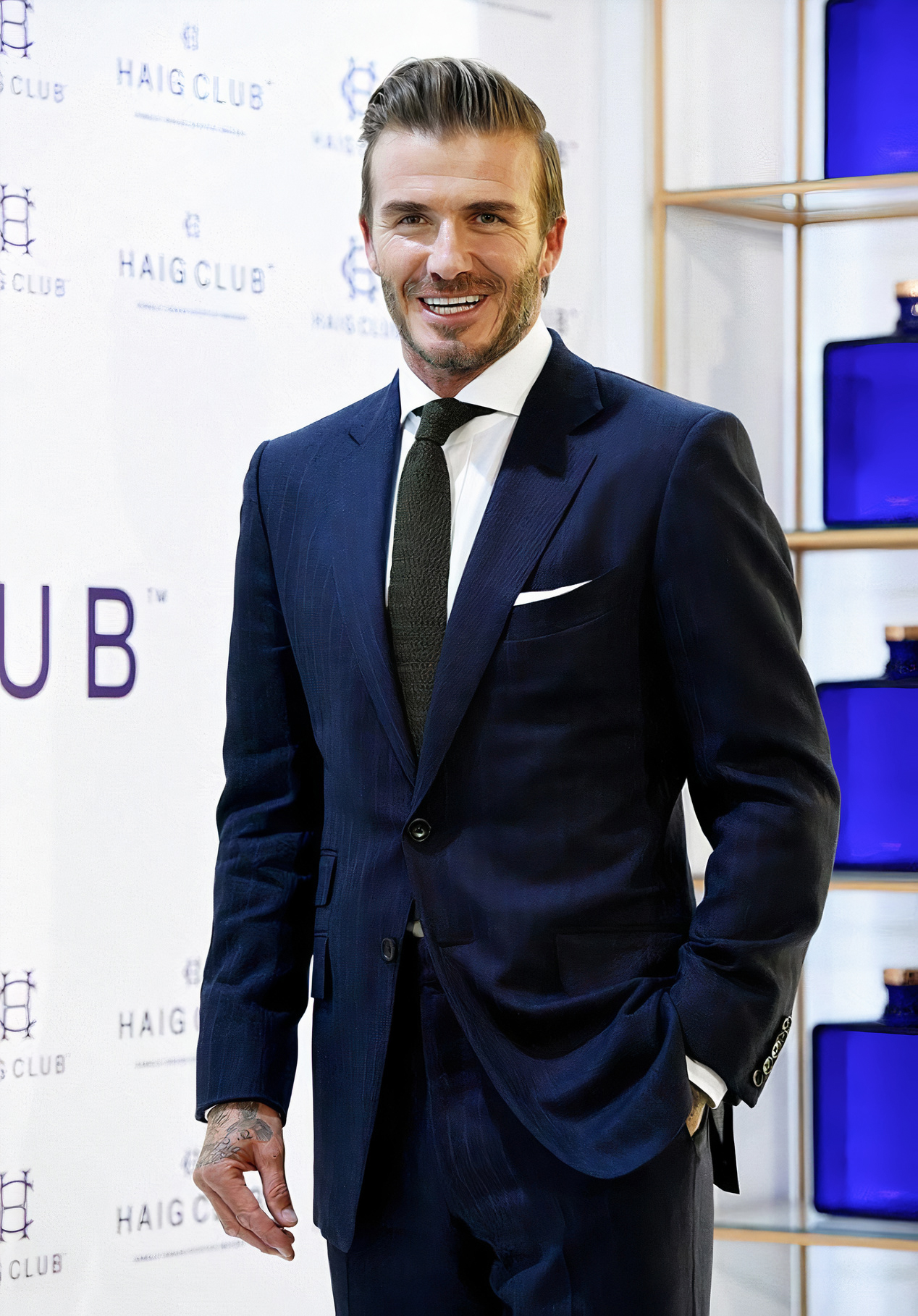 Summers call for happier colors which add flair to the ensemble.
As a result, you can add partially popping ties, including lilac, light green, coral, or even a pink tie.
Suppose you want the tie to represent your personality during the spring.
In that case, nothing works better than a silk-printed tie over a white shirt and navy suit.
Navy Suit & Light Blue Shirt
A light blue shirt adds a good touch of difference to the navy suit.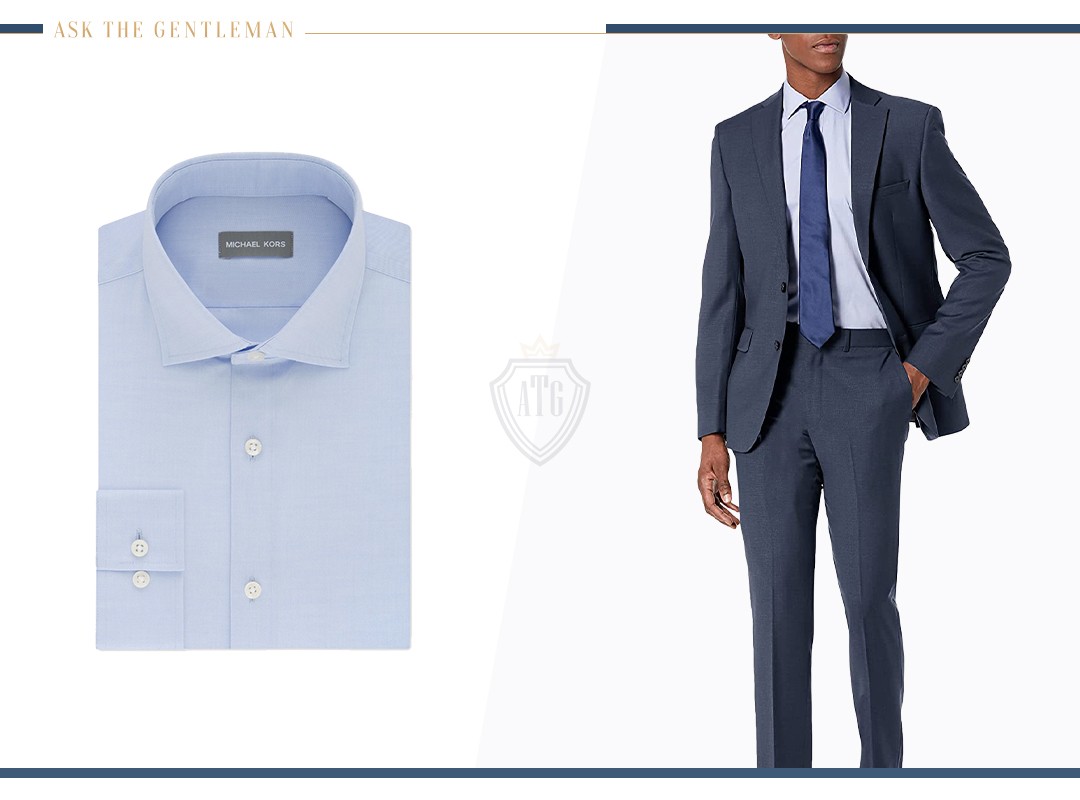 More importantly, a blue dress shirt is simple yet classic, which is what a man who has a passion for suits needs.
A brown tie is a great classic option with this combination. It creates the perfect contrast with the light blue shirt and navy suit.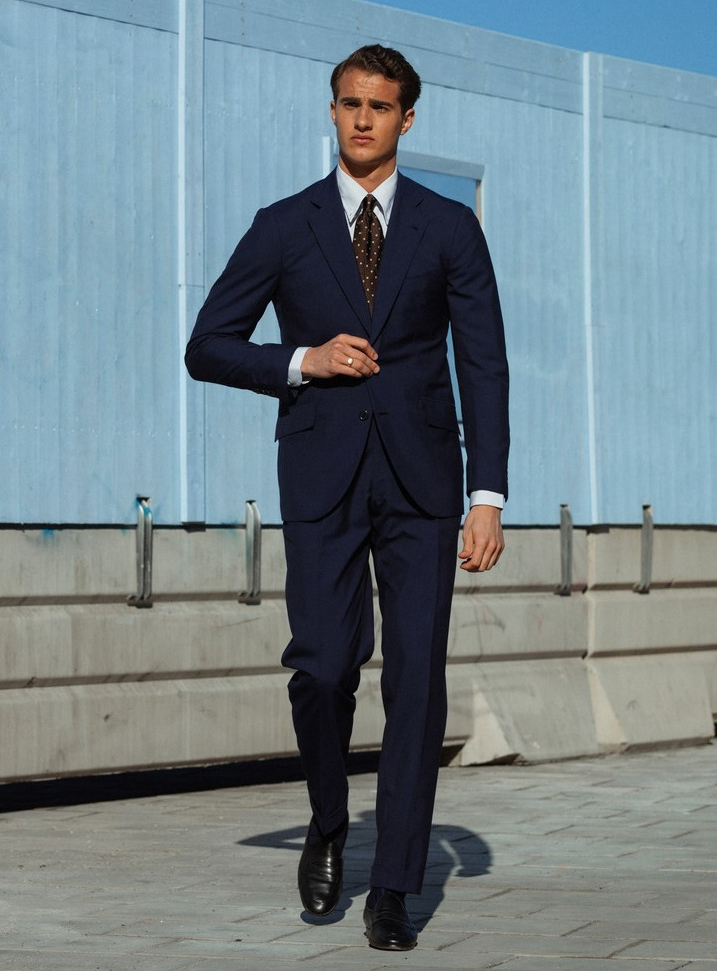 But there's another tie color that is just as good as brown: red.
The boldness of red and the depth of navy create a powerful look when paired with a light blue shirt.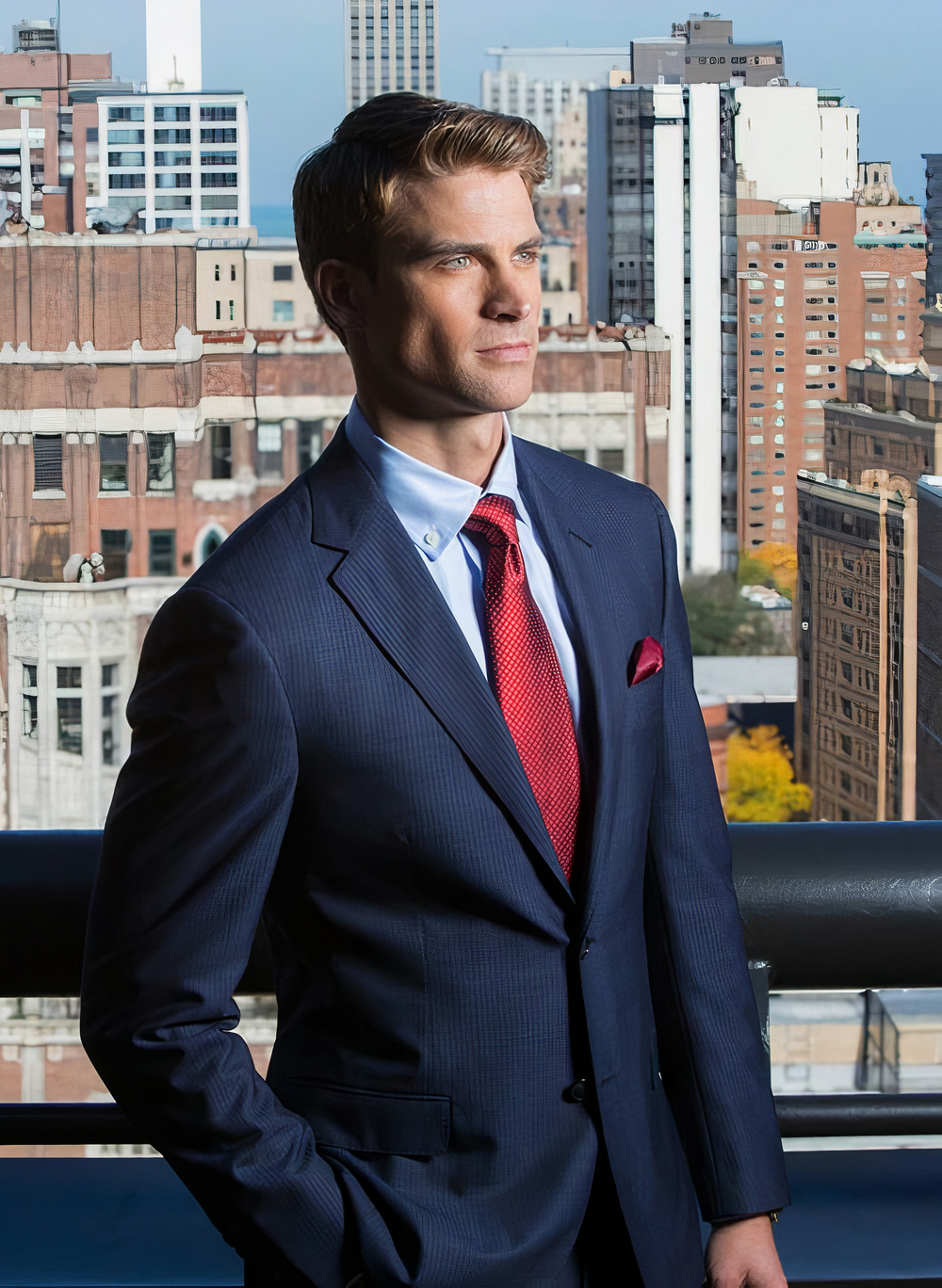 In addition, all the bold-looking lovers know what an orange tie can do on a navy suit. It perfectly contrasts with the light blue shirt.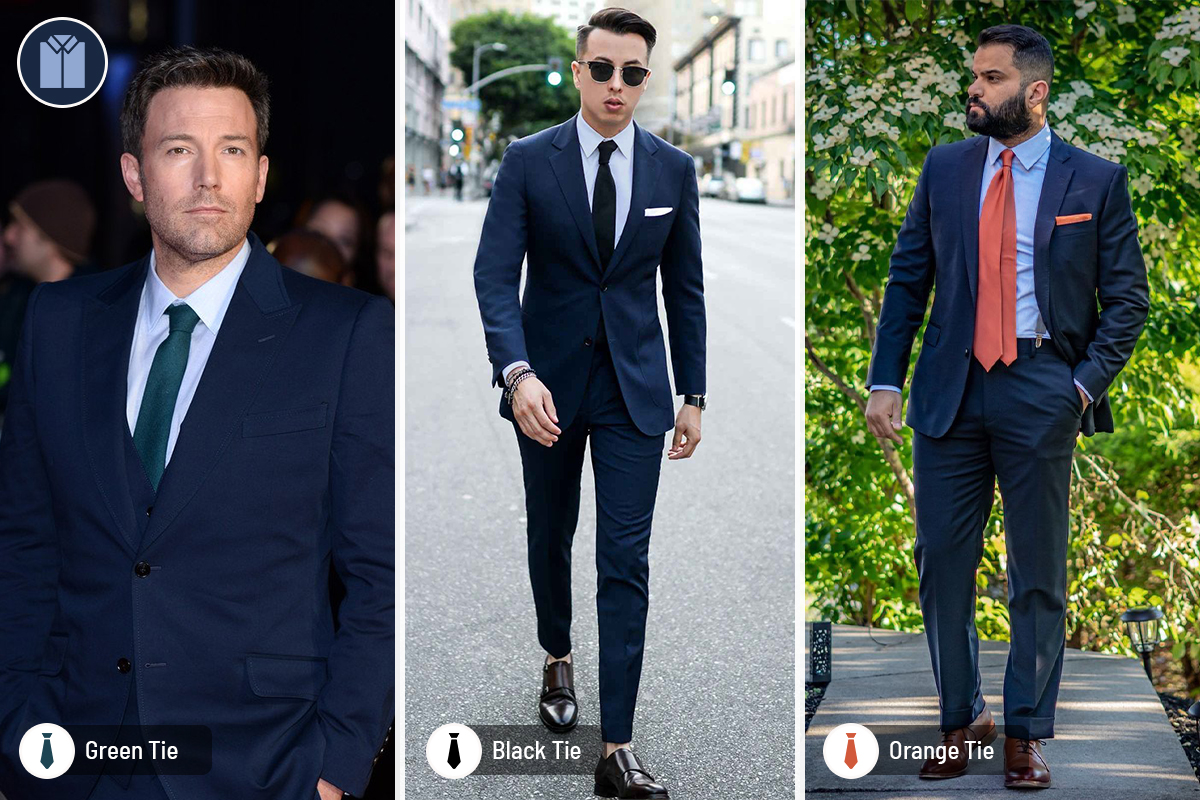 Solid green is also acceptable with this combination, especially if you add texture or stripes to the tie.
I don't recommend wearing a dark blue shirt with a navy suit because it takes away the purpose of the tie.
Navy Suit & Pink Shirt
Contrary to popular belief, real men do wear pink, and it is certainly a match made in heaven when worn under a navy suit.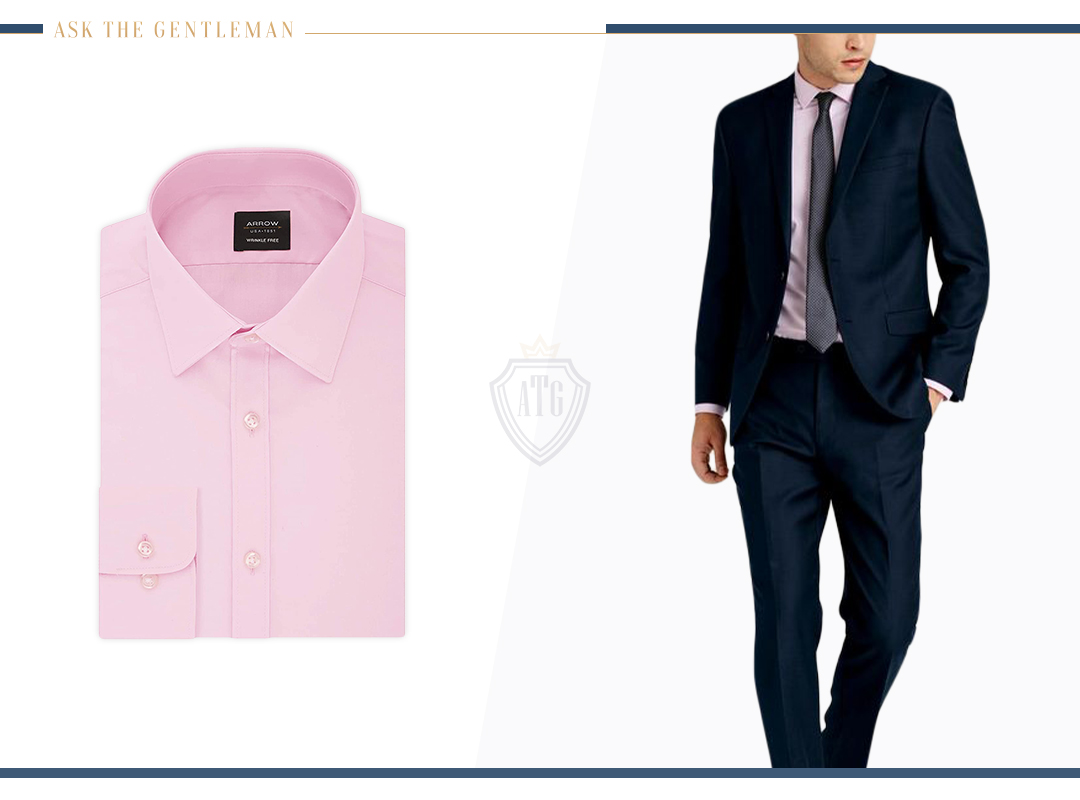 Keeping in line with the tie being a shade darker than the shirt, I would recommend you try going for light pink shirts under a navy suit.
You can opt for a burgundy tie with this combination for a monochromatic look.
In addition, navy ties provide the right balance if you wish to harmonize the ensemble.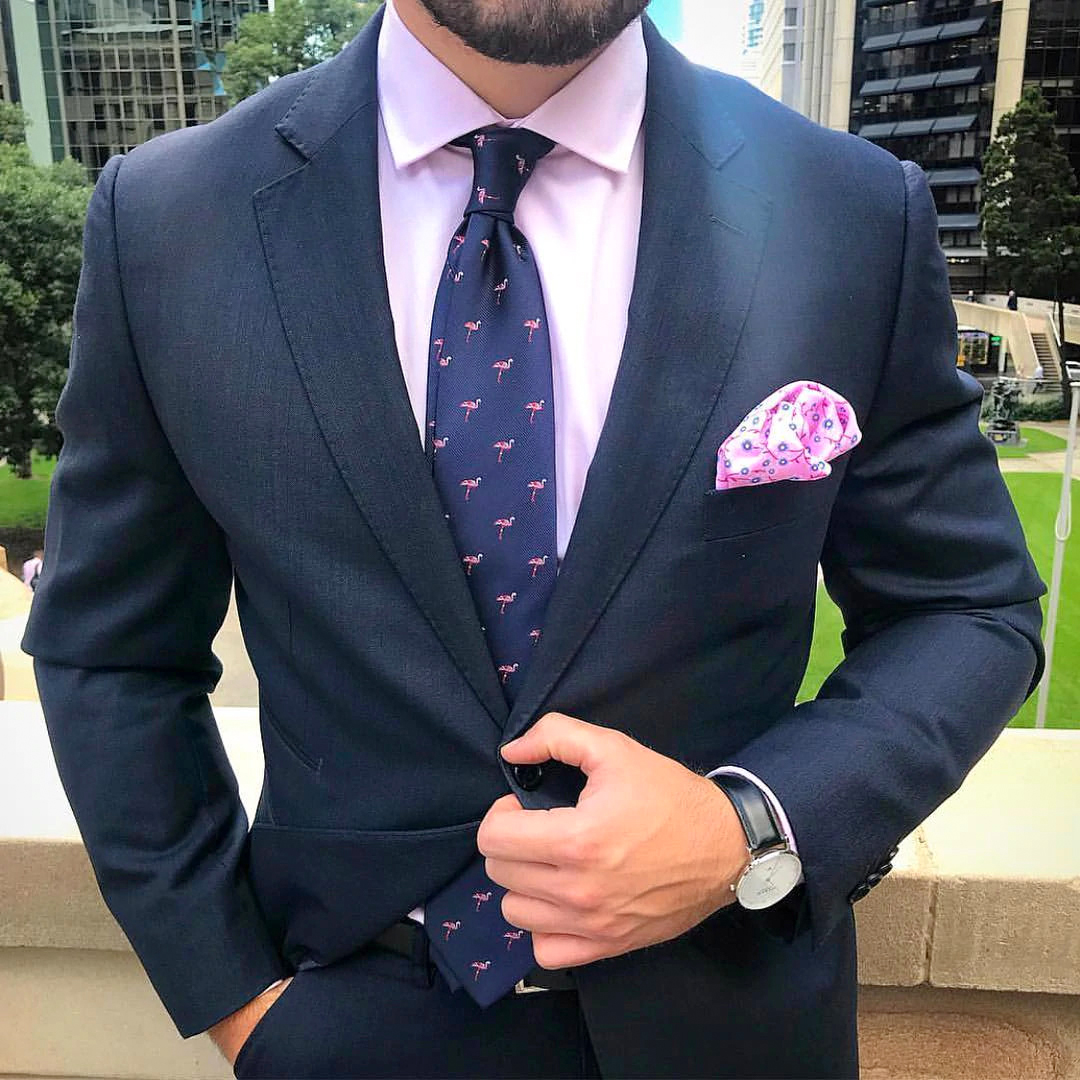 Keep the royal blue tie in your options for a bit of flare and pop up, especially during the summer or spring months.
On the other hand, if you have made the brave decision to wear a patterned or striped pink shirt, more tie options open.
Paisley or polka dot ties will pop off against the subtle patterns of the shirt.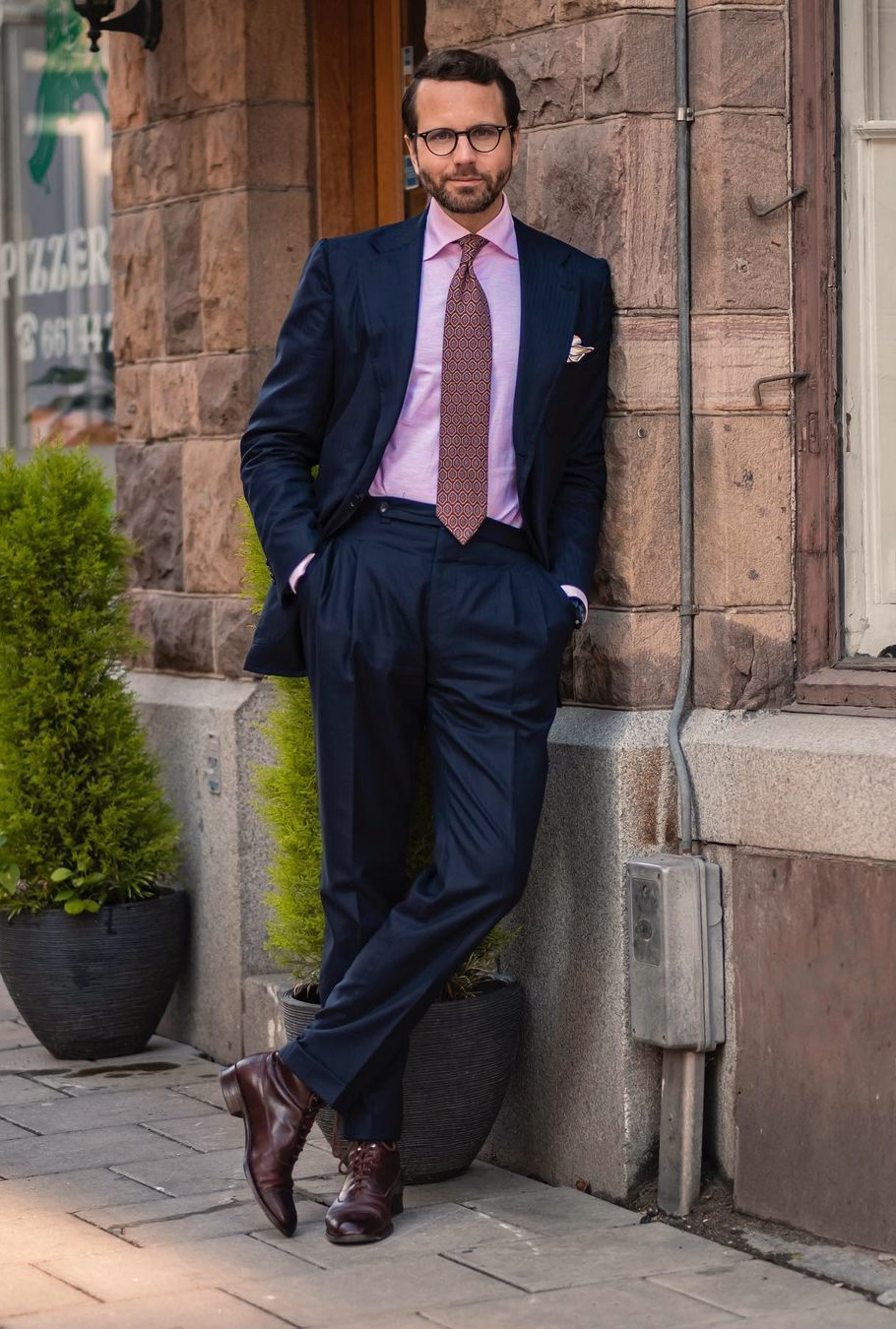 If you want to go plain, burgundy or navy ties are always the safest options.
Navy Suit & Lilac Shirt
You might not have seen lilac around suits a lot, but it's a dreamy combination with the navy suit.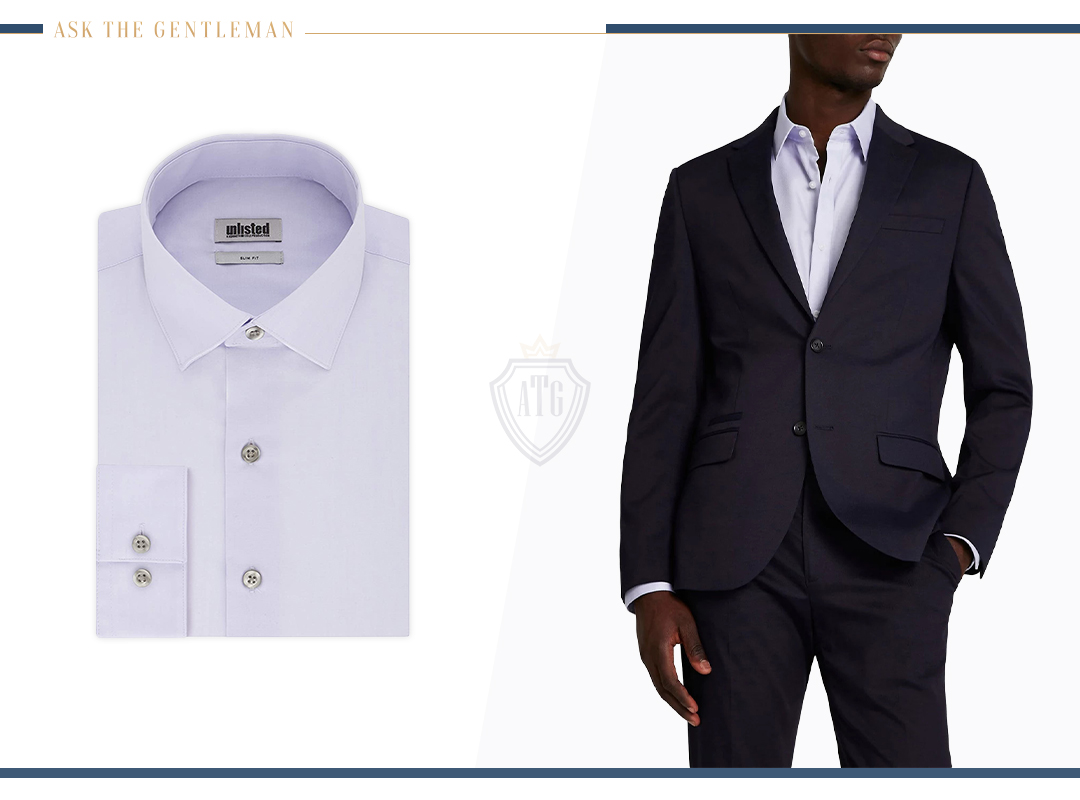 Lilac is a lighter version of purple and enhances the cooler blue tones of navy.
If you are looking for a dapper look, this is the perfect combination to go for.
My favorite tie color with this combination is navy since it complements both the suit and the lilac shirt.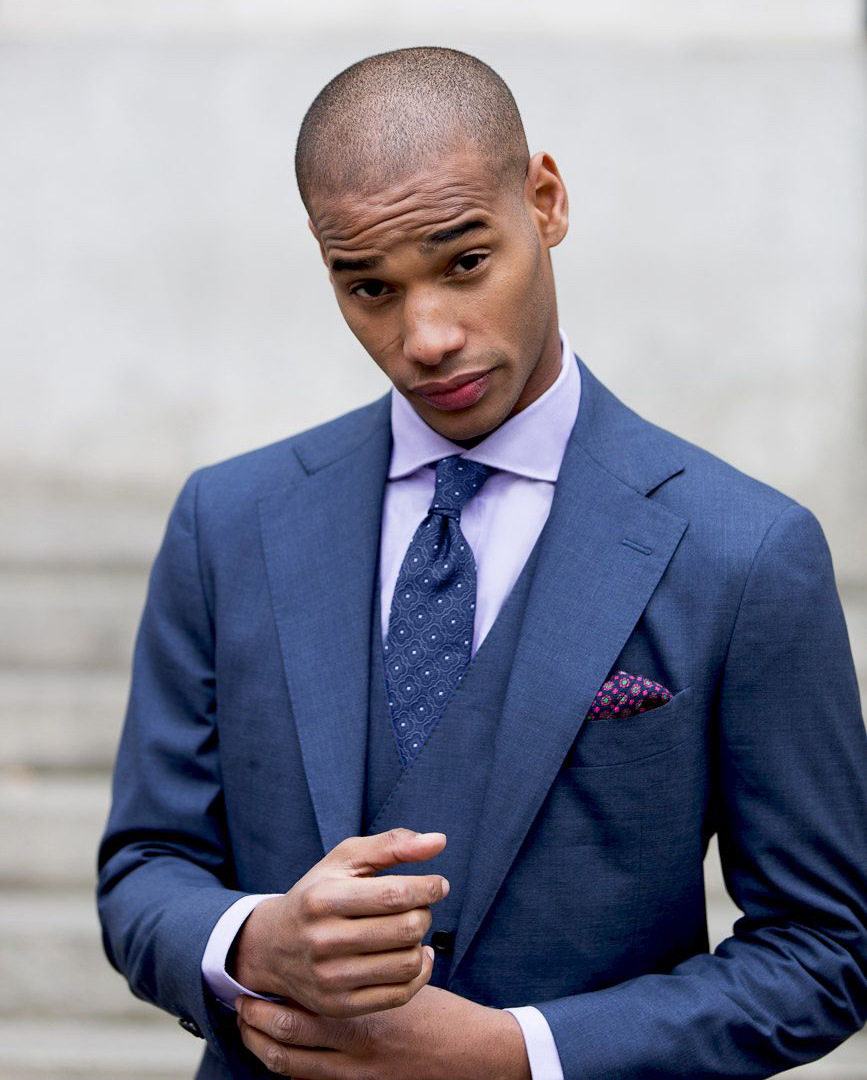 But if you enjoy monochromatic looks, a dark purple tie is a perfect pop against the lilac shirt.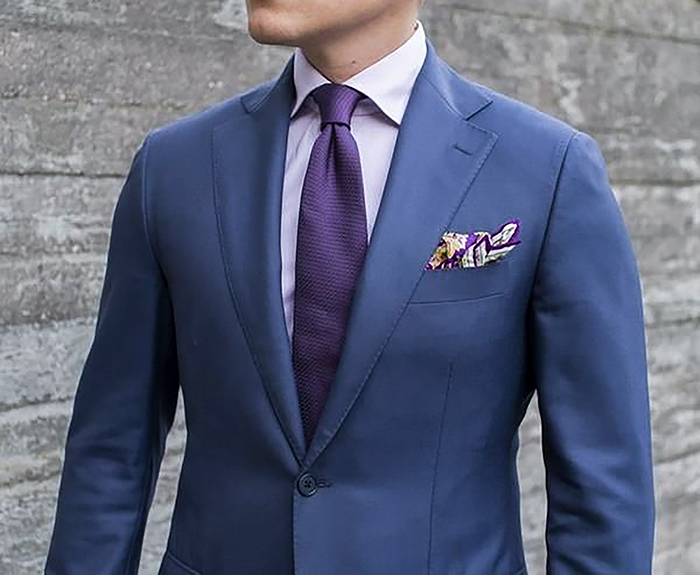 For those who have the confidence for bolder appearances, I would recommend an olive-green tie to create a statement look.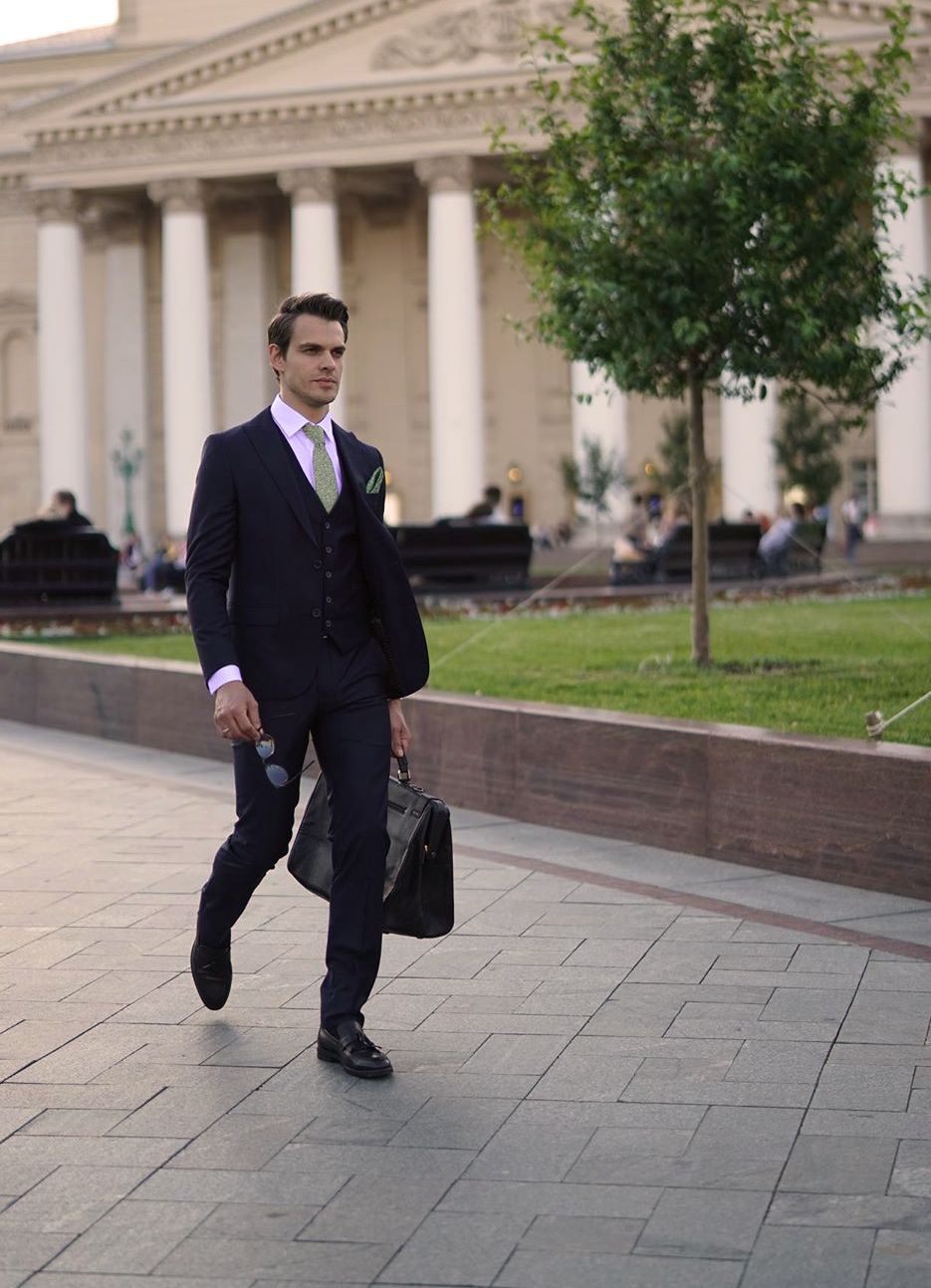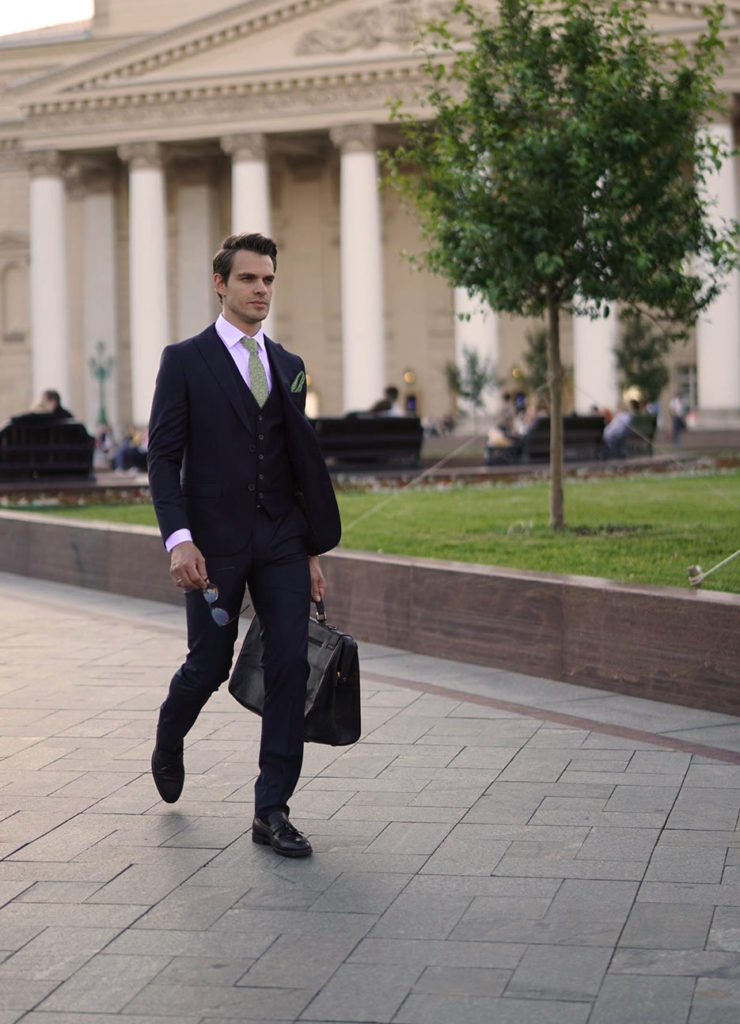 Putting on a patterned lilac shirt is also okay if your navy or lilac tie has more extensive patterns to complement the shirt.
What Else to Wear with a Navy Suit
The navy suit isn't just reserved for formal events.
In fact, you can create a sleek look with a touch of informality.
Floral, patterned shirts, polo, and t-shirts are good additions to a navy suit for a more relaxed outlook.
However, one important thing with these shirt options is that you must forgo the tie.
Navy Suit & Floral Shirt
The floral shirt is bold in itself and perfectly complements the depth of navy for a casual look.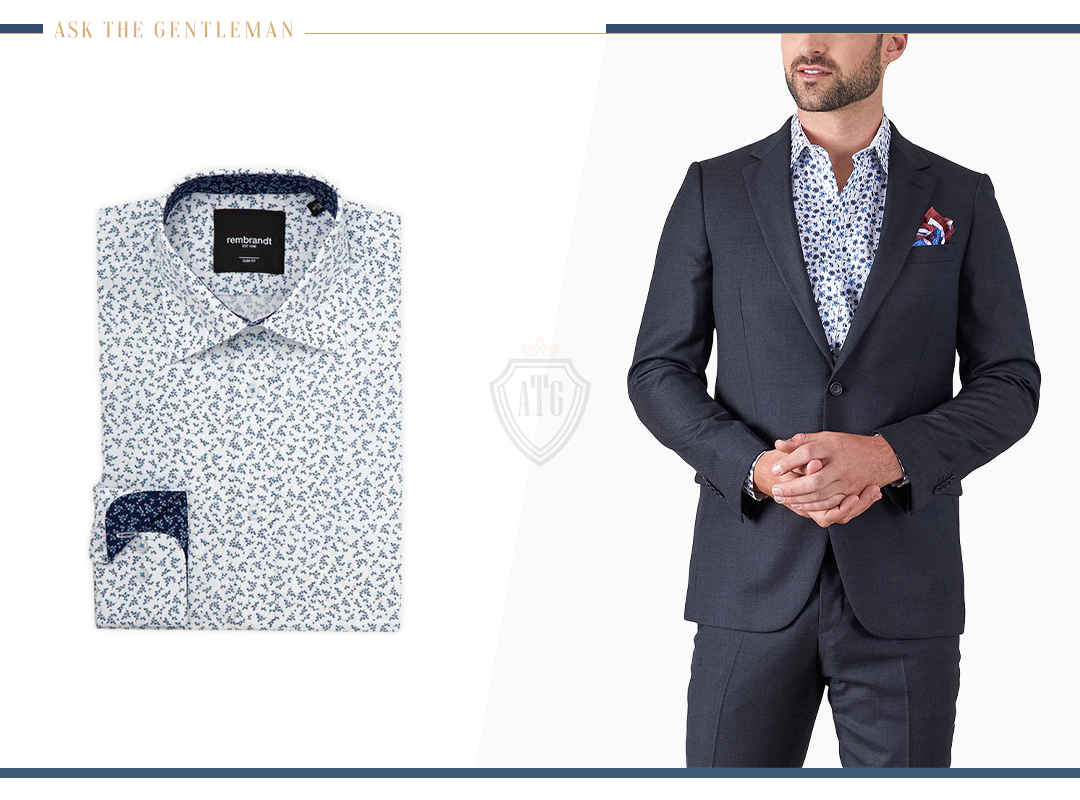 What you need to keep in mind are the floral design and colors.
You are good to go as long as your floral shirt has a microscale design pattern that features lilac, red, pink, navy, blue, black, and white.
Some other colors, including green and orange, also work but make sure they are mixed with other colors that work well with navy.
Navy Suit & Patterned Shirt
Patterned shirts are also a great shift from the usual classics if you have to dress up for a casual setting.
Again, I am not a fan of big-scale stripes, so I would always recommend something subtle and elegant.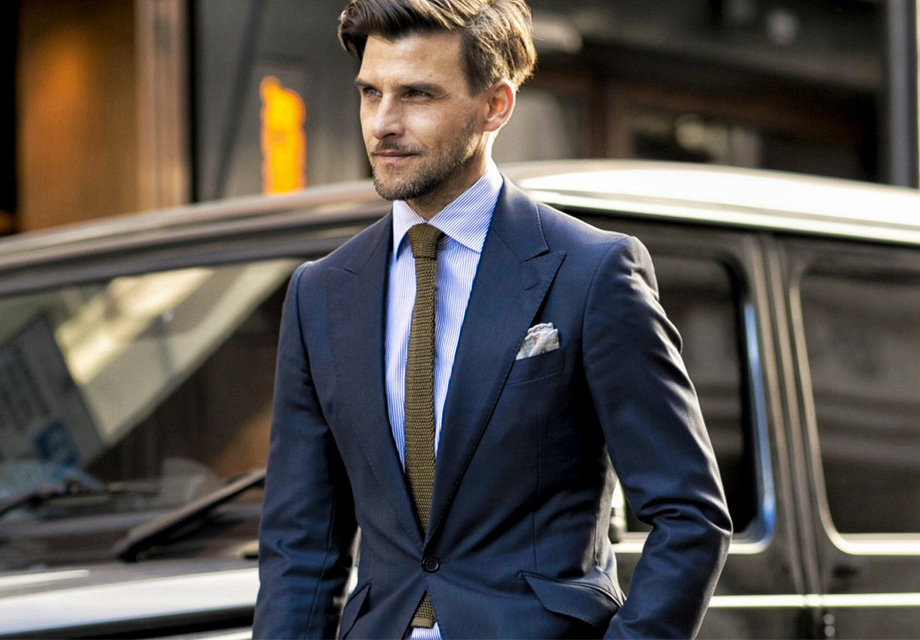 As for colors, I think going for a light blue or pink patterned shirt is an amazing choice.
But you can also pull off a wonderful look with a white shirt with black stripes or a lilac shirt featuring white patterns.
Navy Suit & Polo Shirt
Polos are for the relaxed-minded dressing up for a relaxed event.
Another great thing about polos is the collars that keep some level of formality in check.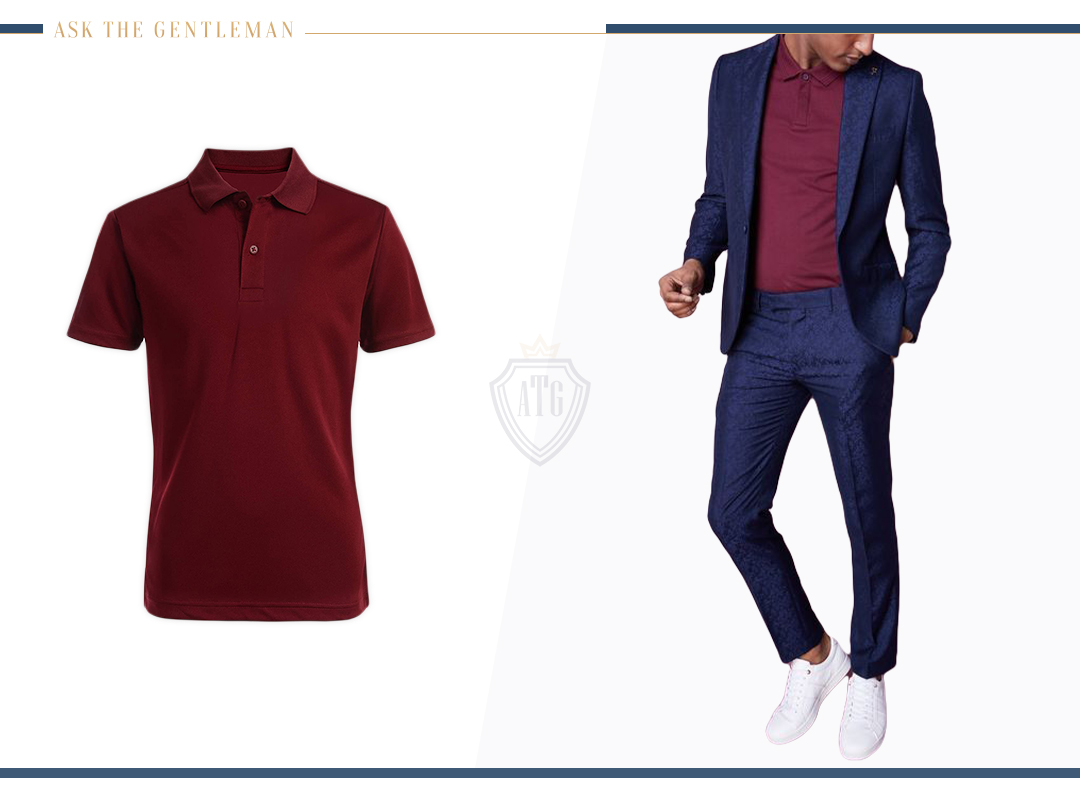 My personal favorites are plain polos in white, pink, red, blue, and lilac.
However, your options aren't limited to these. Navy is quite versatile, especially for a casual ensemble.
Make sure to try maroon or burgundy or some other dark color since the casualness of the outfit allows it.
Put on a pair of black or brown sneakers to complete the look.
Navy Suit & T-Shirt
Sometimes you don't have to put in much effort to look naturally sleek.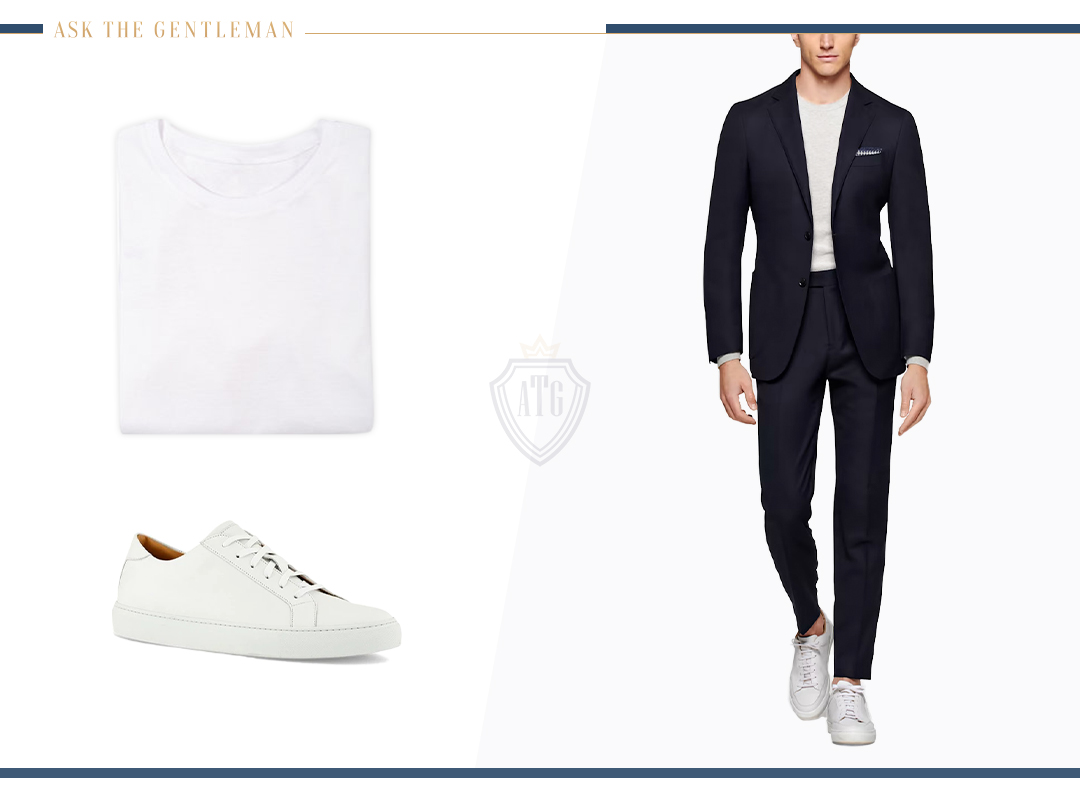 Wearing a crew neck t-shirt under your navy suit is a way to look tremendous without trying too hard.
Round off your guise by opting for the canvas low-top sneakers in white for a casual yet daring getup.
Best Tie Colors for a Navy Suit
I have mentioned all solid shirt and tie combinations to go along with the navy suit above.
However, each tie color holds its own place in the world of men's fashion.
As a result, you must understand what it represents and where to wear it before making it a part of your navy suit ensemble.
Navy Suit & Red Tie
Red is often referred to as the power tie, and rightly so.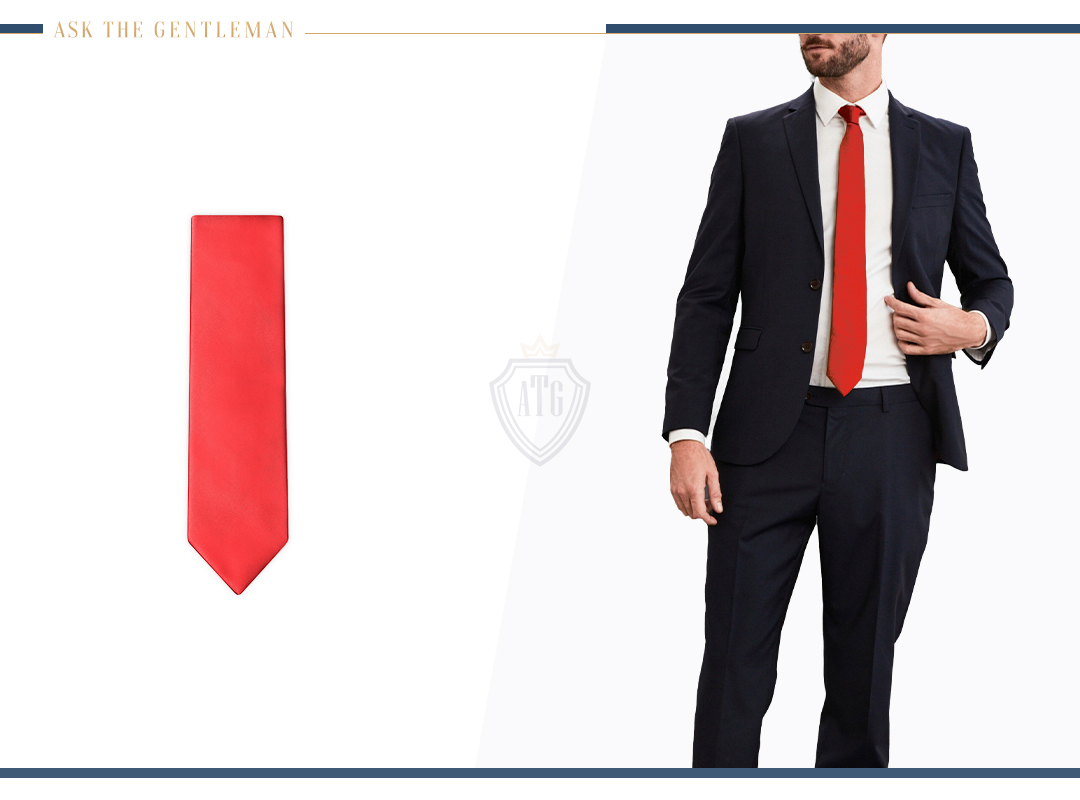 If you are wearing a red tie, it implies that you mean business.
Red combined with the navy suit takes it another step further and makes you come off as dominant.
People will think twice before trying to undermine your authority if you are wearing a red tie on a navy suit.
Navy Suit & Burgundy/Maroon Tie
Burgundy or maroon tie is for those who want the contrast of red but don't want to come off as too aggressive.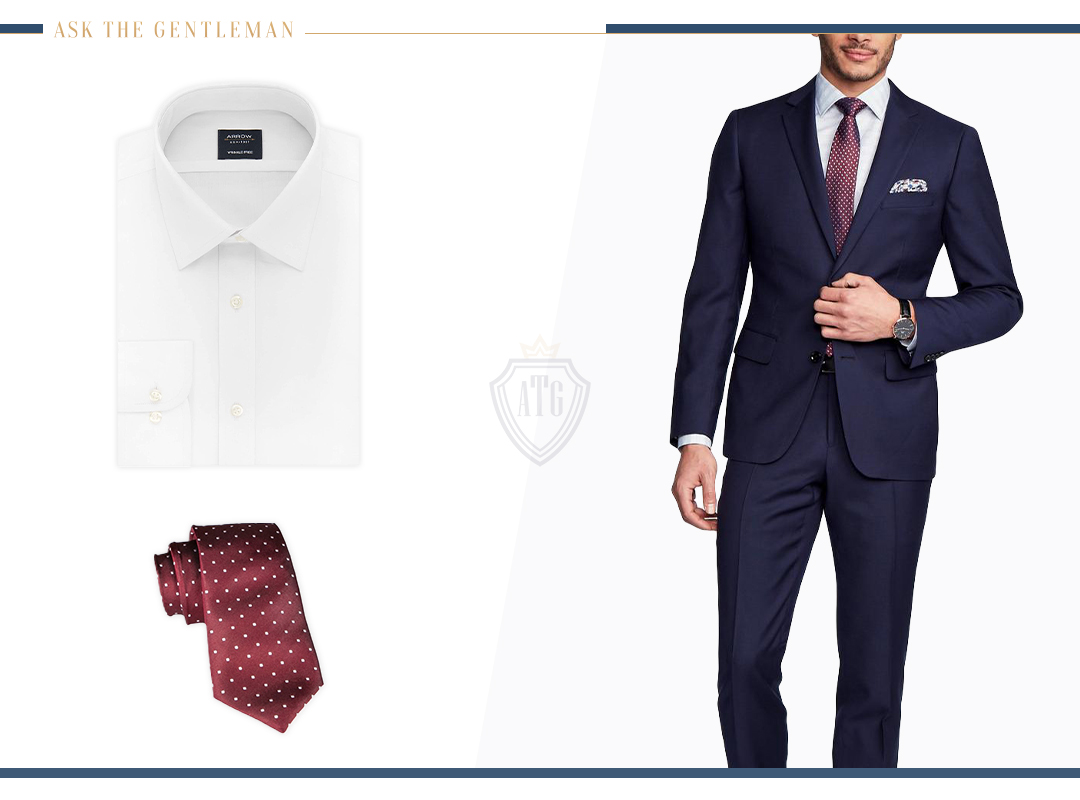 These shades of dark red are softer as compared to vibrant red.
Moreover, you also get the extra advantage of the cooler tones of burgundy or warmer tones of maroon, whichever shade you opt for.
Navy Suit & Navy Blue Tie
Navy is a classy, contemporary shade that hardly ever fails the look.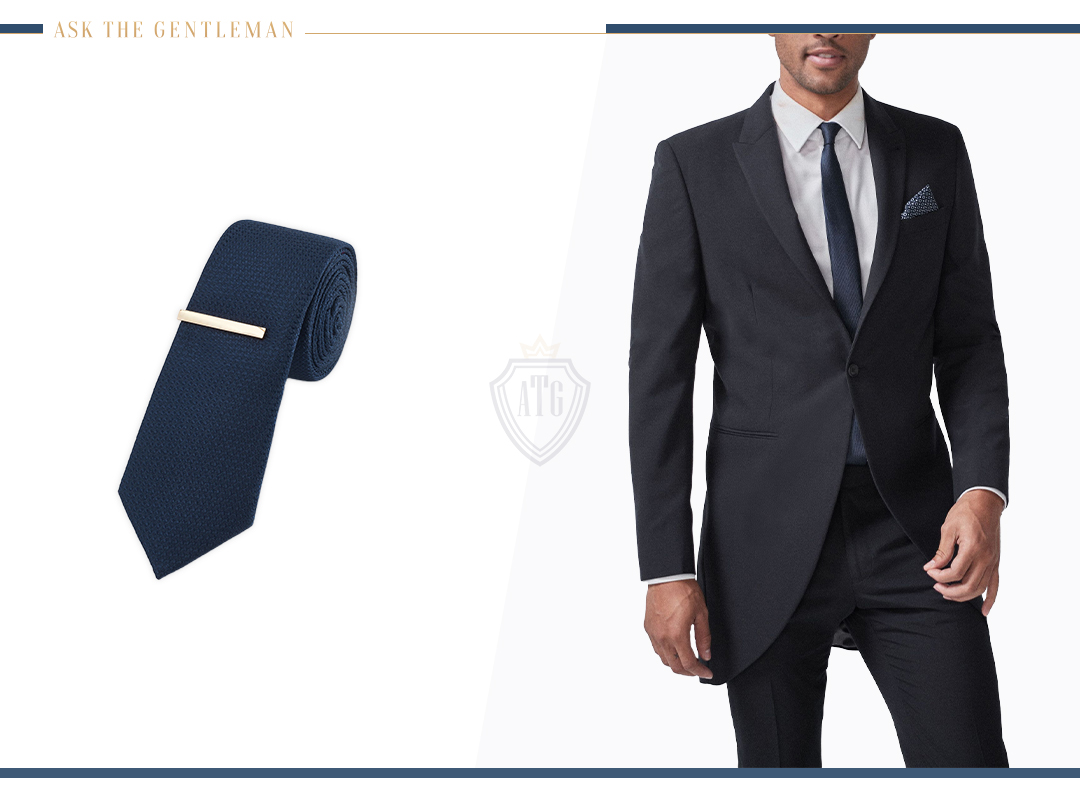 Navy blue tie stands ground even when rocked on a navy suit.
It creates a monochromatic look that is simple with no compromise on elegance.
It is also a step away from the aggressive approach of red and can work really well for business settings.
Navy Suit & Pink Tie
The pink tie is a great option to pair with your navy suit, especially during the spring or summer seasons.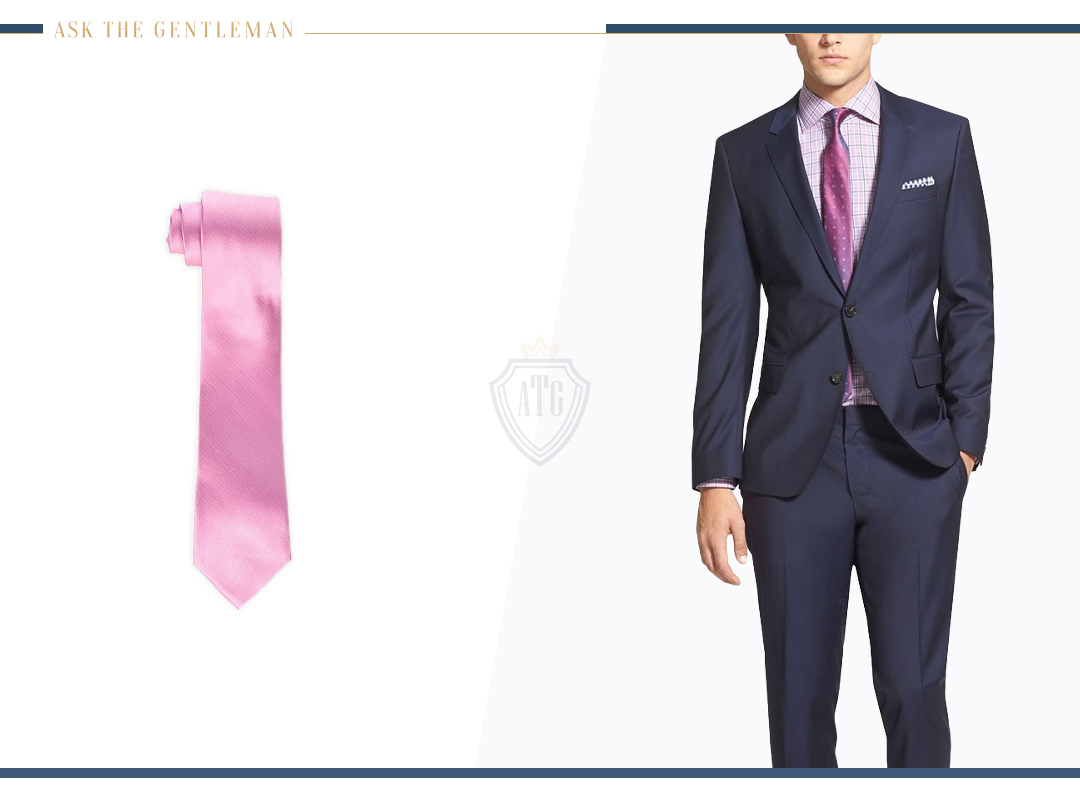 The navy itself is deep and cool, which is perfect for the fall and winter vibes.
However, if you feel like wearing your navy suit to a spring event, pink is the perfect tie color to wear.
Navy Suit & Black Tie
A black tie is best reserved for highly formal events.
It adds seriousness to the suit; therefore, you might come off as too flamboyant if you wear a black tie to anything but a formal event.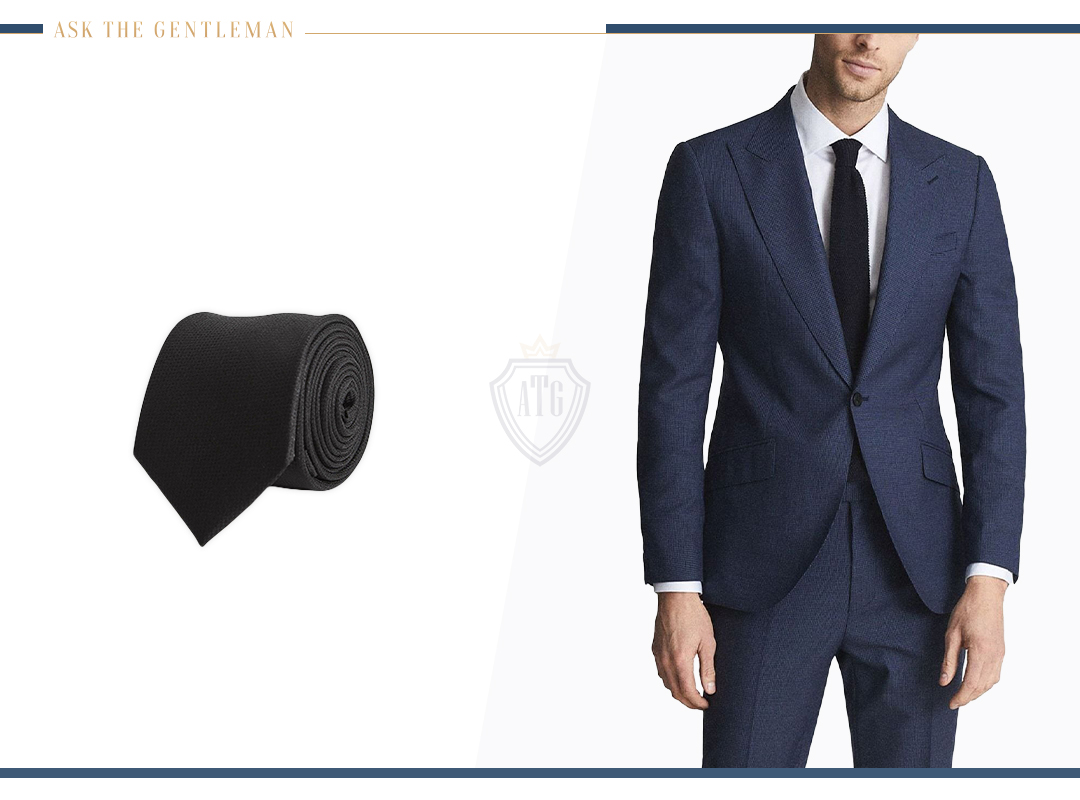 So reserve your black tie when you wear your suit at formal events and go for other tie colors for semi-formal and casual settings.
Other Tie Colors & Styles
Navy is a versatile suit color that offers great pairing flexibility.
Apart from the classic tie colors, you can opt for some bold looks by choosing unorthodox ties such as brown or even orange.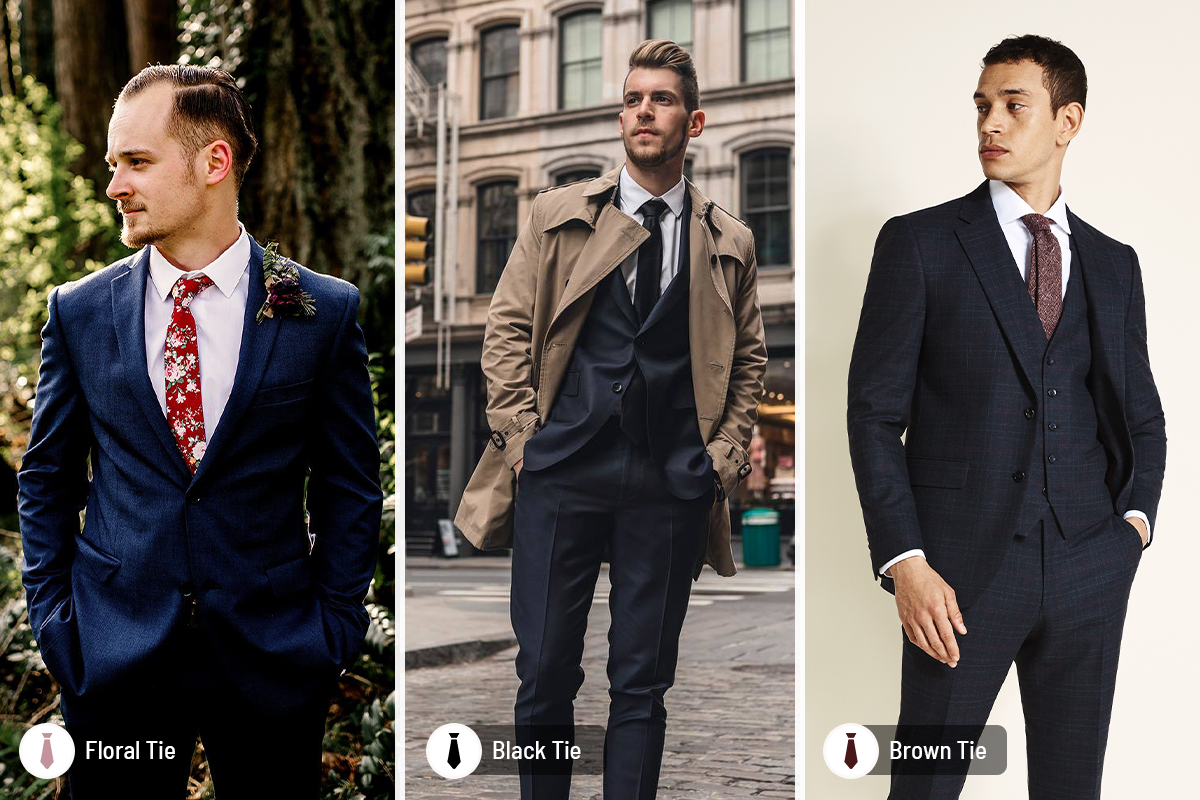 Olive green is also a good option, but you need the confidence to pull this look off.
For the casual-hearted, floral and patterned ties are a good fit, especially if the event setting is relaxed.
Shoes that Match the Navy Suit
While navy is quite versatile and has room for experimentation, there isn't much you can do when it comes to footwear.
Your best bets are a solid pair of black or brown shoes.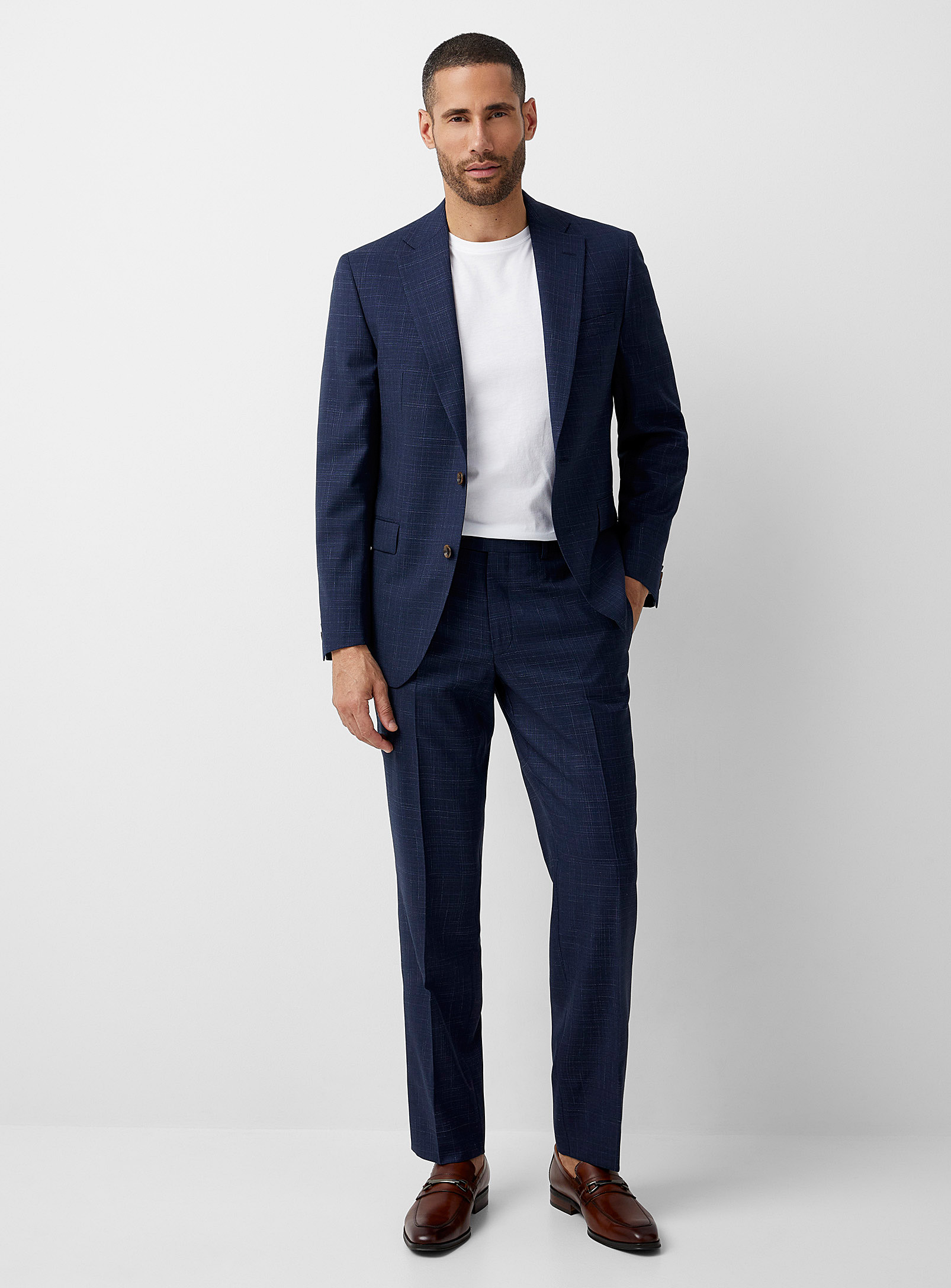 It might sound limited, but trust me, you don't need anything else.
Black or brown shoes perfectly complement the formality of the deep cool tones of navy.
Remember that black is reserved for more formal events, whereas brown is better for less formal or business casual settings.
As for the shoe type, oxford and derbies keep formality in check.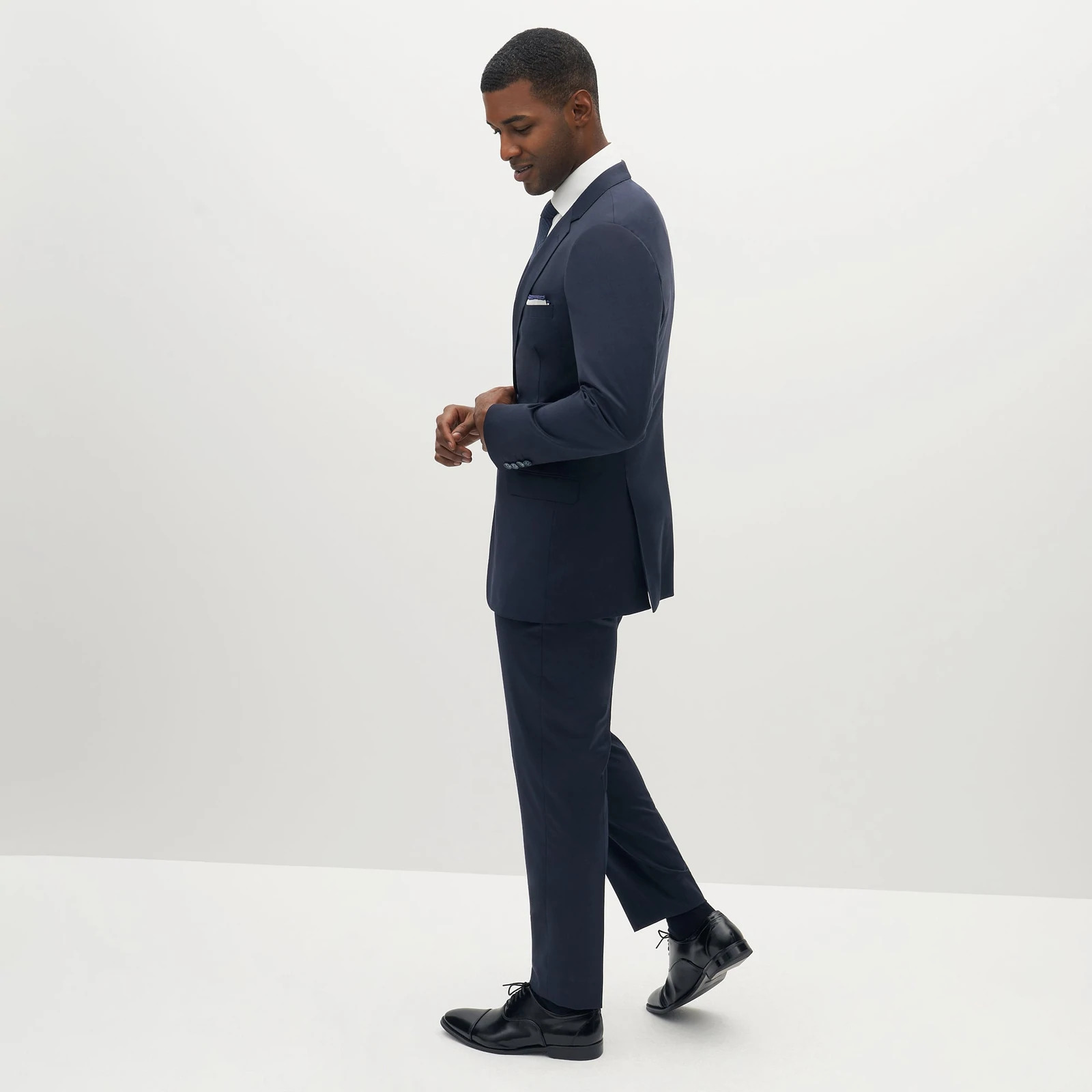 Nevertheless, you can also opt for monk straps or even sneakers, depending on how casual you want to appear.
Navy Suit & Black Shoes
Black shoes under the navy suit are a classic match, just like the crisp white dress shirt.
I would strongly recommend you stick to black shoes if it's a formal event because it complements the formality of navy and makes you look sleek.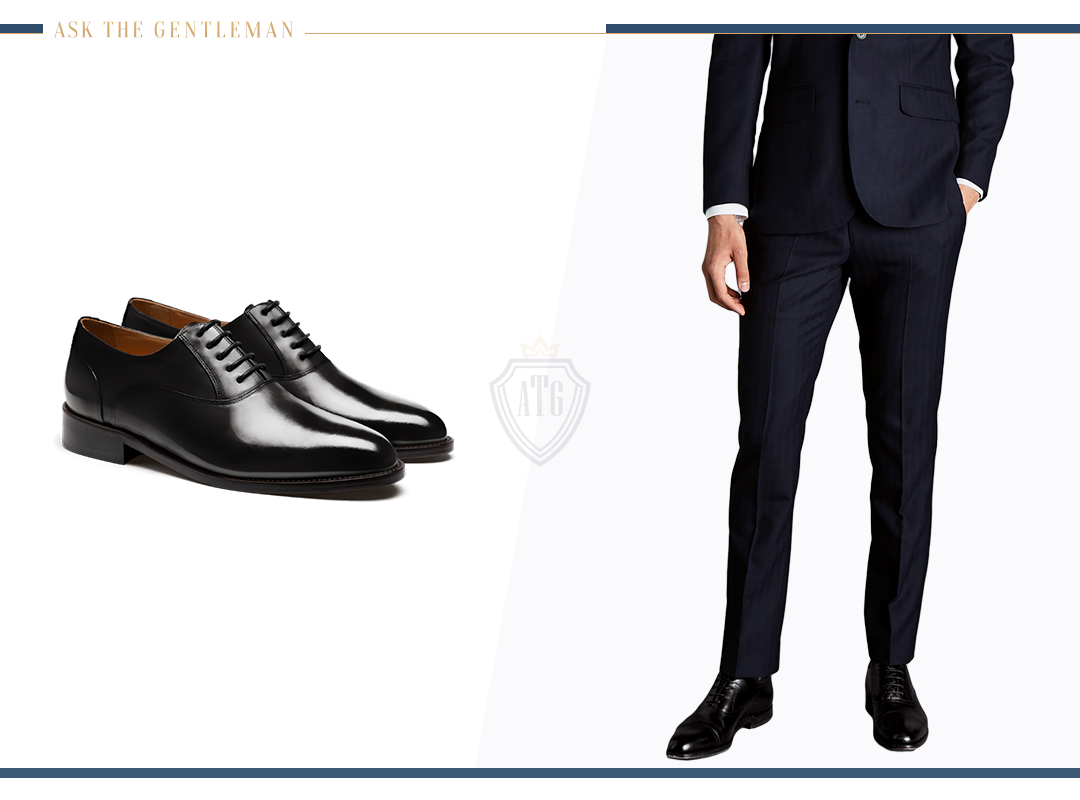 Black is the safest option for semi-formal events as well, especially if you are rocking the classic white shirt under the navy suit.
However, if the event settings allow, you can shift from black oxfords or derby to something more casual, like monk straps or loafers.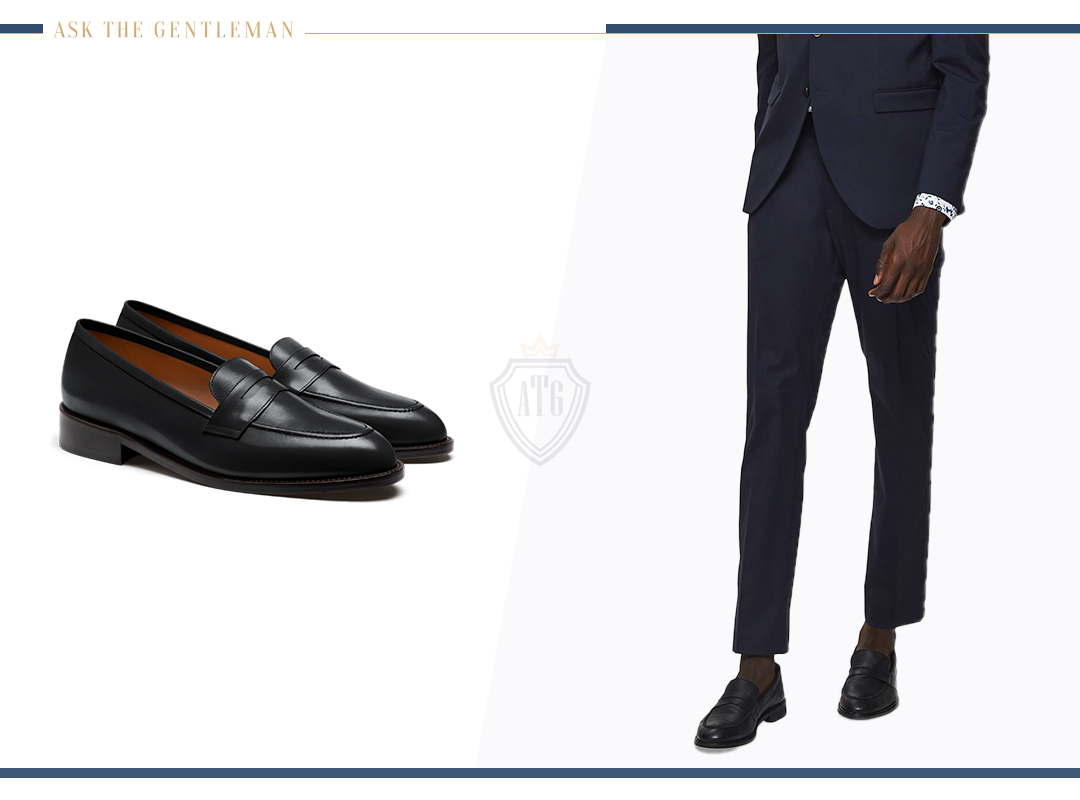 For example, loafer pair perfectly with your navy suit, especially if you wear a patterned or floral shirt.
Navy Suit & Brown Shoes
Following the general rule of thumb, the shoe shade must always be similar to the suit shade.
Since navy is a dark shade itself, you have to opt for dark brown shoes under this suit.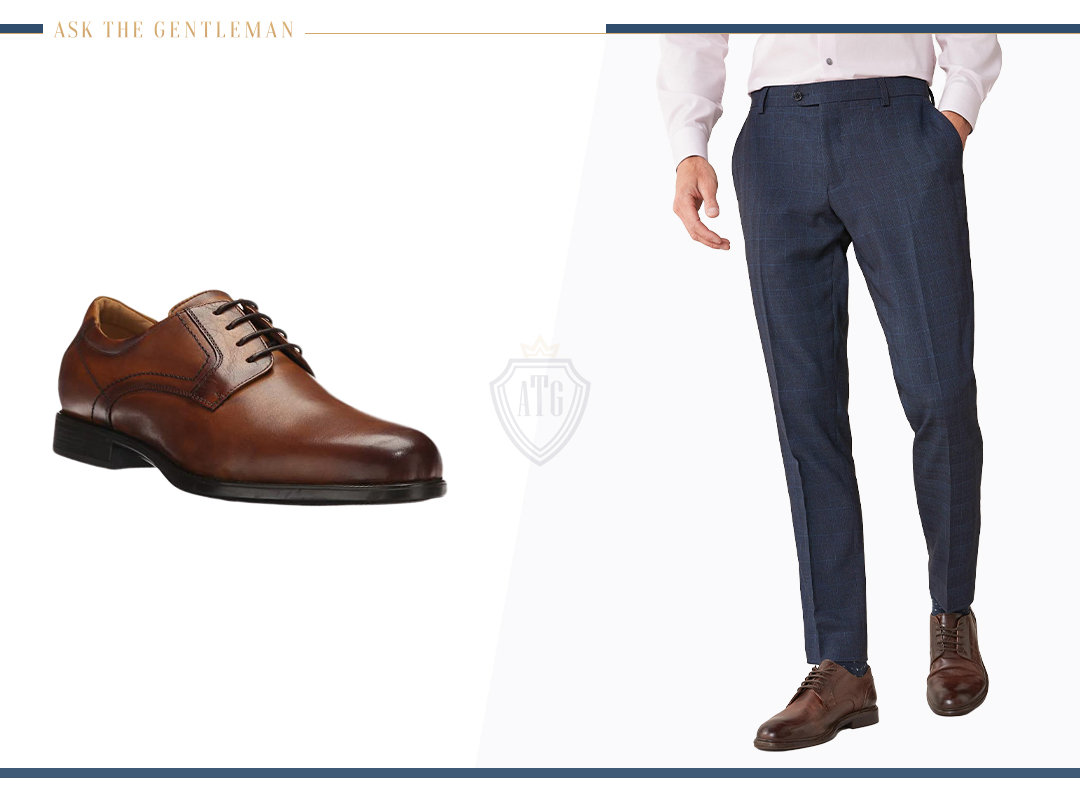 This shoe color is exceptional since it adds some strict warmth to the cooler navy tones.
While you can create an outstanding look with dark brown shoes under a navy suit, I wouldn't recommend these for highly formal events.
Instead, wear them for business dinners, client meetings, or to the office to come off a bit relaxed and unorthodox.
Brown oxfords and derbies are the safest options but brown Chelsea boots or monk straps work as well.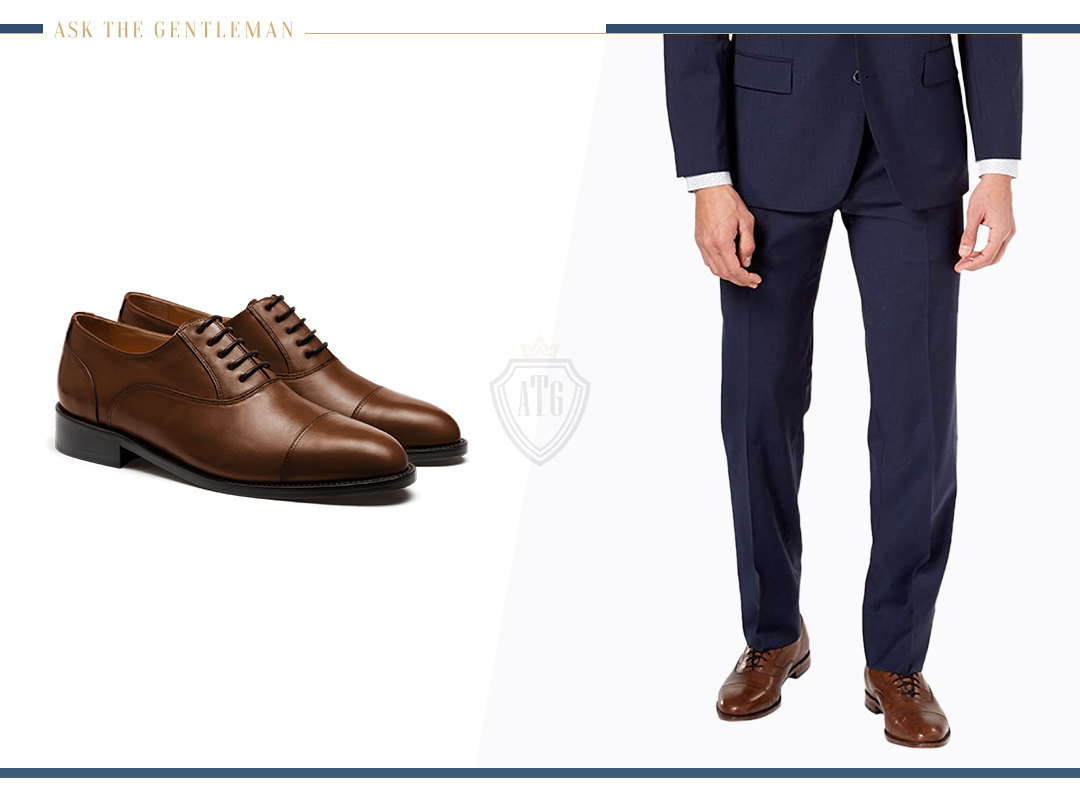 You can wear brown sneakers if it's a highly casual look with a T-shirt or polo.
Other Accessories You Can Wear with Navy Blue Suits
No suit is ever complete without accessories, and that is true for the navy as well.
The belt, watch, and pocket square are some essentials found in every man's wardrobe.
Let's see how to style them best to enrich your navy blue suit ensemble.
Formal Belt with the Same Color as Shoes
If you are an avid reader of my blogs, I shouldn't have to tell you how important it is to get the belt in the same color as the shoes.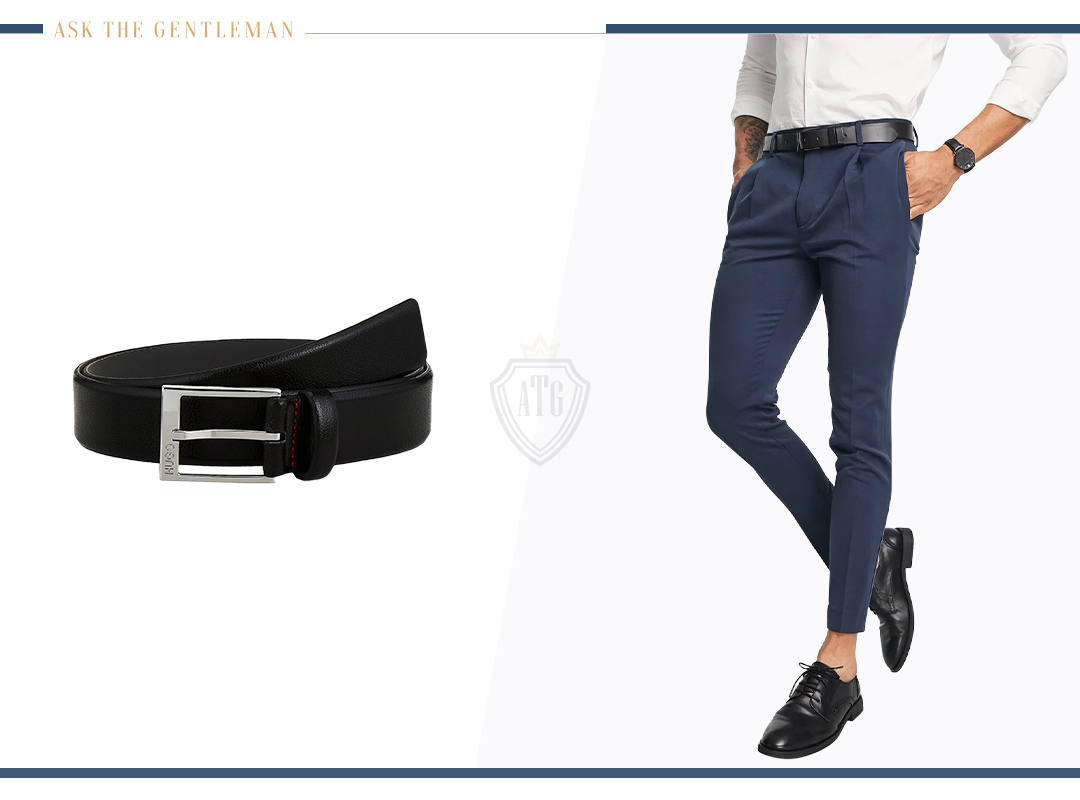 Not just that, but you also have to ensure the belt is formal since navy is mostly associated with formal attire.
Even if you are trying to achieve a casual look by adding a polo and sneakers, I would still recommend you opt for a formal black or brown belt to keep things in balance.
Dress Watch that Matches Your Outfit
A dress watch is a tremendous addition to any suit.
Navy greatly benefits from this accessory as well, especially if it's a leather strap watch that is the same color as the shoes and belt.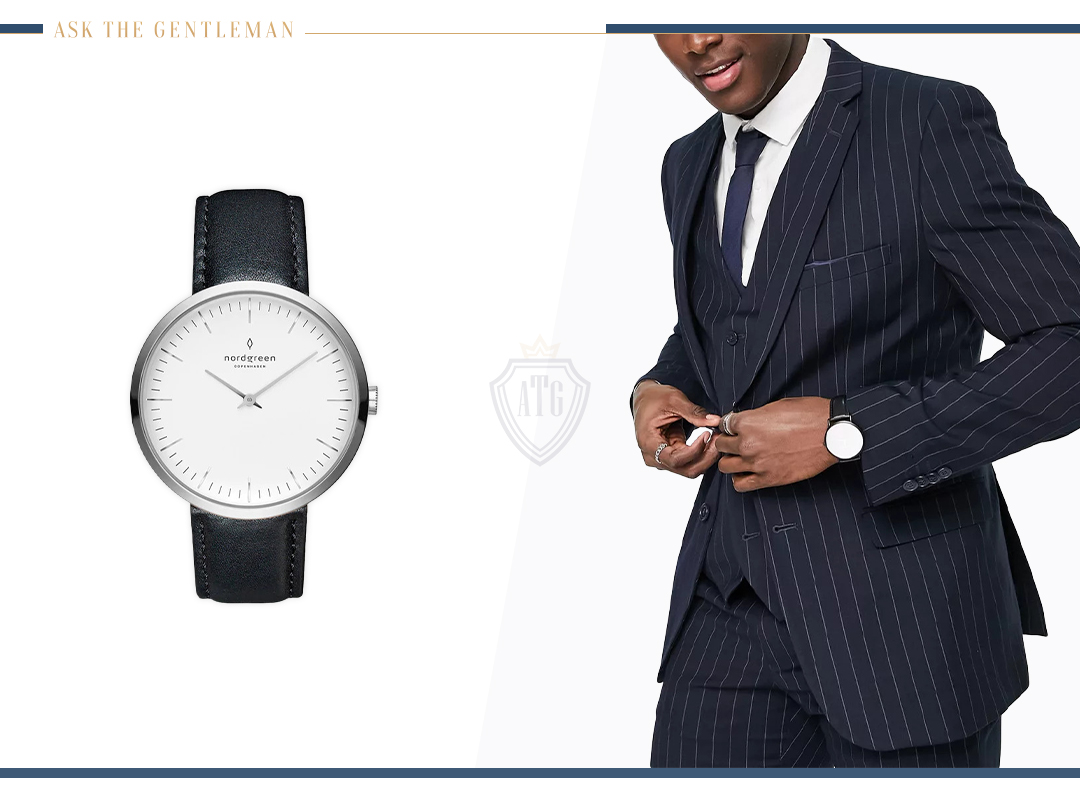 It helps create a continuous look. However, you still have the option to go for a metal watch, but I have a bias towards the leather strap.
Pocket Squares You Can Wear with Navy Suits
Whatever pocket square you put on your navy suit, just make sure it contrasts with the tie.
It might not seem important, but a mismatched pocket square can bring down the elegance of the navy suit close to zero.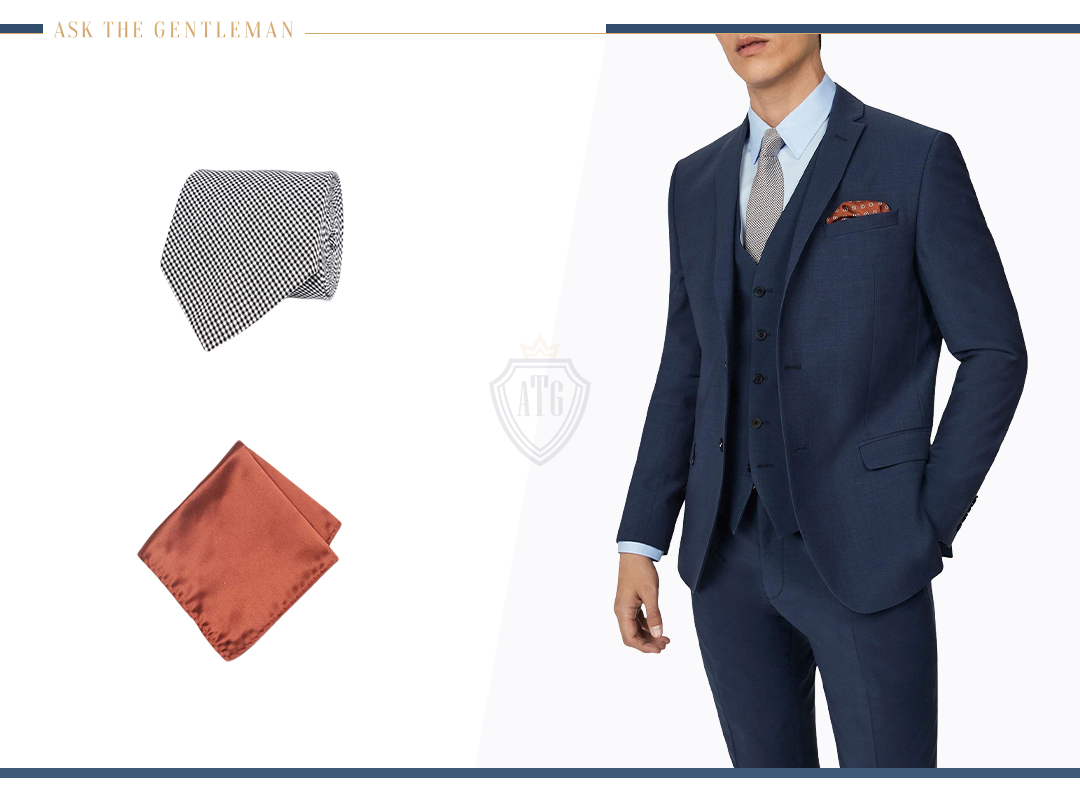 Also, reserve the pocket square for settings that require one, such as weddings, dinners, cocktail parties, etc.