I am pretty sure most people start by wearing a black suit.
That's because everyone stereotypes black as the color anyone can pull off.
While it is true, you have to put in some effort to do justice with a black suit.
How to Wear the Black Suit: The Fit is Crucial
By now, you should know why I am so obsessed with suit's fit.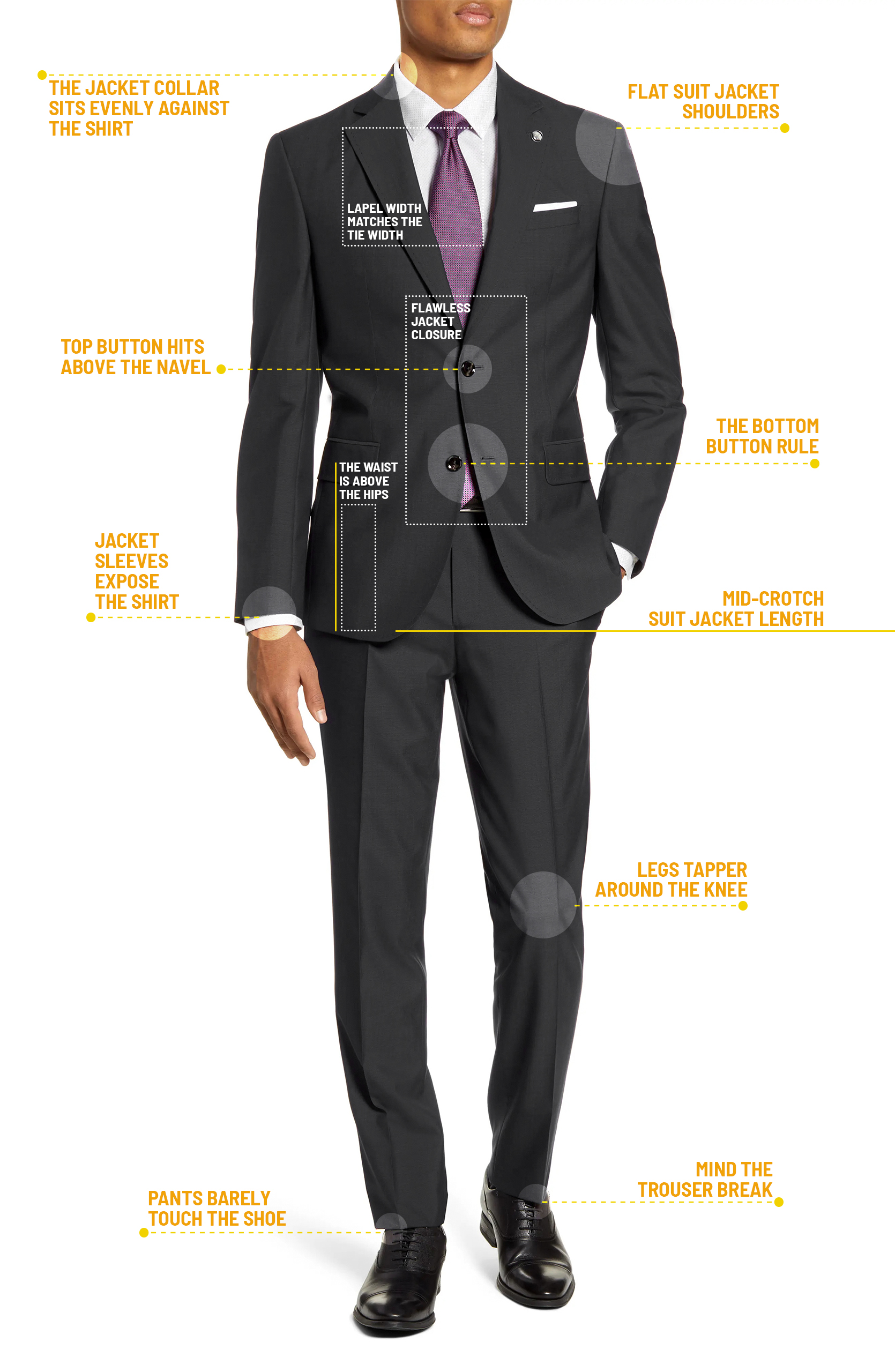 The perfect fit commands attention and is fabric and money well spent.
But it's even more crucial for black suits because the color makes a bad fit more prominent.
Pay special attention to the jacket closure. The sides have to meet flawlessly.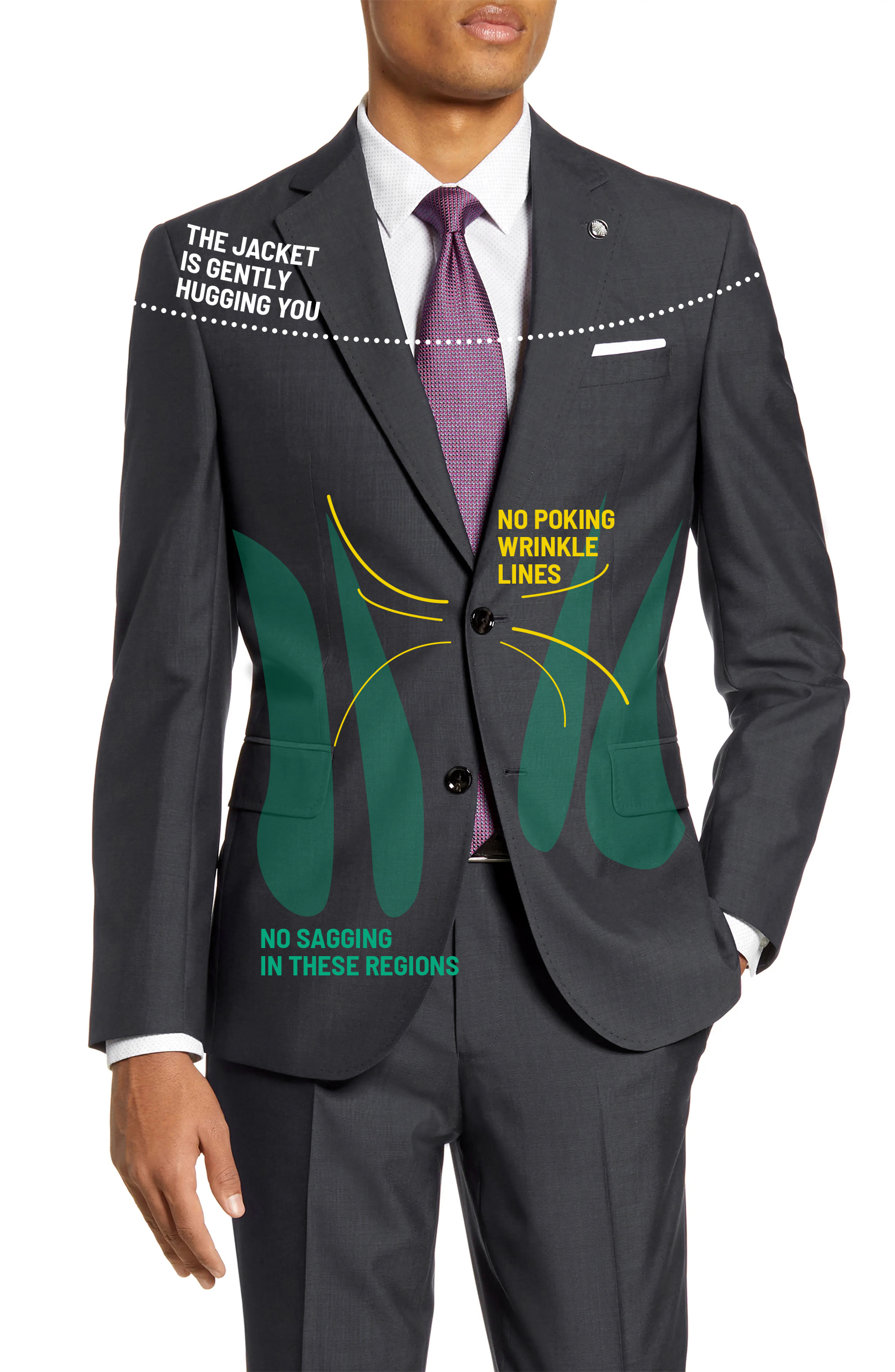 Proportion is key. A black suit needs to have a proper jacket length to create the right masculine silhouette.
That said, the jacket should be long enough to cover the waist area and should end around your palm's meat.
Another crucial factor is the pants' seat. You don't want the black pants to look saggy.
Get the measurements right to avoid looking sloppy. Don't leave any room for alterations.
Best Dress Shirt Colors for a Black Suit
The good thing about a black suit is its versatility.
You can pair it with a wide range of shirt colors to spice up the look.
However, some specific black suit color combinations look better than the rest.
These include classic white, light blue, pink, and black.
Black Suit & White Shirt
The black suit and white dress shirt combination work literally anywhere.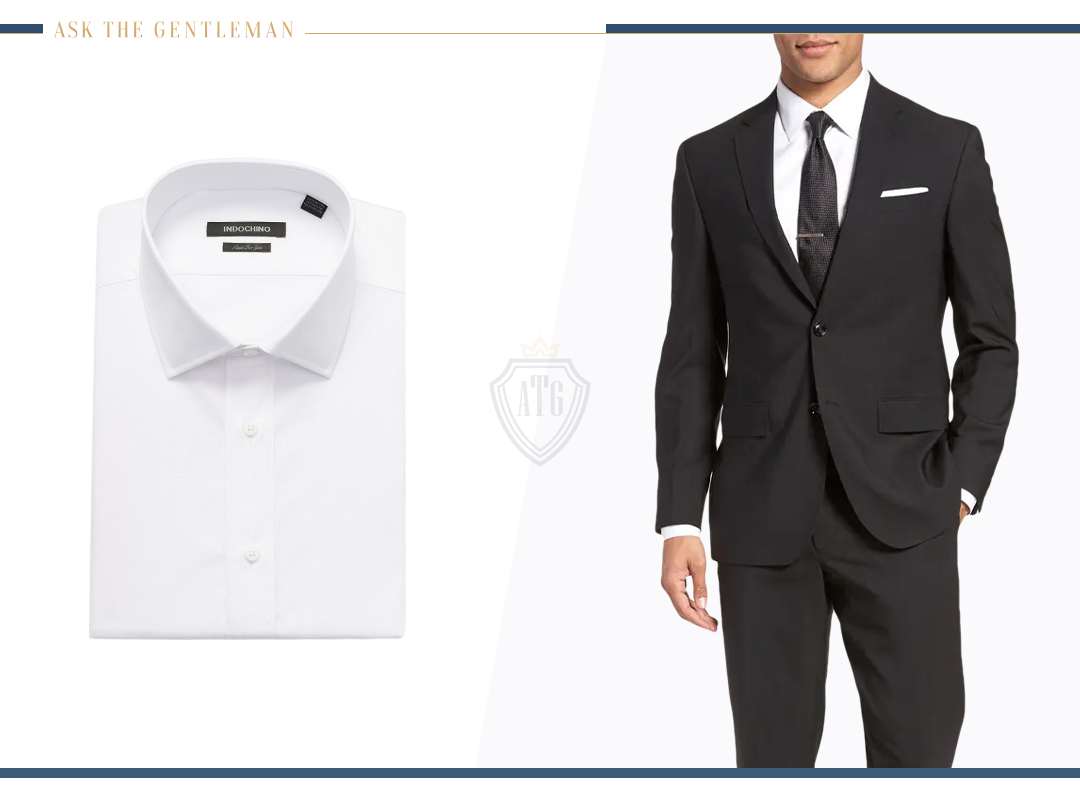 You could wear it to a wedding, office, and even for dinner.
You could only mess with this combination by getting the fit wrong.
Or throwing in an odd tie color that does not go with the black suit.
Since both white and black are classic colors, make sure you get a tie that falls in the same category.
A red, blue, or brown tie might be the perfect example.
Black Suit & Light Blue Shirt
A light blue shirt is a great option if you want to move away from the usual white shirt and black suit combo.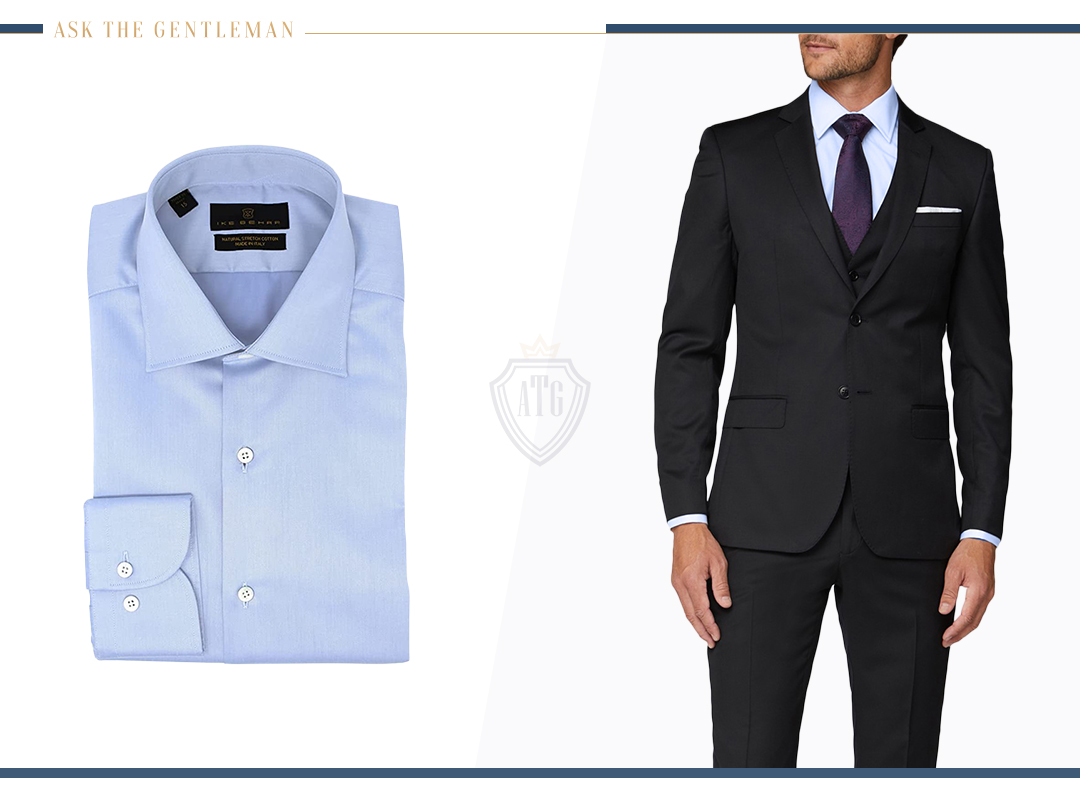 However, it has the same formality level as a white shirt with a little bit of flare.
Light blue is a universal color that goes along with almost all skin tones.
The neutrality, softness, and formality of a light blue shirt are what make it special.
Pair it with a dark blue tie to empower the look!
This contemporary look can work at the office, wedding, or even at dinner.
Learn more about these outfits by exploring this guide.
Black Suit & Pink Shirt
Single-tone pink shirts are a great option to go with a black suit.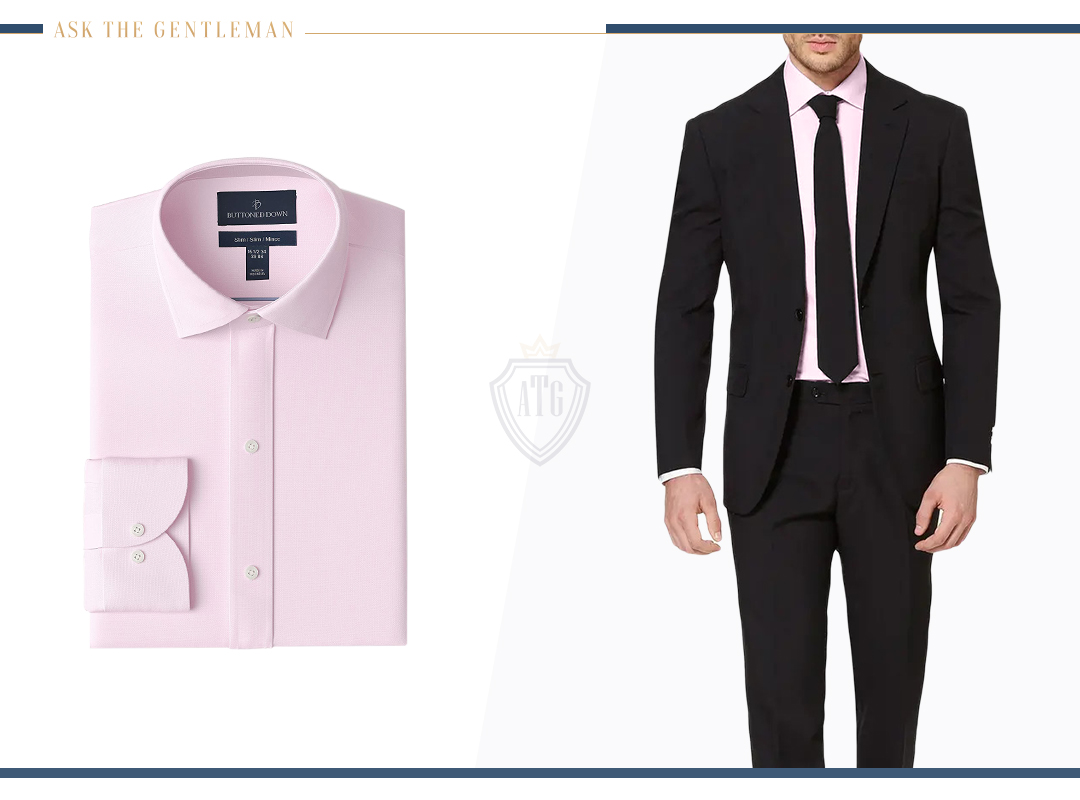 A pink shirt tends to soften the black of the suit.
It also allows you to experiment with different tie colors, such as navy, pink, or even purple.
Almost anyone can pull off a pink shirt, given how flattering it is.
You can pair it with your black suit for both semi-formal or casual events.
It provides quite a young and fresh look, especially for day events such as daytime weddings.
Black Suit & Black Shirt
Black on black is quite a bold look, and not everyone can pull it off.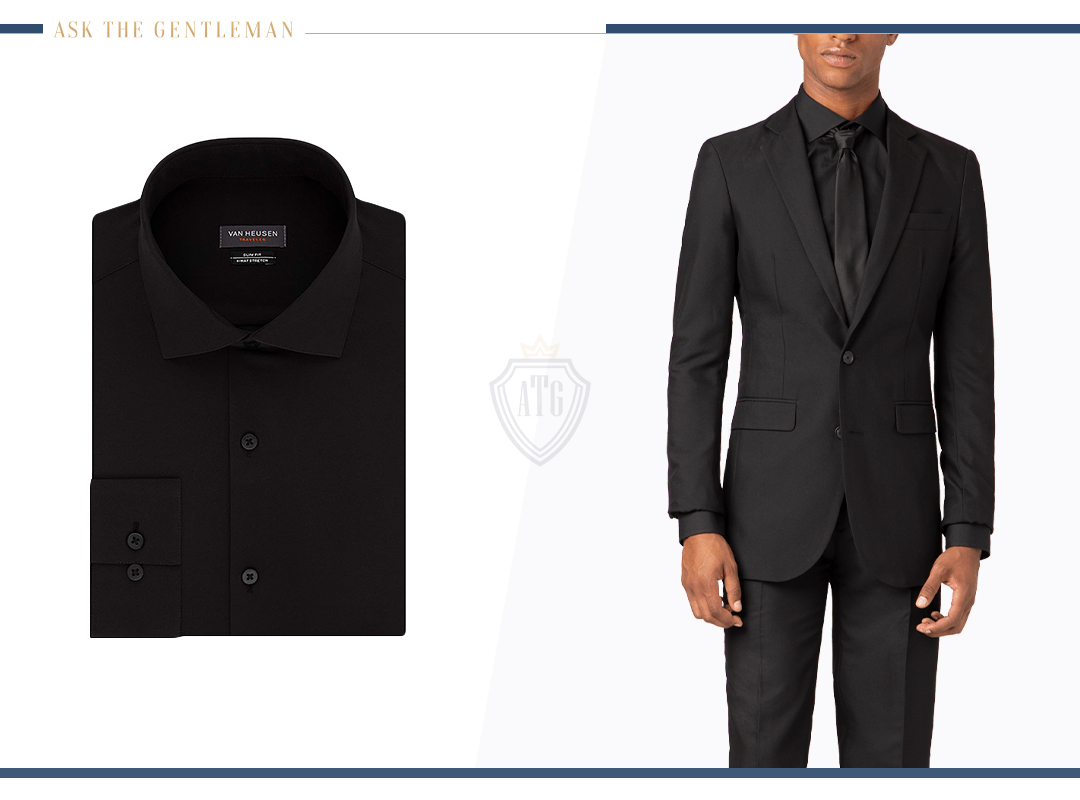 Since the shirt and suit are harder to distinguish, it is necessary to get the right balance.
If you do decide to go with the black-on-black look, make sure you don't compromise on quality.
Because no matter how good the suit looks, a poor-quality black shirt can ruin the look of the black suit.
Try going for a matte finish and a slim-cut shirt with a black tie.
However, ditching the tie is also a good idea.
Keep it simple, though, because you are already making a big statement with too much black.
Best Tie Colors for a Black Suit
Black suits are even more versatile when it comes to tie colors.
You can choose from a wide range of shades.
However, I would advise you stick to the classics because the original is always better.
To top it all, the popular tie colors offer enough variety in themselves that you won't have to explore out of the ordinary.
Black Suit & Red Tie
Red tie is one of the classics; mind you, it is not an easy color to pull off.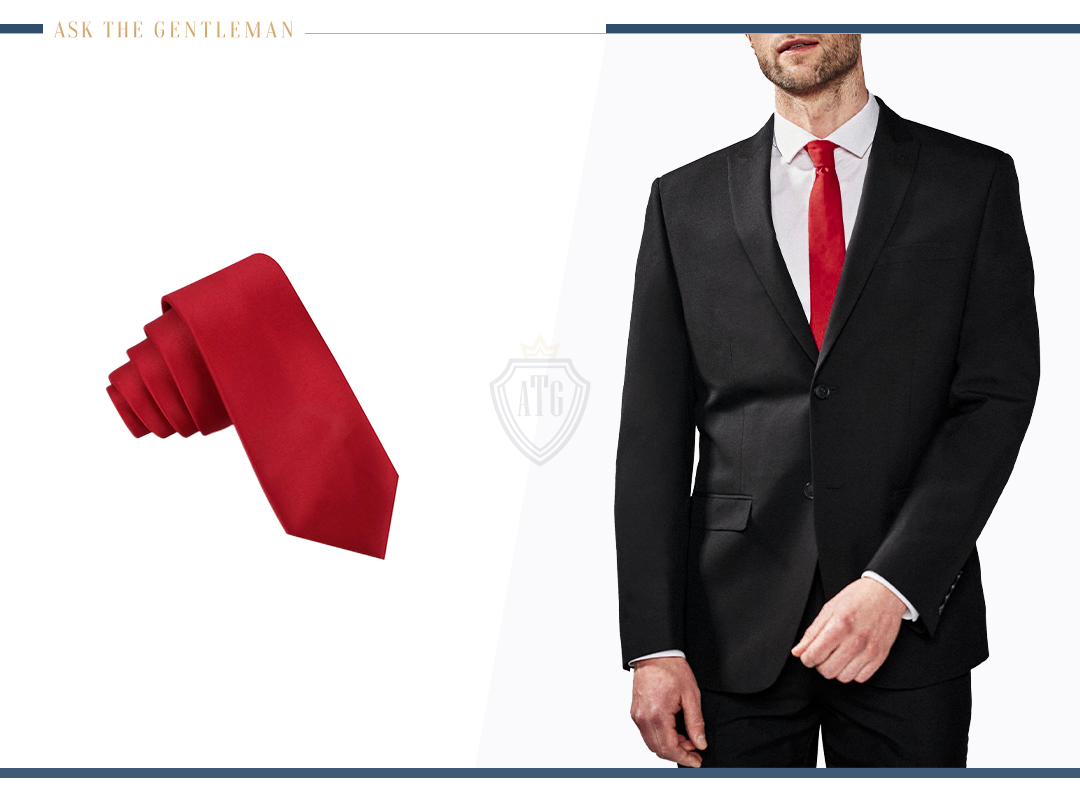 It is a tasteful color that adds excitement and boldness to a black suit.
However, I would recommend you go with a crisp white shirt because it is the best combination.
Try to go for a matte finish because shiny red ties add too much flash.
You could also opt for textured ties for a more mature feel.
Black Suit & Burgundy/Maroon Tie
While burgundy/maroon is quite similar to red, the shades are more formal and serious.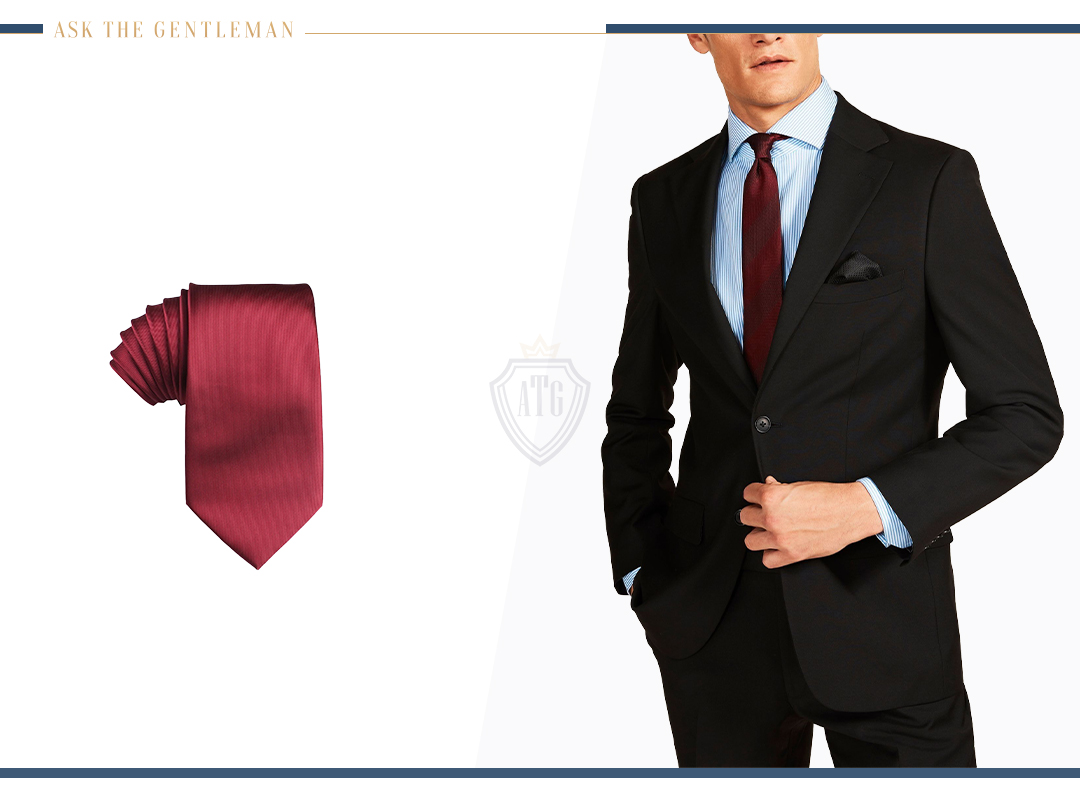 It is a great option for a business meeting or a regular day at the office.
The best shirts to pair with this tie are classic white and light blue.
The light blue shirt and burgundy tie create a soft yet sharp look for semi-formal events.
Black Suit & Navy/Blue Tie
While the navy and blue ties have their own perks, you cannot wear them with all shirt colors.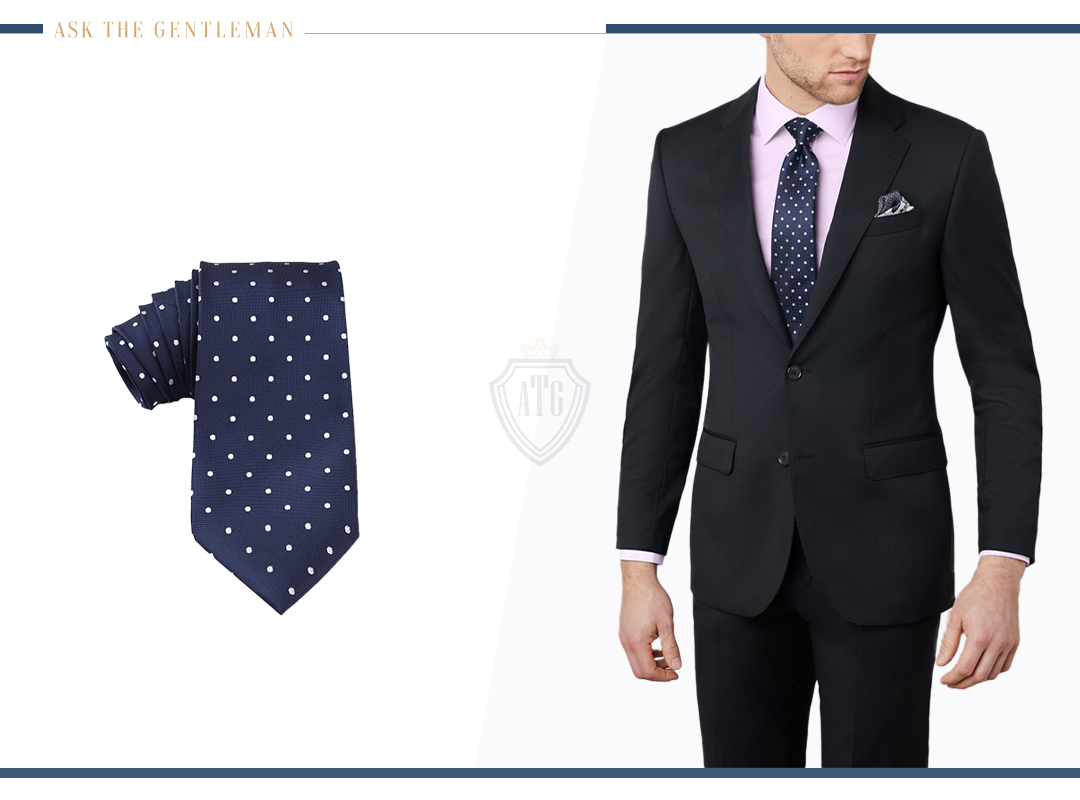 A light blue shirt is the best match for blue ties, offering a soft, sleek, and professional look.
Other than that, you can throw on a white shirt, too, which offers a more formal and smooth look.
Some people can even rock the pink shirt with a navy blue tie.
However, you need a lot of confidence to pull off this look.
Black Suit & Brown Tie
A brown tie isn't as popular as a black tie, but it looks great with a white shirt.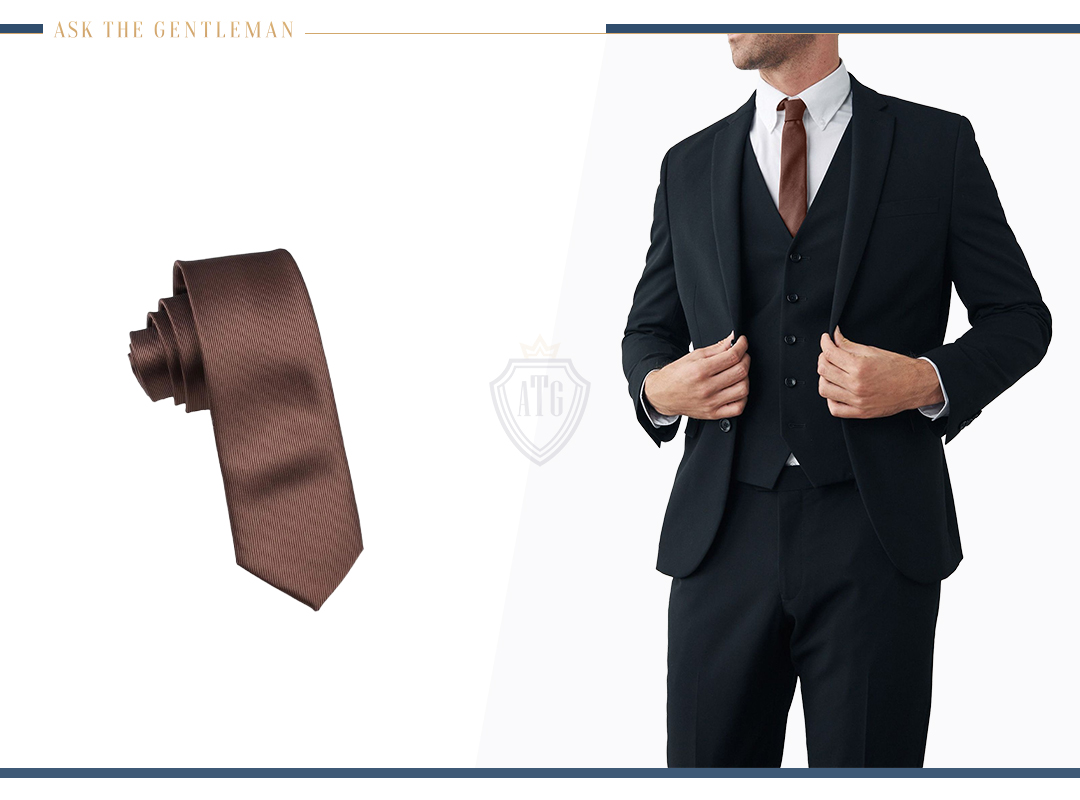 It looks even better when paired with dark brown shoes and a belt.
It is quite a unique look that not everyone can pull off.
So only go for it if you know you have the confidence.
Black Suit & Black Tie
A black tie on a black suit is great for formal evening events.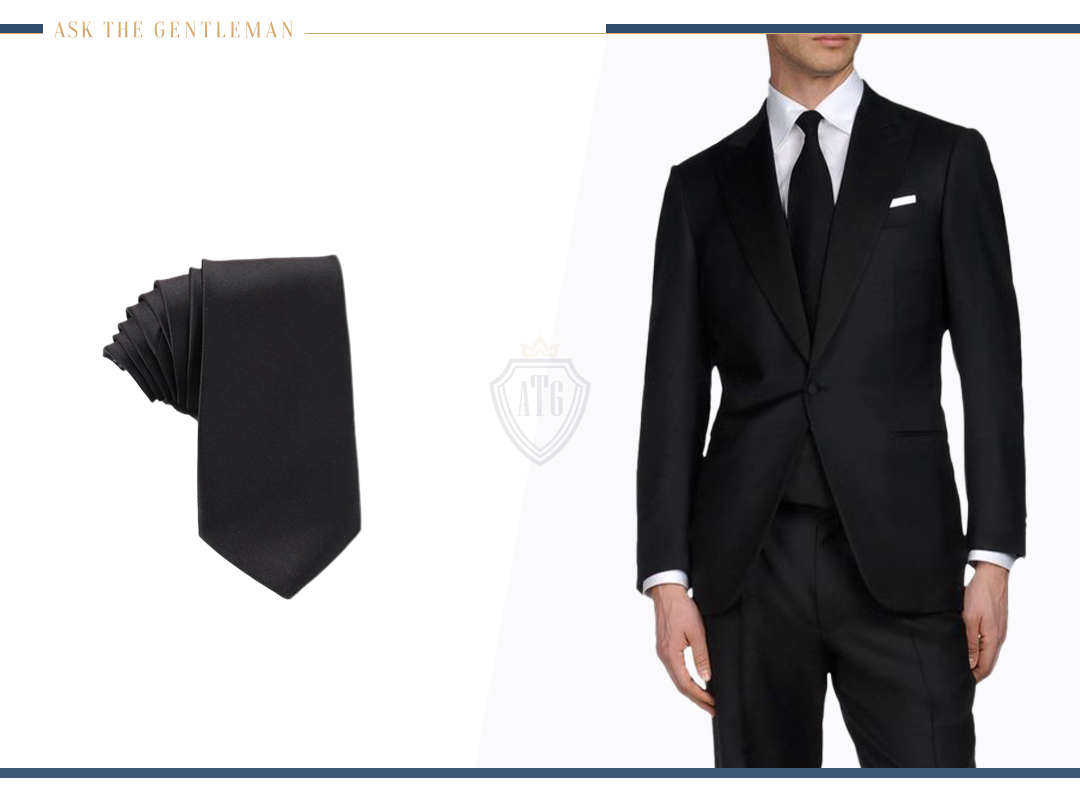 Paired with a crisp white shirt makes it quite hard to mess up this look.
It is undoubtedly one of the most masculine, sharp, and elegant looks that anyone can pull off if done right.
I don't think a black tie combination looks good on any other shirt color other than white.
Therefore, go with the most minimal and safest look.
Other Tie Colors & Styles
You can also experiment with other tie colors, such as grey or dark grey, paired with a pink or light blue shirt.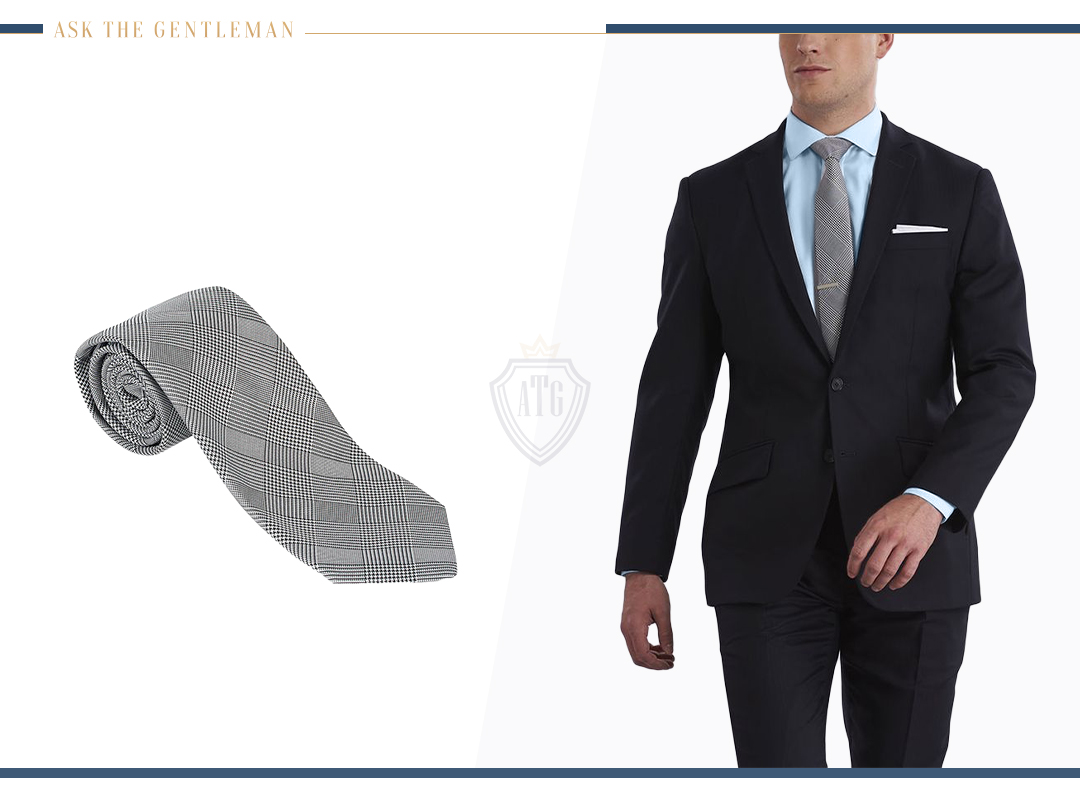 But make sure you don't go the wrong way by opting for bright colors.
It is vital to ensure that the suit, shirt, and tie blend seamlessly, and bright colors tend to negate that.
Orange and green ties are also no-go's because they add a touch of informality that goes against a black suit's spirit.
Shoes that Match the Black Suit
There aren't many shoe colors that work well with black suits.
The general rule of thumb is that the darker the suit, the darker the shoes.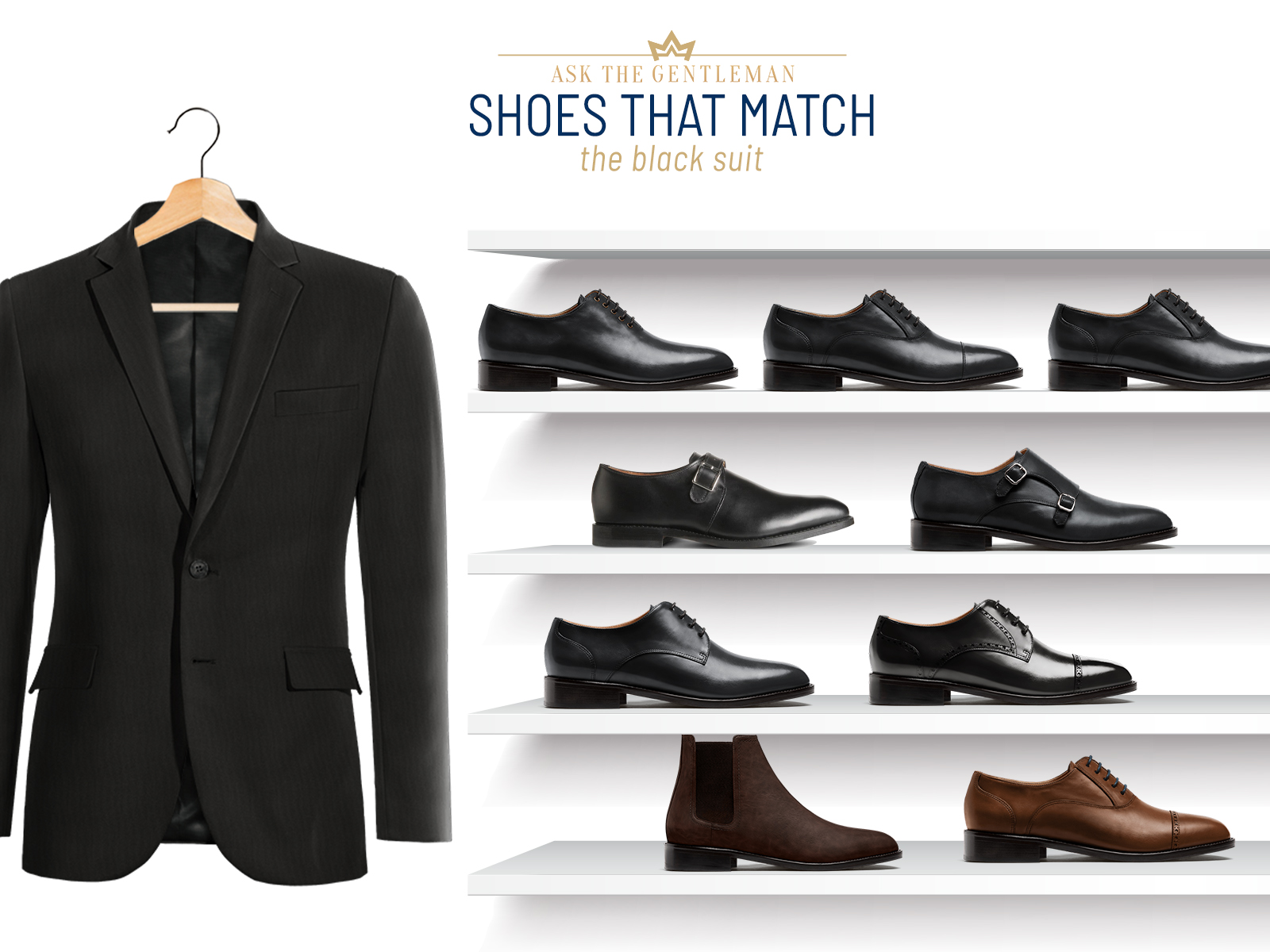 It cannot get darker than black. Therefore, black shoes are your best choice by far.
When it comes to the shoe style, I would personally recommend Oxford or Derby styles.
However, you could experiment with Chelsea boots since they work well for more casual settings.
Black Shoes & Black Suit
You cannot go wrong with a black Oxford or Derby, especially if it is well-polished.
People tend to lean towards black shoes with a black suit because it is easy and seamless.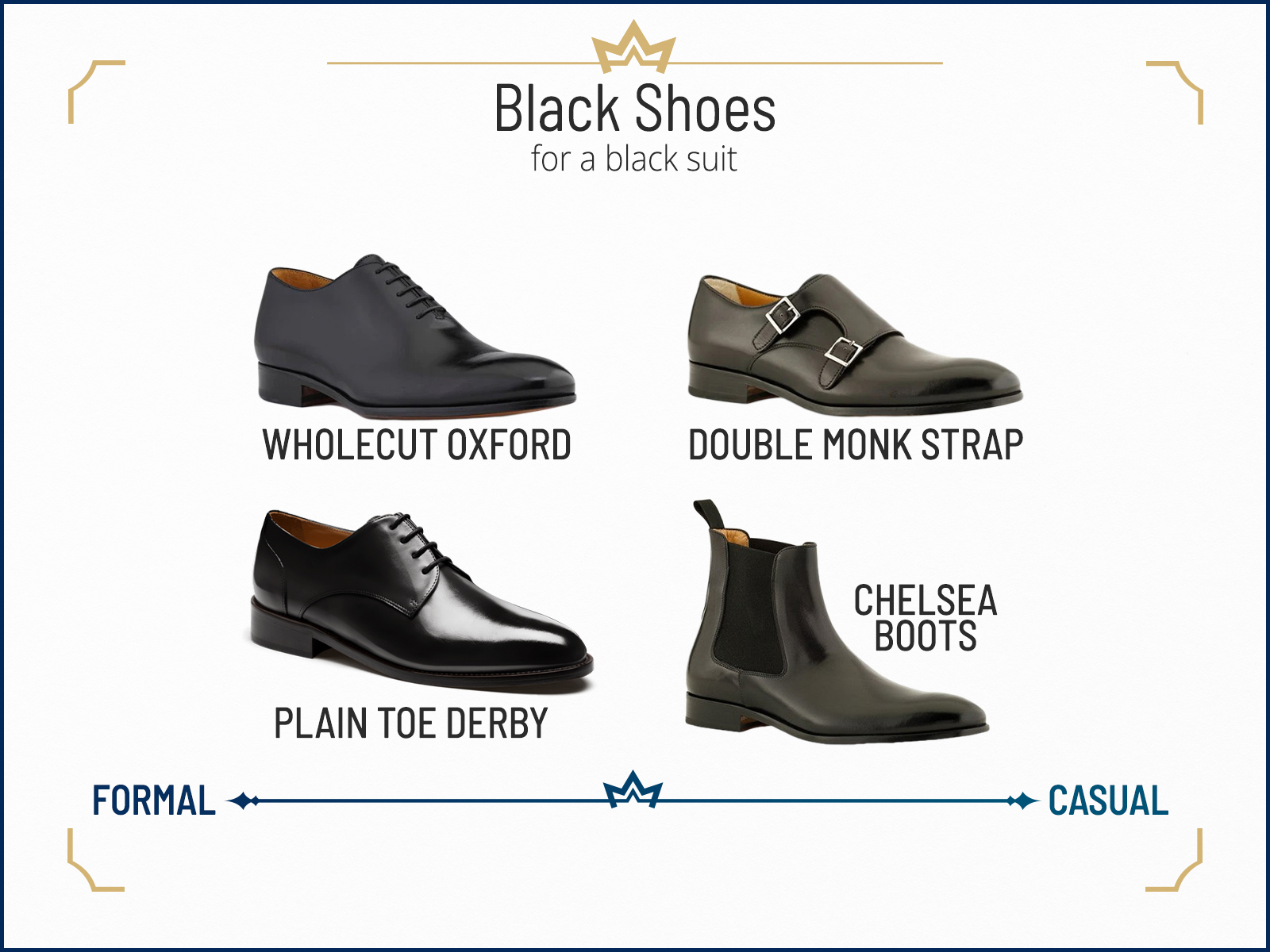 However, people often take convenience for granted and compromise on quality.
A dirty or not well-polished pair of black shoes can take the whole show away from your black suit.
Therefore, make sure you are wearing a pair of black Oxfords at the next formal event you attend.
As for slightly less formal events, you could put on a pair of Chelsea or monk strap shoes.
Brown Shoes & Black Suit
The same is true for brown shoes.
You could go with Oxfords or Derby styles for formal events.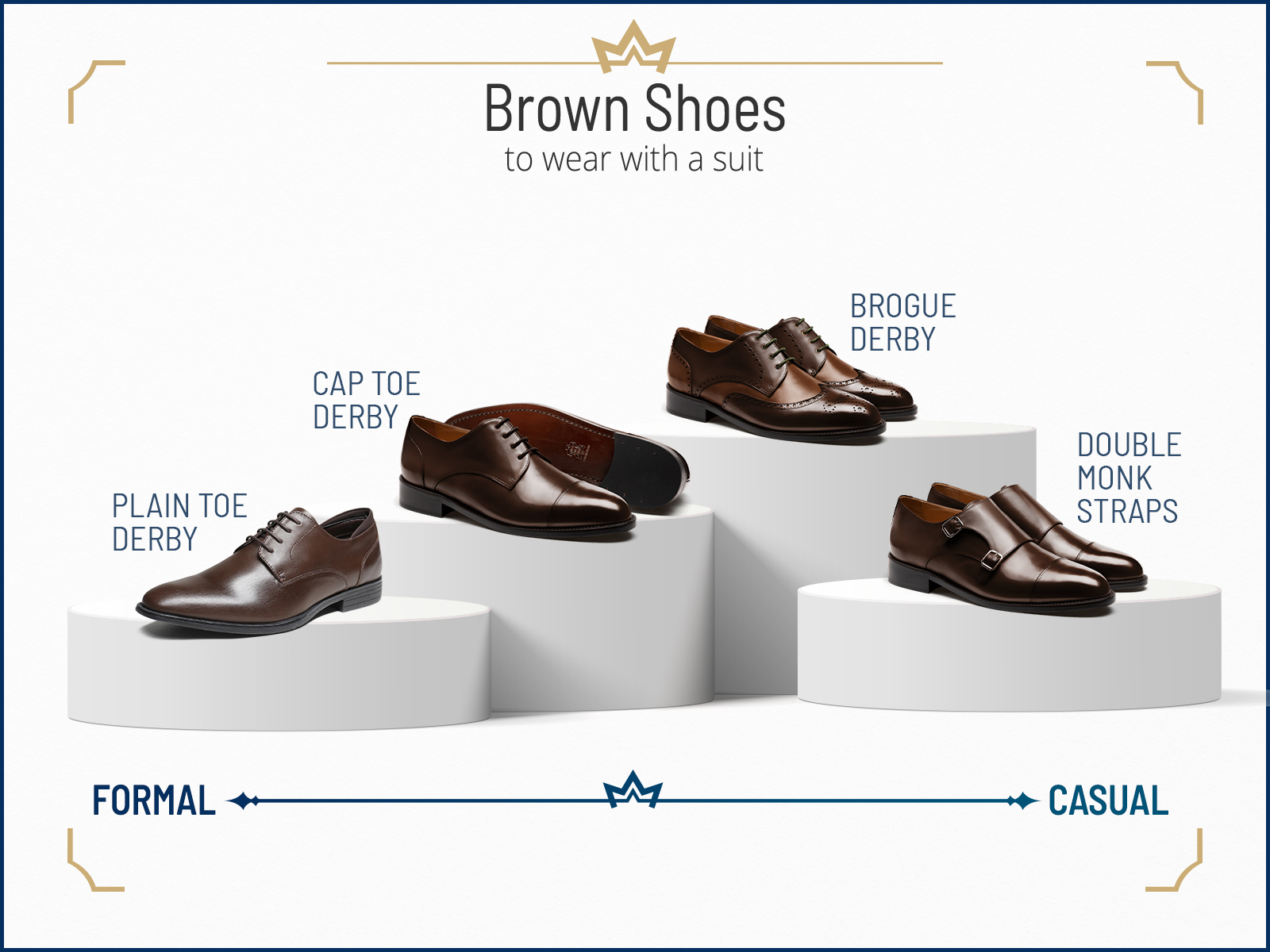 However, the only thing you need to worry about here is the shade of brown.
It has to be dark to create a seamless and sophisticated look.
By extremely dark, I mean something as close as black but not black.
Dark brown shoes also help with making you seem a bit easygoing.
It is also a great option to shift away from the usual black suit and black shoes and do something different with the look.
Other Accessories You Can Wear with Black Suits
While the black suit is itself a fashion statement, it can look bland if you don't add accessories.
The purpose here is to accentuate the classic black suit look.
As a result, keep things simple, classy, and in contrast with the suit's vibe.
Here is what you need to add:
Black Formal Belt
You cannot do without a belt on a suit.
Even if the pants sit tight on your waist, make sure to add a belt because it enhances the elegance of the suit.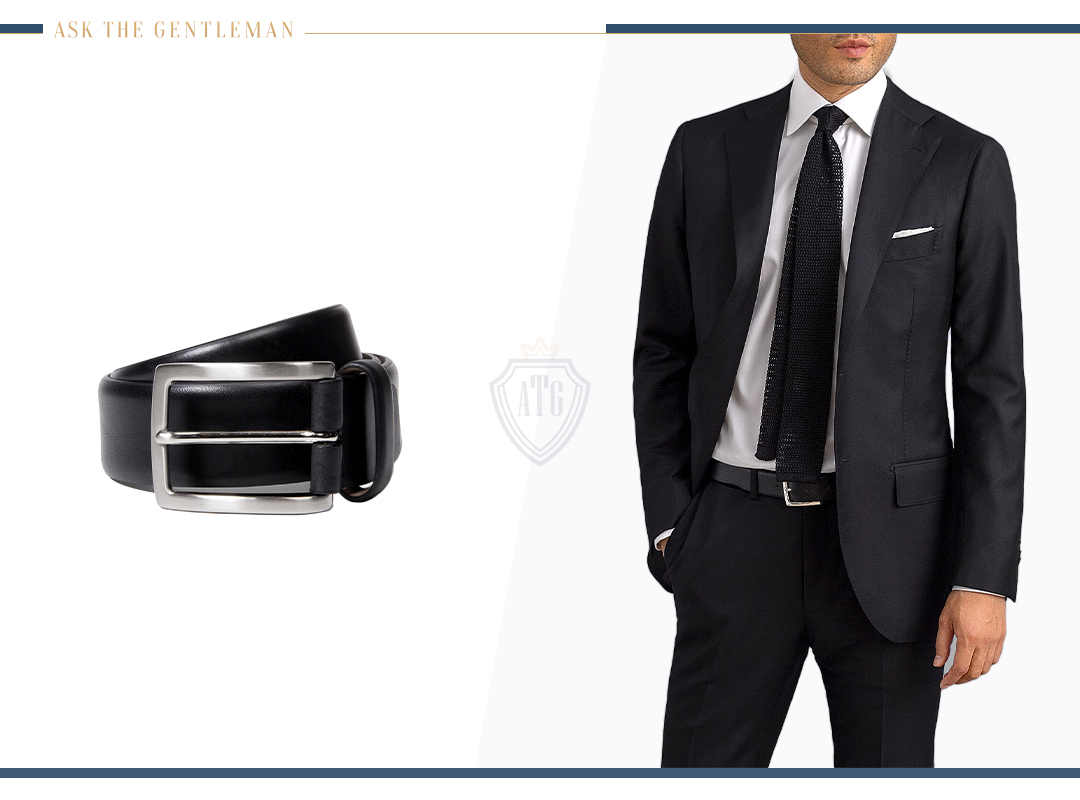 It should go without saying that the belt color must match the shoe color.
The best option is the classic formal black belt.
It is sleek, decent, and in line with the elegance of a black suit.
However, in case you decide to go with dark brown shoes, make sure you make the same decision for the belt.
Black Leather or Metal Watch
A watch is another classy addition to the already classy look of the black suit.
The two good options you have are a black leather strap watch or a metal watch.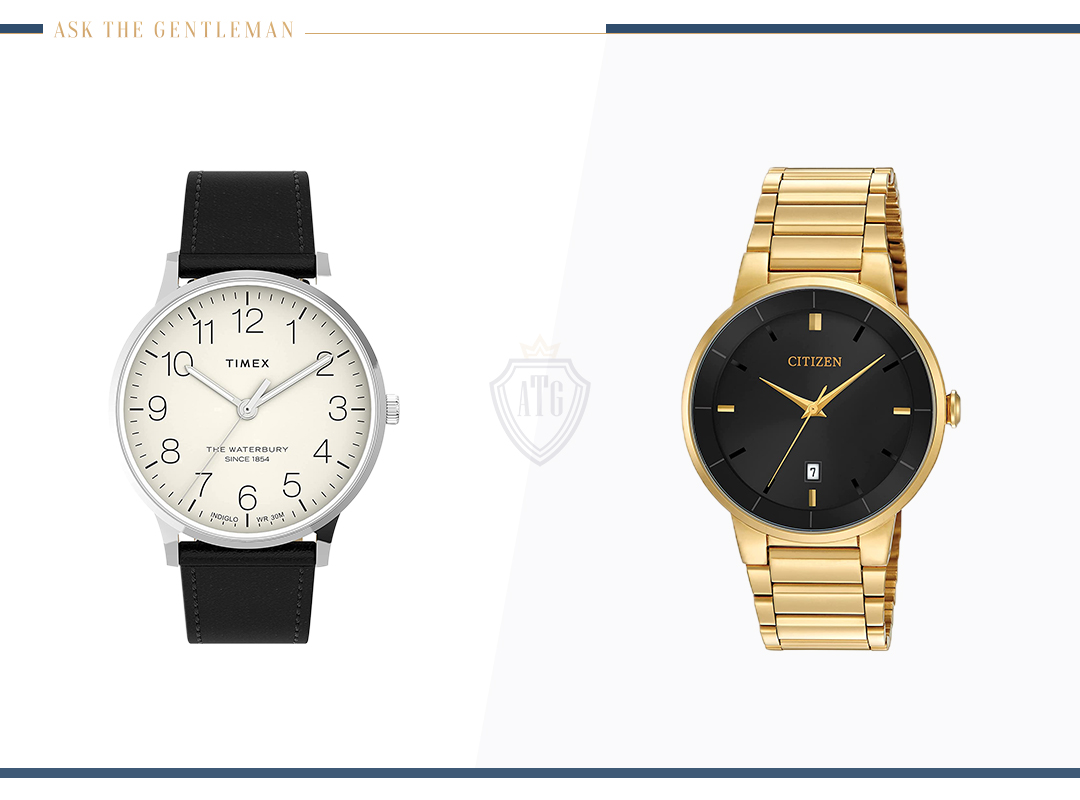 I would personally recommend the classic black leather strap watch.
However, if you want to come off as a bit luxurious, nothing should stop you from wearing a metal watch.
Usually, silver or titanium looks incredible with a black suit.
However, if you have the confidence to pull off a golden metals trap, do it.
Classy Pocket Square
A pocket square is doing a lot on a suit, despite its small outlook.
Since black is known for its classic look, adding a classy pocket square can take it another step further.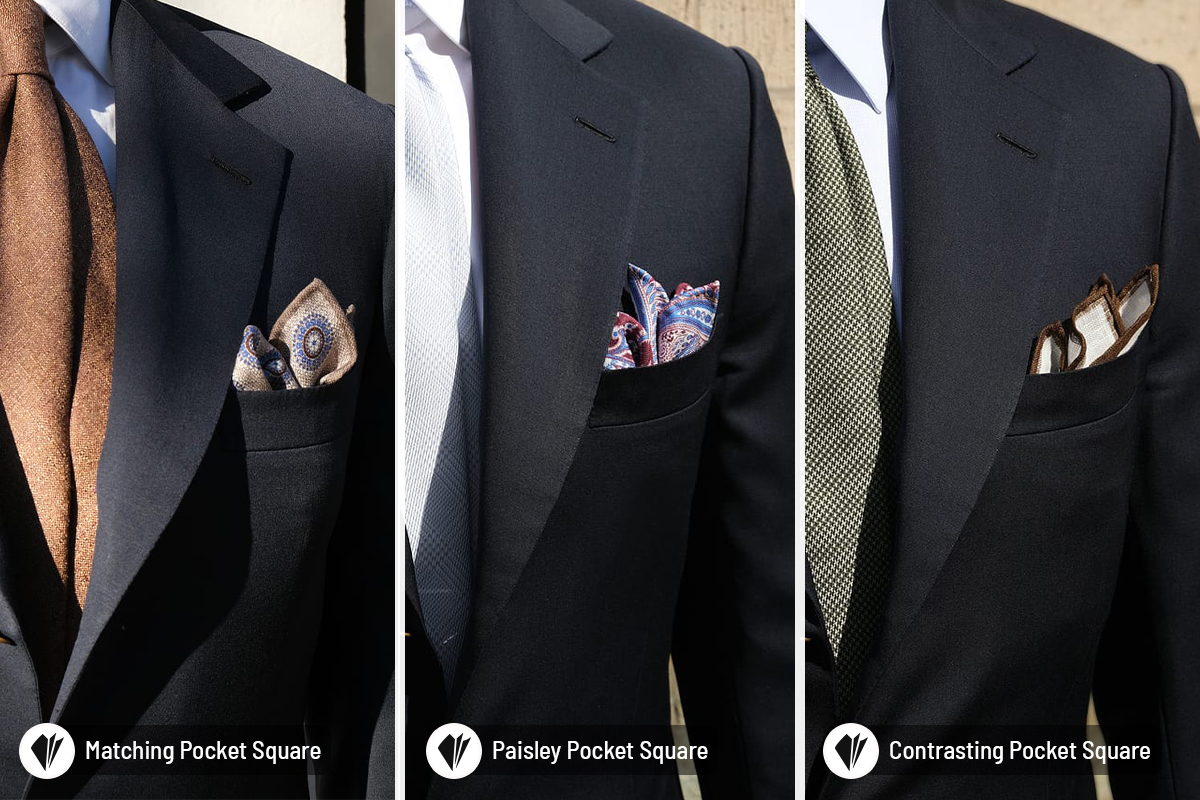 Just make sure the color of the pocket square is in contrast with that of the tie.
Or you could also get a pocket square that matches the secondary color in your tie.
You could also experiment with patterns but keep them minimal and decent.
Best Black Suit Color Combinations for Different Occasions
You cannot wear the same suit color combination to all events.
Depending on the occasion, you need to add or reduce flare to the black suit.
Formal / Black-tie Events
While there are a few color options for formal black-tie events, nothing surpasses the formality of a black suit.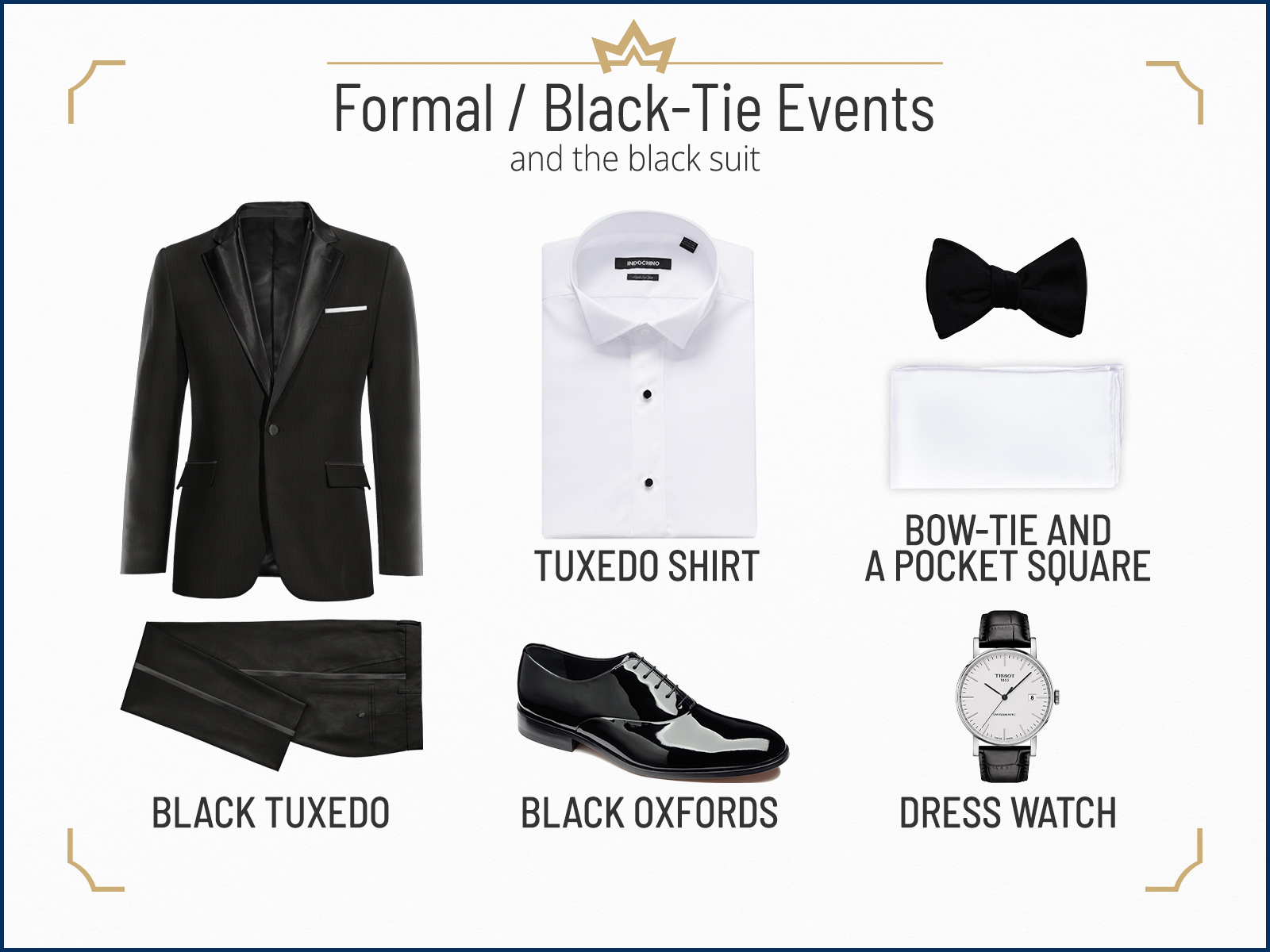 Your best bet when it comes to the black-tie dress code is to go with a black tuxedo paired with the right accessories.
The classic shirt complemented with a classic black bow tie is all you need to make your presence felt at the event.
A classy pocket square also reflects that you are serious about your outfit.
Accentuate it with the bow tie. Normally, a white or red pocket square works.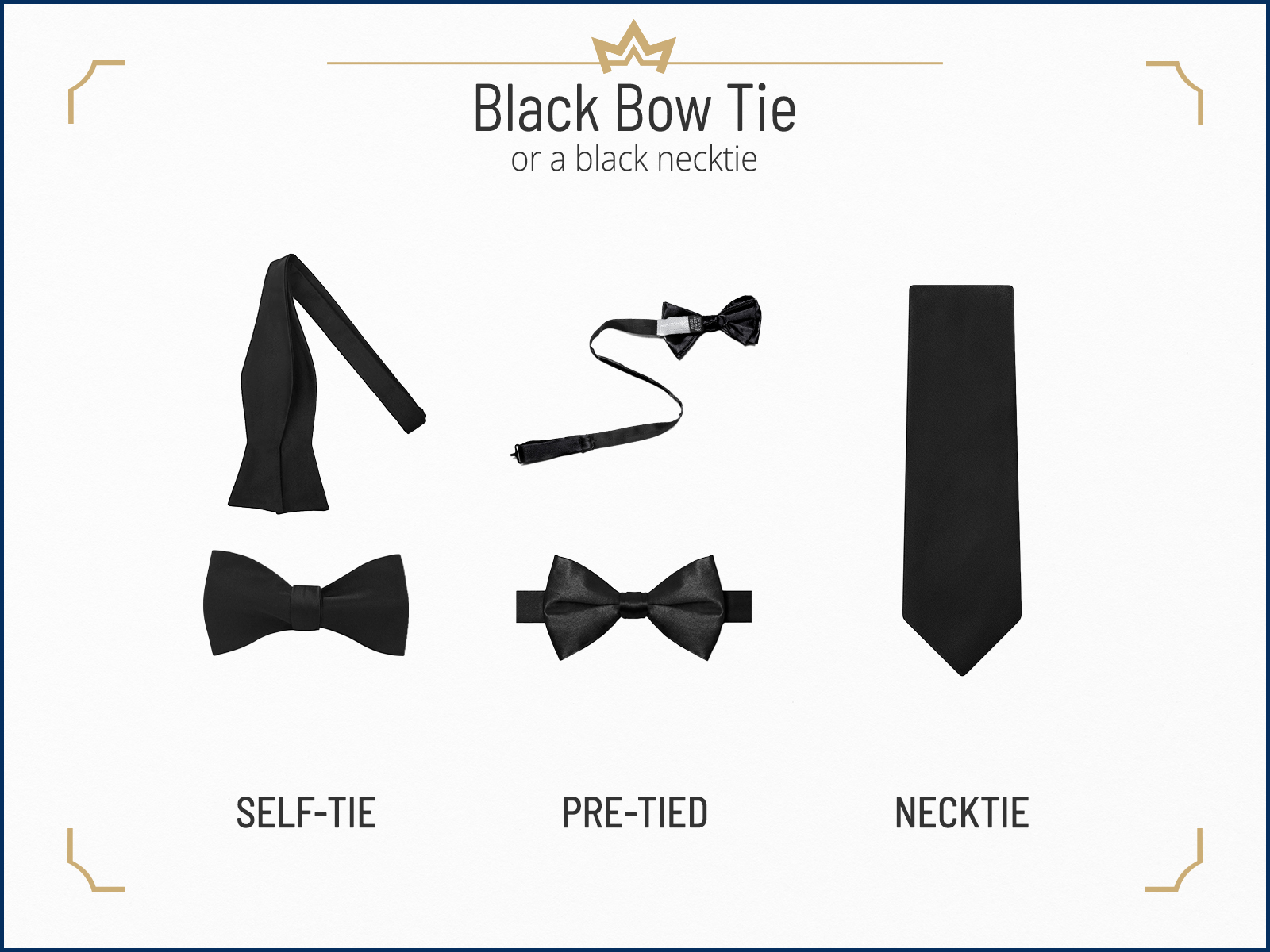 Throw a pair of black Oxfords on your feet. As for the rest, the final addition must be a watch.
Since it is fully formal, I would prefer a black leather strap with a silver dial.
Make sure it is smart and sleek, just like the suit!
Office / Business Formal
While the black suit is not the best choice for the office, it is still among the good ones.
More importantly, you have a range of combinations that work well for the office.
For instance, you can ditch the usual white dress shirt, replacing it with light blue. A pink shirt also works.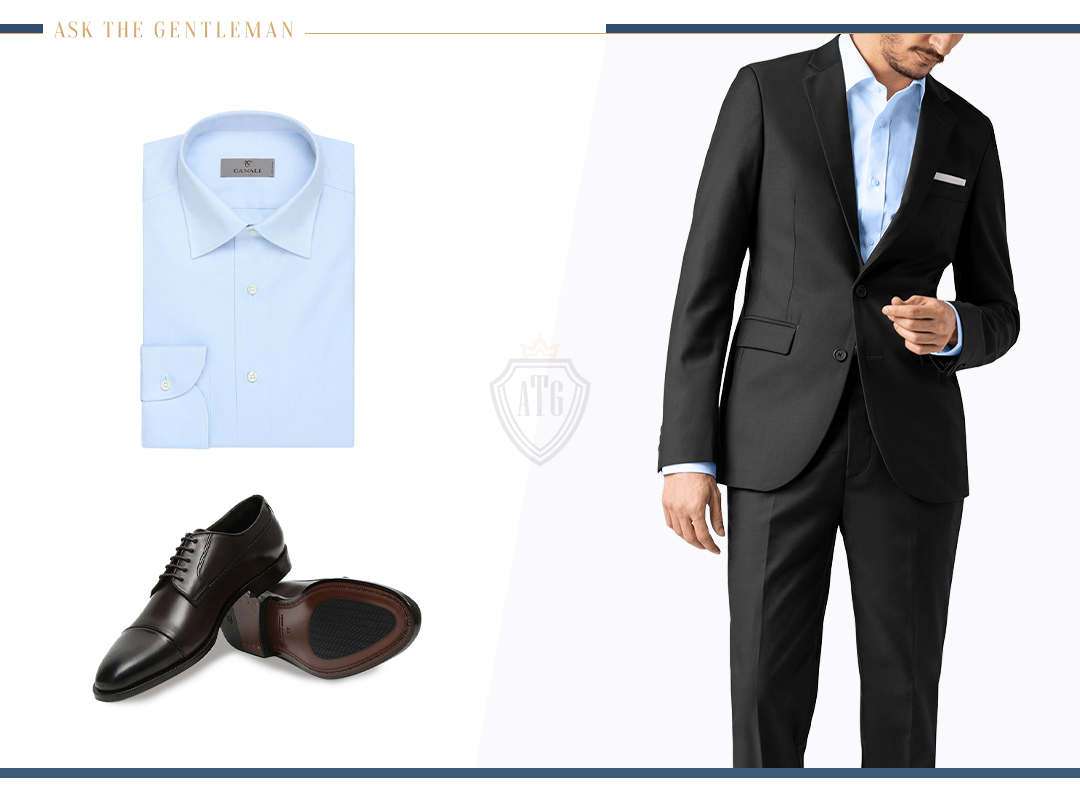 Both colors add variety to the outfit while keeping things formal and soft.
Pair them with a matching tie and throw on black or dark brown Derbys, and you will be good to go.
You don't have to add a pocket square.
The office environment requires a touch of easy-going in the outfit to not come off as too serious.
Black Suit for Weddings
Black suits are great for weddings as well.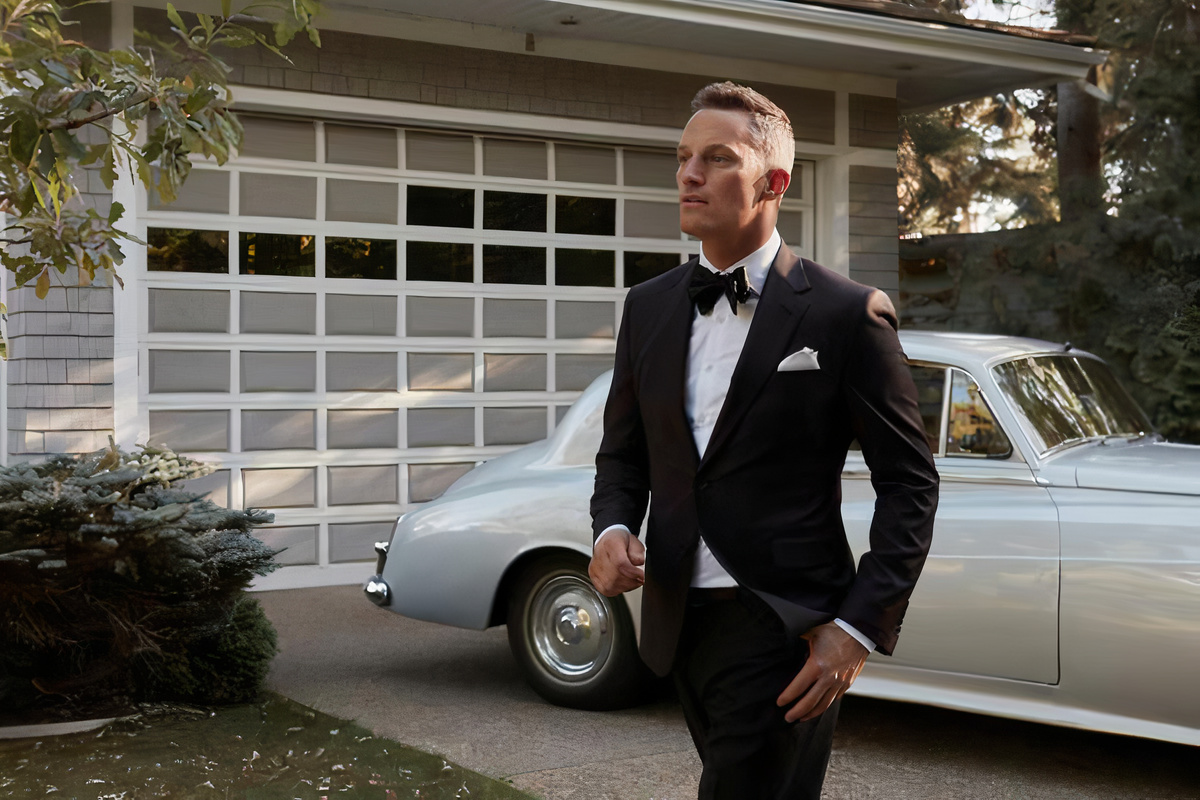 They offer a lot of room to experiment with accessories and different shirt and tie colors.
If it's a black-tie wedding, you have to do with a tuxedo.
However, if there is no dress code, you can wear a pink or black shirt.
Add a pocket square, matching shoes, and a belt to accentuate the suit.
The right tie for the pink shirt is either black or brown.
Adding a dark brown belt and tie could take the outfit to another level if you are wearing dark brown shoes.
Funerals
The black suit has been historically worn at funerals; by tradition, this is what you should also go for.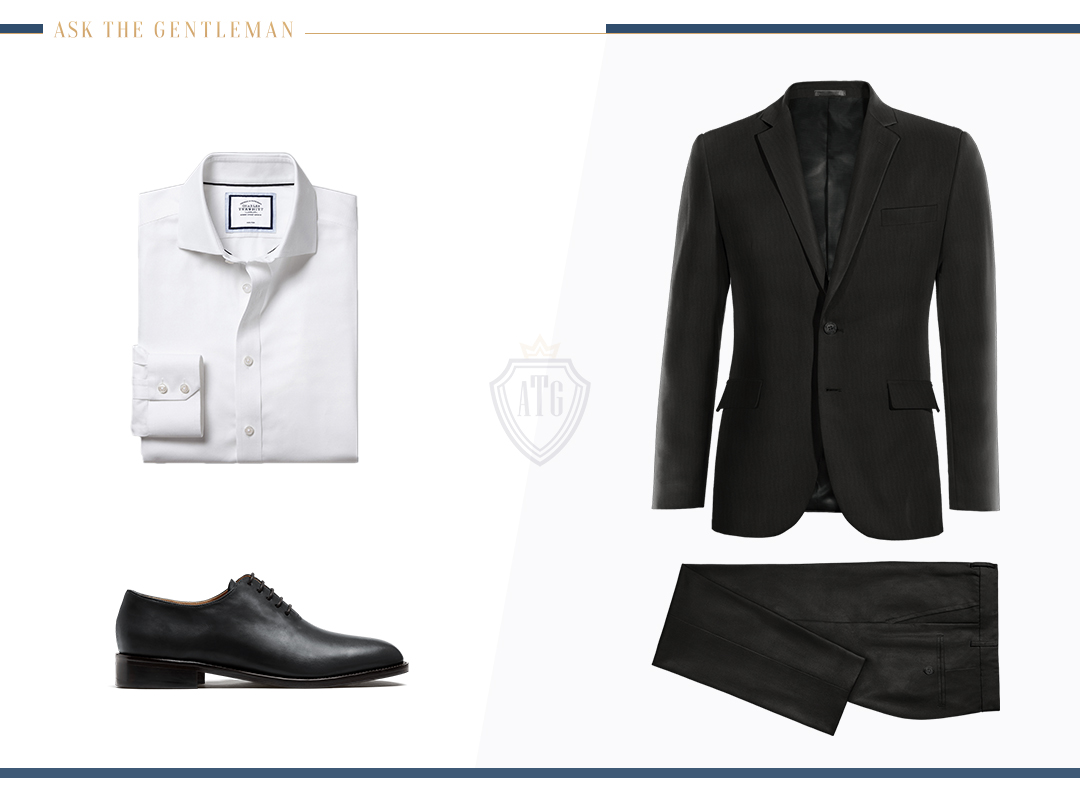 Black is associated with mourning.
That is why a formal black suit can hit the right tone needed for a funeral.
It could even come off as offensive if you choose to wear any other suit color.
Therefore, stick to the black suit paired with a crisp white shirt and a black tie.
As you can tell, black shoes and a belt are what you need down there.
Wearing the Black Suit Casually
Finally, you could also wear a black suit casually.
Since it's a casual look, you have the flexibility to add colors and experiment with different suit styles.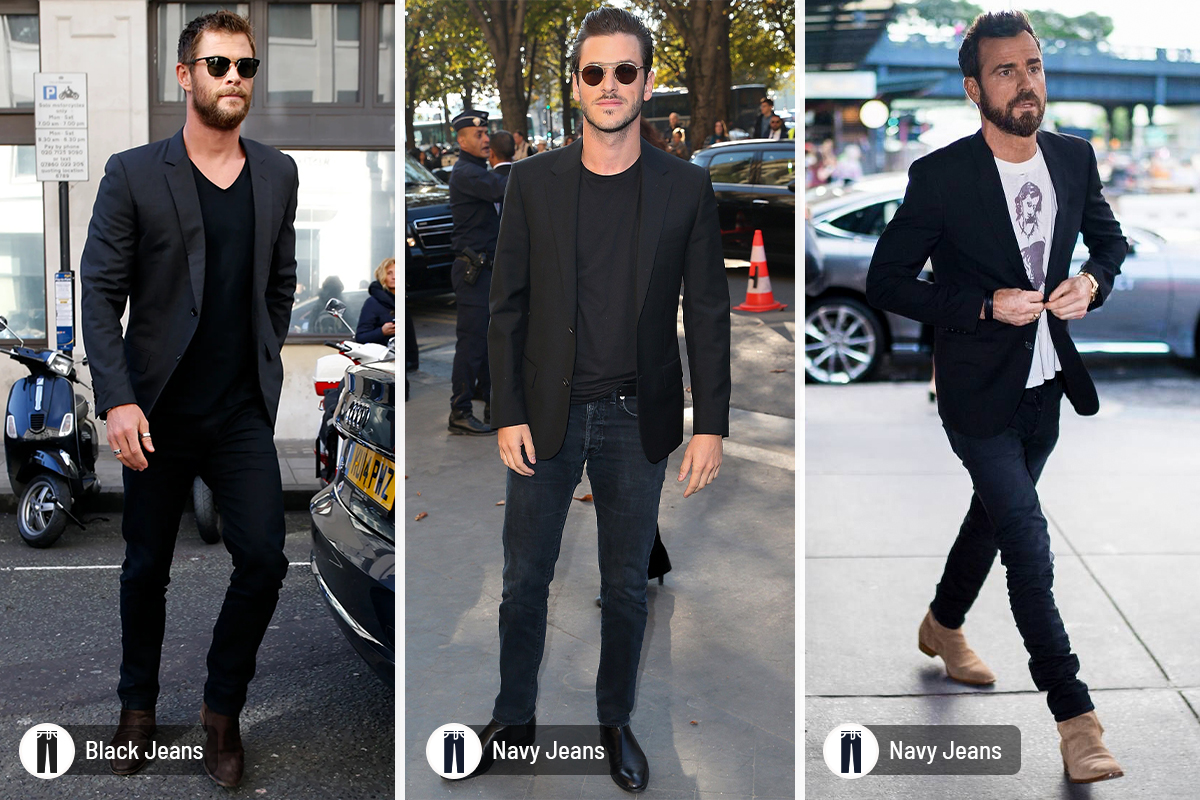 For instance, you could go for a casual patterned shirt with a pair of dark blue jeans and a black suit jacket.
The black jacket and pants combo can also work with a casual dotted (small dots) shirt for hanging out with old friends.
Of course, you can match the suit jacket with a nice T-shirt, preferably white or light grey.
Add another touch of casual with a pair of sneakers.