The "unorthodox" green suit is making its place in the world of men's fashion.
This is because, slowly, every man realizes that this suit color is not only for a specific few.
In fact, anyone can pull off green suits if done in the right shade, combination, and fit.
But that's tricky; it is not easy to match and wear a green suit.
You need to put a lot of thought into it, and I'm here to help you with that!
How to Wear a Green Suit – The Basics
I get green hasn't been the coolest suit color over the years. In fact, green suits were strictly considered the ugliest during the 1970s.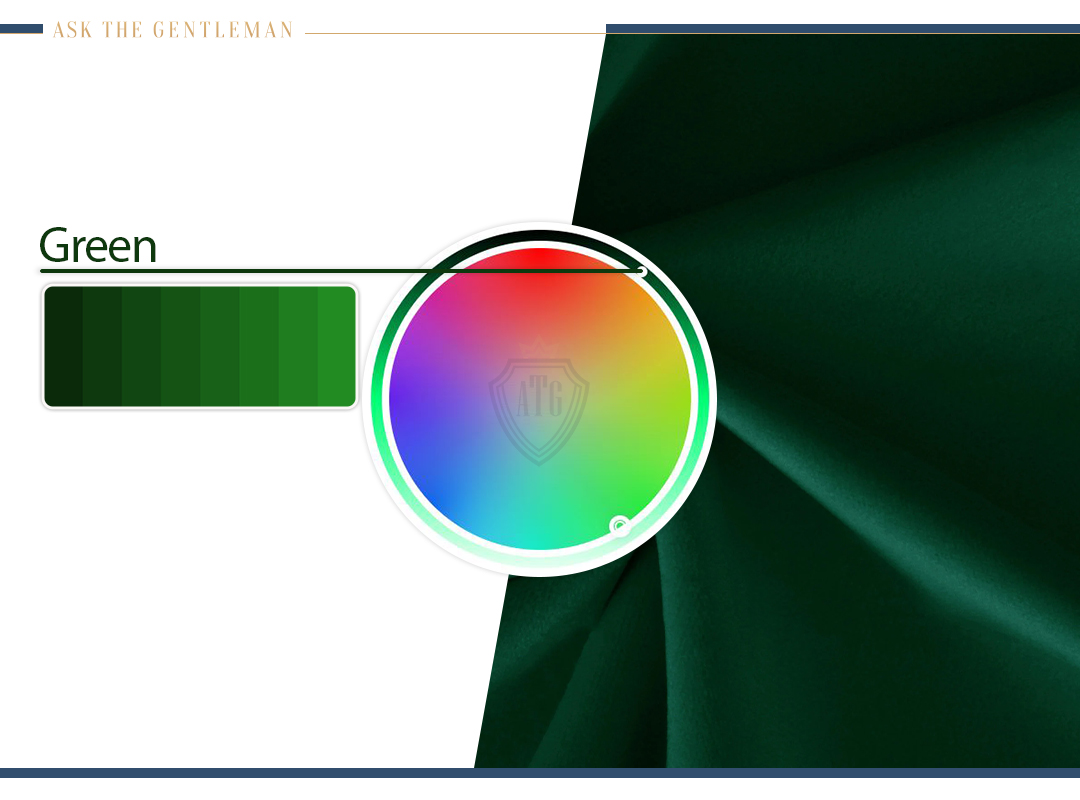 However, the earthy color has made its mark as a professional, elegant, and daring shade for suits in this new millennium.
Green suits made a comeback in the late 2010s and entered the wardrobes of businessmen and celebrities.
Ever since then, people have started catching up on unique trends.
Different Shades of Green
There is a myriad of different shades of green. I couldn't name all the green hues even if I wanted to.
However, some shades of green are reserved for suits that look absolutely attractive.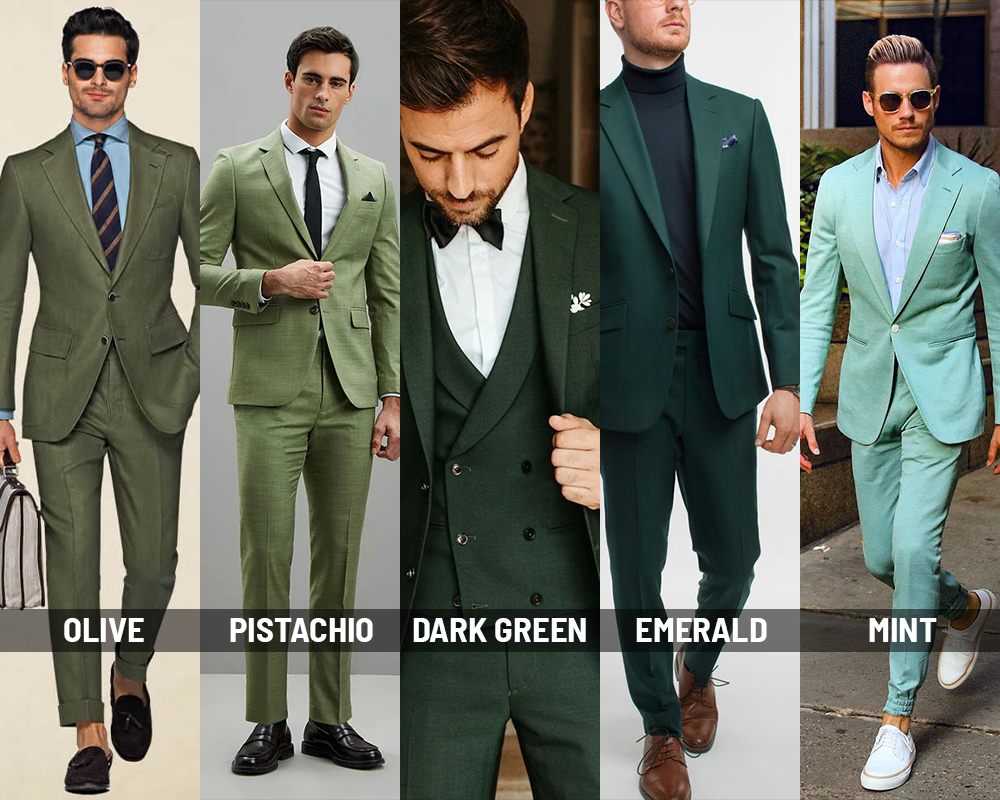 Dark green, olive green, emerald green, mint green, aqua green, turquoise green, and pistachio suits are some of the most elegant options.
If you can't decide on the right shade of green for yourself, let the time of the day and the season of the year decide for you.
Darker greens work best with evening events and colder weather, whereas lighter shades pop up during daytime events and summer temperatures.
When to Wear a Green Suit
Green is a great suit color for more playful events. That will make it great cocktail attire.
In addition, you can wear a green suit to most semi-formal events, like weddings. For a summertime wedding, pick lighter shades of green.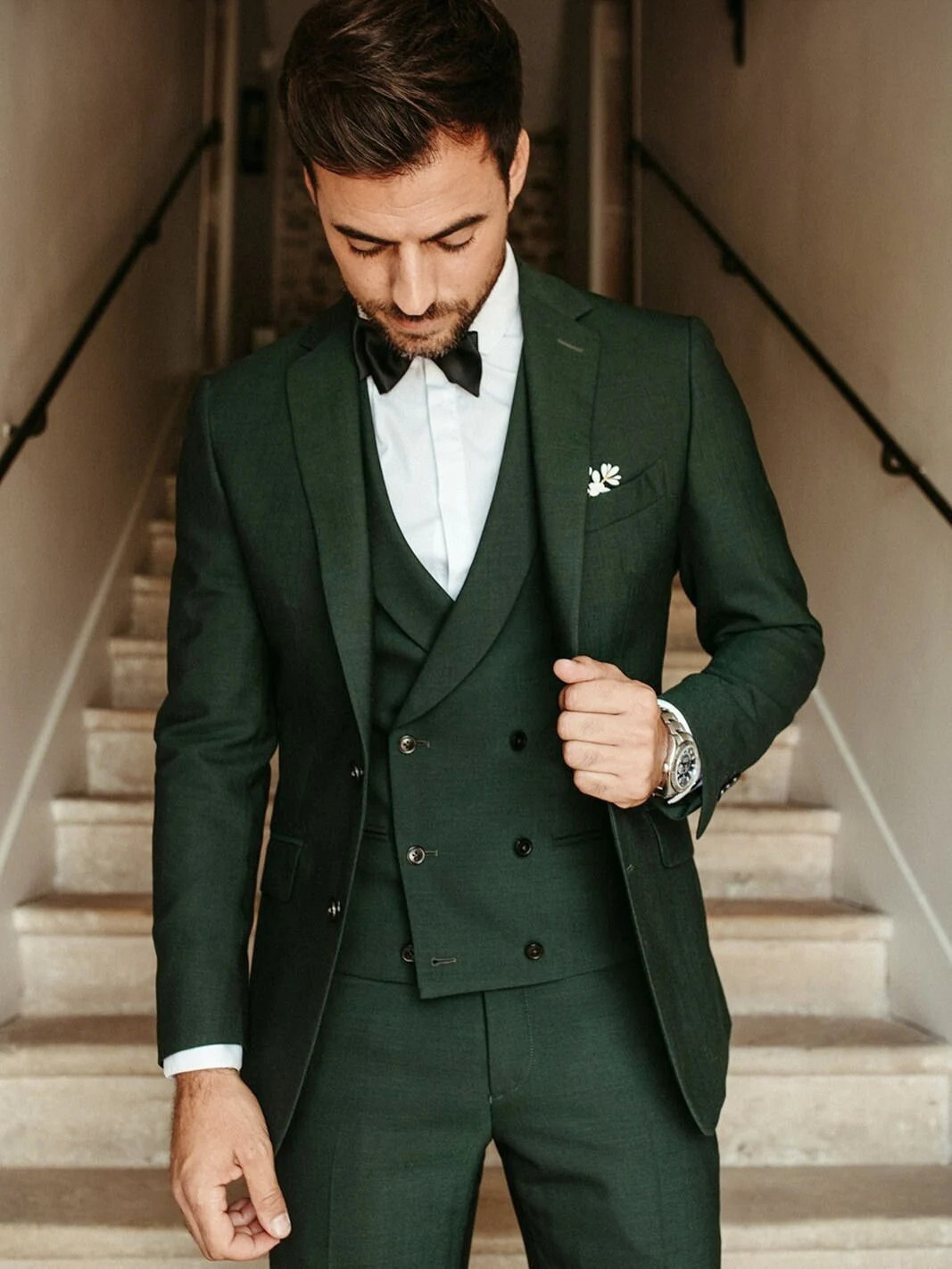 A green tweed suit jacket is an excellent addition to your winter outfit. Go for muted or dark shades of green during this period.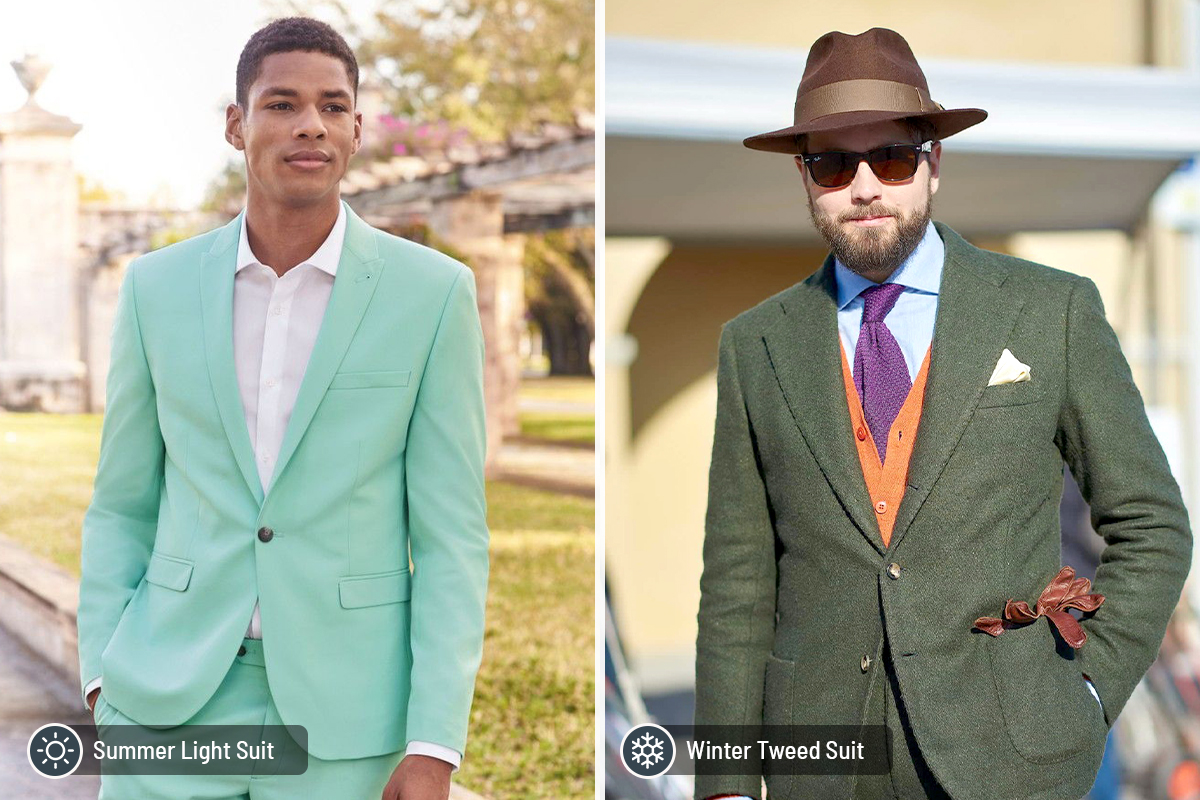 The shade also helps you define where you can wear a green suit.
Dark green suits are appropriate for the same places where navy or charcoal suits are.
On the other hand, light green suits are more appropriate for casual environments.
Best Materials for a Green Suit
The suit's fabric is as important as the color and fit. For green, your best choice of material is either linen, cotton, twill, or wool.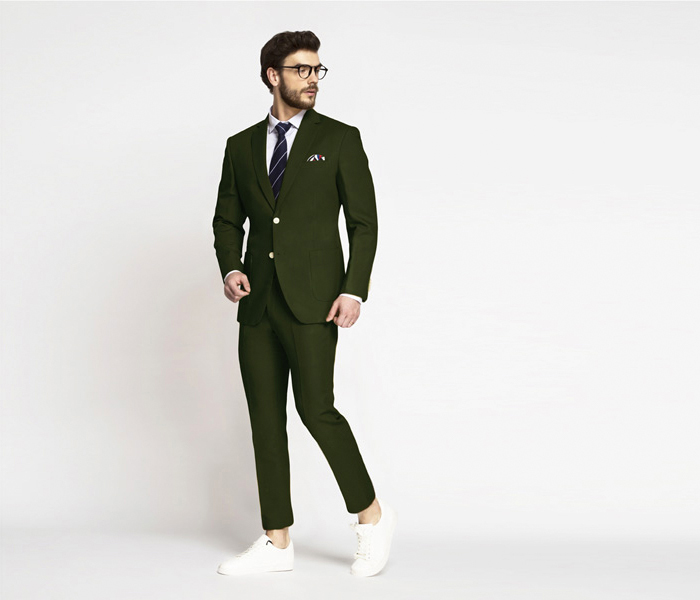 For instance, a green wool suit is so warm and graceful that it is ideal for the colder seasons.
Similarly, a green linen suit is so breezy and light that it's perfect for a summer event.
Just stay wary of the linen wrinkles because it's actually a thing.
Also, keep in mind that your suit material must complement the suit color.
Lighter-weight fabrics such as twill or linen should be reserved for lighter tones.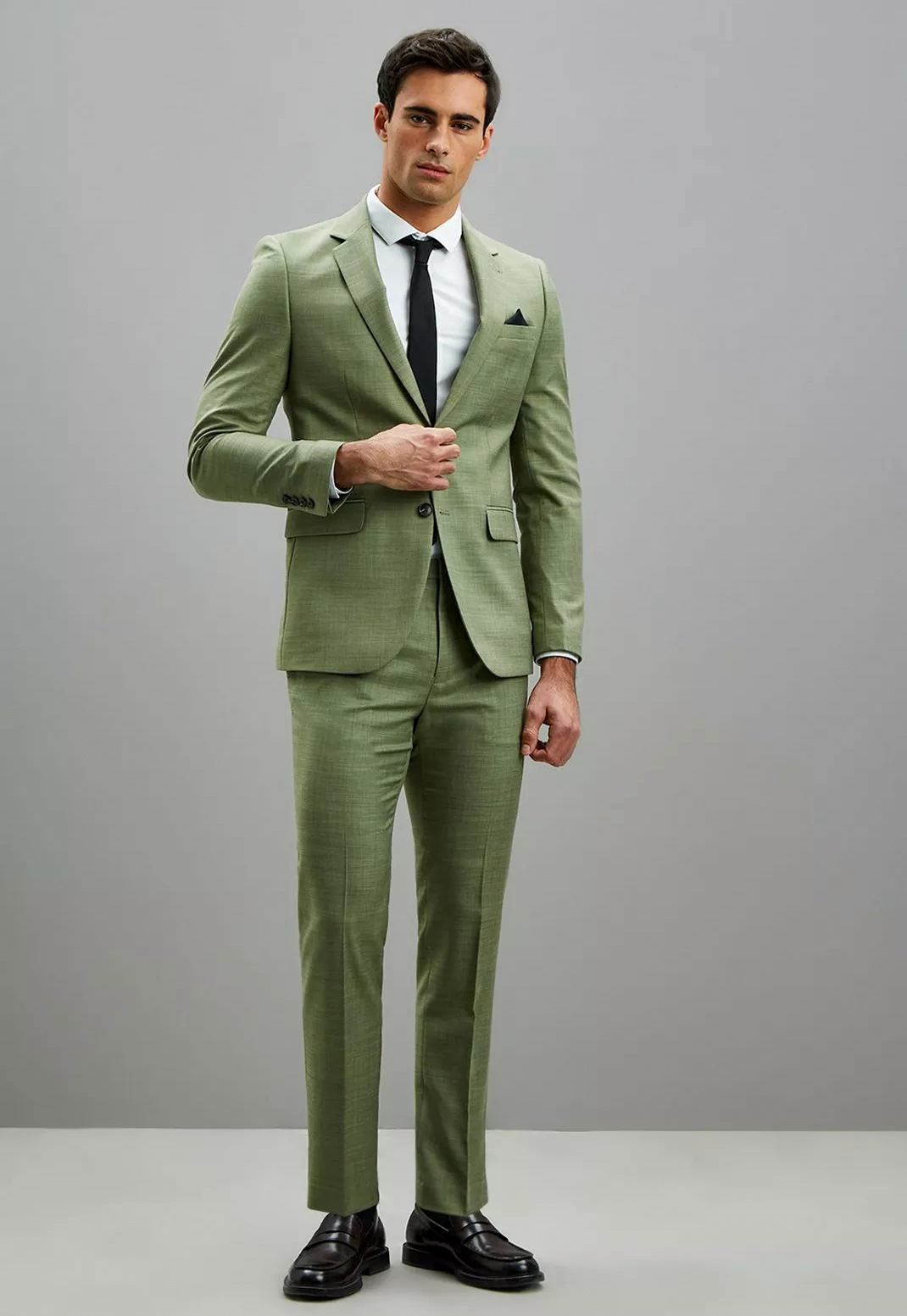 On the other hand, dark and rich shades of green work best with heavier and thicker fabrics, such as wool.
Your Suit Must be Well-Fitted
This should go without saying, but a well-fitted suit is a must to pull off any color.
The suit fit is as important as the color and style to reflect your personality appropriately.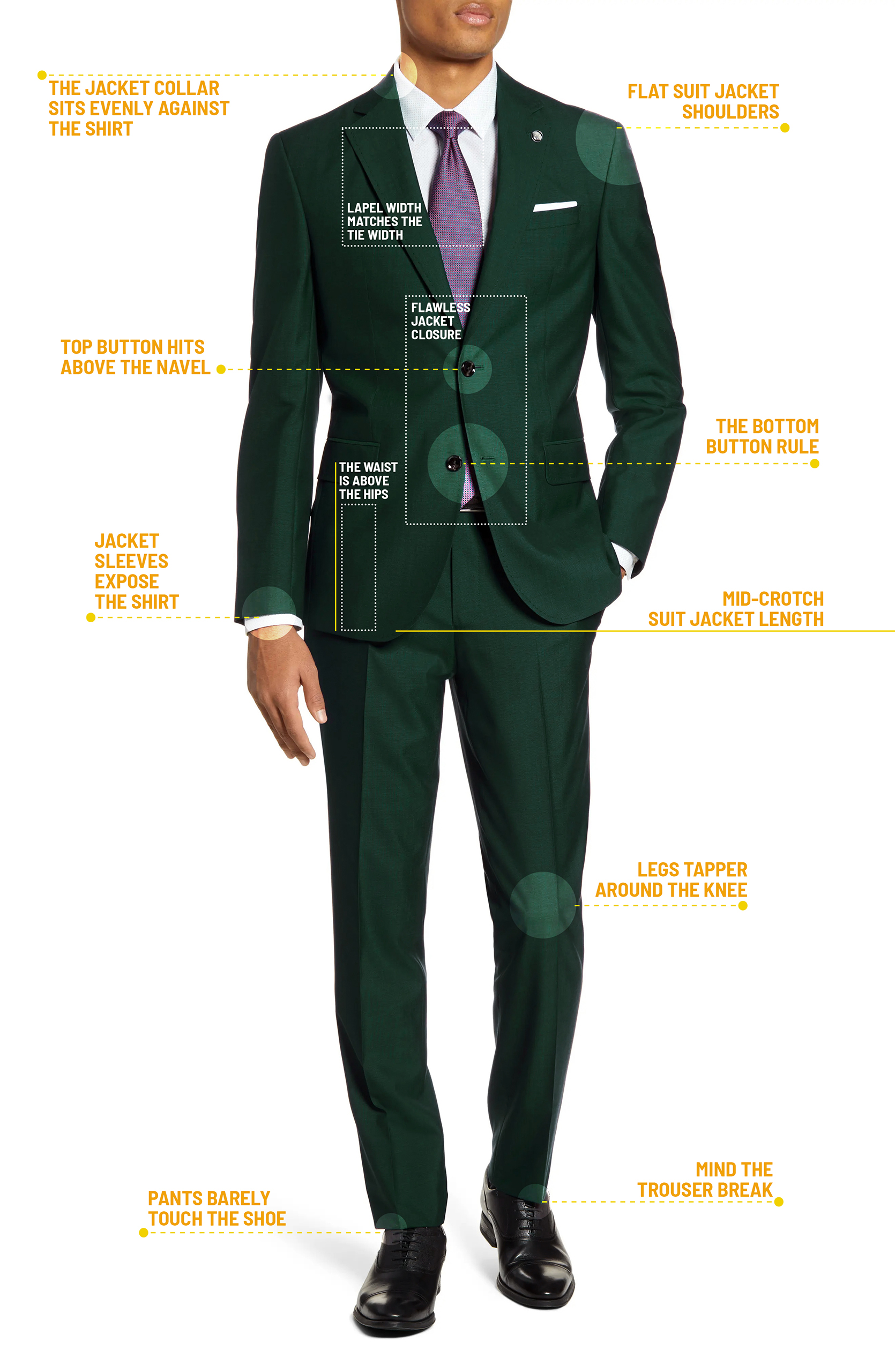 The fit is more than just about your personal taste. The better the fit, the more serious you come off as a person.
Your suit should fit as if it was tailored for your body. Every aspect of the jacket and pants must cover just the right amount.
Best Shirt Colors & Styles for a Green Suit
Green is pretty versatile when it comes to shirt colors and styles, especially when pairing them with solid colors.
However, you will notice that it doesn't go with all the standard shirt colors, such as pink.
Nevertheless, it still has a lot to offer when choosing your dress shirt and tie.
So don't hold yourself back from wearing only brighter shades of green.
A black shirt under a green suit is a surprisingly fresh look, just as a navy shirt helps make a bold fashion statement.
In addition, you can easily pair it with neutral, earthy tie colors such as navy, charcoal grey, or brown.
Green Suit & White Dress Shirt
The white dress shirt is a timeless classic that works like a charm with every suit, and green suits are no exception.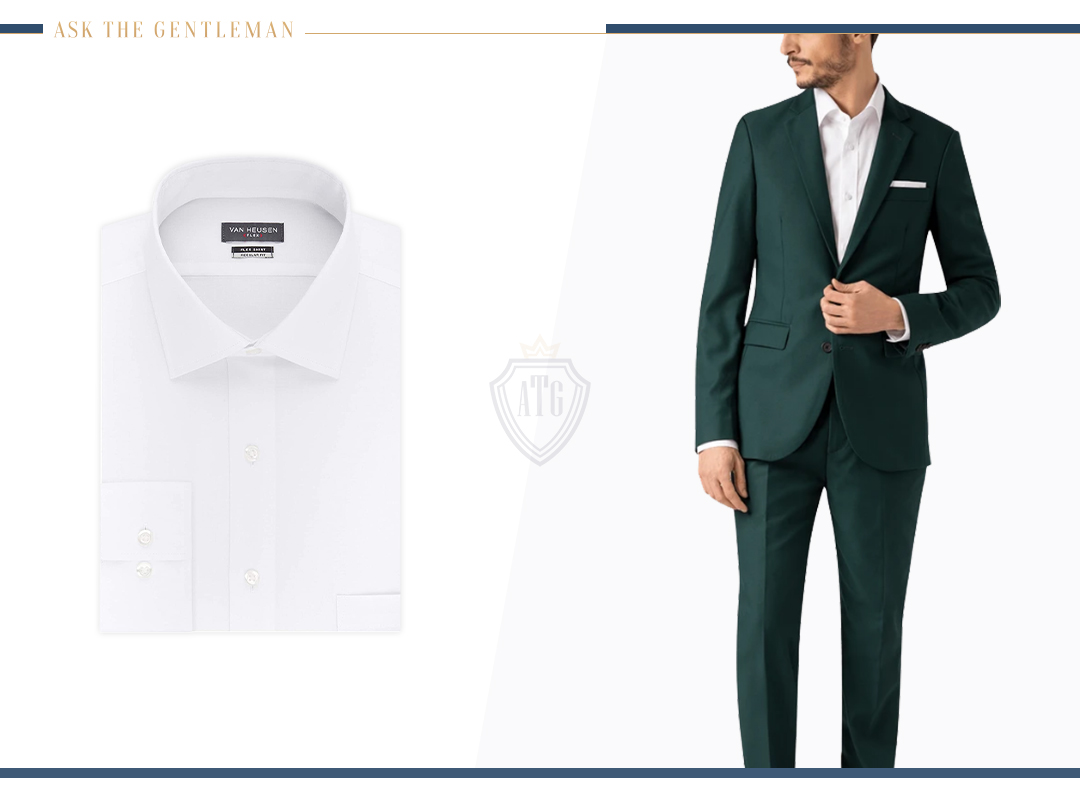 If you are ever in doubt about the shirt color, wear white. Just make sure the shirt fits well and looks crisp to help the greens of the suit pop up, especially if it's a darker shade.
As for neckwear, a black tie looks brilliant over a dark green suit and a white shirt.
I would recommend you match your tie color with the shoes.
For instance, if you go for the earthy brown tie, your shoes should be brown.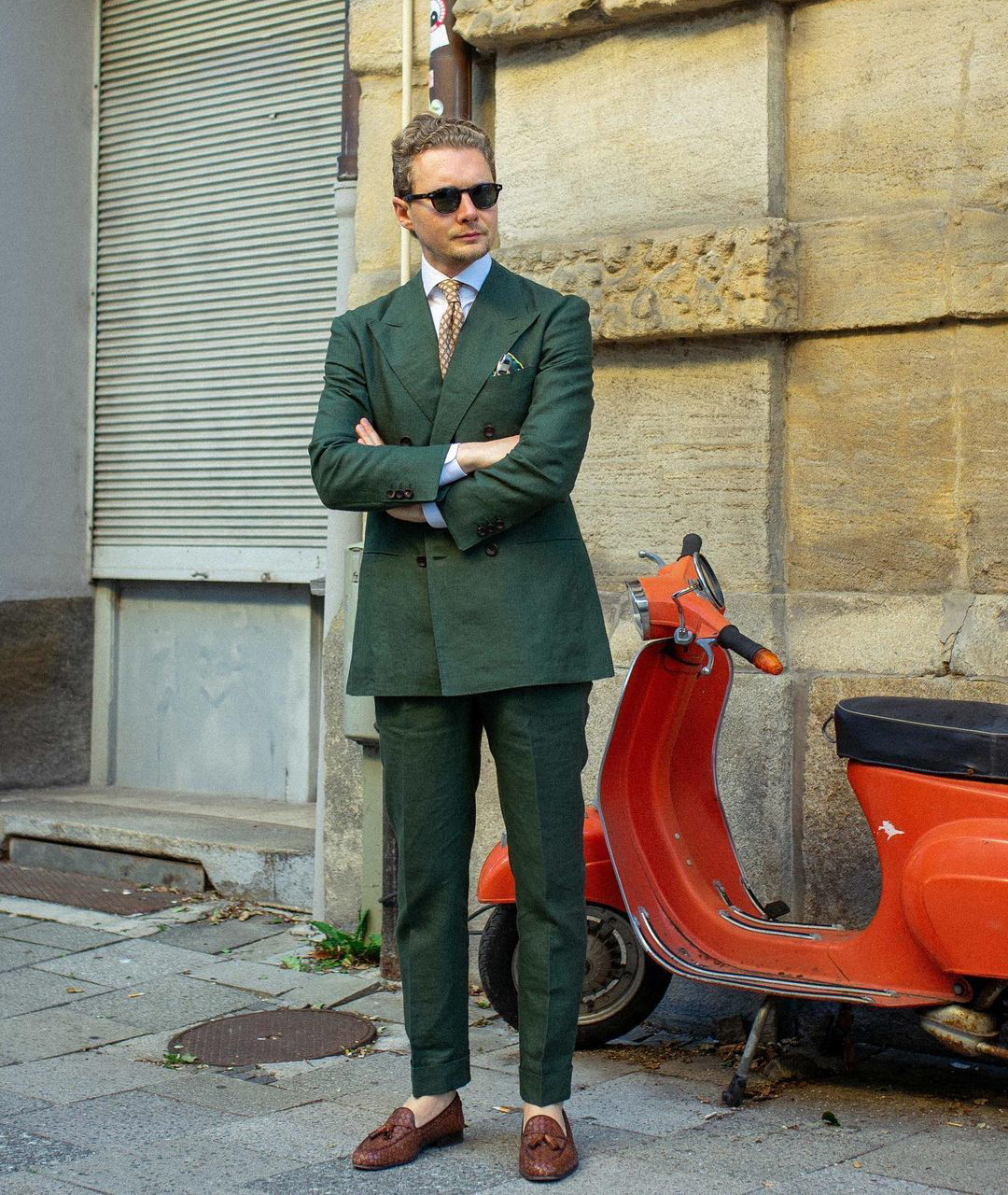 If you are wearing a light green suit with a white shirt, you can opt for the earthy tones of the khaki tie.
Green Suit & Light Blue Dress Shirt
The light blue shirt is the standard in men's fashion, but it isn't an easy look to pull off with a green suit.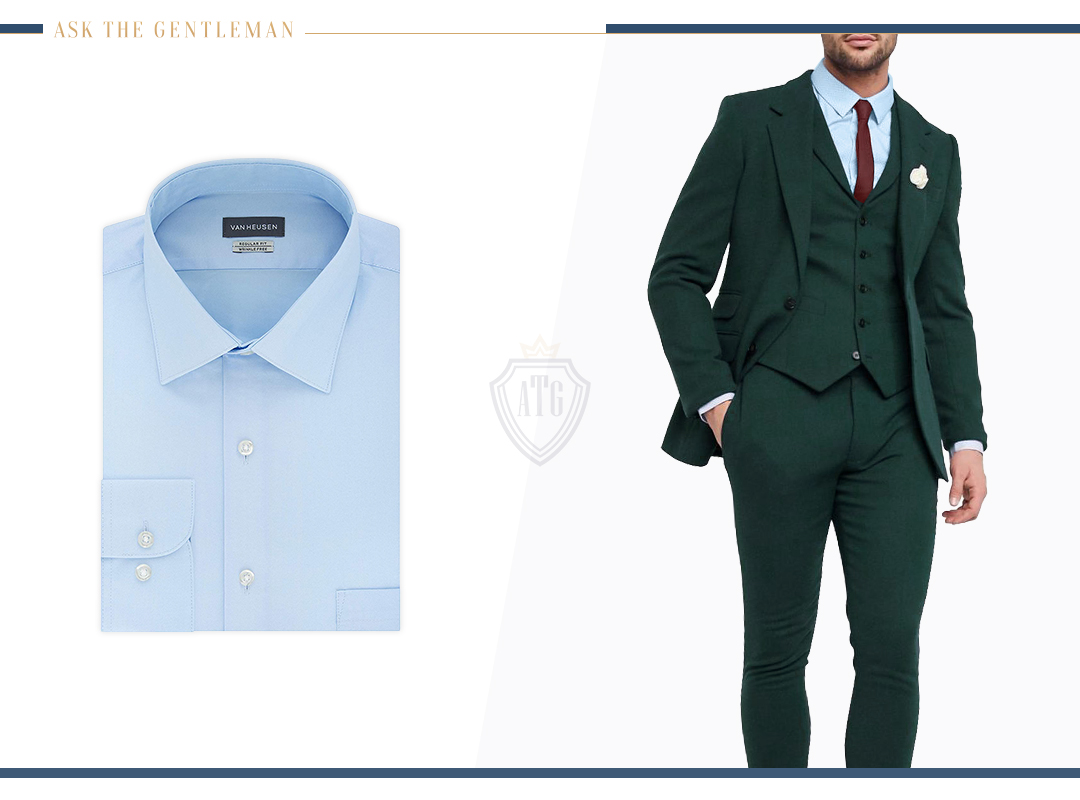 You need to make sure every other aspect of the suit complements the light blue dress shirt for this look to work.
Light blue helps tone down the green, making it an overall neutral look.
It's best to pair a light blue dress shirt with a green suit without wearing a tie. It will look bold and vibrant, especially if wearing a darker shade of green.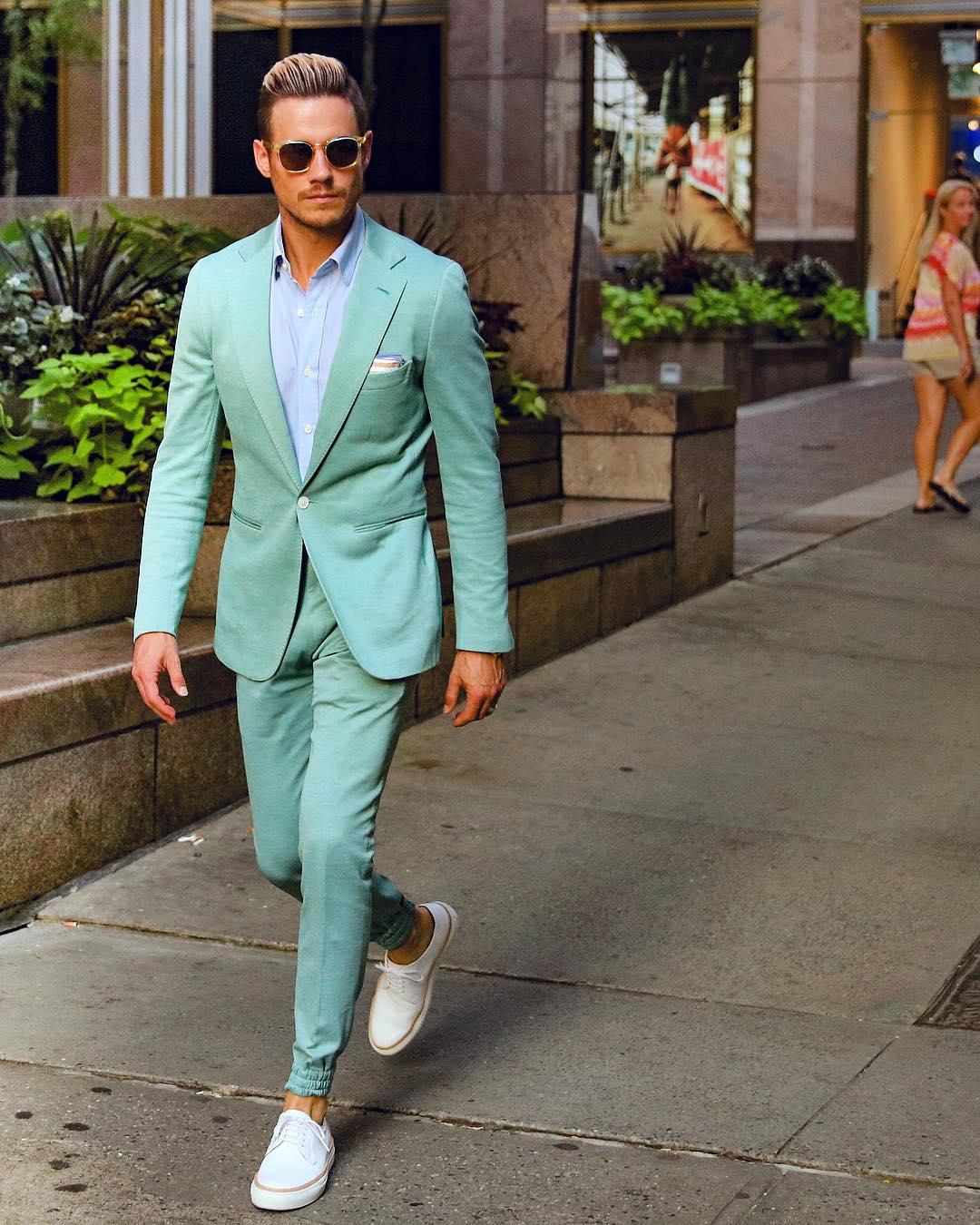 As for neckwear, the ideal choice is a muted, subdued color to go with the blue and green combination.
Wear a dark brown, navy, or maroon tie if you want to add matureness to the look.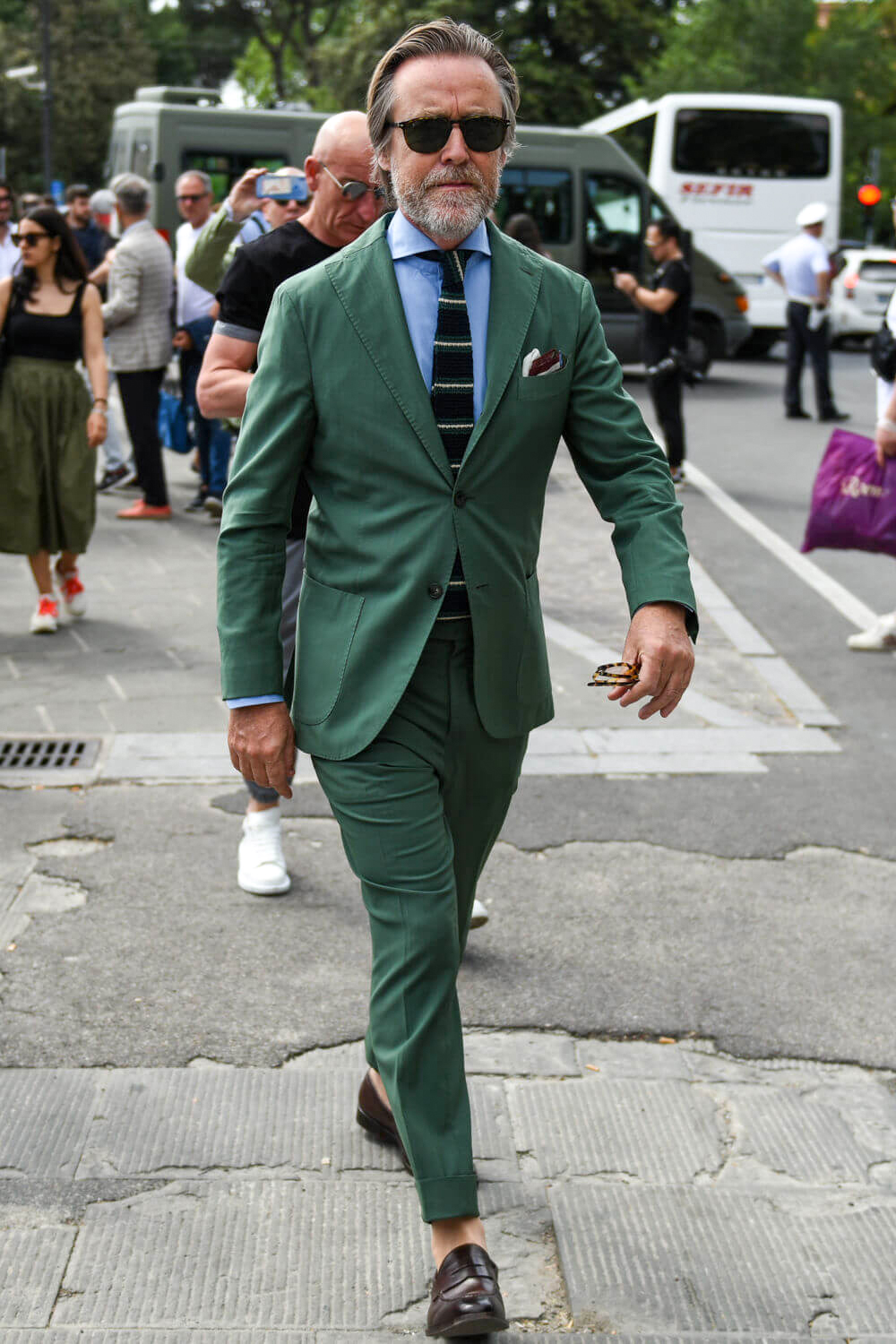 If that doesn't work for you, there is always the safer black tie option.
Green Suit & Printed/Floral Dress Shirt
Pair the green suit with a floral or printed shirt if you want to achieve a classy look with a contemporary spin.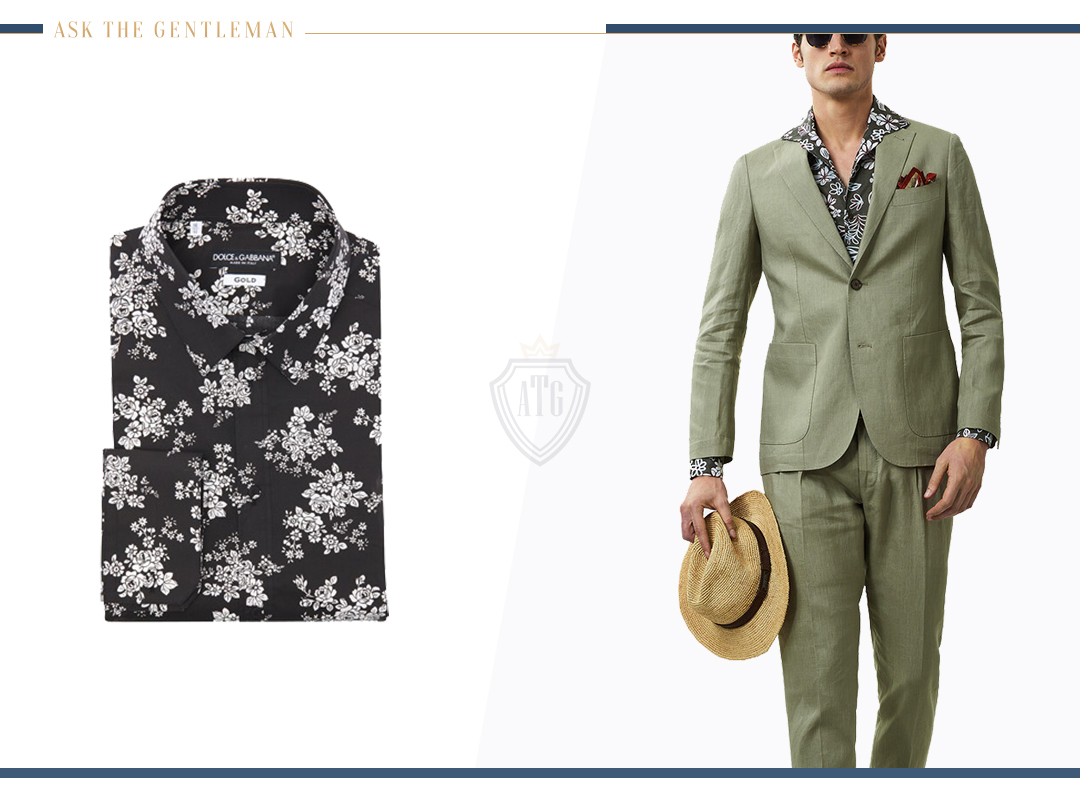 The modishness of a floral shirt sits quite well with the elegance of the green suit, especially if it's a darker shade.
A navy shirt with floral prints under a dark green jacket looks dreamy.
However, you can also opt for lighter shades, such as a white floral shirt or a light blue floral shirt, to add freshness to the ensemble.
Dark Green Suit & Black Dress Shirt
The black dress shirt is not for a lighter shade of green because it will simply overwhelm the shade.
Instead, wear a black shirt with a darker shade of green. It will help enhance the green tones of the suit.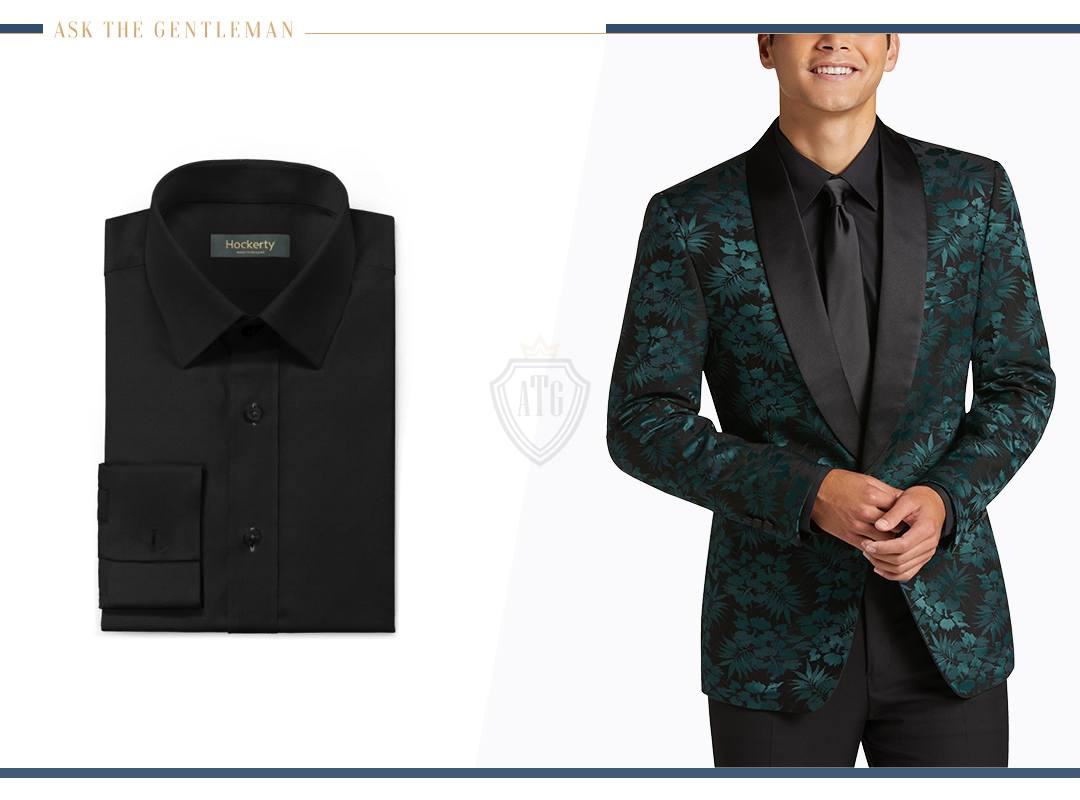 The combination of a dark green suit and black shirt can make for solid semi-formal attire with a startling effect.
For instance, the depth of black helps pops up the flashy tones of emerald because emerald has no brown undertones to mute the green hues.
As for the tie, there is no other acceptable option than black.
You might be tempted to wear a green tie, but that will make up for an extremely immature look.
Green Suit & Striped/Patterned Shirts
The versatility and style of the green suit offer room to experiment with striped and patterned shirts.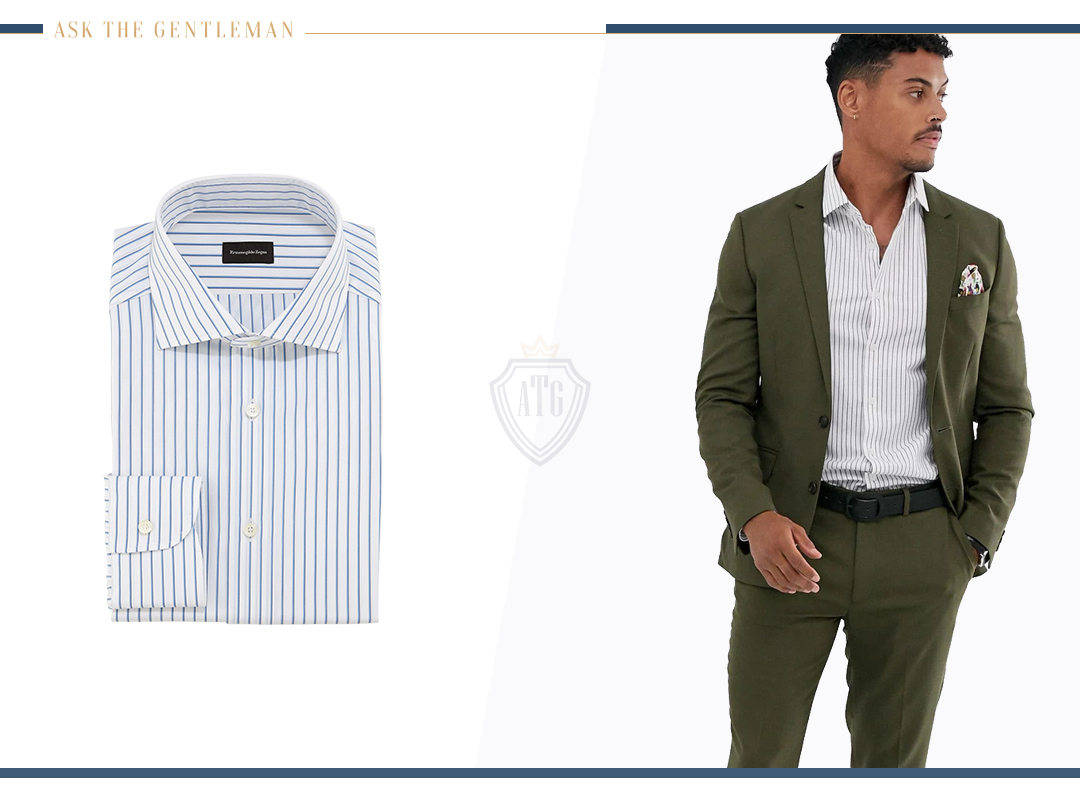 This combination makes up for a decent casual look, however, only if done right.
Make sure the patterns and stripes are subtle and nothing too overwhelming. You still want the suit to take the lead.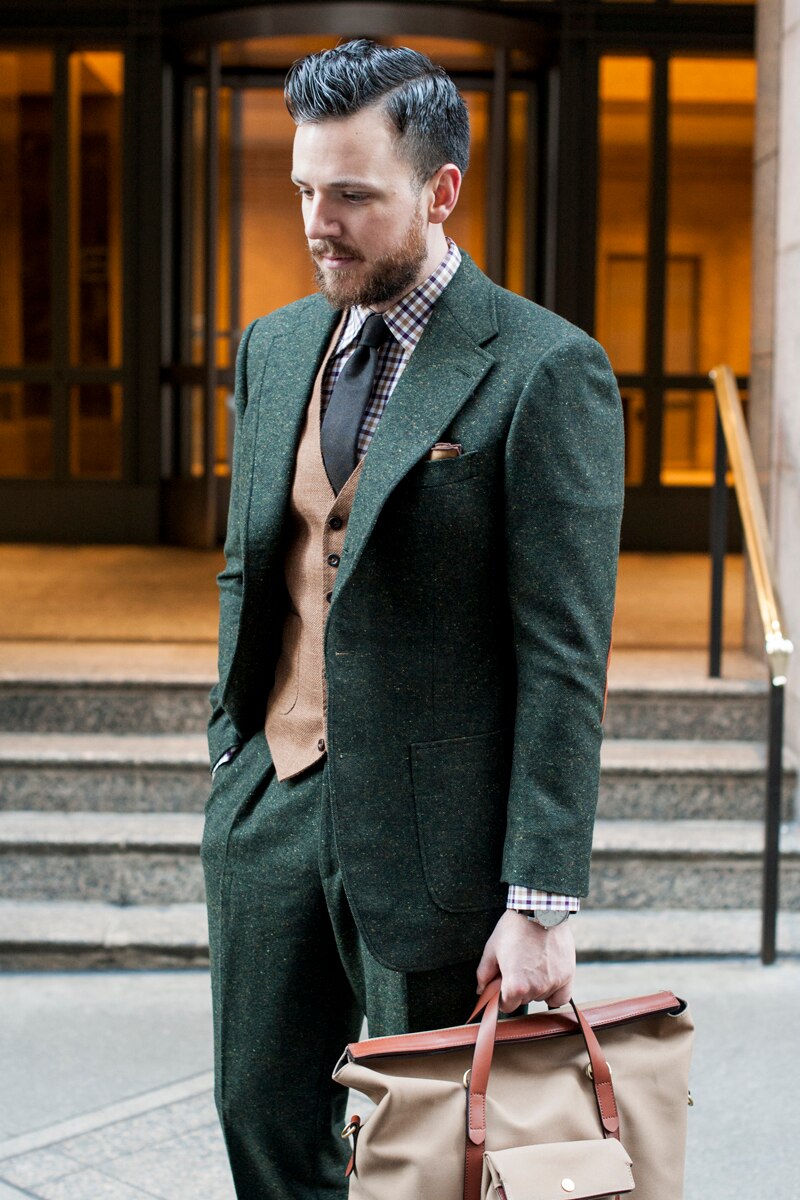 As for colors, white, light blue, and black patterns are recommended, but you can try mixing other color combinations and see what works best for you.
Dressing Down the Green Suit: How to Wear it Casually
Now that you have mastered dressing up the green suit, it is time to dress it down so that you can make the most of this unique shade in your wardrobe.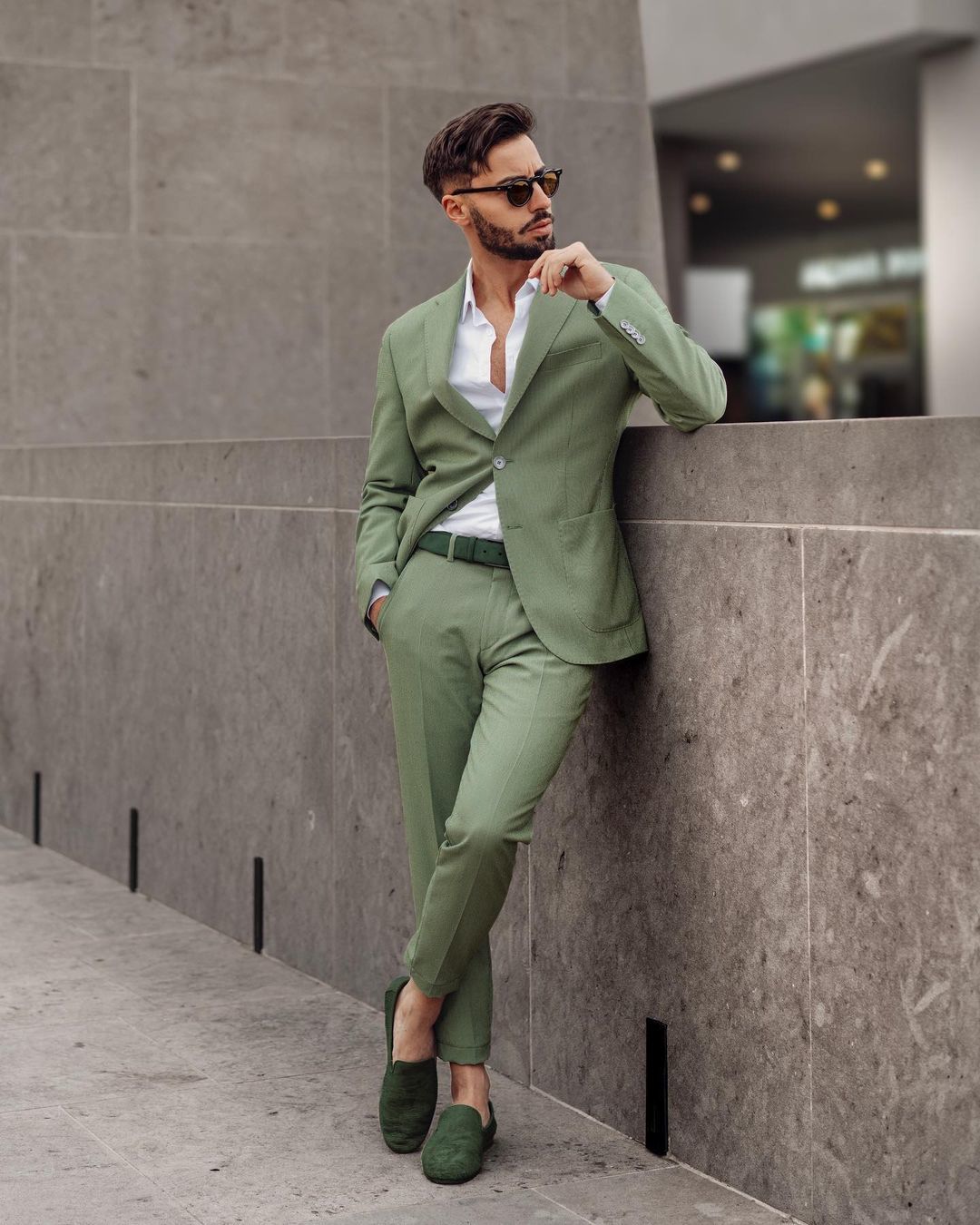 Green suits have a sophisticated touch, especially in darker shades. As a result, the suit always looks chic no matter what you wear underneath.
Green Suit & Turtleneck
Turtlenecks are the new trend in men's fashion, and wearing them under a suit is something we have recently witnessed.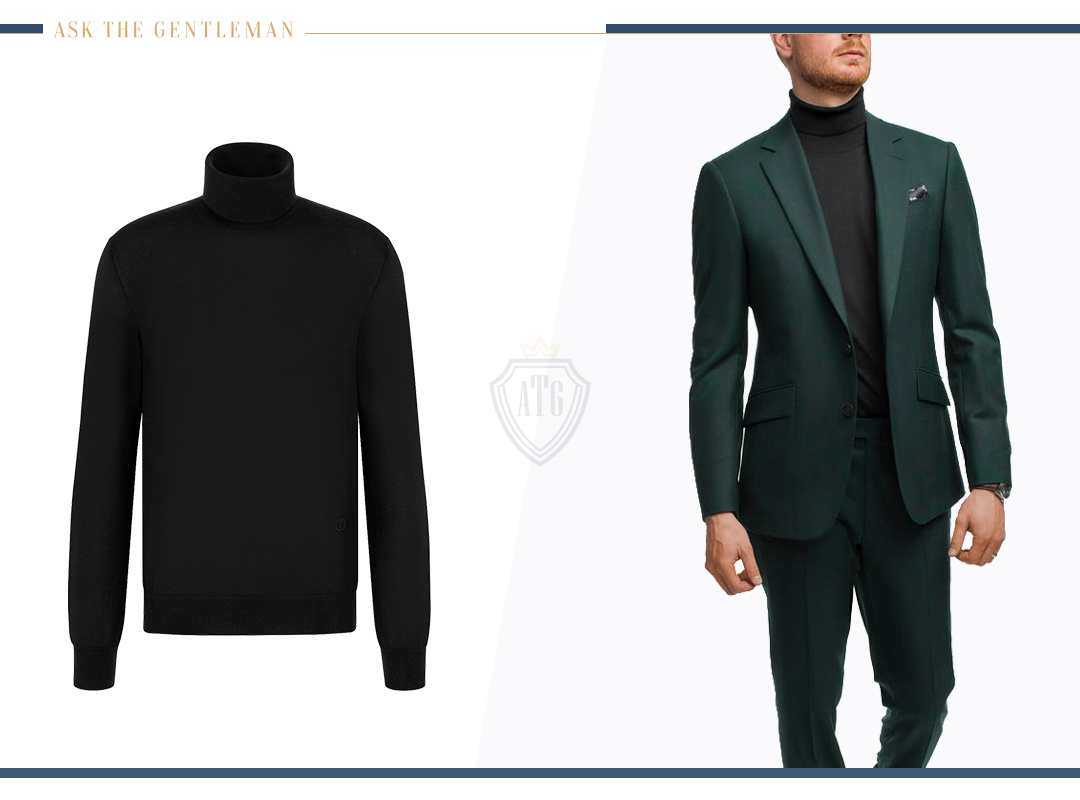 It is a casual look that can look exceptionally smart and camera-worthy if done right.
For instance, a dark green suit paired with a black turtleneck is an effortlessly modish look.
On the brighter side, you can also go for a white or beige turtleneck for a more radiant outlook.
Green Suit & T-Shirt
A casually smart t-shirt under a suit can make for a rocking look.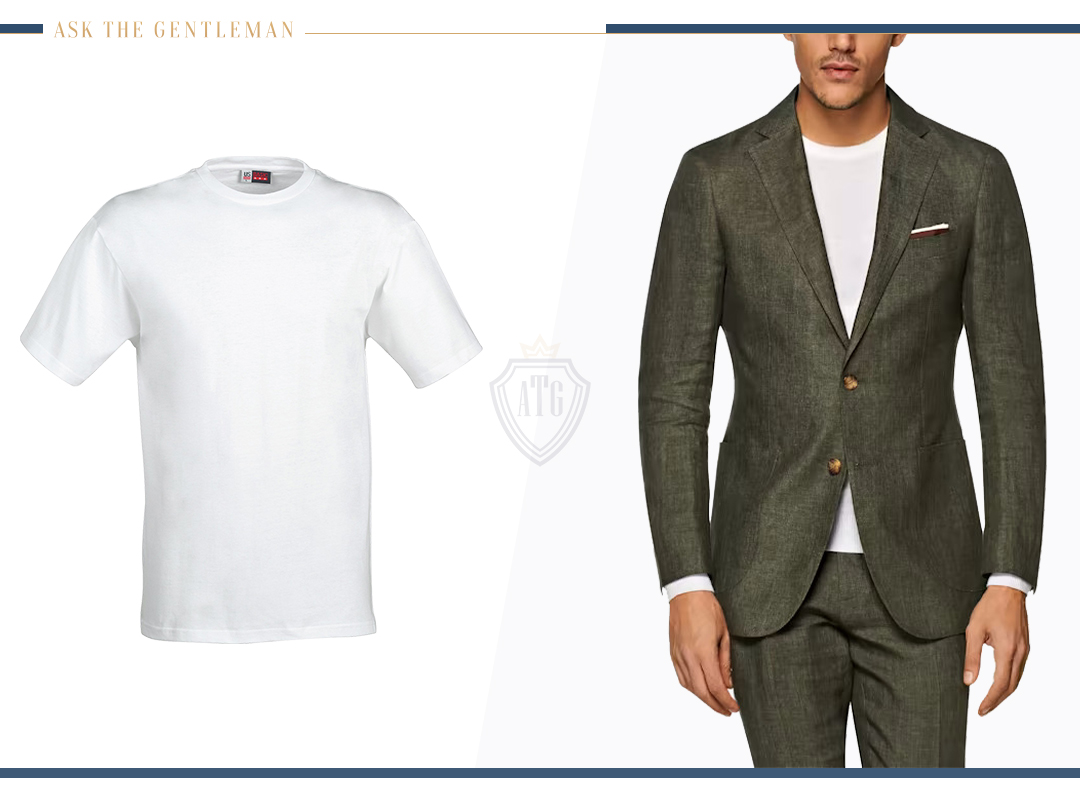 The green suit is not foreign to this effortlessly smart and modish combination, where a crisp white crew neck accents the green tones of the suit.
Finish the look with equally crisp and smart white sneakers to introduce a hint of stylish effortlessness to the fit.
A classy white polo is another incredibly effortless, smart, and sophisticated look. Again, white sneakers are the way to go with this combination as well.
Formal Shoes You Can Wear with Green Suits
The general rule of thumb is that formal dress shoes should always be darker than the suit.
Therefore, darker green suits call for darker shoe colors such as dark brown or black.
Like many other suit colors, black dress shoes are the best option for footwear that match a green suit.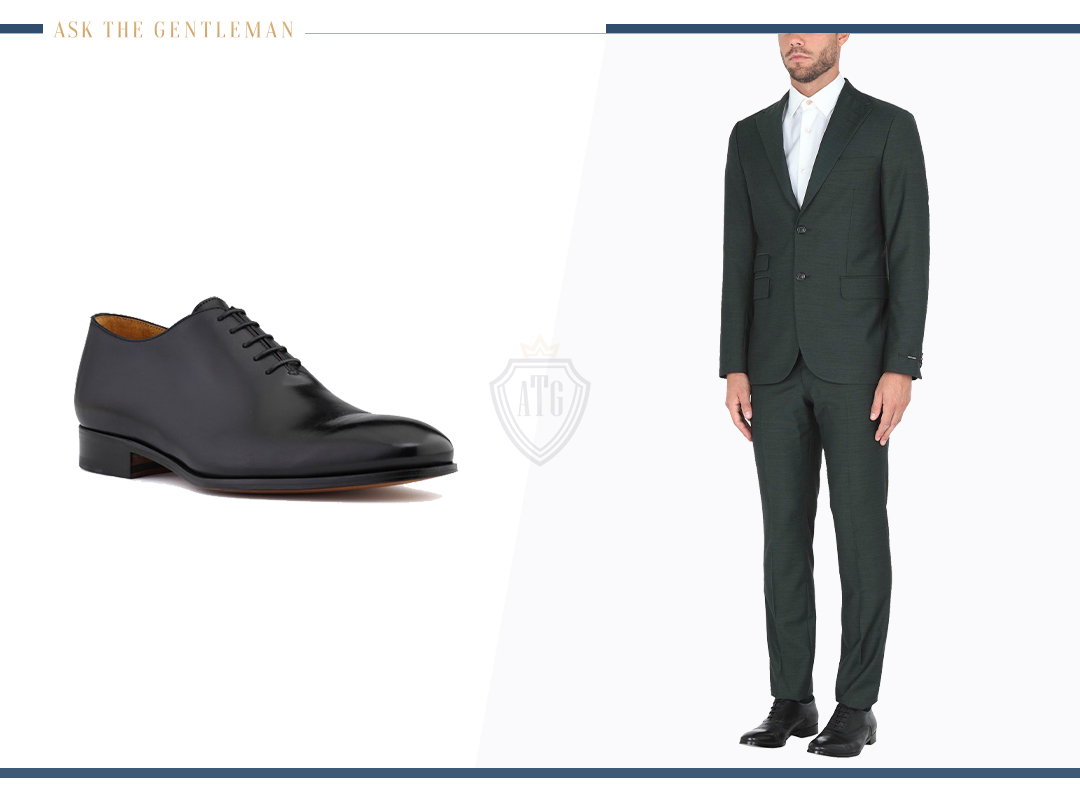 For instance, if you wear a darker shade of green, my first recommendation will be black monk straps or Oxfords.
I would also recommend dark brown or even medium brown for an olive-green suit, depending on how light the suit is.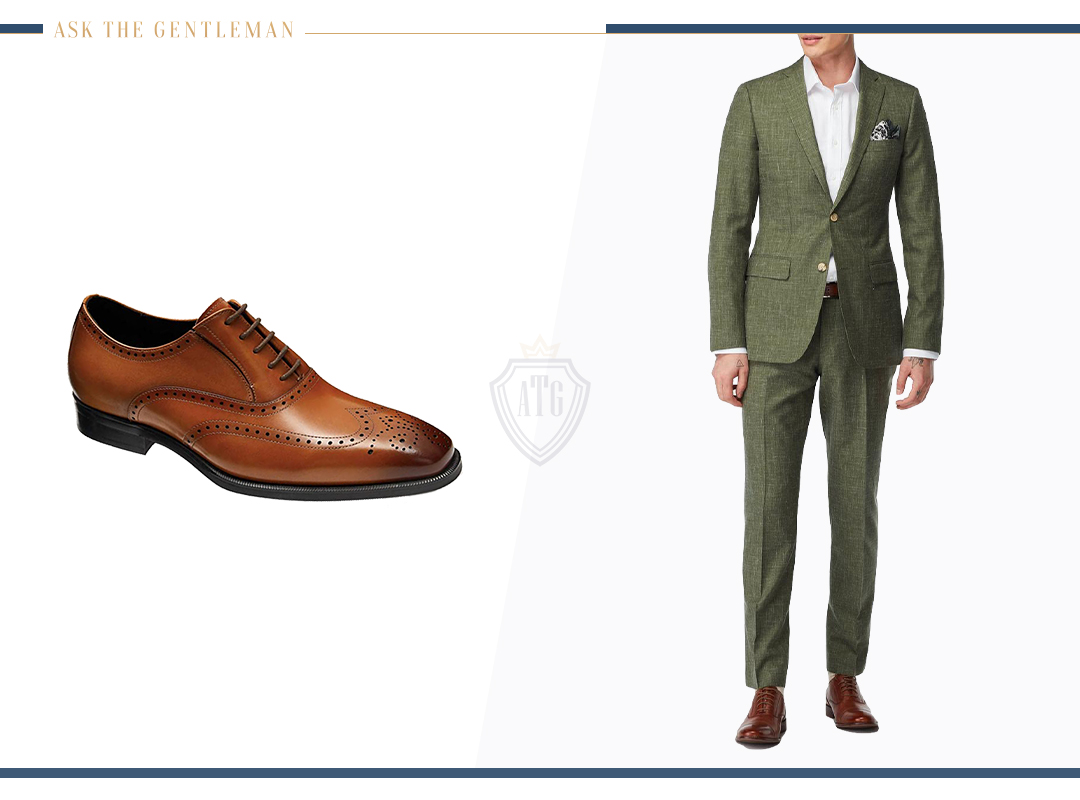 Similarly, the usual green suit is best paired with brown loafers or Derby dress shoes.
How to Wear Casual Shoes with a Green Suit
The green suit and white crew-neck combination call for white sneakers to create a casual look.
Another good option is boat shoes which are highly casual with a touch of sophistication.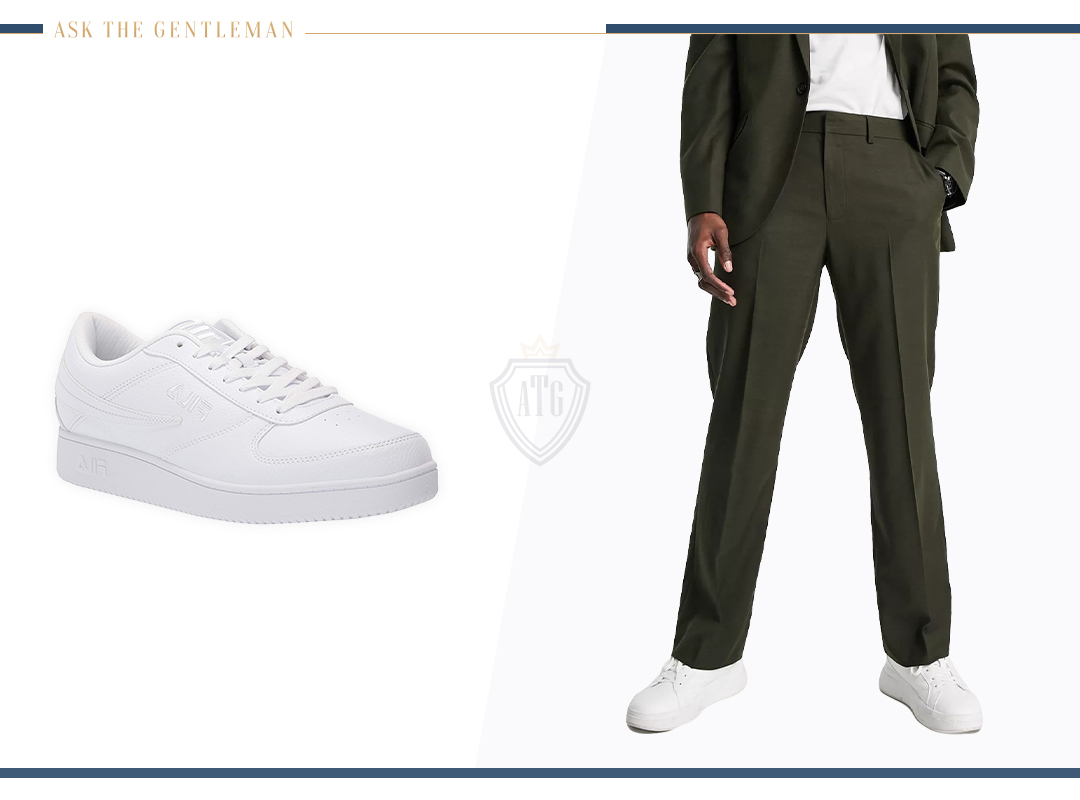 If you want to rock the boat shoes with a green suit, wear a white polo or pink t-shirt.
In either case, both shoe styles offer the right level of casualness if you want to achieve an effortlessly smart look.
Accessories You Can Wear with a Green Suit
While green may not be the most popular suit color out there, it still has to be accessorized right.
All accessorizing rules that apply to other suits also apply to the green suit.
Wear the belt, add a watch to your wrist, and use a pocket square and tie combo to complete the look.
A Belt that Matches the Shoe Color
It is vital that you match the belt with the shoe color.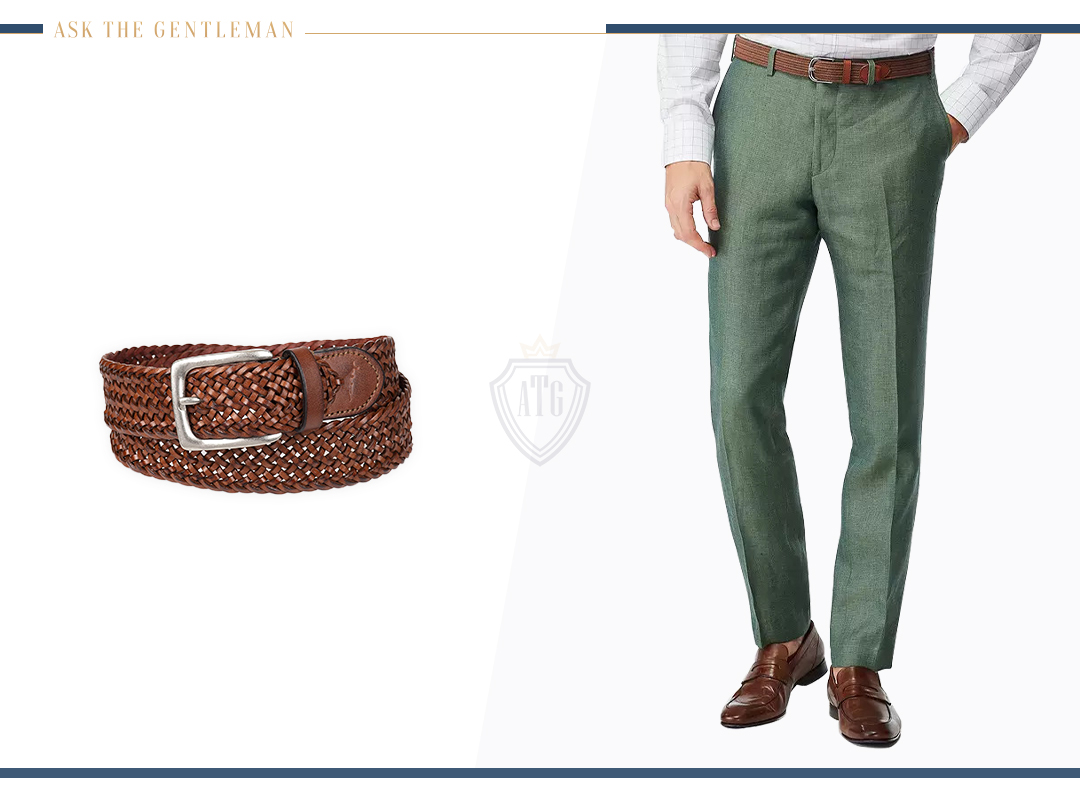 Imagine how odd it would look if you were wearing black shoes and a brown belt.
There is a clear break in the suit, which is what the belt does, but people will notice how you didn't put in the effort to match it with the shoes.
Leather Watch or Metal Watch
A watch is always a classy addition to your wrist when wearing a suit.
My favorite is the leather strap watch, especially when you pair the leather strap with the belt color.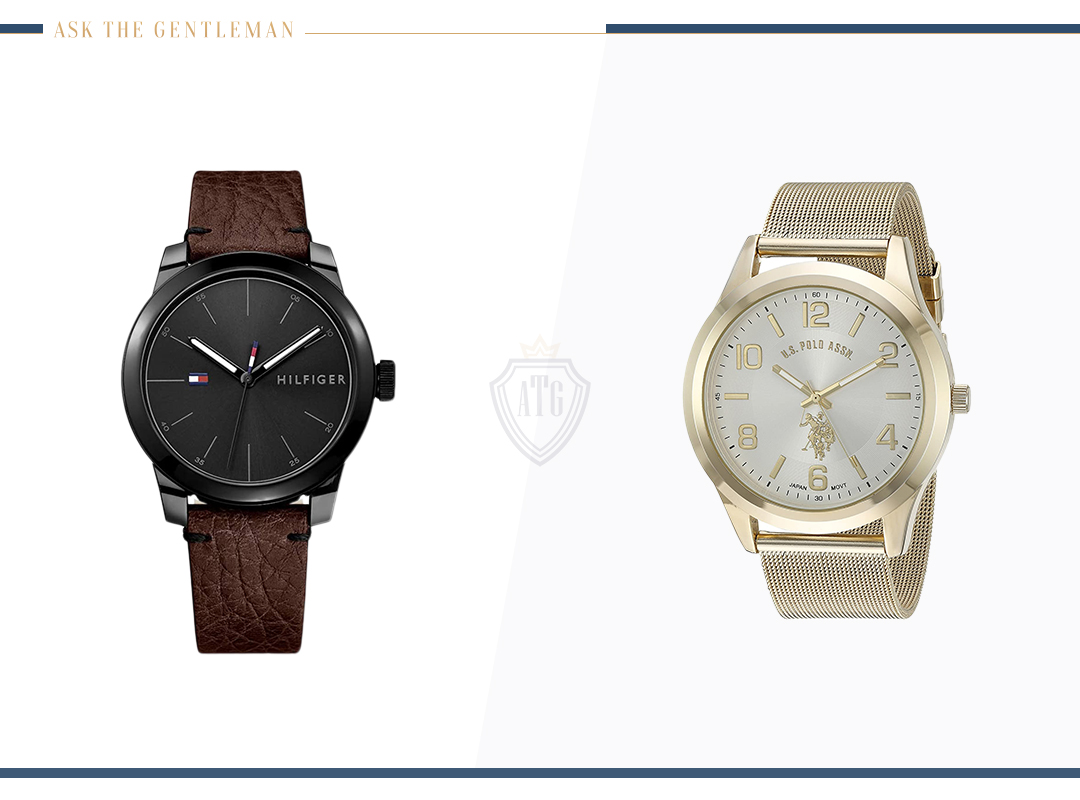 A metal watch works fine too, but it all comes down to personal preference.
I suggest you try matching the dial background color with the belt and shoes if you are wearing a metal watch.
Tie & Pocket Square
Tie and pocket square are suit essentials that every man must own.
You already know what tie and shirt color combinations work best with the green suit.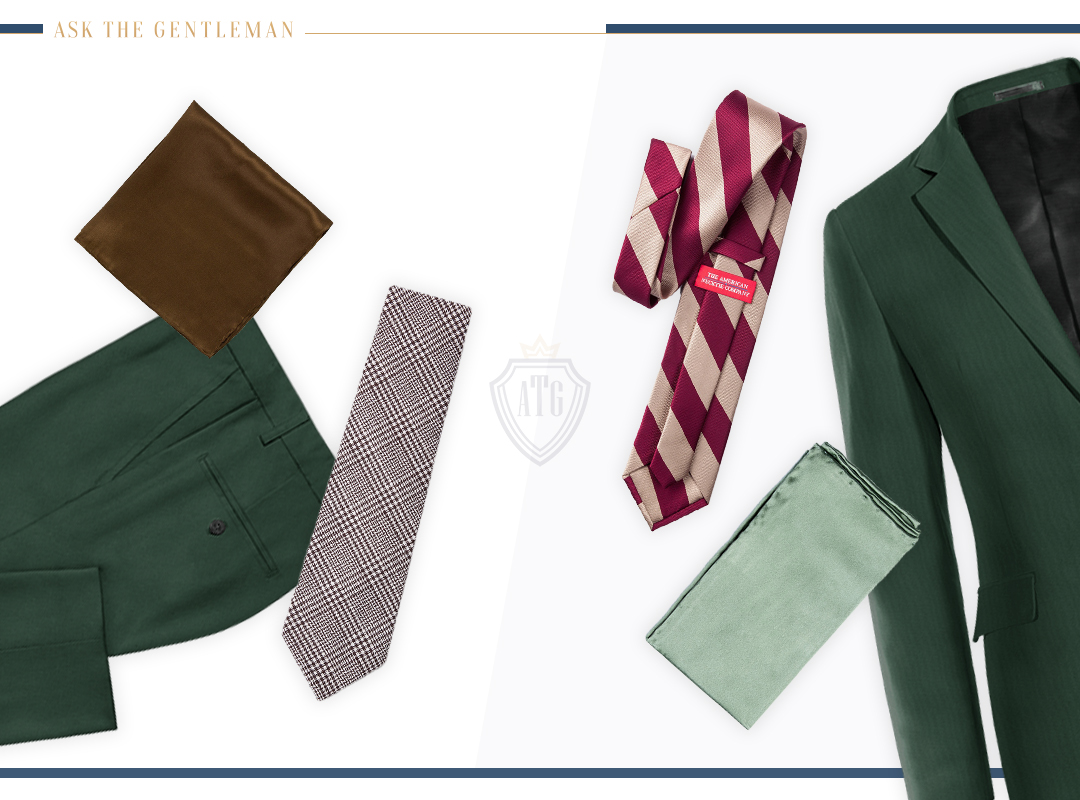 As for the pocket square, make sure it contrasts with the tie. Or if you are going with your lady, match it with her dress!