The three-piece suit is a great way to express yourself as sleek, smart, and elegant.
They might have been outdated a while ago, but they are back with full force in the world of fashion.
Moreover, they are more versatile this time than ever before.
It is a great way to spice things up from your usual two-piece suit that you must have worn at almost every event by now.
But let's first learn what it is and how to style it!
What is a Three-Piece Suit
A three-piece suit is a combination of a suit jacket, trousers, and a vest.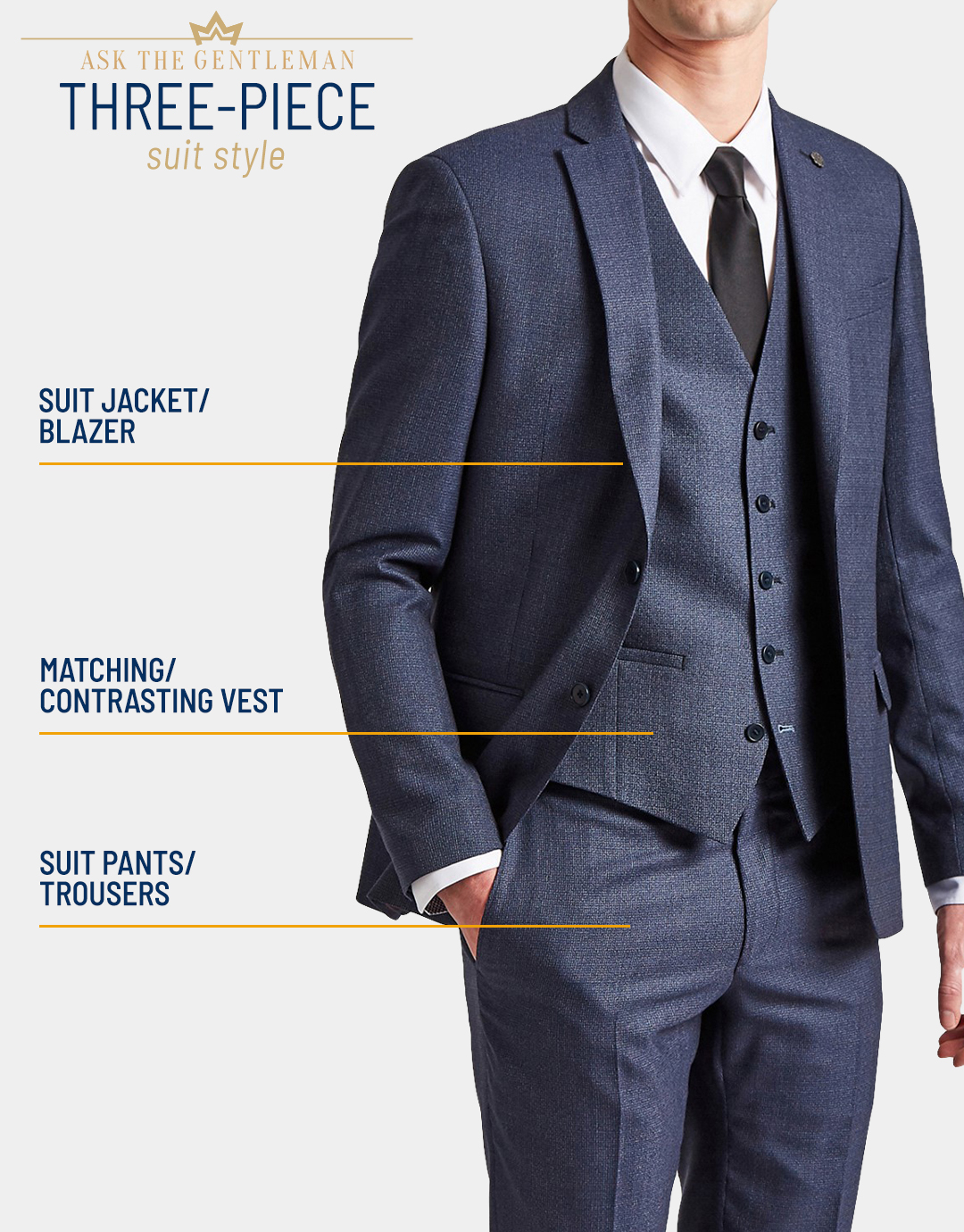 It is quite a straightforward suit style that can be worn on several occasions, but not all.
It is one of the most formal looks if worn in black or white.
Adding patterns and textures can reduce formality, but it is still unsuitable for casual events.
By definition, a three-piece suit is "a suit in which the jacket, vest, and pants are made of the same material."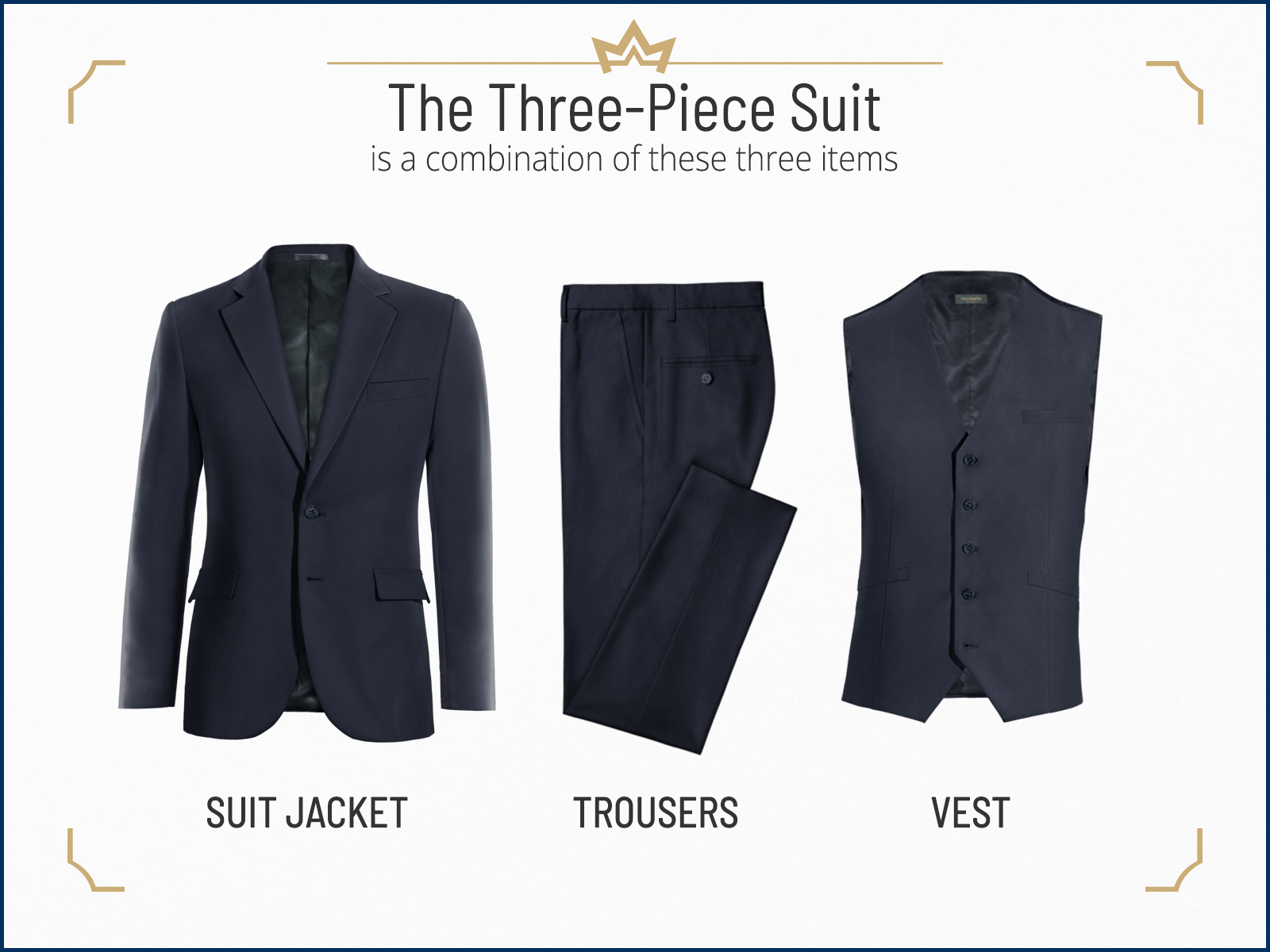 However, contemporary three-piece suits can also be customized to add different materials or shades of the same material for contrast.
The addition of the vest shifts more focus from your torso to your face and neck.
As a result, a three-piece suit offers a more fitted, sleeker, and closed-off look than a two-piece suit.
How to Wear the Three-Piece Suit
There are no hard and fast rules for wearing a three-piece suit.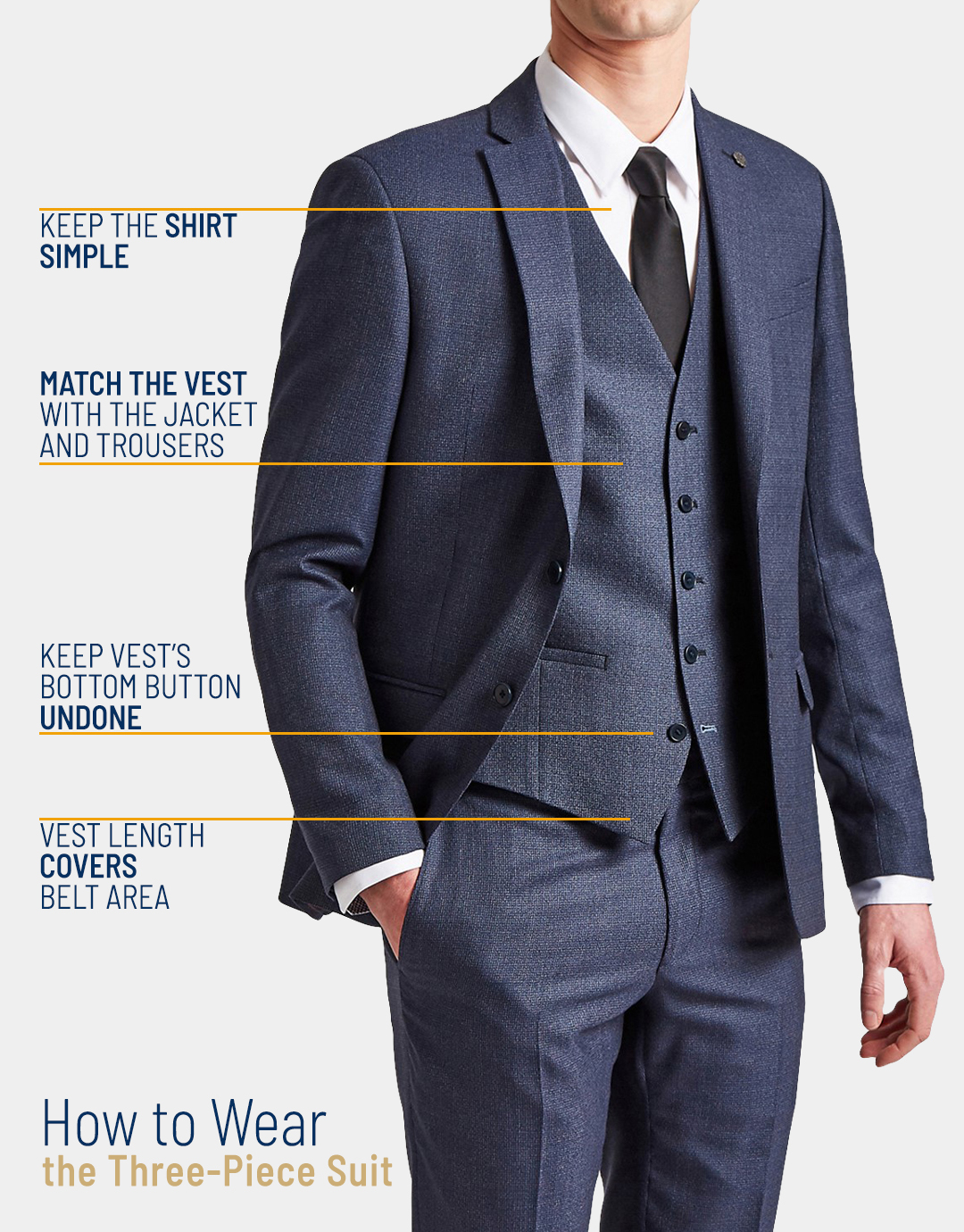 However, despite the simplicity, you still have to keep a few important things in mind.
Keep the vest's bottom button undone.
Match the vest with the jacket and trousers.
Get the right vest length that covers the belt area properly.
Keep the dress shirt simple.
These are some tips that you should keep in mind. What requires more intention are the following:
The Suit Still Has to Fit Properly
The suit includes the jacket and the trousers, which must be the right fit.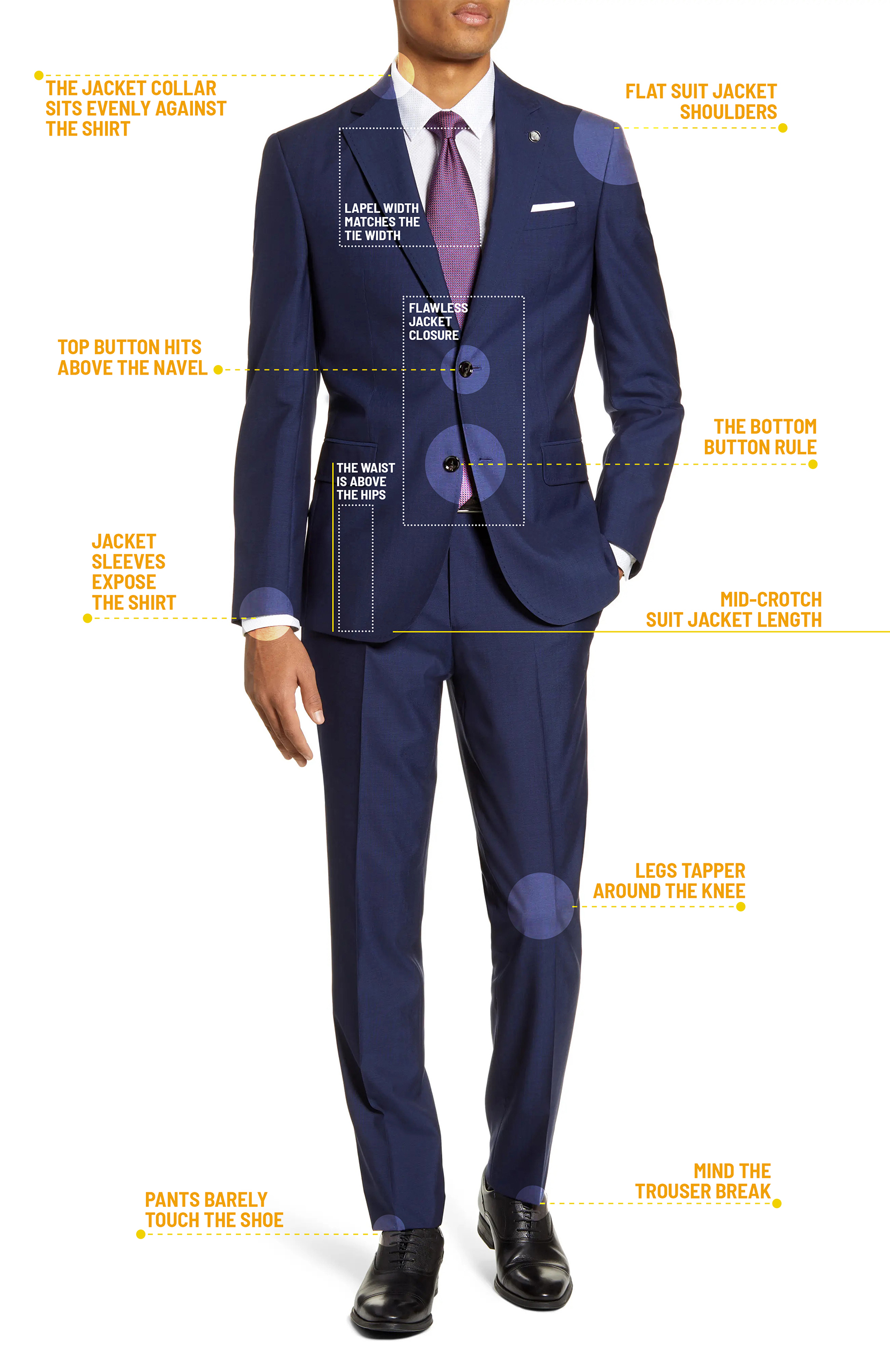 Make sure the shoulder pads are not extending too far from the jacket. The jacket will look phonier if the shoulder pads don't end with the shoulders.
Moreover, ensure that the top button in a two-button suit is at or lower than the navel.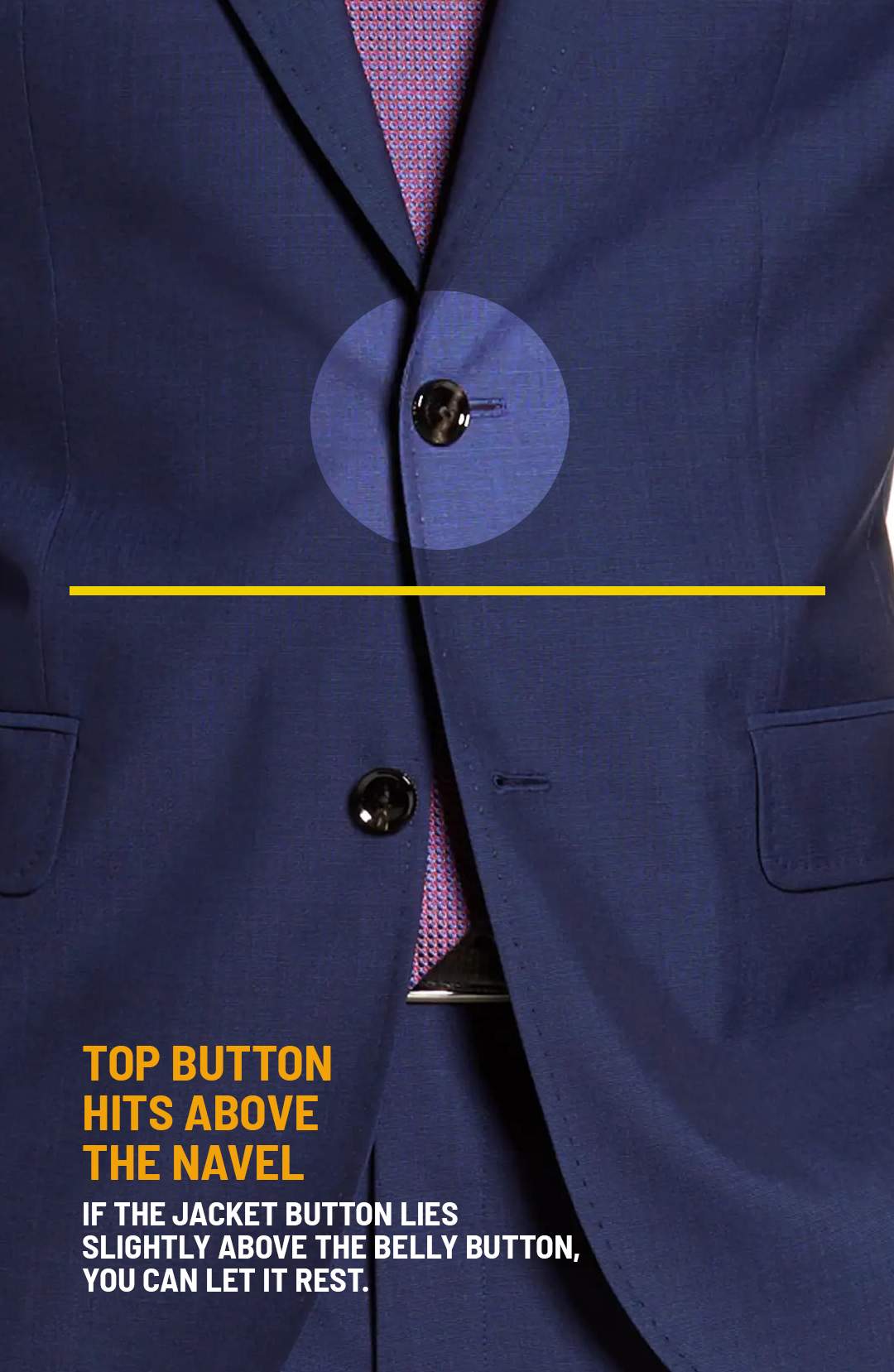 In the case of a three-button suit, keep track of the middle button.
And as you already know, keep the jacket's bottom button undone.
On the other hand, trousers usually have a high waist and a not-so-narrow fit. However, younger generations might prefer the opposite, which is fine.
What's most important is to avoid the baggy seat and achieve flawless tapering through the knee for a proper pant fit.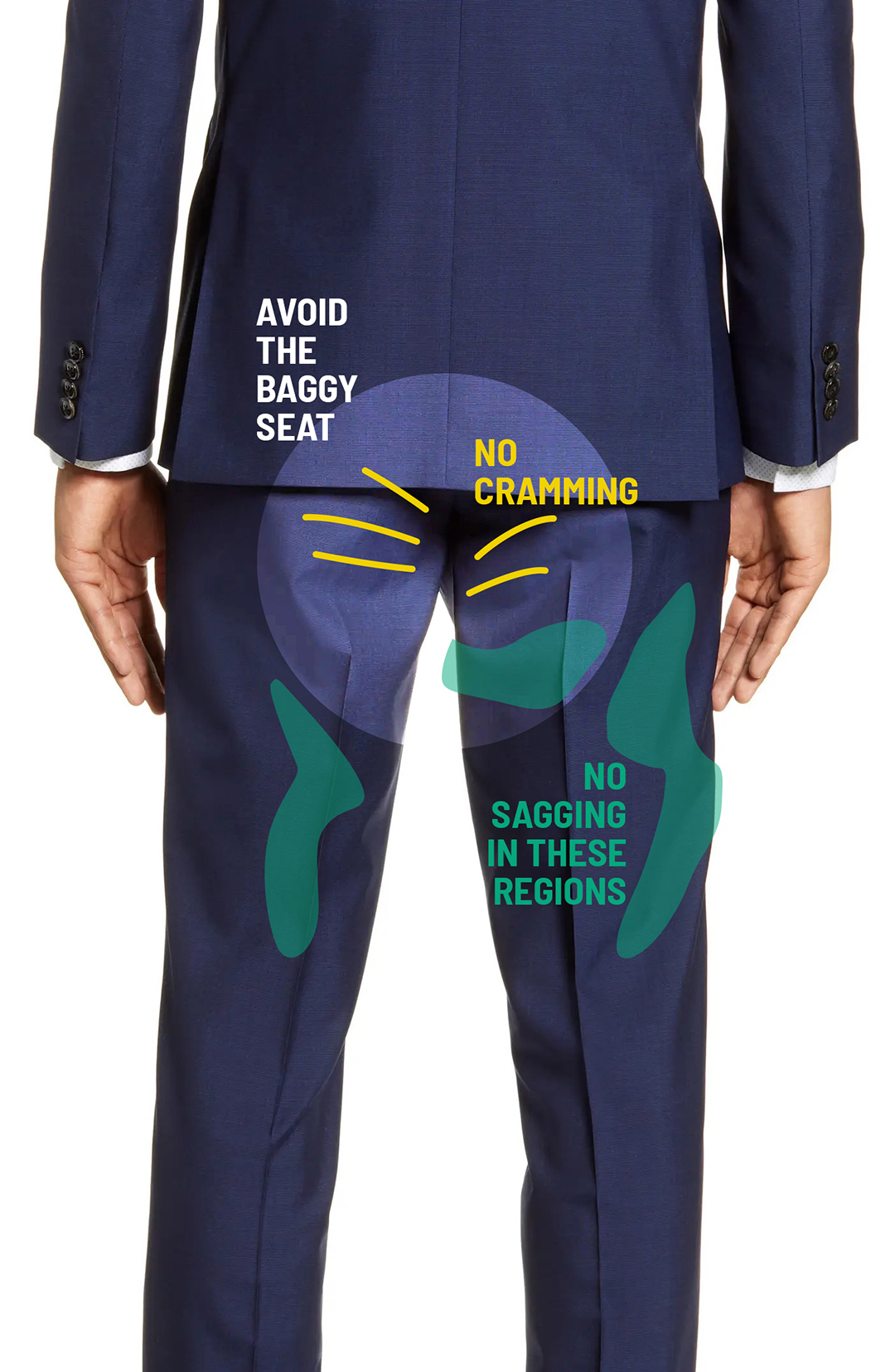 Wearing a belt is not recommended with a three-piece suit as it can show under the vest or bulge it up.
Depending on the height and personal preference, you can go for the full-break or shorter pants length.
The Right Fit for the Vest
The vest has to fit perfectly, as you won't always wear your suit jacket with it.
For starters, make sure that the vest conceals the pant's waistband.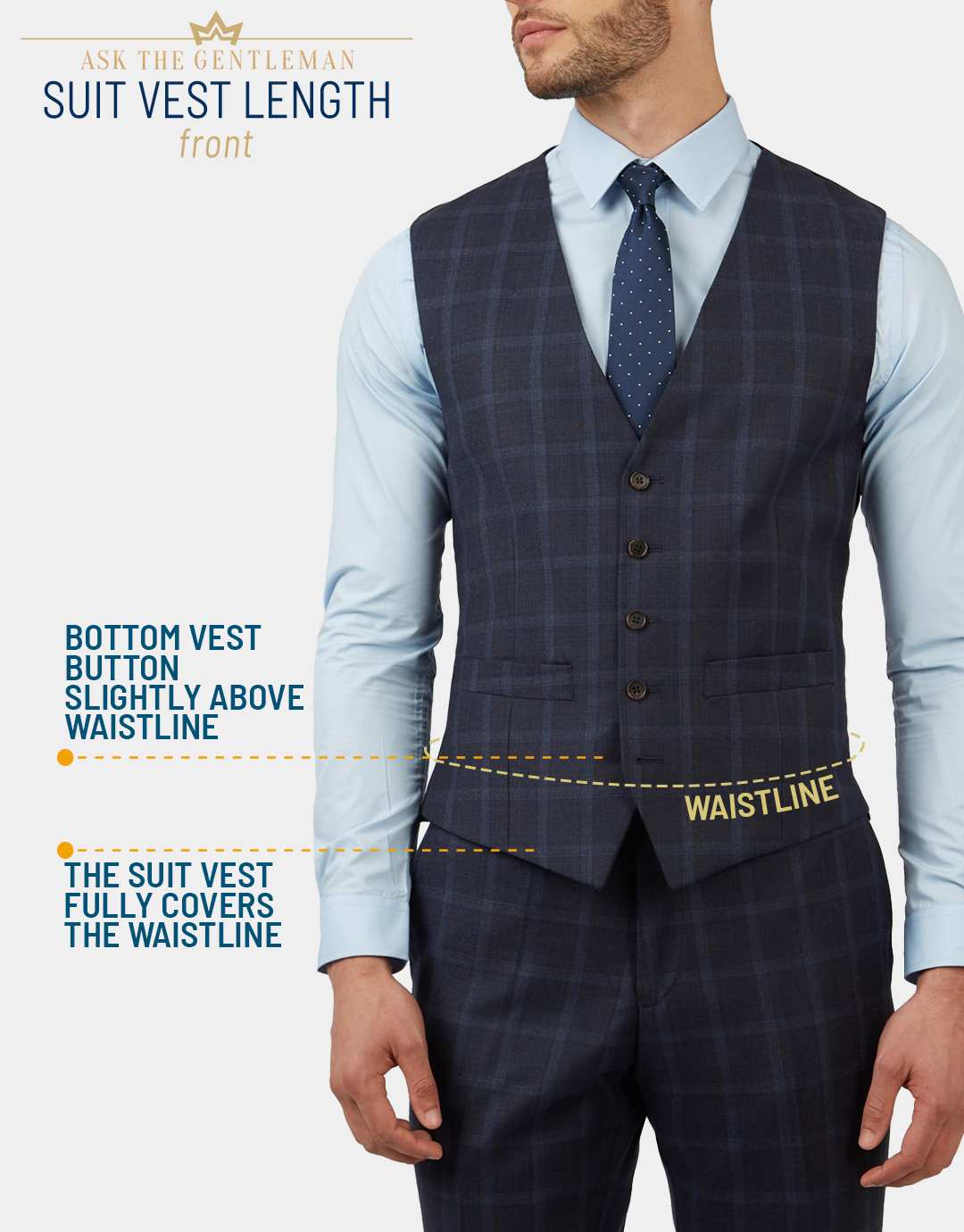 When you have buttoned up the jacket, the top part of the vest must be visible by an inch or so.
More importantly, the shirt collar should not obscure the V of the vest.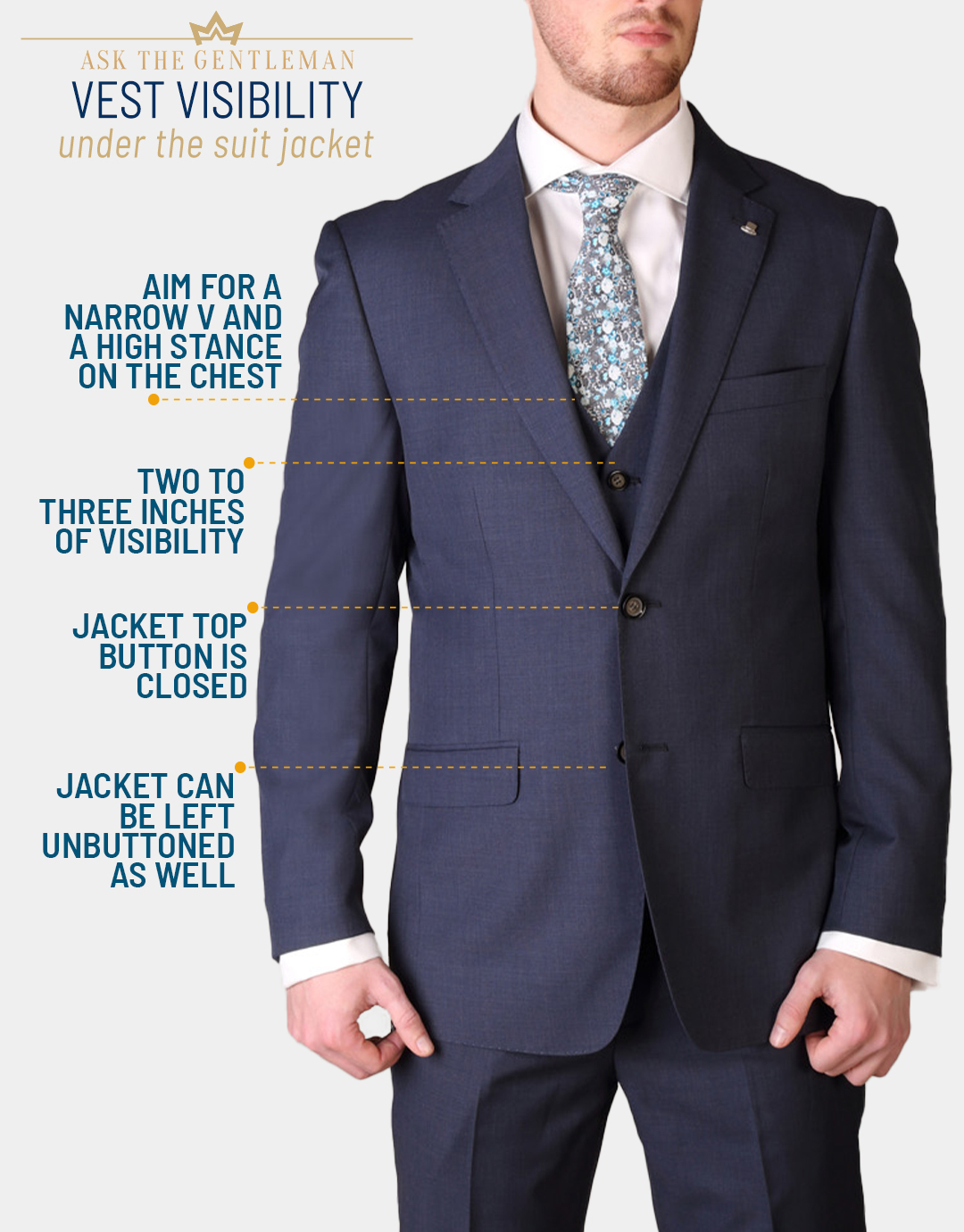 Apart from keeping the bottom button of the vest undone, the vest is also supposed to be narrow from the waist area.
Lastly, the shoulders should like flat on your body and end at your shoulder line to ensure the vest feels comfortable while wearing it.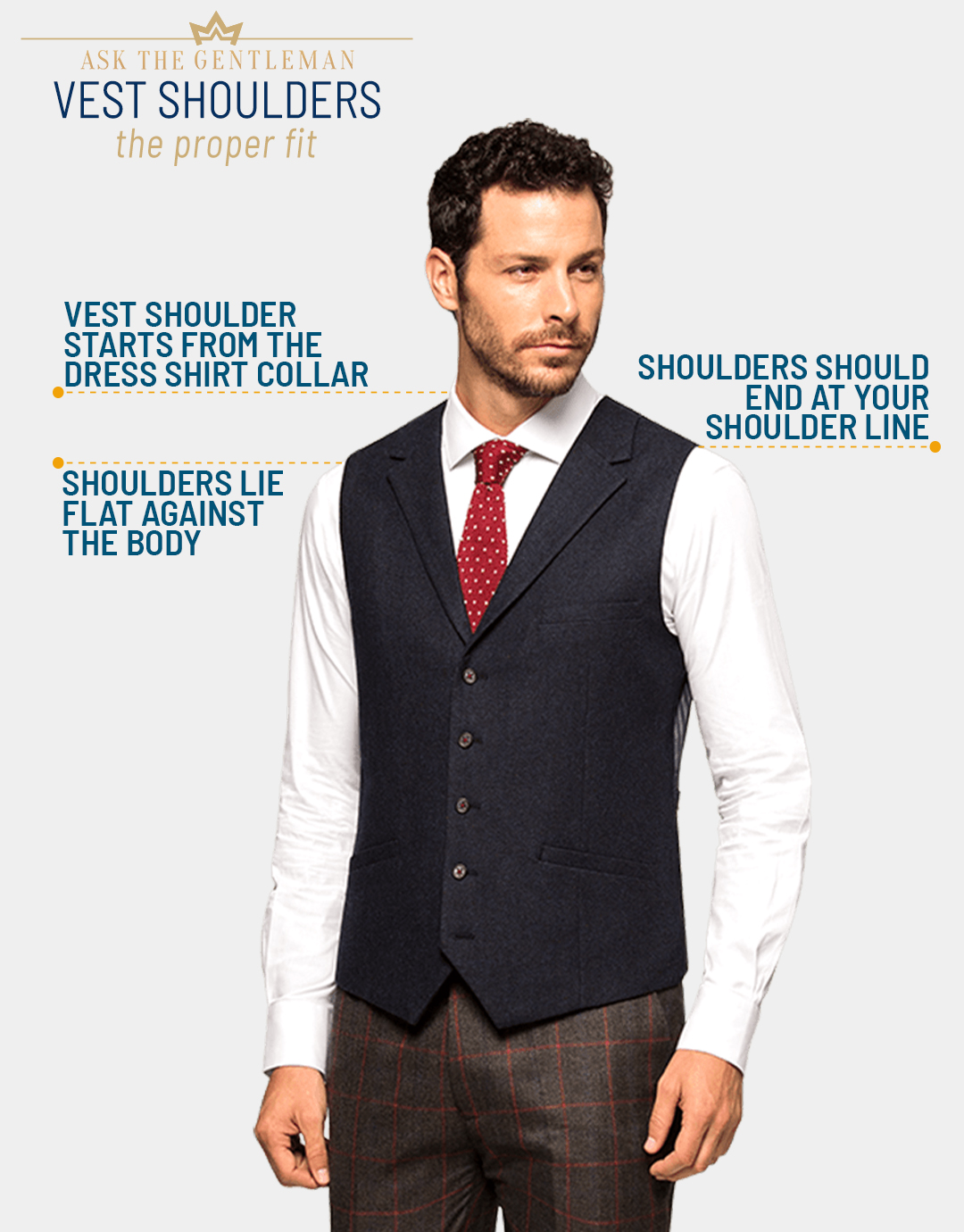 But if you follow all the rules mentioned earlier, comfort won't be an issue.
When Can You Wear a Three-Piece Suit?
Three-piece suits offer a much smarter and sleeker look than a two-piece suit.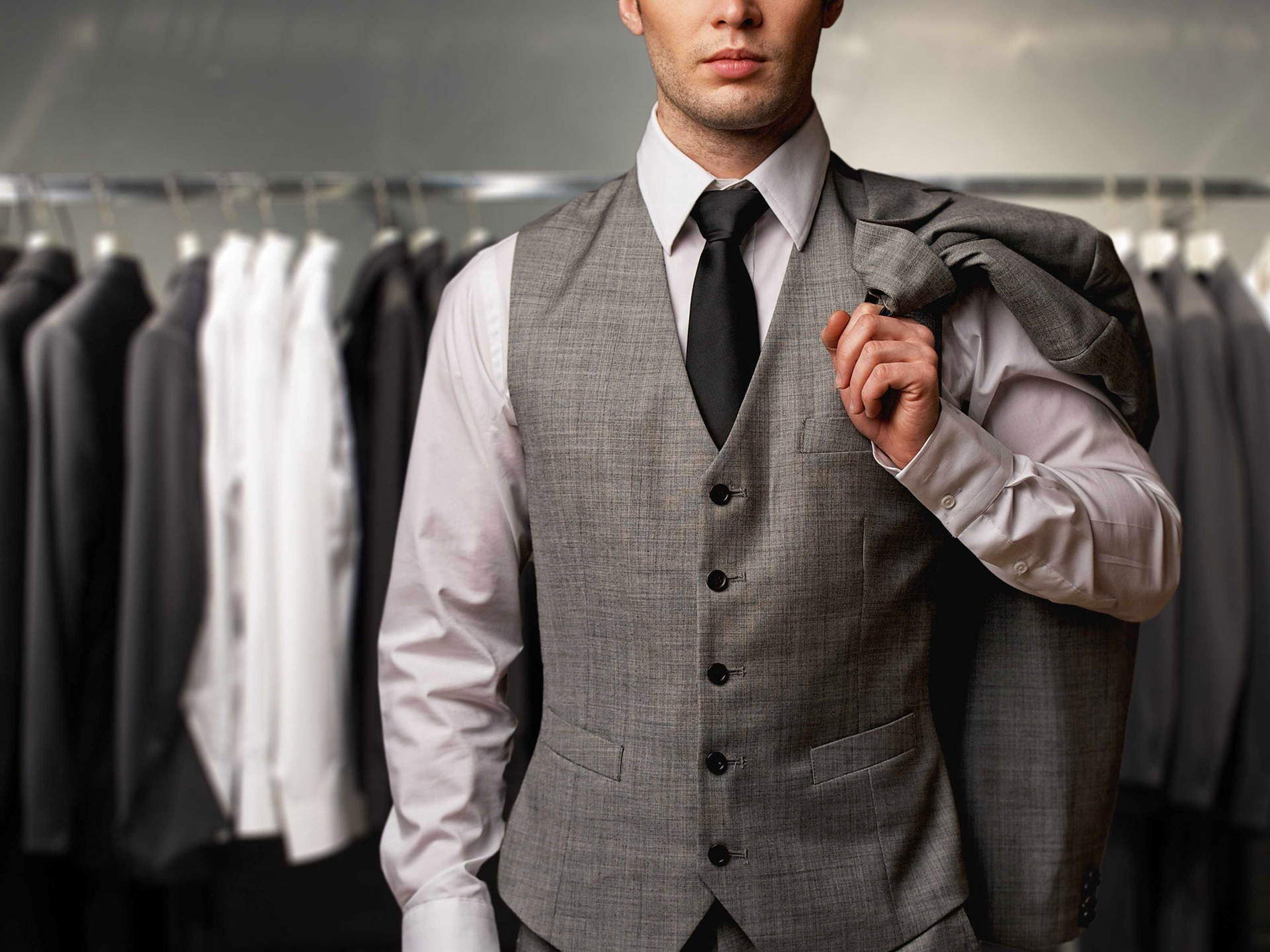 However, you can still choose to wear a three-piece on several occasions.
For example, they are great for formal garden parties or weddings. In fact, there are no formal dress code limits to wearing a three-piece suit.
What's more important than the venue or occasion is the color.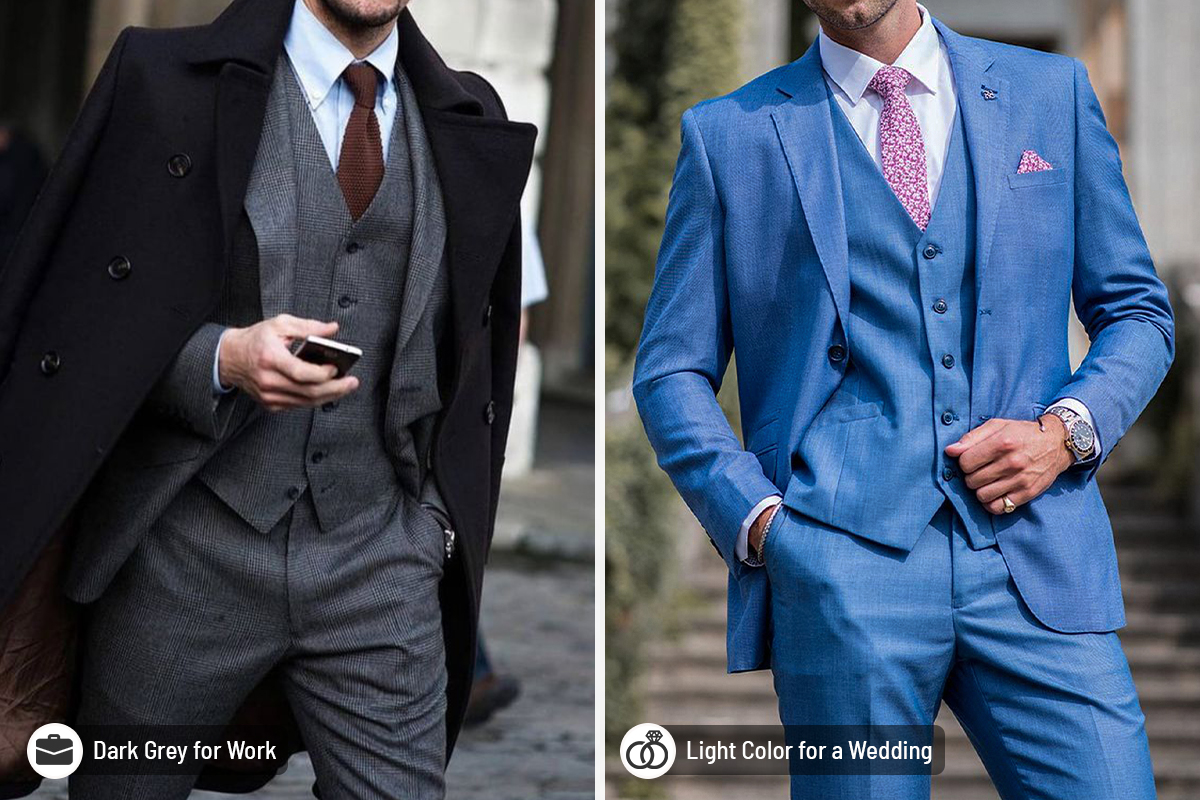 For instance, dark-colored vests, including navy and black, are for the office.
Keeping a three-piece suit neutral is vital if you wear it to work. So tone down on fancy with the accessories.
On the other hand, light colors could be worn at weddings or other celebratory events.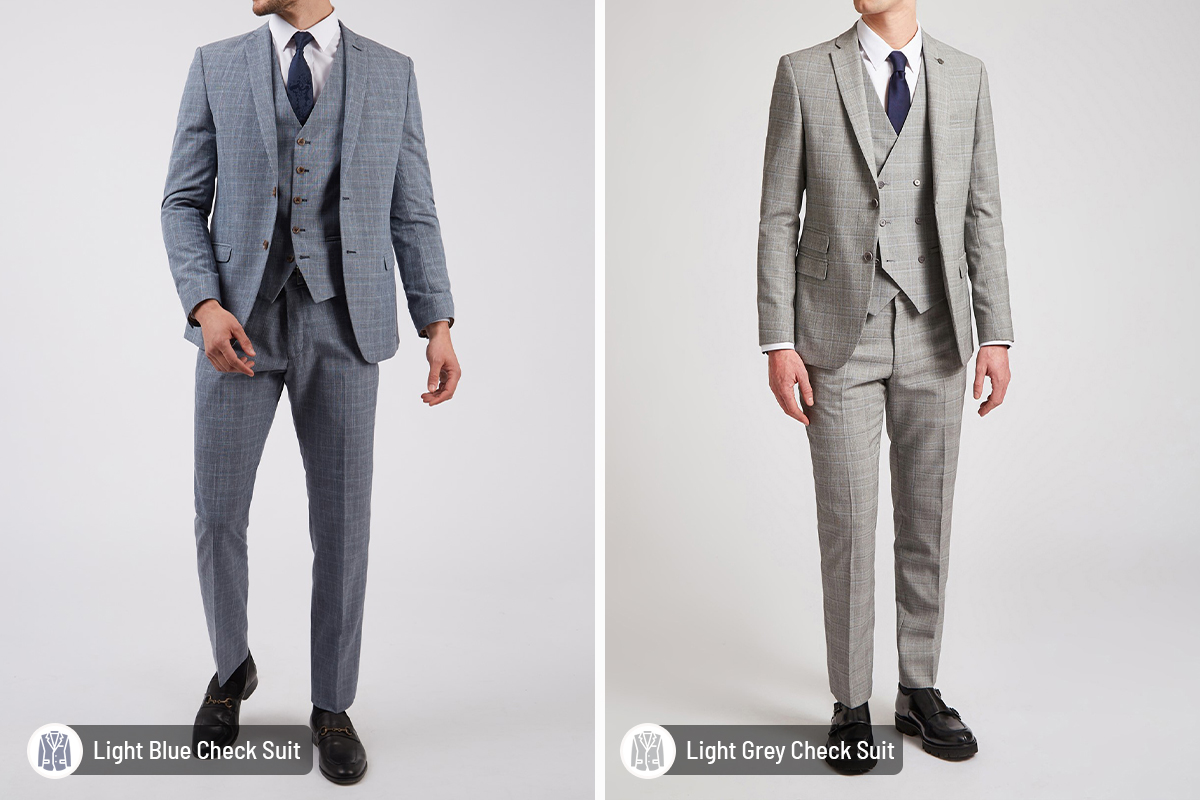 If you wish to bring the formality down a notch, you can play with patterns, fabrics, and colors.
A patterned three-piece suit with lighter colors can be worn at semi-formal events.
Don't overdo the tie or pocket square, and don't wear a three-piece suit every day.
Best Colors for a Three-Piece Suit
While you can get a customized three-piece suit in any color, some standard colors look sleek, sophisticated, and formal.
There are no limitations, as you can even experiment with different color combinations.
However, the top in my list, and almost every suit enthusiast's list, are navy, dark grey, blue, and black.
White could have made it as well, but anyone hardly wears white today.
Navy
A navy three-piece suit is an excellent option, especially if it's your first three-piece suit.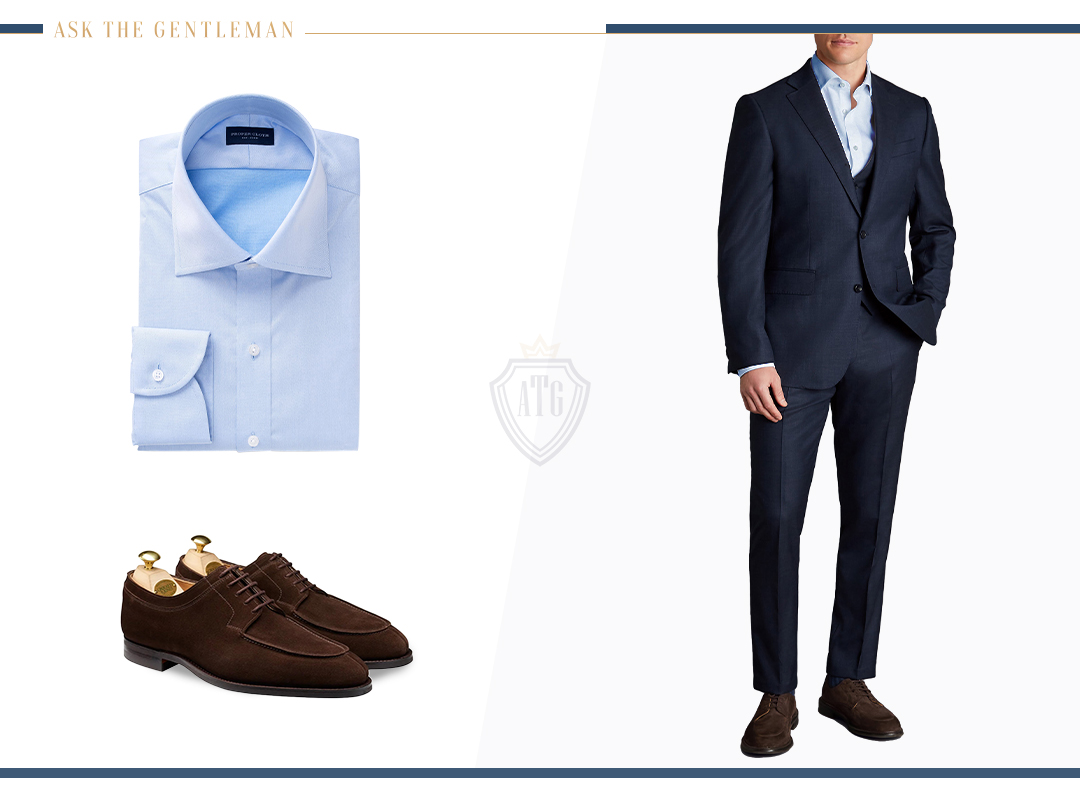 It is quite a classic yet versatile color that appears flattering, innovative, and clean on all skin tones.
You can go for a wide combination of a shirt and tie with a navy suit.
However, I recommend a classic white dress shirt paired with a burgundy tie.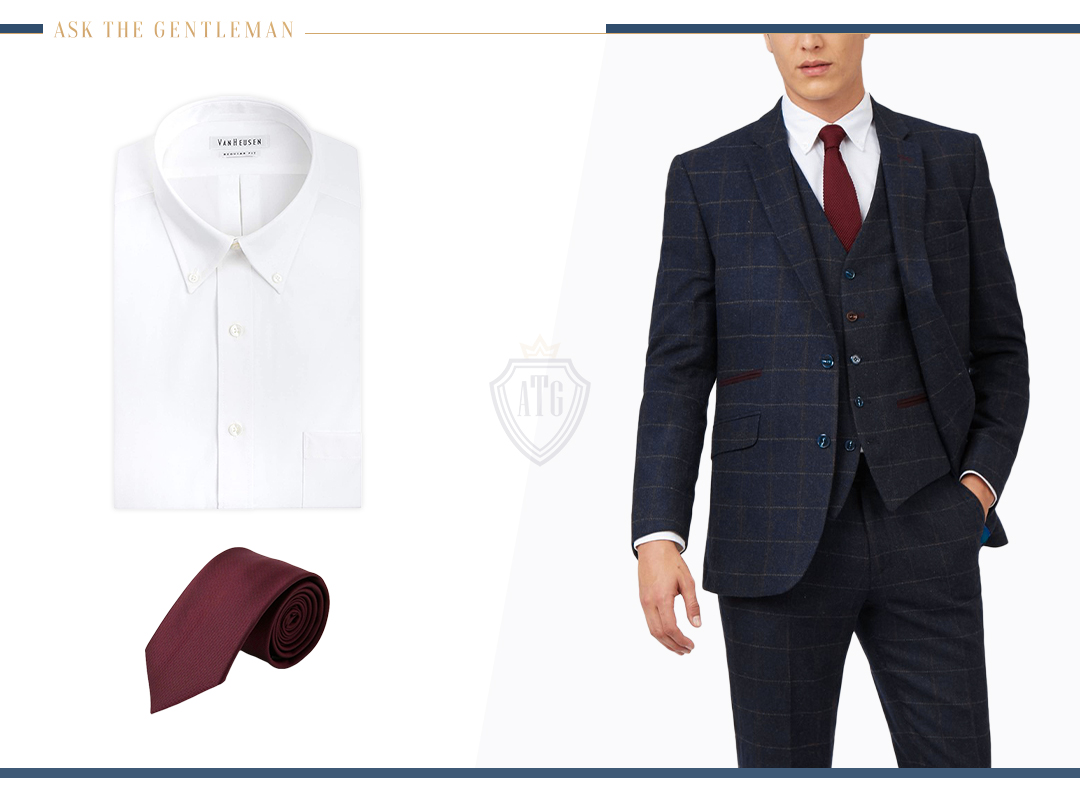 A plain navy shade works best for formal wear at business events.
You can add contrast stripes or bold checks to the navy for less conservative settings.
Finally, you can pair it with a brown or black pair of shoes and a black belt.
Dark Grey
A dark charcoal grey three-piece suit is another great option since it is as versatile as navy.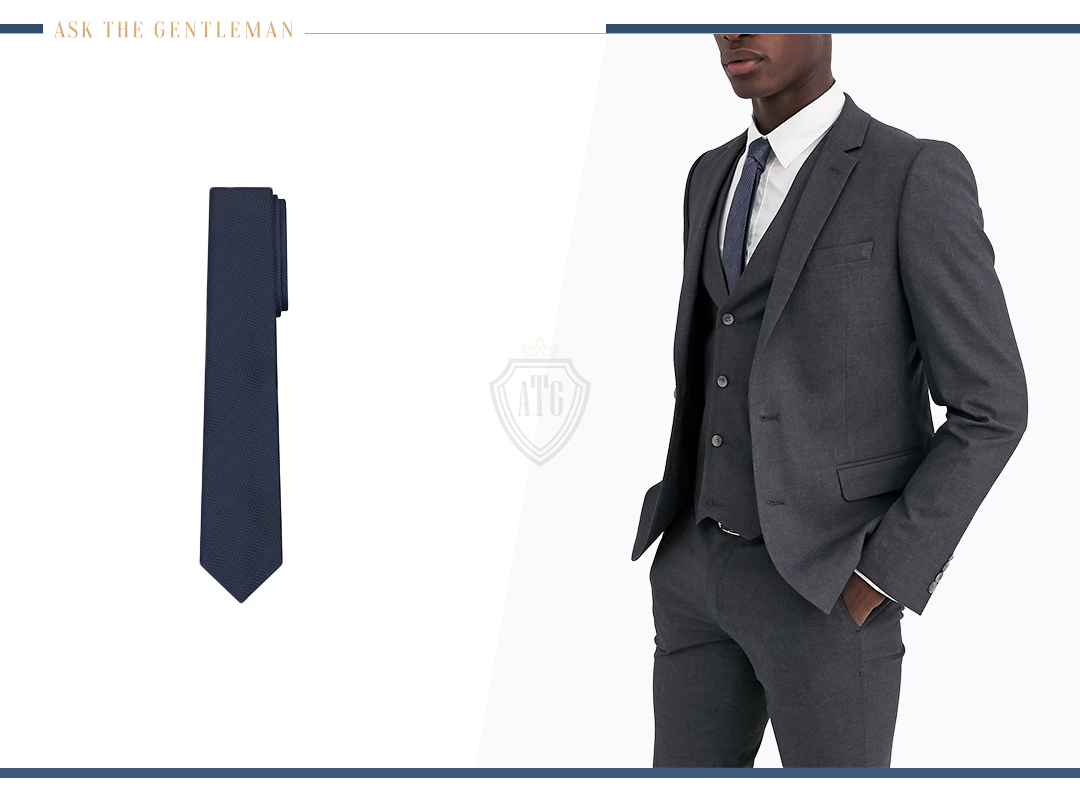 More importantly, dark grey also goes well with most skin tones.
The whole purpose of continuity of a three-piece suit is fulfilled as it blends in from the jacket to the vest to the trousers.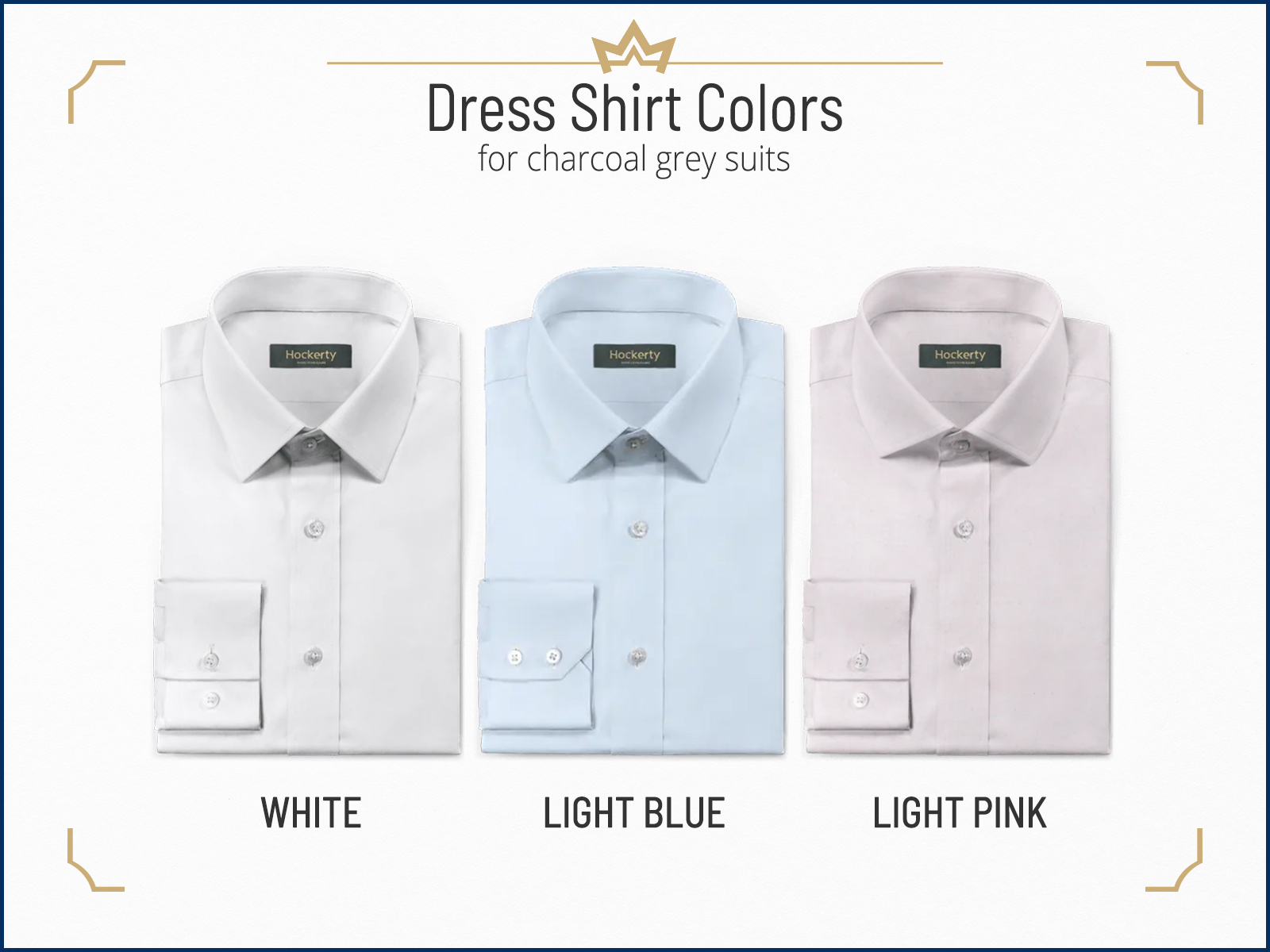 A classic white dress shirt is perfect for formal settings. More relaxed settings can be attended by wearing light blue or pink shirts.
Brown or black are excellent choices for the shoes and belt, as they both go well with dark grey.
Finally, nothing beats a dark grey or a black tie on a charcoal three-piece suit.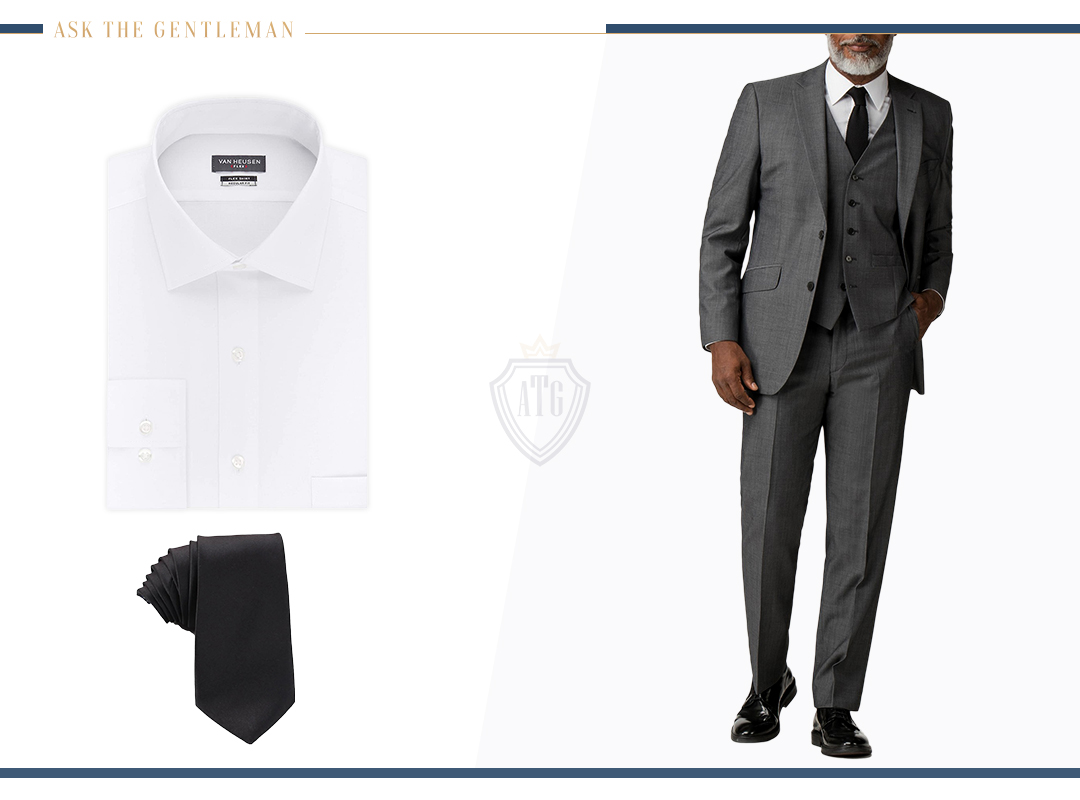 However, the real deal comes down to the patterns, as a charcoal grey suit with subtle patterns can look stylish.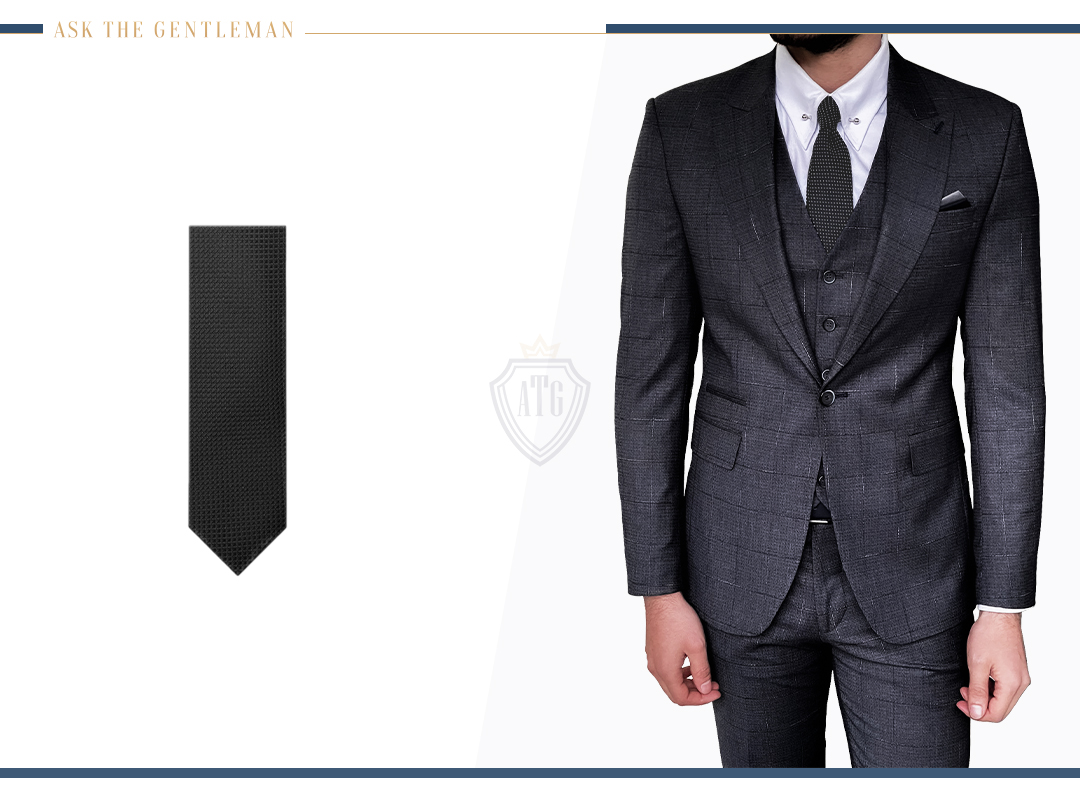 Make sure you are not wearing too bold patterns for business or other formal settings.
Keep the patterns for less formal settings, such as daytime weddings.
Blue
A three-piece suit with a blue hue adds a little bit of freshness and fun to your style.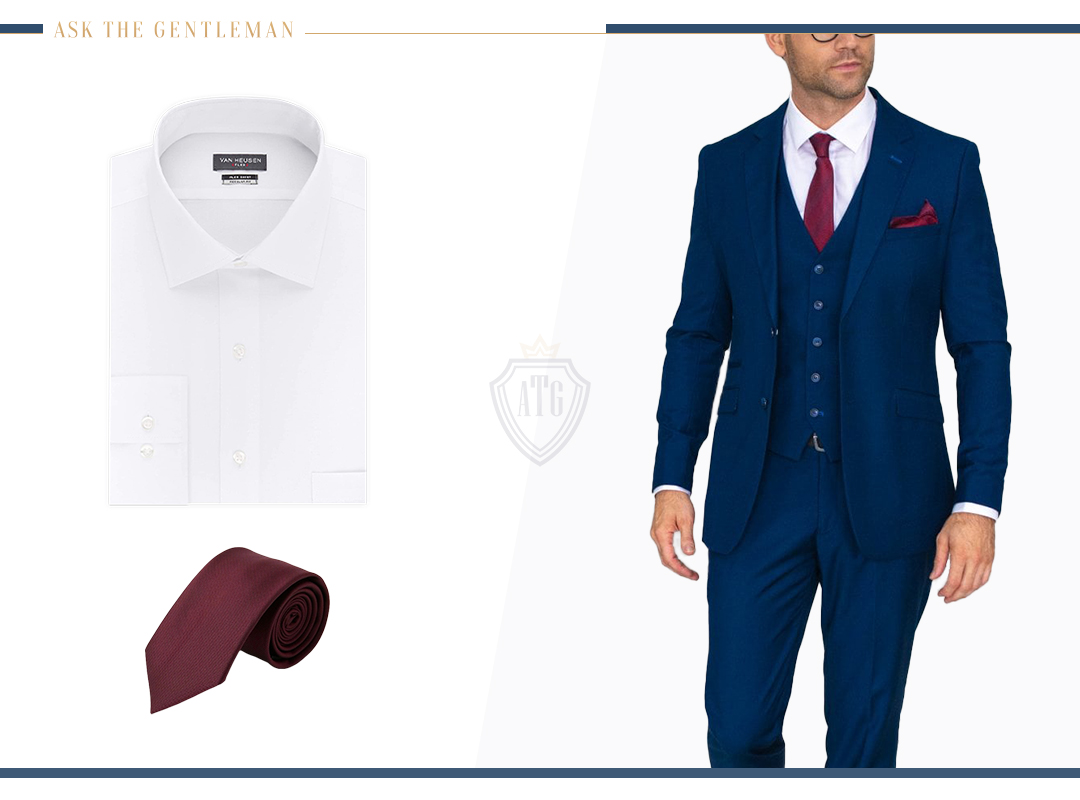 If you want to nail the look, choose the right shade of blue that goes with your skin tone.
More importantly, consider the time of the day to wear the suit before choosing the color.
A lighter shade works best for day events and warmer seasons.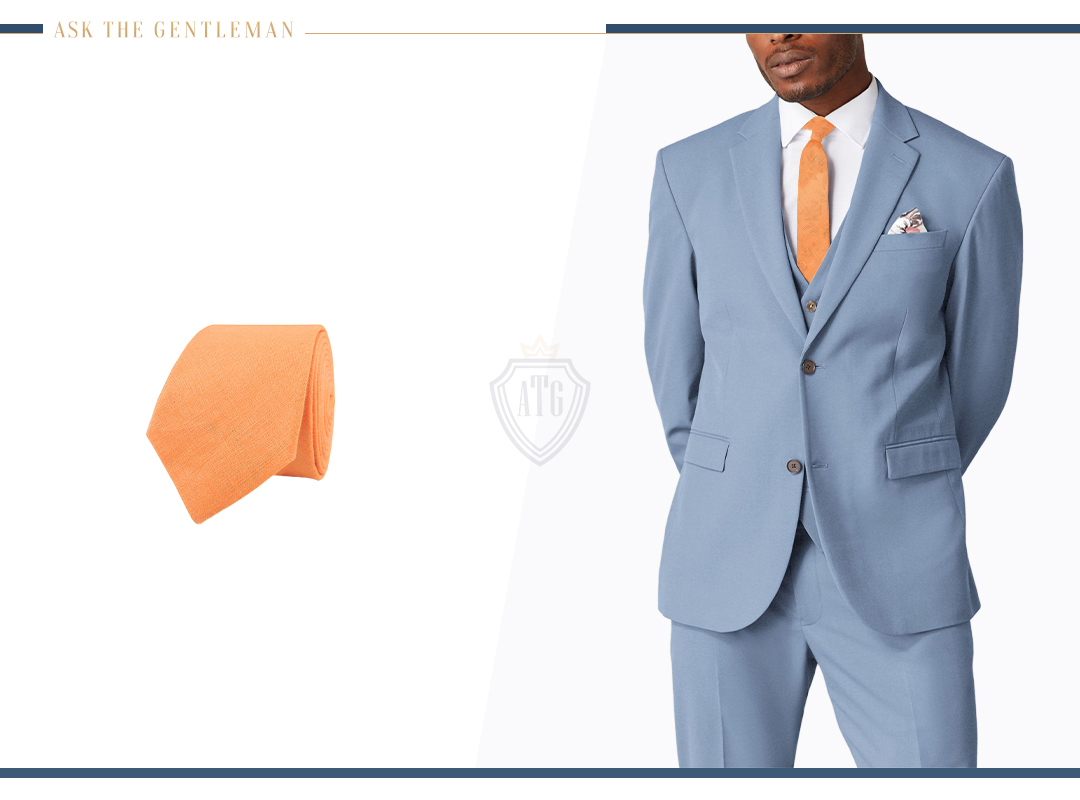 Darker shades are best for night events during colder seasons.
To keep up with the contemporary look of a blue suit, pair it with more casual dress shoes such as loafers.
You can also add an additional touch of laid-back to the look with a tie and pocket square combo.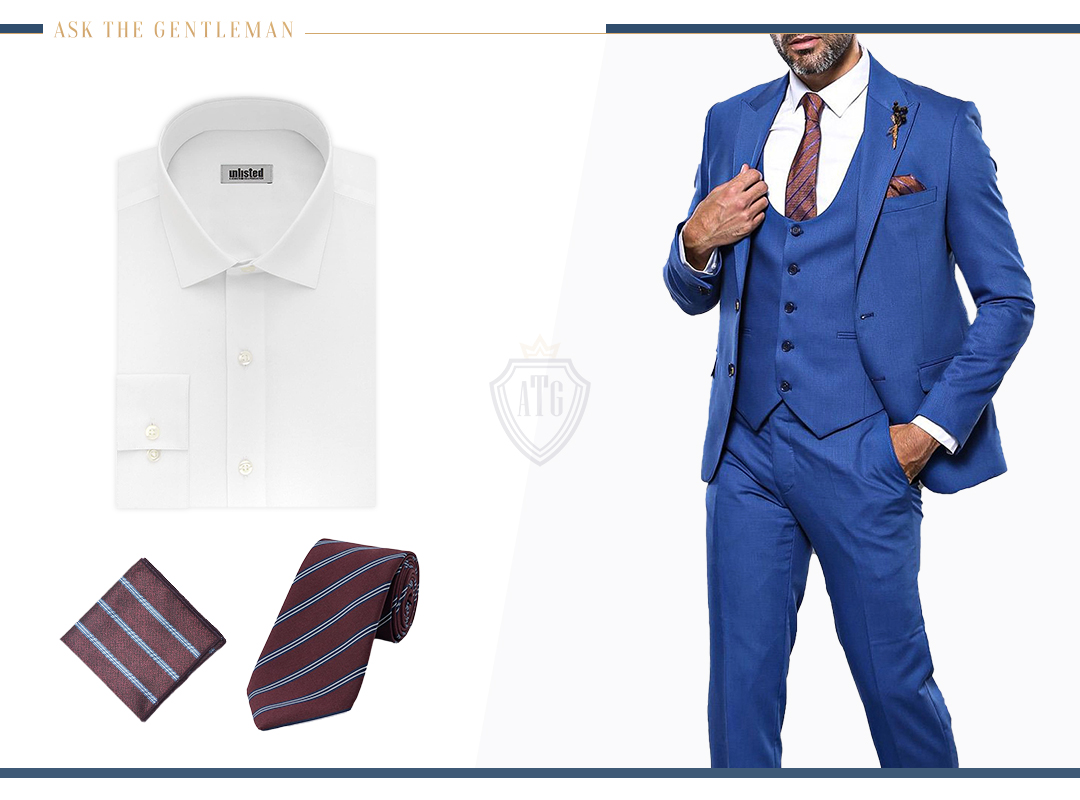 Usually, the typical white dress shirt is preferred, but you can go light blue or pink depending on the shade and type of event.
Black
Despite the popularity of navy and grey suits, nothing can beat a black three-piece suit's elegant and polished look.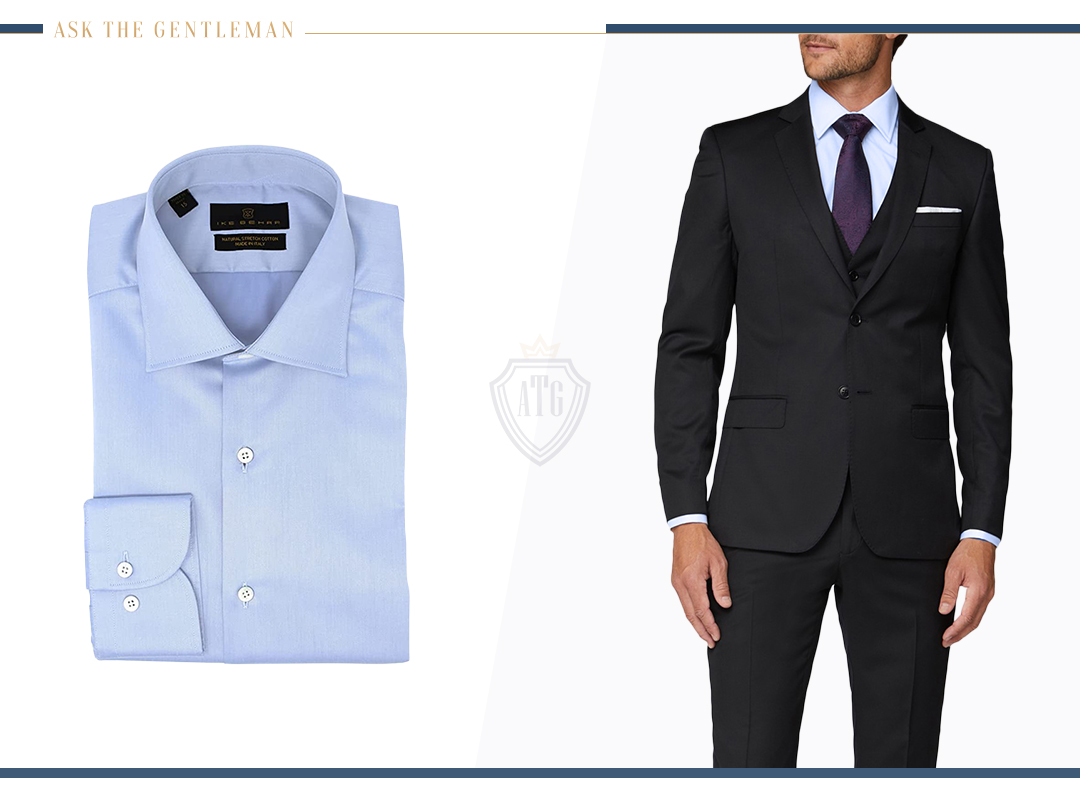 People wear black suits for fully formal events such as black-tie events, charity dinners, weddings, and award nights.
So if the event is that formal, it's best to keep everything sleek, simple, and elegant.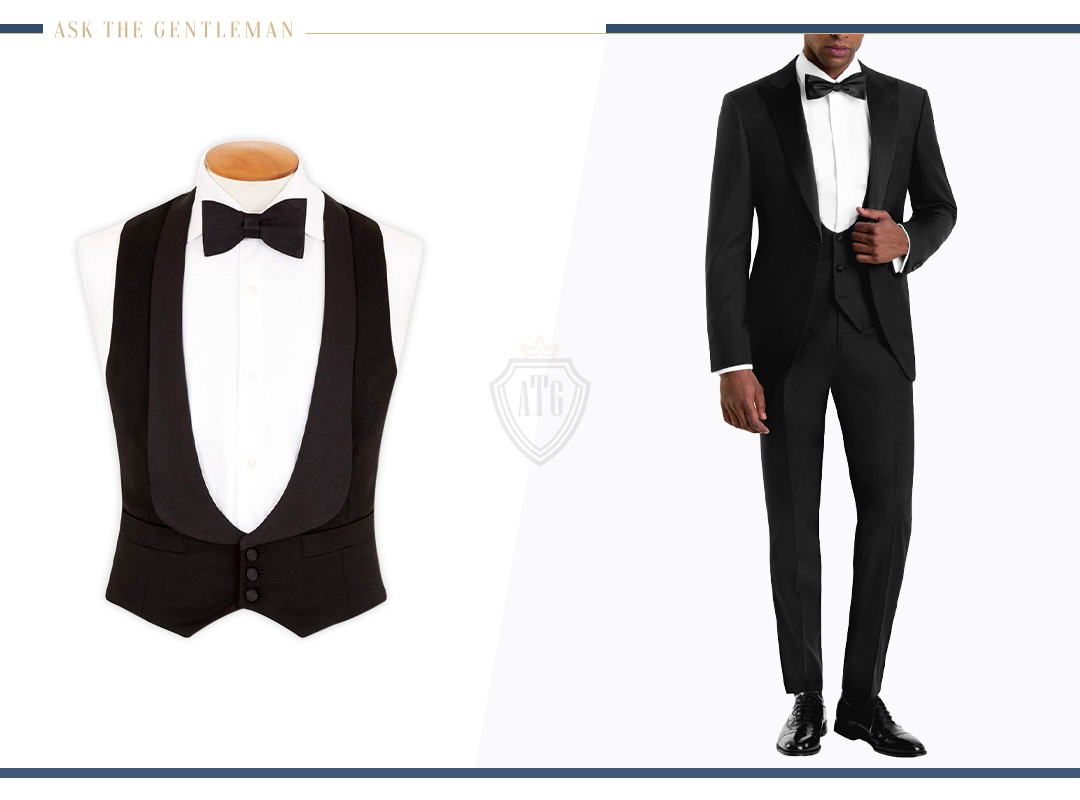 It's also an opportunity to add bold tie colors when wearing a black three-piece suit with a white shirt.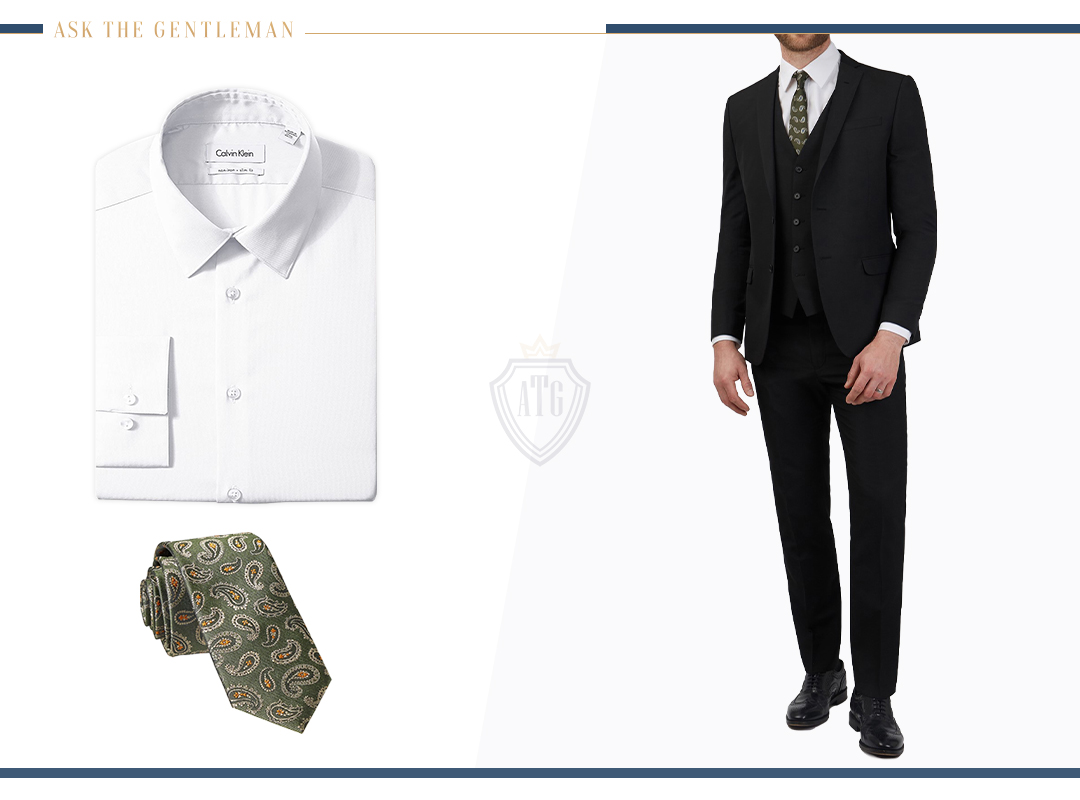 Some more vibrant tie colors will be green, brown, or even orange.
More importantly, the suit's black vest must be the same as the suit jacket and trousers for a coordinated and stylish appearance.
Three-Piece Suit Vest Rules
Vests can become a versatile addition to your wardrobe.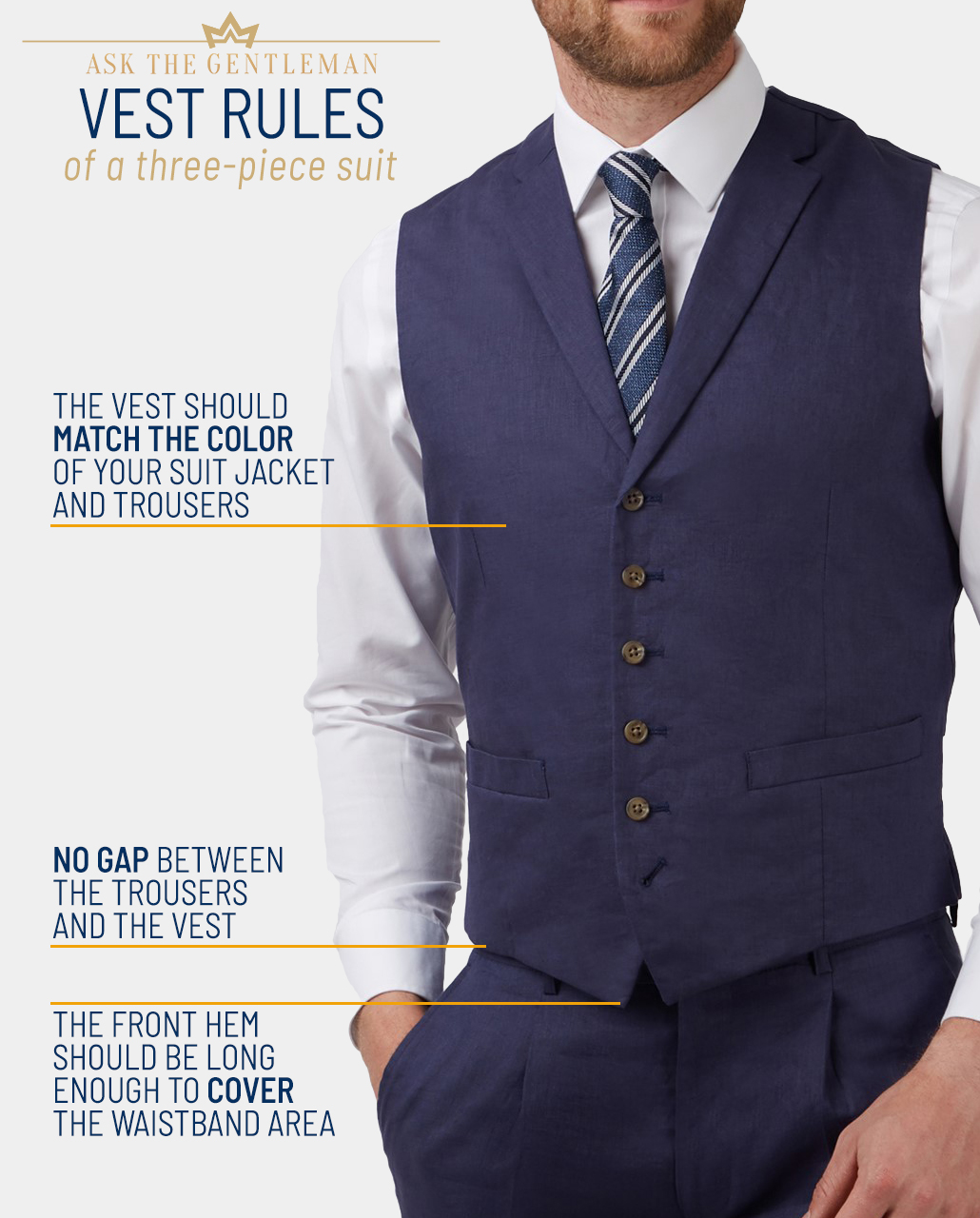 Wearing a vest can look stylish and dapper. But there are some simple rules you should follow.
The first important thing to keep in mind is color coordination. Make sure it matches the color of the suit jacket and trousers.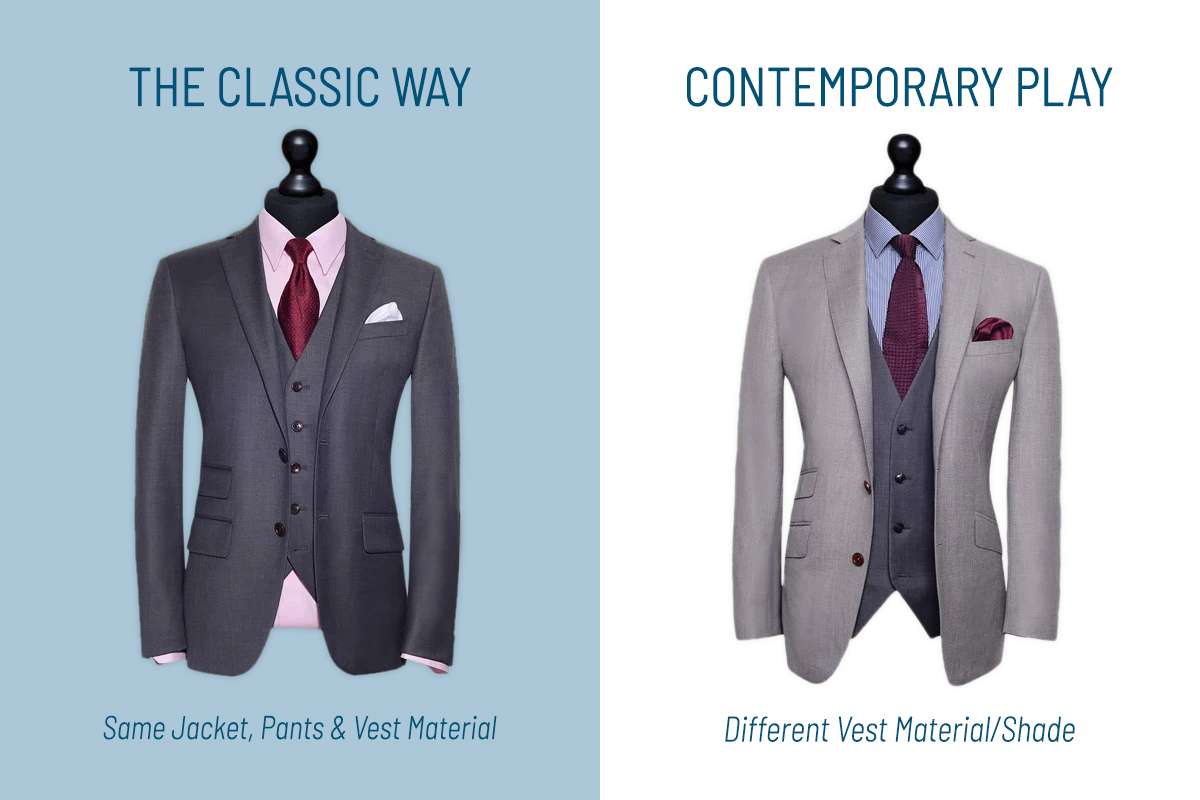 More importantly, the front hem should be long enough to cover the waistband area, including the belt, if you wear any.
Another rule to keep in mind is that there should be no gap between the trousers and the vest.
This also means that the shirt shouldn't be visible from under the vest to keep things in harmony.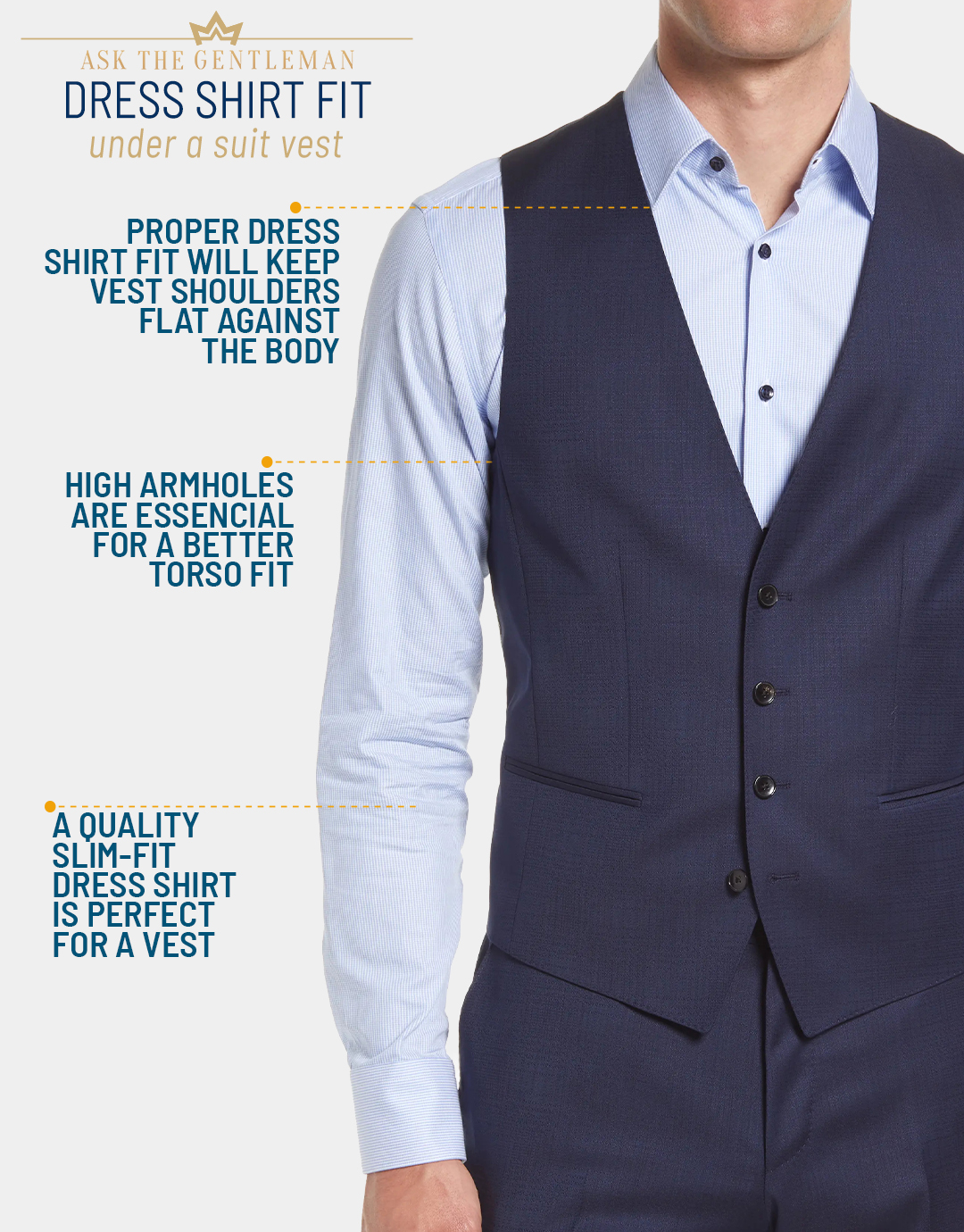 It's best to wear a V-neck vest made from the same material as the suit jacket and trousers.
You can also choose to differentiate the color or add patterns.
But never overdo it…
Always keep it in harmony with the other two components of a three-piece suit.
How to Match the Three-Piece Suit with Shirt and Tie
A three-piece suit is meant to make you look sleeker, elegant, and smart.
The whole look is carried by a vest, jacket, and trousers.
As a result, the shirt and tie are additional elements supporting the overall bright look.
Therefore, you cannot go too bold with the tie and the shirt.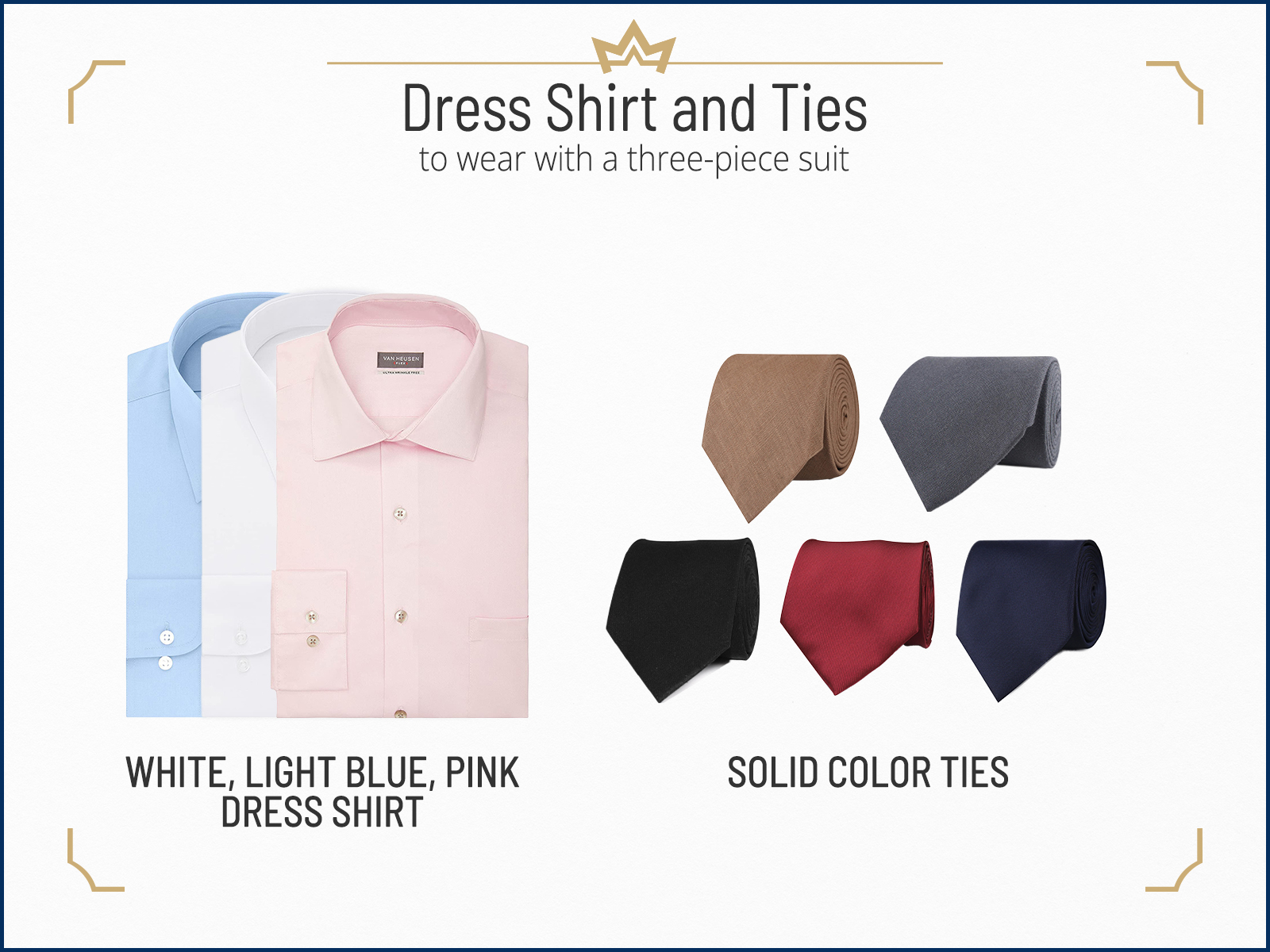 Make sure they are not overwhelming the three-piece. This usually happens when you choose bright colors for the shirt and tie.
It takes away the attention from the sleekness and harmony of the three-piece suit.
In my opinion, the classic white dress shirt is a perfect choice. However, light blue and pink are no less.
It all comes down to color combinations and contrasts, so choose wisely.
Accessories You Can Wear with Three-Piece Suits
Well, there are no accessories made explicitly for a three-piece suit.
All you wear with a two-piece suit can also be worn with a three-piece.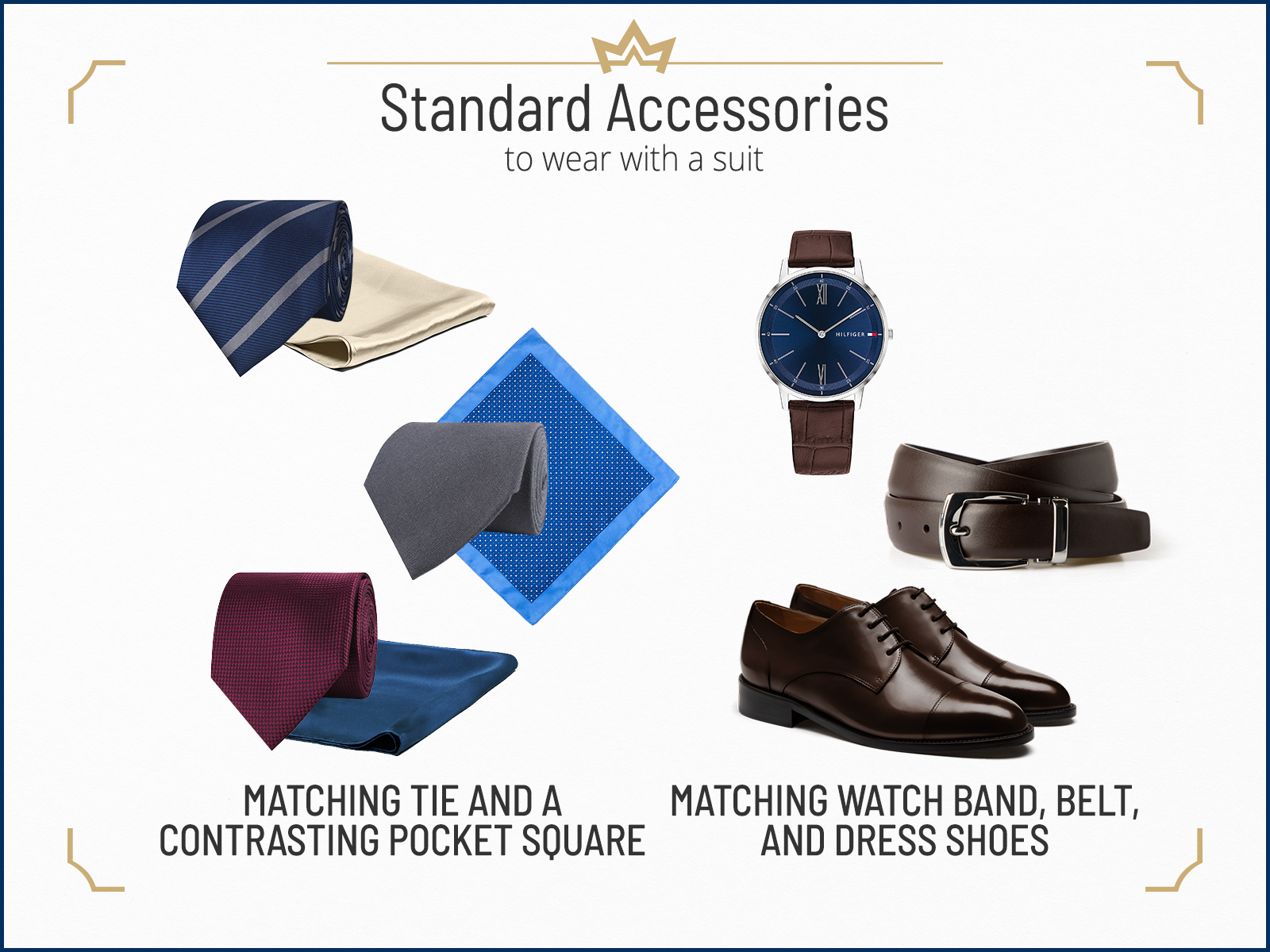 However, keep in mind that a three-piece suit is already a formal yet bold look.
As a result, adding too many accessories can overdo the look.
Keep things simple with a tie, pocket square, premium buttons, a belt, and a nice pair of shoes.
A nice and sleek watch could take the whole look up a notch.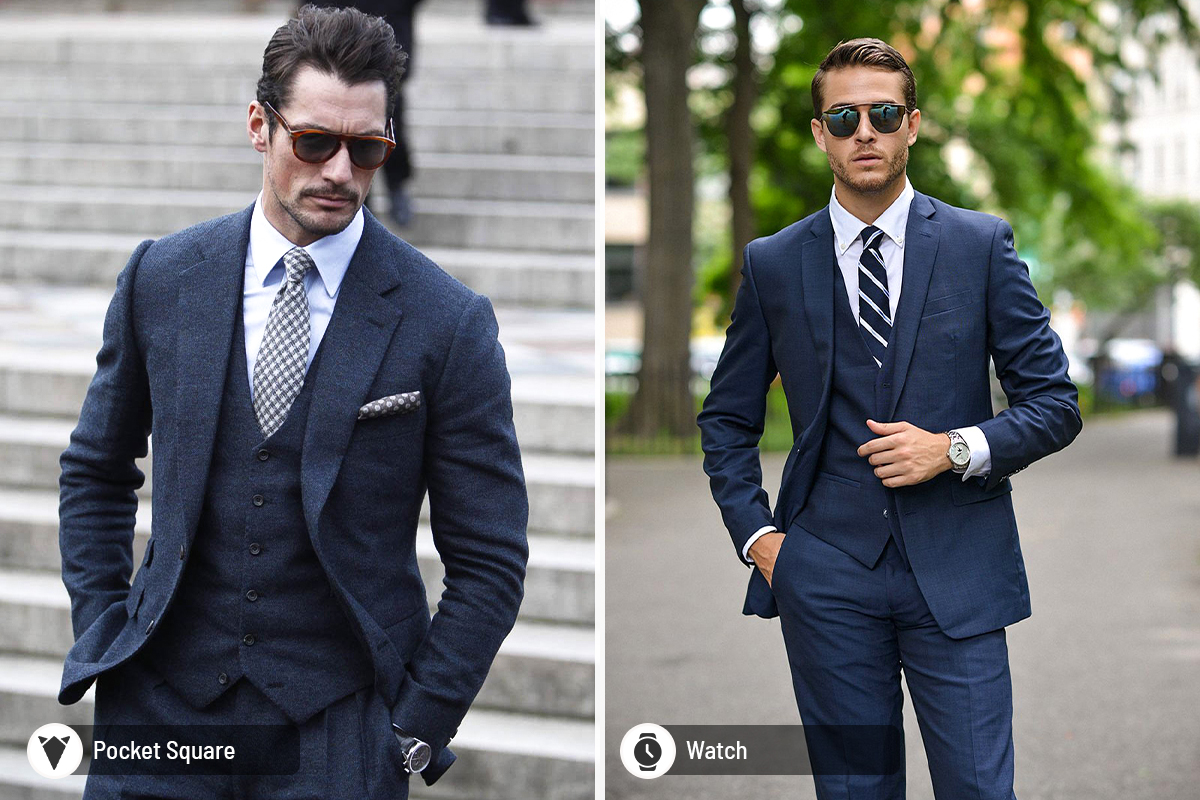 More importantly, if you decide not to wear a belt, you can always add suspenders to keep things in place.
For an additional touch of luxury, cufflinks are the way to go.
However, try to keep everything as minimal and toned down as possible and let the three pieces do their work!