Most people struggle with styling a brown suit.
That's probably because some consider brown out of fashion, but little do people know about the potential this color holds.
But worry not!
I am here to tell you everything about a brown suit and how to rock the look for different occasions.
Fitting the Brown Suit: The Basics
Brown suits seem relaxing and pragmatic, often associated with less formal settings.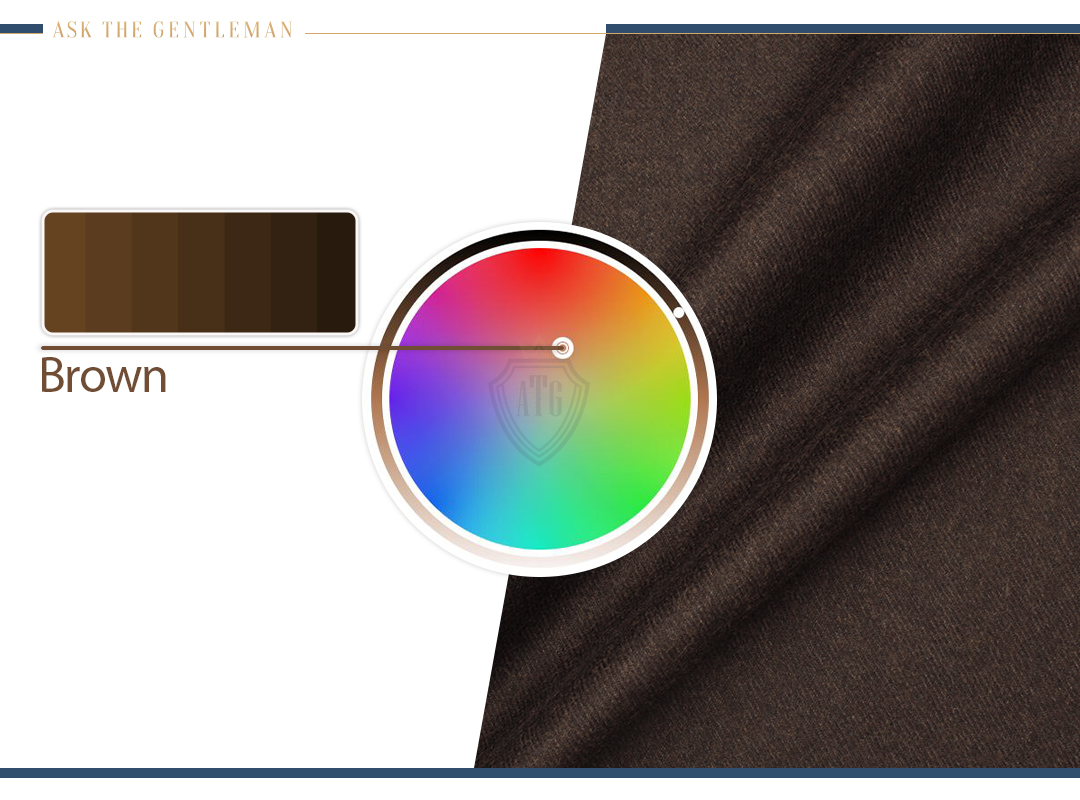 Start by picking a suit that doesn't make you seem too thin or exposed.
Also, keep the basics in mind, such as having the right fit and getting the right cut for your body type.
Focus on achieving the perfect golden ratio between the shoulders and waist.
Remember that a good-fitting suit can make you look smart and sleek with minimal effort.
Best Shirt Colors & Ties for a Brown Suit
The brown suit can easily replace other suit colors in your wardrobe.
But while it can be paired with a wide range of shirt and tie combinations, a few choices work best.
It's best to stick to classic shirt colors like white, light blue, or light pink shirt.
There is more versatility with tie colors. But how to find the color combinations that work best?
Brown Suit & White Shirt
Few shirts can pair with a brown suit as easily as a white shirt.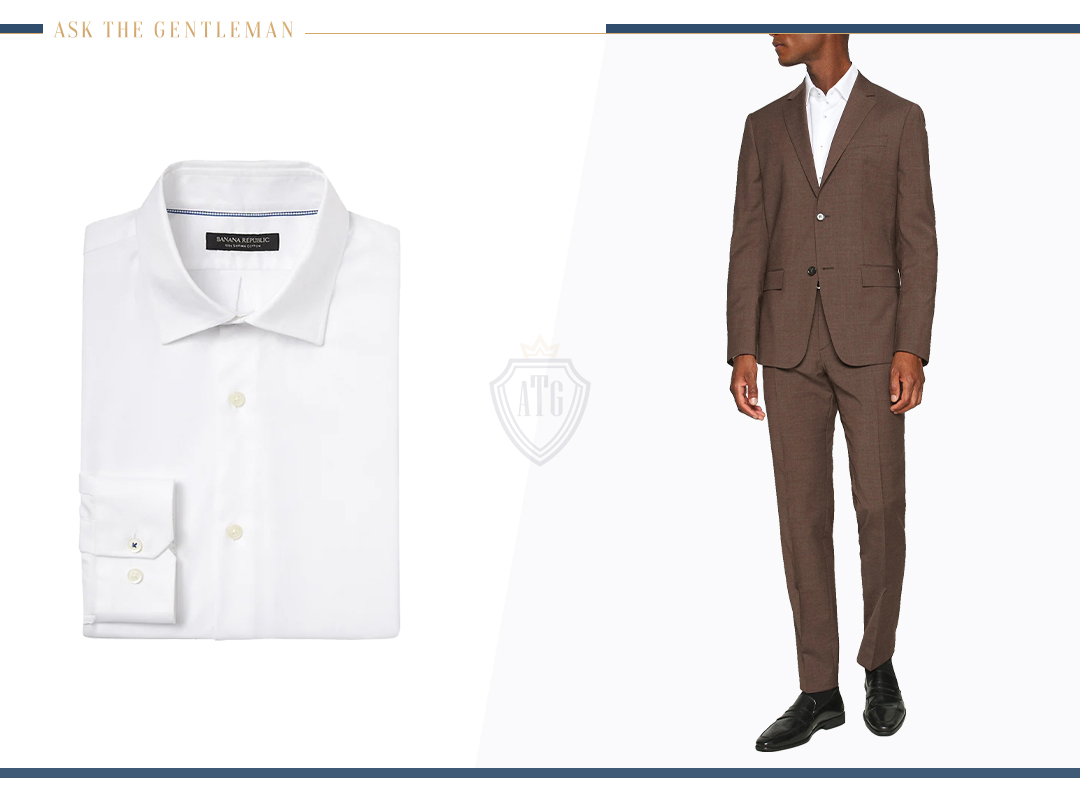 Both white and brown are neutral colors that open the floor to experiment with different tie colors.
I would recommend going with dark colors that complement the rest of the outfit.
Your best tie colors include navy, blue, mustard yellow, rust orange, olive green, and burgundy.
My favorite is the burgundy tie, which creates an analogous color scheme look.
On top of it, it adds sophistication and elegance to the brown suit and white shirt.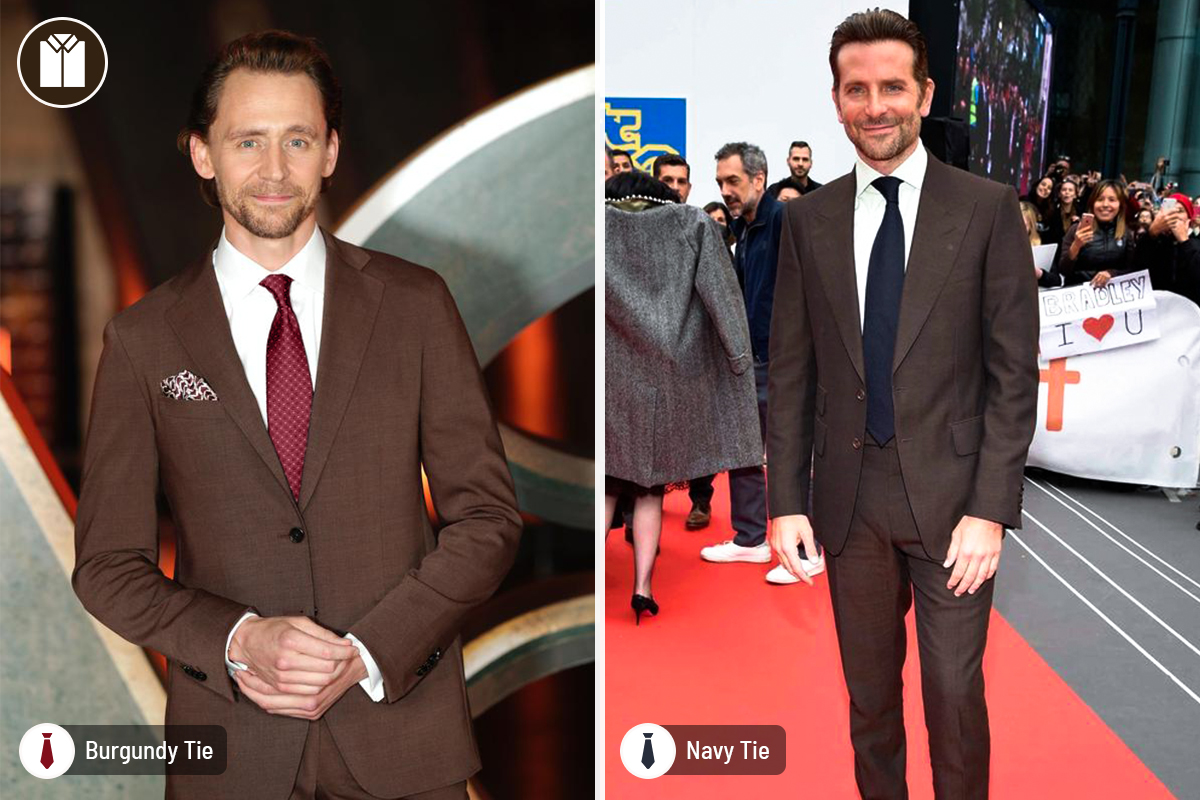 Another great option is the earthy-toned mustard yellow that complements brown well.
While I root for darker tie colors on a white shirt and brown suit, you can also experiment with a light brown tie.
However, this is most suitable for less formal settings such as a daytime cocktail wedding.
Brown Suit & Light Blue Shirt
The best shirt color to wear with brown suits is light blue.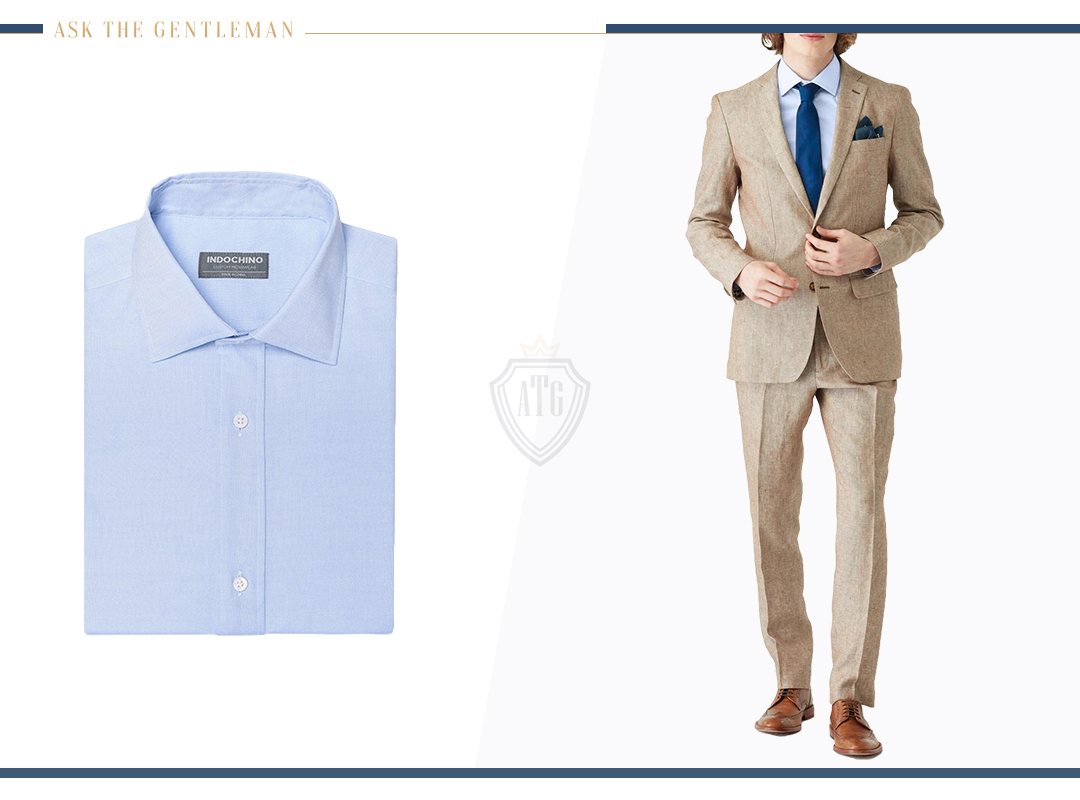 The cooler tones of the light blue shirt complement the earthy tones of brown, providing a soft yet sophisticated look.
If you wish to add a bit of contrast, you can experiment with different warm or cool colors for the tie.
You could complete the outfit by throwing a navy tie for a monochromatic tie-shirt relation, thus creating a cool color look.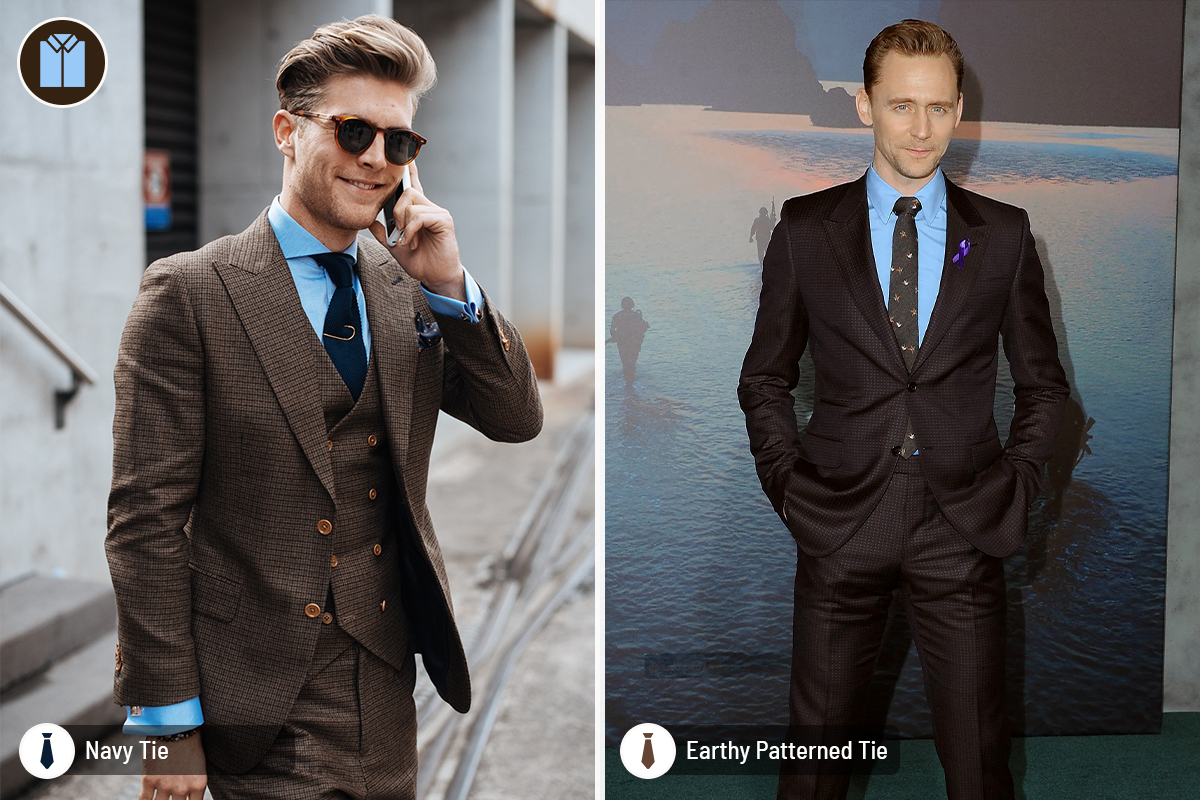 For warm tones, try going for a maroon tie. Stay away from a true red tie because it clashes with the blue shirt and brown suit.
As for other tie options, adding an earth-tone yellow and brown with white stripes works exceptionally well.
You could also try looking for an olive-green tie shade that sits well with the light blue dress shirt.
Brown Suit & Light Pink Shirt
Just like the light blue shirt, a pink shirt looks incredible with a brown suit.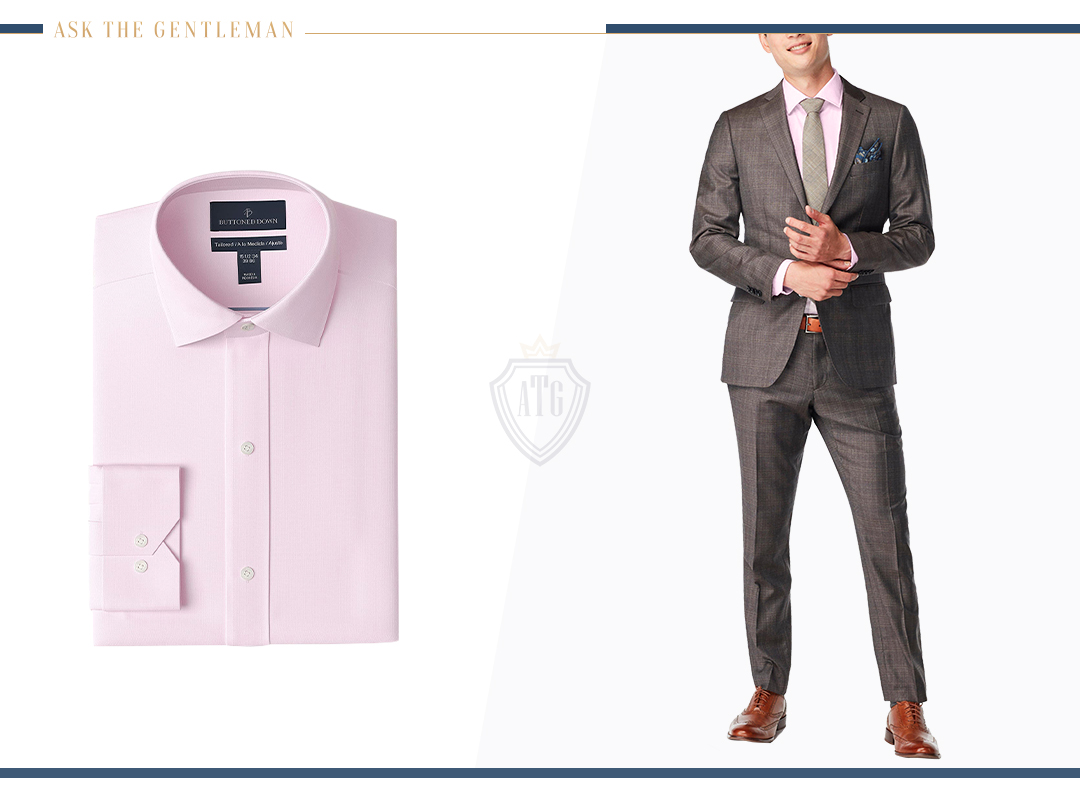 The combination creates a more mature and contemporary look with a touch of softness.
Complement the brown suit and pink shirt with a tie with burgundy hues.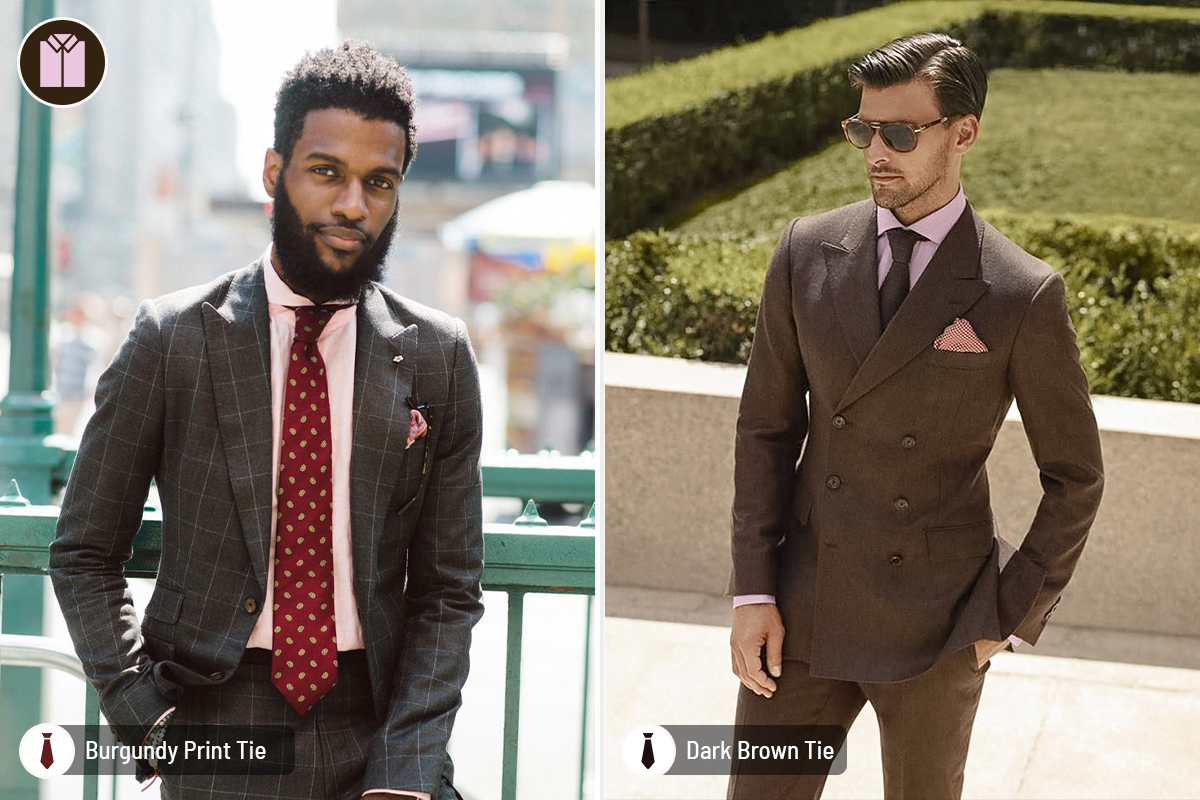 A patterned or solid silk navy tie is another great option to tone down the look, given the high tones of pink.
The contrast looks balanced with the cooler tones of the blue tie and the warmer tones of the pink shirt.
An olive-green tie on a light pink shirt and brown suit color combination makes for a striking look creating a good balance of colors.
However, make sure you get a darker shade of green to counter the warmer tones of the pink shirt with the cooler olive-green tones of the tie.
Other Top Choices when Wearing a Brown Suit
You can also experiment with other options apart from the standard dress shirts.
For instance, if you want a bit more casual look, you can throw in a t-shirt, sweater, or even a patterned shirt.
All three options offer great potential to turn the brown suit into an incredible outfit for casual settings.
Brown Suit & Patterned Shirt
A patterned shirt is a great option to skip wearing the tie.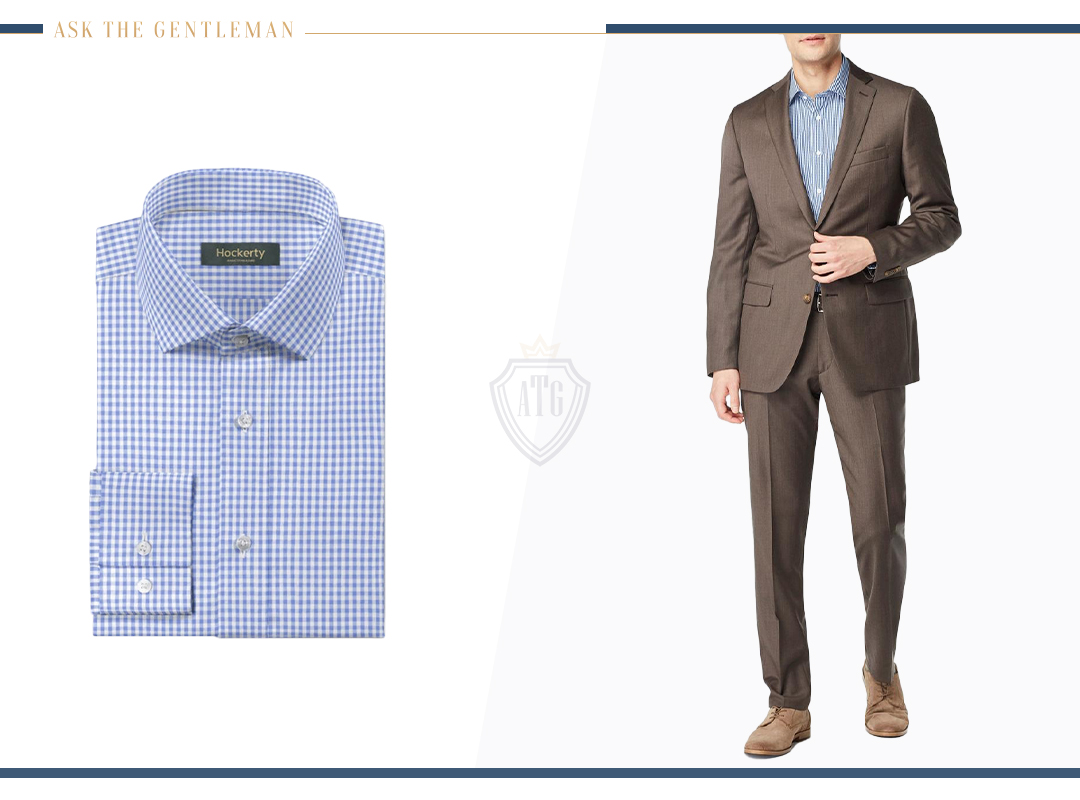 You could either go with gingham or striped patterns.
Try looking for patterns that use contrasting colors, such as purple, red, or even orange, because they all combine well with brown.
A checkered that has blues or greens is another good-looking option.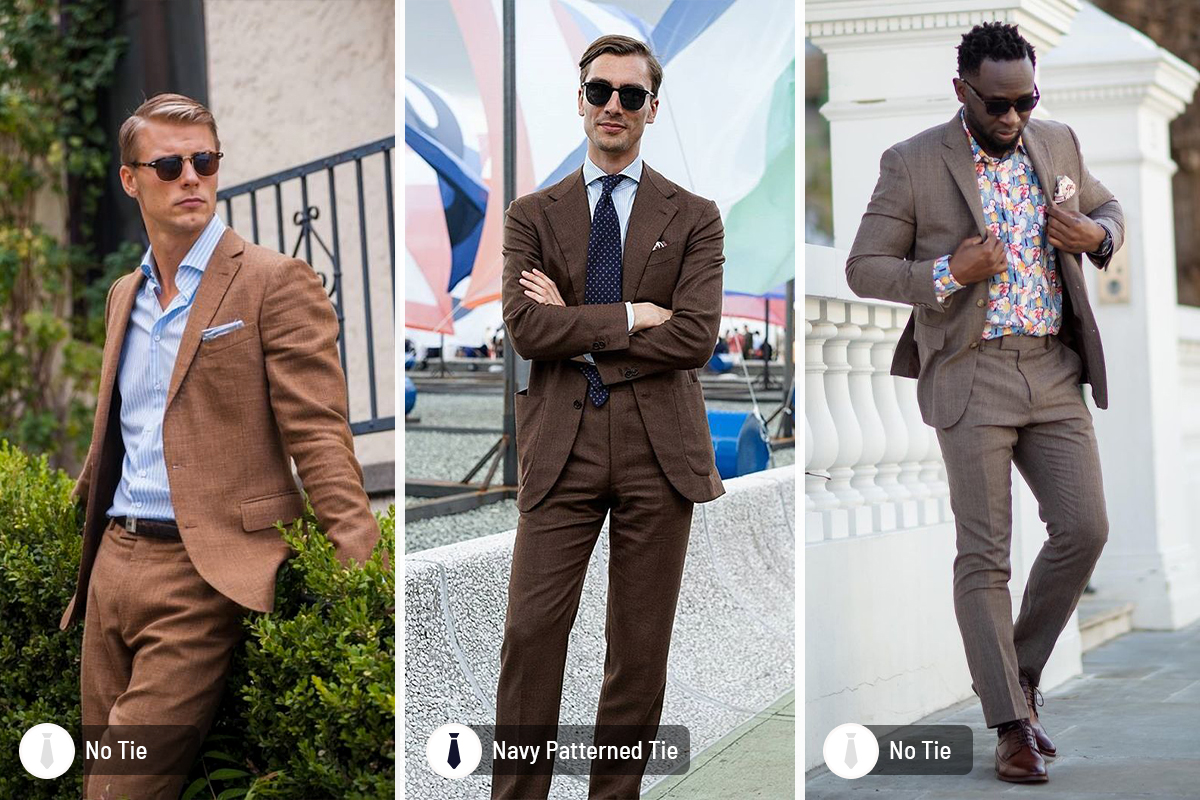 A striped shirt is the most formal-looking shirt pattern.
In addition, pattern sizes also play a huge role in matching the occasion. Stick to smaller patterns if the event is "more formal."
Brown Suit & Turtleneck or Sweater
You can also play around with layers by adding a sweater under the brown jacket.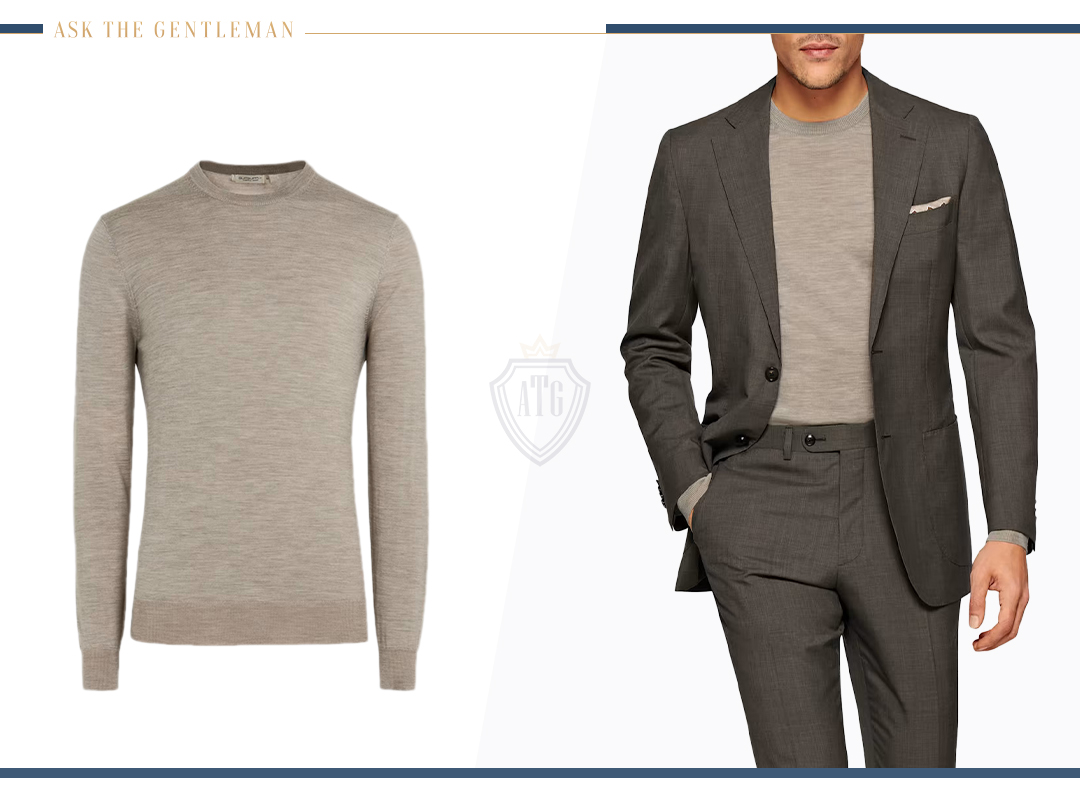 Turtlenecks and lightweight sweaters have the potential to look amazing under brown suits.
For instance, a tan turtleneck or olive-green sweater under a dark brown jacket makes for a suave look.
It is, however, a casual look, so avoid wearing it in settings that are even slightly formal.
As for the sweater design, cardigan, v-neck, and crew neck options are fine.
You can also wear a dress shirt underneath the sweater. Just try sticking to a different shade for contrast.
Brown Suit & T-Shirt
Lastly, a t-shirt is another great way to let go of the collared shirt.
If you are tired of wearing button-ups and want a more relaxed and casual look, throw in a T-shirt under a brown suit.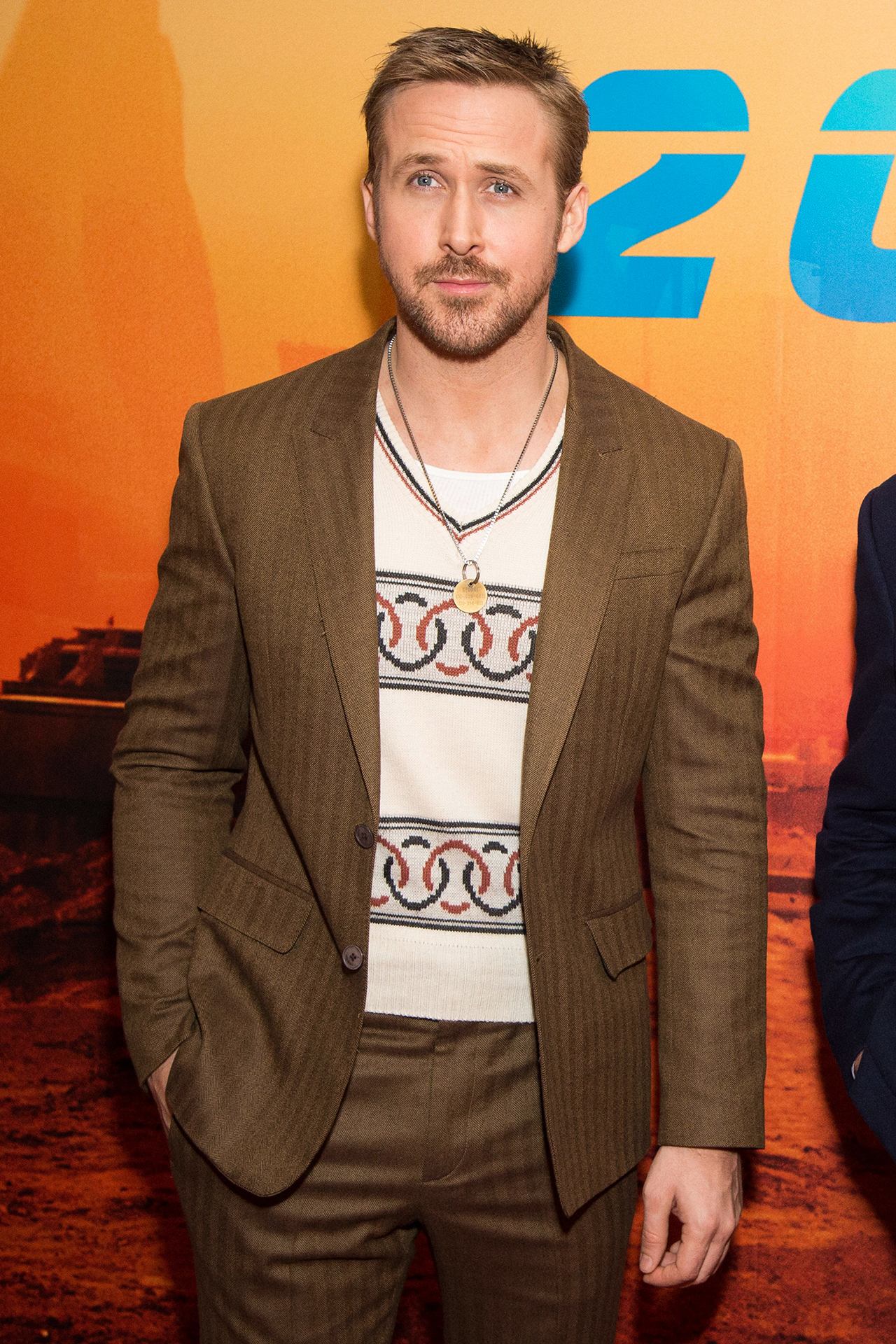 A well-fitting black or white T-shirt works really well.
My favorite is the all-black look with black pants and a black T-shirt packed under the brown jacket.
You can also try wearing a grey T-shirt if the color speaks to you.
Shoes that Match the Brown Suit
The most popular shoe options for brown suits are burgundy or brown shoes, and I recommend you stick with these two.
But you have to choose the right color for the right occasion.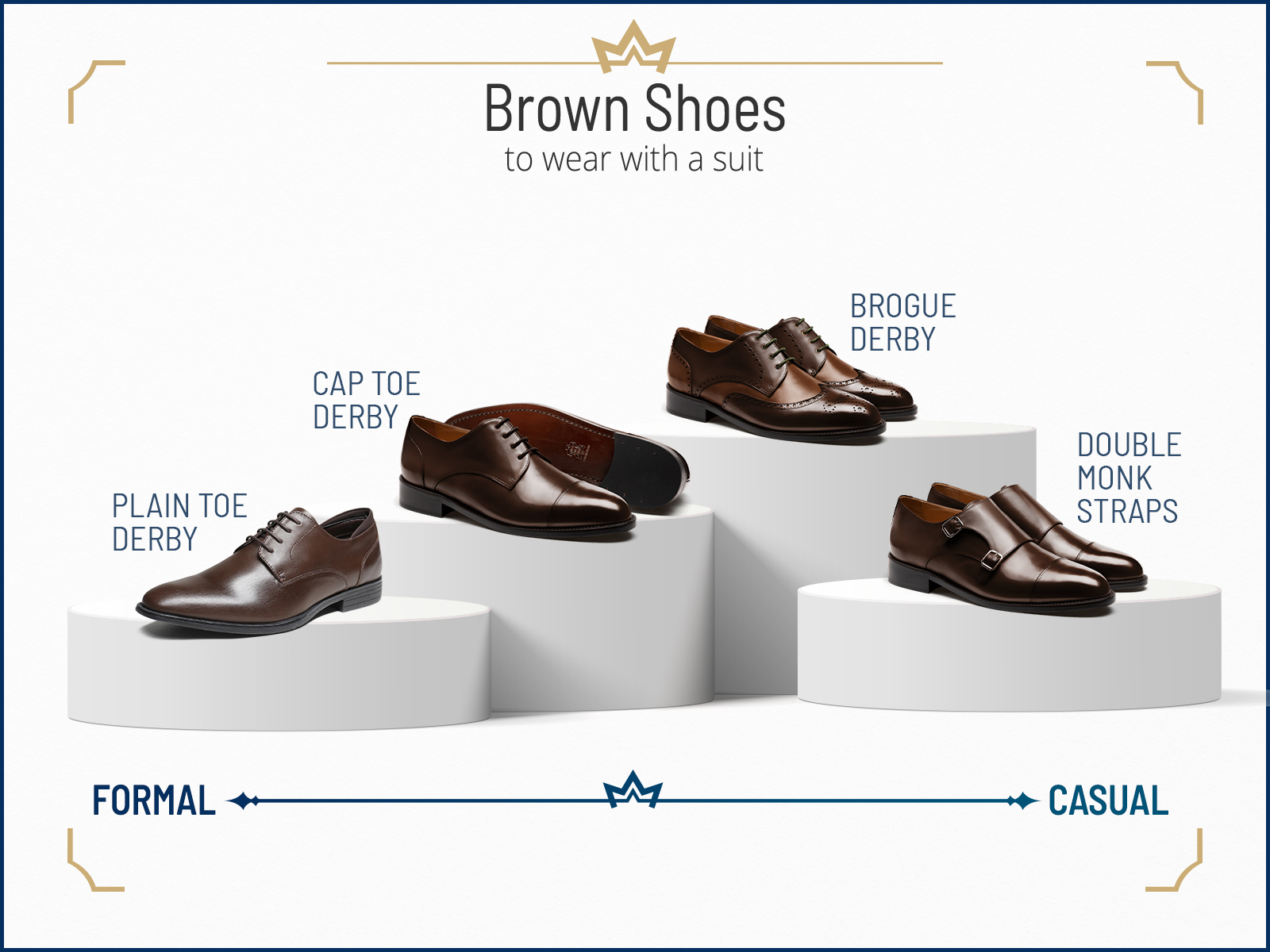 Brown is more sophisticated and simpler, whereas burgundy gives off a more contemporary and popped-up look.
More importantly, you need to ensure there is a distinct contrast between the suit and shoe color.
As for the shoe type, it depends on the occasion and setting. For more formal settings, stick to Oxfords or Derbies.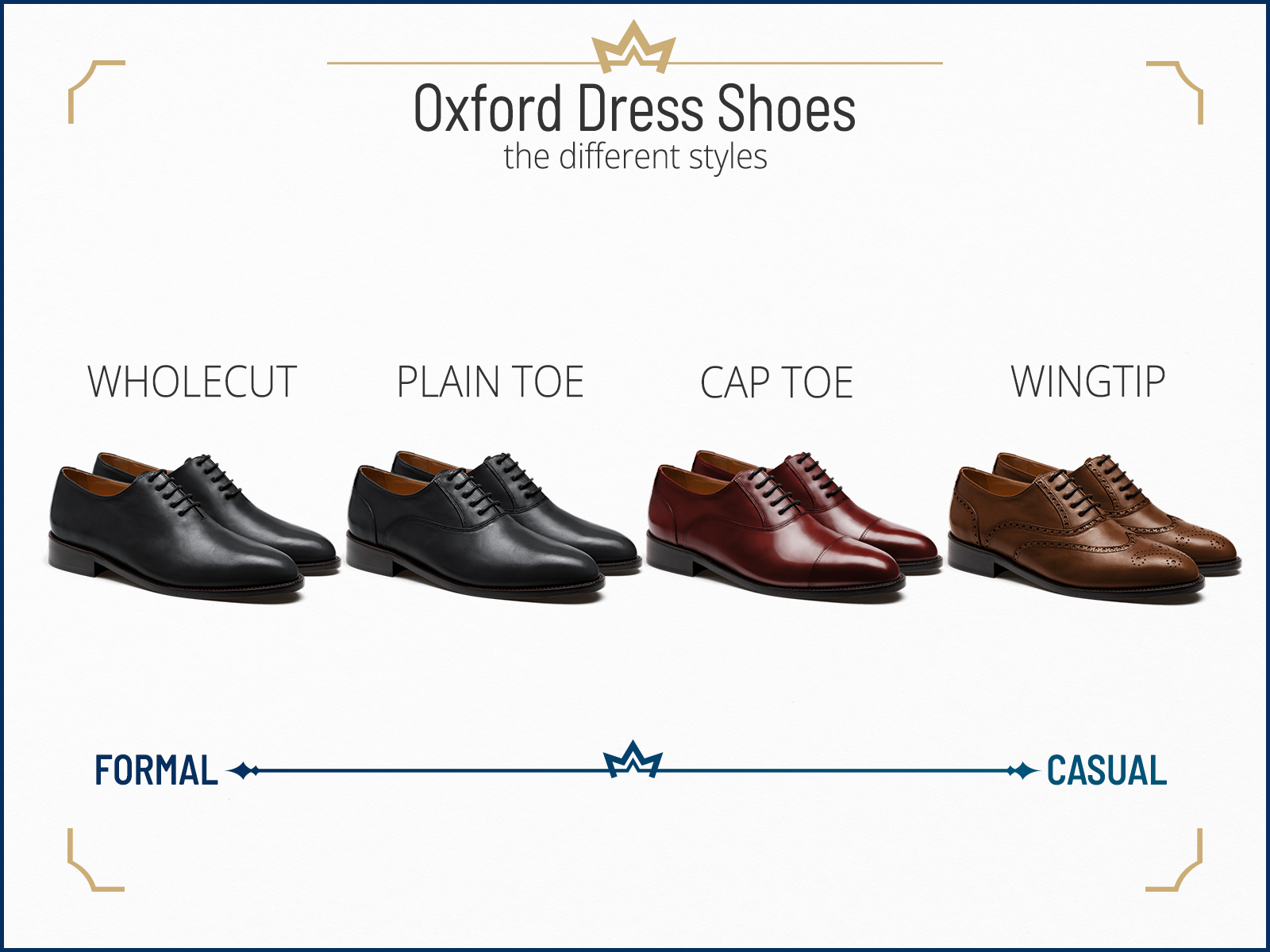 Sneakers can work as well for fully casual looks with t-shirts or sweaters.
Brown Suit & Burgundy Shoes
Burgundy shoes are an excellent option to go with the brown suit.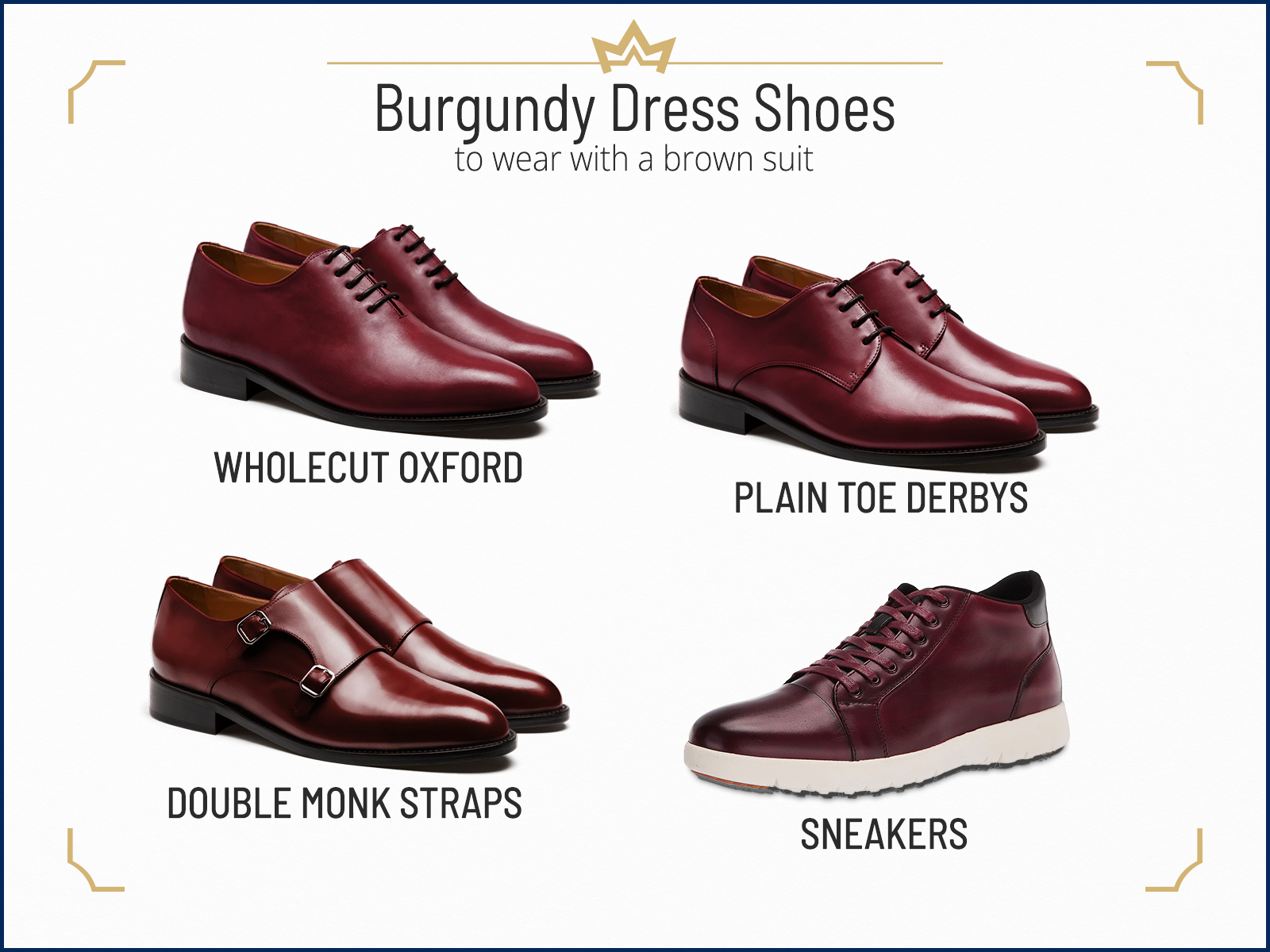 Not only does the color add a hint of refinement to the whole look, but it also provides a more sophisticated look.
Burgundy works well with both dark and light shades of brown. They also pair great with a light blue or pink shirt and a burgundy tie.
It offers a balanced contrast and shows that you are serious about your dressing.
As for the occasion, you can wear this color in both formal and informal settings.
Brown Suit & Brown Shoes
You can pair a light brown suit with a softer shade of brown shoes.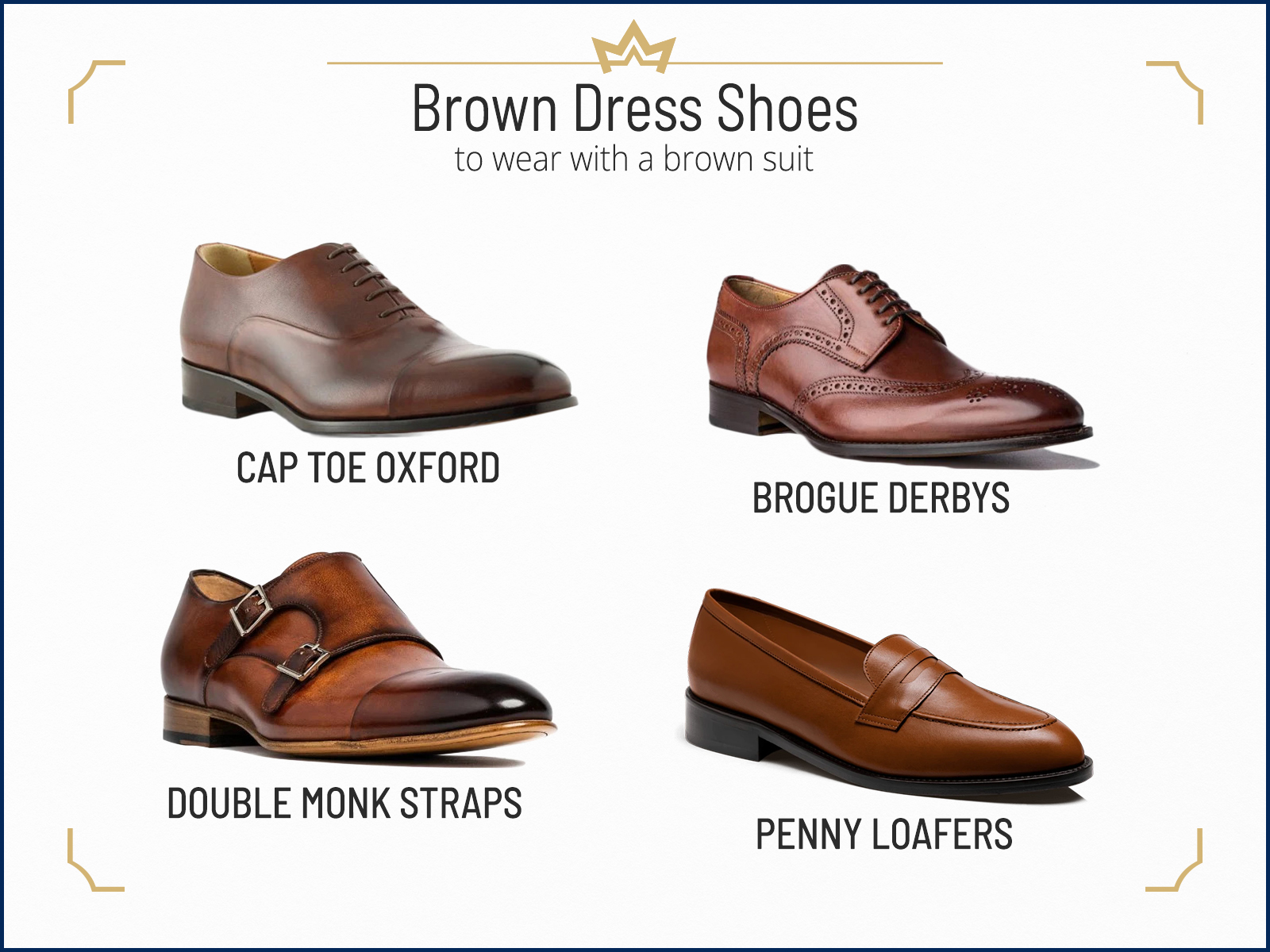 Also, you need to ensure the shoes contrast with the shade of the suit.
Light brown suits are best paired with reddish-brown shoe shades, such as cognac since the contrast is best.
But the deeper brown suit would require a darker shade of brown, such as chocolate.
Brown Suit & Black Shoes
You can lean towards black shoes if you're wearing a dark brown suit or attending a slightly more formal event.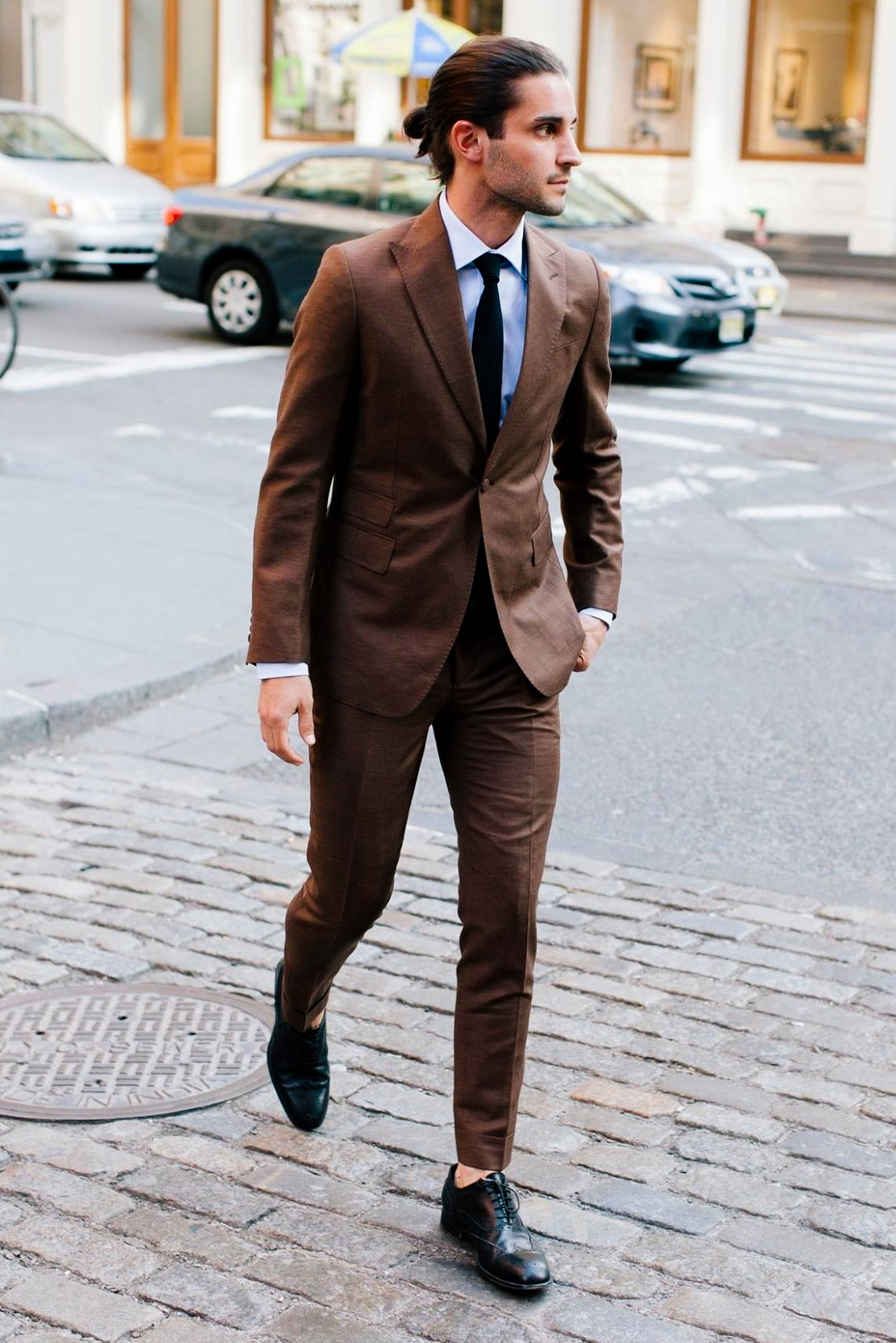 Also, wearing a black tie is a good reason to opt for black dress shoes.
And as you know, go for Oxfords or Derby for formal events.
For casual outings, you can throw in Chelsea boots or a pair of monk straps.
Other Accessories You Can Wear with Brown Suits
There's more to creating the right color combination for a brown suit than just a shirt, tie, and shoes.
You can add other accessories to accentuate and pop up the look.
Matching the Belt
A belt is a necessity when it comes to suits, even if the pants sit tightly on your waist.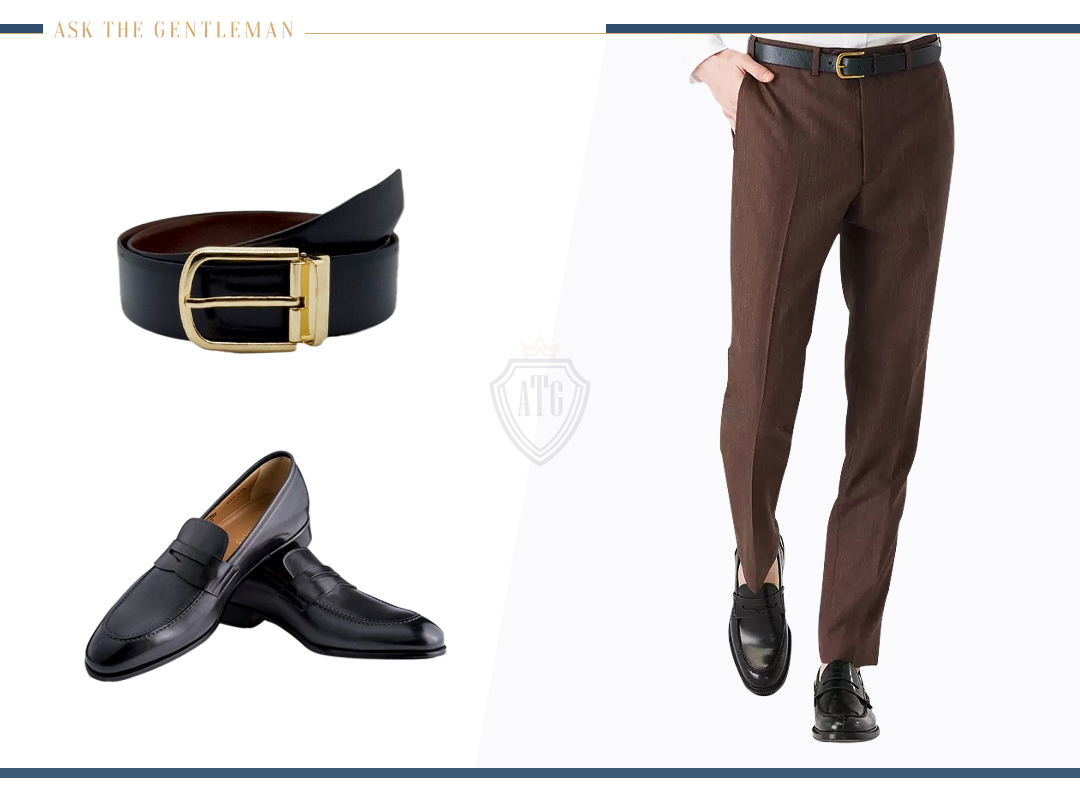 It is important to enhance the ensemble. Again, the belt has to be the same color as the shoes.
This is one of the most popular and basic rules in suit fashion.
So, if you are throwing a pair of brown shoes for your brown suit, you are bound to wear a matching belt.
Sometimes, it can be difficult to match the belt and shoe color exactly. Therefore, slight variations are allowed but should be kept to a minimum.
Leather or Metal Watch
Wearing a watch with a suit is a great addition to the look.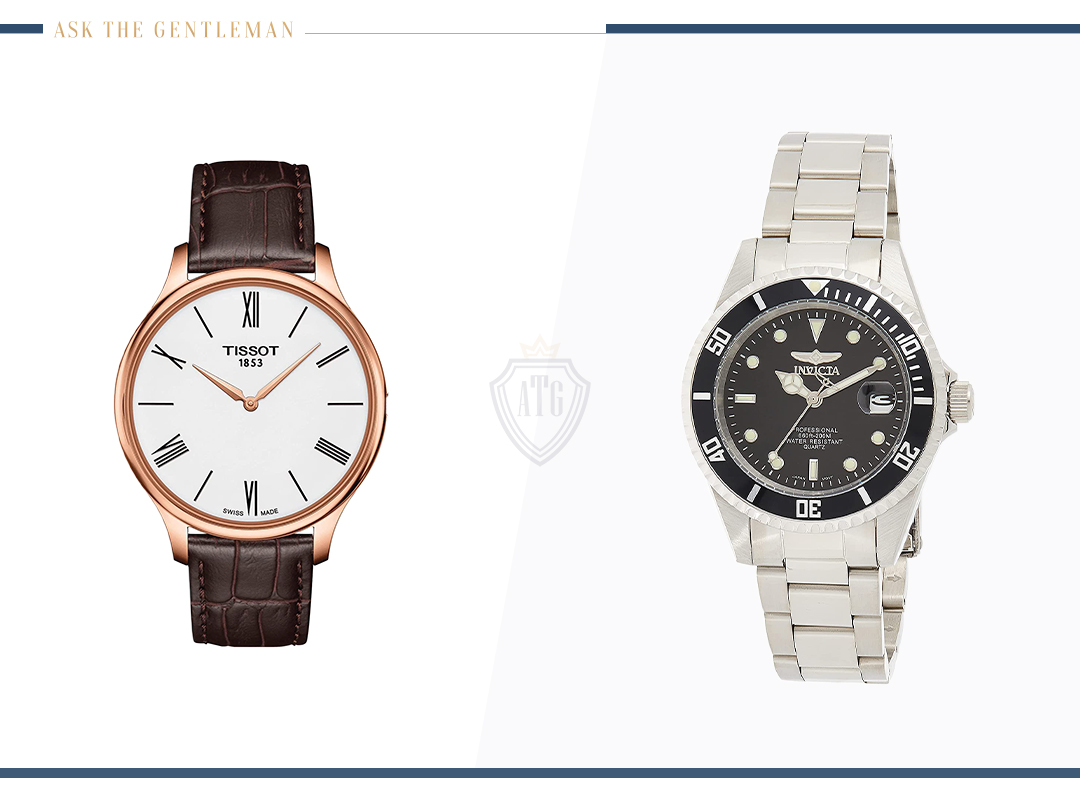 You have two options here: a leather strap or a metal watch.
I prefer the leather strap because of its minimal yet elegant feel.
However, if you are into a bit of luxury, there's no harm in throwing a silver metal watch.
You could also try to match the metal watch with the belt buckle, just as you can match the leather strap to the belt or shoe color.
Contrasting Pocket Square and Tie
The pocket square on your suit must contrast the tie you are wearing.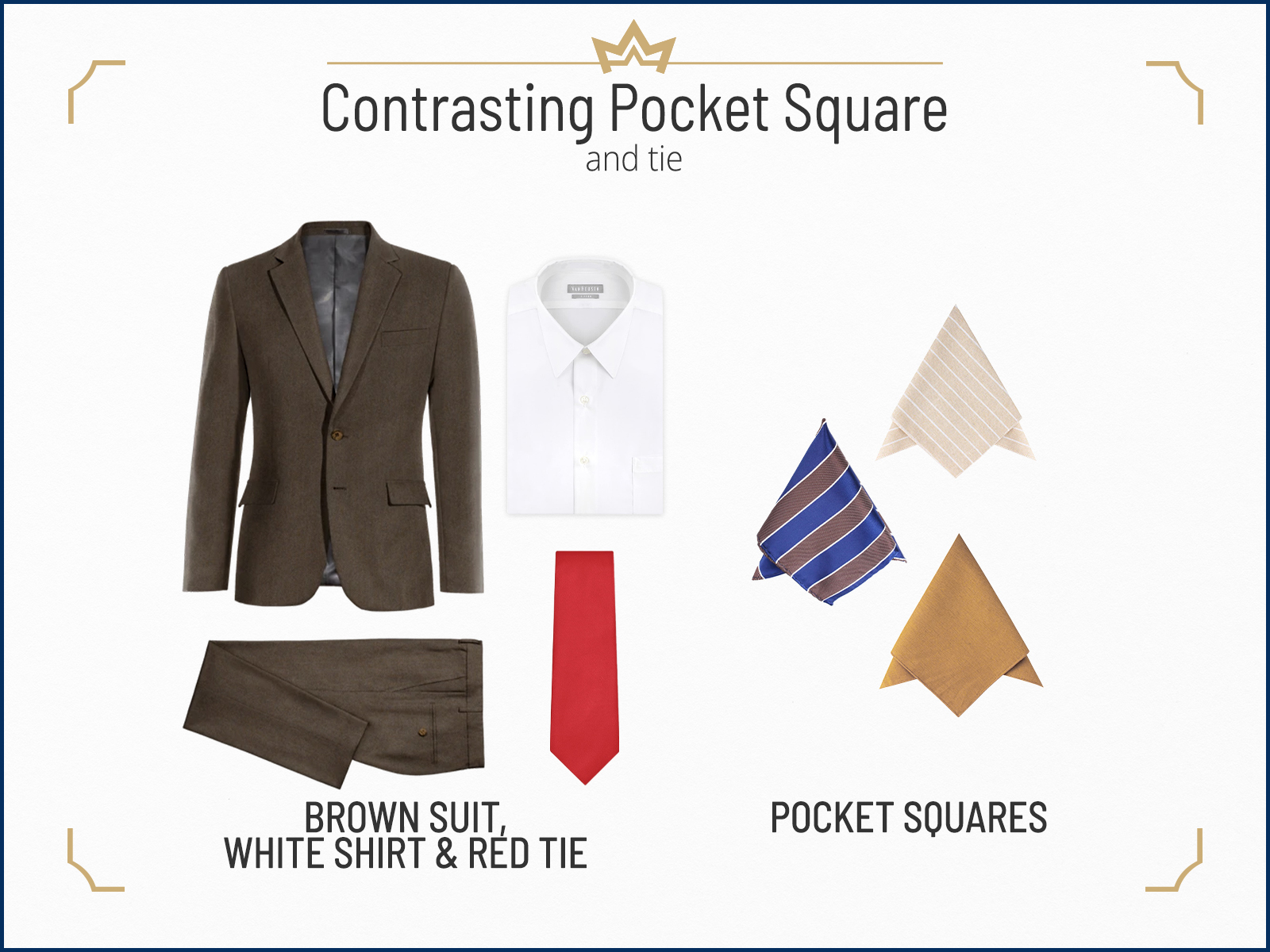 Any fashion expert would tell you to avoid matching the pocket square with the tie.
Therefore, make sure you make the most of this small accessory by keeping it in line with the tie color.
For instance, if you are wearing a white shirt with a red tie, throwing in an earthy yellow pocket square will make the suit pop with contrast.
Best Brown Suit Color Combinations for Different Occasions
Brown is an underrated color, so you don't see many people wearing brown suits.
But a brown suit is as classy as any other color, considering the different color combinations it has to offer.
You can experiment with this color and make the perfect outfit for different occasions.
Semi-Formal Events
Brown suits are excellent for semi-formal events such as warm weather celebrations, day weddings, and dinner parties.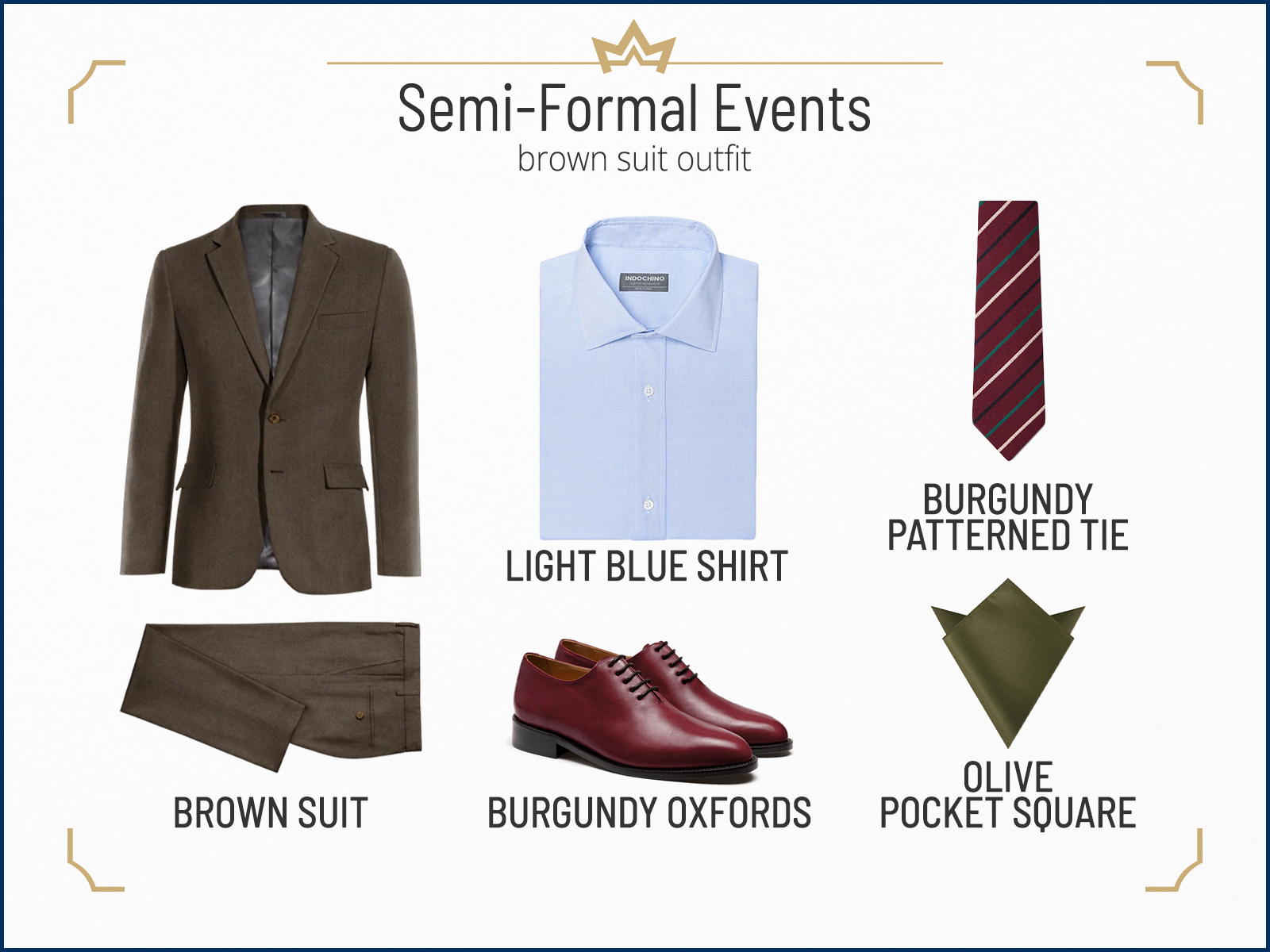 However, since formality is a factor here, you should stick with dark or medium brown suit shades.
You could go with light blue or the classic crisp white dress shirt.
Throw in a pair of burgundy shoes and a tie to accentuate the look.
A contrasting pocket square, such as olive green, would work well with this look.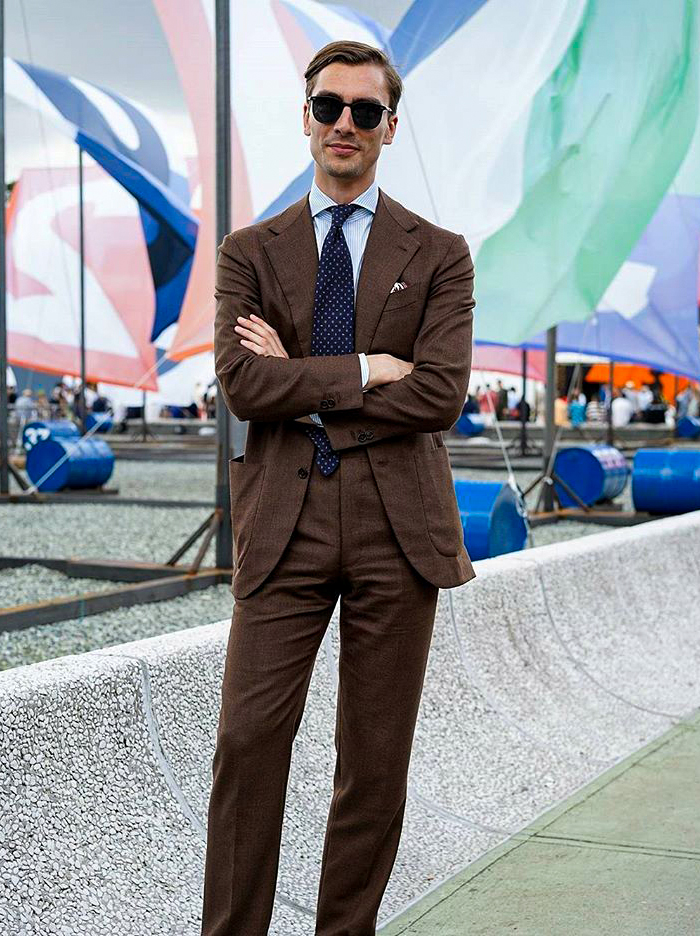 Add accessories such as a matching belt and matching leather strap watch to complete the outfit.
Almost anyone can pull off this look, even if you think brown is not your color.
Office / Business Casual
A brown suit also works if you move from the semi-formal to an office or business casual setting.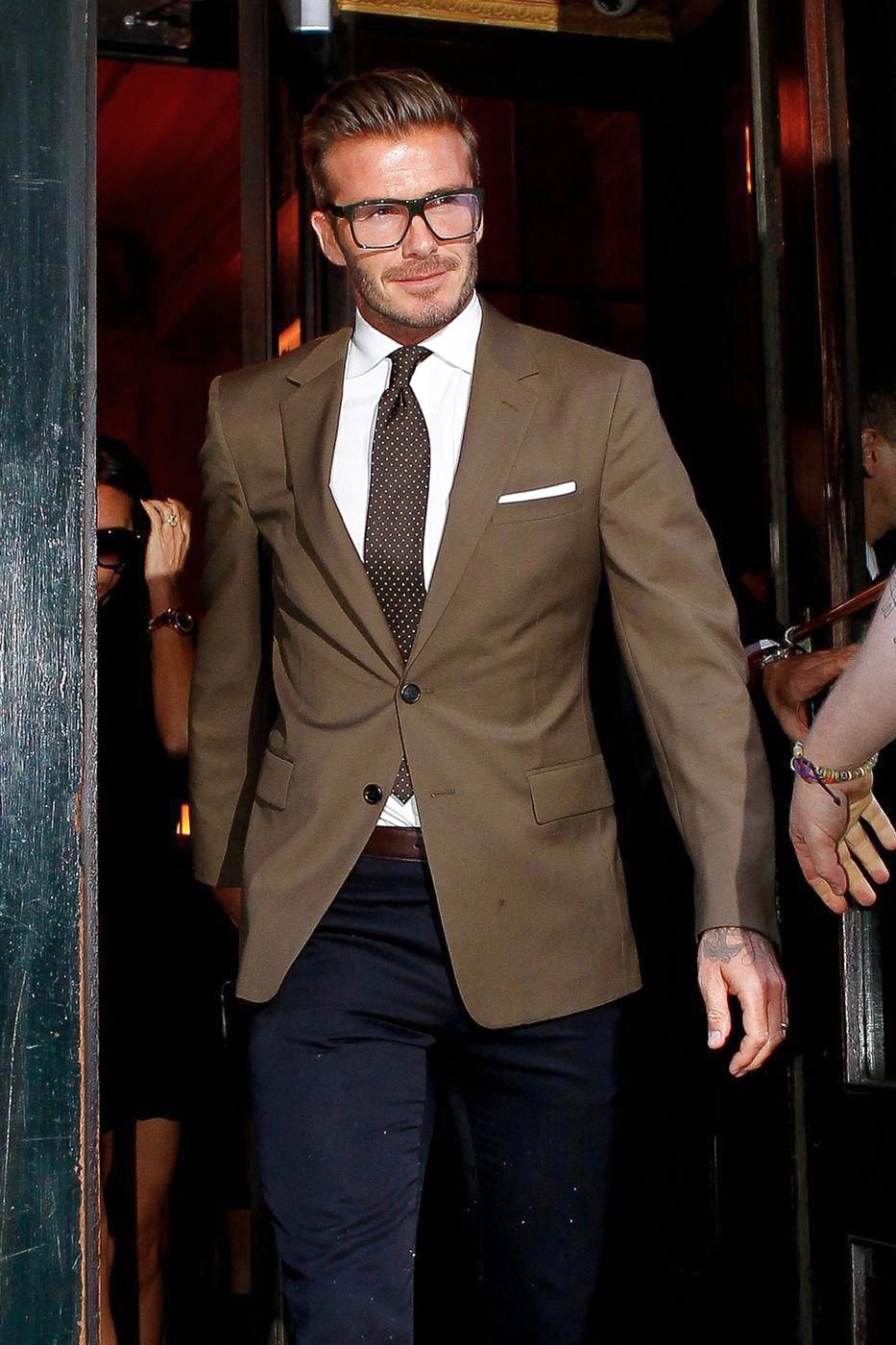 A light blue or light pink shirt is a great choice for such a setting.
In fact, micro-patterns on the shirt also help provide a sophisticated look. However, don't overdo the patterns.
You can also opt for bolder accessories by experimenting with colors, styles, and textures for the tie, watch and pocket square.
The office setting is made for both light and dark shades.
Therefore, you can try wearing a darker or lighter brown based on your complexion and personal preference.
In either case, keep the basic rules of wearing a suit in mind!
Weddings Parties
Even though brown isn't traditionally worn at weddings, it doesn't mean you can't wear it at one.
People continue to wear suits instead of tuxedos at weddings which shows everyone welcomes some variation.
In fact, the double-breasted brown suit is a trendy and sophisticated choice men wear at weddings.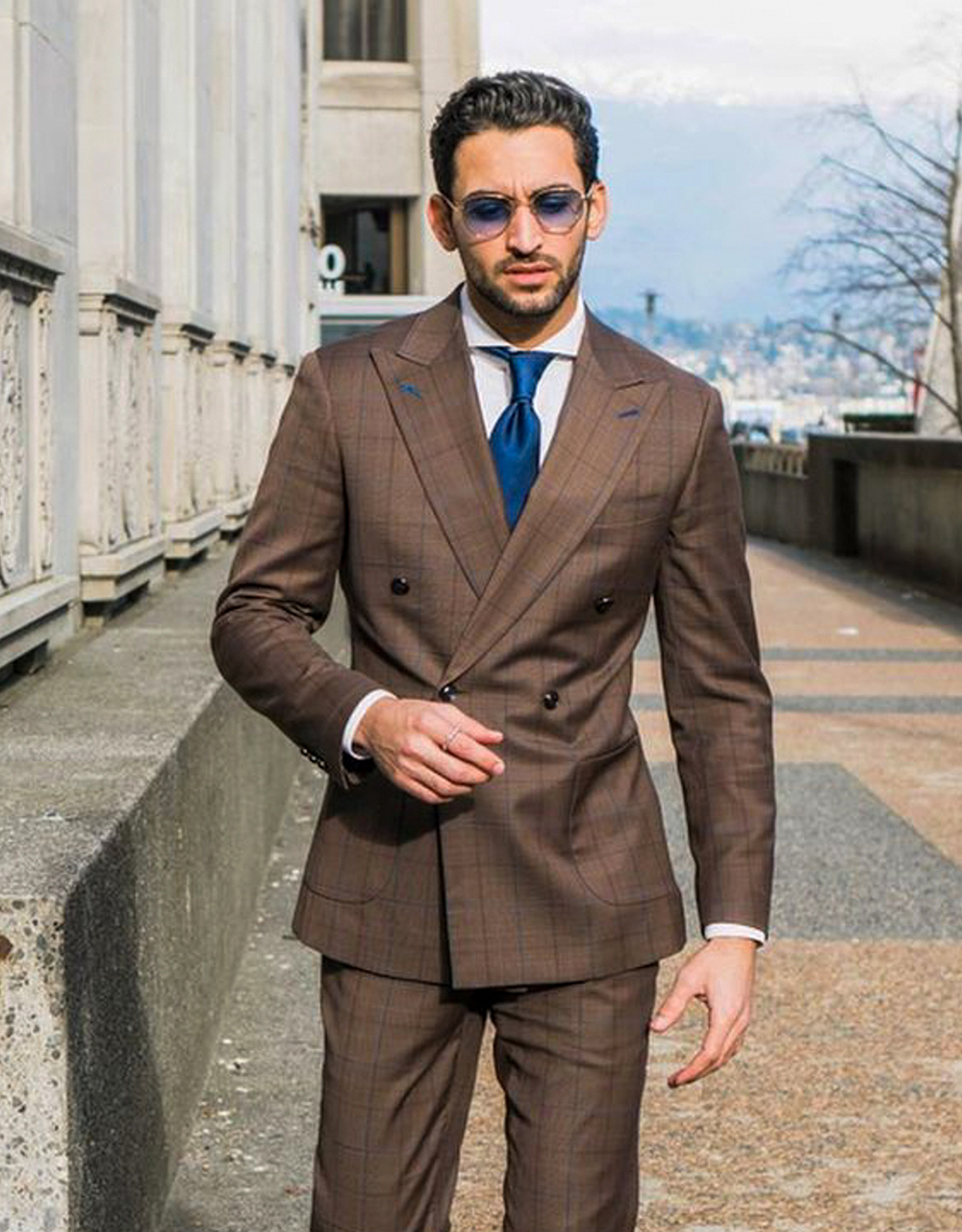 Brown suits work well for summer weddings, although the suit's earthy tones complement the winter vibe better.
The white shirt is the standard match for the dark brown suit for weddings.
If you're the groom, try a brown three-piece suit. It perfectly matches the white dress shirt.
But I recommend a medium brown suit paired with a light blue or light pink shirt for a softer look if you're a guest.
You can go overboard with the accessories, experimenting with different styles and patterns.
However, sticking to fewer accessories is always the best option unless you are the groom.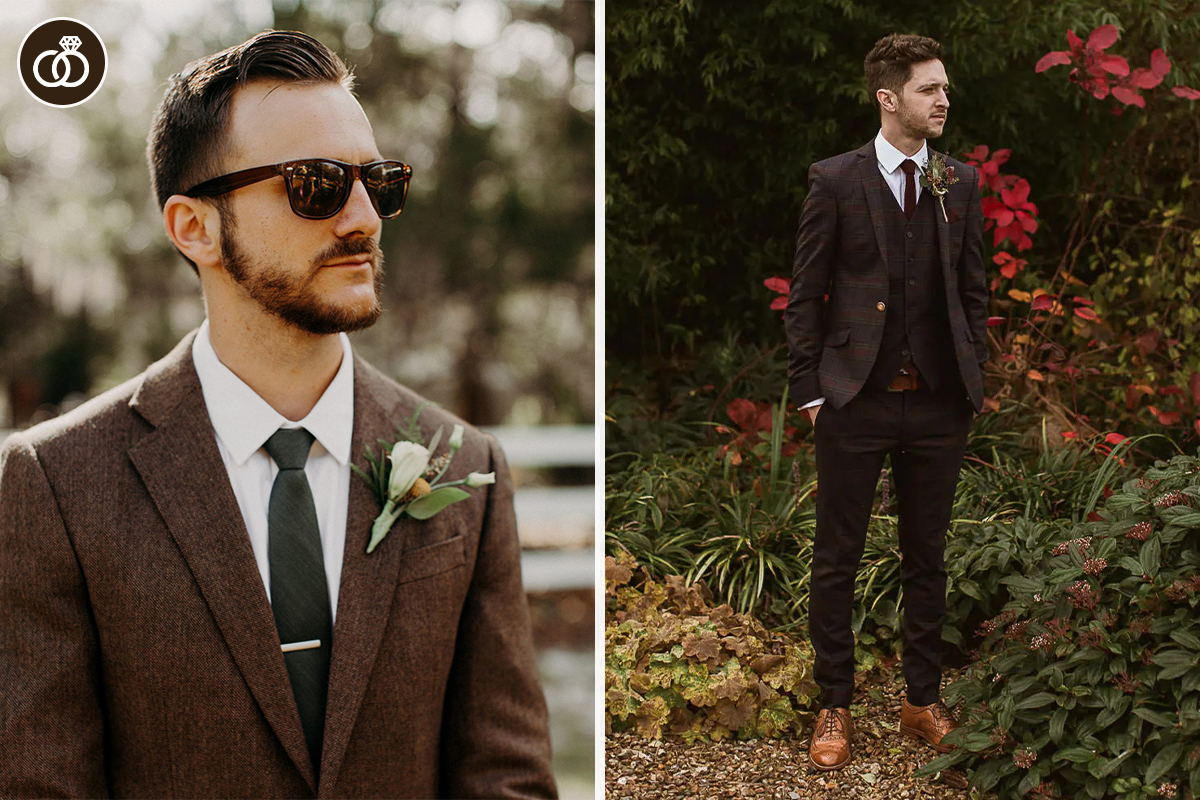 In that case, be luxurious and pop up the suit color as much as you wish. It's your day!
Job Interviews
Job interviews are another occasion appropriate for wearing brown suits.
Business-casual work environments usually approve candidates who choose vibrant colors, such as a brown suit jacket.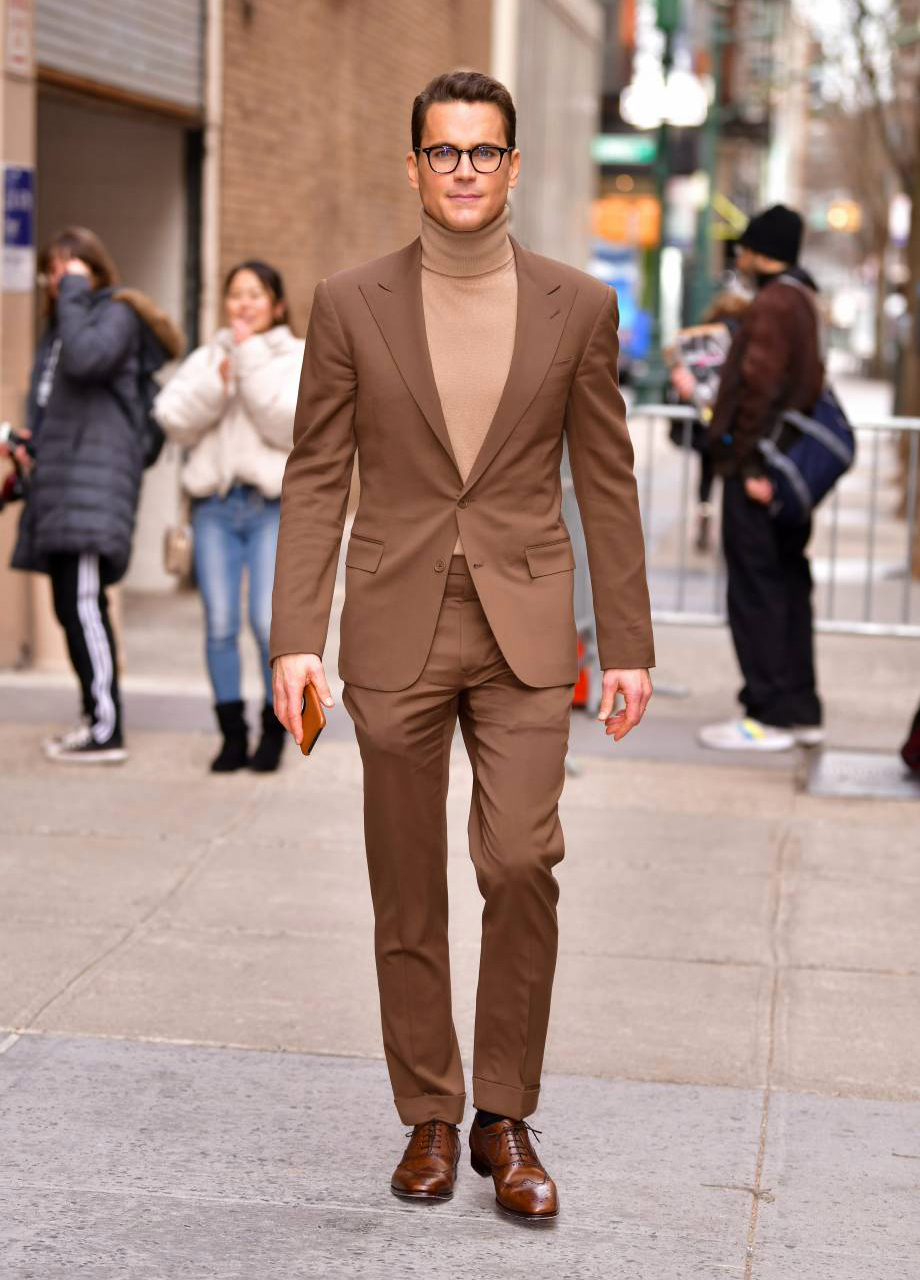 However, remember that it's best to wear a darker brown suit to an interview.
Lighter shades of brown tend to give off the impression that you are non-serious and too relaxed.
Wearing the Brown Suit Casually
You can do so much with a brown suit if worn casually.
Dark or light brown jackets can be worn with sweaters, t-shirts, or patterned shirts.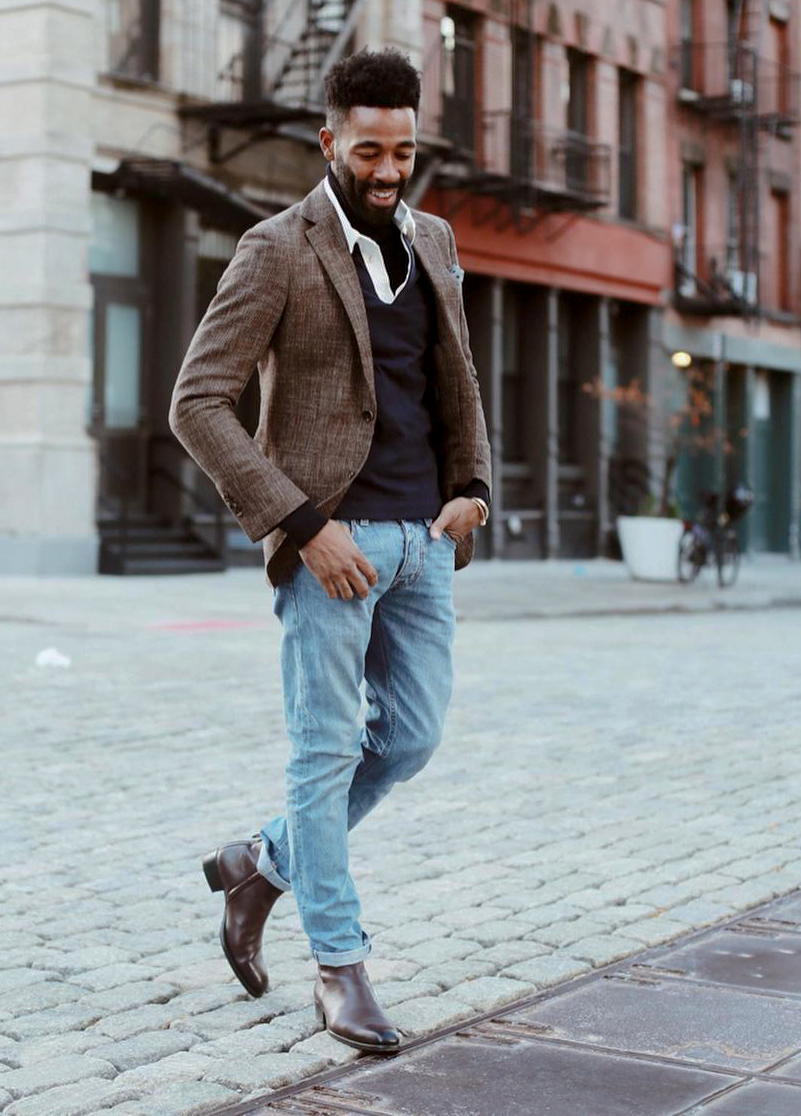 More importantly, a good-looking pair of jeans can replace the usual suit pants for a completely casual look.
The same goes for shoes.
Stick to the basic color choices such as burgundy or brown but choose casual styles such as sneakers or Chelsea boots.