If you ever wished to wear something different, it is time to add a khaki suit to your wardrobe collection!
Khaki suits offer remarkable versatility and a stylish outlook
In addition, they're an outstanding alternative to traditional suit colors like black, navy, and dark grey.
And contrary to popular belief, the versatility of the khaki suit allows you to wear it to all kinds of events ranging from formal to casual.
You just have to style it right for the event in question!
Khaki Suits vs. Beige & Tan
People often confuse khaki, tan, and beige suits because they aren't as easy to differentiate as other suit colors.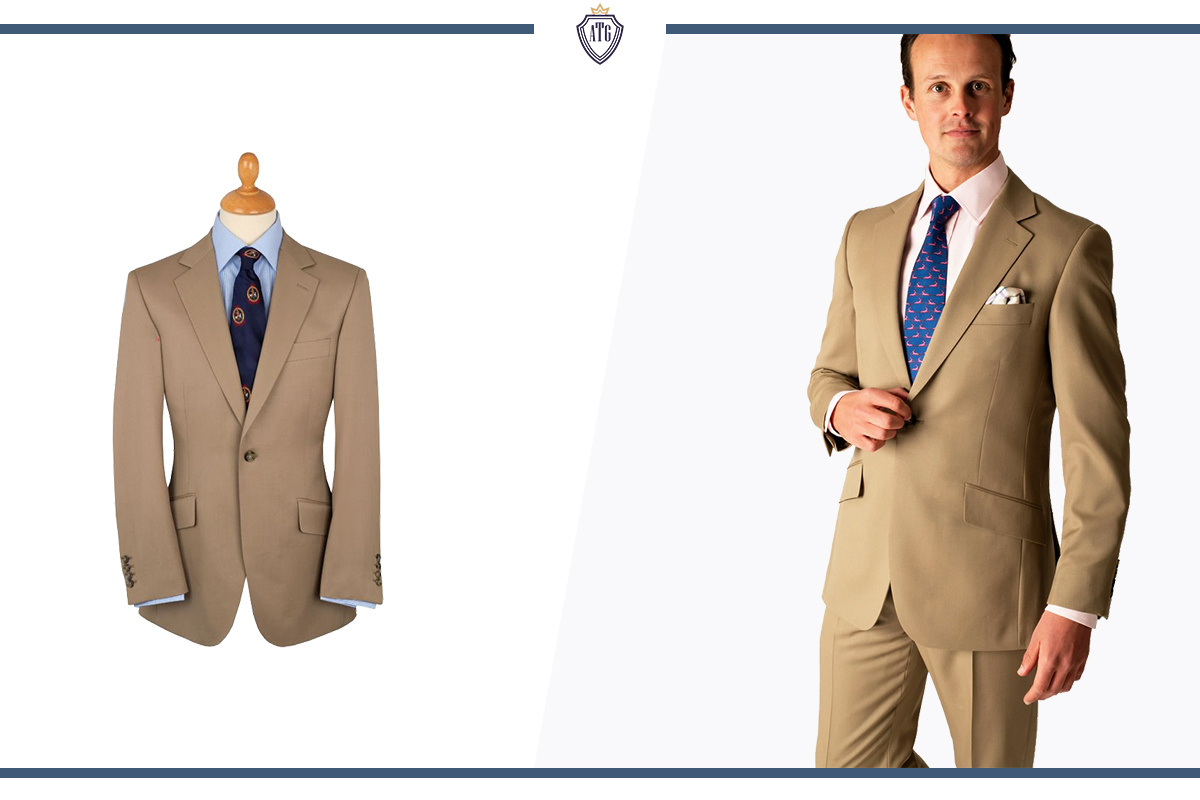 However, this does not necessarily mean everyone has the same idea about these three colors.
In reality, khaki, tan, and beige are different shades of brown that come in a wide variety of interpretations.
Interestingly, khaki is the easiest suit color to apprehend.
You can think of it as a dark cream color or shade of brown with more of a yellow hue than brown.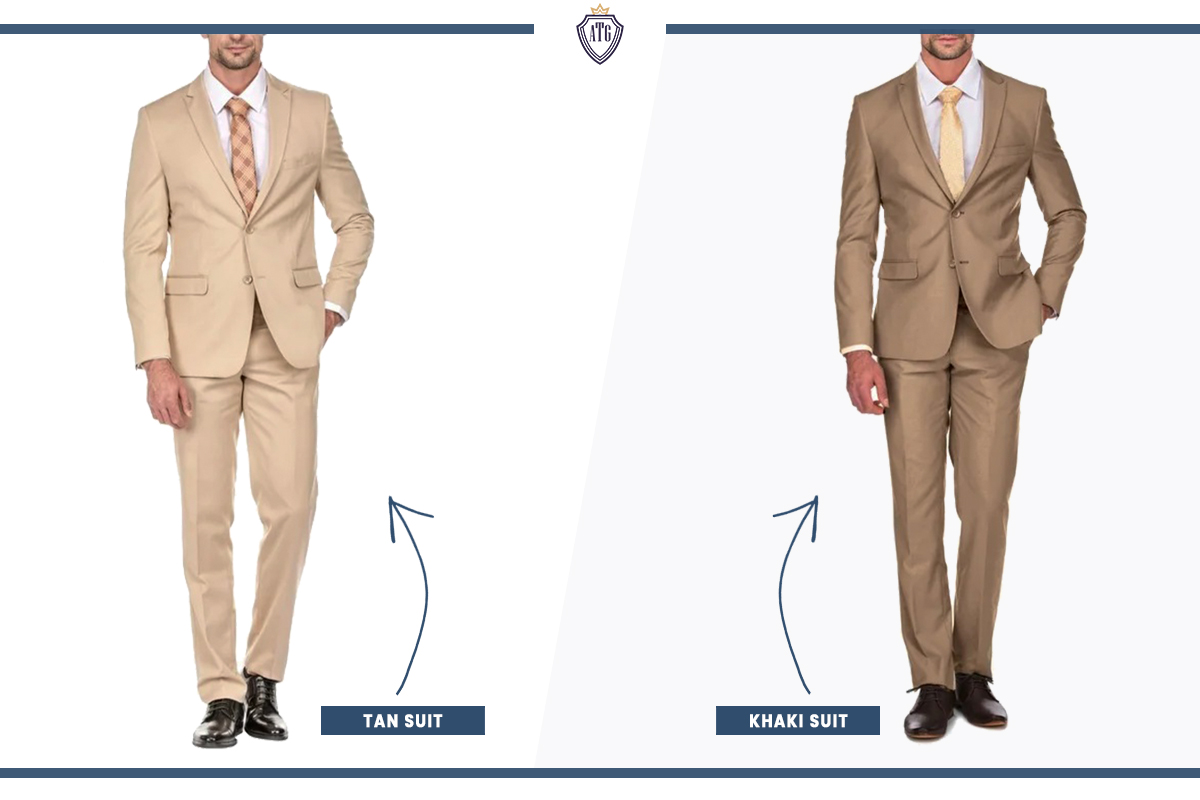 On the other hand, tan is a lighter shade of brown with a touch of white that makes it paler.
Similarly, beige also falls in the category of light brown.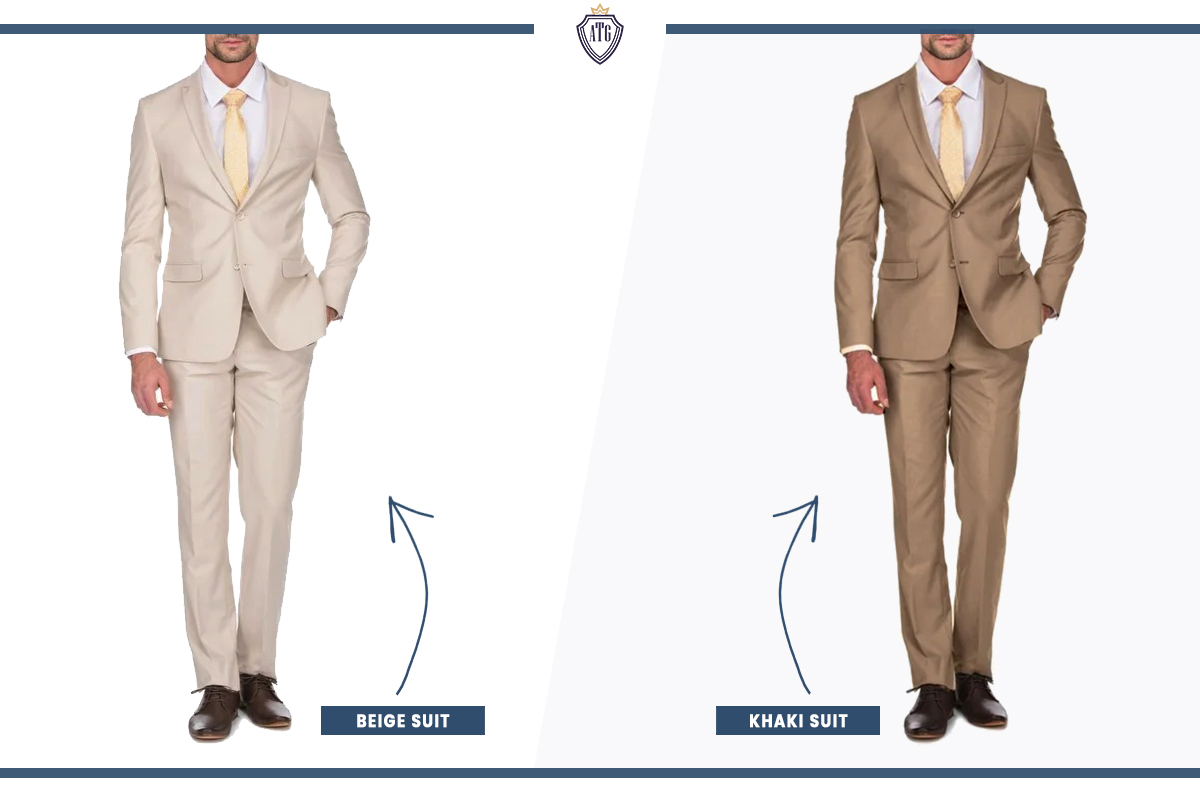 However, it features some green and yellow tones, which help distinguish it from tan and khaki.
Put it against pure brown, and the difference will become visible.
Best Shirt Colors & Ties for a Khaki Suit
Now that you know what to expect from a khaki suit, it is time to learn how to match a great shirt and tie color combination.
A khaki suit works best with the usual white, light blue, and light pink shirts we often wear with traditional suit colors.
However, you can add some flare to the khaki suit by pairing it with a patterned shirt or t-shirt.
Khaki Suit & White Dress Shirt
White is the most effortless dress shirt to pair with any suit.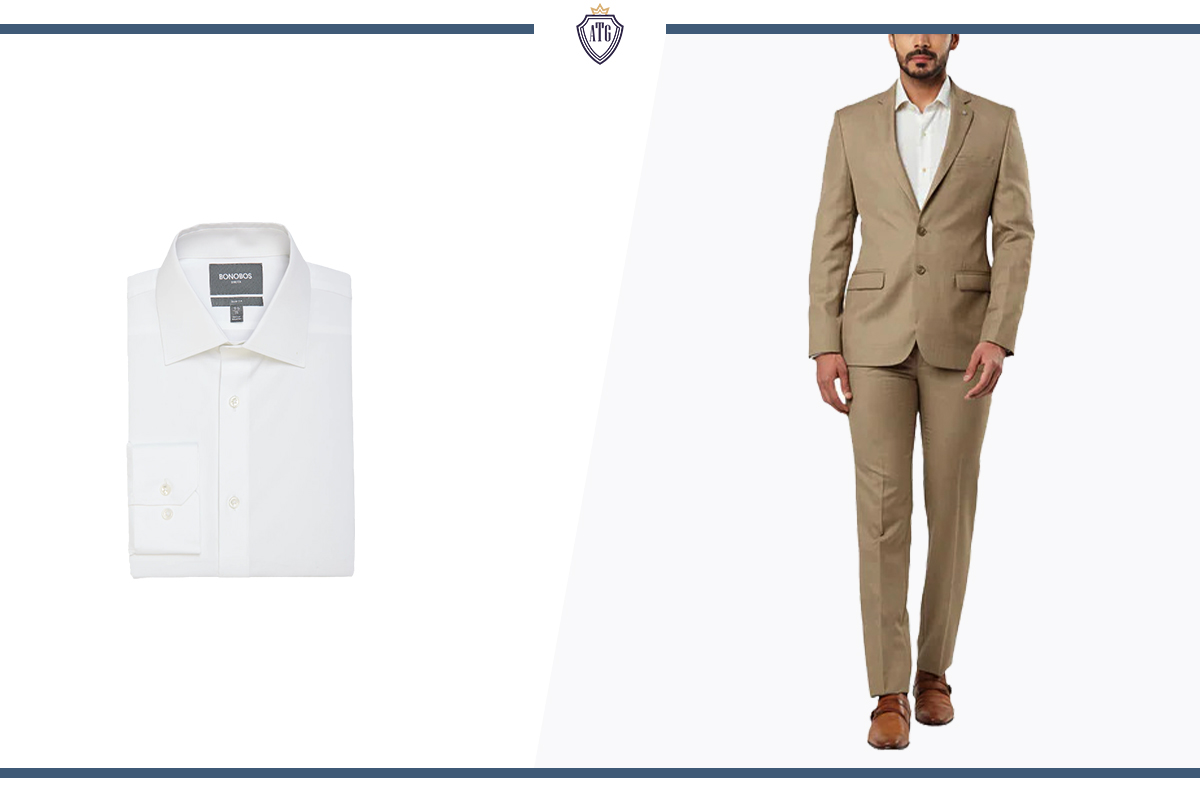 The simplicity of the color white helps the khaki suit come off as downright fresh and smart.
Combining a light khaki suit with a white dress shirt for summer events is best.
However, it also works well with deeper shades of the khaki suit for winter events.
Add a dark color tie, like navy or dark brown, to enhance the look.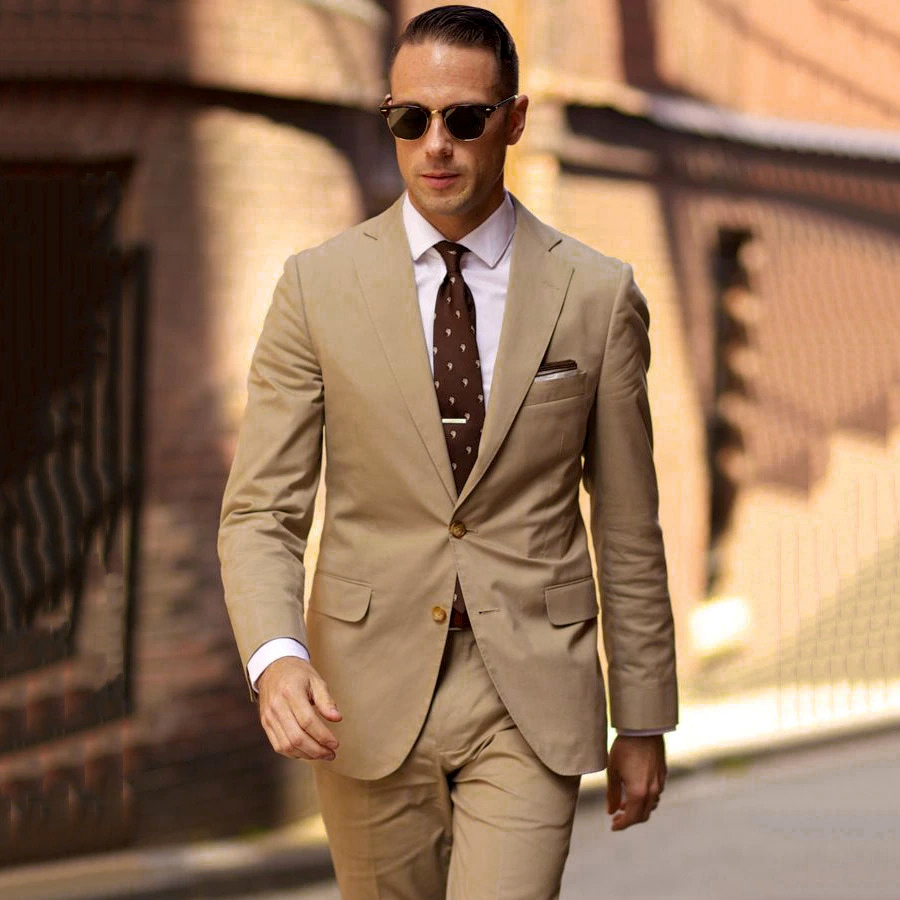 Just keep things smart and simple, especially with accessories.
Khaki Suit & Light Blue Dress Shirt
The warm tones of the khaki suit are flawlessly balanced with the cool tones of a light blue dress shirt.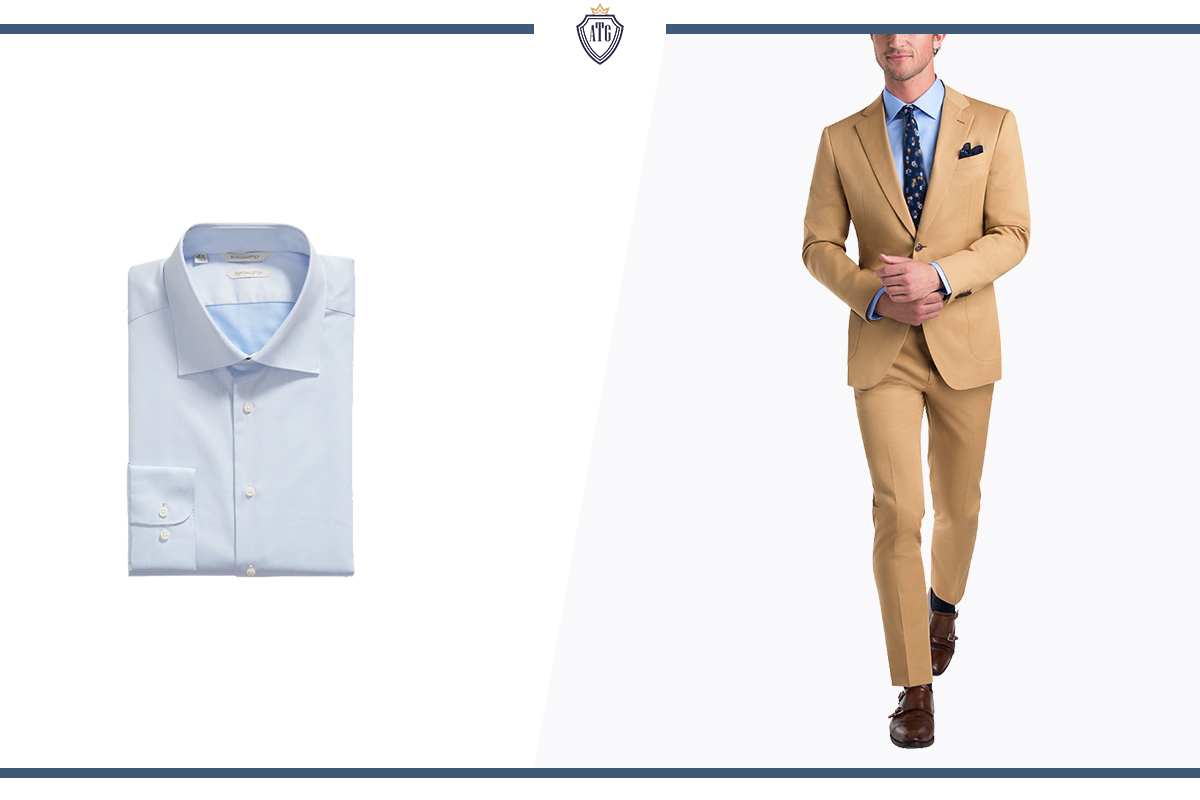 Pairing a light blue shirt with a light or mid-toned khaki suit makes for an exquisite look.
You can complete the look by adding a patterned tie, preferably navy.
Complement the tie to add a fashionable flair with a contrasting pocket square.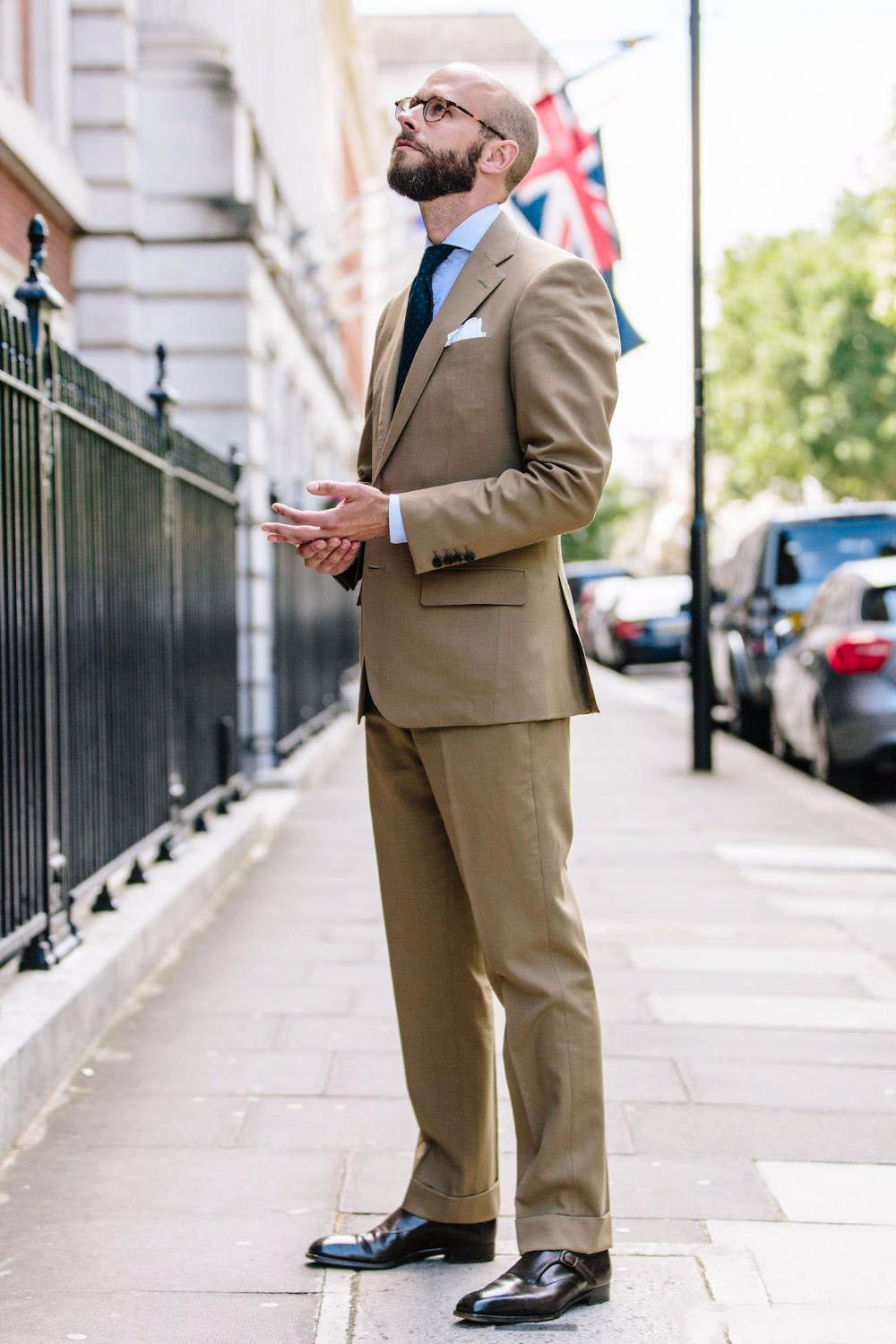 Dark brown shoes are all you need to accentuate the warm khaki and cool blue tones.
Khaki Suit & Light Pink Dress Shirt
The pink dress shirt has made its place in a fashionable dressed man's wardrobe.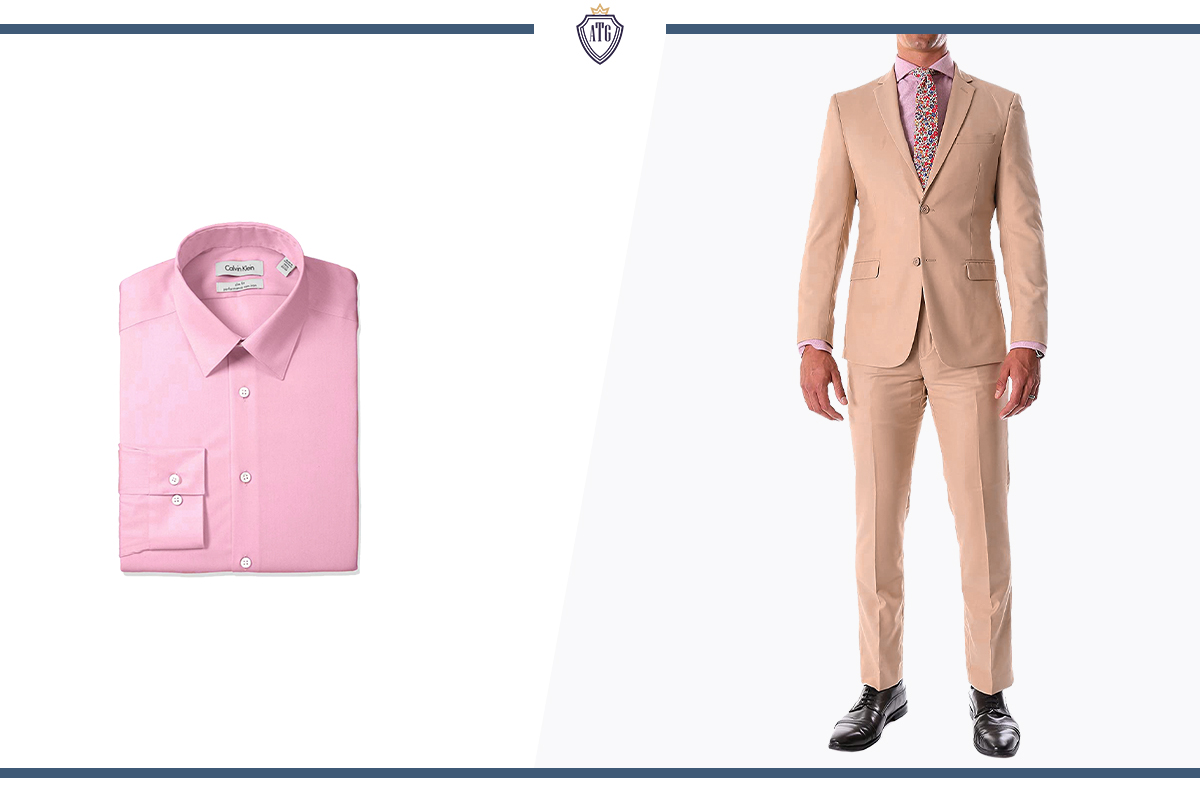 Its versatility allows you to pair it with a wide range of suits, especially khaki.
Besides, given the merry vibes of both pink and khaki, it comes off as relaxed and summery.
However, make sure your light pink isn't too strong because it can overwhelm the khaki suit.
Nothing complements the pink and khaki combo better than a blue or navy tie if you decide to wear one.
If you want to try something different, maybe try a darker shade of pink or a dark purple tie.
Floral ties also work great with this look, especially for more festive events like weddings.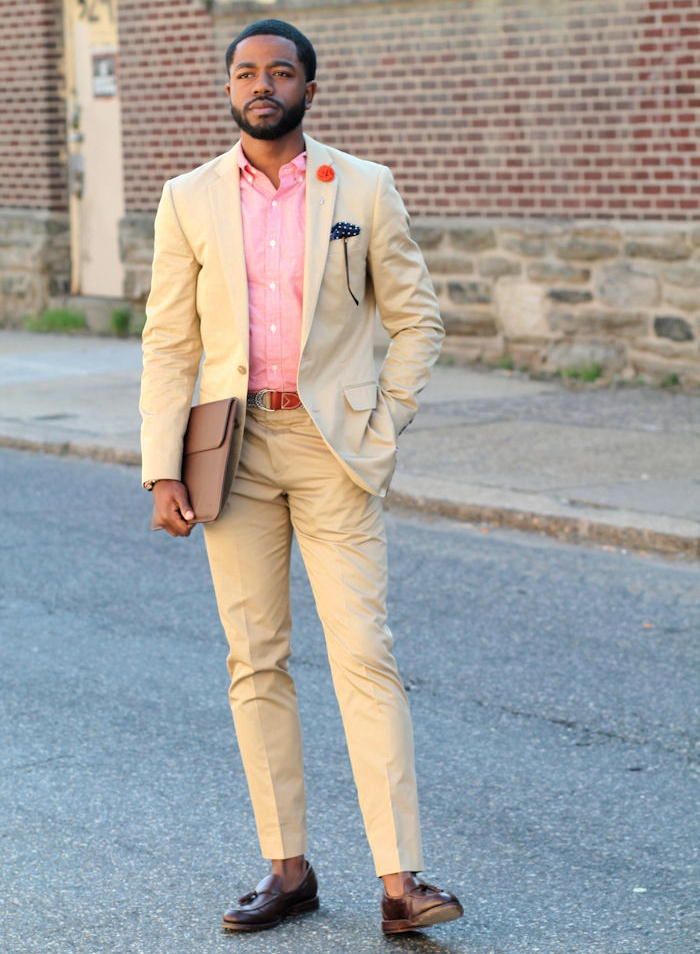 You can also skip the tie with this combination to align with the overall relaxed look.
Khaki Suit & Patterned Dress Shirt
Another great thing about khaki suits is that they have room for experimentation and fun.
Simply pair it with a patterned or printed shirt for a subtle look.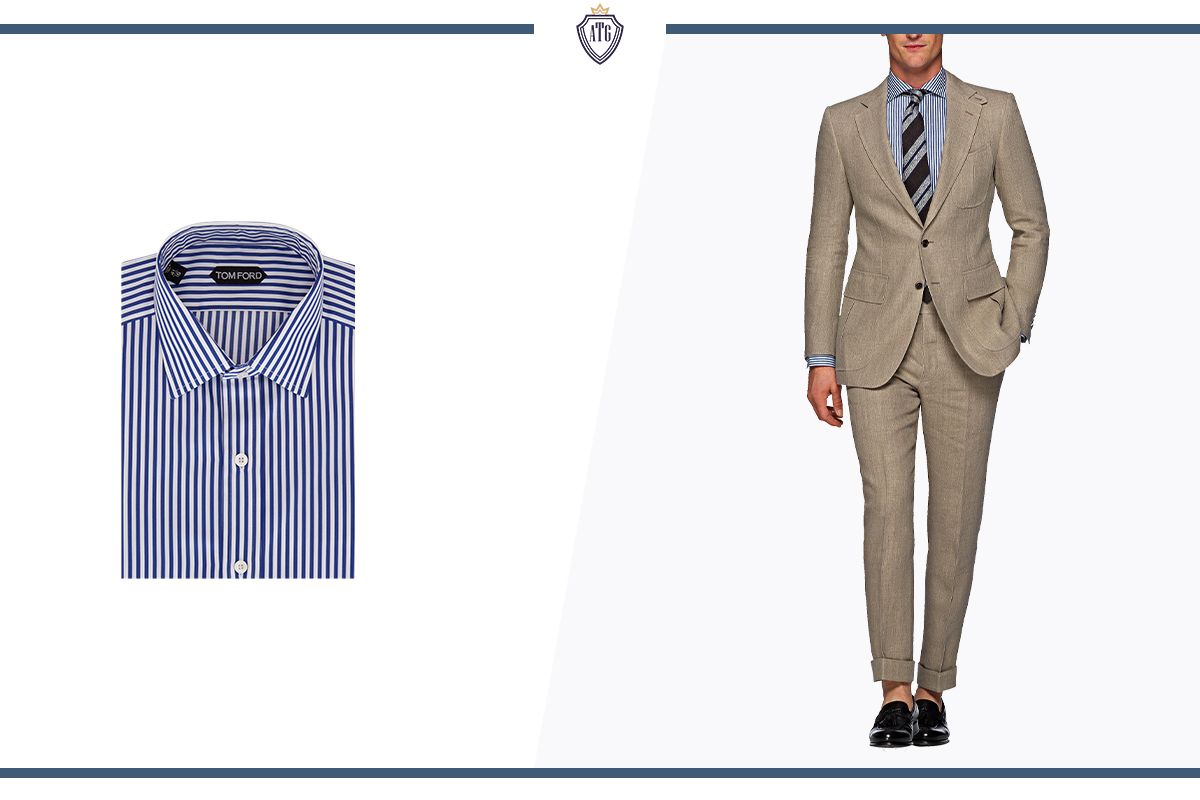 If you work in an office with a relatively relaxed environment, pair your khaki suit with a checkered or striped shirt.
This combination creates a subtle look. However, opt for a paisley print or floral shirt instead for a bolder look.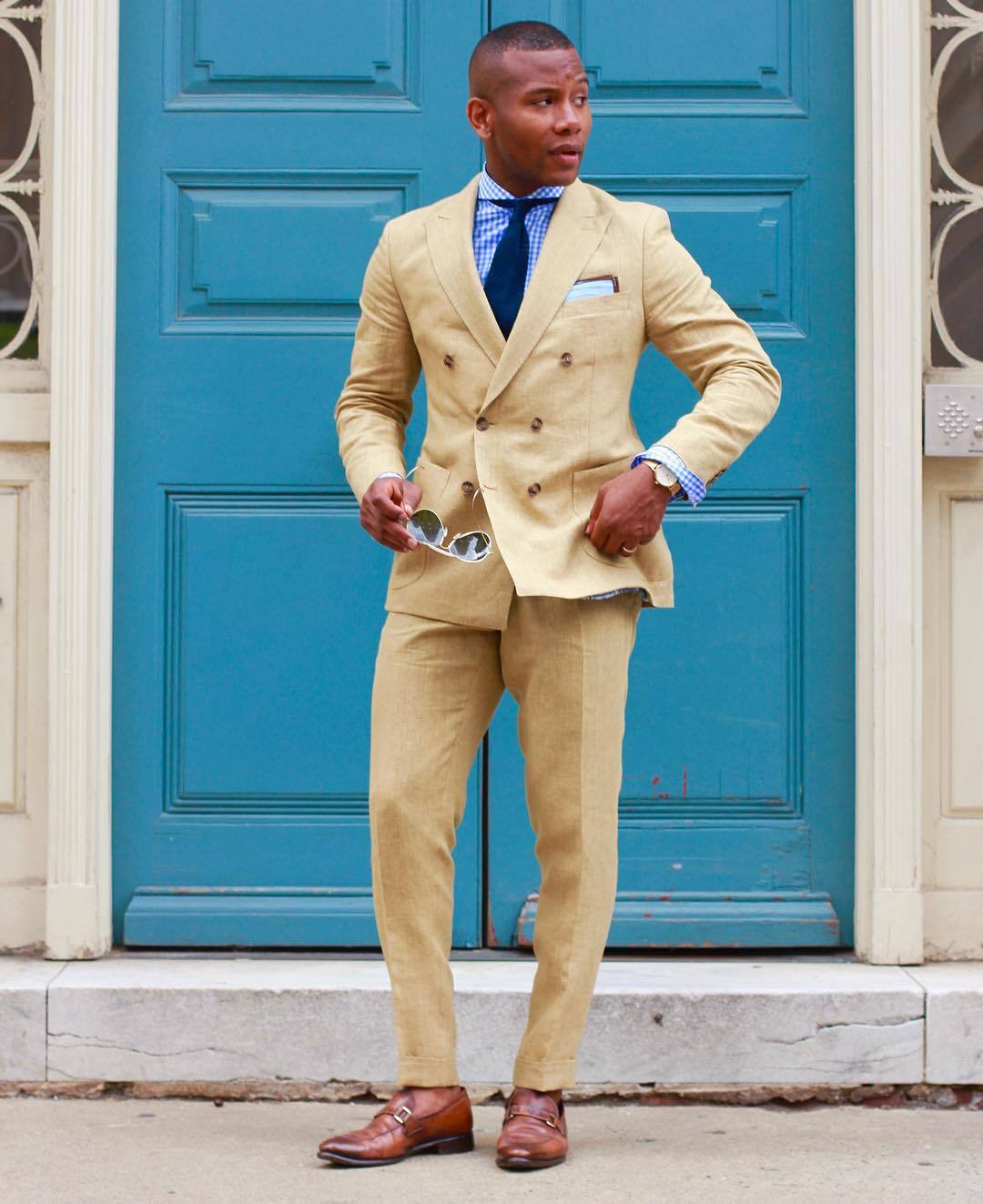 The only thing to keep in mind here is to add a shirt color that goes in line with the tones of your khaki suit.
How to Wear Khaki Suit with T-Shirt
A khaki suit paired with a t-shirt makes for a brilliant, fashionable, and casual look.
It is quite a trend now and provides an incredible balance of casual and decent.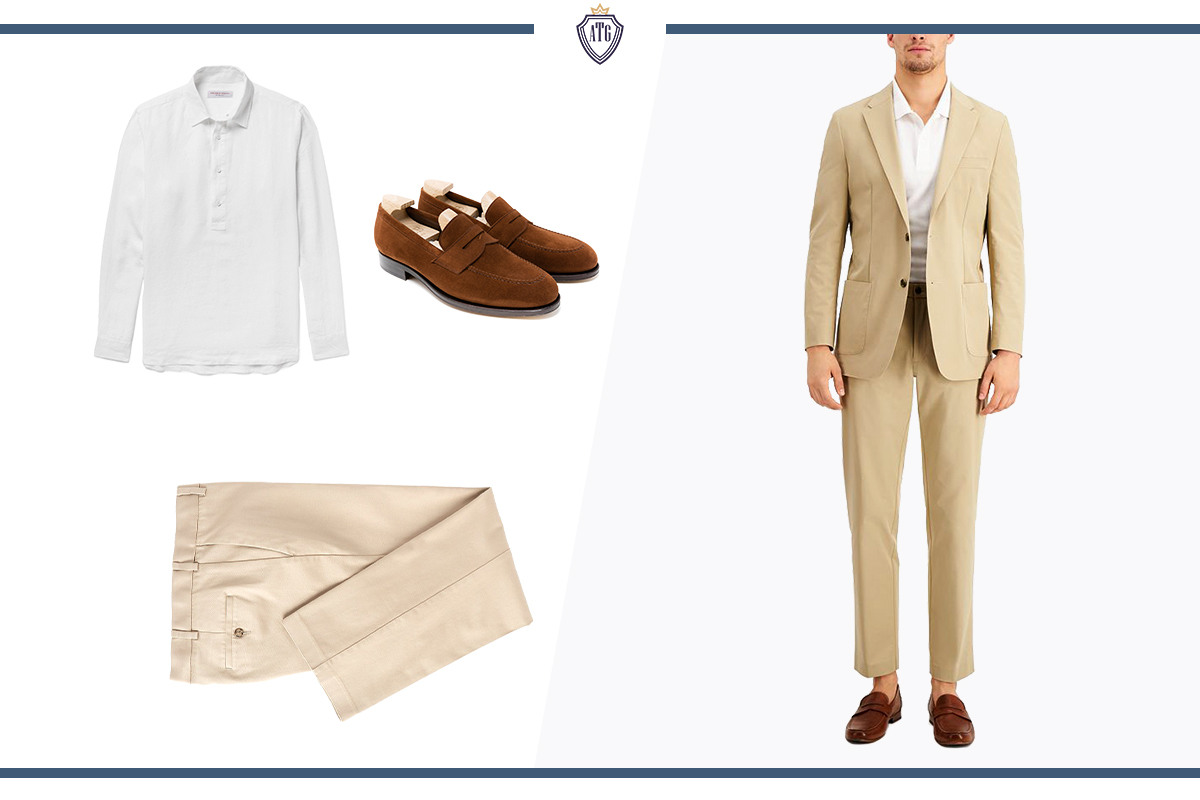 While you have room to experiment with different t-shirts, the safest and most sought-after combination is a khaki suit paired with a white t-shirt.
Add a pair of white sneakers, and your stylish yet straightforward look will be complete.
Shoes that Match with the Khaki Suit
Since khaki is known for its versatility and ability to match different colors, you have a lot of room to experiment with shoes.
Black or brown are shoe colors best for events that fall more on the formal side of the spectrum.
Go for Oxfords or Derby dress shoe style to keep formality in check.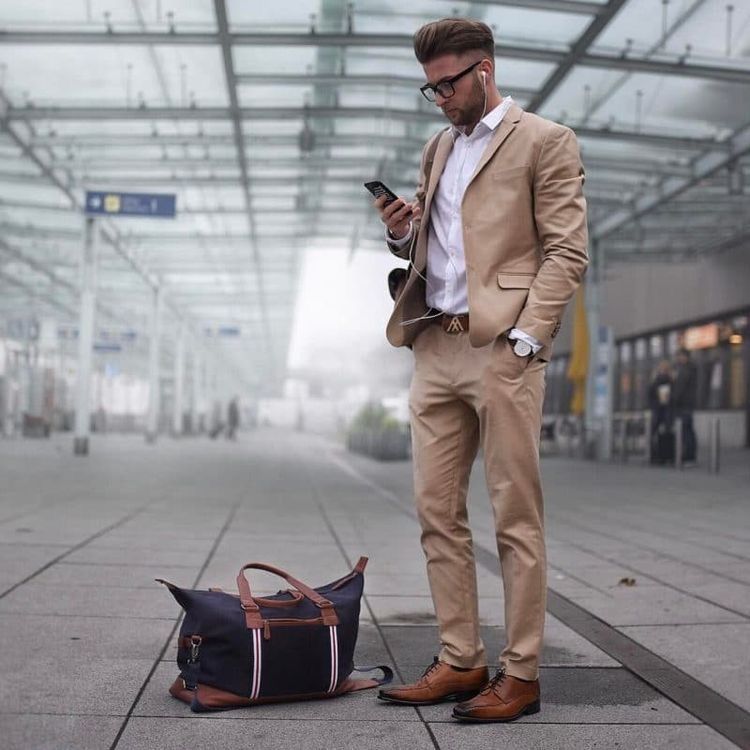 You can also experiment with a lighter shade of brown shoes as long as they are darker than the suit itself.
On the other hand, the more casual khaki suit look allows you to add sneakers.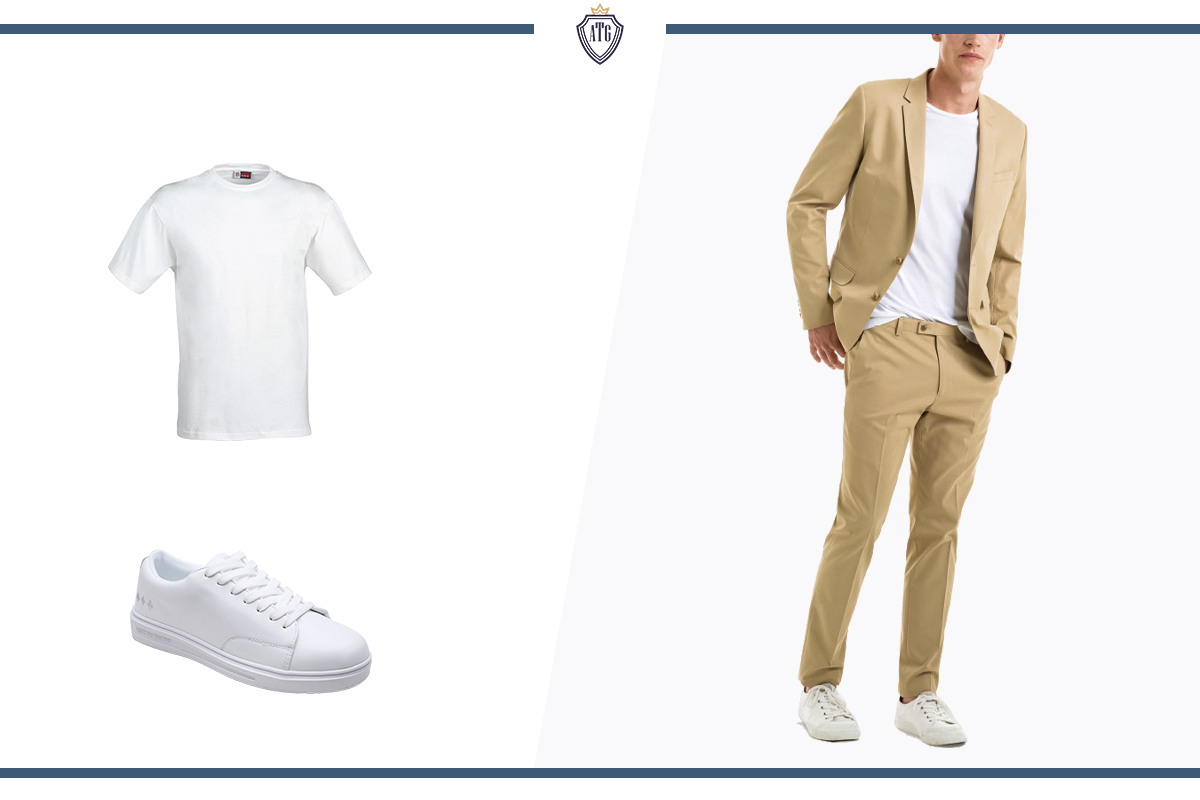 For instance, white sneakers paired with a white t-shirt under a khaki suit look decently smart yet casual.
Other Accessories You Can Wear with Khaki Suits
Accessories look great on any suit, whether it's khaki or the traditional black or navy.
However, with khaki, you have to be a bit selective.
I recommend you stick with stylish brown accessories to accentuate the overall look.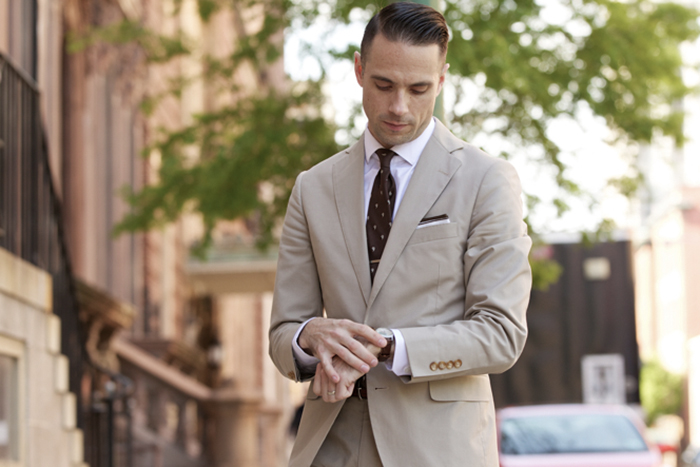 For example, round-shaped brown sunglasses look classy when paired with a light shade of khaki suit.
As for ties, blue is the go-to color alongside a khaki suit. However, this does not mean you are stuck with blue.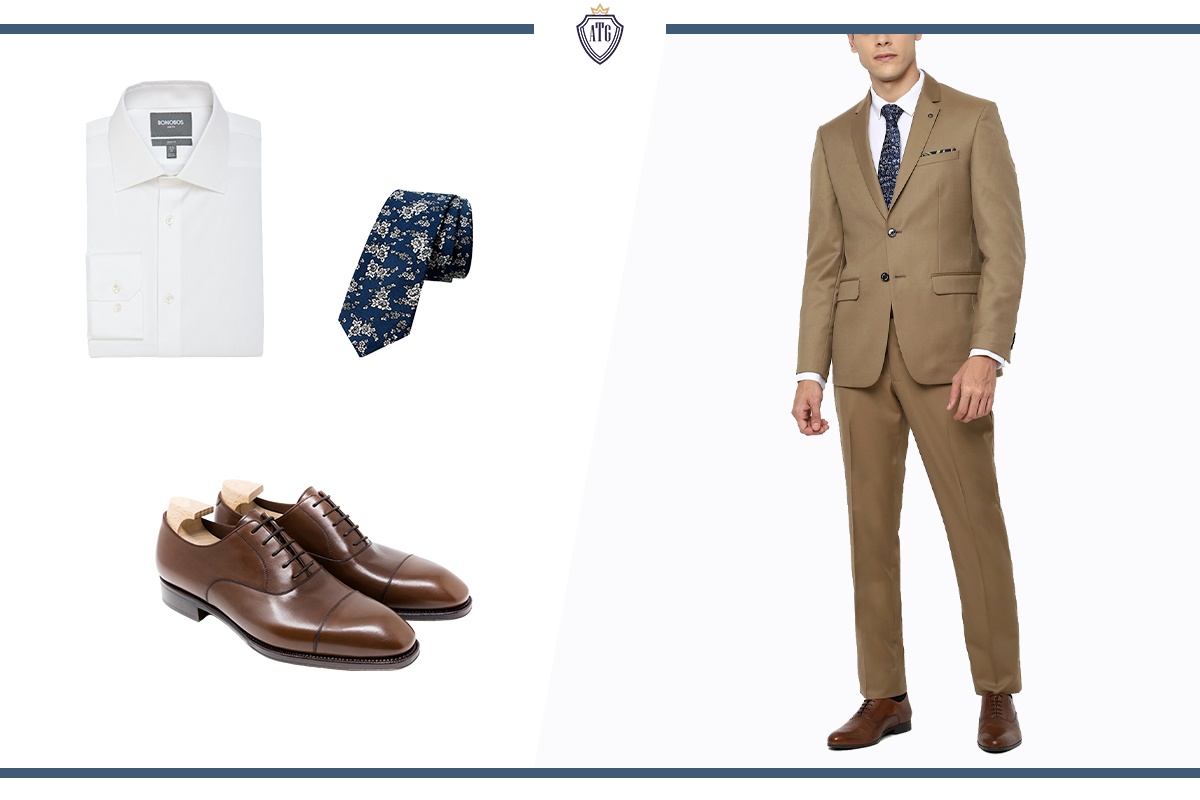 Depending on the shirt color, you can also experiment with purple and green shades.
A printed pocket square that contrasts the tie takes the overall appearance to another level.
A belt is necessary even if your pants sit tightly on the waist.
Make sure the belt matches the shoe color; otherwise, it just looks off.
Last but not least, adding a watch makes you look smarter and more professional at the same time.
You can either go for a leather strap watch or a metal watch. Both look equally good, so it all comes down to personal preference.
Best Khaki Suit Color Combinations for Different Formalities
Some people believe that khaki suits can only be worn in certain places.
It is actually the opposite because khaki suits, if styled right, can work for different formalities.
You just have to know the right color combinations to wear at various events.
Semi-Formal & Stylish Appearance
Khaki brings elegance and excitement to the table, which helps project a stylish and smart appearance.
It works incredibly well for semi-formal events, given the dark khaki tones.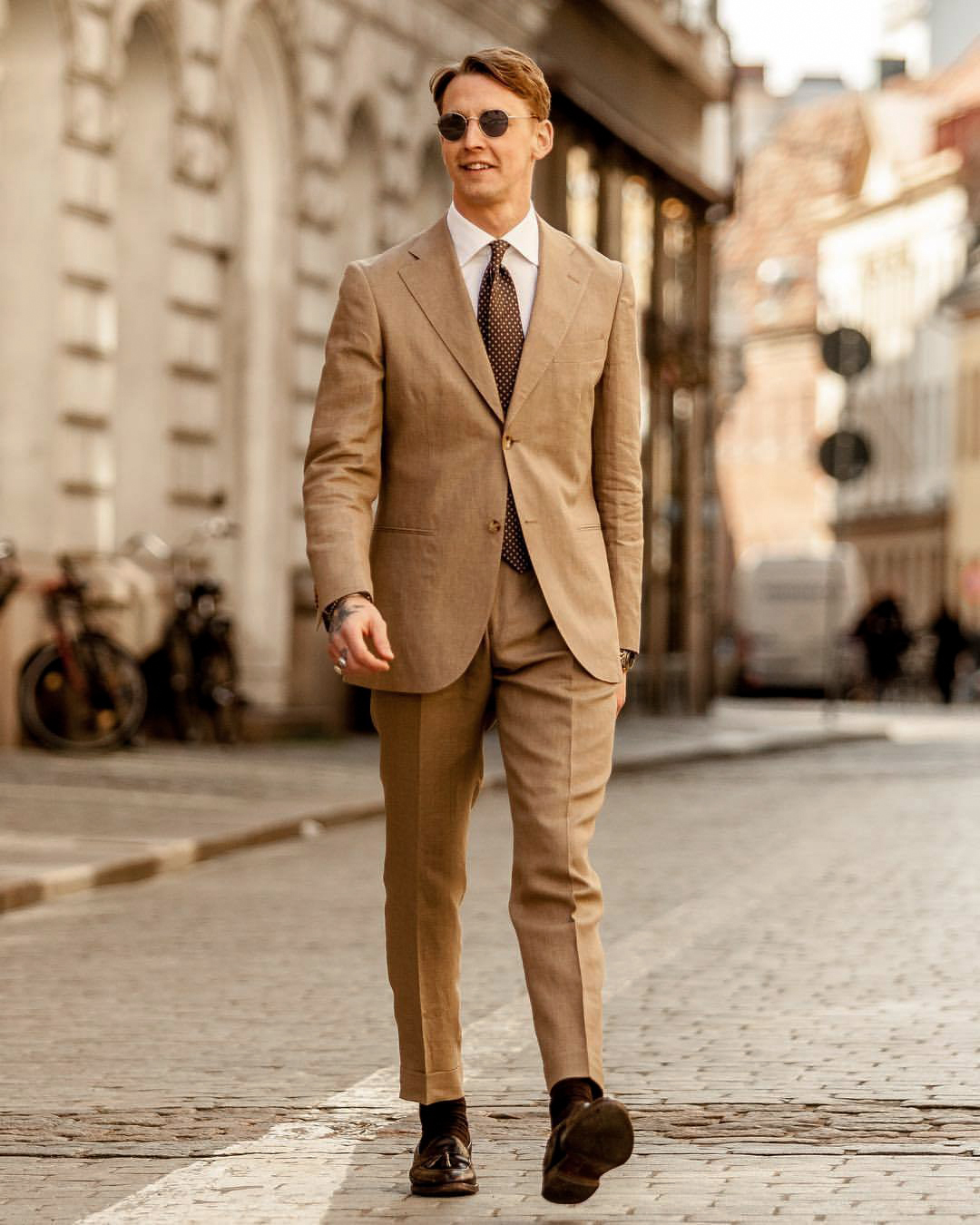 Matching a dark khaki suit with a white dress shirt and a conservative tie like brown or navy is the best semi-formal color combination.
However, make sure you get the right shade for your skin tone.
For instance, people with fairer skin tones look exceptional in cooler khaki tones, typically dominated by green hues.
On the other hand, tanned skin tones are best complemented by brown-based and warm khaki shades.
Summer Weddings
Summer weddings provide a fantastic opportunity to put on your light khaki suit.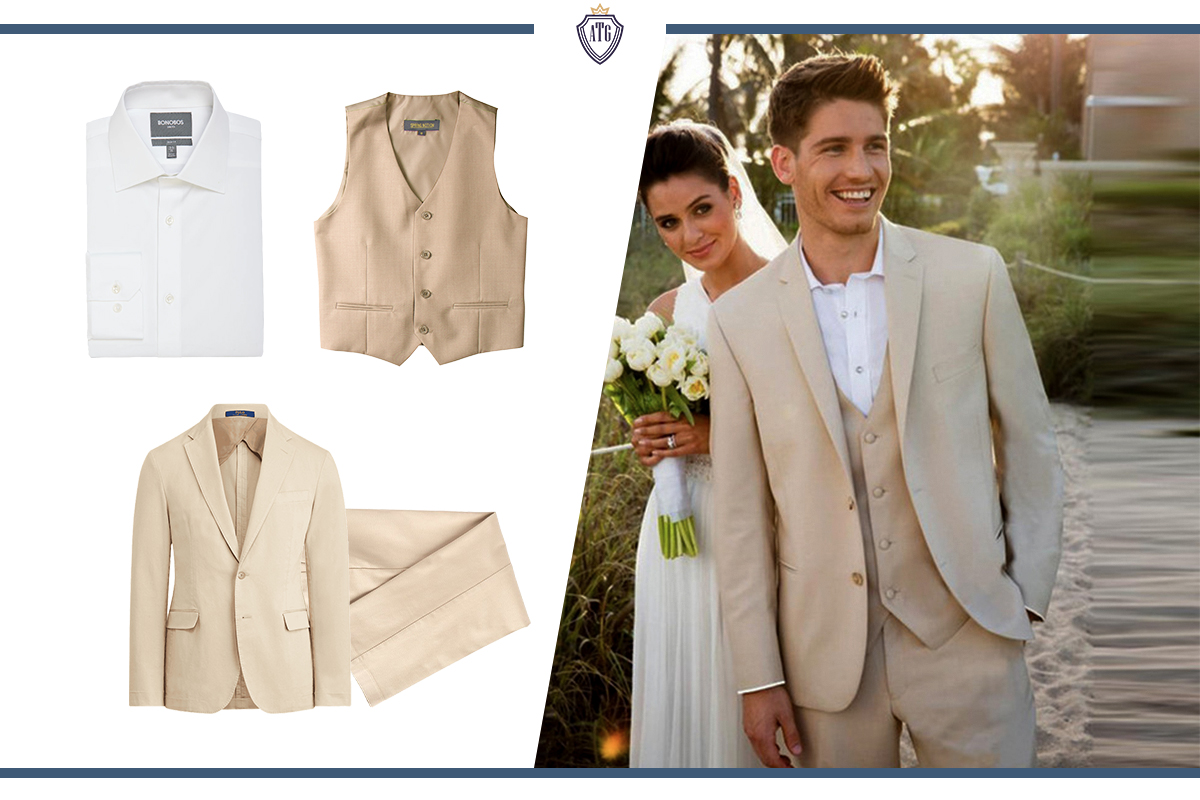 For instance, a breathable and lightweight linen khaki suit offers a warm and laid-back summer look.
You can pair it with both solid and patterned shirts if it's a daytime wedding.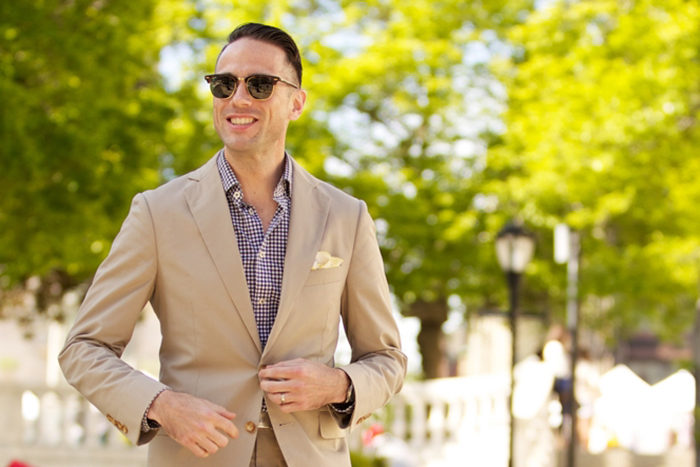 Nighttime weddings usually require more formal choices.
So add a crisp white shirt and matching accessories to sophisticate the look for more formal wedding events.
If formality is an important factor, you can also opt for a thicker material and a traditional suit style.
Make sure the suit is well-fitted and sits nicely on your body.
Separating the Khaki Suit
The versatility of the khaki suit comes into action when worn as separates.
You can put on the khaki suit jacket over a sleek summer t-shirt or polo shirt.
As for the pants, try something dark. My favorite, also the most popular, is navy pants under a khaki jacket.
You can switch colors if you decide to wear khaki pants with a separate jacket.
A navy blue blazer works exceptionally well with khaki pants.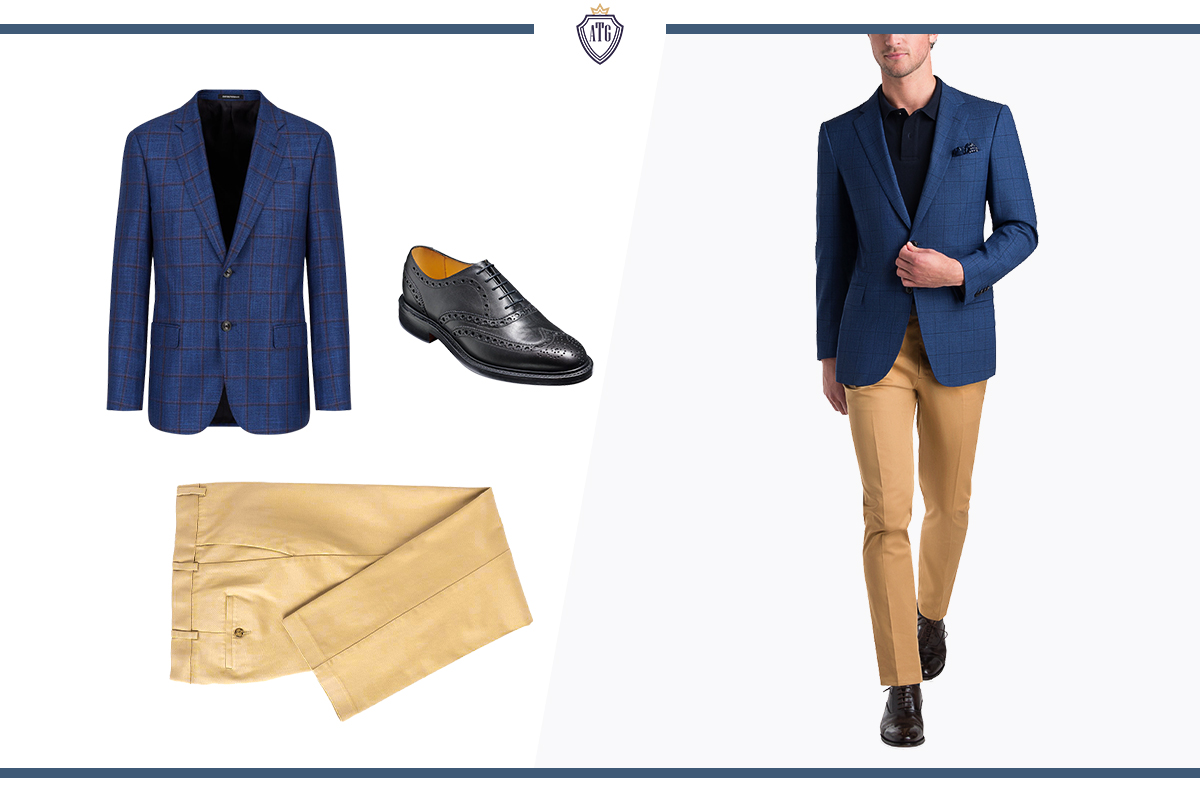 However, you can always add a twist by going for an earthy color, such as a light blue blazer over khaki dress pants.
Add a contrasting dress shirt, such as white or even light blue, to accentuate the look.