If you have ever been confused about where to wear a tan suit, you are not alone.
The best thing about tan suits is that they're versatile and easily paired with different dress shirts, t-shirts, and tie colors.
It all comes down to the right occasion.
So how to pair this suit color properly? I am here to clear up all the confusion.
Tan Suit: Basics & Formality
The English language defines tan as a pale tone of brown or light-brown color.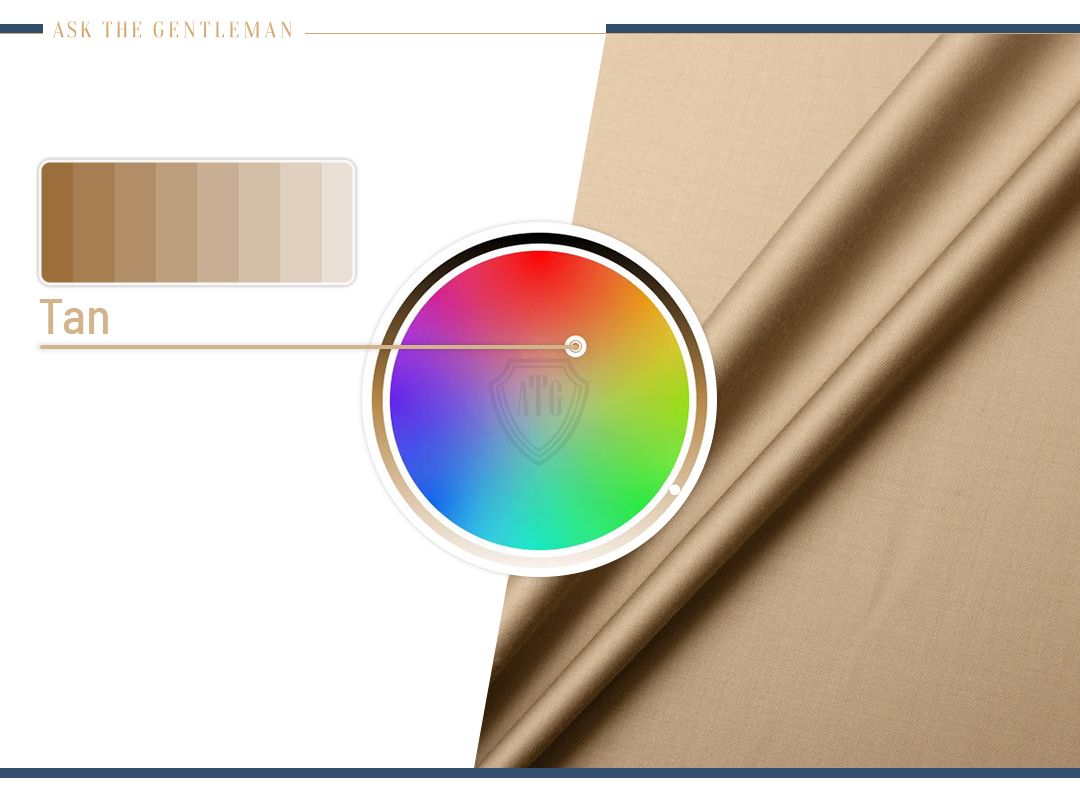 As such, the tan suit is the epitome of a casual look when it comes to wearing a suit.
It has a casual and breezy touch, given the light shade.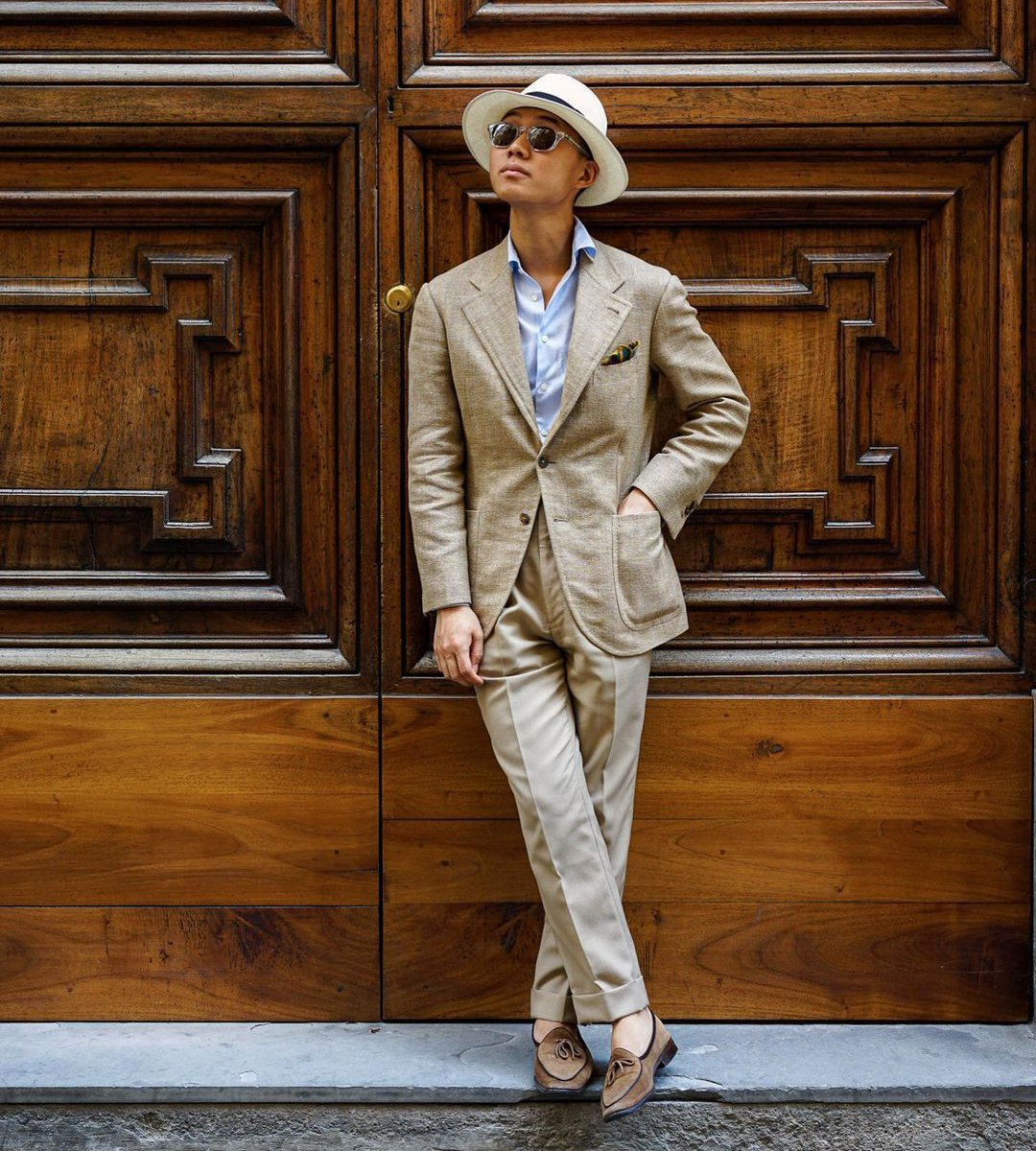 This is why it wasn't considered an acceptable color by suit devotees in various dress code settings.
But the new norm in the men's fashion world has made some space for the tan suit as an easy-to-match suit color.
As such, the tan suit has gained popularity for festive and semi-formal events, even though it's preferred as a casual ensemble.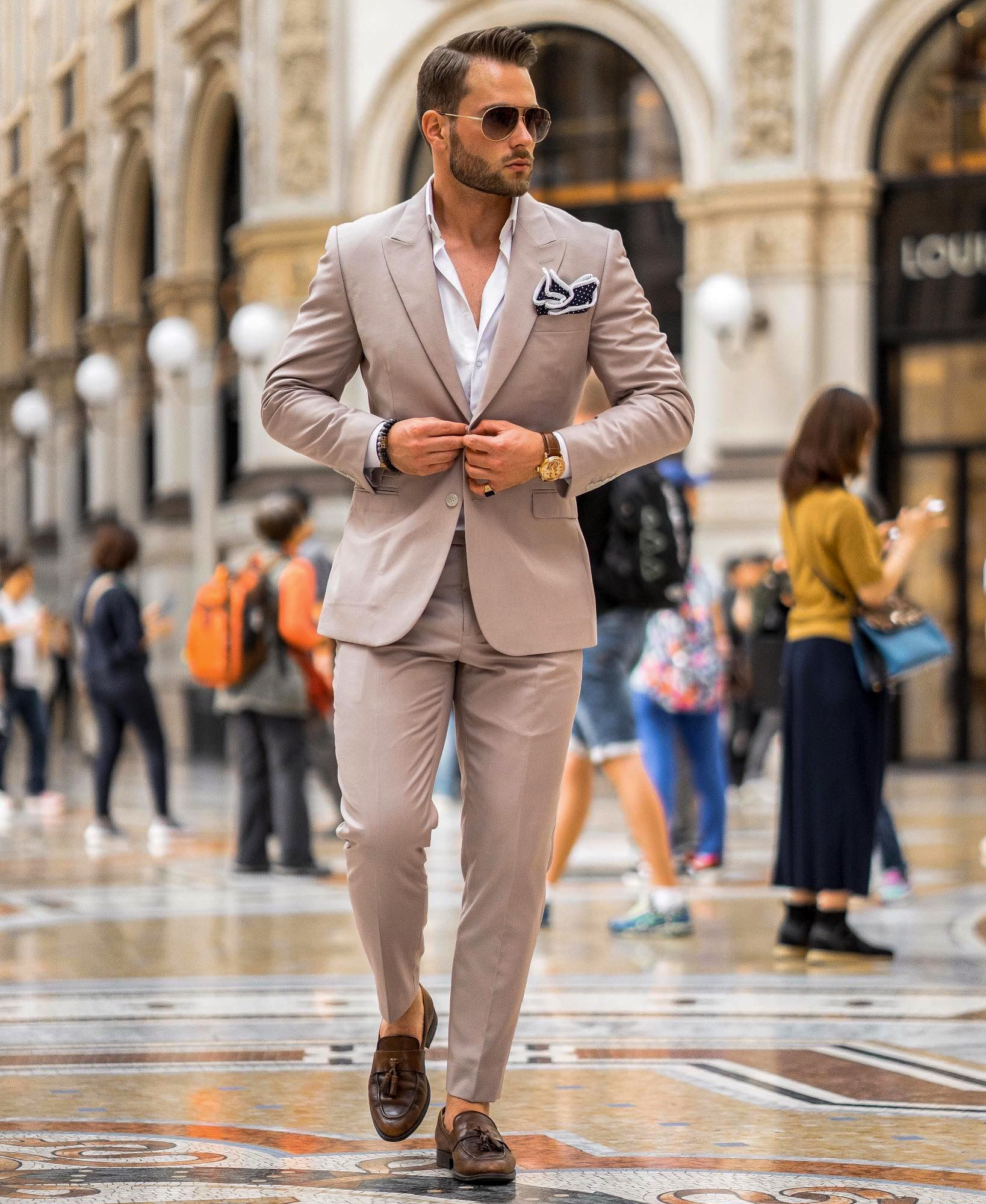 In fact, it is considered a bright shift from the usual dull shades that we often wear, adding excitement to the outfit.
However, you must rely on it mainly during the summer and never for a formal event.
In any case, whether it is a social, business, or jovial setting, if you decide to wear a tan suit, make sure it fits right.
Tan Suit vs. Khaki Suit
The tan suit is often confused with khaki and sometimes even beige, mainly because it is hard to differentiate.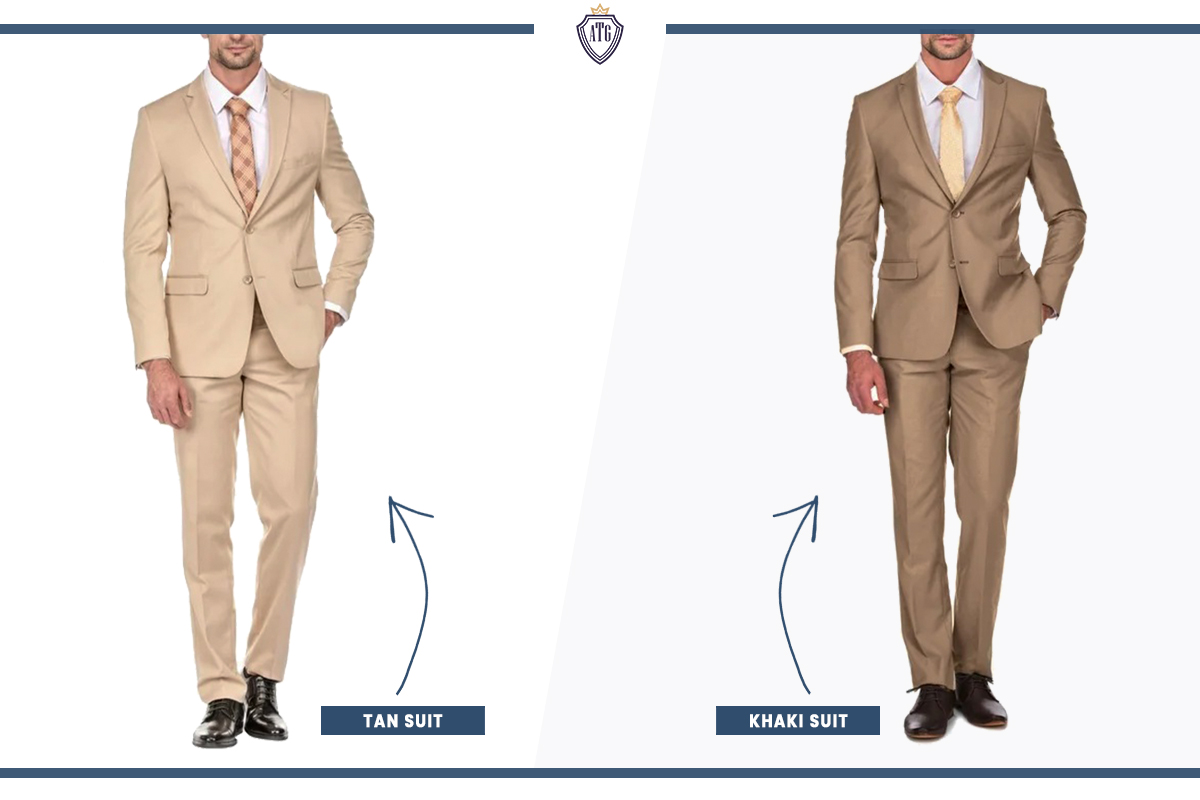 Even though tan and khaki are pretty similar, there are some stark differences that one must know.
Tan is a light shade color that originates from pure brown.
A good way to think of it is to picture a brown suit with white tones, making it look paler.
On the other hand, khaki features more of a yellow hue than brown, somewhat like a very dark cream color.
Even though they are different, both shades are light, exciting, and earth-toned, making them perfect for casual settings.
Tan Suit vs. Brown Suit
The key difference between a tan suit and a brown suit is the level of formality each has to offer.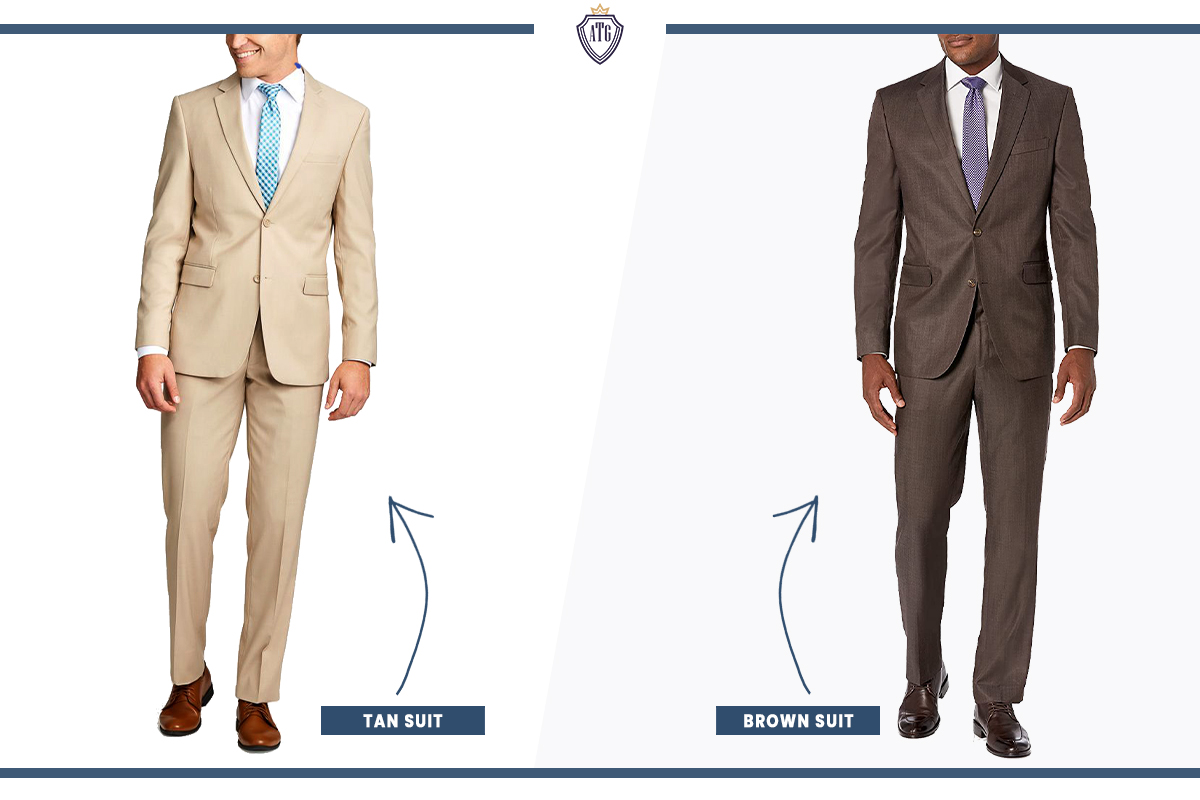 While both colors have earthy tones, brown comes off as more formal than tan.
More importantly, tan is also a lighter shade and lacks the depth of a brown suit.
While you can wear a brown suit to a formal event, a tan suit wouldn't be a good choice.
Best Shirt Colors & Ties for a Tan Suit
The color tan brings neutrality to the table, allowing you to effortlessly pair it with different colors.
However, you shouldn't be too eager to add unusual colors because versatility does not mean everything will match.
In fact, you can make two specific color blunders when pairing a tan suit with a shirt or tie.
To start, adding a super bold color is a bad decision because it can overwhelm the grace of the pale tan.
Of course, you can circumvent the "rule" if you play it boldly and with style, but it takes some practice.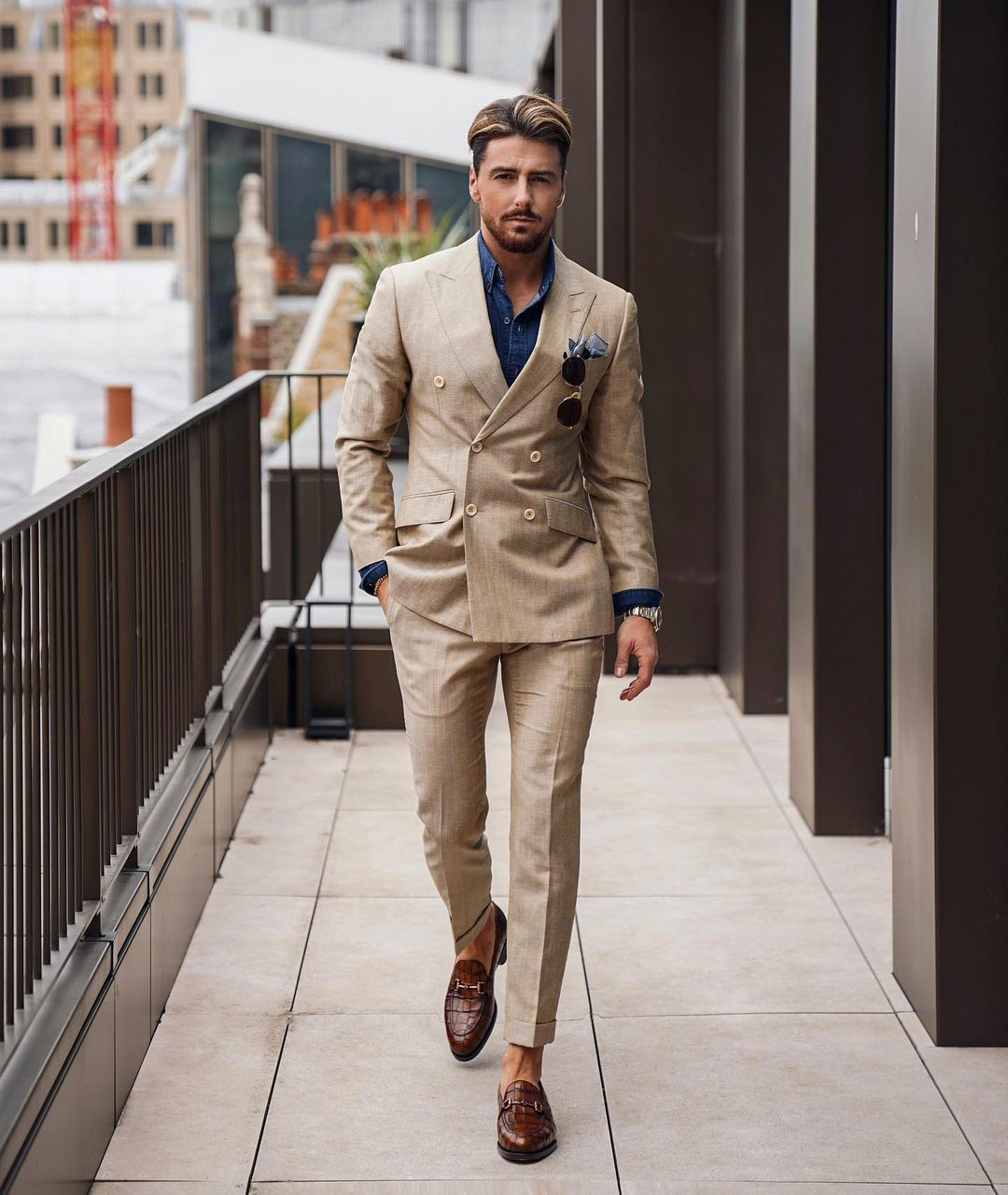 Also, adding a color similar to tan, such as light brown, can make you look bland from head to toe.
Nevertheless, some great shirt and tie color combinations work exceedingly well with a tan suit.
Tan Suit & White Dress Shirt
The white dress shirt is a classic choice no matter the color of your suit.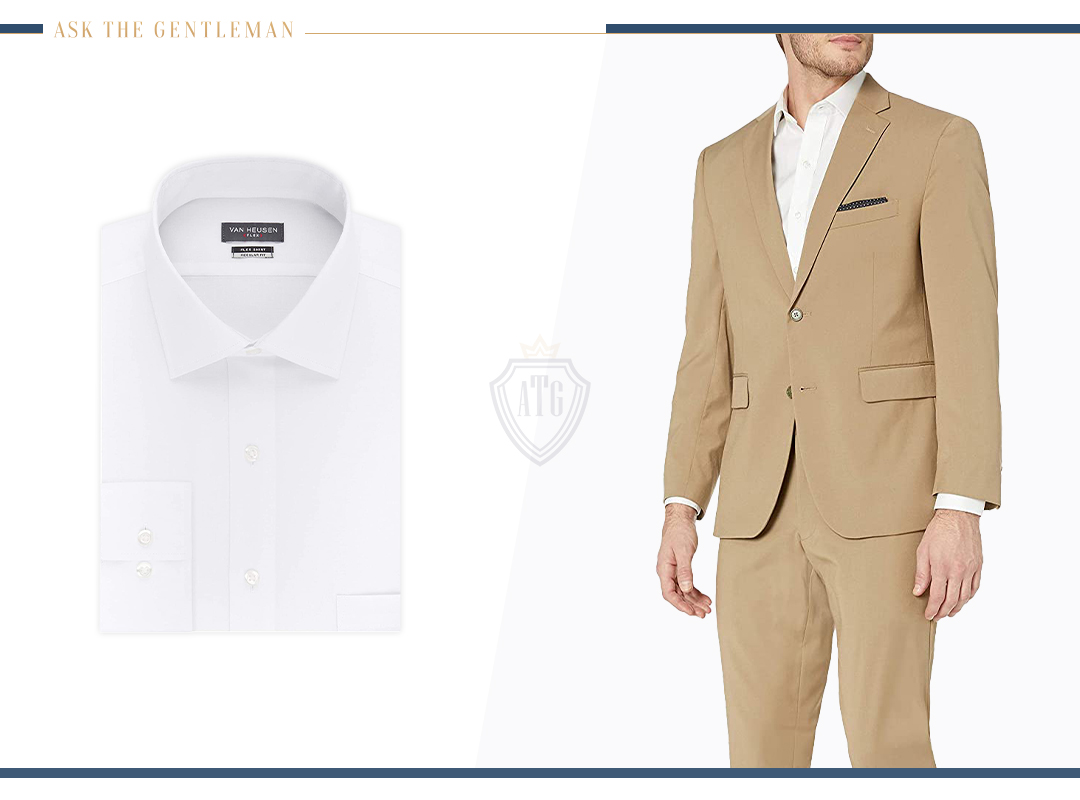 However, it creates a professional and fresh look making it a perfect match when coupled with a tan suit.
It also keeps the contrast in balance, unlike darker colors such as black and navy.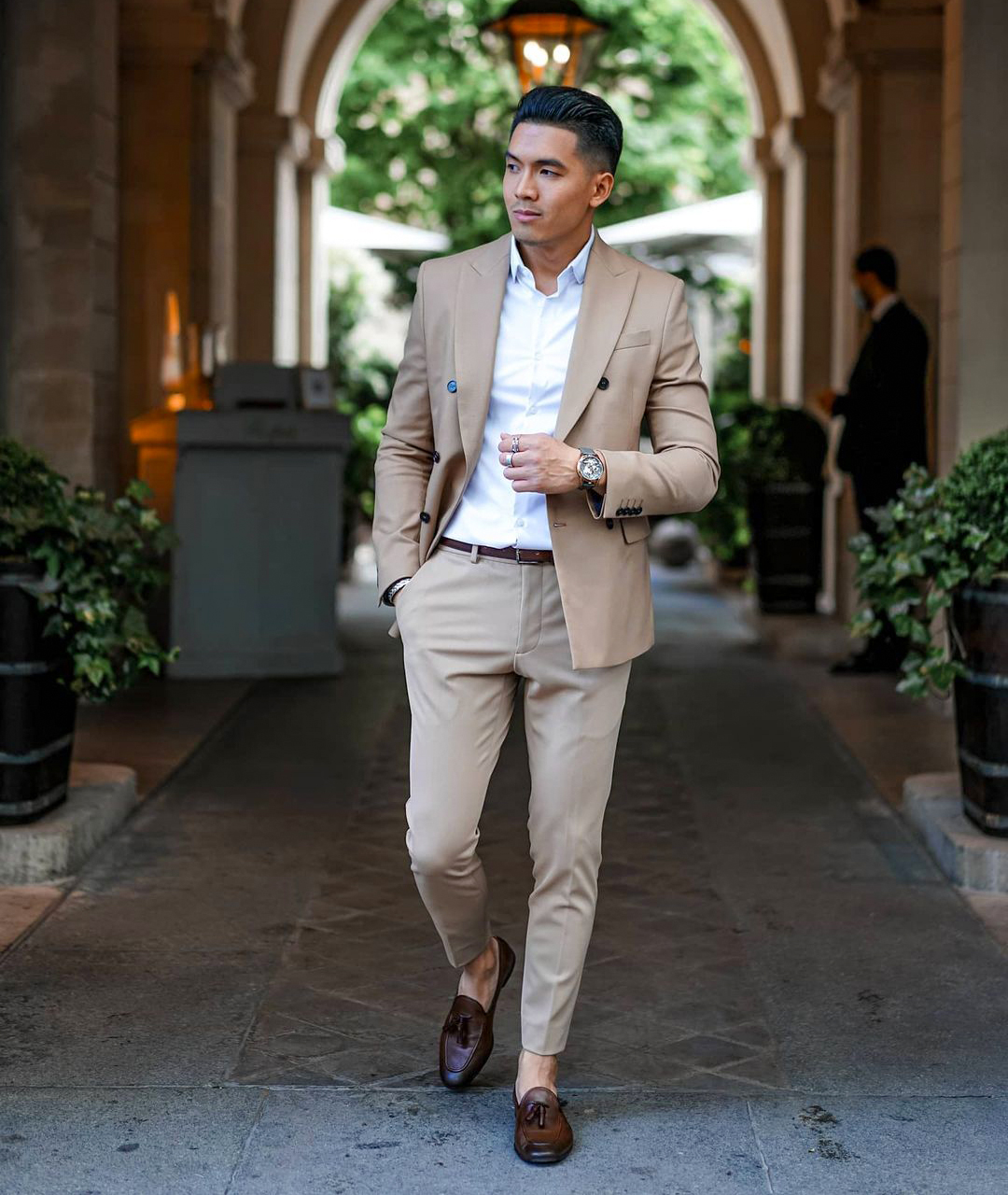 If paired with the right tie, this combination works exceptionally well for semi-formal and business-casual events.
You can throw in a brown, black, navy, and even grey tie.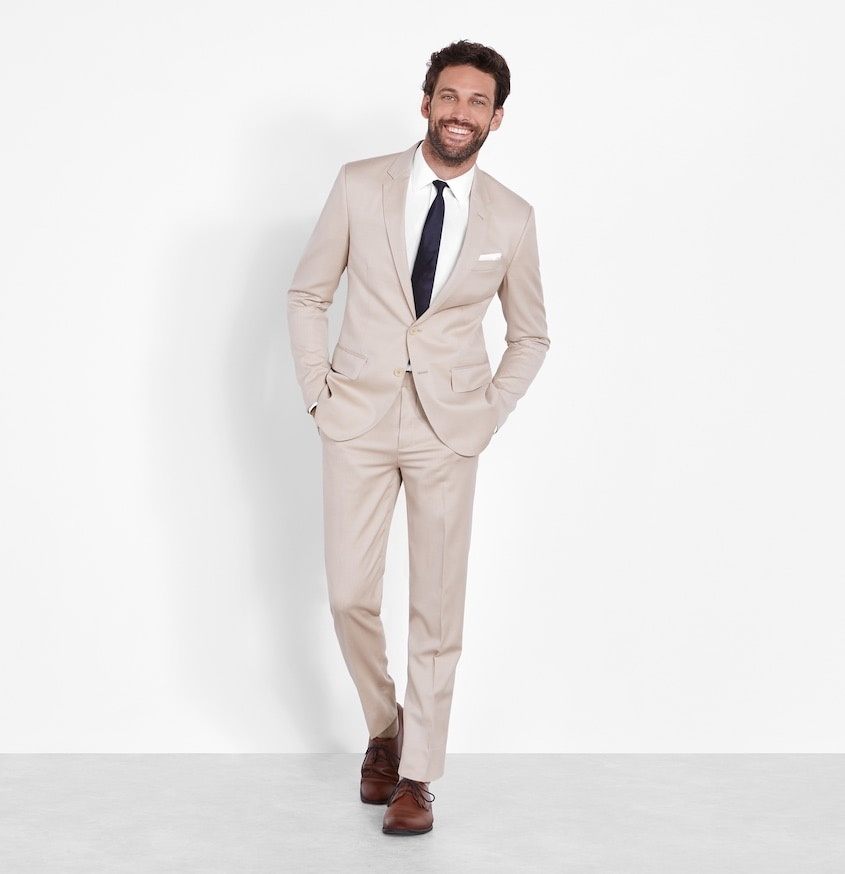 Gold is also a doable color with a tan suit and white shirt if you want to go the extra mile.
Tan Suit & Light Blue Dress Shirt
If you want to add a bit of blaze and flare to your tan suit, wearing colored shirts is the way to go.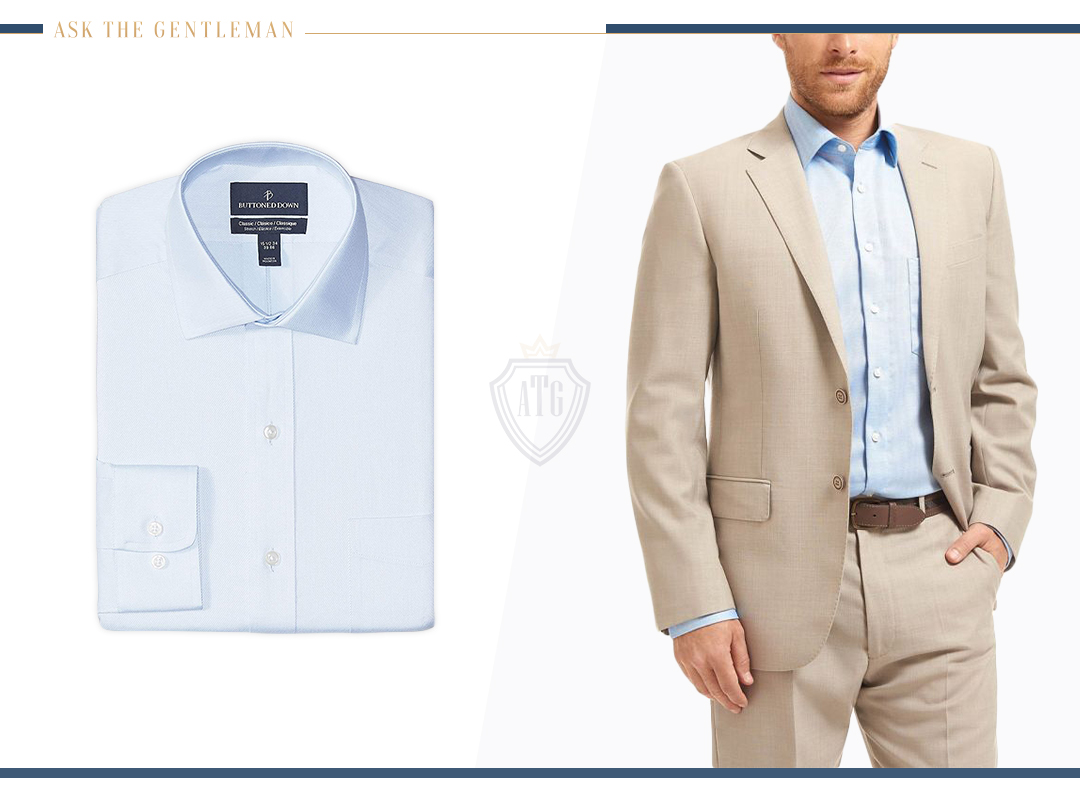 A light blue shirt is one such color that accentuates the earthy tones of the tan suit with its cool blue tones.
More importantly, blue is an ocean-inspired and summery color that creates a delightful look for summer weddings.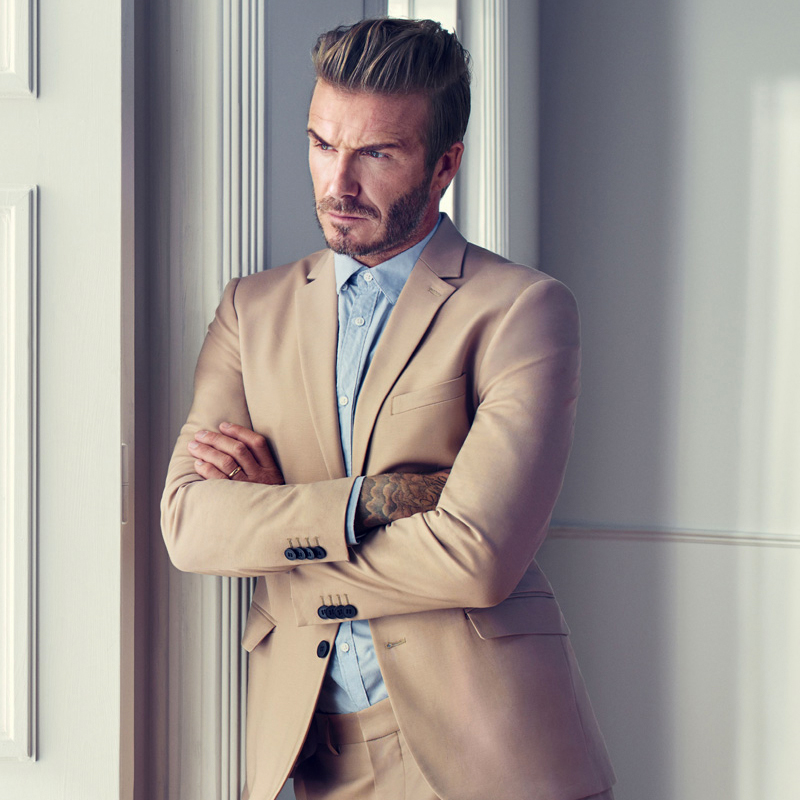 You can also opt for a darker shade of blue if your tan suit is darker.
The light blue shirt under tan suit combination is taken a step further with either a navy blue solid, striped, or dotted tie.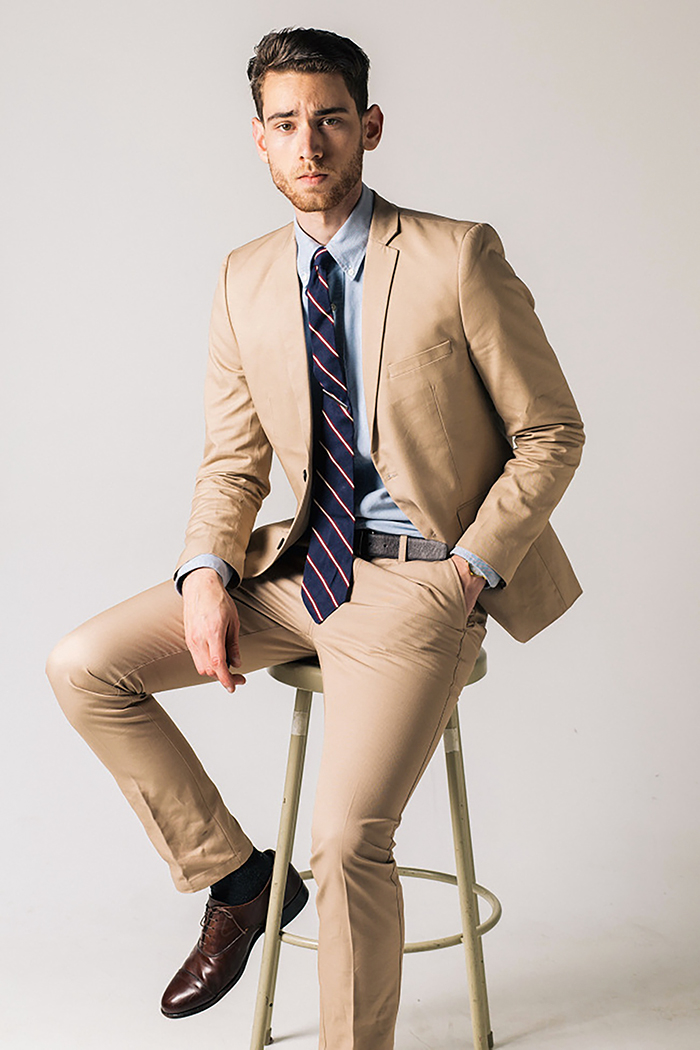 Other tie options include orange, navy, and a floral tie for a more casual and bold appearance.
Tan Suit & Light Pink Dress Shirt
People looking to turn their tan suit into a more modern-day ensemble can go for a light pink dress shirt.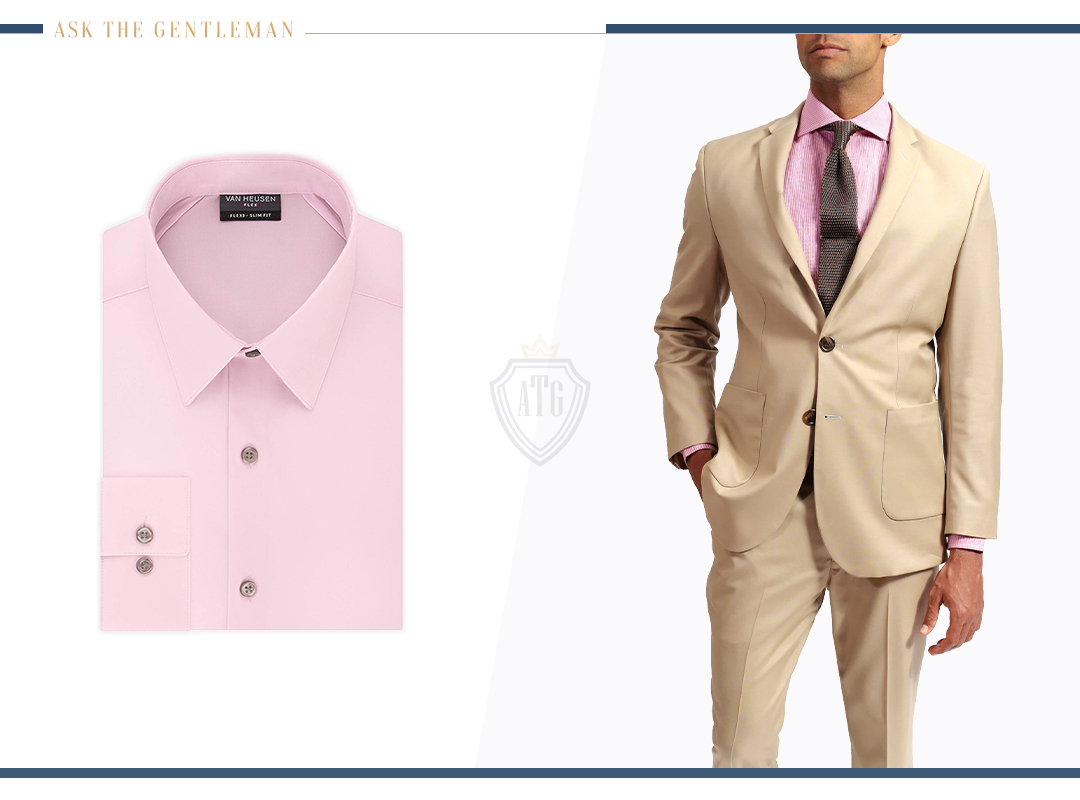 It adds a contemporary touch to the tan suit and makes for a pleasant change from the usual shirt colors.
The versatility of pink color allows it to come off as either bold or subtle, depending on the shade.
However, I would suggest you stick to lighter shades to avoid overwhelming the neutral tones of tan.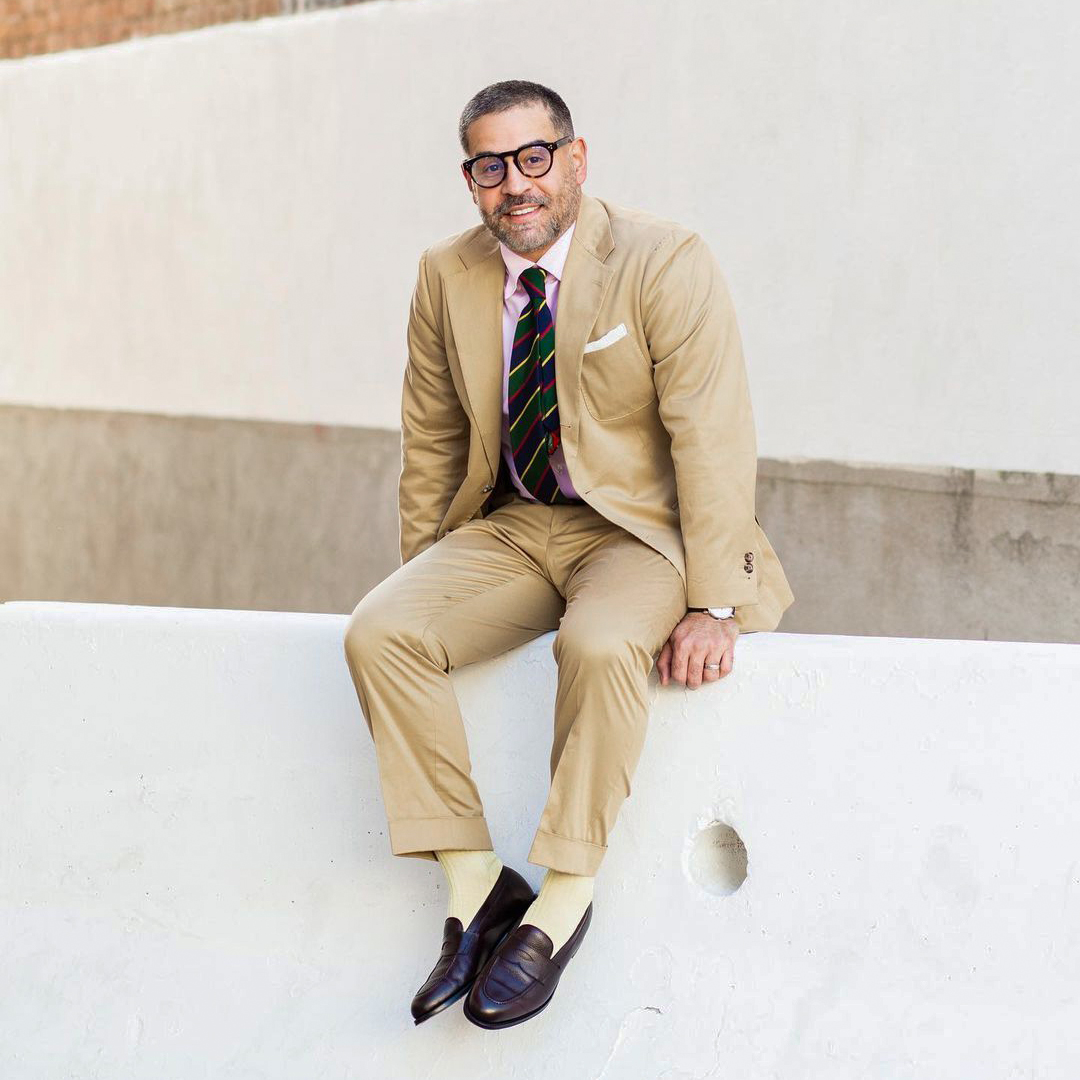 Therefore, sticking to soft pink is the safe way. Pale shades of pink work best for a warmer look.
Try accentuating the combination with tie colors that play up the warmth of the overall outlook.
Brown, purple, pink, navy, and even red are some popular tie options that sit well with this combination.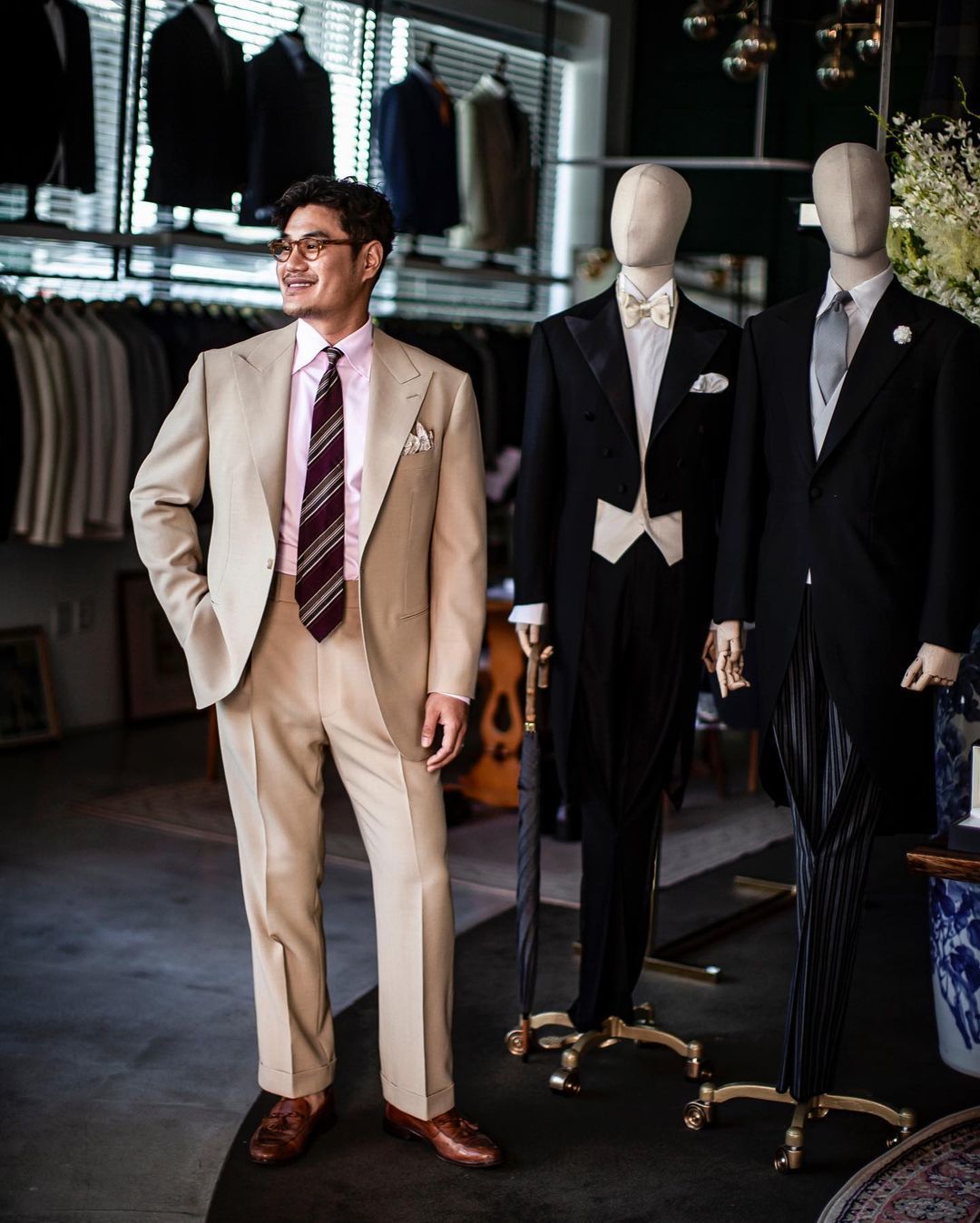 Floral ties are also great if you match the tan suit with a pink shirt for daytime weddings.
Tan Suit & Patterned Dress Shirt
If you want the ultimate casual look from a tan suit, pair it with a patterned dress shirt.
Stripes or checked pattern is the essence of summer casual.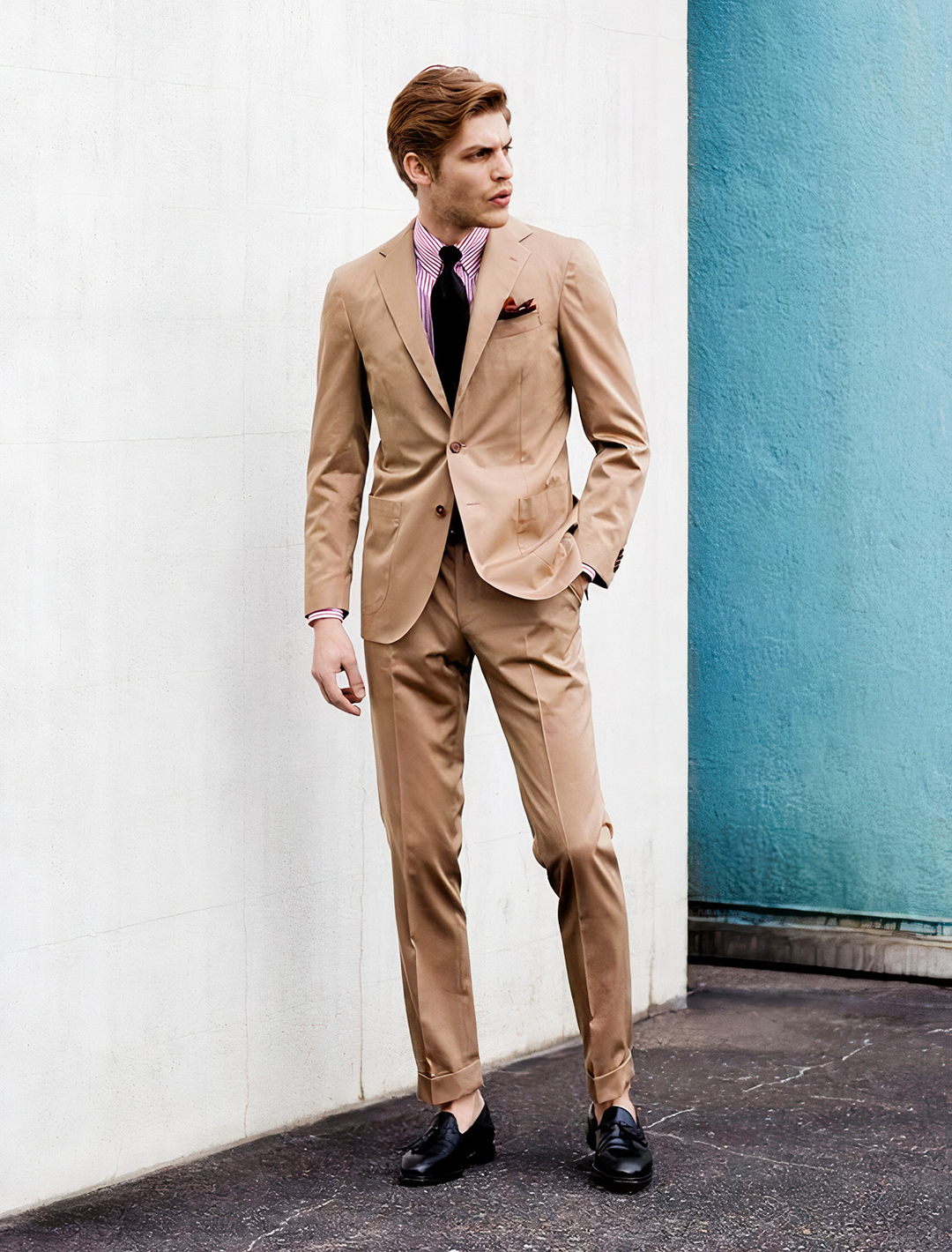 Combined with the casual king of suits takes it another step further.
Blue and navy coupled with tan is a combination made for each other, so nothing should stop you from throwing in a navy tie and blue-striped shirt.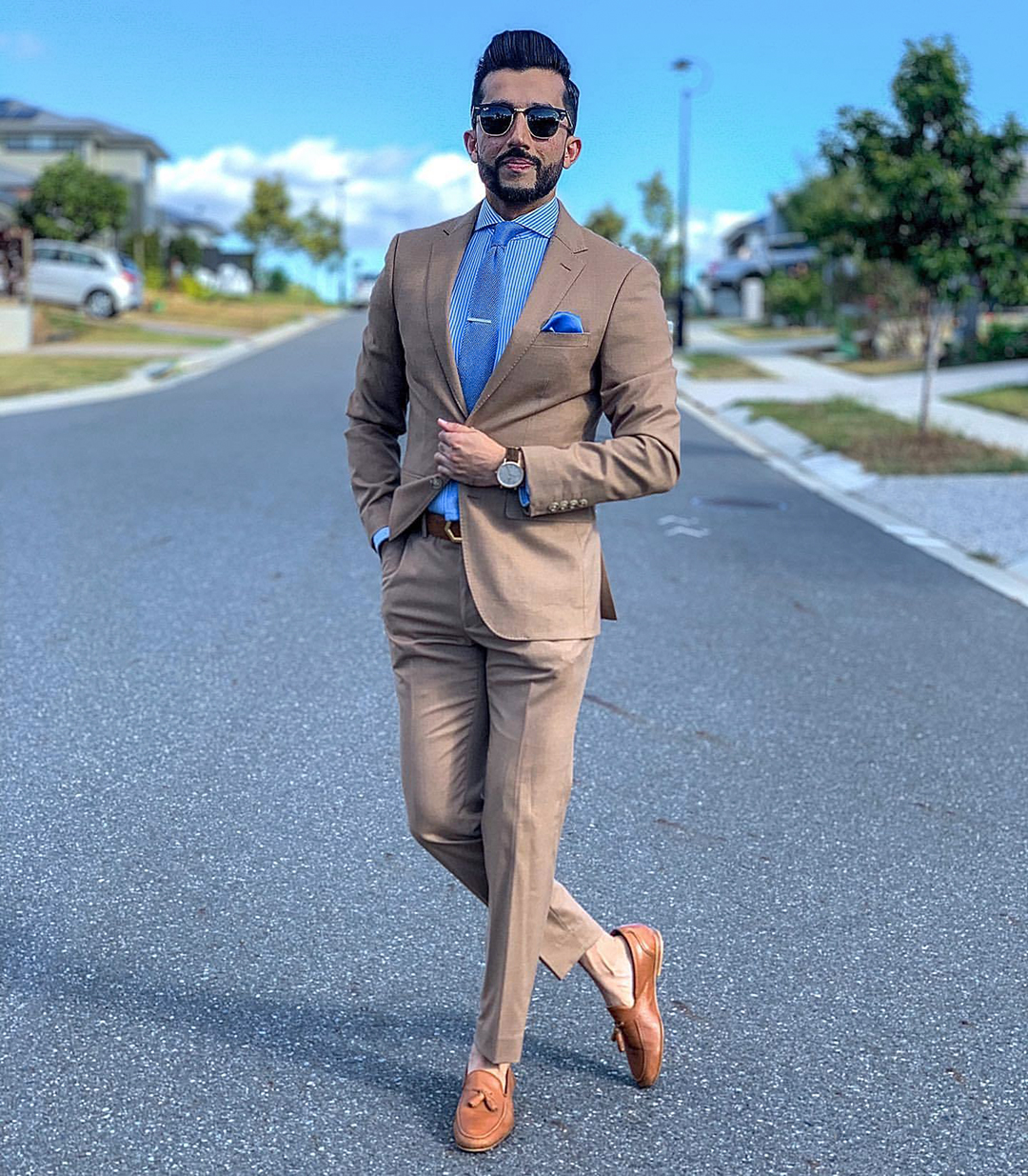 Offices that expect business-casual ensembles are perfect places to make a statement with this combination.
Outdoor events are more likely won over by a tan suit outfit paired with a pale purple or pink gingham.
You can also skip the tie when adding a patterned shirt under the tan suit.
Shoes that Match with the Tan Suit
Brown and burgundy shoes are a better choice than black for a tan suit.
These two colors compliment the earthy tones of tan, enhancing the warmth of the ensemble.
White shoes are good, too. You can even wear sneakers with a tan suit.
Tan Suit & Brown Shoes
Brown is one of the classiest shoe colors to pair with your tan suit.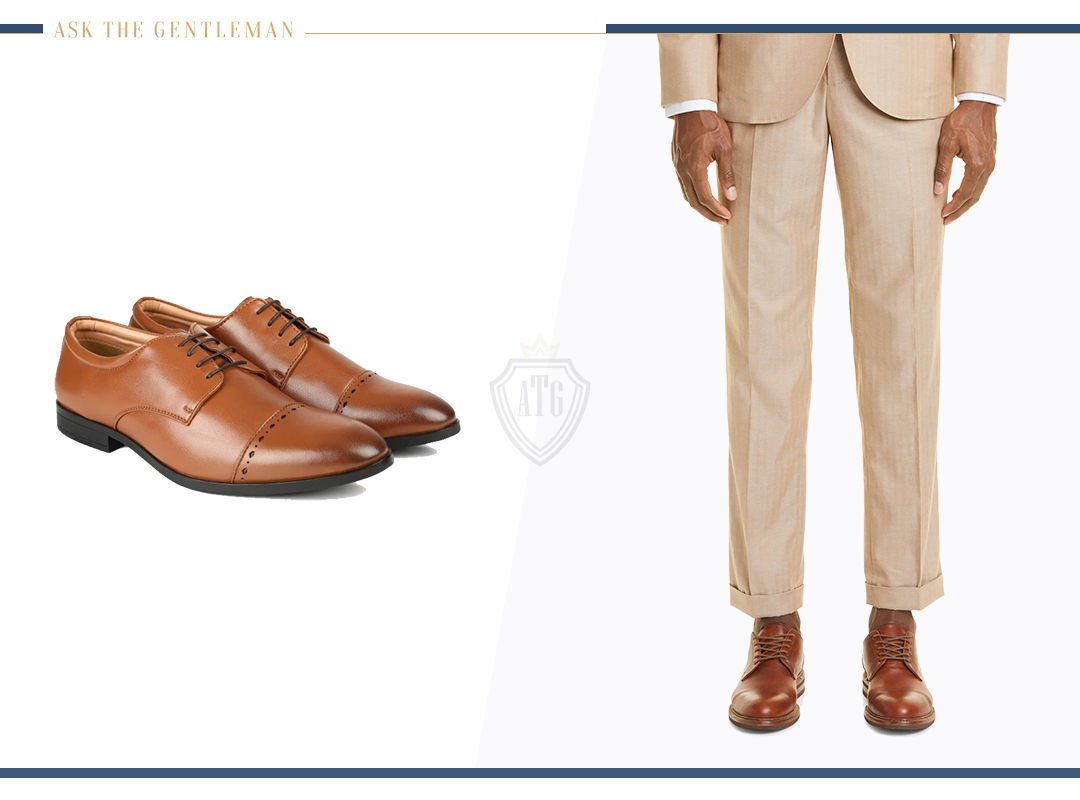 It accentuates the neutral tan tones by adding some excitement near the bottom.
However, you don't have to be stuck with dark brown shoes under a tan suit.
Since tan is a lighter shade of brown, you can opt for lighter shades of brown shoes.
But make sure the shoe color is still darker than the suit shade because that is what the book says.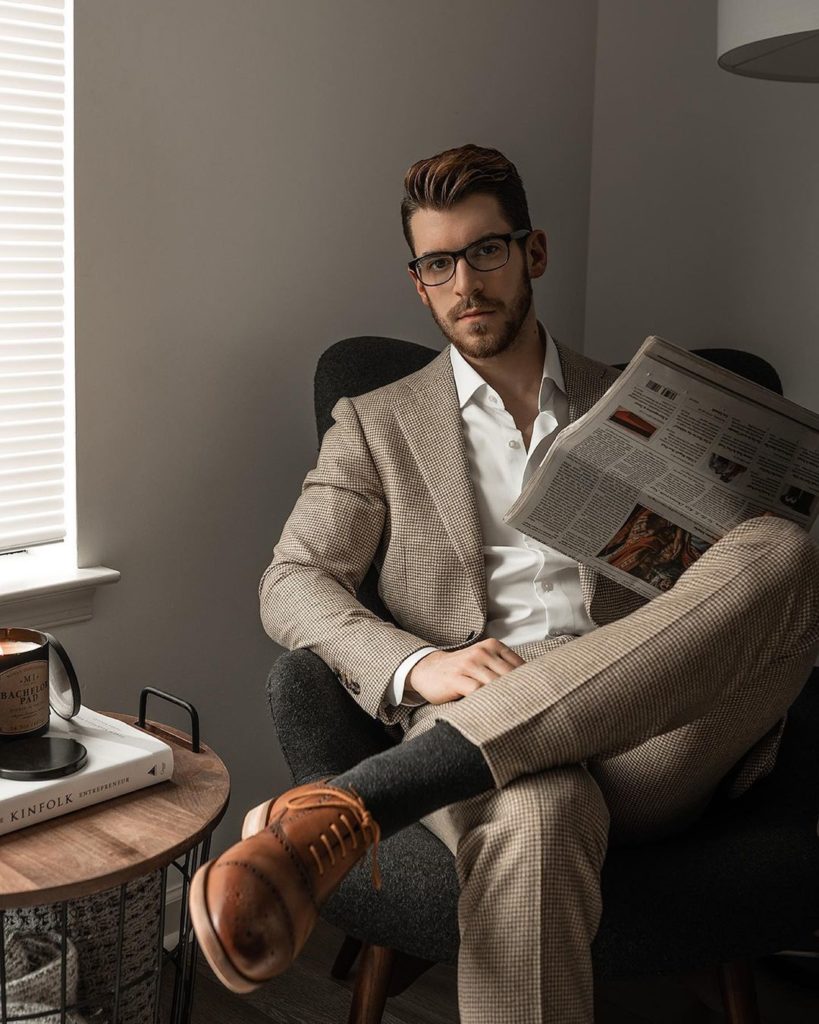 As for the shoe style, it depends on the formality of the outfit.
You can opt for Oxfords or Derby for slightly formal tan suit ensembles.
Nonetheless, brown loafers are the best choice for tan suits, in my opinion.
Since tan is mainly worn in summer, loafers complete the outfit ideally in style and formality.
Tan Suit & Burgundy Shoes
Burgundy might not be as classy as brown, but it does add the right level of excitement to a casual tan outfit.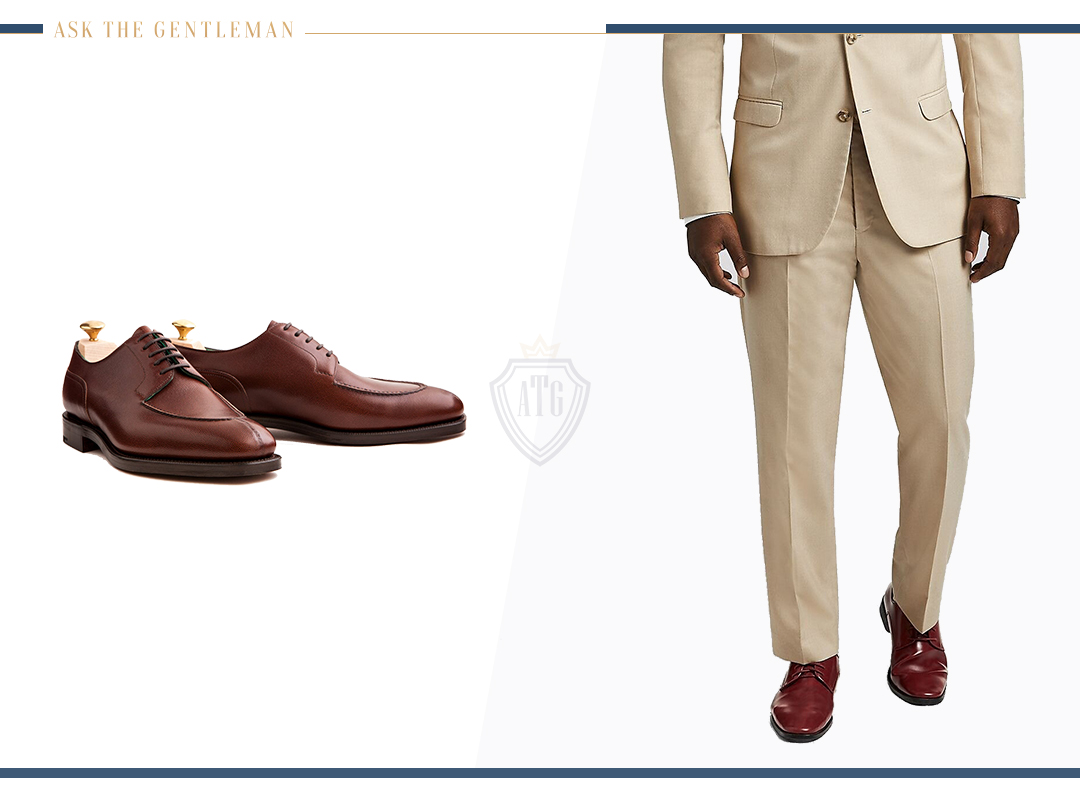 However, this does not mean you cannot wear formal burgundy shoes with a tan suit.
If the shoes are darker than the suit, you can opt for a casual or formal pair depending on the occasion.
The shiny burgundy tones astoundingly complement the neutral tones of tan.
It is a great match and my favorite, so I would always root for burgundy shoes over black or brown.
Other Accessories You Can Wear with Tan Suits
You can make or break the look of your tan suit by adding accessories.
Be mindful to keep things simple yet stylish. Sometimes overdoing the accessories overwhelms or makes you come off as too casual, so be wary.
A belt, pocket square, and watch are great additions to accentuate the suit.
If it's a daytime event, you can also wear a pair of classy sunglasses, preferably in a brown or burgundy frame.
Matching the Belt
While it is essential to wear a belt with a suit, what's even more important is that the belt matches the shoe color.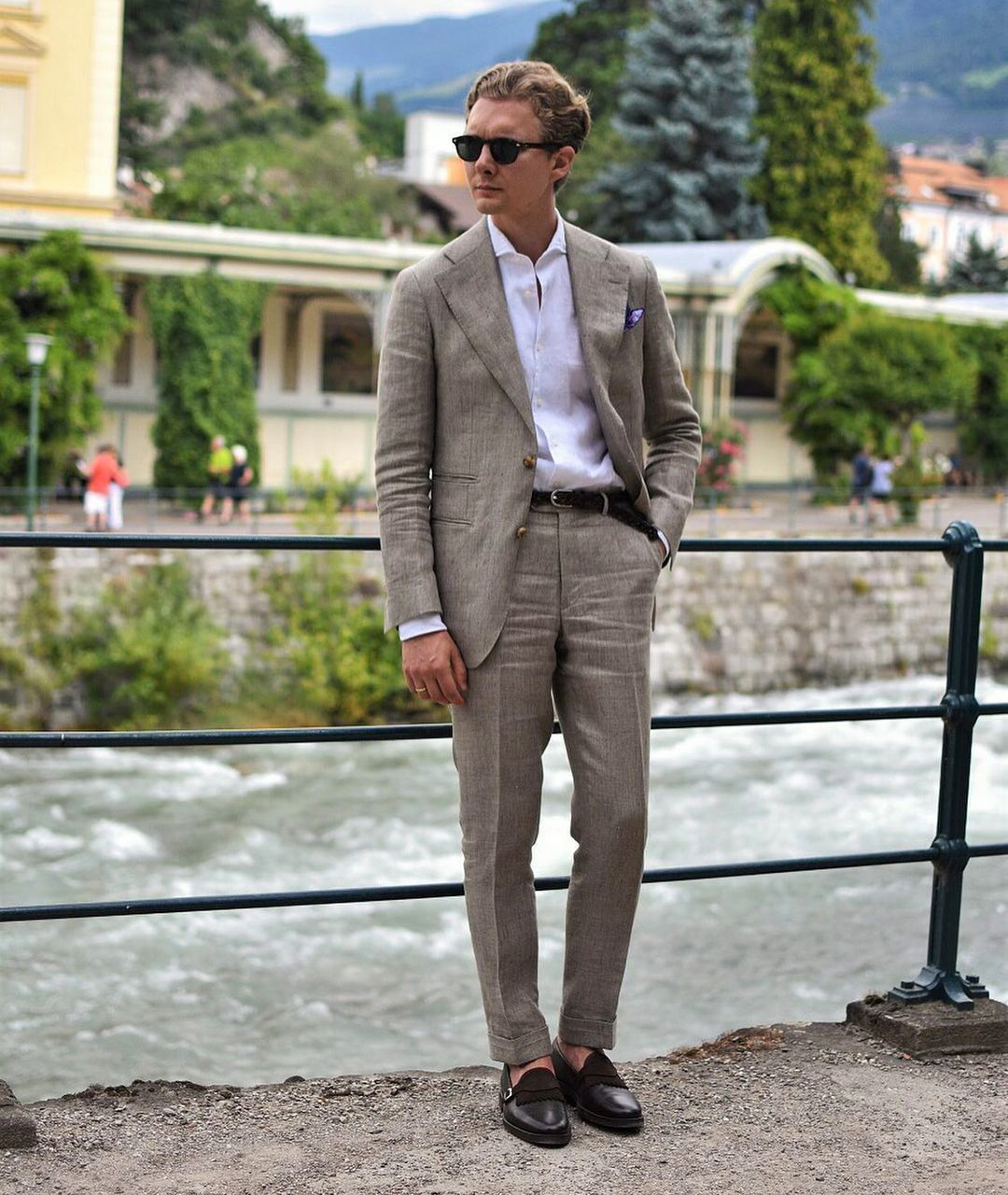 Shoes and belts are what cover the top and bottom of your pants.
The shades for these two accessories must match to a great extent, if not exactly the same.
Make sure you don't skip the belt even if the pants sit tight on your waist.
Match the Pocket Square with the Tan Suit
You can take the casual stance of a tan suit to the next level by adding an exciting pocket square.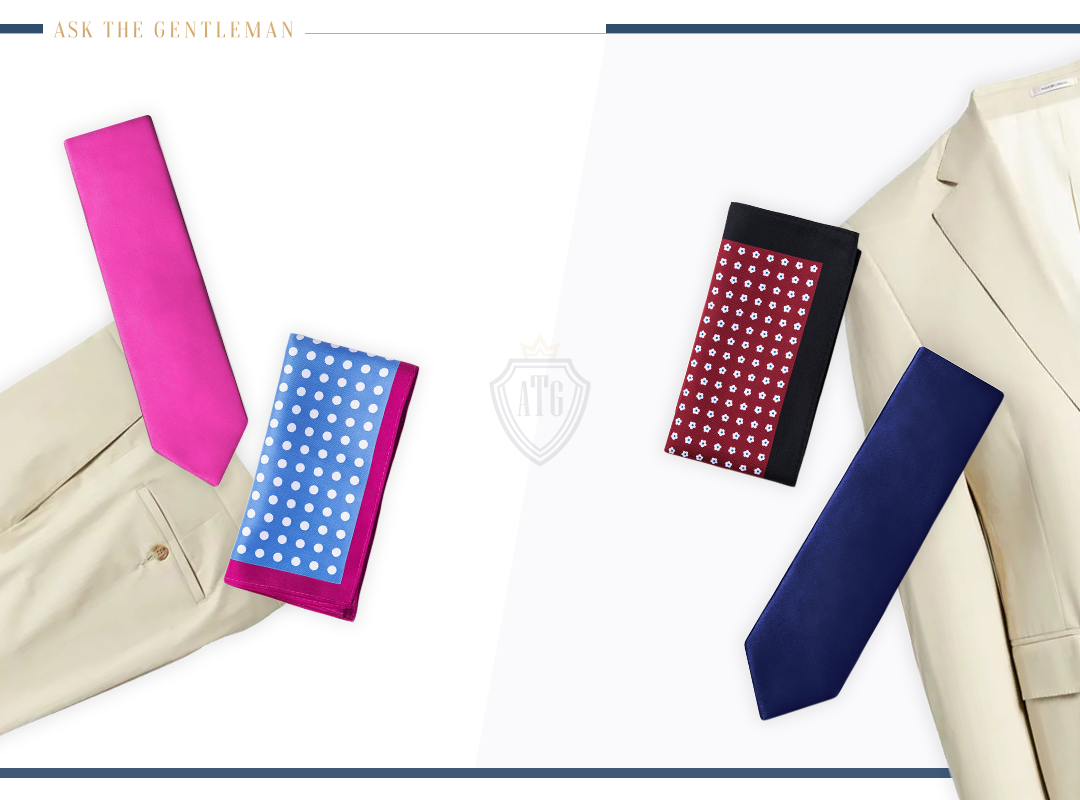 It can be floral, patterned, or even dotted to add some enthusiasm to the ensemble.
Just make sure to follow the basic rule of contrasting the pocket square with the tie, and you will be good to go.
Brown Leather or Metal Watch
Suits are all about looking classy and smart, and a watch enriches the ensemble with more class and style.
I would recommend you get a brown leather strap watch which is my personal favorite.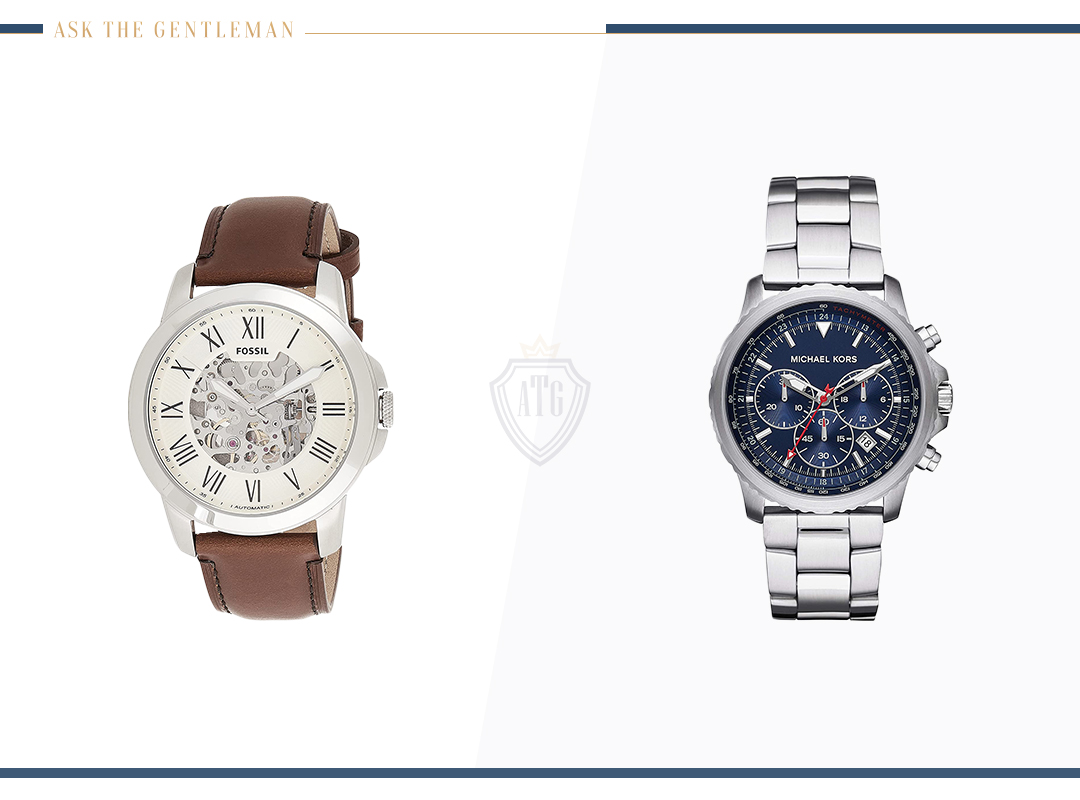 It is sleek, elegant, and decent at the same time.
However, if you prefer metal watches, there is no harm. Silver metal watches work equally well with tan suits.
If you have the confidence to pull off a gold medal watch, then definitely give it a try.
Best Tan Suit Color Combinations for Different Occasions
Contrary to popular belief, tan suits have the ability to excel on different occasions.
The suit color is so versatile that you can pull off a fabulous look if styled with the right color combinations.
Let's see where you should wear it and how!
Cocktail Parties
Winter cocktail attire calls for darker hues, primarily when held during the evening.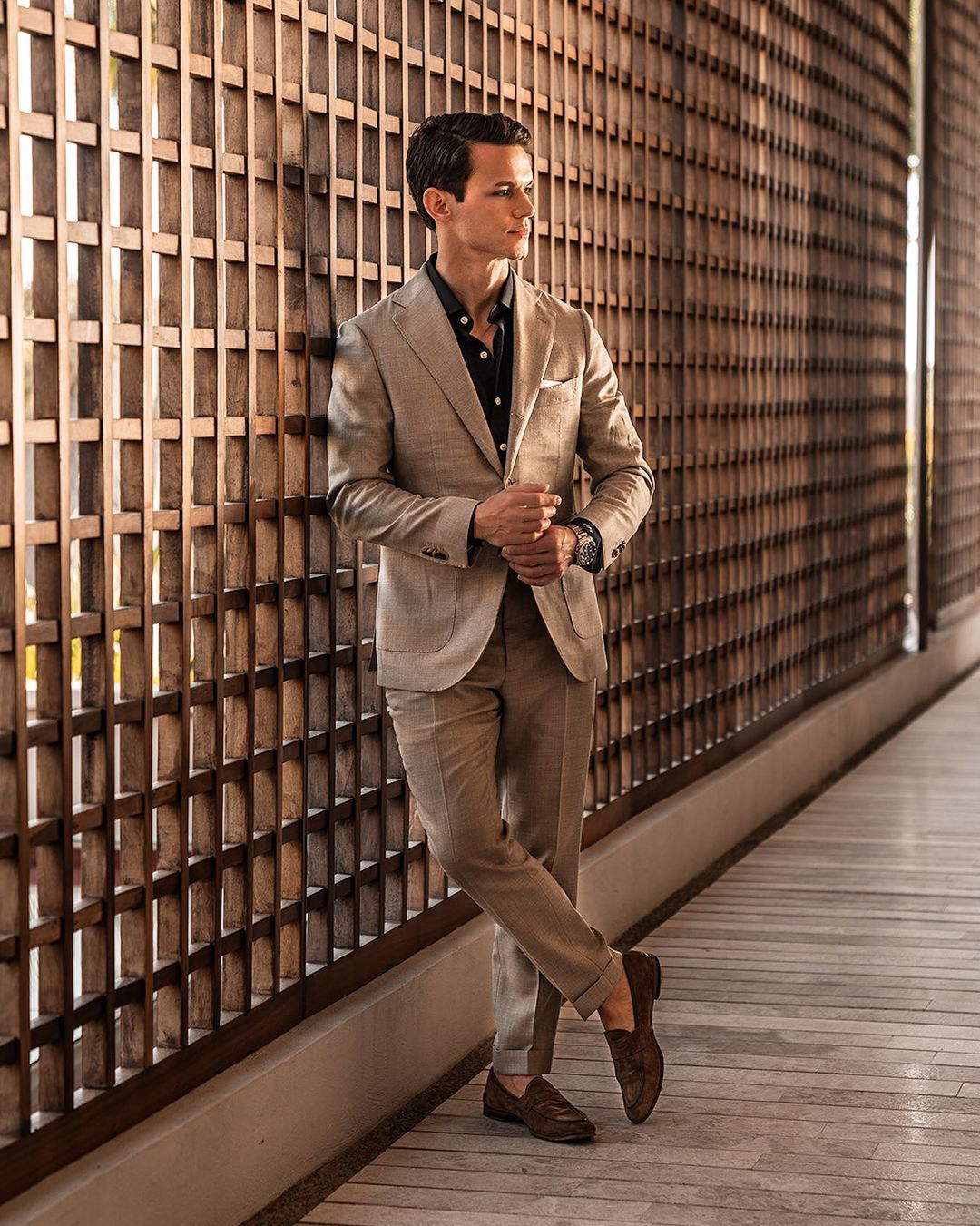 However, the tan suit is excellent for a summer daytime cocktail party.
The light hues and warmth of tan are all you need to make your presence felt.
Pair it with a crisp white or pink shirt for a fresh and professional look.
Add a matching tie, contrasting pocket square, and matching belt and shoes to complete the look.
A darker shade of pink or a floral tie can do the job just right.
Summer Weddings
Summer is the time for celebration and warmth, so get your tan suit ready for the next wedding invitation.
The key to winning your summer wedding look is choosing the right shades and accessories for the tan suit.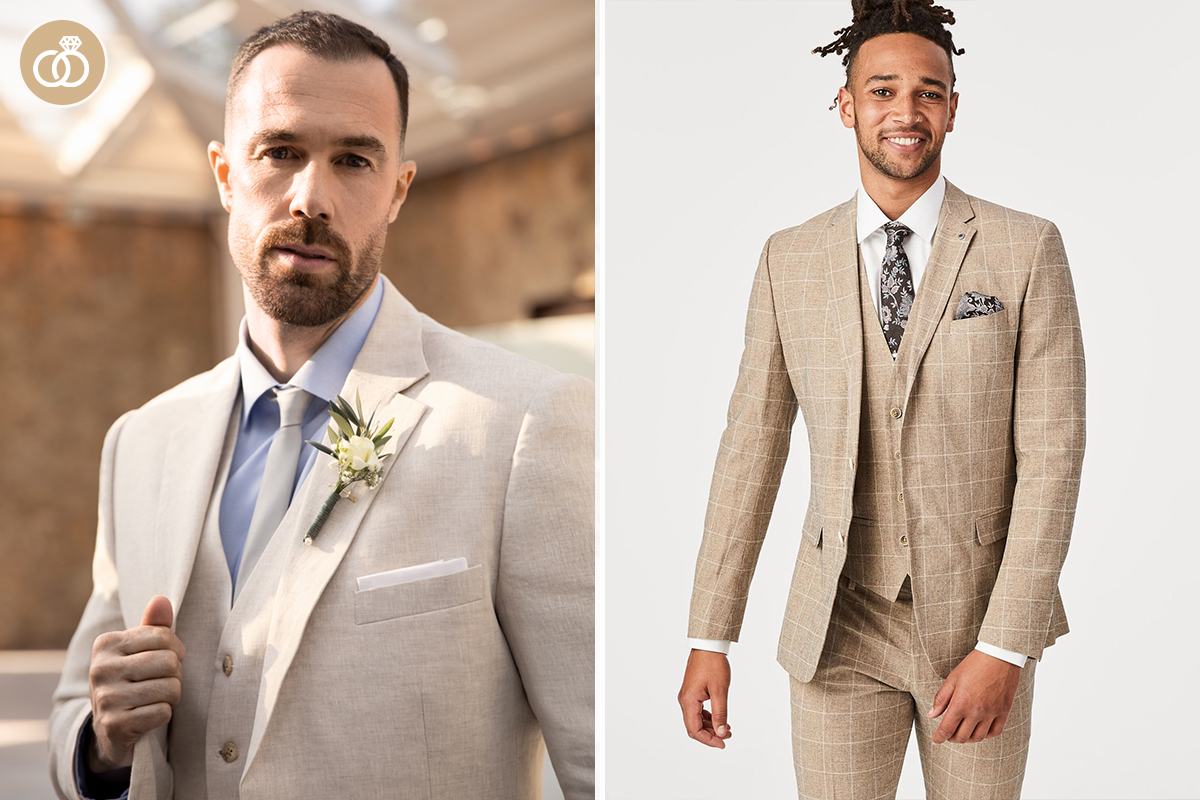 A light shade is preferable, complemented with pink or floral ties.
However, opt for a dark tan suit if it's a nighttime wedding.
Contrast the tie with an equally exciting pocket square and even the socks.
You can also add a vest under the tan wedding suit to add a touch of formality, especially if you're the groom.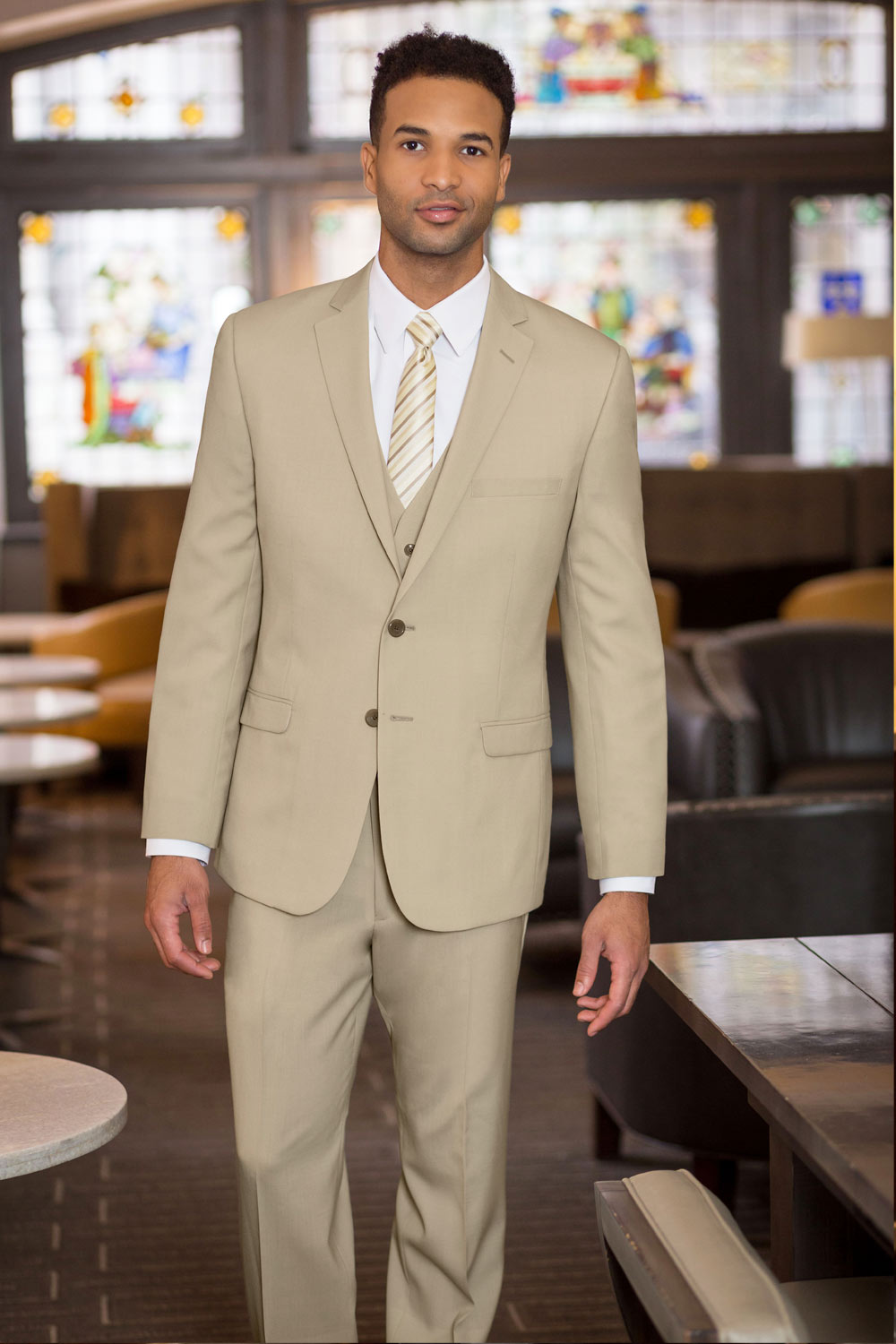 A matching tan vest is the standard choice. But there are other choices, too.
My personal favorite is the grey vest, but you can also experiment with navy or brown.
Shoes and belts should match colors, whether you go for burgundy or brown.
Wearing the Tan Suit Casually
This is probably the best way to use your tan suit to its full potential.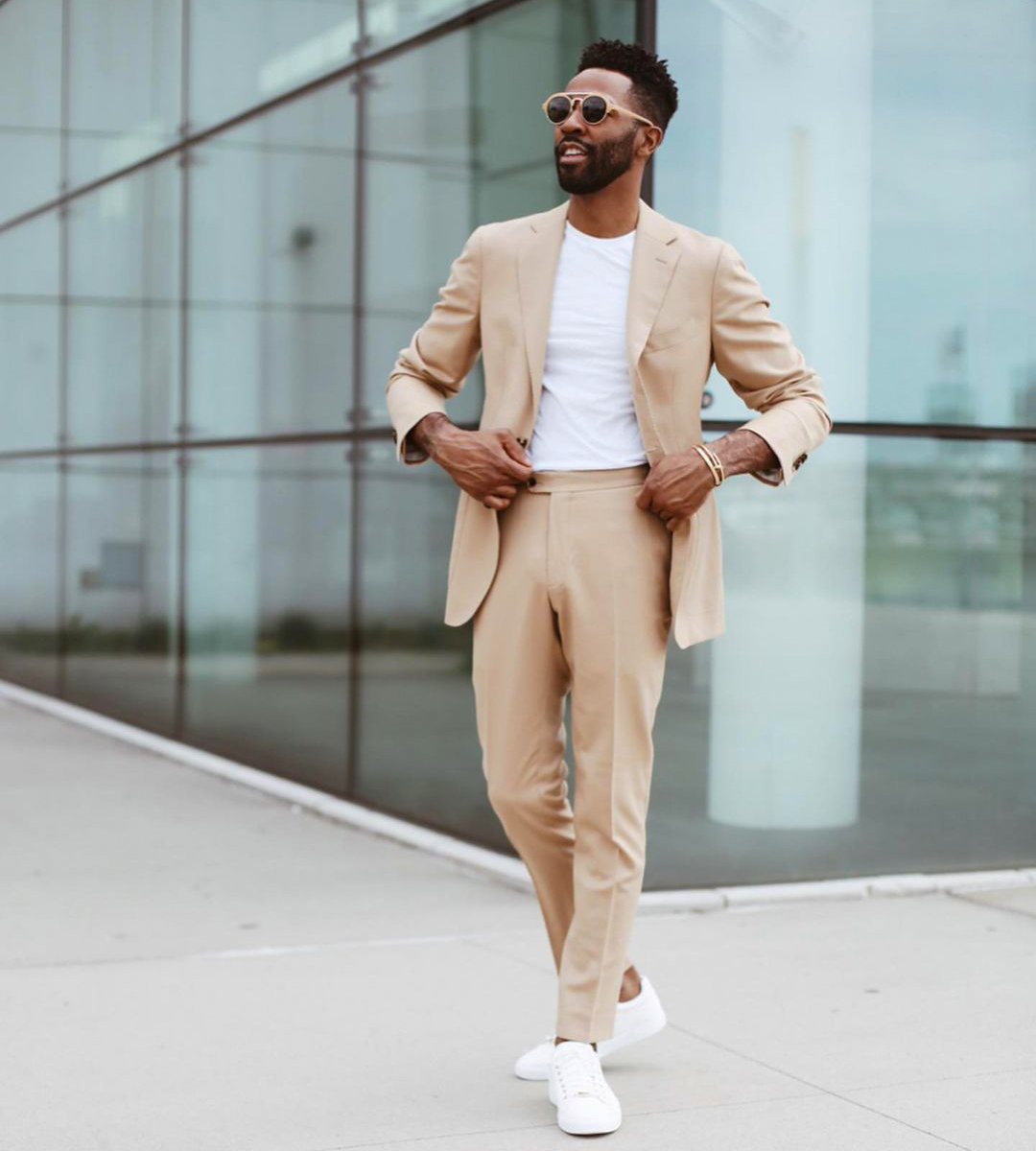 It is the epitome of casual wear when it comes to suits.
There is room to do various things, such as wearing a t-shirt or polo shirt.
You can also separate the suit jacket and pants and pair them with contrasting clothing elements.
For instance, tan pants paired with a navy blazer are among the coolest looks out there.