The debate of button-up vs. button-down dress shirts seems eternal.
The main difference between a button-up and a button-down shirt lies in the collar design and button positions.
Still, the dispute is hyped due to formality and styling differences.
The Button-Up Shirt
Button-up shirts refer to any shirt with a full-length buttoned placket, regardless of the collar type.
The name is "button-up" because you would fasten all the buttons when wearing a shirt.
That said, there can be variations among collar styles. A straight-pointed, semi-spread, cut-away, or wing-tip can exist in a button-up shirt.
A button-up shirt is a formal garment. As for most retailers, it simply means a dress shirt.
The button-up shirt can also come in various fabrics. It would be the fabric that dictates the formality and not the button style.
For example, tartan and poplin can both be button-up shirt fabrics as long as the shirt has an open collar.
The Button-Down Shirt
Button-down shirts specifically feature small buttons that fasten the collar points to the shirt. This detail is absent in standard button-ups.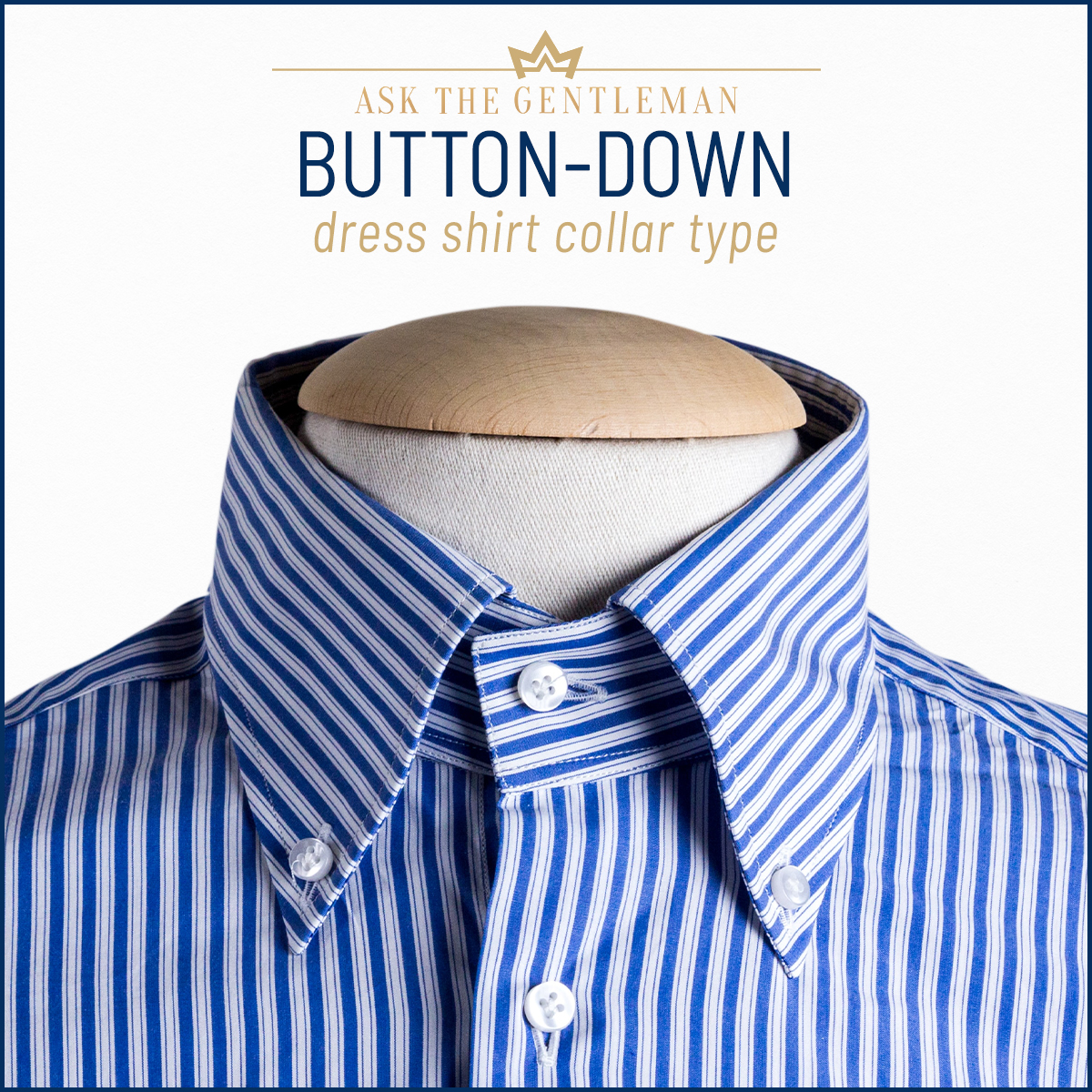 These small buttons are the powerful style remnants that descended into the sartorial world.
Historically, British polo players used to have a button-down collar to prevent the collar from flapping.
These polo collar shirts later became a part of fashion; we see them today as button-down shirts.
Button-down shirts can be both dressy and casual. As Oxford cloth or OCBD, it's a dressy wardrobe essential.
A button-down shirt can also come in different fabrics. But all fabrics innately become less formal due to a unique collar style.
So, most of the time, gentlemen wear button-down shirts to mix formality with something functional.
Button-Up vs. Button-Down Collar Difference
You often hear something like, "All button-down shirts are button-ups, but not all button-ups are button-down shirts."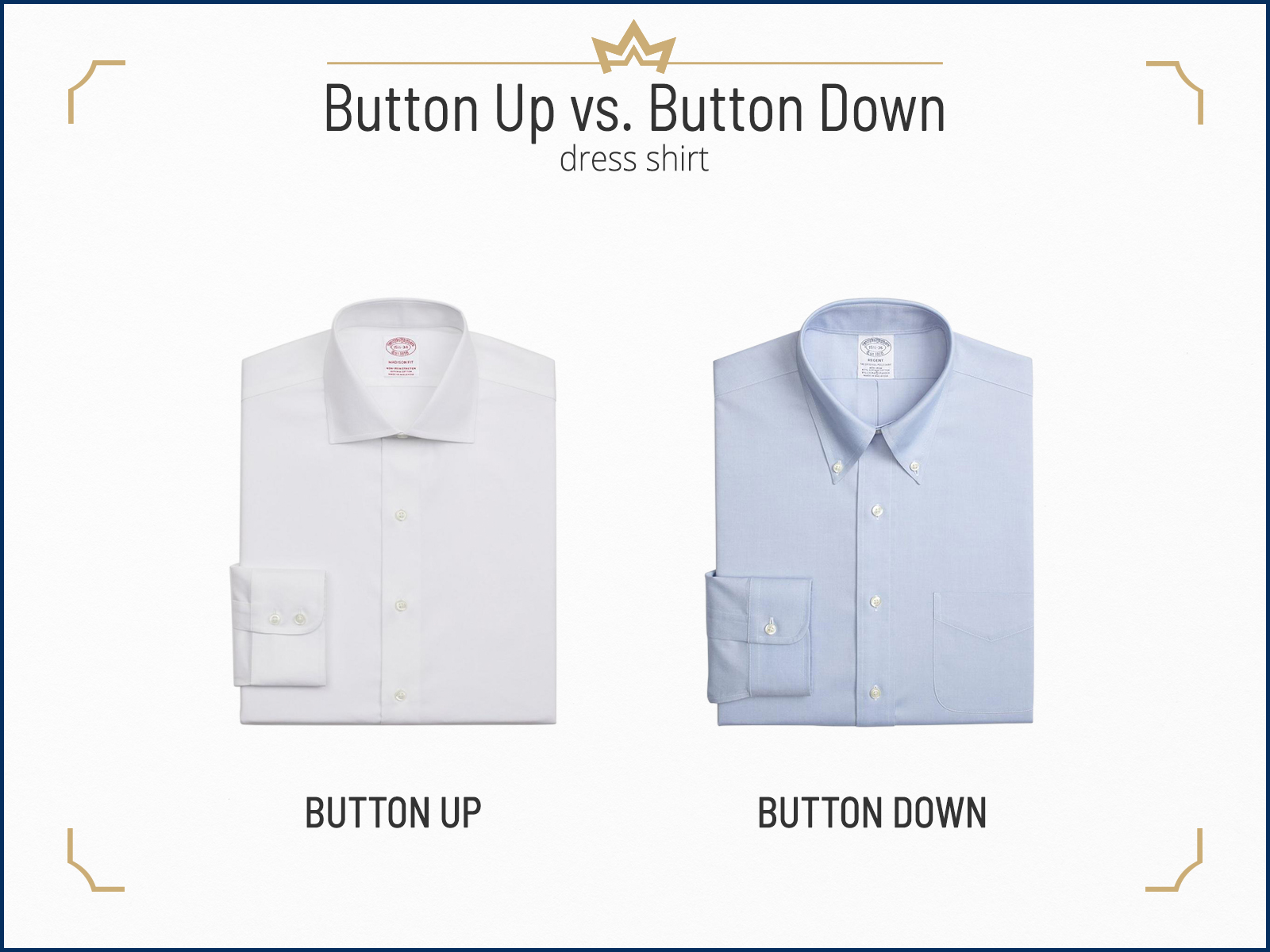 Things like this add complexity to styling as if there isn't already too much confusion.
However, the main difference between button-up vs. button-down shirts is the collar.
This different collar style led to a variation in the formality of both these shirts.
The Buttons Position
First, both these shirts have buttons that go down from the neck to the hem.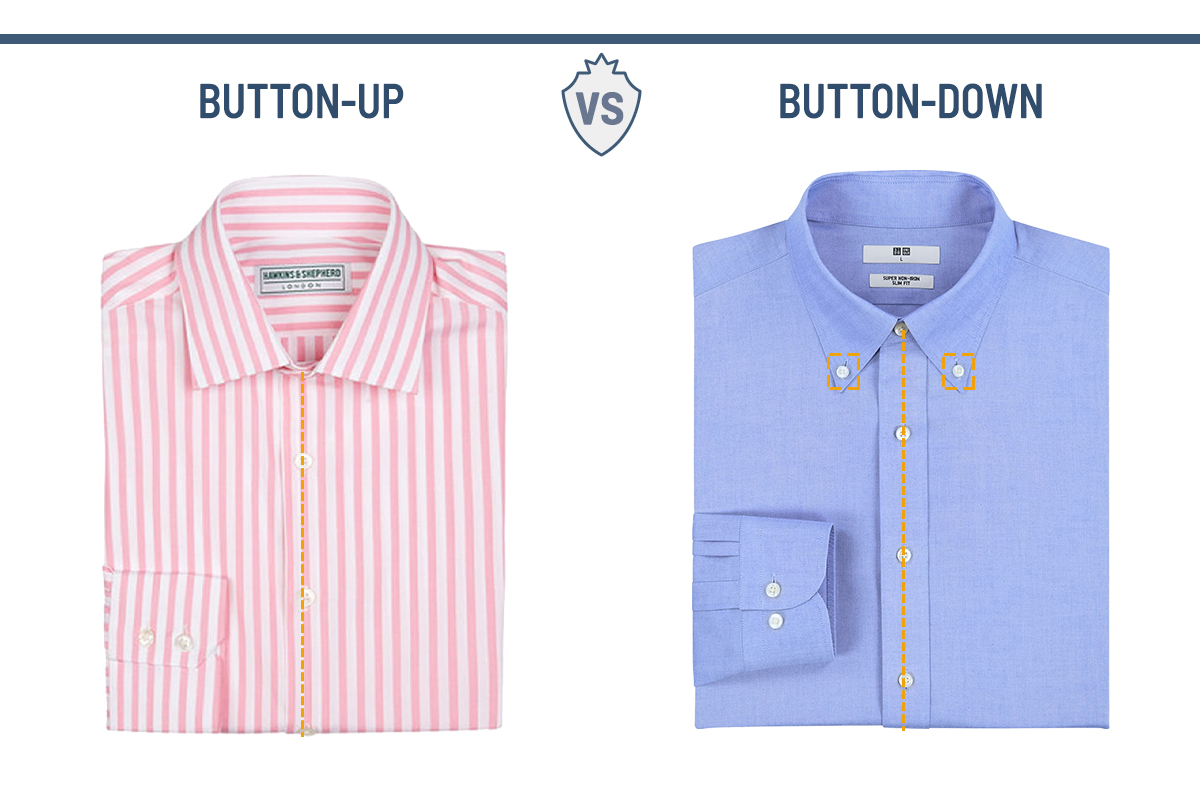 The resounding and differentiating thing is the collar buttons.
The collar of a button-down shirt is closed by buttons at the collar points, one on each side.
These buttons are smaller compared to the ones on the shirt front.
A button-up shirt doesn't have collar buttons, thus having an open collar.
Collar Stiffness
The collar on a button-up shirt is stiff. This represents a more formal nature of the shirt.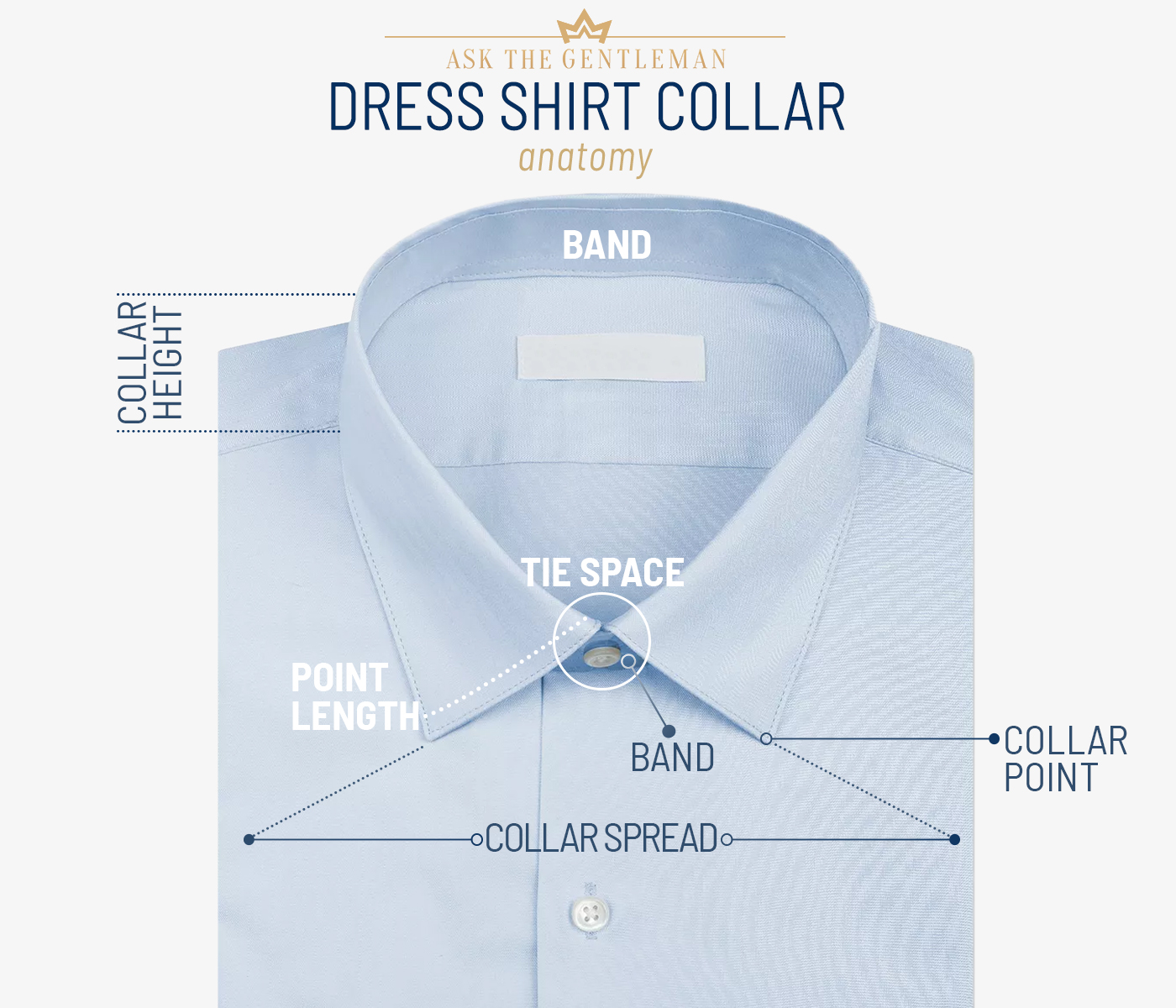 In comparison, button-down shirts' collars are more supple and soft. As a result, the shirt would feel casual.
The stiffness in the collar is due to its construction. A button-up shirt collar has a separate reinforced material stiffening the collar.
In addition, button-up shirts use collar stays (aka collar stiffeners) to keep collar points sharp and crisp.
The collar of a button-down shirt is often just the fabric with no stiffening material.
Formality and Dressiness
A button-up shirt is more formal and dressier than its button-down counterpart.
The reasons are obvious. First is obviously a stiff collar in a button-up shirt.
Secondly, most formal looks are simple yet clean and minimal. A button-up shirt best matches this description of formality.
Lastly, button-up shirts come in a wide range of formal fabrics, contributing to dressiness.
Places to Wear Button-Up vs. Button-Down Shirts
For business situations needing a dressed-up look, wear a button-up shirt.
These situations could be attending business meetings, interviews, work presentations, dinners, etc.
Also, a button-up shirt is your best match when wearing a suit.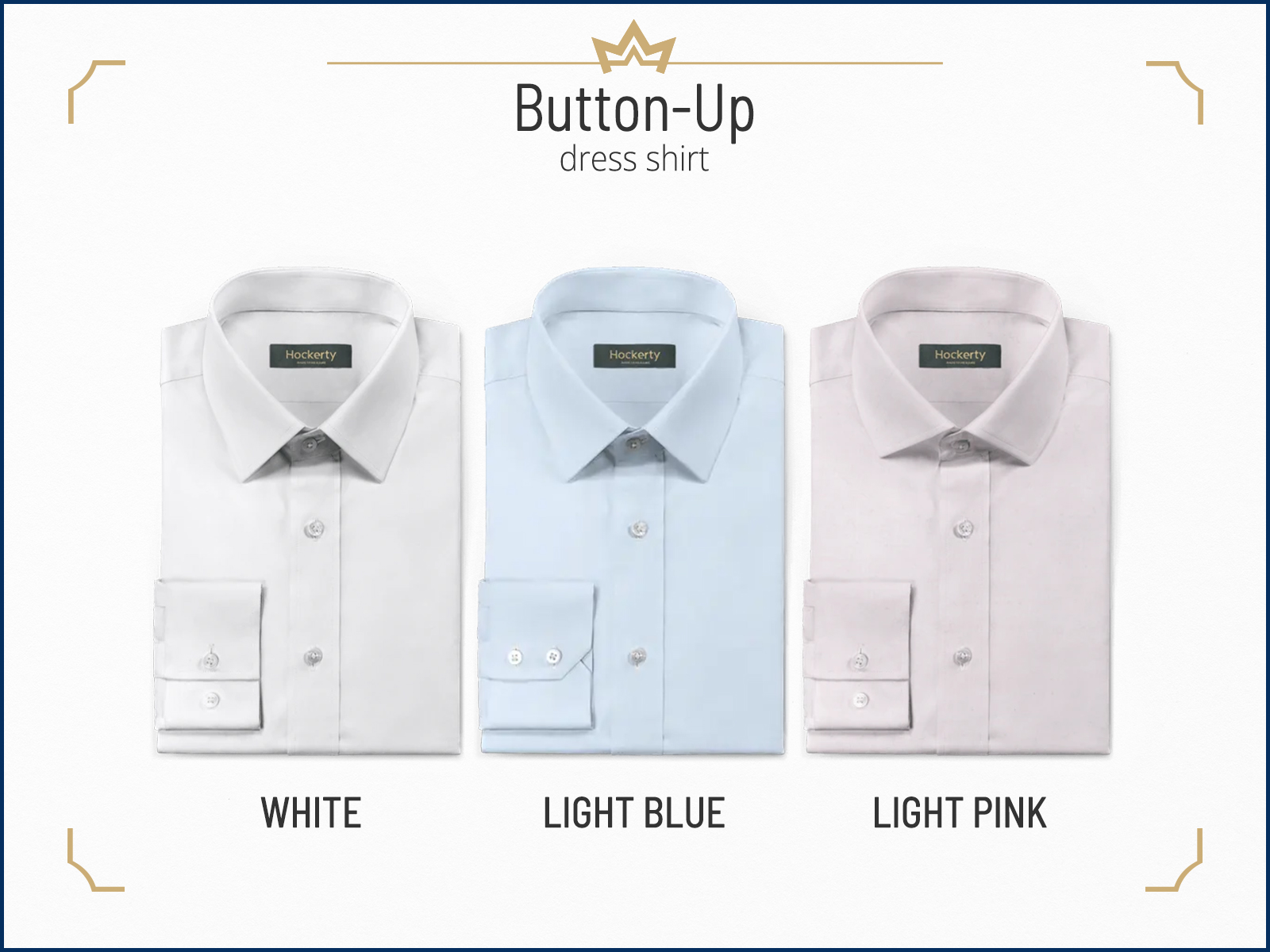 Or at least don a blazer for business-casual outfits. Also, it's perfectly fine to wear a tie with your button-up.
Less formal or everyday events demand effortless and casual, meaning you can wear a button-down shirt.
A button-down shirt with a blazer can make a business casual outfit.
For a smart-casual look, wear a button-down shirt with chinos or dress pants.
Finally, a button-down shirt with jeans can work for day-to-day casual night-outs and friend get-togethers.
How to Wear a Button-Up Shirt
Wearing a button-up dress shirt is as effortless as it can be. Just be mindful of a few details, and you'll be good.
First comes the occasion of wearing a button-up. Enough said already; a button-up shirt is best for formal and semi-formal occasions.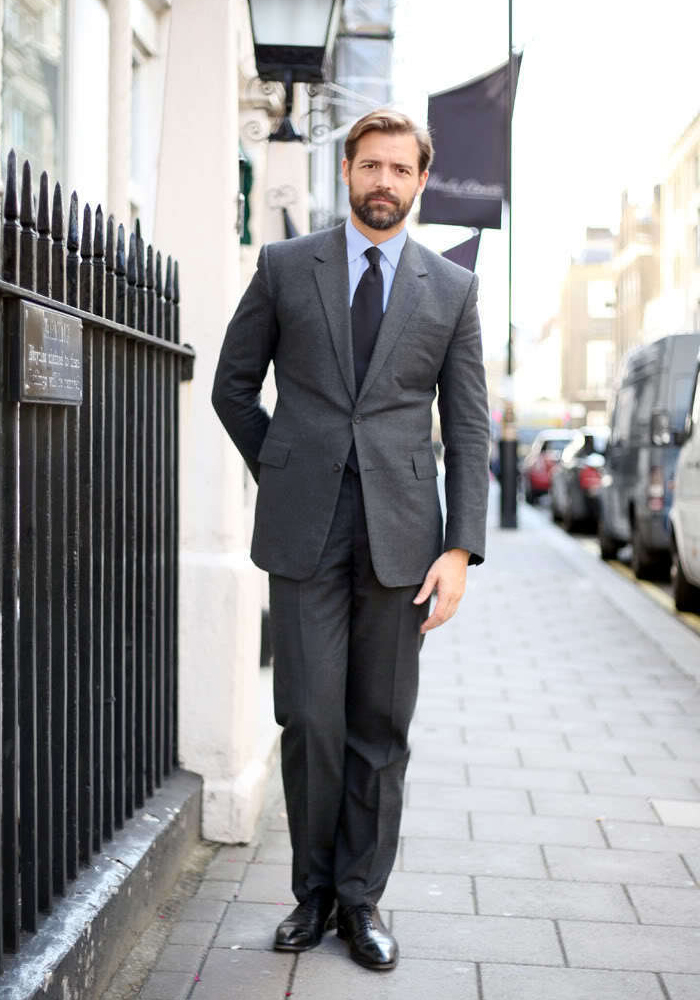 When wearing the shirt, be mindful of the shirt's hem. A curved hem best matches a button-up.
The reason is it's a formal hem style that keeps that shirt tucked in. Keeping the button-up shirt tucked in is best even with other hem styles.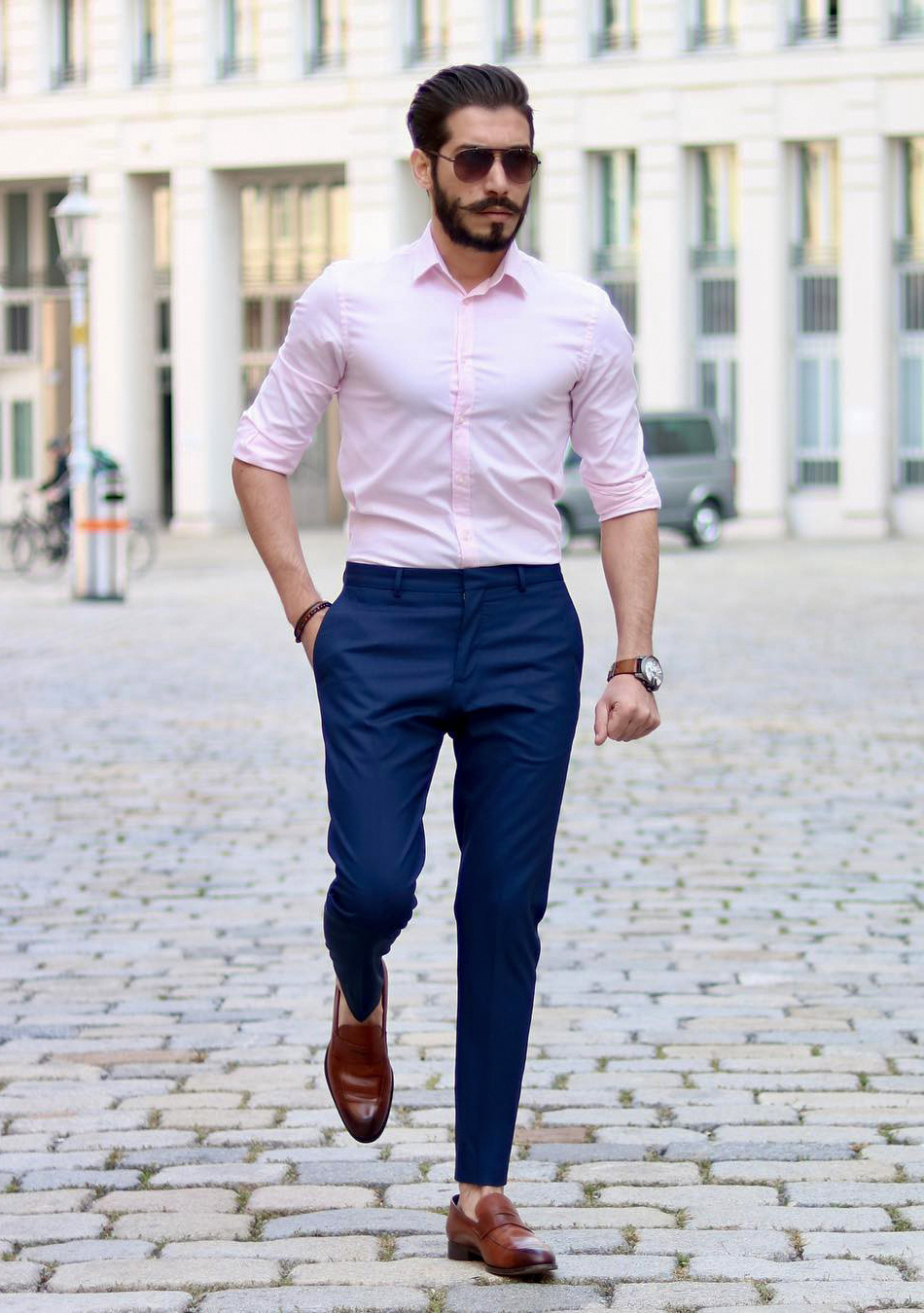 Lastly, you can wear a button-up shirt in a routine of outfits. Try any suit and shirt combination, and a button-up will match it.
Pair a white button-up and a tie with any dark-colored suit, e.g., navy, for a semi-formal outfit.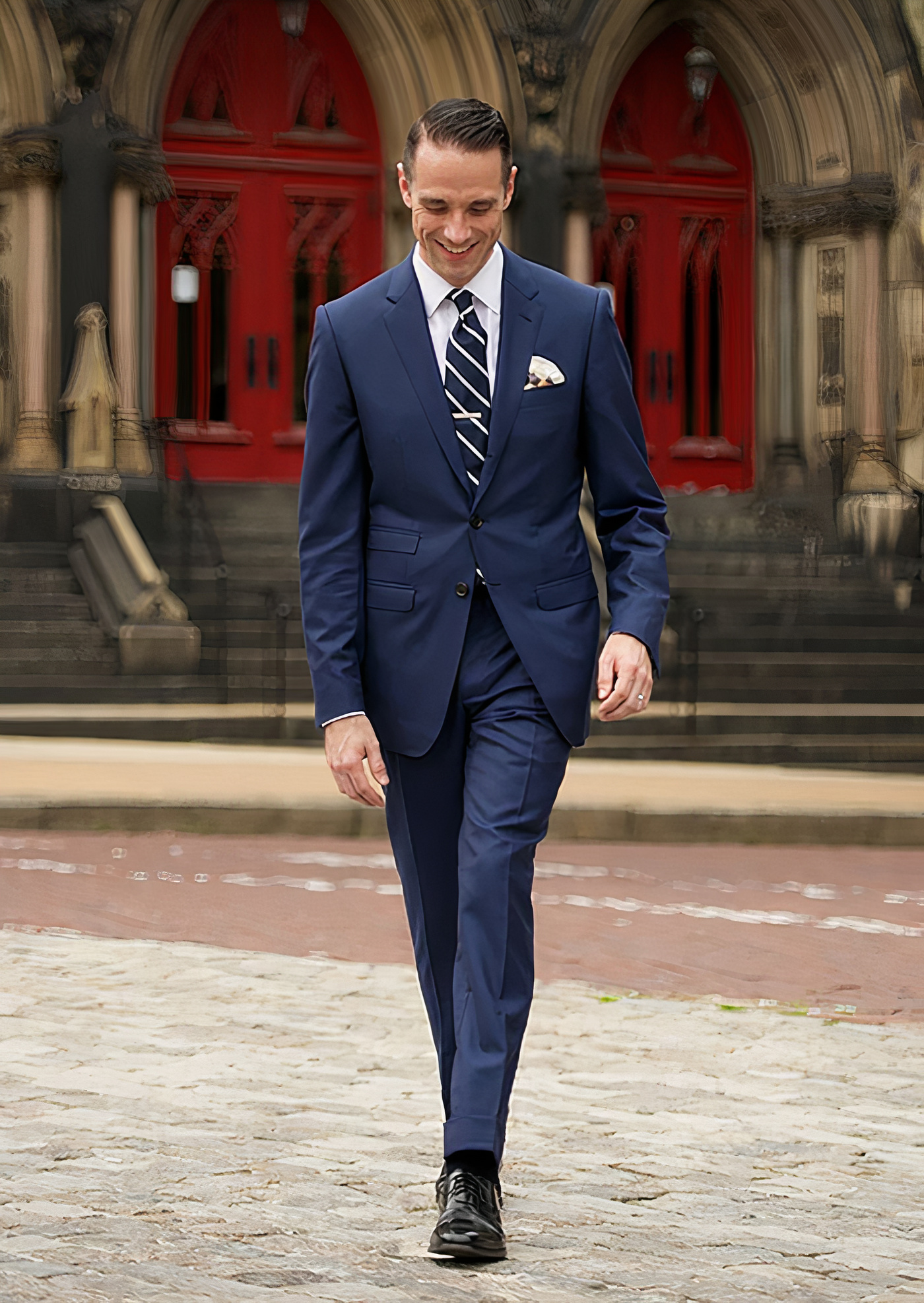 You can wear a light-blue button-up with a grey suit for something business-appropriate. Or a pink shirt with a blue suit as cocktail attire.
How to Wear a Button-Down Shirt
The versatility of the button-down shirt makes it easy to wear. But it's often worn casually.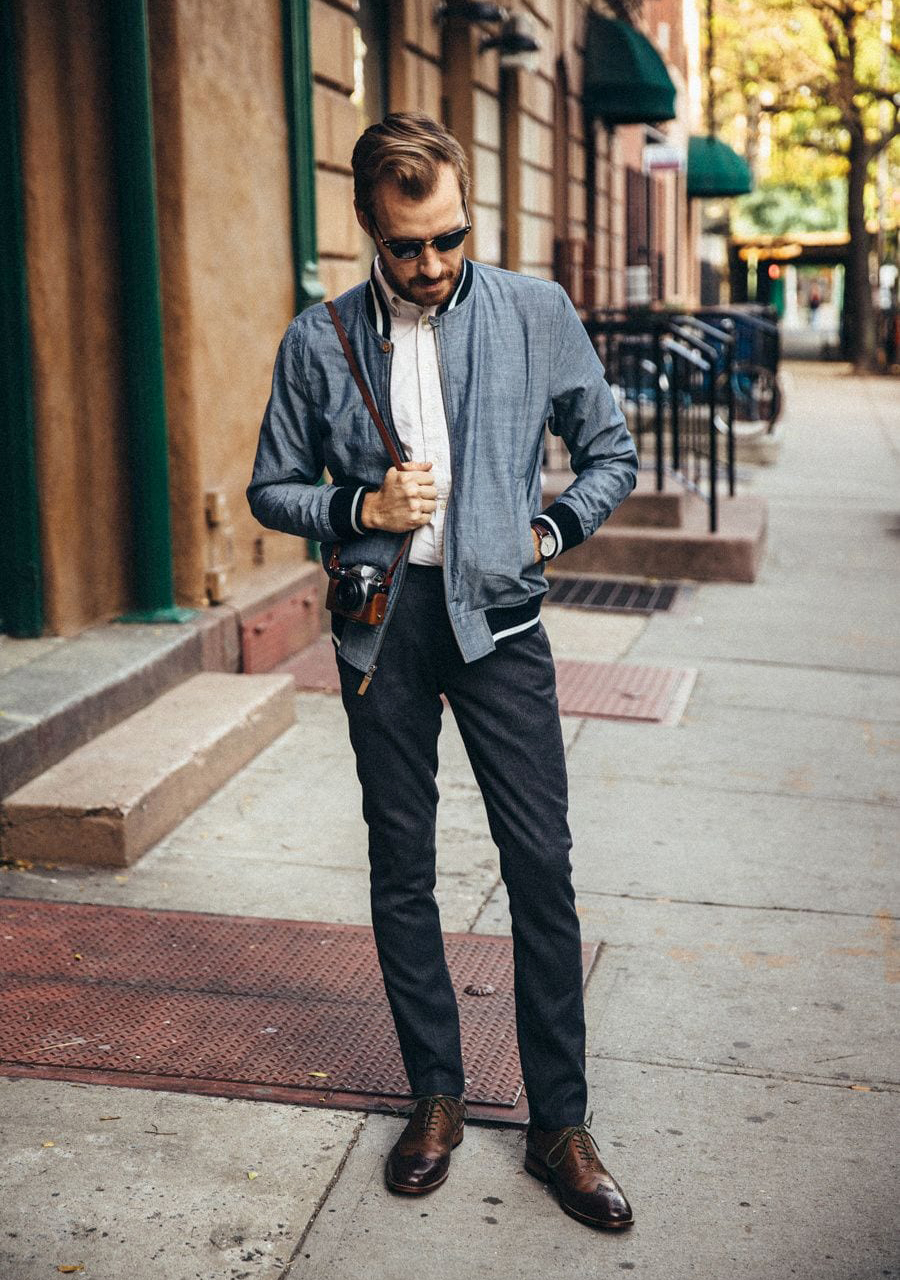 So, a button-down shirt should have a straight hem. Both approaches are fine, whether tucked in or untucked.
As part of casual wear, you often untucked the shirt. I suggest tucking in the button-down shirt only with a suit or blazer.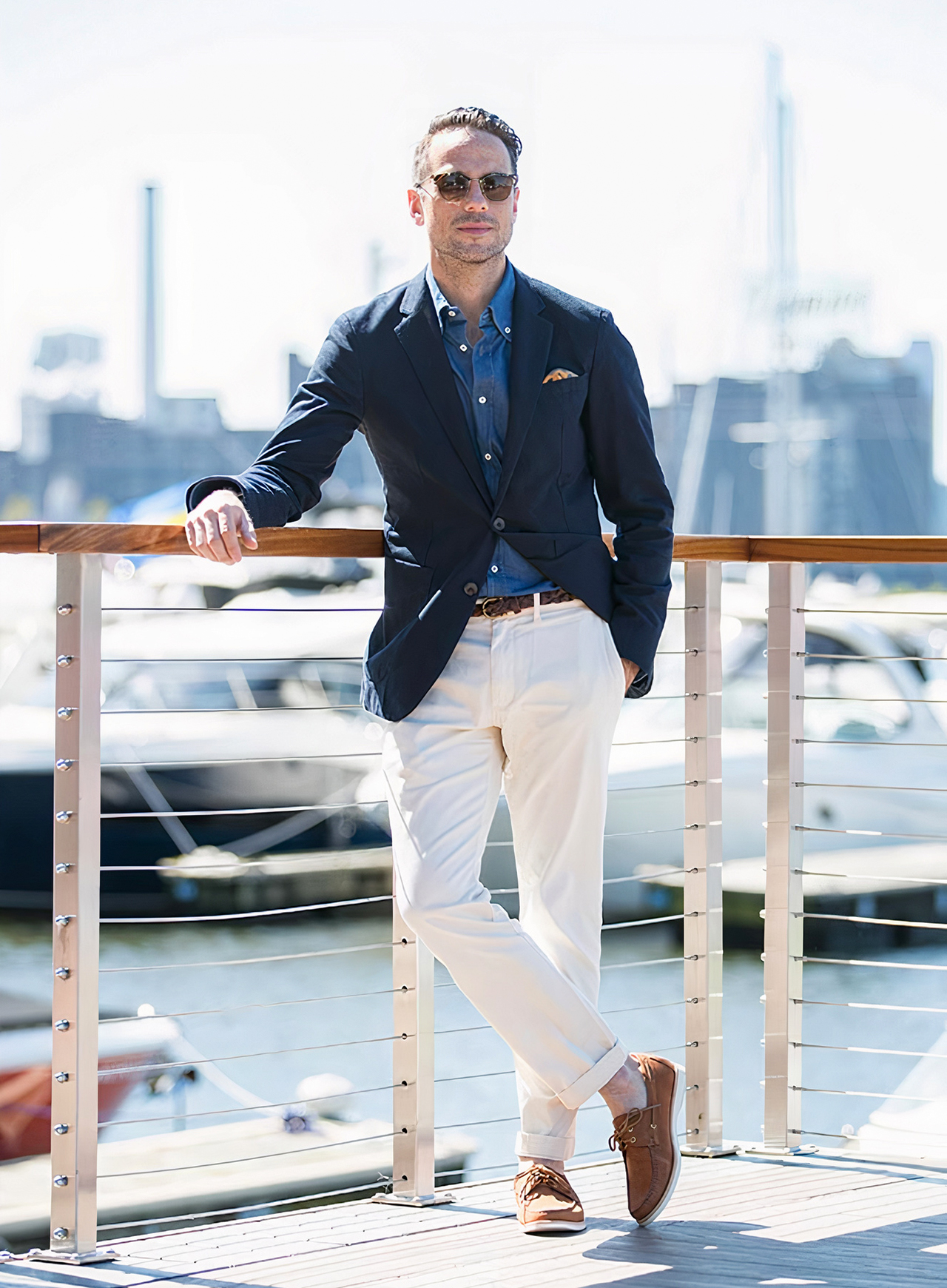 There are many ways to style a button-down shirt.
First, start with the standard blazer and pants look. It's an effortless outfit that is stylish but not too formal.
A sweater over a button-down shirt tucked in chinos would be a great smart-casual look.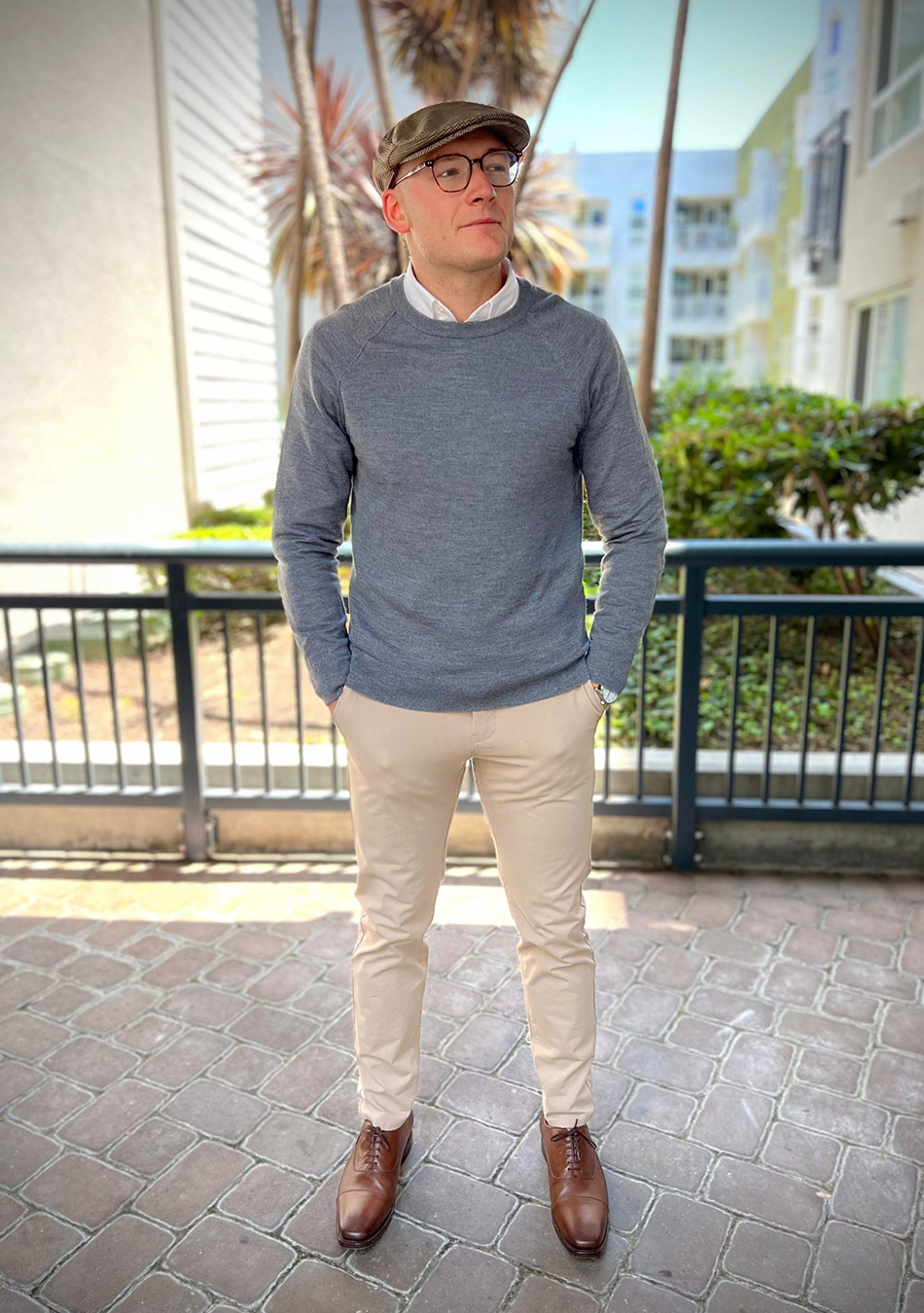 A button-down layered over a t-shirt would also provide a timeless casual outfit. Don't hesitate to roll up the sleeves for a relaxed look.
Button-Up vs. Button-Down Shirts FAQs
Which collar is more formal, a button-up or a button-down?
The button-up collar is more formal compared to a button-down.
The main reason is that the button-up shirt has a stiff collar that matches professional and dressy occasions, compared to a soft button-down collar which is more casual.
Do you always have to fasten the button-down collar buttons?
No, but it's recommended to fasten the button-down collar buttons. It looks practical and makes your shirt look complete.
Why are button-down collars considered casual?
Button-down collars doesn't appear very reinforcing, making them look casual.
The accompanying fabric and styling details, like a front shirt pocket, make it a casual shirt style.
Are button-up shirts considered business-casual?
The Oxford cloth button-down shirt represents the epitome of business-casual shirts.
It's not just OCBD; all other button-downs comply with a business-casual code, even the short sleeve ones.
Can you wear a button-up shirt untucked?
Yes, you can. Generally, it's the rule of thumb that button-up shirts should be tucked in.
However, if the fabric is casual and the hem is straight, you can wear it untucked.
How to wear a tie with a button-down shirt?
There is no complexity here. Just like you wear a tie with any other shirt, you do it with a button-down.
However, fasten the collar button and wear a casual tie. Cotton and knitted ties are the best options.