You're eyeing your jeans but also feel the pull of your dress shirt. Which one should you choose?
You can wear both if you're dressing for business casual or smart casual.
But the bar is usually high for gentlemen who want to look sharp and distinct.
So before you give a whoop and run out the door, take a few moments to learn the correct way to put these two garments together.
White Dress Shirt with Jeans
Who says white dress shirts are only for dress pants?
The most simple and dressy way to wear a dress shirt with jeans is by sticking to a classic white button-up.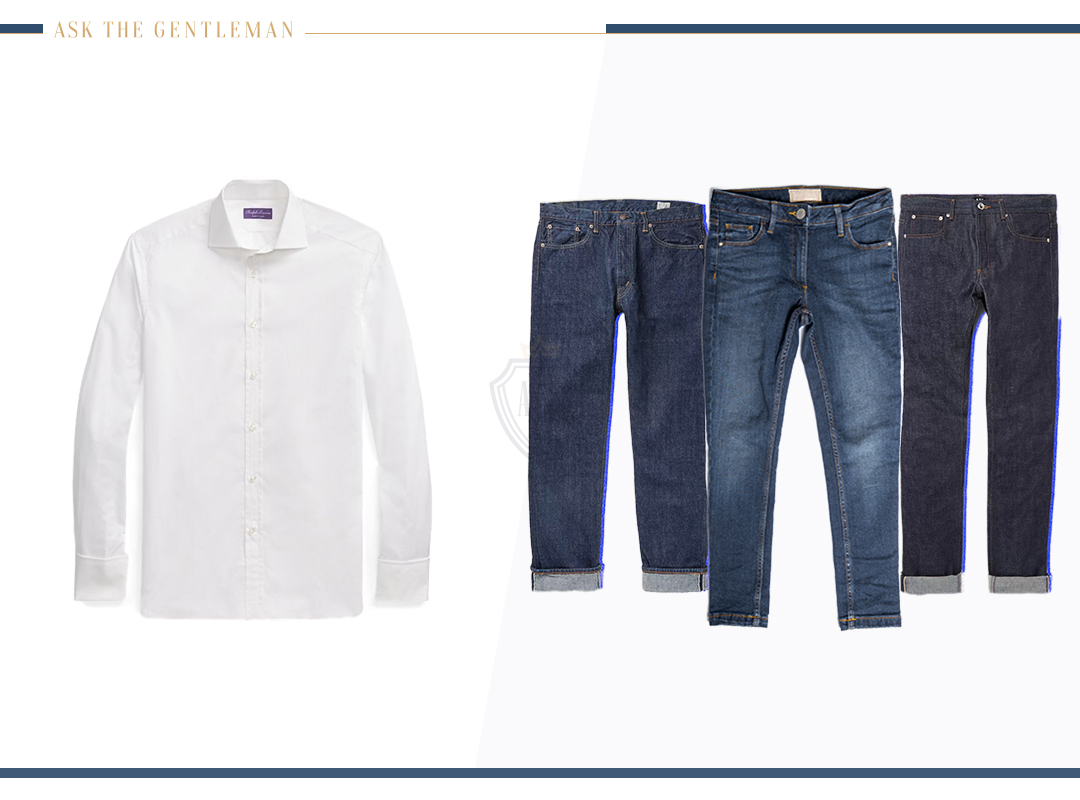 It's an easy way to look crisp and very put-together.
The secret is choosing the right pair of jeans.
Since a white shirt is naturally dressy, it's critical to wear well-fitted jeans with no rips or distressing.
If very dark jeans come across as too strong for you, create less of a harsh contrast with a medium-wash pair.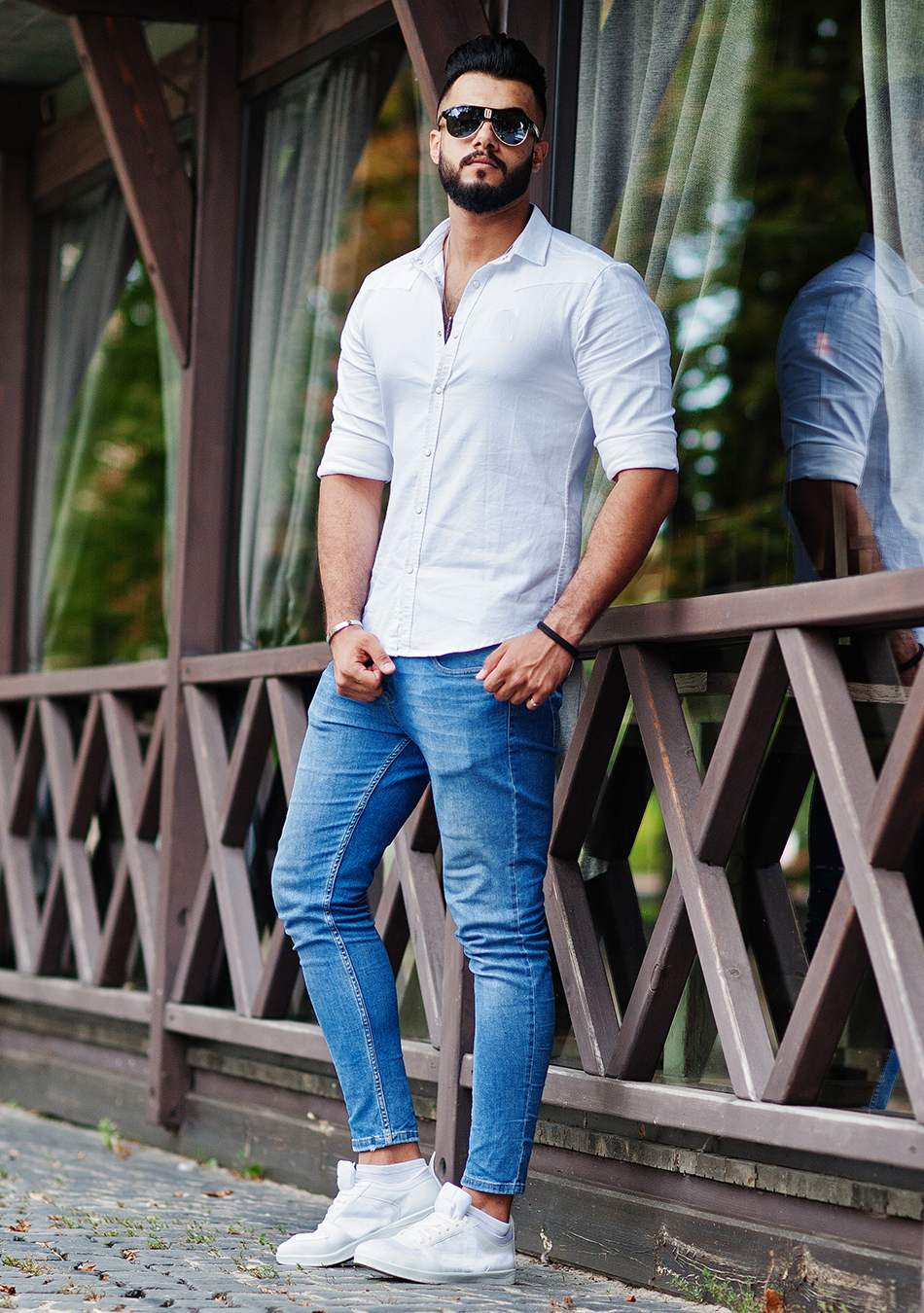 Don't go too light, though, for fear of a monochrome effect!
You don't need much to complete the look; the right pair of shoes will be key in directing how your outfit reads.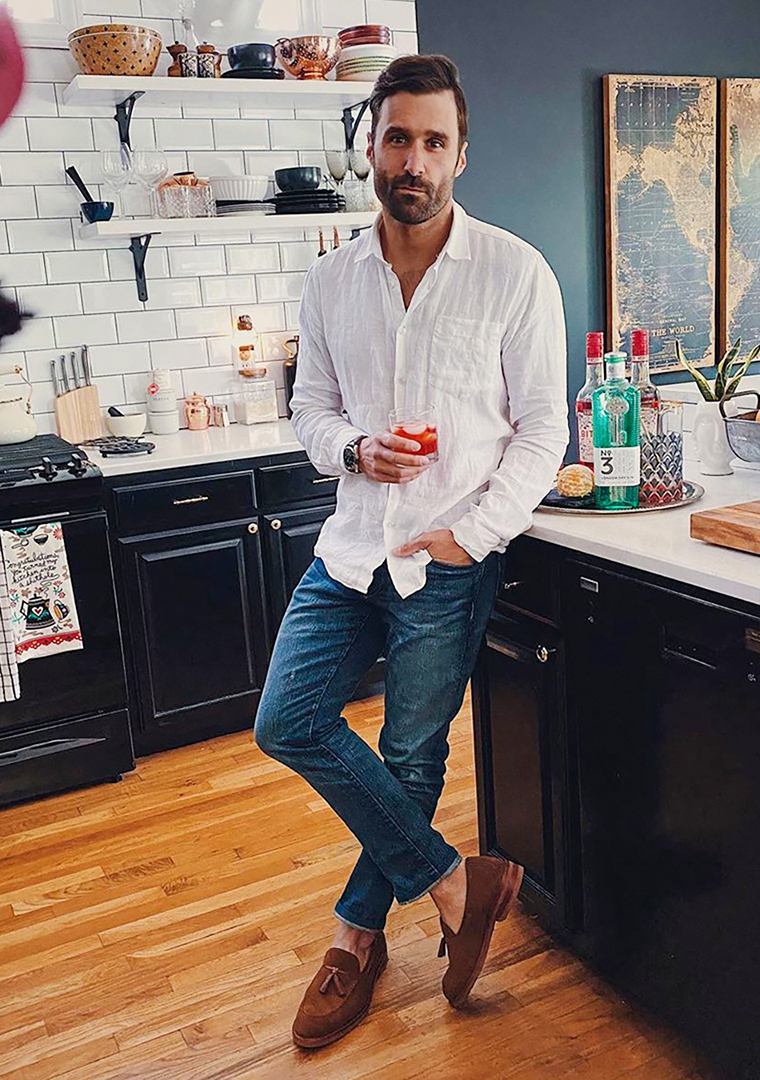 A pair of whole-cut Oxfords will elevate your outfit's formality, while loafers or sneakers help keep it relaxed and casual.
Light-Colored Dress Shirts with Jeans
This is where some contrast in your outfit can be desirable.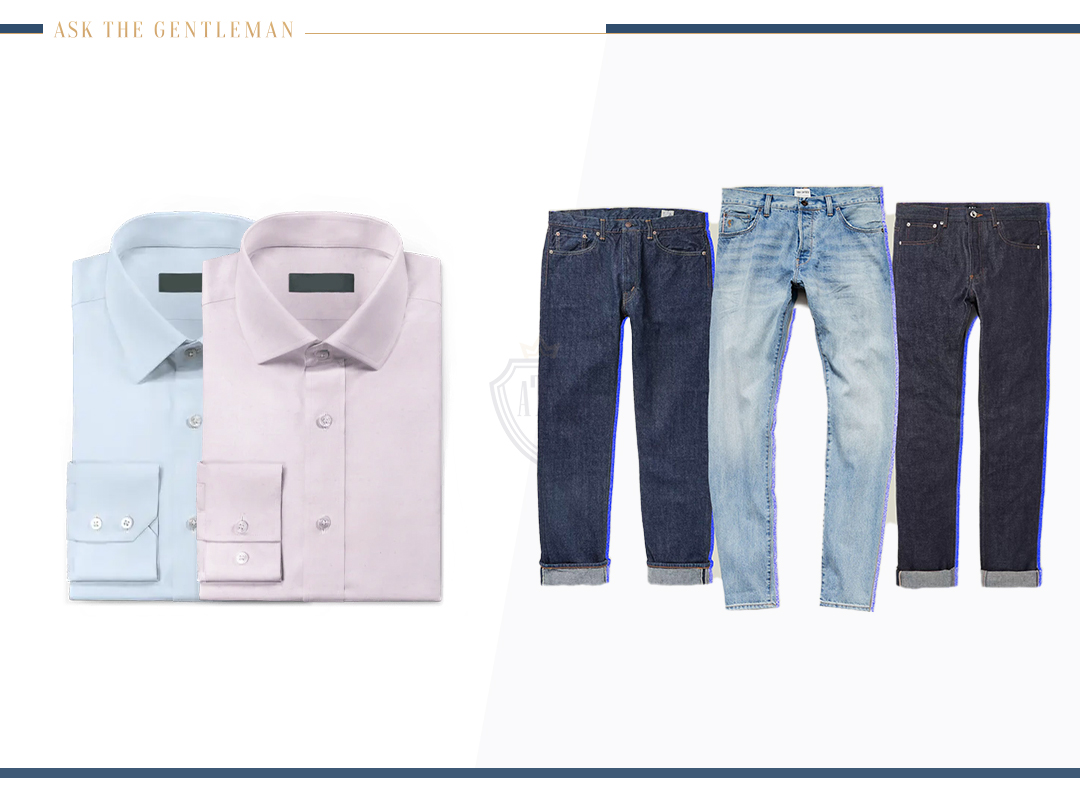 When wearing a dress shirt that isn't white but has some pale coloring, match it with darker jeans.
A light-colored dress shirt, like blue or pink, is less formal than a white one. But it's easier to style.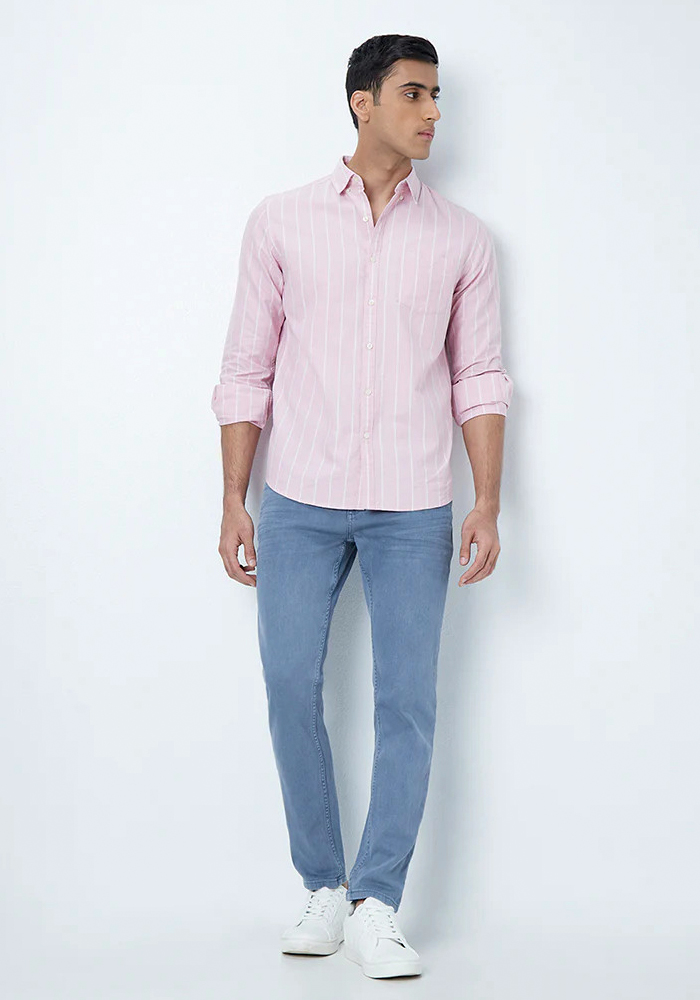 So, it's difficult to go wrong with a light blue dress shirt. In fact, you can use this one shirt to create several different outfits.
For the most laidback look, match a patterned blue shirt to a pair of mid-blue jeans. Round out this outfit with some medium brown loafers or brogues.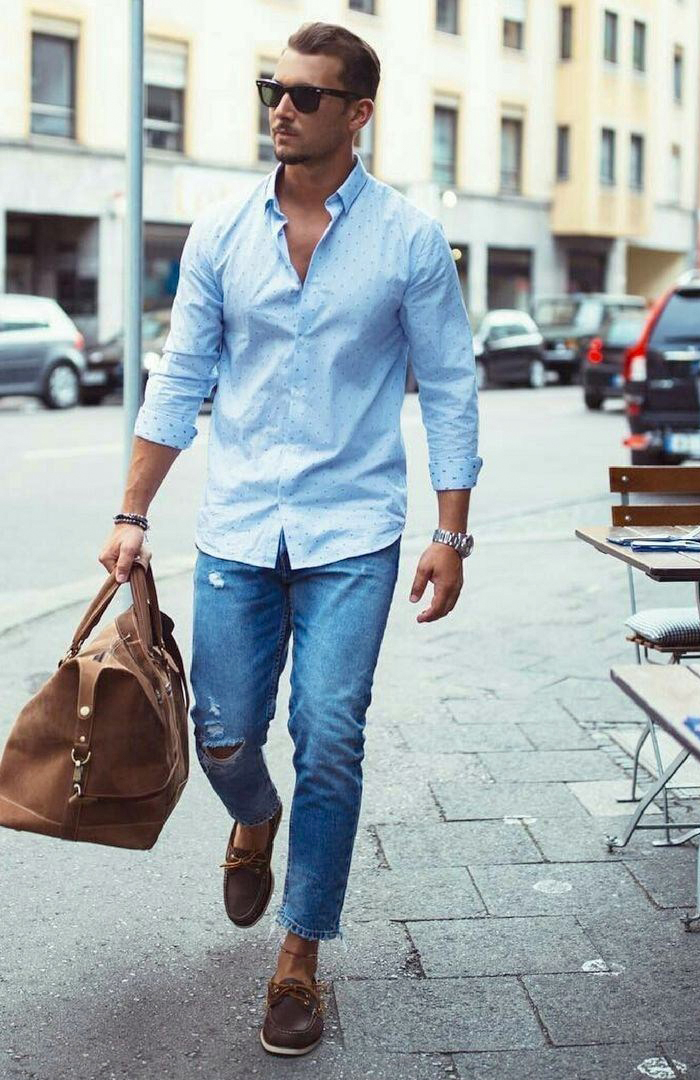 Or you can go fully casual with white sneakers.
If you want to dress up your outfit a bit more, swap out the ripped jeans for classic and darker ones.
Of course, you'll need to pair this outfit with brown dress shoes instead of casual ones. Loafers are still the middle ground.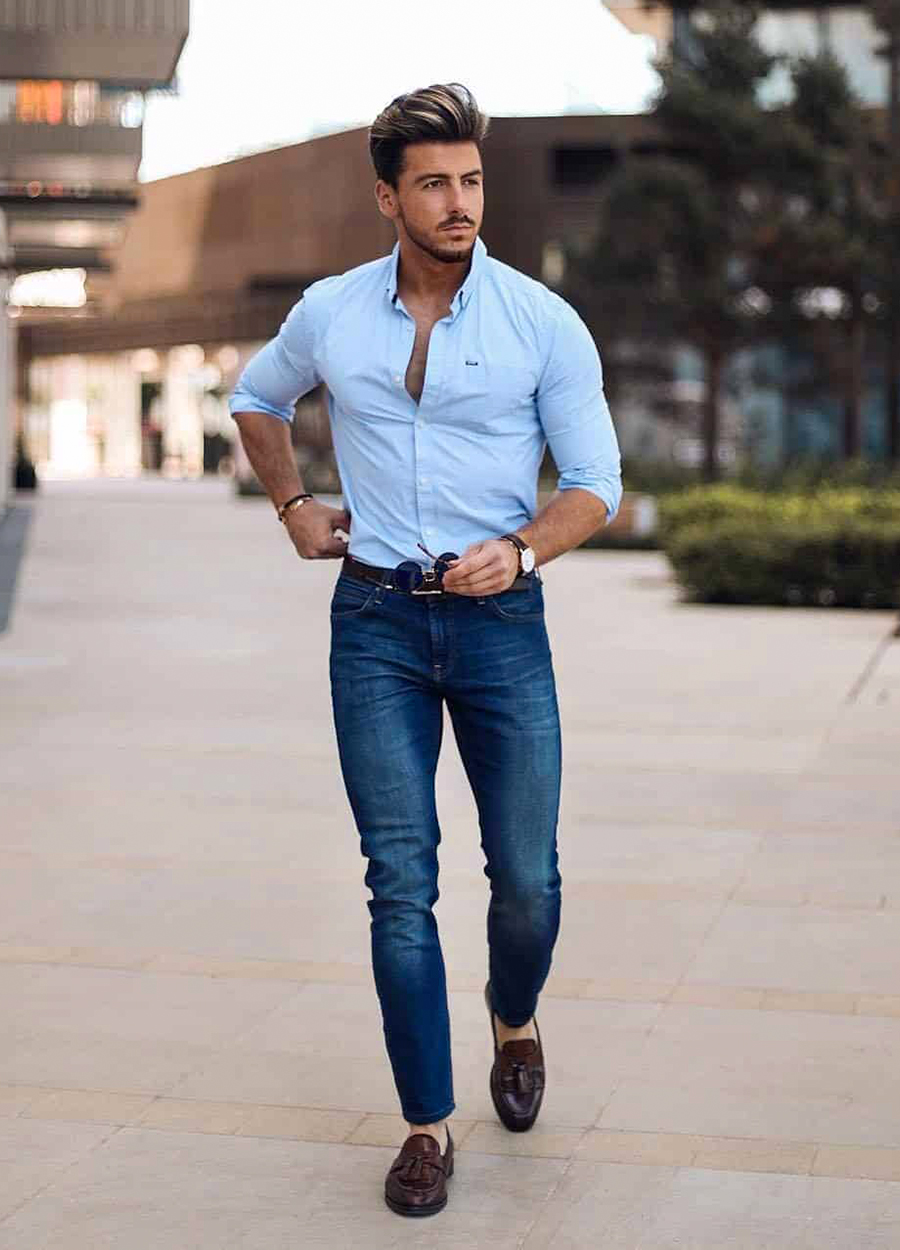 Each of these makes a great date night outfit.
Navy and Black Dress Shirt with Jeans
Navy is typically a dressy color since it's very dark.
You can lean into this formality by pairing a navy dress shirt with medium or dark denim jeans.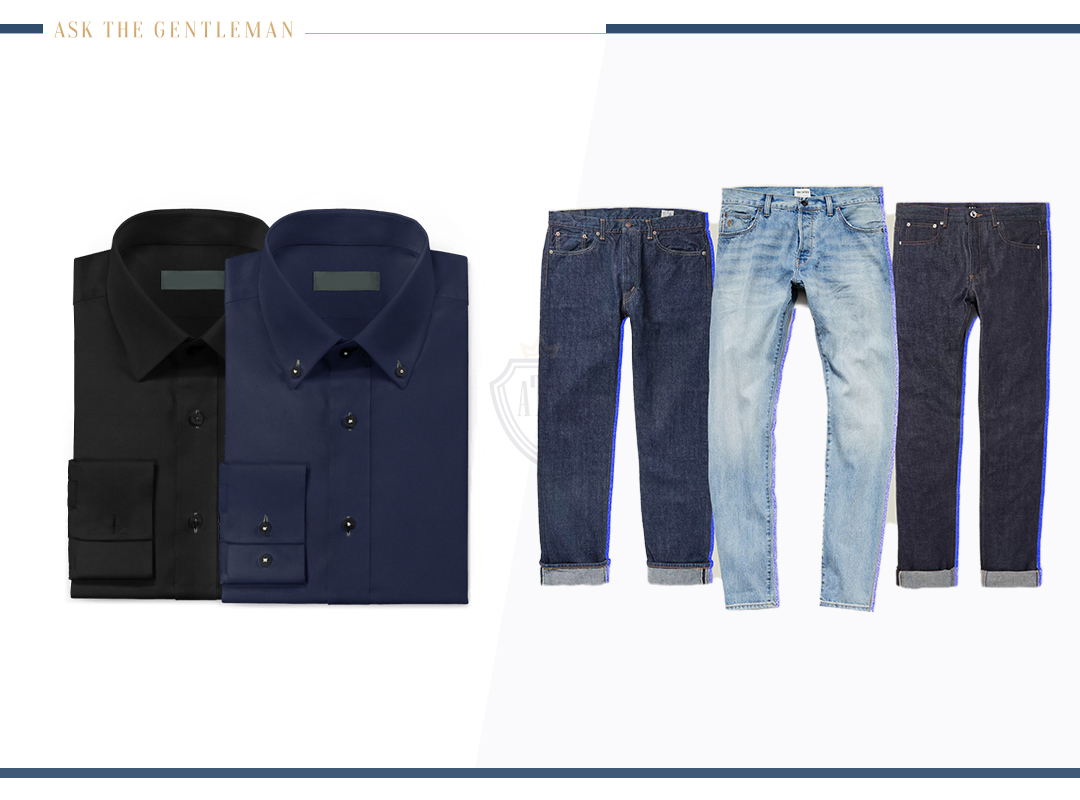 However, you can easily dress this look down with a pair of lighter-wash jeans.
In either instance, it's best to embrace brown shoes and accessories; black would conflict with the navy.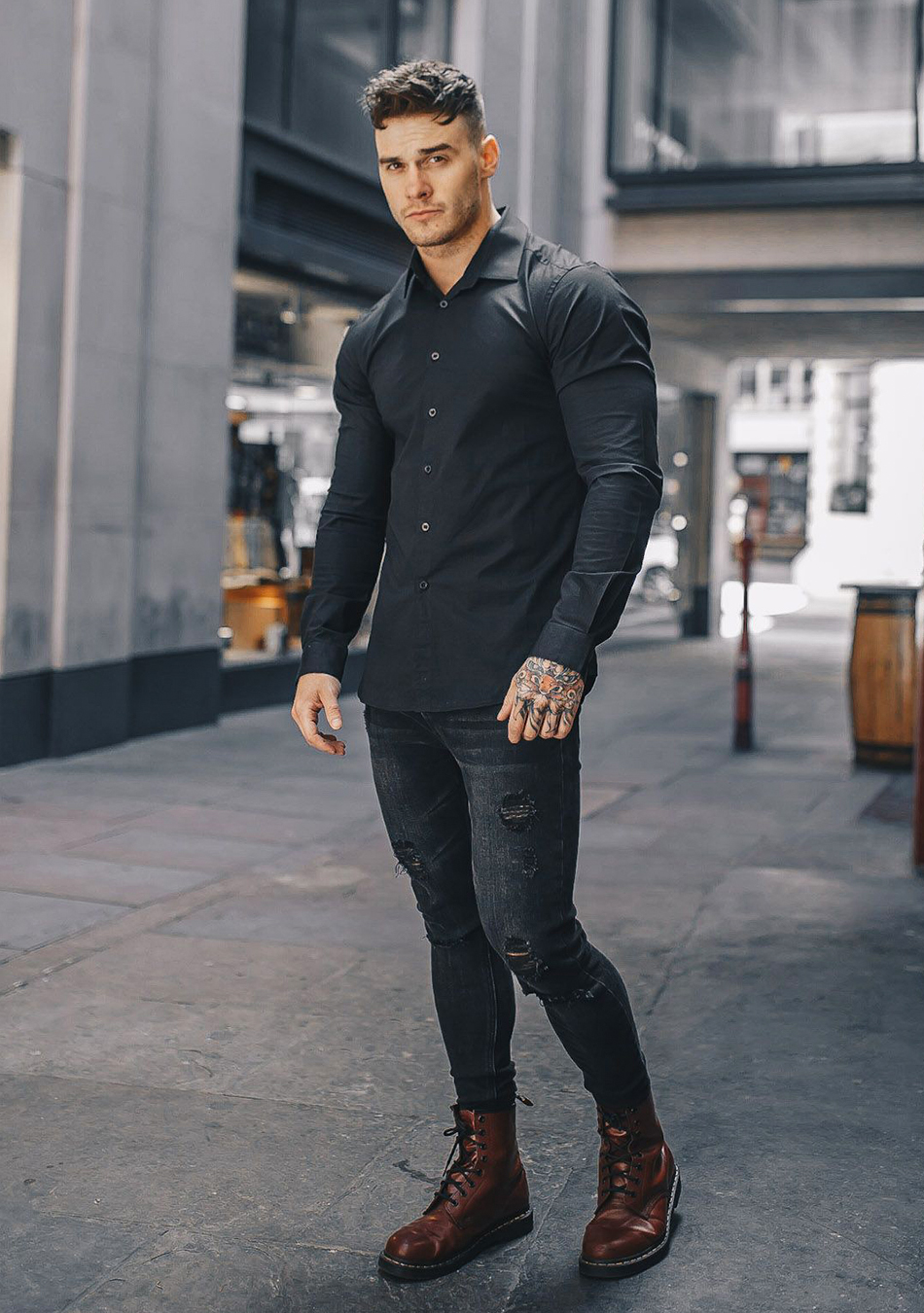 However, avoid going even more casual by wearing sneakers. It would create too much of a contrast in tone.
Brown monk shoes would look very sleek with a navy dress shirt.
Printed and Striped Dress Shirt with Jeans
A patterned dress shirt is always a more casual dress shirt option.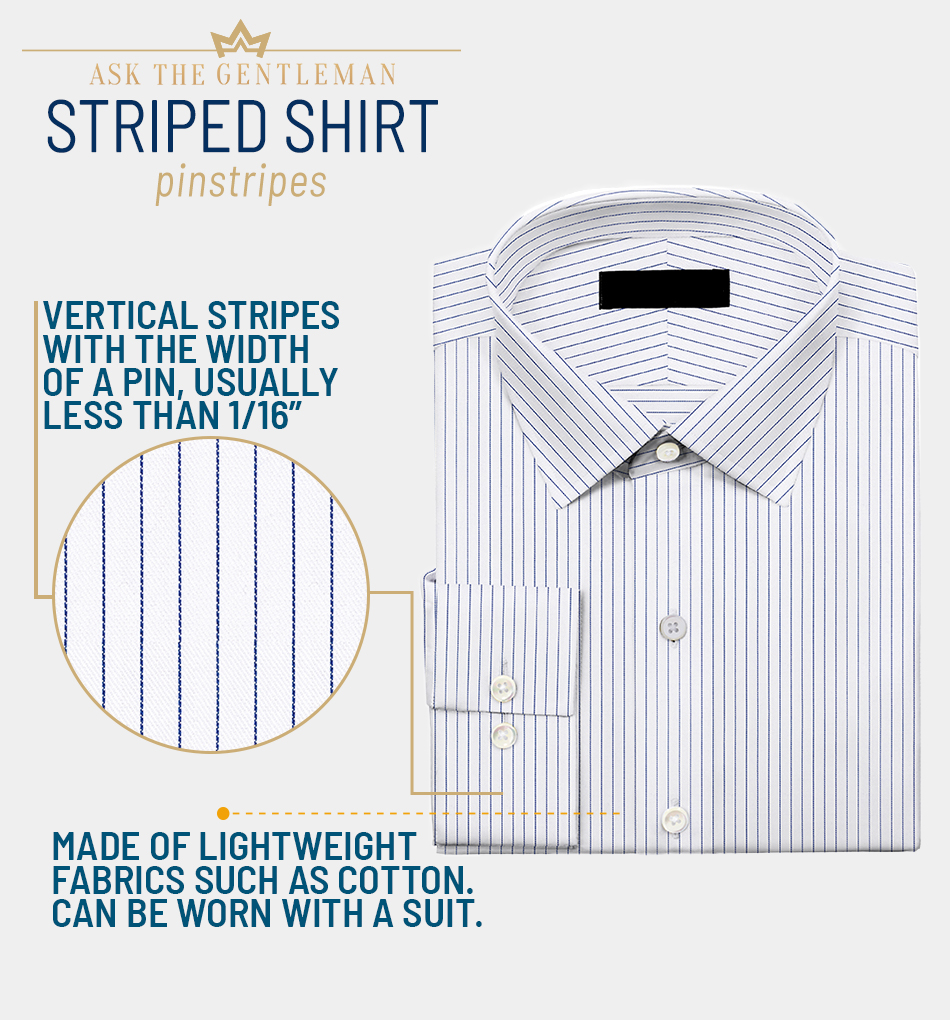 It's also a fantastic way to show off some of your personality and pair it with more casual jeans styles!
Since this is one of the most casual dress shirt designs, don't be afraid to pull out lighter jeans when creating your outfit.
You can use the colors in your shirt to guide you on how light or dark your jeans should be, so feel free to play around with denim coloring.
It's also helpful to be aware that the type of pattern on your shirt can affect how dressy it is.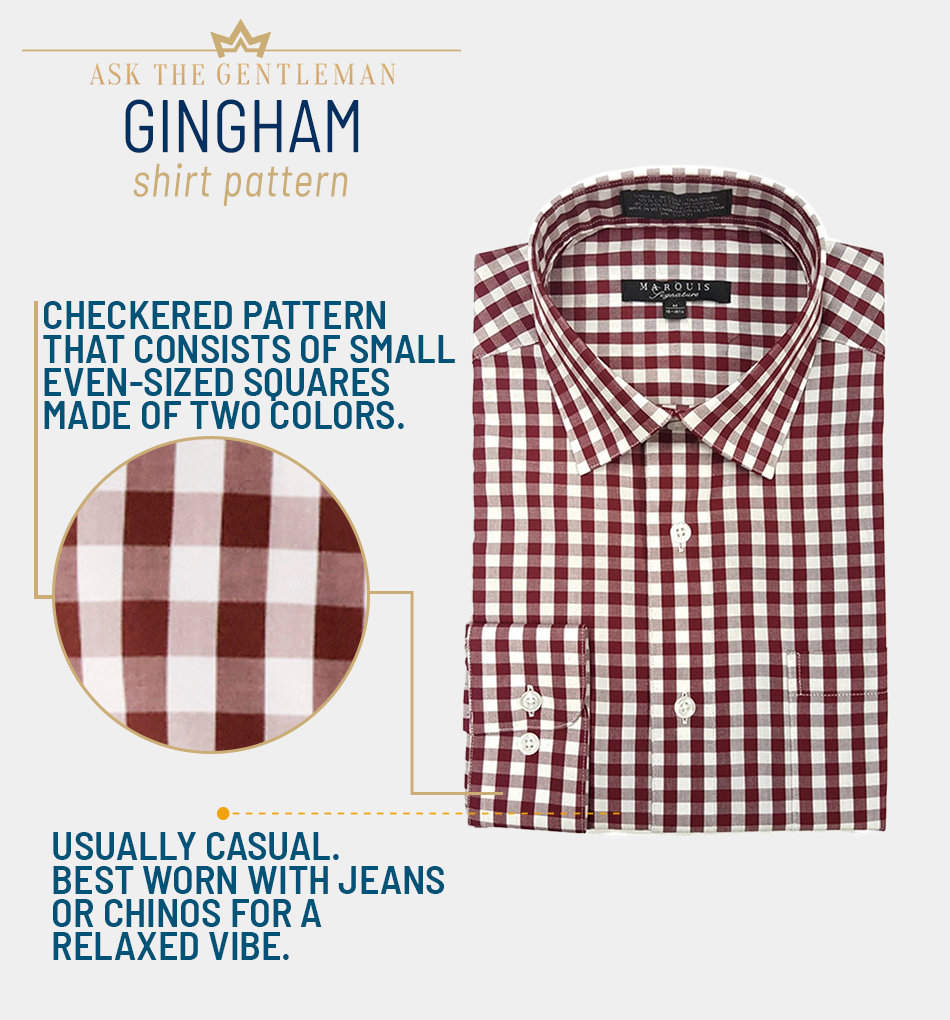 Thin stripes are the least casual; gingham is one of the most informal prints.
Suit Jacket or Blazer to Add Formality
We can't think of a more ideal smart-casual outfit than adding a blazer to a dress shirt and jeans.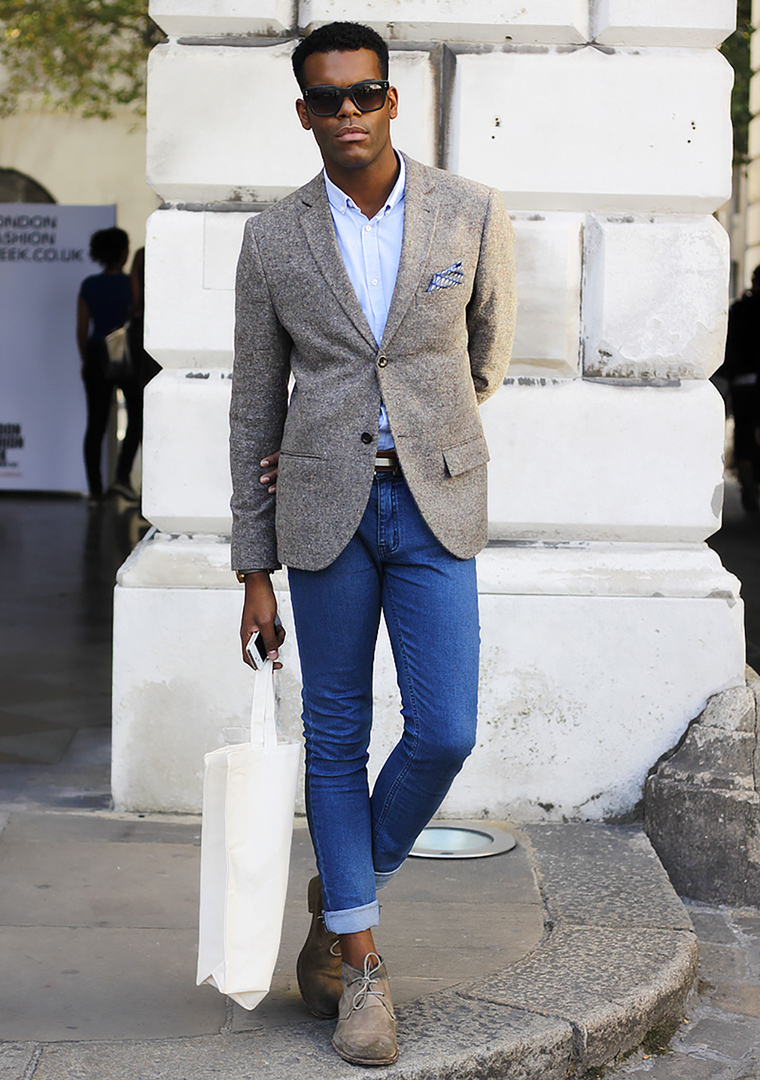 A blazer is a very sophisticated way to spice up your informal outfits.
You can also layer your dress shirt and jeans with a vest, but leave off the tie in both instances. Instead, keep your collar unbuttoned for a relaxed approach.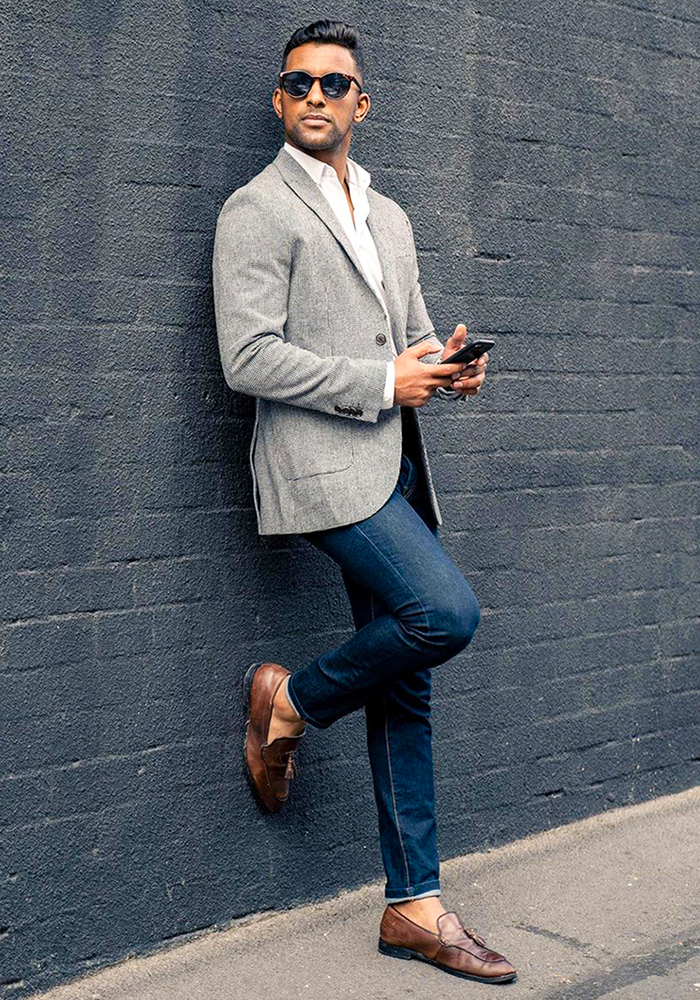 Wearing jeans with a suit jacket or blazer can be challenging, but the correct dress shirt will pull it all together. Of course, a suit jacket makes the outfit dressier than a simple blazer.
Pair a white shirt with medium-colored fitted jeans and a navy blazer when you need to walk the fine line between polished and laidback. Dark brown shoes are an excellent match.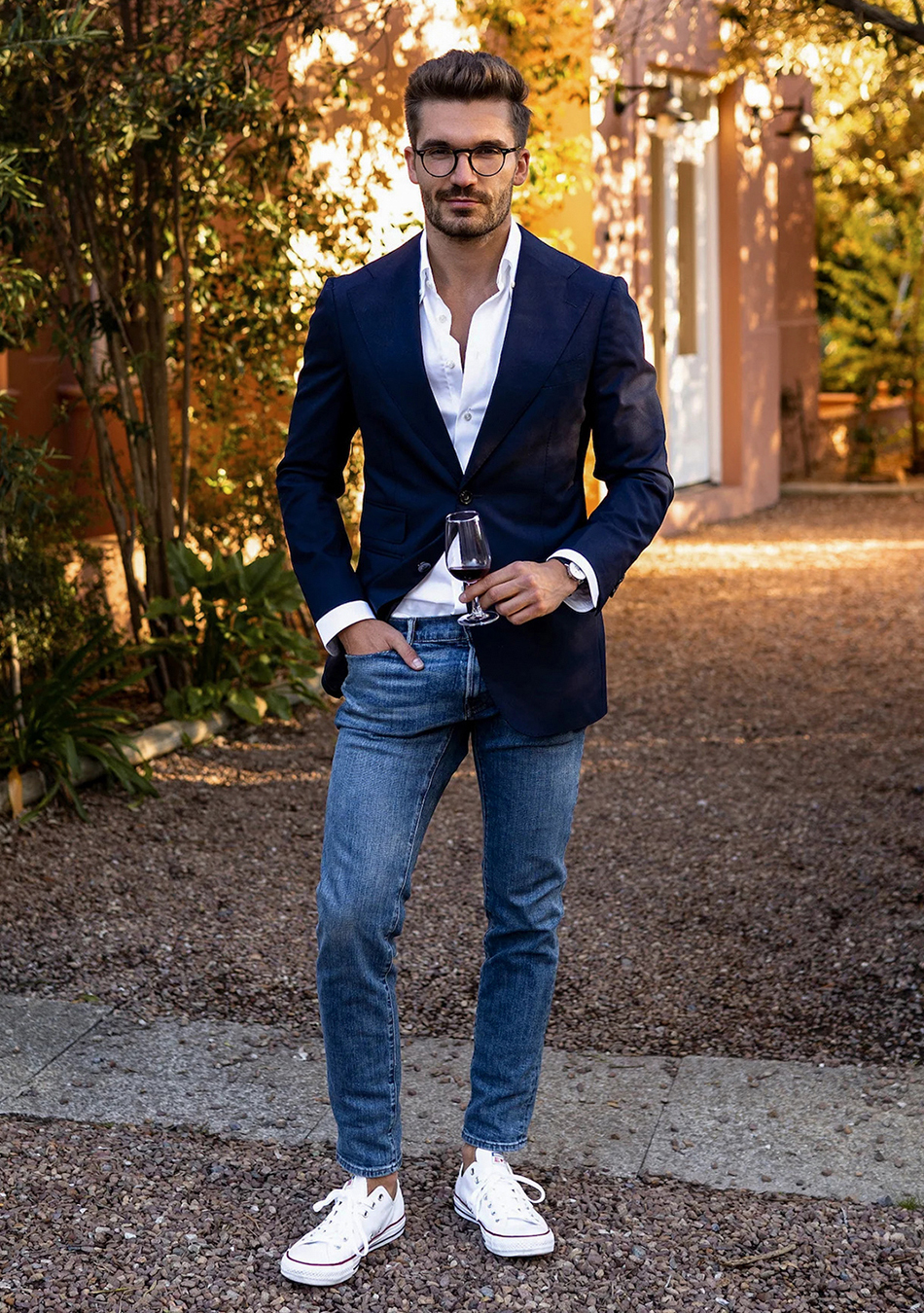 Or, for a more informal twist on this look, mix a light blue dress shirt with dark jeans and a khaki blazer. Lighter brown shoes make a nice finish.
Sweaters & Cardigans to Layer Up the Outfit
Replacing the blazer with a knit pullover is another fabulous way to change up the simple dress shirt and jeans combination.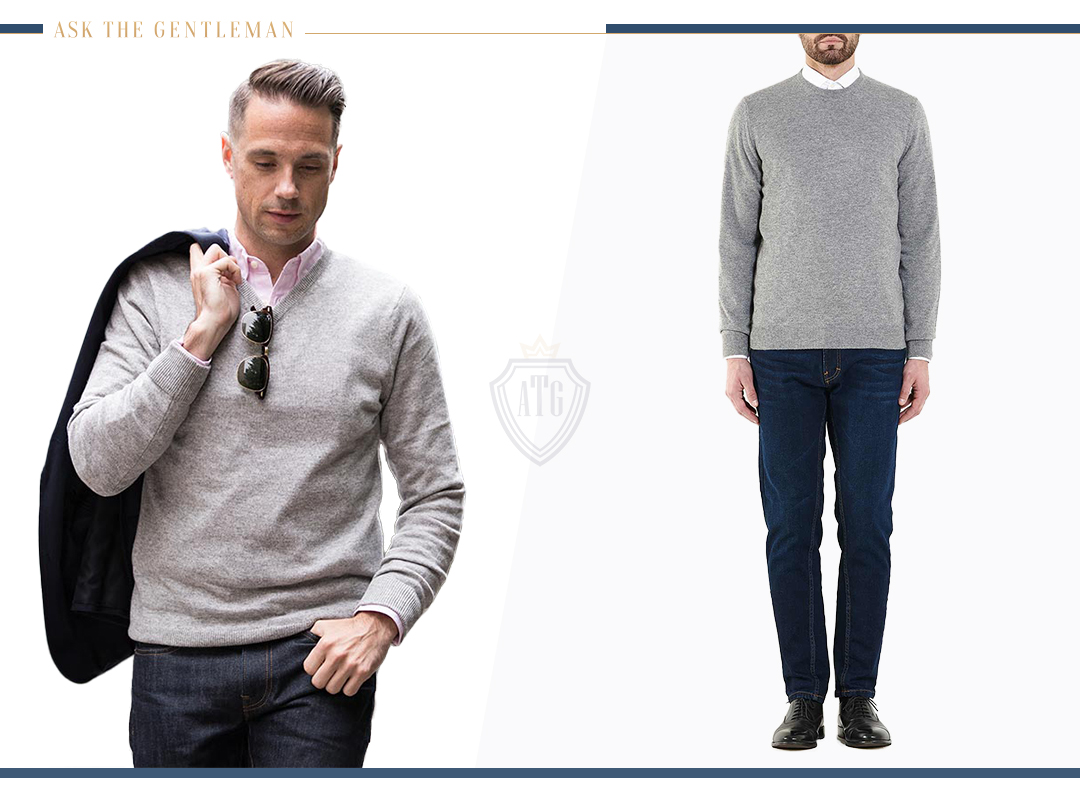 When incorporating a sweater or cardigan, you can either create contrast with your dress shirt or go for a complementary look.
This is a perfect opportunity to play with color combinations.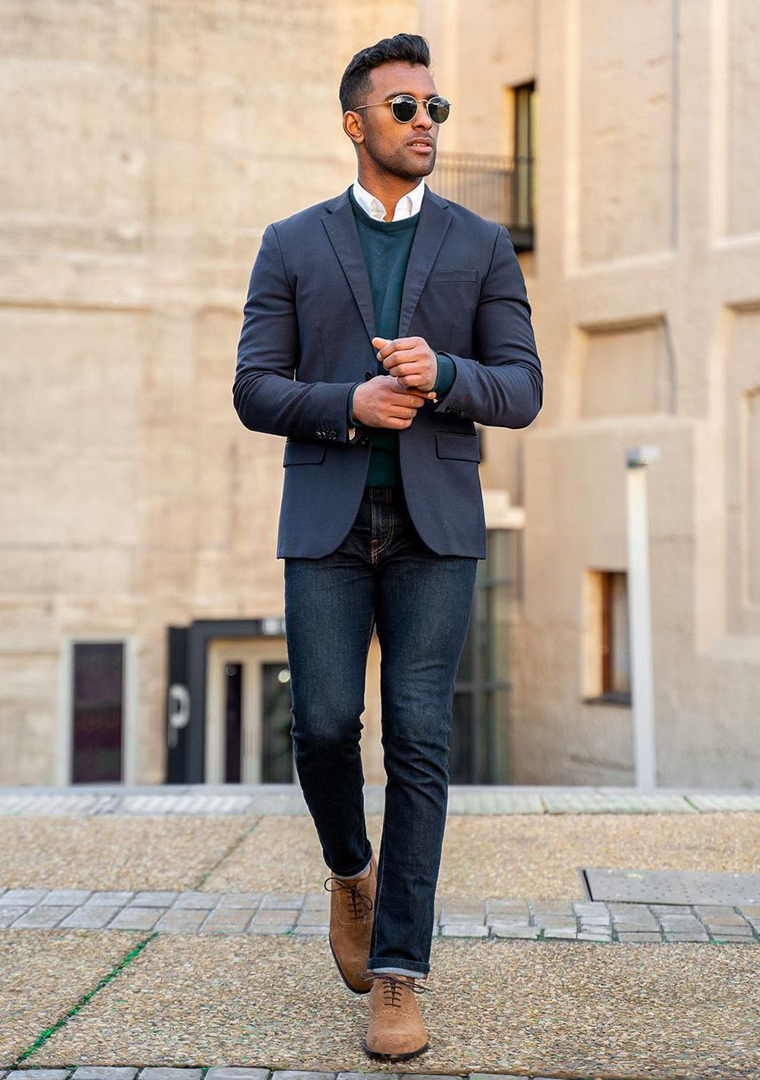 Any color for your dress shirt is acceptable, but avoid prints since the sweater will cover most of it.
With many different styles of knits, from V-neck and crew neck pullovers to cardigans, there are many ways to change your look.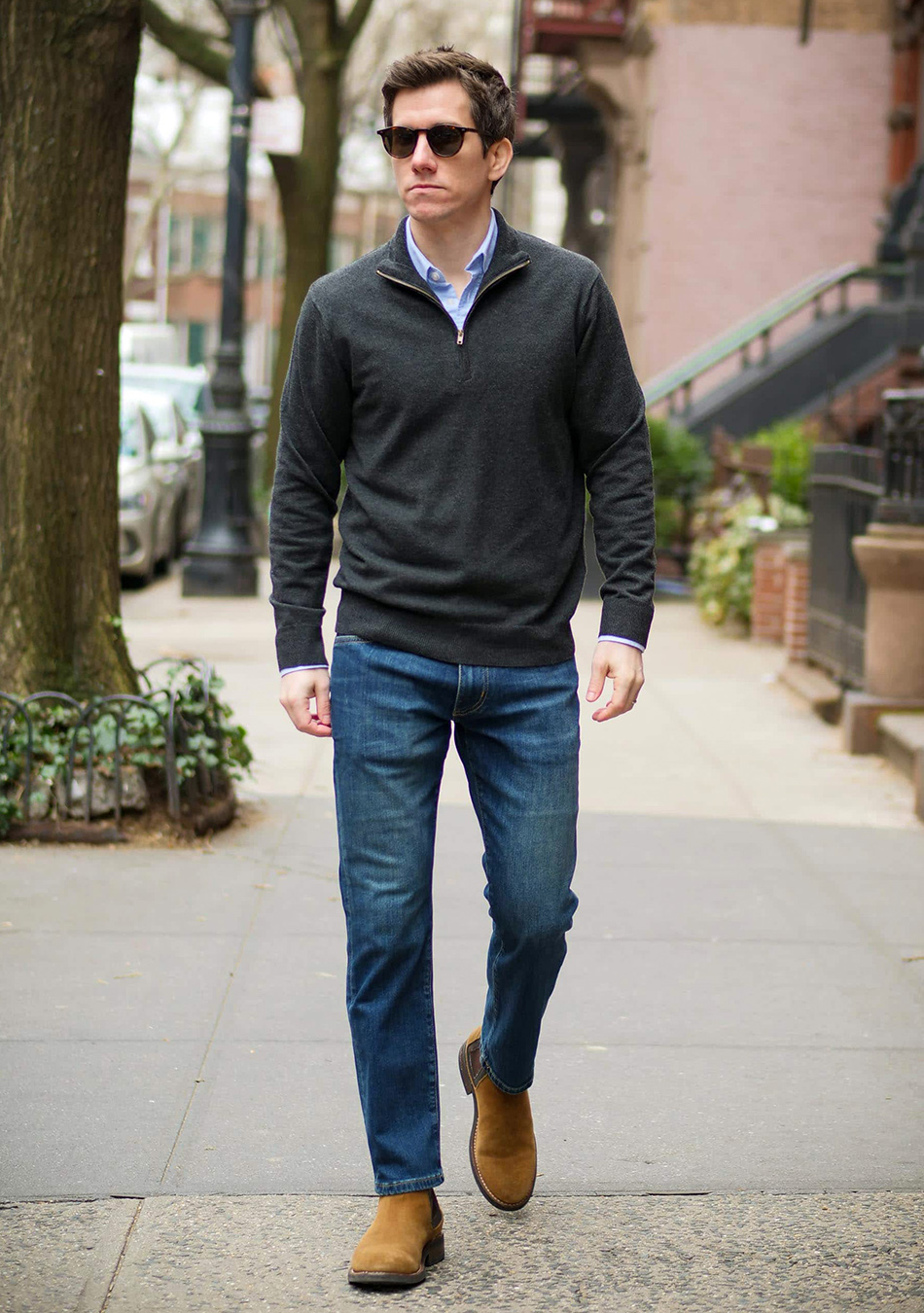 Each style is valid, but never go in for oversized knits. Loose fits are ok but never baggy.
In a departure from other outfits with your dress shirt and jeans, this is one time when it's ok to add a tie.
Remember to pull your dress shirt collar out of your pullover!
Coats You Can Wear for Colder Months
Sometimes a blazer or sweater isn't enough to protect you from the winter weather.
Find the right coat to complete your outfit.
Your choice of coat will also affect how formal your outfit is.
For example, an overcoat is an excellent choice when you want to be quite dressy. You'll also want an overcoat if you've included a blazer in your ensemble.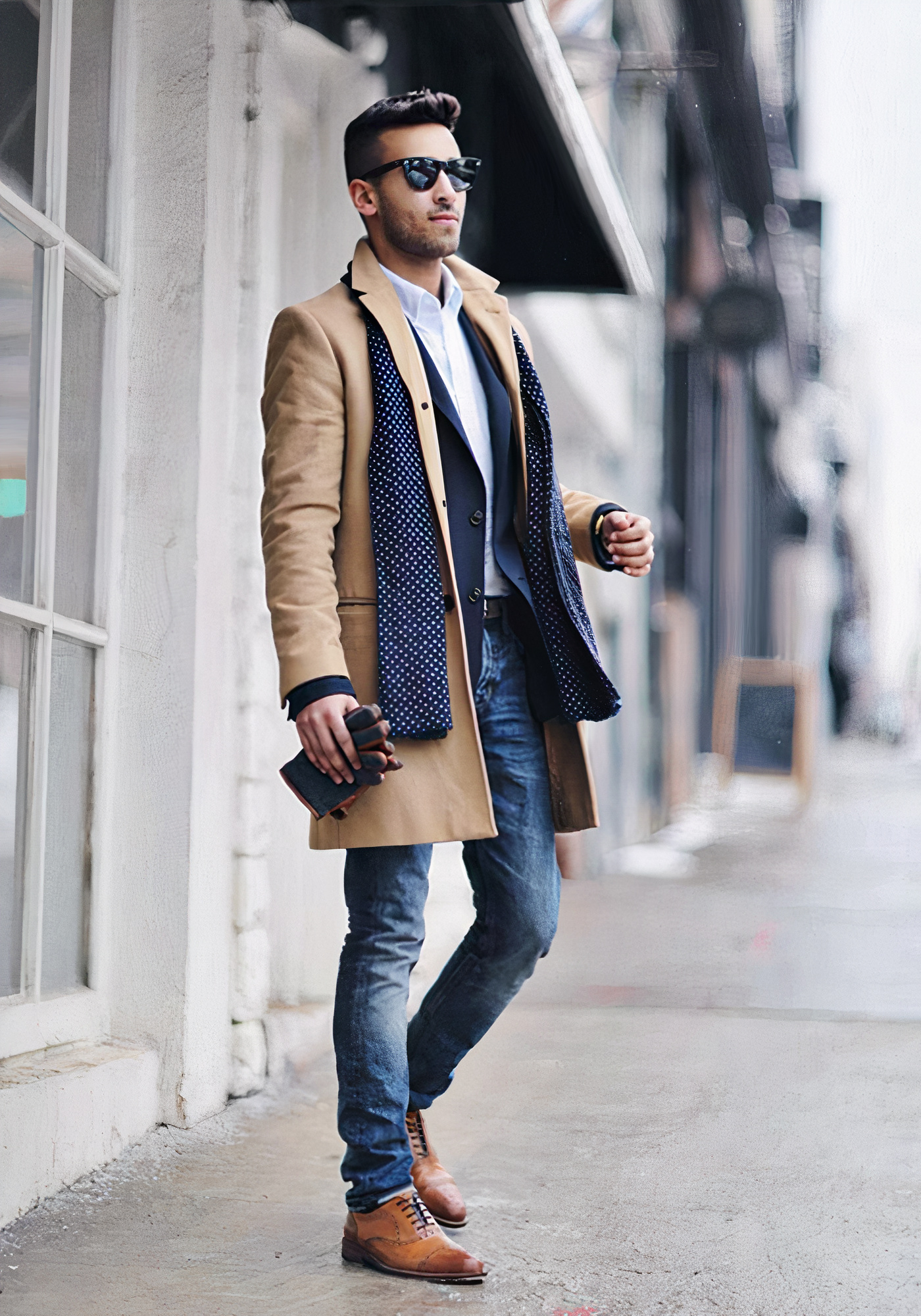 A camel coat is a nice choice when you're dressing up. It's slightly less formal but won't lower the formality of your outfit.
For your most casual looks, try a pea coat.
The color of your coat should be based on your dress shirt.
A dark dress shirt calls for a dark coat, just as light dress shirts should go with light coats.
Other Things to Consider When Wearing a Dress Shirt with Jeans
There's an art to pairing your dress shirts with jeans.
You need to follow some basic rules to avoid looking like you're wearing a mishmash of styles.
For starters, what kind of dress shirt are you wearing?
Your dress shirt is the first signal of how dressy you intend your outfit to be.
For example, a button-up dress shirt is more formal than a button-down.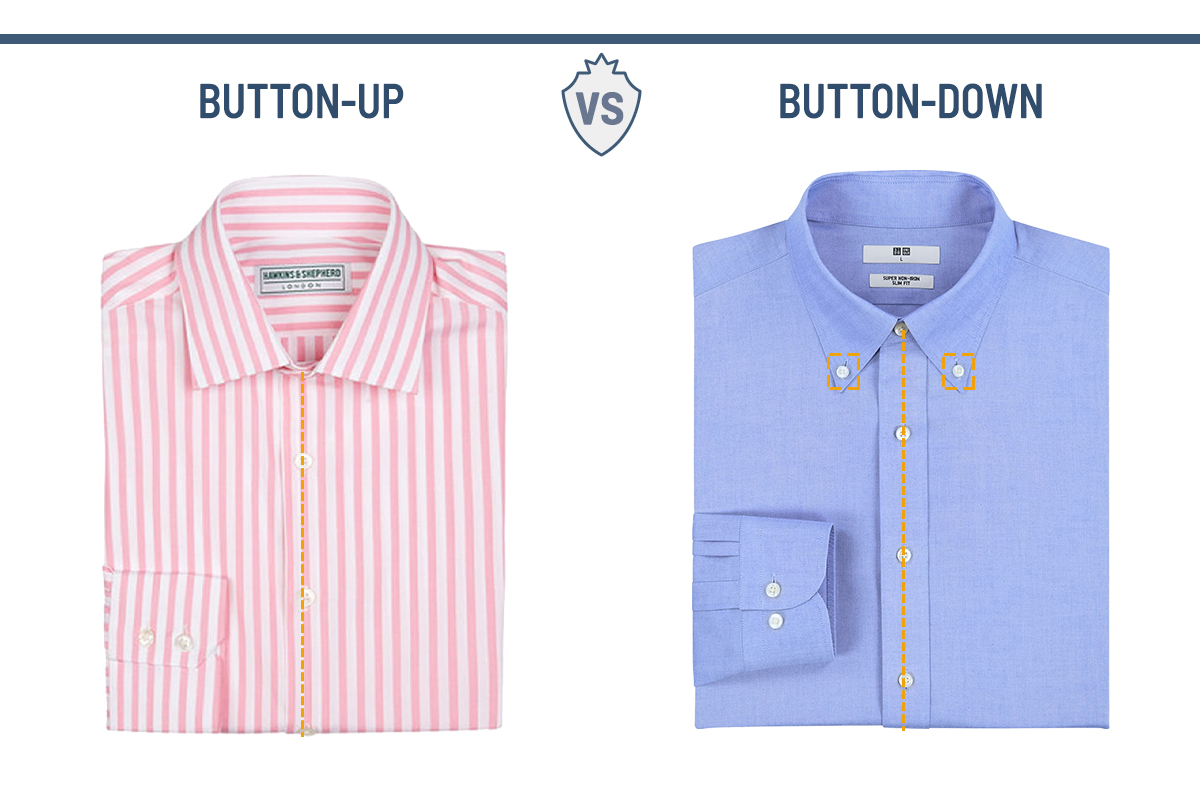 While button-ups are perfectly acceptable, don't choose a formal shirt.
Jeans will never be accepted as formal wear, so don't force the issue by wearing a dress shirt with French cuffs.
When to Wear Your Dress Shirt Untucked
It may feel unnatural to put on a dress shirt and not tuck it in, but that's how it should usually be worn with jeans.
There are only certain instances a tucked dress shirt with jeans is required; tossing on a blazer or suit jacket is one of those occasions.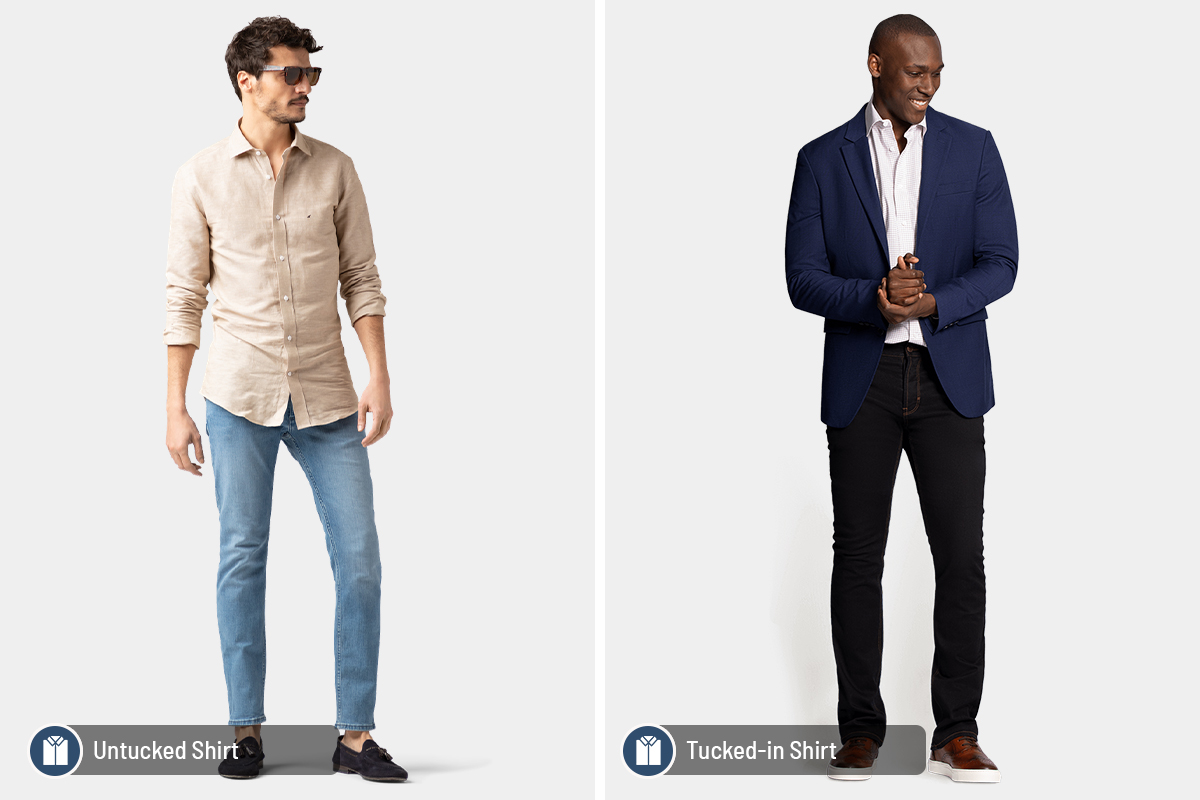 When wearing a sweater over your shirt, the choice is yours. It's fine to do either.
If you've got your heart set on incorporating a belt into your outfit, you need to tuck in your dress shirt.
When leaving your shirttails out, mind the length of your shirt! The right length of your shirt is around your mid-crotch.
Accessories You Can Add to Style Up the Outfit
Wearing a dress shirt with jeans can get boring if you don't have the right accessories to complete the look.
Adding a watch is one of the best ways to add flair to your outfit.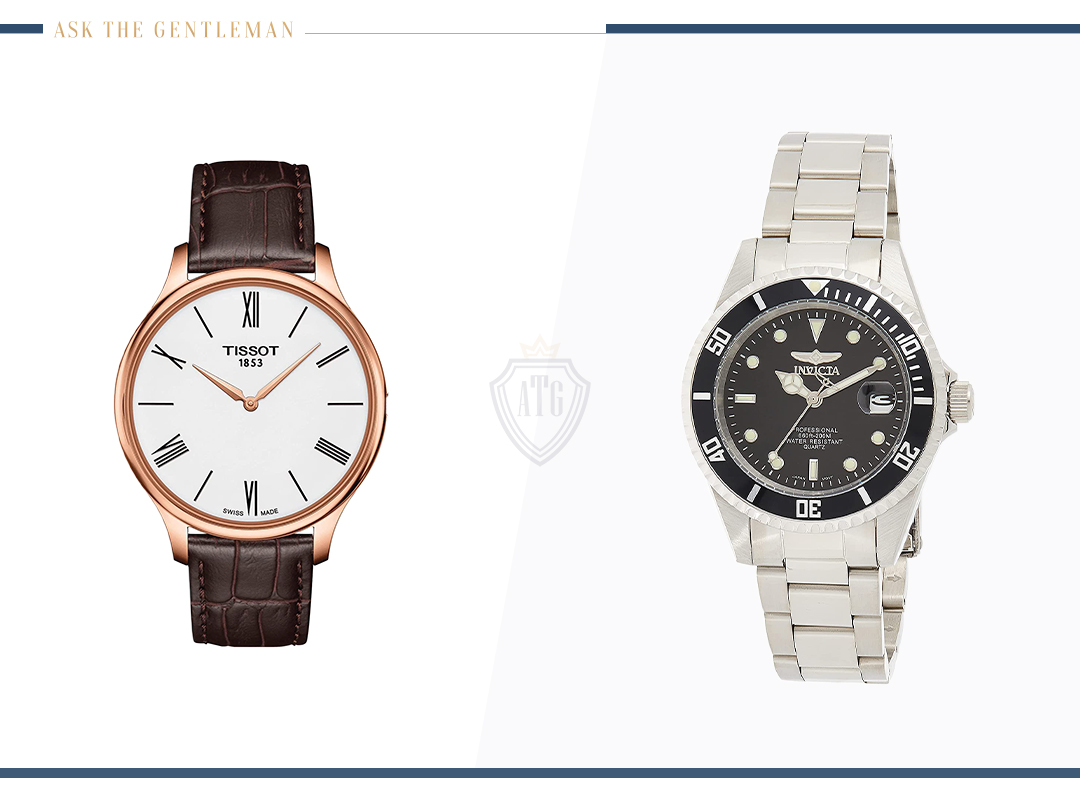 Don't overdo the look with a dress watch, but find something that perfectly expresses who you are.
Chronograph watches have a lot of style and draw the eye, adding a whole level of interest to your ensemble.
Diver and aviator watches are also super fashionable, allowing you to opt between leather or metal bracelet bands.
You can also pull everything together with a leather belt, as long as you don't opt for a dress belt. Keep it casual.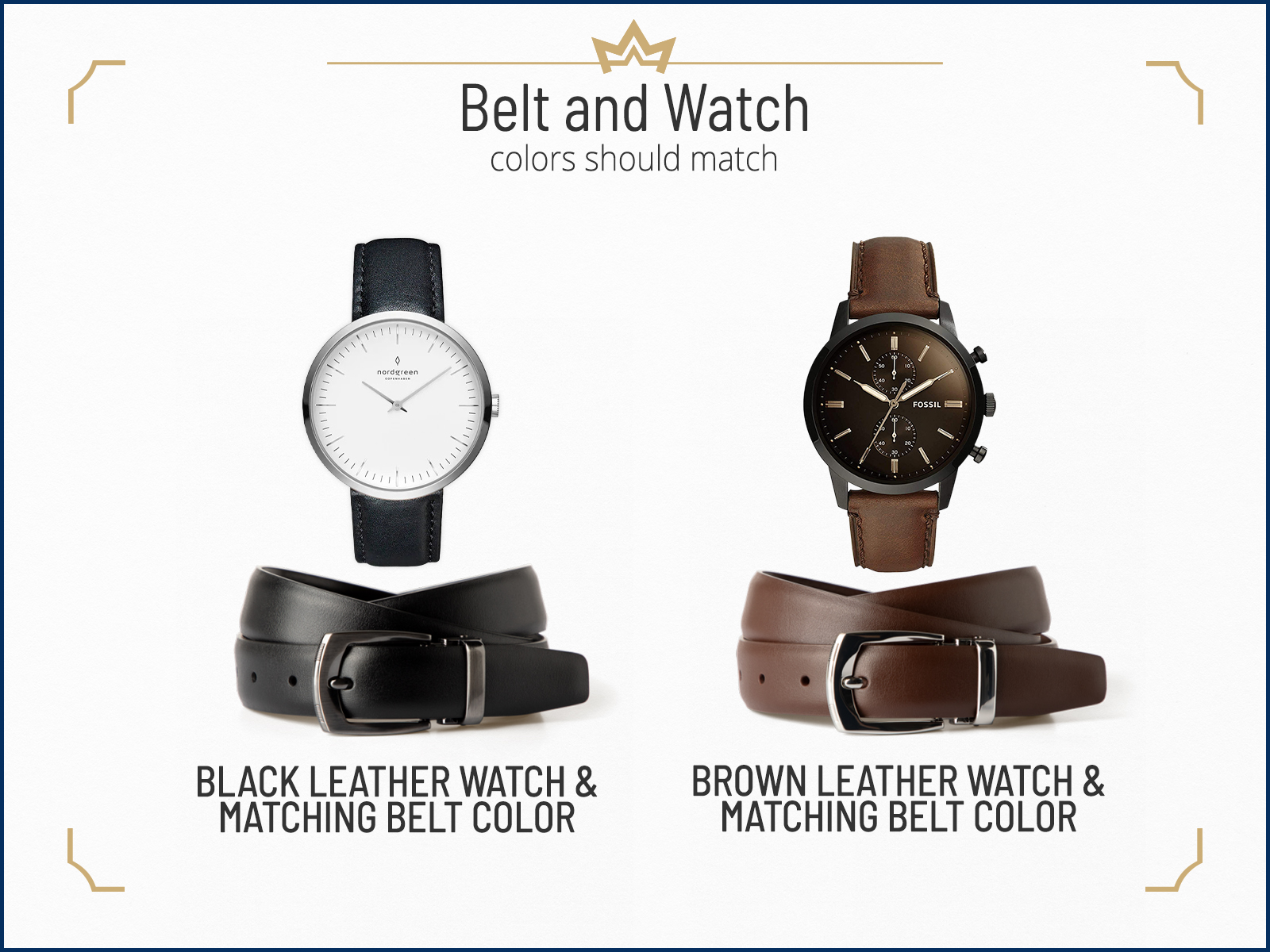 Don't go overboard if you're wearing a suit jacket since that's very dressy.
For instance, you still need to leave off the tie; a pocket square would also be inappropriate with jeans.
Recommended Types of Shoes
Use different styles of shoes to direct the formality of your outfit.
You can wear dress shoes, but these should be worn sparingly. They only work with a few combinations of dress shirts and jeans.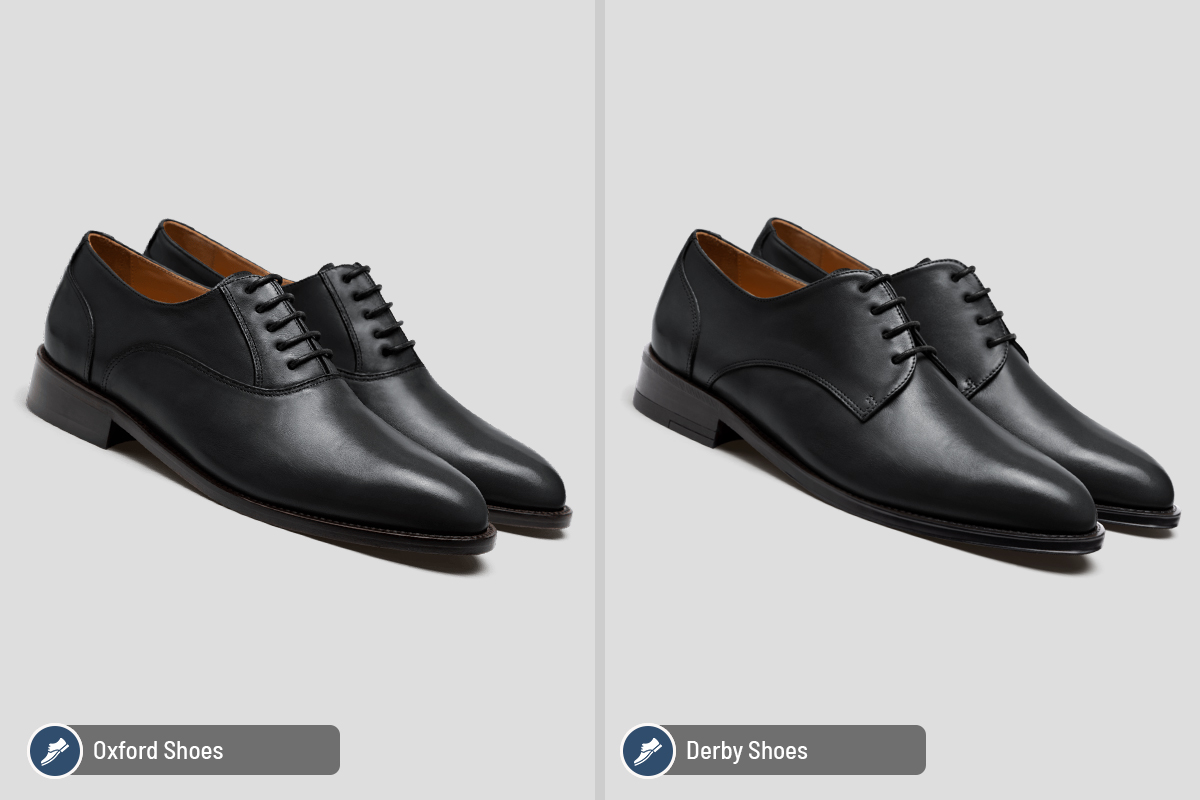 Monk straps are snazzy for a smart-casual outfit leaning more toward a dressy occasion.
Leather or suede loafers are the perfect complement for this laidback combination of dressy and casual.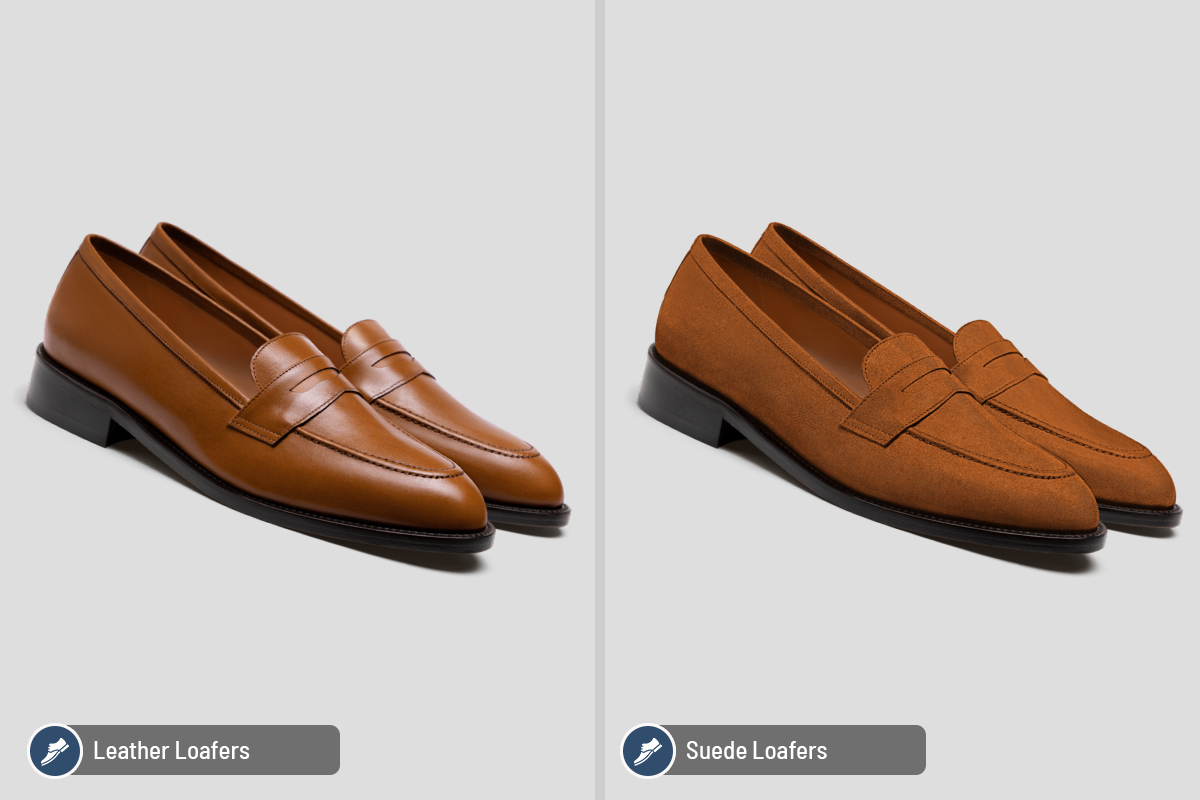 However, if you want to emphasize your outfit's informality, simple fashion sneakers are the ideal way to seal the look.
While chukka boots might feel slightly off with your outfit, Chelsea boots are a great choice for making your style feel modern.
Should You Wear an Undershirt
An undershirt is a good idea.
One of the greatest ways to keep your outfit on the casual side is by layering.
You can create excellent appeal with a white undershirt under your dress shirt with an open collar.
Or, you can get really creative by pairing a colored T-shirt with a dress shirt.
You can create excellent contrast, but avoid doing this with a white dress shirt.
Dress Shirt with Jeans FAQs
Are button-up or button-down shirts better for jeans?
Button-down shirts are the more casual of the two, so those are the preferable choice.
However, button-ups are also acceptable. Just remember to style them accordingly.
Can you wear ripped jeans with a dress shirt?
Yes, some outfits work well together with a dress shirt and ripped jeans.
However, keep in mind that not all ripped jeans are appropriate; they shouldn't be torn from use but should be an intentional feature of the denim.
And ripped jeans aren't acceptable in all settings.
What type of dress shirts go well with jeans?
Any dress shirt that doesn't have formal features is fair game for jeans. This means you must avoid French cuffs, plackets, and tuxedo shirts.
Otherwise, there's plenty of opportunity to make your dress shirt and jeans work well together.
Can you tuck in your dress shirt with jeans?
You sure can! In most instances, it's best to leave your dress shirt untucked, but some situations call for tucking your shirt into your jeans.
For example, tucking your shirt is mandatory if you add a blazer.