Among all suit and shirt combinations, wearing a grey suit with a blue shirt occupies a pretty singular place.
It's a simple combination that adheres to all sartorial rules.
Even for men who style by feel and not by rules, a grey suit and blue shirt seem on-point.
It's the details that make this combination worthy of Hollywood icons from Cary Grant to James Bond.
Charcoal Grey Suit with Light Blue Shirt for the Office
An office look should be simple, classic, and sophisticated.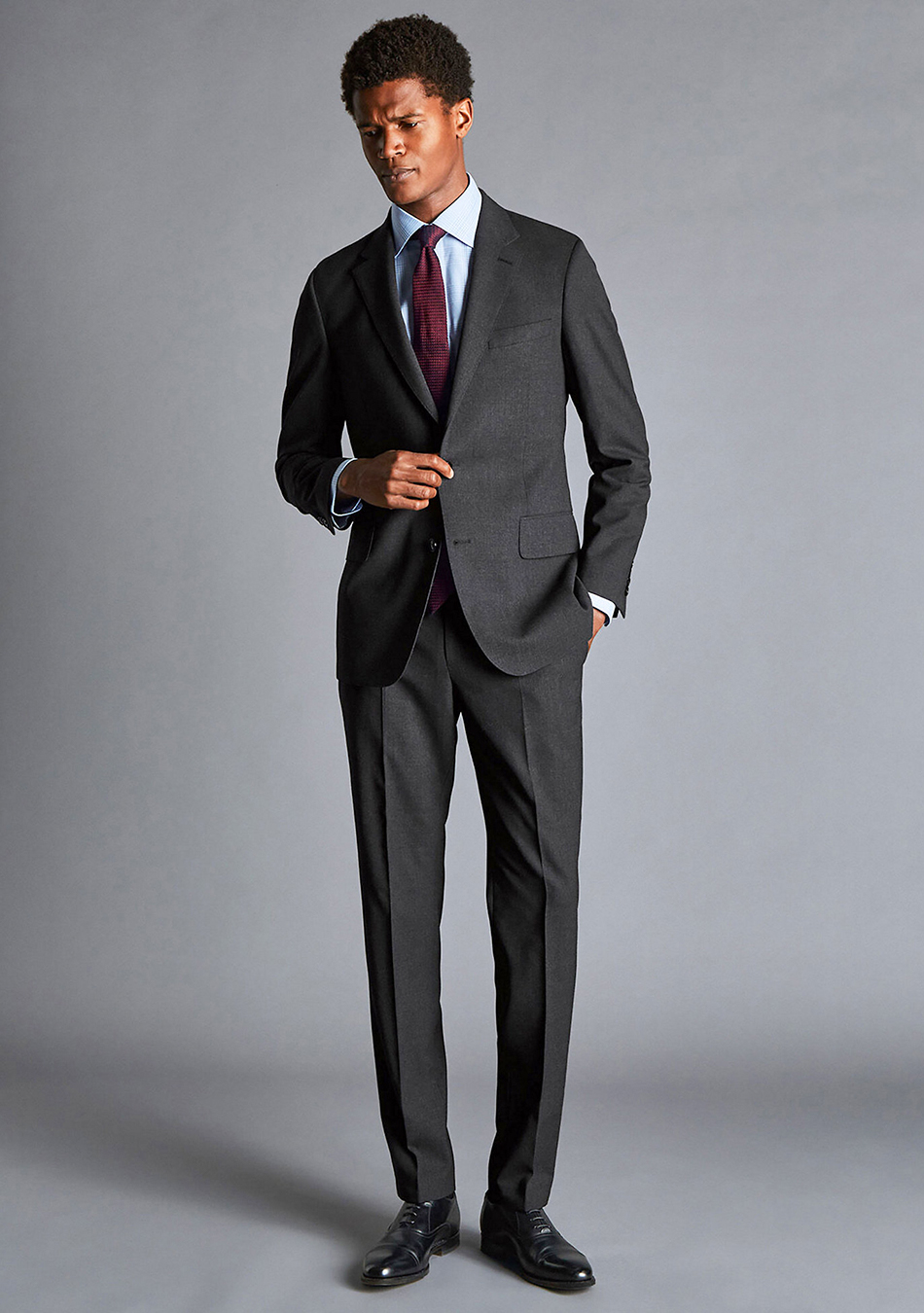 That's what this combination of charcoal grey suit and light blue dress shirt is all about.
You can don this ensemble with minimal time and thought. Still, it will be as timeless as any suited look can be.
Pair it with a maroon check tie to introduce color and for a touch of playful spirit.
A navy grenadine tie can be a more formal business-appropriate alternative.
Finish the look with black cap-toe Oxfords to complete the professional office aesthetic.
Grey Three-Piece Suit with Blue Dress Shirt for Wedding
A light grey three-piece suit is a timeless classic with a subtle modern edge. The pale blue shirt gives off the same energy.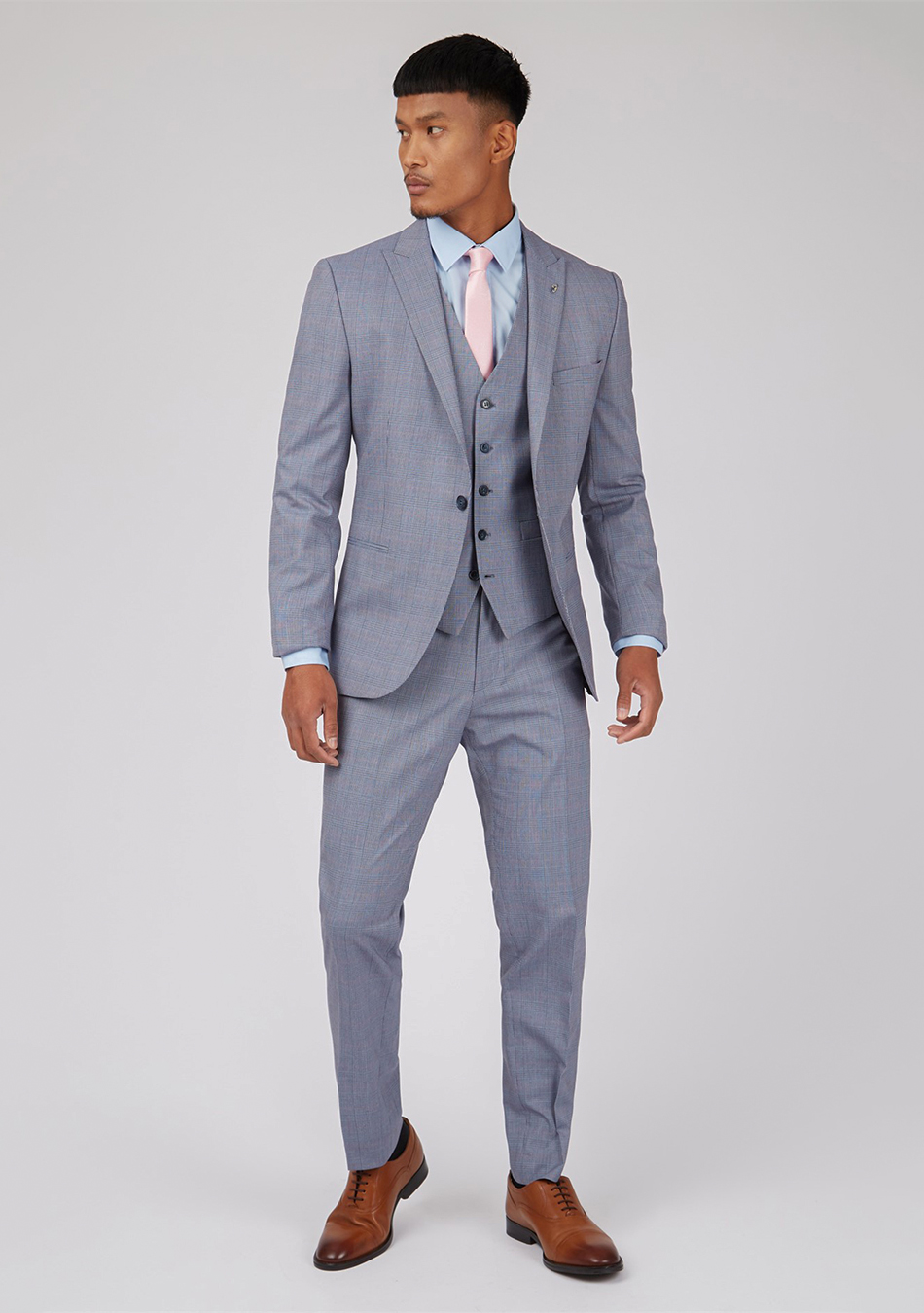 Together, these two create a highly debonair and stylishly elegant ensemble, perfect for weddings.
I suggest wearing a pale pink tie for a cheerful vibe. A pocket square is almost essential, too.
Anchor the look with medium-brown whole cuts, mixing fun and formality.
Grey Suit with a Button-Down Blue Shirt
There are almost countless occasions to wear a blue button-down shirt with a light or medium grey suit.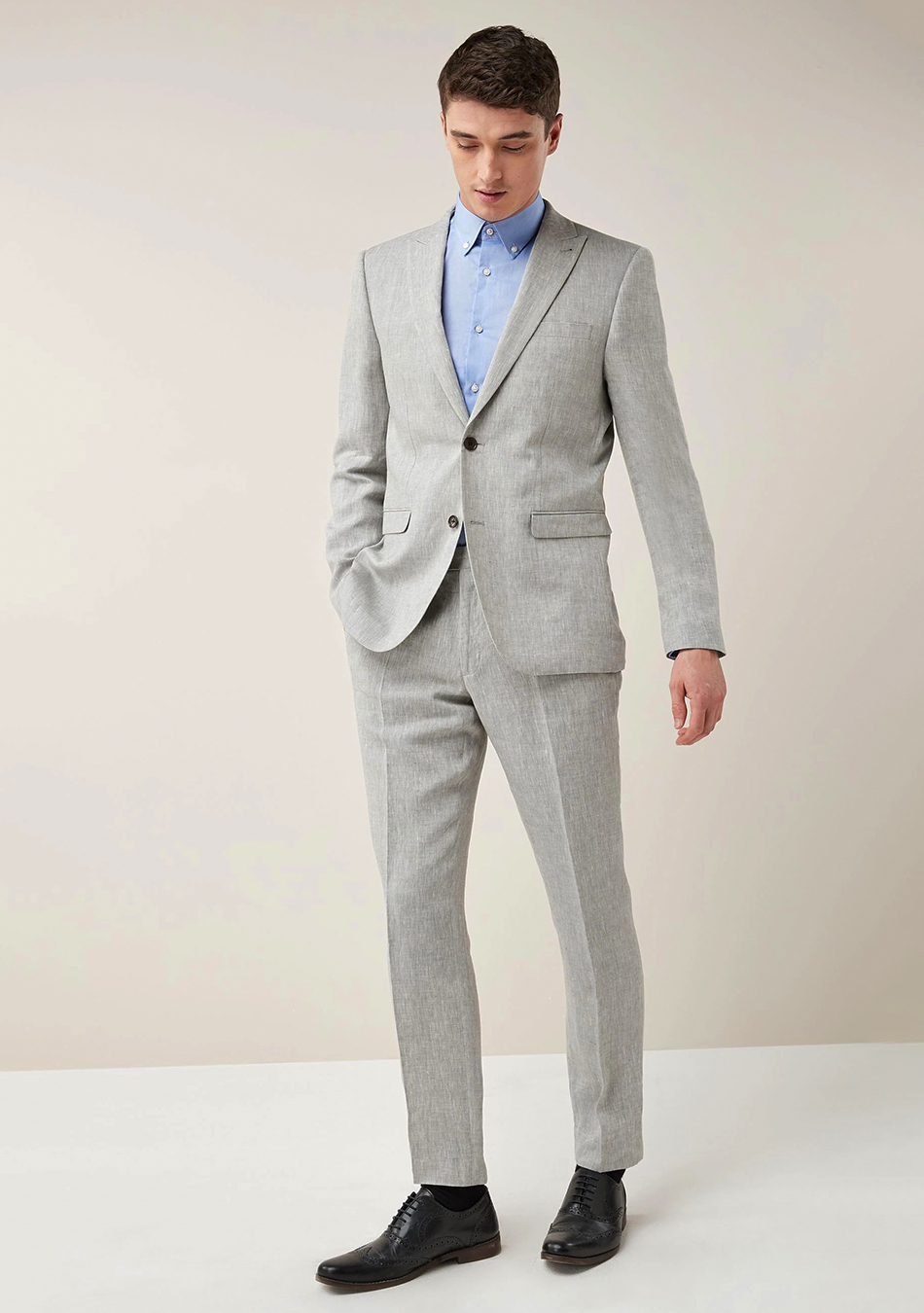 This combination, sans tie, can work for a casual day at the office.
It can also create a relaxed look for a dinner or a cocktail party.
The versatility will make you shine from beach weddings to any retro-styled smart-casual event.
Want to further elevate this look? How about adding black brogues?
They're the perfect touch of fun and flair for this ensemble.
Grey Check Suit with a Navy Blue Polo T-shirt
Patterned suits like Prince of Wales checks are a delightful deviation from the ordinary.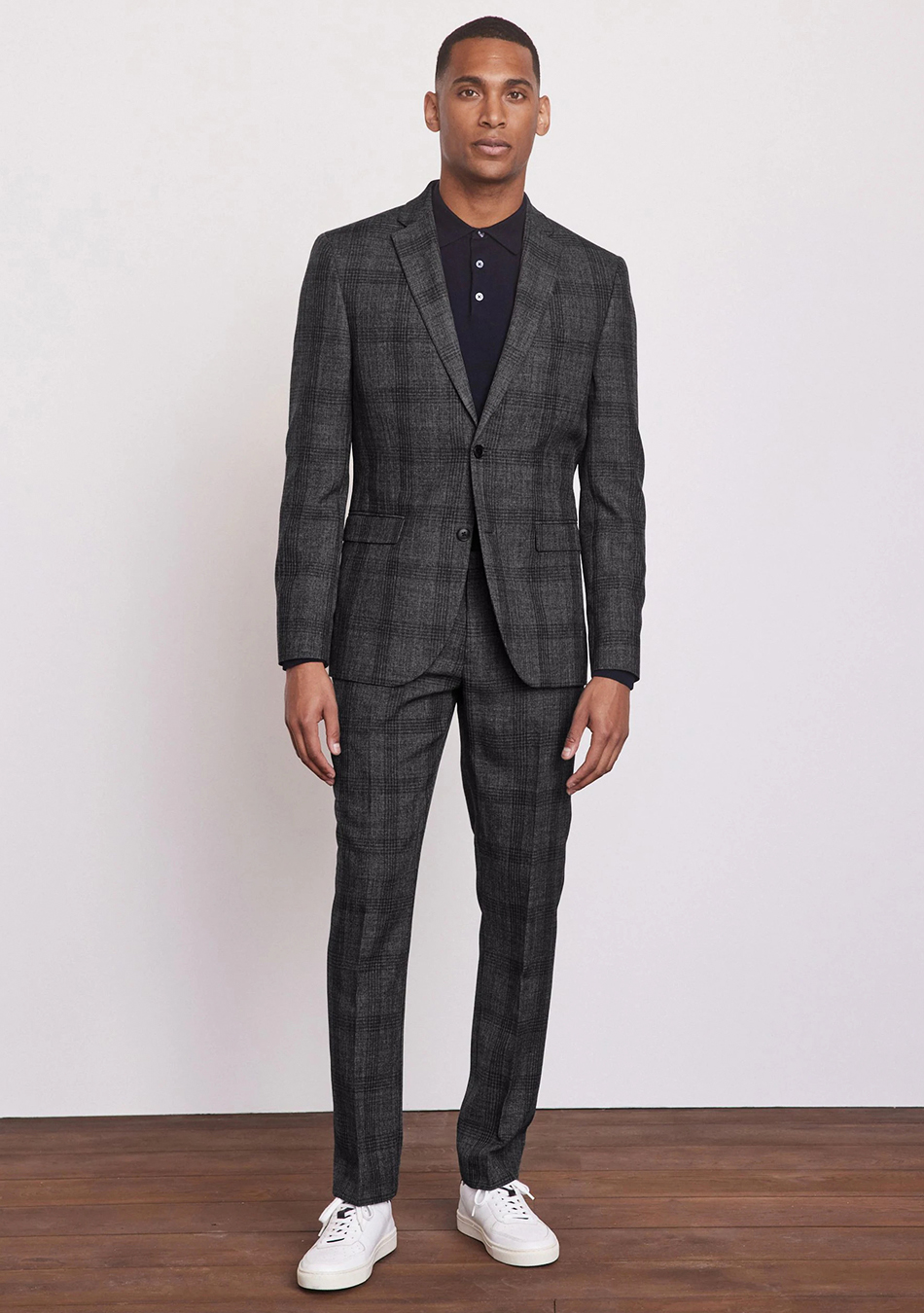 But at times, these can be challenging to wear.
The grey-checked suit emerges as a style savior. It's a blend of elegance and versatility that makes a subtly casual statement.
An equally good match is the navy polo. It's drawn from a classic color palette and has a sporty allure.
Wear this as a low-key luxury outfit for casual meetings and fashion-forward events.
It can also be a "sporty business outfit" that resembles the suited looks of modern influencers.
Sneak in low-profile white leather sneakers to complete the contemporary look.
Charcoal Grey Suit with a Patterned Blue Shirt
A charcoal grey suit with a printed or patterned shirt somehow tells that you're a regular suit guy.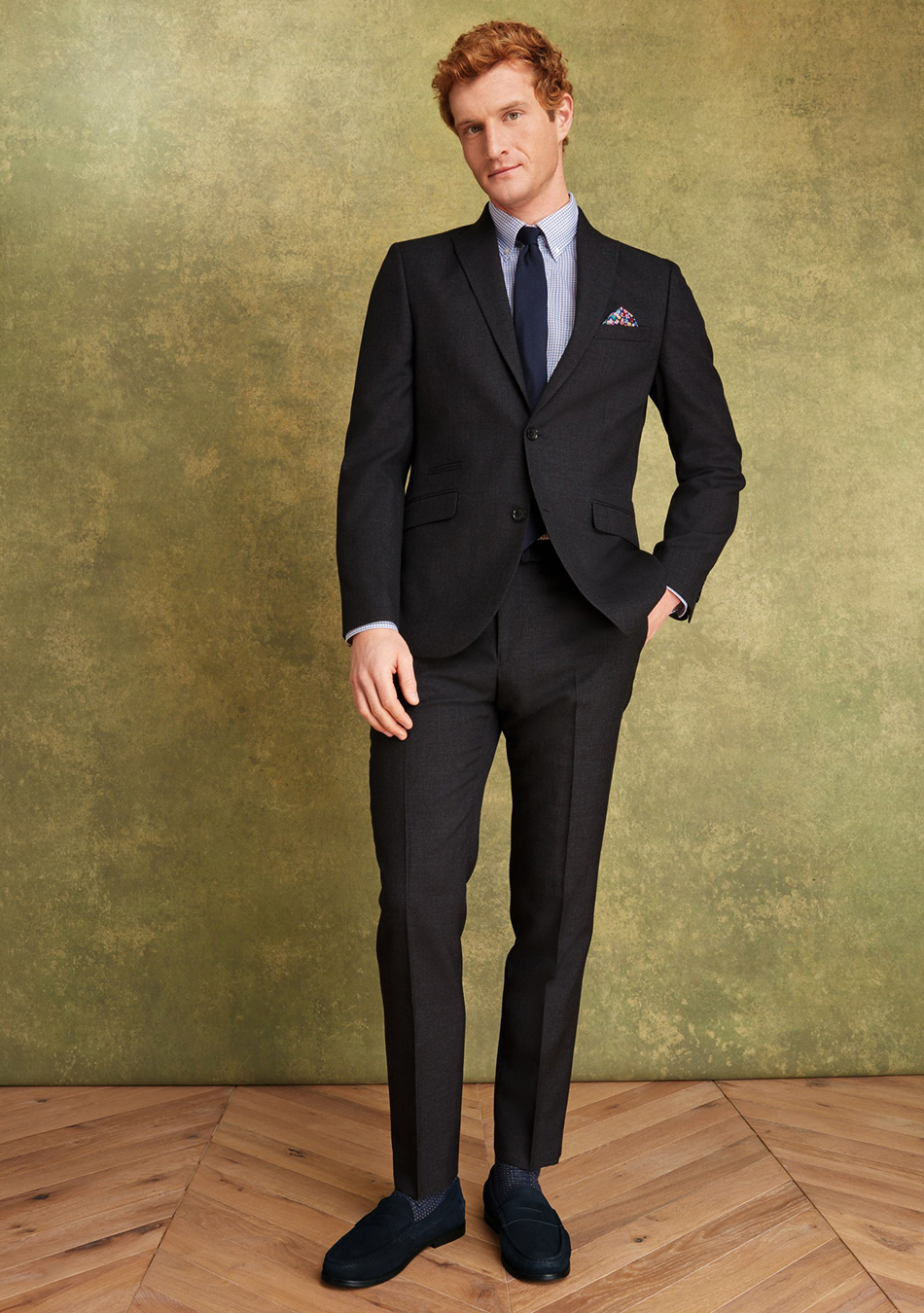 It has that classic allure with a modern sensibility, showcasing confidence in your style.
You can wear it as a unique business-formal ensemble.
But it's also a great outfit for attending semi-formal weddings.
Make sure to accessorize it properly. A navy tie is a good thing to have, and so is a colorful pocket square.
With navy loafers and a strong sock game, you can make the outfit even more creative.
Light Grey Suit with Blue Denim Shirt
The blue denim shirt creates a unique contrast with the light grey suit.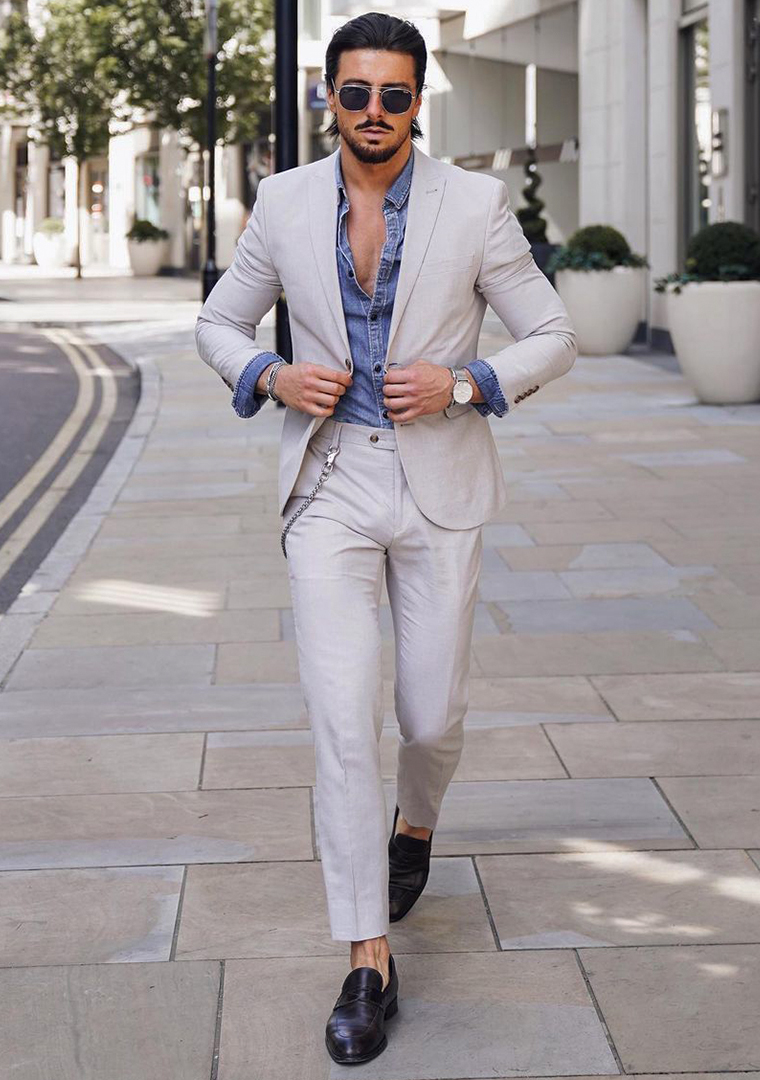 It gives a lively energy and the feeling of being refreshingly different.
Plus, it's an effortless way to dress down a suit.
You can wear loafers to complete this look – both brown leather and suede work.
Grey Double-Breasted Suit with White Loafers
A light-grey double-breasted suit with a powder-blue shirt speaks quiet luxury.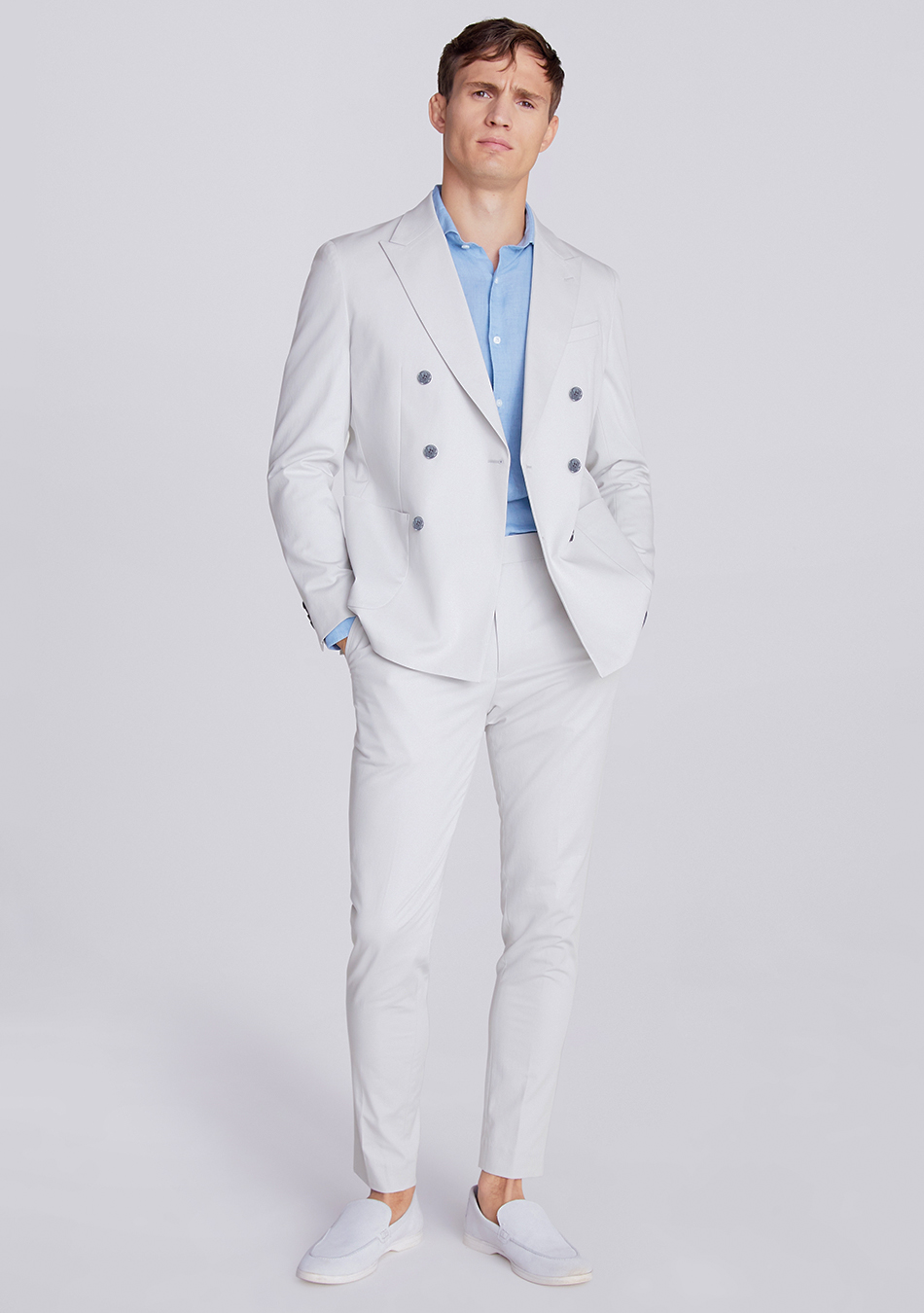 You'll make a statement of refined elegance with a hint of confidence as if setting your own style rules.
So, opt for this combination on special yet relaxed occasions.
Examples include summer weddings, cocktails, garden parties, and cruise dinners.
A tie might be too much for this look. White loafers alone are enough to lighten up this outfit.
Grey Suit with Blue Crew-Neck T-Shirt
A light-grey windowpane suit with a blue crew-neck t-shirt has that nautical energy with contemporary refinement.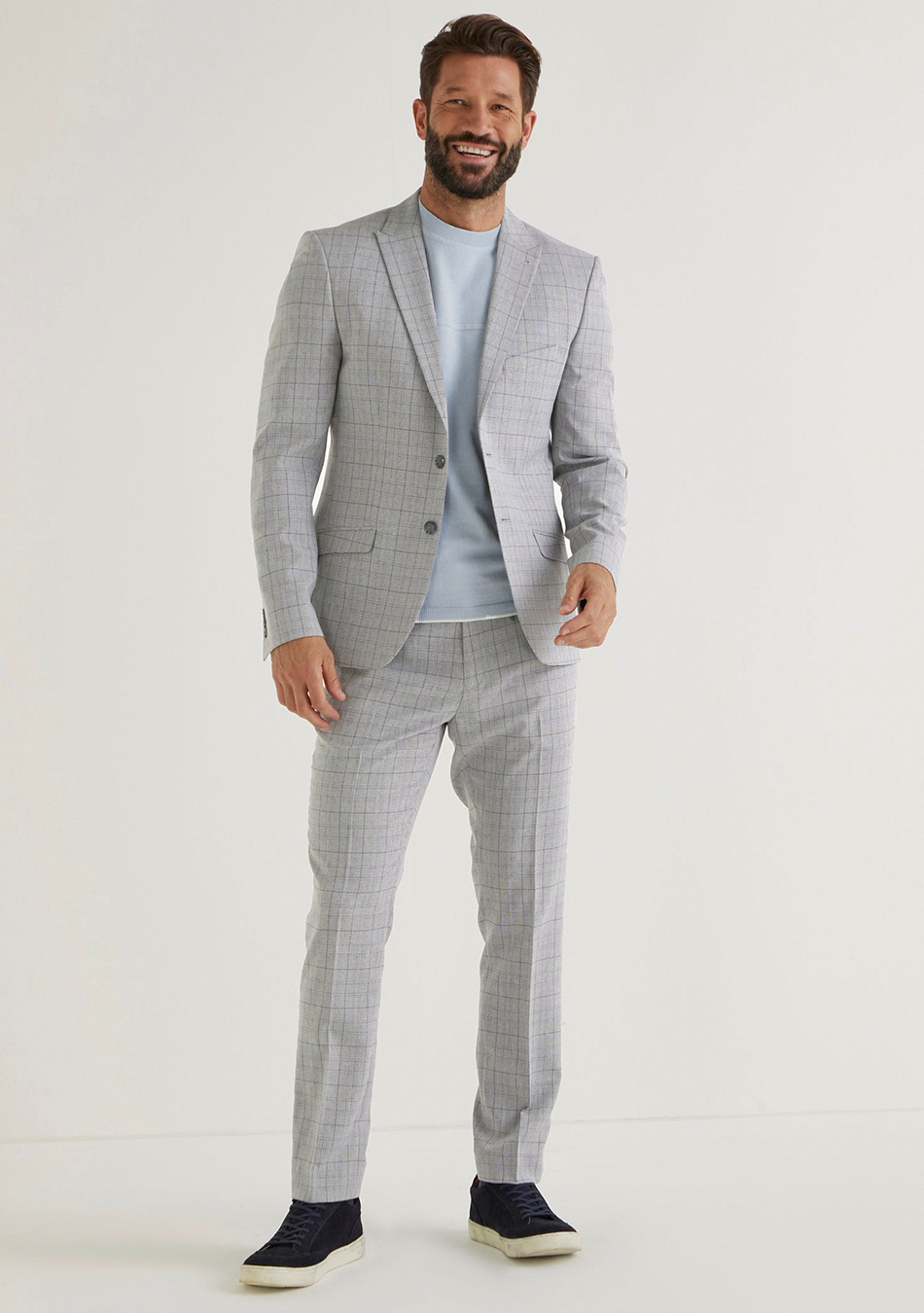 It's one of those outfits where you look dressed up without giving off an air of trying too much.
You can wear it to break the monotony of conventional suiting.
Also, it's a great summer outfit, both for weddings or any networking events.
Brown dress shoes can work with this suited look. But for a more energetic look, wear white or navy sneakers.
Charcoal Suit with Blue Dress Shirt & Brown Tie
This is another business look featuring the classic charcoal grey suit and a blue button-up shirt.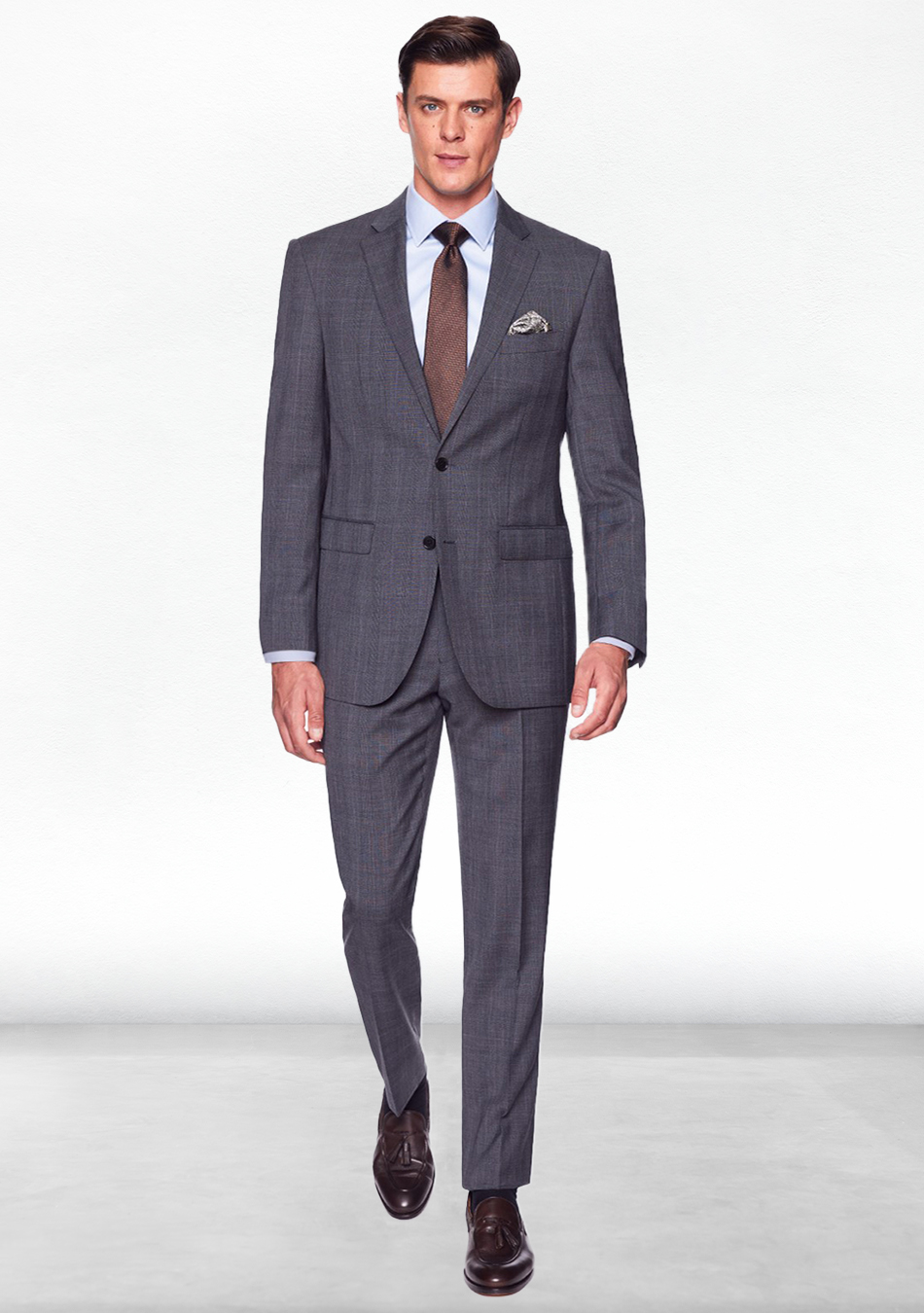 However, this time, styling things a little differently.
First is the addition of a brown tie with a very subtle pattern motif. The brown adds earthiness and elevates the formality of the look.
A colorful pocket square is also there to complement the tie and show an attentive styling.
The brown loafers somehow have the same effect.
Without a doubt, this is a semi-formal outfit. It can also work for attending business meetings, job interviews, engagement parties, etc.
Grey Suit with Brown Double Monks
This outfit showcases that wearing a grey suit with a blue shirt doesn't need to be complicated.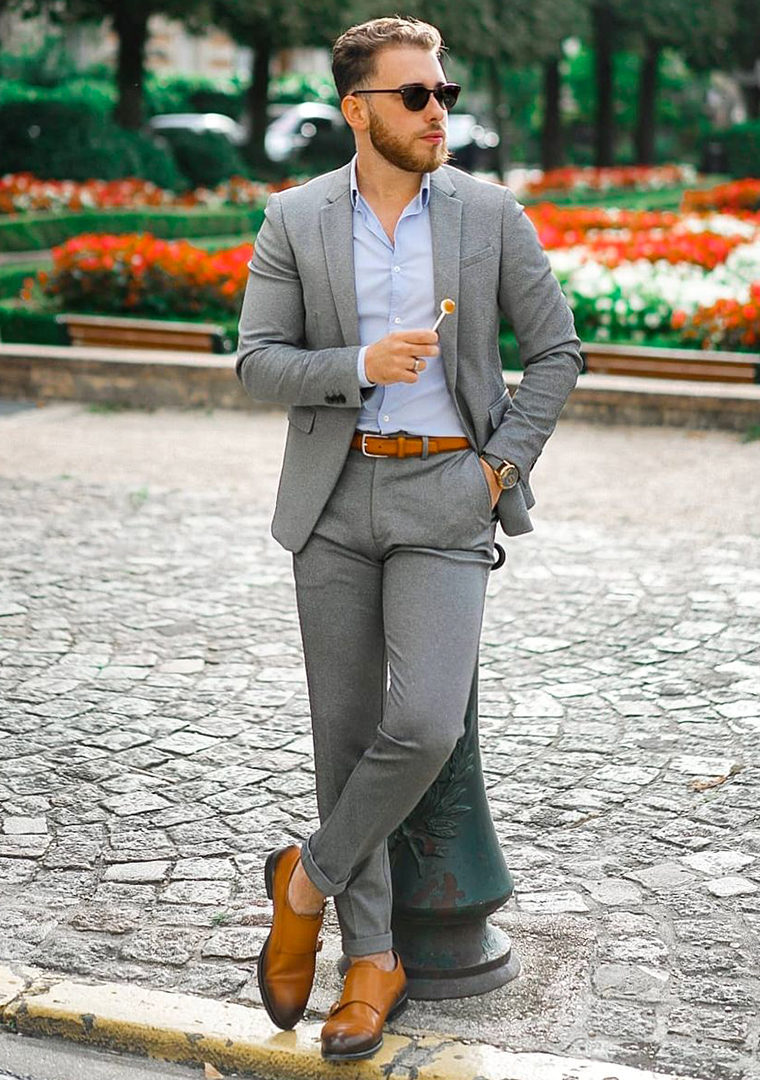 A simple combination of a medium-grey suit with a light blue dress shirt will do wonders for you.
The outfit can transition from a business-casual office look to a relaxed, casual date attire.
It's also a jolly combination as a resort wedding guest or on a business trip.
Those double-monk straps? Pure sartorial flair, infusing the ensemble with a dash of contemporary panache.
A brown belt and a watch can accessorize the outfit. Leave the tie home.
Style & Matching Tips
The grey suit and the blue shirt are a great match, effortlessly resilient to any sartorial experimentation.
Even if you try, it's hard to mess things up.
So, you have a style homeground to articulate your personal style and make a statement.
Things will become easier with a couple of considerations.
Shade Varieties
Grey and blue have the most diverse spectrum of shades.
The grey suit can be charcoal grey, mid-grey, and light grey.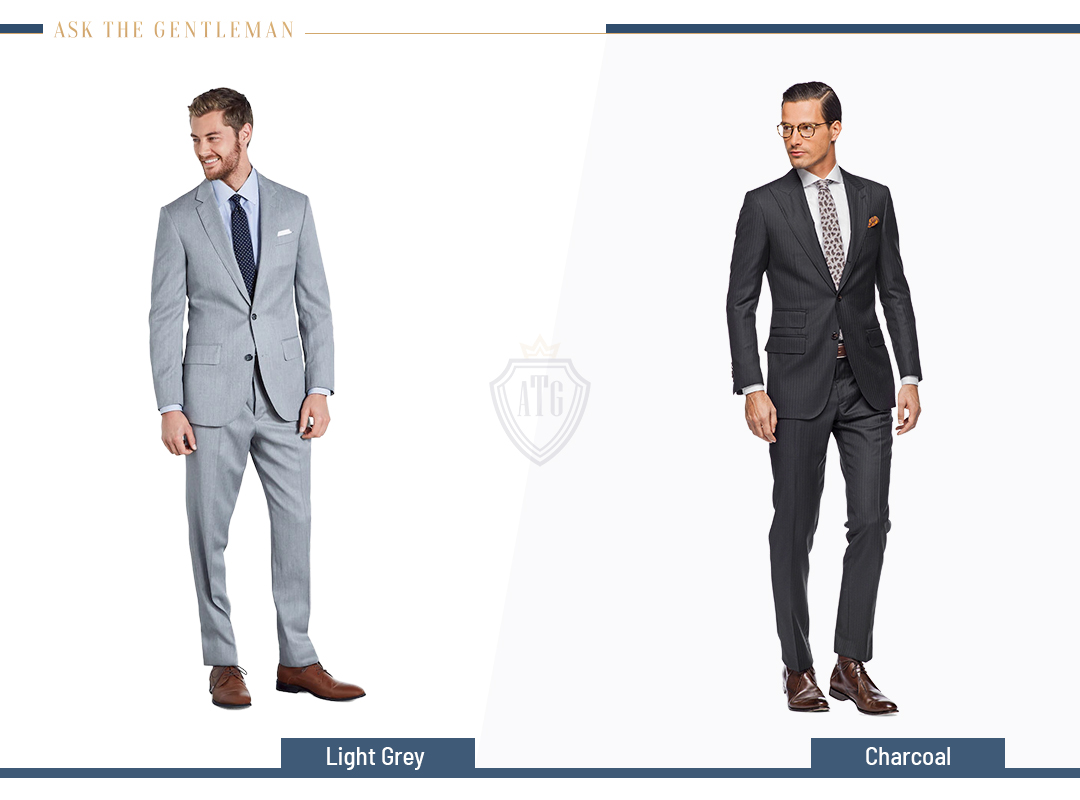 In comparison, the blue shirt can be navy, sky blue, pale blue, denim, and many others.
This simply means that you've got a lot of matching options.
For a fairly formal look, have a contrast between the shirt and suit color.
Ideally, a suit should be darker grey, complemented with a light blue dress shirt.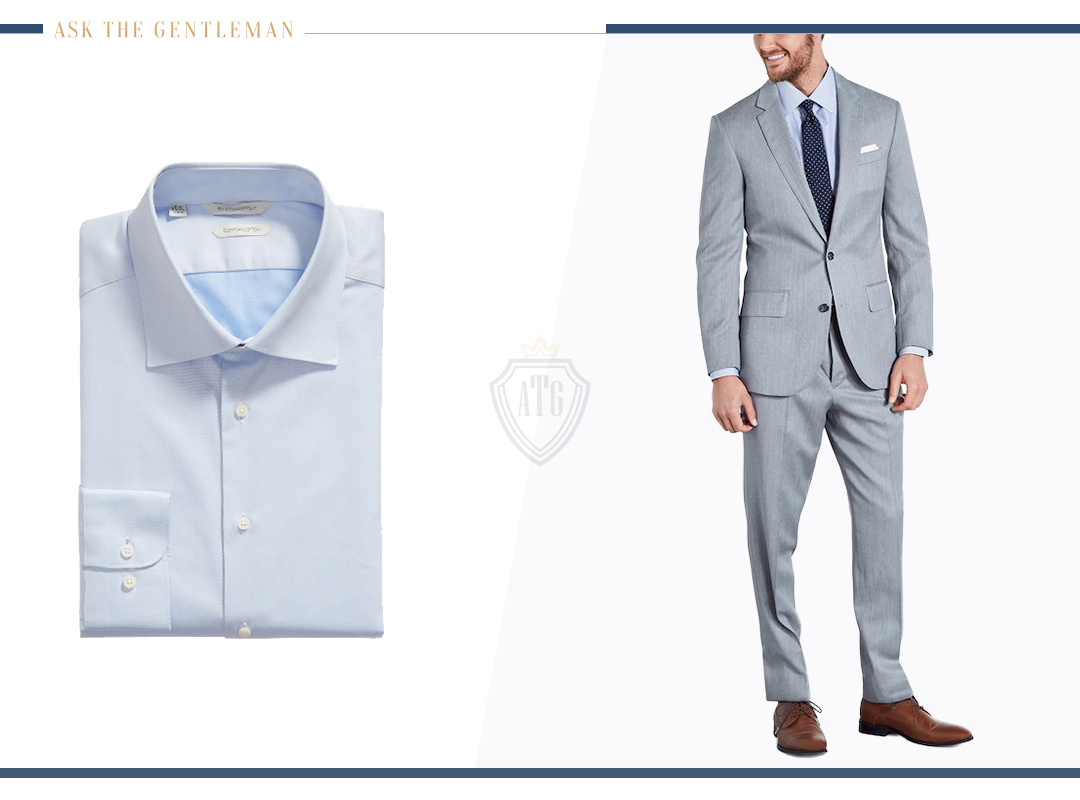 With a more relaxed dress code, you can experiment with wearing a charcoal grey suit with a navy shirt.
Patterns in the suit or shirt will help blend the shades that otherwise appear odd.
Shoe Colors & Styles That Actually Work
Shoes are an essential part of any suited look.
If it's a formal business outfit, black Oxfords are the best option.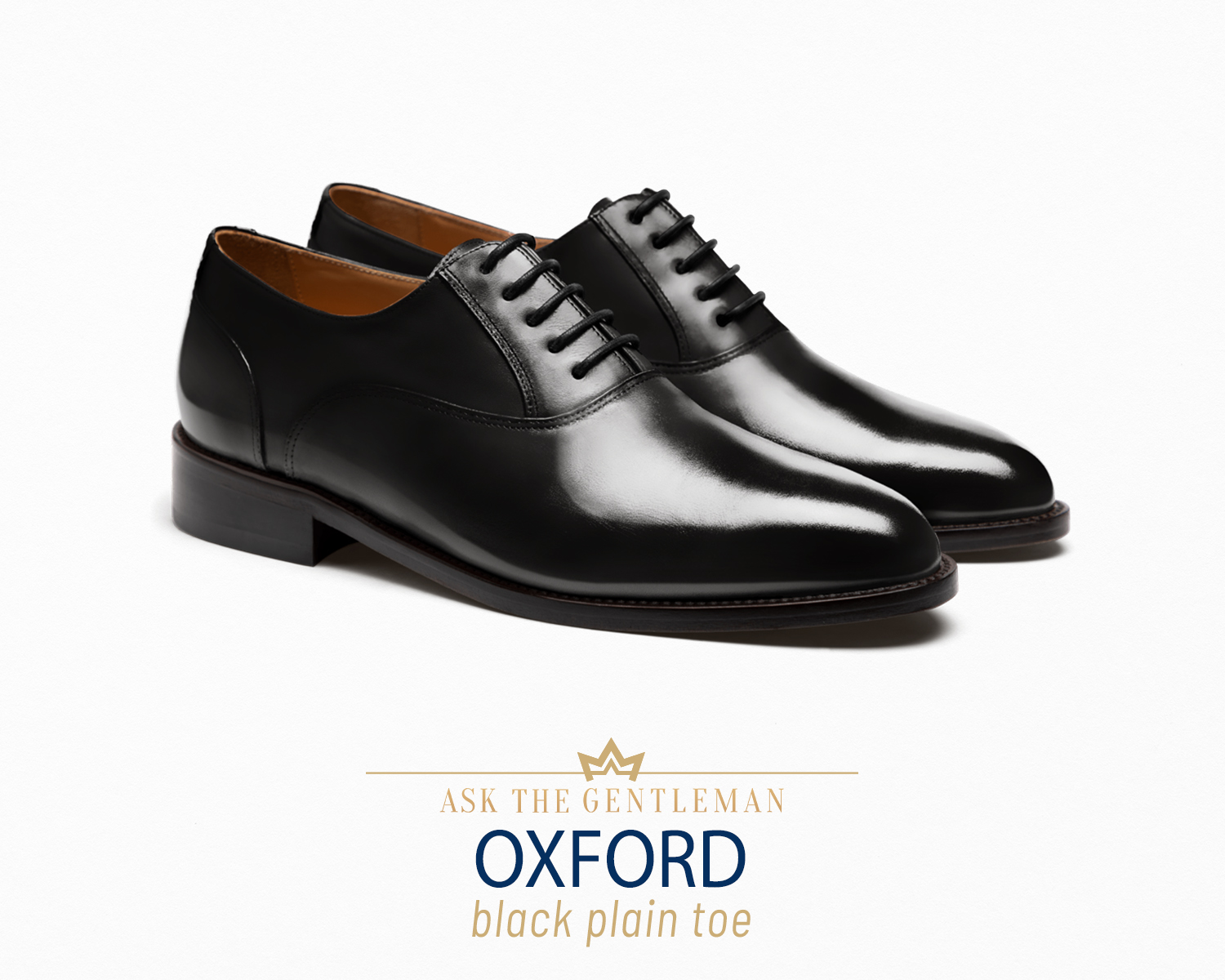 Dark brown derbies is also a reasonably formal dress shoe type with a bit of personality.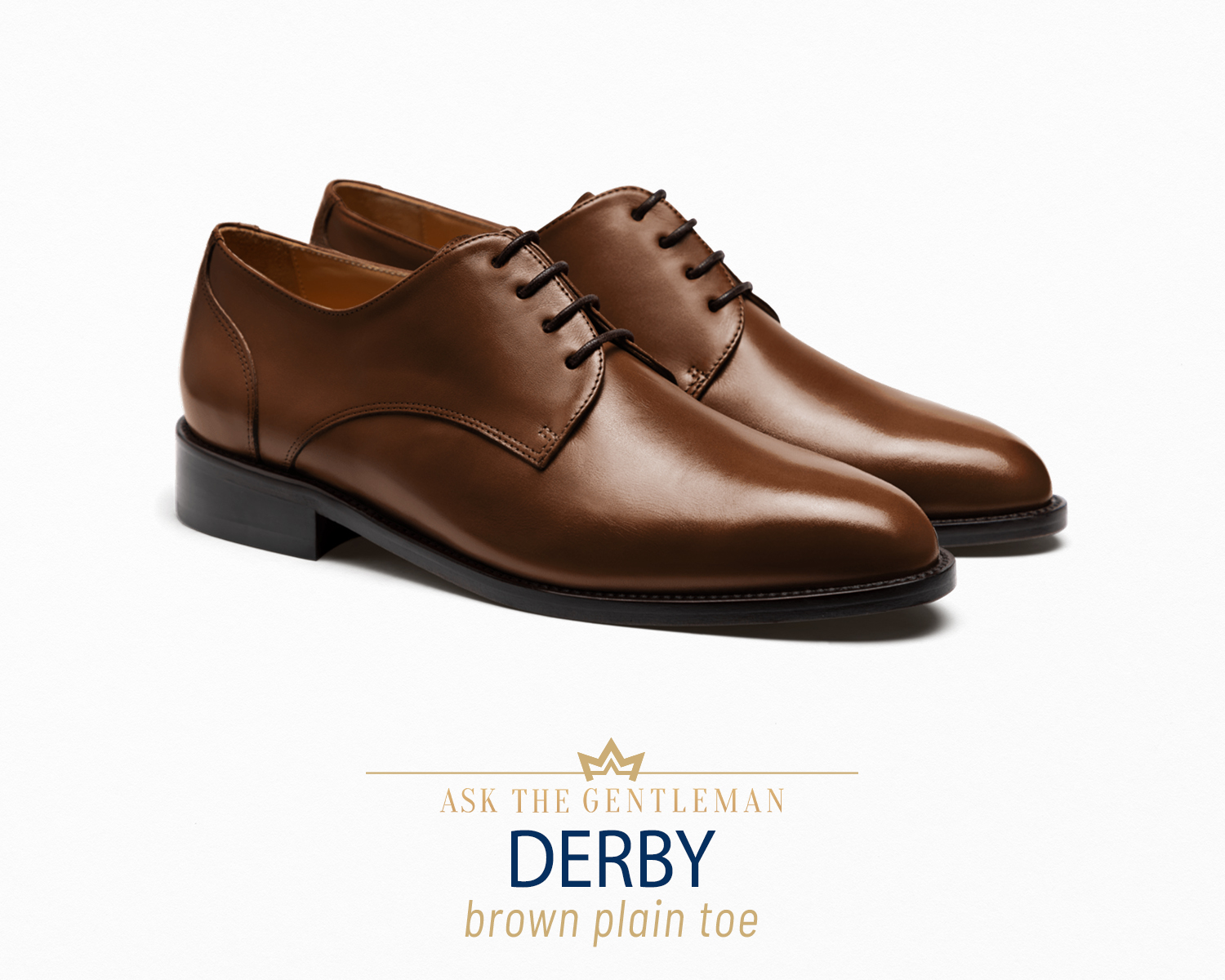 Penny, tassel loafers, and monk straps are good for business casual outfits.
Wearing sneakers with a grey suit is another contemporary option.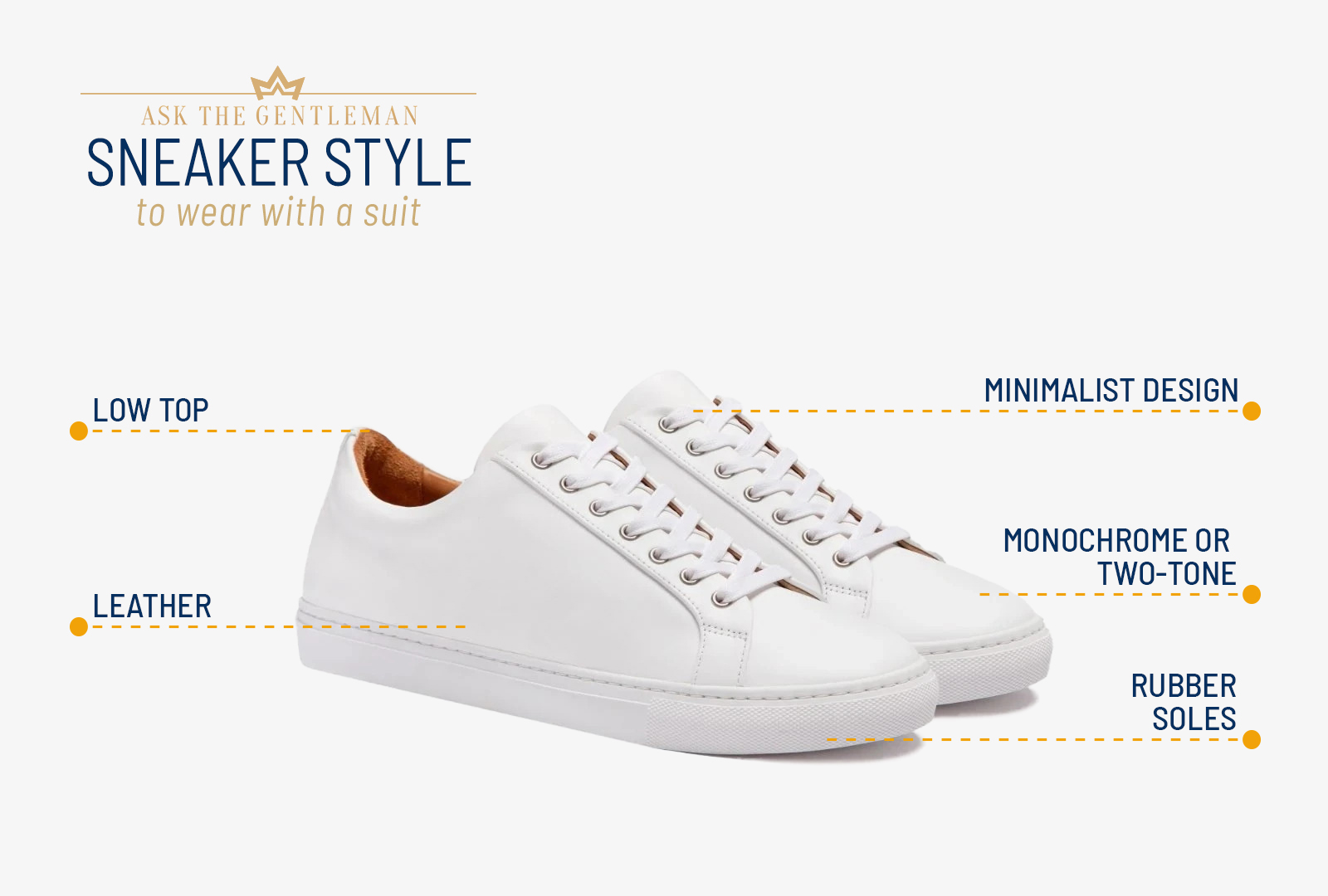 For the best effect, wear a low-profile white leather sneaker with this suit and shirt combo.
Accessories Are Key
Accessories can take your looks from mundane to exceptional.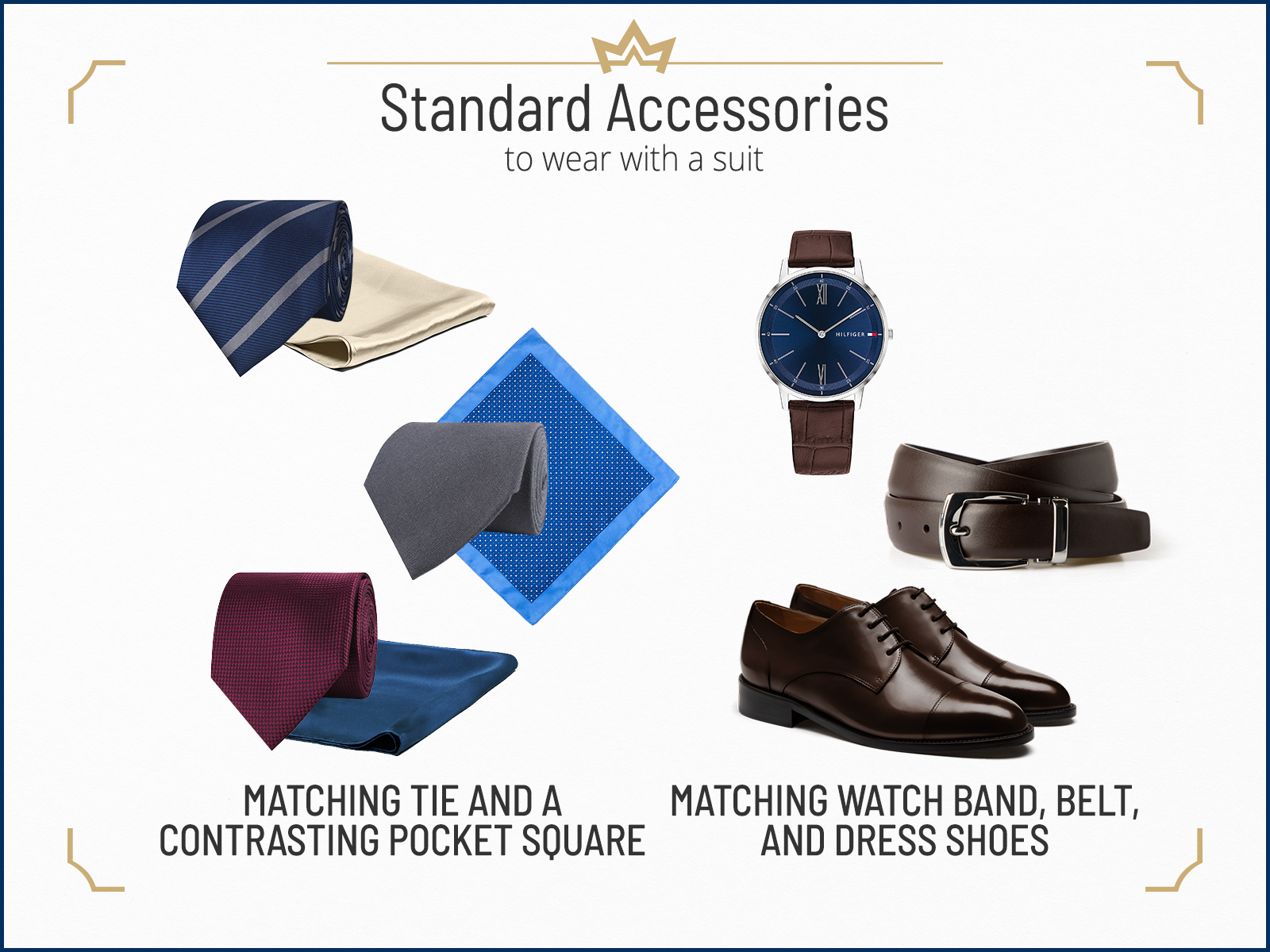 Start with mastering the tie combinations. Some good tie colors are navy, maroon, burgundy, brown, grey, and green.
A patterned tie instead of a solid one would always be more stylish. Stripes, polka dots, and checks are the safest option.
Pocket squares are also good to have. A colorful pocket square in puff fold will never go wrong.
You can also pay attention to your watch, shoe laces, and belt.
Although not super important, these will be a subtle hint of careful styling.
Appropriate Settings
There are no set occasions to wear a grey suit with a blue shirt.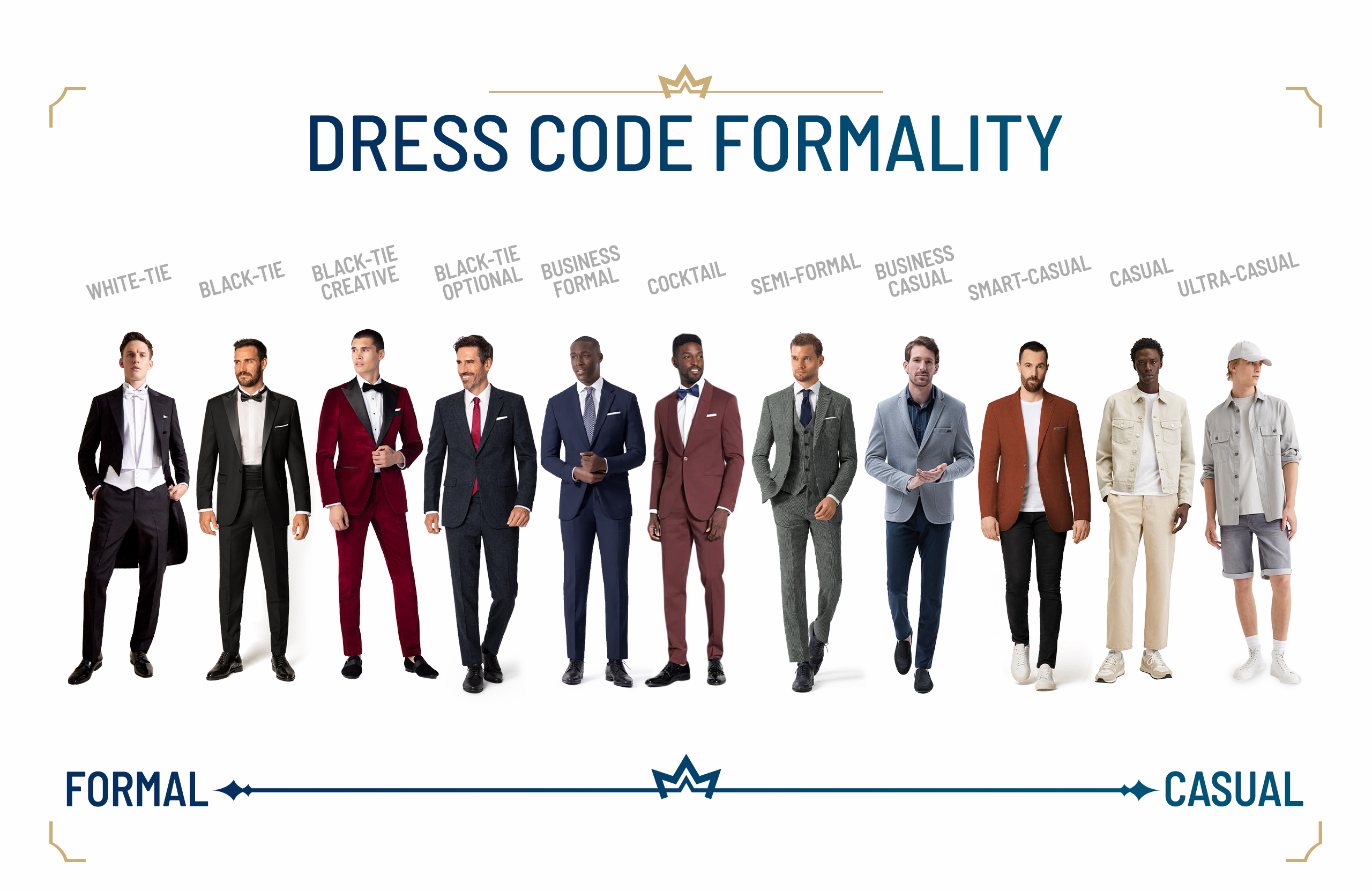 It can serve perfectly as a suit and shirt combination for an everyday look in the office.
Other formal dress codes include interviews, business conferences, and formal business settings, but only if the suit is dark grey.
Mid grey suit and a blue shirt are appropriate for semi-formal weddings, both in spring and summer.
You should NOT wear this combination for black-tie optional and black-tie creative dress codes.