Step into the world of gentlemen and experience the captivating allure of well-constructed outfits.
The way you dress can define your character, set the tone for your day, and influence the impressions you make.
Allow me to guide you on this sartorial journey, presenting ten masterfully curated gentleman outfit ideas that will inspire you to elevate your style.
Classic Elegance with a Tuxedo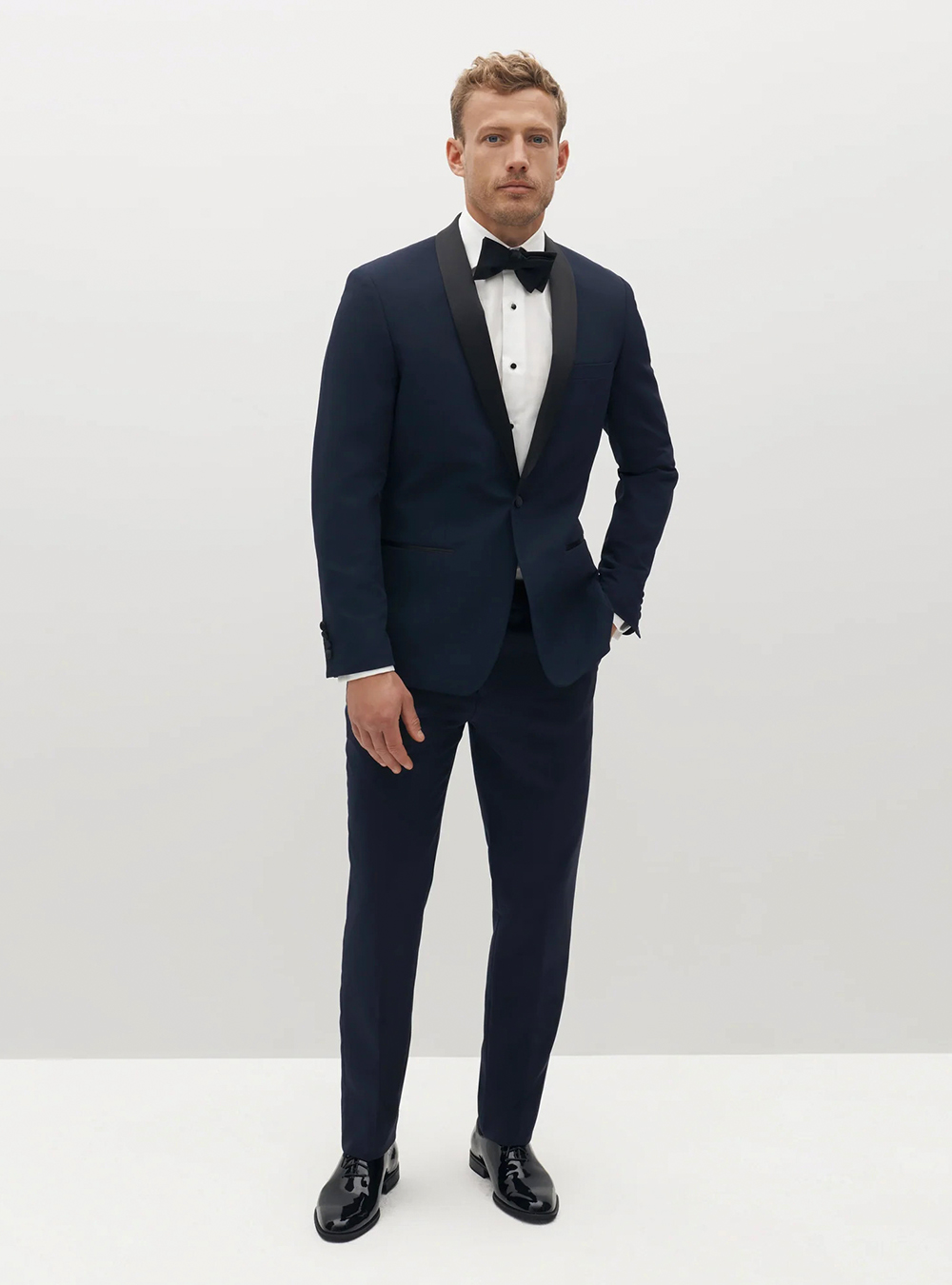 Indulge in the beauty of the night with a stunning black or midnight-blue tuxedo.
Pair it with a crisp white dress shirt and a black bow tie – an unmistakable nod to the classic style every gentleman aspires to emulate.
With its elegant shawl satin lapels, the single-button tuxedo exudes a timeless charm.
Polished black Oxford shoes tie in seamlessly, lending a sleek finish to this exquisite outfit.
The subtlety of this combination makes it an ideal choice for formal events.
Urban Style with a Navy Suit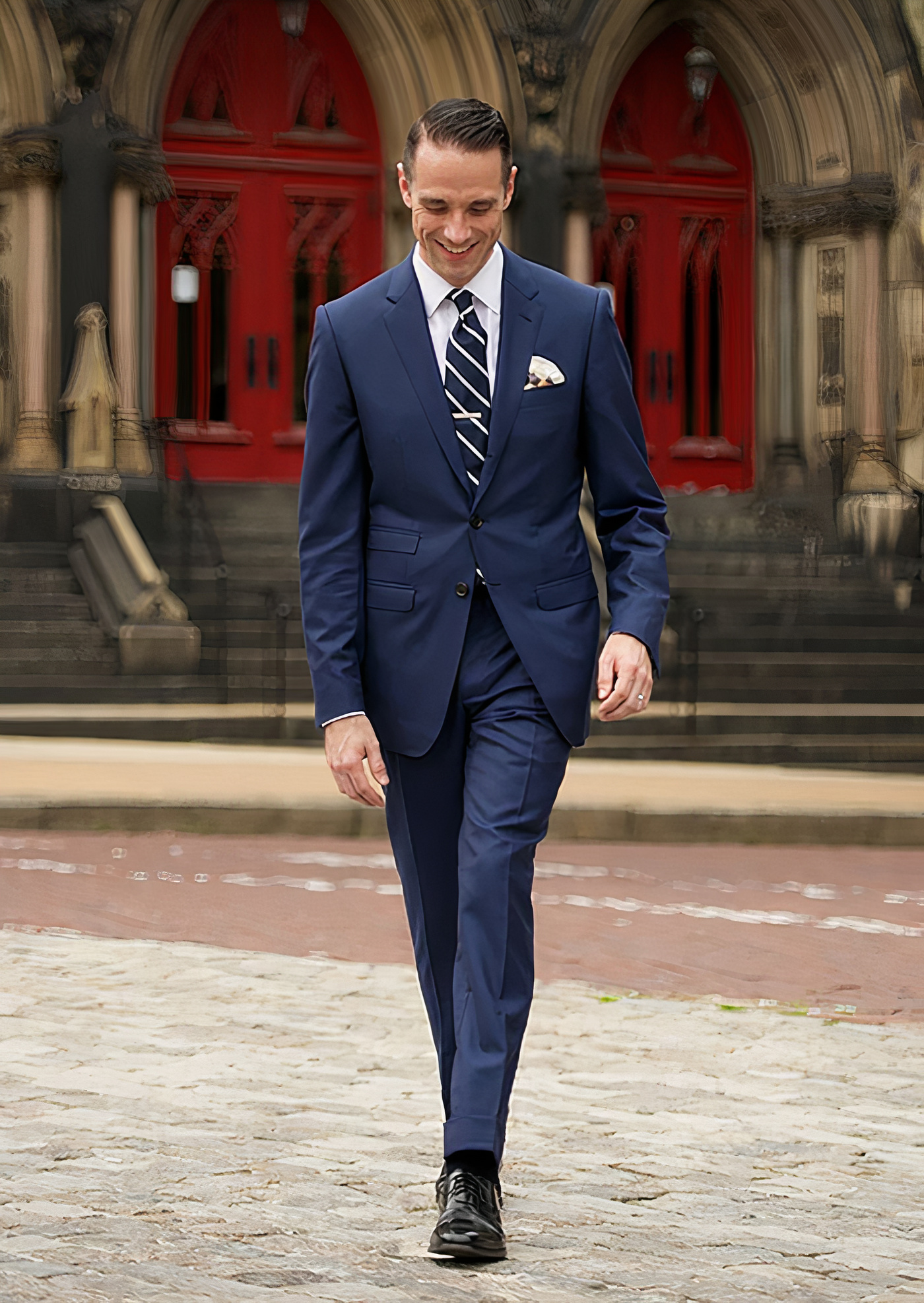 For those days when you need to make a statement in the concrete jungle, the urban navy suit is your ally.
Featuring a sophisticated two-piece wool suit worn with a clean, white dress shirt – a perfect combo to present authority.
The trousers, hemmed with no break, offer a modern silhouette that complements the black Oxfords beautifully.
A navy striped tie adds depth and texture, while a patterned pocket square provides a crisp finish.
The Sophisticated Double-Breasted Suit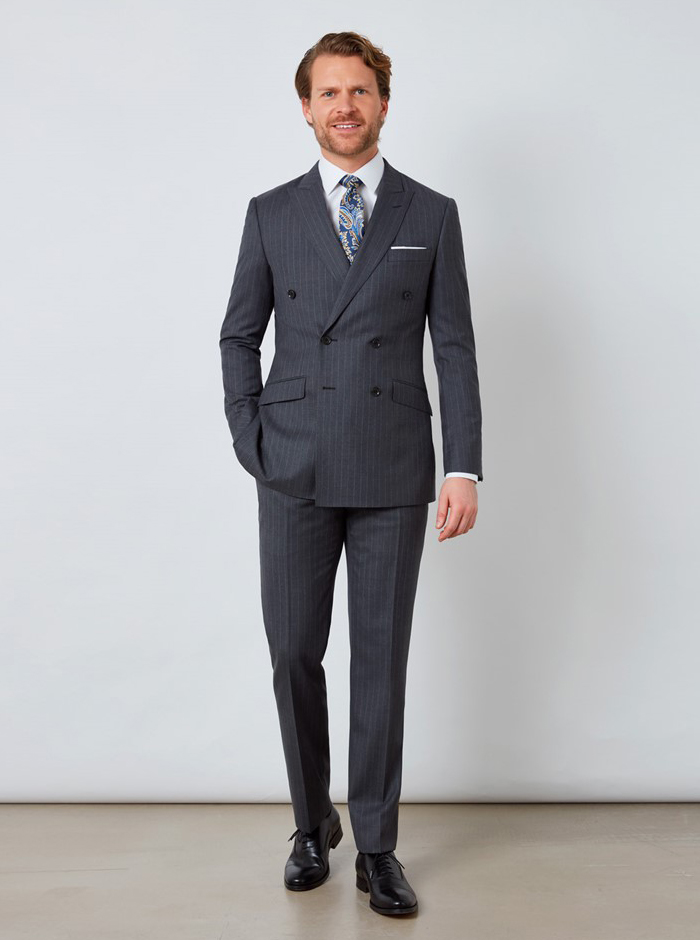 This sophisticated ensemble boldly breaks from convention.
It features a double-breasted charcoal suit paired with a relaxed white shirt – the top two buttons confidently unbuttoned.
The presence of peak lapels and paisley tie injects a vintage "old money" vibe to this outfit.
Finishing strong with black leather Oxford shoes is the right way to go.
Bordeaux Style with a Burgundy Suit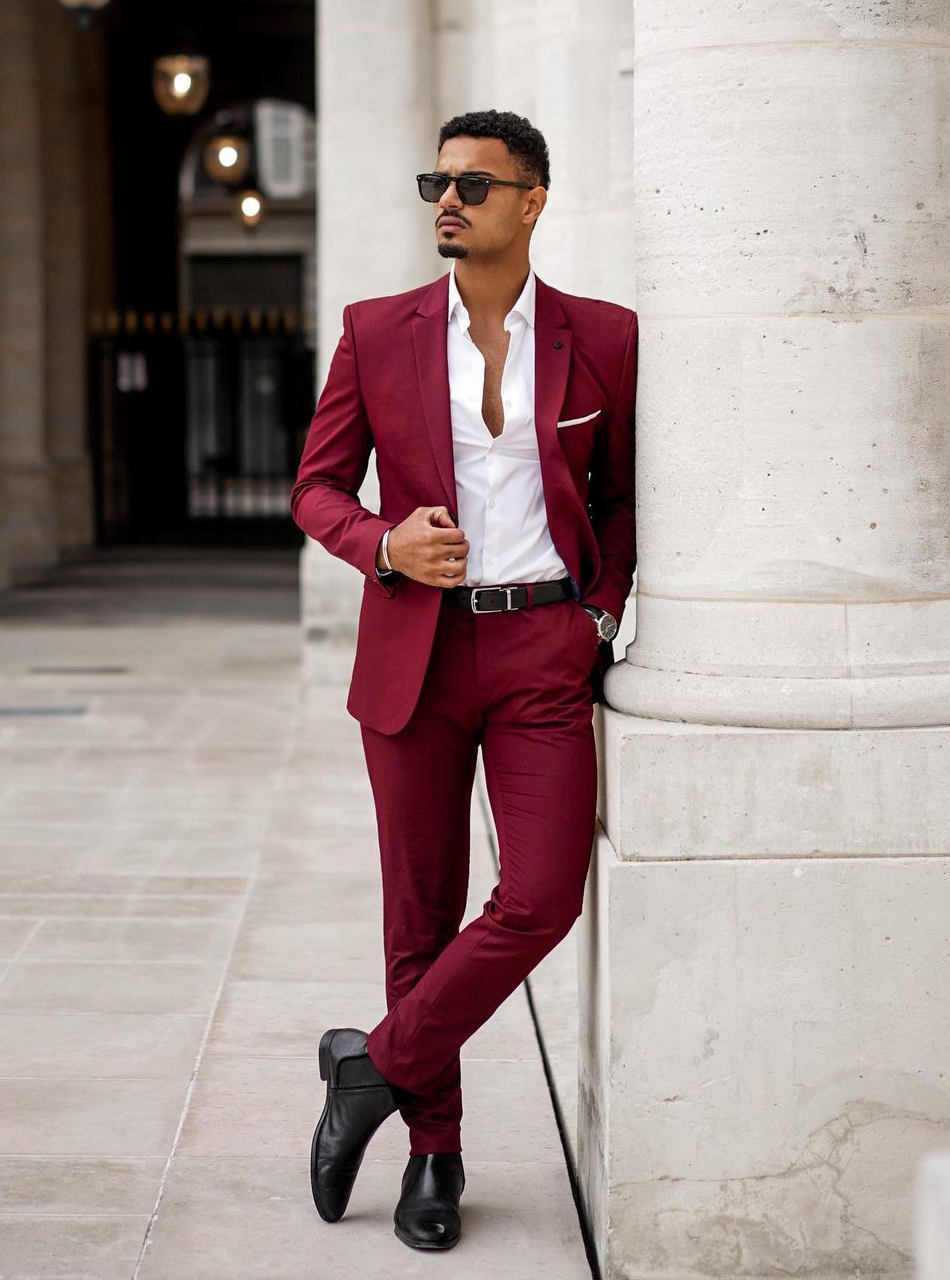 A regal burgundy suit and a crisp white shirt help unleash your inner nobility.
The stark contrast between the rich burgundy tones and the purity of the white shirt creates a visual spectacle, proving that a gentleman knows how to play with color.
The ensemble is completed with a pair of polished black Chelsea boots that add an element of surprise.
From summer cocktail parties to weddings, this ensemble is a testament to a gentleman's ability to dress appropriately for any occasion.
Tan Suit for a Summer Breeze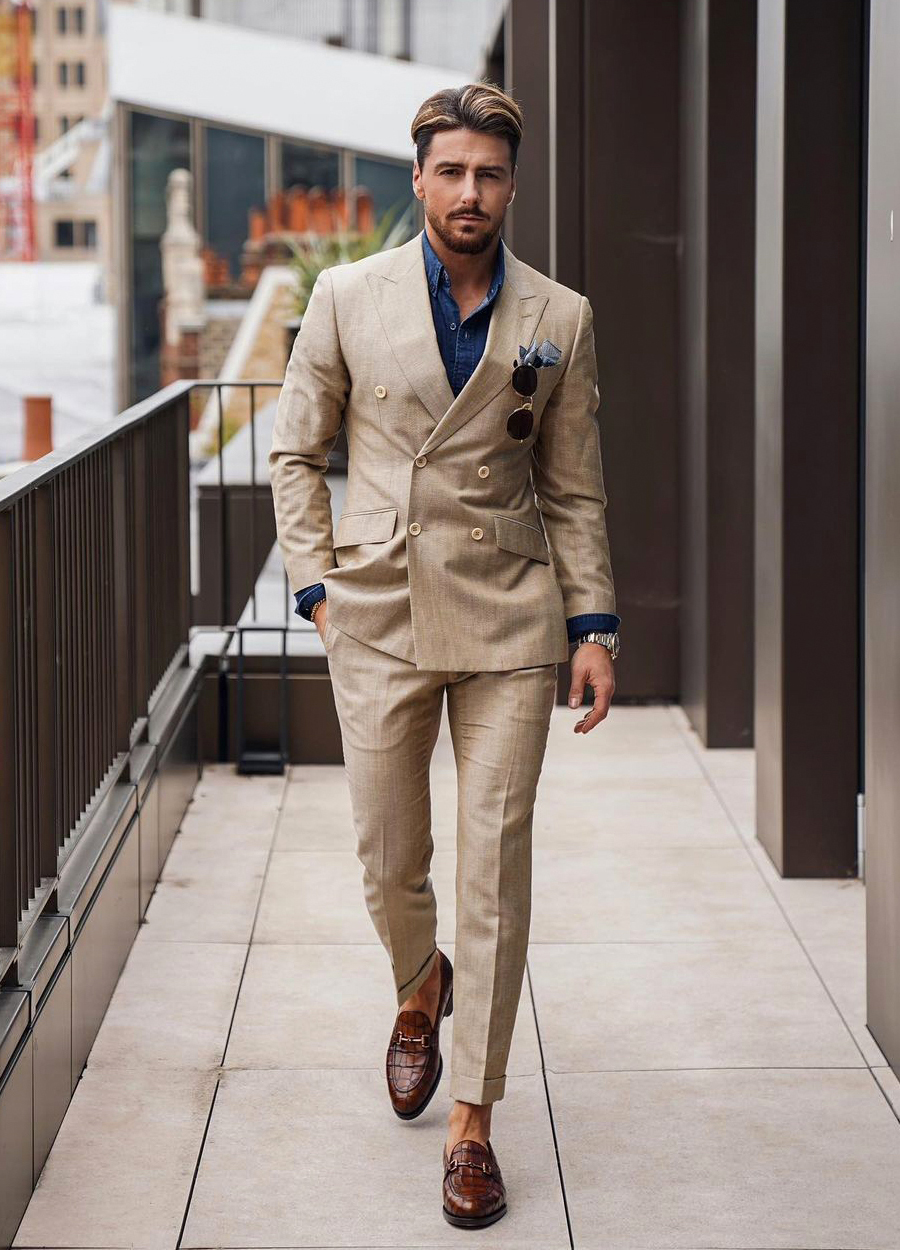 This outfit shines with a light tan suit and a blue denim shirt – a pairing that reflects a gentleman's versatility.
The tan suit, reminiscent of sandy beaches and sunshine, offers a relaxed yet polished look.
The denim shirt breaks the monotony, injecting a casual flair that balances the suit's formality.
Marry a pair of brown loafers; this ensemble epitomizes a stylishly casual summer outfit.
Beige Suit for a Sandy Vibe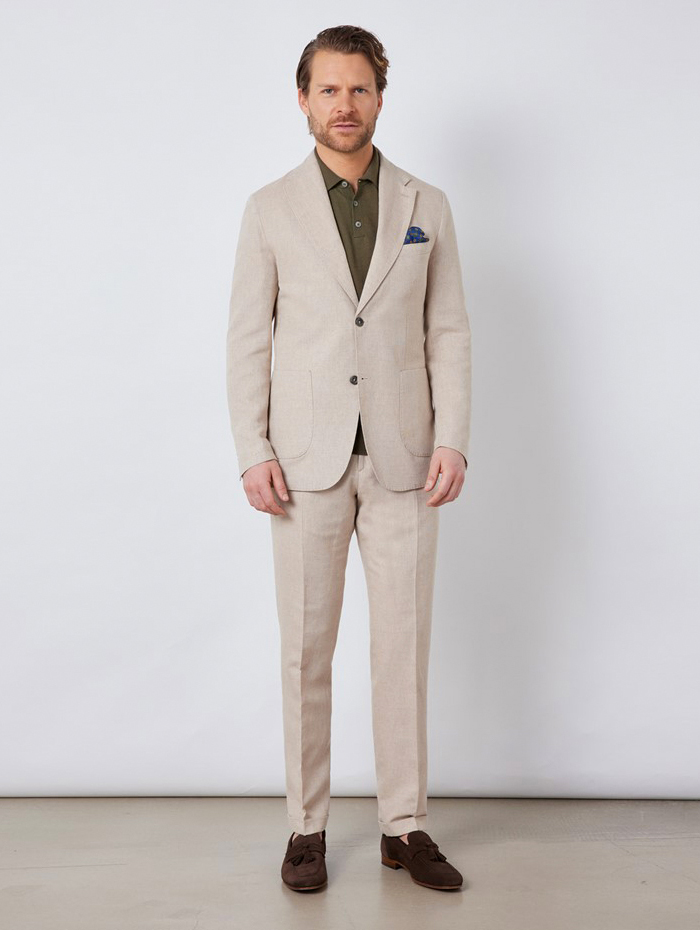 Striding confidently into the realm of refined leisure, our next ensemble takes the classic suit and spins it into a more relaxed mold.
The main components of this outfit are an elegant beige-ivory suit and a crisp white dress shirt.
It exhibits a gentleman's ease in transforming a formal staple into a versatile piece.
Brown loafers make for a surprisingly harmonious combination, their casual nature counteracting the formality of the suit.
And, finally, a brown patterned pocket square, a testament to the importance of accessories in a gentleman's wardrobe.
This look is perfect for a beach wedding, seaside luxury restaurant, or exclusive summer event.
Brown Blazer: The Classic Commodore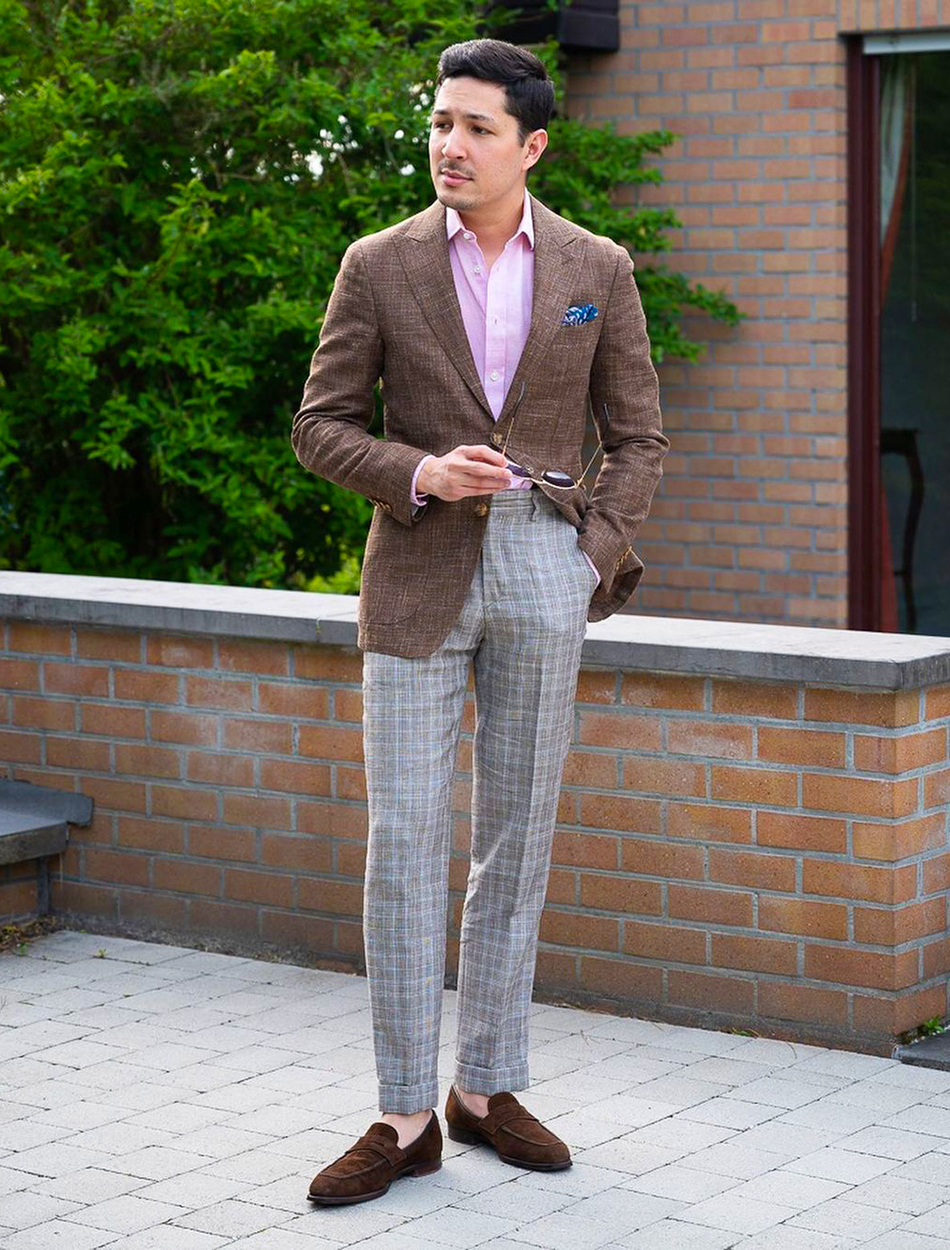 Bringing a nostalgic elegance to the forefront, our next ensemble is a harmony of color and texture.
A brown blazer steals the show, lending a classic appeal to the outfit.
The inclusion of a pink shirt breaks the conventional mold, demonstrating a gentleman's comfort with exploring color palettes.
Grey dress pants form the perfect canvas for the vibrant upper pieces, while brown loafers effortlessly tie the outfit together.
This ensemble echoes a more relaxed interpretation of dress codes, demonstrating that a gentleman can be comfortable while maintaining his unique style.
A perfect choice for an afternoon brunch or a casual cocktail meeting.
Blue Blazer & Grey Pants: Heritage Attire
Stepping away from the conventional suit, our next ensemble features a navy blue blazer paired with a light-brown turtleneck.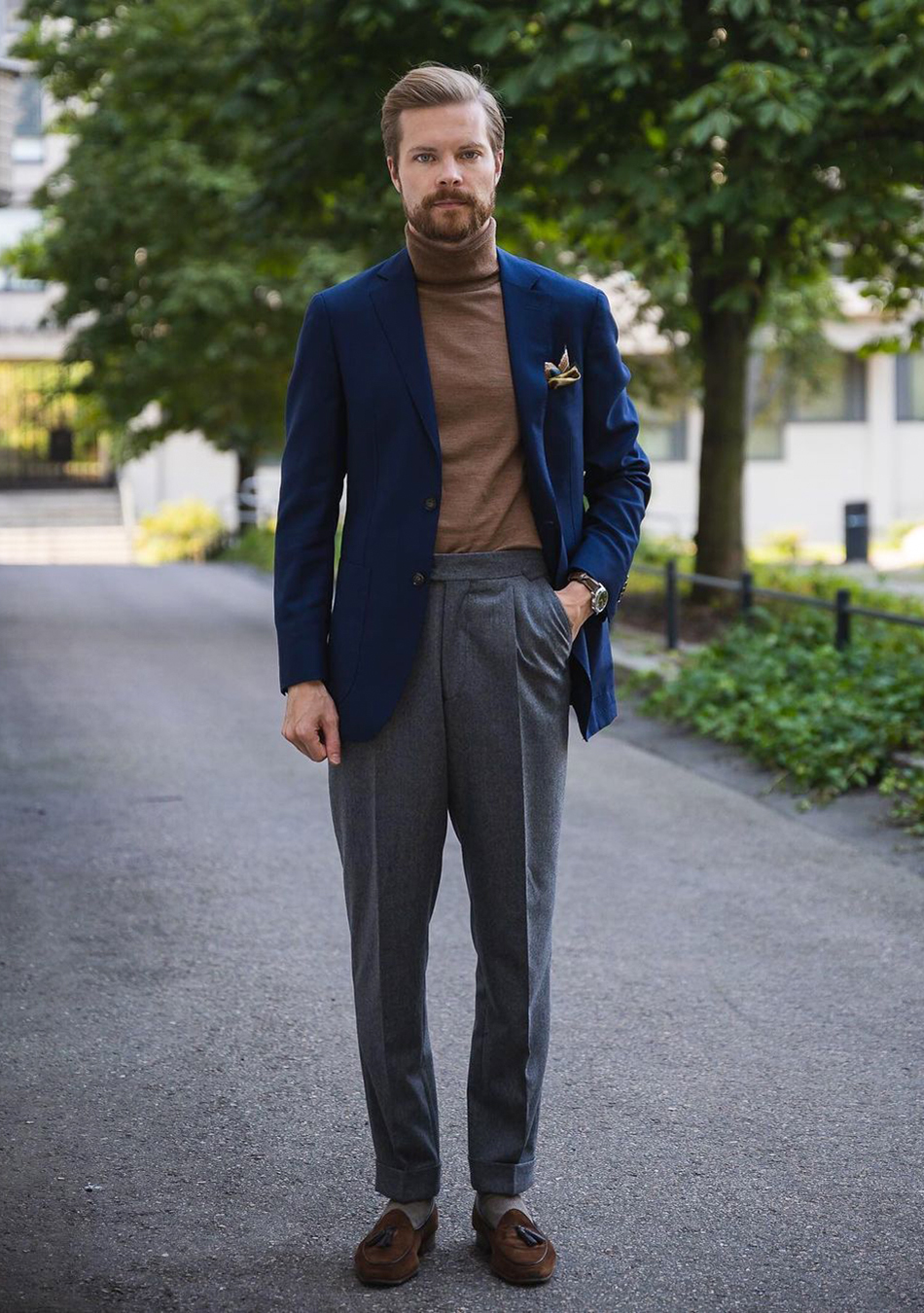 A testament to the power of simplicity, this outfit is perfect for cold weather days when warmth and style need to go hand-in-hand.
With its understated elegance, the light-brown turtleneck perfectly complements the navy blazer, creating a visually pleasing contrast.
Grey dress pants and brown loafers round off this ensemble, illustrating that a gentleman can coordinate colors to create a cohesive look.
Perfect for a casual day at the office, an art gallery opening, or a dinner date.
White Dress Shirt – The Corporate Chameleon
Making a strong case for monochrome ensembles, our next outfit seamlessly blends professionalism and style.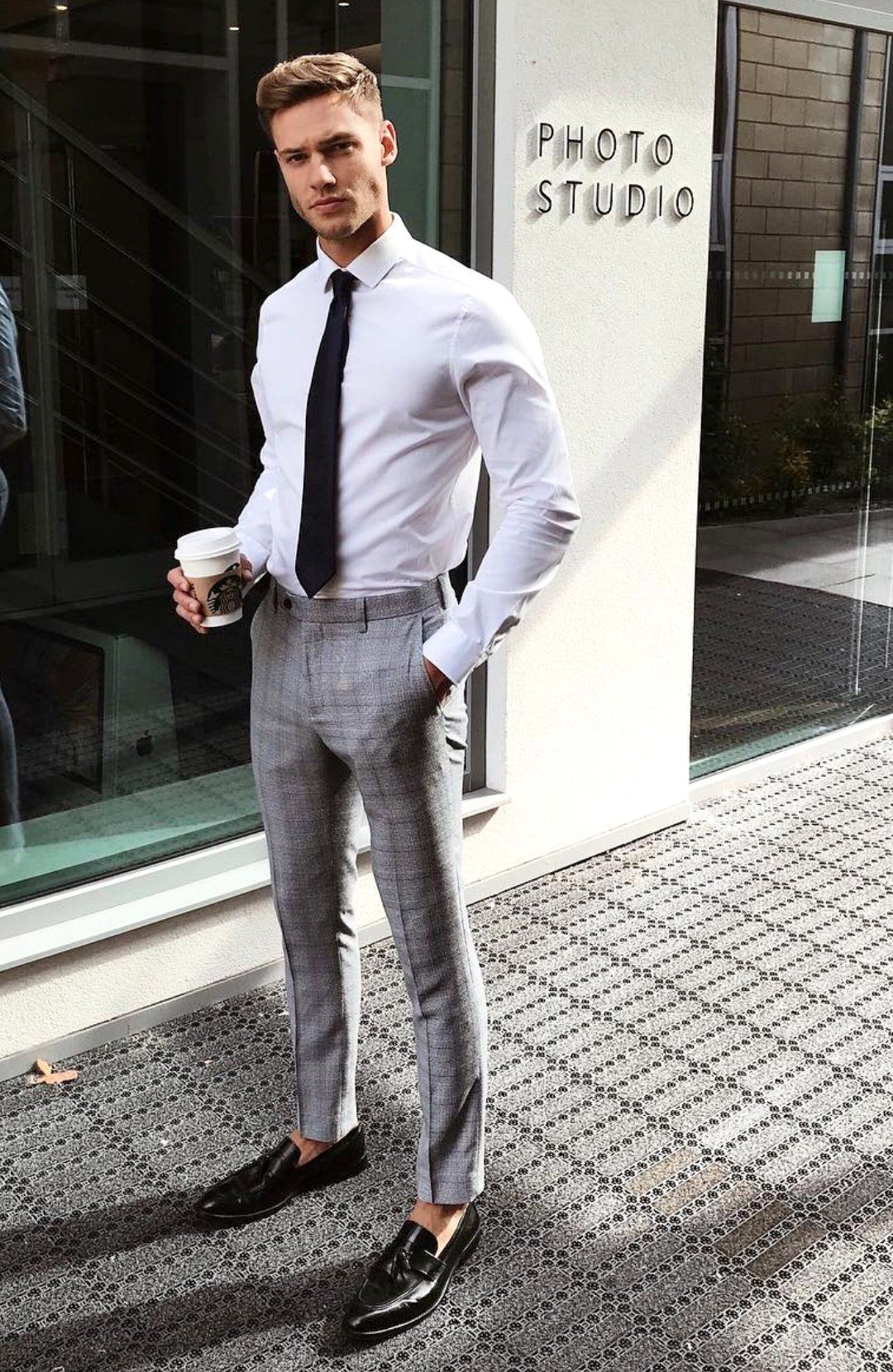 The crisp white dress shirt and black tie bring the traditional formal aesthetic, a typical expectation in many workplaces.
This timeless combination speaks volumes about the wearer's understanding of classic professional attire.
The patterned light grey pants introduce a touch of modernity and visual interest to the ensemble.
Patterns, when done right, add personality to an outfit.
In this case, they subtly break the monotony without appearing too loud or distracting in a professional environment.
Finally, the black leather loafers bring a more serious touch to this business-casual outfit – a comfortable yet stylish finish.
Blazer and Jeans for a Casual Vibe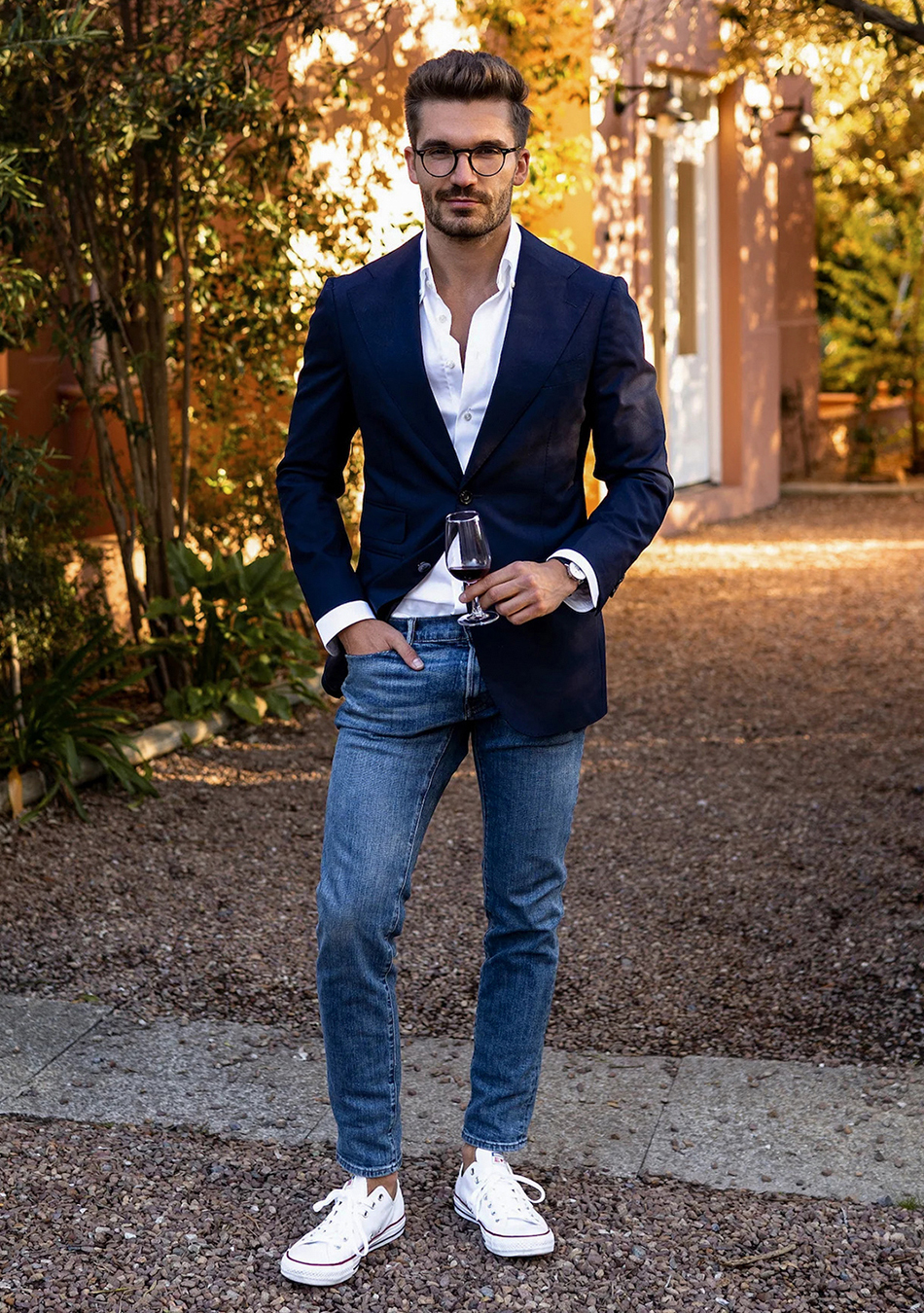 Embrace a stylish yet relaxed look with the classic combination of a navy suit jacket, a white dress shirt, and blue jeans.
This versatile outfit perfectly balances formality and casual flair, suitable for various occasions, from casual Fridays to dinner dates.
Key to this ensemble is a well-fitted blazer and jeans that complement your body shape.
Add in white sneakers to complete the casual vibe, and accessorize with a watch or pocket square for a polished finish.
Experiment with shades and accessories to make this timeless outfit your own.
How to Dress Like a Gentleman: Basics
The art of dressing as a gentleman extends beyond simply wearing a suit.
It encapsulates certain fundamentals which revolve around the principles of etiquette, style, and class.
Quality Over Quantity
The importance of quality cannot be overstated when it comes to a gentleman's wardrobe.
Investing in high-quality garments not only means your outfits will last longer but also ensures they retain their shape, color, and overall appeal.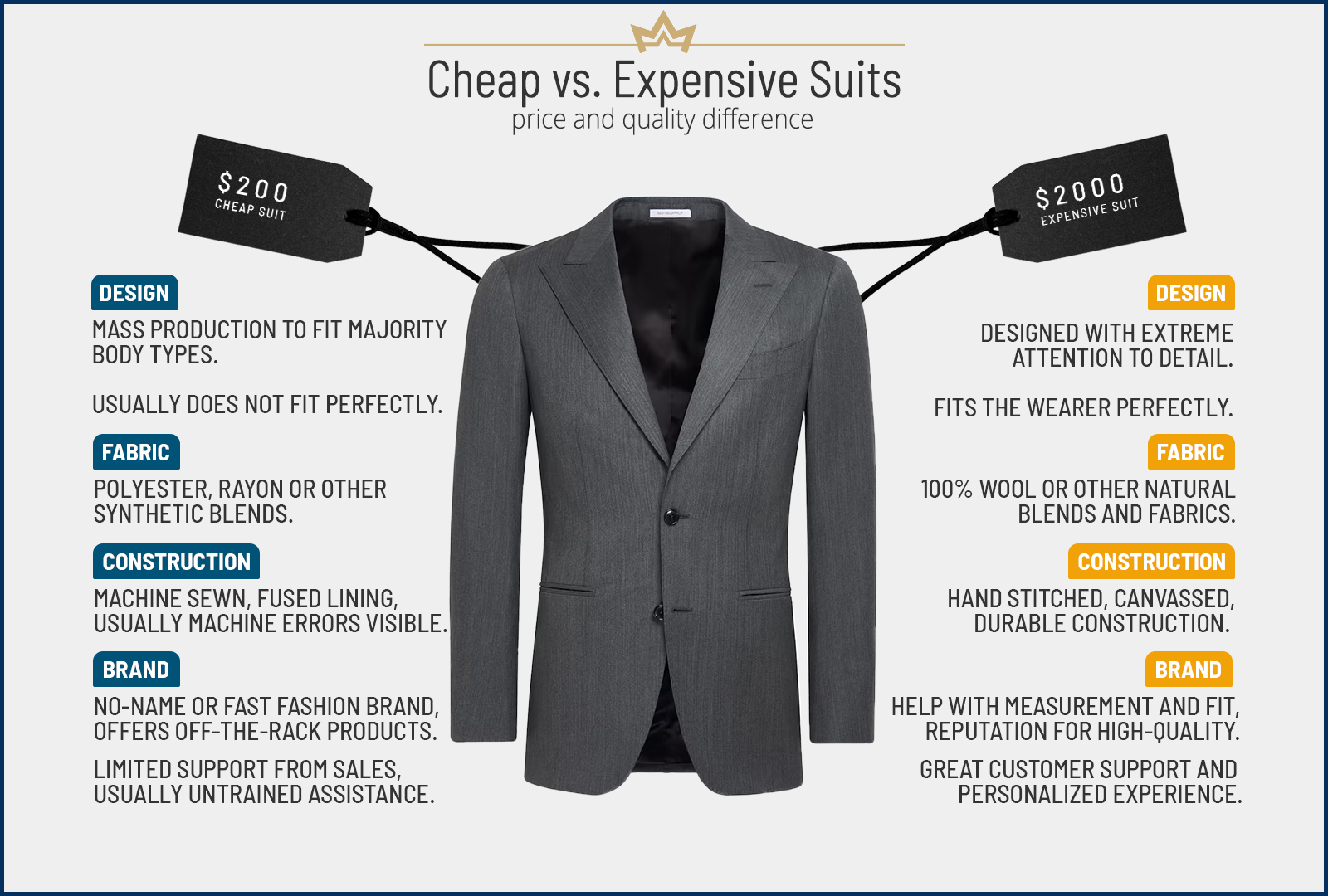 Quality clothing embodies classic style, remaining stylish and relevant for years.
Choosing quality over quantity means a gentleman values his appearance and understands the impact of well-made clothing.
Perfect Fit
A perfect suit fit is paramount in a gentleman's wardrobe.
It is not just about looking good, but also about feeling comfortable in what you wear.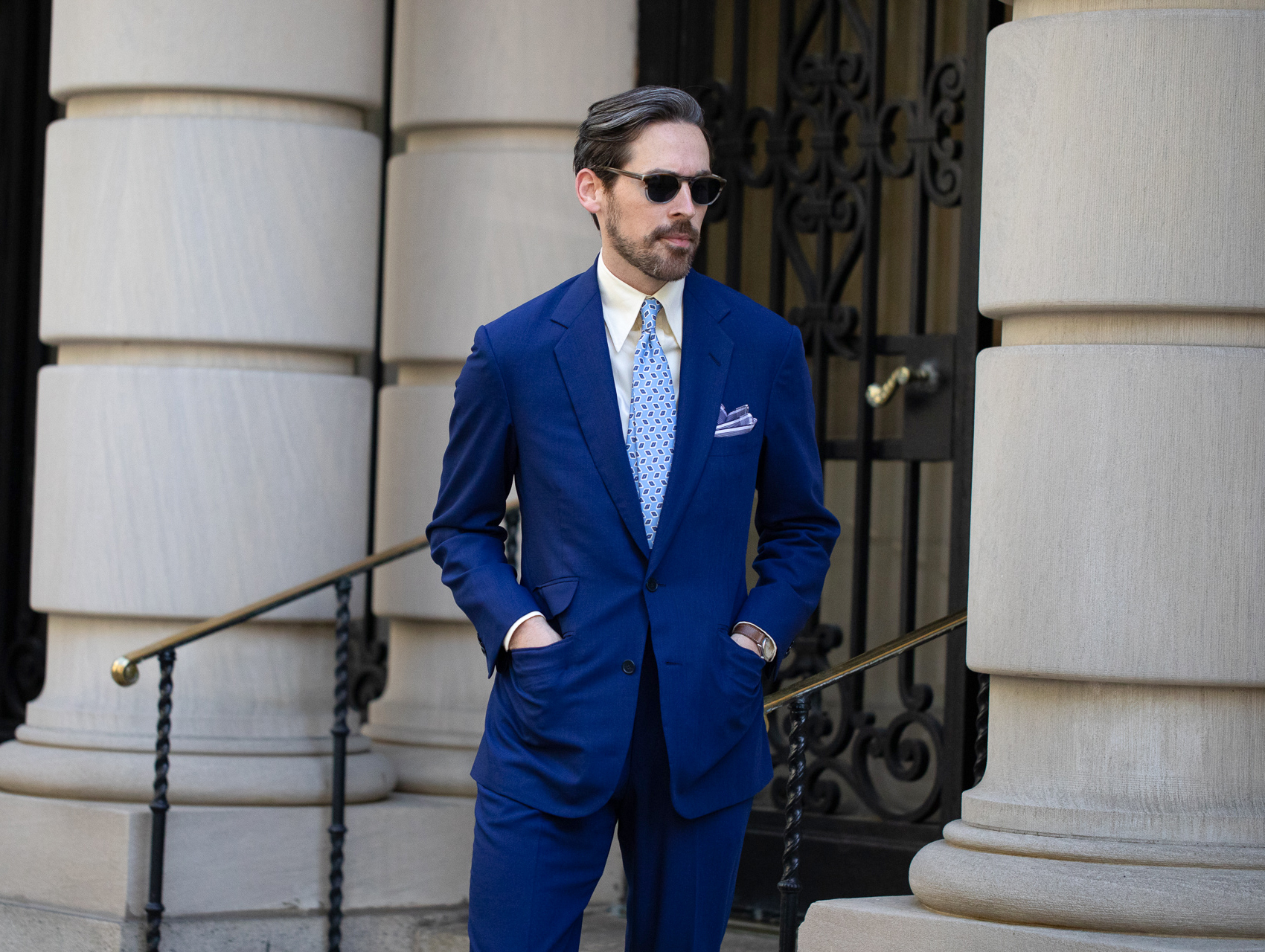 A well-fitted garment compliments a man's physique, highlighting his best features while hiding flaws.
This is where the importance of a good tailor comes into play.
A professional who knows your measurements and style preferences ensures every garment fits perfectly.
Dressing Etiquette
Dressing etiquette for a gentleman encompasses understanding and respecting social, cultural, and situational norms while aligning the outfit with the occasion's formality and season.
This involves selecting attire that fits the dress code.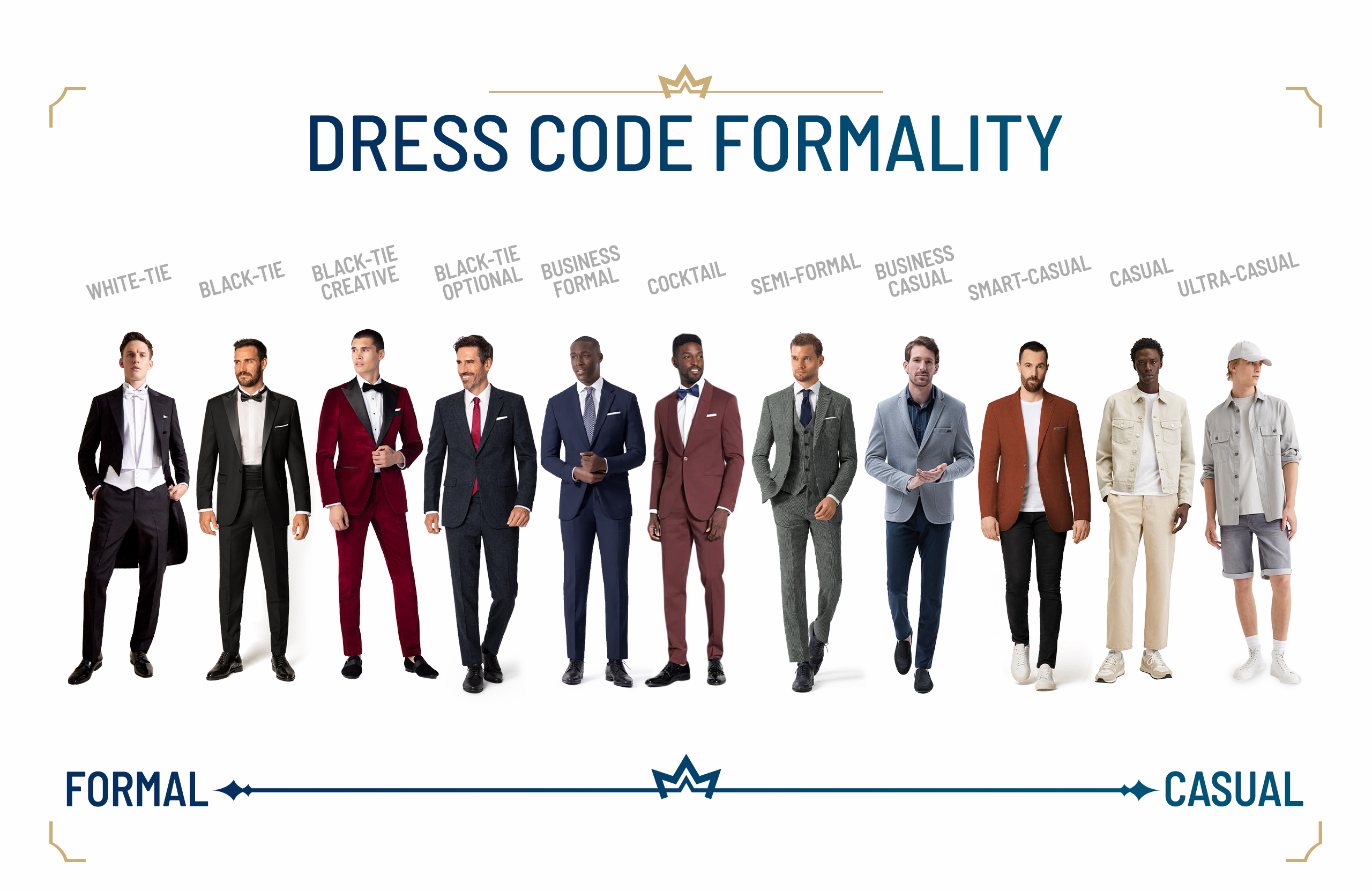 So, the essence of gentlemanly dressing etiquette lies in attention to detail, social awareness, and a thoughtful approach to one's appearance.
A gentleman's choice of clothing should also reflect punctuality, as being appropriately dressed should never be an excuse for tardiness, as it can be perceived as inconsiderate.
Ultimately, the traditional gentleman's etiquette, such as removing a hat indoors or holding the door open for anyone behind you, still holds significance.
Accessories and Shoes
One might argue that accessories genuinely complete an outfit.
They add the final touches and demonstrate the wearer's attention to detail.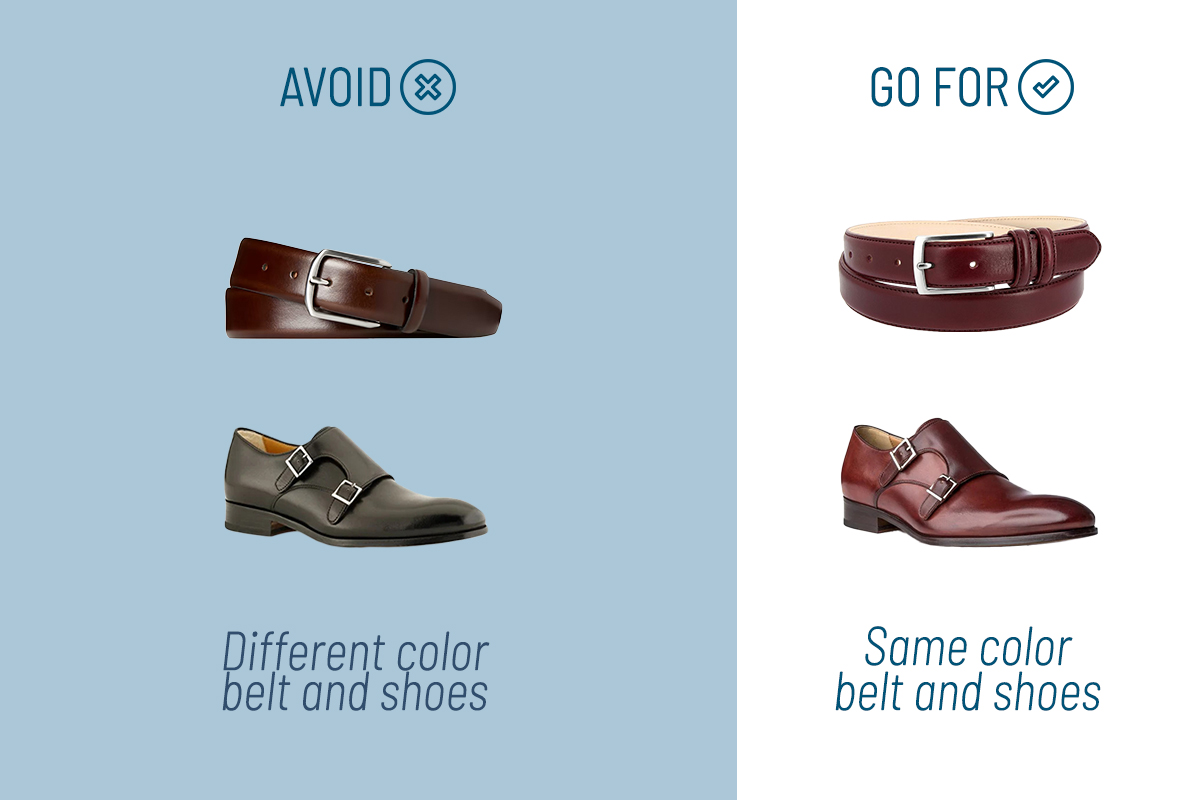 For a gentleman, accessories such as ties, pocket squares, and cufflinks are not just decorative elements but part of their style narrative.
They reveal a lot about one's personality and sartorial taste.
Shoes, too, are a pivotal aspect of a gentleman's attire.
From monk strap loafers to classic Oxfords or versatile Chelsea boots, every shoe style serves a purpose and fits into a specific dress code.
Grooming & Preparations
A well-groomed man feels confident and presents himself in a way that's attractive to others.
This doesn't mean following elaborate routines but maintaining a neat and clean appearance.
Regularly trimmed hair, a well-maintained beard or a clean shave, clean nails, and fresh breath are all aspects of grooming that a gentleman prioritizes.
Confidence
Last but not least, your confidence. It is the belief in oneself and the comfort in one's skin.
Dressing well can enhance one's confidence, but it's also essential to feel comfortable in what one is wearing.
Many brands offer a variety of men's styles, but finding what works for you and owning it defines a gentleman.
Confidence is not boastful or arrogant; instead, it is about self-assurance and humility.
In conclusion, a gentleman's style goes beyond his wardrobe.
It is a blend of how he presents himself, his manners and habits, the quality of his attire, and the confidence he exudes.
So, dress well, feel confident, and always "Ask the Gentleman" whenever you're in a style conundrum.