What to wear in London induces intrigue if it's your first time visiting the city.
London outfits vary widely, but overwhelmingly people take pride in their appearance and dress both fashionably and smartly.
For men, business suits are regularly worn.
While casual attire is sometimes worn in the evening, people still try to look sharp with some attention to detail.
Everyone's judged by appearance.
Loudly dressed tourists, complete with bright inappropriate colors, stand out like a sore thumb.
Being dressed well, rather than underdressed, is a better tactic for visitors and tourists alike.
London Dress Code
London is more stylish than some other capitals in Europe.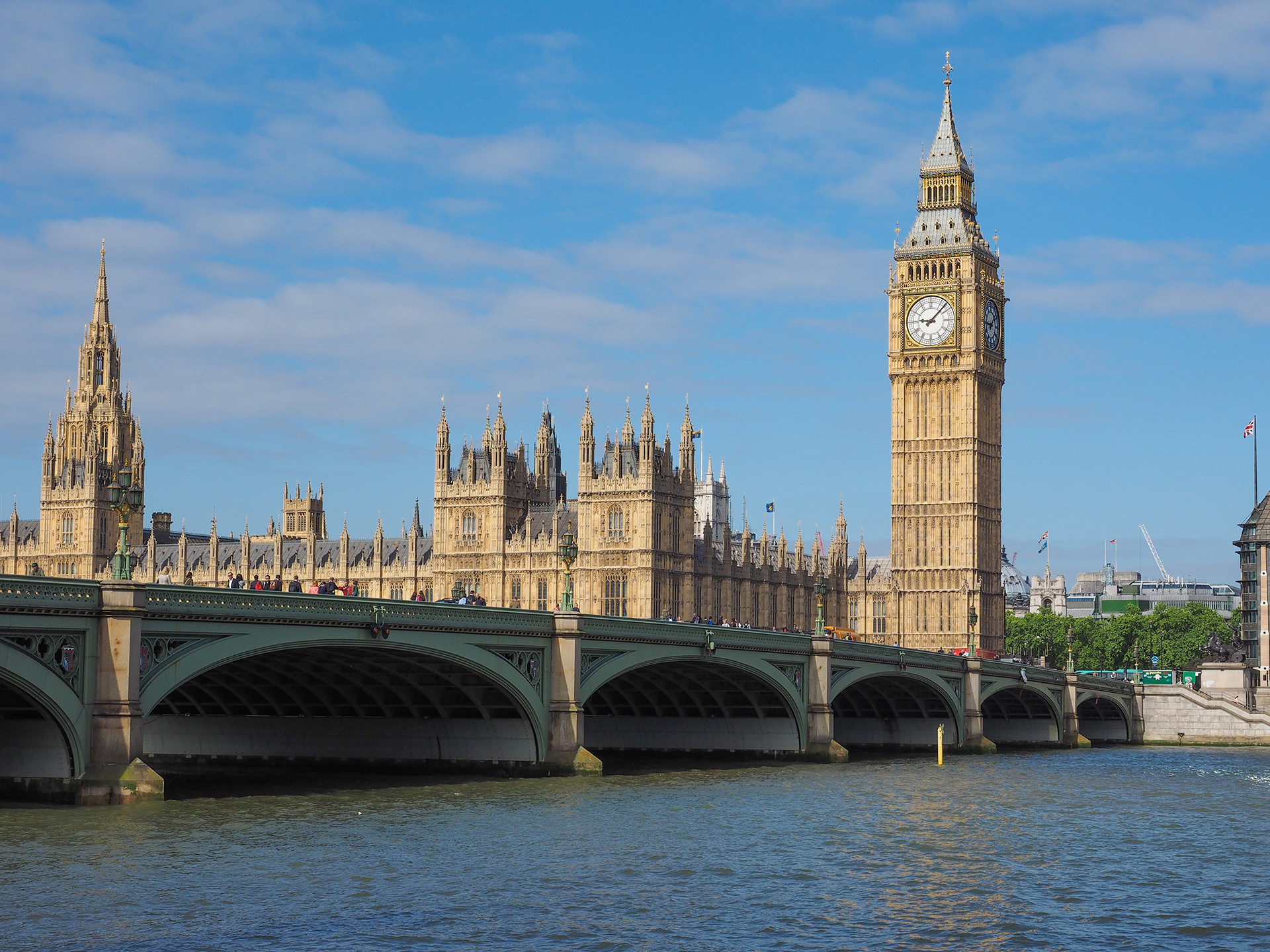 Even most cities in the US (except New York, I'd say) don't hold a candle to London.
Fashion trends are diverse here, even changing when moving between different suburbs.
When thinking about what to wear in London, aim for smarter over casual outfits.
A blazer over a dress shirt, coupled with dark pants and dress shoes, seems to be the standard dress code most Londoners wear.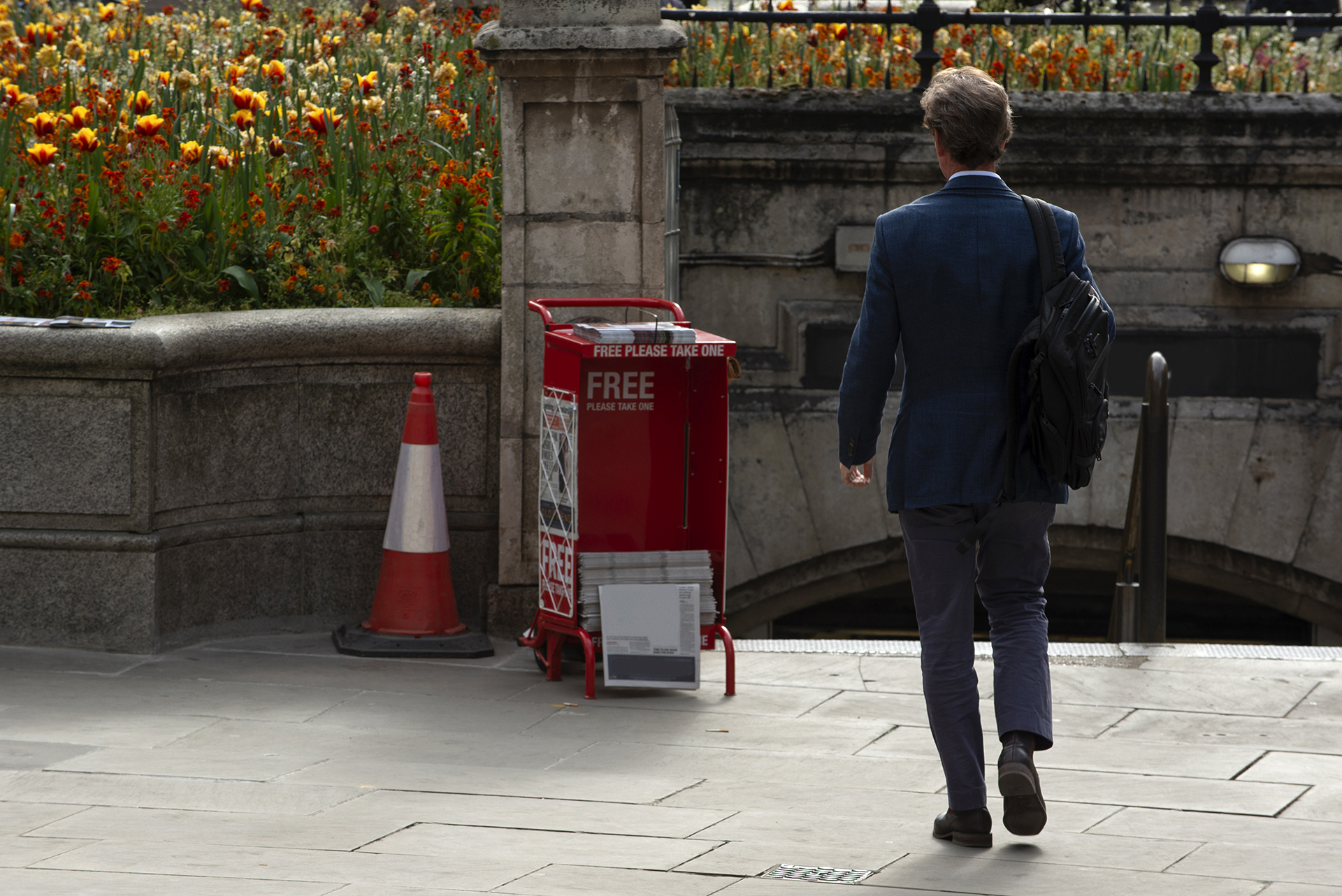 Many office workers will change into evening garb before heading out with friends.
As such, ensembles tend to be simple affairs even if they still retain stylish cues.
On the other hand, rain is a constant worry in London. So consider wearing boots and a coat to avoid getting waterlogged and wet.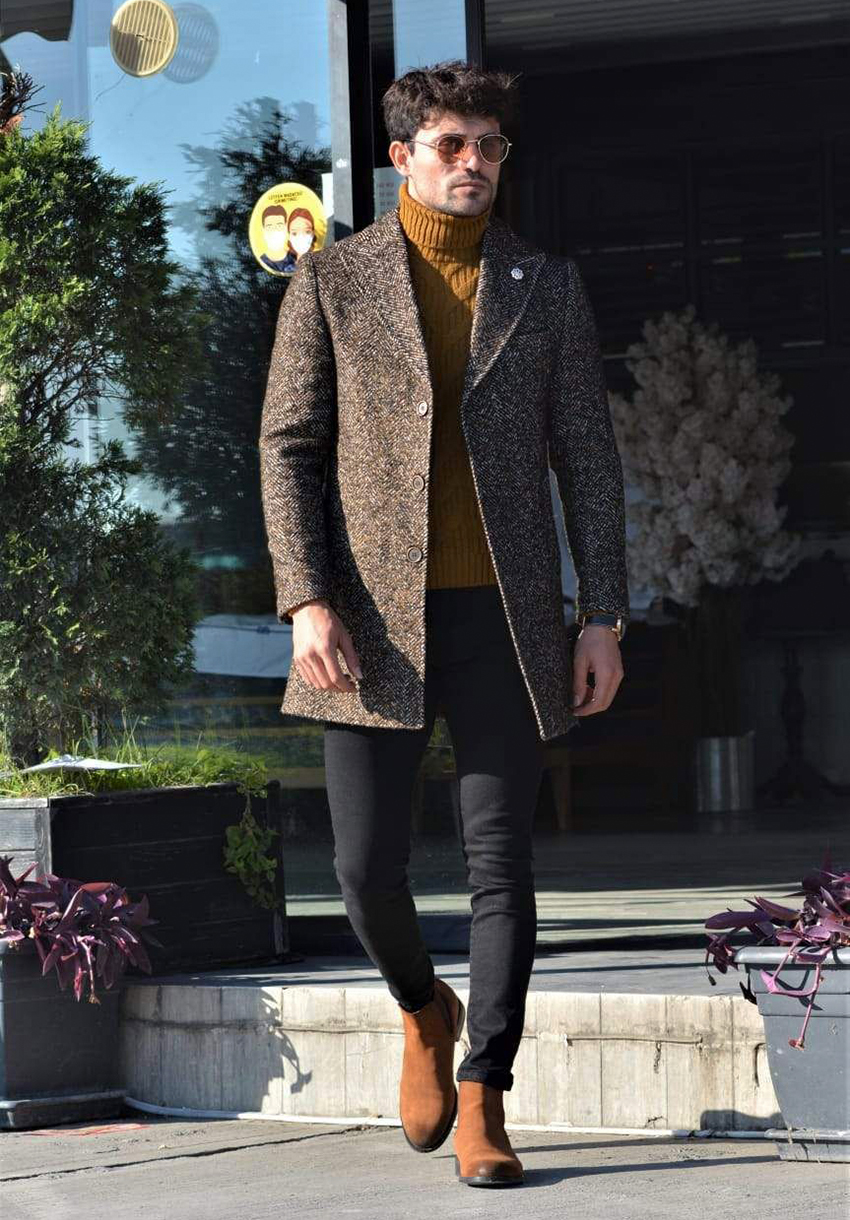 Lightweight leather jackets to slip on as needed can keep you warmer and act as a windbreaker when required.
Also, less is more in London, so wear layers to manage suddenly changing temperatures and variable weather.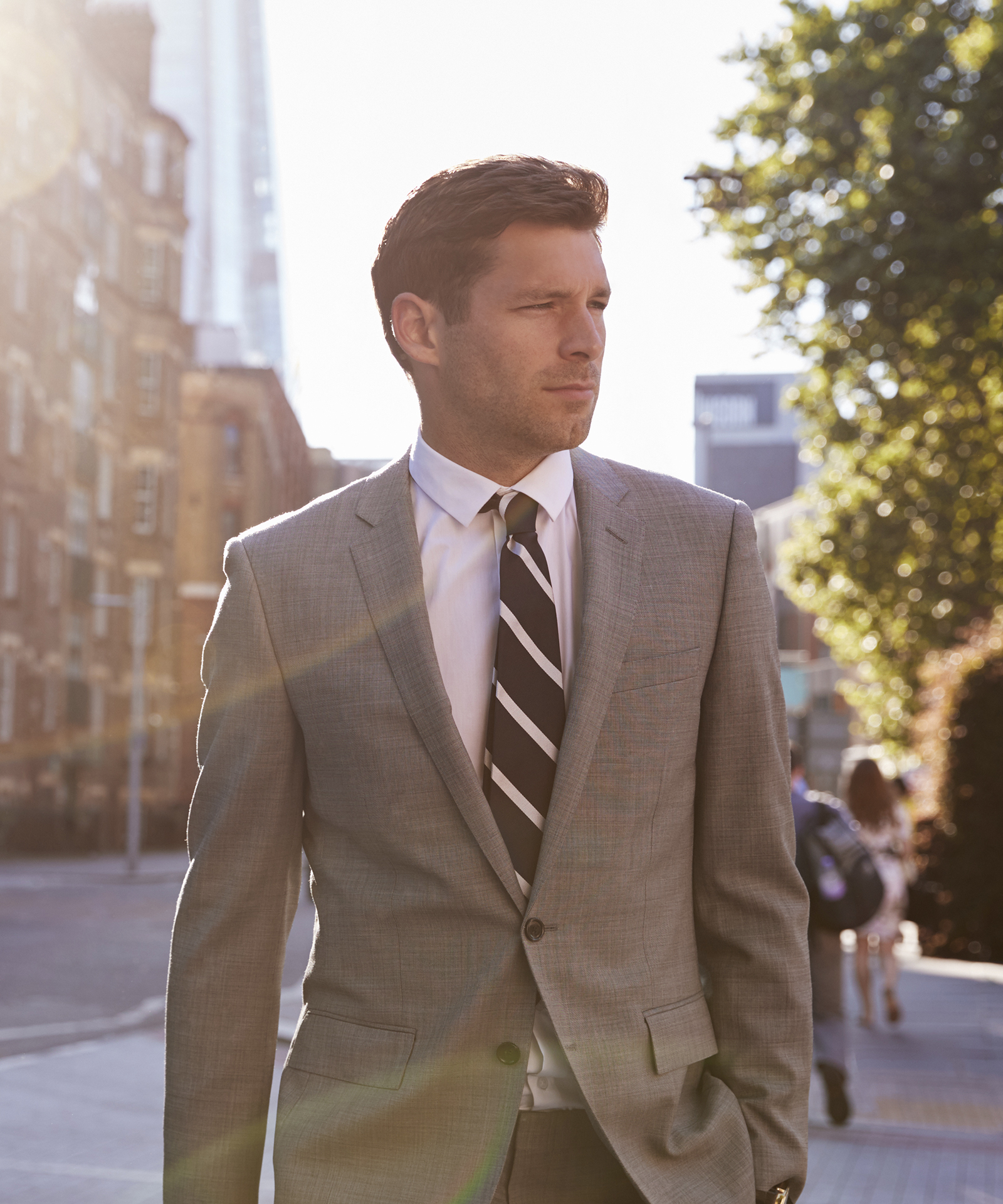 Don't forget to use Google weather alerts or something similar. They accurately predict when the rain will commence.
What Clothes to Wear in London: The Essentials
It's difficult to go wrong with a smarter appearance in London.
Gentlemen can wear a suit, just a blazer or lightweight jacket over a t-shirt or casual shirt, paired with jeans and sturdy shoes and look fine.
Alternatively, some will wander over to Savile Row, a tailoring epicenter founded in 1674, to get measured for a bespoke canvassed suit.
Suits for a More Formal Appearance
The woolen suit is standard attire for men moving around the town, especially in East London.
So it's a good idea to pack your suit and bring it to London rather than expect to get them fitted and made here.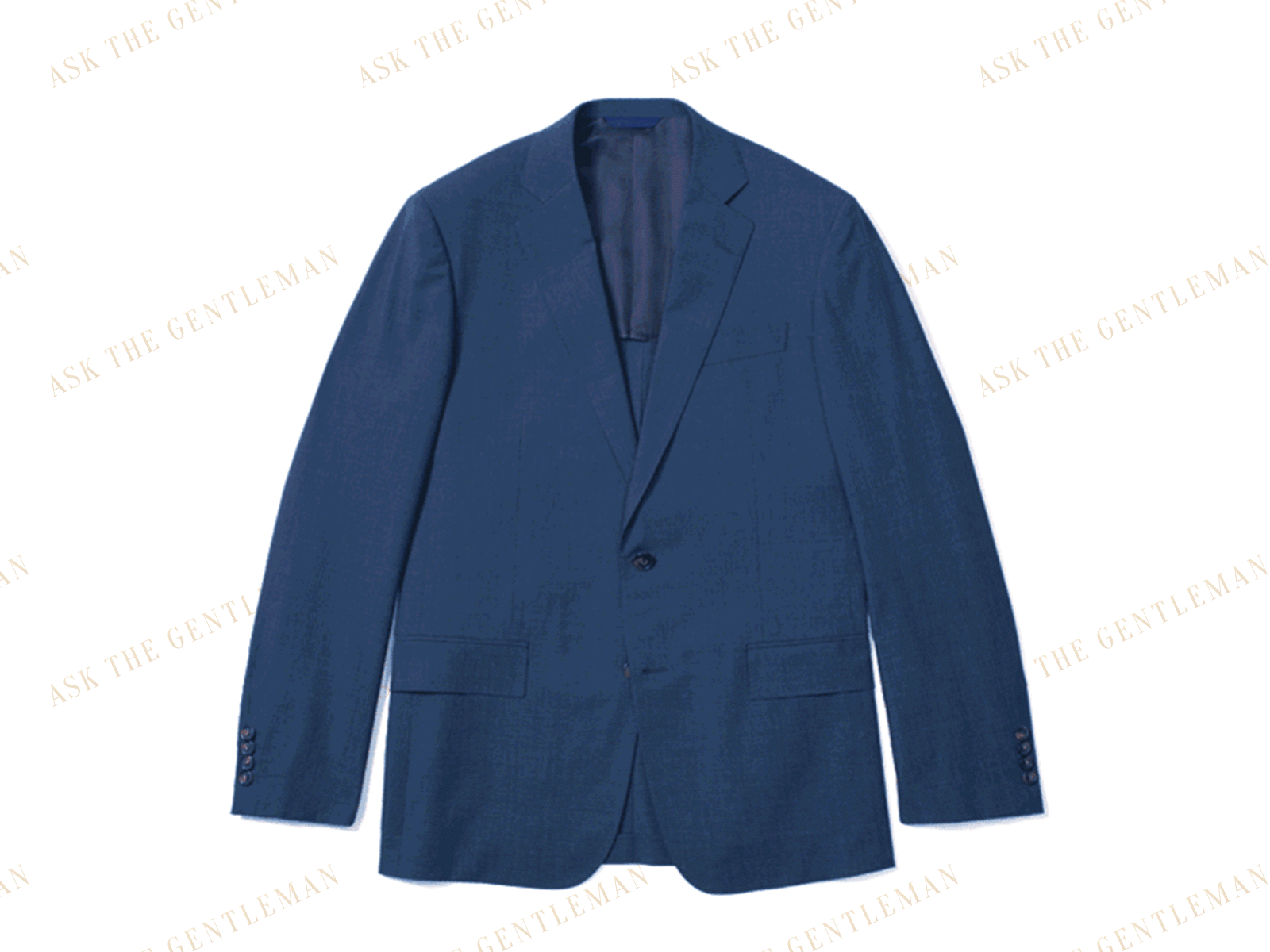 One primary reason for that is the suit's prices. The second is time.
Whether in Savile Row or a tailor near the Piccadilly Arcade in Mayfair, such as Budd Shirtmakers, the lead time on a bespoke suit, shirt, or pair of shoes is typically several months.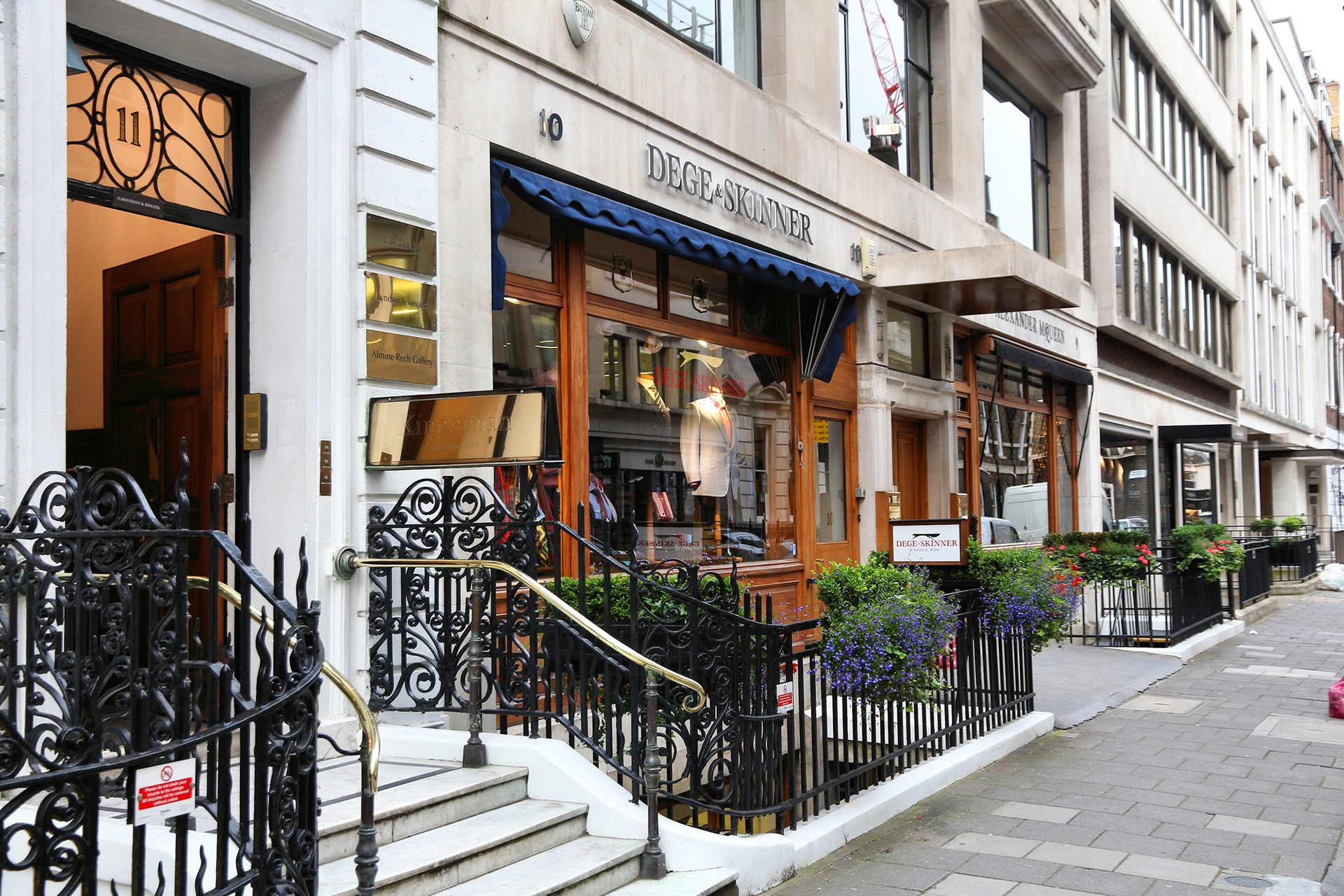 The good news is that finished products can be shipped to your home once they're ready.
Depending on where you might be going or whom you'll be meeting up with, you'll never be overdressed in a suit and dress shoes.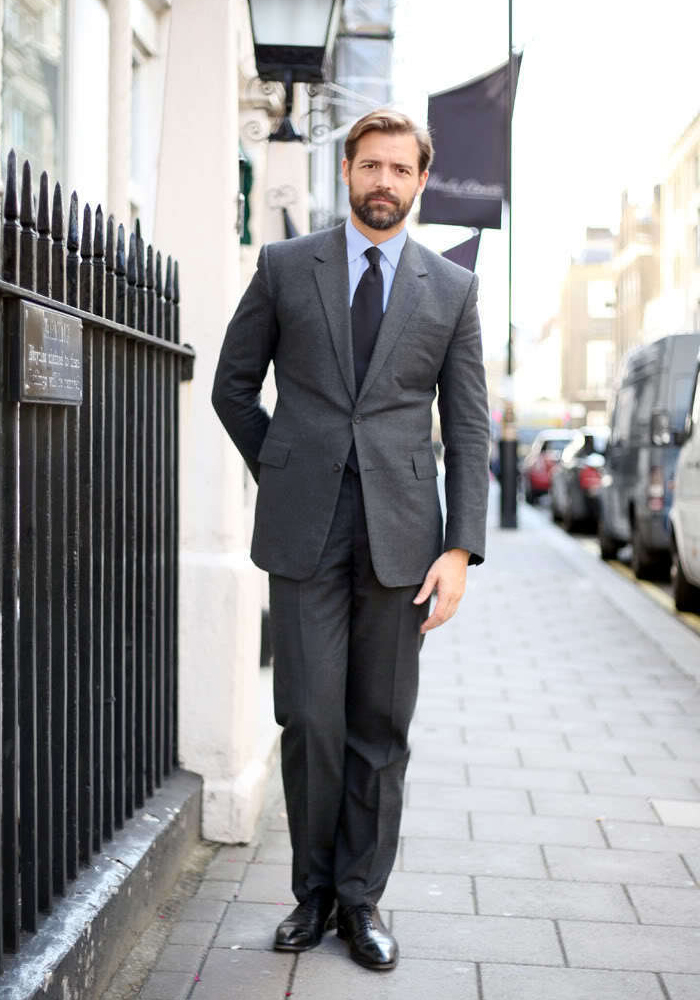 You can go for your preferred suit color or choose some of the most common suit and shirt color combinations. It's a question of pure style.
Single-breasted suits are a more common suit style to wear in London than double-breasted ones unless you are taking formal business meetings.
Three-piece suits are also widely present in London outfits. It seems people are wearing a vest more commonly than in the US.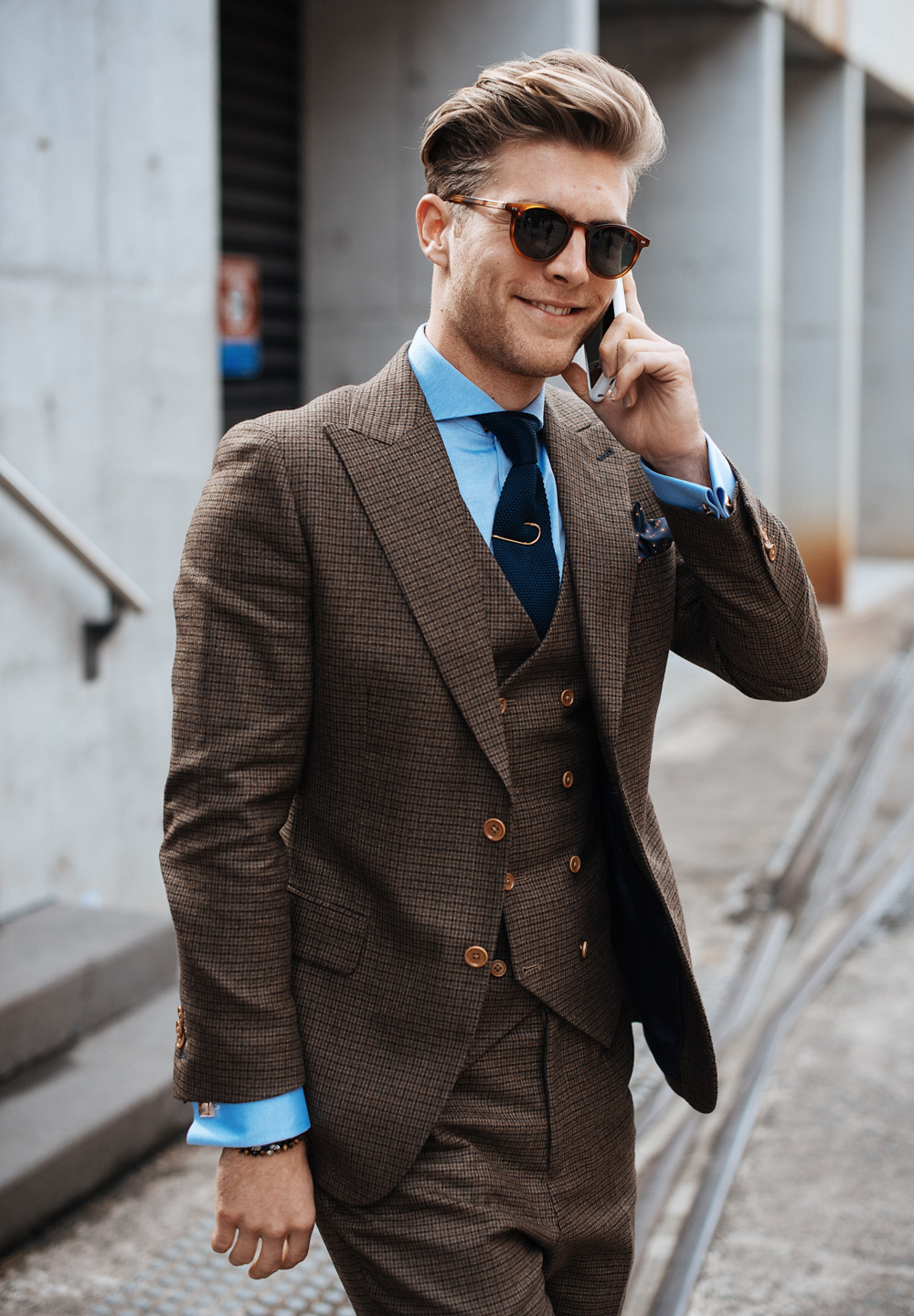 Finally, it's totally fine to ditch the suit jacket and go for a relaxed business-casual look.
Pair only the pants (the British call them "trousers") with a dress shirt or a sport coat.
Button-Up or Button-Down Shirts
Either button-up or button-down shirts are practical options to wear in London.
When wearing a suit but wishing to be a little bit casual, don a button-down shirt without a tie.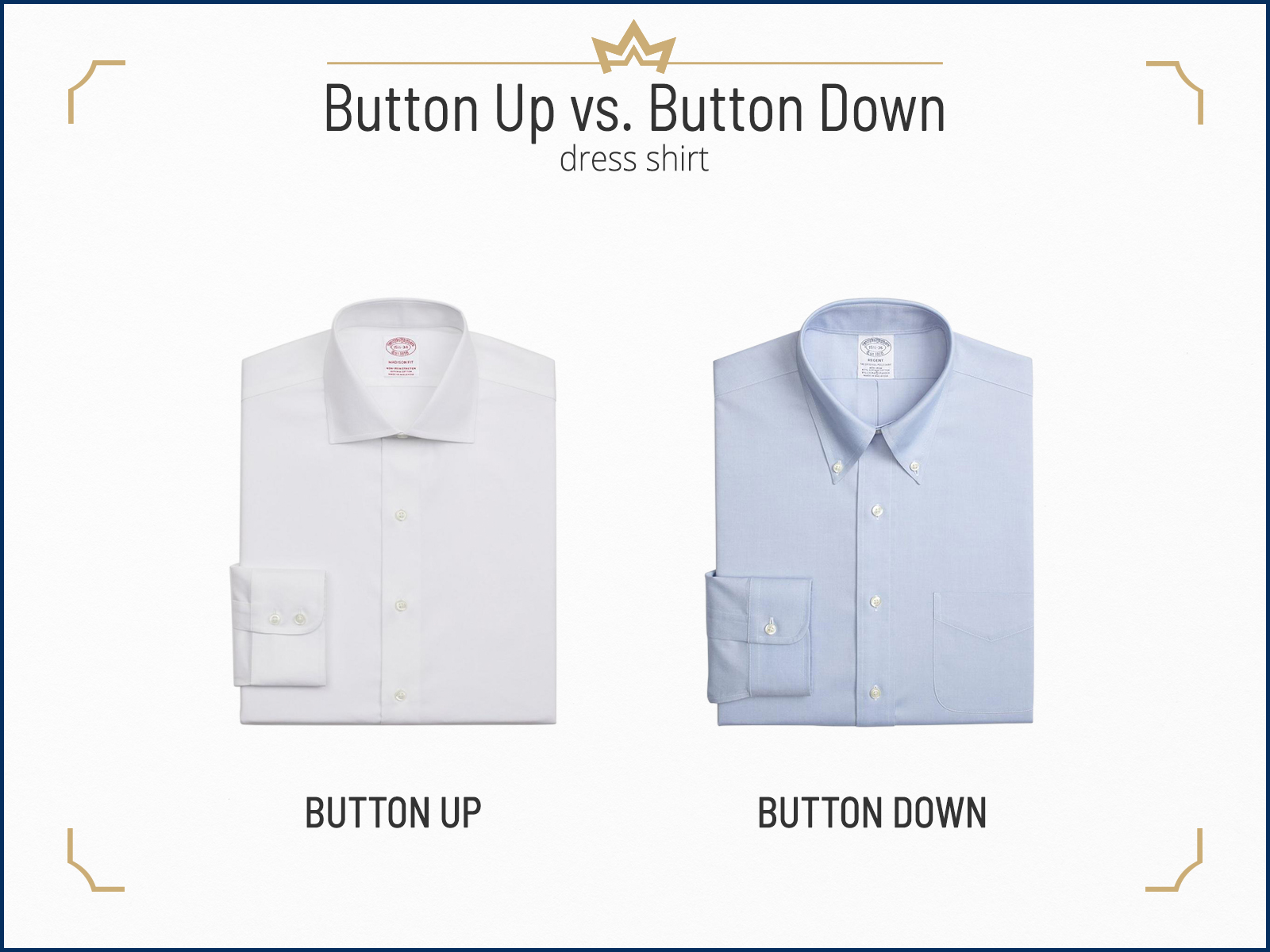 It creates a more relaxed appearance while still retaining some formality.
White shirts are the standard, but you can often encounter blue dress shirts as well.
Bold shirt designs with a subdued fabric pattern provide a good addition to your outfits.
Also, slightly more casual shirts do vary in fabric thickness depending on the season.
Jeans & Other Casual Outfits
It is a common London fashion to see jeans or thicker chinos worn with a blazer or jacket.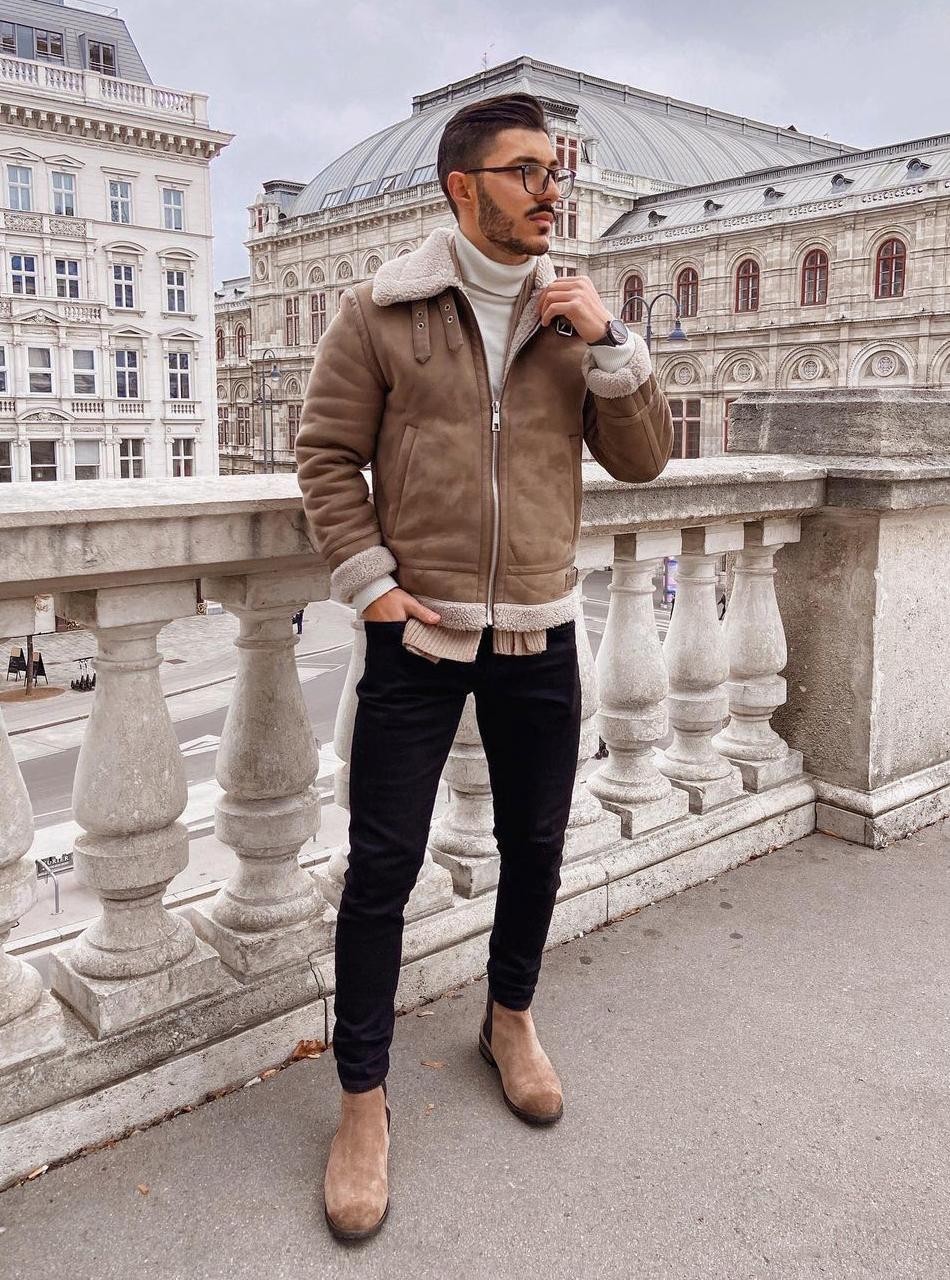 Heavy-duty shoes on nights out in chillier seasons are also typical garments to wear in London.
Dark colors are worn later in the year, paired with heavier fabrics.
A suit jacket can be worn over jeans or chinos to still keep things presentable.
Another standard approach for London is to wear a sweater over a dress shirt.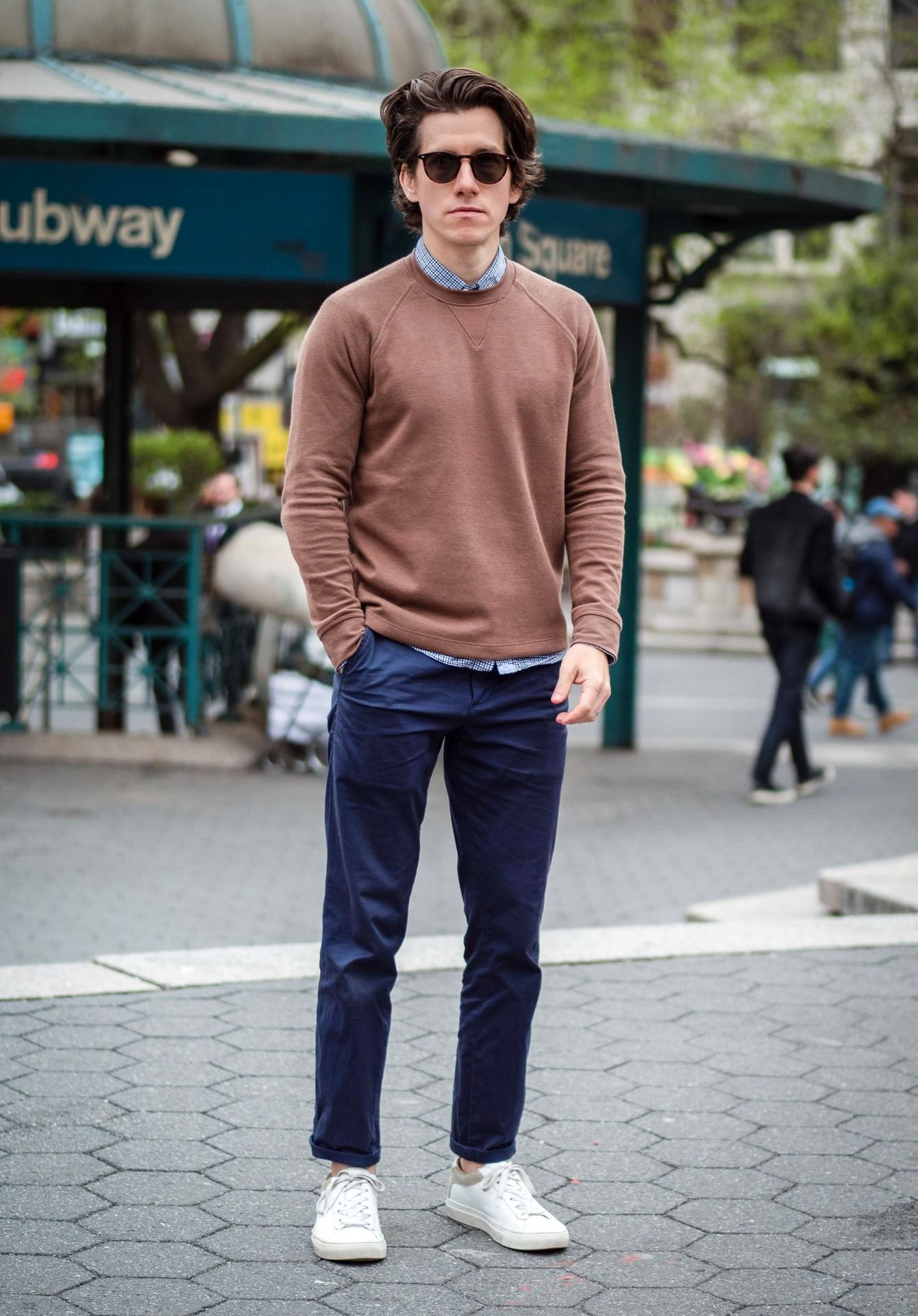 It can keep the wind off you while still looking dapper.
Best Shoes to Wear in London
Any London packing list needs to contain at least one waterproof dress shoe type.
There's a strong argument for both in your luggage.
A durable Chelsea boot that fits well and protects from the weather is best.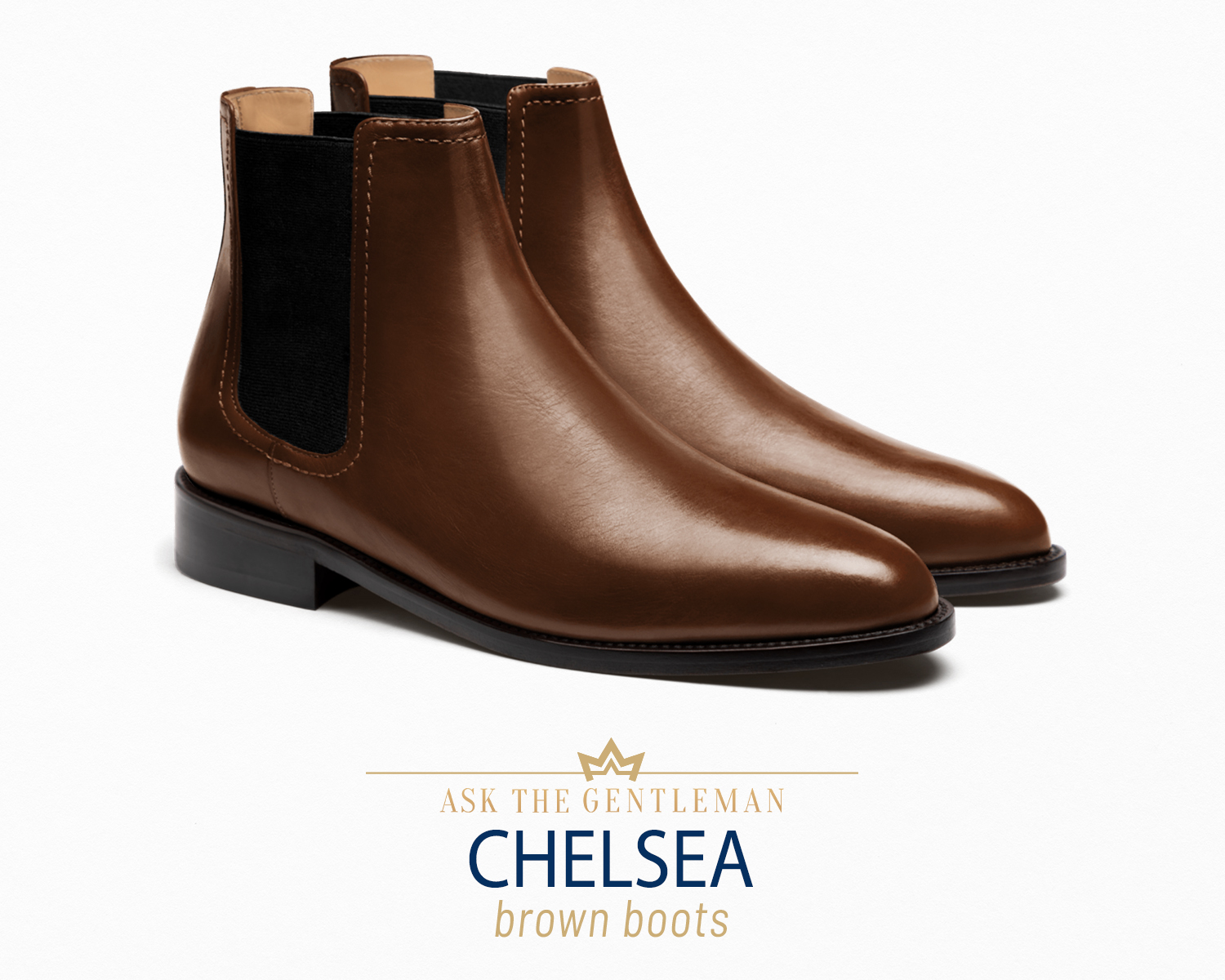 Oxford shoes, derbies, or dress boots are also common choices to wear in London.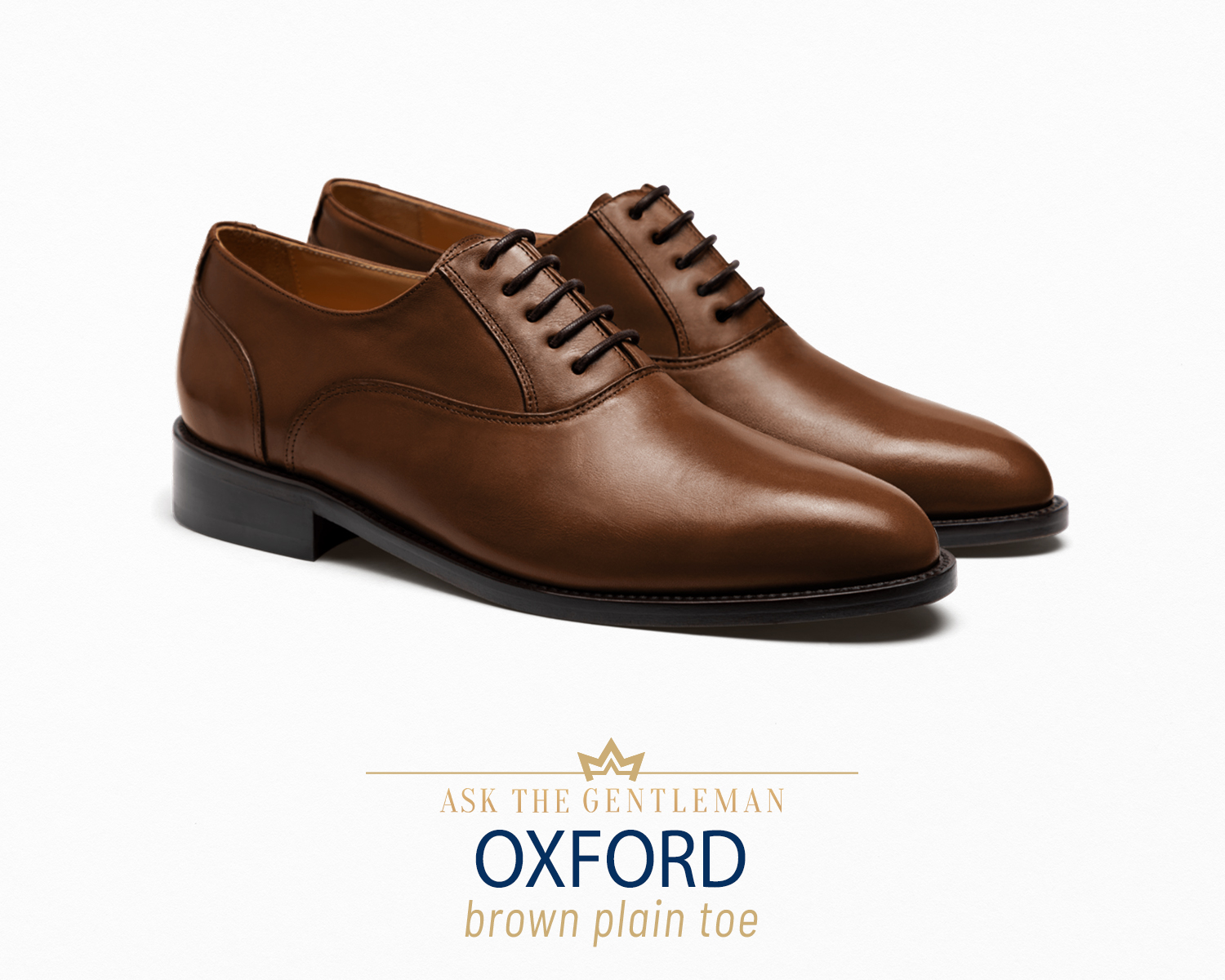 Did you forget to pack your shoes? No issues there.
A trip down Oxford Street will afford you the ability to try on different shoes to see if something catches your eye.
Footlocker is a popular store chain for its diverse range of footwear.
Coats and Jackets
Extra warmth is required when visiting in early spring, fall, or winter.
Overcoats in darker colors can keep your suit and you dry.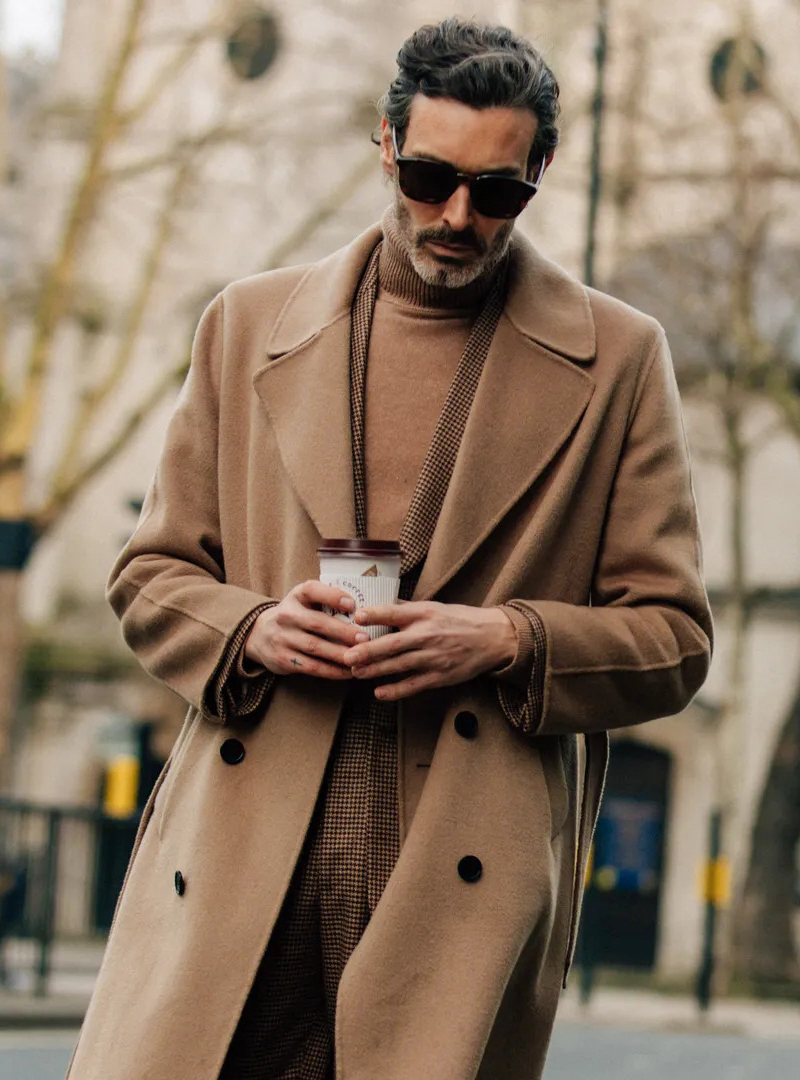 Additionally, a lightweight portable jacket that packs down to almost nothing is useful to slip into a side pocket.
An overcoat can cover a suit or a casual blazer when worn with a dress shirt or sweater as an all-purpose solution.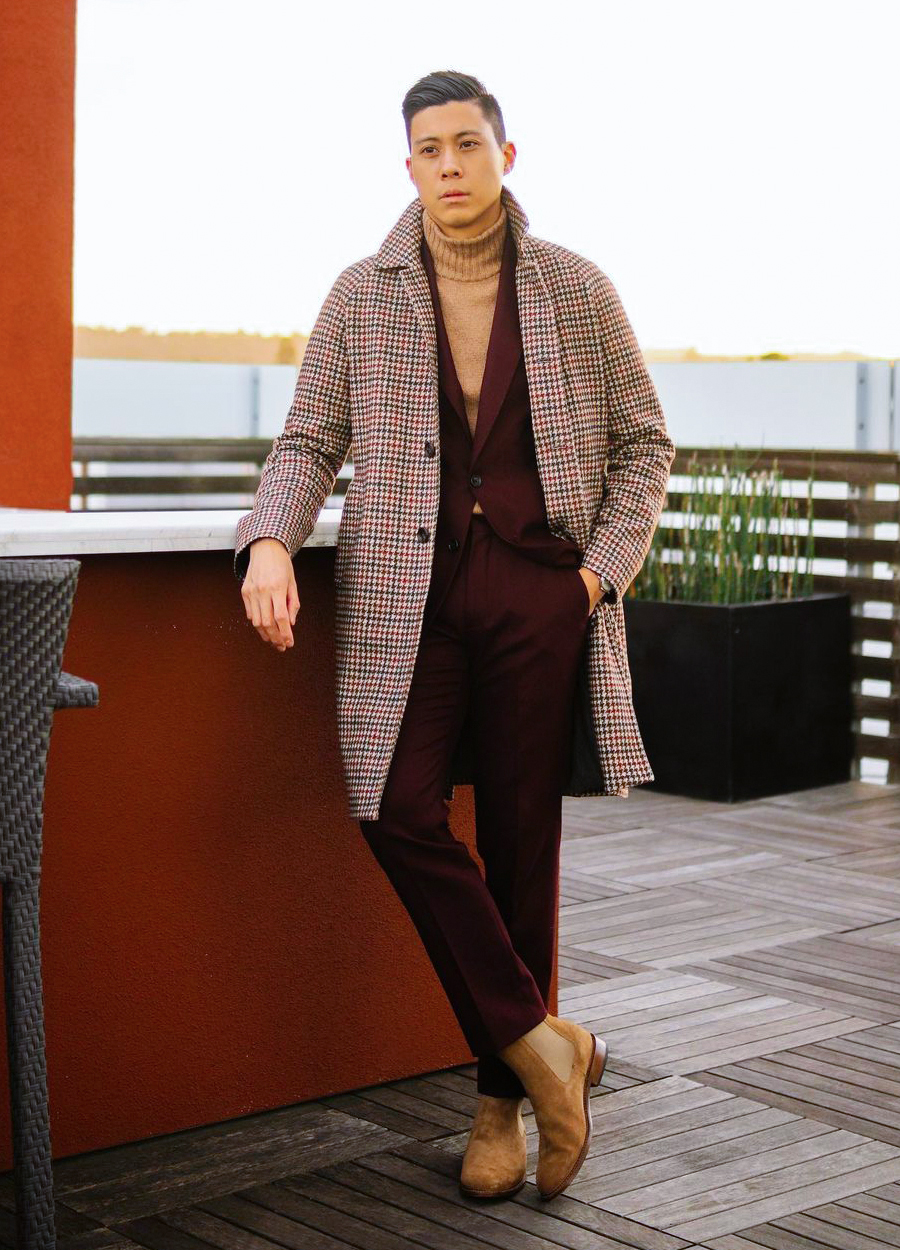 A winter jacket for intrepid travelers is padded, waterproof, and can cover a suit. It is mainly to go over several layers to insulate.
Quilted jackets are a good alternative to wear in London since they can handle the coldest of seasons.
An umbrella is necessary, even with a coat or jacket, either a smaller fold-down one or a sturdier golf umbrella type.
Different London Outfits for Men by Season
Due to the differences in temperatures and weather conditions, what men wear during different seasons varies widely.
As such, it's paramount to pack for the season when visiting London.
Spring
Spring is beginning to both warm up and brighten up. Yet, it still isn't warm.
Therefore, a coat or waterproof jacket is still needed.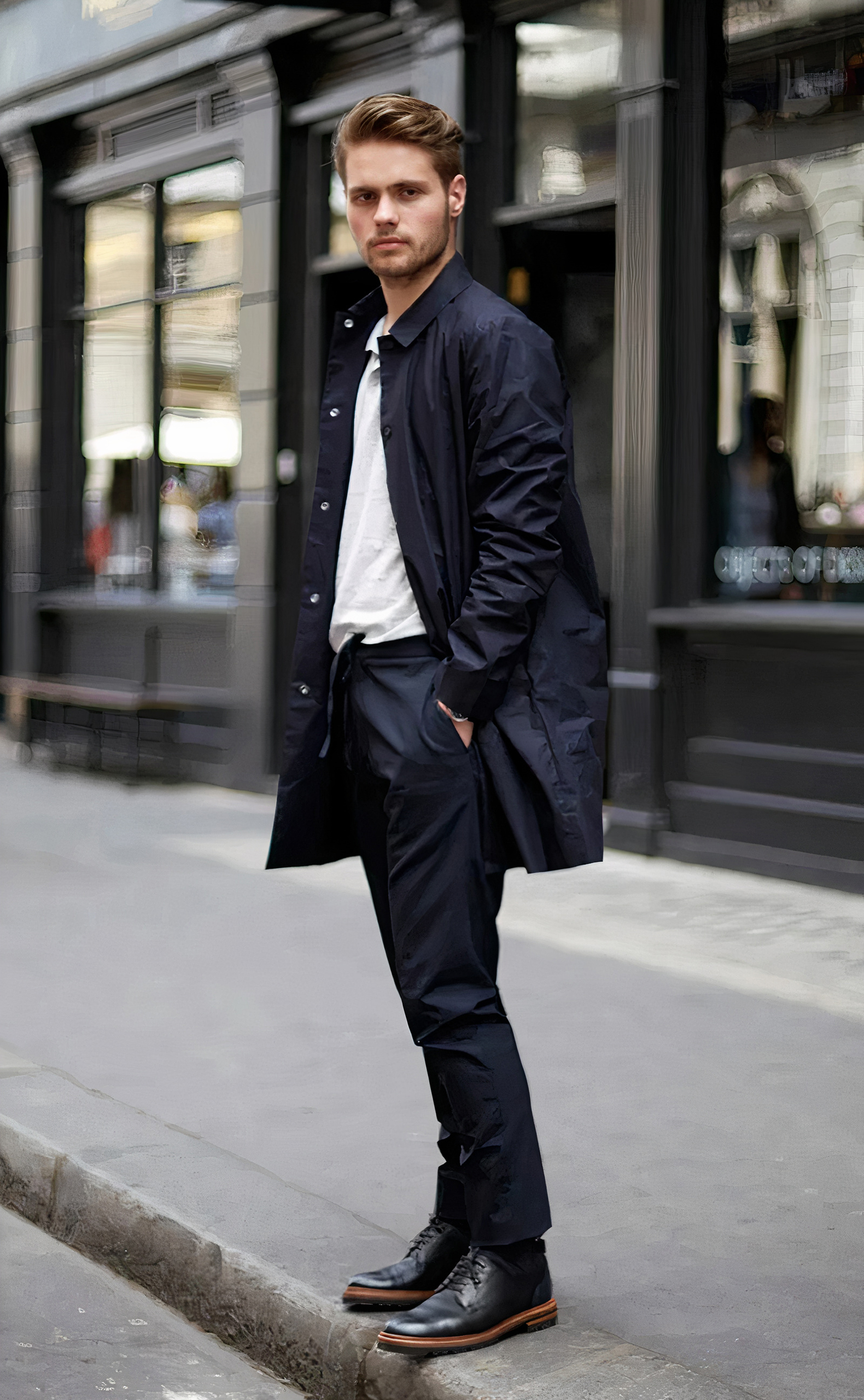 Expect rain showers and some brisk winds too. And use the layered approach to stay adaptable.
Making a booking at an upmarket restaurant will require wearing a suit, dress shirt, or maybe even a tie, along with dress shoes.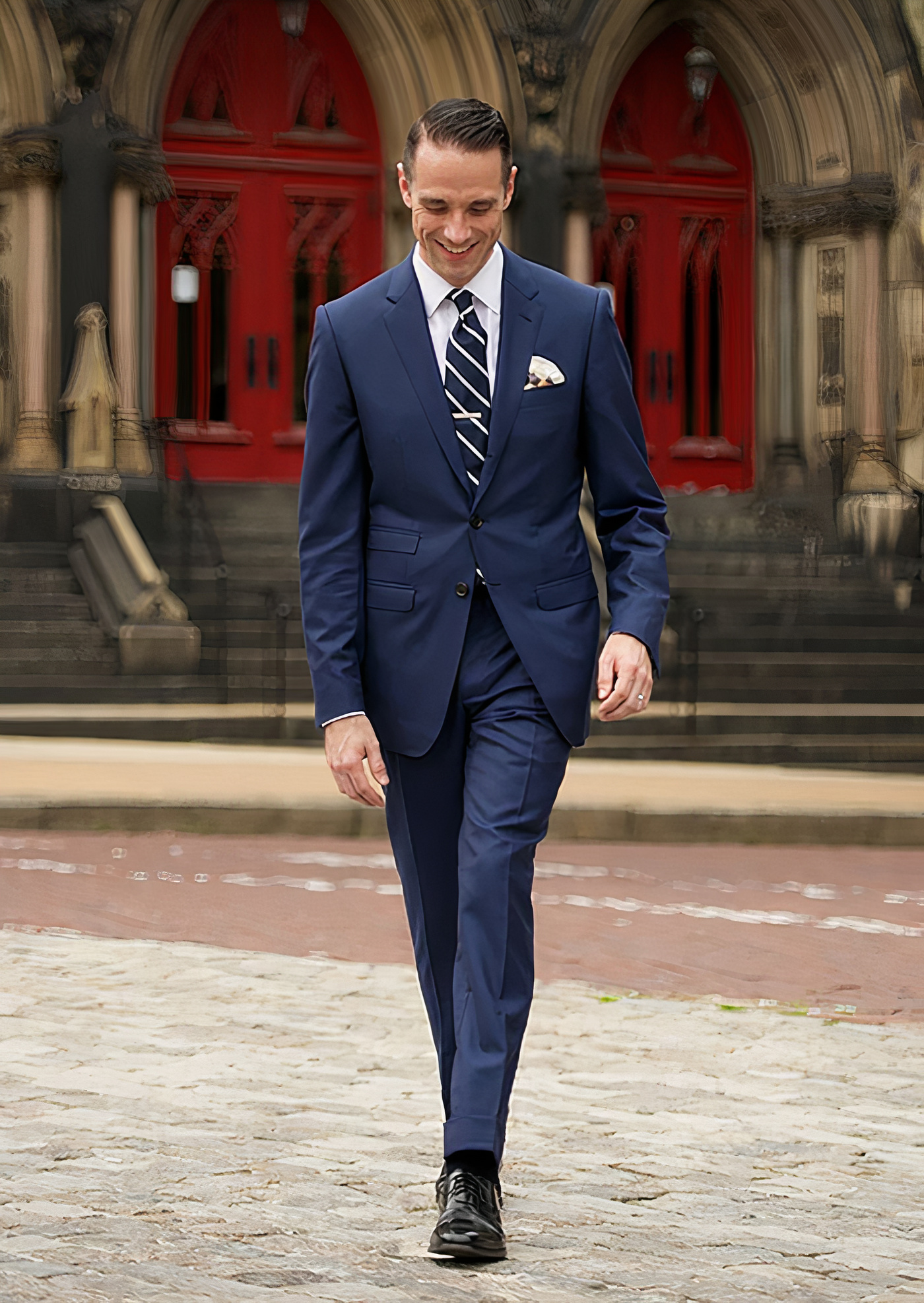 Some places will refuse entry when not dressed appropriately.
For going to the Opera, you may need to bring a tuxedo or rent one in the city.
Summer
London outfits for summertime differ considerably from other seasons.
June through August is when the sun is usually shining, it's becoming hotter, and locals wear brighter colors.
Short-sleeve shirts or rolled sleeves start to be seen, along with summer jeans.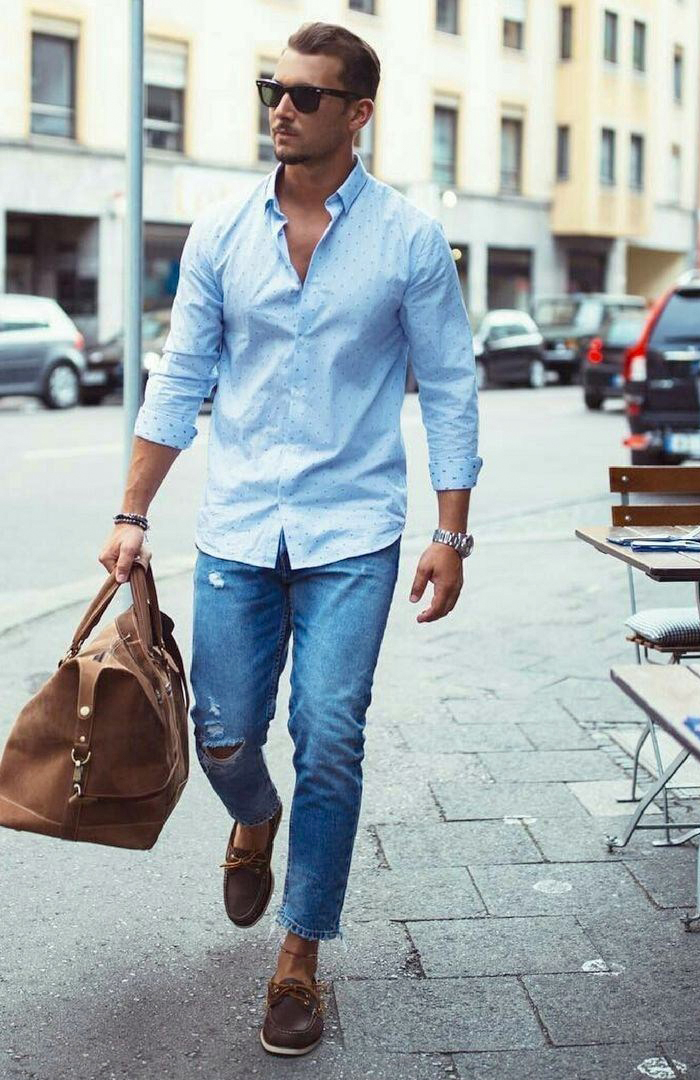 A pair of loafers worn barefoot, or even flip-flops, might be spotted around town.
When wearing a suit, people skip the tie and simply wear a light-colored dress shirt.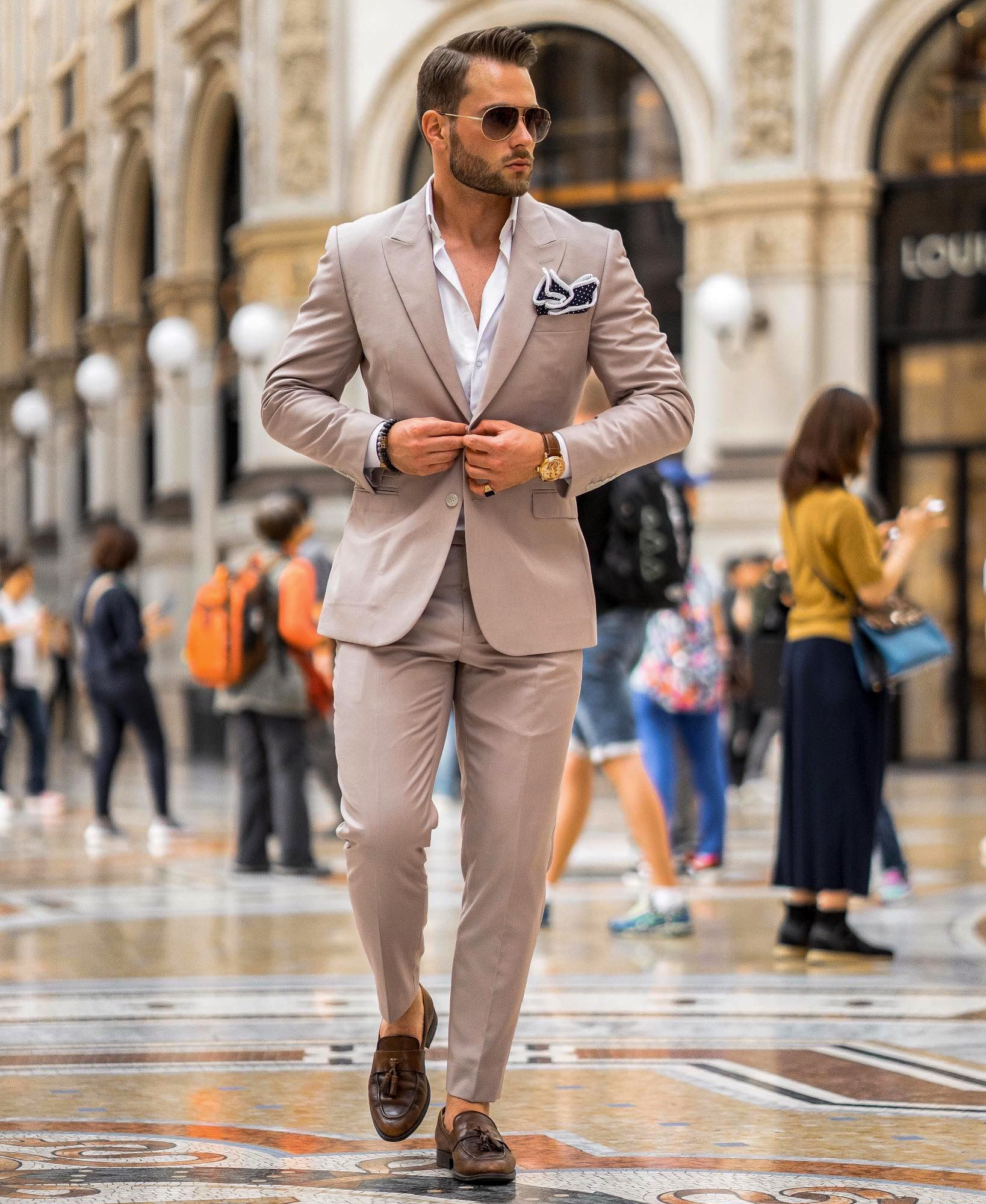 A t-shirt paired with a jeans jacket is a smart casual option at this time.
Even a linen suit worn by a brave soul or a suede leather jacket may be safely worn during this time of year.
Fall
Fall, called autumn in the UK, is when the weather begins to turn for the worse.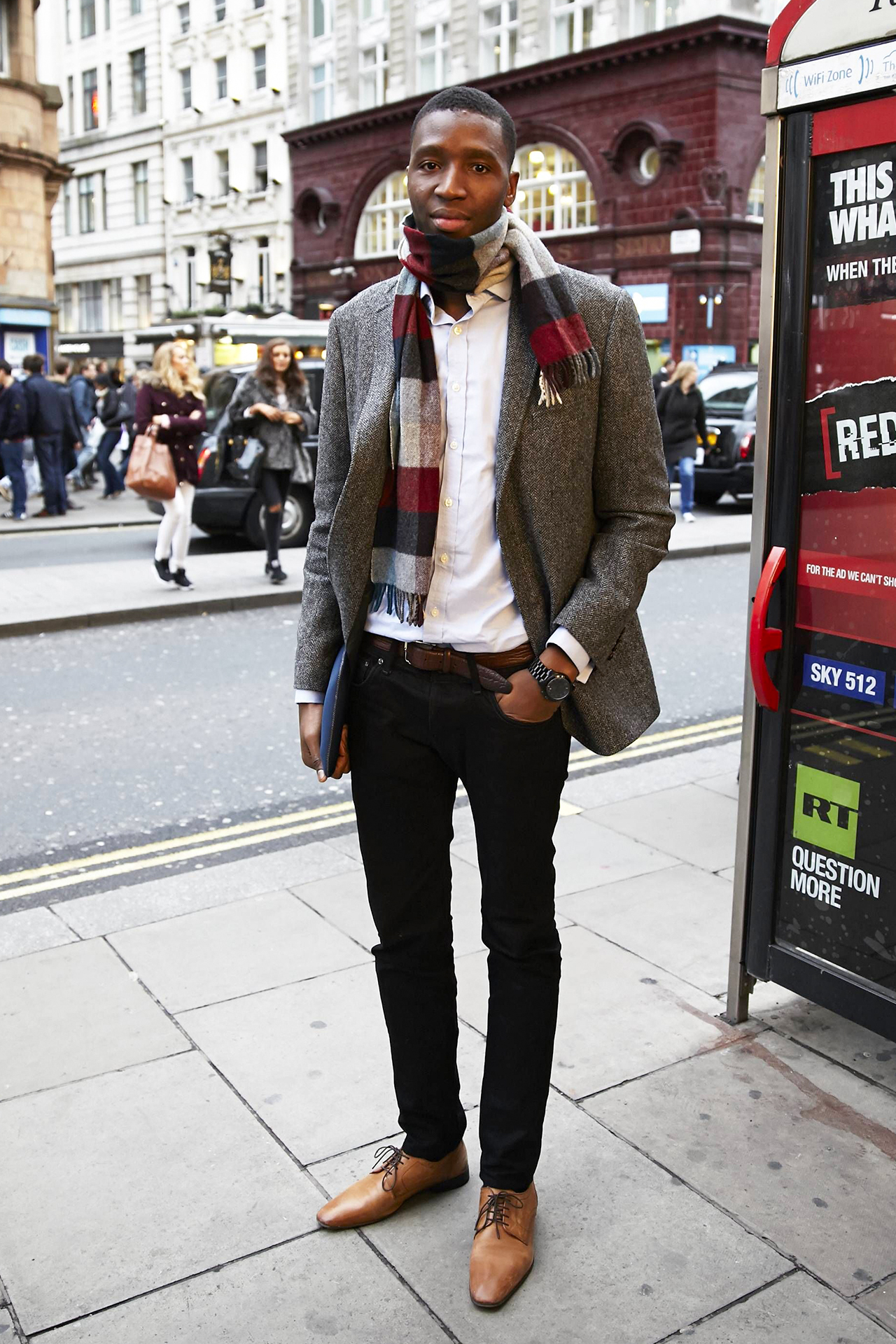 Expect the wind to pick up, the leaves to fall and become a soggy mess on the ground, and the rain to become an inconvenience.
Temperatures are also distinctly lower, with clothing adjustments required to manage it.
Overcoats for suit jackets and blazers might be needed at this time of year again.
A second layer over a dress shirt or t-shirt becomes much-required wearing.
This could be a shirt over another garment or a sweater over a shirt with longer sleeves.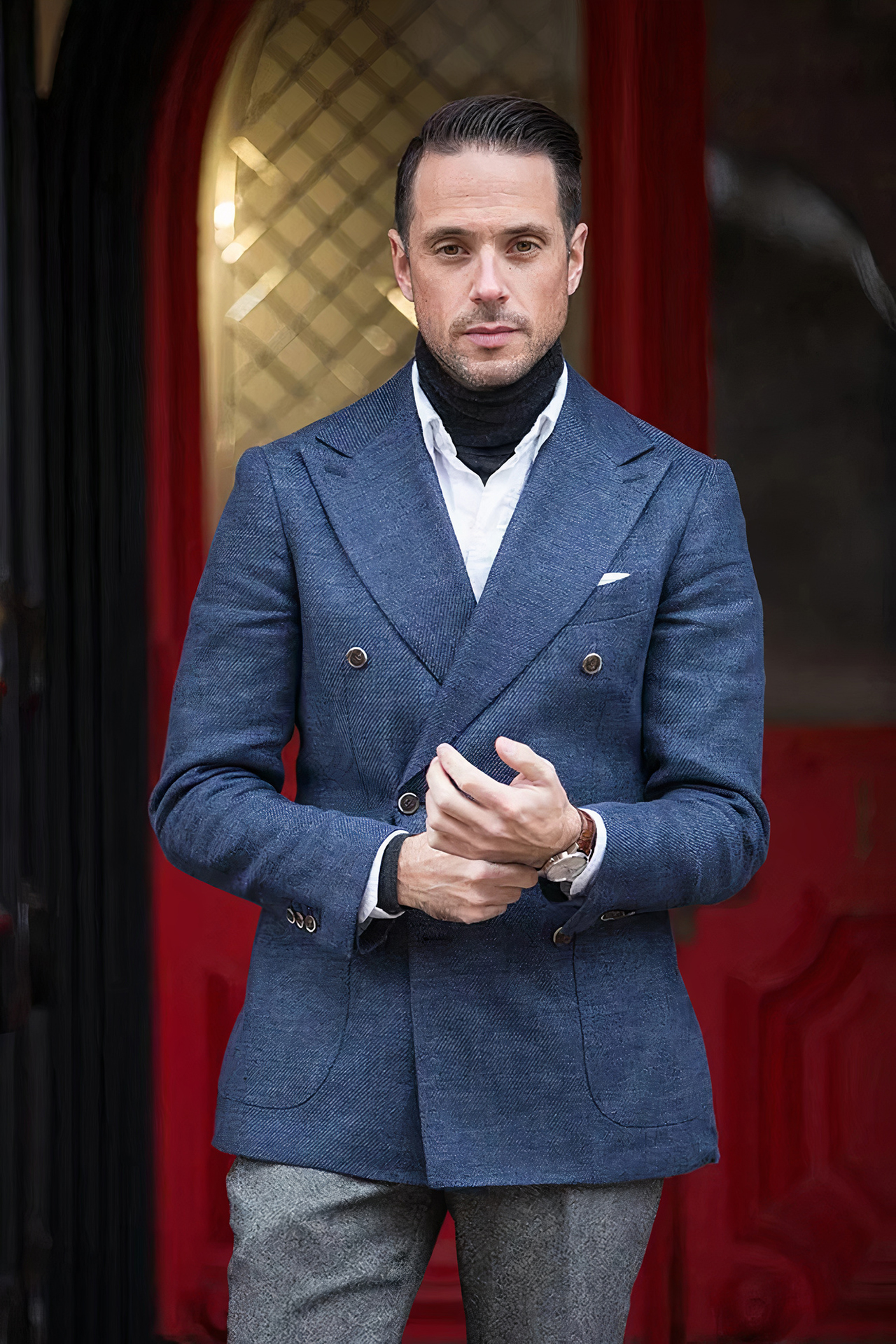 Along with the heavier yarns, the bright colors of summer will become more subdued browns and greys.
Winter
Few foreigners visit during the winter unless having necessary business activities.
Business attire with overcoats and umbrellas is needed to stay warm when venturing out into the cold.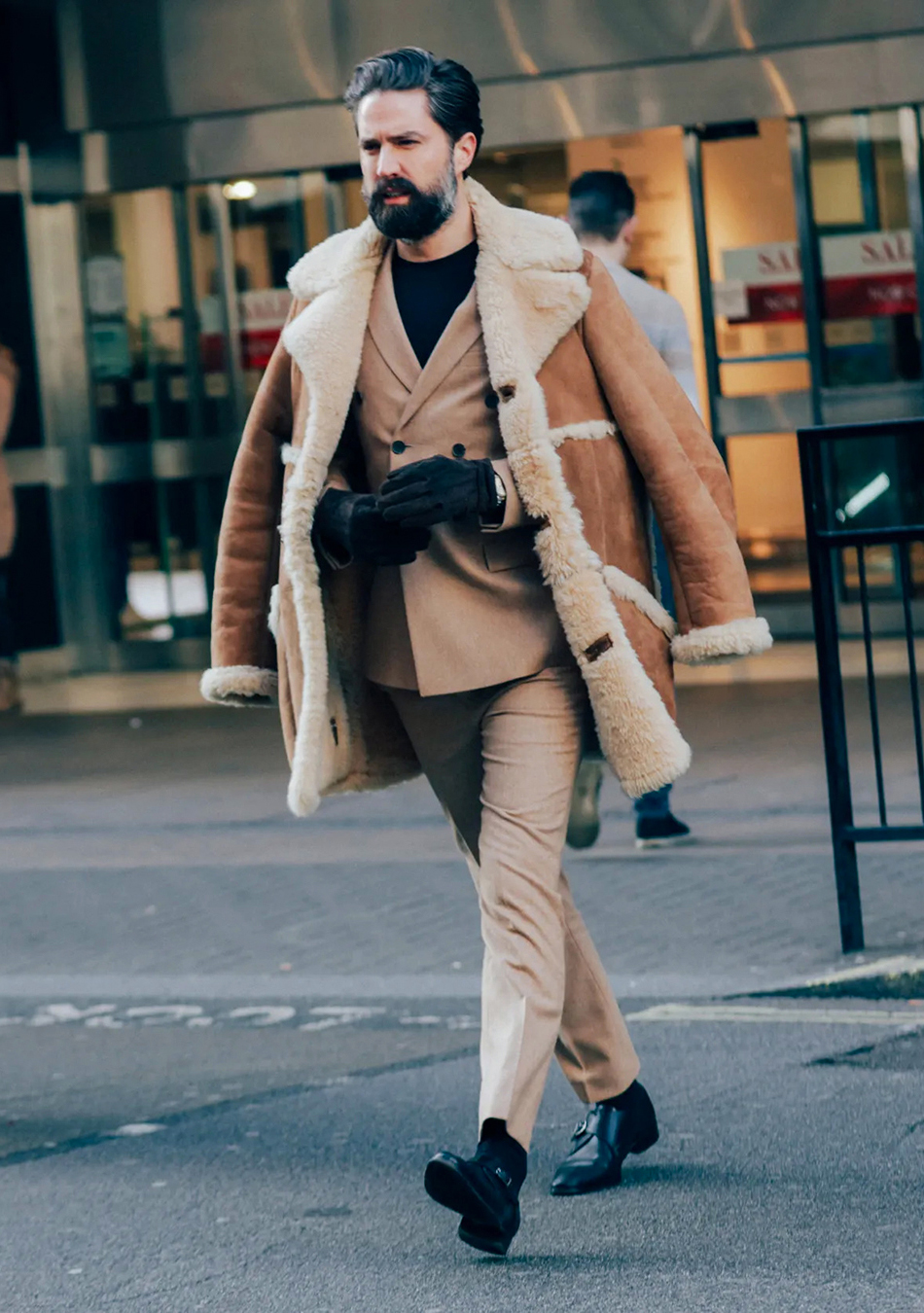 Multiple layers are still used to add extra warmth in the evening.
So while a dress shirt might be fine during the day, adding a turtleneck or sweater (sometimes referred to as a pullover) for the evening will keep you warm.
Dark jeans are more commonly worn during winter months with a pair of boots.
Their durability and ability to retain body heat from the waist down are invaluable.
Also, you'll want a scarf and gloves during winter too.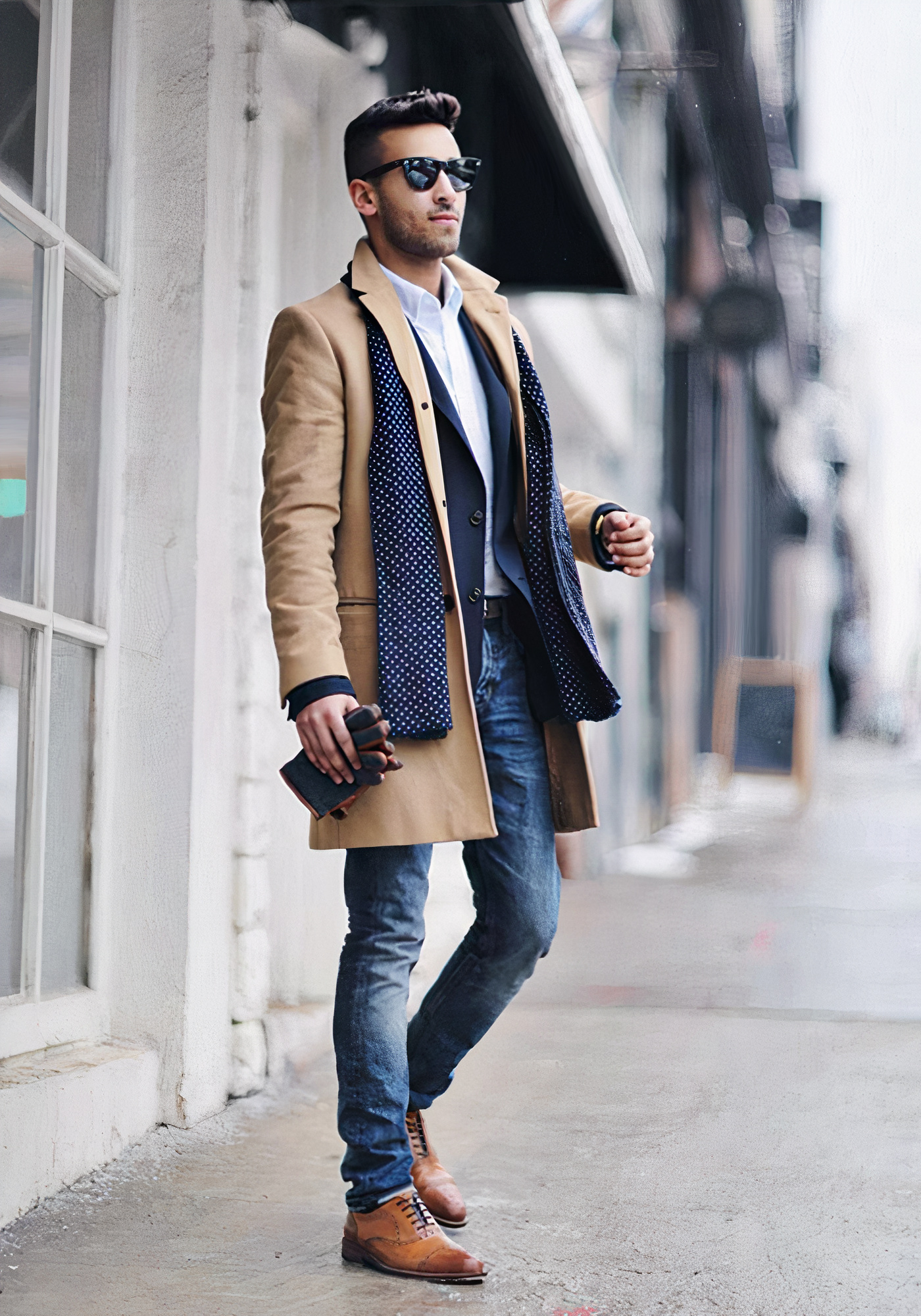 However, snow and ice are rarely seen.
Yet, bracing wind and freezing temperates make it necessary to always wrap up from head to toe.
What NOT to Wear in London
Clothing attire depends on the situation.
London weather is highly changeable – even from one hour to the next – outside the brief hot summer season.
Therefore, avoid wearing overly thick garments as a single layer.
Instead, use multiple layers that you can put on or peel off as needed.
Overly casual wear, such as sweatshirts, isn't appropriate outside of a gym or in the hotel room.
While some neighborhoods are ultra-casual, tourists usually have no reason to visit them.
Tank tops or overly revealing clothing aren't appropriate most of the time.
Usually, tourists already stick out and should avoid letting their fashion sense do the talking for them.
Also, when visiting museums, churches, rooftop restaurants, and other more serious places, visitors should cover up to either adhere to expected practices or not look out of place.
Best Time to Visit London
Summer is the most popular (and expensive) time to visit the capital.
The reason for this is that London now experiences heatwaves with few, if any, rain showers.
Planning days out becomes easier, but you will be battling the crowds on London's public transport or need to book an Uber to get around.
Spring brings happy smiles glad that winter is over.
The flowers begin to bloom, so Kew Gardens is a great visit in springtime.
Also, if you like visiting museums, know that the Museums at Night event happens in April.
Fall begins to see windier, wetter, and mushier conditions underfoot, with fall leaves on the ground.
During the low season, some savings can be made when visiting at this time, but the British weather makes daily plans subject to frequent changes and last-minute disappointments.